Kia Ora and welcome to Aotearoa! If you're looking for a New Zealand North Island Itinerary and travel guide, then you've definitely come to the right place!
Now when I have a desire to travel to New Zealand, I always find myself with a dilemma which bugs me every time…which island should I go to? Should I head to the South Island for the wintery slopes of the Southern Alps, or should I bask in the sun of the Bay of Islands? Personally, I typically lean towards the South Island and having been there countless times has me thinking about the myriad of things that can be seen and explored on New Zealand's North Island.
SO before you book those tickets to the popular and mountainous Queenstown, why not consider diverting to Wellington or Auckland to kick off your New Zealand adventure? With the might of Tongariro National Parks active volcanoes to Raglan's famous surf breaks to the stunning coast of the Coromandel Peninsula, the North Island dramatic landscapes, climate, and culture show why this place just has to be on your list!
I've put together this North Island travel guide, and it'll go over the most popular destinations, give accommodation recommendations, and will answer pretty much all the questions you have about traveling in this undeniably scenic region of the world. All I know is that the North Island certainly is a must, and will absolutely blow your mind!
Also, be sure to check out my article, "Top 15 Music Festivals in New Zealand To Experience Before You Die" to see if there are any epic parties during your dates!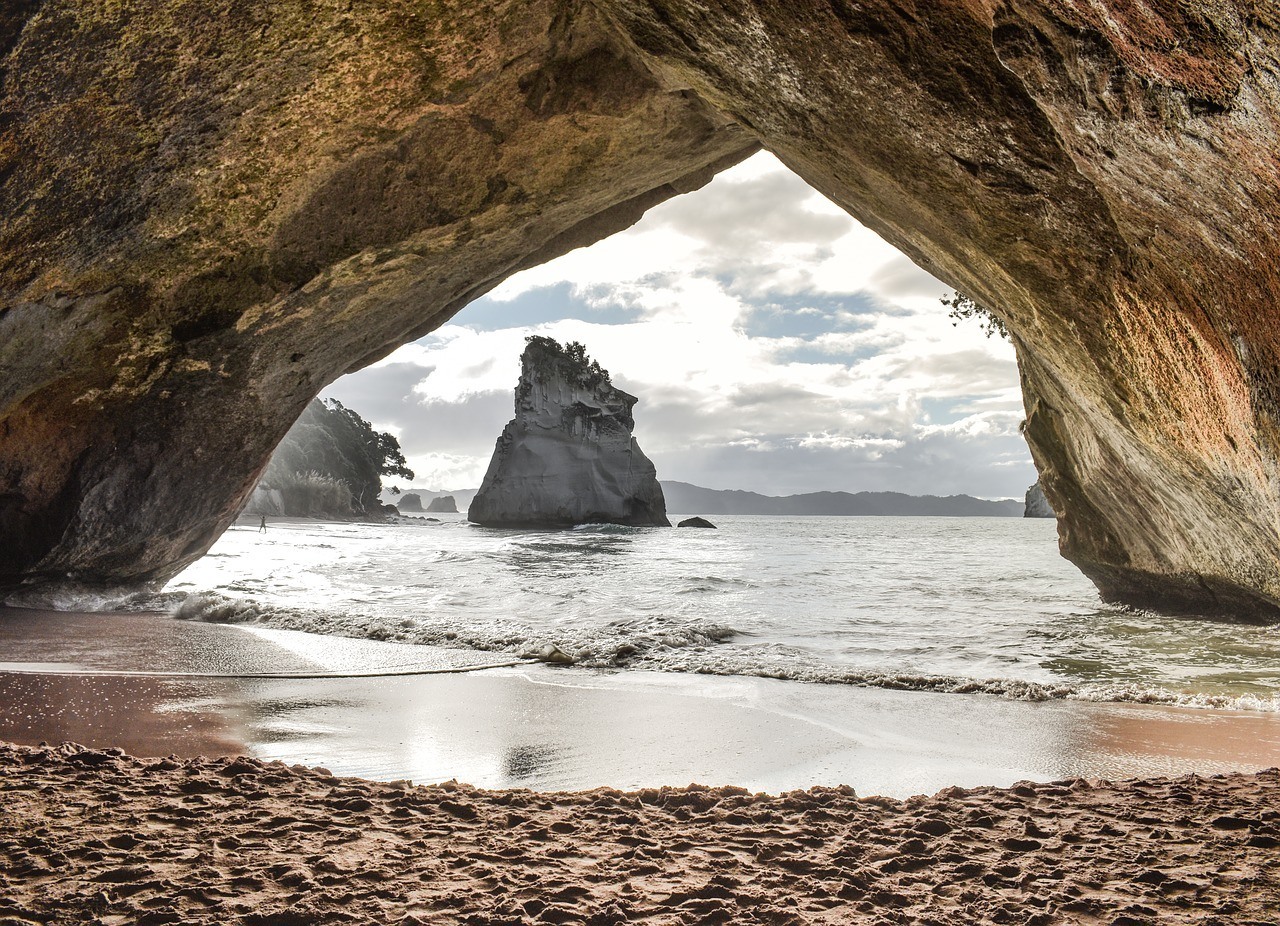 ---
How to get around the North Island of New Zealand
Having traveled around New Zealand by rental car and bus – I think both have their pros and cons, but in the end of the day, hiring a car or campervan is the best option!
A car simply allows so much better access to those destinations that are off the beaten path, and places that a bus tour will not take you. As well, bus travel in New Zealand tends to take a lot longer between tourist destinations. For example; a bus trip from Queenstown to Franz Josef on the South Island will take 7 to 8 hours, while a car trip will take 4.5 hours.
One of the more popular travel options in New Zealand is renting campervans, and embracing the #VanLife lifestyle! It's an adventure on it's own, will save heaps of money, and will provide tons of freedom for the longer trips! Check out this article, "The ultimate guide to travel by campervan in New Zealand" for some more information on the subject. It'll go over pretty much everything you need.
It's actually a dream trip of mine to live in a campervan and drive around New Zealand for 3-6 months!
New Zealand also has a great option of airports and carriers so flying is also an option (for shorter trips), but can actually be expensive to fly between cities and regional areas.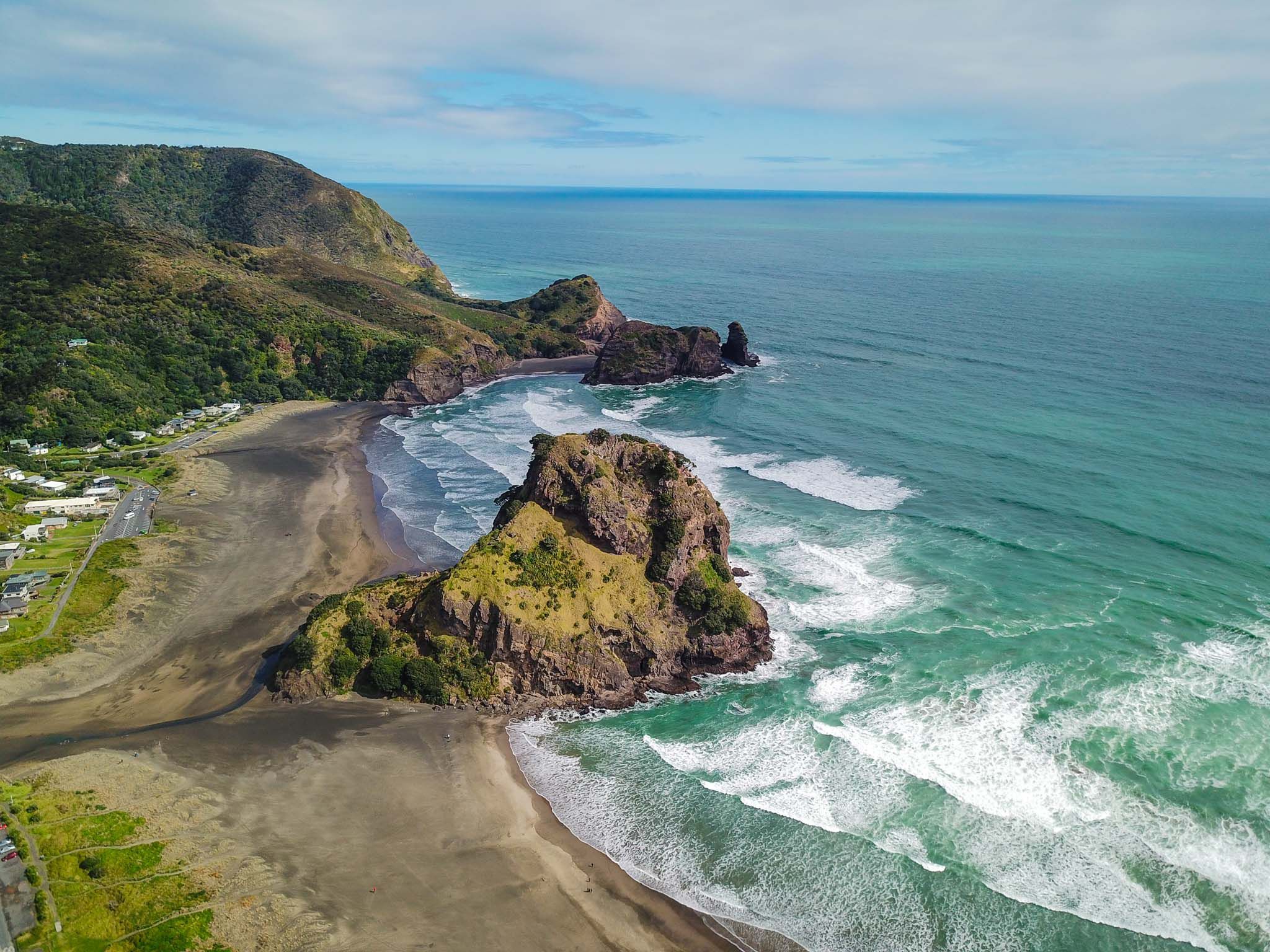 ---
Where Should I Start My North Island New Zealand Road Trip…?
Depends on where your flight comes in from and that generally will Auckland or Wellington. Personally, I would start and finish in Wellington and go something like this;
New Zealand Itinerary & Route Suggestions
Wellington – New Plymouth – Waitomo – Raglan – Auckland – Waiheke Island – Bay of Islands – Cape Reinga – Coromandel Peninsula – Tauranga – Rotorua – Tongariro National Park – Taupo – Hawke's Bay – Wellington
To see all of these destinations would take one month and to see in-depth allow 2 months. If you've got limited time, take a read through the places to
---
Places to Visit in New Zealand North Island
There really are some truly stunning places packed into a relatively small island, and it's guaranteed to be a trip you'll never forget!
---
Cape Reinga
Cape Reinga is pretty much the starting tip of New Zealand, so what better way to start off this epic North Island adventure than by standing on the edge of the country, literally!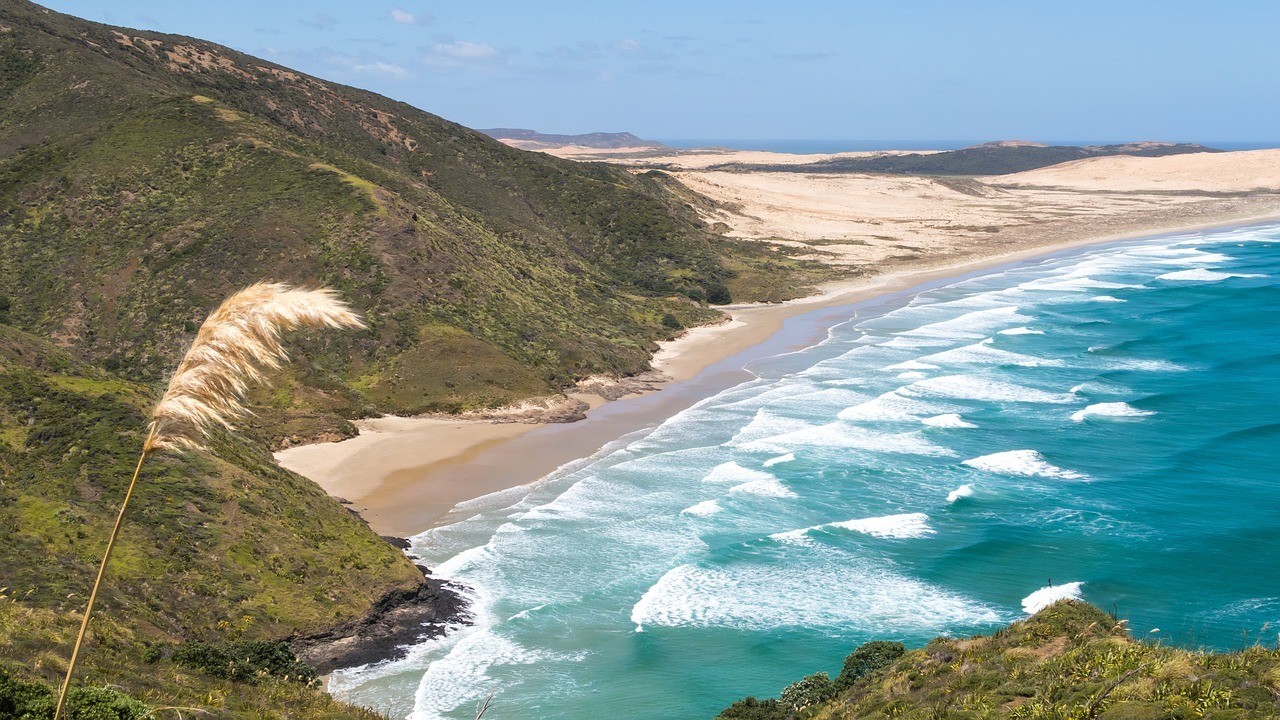 At the very tip of the North Island is New Zealand's 2nd most northerly point (kind of a trick) where the waters of the Tasman Sea and Pacific Ocean combine to create a spectacle of blue hues. Getting to the edge of Cape Reinga and to the base of Cape Reinga Lighthouse is simple and very beautiful with a short downhill walk from the nearby carpark.
Sunrises and sunsets from Cape Reinga are exceptional even if it means getting up in the early hours of the morning, it will be worth it.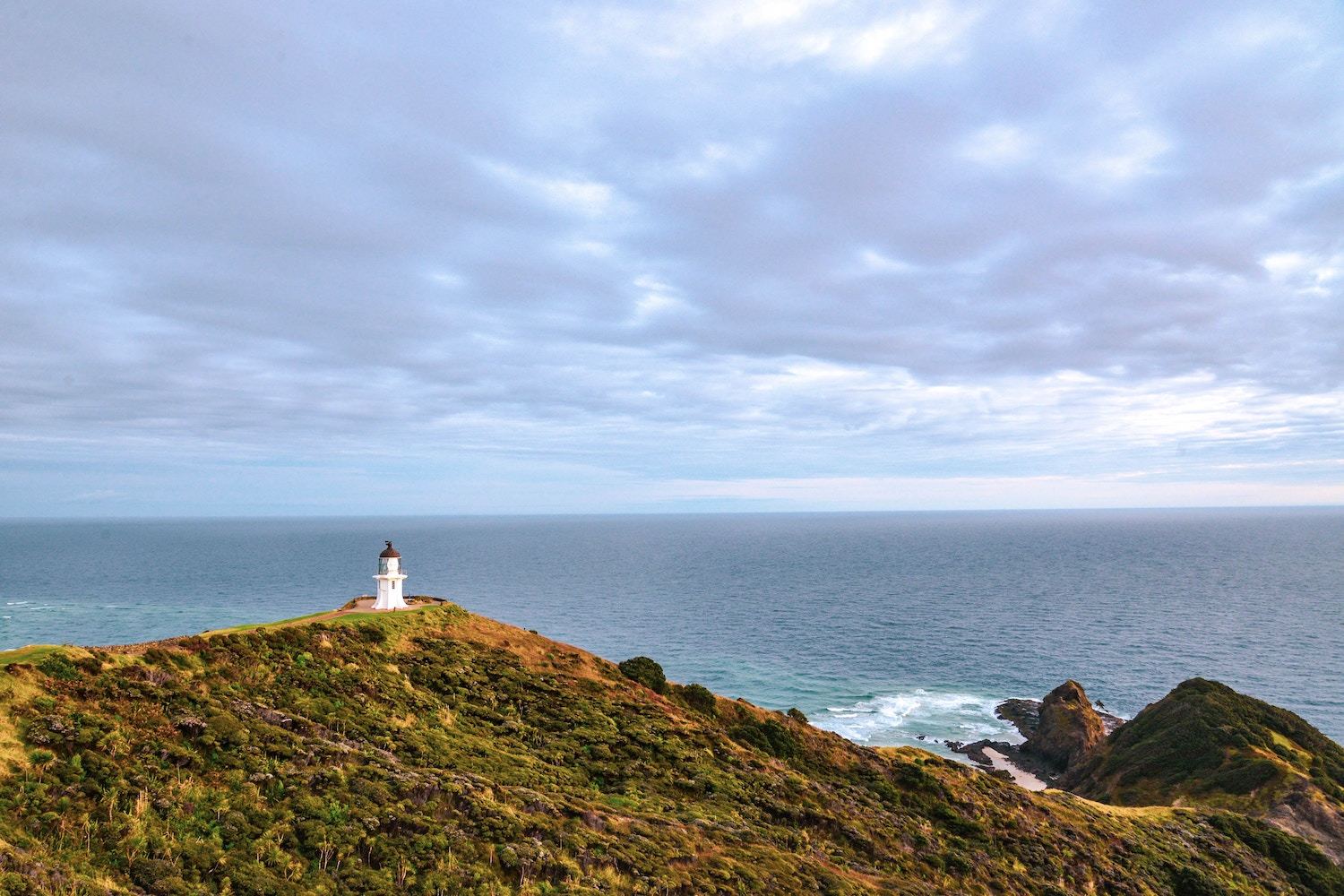 ---
Ninety Mile Beach
The name says it all, Ninety Mile Beach except the fact that it's not quite 90 miles long. So long as you know what you are doing, driving along Ninety Mile Beach is allowed just make sure that you are abiding by the Department of Conservations laws.
Further north of Ninety Mile Beach is Te Paki Recreation Reserve, an area dominated by towering sand dunes. Clambering to the top takes 10 to 15 minutes but the way down is a whole lot quicker and if you have a body board handy, you'll be breaking speed records in no time.
Best Stay: Ninety Mile Beach is all about camping and the best spots are located at Tapotuputo Bay and Rarawa Beach. Camping is $10 NZD per person and needs to be paid to the Department of Conservation.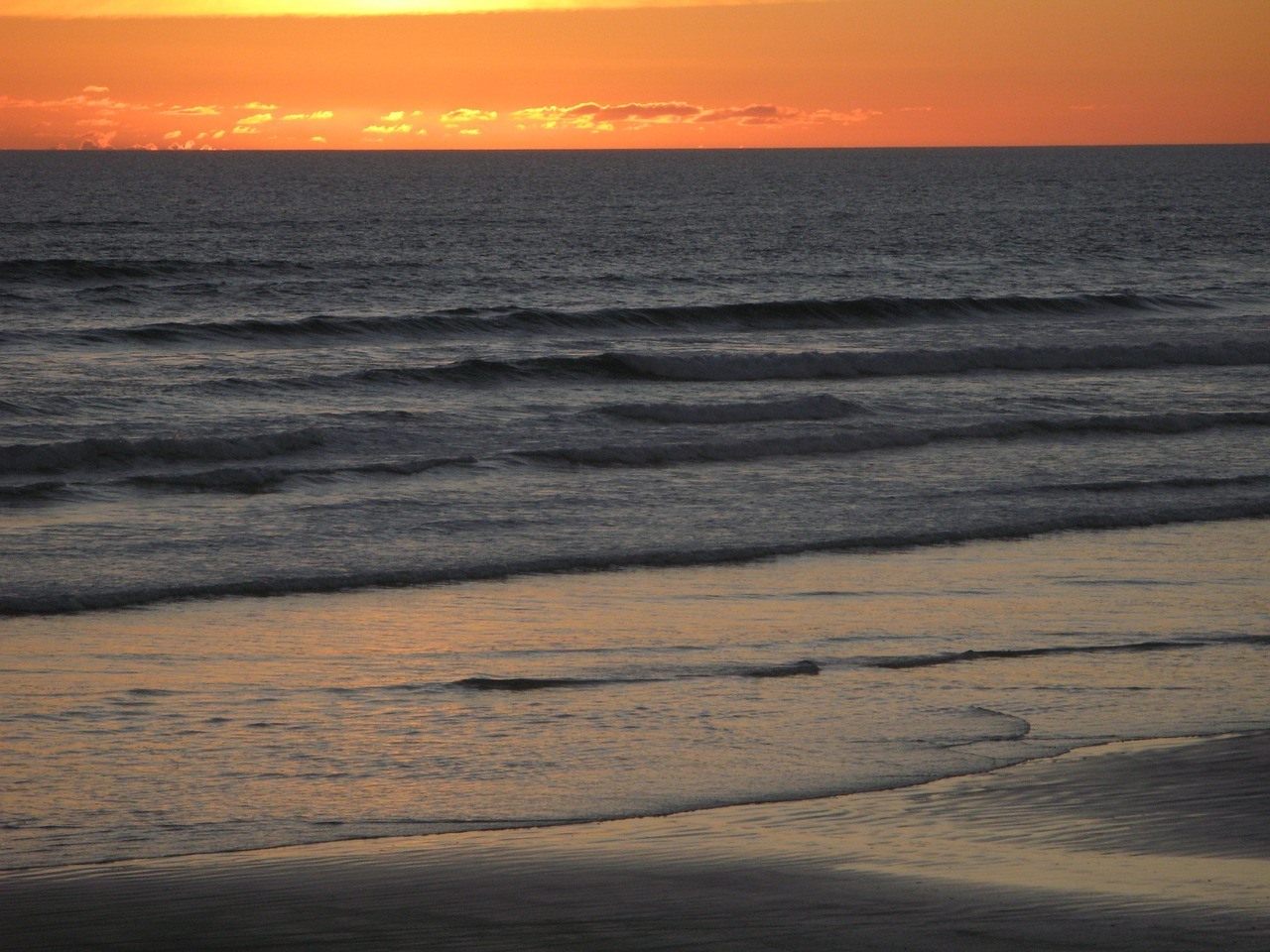 ---
Bay of Islands
The South Island has the stunning Abel Tasman National Park, but the North Island has the Bay of Islands, a piece of paradise only a few hours' drive north of Auckland.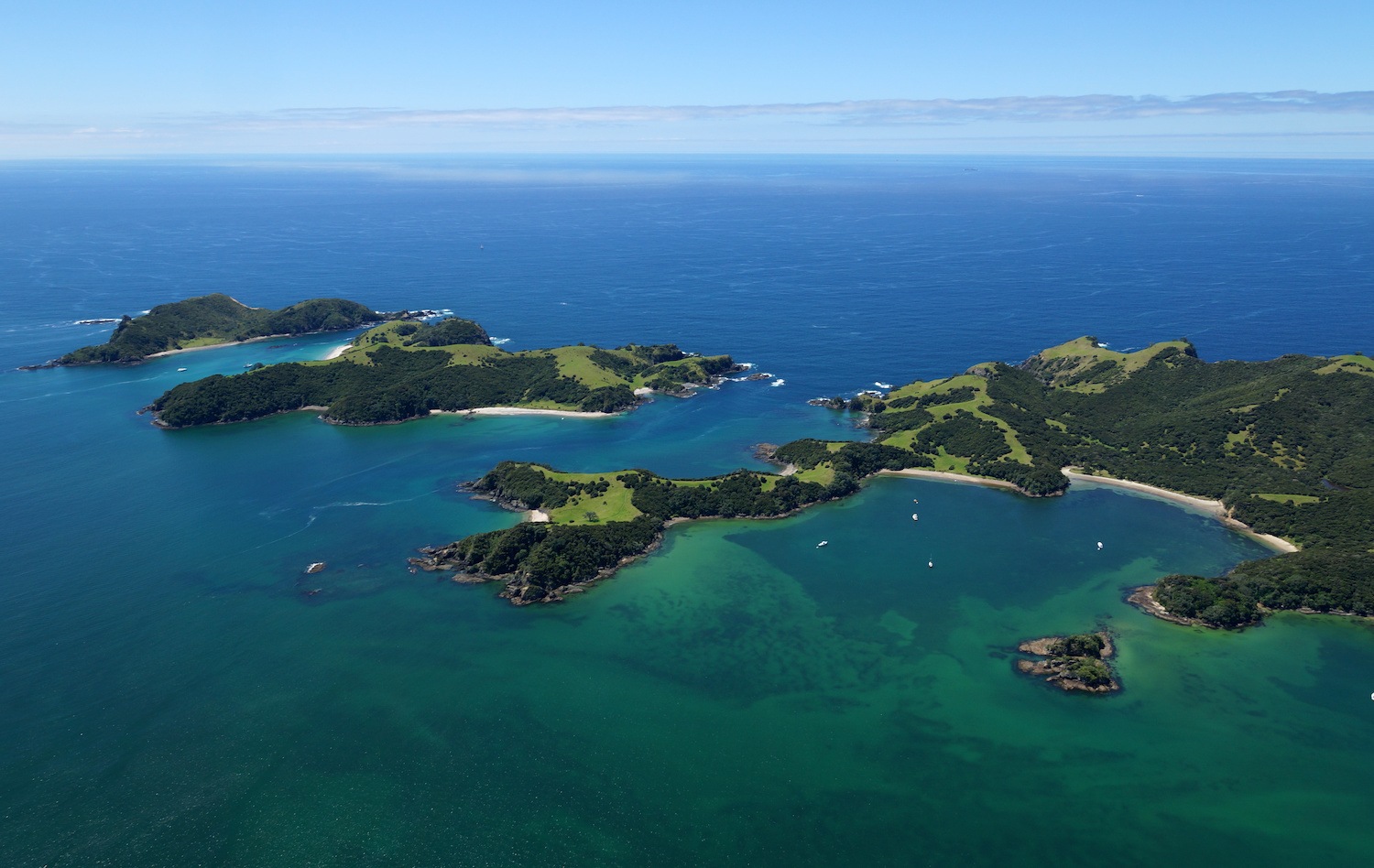 With 150 islands scattered around the bay, kayaking, sailing and seafood as never looked so good! Just to see everything in the Bay of Islands requires at least 1 week so the best starting point is Paihia, a cruisy coastal town centre to the surrounding islands.
Paihia is the gateway to the rest of the islands including that of Russell, formerly the capital of New Zealand. Russell is one of the more relaxing coastal towns with an old school charm from shore to street. If you fancy checking out Russell, you'll need to get a water taxi from Paihia which costs a few NZD each way taking about 15 minutes.
For access to islands and those epic remote beaches situated throughout the Bay of Islands, check with the local i-SITE (information centre) for information on tours in the area.
Best Stay: Peppertree Lodge is a chilled out stay with rates from $25 for a dorm room located in Paihia.
Must Do New Zealand - The Bay of Islands
---
Auckland
Auckland is quite a unique place given the fact it almost surrounded by water of the Hauraki Gulf, Waitemata Harbour and the Manakua Harbour to the south and in the middle of it all, an ancient volcano known as Mount Eden or Maungawhau.
While I have never been a fan of Auckland but once you dig beneath the surface, there are some pretty awesome things you can do while in New Zealand's biggest city.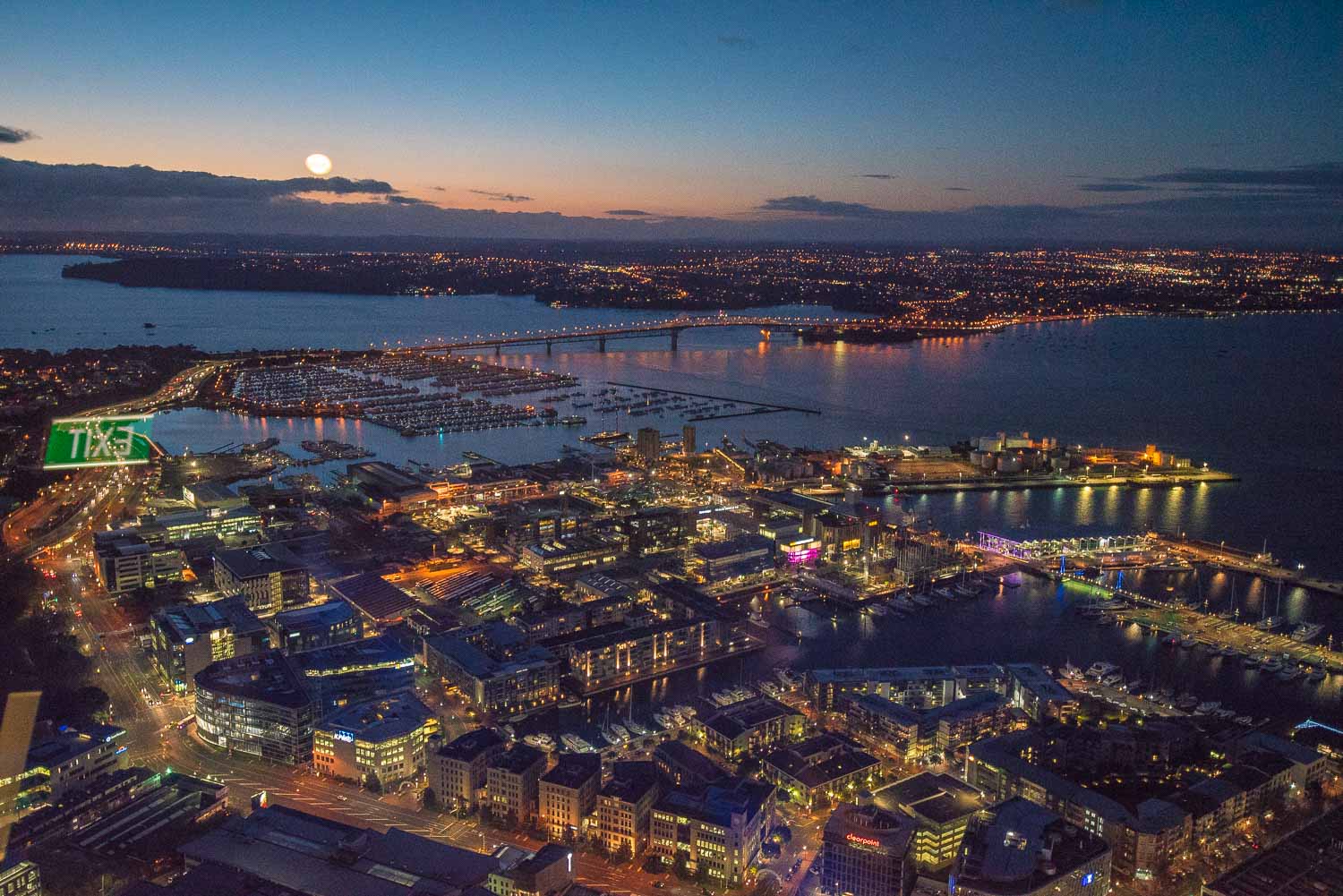 ---
Here's my Top 5 Things to do in Auckland:
Enjoy sunset from Mount Eden or

One Tree Hill.

Rising 182 meters above Auckland is a dormant volcano which sounds pretty scary considering it is near the center of the city but don't worry, scientists predicted it will only erupt once and that happened some 600 years ago. Getting to the top is simple with a walking track looping around the ancient volcano.

Stroll along Waitemata Harbour. Auckland has a lot of wharfs given its seaside position and if you have a moment during your North Island visit, the night is the best time to take a stroll along the harbor as most of the wharfs are decorated with lights especially Princes Wharf.

Having a brew in Vulcan Lane. Sorry but New Zealand has the best beer in the world hands down so why not head to Vulcan Lane to try some of the finest beers this country has to offer? Vulcan Lane is a hip place to spend a Sunday afternoon with an array of modern to historical looking buildings that will provide some sort of concoction to please your taste buds. My go to beers in New Zealand are

Monteith's, Emerson's

and

Harrington's

. Wine from New Zealand is beyond exceptional so check local menu's in Vulcan Lane to try some fine wine.

Goat Island Marine Reserve – what's a trip to Auckland if you aren't out and about exploring its neighboring suburbs and districts? Goat Island might be the '

greatest of all time'

with the North Island's finest array of fish even the occasional Orca! Goat Island is the perfect day trip out of Auckland so get your snorkels and budgie smugglers on and go for a paddle!

Rangitoto Island – if Waiheke Island is too chill for you, why not upgrade to a flight around an active volcanic island or if you feel like hiking to ancient lava tubes then head to

www.rangitoto.org

or

www.doc.govt.nz

for more information!
Best Stay: Auckland is backpacker central especially near the harbour. Hostels can be jam packed and rowdy in Auckland so it's best to avoid and go for something like the Kiwi International Hotel with prices starting at $59 NZD a night.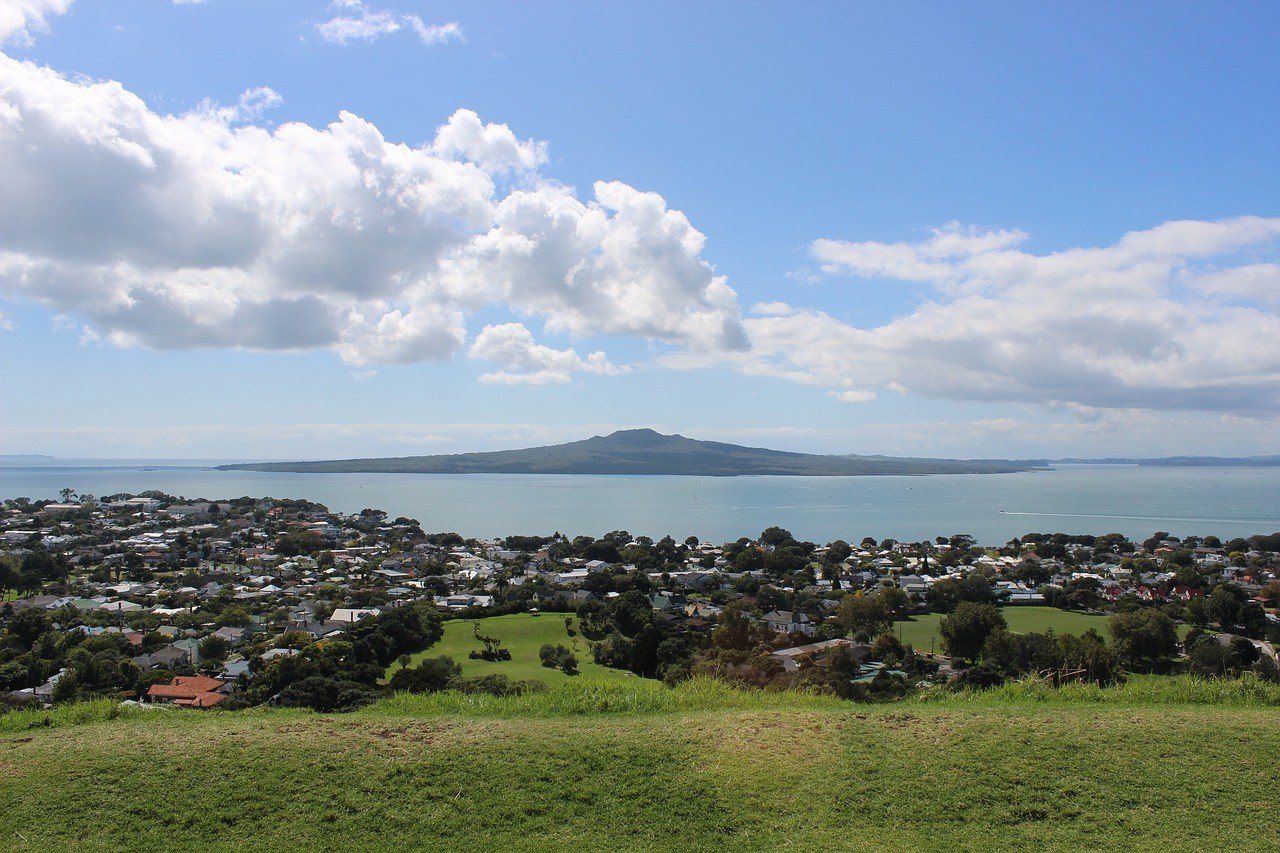 ---
Waiheke Island
If Auckland isn't your thing, Waiheke Island is only a short boat ride away from the cities harbor.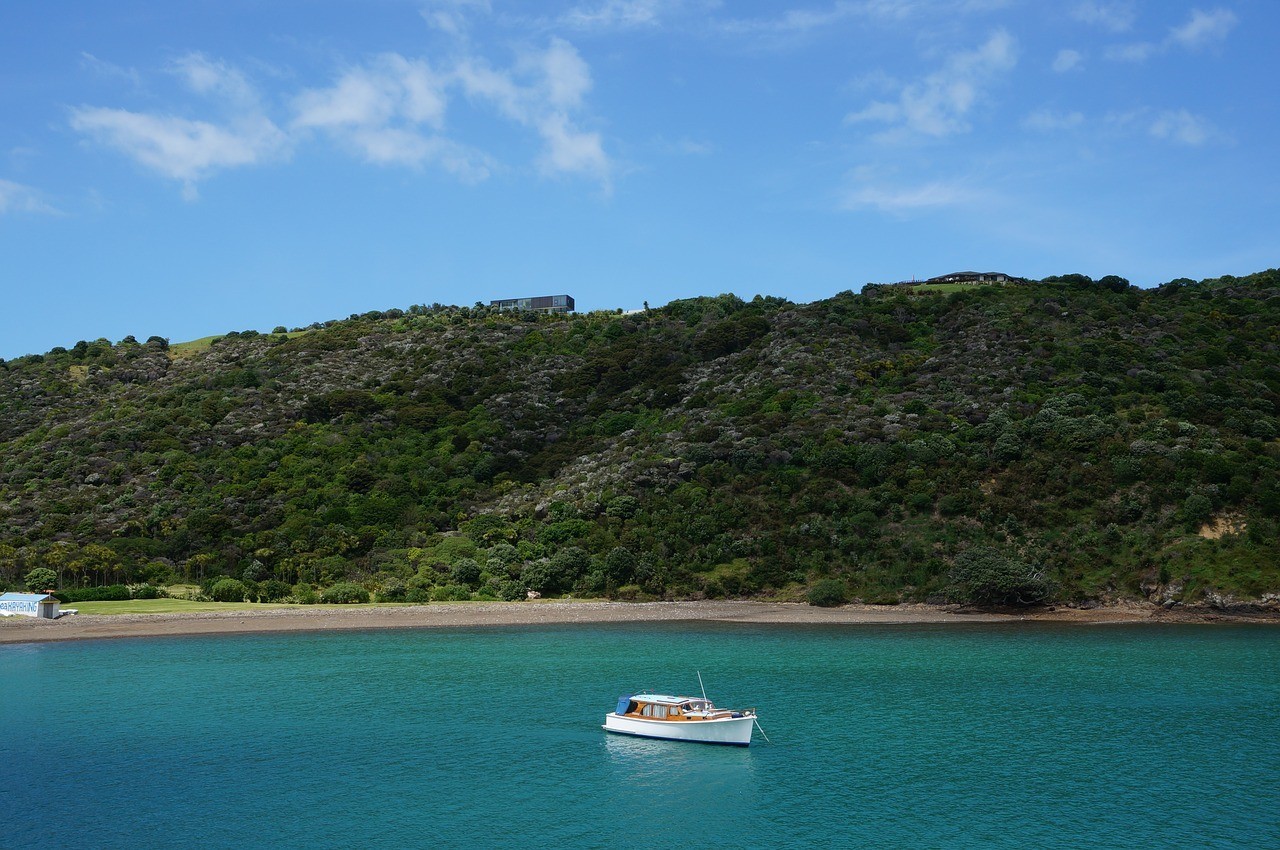 Only 35 minutes north-east of the city by boat, Waiheke Island is the place to chill by the beach without the hassle of crowds, cars and the rush of Auckland. Waiheke Island is all water and wine with a fantastic array of beaches to soak in that precious sun or if you prefer to sip wine under the sun, there are some of the finest wines produced awaiting your taste buds.
Waiheke Island is known for its bliss coastal walks of which weave and wind to secluded beaches, through native forests and you wouldn't even know that the hustle and bustle of Auckland is a mere peak over the horizon.
Got plenty of time? To get around and see Waiheke Island in all of its glory would require 3 days minimum however in one day, there are so many things to do and see!
Best Stay: Kina Backpackers standard rate is $28 NZD for a decent position on Waiheke Island.
WAIHEKE ISLAND | LONELY PLANET TOP 5 | NEW ZEALAND TRAVEL
---
Coromandel Peninsula
One moment you are zooming along New Zealand's main highway and the next you find yourself on the Coromandel Peninsula the North Island's equivalent of the Otago Peninsula.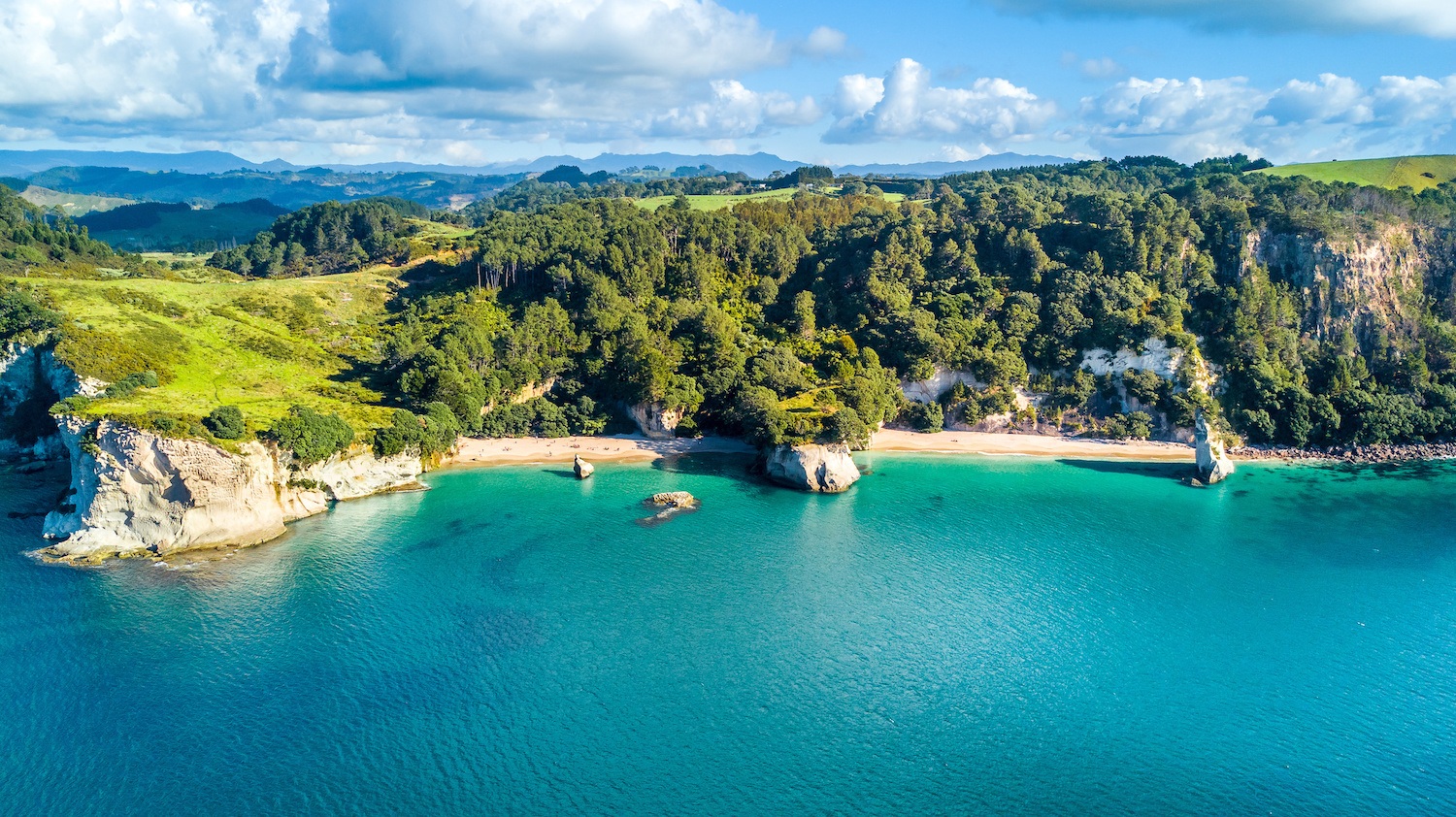 The "Coro" as I like to call it is one of the most underrated places on the North Island, maybe even New Zealand with cool coastal towns that coexist with a stunning backdrop of hilly mountains of the Coromandel Range which is home to the spires of The Pinnacles where you can get the best views of the peninsula, you'll just have to put on your hiking boots and go for an explore!
From the quirky Thames to Coromandel Town on the west coast of the peninsula, sleepy fishing and farming villages are worth stopping by for a coffee or a yarn with the locals and if you get the chance, delve into some of New Zealand's freshest seafood's. There are quite a few coastal strolls to do while in Coro Town, so be sure to venture out of the town and check out Coromandel Harbour.
Crossing the peninsula from east to west can be quite nervy but beautiful in parts as the Pacific Ocean becomes visible along with farmland that greets the sea. Whitianga is the perfect summer destination and a popular spot for locals on holidays. Like most places on The Coromandel, fishing is huge so head to an i-SITE for more information on how you can get out onto the waters of Mercury Bay.
Best Stay: Tui Lodge is a great little farm stay located just out of Coromandel Town. Pricing's start from $28 a night to $70 for a private, country style room and if you're lucky you'll get to pat a sheep!
#8. Coromandel & Cathedral Cove - New Zealand
---
Hot Water Beach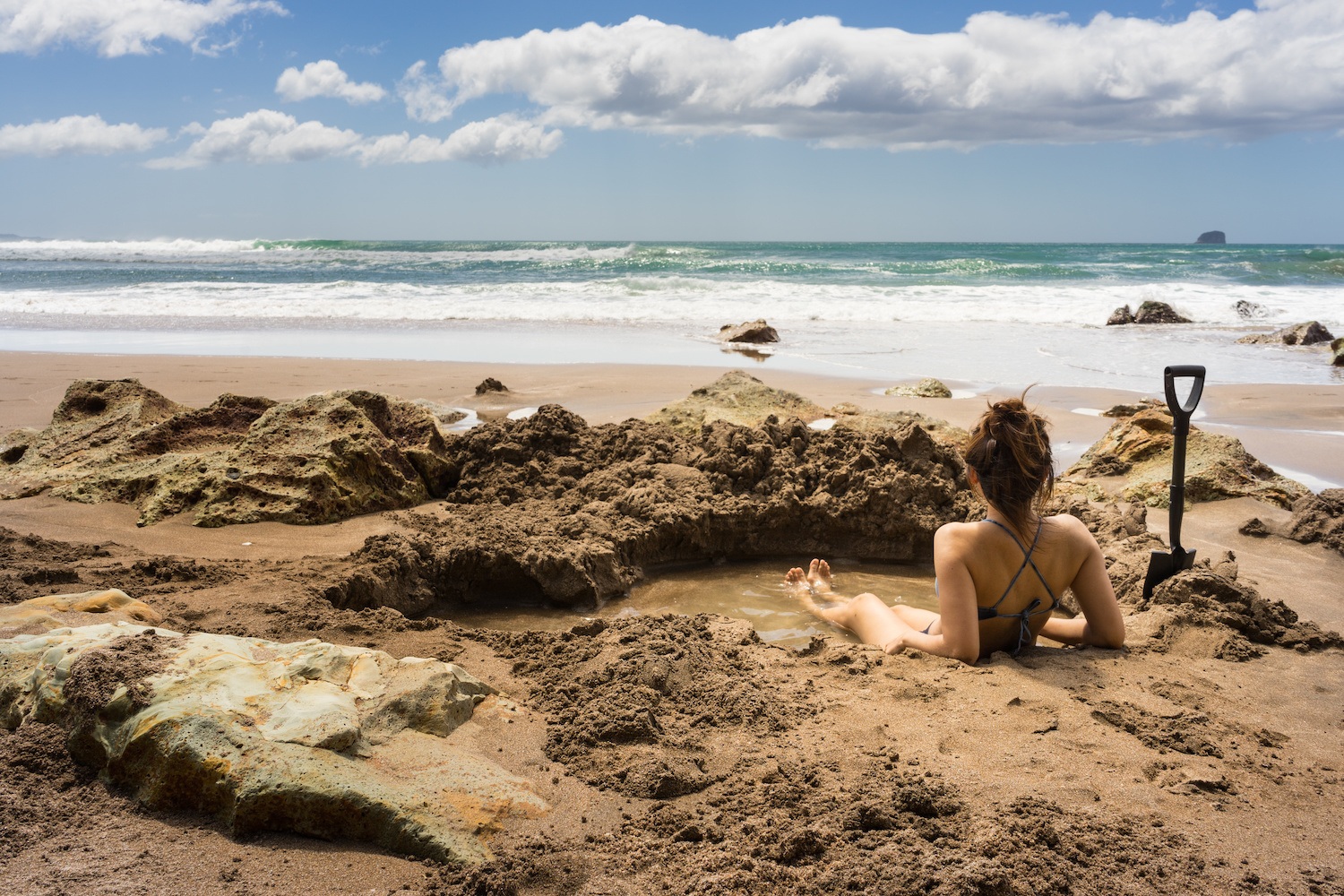 Without doubt, the number one destination in the Coromandel for tourists and locals a like. Hot Water Beach is as the name says…a hot water beach. Hot Water Beach is known for producing hot water from underneath its sands where deep fissures seep water into the sand which makes it way to the surface.
The hot water is best accessed by the use of a shovel and 2 hours each side of low tide. Watch the YouTube video below for a bit more information on this unique tourist hotspot!
Best Stay: Hot Water Beach has very little choice for sleeping arrangements so a Hot Water Beach Top 10 Holiday Park goes reasonably well for prices starting at $18 for a campsite and $30 for a dorm room.
Just make sure you read through this article "When to Visit Hot Water Beach | A New Zealand Must Do" before you go! It'll provide all the information ya need!
Hot Water Beach, Coromandel Peninsula, New Zealand
---
Cathedral Cove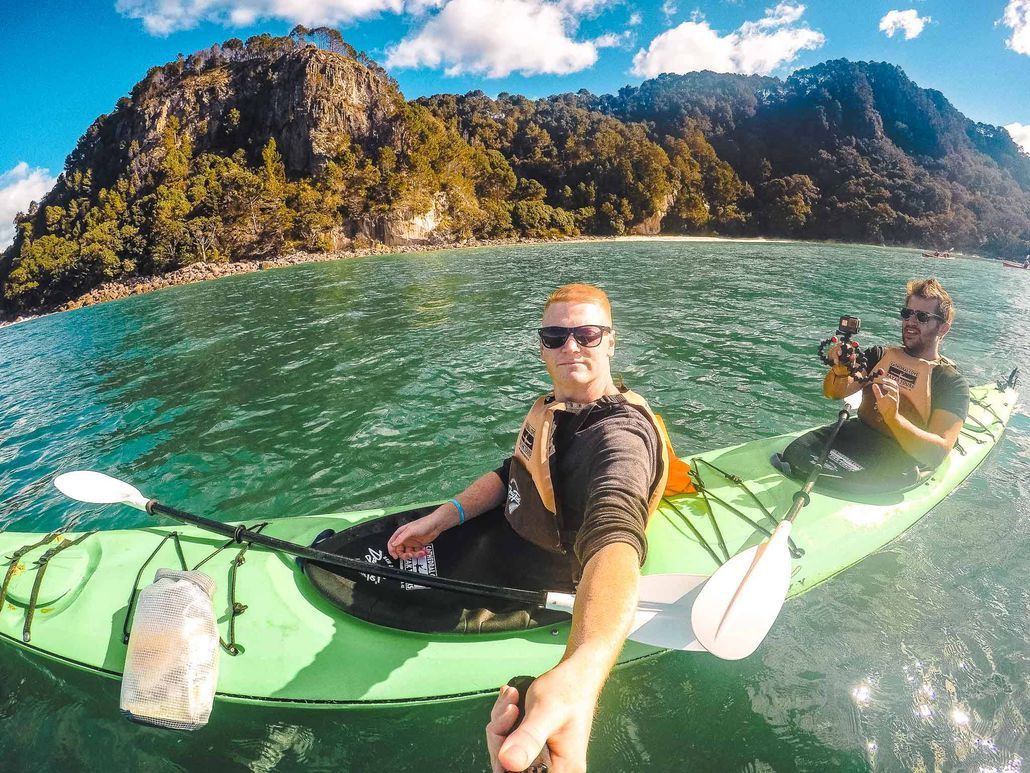 Cathedral Cove might be the most photographed spot in the North Island and for good reasons. Cathedral Cove is a huge natural stone arch tucked away into the corner of the beach all with waterfalls, crashing waves and multicolored sands.
Getting to Cathedral Cove takes 30 to 45 minutes via foot from a nearby carpark.
Best Stay: No options at Cathedral Cove so go for your nearest town such as Whitianga or Coromandel Town.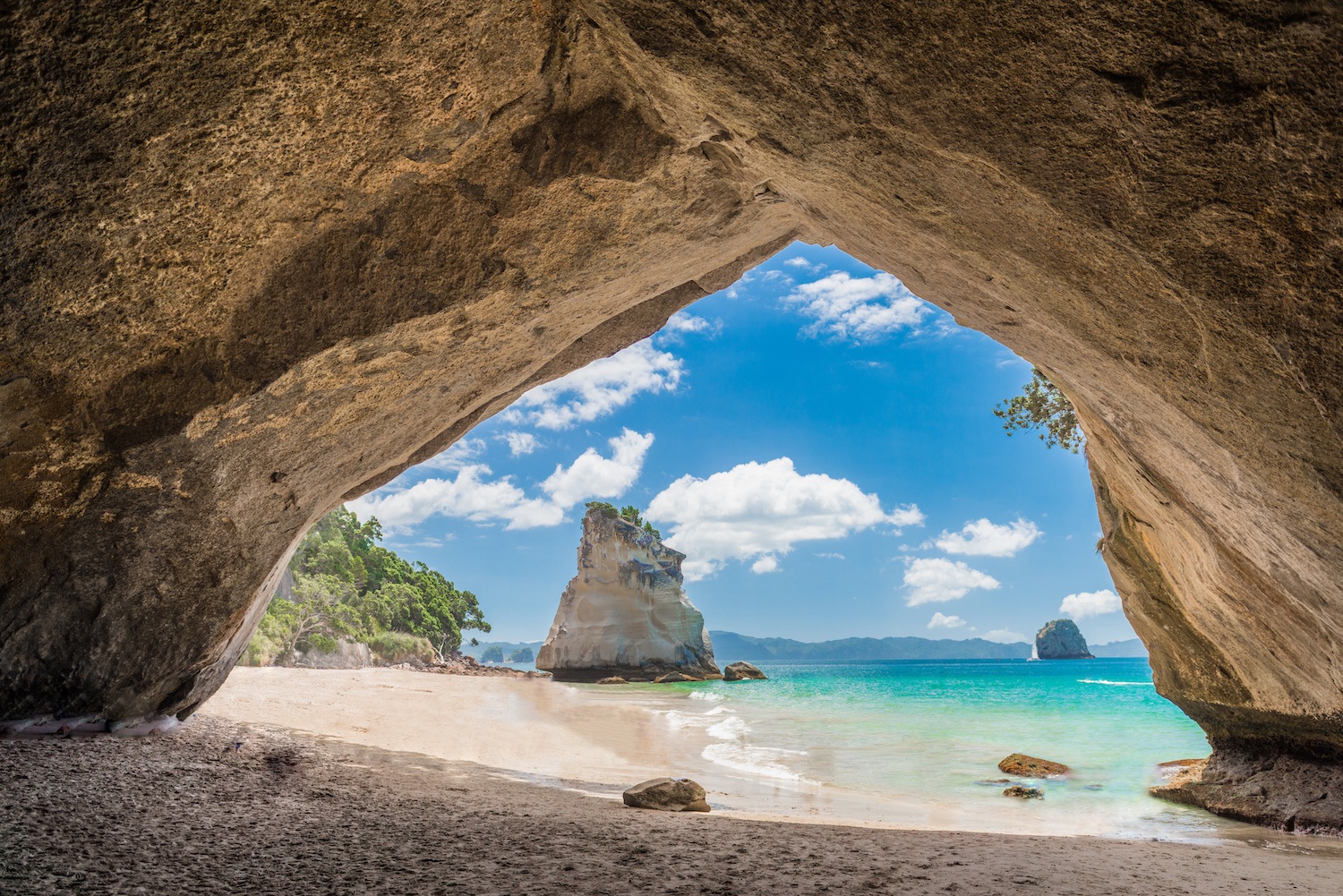 ---
Tauranga
Situated on the Bay of Plenty, Tauranga might be the North Island's best-kept secret.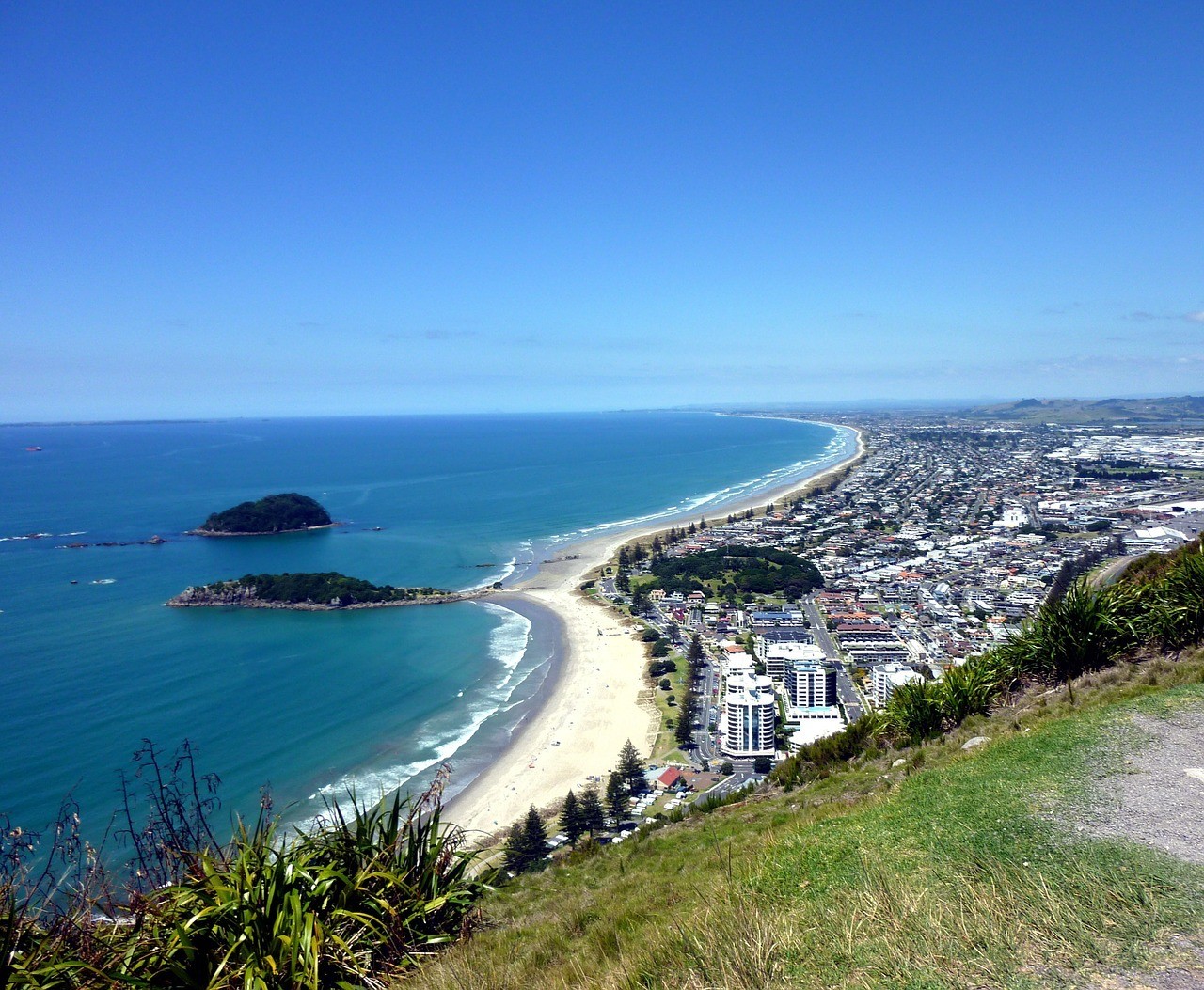 Adding Tauranga to your North Island itinerary is a must do especially if you are out and about exploring the Coromandel Peninsula. Tauranga is a quick 2 hour drive south east of Auckland and oh boy its worth checking out the iconic Bay of Plenty, a myriad of beaches, surf breaks where some of the most relaxed locals in New Zealand live.
Tauranga is the spot to go if you love kayaking, surfing, mountain biking and fine dining!
Just across the bay is Mount Maunganui, known to the locals as 'the mount', Mount Maunganui is a suburb of Tauranga to which has an exceptional headland that provides 360 degree views including the Bay of Plenty, the township of Tauranga, Tauranga Harbour and the 70 kilometre long Kaimai Mamaku Forest Park to the west.
Getting to the top of Mount Manganui takes 1 hour in total or if you prefer to walk around the base, 45 minutes is required.
Best Stay: Pacific Coast Lodge & Backpackers rates start from $27 NZD for a dorm room located on Maunganui Road.
---
Rotorua
There's really no other way to put it than this; Rotorua you really, really smell. If you disembark your bus or exit your vehicle, the first thing you'll notice is a smell wafting through the air and no it's not rotten eggs in fact its Sulphur being emitted from geothermal vents scattered around the city.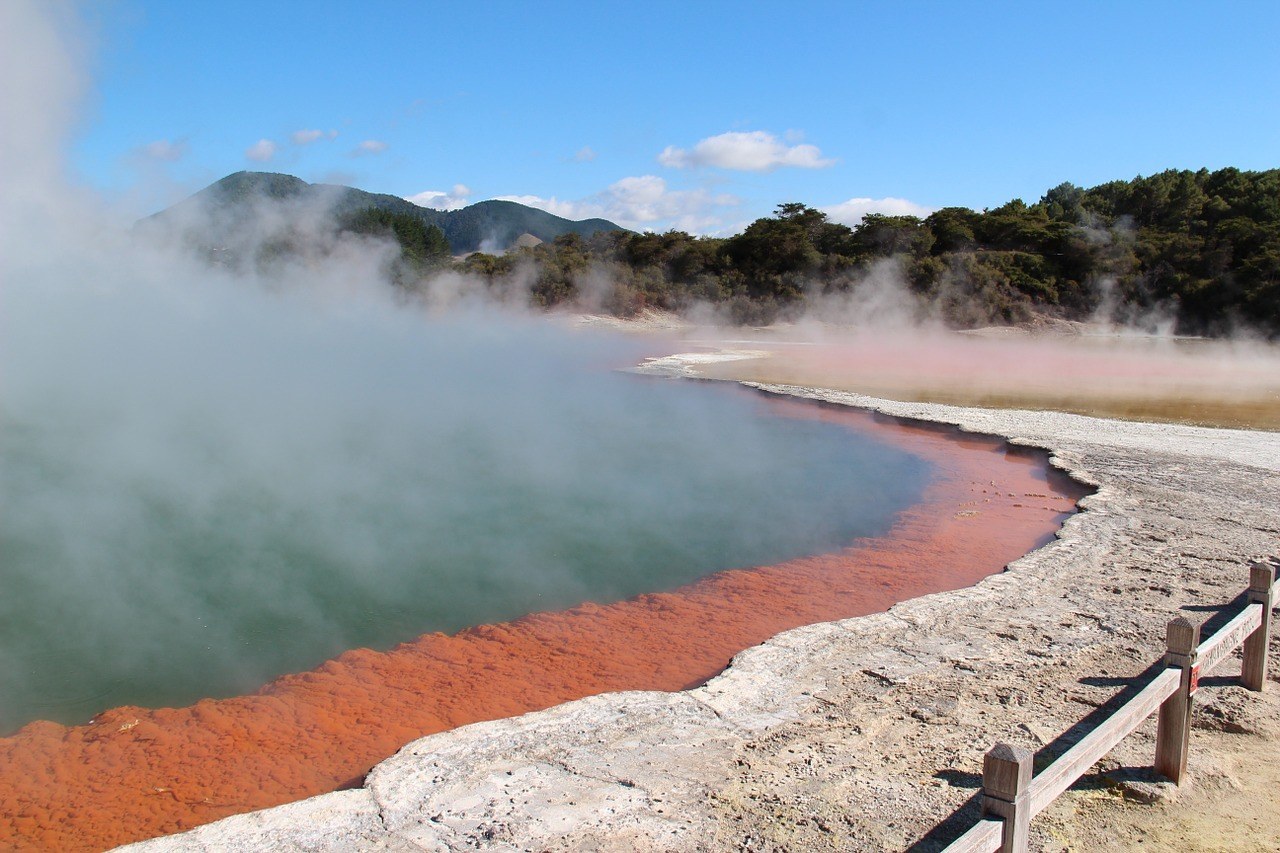 To get an understanding into why locals reside in Rotorua, spend half a day roaming Whakarewarewa Village which is a traditional Maori village perched on the edges of thermal baths. At certain times of the day, a geyser like vent builds up pressure and bursts out a huge amount of water into the sky!
Entry to the village cost $35 NZD for an adult.
Rotorua is also the adventure capital of the North Island so put it on your itinerary! The best activities are mountain biking which is said to be better than mountain biking in Queenstown by a long shot with 100 kilometres of trails winding through New Zealand's finest forests.
White water rafting is exceptional as you get to plunge off a 7 metre waterfall so hold on tight! There are countless companies running tours on the Kaituna, Rangitaiki and Wairoa Rivers so depending on how hardcore you want your experience to be, choose wisely!
Best Stay: Crash Palace rates start at $22 for a dorm and $65 for a double which is epic value, located on Hinemaru Street.
Rotorua Vacation Travel Guide | Expedia
---
Hawke's Bay
Hawke's Bay encompasses Napier, Havelock, Hastings and Wairoa to the north. The Hawke's Bay area is rich is culture, produce and environmentally wise.
"Award-winning food and wine, outstanding architecture, and warm balmy days surrounded by magnificent landscapes waiting to be explored – Hawke's Bay is pure paradise.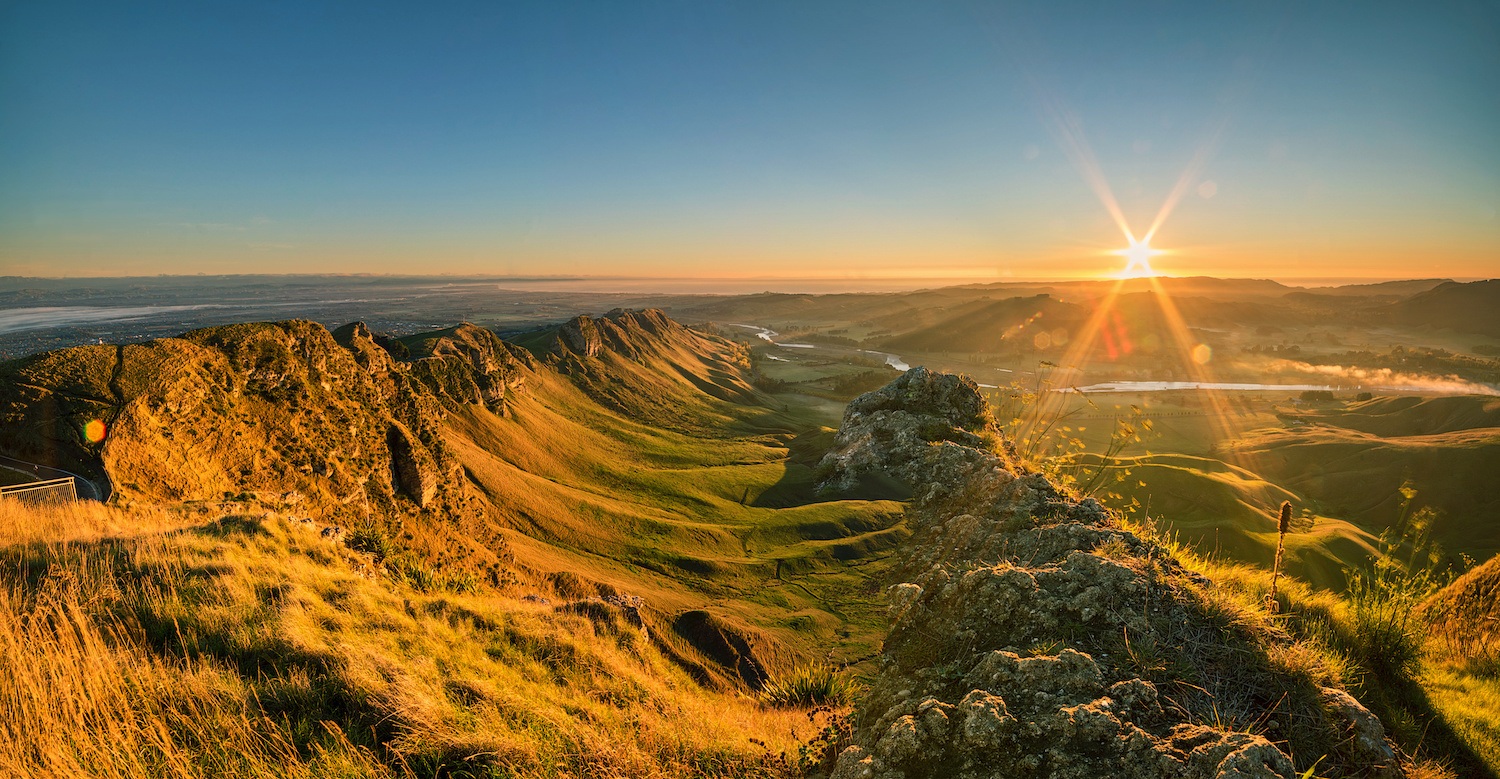 If you're looking for a bit of adventure, I'd suggest embarking on the Te Mata Peak for the sunrise! You'll be rewarded with some pretty stunning views1
Napier holds the largest population with 60,000 odd kiwis. The town of Napier is a step back in time as most buildings were renovated and rebuilt in 1931 after an earthquake destroyed everything.
New Zealand's South Island has the Marlborough wine region, and the North Island has Hawke's Bay, a literal slice of paradise home to some of the country's finest wines. Around Hawke's Bay, there are 25 winery and cellar doors where chardonnay and merlot top the list of the best wines in the region.
If sipping on a chilled glass of grapes isn't your thing, Wairoa is home to one of a few Great Walks of New Zealand and that being Lake Waikaremoana, an exceptional 46 kilometre tramp through pristine forests, mountains and wondrous lake views. For more on this track be sure to visit www.doc.govt.nz.
Best Stay: Napier YHA is the spot to be with rates starting at $26 for a dorm room, located on Marine Parade, right next to the sea.
Te Mata Peak, New Zealand : Amazing Planet
---
Waitomo
Waitomo to the naked eye is just a small town located in the middle of a few cow paddocks and craggy rock fields…but to see what Waitomo is all about, you'll need to venture underground!
To start off your underground cave experience it is best to visit the Waitomo Caves Visitor Centre where information can be sought on all three of the caves available for exploration.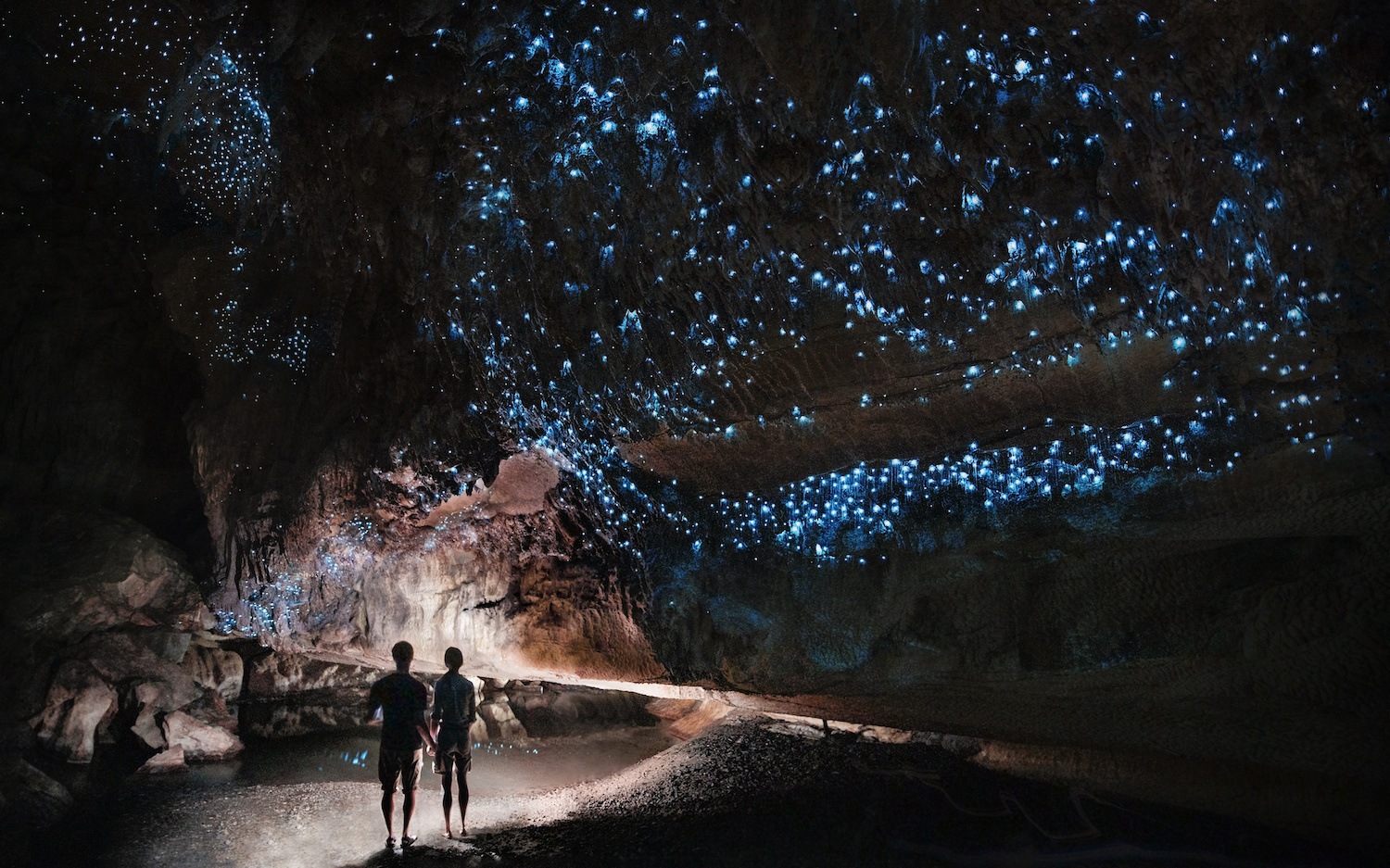 The first of the 3 caves is Glowworm Cave which holds frequent tours to see the galaxy like array of glowworms dangling from the rocky ceiling above.
Aranui Cave is the 2nd cave but don't expect to see glowworms, instead epic rock formations known as stalactites and stalagmites intrude every corner of this magnificent underground natural feature.
The 3rd of the 3 caves is Ruakuri Cave and possibly the best of the 3 all with glowworms, waterfalls and trickling underground rivers. Ruakuri Cave is the best place to don the wetsuit and grab a tube to which a guide will take you deep underground to see glowworms from below, it's truly magic!
If you are not a fan of heading underground, Waitomo offers a series of small hikes such as the Dundle Hill Walk which is privately owned and guided or if you just want to stretch your legs, the Waitomo Walkway is perfect.
Best Stay: Waitomo Top 10 Holiday Park has an array of options for sleeping with rates starting at $23 for a campsite to $70 for a cabin. Accommodation is very limited in Waitomo.
Glowworms in Motion - A Time-lapse of NZ's Glowworm Caves in 4K
---
Hobbiton
When someone mentions New Zealand, the first thought that will pop into your head will most likely be Lord of the Rings.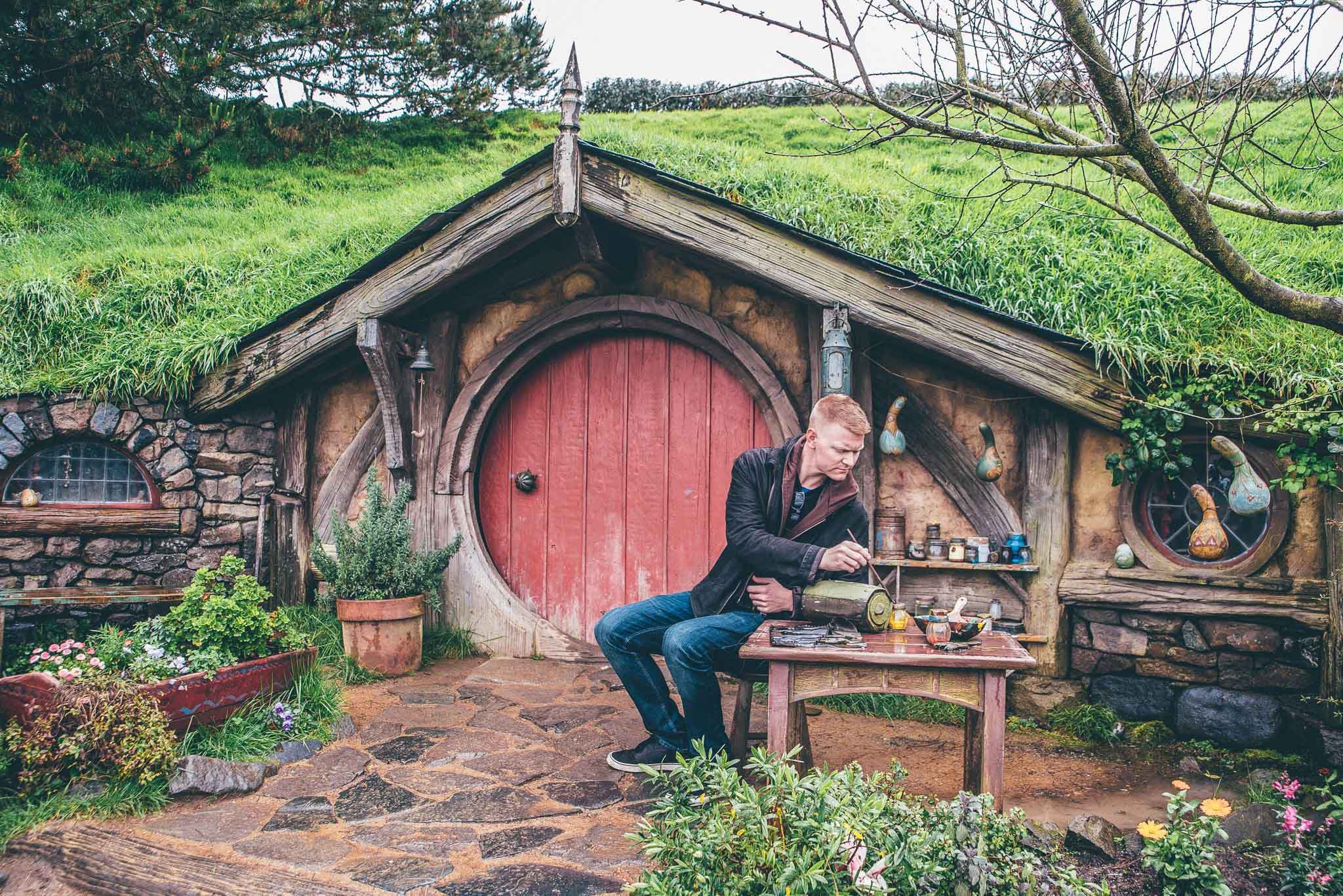 The Hobbiton without a doubt is the most famous place in the Lord of the Rings world known as Middle Earth. The set of The Hobbiton still stands today where guided tours can have you visiting the homes of Bilbo and Frodo Baggins to a feast fit for a Hobbit at the Green Dragon Inn.
Tours start from $84 NZD for a standard 2 hour tour or if you want to include lunch, tours start from $120 NZD which run for 2.5 to 3 hours.
Best Stay: No accommodation, best bet is Rotorua or Hamilton as situated halfway between both cities.
Best Day Ever in New Zealand | Hobbiton Movie Set Tour | Wild Kiwi
---
Raglan
Raglan is known for the best left-hand surf break in New Zealand maybe even the world making it a top destination of for surfers from all over the world but there's more than just barrels and boards, Raglan is becoming the North Islands cuisine capital for organic food, forest walks including Bridal Veil Falls, an epic 55 metre waterfall!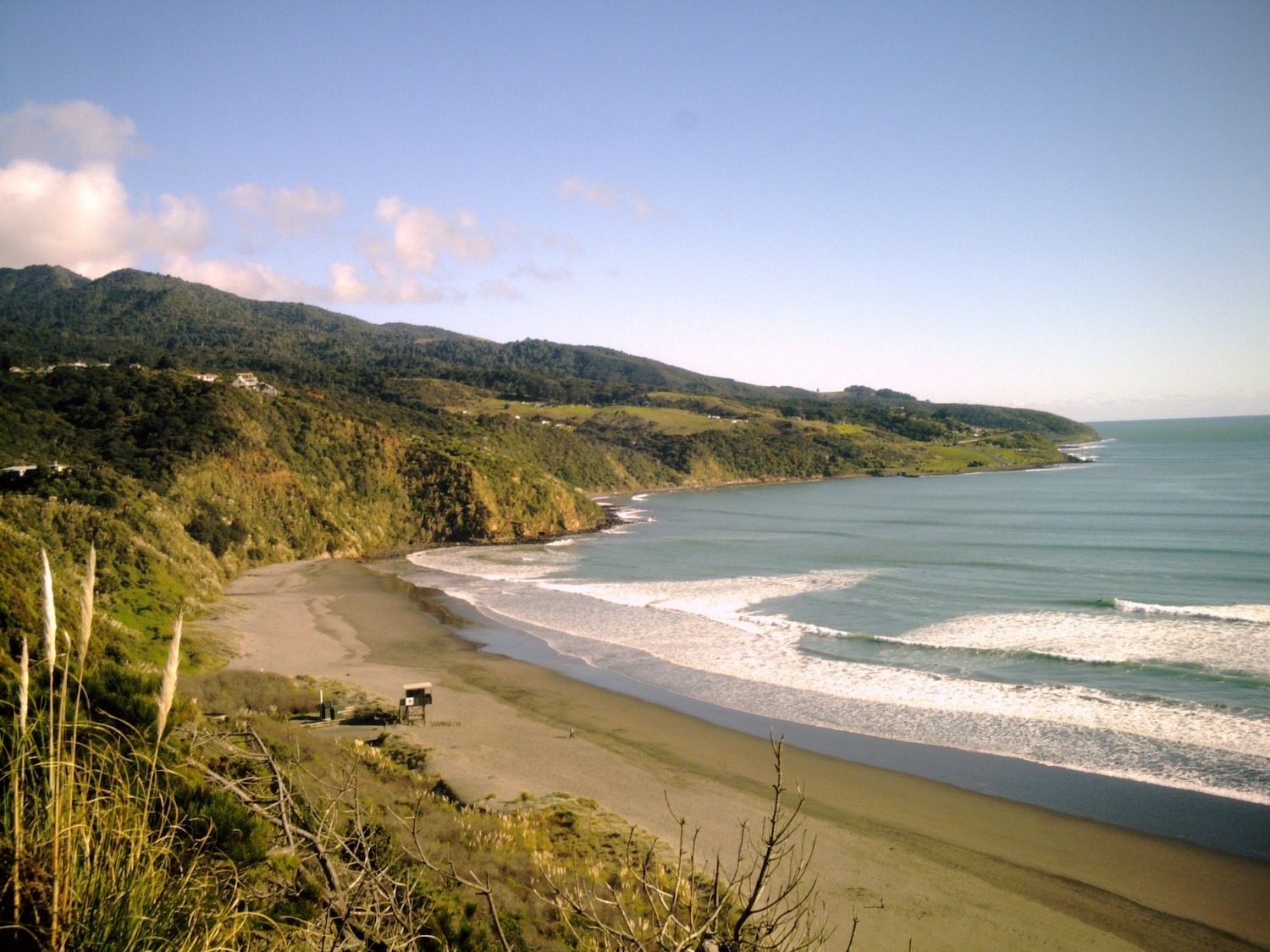 Raglan is all about garden to plate or sea to plate without extensive food miles (the distance food travels from its origin to plate). Local Emma Galloway from www.mydarlinglemonthyme.com is an advocate for Raglan's finest produces and has become a local hero for promoting the way food should be grown and consumed. Every second Sunday of the month, Raglan hosts the Raglan Creative Markets a place where you can see what local legend Emma has cooked up from homegrown produce!
Most tourists are ever so keen to pick up a board and head for the most famous of surf breaks but before you even consider dropping in on a wave of proportions, its best to get a lesson or two from a local professional with more mellow waves.
Hiking in Raglan is also a good way of seeing this beautiful region especially if the ocean is just that little bit too cold. Mount Karioi and Mount Pirongia both merge amongst the rugged coastline of Raglan to which a variety of tracks can be taken around these special mountains. Check www.doc.govt.nz for track updates.
Best Stay: Raglan Backpackers is probably the most chilled backpackers in the country with rates starting from $27 NZD for a dorm.
2ft to 6ft in 2 hours at Raglan, New Zealand - Surf Photography
---
Wellington
Wellington is the furthest south you can go on the North Island, and the last stop before a scenic ferry ride across the Cook Strait could drop you off on the South Island.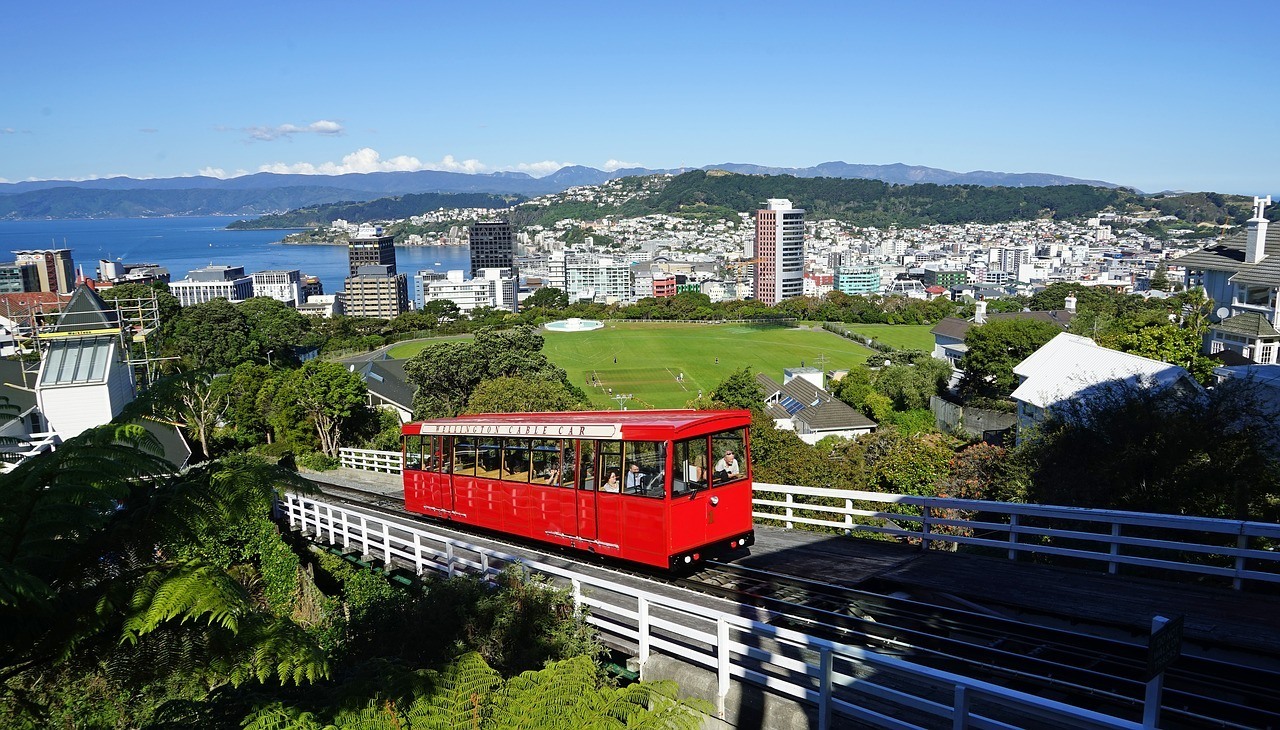 Wellington is the capital of New Zealand and home to nearly 200,000 kiwi's (people not birds). Wellington often gets a bad name from its iconic often cyclonic winds with a multitude of features around the town named after these gales i.e. The Wellington Hurricanes who are a Super Rugby Union team to a Hollywood-like sign showing the name Wellington blowing away in the wind.
I can't name one person who has visited Wellington for the winds so let's get to the things they do come here for! Here are my top 5 Wellington experiences:
Te Papa Museum – is New Zealand's national museum and possibly one of the best I have ever visited in the world. Te Papa holds insightful information into Aotearoa's history, nature and landscape. Te Papa has 6 floors to explore and good luck if you can do them all in one hit!
Wellington Botanic Gardens via Cable Car– secretly I am a huge fan of botanical gardens and most cities I explore, a botanical garden will be first on the list. Wellington has a unique series of gardens that can be accessed via cable car which is $7 NZD return. Wellington is a very hilly city so a cable car was put in during 1902.The gardens are beautifully manicured with the odd view of the cityscape down below. With 25 acres of gardens, there's bound to be a spot where you can sit back under a tree and take a nap.
Mount Victoria Lookout – is the place to go if seeing Wellington in a whole is your thing. The views are good however I challenge you to a better mission…find the location of the iconic Lord of the Rings scene where Frodo and friends hide from the Ring Wraith underneath a pine tree. Mount Victoria was a filming location for the first film.
Watching the Wellington Hurricanes or All Blacks – Rugby Union is New Zealand's national sport and rugby in the North Island is huge with teams like the Hamilton Chiefs, Auckland Blues and the mighty Wellington Hurricanes. If you get the opportunity to watch the Wellington Hurricanes or New Zealand All Blacks play while in Wellington, you will get a sense of just how dedicated kiwis are for the sport.
Harbour Front Chillout Session – are perfect when Wellington hits a warm, wind-free day for drinks, food and good times! Wellington's Waterfront Walk has some of the best cafes and restaurants in the city and if you get an exceptionally warm and still day, anywhere along the harbor front is the best!
A hotspot for chilling out is the Whairepo Lagoon, especially during summer and spring!
Best Stay: Downtown Backpackers are central to most things in Wellington with rates starting at $28 NZD for a dorm.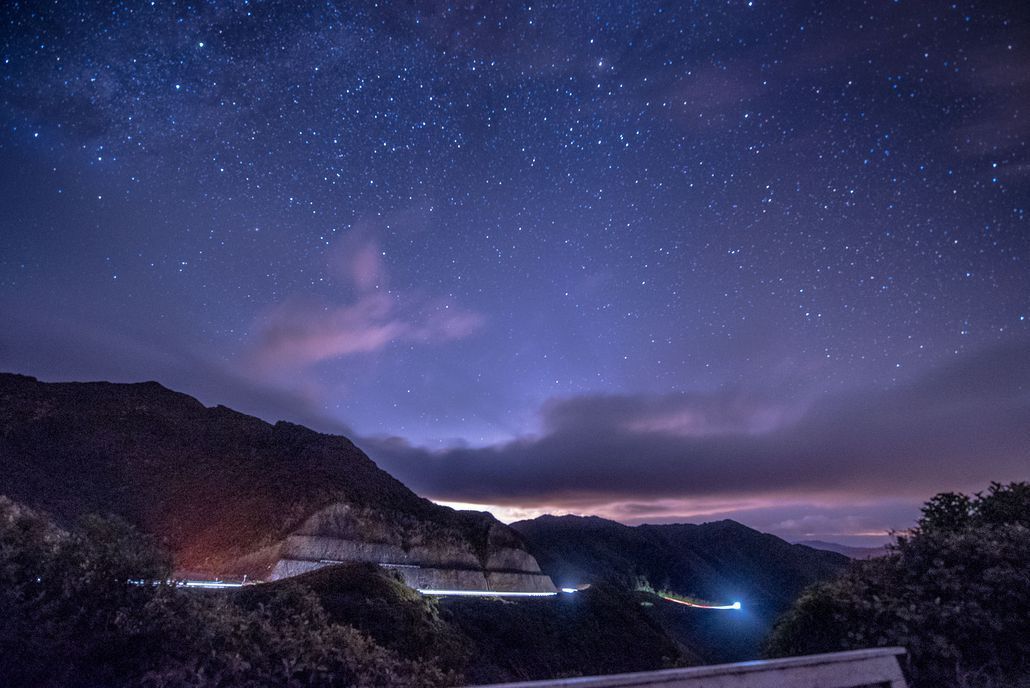 ---
Tongariro National Park
The South Island has its fair share of mountains, ski fields, and hiking trails but the Tongariro National Park might be the best of them all!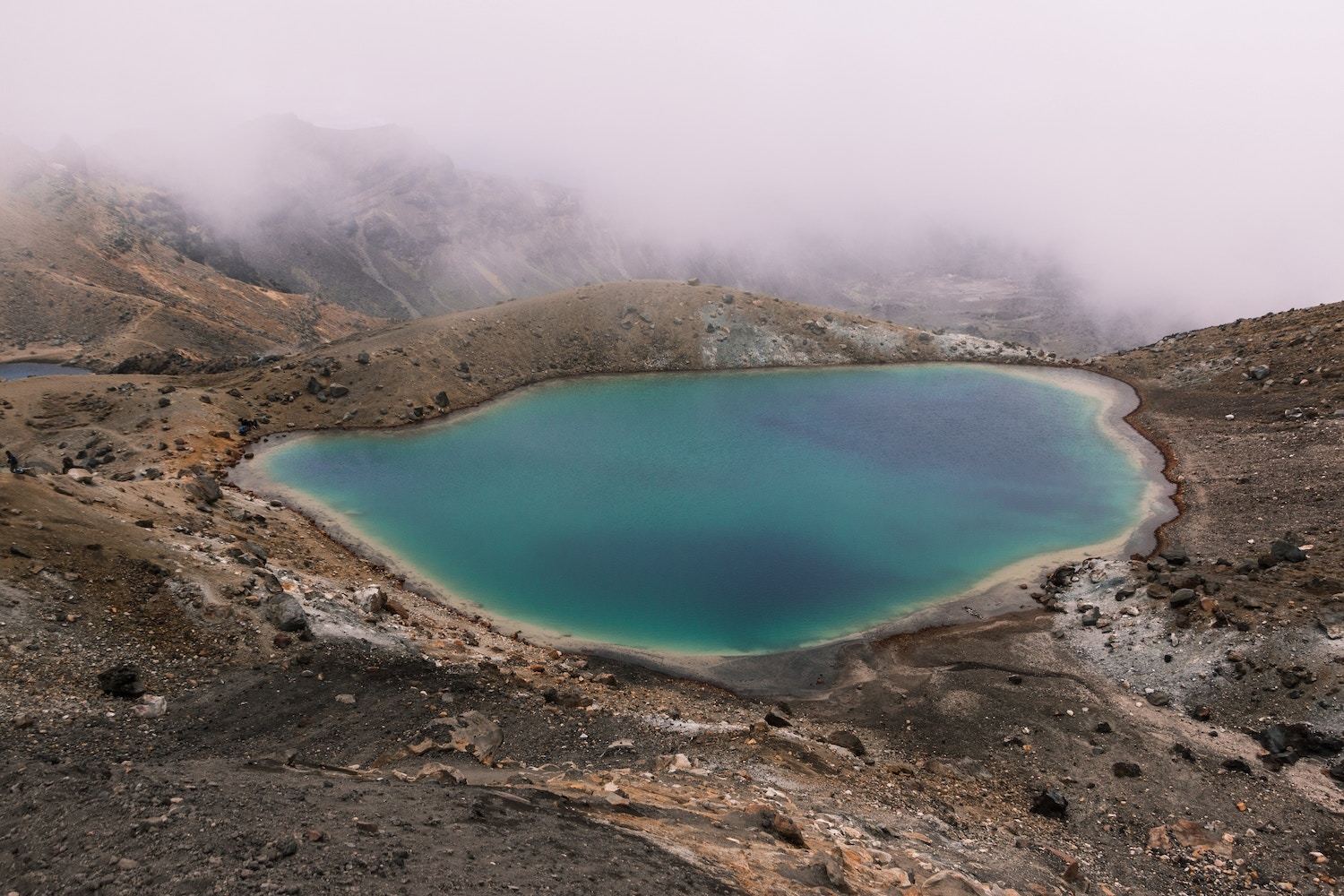 Located roughly halfway between Auckland and Wellington, Tongariro National Park is a must-do on your North Island itinerary. With skiing and snowboarding available in the winter, Mount Ruapehu comes to life with a flurry of locals and international visitors keen to shred the slopes of a dormant volcano.
During the warmer months, Tongariro has a world-class hiking trail spanning some 19.4 kilometers past raging waterfalls, snowcapped peaks, spewing vents of Sulphur and lakes of crystal blue water. The Tongariro Alpine Crossing has cemented itself as the number 1 trek in New Zealand and for some seriously good reasons!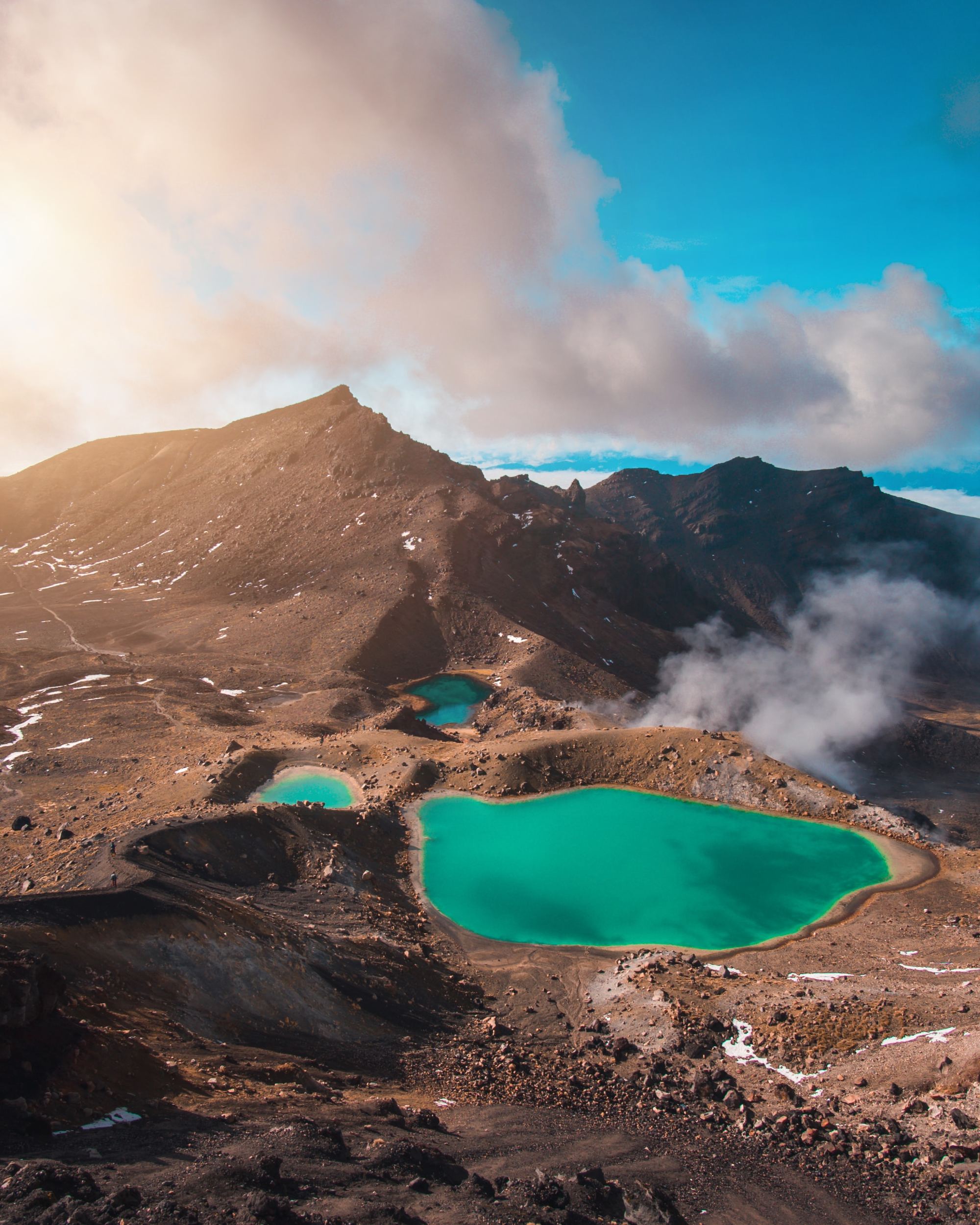 ---
If you are a serious outdoorsy person and love a challenge, set some time aside to do the Tongariro Northern Circuit, a four day, 50 kilometer tramp through the rugged, Mars-like environment.
If you are considering doing any of the hikes above, check with the local i-SITE in Whakapapa or online at www.doc.govt.nz for updated information. Weather can be notoriously bad in the Tongariro National Park.
Best Stay: Unless you are hiking the Northern Circuit and are using huts, Whakapapa Village is pretty awesome so stay at The Park Hotel Ruapehu which has a spa, cabin style dining area and easy access to Tongariro National Park. Rates start from $115 NZD.
HIKING THE TONGARIRO ALPINE CROSSING, NEW ZEALAND
---
Mount Taranaki
If you were to put Mount Taranaki and Mount Fuji (Japan) side-by-side could you tell the difference? Well, to be honest, I still get tricked.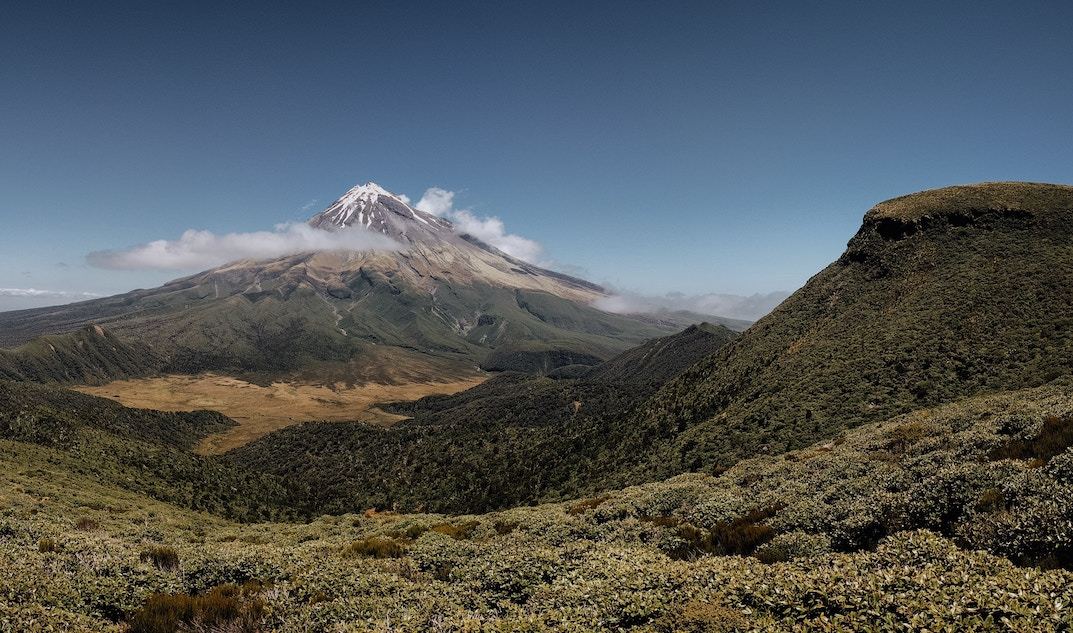 Mount Taranaki might be New Zealand's most beautiful mountain, with an almost perfect cone shape decorated with native forests and paperwhite snow. On exceptionally clear days, Mount Taranaki's peak can be witnessed from the Abel Tasman National Park, some 192 kilometers away!
Mount Taranaki is home to many trekking routes to the summit while around its base, a 55 kilometer loop track is available and oh boy its one not to miss on your North Island itinerary.
The Mount Taranaki Summit Track is the list of many tourists list but the mountain is a deceiving one with gale force winds, crevasse's and scree slopes, before trekking around or climbing Taranaki be sure to check with www.doc.govt.nz on current conditions and forecasts.
Best Stay: You can stay quite close to Taranaki so go for Camphouse for $38 a night and be situated within the national park!
Mount Taranaki Summit Route: Alpine Tramping (Hiking) Series | New Zealand
---
New Plymouth
New Plymouth without a doubt has the best backdrop in the North Island as Mount Taranaki ascends high into the clouds.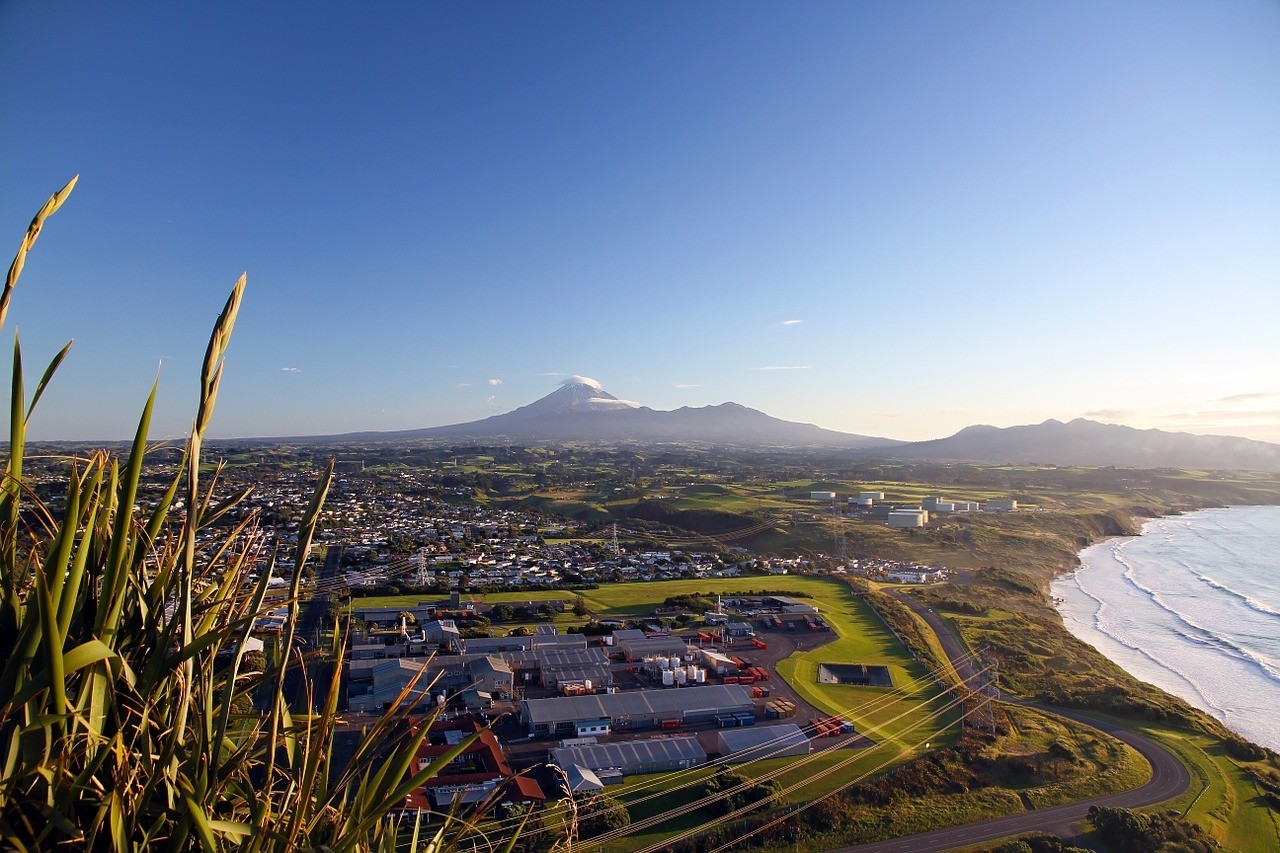 With a population nearing 55,000, New Plymouth is slowly becoming frequently visited destinations by travellers from all over and those seeking to catch a quality wave along the renowned Surf Highway which navigates through lush farmland and the shores of the north and south Taranaki Bight's.
New Plymouth is a very much laid back city given its awesome location so expect lots of good coffee, beer and local produce from surrounding farmlands.
The highlight of New Plymouth is Pukekura Park, a somewhat Japanese inspired garden with mini waterfalls, native trees and a lot of ducks. On a cloud-free day, Mount Taranaki will show its summit as you stroll around these beautiful gardens.
The Sugar Loaf Islands Marine Park located 1 kilometer offshore of New Plymouth is a haven for fur seals and sea birds. Getting there can be done by boat so check with the local i-SITE for locally run tours and options.
Best Stay: The YHA Egmont Eco Lodge is choice with rates starting at $29 NZD for a dorm room.
Taranaki Vacation Travel Guide | Expedia
---
Lake Taupo Area
Last on the list, but certainly not least, Taupo is stunningly situated on the shores of Lake Taupo, which is said to be bigger than the island of Singapore!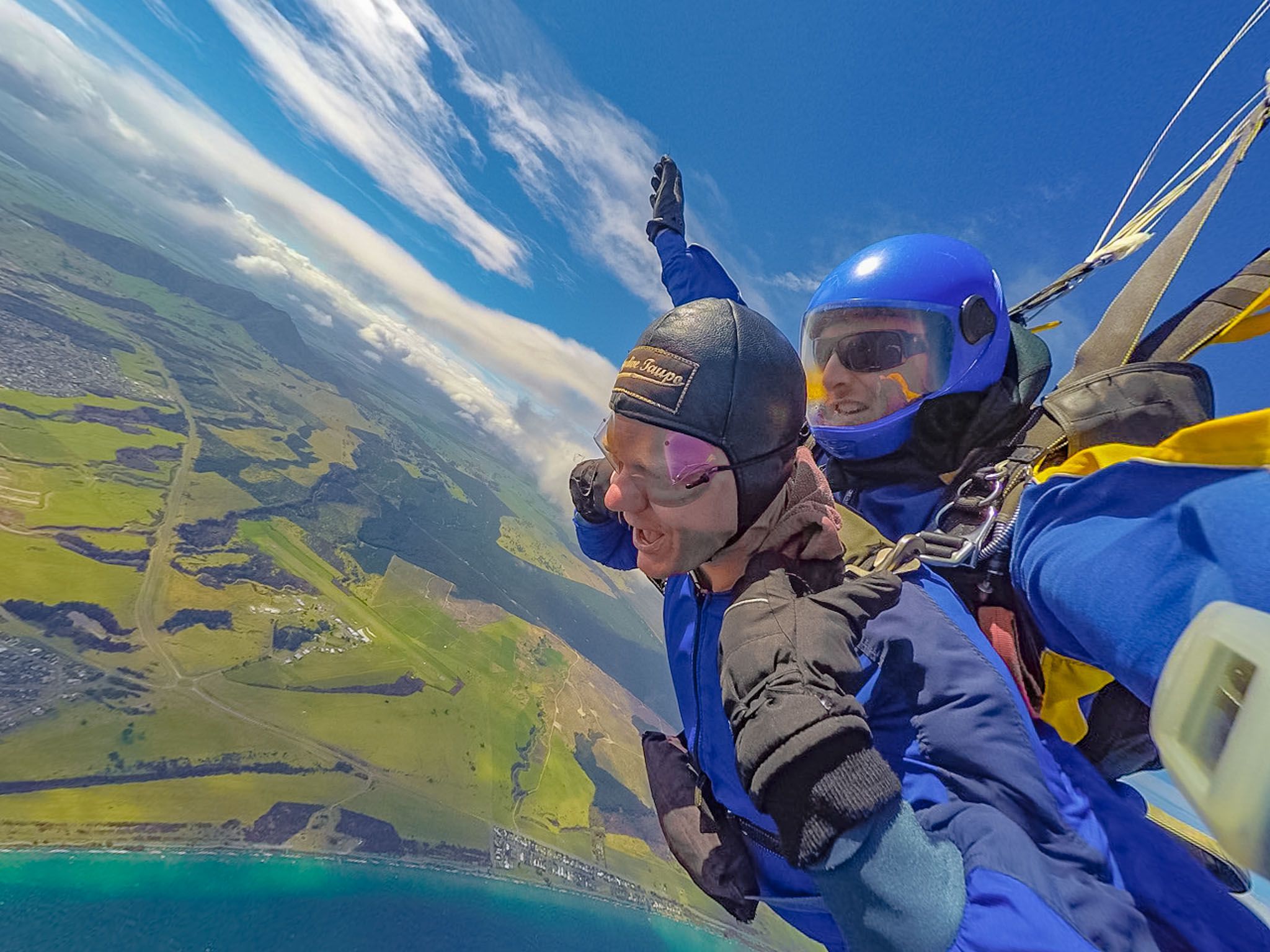 Lake Taupo is a magnet for avid adventures from mountain bikers to white water rafters and being so close to Tongariro National Park, mountains are only a short distance away. Taupo is known for having some of the best waterfalls in the North Island as the Waikato River, New Zealand's longest river winds its way through the centre of town creating the legendary Huka Falls which can be witnessed from an epic footbridge! As well, it's a popular destination for skydiving on the North Island!
Taupo has incredible geothermal activity meaning that like Hot Water Beach on the Coromandel Peninsula; time can be spent bathing in the earth's natural hot water as a variety of businesses offer such activities.
However, Taupo isn't all about waterfalls in fact Maori culture is the centerpiece to why so many people want to visit this area. Only accessible by boat, an intricate Maori Rock Carving reaching 10 metres high can be seen and the best way to do so is with a local company doing awesome things https://www.goexplorenz.com/ . Go Explore NZ is the ultimate way of seeing Taupo, Tongariro and The Lakes area!
After an epic days adventure at the helm of Lake Taupo, there's no better way than to chill out lakeside with a local brew on the shores of the lake as the sunsets. Hungry? Head to Plateau on Tuwharetoa Street to indulge in locally produced cuisines.
Best Stay: Plenty of accommodation in Taupo to choose from. Tiki Lodge has great views of the lake and surrounding mountain starting at $27 NZD for a dorm.
TAUPO ATTRACTIONS: HUKA FALLS, CRATERS OF THE MOON & HOT SPRINGS /// THESTYLEJUNGLE VLOG #18
---
New Zealand North Island Itinerary Essential Travel Info
The Best SIM Card for Tourists in New Zealand
I always get my SIM card for New Zealand at the airport upon arrival, as all of the shops are right in front of you when leaving the terminal!
Generally, I will go for Vodafone on a prepaid plan. Airports generally have good deals but tend to change on a regular basis so base your decision on how long you will be in the country for then purchase according to that. Pre-paid deals with Vodafone start from around $25 NZD. Spark is probably just as good as Vodafone with excellent coverage throughout New Zealand and the North Island. Deals start from $25 NZD as well.
Setting up a New Zealand number is super easy if you purchase a SIM card from the airport as staff will do it all for you giving instant access to the internet so you can be connected right from the start!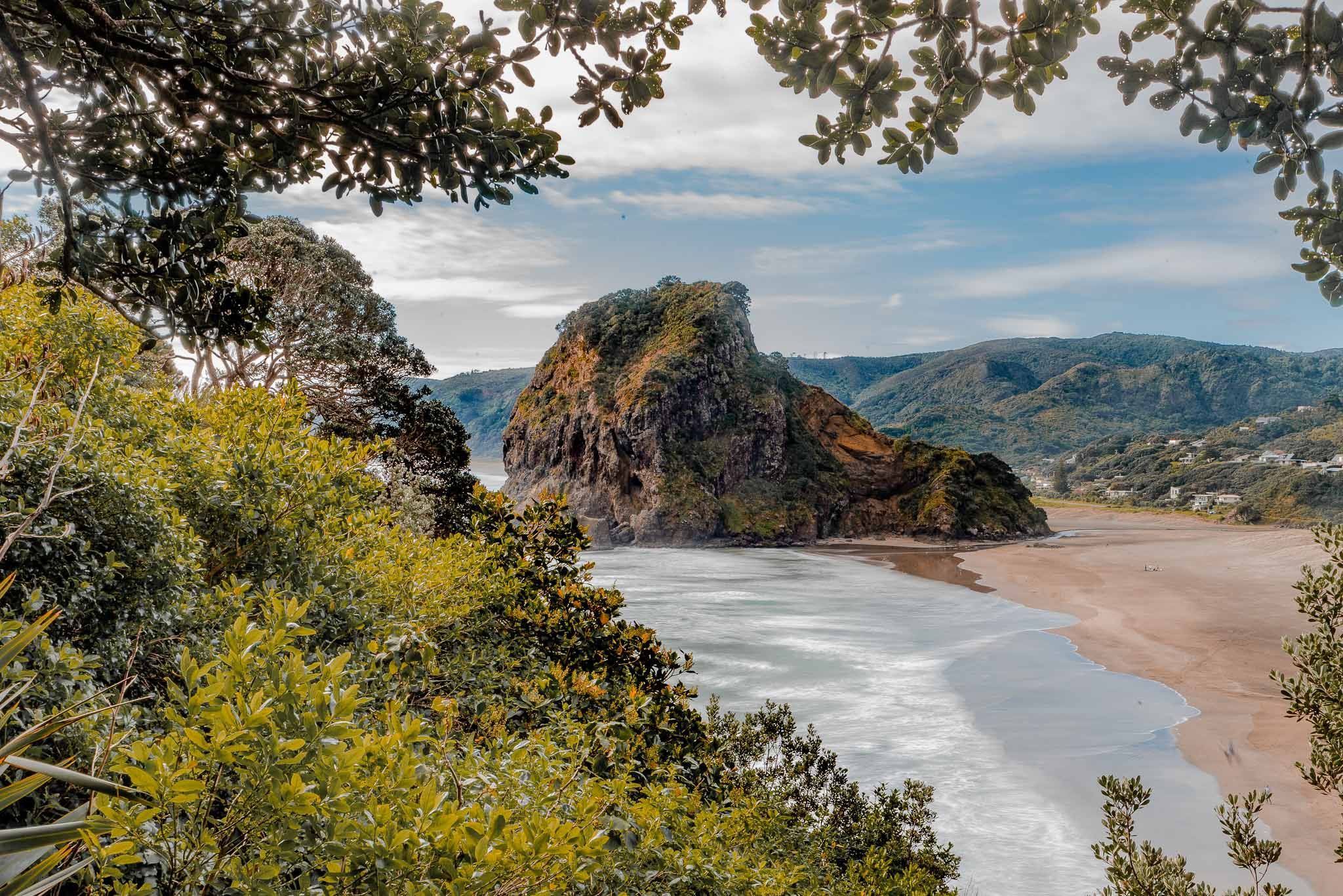 ---
Is it Safe to Visit New Zealand?
New Zealand is probably the safest country in the world despite recent events in Christchurch that has attempted to tarnish the safety of tourists and locals. Having spent a decent amount of time on both islands, I never endured or encountered any problems either in the city or regional areas.
The only danger I would say is just to be careful when you're hiking! Bring plenty of water, don't hike alone, and make sure to stay on the tracks. Other than that, New Zealand is completely safe for solo travelers.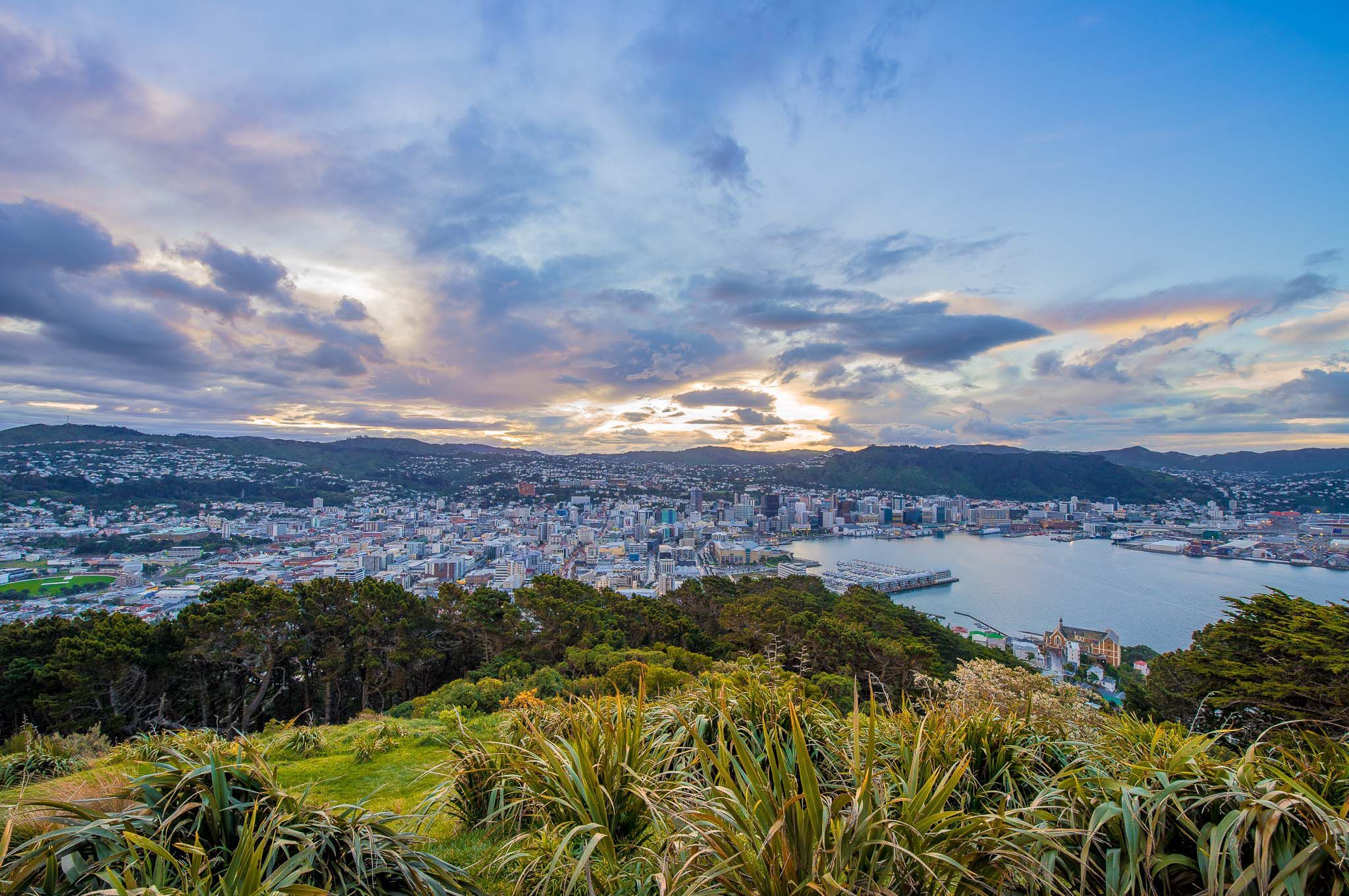 ---
New Zealand Travel Costs
New Zealand and Australia are very similar in costs, meaning most things are generally expensive. Here's a rundown of basic items and their costings;
Accommodation

– $30 NZD for a 6 bed share at a local backpackers

Coffee

– $5 NZD for a latte from a café

Beer

– $6 NZD for a schooner or $9 for a pint

Pub Meal

– $20 to $30 NZD

North Island Bus Tour

– $599 for 10 days + with

www.kiwiexperience.com

Car Hire per Day

– $15 to $46 NZD per day with

Fuel

– $1.70 NZD for fuel in a major city like Auckland or Wellington.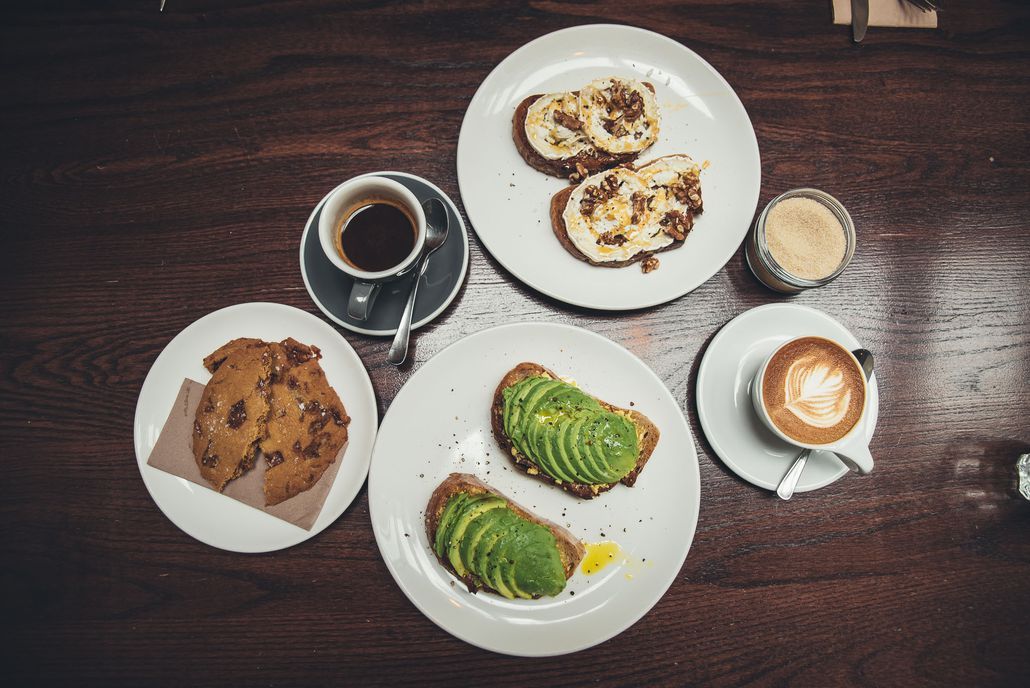 ---
Am I Missing Anything from my New Zealand North Island Itinerary
It's been a couple years since I've visited the North Island, so please do reach out to me if you think I need to add any specific destination, hotel, activity, hike, or whatever else you think is important! I'm actually hoping to move down to New Zealand next year for my Working Holiday Visa (before I no longer can do that because of my age), and will be adding any more relevant information to this travel guide!
After watching this video below, I'm pretty stoked to get back down to New Zealand ASAP!
10 Best Places to Visit in New Zealand
---
Planning a trip to New Zealand & Australia…?
Having spent a decent amout of time in this region of the world, I'd invite you to check out a few of my other articles that could be of some help and inspiration!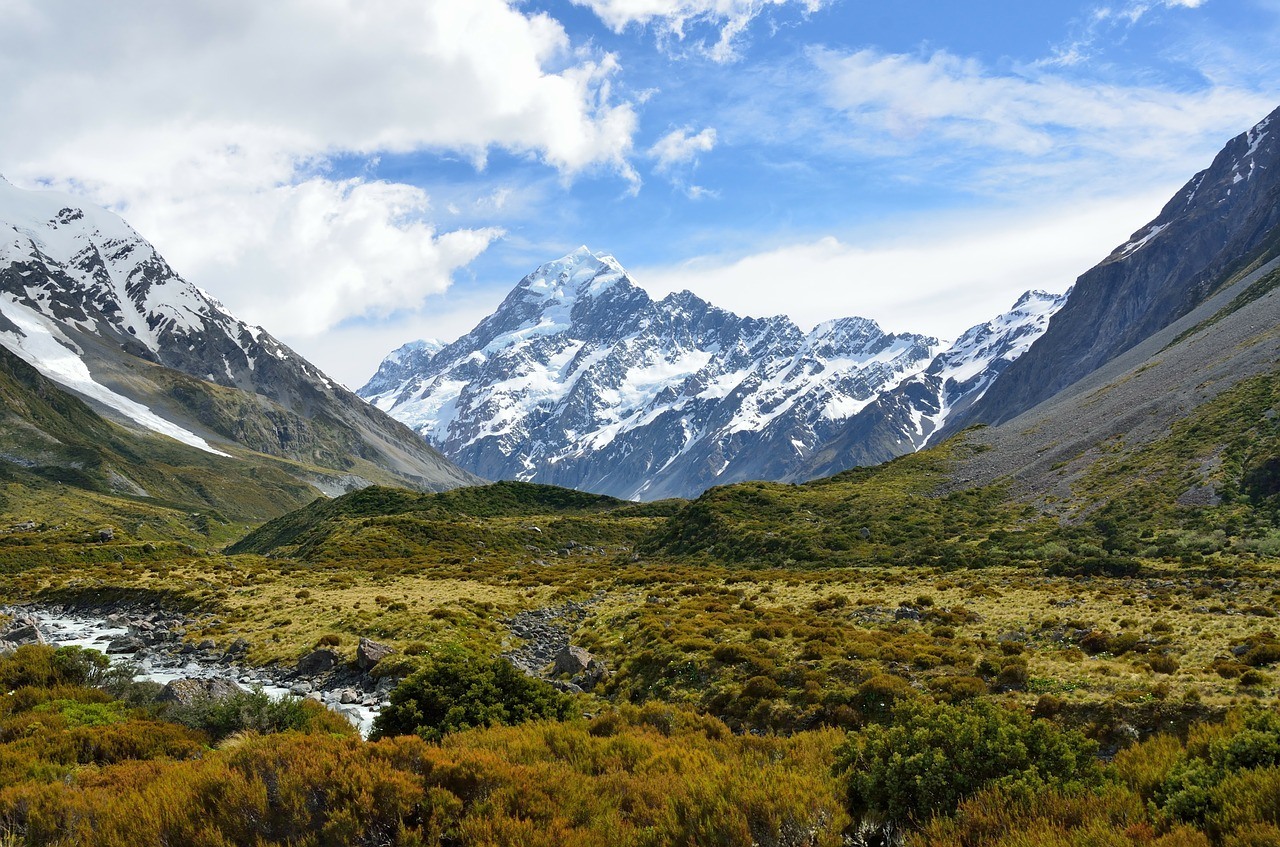 ---
North Island New Zealand Travel Guides & Books
Whether you're spending two weeks two months in New Zealand – I'd definitely recommend picking up a guide book or two to assist you while you're on the road! I'm personally a fan of Lonely Planet, but there are a decent amount of options that would be a great resource while you're exploring the North Island: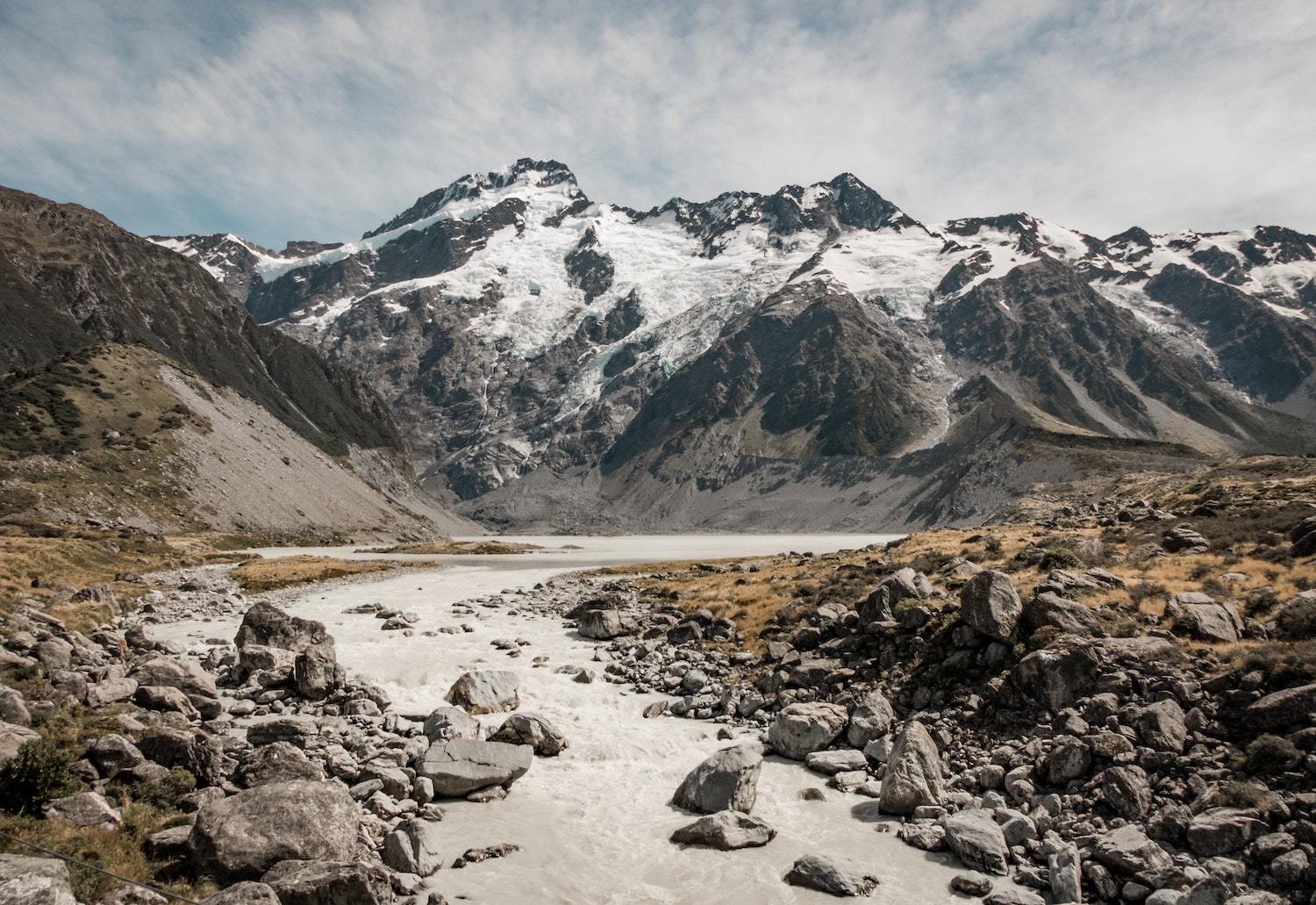 ---
Don't Forget Travel Insurance !!
Whether you are heading to New Zealand for just a week or embarking on a lengthy trip around both the north and south islands, travel insurance is absolutely essential.
Getting sick or having items stolen while travelling is rare, but when it does happen, it can be an absolute nightmare. Having insurance (which is essential for visas in some countries) will give you the peace of mind that if anything terrible does happen, you are covered. While people often make the mistake of thinking healthcare is 'free' in countries such as New Zealand, as a visitor that is usually not the case.
I highly recommend HeyMondo due to their extensive range of cover for all situations and trip lengths, their fair pricing, and their handy app which allows you to not only manage any claims within the app, but also access free assistance online so you don't need to rack up an expensive phone bill while abroad!
So, whether you need a single trip cover or an affordable annual cover for multiple trips worldwide, be sure to buy your travel insurance before you travel, and relax during your trip knowing that HeyMondo has your back. Nowadays I would never travel without insurance again, especially after hearing so many (expensive and dangerous) horror stories from other travellers I've met!
Still planning your trip? You can always just get a no commitment travel insurance quote now, so you have an idea of how much extra to budget for your vacation!
---
Thanks for reading my New Zealand North Island Itinerary
Share this North Island itinerary with your travel friends and hobbits!
https://www.jonesaroundtheworld.com/wp-content/uploads/2019/07/New-Zealand-North-Island-itinerary-and-travel-tips-.jpg
847
1280
Dave
https://www.jonesaroundtheworld.com/wp-content/uploads/2017/03/logotry-1-1-300x106.png
Dave
2019-07-18 17:52:48
2022-06-13 19:18:34
The Ultimate New Zealand North Island Itinerary | Trip Highlights & Travel Tips