The South Island of New Zealand: Top 10 Travel Highlights
Welcome to the South Island
…or should I say heaven…?
Because seriously…this place is unreal!
There's simply no other destination in the world that can compare to the natural beauty found on the South Island of New Zealand.
It's full of stunning national parks, majestic fiords, and picturesque towns.  Even just driving from place to place is fantastic, because the roads carved through these massive mountain ranges are REMARKABLE.
Literally…there is a mountain range called THE REMARKABLES, and the name speaks for itself.
While I must say that I had a spectacular time exploring the North Island, the South is definitely the winner in my book!
I only had around 16 days, but I think Kiwi Experience did a pretty great job at showing me the highlights.  So take a read through what I got up to during my time on the South Island, browse through my pictures, and let me know what ya think.
1 ) INTERISLANDER | Wellington to Picton Cruise
First things first, I actually had to get to the South Island, and there's NO BETTER WAY to do that than the InterIslander 3-hour cruise!
This is definitely worth every penny.  
While the first hour starts off a little slow, the remainder is picture perfect.  Massive snowcapped mountains in the distance, luxurious houses built on the water, and beautiful scenery that's guaranteed to leave you in awe.
2 ) Abel Tasman National Park
When we arrived at our lodge perfectly located across from Kaiteriteri beach, I actually wasn't all that excited to be staying around for three whole days….
Why…?  Look how beautiful the first sunset was…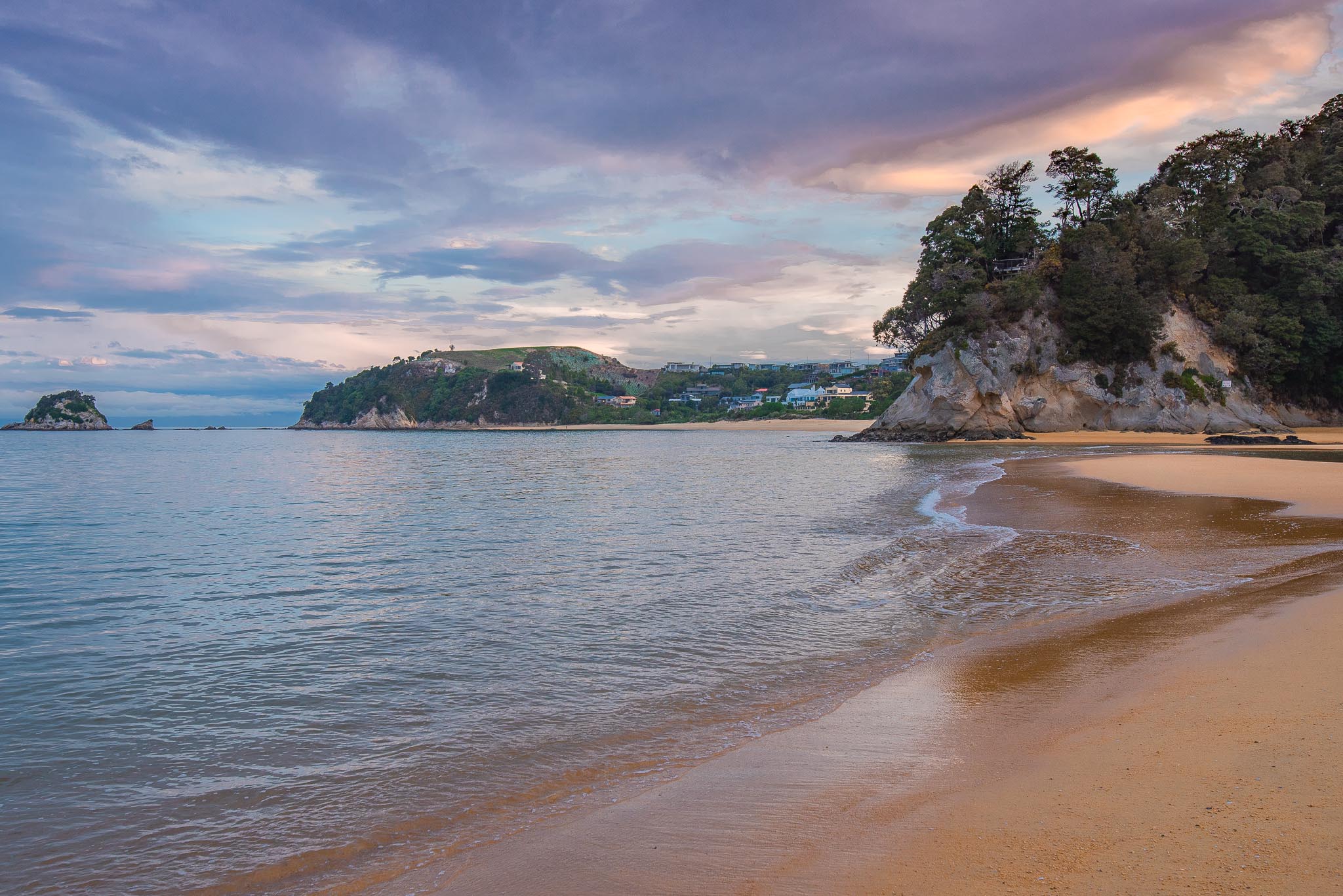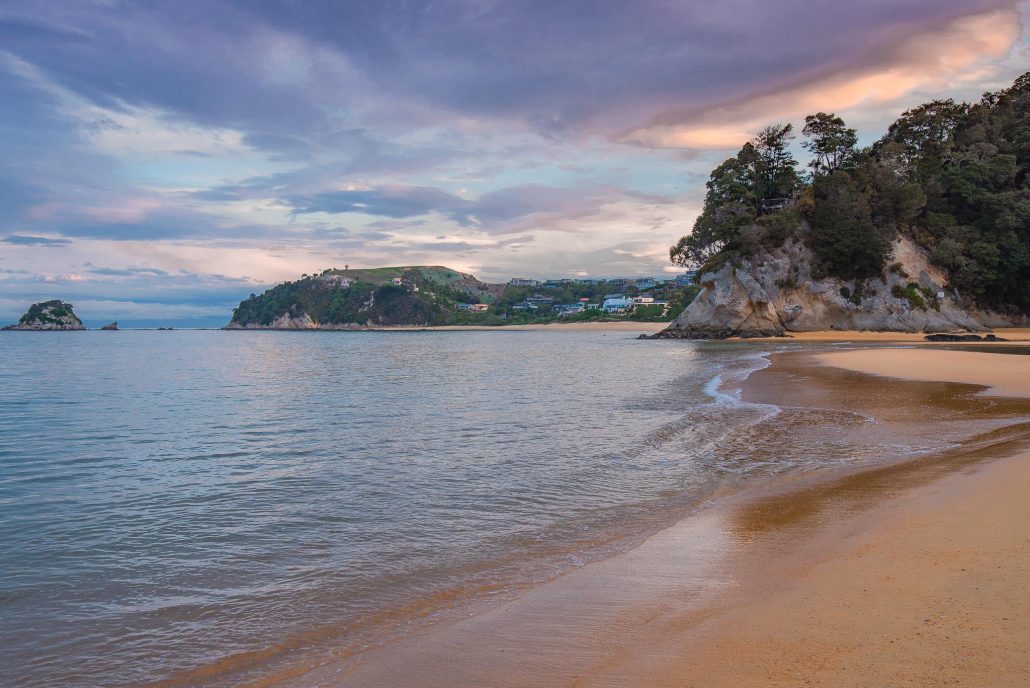 Well, mainly because every single person on the Kiwi Experience bus was only staying for one night!  These were people I had spent the last two weeks exploring the North Island with, and I wasn't thrilled about the idea of hiking through the National Park all by myself.
BUT WOW!  I'm so glad I did, because the Abel Tasman National Parks is absolutely gorgeous.  I couldn't believe more people didn't stay longer!  If I had more time, I would have stuck around for at least another week!
I was fortunate enough to befriend a local guy to hike the coastal tracks with me, and I was seriously amazed by all the different view points, suspension bridges, and pristine beaches you'll find there.
The water is perfectly blue, the hiking trails are well maintained, and there's tons of awesome campsites spread throughout the park.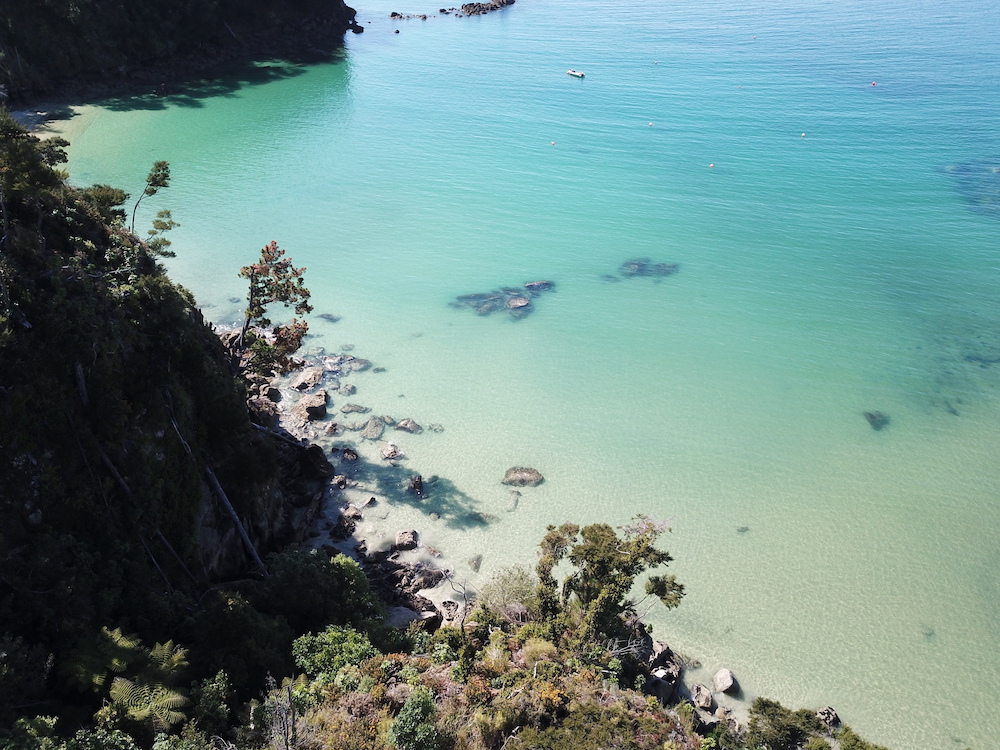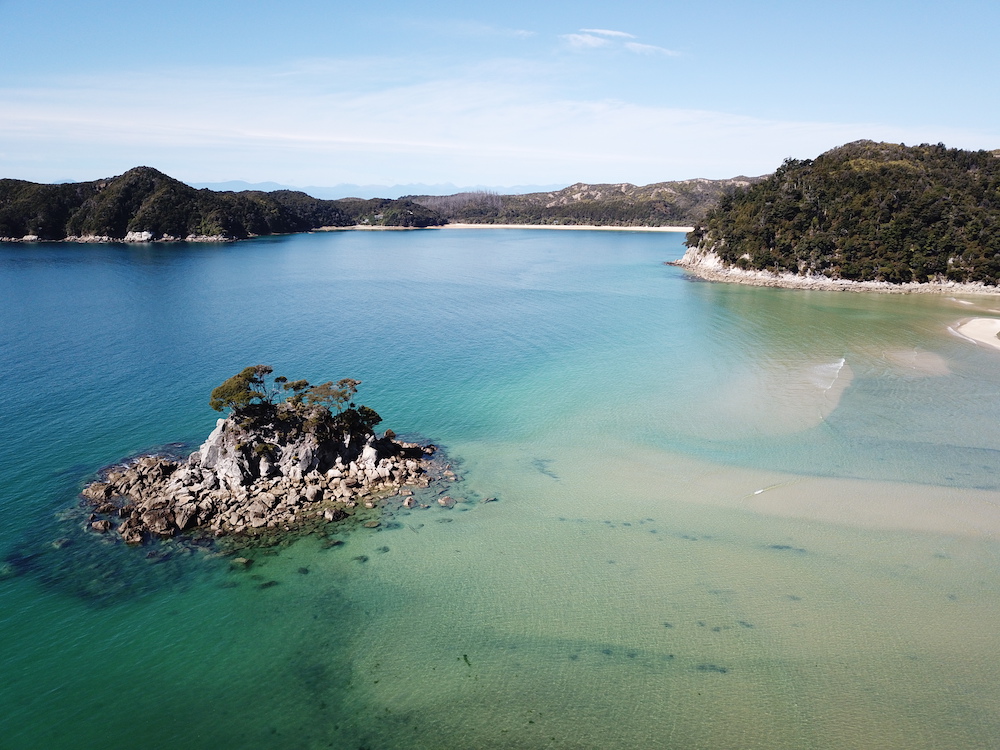 The hardcore people spend 3-4 days exploring the entire 60KM coastal track and camp along the way, but I opted for the one-day "Seals and Sands" tour to hike from Torrent Bay -> Onetahuti.
It was easily one of my favorite days of the trip, especially since we lucked out with perfect weather the entire day!  Sadly, the water was still a bit too cold to swim in, but I know I'll be back soon!  :-)
3 ) Nelson Lakes National Park
This was just one of the stops that Kiwi Experience makes on our journey in between Abel Tasman & Westport.
As our driver got on the mic and said, "Welcome to Rotoroa Lake", I looked out the window to this gorgeous view…

The weather cleared up just long enough for the crew to take photos of the photogenic jetty.  It really is a gorgeous alpine lake, and wouldn't mind spending a few days hiking and camping around here in the future.
4 ) Franz Josef Glacier
&

Heli-Hike
Out of all the epic activities I did during my time in New Zealand, taking a helicopter ride and hiking on a glacier for 3+ hours might just be my favorite!
We got extremely lucky with weather (as over 50% of these Heli-Hike tours get cancelled), and had a fantastic time walking around and exploring this perfect example of natural beauty.
The glacier and it's surrounding mountains are a sight you need to see with your own eyes to truly appreciate!  This 100% needs to be on your New Zealand Bucket List!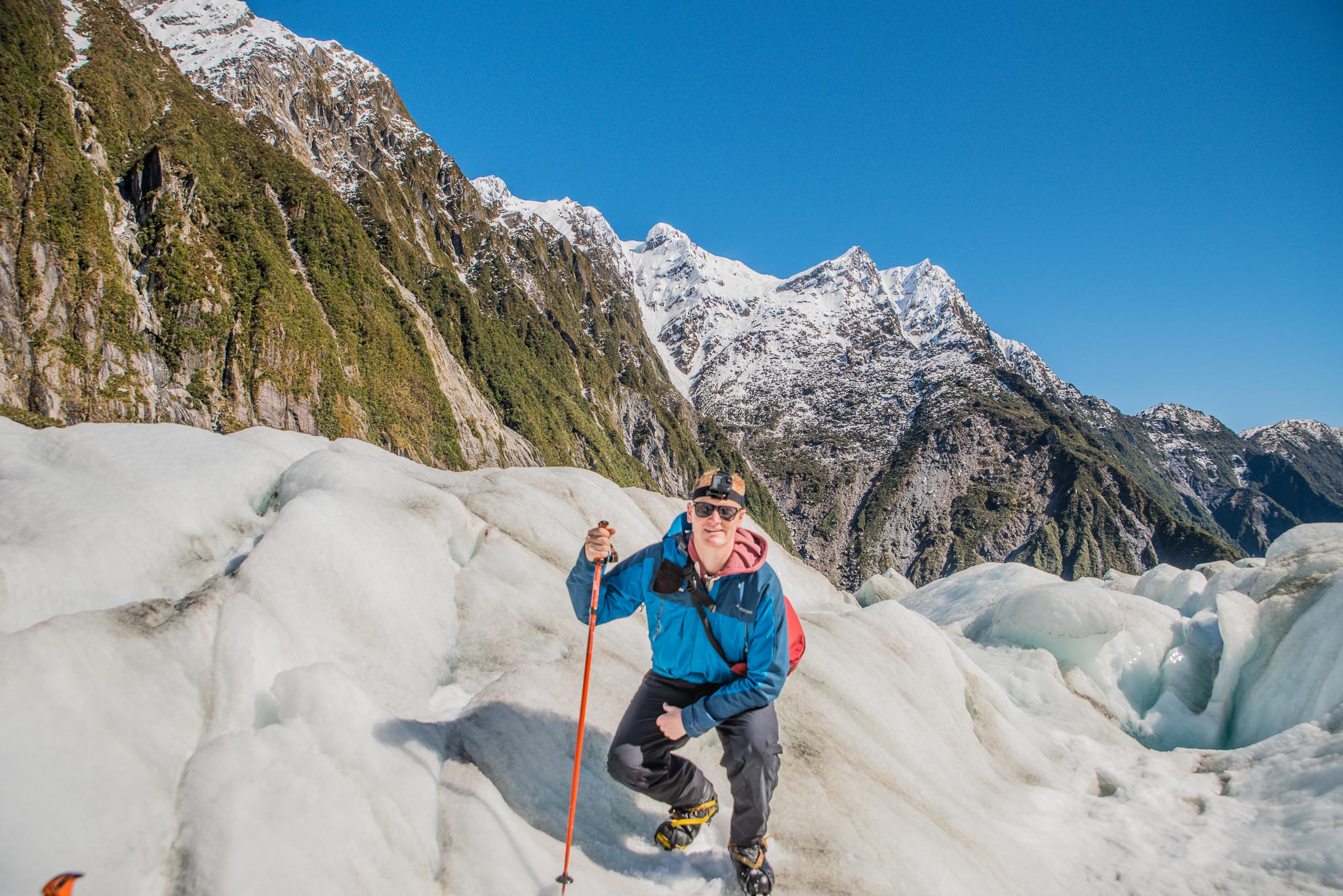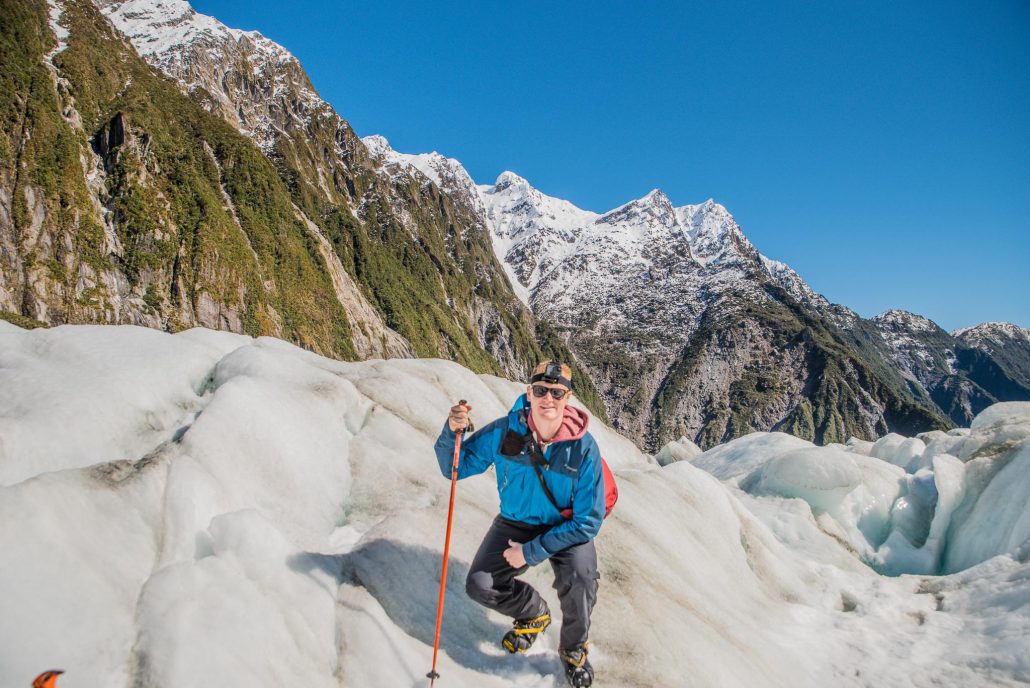 Our group's tour leader from Franz Josef Glacier Guides was super fun and knowledgeable!  She actually made the whole group jealous by telling us that'd she'd be spending the night up on the glacier in some accommodation they have for emergency with some fellow glacier guides.  Apparently, they might be opening up that for tourism in the future, which I would definitely be keen to check out.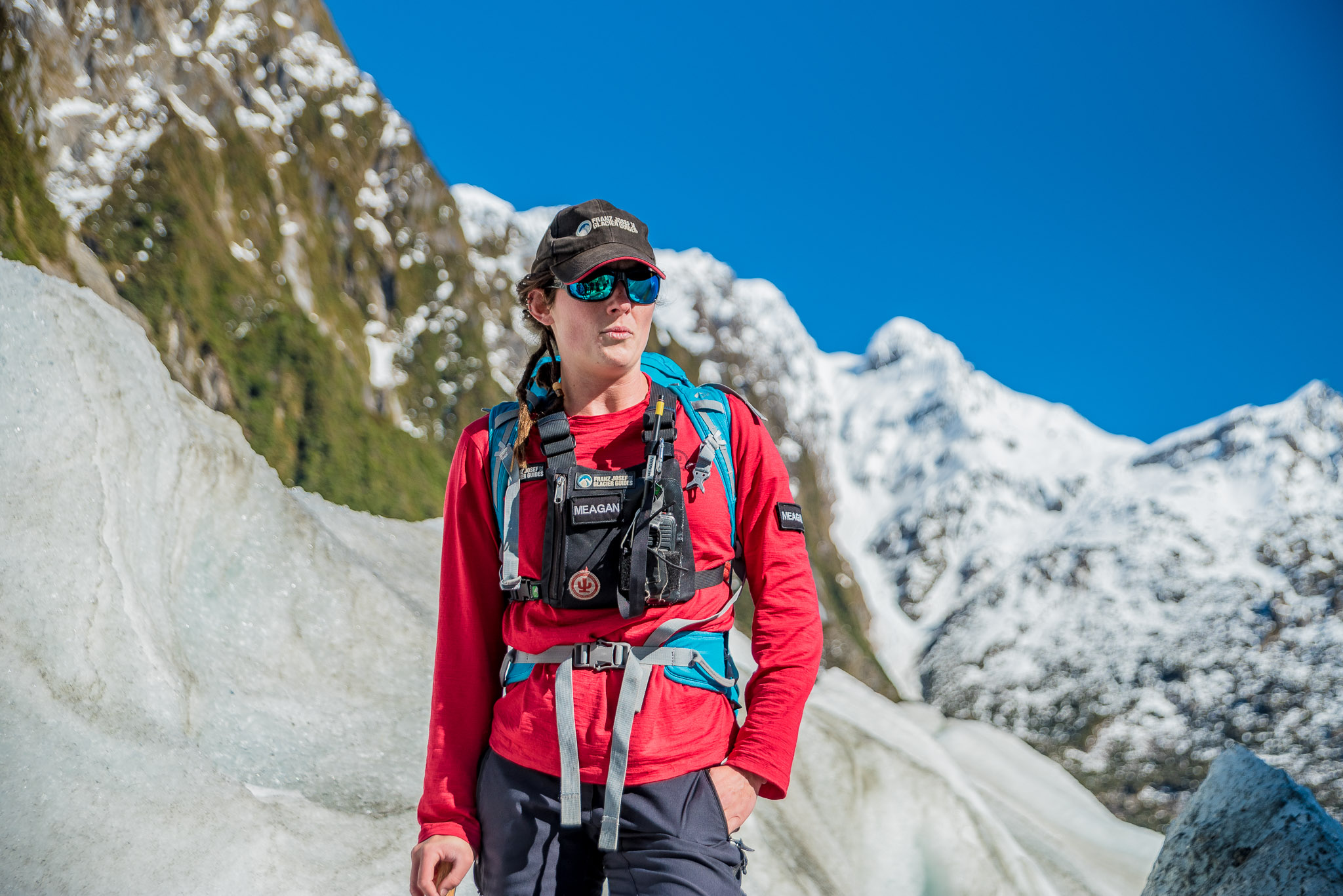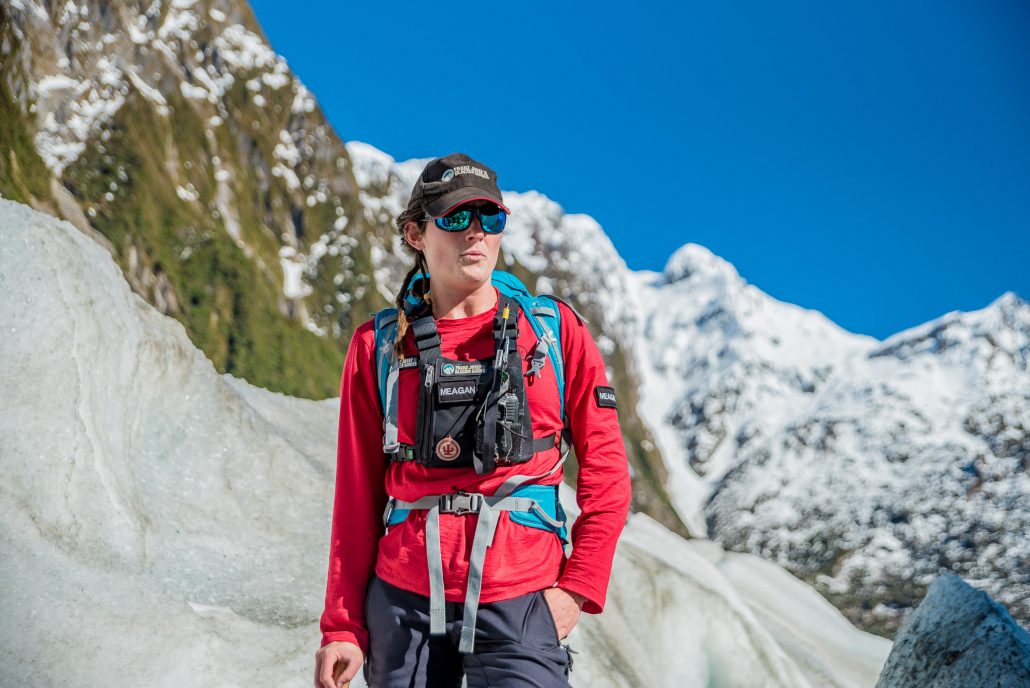 ---
If doing the heli-hike is out of your budget, then you can always do the FREE 2-hour hike from the Glacier Car Park to see the Franz Josef Glacier from below.
This hike really is something special.  You'll pass by countless waterfalls, beautiful rivers, and towering mountains.
Oh, one last thing — make sure you watch the sunset in Franz Josef!  They can be pretty amazing if you're lucky ;-)
5 ) Lake Matheson
&

Wanaka
On the way from Franz Josef to Wanaka, the Kiwi Experience bus stopped at Lake Matheson for a 2-hour scenic walk.
Since I was pretty busy taking photos, I didn't have time to finish the whole track, but I did make it to the Jetty Point to try and capture the reflection of Mt. Cook (New Zealand's Highest Peak) in the distance.
The weather could not have been more perfect, and the reflection of the water and the clouds on the mountains in the distance were truly mesmerizing.
When we arrived into Wanaka, it was nearly time for sunset, and I instantly realized how unfortunate it was that I only had one night there! 
This charming little town was just lovely, and I can see why people fall in love with it.
If there was ONE PLACE I wish I had more time, than it would definitely be Wanaka.  I know there's so much more to do in the area like fun day-trips and hikes, but my schedule was just a bit too tight!
I never even got to make to the famous "Wanaka Tree" I've seen so many times on Instagram, but that's just another reason why I'm planning a return visit to New Zealand! 
6 ) Milford Sound Explorer
Often described as the "8th Wonder of the World", Milford Sound is nothing short of breathtaking!
…but getting there is actually half the fun!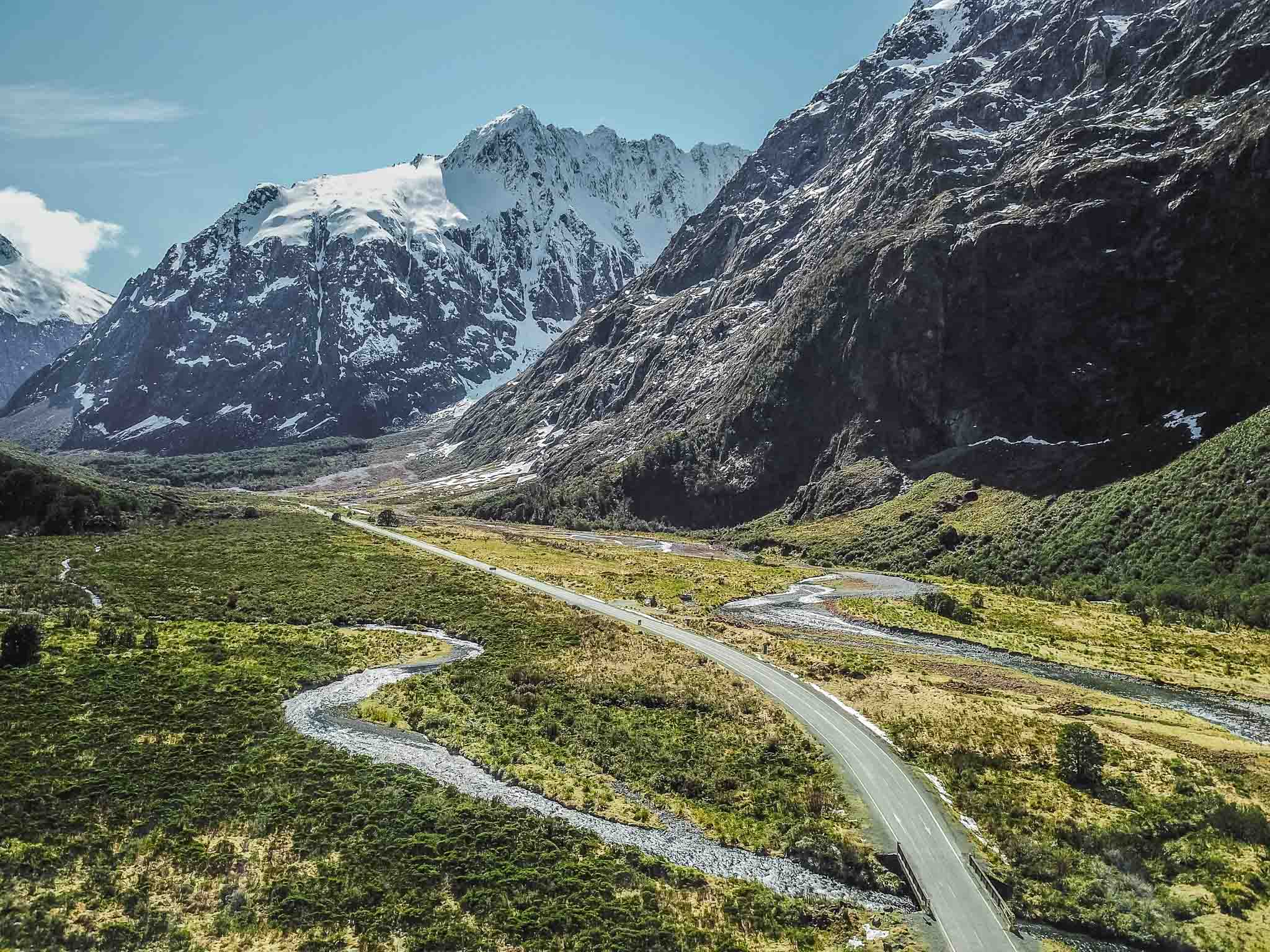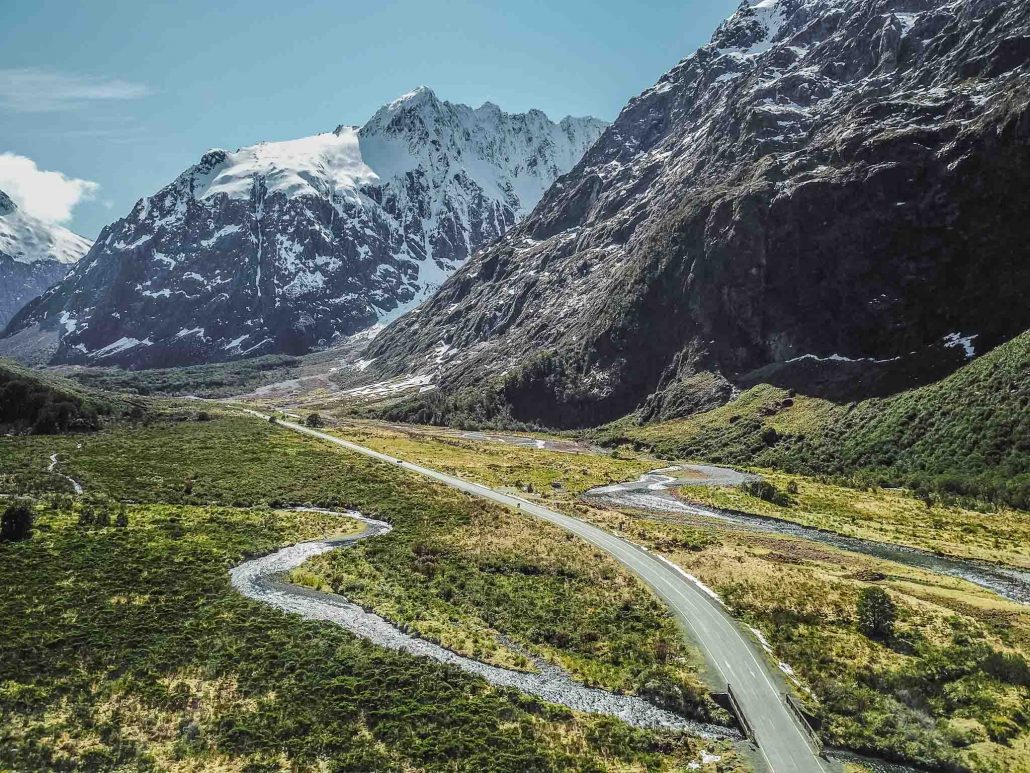 While the road from Queenstown to Milford Sound is rather long, it is completely mind-blowing!  I joined Kiwi Experience on their "Milford Explorer" tour, and the bus driver made sure to stop several times for photo opportunities.
Upon arrival, we spent about 90 minutes sailing through this spectacular fiord.  With it's towering peaks and majestic waterfalls, it instantly became clear to me why Milford Sound is one of New Zealand's top tourist attractions.
If you're traveling with some friends, it could be a fun idea to rent a car and spend a few days down around Milford Sound.  There's a lot to see, and doing it all in one day was a bit hectic.
Who's ready for some adrenaline?
Queenstown is known as the "adventure capital of the world", and this is one of the many reasons why!
The Shotover Canyon Swing & Fox was a day that I'll never forget, and I would recommend it anyone looking for an intense adrenaline rush!
The Canyon Fox is where you run and jump off a ledge 182m high, free-fall for 5m, and then zipline across the Shotover Canyon!  This is the only place in the world where you can do this!  While the return journey doesn't include a free-fall, the zipline journey back across is fun and scenic.
Now when it comes to the swing:
"Our uniquely designed system allows you to swing 200m with a 60m vertical freefall down a steep rocky cliff face."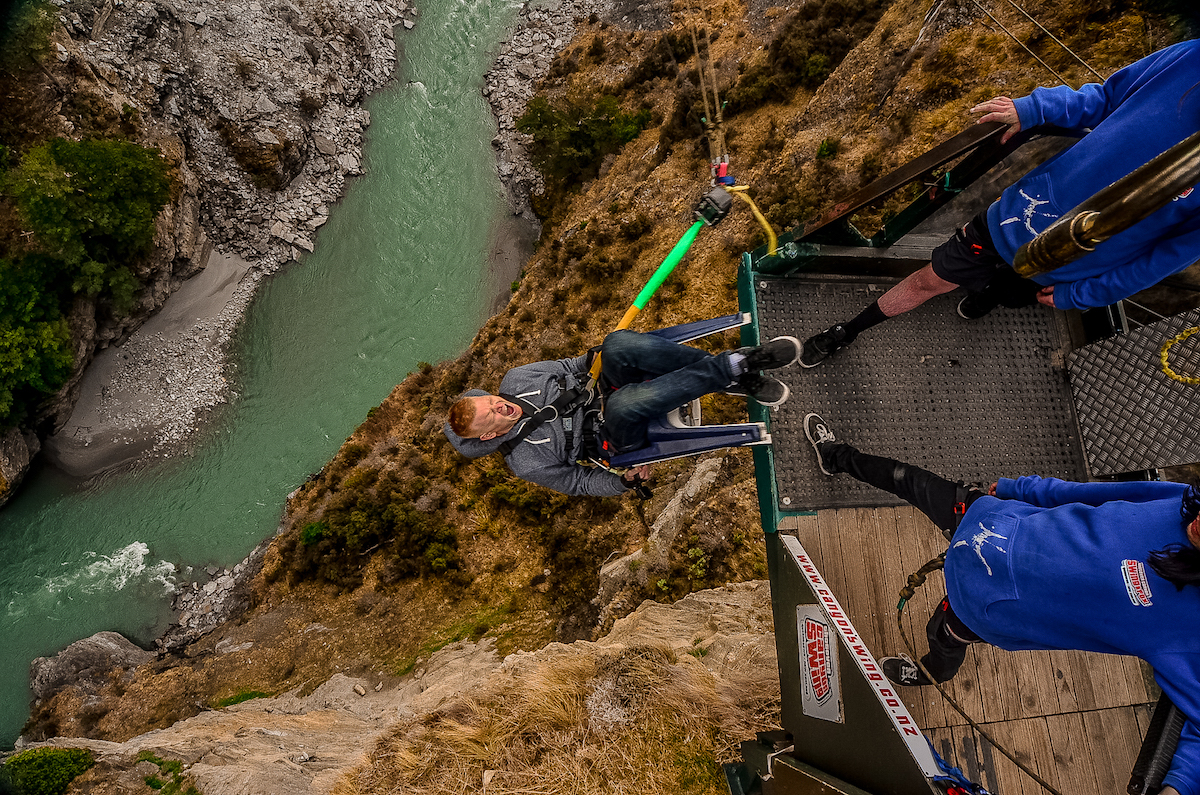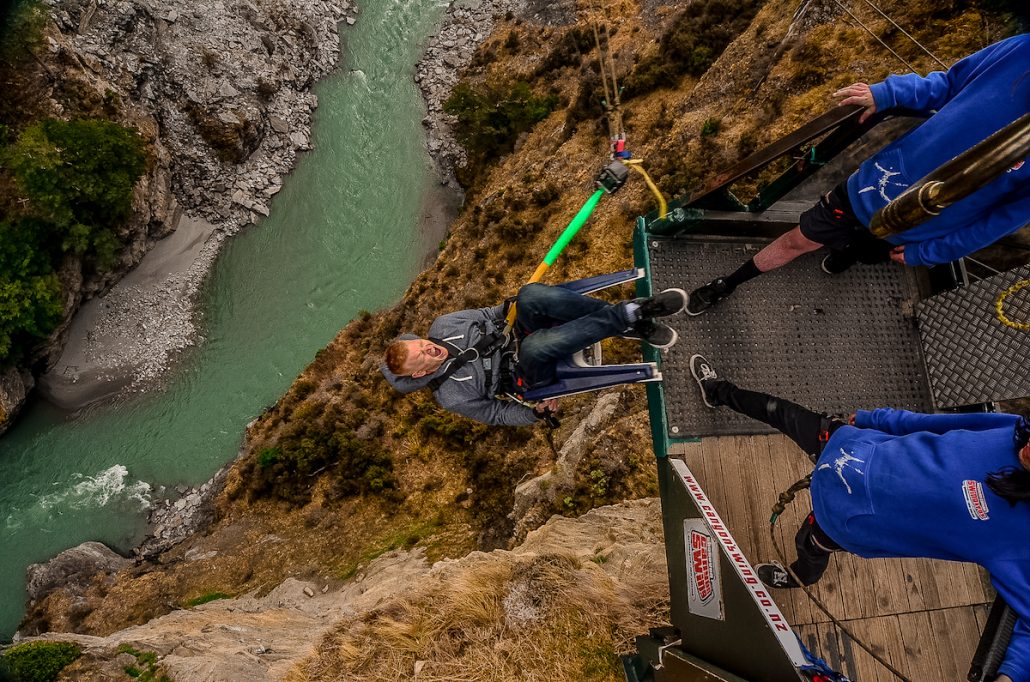 Basically…It's f*ckin terrifying (and awesome)…
The best part about it is that you can choose all these different "swing styles".  I went with "The Chair" because it seemed like the most interesting.  They play around with you quite a bit with the feeling of "leaning too far back in your chair", which really added to the experience!
You can do just ONE of these, but the combo for both of these is only $299 N.Z.D, which I think is a pretty sweet deal.

The adrenaline rushes continued during my time in Queenstown, and I couldn't wait to experience my first ever bungy jump!   
Located 182m high over the Nevis River, this really isn't for the faint of heart.  I could feel my heart racing in my chest as I slowly inched toward the platform.  After my instructor counted down from 3, I took a giant leap of faith, stretched out my arms, and enjoyed an intense 8 second free-fall towards the river. 
IT IS TRULY AN INCREDIBLE FEELING.  
Watch the video below!
I didn't have much time to relax afterward though, because next up was the Nevis Swing.  It's known as the "World's Most Famous Swing" with a 300m arc and 160m high.
You can choose to go forwards, backwards, or even upside down.  
Thanks so much to everyone at AJ Hackett for this amazing experience!  These were two of most incredible adrenaline rushes I've ever had!  If you're in Queenstown, you've gotta check it out.  
9 ) Queenstown Skyline Observation Deck
Queenstown is easily the most picturesque city in the entire country, and taking the Gondola (or hiking up) to the Skyline Observation deck is something you must do!
The panoramic views of the city are extraordinary!
There's also a really fun luge course that you can ride down, but it does cost about $50 for a round-trip Gongola Ride & 2 Luge Rides.
If you decide to hike up, there's some other fantastic trails you can continue onto.  I fortunately didn't have the time (or energy) to do it, but I know the Ben Lomand Hike is highly recommended.
Just be careful, a couple guys from my Kiwi Experience bus got lost up there, and had to have a search and rescue team find them!  Whoops.  Shoutout to Mees & Quentin!
There's also some really great luxury Millennium Hotels in New Zealand, and would be an awesome way to spend your time in Queenstown.
10 ) Lake Tekapo Stargazing
Ranked as one of the best places in the world for stargazing, Lake Tekapo surely is a special destination on the South Island.
While I didn't get the clearest night the one night I stayed there, I did witness a remarkable sunset, decent night sky, and an unbelievably beautiful sunrise.
I did decide to do the Tekapo Stargazing & Hot Pools tour, and loved it.  The feeling of floating on a hammock in perfectly warm water while gazing at the stars was an awesome experience.
If you go on a clear night, it's definitely worth the money.  But if it's a bit overcast, I think it'd be best to save it for another night, and just go stargazing down at the lake.
Enter To Win a Free Kiwi Experience Pass!
I partnered with the amazing people over at Kiwi Experience during my travels in New Zealand, and they are giving away FREE SHEEPDOG PASSES to 2 lucky individuals!  Follow the link and enter your details for your chance to win.
Entries close November 30, 2017.
Visiting the South Island really was a dream come true, and the entire time made me feel like an honorary "Rider of Rohan".  Lord of the Rings jokes, anyone? LOL.
THANKS SO MUCH FOR READING EVERYONE
Disclaimer:  I traveled with Kiwi Experience as a part of a New Zealand campaign, and received a lot of these activities complimentary.  As always, all opinions are my own!!