Planning on spending two days in Paris? Well, you've come to the right place, because Paris just so happens to be one of my favorite cities in the world. With its iconic landmarks, unbeatable cafes, and wonderful Parisian vibes – spending 48 hours in the buzzing capital of France will surely leave wanting more!
Alongside being one of the most beautiful cities I have ever visited, with such grand and gracious architecture. It also produces some of the tastiest pastries in the world. There is also just so much to discover in terms of history, landmarks, and food spread all over this city. I have put together the perfect 2-day itinerary for you to discover everything; from some of the most famous and iconic landmarks of Paris, right down to some of the lesser-known locations. So definitely keep reading to find out exactly how you can plan your 48 hours in Paris!
Also, be sure to read my article, "Top 19 Music Festivals in Paris To Experience Before You Die" to see if your trip coincides with any of them during your trip!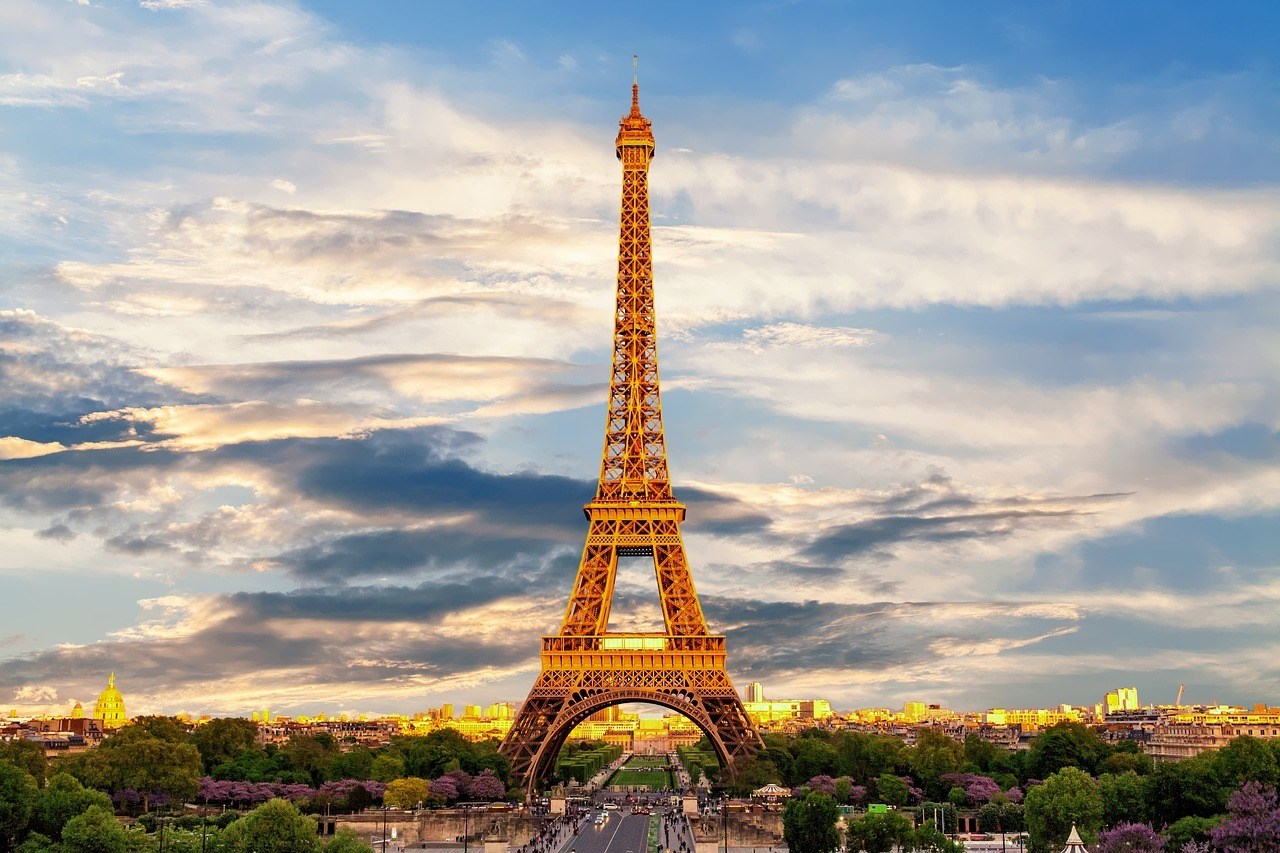 ---
Where to Stay for 2 Days in Paris…?
Paris is a pretty massive city, and there really are a wide variety of places I could recommend to stay! I think one of the major things to think about is your future travels when booking a place. Are you heading back to the airport via metro? Taking a train up to London? Catching a bus to England? I think it'll make the check-in / check-out process much easier and smoother if you keep that in mind!
Charming apartment in the heart of Paris: This five-star rated Airbnb Plus is one of the best places to stay in Paris for sure! I always love staying in an Airbnb while traveling in Europe (to get a local feeling), and this is my personal favorite!

Generator Paris Hostel: Perfect for Backpackers. Situated in 10th district, Generator is by far the best location of all Paris hostels. Boasting free wifi, an in-house bar and with scenic views overlooking the city; you really can't go wrong with this hostel. Also known for being the most solo-traveler friendly hostel in Paris, you are bound to meet some awesome new people to take on this incredible city with by both day and night.
Staycity Aparthotels Gare de l'Est: Perfect for couples and families. Rated as the best value hotel in Paris, Staycity is well recommended for those travelling as a family. Located just a 5 minutes walk from Gare de I'Est, Staycity is just a 4 minutes walk from all of the waterside cafes and restaurants. It's also well located for all of the popular sightseeing attractions. Additionally there is underground parking available and there are also self-contained kitchens available for preparing meals – Perfect for families wanting a lower budget hotel but still being well-rated and in a brilliant location.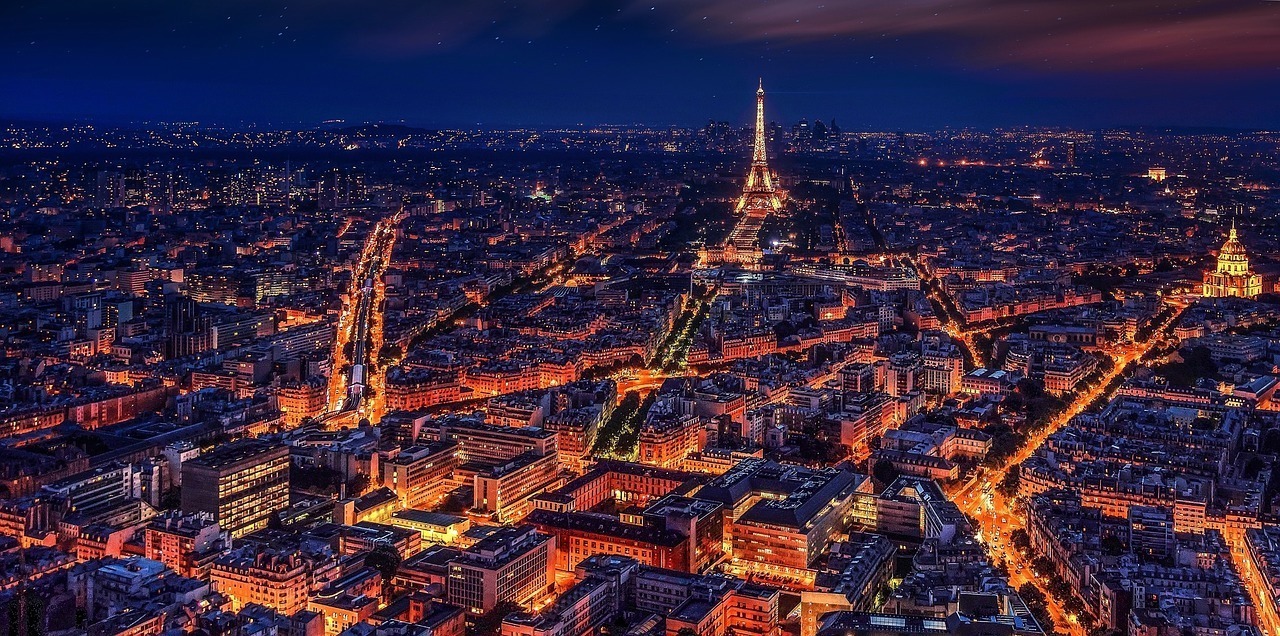 ---
Getting Around Paris
Getting around Paris, like with many other European cities is fairly easy. Paris also happens to have one of the oldest metro systems in the world. It's extremely efficient and can get you anywhere in Paris that you need to be. When I was recently in Paris, I personally took to walking around the city. I find it's a great way to see the buildings and iconic landmarks, and it's the perfect way to get familiar with the layout of the city.
However, there is also a wide variety of public transport options available; from Metro, Busses, Boats, and even Cycling. You shouldn't struggle at all finding your way around Paris. Tickets can be used on both the metro and busses and are available by a single ticket, 10-tickets, 1, 2, 3, 5-day and even weekly or monthly tickets are available.
Tip: If you accidentally get into a train going in the wrong direction, at some stations it's impossible to change directions without exiting the station. Which means you can waste those single tickets easily if you don't make it a habit of checking the direction of the train before entering.
Also, Paris is one of the few cities in the world I recommend utilizing the touristy Hop-on/ Hop-off buses! Since it's such a big city, and there's a lot to see, the double-decker bus is a super fun way to see the city. The bus system runs really frequently, and easy-to-use!
Paris Hop-on Hop-off Bus Tour: Classic, Premium or Deluxe: "Tour the enchanting city of Paris at your own pace, on an open-top double-decker sightseeing bus. You can hop-on and off as often as you like on 2 routes, taking in the best that the City of Light has to offer."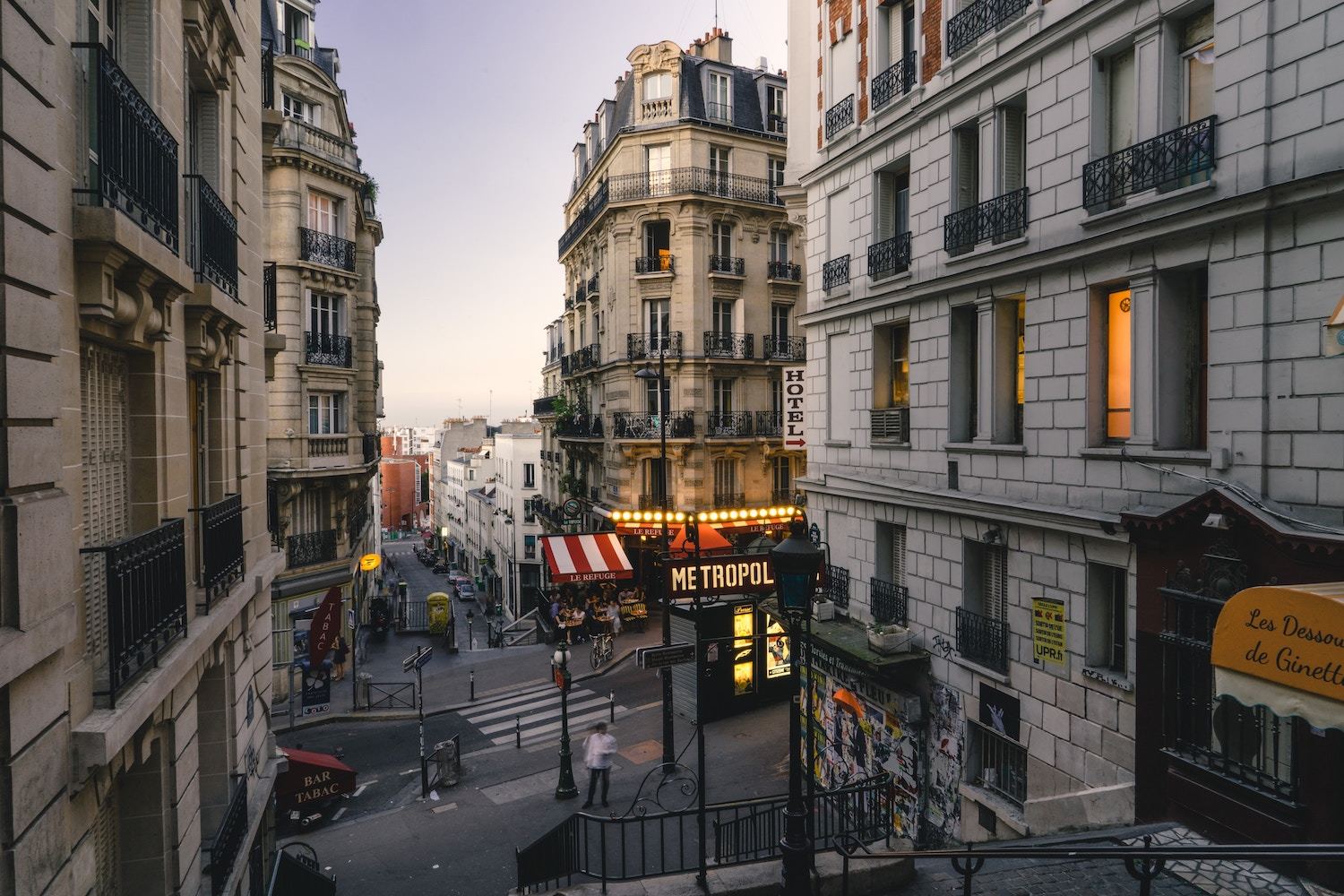 ---
What To Do in Paris In Two Days.
Let's just say you're going to be super busy because there is a whole lot to explore in Paris! Now It would obviously be better if you had a few more days in Paris, but if you're just on a short two-day visit/weekend trip, here is what I think are the must-visits! I would recommend waking up bright and early so you can check out as much as possible, as well as get photos without throngs of tourists in them!
---
Take a Walks Essential Paris Tours
If you want to make the most of your 2 days in Paris, then I'd recommend booking one of these amazing Paris Walking Tours with "Walks"! It's an awesome company that offers tours all over Europe, and their Paris tours are regularly reviewed as a trip highlight. From their iconic Paris in a Day Tour, to skip-the-line tickets at some of the city's most iconic tourist attractions, they've got a wide variety of tours I'd recommend looking into!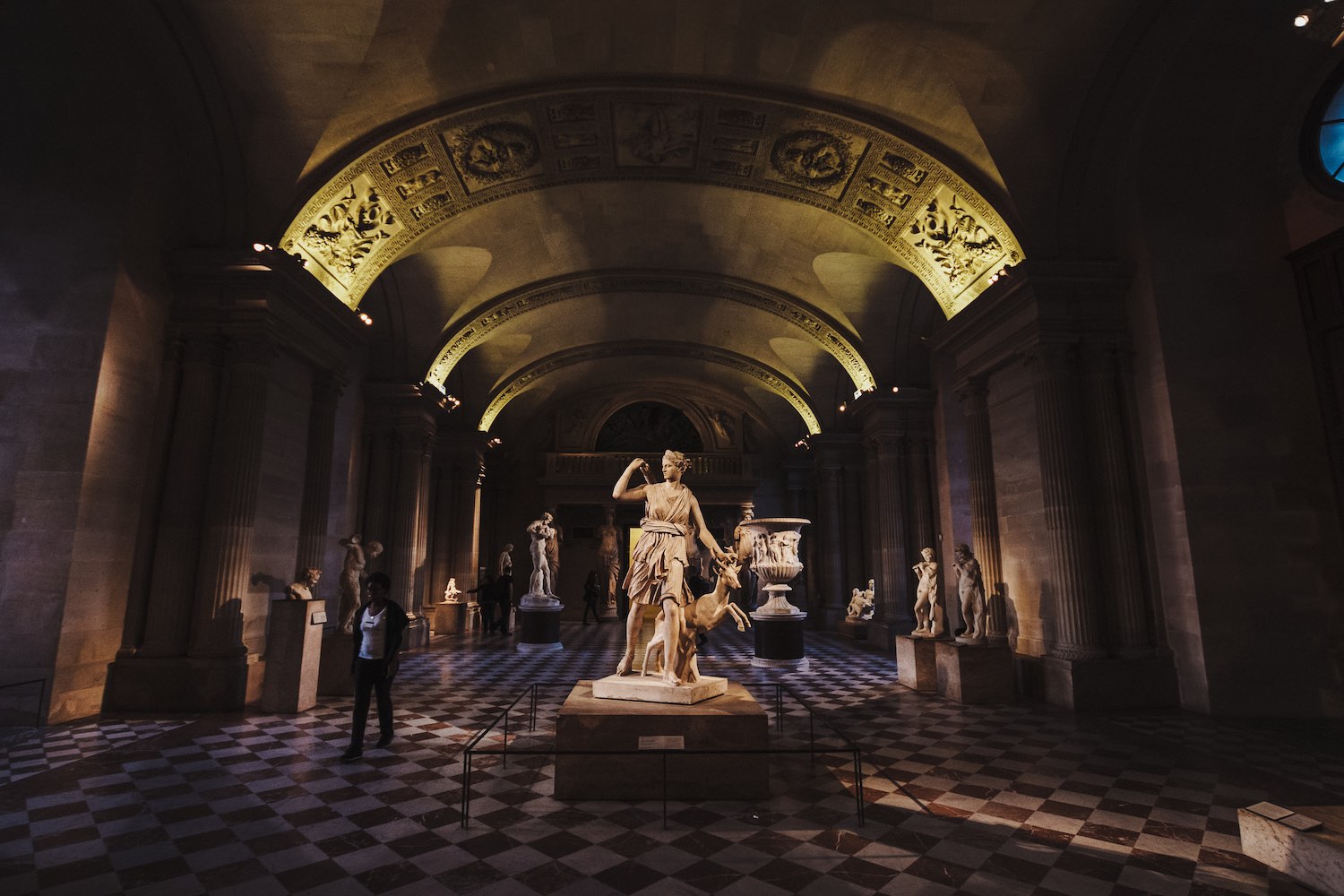 ---
Explore Some of The Worlds Greatest Art at The Musee du Louvre
Making a trip to the Louvre Art Museum is one of the best ways to start your Paris trip!
You definitely want to start out early on in the morning, to give yourself enough time to walk around and take in all of the different pieces of artwork. This is a huge museum and there are eight departments in The Louvre. It's enough to keep you busy all morning; with Leonardo da Vinci's most famous painting the Mona Lisa and Venus de Milo, the sculpture of goddess Aphrodite being the most sought after pieces to see here.
Don't forget to really take in the entire building design, including the iconic pyramid design at the entrance. Even if you're not typically into museums, it's well worth the visit. Check out this article "10 Secrets of the Louvre, The World's Most Visited Museum" for some fun facts and interesting insights!
Paris Travel Tip: The Louvre can get ridiculously busy, so it's recommended to reserve a time and book tickets in advance, or you could book this highly populer tour, The Louvre at Closing Time Tour.
"See the Mona Lisa at her most peaceful time on our carefully-crafted itinerary. This Louvre Tour walks you through the best of the collection, from French paintings to Italian sculptures and even the palace's moat foundations, in a small group and with an expert local guide. So you're guaranteed to get the best from this once-in-a-lifetime visit."
Due to the coronavirus, Walks is offering a 10% discount on all tours by using code "WALKPARTNER10" off until March 31st, 2020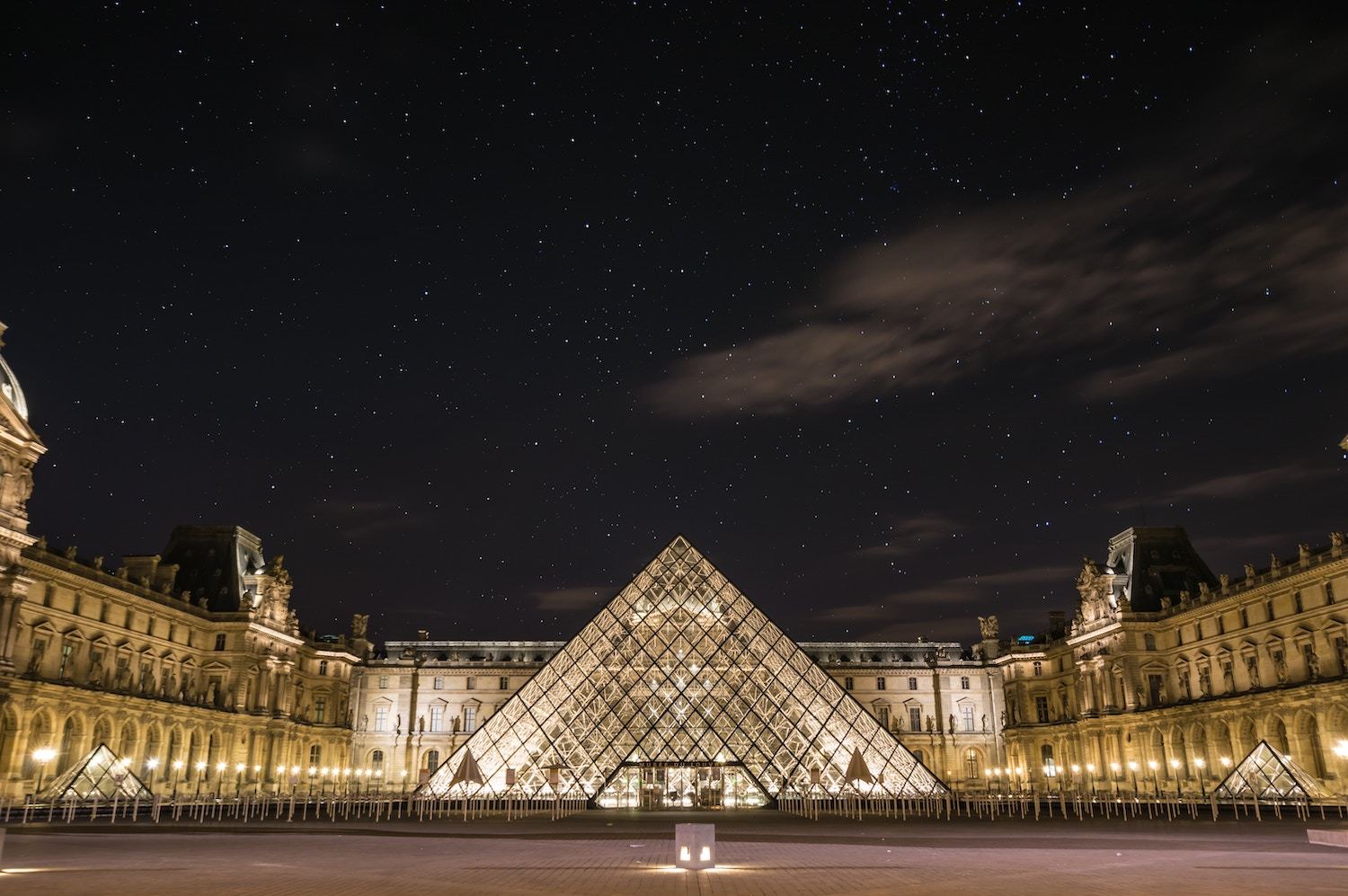 ---
Experience a birds-eye view of Paris from up the Eiffel Tower!
A great place to visit regardless of the time of day. The Eiffel Tower is one of the most iconic landmarks in the world, and for good reason. It really is stunning to see up close, and I personally was so shocked to see how huge it actually is when I visited Paris for the first time!
The 1,665 steps up to the top are well worth it for the sprawling views you get of the entire city from inside the top of the Eiffel Tower. But if you aren't into climbing steps, there is an option to take the elevator up to various viewing points too.
Additionally, for a lovely atmospheric evening; take a picnic blanket and a bottle of wine to sit in the park by the Eiffel Tower. Watch the Eiffel Towers lights turn on at night time and enjoy the vibrant atmosphere in the area.
Just be aware that there will be a lot of people trying to sell you wine, beer, and souvenirs throughout the entire evening.
Paris Travel Tip: A great spot to take Eiffel Tower photos is from the Place de Trocadero. I recommended you get there for sunrise in order to get some shots with fewer people around.
The Eiffel Tower is pretty much always going to be busy to wait in line, so I'd suggest booking a tour that includes a skip the line pass as well. For example, this Skip-the-Line Eiffel Tower & Seine River Cruise is a pretty fantastic deal for first-time visitors to Paris!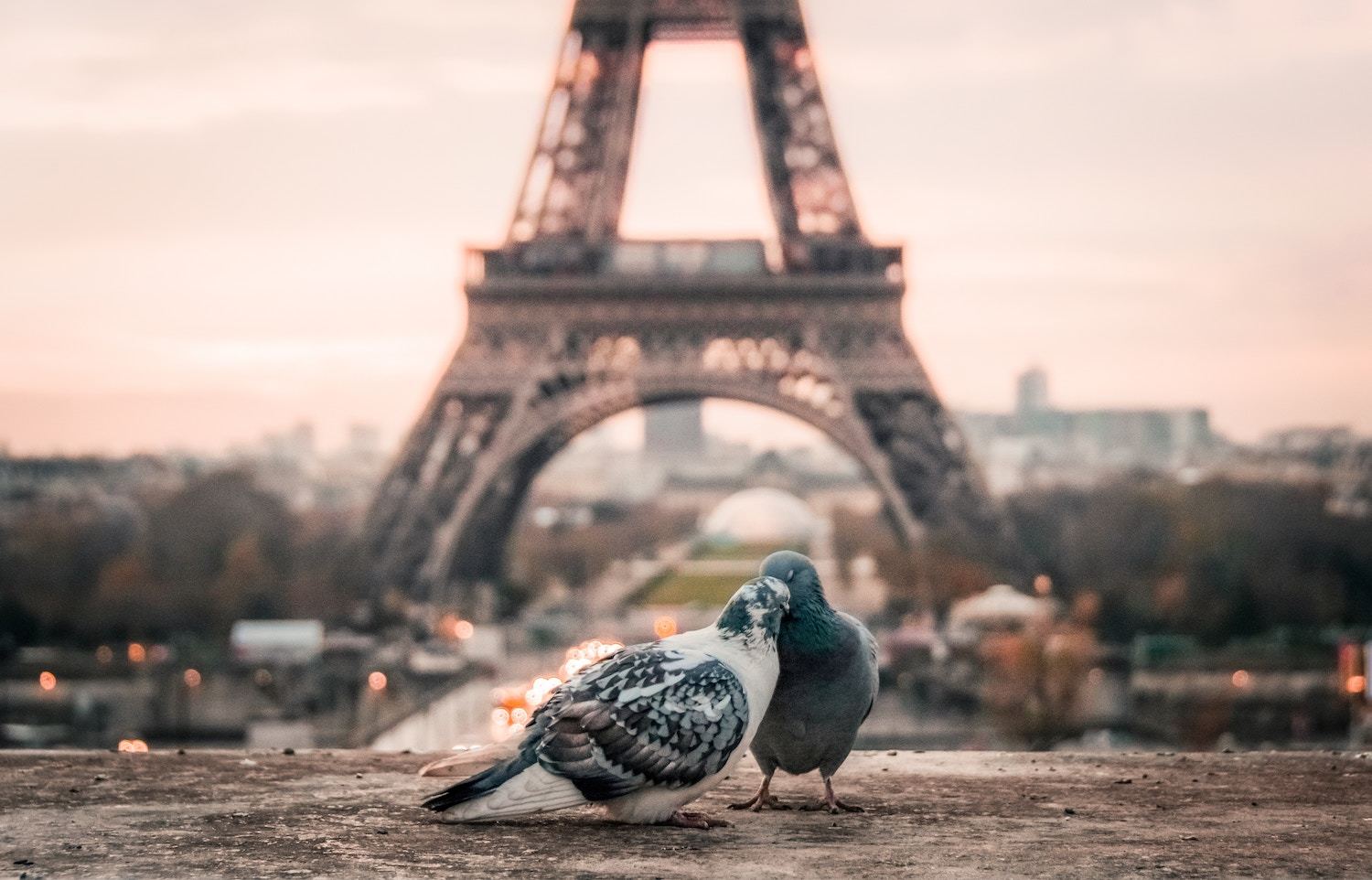 ---
View the Arc de Triomphe up close.
I was super impressed with the Arc de Triomphe when first saw it. Much like the Eiffel Tower, I just couldn't believe how big and grand the Arc de Triomphe was up close. It seems to be an ongoing occurrence when wandering around Paris; all of the buildings are just so beautiful and grand in design.
The Arc de Triomphe honors those who fought and died for France during the French Revolution and Napoleonic Wars. Inscribed on the inner and outer surfaces of the building are the names of all the French victories and generals who fought. Including the tomb of an Unknown Soldier from World War I which lies in a vault underneath the arch.
Tickets cost 12 Euro, but I'd check out this deal for Skip-the-Line Arc de Triomphe Rooftop Tickets to save time and money! It's cheaper than the actual tickets to the roof, and you won't have to wait in the long line.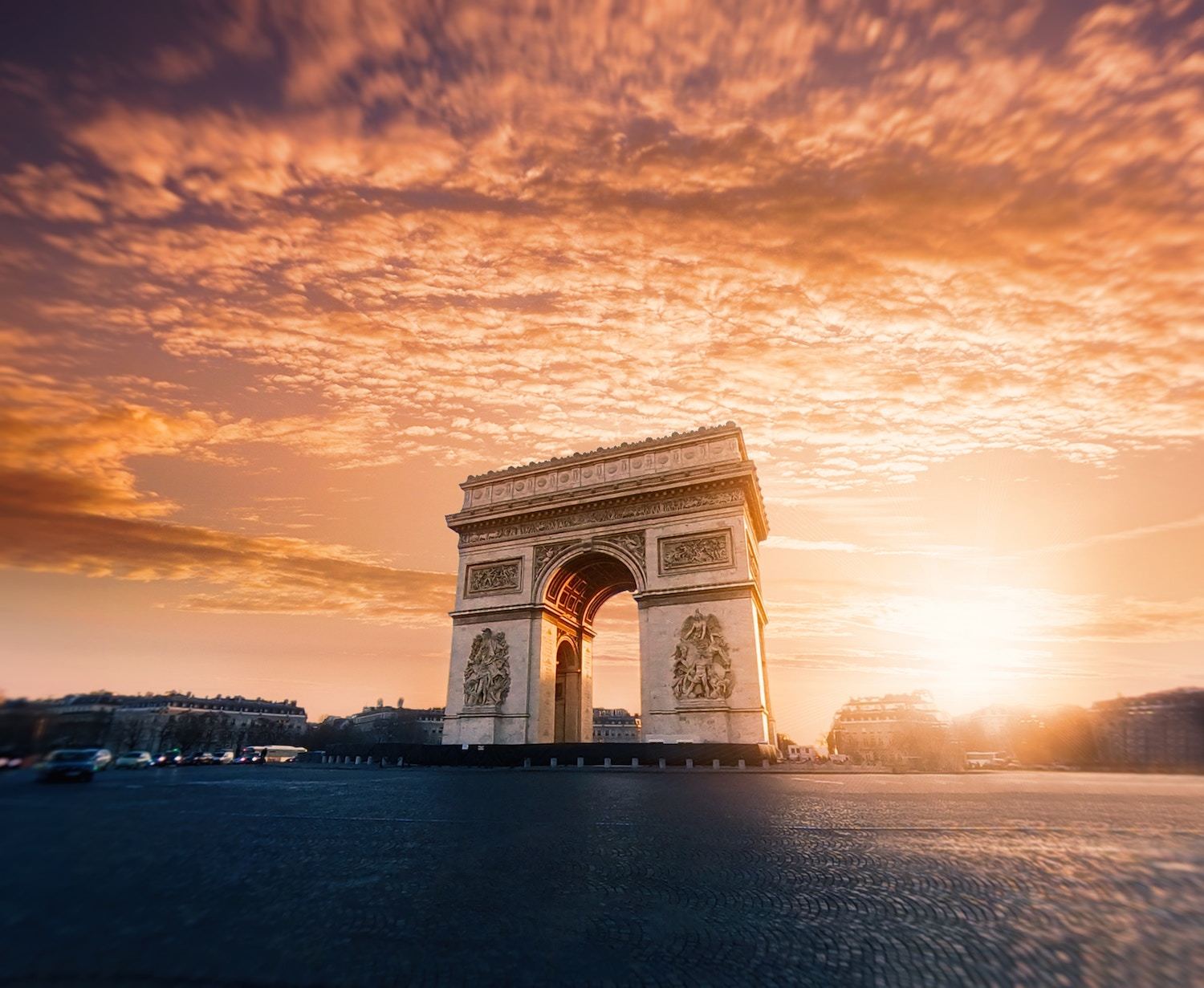 ---
View Palais-Royal and Explore The Beautiful Gardens
Built for Cardinal Richelieu in the 17th Century by one of Frances most influential architects, Jacques Lemercier. Palais-Royal is a very popular place to visit in the city It's known for its iconic inner courtyard sculpture 'Les Deux Plateaux', which is a large modern sculpture consisting of large striped black and white columns. Created by sculptor Daniel Buren, this area is one of the most popular places for taking photographs around the palace.
You also do not want to miss the beautiful Jardin du Palais Royal, which are the stunning gardens situated just next to the Palais-Royal. I personally found these gardens look stunning in Spring and Autumn time.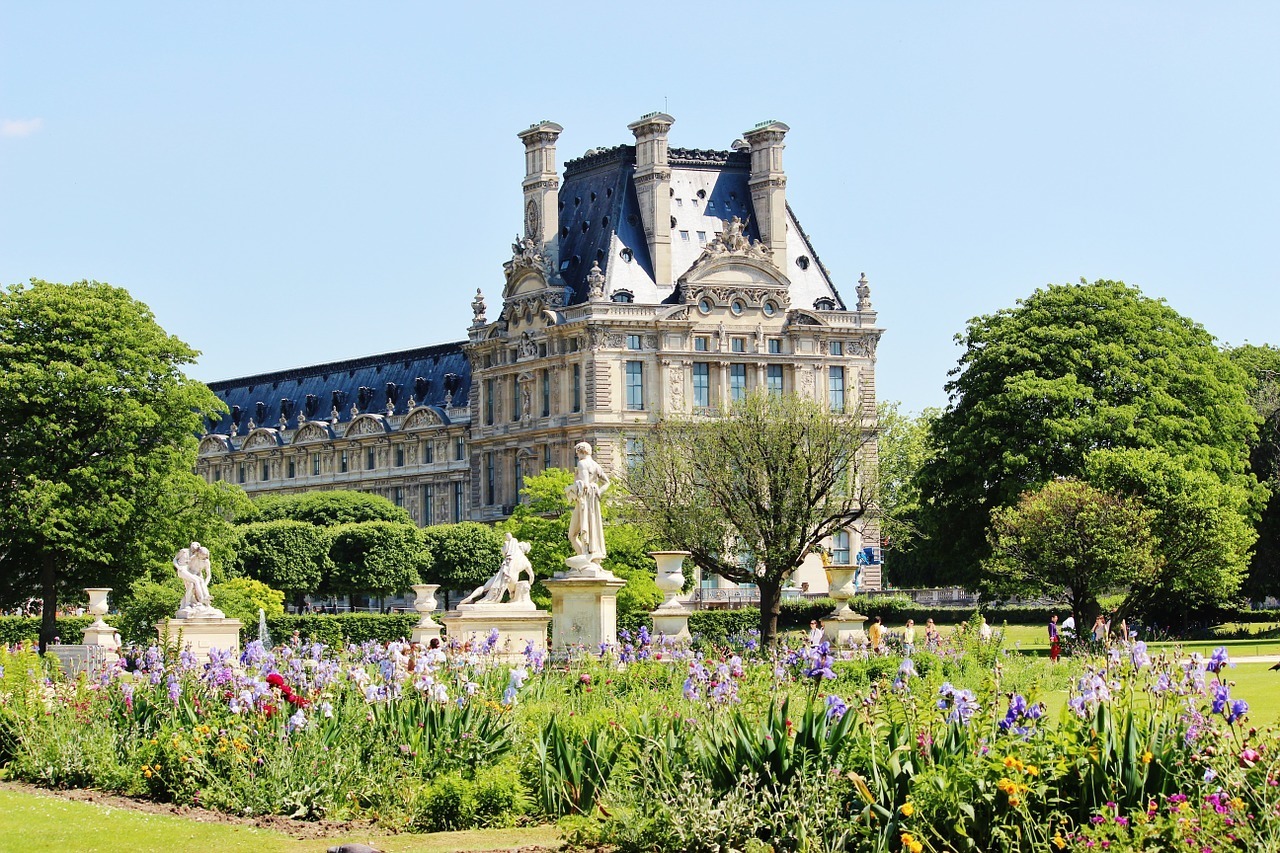 ---
Fontaine St Michael
Designed by Gabriel Davioud in 1855 and completely in 1860, this fountain is a very iconic part of the city, being the tallest fountain in Paris.
The statue was built to depict the archangel Michael combating the Devil, evoking the thoughts of the battle between good and evil. There are also two winged dragons on each side of the fountain which are represented as assisting the devil.
I absolutely loved seeing the famous Saint Michel Fountain. It stands at 26 meters tall and has such an elaborate and intricately detailed design that I could have stared at it all day.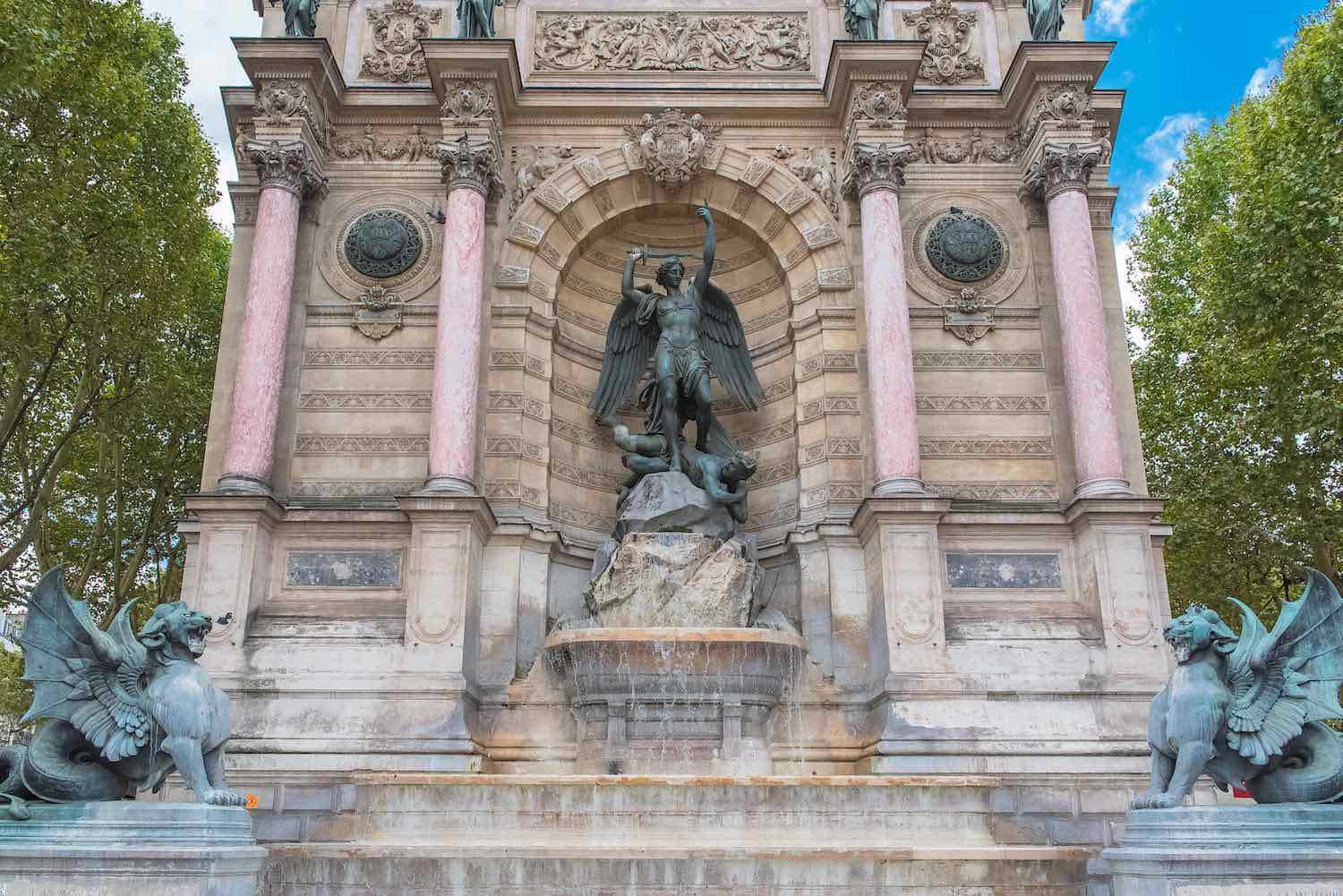 ---
Admire the Notre-Dame Paris Cathedral
Unfortunately, due to the tragic fire that has partially destroyed some areas of the Notre-Dame Cathedral, the famous landmark is currently closed to the public.
However, it is still worth walking up to the iconic cathedral to at least view it from the outside. The exterior is still stunning to look at, it is, after all, a masterpiece of Gothic architecture. Construction started in the 12th century and it is still very much an element of Paris that shouldn't be ignored on your trip.
To make your trip here worthwhile; the Notre-Dame is conveniently located very close to the Sainte Chapelle and the Concierge, which both appear further down this list and place you definitely need to check out while you are in the area.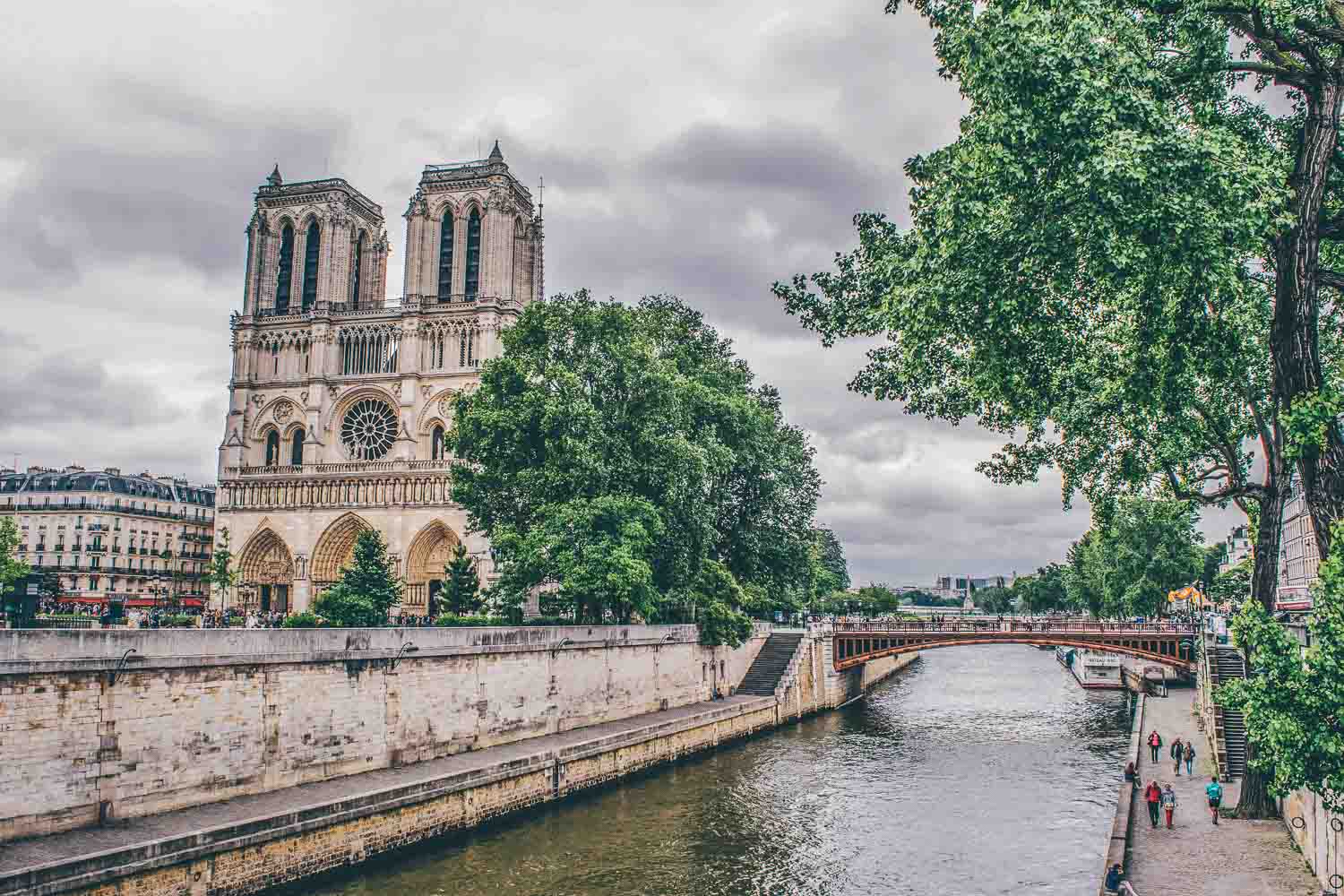 ---
View the Exquisite Stained Glass Windows inside Sainte Chapelle
Within easy walking distance from the Notre-Dame; Sainte Chapelle is definitely not a building you will regret seeing in Paris. Inside the Chapelle on the upper floor, you will find a spectacular room with over 1,000 stained glass windows to view.
Nothing can really prepare you for how striking this room is, with the light shining through and the vibrant display of pinks, purples, blues and other colours; it is just so dazzling and beautiful.
Inside the Chapel are also various informational sheets with explanations as to what biblical stories each famous glass panel is depicting.
Close by is also the Concierge, which was once the royal residence for various French leaders. Definitely worth checking out while you are in the area also.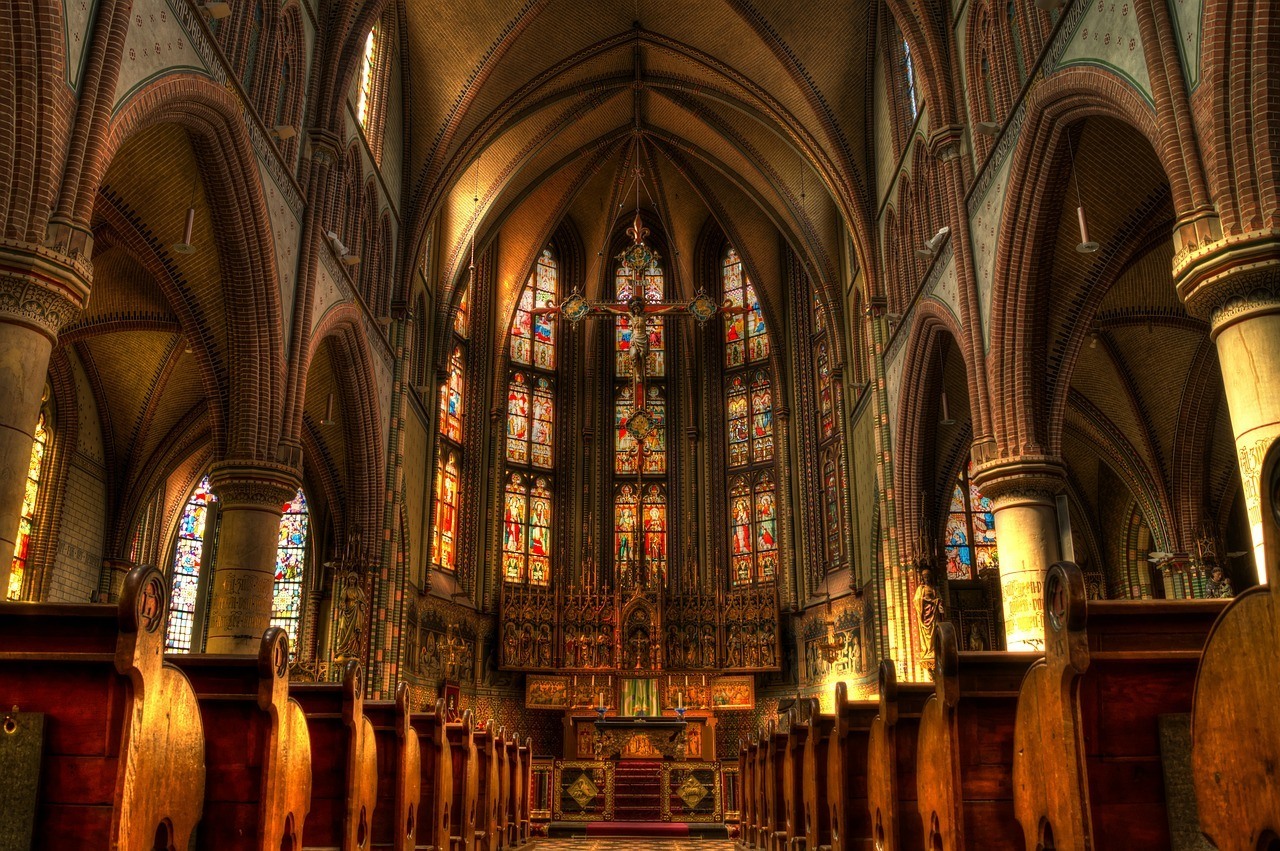 ---
Have a Picnic in The Jardin des Tuileries
Separating the Lourve from the Place de la Concorde are the perfectly designed Jardin des Tuileries. Great for a relaxing stroll through right in the centre of Paris, I personally like to sit in the gardens with a picnic lunch after a morning of exploring the Lourve museum.
The gardens contain two ponds that you can relax by, and close enough is the Musée de l'Orangerie where you could even find some of the famous works of Monet afterwards.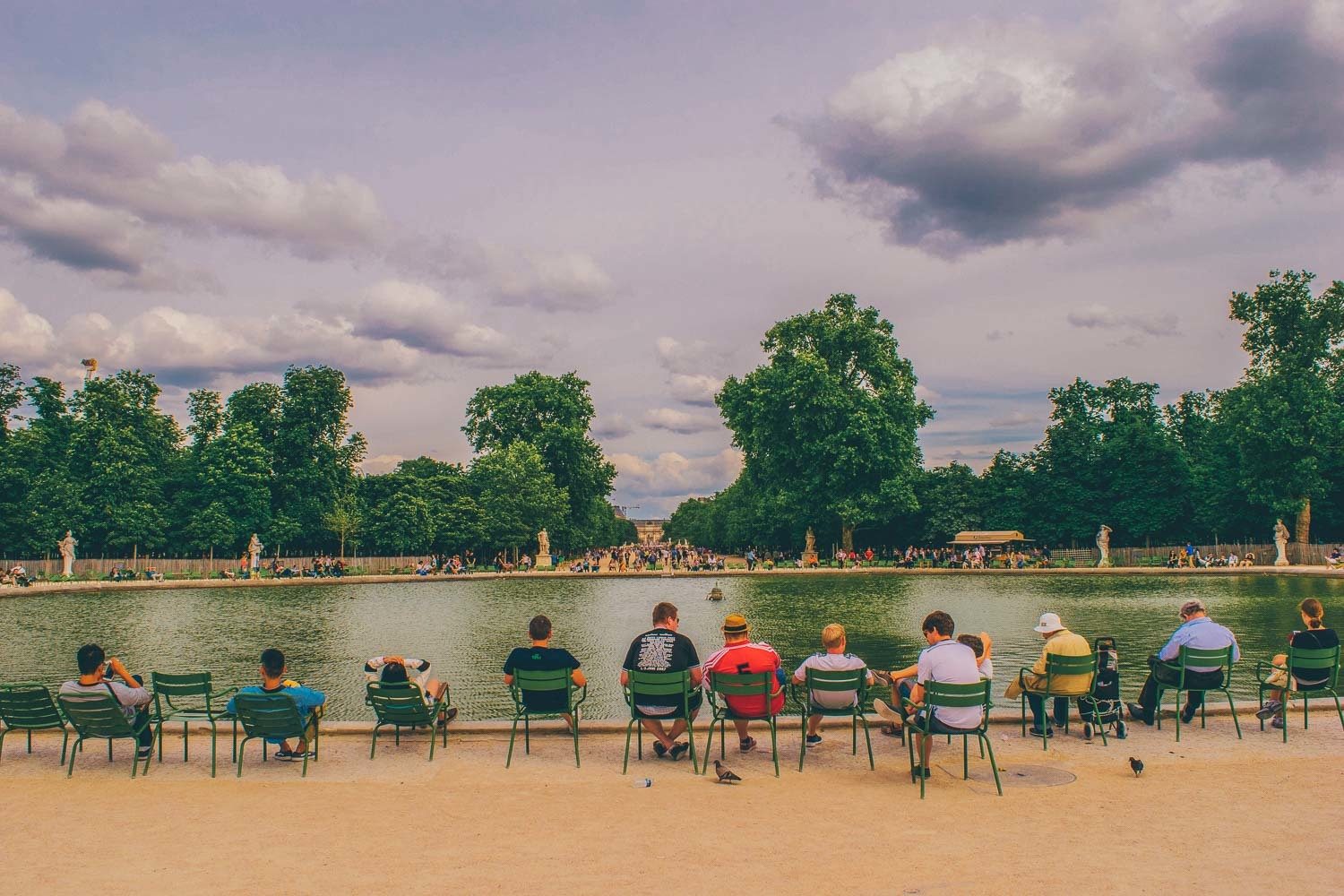 ---
Watch the sunset at Tour Montparnasse Observation Deck
At 210 metres tall, the Tour Montparnasse is the perfect place to finish off your day.
It will cost you 13 Euro, but the views over Paris from up here are well worth it. The tower makes for the perfect place to watch the sunset over Paris.
Conveniently there is also a lovely little restaurant up there, perfect for enjoying a some drinks or food afterwards.
"Straight in and straight up – just 38 seconds and you're 200 metres above Paris, contemplating the very best view you can get of this beautiful city! The Eiffel Tower is right in front of you – a sight you will never forget. Just like the Empire State Building and the London Eye, the Montparnasse Tower Panoramic Observation Deck gives you a totally unique view of Paris and its monuments.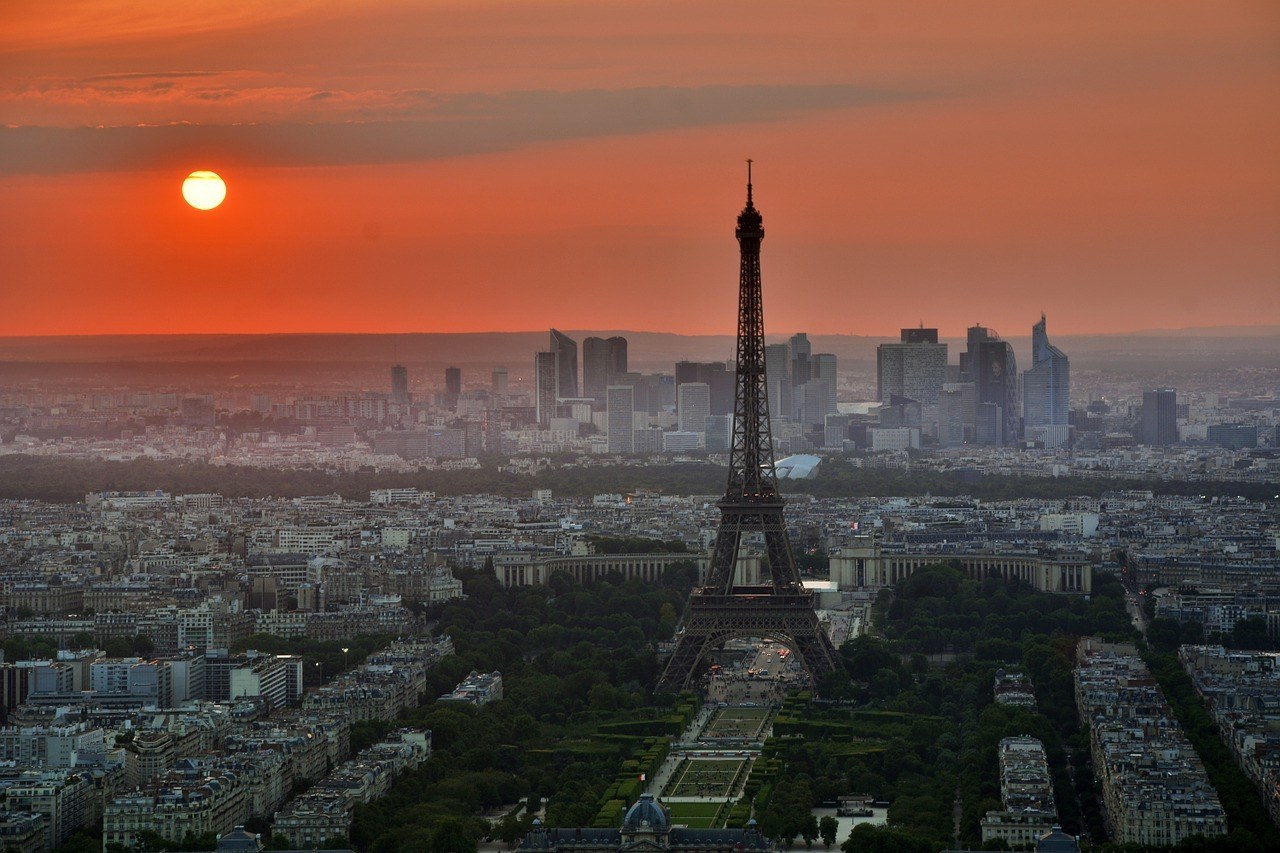 ---
Climb up the stunning Basilique du Sacre Coeur
The Sacre Coeur (or also known as The Basilica of the Sacred Heart of Paris), is the second most visited monument in Paris. Known for its brilliant large white medieval dome, the basilica was built by the French Government following the Franco-Prussian War in the 19th century.
It is located perfectly on top of the hill Montmartre, which is also the highest point in the city. The 300 step climb is more than worth it for the beautiful panoramic views of Paris at any time of day. This is also a great alternative sunset viewing option to the Tour Montparnasse which I mentioned above.
Tour Options: Sacré-Coeur and Montmartre Tour with Expert Guide: "Visit the inside of Sacré-Coeur, the Basilica of the Sacred Heart with an expert guide. Marvel at the world's largest mosaic then enjoy an amazing walk around the village of Montmartre." Price: $17.28 *Certified*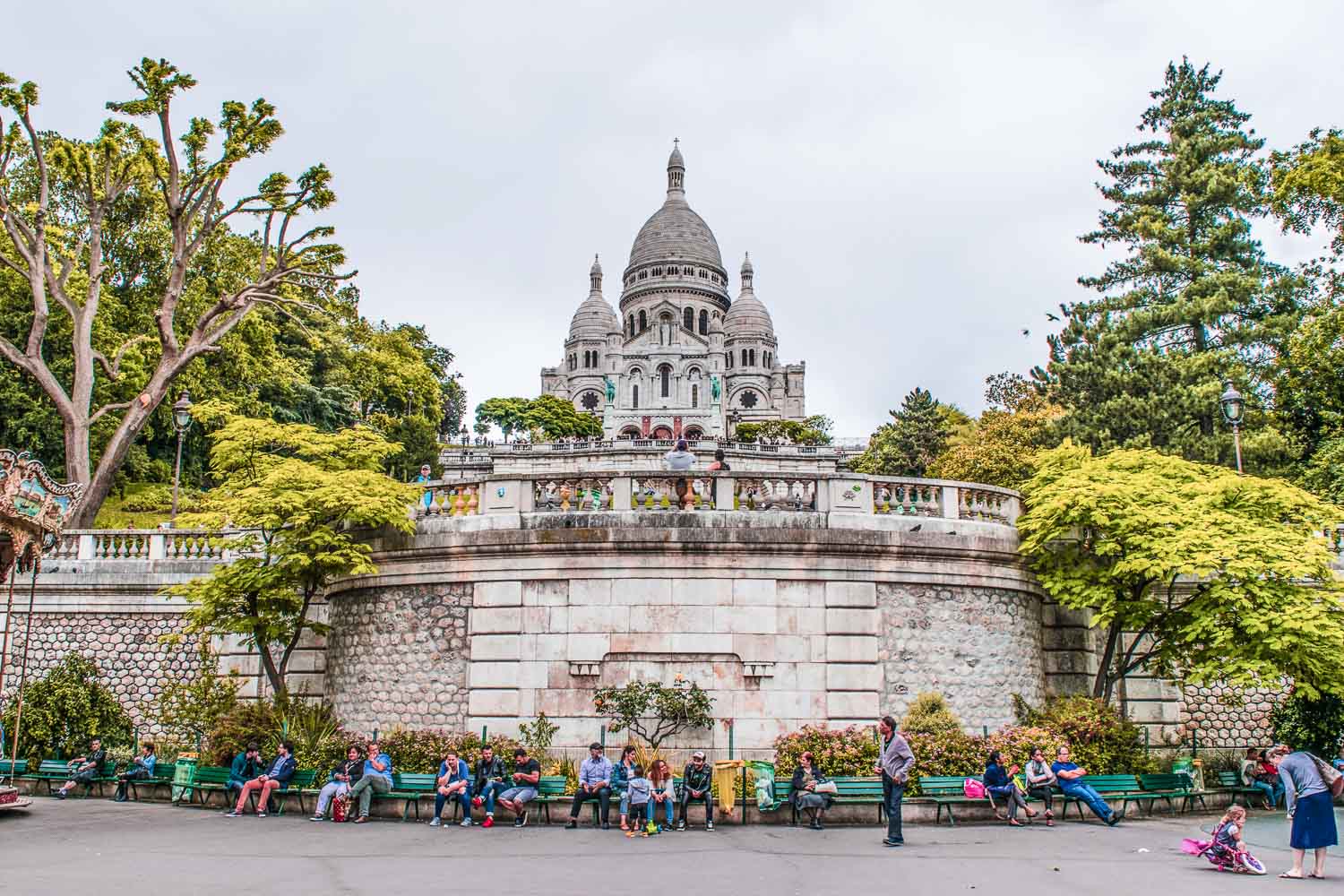 ---
Food & Drink Recommendations for 2 Days in Paris
Since you're on limited time in the city, you won't have much time to explore everything on the list, but I'd recommend giving a quick read through this article, "50 Things You Need to Eat in Paris Before You Die" as it's filled with goodies and I'm sure you'll find some inspiration in there!
Here are a few of my recommendations as well…
Le Procope – A Historical Eating Experience:

If you are wanting a genuinely authentic foodie experience in Paris, you should definitely consider heading to Le Procope. Founded in 1686, it is the oldest cafe in Paris. It also happened to be the cities first ice cream maker and first coffee shop. With authentic decorations throughout, real traditional recipes and proven quality, all for around 21 Euro for a two course meal – this isn't a place to miss.

Bouillon Chartier – A Traditional Quality Meal on a Budget:

Founded in 1896, this place is not only authentic, traditional and of high quality. But it's also extremely budget-friendly!

At only 12-13 Euro for three courses, this place was perfect for me when I was visiting Paris for the first time on a backpackers budget. It serves all of the traditional foods that have been present on the menu right from the beginning, from Snails, camembert and so much more. This place is loved by locals and tourists alike for its high quality food and amazing prices.

Tip: It's always busy, so come early!

Stohrer – One of the Oldest Bakeries in Paris:

When I visited this beautiful bakery I was initially drawn to the stunning interior within, let alone the incredible selection of traditional fresh pastries also on display.

It is famous for its delicious

Baba au rhum

alongside many other pastries available here. But honestly, you can't go wrong with anything you decide to try from Stohrer as I can guarantee that anything you try will be absolutely delicious.

You simply cannot miss grabbing a lunch from Stohrer while you're in Paris.

Pierre Herme – For The Best Macarons in Paris: With a beautiful selection of creatively made Macarons, this place in known for creating the best Macarons in all of Paris. From a great selection of traditional flavors such as lychee, raspberry and passionfruit milk chocolate to more unconventional flavors such as hazelnut asparagus and much more. You can definitely find a unique flavour of macaroon here that you simply wouldn't be able to find anywhere else in the world.

Tip: Buy a box full because you sure will regret it later if you don't. It is also worth trying some of their delicious pastries while you're there.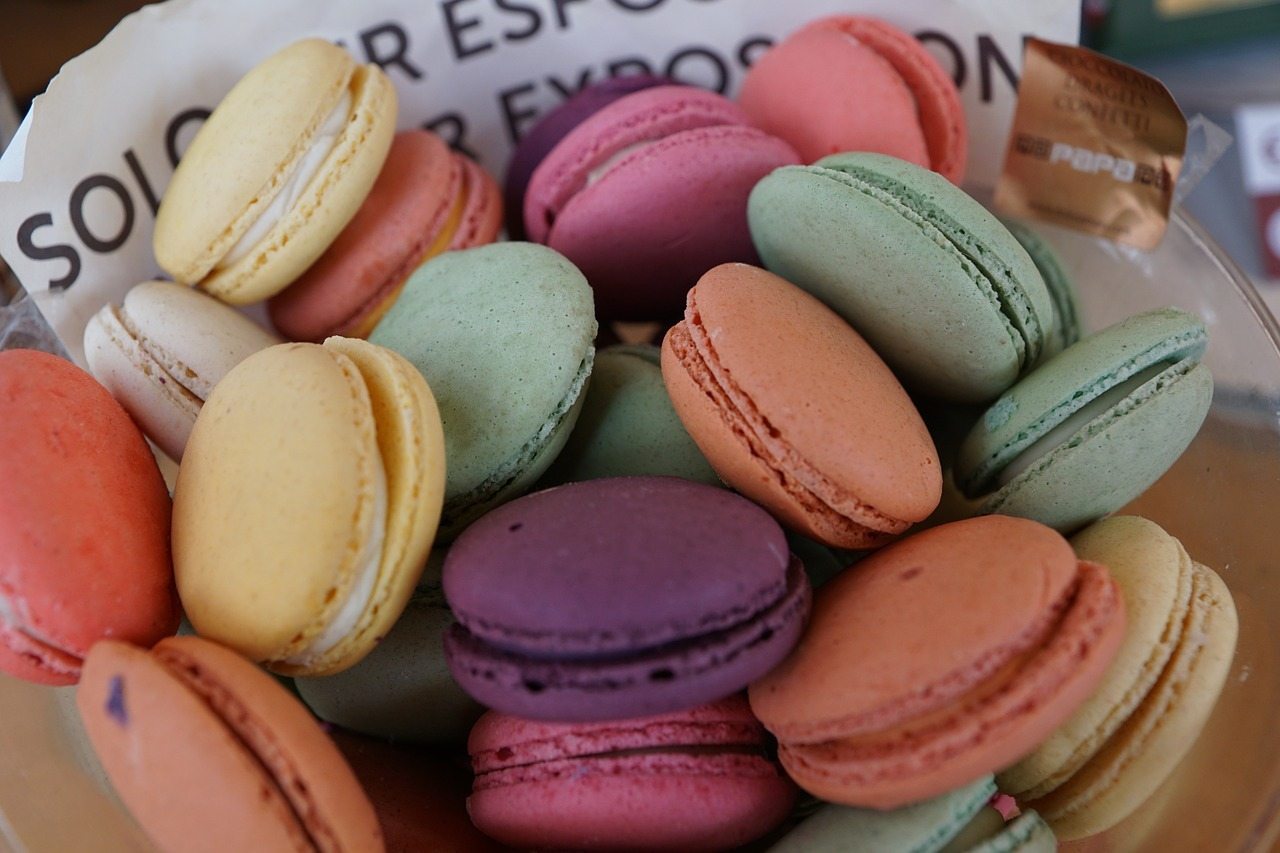 ---
Nightlife for 2 Days in Paris
Paris may not be the first place on your radar for a big party scene. However, Paris does have a very diverse variety of clubs, bars and unique venues that are hidden away just waiting to be discovered.
In this list I have tried to include a variety of both popular and lesser known locations for spending your nights out in Paris.
Moulin Rouge – For The Real Burlesque Experience: If you have a free evening in Paris, you really can't miss the cities big staple cabaret performance experience; The Moulin Rouge!

It's world-famous for exciting crowds with outrageous dancing, costumes and extravagant performances since 1889. Many people claim that The Moulin Rouge is one of the most memorable Parisian experiences they've ever had.

Complete with wine, feathers, lights and sequins, there really is no other place than the Moulin Rouge.

Wanderlust, Nuits and other bars and clubs with the Quai d'Austerlitz complex: W

ithin the Quai d'Austerlitz complex that is home to a fashion museum, little cafes and retail shops is Wanderlust. A bar and terrace new-disco/electronic dance house run by the same people who run

Silencio, the David Lynch imagined club

and

Social Club

, both also popular venues.

Below Wanderlust is also Nuits Fauves

which is another cool little club with a real warehouse kind of vibe. There are graphic posters all over the metal walls, a DJ booth inside a cage and overall a very unique atmosphere with super diverse crowds.

This entire complex shouldn't me missed if you want a party night out in Paris.

Espit Chupitos – A Unique Shot Bar!

Originated in Barcelona before being brought to Paris, this place has almost 600 shots on the menu! All flavors are written on the wall, and costing only 3 Euro each, you can guarantee you will find some incredible new shot recipes to try here.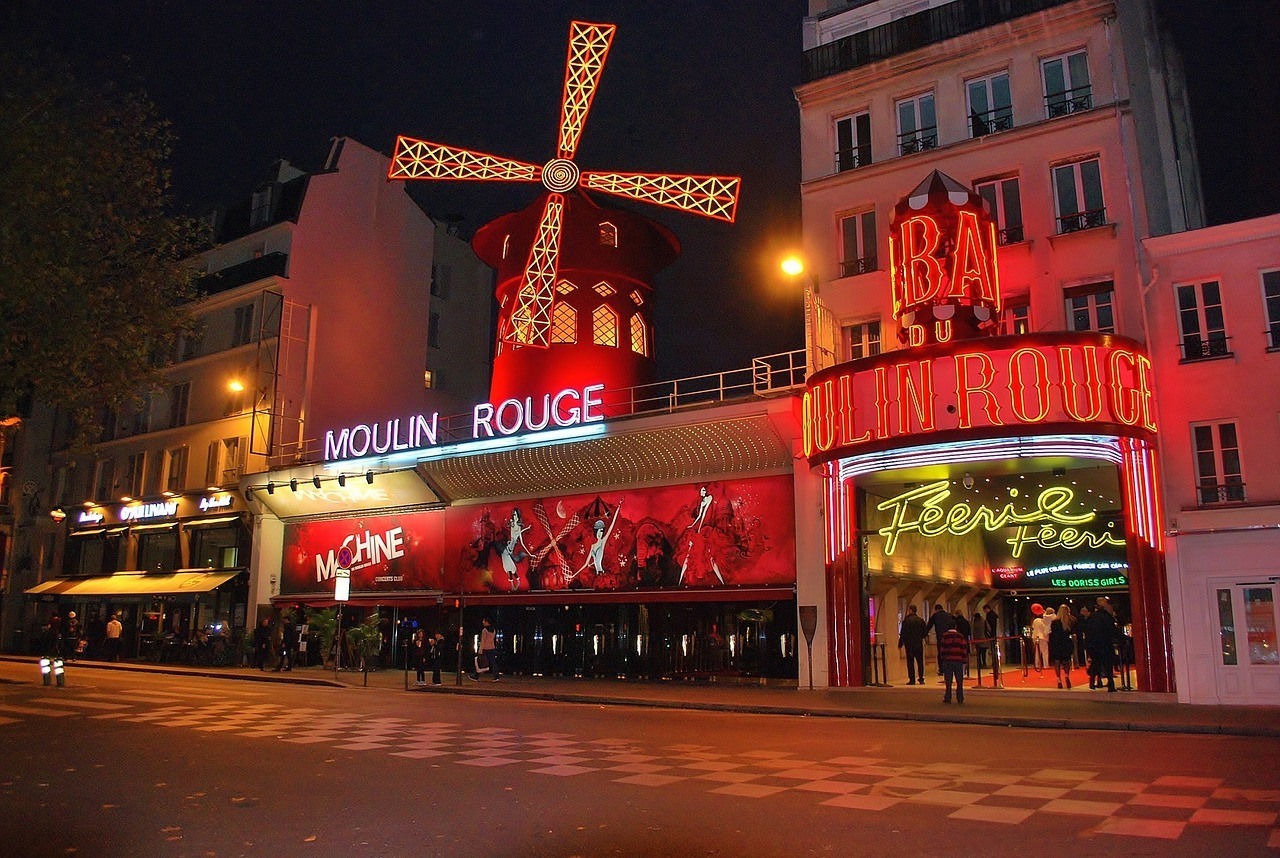 ---
2 Days in Paris Travel Tips
Are you under 26?

It is half price to go up the Eiffel Tower and

FREE

to enter the Arc de Triumph.

Have a European Passport?

Majority of museums and attractions are FREE to those who are under 26 and hold a European passport. Ie The Louvre and Sainte Chapelle. Make sure you take your passport (and student ID) out with you at all times just in case there is a discount available.

Don't miss out on the FREE Paris Walking Tour.

A walking tour is the perfect way to not only explore Paris like a local, but you also get the opportunity to ask some of your most important questions to the experienced walking tour guides, too. They often throw in some humour and fun stories and overall I always find walking tours my most informative and affordable way to learn about a new city.

Usually a walking tour in Paris will last around 3 hours. They usually cover all of the most famous landmarks such as The Notre Dame, the Lourve and even some famous street markets.
Be careful of pickpockets. While Paris is a safe city to visit, you need to remain vigilient and keep an eye out for suspicious activity like pickpockets. Paris is one of the most visited cities in the world, and unfortunately, that means pickpockets tend to prey on tourists!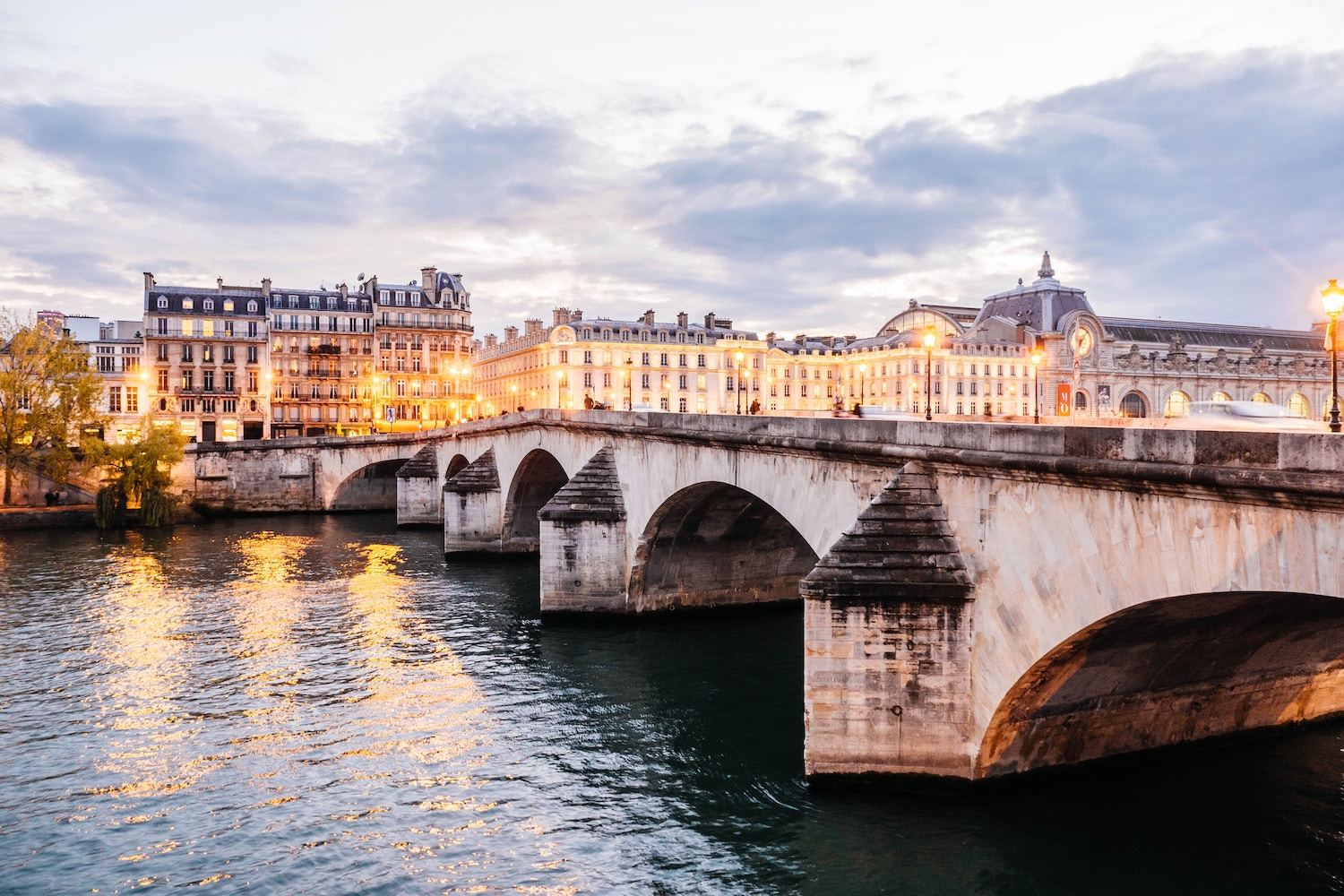 ---
What am I'm missing on my Two Day Paris Itinerary?
Paris is an absolutely massive city, and only having two days to explore it is not much at all! But I do hope my itinerary has shown you some great places to visit during your trip, some fun travel tips, and quality tour bookings. If you think I need to add anything to this itinerary, please do reach out to me and let me know!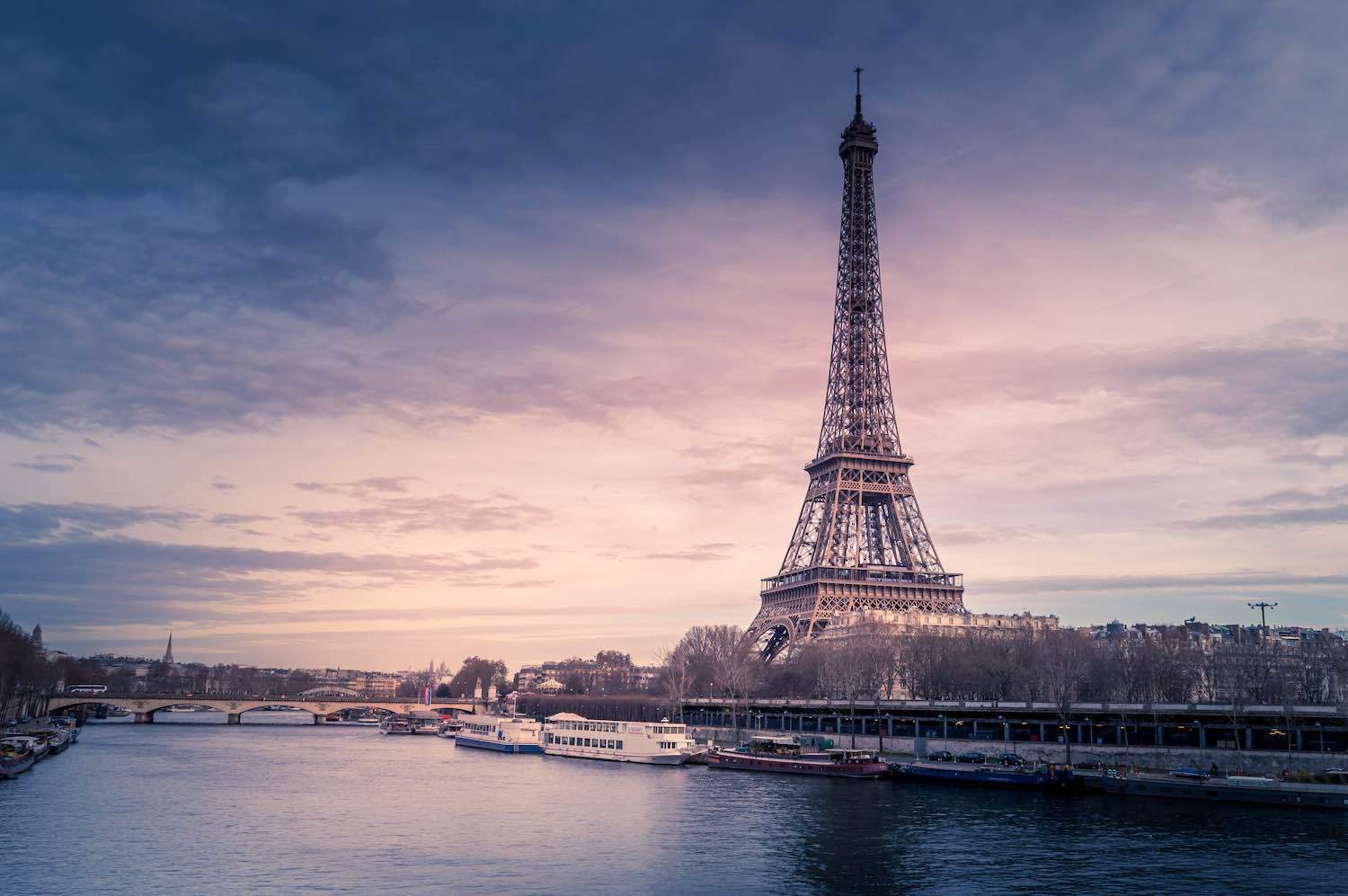 ---
Planning a trip to France & Europe…?
I've spent a lot of time living and working in different parts of Europe, and my website is filled with helpful travel itineries, things to do, destination guides, festival roundups, and much more! Check out a few of my favorite articles below, and as always, please do email me if you've got any questions about anything you've read! I love helping people plan their travel as much as possible!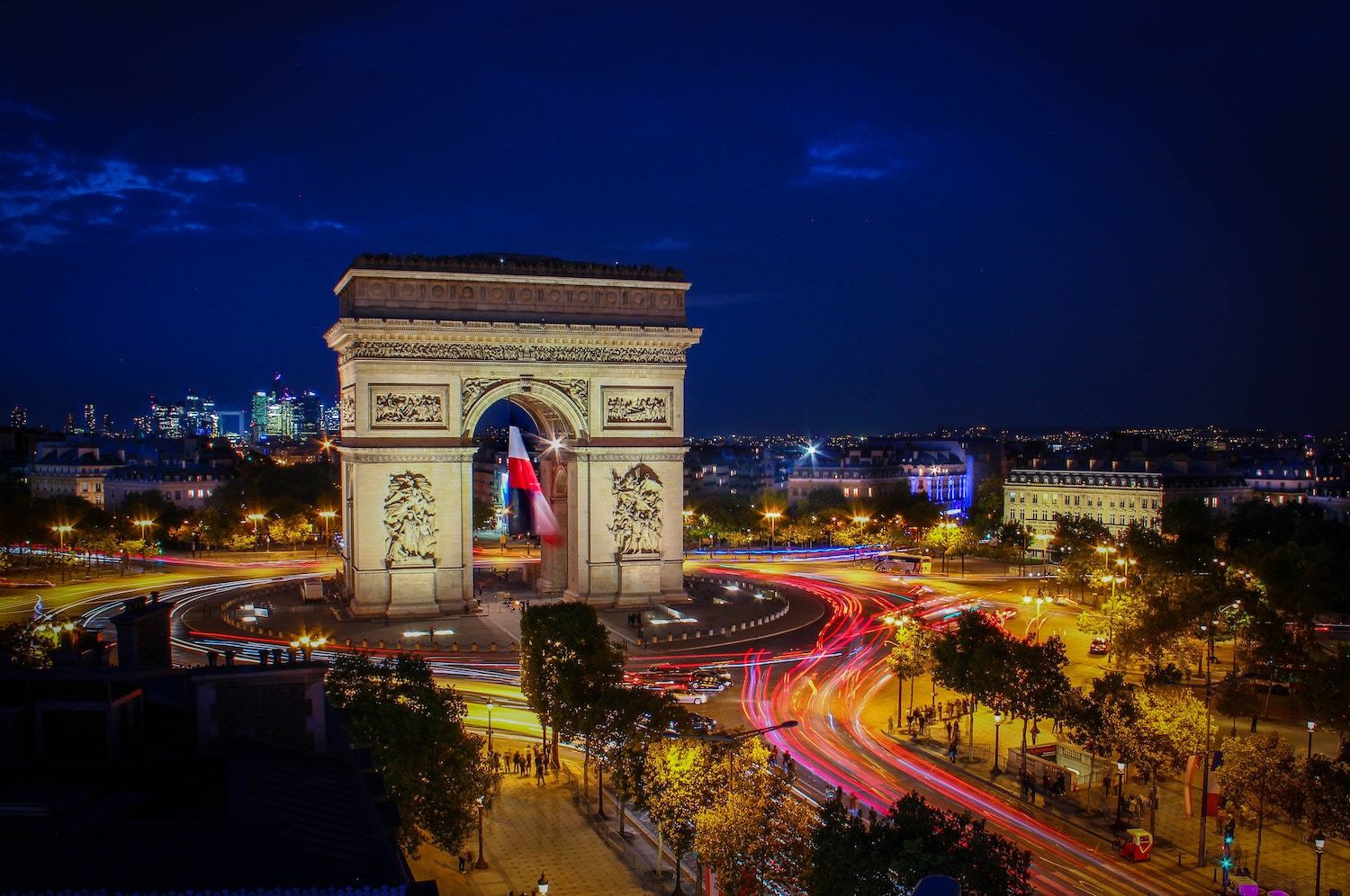 ---
Thanks for reading my Paris Itinerary!!
Share this 2 Days in Paris article with your travel squad!
https://www.jonesaroundtheworld.com/wp-content/uploads/2019/07/2-Days-in-Paris-Itinerary-.jpg
853
1280
Dave
https://www.jonesaroundtheworld.com/wp-content/uploads/2017/03/logotry-1-1-300x106.png
Dave
2019-07-17 18:56:51
2020-10-30 18:18:33
2 Days in Paris Itinerary | The Best Way to Explore Paris in 48 Hours