Planning a trip to France and looking for the best things to do in French Riviera?
Well, look no further because I've put together the ultimate list of things to do, places to visit, and wonderful must-see French Riviera attractions. They're all so spectacular they'll have you wishing you could stay on the majestic southern coast of France!
The French Riviera stretches along the Mediterranean coast for nearly 600 miles, and it's become one of the classiest, most elegant, and beautiful destinations to travel to in all of Europe.
From gambling at the world-famous Monte Carlo to devouring as much seafood as possible in Nice, you're in for a real treat. And who knows, you may even be able to visit one or two of the top music festivals in France during your exploration of the French Riviera.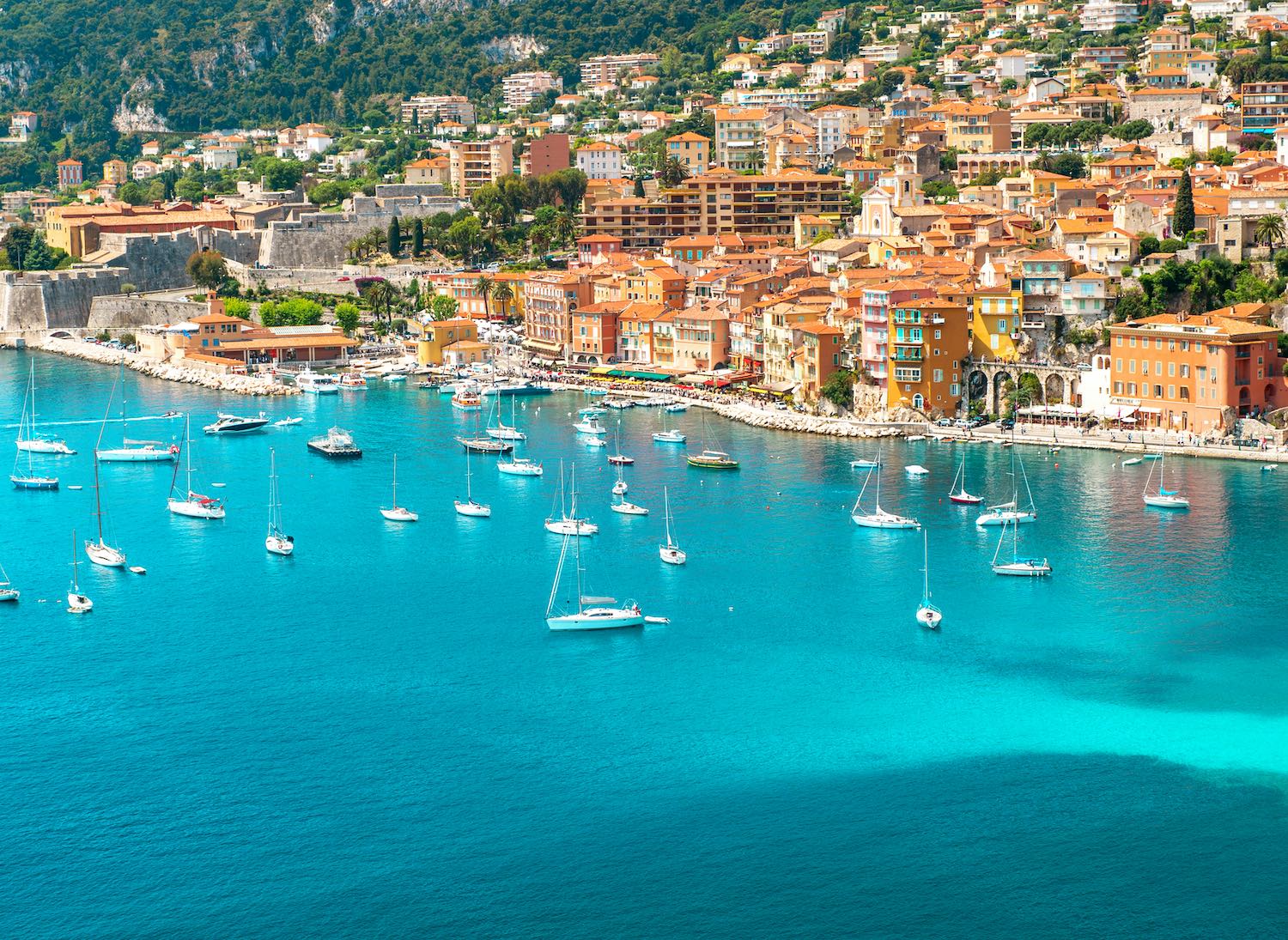 ---
Things to Know Before Enjoying the Top French Riviera Activities
Not only is it situated in Southern France, but it never actually gets too cold. During winter, this semi-arid region provides moderate temperatures between 10°C and 15°C (50°F – 60°F), making it a popular destination for a winter escape.
The Riviera is also nicknamed Cote d'Azur or the Blue Coast. This explains why many of the things to do on the French Riviera consist of exploring the region's pristine beaches.
And this destination authentically lives up to the name because it is adorned with countless blue-flag-labeled beaches. As a matter of fact, in 2017, the area was awarded 82 different blue-flag beaches.
PS: With so many must-see French Riviera activities and glorious weather to boot, it's no wonder it's one of the best places in Europe to visit in April.
So without further ado, let's journey to the beautiful French Riviera and learn all about the amazing things to do!
---
1) Visit The World's Second-Smallest Country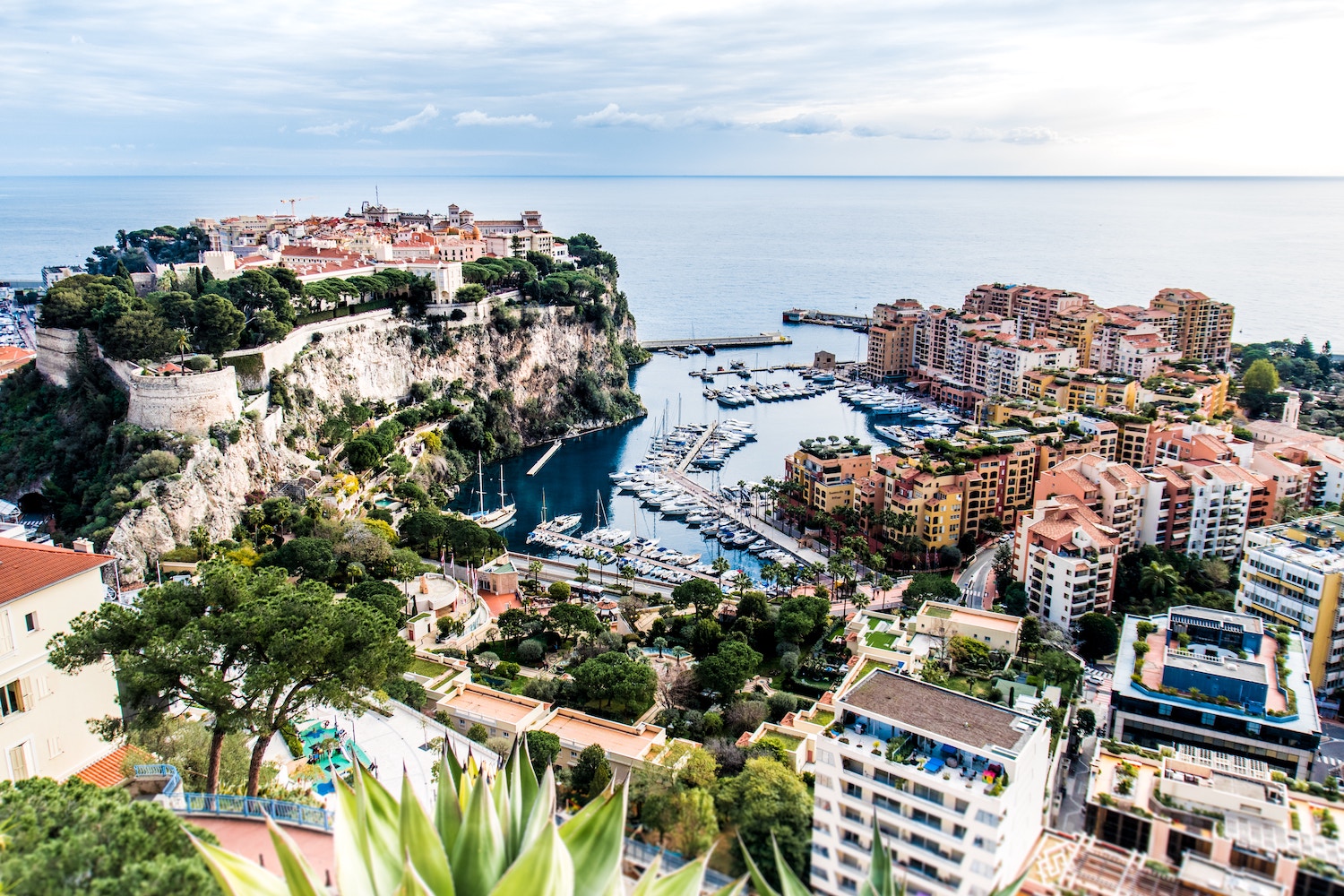 The principality micro-country that is Monaco shouldn't be underestimated. It's home to some of Europe's finest beach resorts and white-sand beaches, all within an area of just over 200 hectares!
It's situated between the Alps and the Mediterranean Ocean and is a dominating French Riviera attraction. There are many sites in this small country, but a highlight includes the world-famous Oceanographic Museum.
The museum took 11 years to build and is perched almost 100 meters above sea level. It's also one of the world's oldest aquariums and is often synonymous with Monaco. There are roughly 6000 underwater species here. Who said you have to visit Mauritius to experience a stunning underwater world?
Given that it is less than 2 miles in length, the country is easily walkable. Monaco City should obviously be your first stop in this miniature country.
The country is packed with glamorous palaces and striking cathedrals, but a particular one you simply have to visit is the Prince's Palace of Monaco (Monaco-Ville). This is where the Prince of Monaco resides, and the architecture is worth admiring.
And once you're done exploring Monaco-Ville, how about heading over to the Casino Monte Carlo for a gambling extravaganza? The casino itself is worth visiting, let alone the high-stakes poker opportunities.
Top Tip: If you're coming from Nice, consider joining this Monaco by night tour to see the beautiful Mediterranean Sea lit up by the country's nightlights.
Watch this awesome video below, and read through this article on the Best Things To Do in Monaco for more information on this exotic destination!
Monaco - The secrets of a true luxury stay - LUXE.TV
---
2) Get High up at Les Baux de Provence
The French Riviera is mostly admired for its pristine coastline and lush greenery. However, the area comes with a significant history and culture. This is visible in the landlocked, medieval village of Les Baux de Provence.
Of the hilltop villages in the French Riviera, it easily has the most picturesque setting in Alpilles National Park. The French word 'Baux' translates to a steep cliff, which is very apt as the village sits at an elevation of almost 220 meters and extends over a hillside.
You'll quickly be transported to the bygone era as you walk through the cobble-stoned streets and ancient courtyards of this quaint village.
You can expect lots of rocky highlands as it's located within range of the Alpines Mountain Range. A popular landmark of the village is the Chateau-Fortress area. It's a ridge area that provides some pretty fascinating views that can reach as far as Marseille (54 miles away).
If you're looking to learn more about this destination and have a hassle-free experience, join this full-day tour of Provence.
Les Baux-de-Provence, France part 1 the village
---
3) Feel the Glitz and Grass at Saint Tropez
There's a reason why this coastline is so sought-after. The coastal town of Saint Tropez is a testament to this, as it features in prominent movies such as The Transporter. The town is positioned at the edge of a peninsula, which explains the chain of crystal-blue, white-sand spots like Pampelonne Beach.
Tourism brings about most of the city's income as it is home to picture-perfect beaches and an array of museums. And to think that it was only a historic fishing village way back when.
The nightlife here is also worth a visit, with its chic and elite party scene and the fancy cruise ships. France certainly offers some of Europe's best parties, and Saint Tropez is the epitome of a festive French destination.
While this town may be extravagant, its natural landscape is worth admiring. The mild ocean waters accompany rolling green shrub hills and sandy beaches. Its natural beauty is best explored at the Ramatuelle Reserve on an epic kayaking experience.
And don't forget the olive groves at Chateau Léoube, my oh my, are they drop-dead gorgeous!
24 LEGENDARY hours in Saint-Tropez
---
4) Discover the Riviera's Best-Kept Secret at Gigaro
Most people who travel to St. Tropez are unaware that only a 25-minute drive away lies a stunning yet quiet beach area. Gigaro contains the start of a walking trail along the Mediterranean, so expect sweeping views.
It's a resort area that may not boast the high-end aspects of St. Tropez but certainly does present visitors with untouched natural beauty. The 6 miles of pine forests and rocky coastal inlets make for the perfect day trip that should be on all French Riviera itineraries.
You'll also find some fantastic beach restaurants serving only the freshest seafood. And these beach restaurants aren't falsely advertising. Marius a la Plage is quite literally on the beach and only a few feet away from the water. The views from this restaurant are unbeatable.
Gigaro - Presqu'ile de St Tropez
---
5) Get Some Venice Style Pics at Port Grimaud
You don't need to travel to the border for a slice of Italy. When you're asking what to do on the French Riviera with Venetian flare, then popping over to Port Grimaud should be at the top of your list. The French version of Venice is fairly new, as Port Grimaud was only developed in the 1960s.
It should not be confused with Grimaud, a medieval village that is part of the same commune as Port Grimaud. This seaside town is another viable option for a day trip from St. Tropez as it is only 4 miles west.
Rather than mimicking Venetian architecture, Port Grimaud's chain of canals is bounded by Provencal-style buildings. These buildings are architectural wonders, with each having a distinct color and design.
If you've been to Venice and found yourself wishing for some natural elements, too, then Port Grimaud is your best alternative. It combines the multi-color spectacle of Venice with the backdrop of lush, rolling green hills. You can find incredible beaches perfect for swimming, a luxury you won't be afforded when in Venice.
Port Grimaud - the Magic of Port Grimaud
---
6) Unwind in the Lerins Islands
Just off the coast of Cannes lies an archipelago of four islands, two of which are untouched. The islands are only a 20-minute boat ride from Cannes and offer a break from the city. The two main islands tourists visit are located just under one mile from each other.
Forget about any form of transportation on these islands because you'll only be able to walk. This means the islands are the ideal destination for those seeking active and unique things to do in the French Riviera.
The two islands available for the public are the Île Sainte-Marguerite and Île Saint-Honorat. The former island is the biggest of the two and is an absolute must-see. It contains almost 14 miles of natural hiking trails and has strong cultural aspects worth discovering.
This includes the Cistercian monks that live on the island and work in its vineyards. Although they lead a simple life, they produce elaborate wines that have won many awards at the Monasterio de Lerins. Be sure to taste some of these wines when you're on the island.
Suggested Tour: Why not make your visit special on a Lerins Islands sunset cruise?
COTE D'AZUR BEACH DRONE | ILES DE LERINS, ILE SAINTE MARGUERITE | THE MOST BEAUTIFUL BEACH IN FRANCE
---
7) Get Star-Studded at Cannes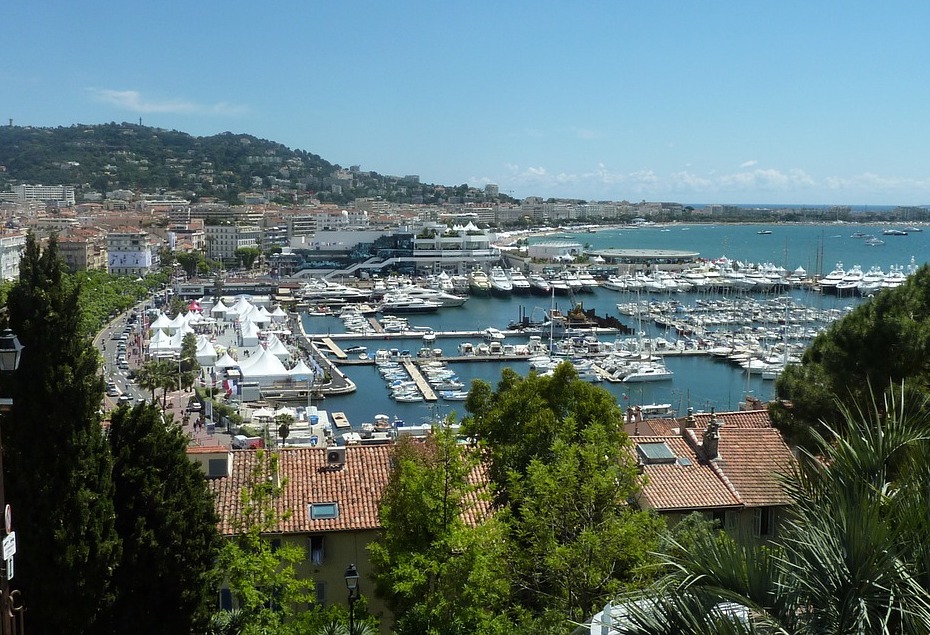 You've surely heard of the famed Cannes Film Festival, but what more do you actually know about things to do in Cannes? Over and above the chic lifestyle and film industry, this town is Cote d'Azur economic hub — and is informally regarded as the 'Sister City of Beverly Hills.'
It's also a culinary utopia for visitors, with extensive food markets that promote traditional French cuisine. A top pick is Cannes' Marché Forville.
Any trip to Cannes wouldn't suffice without a visit to one of France's most established and popular streets, La Croisette. This street is a promenade that stretches for one mile, with lovely views of the gleaming Mediterranean waters. And did I mention that Cannes is a popular cruise destination that offers majestic views of Promenade de la Croisette?
While you can lead a very cosmopolitan lifestyle in the city, the outskirts, and surroundings offer some of the most uncompromised nature experiences you could wish for.
PS: If you take a short 45-minute drive out of town, Saint Paul de Vence is a hilltop commune that offers majestic Alpine views. You can experience this stunning place on a half-day tour with wine tastings.
CANNES Top Attractions, France | Côte d'Azur
---
8) Leave the Ocean Behind at Fontaine-de-Vaucluse Village
This small commune is within the French Department of Vaucluse. It's another inland destination that is often neglected when visiting the French Riviera. Yet, this little commune is home to a magnificent natural spring from a 755-foot cliff. It's actually France's largest spring and the 5th-most powerful in the world. Pretty crazy, right?
This flowing water is super powerful, surging 630-700 million cubic meters of water annually. It is one of the more unique options for French Riviera things to do.
Fontaine-de-Vaucluse is even more spectacular as all the water sources eventually flow into a shaded, still, and calm basin. The locals revere the spring and view it as a sacred site.
The commune is interspersed with quaint waterways that meander through the buildings and are set against rocky outcrops. The sparkling emerald-green waters of the canals and surrounding rivers mean you'll never be short of a refreshing (and Instagram-worthy) swim.
Christian Löffler live @ Fontaine de Vaucluse in France for Cercle
---
9) Enjoy all of the Riviera's Characteristics in Théoule-sur-Mer
This charismatic village has compressed all the features of a large city into one breathtaking location. You can admire red rock formations, four ports, a castle, and a palace, all within a 1050-hectare radius. And you'll never feel separation anxiety from the crisp, salty air and blue waters here because the village occupies over eight miles of beachfront.
The red rock formations are a marvel and form part of the Esterel Mountain Range. These rock formations give rise to the Calanques of Esterel, coves that are great for explorations. Over and above being simply a beaching destination, this village is the perfect gateway to some of the Riviera's finest hiking opportunities.
Two of the top things to do in French Riviera's Théoule-sur-Mer are to visit the Pointe de L'Aiguille and the Notre-Dame d'Afrique. These two sites authentically display the essence of Cote D'Azur — gorgeous ocean and lush mountains.
The Pointe de L'Aiguille is a departmental area that provides visitors with many scenic hiking routes along the rugged coastline. Here you'll have direct access to the coves. You should also venture out to the Notre-Dame d'Afrique in the mountains. Here, you'll find a mountain-top statue that almost reaches 15 meters.
Théoule-sur-Mer : Plage de la Pointe de l'Aiguille
---
10) Get Some More Nice Pics!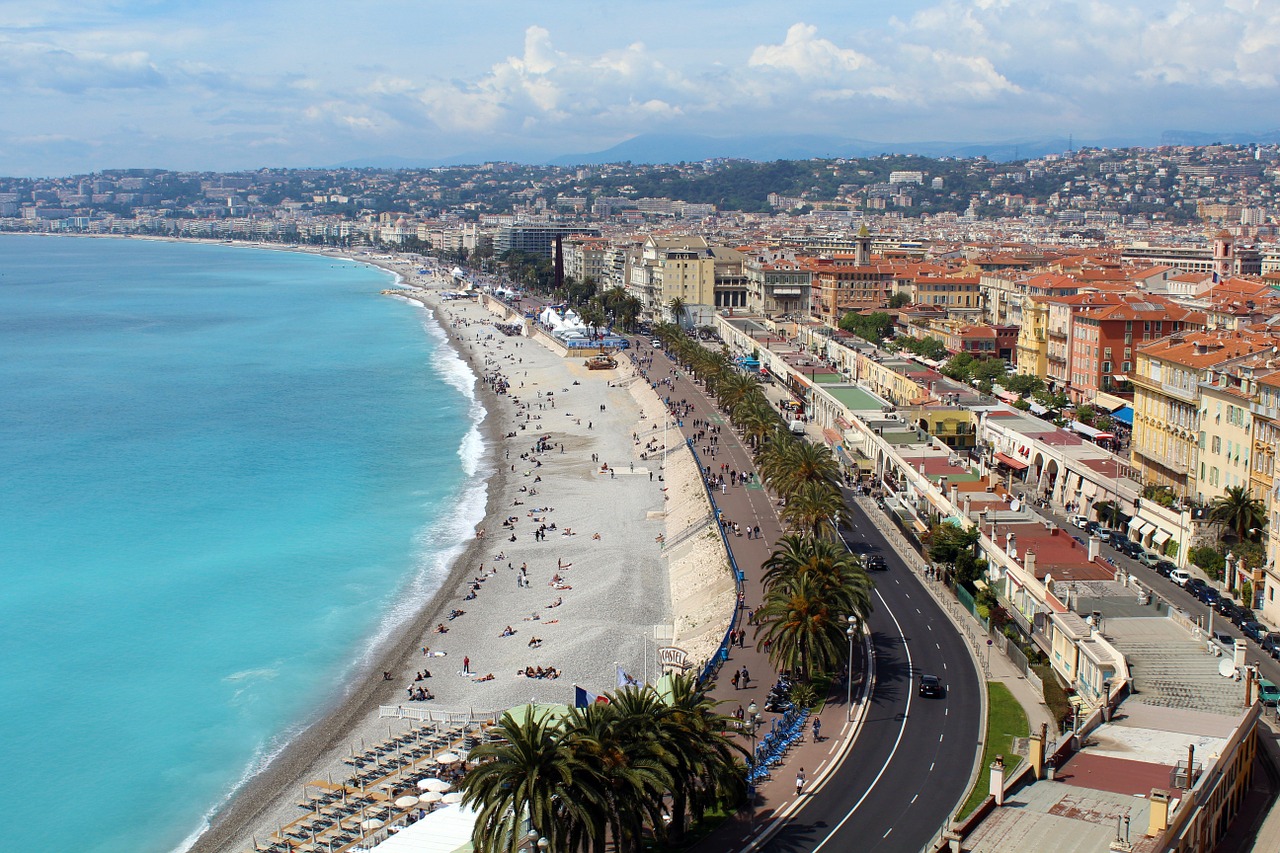 Tourists usually associate things to do in France with Paris, the capital city. Yet, the French Riviera has its own capital city, which is a little 'nicer.' The most synonymous destination to the French Riviera is Nice, as it's the region's largest city.
It's the capital of the French Riviera as it presents visitors with the quintessential Côte D'Azur experience. In other words, along with the pebble-stoned (and golden-sanded), transparent-water beaches, it's a crucial culture and historic part of the region.
It's famed for its long-stretching Promenade des Anglais, which snakes along the ocean for four miles. Not only is this a French Riviera must-see destination for the rich and famous, but it has also lured many artists over the past centuries. This means that the quality of art compositions here is unrivaled, and you'll find a Chagall and Matisse Museum that proves a great experience.
You'll also notice the strong Italian resemblance of the city, as it was only part of the French empire from the late 1900s. You should also include a visit to the city's expansive green spaces in your things to do in Nice itinerary.
PS: Nice also bursts with color in mid-May as they host the Rose and Plant Festival.
If you want great city vistas, Parc de la Colline du Château is well worth popping by and even has a waterfall. And for something a little more special, Villa Ephrussi de Rothschild is a magnificent destination on the city outskirts.
Suggested Tour: Explore Nice's Old Town and Castle Hill on this guided walking tour.
TRAVEL GUIDE: Top Things to Do in Nice, France
---
11) Have Intimate Nature Experiences on Bendor Island
The mainland of the French Riviera is often more touristy. But, the region consists of numerous secluded islands that are easy to reach. Bendor Island is a prime example, as it's an island near the coastal town of Bandol.
This is undoubtedly one of the best places to visit on the French Riviera if you wish to escape from the inland crowds. The island is attached to a complicated ownership history as it has been entitled to many different owners and has even been deserted at times.
Presently, it is under the provision of Paul Ricard's son. This is why the island is sometimes called 'Paul Ricard Island.' A true humanist and classic French figure, Ricard converted the island in the 1960s into a colorful spectacle.
It's even home to an art garden scattered with intriguing sculptures. But other than Provence-style buildings, the island is largely untouched and offers top-notch hiking opportunities along the rugged terrain and coastline.
Aerial video of Bendor island, Bandol, France
---
12) Enjoy the French Riviera's Eze Lifestyle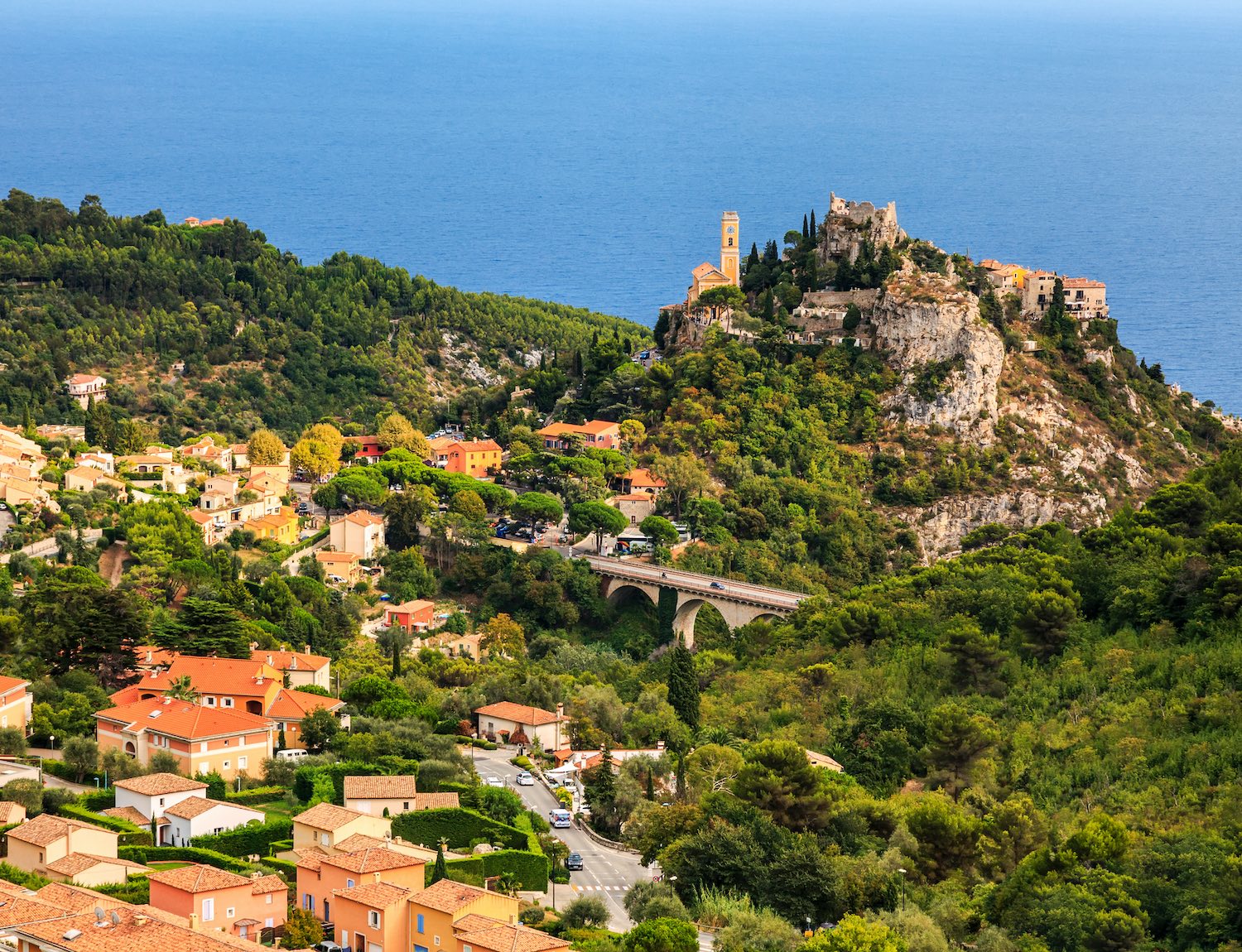 Eze is a coastal village that is only eight miles away from Nice. It's positioned along a mountainous landscape with a charming medieval flair, thanks to its narrow, bumpy rock avenue. Much of the village maintains its original architectural beauty and sits 430 meters above sea level.
Another highlight of the historic village is its award-winning Jardin Exotique d'Èze or the botanical gardens. This isn't any ordinary botanical garden, as it sits atop a steep mountain.
A particular favorite trail among locals is the Nietzsche path that snakes along the steep terrain. You'll be afforded some of the most scenic inland and oceanic views of Cote D'Azur. Eze is also home to some pretty splendid beaches and stays true to its Southern-France position.
The medieval village of Eze, France - French Riviera
---
13) Venture to Europe's Highest Coastal Village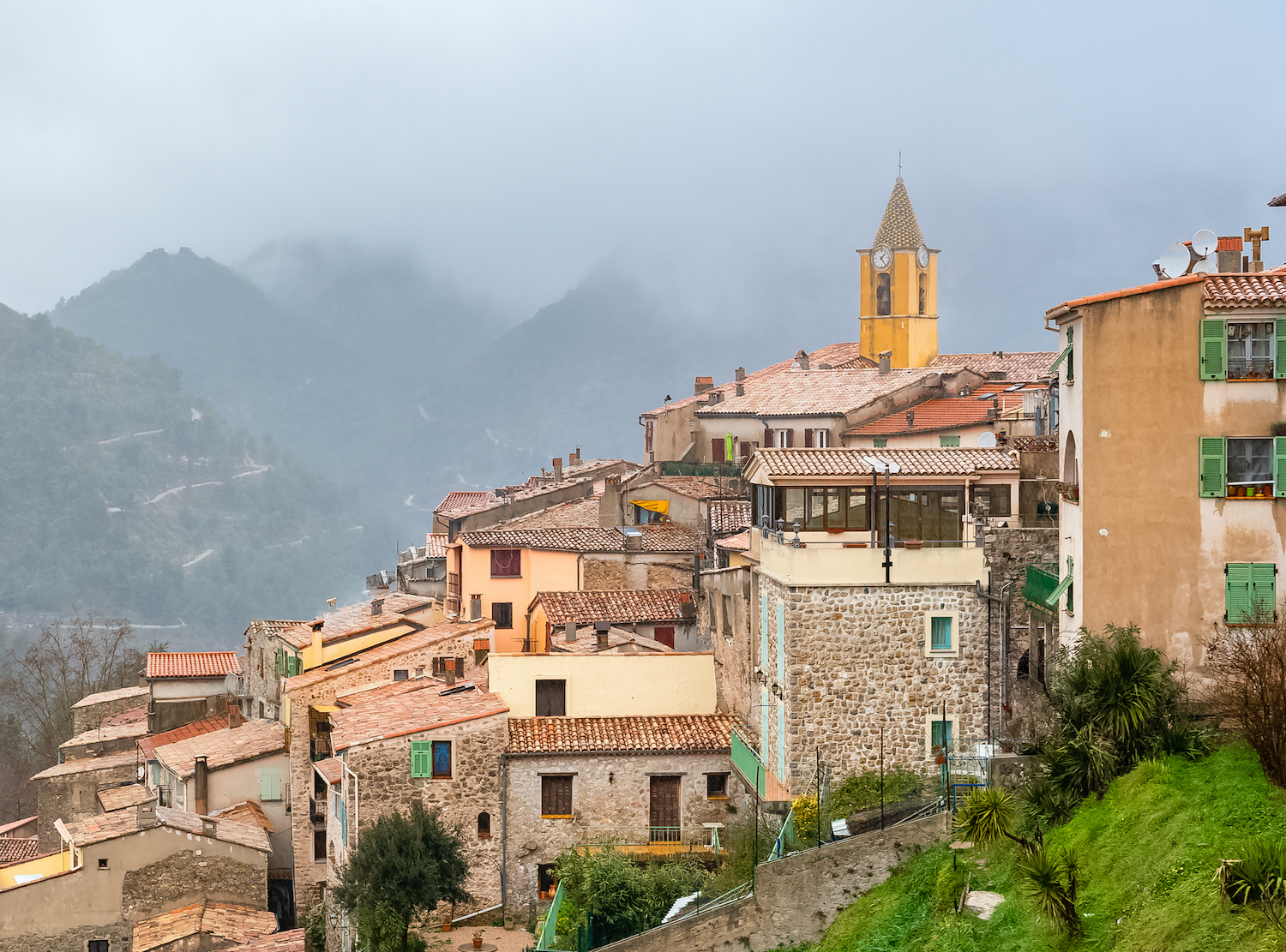 Also known as Sainte Agnes, this probably isn't the typical image that comes to mind when thinking of the French Riviera. Sainte Agnes is a village positioned high up on the mountain, way above the city of Menton.
It offers some of the best panoramic vistas of any urban space in Cote D'Azur. It's not a well-known site as it is often overshadowed by Menton, even though it quite literally overshadows Menton. The medieval village is perched 800 meters above sea level, and given its proximity to the border, stunning views of Italy are also in order.
If you're fed up with medieval facades from the 1400s that have been revitalized, then Sainte Agnes also functions as the gateway to some steep and impressive hiking trails. You can reach as far as the Baudon summit, which forms part of the Southern Alps, and has an altitude of almost 1270 meters above sea level.
---
14) Admire Blossoms at Tourrettes sur Loup
Another underrated village sandwiched between Cannes and Nice is the charming Tourrettes sur Loup. While it may not be as elevated as Sainte Agnes, it still sits on a rocky highland. The village claimed the nickname of the 'Violet Village,' which will be evident upon first gaze – as these Victoria flowers can be seen throughout the village.
If you find yourself looking for what to do in the French Riviera in March, this village hosts a flower festival dedicated to Victoria Violets. And like many other Cote D'Azur settlements, Tourrettes sur Loup is a utopia for artists.
In its medieval city center (Grand Rue), various forms of artistic expression combine to offer visitors and locals a range of local products to buy. The major cities such as Nice and Cannes are infamous for their expensive artifacts that are often tourist traps. So if you want traditional French artifacts, support these local artists too.
France Tourrettes Sur Loup, Medieval Village, My Round the World Trip, 12
---
15) Spot Cetaceans in the Pelagos Sanctuary
A Cetacean is a category of aquatic mammal species that comprises dolphins and whales, among others. In total, there are 89 species of Cetacea. When contemplating what to see in the French Riviera, marine life hardly ever gets a second thought, so this is bound to be a unique activity.
So get ready to admire these species in a protected and conserved Pelagos Sanctuary, which spans 875 000-hectares. The sanctuary evolved from a consensus between Italy, France, and Monaco (the territories it runs through) to preserve the region's oceanic life.
It's a maritime site that attracts many aquatic species, but you'll have a high chance of having some stellar whale and dolphin sightings during summer. The significance of this sanctuary is unrivaled because of the ongoing destruction of coral reefs and ocean pollution.
So, do your part in supporting this important conservation initiative. At the sanctuary, you can choose between half-day tours, a whale-watching cruise, or partaking in a research boat trip. There are extremely high concentrations of Cetaceans in these waters due to them being rich in food sources, so get ready to be amazed.
Note: Most tours and excursions leave from Genoa, so you may need to cross the border.
---
16) Breathe in the Fresh Air of Menton
You've already read about Sainte Agnes, which sits above Menton. But you should adjust your French Riviera itinerary to visit both destinations. Menton is a coastal city offering spacious tropical gardens and scenic beaches. It's also close to the French-Italian border.
One of the city's more popular gardens, Serre de la Madone, exhibits less common plant species, making it well worth the visit. The area is a well-liked resort destination with lengthy promenades, high-end hotels, and infamous casinos.
Yet Menton also has historical appeal; some of its facades are rooted in medieval Baroque architecture. A guided walking tour along the Promenade du Soleil will showcase the multi-colored houses of uneven heights, which are all connected at the sides.
But the buildings aren't the only uneven things in Menton. So too is the landscape. The city's Eastern section is hilly and adorned with a 1700s historic Bell-Tower that is definitely worth a visit.
One day in Menton, France, French Riviera [4K] (videoturysta.eu)
---
Am I Missing Any of the Best Things to do in the French Riviera?
It's been a few years since I've traveled to the French Riviera, so I'd love to hear what you guys love about this gorgeous destination! There really is so much to do along the entire southern coast of France, as it's filled with beautiful beaches, glamorous destinations, and is guaranteed to be a trip you'll never forget!
FRENCH RIVIERA ROAD TRIP! Cute villages in the South of France
---
Final Thoughts on the Top Things to Do in French Riviera
So, next time you visit this haven, remember that there are inland destinations beyond the French Riviera's eight major towns. The best things to do in French Riviera are not limited to the major towns as the small villages and coastal towns are worth admiring too.
Often, you'll find less touristy and more intimate cultural experiences on the outskirts of major towns. With a semi-arid climate gifted by the Mediterranean sun, you can certainly withdraw from Northern Europe's (and even France's) frosty winter climates.
What are you waiting for? It's an all-year-round destination, so book your favorite French Riviera destination now! Or, all of them.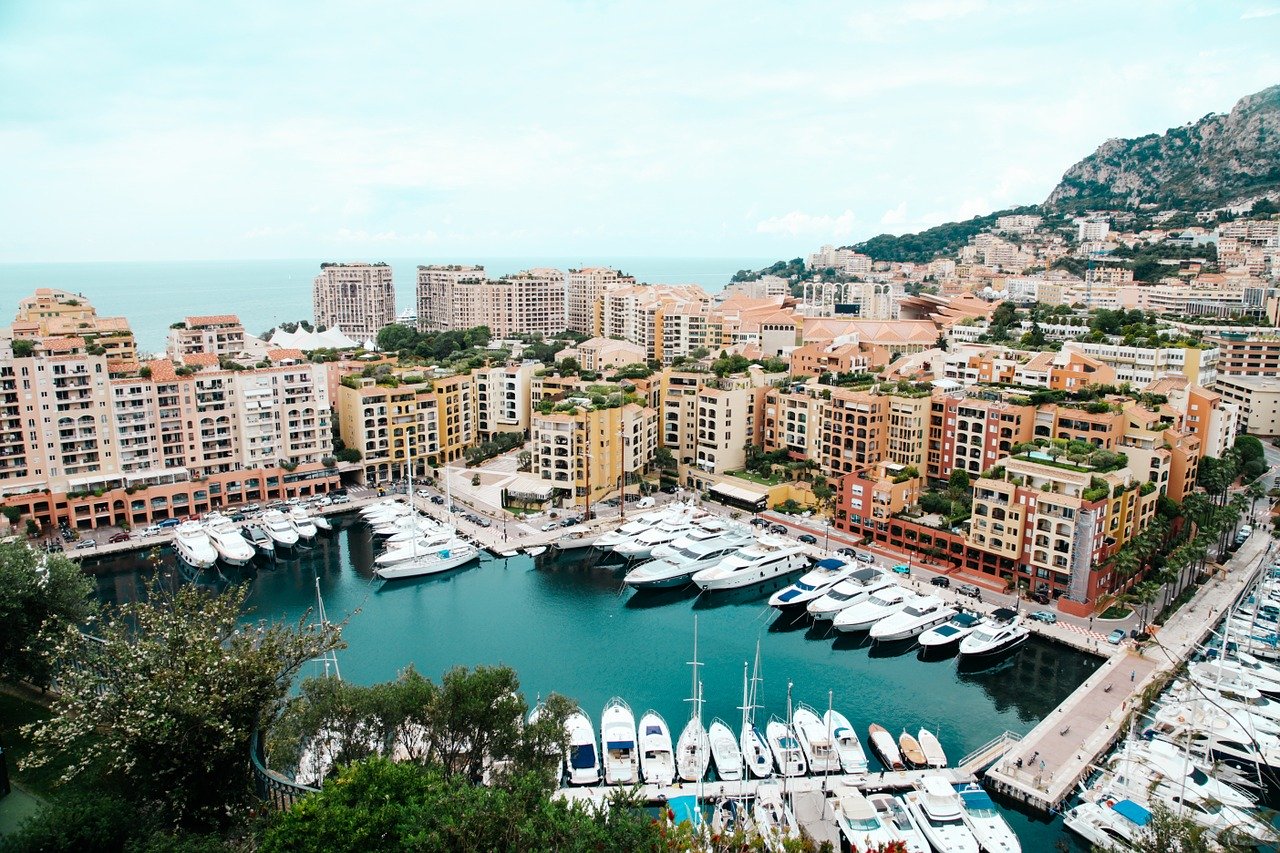 ---
Planning a Trip to France & Europe?
My travel blog has tons of helpful articles and travel itineraries that can serve as a great resource! Take a read through some of my favorites below, and feel free to reach out with any questions you have! I'm always happy to help in any way I can!
---
Thanks so much for reading about these things to do in the French Riviera!
Share these French Riviera must-do attractions with your travel squad!
https://www.jonesaroundtheworld.com/wp-content/uploads/2015/08/Things-to-do-in-the-French-Riviera-2020.jpg
853
1280
Dave
https://www.jonesaroundtheworld.com/wp-content/uploads/2017/03/logotry-1-1-300x106.png
Dave
2019-12-09 06:58:58
2023-04-19 10:25:43
16 Best Things To Do in French Riviera | Must-See Destinations