ANCHORED: Europe's Ultimate Week Long Festival Cruise
7 Nights. 7 Pool Parties. 5 Destinations. 1 Luxury Cruise
MY SUMMER PLANS JUST GOT A WHOLE LOT BETTER!
With the rise in popularity of throwing music festivals at sea, Unique Cruises announced their brand new 7-day nautical adventure called ANCHORED, and it looks almost too good to be true.       
From June 11th – June 18th, over 2,500 people will embark on the European vacation of a lifetime.
Rome – Santorini – Mykonos – Monte Carlo – Cannes


---
I've personally been on three different cruise festivals now, and every single one of them has been an experience I will never forget.  It's simply the best venue for a music festival.
Forget about bringing all your shitty camping gear, paying for expensive meals, or dealing with disgusting bathrooms.  This is a luxury musical experience on board the Royal Caribbean's Jewel Of The Seas, and will easily be one of the highlights of your summer.
"Unique Cruise is positioned as a fresh and innovative cruise looking to combine some of the very best of the nightlife you would normally find in Ibiza along with all the glamour of yachting and cruising."
Check out this little teaser video below:
THE LINE-UP
Phase 1 
Brought us some massive artists like MK, Patrick Topping, Steve Lawler, Andrea Oliva, and Will Clarke.  I'm personally most excited to catch Patrick Topping again, as I saw him last year and he absolutely crushed it.  I also recently saw Will Clarke at Dirtybird Campout, and it was one of the funkiest / darkest sets I've ever heard.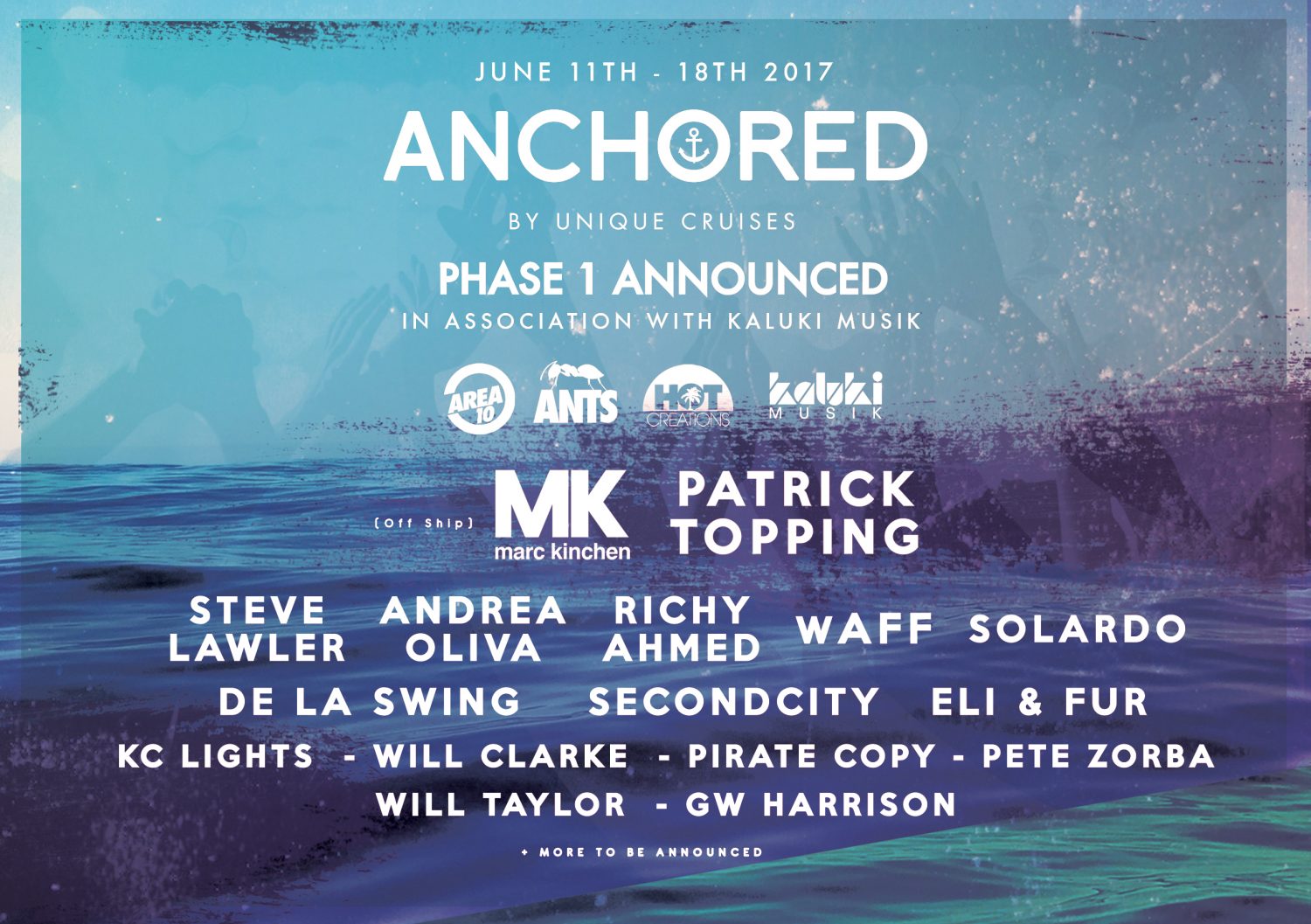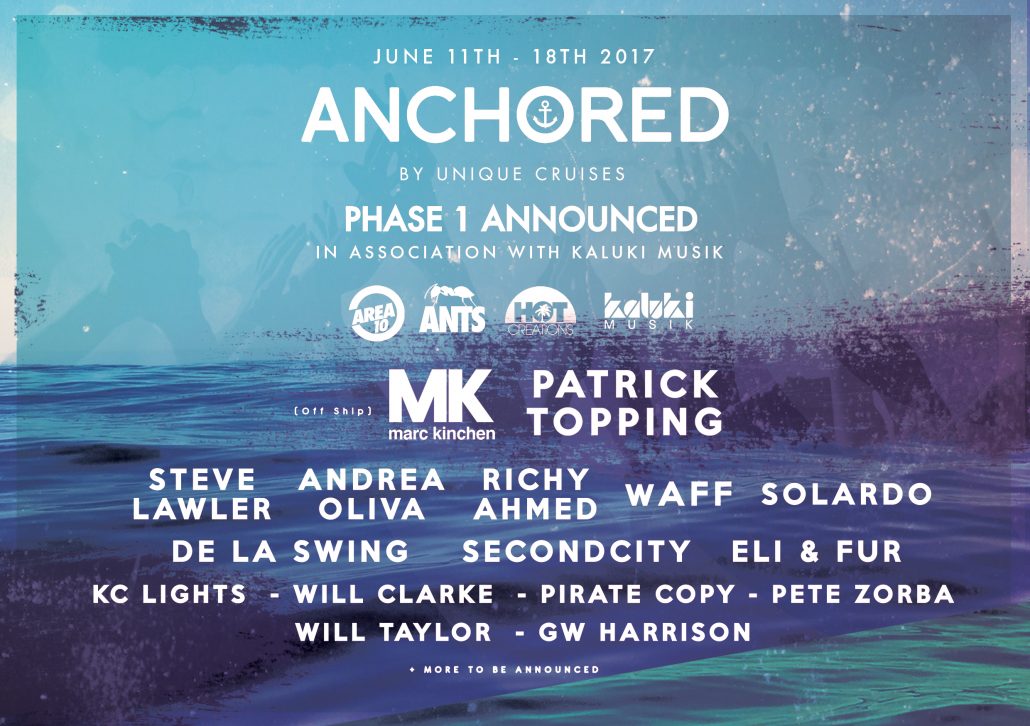 Phase 2
Another impressive lists of top-notch DJ's have been added to the list like:  Tinie (Tempah) & DJ Charlesy, Masterstepz, DJ Stevie J, and Artful Dodger.  I've never heard any of these guy spin before, so I'm stoked to check out so many new artists from around the world.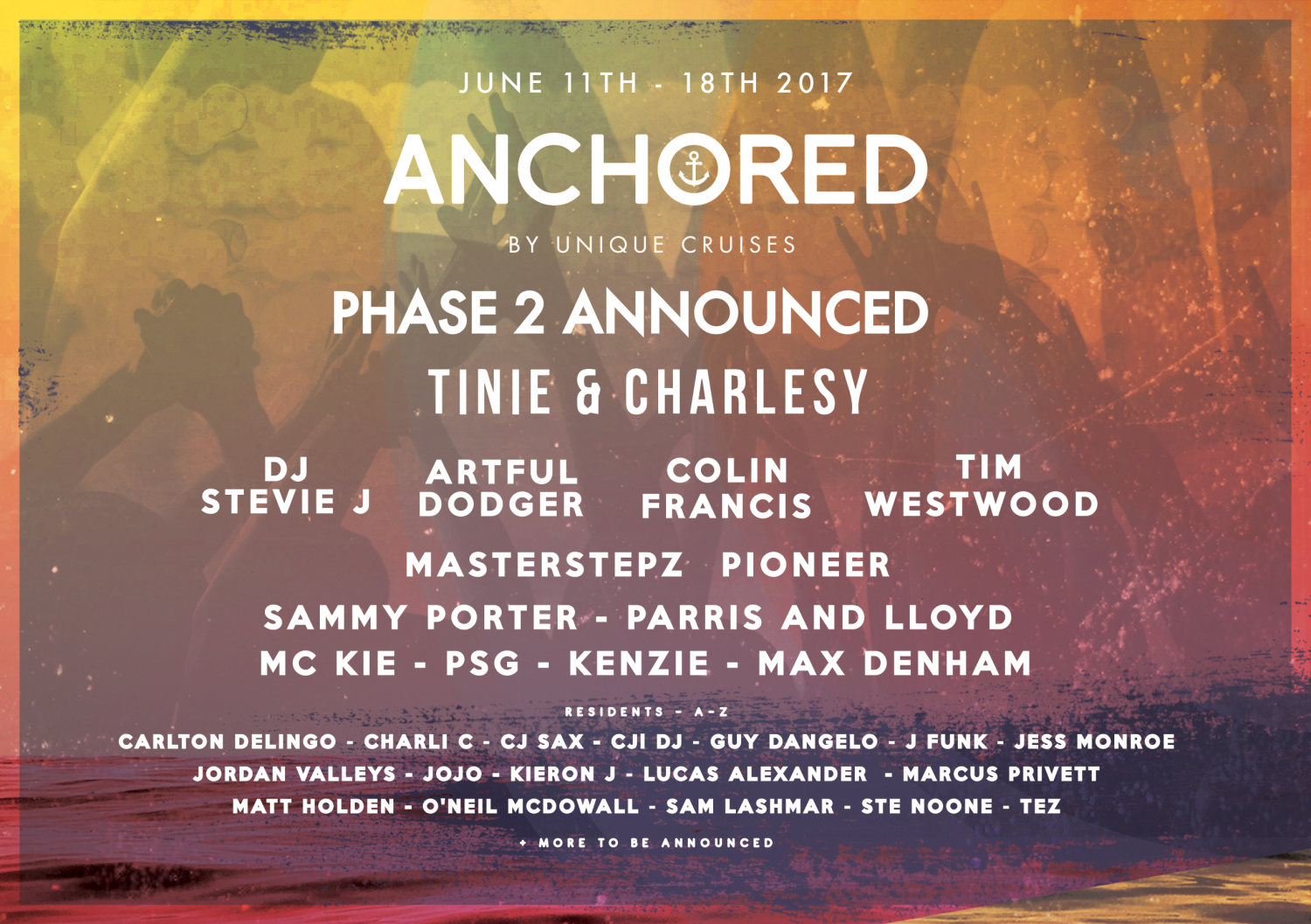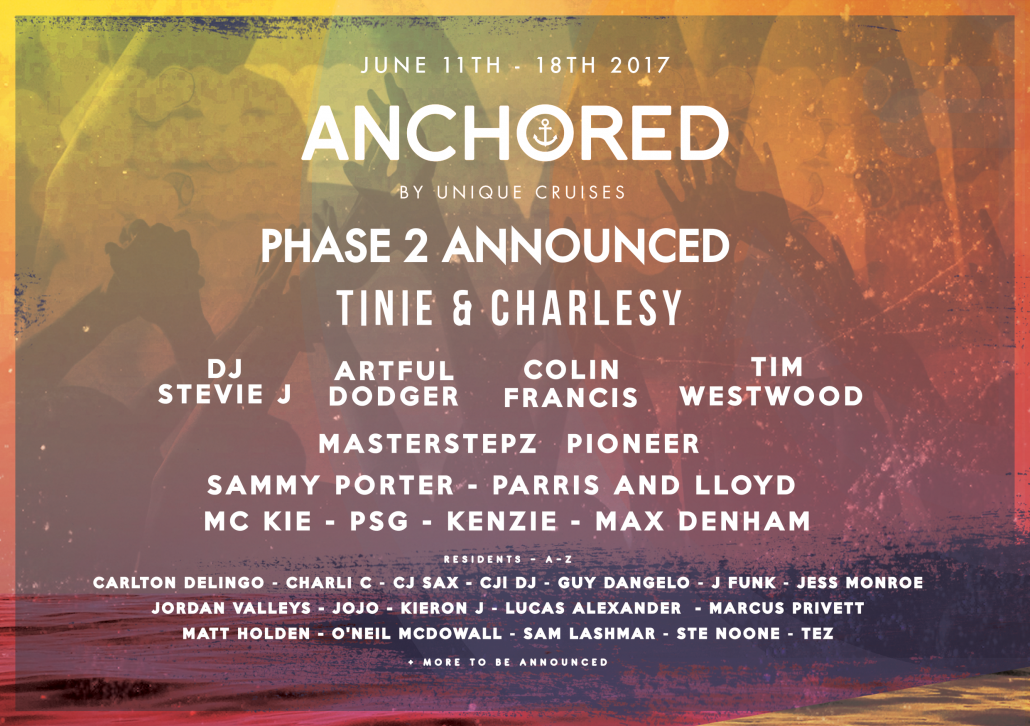 The Itinerary
I'm not going to go into full detail, but you can scope the full detailed itinerary on the ANCHORED website.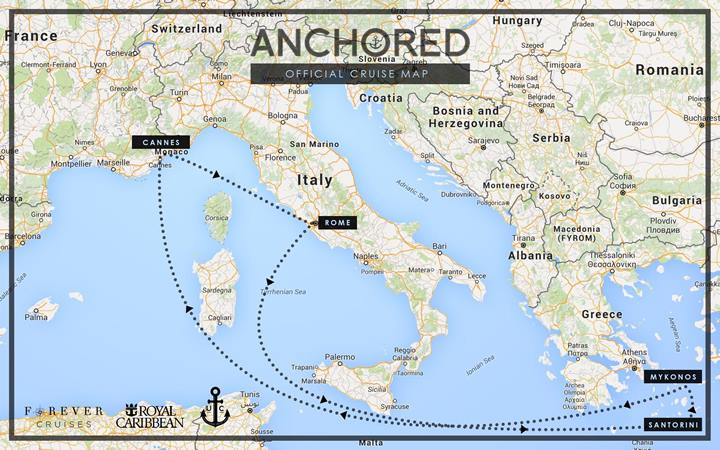 Day 1 – Depart Rome at 5 P.M
Day 2-  Cruising to Santorini, Greece
Day 3-  Dock into Santorini at 1 P.M ->  Depart Santorini at 10 P.M  (9 Hours in Paradise)
Day 4-  Arrive into Mykonos at 8 A.M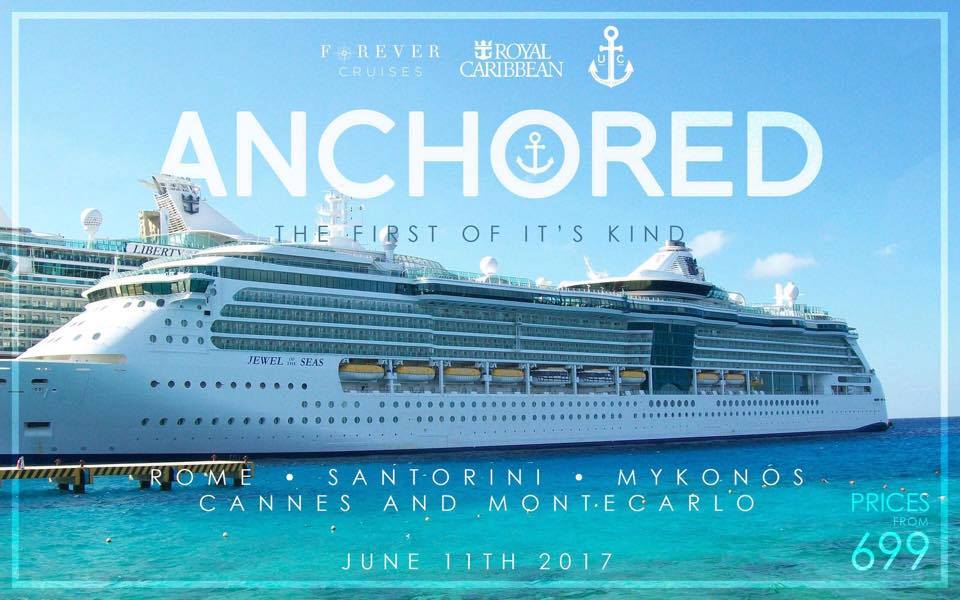 Day 5-  Depart Mykonos at 6 A.M (22 Hours in Paradise)
Day 6-  Cruise to Cannes
Day 7-  Arrive at Villefranche port in France at 10.00 am.  Explore both Cannes & Monaco.   Depart at 4 P.M
Day 8-  Arrive into Rome at 5 A.M.  Guest must leave ship by 10 A.M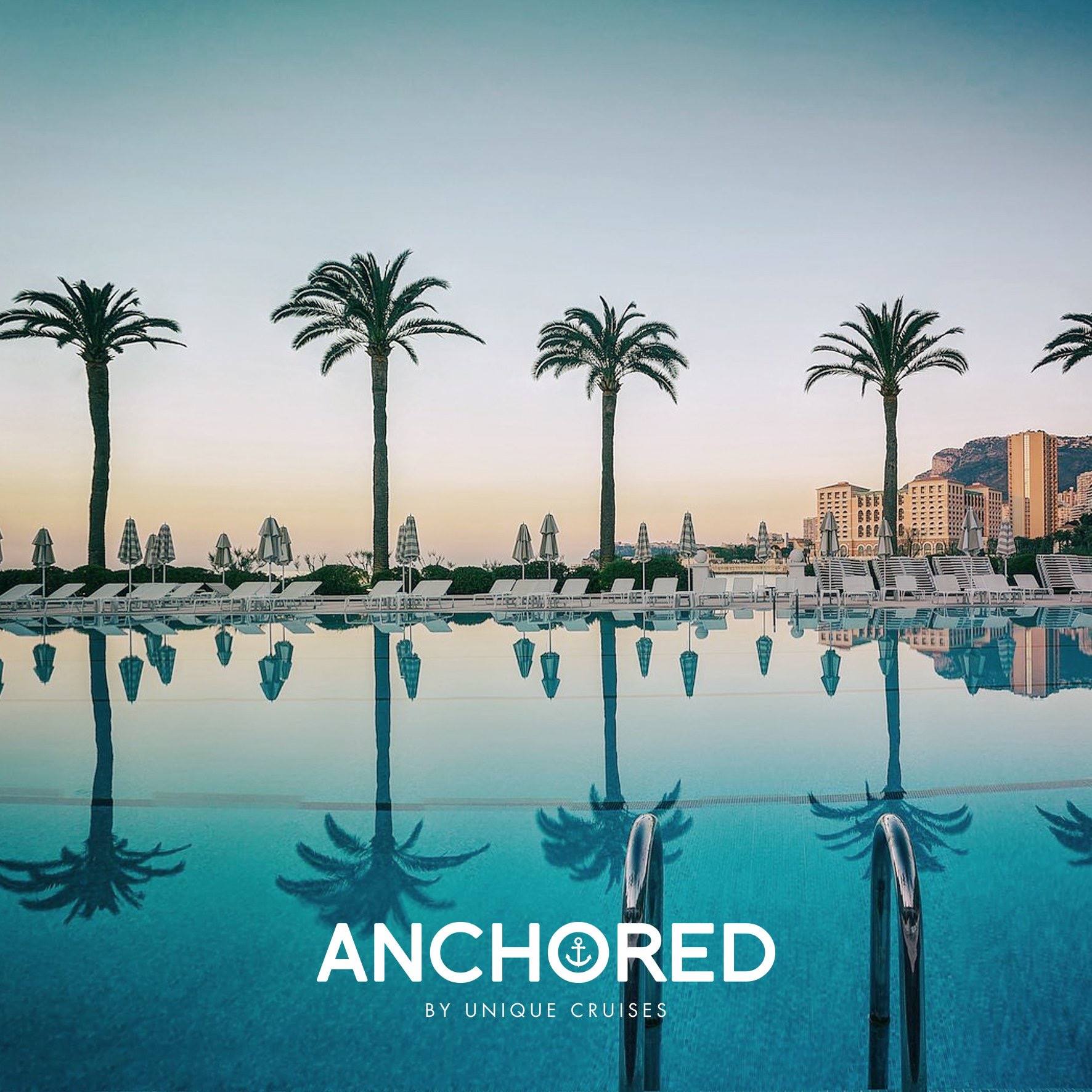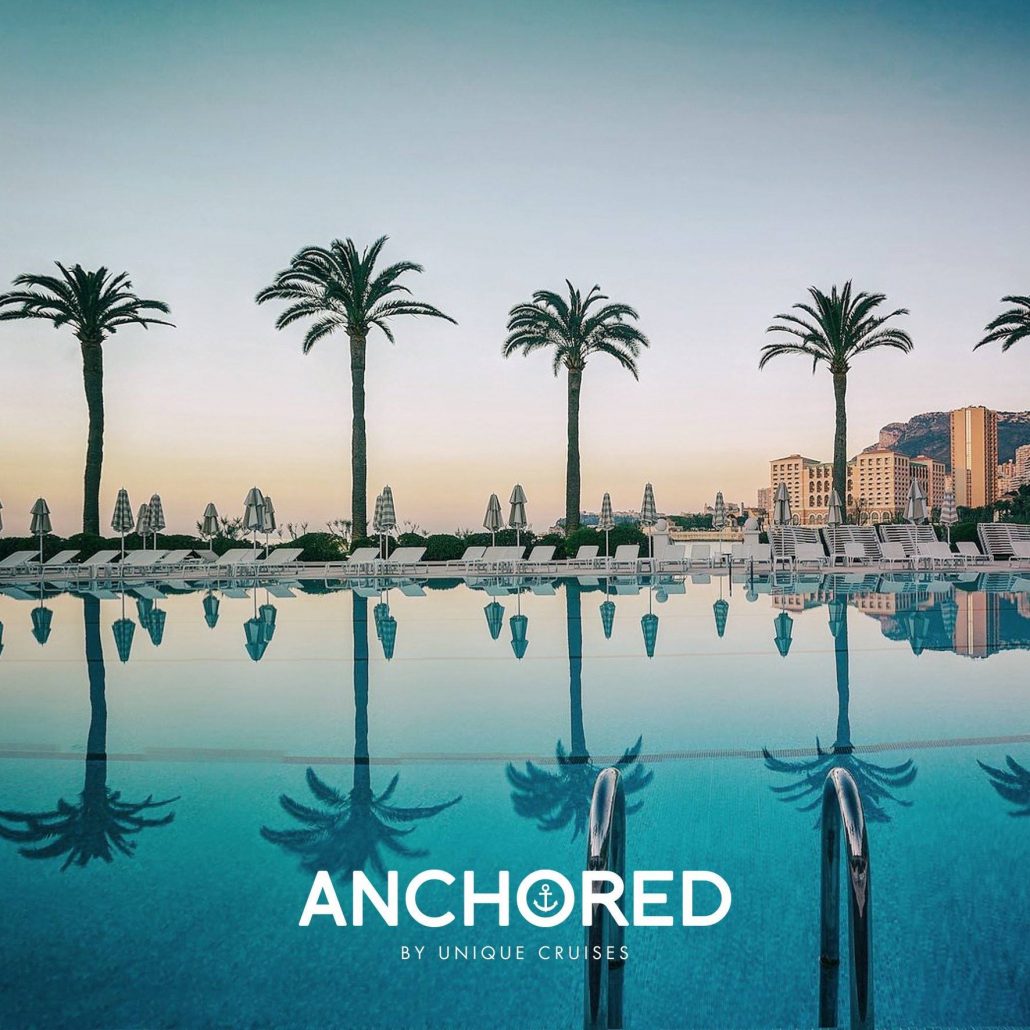 SO HOW MUCH DOES IT COST…?
The cheapest option is 699£ ($865 U.S.D) per person if you book with a group of 4 people in an Interior Stateroom.  It's one hell of a good deal for a festival of this magnitude.  That's 7 nights of accommodation, unlimited food, travel to 4 new countries, and world-class entertainment.  There are tons of other rooms available though, so take a browse through the website and explore your options.
The 3-Day Rome – Mykonos package and the 4-Day Mykonos-Rome packages have all sold-out already, and the remaining rooms are very limited!!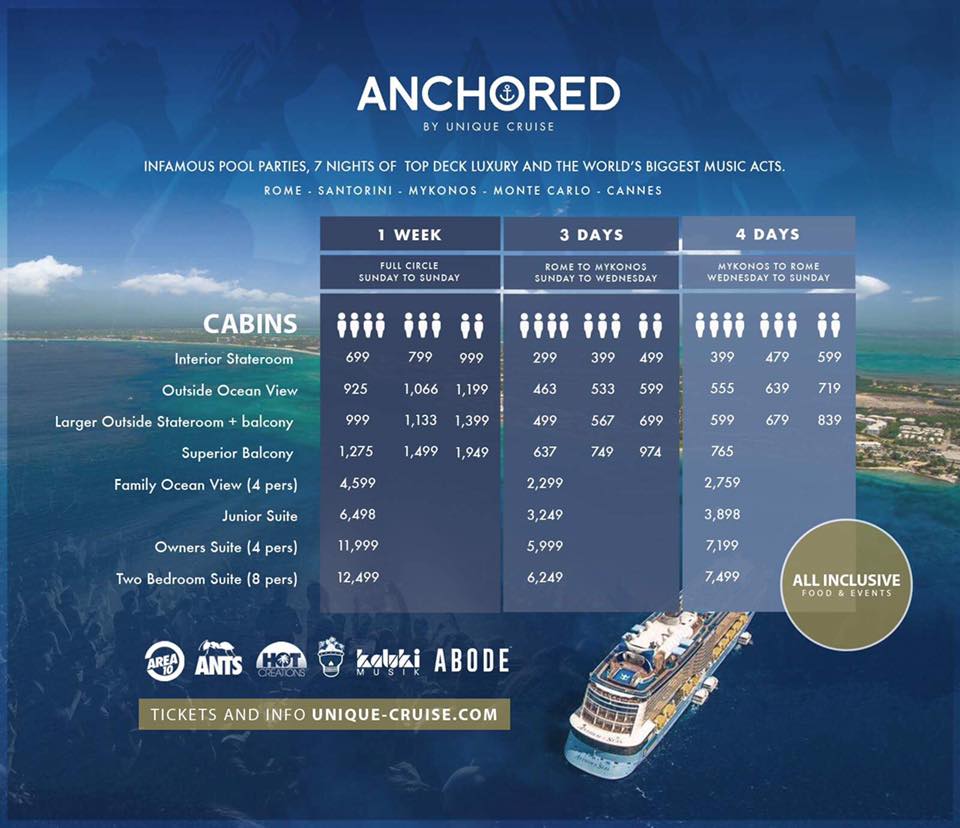 I'm stoked to embark on the maiden voyage of Anchored for what is going to be the best week-long vacation of my dreams.  The line-up is solid, the Mediterranean destinations are perfect, and I know I'll be meeting tons of amazing people from around the world.
Thanks so much reading and SEE YOU ON BOARD!
SHARE WITH YOUR FESTIVAL FRIENDS!!