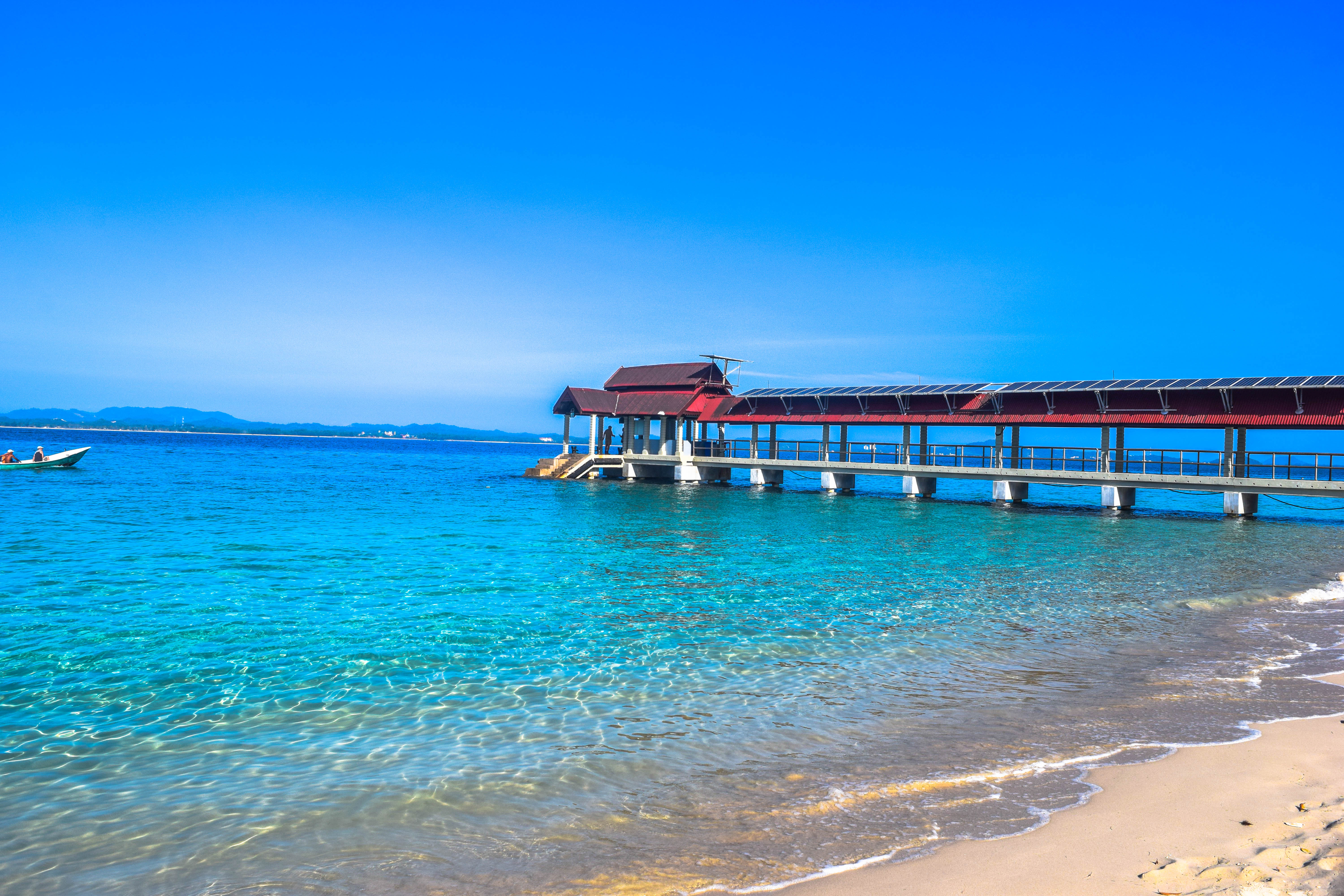 Pulau Kapas is one of the most beautiful and relaxing places you will ever visit.  It's truly an island paradise that has a strange power to keep you there longer than you planned on staying.  It's not a rich and glamorous place with tons of 5 Star Resorts or expensive restaurants.  It's a very minimalistic island, which is what makes it so special.  There's not tons of electricity, or decent internet connection — meaning it's the perfect holiday escape.  The beach is amazing, the water is perfect, and you'll be left speechless when you first arrive.
I'm hoping that this Travel Guide for Pulau Kapas will answer all your questions and get you stoked for your time on this idyllic island!
I've even gone as far as claiming it's the most beautiful island in Malaysia!
---
If you're currently planning a trip…I'd recommend buying the Lonely Planet for Malaysia & Singapore, or my personal favorite is the Southeast Asia on a Shoestring.  
---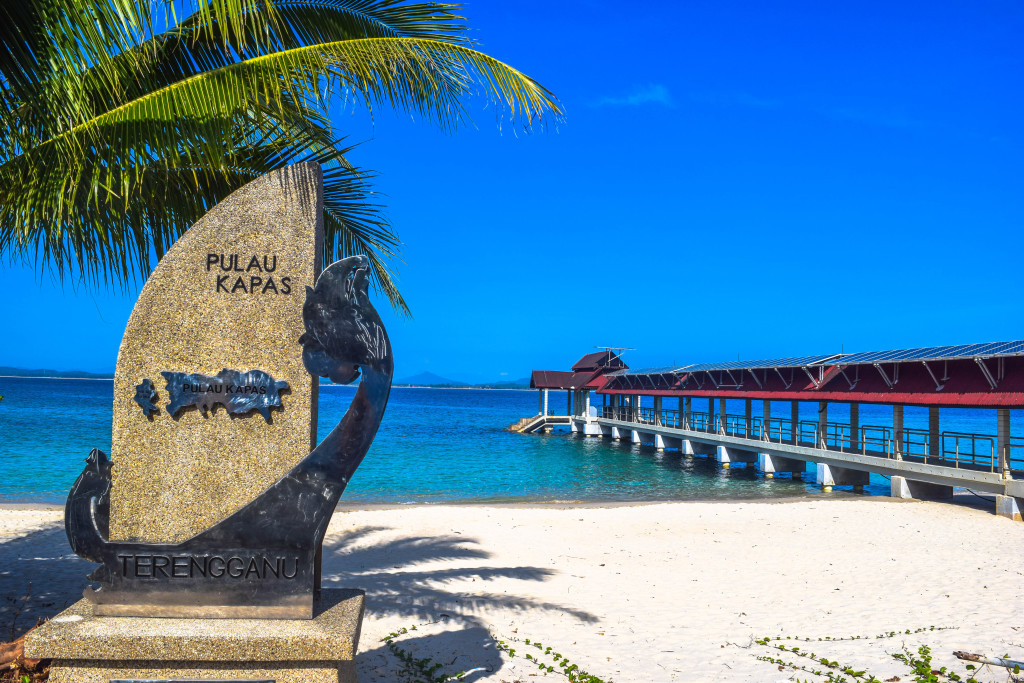 So Where Is Pulau Kapas?
Kapas is located just a few kilometers off the West Coast of Peninsular Malaysia in the Terengganu province.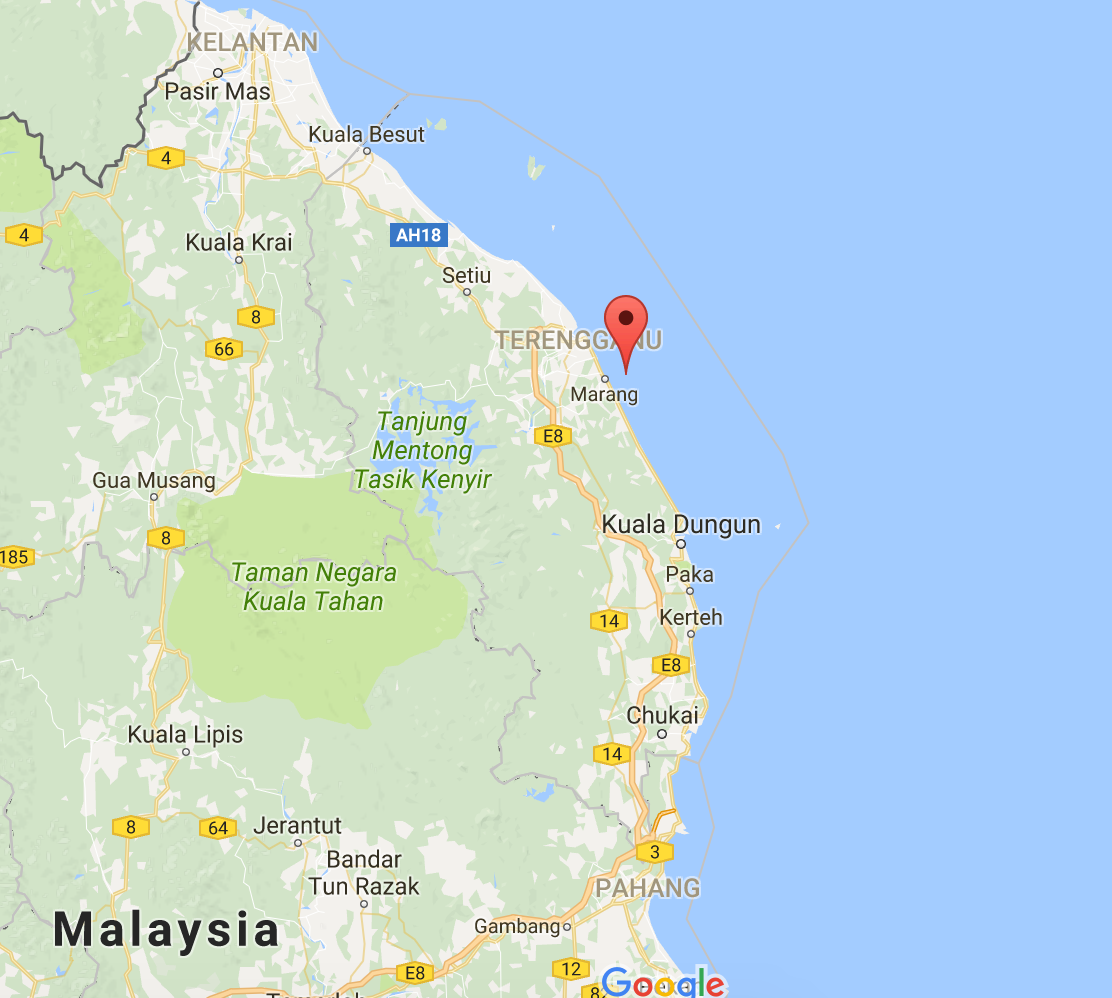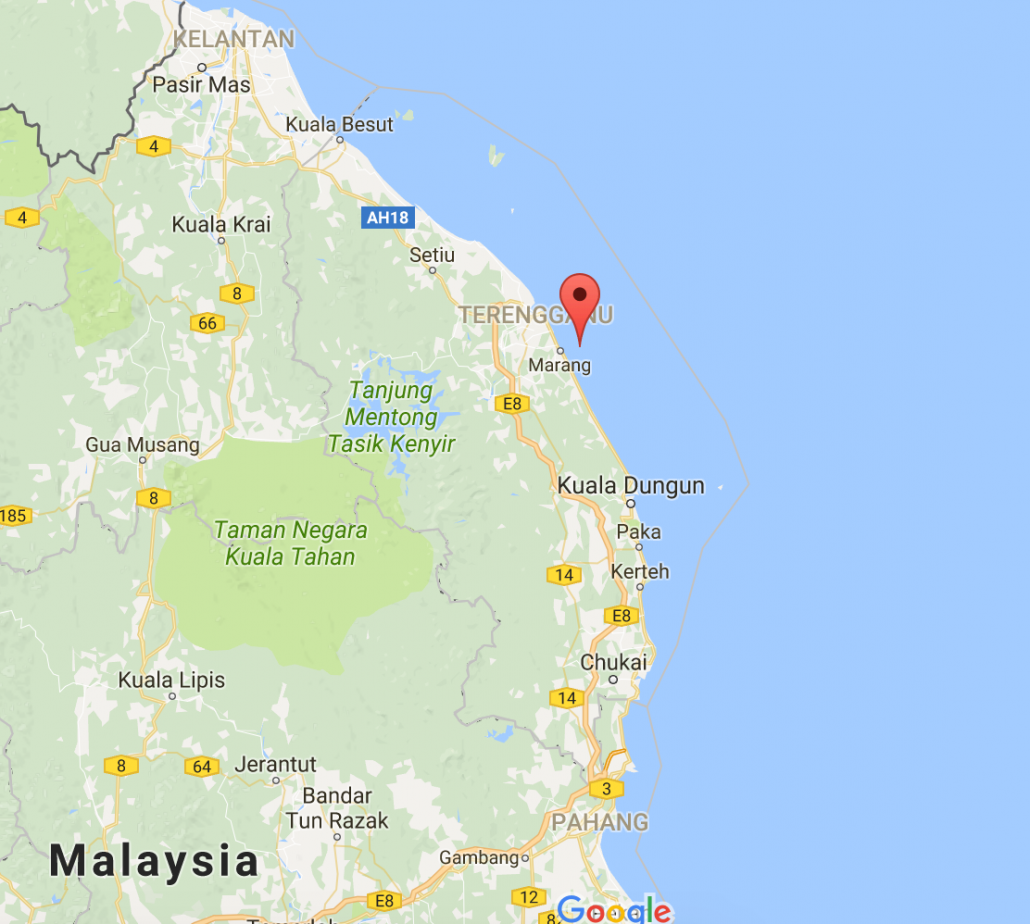 Know Before You Go
Pulau Kapas shuts down during the monsoon season between November and February.
Bring CASH.   There are no ATM's on the island.
The Best Time to Visit Pulau Kapas is from April – August!
There are a lot of mosquitos on Kapas island!  Bring insect repellant!
Bring a flashlight at night to walk around the island.
How to get to Pulau Kapas
The first step is to book a bus ticket to Kuala Terranganu.  From there, you can take the short public bus or taxi down to the Marang Jetty.  Pulau Kapas is only a short twenty-minute ride off the mainland.
If you take the public bus from Kuala Terranganu to the Marang Jetty, just make sure you ask the bus driver to drop you off at Marang!
Maran Jetty Boat Departures:
9.30am
11.30am
1.30pm
4.30pm
Pulau Kapas Departures:
You can purchase round-trip boat tickets for around 30-40 MYR, depending on the time of the year.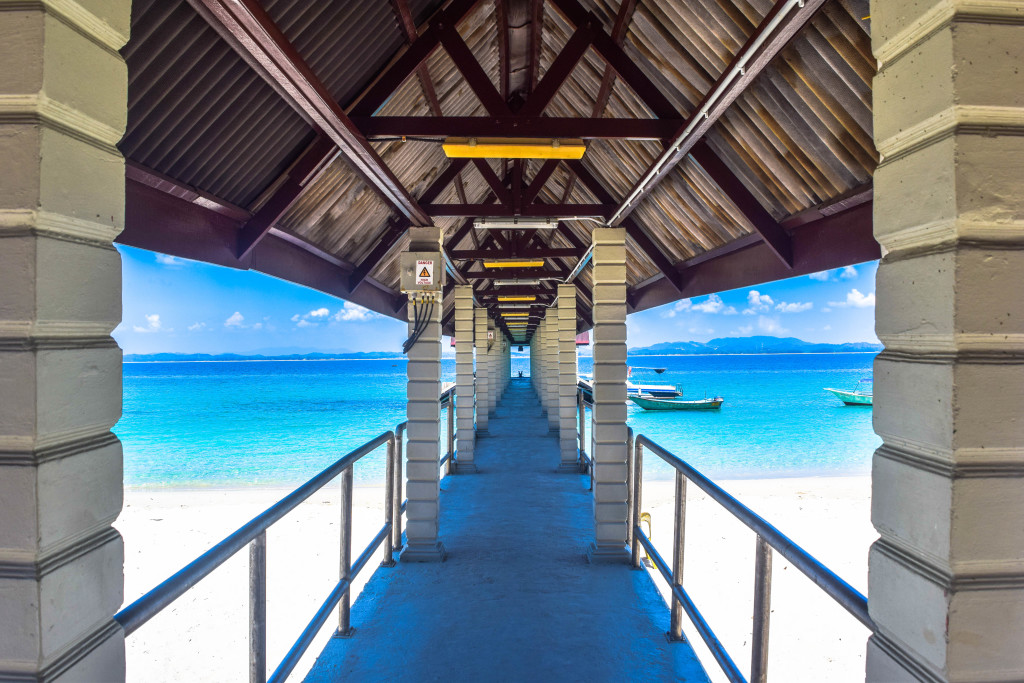 ---
Flying to Pulau Kapas
There is no airport on Kapas island, but you can always book a flight on one of the many budget airlines in Malaysia to Kuala Terrenganu Airport.  Ideal for those looking for a weekend trip from Kuala Lumpur, Penang, or Singapore.  If you fly to Kuala Terranganu and can't make it to Pulau Kapas the same day, you can always spend one night in Kuala Terranganu at The Space Inn.
---
Bus to Pulau Kapas
The transportation in Malaysia works really well, and the busses are actually pretty nice!  You can easily check timetables to Kuala Terrenganu
For booking busses in Malaysia — check out the helpful website EasyBook.  I've searched and booked many bus tickets through Malaysia with them, and would recommend them to other traveling throughout the country.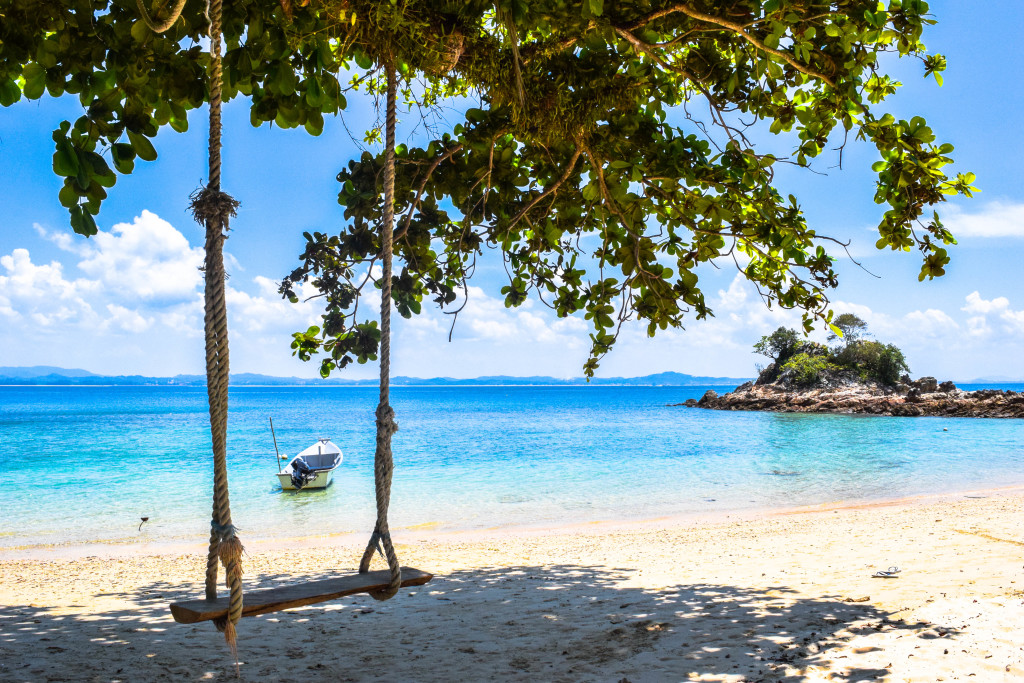 ---
Where to Stay on Pulau Kapas
By far the nicest and most comfort-able way to spend your holiday on Pulau Kapas is at the Gem Island Resort & Spa.  While it is technically a 10 minute boat ride off of Kapas Island, it's home to some of the best snorkeling on the island, relaxing beaches, and delicious food!  Prices as low as 63 per night!
LongSha Campsite Beach Camping
This is for the ultimate budget travelers, backpackers, and camping  fanatics.  It's an awesome place to stay.  I stayed there for 5 night during my time on Pulau Kapas, and I highly recommend it.  It's more than a campsite, it's a community of like-minded people.  You'll definitely have a blast if you choose to stay here.  Read my review of the Longsha Campsite on Pulau Kapas!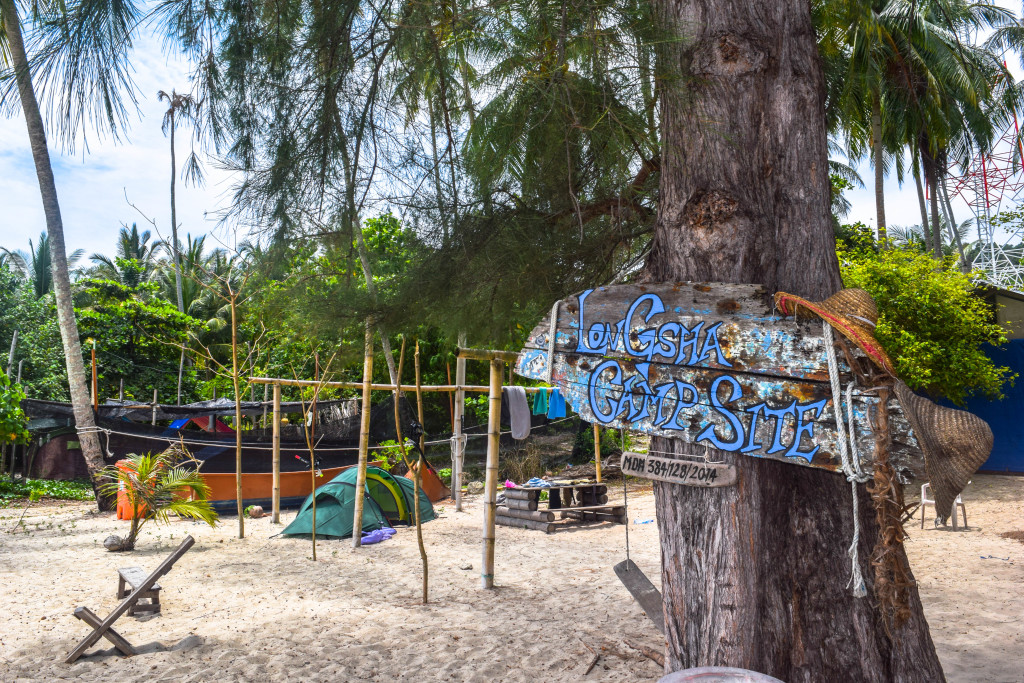 ---
This place is located right by the ferry., and also one of the only places on the island that has a swimming pool.  The Kapas Island Resort is also the only place you can really book online before you arrive on Pulau Kapas.  It doesn't have the highest ratings, and I haven't personally stayed here, but it could be a good option for your visit.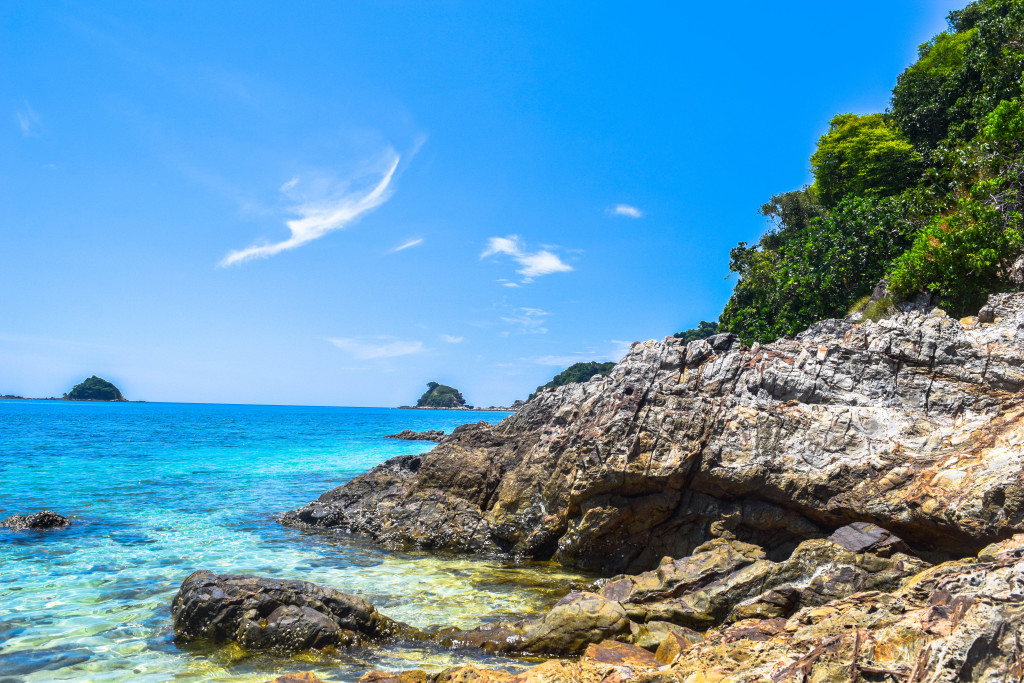 ---
Captain's Longhouse
For the people who aren't fans of beach camping, wander over next door to Captain's Longhouse.  It isone of the only other budget places to stay on Pulau Kapas.  I stayed here for one night, and had an enjoyable time.  They have double private rooms, and also a large dorm room as well.  The listed price is 40 MYR for a dorm bed, but you can easily talk them down to 30 MYR.  This definitely
Kapas Beach Chalet
By far one of the best places to spend your time on Pulau Kapas!  Kapas Beach Chalet, more commonly referred to as KBC, is where I spent the majority of my days on the island.  The restaurant meals are delicious, there's tons of books to browse through, and the staff are all really friendly.  The owner of KBC is a Dutch man who moved to Pulau Kapas and fell in love with it.  It's a really relaxed vibe here, and I highly recommend eating and spending some time here.
Kapas Turtle Valley Resort:  If you're not on a strict budget, than this is the perfect place for you.  Located at the very end of Kapas, with it's own private and secluded beach, Kapas Turtle Valley is an amazing place to spend your holiday.  The owners are really friendly, and the snorkeling right outside the property is fantastic.  Double rooms are still somewhat budget friendly for 190 MYR including breakfast.  There is also family rooms that fits up to four people.  Wi-Fi is also available here!
---
Best Places to Eat on Pulau Kapas:
Jetty Café
This is the first place you'll see when you get on to Pulau Kapas if you get dropped off on the Jetty.  The family who owns this place is extremely nice, and the food is incredible!  At the end of my stay, I feel like I had tried the majority of the meals, and they all had me coming back for more.  They even make chicken nuggets, which are pretty great, and only cost 6 MYR.  It's also one of the only places to find internet on Pulau Kapas.  It's not really fast, and sometimes does not work too well, but if you need to send a few emails — head here.
Kapas Beach Chalet
As mentioned above, definitely cruise over to KBC for a few meals.  If you're there on a Friday night, they do amazing BBQ's!  It's a little expensive at 45-50 MYR, but it's absolutely delicious.
Cook Your Own Meal
This is meant specifically for those who are camping at Longsha Campsite!  They have an awesome kitchen, and it can be fun to get a group of people together and cook a communal meal.  All you need to do is to remember to go to the grocery store before you get on the speedboat to the island!
---
Best Activities & Things To Do on Pulau Kapas:
Snorkeling / Scuba Diving
One of the main reasons you should be visiting Pulau Kapas is to be exploring it's underwater biodiversity.  I only went snorkeling, but it was a daily activity!  I always saw beautiful fish (tons of nemo), turtles, coral, and even a couple sharks!  All you need is a mask, and you can swim out just a minute off the shore, and experience some amazing stuff!  Scuba-diving around Pulau Kapas is supposed to be amazing as well.  For scuba-diving on Kapas island, you'll want to contact Aquasport Divers.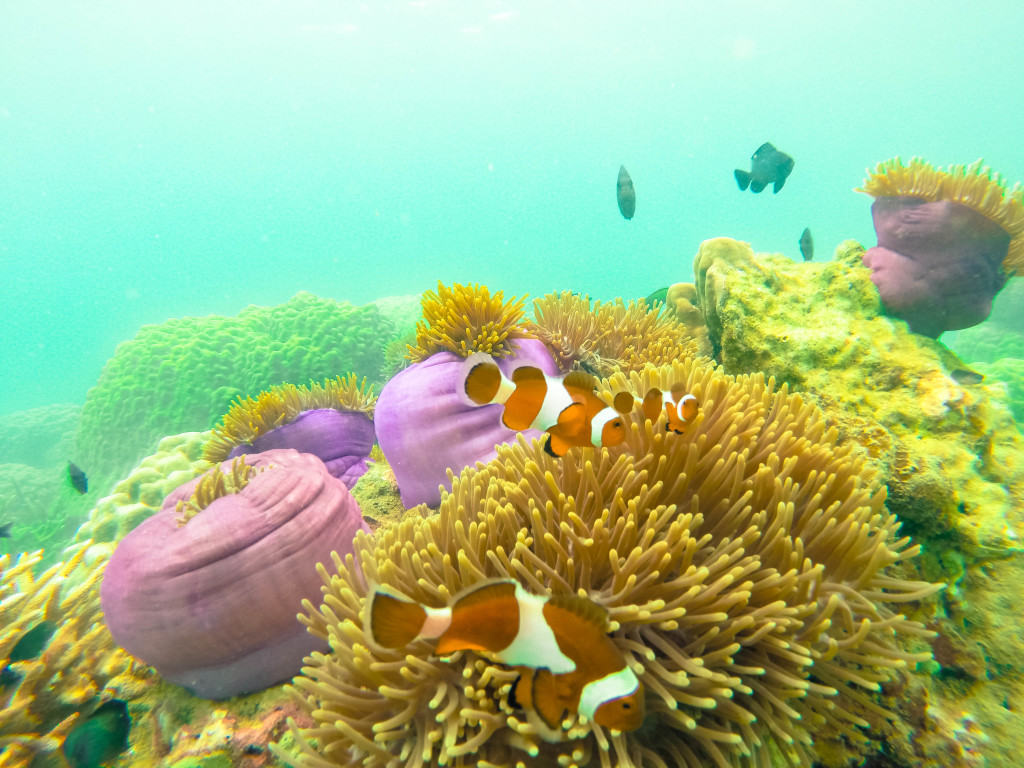 ---
End-to-End Beach Walk
All the places to stay, eat, and drink on Pulau Kapas are on the same side.  You can easily walk from one end, all the way down to the other end in about 30-40 minutes depending on how fast you are going.  It's an amazing way to see all the main beaches, and soak up the truly relaxing nature of the island.  The best part about doing this — the beautiful golden staircases that you will follow.  They just remind me of a stairway to heaven.  Such a beautiful sight!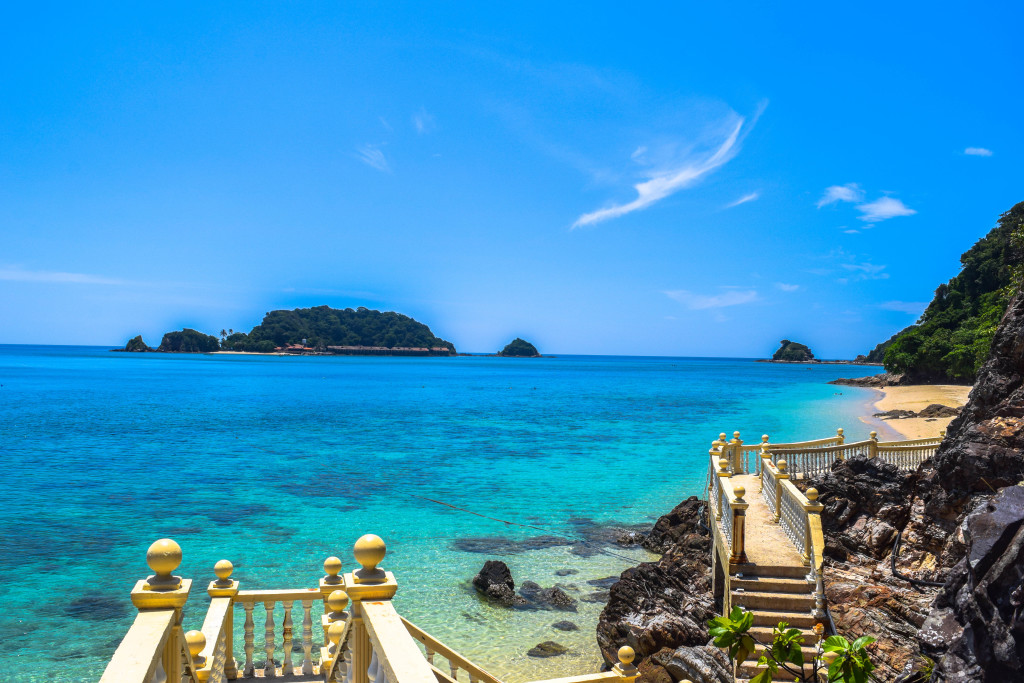 ---
Day trip to Gem Island
There are a few places on the island where you can book transportation to Gem Island.  Just go to the guys at the Longsha Campsite , and they'll be able to organize a boat trip for you.  Gem Island is a small island just off the coast of Kapas.  There are two really nice beaches that are perfecting for swimming, snorkeling, and relaxing.  This is also home to one of the "Shark Bays", where you have a chance of swimming with sharks.  (Don't worry, they won't bit).  I saw two sharks during my time out there, and they were incredible!  There is also one really beautiful resort on the island.  It's definitely a little pricey, but would be an awesome place to spend a holiday.  Check out the Gem Island Resort & Spa .
---
Hammock & Read
Pulau Kapas is one of the best places in the world to just sit back, relax, and enjoy your time in paradise.  A lot of places around the island have hammocks, book swaps, and beautiful soft sand.  In between meals, snorkeling, and swims — just take a nap in the hammock, or catch up on your reading.
---
Jungle Walks
There are two different jungle walks you can do to the other side of the island.  I was actually do lazy to do these during my time on the island (and because I didn't have any shoes), but I heard they were both pretty quick and enjoyable.
Beach Volleyball
There are a few different volleyball nets on Pulau Kapas.  Get some people together, and get a game going!
---
Budget Tips
Beach Camping is definitely my best travel advice for visiting Pulau Kapas.  It's cheap, fun, and you'll meet some amazing people.
Bringing your own food from the mainland can save you some money on food costs.  The restaurants on the island aren't TOO expensive, but if you were to go grocery shopping you could save some money for sure.
Bring your own booze because there aren't many places that sell beer on the island.  The few places that do will charge you around 10 MYR for one can of beer.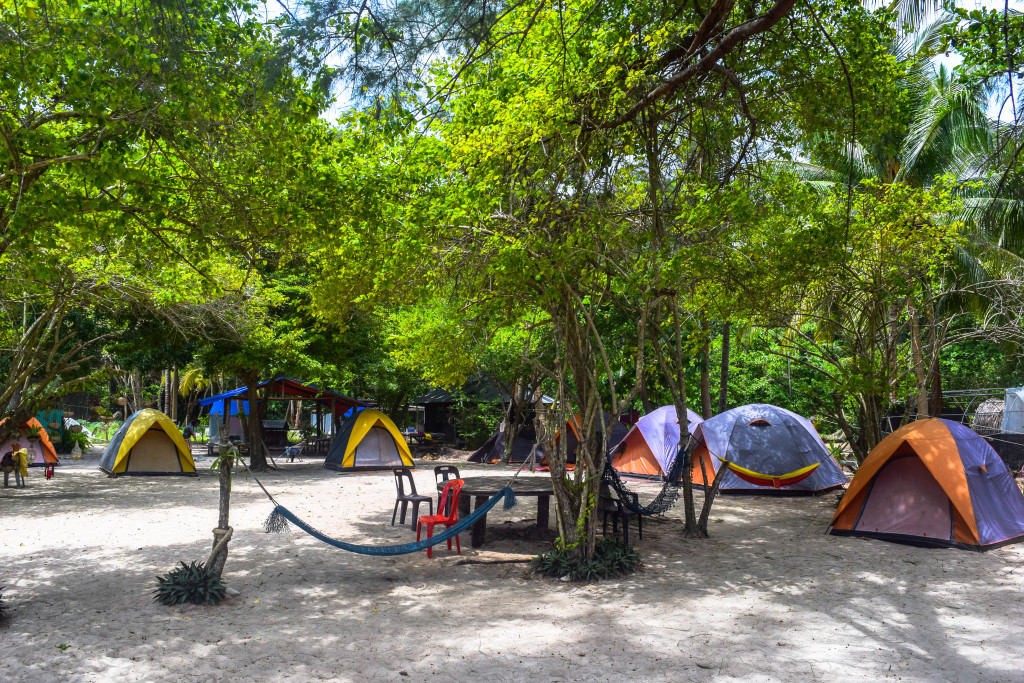 ---
Conclusion
A weekend or extended trip to Pulau Kapas will be a trip that you'll never forget.  The beaches are amazingly beautiful, the underwater life is incredible, and you'll get stuck in the relaxing island vibe.
It might not be the most popular destination in Malaysia to visit compared to the metropolitan Kuala Lumpur, stunning Cameron Highlands, or popular Perhentian Islands — but that is exactly why Pulau Kapas is so special.
THANKS FOR READING!!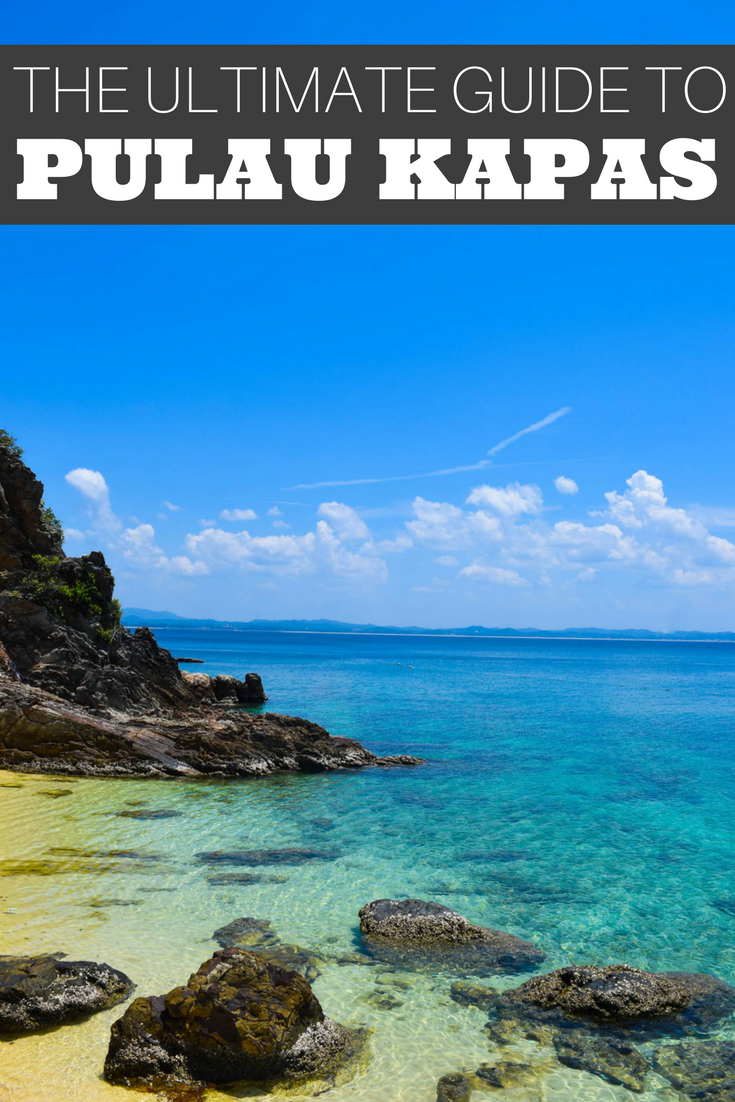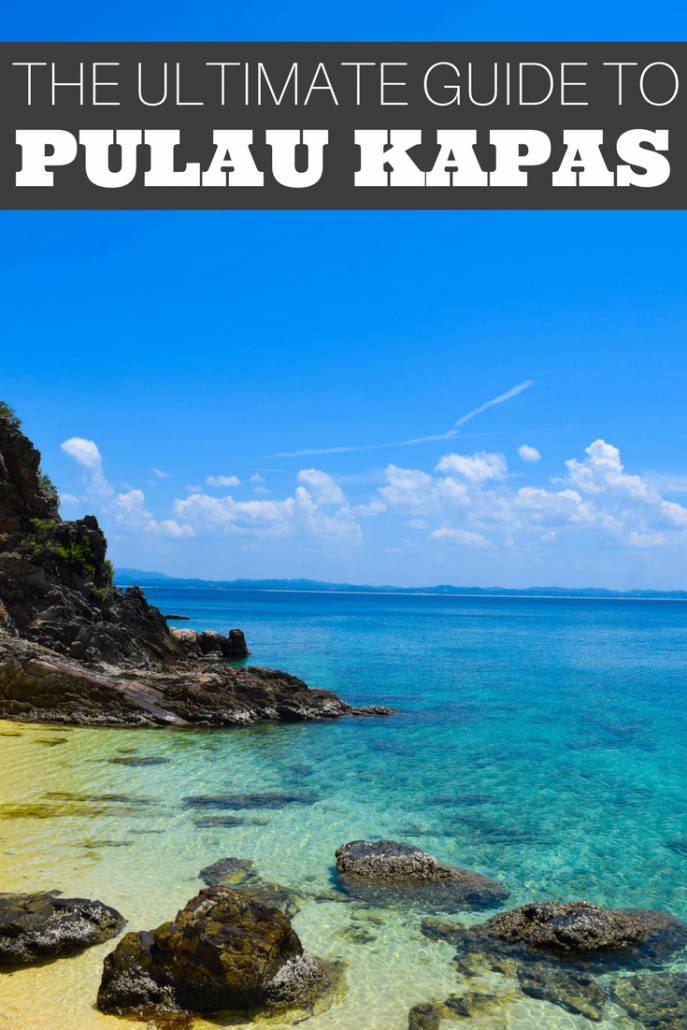 SHARE THIS ARTICLE WITH YOUR FRIENDS!
https://www.jonesaroundtheworld.com/wp-content/uploads/2015/08/DSC_1532.jpg
4000
6000
Dave
https://www.jonesaroundtheworld.com/wp-content/uploads/2017/03/logotry-1-1-300x106.png
Dave
2017-03-09 07:10:39
2018-11-21 20:54:20
The Ultimate Guide to Pulau Kapas, Malaysia