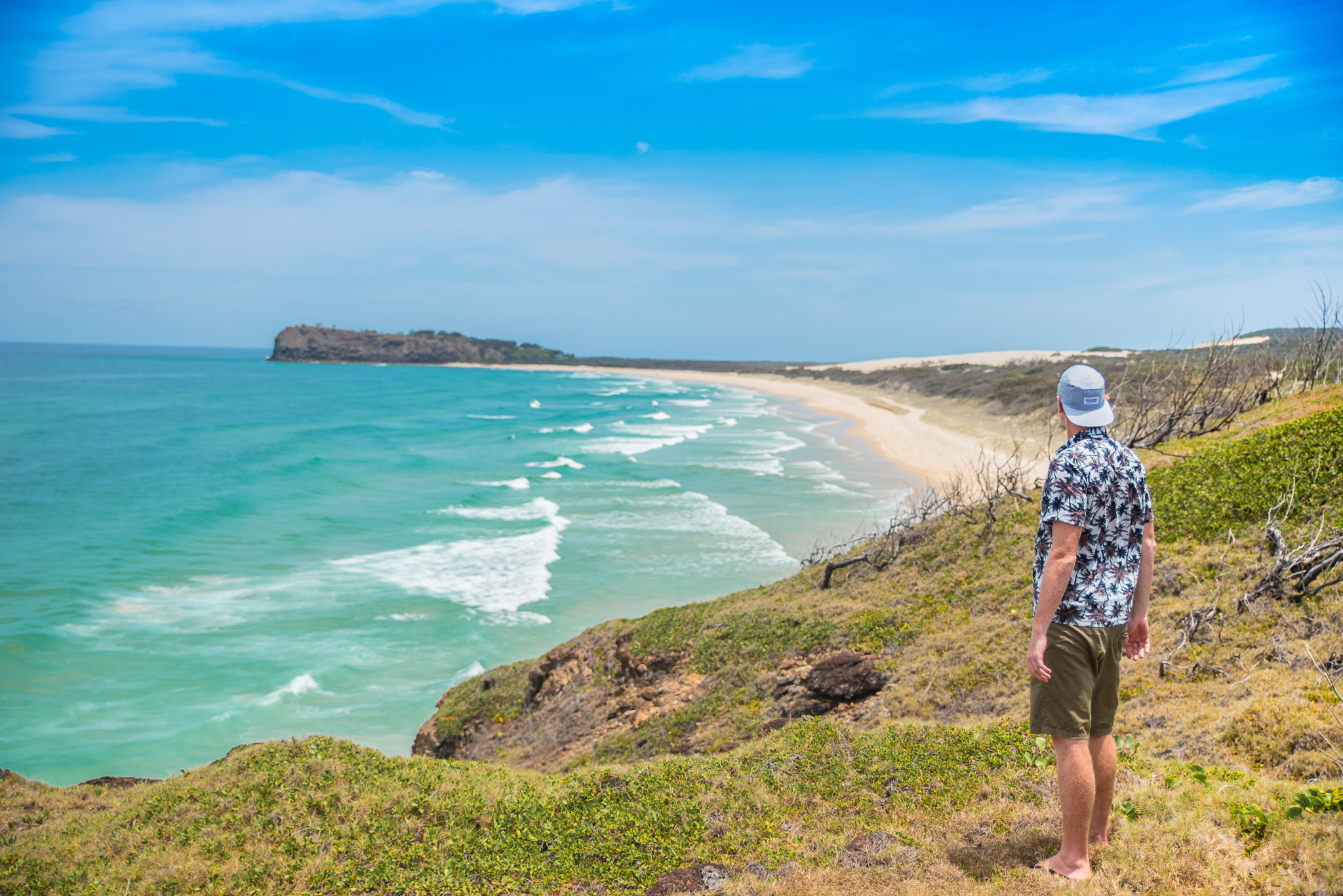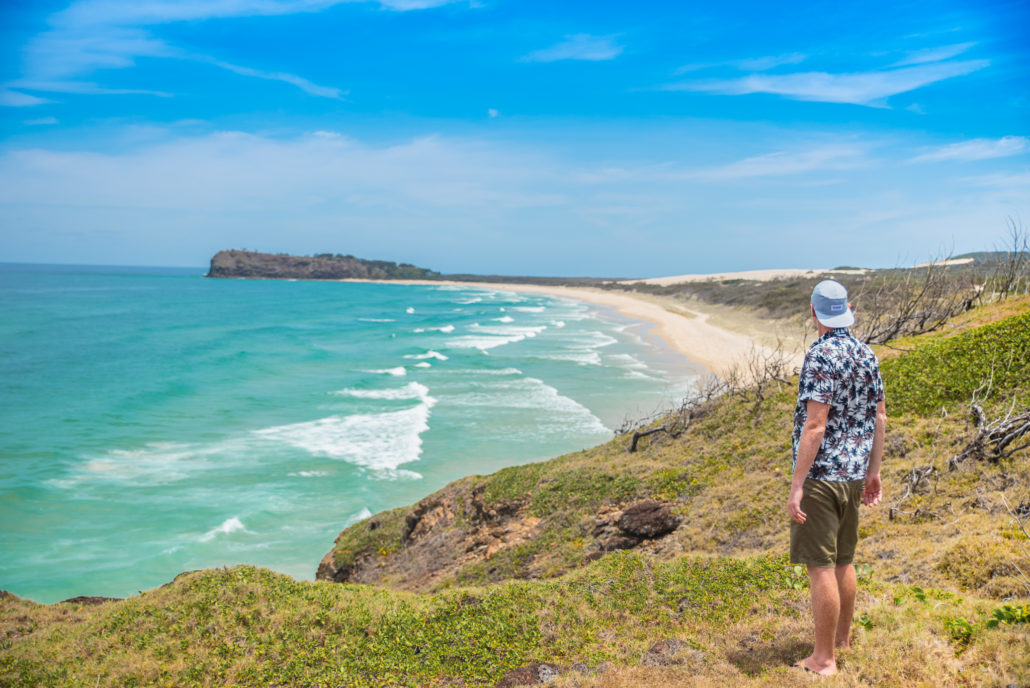 No trip along the east coast of Australia would be complete without exploring the massively beautiful Fraser Island.  I had heard so much about this place before actually going, and I can now say that it definitely lives up to the hype. 
The island is just so wonderfully diverse, and it almost doesn't even seem real if you try to explain it to someone.  At one moment you'd be walking through lush green rainforests, and then stumble onto a perfectly white sand beach with crystal clear water.  It's pretty trippy.    
You'd then hop back onto the bus and bounce in your seat along windy sand roads that cut through the island, only to find yourself than driving along the beach as the waves splash below the tires.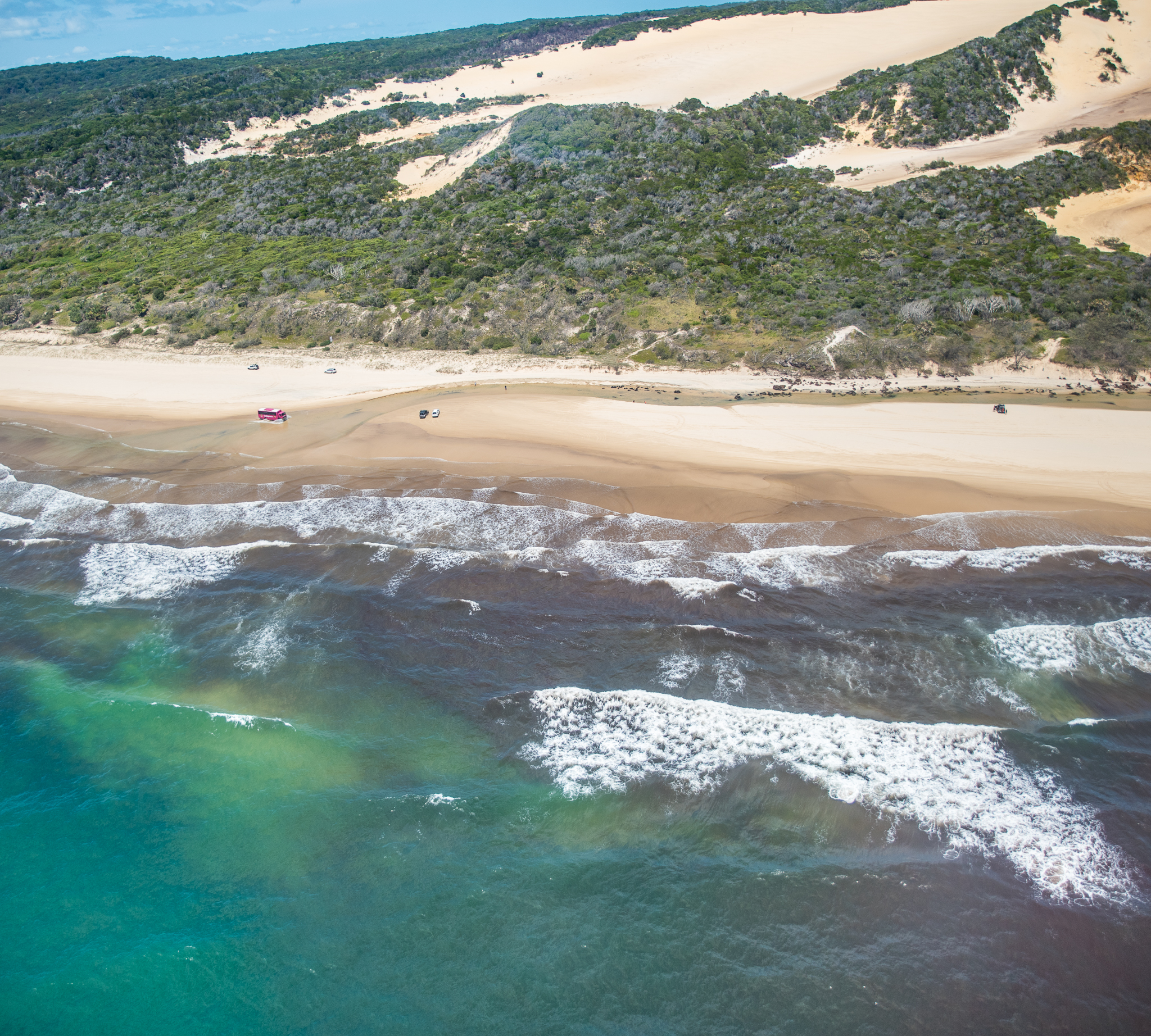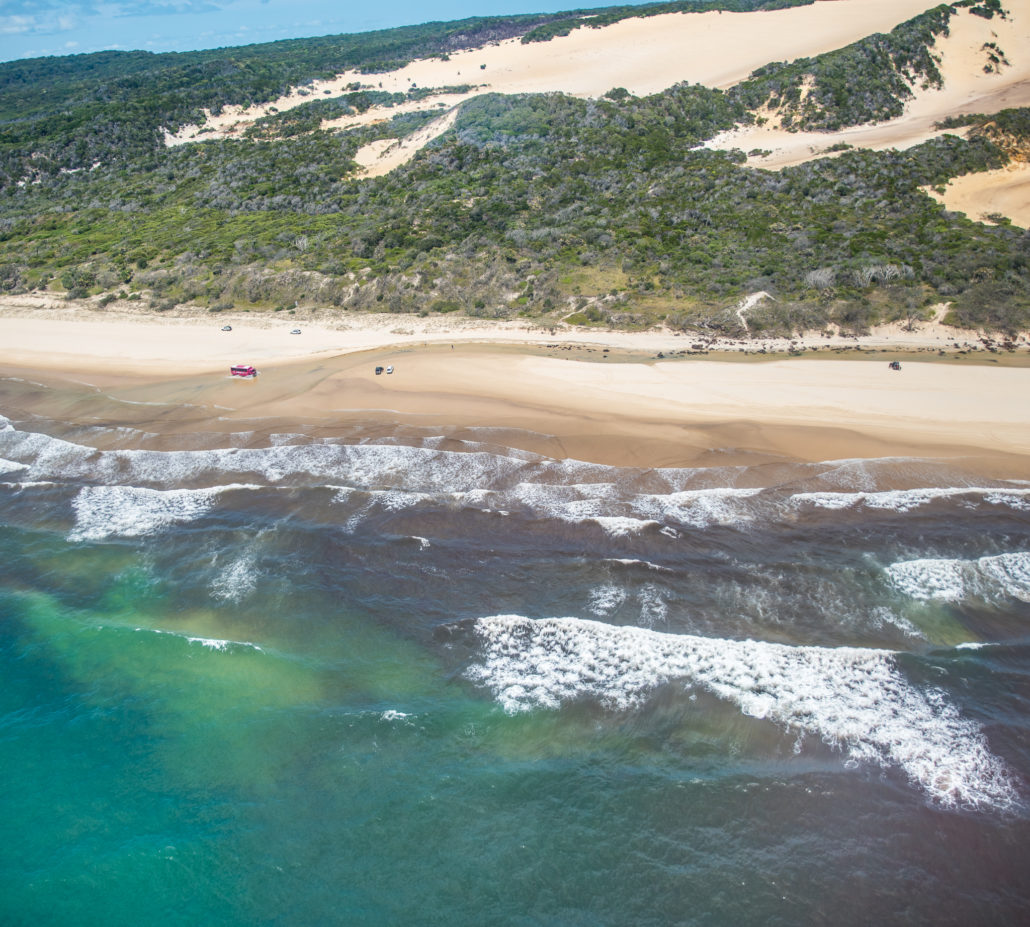 Fraser Island is the world's largest sand island, and a 2-3 day trip will leave your days jam packed with adventurous explorations.  There really is a lot to see on the island, and getting around the island can take quite a bit of time. 
If you want to explore Fraser Island on your own, it's actually a pretty complicated task.  You need to have your own 4×4 vehicle and camping gear, and navigating your way through the island can be a bit tricky.  It's common for cars to get stuck on these paths, and the idea of car troubles and having no reception scared the hell out of me.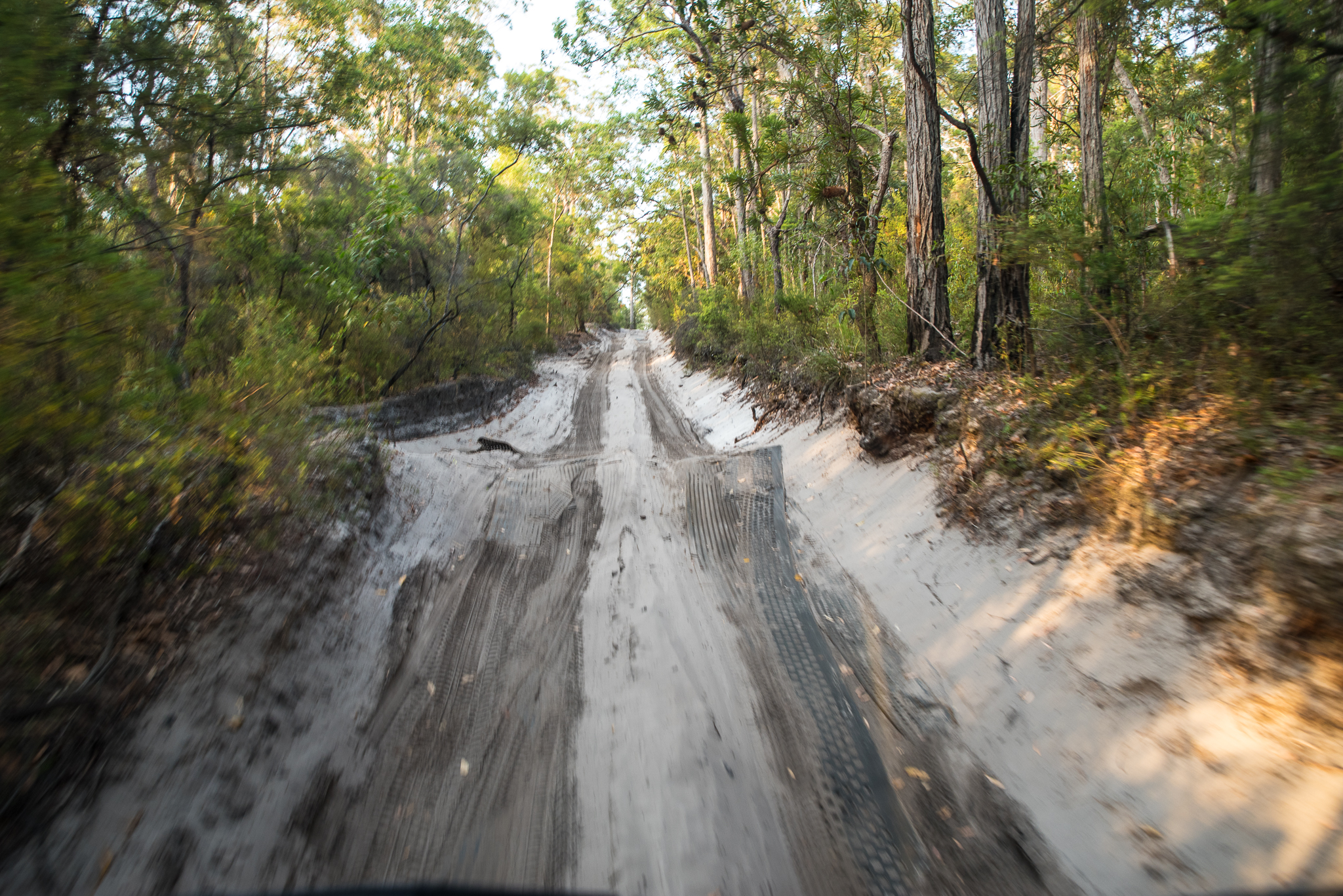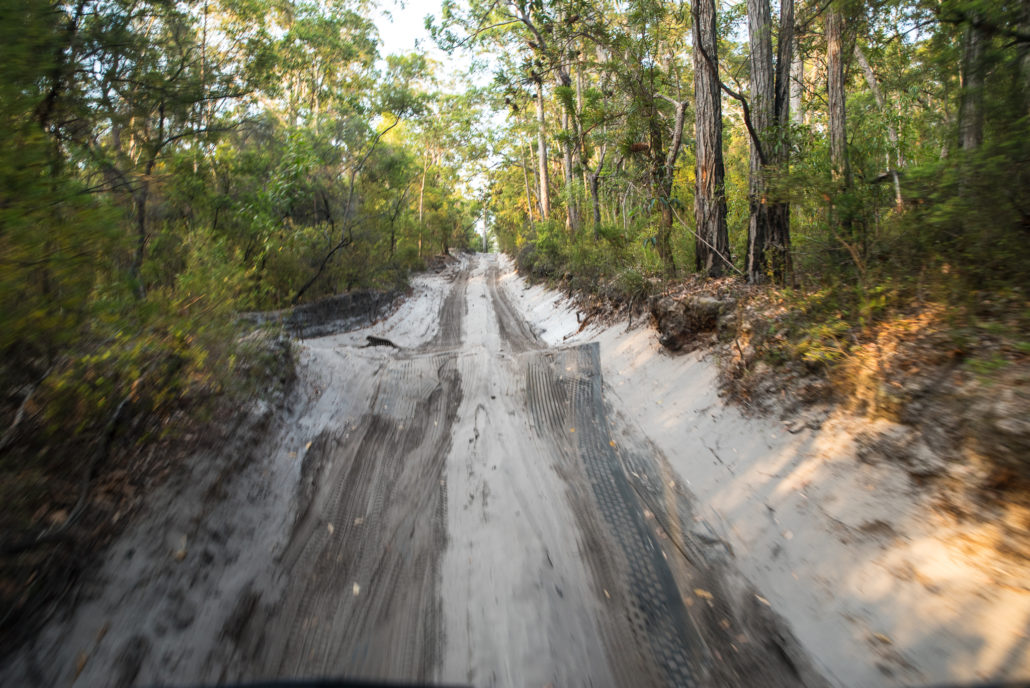 ---
So I'm extremely happy that I joined Cool Dingo Tours for their awesome 3 Day / 2 Night Fraser Island Trip.  It was a damn good time, and I'd definitely recommend it to anyone traveling Australia!  It took out all the stress of visiting this unique island, and it was easily one of the best organized tours I've ever been on.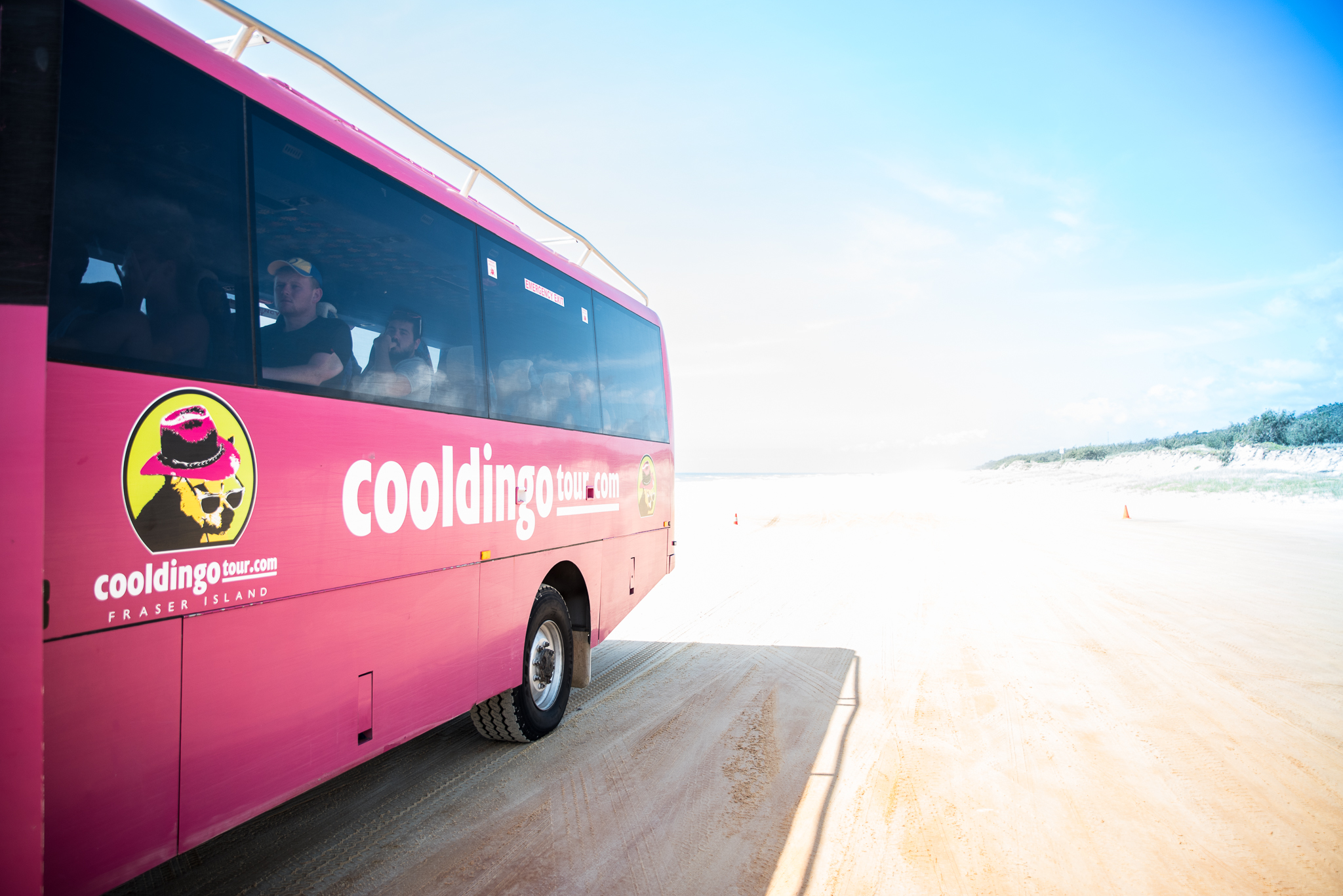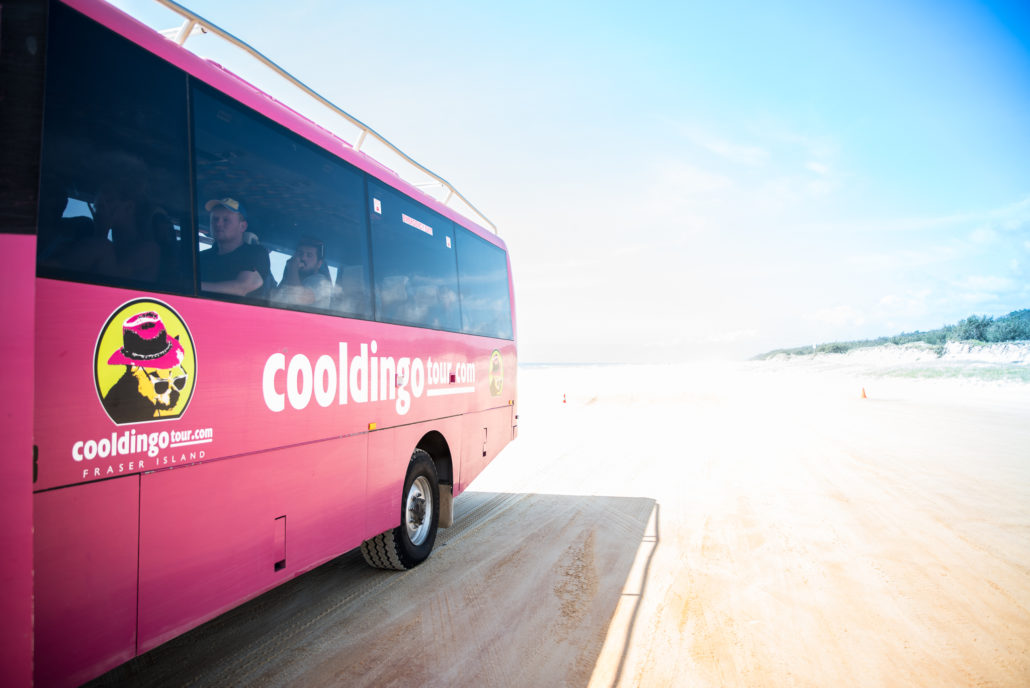 ---
Day 1 Highlights
Lake McKenzie
While this is up to debate, I would argue that Lake McKenzie is the island's most beautiful lake (competing with over 200 for the title).  I was pretty excited to visit this place, as it is one of the few attractions on the island I had seen plenty of pictures of before arriving, and it was even more beautiful than I had imagined.
There's just something so interesting about walking onto this pristine white sand beach located in the middle of a sand rainforest.  It's also awesome the distinct color change that occurs when the depth of the lake changes suddenly.   It's unlike any other lake I've ever seen before.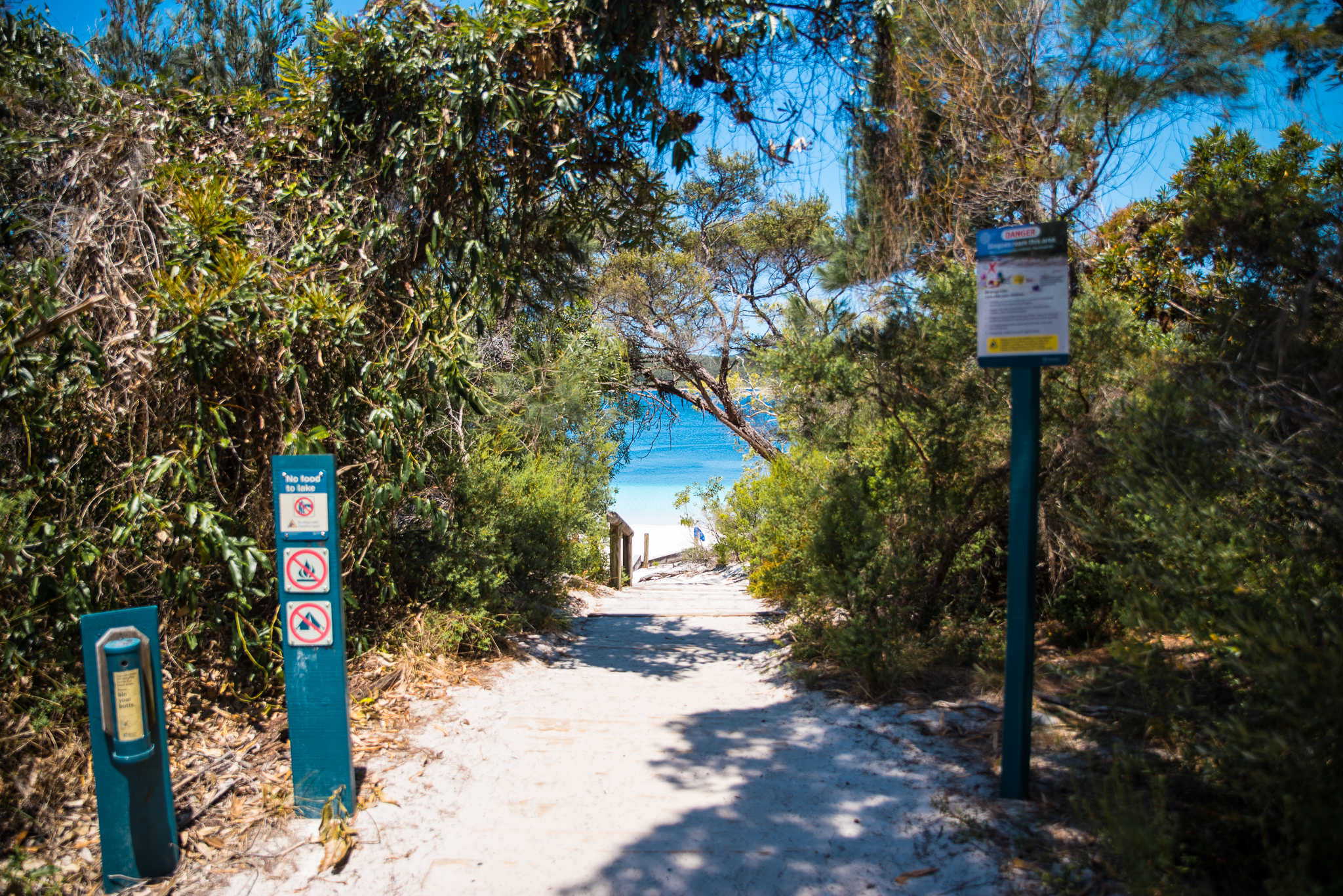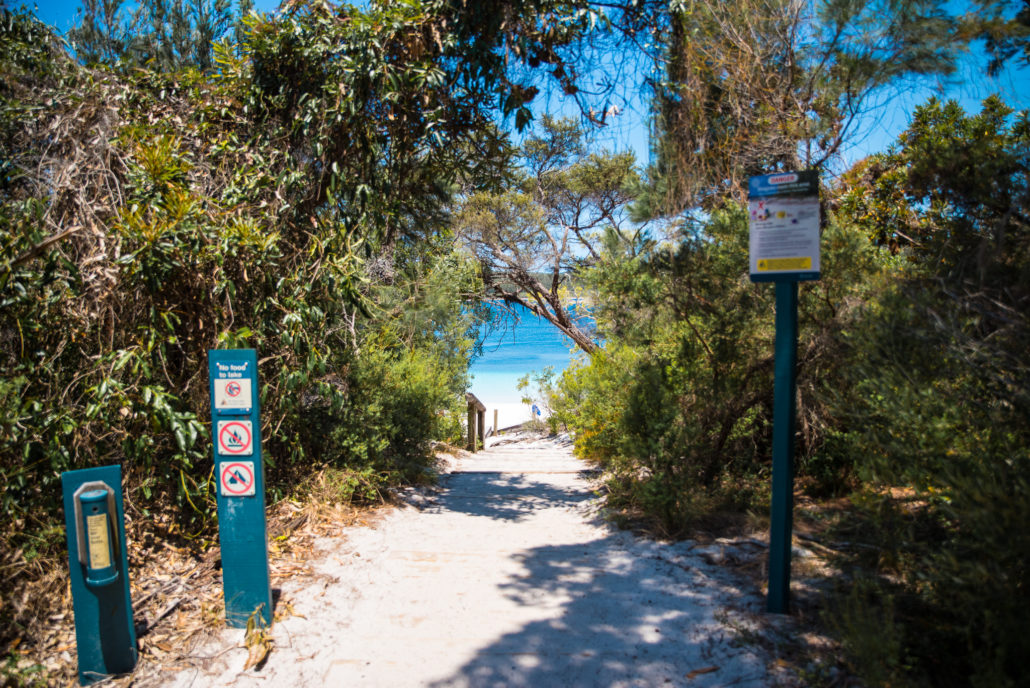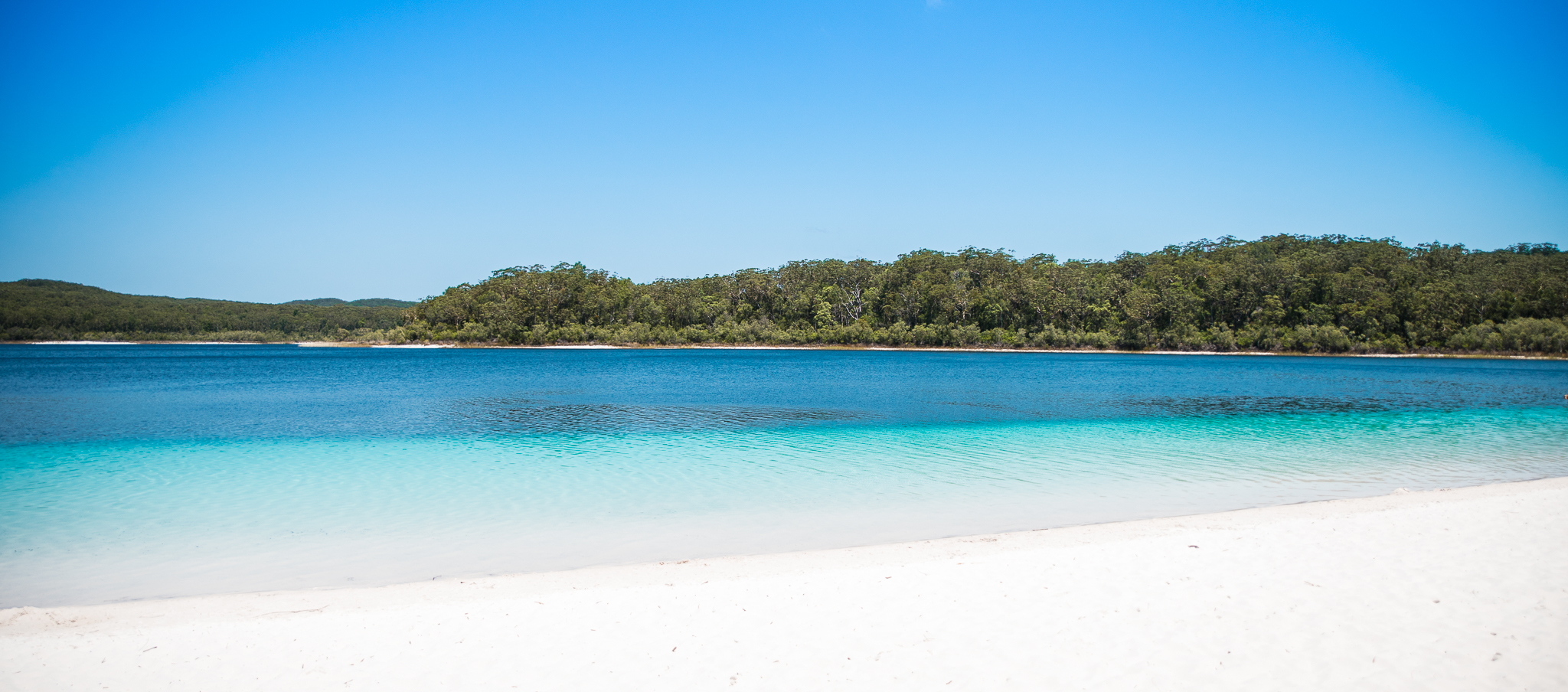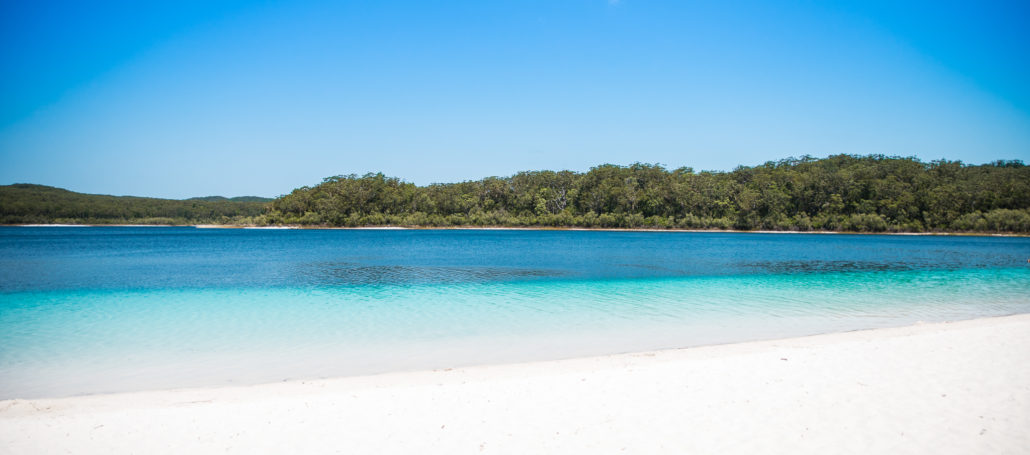 This was actually the only place we spotted the infamous "Dingo" on our entire tour as well.  From what I've been told, sightings of these wild animals have become quite rare, so it was a special treat for all of us on this tour.  There are "Dingo Safety" signs spread all over the island, which basically just tells you how to act if you encounter a dingo.  I was actually hoping to see one or two more throughout the tour, but I'll be happy with my one Dingo puppy spotting.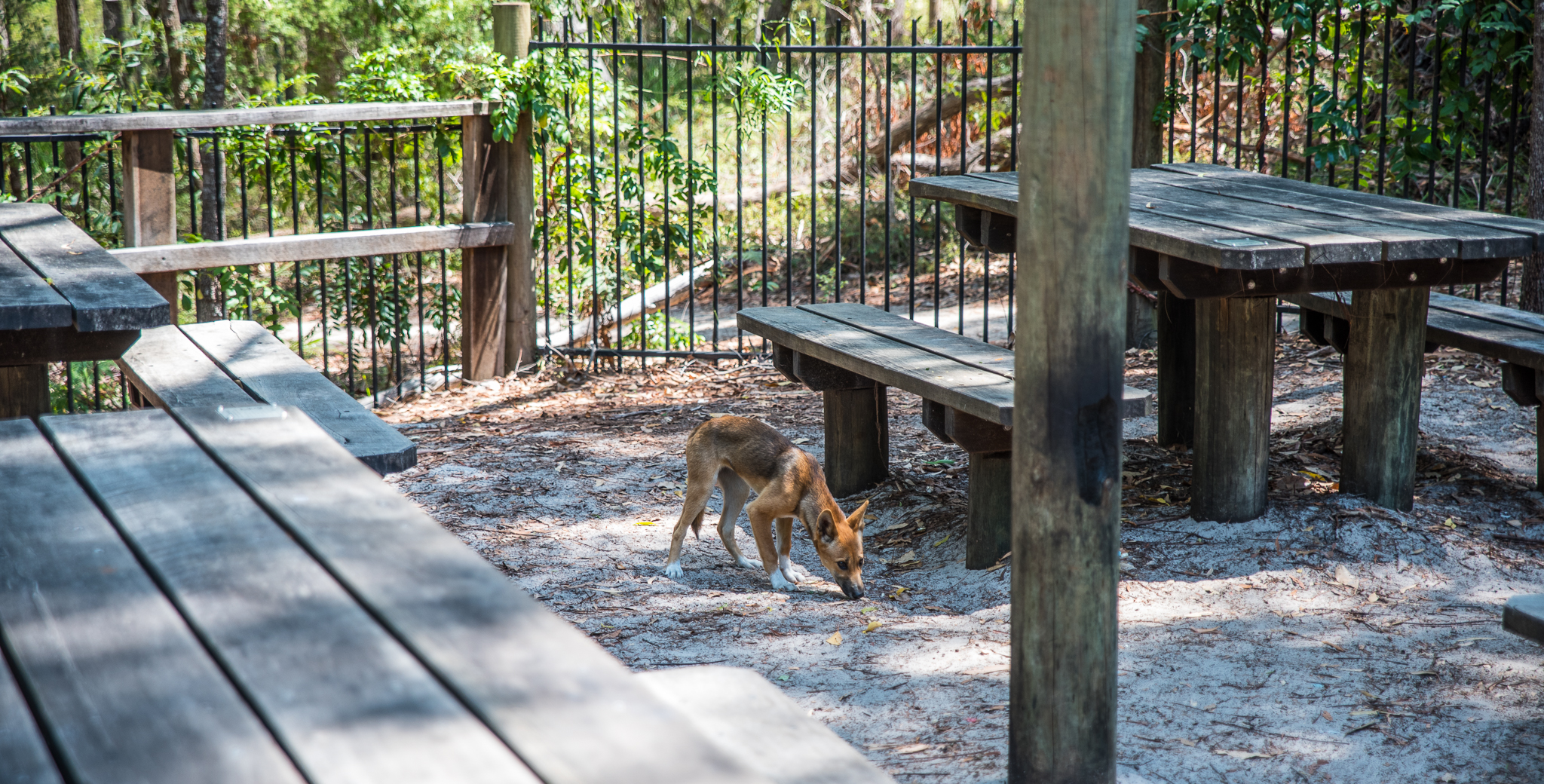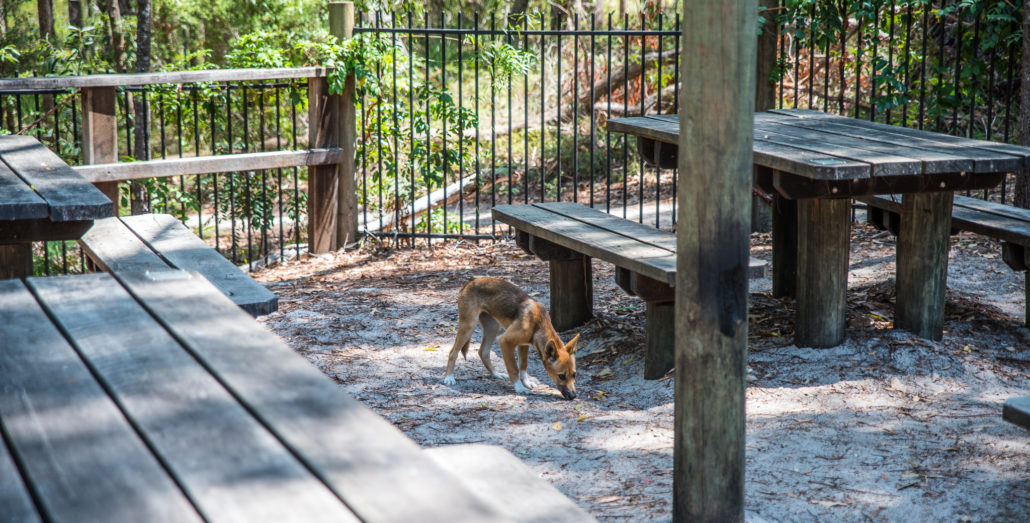 ---
Lake Basin & Rainforest Treks
After a relaxing morning swim at Lake McKenzie, and a tasty buffet lunch up at the picnic area (chicken & ham sandwiches, potatoes, and salad) — we made the short drive over to Lake Basin for a quick photo opportunity.  This lake might not have been as ideal for swimming, but it really was beautiful.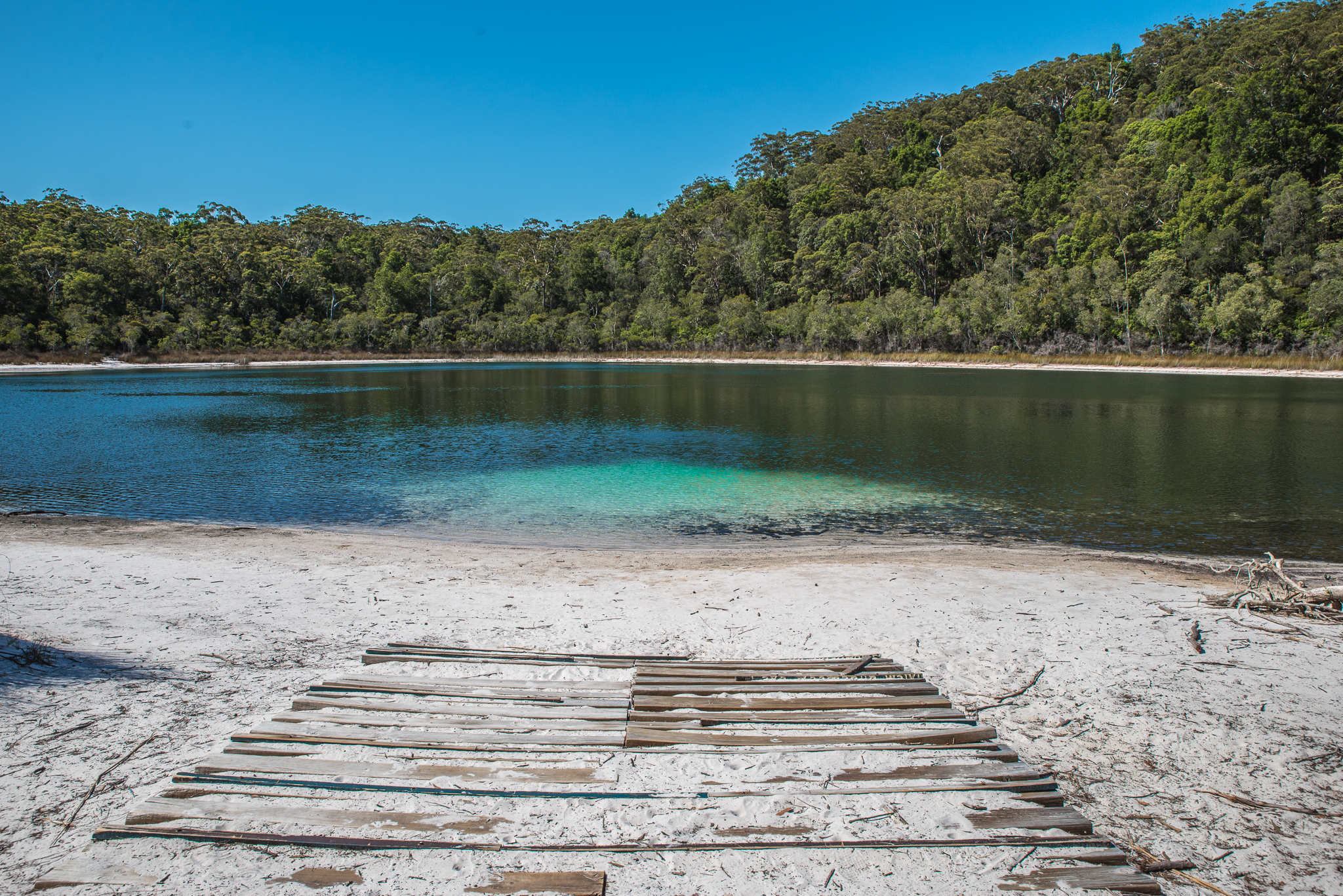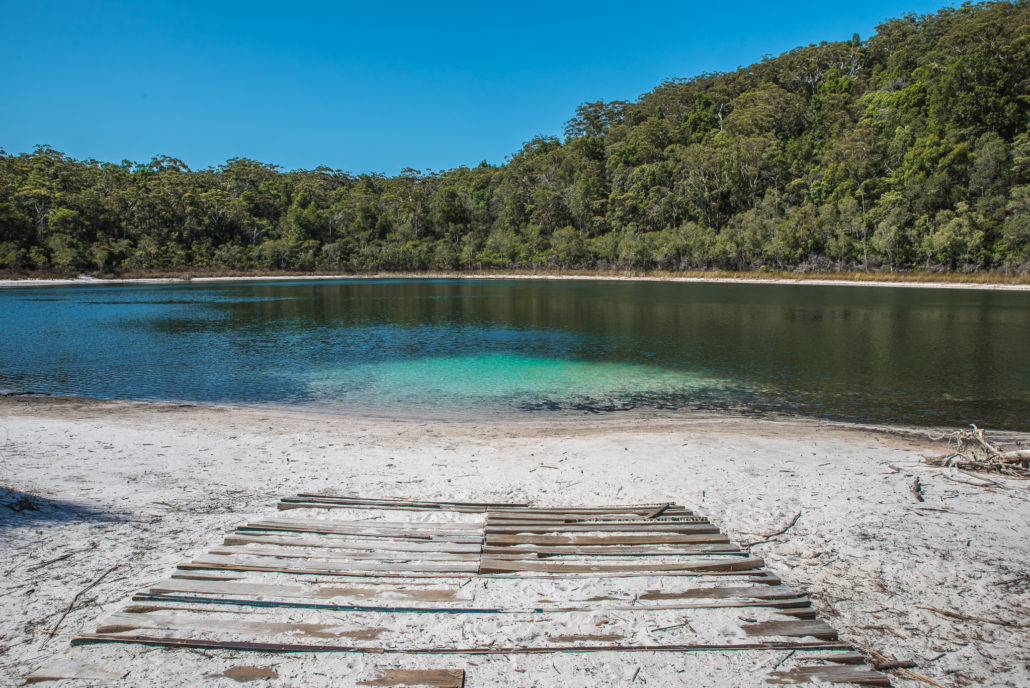 The group then went on two different forest treks through Central Station, Pine Valley, and walked along side Wanggoolba Creek.  One of the best parts and crowd pleasers of these treks was that the water flowing in the creek is absolutely crystal clear, and you can even drink from it (which tasted amazing).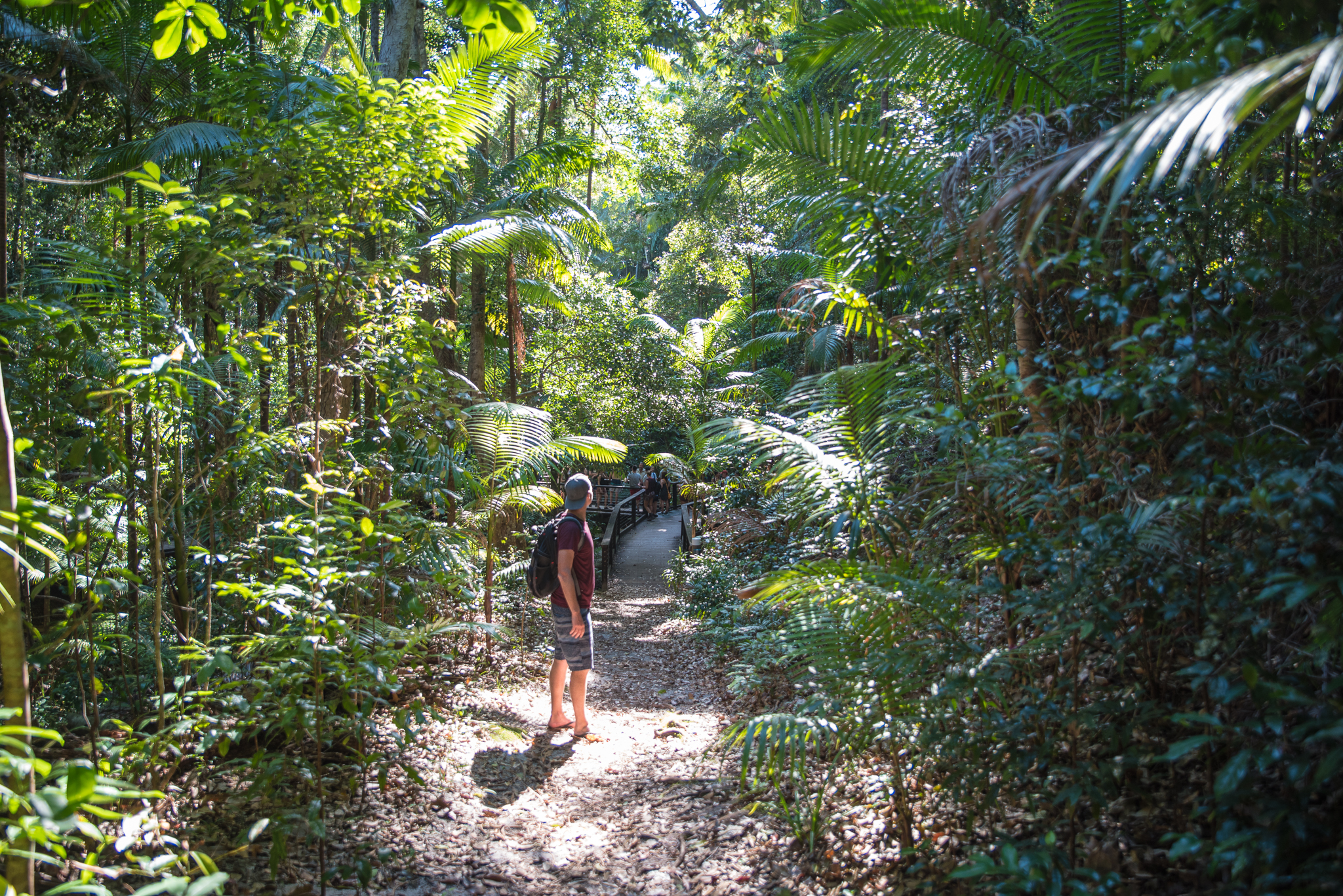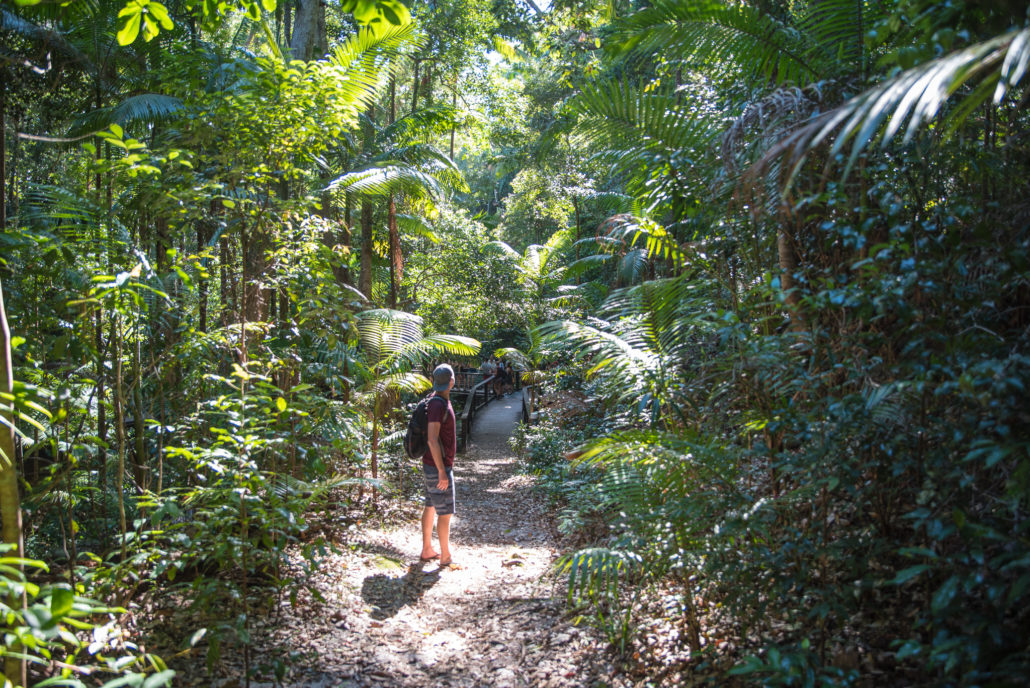 ---
Sunset Beers
In my opinion, there is no better way to finish a day then to watch the sunset while knocking back a few beers.  The sunset was absolutely gorgeous, and definitely one of the best I have seen while in Australia.  Being an island on the east coast of Australia, watching the sunset on Fraser Island is one of the few places where it looks like the sun is setting over the horizon.
I was also having a damn good time taking heaps of photos!  What do you think?  Which one is your favorite?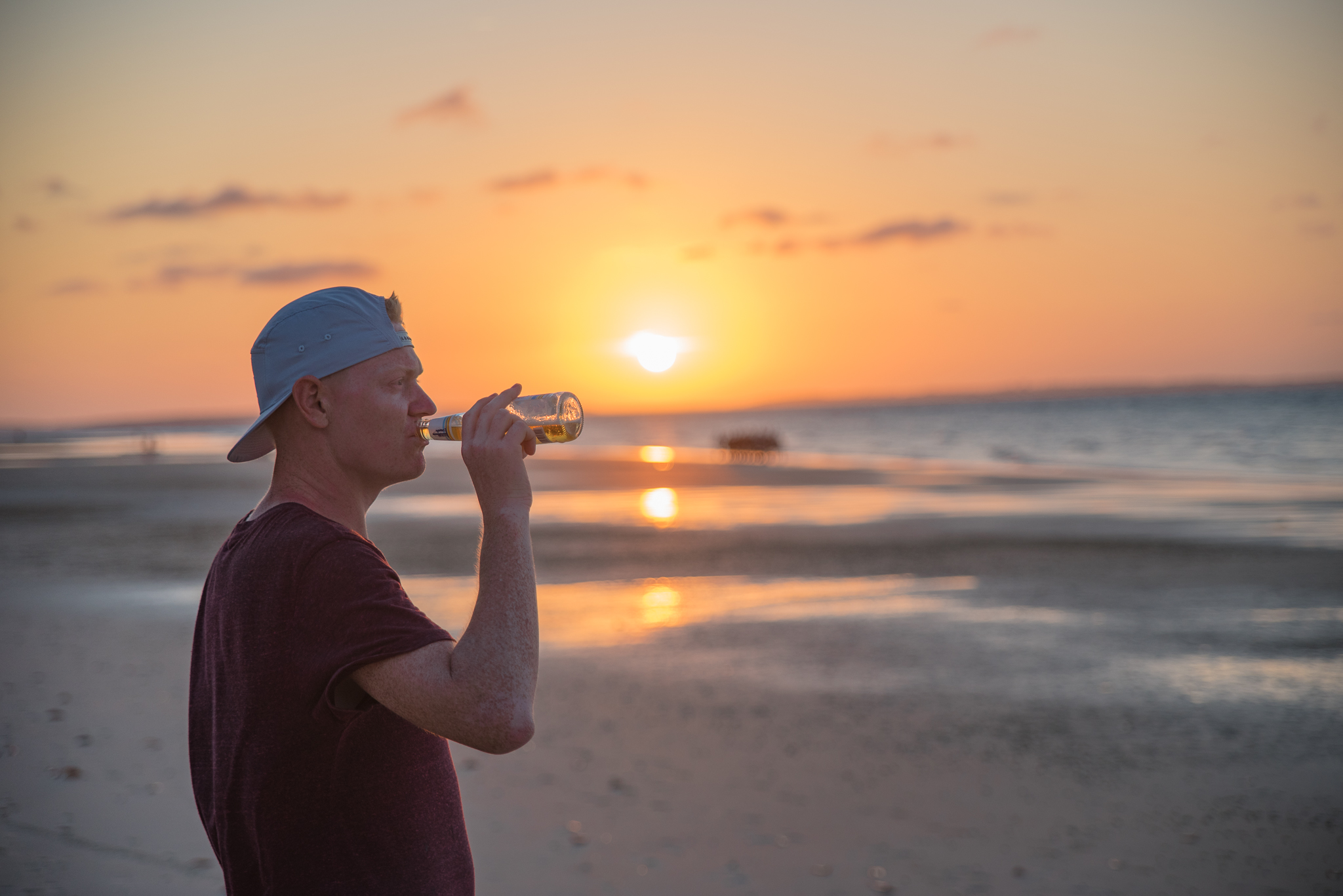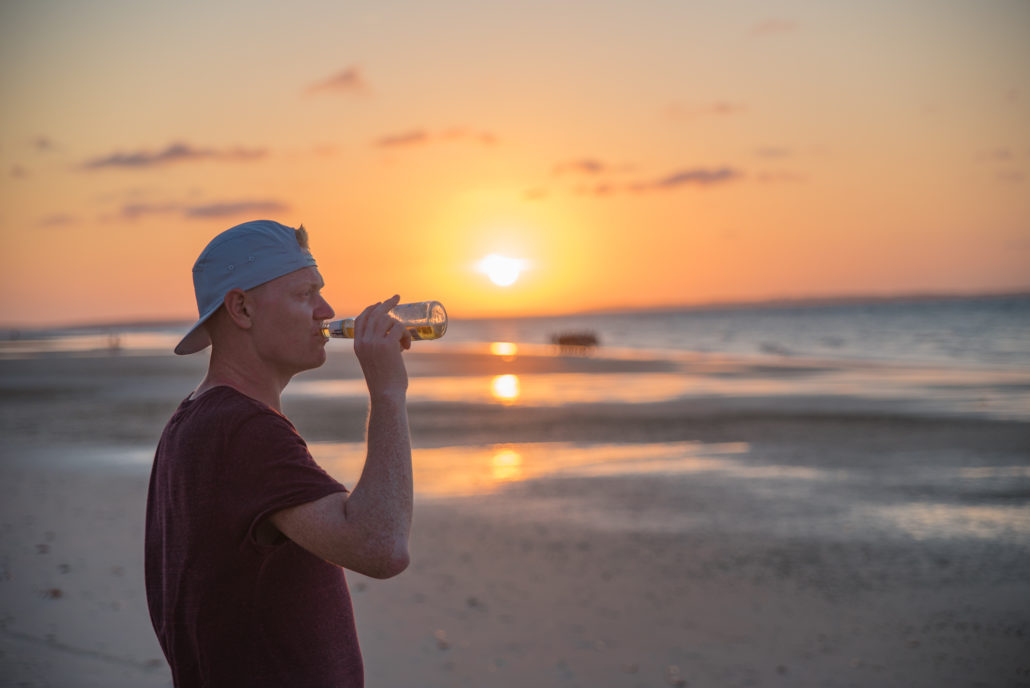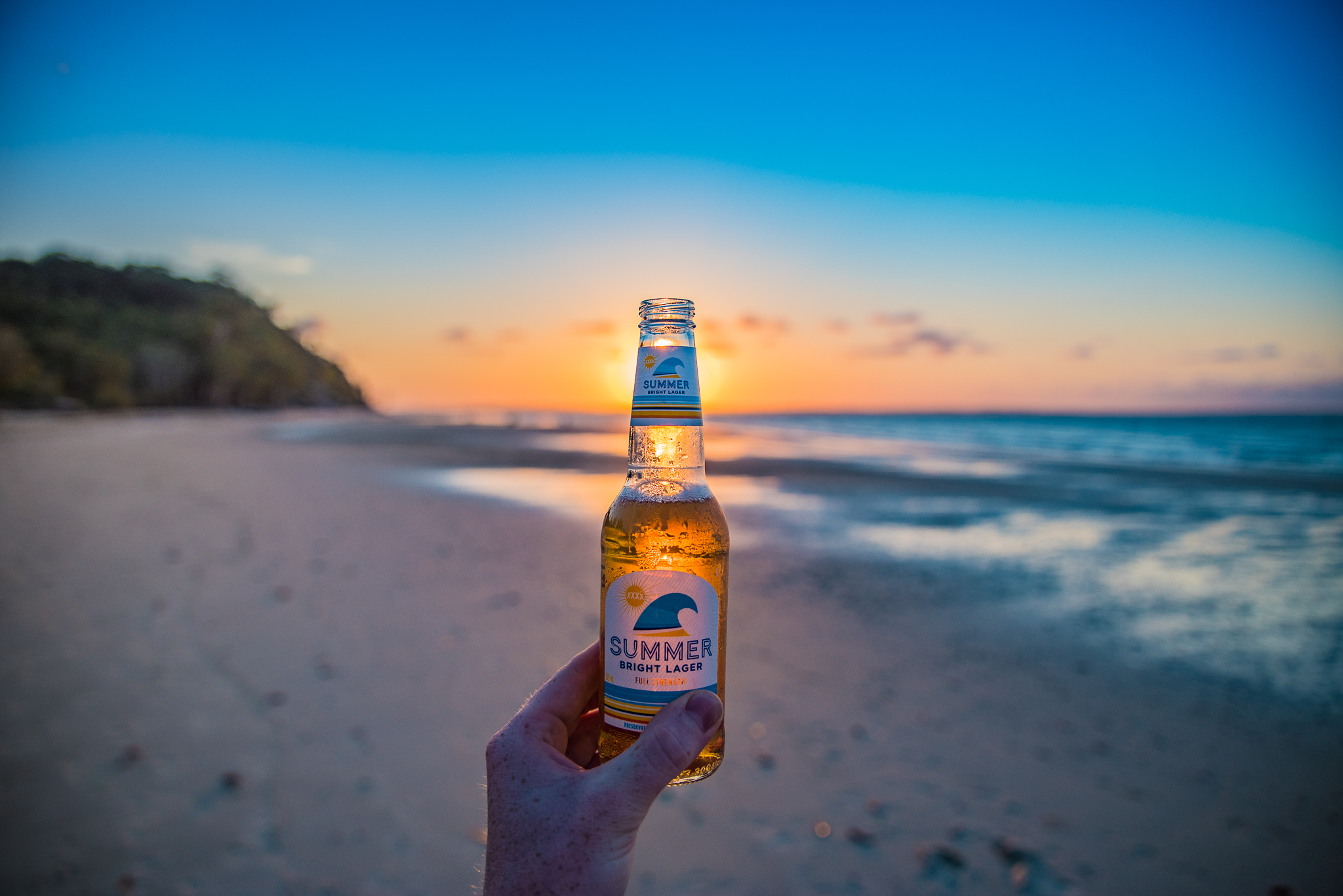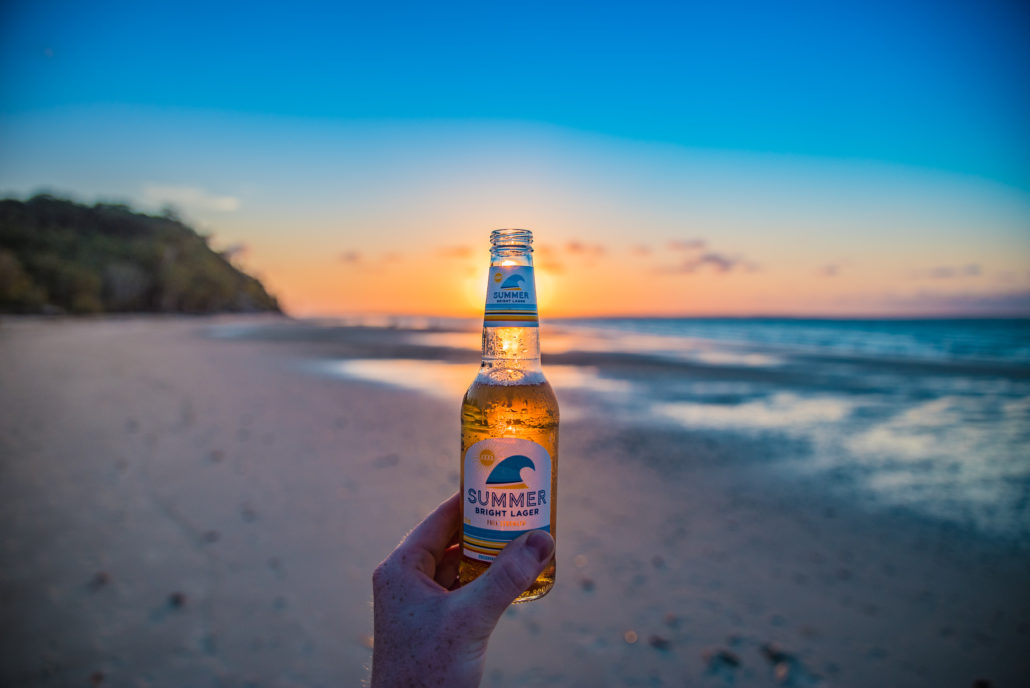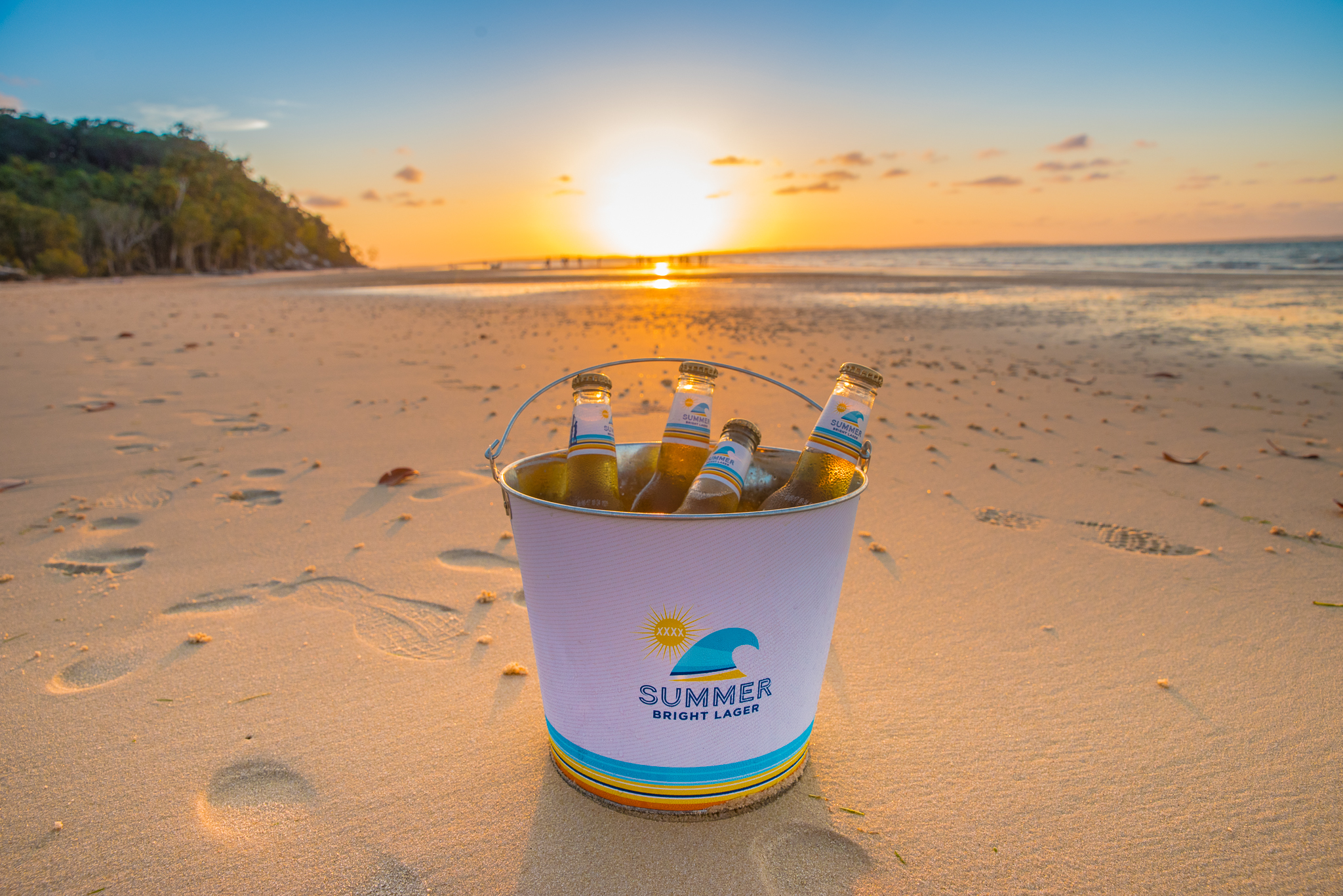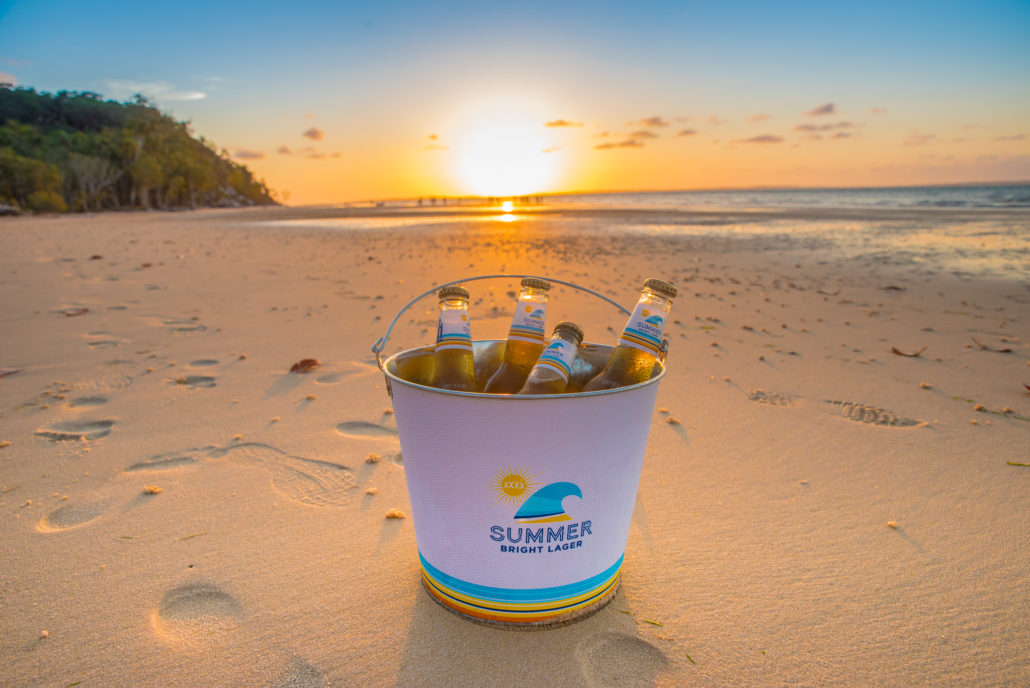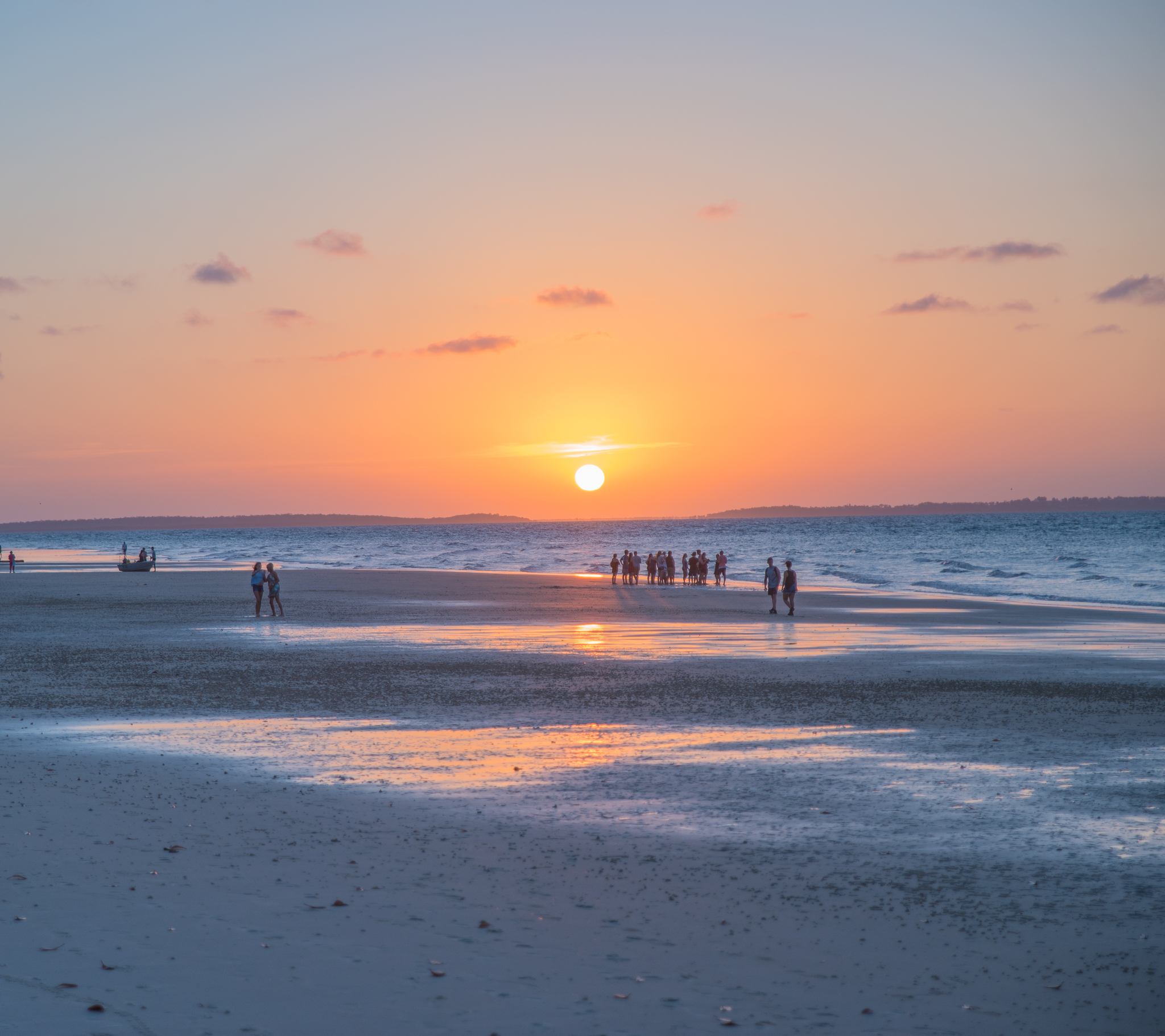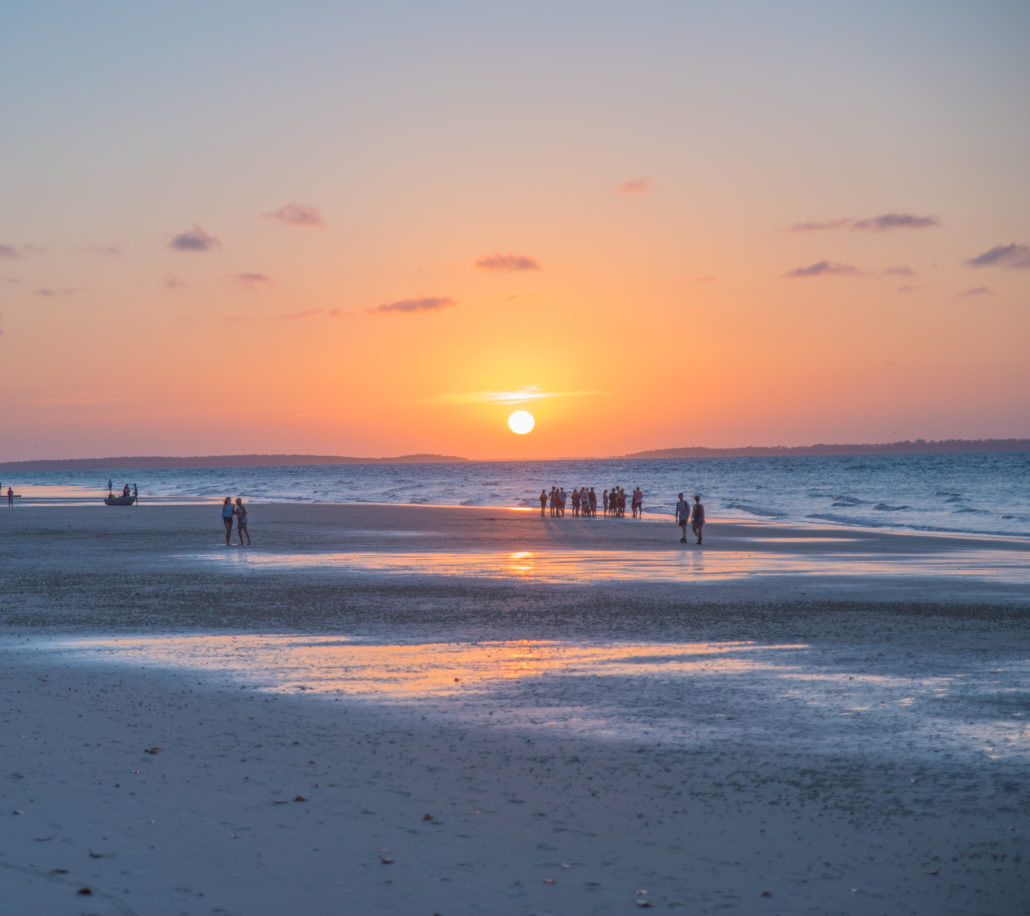 ---
Day 2 Highlights
Flight over Fraser Island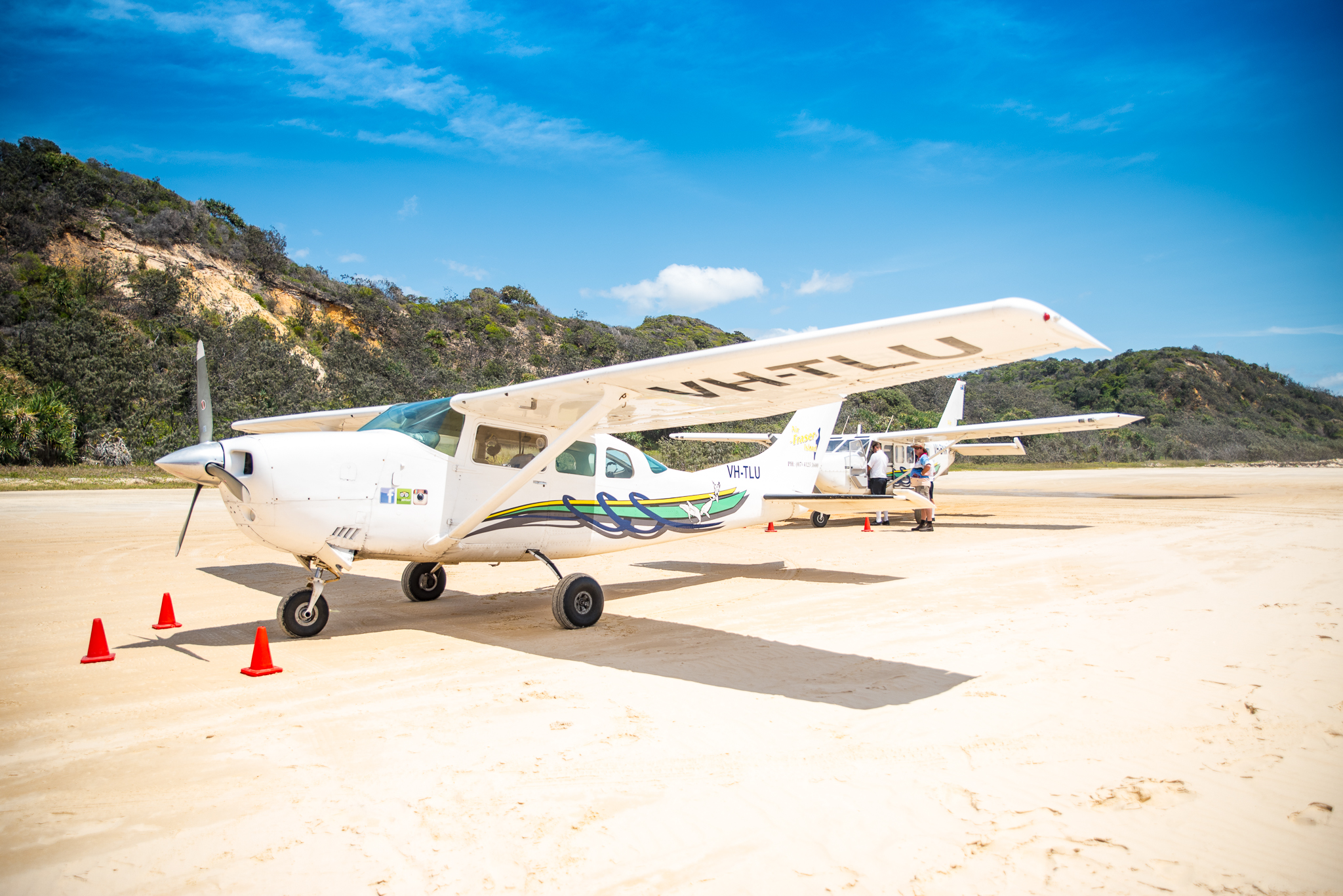 After a delicious buffet breakfast (which I may have overindulged and put myself into a slight morning food coma), our group loaded onto our 4WD Pink Cool Dingo Tour bus, and began our drive over to the eastern part of the island.  We were told that at some point during the day we would have the opportunity to take a quick scenic flight for those that were interested, and it just so happened that it was our first stop for the day….
Having just recently done helicopter and sea plane rides over the Great Barrier Reef & The Whitsundays, I knew that I couldn't say no to getting back up in the air!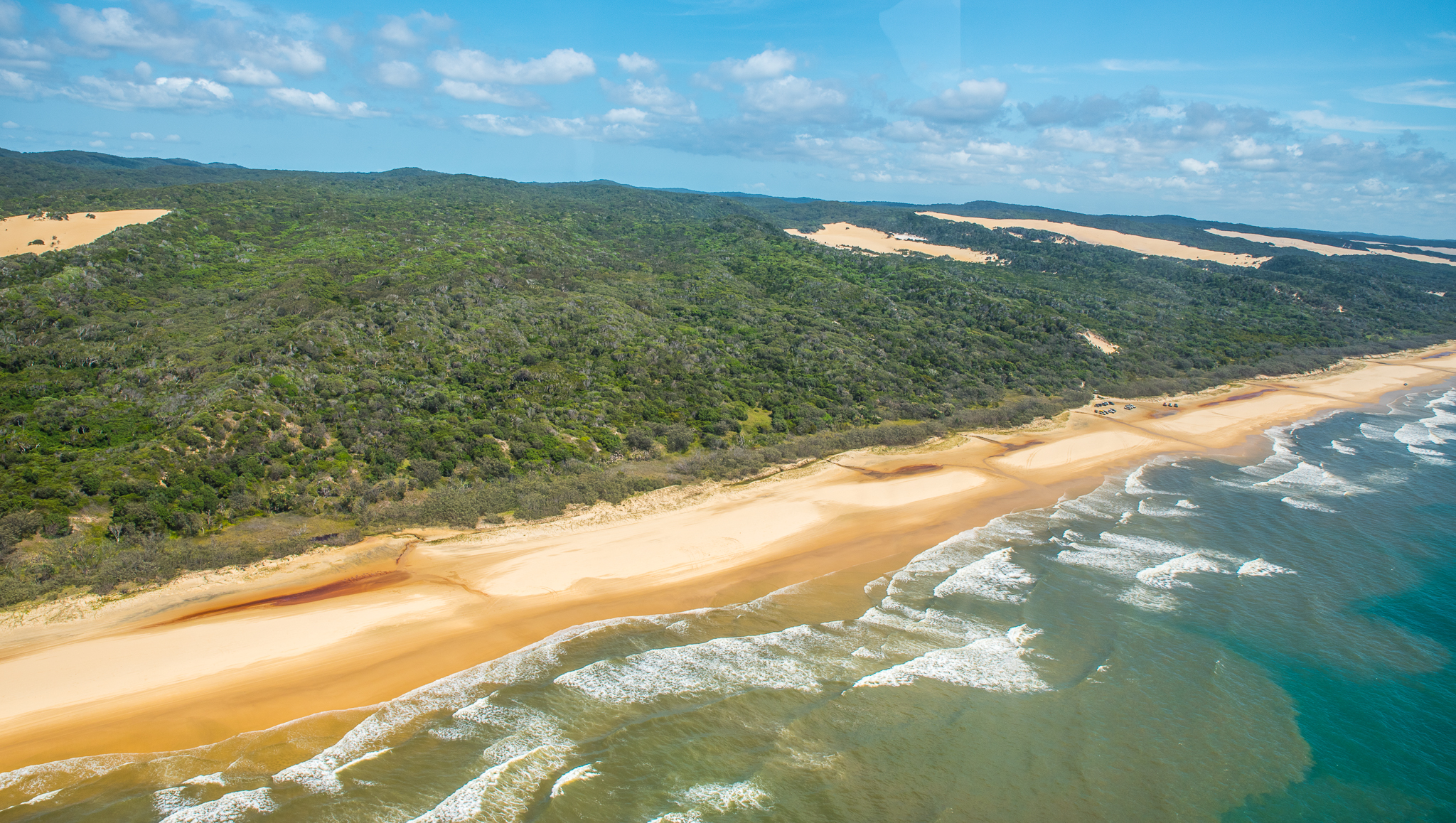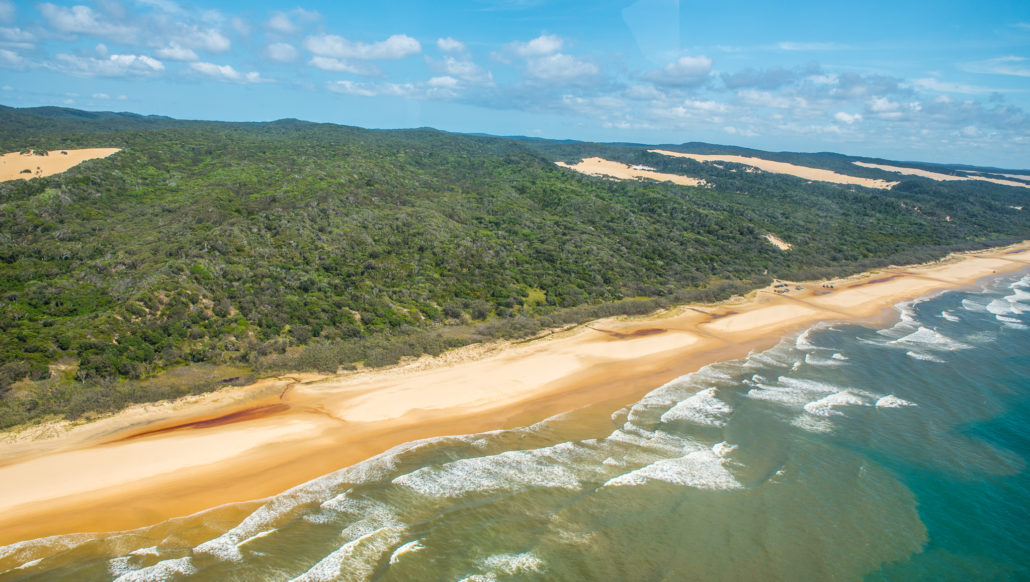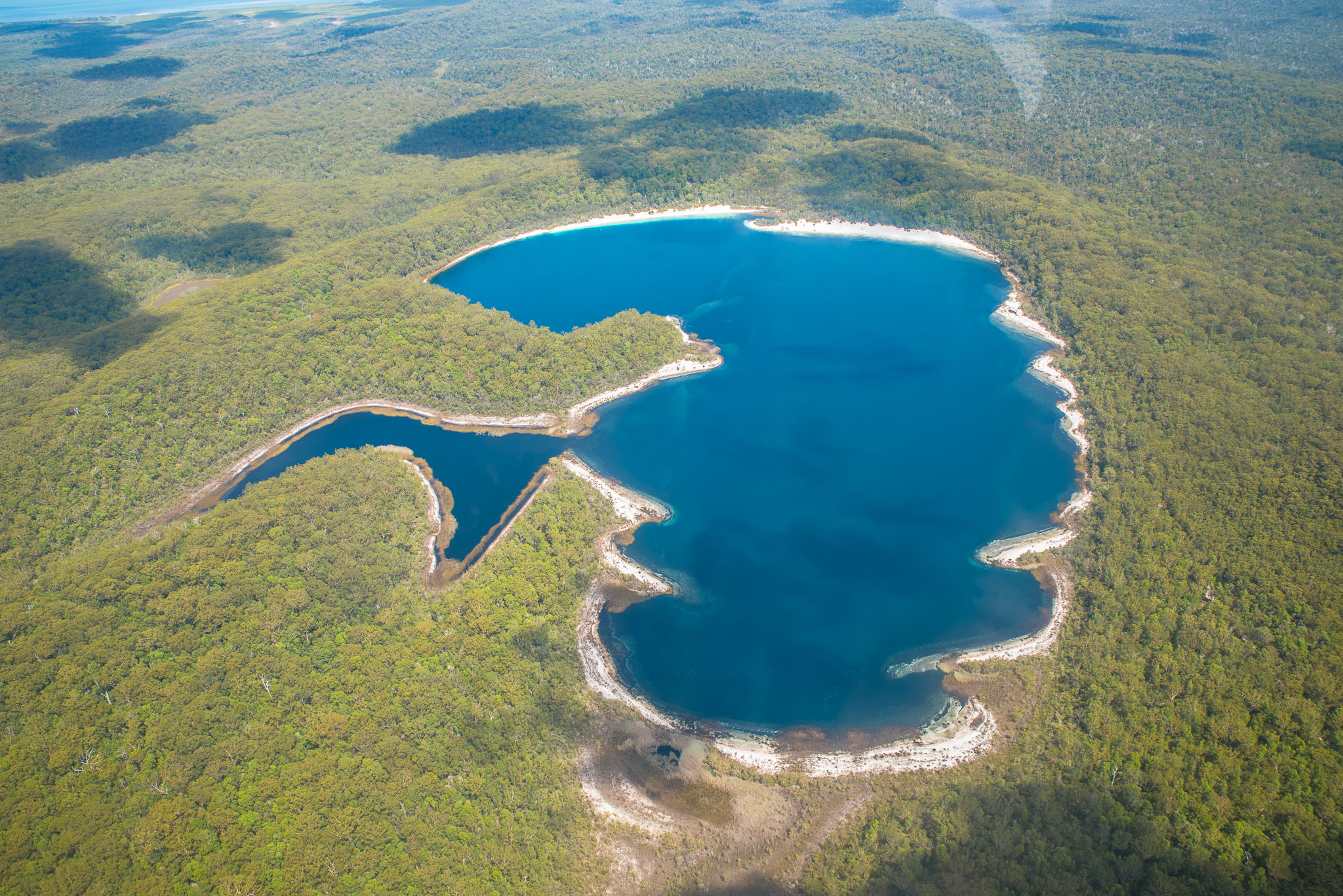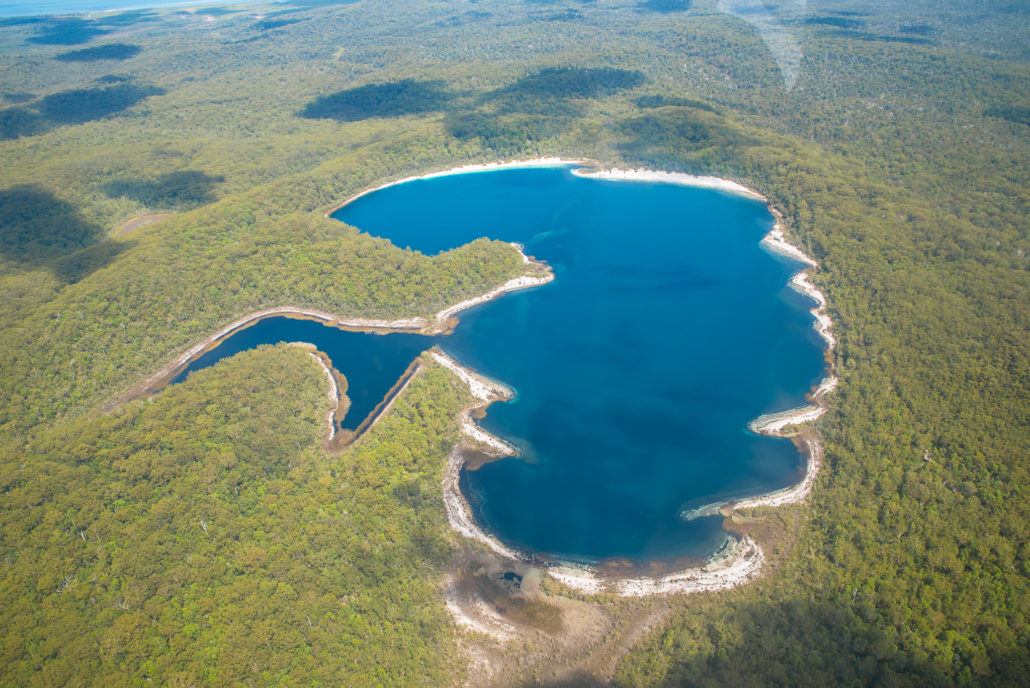 For only 80 AUD, you'd take off and land from the beach, and have a brief 10-15 minute in the air while taking pictures of Fraser Island.  Our group were extremely lucky, as we were granted an extra 10 minutes and were flying for nearly 25 whole minutes.  My pilot actually told us that he gave us the extra time because he really likes out tour guide Hayden, and likes to take good care of his tours.
Flying over Fraser Island will definitely give you an appreciation for how massive it is, and it really was epic to fly over all the various sand dunes, lakes, landscapes, and beaches.  Thanks to Air Fraser for a smooth and informative ride.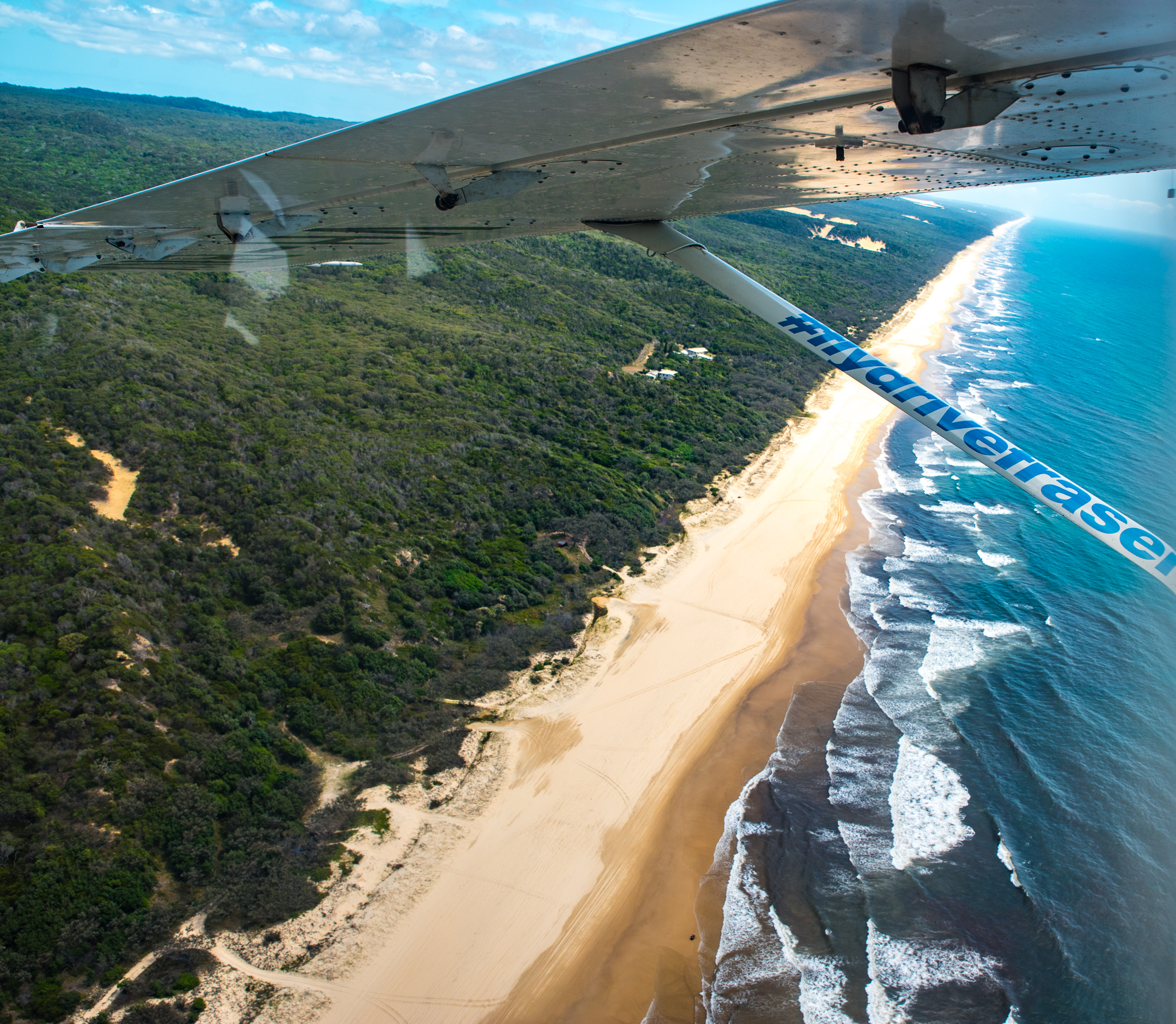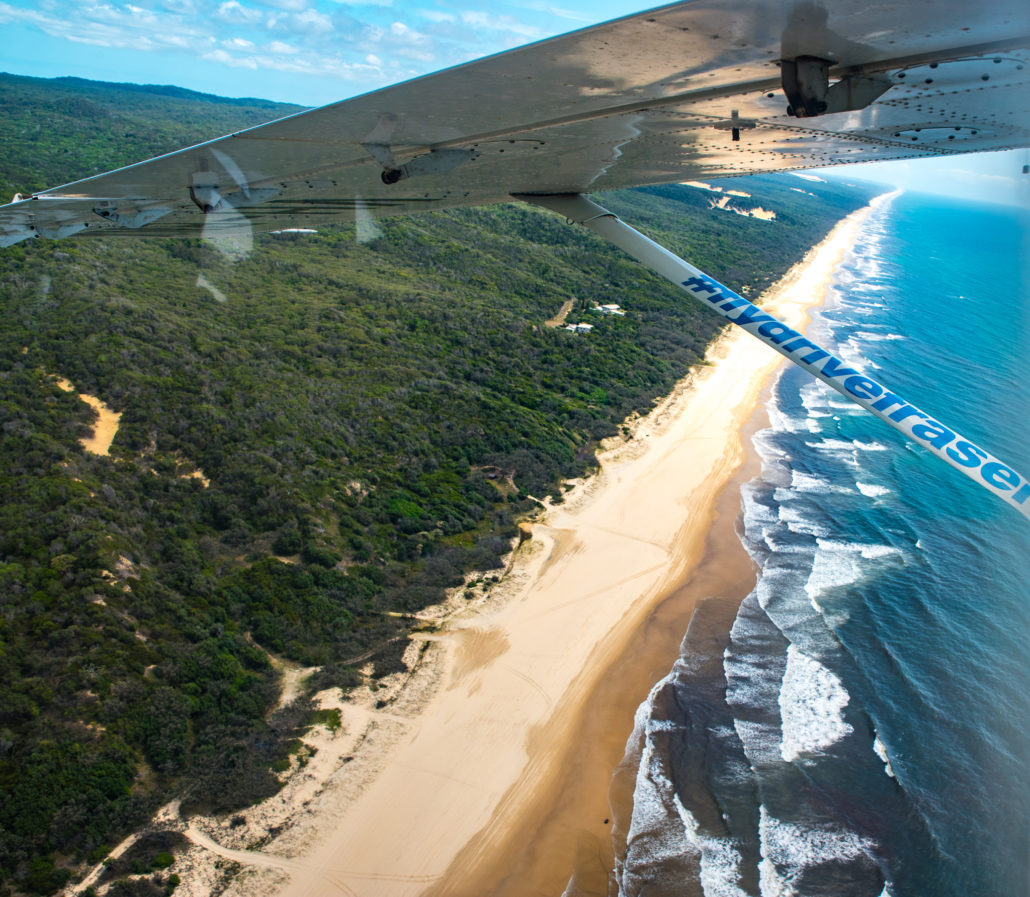 ---
The Pinnacles
After getting back on solid ground, we made our way to the first scheduled stop for the day, the colored sand cliffs called the Pinnacles.  I actually spotted these from the plane, and was hoping that we would be making our way back to see them a bit closer up.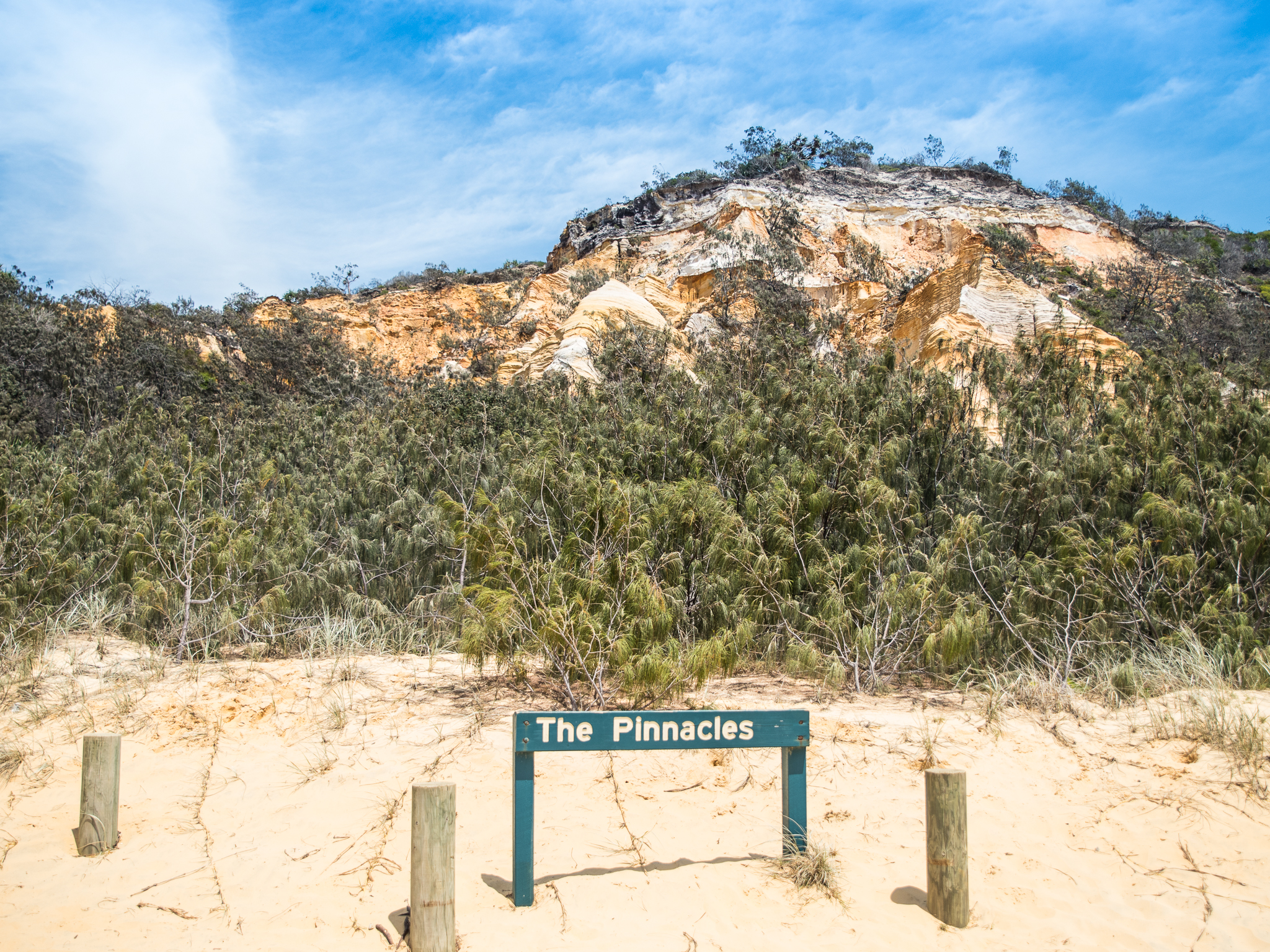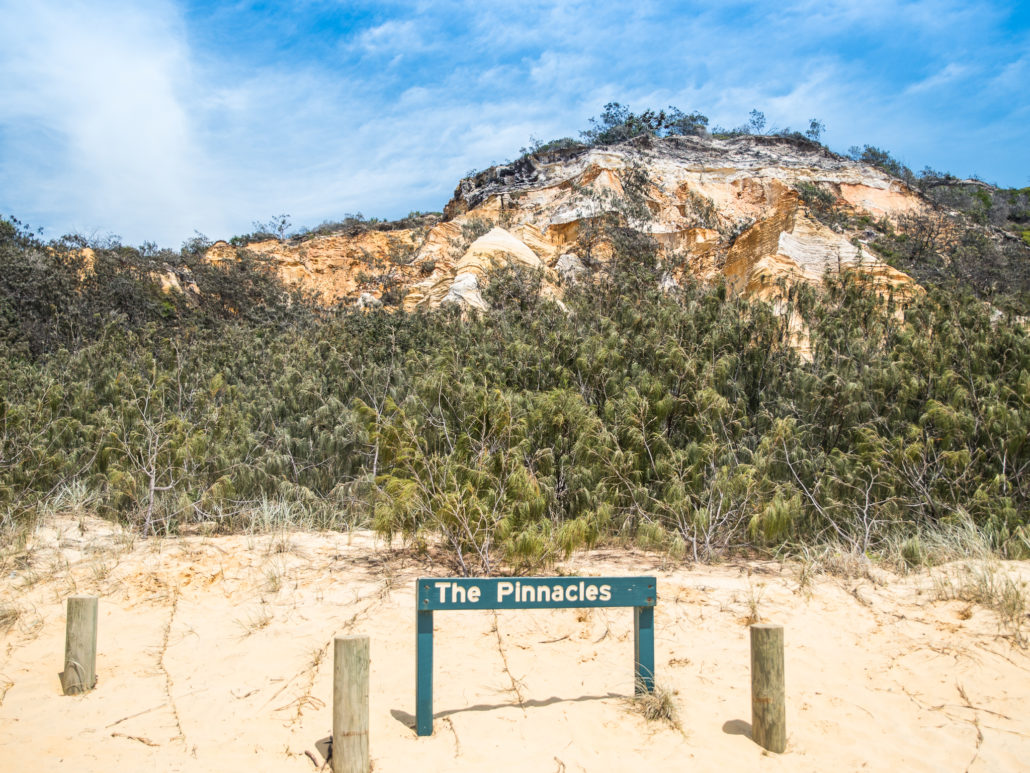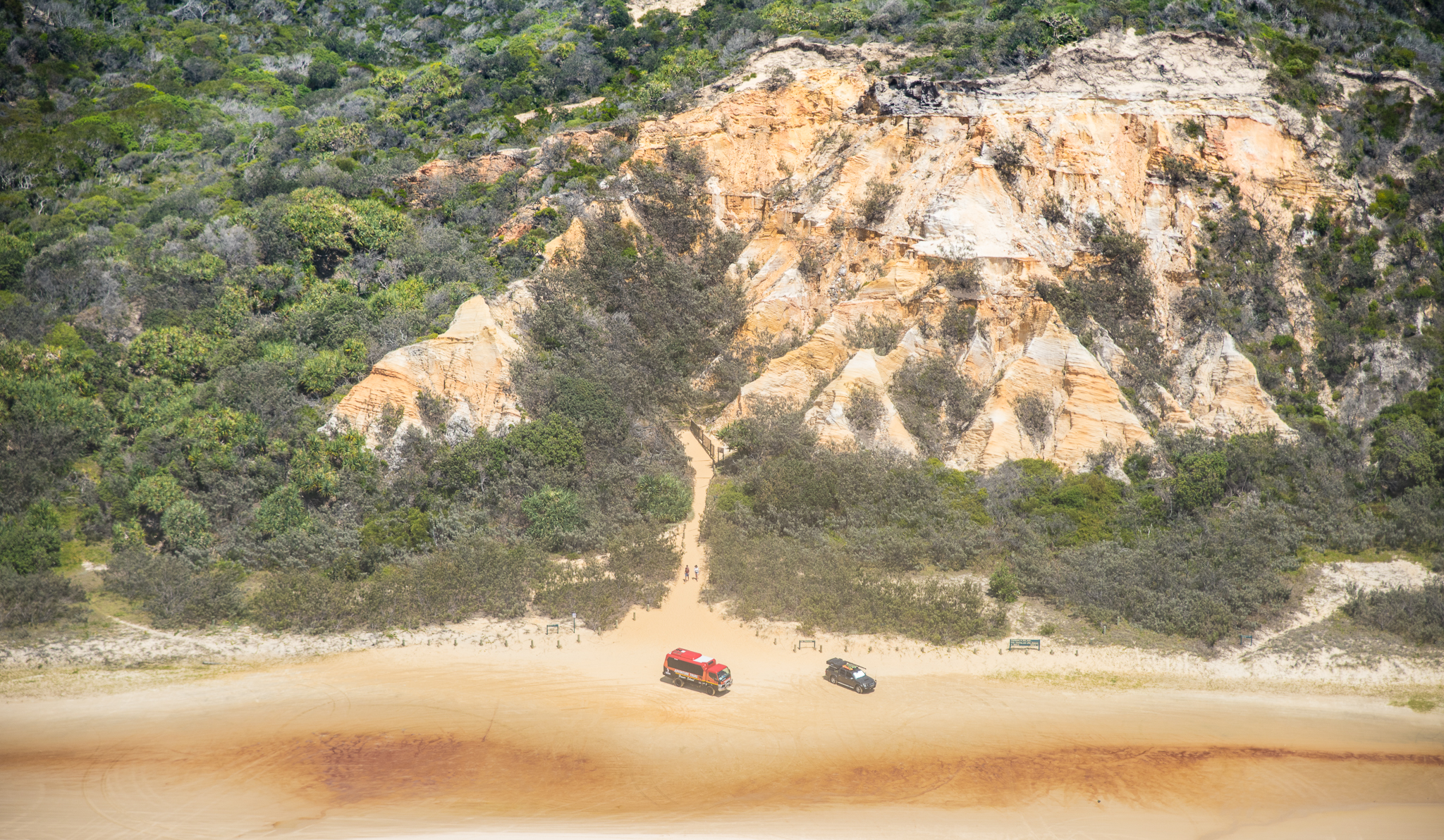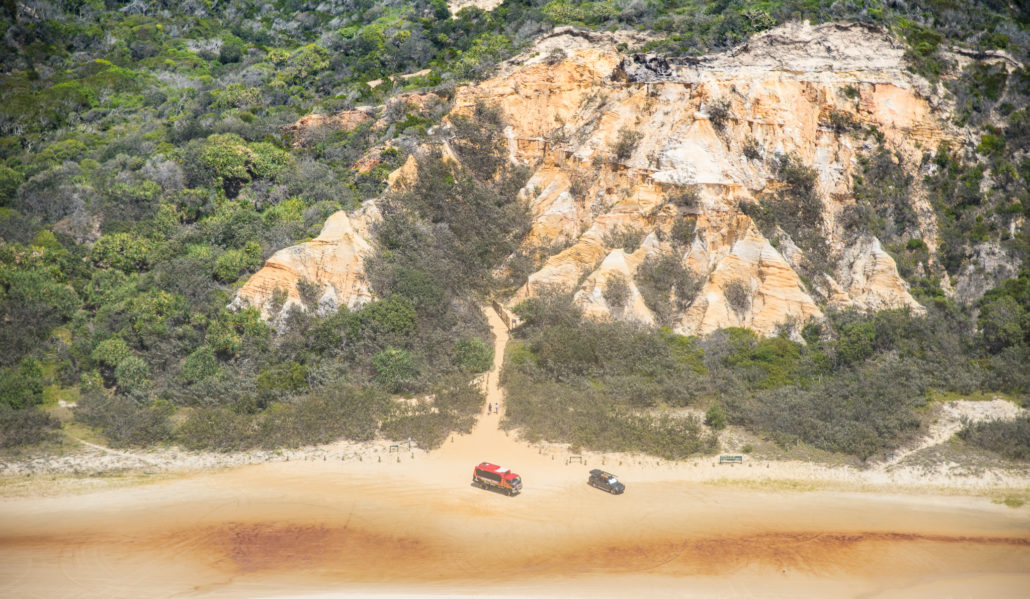 ---
Champagne Pools
While it may be a bit difficult to pick a "favorite stop" along this tour, I will say that this is easily in my top three.  We were blessed with gorgeous weather, and the views of these naturally formed rock pools were simply stunning!  We stopped here for over an hour for some pre-lunch swimming, tanning, and relaxing.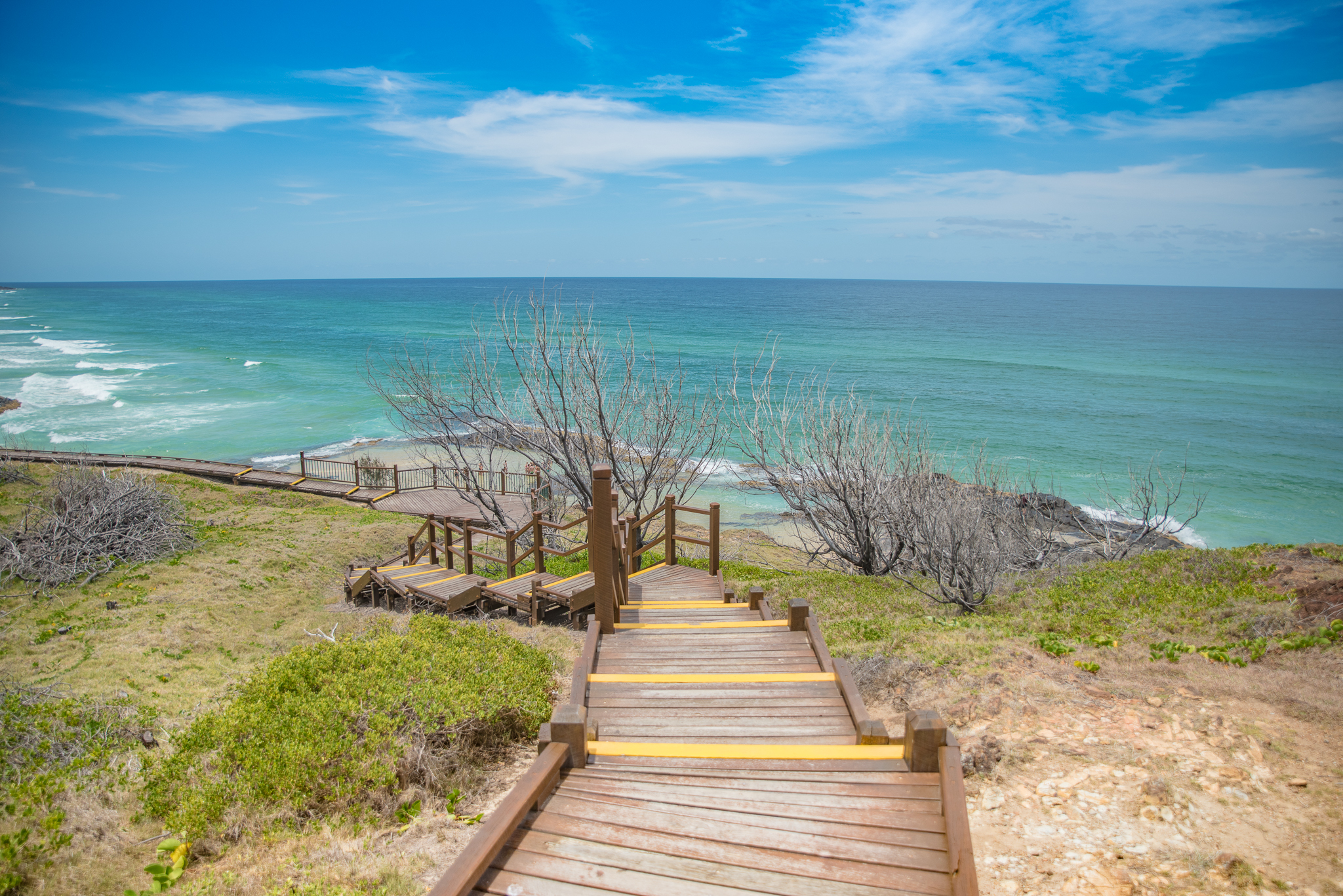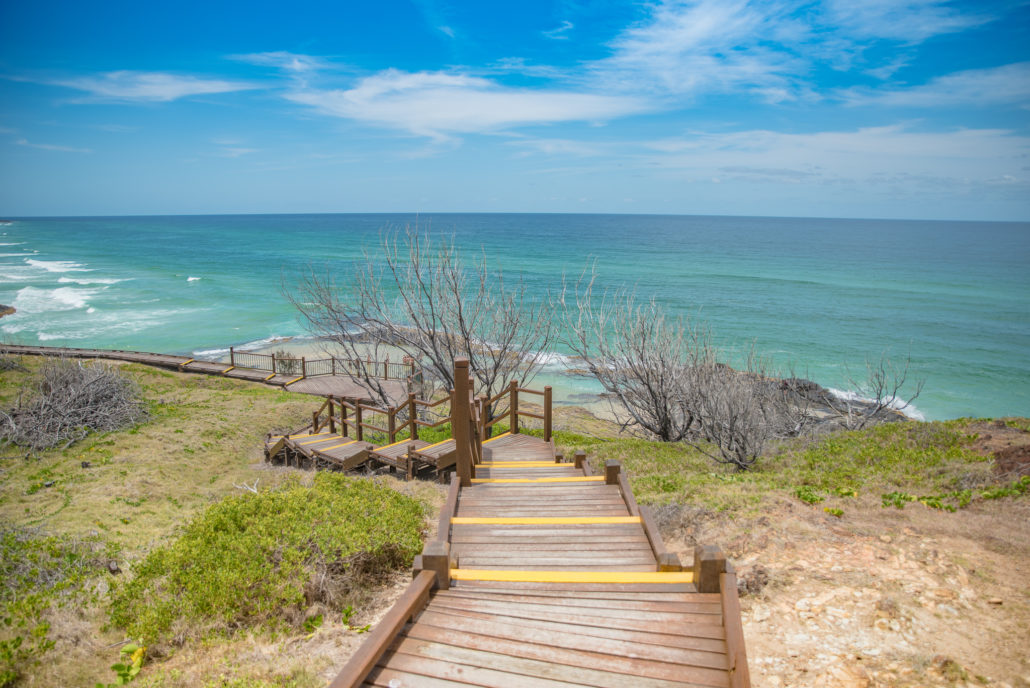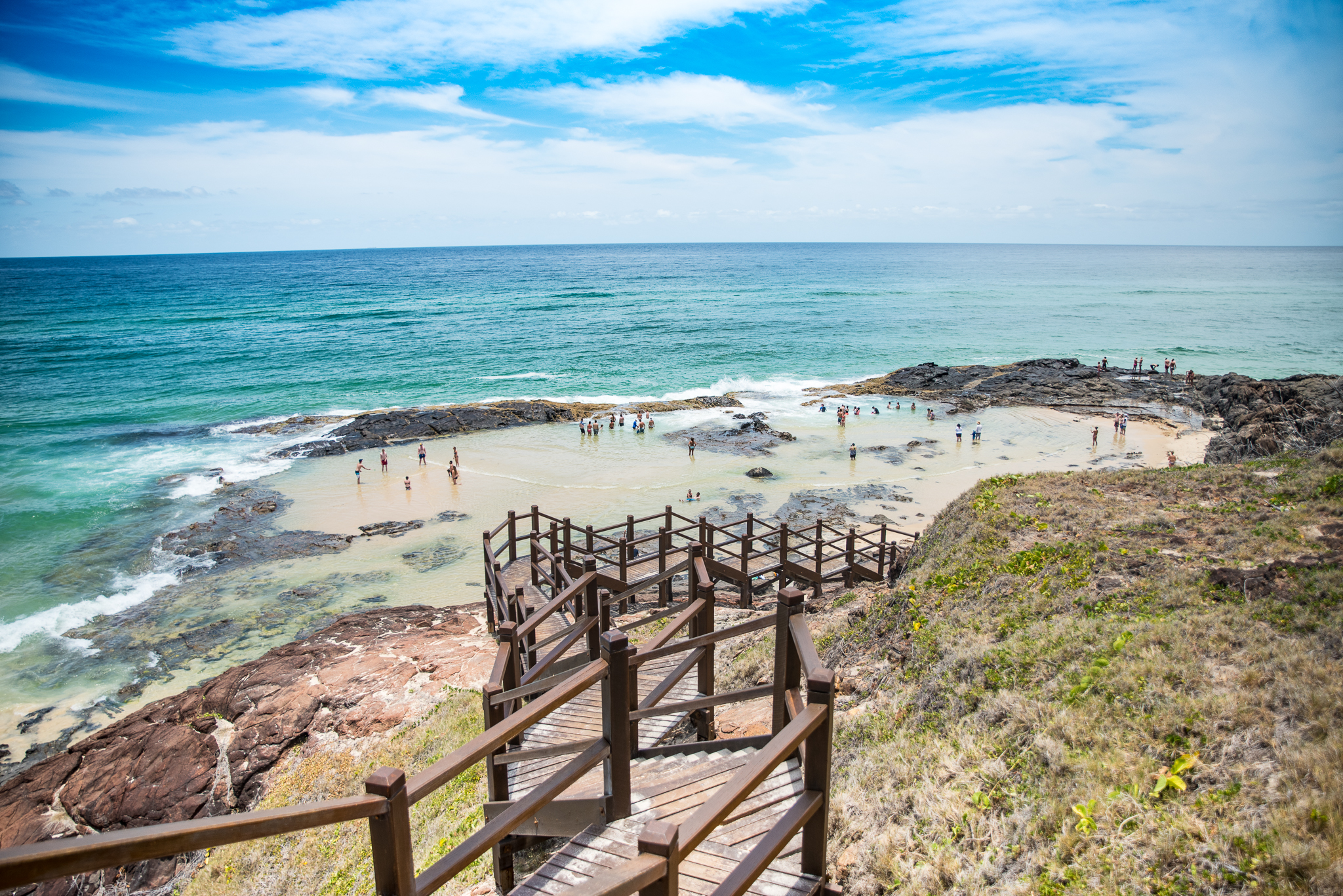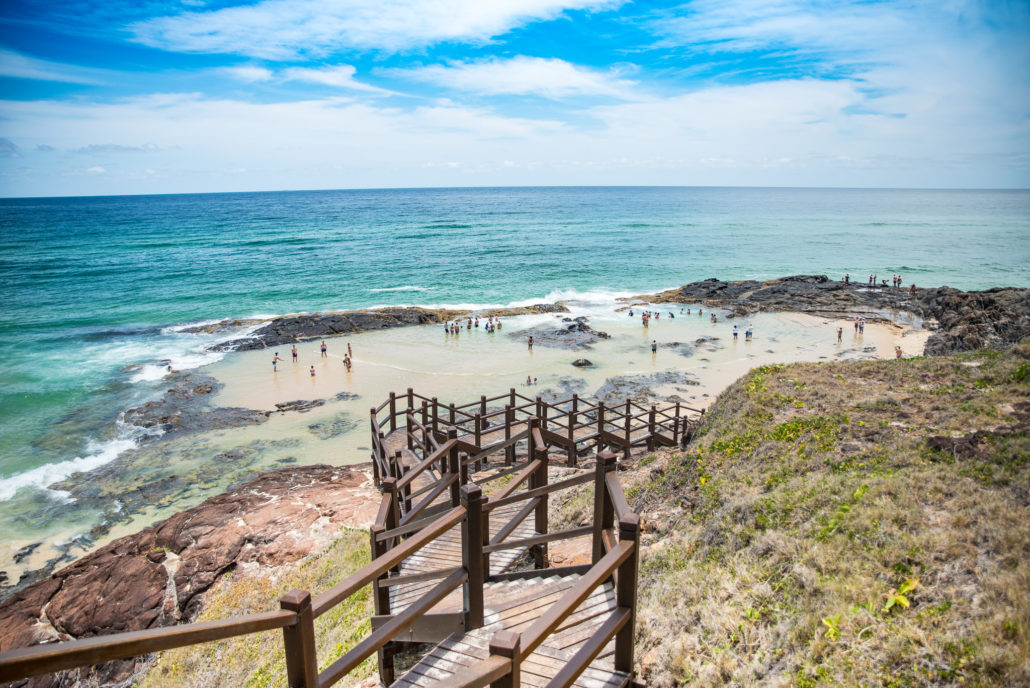 The brief 10-minute walk from where we parked the bus to the Champagne pools was incredible as well, with views of the impressive beaches and coastline of Fraser Island.  There were so many great lookouts and vantage points.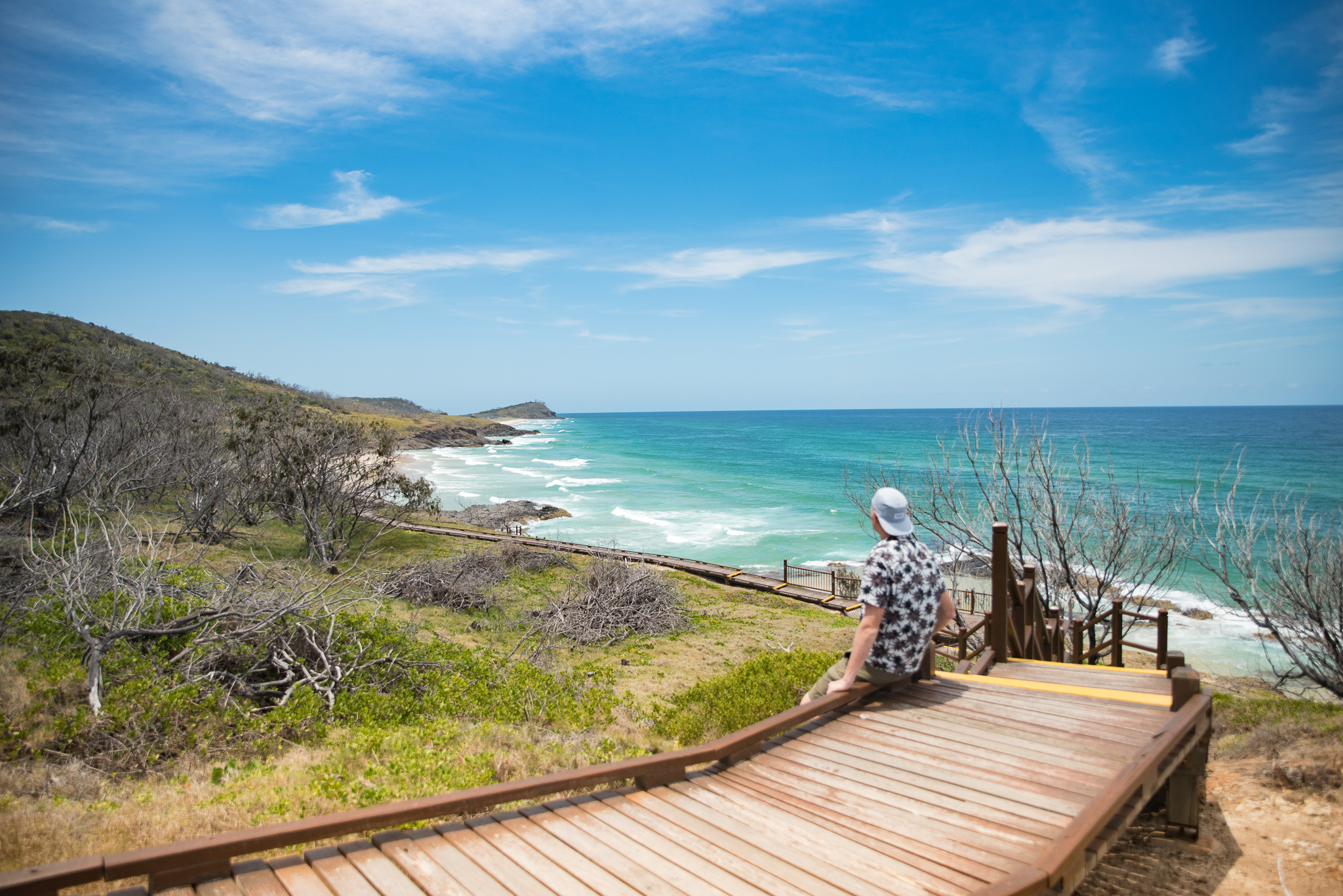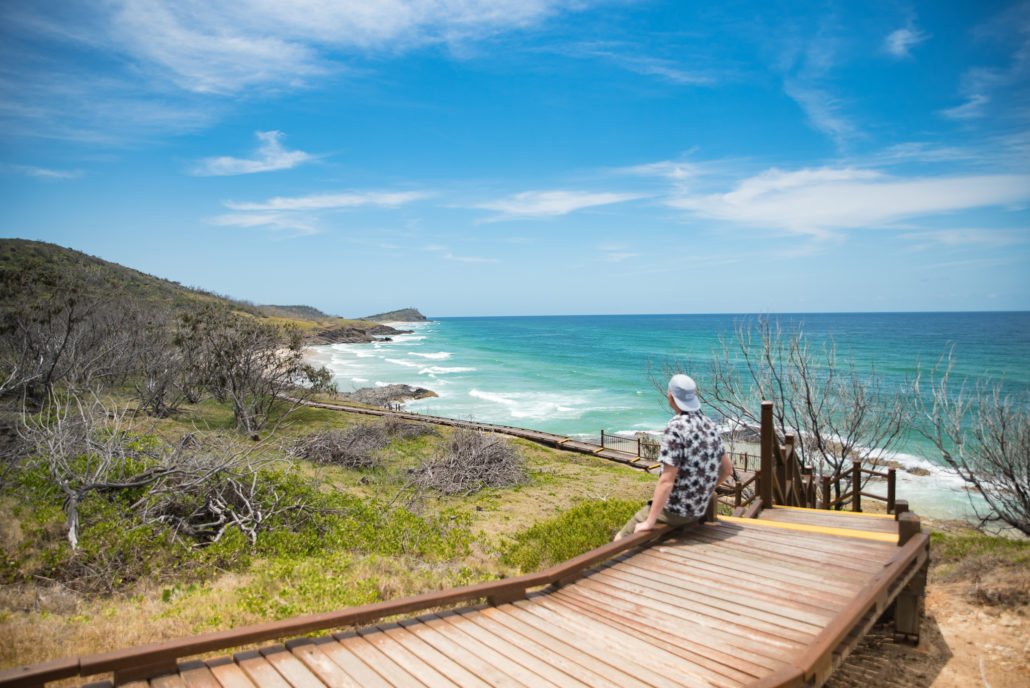 We even spotted a few jumping dolphins, as well as one guy who was having himself a little surf.      
---
Beach Lunch
While the group would normally eat lunch up at Champagne Pool carpark, we decided to make the drive down the beach (in search of a breeze).  We unpacked our containers filled with chicken and vegetables, and prepared ourselves two big tortilla wraps.  Not a bad place for a meal, hey?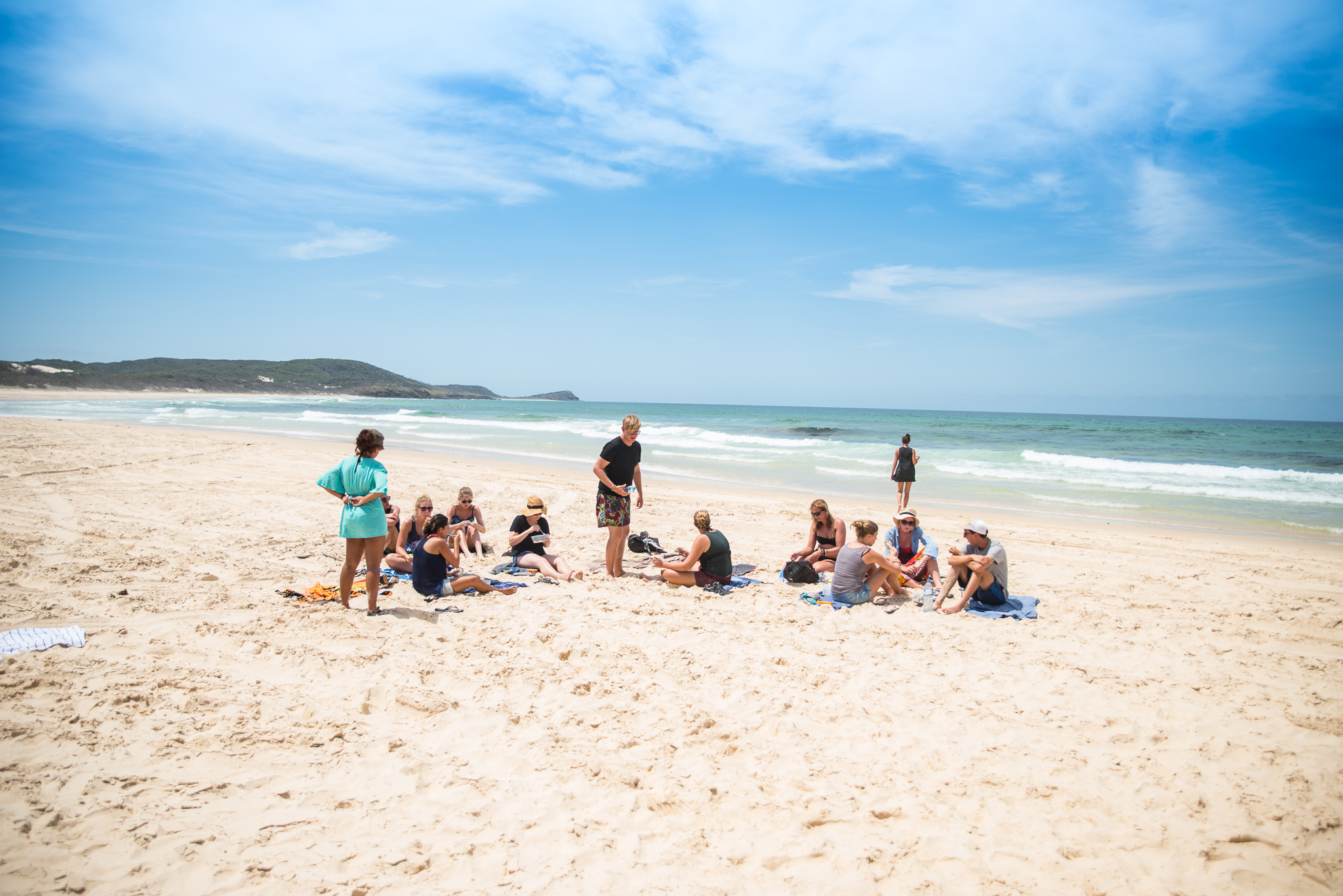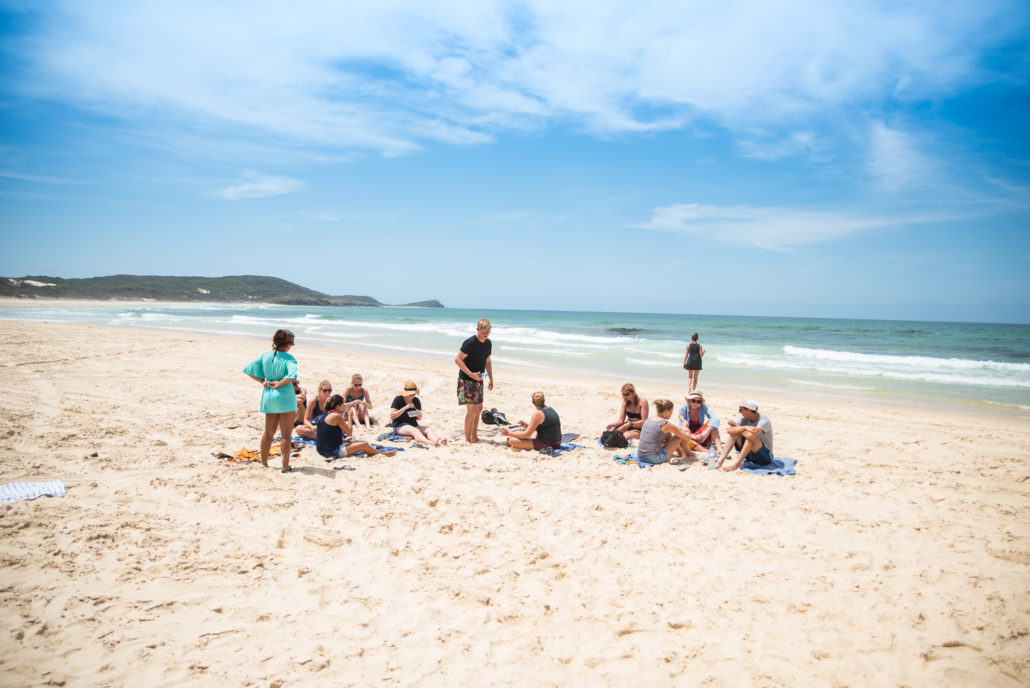 ---
Indian Head Lookout
When our tour guide, Hayden, said that we needed to prepare for a "little hike" to the top of Indian Head, I wasn't too thrilled at the idea because it must have been over 95 degrees (35 for your Celsius folk).  But the walk was quickly done, and we were rewarded with two stunning lookouts of beaches and the coastline.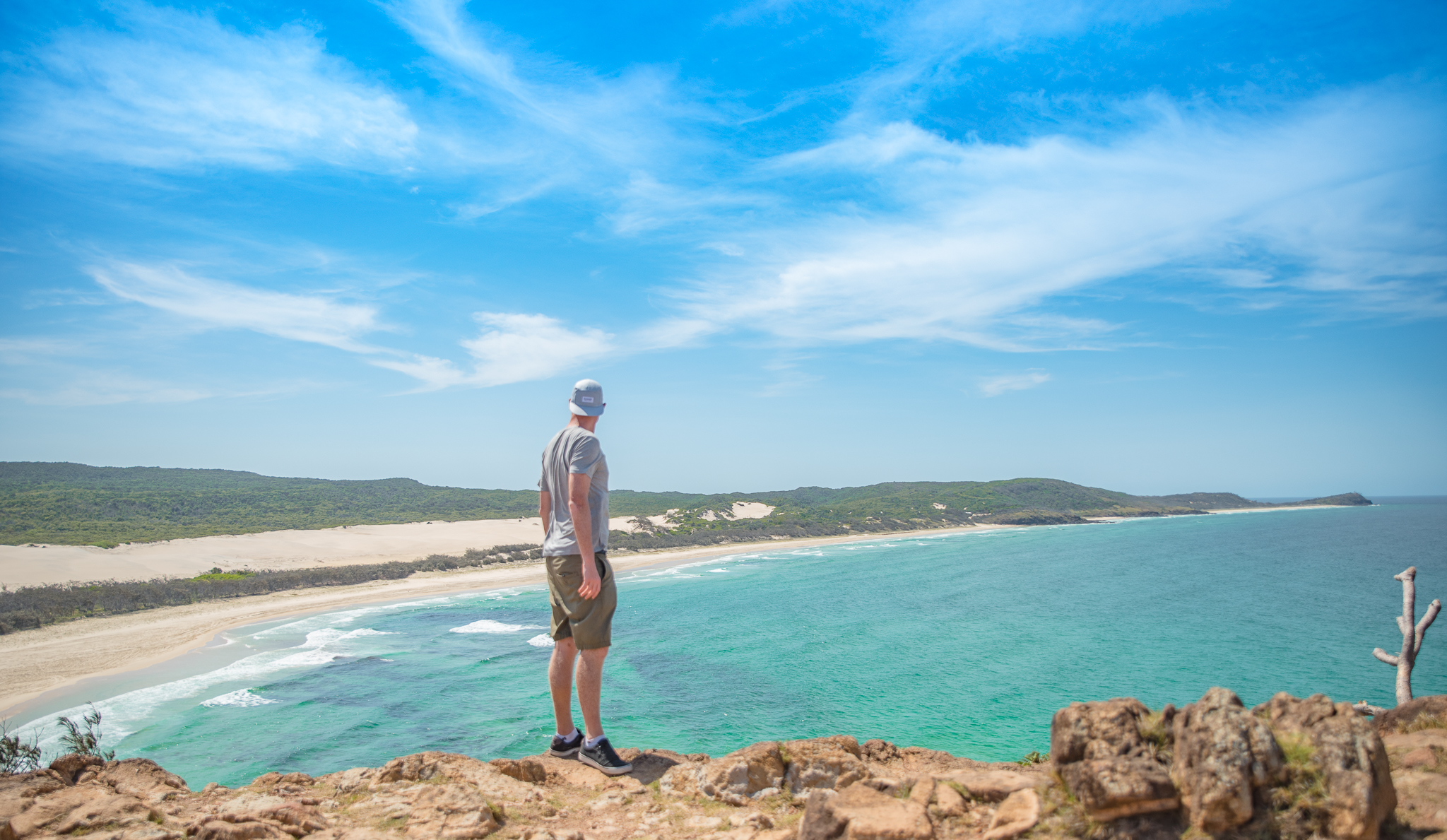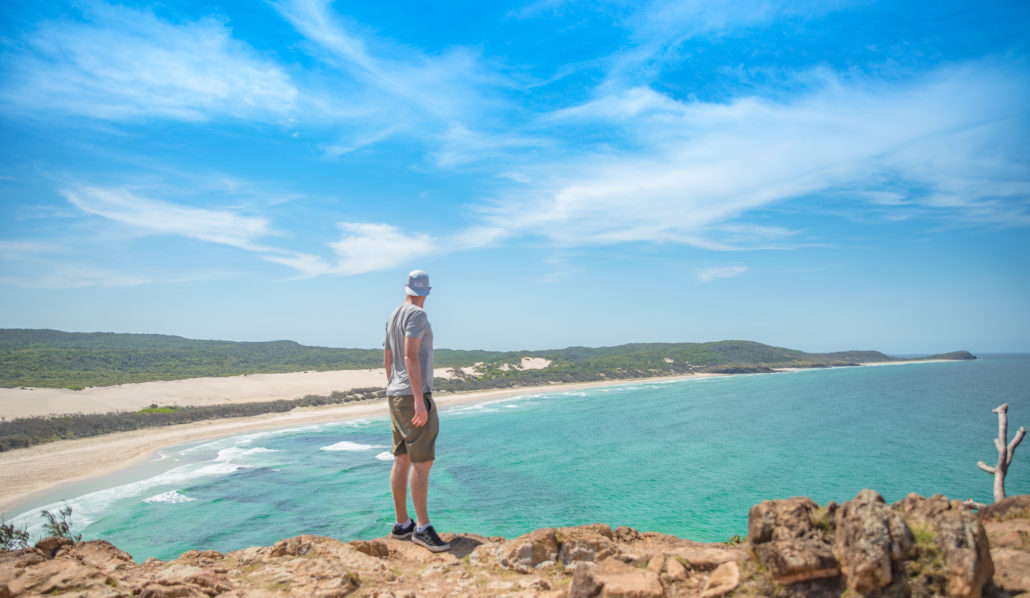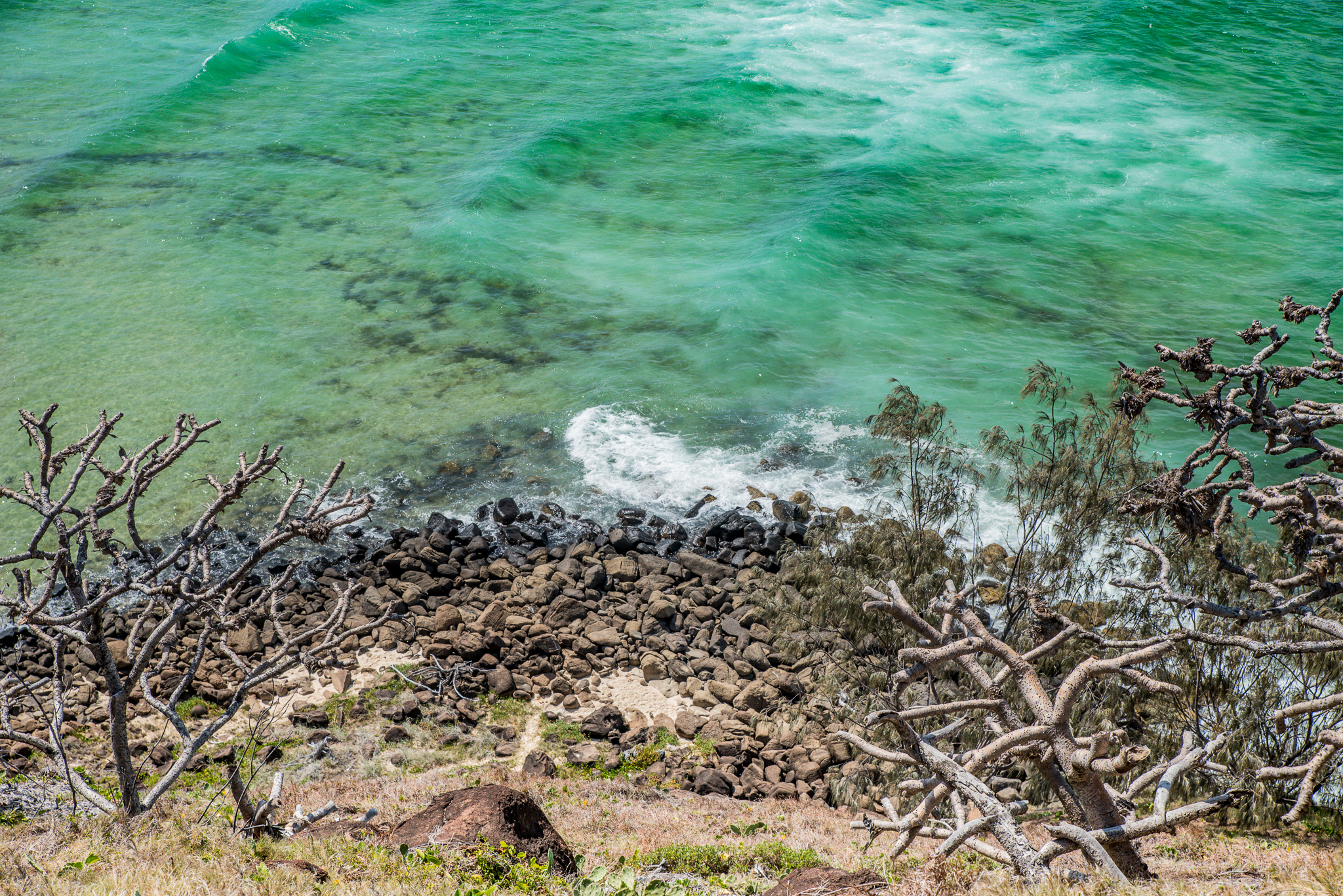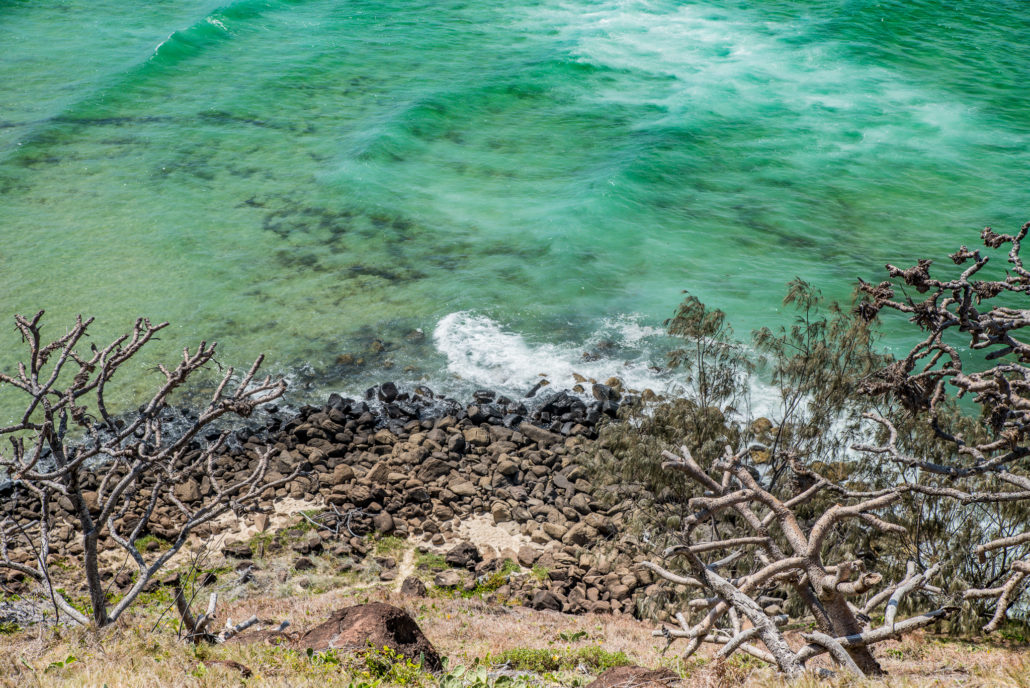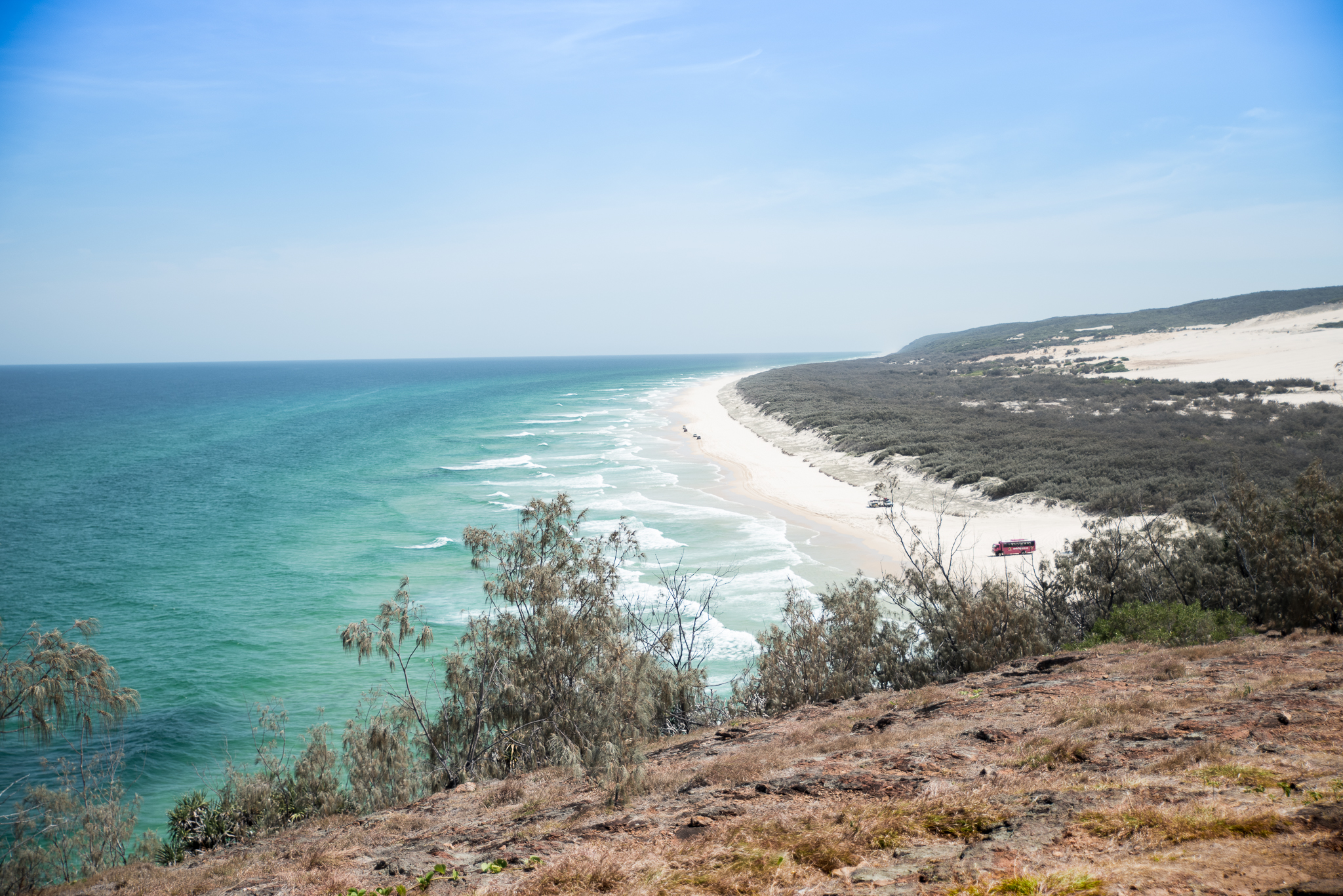 ---
SS Maheno Beach Shipwreck
The SS Maheno washed ashore on Fraser Island by a cyclone in 1935, and it now remains as a popular tourist attraction for people visiting the island.  We only stopped for a brief 10-15 minutes to take some photos, but was really cool to see.  There was a photo book that was passed around the bus while our tour guide explained in detail the history of the SS Maheno.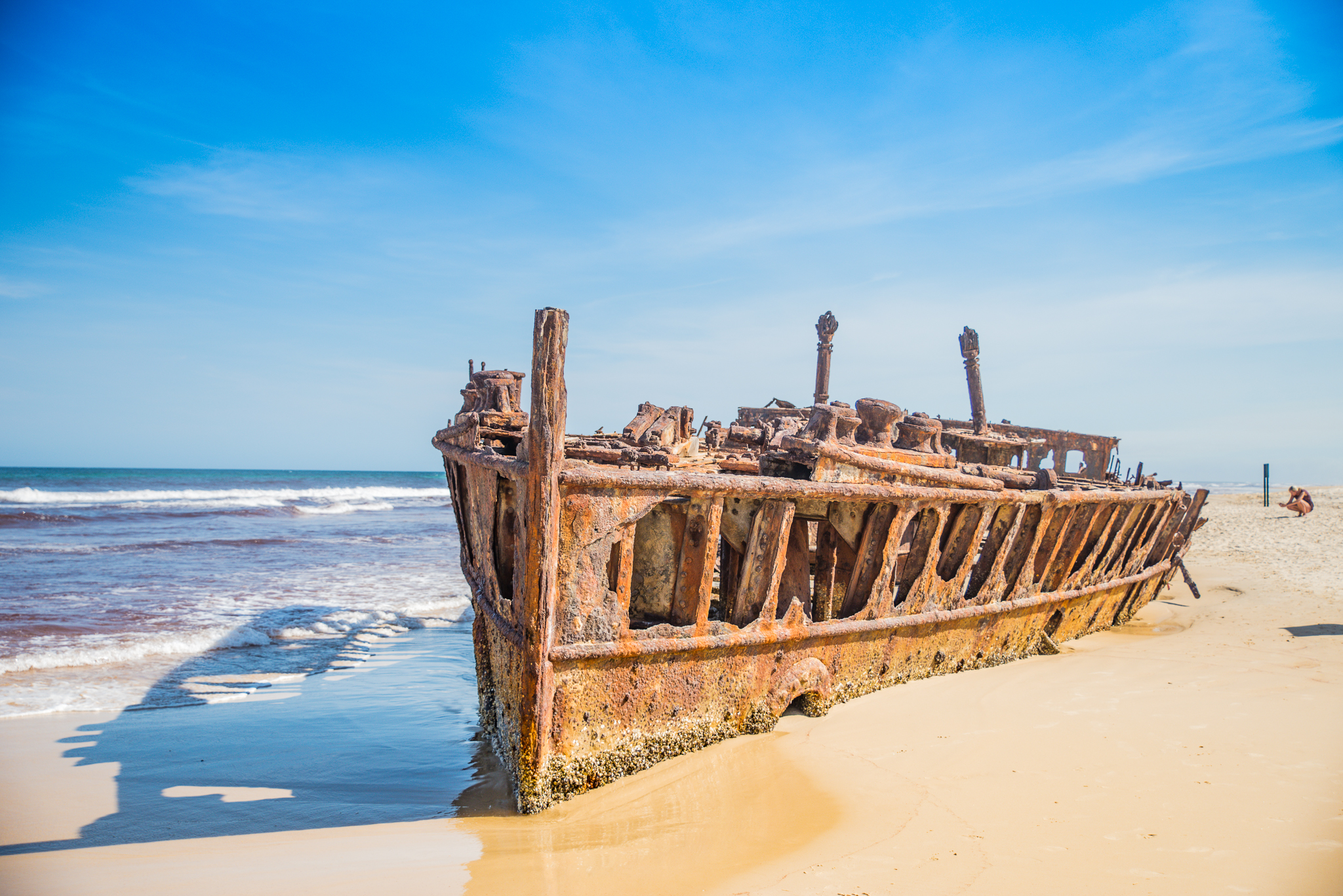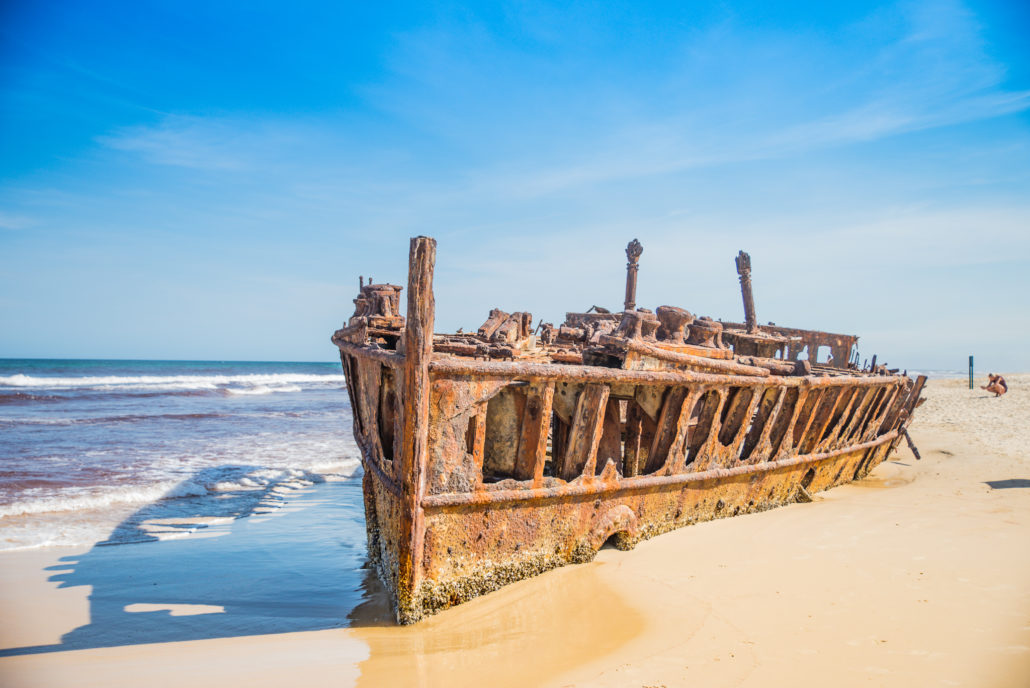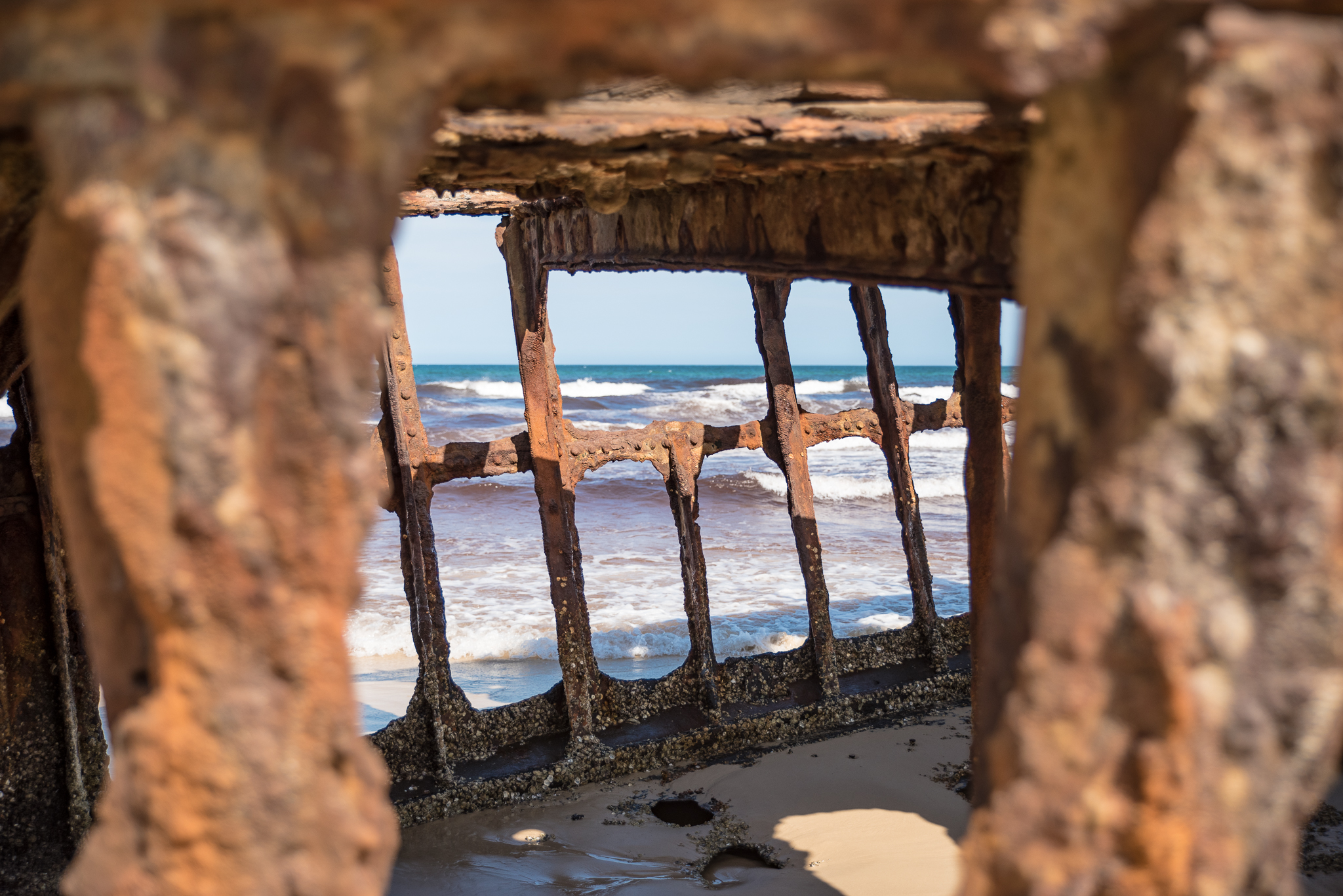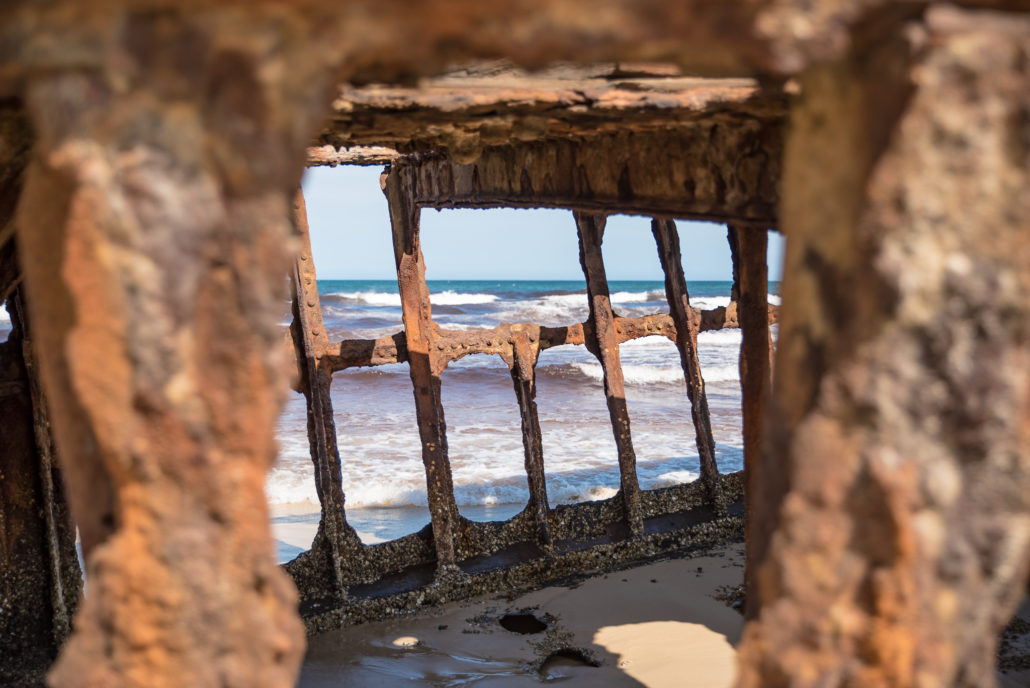 ---
Eli Creek
Have you ever been to a water park and floated around in a "lazy river"…?  Well, that's exactly what you're going to do when you make it to Eli Creek.  This stop was awesome, and I honestly could have stayed for another couple hours just floating down the creek.  The water was a bit chilly, but actually felt amazing due to the fact it was blistering hot outside, and my skin was feeling a bit warm from some minor sunburns.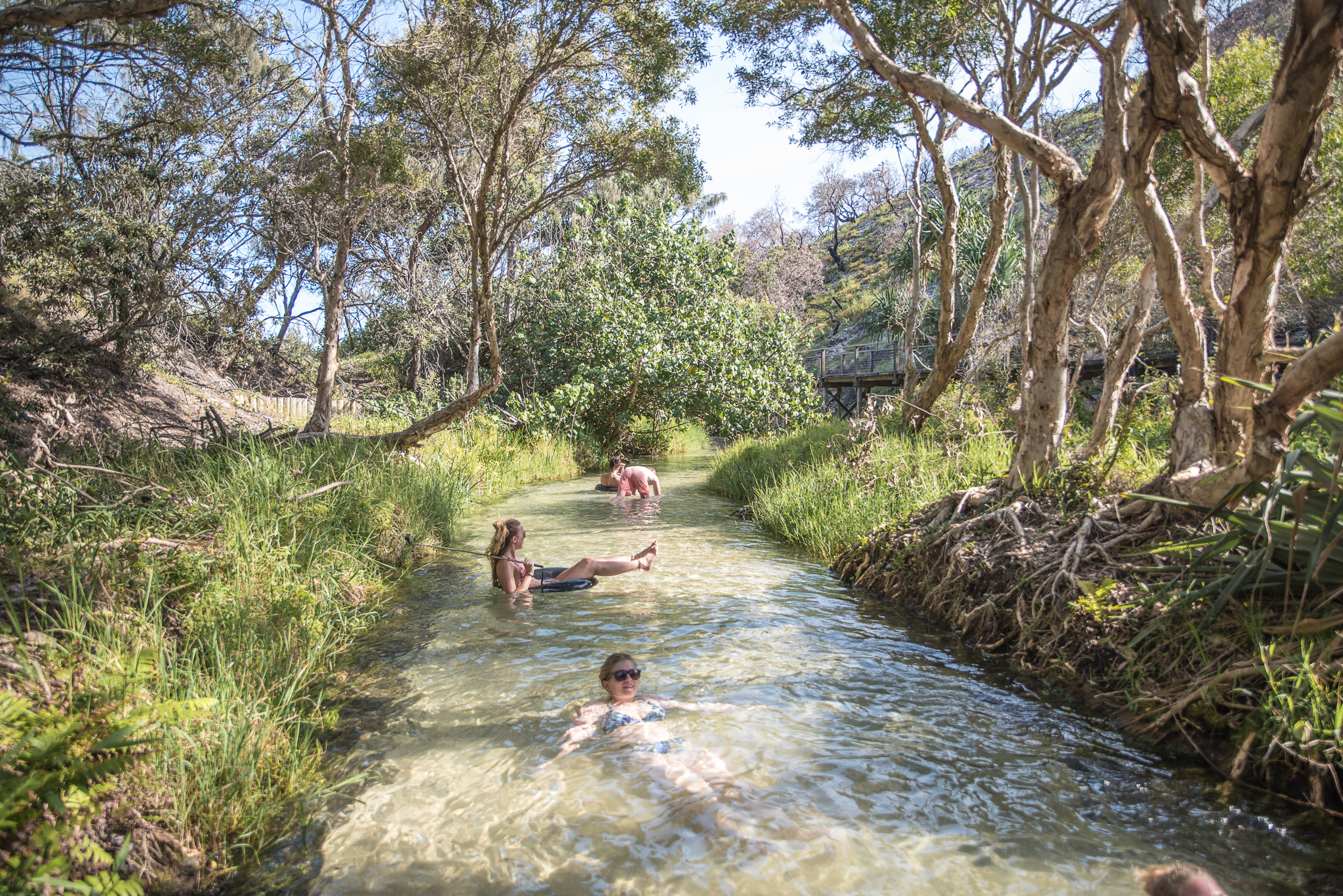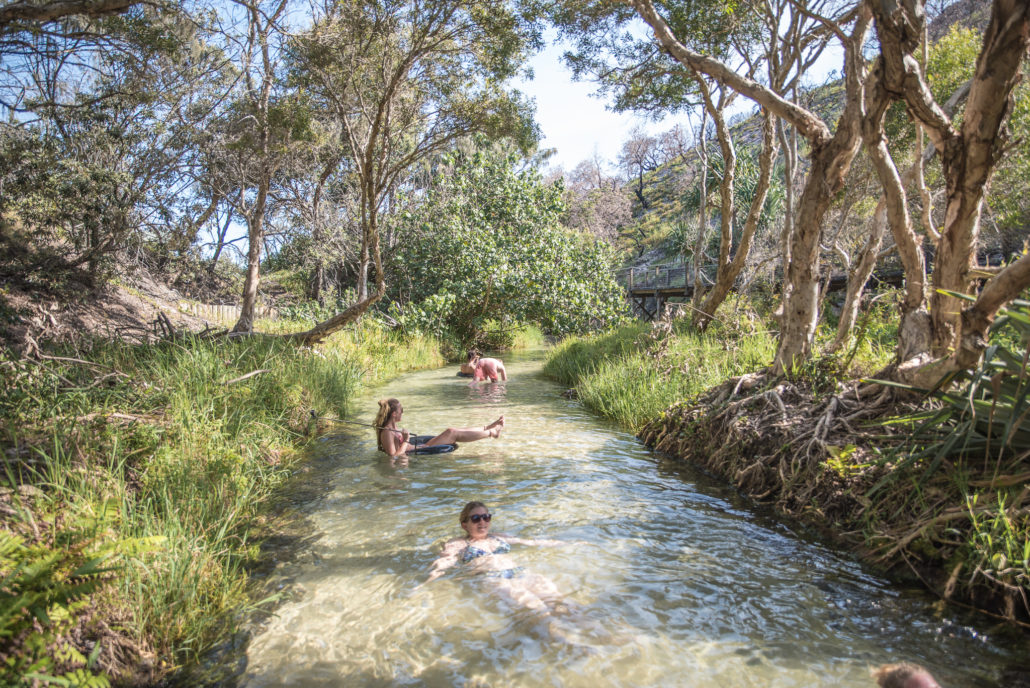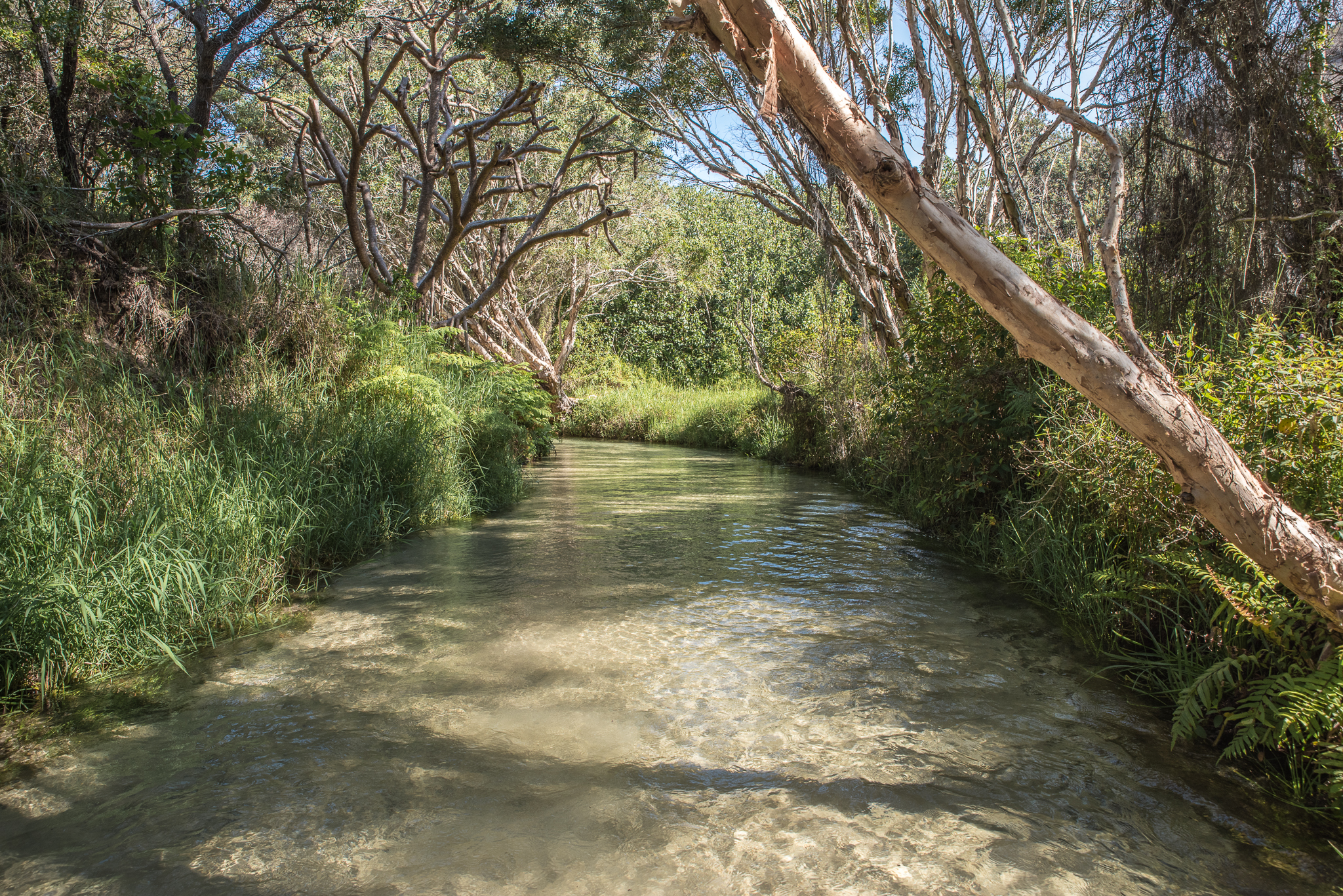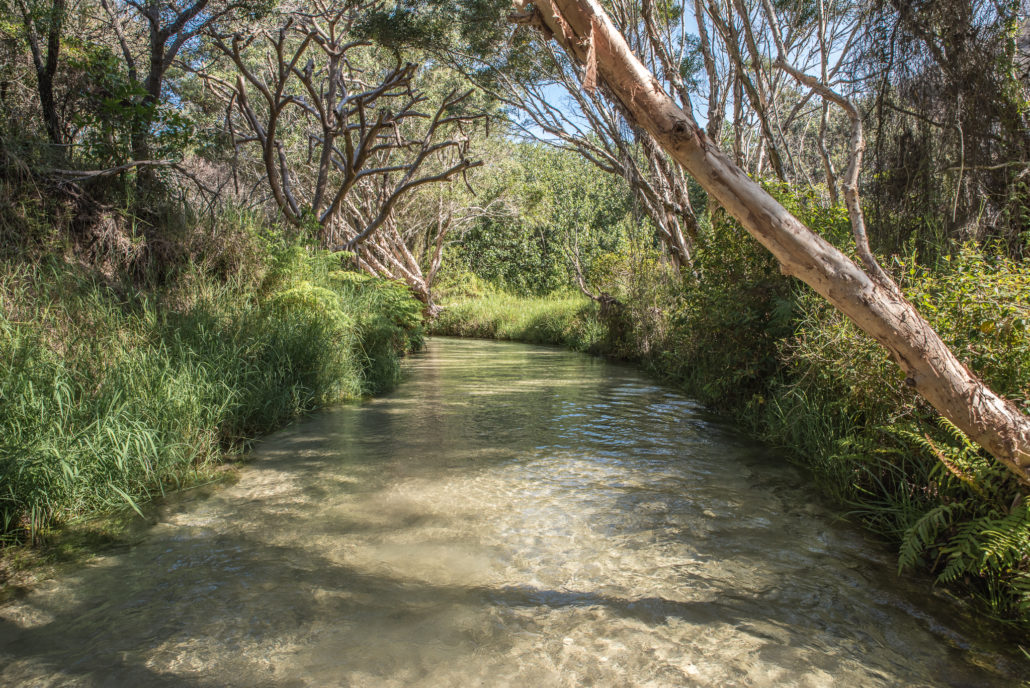 Cool Dingo Tours provided some inflatable tubes for the group to blow up, and carry down the walkway to the beginning of the creek.  You'd sit back, relax, and let the stream take you back to the beach.  It was a relaxing activity in a beautiful setting, and I know everyone enjoyed it as much as I did.  For those who didn't manage to have an inflatable tube, you could just swim down the creek as well.  It really was an awesome feeling.  I even saw a few locals doing the same with beers in hand.  ;-)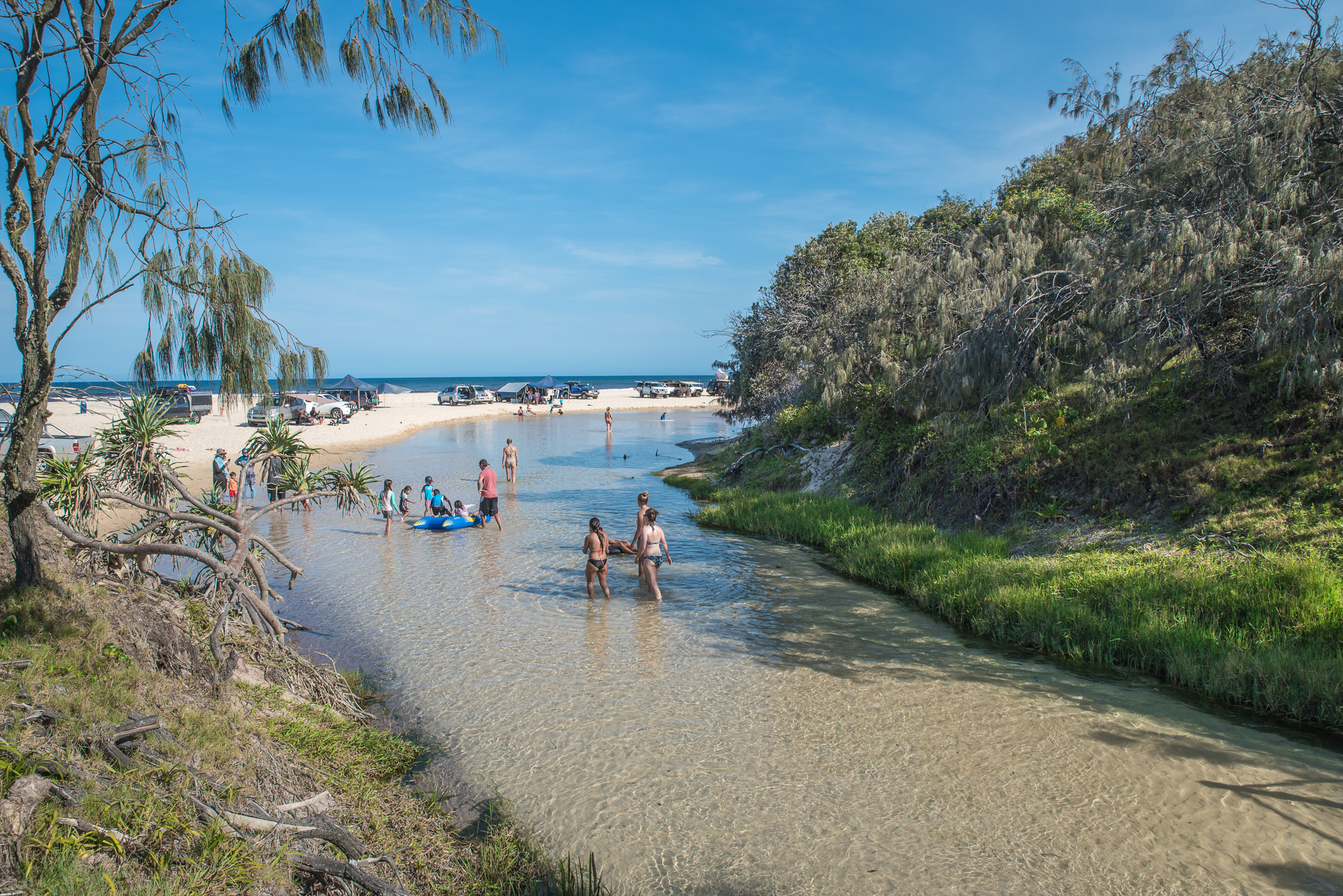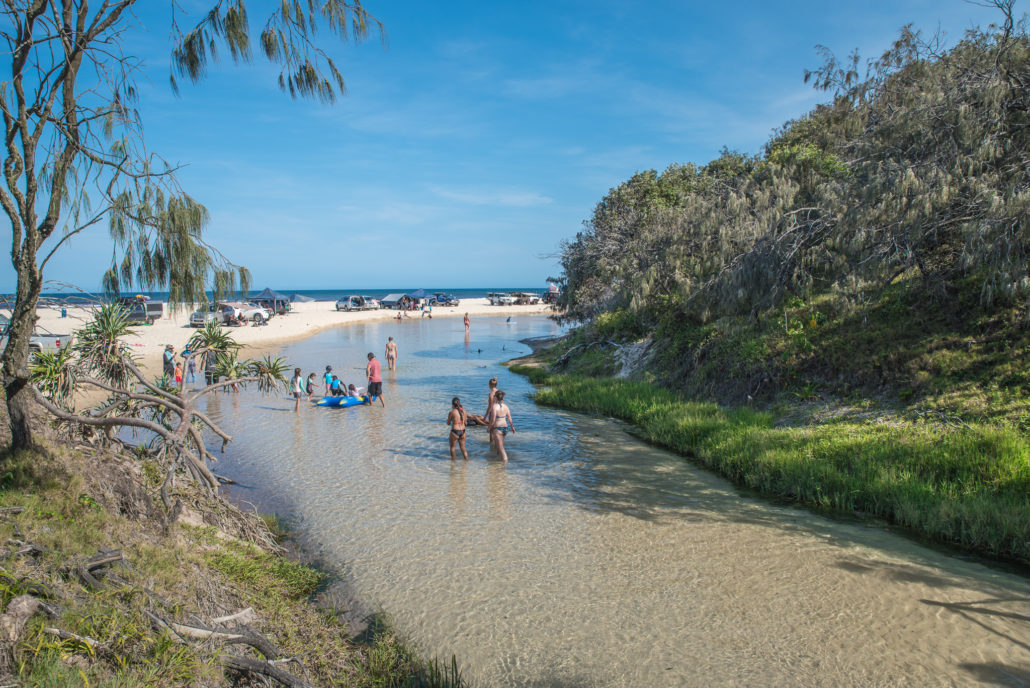 ---
Fraser Island Sunset Day 2
Being a travel-blogger, I'm obviously obsessed with getting the perfect sunset shot.  So when the opportunity arose to head back down to the beach to watch the sky change colors, I knew I couldn't say no.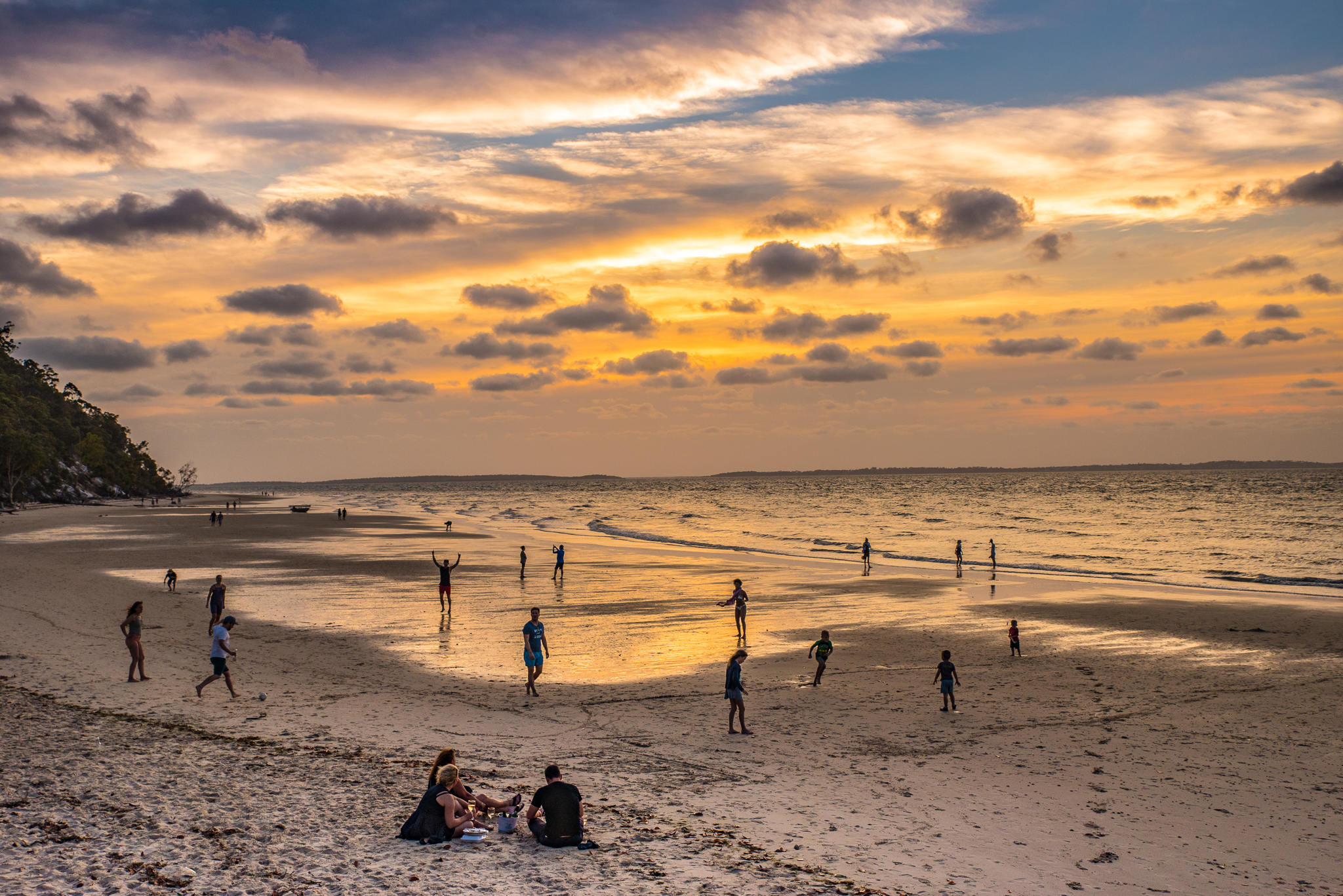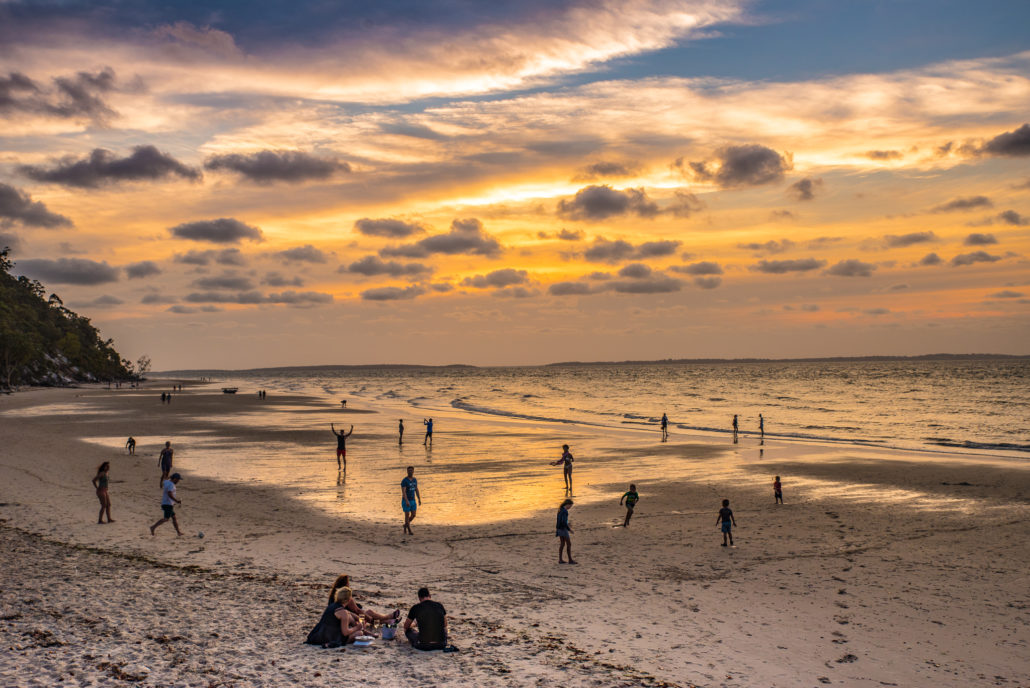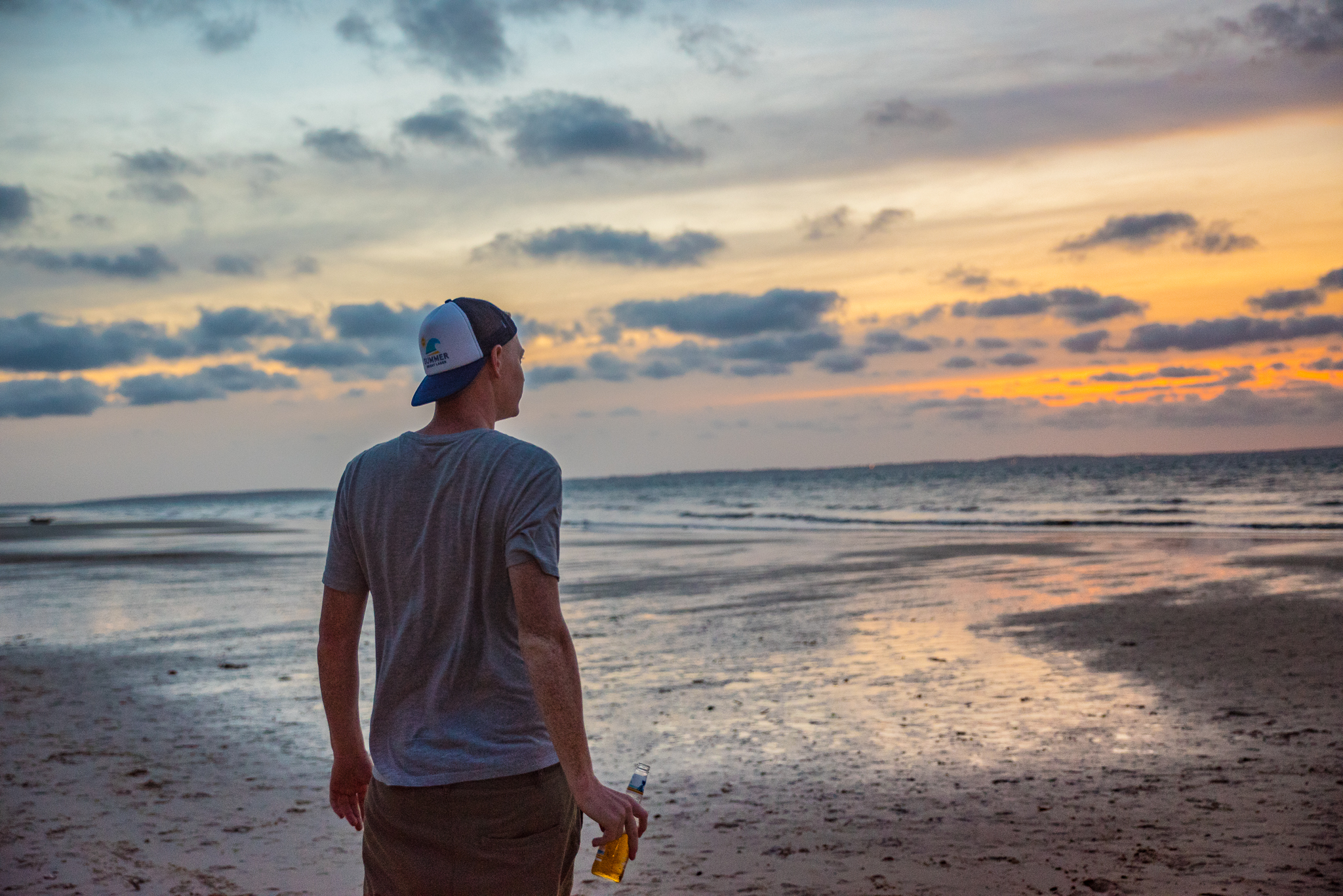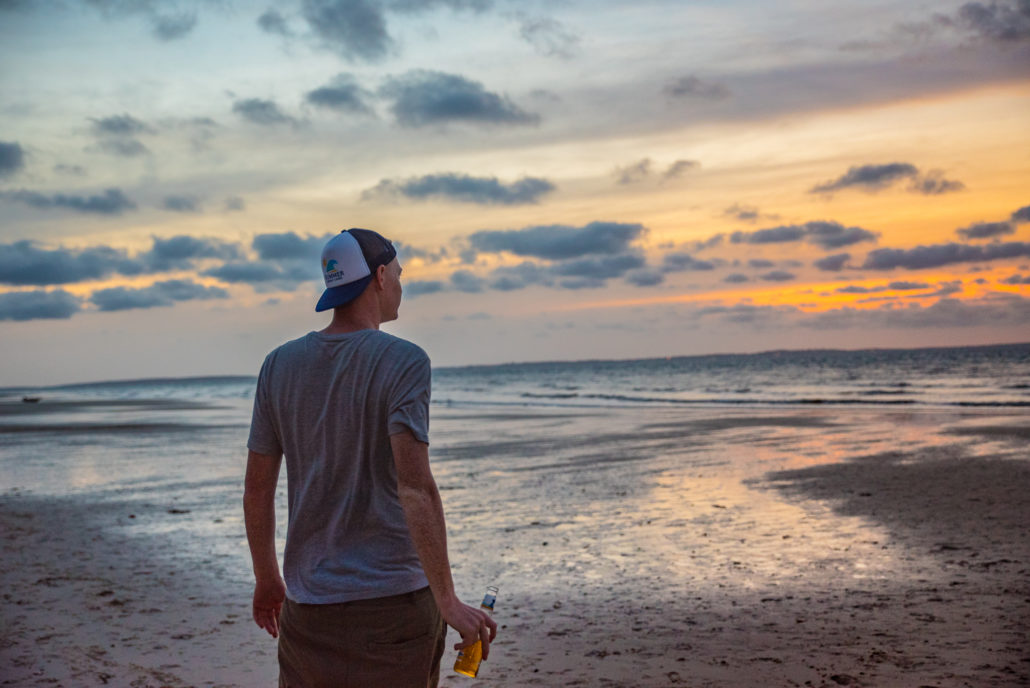 ---
Day 3 Highlights
SUP Lake Birrabeen
Our group (which had basically been cut in half due to the 2 day / 1 night crew departing the night before), all met for breakfast and then boarded the bus to our first stop for the day — Lake Birrabeen.
The main activity here was just relaxing on the beach, soaking up the sun, and having some Stand Up Paddleboard fun.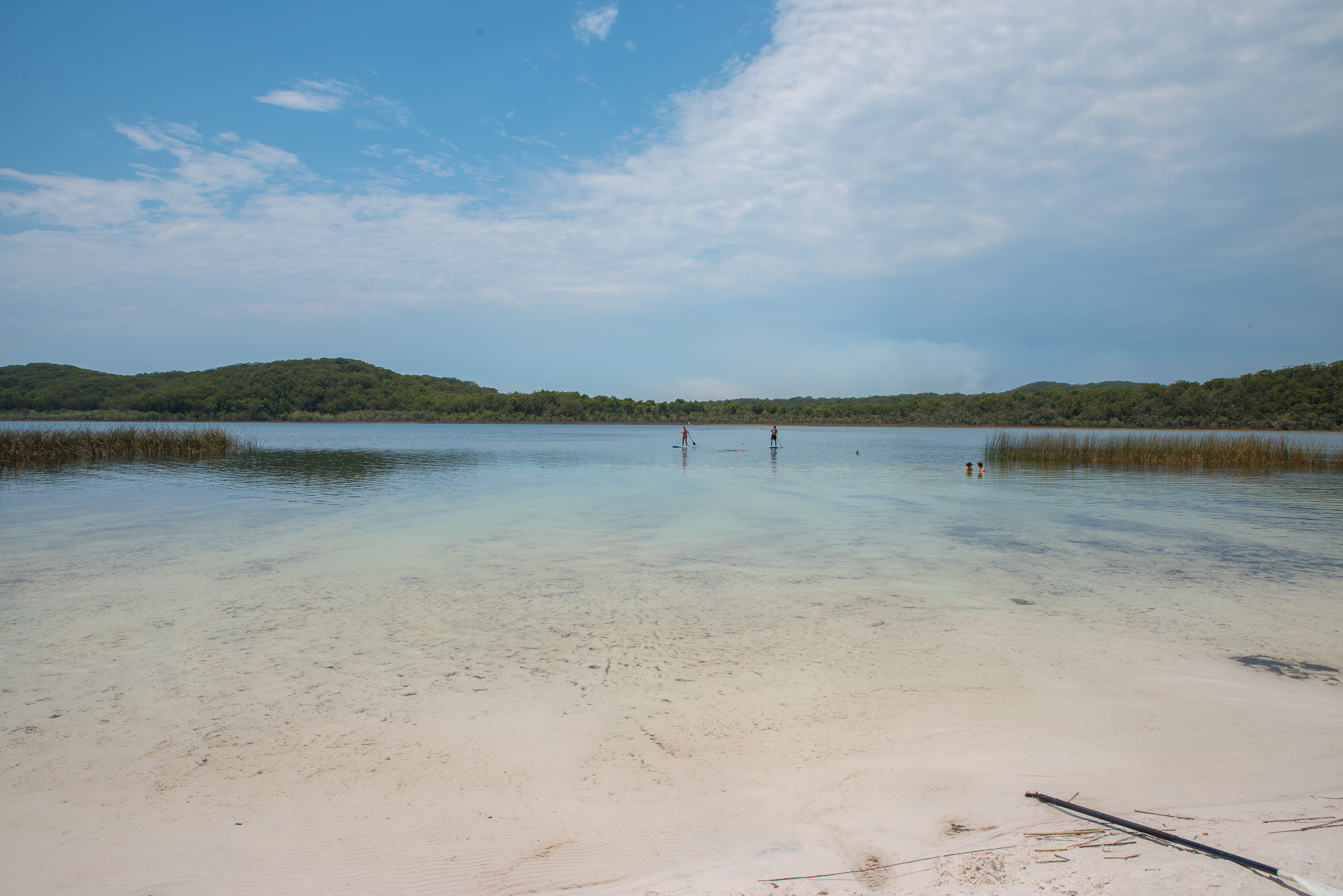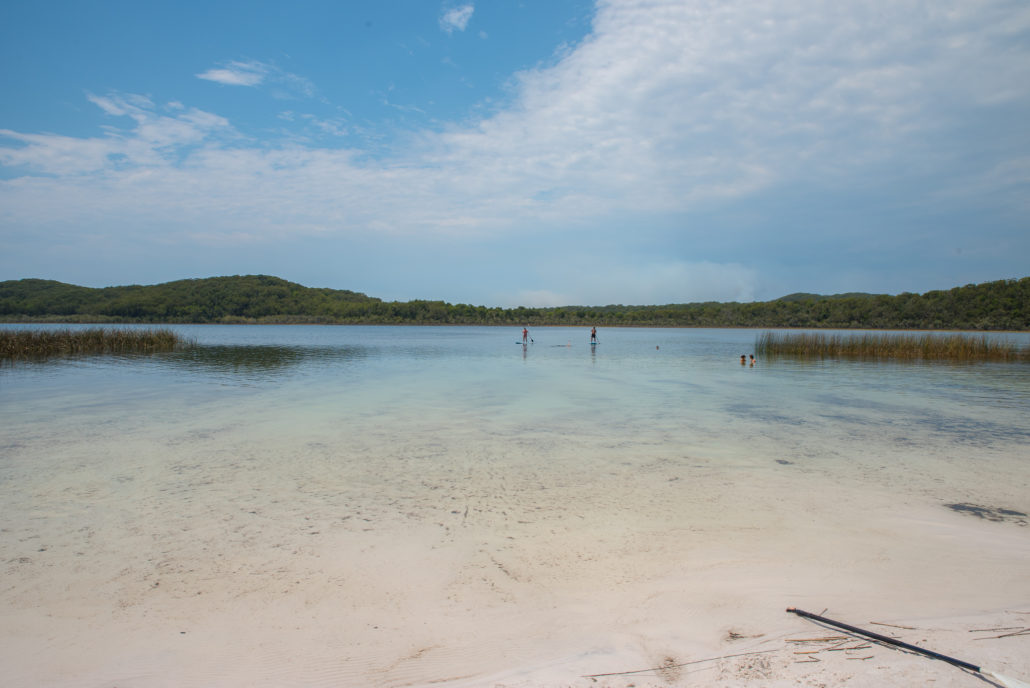 The lake is truly beautiful, but the best part was that we had the whole lake to ourselves.  Compared to the crowded Lake Mackenzie, this was a much more relaxing stop.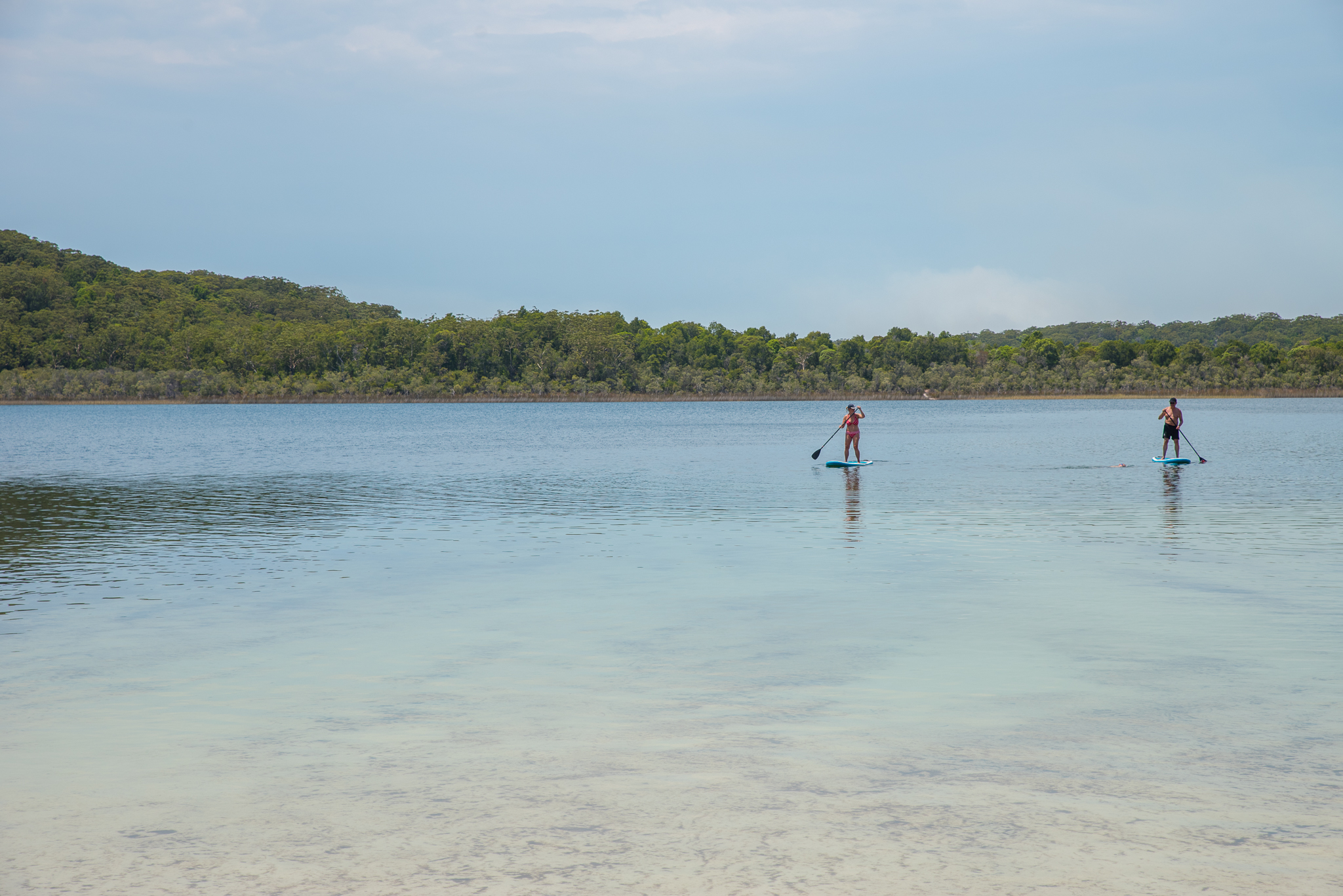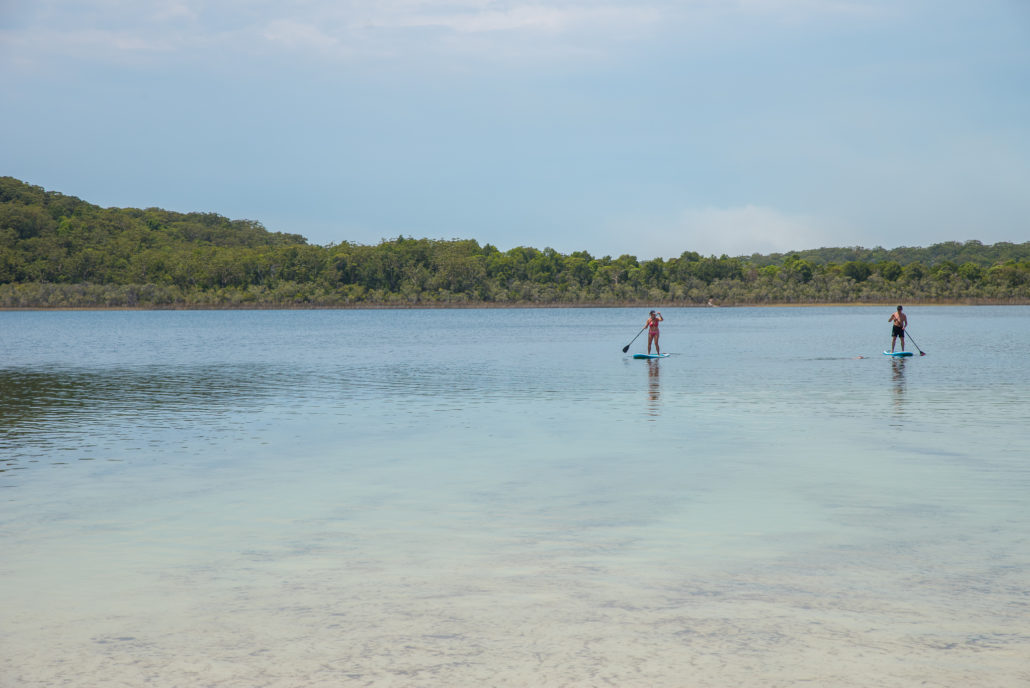 ---
Hammerstone Sandblow & Lake Wabby
The time had come the last stop on our tour…
Lake Wabby is definitely one of the most unique highlights on the islands, but you had to work a bit harder for the reward.  Our group walked the approximately 3KM trek through the rainforest, over the Hammerstone Sandblow, and then found ourselves at the very beautiful Lake Wabby!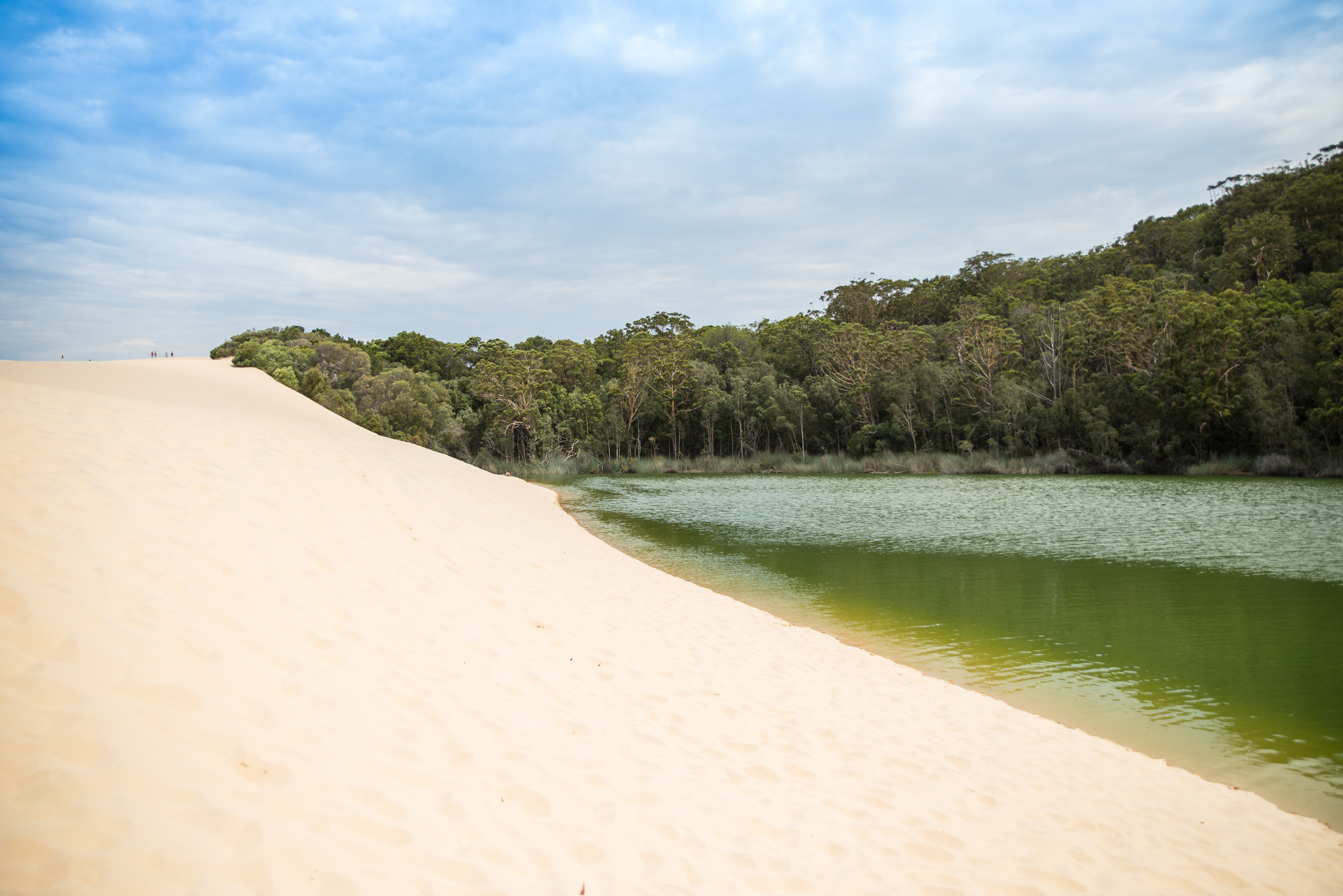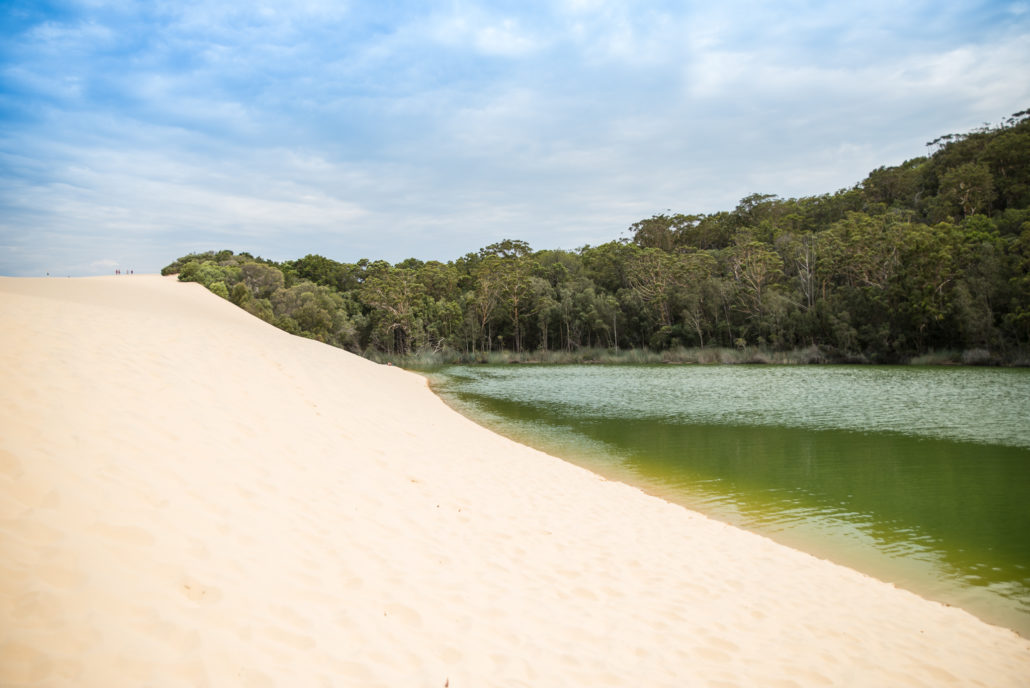 I don't think I've ever seen anything like this place before.  It felt like a strange oasis in the middle of desert (because of the sand), but then on the other side of the lake was just lush green rainforest.
Do you know understand what I mean that Fraser Island is trippy…?
Our group all eagerly stripped down to our bathing suits, and couldn't wait to jump into this refreshing lake to escape the heat, and wash off all the sweat we had acquired along the 45 minute trek.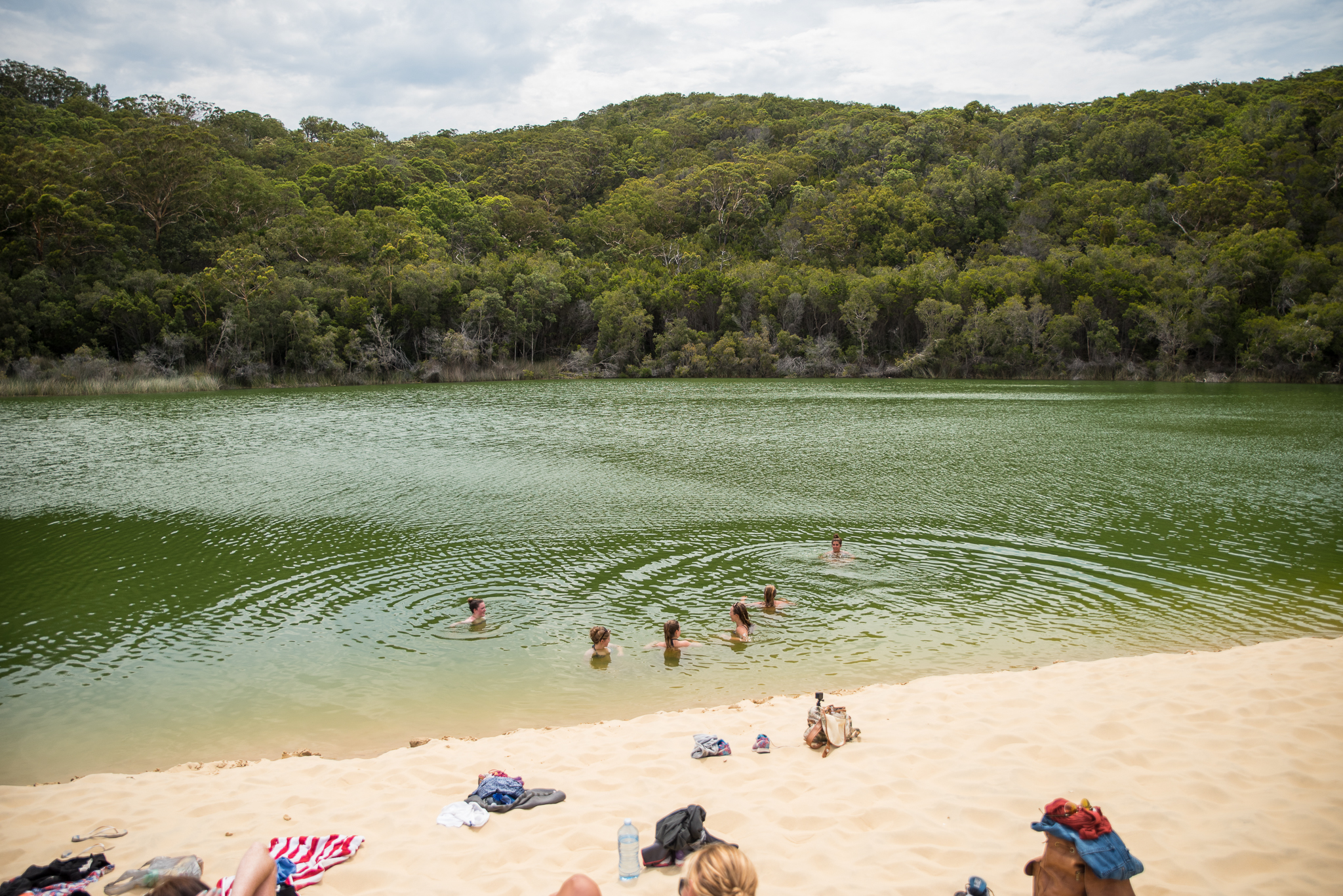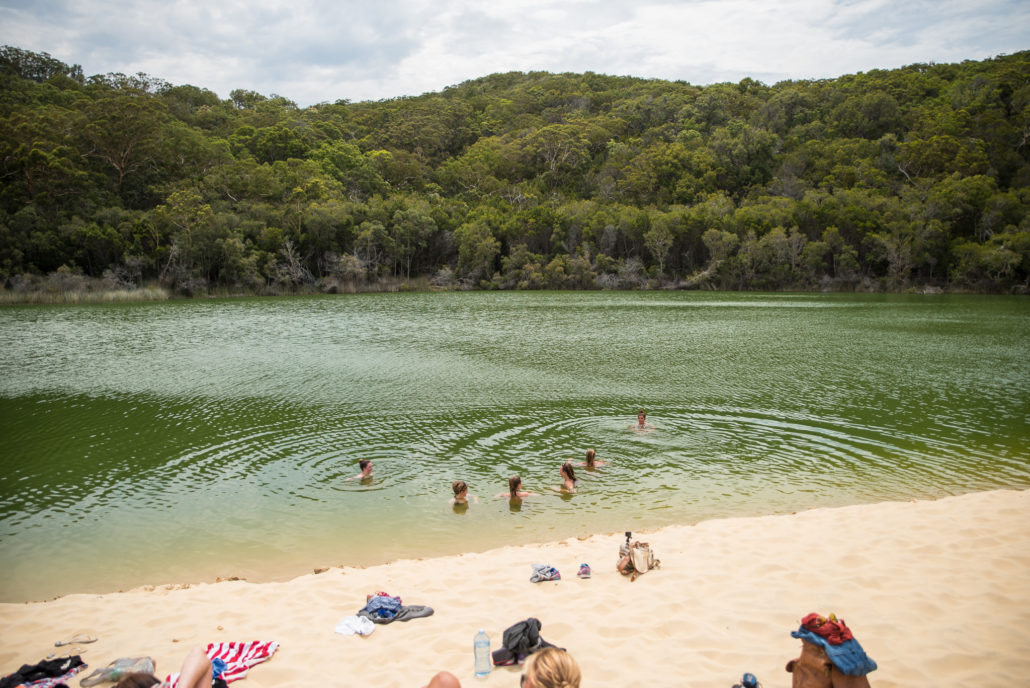 The water was great for swimming around, but the funniest part was all the tiny fish that would eat at your dead skin cells.  If you've ever seen a "fish spa", that's exactly what it felt like.  It was a little scary though, because ya know — everything in Australia wants to kill you, and the water did look prime for some man-eating monster.  Luckily, we all managed to leave Lake Wabby alive and well.
---
Fraser Island with Cool Dingo Tours
Overall — this trip was an absolute blast, and I would highly recommend it to anyone traveling the east coast of Australia.  Fraser Island is one of the most unique, beautiful, and interesting places you will ever visit, and Cool Dingo did a great job at showing us this little slice of paradise.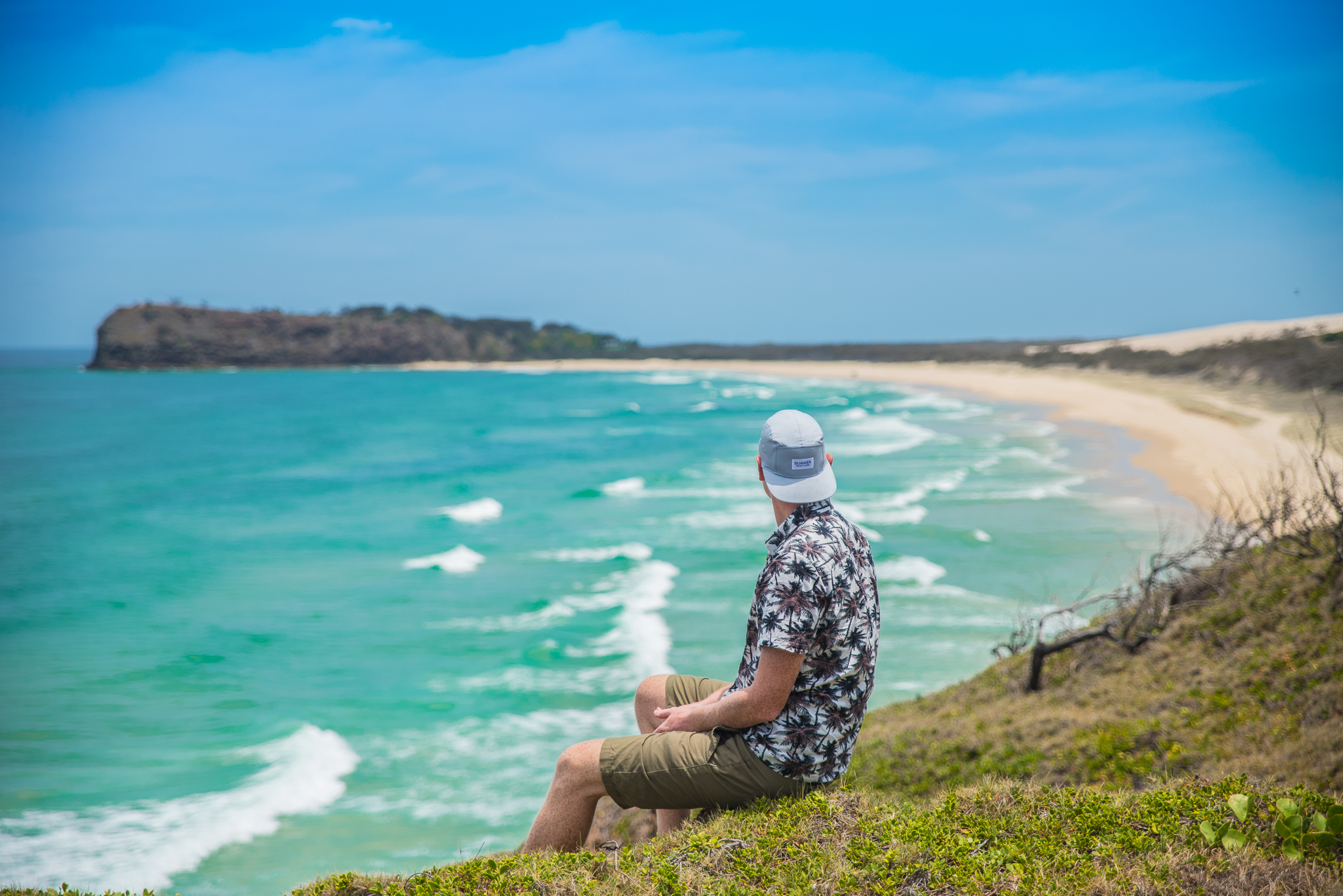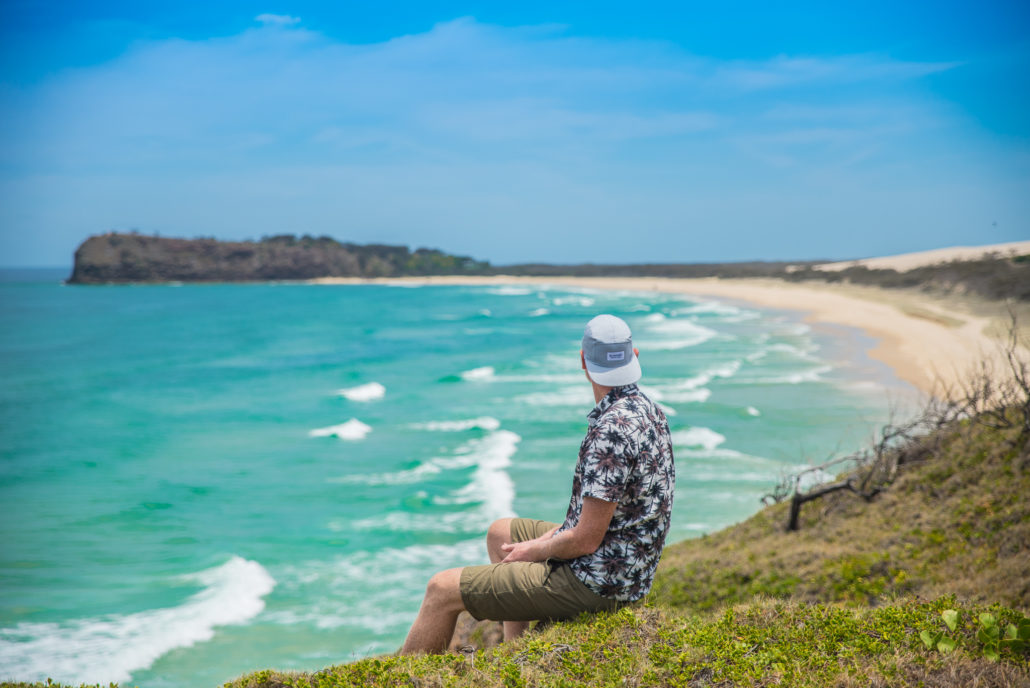 I've actually been a tour guide in Europe, and this trip just seemed to run perfectly.  You could tell that they've just got this figured out, because everything was very organized and well-planned.  The bus transportation was comfortable (yet bouncy), the food throughout the entire trip was delicious, and we had a really solid group of 32 awesome travelers and backpackers from around the world.    
I have to give a massive shout-out to our tour guide Hayden!  If you're booking a tour with Cool Dingo Tours in the future, try and see if you could arrange the dates to be on his next tour.  He is an absolute legend, and knows so much about Fraser Island.  I know everyone on our group adored him!  THANKS HAYDEN!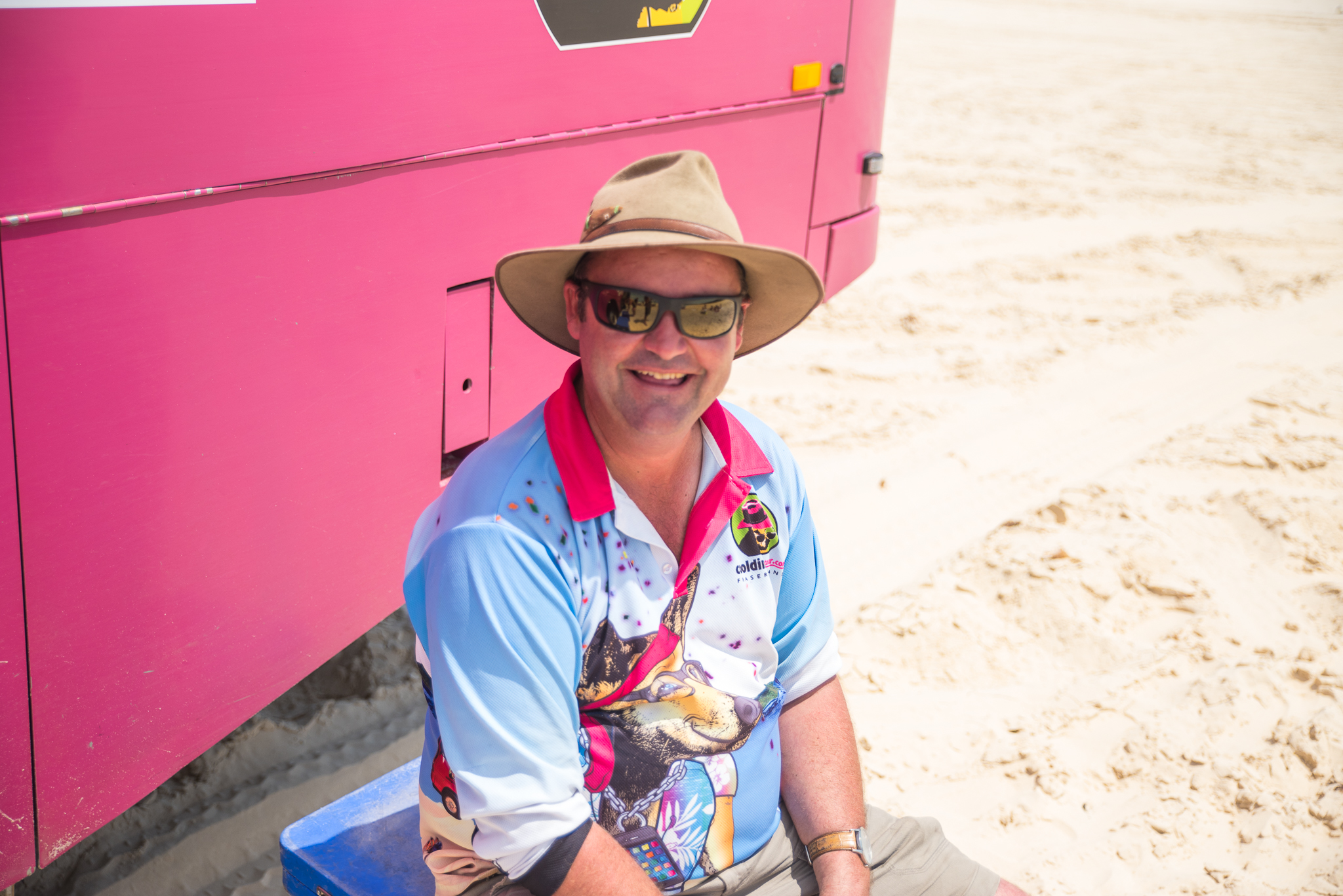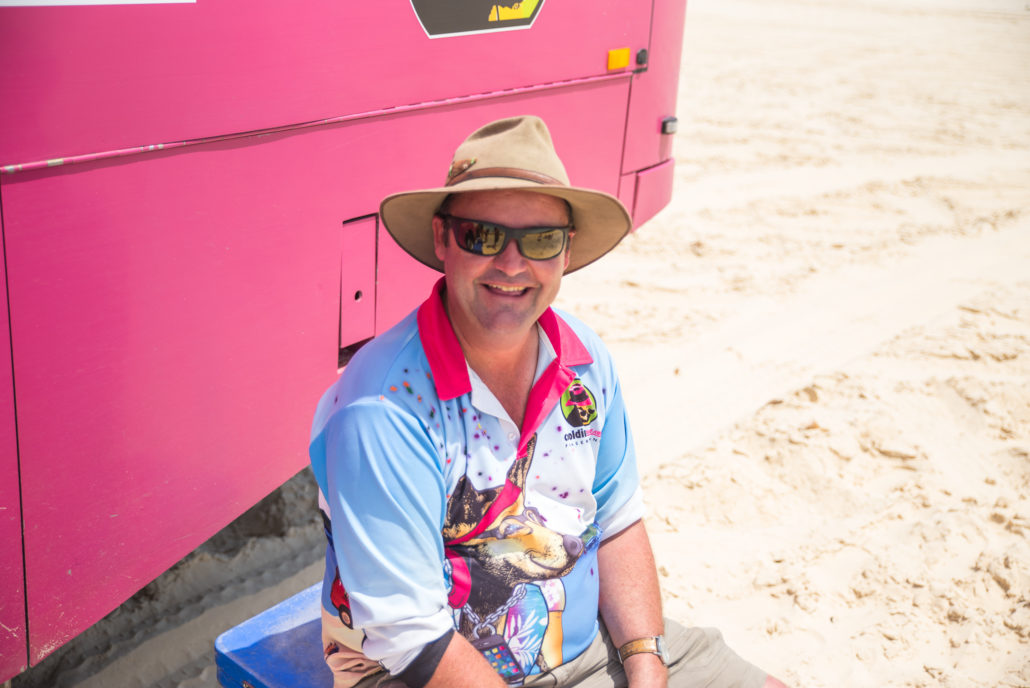 ---
This was honestly a trip that I'll never forget, and I think I took the pictures to prove it!  After the trip ended, it took me a couple days at the Hervey Bay YHA to go through all of them, delete the bad ones, and go on an editing rampage.
While my travels in Australia are coming to an end rather soon, I know that I'll find myself back on Fraser Island again…
THANKS FOR READING!!
---
& Add Me On Snapchat: — JonesATW
---


---
SHARE IT WITH YOUR FRIENDS!
https://www.jonesaroundtheworld.com/wp-content/uploads/2016/12/DSC_1925.jpg
1367
2048
Dave
https://www.jonesaroundtheworld.com/wp-content/uploads/2017/03/logotry-1-1-300x106.png
Dave
2017-02-20 12:31:39
2017-03-12 01:26:25
3 Days on Fraser Island: Beaches, Lakes, and Bumpy Rides