Planning a backpacking or budget travel trip to the Perhentian Islands!? Well, look no further, because I'm here to help! I've visited this little slice of paradise in Malaysia on numerous different occasions now, and it's slowly become one of my favorite destinations in all of Southeast Asia! With its pristine water, delicious food, fun nightlife, and unbelievable snorkeling/scuba-diving, it's obvious why the Perhentian Islands have become such a popular destination for backpackers in the region!
Now the Perhentian Islands are compromised of Perhentian Kecil & Perhentian Besar, but since I'm writing about the Perhentian Islands for backpackers, I will be writing entirely about Perhentian Kecil in this backpacker travel guide (but the information will still be useful for all types travelers)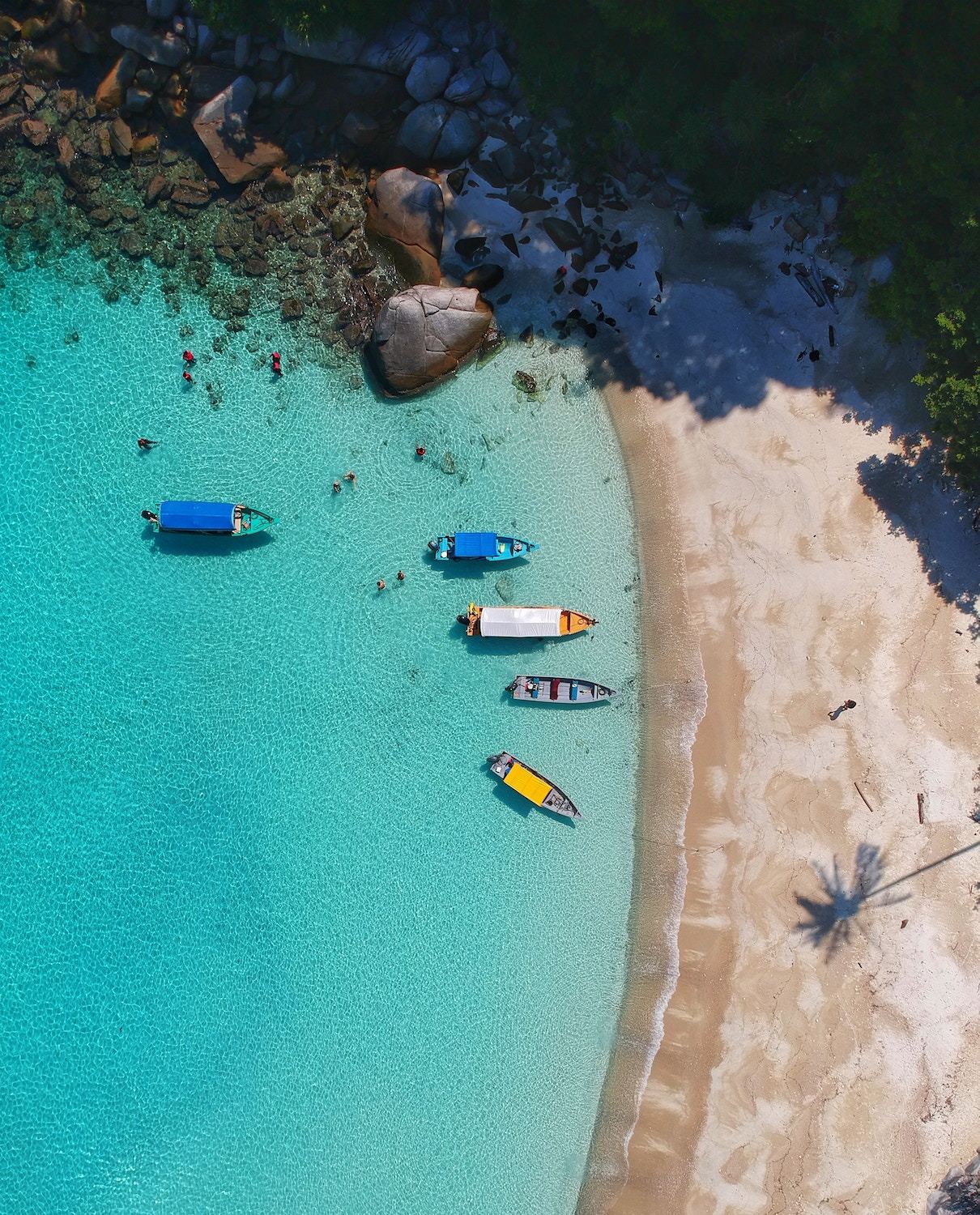 ---
The Perhentian Islands
Perhentian Kecil: A small yet stunning island consisting of two main areas: Long Beach & Coral Bay! There is just a short and easy 10-15 minute walk between the two main areas (through the middle of the island), and there is a decent amount of budget hostels/ accommodation to choose from. Perhentian Kecil is where you will find ALL the nightlife (hence it's known as the Perhentian Island for backpackers)!
Perhentian Besar: The larger island that consists almost entirely of families, vacationers, honeymooners, and expensive resorts. I've actually never visited Perhentian Besar before (besides just stopping there for a snorkeling day-trip), but I have heard great things about it! I've just never stayed there because I thought it was for the older generation who wanted to laze around on the beach all day and have a quiet vacation.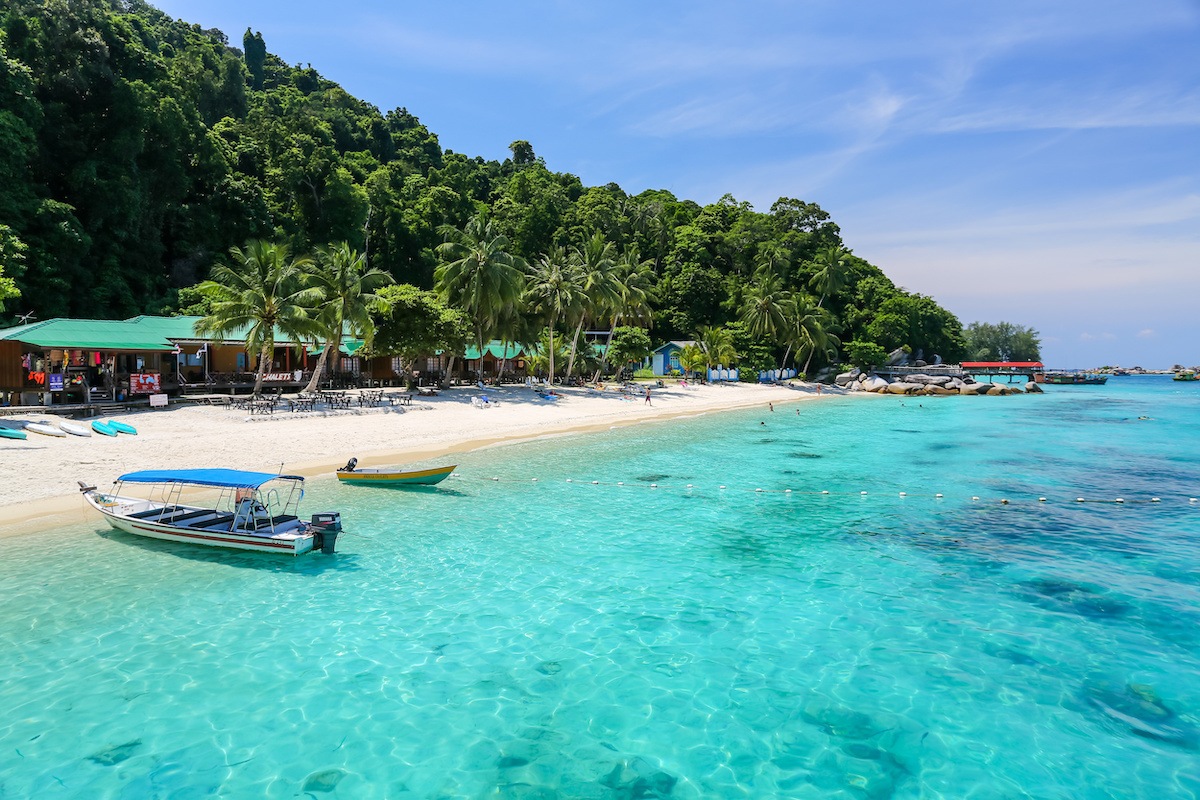 ---
Planning a trip to the Perhentian Islands & Malaysia…?
I'd recommend purchasing the Lonely Planet Malaysia Book! I pretty much always travel with one, and it can truly be a life-saver! It's filled with tons of helpful travel tips, basic itinerary ideas, day-trips, accommodation recommendations, and useful restaurant descriptions and nightlife suggestions! You'd be surprised how much use you can get of it!
And if you're backpacking in the area through several countries, you should definitely pick up a copy of Southeast-Asia on a Shoestring! It's super helpful for backpackers in the region, but I'll admit it's a bit bulky if you're packing light. I traveled with one for a couple months, and then ended up leaving it at a hostel in Thailand because I was almost done with my trip.
---
Map of the Perhentian Islands Resorts / Accommodation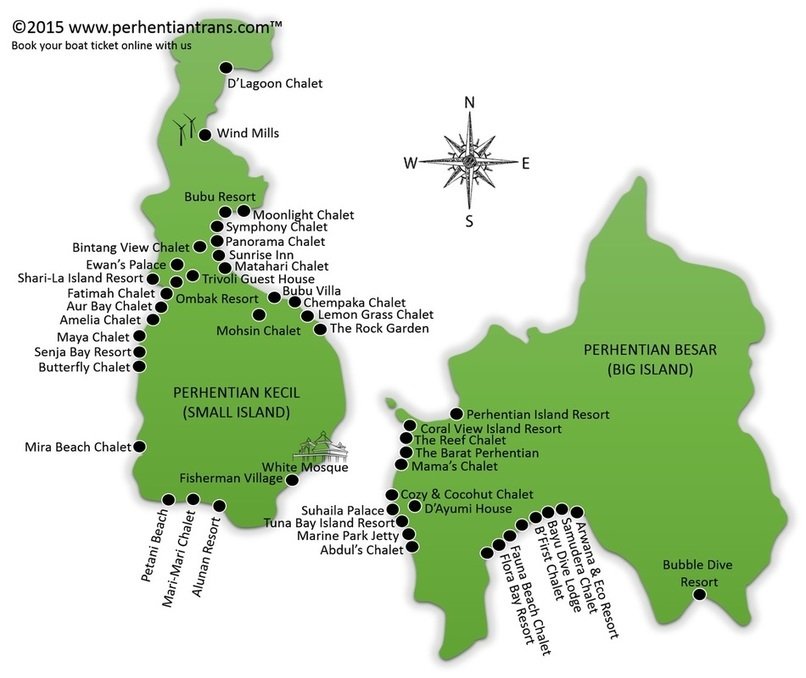 ---
When to Go The Perhentian Islands
The best time to visit the Perhentian Islands is during the dry season which is between March and November.
What a lot of people don't know is that the islands are basically empty and many of the shops are fully closed during the rainy season between December – February.
If you're planning a trip to the Perhentian Islands, please keep in mind that JULY & AUGUST are peak season months, and all the accommodation on Perhentian Islands gets booked up pretty earlier. You'll want to book your rooms well in advance, or else you might not have a place to sleep!

---
Getting to The Perhentian Islands
The only access point to the Perhentian Islands is from the Kuala Besut, Jetty! Now, most backpackers who I've come across on Perhentian Kecil actually just purchased their transport options from various travel agents in the Cameron Highlands, Langkawi, Kuala Lumpur, or Penang. I've always gotten here by myself, and it's really simple!
Bus: You can purchase a ticket through a travel agent, or purchase a bus ticket online to Kuala Besut, Jetty. The bus system works really well in Malaysia, and it's extremely easy to travel around the country. Since the Perhentian Islands are located up in the Northeast corner of Peninsular Malaysia, the bus will probably take awhile (but trust me, it's well worth the trip).
Flight: Book a ticket to either Kota Bharu (closer airport) or Kuala Terengganu. From the airports, you will have to take a taxi to the Kuala Besut Jetty. There are daily direct flights from Kuala Lumpur, Penang, Johor Bahru, and even Singapore! If you're looking solely for cheeky Malaysia weekend getaway, then I'd just book one of these flights! The airport is still about an hour away from Kuala Besut, but it's not that bad of a drive.
Cost: If you get to to Kuala Besut Jetty on your own, you can book your round-trip boat tickets for 70 MYR. If you are lucky, you can talk them down. I actually saw one company offering a special for 50 MYR round-trip.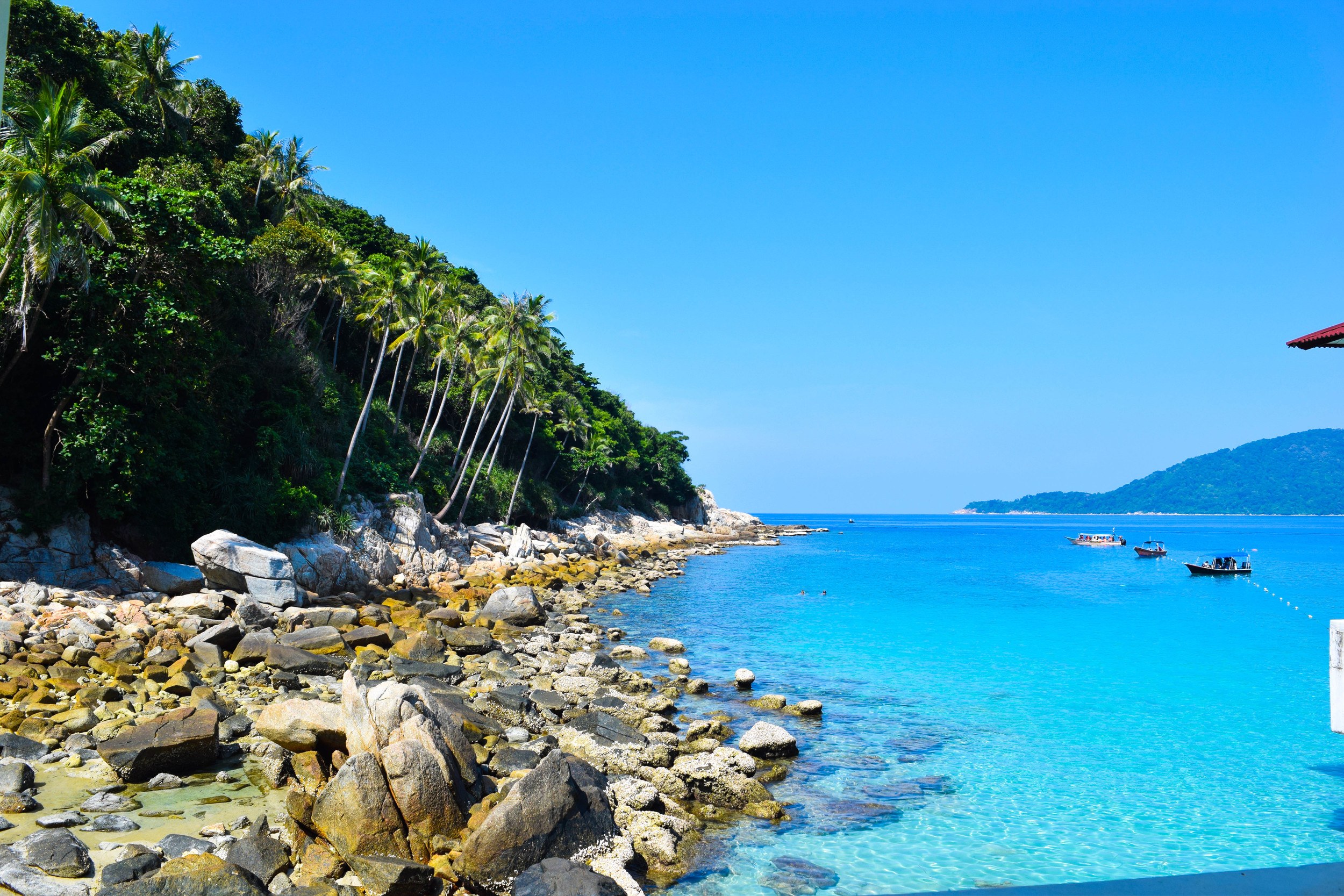 ---
Where To Stay on the Perhentian Islands:
Best Backpacker Hostels & Accommodation on Perhentian Kecil
Seahorse Diver: Located right on the beach, this budget-friendly hostel is definitely a popular choice for backpackers! They've got super cheap 6-bed dorm beds, and also affordable private rooms. While it's not the fanciest accommodation, it's definitely. Compare rates & Check Availability Now!
Bubu Resort Perhentian Island – If you're traveling with a friend/ partner and have a bit larger of a budget, than this is exactly where I would want to stay! It's one of the best deals on the island, has an unbeatable location, and you're guaranteed a luxurious experience as it's a 4-Star Hotel. It's a fantastic little resort in paradise, and will definitely provide a comfortable stay at an affordable price! Read Reviews & Check Availability
Perhentian Tivoli Inn: "Nestled amid lush tropical greenery and set against the natural attractions of the forest and the deep blue sea. What's more, the crystal clear waters of Long Beach are just a hop away from the resort's doorstep. All chalets come with fans and mosquito nets along with comfortable beddings. Guests can feel the warm seaside breeze with just their window opened. It is surrounded by nature where buttress roots and jungle plants and centuries-old trees cloak the forest floor." Check Rates & Availability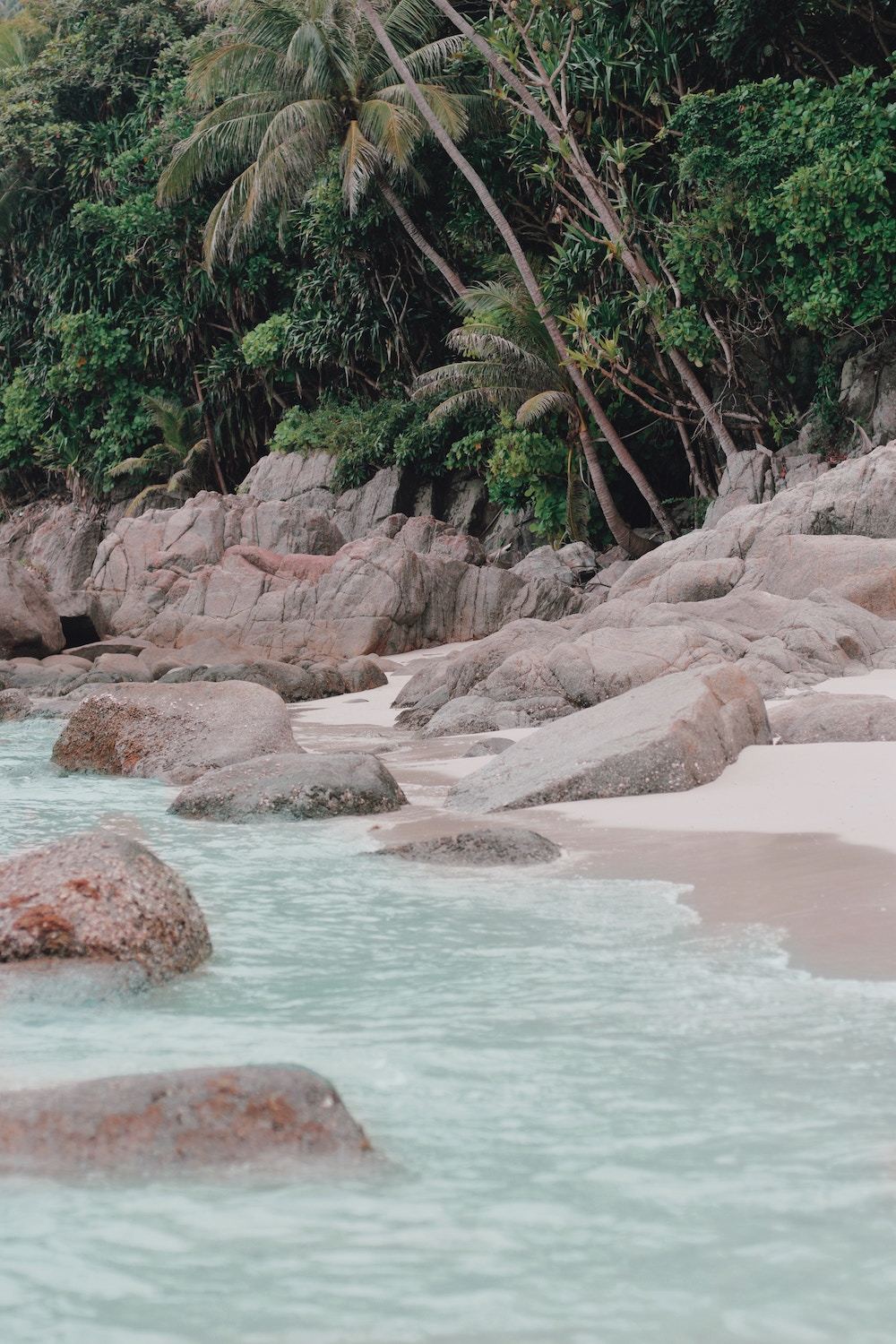 ---
Airbnb on Perhentian Kecil
AirBNB: There are also actually some really cool options on AirBNB for Perhentian Kecil, especially if you're planning on going scuba-diving.
One of them looks like it's "glamping" in a tree-house / log-cabin, and there's a couple nicer hotels. The best part about staying with AirBNB is they give you $40 OFF YOUR FIRST BOOKING. So everytime you create a new account, you can save tons of money! I stay in AirBNB's all the time, and it's a great travel hack!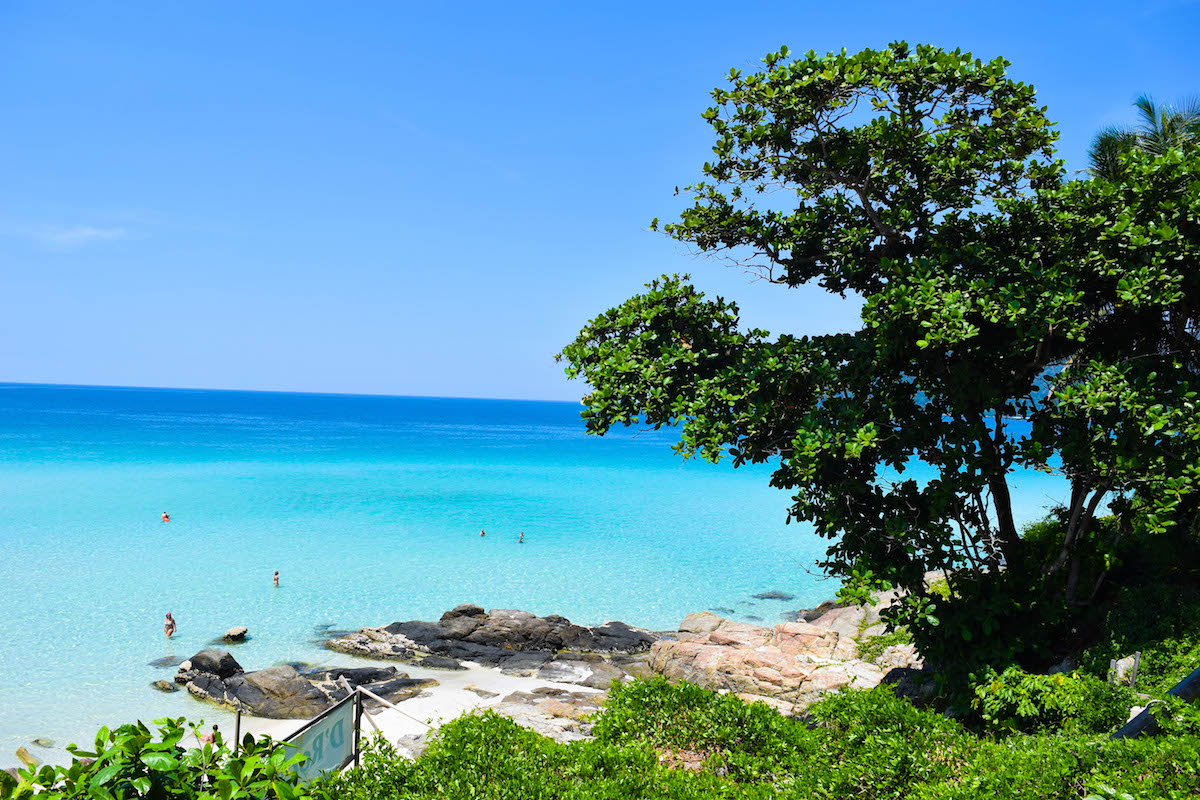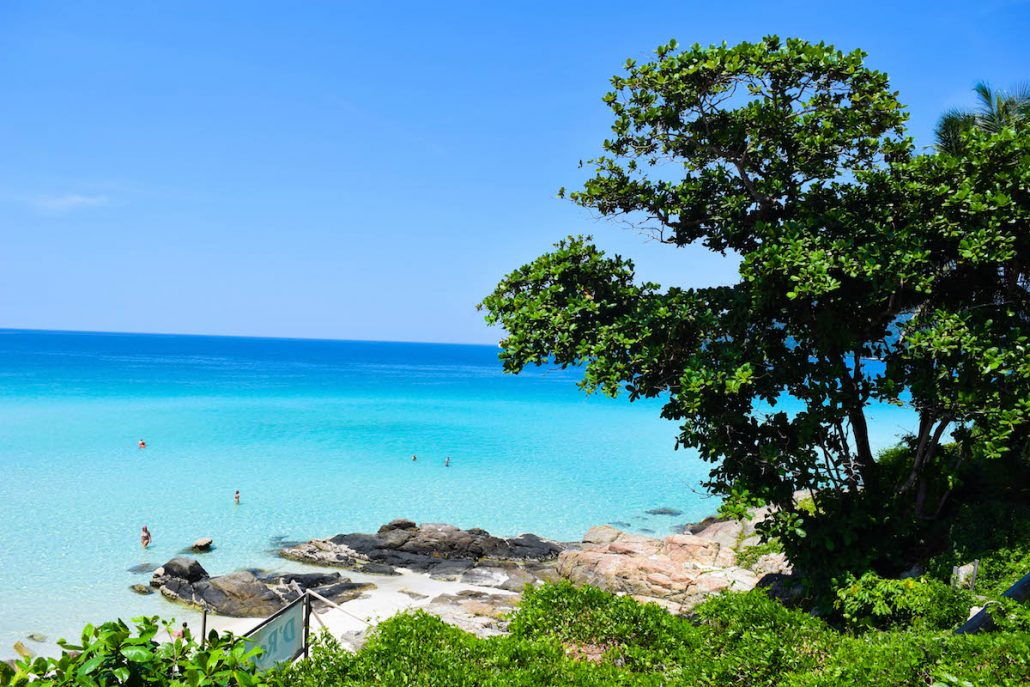 ---
Tropicana Inn / Tivoli Backpackers
This is a combination of two places that offer both dorm beds and private chalets. There is currently a lot of construction going on, and there will soon be a lot more available at this place.
Prices vary upon the time of the year. During low season you can get a dorm bed for as low as 20/30 MYR per night. During high season expect to pay 50 MYR per night!
Pros: Air-Con, Comfortable beds, clean shower, towel provided and overall decent facilities.
Cons: Wi-Fi only available in lobby, No Lockers, and unfriendly staff.
One of the best aspects of staying here is that is located right in the middle of the island between Coral Bay & Long Beach.
---
Mohsin Chalet: Really well located on Long Beach, Mohsin Chalet is another solid budget option. They have some basic private rooms available, but there is also one building they use as the dorm room.
Prices vary upon the time of the year. During low season you can get a dorm bed for as low as 15/20 MYR. During high season expect to pay 35 MYR per night. (Potentially more during a busy weekend).
The dorm room is very basic. It's a giant room with 11 bunk-beds in it. The building is worn-down, and I nicknamed it "the dungeon". You'll need insect repellant or a mosquito net, because you will get eaten alive. The bathrooms are dirty, no wi-fi in the rooms, and lots of people.
Pros: Very short walk to the beach, cheapest option on the Island, beautiful reception overlooking Long Beach, and friendly staff.
Cons: The dorm room cleanliness, no lockers, bugs, and overall bad facilities.
This can be a great place to meet fellow travelers, and is the cheapest place to stay. If you are a hard-core budget backpacker, then this is where you are going to stay.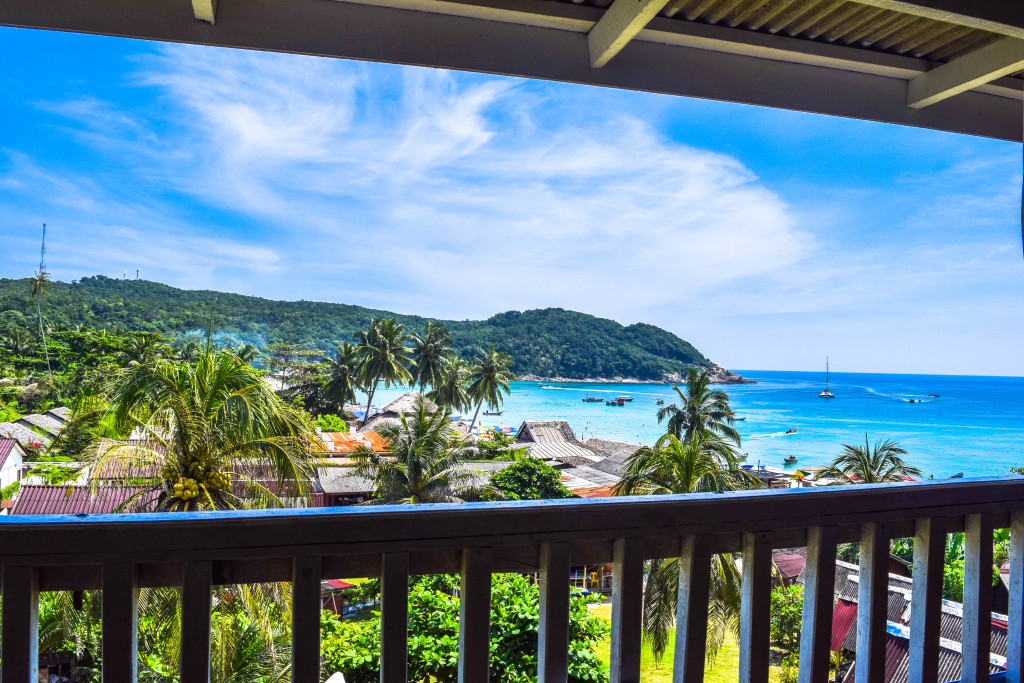 ---
Perhentian Kecil Scuba Dive Center Packages
If there's one thing that the Perhentian Islands are famous for – it's scuba diving! The marine life found here is truly spectacular, and the snorkeling and diving options are quite endless! If you're already certified, you'll enjoy budget-friendly fun dives, and will witness some unforgettable dive sites! If you're not certified, this is definitely one of the best places in the world to get it done!!
There are a ton of different dive centers on the Perhentian Islands, and all of them offer a bunch of different packages that can save you money on accommodation if you plan on diving.
If you already have your PADI, you can book a certain number of fun-dives + accommodation for a special price. I don't dive, so, unfortunately, I couldn't take advantage of these great deals during my last visit to Perhentian Kecil.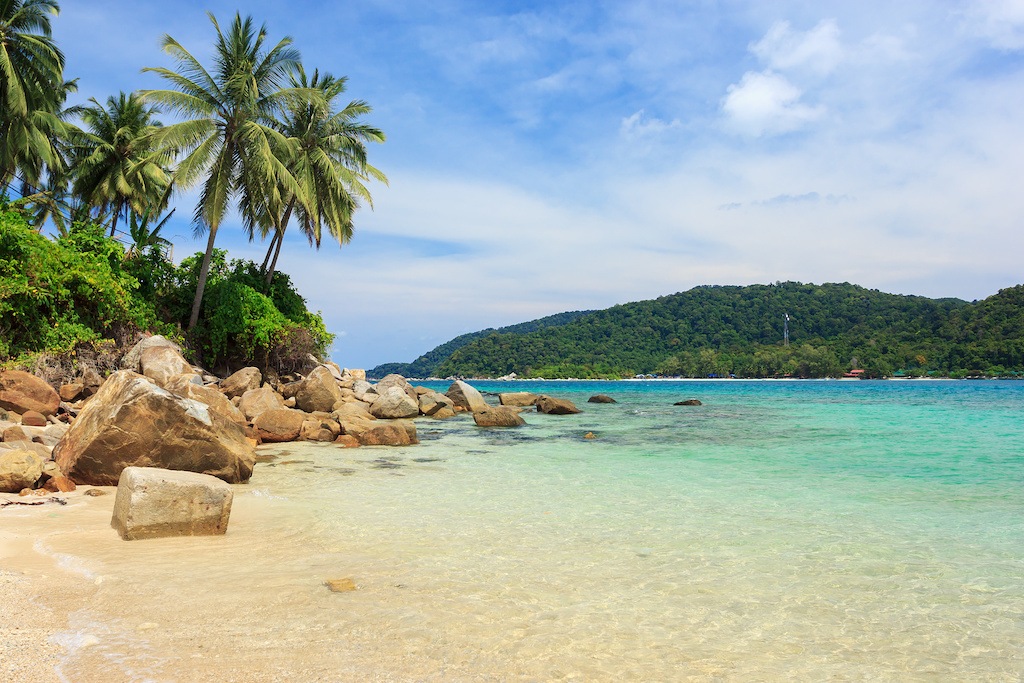 ---
I know people who dived with Panorama Diving though, and they really enjoyed it – so I guess I recommend them. You could also check out these other great dive companies to compare prices:
Panorama Diving Perhentian Island – "Located at Pulau Perhentian Kecil – Long Beach is a family run business that caters to backpackers, travellers and holidaymakers who are looking for Fun Dives or Scuba Diving Courses together with clean, basic, affordable and low-budget rooms or dorms. We have more than 20 dive spots that are suitable for all levels of experience. New divers can have a nice relaxing reef dive while be amazed by the brilliantly colored tropical fish and coral. Experienced divers can enjoy the freedom of spectacular reef diving, adventurous wreck diving and deep dives in an extremely idyllic and laid back setting."
Ombak Divers – "Magnificent. Awesome. Beautiful. Great. Magical…We could go on with descriptions of nature's beauty but at times; words are just not enough and best to experience it for yourself. A place like Perhentian Island fits the bill as the getaway of sorts – transforming into a beach bum, escaping the hustle and bustle of everyday life or meeting our friends of the sea, you deserve a reward!"
Quiver Divers – "Situated on majestic Perhentian Kecil, Quiver Dive Team is a multi-award winning PADI 5 Star Career Development Centre (CDC) which guarantees you great fun, great service and top-quality professional tuition throughout our extensive range of PADI courses. We're proud of our resort and would love to see you dive with us."
Turtle Bay Divers – "The diving is as good as ever. We still have lots of turtles, stingrays, bumphead parrotfishs as well as the usual colourful reef fish on our scuba diving trips

. We organise regular diving trips to

Redang Island. Those trips are always fun! We now have 3 more wrecks to dive at Perhentian. Both are bigger ships (70m long or more). The first is the Sugar Wreck, an easy dive on a 3500-tonne

ship.the

second a New wreck called Police wreck ,3 boats at a depth of 18m. The third is The Secret Wreck, a more tricky dive on an old freighter down at 38m."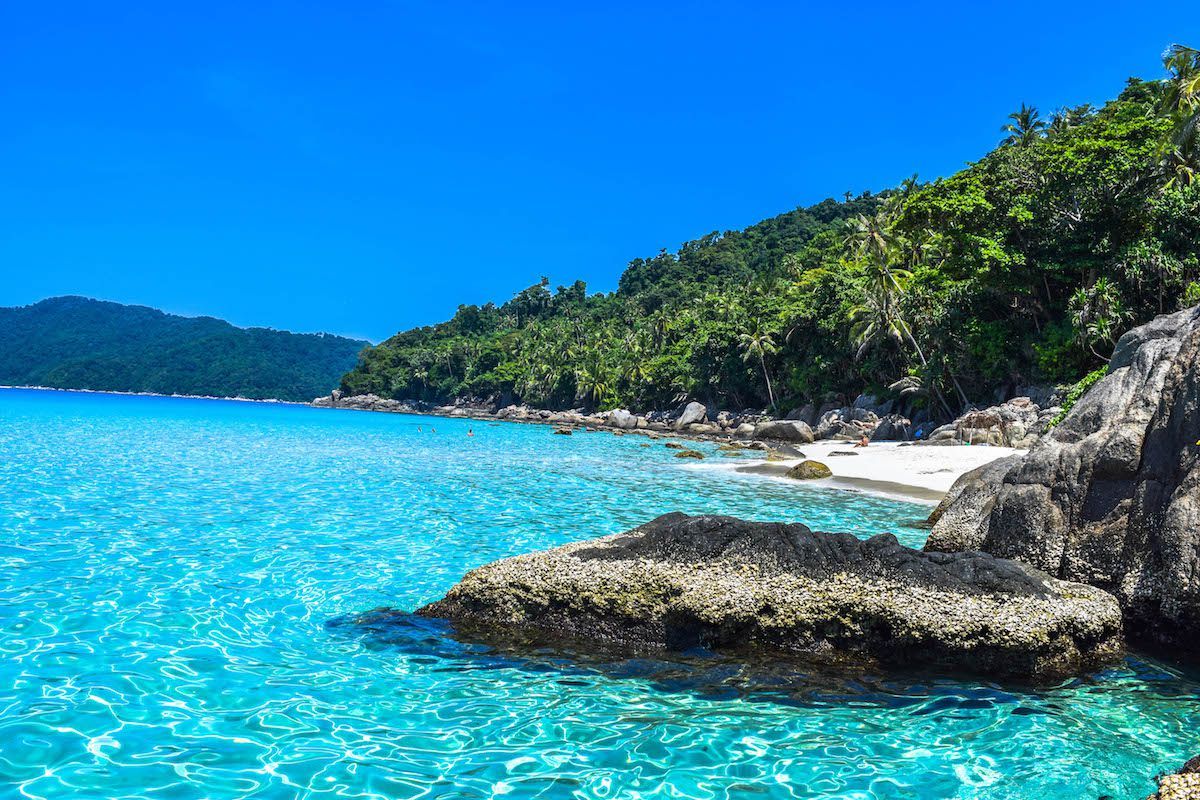 ---
Things To Do On The Perhentian Islands
The Perhentian Islands are pretty small, and there actually isn't a whole lot of things to do. With that being said, here are some of my top recommendations on how to spend your time exploring Perhentian Kecil!
Get PADI Certified: With all the different dive companies, if you are looking for a great place to get certified, than this is a solid option. The Perhentian Islands are known for having spectacular diving opportunities. You can shop around, but all the dive centers offer 4-Day Open Water Certification packages from 950 – 1100 MYR.
Snorkeling / Island Hopping Tours: For those who don't have their diving certifications, the Perhentian Islands still offer some of the best snorkeling spots in Malaysia. You're almost guaranteed to see a couple of turtles, sharks, and beautiful fish. The coral is beautiful, and you can't go to the Perhentian Islands without diving or snorkeling at least once. one of the reasons you come here is to explore the underwater life.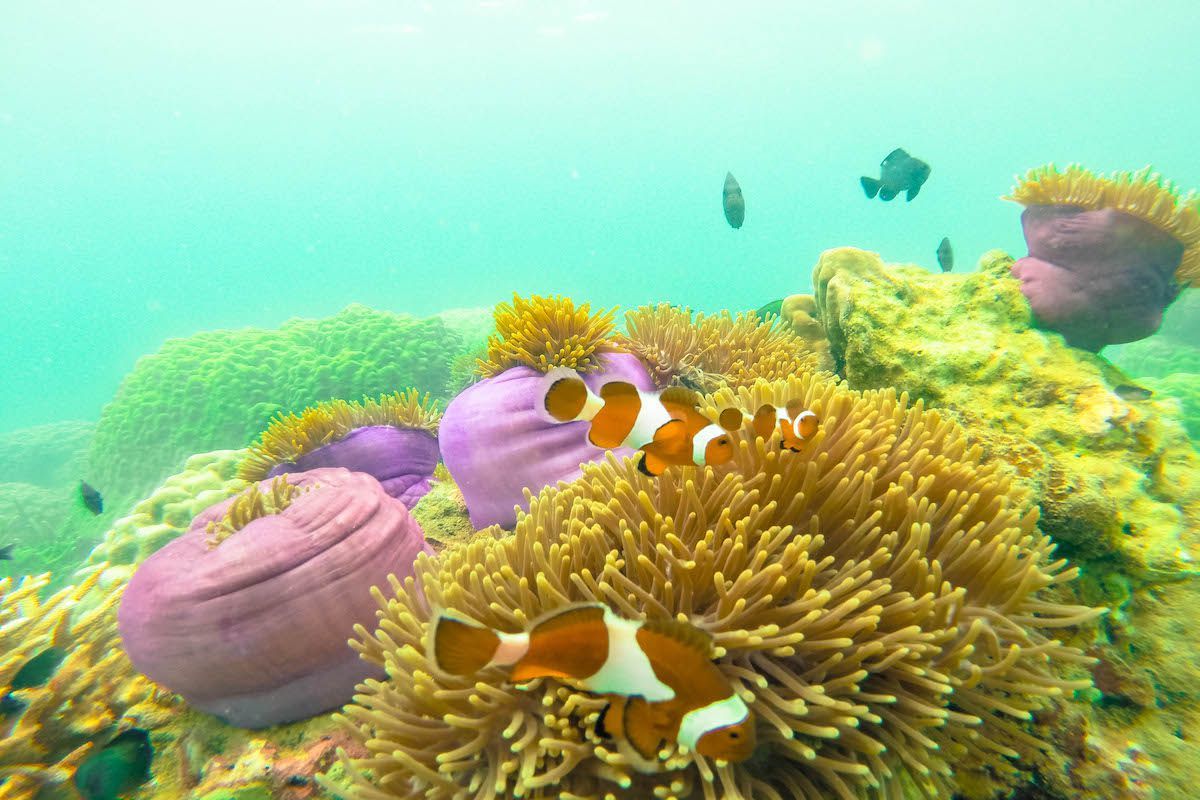 Beach Days: Read books, lounge on the beach, rent a beach umbrella, go for a swim, play beach volleyball, etc. This is definitely a "vacation" island, and it's a great place to unwind during your travels and just simply relax.
Movie Nights: There are several different places on the Perhentian Islands that you can chill-out at night to watch a movie. My favorite place is at Ombak Resort. They've got delicious food (although a bit expensive for a backpacker budget), and they have the best set-up.
Watch the Sunrise & Sunset: Depending on the time of the year, the sunset might not be too great because of the monsoon clouds. However, the Perhentian Islands can surprise you with some amazing sunsets. Sunset – Coral Bay….Sunrise – Long Beach.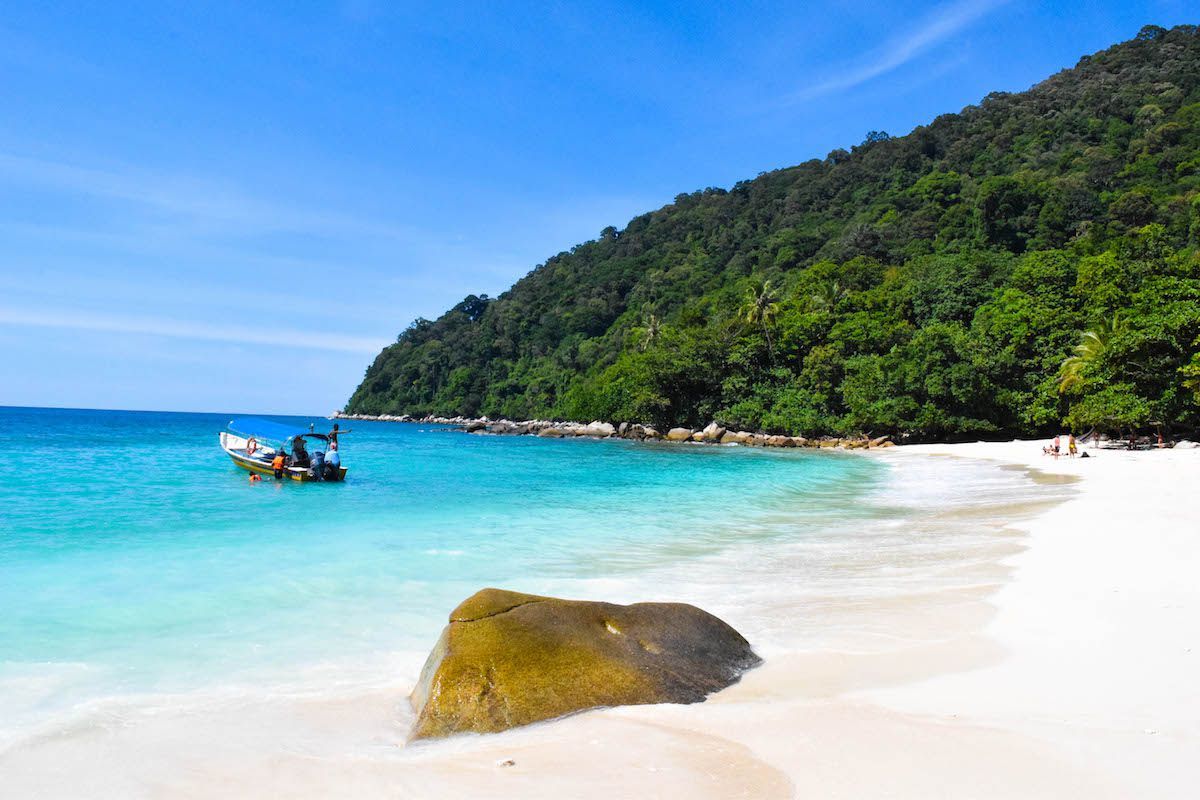 ---
Best Places To Eat on Perhentian Kecil
Ewan's Cafe:This is definitely my favorite place to eat on the island. The food is delicious, fairly priced, and the staff are all really nice.
They also have some of the fastest wi-fi on the island. So if you need to get online to book a flight, hotel, or plan your next destination, check out Ewan's Cafe.
Panorama Divers Buffet Breakfast:For the small cost of 15 MYR, you get a selection of a wide variety of breakfast foods. Roti Canai, Pancakes, Cereal, Fried Rice, Fried Noodles, Eggs, Toast, Donuts, etc. This buffet is definitely worth the money! You have to try it at least once. Plus, for only 15 MYR — it's a fantastic deal for a budget traveler.
The Local Restaurants of Long Beach: When you walk up and down Long Beach, about right in the middle is a set of 4-5 different restaurants. Almost all of them have identical menus, fairly priced, and are pretty great.
Chillout Cafe: If you walk pretty far towards the end of Long Beach, you'll find a restaurant with a giant reggae sign that reads "Chillout Cafe". Eat here at least once. At first glance, the food might seem a little pricer than other places, but it's absolutely delicious. I ordered a Chicken Fried Rice ( pretty standard dish), but it was one of the better CFR I had eaten in a long time. They also have decent Roti Cani, and tasty fruit juices / smoothies.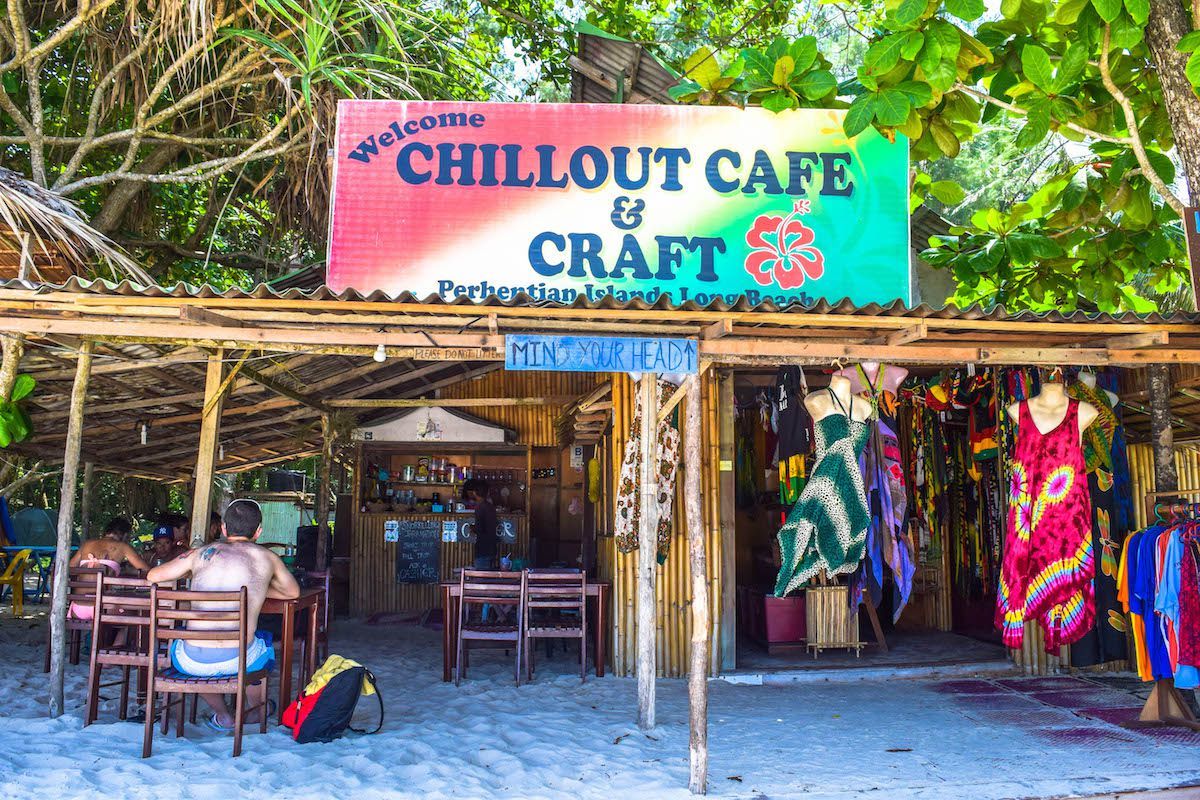 ---
Nightlife on Perhentian Kecil
While Perhentian Kecil is definitely not one the best party islands in South-East Asia, that doesn't mean that you can't have a solid night out drinking here.
It's very easy to party here because people only really go to 2-3 different spots.
Panorama Bar: Probably the most lively spot with a "bar" feel. They also have AMAZING PIZZA that you should try at least once. They are kind of expensive at 25 MYR, but worth it.
Monkey Bar: Just across the street from Panorama bar, this is a spot to grab a drink and chill a bit.
Pirates of Perhentian: This is where the nightly fire-show is held every night at 10:30 P.M. Watching this every night is a lot of fun. You can sit down on the beach, order some beers, smoke some hookah, and watch some extremely talented people play with fire.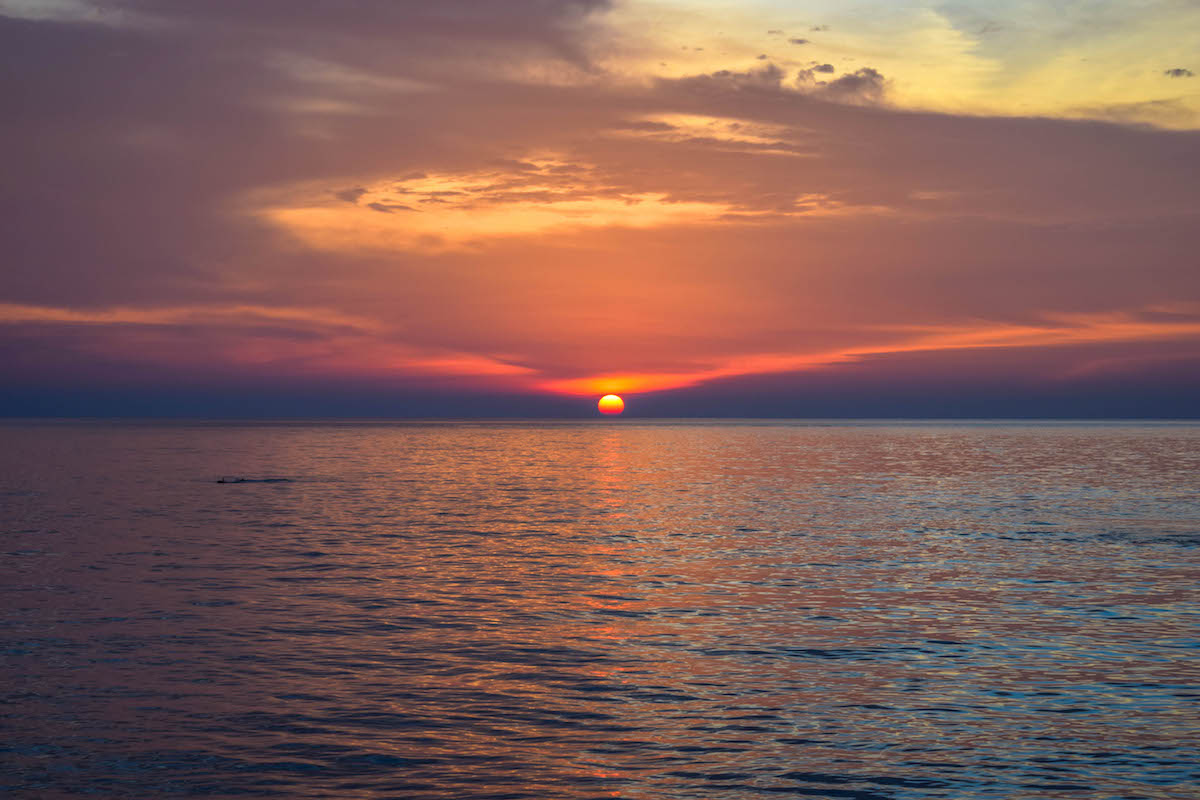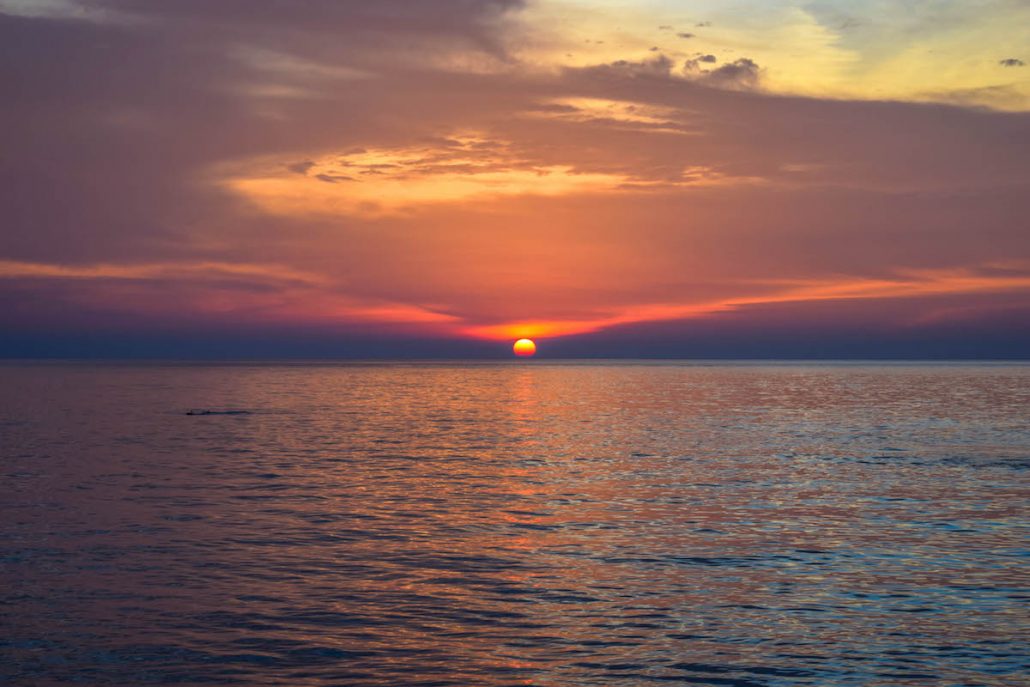 ---
Need more Perhentian Islands Travel Inspiration…
Check out this epic YouTube video by FlyingTheNest about their experience on the Perhentian Islands, which they call the "Maldives of Malaysia".
Maldives of Malaysia: Perhentian Islands
---
Expedia also put together a fun travel guide in video format that's worth the watch if you've got the time! Just watching these videos is giving me mad inspiration to book a ticket back to Malaysia!!
Perhentian Islands Vacation Travel Guide | Expedia
---
Where to Travel After the Perhentian Islands:
The Perhentian Islands are a popular destination for backpackers in South-East Asia. Since they are located at the top of Malaysia, it's common that most people are either working there up through up to Thailand, or working there way down to Kuala Lumpur.
Thailand: A lot of backpackers in Southeast-Asia make their way up to Thailand after exploring the Perhentian Islands for a while. It's super easy to do, and you can take a train across the border, and head up to Krabi or Koh Phi Phi.
Pulau Kapas: If you feel like you want to explore more of Malaysia's best beaches, then catch a bus down to Pulau Kapas. I personally think it's the Most Beautiful Island in Malaysia.
Penang /Langkawi: A popular decision is to head to the West coast of Malaysia and check out Penang and Langkawi. Two amazing islands, with very different vibes. Penang for some culture and food, Langawi for some fun in the sun and waterfall exploring. Check out all my Langkawi Blog Posts.
Cameron Highlands / Teman Negara: Visit and trek through the oldest rainforest in the world, with the tallest canopy walk in the world! You can take a boat + bus combo from the Cameron Highlands to Teman Negara for 70 MYR. Check out my Backpacker's Guide to the Cameron Highlands.
Kuala Lumpur: The amazing capital of Malaysia, you can't visit this amazing country with experiencing all the Amazing Things to do in Kuala Lumpur.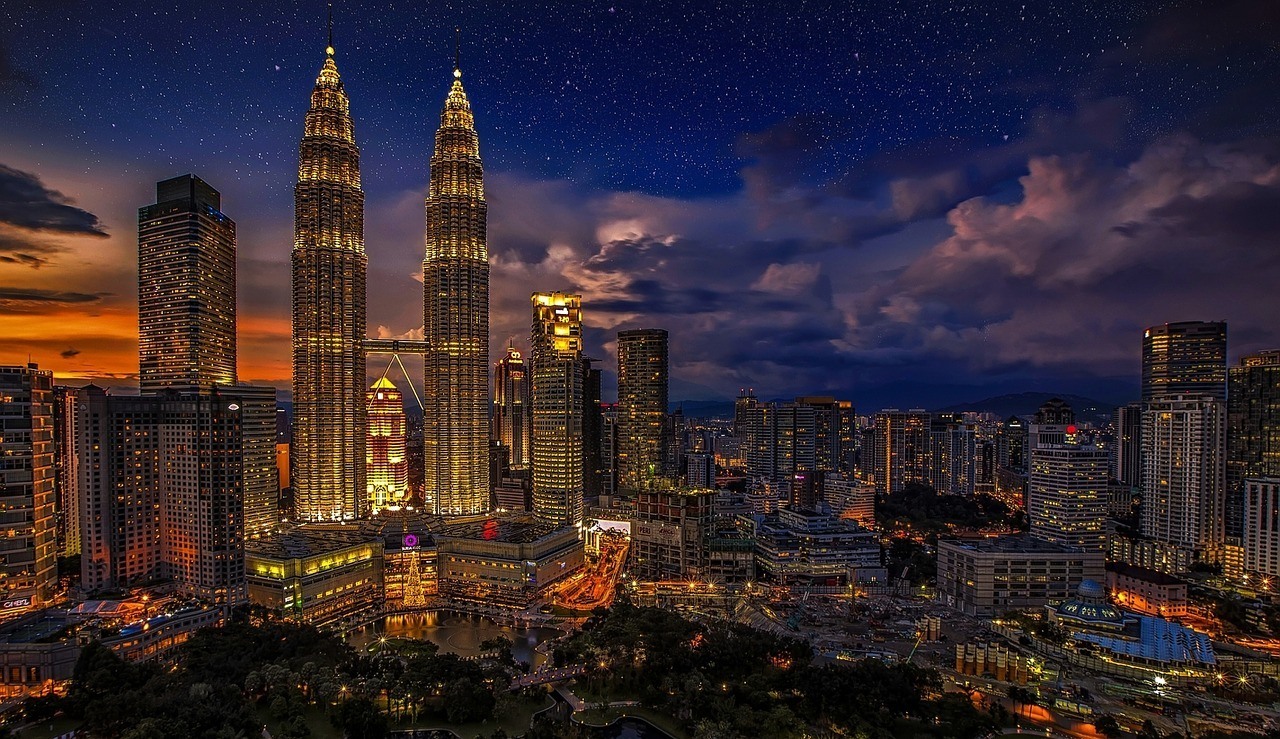 ---
Planning a Backpacking trip to Malaysia/ Southeast Asia…?
I've personally spent a lot of time traveling around this amazing country, and my blog is filled with helpful articles that can be a great resource for your trip planning! And as always, if you ever have any questions about traveling South-East Asia, feel free to contact me!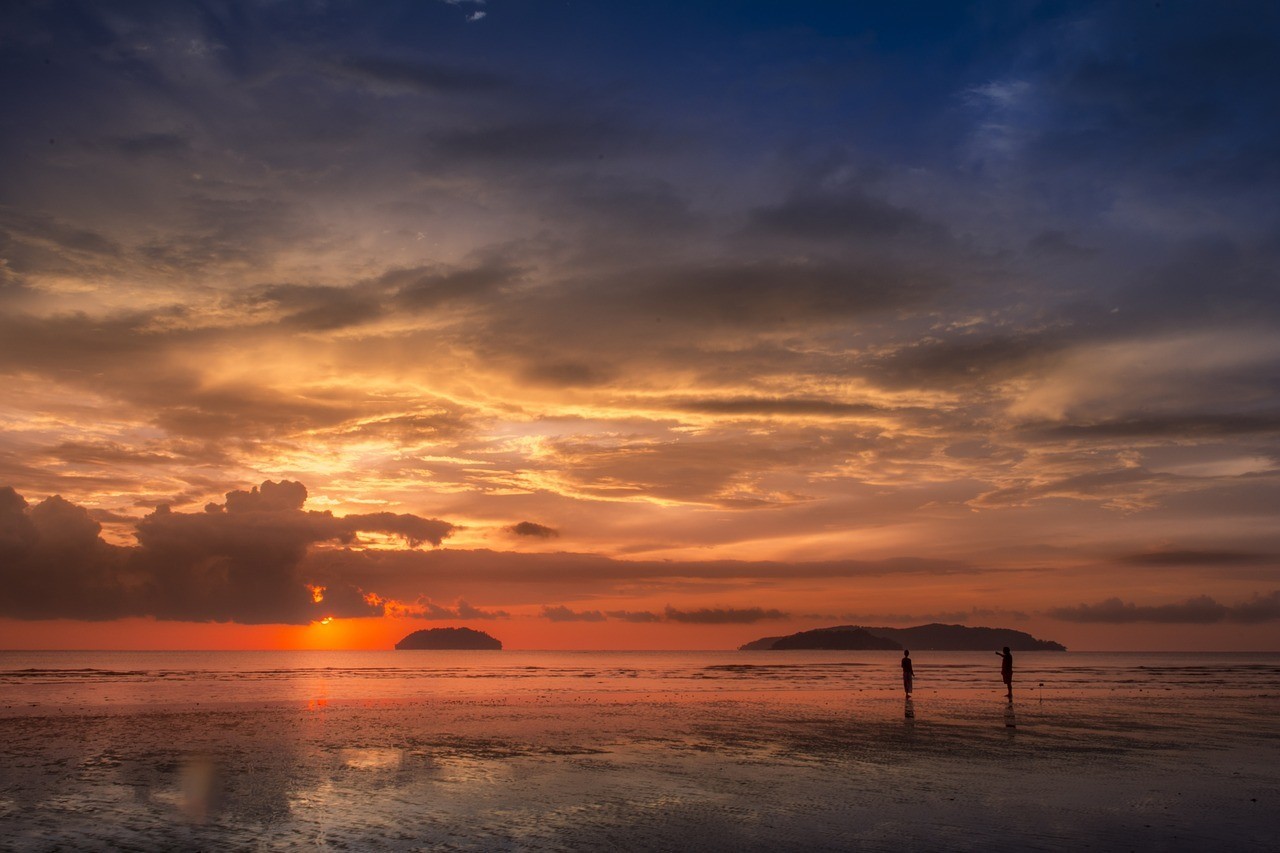 ---
Pin me for later!!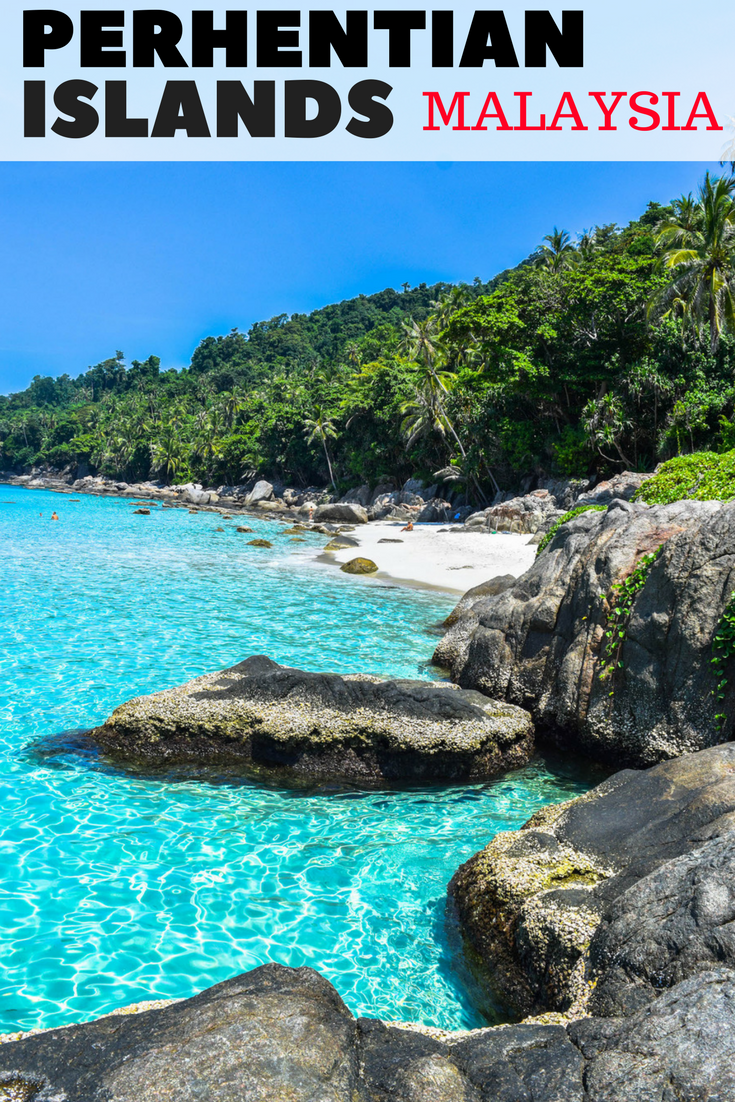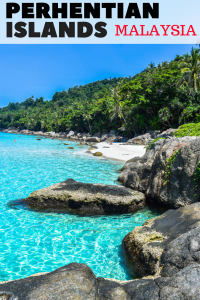 Thanks for reading my Perhentian Islands Travel Guide!!
Share this with your Malaysia backpacker squad!!
https://www.jonesaroundtheworld.com/wp-content/uploads/2019/05/perhentian-islands.jpeg
683
1024
Dave
https://www.jonesaroundtheworld.com/wp-content/uploads/2017/03/logotry-1-1-300x106.png
Dave
2019-06-19 04:05:05
2020-09-17 19:14:33
A Backpacker's Guide To The Perhentian Islands