Welcome to the brand new Westin Maldives Miriandhoo Resort – one of the most peaceful, jaw-dropping, and enchanting destinations I've visited in my entire life! Everything from the marine-inspired architecture, white sand beaches, beautiful palm trees, and the way the property lights up at night was simply divine.
I spent five unforgettable days here, and it's an atmosphere that can be difficult to describe, but from the moment we arrived, I could feel this luxurious energy that melt away my stress and put me into a state of complete and utter vacation bliss.
During the first night on the island, we were enjoying happy hour at the sunset bar, and I'll never forget the special vibe I felt during that moment. Ideal weather, gorgeously colorful sunset hues, a tropical breeze, a DJ spinning amazingly trippy music, a deliciously fruity cocktail in my hand, and good vibes all around. Everything was perfect, and it just felt so surreal! I instantly knew that this is what it people come to the Maldives for, and one of the many reasons why this unique country should be on everyone's bucket lists!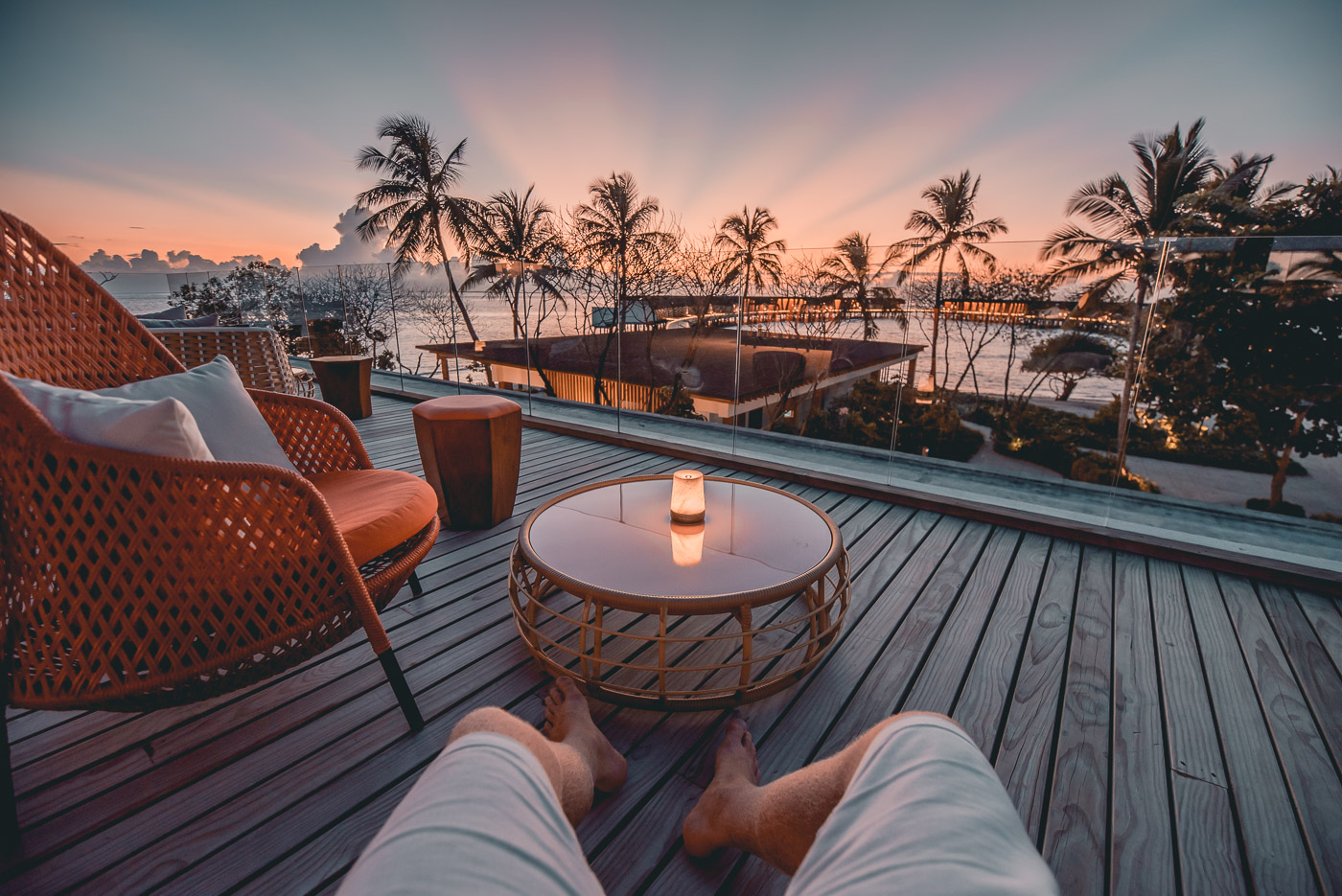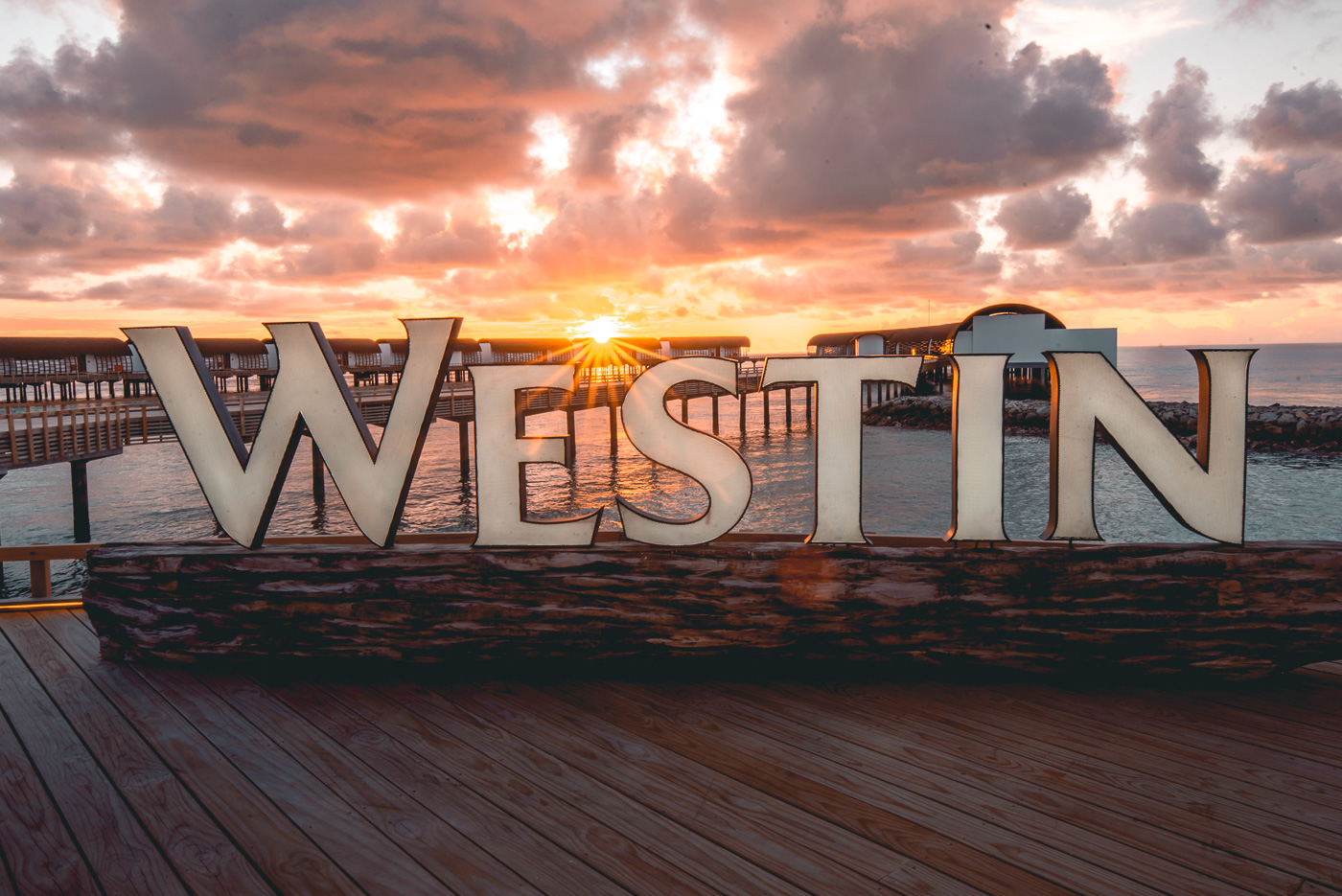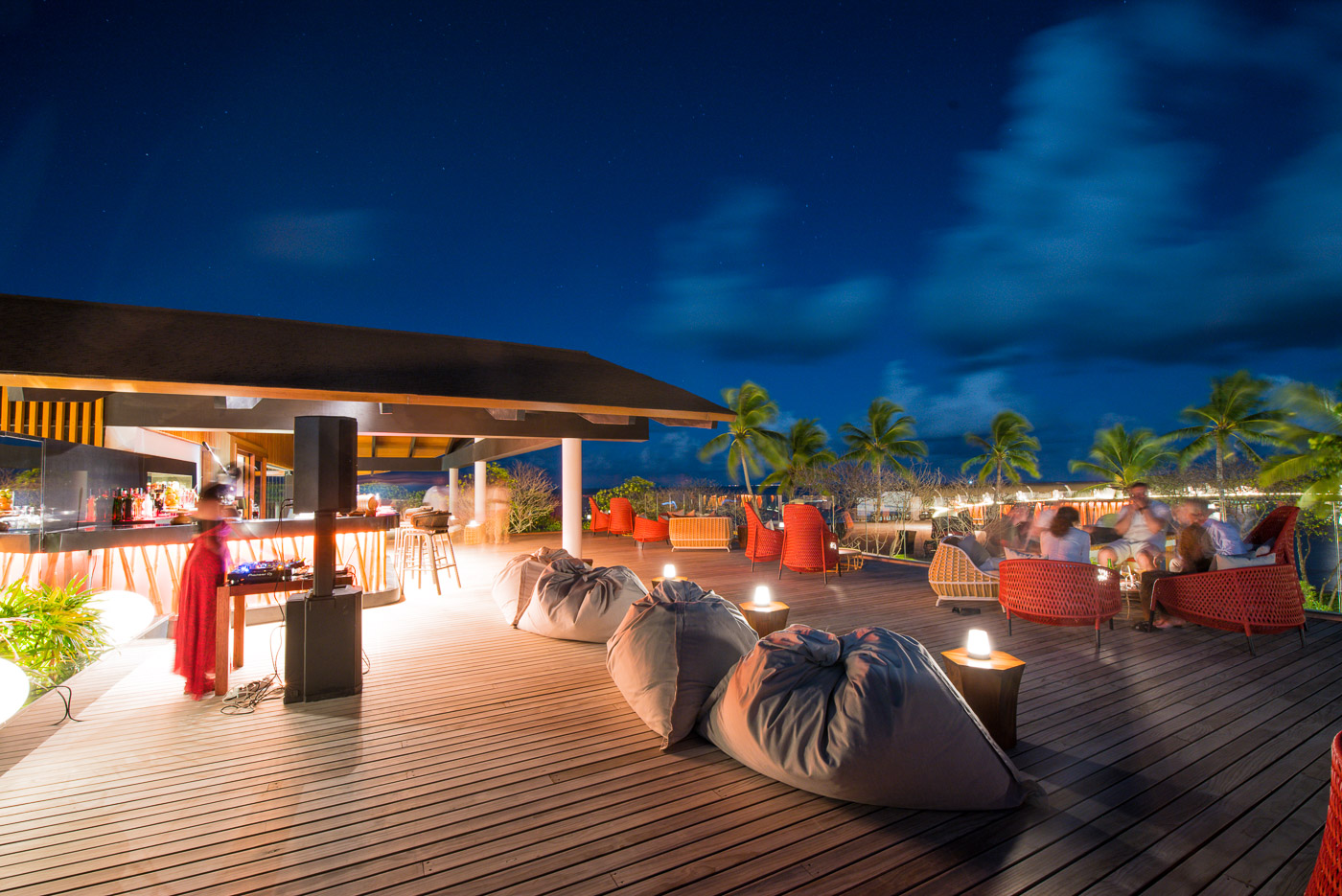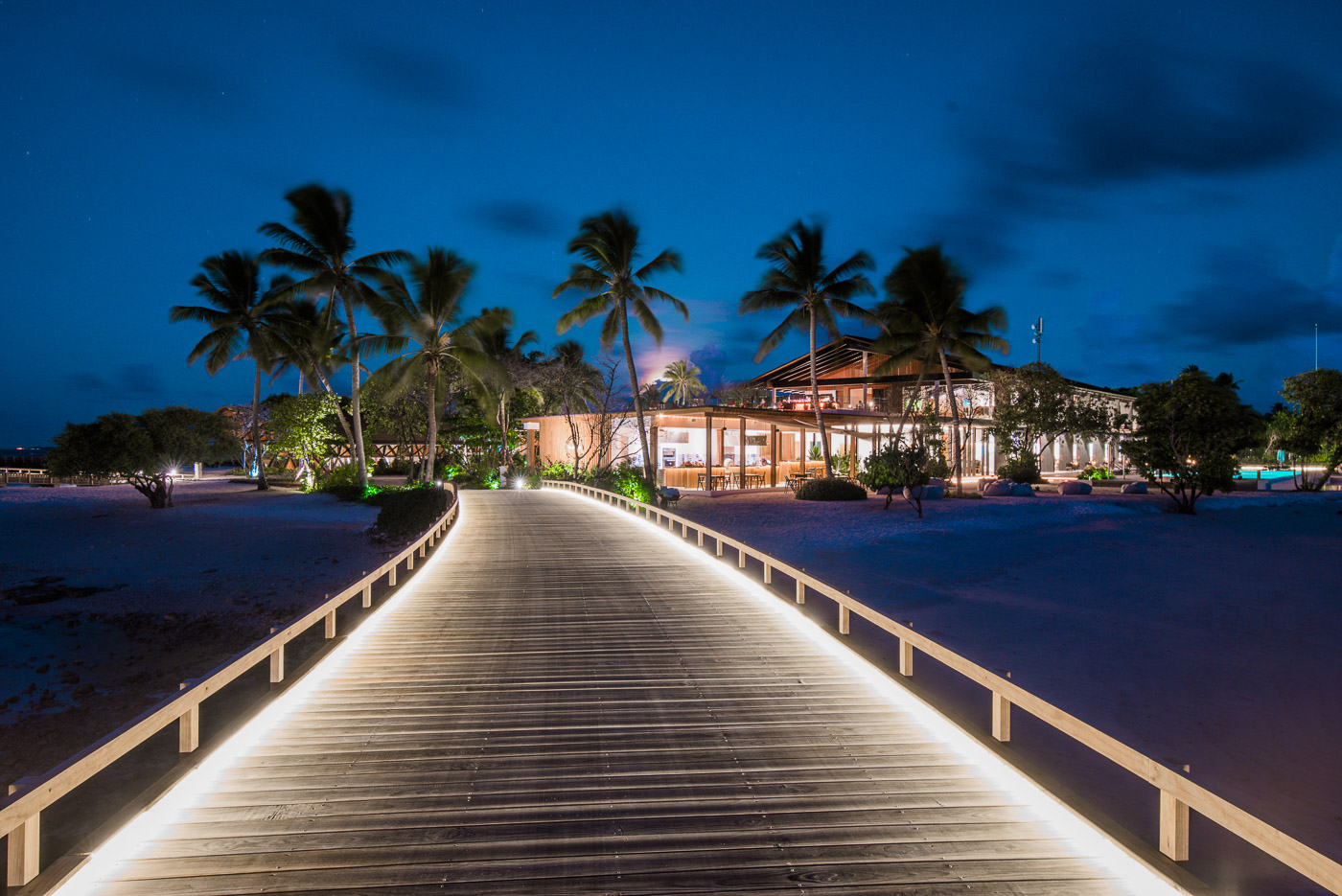 ---
This heavenly feeling continued for the entirety of our five-night stay, which was filled with extraordinary moments such as walking barefoot around the overwater villa pathways underneath the moonlight, swimming in crystal clear water with turtles, taking late night swims in our private overwater villa, getting pampered in paradise at the Westin Spa, watching gorgeous sunsets every night, and of course enjoying wonderful conversations while drinking delicious wine with amazing company.
The Westin truly dazzled me with its luxurious amenities, impeccable service, and undeniably gorgeous villas. Out of all the resort's I visited in the Maldives – there's no doubt that this was my favorite.
So take a read below and browse through all my photos to learn more about what made my stay at the brand new Westin Maldives Miriandhoo Resort so special!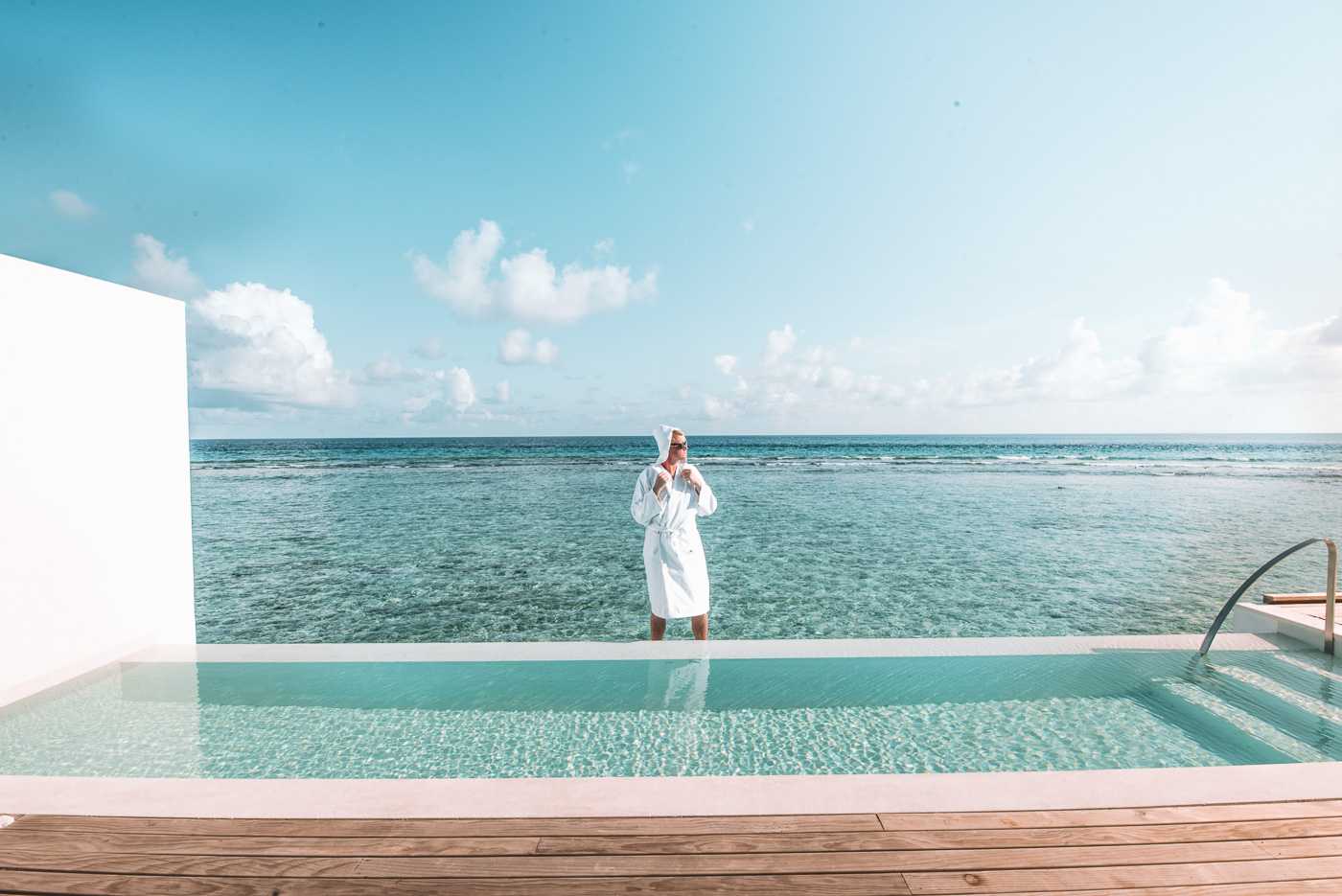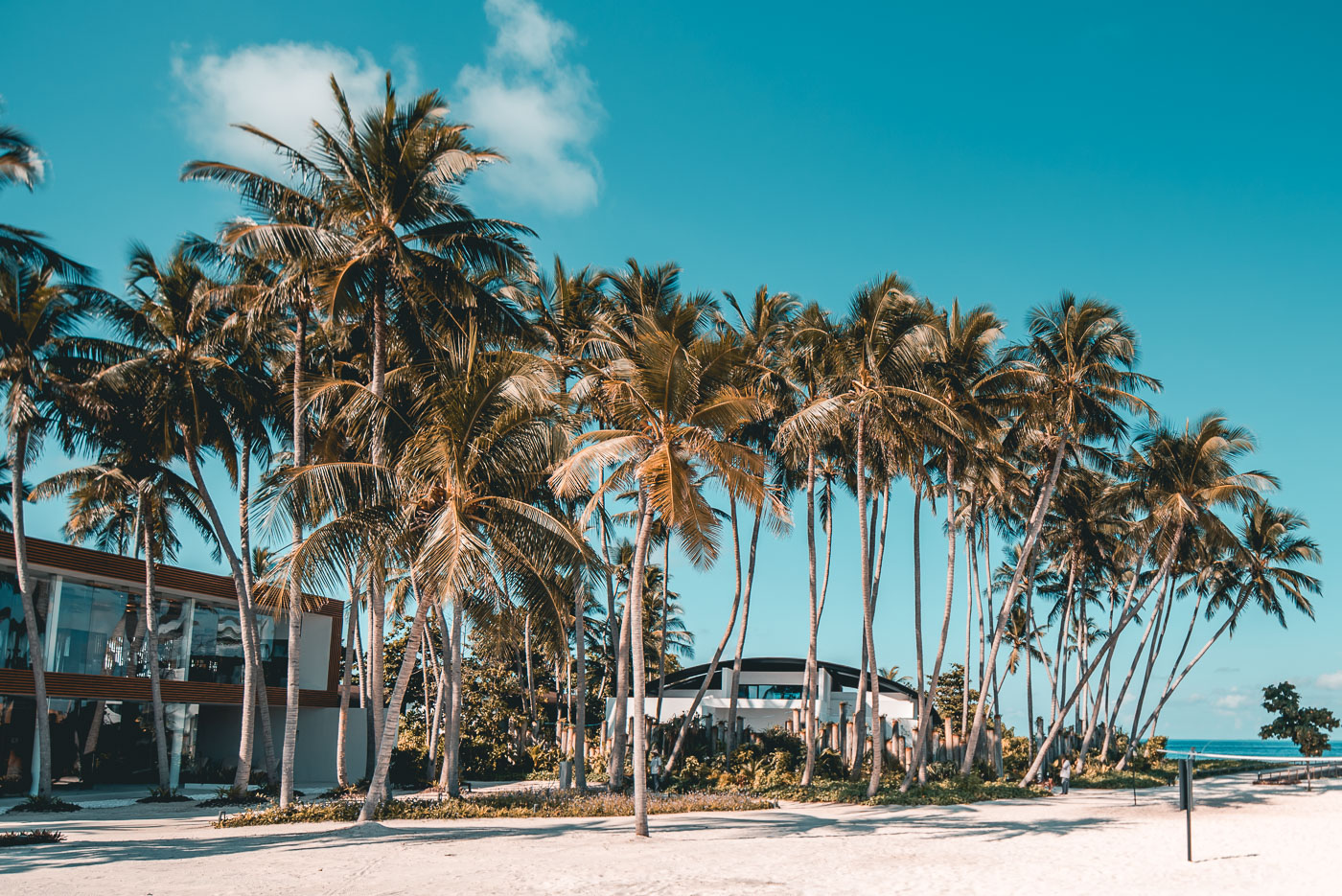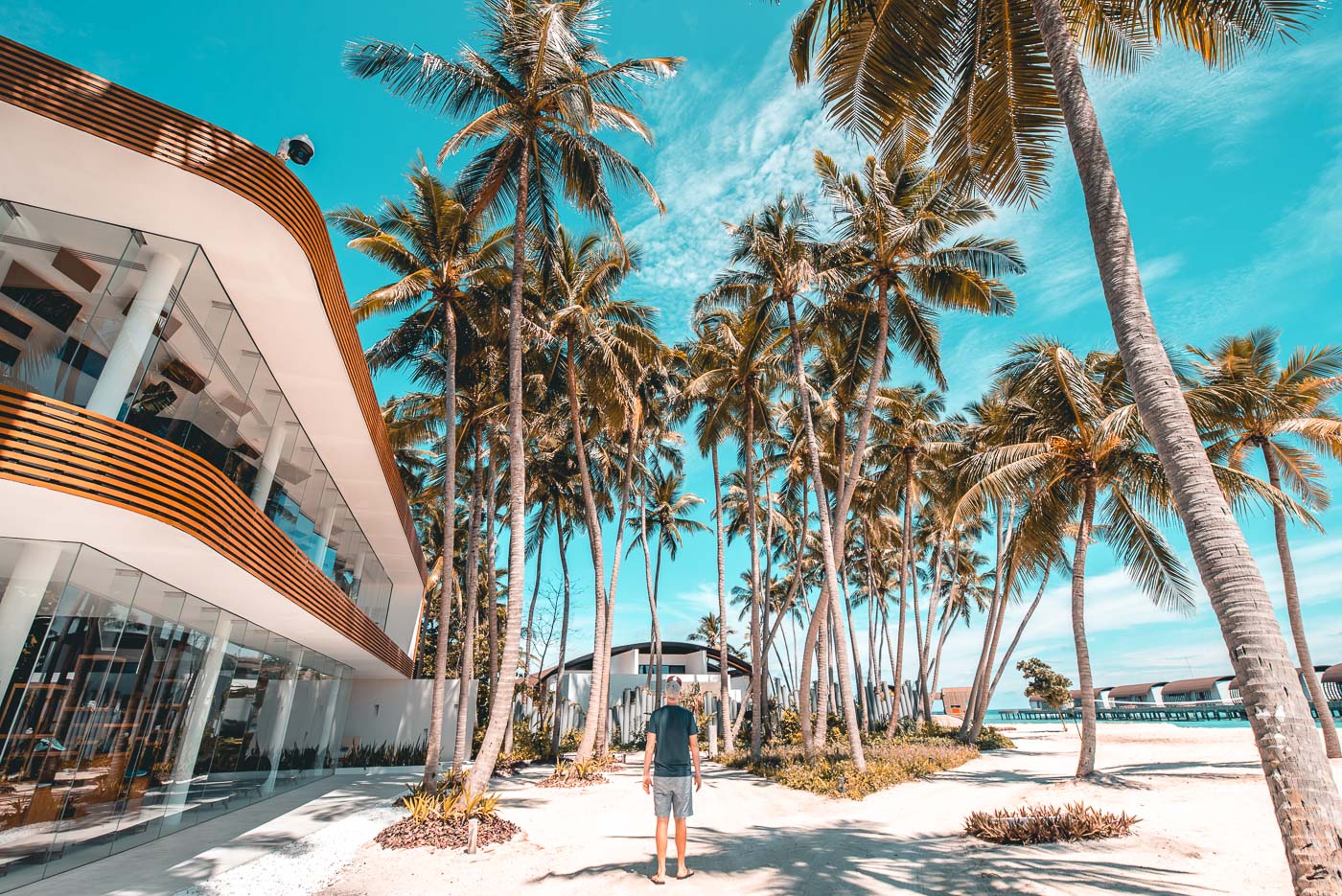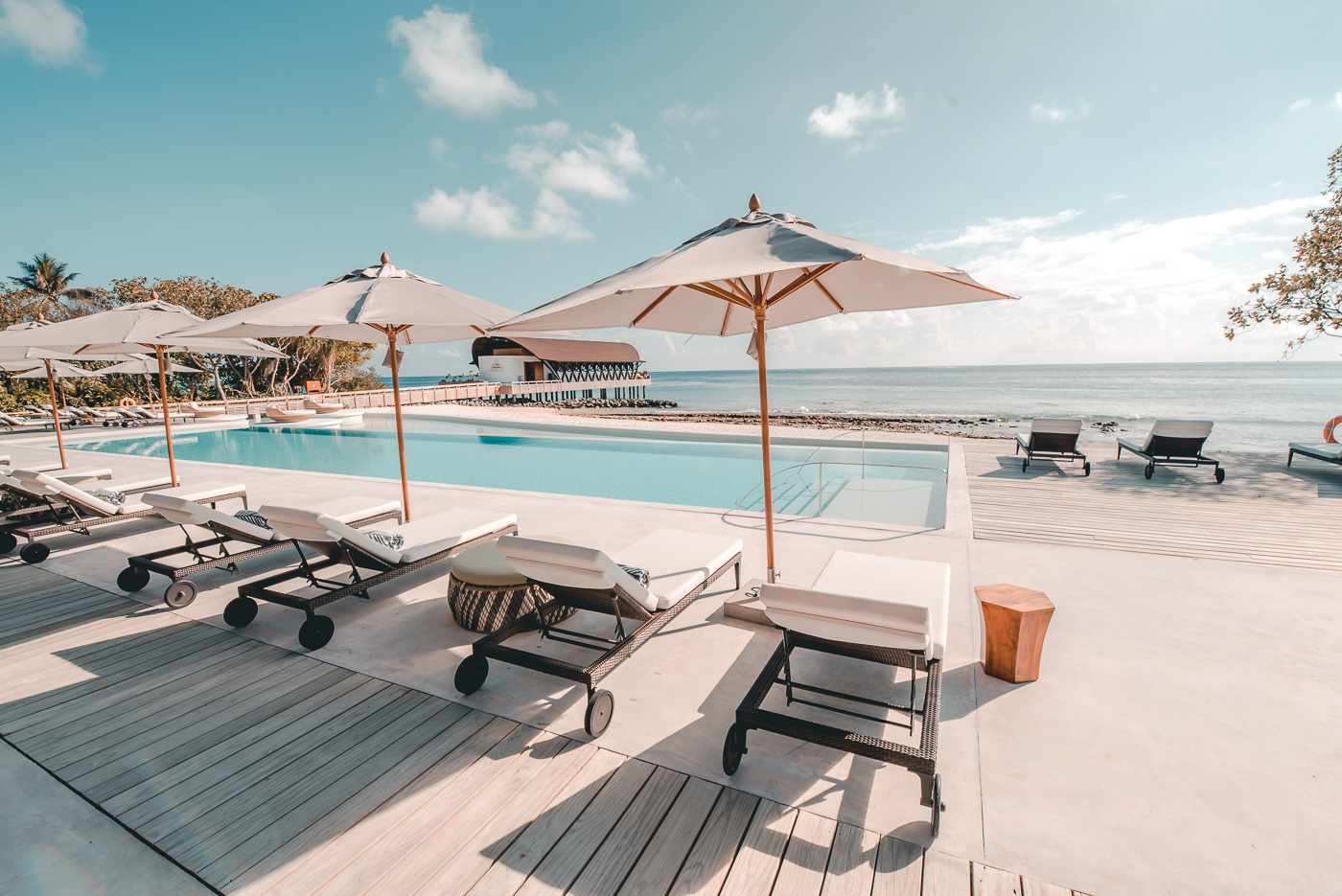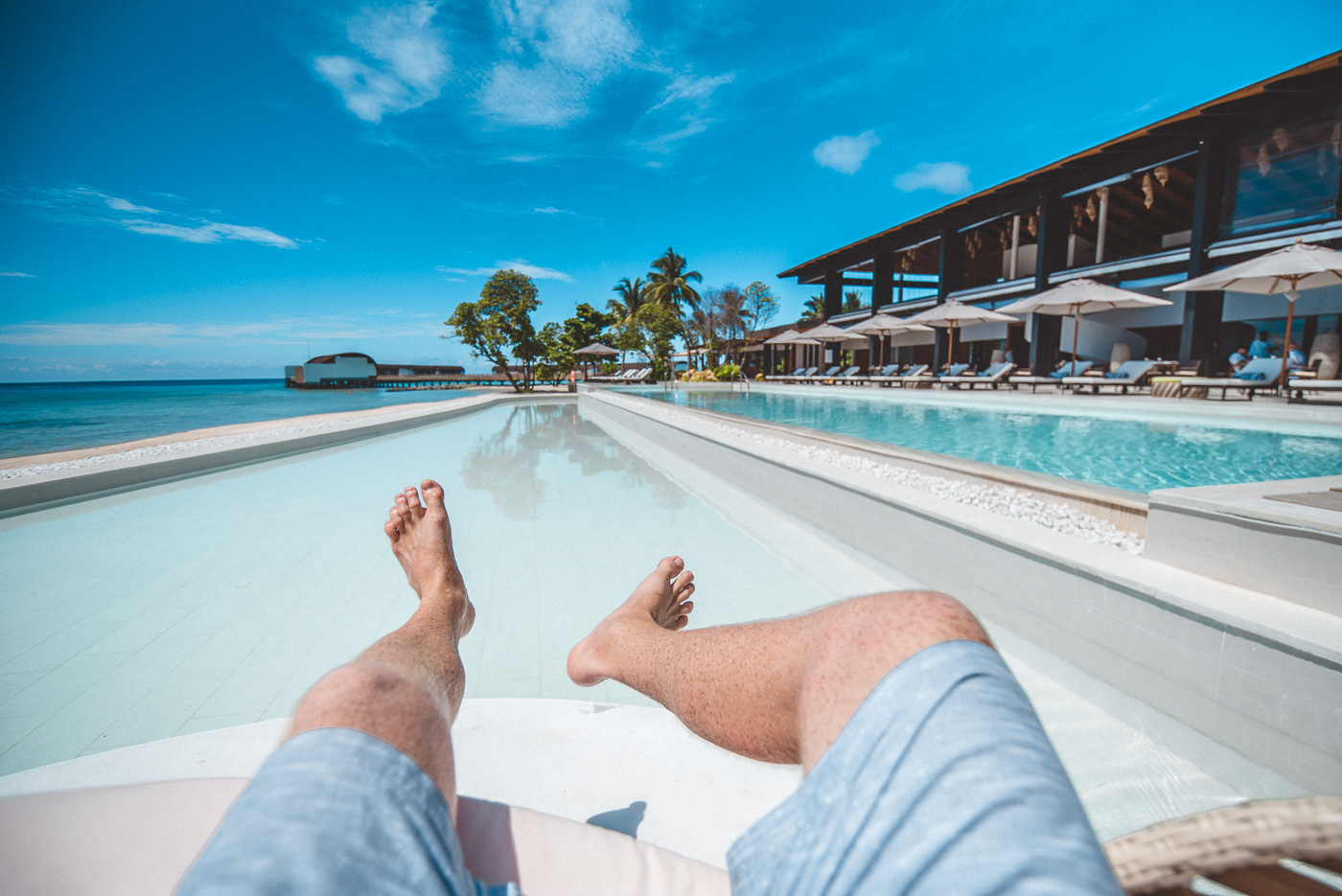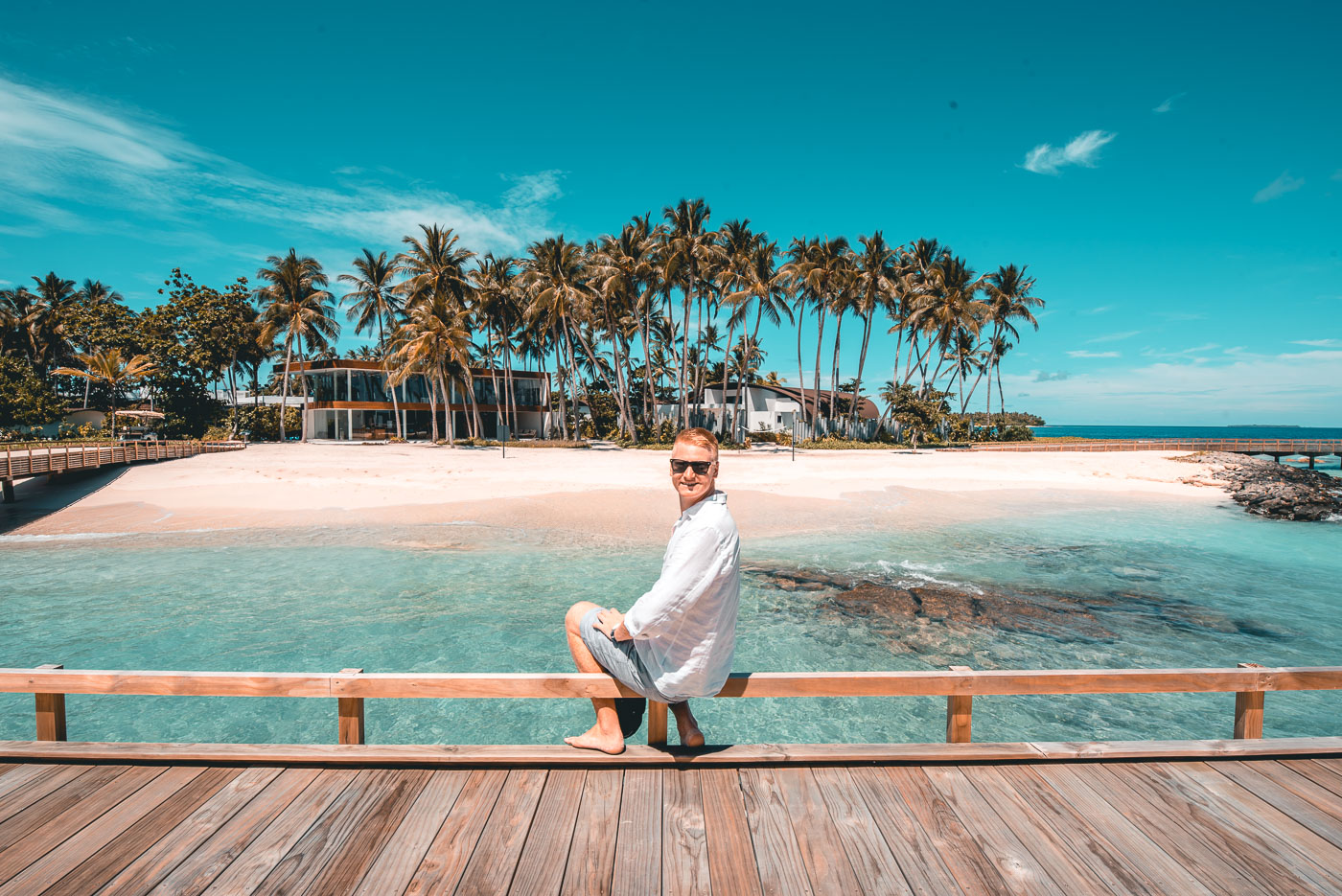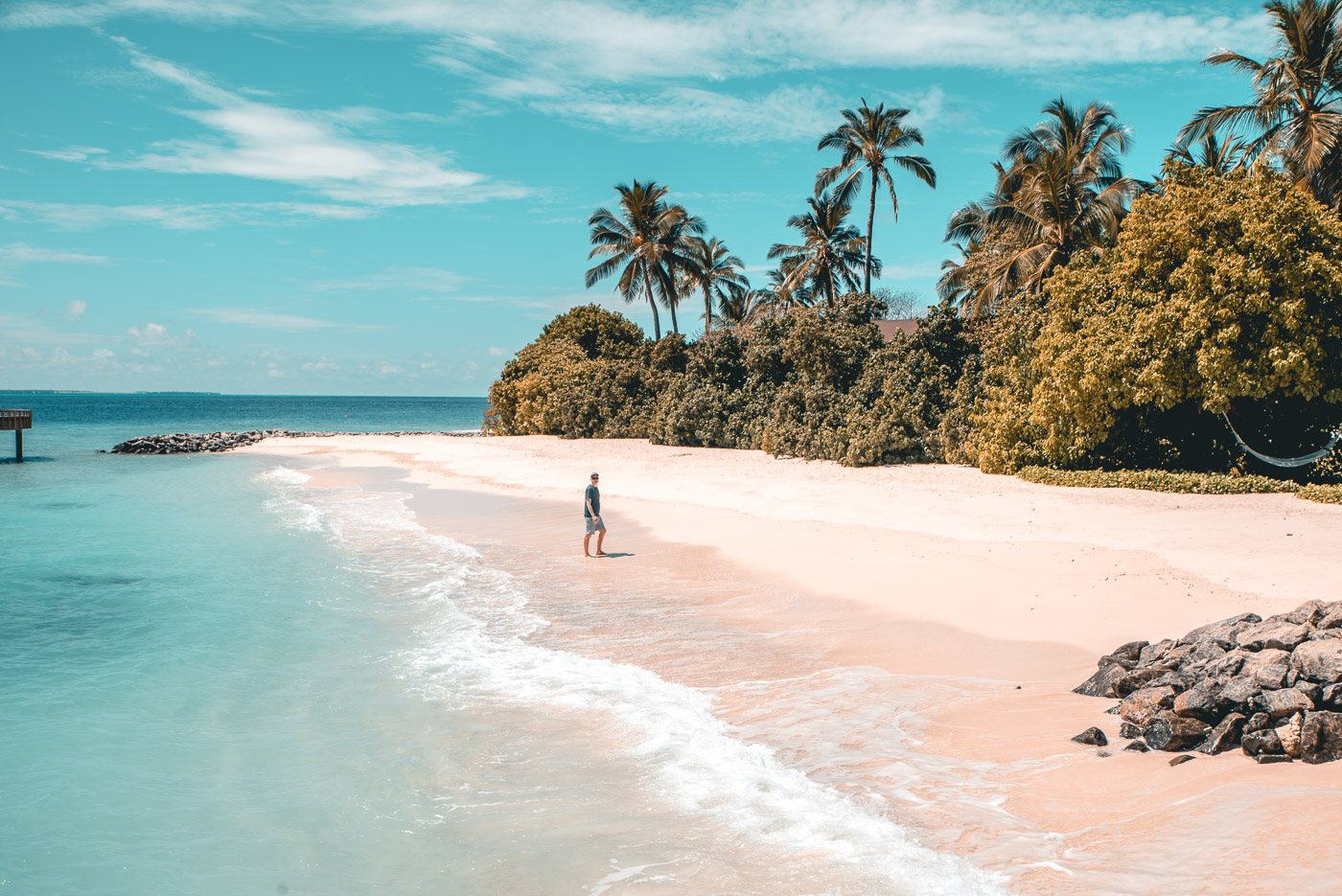 ---
Overwater Suite
It was a dream come true to stay in an overwater villa in the Maldives, and there really isn't much else to say about this room beside the fact that it is easily the best and most luxurious place I have stayed in my entire life!
Everything from the elegantly beautiful design on the outside, to the meticulous attention to detail on the inside was completely perfect, and it's truly an overwater suite built for royalty.
If you come to the Maldives looking for world-class luxury, then you're definitely going to find it here.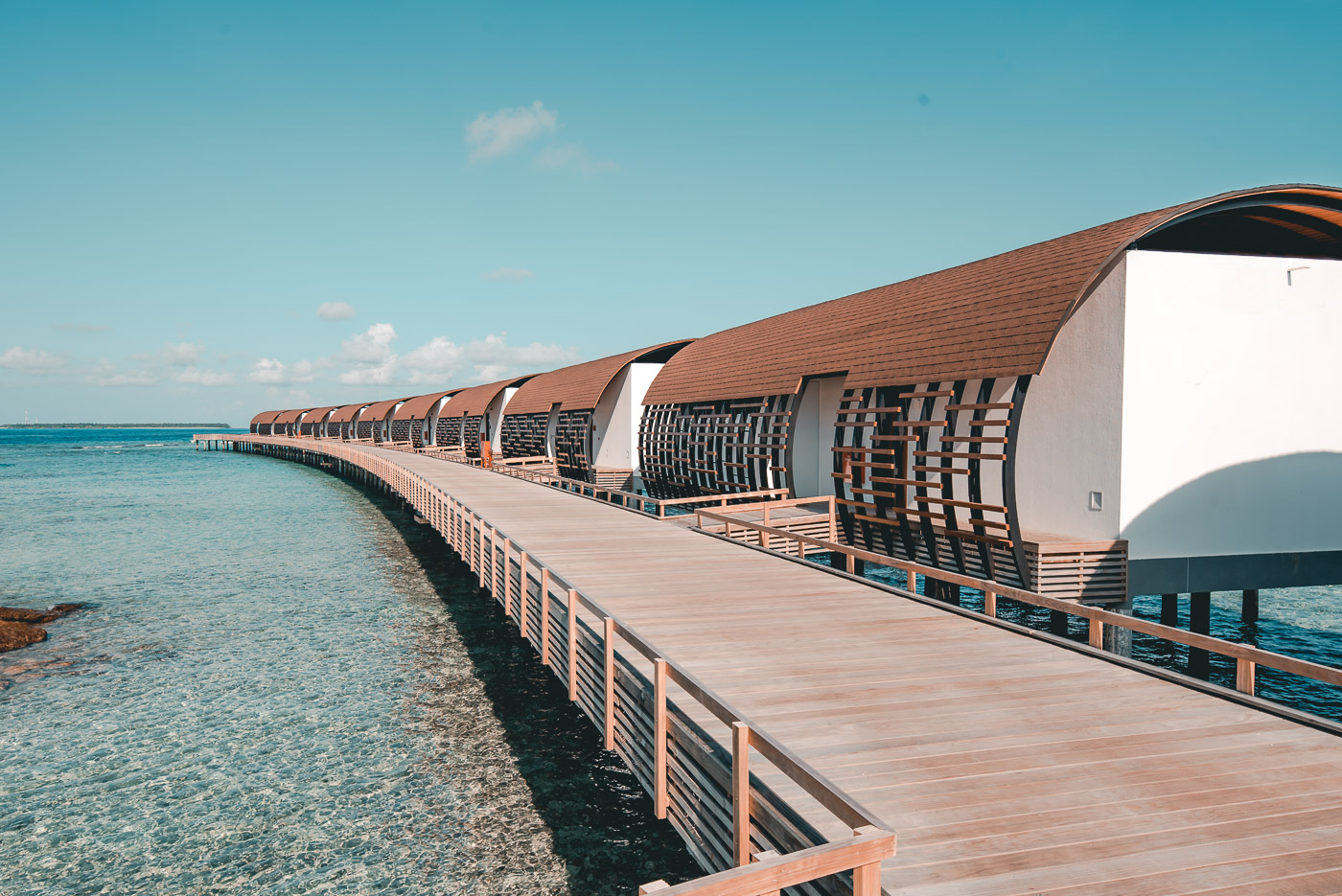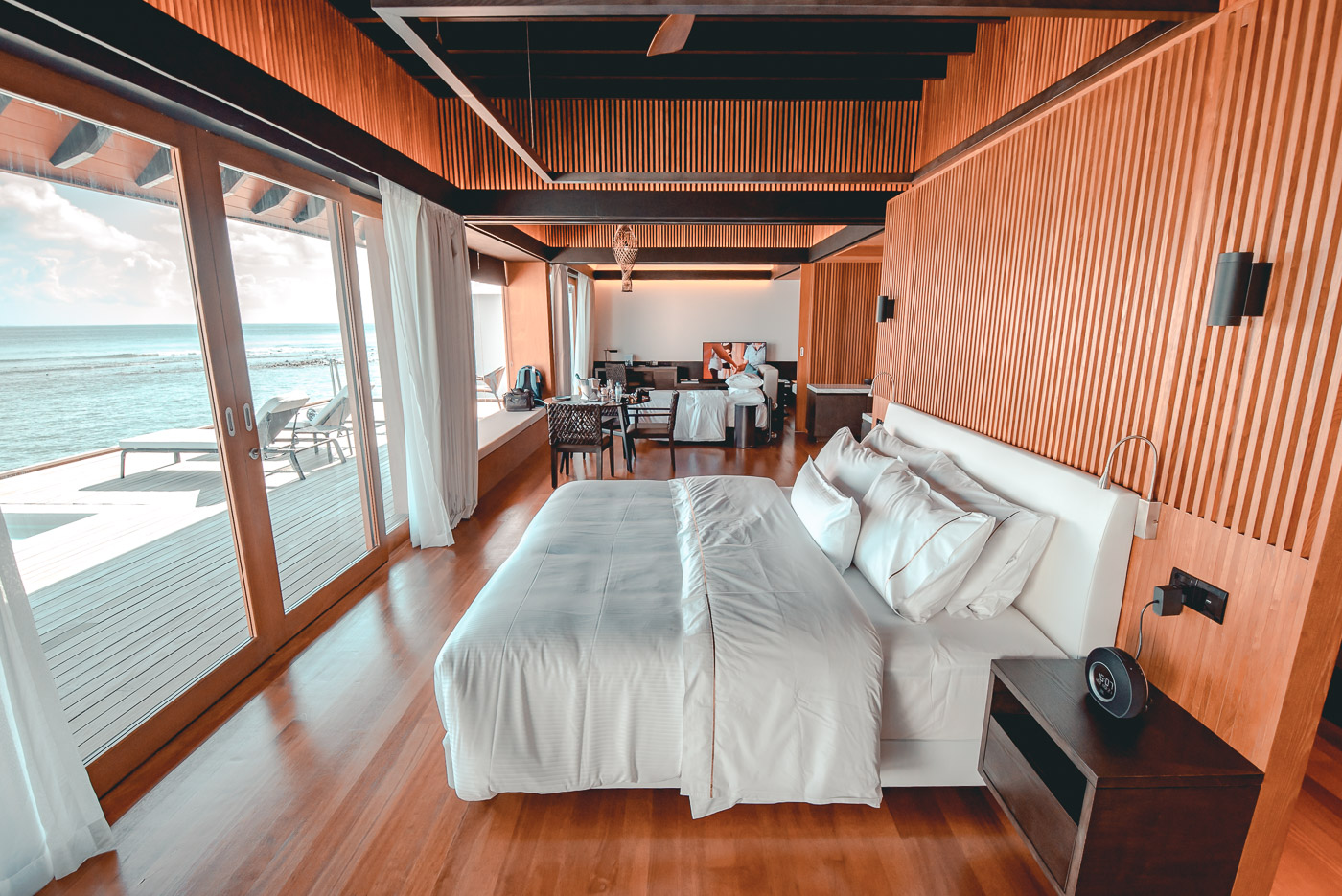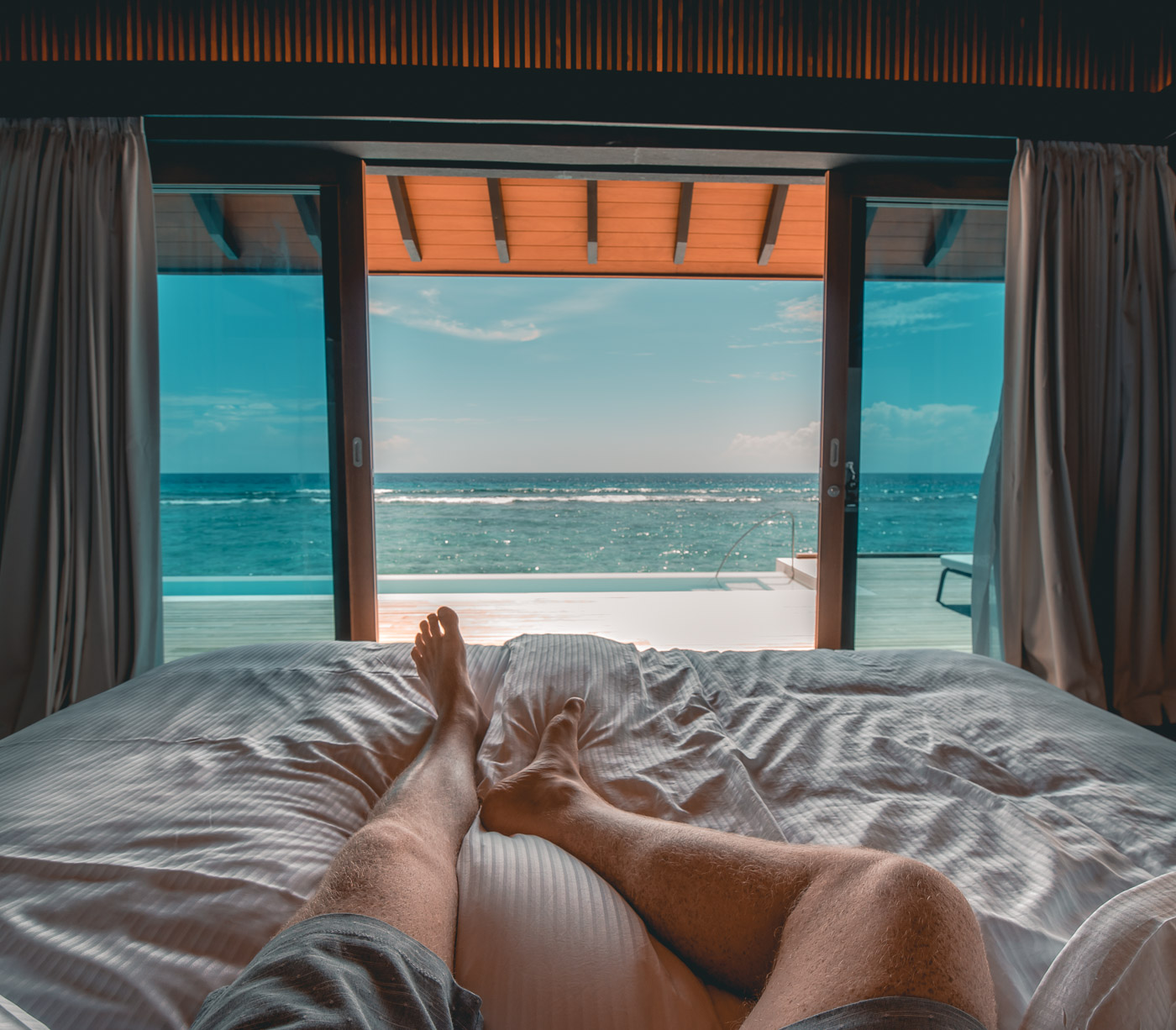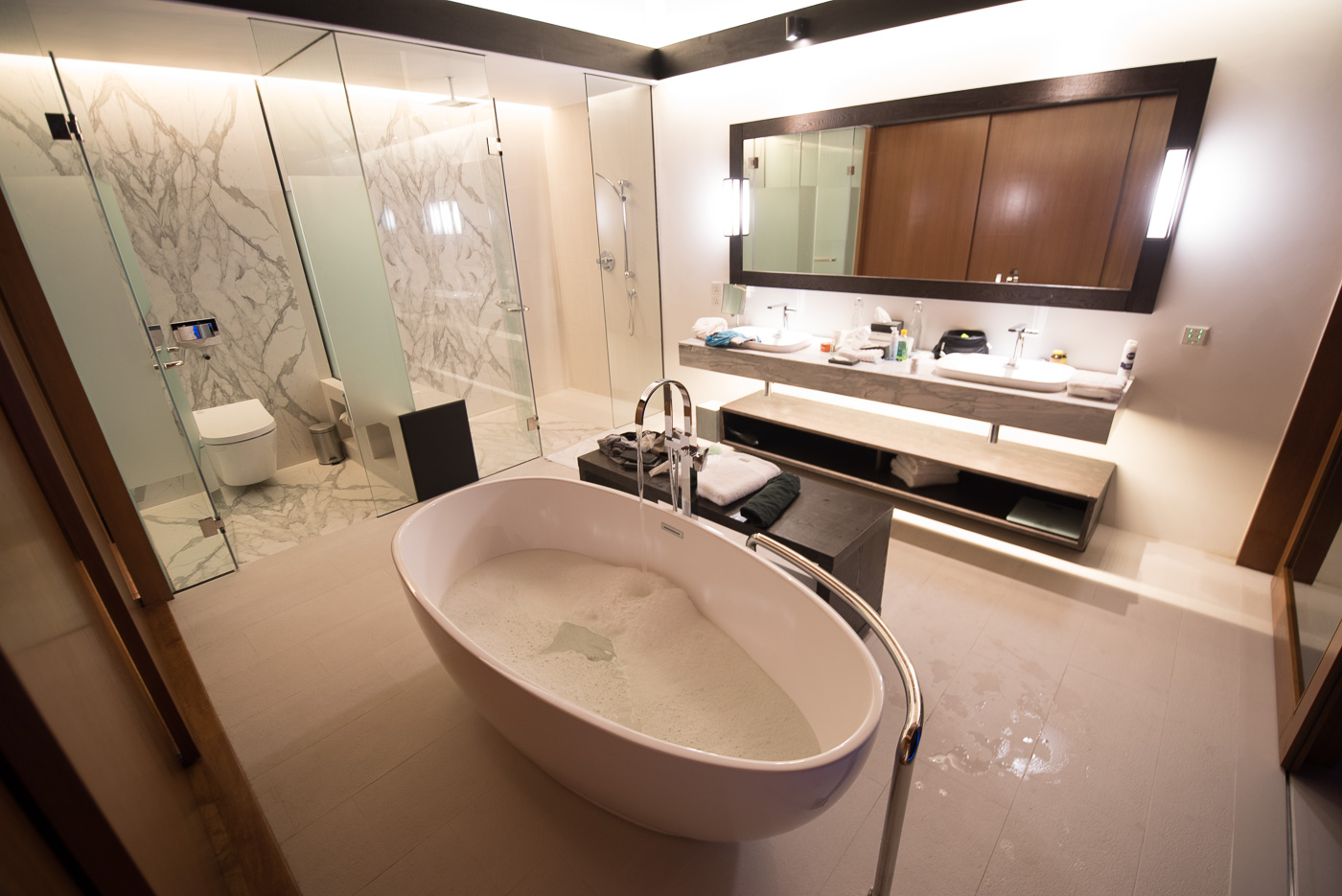 ---
There are 29 different overwater suites on two different sections of the island, with your choice of being on the sunrise or sunset side. They are all incredibly spacious and are actually among the largest overwater suites available in the highly sought after Baa Atoll.
Complete with the Westin signature "heavenly beds", a gorgeous bathroom, and a comfortable living room area with a glass bottom (which I personally loved) – staying in one of these is an adventure of its own!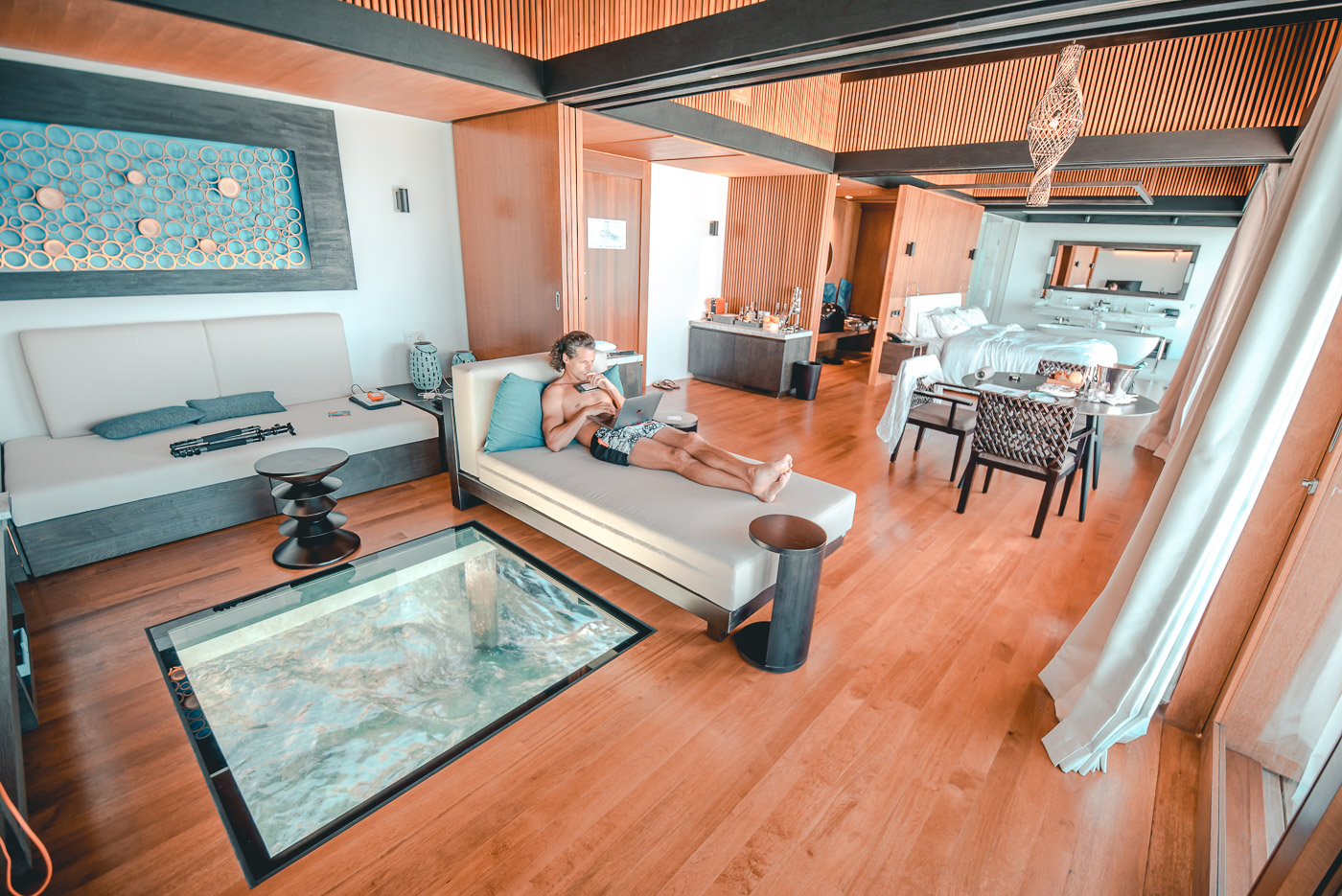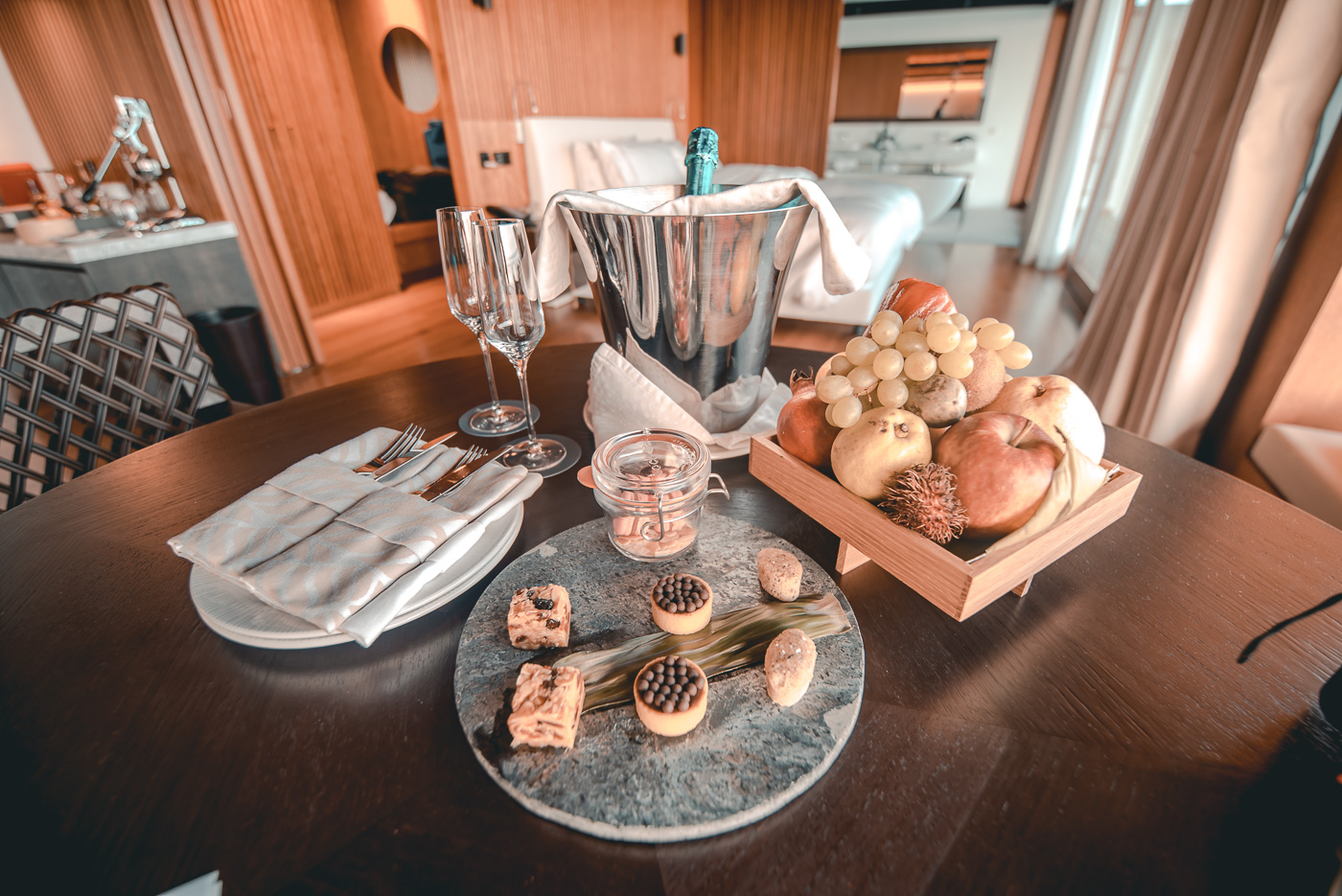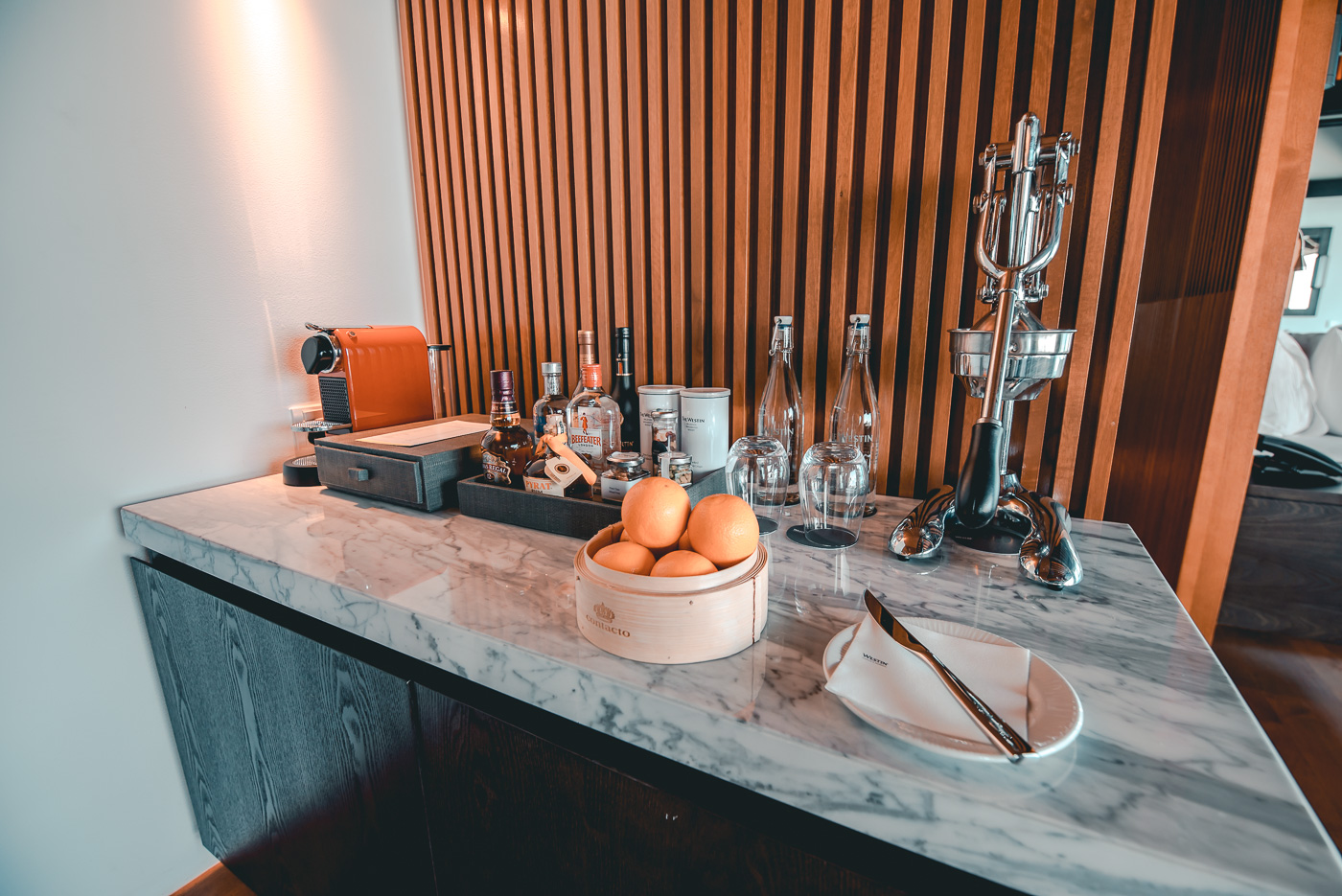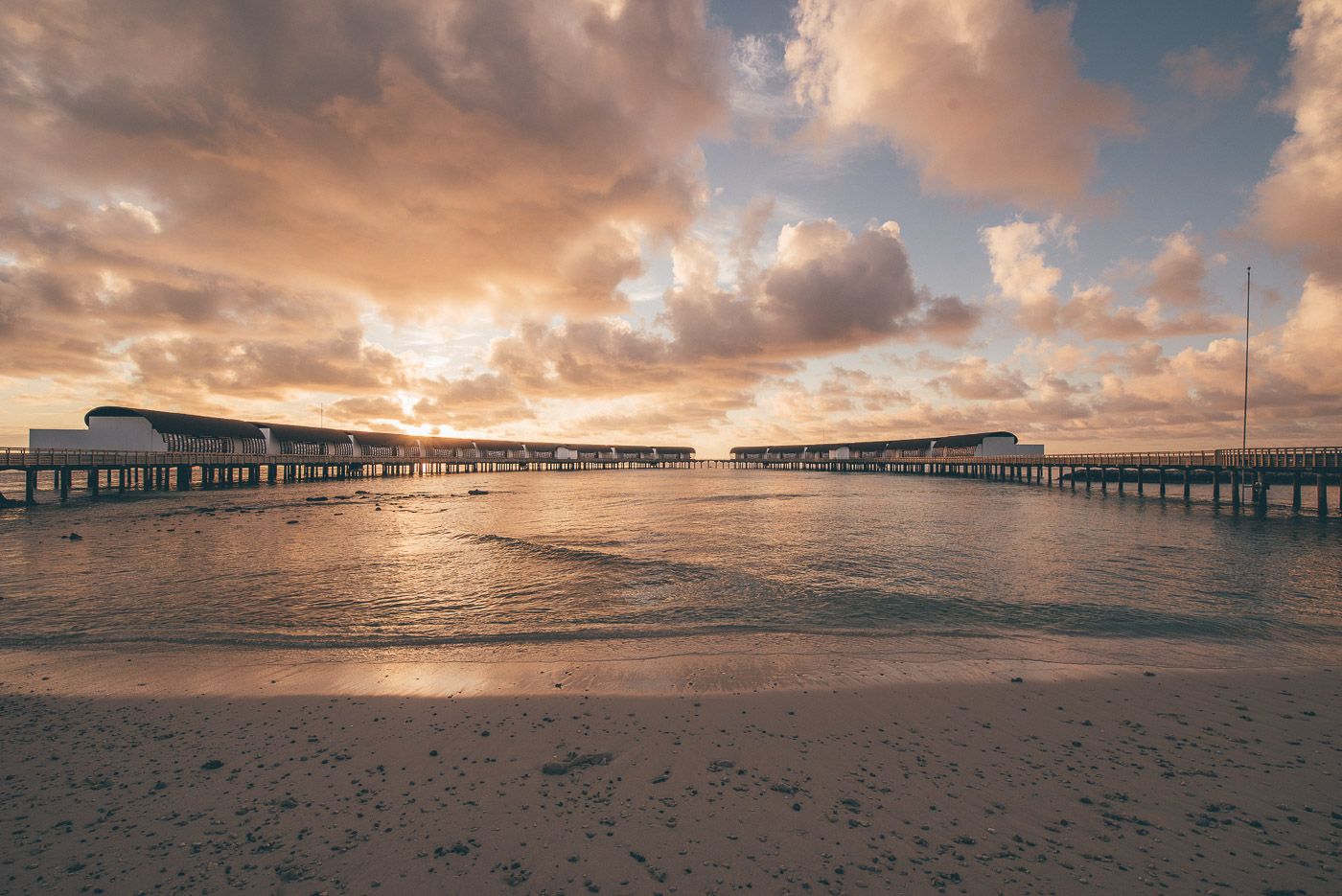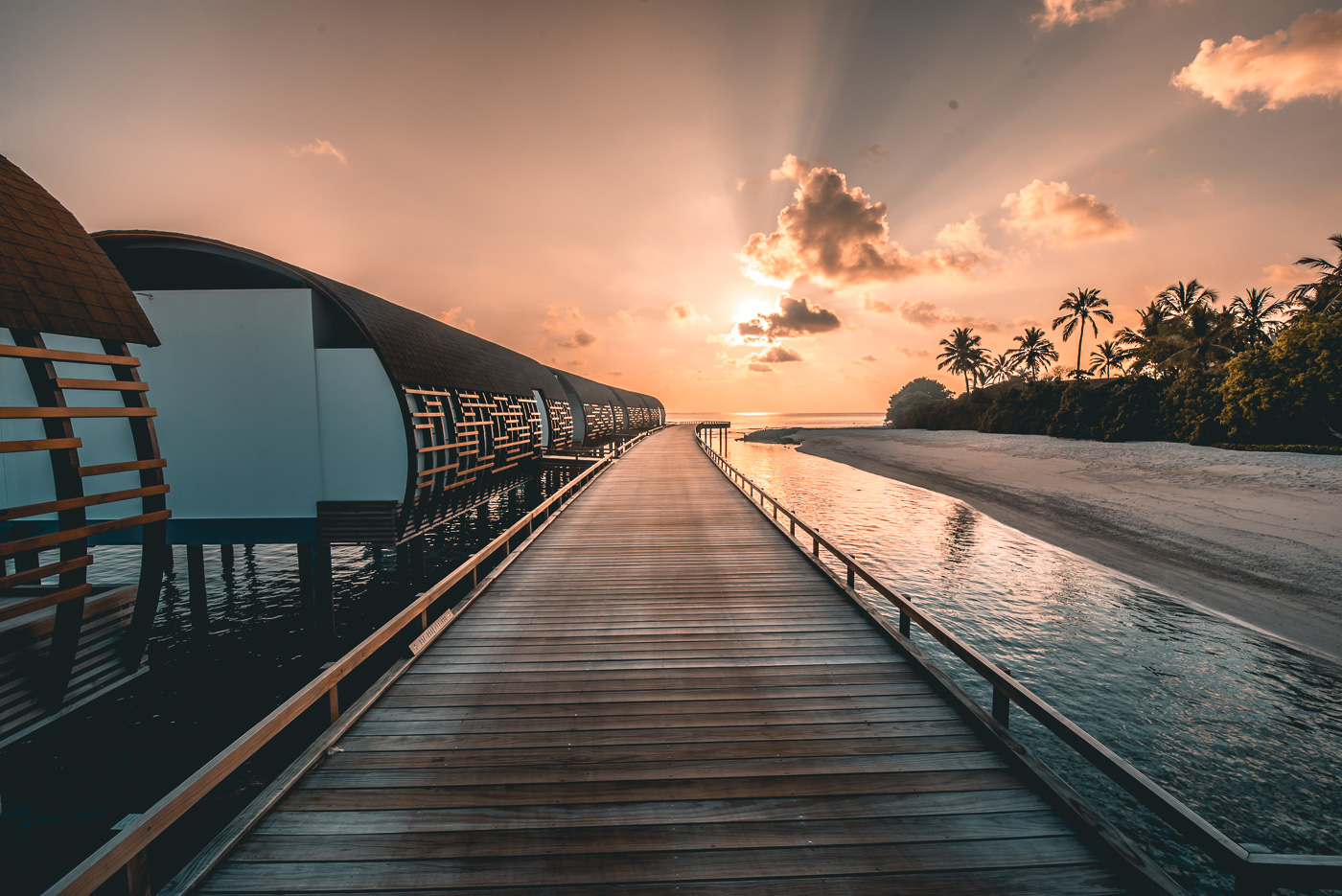 ---
Private Terrace Pool Parties & Late-Night Stargazing
If you were following along on my Instagram story, I'm sure you noticed we really made the most of having our own private pool on the terrace of our overwater suite! I swam in this at least twice a day, and loved every second of it! We'd bring out our portable music player, blast some tunes, and just catch some sun rays while having a mini private pool party.
Swimming during the day was essential to cool off from the Maldivian tropical heat, and moonlit night swims were simply a mystical experience!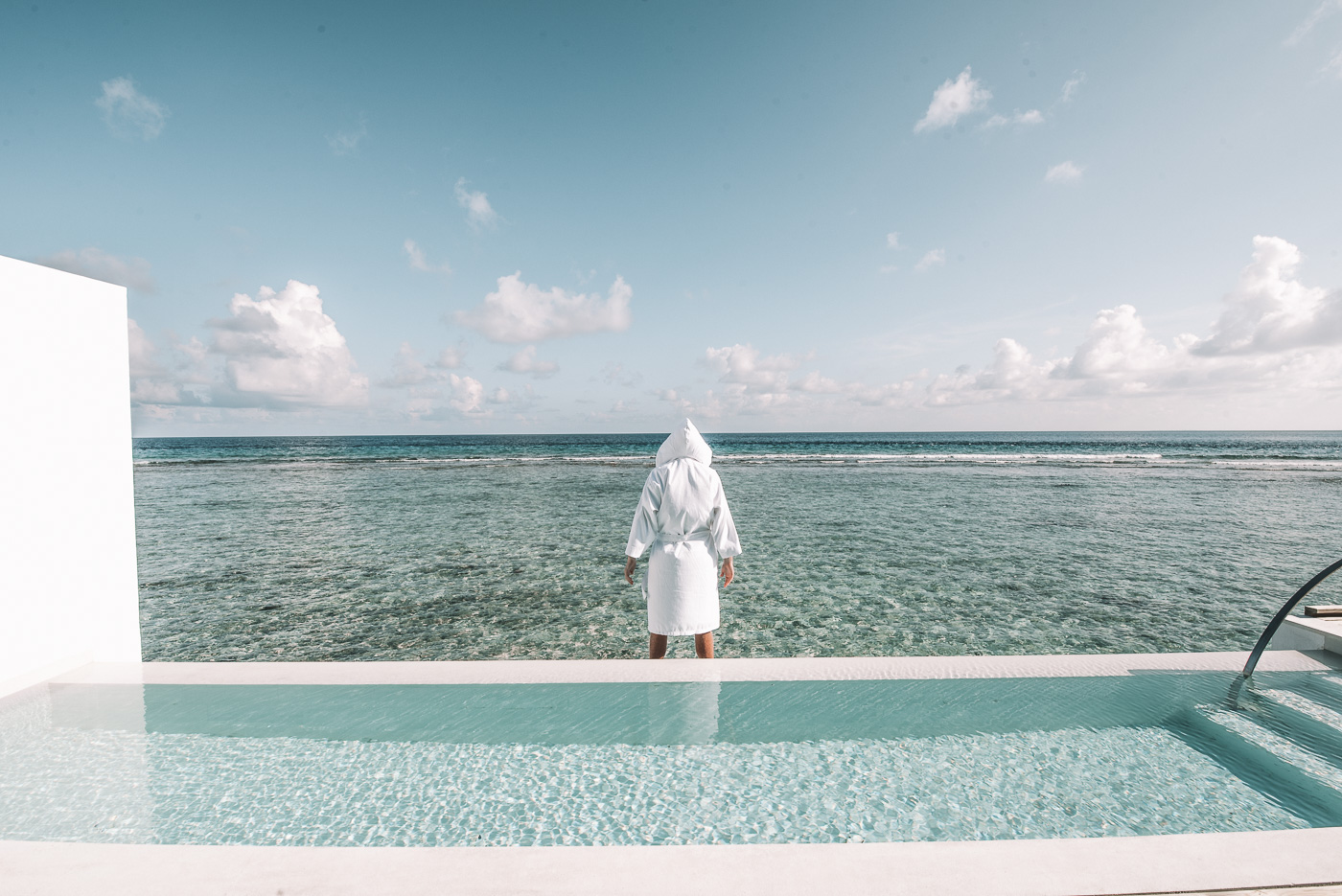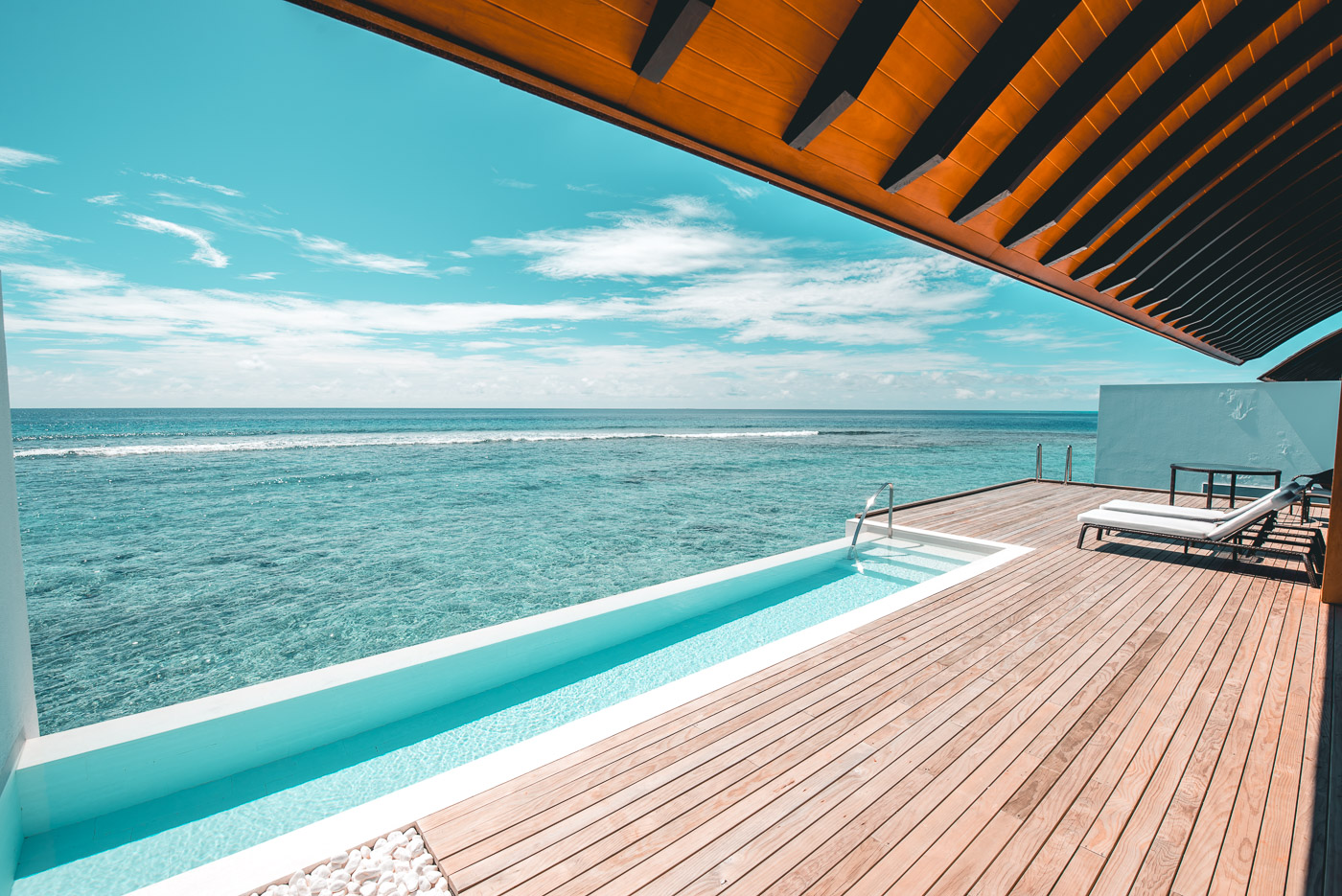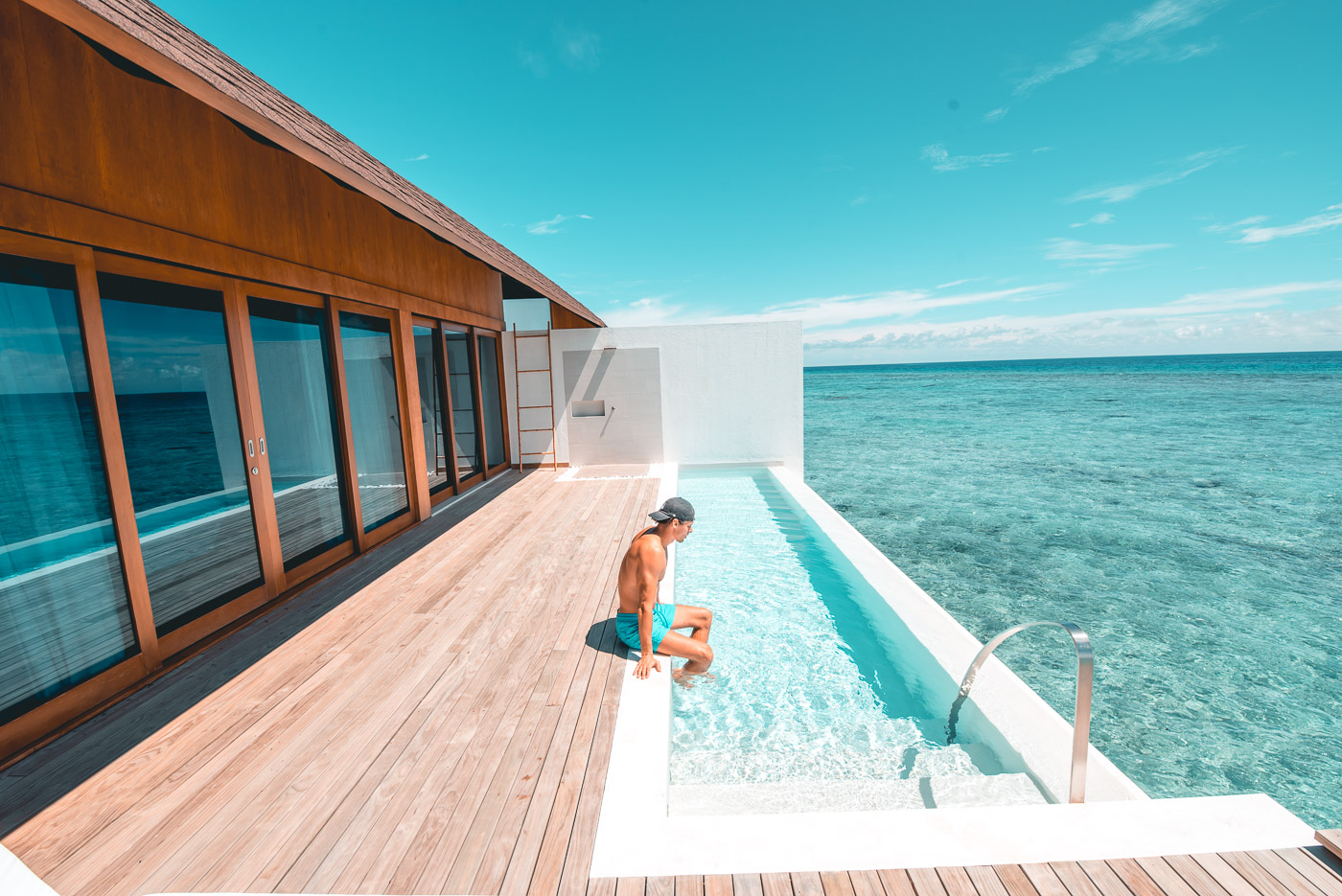 ---
During more than one night, we actually had the electrician come by and ask if he could turn off the pool and deck lights. This was mainly for photography purposes (to get a couple of shots shown below), but it also provided for a really serene setting. We sat on the terrace, drank wine, and just chatted about how incredible this place was.
There was something so incredibly special about sitting out on that balcony. Nothing but the ocean/ random small islands for as long as the eye can see, perfectly blue skies or starry nights, and the soothing sounds of the waves flowing underneath us.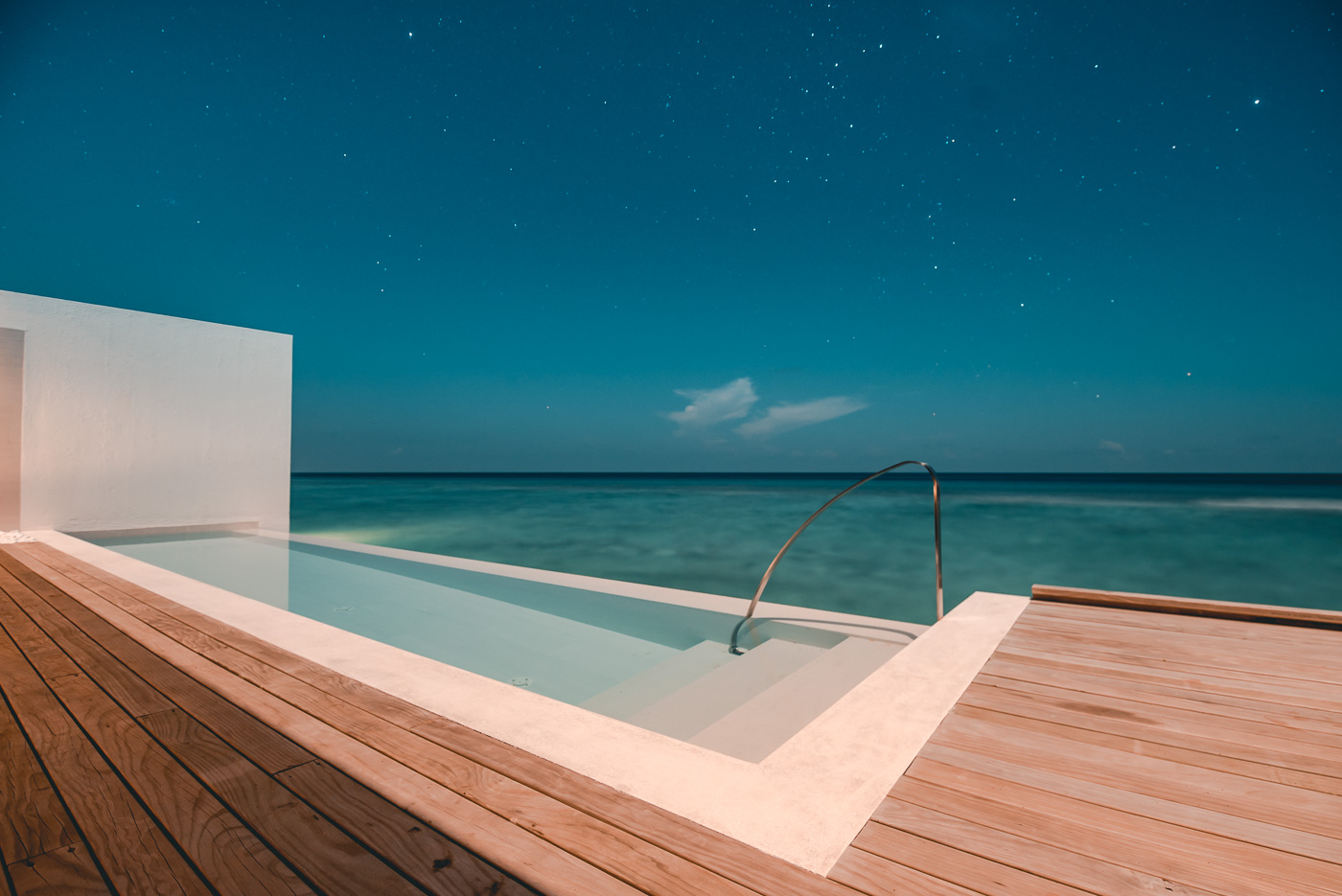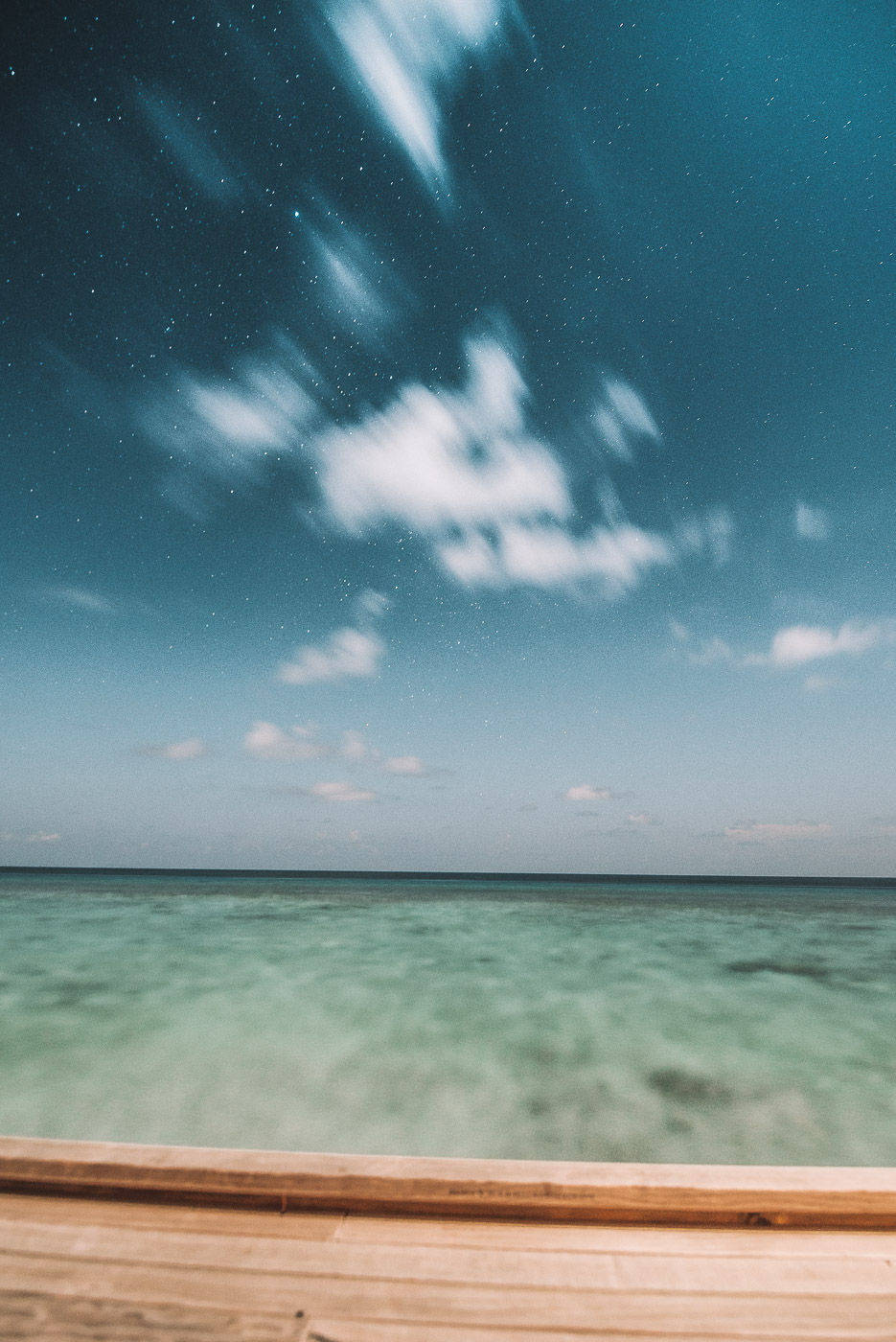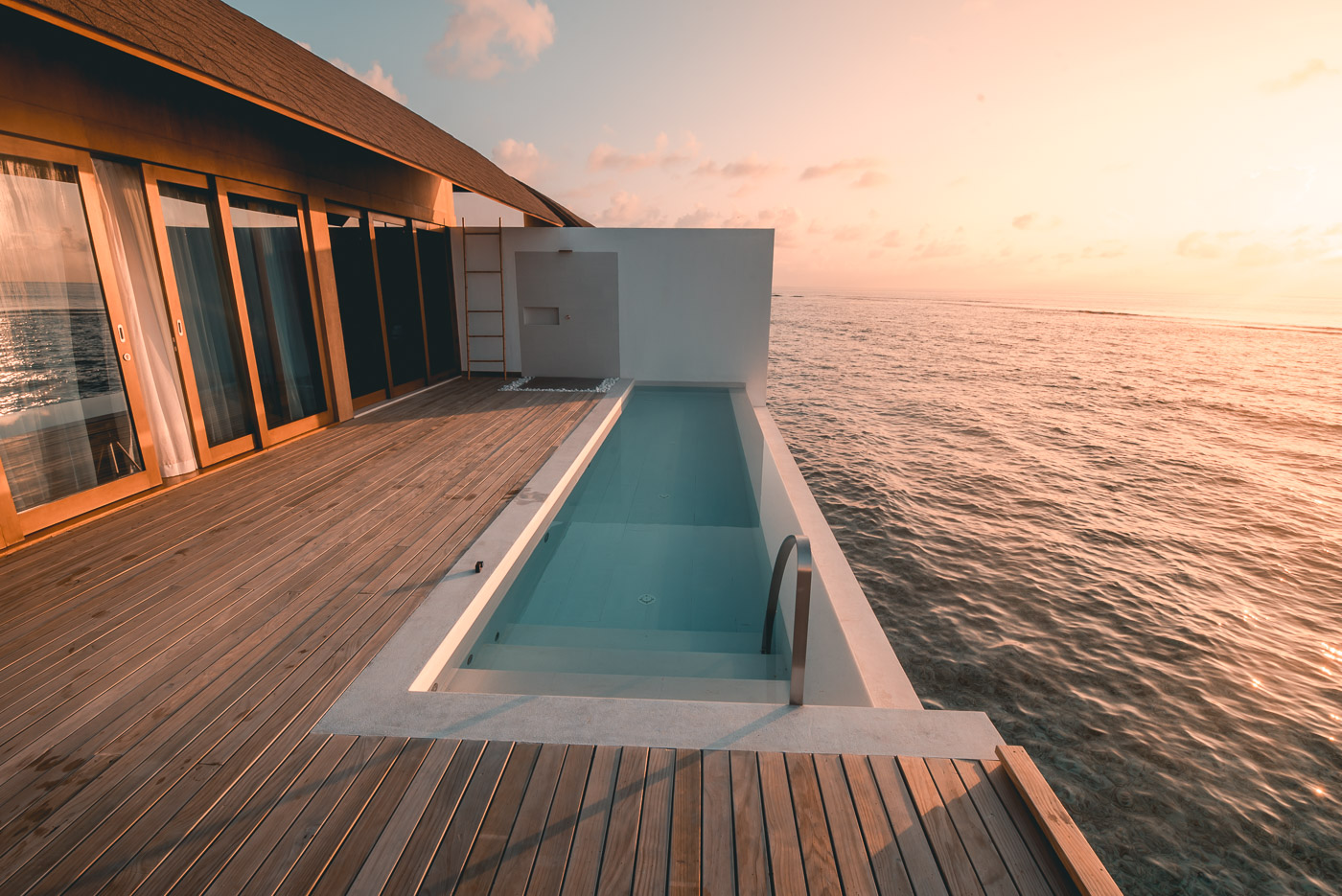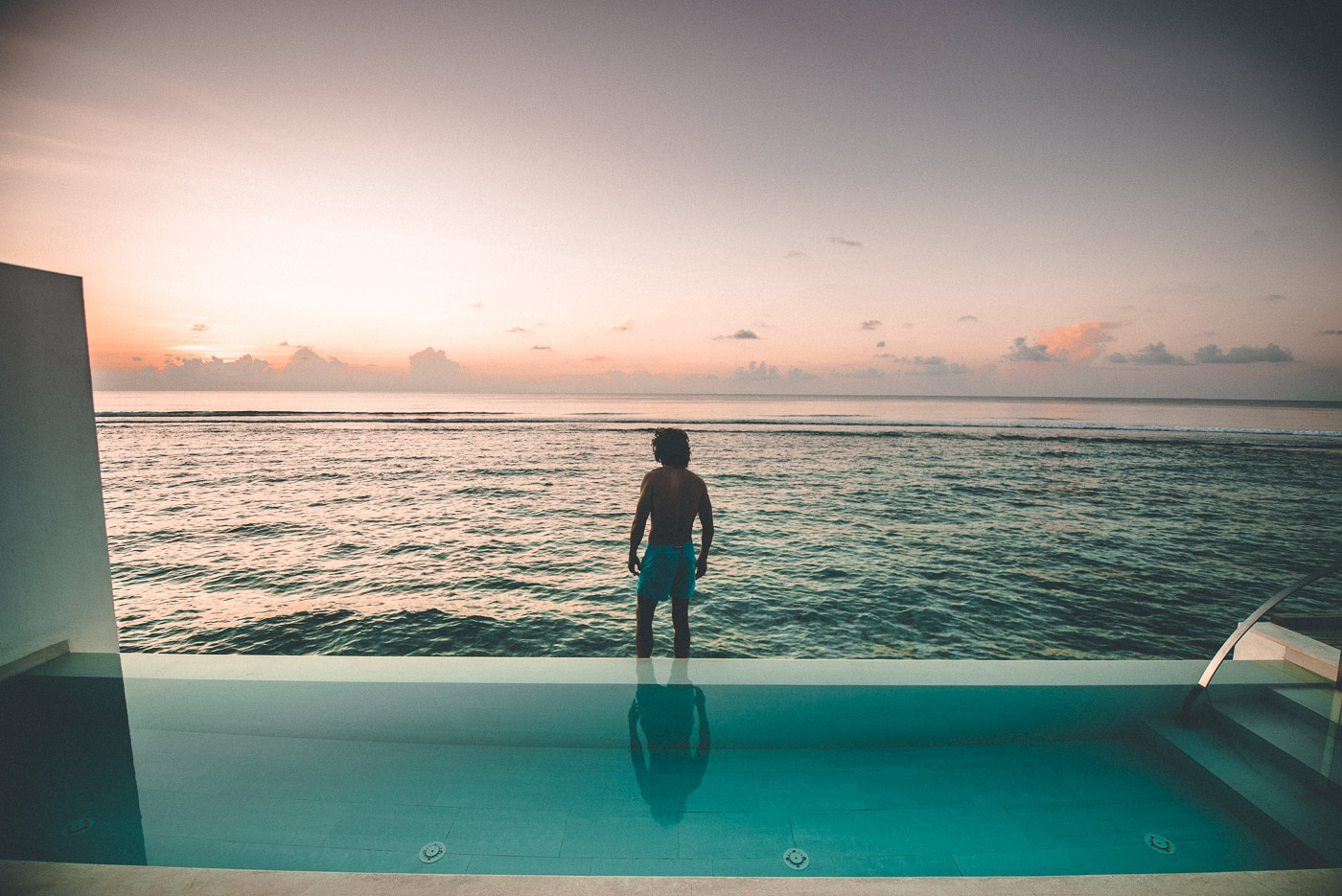 ---
The Westin Heavenly Spa Treatment
Relaxation re-defined.
After filling out my custom massage paperwork informing the practitioner of any current back problems, areas to avoid, and pressure intensity desired — we were led into the beautiful treatment room! Perfectly built overwater and equipped with a glass floor to enhance the tranquil ocean vibes, I could instantly feel my all anxiety and worries float away.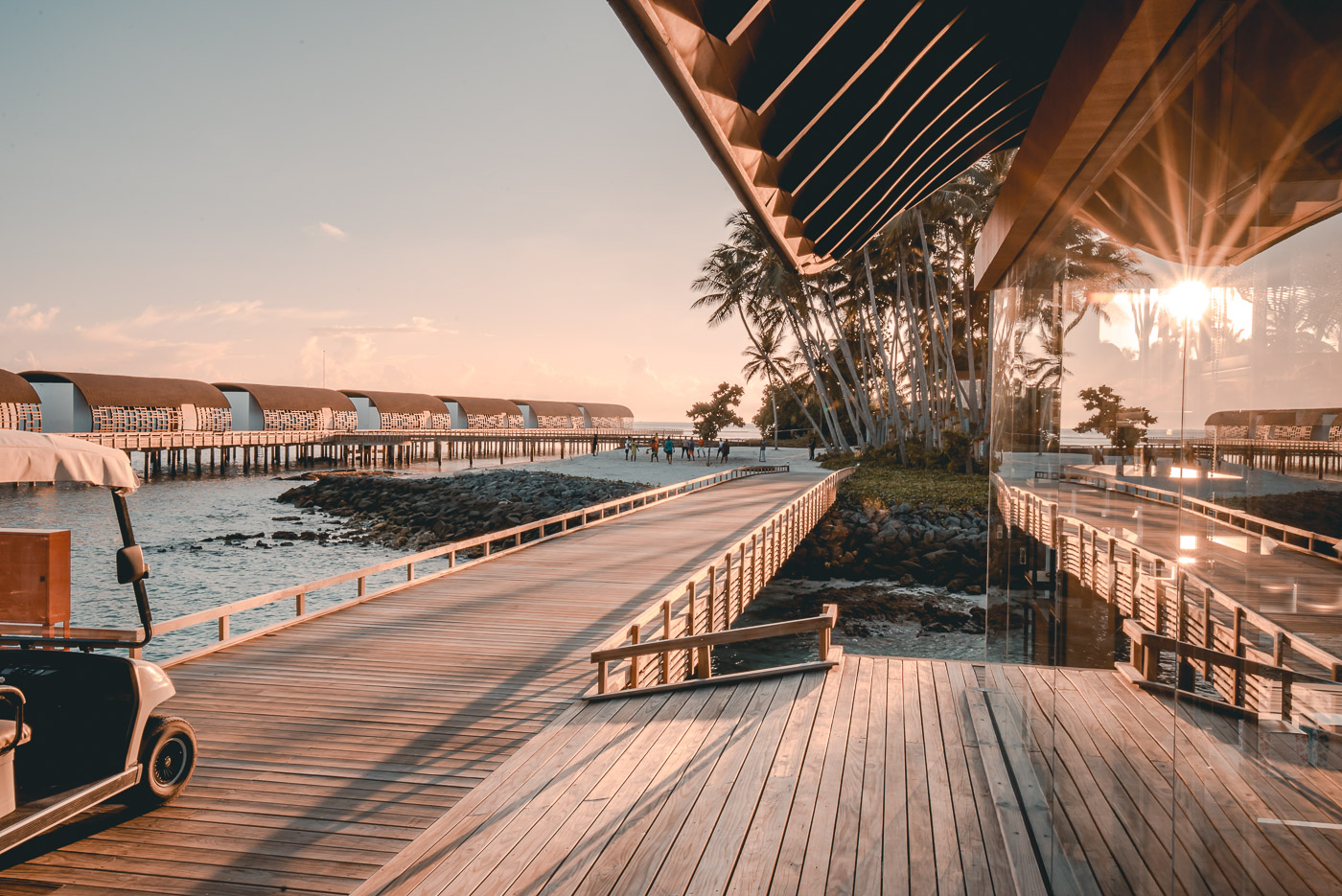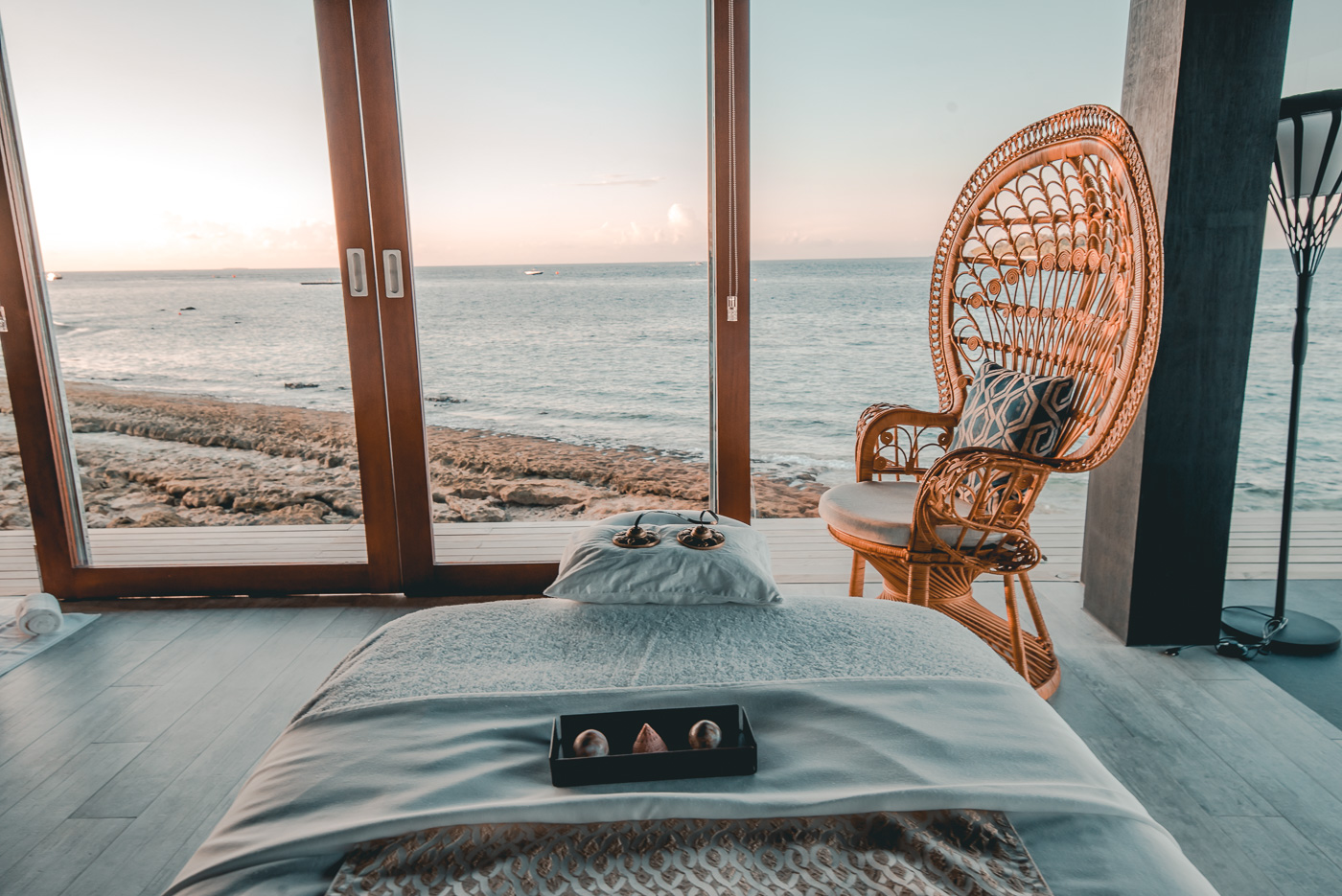 We put on our fashionably hooded spa robes, began the session by cleansing our feet, and then chose one of three beautiful rocks which symbolized our "intention" for the message. The three options were "love, hope, or gratitude", and I went with LOVE <3
For the next 60-minutes, we embarked on the relaxation journey of the "heavenly spa signature massage", and quickly became a human form of jello. I've had my fair share of massages, but this one definitely topped the charts of overall spa experiences.
To conclude our visit at the Heavenly Spa, we were brought to the post-massage room for a cup of delicious tea, and enjoy a few more minutes of admiring the views of the peaceful island.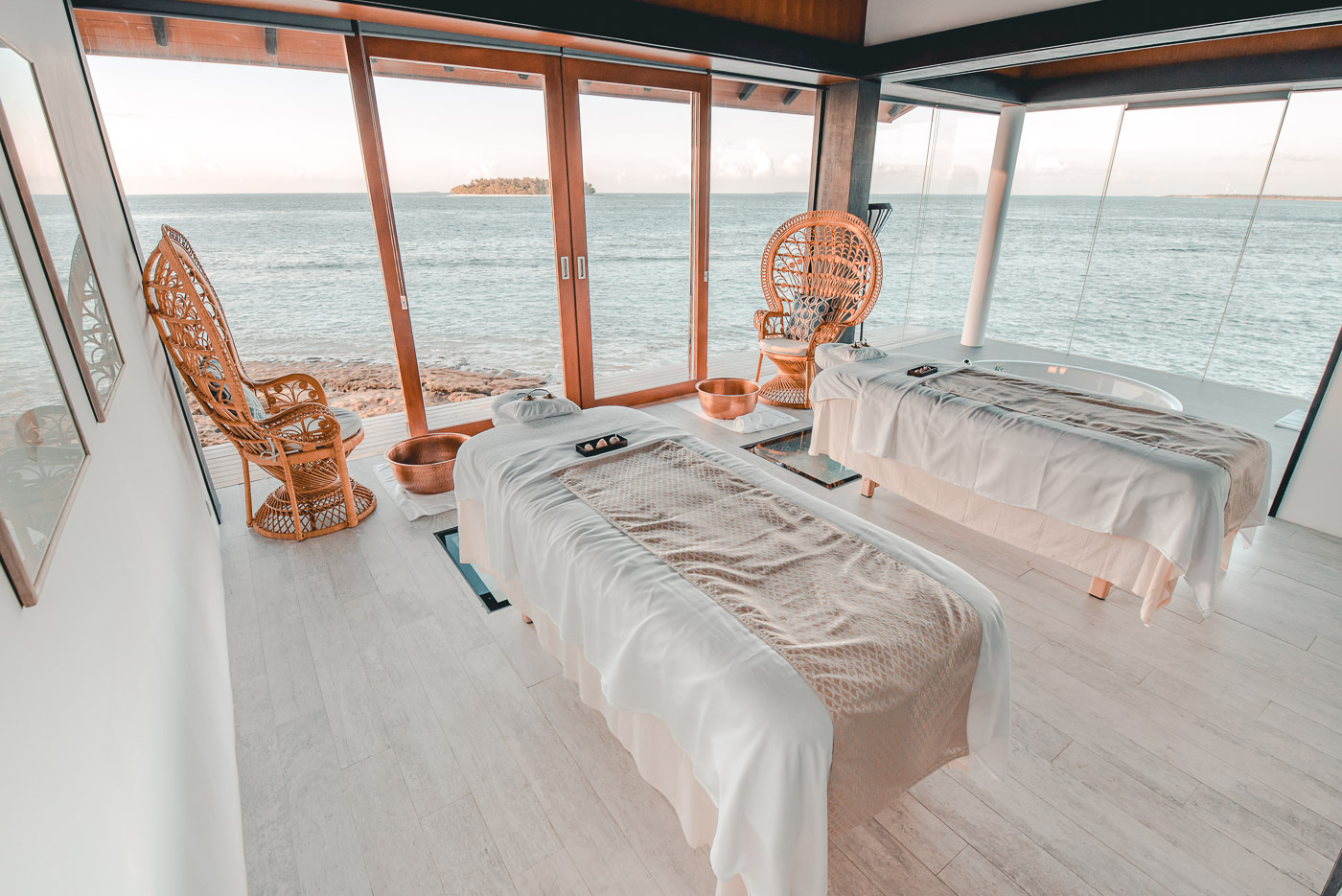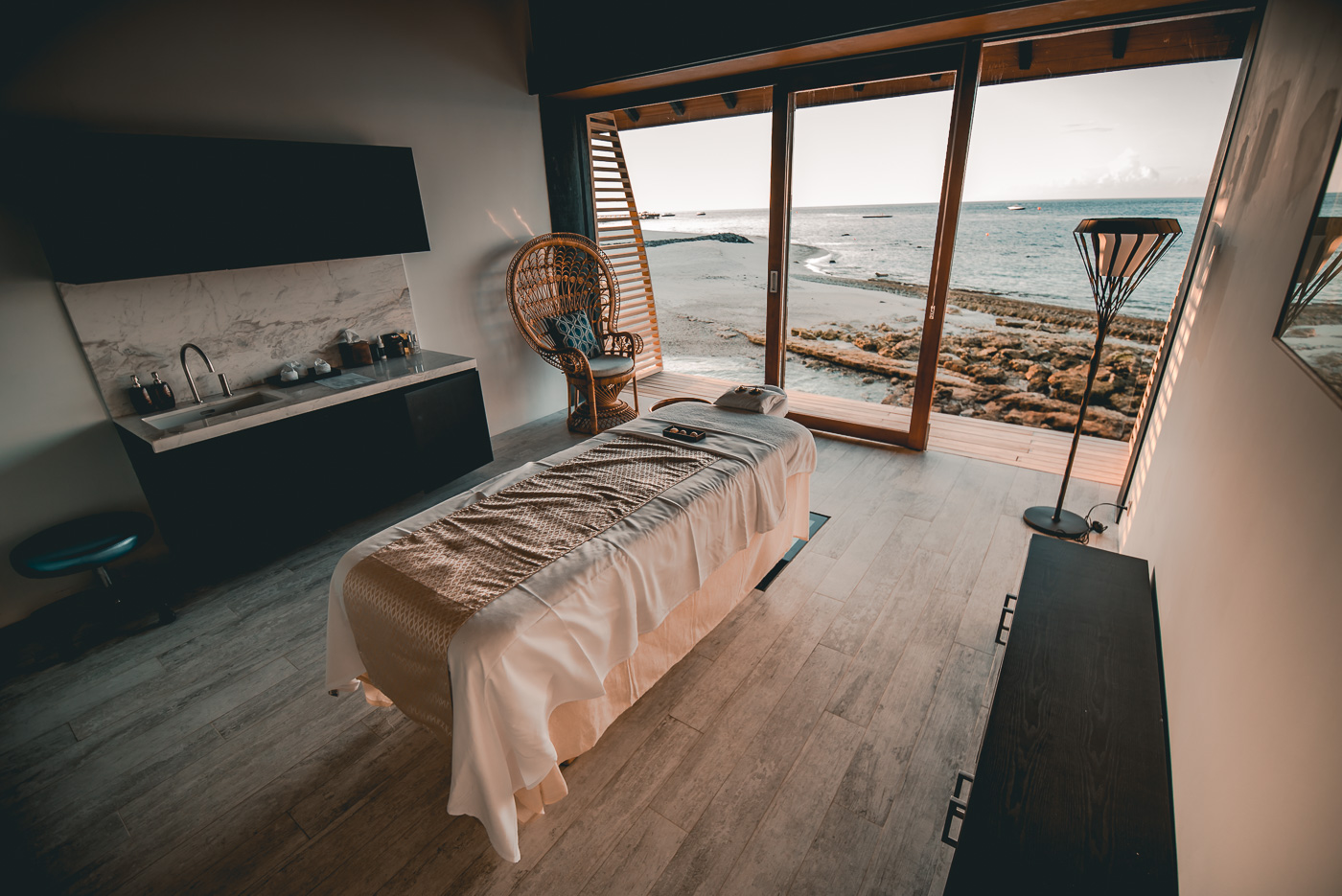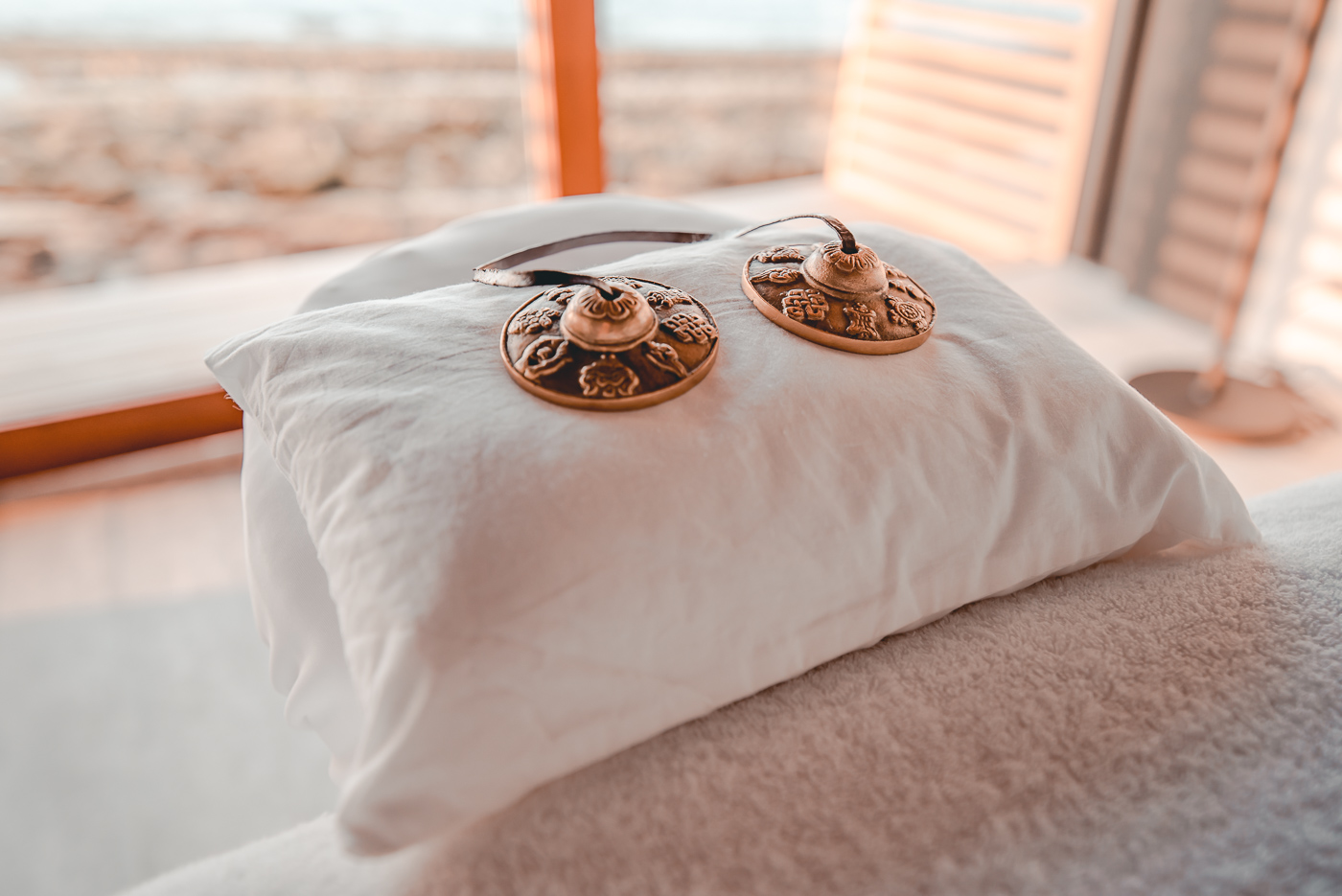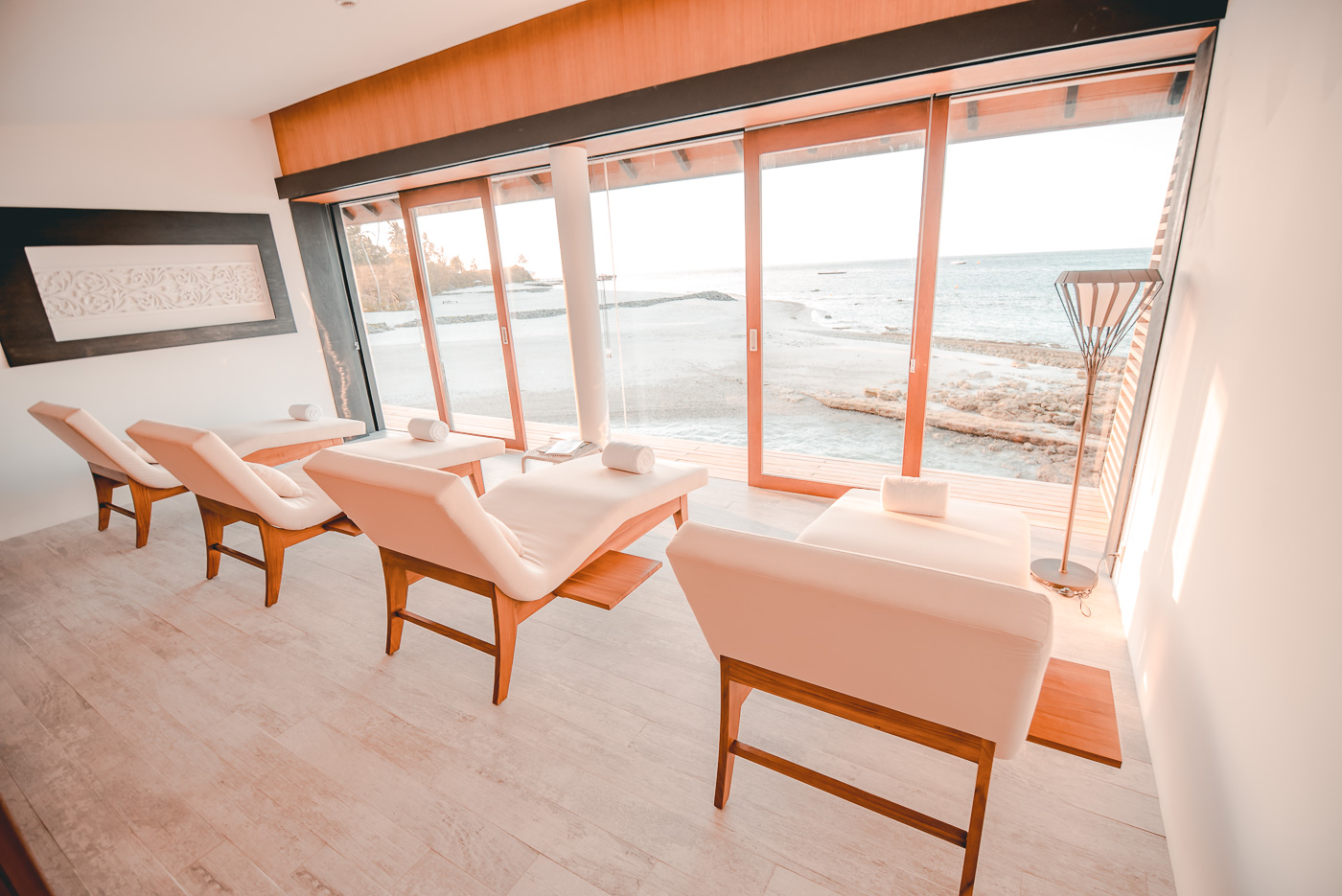 ---
House Reef & Turtle Snorkeling Excursion
The Westin Maldives is located in the Baa Atoll, which is actually the only UNESCO biosphere reserve in the Maldives!
This means the snorkeling and scuba-diving sites are truly spectacular, and I was absolutely gutted I still hadn't finished my PADI certifications to go on some diving adventures. When I did go snorkeling though, I was once again blown away by the natural beauty found in this country.
The main highlight was taking a half-day excurison tour out to a reef that is famous for spotting turtles, and hot damn – we were not disappointed! I would have been happy if we spotted 1 or 2 turtles, but they were swimming all over the place! I think in total we found at least 11 or 12 different adorable turtles!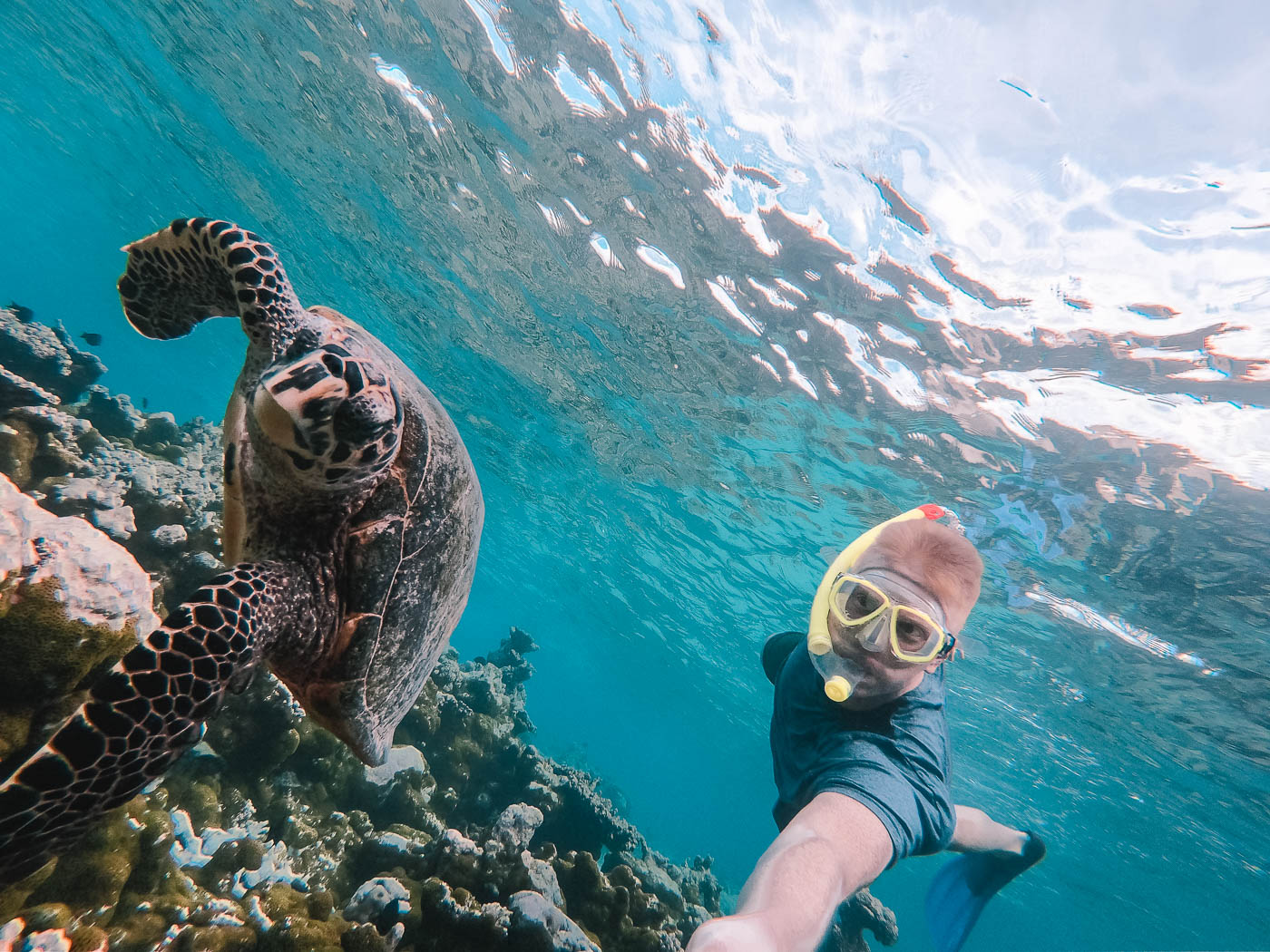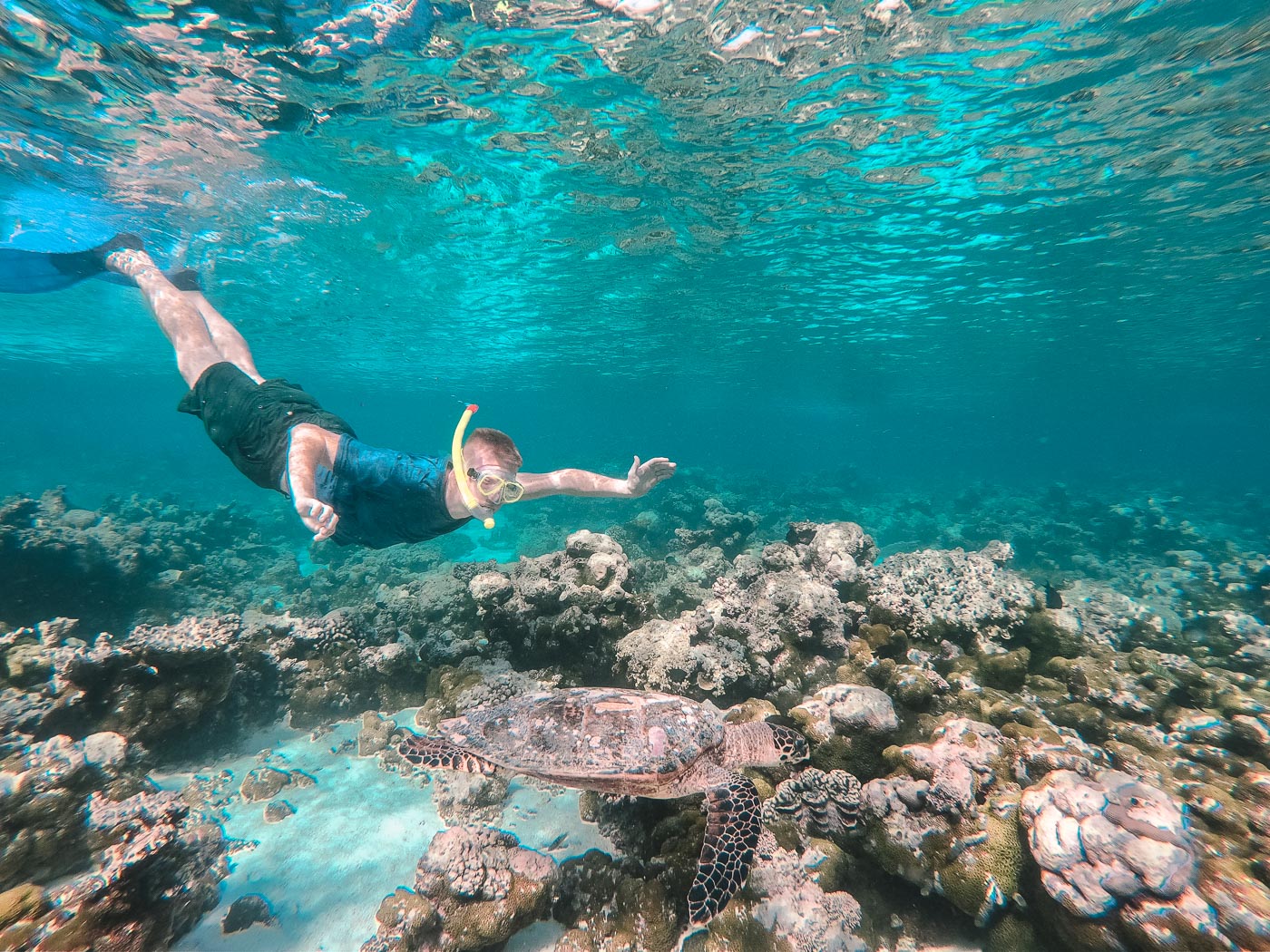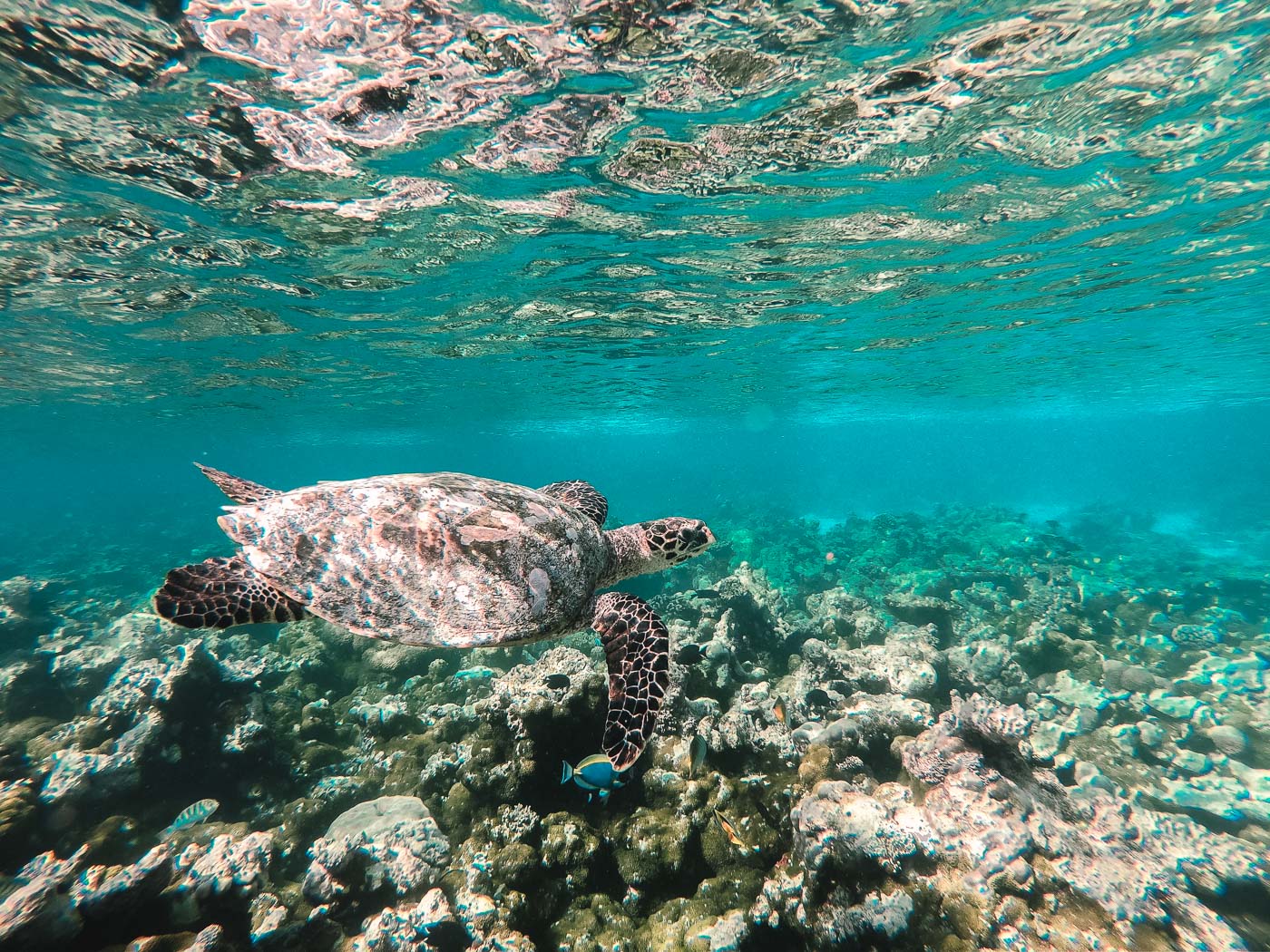 Even if we had spotted any turtles though, the reef was remarkably gorgeous, and we were blessed with perfect visibility! This site is definitely a must for everyone visiting a resort in the Baa Atoll!!
Hanifaru Bay, a favourite feeding station for manta rays, and an equally favourite mating point for whale sharks is 45 minutes away by boat
After spending a month in the Maldives, I think my biggest question remains…what's more beautiful, above or below the sea…?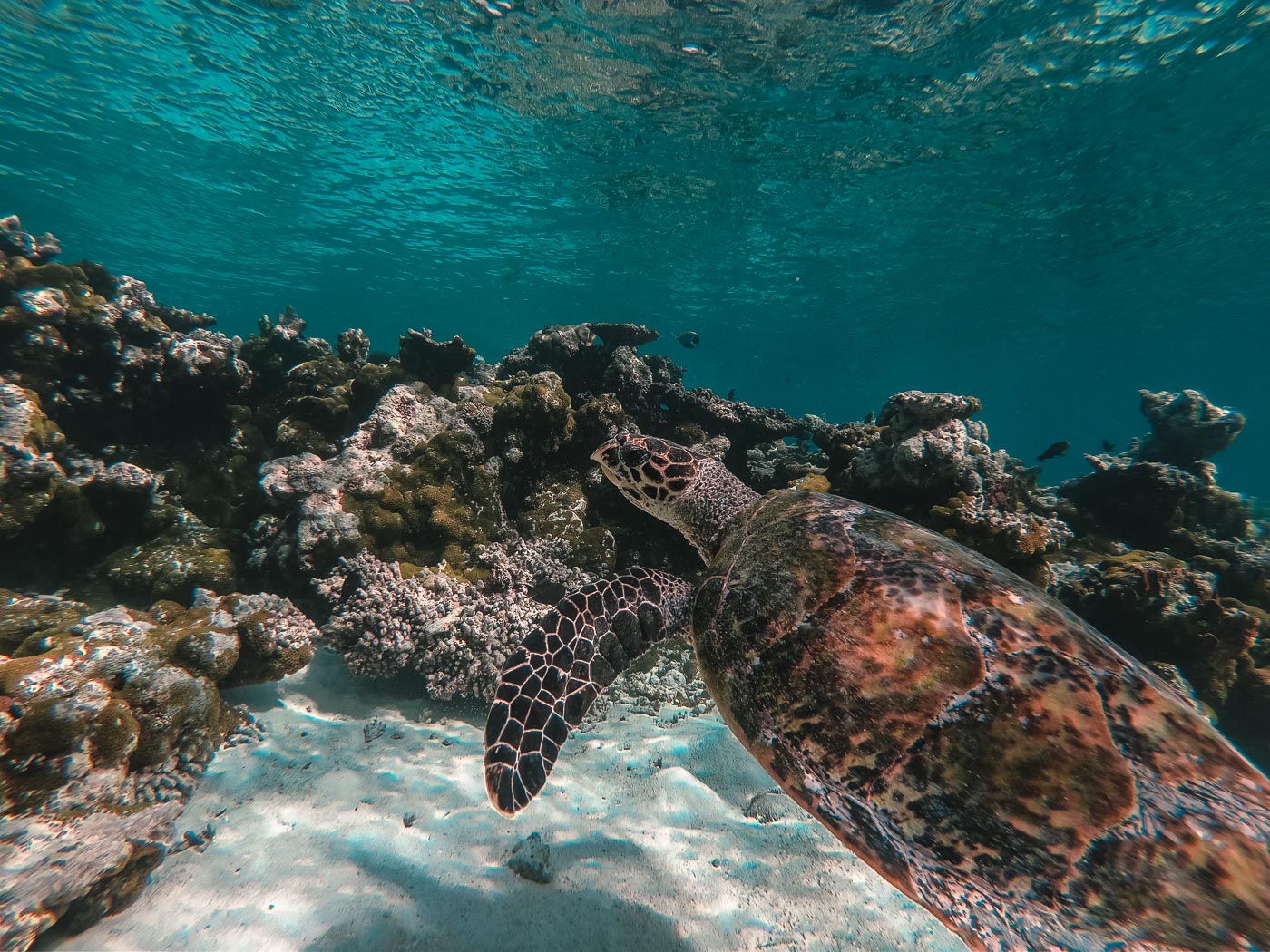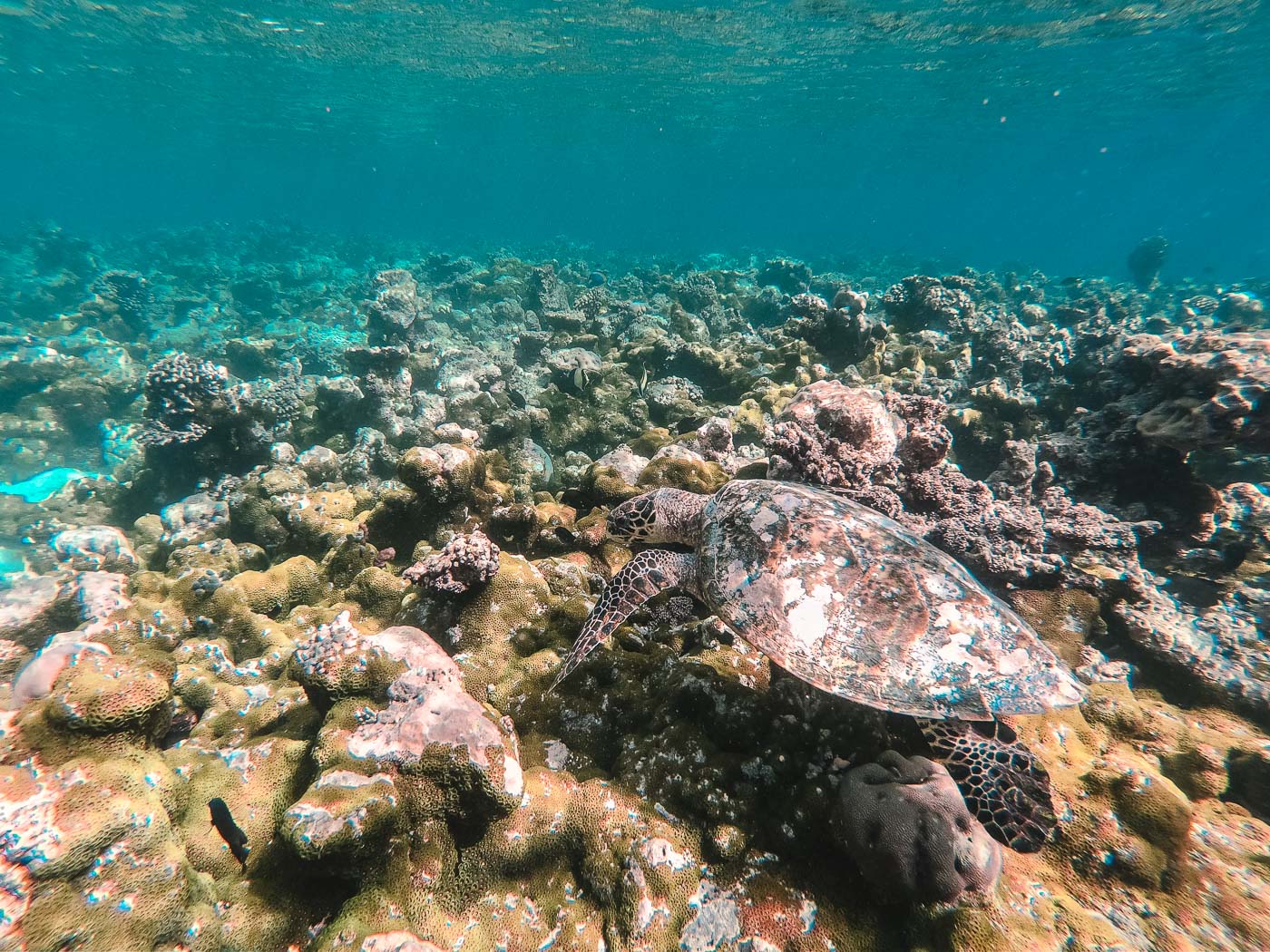 ---
Relaxing Poolside
When I wasn't swimming in our private overwater villa pool, snorkeling off the beach at the house reef, or searching for turtles on the excursion – there's a good chance you'd find me at the resort's main pool.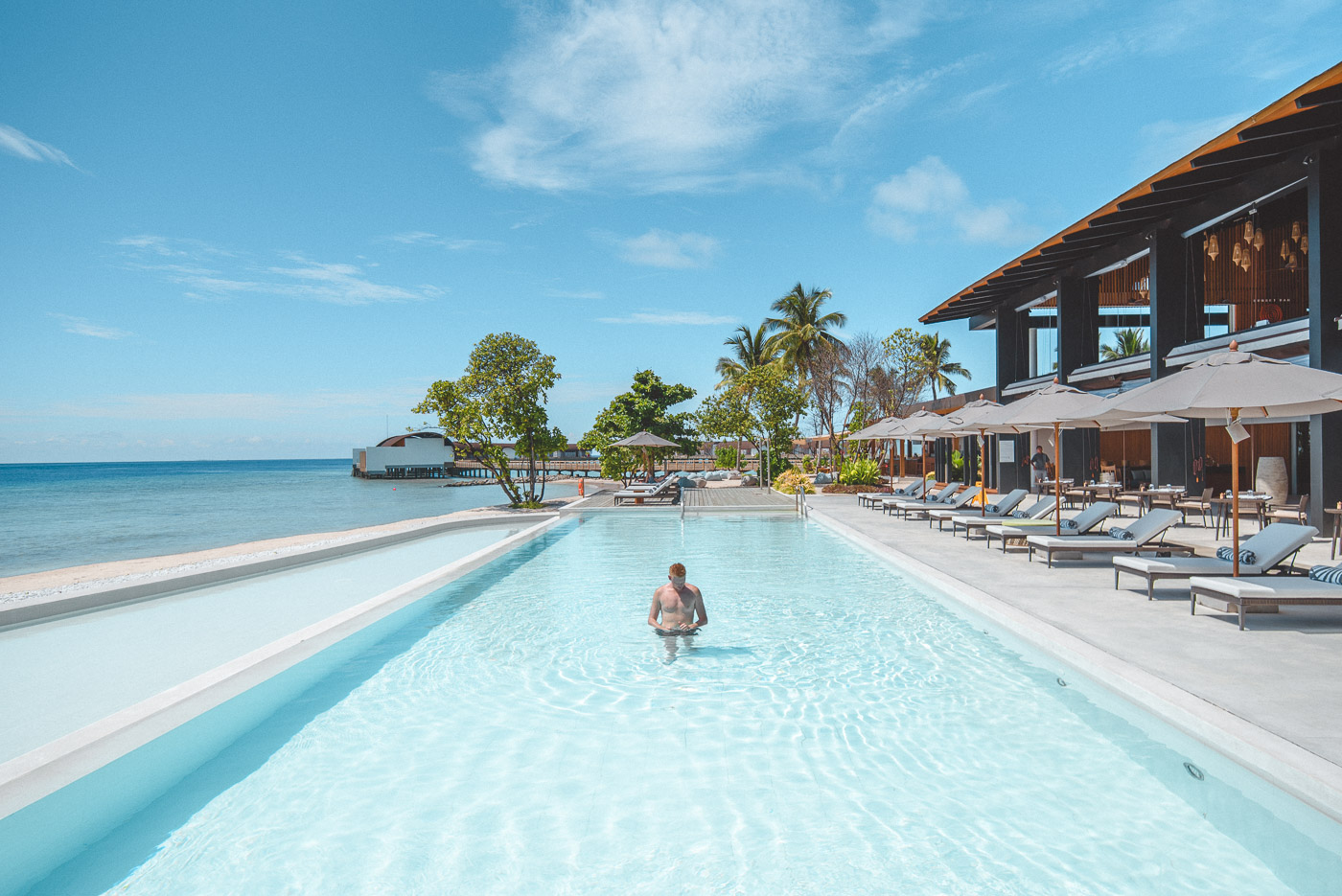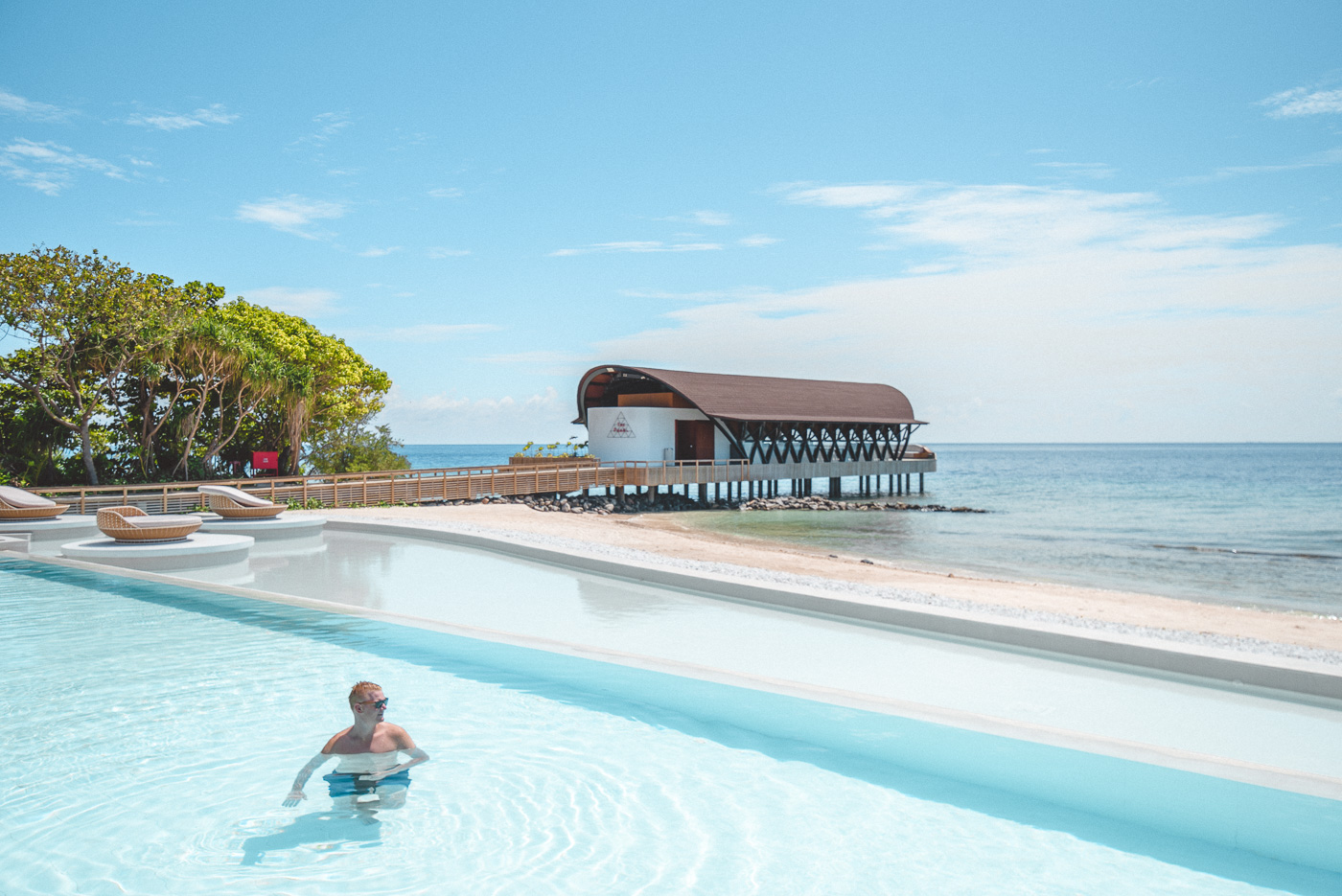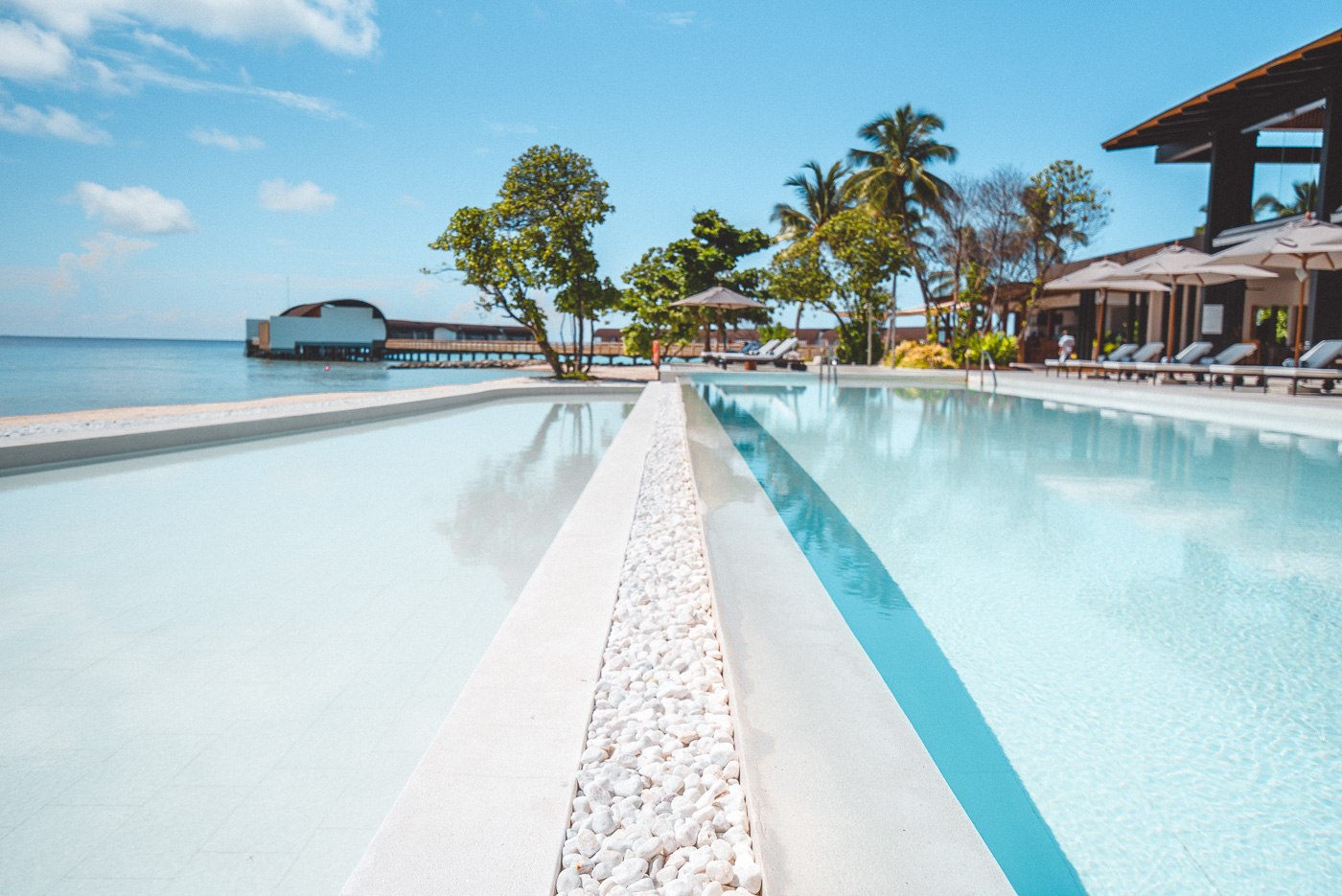 ---
Complete with plenty of luxurious daybeds and large umbrellas (providing necessary shade for my pale freckled skin), I loved spending hours here hopping in & out of the refreshing pool. It's located just right at the main dining area (Island Kitchen), and I found myself ordering lunch and taking a quick dip before eating.
The entire pool area is just simplistically beautiful, and the tranquil design really makes you want to sit down, relax, and order a tasty cocktail.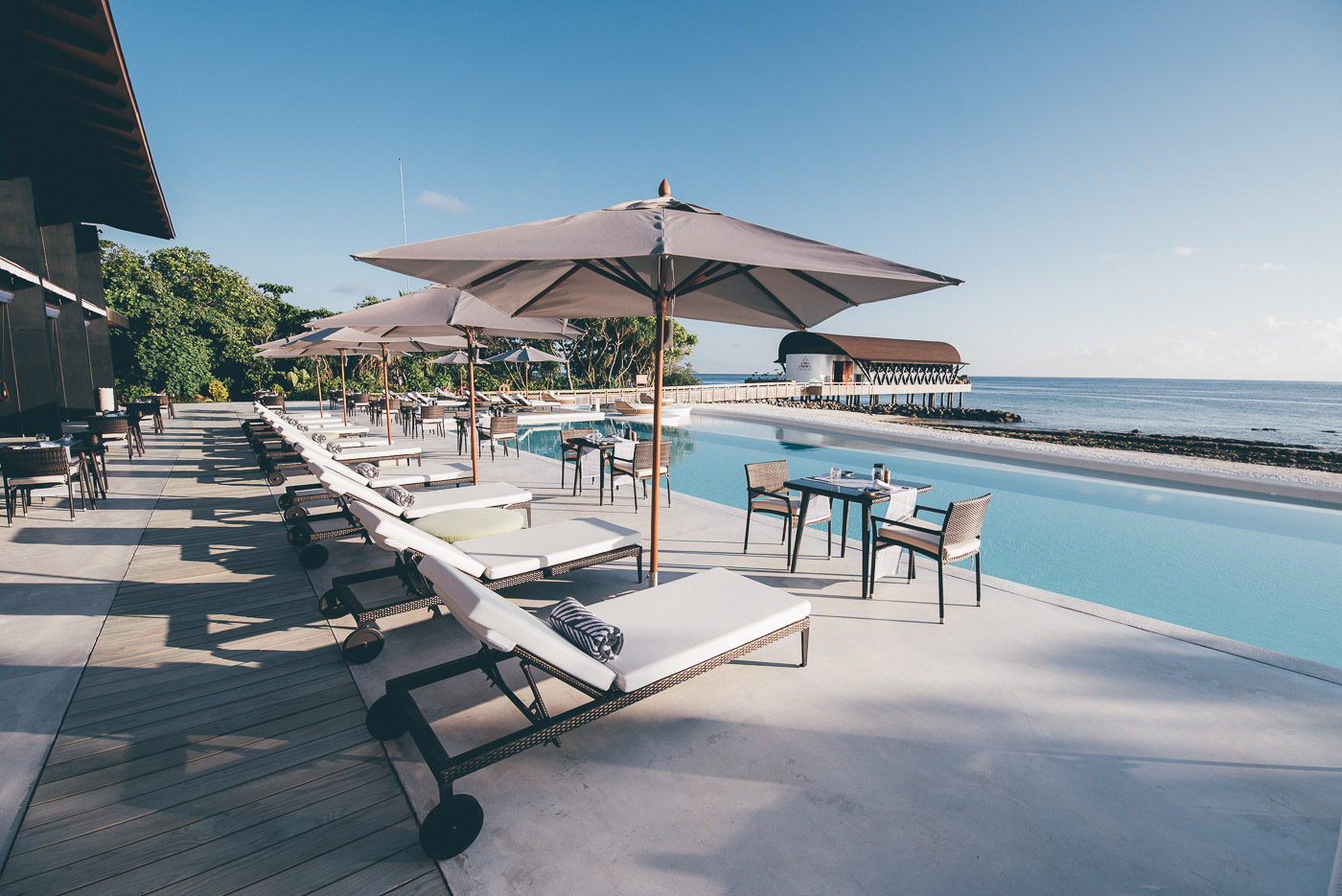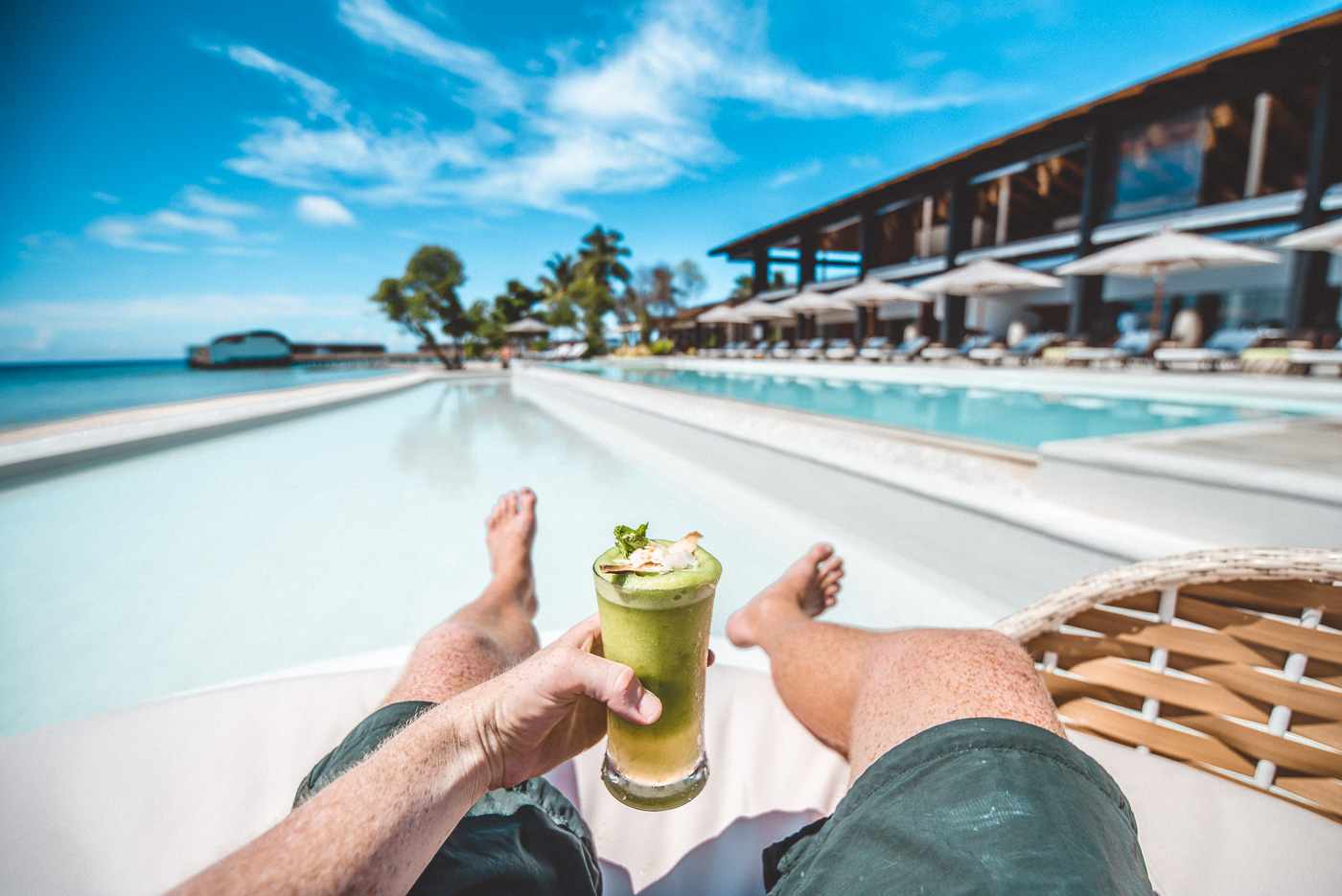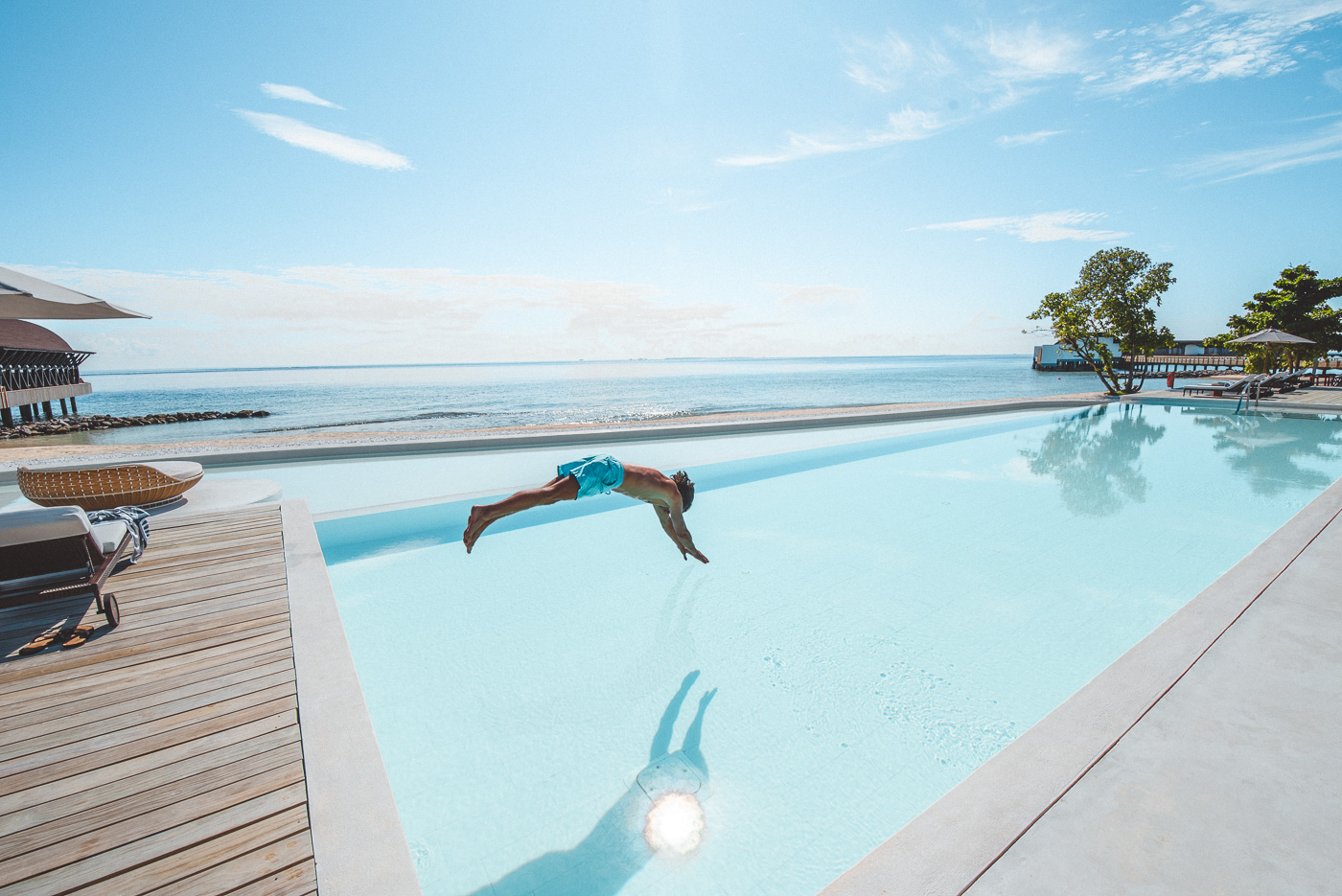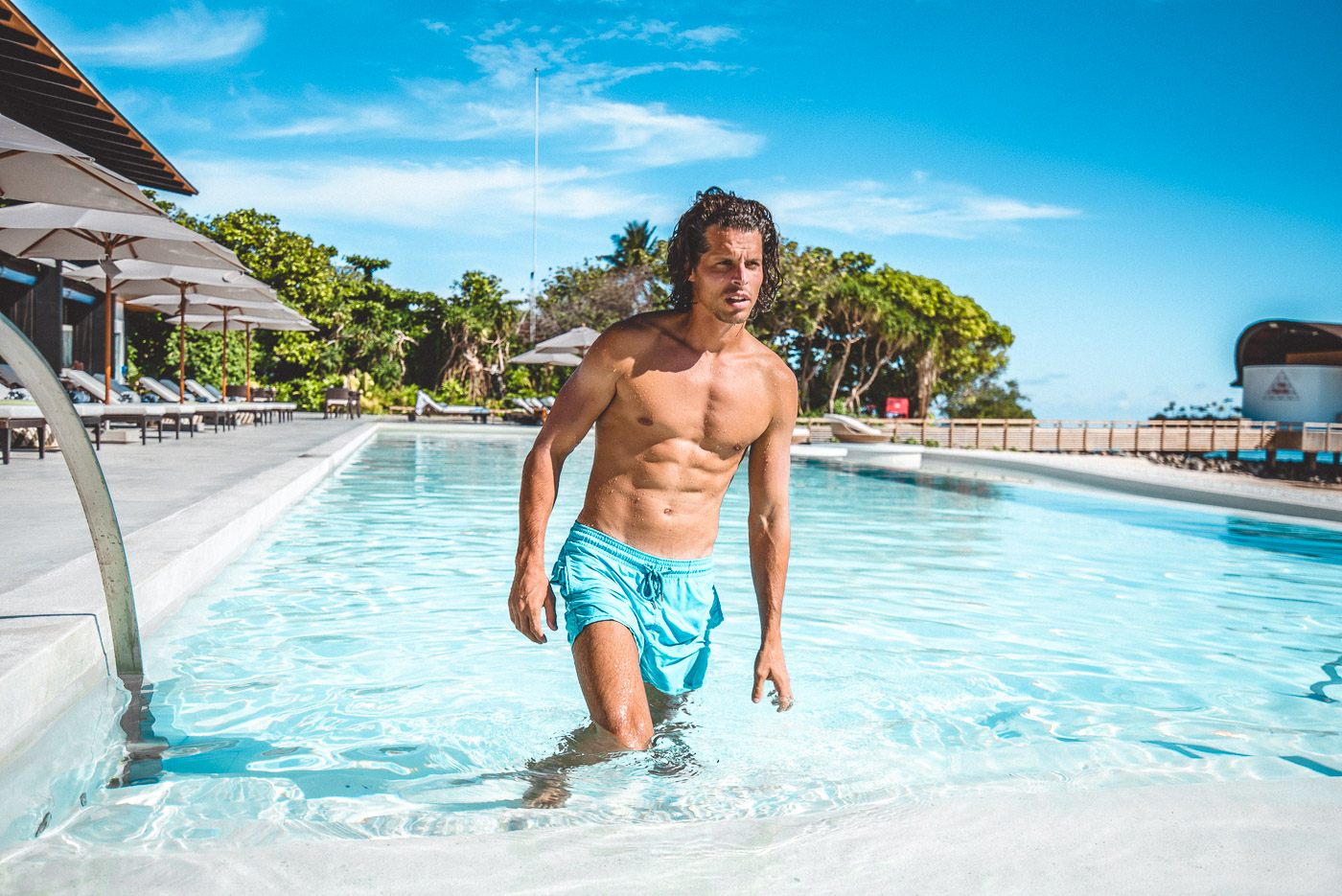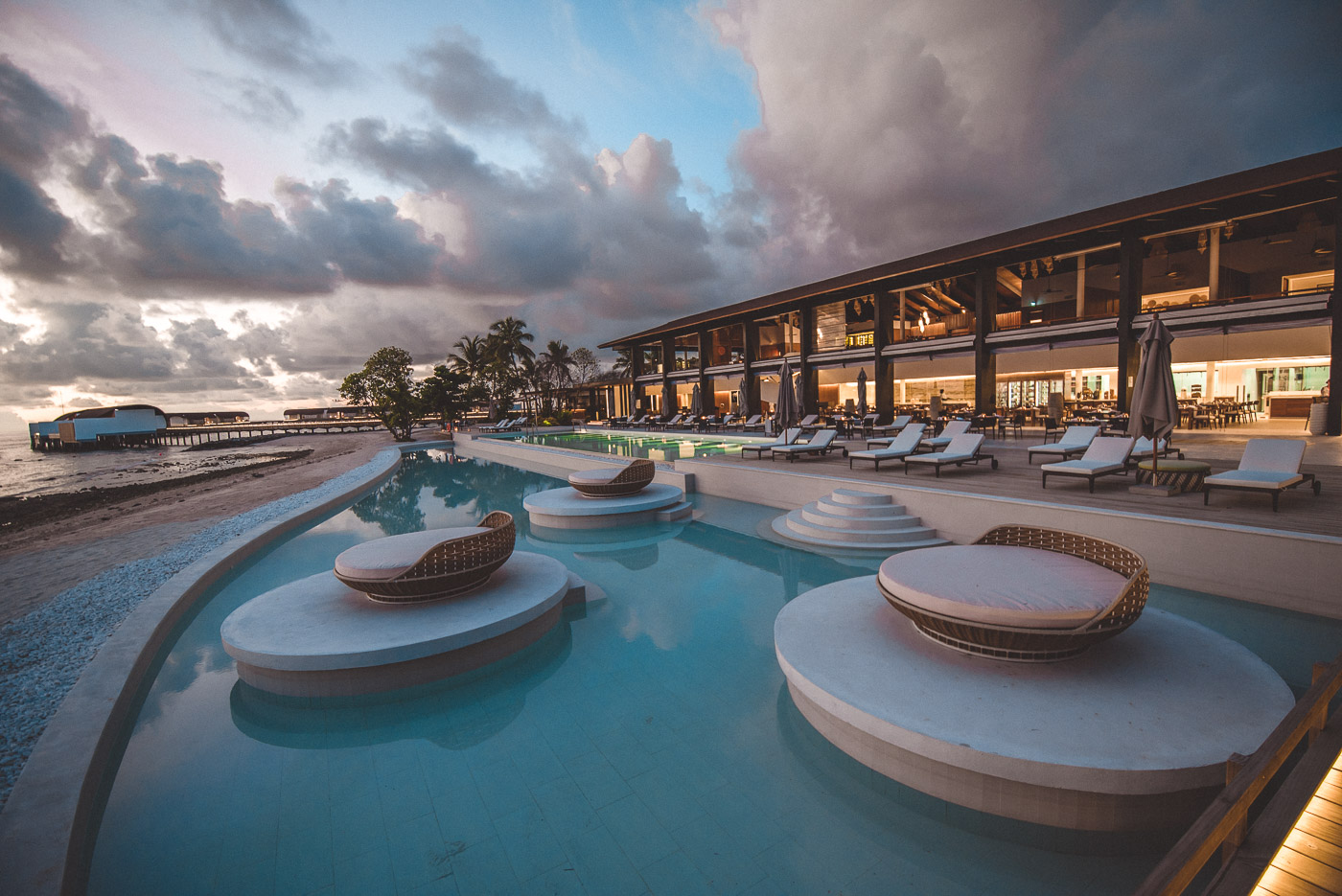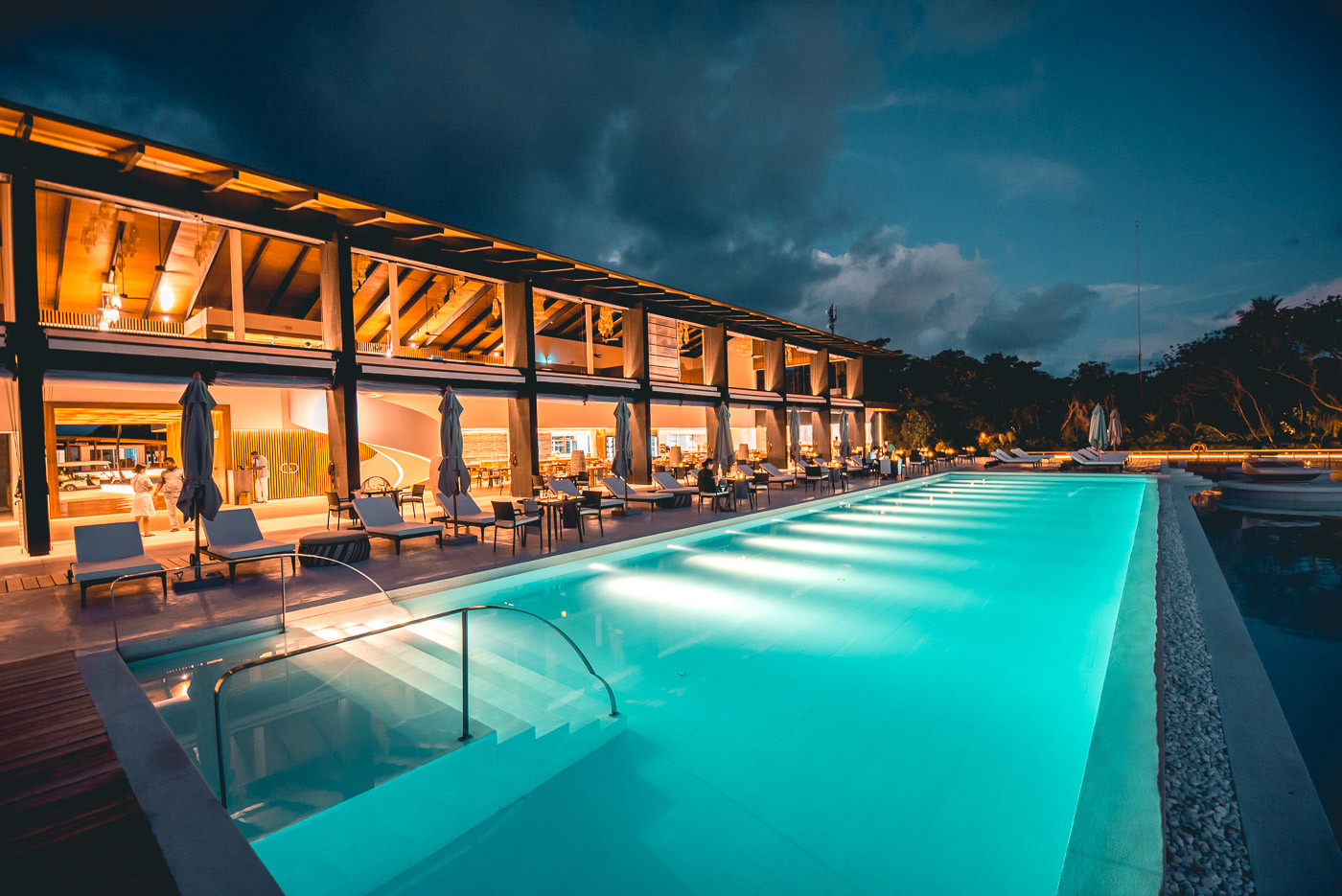 ---
Magical Maldivian Sunsets
Is there anything better than watching the sunset in paradise…?
During our five-night stay at the Westin, we were blessed with some truly jaw-dropping sunsets, and I just loved watching the sky paint itself an array of orange, pink, and purple gues.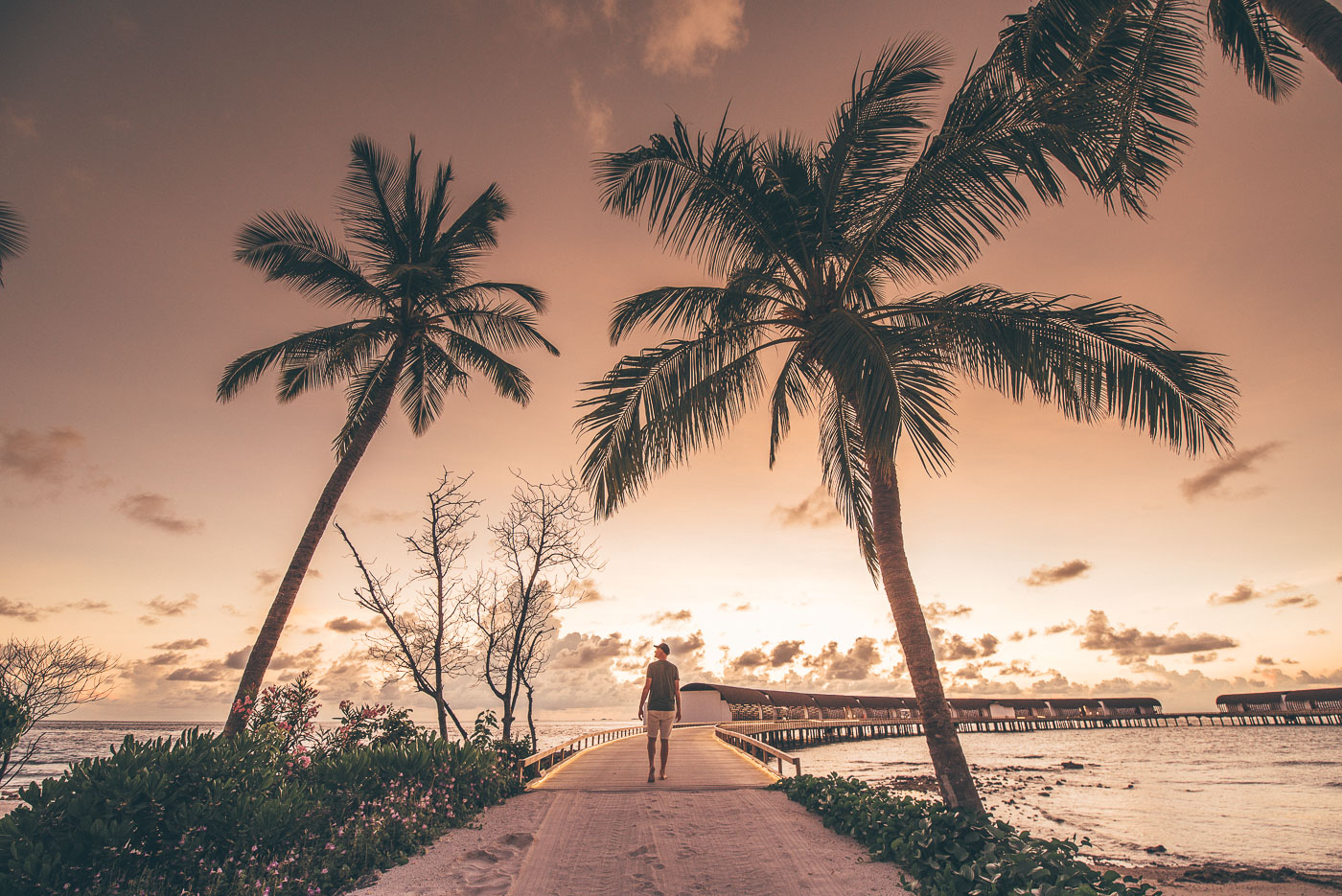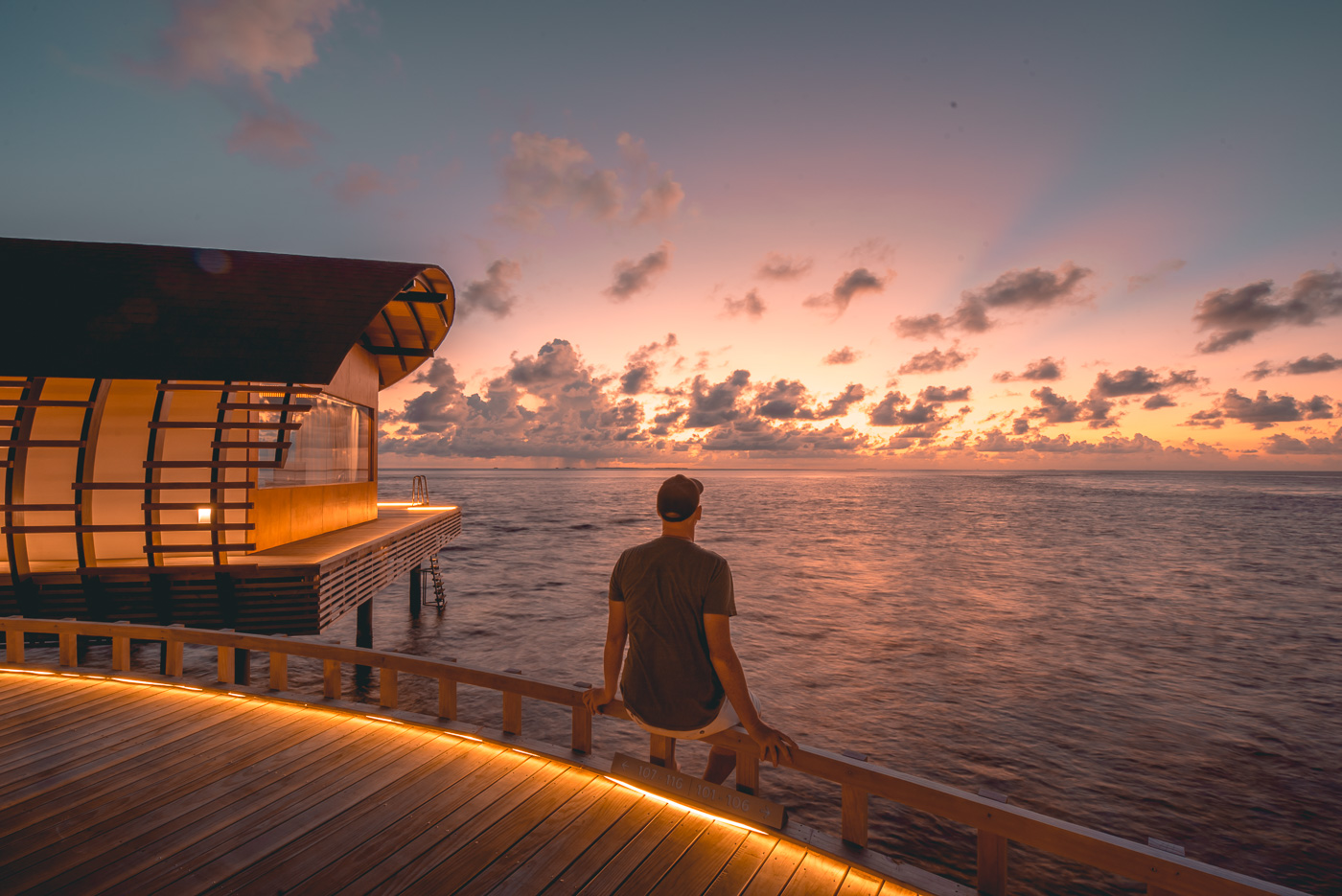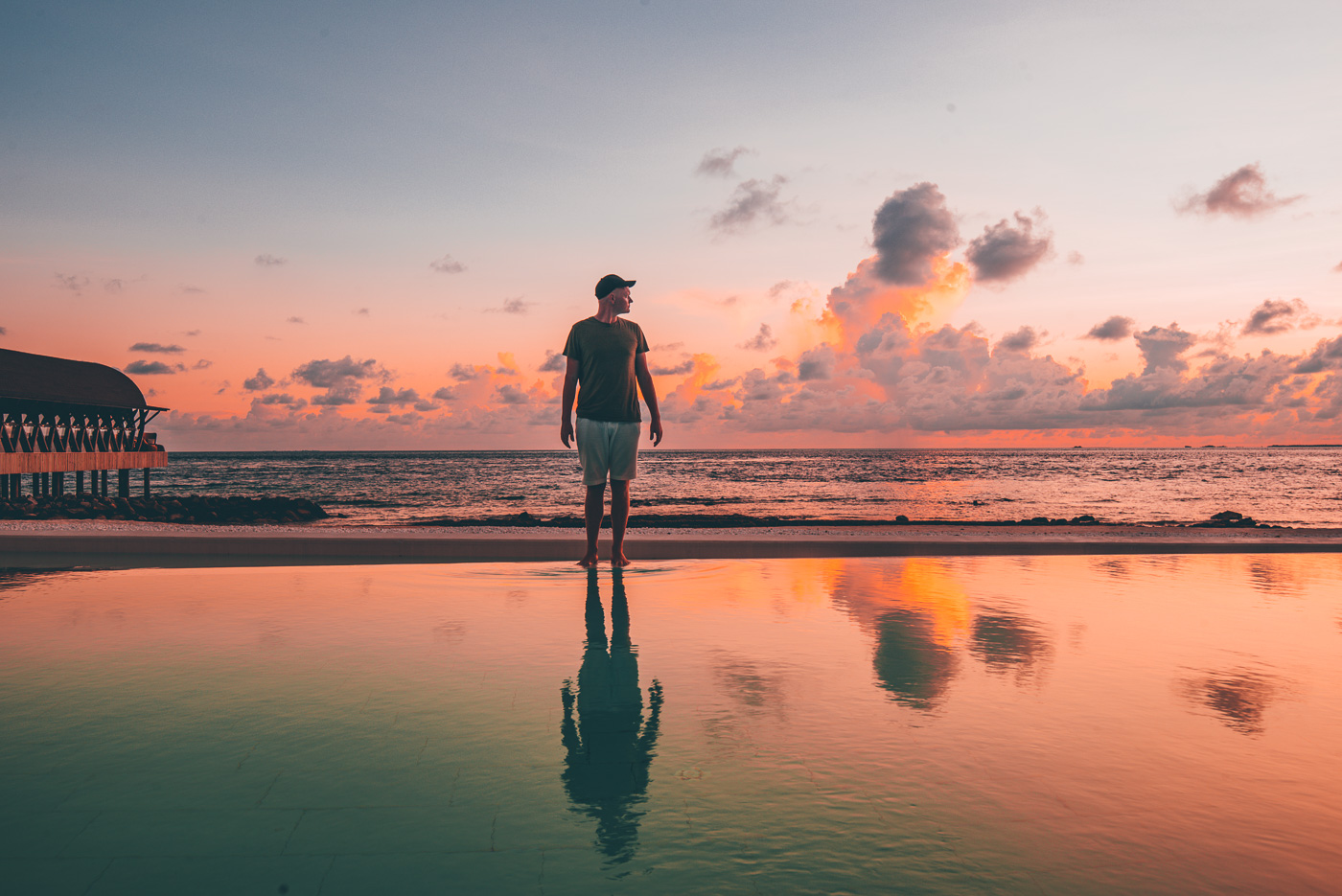 ---
Whether we were going for a sunset swim in the pool, walking around the picturesque overwater pathways, or enjoying a drink at the strategicallylly named sunset bar – it was always my favorite time of the day!
Being a travel blogger and photographer, sunset is obviously an important time to get some epic shots, and I had heaps of fun taking (way too many) photos!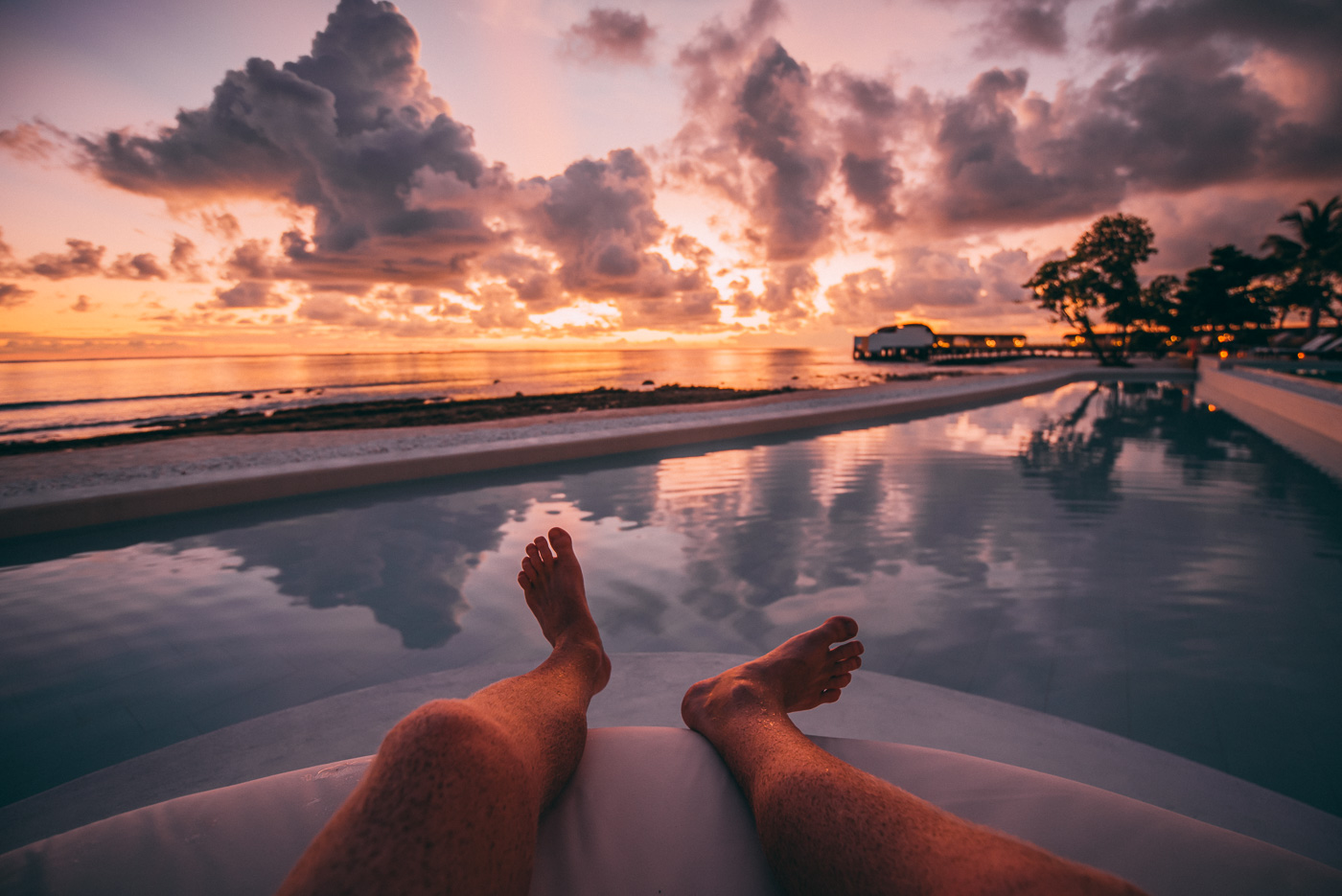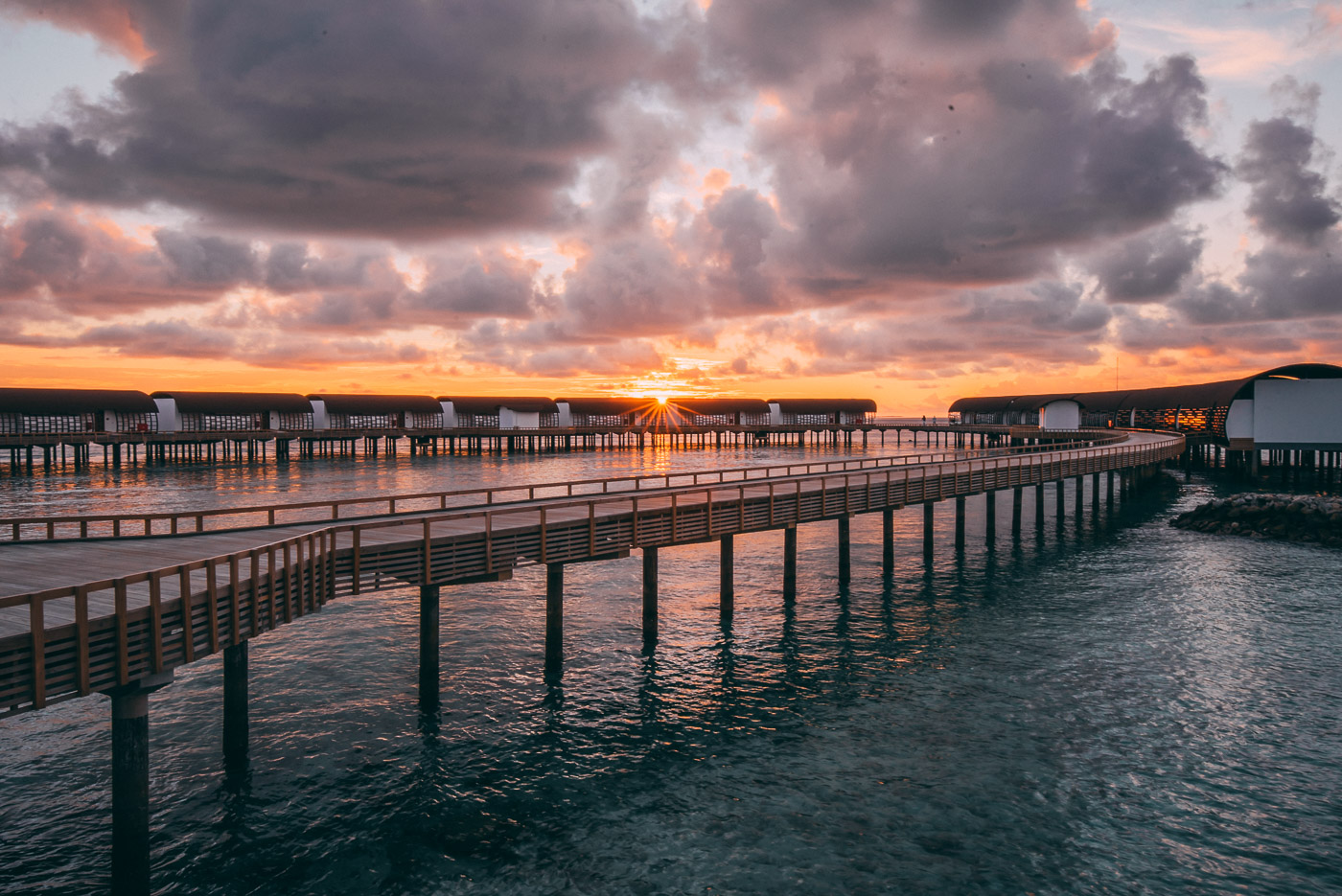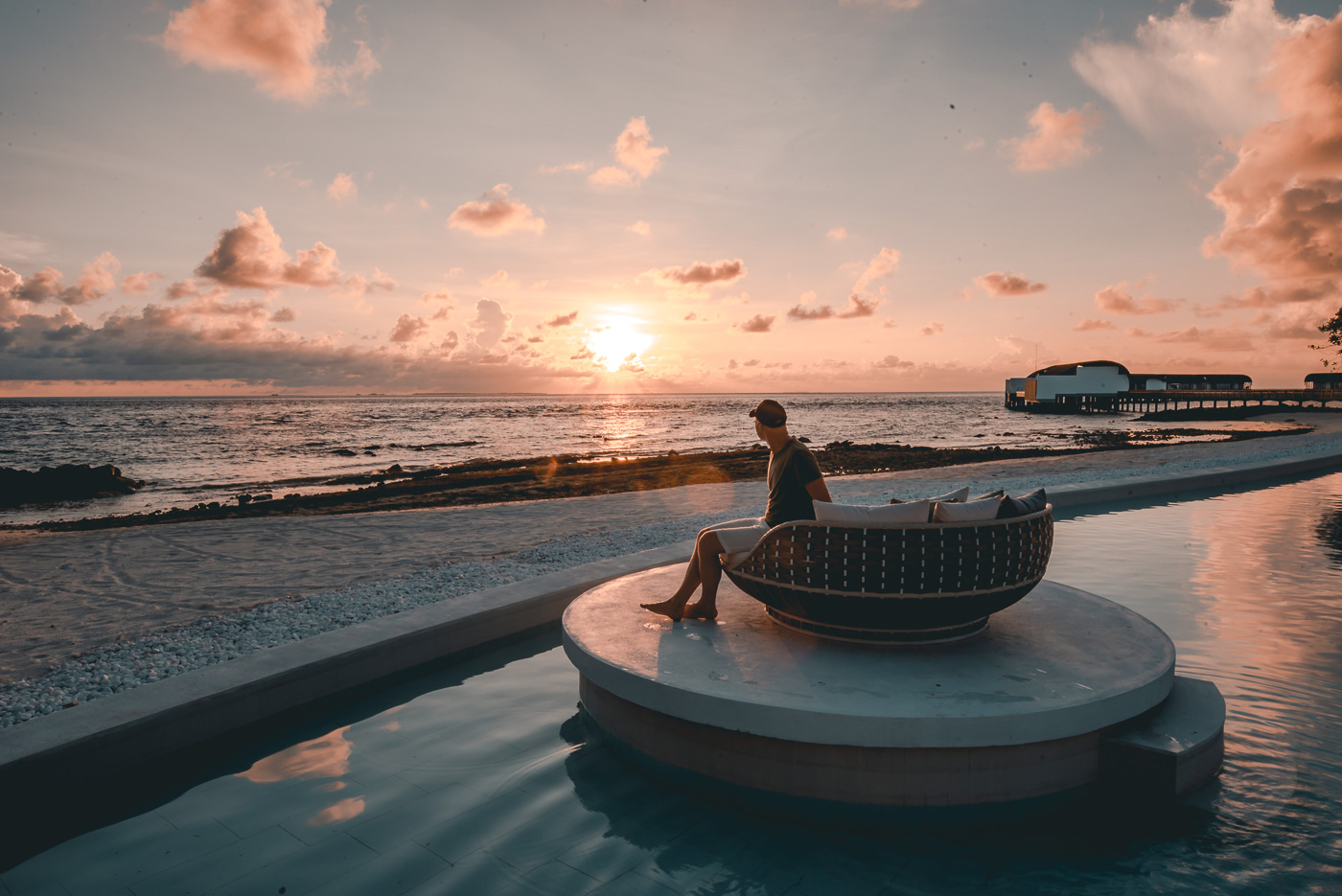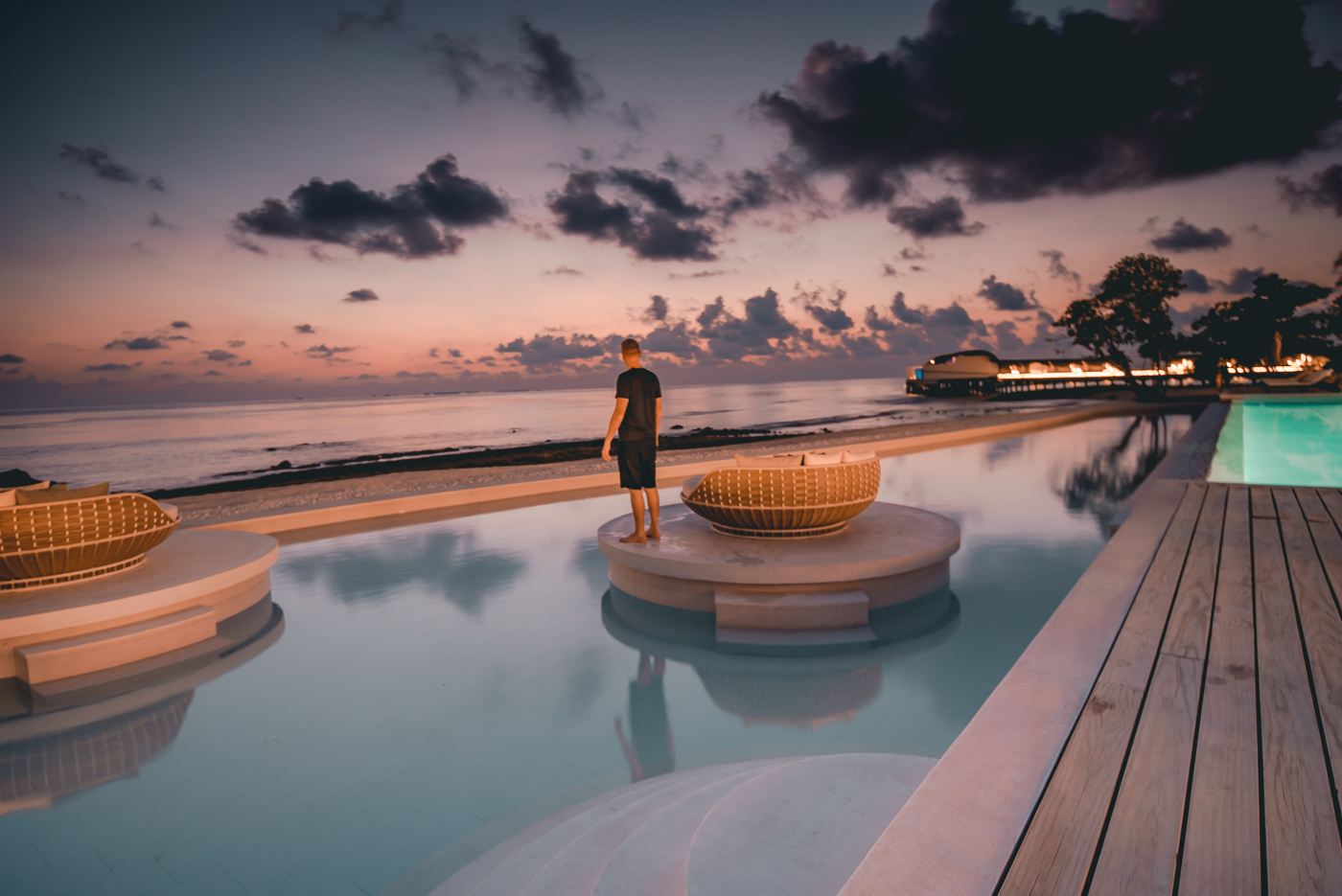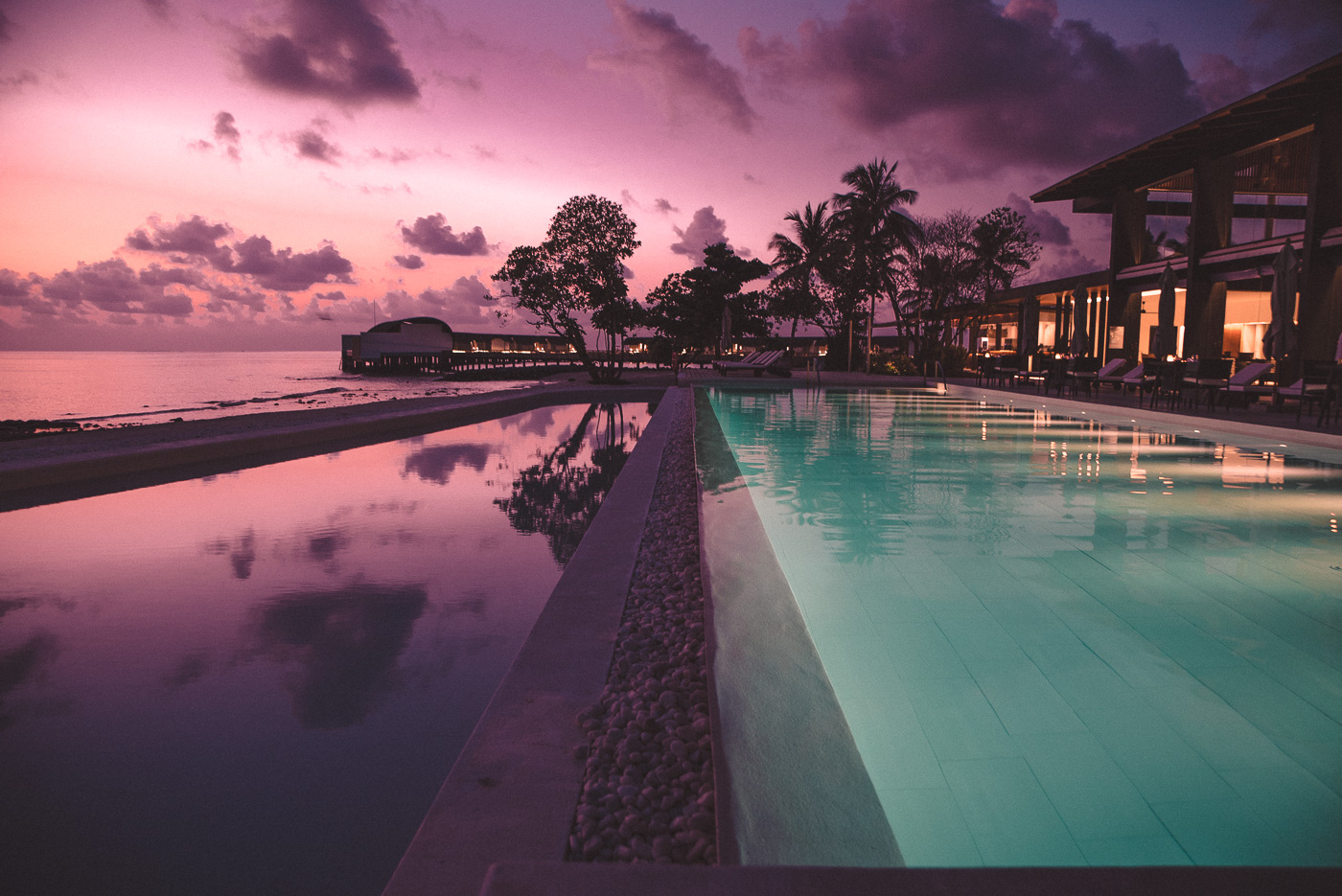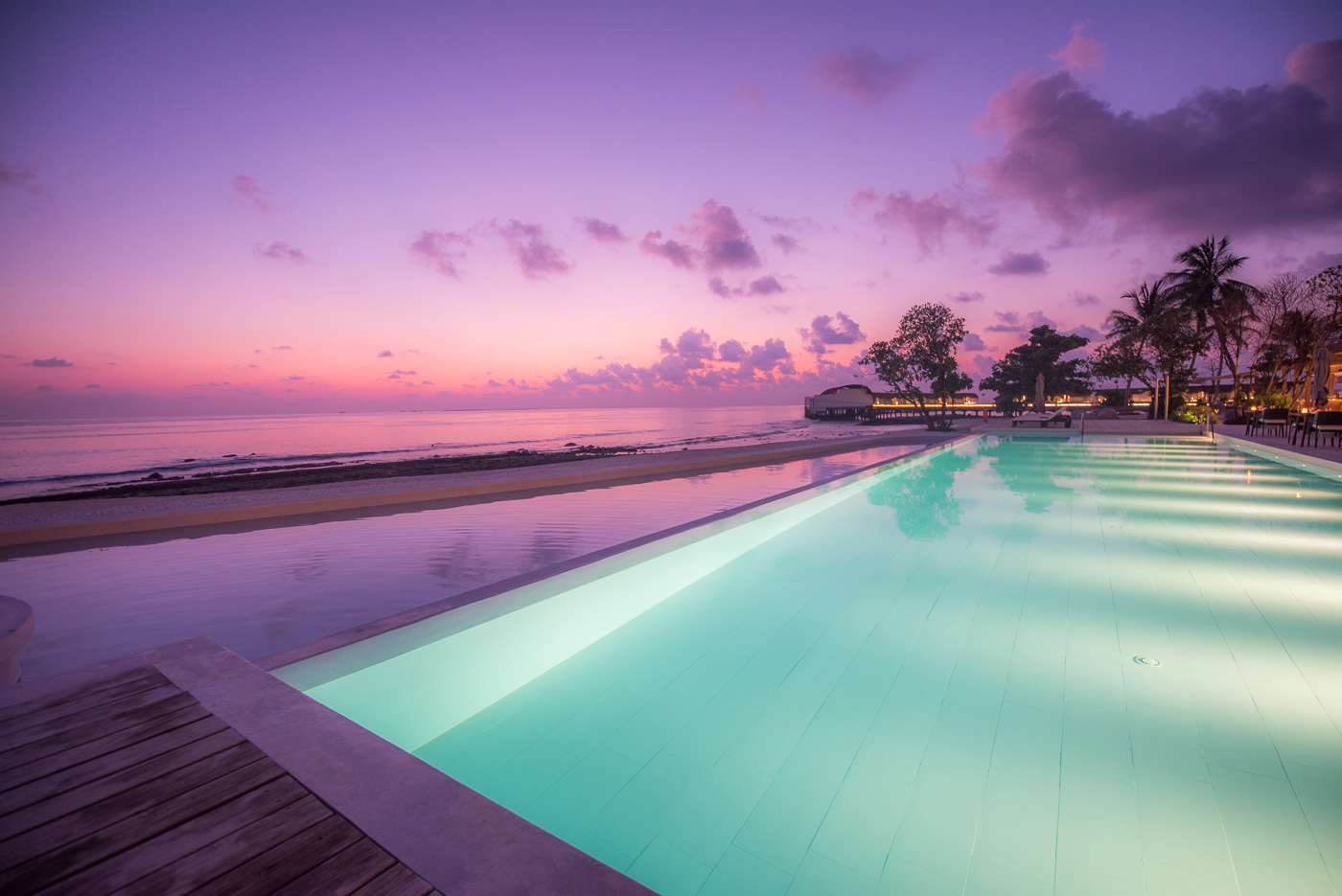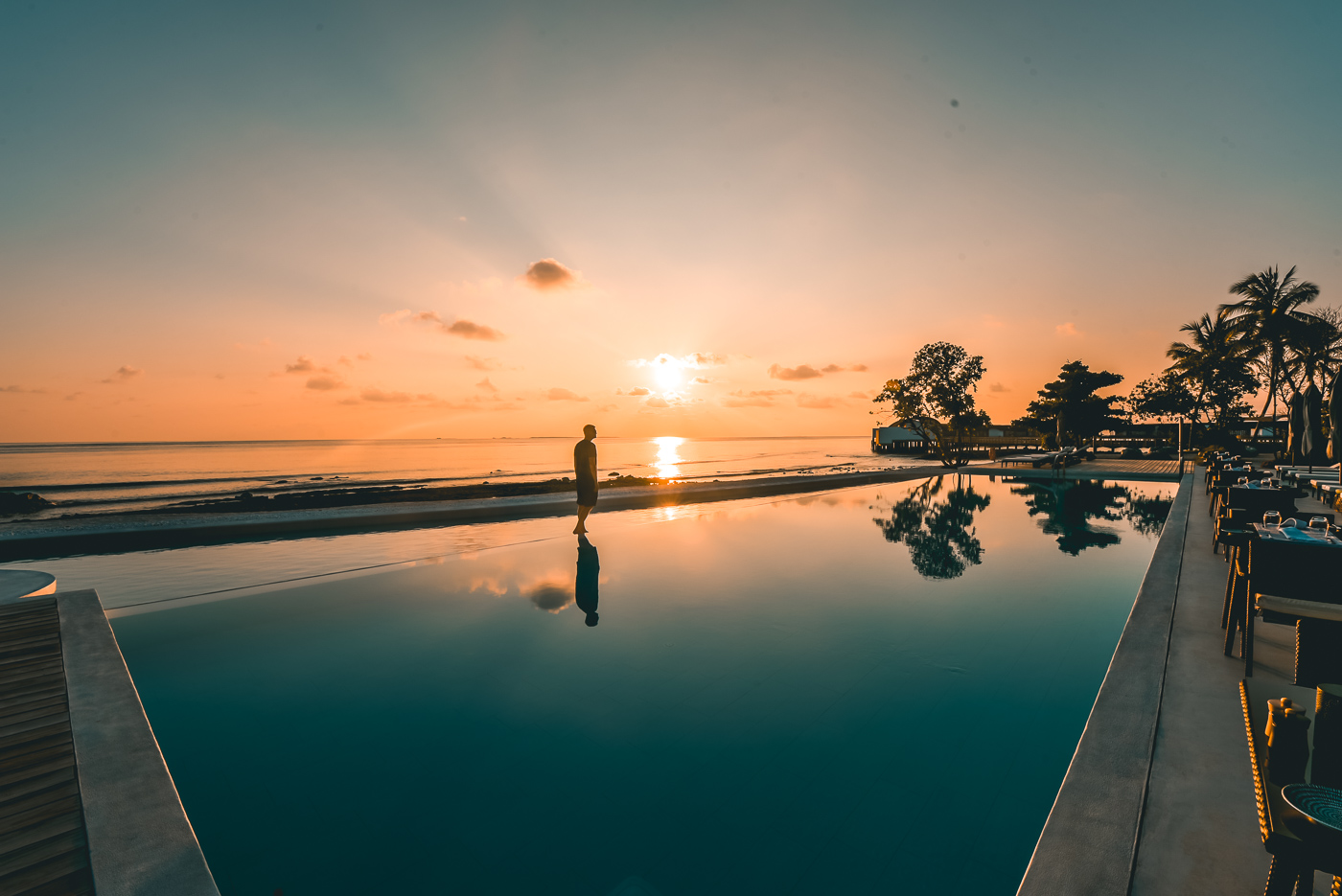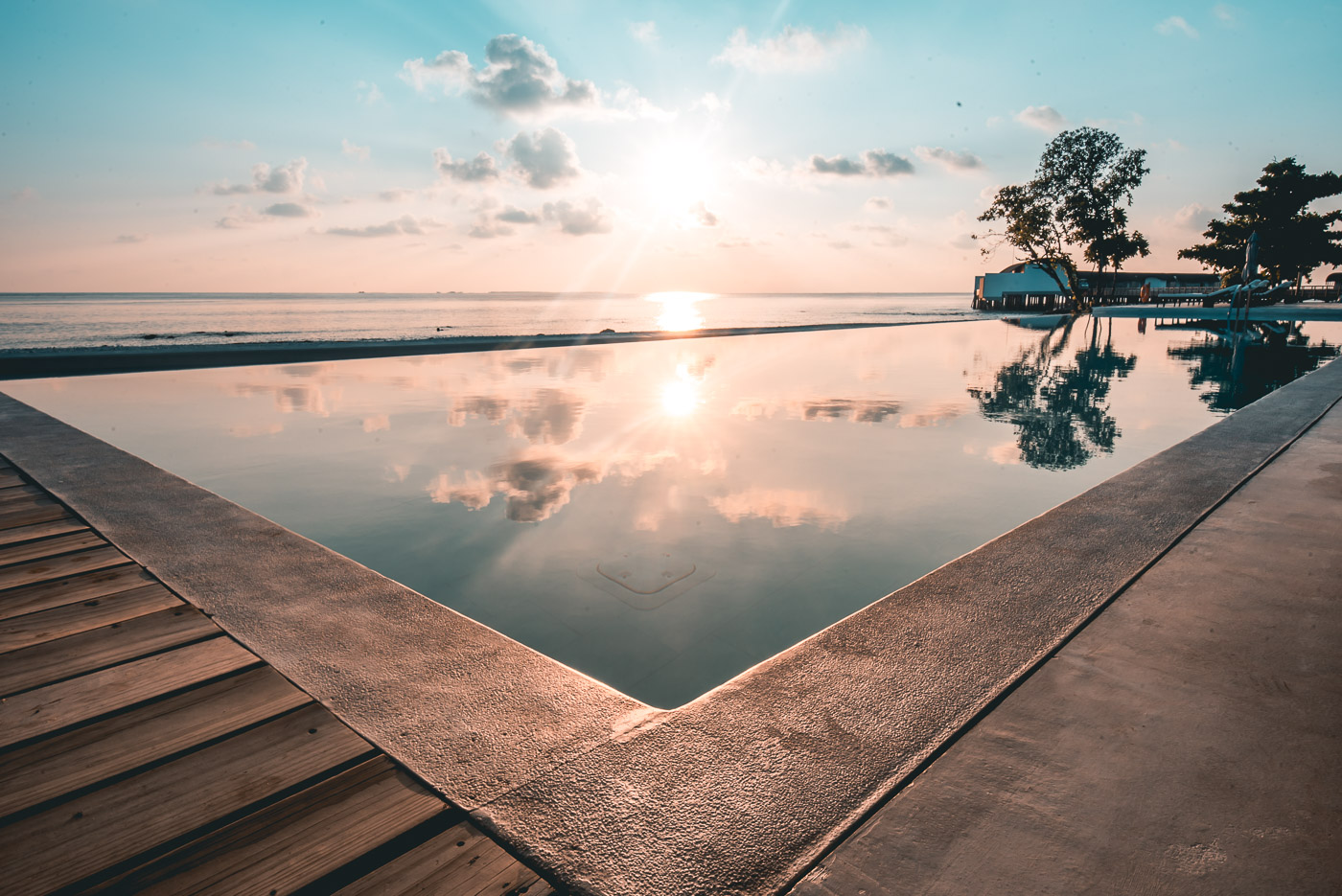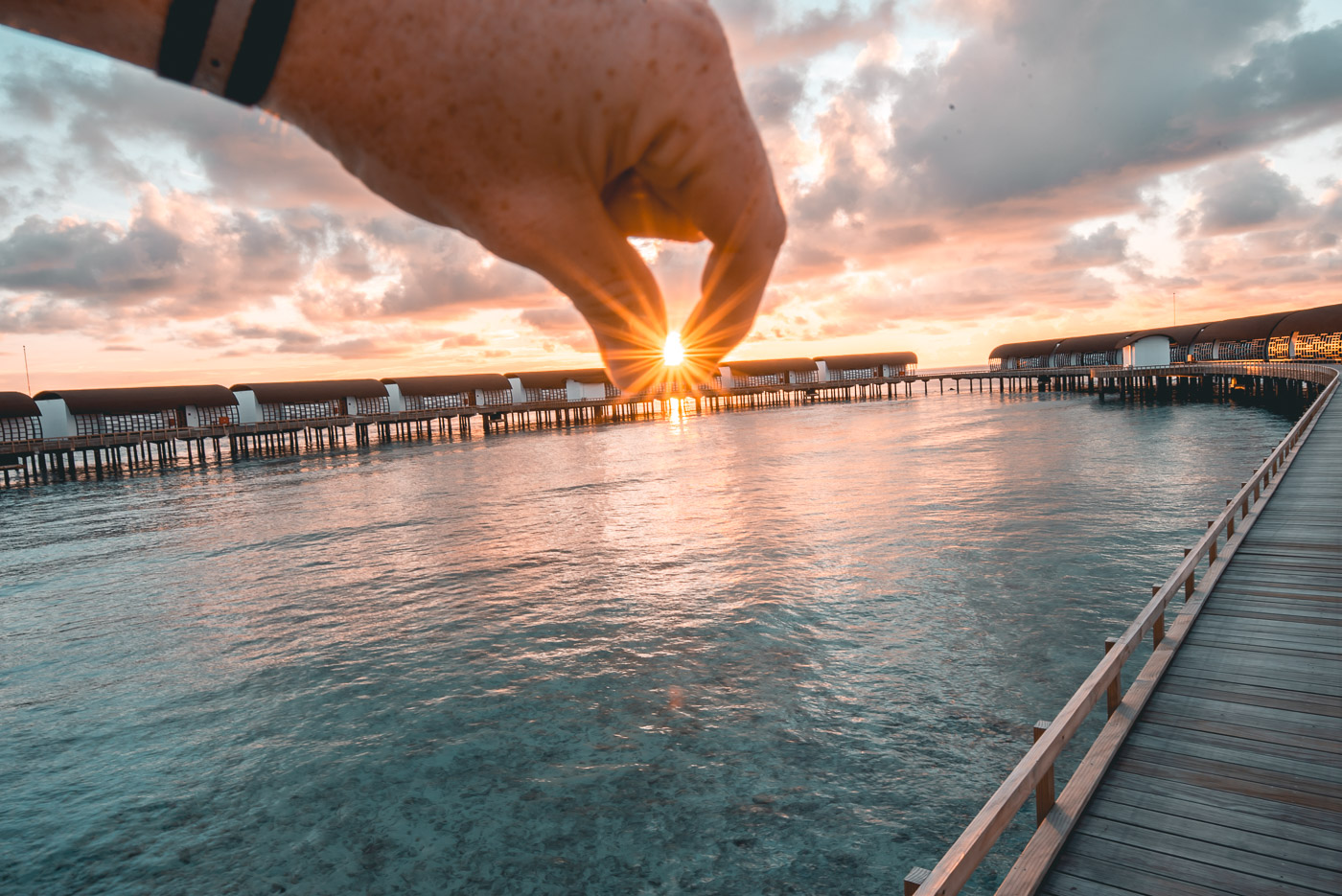 ---
Let's Talk Food…
The Westin Maldives has four different dining outlets: Island Kitchen, Hawker, Sunset Bar, and The Pearl.
While there were one or two meals that personally missed the mark, I overall really enjoyed all the different food I had during my stay.
The breakfast buffet at the Island Kitchen was simply phenomenal, and I loved how it's a combination of buffet & "a la carte" ordering. So I'd go and grab myself a big plate of customized granola, fresh fruit, and yogurt – and then order some eggs, pancakes, or whatever else I was in the mood for.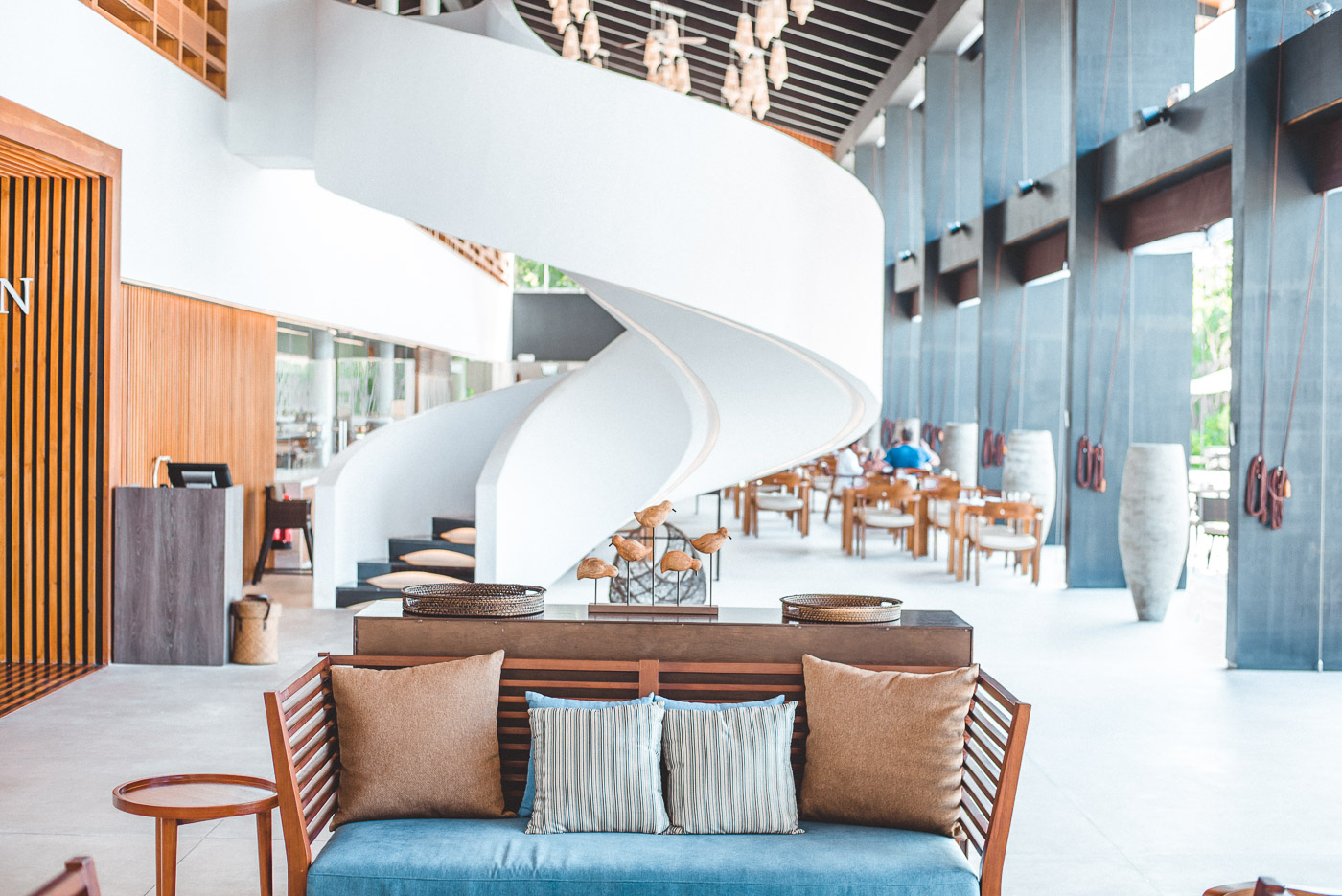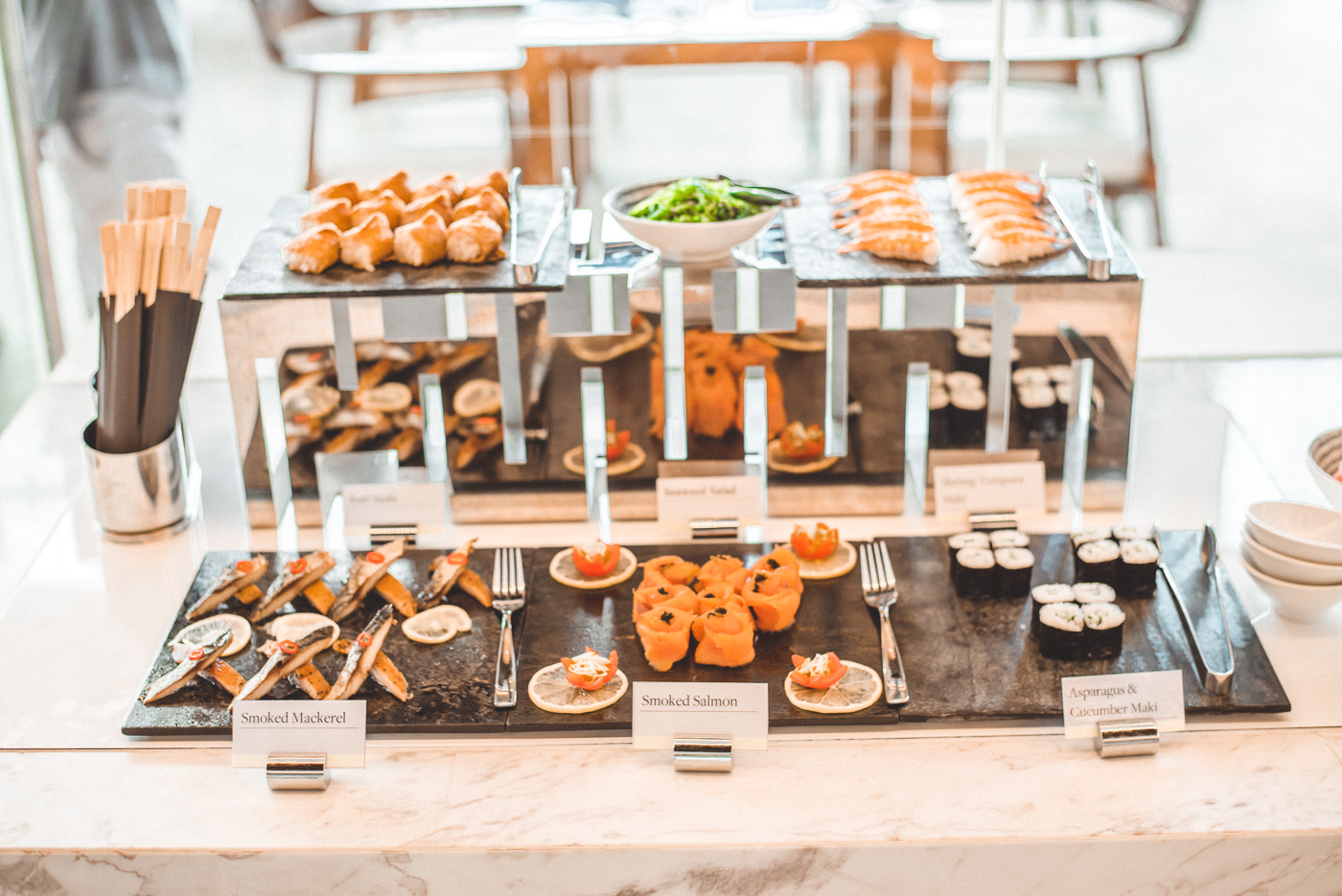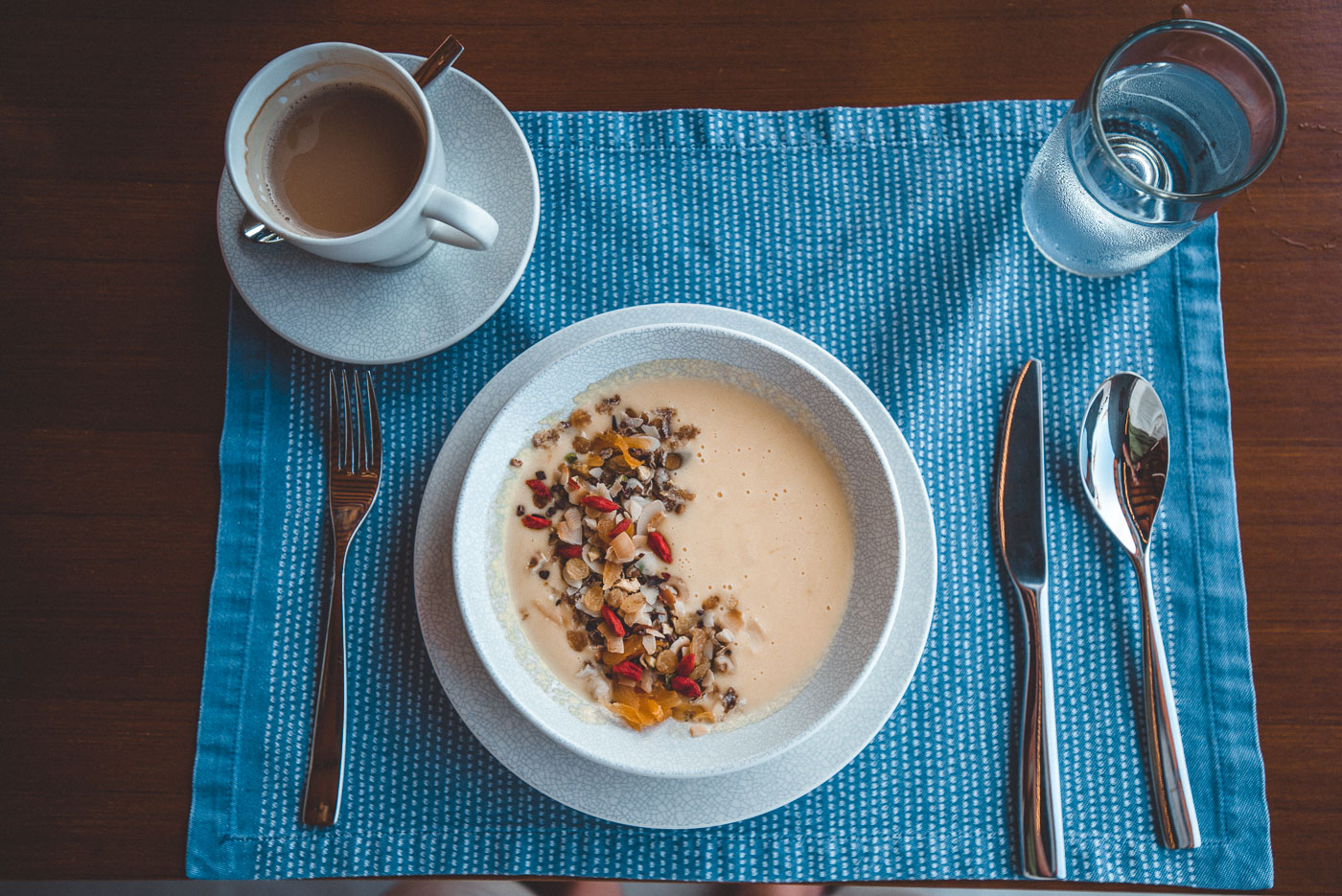 The beachside Hawker restaurant was ideal the ideal lunch location, and I loved the refreshing drinks, lamb kebabs, and it served up my personal favorite dessert out of all the dining – a chocolate/ banana crepe.
While I enjoyed the dinner more at Island Kitchen, fans of Japanese food would be making a big mistake without trying out the fine-dining cuisine at The Pearl. The restaurant is easily the most beautiful food venue, and ambiance created here is superb. Just be careful when the resort sommelier "Jeevs" swings by, he has a peculiar way of getting you nice and intoxicated ;-).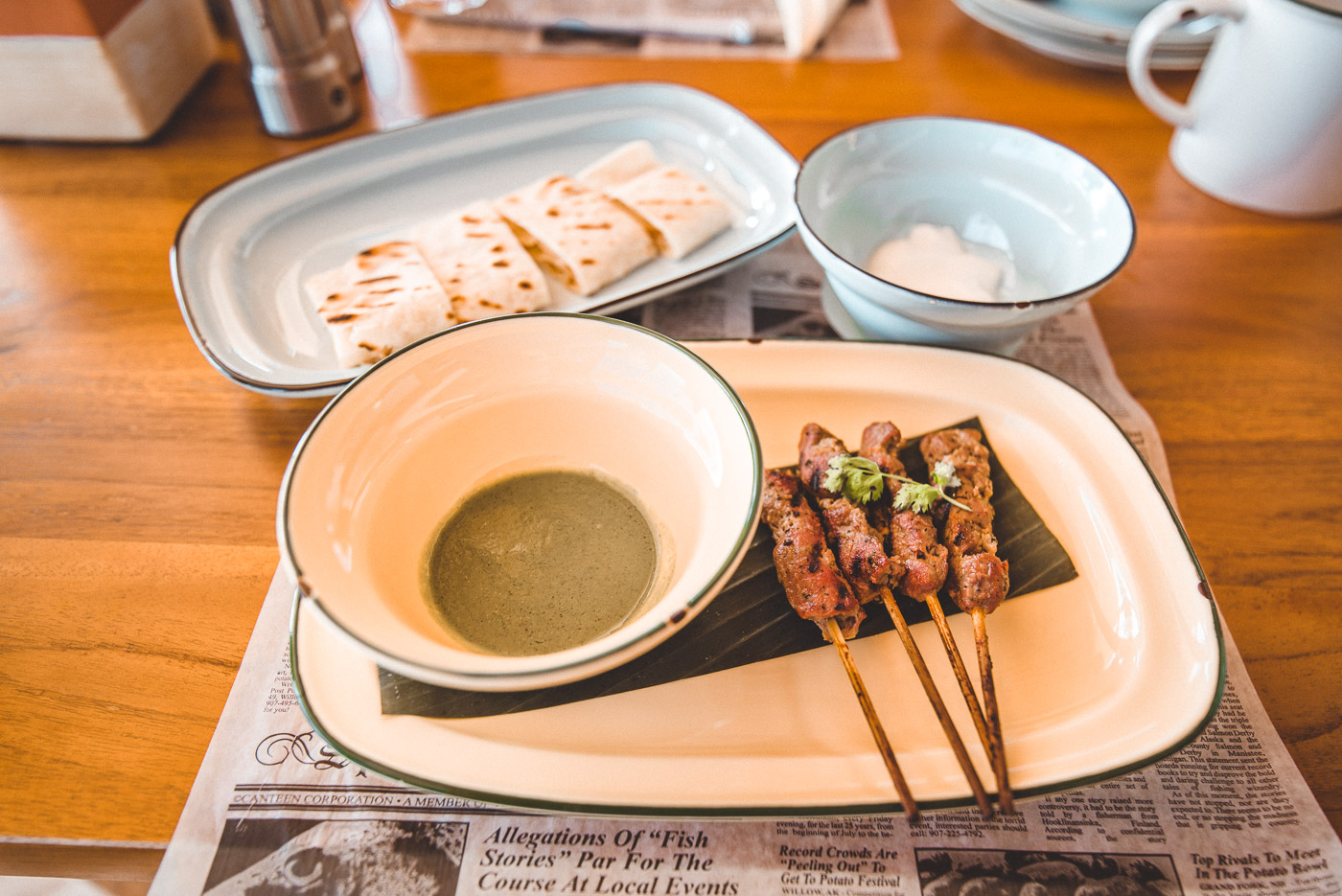 ---
Castaway Vibes
It really is an awesome feeling when you have an entire island all to yourself!!
Located just a quick five-minute boat ride away is the Westin's "little brother" island, and I'll never forget our visit to its pristine golden shores! You could actually rent a kayak from the watersports/ dive center and paddle over there, but Tom and I decided to take to take the easier route.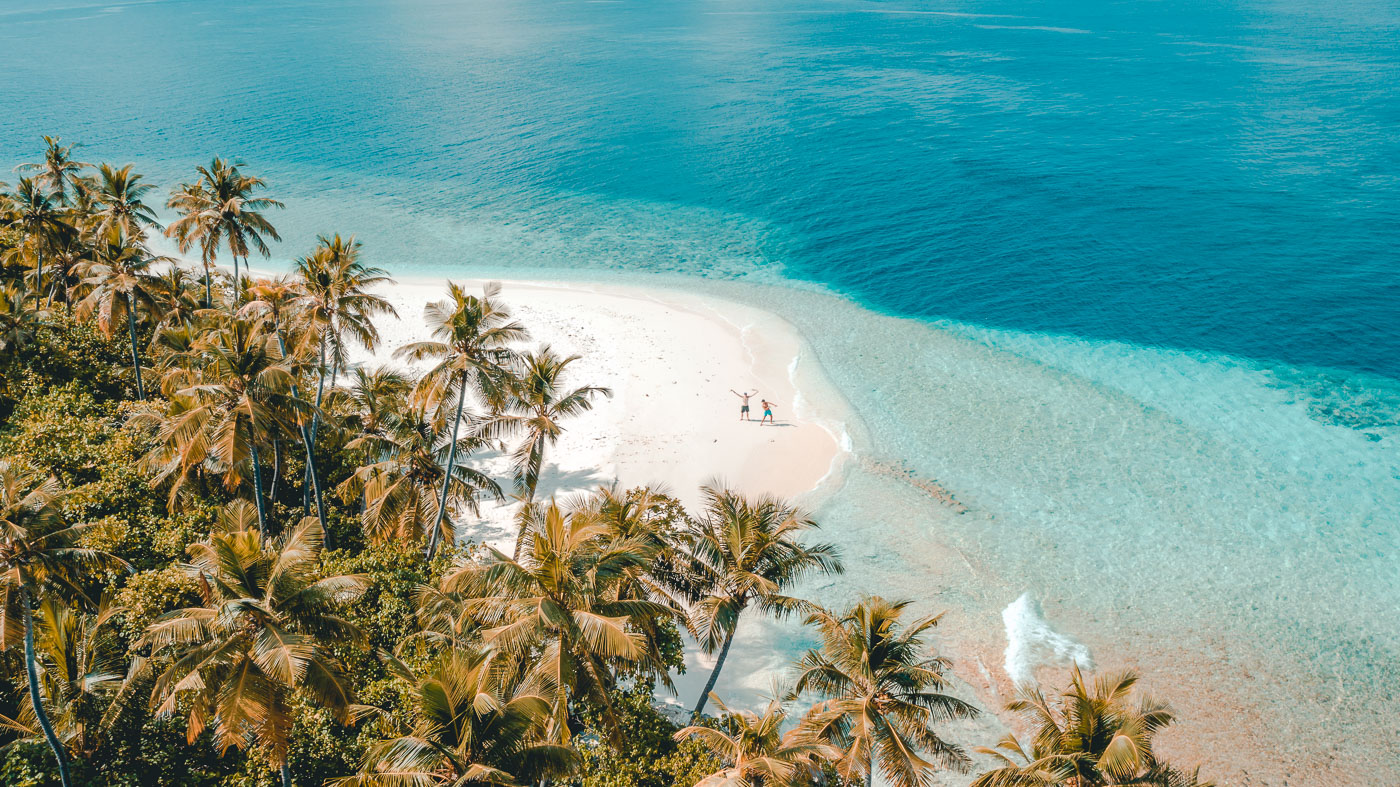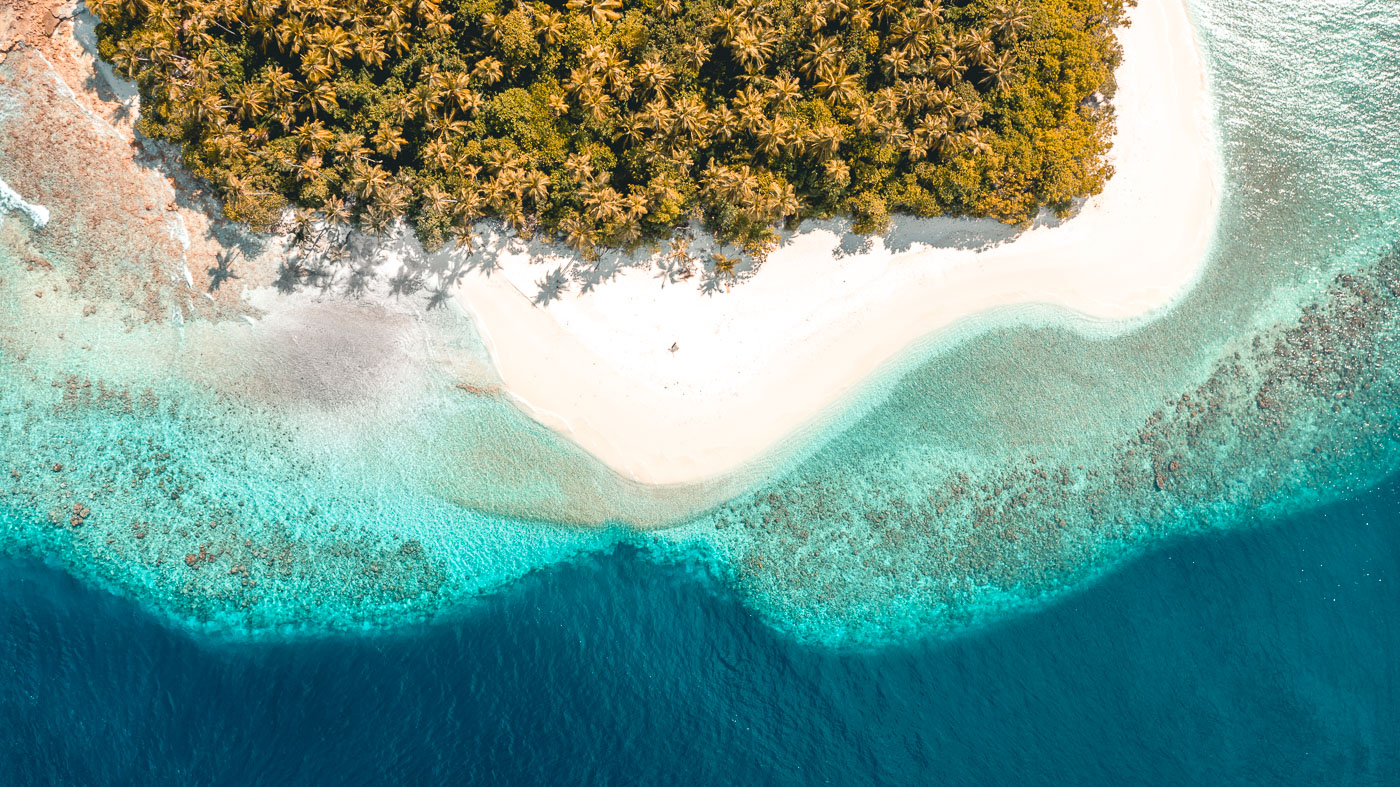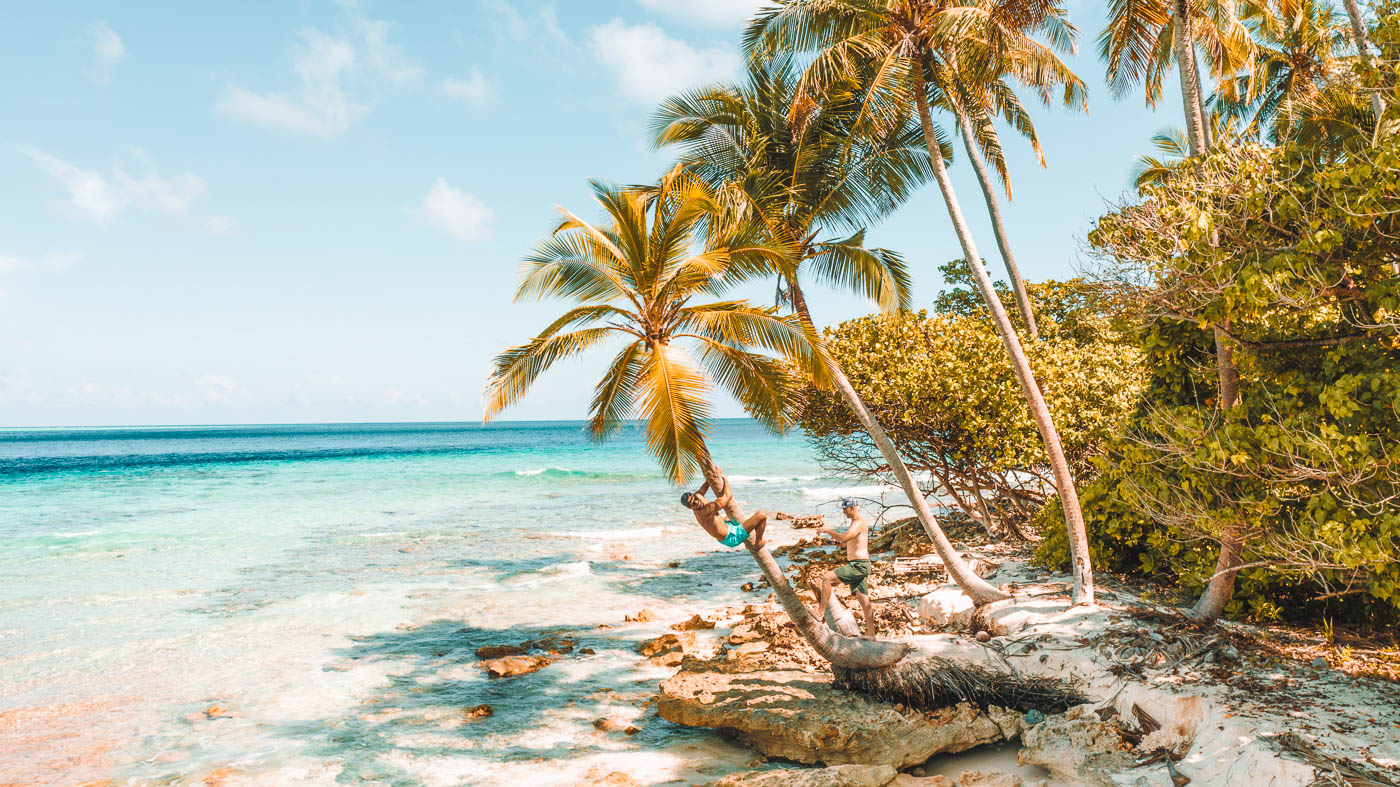 ---
When we arrived I was truly blown away by the pristine beauty! It ended up becoming one of my favorite beaches I visited in all of the Maldives, and it was epic to see so many different shades of blue! When you're swimming out here, the drop off happens super quick, and the water goes from warm to cold crazy fast!
There is currently nothing on this island at all, but after chatting with some Westin staff, I've learned they have some exciting ideas of what they can do with it in the future. Potentially even a treasure hunt…? How cool would that be?
While I did, unfortunately, leave that island with painfully annoying sandfly bug bites, it was all worth it for the drone footage, lol.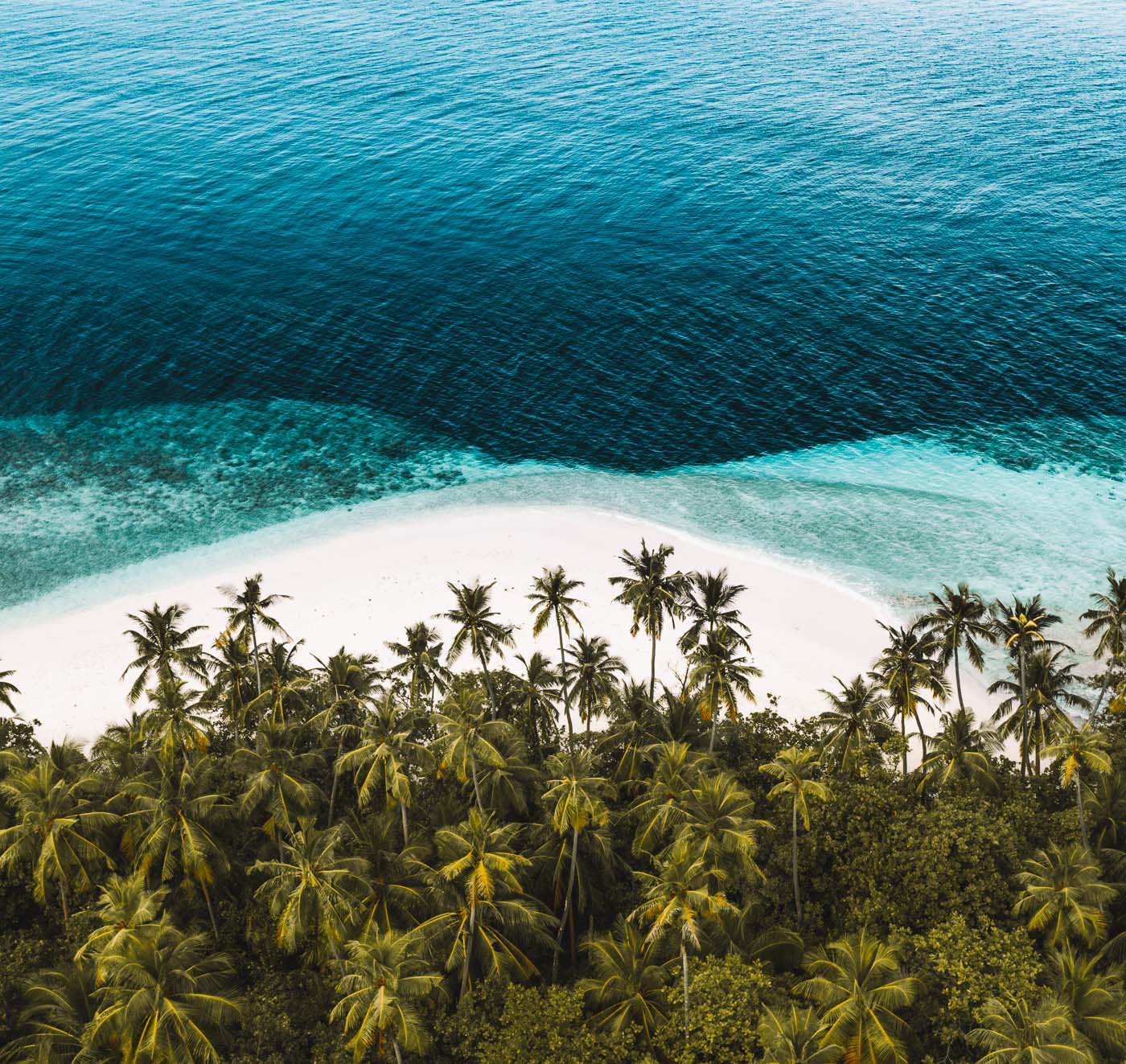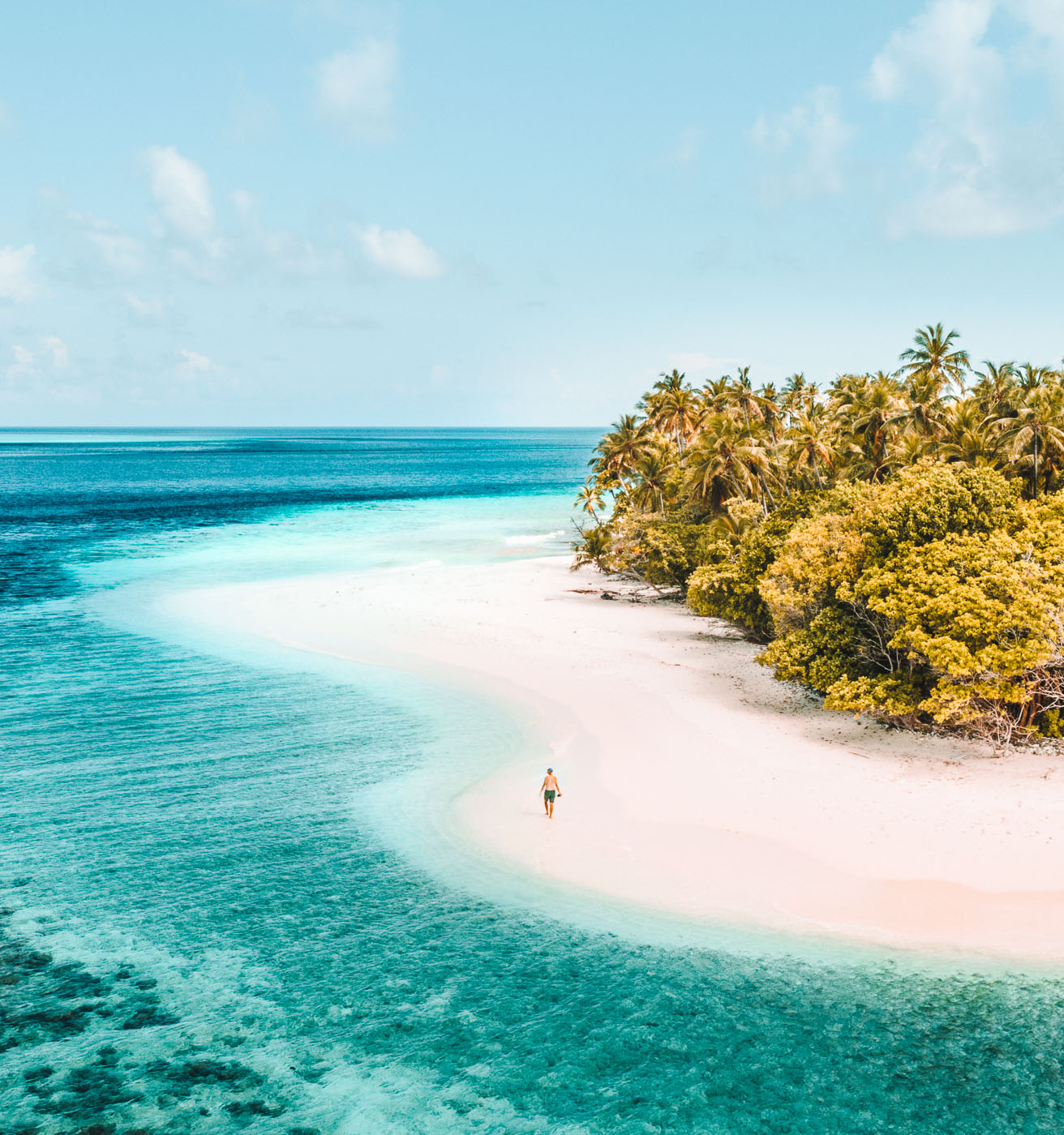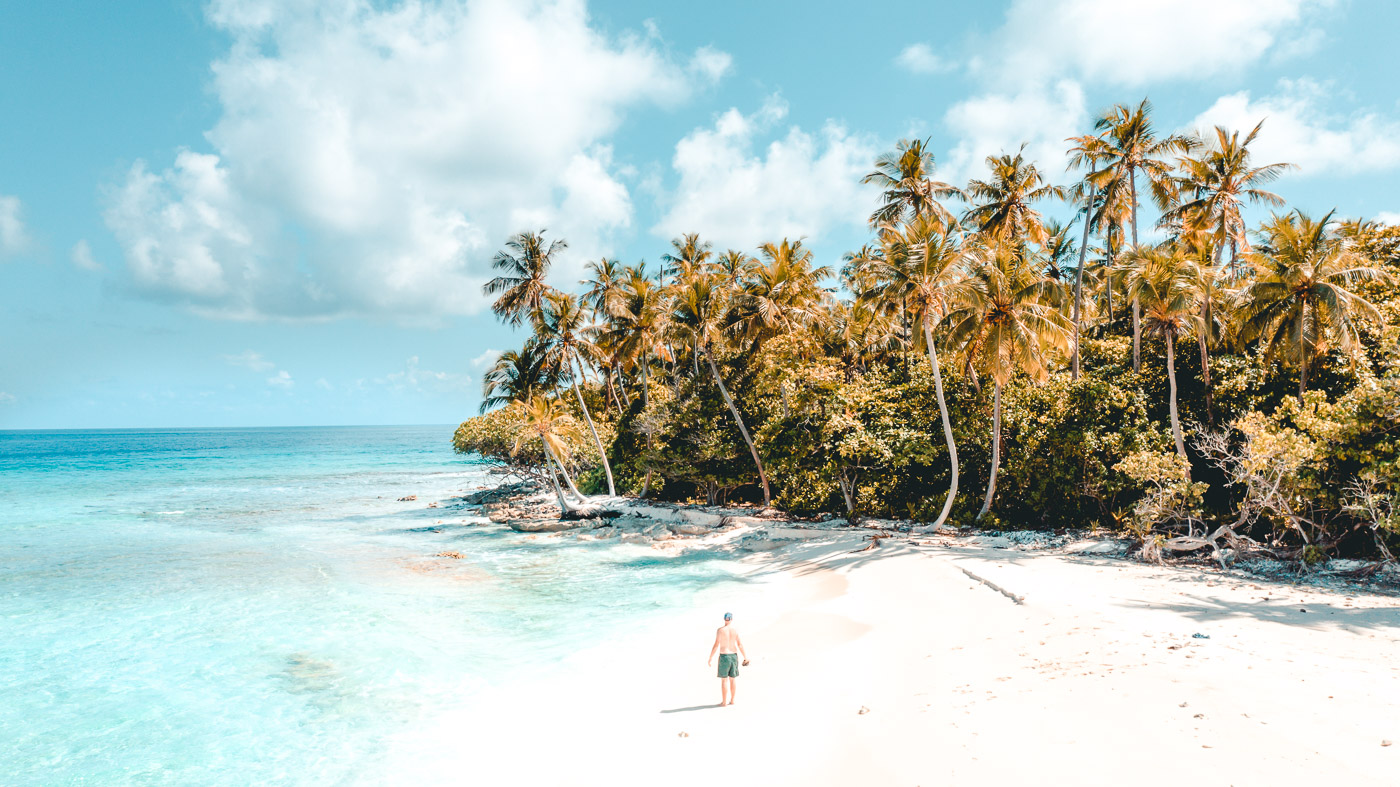 Which speaking of drone-footage, The Westin Maldives has a no-drone policy! Why? Well, imagine you're enjoying the privacy of your own overwater suite and are enjoying a skinnydip in your private pool when all of a sudden a flying camera hovers above you? Yeah – that would not cool! Another point is that drones tend to be rather loud and disruptive to the overall luxurious island/relaxation vibe.
---
Workout with a View | Westin Maldives
Okay, I'd be lying if I said I actually made it to gym to worout during MY time there, but I did spend 10 minutes checking it out the first day, and I was thoroughly impressed. Tom went nearly everyday though (apparently that needs to happen to keep his lucious six-pack), and the facilities are just top-notch.
One of the aspects I loved about the Westin gym though was that they offered free personal training sessions, and it's a huge regret of mine not taking them up on that offer! I guess that's just another reason why I NEED to make it back for another visit. ;-)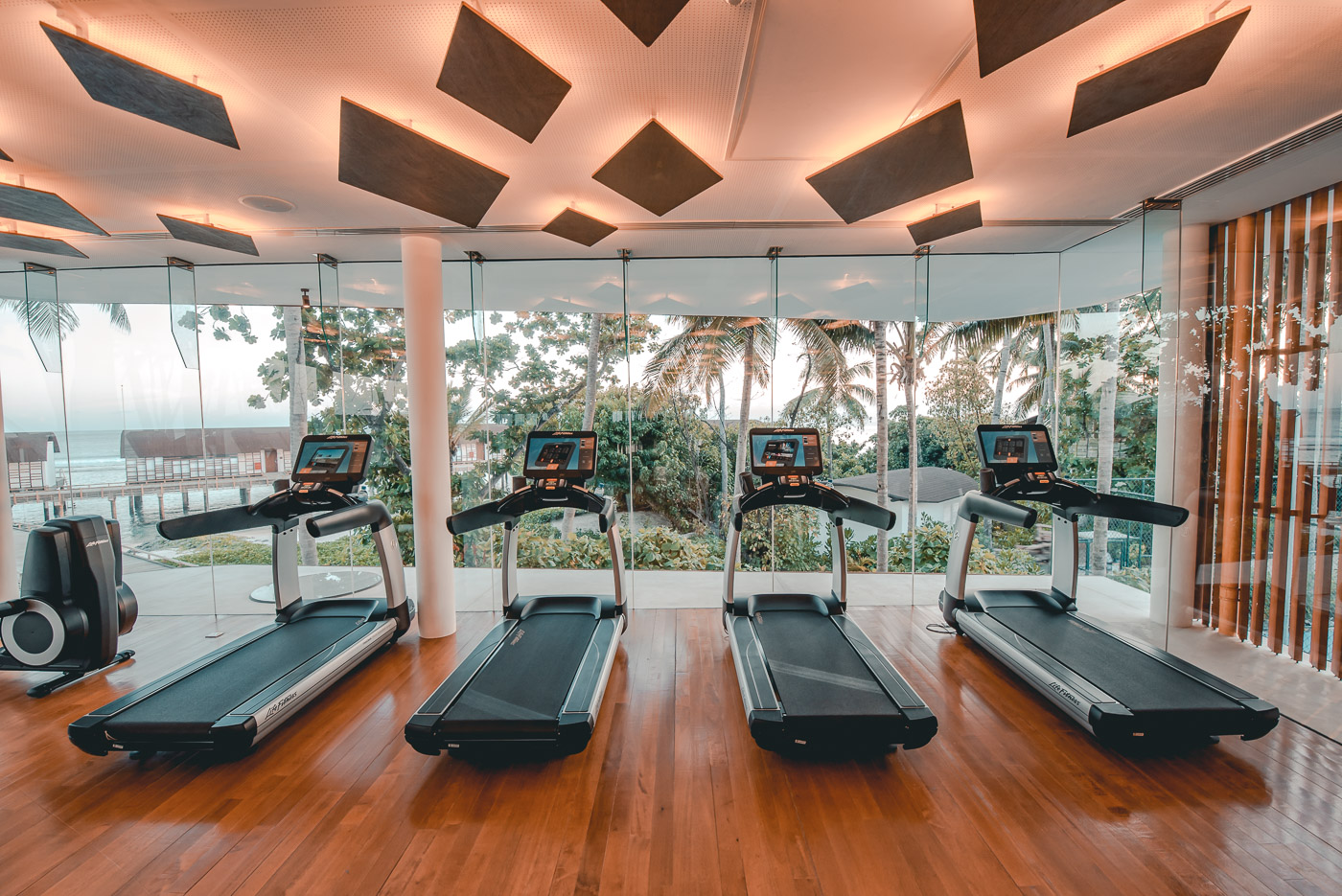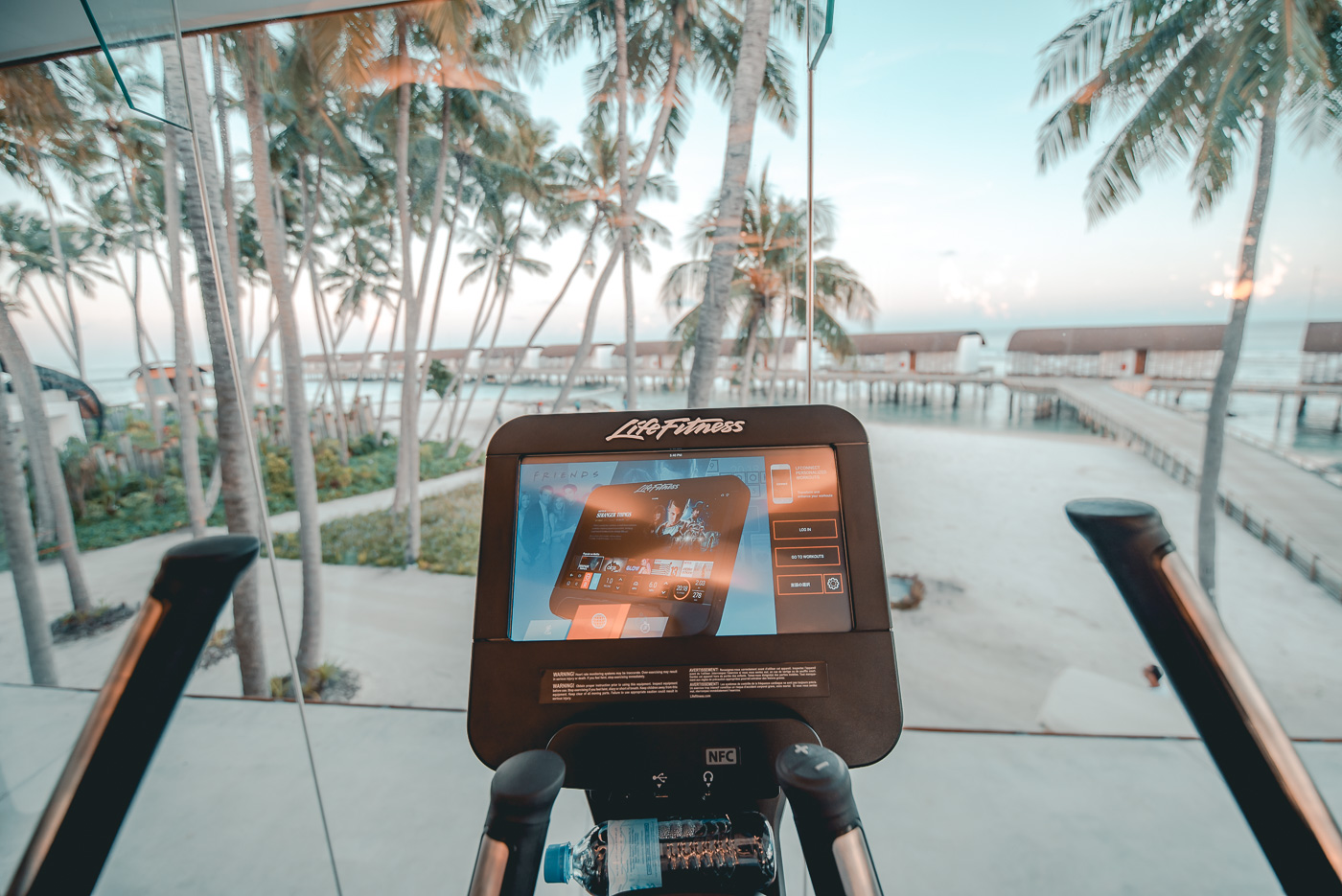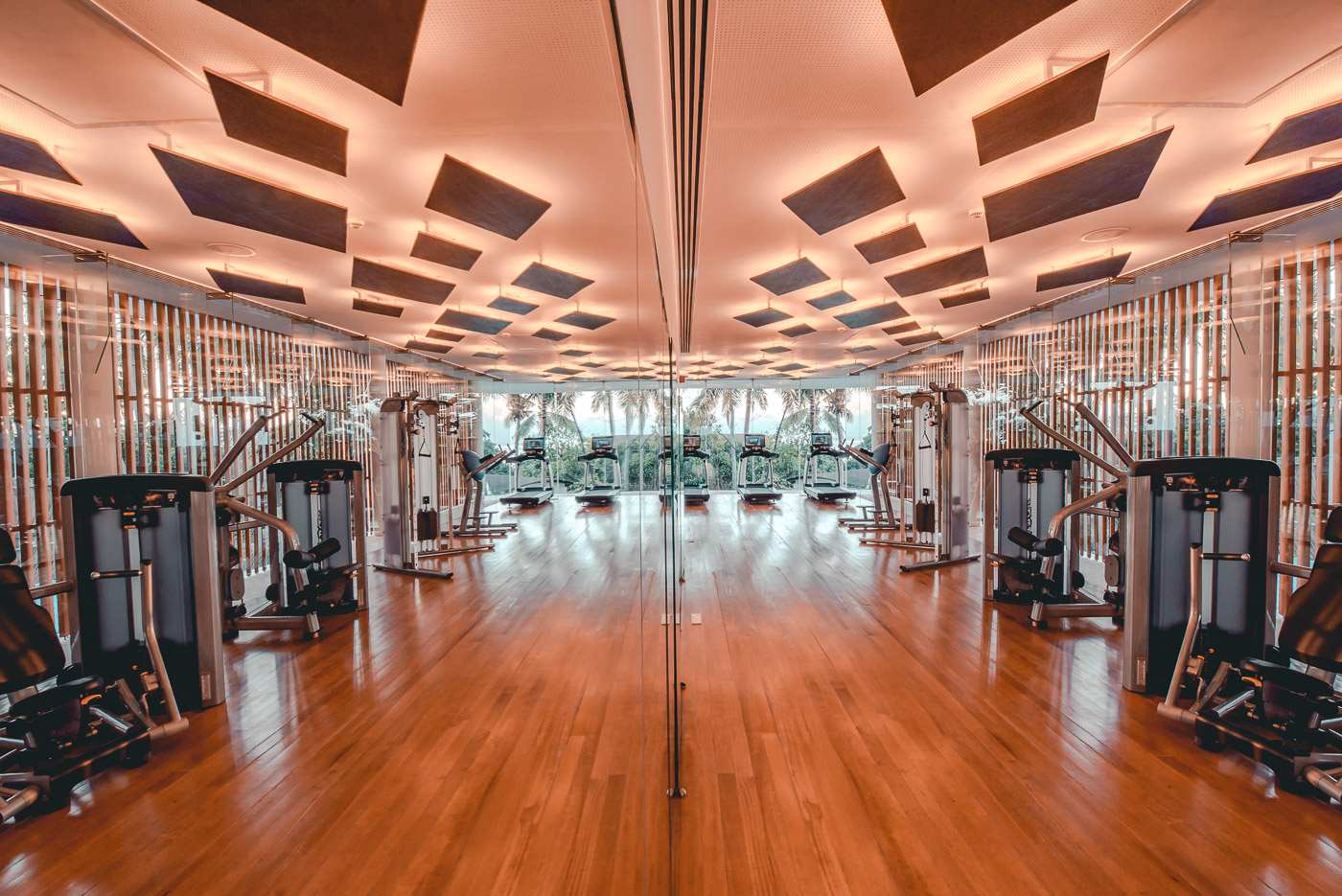 ---
Unique & Eco-Friendly Design Concept
Last, but certainly not least, is that you won't find any other resort in the Maldives with even a remotely similar design! Coming from the brilliant minds of award-winning architects PEIA Associati, the entire resort has a spectacularly modern-looking/ marine-inspired design. All of the villas are equipped with the same shell-encased abodes, which actually keep the villa cooler on those hot and humid tropical days! This means that the guests will need less air-conditioning, and will overall reduce the environmental impact.
One of the other things I loved about was that the entire watersports area/ dive center is housed by re0using the shipping containers that once carried the supplies to build this resort! How cool is that!?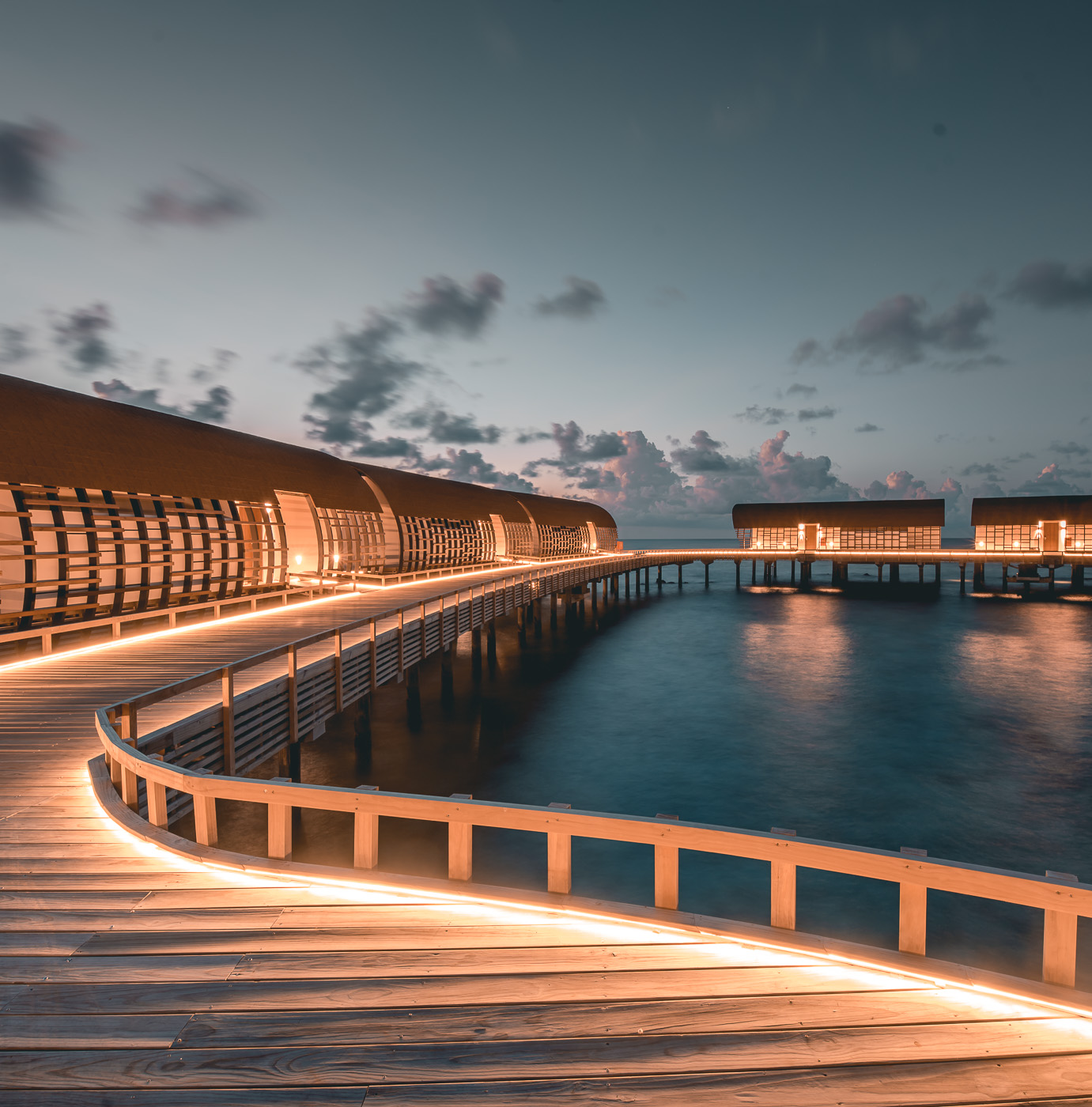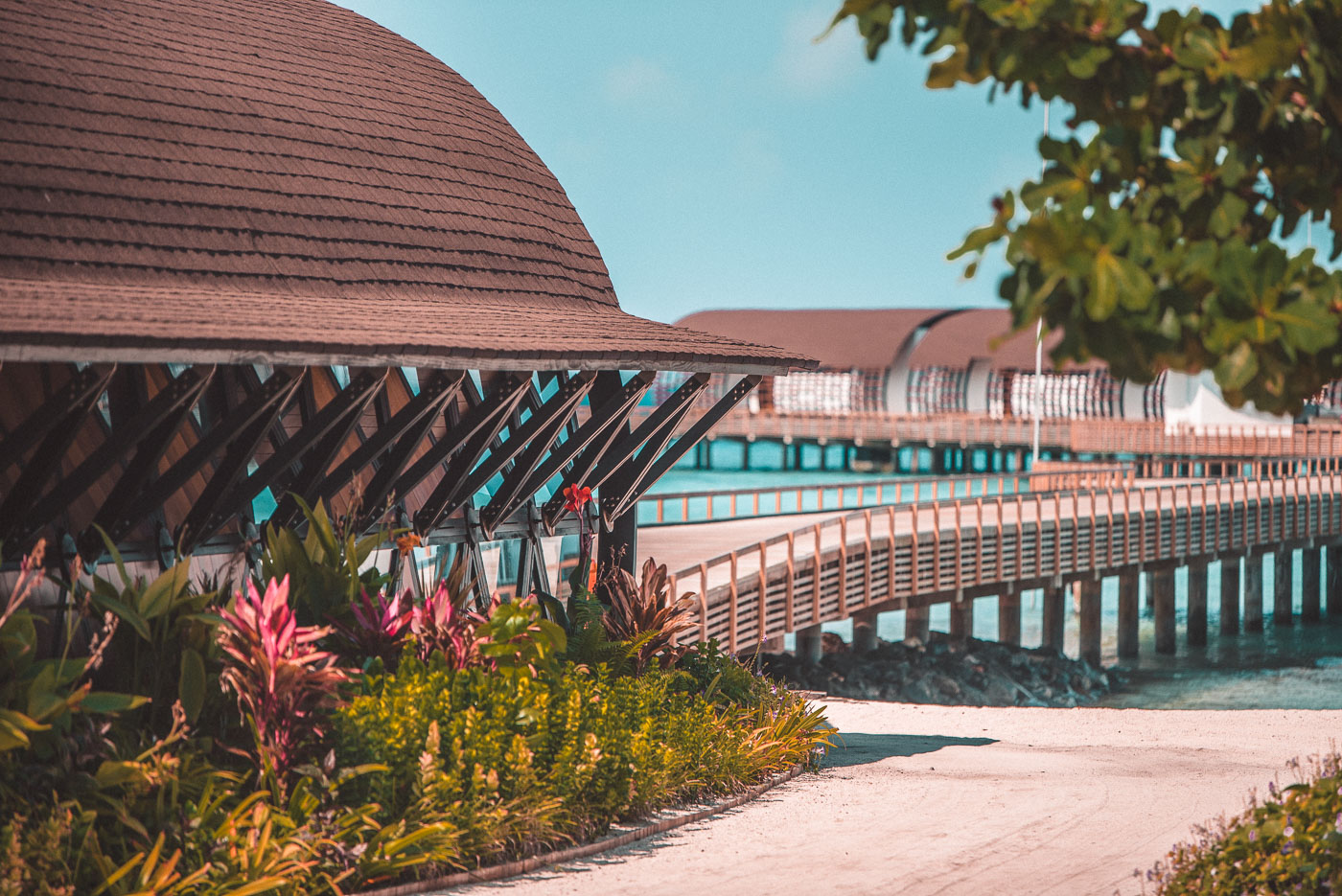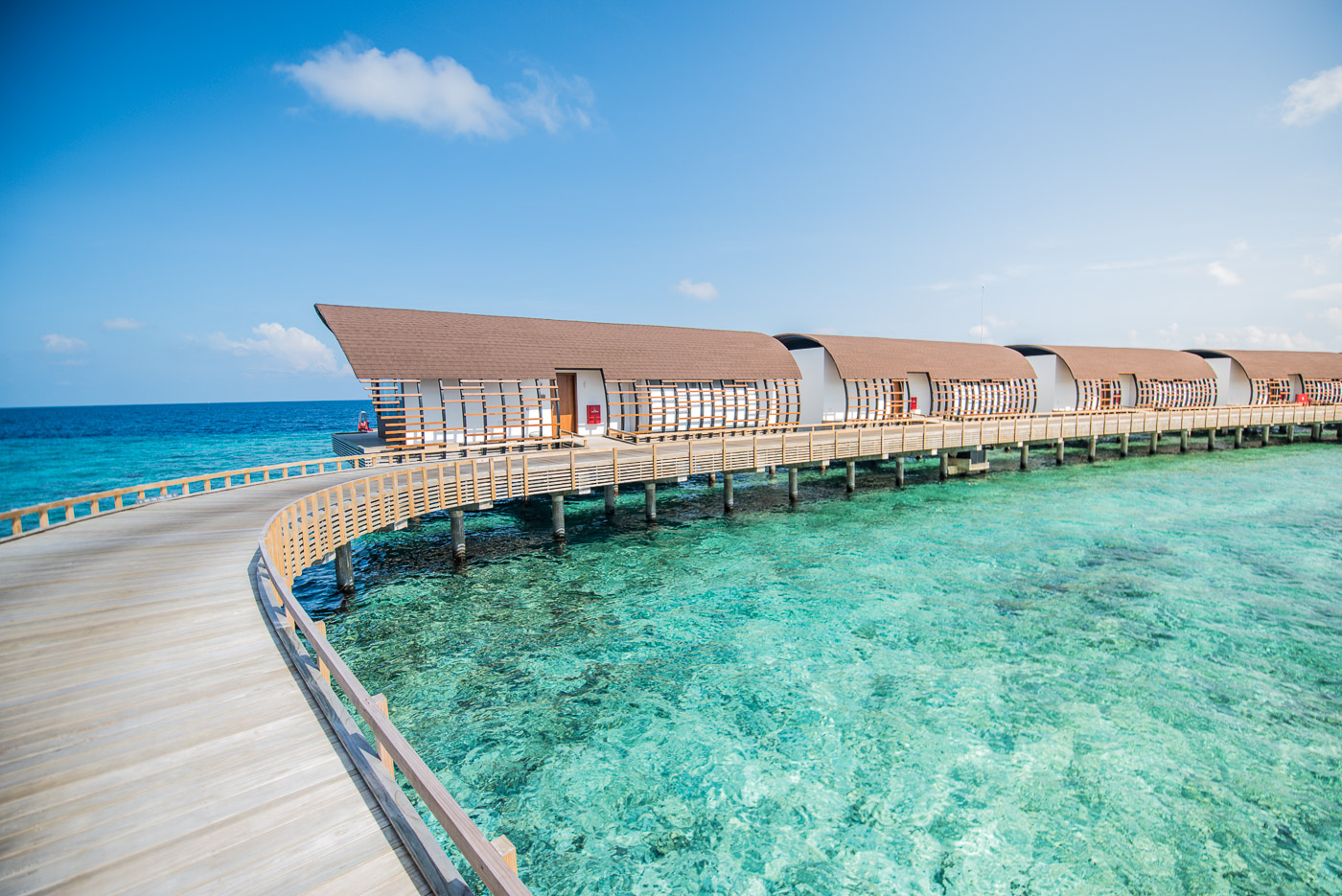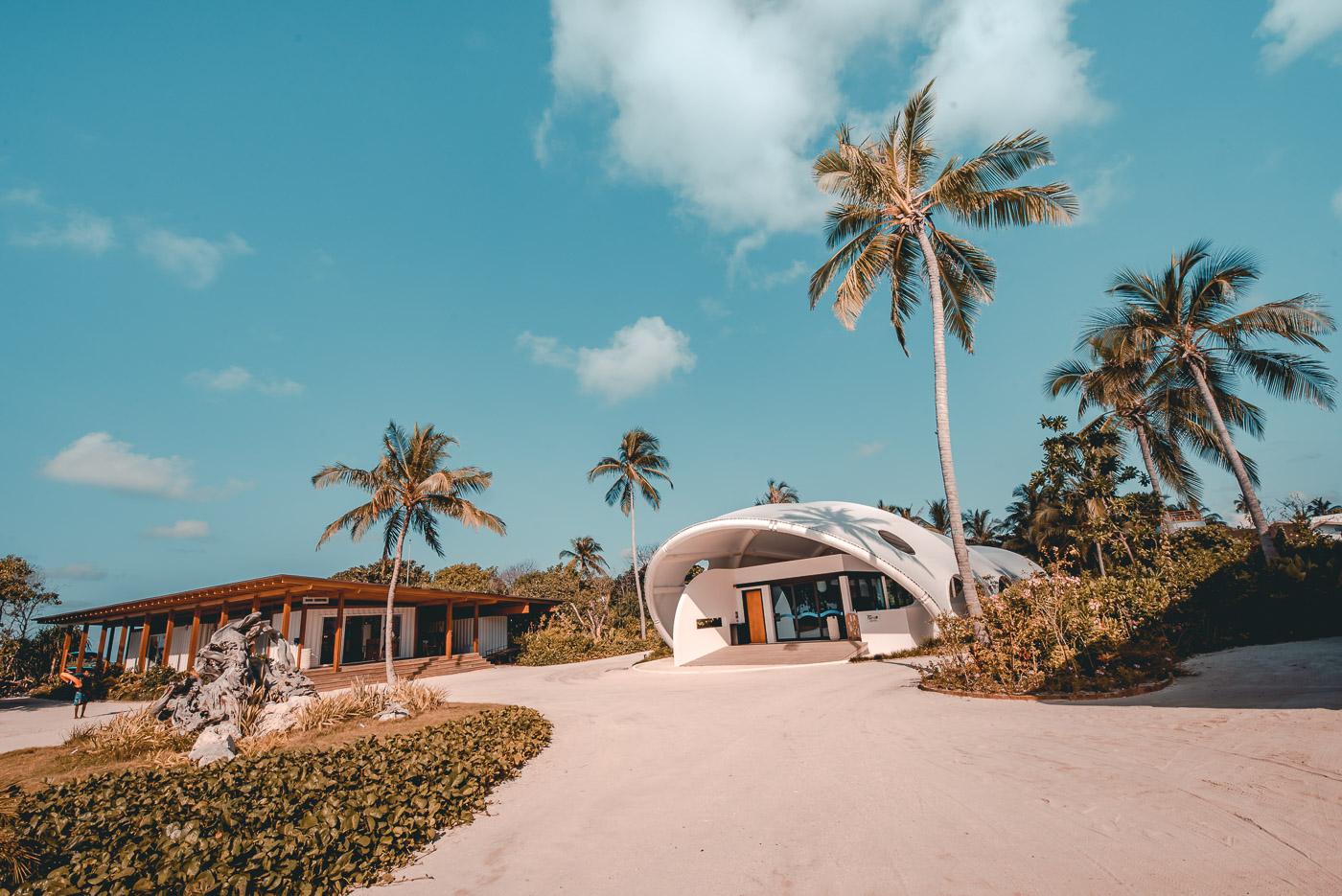 ---
Start Planning Your Own Adventure!
Getting to The Westin Maldives involves taking either a seaplane directly to the resort (which is absolutely worth it), or taking a domestic flight to the nearby Dharavandhoo Airport. When you book your room, you'll need to contact the hotel to finalize your transfer schedule.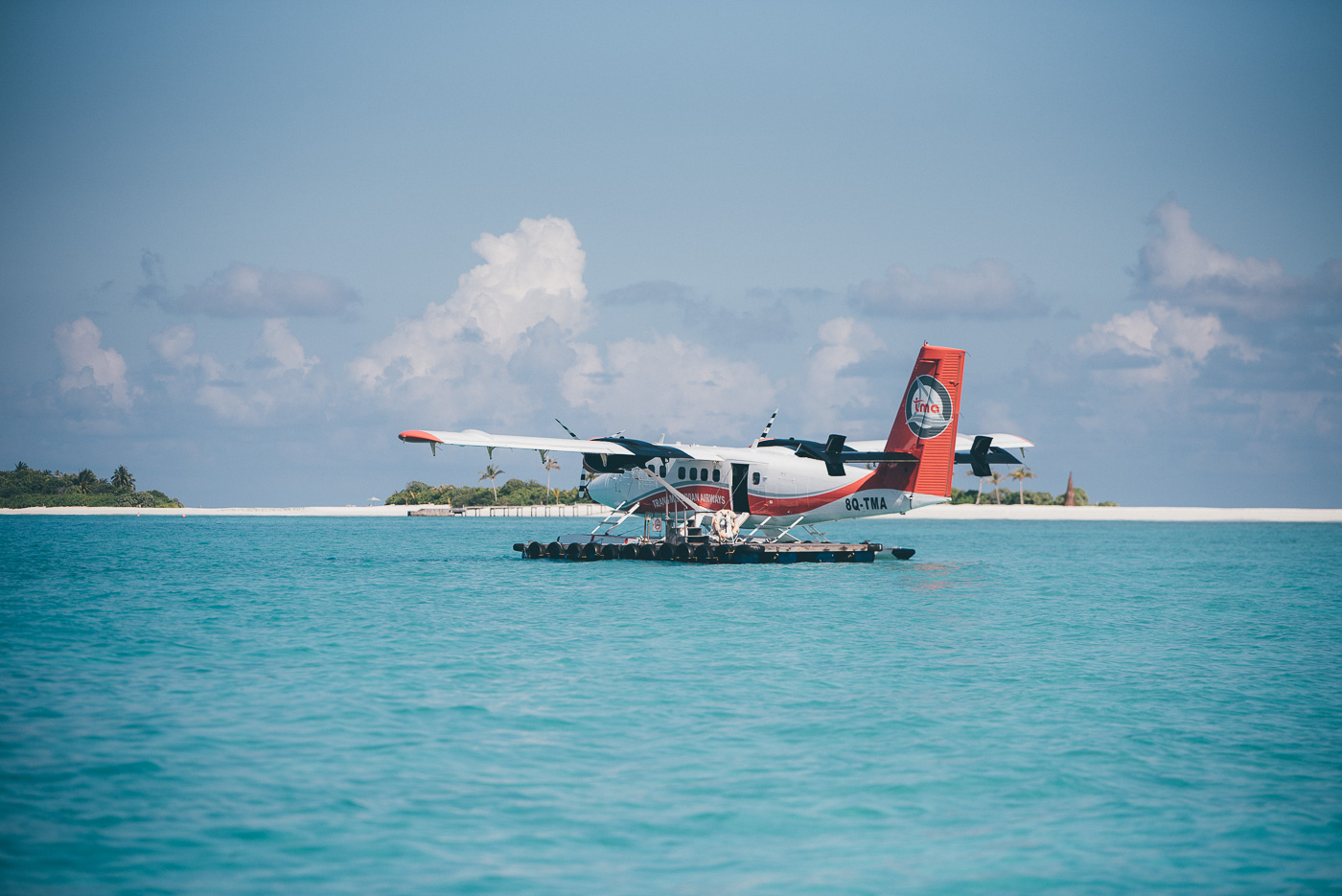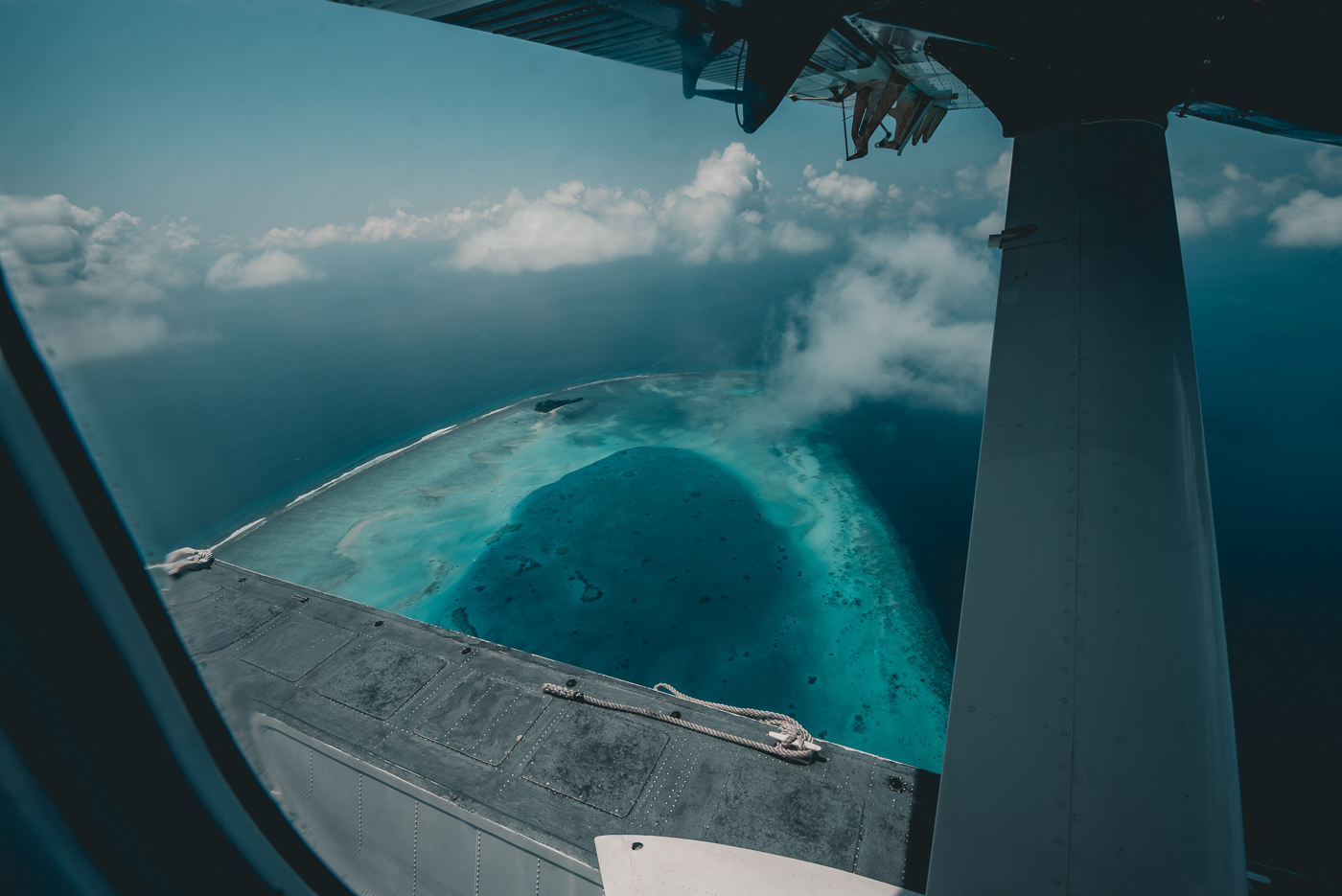 Island Villa with Pool – Rates as low as $600 per night
Island Suite with Pool – Rates as low as $713 per night
Overwater Suite with Pool – Rates as low as $788 per night
If you're on a stricter budget, then I'd recommend visiting during the off-season/shoulder seasons, and avoid traveling between December – March (which is high season in the Maldives).
Reviews & Rates Hotels Combined | Booking.com | AGODA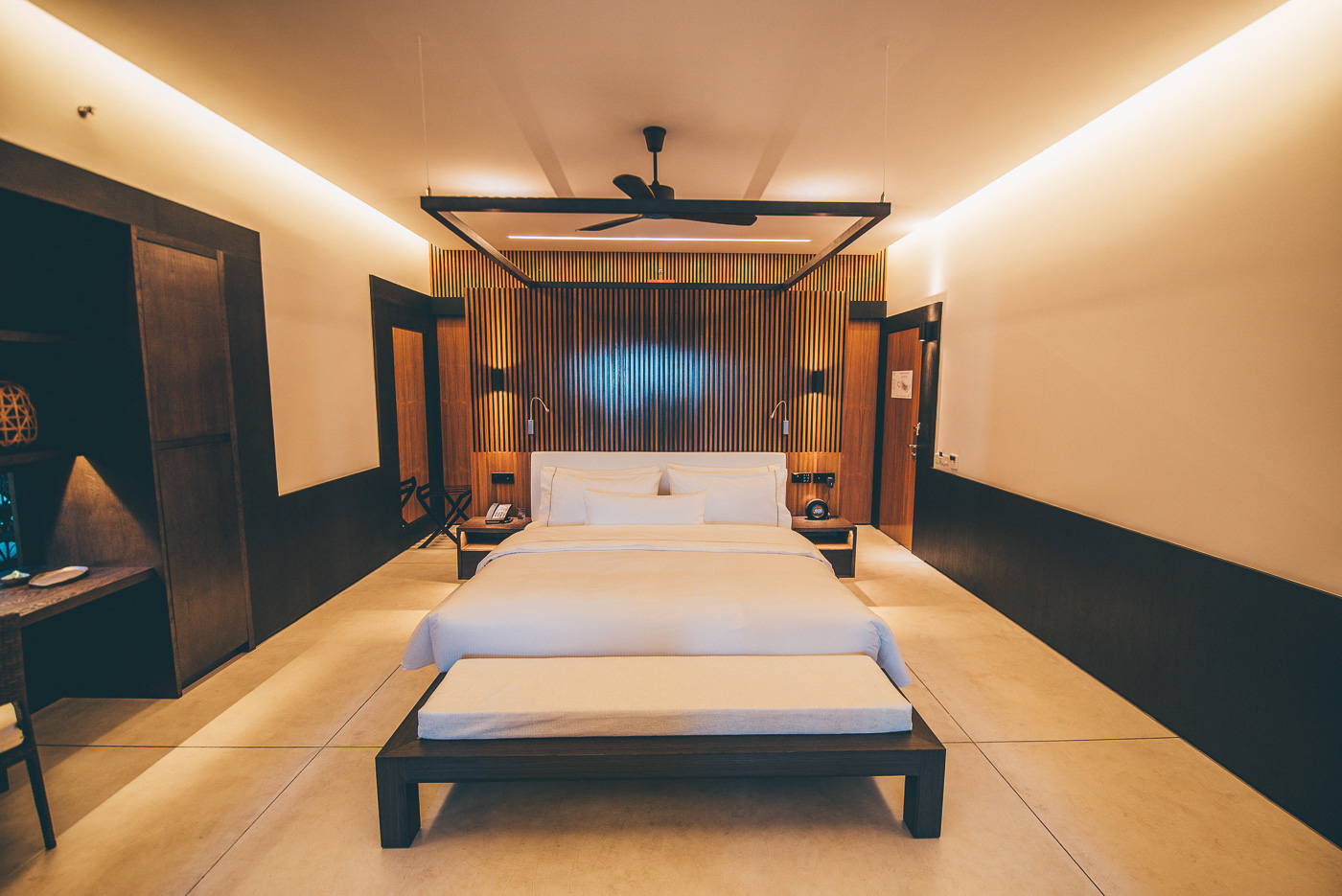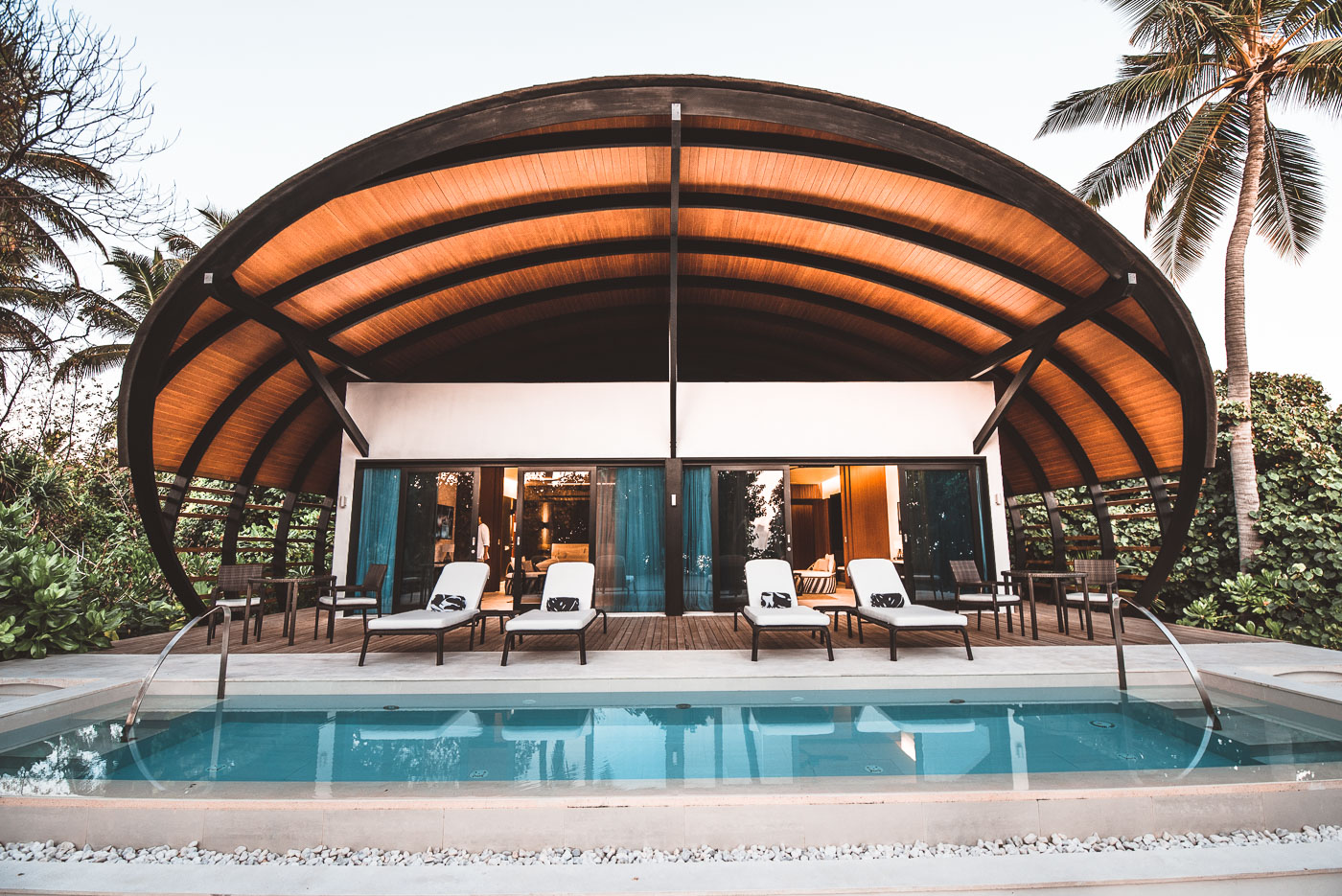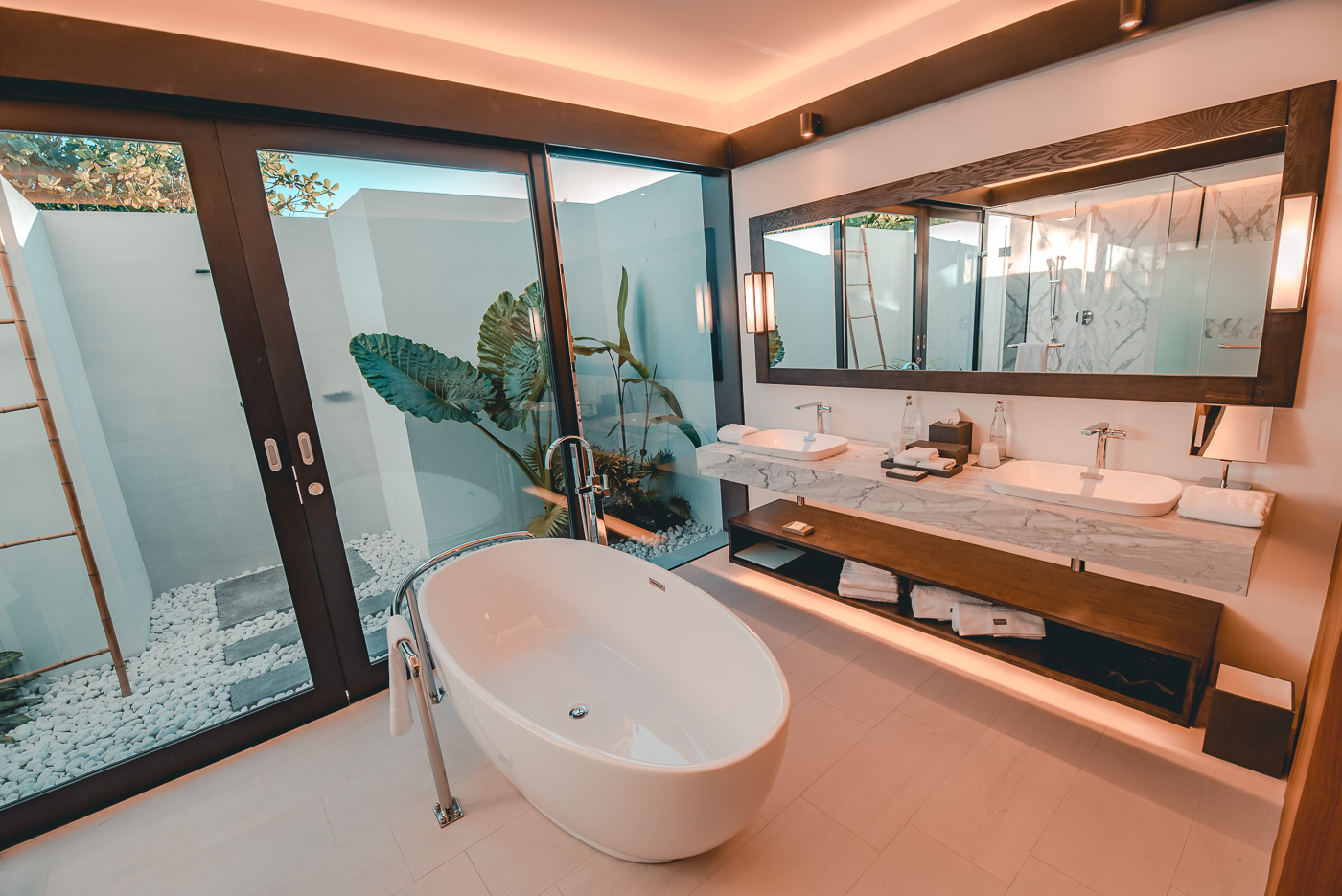 ---
Thanks for reading my Westin Maldives Review!
This really was an unbelievable 5-day stay at this brand new resort, and it truly is one of the most heavenly hotels I've ever visited. If you're not already, be sure to follow along on my Instagram & Facebook to keep up with more of my international adventures around the world!
I spent a full month traveling around the Maldives, so check out a few of my other articles & reviews to help fuel your wanderlust for this stunning country!
Top 14 Things to do on Thulusdhoo Island, Maldives – This is one of the most visited local islands in the country, and will show you a very different side of traveling in the Maldives. You can find really cheap guesthouses for as little as $30 or so per night, and is just a fun way to see the local side of the island. The Maldives is a strange country, because half the country is basically just resort islands, and the other side are the local islands. If you've got the time, I'd strongly making your way here before/ after visiting the Westin Maldives Resort!
Kurumba Island Resort Review – I spent another 5 days at this resort, and absolutely loved it! There are tons of reasons why, and the review isfilled with gorgeous pictures, but I really loved it because it's actually the very first resort in the Maldives! It's also the closest resort to the Male airport, so you can definitely stay here for 1 or 2 nights before or after your time at the Westin Maldives. ;-)
67 Pictures That'll Inspire You To Visit Kanahura Maldives – This was the last of the resorts I visited during my month long trip, and I had an absolute blast! The food was top-notch, the rooms were really elegantly designed, and I LOVED riding my bike around the island (it was the largest of the islands I visited)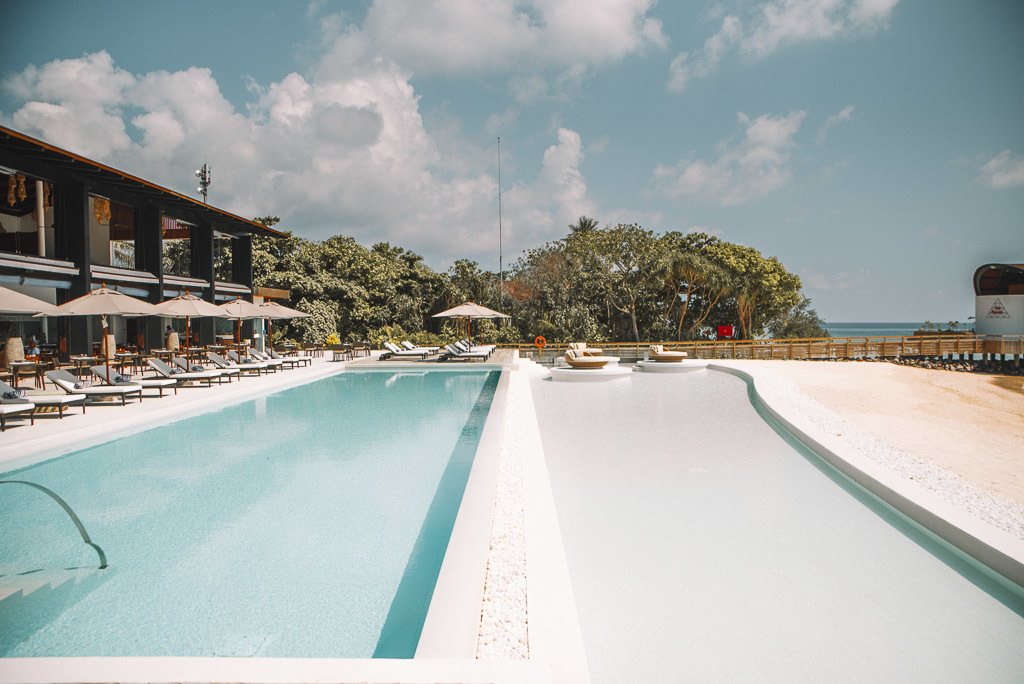 ---
What to Pack for the Westin Maldives
Since this is a 5-Star luxury resort, you'll want to make sure you do you have a few nicer outfits to dine in, but for the most part it's a tropical vacation! Just bring plenty of comfortable swimming trunks, breathable shirts, and sandals, and you'll be fine. Here are a few products though that I think can make a big difference to your holiday!
Anker PowerCore Portable Charger:

One of The Smallest and Lightest power banks available! I carry this with me just about everywhere I go, because I'm using my iPhone a bit more than I care to admit! Well, when you're exploring Bali, you'll definitely want a portable charger

(Read Reviews & Check Availability)
Quality Sunscreen: The sun is extremely powerful in the Maldives, and you'll most likely be sun bathing and swimming quite often while you're at the Westin property! You really need to make sure to BRING SUNSCREEN WITH YOU TO MALDIVES, because for some reason it costs a ridiculous amount more! I personally use this Neutrogena Lightweight & Water Resistant SPF, and I love it!
Repel 100 Insect Repellant: This is only essential if you plan on visiting the brother island for a quick hour visit or so. It's a nice item to have while visiting any tropical destination, but the Westin Maldives property does spray for bugs so that shouldn't be an issue while on the main island.
GoPro Hero 7 Black: This is my absolute favorite camera for underwater stuff, and I'm honestly blown away by the hyper smooth stability that the GoPro Hero 7 offers! You can create some really stunning shots with this, and it'll also be perfect for all the underwater/ snorkeling shots you'll want during your time at the Westin Maldives! For the aspiring content creators out there, combine it with an Over-Under GoPro Dome for some really fun cool shots.
Waterproof Phone Case: No matter what kind of phone you have, you really want to make sure you keep it protected during your trip to the Westin Maldives! I personally love this brand, and it has kept my phone safe on multiple occasions!!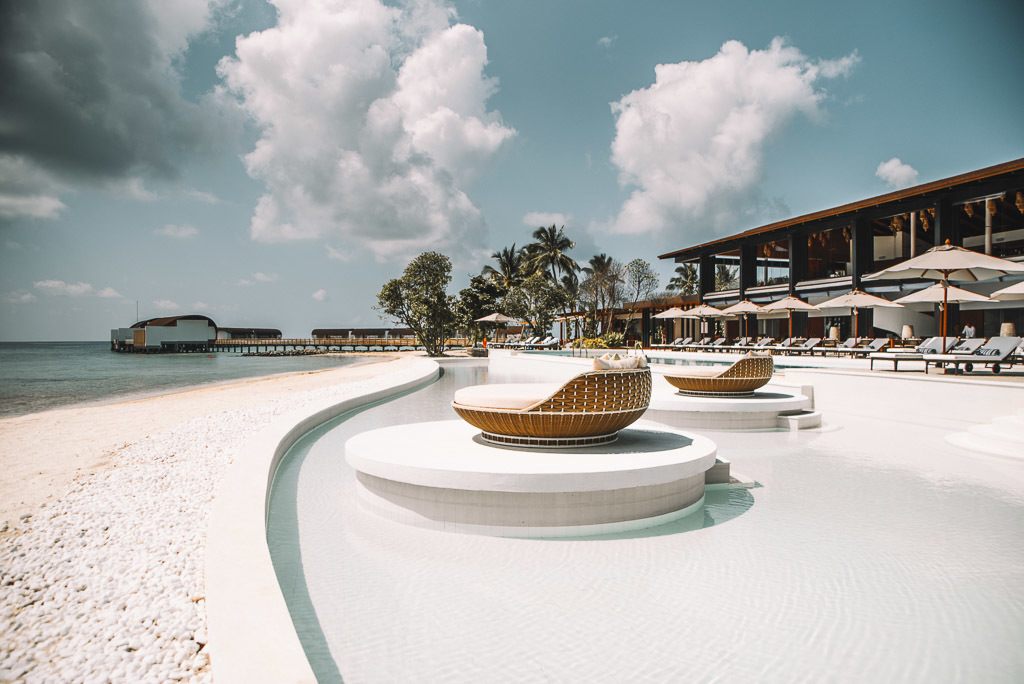 ---
---
Looking for another Westin Maldives Resort Review information?
Check out this epic YouTube video that has some really awesome drone footage from the resort! I'm so jealous they were able to fly their's during their trip because it was strictly prohibited for me during my stay at the Westin Maldives!! This video has got me itching to get back for another visit!
Gorgeous Water Villas At Westin Maldives - Miriandhoo Resort | Curly Tales
---
I was an invited guest at The Westin to come and check out the brand new property, take some photos, and write about my experience. All opinions are my own.
SHARE THIS Westin Maldives Review!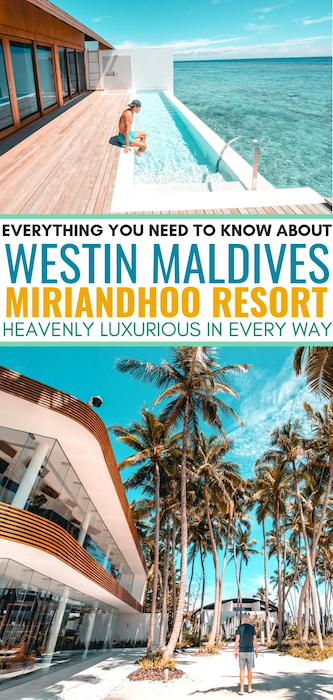 https://www.jonesaroundtheworld.com/wp-content/uploads/2018/12/Westin-Maldives-Miriandhoo-Resort1310.jpg
935
1400
Dave
https://www.jonesaroundtheworld.com/wp-content/uploads/2017/03/logotry-1-1-300x106.png
Dave
2019-06-25 05:50:05
2023-09-15 19:14:34
The Westin Maldives Miriandhoo Resort | Heavenly Luxurious in Every Way