67 Stunning Photos That Will Inspire You To Visit Kanahura Maldives
Complete with majestic barefoot bike rides, delicious beachfront breakfast buffets, and beautifully colorful Maldivian sunsets – the four days I spent on Kanuhura were truly remarkable.
This was the last resort I visited during my one-month trip in the Maldives, and it was a near perfect ending to my time in paradise.  While we did encounter a fair bit of tropical rain (not uncommon during the rainy season, lol), our sunny days were spent exploring Kanuhura's stunning Bohemian villas, swimming in crystal-clear tropical waters, and simply enjoying everything this luxurious utopia has to offer (while taking hundreds of photos along the way).
So without further ado – here are 67 epic photos that will inspire you to visit Kanuhura Resort!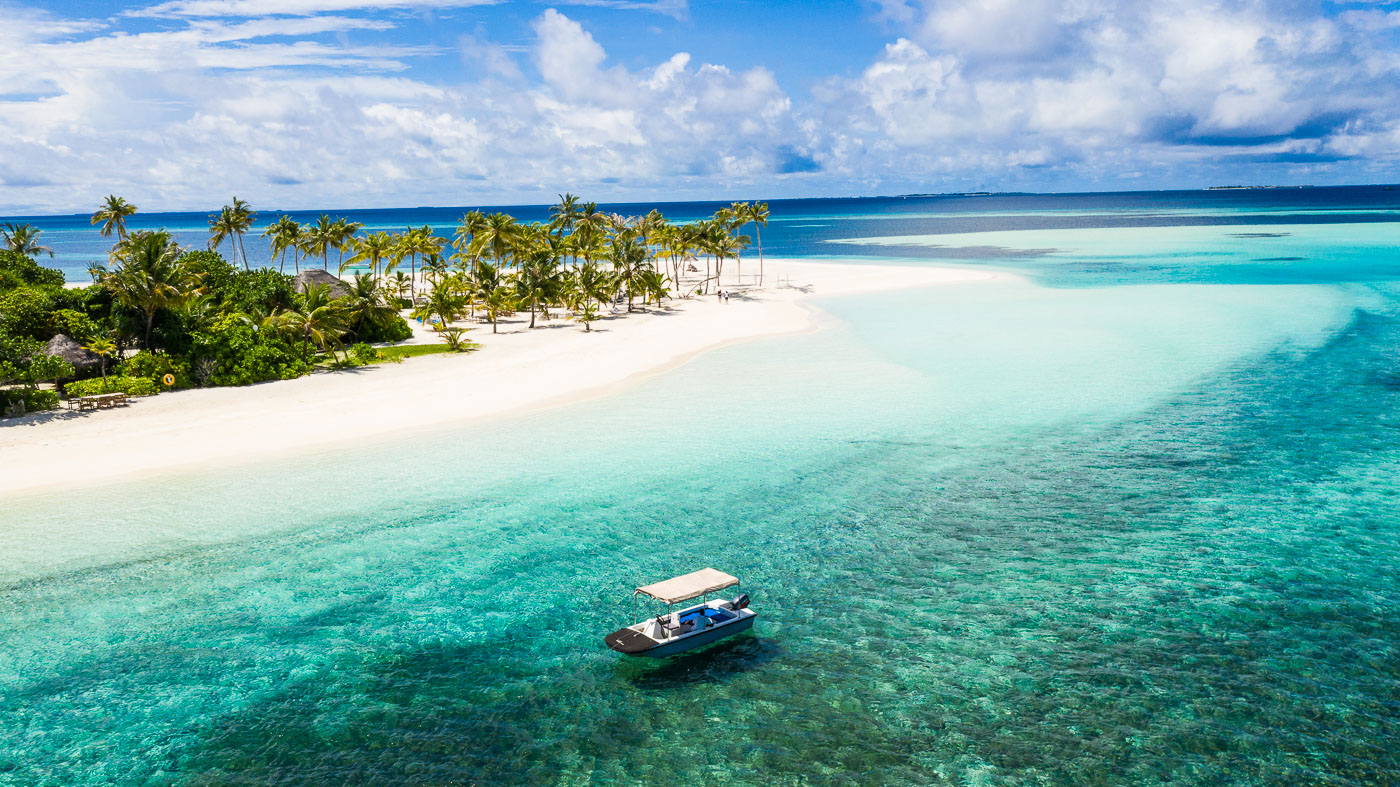 ---
Biking Around The Island
When I look back on my time at Kanuhura, the one thing that really stands out to me the most is how absolutely magical it felt to ride a bike barefoot around that island!  It's the largest resort I visited in all of the Maldives, which made riding around it an adventure all of it's own.  Complete with lush tropical gardens & pristine beaches, it's one of the best places I could have ever imagined going for a leisurely cruise.
Each villa at Kanuhura is assigned two bikes, and always know which bike is yours because your villa number is on the bike's "license plate".  Whether we were leaving our place to head to the pool, or make our way to the sunset bar – it always felt amazing to hop on go for a quick cruise.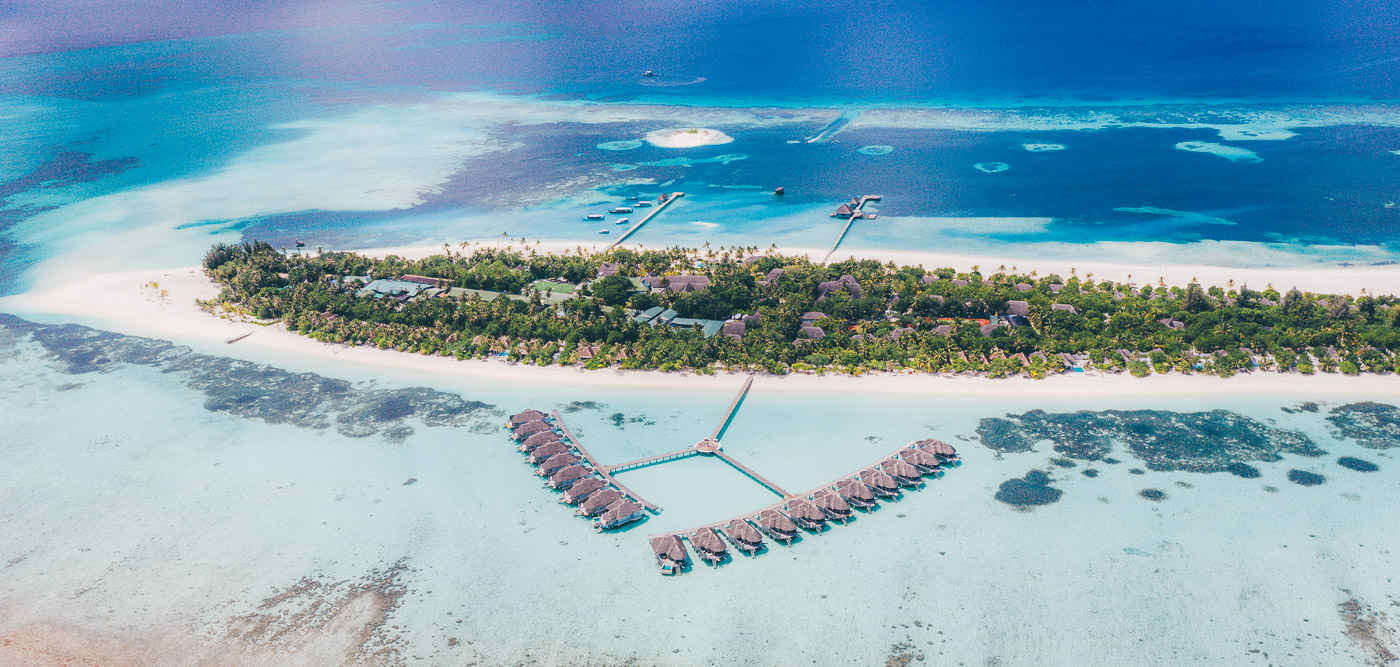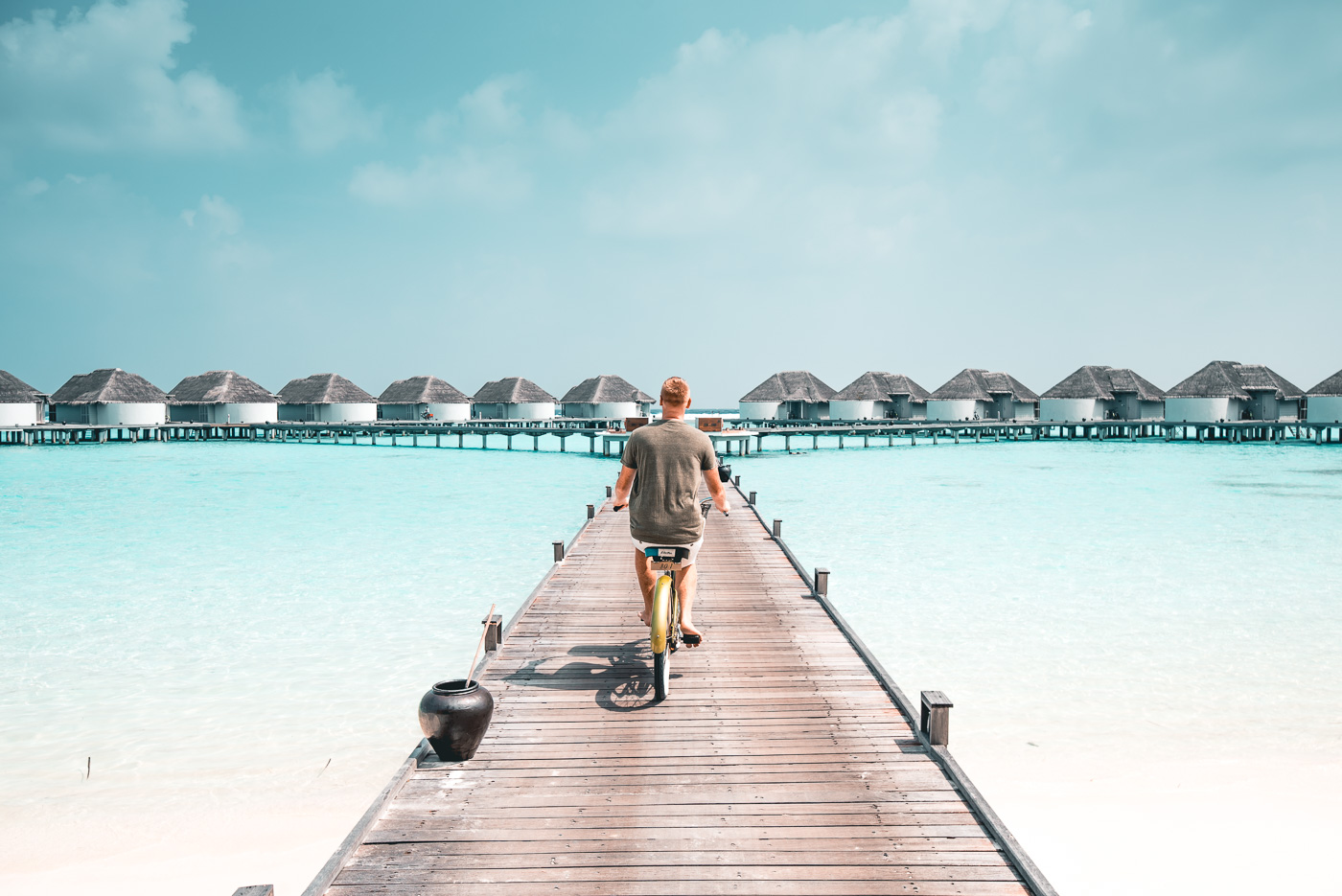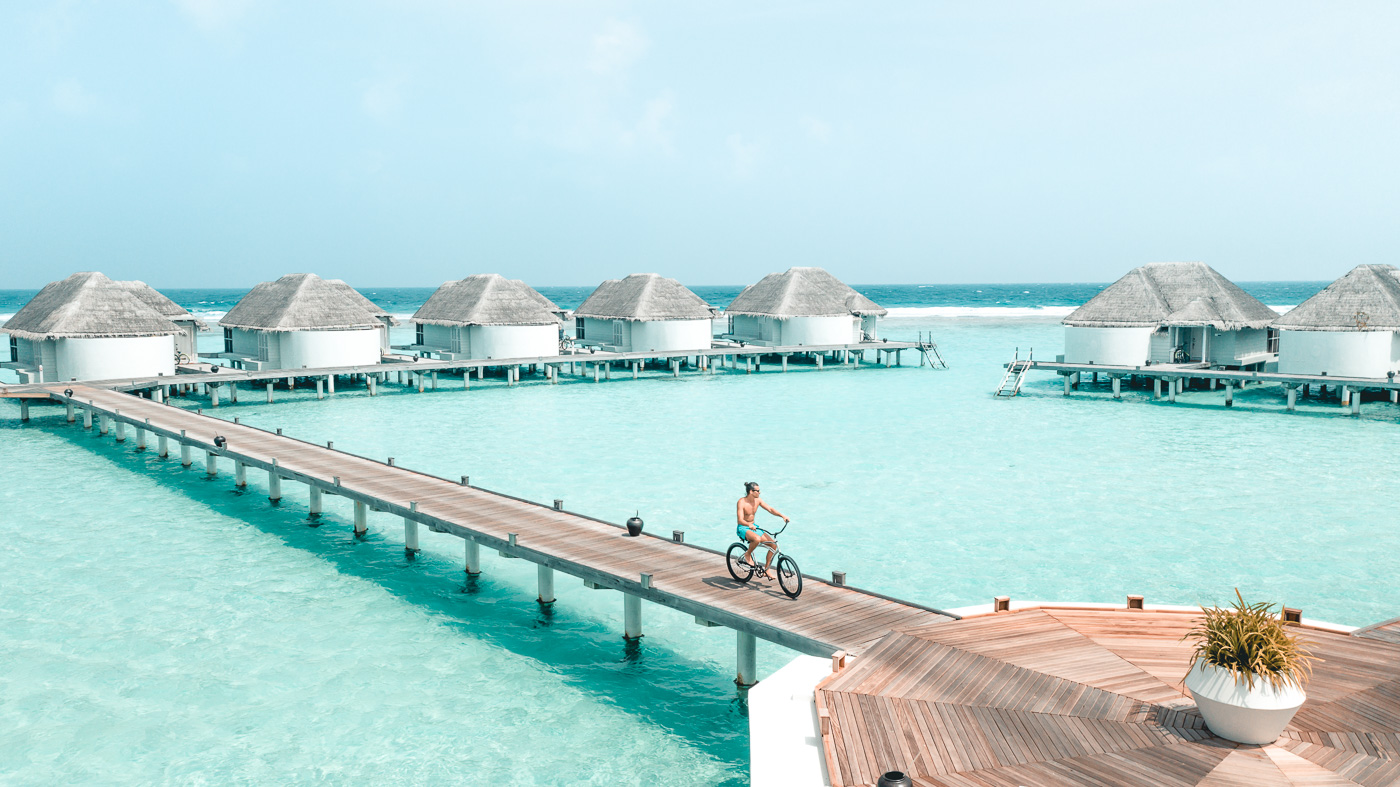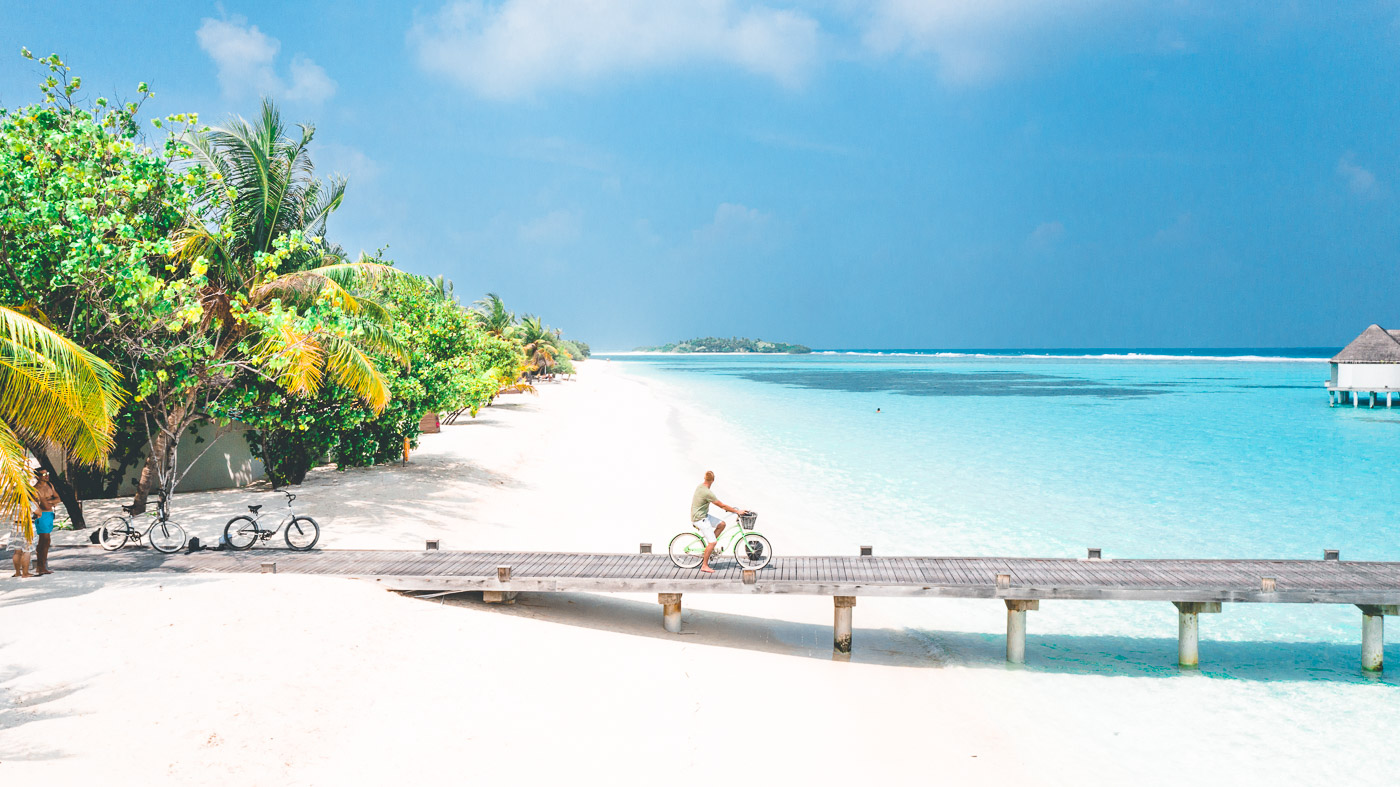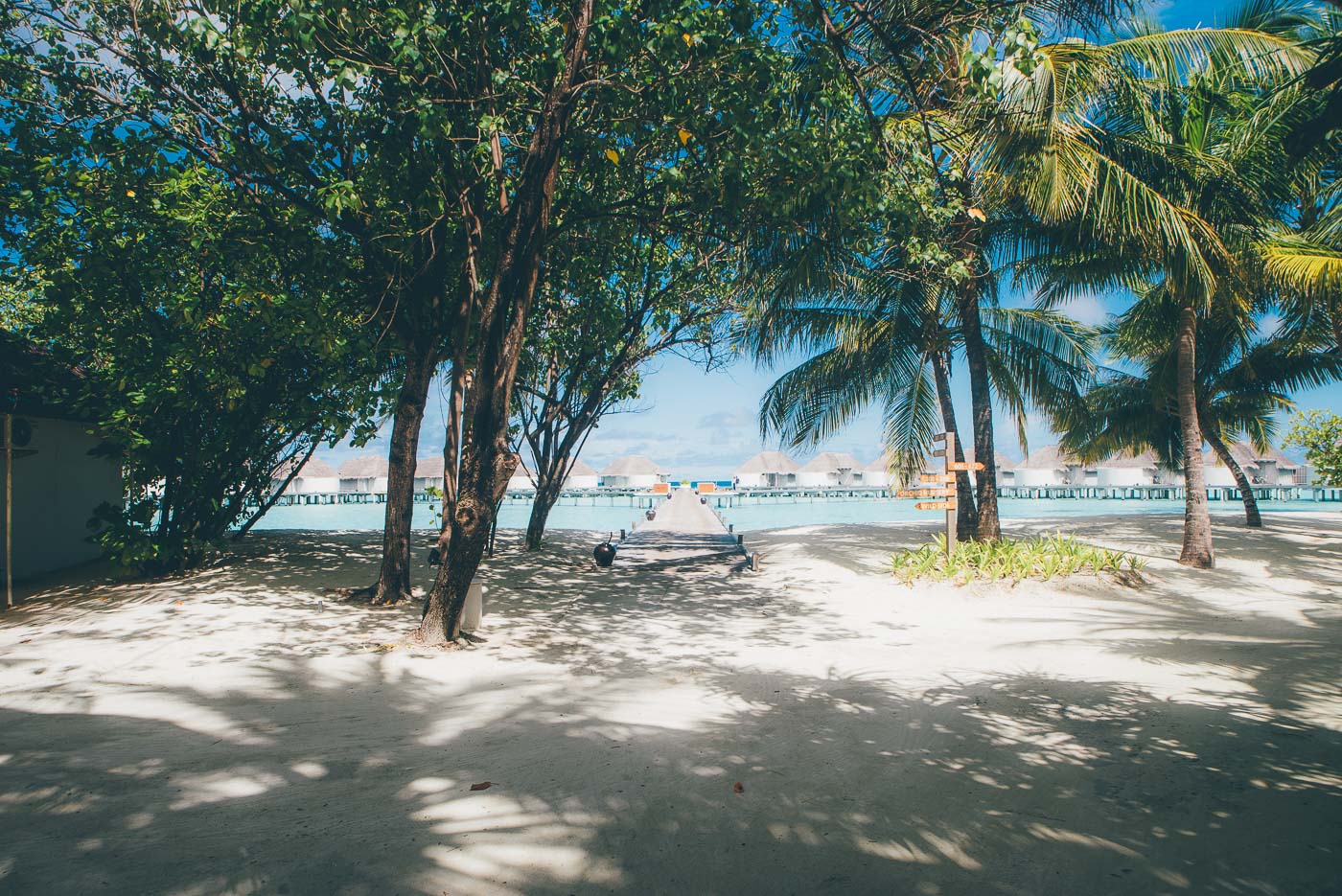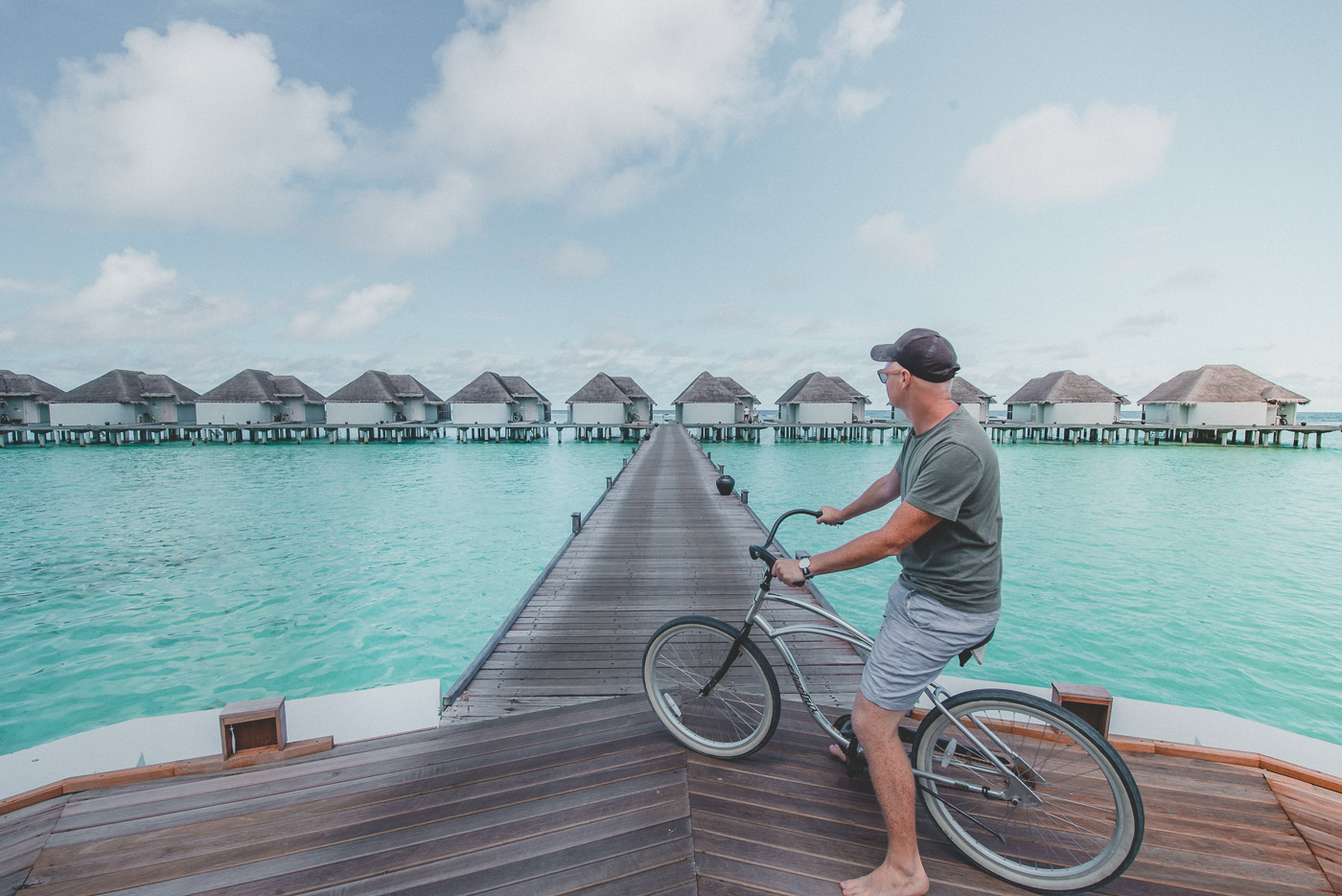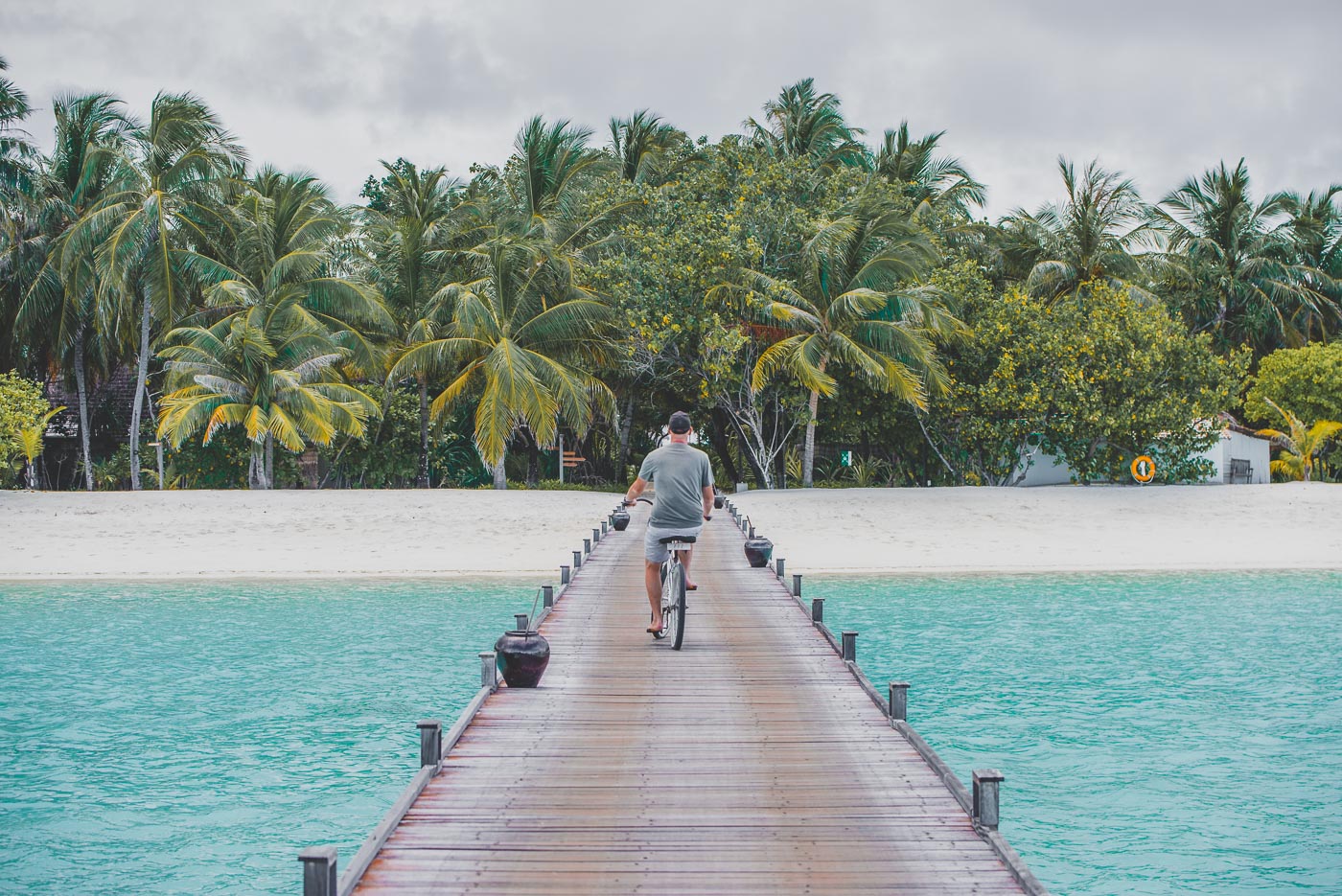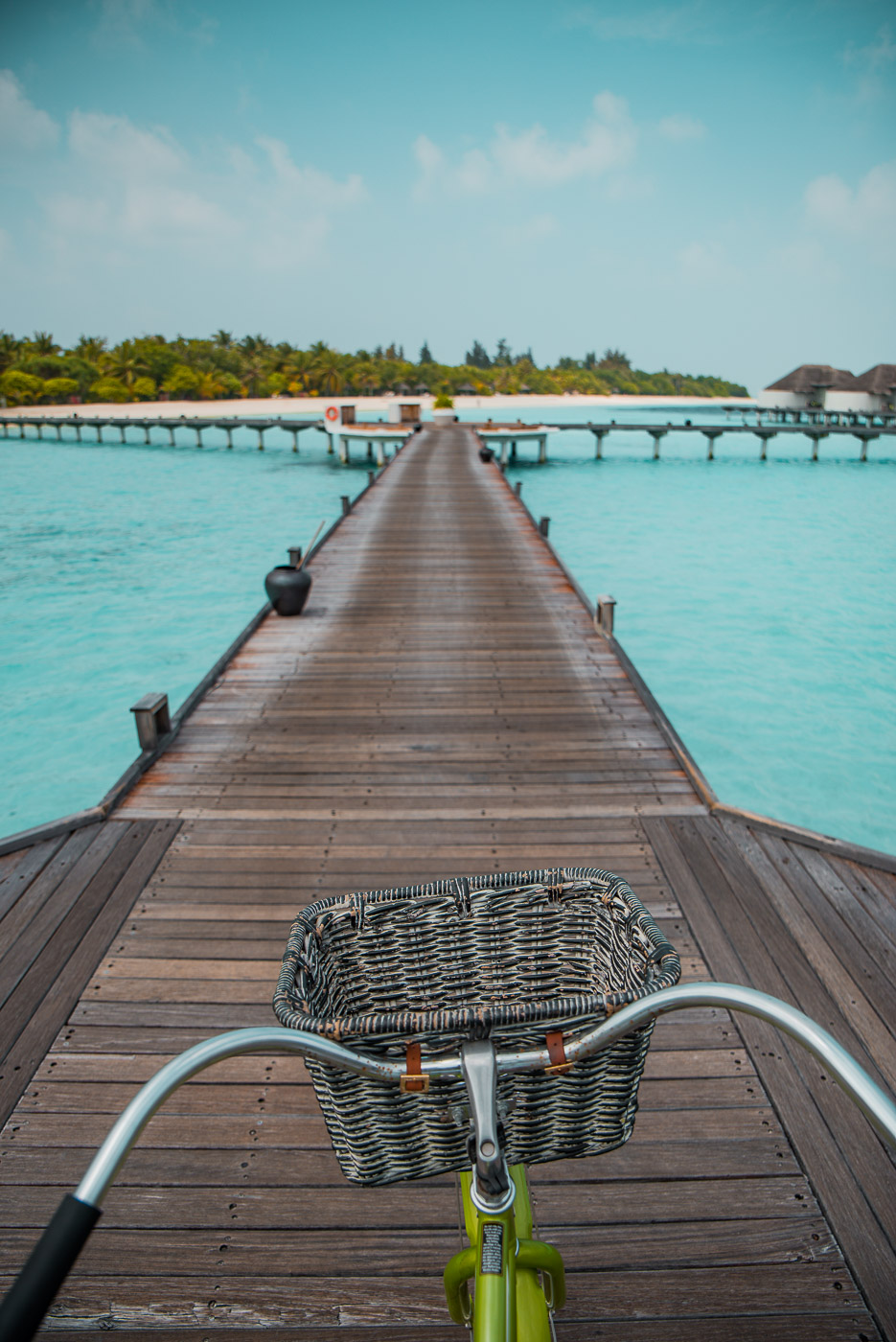 ---
Especially at night!  I remember looking at my Instagram DM's, and I had a message from Travel Tom Tom telling me I needed to get on my bike, shirtless, and ride out to the overwater villas.  At first I thought that was a weird request, but the minute I did it I completely understood.
The combination of the moonlight, the perfect tropical weather at night, the warm wind that hits your body as you bike, and the way the overwater villas light up at night…is one of the coolest sensations/things I did during the entire month in the Maldives.
It wasn't until I came to Kanuhura that I realized how much I missed riding a bike, and I think it's essential to anyone coming to this beautiful country!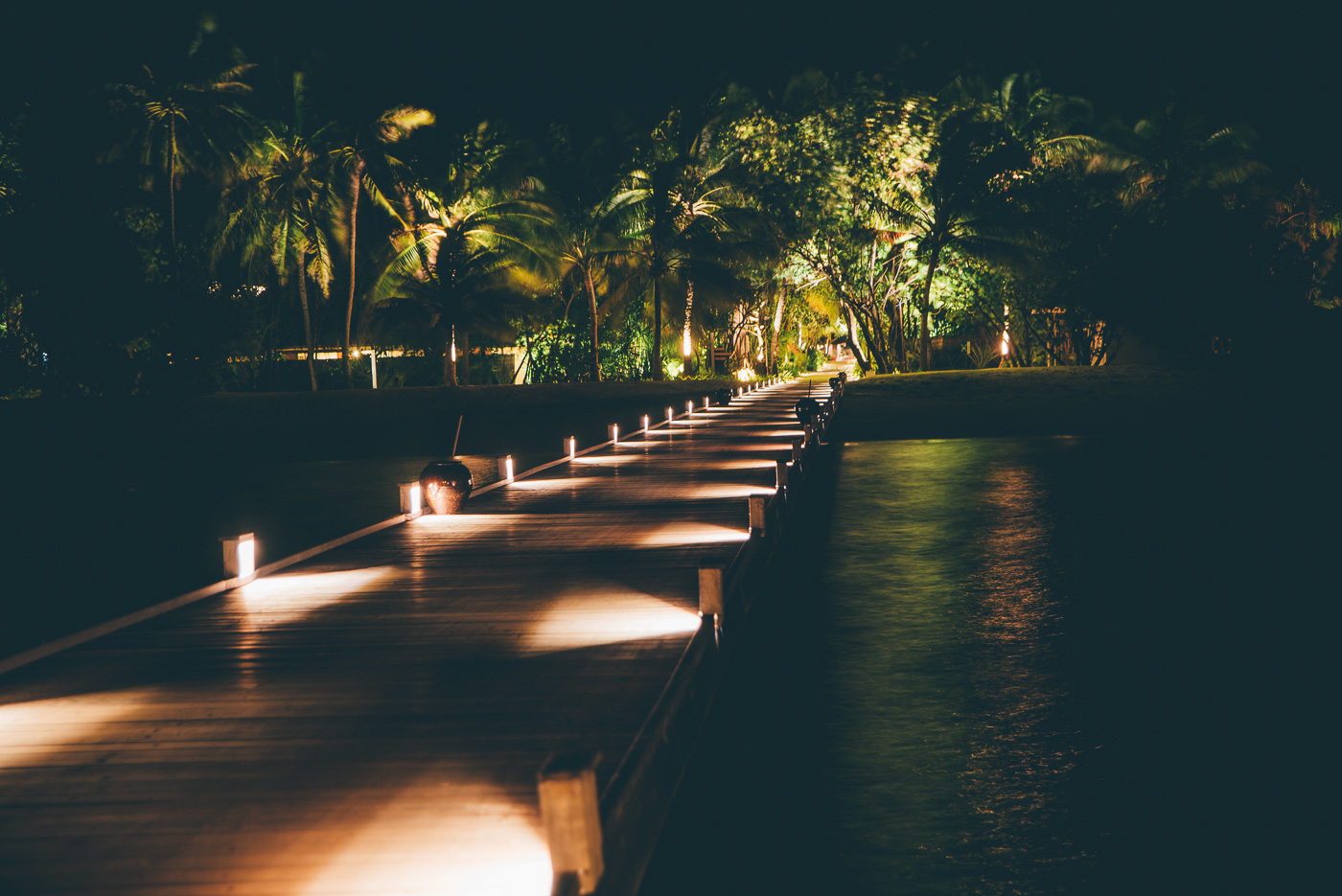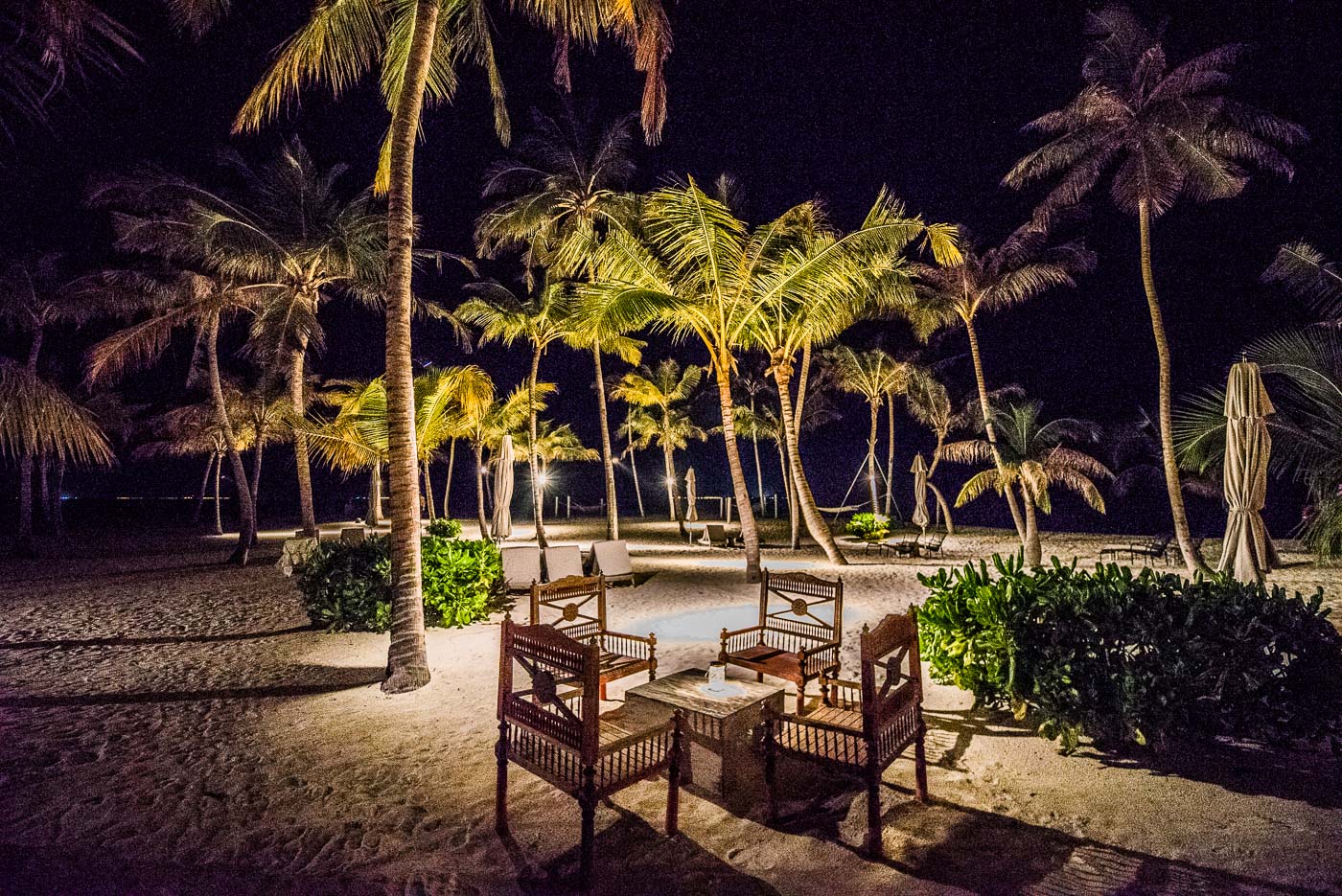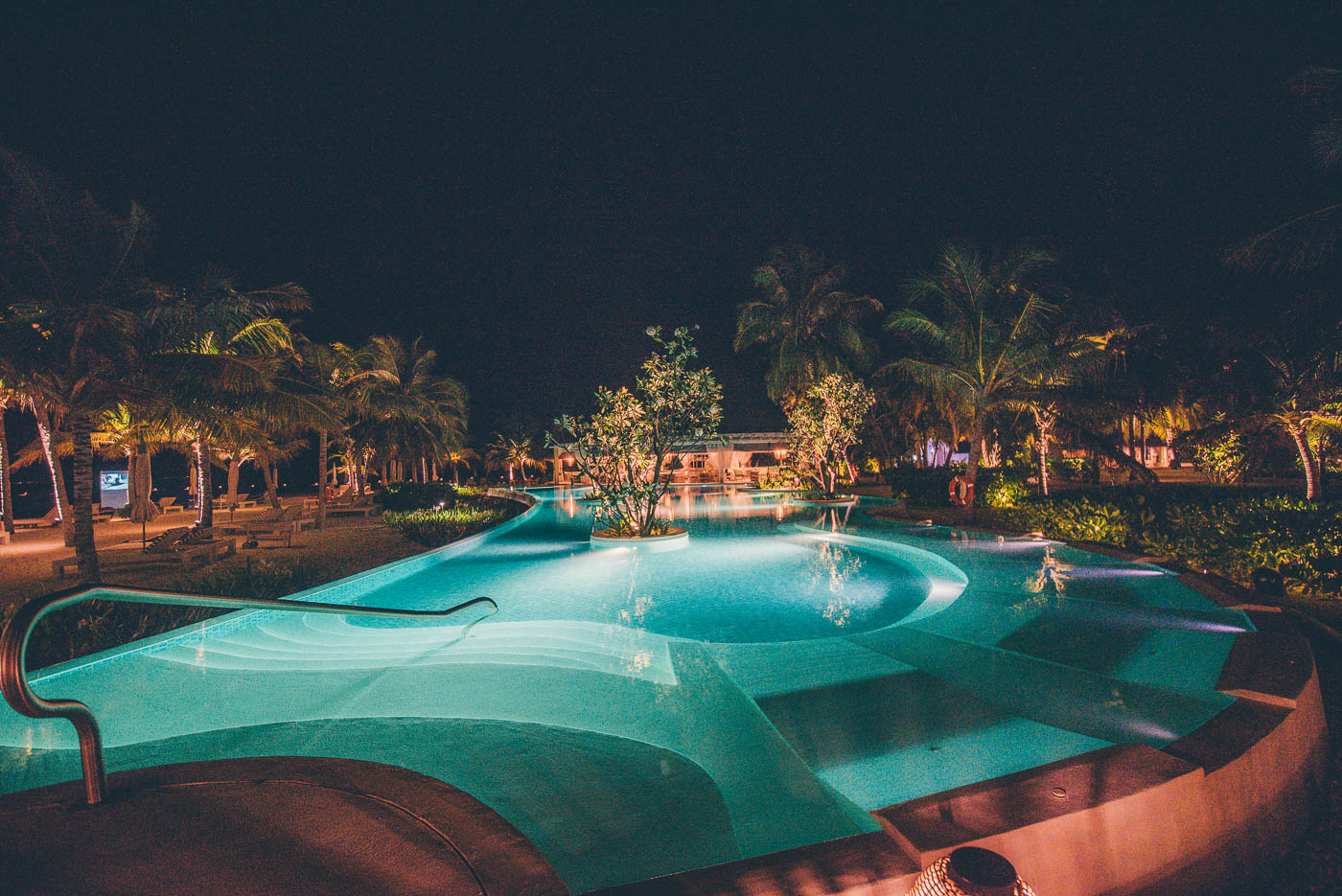 ---
Boat Rides to Private Island Lunch
Kanuhura is the actually the only resort in the Maldives that owns TWO neighboring private islands that you can visit during your stay!  There are free private boat transfers that leave every twenty minutes, and it's simply a fantastic way to spend a couple of hours relaxing on the beach, sunbathing, and enjoying that "castaway island" feeling.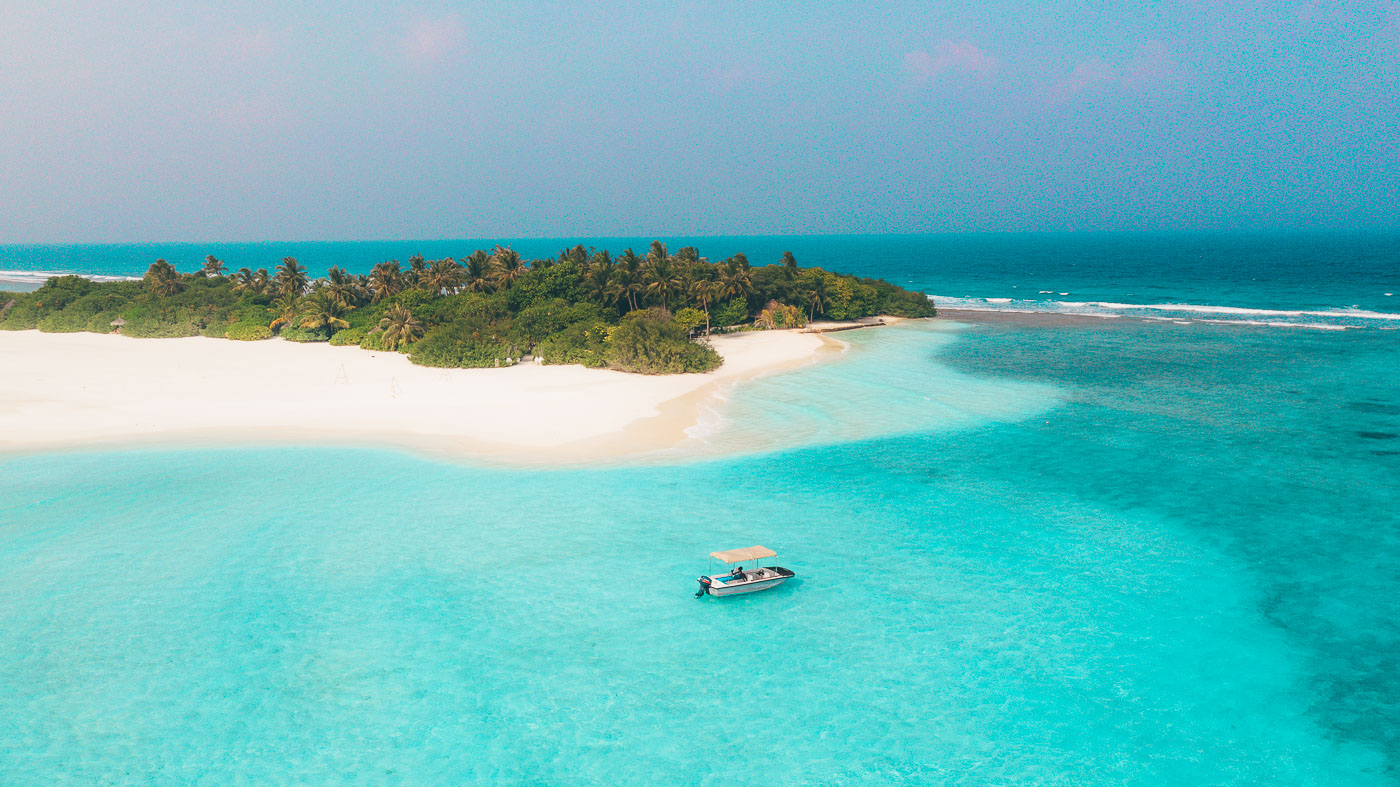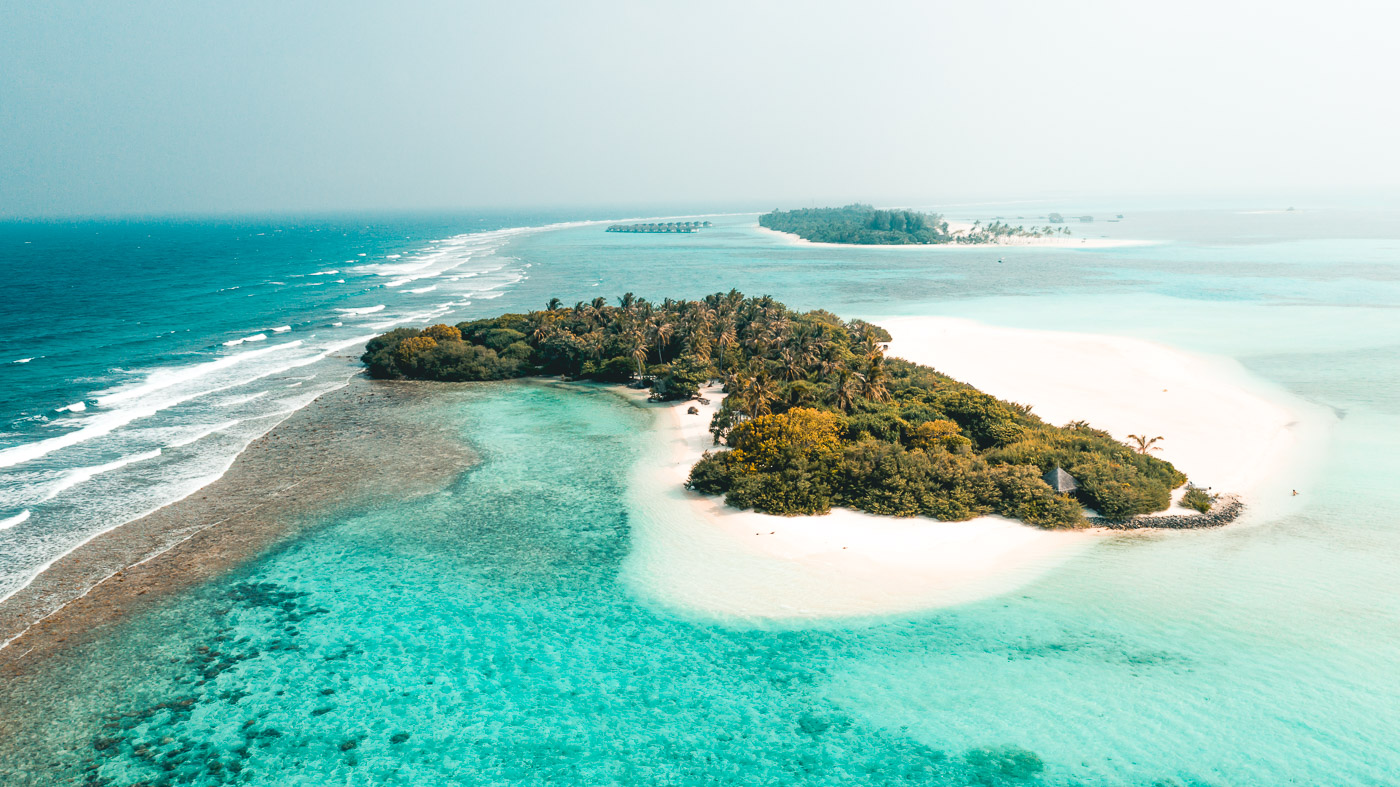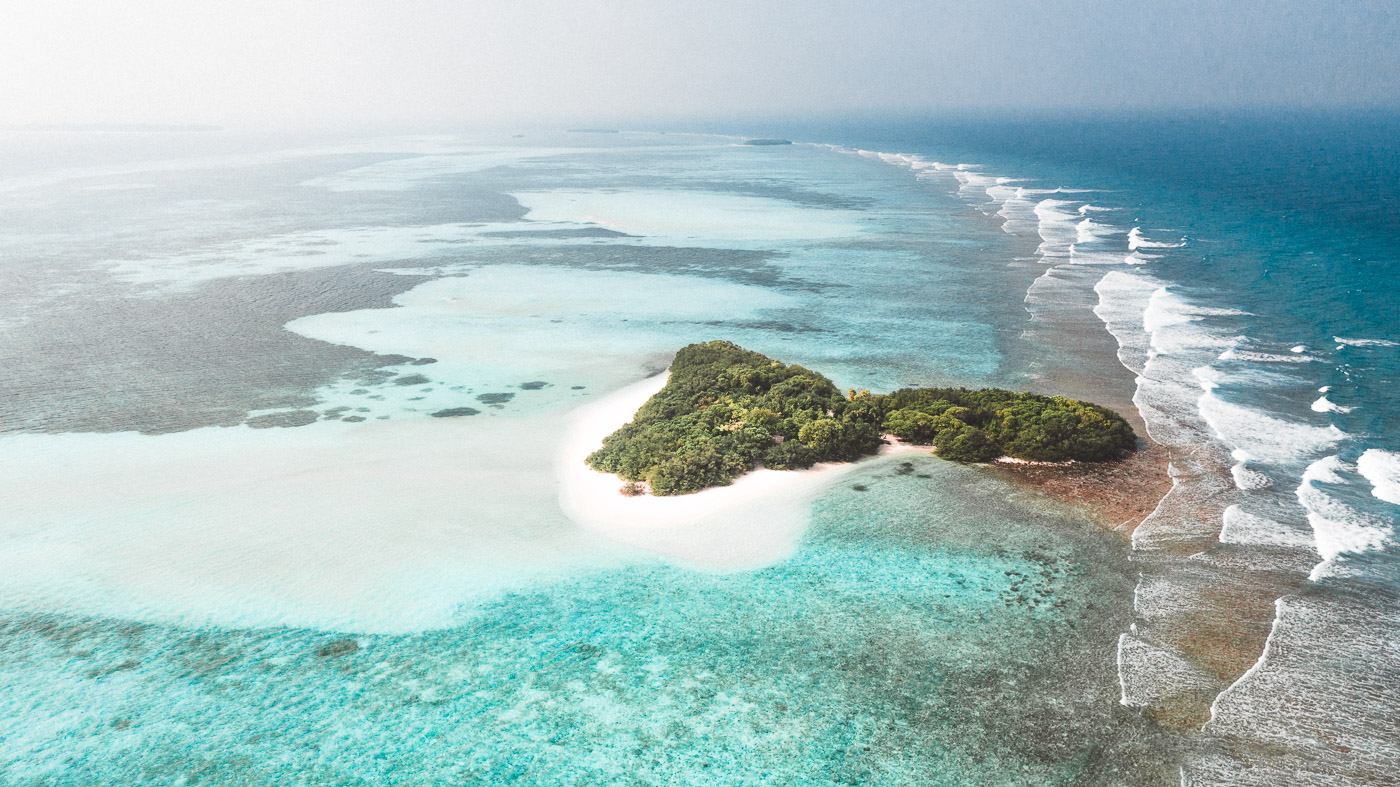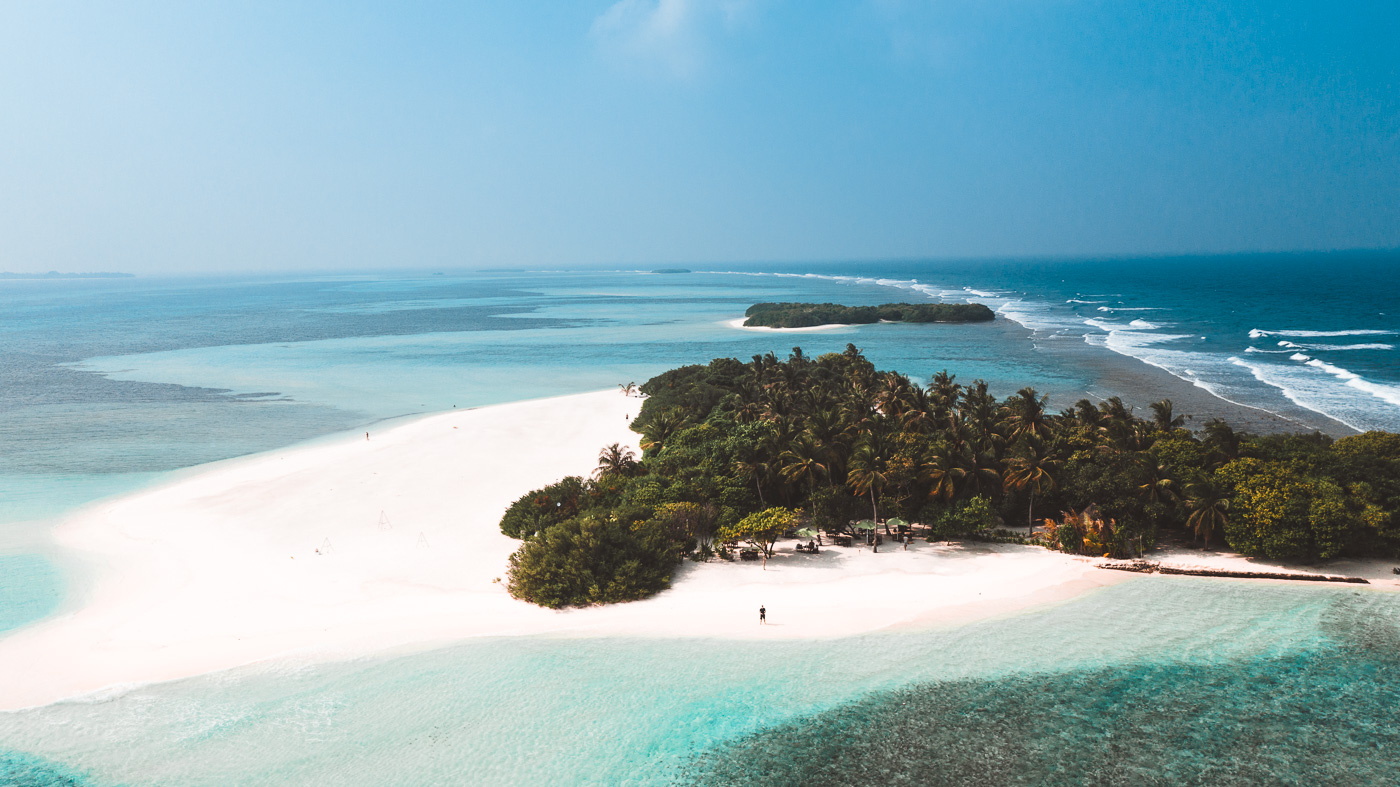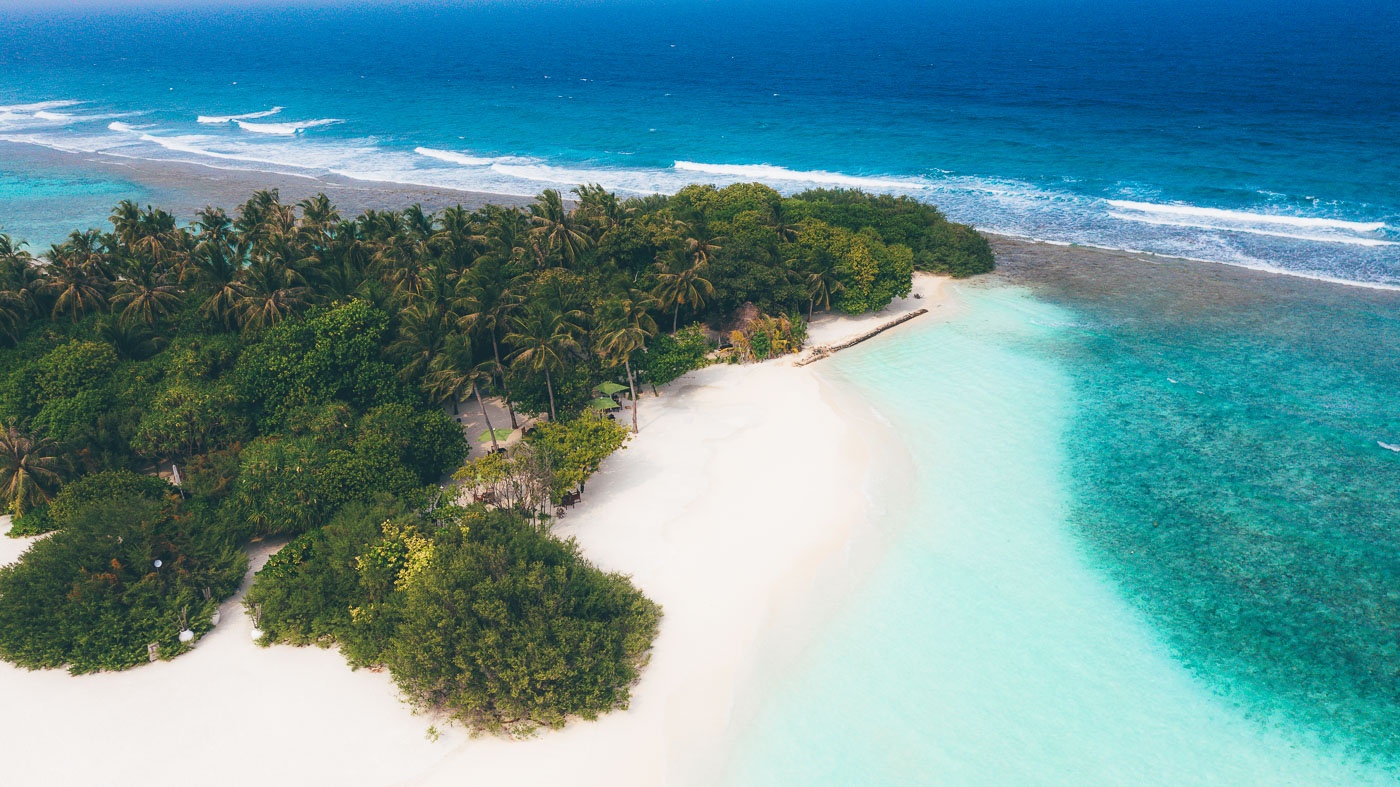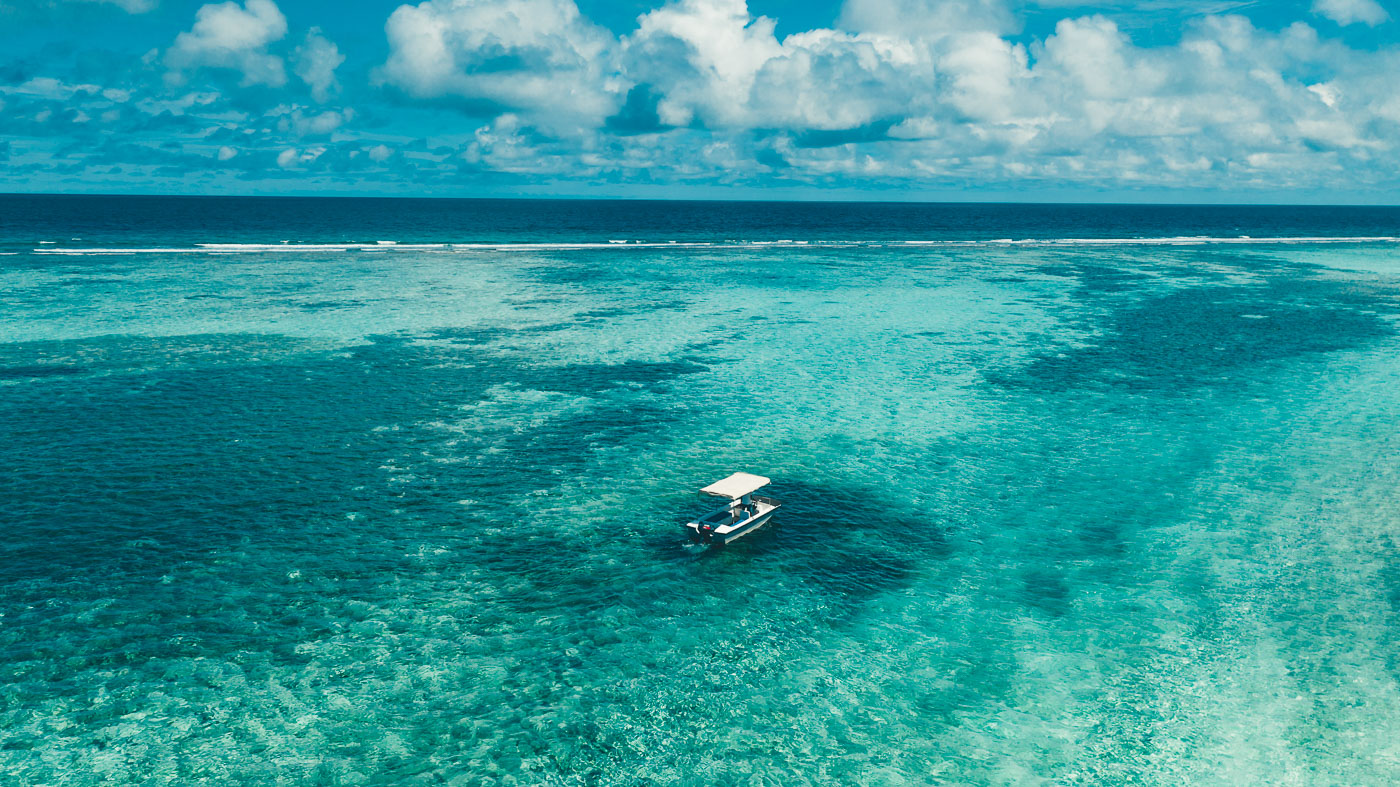 ---
The real highlight though of visiting the nearby island "Jehunuhura" is to appreciate an outstanding meal at DRIFT – the resort's secluded, tropical gem restaurant.
The food and cocktails here were absolutely perfect, and I'll simply never forget this meal in paradise!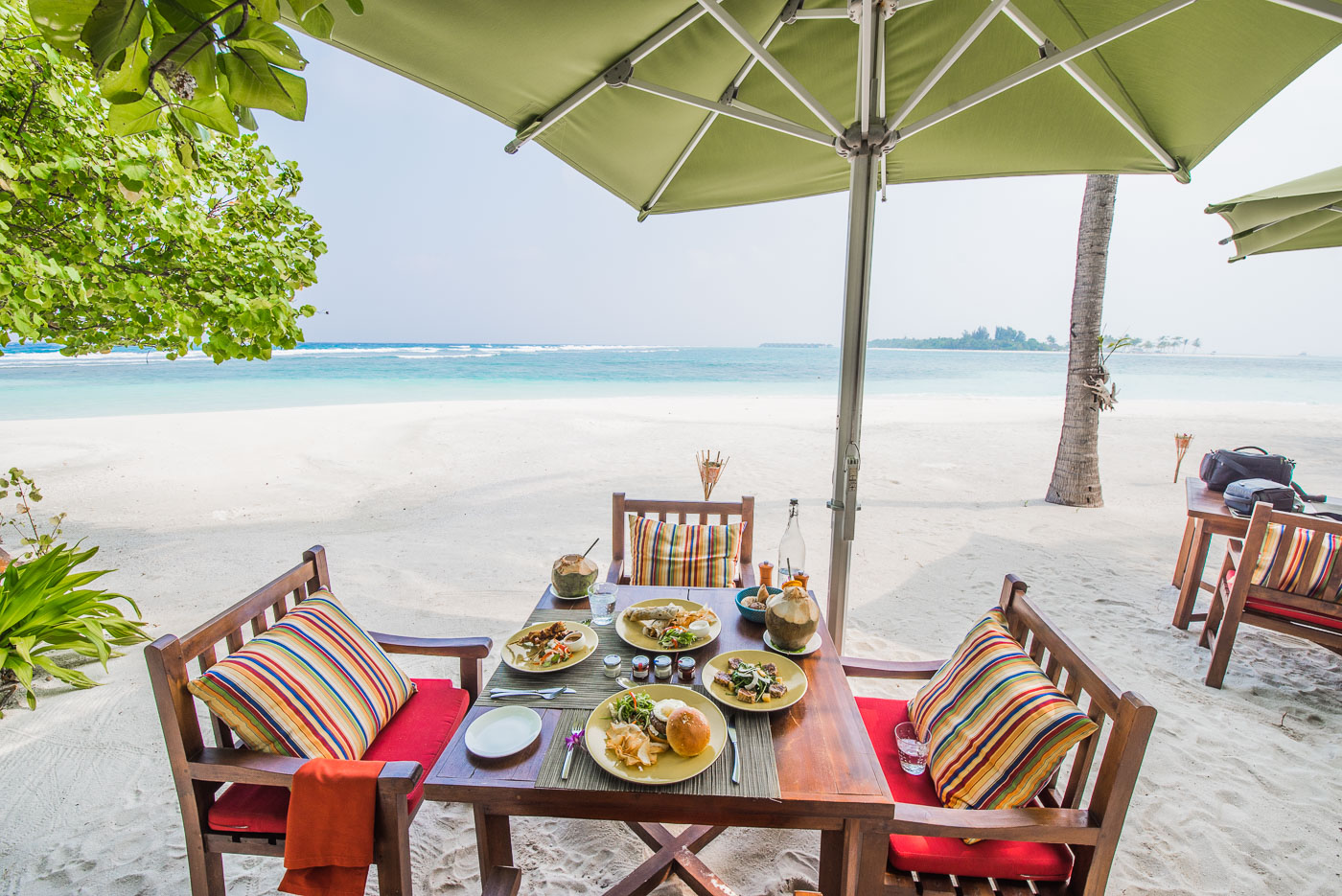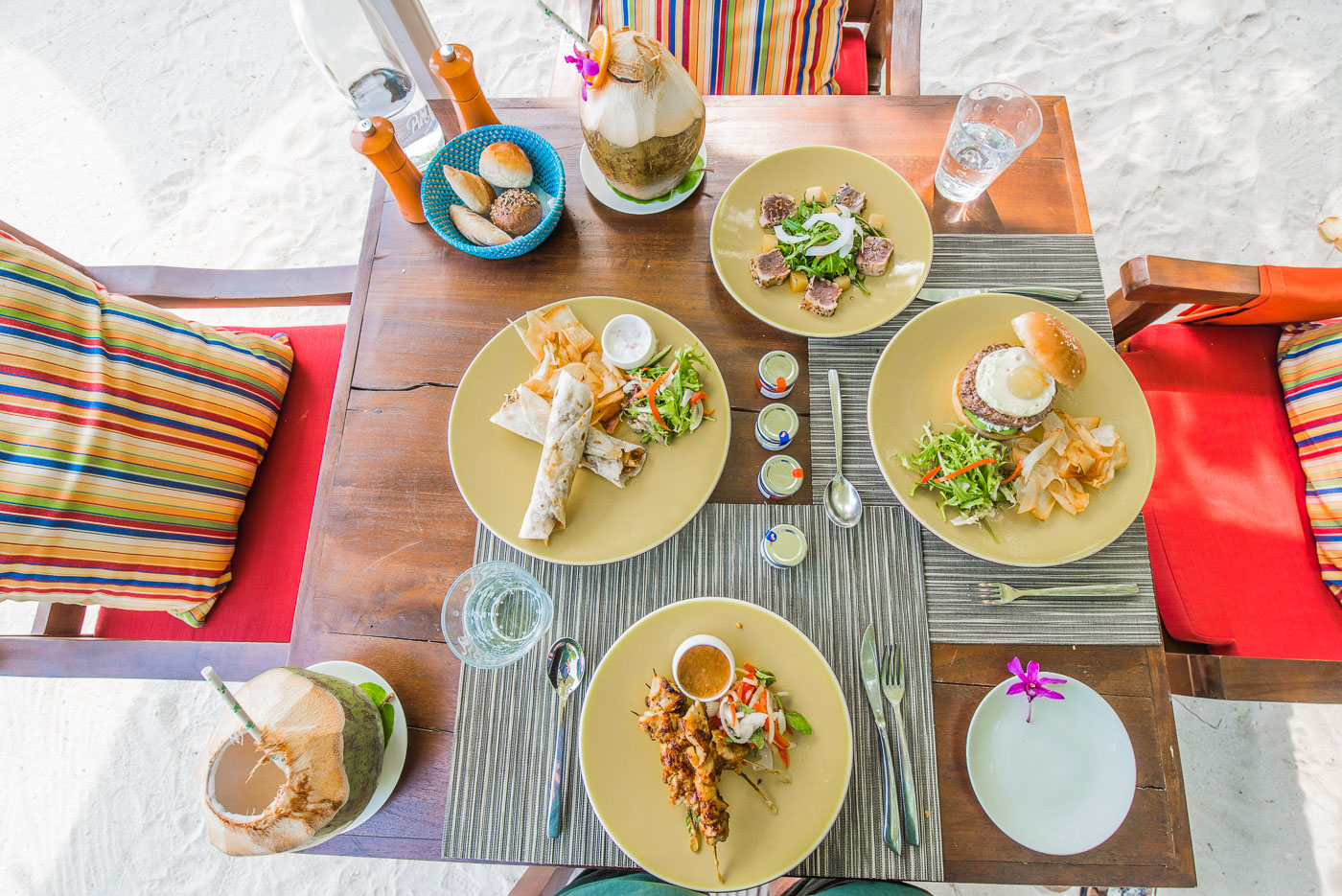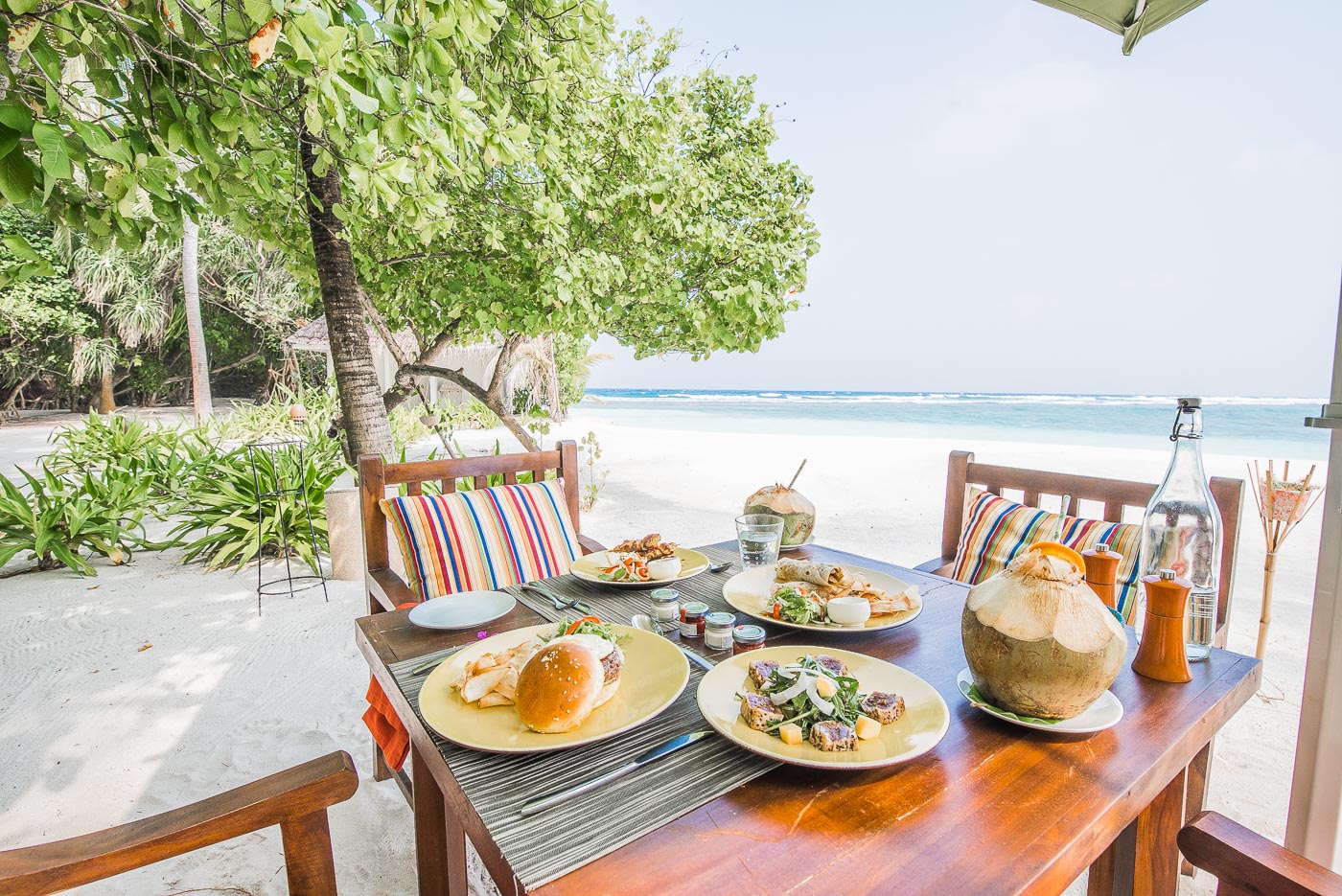 "Savour a day of barefoot frivolity on as you make the most of the signature cocktails and delicious grilled fare at Drift. Make the most of a day spent in paradise; enjoy a lazy lunch at Drift, unwind on the sunbeds under the palm trees and immerse yourself in the topaz-blue water as you enjoy the serenity of this magical place where the cocktails are sublime and the food is spectacular."
---
Lazy Days & Sunset Cocktails at Iru Bar
There are two main bars on the island, but I pretty much always found myself at the wonderfully relaxing IRU.  Located at the very end of the island, this chic beachside lounge was absolutely stunning!!  Complete with massive palm trees, picture-perfect hammocks, and comfortable beach rocking chairs – it was definitely an ideal place to spend an afternoon reading, swimming, and day-drinking in paradise.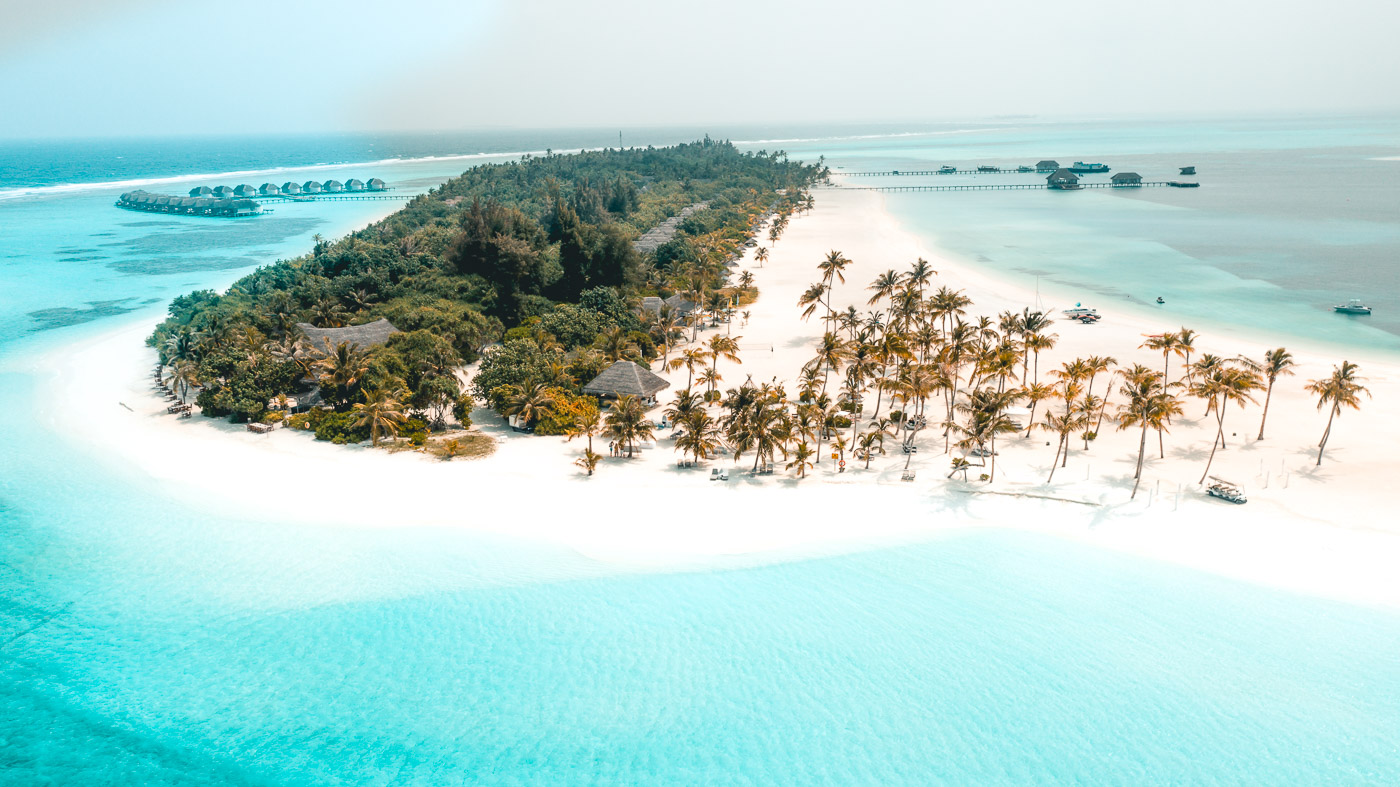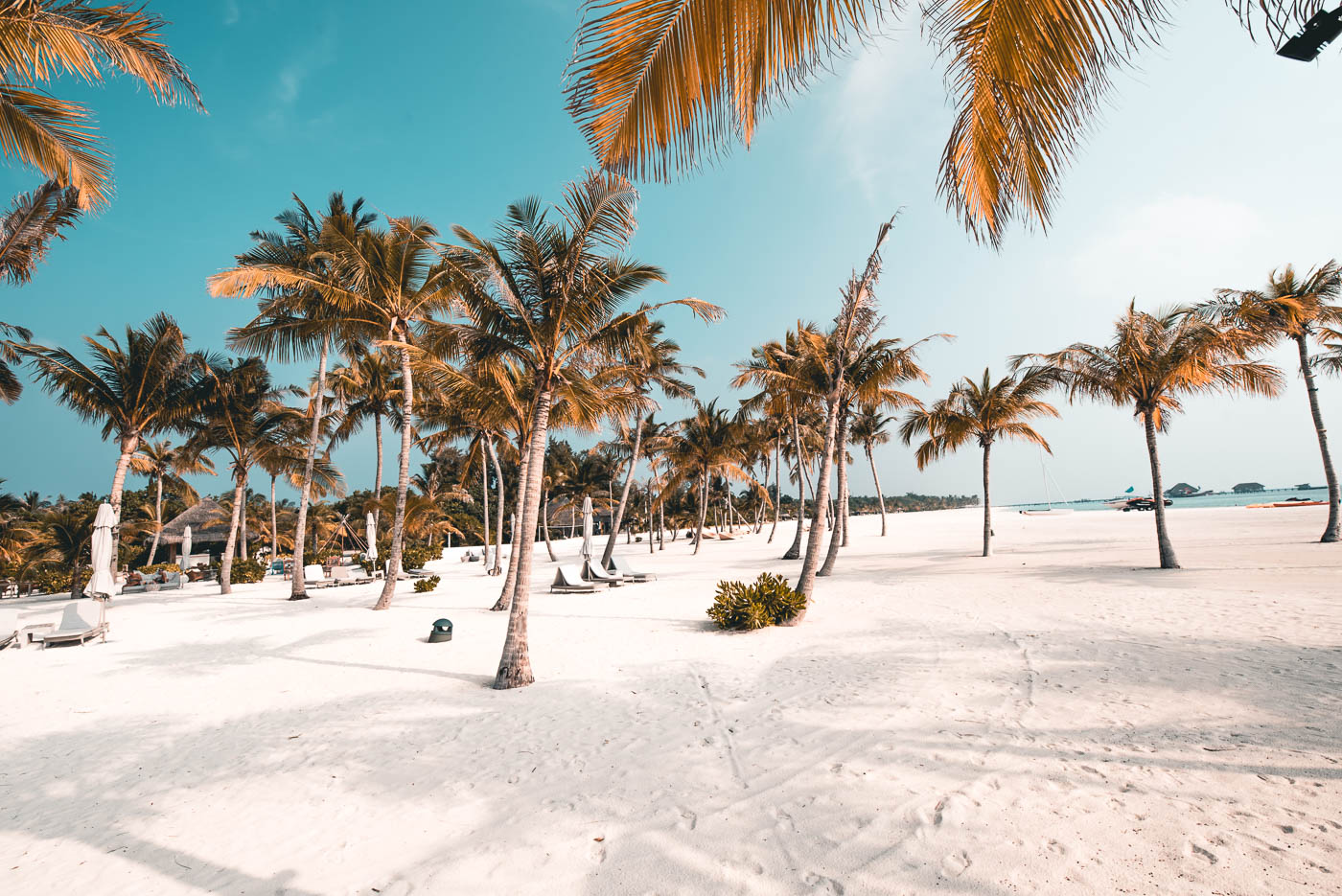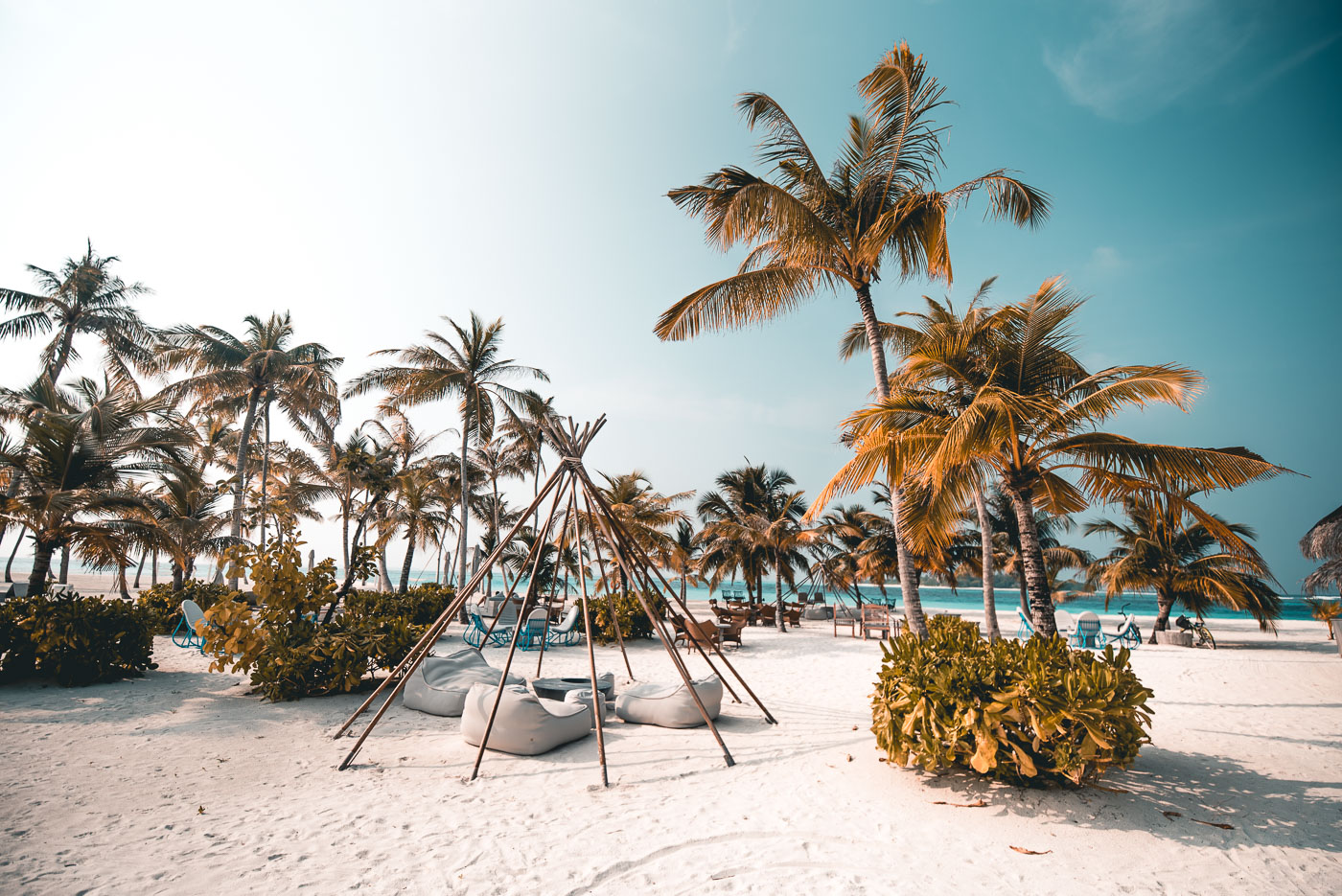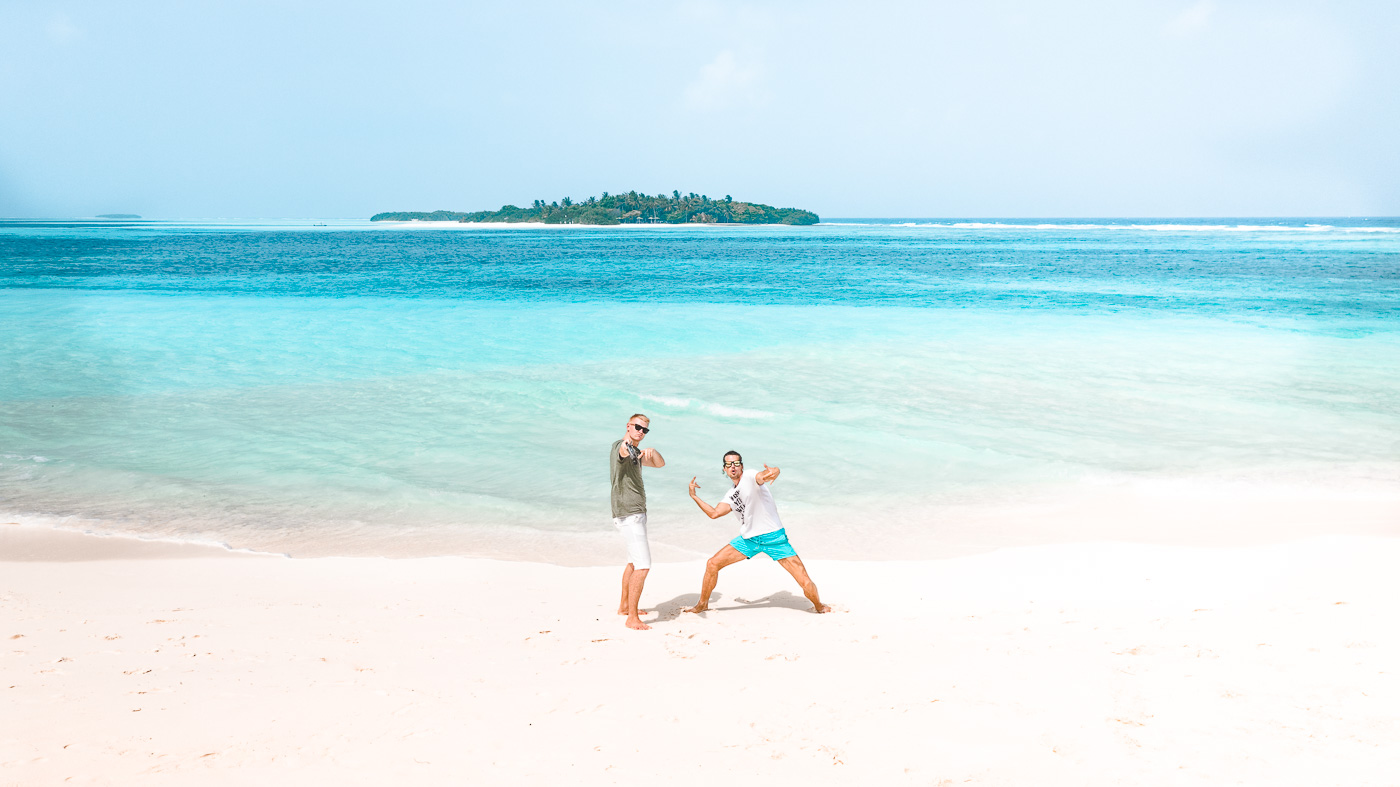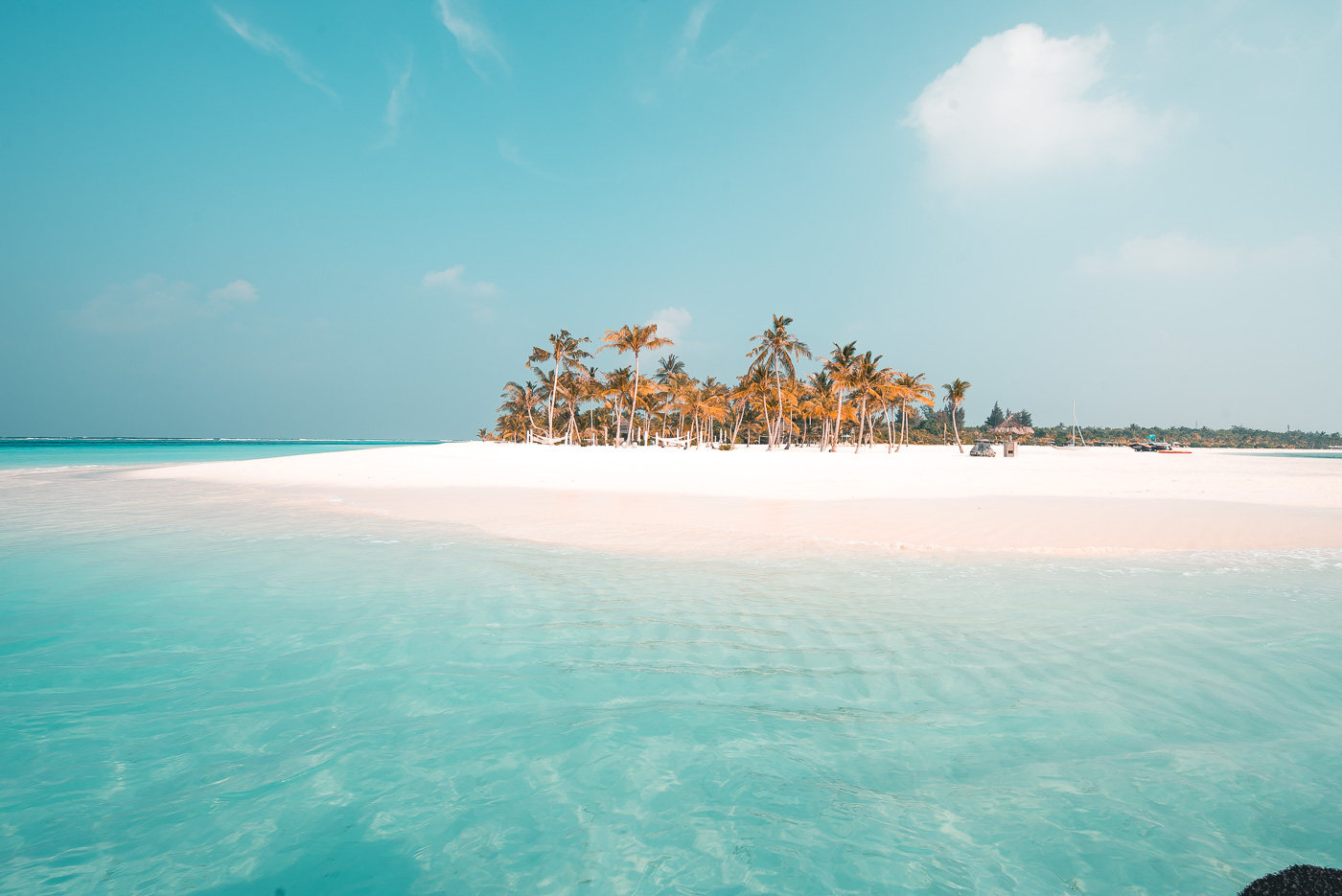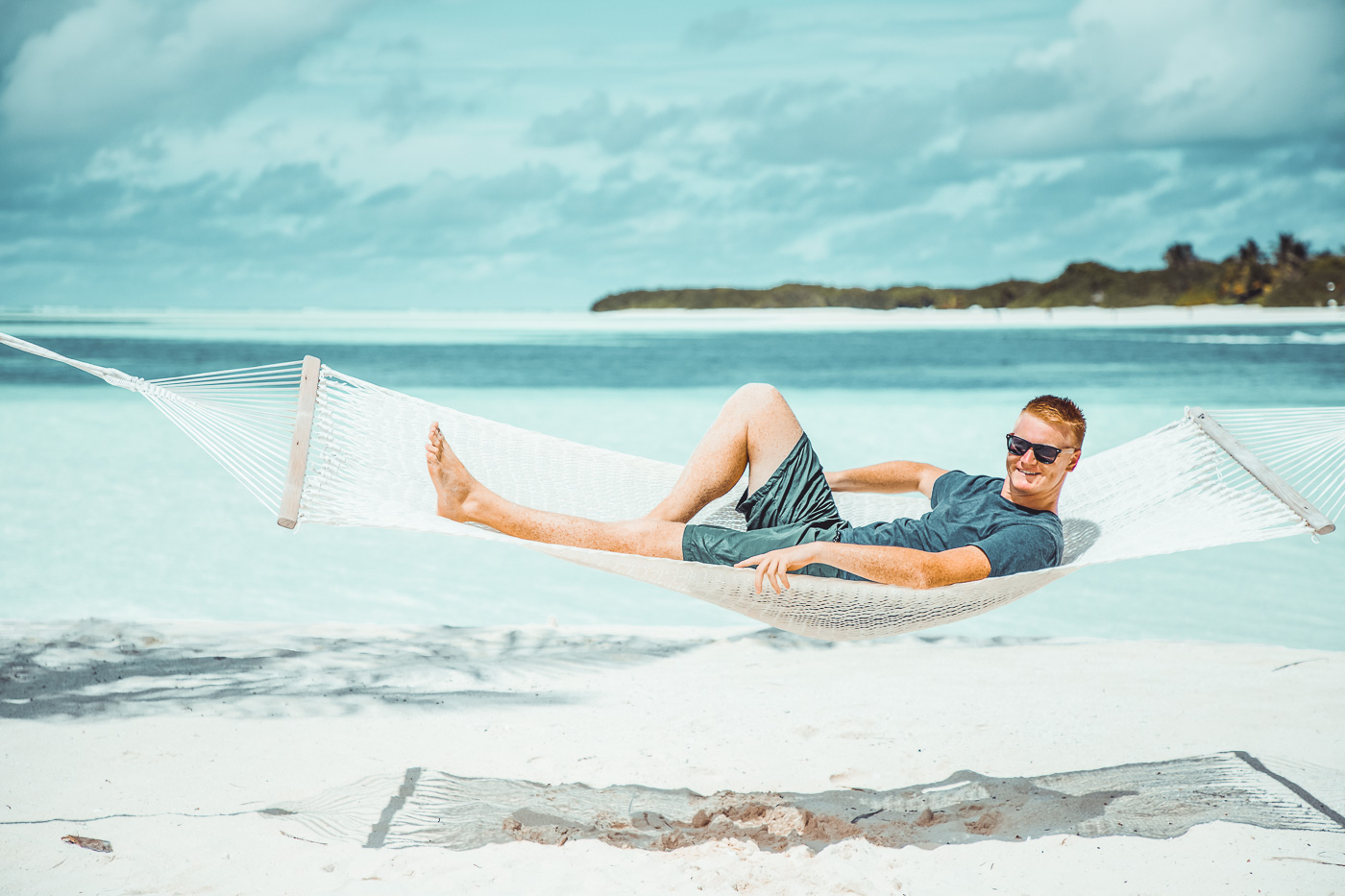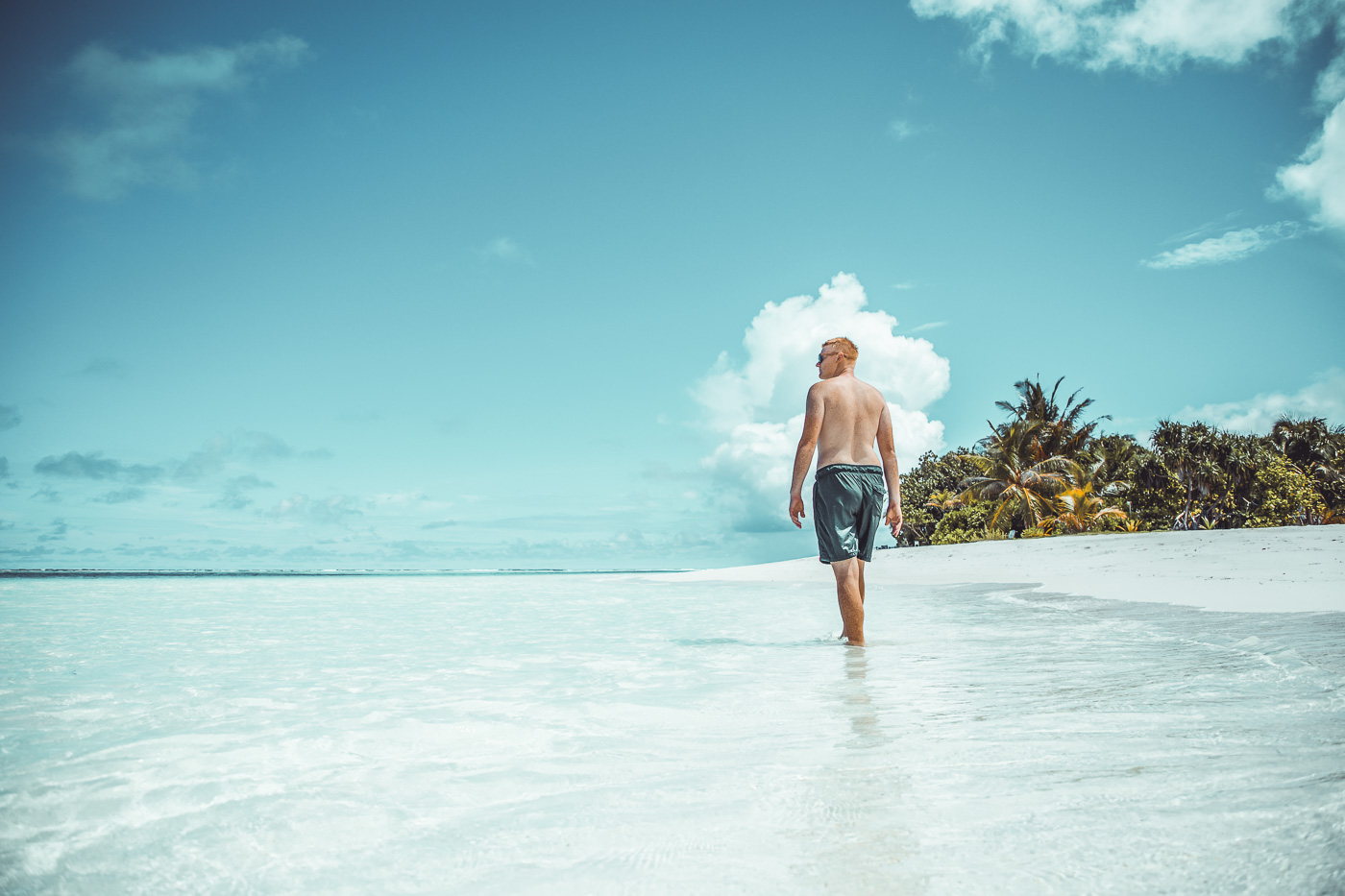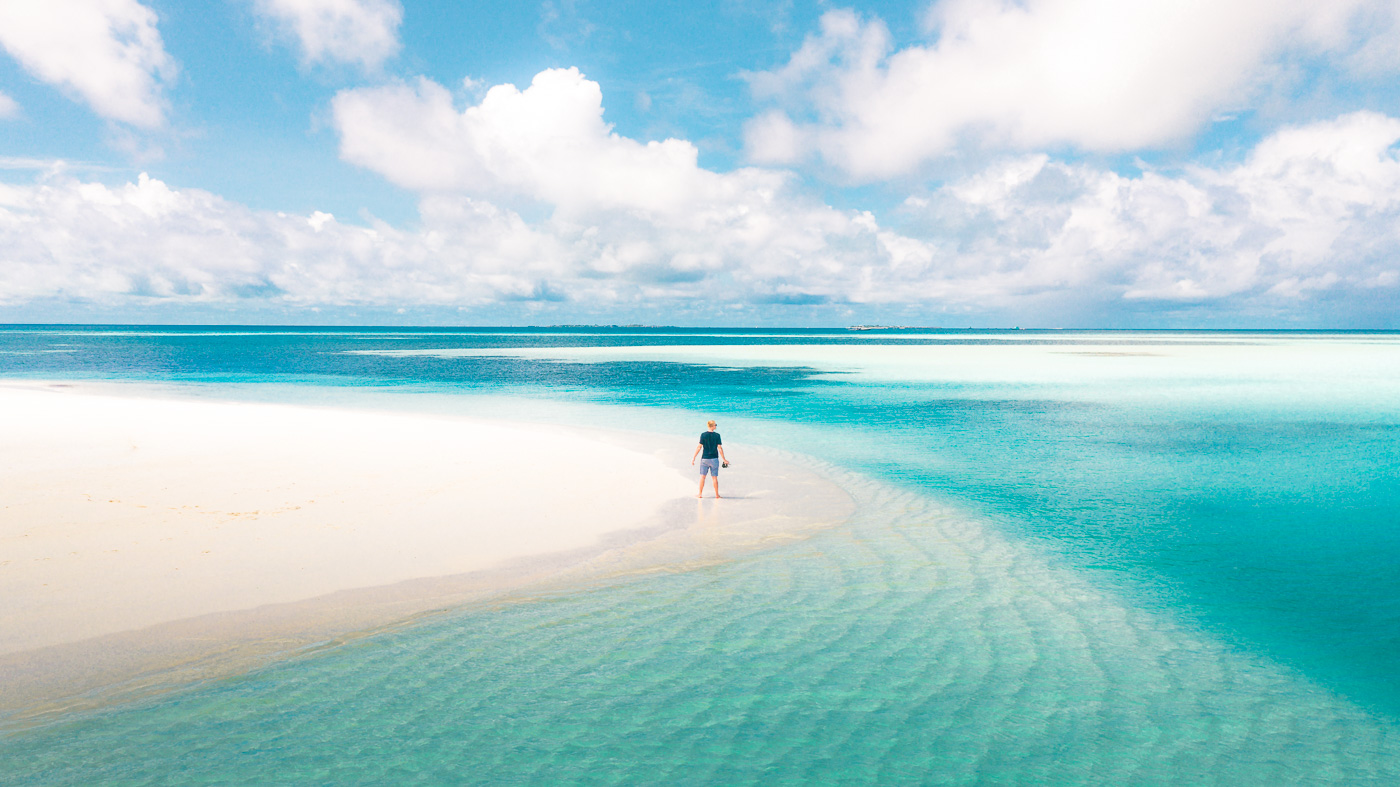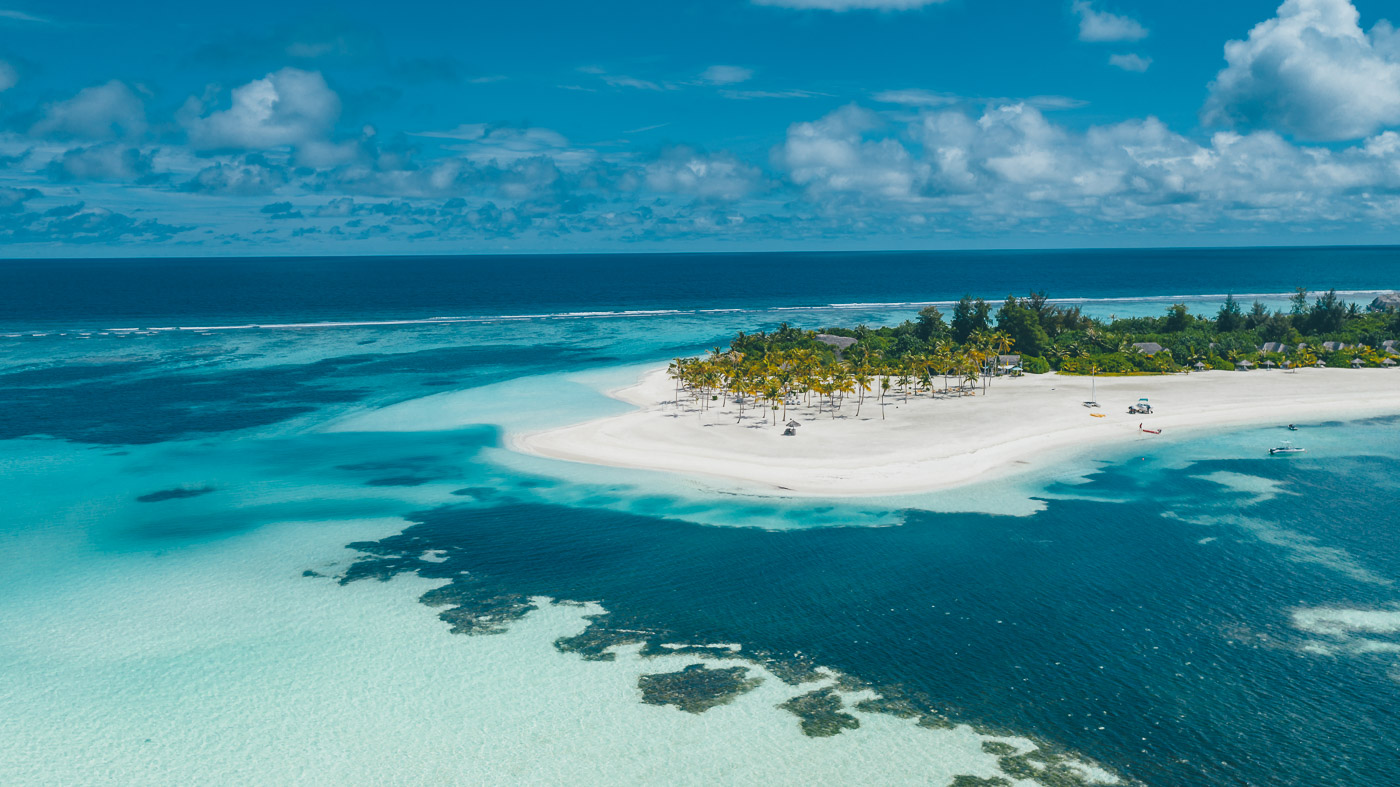 ---
It's also the most incredible place to watch the sunset at Kanuhura, and I thoroughly enjoyed sitting back with one of Iru bar's extraordinary cocktails in my hand, and watch beautiful Maldivian sunsets every night!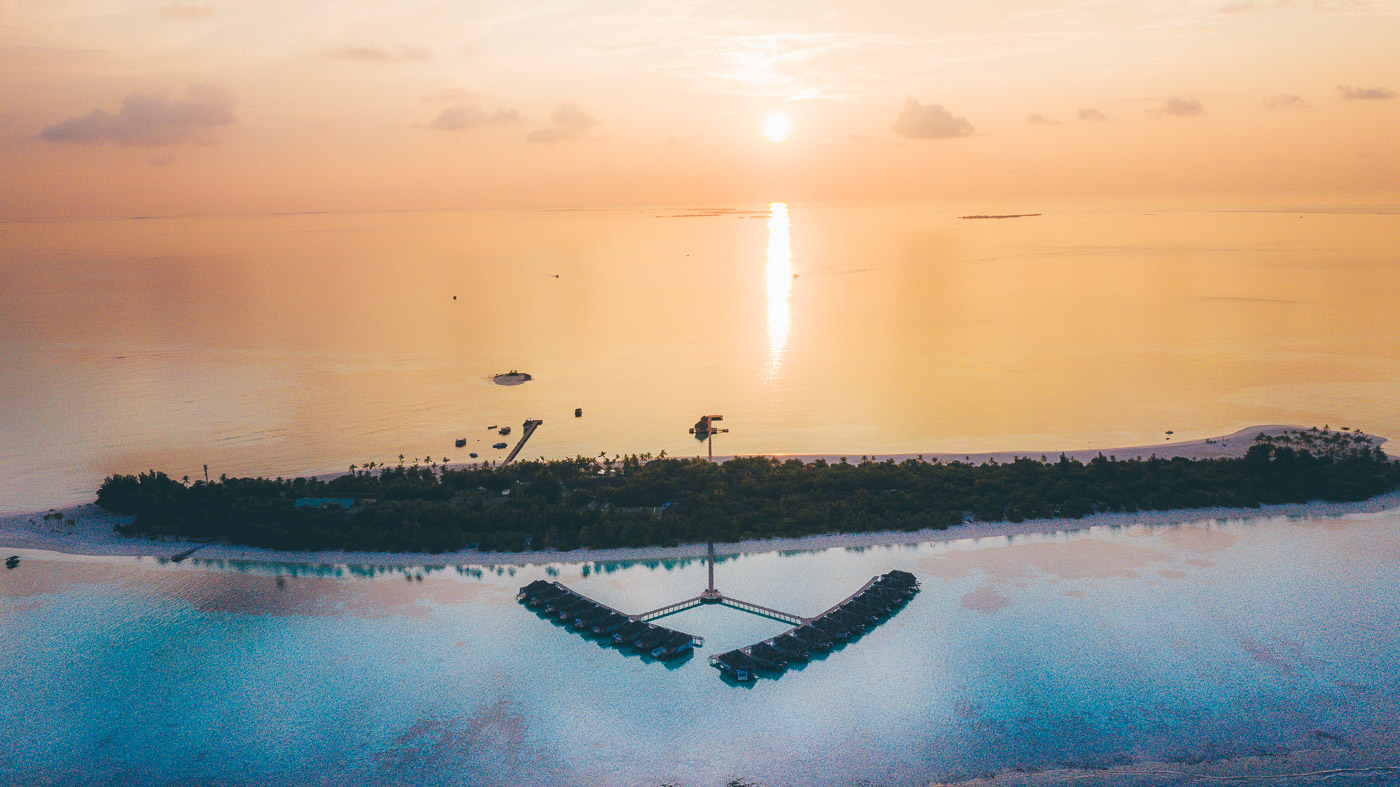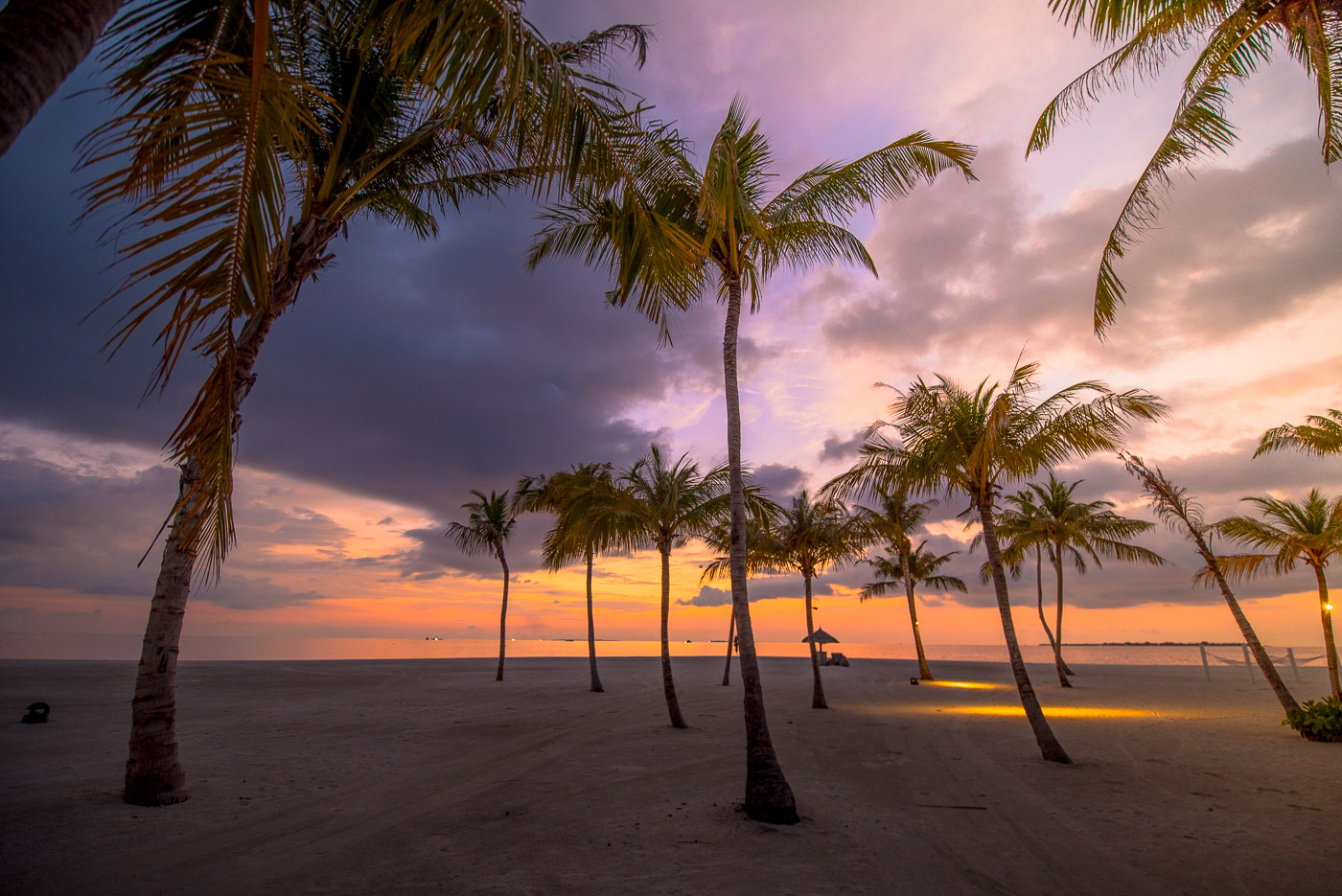 ---
Sunset Swims
For me – sunset swims are an absolute must when in the Maldives!  There's just something so relaxing and peaceful about floating in water as the sky lights up in vibrant hues of orange, pink, and purple!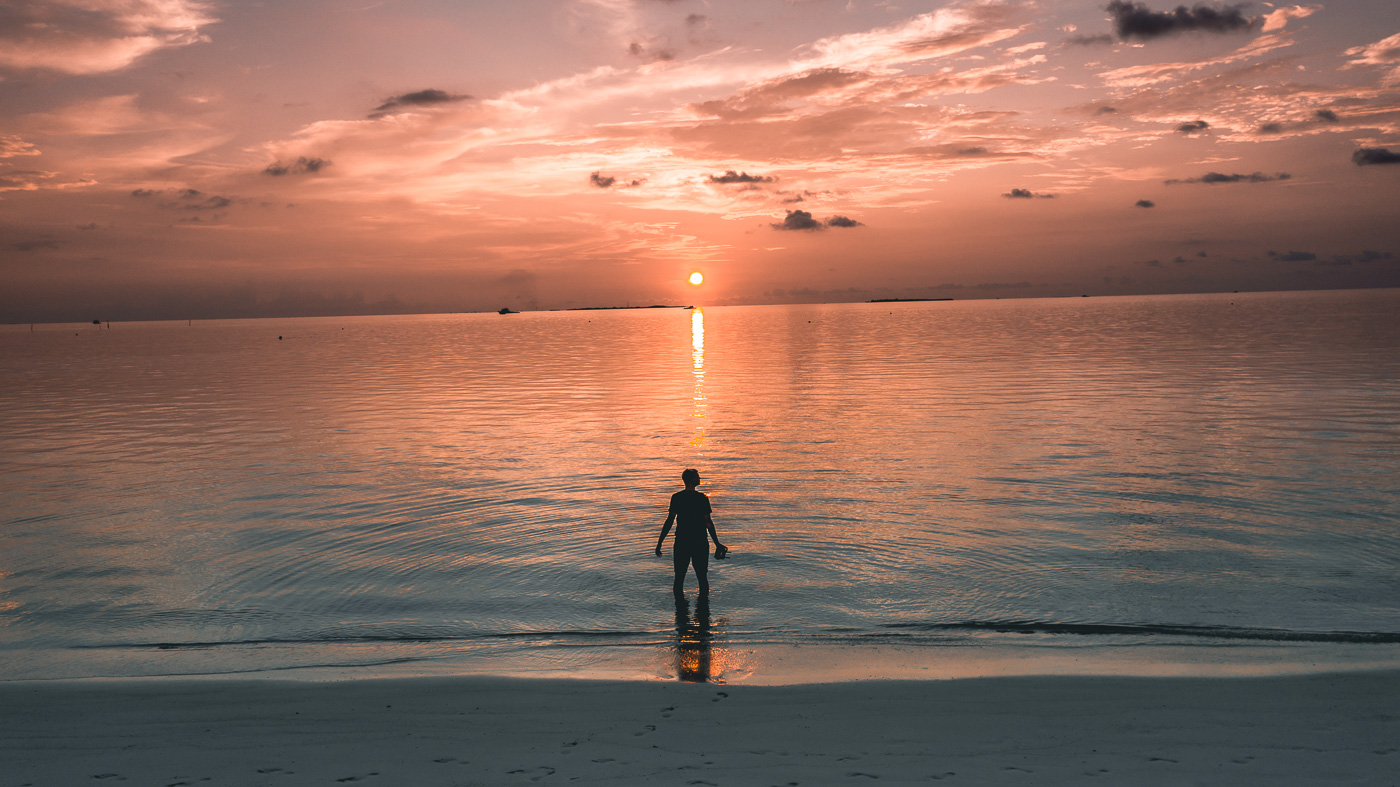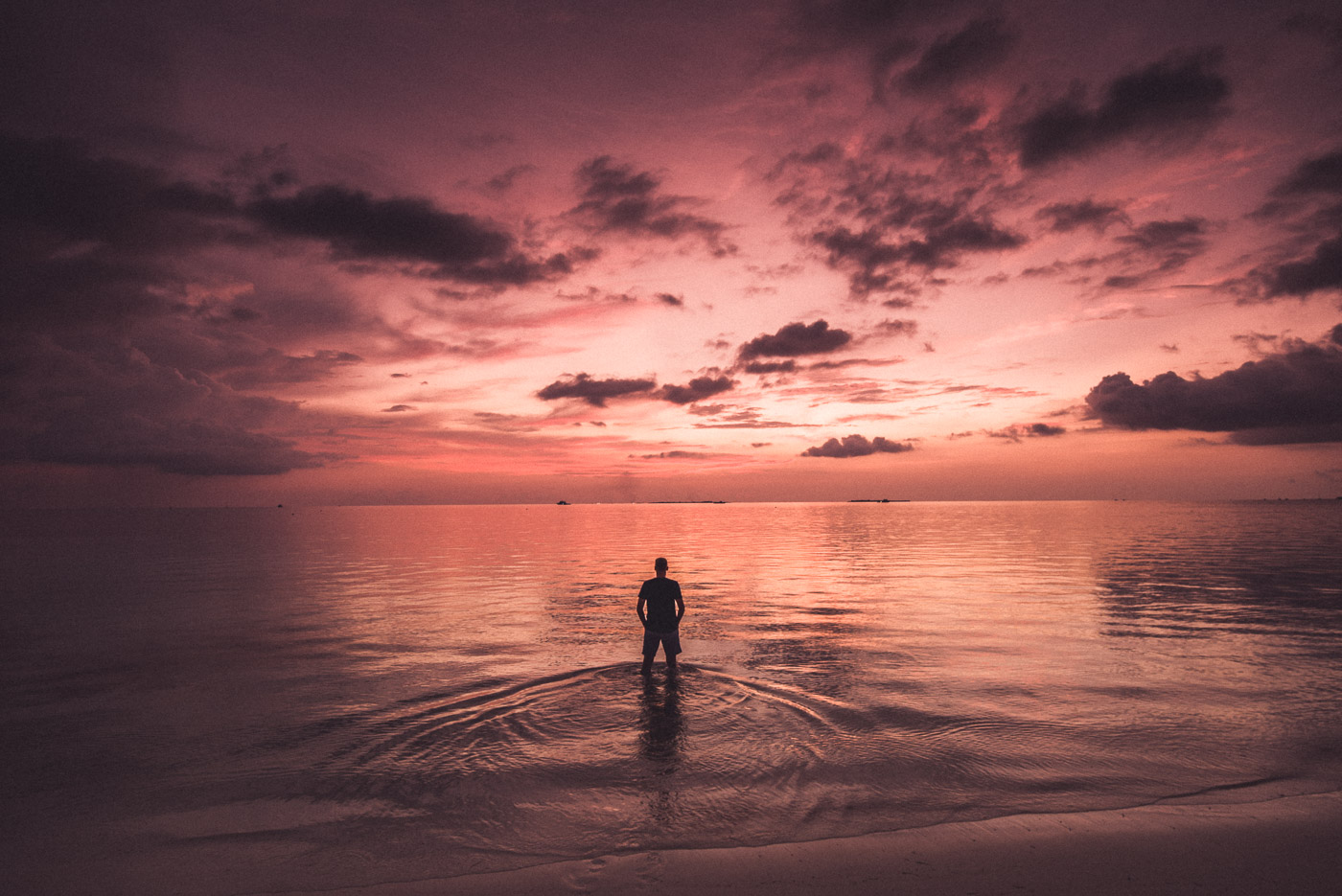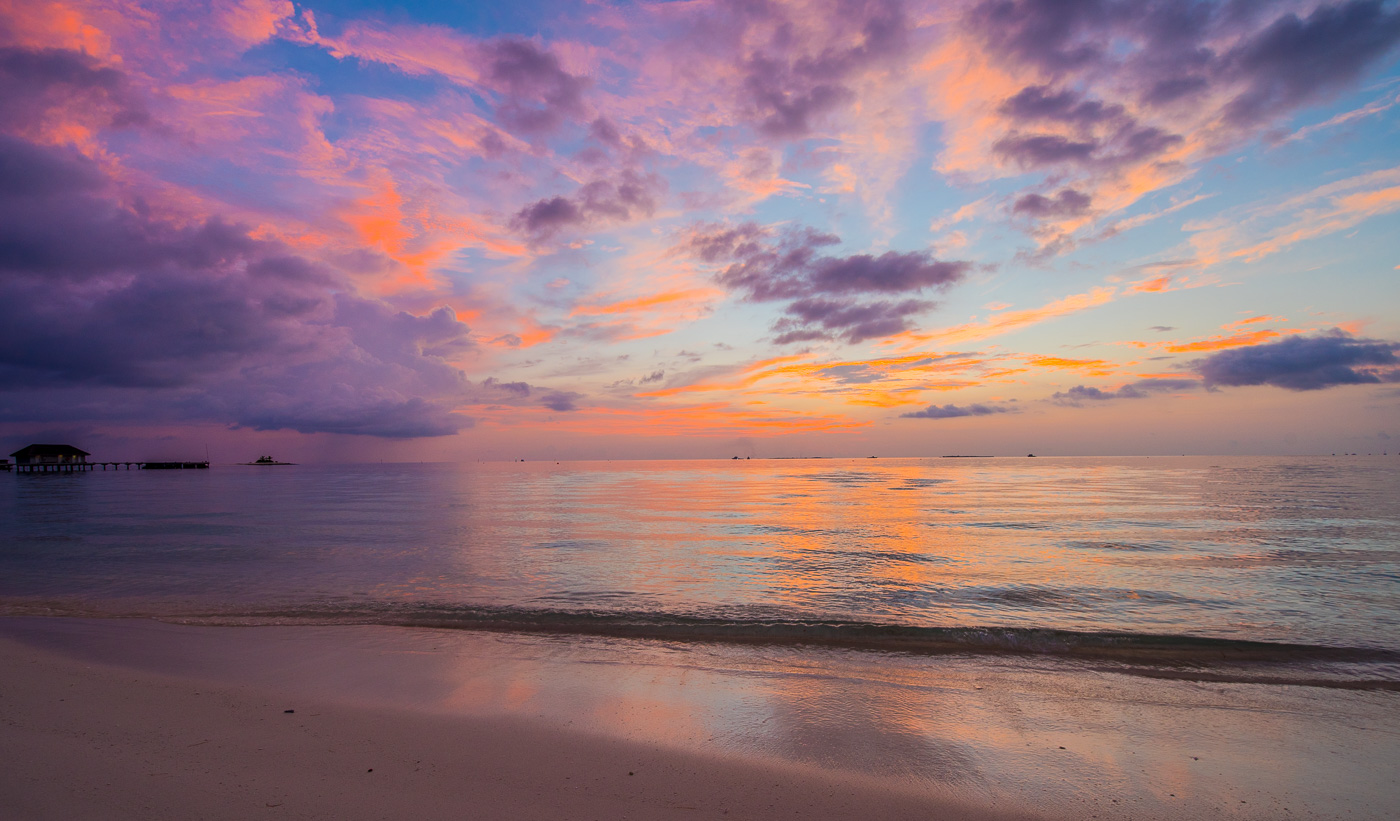 ---
Overwater Villa Livin'
While Tom and I stayed in one of the island's villas (with pool), we got the opportunity to take a tour of the overwater villas one afternoon, and I was seriously in a Maldives dream!
Complete with a beautiful private terrace, a stairway leading directly into the crystal clear water, and overwater hammocks – these overwater bungalows were simply perfect.
While we didn't spend all that much time here, we definitely had fun taking admiring the view while taking some photos for Instagram.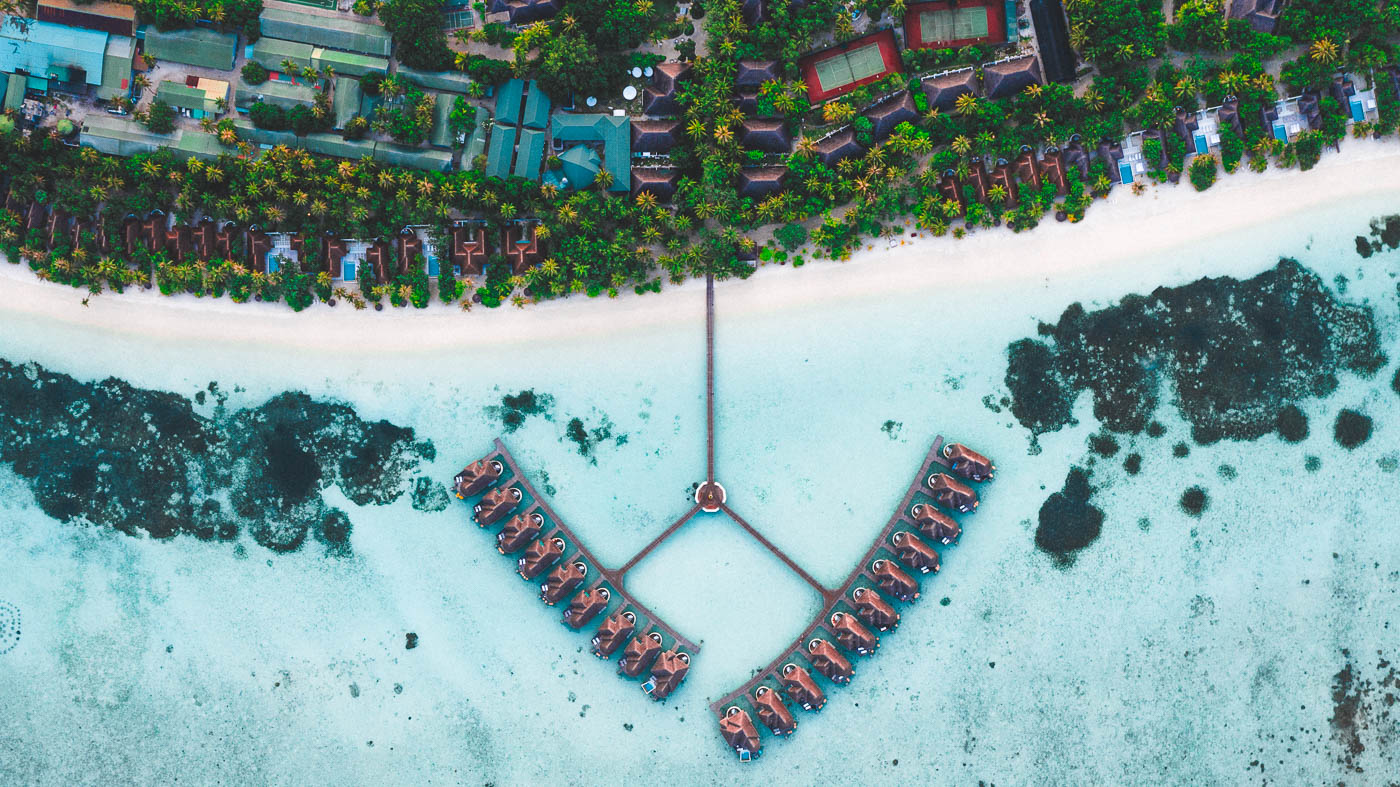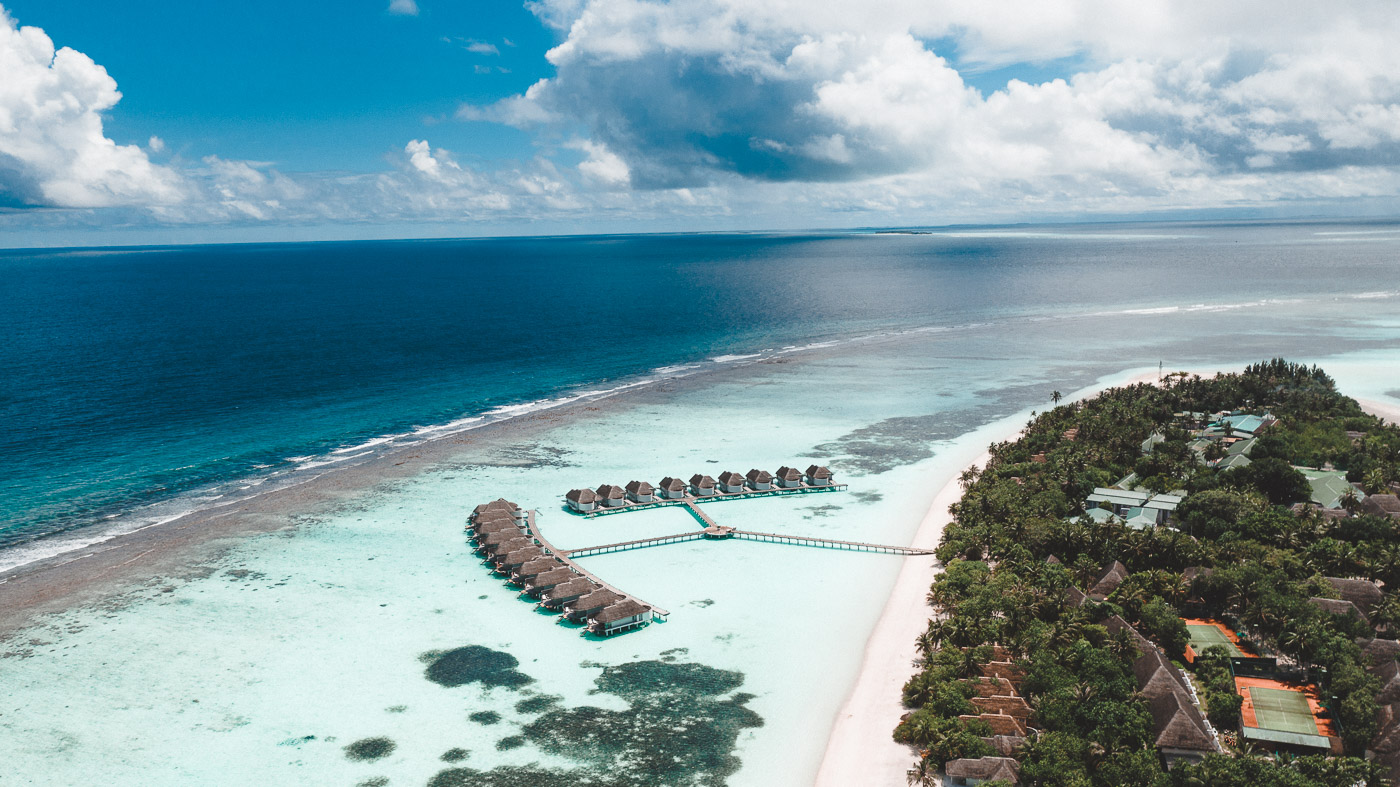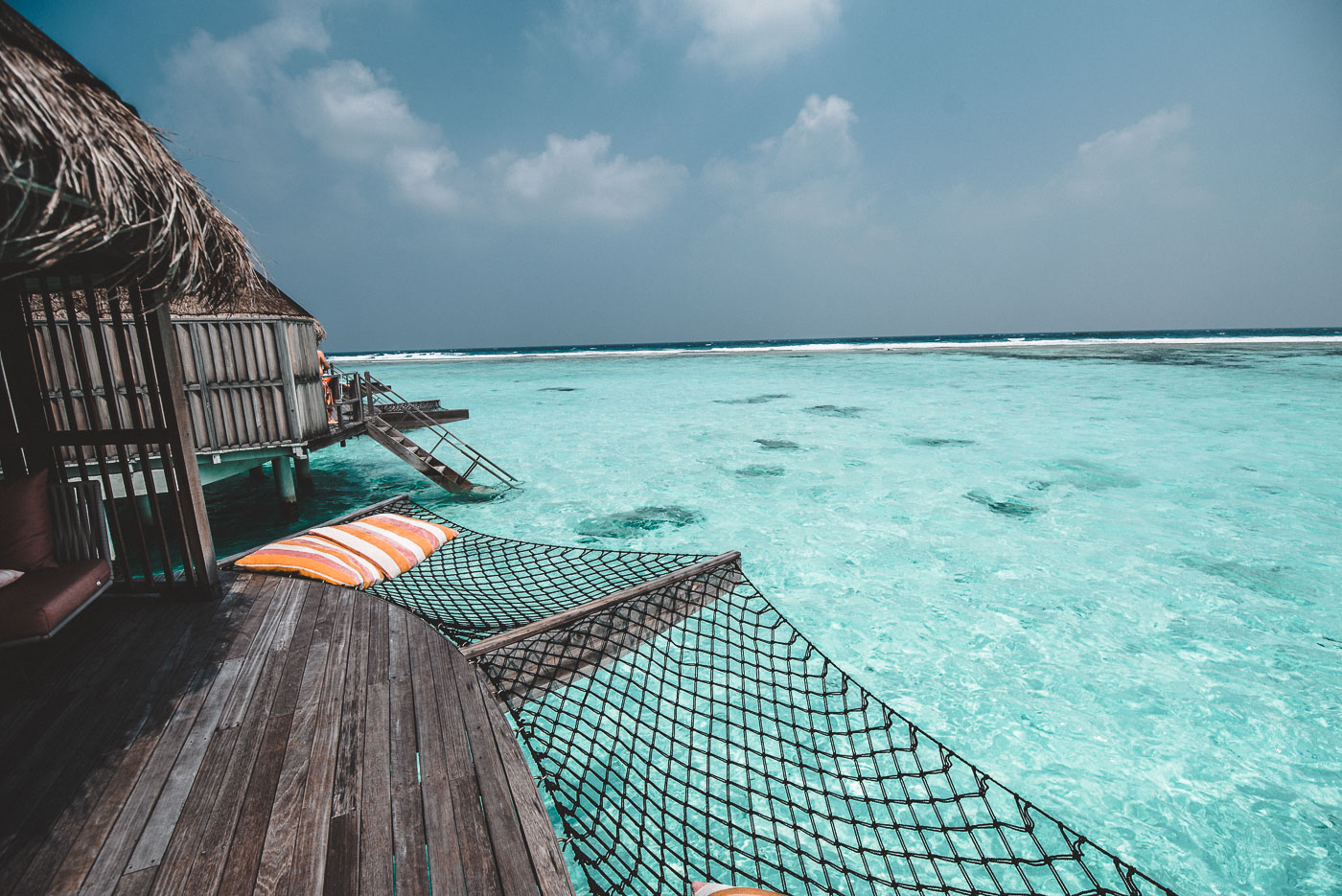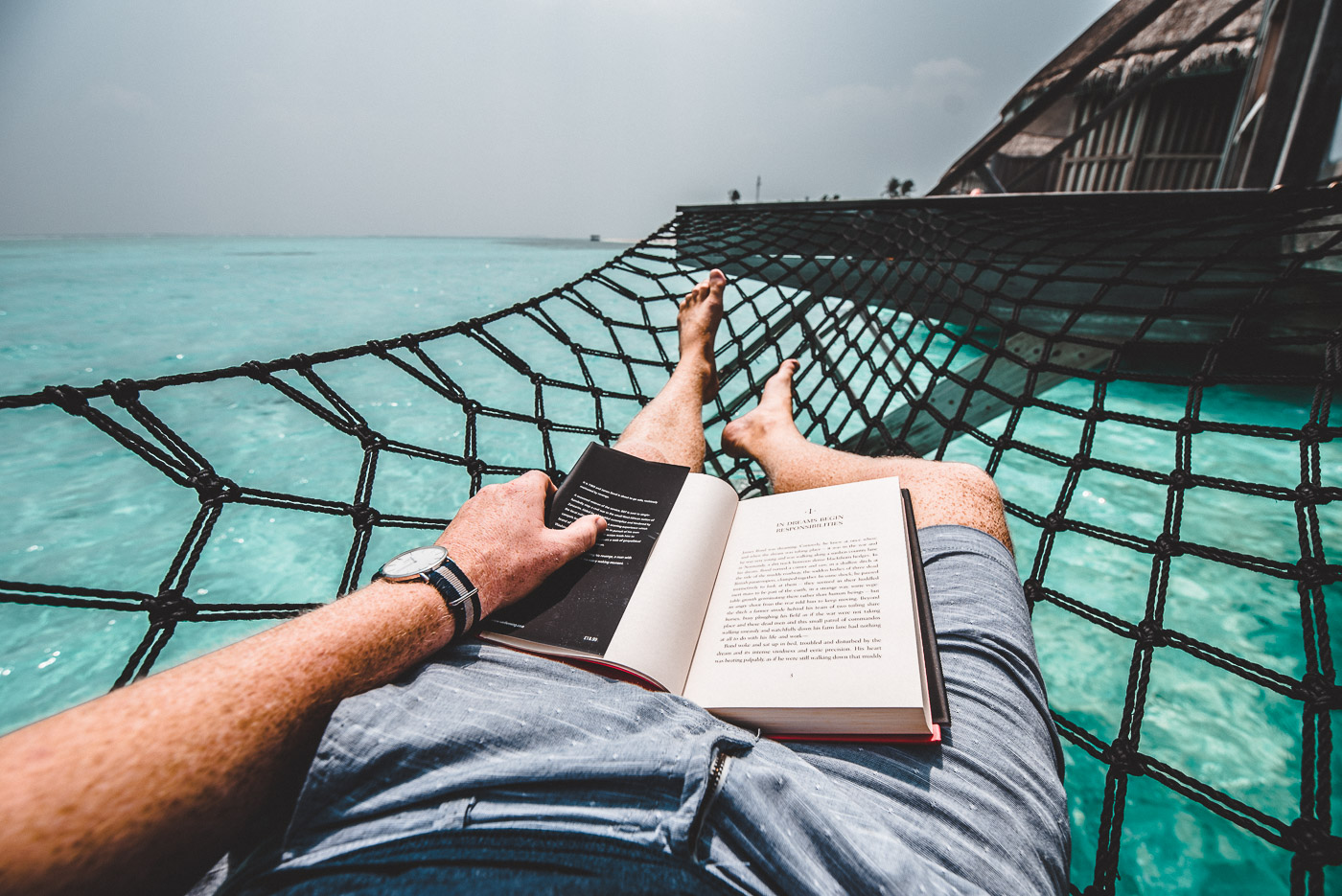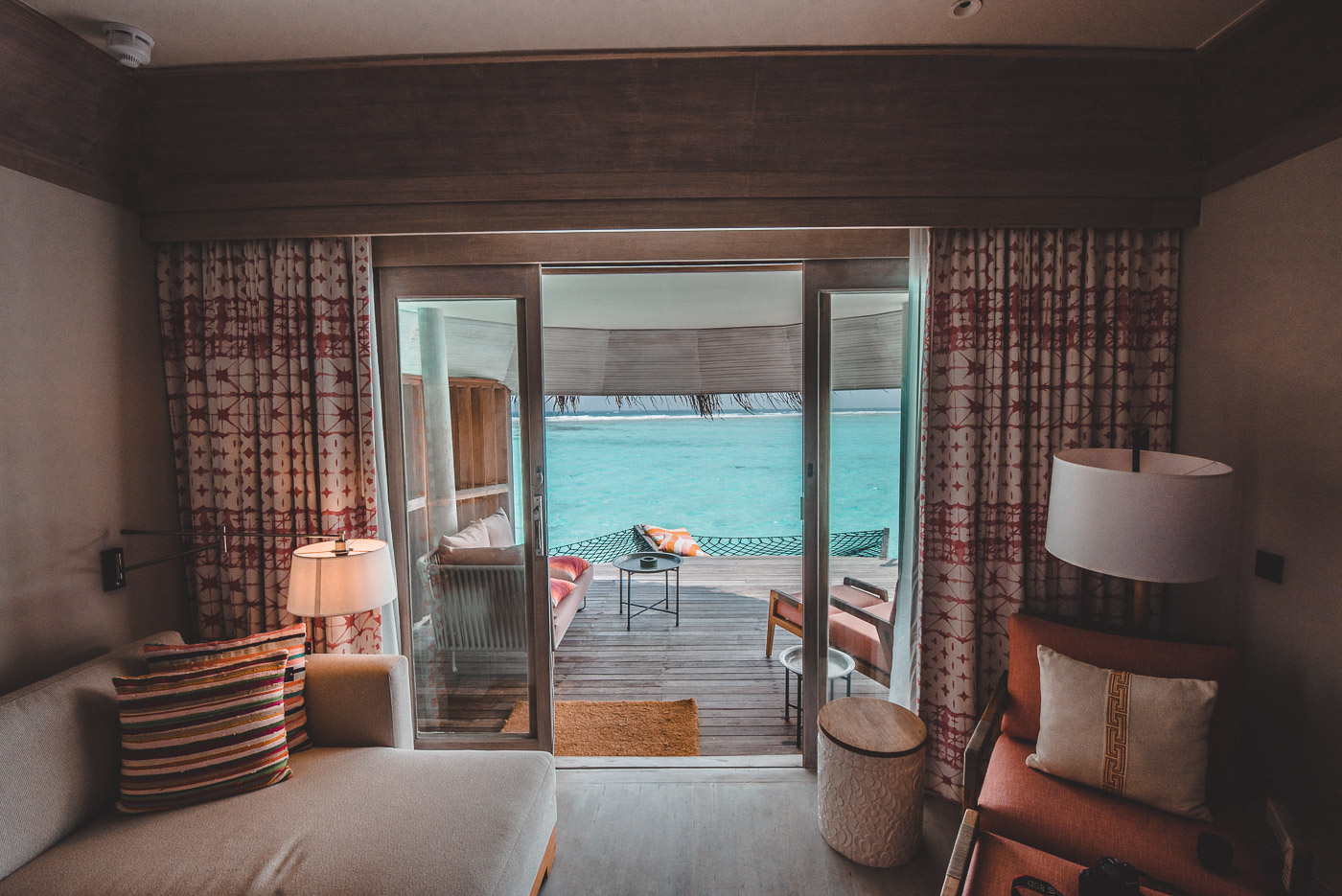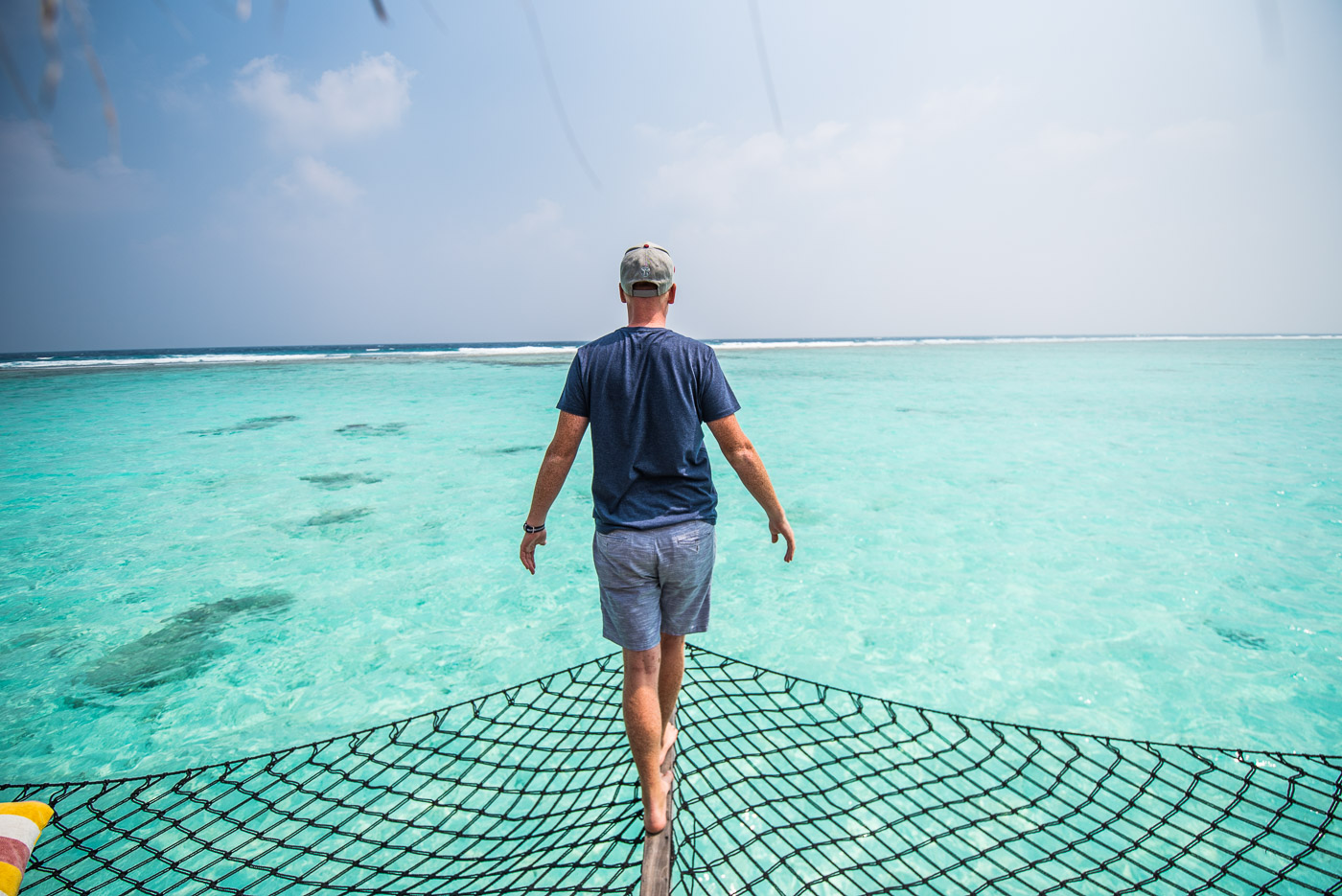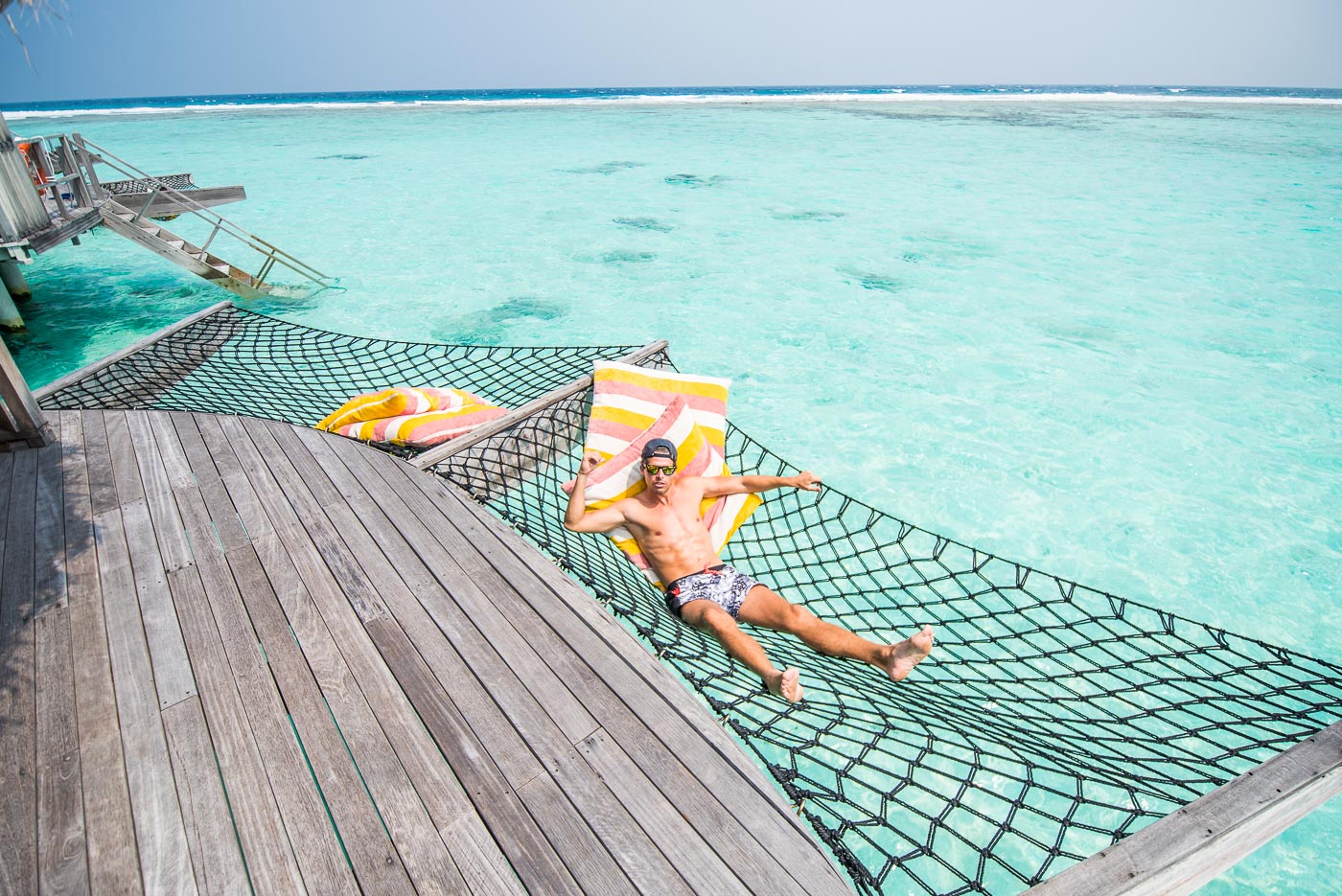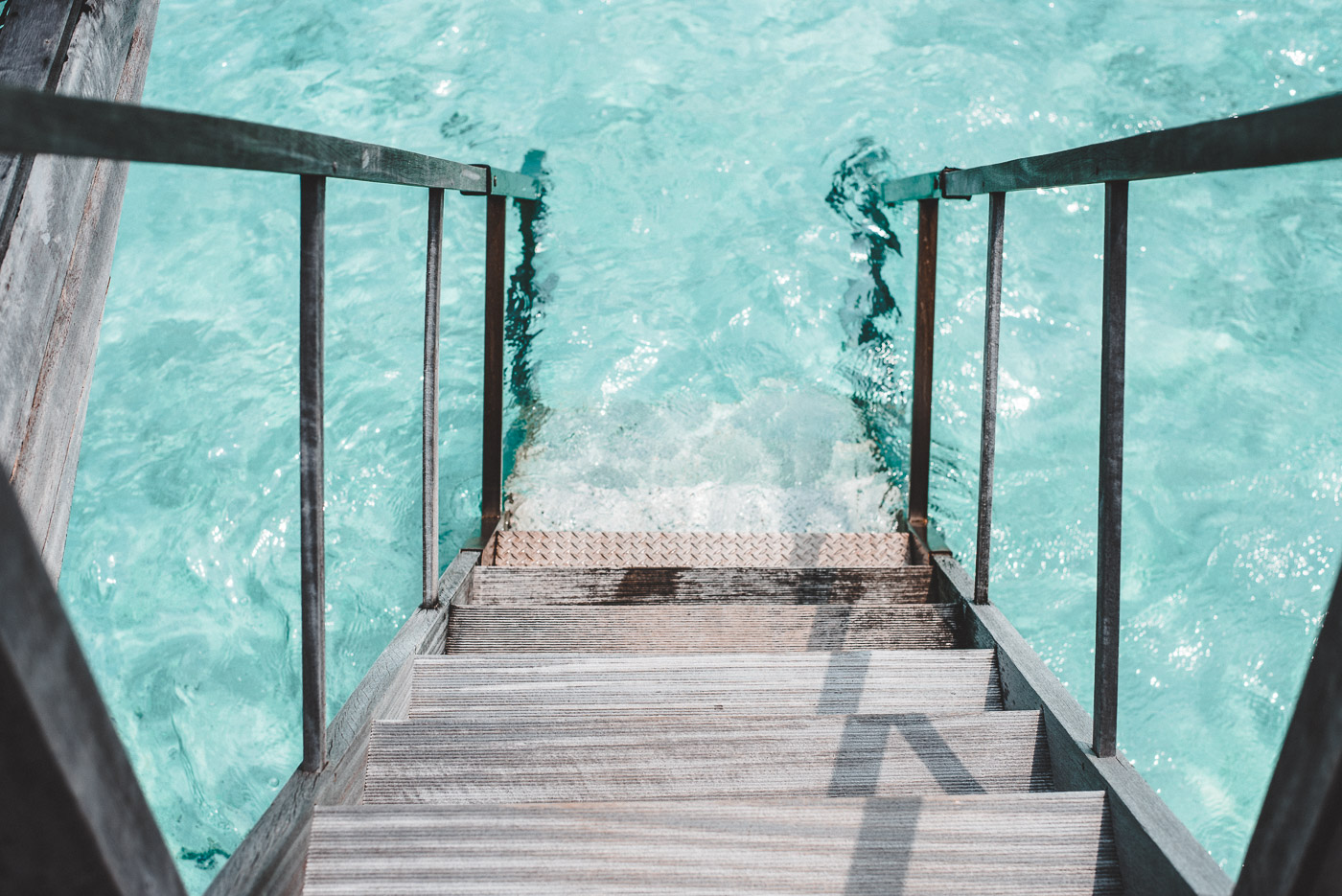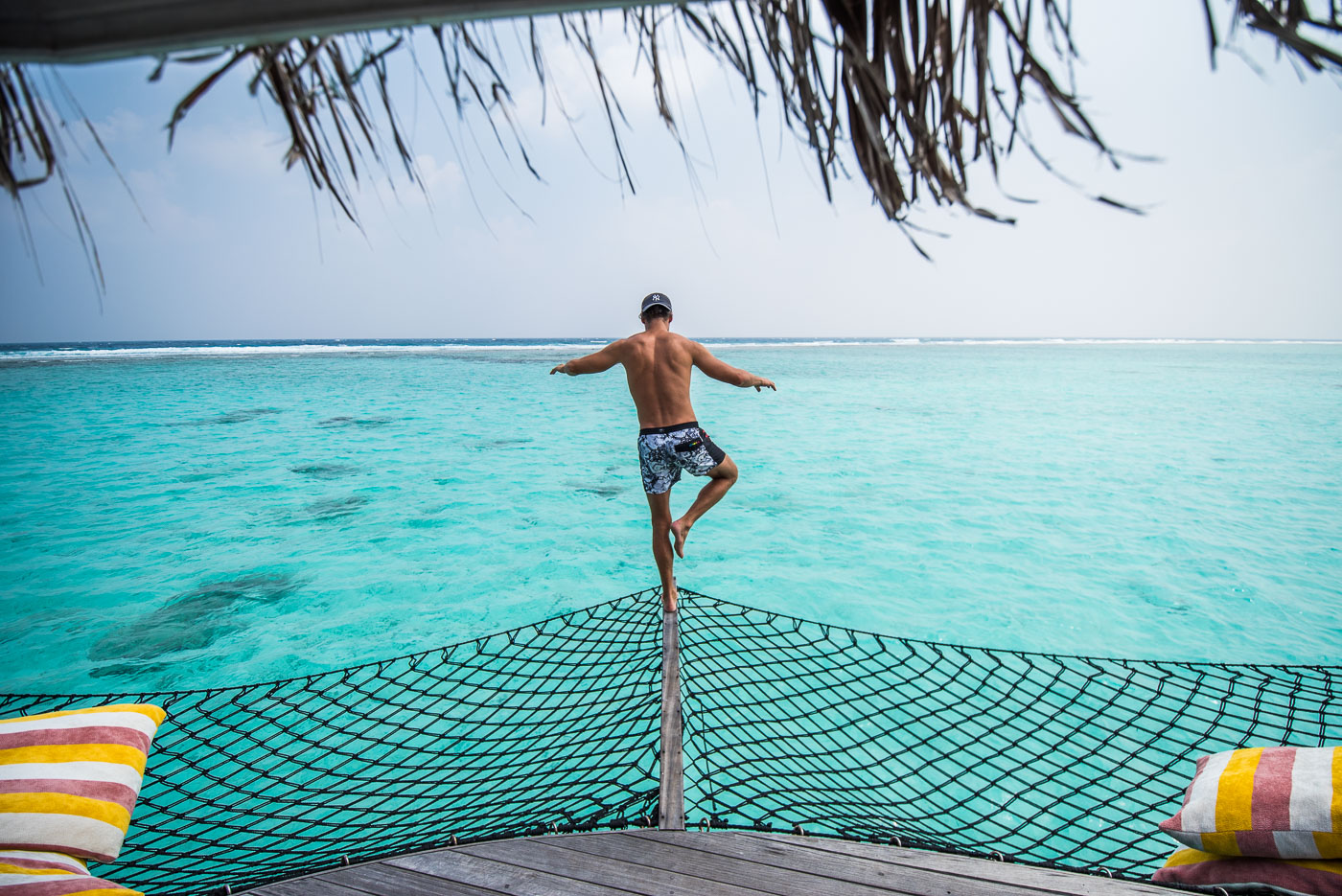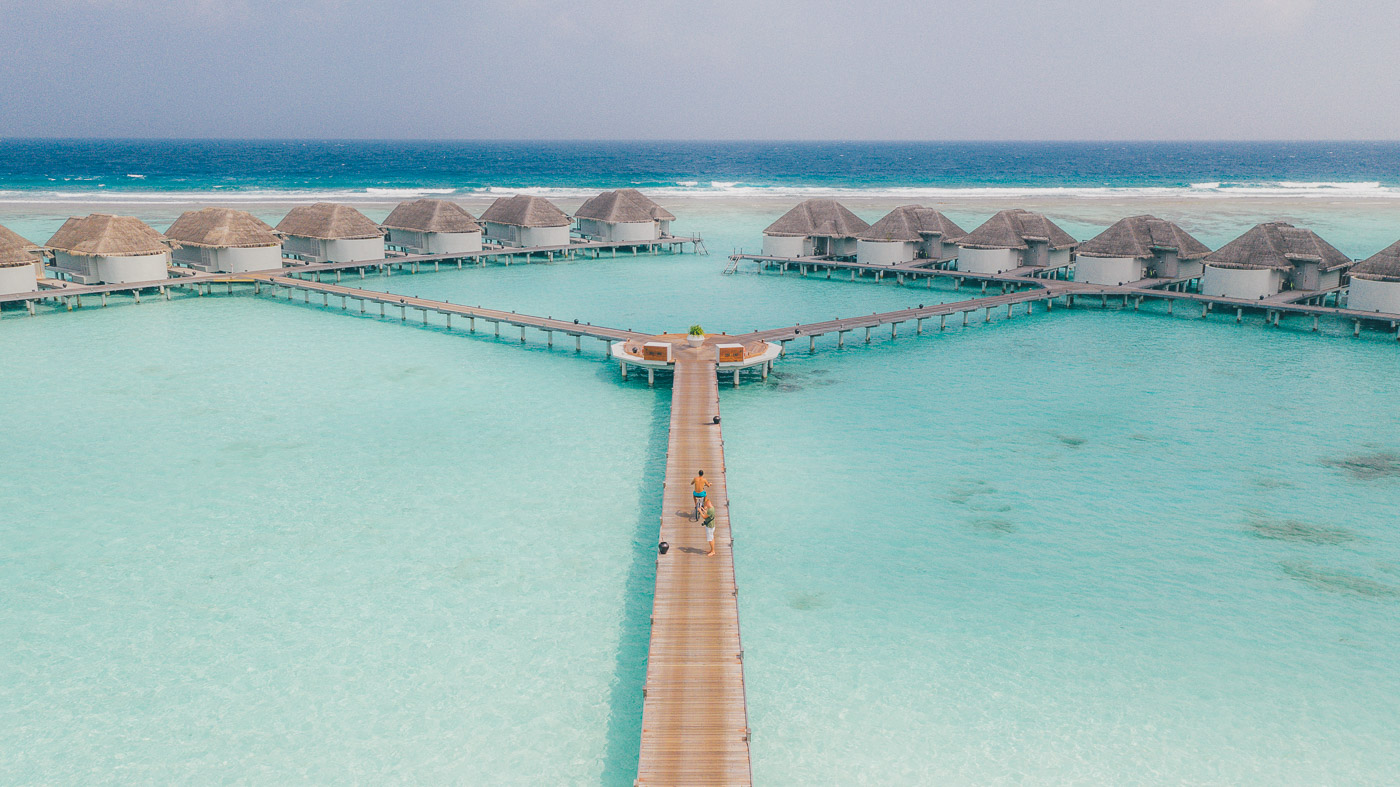 ---
Bathroom Goals
"Sometimes the Most Productive Thing You Can Do Is Relax'
Who doesn't love a good luxury bathroom…?  I know I do!
I was loving all the amenities in the bathrooms at Kanuhura, and think they do an outstanding job and making it a great place for relaxation.  The mega bathtubs are truly divine, and you'd be a fool to not take at an extra-long bath at least one night during your visit!
The overwater villa bathrooms also had a mini hammock there as well that lights up at night, which I thought was a super cool addition!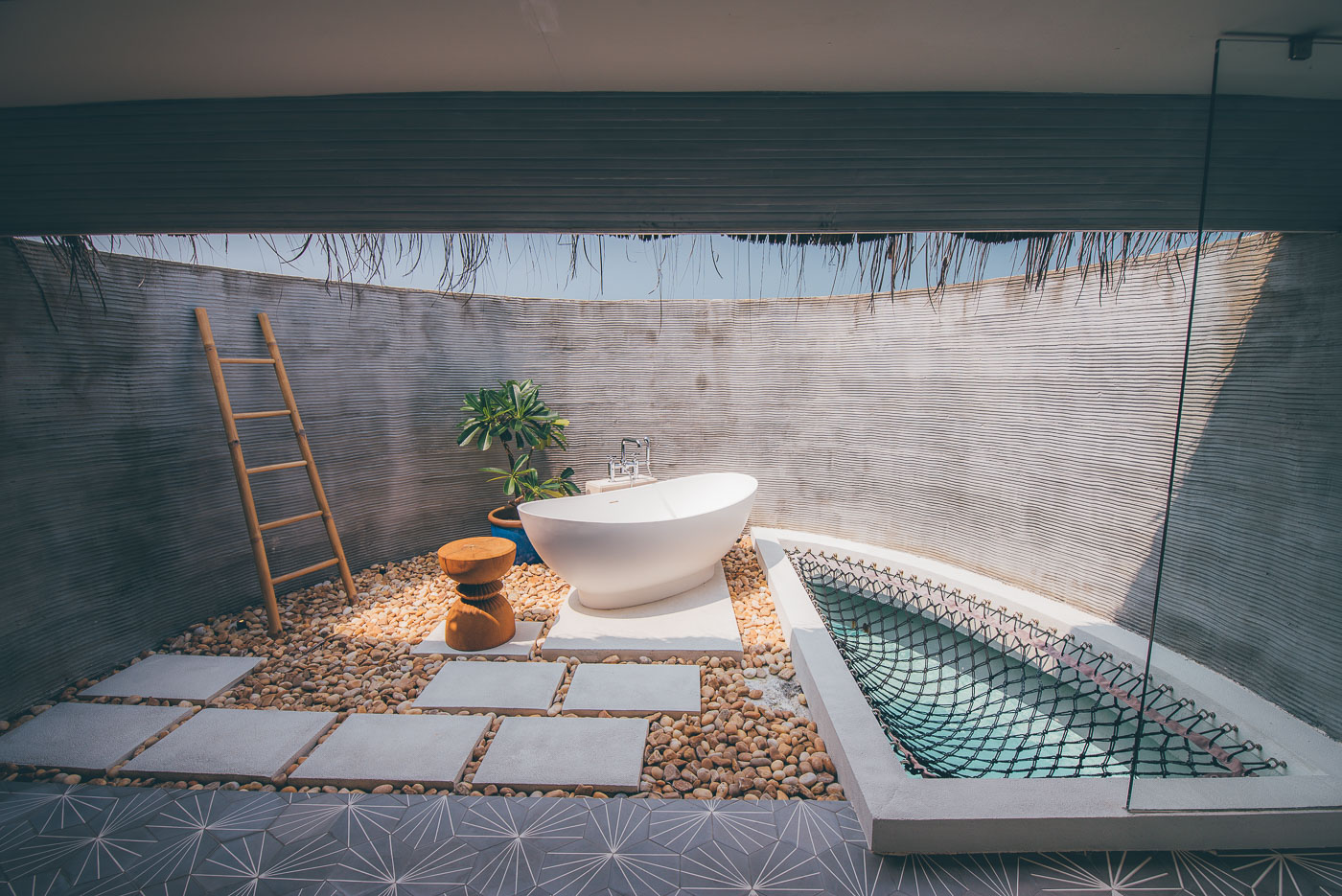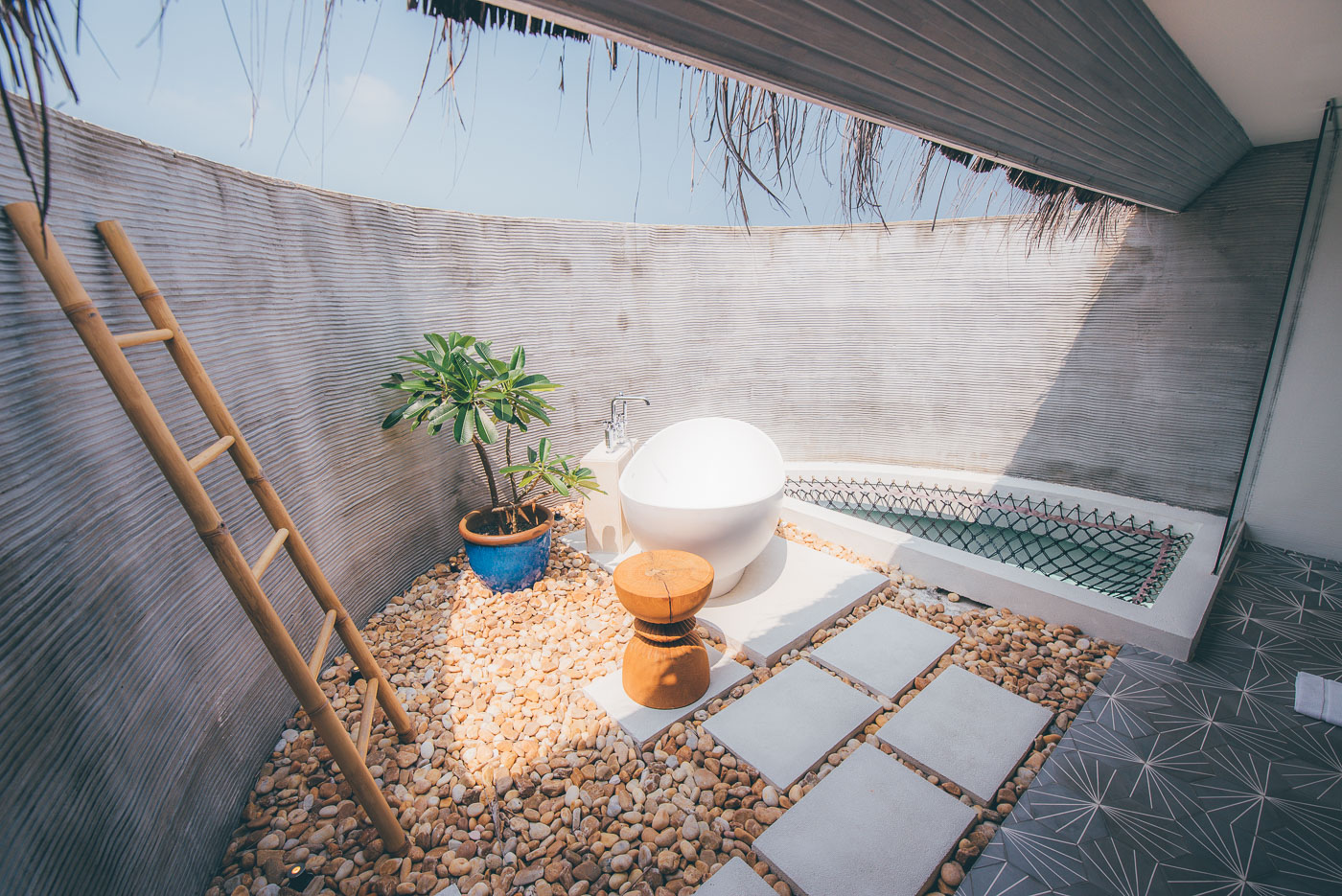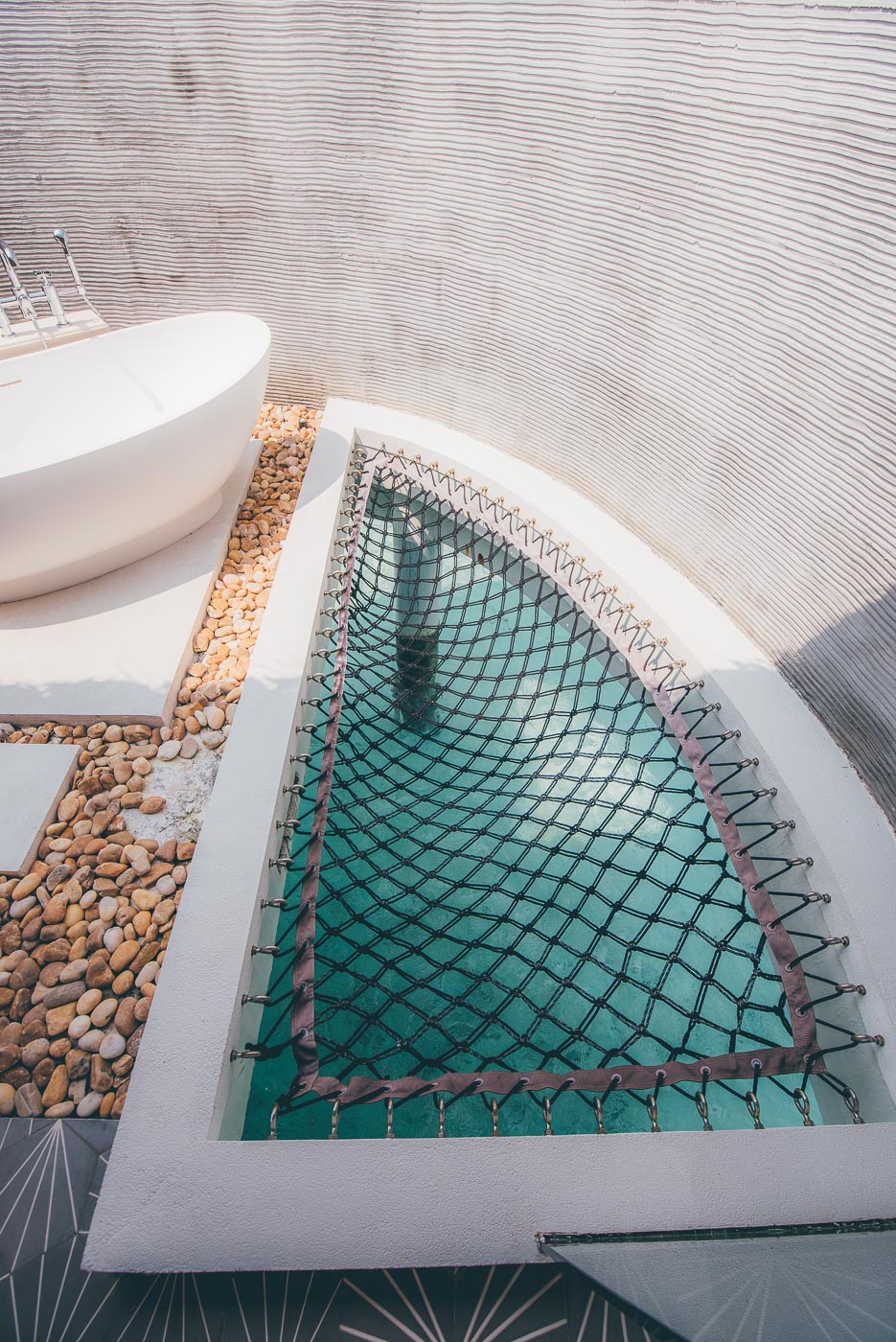 ---
Starry Skies
Don't forget to look up!
During our first night on the island, I was absolutely blown away by how many stars I was able to see in the sky!  I always had heard that the Maldives was an excellent destination for stargazing because of the lack of light pollution, but after a full month in the country, I didn't actually have that many clear nights!
So I was stoked to finally see the sky all lit up, and allowed me to do some astrophotography before heading to dinner.  I think some of these shots turned out really, wouldn't you agree!?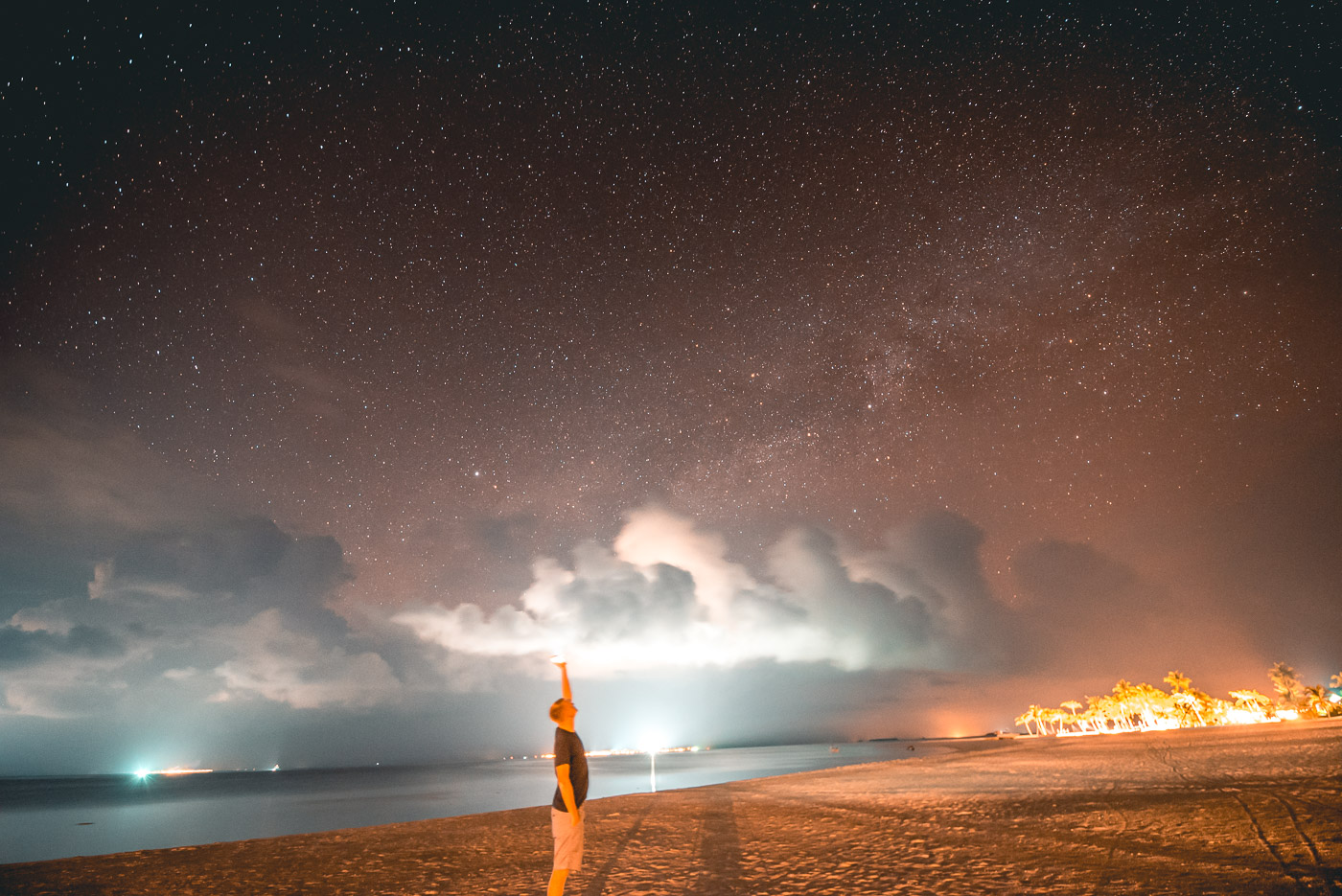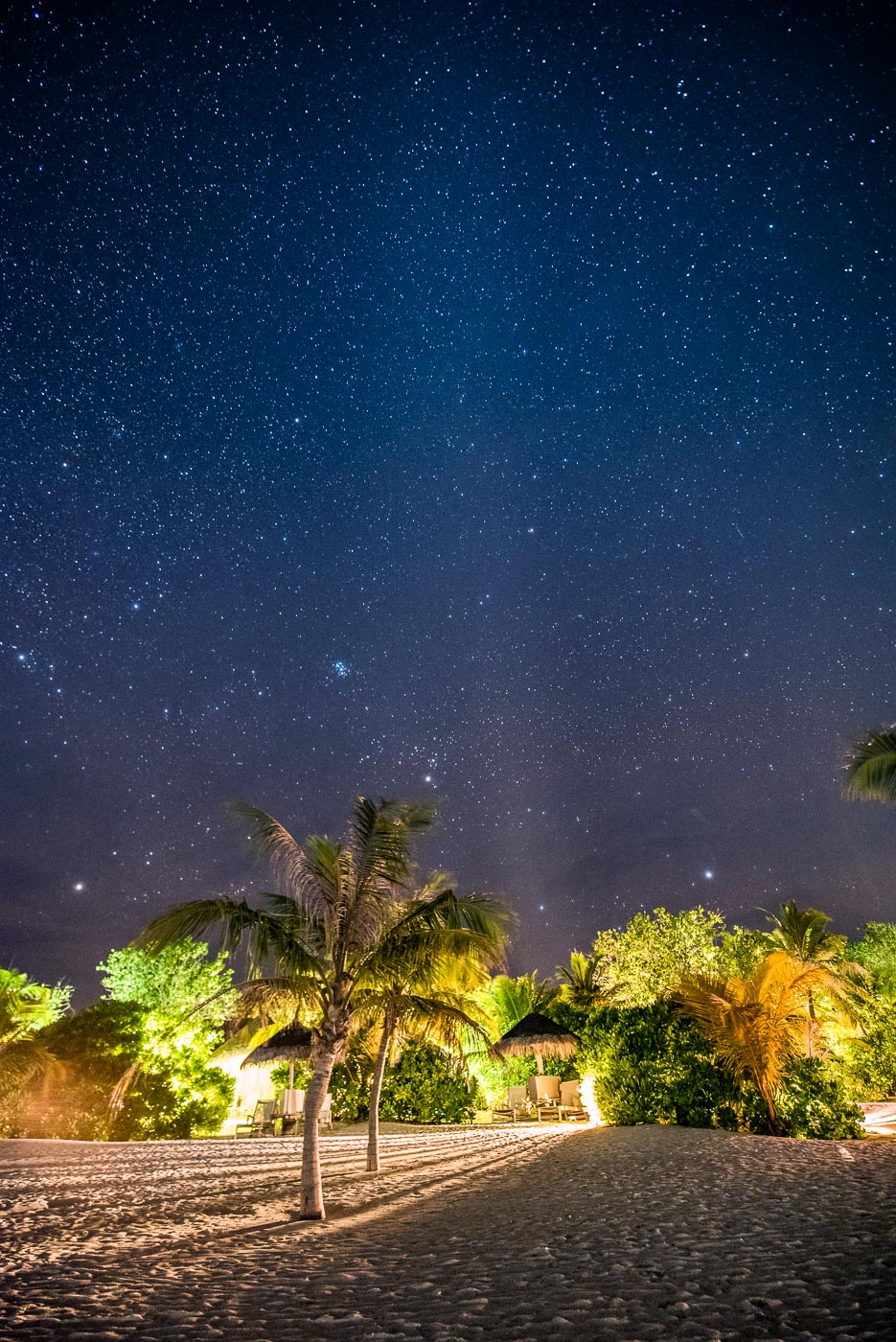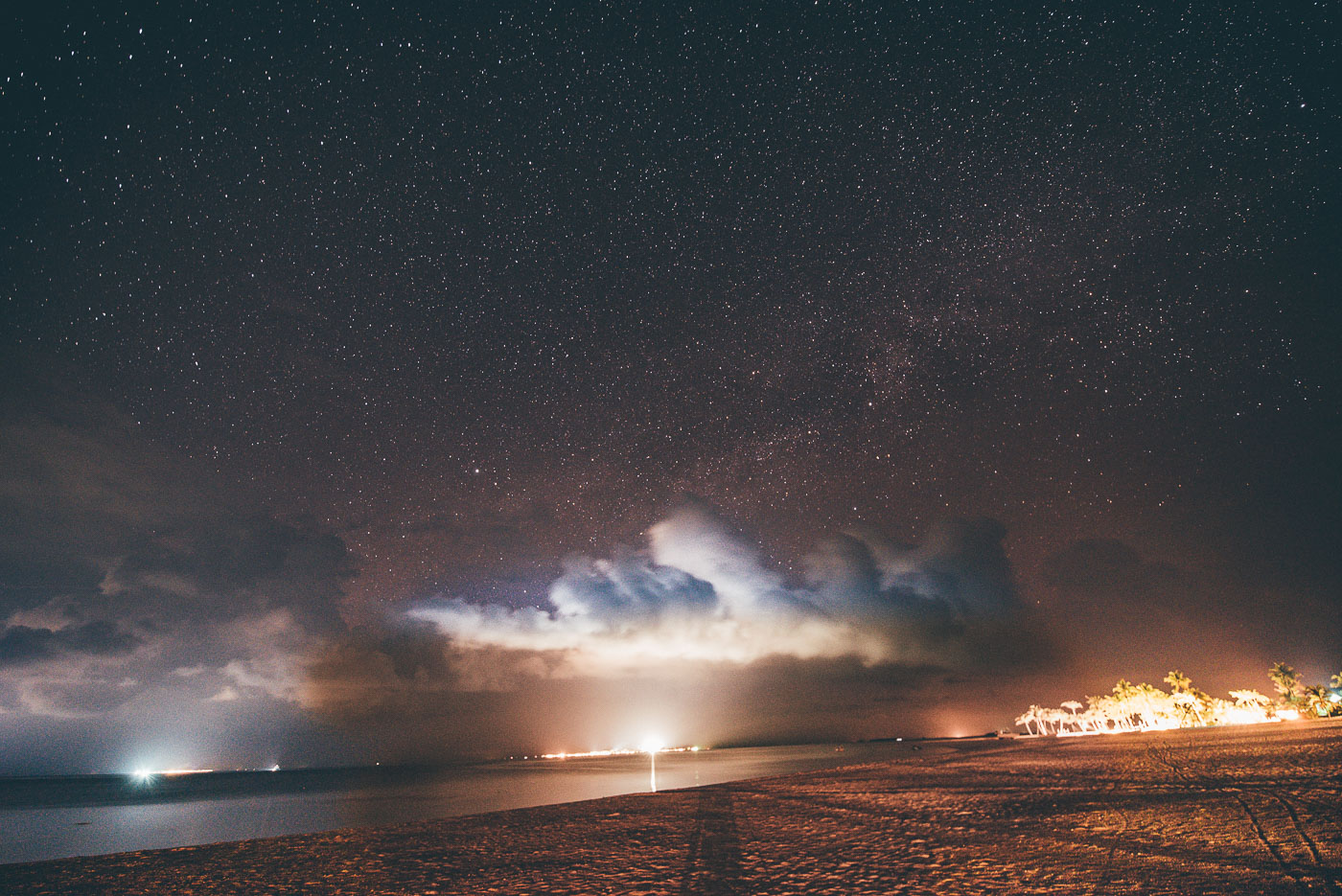 ---
Breakfast Beach Buffets
Coconuts, Cappuccinos, and Croissants 
One of the highlights of staying at Kanuhura for me was the food, and the breakfast buffet was seriously next level!  The beachfront location is picture-perfect, and it felt pretty awesome eating a delicious meal with the feeling of soft white sand in between my toes.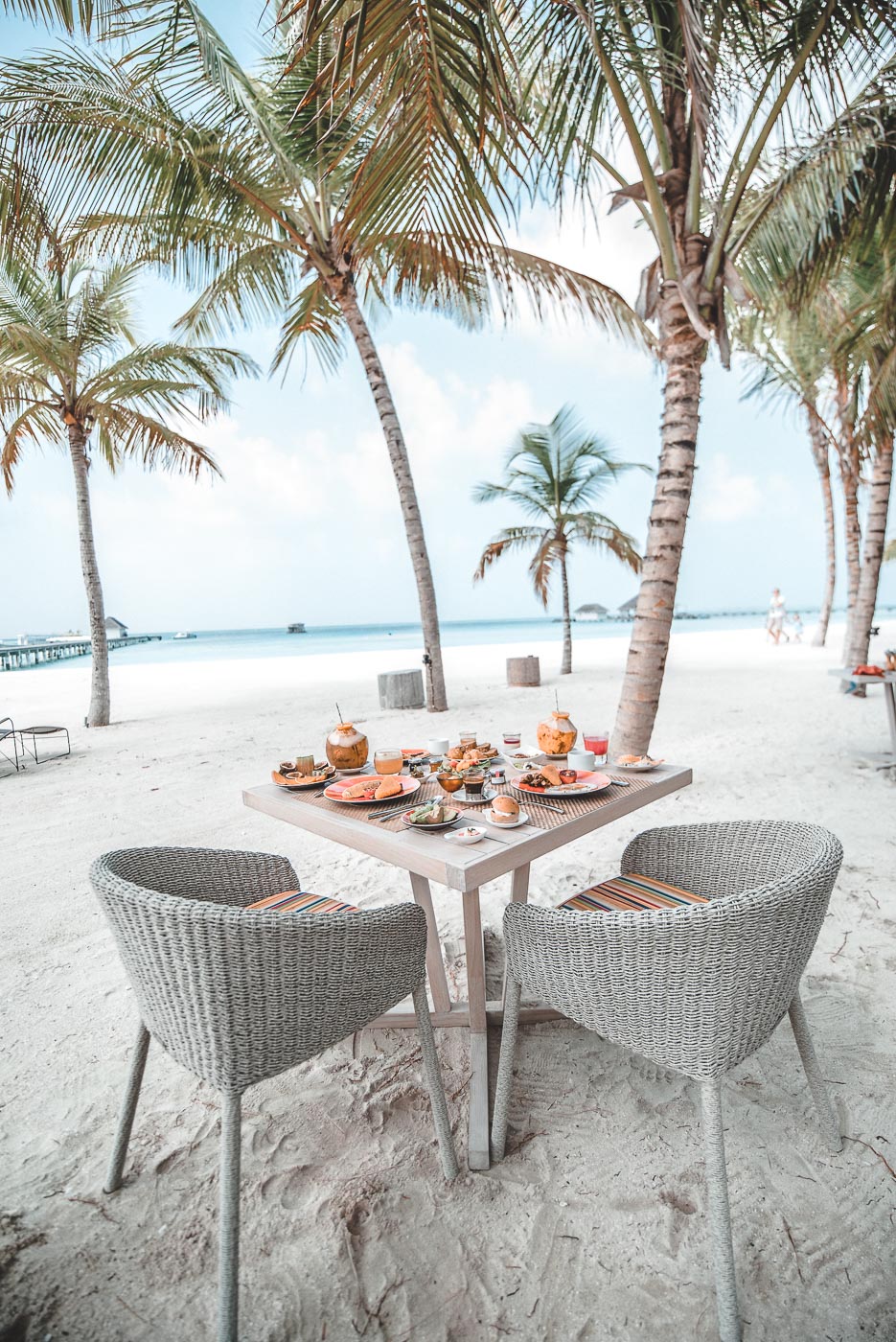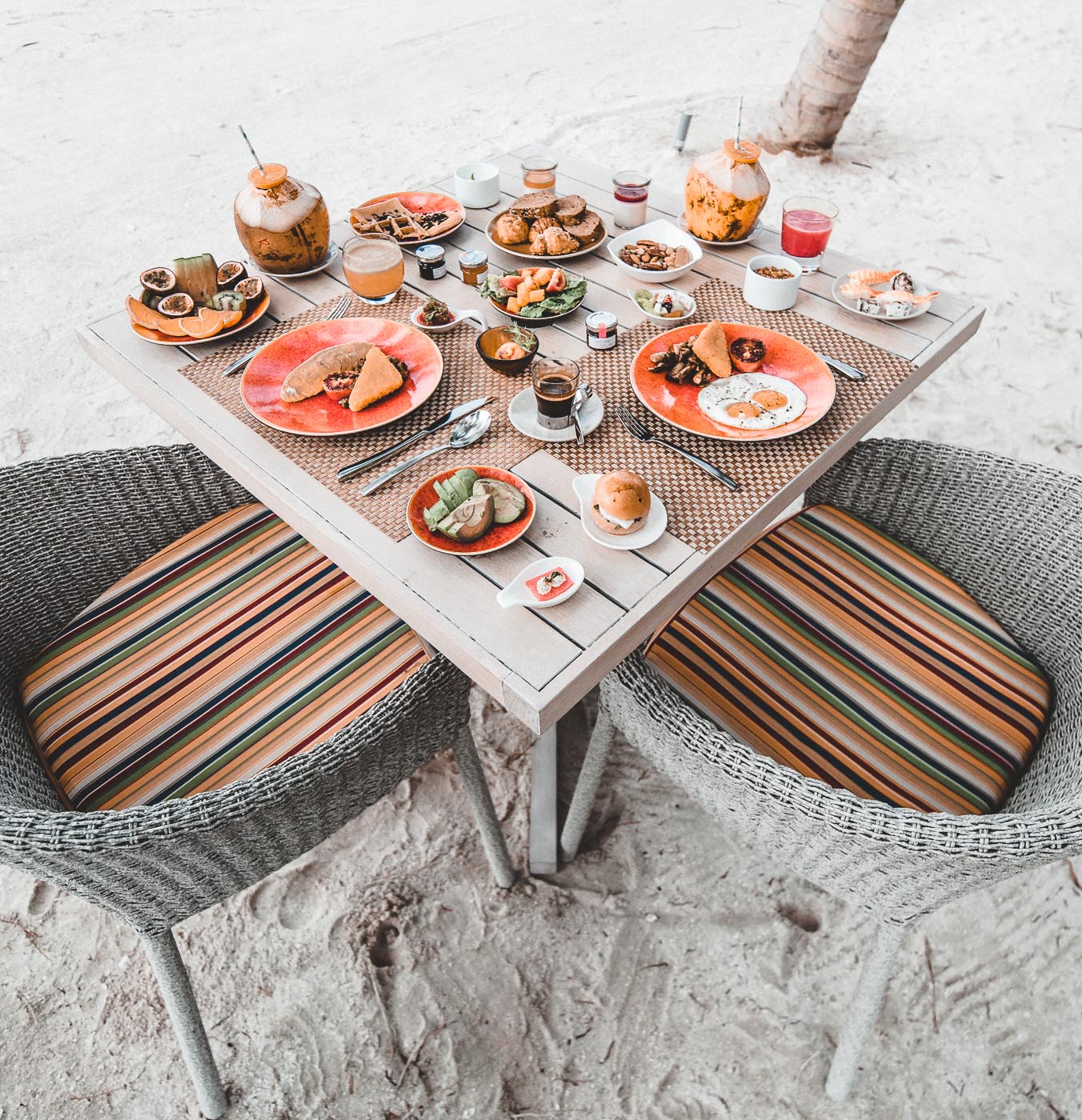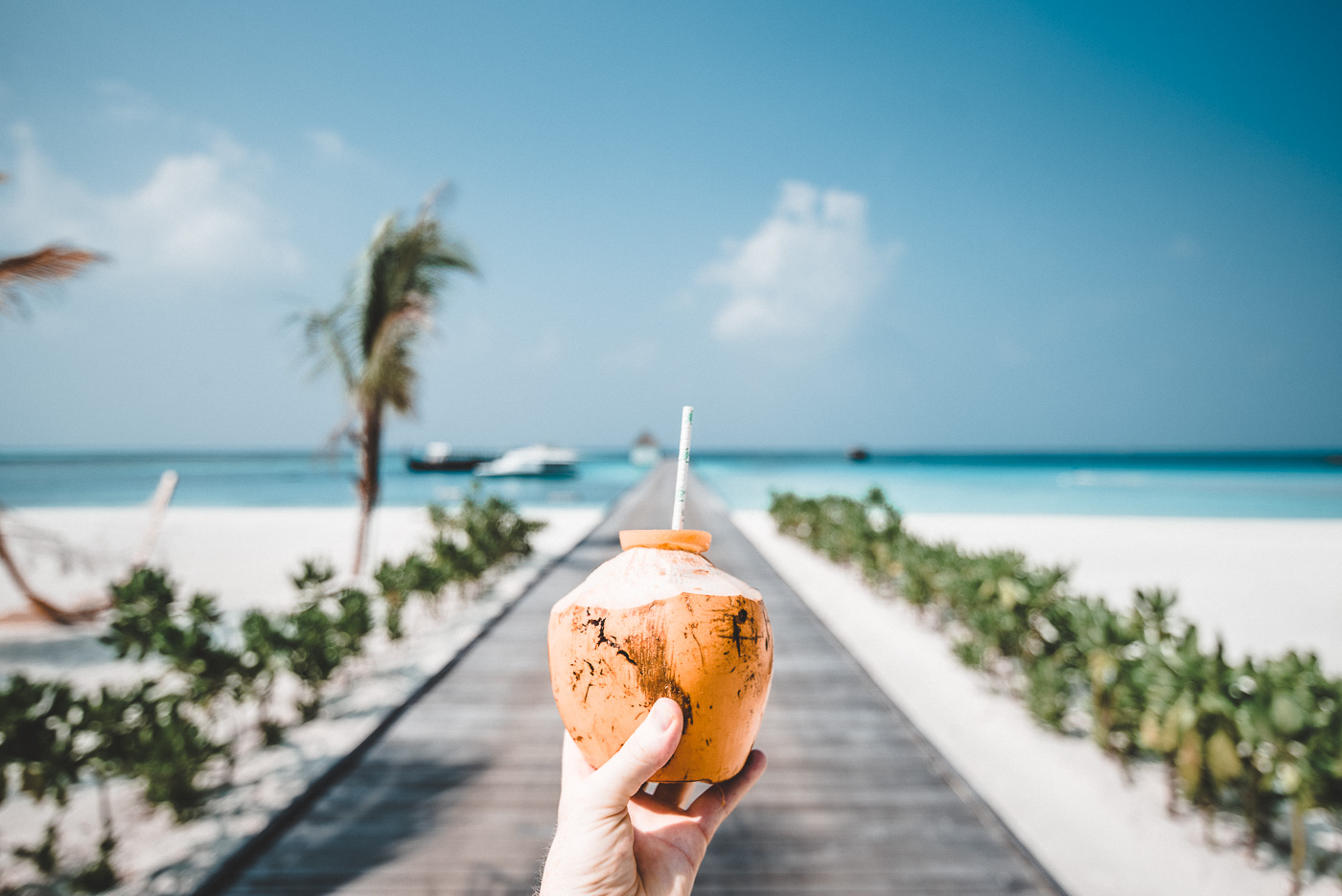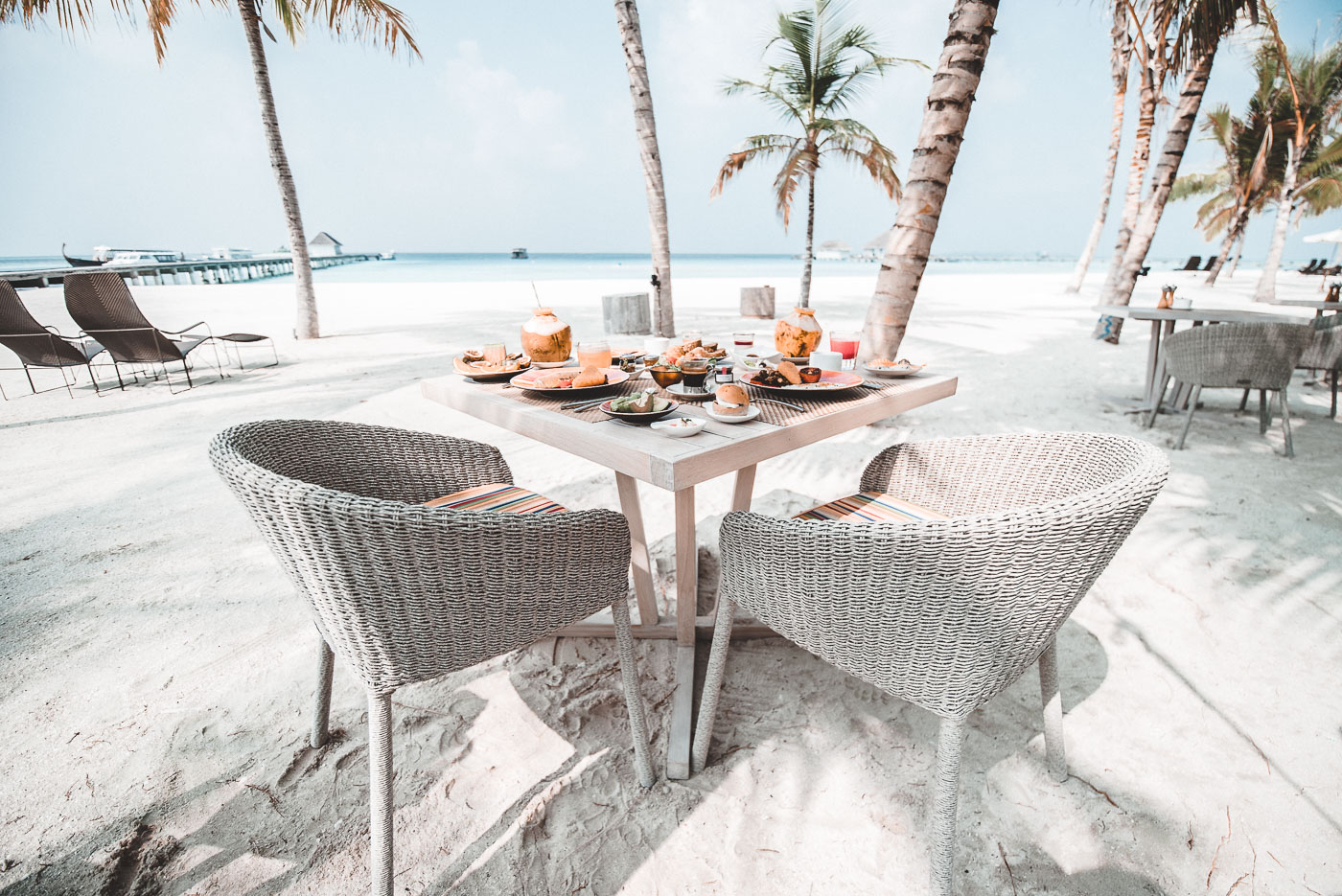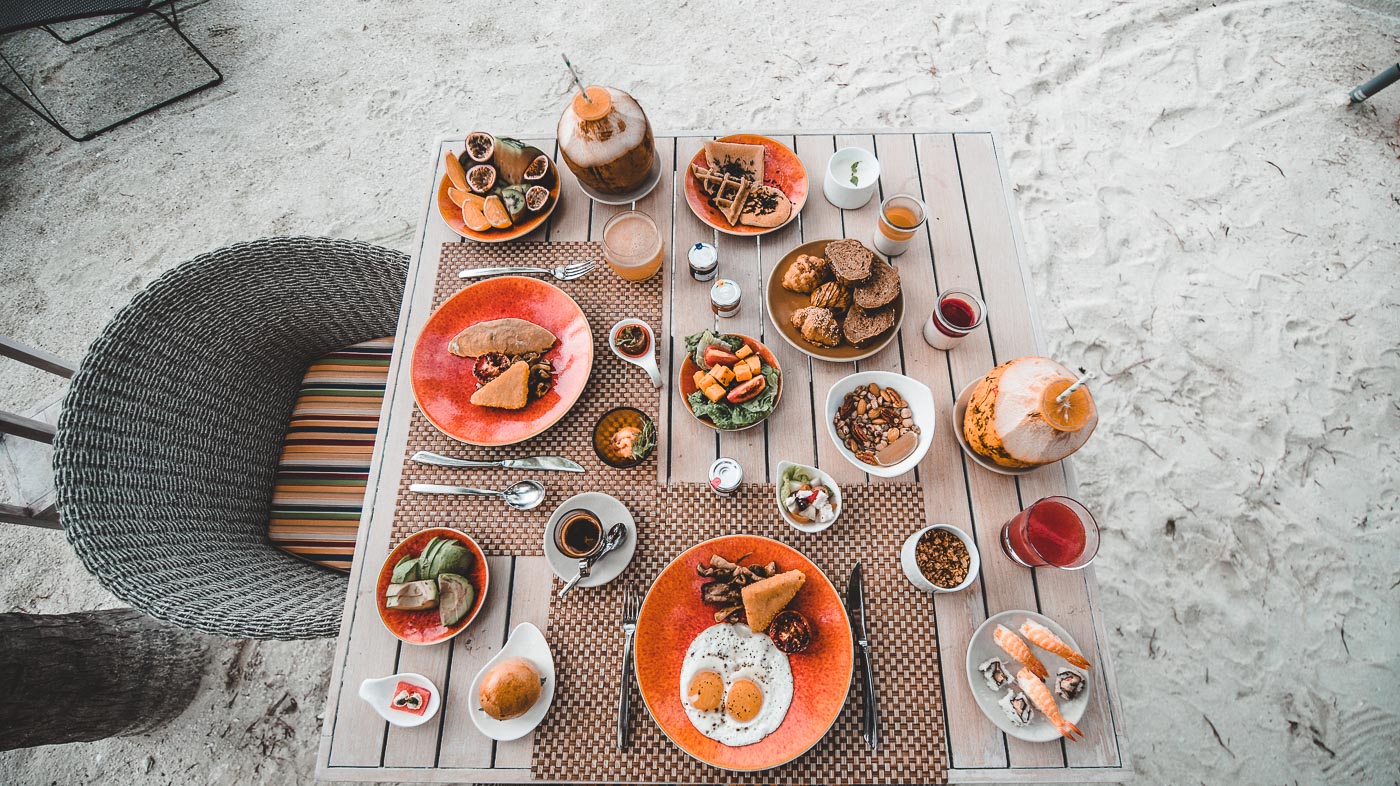 ---
Champagne Brunch
What do you do when it starts pouring rain in the morning…?  Well, just have them bring breakfast to you!  
Just kidding.  We actually already had this planned, and ordered it the night before!  Kanhura offers a ton of different in villa breakfast options, and it was such an awesome experience!  They literally think of everything, and set-up a massive & delicious spread outside by our pool.
Being travel-bloggers, we did have to take around 50+ photos before actually eating the food, everything still tasted amazing, and finishing a bottle of champagne was quite a fun way to start the day ;-)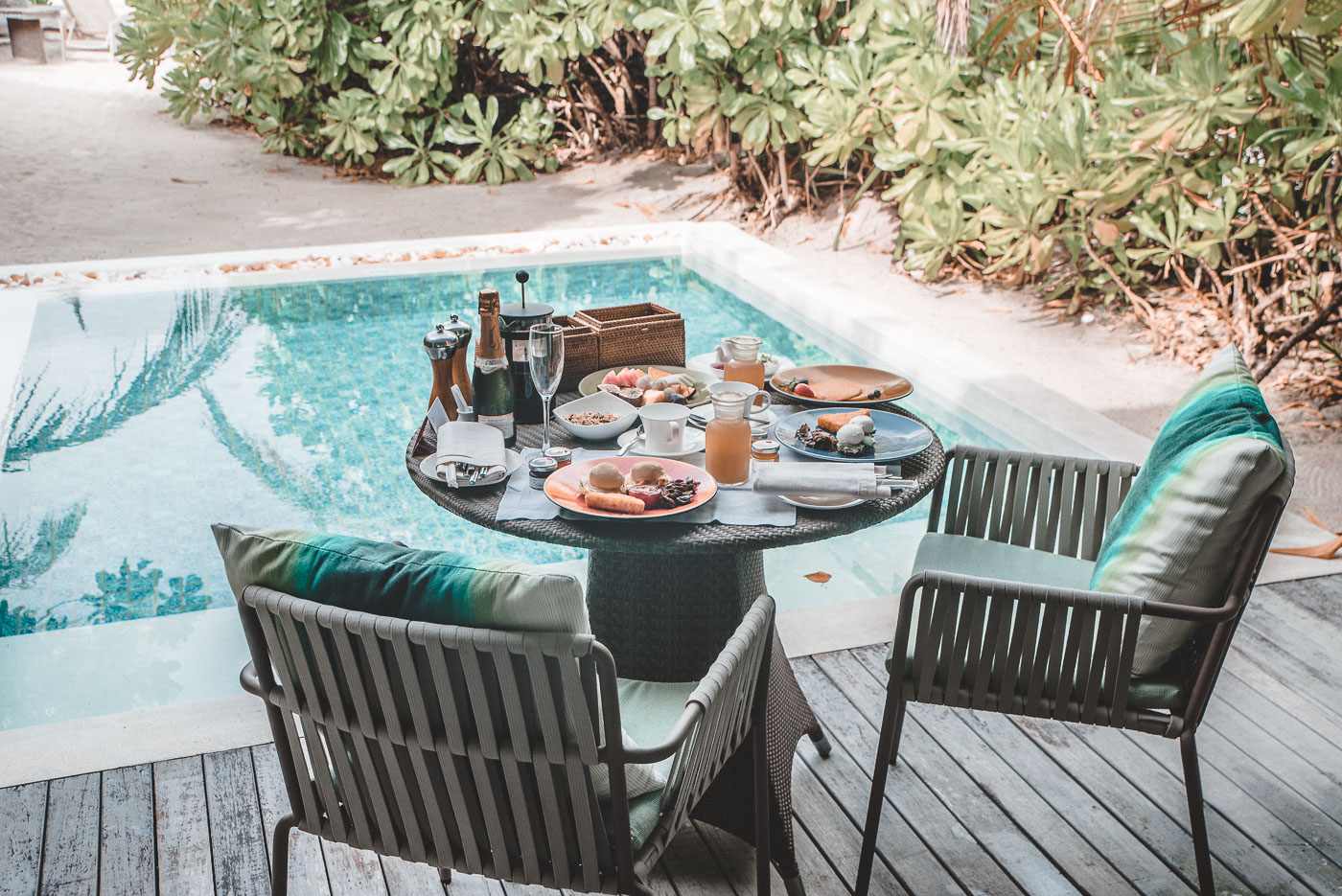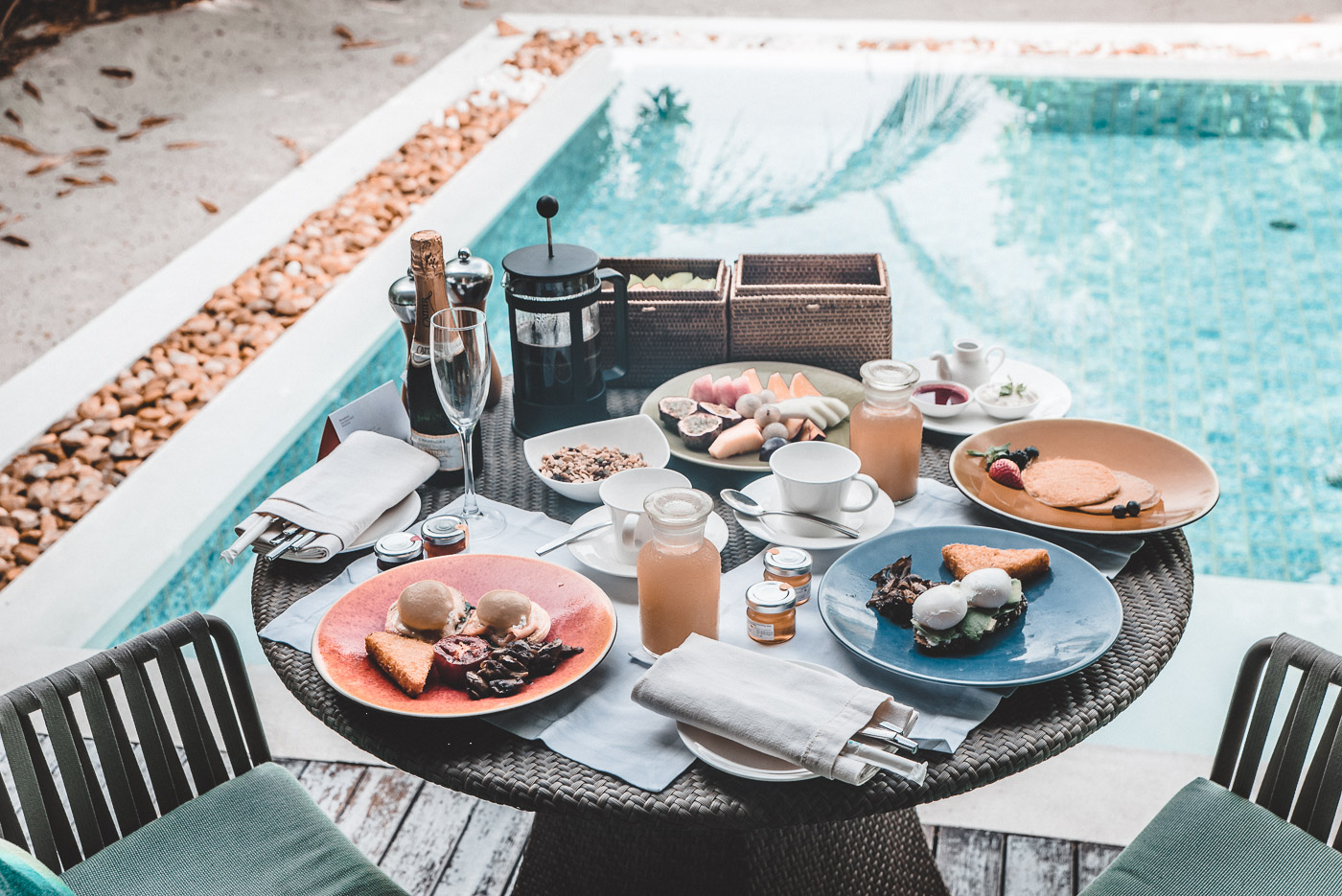 ---
Seaplane Views
Last, but certainly not least, the only way to reach Kanuhura is via seaplane, and it's honestly an adventure all on its own.  While they do cost around $450 for a return ticket, the views you get of all of the resorts/ islands are absolutely jaw-dropping!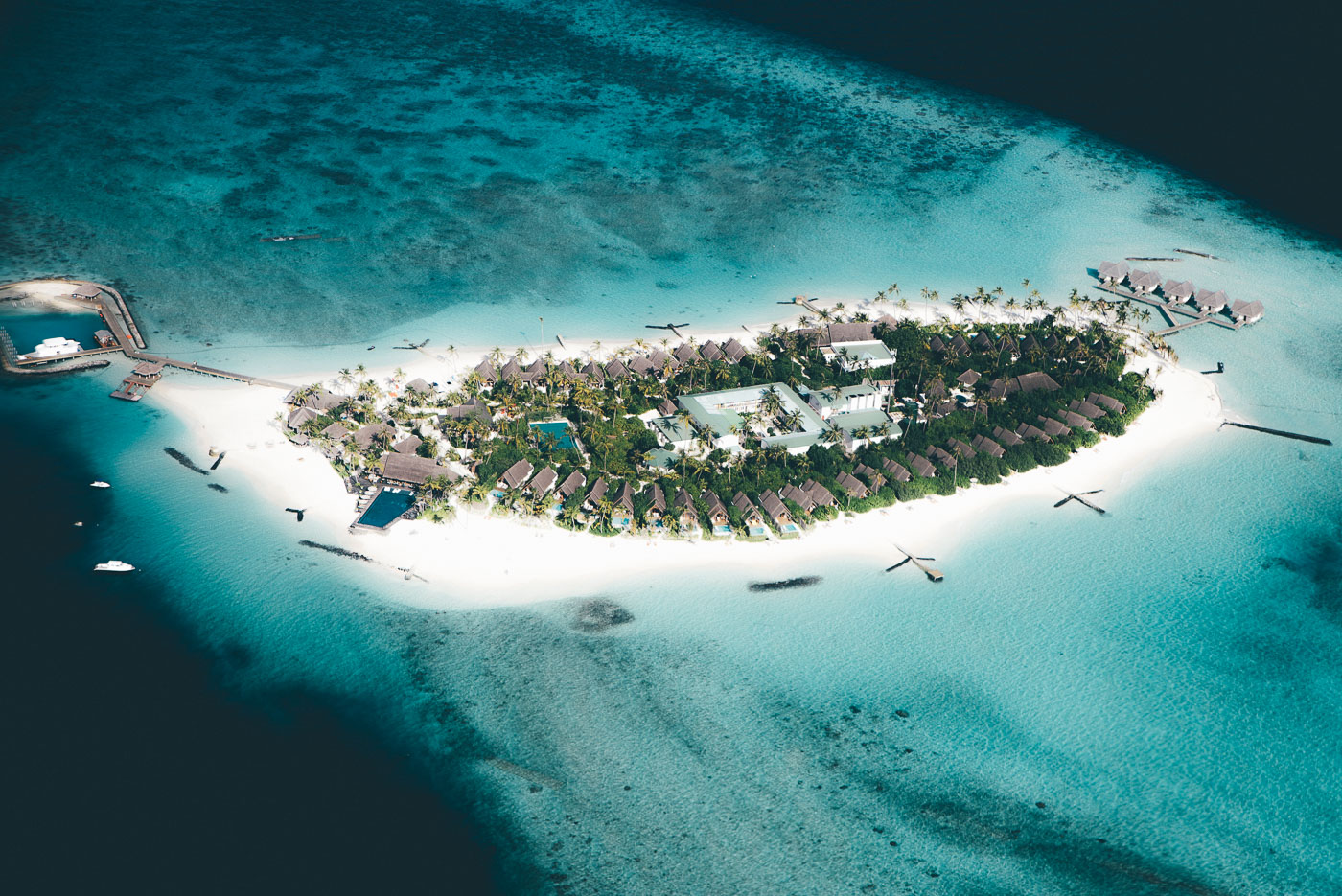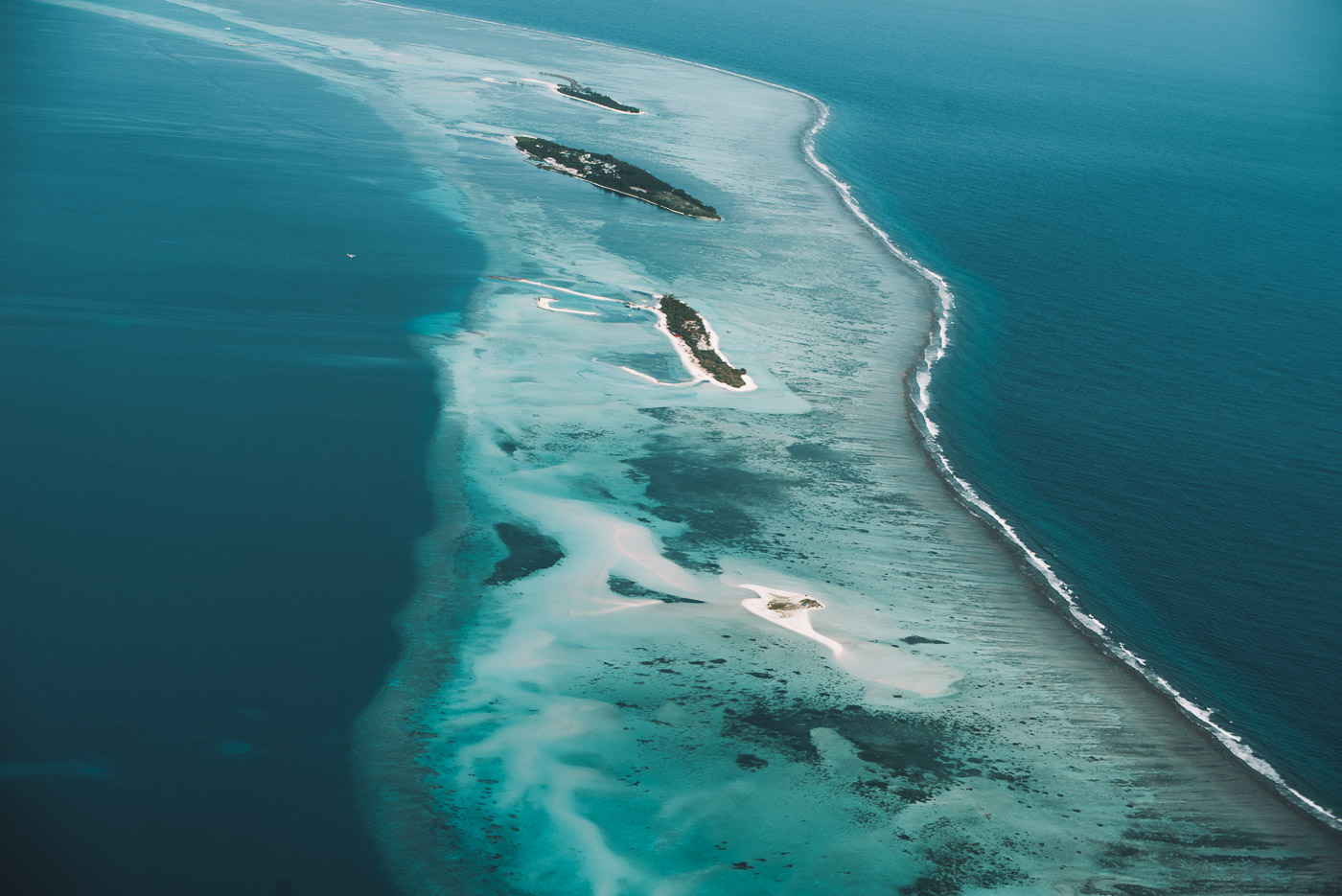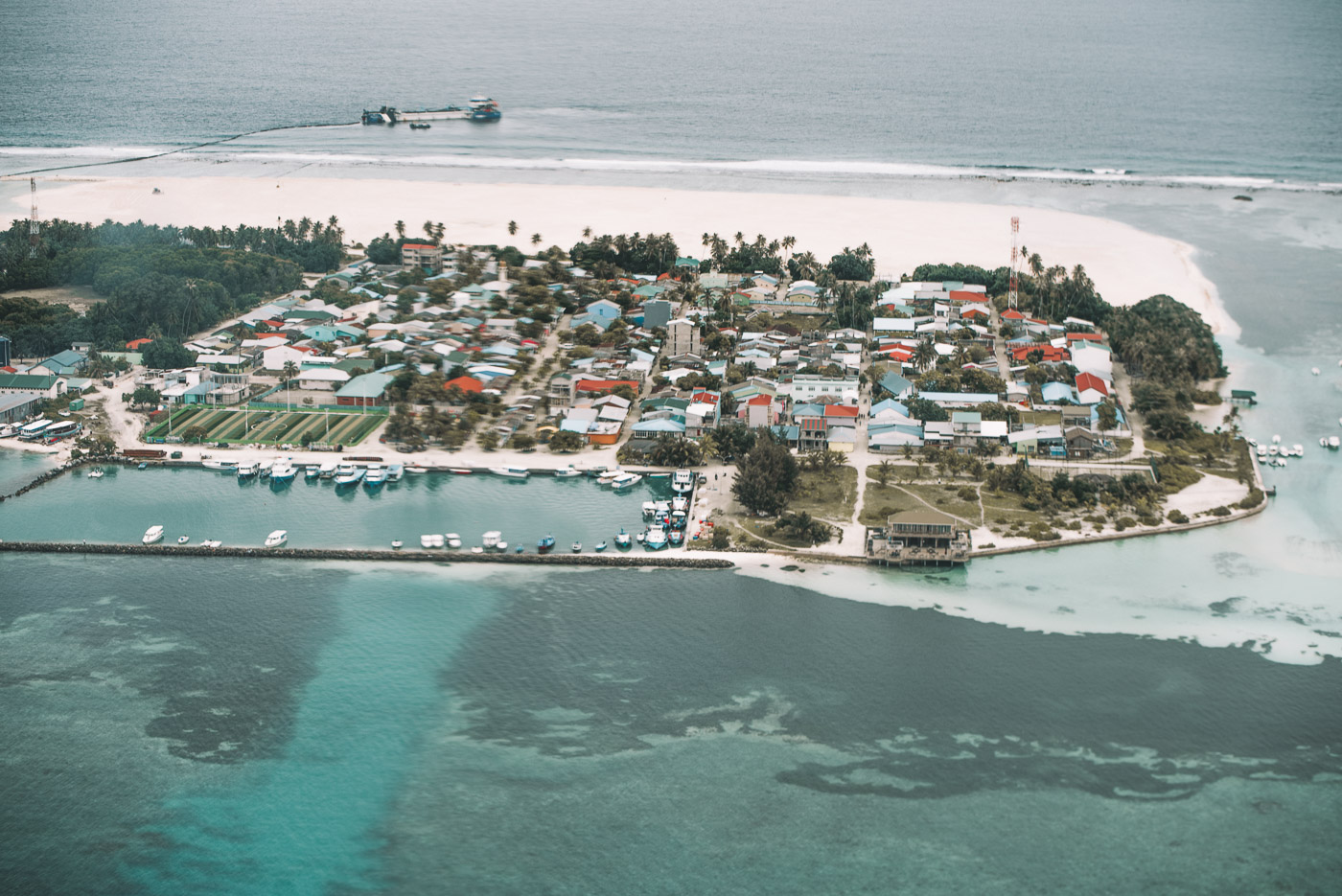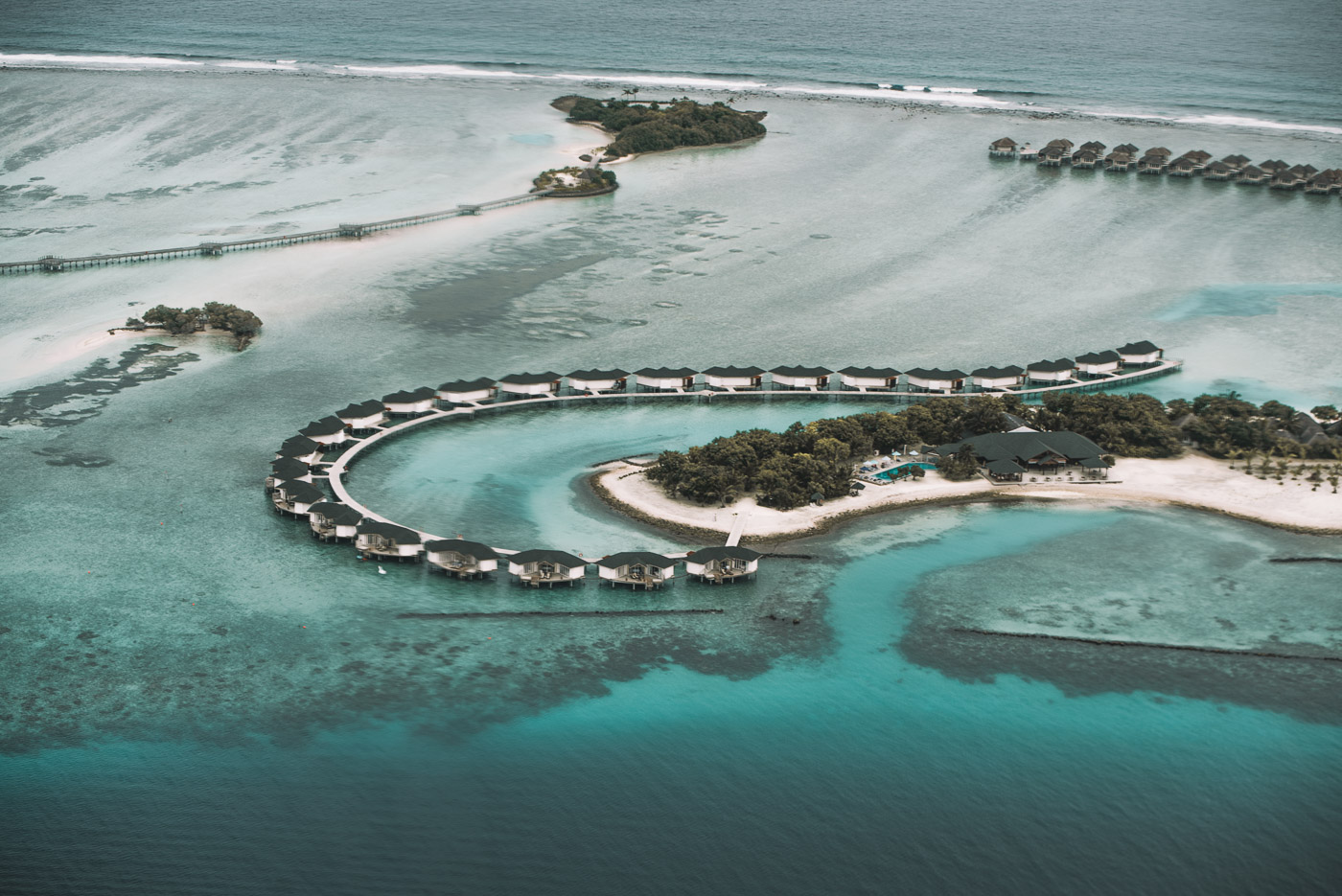 ---
Thanks so much to everyone at Kanuhura!!
Everything from the perfect scenery, friendly staff, and delicious food were entirely top notch, and I had the best time exploring, photographing, and droning as much as possible!  Check out Kanuhura's website for pricing (rates vary heavily depending on the time of the year), and if you have any questions about my time on the island, feel free to shoot me an email, or reach out to me on Facebook/ Instagram, and I'll be sure to respond ASAP.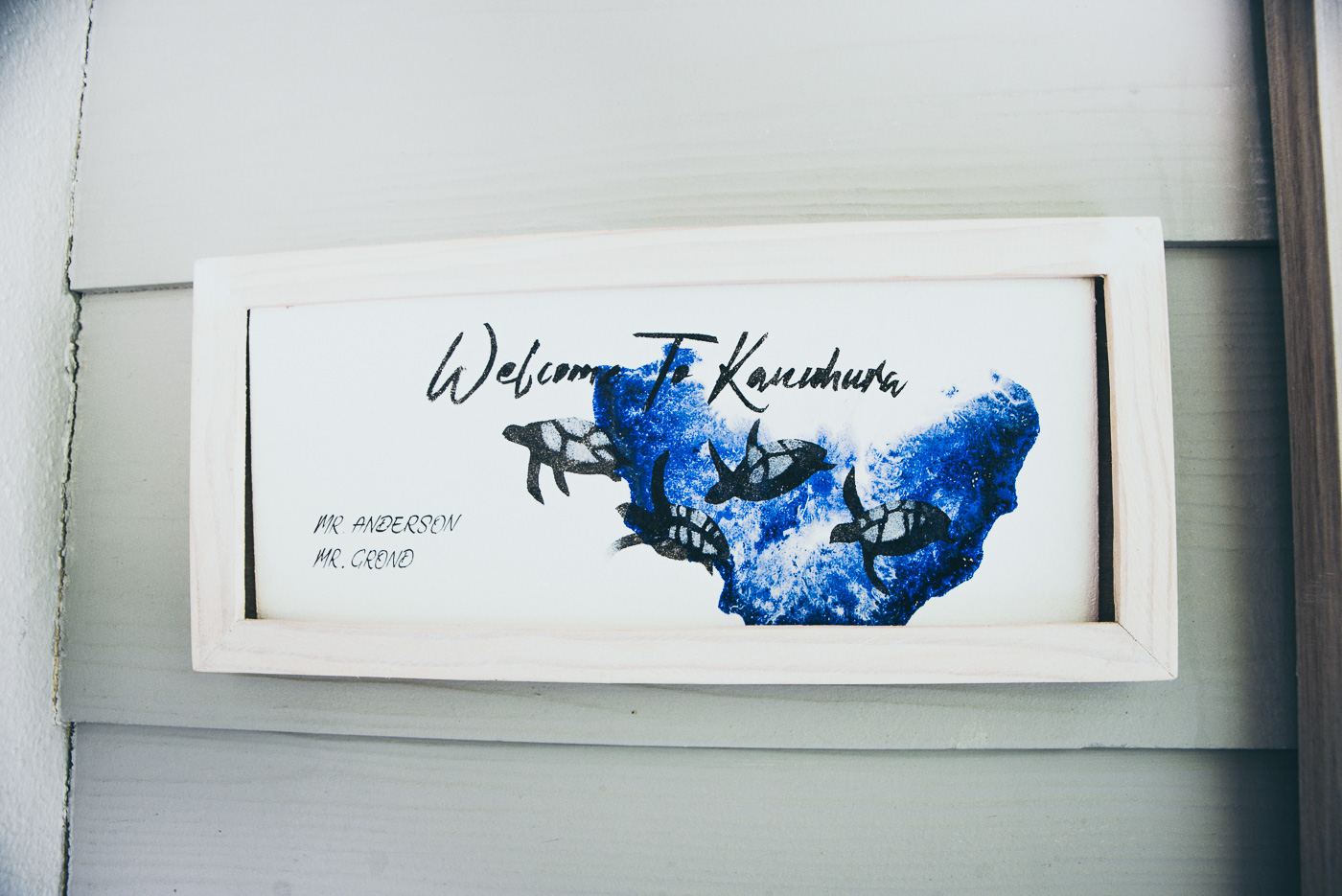 ---
---
I was an invited guest by Kanuhura to come and check out the new property, take some photos, and write about my experience.  All opinions are my own.
SHARE THIS ARTICLE!