How to spend two days in Hong Kong? Well, that's a complicated question, and there's no easy answer for it. But I think I've put together the best 2 days Hong Kong Itinerary to make the most of your time in this absolutely mesmerizing city!
I first visited Hong Kong many years ago during Chinese New Year, and since then it's been one of my favorite destinations in Asia. Complete with massive skyscrapers as far as the eye can see, wondrous city lights, and some of the most delicious food you'll ever try – I think exploring Hong Kong in 48 hours is just enough time make you fall completely in love with it!
With one of the most impressive skylines in the world, delicious cuisine, amazing viewpoints, hikes, day-trips, and so much more- Hong Kong is a city that'll keep you coming back for more!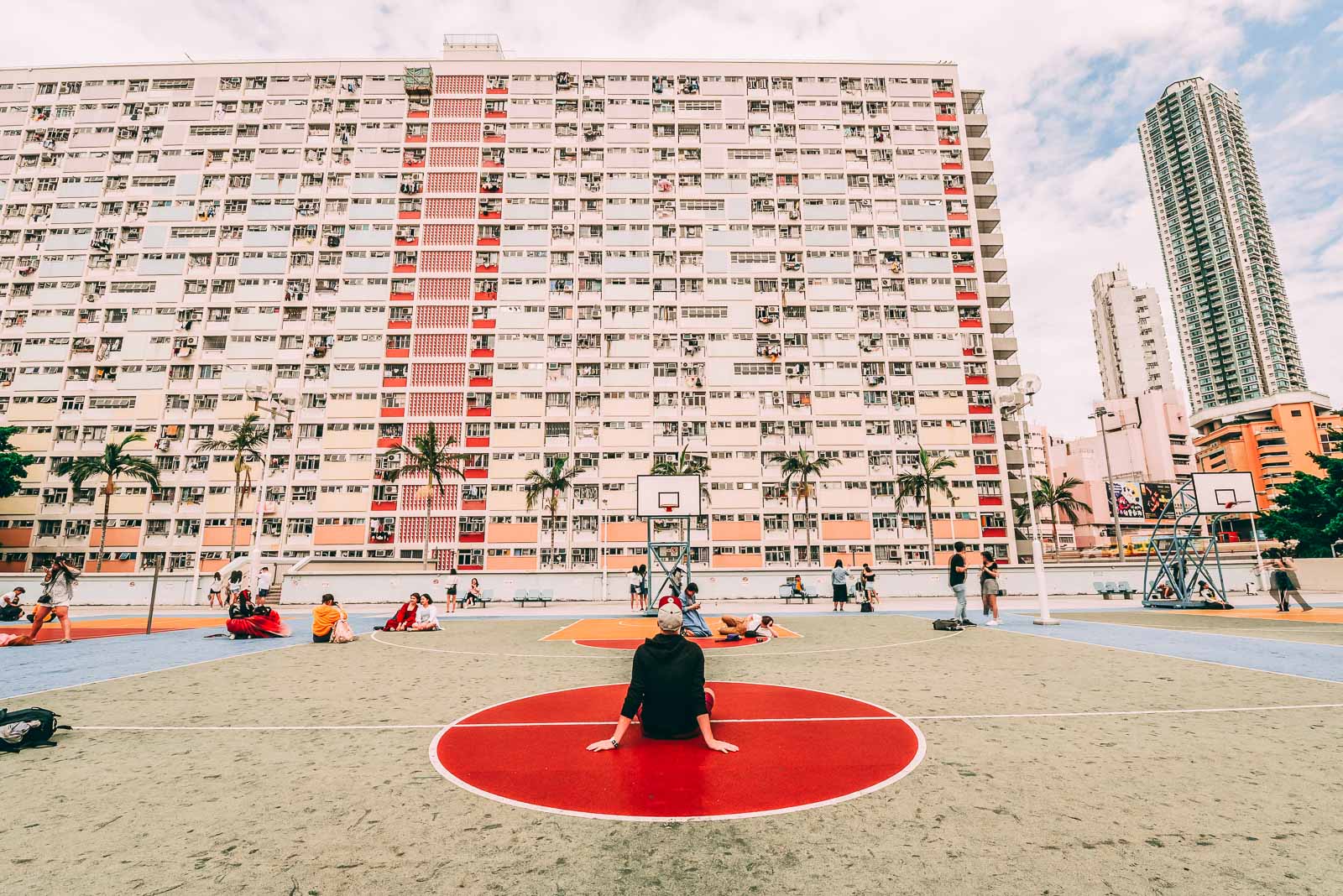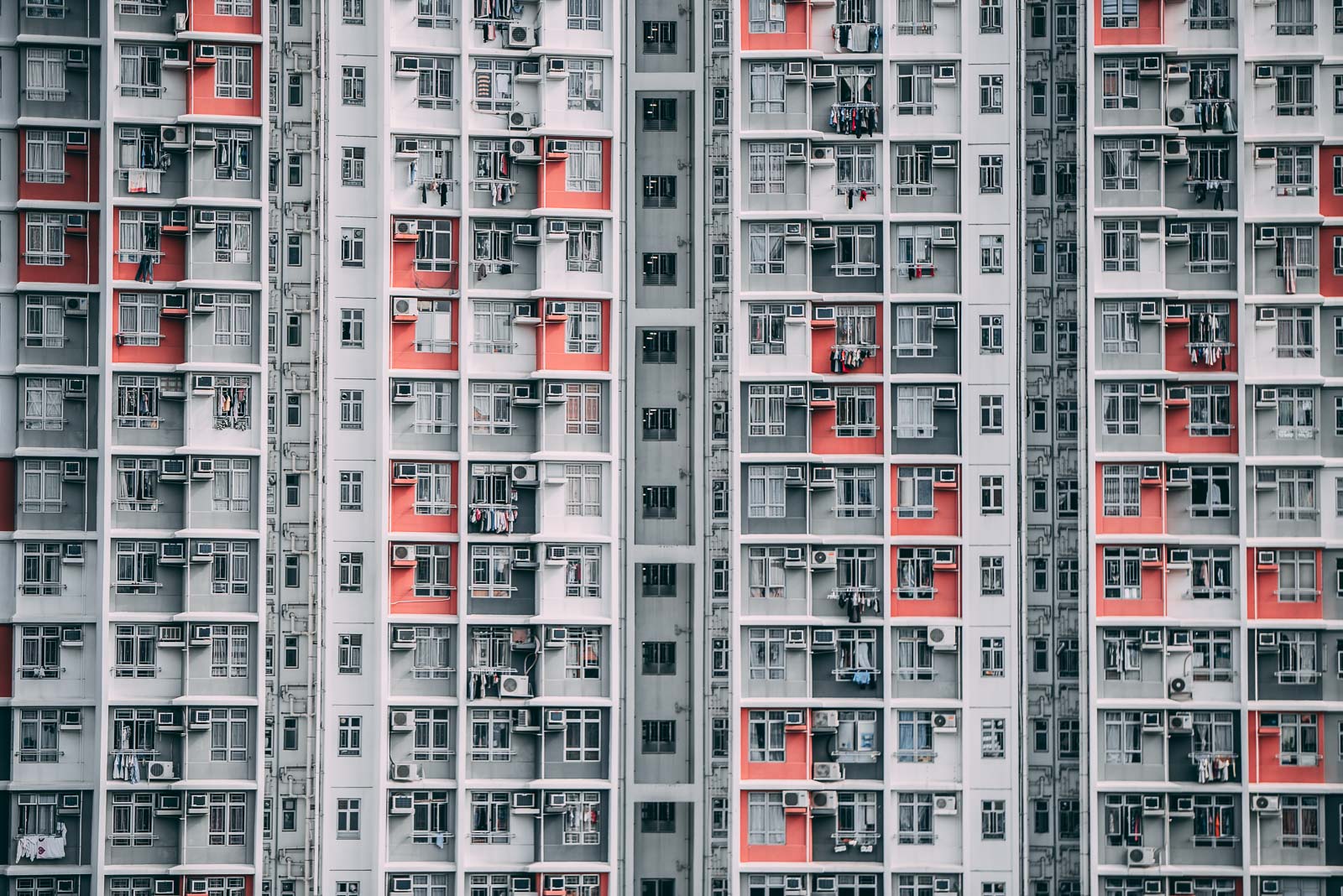 ---
Where To Stay in Hong Kong for only Two Days…?
There are so many incredible hotels to choose from in the city, but it's also one of the more expensive places for accommodation. The "budget hostels" aren't that cheap for backpacker standards, and even the mid-range hotels are super pricey. Here are a few recommendations for Hong Kong accommodation!
InterContinental Grand Stanford Hong Kong – Out of all the hotels in Hong Kong, I would choose to stay here at the InternContinental. Why? Well because when I was a young backpacking travel-blogger, I went inside one of them and asked if I could check out the pool and take some photos. The management team was super friendly and said that wouldn't be a problem at all. The hotel is absolutely stunning, the pool is amazing, the rooms are luxurious, and the price is relatively affordable starting around $230 per night. It's well located, has amazing reviews, and will be the perfect hotel for two-days in Hong Kong!
Chungking Mansion (budget travelers only) – If you search on Booking.com or Agoda for the cheapest rooms in Hong Kong, they are pretty much always going to be located here in the Chunking Mansion! I stayed here for four nights when I was backpacking in Asia, and it was a super interesting experience, to say the least. When you enter the mansion, you'll be overwhelmed with lots of noises, people trying to sell you stuff, and trying to figure out where to go. It's honestly an adventure all on it's own, but is definitely for the real budget/ solo-travelers of the world.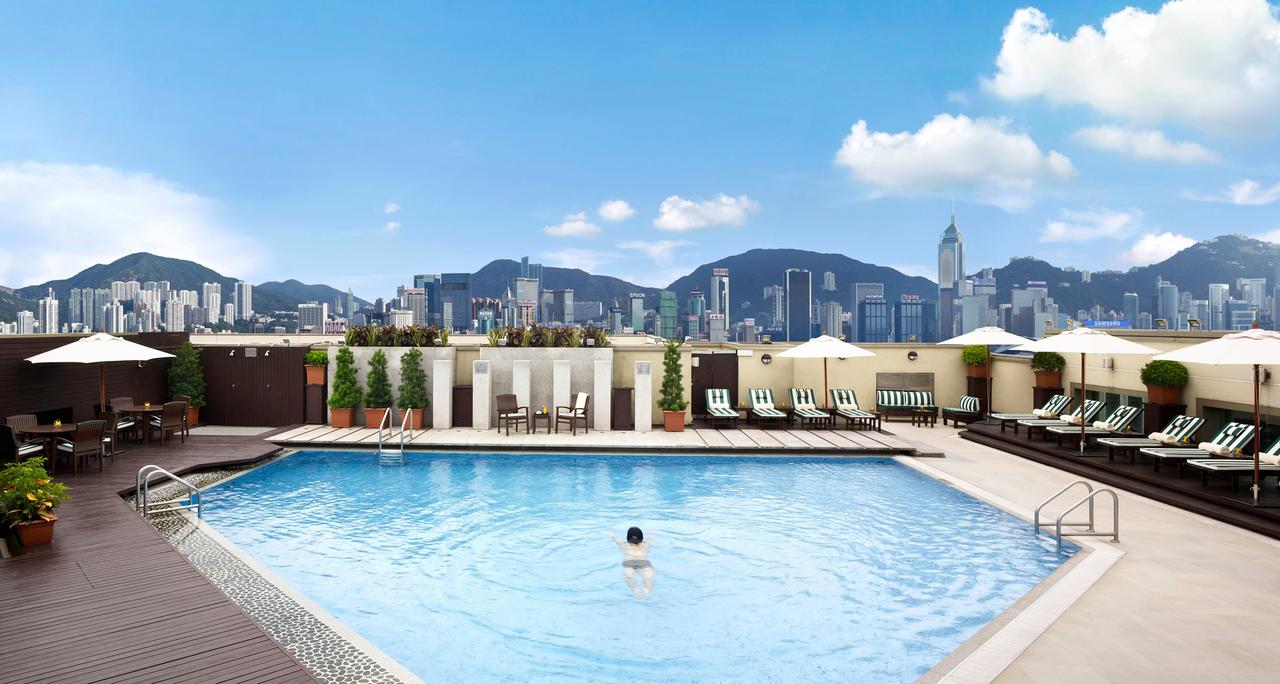 ---
Getting Around Hong Kong
An amazing aspect about visiting Hong Kong is that public transportation is truly next level, and the underground system can get you pretty much anywhere you need to go! While I did find myself utilizing the UBER rideshare app (yes, you can use it Hong Kong), I often found that using public transportation would be quicker because of crazy Hong Kong traffic!
When I would research where I was going, I would just type in my destination to Google Maps, and follow the public transportation directions. It was super easy, and even the most novice travelers will have no issue navigating the Hong Kong transportation system.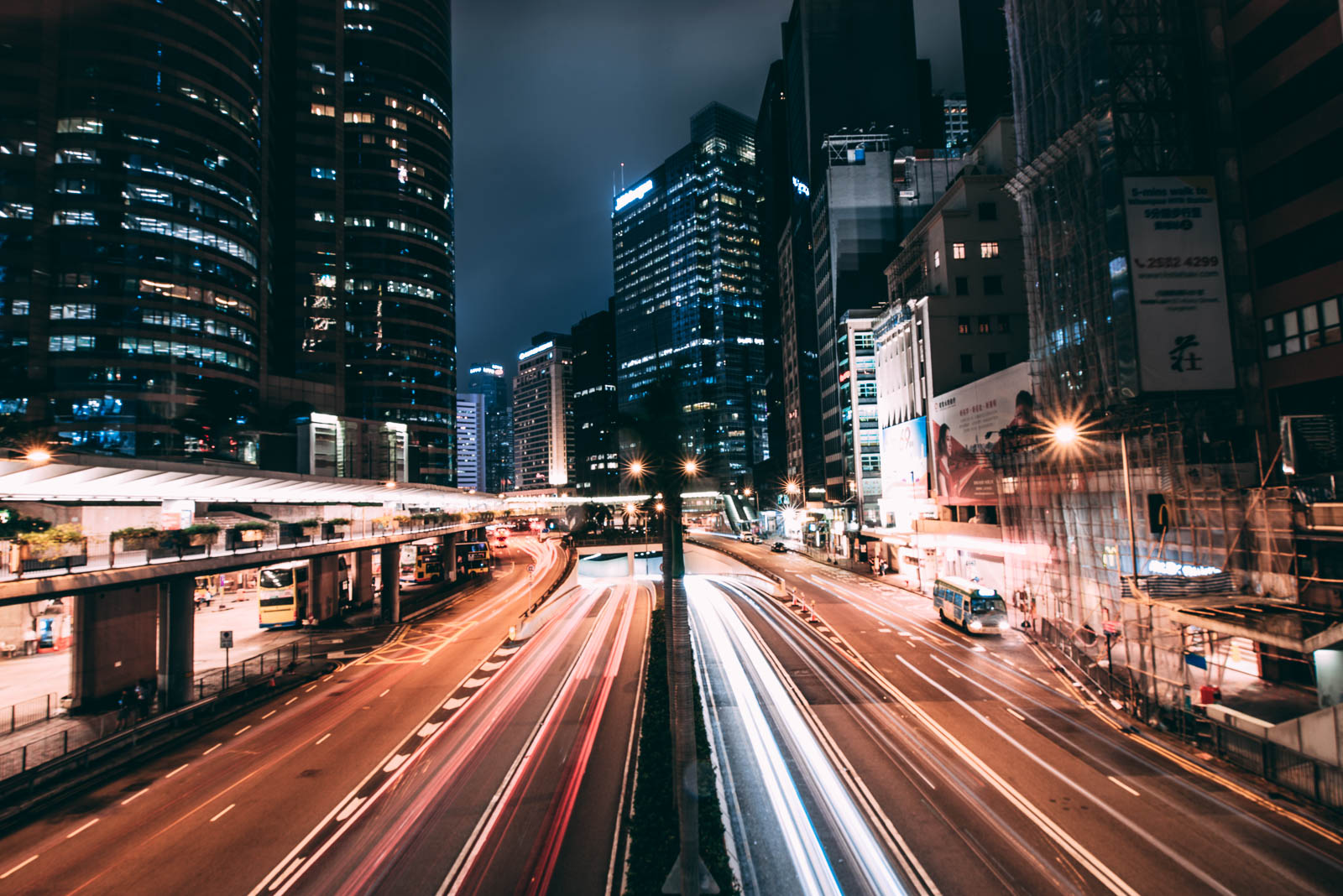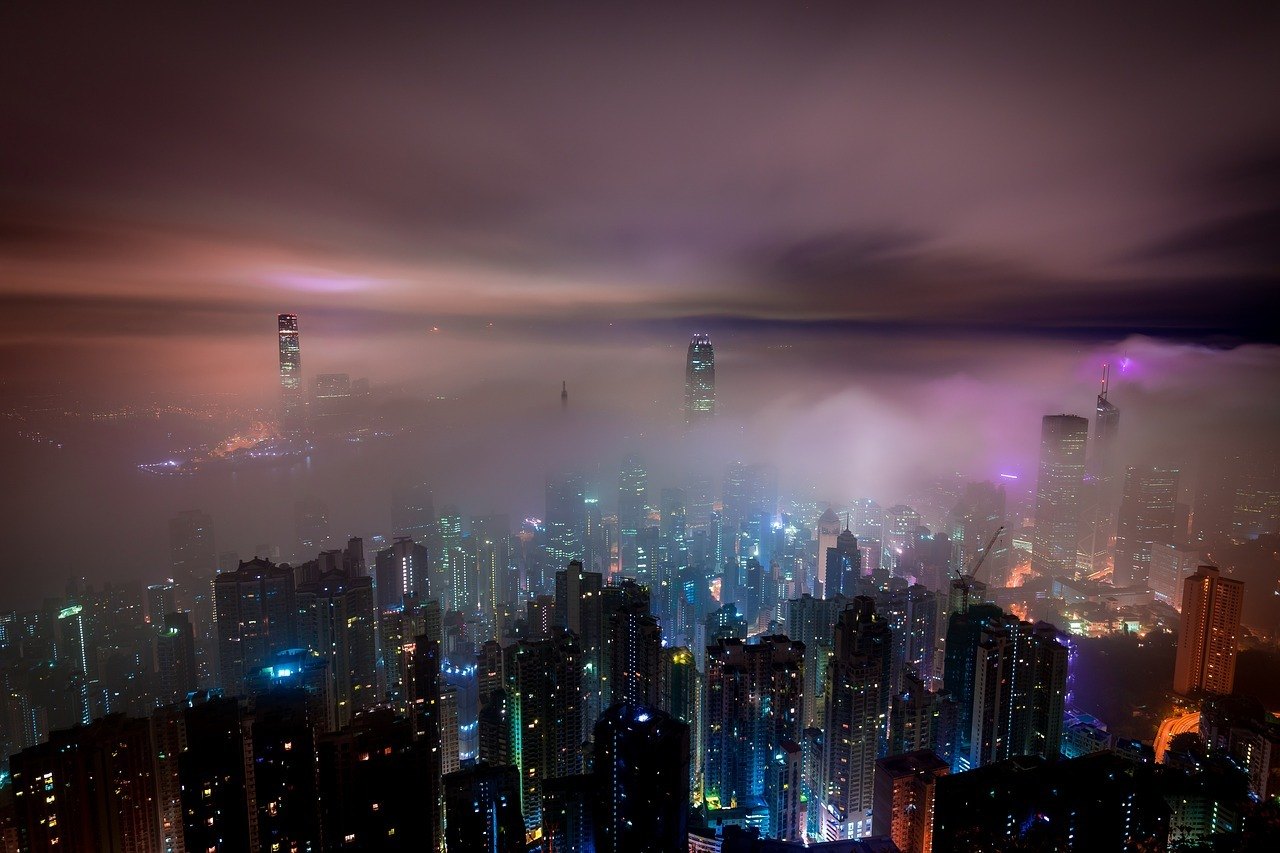 ---
What to do in Hong Kong in 2 days?
Let's just say you're going to be super busy! There's a lot of ground to cover, so you'll want to get an early start, and hit the ground running!
The Peak & Sky Terrace
First things first – head up to Hong Kong's most iconic lookout "The Peak" to get a better understanding and appreciation for how epic this city truly is! There's a lot of different things you can do up there, and if you get there early enough there shouldn't be that large of a line. There's no metro to get to the top obviously, so you'll need to either take a cab, or I'd recommend taking the peak tram. Round-trip tickets cost $52 HKD.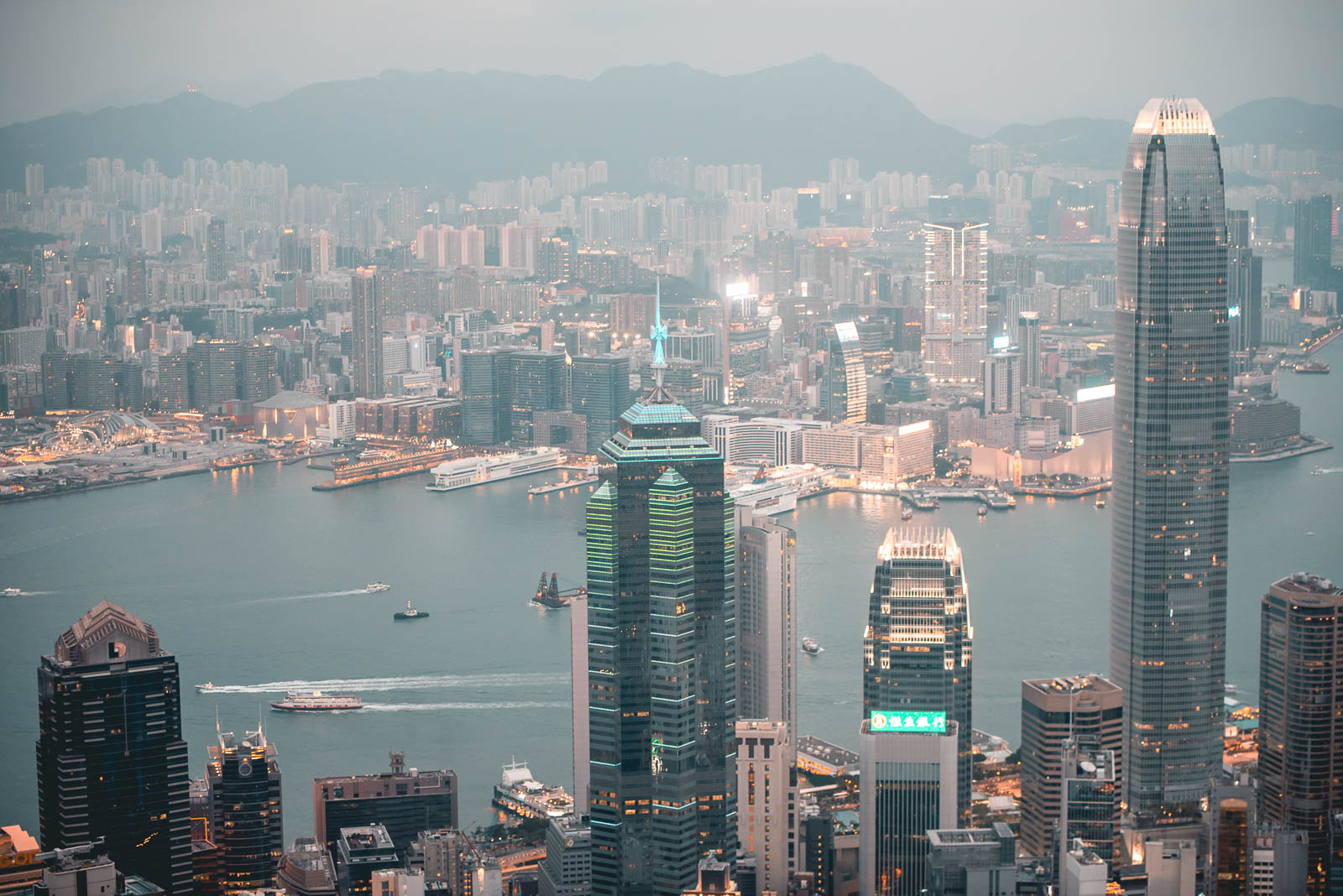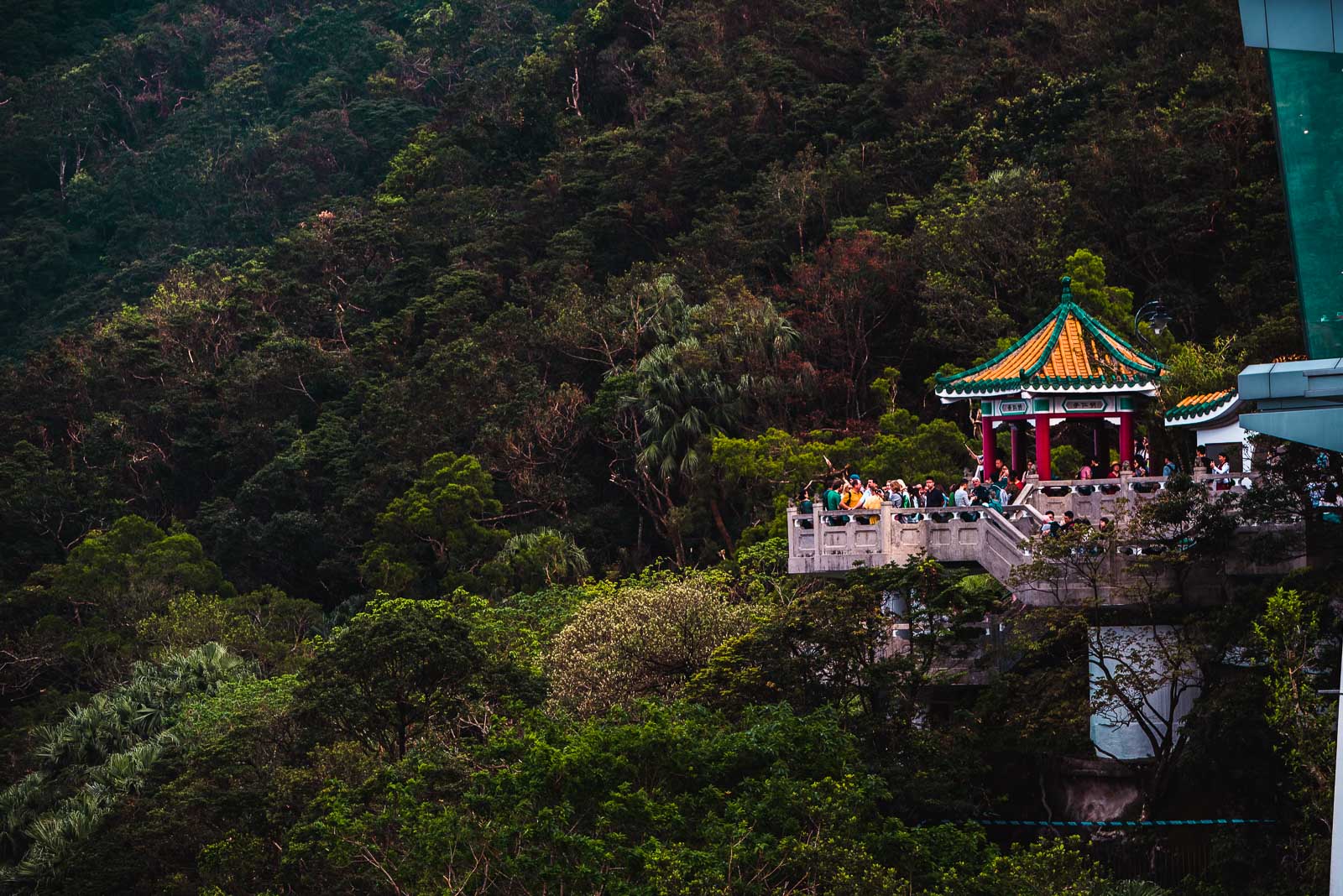 "The venerable Peak Tram is, as most passengers agree, the only way to truly experience the beauty of Hong Kong's natural wonders. Tens of millions of people from every corner of the globe have taken the ride, which affords a uniquely spectacular perspective of the city."
When you get to the top, there are tons of free viewing areas, but the absolute best is going to be from the "Sky Terrace, which is the highest viewing platform in Hong Kong offering a stunning 360-degree panoramic view across the Hong Kong. Entrance tickets cost $52 HKD.
If you don't want to spend the money, then I'd recommend just taking a FREE stroll down along LUGARD ROAD. "Built in 1913–14, this road is named after Hong Kong's 14th governor, Sir Fredrick Lugard. The sections that are narrow, cliff-side paths are called 'plank roads'. After about 20 minutes, you'll arrive at the Lugard Road lookout, which offers a spectacular panoramic view of Victoria Harbour." The views are absolutely stunning, and it's a great way to spend an hour or two!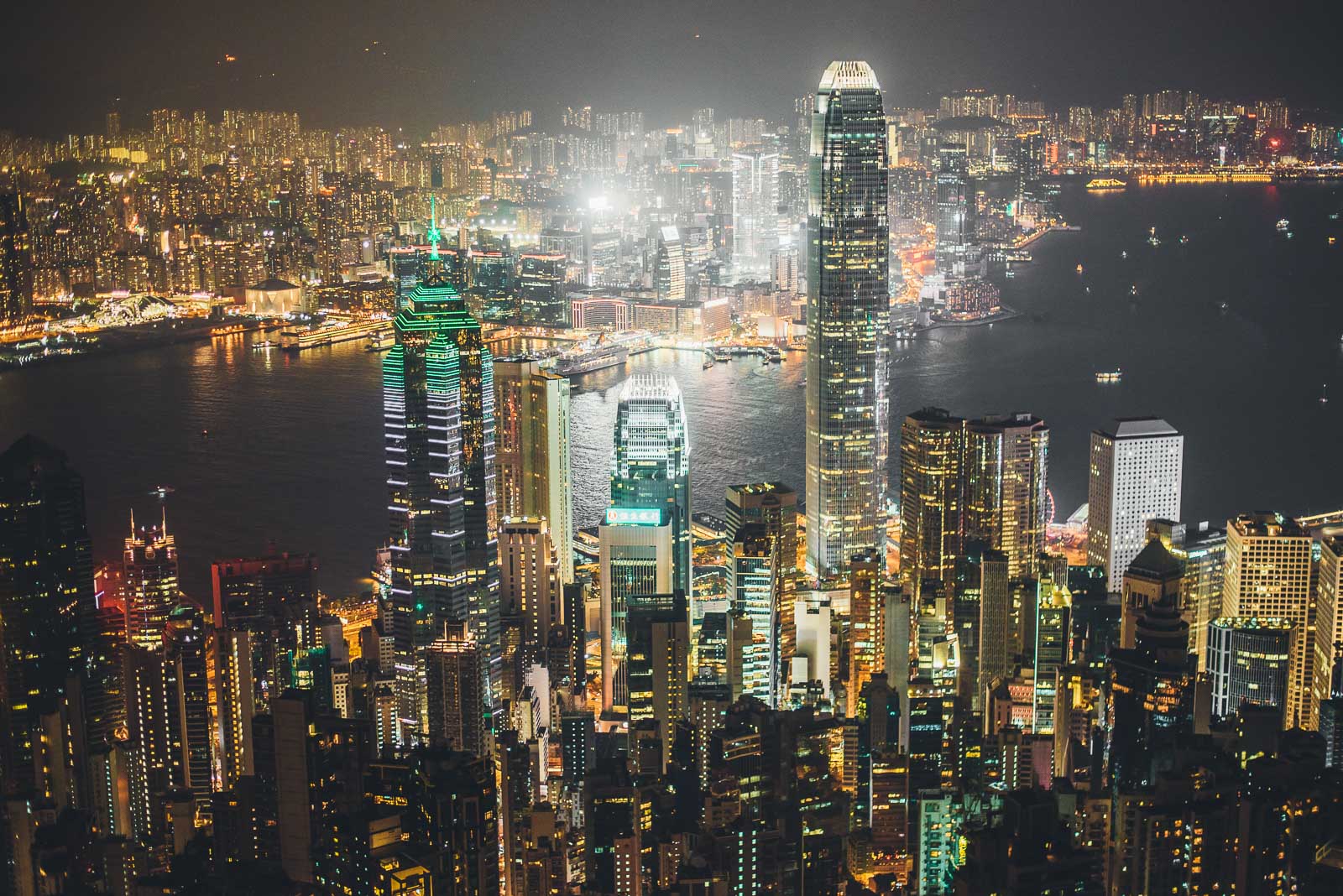 ---
Private Hong Kong Food & Walking Tour
I'm absolutely obsessed with Hong Kong cuisine, and I really think it's one of the most important parts about visiting this city! If you only have two days in Hong Kong, then the BEST way to try the best local food is this Hong Kong food tour!
This private three-hour tour is absolutely fantastic, and you'll treat your taste buds to 10 delicious Hong Kong tastings.
"On this private tour you can learn about the huge variety of ingredients that make Hong Kong cuisine so unique, and why that variety is so essential to the city's society. Starting with a stroll around a dry fish market you'll see sea-cucumbers, genuine birds' nests, colorful dried fish and more. Your private host can show you all these foods and explain how the locals use them to create wonderful dishes."
Tour cost: $61.88 U.S.D per person
Time: 3-Hours with private guide
Some tour highlights will be signature dishes like Shrimp Wonton's, exotic sugar-cane juice, a michelin-recommended tea house, delicious Dim Sum, a pineapple bun, and passing by some of the most famous highlights of Hong Kong!
---
You could also check out this 3-Hour Kowloon Food Tour for another local experience of markets, stalls, and much more!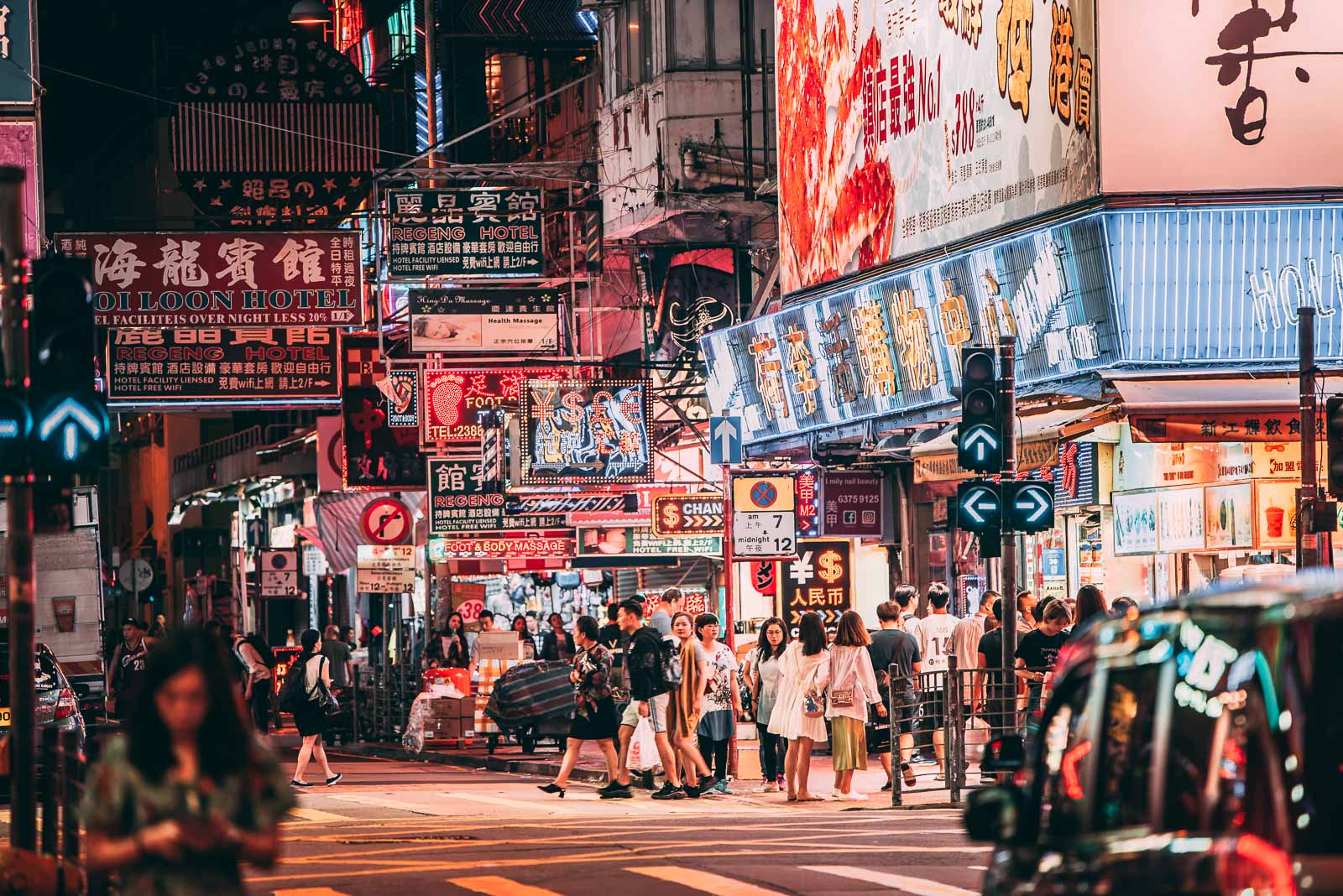 ---
Visit the Man Mo Temple
One of Hong Kong's most iconic temples and important Buddhist sites, no visit to the city would be complete without a quick pitstop at the Man Mo Temple. It's truly stunning, and there are nearly 13,000 gilded ceramic statuettes inside that will certainly leave an impression.
"The Man Mo Temple is a picturesque tribute to the God of Literature (Man) and the God of War (Mo), both of whom were worshipped by ambitious students looking to succeed in the civil examinations of Imperial China. Built in 1847, this remains the largest Man Mo temple in Hong Kong. To pause for a moment's respite under its giant hanging incense coils makes for a pleasant contrast with the hectic pace of the nearby financial district."
---
Take the Star Ferry To Kowloon
While there are several different transport options between Hong Kong Island & the Kowloon Peninsula, the best and most scenic way is going to be the budget-friendly Star Ferry. It's a Hong Kong must, and you'll get some really cool views Victoria Harbour from the boat.
"A crossing of Victoria Harbour on a Star Ferry has been named by the National Geographic of Traveler as one of the "fifty places of a lifetime". Now, for the first time, you have the opportunity to step back to the days of old and experience an era when third generation Star ferries were the major passenger connection between Hong Kong Island and the Kowloon Peninsula.
Step aboard the fabulous double-decker "Shining Star" ferry, a beautiful re-creation of the ferries that plied Victoria Harbour in the 1920s. Relax and enjoy the magnificent view while sipping a cup of fine coffee in an air-conditioned, on-vessel cafe or soak up the sun on the open decks while enjoying the cooling sea breezes.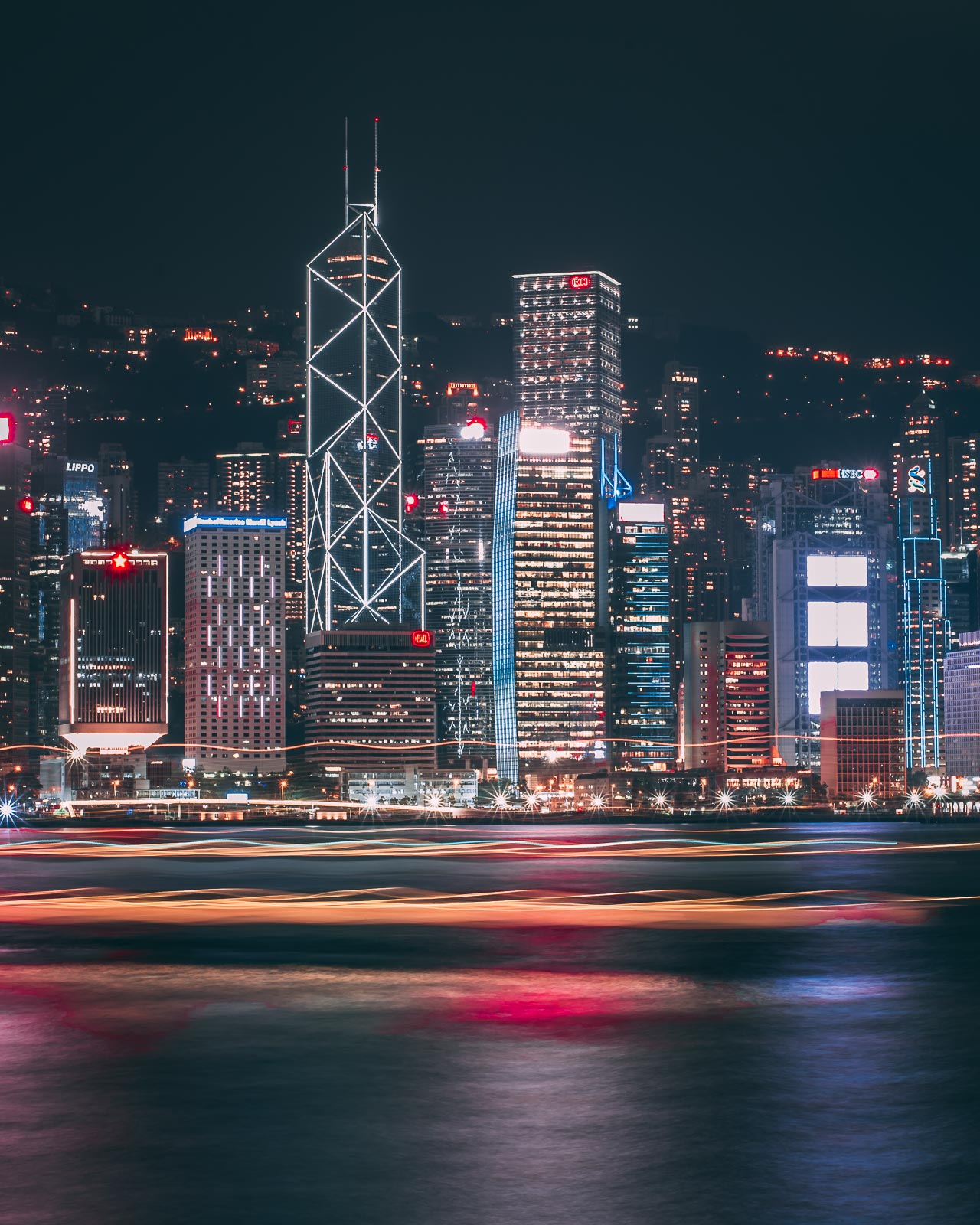 ---
The Temple Street Night Market & Ladies Market
Last on the agenda for the day is the famous Hong Kong night markets, because they are truly an experience that can't be missed! The city simply comes alive at night, and who doesn't love a bit of late-night shopping…?
Both the Temple Street & Ladies Night Market are within walking distance of each other, and will provide a fantastic stroll through mesmerizing neon lights.
"As the Temple became a major social meeting point hawkers and street vendors provided food and small items to the people who gathered outside the temple. This became a regular market in the 1920's, but as the area became more built up the hawkers were pushed away from the temple itself."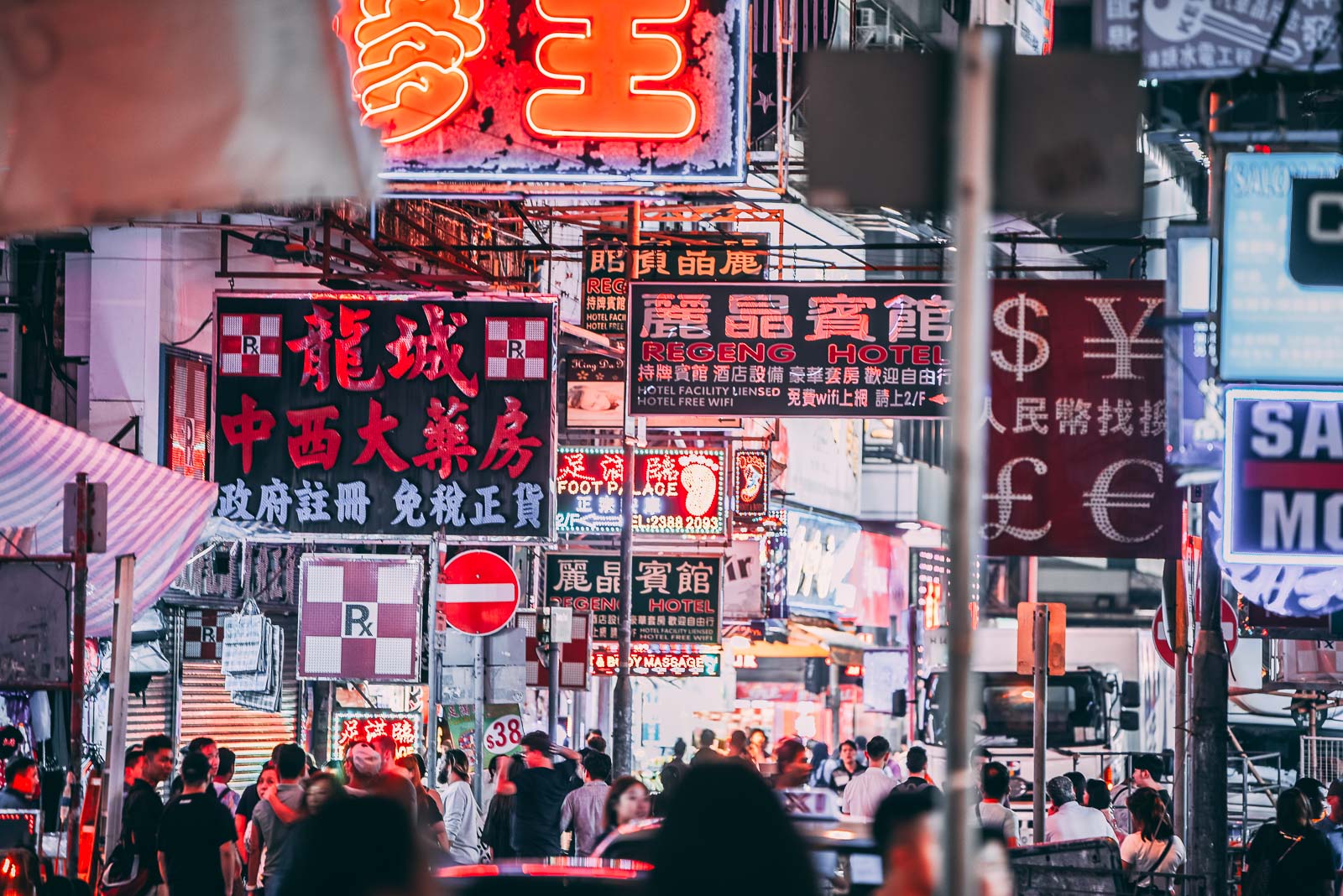 ---
Choi Hung Estate Basketball Court
Now this might not be for everyone, but this spot is perfect for people looking for an epic Instagram post! Hong Kong is truly a photographer's playground, and the Choi Hung Estate has become quite a popular spot. I went there for an hour or two one morning, and had a blast taking heaps of photos (and people watching everyone trying to get the perfect Instagram)!
If this sounds like something you'd be interested in, read this article about "How to Find Choi Hung Estate Basketball Court in Hong Kong for some more inspiration/ useful information. This is definitely one of my favorite spots mentioned in my 2 days hong kong itinerary! It really is cool to see in person :-)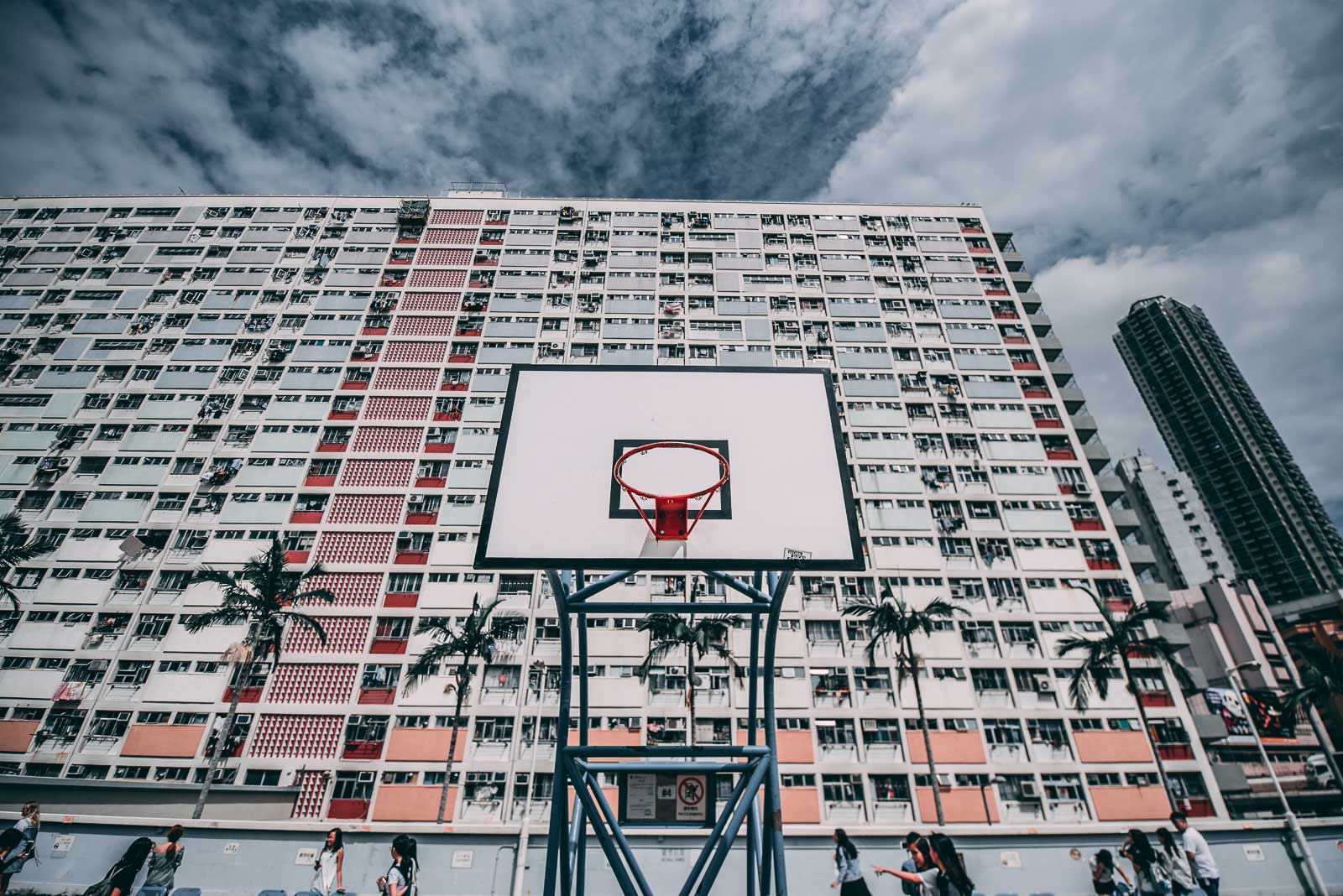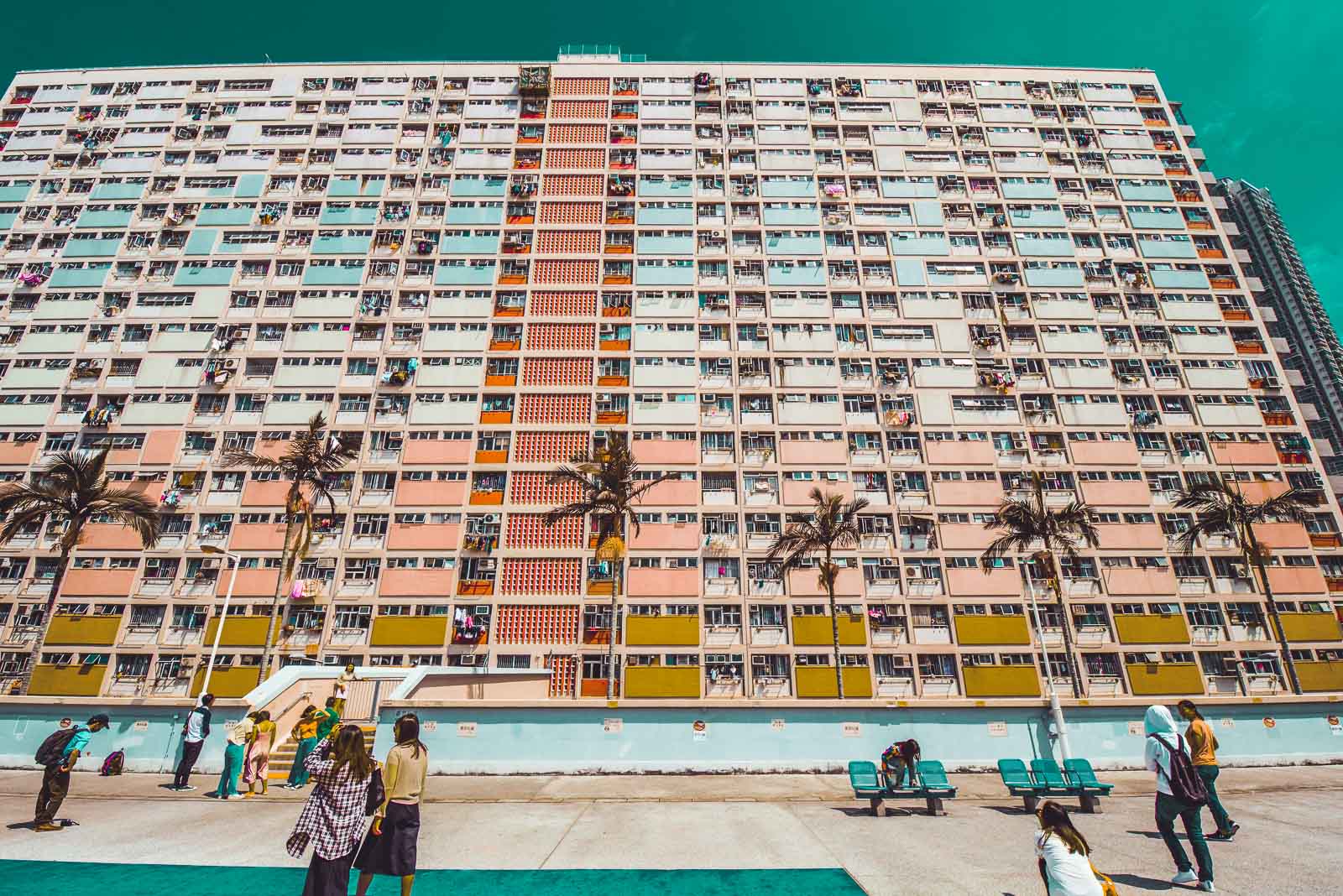 ---
Garden Hill, Shek Kip Mei
There really is no shortage of amazing viewpoints of Hong Kong, but one of my favorite lesser-known places is called Garden Hill. It's a favorite among locals, and it's common to see people having picnics up there, or using the steep staircases up to the top as a jogging/ exercise route.
This is another amazing playground for photographers and would be an excellent decision to come here during the day, or during golden hour/sunset. Even if you're not into photography, the views here are absolutely stunning, and the hike to the top (while a bit strenous) only takes around 15-minutes.
Take the public transportation to Sham Sui Po and follow Pak Tin Street going north. Make a left at the intersection with Berwick Street, and you should see a path that leads right up the hill. It might be a little hard for some to find, but it's 100% worth it!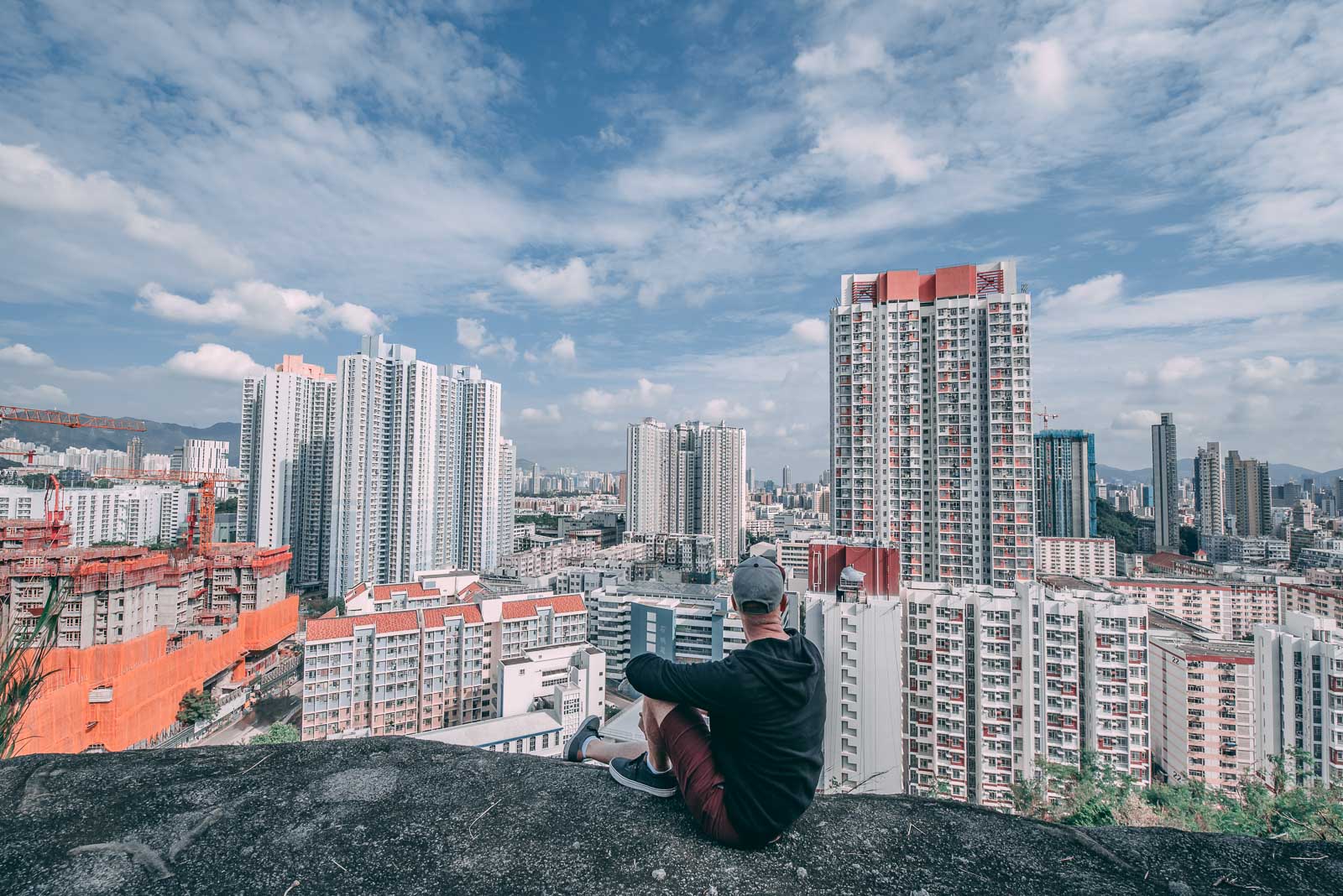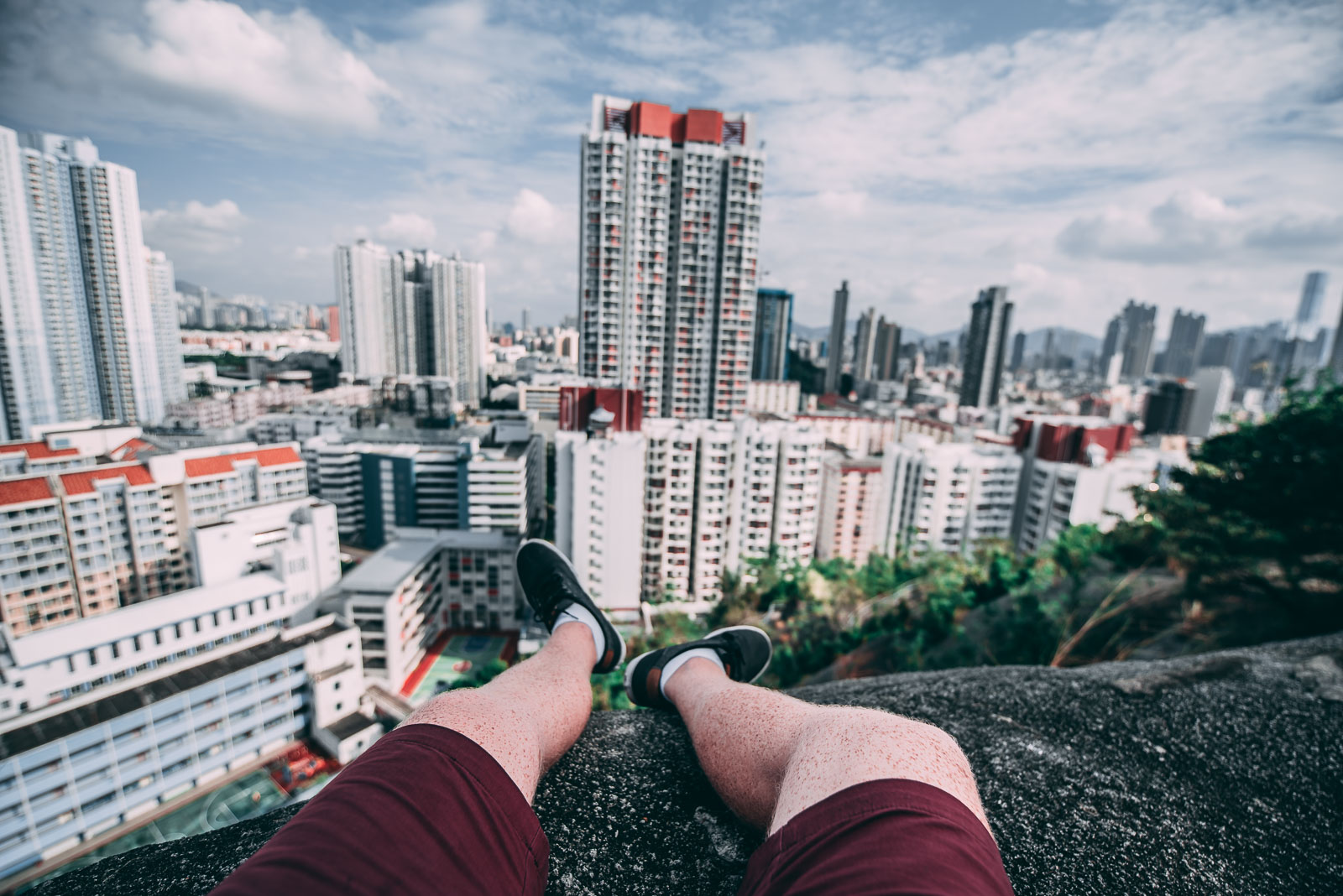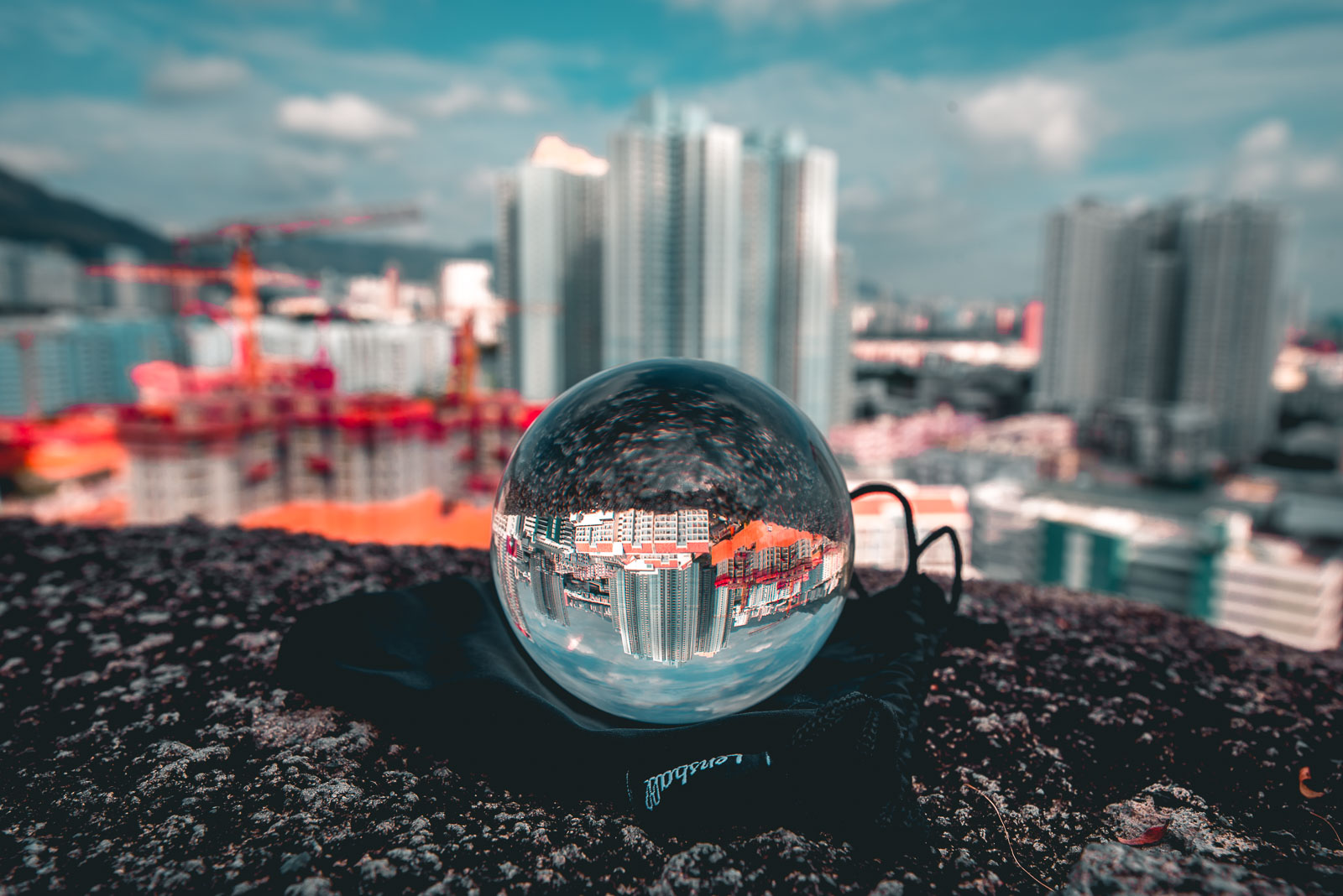 ---
Hong Kong Waterfront Promenade + Symphony of Lights
I'll never forget my first time walking along this promenade at night. It's one of the places that had me fall completely in love with Hong Kong, and made me realize how amazing it would be to live in the city. Everywhere you look is just massive tall scrapers, and it's a very well maintained area.
My suggestion would be to walk from the ferry terminal, past the giant ferris wheel, and just keep walking straight.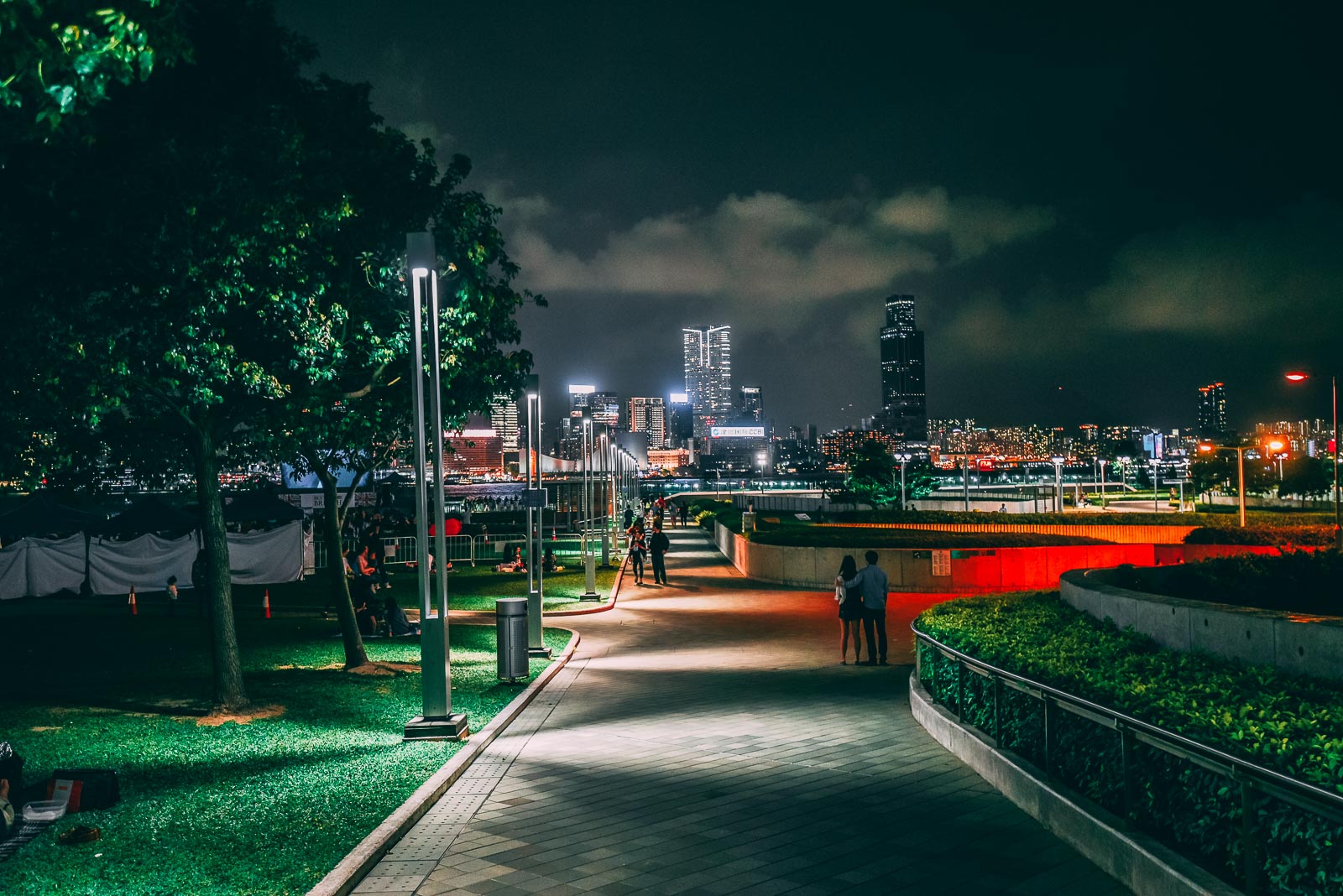 It's also one of the best places to watch the famous Sympony of Lights which happens every night at 8:00 P.M, which I think is another Hong Kong must-do (and it's also free)!
"Symphony of Lights (SoL) has illuminated Hong Kong's skyline for the enjoyment of millions of tourists since 2004. This multi-media show has always been the signature icon for Hong Kong, symbolizing its dynamic energy and contrasting culture. In December 2017, SoL has taken on a new direction and transformed Hong Kong's cityscape into a true symphony. In grand style, the Hong Kong Philharmonic Orchestra has recorded the new musical score, entwined with a vibrant and contemporary flavor, representing the charismatic rhythm of Hong Kong. Traditional Chinese flutes and string bowed instruments such as the Erhu, have been interwoven to create a truly distinctive sound, matching Hong Kong's character of "east meets west".
With 42 buildings and two attractions featured in this incarnation of SoL, this symphonic approach joins each participating building into a harmonious and complete canvas, working effortlessly together to the beat in unison. The city of Hong Kong is SoL's source of inspiration; the patterned symmetry of the skyline, modern metropolitan design, forested mountain terrain and expanse of the harbor, offer a truly all-encompassing visual and soundscape of the soul of Hong Kong. A myriad of searchlights, lasers, LED screens and lighting illuminate for this nightly spectacle that transforms the HK skyline into an outdoor audio-visual feast for the senses."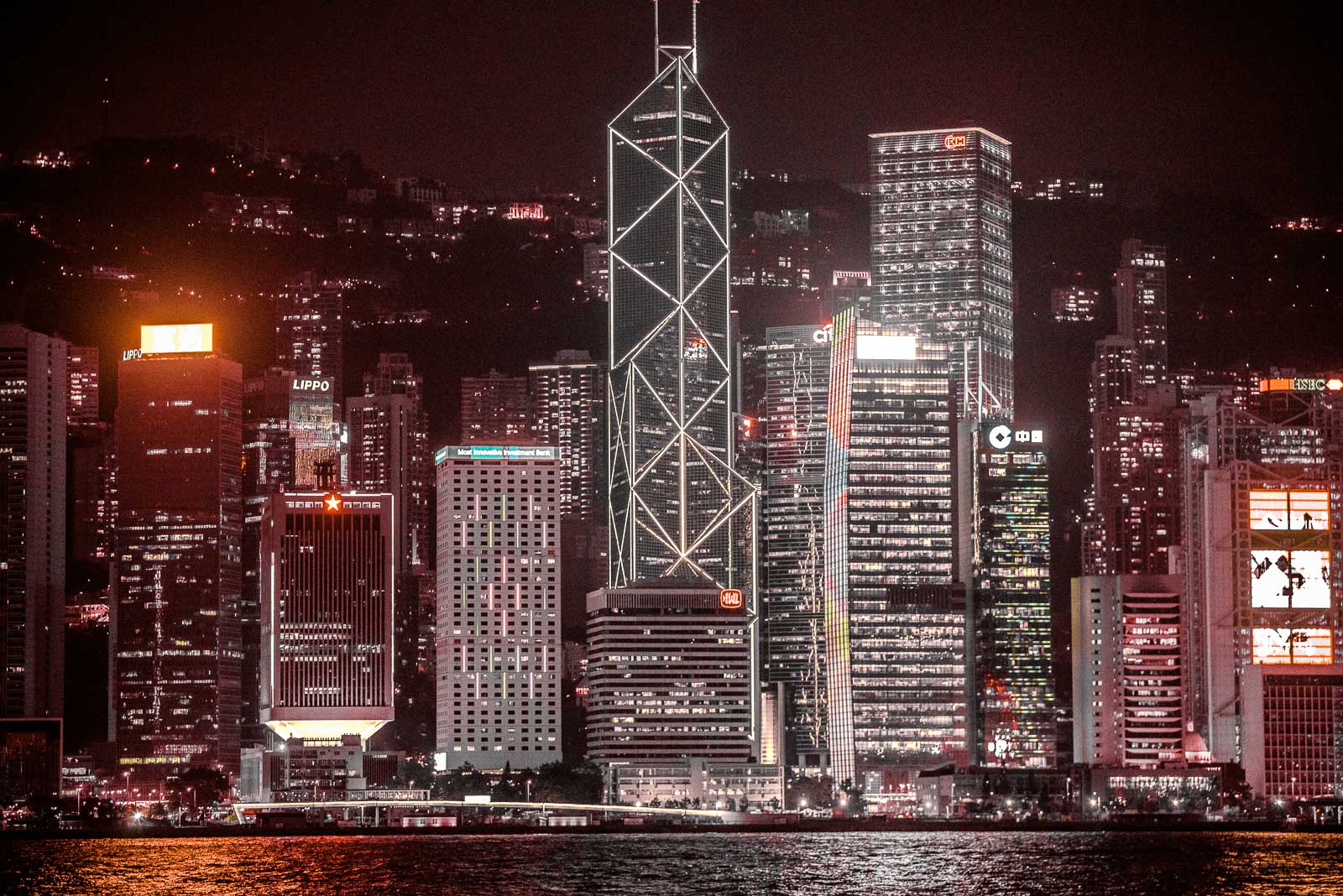 ---
Tsim Sha Tsui Waterfront Views + Avenue of Stars
No visit to Hong Kong would be complete without marveling at one of the best city skylines in the entire world! While there are many places to do so, the most popular has to be along the Tsim Sha Tsui waterfront. It's perfect all day long, and you'll be able to get some truly epic photos!
If you walk just a bit further down, you'll come across the Avenue of Stars, which is just a small area on the walkway which pays tribute to the Chinese actors & actresses that helped make Hong Kong the 'Hollywood of the East'.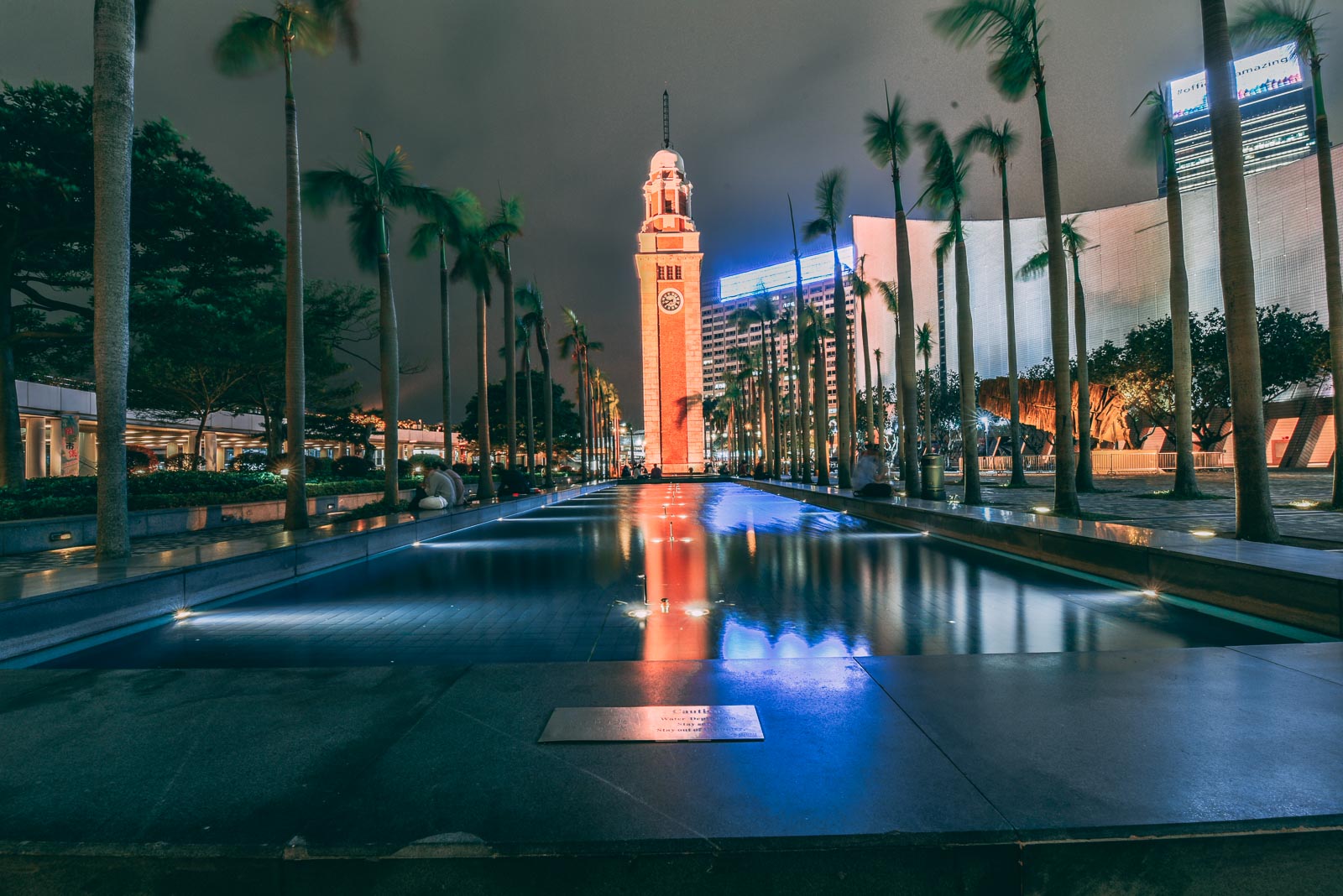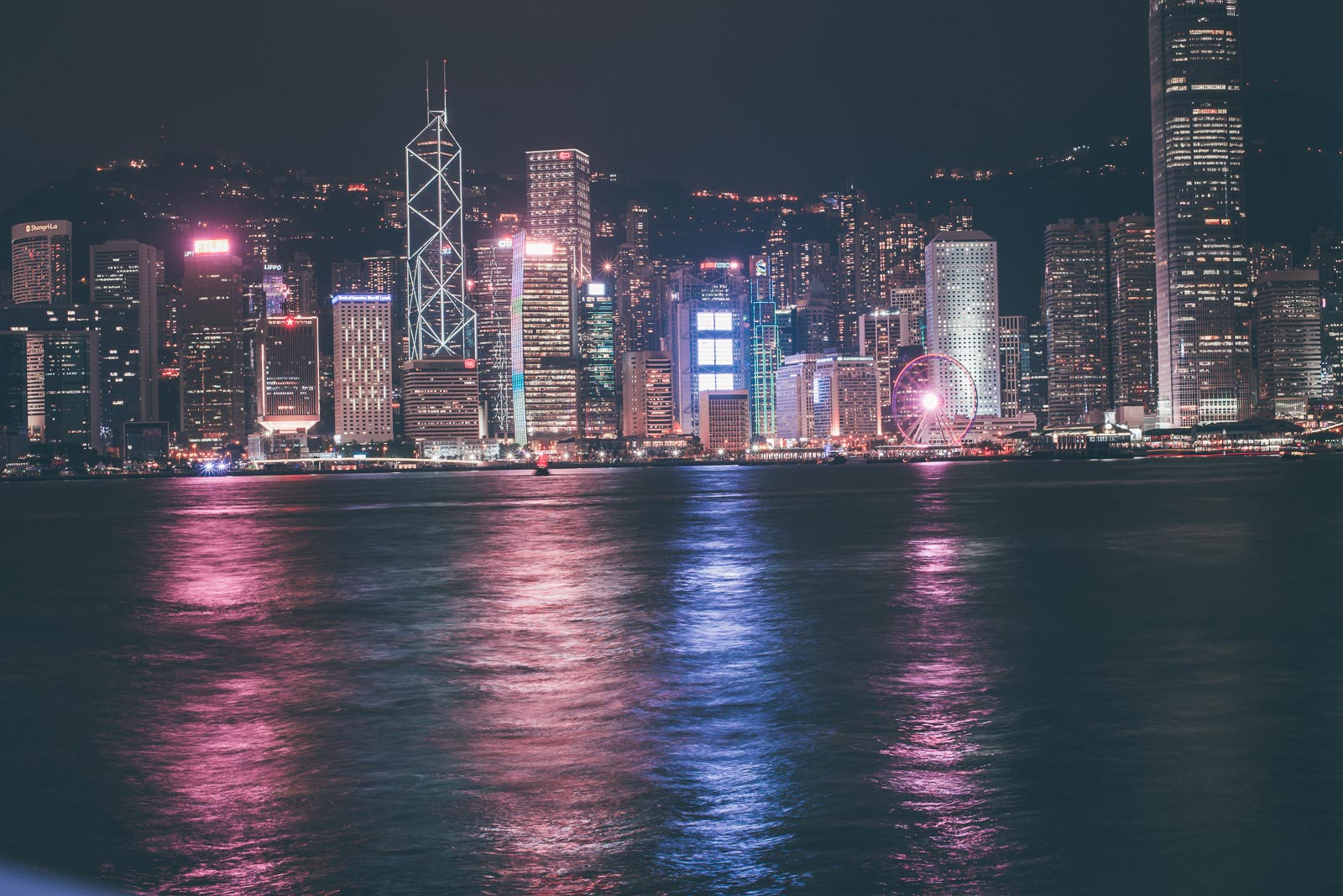 ---
Hong Kong Disneyland
Are you a big Disney fan? I grew up in Anaheim California – so I was raised going to Disneyland quite often! I had annual passes for several years, and was even there for the opening day of California Adventure. Because of that, visiting Hong Kong Disneyland was a MUST for me.
I wrote an entire post about the Ultimate Guide to Hong Kong Disneyland to help you plan your travels, and day in the park. While I do know that it's not for everyone, it was a really fun experience for me! It's not that big of a park, and you could actually do everything in about 1/2 a day. I went by myself expecting to find other younger travelers to hang out with, but I pretty much was the only backpacker there, lol.
I'd personally skip going to Hong Kong Disneyland if you only have two days in the city though. But if it's something you really want to do – it is pretty fun. You can buy discounted tickets online to save a few bucks.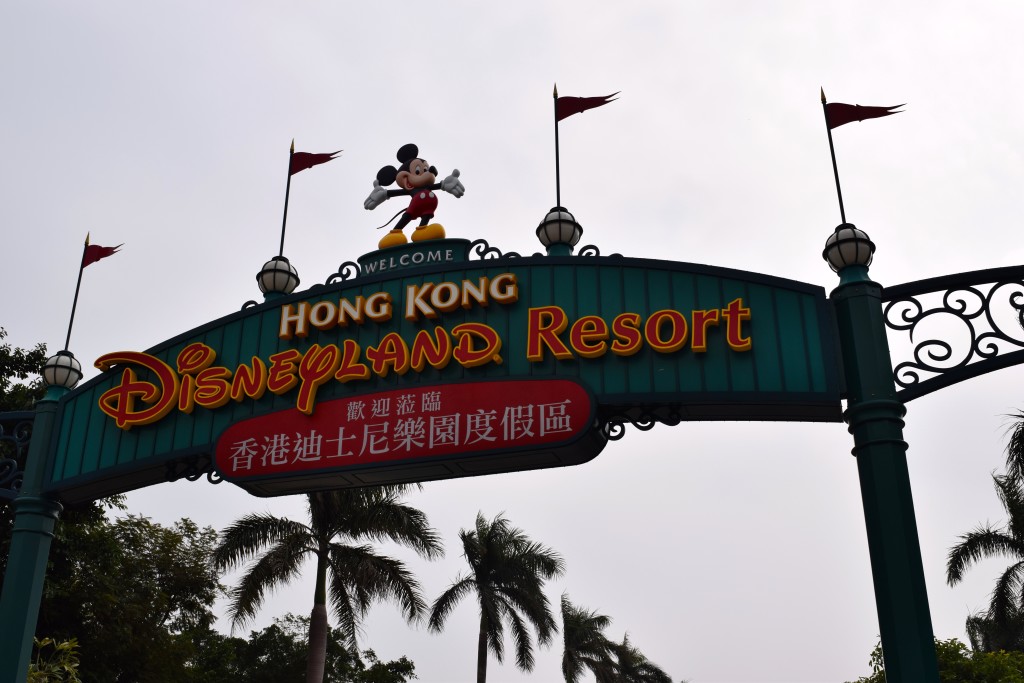 ---
Quarry Bay / MONTANE MANSION
Last, but certainly not least, is another really popular spot for photographers & Instagrammers making their way to Hong Kong. This is just an ordinary Hong Kong apartment residence, but as become quite popular because of the enclosed walls of the skyscraping buildings make for pretty epic shots!
Montane Mansion can be pretty hard to find, so take a quick read through this post if you're interested in making it there: Exploring Quarry Bay, Hong Kong | The Montane Mansion. It gives really great directions, and is loaded with beautiful photos as well.
"Now that you've made it to the Montane Mansion in Quarry Bay, look up and enjoy the view. These stacked apartments are an incredible sight. Even if you aren't a big fan of photographing architecture anyone can appreciate how unique these apartments are in Hong Kong."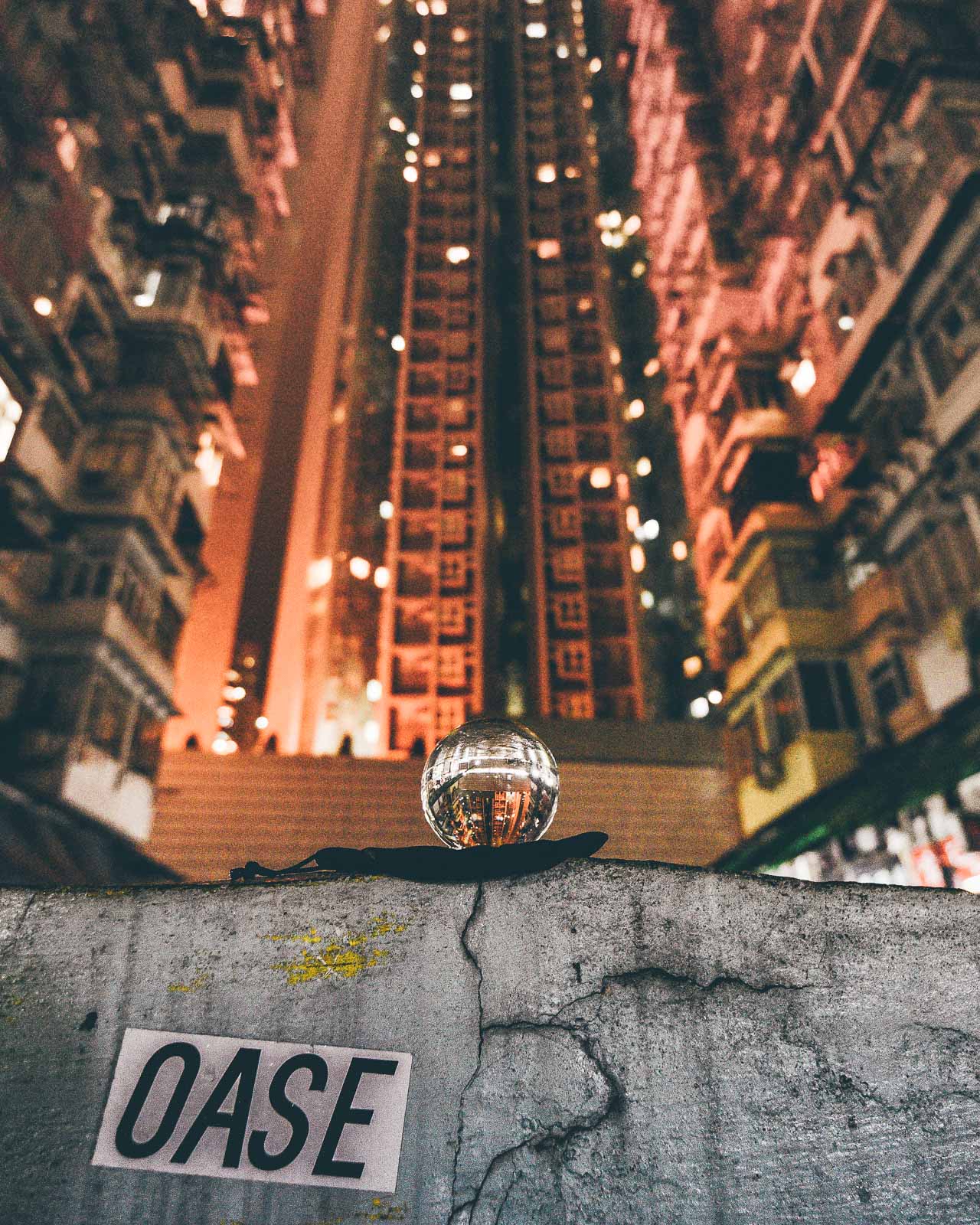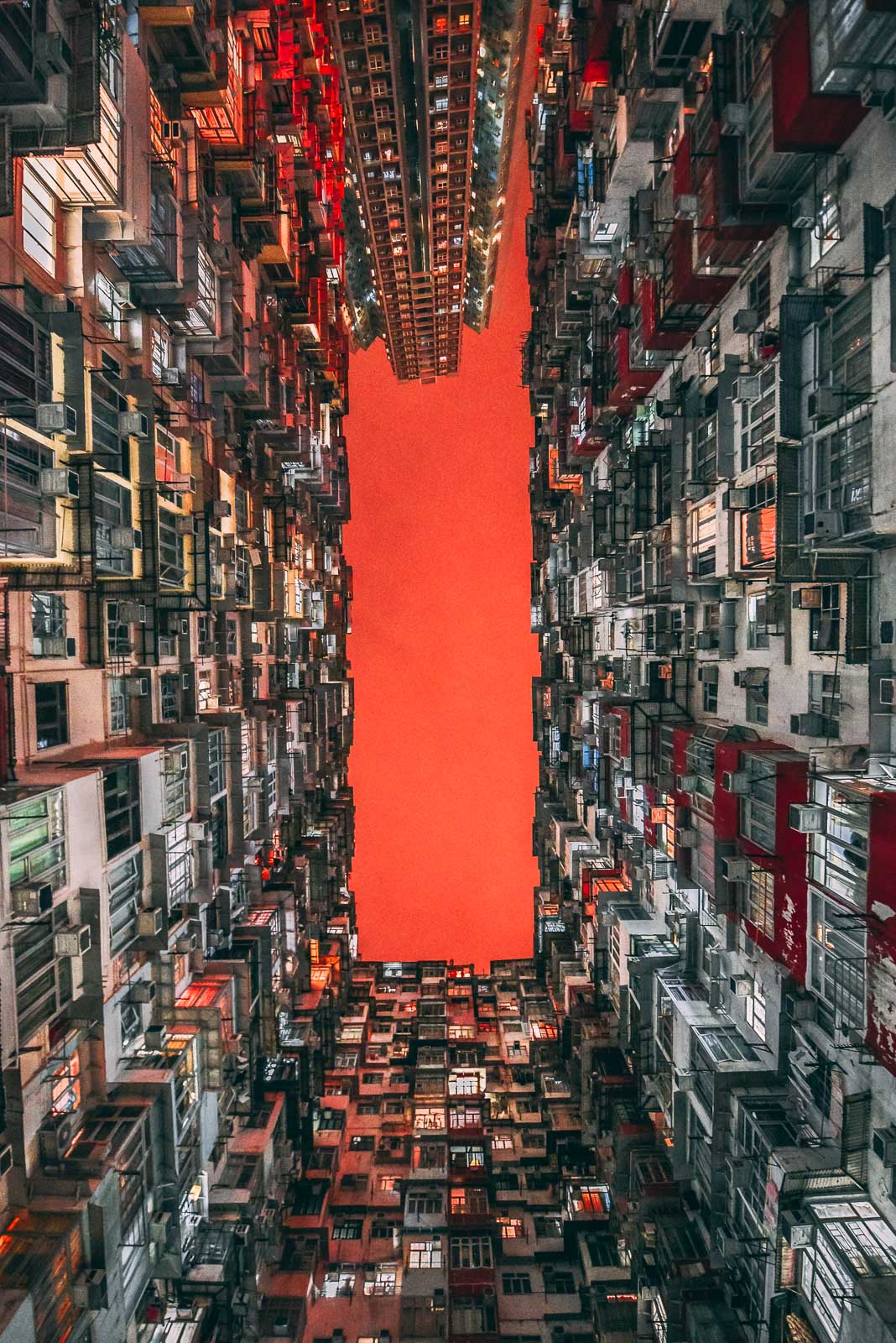 ---
Lan Kwai Fong
Looking for some nightlife…? While there are tons of different amazing bars to check-out in Hong Kong, the best place to experience Hong Kong nightlife is a small district called Lan Kwai Fong. I went on the Hong Kong Pub Crawl when I was there many years ago, and it was absolutely amazing!! In this 2 days hong kong itinerary, it might be difficult to do it all with a hangover, but hey – sometimes you gotta party, lol.
Read this article about The Ultimate Guide to Partying in Hong Kong
"I will split LKF into 3.
Bottom: where you have tons of Shisha bar (especially at the alley), smaller bars and the middle section with lots of people hanging outside.
Up: where you have the more dancing-bars type of places
Side: where you have Beijing, Play, Level 2 and Magnum. The big boys of clubs.
Other than LKF, you have Mid-Levels with smaller bars and restaurants. If you're looking at a more peaceful and chill place, head for Mid-Levels. There's a Yorkshire bar near the escalators and lots of quaint bars that serve good mulled wine during winter."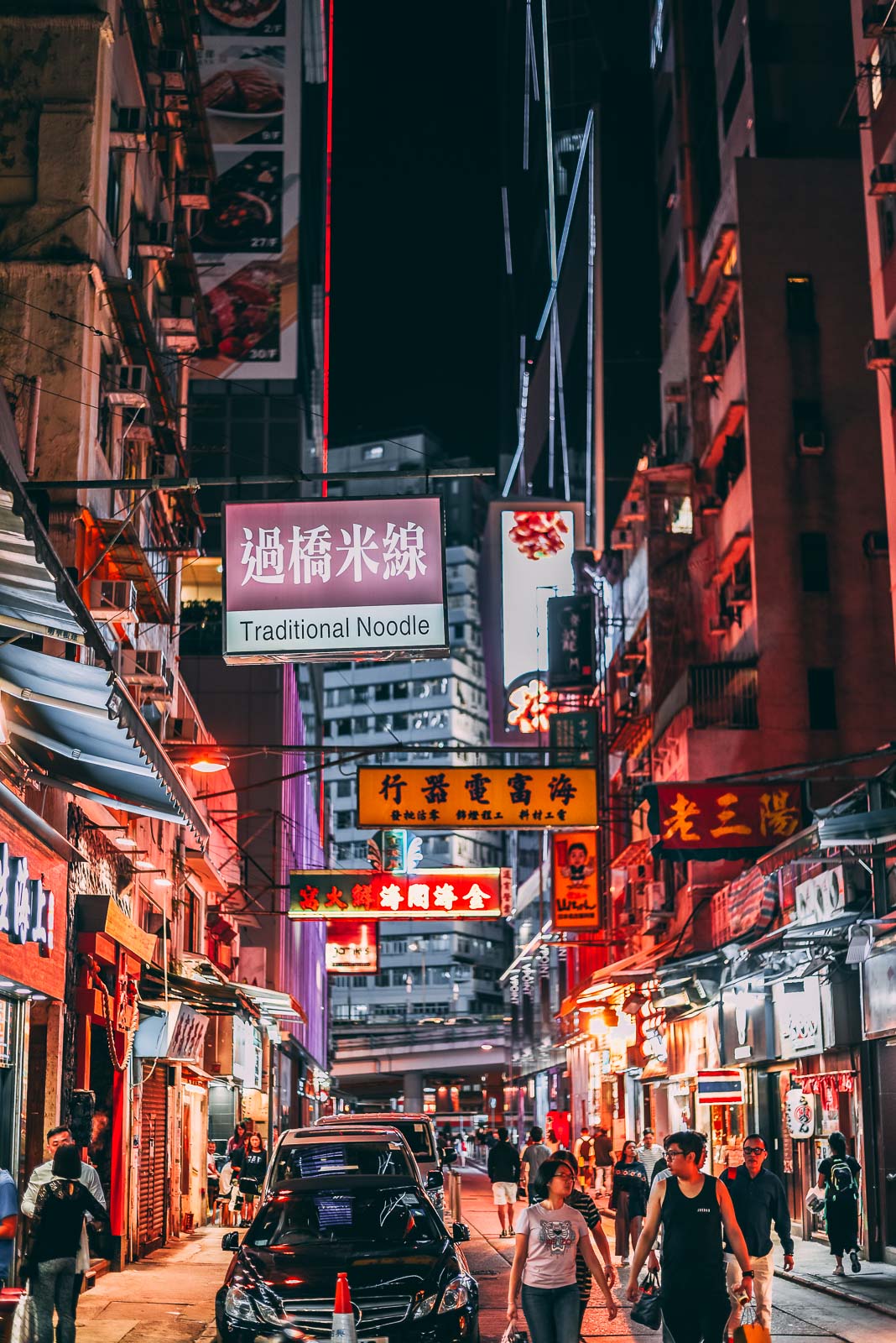 ---
Planning a trip to Hong Kong…?
Check out a few of my other articles that might help you along the way. It really is one of my favorite cities in the world, and I can't wait to get back myself someday soon.
The 6 Best Music Festivals in Hong Kong
4 Days in Macao | How to Explore Macao in 4 Days
Hiking in Hong Kong: 8 Trails with the Most Picturesque Views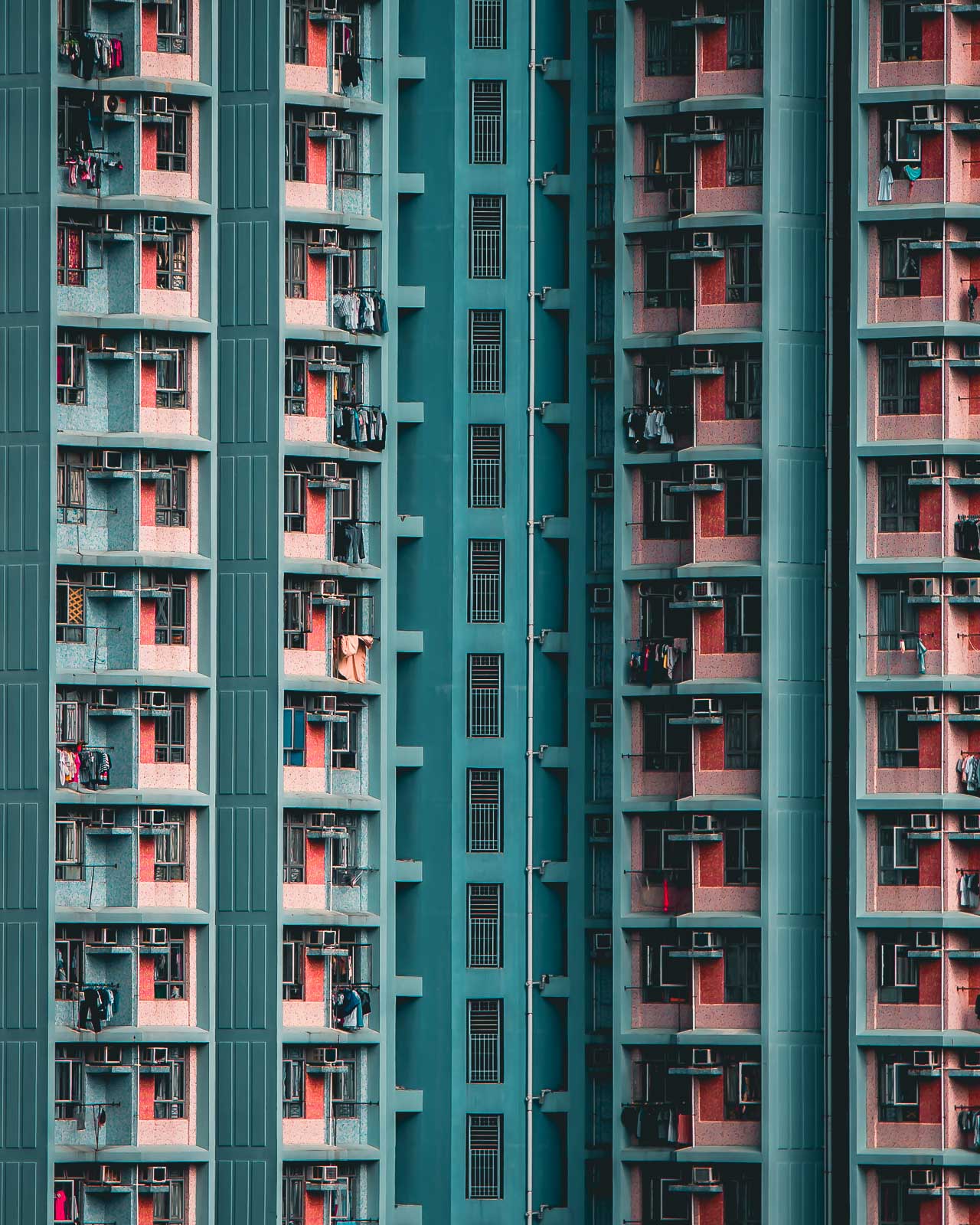 ---
Don't Forget Travel Insurance
I honestly never travel anywhere anymore without booking a policy, and I highly recommend HeyMondo due to their extensive range of cover for all situations and trip lengths, their fair pricing, and their handy app which allows you to not only manage any claims within the app, but also access free assistance online so you don't need to rack up an expensive phone bill while in Indonesia where the charges are steep!
So, whether you need a single trip cover for a quick visit to Hong Kong, or an affordable annual cover for multiple trips worldwide, be sure to buy your travel insurance before you travel, and relax during your trip knowing that HeyMondo has your back. Nowadays I would never travel without insurance again, especially after hearing so many of those (expensive and dangerous) horror stories from other travellers I've met!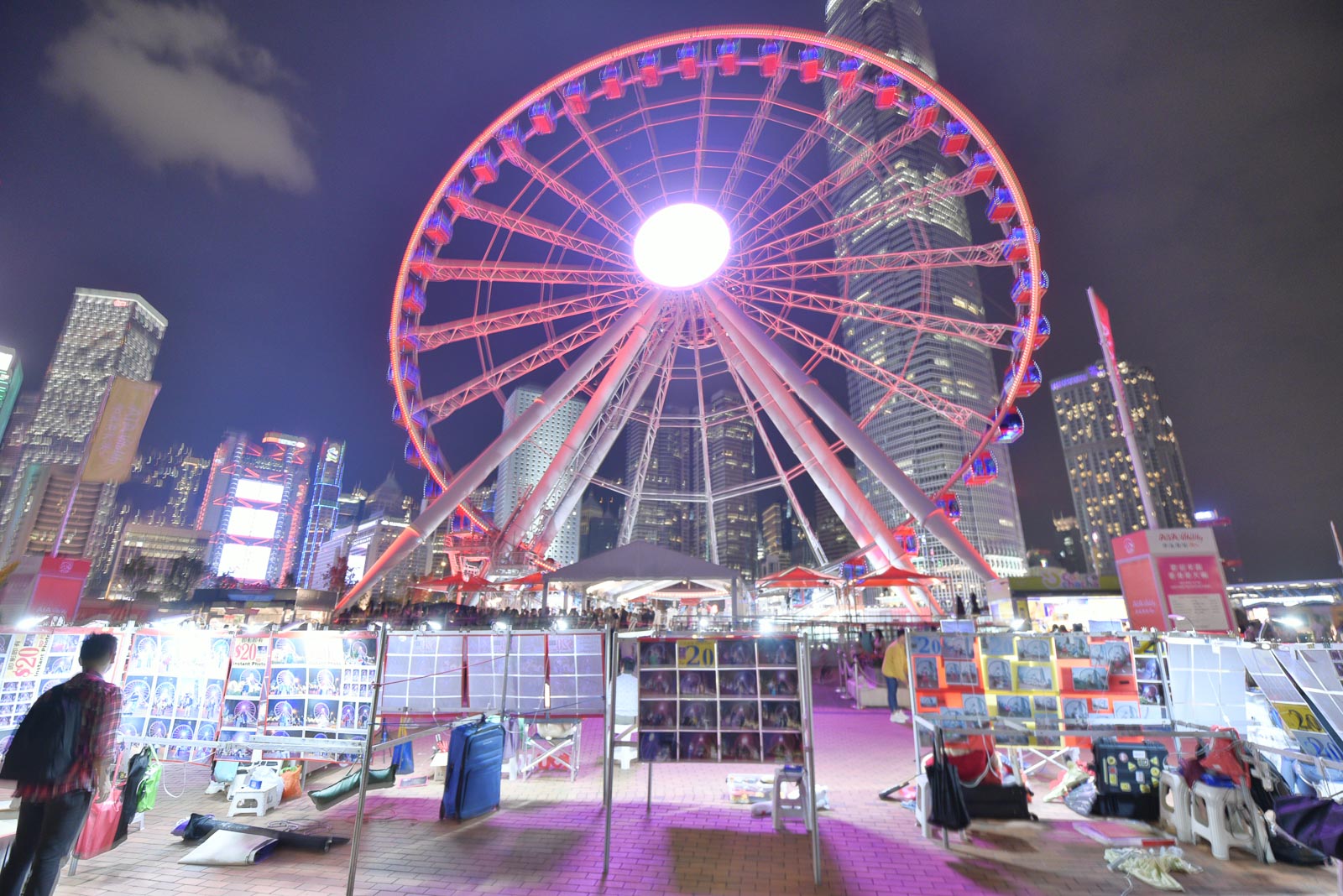 ---
Thanks for reading my 2 Days Hong Kong Itinerary!
If you're not already, be sure to follow along on my Facebook & Instagram for more of my international adventures around the world!
---
SHARE THIS Hong Kong Itinerary with your travel squad!!
Pin me for later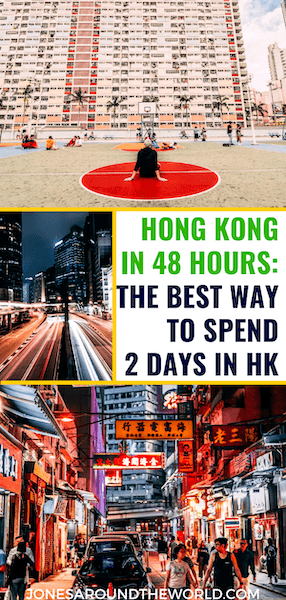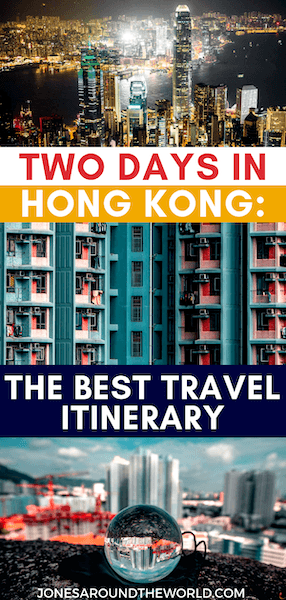 https://www.jonesaroundtheworld.com/wp-content/uploads/2018/12/2-Days-Hong-Kong-Itinerary-47.jpg
1068
1600
Dave
https://www.jonesaroundtheworld.com/wp-content/uploads/2017/03/logotry-1-1-300x106.png
Dave
2018-12-18 08:35:36
2022-10-05 20:47:35
2 Days in Hong Kong Itinerary | How to Explore Hong Kong in only 48 Hours