Four Days in Macao | The Perfect Blend Itinerary
&

Photo Essay
With its rich historical background, unique culinary flavors, and captivating casino lights everywhere you look — a trip to Macao is definitely an experience that will awaken all of your human senses.  While it may be one of the most heavily visited cities due it being the largest gambling market in the world (yes, even more than Las Vegas!), there's a whole lot more to this tiny "special administrative region" on China's southern coast.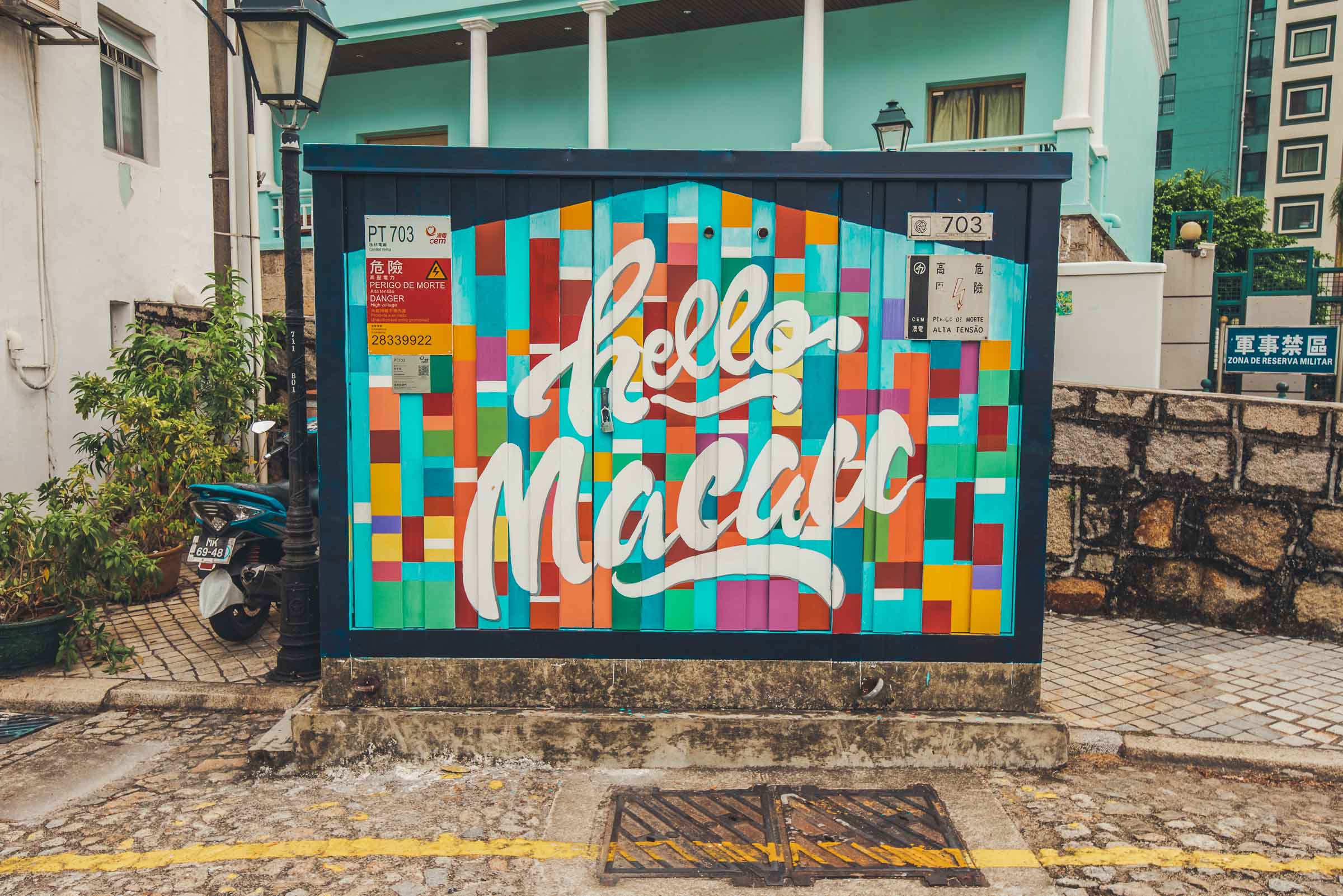 ---
Macao was actually the last European colony in Asia, which is one of the main reason why it's unlike any other destination I've ever visited.  The Historic City Centre will have you feeling like you're cruising down the streets of Lisbon, because it has this incredibly relaxed Portuguese charm…but is combined with this somewhat chaotic Chinese atmosphere.  Sounds a bit like an oxymoron, but anyone who has been will understand exactly what I mean!
I just recently returned from an incredible four-day trip to Macao, and I'm honestly wishing I was still there! I simply loved getting lost in the colorful cobblestoned streets, sampling (almost too much) tasty Macanese snacks, and exploring all the magnificent resorts that shine so bright all throughout the night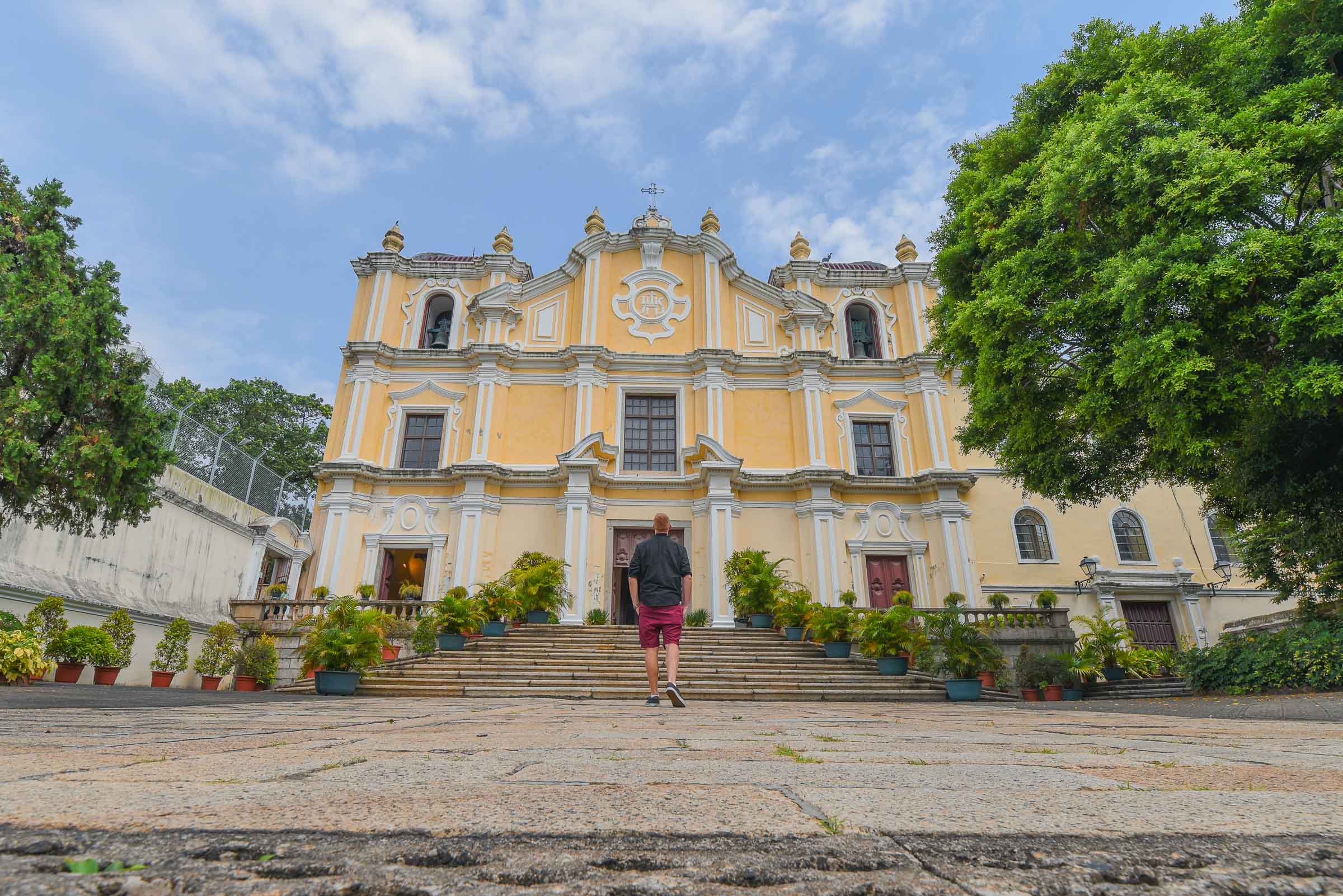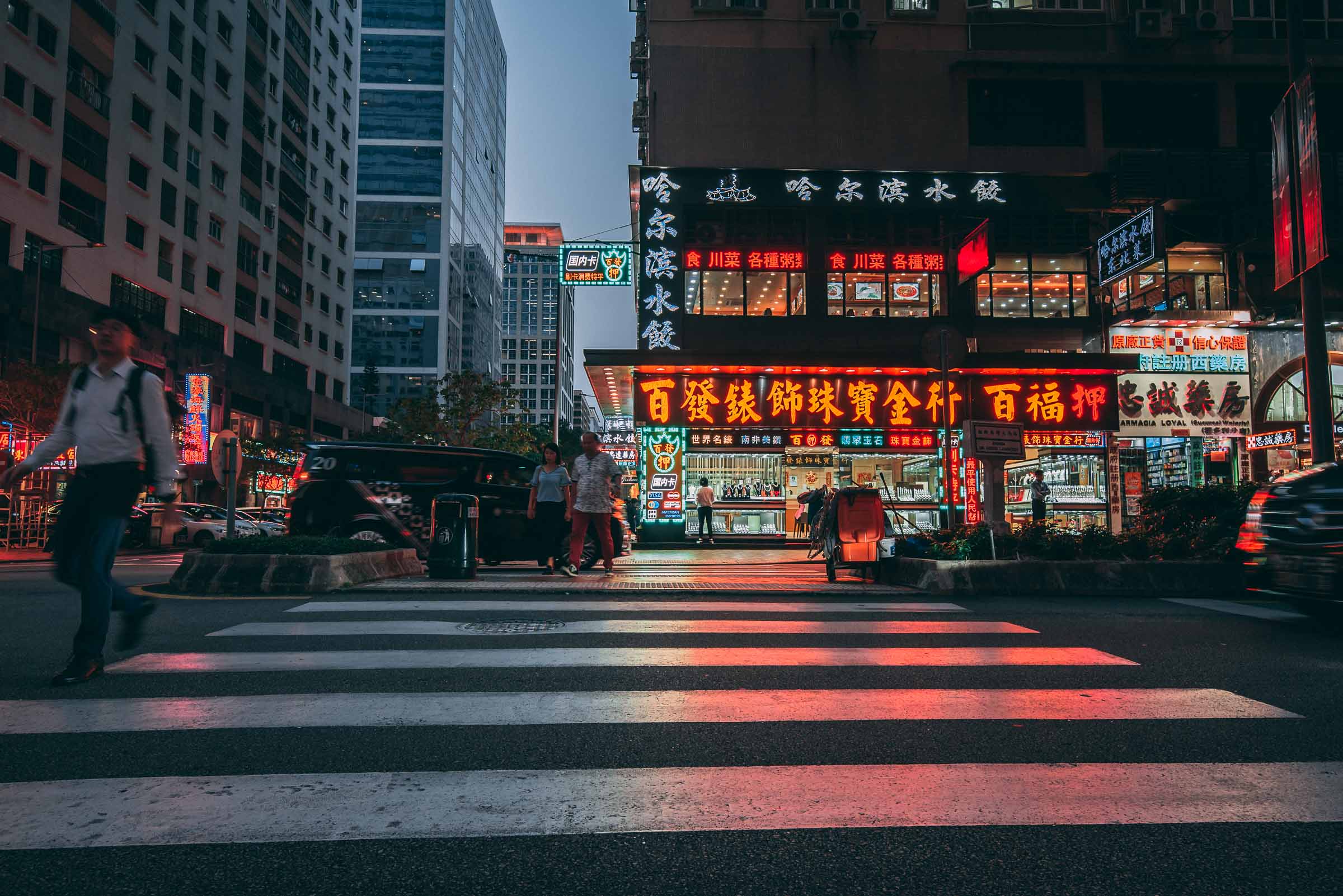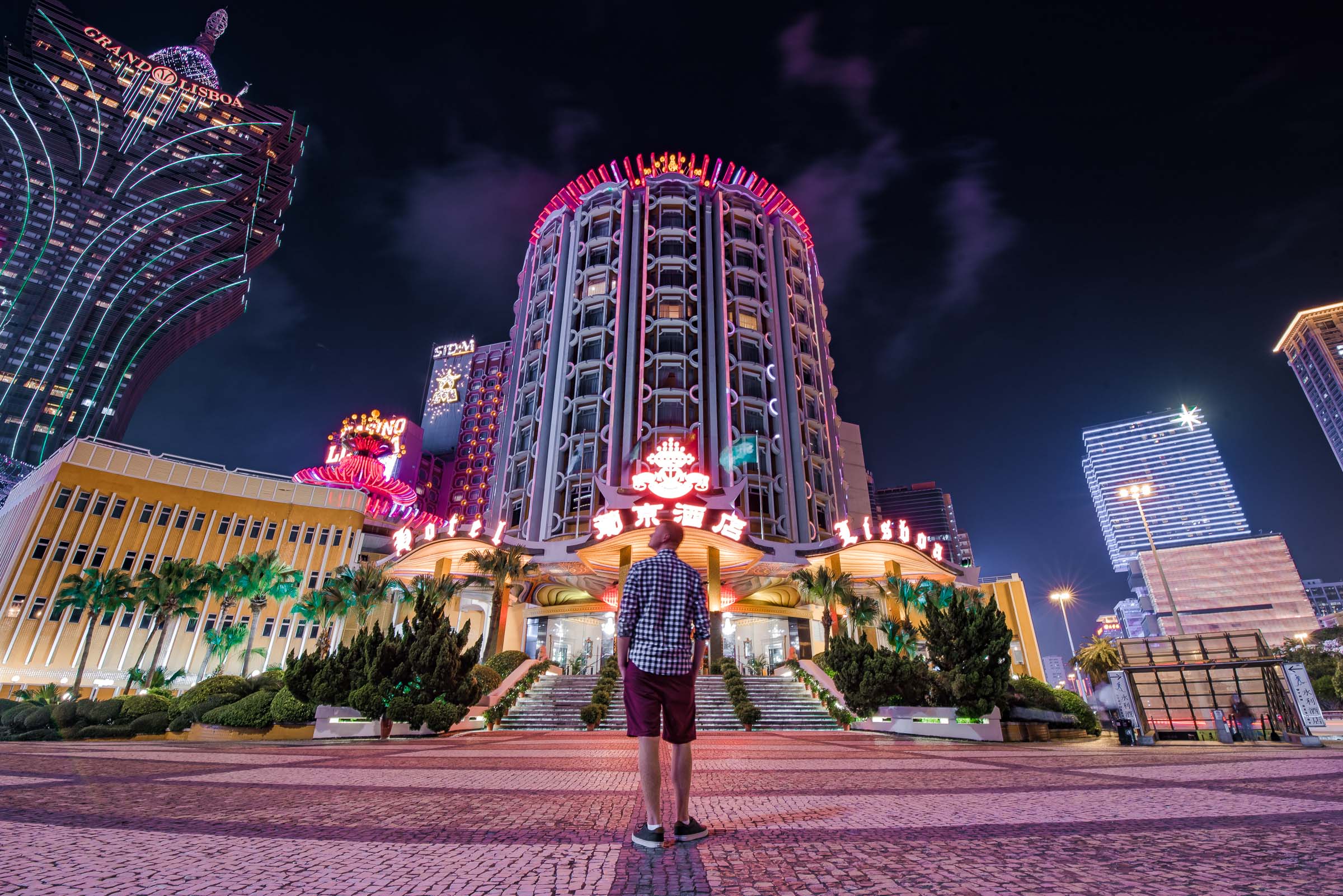 ---
This was my second visit to Macao, but I only spent half a day there (many years ago) when I was backpacking through Asia.  I really loved my brief time in the city, but I simply needed more to fully understand it's charm!    
So I'm beyond ecstatic that I got the opportunity to partner with Expedia & Visit Macao, and return to this fascinating destination!  I'm completely obsessed with Macao now because it's truly a playground for foodies, cultural history buffs, gamblers, and photographers!
So please take a read through what I got up to during myfour days in Macao, check out all my favorite photos, and start planning your own perfect blend trip!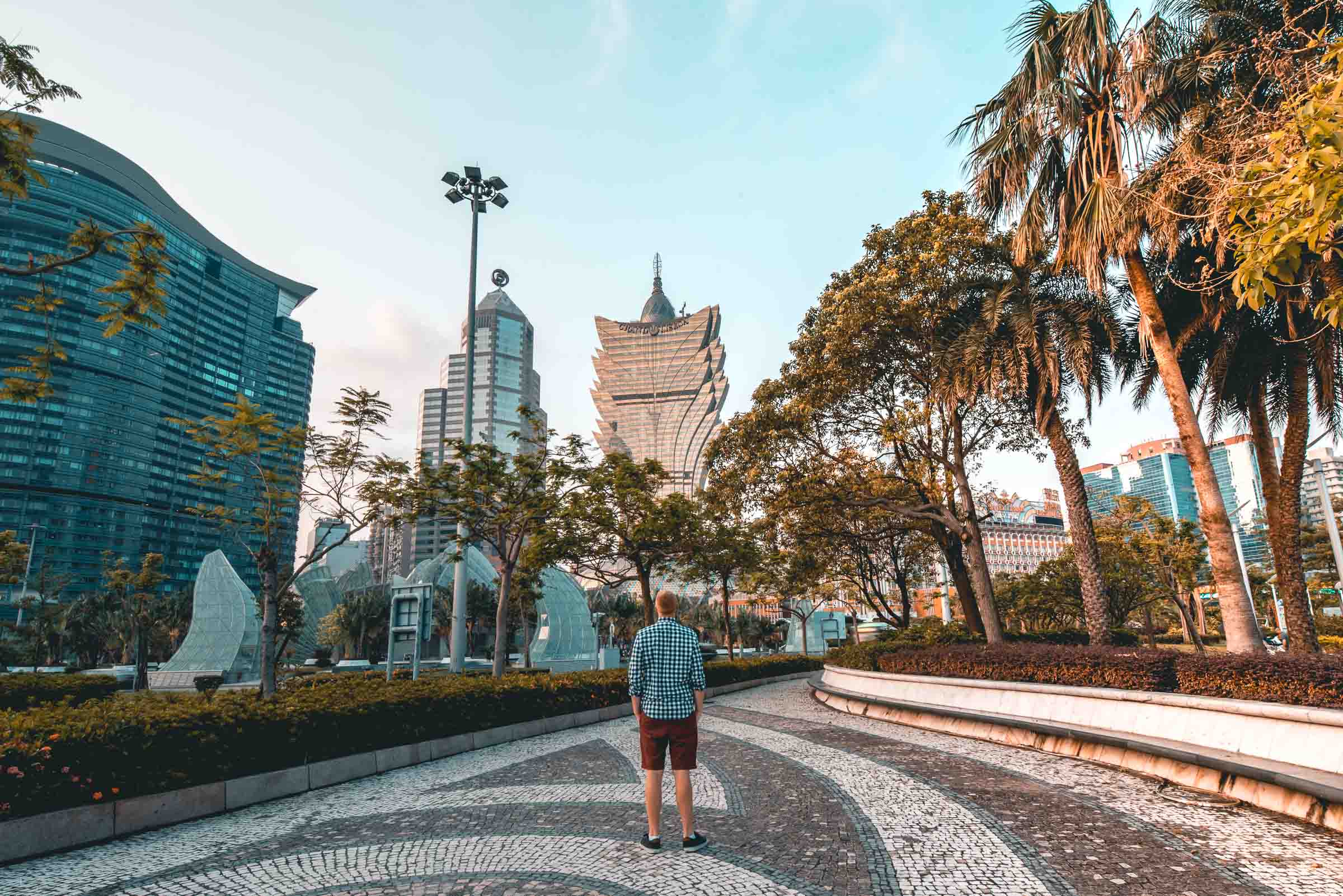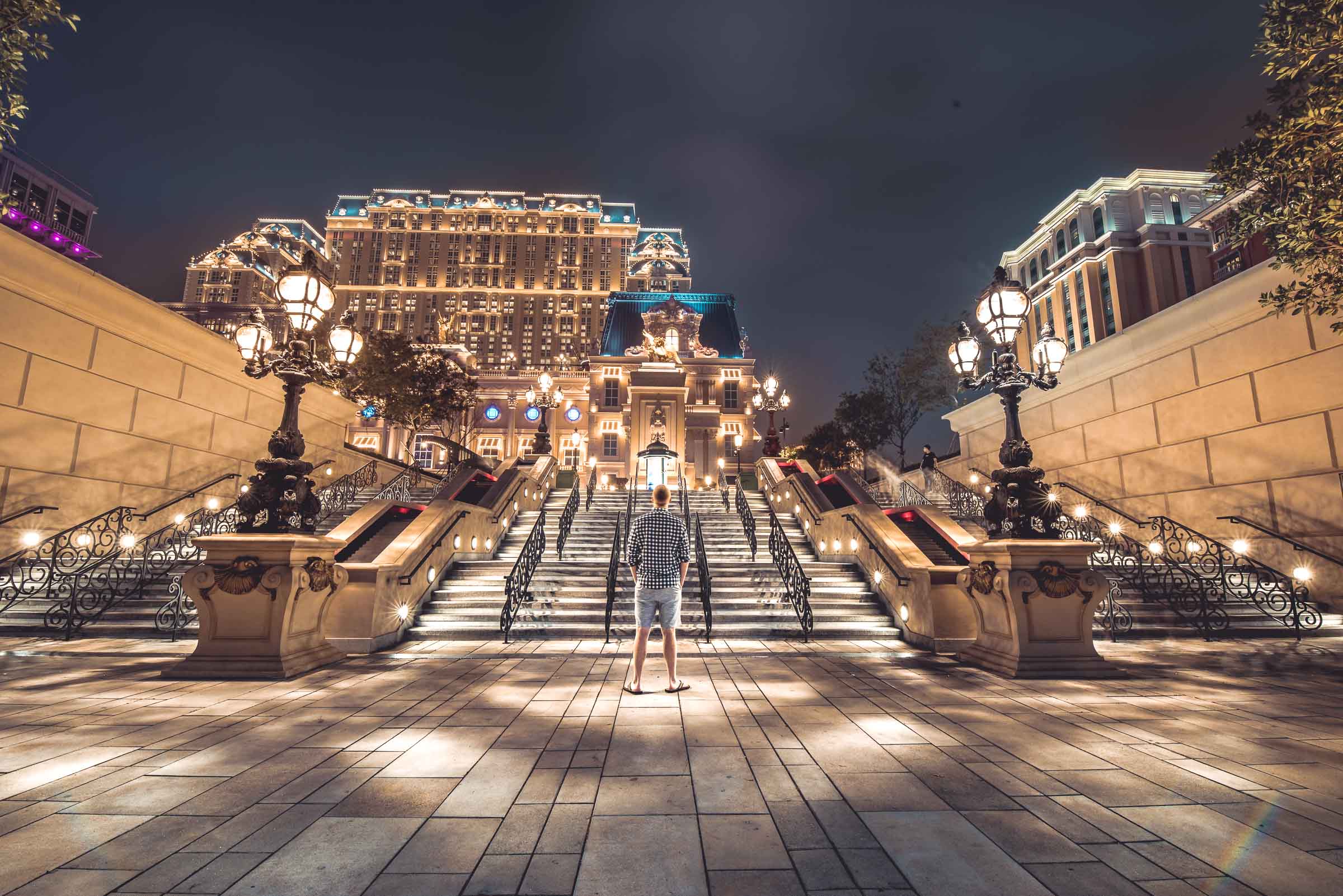 ---
Where to Stay in Macao
First things first..let's talk about accommodation!  There really is no shortage of incredible options in Macao! All of the major resorts and hotels I stepped foot inside were purely stunning, and I'm sure each of them they could provide a luxuriously comfortable stay.  
I was fortunate enough to spend four days at the Galaxy Hotel though, and I absolutely fell in love with this place!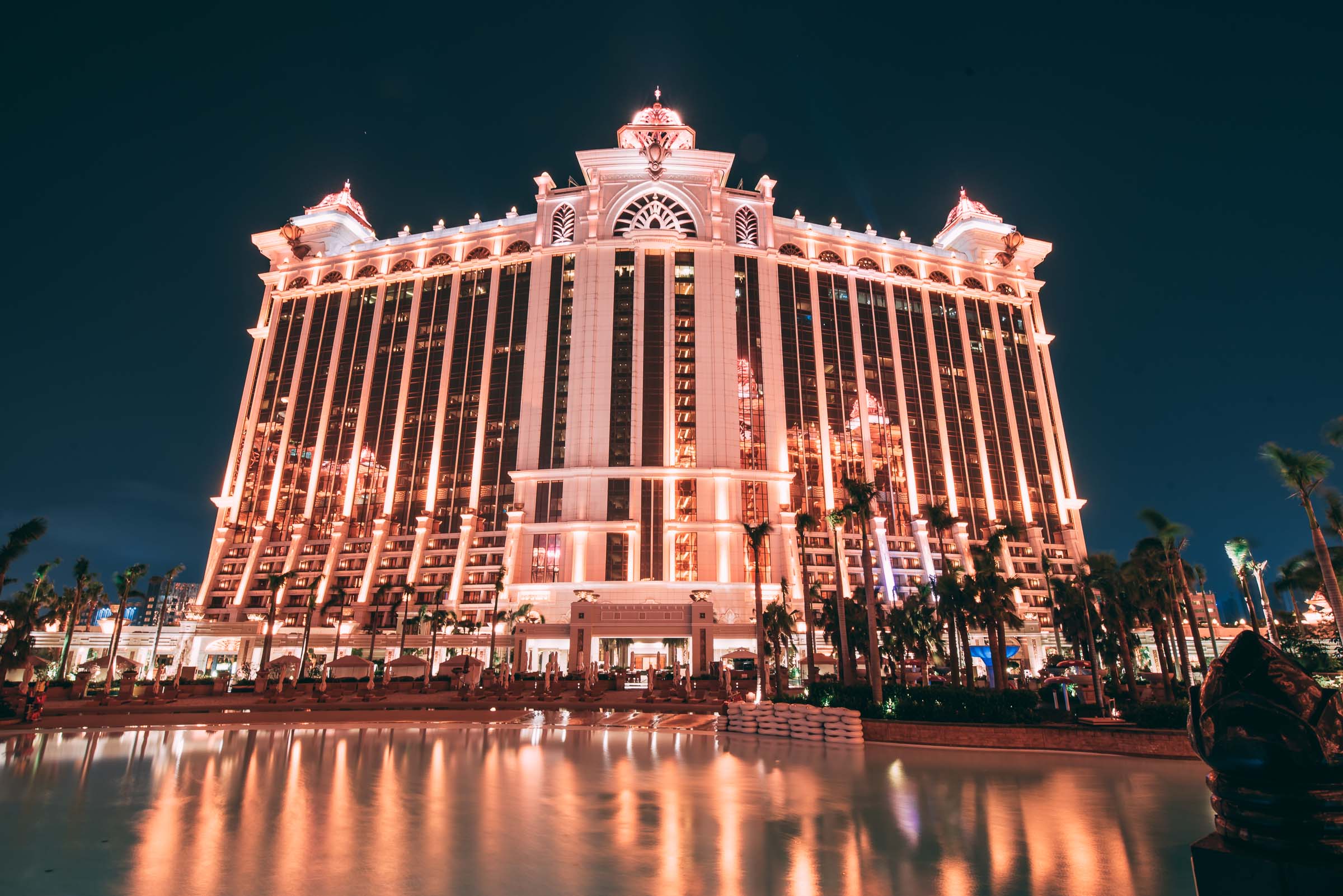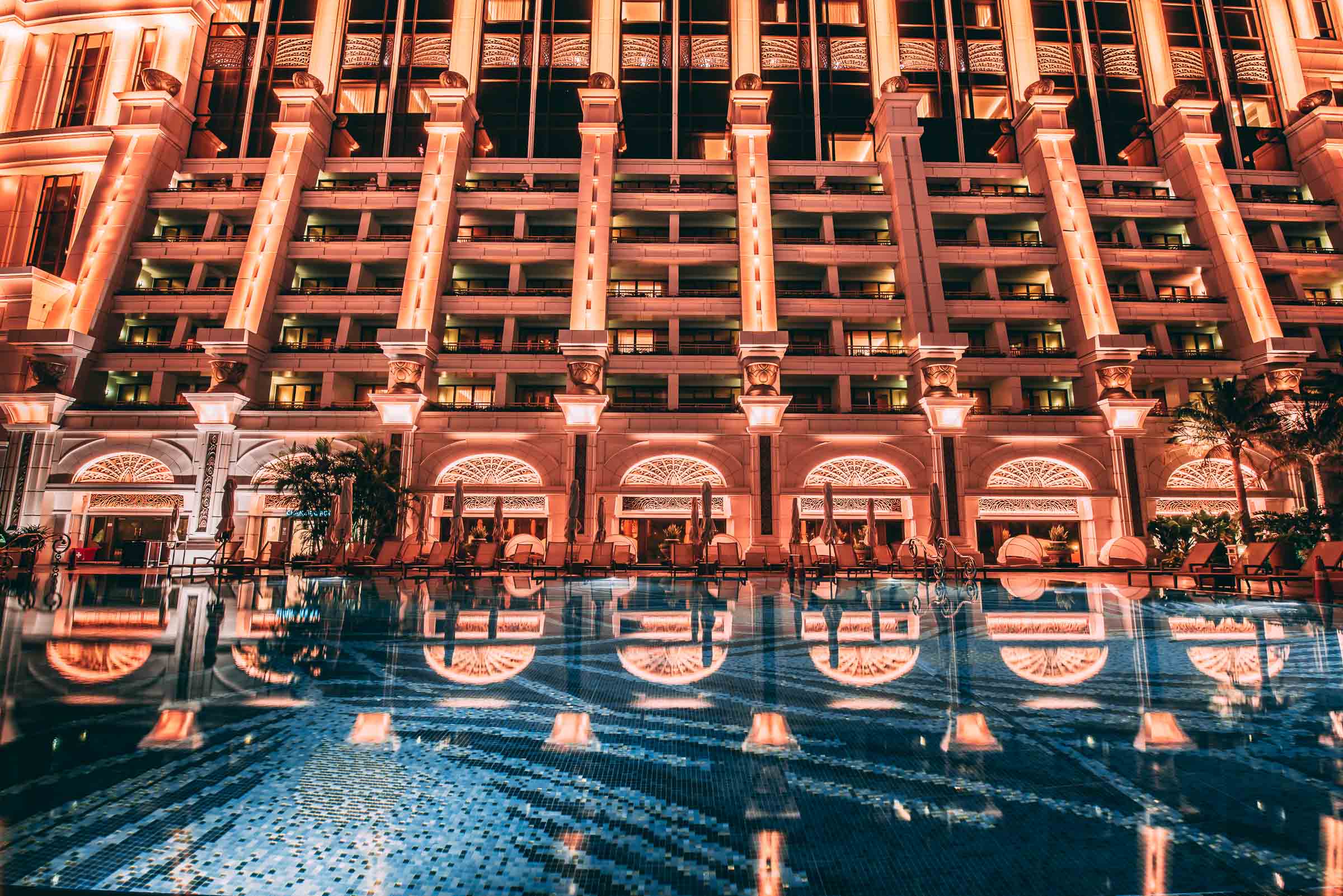 It's easily one of the best 5* Hotels I've ever stayed in, and everything from the immaculately clean rooms, insanely comfortable beds, and top-notch customer service were truly perfect.  If you're not sure where to stay — then look no further and book a room at the Galaxy Hotel.  
"Embark on the Ultimate Integrated Resort Experience"
From the minute I entered the main lobby and gazed at the beautifully designed diamond fountain, I knew I was going to really enjoy my four-night stay.  It also is home to the legendary "Promenade", which has hundreds of amazing shops, restaurants, and attractions.  The casino is also incredible for people looking to gamble a little bit during their trip to Macao!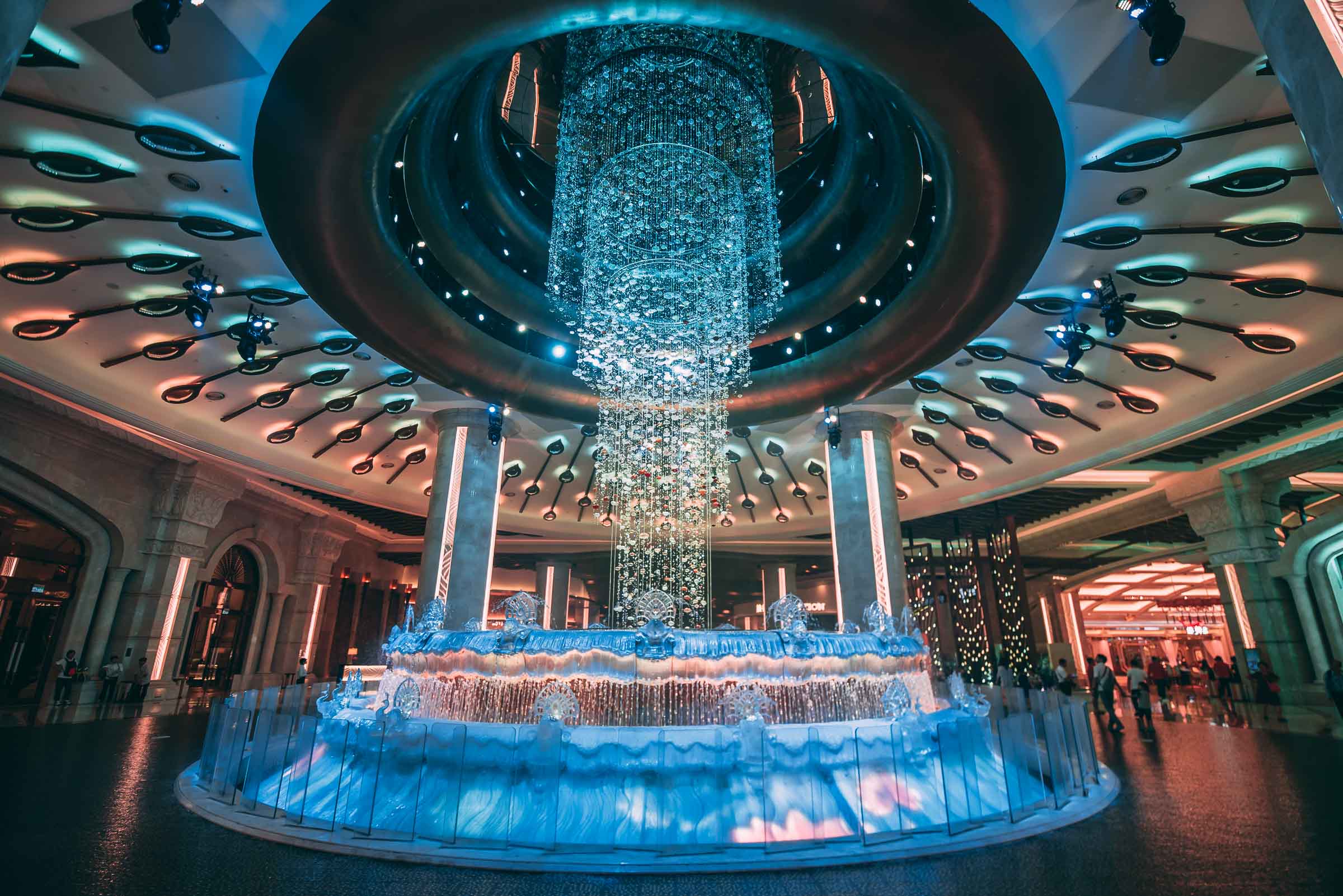 ---
Day 1:  Welcome to Macao
Now for my first day in the city – the best thing to do was simply relax, enjoy the luxury resort amenities, and get into the Macao spirit by strolling around the vibrant city streets!  So after I initially checked-in around 6P.M, one of the first things I did was head straight down to the pool/ jacuzzi area (as I had heard it was particularly awesome at the Galaxy.)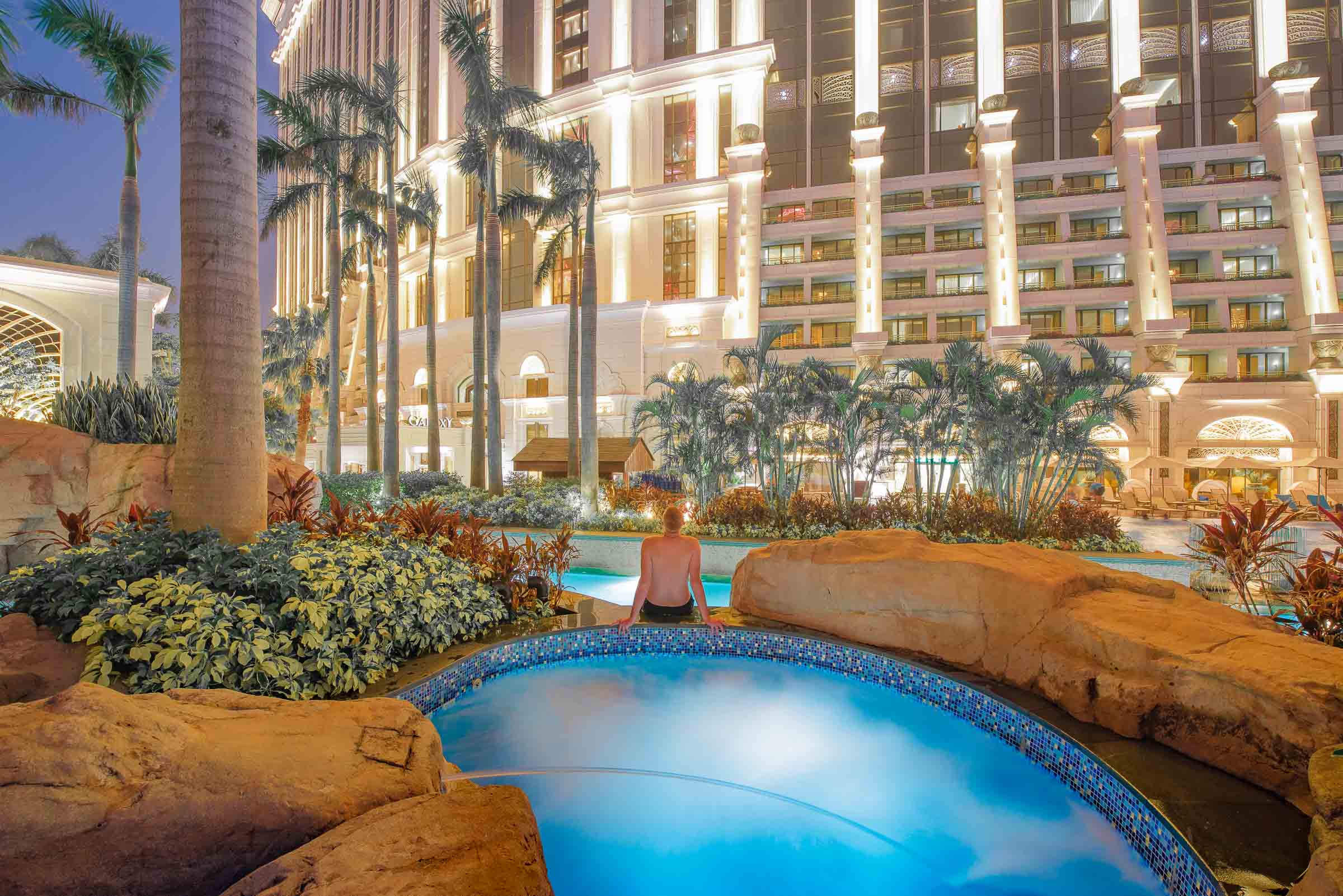 ---
WOW — what an amazing experience!  I was truly in awe at my surroundings and really enjoyed the 30-minute soak in the jacuzzi (while simultaneously having some photography fun).  I had just flown in from Istanbul, Turkey — so this really was the best and most relaxing way way to begin the trip!


I was too excited to call it an early night though, so I made sure to cruise out into the streets, and explore my surroundings for a couple hours.  Macao is definitely one of those cities that comes alive at night, and I loved just aimlessly exploring and taking photos of the beautiful shops, restaurants, and resorts.  Sensory stimulation is everywhere!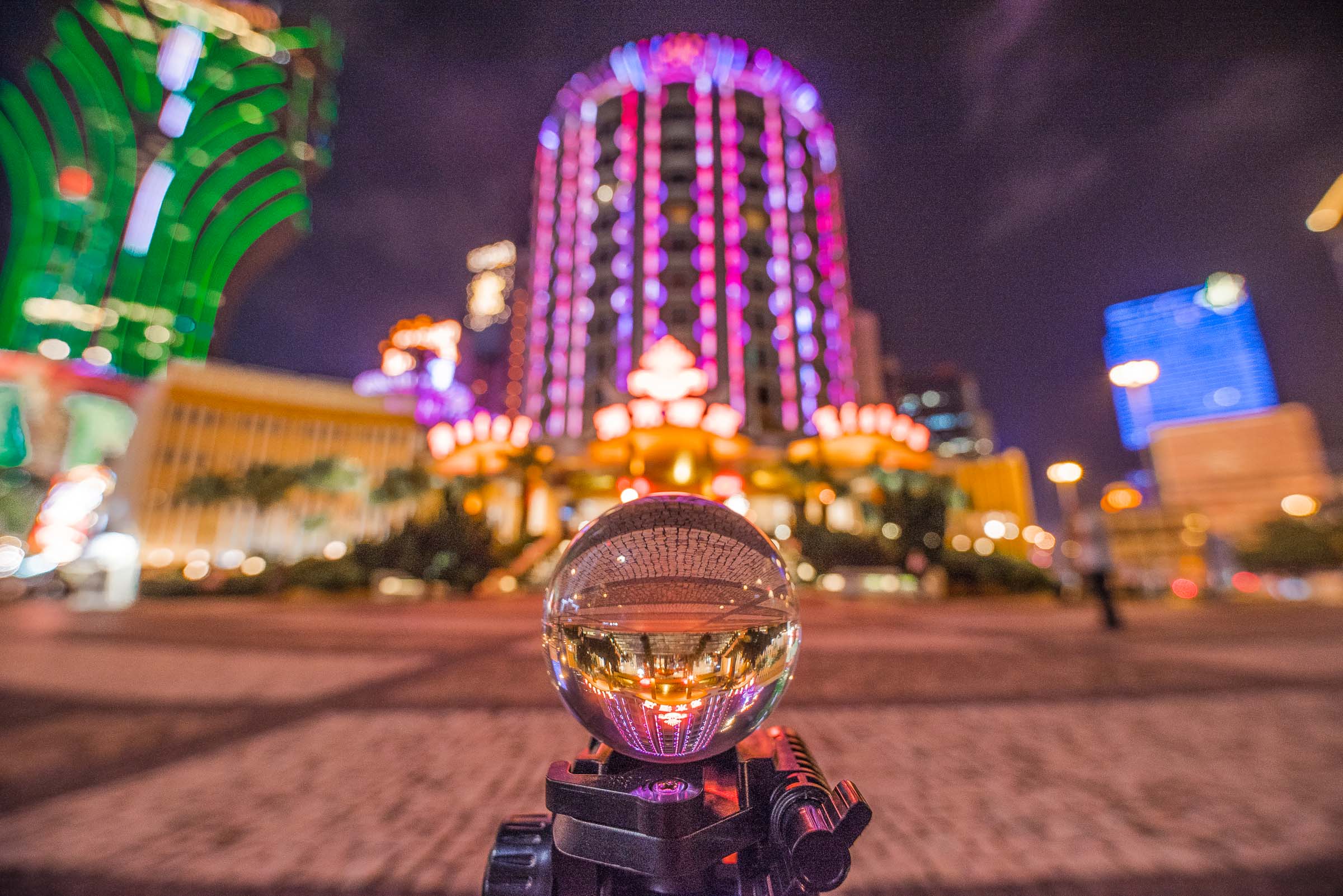 ---
Day 2:  Macao Historic City Centre Explorations
After destroying an absolutely massive buffet breakfast at the Galaxy Hotel, I hopped in taxi and began my day of exploration and photography.  
The Historic City Centre of Macao is a recognized UNESCO World Heritage Site, and was easily one of the highlights my four day trip.  It's such a fascinating area, packed with beautiful architecture, shopping, food, museums, and much more.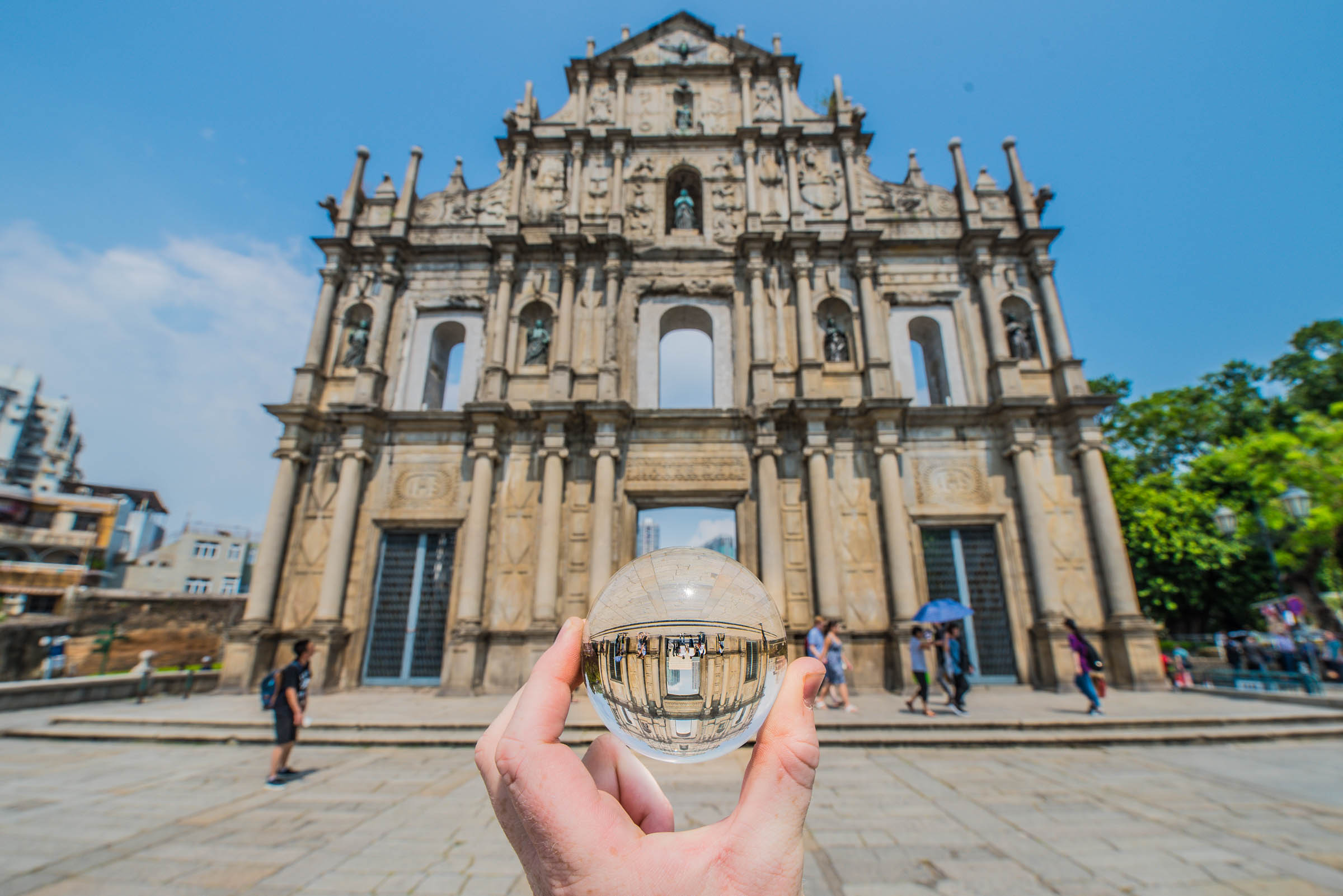 As far as tourism goes, it's really fun to just walk around and get lost.   There are signs everywhere pointing you to the next points of interest, and have historical background information for each one.  
"Macao, a lucrative port of strategic importance in the development of international trade in Chinese territory, became a Portuguese settlement in the mid-16th century and returned to Chinese sovereignty in 1999. The inscribed property presents a group of 22 principal buildings and public spaces that enable a clear understanding of the structure of the old trading port city. With its historic streets, residential, religious and public Portuguese and Chinese buildings, the Historic Centre of Macao provides a unique testimony to the meeting of aesthetic, cultural, religious, architectural and technological influences from East and West."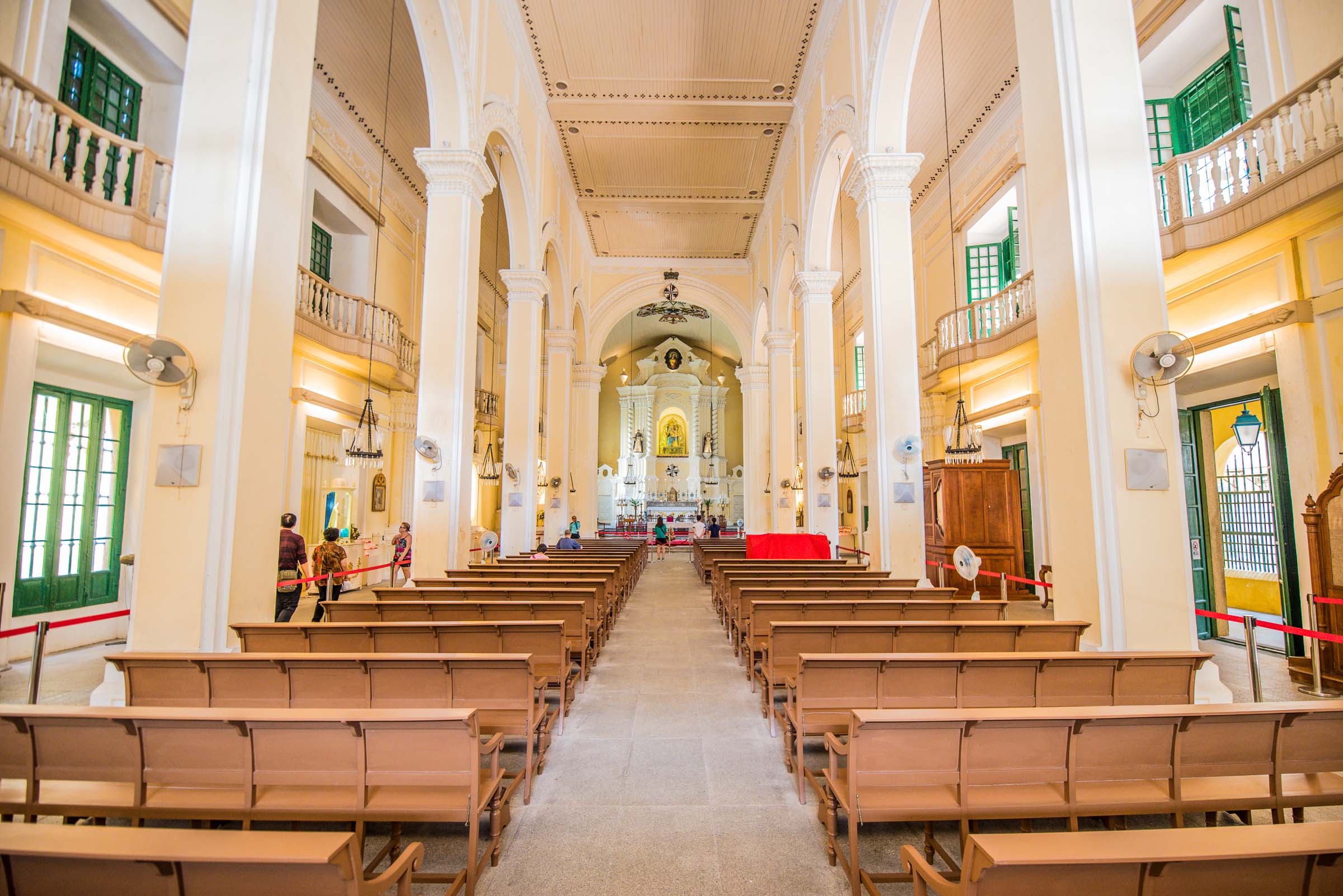 I started off at the famous Senado Square, which is the primary location for all of Macao's most important celebrations and events.  From there, I made stops all over the place with the highlights being St. Dominic's Church, Ruins of St. Paul's Cathedral, Macao Museum, Mount Fortress, St. Lawrence's Church, and the Moorish Barracks.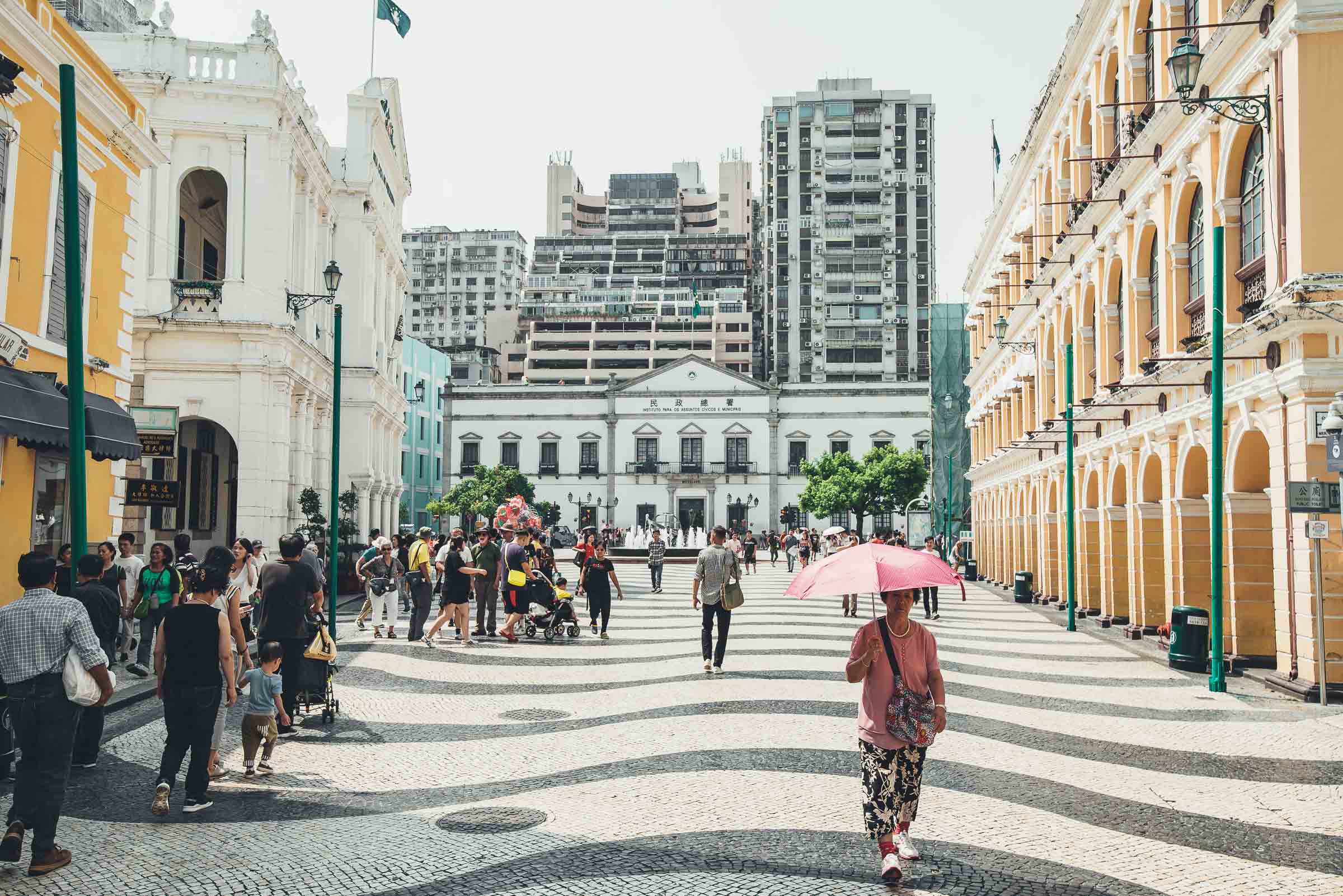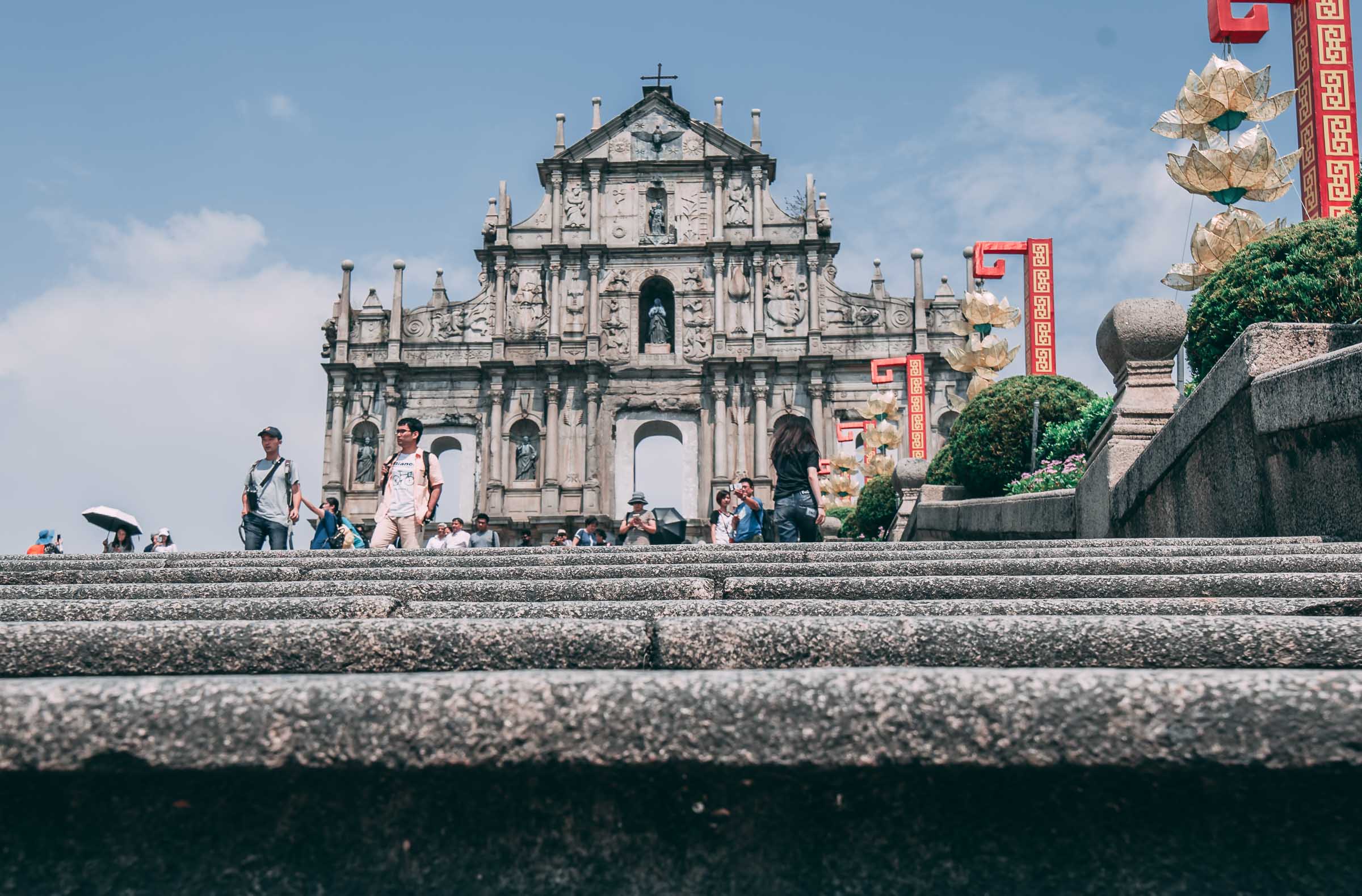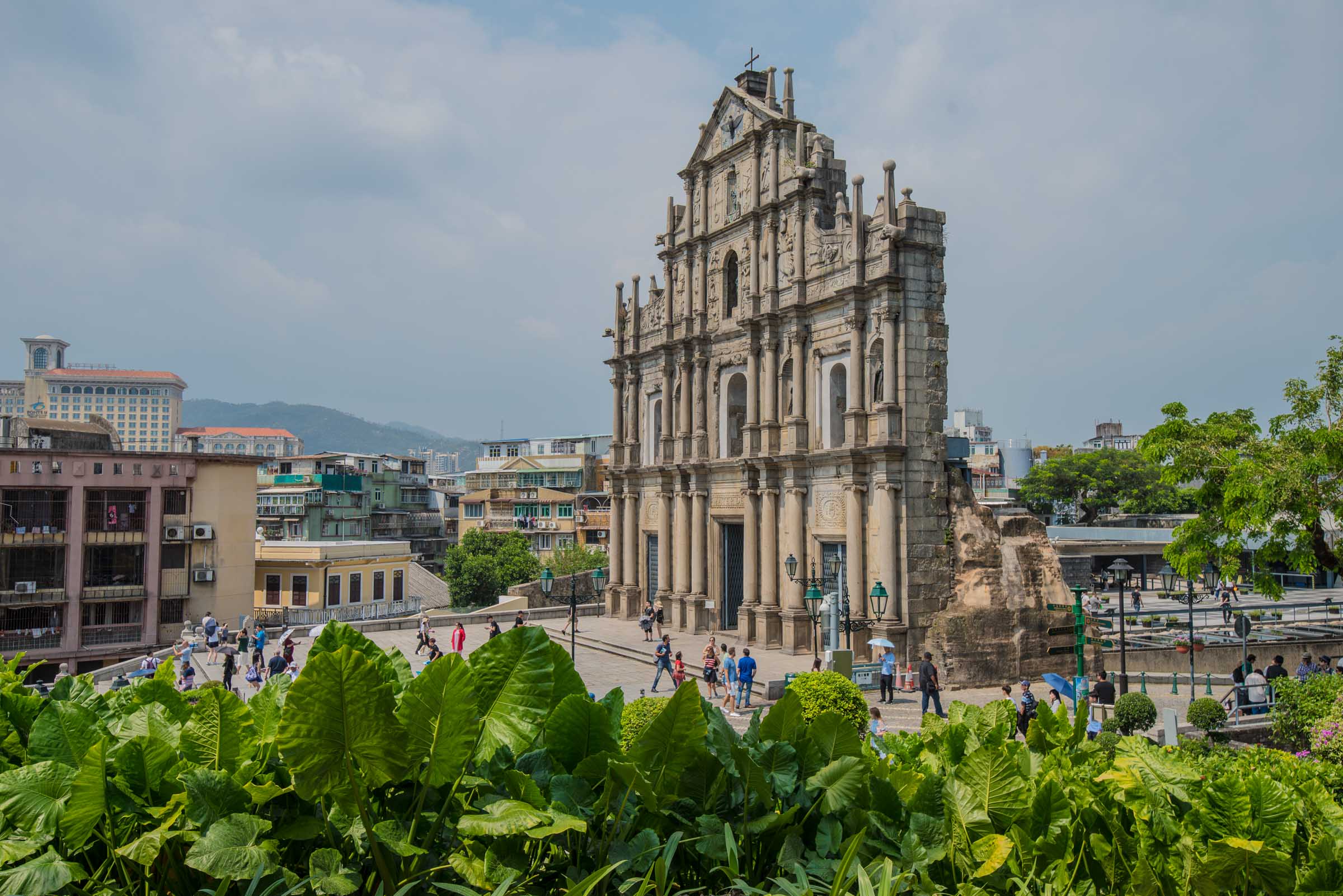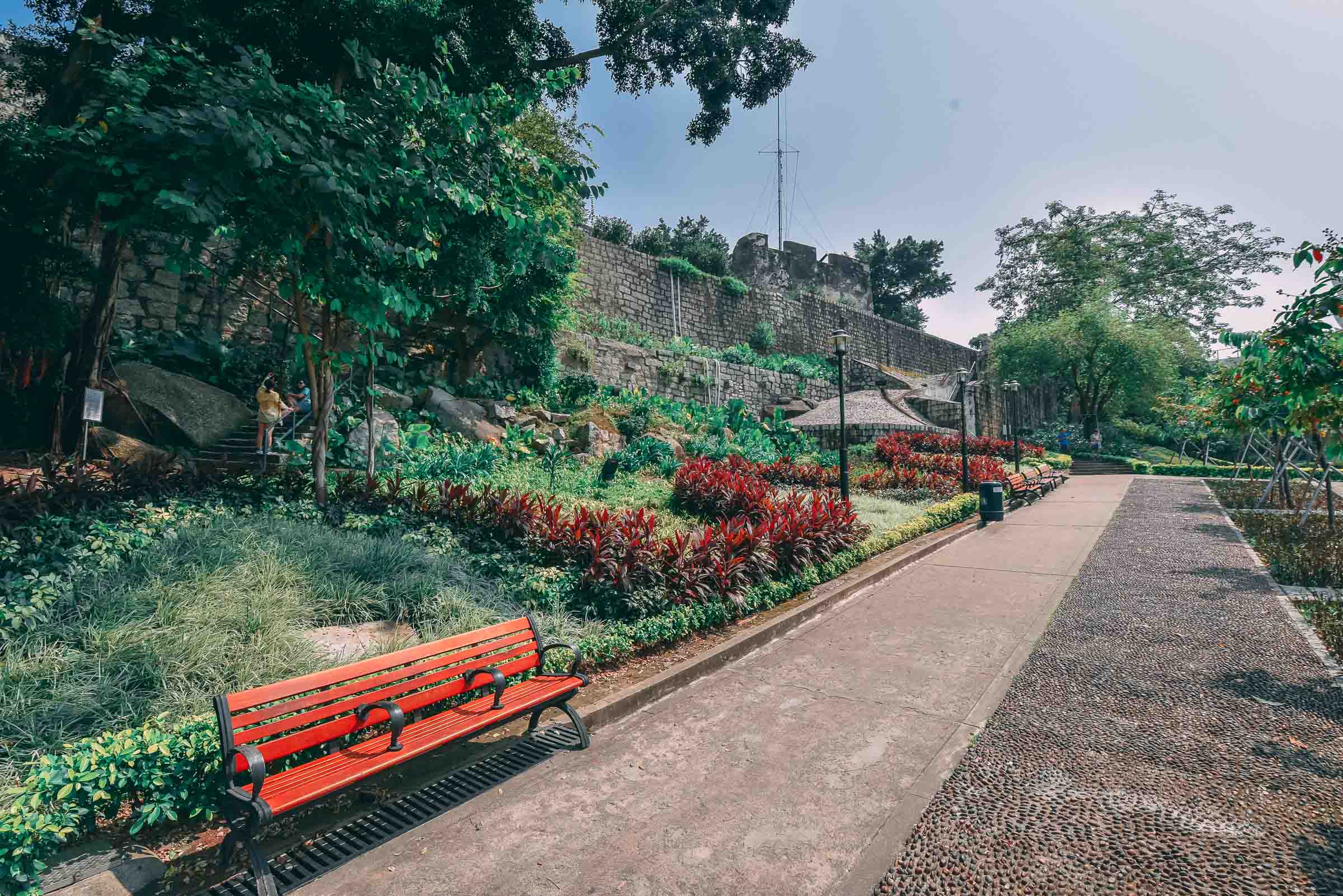 ---
I also stopped for snacks all over the place, and loved that many of the shops give out free samples!  A few must tries were the popular Macanese Egg Tart, Almond Cookies, and various Beef/Pork jerky!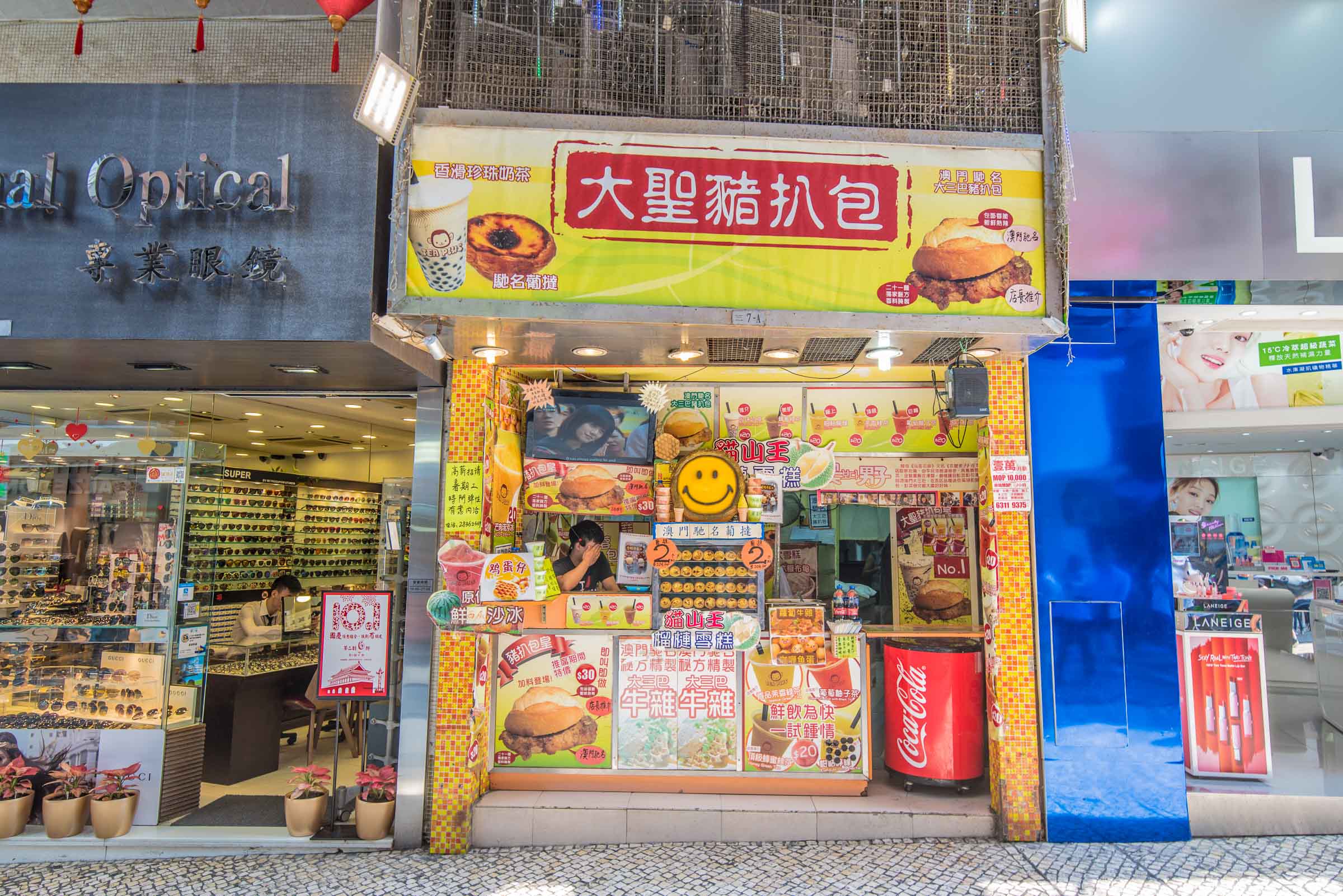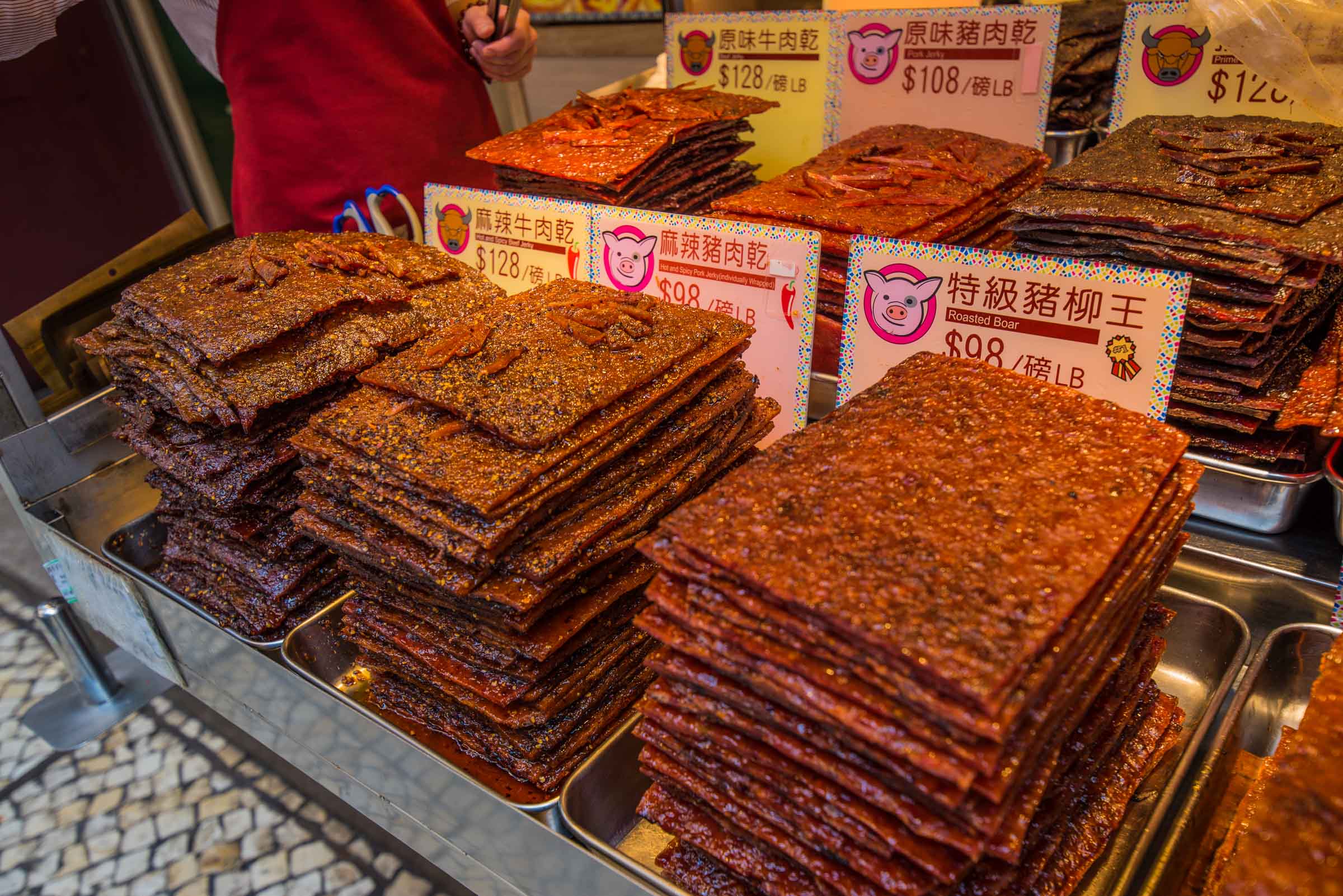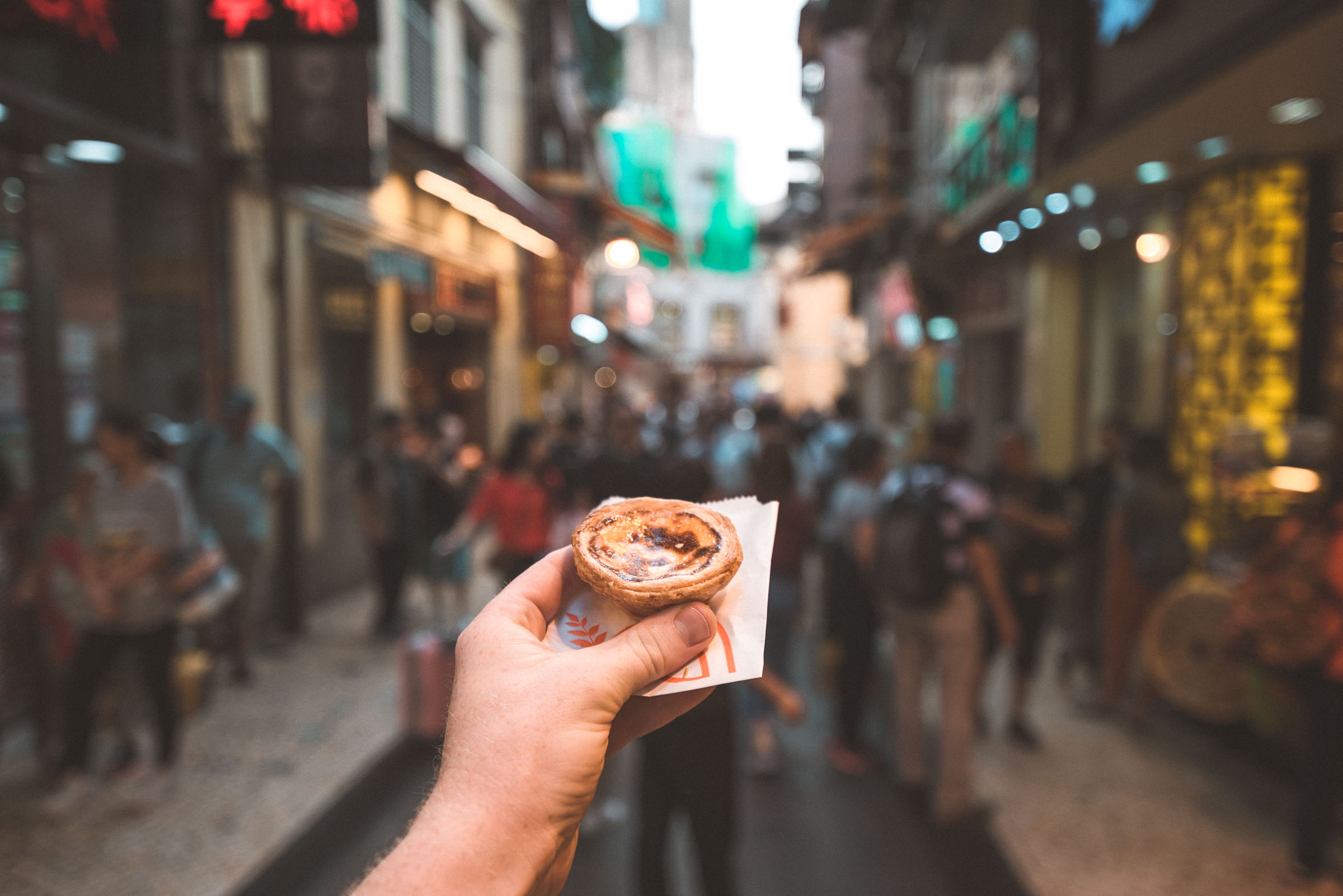 ---
I then continued the day and made a stop at the gorgeous A-Ma Temple, also known as Tin Hou (Heavenly Express), the Goddess of Seafarers.  It already existed before the city of Macao came into being, and consists of the Gate Pavillion, the Memorial Arch, the Prayer Hall, the Hall of Benevolence, the Hall of Guanyin, and the Buddhist pavilion Zhengjiao Chanlin.  These were all constructed at different times, with the current configuration dating all the way back to 1828. The entire complex is simply beautiful, and I especially loved all the Chinese engravings in the stones.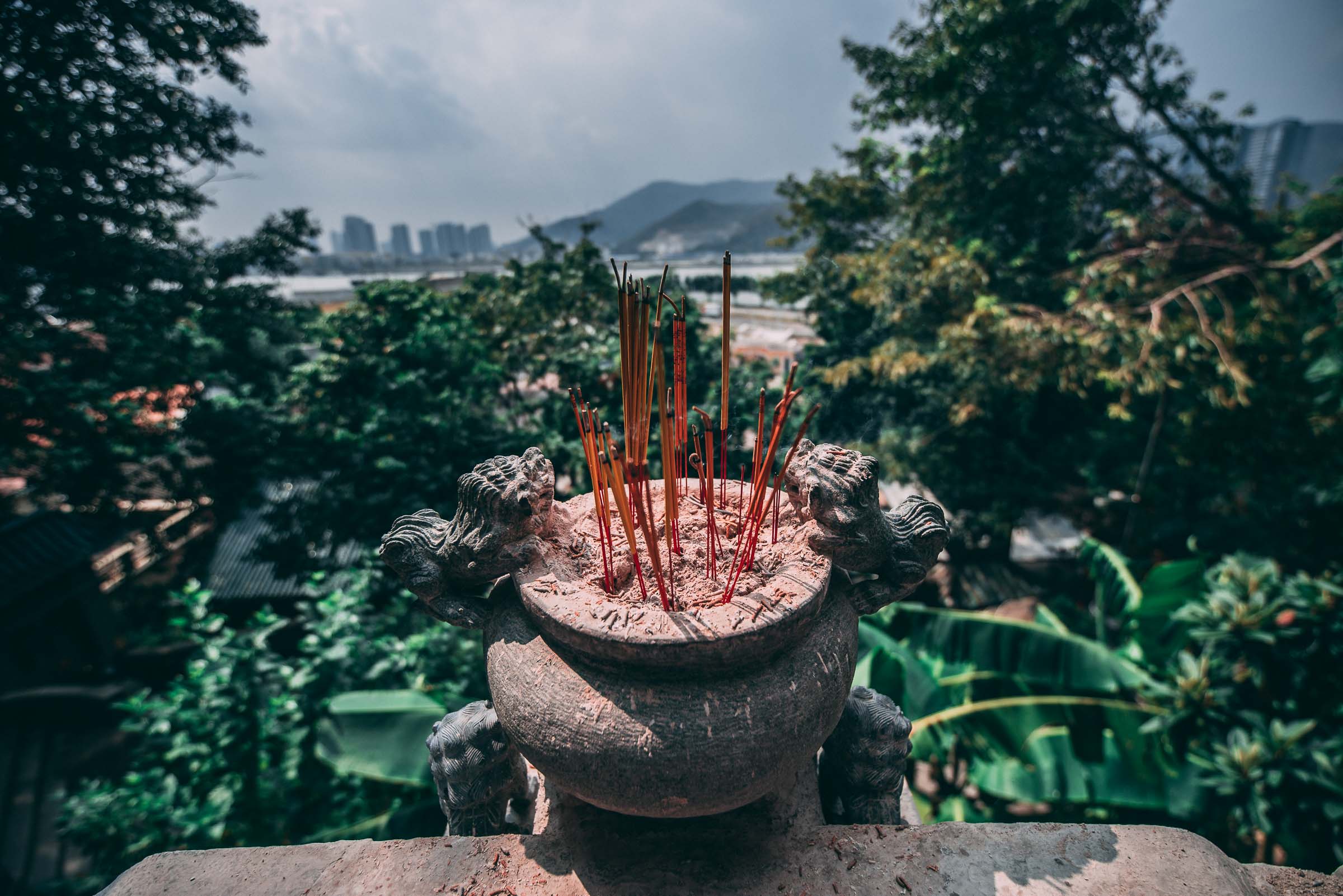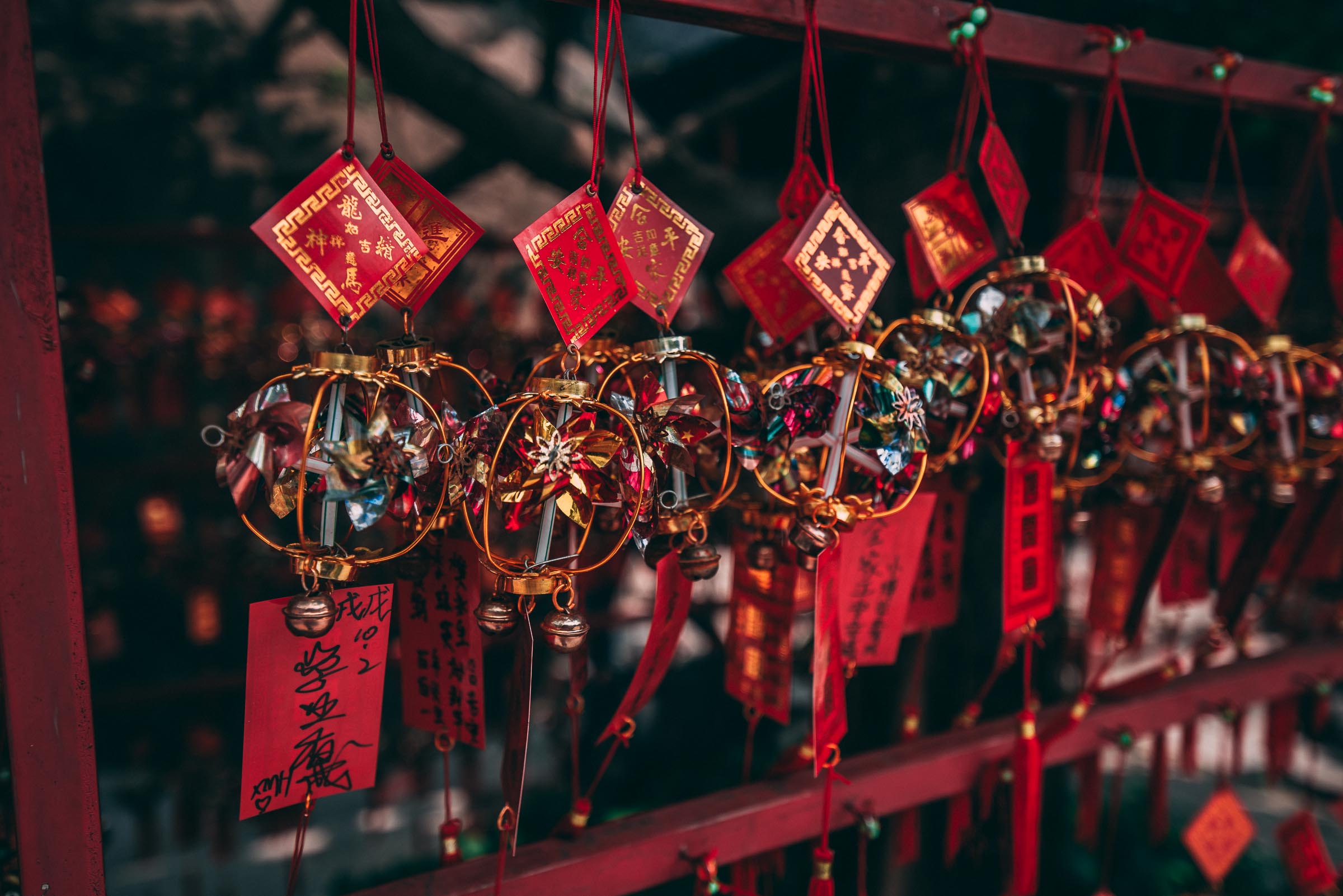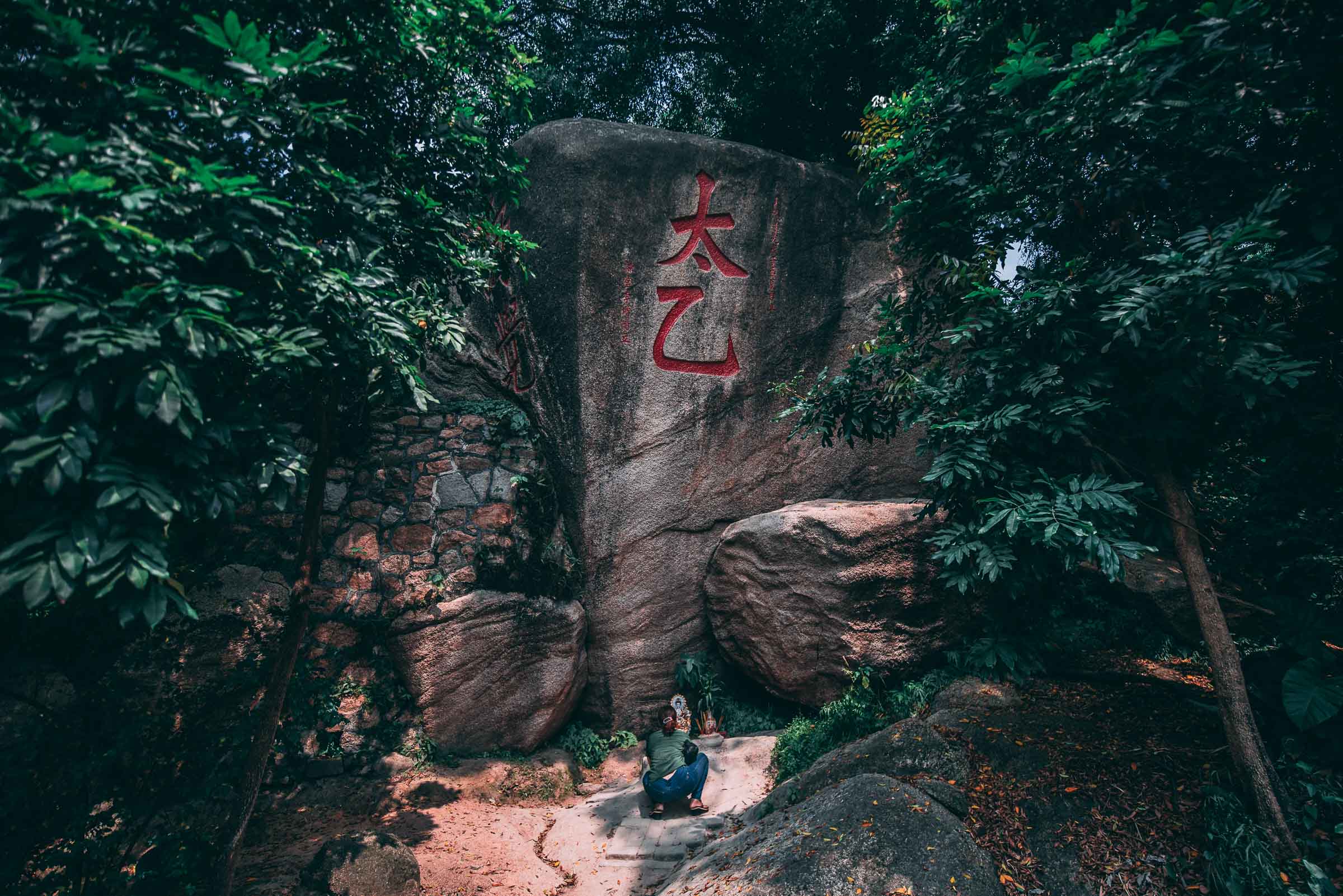 ---
To conclude the day's exploration, I walked over to the Grand Lisboa to take some photos.  It was about to be holden hour, and wanted to get some photos of all the casinos/ surrounding area during sunset.  I discovered this awesome little promenade along the Wynn Hotel, and there were lots of locals relaxing alongside the water and watched the hazy sunset.  With a view of the bridge, kayakers, and Macao Tower in the distance — it was a terrific way to end of the day.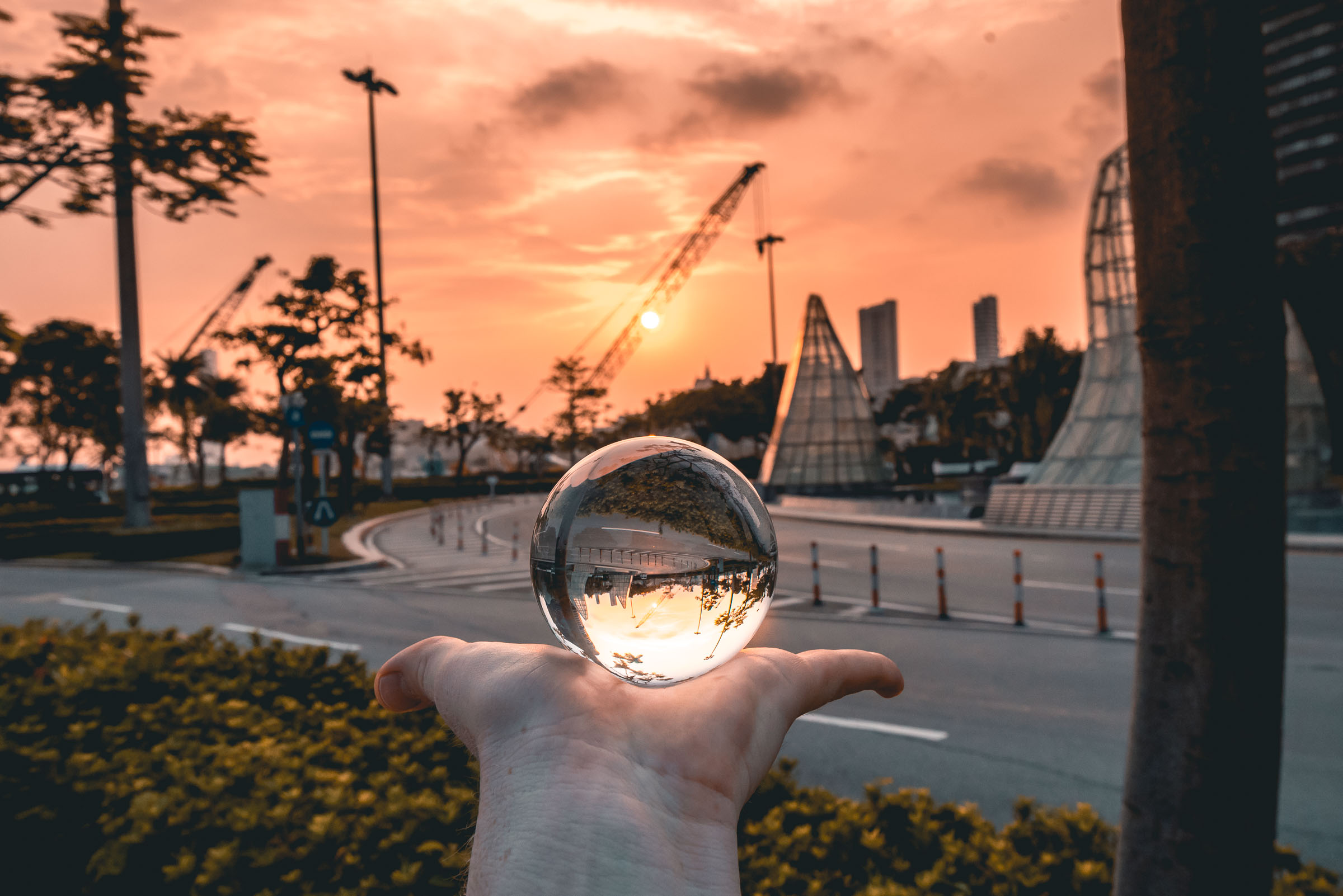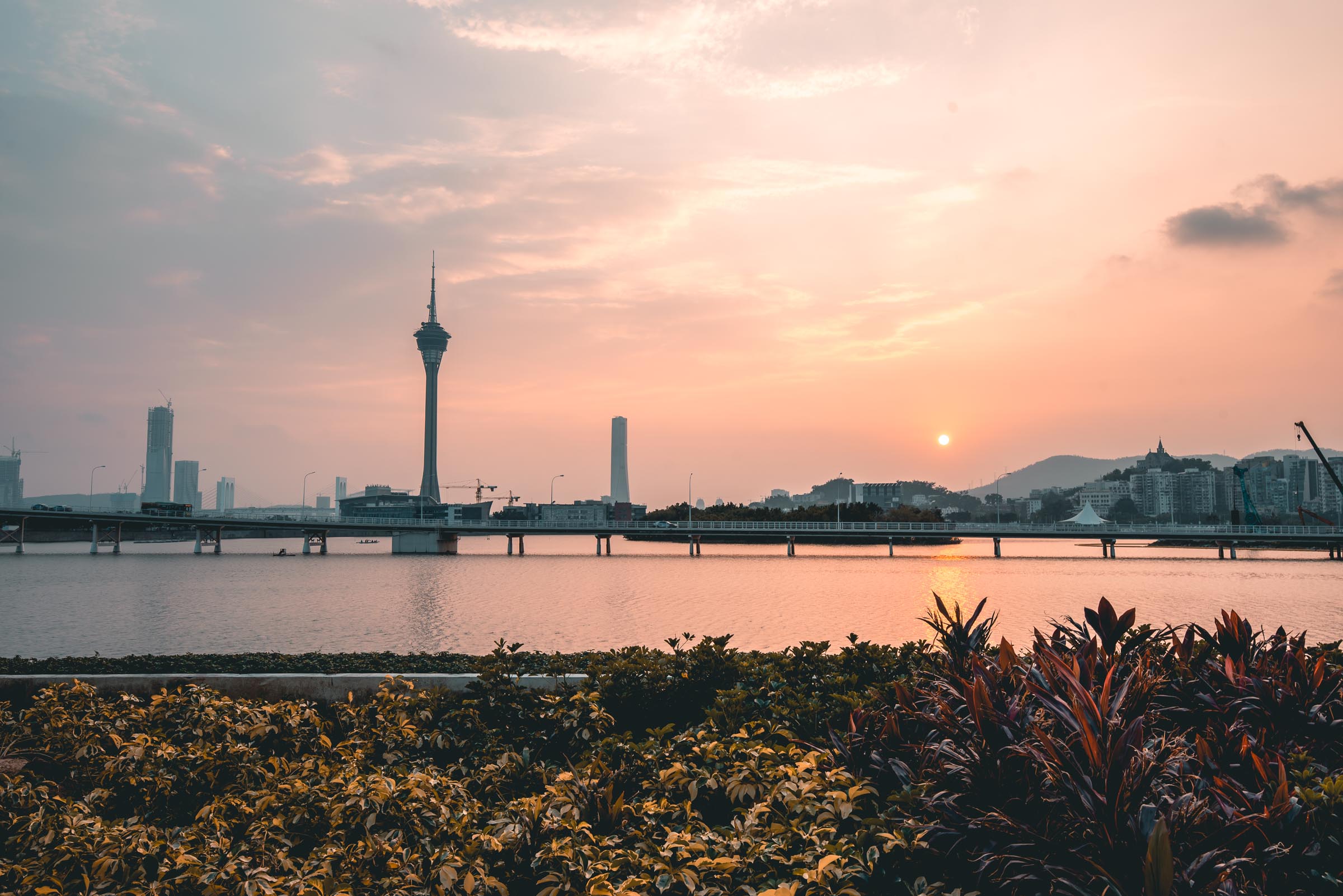 ---
Day 3: Heritage Tour, Macao Tower, and Sands Casino
After a couple days of solo exploration, I was pretty stoked to hop-on my first guided tour through Macao that Expedia organised for me.  While the beginning of the day started out through the Historic City Centre (which I had visited the day before), it was great to get another stroll through the area/ revisit some of the sights, stop at a few famous souvenir shops, and try some snacks the tour guide had recommended.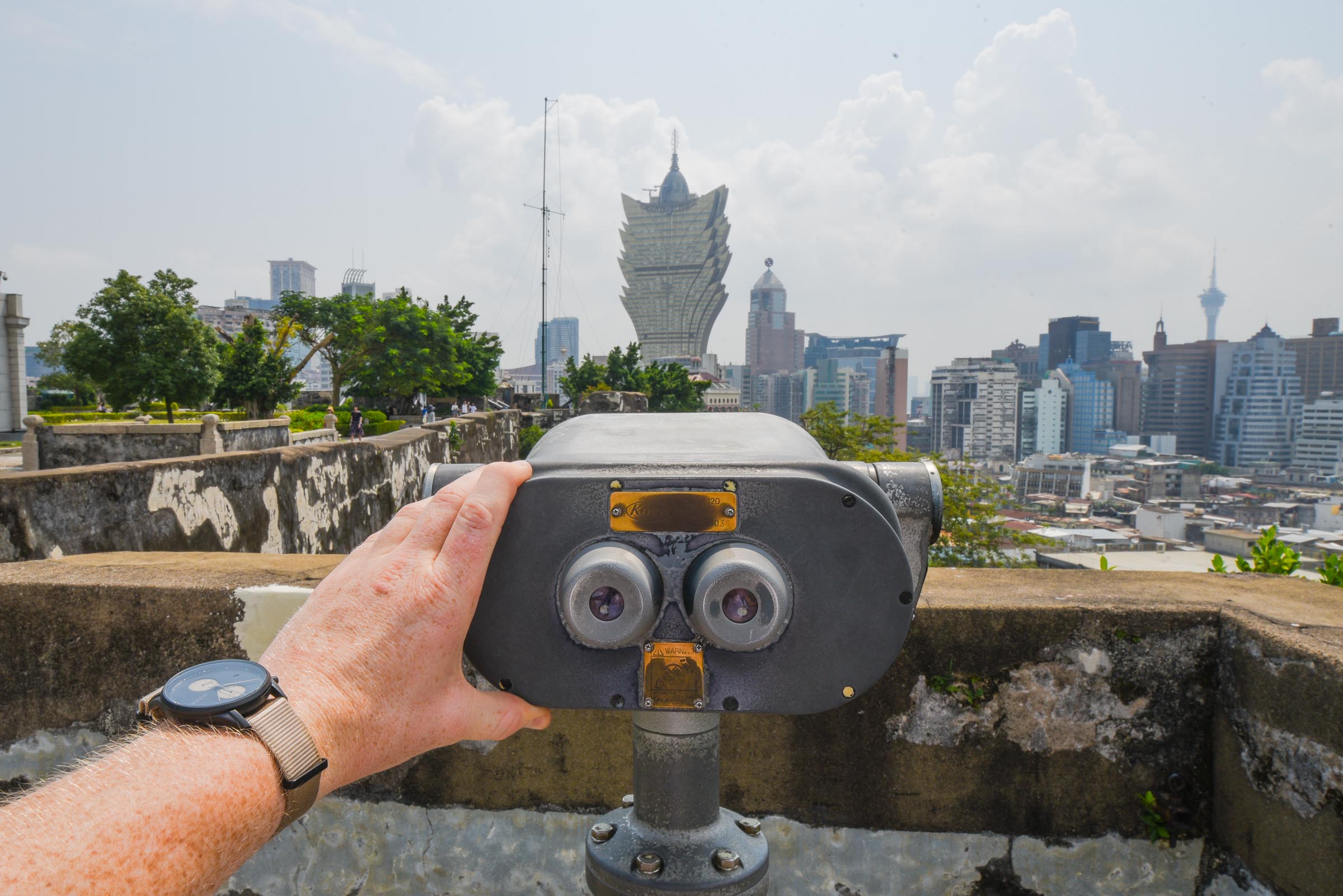 The highlight of the day for me was definitely visiting the iconic Macao Tower, and enjoying a delicious buffet lunch at the revolving restaurant! The food selection was phenomenal, and the 360-degree views were simply outstanding (even on a rainy day).
After lunch, we made our way up a couple flights to the Observation Tower & Adventure Deck.  We were given about 40 minutes to relax and take in the view a bit more, but the real fun was watching the brave souls who conquered the world's highest bungee jump from 233 metres!  
"Every day do something that reminds you're still alive"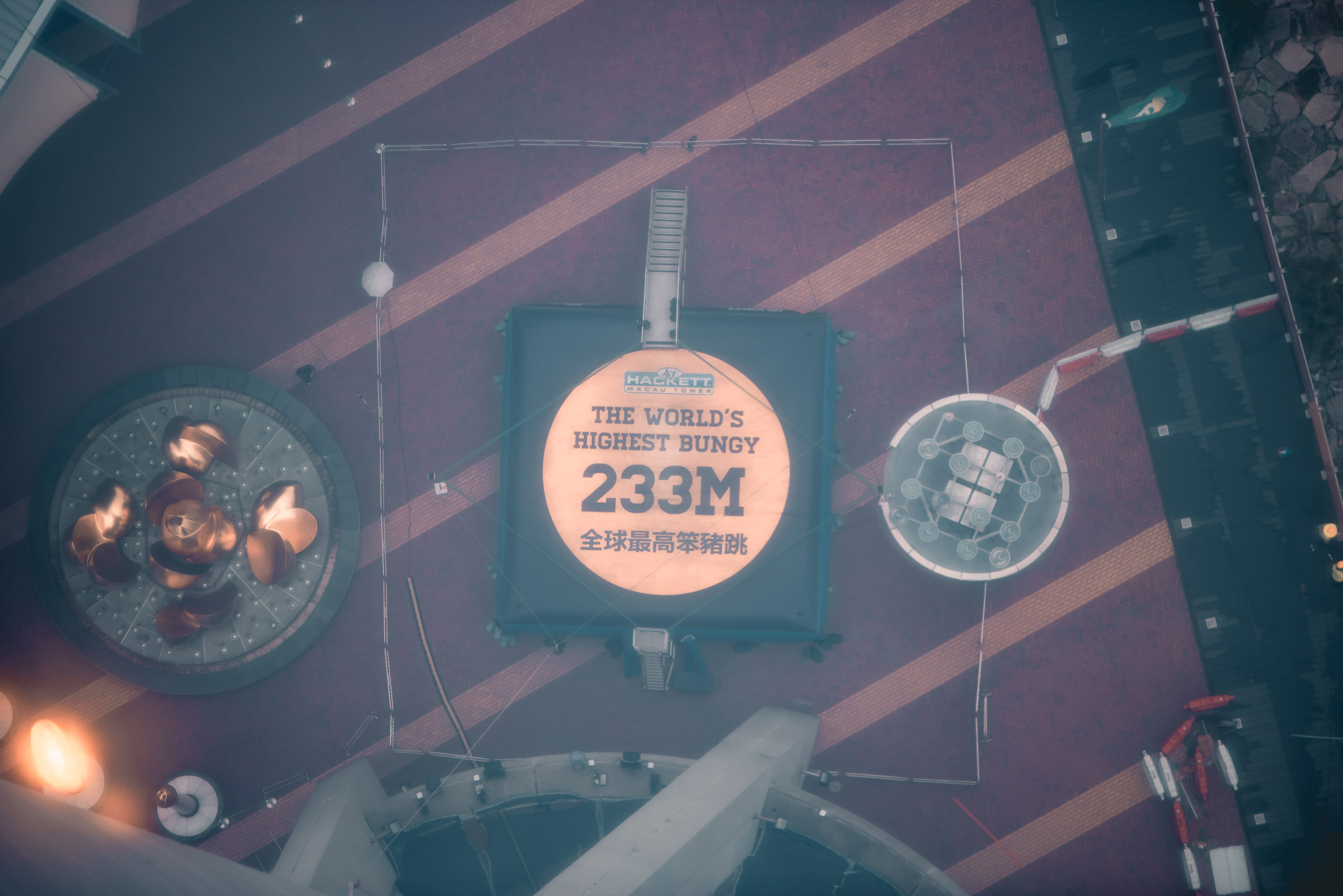 I don't think anyone from our tour actually decided to do it, everyone really enjoyed the experience and "oohed" and "aahed" every time someone took the plunge!  You can watch it all on my Instagram story!
The tour continued and we were driven over to the Sands Casino for a bit of gambling fun.  While I may have lost $40 on the slot machines, it was great to see another casino. We then met back at the bus, dropped off the Hong Kong attendees at the ferry terminal, and then proceeded back to the Galaxy Hotel for some much-needed relaxation.  
---
Day 4: Colours of Cotai Strip & Heritage Site Tour & Nighttime Photography Strolls
For my final day in Macao, I embarked on another tour called the "Colours of Cotai" which covers the lesser known areas of Macao: the villages of Taipa & Coloane. 
The guided tour began by stopping by the Taipa Houses-Museum (one of Macao's cultural relics), and then checking out the stunning views of the city, casinos, and Macao's high-rise buildings from the Grand Taipa Viewing platform.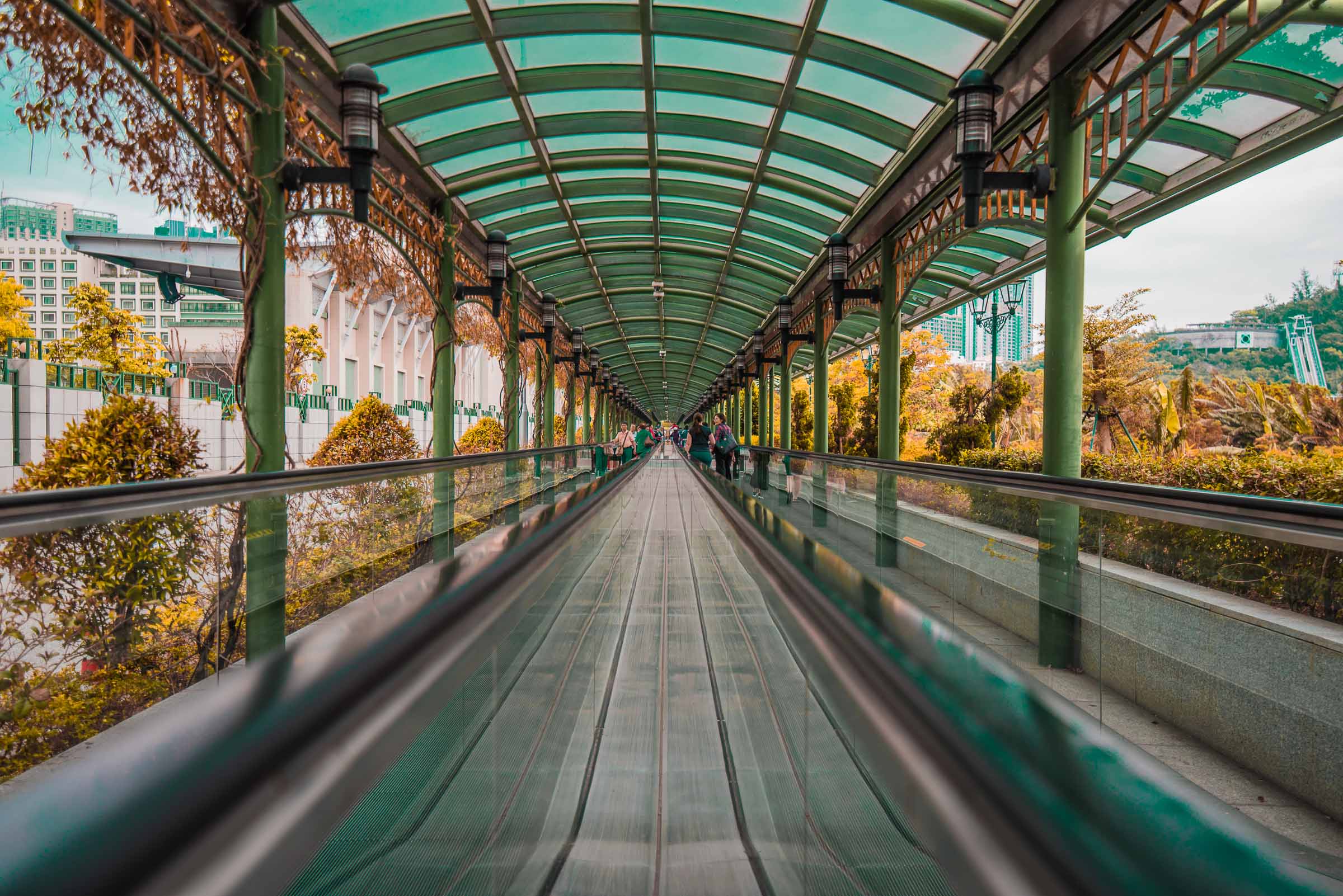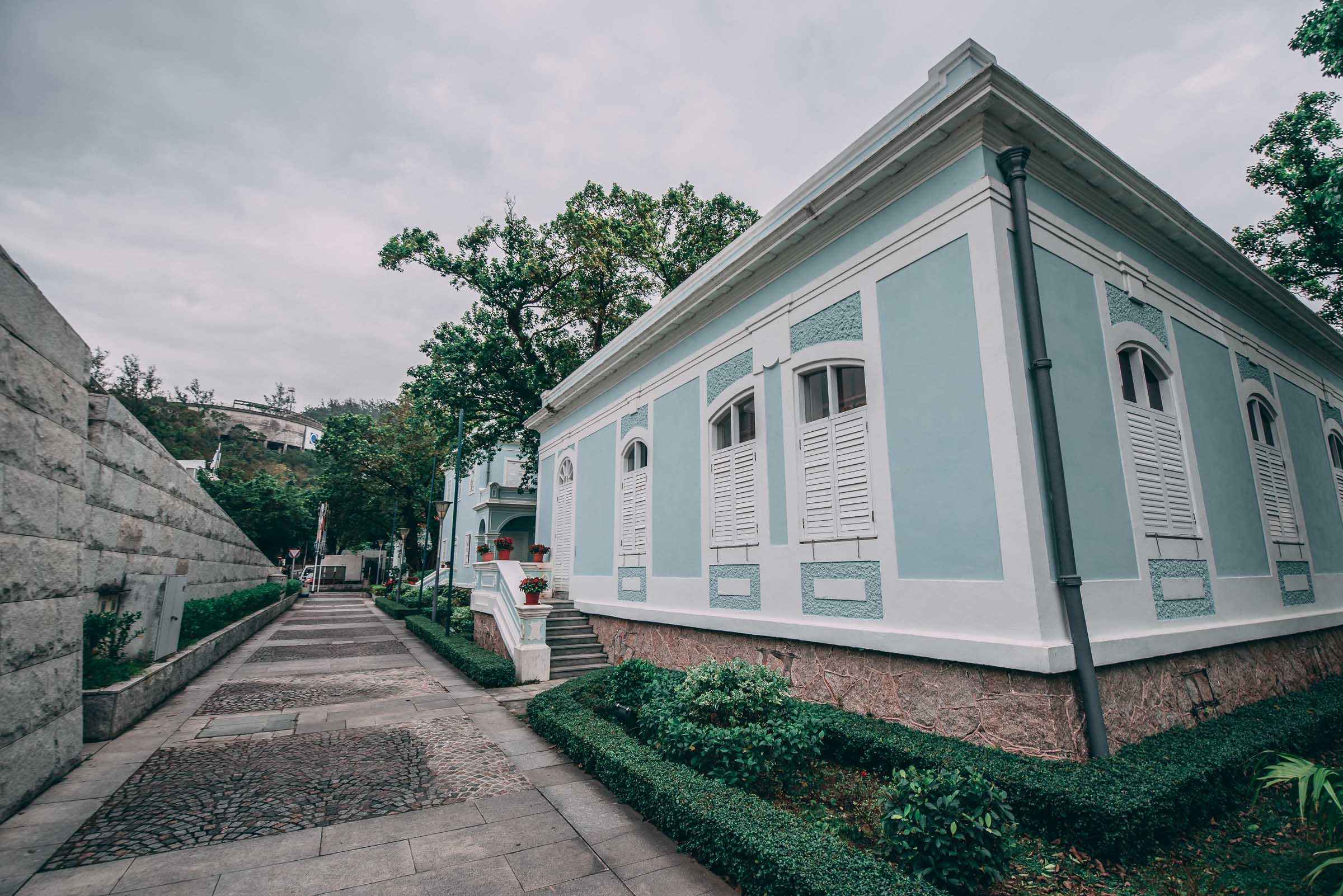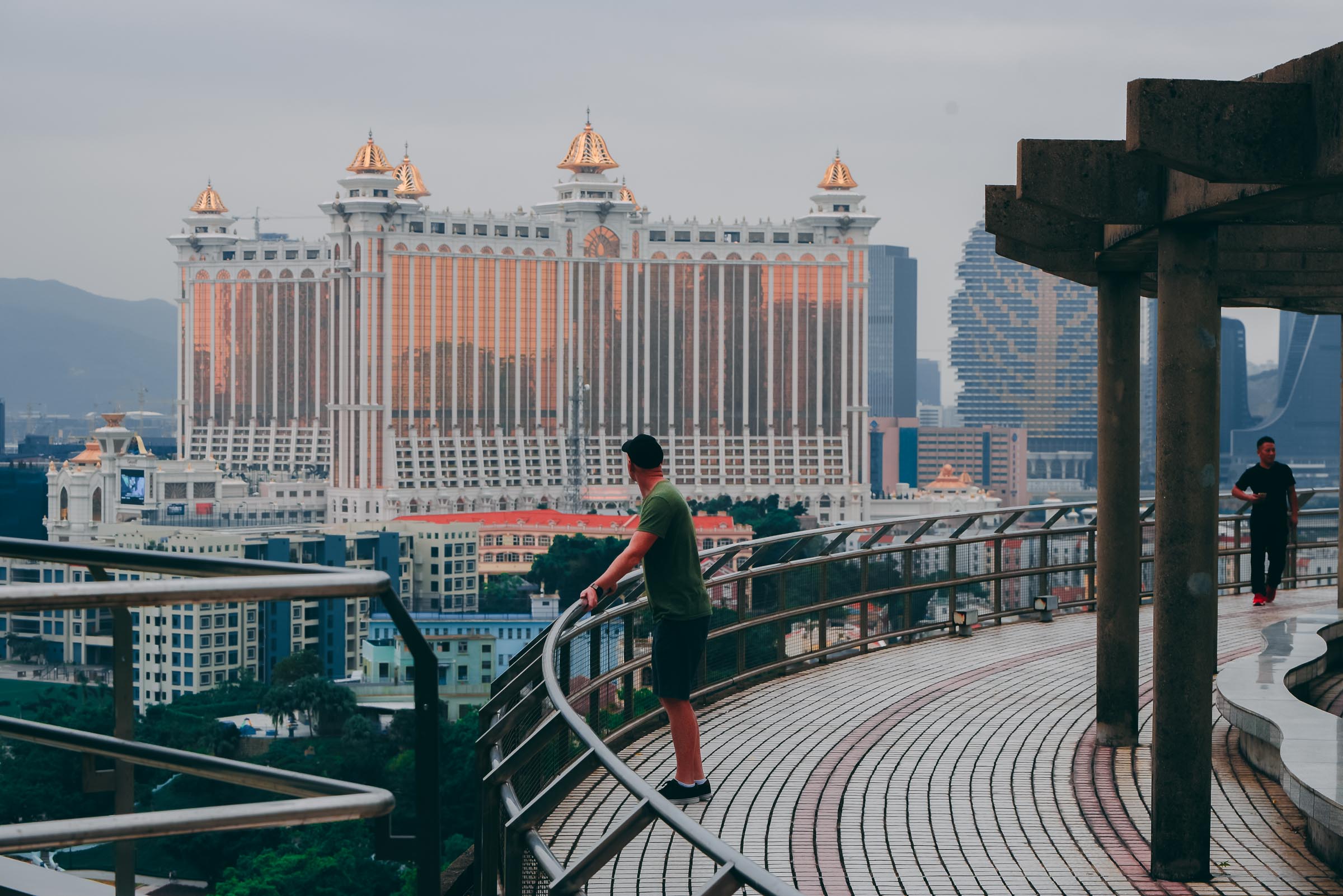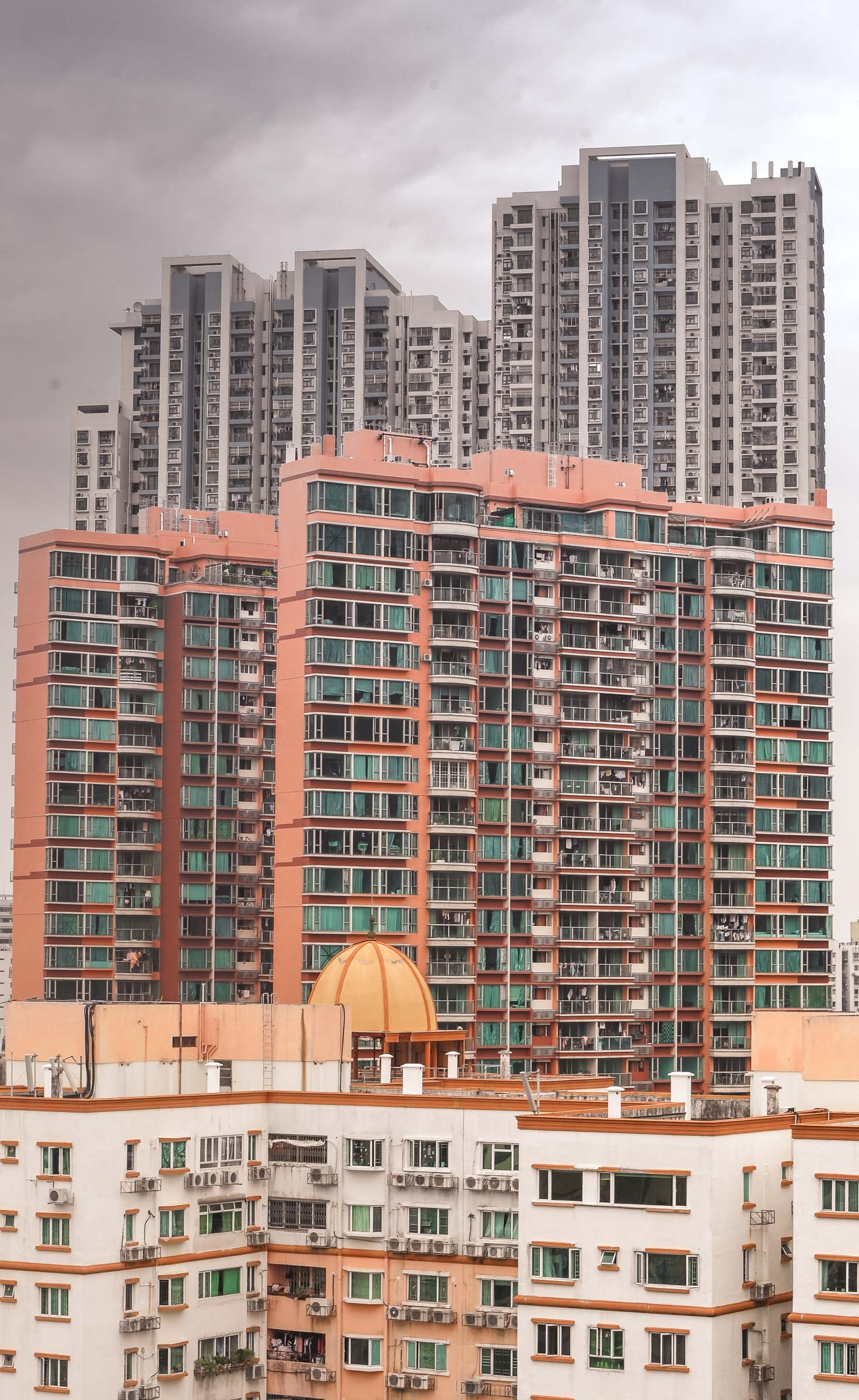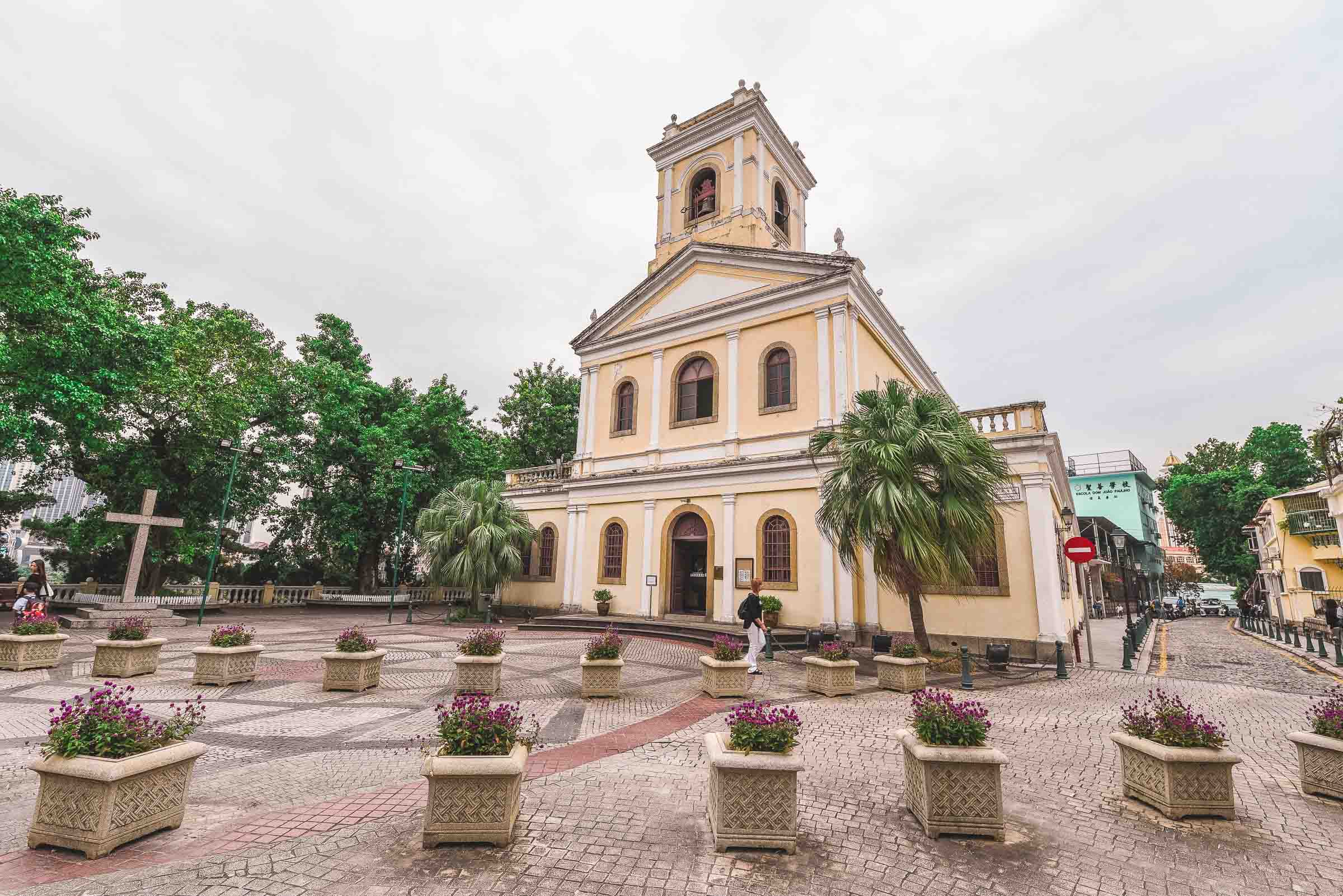 ---
We then made our way to "Rua do Cunha", a bustling pedestrian street in the heart of Taipa Village which is famous for it's popular Macanese snacks, charming alley ways, and Michelin rated eateries. It was here I got to try the delicious Macao Pork Chop bun, which is a must for all visitor's to the city!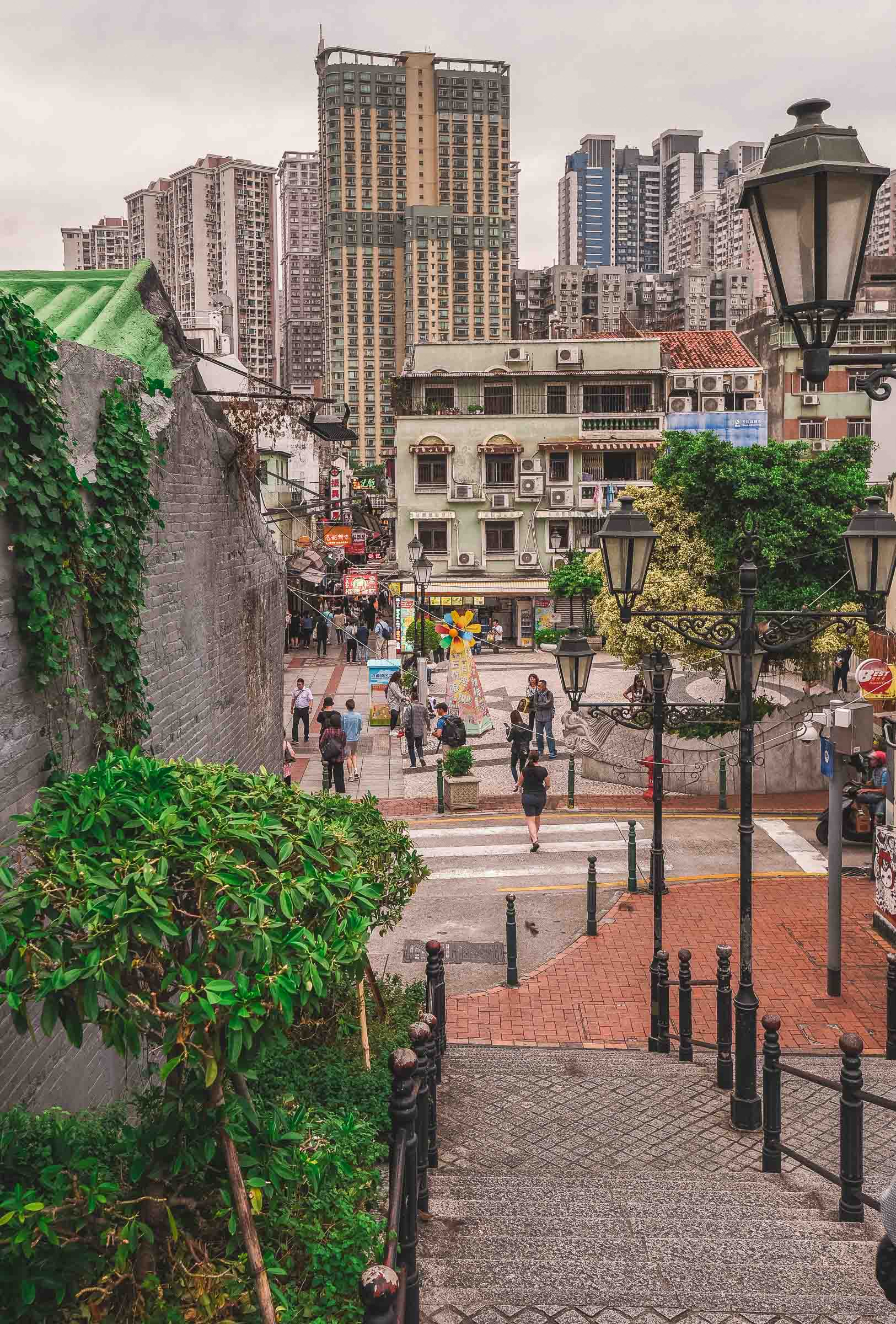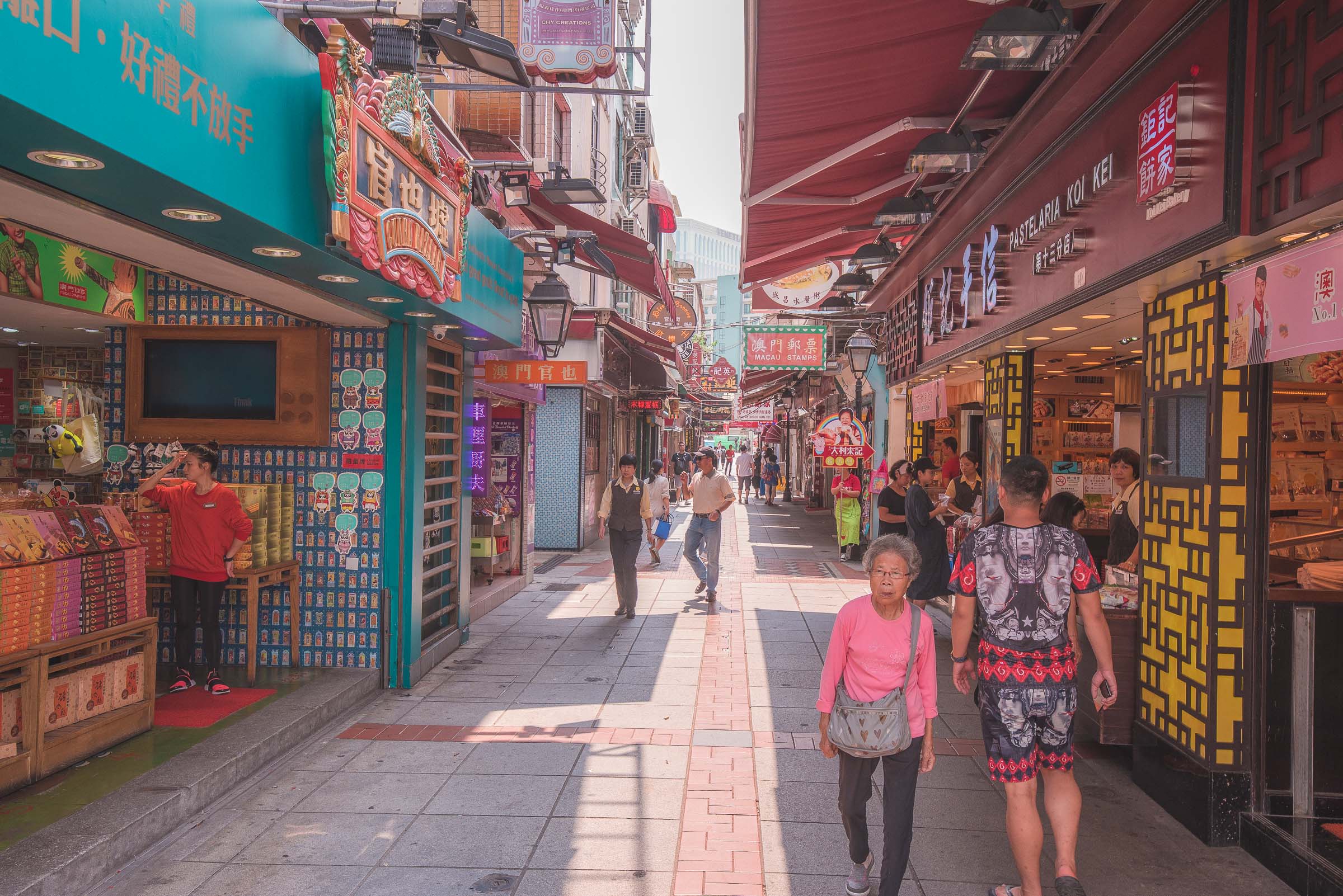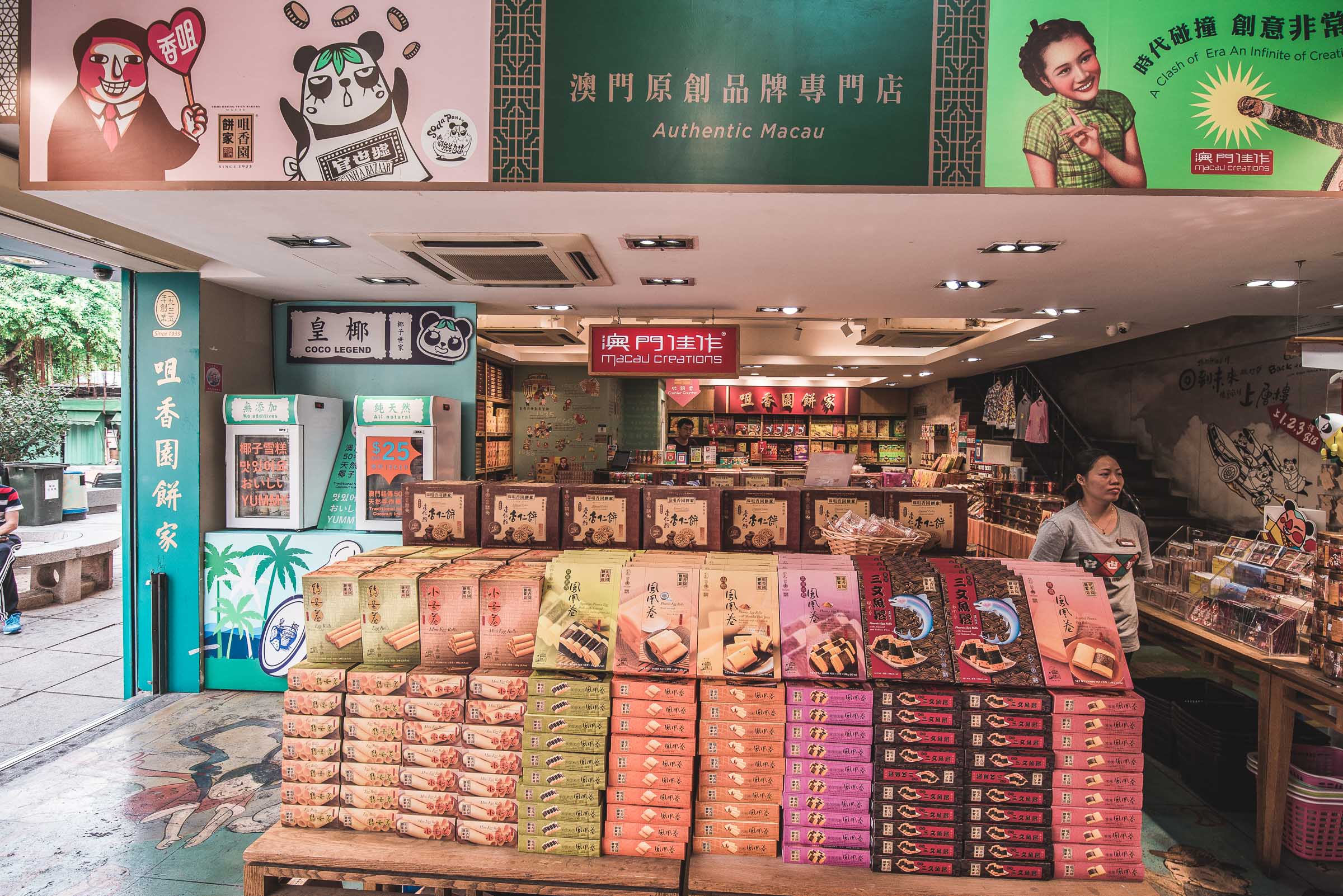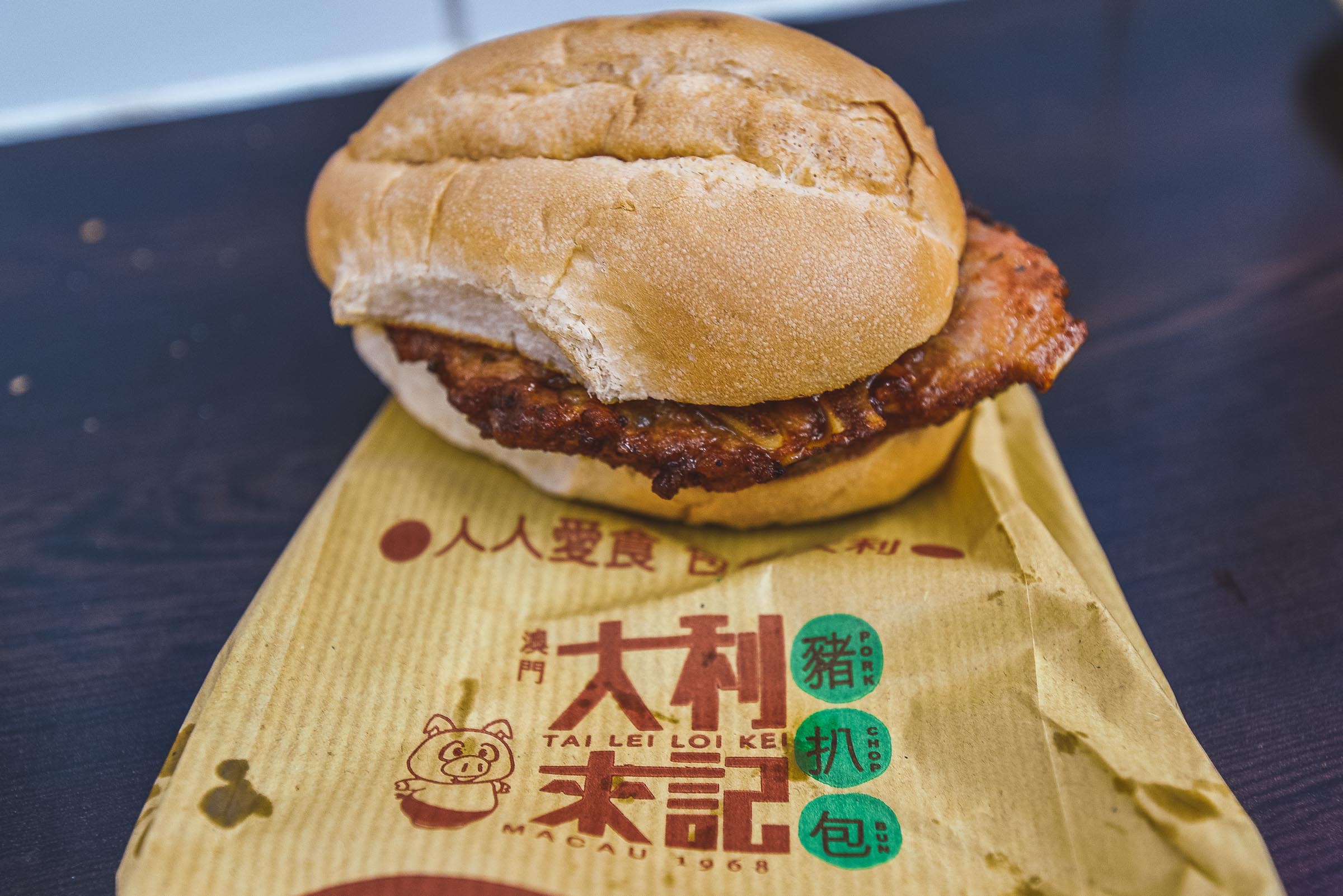 ---
After treating our taste buds, we hopped on the bus and got shuttled down to Coloane village, and walked through the charming streets, admired the beautiful Portuguese styled architecture, and visited a popular immigration point for Chinese workers. It's crazy to me think about how close Mainland China is to Macao and made me realize how small of a place it actually is.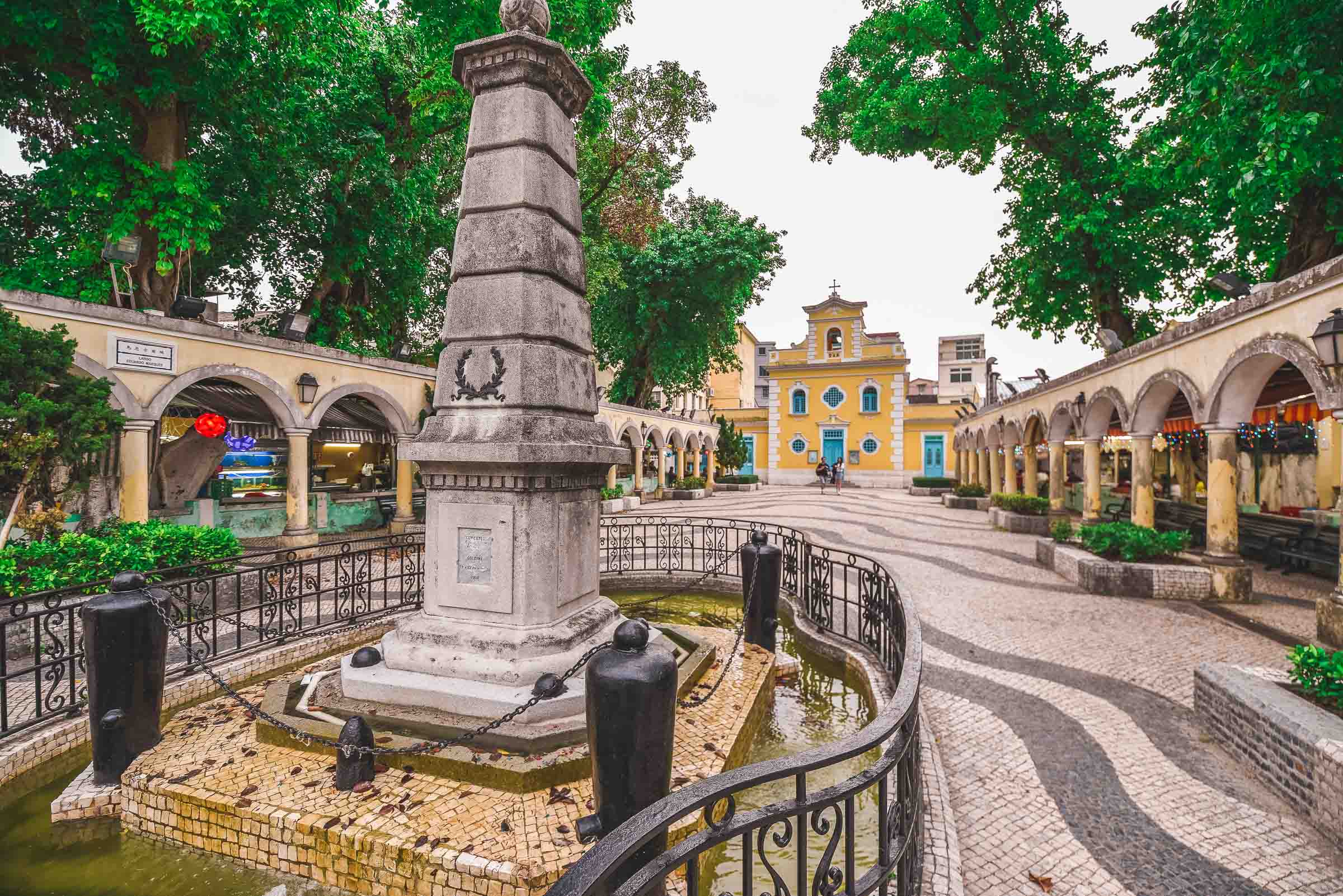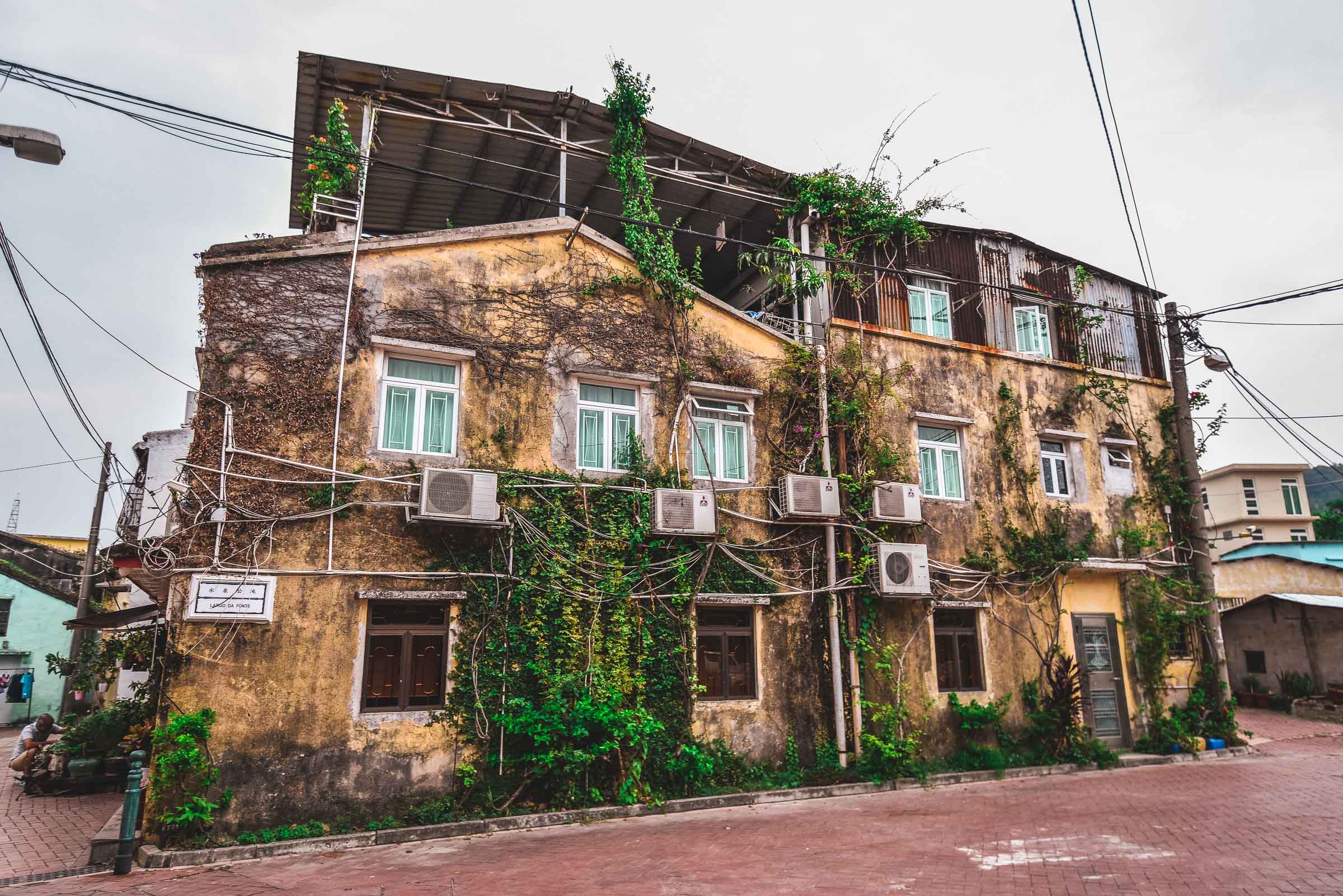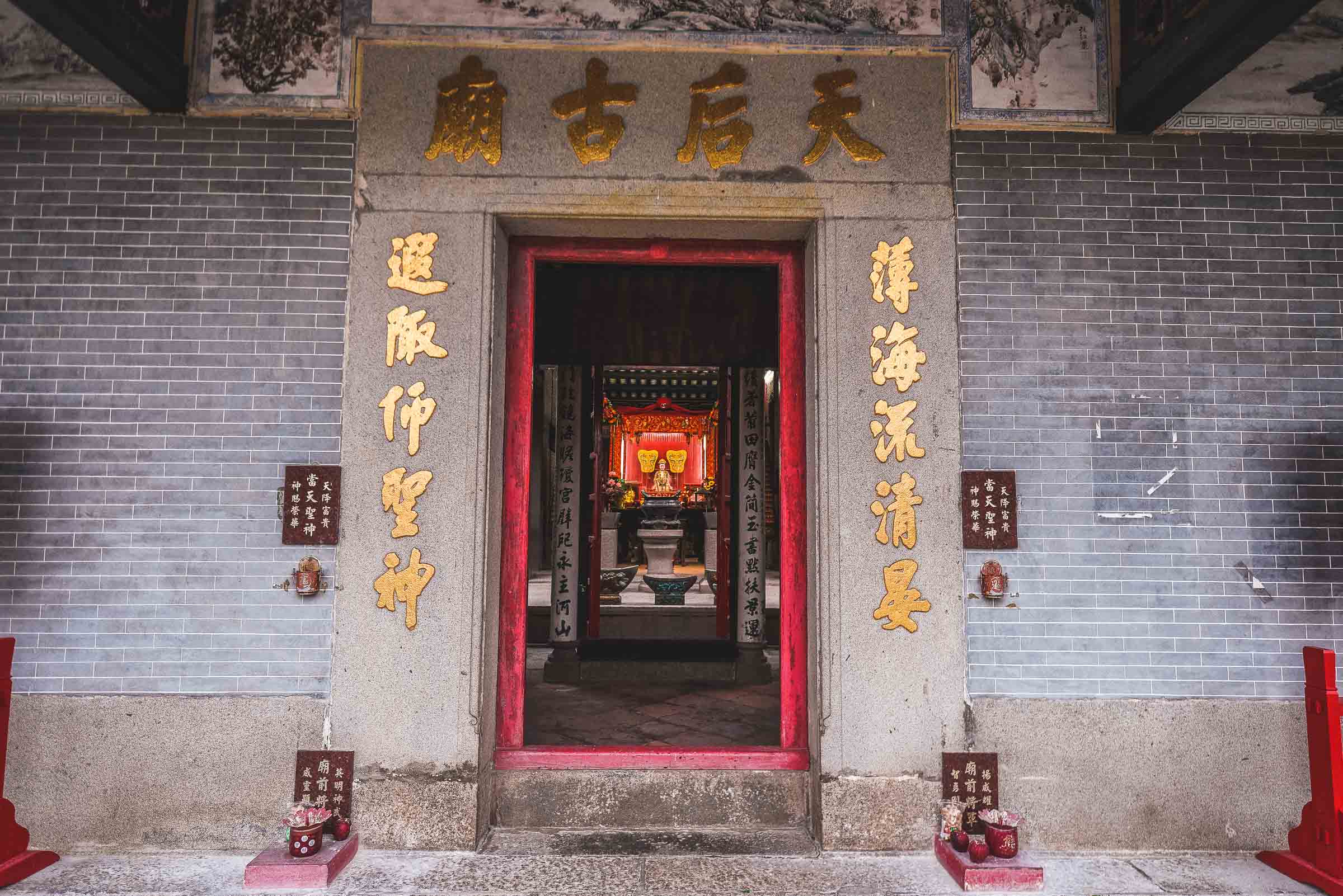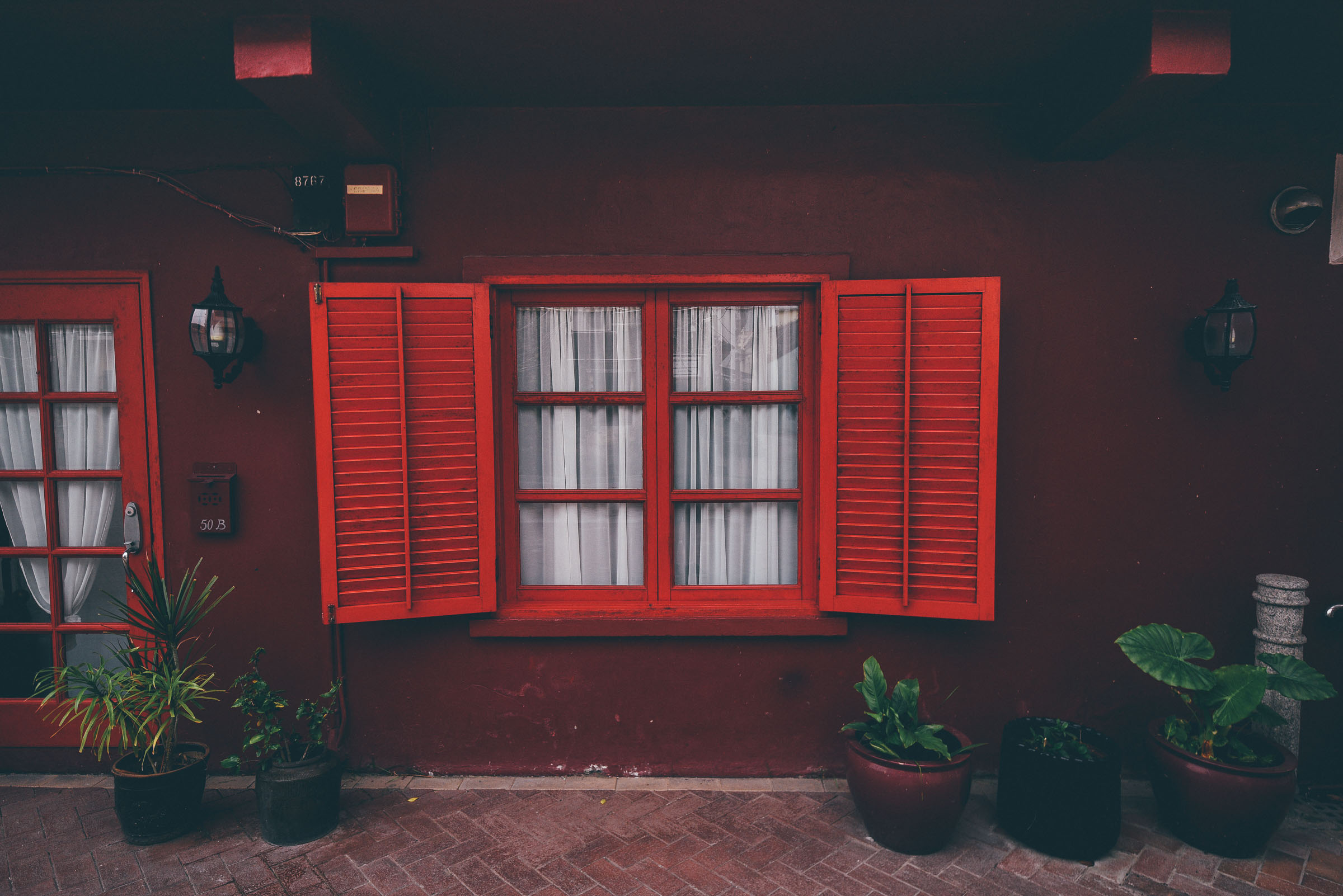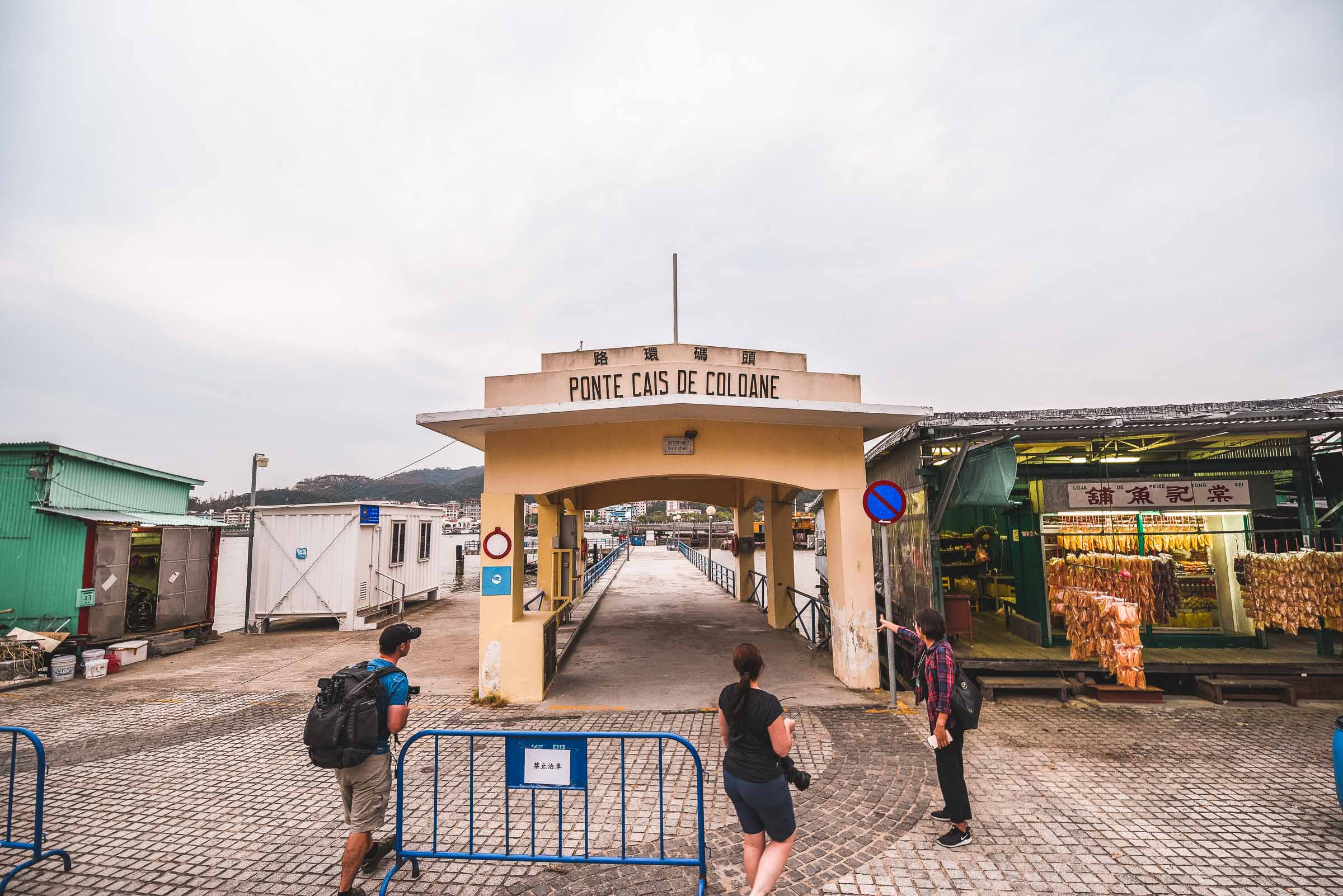 ---
Our tour concluded, and then we got shuttled over to the scenic Macao Fisherman's Wharf for some more photography and exploration.  Located just minutes from the ferry terminal, it's a one-stop shop for entertainment, food, and culture.  I must say, the Colloseumesque structures were particularly stunning! 
With it being my last night in the city, I made the most of it and did as much nighttime photography as possible.  I revisited resort complexes, got lost in the streets, bought some souvenirs, and enjoyed one last evening in this exciting place.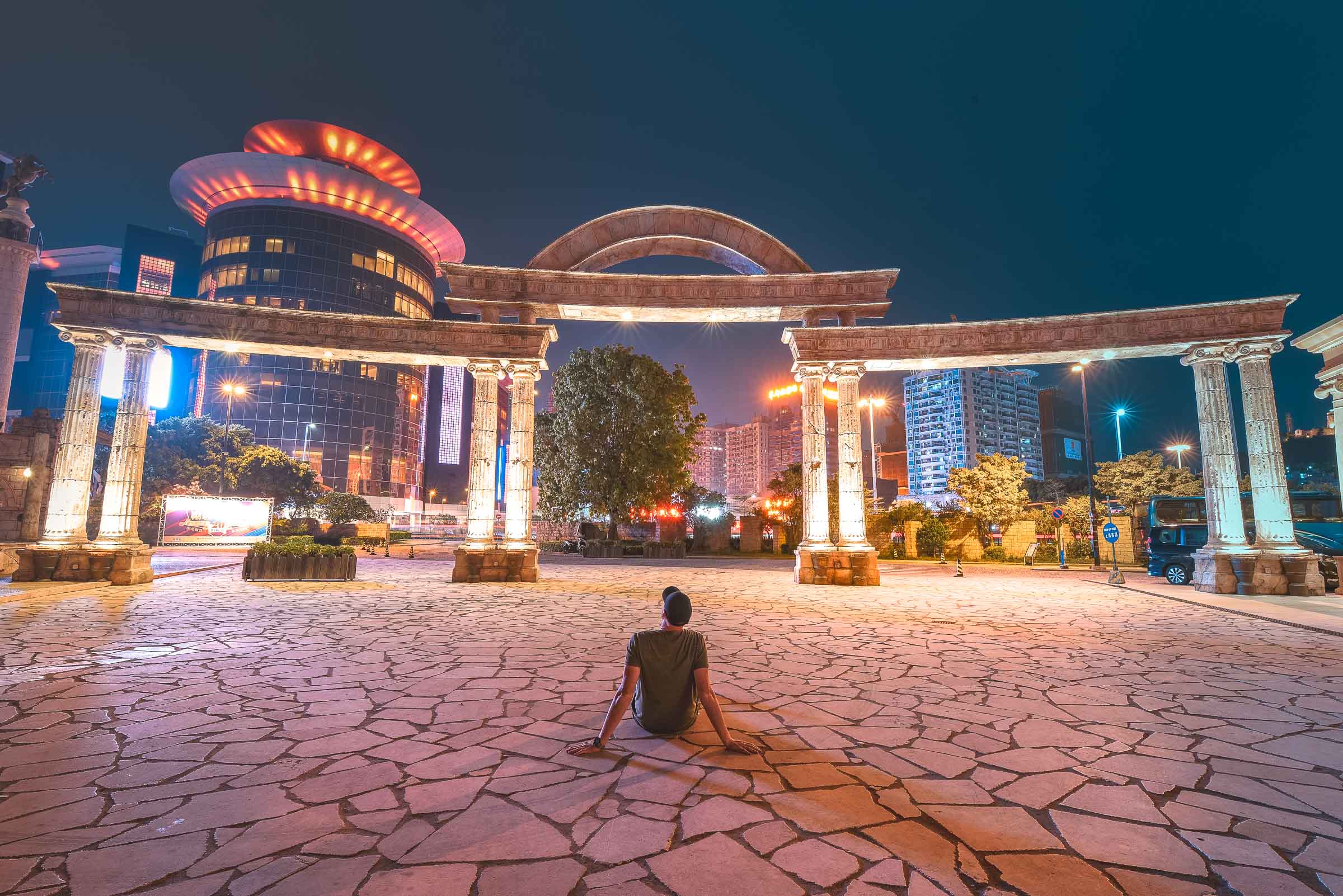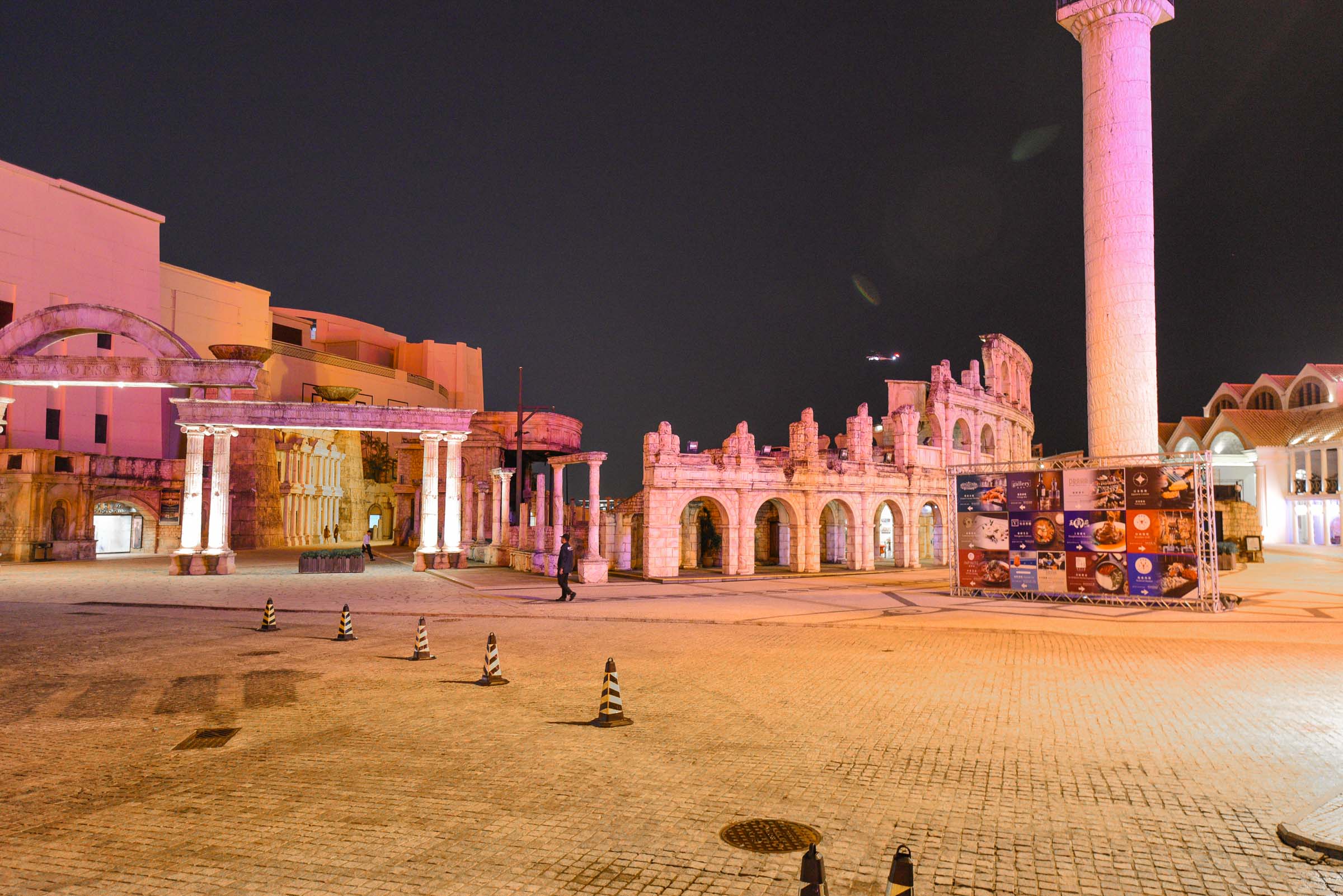 ---
Getting Around Macao
Macao is known to be a very walkable city, and most of the highlights are located within a few kilometers.  What makes getting around Macao even easier is that the majority of major resorts offer shuttle services to/from other points of interest.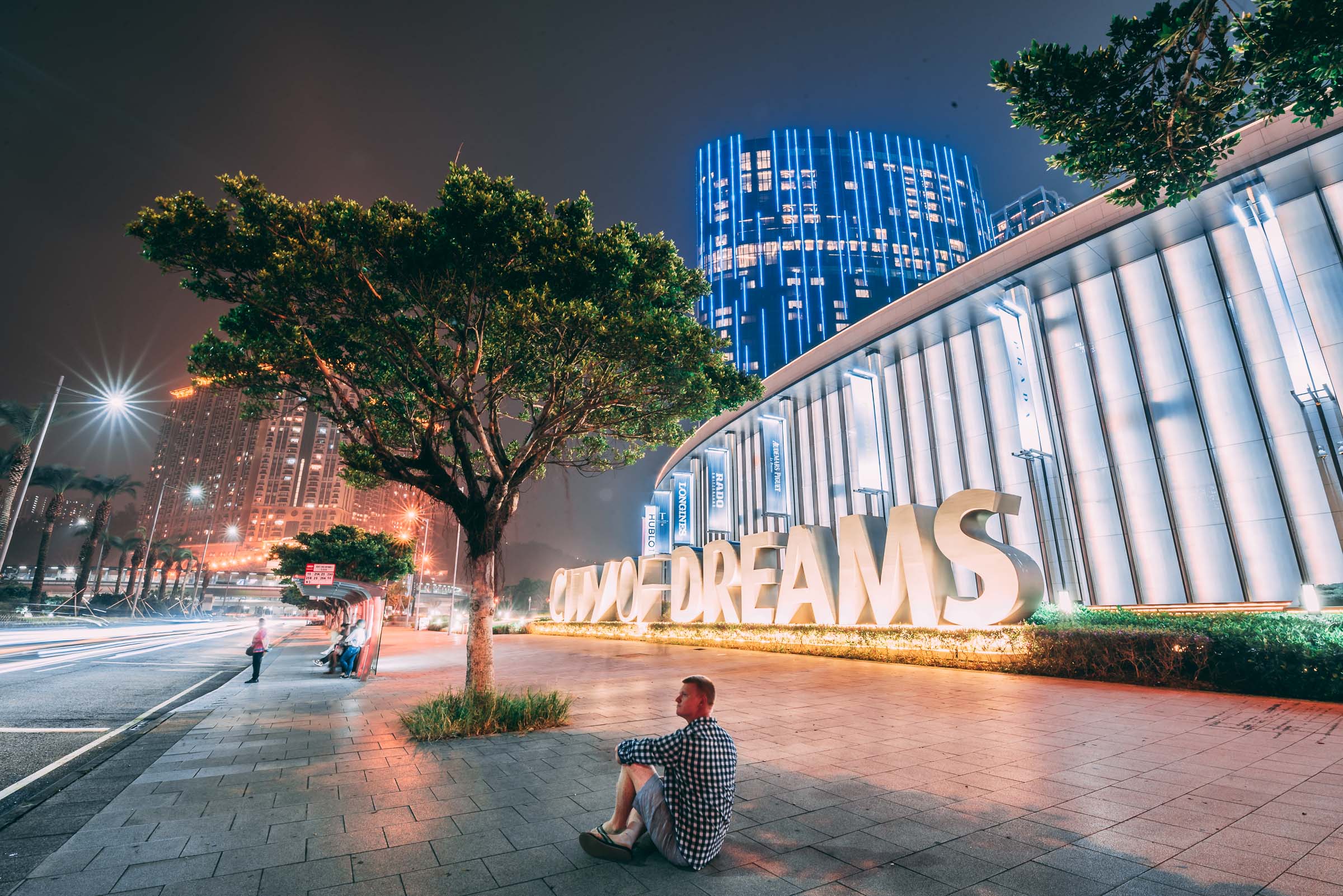 ---
While I did find myself taking a few taxis to a few places to save time, the buses ran pretty efficiently as well. I bought a local SIM card at the airport (which ended up being a bit of a disappointment data wise), and used Google maps if I ever had to go to certain places.  I found the cabs to be fairly priced, and never paid more than $10 for a ride.  
If at any time you have any questions, you could always ask the staff at a resort!!  Macao is definitely a customer-service focused destination, and I felt so welcomed by everyone!  I rarely had issues with a language barrier, and all the staff members were super hospitable.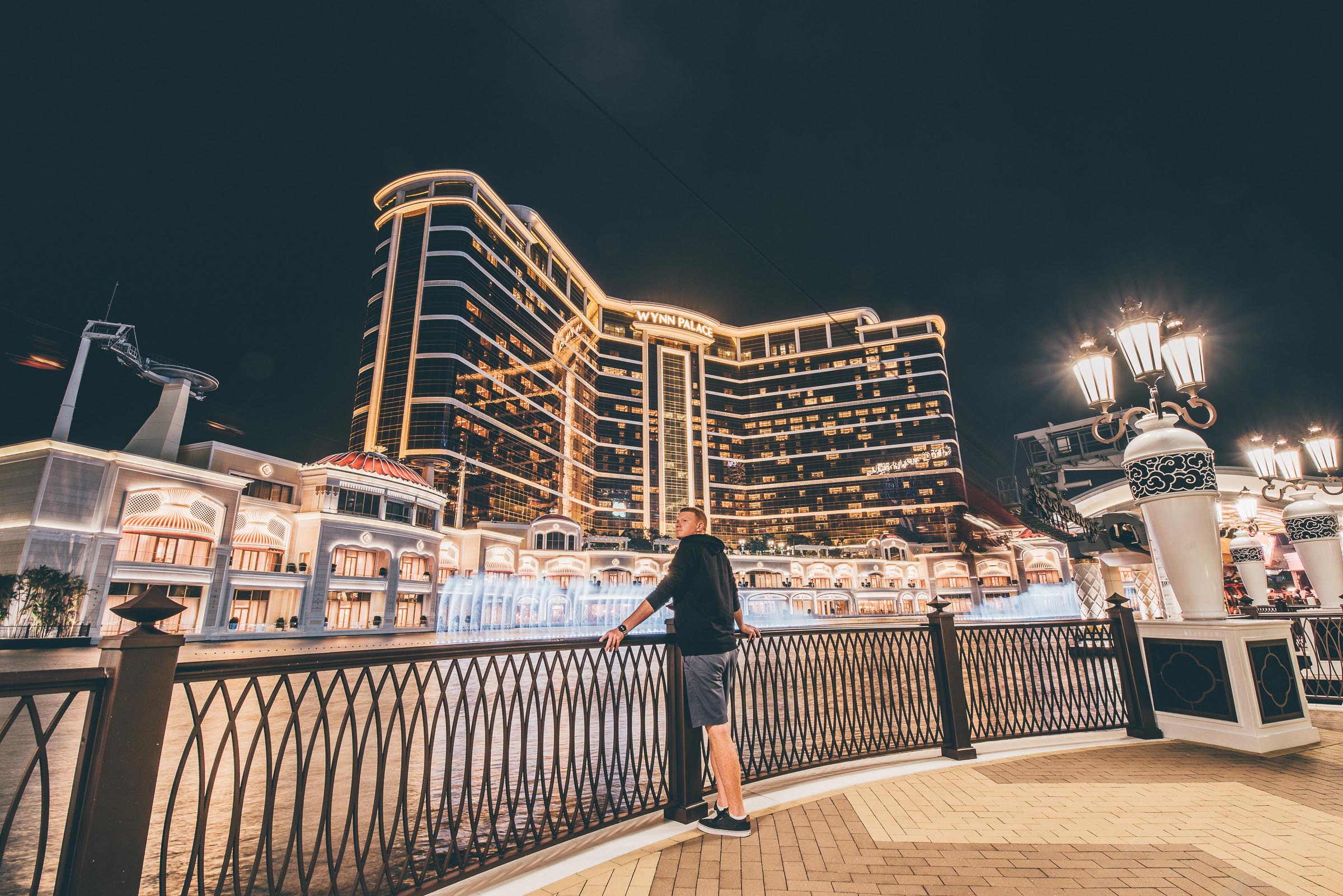 ---
Plan Your Trip to Macao
If you're looking to making your way to Macao soon (which by now I'm sure you've added it to your travel list….
Check out The Perfect Blend on Expedia, and you might even stand a chance to WIN a return trip for two to Macao to experience. 
It's filled with some of the best Macao travel tips, information, and the best things to do in the city
Thanks so much for reading!
I really did have an unbelievable four days in Macao, and I can't wait to get back again soon!  If you ever have any questions about planning a trip to Macao, or about anything you read on this post – feel free to shoot me an emaill
Pin me for later!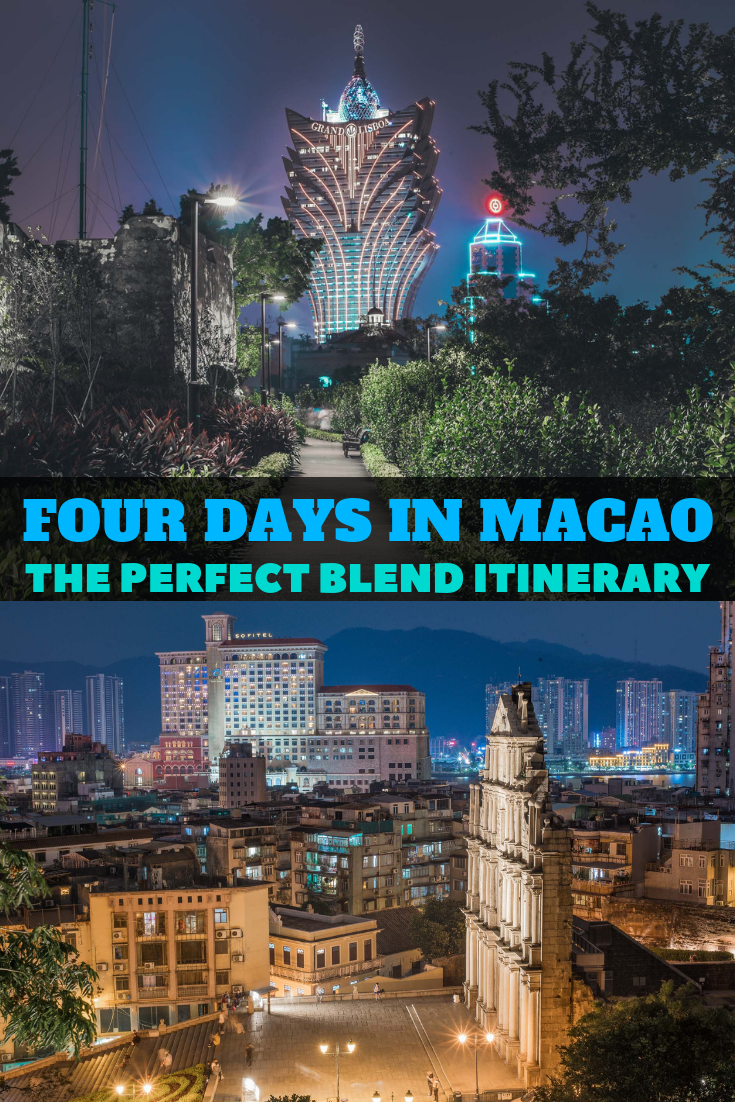 This post was written as apart of an amazing project between Expedia and Macao Government Tourism Office support by iambassador.  As always, all opinions are my own.