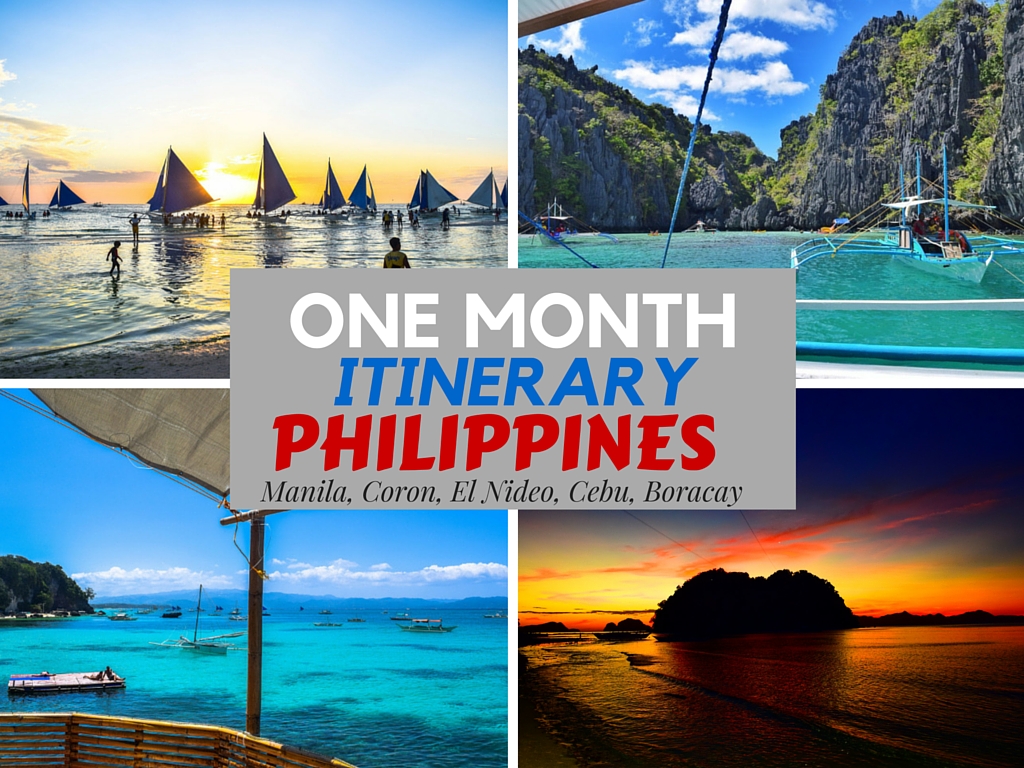 Looking for the ultimate Philippines itinerary!? Well, look no further, because spending one month in the Philippines was absolutely one of the best decisions I made during my travels throughout South-East Asia. After my trip was over, I almost booked a return ticket, because to put it simply: 30 days in the Philippines is not enough!
Did you know that there are over 7,107 islands in the Philippines? With the fantastic beaches, world-class diving, stunning landscapes, vibrant festivals, and friendly people — a trip to the Philippines will be something you'll never forget.
Planning a trip the Philippines can be kind of intimidating because there's so much you'll want to see, so I'm here to help you out! This is the Itinerary I used for my month exploring the Philippines. I hope you find it useful, and if you ever have any questions — feel free to email me and I'd be happy to help out!
If you are heading to the Philippines, I always recommend picking up a copy of the Philippines Lonely Planet book! It's super helpful while you're on the road.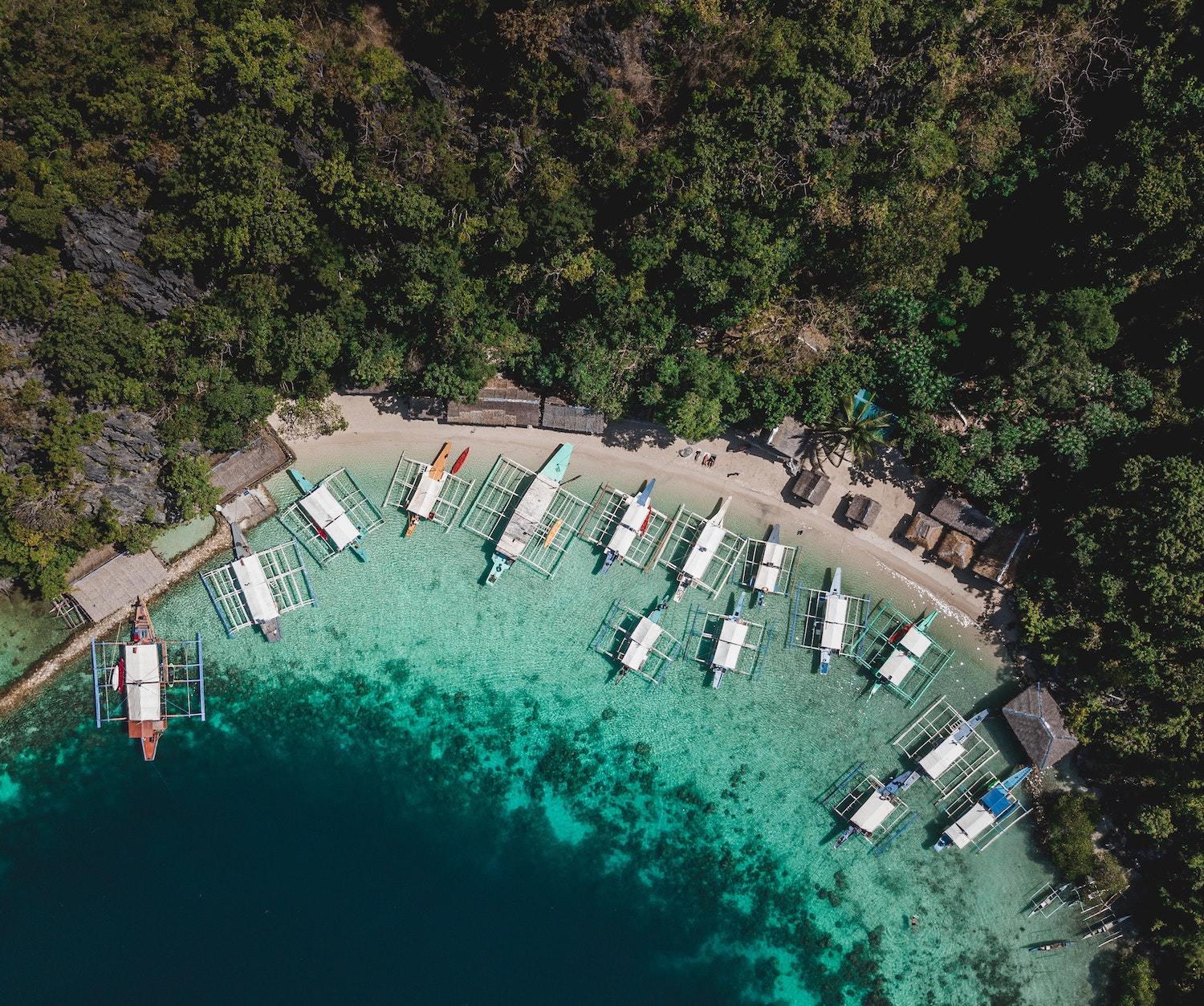 ---
1) Fly Into Manila
You'll most likely find the best deals flying into Manila.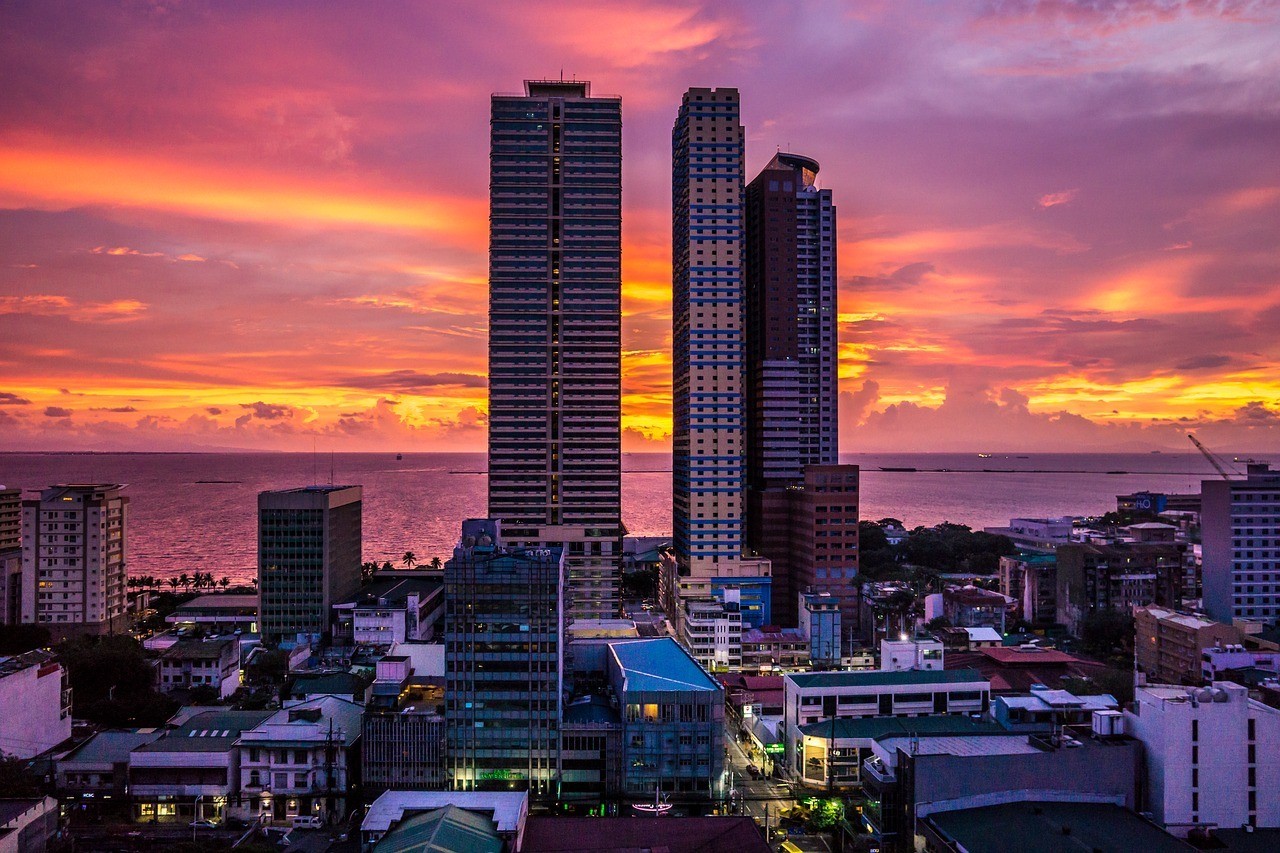 Honestly, Manila is one of those cities that backpackers love to hate. It's busy, overcrowded, dirty, and there's not much to see. Apparently, there is some decent nightlife, but I never experienced it for myself!
Now I have met people who actually really love Manila, but I just didn't find it all that appealing. Who knows though, maybe you'll have a different experience and really enjoy your time there! With that being said, I would try and spend as little time as possible in the capital city, as this Philippines itinerary is jam-packed, and you'll want to spend more time in other destinations around the county!
But take a read through my article 3 Days in Manila Itinerary | What to Explore in the Philippines Capital City, and that'll give you tons of ideas on things to do, travel tips, and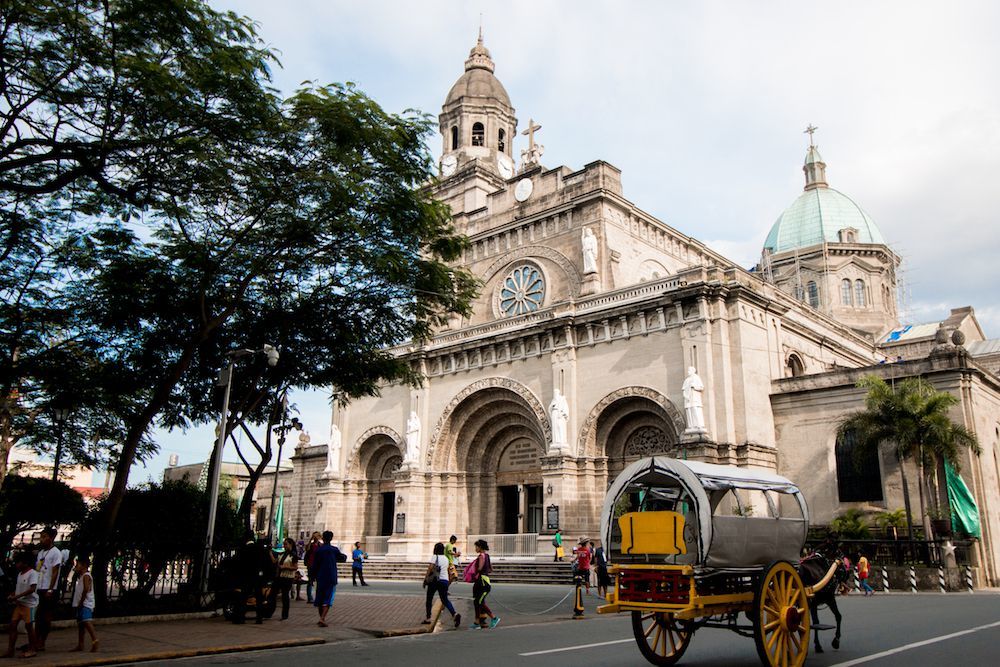 ---
Where to Stay in Manila
Airbnb Manila: Having your own apartment after a long flight is always an awesome feeling, and Manila has some truly incredible apartments & condos to rent at incredible prices! It'd be a fantastic way to begin your Philippines holiday, as well as a better understanding of local life! Here are are few my top picks for Airbnb rentals in Manila:
---
City Garden Grand Hotel: Best Hotel. This award-winning 4-Star Hotel in Makati City includes an airport shuttle, AMAZING OUTDOOR POOL, and close to nearby malls and attractions. Great value for a luxury hotel! It'll provide a super comfortable stay for your first couple of nights on this Philippines itinerary, but at an affordable price! It's got excellent reviews, and is one of the top picks in Manila!
Z Hostel: Best Hostel for Backpackers. Great location, fantastic reviews, and an epic rooftop with views of the city! It's widely considered to be one of the best hostels in Manila, and I've never heard any backpackers say anything bad about it!! It does fill up quickly though, so make sure you book in advance!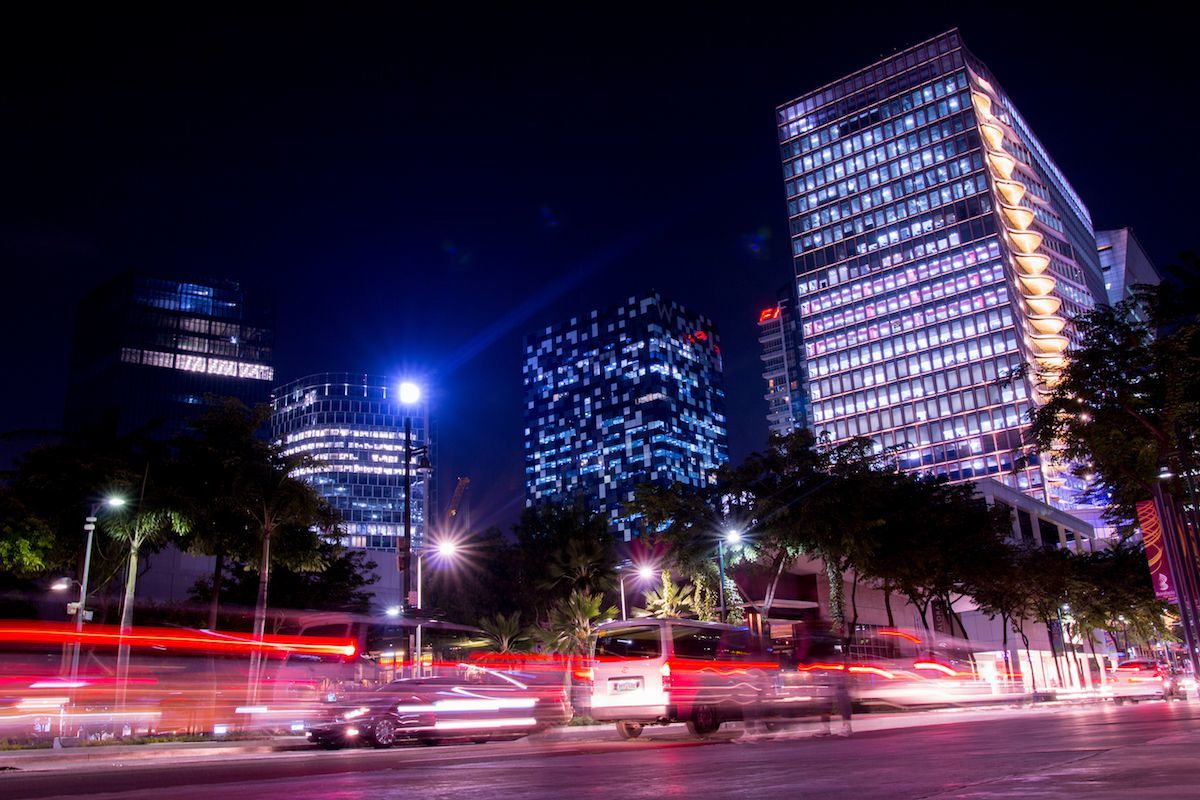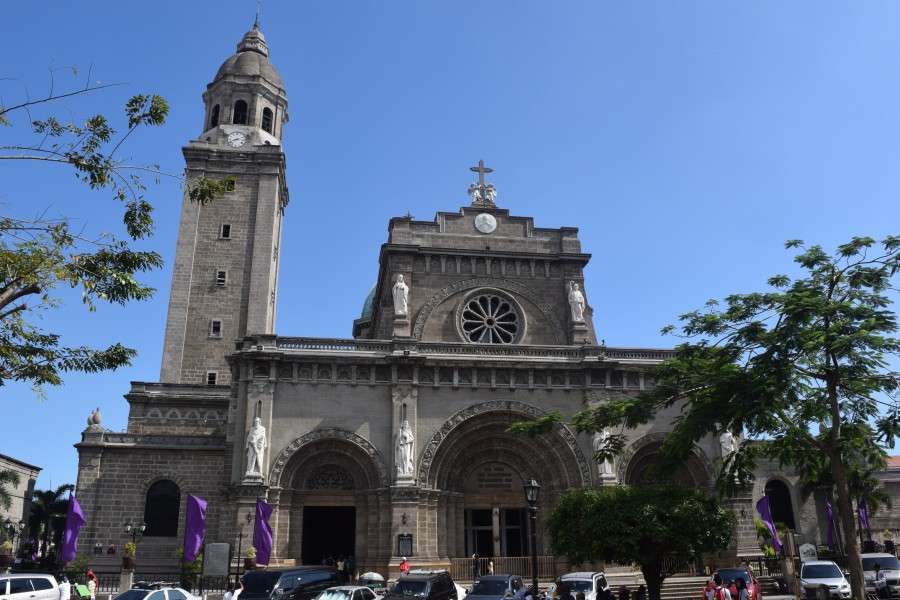 ---
Manila Day Trip to Consider:
If there's one must-do activity in Manila – you have to go check out Intramuros quarter. It's the beautiful old Spanish section of the city, and really fun to explore by foot!
Manila Old and New: Sightseeing Tour Including Intramuros and Fort Santiago: "Discover the top sights of Manila on a 4-hour sightseeing tour by coach with an expert guide. Take in the City of Makati and Old Manila, including landmarks such as Nielson Tower, American Cemetery and Memorial and the old walled city of Intramuros. Walk through Intramuros to see UNESCO World Heritage sites including San Agustin Church and Fort Santiago, and learn about the nation's history and heroes like Dr Jose Rizal. You'll gain insight into the Philippine's history, the Spanish colonial era and vibrant modern-day Manila."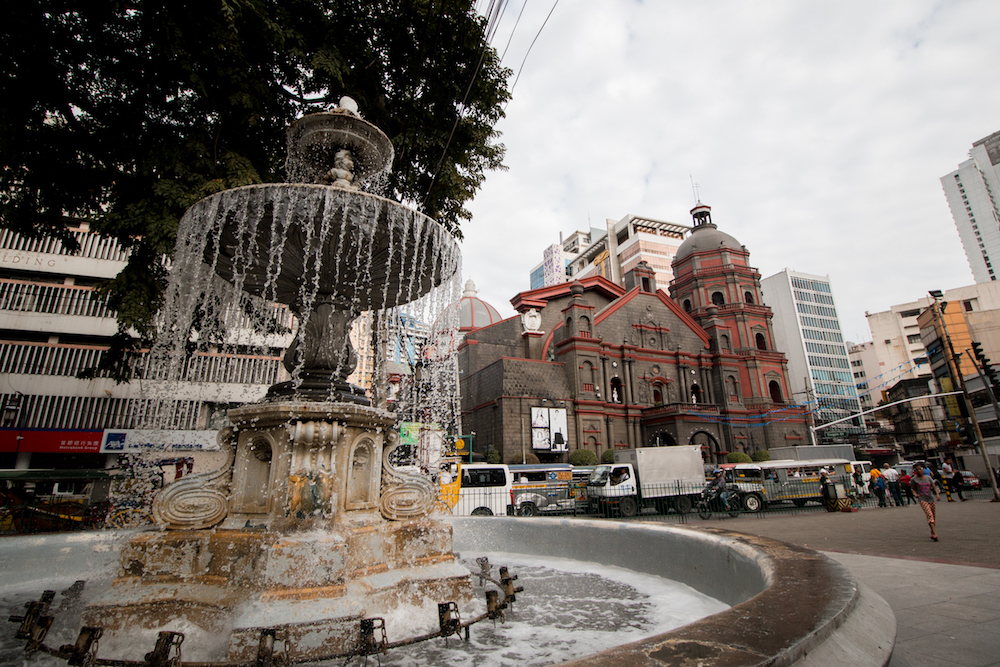 ---
2) Take the Overnight Ferry from Manila – Coron
This is always the cheapest option for getting to Coron. For some reason, all the flights to this island tend to be really expensive. If you happen to be able to find a cheap, then book it. But the overnight ferry option is a solid budget option.
There is one main ferry company in The Phillippines – 2Go Travel. I've only used them for this route, but they also offer a ton of different routes around the country!
For this Manila – Coron overnight ferry, THEY ONLY DEPART ONCE A WEEK ON FRIDAYS.
Tip: When you are looking at flights to Manila, try to book a flight that arrives on a Wednesday or Thursday. That way you can explore for one day, then get on the overnight ferry on Friday evening.
Definitely check for flights from Manila to Coron though, as it would be nice to save the overnight journey!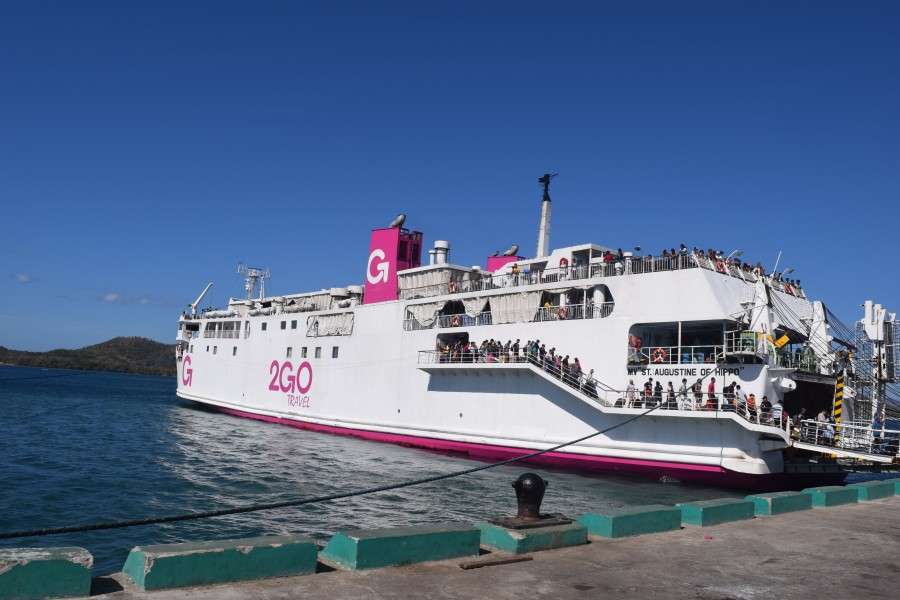 ---
3) Coron, Palawan (3-5 Days)
Welcome to Palawan! This is is truly one of the most beautiful places in the world, and I completely fell in love with Coron! As a solo traveler, I was fortunate enough to meet some amazing people the very first night while watching the sunset on Mt. Tapyas, and we ended hanging out the entire time I was there.
There are lots of fun things to do in Coron, the island hopping tours are unbelievable, the sunsets will leave you speechless, and it's simply a relaxing area to spend a few days!
Travel Tip: If you want to be really adventurous, you can hire a boat driver to drop you off on an empty island, and camp there for 2-3 nights. Arrange a pick-up time, and you'll be living a real Robinson Crusoe experience. Make sure you bring enough food, water, and a good book or two!
Check out this fun Youtube video for a few must-visit places during your trip to Coron!
5 MOST ICONIC Spots You MUST SEE in Coron, Philippines
---
Where To Stay in Coron
From private island luxury resorts to budget backpacker hostels, there's a comfortable place to stay for people of all budgets! I've actually written a whole separate article for people to find the best place, so give this a quick read if you're looking for a bit more detail: Where to Stay in Coron for a bit more detailed guide including photos and videos.
HOP HOSTEL:

CORON HOSTEL WITH THE BEST SOCIAL ATMOSPHERE. Escape to a tropical paradise without sacrificing the comfort of home. "Nestled comfortably near Coron's serene blue waters and the town proper, Hop Hostel is the perfect launch pad to the beautiful Calamian group of islands. Our space provides the comforts of a hotel—clean facilities, professional service, complete amenities–in a warm, fun environment that will immediately feel like home. We are conveniently located in Coron town center. The main attractions are a boat ride away. Access to the boardwalk is 7 minutes away on foot, just enough to keep the noise of busy motor vehicles at bay!"

CORON SOLEIL GARDEN RESORT

: THE BEST OVERALL CORON HOTEL RESORT & VALUE FOR MONEY. Coron Soleil Garden Resort is a premium resort offering fine comforts with premium amenities and facilities for the luxurious, indulgent and leisure traveler who yearns for relaxing and worry-free travel. Your journey of indulgence starts here at your luxurious sanctuary. We delight in giving you a personalized guest experience and catering to your specific needs.
Club Paradise Resort Palawan: Most Unique Luxury Coron Resort , and the Island Escape of your dreams.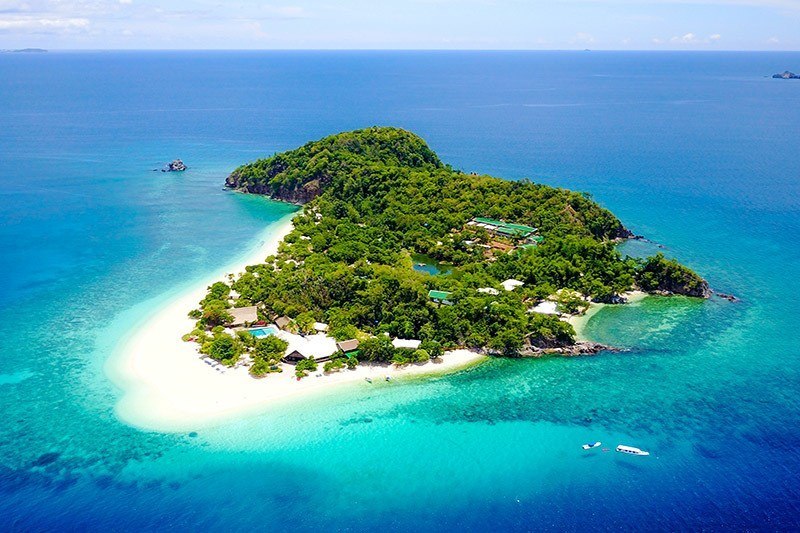 ---
4) El Nido, Palawan (4-6 Days)
When you are in Coron, you'll see tons of different signs for transportation to El Nido. Try to bargain them down to a cheaper price, because all the signs are much more expensive. If you go to where the boats leave in the morning, you can really actually snag a better deal (but it also might sell out depending on the season). You could also look for flights from Coron to El Nido, but those tend to be expensive as well (so just depends on your travel budget).
El Nido is the crown jewel of Palawan, and is a must-see destination during your visit to the Philippines.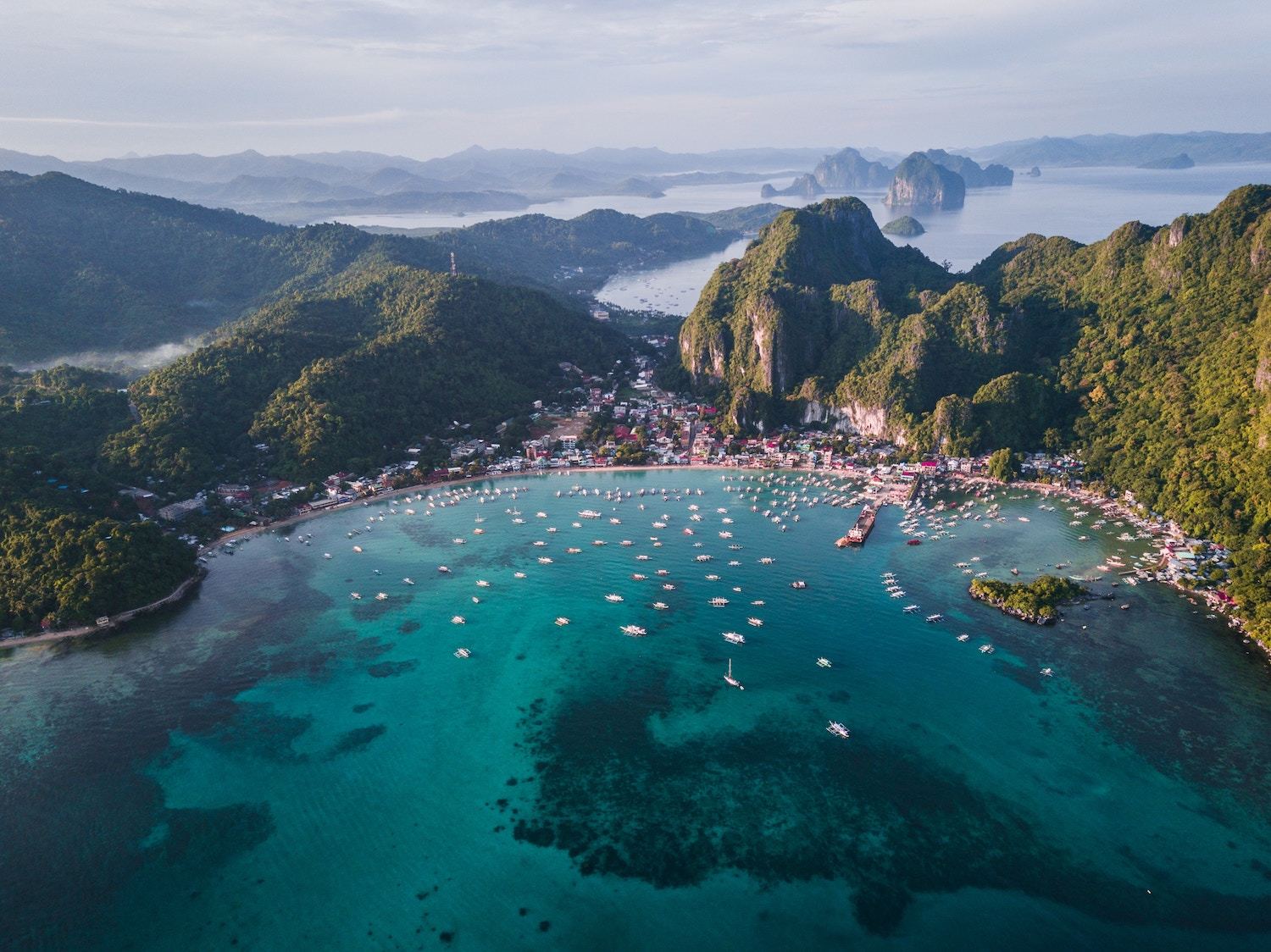 It's a much more lively area than Coron, with some amazing restaurants and fun bars to check out at night. You can do some day-trips to nearby beaches, do some hiking, or just chill out on the beach. But as you probably know by now, the most important thing you do while in El Nido is book one or two of the island hopping packages.
There are four main tours to choose from: Tour A, Tour B, Tour C, and Tour D.
Now I'd strongly recommend checking out both tours A & C. While all the tours are amazing, these two, in particular, are worth every penny. I had an amazing time on both of them, and can't wait to get back to El Nido to do them again! lol. Expect lots of scenic lagoons, pristine beaches, crystal clear water, and fantastic snorkeling that will blow your mind!
EL NIDO ISLAND HOPPING A TOUR: Discover the clear waters of Miniloc Island, where you will find three breathtaking lagoons, relax on the white sand beaches of Shimizu island, and snorkel in the pristine waters of Seven Commando beach, and get a chance to see a few sea turtles!
EL NIDO ISLAND HOPPING B TOUR: Discover Snake Island, known for its unique sandbar in the middle of the sea! Swim and snorkel in beautiful Pinagbuyutan island and see its famous limestone formations. Visit the Cudugnon Cave, where locals used to hide from Japanese invaders during World War II
EL NIDO ISLAND HOPPING C TOUR: Visit the unique Helicopter Island, named for its limestone cliffs resemble that of a helicopter.

Discover the Secret Beach's hidden natural wonders.

Get to hear the local stories and history behind the Matinloc Shrine.

Snorkel at Talisay beach, another fantastic spot to see the beauty of the coral reefs near the island
The ONLY Travel Guide You'll Need for El Nido | PALAWAN, PHILIPPINES
---
Where To Stay In El Nido
Happiness Hostel: Best HOSTEL in EL NIDO. One of the best selling and top-rated hostels in the Philippines! Everything from the location, staff, food, rooms, and much more will provide for a comfortable stay during your time in El Nido!
El Nido Resorts Lagen Island: Best RESORT in EL NIDO. Set in a cove bordered by thick forests, Lagen Island Resort includes on-site marine sports center offers activities like diving, kayaking and windsurfing, a beautiful outdoor pool, and luxuriously comfortable rooms.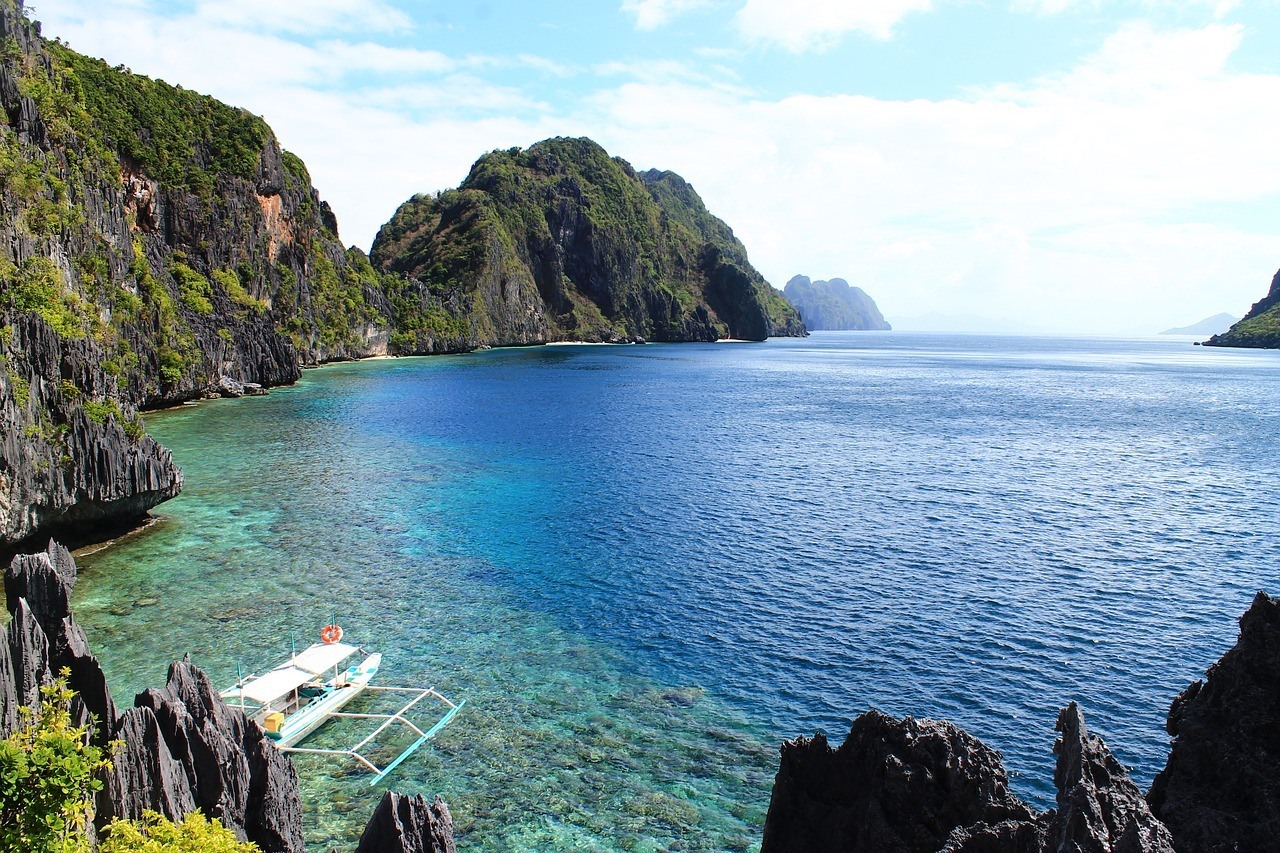 ---
5) Port Barton and Puerto Princesa (2-3 Days)
Since you only have 30 days allowed in the Philippines, you're not going to be able to see everything. After El Nido, you could hop down to Port Barton for a night or two. I didn't do this, but I've heard it's a really amazing place with a chilled out vibe. There's also supposed to be some amazing diving here.
Puerto Princesa is the main city in Palawan, and it's also where you'll be flying to your next destination. (There's an international airport here too, so if you're looking to return to Palawan you can fly here direct from Asia). One of the main attractions in Puerto Princesa is visiting the famous "Underground River". I ended up not being able to do it during my visit, but I've heard people say it's worth it:
Puerto Princesa Underground River Day Tour: BESTSELLER: "Get to see the amazing Puerto Princesa Underground River and experience the beauty of nature in Palawan. This 8-hour guided trip will take you to the longest navigable underground river in the world. Lunch is included in this activity."
Underground River in Sabang | Puerto Princesa | Palawan | Philippines 2017
---
Where to Stay in Puerto Princesa
Blue Lagoon Inn & Suites: Top pick in Puerto Princesa, outstanding reviews, close the airport, and excellent prices. This one is a no brainer, but it does sell out often, so make sure you book in advance!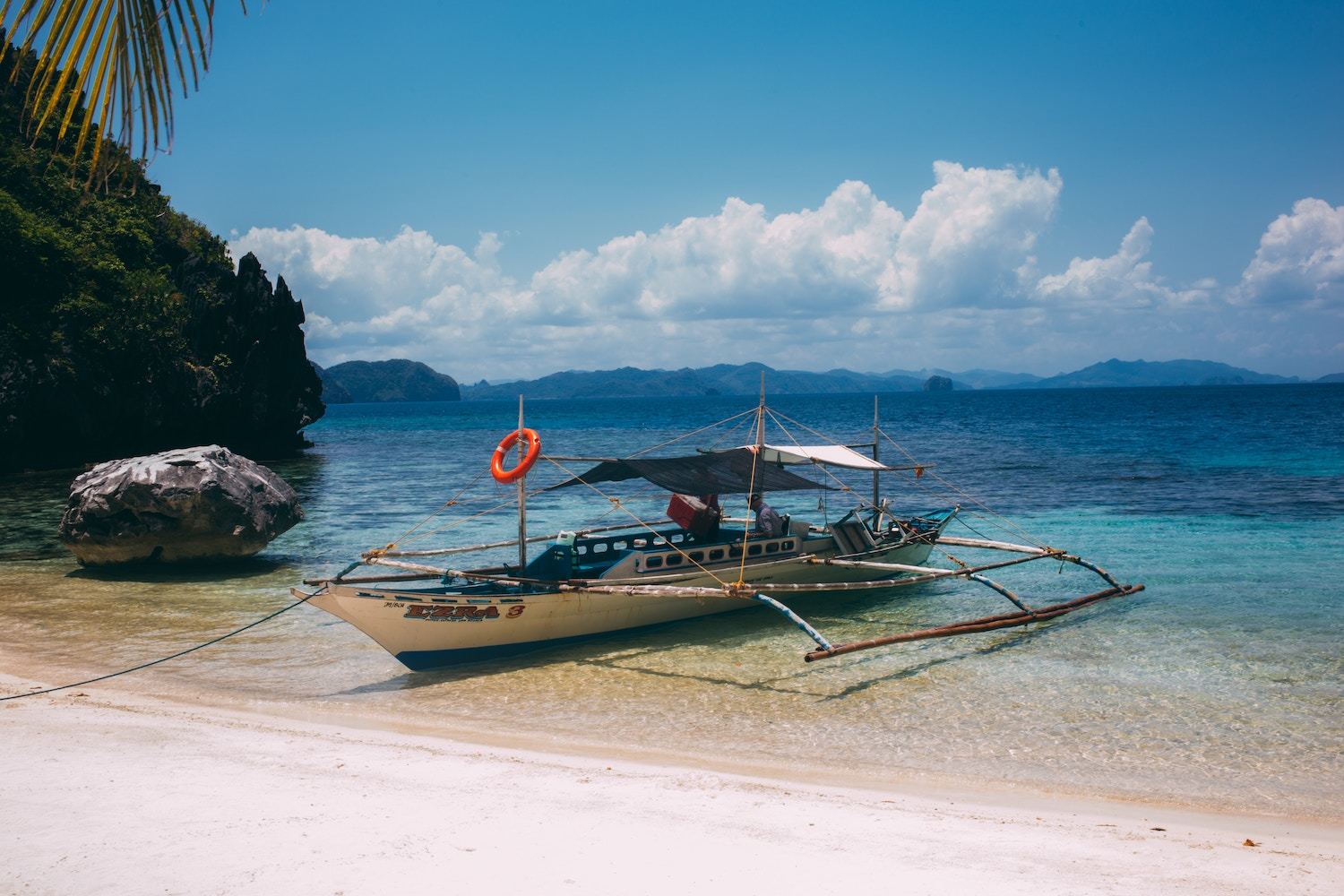 ---
6. Cebu City & Bohol (3-4 Days)
Book your flights well-in-advance from Puerto Princesa – Cebu with Cebu Pacific Airlines.
When it comes to Cebu City, there are a few things to see in the actual city. I actually didn't do too much sight-seeing in the city itself, but used Cebu as a jumping-off point to explore the rest of the island or neighboring islands.
I'd definitely recommend taking the ferry over to Bohol Island. You can spend a day or two there, but it's also a decent place just to take a day trip.
Read: Chocolate Hills & Tarsier Monkeys: Bohol Island, The Philippines
After you've spent a few days exploring the city and a day or two on Bohol Island, you'll make your way down to check out some more of the highlights of The Philippines.
Best Place to Stay in Cebu
Best Western Plus Lex Hotel Cebu: One of the best deals you'll find for a 4* Hotel! It's a traveler's favorite, fantastic amenities, and superb staff. They've also got massive specials going on all the time.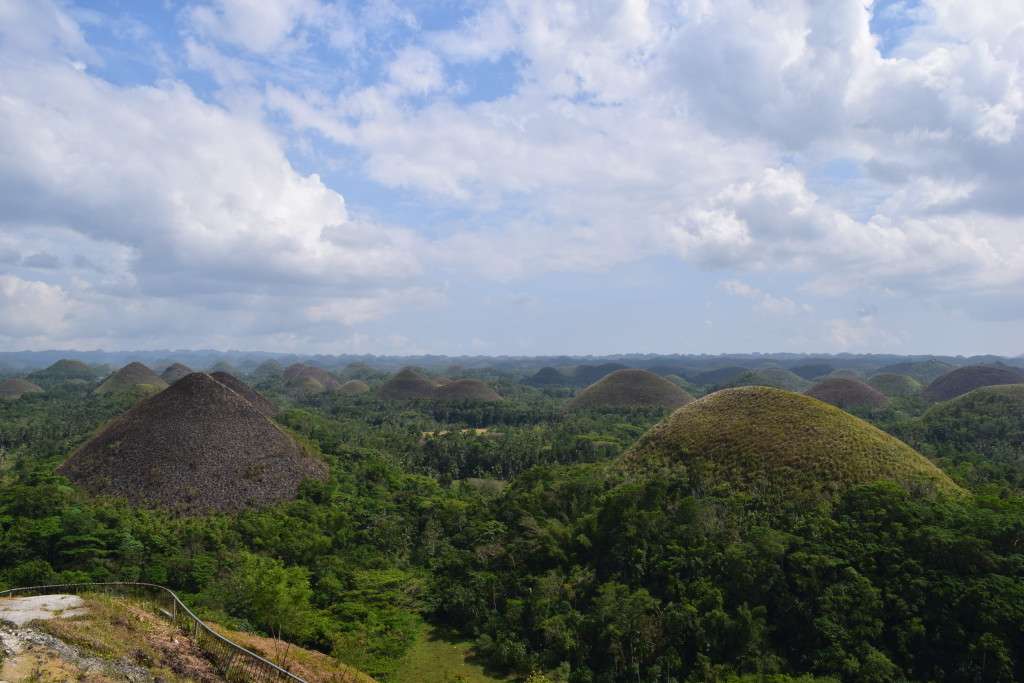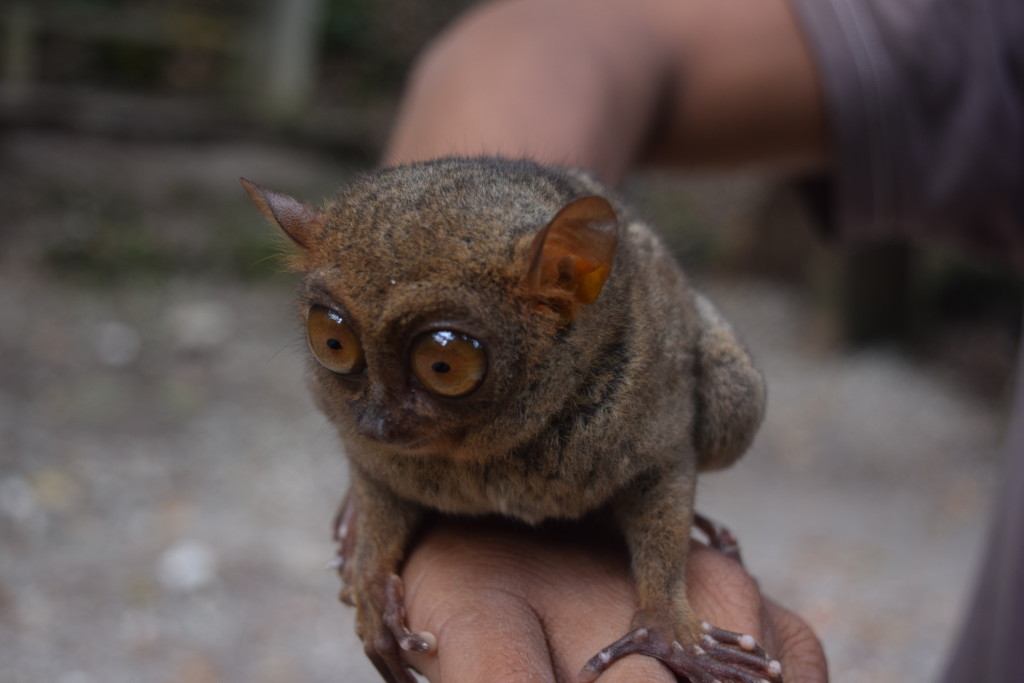 ---
Cebu Day Tours To Consider
Cebu and Mactan: Twin City Culture and History Half-Day Tour: "See the top sights in both Cebu and Mactan: Magellan's Cross, the Basilica Minore, Fort San Pedro and 2 museums are sights you will see in Cebu before heading to Mactan to visit a guitar factory, the Church of our Lady of the Rule, and the Liberty Shrine."
Cebu Island Hopping with Lunch: "Take day to explore the beautiful islands of Cebu in this tour from Cebu City. Hop from island to island in our comfortable boat, with plenty of time to enjoy the beautiful landscape, clear waters, and delicious local food on offer."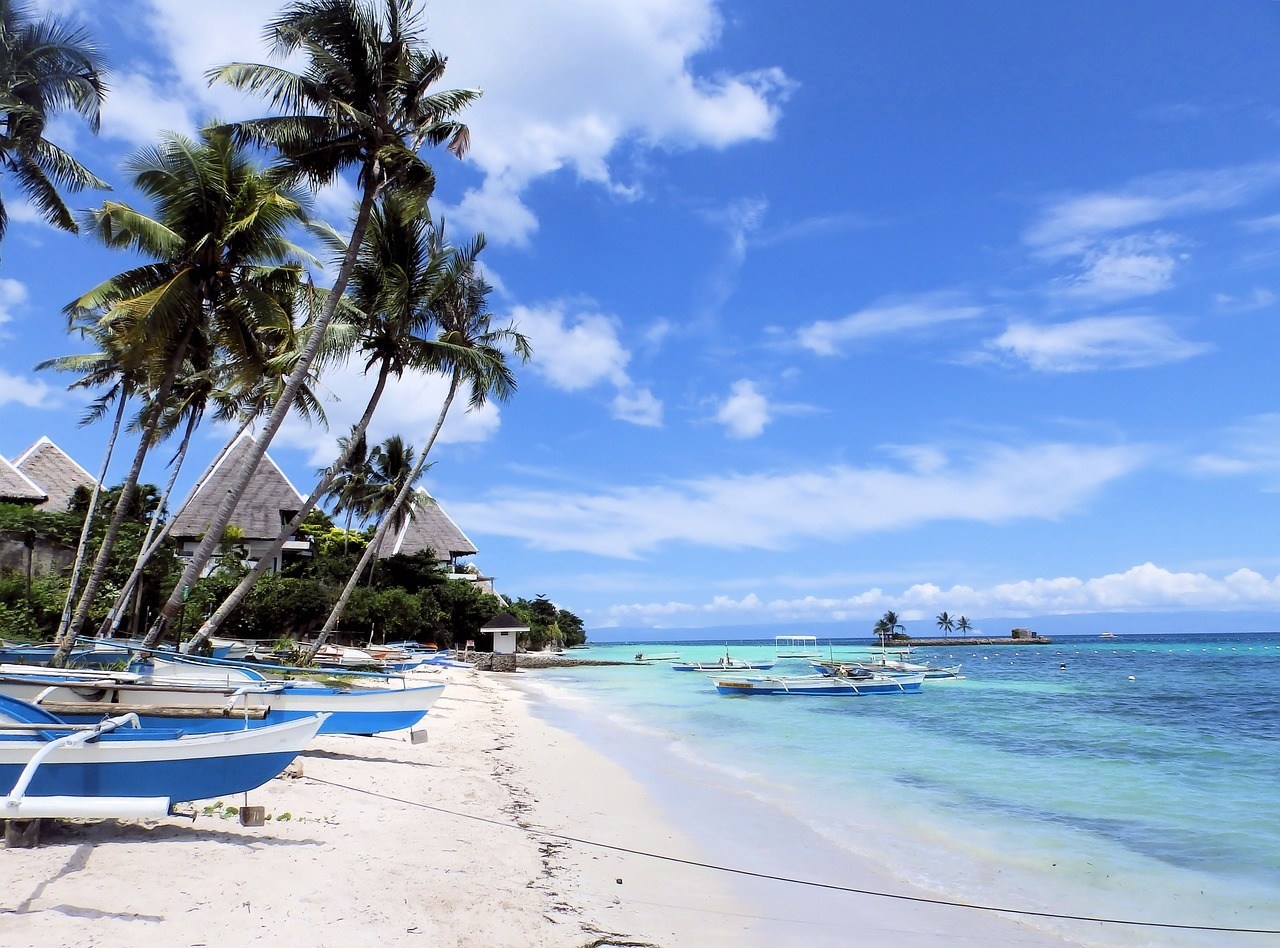 ---
7) Moalboal & Oslob
Getting around Cebu Island is as easy as getting to the bus station. They aren't the most comfortable rides, but they get you from point A – point B for very cheap!
I'd recommend you check out Moalboal first. There's an incredible beach, and it will provide absolutely stunning sunsets. Moalboal is also known for having some excellent diving if you are looking to dive.
Absolute Must Visit: Kawasan Waterfalls (about a 20 minute drive from Moalboal city)
Read: Chasing Waterfalls on Cebu Island, Phillippines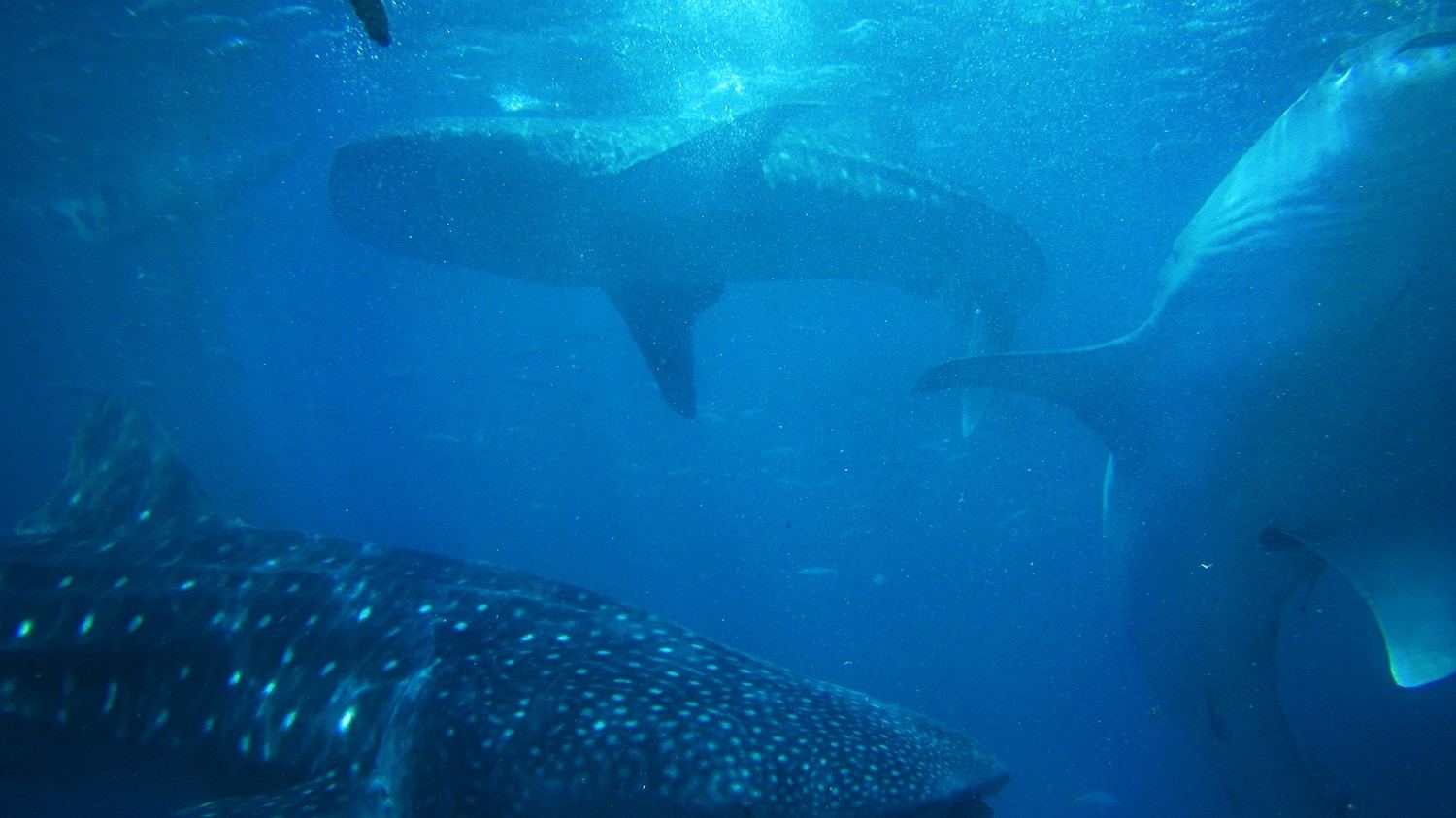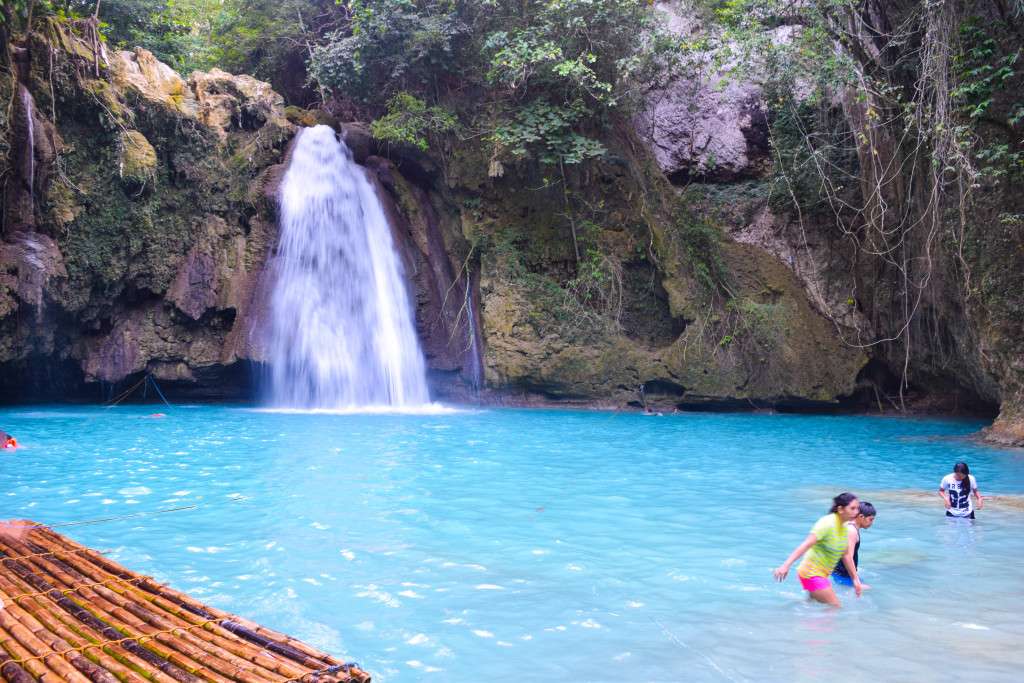 After watching a sunset and checking out the amazing Kawasan falls, you're ready to head down to Oslob to cross off a big bucket-list item: SWIMMING WITH WHALE SHARKS!
This the main draw that brings people down to Oslob, and you really have to do it! For the small cost of around $25 USD, you get to swim with massive whale sharks. The entire experience was incredible, and it's one of the highlights of my travels in South-East Asia.
Read: Swimming with Whale Sharks: Oslob, Cebu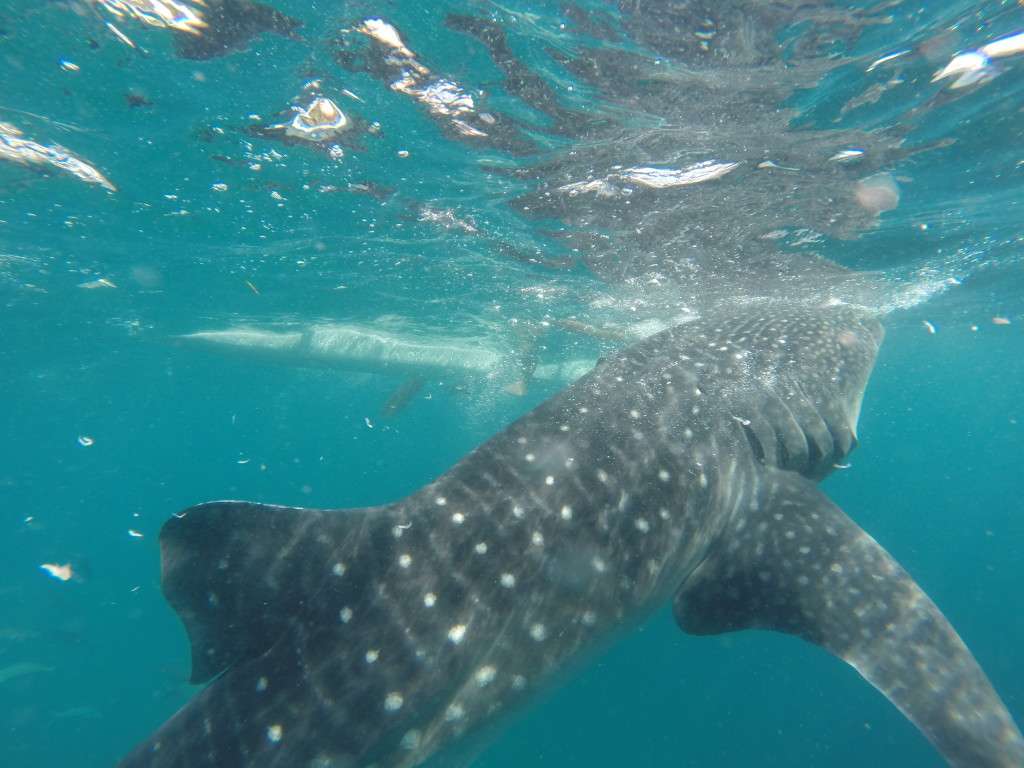 ---
8) Flight to Boracay
After you've explored the southern parts of Cebu Island, Bohol Island, and the city itself — it's time to book your flight from Cebu City – Boracay.
Boracay is the paradise island of your dreams — or so it used to be. This beautiful island has become a major tourist destination, resulting it in to become the most over-developed part of The Philippines.
With that being said — is it still worth it to visit Boracay? Absolutely yes. The island is gorgeous, there's plenty to do, and the nightlife is amazing.
Read: The 5 Best Party Islands in South-East Asia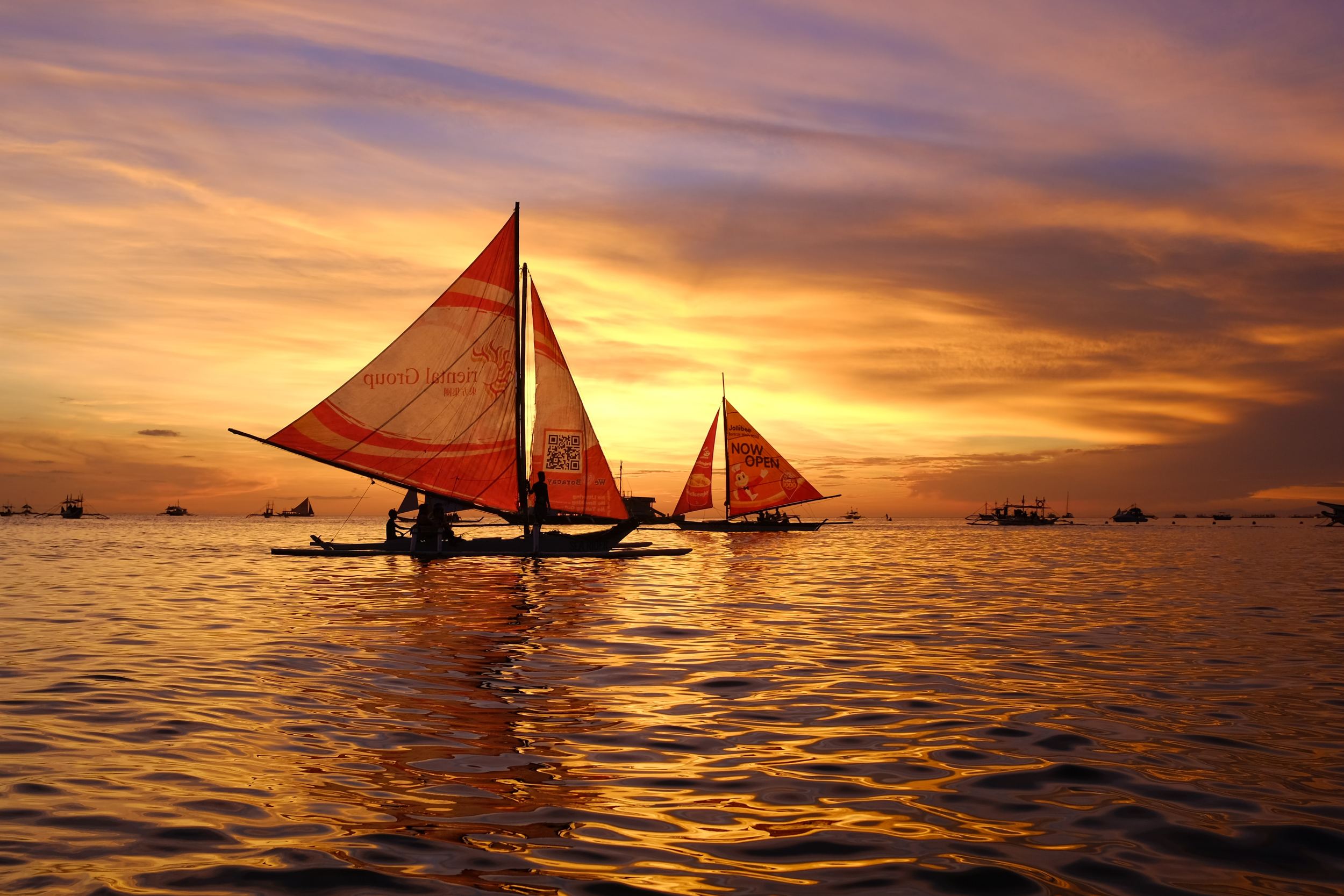 ---
If you're going to Boracay, then you should definitely also check out Sabina's incredible blogpost "Boracay On a Budget". She gives an incredible overview of the island, and was a great resource to have when planning my trip to Boracay.
Boracay has two airports (Caticlan & Kalibo). You'll most likely fly to Kalibo because flights are substantially cheaper. Kalibo airport has international departures and is the perfect place to end your trip in The Philippines.
---
Where to Stay on Boracay
W Hostel Boracay: When it comes to mega luxury hotels, the "W" knows what they're doing, but they've also recently opened a beautiful hostel, and it's absolutely perfect! There's tons of hostels to check out, but I'd definitely recommend this one!
Boracay Uptown: Right on the beach, beautiful pool, and amazing specials if you book in advance. This will make for a nice and luxurious visit on this idyllic island.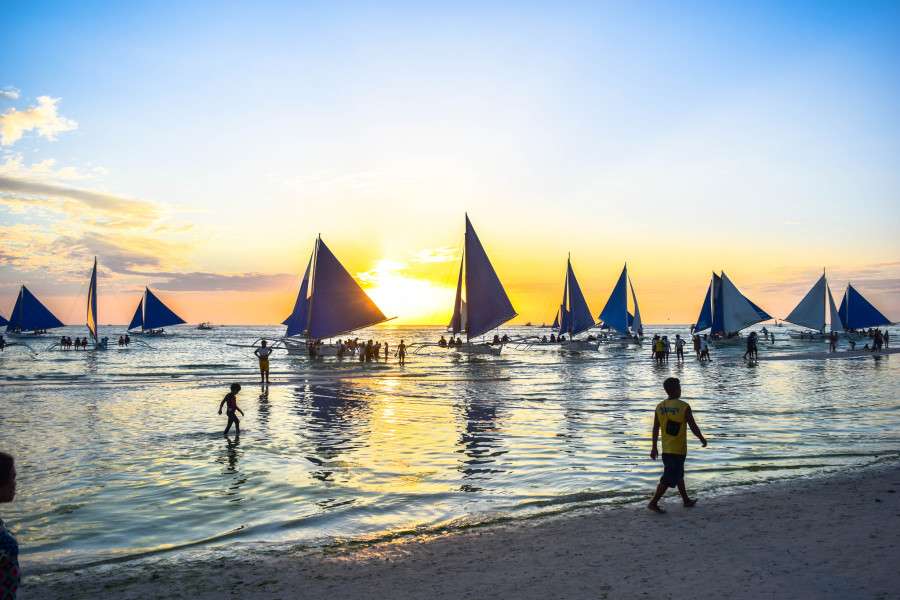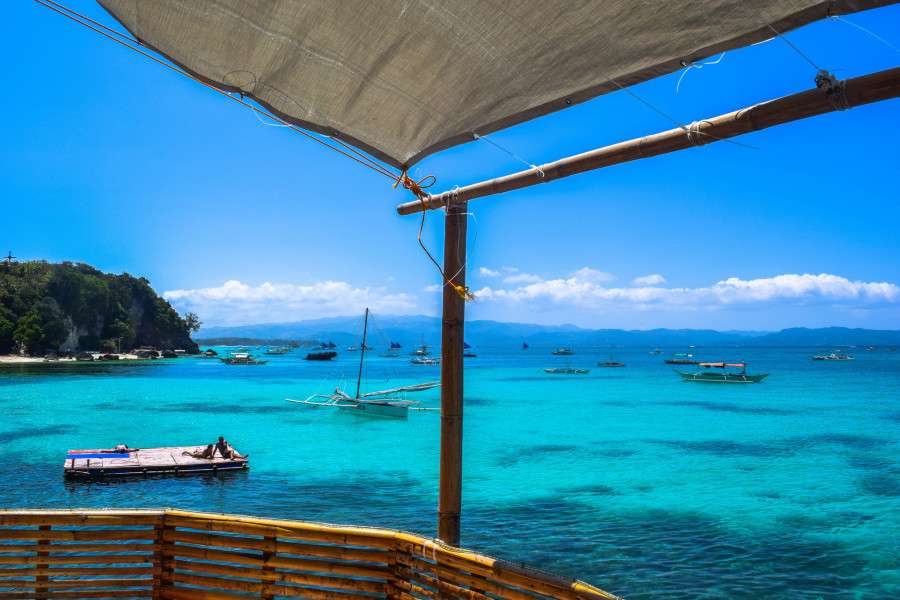 ---
Philippines Itinerary Substitutions
Banaue Rice Terraces: If you get into Manila, and don't want to spend too many days there. Look into taking the overnight bus up to the Rice Terraces. I didn't have time to explore it during my month, but it's definitely highly recommended!
Skip Boracay: Although it is a very beautiful island, and a great place to party — you might want to think about skipping Boracay. The island is decently expensive, and can be a pain in the ass to get there. Kalibo airport is 2 hours away. So you have to take a van, a boat, and a taxi, just to get to your hostel.
Siquijor Island: If you do skip Boracay island, that frees up time to explore some of the islands around Cebu. While your down in Oslob, you could hop down to the beautiful and spiritual island of Siquijor. The island has a fascinating story, and is home to some of the best beaches and sunsets in the Philippines.
Siargio Island: If you like to surf, then I'm sure you've heard about this island. This is at the top of my list of places to see during my next visit to the Philippines, but unfortunately I didn't have the time to get there. There's not much else to do on the island, but if you're looking for a laid-back surfing hotspot, then you'll definitely enjoy your time there.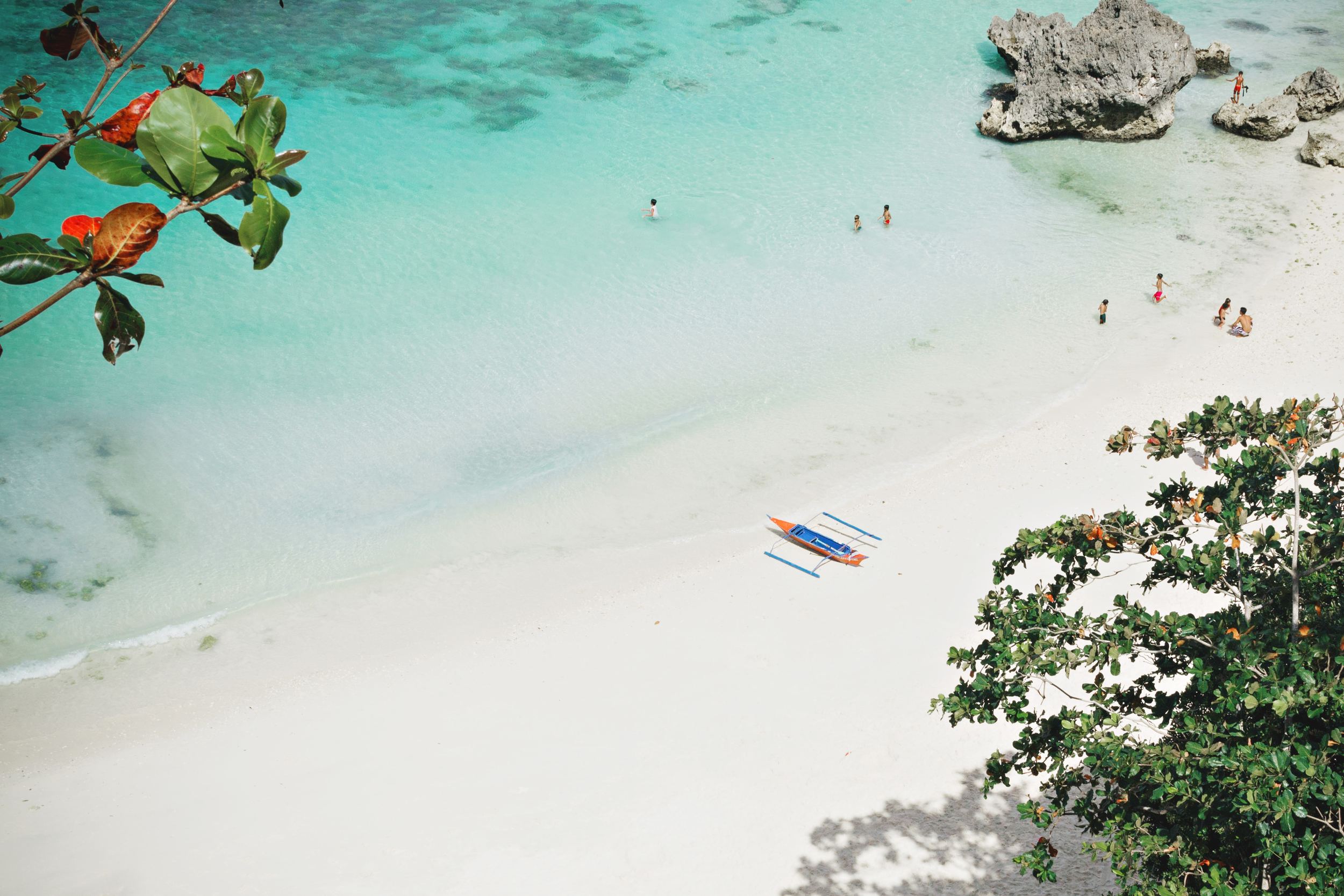 ---
Traveling Long or Short Term…? Get Insurance!
Southeast Asia can seem very safe to travel to, but you'll soon hear some horror stories from other travellers you meet. From scooter accidents to water damage, and items going missing. So, please make sure you're covered before you head out to the Philippines and take out a travel insurance policy.
Getting sick or having items stolen while travelling is rare, but when it does happen, it can be an absolute nightmare. Having insurance (which is essential for visas in some countries) will give you the peace of mind that if anything terrible does happen, you are covered.
I highly recommend HeyMondo due to their extensive range of cover for all situations and trip lengths, their fair pricing, and their handy app which allows you to not only manage any claims within the app, but also access free assistance online so you don't need to rack up an expensive phone bill while abroad!
Still planning your trip? You can always just get a no-commitment travel insurance quote now, so you have an idea of how much extra to budget for your vacation!
---
Philippines Travel Tips
Book All Your Flights in Advance. This country is not as easy to get around, and if you wait until the last minute — you will have to pay ridiculous amounts for flights. This is the only country I really recommend that, because with 30 days, you will want to see as much as possible.
Meet and Travel with the Locals. When are you are traveling the Philippines, you'll realize that you'll meet more young local backpackers than you would in any other country in South-East Asia. The Filipino community really loves to travel! They also are extremely friendly, welcoming, and typically speak amazing English!
Research Festivals Before You Go: The Philippines is known for having some amazing festivals. As a starting point, check out this list of the Top Ten Festivals in The Philippines. Just be careful, sometimes if you go during a big festival, accommodation prices can sky rocket.
Try out Couchsurfing. As I mentioned above, Filipino people are really awesome, and they are very active when it comes to the popular travel community website Couchsurfing. There are weekly meet-ups in the bigger cities, and it would be a really cool experience!
Don't skip Palawan: It's definitely one of the most beautiful and picturesque places in the world! It's defintiely not as "off-the-beaten-path" as it used to be, but skipping it would be a mistake.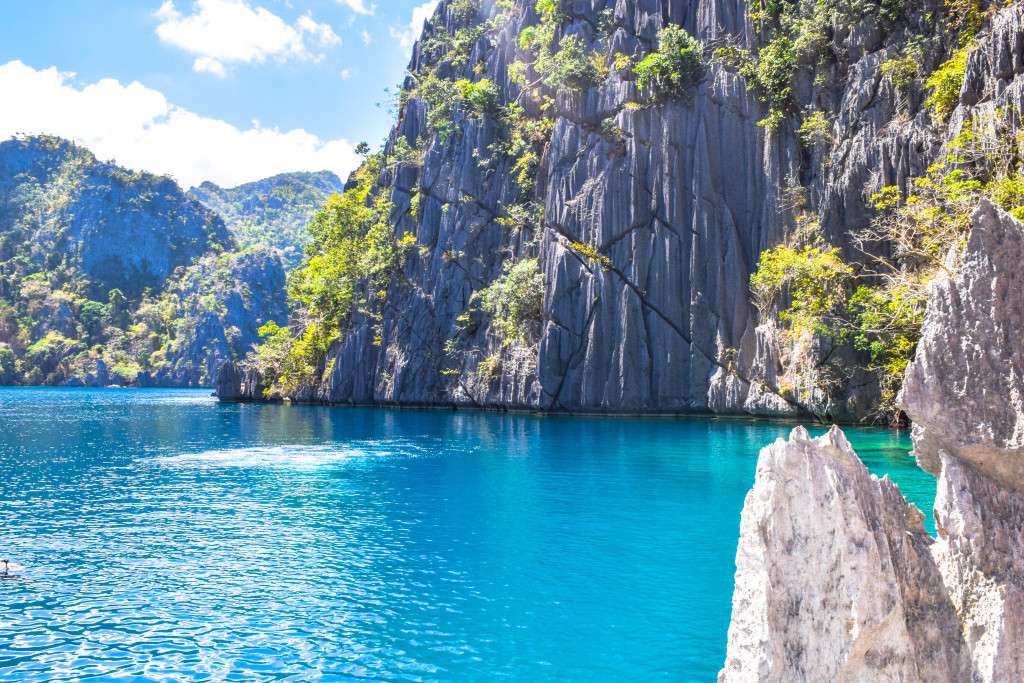 No matter where you go, or itinerary you customize for your trip, you will most definitely fall in love with the Philippines. It's one of the most beautiful countries I've ever visited, and I can't wait to get back there myself.
Thanks for reading, and I hope you found this one-month itinerary for the Philippines useful! Definitely check out my posts on the Philippines!
Safe Travels to the Philippines !!!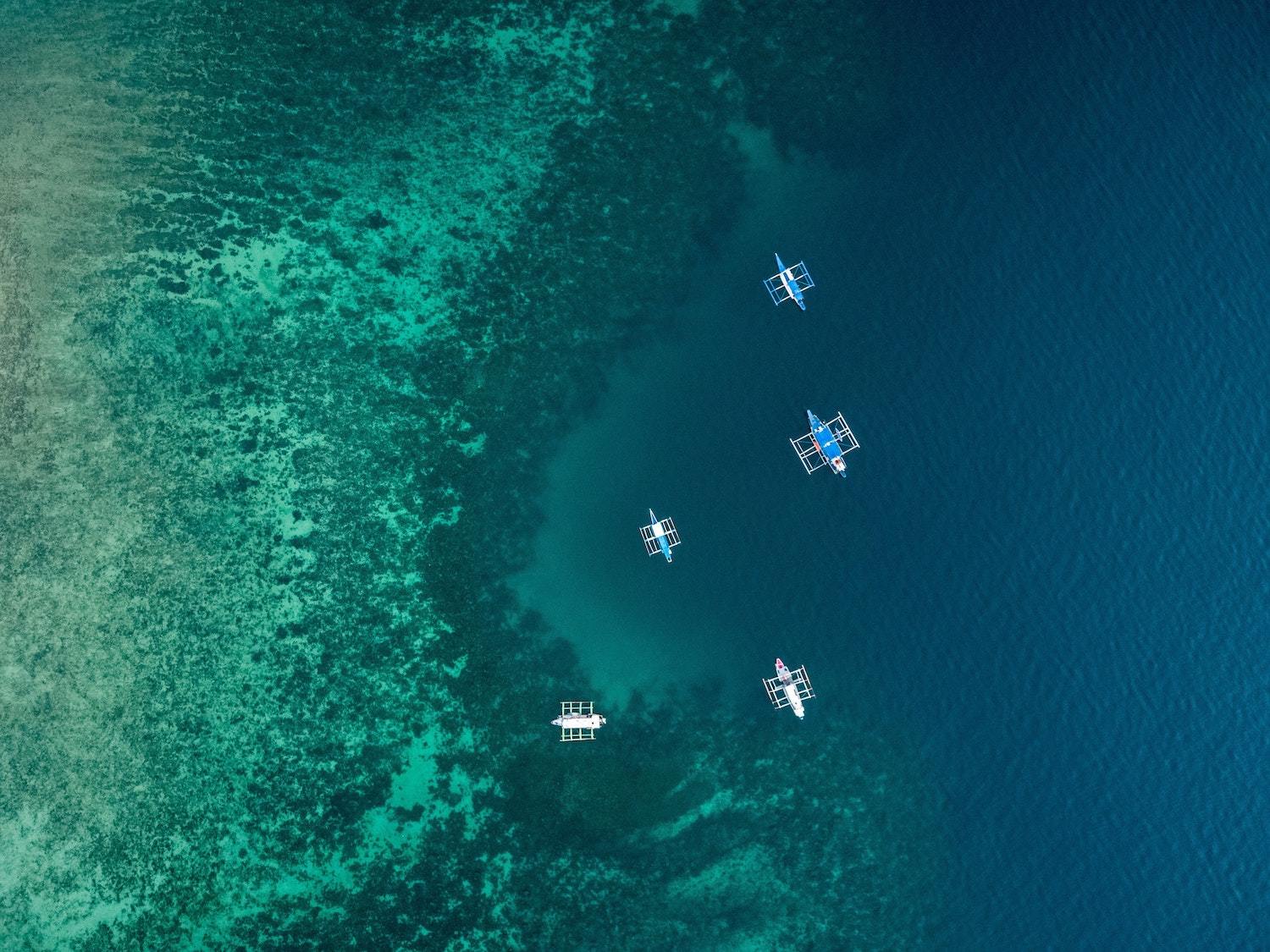 ---
Planning a trip to Southeast Asia…?
I've written tons of helpful articles, destination guides, and travel itineraries about this amazing region of the world! Check out a few of my favorites below for further trip planning: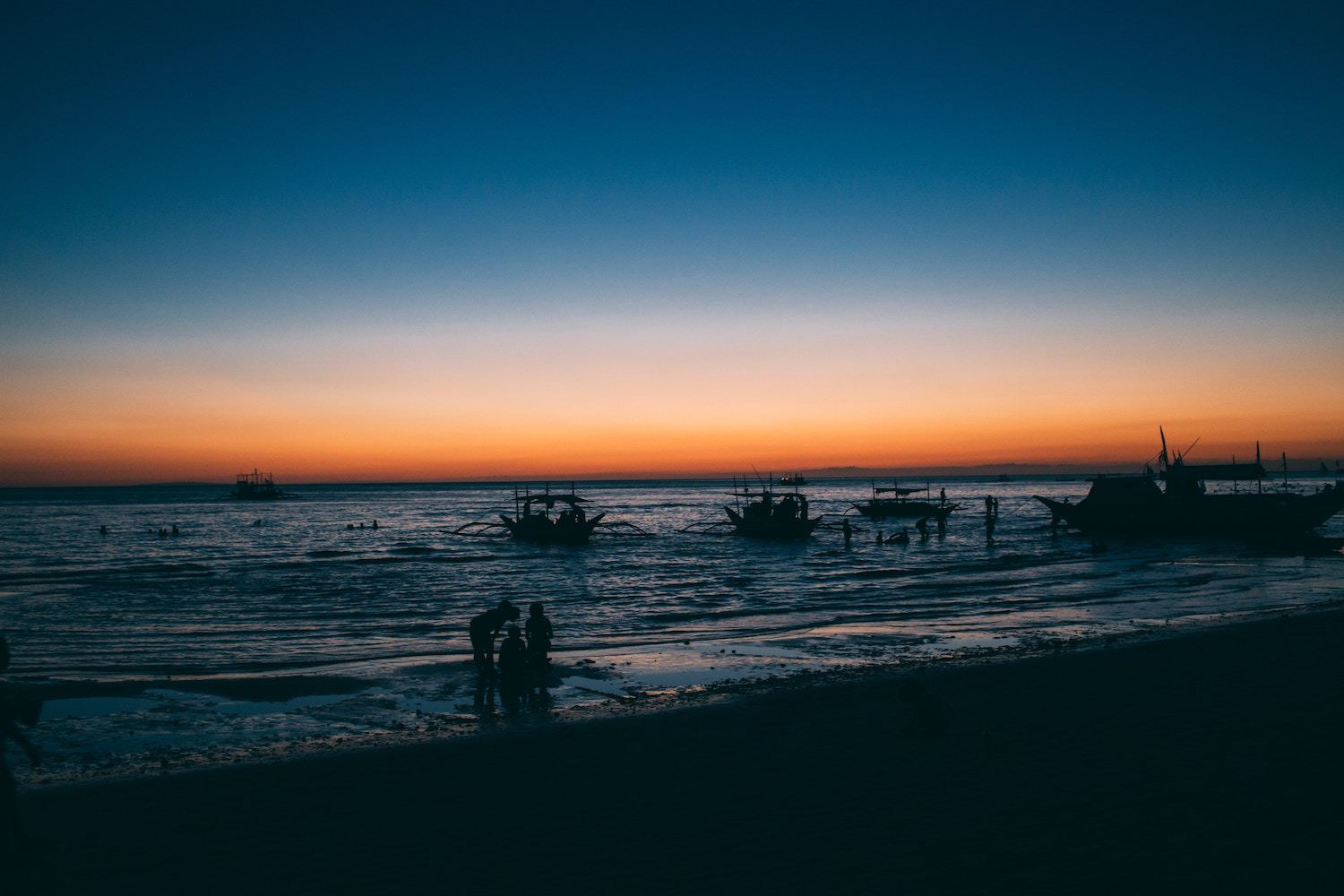 ---
THANKS FOR READING MY PHILLIPINES TRAVEL BLOG!
Share this Philippines Itinerary With Your Travel Squad!
https://www.jonesaroundtheworld.com/wp-content/uploads/2015/08/fet-1.jpg
768
1024
Dave
https://www.jonesaroundtheworld.com/wp-content/uploads/2017/03/logotry-1-1-300x106.png
Dave
2019-07-15 10:27:02
2022-10-05 20:29:30
One Month In The Philippines: Travel Itinerary