Looking for the best beaches in Malaysia to visit? Well, look no further. Malaysia is finally receiving the recognition it deserves as a world-class beach destination. And there's definitely no shortage of them.
The country comprises a grand total of 878 islands that make up the archipelago, and beautiful beaches in Malaysia are – not surprisingly – everywhere.
While some pristine beaches, like those on Langkawi and the Perhentian islands, are well-known and heavily trafficked by backpackers, others are still a well-kept secret. And they are just waiting to be found.
I've personally spent a lot of time traveling around Southeast Asia, and many of these stunning beaches in Malaysia are on my list of favorite places in the entire world.
So whether you're planning on spending two weeks in Malaysia or just stopping along while on your way from Singapore to Bangkok, definitely make sure you check out a few of these idyllic slices of paradise.
---
Top 20 Best Beaches in Malaysia
Dotted with pristine white sand beaches with turquoise waters, and epic diving sites, Malaysia is home to some of the best beaches in the world.
Here are 20 of the most stunning beaches in Malaysia, filled with colorful marine life, coral reefs, and lush coconut trees:
---
1) Long Beach
---
Where: Perhentian Kecil Island
One of the island's two main beaches, Long Beach, is bustling with party-loving backpackers who flock here to enjoy the crystal clear water, perfect weather, and fun nightlife. I even rated it as one of the best places to party in Southeast Asia.
During my first visit to the Perhentian Islands, I, unfortunately, got terrible weather the entire time and didn't fully understand how amazing the water is here. Lucky for me, I returned to this Perhentian Kecil Island beach and was rewarded with the most stunning turquoise waters I had seen in Southeast Asia.
Do yourself a favor, and make sure the Perhentian islands are on your Malaysia itinerary.
It's probably my favorite Malaysian beach on the list, and I can't wait to visit again sometime this year.
Maldives of Malaysia: Perhentian Islands
---
Where to Stay on Long Beach, Perhentian Kecil?
Bubu Villa – "BuBu Villa offers relaxing stays at the Long Beach strip on Pulau Perhentian Kecil. The spacious and elegant villas feature a private terrace and thatched roofs. The beachfront resort has a private beach and an outdoor restaurant on site.
Inspired by local architecture, all villas are decorated with wooden furnishings and high ceilings. Every villa is well-appointed, with air conditioning and a hairdryer. Guests enjoy luxury bath amenities, and certain villas have an outdoor bathroom."
Price: $475+ Per Night (Read Reviews & Check Availability)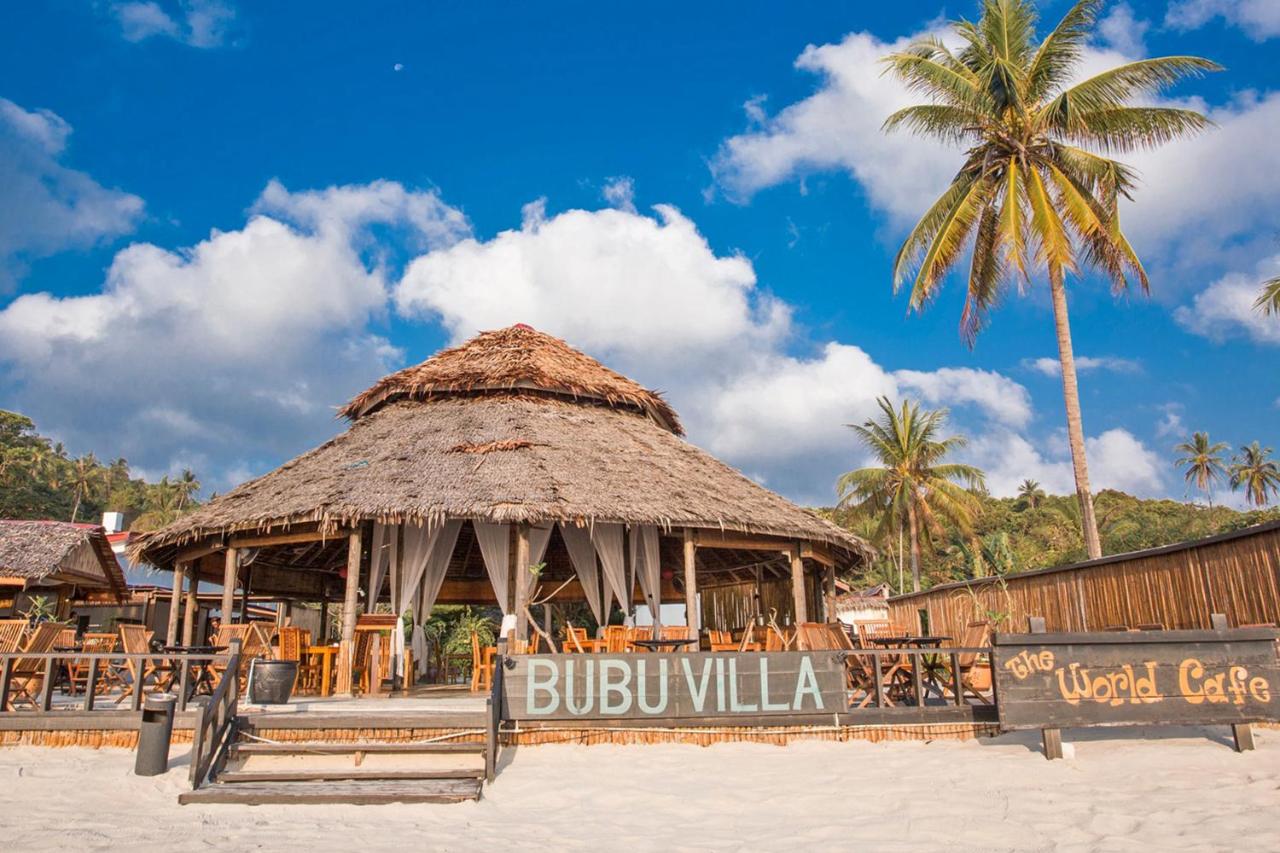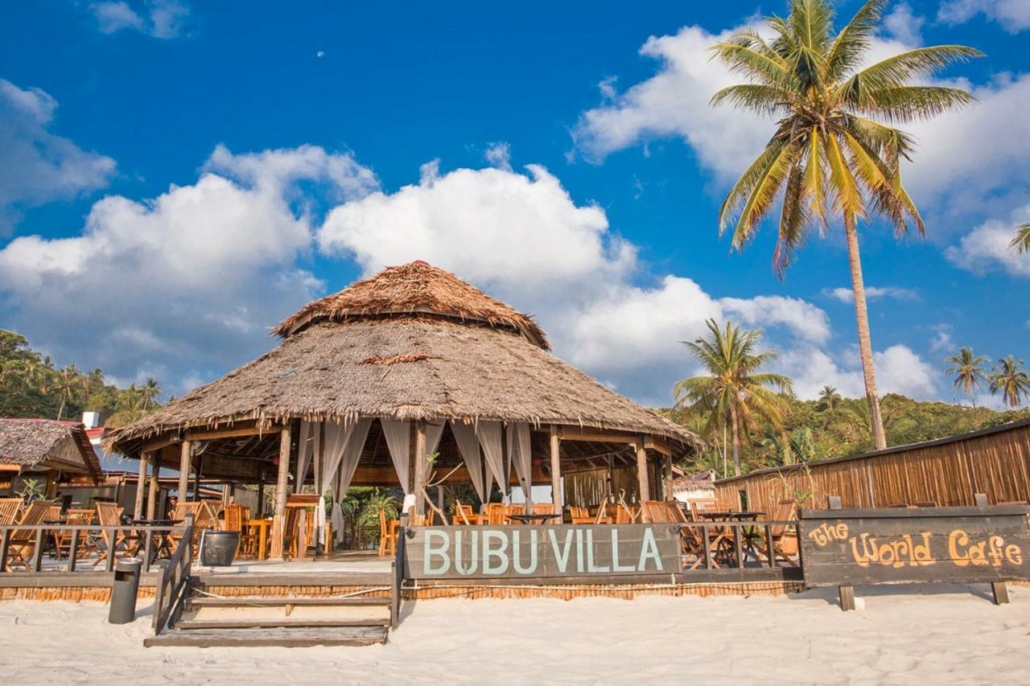 ---
2) Turtle Beach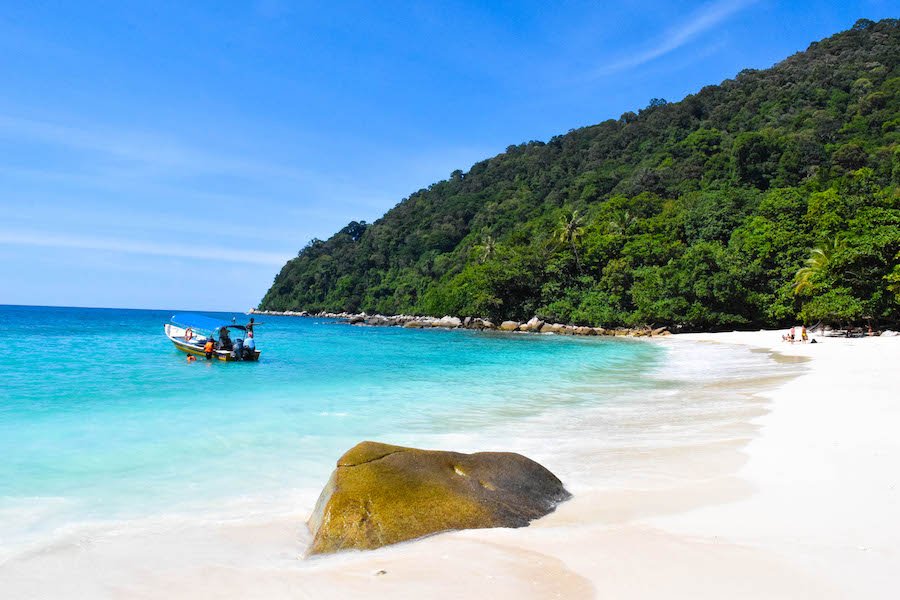 Where: Perhentian Besar Island
Not only does this stunning island beach offer you the chance to get up close and personal with native sea turtles, but it's also extremely popular with tourists who also visit to snorkel with reef sharks.
Turtle Beach is also located around the Perhentian Islands. This is a must-visit during your trip, and you will be absolutely blown away by its natural scenery and wildlife sightings.
PERHENTIAN - TURTLE BEACH
---
Where to Stay on Turtle Beach, Malaysia?
The Barat Perhentian – "Nestled on Perhentian Island, Barat offers relaxing stays with free Wi-Fi access in public areas. This beachfront chalet houses a restaurant and a diving center. It is reachable with a 35-minute ferry ride from Kuala Besut Ferry Terminal.
Fitted with parquet flooring, all rooms come with air conditioning. Fresh linens and towels are provided for your comfort. The private rooms feature an en suite bathroom, while dormitory rooms have access to shared bathroom facilities. Some rooms feature garden or sea views.
Price: $66+ (Read Reviews & Check Availability)
5* Review – "The best thing about Barat Perhentian is definitely the restaurant and the location. The first one was superb, with a great choice of local and western food. And the value for money is excellent. The location is fantastic, it's right on the beach. Staff is very helpful and nice. Overall the value for money is very high." – Norris, Italy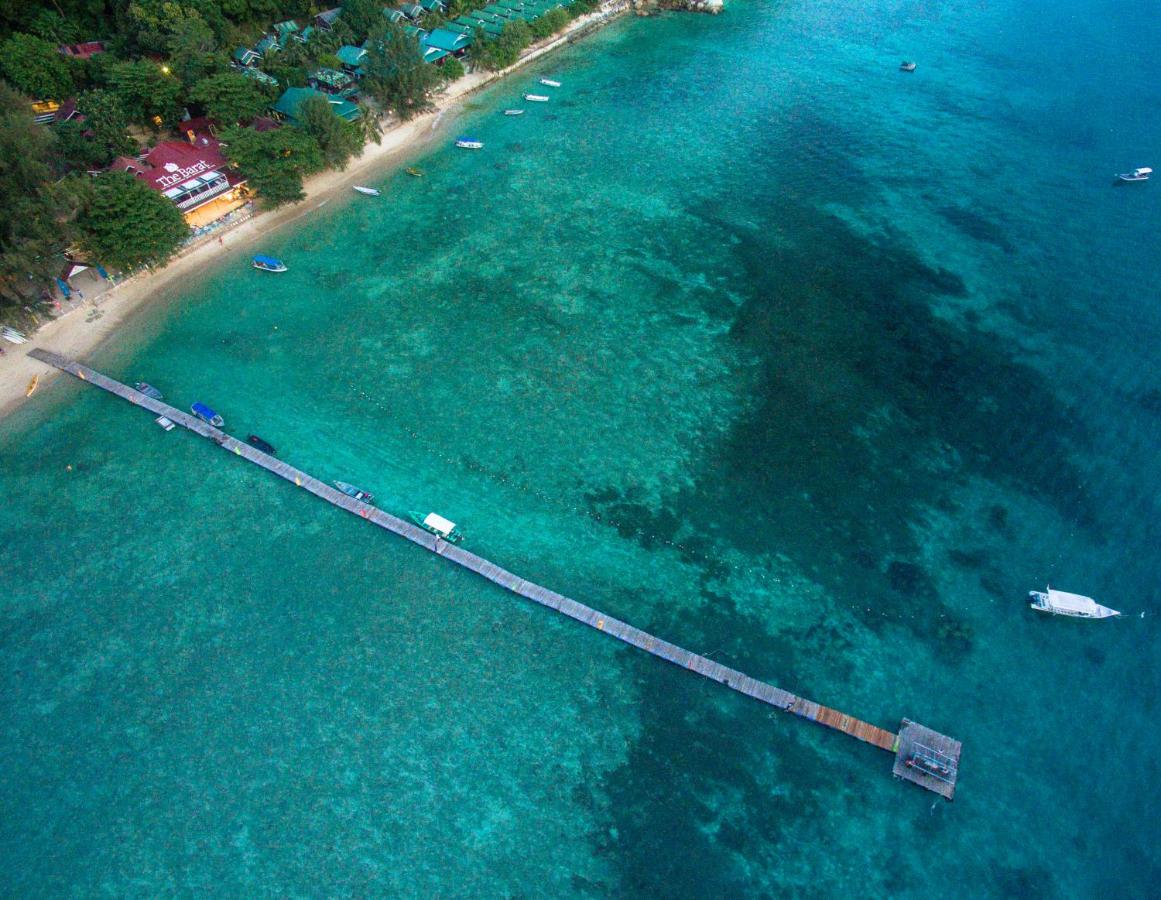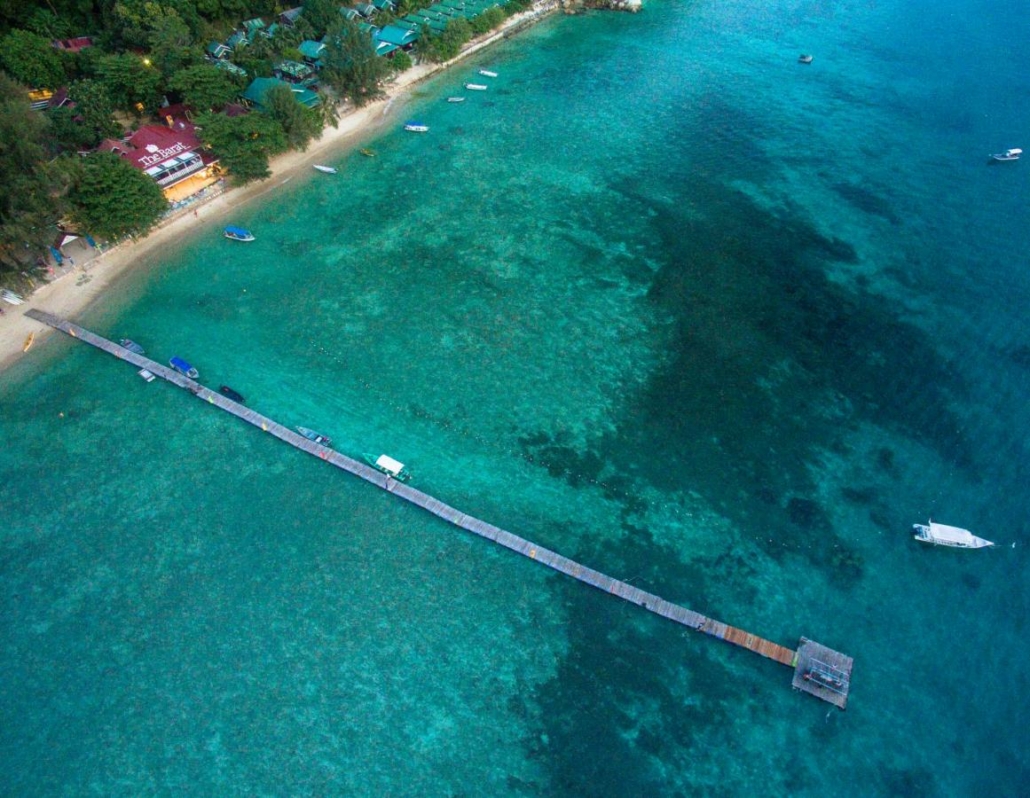 ---
3) Coral Beach
Where: Redang Island
A world-class scuba diving and snorkeling destination, don't miss the turquoise waters of Coral Beach on stunning Redang Island. Tropical fish are aplenty, and you could easily spend an entire day here simply lapping up the sun.
Redang Island was often overlooked by travelers coming through, but in recent times that is quickly changing. There are some stunning dive sites, incredible resorts, like the Coral Redang Island Resort, and welcoming locals.
Redang Island - City Video Guide
---
Where to Stay on Coral Beach, Malaysia?
Redang Island Resort – "Redang Island Resort offers standalone chalets that overlook the sea or rainforest. The resort offers an outdoor pool, spa, and free Wi-Fi in public areas. The stylish chalets come with elegant wooden furnishings and high ceilings.
Each tastefully decorated unit is equipped with a sofa seating area, TV, and minibar. Shower facilities are in the en suite bathroom. Guests can laze on the private beach area or enjoy relaxing body treatments at the spa. Travel and sightseeing bookings can be made at the tour desk."
Price: $136+ (Read Reviews & Check Availability)
Review – "Lovely location above the harbor and facing Marine Reserve. Pleasant well-equipped room with balcony and great view. Airy spacious lobby. Free snorkeling trip on arrival – crystal clear water and some good coral reefs and fish." Richard, United Kingdom
---
4) The Taaras Beach & Spa Resort
Where: Redang Island
A magical private beach experience for luxury travelers!
Out of all the beach resorts in Malaysia I'm dying to visit, this one is at the top of my list. It has one of the best-rated locations on Redang Island, the water looks absolutely pristine, and the diving is truly heavenly.
I'm looking at flights back to Malaysia, just so I can visit Taaras Beach & Spa Resort.
"The enchanted resort bestows a contemporary barefoot luxury experience with warm Asian hospitality that creates a magical experience for those who seek it. We welcome you to one of the most beautiful islands in Malaysia and having nature at its best, it is surrounded by one of the most spectacular seas in Asia. Indulge yourself in mother nature's most natural creations; the powdery white sandy beaches, its crystal-clear waters and tropical rainforest."
Price: $573+ (Read Reviews & Check Availability)
Review – "The beach is stunning, white sand, clear water, coral reefs for snorkeling just a short swim. Taaras has plenty of sun loungers, cabanas, beach towels and staff to keep it pleasant. Staff are friendly, helpful and full of local knowledge. They went out of their way to advise on all Redang had to offer. Pulau Redang is one of the best islands I've seen in Southeast Asia (or anywhere else). Well-equipped in-house dive center with excellent instructors."
REDANG ISLAND - A Day at The TAARAS Beach & Spa Resort with RIP CURL
---
5) Pulau Kapas (Kapas Island)
Where: Coast of Marang
Nestled amongst towering palms and coconut trees, this once little-known-of island, and its stretch of a picture-perfect beach is finally getting its name out there. Native sea life, a ton of water sports, and a relaxed atmosphere await you.
When I was living in Kuala Lumpur, all of my expat friends told me about this amazing island just a short boat ride away from Marang, and I couldn't wait to experience it for myself. They actually told me NOT to blog about it because they didn't want it to become over-touristy.
Whoops.
Anyways, it's one of the most beautiful and relaxing islands in Malaysia, and I think it is a must for anyone planning a solo trip to the country. While there's not all that much on the island besides a few resorts and restaurants, it's an island escape that you'll certainly fall in love with.
Read my ultimate guide to Pulau Kapas for a better understanding of how to get there, what to do there, where to stay, and much more. There are so many incredible tiny, serene beaches found here, and it's truly a hidden gem.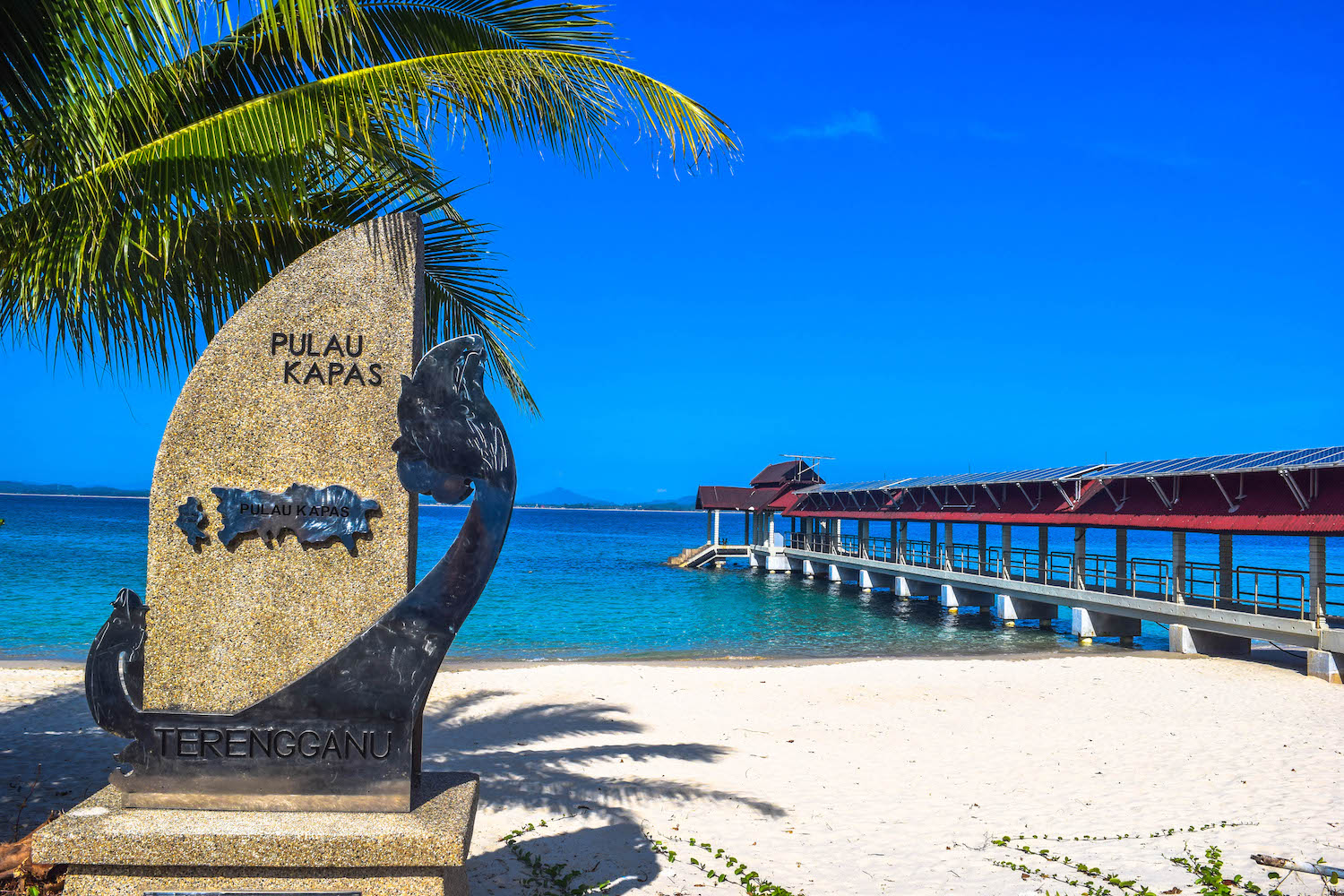 ---
6) Gem Island Beach
Where: Mini Island Resort Getaway off of Pulau Kapas
A quiet, luxurious destination, Gem Island is peaceful, private, and the ideal Malaysian getaway for those who just want to get away from it all in style. There's some epic snorkeling right off the beach, volleyball nets, lots of hammocks to choose from, and a turtle sanctuary.
For those visitors planning on visiting Kapas Island and want a bit more luxury, then you have to stay at Gem Island Resort.
Gem Island...A true Gem of a Malaysian Paradise
---
Where to Stay on Gem Island, Malaysia?
– "Centered in natural tropical settings, this property is located in a Marine Conservation Park where white sandy beaches and marine life are within easy reach. This boutique resort offers guests 39 water villas, four Premier villas, four Hideaway villas, and two Hideaway suites, all facing the South China Sea.
The on-site Samudra Restaurant offers guests local Malaysian, Chinese, and Western cuisine and refreshing drinks. All this while you retreat and enjoy the spectacular views of the azure waters with fish swimming underneath.
For recreational activities, guests can choose from scuba diving, island hopping, snorkeling, and kayaking. After enough exploration, guests can indulge in the Tusita Wellness Spa for various relaxing therapies. Gem Island Resort & Spa is a perfect base for a memorable trip.
Price: (Read Reviews & Check Availability)
Review – "Situated on a beautiful tiny island. Beaches obviously are small but nice. The rooms over the sea allow you to listen to it permanently. To highlight the balcony of the room with views of Kapas Island (or Pulau Kapas). The room is a bit small but sufficient.
The restaurant (the only one on the island) The restaurant has a not very extensive menu, but in general, the food is well prepared. The spa is highly recommended. They are involved in the turtle protection program. We saw the release of newborn turtles. That's incredible. A good experience in an exceptional environment." – Jose, Malaysia
Note: Unfortunately, Gem Island Resort and Spa is currently closed for renovations until further notice. Please check the resort's official website for updates on opening dates.
---
7) Monkey Bay Beach
Where: Tioman Island
Located on the west coast of Tioman Island (Pulau Tioman), Monkey Bay is so remote it can only be accessed by boat or via a jungle trail. It's a small beach paradise inhabited by – you guessed it – lots of monkeys.
"This sweeping bay has a beautiful beach with a calm pool of seawater and lush rainforest surroundings. It's one of the most popular snorkeling stops on round-island tours by speedboat from any village, but visitors can also hike there in an hour from Salang.
Conversely, the trail connects to Air Batang (ABC Village).
Starting from there, it is an undulating two-hour trail through Panuba Bay and Monkey Beach before it hits the bay. As the trail is sometimes obscure, always follow the path that winds closest to the electric poles." – Tioman.org
Tioman - Monkey Bay Snorkelling
---
Where to Stay in Monkey Bay, Malaysia?
Tunamaya Beach and Spa Resort – "One of our top picks in Tioman Island. Featuring modern villas with a balcony, the resort offers snorkeling activities and a spa. The air-conditioned villas come equipped with a flat-screen satellite TV.
Full-length windows lead out to a balcony overlooking the beach or rainforest. An electric kettle, tea, and coffee maker are included in each villa."
Price: $319+ (Read Reviews & Check Availability)
Review – "I loved this hotel, it really exceeded my expectations. Set on a quiet beach only accessible by boat (which is a lovely asset to the island – I didn't see one car) the location is absolutely beautiful. With a backdrop of mountainous jungle, on a beautiful beach, it was really stunning. I loved that the rooms were little cabins, set out along a winding path with lights and a beautiful running stream." – Hannah, Malaysia
---
8) Juara Beach
Where: Tioman Island
Managing to retain much of its pre-tourist influx charm, Juara Beach is often referred to by visitors as "paradise on earth". Tucked away on the east coast of Tioman Island, this sandy beach is quite difficult to access, but the effort is well worth it.
Expect one long gorgeous stretch of sand lapping at water dreams are made of.
"Juara Beach is located at Tioman Island with an awesome sea view and clean long beach. Our talented team had provided such exceptional customer care from the beginning of the journey till the very end; the exclusive view of the sea, the truly peaceful and restful stay experience, the sense of privacy, the safety, the excellent gastronomic and authentic delights from dawn to dust."
Tioman Island 2018 | Juara beach | Malaysia // DJI Spark // Sony a6000
---
Where to Stay on Juara Beach, Malaysia?
Juara Beach Resort Malaysia – "Offering hotel guests superior services and a broad range of amenities, Juara Beach Resort is committed to ensuring that your stay is as comfortable as possible.
This hotel offers numerous on-site facilities to satisfy even the most discerning guest. The hotel features 29 beautifully appointed guest rooms, many of which include a television LCD/plasma screen, clothes rack, complimentary instant coffee, linens, and locker.
The hotel offers many unique recreational opportunities, such as boats, canoes, watersports equipment rentals, snorkeling, and a private beach. Juara Beach Resort is a smart choice for travelers to Tioman Island, offering a relaxed and hassle-free stay every time."
Price: $48+ per night (Read Reviews & Check Availability)
Review – "The place was nice and quiet, perfect for a getaway trip with the beach just in front of the bungalows even the ones with the garden view are considered beachfront. The staff was very cooperative and helpful, especially Joan and Liah. They made our stay as comfortable as possible. The snorkeling trip organized by Liah was really nice.
We also enjoyed the swings beside the bungalows, along with the ones by the beach. My friends and I enjoyed our stay at Juara Beach, and we will stay there again." – Samiha
---
9) Pantai Cenang
Where: Langkawi Island
One of the busiest destinations in breathtaking Langkawi Island, Pantai Cenang not only offers an irresistible beach experience, but also fantastic nightlife, and eateries. The chance to meet lots of interesting travelers passing by and making new friends is extremely high.
I've spent at least a dozen nights on Pantai Cenang watching the stunning sunsets, drinking tax-free beers, and meeting people from around the world. The water is ideal for swimming, the soft white sand is glorious, and it's the best place to base yourself while exploring Langkawi.
Check out a few of my other articles about Langkawi to help you with your travels:
---
Where to Stay in Pantai Cenang, Malaysia?
Frangipani Langkawi Resort and Spa – "One of our top picks in Pantai Cenang. Boasting a private beach and a seaside pool, The Frangipani Langkawi Resort and Spa offers relaxing stays in a spacious resort with free Wi-Fi.
This beachfront resort features extensive wellness facilities and outdoor activities. Free parking is available for guests who drive. Rooms and villas offer much privacy, nestled between the tropical gardens. They have spacious interiors and are well-equipped with a seating area and a flat-screen TV. The bathroom comes en suite or semi-outdoor."
Price: $140+ per night (Read Reviews & Check Availability)
Review – "Beautiful beachfront location. Eating breakfast while looking straight out onto the sea was such a treat. Good breakfast with many choices of things to eat. Resort was made up of little bungalows, which were very spacious and comfortable. Especially liked the outdoor showers.
The staff was all super friendly and helpful. We went on the eco walk as the resort is the greenest environmental resort in Malaysia. Very informative and great what they are doing to make a difference. Really glad we stayed here. Quieter and much nicer beach than Cenang but only 10 minutes walk away from the main stretch."
---
10) Berjaya Langkawi Beach Resort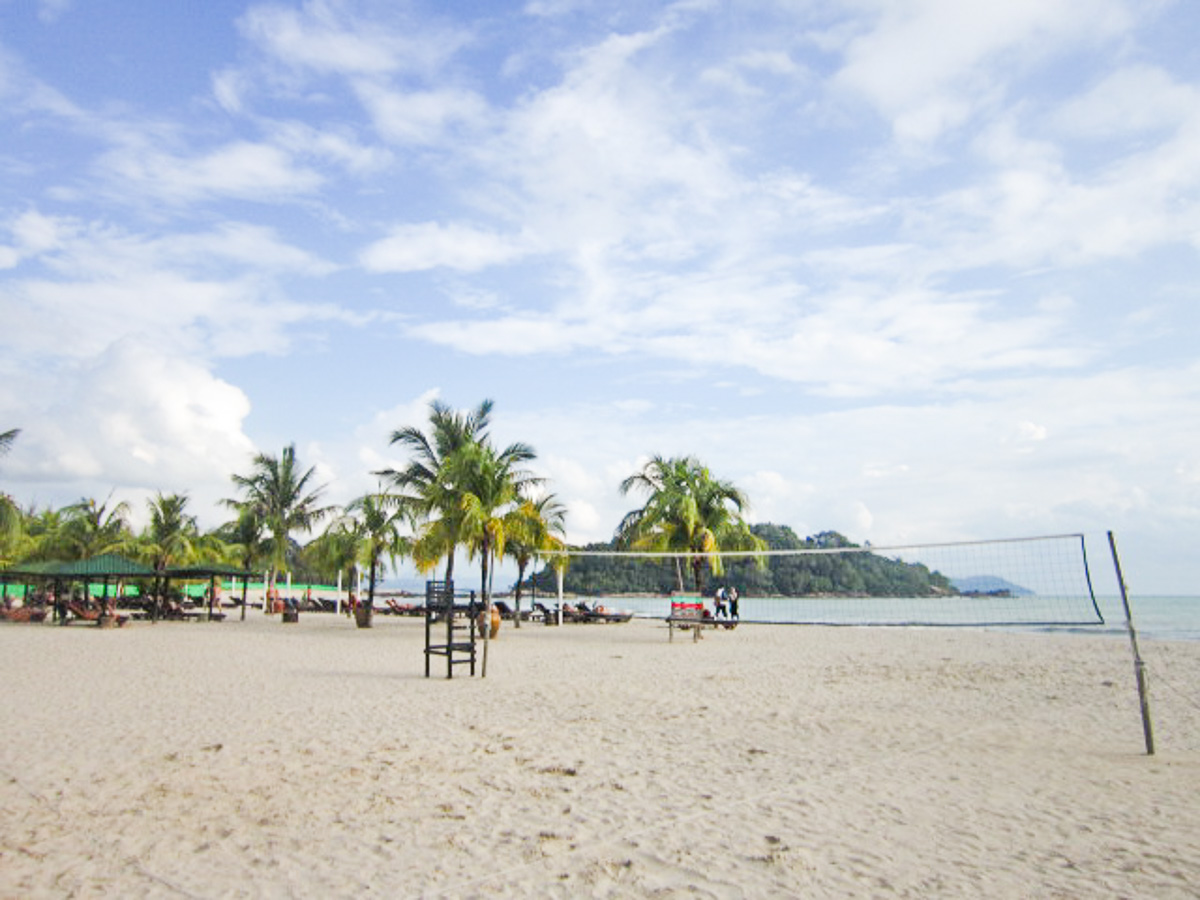 Where: Langkawi
If treating yourself is on your travel agenda on your next trip to Malaysia, be sure to do it at Berjaya Langkawi Beach Resort. Bordered by tropical rainforest and natural waterfalls, the luxury resort and its own secluded beach will make you feel like royalty. The chance to zipline locally only adds to the experience.
During my first trip to Langkawi, I actually spent several days "crashing" the resort and swimming in its amazing pool. It was such a highlight of my time on the island, and it's a well-deserved spot on any list of Malaysian beach resorts. They've got great happy hour deals in the pool, a private beach, volleyball nets, and super friendly staff.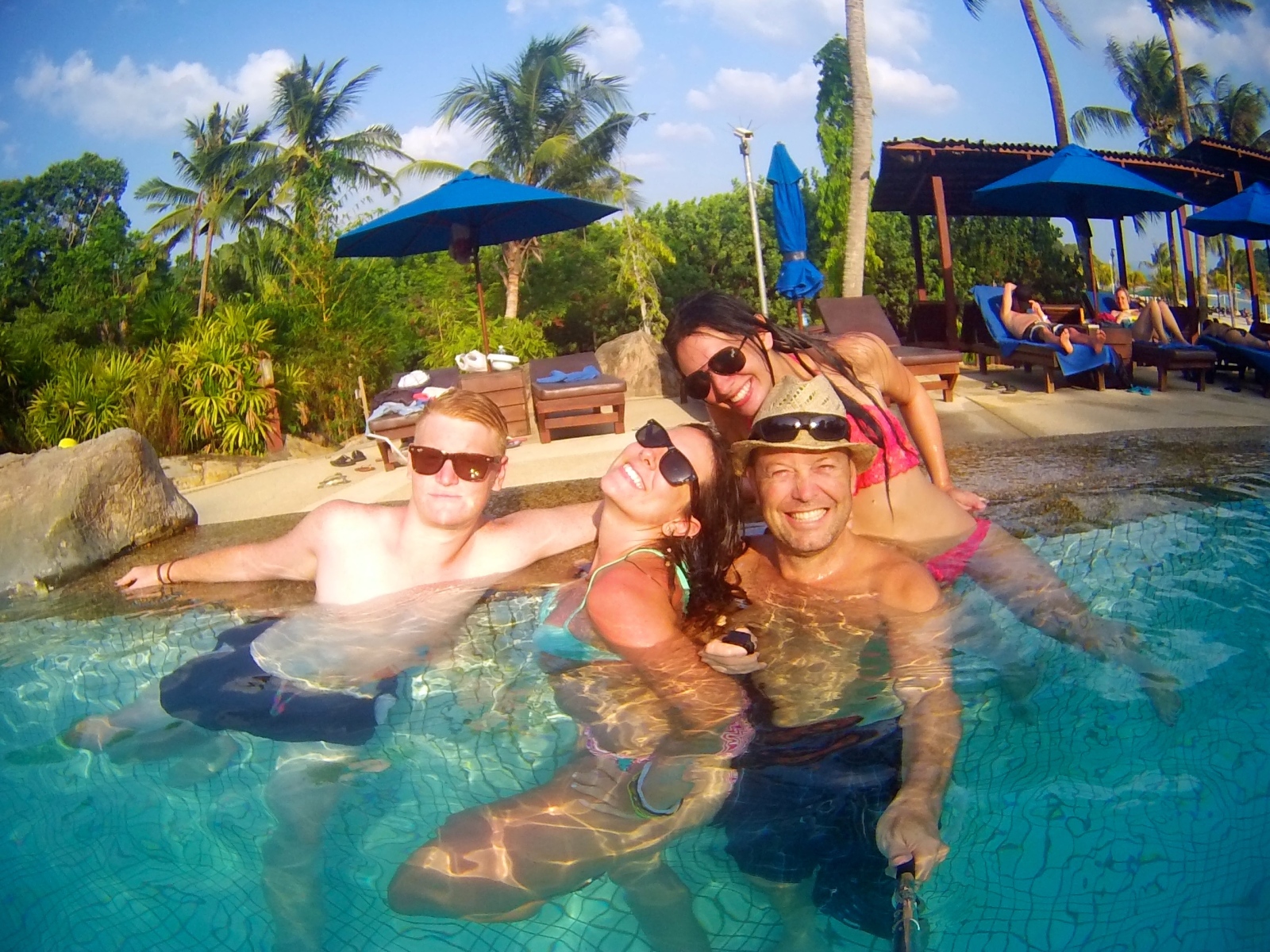 ---
Where to Stay:
Berjaya Langkawi Resort – "Set on the edge of the tropical rainforest, Berjaya Langkawi Resort offers Malay-style chalets with private balconies and contemporary furnishings. The seafront resort boasts four restaurants, three bars, and a free-form outdoor pool. Free Wi-Fi is accessible throughout the resort.
Fitted with wooden decor, the spacious chalets are appointed with a flat-screen TV and a seating area. Certain units are located within the rainforest, while others are set above the water. The private bathroom includes a rain shower and a hairdryer."
Price: $179+ (Read Reviews & Check Availability)
Review – "I have stayed in many resorts across Southeast Asia, and this has been by far one of my best overall experiences. The staff was pleasant and helpful; the room was clean, the bed was comfy, right in the middle of the rainforest with monkeys visiting my balcony – while at the same time, high-speed Wi-Fi and Starbucks coffee in the lobby.
Amazing food at the restaurants, a beautiful beach, and an efficient transport system within the resort. Nature walks and a friendly excursion desk staff who was able to answer all my questions throughout my trip. Will be back soon." – Justine, Singapore
Berjaya Langkawi Resort, Langkawi, Kedah, Malaysia
---
11) Tanjung Rhu
Where: Langkawi
Another Langkawi diamond that couldn't be left off this list of the best beaches in Malaysia. Tanjung Rhu is clean and quiet and makes setting yourself up with a good book on a beach lounger a pleasure. Be sure to catch a sunset like no other here.
Located on the northeast side of the island, this place is great to visit on a long scooter day trip, or you could always book a couple of nights for the ultimate beach relaxation experience.
It's one of the lesser visited sandy beaches in Langkawi (as it's quite far from the main touristy areas), but it's a destination you'll never forget.
Tanjung Rhu Beach - Langkawi's Best Beach
---
Where to Stay on Tanjung Rhu Beach, Malaysia?
Four Seasons Resort Langkawi – This might simply be the best beach resort in Malaysia. While it certainly is one of the more expensive beach hotels in the country, you certainly get what you pay for. The Four Seasons Resort in Langkawi is truly the ultimate luxury hotel experience, and you will 100% not regret booking a beach holiday here.
"Boasting a mile-long secluded beach and multi-tiered outdoor pools, Four Seasons Resort Langkawi is surrounded by landscaped gardens and lush forests. This beachfront resort offers spacious villas and pavilions with free Wi-Fi throughout.
It also houses three dining restaurants, a bar, and a spa. Inspired by Malay and Moorish architecture, every unit has well-appointed wooden furnishings and high ceilings."
Price: $488+ (Read Reviews & Check Availability)
Review – "Amazing hotel with a lot of seclusion and privacy, excellent architecture with many great picturesque locations, great check-in experience which immediately uplifts your mood, extremely friendly staff who makes you feel like king & queen." – Kaan
Four Seasons Resort Langkawi (Malaysia): impressions & review
---
12) Batu Ferringhi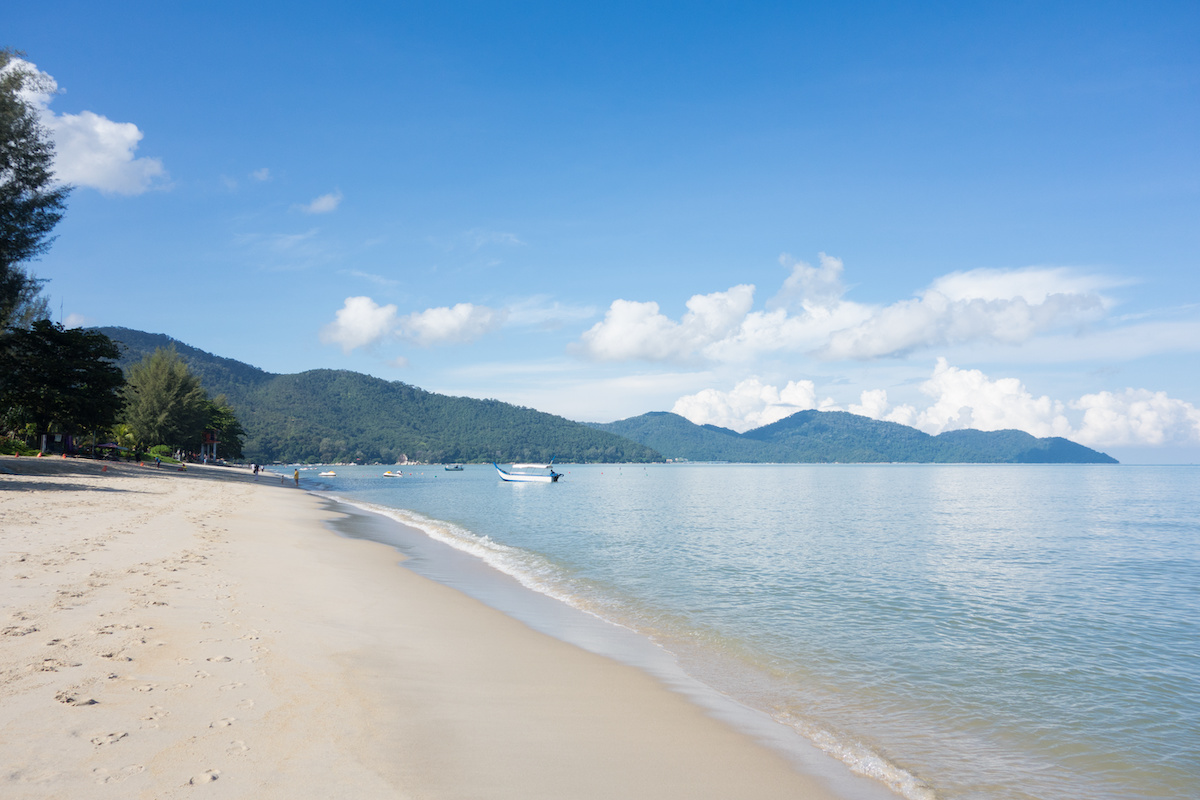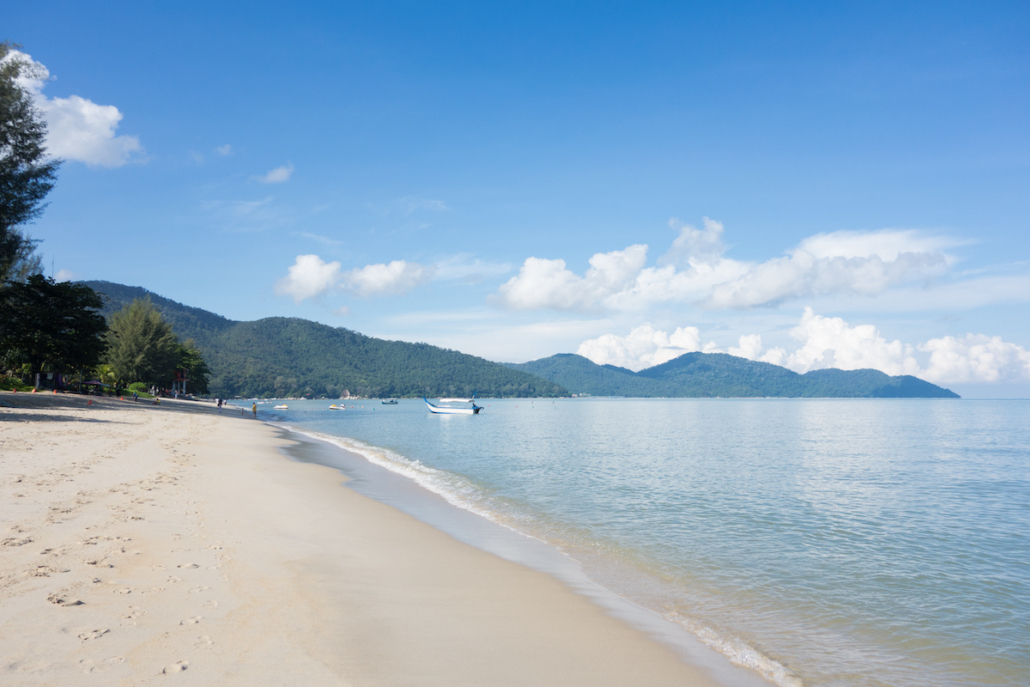 Where: Penang
Located on the major Malaysian island of Penang, Batu Ferringhi is a bucket list destination for travelers who love watersports and parasailing. Endless restaurants and shops are at your fingertips at this popular beach location.
During my first visit to Penang, I made my way to Batu Ferringhi beach every night for sunset, and we were rewarded with absolutely stunning colors.
I rented a jet ski for a fraction of the price you would pay in other countries and then went parasailing in a bright orange and pink sky. Truly an amazing experience, and I'm always telling people they need to visit Batu Ferringhi Beach during their trip to Malaysia.
THIS BEACH IS FAMOUS BUT NO ONE WAS THERE | Batu Ferringhi & FOOD in Penang Malaysia Vlog 2022
---
Where to Stay in Batu Ferringhi, Malaysia?
Golden Sands Resort by Shangri-La – "One of our top picks in Batu Ferringhi. Featuring three outdoor pools, a mini waterpark, two slides, and one whirlpool in beautifully landscaped grounds, Golden Sands Resort, Penang, sits in the heart of Batu Ferringhi Beach. It offers a complimentary two-way shuttle to UNESCO World Heritage Site, Georgetown.
Free Wi-Fi is available throughout the resort. Within walking distance of Batu Ferringi's night market, Golden Sands Resort is a 20-minute drive from central Georgetown and about 12 miles from Penang International Airport. Enjoy stunning views of tropical greenery or the ocean at comfortable seating areas situated by oversized windows."
Price: $70+ (Read Reviews & Check Availability)
Review – "My kids love the pool the most. I love the room and its gorgeous view of the sea. Thanks a lot to the young gentleman at the check-in counter who suggested that we upgrade from the no-view side to the sea view.
Not to forget the extra friendly and always helpful staff. Admired the dedicated lifeguards around the pool as well. We felt safe letting our kids play in the pool as the guards never failed to monitor them every second. Overall we really enjoyed our stay here and would love to come again."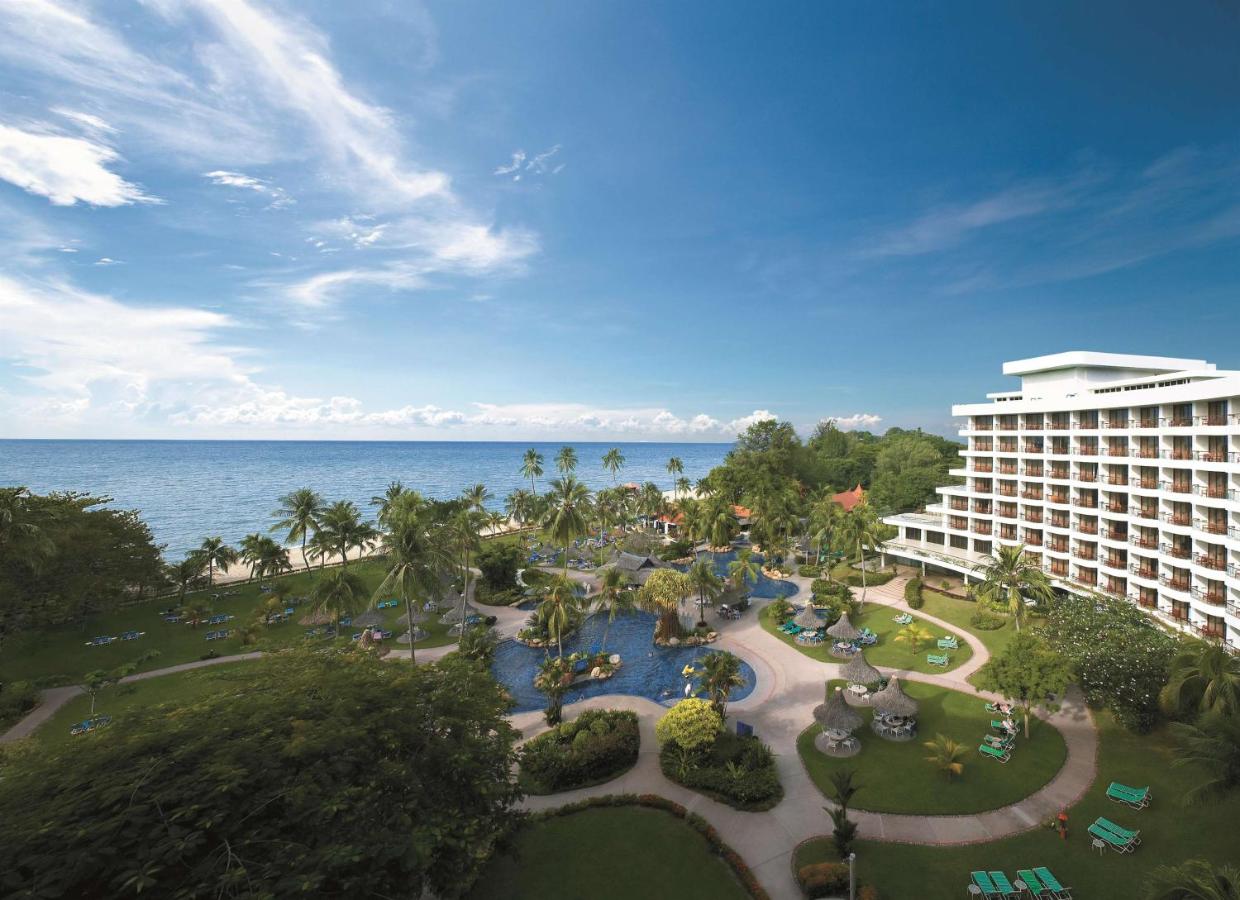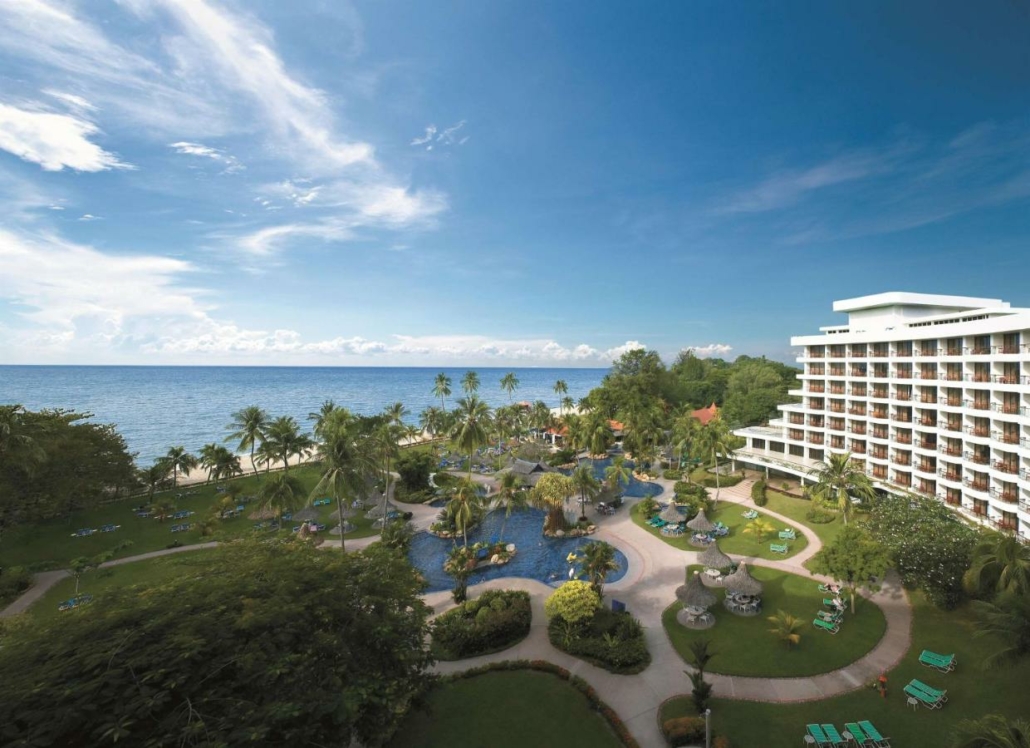 ---
13) Kerachut Beach – Penang National Parl
Where: Penang
Tucked away within Penang National Park, Kerachut Beach is a remote location perfectly suited to those who want a breather from the hustle and bustle of the city.
"At 23 sq km, this is Malaysia's smallest national park, but its beach-fringed forests are home to silvered leaf monkeys, flying lemurs, leopard cats, abundant bird, amphibian, and reptile species."
Green turtles are everywhere here, so much so a hatchery now exists to conserve them. It's easily one of the best beaches in Malaysia, so make sure you don't leave Penang without visiting Pantai Kerachut.
hiking to kerachut beach, penang national park ⎮ vlog #29
---
Want to Stay in Pantai Kerachut, Malaysia?
Well, there are no actual hotels or resorts nearby, but that doesn't matter because I'm always recommending people to stay in Batu Ferringhi anyway. And then you can plan your day trips from there.
So I'll give another quality and budget-friendly option.
The Bayview Beach Resort – "One of our top picks in Batu Ferringhi. The Bayview Resort offers rooms with private balconies that face the hills or the sea. It features an outdoor swimming pool, and guests can enjoy meals at the in-house restaurant or have a drink at the bar.
Free Wi-Fi is available throughout the resort. Rooms at The Bayview Beach Resort come with a sitting area and a private bathroom. Each room is equipped with a TV, a minibar, and a coffee and tea maker. Ironing facilities are also provided.
Guests can exercise at the fitness center or visit Mandare Spa for massage treatments. Bayview Beach Resort also has a library and tennis courts. Recreational activities include cycling, scuba diving, and fishing."
Price: $29+ (Read Reviews & Check Availability)
Review – "We stayed in the family room, and it was spacious and very comfortable. Their staff was definitely their best asset. Very helpful, polite, and efficient. The pool was the main highlight for the kids, especially the play-pool area. It was fun even for us.
Do try the massage service around the lawn area. It was especially relaxing and not so expensive." – Reena, Malaysia
Bayview Beach Resort Batu Ferringhi - Penang
---
14) Sipadan Island Beach
Where: Sabah, Borneo
With many tourists visiting Sipadan Island for its exceptional diving opportunities, Malaysia's only oceanic island, locals preserve the beaches with scuba diving permits that must be purchased in advance.
Sea turtles, colorful fish, and other marine life will keep you company as you immerse yourself in the warm waters. Sipadan Island is quite literally at the top of my Malaysia bucket, as I've heard it's packed with so much to see both above and below the sea.
"I have seen other places like Sipadan years ago. Now we have found again an untouched piece of art". – Jacques-Yves Cousteau"
Check out the Sipadan Island website for details on how to plan a trip out there to experience its beauty for yourself.
Sipadan Island Malaysia | AMAZING DIVING!
---
Where to Stay on Sipadan Island, Malaysia?
Sipadan Micro Dive – "Sipadan Micro Dive is situated in Pulau Mabul and features a shared lounge. Staff on site can arrange a shuttle service. At the guest house, rooms come with a desk. All rooms are fitted with a private bathroom.
Review – "The staff were wonderful. Joe and his team were really friendly, we went diving with them for the first time and we went to see many creatures in their natural habitat including turtles and sea snakes. The view from the deck outside our room was amazing." – Naomi, Malaysia
---
15) Pulau Tiga
Where: Sabah, Borneo
The volcanic island of Pulau Tiga (Tiga Island) is located in Sabah and boasts as many adventure activities as chances to relax. Nicknamed "Survivor Island" after it was the location for a season of the reality show, Pulau Tiga offers snorkeling, forest trails, and the chance to slather mineral-rich volcanic mud all over yourself. The choice is yours.
Borneo really is another underrated destination in Malaysia and is home to more iconic beaches than one can count – so it'd be well worth the journey to get out there.
---
Where to Stay in Pulau Tiga, Malaysia?
"Make your way to the district of Kuala Penyu and hop on a boat to Pulau Tiga. The island's claim to fame is none other than being the first ever 'secret' location for the hit reality series, 'Survivor'. Hence, many refer to Pulau Tiga as Survivor Island.
It is located just 6,2 miles offshore on the West Coast of Sabah. You can enjoy a day trip to the island, but many recommend spending at least a night or two. The island has two resorts in and around it, Pulau Tiga Resort and Gaya Island Resort.
There's plenty to see and do here. Like spending sunny days swimming or snorkeling in its surrounding clear waters or going kayaking. Divers can explore the island's healthy, colorful coral reefs and underwater treasures with ease (scuba diving courses are available).
Pulau Tiga is also famous for its therapeutic natural volcanic mud. Looking for some wildlife? Say hello to the island's famous residents: snakes. Facilities on the island include a restaurant and camping site." – Sabah Tourism
THE FAMOUS SURVIVOR ISLAND! A Day Tour to Pulau Tiga
---
16) Tanjung Aru
Where: Kota Kinabalu, Sabah, Borneo
A 1,2-mile stretch of sand greets you at Tanjung Aru Beach, where witnessing one of the beach's famous sunsets will see you surrounded by equally-enthralled visitors. A family-friendly location, Tanjung Aru features thick sand and terrific water.
If you're looking for an unforgettable Malaysian beach resort, then this should be on your bucket list. So many adventures to be had and sunsets to soak in.
Shangri-La's Tanjung Aru Resort & Spa, Kota Kinabalu
---
Where to Stay on Tanjung Aru Beach, Malaysia?
Shangri-La Tanjung Aru Resort and Spa – "Boasting seven dining options, an exclusive CHI Spa, and an outdoor pool with water jets, Shangri-La's Tanjung Aru offers a luxury beachfront resort in Tanjung Aru.
It's set 4,4 miles from Kota Kinabalu and features free Wi-Fi throughout, and free parking is provided. Featuring elegant decor, the spacious rooms are fitted with air-conditioning, a seating area, and a flat-screen satellite TV. Stunning ocean or mountain views can be enjoyed from private balconies with outdoor seating.
Dining options include Peppino's Italian Restaurant and Shang Palace, which specializes in Chinese cuisine. Live entertainment accompanies light refreshments at Borneo Lounge and Bar.
Guests can enjoy various water sports activities, such as jet skiing, surfing, and diving. Children can play in the kids' pool with waterslides. Other amenities include a nine-hole golf course and CHI Spa, which offers relaxing massages."
Price: $145+ (Read Reviews & Check Availability)
Review – "Such a beautiful place. The rooms were clean and spacious; I didn't want for anything, and if you asked, you got it. The staff is extremely helpful and always happy to greet you and help you. Lots of places to eat and drink and things to do, and some of these were free.
A big resort with lots of people but never felt overcrowded around the pool or in the bars or restaurants Would definitely stay here again and recommend it to anyone visiting that side of Malaysia." – Sarah, United Kingdom
---
17) Manukan Island
Where: Kota Kinabalu, Sabah, Borneo
Accessible by boat, this island beach can get super busy – and for good reason. Fantastic coral reefs make it popular for snorkeling and swimming, with water so clear you can see the tropical fish you are swimming alongside.
Stay for a couple of days, and you'll find yourself coming back every year for more island relaxation.
The most visited island in Sabah definitely lives up to its name.
[4K] Manukan Island, Sabah Malaysia
---
Where to Stay at Manukan Island, Malaysia?
Sutera Sanctuary Lodges at Manukan Island – "One of our bestsellers in Kota Kinabalu. Manukan Island Resort by Sutera Sanctuary Lodges boasts a private beach overlooking the South China Sea. It features an outdoor pool, spacious villas, and suites. Guests enjoy complimentary scheduled boat transfers.
Offering direct access to the beach, every unit is air-conditioned and comes with a flat-screen TV. Guests enjoy a beach view from the private terraces. A dining area and a kitchen are provided in some units. The en suite bathroom comes with free toiletries and a shower.
Price: $179+ (Read Reviews & Check Availability)
Review – "The hillside villas are amazing. They are super spacious and peaceful and have great views. The staff are equally, if not more, amazing and will make you feel welcome from the moment you step on the boat to the moment you depart. Be sure to make the short trek to the sunset viewpoint. It's well worth it." – Megan, Thailand
---
18) Teluk Nipah (Nipah Bay)
Where: Pulau Pangkor (Pangkor Island)
A short drive from the Pangkor Island Ferry Port, Nipah Bay is a popular destination for Malaysians to escape their city homes for a short island getaway. It is generally quiet, steeped with greenery and foliage, and has a top beach. It's also a great budget beach trip to add to your shortlist.
Short Vacation to Teluk Nipah , Pangkor
---
Where to Stay in Pulau Pangkor, Malaysia?
Anjungan Beach Resort – "Combining contemporary-style tropical décor with maritime influences, its highlight is a boat-shaped outdoor pool with spa jets and a wading pool for children. Guests can enjoy meals at the in-house restaurant, and barbecue facilities are offered.
Free Wi-Fi is available in rooms. It is a five-minute walk to Coral Beach. With hawker stalls, cafes, and restaurants within the surrounding area, guests are spoilt for dining options. Anjungan Beach Resort is only a few hundred metres from Giam Island, a popular snorkeling area."
Price: $48+ (Read Reviews & Check Availability)
Review – "Room was clean and made up every day. Staff friendly. Beach near the pool was clean and comfy. Breakfast was good and wide range. Value for money. Good places to have lunch and dine, grocery shop two minutes away. Taxi to town max.18MYR ($4,08) and taxis seem to be always available. I would visit again." – Samirainen, Finland
---
19) Rawa Island Resort & Beach
Where: Johor
Dip your toes in the South China Sea on Rawa Island Beach, a captivating coral-covered reef located in Johor. The water sports, snorkeling, and scuba diving on Rawa Island Beach deserve a gold star, as does the whitest sand you've ever seen in your life.
It's a popular weekend trip from locals in Singapore and Kuala Lumpur and a bit closer to the shore than the iconic Tioman Island.
Rawa Island, Johor, Malaysia 2017
---
Where to Stay on Rawa Island, Malaysia?
Rawa Island Resort – "Welcome to Rawa Island Resort, an idyllic Malaysia tropical island resort popular with families looking to unwind from the stress and strain of modern life.
Feel the grains of white, sun-baked sand between your toes as you stroll along the beach. Take a dip in the warm waters of the South China Sea.
Enjoy the green scenery. Snorkel along the natural coral reef just a few feet from the shore. Or simply relax as you watch the sun disappear lazily over the orange horizon."
Rawa Island Resort, Johor, Malaysia - Visit Us in 2023!
---
20) Golden Beach | "Trombol Beach"
Where: Sarawak
The rich, golden-hued sand of Golden Beach stretches for 1,9 miles, but you have to catch a chartered boat or trek for three hours along a park trail to reach it. Once you've had your fill of this beautiful beach, there's also a freshwater beach lake behind it, which connects to the ocean through a small river. For photo ops, this is the place.
It's the #1 place to visit in the area and would be a fantastic addition to your Malaysia travel itinerary. Go, relax, and soak up this unique Golden Beach.
similajau National park, the golden beach in Bintulu Sarawak Malaysia
---
Am I Missing Any epic Malaysia beaches, resorts, or hotels…?
This was a really fun article to put together, and I got some amazing new ideas for my next Malaysia beach and luxury resort holiday. It's truly one of my favorite countries to travel through in Southeast Asia, and I think has some of the best-hidden gems in all of the sub-continent.
There are amazing Malaysian beach resorts for all types of budgets, families, and solo travelers, and I'm sure you'll fall in love with this country as much as I have.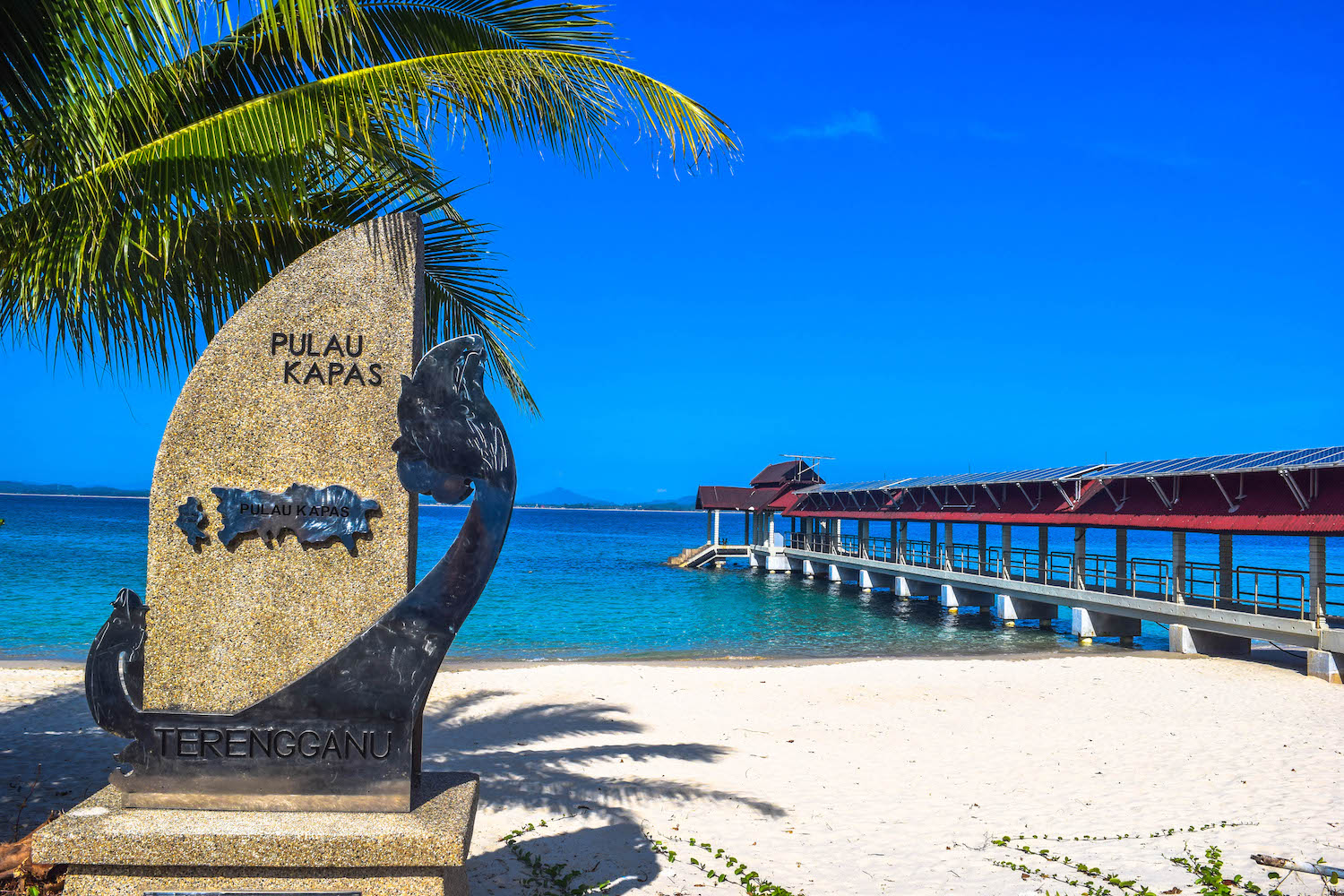 ---
Don't Visit Malaysia Without Travel Insurance
Whether you are heading to Kuala Lumpur for just a few days or embarking on a lengthy trip around Malaysia, travel insurance is absolutely essential. There is a whole pyramid of problems that could occur on a trip, ranging from the general, like missed flights or theft, to the more specific, for visiting Malaysia, such as scuba-dive coverage.
I highly recommend HeyMondo due to their extensive range of cover for all situations and trip lengths, their fair pricing, and their handy app, which allows you to not only manage any claims within the app but also access free assistance online so you don't need to rack up an expensive phone bill while abroad.
So, whether you need a single trip cover or an affordable annual cover for multiple trips worldwide, be sure to buy your travel insurance before you travel and relax during your trip, knowing that HeyMondo has your back. Nowadays, I would never travel without insurance again, especially after hearing so many (expensive and dangerous) horror stories from other travelers I've met.
Still planning your trip? You can always just get a no-commitment travel insurance quote now, so you have an idea of how much extra to budget for your vacation.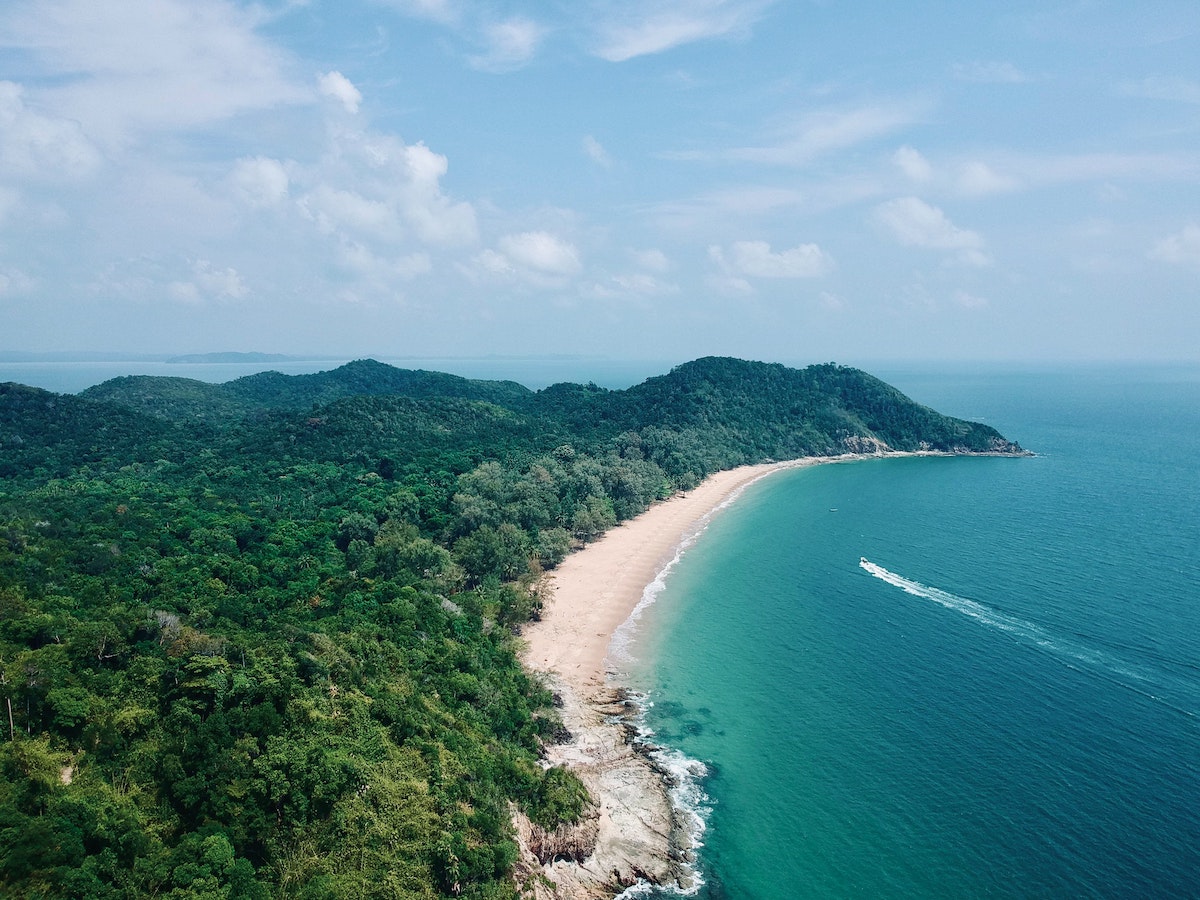 ---
Planning a trip to Malaysia / Southeast Asia…?
My website is filled with helpful travel planning articles about this region, so check out a few more of these articles below to start planning your trip.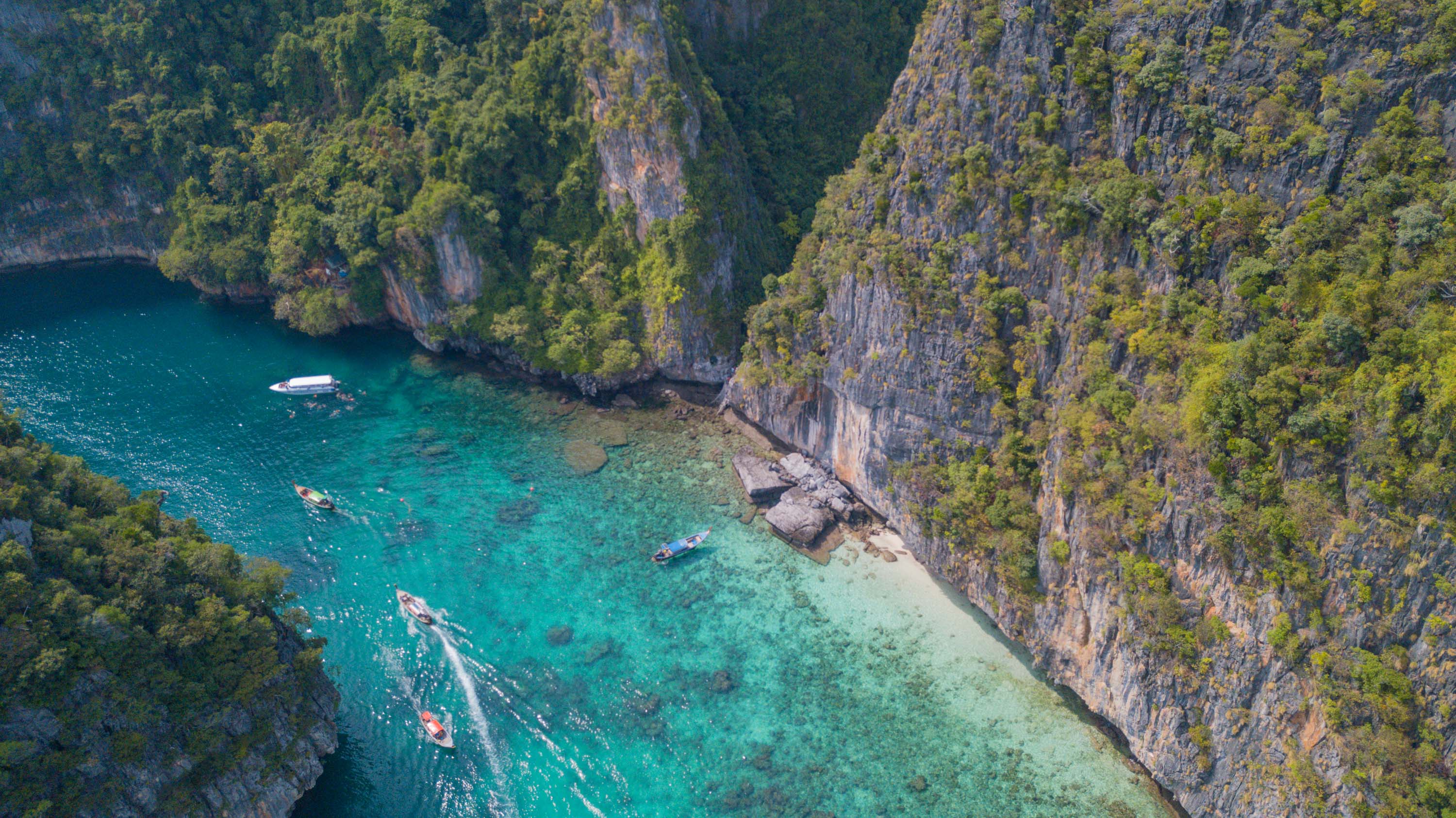 ---
Thanks for reading about the best Malaysia Resort, Hotels, and Beaches!!
If your'e not already, be sure to follow along on my Facebook & Instagram for more of my personal adventures around the world. I've actually got plans to head back to Kuala Lumpur and explore a lot more of Malaysia that I missed the last few trips. If you have any questions about anything you read here, feel free to shoot me an email or drop a comment below – and I'll be sure to respond as soon as I can.
I hope you've enjoyed reading all about these epic Malaysian Beaches, Islands, Hotels, Luxury Resorts, and pristine vacation destinations!
TERIMA KASIH!!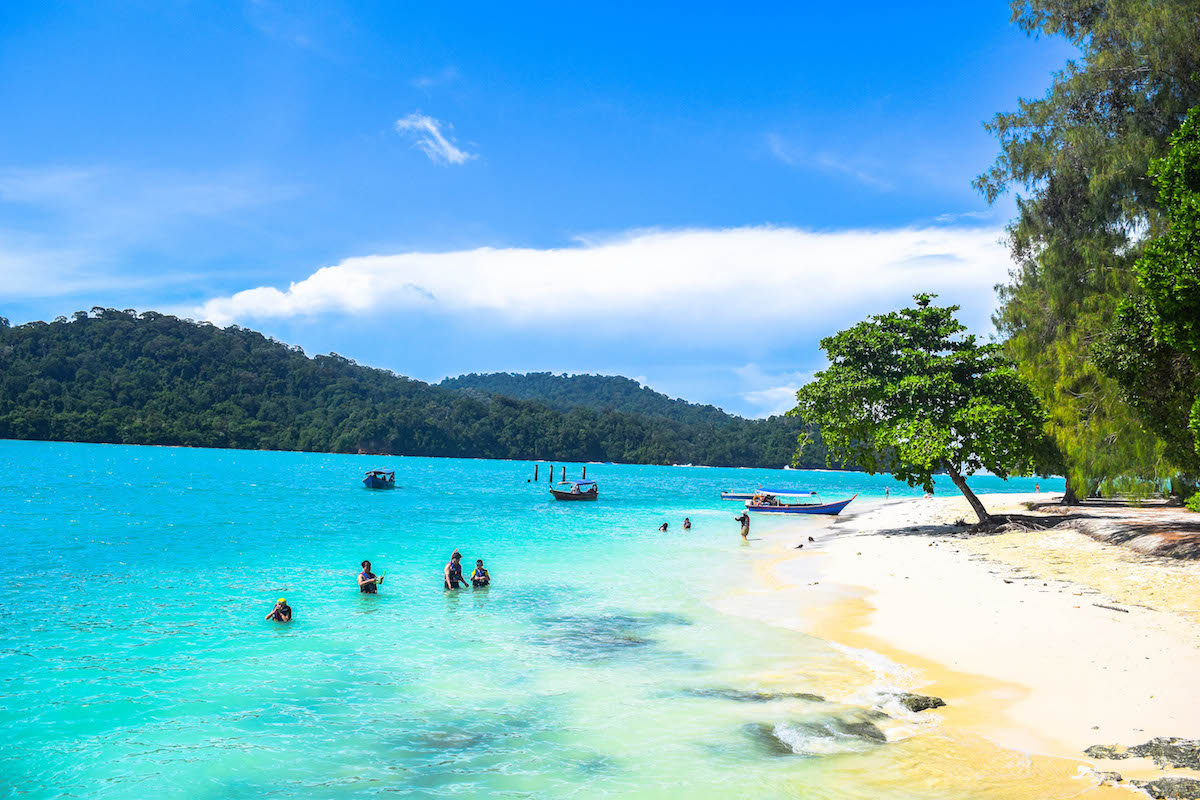 TOP 10 Most Unique Beaches in Malaysia | Paradise on a budget
---
SHARE THESE MALAYSIA BEACHES!!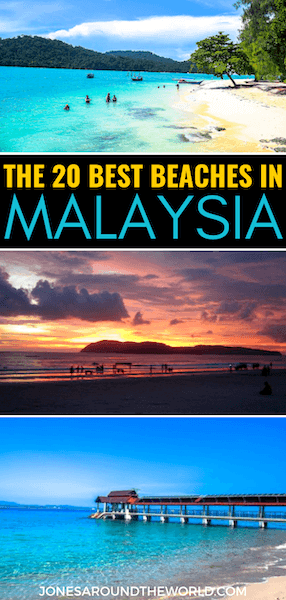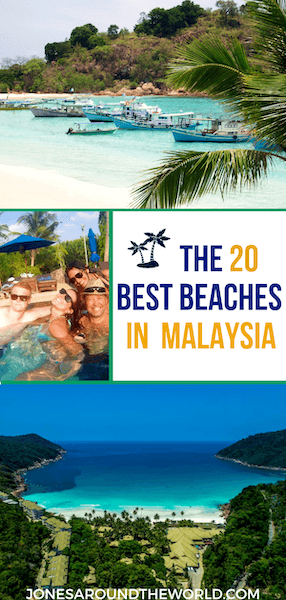 https://www.jonesaroundtheworld.com/wp-content/uploads/2019/01/Best-Malaysia-Beaches.jpg
600
900
Dave
https://www.jonesaroundtheworld.com/wp-content/uploads/2017/03/logotry-1-1-300x106.png
Dave
2023-02-09 08:58:18
2023-04-25 21:32:00
20 Best Beaches in Malaysia | Beach Resorts & Islands