After the brutal weather causing floods in Myanmar, my friends and I decided that it might not be the best time to visit there. Despite already paying for one flight, entrance visas, and two nights at a hotel; we agreed that it would still be better to spend our time elsewhere than be stuck inside budget hotels instead of being to explore all the temples, cities, and lakes the country is known for.
We had all traveled to a lot of different places in Malaysia before, but there was one place we all would be exploring somewhere new. That's when we decided it was the perfect time for a weekend trip to Tioman Island.
Overall, the trip had it's ups and downs (the downs being mainly transportation related), but we all agreed that Tioman Island was really beautiful, and had a great time.
---
Looking a place to stay on Tioman Island?
Cheers Chalet – this is one of the cheapest options available on Tioman Island, and really perfect for budget and solo travelers! It's well located, well-reviewed, and is a perfect option! Read Reviews & Check Availability
1511 Coconut Grove – This mid-range hotel is for people who want a bit more of comfort, but don't want to spend too much. It's a beautiful property, has excellent reviews, and it's on the beach! Read Reviews & Check Availability.
Best Resort on Tioman Island
Japamala Resort by Samadhi – This 5* Resort is unbelievably gorgeous, and is perfect for luxury travelers!! It's by far the best place to stay on Tioman Island, and would provide an amazing weekend vacation on Tioman Island. Read Reviews & Check Availability.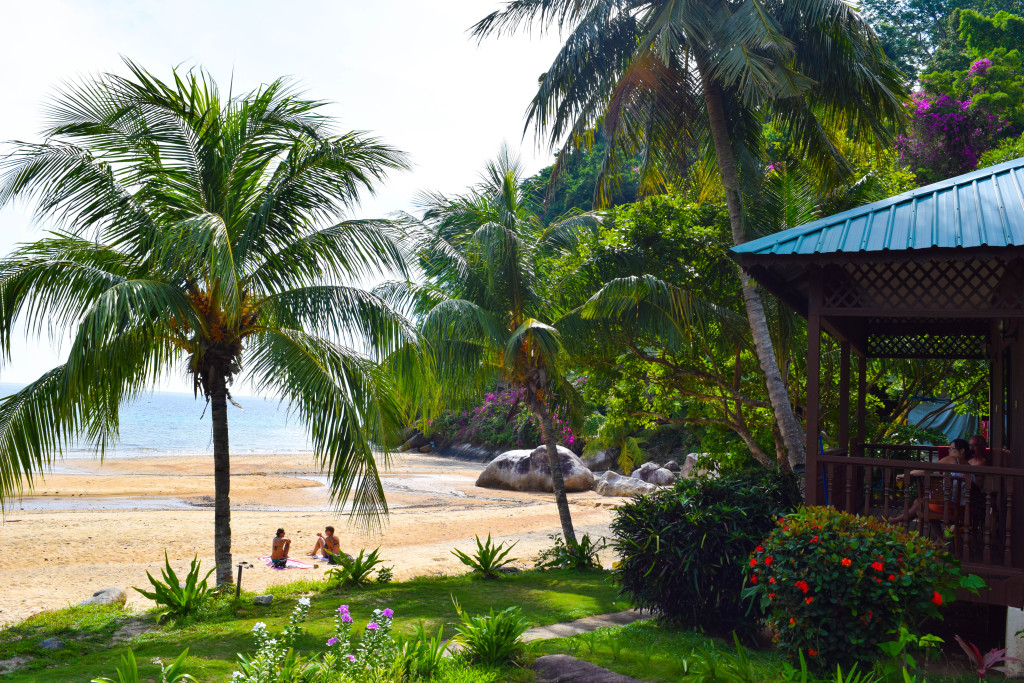 ---
Tioman Island Trip Highlights
Coral Island Snorkeling Trip
This was a blast. We didn't get too lucky with weather, but the underwater life was still pretty great, and went to some beautiful places. It was also extremely funny laughing at all the big Chinese tour groups who really have no idea what they're doing. Our first spot was overcrowded, but the visibility was still great.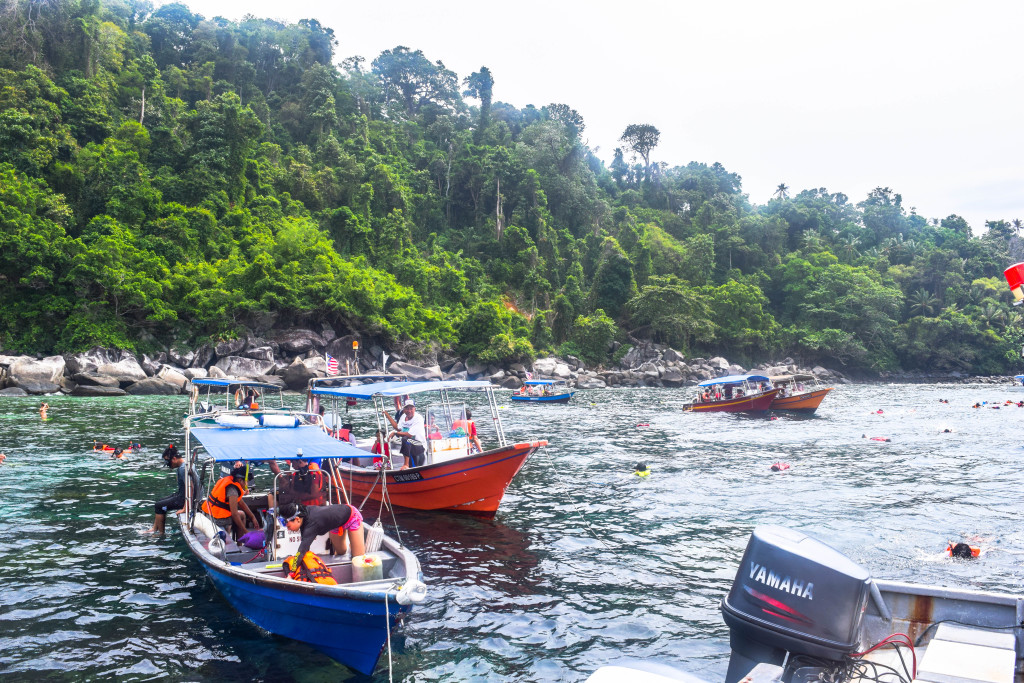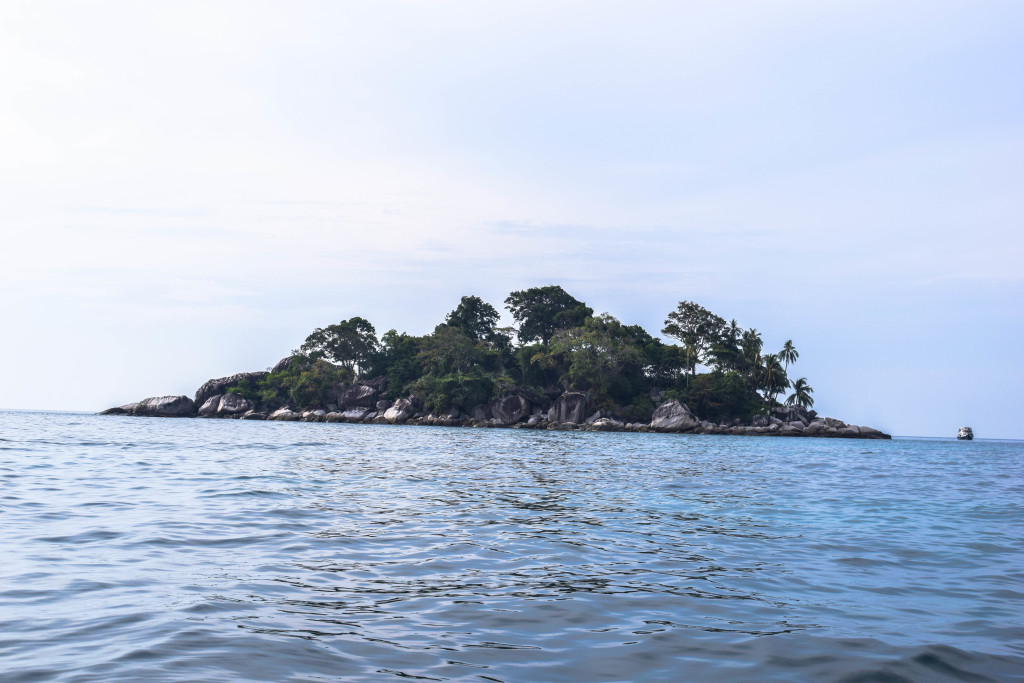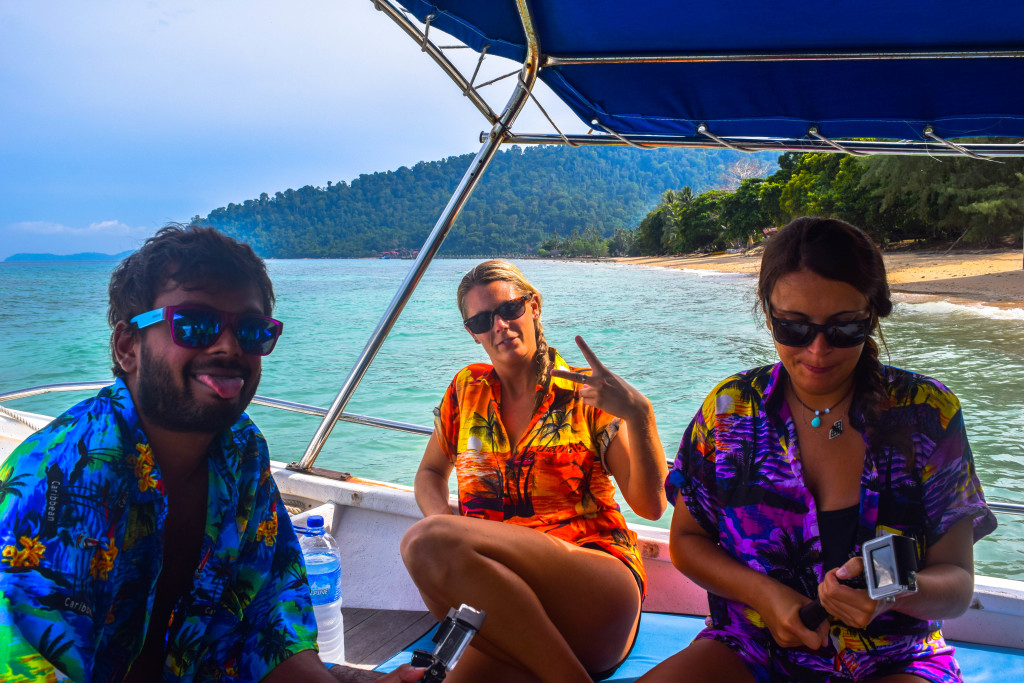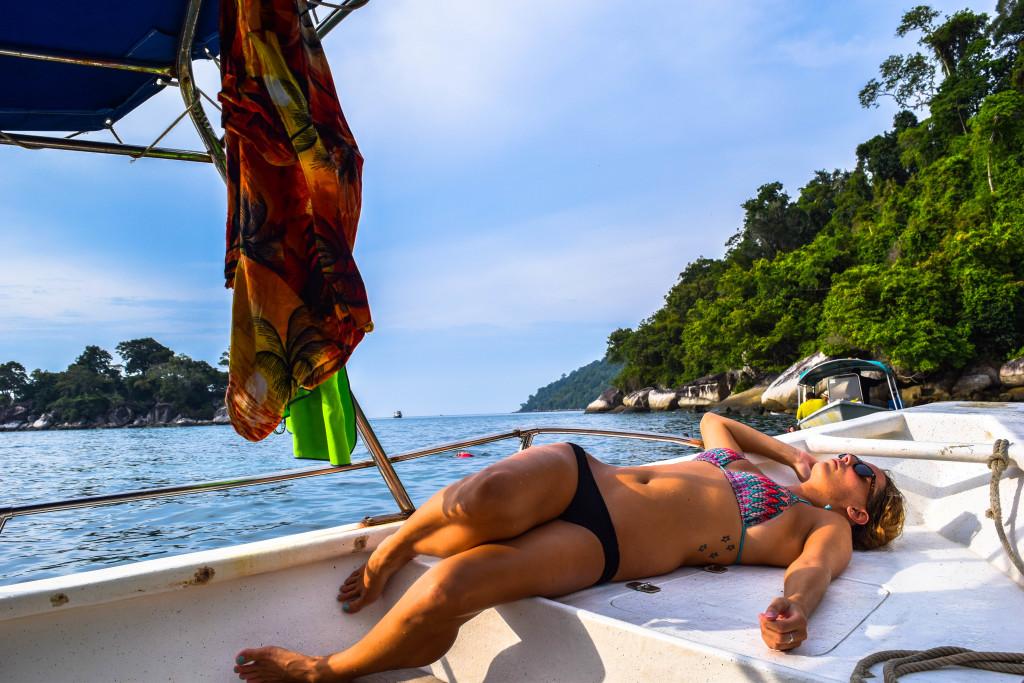 ---
Exploring ABC Beach
I hadn't done much research on what do do on Tioman Island, or where to stay, but I'm glad we ended up staying on one of the main areas called ABC Beach. It was a pretty quiet area, but also really beautiful. We found our favorite places to eat and drink, and pretty much stuck to those two; Nazri's Place (A.K.A Roger's Place), and Sunset Bar (Best Happy Hour!). The Beaches were nice, and was a really cool place to call home. There was a hike that was an option to a couple hidden bays and beaches, but we decided against it because we're lazy and didn't have shoes.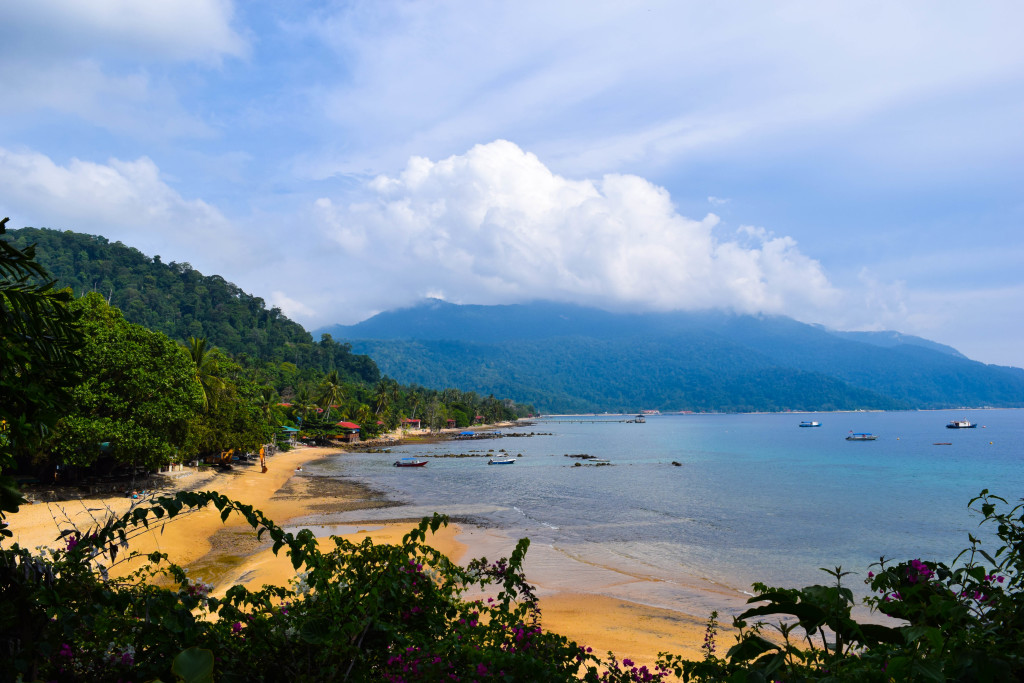 ---
Tioman Island Sunsets
The first two nights we stayed on Tioman island, the weather was pretty bad. The sunset wasn't really visible at all, and the sky stayed the same greyish color from 6-8 p.m. Luckily for us, on our last night we a spectacular sunset. I was eating dinner with a friend I actually met on Langkawi (Shoutout to Rohima), and was left thoroughly amazed.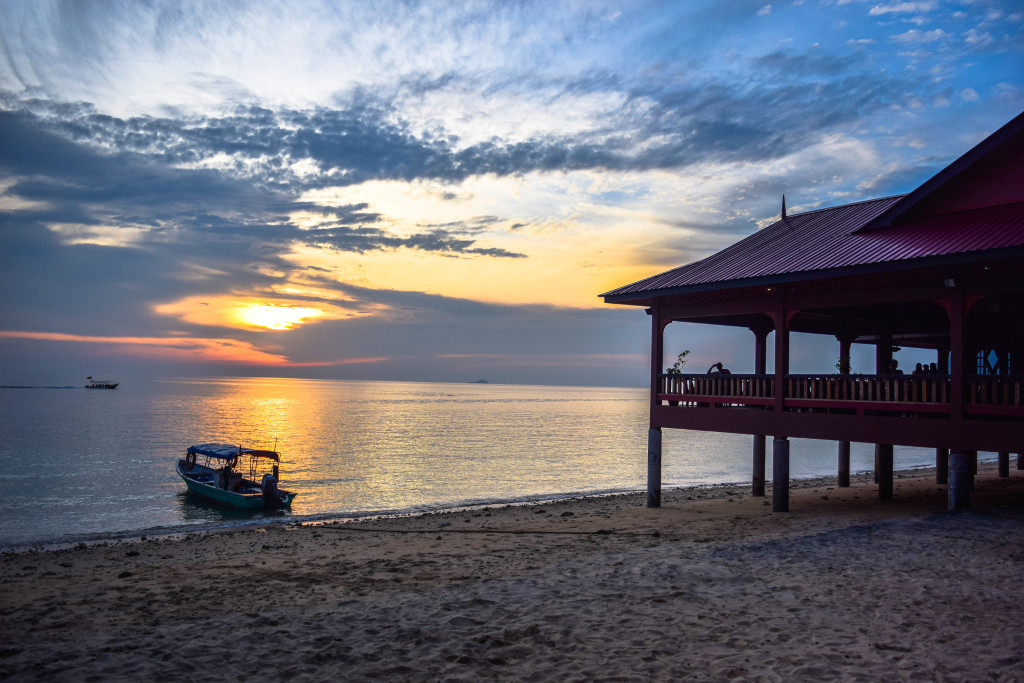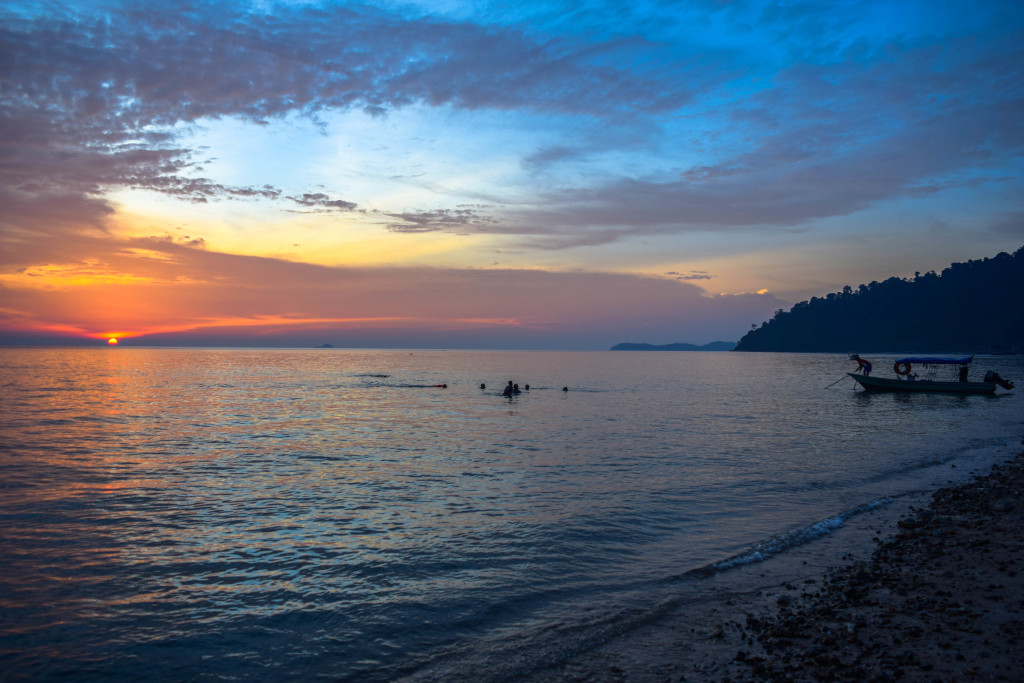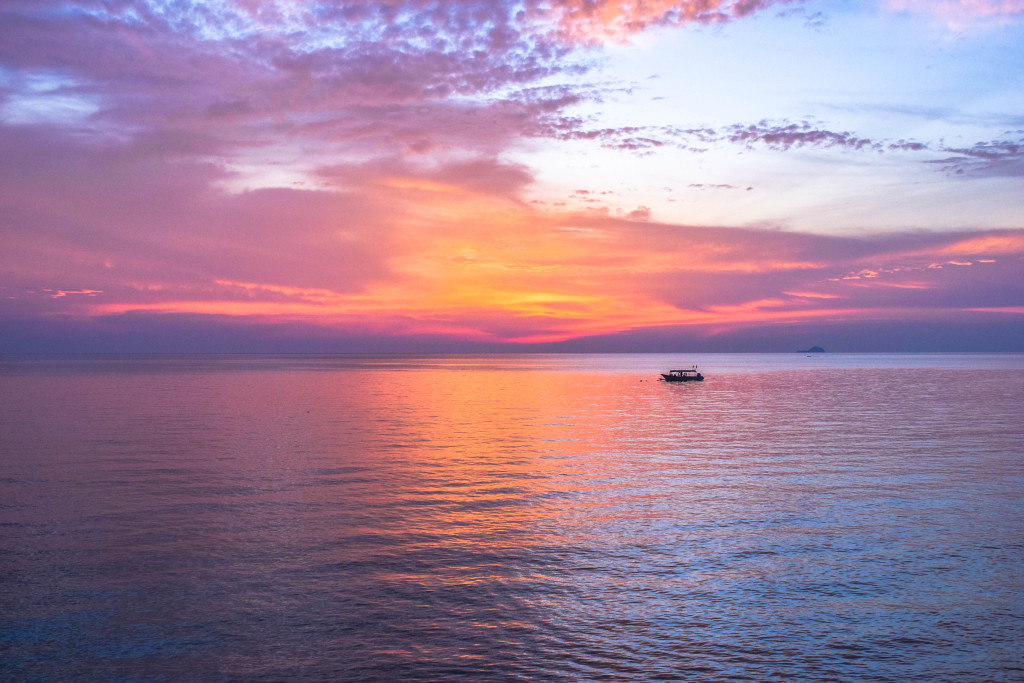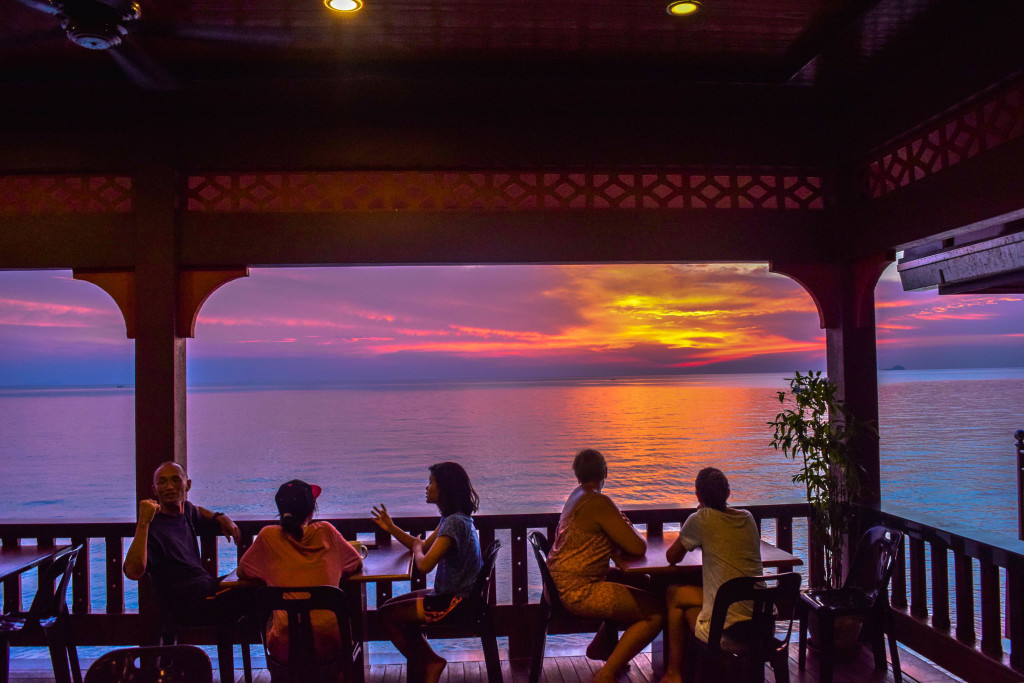 ---
The Bad Aspects of the trip
Traveling isn't always pleasant, and Tioman had a couple aspects that I would have preferred not to encoutner. Obviously, you got to be ready to handle things go wrong, but a couple of these were extremely annoying.
1. Getting To/From Tioman Island
This was a pain in the ass. First of all, the price for a return ticket is 70 MYR, which is around $20. We took a night bus to get to Mersing, and got dropped off at 2:30 A.M. From the Mersing bus station, you have to walk 10-15 minutes. Then we took a 4:30 A.M ferry to get to the island. The Ferry was freezing cold, and then dropped us off at 6:00 A.M, when there were zero accommodation places open to take people in. We ended up chilling at some random place outside for over an hour before figuring out where we were staying.
2. Expensive & Bad Accommodation
There weren't really any hostels that I saw on ABC Beach, and the accommodation was kind of expensive. We got suckered into staying at Mohktar's place, and it was terrible. No sheets on the bed, bugs everywhere, and the owner was a dick. I wish I knew about Juara Turtle Project before I came!
3. Trip Delay / Missed Bus
Leaving the island was absolutely miserable. The only departure was at 6:00 A.M. We were told to be at the ferry about 30 minutes before, which was bull shit. Right at 5:58, a big ferry pulls up to pick us up. Then out of nowhere, the boat just decides to leave before even docking. We ended up waiting another hour, for a terribly small ferry which could only fit 25% of the people waiting. We then had to wait another 3 hours for another ferry, which made us miss our bus departure back to Kuala Lumpur.
---
Overall, Tioman was a great little trip, but without the couple transportation problems we had it would have been a whole lot better.
If you're planning on going to Tioman, make sure you plan ahead for times of the ferries, and what to do. Things will go alot smoother if you do.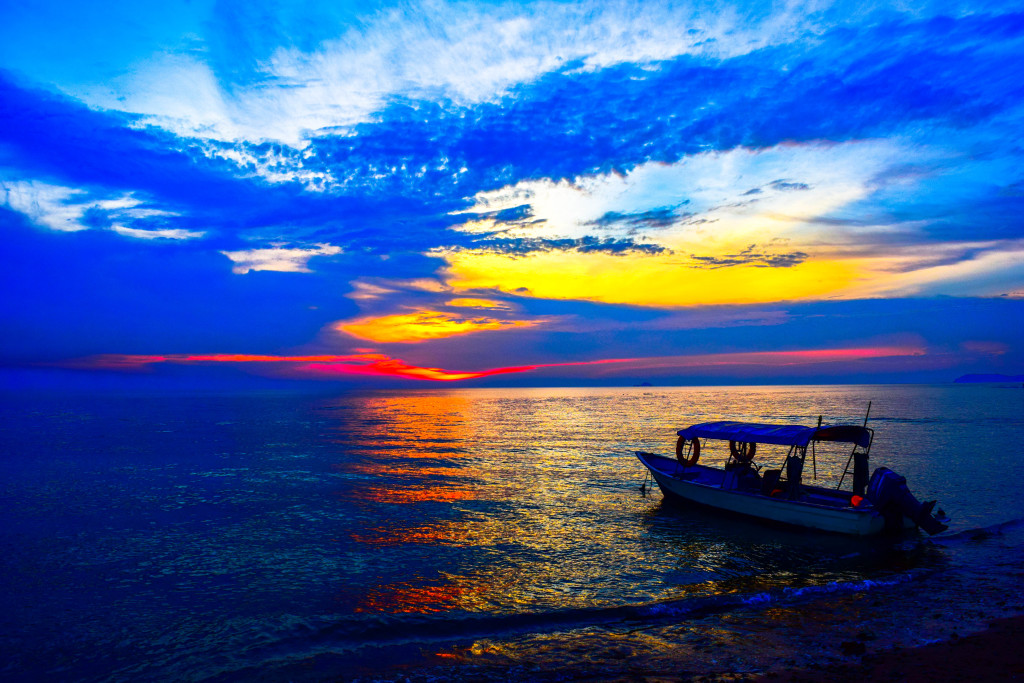 Like this post? Follow me on Facebook, Instagram, and Twitter for more adventures Around The World…
https://www.jonesaroundtheworld.com/wp-content/uploads/2015/08/DSC_1761.jpg
4000
6000
Dave
https://www.jonesaroundtheworld.com/wp-content/uploads/2017/03/logotry-1-1-300x106.png
Dave
2015-08-11 12:22:01
2019-06-21 18:47:49
A Weekend Trip to Tioman Island, Malaysia