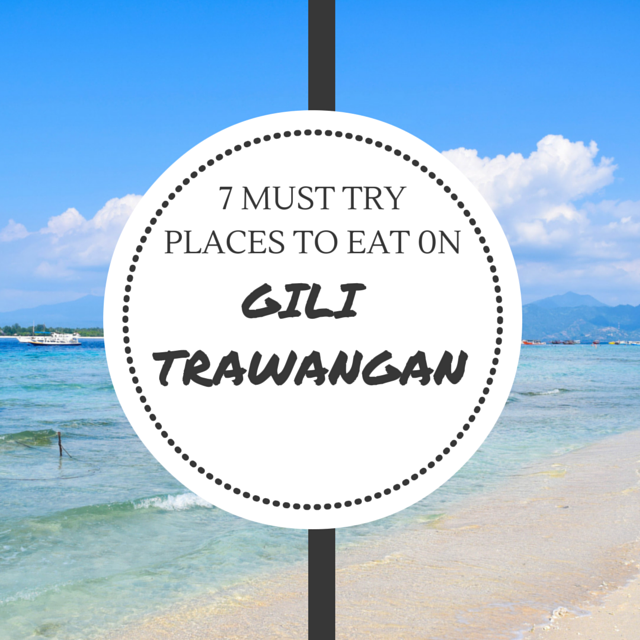 Gili Trawangan is one of the most beautiful islands in the world, and also one of the craziest party islands in South-East Asia. I was lucky enough to land myself a job working at the famous Gili Backpackers hostel (mainly just helping with nightlife stuff), and fell in love with the Gili T lifestyle. I really do love pretty much love everything about this island. That includes the food. If you find yourself heading there, make sure you check out the 7 best places to eat on Gili Trawangan.
---
1. Le Petit Grill
This is probably my favorite place to eat on the entire island. Not only is one of the only restaurants open 24 hours to grab something to eat, the food here is absolutely incredible. They've got a pretty decent sized menu, but you they are famous for their burgers. I'd recommend getting the Greek Burger or the Crunchy Onion burger — both solid options. They cost around $5 and come with incredible french fries. This is also my #1 recommended spot to grab a late night meal to either continue partying, or a drunk snack to soak up some of the alcohol for the hangover.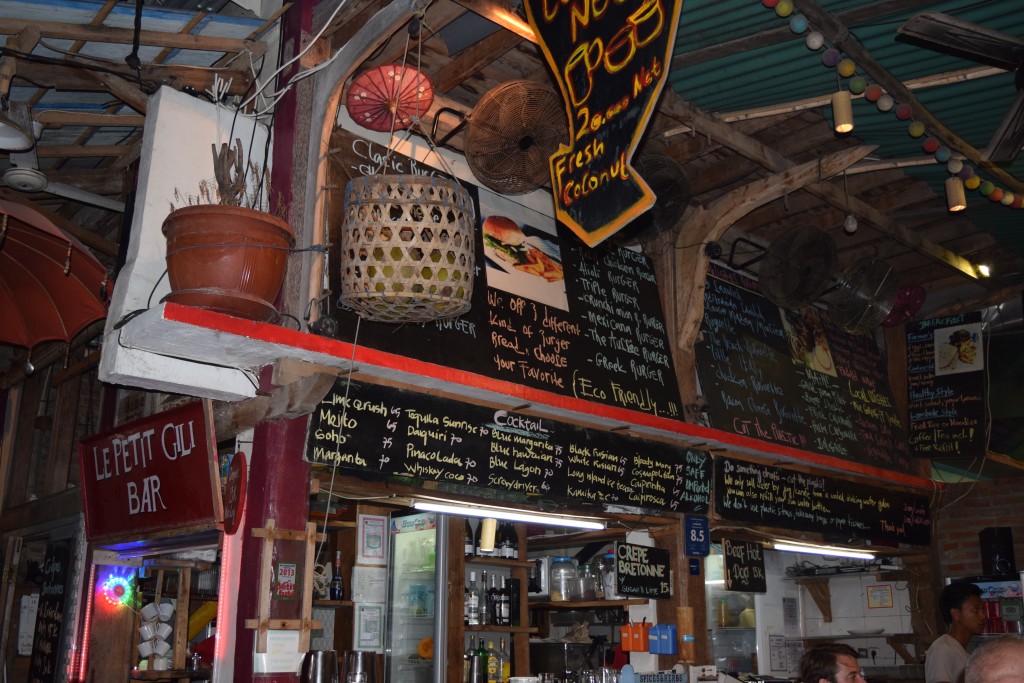 ---
2. La Regina Pizzeria
Probably the best pizza on Gili Trawangan. Not only are they massive enough to share, but they are absolutely delicious. If you are looking for a good Italian meal, than make your way over to La Regina. Pizzas range from around 60-80,000 IDR.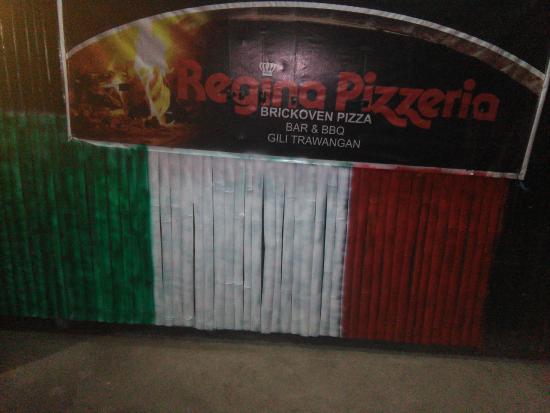 ---
3. The Night Market
You've got to eat at the Gili Trawangan night market at least once during your time on the island. The food is fresh, cheap, and incredible. You have to go to the lower east corner grill and eat there. You pick out your meat skewers, and all dishes include rice and three vegetable sides + peanut sauce. It's mouth waveringly delicious. Don't miss this place.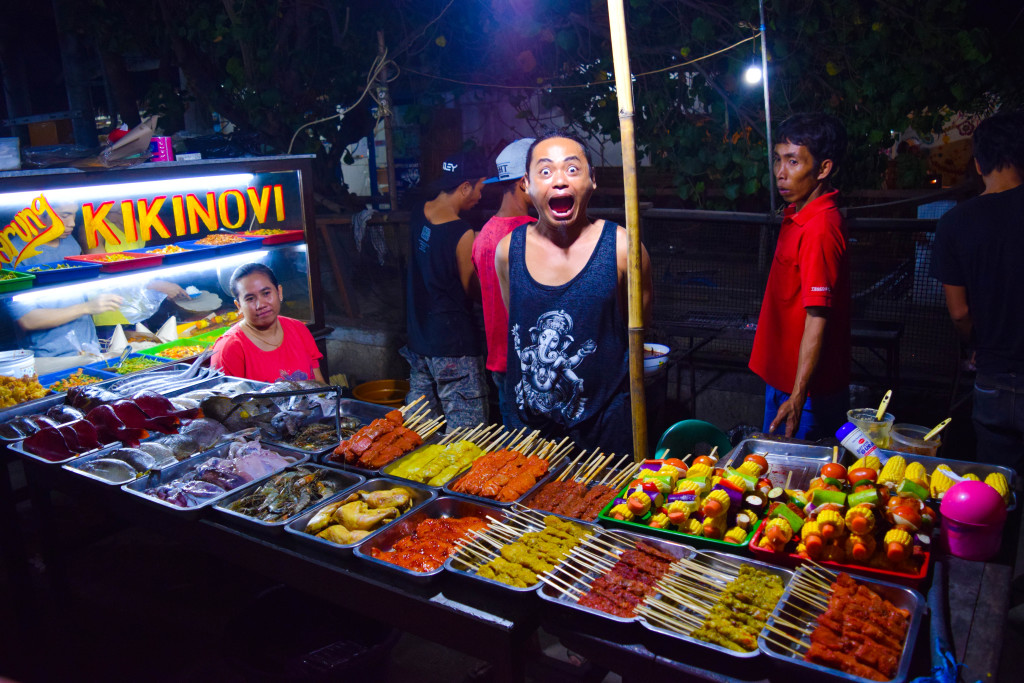 ---
4. Kayu Cafe
Known on the island as the "healthy" food option, Kayu cafe is definitely a must-try. They've got a decent menu, and everything I've tried was really tasty. I went their because I know they serve a decent falafel and hummus wrap, but everything I've seen looks great as well. They also have delicious and healthy smoothies. This place is definitely one of the more pricer options on the island, but it's well worth the money.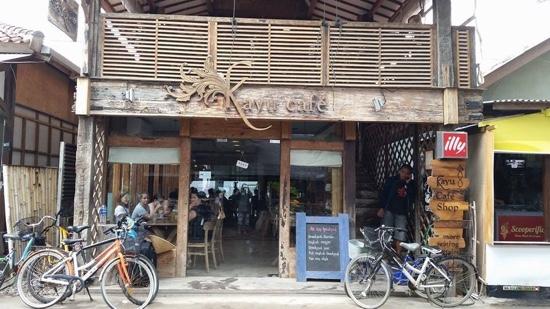 ---
5. The Roast House
They've always got great lunch specials, and some of the biggest portions on the island. If you are starving and looking for an amazing meal…this is where you have to go. If you order one of their burgers, prepared to feel incredibly stuffed! It's large, meaty, and filling. You want want to put it down. Also — you must try their famous roast chicken. It's so damn good! They also have decently fast wi-fi if you're looking for a spot to soak up some internet (which can be hard to find on Gili Trawangan).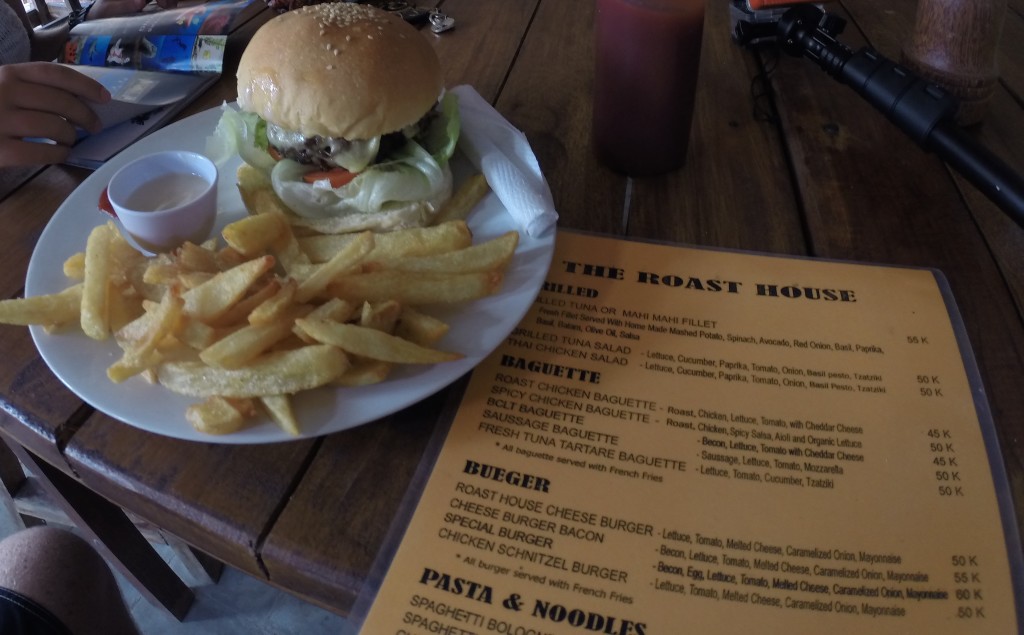 ---
6. Green & Beans
Everything on the menu here is incredible. The portions are decent, the are fairly priced, and you'll definitely come back for more. Definitely try the "Bangers & Mash". You won't regret it. They also have massive salads that are particularly tasty.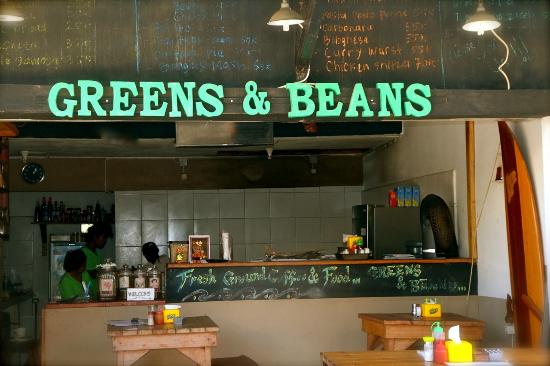 ---
7. The Yoga Place
While most people head this way to attend one of the many yoga classes on Gili Trawangan, you would be dumb not to eat here at least once. The food can be a tad bit pricey, but it's full of healthy eating options, great juices, and giant fresh coconuts. Located just across the street from the popular Backpacker Hostel, La Boheme, it's the perfect spot to grab a bite to eat and do some yoga.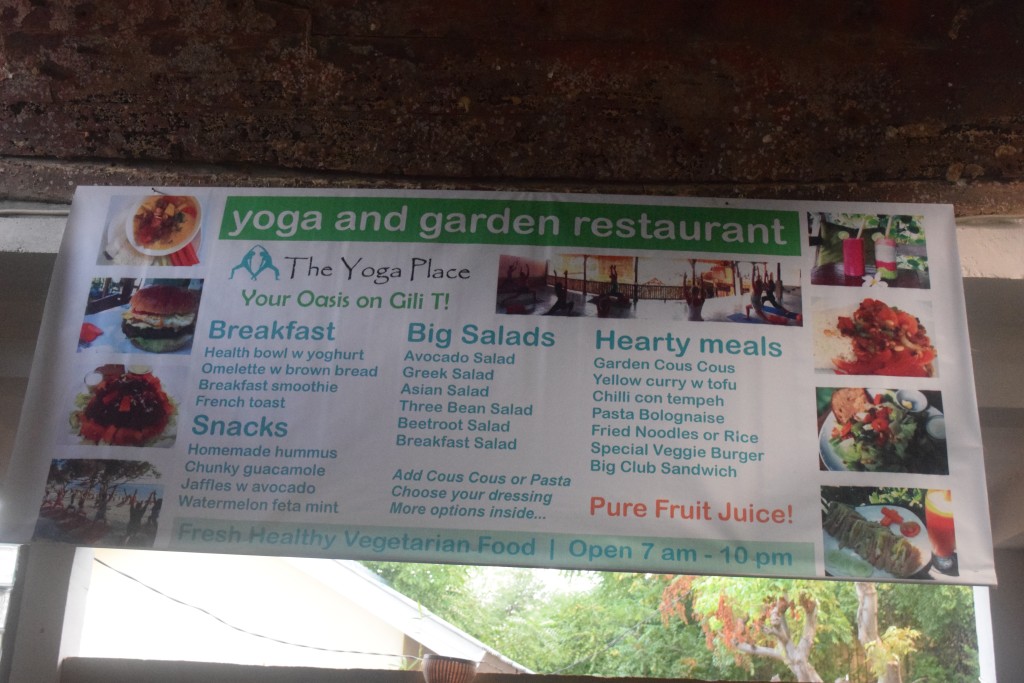 ---
Looking for a place to stay on Gili Trawangan?
GILI CASTLE (formerly known as Gili Backpackers) – My personal favorite place on the island, but that's because I used to work here! Amazing backpacker vibe, great location, and quality parties.
Pandawa Beach Villas & Resort – If you're looking for a bit more comfort at an affordable price, then I'd highly recommend booking your stay here at Pandawa Beach Villas & Resort

! The rooms are all absolutely gorgeous, the staff is incredibly helpful, and you really can't find a better beachfront location on the sunset side of the island. They've got a gorgeous pool, sunset swings, and is tucked away from the wild party noises of Gili Trawangan.
---
Thanks for reading about my favorite places to eat on Gili Trawangan. Make sure to check out some of my other posts on Gili Trawangan:
---
Like this post? Follow me on Facebook, Instagram, and Twitter for more adventures Around The World…
https://www.jonesaroundtheworld.com/wp-content/uploads/2015/08/Wilshire-1.png
640
640
Dave
https://www.jonesaroundtheworld.com/wp-content/uploads/2017/03/logotry-1-1-300x106.png
Dave
2015-08-14 04:10:33
2019-06-21 18:51:17
The 7 Best Places To Eat On Gili Trawangan