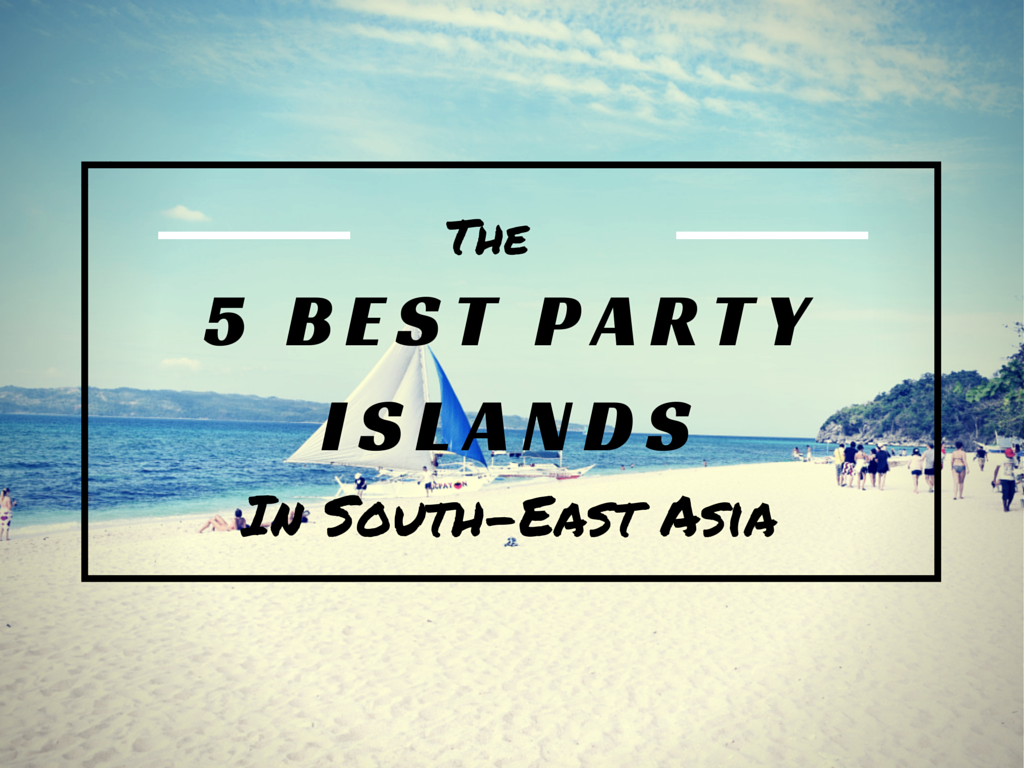 Looking for the best places to party in South-East Asia? Well, I'm here to help. I've spent a good time traveling, backpacking, and partying around this corner of the world, and this place definitely has some top-notch places to have some drinks, dance all night, and meet new people. This post is specifically about the best party islands in South-East Asia. If you're making your way to any of these incredible islands, you (and your liver) better be ready for a damn good time!
Check out my other blog post about:
The 15 Best Party Places to Party In South-East Asia
---
1. Koh Phangan, Thailand
When it comes to partying in South-East Asia, you can't miss out on the craziness of Koh Phangan. Yes, it is home to the notorious Full Moon Party, but there are actually so many better parties on the island. I like to refer to this as the "Ibiza of South-East Asia", because every night of the week, there is a different party, at a different venue on the island. Although there have been some issues with the cancellations of parties, I really doubt that will actually ever happen. If you're making your way to Koh Phangan anytime soon, make sure you check out a website called the Phanganist.com. They go over all the parties, hostel information, and other useful tips for visiting Koh Phangan.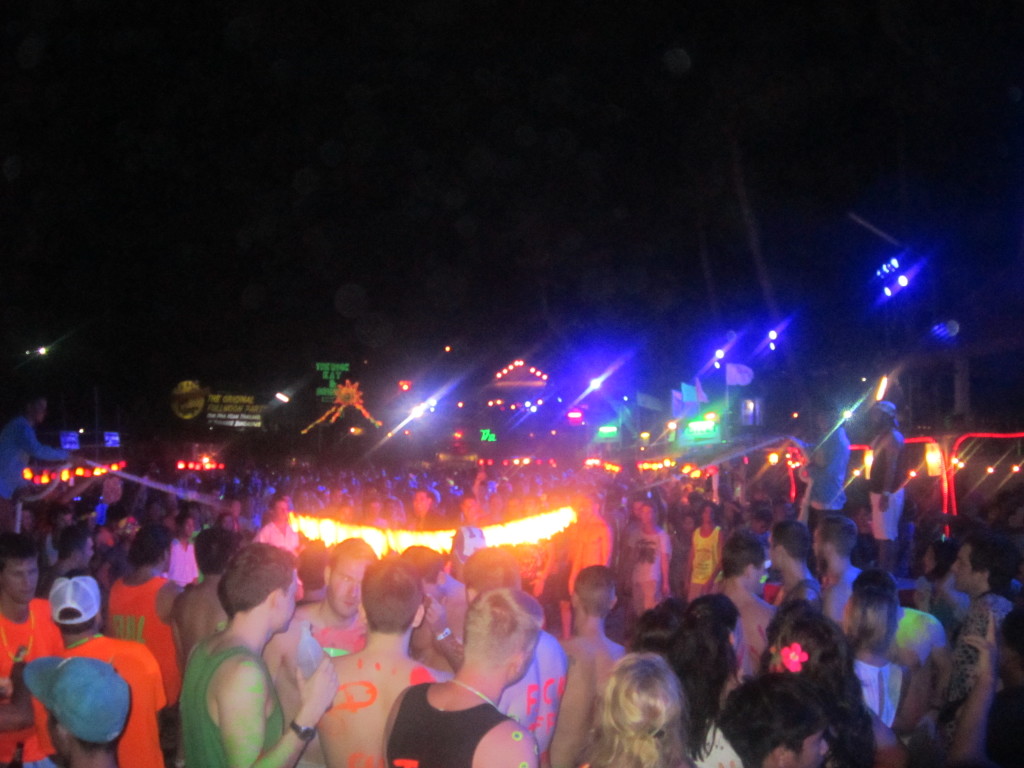 Parties On The Island To Check Out Other Than The Full Moon Party
Merkaba Beach Club — A really cool Ibiza style club with a pool, and amazing underground house music. Check the FB page for upcoming party dates. I actually went here one night instead of the FMP! Located just a short drive away from Haad Rin Beach.
Maya — A beautiful and colorful venue in the jungle. The type of music varies for each party, but it's definitely worth a visit.
Guy's Bar / Eden — An absolute must attend during your visit to Koh Phangan. Tucked away in the deep part of the jungle, these are two of the best places to party on the island. Known for it's long hours, it's the party that doesn't stop. It's hard to get to, where you have to take a jungle taxi or boat to get to, but it's well worth it!
The Jungle Experience — Normally happens before and after each Full Moon. A bit expensive for the entry charge at 400 baht, but it's a solid party with amazing music. You'll meet a ton of people, and see some pretty interesting characters dressed up in crazy body paint.
Sandcastle — A small club venue located in Haad Rin that is the best place to party during the Full Moon Party. It's not located directly on the beach, but definitely cruise here for a couple drinks.
Backyard Afterparty — If you go to the FMP and don't see the sunrise, consider yourself a failure. As well, part of the Koh Phangan experience is going to an afterparty. Go to BACKYARD. It's amazing.
Best Party Hostel on Koh Phangan
Echo Beach Backpackers – This hostel is actually one of my favorite hostels in the country. While it may not be the cleanest or most comfortable, the party vibes here are out of control!
---
2. Gili Trawangan, Indonesia
The Gili Islands are my absolute favorite place to visit in all of South-East Asia. The beaches are beautiful, the sunrises / sunsets are magical, and you're guaranteed to meet a ton of amazing new friends. Gili Trawangan is the most developed island, and is known as the "party island". Every night there's a few different parties to check out, and solid music to listen to. You'll most likely encounter people on various illicit substances like magic mushrooms or ecstasy, because there is no police on the Gili Islands. It's strange, people are put into jail on Bali for smoking weed, but anything goes once you cross over to the beautiful party paradise of Gili Trawangan. According to this Gili Islands website:
"Currently the schedule is Monday night for the famous Blue Marlin rave party, Wednesday nights at the beachfront 'Shipwrecked Bar' is the 'Tir na Nog' Irish bar party, with a mix of funky house music, Friday night is at Rudys Bar, & Reggae music most nights at Sama Sama bar."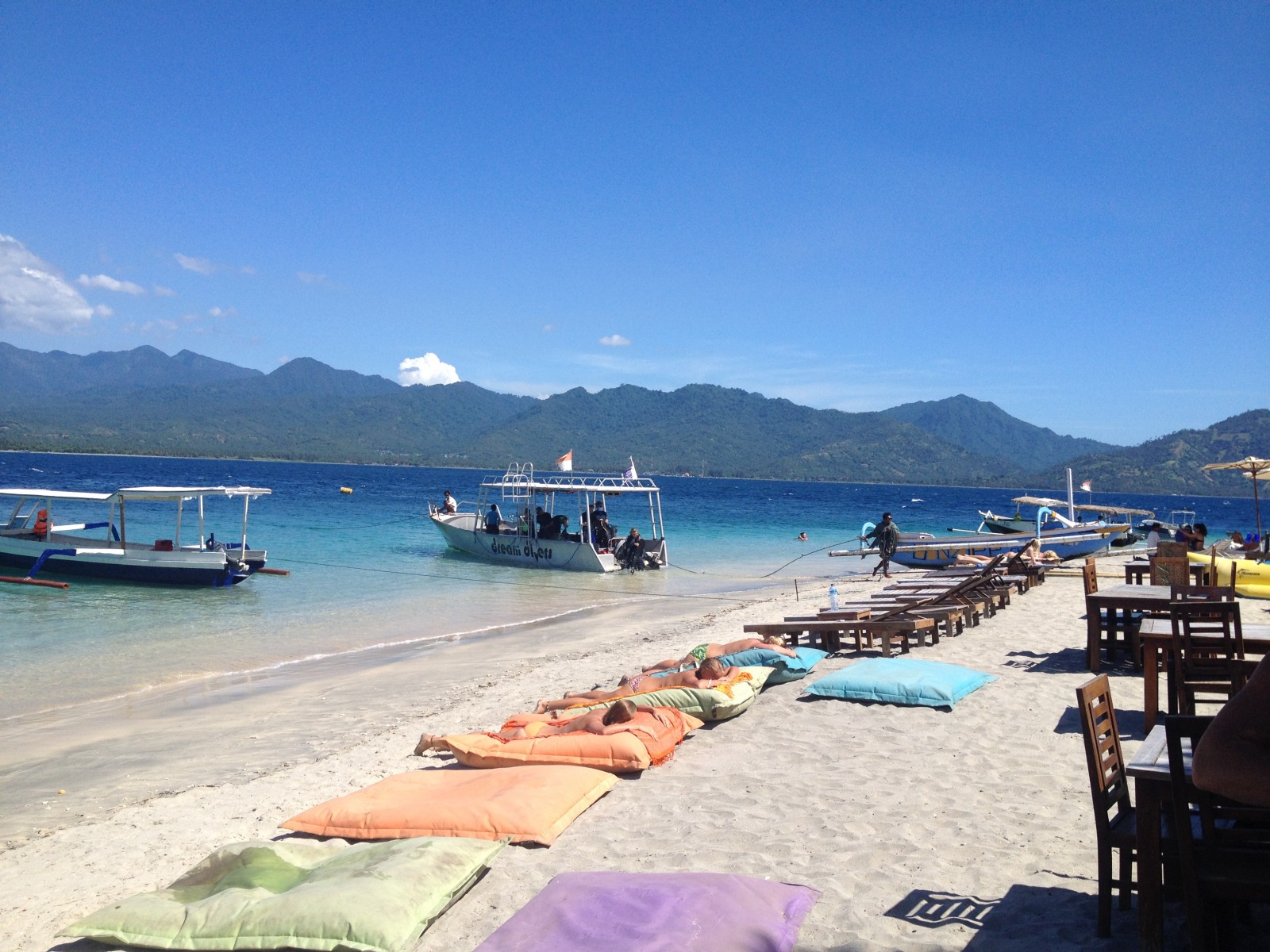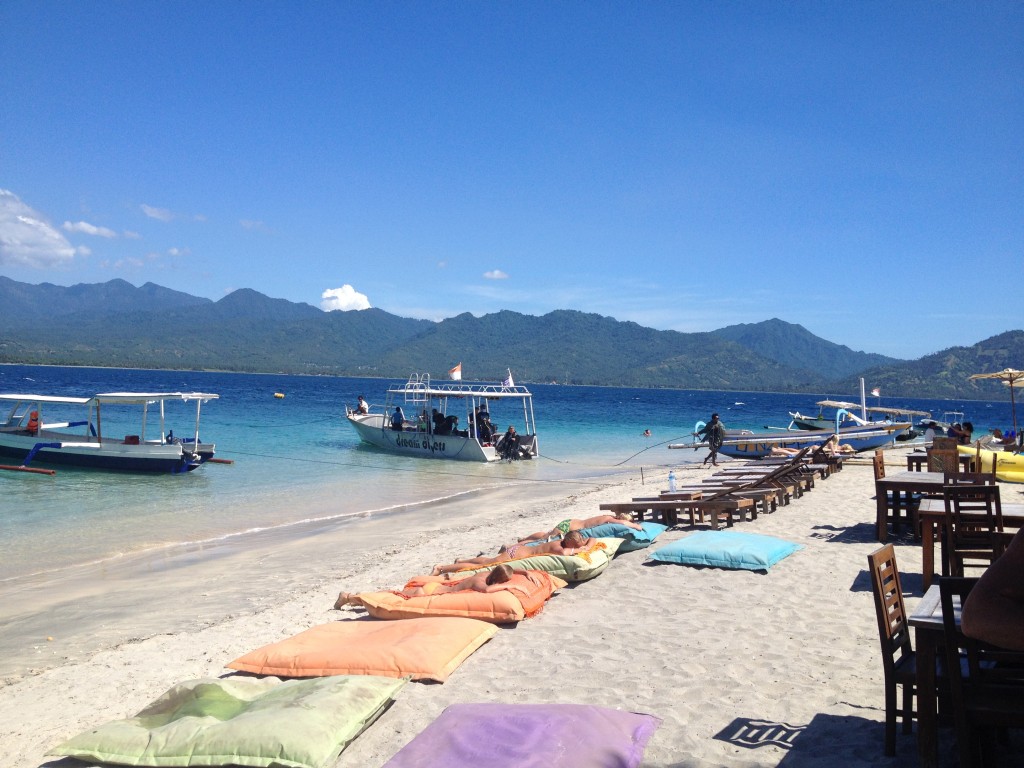 If you're lucky, you will show up when there is the Gili Trawangan Full Moon Party at Space bar. It's a damn good time!
THE ONE ABSOLUTE MUST EXPERIENCE ON GILI TRAWANGAN IS THE BOOZE CRUISE. It's honestly one of the most fun experiences I've had while traveling. It's on an amazing boat with great music playing, and a solid trip time cruising around paradise.
Best Party Hostel on Gili Trawangan
Gili Castle (formerly known as Gili Backpackers) – I used to work here at this hostel, and it's definitely one of the best nad most wild places to stay on the island! Everyone there is just ready to party, explore, and enjoy their life :-) It's seriously so much fun!
---
3. Koh Rong, Cambodia
"Nothing Can Go Wrong on Koh Rong" is the motto of this Cambodian paradise. What is awesome about this place is that it can be exactly whatever you want it to be. If you want to relax, do nothing, and forget about all your worries; that's definitely possible. But for those looking for a good time, Koh Rong has a lively and active party scene. If there was one place to get to soon in South-East Asia, I would recommend Koh Rong. Things are changing quickly on the island, but it currently still has it's authentic charm. Partying on Koh Rong is simply, all you have to do is walk up and down the main street, and follow the crowd.
When I was there, I spent a good amount of time at Vagabonds. Definitely swing by there for a drink or two, and then see what else is going on. The main stretch on Koh Rong isn't large at all, so it won't be too hard to find where the party people are at. As well as the above two islands, Koh Rong does offer it's own version of the Full Moon Party. There's no body paint or neon tanks, but there's a party tucked away in the jungle with amazing underground house music.
No matter whether you want to party or not, just make sure you get to Koh Rong. It's definitely one of the most beautiful places in all of South-East Asia!
Best Party Hostel on Koh Rong
Suns of Beaches – Basic accommodation, but great vibes. I haven't personally stayed here, but people tell me great things!!
---
4. Boracay, The Philippines
When most people are backpacking through South-East Asia, they tend to skip the Philippines. I'm not quite exactly sure why, because it's easily one of the most beautiful places I've ever visited. Boracay, specifically, is stunning. With that being said, people have often complained of the over-commercialism, and how it's "too touristy" these days. Yeah, there's a McDonald's and a Starbucks, but it's still amazingly beautiful, and has amazing nightlife.
For starters, you have to experience The Boracay Pub Crawl. It's an absolute blast, and really does "Turn Strangers Into Friends!"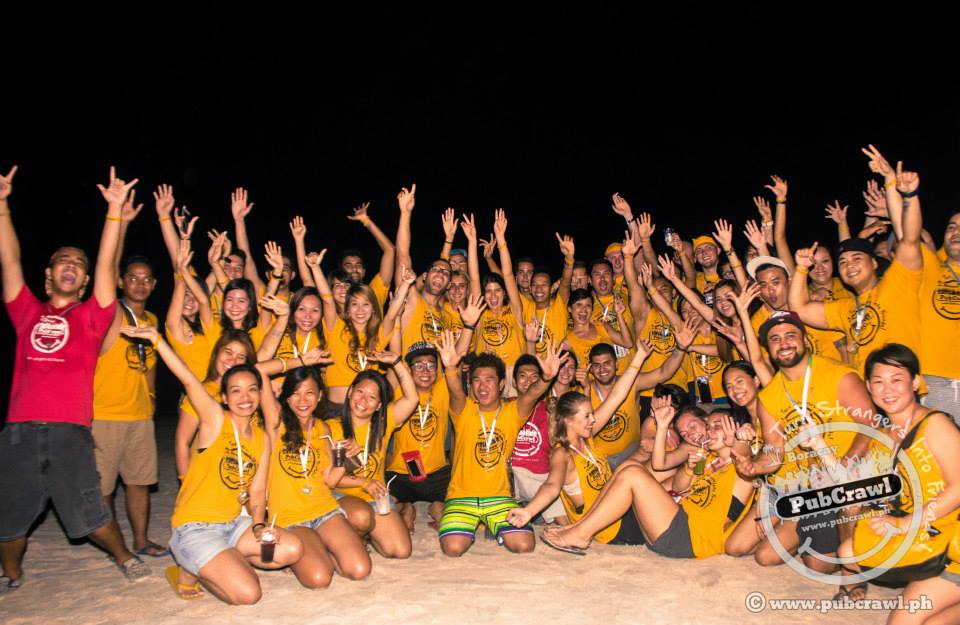 After that, you need to check and see if there is a party at Area 51: Top Secret Party Facility. It's an amazing venue away from the main action, but there are only parties twice a month for the full moon and half moon parties. If this place isn't open during your visit, then check out what EPIC Nightclub.
There's tons of other bars and nightclubs in Boracay to discover; it really just depends on what you are into and where the night takes you. The main stretch along white beach is pretty long, and there's heaps of options! There may be plenty of Boracay activities for families, but just make sure to leave the kids at the hotel for a night or two! ;-)
Best Party Hostel on Boracay
W Hostel Boracay – This place is wild!! Super comfortable, clean, and fun atmosphere.
---
5. Koh Phi Phi, Thailand
Similar to Boracay, Koh Phi Phi is often criticized for being beautiful, but ruined by being over-developed and too much tourism. If you haven't been, make no mistake; Koh Phi Phi is one crazy party island. There is tons of amazing things to do on Phi Phi, and definitely a lot of great places to party.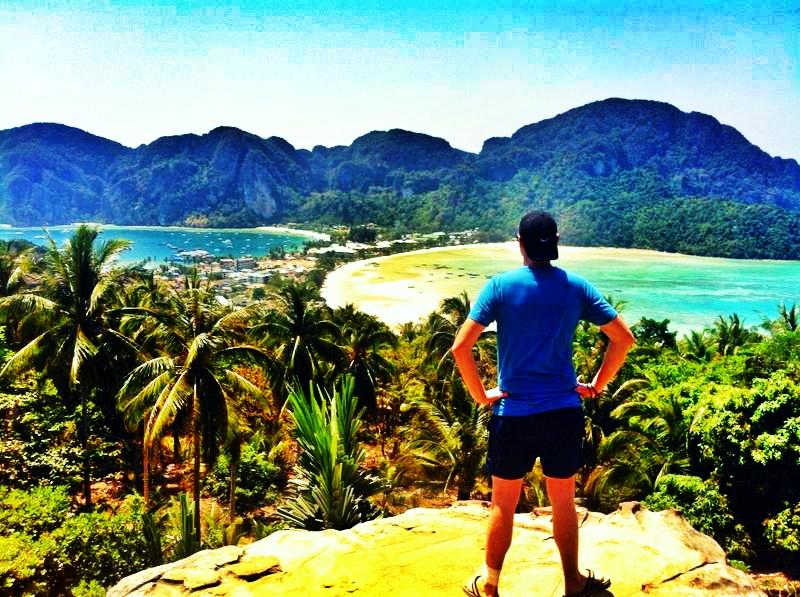 Favorite Places to Party
Slinky's Beach Bar — This is the place to be when the night comes to an end. Loud house music, laughing gas balloons, dancing on stages; this place is wild.
Ibiza Beach Bar — This starts out as a really chill lounge bar during the sunset and couple hours after, but things start to pick up towards the end of the night.
Stones Bar — Located right next to Ibiza Beach Bar, another great option to chill, play pool, and start your night.
Banana Bar — Happy hour from 4:20-6:20, Movie's play every night at 7:00 P.M, then after the movie the party starts with beer pong, loud music, and tons of people.
Stockholm Syndrome — A great place to beer pong, meet people, and party before making your way to the beach.
Best Party Hostel on Koh Phi Phi
Blanco Beach Bar– This place is super fun, and it's located right on the beach, so this place is the perfect spot for one wild party trip to Koh Phi Phi.
---
Well, there you have it. These are the 5 best party islands in South-East Asia. I've had amazing times on all of them, and I'm sure I'll find myself at each of them again sometime in the future. If you have any questions about these islands, feel free to shoot me a message. I'm more than happy to help you out!
Like this post? Follow me on Facebook & Twitter for more adventures Around The World…
https://www.jonesaroundtheworld.com/wp-content/uploads/2015/04/06.10.14.png
768
1024
Dave
https://www.jonesaroundtheworld.com/wp-content/uploads/2017/03/logotry-1-1-300x106.png
Dave
2015-04-25 13:18:20
2020-09-17 19:13:35
The 5 BEST PARTY ISLANDS in SOUTH-EAST-ASIA