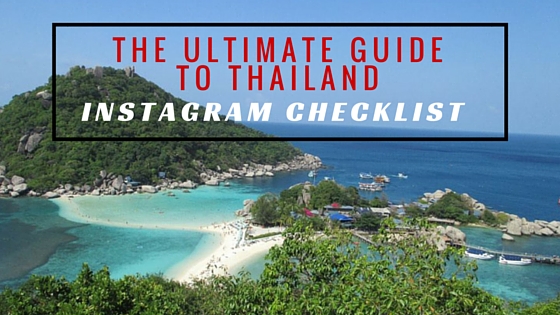 Welcome to Thailand
Thailand is one of the most incredible countries in the world.  Planning a trip out to this beautiful destination can sometimes be difficult though, because there is SO much to see and do.  I'm here to help.  I've spent a decent amount of time living, working, and traveling through Thailand, and want to make your trip planning as smooth as possible.
This Is Your Ultimate Travel Guide to Thailand — told through Instagram.  
Everyone loves sharing their travel photos on Instagram, and if you manage to post your own versions of these amazing Instagram ideas, I guarantee you will have seen just about everything Thailand has to offer!  Enjoy!  You might not have the best camera for travel, but you can still get some beautiful shots all throughout Thailand.
Playing With Elephants
When you come to Thailand, it should a top priority to hang out and play with some elephants.  Just be careful where you choose to do this.  Find an ethical Elephant Sanctuary and make sure they are taken care of properly.  (Photo: @vodkapond)
Rooftop Dinner & Drinks in Bangkok
There are lots of incredible rooftop bars in Bangkok, and they provide the perfect place for some excellent photography!  Order a beer, enjoy the view, and start your night right in Bangkok. (Photo: @nodestinations)
Koh Tao Viewpoint
Definitely one of the most Instagram worthy spots in Thailand is this view point looking over Koh Nang Yuan off the coast of Koh Tao.  Such a beautiful spot, and only a 10 minute hike to get. (Photo: LifeBeforeWork)
Scuba Diving Photo
Make sure you check out some of the best dive spots in Thailand, and capture some beautiful underwater life with an underwater camera!  (Photo: @Alessiazamparini )
https://instagram.com/p/sithAwSHW_/
Full Moon Party
Whether it's your "scene" or not, no trip to Thailand would be 100% complete without experiencing the Full Moon Party at least once!  Koh Phangan is one of the craziest party islands in South-East Asia, and you have to experience the madness for yourself!  Traveling to Koh Phangan with Kids is also tons of fun, because there's also a much quiter side to the island!  (Photo: LifeBeforeWork)
The Container in Pai
Pai is absolutely incredible, and one of the best parts about traveling in Northern Thailand.  It's become a popular destinations for budget backpackers, and there's never a shortage of things to do in Pai.  If you find yourself in Pai, make sure you make your way over to the Container!
Railey Beach
Railey Beach is absolutely gorgeous, and is also one of the best places to go rock climbing in Thailand.  You can easily spend a few days in this area.  Spend your days on the beach, island hopping, or rock climbing.  No matter what, you'll fall in love with Railey & Ton Sai Bay.    (Photo:  Rodrigoduzsinski)
https://www.instagram.com/p/BL3sbHcgAvr/
Maya Bay
The famous film location of the film "The Beach", this stunning bay has made Koh Phi Phi one of the top tourist destinations in all of Thailand.  Visiting Maya Bay will leave you speechless, and one of the asbolute best things to do while on Koh Phi Phi.     (Photo:  mellohama)
Longtail Boats
The colorful decorations on the Longtail boats make them completely beautiful, and perfect for photographing.  Especially when paired with the natural landscape, beautiful waters, or a gorgeous sunset.    (Photo: AboutThailand)
Playing With Tigers
 It's a popular debate in Thailand whether you should visit the Tiger Kingdom or not, but it's also one of the more popular tourist attractions.  When planning your trip, make sure you do your research, and find an ethical organization you can go through.  You definitely don't want to support the drugging of these beautiful animals.    (Photo: R_begley)
Buddahs & Temples
After your first day in Bangkok, you probably might be "templed out".  You will have seen so many temples and buddahs, that you might not care to see any more, but a lot of them are absolutely stunning, and perfect to throw up on Instagram.    (Photo:  thailandinsider)
Songkran Water Festival
Celebrating the Thai New Year is one of the craziest experiences you can have in Thailand.  This three-day nationwide water fight is an insane party, and will definitely make you plan a trip back the following year.  Check out my Songkran 2015 Review!
Street Food Paradise
Who doesn't like delicious meals that only cost $2-3…?  (Photo:  katiesjournal )
https://instagram.com/p/1QPP8bRna-/
Floating Market
The floating markets in Thailand are a really interesting sight that you need to see to believe.  Buy some souvenirs, fresh fruit, or just go to witness with your own two eyes.  (Photo: ThailandDLuxe)
https://instagram.com/p/4RDhljSHW2/
Exploring Ayutthaya Temples
Ayutthaya is the perfect day trip from Bangkok.  There is a whole bunch of different temples to explore, and all of them are stunning!
Khao San Road
No visit to Bangkok would be complete without throwing up one Instagram from Khao San Road.  Your choice between the full road itself, the insect vendors, or even the Ron McDonald who is shown doing the "wai".  (Photo: ThailandDLuxe)
https://instagram.com/p/6hp8g2SHXm/
Koh Phi Phi Viewpoint
One of the most beautiful view points in all of the Thailand is making the brief hike up to the top of Koh Phi Phi.  It's absolutely stunning, and provides the best photographic points in Thailand. (Photo: @omg_that_chick )
Island Hopping / Snorkeling Tour
Get yourself on an island hopping and snorkeling tour, and explore the beauty of this country.  Everything about it is perfect — the water temperature, the landscape, and the underwater life.  (Photo:  BangkokAirways )
Watching a Fireshow
Koh Phi Phi, Koh Tao, and Koh Samui all have some really impressive fire-shows every night.  Don't miss out!  (Photo: @bkbnbkk)
Fresh Coconut Lifestyle
Nothing beats a fresh coconut on a hot day in paradise.  (Photo: livingcookiesdream)
Long Neck Ladies
Interesting, beautiful, and all very friendly!  (Credit:  julchacha )
Loi Krathong Lantern Festival
Pictures don't do this justice.  You have to experience a lantern festival at least once during your travels in Thailand.  Head up to Chiang Mai around the beginning of November.  It will be a spiritual experience!  (Photo: drewhopper )
https://instagram.com/p/sBINJvyHRH/
Koh Ta
o Sunsets
Koh Tao boasts some of the absolute best sunsets in all of Thailand.  Grab yourself a Chang beer, listen to some music, and enjoy.  (Credit: @savrick)
https://instagram.com/p/usVGDRyHZT/
Markets, Markets, Markets
Everywhere you go, there will be markets.  If you're in Bangkok, make sure you check out the Chatuchak weekend markets when you're there!  (Photo: ThailandDLuxe)
https://instagram.com/p/4OxsvKyHVS/
Tuk Tuk Rides
"TUK-TUK!?  YOU WANT TUK-TUK?"  (Photo: ThailandDLuxe)
https://instagram.com/p/2sw6ziyHfk/
White Temple in Chiang Rai
Quite possibly the most beautiful and photogenic temple in all of Thailand.  If you're in Northern Thailand, don't skip this marvelous place!   (Photo:  BangkokAirways )
If these amazing instagram photos don't make you want to book a one-way ticket to Thailand, then I don't know what will.
Have you been to Thailand?  What were you favorite Instagram spots? Let me know in the comments section and I can add them to the list!  
 If you want more pictures from Thailand, make sure you follow these Instagram accounts:
ThailandDLuxe // ThailandInsider // ThailandTexbook
TravelInThailand // Thailand.Addict // BangkokAirways
AboutThailand // LifeBeforeWork 
Thanks for reading!  If you're planning a trip to Thailand anytime soon, feel free to contact me with any questions.  I'd be more than happy to help out anyway I can!
SHARE WITH YOUR FRIENDS
https://www.jonesaroundtheworld.com/wp-content/uploads/2015/09/The-Ultimate-Guide-to-Bali-1.jpg
315
560
Dave
https://www.jonesaroundtheworld.com/wp-content/uploads/2017/03/logotry-1-1-300x106.png
Dave
2015-09-07 13:26:44
2018-03-28 23:13:42
The Ultimate Travel Guide to Thailand: Instagram Checklist