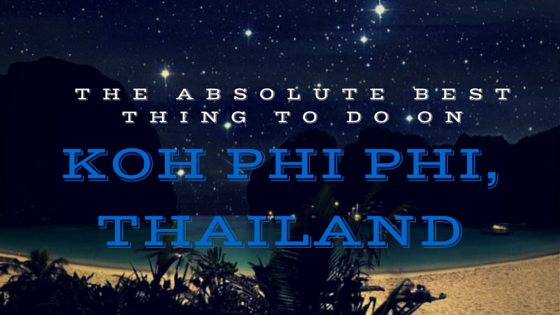 Koh Phi Phi and the surrounding islands is easily one of the most beautiful areas to visit while traveling through Thailand.  I've already written a post about 20 Amazing Things to do on Koh Phi Phi, but I want to specifically talk the absolute best thing to do on Koh Phi Phi.  This was not only the best thing to do on Koh Phi Phi, I personally think it is one of the top things to do in all of Thailand.  So what is this amazing activity?
It's a full one-day snorkeling and boat tour around Koh Phi Phi and Maya Bay, where you actually sleep on the boat, or if you are lucky, you get to sleep on the actual beach like I got to.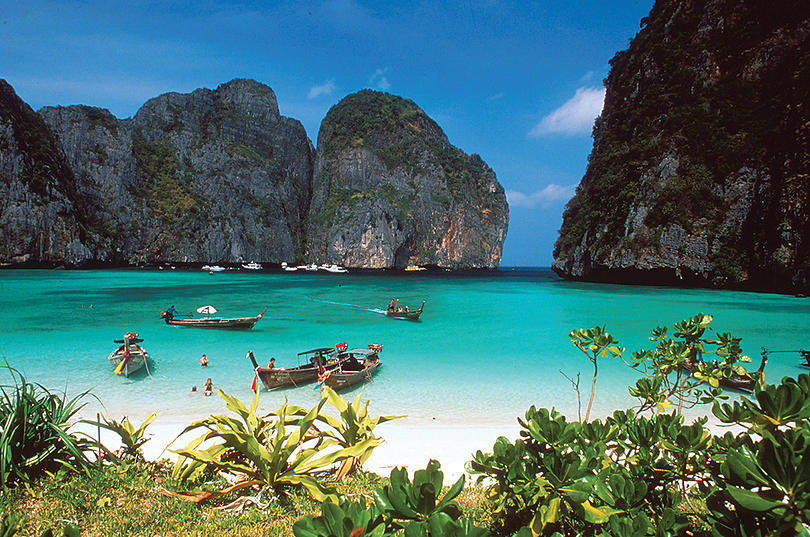 My first time visiting Koh Phi Phi, I had never heard of this tour.  But luckily for me one of my travel friends had, and convinced me to book the trip with them.  It was by far one of the best last-minute decisions I made during my first trip to Thailand.  
If you didn't know, Maya Bay is the famous beach where they filmed Leonardo DiCaprio's hit movie, "The Beach."  If you visit Koh Phi Phi, you're 99% likely going to visit this beautiful bay on a boat trip or snorkeling tour.
BUT, one of the many complaints of tourists who go to Koh Phi Phi to visit this famous film location, is that when you get there, you are overcrowded with large groups of tours, with barely any room to relax.
When you go on the Maya Bay Sleep Aboard, you don't have to worry about having your experience ruined by overcrowded tourism.  The company has a special agreement with the Thai Government, and they are the only boat allowed to be there past 6 P.M!  So you basically have the beach to yourself for the entire night and the next morning!  [divider]
Top 5 Reasons to Book This Tour
1.  The Natural Beauty of Maya Bay Without All the Tourists
There's something so incredible about being there with barely anyone else.  If you stop here on just one of the many boat toars, you definitely will not have the same appreciation for Maya Bay.
2.  Night Swimming // Amazing Bio-Luminescent Plankton // Star-Gazing  
You definitely won't be able to fight the urge to take a swim at night.  It's seriously one of the most beautiful places in the world.  Float in the perfectly temperature water, look up at the stars, and realize how amazing your life is!  As well, make sure you move the sand around and look at the beautiful plankton.
3.  Cost-Effective
If you look at the price of the entire trip, you might be a little thrown off at first, but really think about how much you are saving!  1 Night of Accomodation, 3 Meals, Entrance Fee to the National Park (100 Baht), Snorkeling equipment, and take into account the cost of a different trip you probably would take.  This trip is a steal for only $87 + tax.
4.  Amazing Food, Staff, and Party 
One of my favorite parts of this trip was that they keep feeding you!  I'm always hungry, and all the food & fresh fruit they give you is amazing!  As well, the staff and the owner of the company are all super friendly.  They always make sure you're having the best time as possible.
5.  Incredible Snorkeling   
On this trip they take you to a couple different snorkeling spots.  You are guaranteed to see a ton of beautiful fish.  As well, you can jump off the roof of the boat which is always fun.  : )
6.  Meet awesome people     
Now this honestly just depends on your group, but I met so many incredible people while on this tour, which I would think you would too! [divider]
Trip Itinerary:
2:45 PM –  Meet the rest of the group at the main pier on Phi Phi Don. Look for our boat which has a Maya Bay Sleep Aboard sign clearly visible. It will be parked at the tour boats section at the end of the main pier. Make sure you bring your receipt with you.
3:00 PM – Boat leaves Phi Phi Don Pier.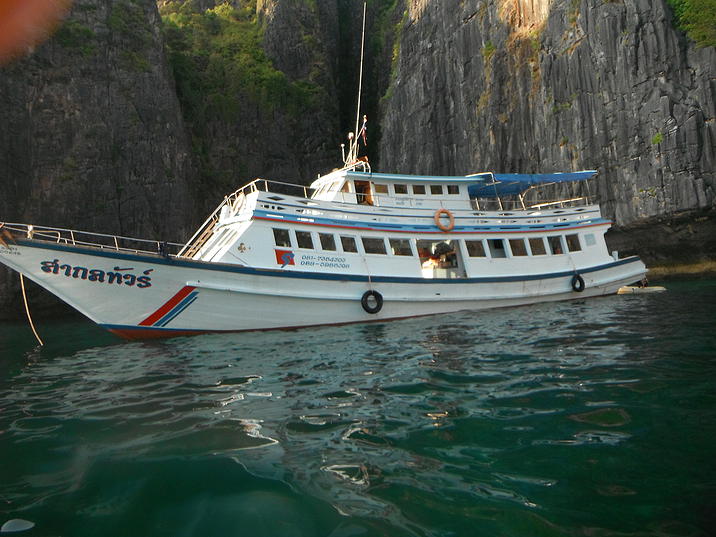 3:30 PM – Stop by the Viking Caves. (Sorry the cave is closed to visitors so we can just stop for a photo opportunity)
4:00 P.M –Visit Phi Leh Bay for snorkeling & swimming
4:30 P.M – Arrive at Maya Bay
8:00 PM–  Dinner is served.  Enjoy a Thai feast, then go exploring on the beach, night swimming, or enjoy meeting new people.
10:00 PM–  BBQ supper is served.
11:00 PM-  Head to our boat and sleep on the deck or inside with mattresses, sleeping bags and pillows.
​7:00 AM-  Head to the beach which is empty for some more photos and maybe a swim.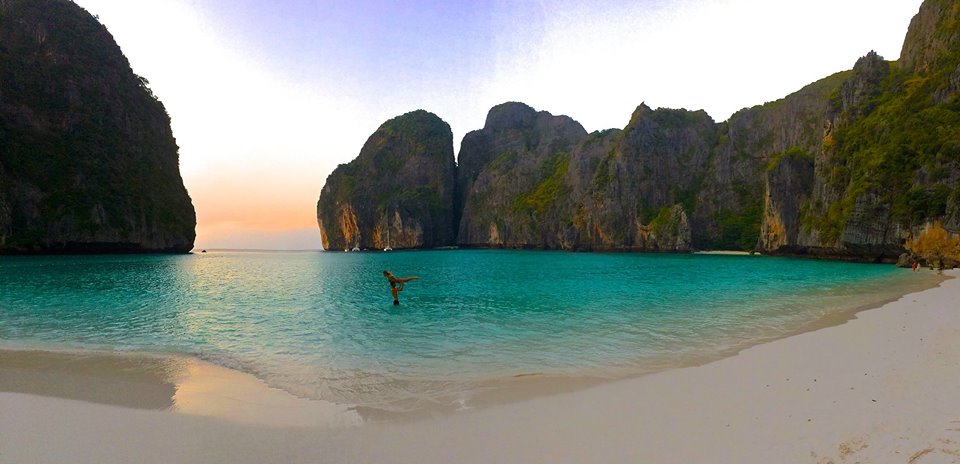 8:00 AM-  Enjoy a breakfast of eggs, toast, fruit, coffee and tea
9:00 A.M-  More  snorkeling off the boat in Maya Bay. Snorkel in some caves and lay on some normally inaccessible beaches.
10:00 A.M-  Enjoy a breakfast of eggs, toast, fruit, coffee and tea on the way back to Koh Phi Phi [divider] I've honestly told so many people about this trip, and everyone thanks me for the recommendation.  It's guaranteed to be one of the highlights of your time in Thailand.  If you don't believe me, check out some of the reviews of Maya Bay Sleep Aboard. [divider]
3 Tips For the Maya Bay Sleep Aboard
1.  Book In Advance.  This trip often does sell out often (especially during high season).
2.  Contact them through their Website and Facebook Page and ask if they have any trips where you actually sleep on the beach.  My group was fortunate enough to be able to do that, and it was amazing!  But apparently only a couple trips per month get to do that.
3.  Bring some alcohol of your own for the party at night.  In the price of the trip it includes 1 Bucket, but after that you have to buy more, so it could save you a bit of money if you BYOB.  [divider] Trust me, this will be an experience you will not regret, and will never forget.  BOOK NOW!
Like this post?  Follow me on Facebook & Twitter for more adventures Around The World…
Disclaimer:  This post contains affiliate links, which means that if you book through these links I will receive a very small commission at no extra cost to you.  This helps with the cost of running the site, and basically just help me buy my next beer along my travels.  : )  
https://www.jonesaroundtheworld.com/wp-content/uploads/2015/04/stockmen.png
315
560
Dave
https://www.jonesaroundtheworld.com/wp-content/uploads/2017/03/logotry-1-1-300x106.png
Dave
2015-01-24 06:29:59
2018-01-30 16:49:38
The Absolute Best Thing To Do On Koh Phi Phi, Thailand