Planning a trip through Thailand and searching for some fun things to do in Koh Tao? Take a read through my Koh Tao travel guide filled with some awesome ideas of places to visit, must-do attractions, and tons of Koh Tao things to do!
Koh Tao, which means "turtle island" in Thai is one of the most beautiful places to visit while traveling throughout Thailand. While it may be known as one of the most popular spots to go scuba diving, there are tons of great things to do on Koh Tao. Whether you rent a moto to explore all the beaches and viewpoints or soak up the wild nightlife on Koh Tao, there's definitely tons of adventures waiting for you.
While this post is just a great starting point, I'm sure you'll fall in love with Koh Tao just like I did. Just be careful, turtle island has a strange power to keep you there longer than intentionally planned.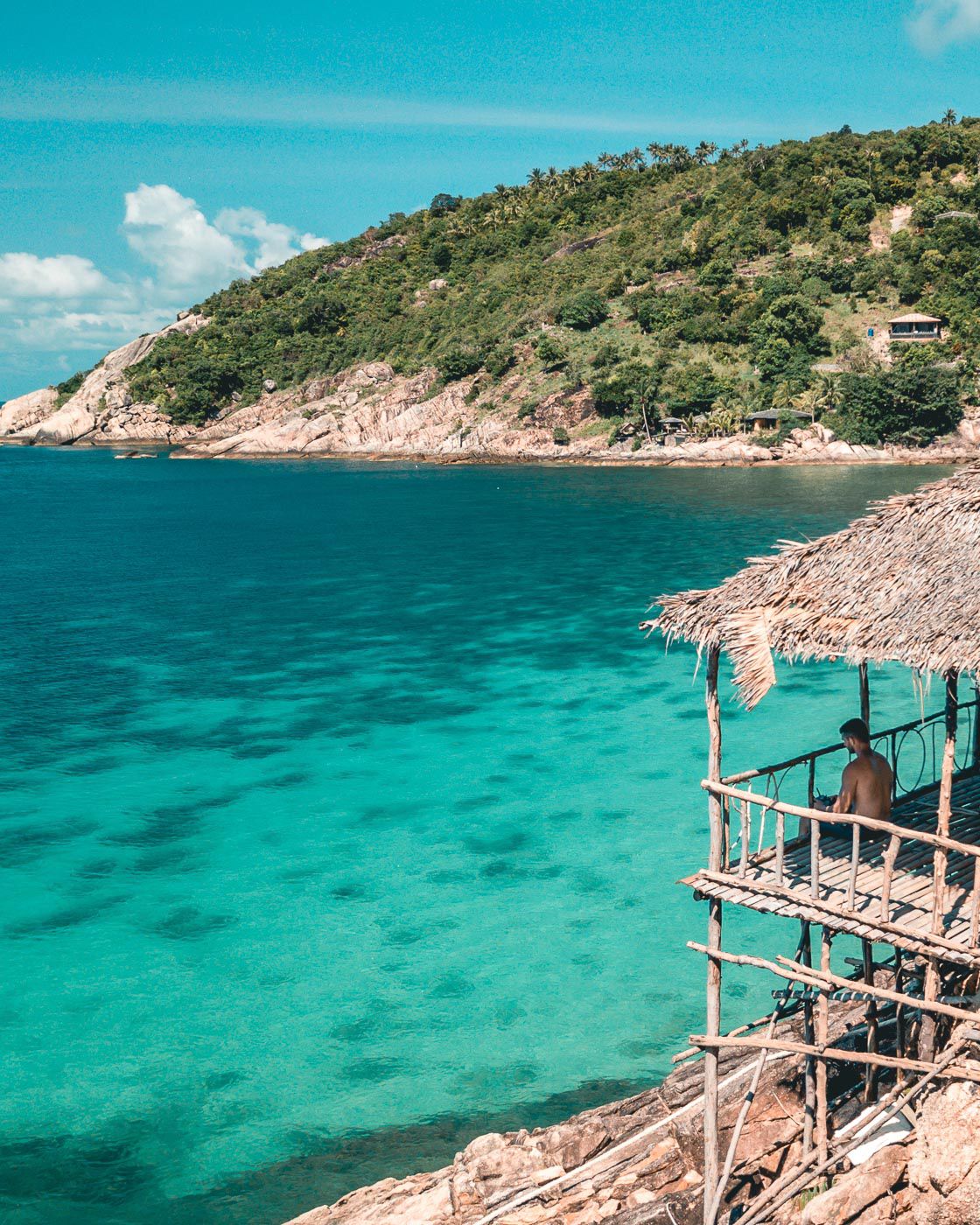 ---
1) Get your PADI Open Water
It's no secret that Thailand is one of the cheapest and best places to get your PADI diving certifications, and Koh Tao is easily the most popular location. The island is pretty small, but the place is full of dive schools. I went through a school called Davy Jones Locker, and I had a great time. My instructor was really nice, and the rest of the staff seemed really helpful as well. I know some of the other popular dive schools are Big Blue Diving, and Ban's Diving School.
No matter what school you choose to go with, you will love it. The program take 3-4 days, but if you don't have time, you can always do Discover Scuba Diving to check out why KohTao is so great for diving.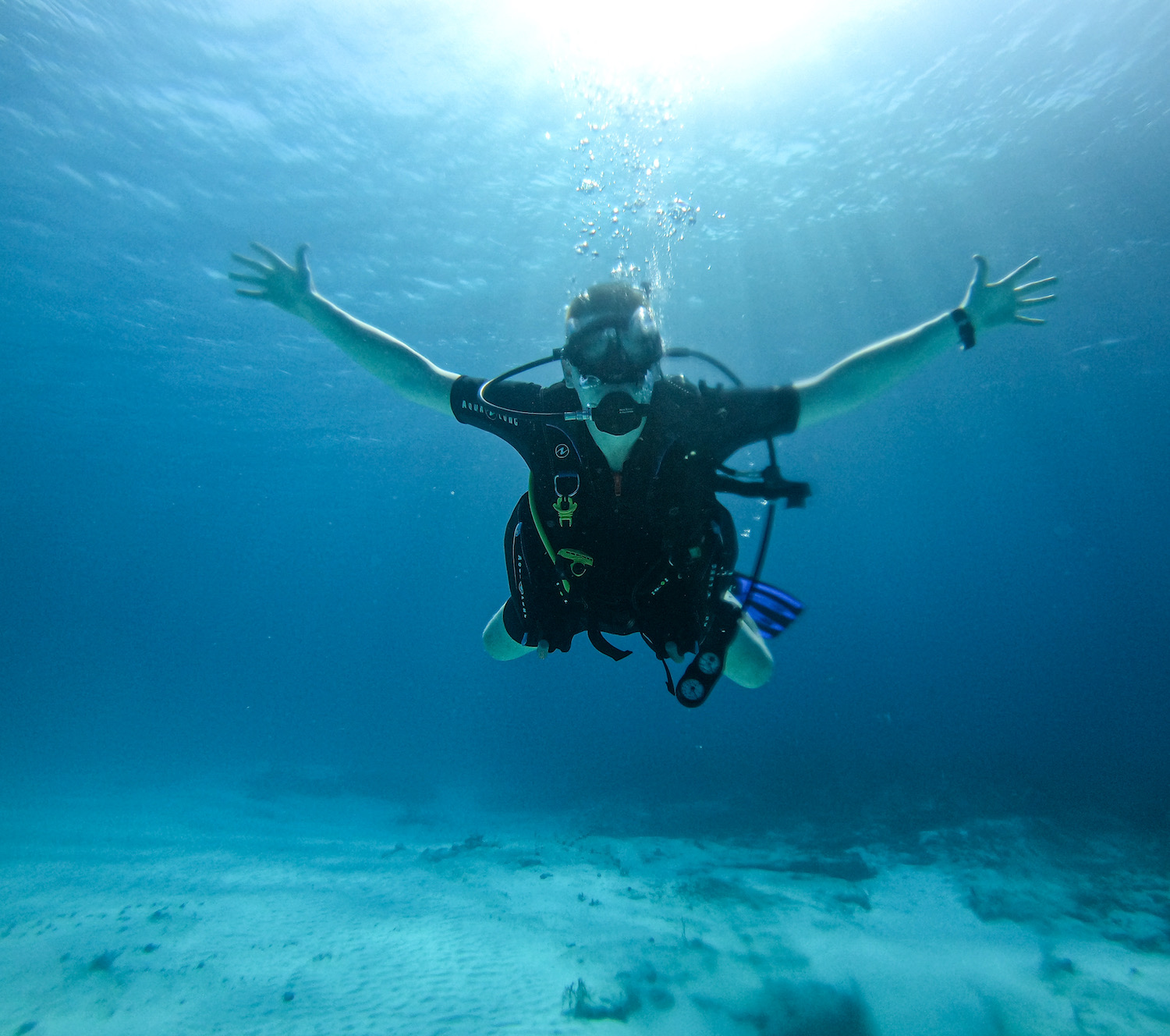 ---
2) Koh Tao Pub Crawl
It is impossible to backpack through South-East Asia without running into people wearing a Koh Tao Pub Crawl tank top. It's a really popular activity in Koh Tao, especially since the island is small, and all the nightlife happens around the same areas. It's fairly inexpensive, and you get a free bucket and a t-shirt or tank top. They take you to a ladyboy cabaret which is definitely interesting and pretty funny to see. They end up at a club on the beach with fire dancers and loud music. Overall, a great night, and definitely a must for people visiting Koh Tao!
Best NIGHTLIFE & PARTY in Thailand: Koh Tao Pub Crawl 🇹🇭
---
3) Chill on Sairee Beach
Day-drinking and the beach go hand-in-hand for me, and Sairee beach is a beautiful place to do just that. It's the largest beach on the island, and practically stretches the entire west coast. There are tons of restraints and bars to sit and relax, and is also a great place for swimming.
Sairee Beach Koh Tao Thailand Absolutely Stunning in [ Full HD ]
---
4) Snorkeling trip Koh Nang Yuan
Snorkeling / Diving, or a day trip to Koh Nang Yuan is a must while visiting Koh Tao. The island is just a short longtail boat ride away, and has an amazing beach and swimming spots. Also, make sure you pay the baht to do the hike to the top for incredible views of the islands!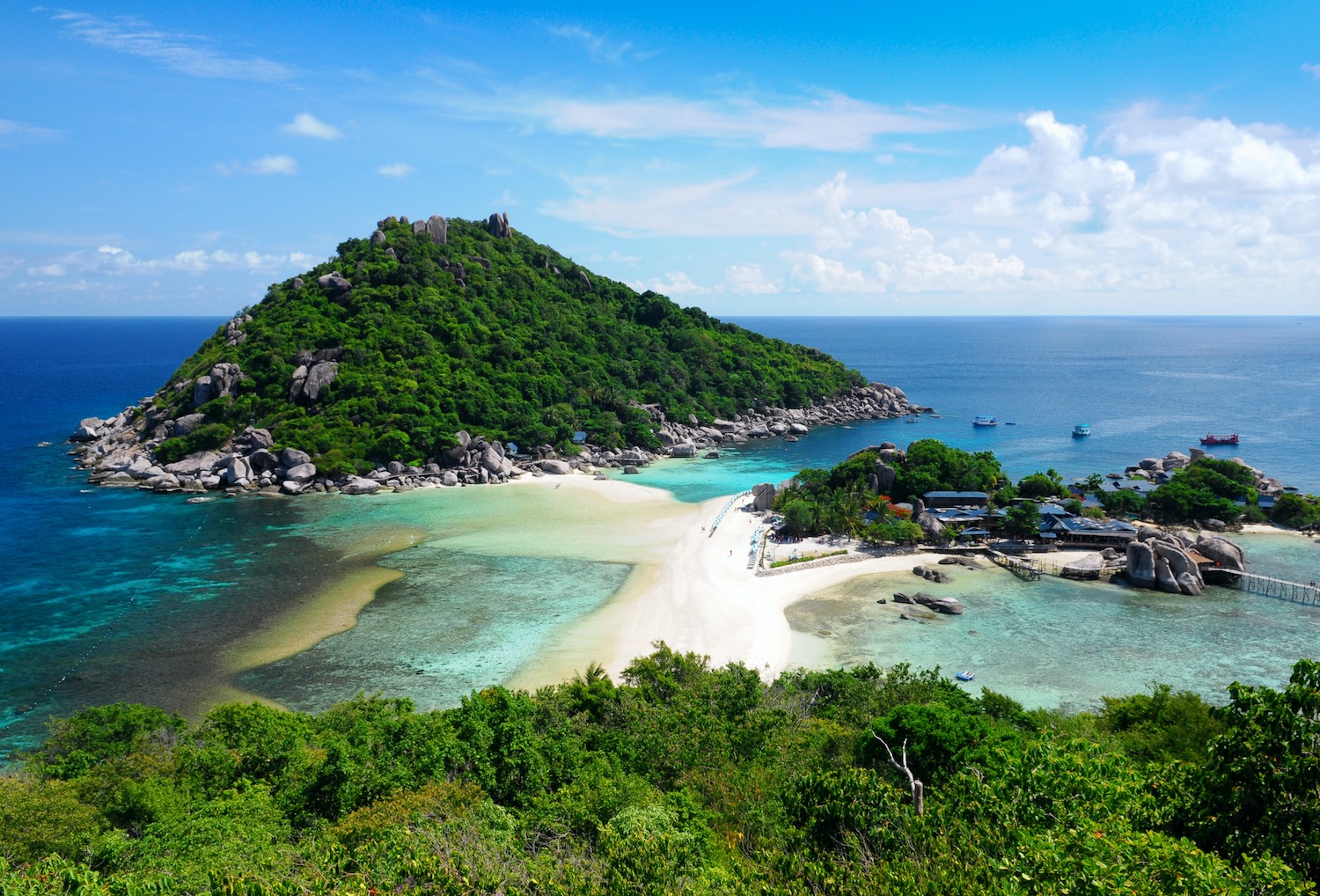 ---
5) Explore the Island by Moto
A lot people come to Koh Tao stick to the main beach and nightlife area, but the island has a lot more to offer. Renting a Moto is really cheap and pretty easy to drive around in Thailand, and it's a great option to see more beaches and different areas. Just make sure you rent a Moto from a nice company, because a lot of them will try and rip you off and make you pay for "damage" to the bike that you did not do.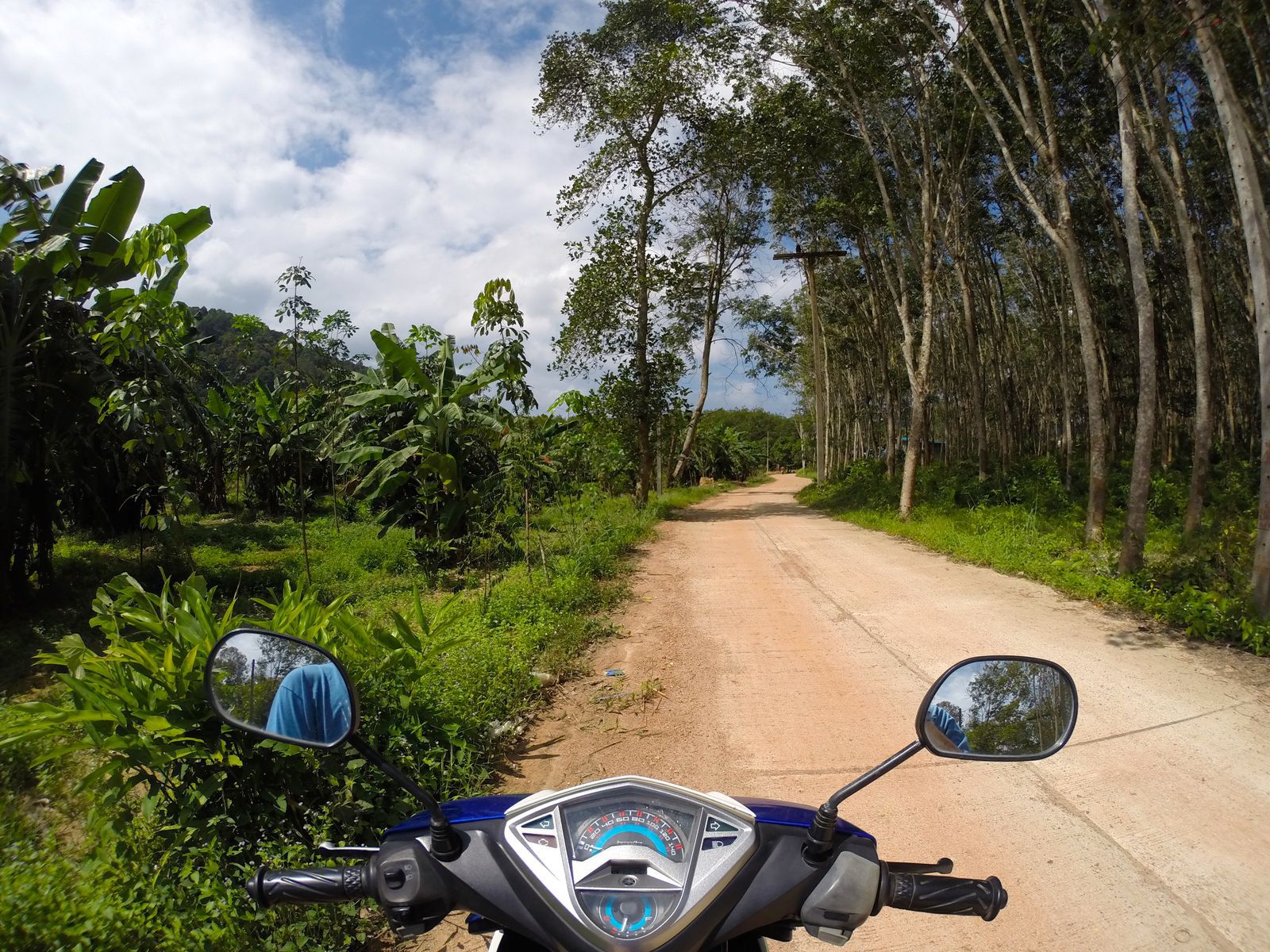 ---
6) Sairee Beach Sunset Swimming
The sunsets at this beach are spectacular, and the water is still a perfect temperature. It's the perfect time of the day to go for one last swim before heading back to the hostel to shower and get ready for the night. It can definitely be one of those travel moments that you'll never forget. Think about life, love, and the pursuit of happiness.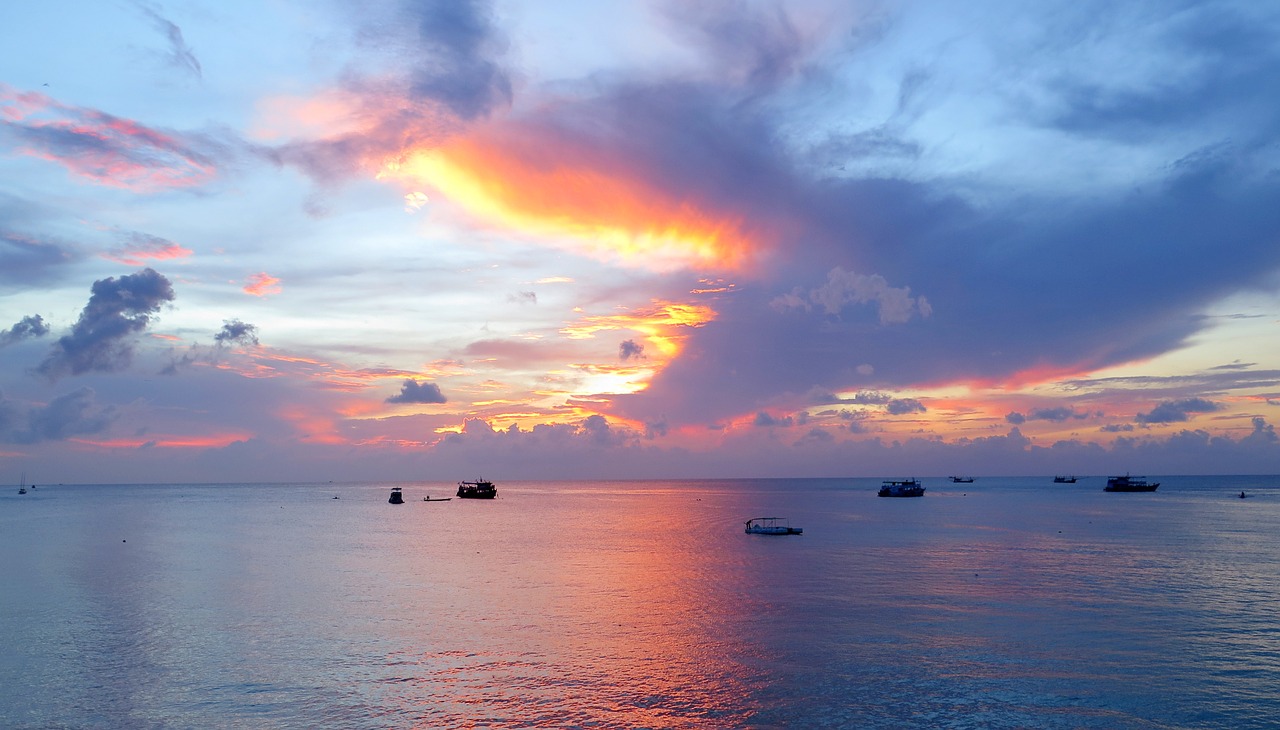 ---
7) Chalok Baan Kao
Just a short moto ride away from Sairee Beach is the more relaxed and quiet area of Chalok Baan Kao. An awesome place to spend a day and get away from the busier area of Koh Tao.
---
8. CHECK OUT THE KOH TAO NIGHT MARKET
One thing Thailand is known for is its inviting markets which introduce many travelers to the divine street food. This may not be one of the most popular activities in Koh Tao, but it's a great way to spend a quiet evening.
The night market on the island is small, but it's a great stop to make after a day at Sairee Beach. You'll find an assortment of Thai street food available – see if you can find pork kebabs, you won't regret it!
SAIREE AT NIGHT - KOH TAO, BEAUTIFUL THAILAND
---
9. ENJOY TOP KOH TAO ACTIVITIES IN MANGO BAY
As one of the top three places to snorkel on Koh Tao, Mango Bay is a must-visit while on the island. The calm, shallow waters make it perfect for beginners.
It's best to get to the bay by longtail boat, since the steep road is a challenge for even the most experienced moto riders. But the trip is so worth the end result, once you're swimming with the stunning fish among the coral.
---
10) TAKE A MUAY THAI CLASS
Koh Tao only really got a serious Muay Thai interest in 2002, but since then the sport has become quite popular. If you've never tried it before, it should definitely be on your 'to-do in Koh Tao' list.
You'll be able to go home and show off your new skills, and you may even find a new hobby for life.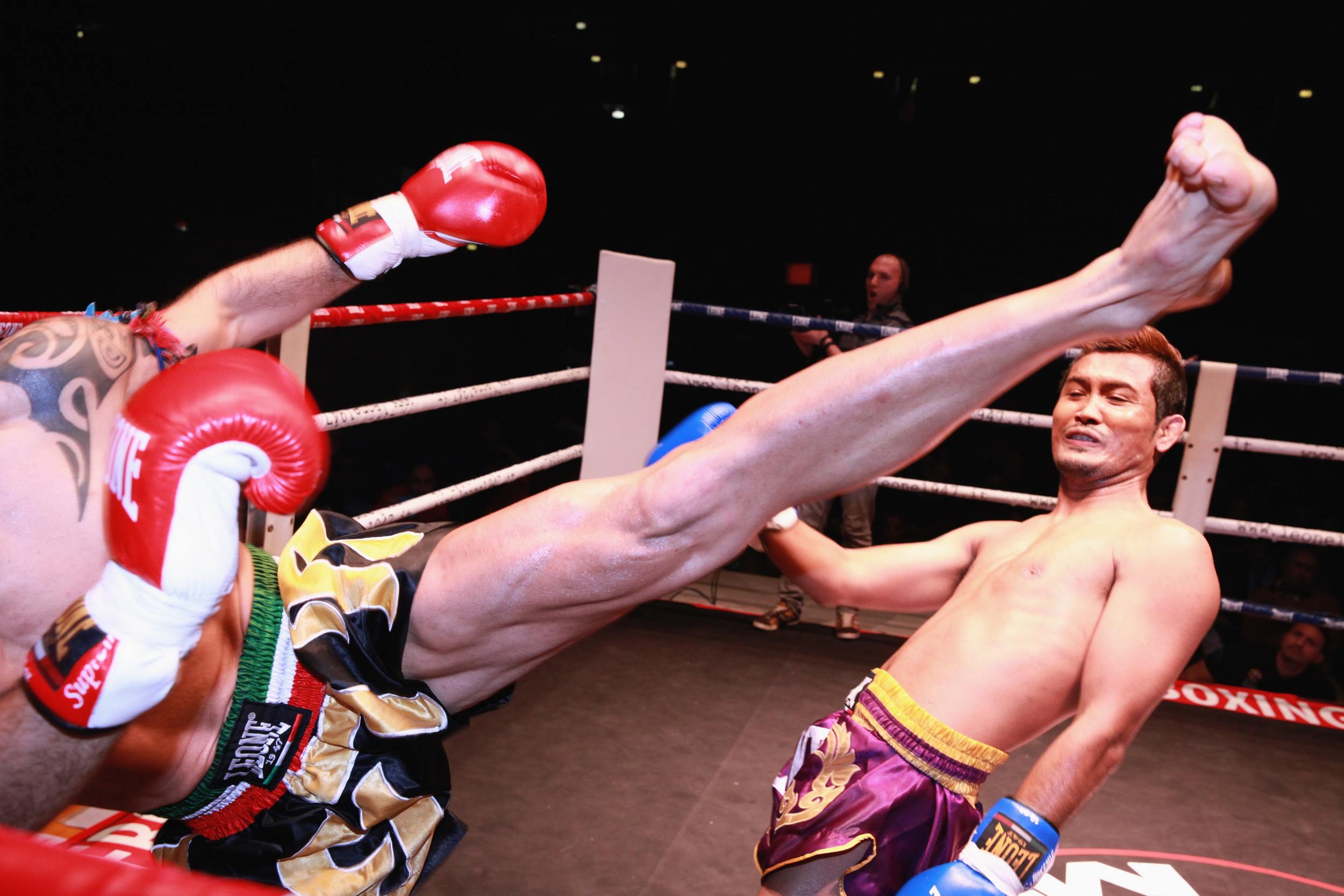 ---
11) EXPERIENCE KOH TAO HIGHLIGHTS ON A SUP ADVENTURE
Most of Koh Tao life happens on or in the water. The island has some gorgeous landscapes, but it's most popular for its crystal waters.
When you're done with scuba diving and snorkeling, there's still Stand Up Paddleboarding to enjoy!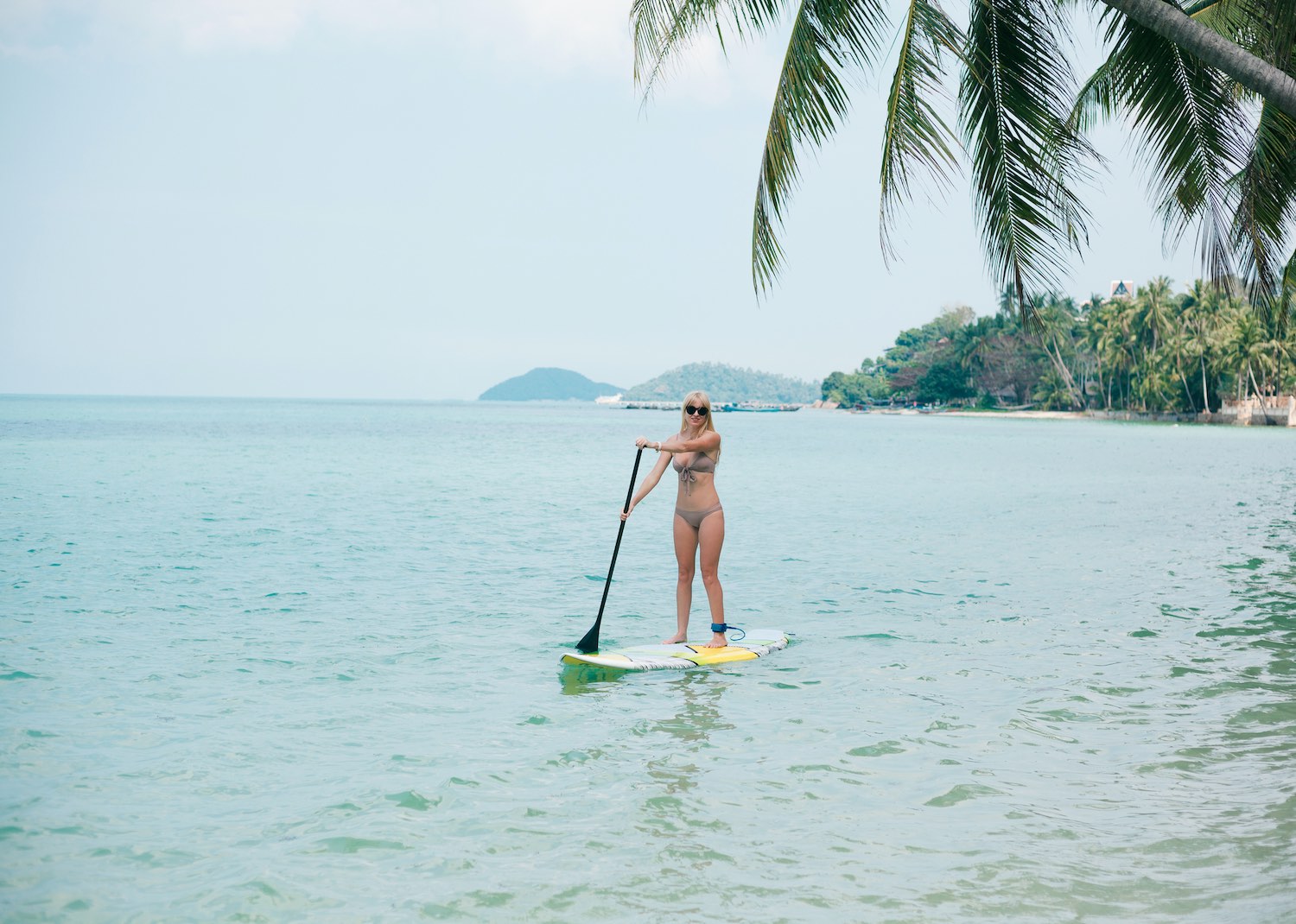 ---
12) GO ROCK CLIMBING
If you're a climber, or have been wanting to get into the sport, you're in luck. Head to Chaklok Baan and try the Front Yard and Back Yard climbing sites, or try Mek's Mountain in Sairee.
This activity isn't yet too well known on the island, so you won't have to compete with crowds on the rocks.
---
13) LIVE YOUR BEST LIFE AT LEISURE PARK
If you're traveling with kids, or just never really lost your childhood spirit, the Koh Tao Leisure Park is a must! There's a mini-golf course which provides hours of fun for all ages, as well as football, table tennis, and other fun games and sports.
The park also has an airconditioned cinema, an outdoor screen, and a bar serving drinks and meals. It's open day and night for full-day entertainment. Rumor has it their Sunday roast is a winner.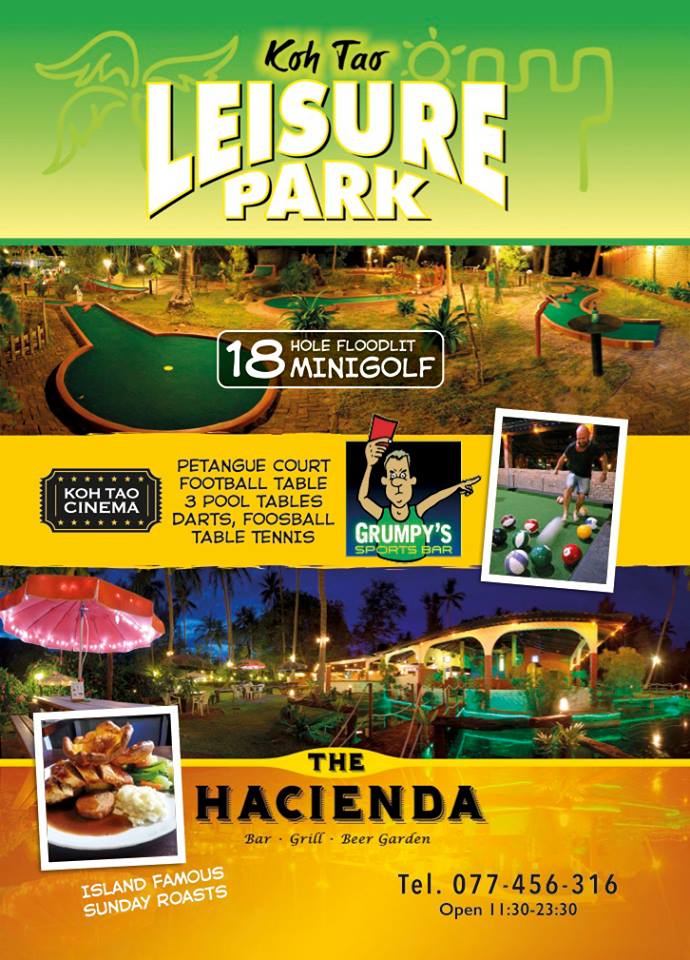 ---
14) ATTEND A COOKING CLASS
While on the island, you're bound to fall in love with Thai food. So why not book a space in a cooking class and take a few recipes home with you?
There are a few cooking schools on the island, most of which have English-speaking chef teachers. You'll learn how to make meals like Pad Thai, Green Curry from scratch, and other mouthwatering dishes. Plus, you'll get to eat them too, so lunch is sorted.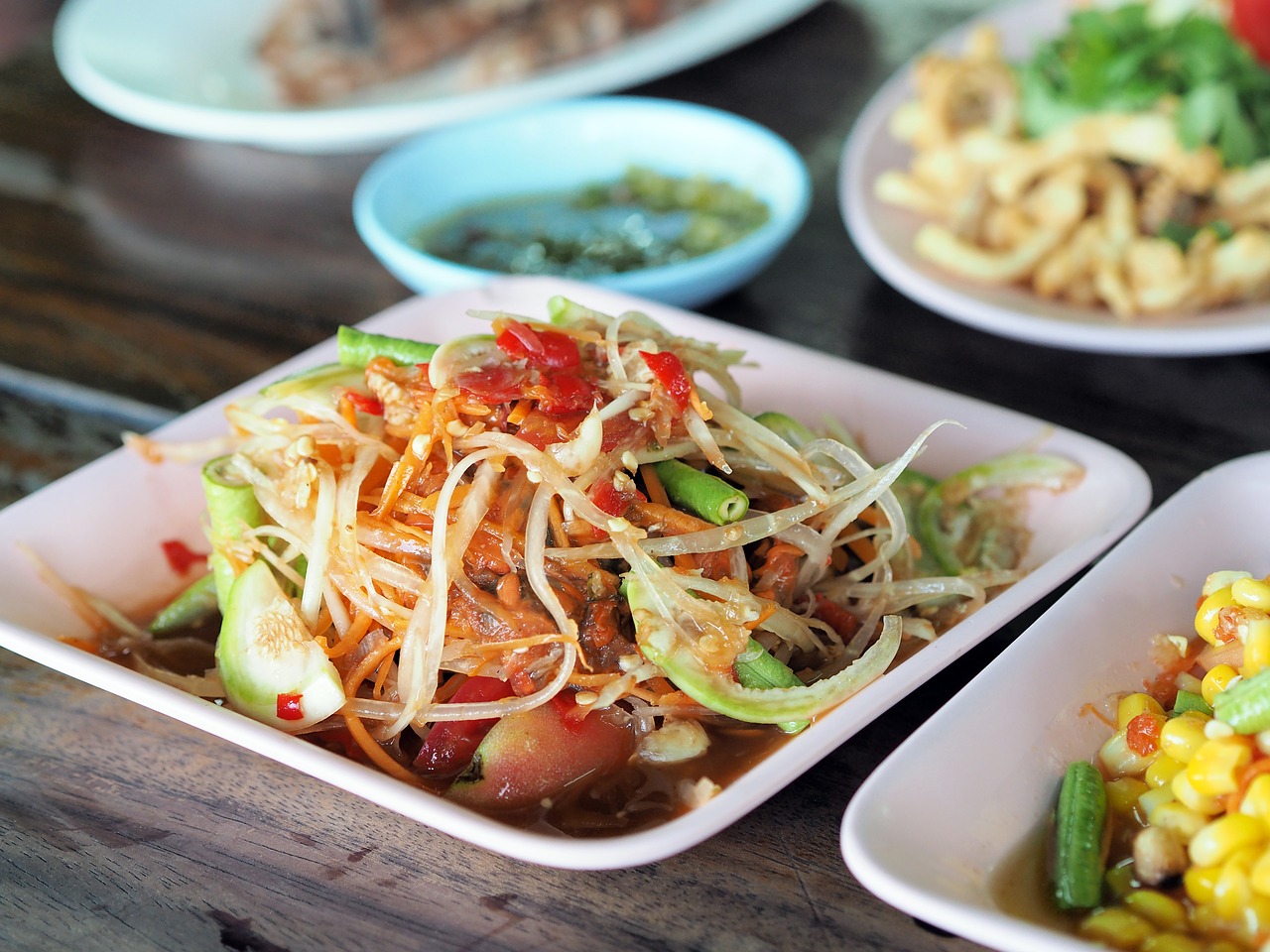 ---
15) CHANNEL YOUR INNER YOGI
Yoga may not be for everyone, but it's a wonderful experience for those who enjoy it or have always wanted to try it. The island has classes, courses, and even full yoga retreats for those who need to quiet their minds.
You don't need to be an experienced yogi guru to try out a class, just look for ones that are good for beginners and you'll be fine.
---
16) PARTY AT FISHBOWL BEACH BAR
This is a popular spot for locals and visitors alike. Right on the beach, the bar is open until late and has some of the best vibes on the island. There's tons of seating, including bean bags on the sand, and tables inside where you can order lunch or dinner.
Sip cocktails as you watch the sunset and then stick around for a game of beer pong. There's usually a fire show going on down at the beach, and you'll often get to enjoy live music inside. If you're visiting Koh Tao soon, a cocktail or seven at Fishbowl is a MUST!
Fishbowl Beach Bar on Koh Tao
---
17) KOH TAO SIGHTSEEING FROM JOHN SUWAN
The island has many viewpoints that provide stunning views over the land and sea. But John Suwan is definitely one of the best. You can hike up to the top and enjoy the picturesque scenes while surveying the island life below.
There is an entrance fee to reach the top, and it's an average hike that will take you around 20 minutes. Just take water with you to combat the humidity.
---
18) WATCH A FIRE SHOW (A KOH TAO MUST-DO)
If you're looking to enjoy Koh Tao's nightlife, a fire show is a not-to-be-missed event. Happening on the beaches, these shows display extreme talent from the fire dancers.
You can see one of these shows if you visit Fish Bowl Beach Bar, mentioned above, but there are also usually shows at Lotus Bar. They're a popular form of entertainment on the island, so chances are you'll find one wherever you end up spending the night.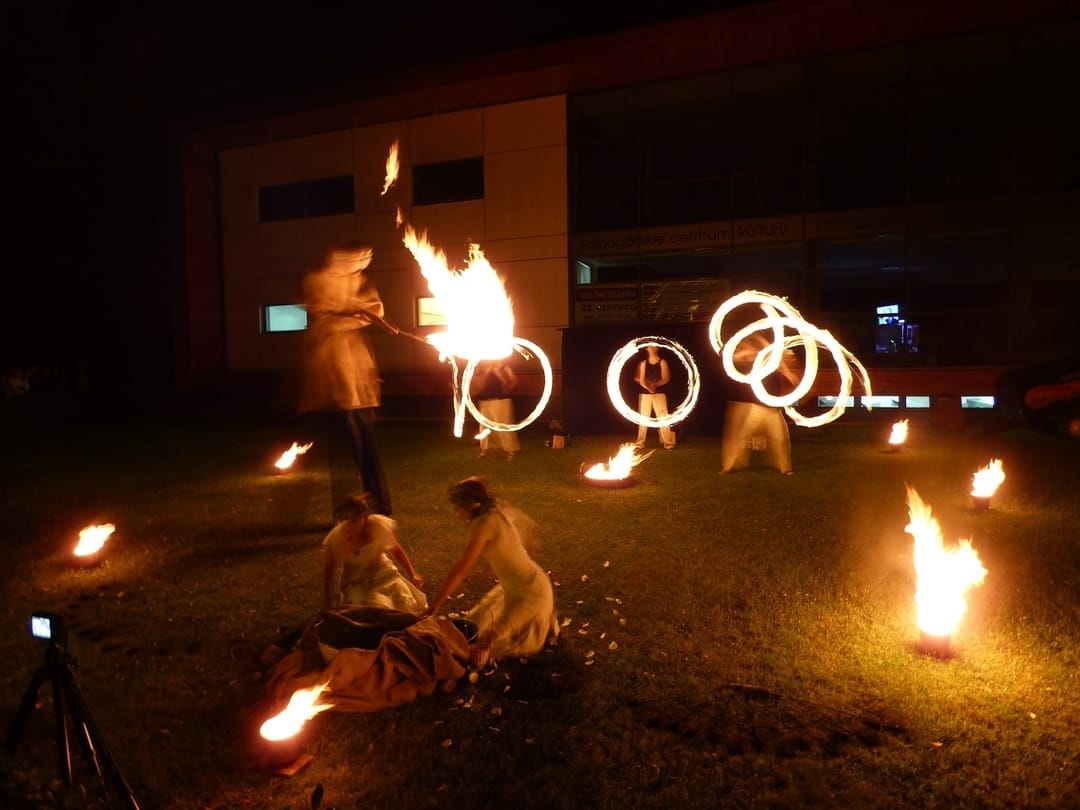 ---
19) CATCH THE SUNRISE AT LOVE KOH TAO
At the heart of Koh Tao, sits the Love Koh Tao viewpoint. It's incredibly romantic, but even without a love interest, you'll be able to enjoy the stunning scenes of the island.
The spot is easy to get to and offers amazing photo opportunities. There's an entrance fee, but if you grab breakfast from the cafe you'll get free access. While the sunrise here is astounding, you can easily enjoy the views later in the day if you need a lie-in.
---
20) EAT A BANANA PANCAKE
Is it breakfast? Is it dessert? Is it a delicious treat to try at least once while visiting Koh Tao? Yes, to all of the above. Banana pancakes are a popular snack found in Thailand, and Koh Tao has some of the best.
They may not be the healthiest option, but these pancake tarts are a delicious snack in Asia. You'll find small carts around almost every corner in Koh Tao. These carts sell the pancakes with a variety of fillings – peanut butter, Nutella, the options are delicious.
Thai Banana Pancake Recipe (Thai Roti) โรตีกล้วยหอม | Thai Recipes
---
21) EXPLORE ANGTHONG MARINE PARK
A short boat ride from Koh Tao, you can enjoy a day at this national marine park and learn more about the ocean and keeping it clean. There are snorkeling and diving opportunities, as well as wildlife and plants to view on the islands.
Take the somewhat strenuous hike up to Wua Ta Lap Viewpoint, or discover the Bua Bok Cave. There are also gorgeous beaches to chill out on while you're there.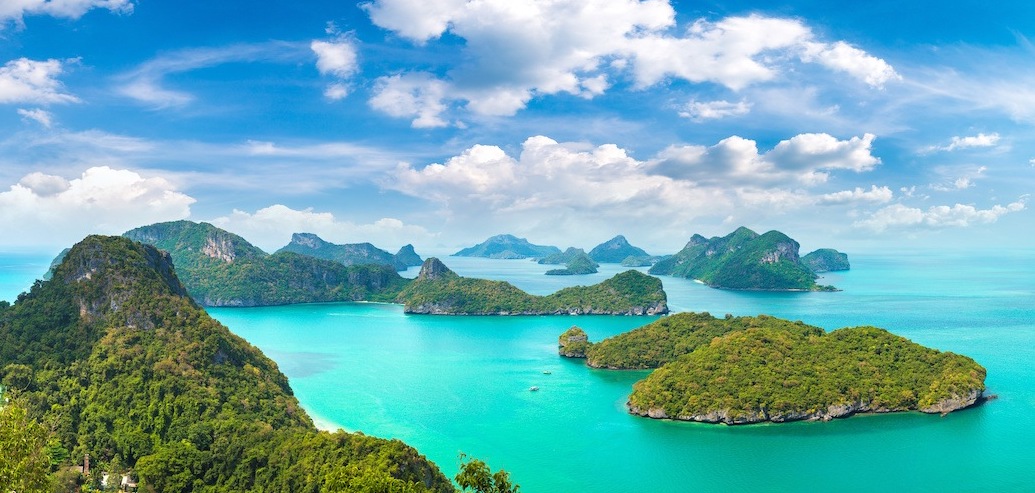 ---
22) EMBARK ON A KAYAKING TRIP
Kayaking around the island gives you the chance to explore those hidden spots that aren't accessible on foot or by scooter. It's also a great way to do a snorkeling tour, either with a guide or alone.
Start in a shallow, calm bay like Freedom Beach or Cape Je Ta Kang, and when that feels too easy you can head out to trickier spots like Shark Bay. Shark Island is also a good spot to check out, provided the waters are calm and the weather is clear.
---
23) SHARE A BOOZY BUCKET
This is one of the top things to do in Koh Tao, besides diving of course. It's an ordinary bucket, filled with ice and your choice of booze with soda mixes. You'll get one when doing the Pub Crawl mentioned above, but you can also find them at most bars.
Share one with your group, or make new friends at the bar. These are definitely best enjoyed with others, and you can fit quite a few straws into the bucket.
---
24) TASTE A SEAFOOD BBQ
I've spoken a lot about the food, and that's because it's a big part of exploring the island's culture. Whether you're a professional foodie or just enjoy eating, I'd suggest you have a seafood BBQ for at least one dinner during your trip.
Try a seafood buffet at Koh Tao Buffet BBQ, or order a platter from Barracuda and prepare to have your taste buds amazed.
---
25) TAKE A DAY TRIP TO KOH SUMAI
A 1.5-hour boat ride away from Koh Tao lies Koh Sumai. This is a larger island and offers even more island fun. It's often visited with a day trip happening to Koh Tao, but there's nothing wrong with doing things the opposite way.
Hike to Na Muang Waterfall, visit the many temples, and explore more of Thailand's blissful beaches. Or simply rent a scooter and see where the winds take you.
TOP 10 THINGS TO DO IN KOH SAMUI, THAILAND
---
26) VISIT ECO KOH TAO
Learn more about conservation in the oceans at Eo Koh Tao. The center offers diving and marine conservation courses. They also work with volunteers to conserve the beauty of the coral reefs around the island.
Pay them a visit to learn more about how you can be more eco-conscious in your diving, and maybe even go out with them into the water.
---
27) GET A THAI MASSAGE
Before you leave this island of bliss, take a moment to enjoy an authentic Thai massage. There are many places where you can go to enjoy a 30 – 60-minute massage at a reasonable rate.
Some of the best spots include Paradise Massage – which offers natural ocean sounds while you relax – and Royal Thai Massage, a popular option for many.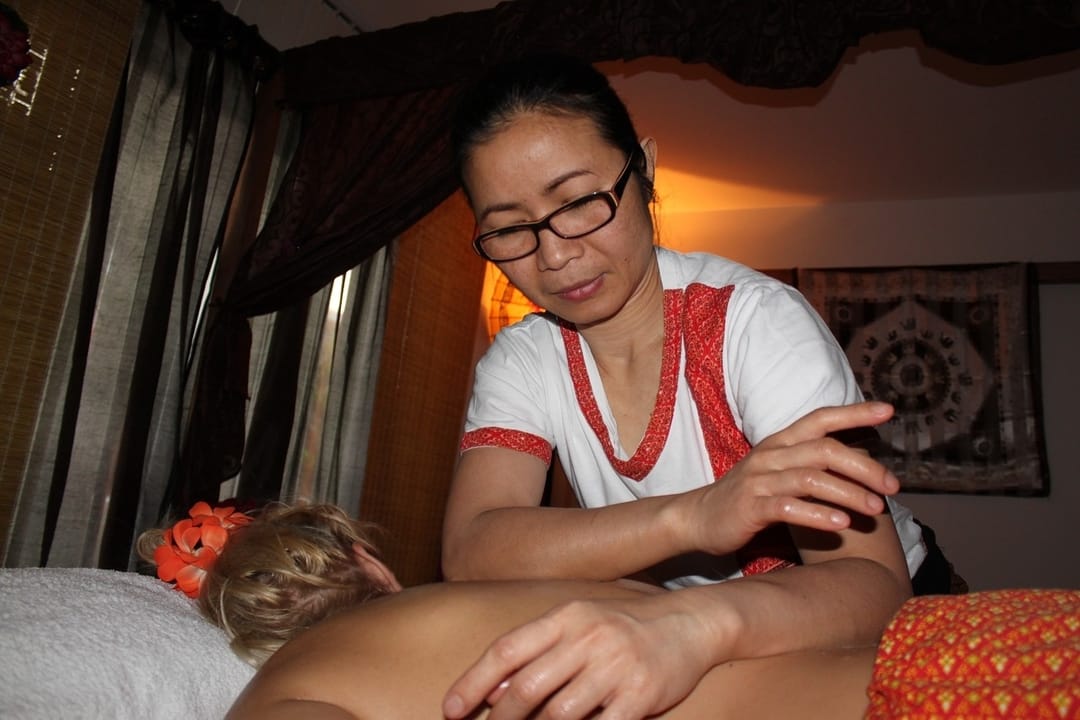 ---
Am I Missing Any Amazing Things to do in Koh Tao, Thailand
It's actually been over a year now since I've visited Koh Tao, so I'm sure there must be a cool new restaurant, beach club, or fun things to do that aren't mentioned here on this list! I'd love to hear from you guys about what your favorite Koh Tao attractions that aren't on this list, so I can keep this as up-to-date as possible!
---
Looking for a place to stay on Koh Tao…?
There are TONS of amazing places to stay all over the island! But here are a few of my top picks:
AIRBNB — This has become my preferred accommodation over the past few years, and there are some AMAZING villas that would be perfect for your stay! Here are a few of the top picks: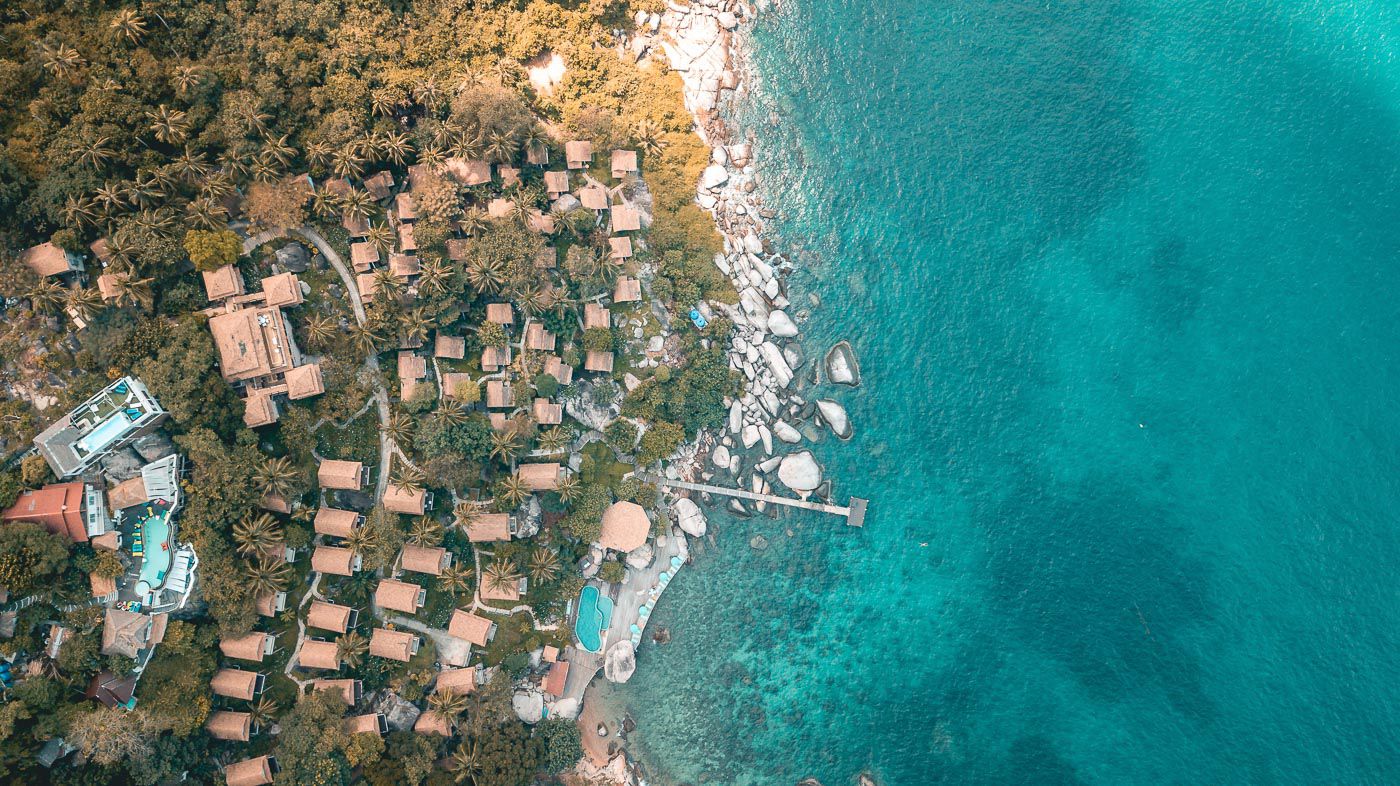 ---
Simple Life Cliff View Resort — This is one of the best selling properties on all of Koh Tao, and would provide a fantastic stay! Super comfortable rooms, amazing views, and it's located right on Sairee Beach.
GOODTIME BEACH Hostel — For the backpackers out there, this is the best PARTY HOSTEL on Koh Tao! "Our hostel is perfect for young, thrill-seeking travellers who want to adventure all day and then dance the night away. We are situated next to one of Koh Tao's most popular bars, which plays lively music until 2am. We are not ideal for those looking for a peaceful, family holiday. If this is your requirement, we respectfully advise finding an alternative location".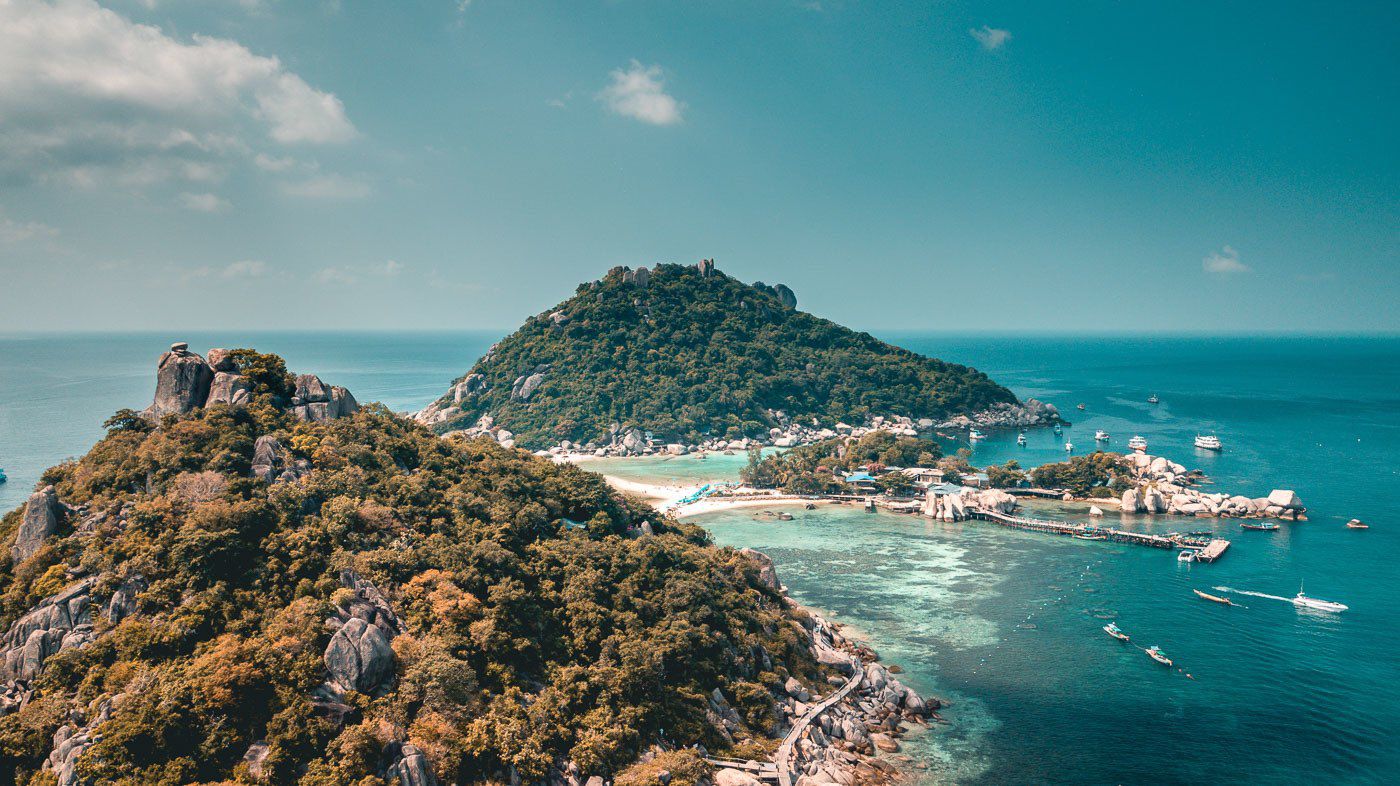 ---
Planning a trip to Thailand?
My website is filled with helpful articles, itineraries, and destination guides just like this! Take a quick browse through a few more of these below, and as always, feel free to reach out to me on Instagram or Facebook if you have any questions! I'm always happy to help any way I can!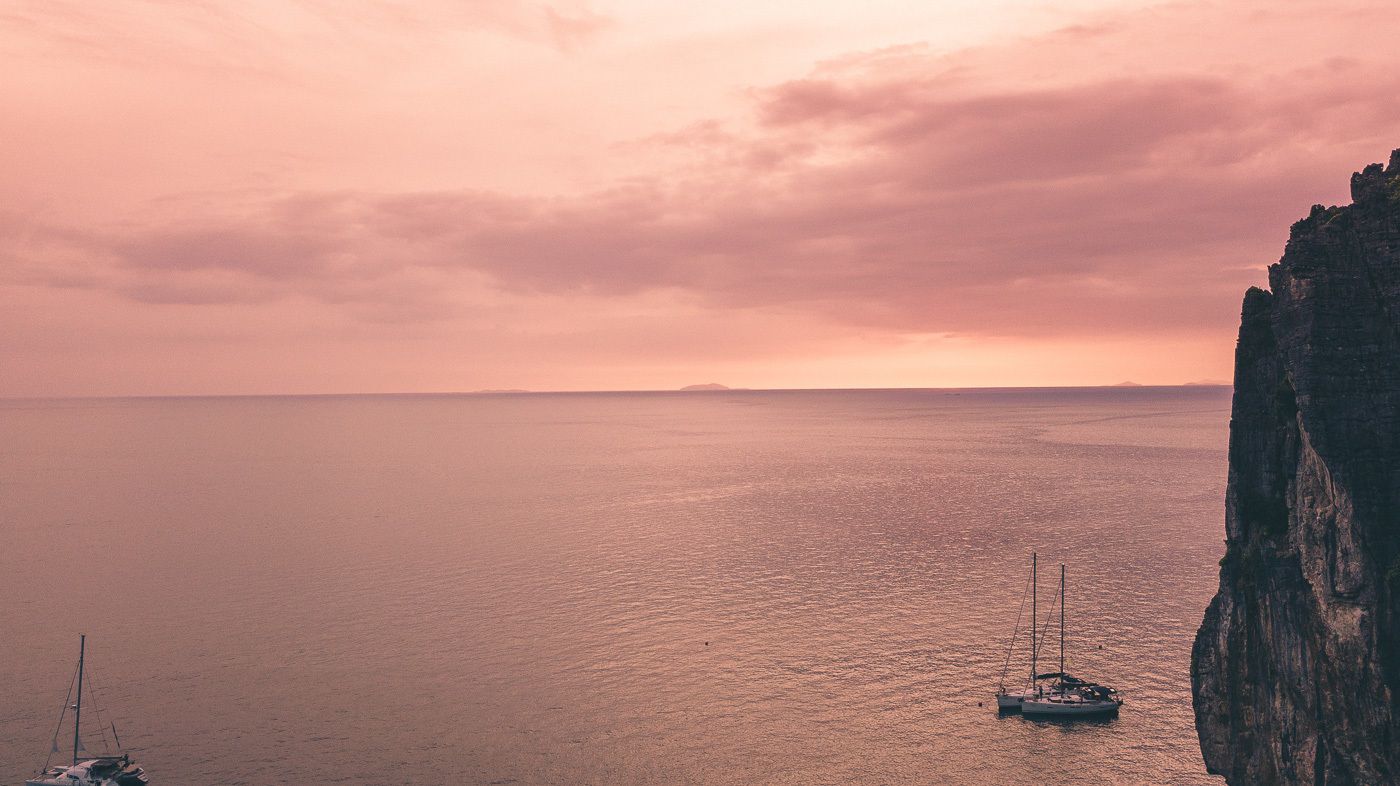 ---
WHAT TO DO IN KOH TAO – SUMMARY
There's no denying that if you're looking for diving spots in Thailand, Koh Tao is one of the best places to go. But there's so much more you can enjoy on the island as well. Whether you're spending a couple of days on the island or a week, you won't be short of activities and discoveries. Take a hike and enjoy the views from the top, spend some time amazed by the beauty around you, and fill your belly with some scrumptious food.
Of course, be sure you don't miss out on the diving and snorkeling opportunities either. And if your visit is longer, then an island-hopping day trip should be on your itinerary as well.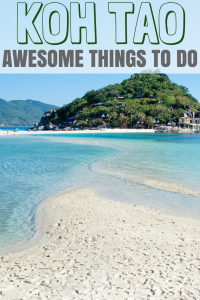 ---
Thanks for reading about these top things to do on Koh Tao, Thailand
Share the Kao Tao love with your Thailand travel crew!
https://www.jonesaroundtheworld.com/wp-content/uploads/2014/05/Koh-Tao-Things-to-Do..jpg
1018
1500
Dave
https://www.jonesaroundtheworld.com/wp-content/uploads/2017/03/logotry-1-1-300x106.png
Dave
2020-03-13 06:32:29
2020-10-30 17:25:56
27 Amazing Things To Do on Koh Tao, Thailand