Planning a trip to Thailand and searching for the best Airbnbs in Bangkok? Well, you've come to the right place, because oh man, I love Bangkok. Its streets are hectic, noisy, and steamy, and despite the pace, the heat, and the noise…. trust me. This place will win you over, and there's no better way to explore than from one of these incredible Airbnb Bangkok offerings!
The capital of Thailand is home to over 8 million people and has been a bustling city for around 600 years. The sights and smells of Bangkok can be confronting, but it's all part of the unique experience of visiting the city.
Rivers and canals flow past 5-star hotels and run-down huts of huge Thai families. Air-conditioned mega malls pepper the city, providing all the modern comforts of the Western world. Street markets overflow with fresh fruit, dirt cheap brand knockoffs, penis-shaped soaps, and key rings, and locals are always ready to barter with tourists.
Unlike its southern island counterparts, Bangkok doesn't have the luxury of a coastal sea breeze to cool it down. It's hot and humid all day and night, and the heat only adds to its intensity and insanity. It's also super affordable to visit this brilliant city and live it up in style.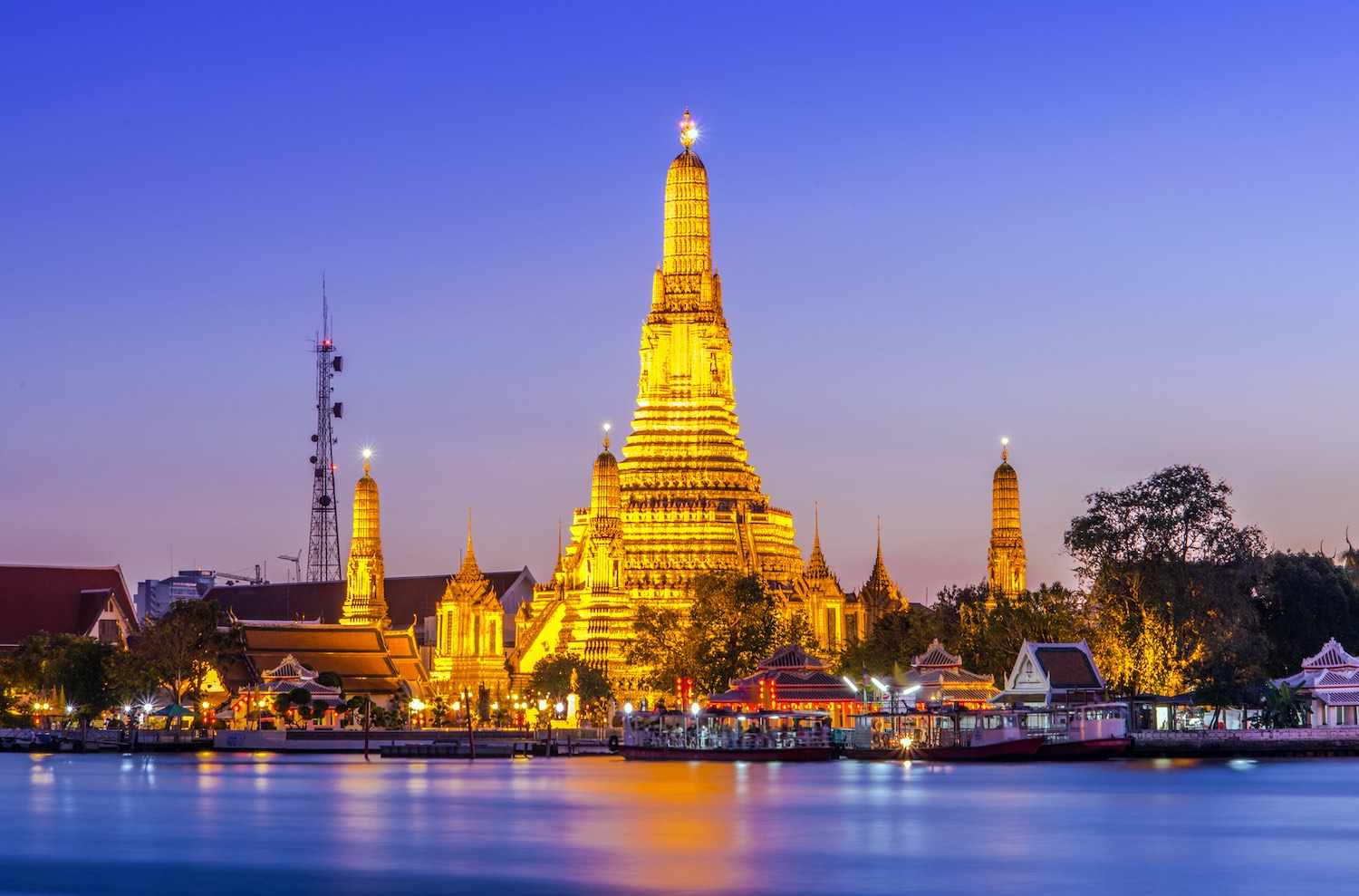 Bangkokers want to feed you, clothe you, make you laugh, and practice their English with you. Visiting Bangkok is an overwhelming sensory experience, and a visit to the capital of the Kingdom of Thailand will never disappoint.
Enough of me raving about the City of Bangkok. Without further ado, I've compiled the ultimate list of the 18 best Bangkok Airbnbs. From traditional Thai-style stays to ultra-modern condos and apartments – it's all there for the taking.
---
Airbnb Bangkok: The Best Vacation Rentals
If your Bangkok trip planning time is limited, I've put together my "Quick Top 5" recommendations below. These Bangkok Airbnbs are my pick of the best in the Thai capital, and I've recommended a property for a variety of travel and budget styles!
I've also added tons of fun, helpful, and inspiring travel videos for your upcoming trip to Bangkok & Thailand! It's one of my favorite destinations in Southeast-Asia, and filled with so many wonderful things to do, markets to visit, temples to explore, and so much more! Check out a few of the videos for some inspiration for your upcoming Bangkok trip!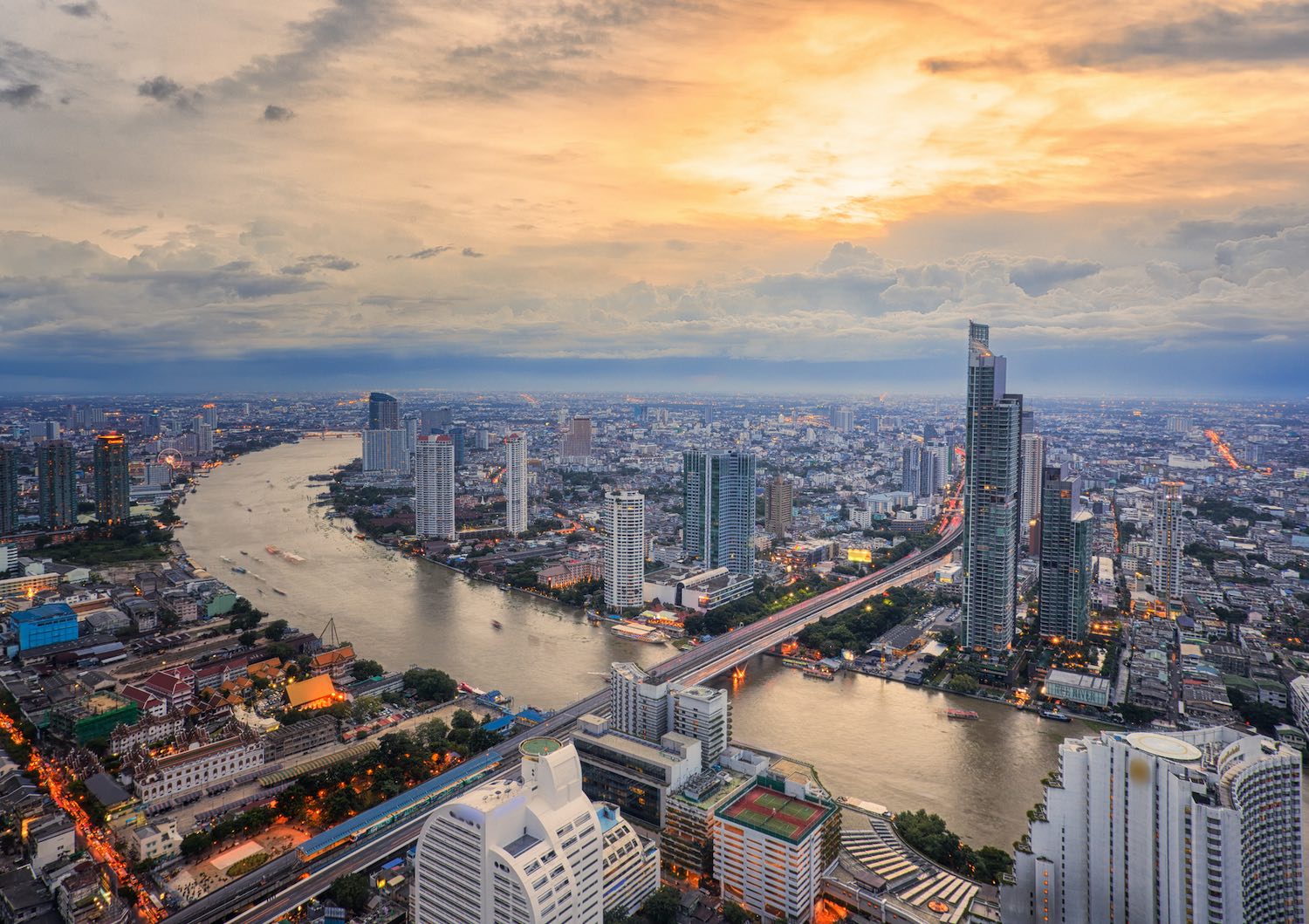 ---
Also, be sure to read a few of my other super detailed and helpful Thailand blogs: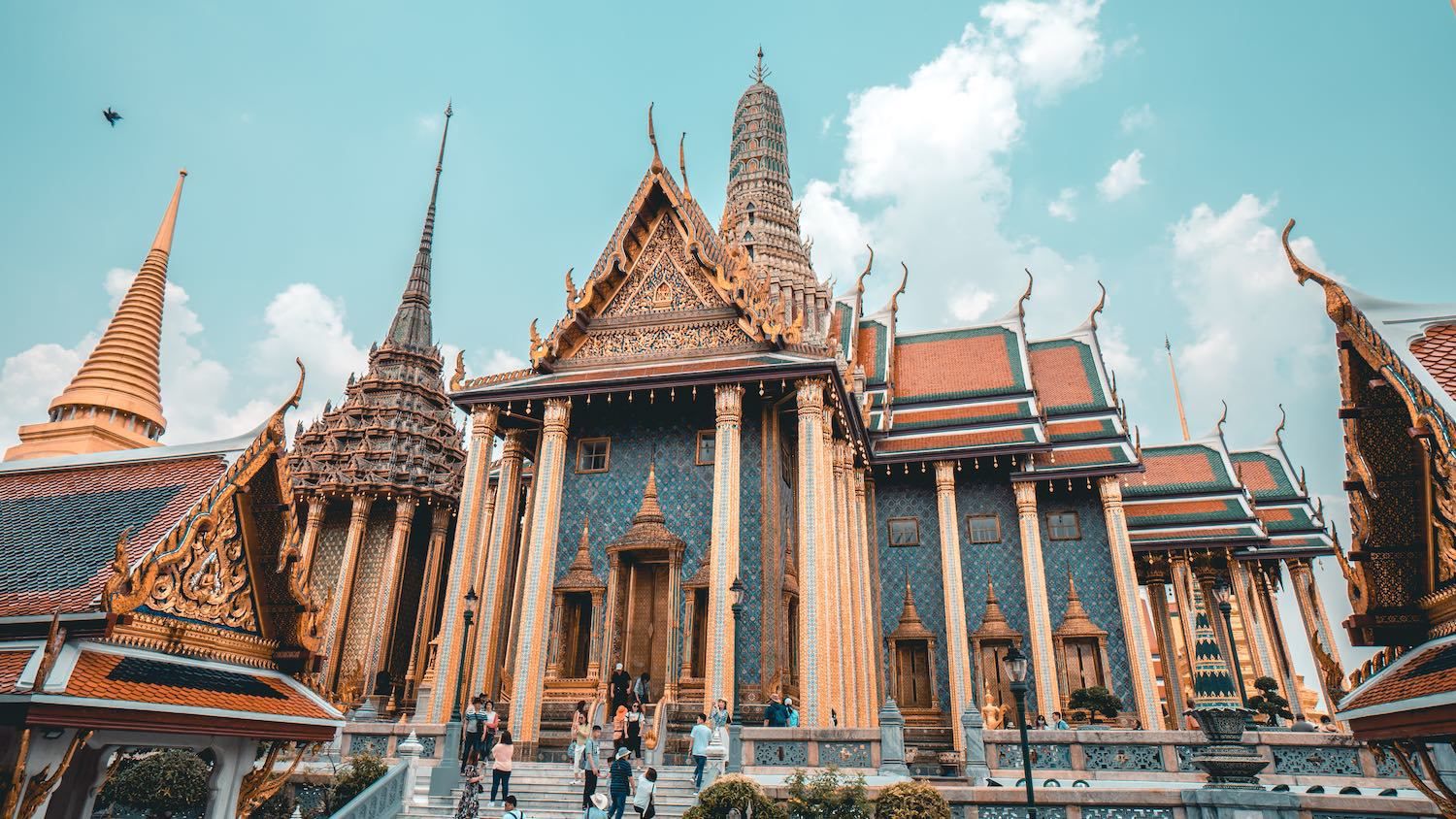 ---
1) The Muse Haus in Asoke ( Sleep 4, Walkto BTS MRT)
Overall Best Bangkok Skyline Airbnb
Location: Khet Watthana
Airbnb Plus: No
Superhost: Yes
Price: $22+ USD per night
https://www.airbnb.com/rooms/21065013
One of the most popular Bangkok Airbnb offerings, this one-bedroom apartment is my choice as the best overall Airbnb in the city. This contemporary and stylish Airbnb apartment is located in an exclusive and secure complex with a rooftop pool offering amazing city skyline views. There's also a gym on-site.
The Khet Watthana neighborhood is a brilliant locale for exploring all of Bangkok. Walk to many great restaurants and markets, or take advantage of the free handy shuttle bus to the nearest MRT station that is available for residents and Airbnb guests!
View Photos, Read Reviews & Check Availability
Guest review: "In this day and age you won't exactly get what was advertised to you in most cases. This is not the case with this apartment. I have never been in a better Airbnb apartment. Very stylish and modern. Everything in it seems to be brand new and super clean and that goes for the whole building by the way. Great location too. A bit far to walk to the SkyTrain or MRT, but not to worry, because there is a free shuttle available. Absolutely fantastic experience. Max is a very professional host and very easy to communicate with. I highly recommend this place and will be back for sure!" – Peter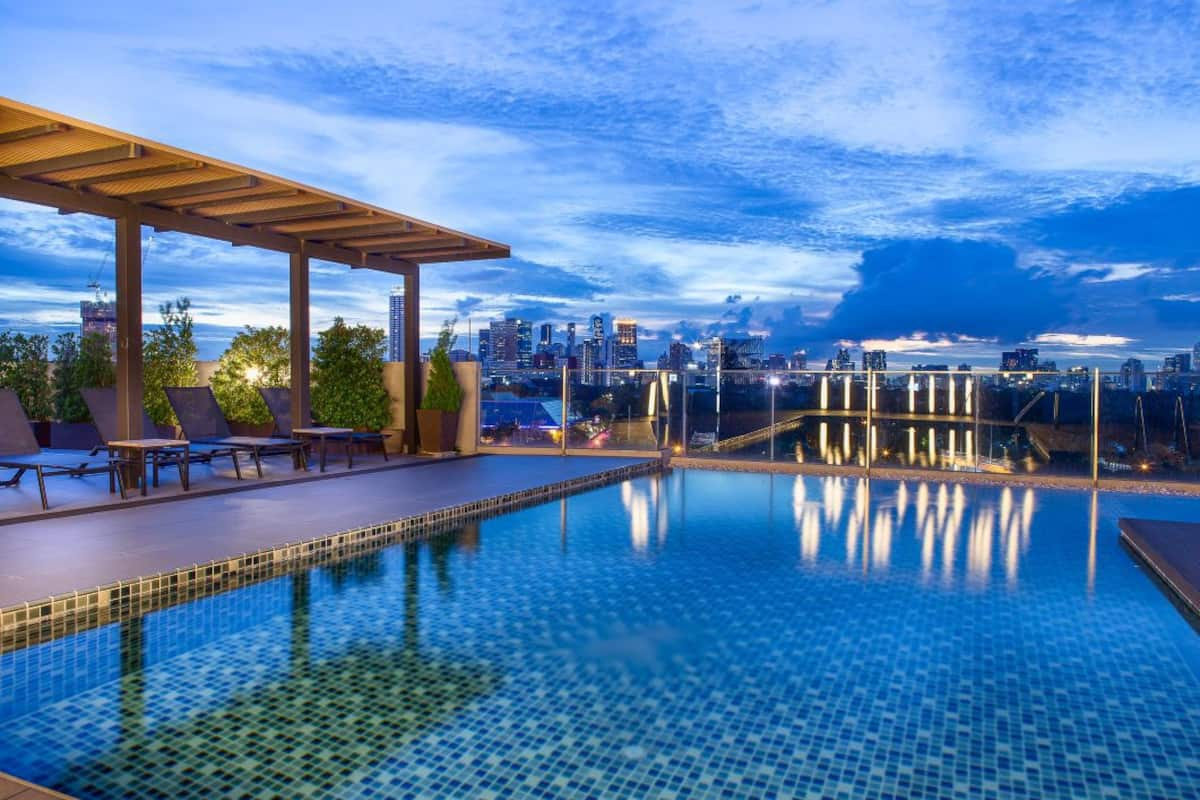 ---
2) The Anonymous House, Heritage Home in Silom with Plunge Pool
The Best Unique Airbnb In Bangkok
Location: Khet Bang Rak
Airbnb Plus: Yes
Superhost: Yes
Price: $150+ USD per night
https://www.airbnb.com/rooms/25819195
Bangkok accommodations are very sleek and modern, but occasionally you stumble across a unique standout in the heart of the city. This three bedroom historical home is jaw-dropping labor of love for the owners, and retains many of its vintage features while incorporating many modern conveniences. Colorful, quirky, and truly beautiful, this home has a private plunge pool and patio.
The Airbnb Plus Bangkok home is located just off the bustling hub of Silom Road, which comes alive first thing in the morning with charming markets offering fresh produce. From there, catch the meandering riverboat down to Old Town.
View Photos, Read Reviews & Check Availability
Guest review: "Anonymous House is an oasis in the very heart of the city. An absolutely unique experience guaranteed to please. Beautiful artwork, staff and furnishings all went into making this one of the best stays I have had in over 20 years of travelling in Asia. I was there with my sister, daughter, son and his wife and niece and we all loved it and had plenty of private space over and above bedrooms. Can't recommend it highly enough." – Michael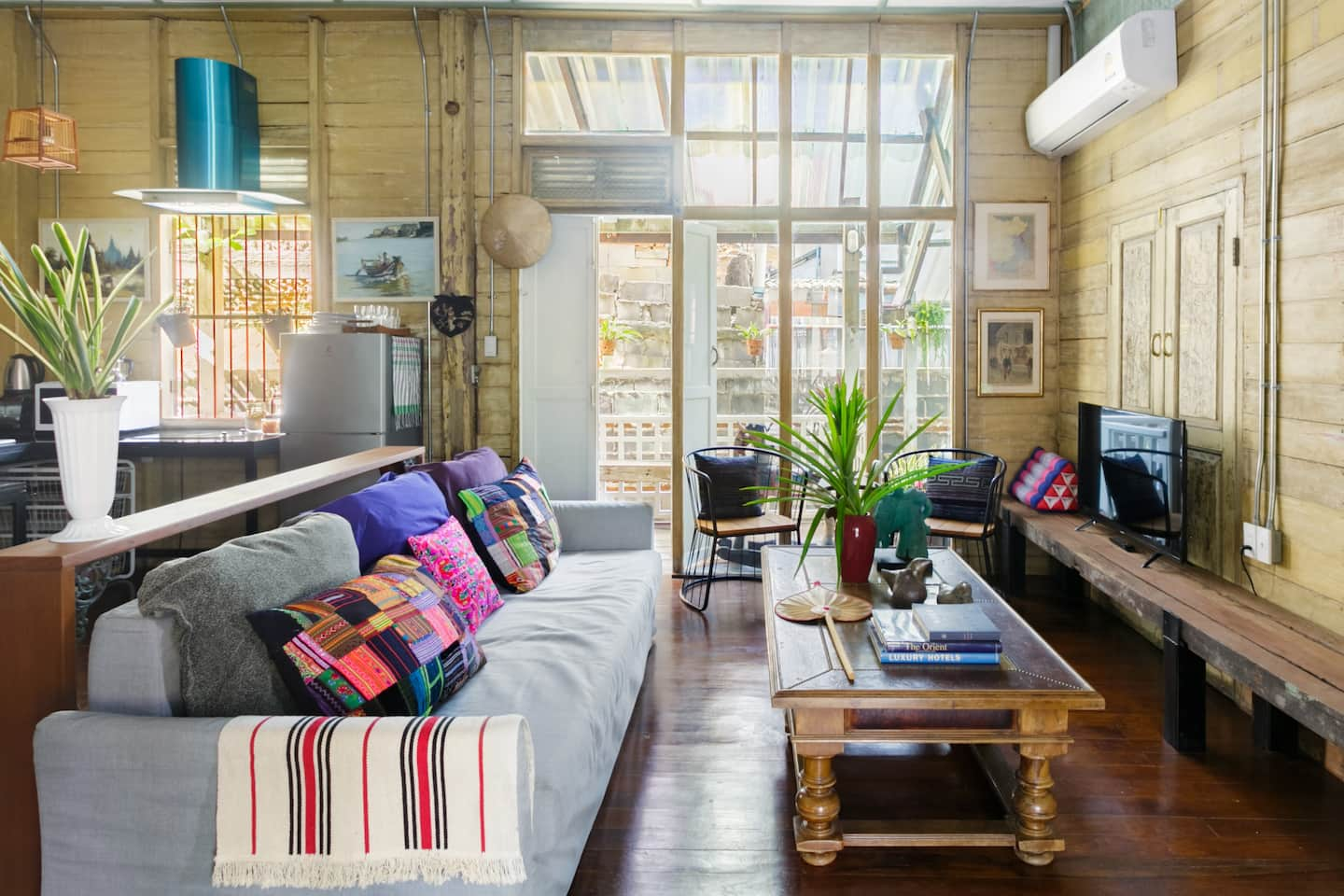 25 Amazing Things To Do in Bangkok, Thailand
---
3) Architect's House near Chatuchak Market
The Best Bangkok Airbnb in Thailand
Location: Khet Chatuchak
Airbnb Plus: Yes
Superhost: Yes
Price: $130+ USD per night
https://www.airbnb.com/rooms/22185668
Surrounded by lush greenery providing an air of privacy and tranquility, this two-bedroom house is a dream abode in one of Bangkok's most fascinating areas. A creation by a local architect, this open plan Airbnb Plus home is airy, immaculate, and stylish. Every detail has been well-thought-out and executed.
Located just outside of central Bangkok in a friendly residential neighborhood, you'll love waking up and wandering through the Chatuchak markets, sourcing refreshing produce and bargain finds from the many stalls. The nearest train station to the city is a 15-minute walk, or jump on a tuk-tuk to beat the heat quickly and experience Bangkok authentically.
View Photos, Read Reviews & Check Availability
Guest review: "I would give this place 5+ stars. All the stars. Our host went above and beyond to make us feel comfortable. She even drove us to the SkyTrain after we dropped our luggage off! Seriously so thoughtful and sweet my friend and I wanted to buy her a gift. To our wonderful host, if you're reading this, we wanted to give you a gift but unfortunately lost track of time and couldn't get one for you! This place was absolutely stunning, and the breakfast provided was delicious. Such an amazing home and host, can't recommend it enough!" – Viyada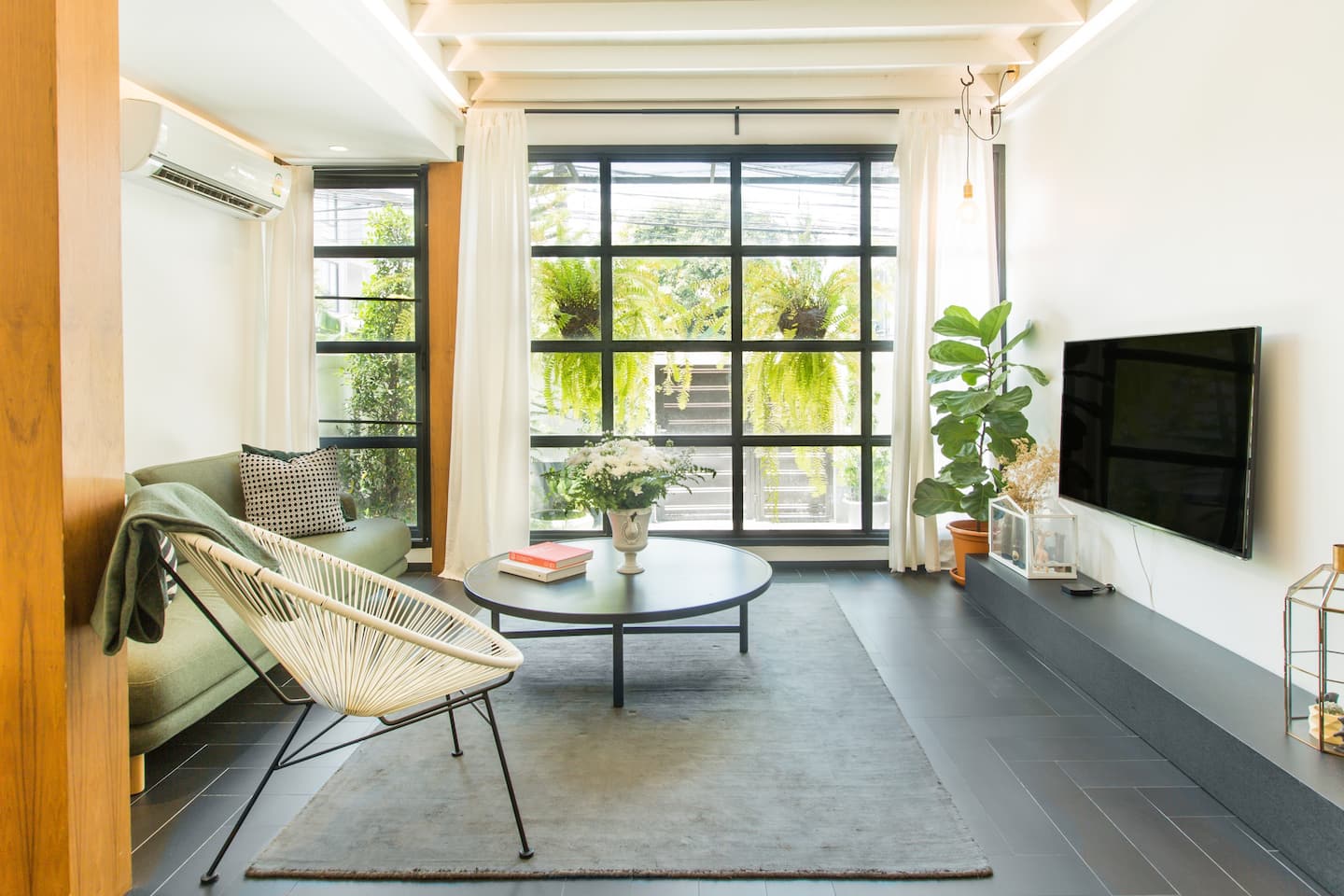 ---
4) Stylish House in Tropical Garden
The Best Luxury Airbnb In Bangkok
Location: Samrong
Airbnb Plus: No
Superhost: Yes
Price: $60+ USD per night
https://www.airbnb.com/rooms/8662376
Spend part of your stay in the heart of Bangkok but keen to escape the hot and humid city limits for a leafy oasis in the 'burbs? This beautiful one-bedroom guest house is for you. Nestled amongst tropical gardens and with its own private entrance and terrace, this modern and cool pad is the perfect place to unwind after a stifling city stay.
A fantastic breakfast prepared by your friendly hosts is included, and they even act as tour guides as an optional extra! It's super easy to head into the city from here. Just walk or taxi to the nearest railway station (15 minutes away), which offers a quick commute into the central areas of the capital.
View Photos, Read Reviews & Check Availability
Guest review: The place is beautiful, peaceful, well-stocked and conveniently located just a few minute's walk or motorcycle taxi away from the nearest Skytrain station. Even better, the ferry to Bang Kra Jao (highly recommended) is right down the street. I also booked Waan's tour of Pak Nam, a "little Bangkok" where she grew up. Amazing street food, interesting sights and a fascinating look at a part of town that seems largely undiscovered!" – Brennan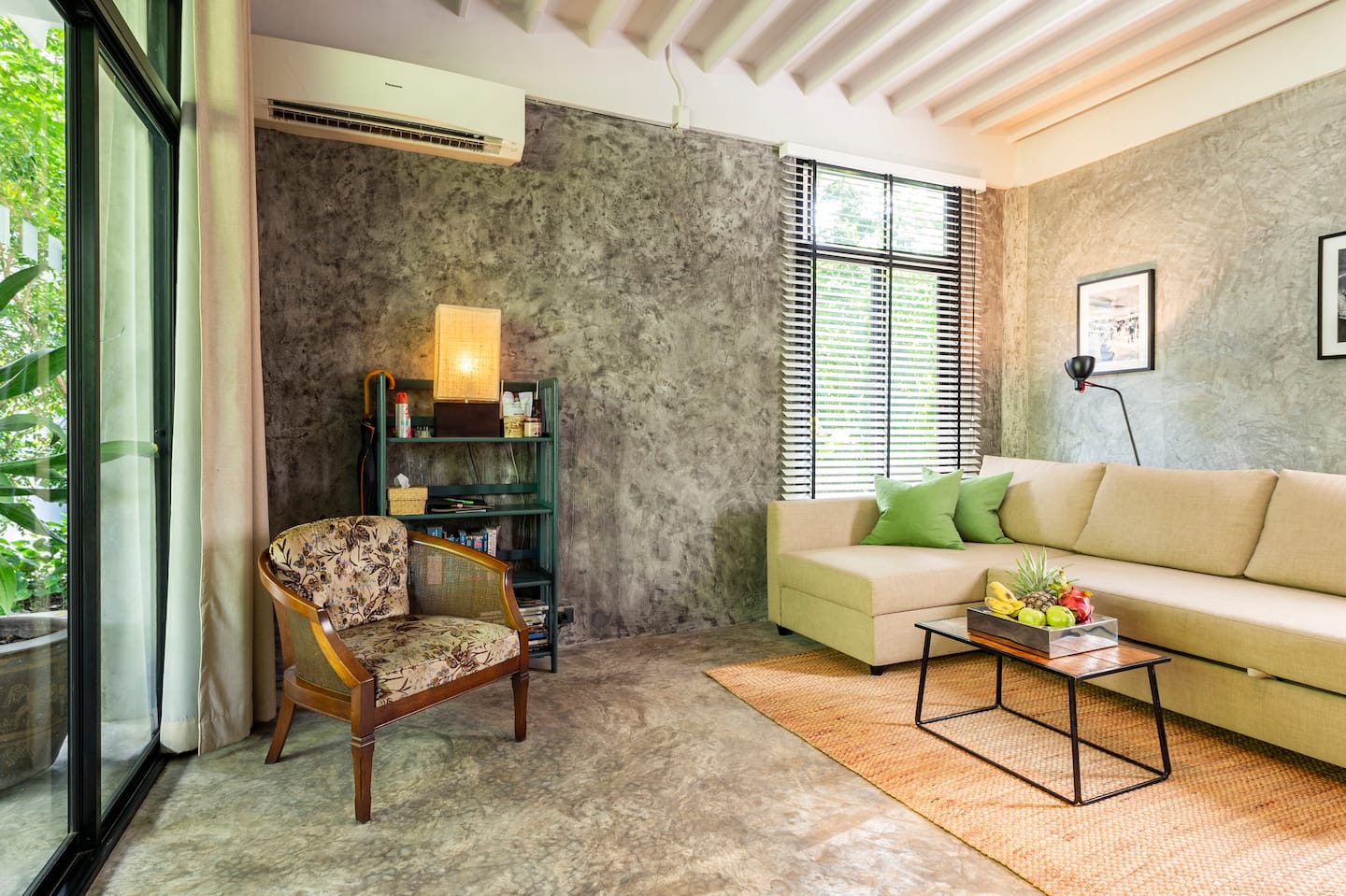 Bangkok Travel Tips: 13 Things to Know Before You Go
---
5) Modern Loft Living near the Nana Skytrain Station
The Best Bangkok Airbnb near BTS Station For Solo Travelers
Location: Khet Watthana
Airbnb Plus: Yes
Superhost: Yes
Price: $45+ USD per night
https://www.airbnb.com/rooms/24981583
Verified by Airbnb, this stylish one bedroom Airbnb Plus Bangkok loft apartment has recently been renovated and updated. It's hip, modern, and open plan, with industrial design elements throughout.
Offering incredible value for money, this epic condo is perfectly situated in the city center and surrounded by a huge variety of supermarkets, stores, cafes, restaurants, and markets. Venture further afield from the nearest BTS station, which is a breezy 10 minute walk away.
View Photos, Read Reviews & Check Availability
Guest review: "Joop's place was simply my best Airbnb experience. The place was spotlessly clean and very tastefully decorated. It is located very centrally but tucked away from the busy streets so very quiet communication with Joop was very easy. She responded always promptly and ensured we did not have any problem. She is a very generous and caring host and her place is the best base around central Bangkok. I will definitely stay again at Joop's when I go back to Bangkok. Thanks so much Joop!!" – Joohee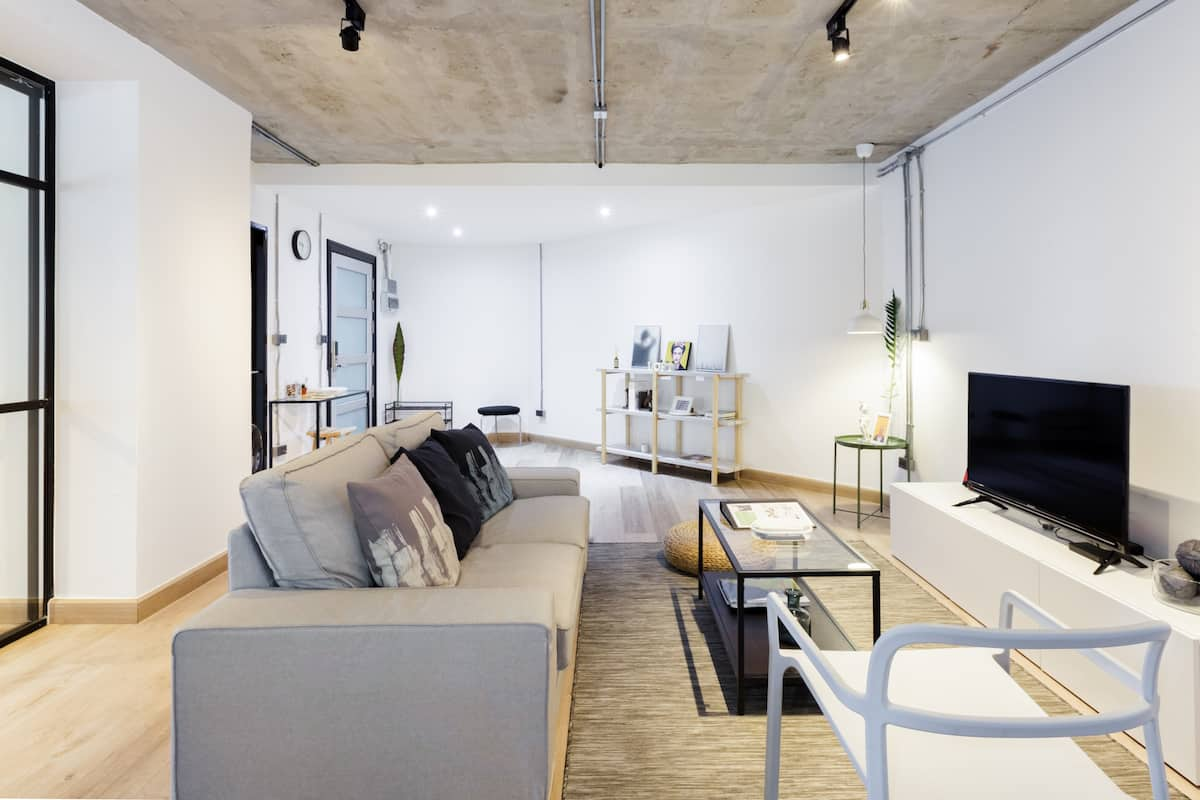 BANGKOK TRAVEL GUIDE | Top Things To Do In Thailand
---
6) Private Modern Loft at Airport Link & MRT Rama 9
Location: Khet Ratchathewi
Airbnb Plus: No
Superhost: Yes
Price: $50+ USD per night
https://www.airbnb.com/rooms/33488720
This beautiful Bangkok loft features one bedroom, one bathroom, incredible city skyline views, and attractive furnishings throughout. The condo complex has all the features to ensure your trip to the Thai capital is the best ever.
There's a swimming pool with sun loungers, a sauna, a gym, and secure check-in and CCTV. It's an easy 10 minute walk to the nearest train station, which will take you quickly and easily into Bangkok CBD and beyond.
View Photos, Read Reviews & Check Availability
Guest review: "The best Airbnb I have ever booked. Apartment was clean and comfortable. Host was able to arrange transportation from the airport and replied very promptly. The bed was so comfortable that I felt very rested this trip. The apartment is 5 mins walk from a train station. I will definitely book this again when I return." – Marjorie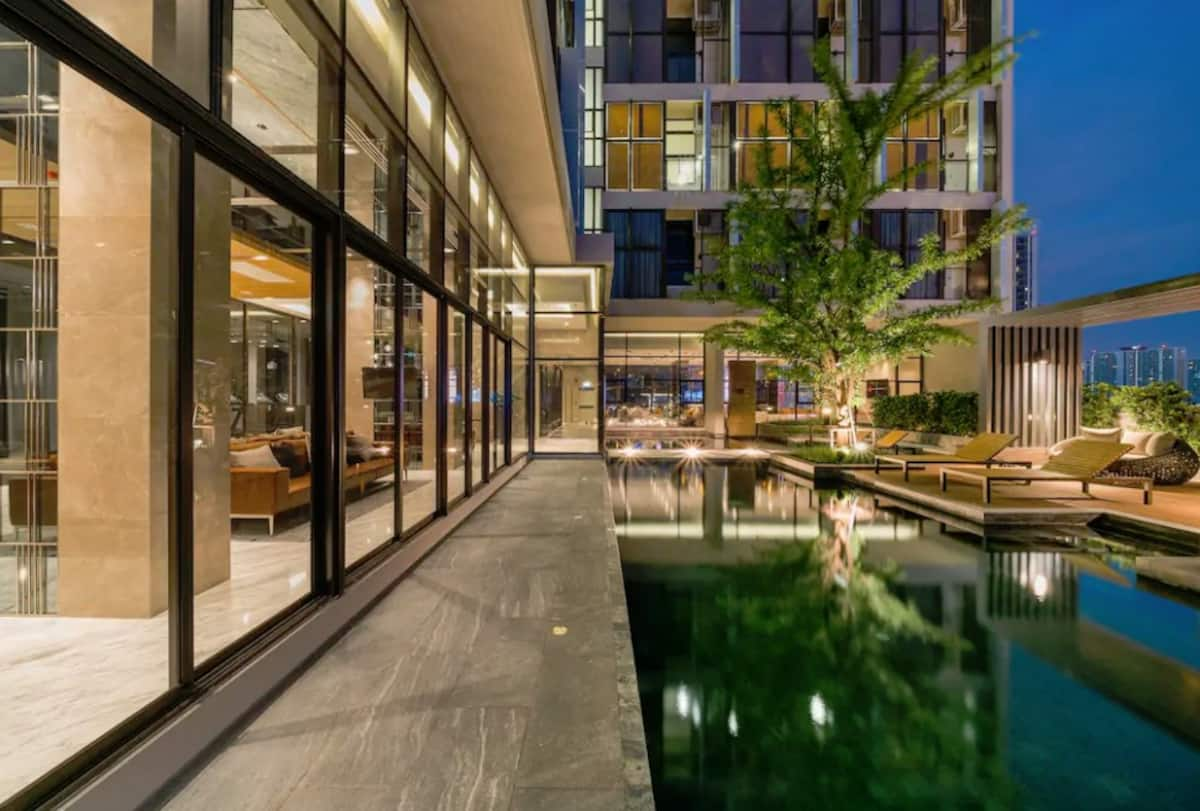 Bangkok Thailand 4k (What to Know Before Going )
---
7) Thai Style House-Your Dream Lux Living, Siam / MBK
Location: Pathum Wan
Airbnb Plus: No
Superhost: Yes
Price: $90+ USD per night
https://www.airbnb.com/rooms/1041976
Comprising the entire third floor of a traditional Thai home, this tranquil one-bedroom guest friendly Airbnb in Bangkok has received rave reviews from almost 300 Airbnb guests – so far. It has its own serene balcony with tropical plants, air conditioning, spacious living room, dining room, and all the perks of a hotel.
Your room rate even includes an airport transfer (so handy, believe me!) and a daily complimentary breakfast prepared for the wonderful host Pariya! The location is just as superb as the service. A BTS station and the Bangkok National Stadium are both just five minutes away, as well as a variety of top restaurants serving up mouth-watering local and international cuisine.
View Photos, Read Reviews & Check Availability
Guest review: "My partner and I enjoyed staying at Pariya's apartment during a long weekend in Bangkok. The place is kept much like a hotel with tasty breakfasts supplied to your room and a live-in helper who will clean daily for you. The apartment is a pleasant oasis of calm set in the middle of the bustling city and very nice to come back to after a long day out. We mainly travelled around the city using Grab and we found all the main attractions to be within a half hour drive which was ideal. Pariya was also very helpful arranging airport transfers for us. Thanks for a lovely stay!" – Anna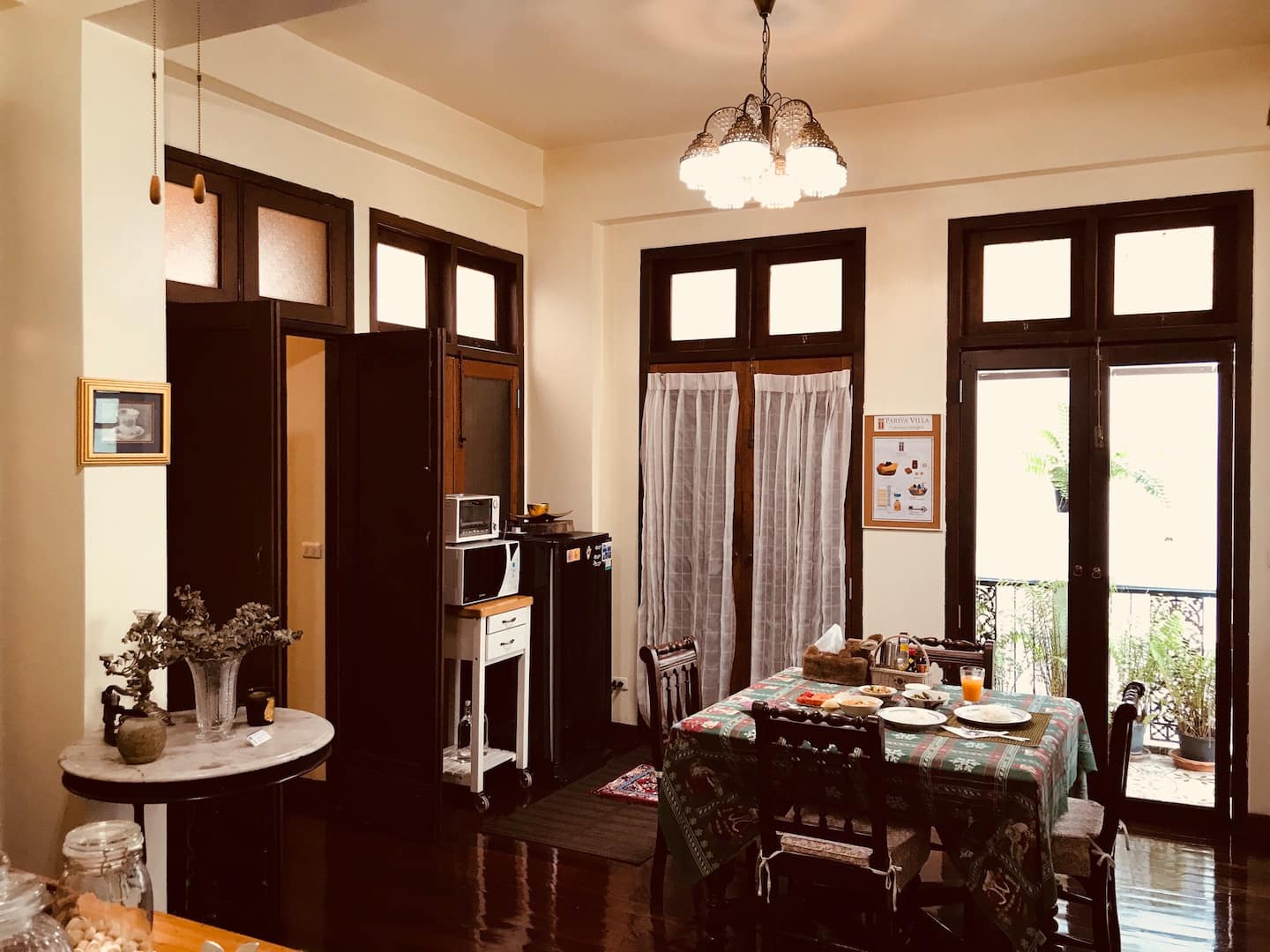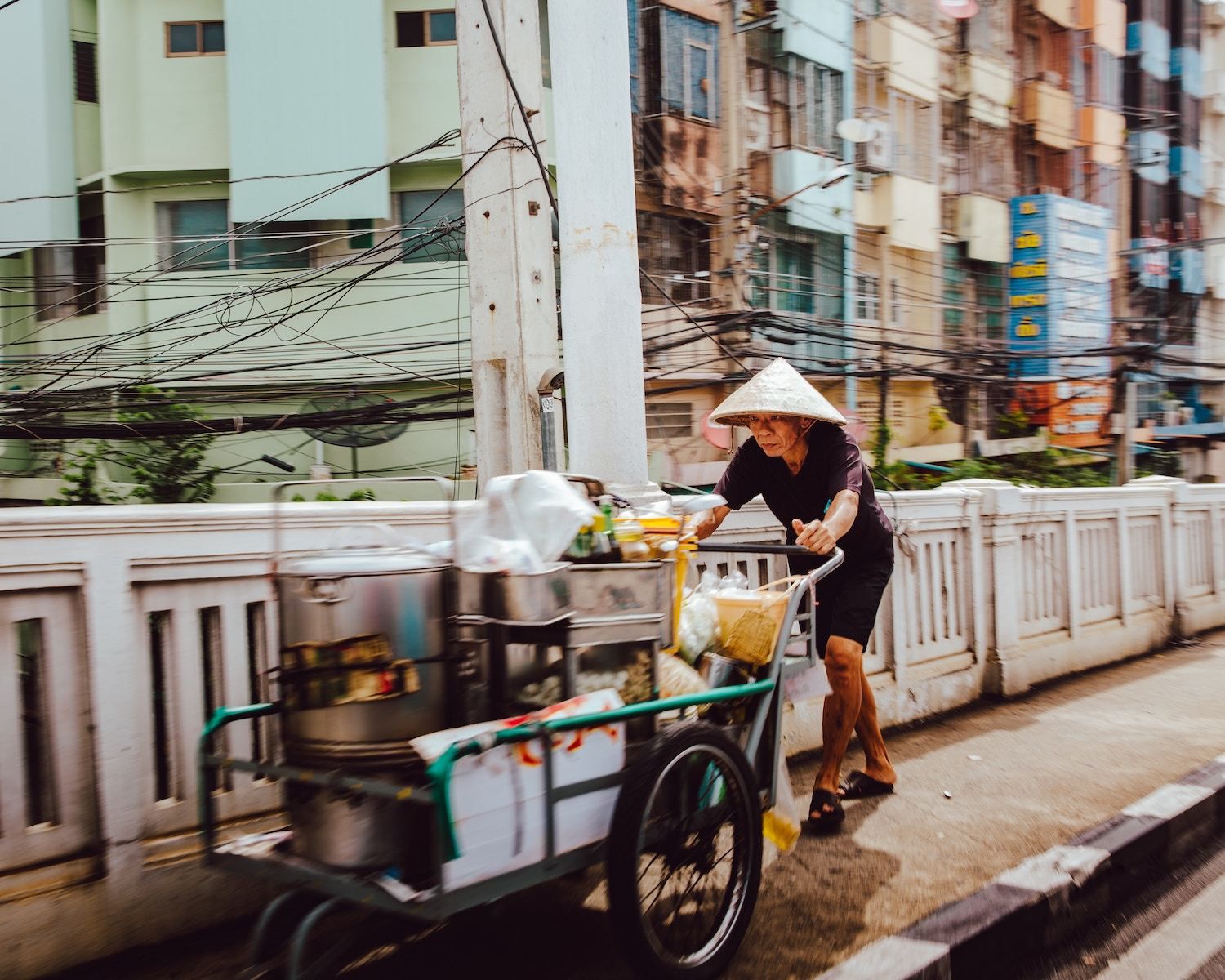 ---
8) Upmarket Loft Apartment in the Lively Heart of Bangkok
Location: Khlong Toei Nuea
Airbnb Plus: Yes
Superhost: Yes
Price: $150+ USD per night
https://www.airbnb.com/rooms/6616352
An exclusive space in the heart of Bangkok, this two-bedroom, two-bath apartment boasts open, airy, and modern interiors and is located in a high-rise with a pool, spa, and gym that you'll enjoy full access to.
A family-friendly Bangkok Airbnb, this verified loft is in a leafy central neighborhood near a variety of public parks and green spaces, ideal for beating the heat and unwinding away from the frantic city pace. There is an array of great cafes, restaurants, shopping centers, and markets nearby, and there is both a Skytrain and subway station just a 5 minute walk away.
View Photos, Read Reviews & Check Availability
Guest review: "Diow's place is a gem! Perfect location for shopping, eating, and everything else you want to do in Bangkok! Diow is an excellent host. Gives great instructions and the place is spacious and week styled and an enjoyable place to relax and rest. Was lucky to find this place and have Diow as a host." – Niki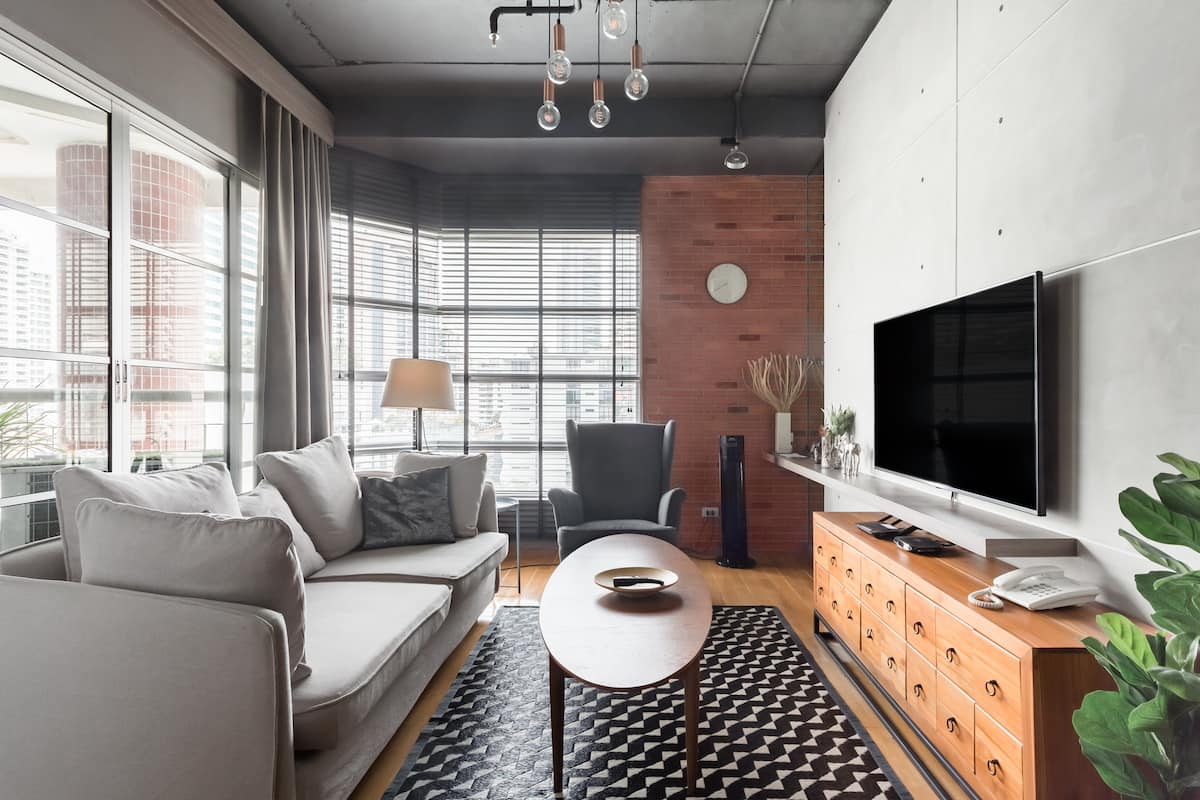 BEST SKY BARS IN BANGKOK, THAILAND
---
9) Stylish Private House in Tranquil Central Residential Area
Location: Prem Sombat Village
Airbnb Plus: Yes
Superhost: Yes
Price: $100+ USD per night
https://www.airbnb.com/rooms/9075590
Nestled in a central yet residential neighborhood of steamy Bangkok, this luxurious two-bedroom home is a breath of fresh air for over 279 pleased Airbnb guests so far, who have all given it a perfect 5/5 rating. With a contemporary-meets-vintage design, the airy two-story home features a private terrace with outdoor seating surrounding the tropical leafy plants.
The host is one of Bangkok's best, and you'll enjoy a daily housekeeping service that comes with a delicious complimentary breakfast. Wander for a few minutes, and you'll come across a large day-to-night market, where you can scoop yourself up a bargain or a cheap feed. The immediate area also has a range of fascinating cultural landmarks.
View Photos, Read Reviews & Check Availability
Guest review: "Tor's house is beautiful, stylish, very clean and homely cozy. There is everything for a comfortable stay in the house. Tor's house is located in a green garden on a quiet street in a residential area of Bangkok. Metro station, supermarkets, markets, local restaurants are within walking distance. Tor's maid Chu serves tasty local breakfasts every morning. Tor is a very hospitable host, he pays attention to the trifles and he makes everything possible for a great holiday for his guests, booked a car and organized a meeting for us at the airport. Tor's house is a wonderful place to stop and relax in Bangkok!" – Olga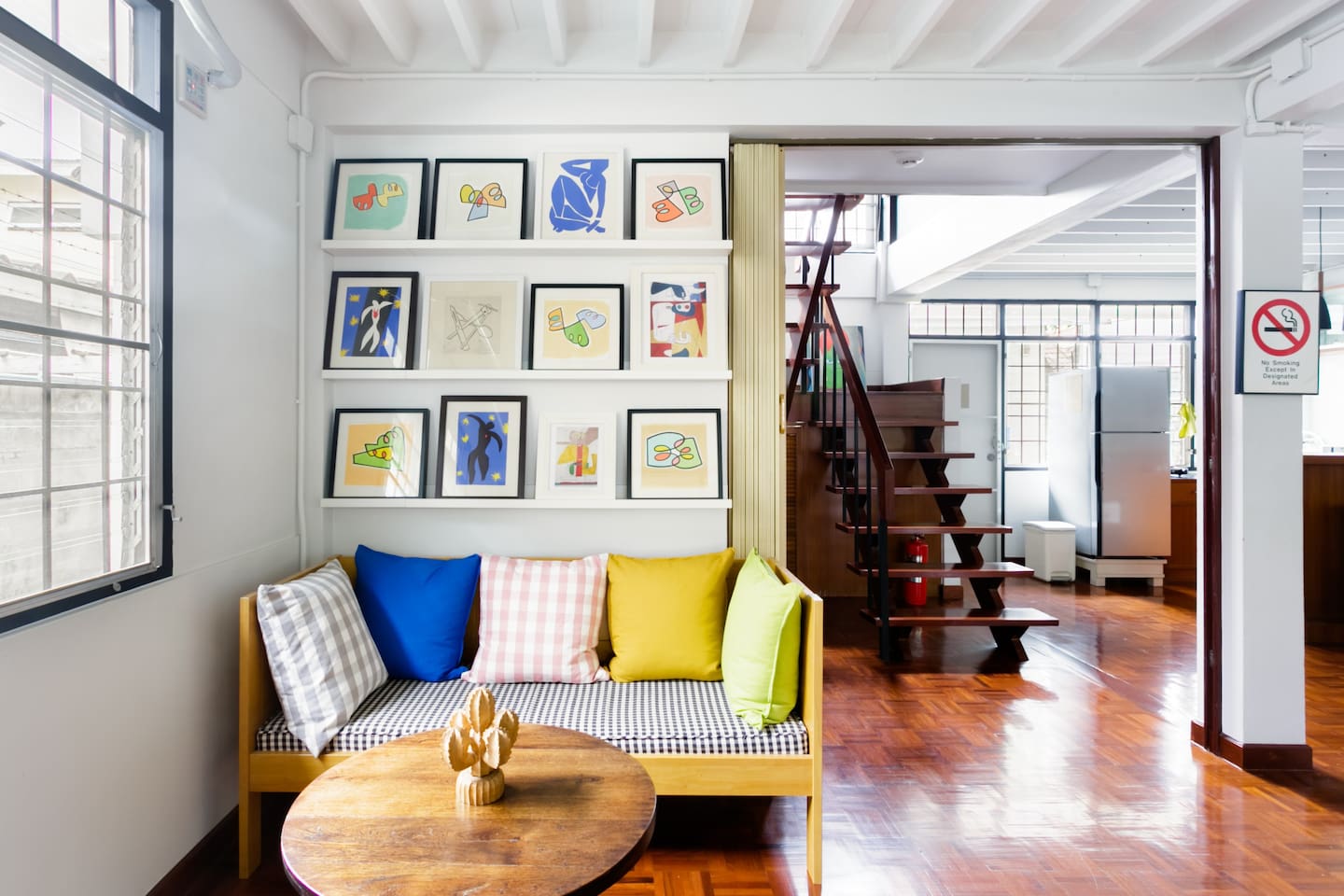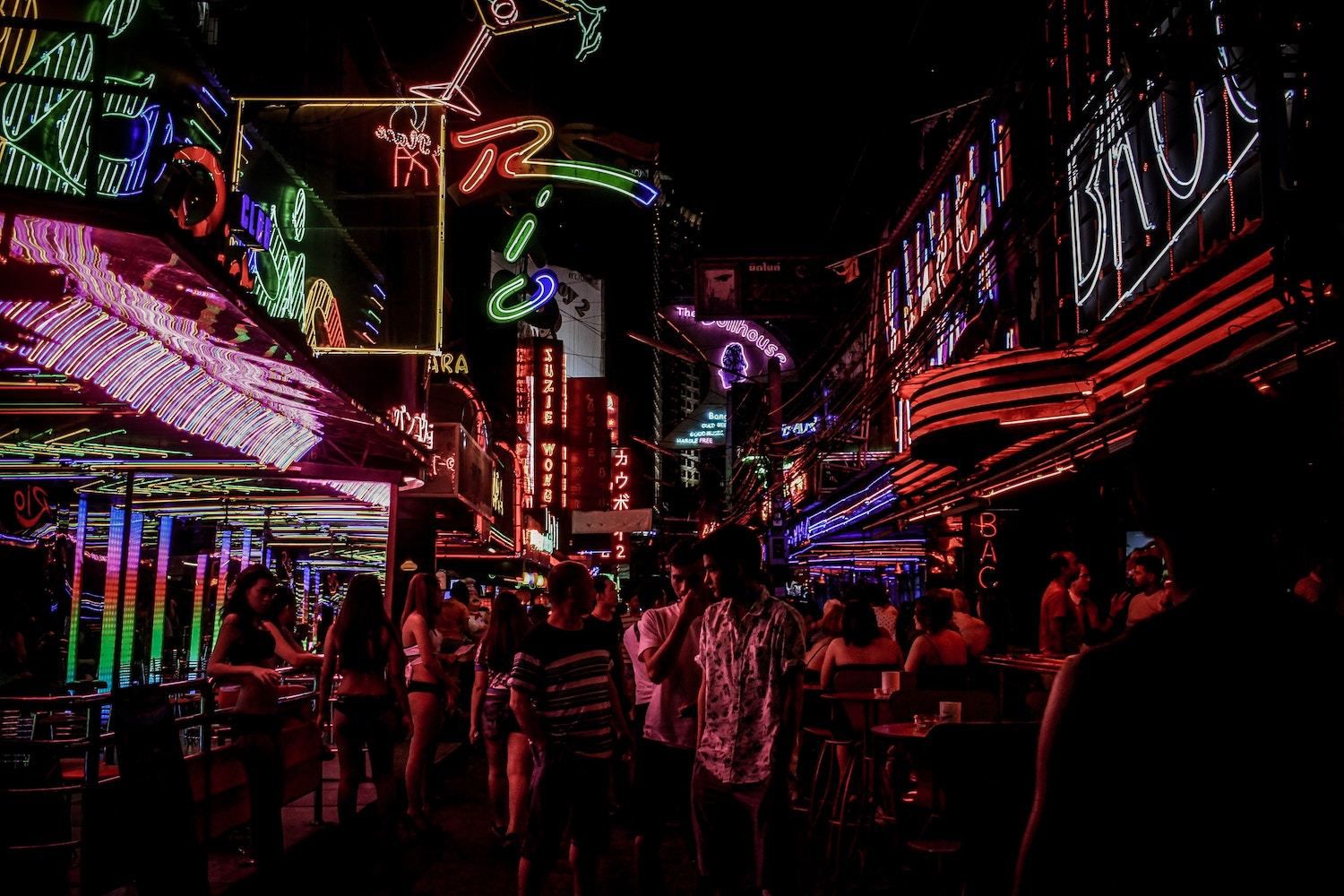 ---
10) Hobbit Apartment in the Lively Heart of Bangkok
Location: Khlong Toei Nuea
Airbnb Plus: No
Superhost: Yes
Price: $70+ USD per night
https://www.airbnb.com/rooms/18191525
Incorporating rich wood and industrial design elements, this loft-style two-bedroom Bangkok condo is upmarket, attractive, and comfortable. It has air conditioning placed in all living areas, including both living and dining rooms, a cozy kitchen, and a breezy balcony with fantastic skyline views. The complex is equipped with the main pool, kids pool, jacuzzi, and gym – all on the same floor as this condo!
There's also a great co-working space for those in Bangkok on business, an observation deck, library, lobby, and lounge. Located in a bustling business district of the city, the condo is in close proximity to a huge variety of restaurants, convenience stores, malls, parks and gardens, spas, and Skytrain stations.
View Photos, Read Reviews & Check Availability
Guest review: "My second stay with Diow. Loved the interior and Netflix. I can just spend days in this loft without going out!" – Yen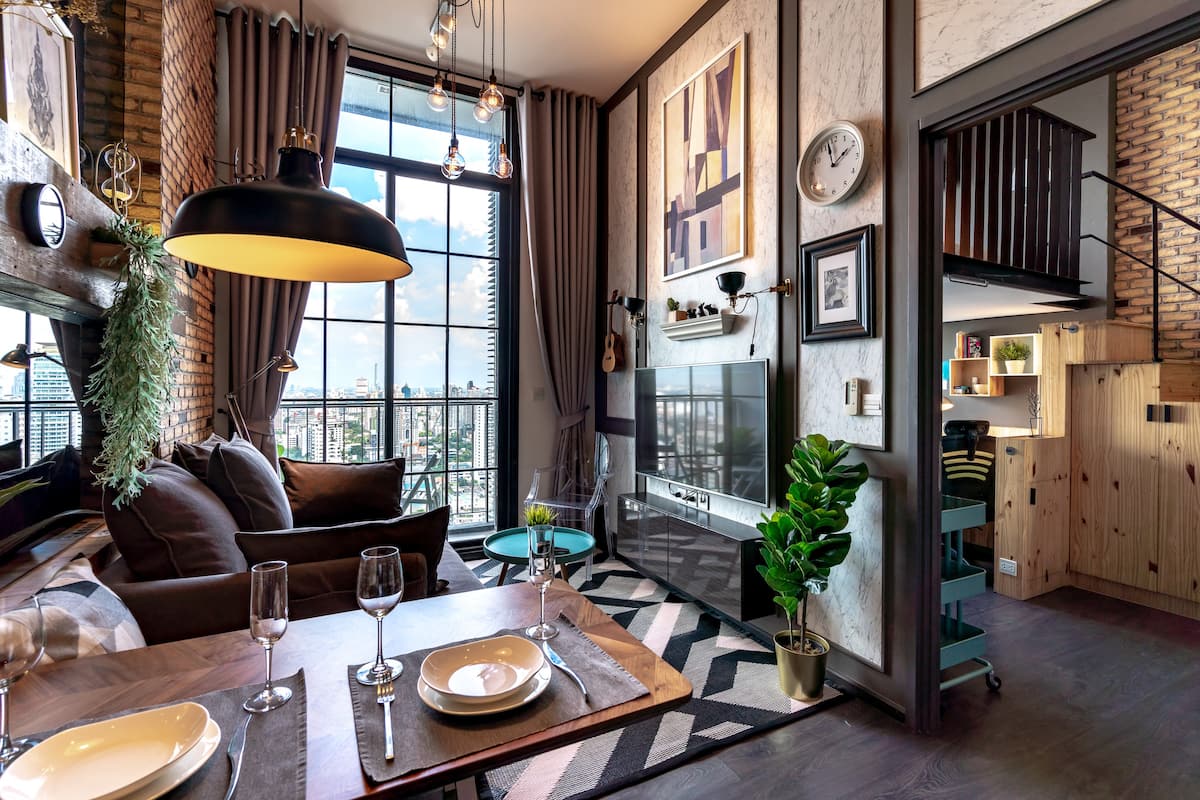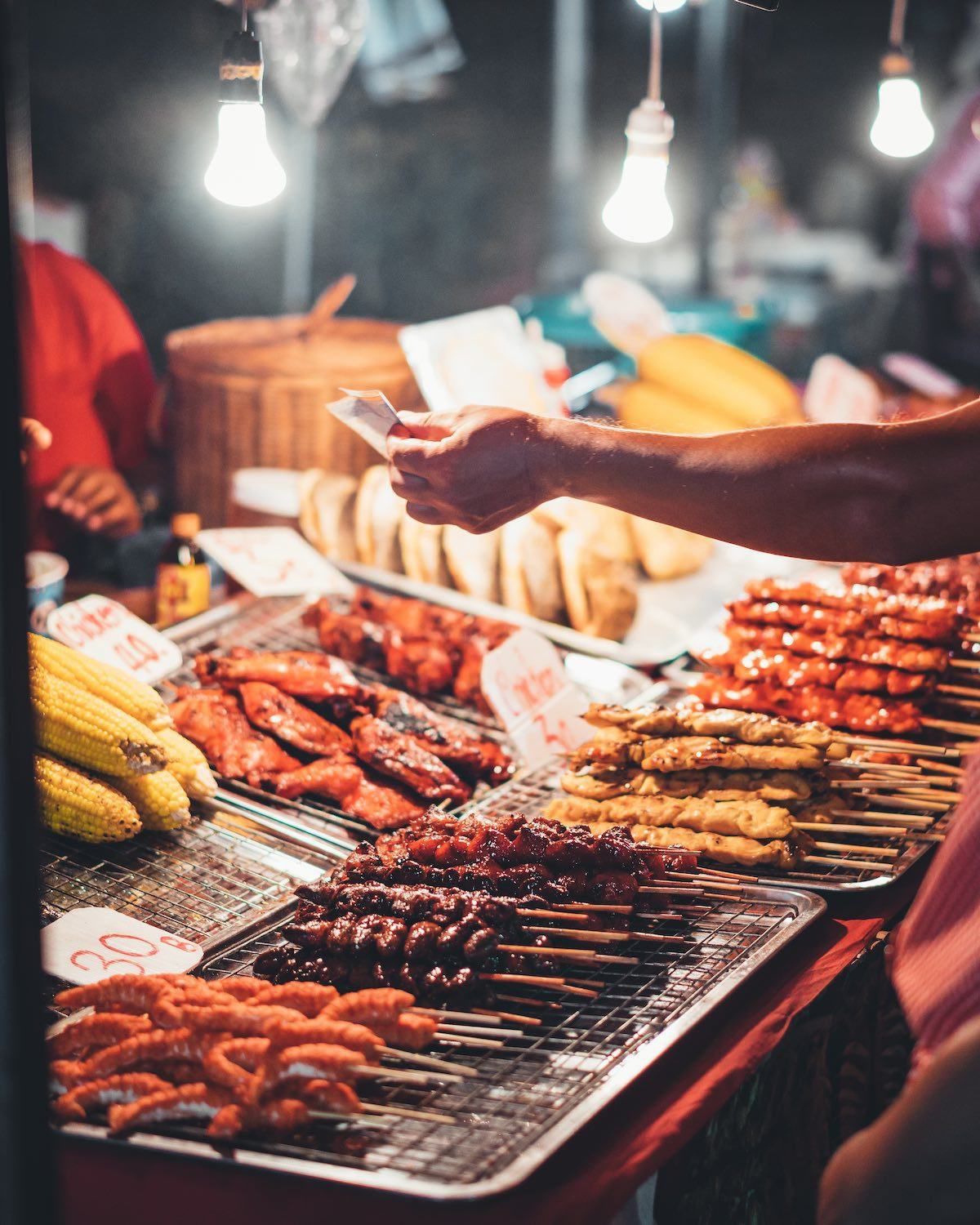 ---
11) Boutique Designer Condo with an Outdoor Pool in CBD
Location: Bangkok CBD
Airbnb Plus: Yes
Superhost: Yes
Price: $60+ USD per night
https://www.airbnb.com/rooms/12644083
Located right in the midst of Bangkok's buzzing CBD, this one bedroom Airbnb Plus condo offers incredible value for money. The luxe apartment is modern and chic and nestled within an upmarket complex that has a swimming pool, gym, and sauna.
A great Bangkok Airbnb for those visiting the city for business or pleasure, this condo is within walking distance to a range of Skytrain stations, restaurants, malls, markets, bars, and clubs. Don't miss out on this one!
View Photos, Read Reviews & Check Availability
Guest review: "My second stay here. Both times were great. Although I never met Shirley she is fast with responses and is attentive. Great location, value, and amenities, although the pool closed for April for renovation. Will stay here again." – David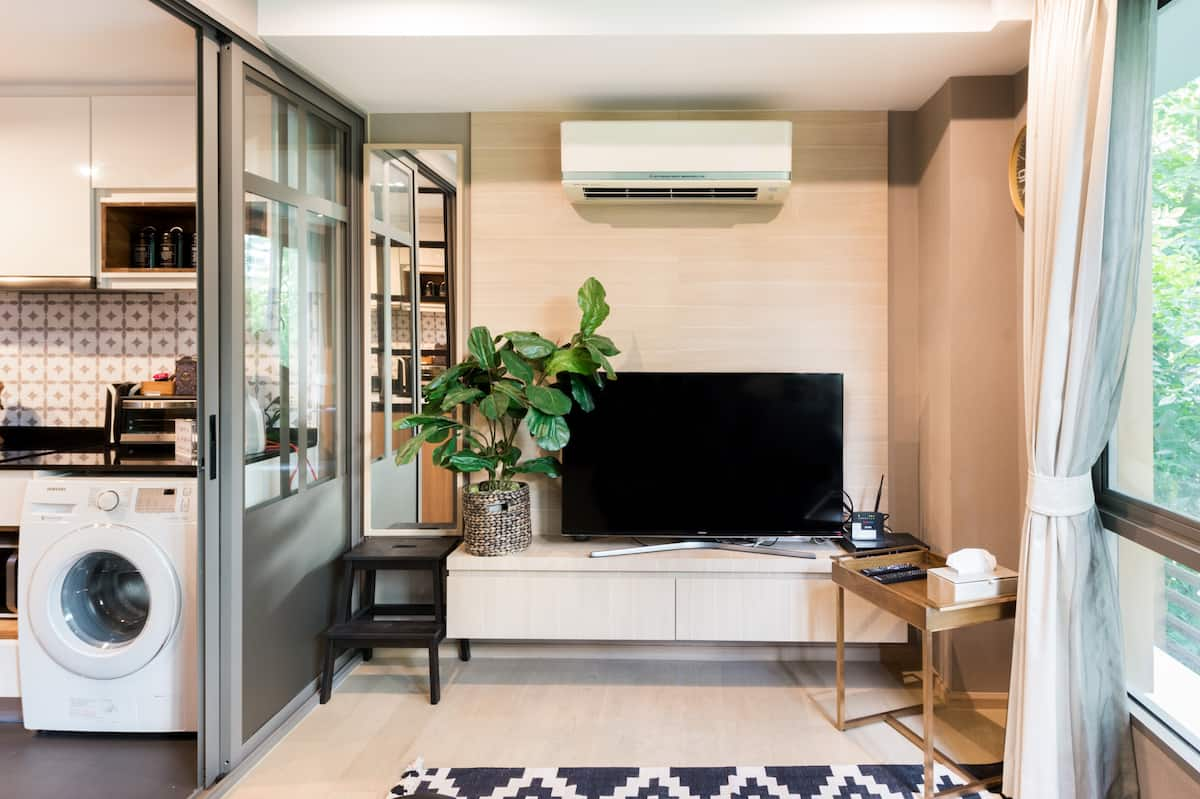 Thai Street Food in Bangkok - MOST POPULAR LUNCH Noodles in Downtown Silom, Thailand!
---
12) Cute Cocoon 3— Airbnb in the Lively Heart of Bangkok
Location: Khet Khlong Toei
Airbnb Plus: No
Superhost: Yes
Price: $90+ USD per night
https://www.airbnb.com/rooms/29571358
This elegant and open-plan two-bedroom guest house apartment comes highly-rated by Airbnb guests, who rave about its style, location, and a brilliant host. "Cute Cocoon" has a range of breezy communal spaces, and boats all the mod cons, and a stay here includes a delicious (and free) daily breakfast. You'll have access to the lower floor balcony for dining al fresco on a balmy Bangkok night.
The apartment is well-situated just meters from both bus stops and metro stations, which provide quick access into the heart of Bangkok.
View Photos, Read Reviews & Check Availability
Guest review: "Diow's place was awesome! On top of the cutest cafe (with free breakfast!), it was super clean, decor was very stylish & it had all of the touches you needed for a great stay. The bed was soft & had fresh linens. It is situated a short walk to Asok BTS, Terminal 21, Soi Cowboy & Artbox Night Market. Communication was fast & check in/out was easy. I would definitely book this place again!" – Stacey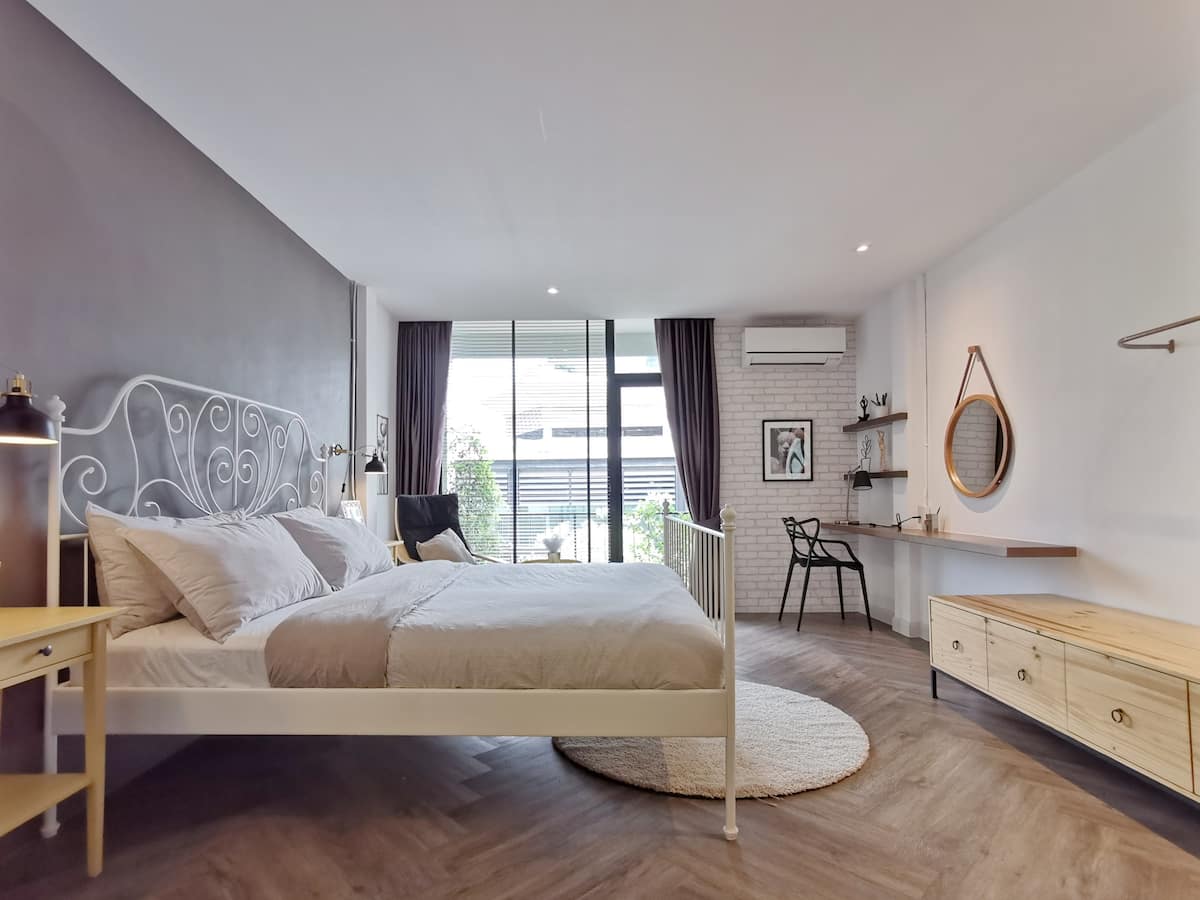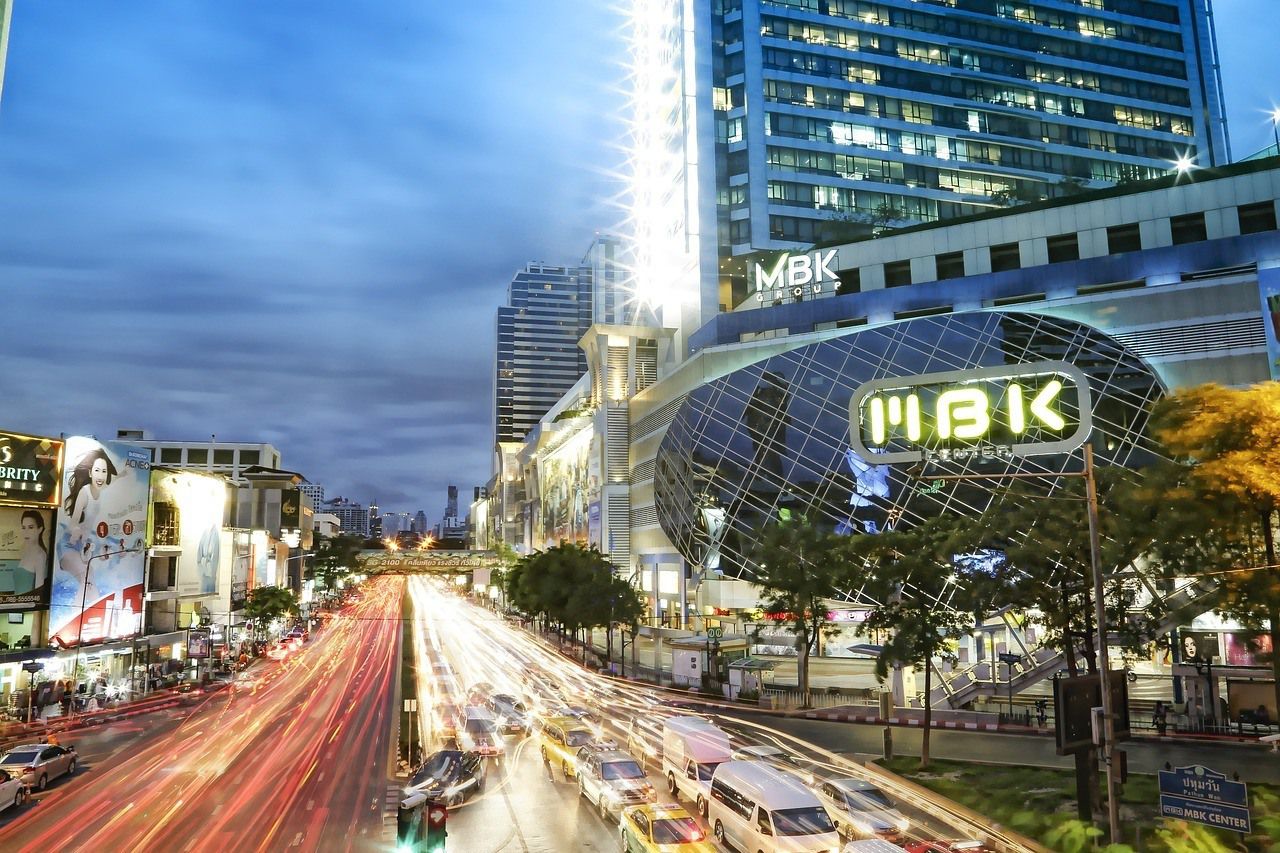 ---
13) Canal Side with Authentic Thai food Next Door
Location: Khet Bangkok Yai
Airbnb Plus: No
Superhost: Yes
Price: $41+ USD per night
https://www.airbnb.com/rooms/32180166
Bangkok is such an affordable city, but few Airbnb's in the capital offer the low price and superior visitor experience like this canalside one-bedroom home does. Enjoy this traditional Thai home and its spa-inspired minimalist interiors. You'll have a historical temple next door, a canal at your front door, and an amazing restaurant downstairs!
Located on the "other side of the river" from the bustling tourist neighborhoods of Bangkok, you'll truly experience life as a local here. There are charming street markets, restaurants, temples, and a distinctly slower and more laidback pace than downtown Bangkok. The famous Wat Arun is 10 minutes walk away, and the Grand Palace is 15-20 minutes. Just jump in a taxi, on a train, or on the ferry!
View Photos, Read Reviews & Check Availability
Guest review: "Title's place was much more than I expected. It's located in the old city, she gave a quick tour around her neighborhood. If you're looking for a place that gives you more of a local feel of Bangkok I would highly recommend this stay. She was also gracious enough to let us store our luggage until it was time to check in." – Rachelle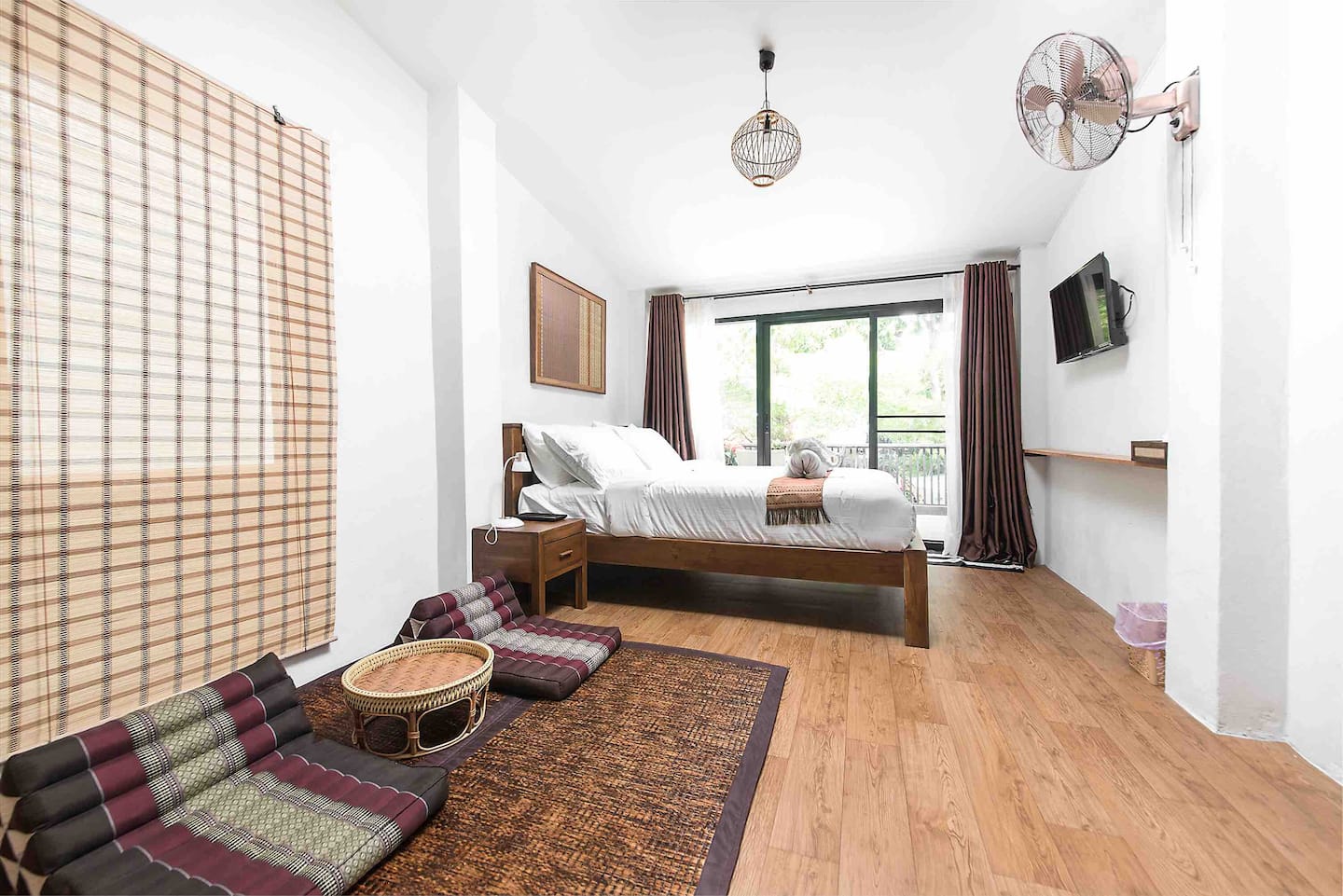 Exploring Bangkok, Thailand in 4 Days with Sheraton Grande Sukhumvit! (Travel Guide)
---
Bangkok Tours & Day Trips to Consider Booking
Bangkok is fascinating, fast-paced and will lure you in with its charm. There's so much to see and do in the Thai capital; you'll no doubt have a bucket list a mile long. Below is my shortlist of the best tours in Bangkok to maximize your time and amplify your travel experience!
---
Damnoen Saduak Floating Market & Maeklong Train Market Tour
"Enjoy the unique experience of reaching Maeklong Railway Market (umbrella pulldown market) by taking a local train. Then, visit Damnoen Saduak, the most famous floating market in Thailand filled with colorful boat vendors to explore."
https://www.getyourguide.co.uk/activity/bangkok-l169/bangkok-damnoen-saduak-market-and-maeklong-railway-market-t383872
Price: From $47 USD (6 hours)
Review: "The train market is definitely worth a visit! The arrival at the station on the train's been so exciting! During the whole trip our guide has been very accurate in her explanations with a very friendly manner. The floating market is a little too touristy, but still worth a browse." – Rossella, Italy
View Photos, Read Reviews & Check Availability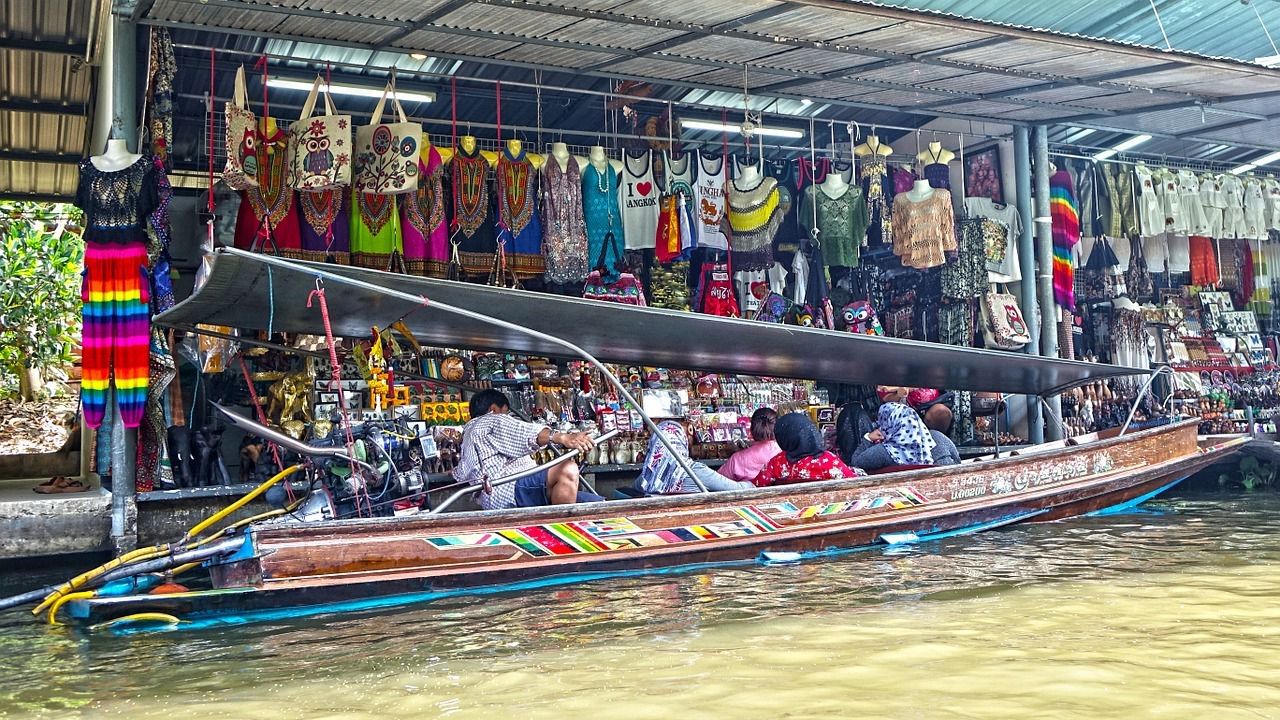 ---
Ayutthaya: 5 UNESCO Temples Small-Group Tour From Bangkok
"Escape Bangkok for the day and journey to the Ancient city of Ayutthaya, the former capital of Thailand. Visit 5 UNESCO-listed temples and the National Museum which contains important artifacts from the kingdom's 417-year history."
https://www.getyourguide.com/bangkok-l169/ayutthaya-5-unesco-temples-small-group-tour-from-bangkok-t210747/
Price: From $65 USD (5-10 hours)
Review: "The day trip was just as we expected, we visited 5 temples and spent enough time at each of them. We never felt rushed and had as well free time to take a walk or do some additional photos. Our guide, Siri, was very friendly and knowledgeable. He explained to us quite a lot about Thai culture, Buddhism and of course about the history of Ayutthaya and the temples." – Constantin, Switzerland
View Photos, Read Reviews & Check Availability
Should You visit AYUTTHAYA RUINS - Best Day Trip in Bangkok
---
Grand Palace, Wat Pho & Wat Arun: Flexi Private Temple Tour
"Explore must-visit iconic attractions in Bangkok by visiting the Grand Palace, the Emerald Buddha Temple and the options for Wat Pho, local markets and Wat Arun. Enjoy this exclusive private trip with an experienced local tour guide in just half a day!"
https://www.getyourguide.com/bangkok-l169/flexi-private-temple-tour-grand-palace-wat-pho-wat-arun-t161661/
Price: From $120 USD (3-5 hours)
Review: "From the pick up to drop off the tour was great! Jakkrich, our guide, is very knowledgeable and passionate about the history behind the temples and the grand palace. We definitely found out more than we thought we would. He made the tour more interesting than it already was. We had a great time overall. Very satisfied. Thank you!" – Anastasiya
View Photos, Read Reviews & Check Availability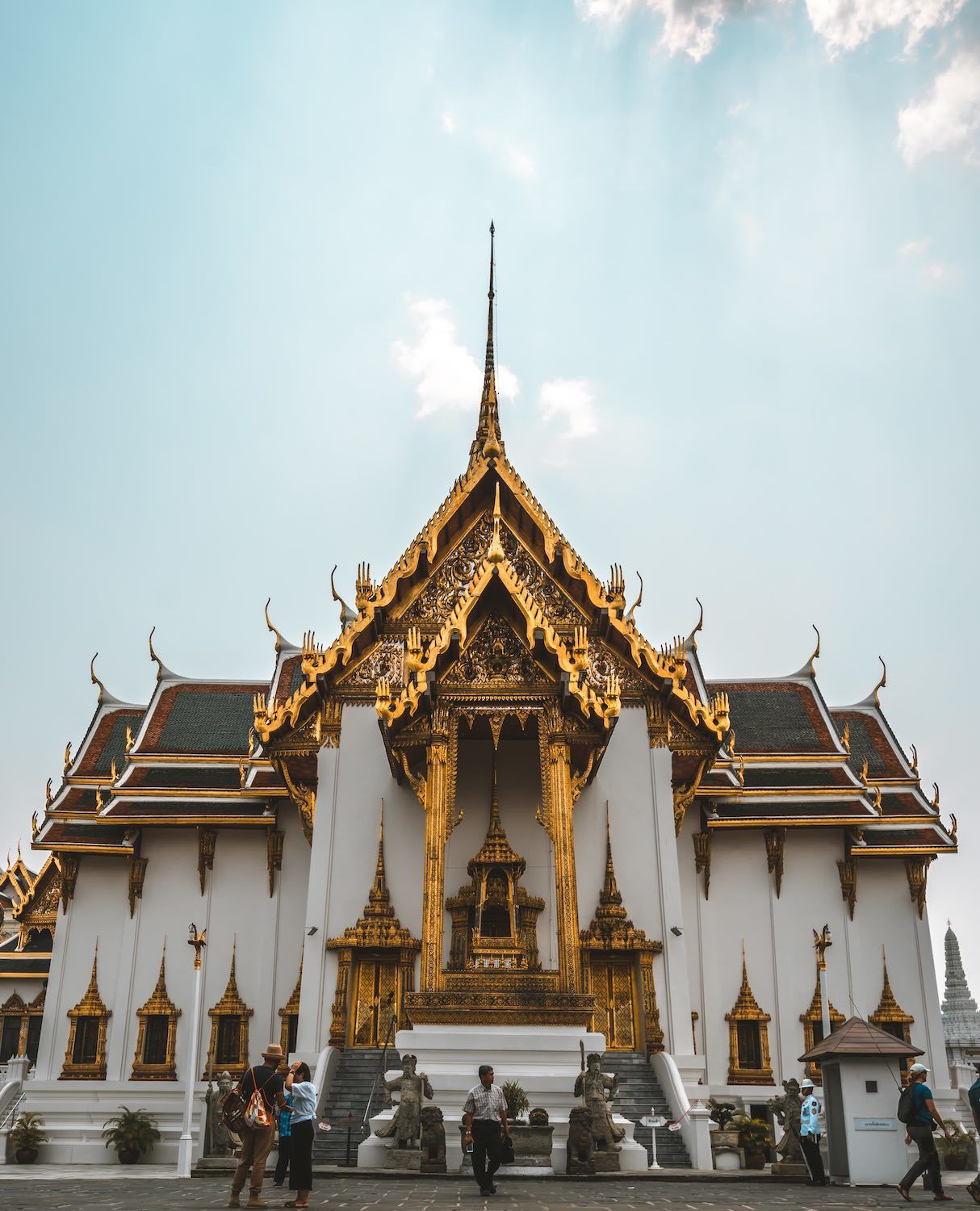 ---
Am I Missing Any Best Airbnbs in Thailand, Bangkok?
While doing research for this Bangkok Airbnb article, we really did come across an amazing number of unique and fun rental properties across the city! So if you've been to Bangkok recently and stayed at a fun, cheap, luxury, or unique Airbnb that should be included on this list, please let me know. Or are you an Airbnb Bangkok, Thailand, host and would like your Airbnb featured on this list!? Well, send me your link so I can check out your listing, photos, and read reviews!!
TRAVEL GUIDE OF WHERE TO STAY IN BANGKOK!
---
Planning a trip to Bangkok, Thailand, and Southeast Asia?
Having spent several years traveling around Thailand and Southeast Asia, my blog is chock full of helpful articles, travel itineraries, and destination guides just like this one! I'd love for you to take a quick browse through a few more of my favorites below, and as always, feel free to reach out to me on Instagram or Facebook if you have any questions! I'm always happy to help any way I can, and love chatting about Thailand!
---
Final Thoughts on the Best Airbnb in Bangkok
Bangkok really is one of the most vibrant cities in the world, and it's one of the best places to Airbnb in Thailand. And while it may seem a bit chaotic, loud, and hectic at first – I know it's a destination that'll win you over! I've actually thought about buying a condo in Bangkok (as they're much cheaper than in the US) and I would love to have a home base in Thailand in the future!
While there are dozens of amazing hotels and hostels to stay in Bangkok, I've become a huge fan of booking Airbnbs while traveling, and I think Bangkok would be a great place to do so and get a more local experience! Safe travels, though, and I'm sure you'll have an awesome visit to the Big Mango!
Oh, and be sure to try a ham & cheese toastie from 711 for me! Random, I know – but you'll thank me later!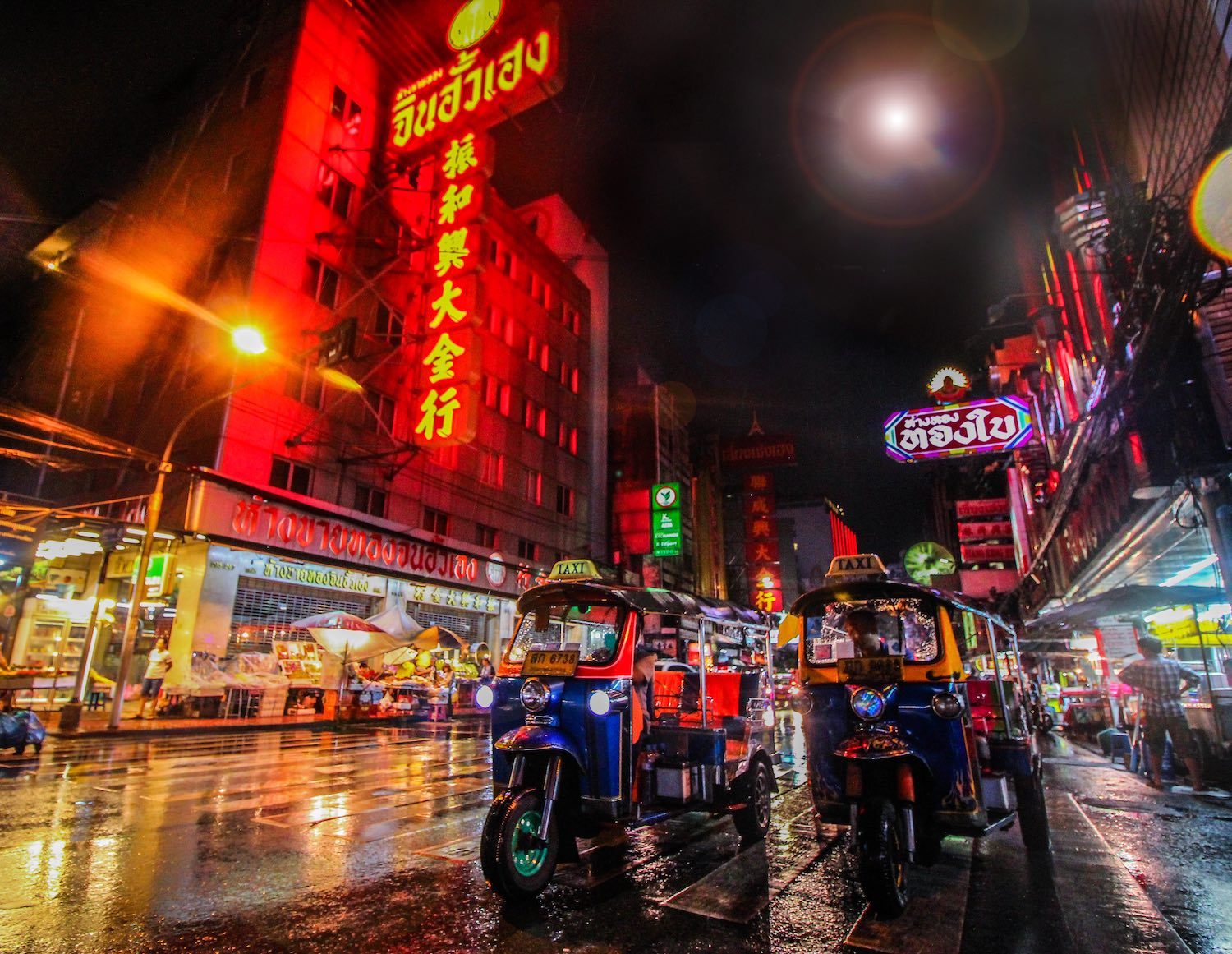 ---
THANKS FOR READING ABOUT THESE BEST AIRBNBS IN BANGKOK
SHARE THE AIRBNB BANGKOK LOVE WITH YOUR THAILAND TRAVEL SQUAD!
https://www.jonesaroundtheworld.com/wp-content/uploads/2019/12/Airbnbs-in-Bangkok-.jpg
989
1500
Dave
https://www.jonesaroundtheworld.com/wp-content/uploads/2017/03/logotry-1-1-300x106.png
Dave
2020-12-07 20:04:36
2020-12-09 20:29:21
The 13 Coolest & Best Airbnbs In Bangkok, Thailand