Looking for the best hostels in Pai, Thailand, for backpacking on a budget? You've come to the right place!
Backpackers and digital nomads alike have been fleeing the busy streets of Chiang Mai for the green mountains and rice fields of Pai for decades. Known for its undeniable hippie and artsy vibe, it's also a hub for outdoor activities of all kinds.
Canyoning, trekking, ziplining, hiking to waterfalls, tubing, and white water rafting are easily accessible and affordable for the budget backpacker. You can also interact with the hill tribe villages, relax in the natural healing hot springs, buy teas at the Chinese village, and browse the artisan goods and foods at the night market. Pai is a breeze to get around—with scooter rentals for a few dollars a day!
Most of the hostels in Pai are inexpensive and close to town, but not all of them have great reviews. But don't worry about that. I've narrowed down the list to make choosing your accommodation in Pai simple and worry-free, so you can focus on fun things to do in Pai, like visiting Pai Canyon.
So, let's get to it!
Best Hostels in Pai, Thailand
From the decade-old Famous Pai Circus Hostel to the laidback Pai in the Sky Hostel, here are the best hostels you'll find in Thailand's Pai region.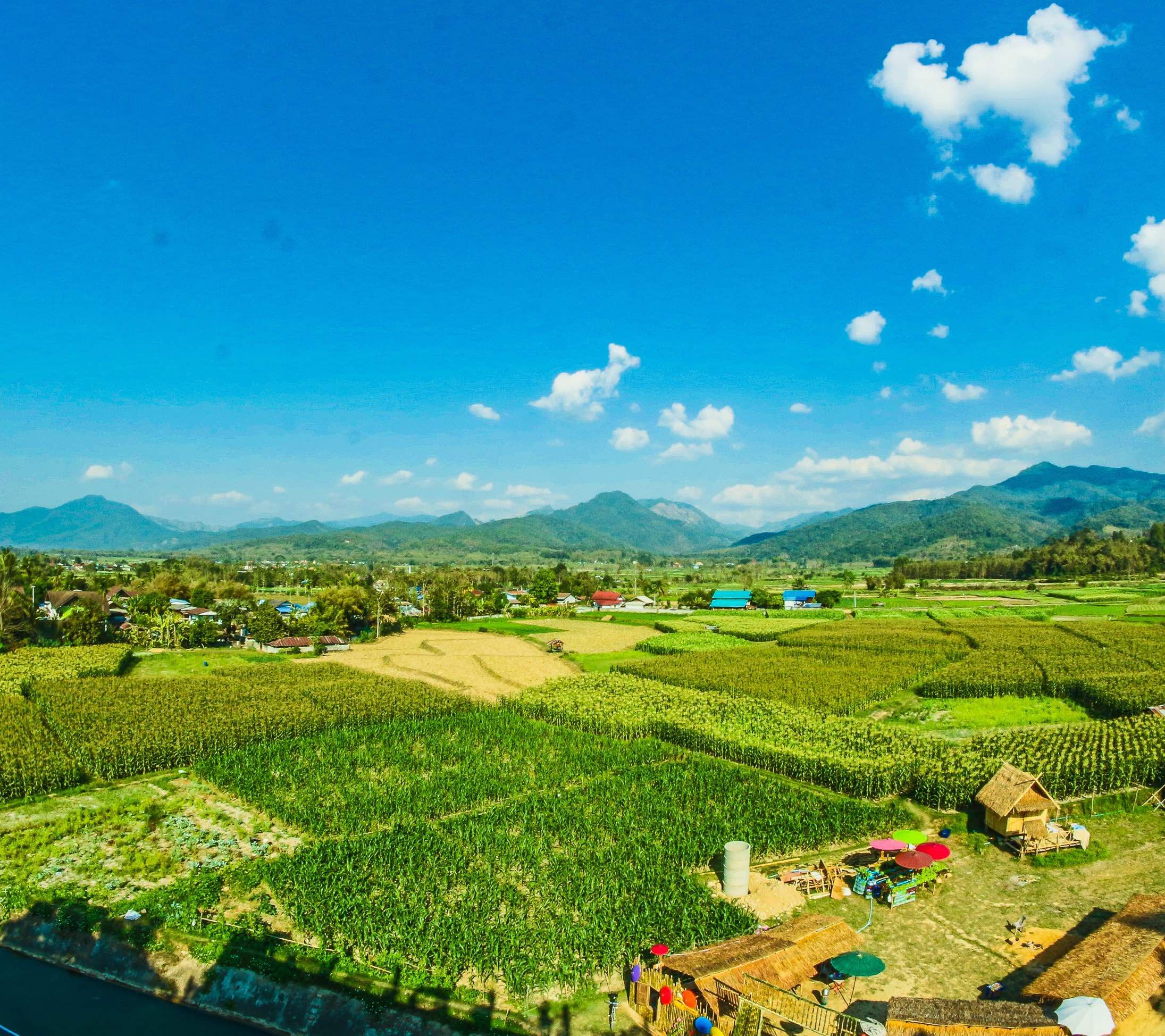 ---
1) THE FAMOUS PAI CIRCUS HOSTEL | BEST OVERALL PAI HOSTEL
The Famous Pai Circus Hostel tops the overall list and provides the most value for money. My favorite part about this place is the infinity pool—there's no beach here, and it can get REALLY hot! So it's the ideal spot to cool off while getting a few laps in. That said, when you're not in the pool, you can rely on the air conditioning to chill you down.
Some other awesome features—are FREE all-you-can-eat breakfast and barbecues, nightly entertainment, yoga lessons, hammocks, and a pool table. All these will keep you entertained and fit and help you chill out—the perfect trifecta for picking a hostel. Or any accommodation, for that matter.
And for our late-night snackers, you'll be pleased to know that the kitchen stays open until 10:30 P.M. So don't worry if you like snacking on peanut butter and jelly sandwiches late at night.
In the common area, you'll find fast internet (thank goodness for free WiFi) with charging outlets and a 180-degree view of the mountains, making this a great place for digital nomads and backpackers.
This hostel is great for security also, with lockers in every room plus CCTV in the main areas. With 24-hour security, you can rest assured your belongings are safe, which is comforting when staying at a party hostel.
Plus, you can take advantage of the free pickup/drop off at the bus station that's within walking distance of Pai's city center.
Tip: I would recommend spending a couple of extra dollars per night to upgrade from the super basic dorm. This travel tip will help you enjoy better amenities and a more comfortable stay overall.
Hostelworld Rating: 7.4 by 3,253 reviewers
Prices starting at $13.42/night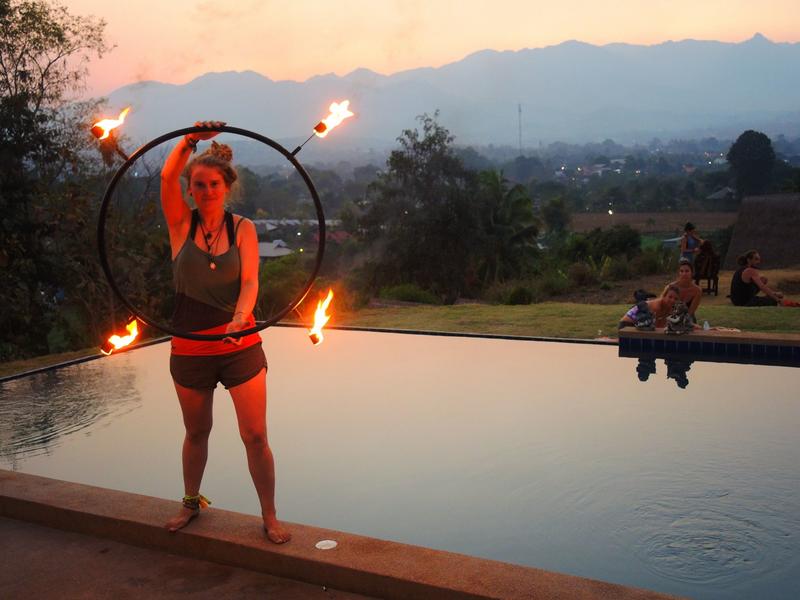 ---
2) CODY BACKPACKERS
Nothing screams an authentic Thailand experience like staying in a bungalow-style hostel close to Pai town! Cody Backpackers is known for its friendly vibes and welcoming staff. Being the easygoing people they are, they aim to make your stay as enjoyable as possible by going above and beyond.
From their 20-bed mixed dorm to the 10-bed option, the rooms are all clean and comfortable, which is what anyone seeking affordable accommodation wants.
The communal kitchen and socially-geared areas, like the dining area, and multiple hammocks on the patio outside, make hanging out with fellow travelers a breeze.
If you've made friends or at least friendly acquaintances, you can all take a short walk to the Pai Night Market for some fun admiring and buying trinkets and souvenirs. More of a daytime person? Head out to Pai Canyon via a taxi from the city center or bus from the nearby Pai Bus Station and enjoy a moderate hike and pleasant views from the top.
Hostelworld Rating: 8.6 by 78 reviewers
Prices starting at $5.86/night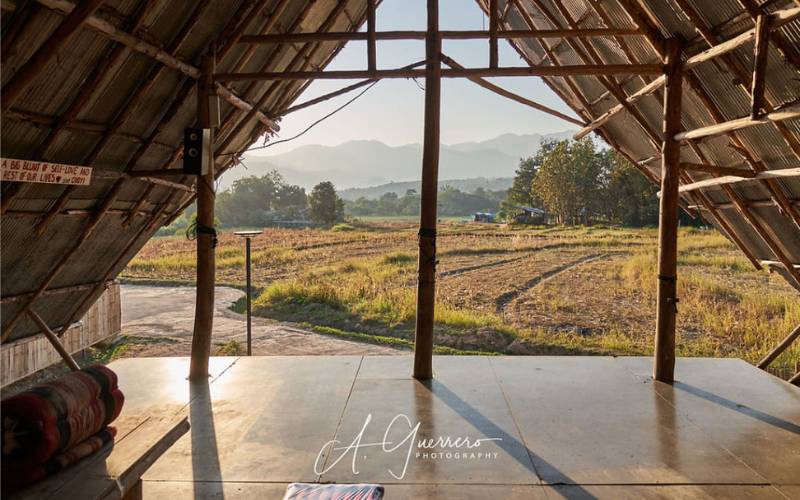 ---
3) MAD MONKEY PAI | BEST PARTY HOSTEL
Mad Monkey Pai's name speaks for itself. If you're looking for a wild and crazy hostel experience in Pai, this spot is calling your name. Known for its party atmosphere and fun social vibes, Mad Monkey is the place to be if you're a traveler looking to let loose and have some fun.
Arguably the best party hostel, Mad Monkey boasts air-conditioned bungalow dorms to keep you cool in the day after a night of serious partying. Speaking of partying, the hostel also features a bar and restaurant where you can mingle with your new mates while filling your belly and enjoying a refreshing beverage.
If you've decided to chill out after partying, you can head out to the stunning green lawns and soak up the sun or stay on the porch and do some yoga poses to keep you centered.
Tip: Only book if you're sure you want to stay in a rad party hostel.
Hostelworld Rating: 8.8 by 28 reviewers!
Prices starting at $12.30/night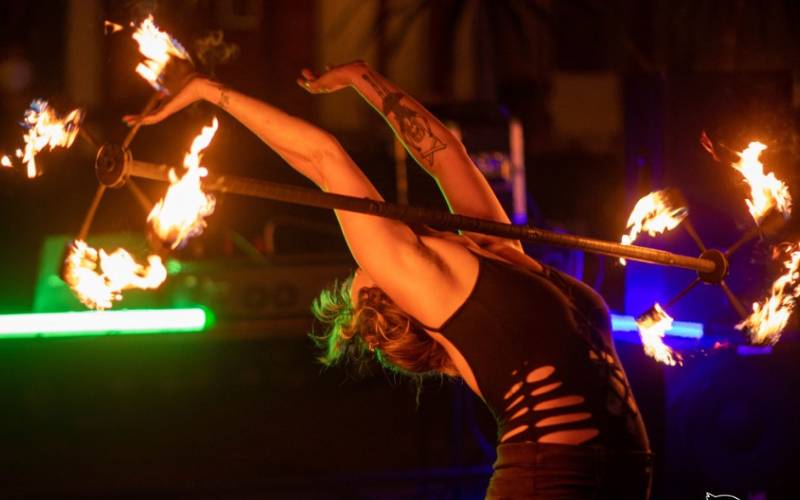 ---
4) REVOLUTION HOSTEL PAI | BEST BUDGET HOSTEL
For me, cleanliness is important in a hostel. If I need to relax, how can I do so worrying about unclean linen and rats? That's where this neat little spot comes in.
Revolution Hostel Pai has a reputation for being clean and is among the cheapest on our list. It's located less than a 5-minute walk from Pai town and has a gorgeous common room with comfortable tables and a unique cloud-like ceiling structure. The "clouds" light up in a mesmerizing blue color with a piercing yellow center.
Air conditioning, lockers, and a 12:00 PM checkout time make this a great value for the price. And the only downside here is that breakfast is not included in the fee. But, hey. You're getting good value for money at this hostel. And you can always eat out at their laidback Riverside Bamboo Bar and Restaurant. Alternatively, you can fire up the BBQ for grilled breakfasts.
Hostelworld Rating 8.4 by 299 reviewers!
Prices starting at $11.93/night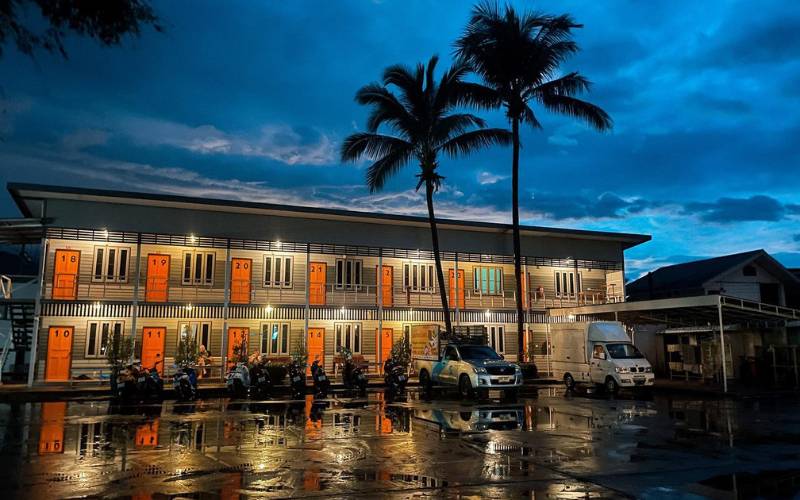 ---
5) EASY HOUSE HOSTEL
Easy House Hostel is a cozy, laidback, and charming spot that offers you a peaceful atmosphere and friendly staff, making it the perfect place to relax and unwind during your Pai travels.
Life here truly is easy, as you're surrounded by nature and have all the amenities like an equipped communal kitchen, fans around the property for cooling, and clean rooms.
The hostel boasts minimalistic yet stylish cement bathroom accents with large shower heads. The latter is perfect for lathering up and rinsing the conditioner from your hair and shower gel from your body.
Plus, Easy House has a communal kitchen, dining area, and common areas where you can cook your meals and chat with other travelers.
The Thai-styled hostel is located in a quiet neighborhood, which is just a stone's throw from the town center, so you can enjoy a peaceful night's sleep without sacrificing the convenience of accessing stores and markets.
Hostelworld Rating: 8.6 by 70 reviewers!
Prices starting at $5.86/night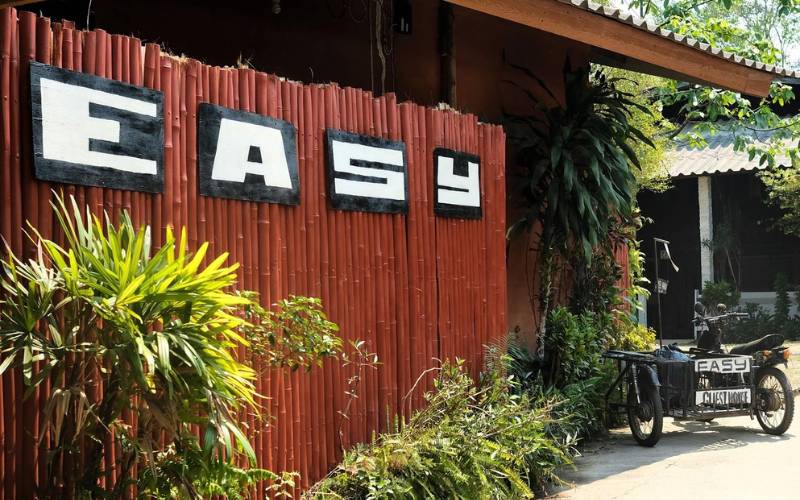 ---
6) BODEGA PAI PARTY HOSTEL
Bodega Pai Party Hostel is known for its lively atmosphere and wild parties, making it the perfect spot for travelers looking to let loose and have some fun.
The hostel offers a range of 4-, 6-, and 12-bed dorms, all of which feature clean, comfortable, and stylish beds. In fact, the owners allegedly say their beds are probably more comfortable than your one at home. So why not test it out and see if you enjoy a better sleeping experience after a night of partying?
Outside of partying, the hostel is known for its cashless experience. You'll have to pay for your reservation with your credit card, which seems pretty normal. But the kicker is these cool electronic wristbands you transact with at the hostel. Sounds pretty futuristic.
That said, you may not like that the hostel does not offer breakfast. So it may be tough trying to weather a hangover without scrambled eggs, bacon, toast, and a hot cup of fresh coffee.
But with their onsite café, you can order something light to eat. If that won't do, head out to the City Center and stock up on some non-perishable foods like noodles and instant soup.
Hostelworld Rating: 8.0 by 57 reviewers!
Prices starting at $4.98/night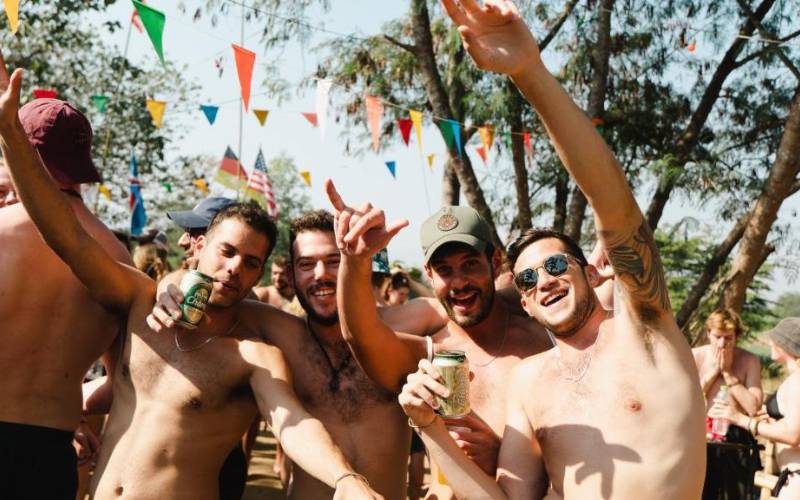 ---
7) COMMON GROUNDS | BEST HOSTEL FOR A SOCIAL VISIT
If you're visiting Pai to make friends, this is the best place to do that. This Pai backpackers hostel has a real social feel, with evening gatherings in the communal lounge, as well as occasional day trips and nighttime pub crawls.
Some of these day trips include heading out to explore Pai's breathtaking waterfalls and canyons. At nighttime, you and your fellow backpackers hit the streets to check out the best bars in town. You'll even get the chance to attend open mic nights and appreciate local performances.
The next morning, you can enjoy coffee, water refills, and free WiFi for posting pics of your fun stay on the socials. The dorms have a max of 6 beds, so they're small and cozy. They also all have air-conditioning and lockers.
While the hostel has nighttime pub crawls, it accommodates early sleepers by taking the party out to the pubs by 09:00 P.M. The hostel is more of a friendly, homely space rather than a party hostel.
Interesting fact: Common Grounds was rated 1st place in the "Most Popular Hostels Pai" in 2020, so you know you're in good hands here.
Hostelworld Rating: 4.5/5 by 134 reviewers!
Prices starting at $11.93/night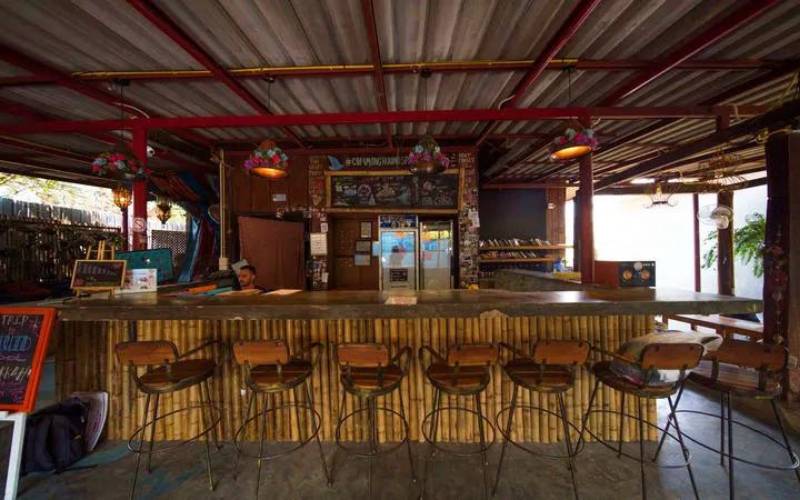 ---
8) NOLO HUB PAI
Nolo Hub Pai Hostel might just be what those who want trendy on a budget are looking for. This stylish and hip hostel offers a modern and chic atmosphere, making it the perfect spot for young and fashionable travelers.
Speaking of youth, the social hostel has an age restriction of 18–35 years old, which speaks to the social atmosphere Nolo Hub Pai aims to foster. When you arrive, you'll notice that its rooms are not only clean and comfortable, but they are also a third C: Chic.
Decorated with modern and unique touches, these black-and-white minimalistic themes create a distinct and memorable décor.
Moving outside, Nolo Hub Pai also has a rooftop terrace where you can enjoy stunning views of the surrounding mountains. Here, you can bask in the sun, conversing with like-minded outgoing people.
The safe location of the hostel is also great for those who love walking, and it's not far from nearby attractions.
Tip: With cute resident pups Pablo and Bruce, you'll have to ensure you're comfortable with it before making your reservation.
Hostelworld Rating: 9.3 by 1,005 reviewers!
Prices starting at $12.30/night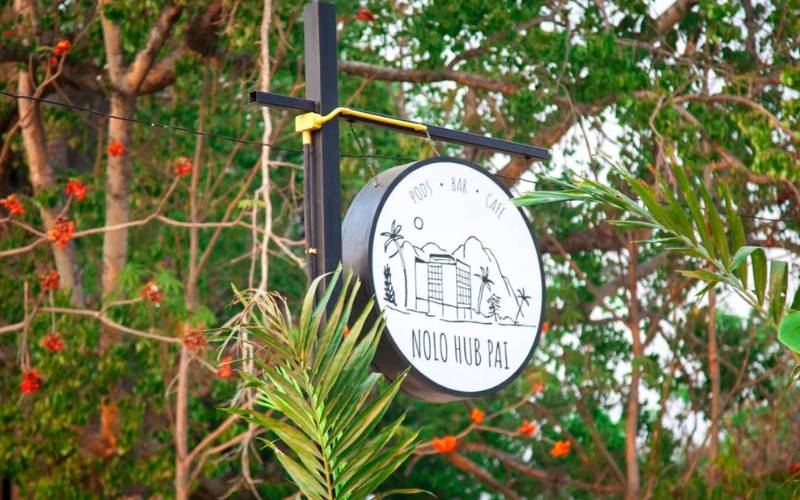 ---
9) BUZZAS@PAICHAN
Looking for a buzzing hostel experience in Pai? Buzzas@PaiChan Hostel is the perfect spot if you're seeking a tranquil, homey stay with access to the lively atmosphere of Pai's city center.
This hostel offers everything you could dream of from a Pai, Thailand, stay. From cozy dorms to private rooms, all equipped with comfortable beds and clean bathrooms, you'll appreciate the care taken to keep things neat and tidy. The common area is the perfect place to meet new people and socialize with fellow travelers, but if you'd like to take it outdoors, head to their cool infinity swimming pool and swim with fellow travelers. Or just relax in the pool.
One of the highlights of this hostel is its location: situated just 0.25 miles from Pai Bart Street, it's close to all the best bars and restaurants. Like all the best Pai hostels on this list, the staff is incredibly helpful and friendly. They're always happy to provide recommendations on things to do and see in Pai.
Hostelworld Rating: 9.1 by 206 reviewers!
Prices starting at $13.23/night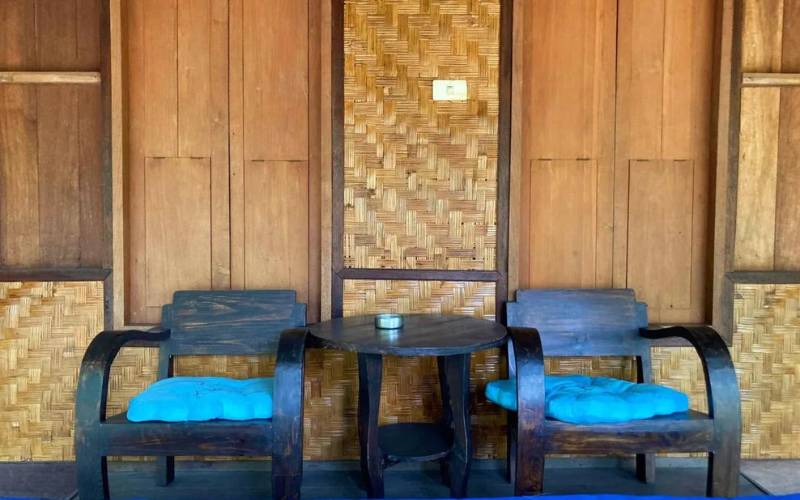 ---
10) CHALI'S FAMILY HOTEL & HOSTEL
Located in the heart of Pai, Thailand, is Chali's Family Hotel & Hostel. With its central location, it's the perfect choice for anyone looking to experience Pai's unique culture and natural beauty. This is arguably one of Hostelworld Rating.
The hostel offers a variety of room types to suit different needs, including private rooms and dorm rooms with both mixed and female-only options available. All rooms come with comfortable beds, air conditioning, and modern amenities such as free Wi-Fi and en-suite bathrooms with hot showers to make your stay as comfortable as possible.
So, while you're surrounded by nature, you're not cut off from the modern world. And with a spacious outdoor pool, a garden, and a shared lounge area with a pool table and TV, you'll have plenty of space to relax and socialize with other travelers.
Their range of services helps make your stay in Pai as enjoyable as possible. You can hop on a rental bike and explore nearby sights, make use of laundry facilities to clean your clothes, keep your items safe in secure storage, and book local activities and attractions at the tour desk.
The hostel's friendly staff are always on hand to offer advice and recommendations on the best things to do in Pai, including exploring the nearby Pai Canyon, visiting the Pai Night Market, or hiking to the stunning Hostelworld Rating. Not feeling too outdoorsy? You can take a short walk and check out the nearby restaurants and cafes.
The hostel also offers a delicious breakfast buffet, which includes both Thai and Western options, to help you start your day off right. And if you're looking for a quick snack or drink, there's a mini-mart located within the hostel premises where you can find a variety of snacks, drinks, and other essentials.
Hostelworld Rating: 9.0 by 86 reviewers!
Prices starting at $8.82/night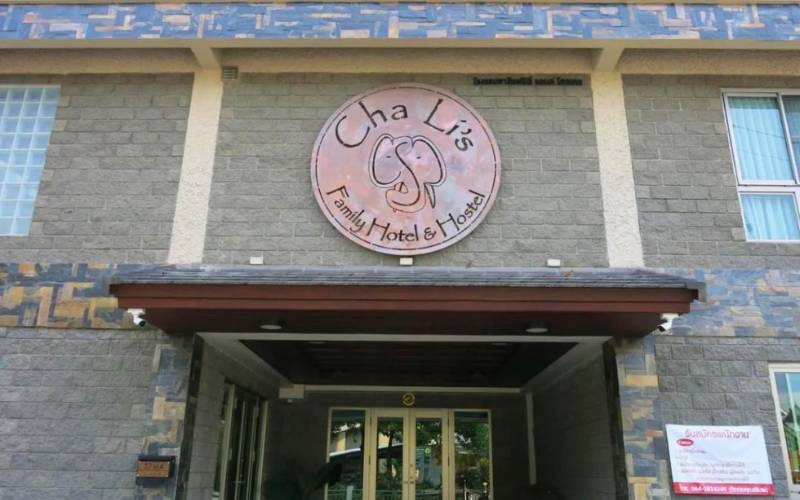 ---
11) TRIBAL PAI BACKPACKERS
This hostel is on the cheaper side (in fact, it's the most affordable hostel on this list), but that doesn't mean it's any less amazing than the rest here. While the furniture and amenities are basic, they're clean and comfortable.
You can pick your stay between camping in a tent, sharing a dorm, or enjoying a private bungalow. All guests enjoy free tea and coffee, free WiFi, and arranged pick-up from the nearest bus station. There's also beer pong and a weekly bonfire/barbeque to take part in and get to know your fellow travelers.
Party hostels are great, but Tribal Pai strikes that fine balance between being both a party and cheap hostel while maintaining a conducive environment for chilling out. They've got hammocks outside for relaxing in while admiring views of their private garden. You can also catch glimpses of fish in their fishing pond while sipping on a warm cup of tea in the said hammock.
Although the hostel is a 20-minute walk from the town center, there are bikes and scooters available for rent. With the Hostelworld Rating Airport a 30-mile drive from the hostel and nearby attractions like the stunning Mae Yen Waterfalls only a 14-minute walk away, Tribal Pai is a smart choice. Don't let the price fool you.
Hostelworld Rating: 6.6 by 279 reviewers!
Prices starting at $3.58/night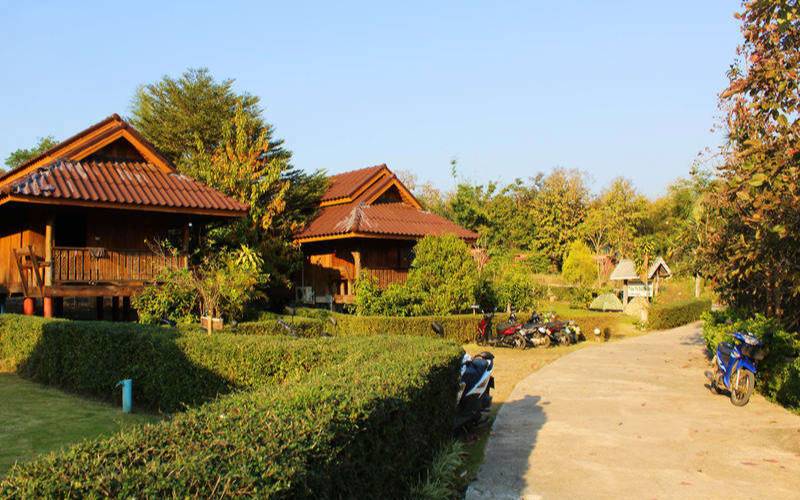 ---
12) HAPPY HOUSE BACKPACKERS
This colorful, fun, and energetic hostel is family-run and provides a homely feel for backpackers. There are dorms and private rooms available, and lots of social space to relax and enjoy the company of other travelers.
There's free WiFi, water, and tea & coffee, and the common lounge has table tennis, a pool table, and spaces for card and drinking games. Here, you can let your hair down in a comfy, safe environment. The hostel also has its own fully-stocked bar, and the kitchen sells breakfast at a small charge.
It's within walking distance of some great restaurants and bars, and the staff here are more than willing to help you find the best of Pai. And with the Pai Bus Station only a 10-minute walk away, you can hop on the nearest ride and head off into the city center for shopping and exploring. Alternatively, you can check out the Pai Night Market to browse (or buy) various souvenirs, bags, and yummy snacks for those late-night cravings.
Hostelworld Rating: 8.9 by 1568 reviewers!
Prices starting at $8.02/night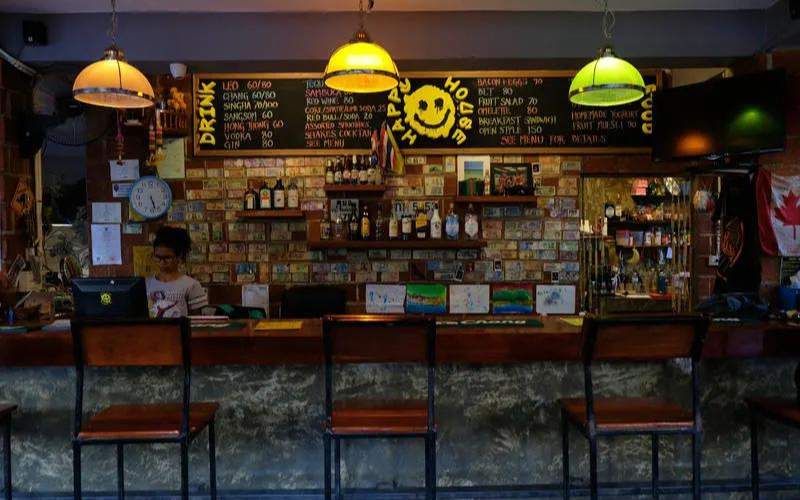 ---
13) UP2U GUESTHOUSE
For a cozy, homey, and laidback hostel in Pai, Thailand, look no further than UP2U Guesthouse. Here, you'll get to experience Pai's unreal natural beauty and calm vibes without breaking the bank.
The hostel has a variety of rooms for you to choose from, which include private rooms for a bit extra and dorms. Staying at this Pai budget hostel doesn't mean sacrificing clean, comfortable, and well-equipped rooms for a decent stay. And with a communal kitchen, you can cook your own meals and save some money while at it.
That unreal natural beauty mentioned earlier? You'll get to step right into it, thanks to the hostel being a short walk away from the Pai River. UP2U Guesthouse is also within easy reach of hot springs and hiking trails, making it the ideal spot for getting active outdoors and soaking it off in relaxing warm waters.
But what really sets this unique accommodation apart is that it's a welcoming and friendly hostel. Its staff is always happy to help you plan your adventures and make the most of your time in beautiful Pai. With the hostel's communal areas and cozy outdoor seating area, this is the perfect unofficially social hostel to meet other travelers and swap stories over a cold, refreshing beer.
Hostelworld Rating: 9.1 by 640 reviewers!
Prices starting at $5.37/night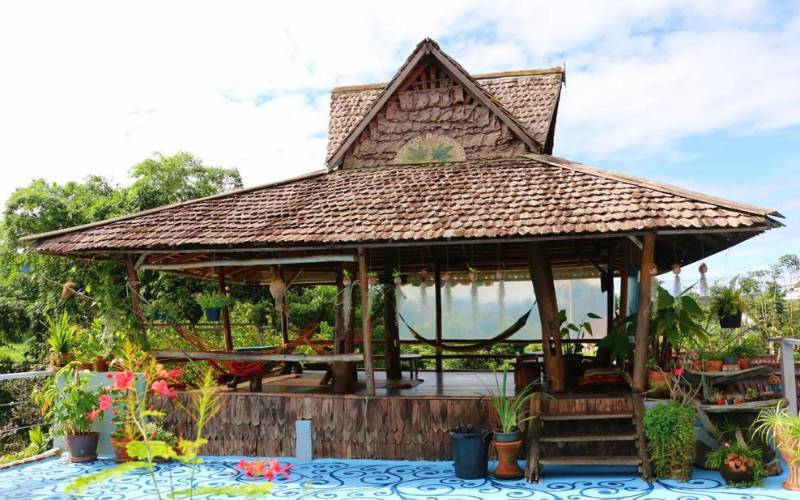 ---
14) SUNNY TAYAI HOSTEL PAI
Sunny Tayai Hostel is where you can truly experience and soak up the laidback yet vibrant Pai atmosphere.
Located just a short walk from Pai Walking Street, you'll find it easy to explore the many bars, restaurants, and shops in the area. It's all about location, they say.
You'll find that the hostel includes different types of accommodation options to suit your needs. These range from cozy dorm rooms to private rooms with en suite bathrooms. Each room is uniquely decorated with simple Thai-style elements and equipped with everything you need for a comfortable stay.
Speaking of comfort, a highlight of Sunny Tayai Hostel is its beautiful garden area. With light, cloth hammocks and ample seating space, it's the perfect spot to relax and unwind after a day of exploring Pai's natural beauty.
If you're traveling solo, don't worry—the hostel's friendly staff and communal areas make it easy to socialize with other travelers. And if you're looking for adventure, you can rent any of the hostel's motorbikes and hop on a ride to the hot springs and mountains.
Google RatingGoogle Rating: 4.1/5 by 19 reviewers!
Prices starting at $5.29/night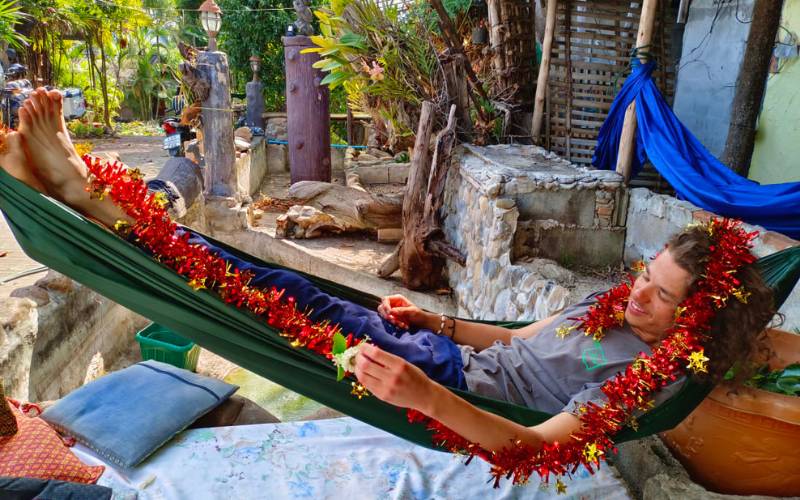 ---
15) BUTTERFLY HOSTEL PAI
With Butterfly Hostel Pai, you don't have to search far and wide for drinks and food. The friendly hostel boasts an on-site bar and restaurant, offering you value for money while you chow down on both Caribbean and Thai food. Plus, they also have family dinners and barbeques where you can eat and meet fellow travelers.
This charming hostel is situated in the heart of Pai, offering you easy access to all the town's top attractions. Plus, you'll find the famously serene White Buddha overlooking it. Like most hostels in Pai, Thailand, Butterfly Hostel Pai offers you beautiful vistas of the rice fields below.
You'll enjoy a friendly and welcoming atmosphere, which is ideal for everyone—solo travelers and groups alike. Their hospitable team will give you all the details on planning excursions. And when you're done exploring, retreat to your clean and well-maintained room, which has comfortable beds that ensure a good night's sleep after a day of fun exploring the best things to do in Pai.
One of the standout features of this charming hostel is its beautiful garden area. Take some time out of your day to enjoy nature's tranquil ambiance, or find a quiet spot to place your yoga mat and do some poses.
Butterfly Hostel Pai is also just a short walk from Pai Walking Street, where you'll find plenty of bars, restaurants, and shops to keep you entertained. Plus, the hostel offers bike rentals so you can explore the stunning surrounding countryside.
Hostelworld Rating: 8.4 by 269 reviewers!
Prices starting at $5.30/night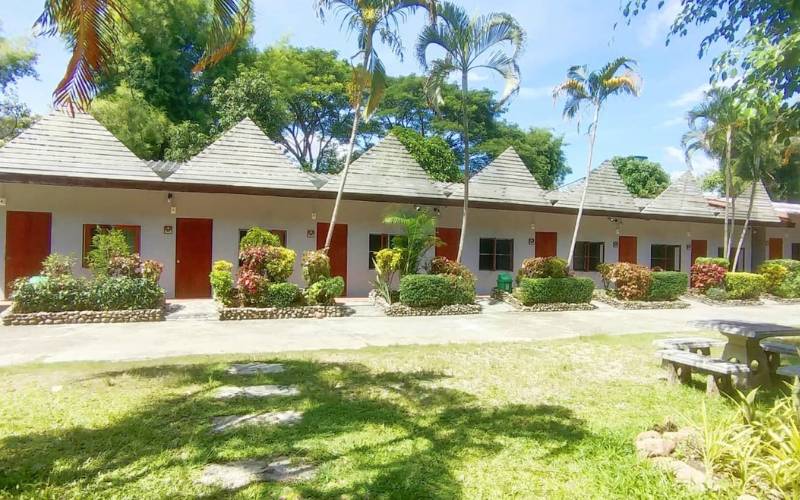 ---
16) PAI IN THE SKY | BEST PAI HOSTEL FOR PEACE AND QUIET
True to its name, Pai in the Sky Hostel boasts panoramic views of the surrounding mountains and rice paddies, offering you enviable views of Pai from the hilltop.
But the view isn't the only thing that makes this quiet hostel special. Pai in the Sky steals the hearts of almost all who stay here. It's a clean, cozy, and comfortably quiet space, which is great if you need your sleep or if you're working during your stay.
That brings us to an important point: Pai in the Sky is not a party hostel. This is where you come to for peace and quiet.
With the hostel enjoying a central location, you only have to walk a few steps to reach nearby restaurants and attractions.
There's one mixed dorm with up to 11 beds and 12 private rooms for those who prefer not to share a room. Free tea and coffee are offered daily, and bread is served at breakfast time. And if you're lucky, you may even get complimentary fruit and homemade cookies as well.
Note: The hostel is built next to a temple, so no alcohol is allowed on the property as a sign of respect. But, if you're in need of a refreshing beer (or two), you can easily reach the nearby bars.
Hostelworld Rating: 8.3 by 326 reviewers!
Prices starting at $17.59/night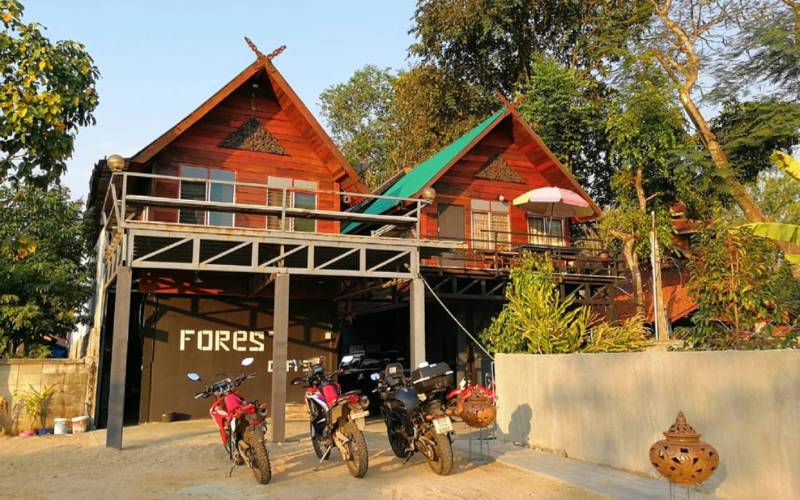 ---
17) DARLING VIEW POINT BUNGALOWS
This hostel really is, as the name suggests, quite a darling. Consisting of dorms, bungalows, and private rooms, guests here are treated to a peaceful stay surrounded by the gorgeous green of Pai's countryside. The views of Pai, combined with easy access to town, make it the best hostel for a perfect Thai vacation.
The lovely host, who goes by the name of Darling herself, is attentive and enthusiastic about making sure her guests have the best time. There's an inviting atmosphere throughout the hostel. There are also evening campfires for travelers to come together and enjoy each other's company.
You can really enjoy some of Pai's outdoor experiences while staying at Darling, and the staff will help you book your bamboo rafting and other outings. That said, there are different ways to relax and enjoy the view. The hostel has a beautiful garden area where you can kick back with a book or a cold beer, as well as a rooftop terrace where you can soak up the sun and take in the stunning scenery.
There's also good free WiFi in all the rooms, so you can share stunning sunset photos with your social media followers.
And when you're ready to explore, Darling View Point is conveniently located near several popular Pai attractions, including Pai Canyon and the Pai Night Market.
Hostelworld Rating: 7.1 by 1185 reviewers!
Prices starting at $5.96/night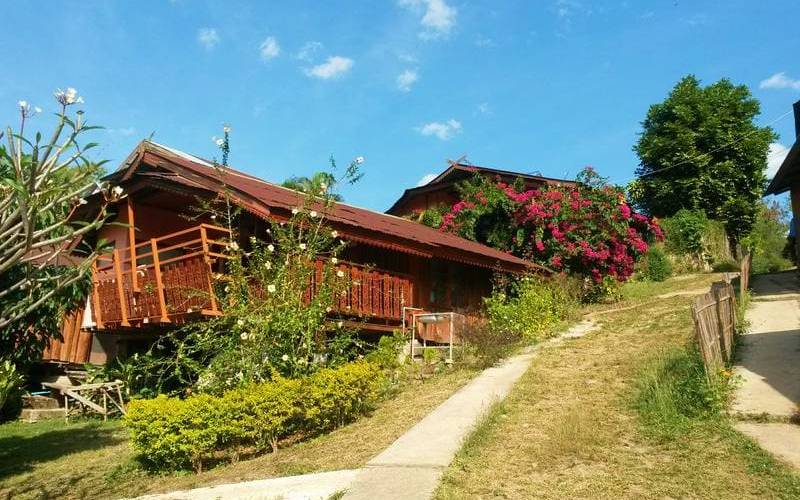 ---
18) ROADRANN SKATE HOUSE
For a hostel with a unique and exciting vibe, check out RoadRann Skate House in Pai, Thailand. True to its name, this hostel is perfect for anyone who loves skateboarding or is looking for a fun and social atmosphere.
The hostel is located right next to a skate park, so you can spend your days honing your skills or socializing and watching other skaters. But don't worry if you're not Tony Hawk or Rob Dyrdek—the hostel also has a pool, a bar, and plenty of chill-out areas to relax in.
After a day of skating and building up some sweat, you'd want to shower and retreat to a clean dorm room. At RoadRann Skate House, all rooms are clean and comfortable. And with friendly and helpful staff, you won't feel like you're bothering anyone with your questions.
The hostel is just a short walk from the Pai city center, so you can easily explore the town and all it has to offer.
Hostelworld Rating: 9.5 by 47 reviewers!
Prices starting at $6.91/night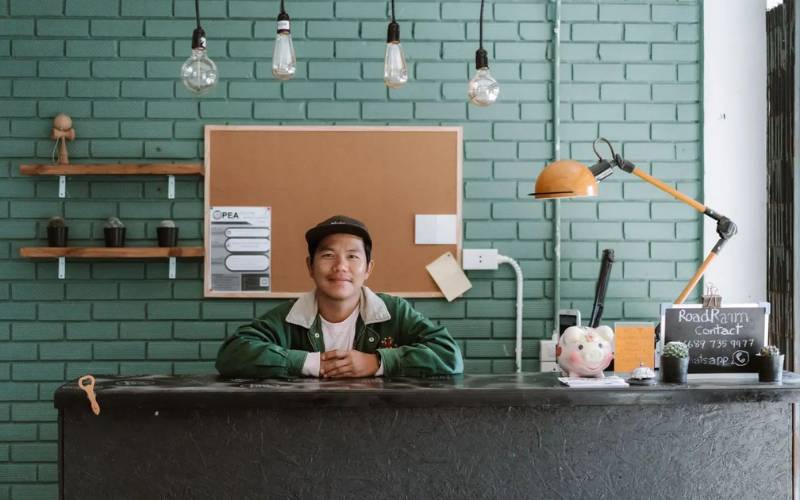 ---
19) BAAN MAI SAK
Located right in the heart of Pai Town, this cozy yet stylishly simple Pai accommodation offers you a warm and welcoming stay. Located just a short walk from the town center, it's in the perfect spot for a brilliant trip to Pai, Thailand.
There's safe parking offered for bikes and scooters, and the hammocks on the balcony are great to sink into and unwind on in the evening. During the day, you can head out into the garden, where you can soak up the sun and get some Vitamin D.
Apart from offering you a peaceful experience out in nature, you'll also enjoy peace of mind with on-site lockers. You'll find these in the dorms. There's an overall safe feeling in the hostel, especially considering that the doors don't lock. In fact, they just don't need to. That's how safe it is here.
That said, this is not a party hostel and is more for those seeking a place to rest and chill. While here, you'll appreciate just how extremely welcoming the owner and staff are. They make staying here truly feel like being in a second home.
Hostelworld Rating: 9.2 by 219 reviewers!
Prices starting at $7.32/night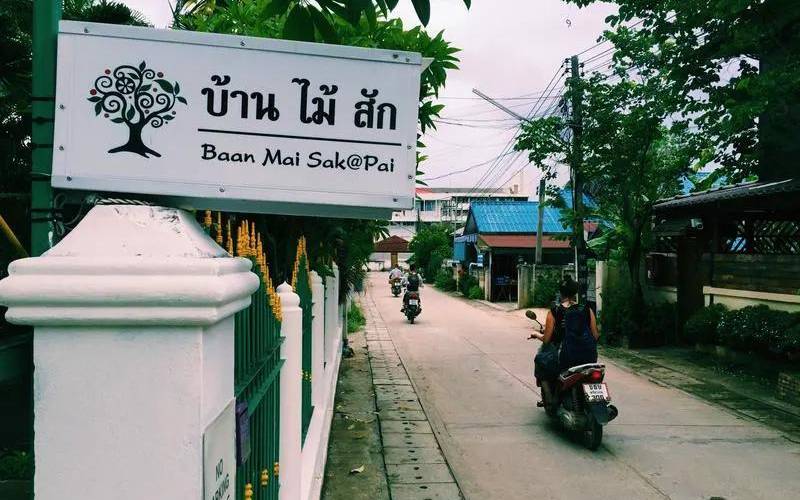 ---
AM I MISSING ANY AMAZING HOSTELS IN PAI, THAILAND?
With the growing popularity of this once-hidden gem, Pai has tons of amazing hostels! I'm sure no matter where you'll stay, you will love it, but I'd love to hear if your favorite hostel in Pai isn't mentioned on this list!
---
PLANNING A TRIP TO THAILAND?
I used to live in Thailand and have traveled the country quite extensively! So my travel blog is absolutely packed with amazing articles, travel guides, itineraries, and so much more for a trip to Thailand!
Check out some of my other posts to help you figure out what to do!
---
FINAL THOUGHTS ON THE BEST HOSTELS IN PAI, THAILAND
There you have it! It's clear that Pai is a fascinating place to spend some time while backpacking through. And luckily, there are some amazing hostels available. From the budget, simple backpackers to the pricier, top-of-the-range dorm rooms.
This list offers just some of what I think are the top Pai hostels, and I'm sure if you stay at any of these, you'll have an amazing time! Let me know!
---
THANKS FOR READING ABOUT THE BEST PAI HOSTELS!
SHARE THE PARTY HOSTEL LOVE WITH YOUR THAILAND BACKPACKER CREW!
https://www.jonesaroundtheworld.com/wp-content/uploads/2016/10/Best-Hostels-in-Pai-Thailand-.jpg
1948
2191
Dave
https://www.jonesaroundtheworld.com/wp-content/uploads/2017/03/logotry-1-1-300x106.png
Dave
2020-01-15 18:50:41
2023-04-20 07:51:55
BEST HOSTELS IN PAI, THAILAND | 20 AMAZING SPOTS!