Looking for the best hostels in Pai for backpackers on a budget? You've come to the right place!
Backpackers and digital nomads have been fleeing the busy streets of Chiang Mai for the green mountains and rice fields of Pai for decades. Known for its hippie and artsy vibe, it's also a hub for outdoor activities of all kinds. Canyoning, trekking, ziplining, hiking to waterfalls, tubing, and white water rafting are easily accessible and affordable for the budget backpacker. You can also interact with the hilltribe villages, relax in the natural healing hot springs, buy teas at the Chinese village and browse the artisan goods and foods at the night market. Pai is a breeze to get around- with scooter rentals for a few dollars a day!
Most of the hostels in Pai are inexpensive and close to town, but not all of them have great reviews, so I've narrowed down the list to make choosing your accommodation in Pai simple and worry-free.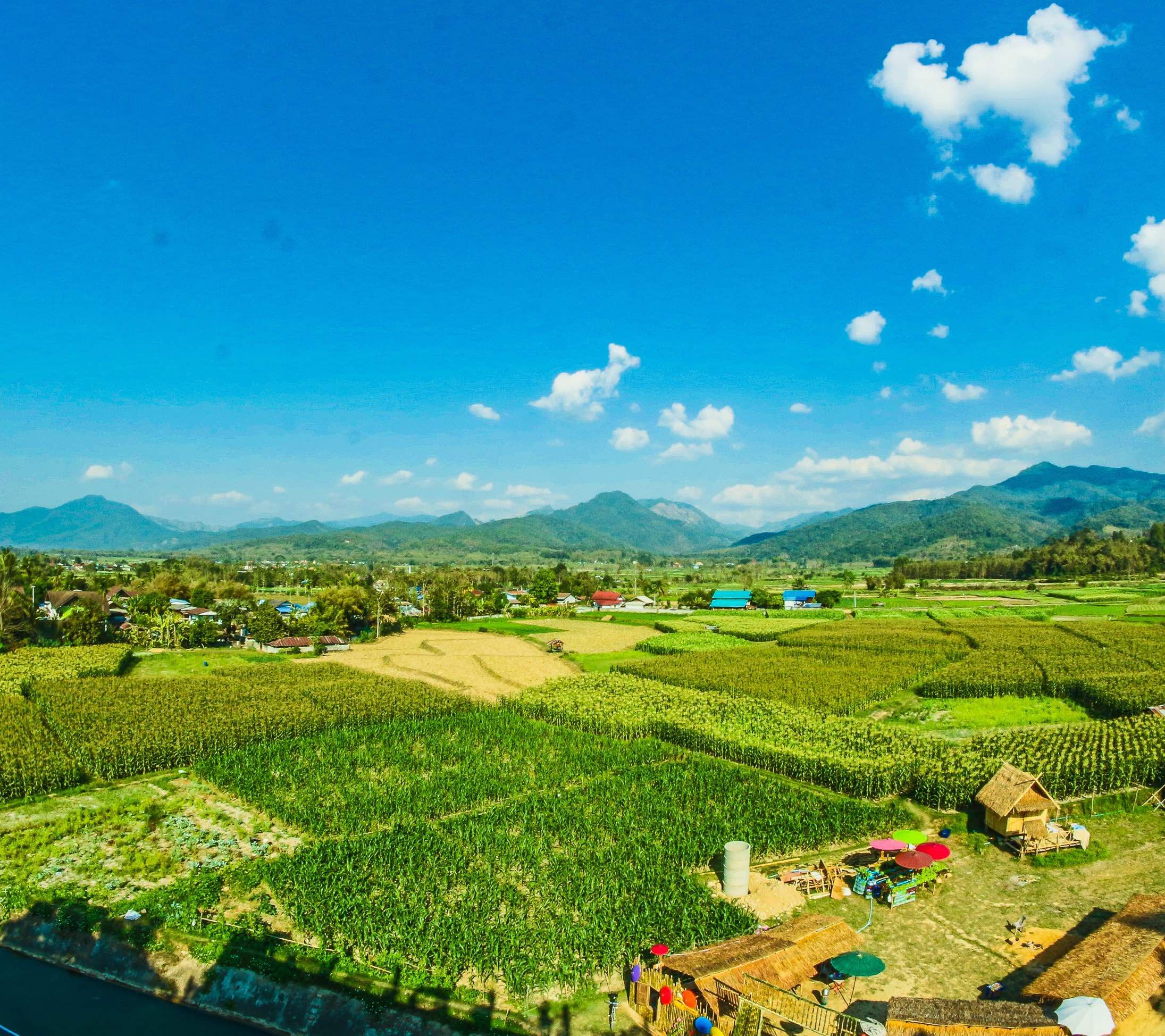 ---
Best Overall Pai Hostel
The Famous Pai Circus Hostel tops the overall list and provides the most value for money. My favorite part about this place is the infinity pool- there's no beach here and it can get REALLY hot! When you're not in the pool you can rely on the air conditioning to chill you down. Some other awesome features- FREE all you can eat breakfast and barbecues, nightly entertainment, yoga lessons, hammocks and a pool table. In the common area, you'll find fast internet with charging outlets and a 180-degree view of the mountains, making this a great place for digital nomads and backpackers. This hostel is great for security also, with lockers in every room plus CCTV in the main areas. Free pickup/drop off at bus station and walking distance to Pai town.
** I would recommend spending a couple extra dollars per night to upgrade from the super basic dorm to enjoy better amenities and a more comfortable stay overall.
Hostelworld Rating: 7.5 by 1251 reviewers
Prices starting at $5.31/night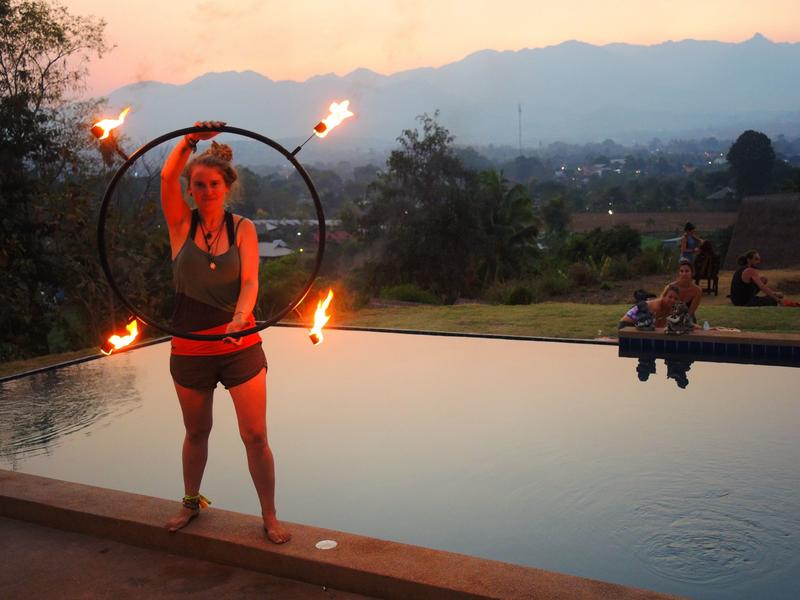 ---
Best Pai Hostel Atmosphere
Enjoy an authentic Thailand experience by staying in a bungalow close to Pai town! Suandoi has a restaurant and bar with a waterfall chillout area, hammocks and firepit, and free sports equipment for guest use. Pickup and drop off to and from the bus station is free along with a simple breakfast every morning! This hostel is great for atmosphere and meeting other travelers but may be a bit loud for some.
Hostelworld Rating: 8.8 by 509 reviewers
Prices starting at $5.89/night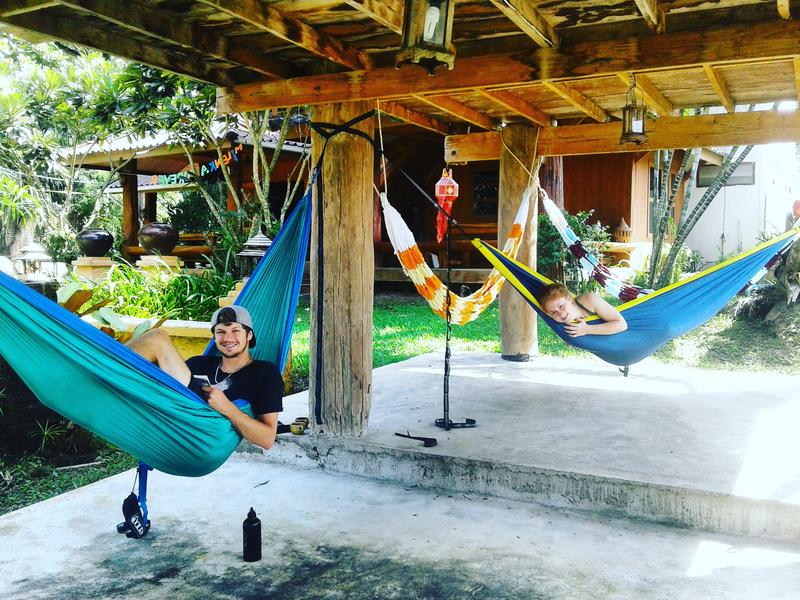 ---
Best Pai Hostel for Relaxation
Nine house features unique homestay style accommodation- this is a beautiful home in a quiet Thai neighborhood about a 10-minute walk from Pai town, close to local markets, with beautiful gardens and a relaxed vibe. Enjoy cheap and delicious food at their restaurant. This hostel is not for the party people but is perfect for those needing some chill time!
Hostelworld Rating: 8.9 by 156 reviewers!
Prices starting at $6.92/night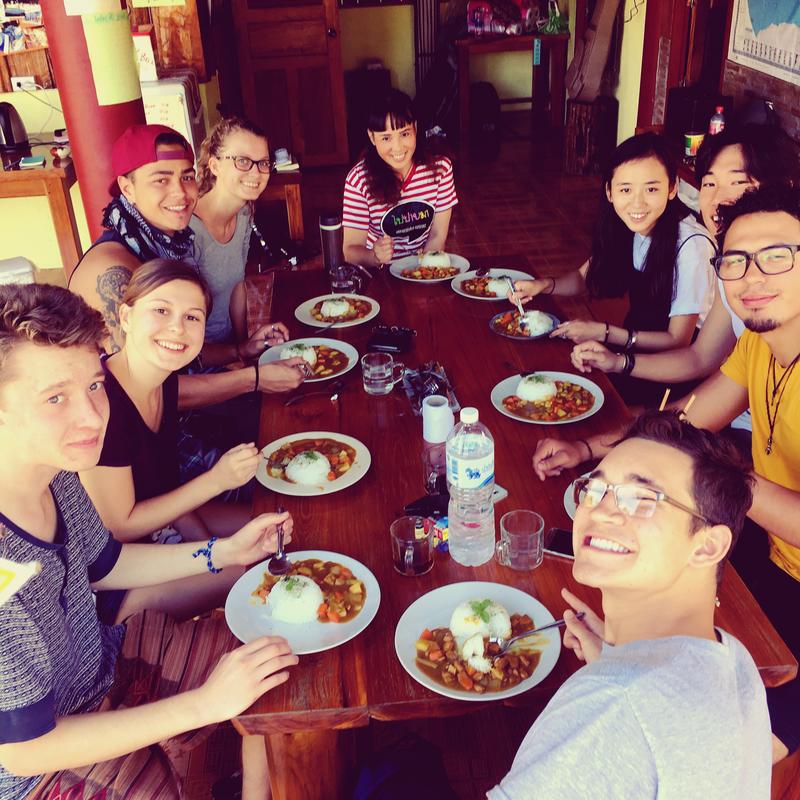 ---
For me, cleanliness is important in a hostel if I'm needing to relax. Baan Aomsin has a reputation for being clean and is the cheapest on our list. It's located a 15-minute walk to Pai town, has a gorgeous common room with bamboo tables and hammocks for lounging around. Air conditioning, lockers, and a 12 pm checkout time make this a great value for the price. The only downside is that the beds may be slightly uncomfortable for some.
Hostelworld Rating: 8.6 by 193 reviewers!
Prices starting at $4.71/night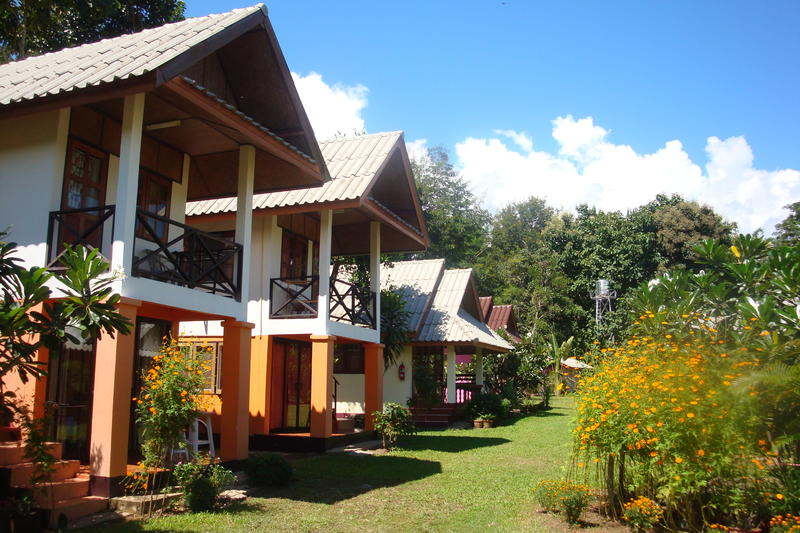 ---
Best Pai Hostel with Outdoor Style Accommodation
Spicy Pai is a bamboo treehouse style hostel with mountain views- perfect for those who prefer more outdoor style living. It's situated in a rice field about a 15 minute walk or quick bike ride to town. A simple breakfast of toast and spreads is free every morning and the hostel has barbecue dinners for only 150 baht.
Hostelworld Rating: 8.4 by 1,239 reviewers!
Prices starting at $5.30/night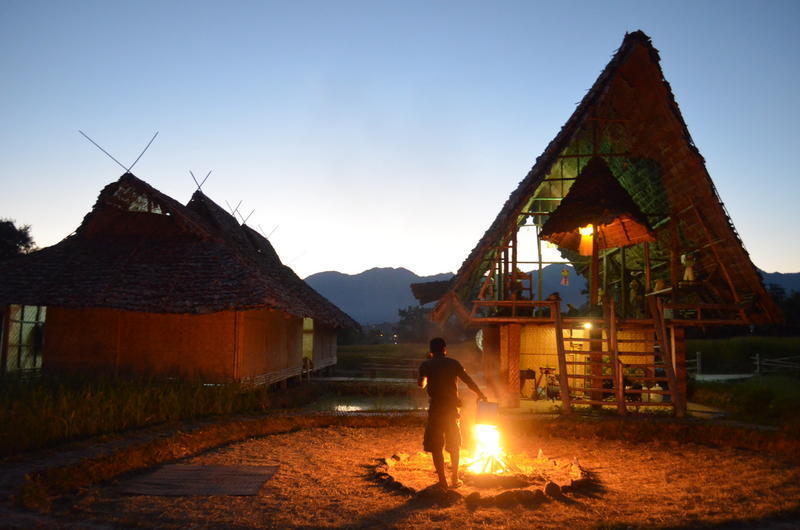 ---
Located in the heart of Pai Town, right in Pai Walking street, Jikko In Town Hostel is clean, comfortable, and caters to all kinds of travelers.
The hostel is situated near enough to the surrounding bars and restaurants that you can easily stumble home after a night out enjoying the town. This does mean, however, that there isn't much tranquility to be found at the hostel.
Guests can enjoy the simple, yet warm, dorm rooms. They offer curtains on each bed, plug points, and reading lights. There are significantly large lockers for security, and the staff are attentive and accommodating.
Hostelworld Rating: 8.3 by 120 reviewers!
Prices starting at $7.20/night
MUST SEE PLACES in PAI THAILAND: Is it STILL Worth the ROAD TRIP?
---
Best Hostel for a Social Visit
If you're visiting Pai to make friends, this is the best place to do that. This backpackers has a real social feel, with evening gatherings in the communal lounge, as well as occasional day trips and nighttime pub crawls.
Guests enjoy coffee, water refills, and WiFi for free. The dorms have a max of 6 beds, so they're small and cozy. They also all have air-conditioning and lockers.
The hostel accommodates early sleepers, by taking the party out to the pubs by 9 pm, and is more of a friendly, homely space rather than a party house.
Hostelworld Rating: 9.1 by 2442 reviewers!
Prices starting at $7.50/night
20 BEST THINGS TO DO IN PAI (ปาย )THAILAND | PAI TRAVEL GUIDE
---
Best for Skateboard-Loving Travelers
This is undoubtedly one of the more fun Pai, Thailand hostels. The on-site skatepark is a winner with all the coolest guests, and the hostel provides free use of skateboards for those traveling light.
This is a small hostel, with a social vibe. The owners and staff are friendly and welcoming, and the shared spaces are perfect for meeting other travelers. You can easily walk into the town center from here, and the hostel staff can help with tour and transport bookings.
There's a selection of 4-bed, 6-bed, and private rooms, and the dorms all have FREE WiFi, lockers, and aircon. Plus, you'll enjoy free breakfast from Monday to Saturday and can hang out with the cute resident pups.
Hostelworld Rating: 9.3 by 428 reviewers!
Prices starting at $6/night
EXPLORING PAI // THE COOLEST LITTLE TOWN IS THAILAND
---
9)
HUMMINGBIRD HOSTEL
Hummingbird Hostel is a warm and inviting space for all kinds of travelers. Small and still new, being a guest here is like visiting old friends.
The dorm rooms are clean and provide as much privacy as possible. The hostel bar and common area is a great place to chill and socialize, and you're within walking distance of Pai Town's attractions.
Guests at Hummingbird receive free breakfast and coffee to start their day the right way. The friendly owners and staff are also available to help with any of your travel needs.
Hostelworld Rating: 9.2 by 180 reviewers!
Prices starting at $7/night
Check Rates & Availability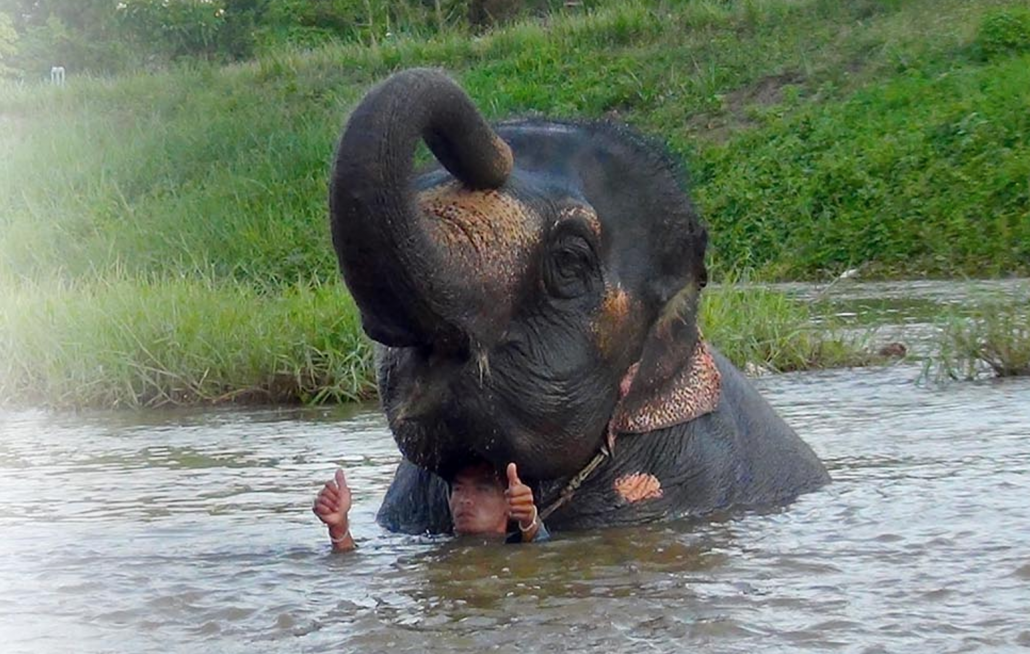 ---
Best Pai Hostel for Gorgeous Views
This hostel offers absolutely stunning views of Pai sunsets over the rice fields, and you'll be forgiven for not ever wanting to leave after a stay here.
The dorm rooms are clean and secure, using key card technology, and each bed has its own reading light and plug point. There are free yoga classes to take part in, as well as a list of other group games and activities to keep guests busy and socializing. There's also an outdoor gym and basketball court.
You'll have more than enough to do, and the hostel's kitchen will keep you full and happy with their selection of Thai and western food.
Hostelworld Rating: 9.2 by 944 reviewers!
Prices starting at $6.50/night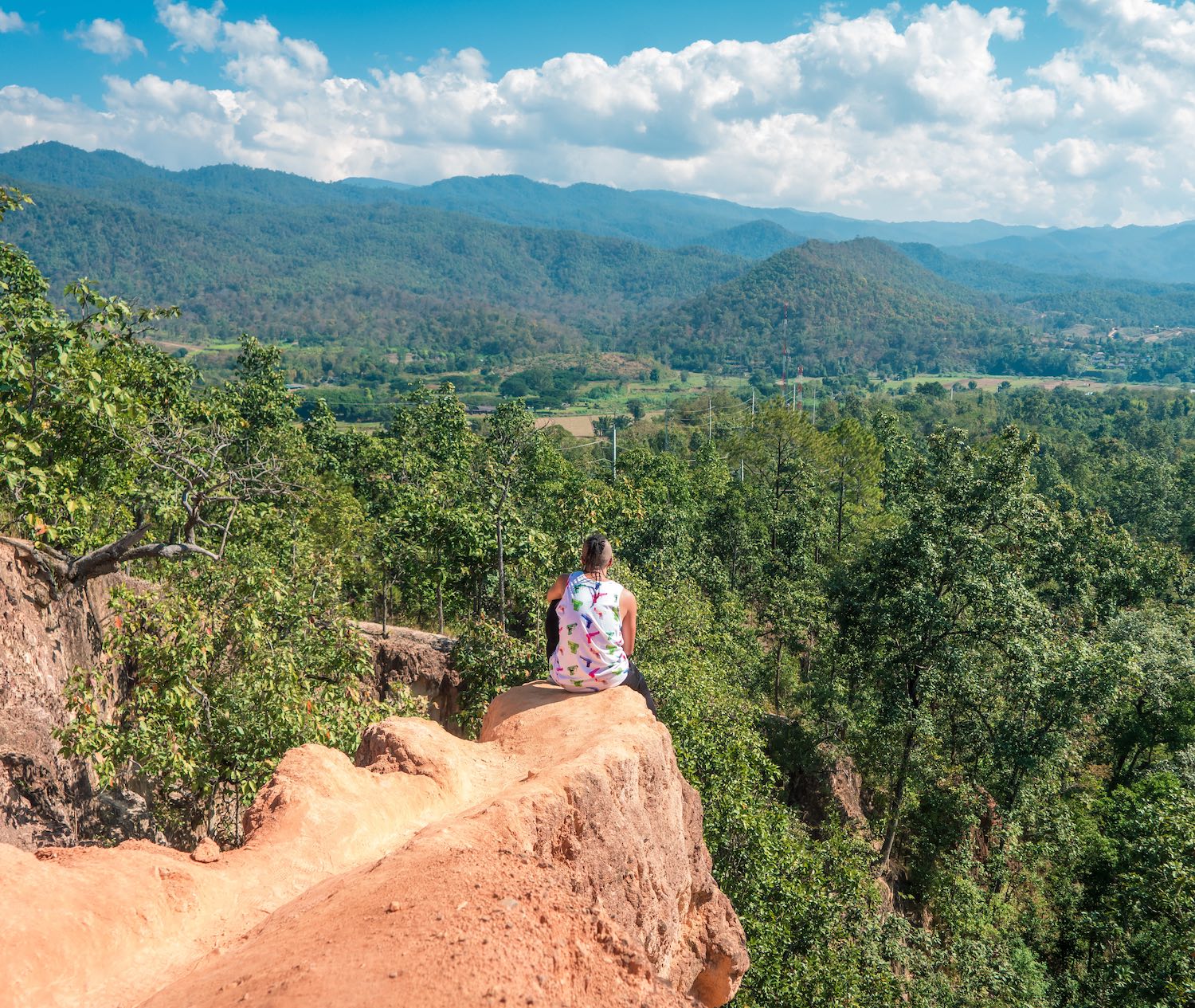 ---
This hostel is on the cheaper side, but that doesn't mean it's any less amazing than the others on this list. While the furniture and amenities are basic, they're clean and comfortable.
You can pick your stay, between camping in a tent, sharing a dorm, or enjoying a private bungalow. All guests enjoy free tea and coffee, free WiFi, and arranged pick up from the nearest bus station. There's also beer pong and a weekly bonfire/barbeque to take part in.
Although the hostel is a 20-minute walk from the town center, there are bikes and scooters available for rent.
Hostelworld Rating: 8.7 by 203 reviewers!
Prices starting at $3.20/night
The Best of Northern Thailand — Chiang Mai, Pai, Mae Hong Son | The Travel Intern
---
This colorful, fun, and energetic hostel is family-run and provides a homely feel for backpackers. There are dorm and private rooms available, and lots of social space to relax and enjoy the company of other travelers.
There's free WiFi, water, and tea & coffee, and the common lounge has table tennis, a pool table, and spaces for card and drinking games. The hostel also has its own fully-stocked bar and the kitchen sells breakfast at a small charge.
It's within walking distance of some great restaurants and bars, and the staff here are more than willing to help you find the best of Pai.
Hostelworld Rating: 8.7 by 1312 reviewers!
Prices starting at $5.95/night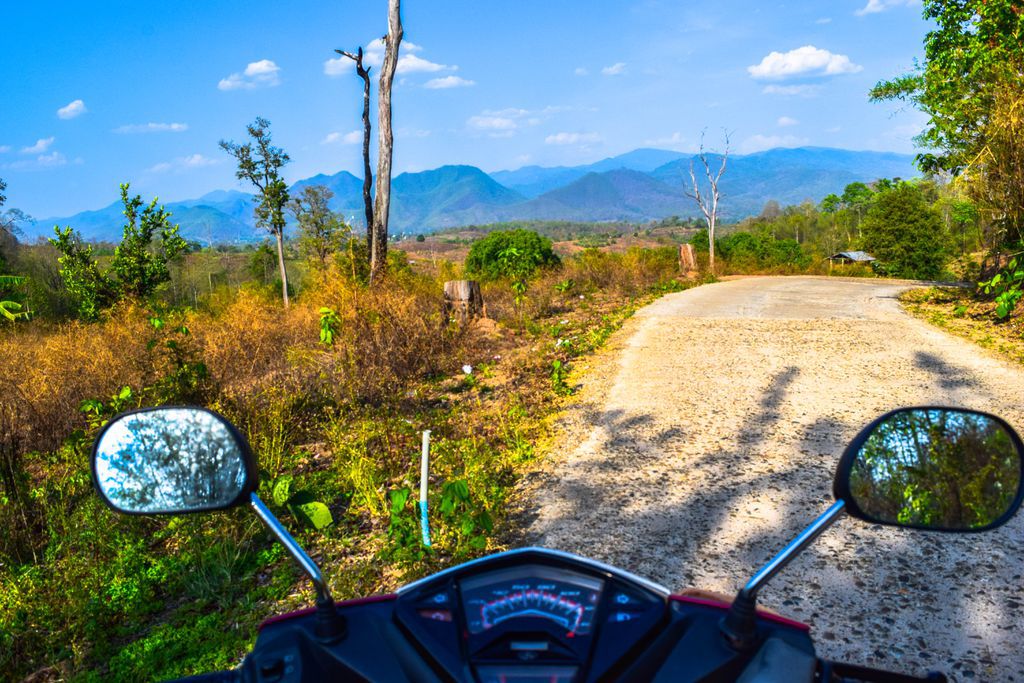 ---
Best Party Hostel, Pai
If you're looking for possibly the most fun place in Pai – you've found it! Purple Monkey is just 3 minutes from the center of town, but you really don't need to leave the hostel very often.
With its own onsite bar, pool table, a chill area with hammocks, and an outdoor gym, the hostel provides everything you could need – besides sightseeing. There are weekly activities such as quiz night and beer pong, a mini soccer field to enjoy, and Muay Thai classes (at a fee).
Enjoy free breakfast and coffee, free water refills, free WiFi, and a nice hot shower each day. There's a definite vibe here, increased by the management's aim to become eco-conscious and environmentally friendly.
Hostelworld Rating: 8.6 by 1349 reviewers!
Prices starting at $4/night
---
One Of The Best Hostels For Solo Travellers, Pai
For a real feeling of the Pai atmosphere, a stay at Jazz House is recommended. It's a part of the Jazz House cafe, which is a popular spot for locals and travelers to enjoy a meal and live music. This offers ample opportunity to meet new people during your stay.
The dorm rooms are furnished with all basic necessities, and the bathrooms are clean and accessible. Outside there's a chill space, with hammocks and seating, which turns into a buzzing spot in the evenings.
The hostel is located close to Pai Walking Street for bars, restaurants, and shopping. It's also close enough to the nearby river and mountains for exploring the natural surroundings.
Hostelworld Rating: 8.8 by 118 reviewers!
Prices starting at $6.50/night
What To Do in Pai, Thailand (& Getting LOST on The Mae Hong Son Loop)
---
If sipping cocktails at the poolside while marveling at the Pai sunset over the mountains is on your Thailand bucket list, this hostel is where you should be. This hostel provides a relaxing stay while in Thailand, and care is given to ensure every guest has an amazing time.
There's a range of rooms available. From simple, yet sophisticated dorm rooms, to quaint private bungalows. The pool and poolside bar offer the chance to relax and mingle with other travelers, and the onsite restaurant is the ultimate space to enjoy a tasty, filling meal.
The staff and management here are all knowledgeable and available to share all the best things to do in Pai. Town is a bit of a walk away, so the best option would be to rent a bike to get around.
Hostelworld Rating: 8.4 by 269 reviewers!
Prices starting at $5.30/night
---
A Calm and Quiet Hostel in Pai
This hostel steals the hearts of almost all who stay here. It's a clean, and comfortably quiet space, which is great if you need your sleep or if you're working during your stay.
The hostel enjoys a central location, letting guests walk just a few steps to nearby restaurants and attractions.
There's only one dorm room, with 22 beds, but each guest has a privacy curtain to ensure a peaceful sleep. Free tea and coffee is offered daily, and bread is served at breakfast time. If you're lucky, you may even get complimentary fruit and homemade cookies as well.
Note: the hostel is built next to a temple, and so no alcohol is allowed on the property. But guests can easily reach the nearby bars for a refreshing beer.
Hostelworld Rating: 8.7 by 186 reviewers!
Prices starting at $7.15/night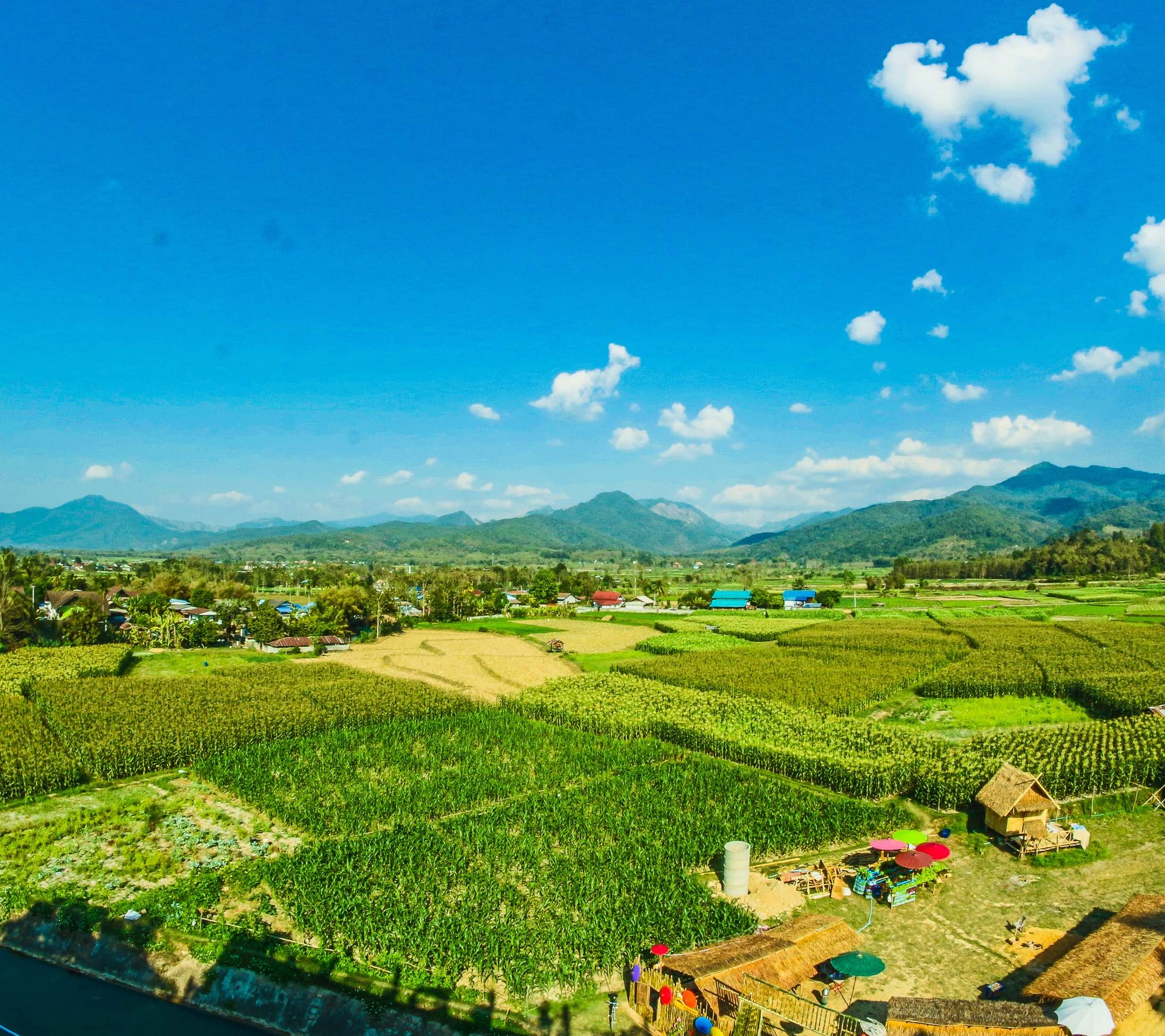 ---
This hostel really is, as the name suggests, quite darling. Consisting of dorms, bungalows, and private rooms, guests here are treated to a peaceful stay surrounded by green nature. The views of Pai combined with easy access to town provide the perfect Thai vacation.
The lovely host, who goes by the name of Darling herself, is attentive and enthusiastic about making sure her guests have the best time. There's an inviting atmosphere throughout the hostel. There are also evening campfires for travelers to come together and enjoy each other's company. =
You can really enjoy some of Pai's outdoor experiences while staying at Darling, and the staff will help you book your bamboo rafting and other outings. There's also good WiFi in all the rooms, so you can share the stunning sunset photos with your followers.
Hostelworld Rating: 8.0 by 975 reviewers!
Prices starting at $4.95/night
---
A Morrocan-inspired hostel, Jikko Haram is a sophisticated accommodation, offering a quiet and comfy place for you to rest in between your Pai explorations. It's located close to the main town but is still set in a calm street for some peaceful relaxation.
Guests can choose between private and dorm rooms, and everyone gets free WiFi and towels to use. There's also free water, breakfast, tea, and coffee for everyone staying here.
The hostel also has its own bar, where guests can enjoy a social drink while playing pool and getting to know each other.
Hostelworld Rating: 8.1 by 127 reviewers!
Prices starting at $4.95/night
---
La Mom Hostelo combines style and comfort with affordability in their modern boutique hostel. The dorm rooms here are clean, furnished for comfort, and provide a welcoming atmosphere for travelers.
You'll find impeccably clean rooms and bathrooms, coupled with cozy mattresses and linens. The hostel also offers free and fast WiFi, both power and rain showers, and lockers in every room.
La Mom is located minutes away from the most exciting parts of Pai Town, but the delightful backyard and onsite burger bar and jazz house mean you may not want to leave!
Hostelworld Rating: 9.1 by 116 reviewers!
Prices starting at $9.70/night
---
Located right in the heart of Pai Town, this Pai accommodation provides a warm and welcoming stay. It puts you right where you want to be for a brilliant trip.
There's safe parking offered for bikes and scooters, and the hammocks on the balcony are great to chill on in the evening. Lockers are provided in the dorms as well, and there's an overall safe feeling in the hostel, especially considering that the doors don't lock (they just don't need to).
The owner and staff are extremely welcoming and make staying here feel like being in a second home.
Hostelworld Rating: 9.1 by 138 reviewers!
Prices starting at $7.20/night
---
Am I Missing Any Amazing Hostels in Pai, Thailand?
With the growing popularity of this once-hidden gem, Pai has tons of amazing hostels! I'm sure no matter where you'll stay you love it, but I'd love to hear if your favorite hostel in Pai isn't mentioned on this list!
---
Planning a trip to Thailand?
I used to live in Thailand, and have traveled the country quite extensively! So my travel blog is absoltuely packed with amazing articles, travel guides, itineries, and so much more! Check out some of my other posts to help you figure out what to do!
---
Final Thoughts on the Best Hostels In Pai, Thailand
There you have it! It's clear that Pai is a fascinating place to spend some time while backpacking through Thailand. And luckily, there are some amazing hostels available. From the budget, simple backpackers to the pricier, top-of-the-range dorm rooms.
This list offers just some of what I think are the top Pai hostels, and I'm sure if you stay at any of these you'll have an amazing time! Let me know!
---
THANKS FOR READING ABOUT THE BEST PAI HOSTELS!
Share the Pai Hostel love with your Thailand backpacker crew!
https://www.jonesaroundtheworld.com/wp-content/uploads/2016/10/Best-Hostels-in-Pai-Thailand-.jpg
1948
2191
Dave
https://www.jonesaroundtheworld.com/wp-content/uploads/2017/03/logotry-1-1-300x106.png
Dave
2020-01-15 18:50:41
2020-09-17 20:52:19
The 5 Best Hostels in PAI, Thailand