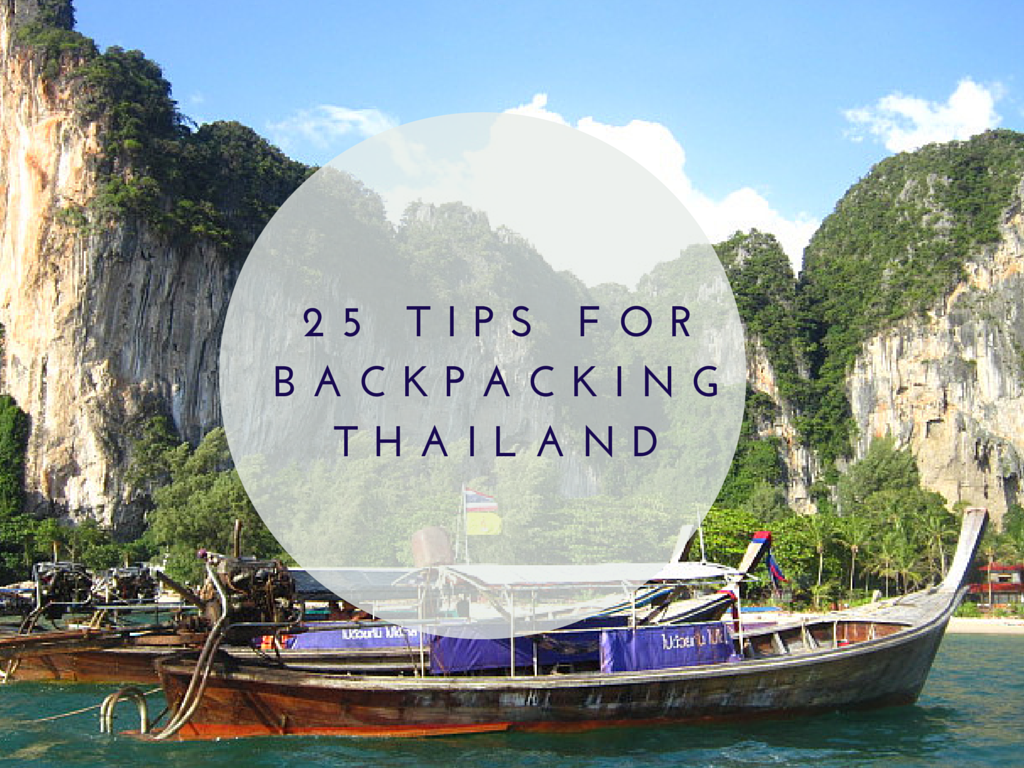 Backpacking Thailand is like enrolling in "Backpacking 101"!
It's the absolute perfect destination for new backpackers and travelers, because it's an amazing country with a little something to offer everyone! With that being said, going to any new destination can be a little intimidating. So hopefully these 25 tips will help you along your travels through Thailand.
You could also check out my 3-Week Thailand Itinerary to help out! It's a great post that'll go over a ton of awesome destinations, hostels, and tips for your Thailand vacation!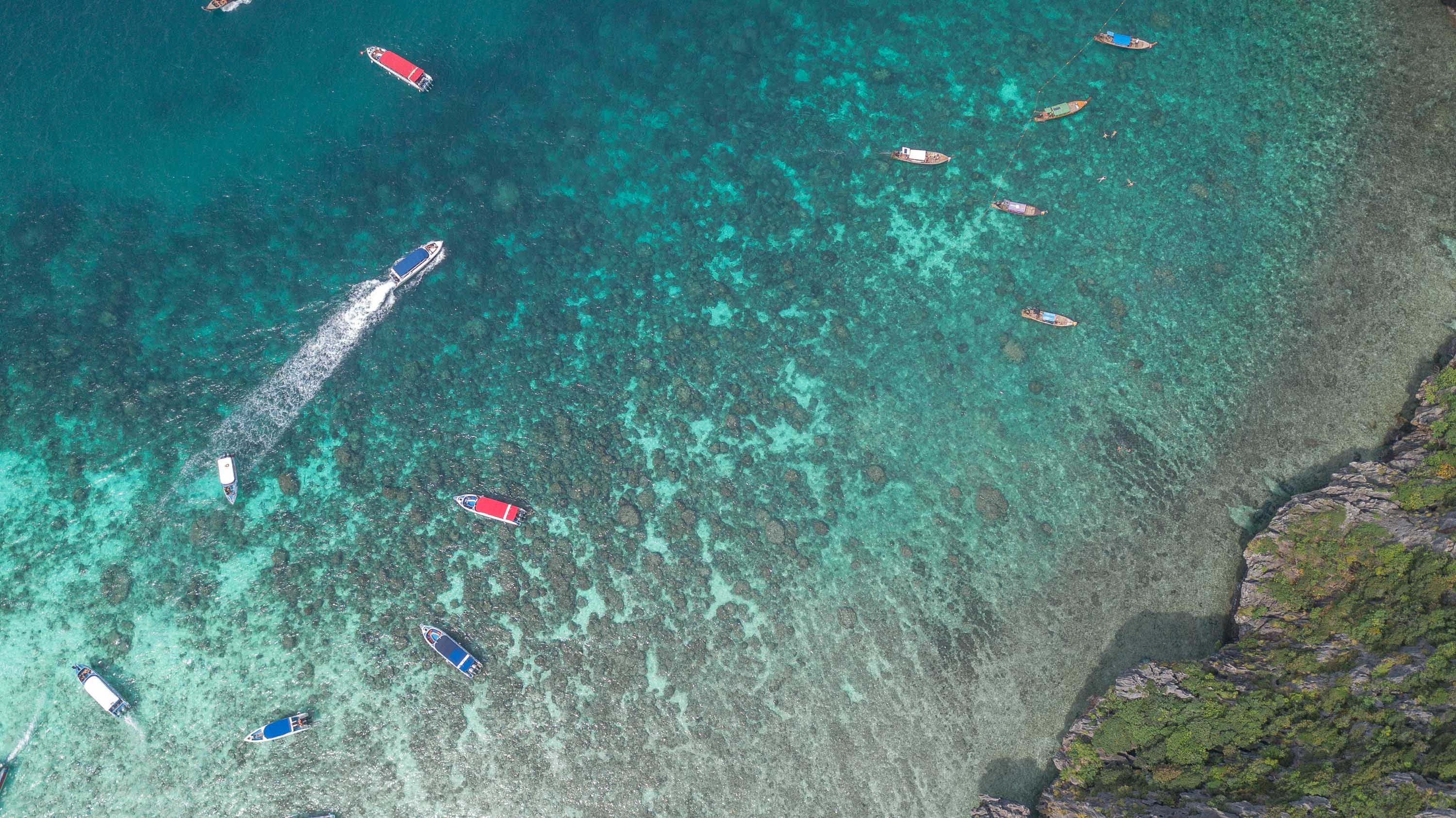 ---
1.
Practice and Hone Your Bargaining Skills.
Almost everything is negotiable in Thailand. You will most definitely get ripped off at least once or twice, but the more you do it — the better you'll get. I always recommend the "walk-away" method. Figure out what you want to pay, and if they won't agree then start to leave and see if they will accept then.
---
2. Book
in
Advance for Big Holidays or festivals.
If you're planning on going to a Full-Moon party, a music festival, or a famous holiday celebration like Songkran — then you need to take care of your accommodation in advance. Places book up quick, and I'd recommend using Hostelworld.
I've actually written about what I think are the 9 Hostels All Thailand Backpackers Should Stay at Once!
Check out my video I made of Songkran 2015 in Chiang Mai.
Songkran Water Festival 2015 -- Chiang Mai, Thailand
---
3.
Sh
op
Around
&
Compare Prices
When booking anything, check prices at least 3 or 4 different travel agencies. This goes for island hopping tours, bus + ferry tickets, and hostels / guesthouses. You can definitely get a better deal and bargain with them to get the best deal.
---
4. Join Facebook Groups with like-minded travelers.
I'm a member of multiple different Facebook groups for travel throughout South-East Asia. You can post travel questions, share cool photos, make new friends, etc.
These are all groups that can be helpful and entertaining.
There's honestly tons more if you just search in Facebook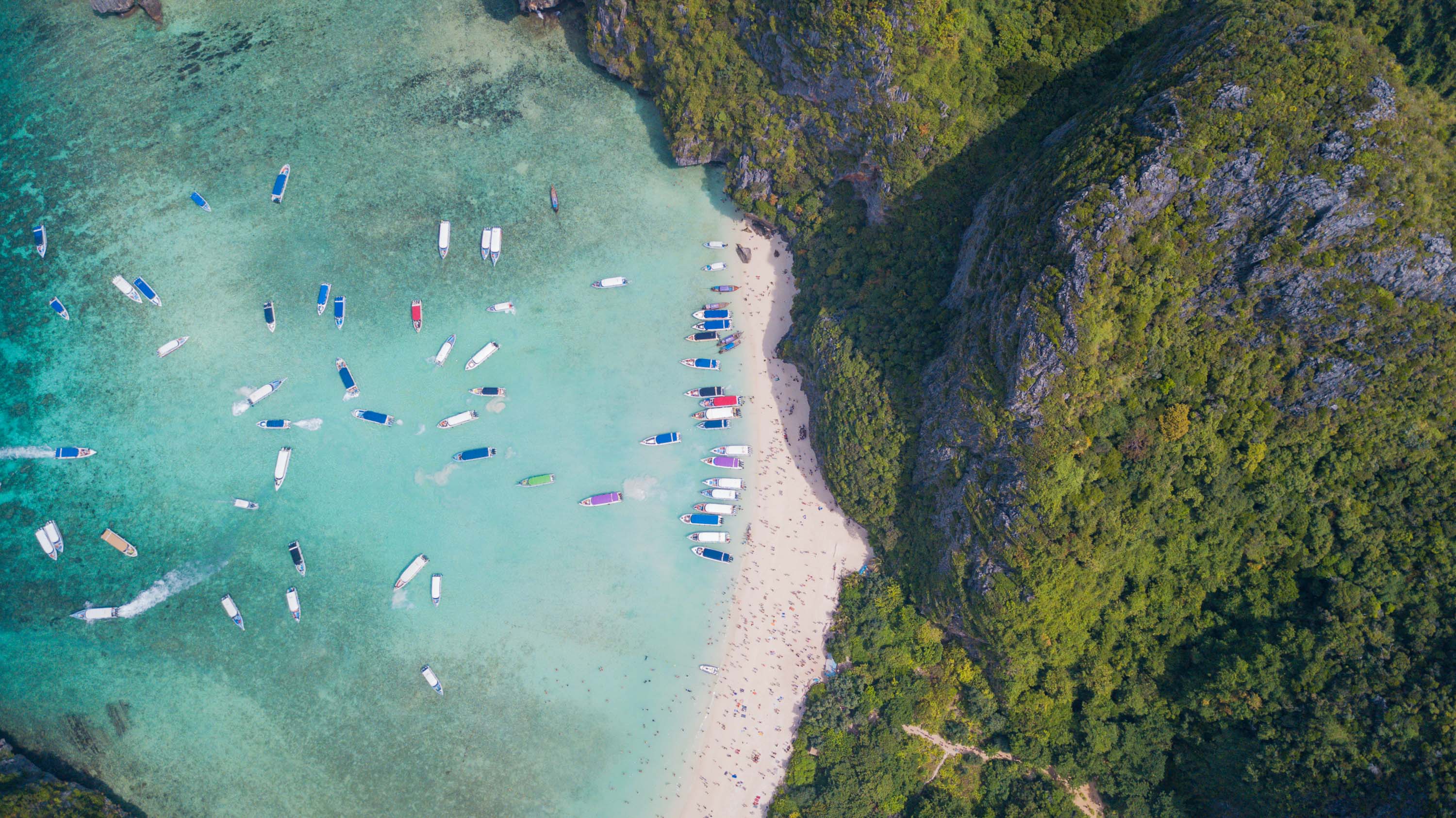 ---
5. Bring an Unlocked Smartphone and get a local SIM
Purchase a one-month unlimited data plan. You have no idea how much it will come in handy. This goes for directions, looking up information, booking last-minute places, making calls, etc.
You can also tether it to your laptop or tablet, and use it on long bus journeys, train rides, or ferries.
I personally recommend getting a SIM through the company AIS. I always used them in Thailand, and it worked perfectly.
---
6. Street Food. Eat it often.
Thailand is the street food capital of the world (in my opinion).
It's very delicious, and also budget friendly to save you much some baht.
If you're looking for the best cheap places to travel, then coming to Thailand and eating the street food is definitely a solid option.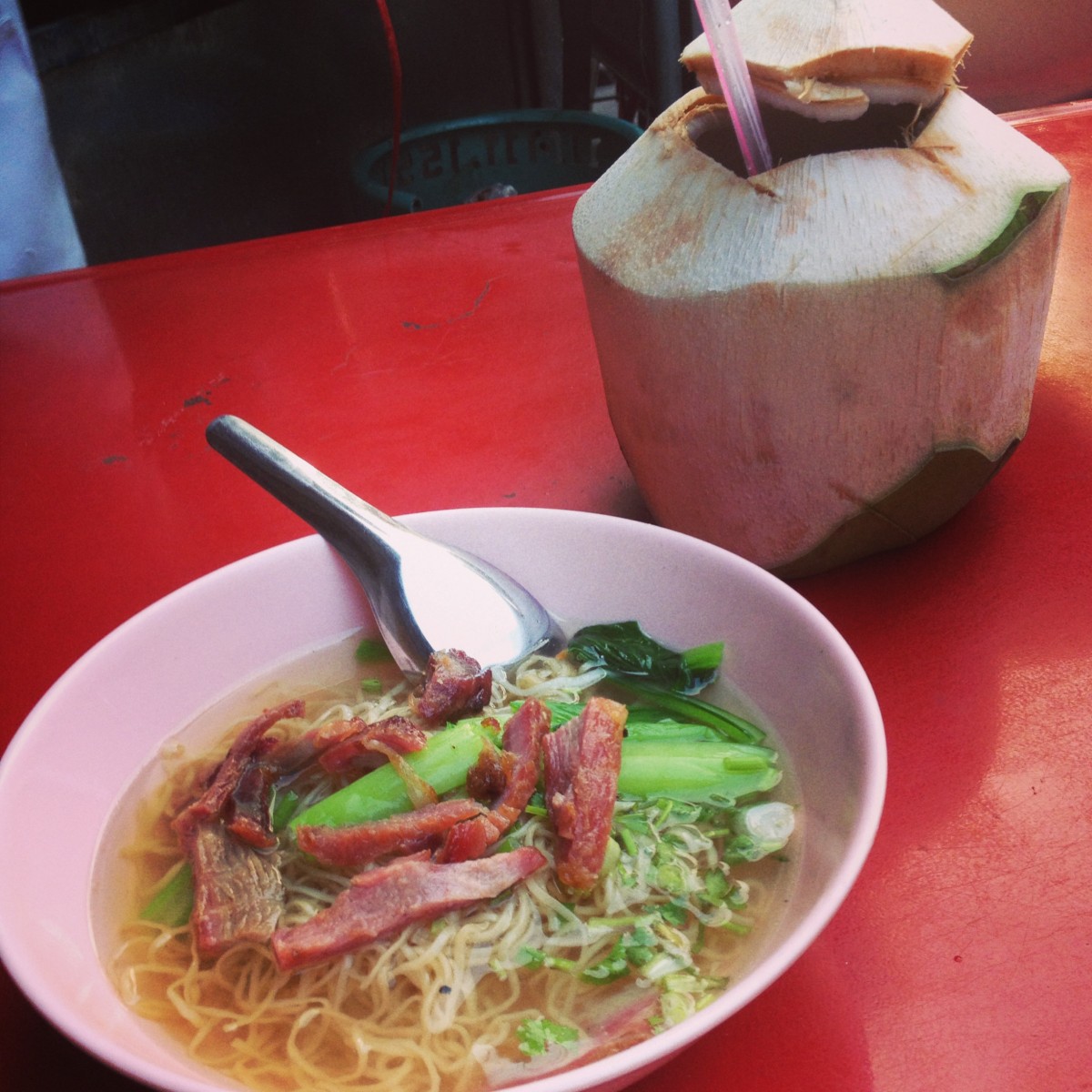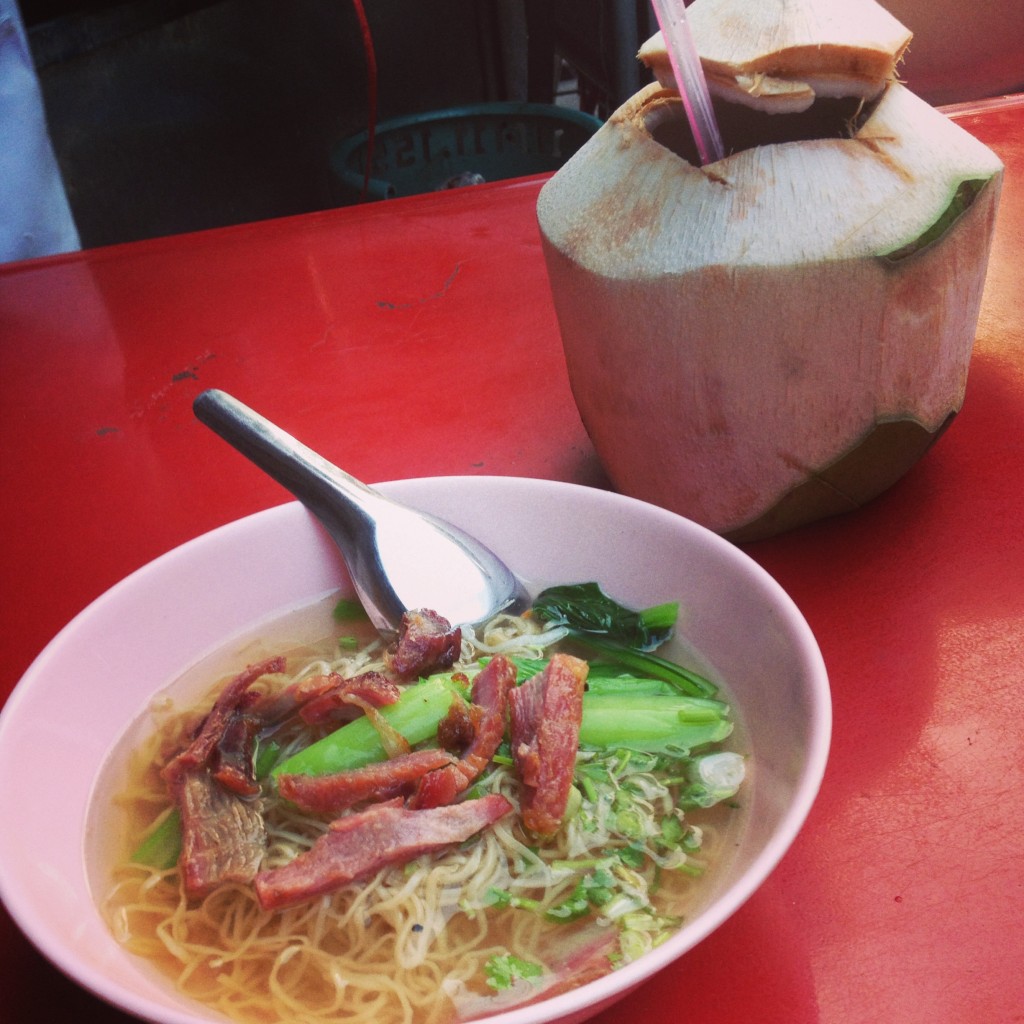 ---
7. Take a Sleeper Train
It's actually a comfortable train, you save on a night of accommodation, and it's a good experience.
I've taken two, and thoroughly enjoyed it both times.
A popular route is between Chiang Mai and Bangkok.
---
8. Debit & Credit Cards
These tips are great for anyone planning on traveling a lot in the future.
Try and plan ahead and have a debit card that refunds all ATM Fees. I know it's not very common, but to use any ATM in Thailand cost 180 Baht (Approx $5).
The U.S best bank for this would be Charles Schwab
The same goes for Credit Cards without a foreign transaction fee.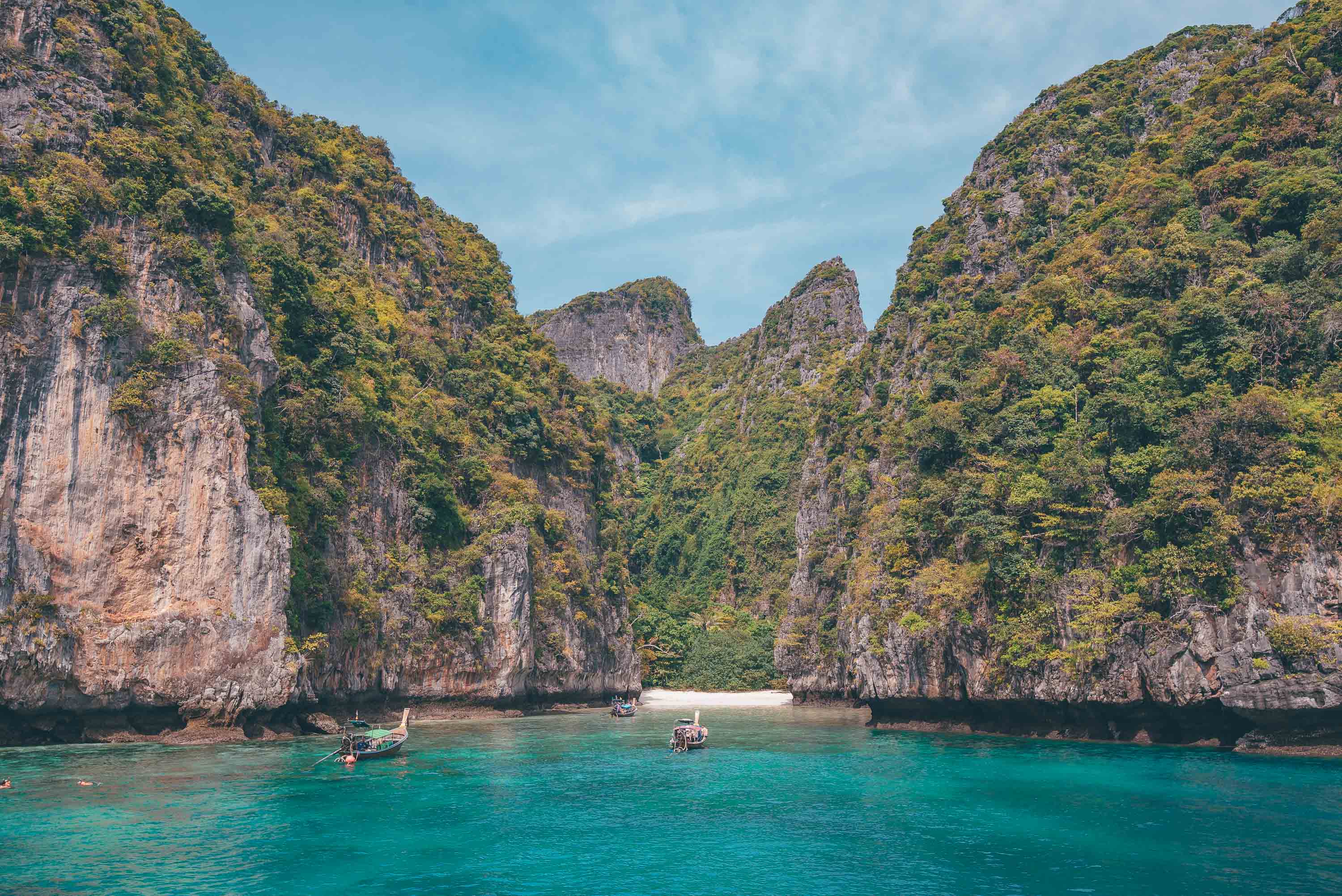 ---
9. Avoid Phuket & Koh Samui
They are extremely touristy, expensive, and there are much better places to be spending your time. I know some people have had some good times there, but I wouldn't bother.
Just skip them.
---
10. Fresh Coconut Water & Fruit Smoothies
It's very important to keep yourself hydrated while traveling through Thailand.
The fresh coconut water is delicious, healthy, and great for curing hangovers.
There are also fruit juice & smoothie stands all over the place. They are cheap and tasty.
Drink them often, and stay healthy while traveling.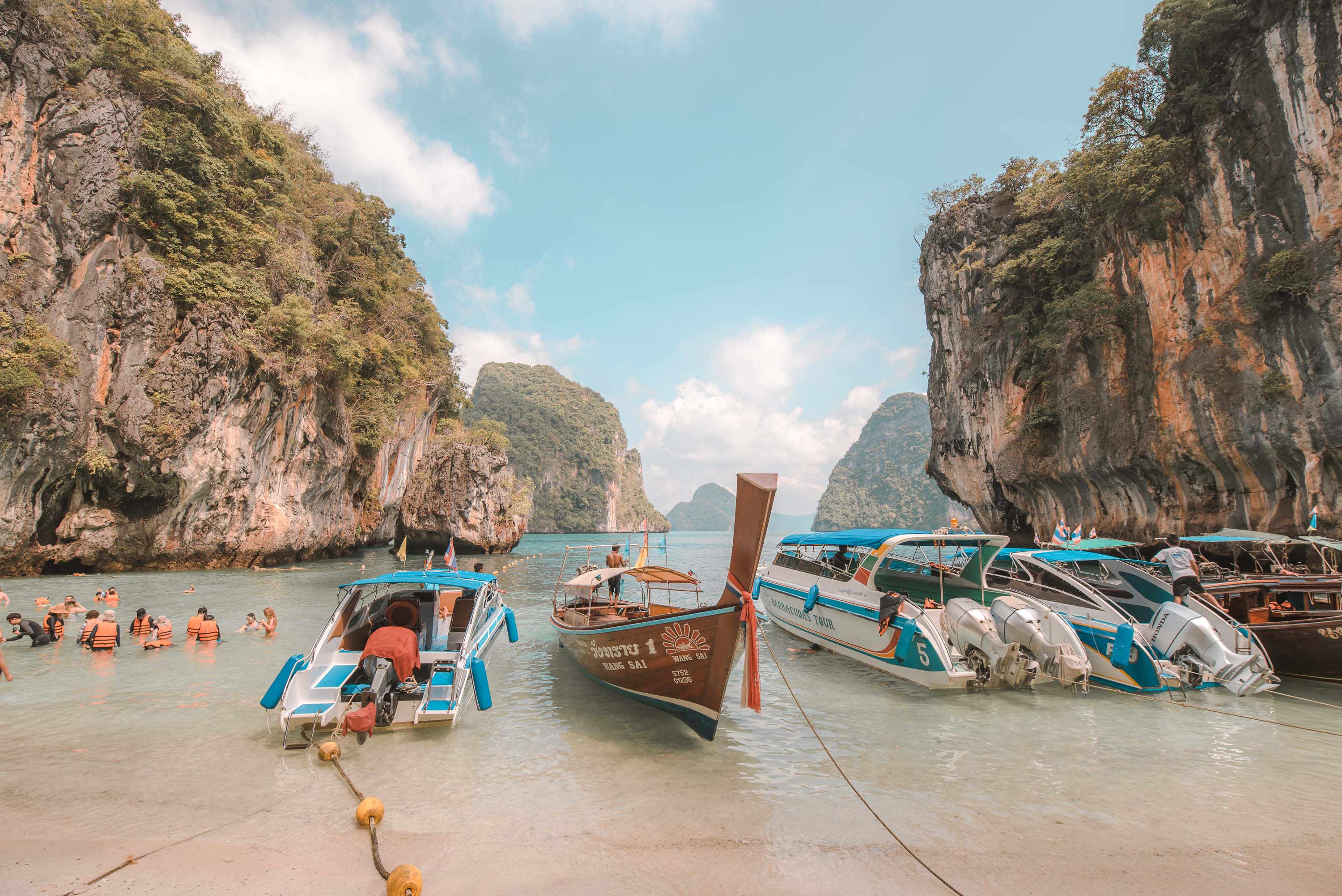 ---
11. Pack Light
You're traveling through Thailand, and there really isn't that much need for a wide-variety of clothes.
Everything you'll pretty much need can be bought for cheap while traveling as well.
You'll just need some basic clothes that can be worn in a lot of different settings.
If you're anything like me though, you'll spend a lot of time on beaches and islands, and won't need much.
---
12.
Budg
et
Airlines
While most backpackers prefer to travel overland, sometimes you can find a really cheap flight! This could particularly come in handy if you need to get up to Chiang Mai quickly.
It can also be annoying traveling on bus and trains because you'll always have to stop in Bangkok for the longer trips. It just depends on your itinerary, but getting a budget flight can save some time, money, and energy.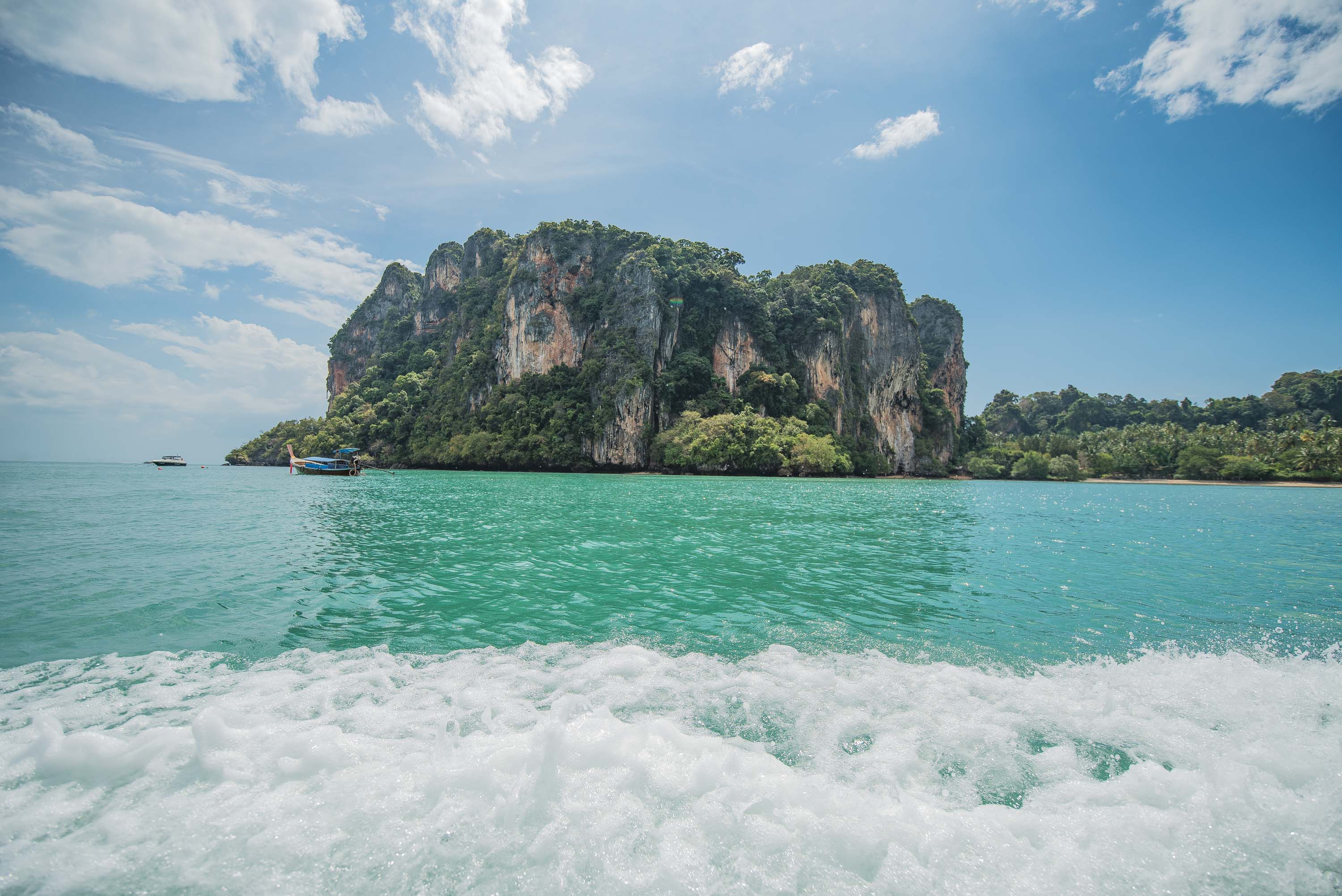 ---
13. Get Massages
This is probably a no-brainer, but the Thai massages are just so cheap and amazing. If you are an expert for finding the best deal, you can find them for as cheap as 150 Baht for one-hour. These aren't very common anymore, but you'll never really pay more than 500 Baht for a solid massage experience. If you're in Bangkok or Chiang Mai, you could also check out Groupon Thailand.
I always like getting a quick 30-minute foot massage after a long day of walking / sight-seeing.
---
14. Try the "Toasties" from 7/11
Trust me. Just do it. They are absolutely heavenly.
My personal favorite is the Ham & Cheese Croissant toastie, but there are ton of options.
They only cost 25 Baht, they're insanely delicious, and perfect for a quick snack.
---
15.
Let's Talk About
Elephant Rides & Tiger Temples.
DON'T DO IT
Elephants aren't meant to be ridden. Simple as that.
The Tiger Temples are absolutely atrocious, and drug the poor tigers.
Check out this great article for 8 Responsible Alternatives to the Tiger Temple.
I actually made the mistake of doing the typical "tourist elephant ride" once during my first time in Thailand, and I still regret it.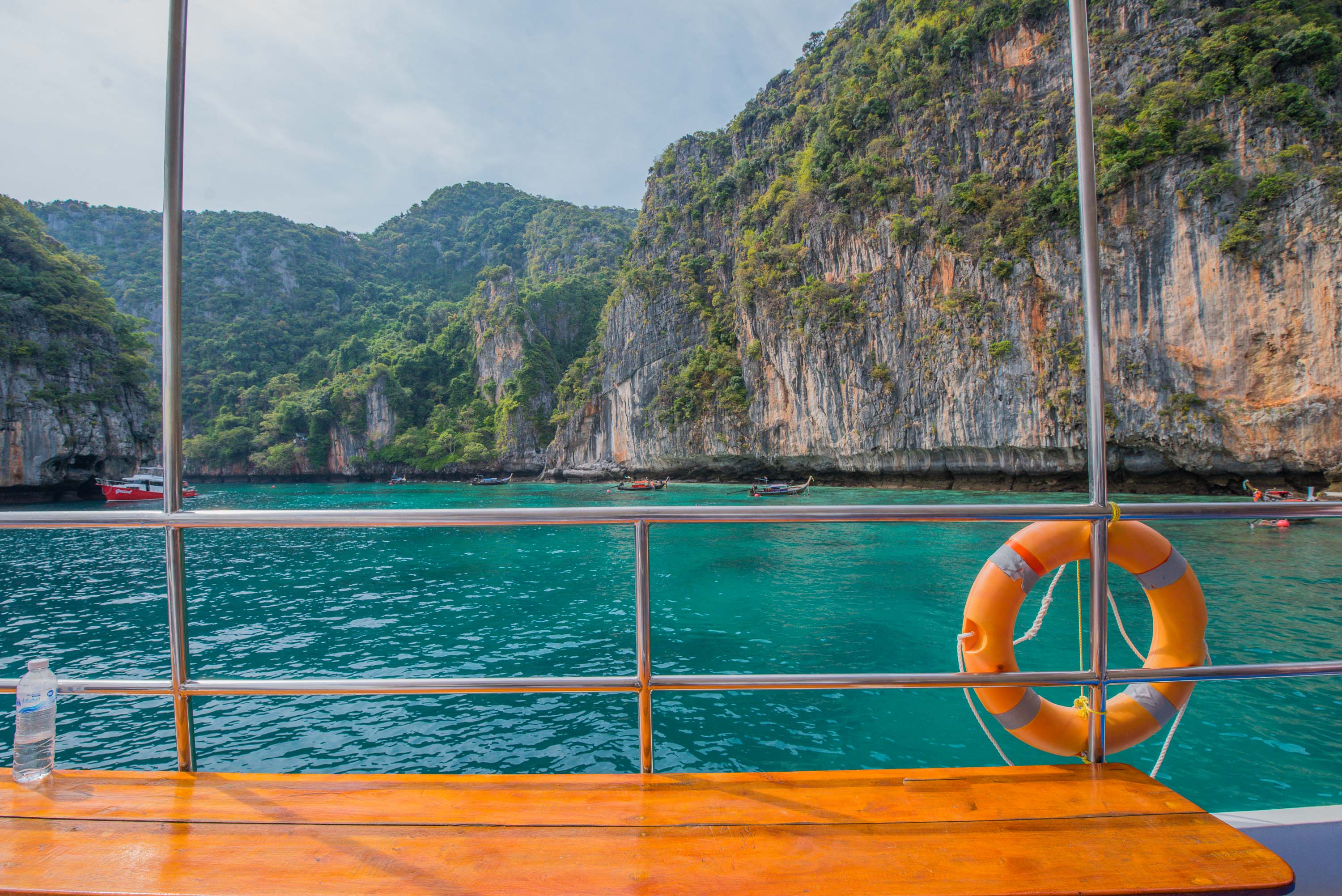 ---
16. Bring a GoPro or Underwater Camera
You'll definitely be wishing you had one if you don't bring one. Thailand has some amazing underwater adventures that I'm sure you'll want to document.
My GoPro Hero 5 is one of my favorite travel accessories, and I never go anywhere without it! The price has dropped down to $250 for the Hero 5, so it could be a fantastic purchase!
If you're on a budget – I'd recommend getting the Campark Action Camera for $52.99!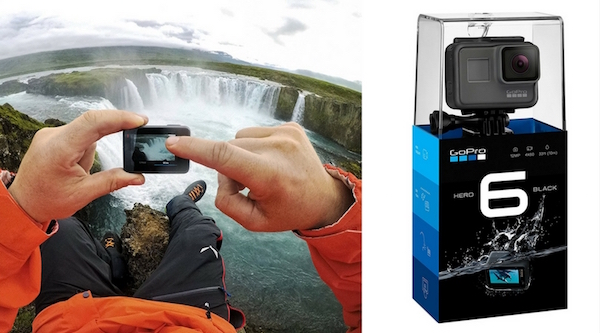 ---
17. Play Pool
I've seriously never played more pool in my life than my time spent backpacking in Thailand.
It can be a great way to meet people, relax around the hostel, or enjoy while enjoying some beers.
---
18. Bring Sunscreen
I'm not too sure why, but this essential item can get pretty expensive out in Thailand. I saw one store trying to sell some sunscreen for 1200 Baht ($35!).
If you do purchase this in Thailand (or any other cosmetic), just be careful it doesn't have the skin whitener added into it.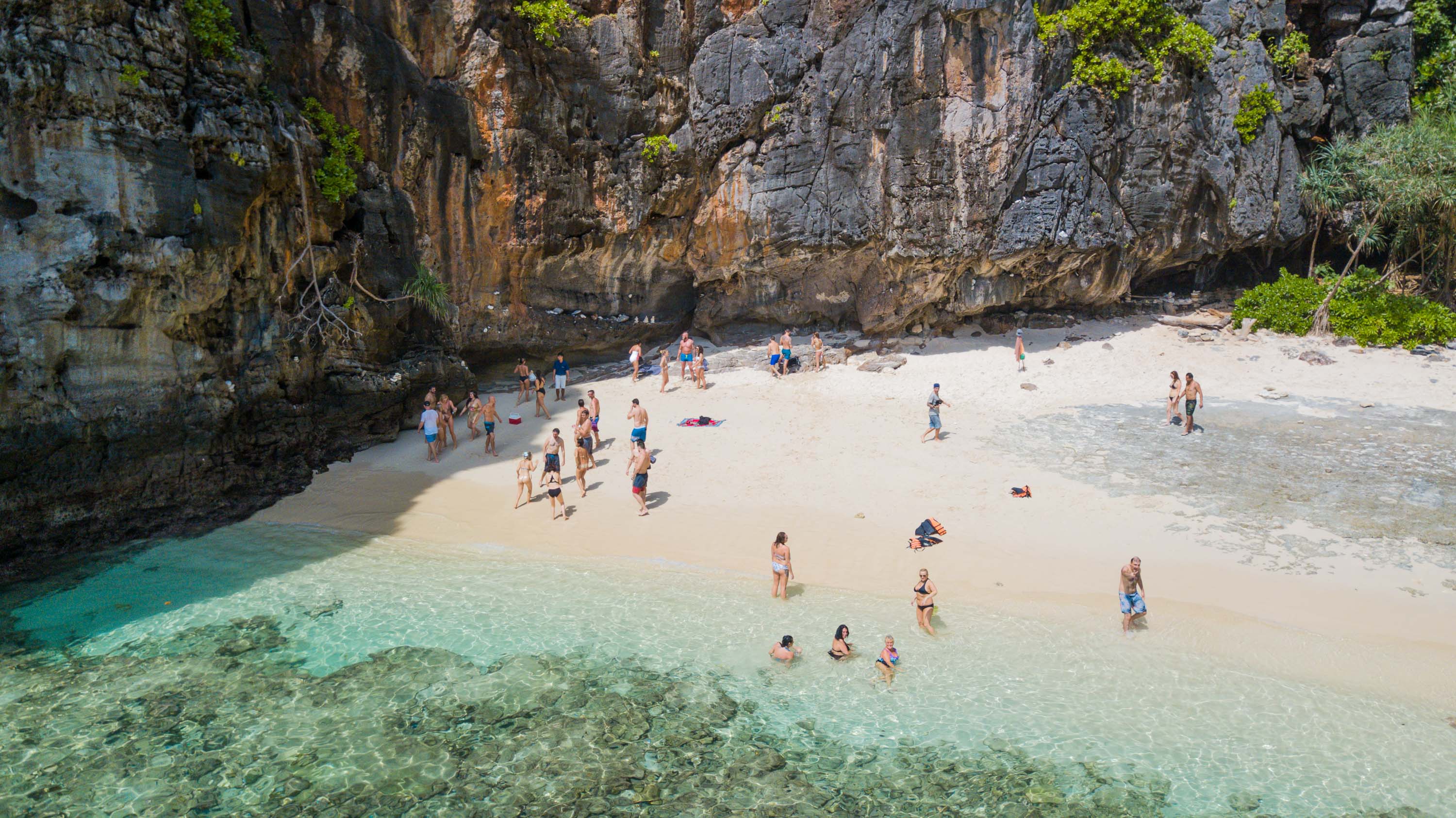 ---
19.
Buy the Lonely Planet Book
While I don't typically buy travel books, the Lonely Planet Thailand is full of useful information, and great to browse through while in transit. If you don't buy it, look out for it in hostel book shelves, and check it out. Can definitely be a great asset. Read Reviews & Buy It Now!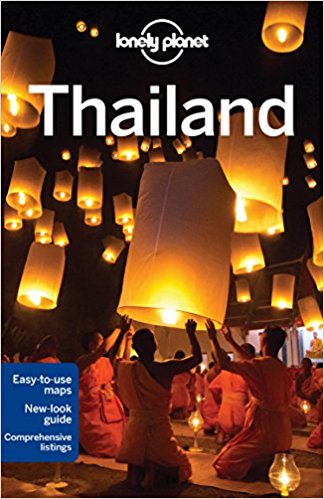 ---
20. Get Off The Beaten Path
Make sure you do this at least once or twice. There's so many amazing places in Thailand, you don't want to just be on the same tourist path as everyone else. Thailand has become a pretty popular touristy destination, but there are still a few places that aren't often traveled.
I'd recommend checking out Koh Mook in the Trang province in southern Thailand. People sometimes stop here on an island hopping tour from Koh Lanta, but it's a beautiful place to spend a few days depending on how long you have.
---
21. Go to a Music Festival
There are tons of music festivals in South-East Asia, and quite a few are in Thailand.
I'd recommend going to any of the full-moon parties, Songkran Water Festival in April, or Wonderfruit festival in December for an epic weekend experience.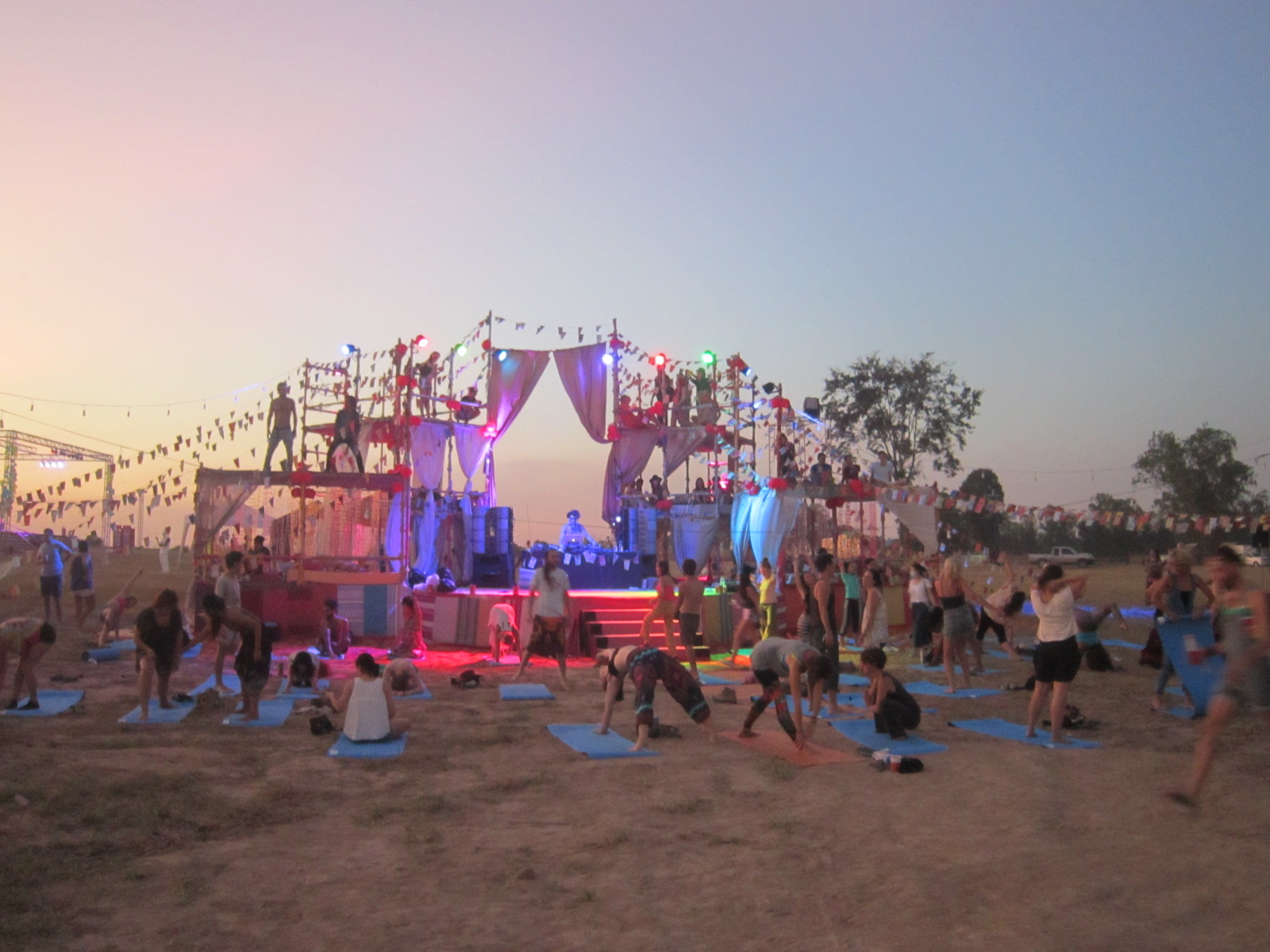 ---
22. Get a Tattoo
If that's your thing? It's a pretty popular souvenir, and I've seen some pretty cool travel tatoos.
I never got one, but it's definitely something I want to do when I get back to Thailand.
Just make sure you plan ahead, and don't do it when you're planning on doing a lot of swimming.
---
23. Island Hopping Tours
In my opinion, these are always a great decision. They normally only cost around 500 Baht, and include a full-day of snorkeling / sight-seeing in beautiful places.
Another cool aspect is that you'll most likely meet some awesome people as well. If you're traveling solo, this can be a great opportunity to kick it with some fellow travelers.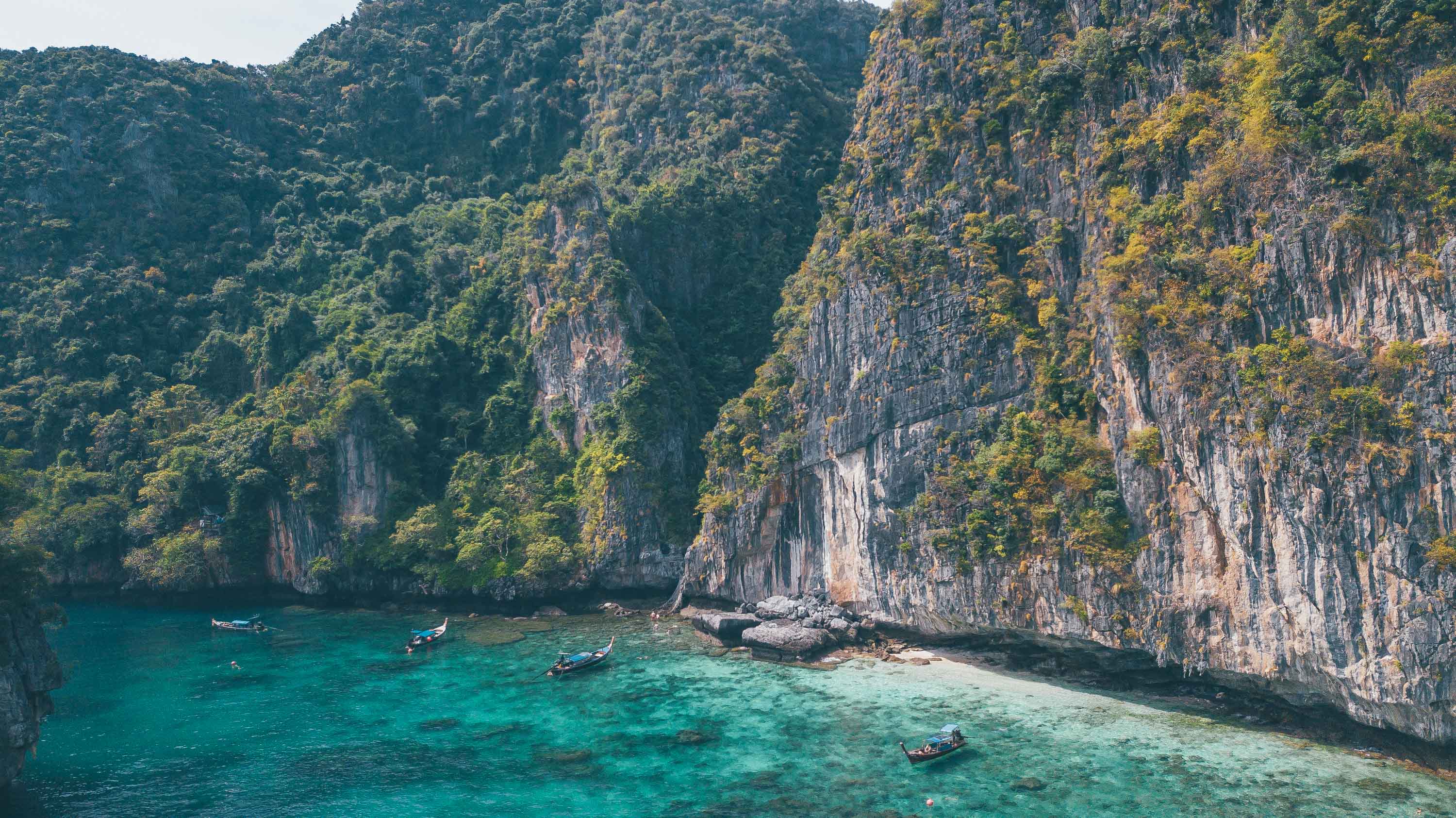 ---
24. Stay In Each Destination for at least 4-5 days
This obviously depends on how long you have for your backpacking itinerary in Thailand, but getting from Point A – Point B in Thailand can take much longer than expected.
If you move too quickly, you'll feel like you're always in transit instead of enjoying your time in the country.
---
25. Stay In Hostels
Last but not least. You're backpacking so you gotta stay at hostels!
Hostels provide the perfect opportunity to meet fellow travelers from around the world. It's not about the destination, it's about the people you meet and spend time with that make traveling so life-changing.
Hostelworld — Really easy to use, great hostel reviews, and you can always find a cheap place. However, prices can be a bit more expensive than if you were to book in person.
Agoda.com — This is easily my favorite site for finding the cheapest deals on hostels, hotels, and guesthouses in Thailand.
Booking.com — It has tons of options, and is still a great resource for booking a place to sleep. What is nice is you can often pay in full, or just reserve your spot without any credit card needed. This can be great for price comparisons. You never know where you'll find the cheapest deal.
---
Any questions? Feel free to shoot me an email or comment down below and I'd be happy to help out.
---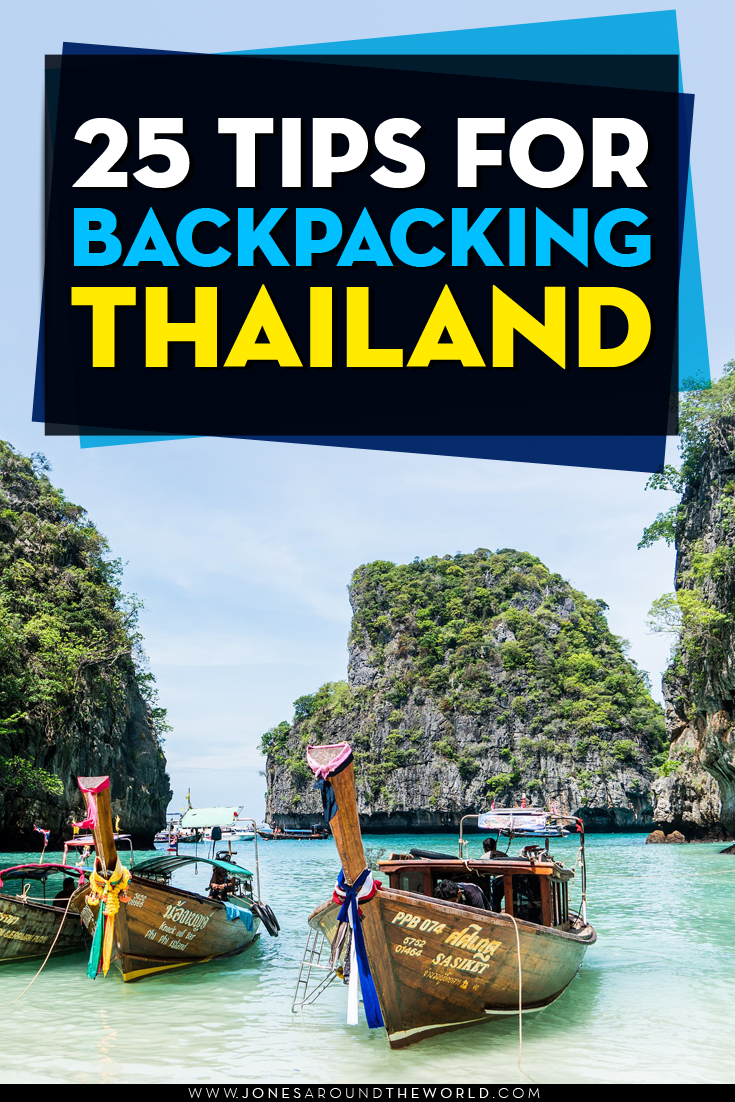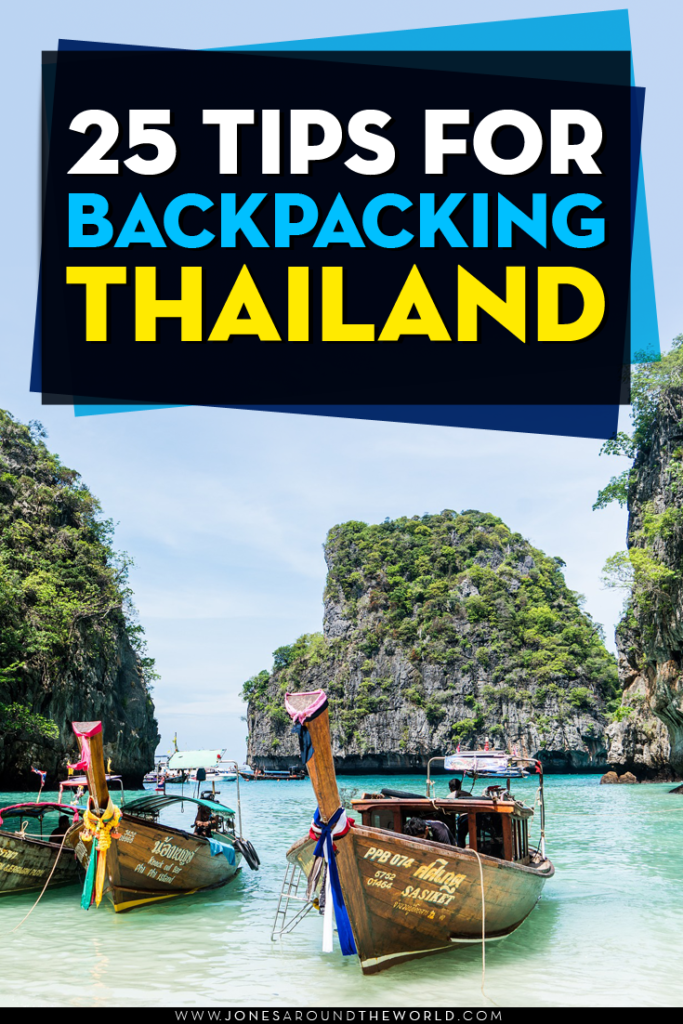 ---
& Add Me On Snapchat: — JonesATW
https://www.jonesaroundtheworld.com/wp-content/uploads/2015/04/25-Tips-For-Backpacking-Thailand.png
768
1024
Dave
https://www.jonesaroundtheworld.com/wp-content/uploads/2017/03/logotry-1-1-300x106.png
Dave
2018-04-27 08:13:52
2020-09-17 20:14:22
25 Tips for Backpacking Thailand