Planning a quick trip to Portugal and wondering how to spend 2 days in Porto? Well, look no further, because I've put together the ultimate 48-hour travel guide for this amazing and beautiful city in Northern Portugal!
Out of all the new destinations that I visited this past summer in Europe, I must say Porto is the one that surprised me the most! It's an unbelievably picturesque city, and I completely fell in love with it, and wish I had more time to explore everything this city has to offer.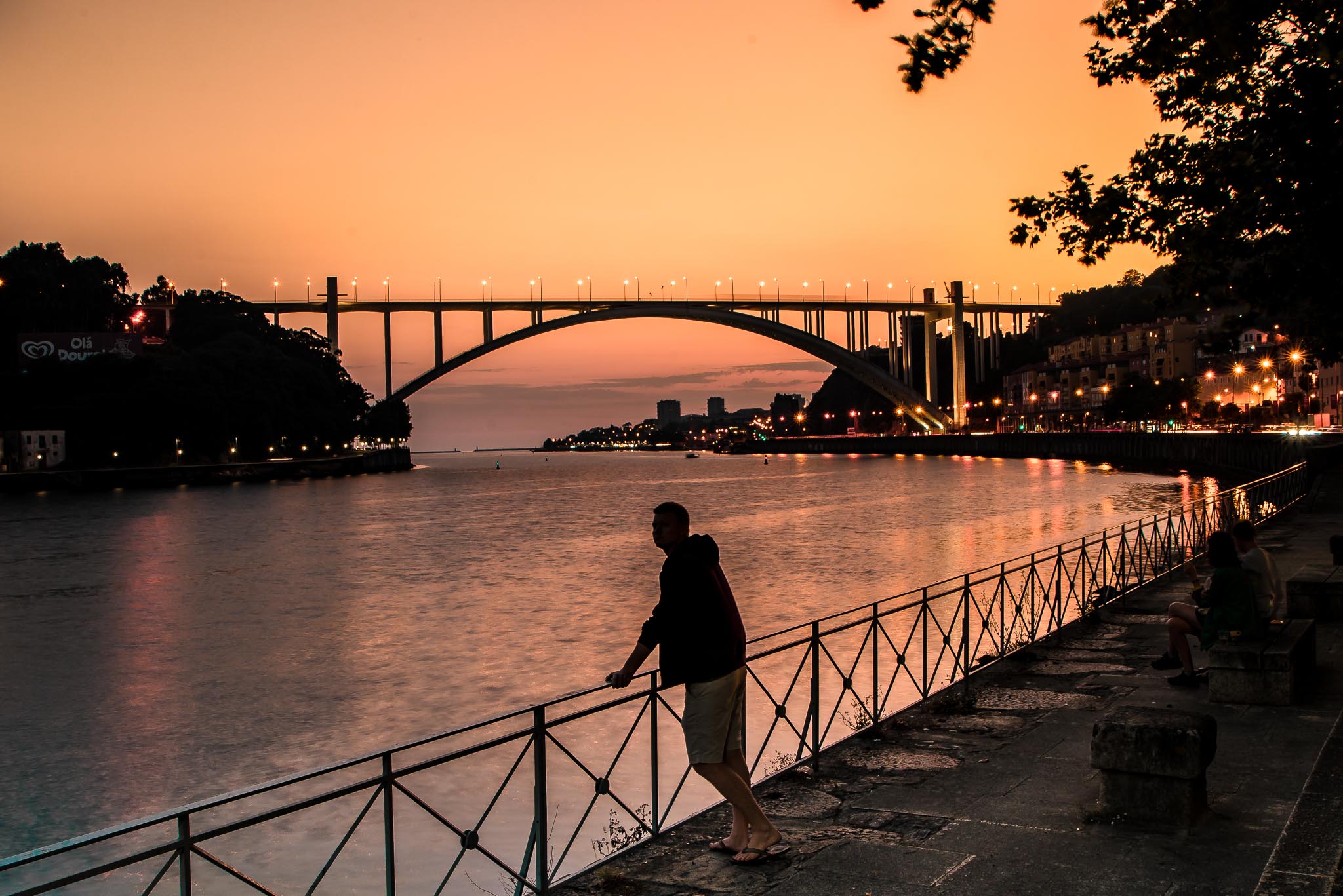 While a lot of my newfound adoration for Porto is due to the fact that I strategically planned my visit during one of the wildest cultural parties in the world, the "Festa de São João do Porto" in late June, a two-day visit to Porto would be a fantastic decision no matter the time of the year
From soaking up all the delicious food and wine, visiting the scenic Douro Valley, and photographing gorgeous sunsets along the river every night – my time in Porto was jam-packed! This was actually my first stop in the country, and I could not have asked for a better introduction to Portugal. So take a quick read below about what I got up to during my time in Porto, and browse through all of my favorite photographs, and get lots of good ideas for your Porto Itinerary!
---
Where to Stay For 2 Days in Porto, Portugal
First things first, you're going to need a place to stay for your time in Porto! During my visit, I decided to stay in an Airbnb as there are loads of amazing apartments available in the city with amazing reviews and affordable prices! I'm talking full apartments for $30 USD per night, which is a bargain compared to other destinations in Europe. Since you'll only have two days in Porto, you'll want to stay right in the city center (walking distance to Ponte Luís). If you're traveling around the country for a while, be sure to read my Airbnb Portugal for more amazing and unique stays!
Here are a few of the main properties to check out in Porto!
PORTA33 I PORTO BED&BATH Best location Hist Center: With over 500 glowing reviews, this Superhosted one-bedroom loft apartment is truly magnificent! Located right in the center of the city that was classified as a World Heritage Site, it's ideal for a 2-day visit as it'll be the perfect base to explore all of Porto's main sights and attractions! This is where I stayed and I loved it!
Beaming Loft Apartment in the Heart of Porto (PLUS): "Cook breakfast in a satiny kitchen and dine at a cozy table below the knotty wood construction of a lofted bedroom. A crosshatching of exposed wood beams adorns the ceiling of this airy apartment boasting modern furnishings and vibrant pops of color." This property is gorgeous and affordable! Definitely worth booking a two-night stay here!
CASA DO OLIVAL Apartamento Acolhedor Perto dos Clérigos (PLUS): Another stunning Airbnb with lots of natural light, beautiful amenities, and a helpful host that will assist you make the most of your 2 days in Porto!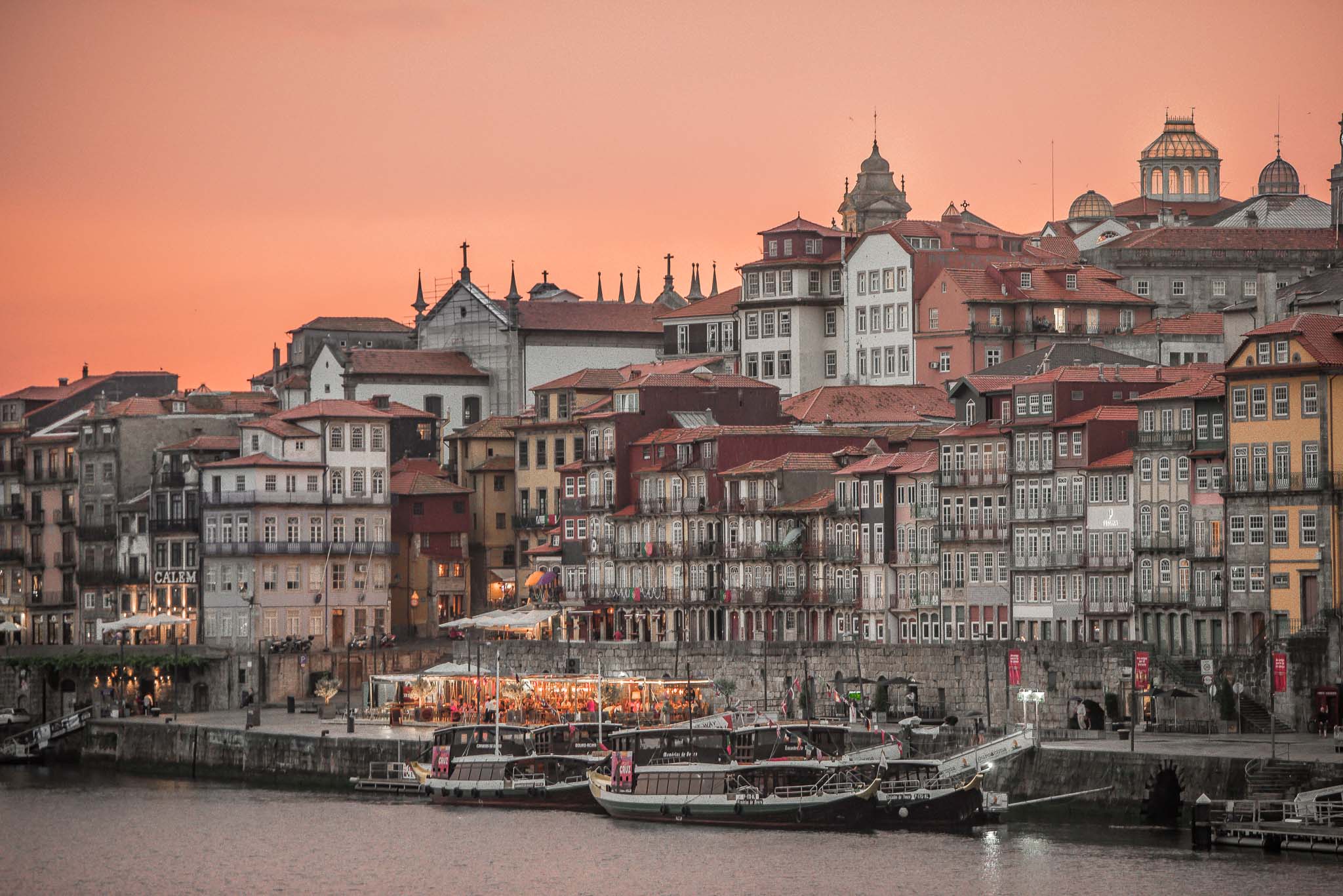 ---
How to Get Around Porto in 2 Days
So you may not know, is that Porto is quite hilly, and get quite exhausting if you walk the entire time during your visit! There's quite an extensive public transportation network through the city though, so I'd recommend you take a read through this article "Getting Around Porto" for an in-depth look at all your transportation options!
You basically have three options: foot, bus, and metro!
---
The Best Things To Do in Porto in 2 Days
The gorgeous city of Porto is Portugal's second-biggest city, well known for a number of things. Probably the most obvious and well-known is that it produces delicious port (it's kind of in the name). But it is also the home of Tripas à Moda do Porto (a famously unique tripe dish), and Portugal's oldest palace and museum.
Porto's old town is a UNESCO World Heritage Site. Many of the buildings there, dating from as far back as the 14th Century, have remained or been restored, making Porto one of the most amazing architectural cities to visit.
This is one of the milder cities to visit in Europe when it comes to weather, with winter highs around 61ºF, and summers topping out at around 77ºF. So it's perfect for a visit any time of year. Here's a list that can help you experience the city to the fullest – you should definitely make time to do as many of these Porto sights as possible.
Pastéis de Nata & Cafe for Breakfast
You simply can't come to Porto without trying one of the country's most iconic dishes, a Portuguese Egg Tart! These little pastries are unbelievably creamy and delicious, and you could easily polish off half a dozen before your food coma kicks in! Pretty much every little cafe in Porto will offer these, but I'd recommend heading over to Fabrica Da Nata, as it's located on one of Porto's most iconic streets!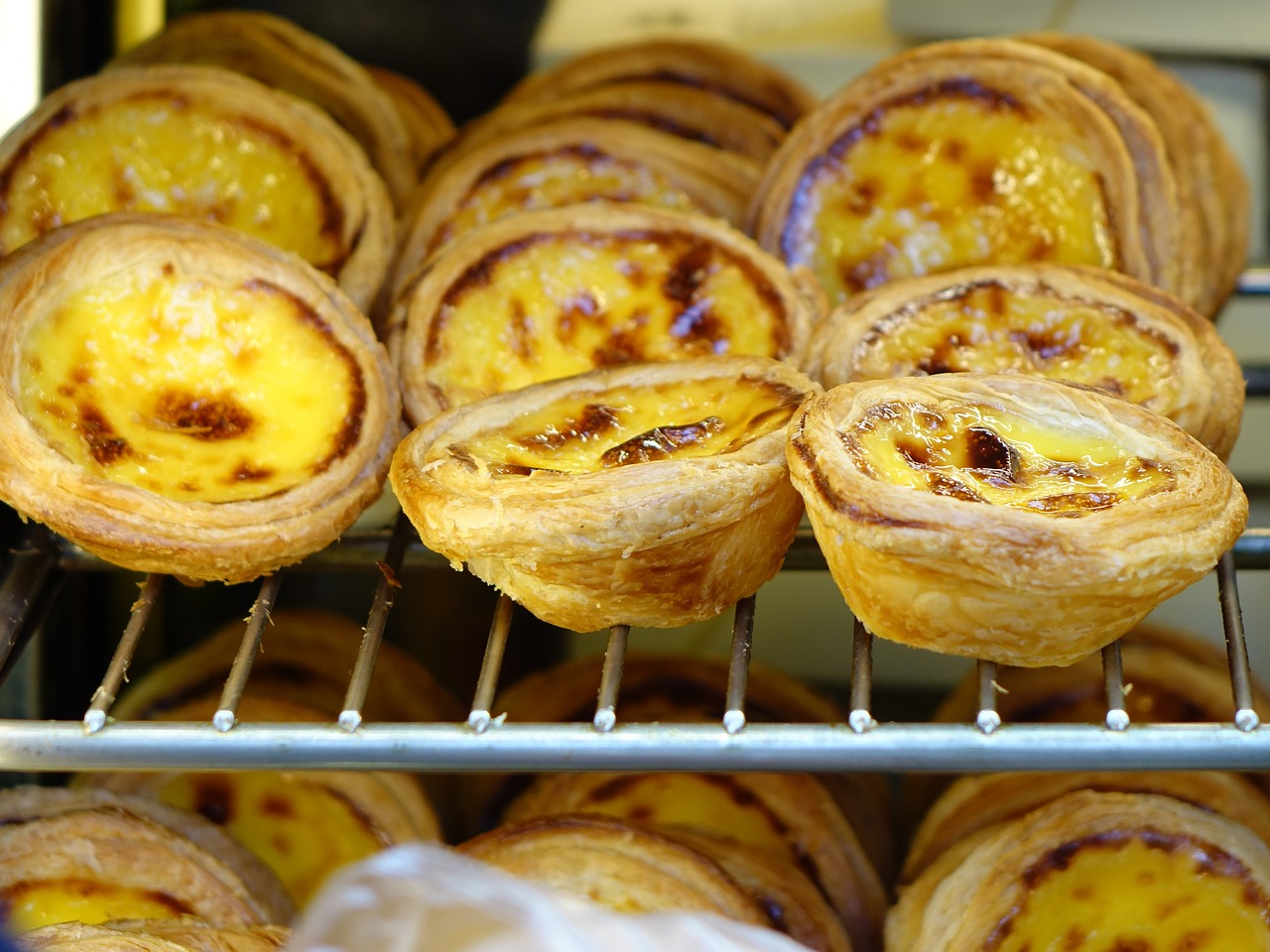 ---
Fall in Love with the Cais da Ribeira
You wouldn't be blamed if you did. The Cais de Ribeira is situated along the riverbank of the Duoro. Its colorful blocks and lively nightlife create an intoxicating atmosphere that makes you never want to leave.
Perhaps its best quality is its charming beauty, with a perfect view of the Luis I bridge. Or maybe it's the restaurant culture that lines the streets, making it an ideal place to try typical Portuguese fare like Tripas à Moda do Porto or Cozido à Portuguesa, long into the night.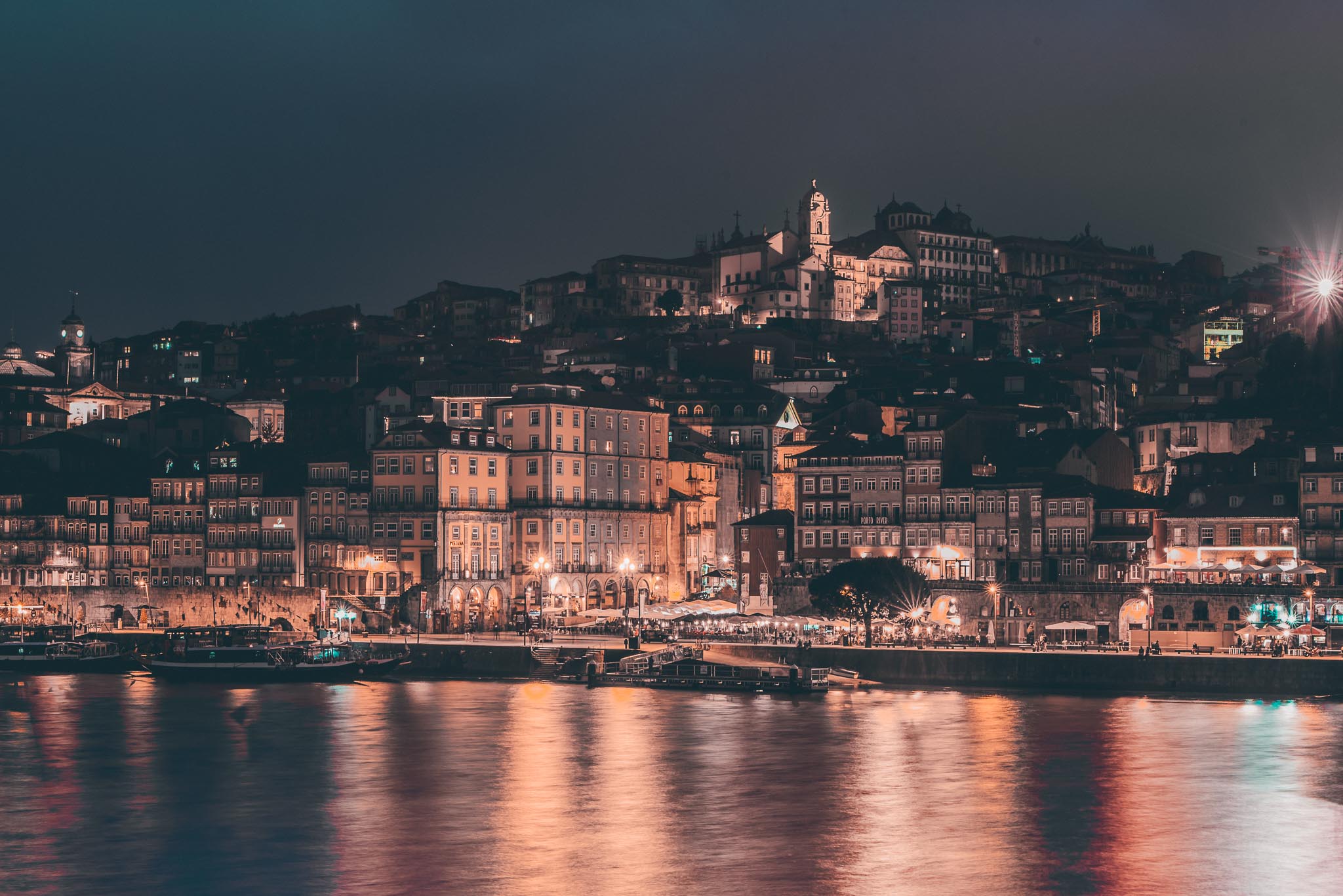 ---
Lose Yourself in the Casa da Música
Literally translated as the Home of Music, the entire purpose of this amazing and unique building is to be exactly that. It's a place that serves as a performance space, but also as a place for artists and learners to hone their craft.
It's hard to mistake the shape for any other building. There is no main foyer for one, and the concert space is bookended by huge glass walls that allow concertgoers to have a view of the city as a background. If you have a passion for music, this is undoubtedly one of the top things to do in Porto.
---
Soares dos Reis National Museum
In terms of what to see in Porto, the key museum to mention is the Soares. It is the oldest publicly-accessible museum in Portugal and probably one of the most famous in Porto. It also happens to be in the oldest palace in Portugal, which means it's a must-do.
The museum has been in existence since 1833, and situated within the palace since 1940. Aside from the collections and exhibits in the museum, the "Glass Palace" also offers a romantic garden to explore.
---
Feel the Muse at Casa-Museu Guerra Junqueiro
The city is proud of this building, which used to be the residence of the famous poet Abílio Manuel Guerra Junqueiro. The house was actually built in the 1730s. As a result, it sits on one of the oldest streets in Porto and was given to the city in 1940 to be preserved as a museum.
---
Cross the Ponte Luiz I
The famous double-level bridge connects Porto and Vila Nova de Gaia across the Duoro. From the pedestrian level, you can enjoy spectacular views from the river of both cities. The top-level is also the perfect place from which to take your cityscape photos.
In summer, you may even see some local youngsters using the lower level as a springboard from which to jump into the river.
---
Marvel at the Artistry in the Church of Santa Clara
Porto has more than its fair share of incredibly beautiful churches. The woodwork and gilding at Santa Clara easily place it among the very finest. It is smaller and slightly harder to find than some of its larger peers, but still a breathtaking example of 16th Century Baroque architecture at its finest.
Porto, Portugal | Signature Food of Porto | People Smoke inside in Portugal
---
Look to the Tower at Clérigos Church and Torre dos Clérigos
Another church worth visiting is the iconic Clérigos and its world-famous tower. In many ways, the tower is as important to the Porto skyline as the Eiffel Tower is to Paris. Built between 1732 and 1763, the church and tower together form one of the most adored and popular attractions in Porto.
---
Take a Moment of Calm at Jardins do Palácio de Cristal
The Crystal Palace's gardens are revered for their beauty. Visitors can take in the calm and serenity on the paths that weave between the lush flora. Or relax around the fountains that are placed throughout. It was originally built for the International Show – a sort of World's Fair – in 1965.
Today it exists as a free public garden for all to enjoy, with wonderful views of nearby landmarks. Sadly there is no longer a palace. Where it once stood is now a pavilion where performances occasionally take place.
Jardins do Palácio de Cristal, Porto
---
Feel the Passion at FC Porto Museum
Something a little unusual, but no doubt a thrill for sports fans: Porto's most famous football club has an impressive museum dedicated to it. Naturally, it highlights the club's achievements since its founding in 1893, and not only in football.
The club's lesser-known sport codes include basketball, handball, and roller hockey. There's also an auditorium, various exhibition spaces and shop to explore.
---
Rifle Through the Shelves at Livraria Lello
When you enter the Livraria, you'll know immediately why it's described as one of the world's most beautiful bookshops. It certainly is one of the unmissable things to see in Porto.
The extraordinary design and look of the building is matched only by its reputation as a showcase for Portuguese culture and literature. It was opened in 1906 and has only seemed to grow in popularity, now receiving nearly 5000 customers every day.
Do You Know the 7 Places in PORTO That Inspired HARRY POTTER?
---
Get a Feel for the High Life in Foz do Douro
Here's one of the major Porto attractions you don't want to miss. In Porto, the area known as Foz do Douro is where the most affluent of its citizens live and play. This is where you can get some idea of how the well-to-do experience Porto. Spend some time on Praia do Homem and Praia da Luz beaches, before sampling the cuisine at any one of the high-end restaurants in the area.
Don't worry, there are still plenty of smaller eateries serving traditional food as well – it's hard to go wrong with one of the fish-based meals here. Then there's the simple pleasure of visiting the three lighthouses by the jetty, or the castle at Castelo do Queijo.
You might also want to try the shopping here if you're prepared to spend a few more euros.
---
Feel the Glow at Igreja de São Francisco
By now you've realized that old buildings – especially those connected to religion – are a big part of the city's history. The Church of Saint Francis dates back to the 13th Century and has a number of special features that make it extremely popular with visitors.
The church seems adorned in a golden layer – it is in fact called the "Gold Church" by locals. It makes for a striking sight especially when lit up. There's a sculpture of the family tree of Jesus that also attracts a lot of interest.
There's much more to see in the museum section of the church, collecting bits of history from its first days as a convent.
10 Things to do in Porto, Portugal Travel Guide
---
Walk a Piece of the Muralha Fernandina
Hadrian's wall in England is not the only wall from ancient Europe that carries a storied legacy. Porto had its own Roman wall, as well as a Gothic one. Due to the city's growth, the walls fell into disuse over time.
Today, the Gothic wall still has a few sections remaining. It is known as Muralha Fernandina, named after King D Fernando. It took 40 years to build between 1336 and 1376. Today the sections of the wall that are still accessible and walkable offer incredible views across the river and the city.
---
Igreja do Carmo and Igreja dos Carmelitas
If you happen to be in the area of Praça de Carlos Alberto and Rua do Carmo, stop in at the site of these two churches for an interesting piece of visual trivia. Once you've visited the churches themselves, take a look at the house that occupies the space between them.
The first thing you'll notice is that the house is barely four feet wide. Then consider that it was built for a very specific reason; to separate the churches physically. It so happens that Igreja do Carmo was a monastery and Igreja dos Carmelitas was a nunnery. Naturally, the two could not be physically connected, so as to avoid any unnecessary temptation.
Porto in 5 minutes | Travel Guide | Must-sees for your Porto tour
---
See the Incredible Palácio da Bolsa
Why would you visit the stock exchange, you ask? In Porto, the old Stock Exchange happens to be one of the highlights of any list of recommended sites to visit.
Strange as it may seem, the gorgeous courtyard or Pátio das Nações was once a renowned place to be seen. The glass-paneled dome arching above is worth the price of admission alone.
The Salão Árabe hall is also well worth seeing. It's elaborately decorated and was used for important ceremonies and cultural events. All things considered, you'll not see another stock exchange like this anywhere in the world.
---
Walk around the Parque de Cidade
The biggest urban park in Portugal is home to several species of birds and ducks. But it is also a regular hangout for couples, families and regular locals who just want a break from the urban mood of the city.
It's an ideal space for runners or bike riders, too. Visit the Pavilhão de Água (The Water Pavilion), or stop in at the Sea Life Center for an interesting distraction.
---
Immerse in History at Sé do Porto (Porto Cathedral)
Of all the churches in the city, the Porto Cathedral is arguably the most esteemed. It's also the most architecturally interesting, as it seems to have bits and pieces from different eras. The reason for this is quite simple: it's been rebuilt so many times from its first construction in the 12th Century.
One interesting part of the old Cathedral's grounds is the column on the town square. It's here that criminals were executed in medieval times. The square around the cathedral was also the center of the city for many years.
No Trip to Porto, Portugal Is Complete without the Francesinha Sandwich — Travel, Eat, Repeat
---
Feel the Spirit of Porto at Praça da Liberdade
If there is a part of the city that embodies the spirit of Porto through the ages, it's Liberty Square. Its most recognizable landmark is the statue of King Peter IV, right in the center of the plaza. Notably, the King holds the constitution in his hands.
The Avenida dos Aliados – one of Porto's major avenues – connects to one end of the square. It's a hotspot for restaurants and the city's commercial enterprises.
---
Wander the Fundação Serralves and Villa
The Serralves is actually one of the top 100 museum complexes in the world, in terms of visitors. Its three main sections are the Museum of Contemporary Art, a park, and the three-story art deco villa, the Casa Serralves.
In 2012, the complex was declared a national monument. Visitors are invited to explore the exhibitions, admire the buildings themselves or just wander the beautiful grounds for a while.
Portugal: A Perfect Day in Porto
---
Porto Travel Blog
When this article was originally published, it was much shorter! I updated it to include a much better list of fun things to do in Porto in 2 days, but below is the original blog post for my first trip to Porto! This was actually my first stop in the country, and I could not have asked for a better introduction to Portugal. Take a quick read below about what I got up to during my time in Porto, and browse through all of my favorite photographs!
---
Jaw-dropping sunset on my first night
It was 7:30 P.M, and I was comfortably lying in my bed at my gorgeous AirBNB that I had rented for the following 5 days. My body was exhausted from an early morning flight from Barcelona (where I had just spent the past week rigorously walking around taking photos of everything!), and I was seriously contemplating staying in for the night.
Fortunately for me, the photographer in me found the energy to grab my gear, and head down to the river for a quick stroll for some sunset photography fun.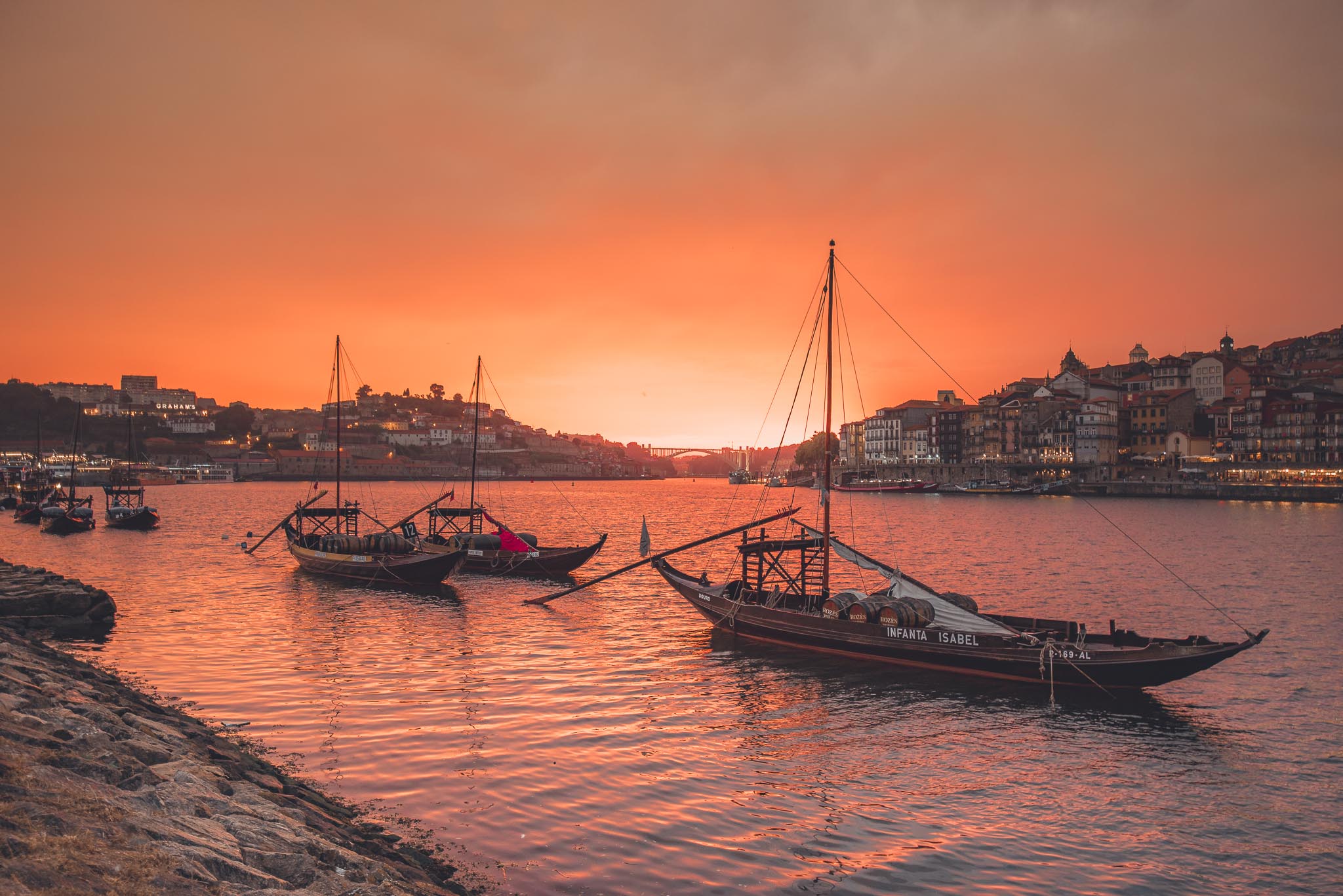 AND WOW! I WAS REWARDED WITH THE BEST SUNSET I HAD SEEN ALL SUMMER!
The sky slowly changed colors to the most magical hues of pink, orange, and magenta! I couldn't believe my eyes as I looked out across Porto, witnessing the city views at night for the first time.
I could keep talking, but I'll let the pictures do the talking…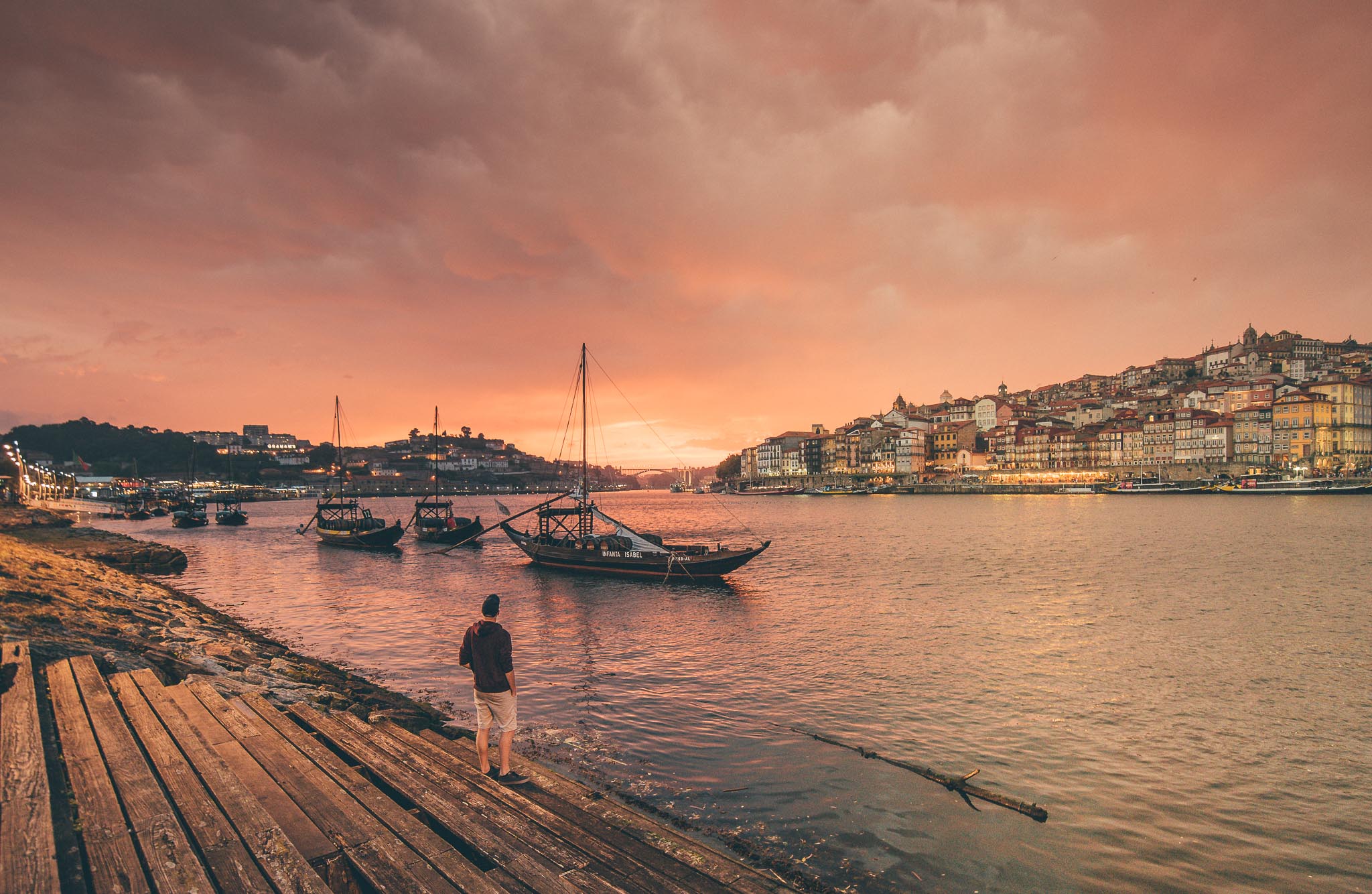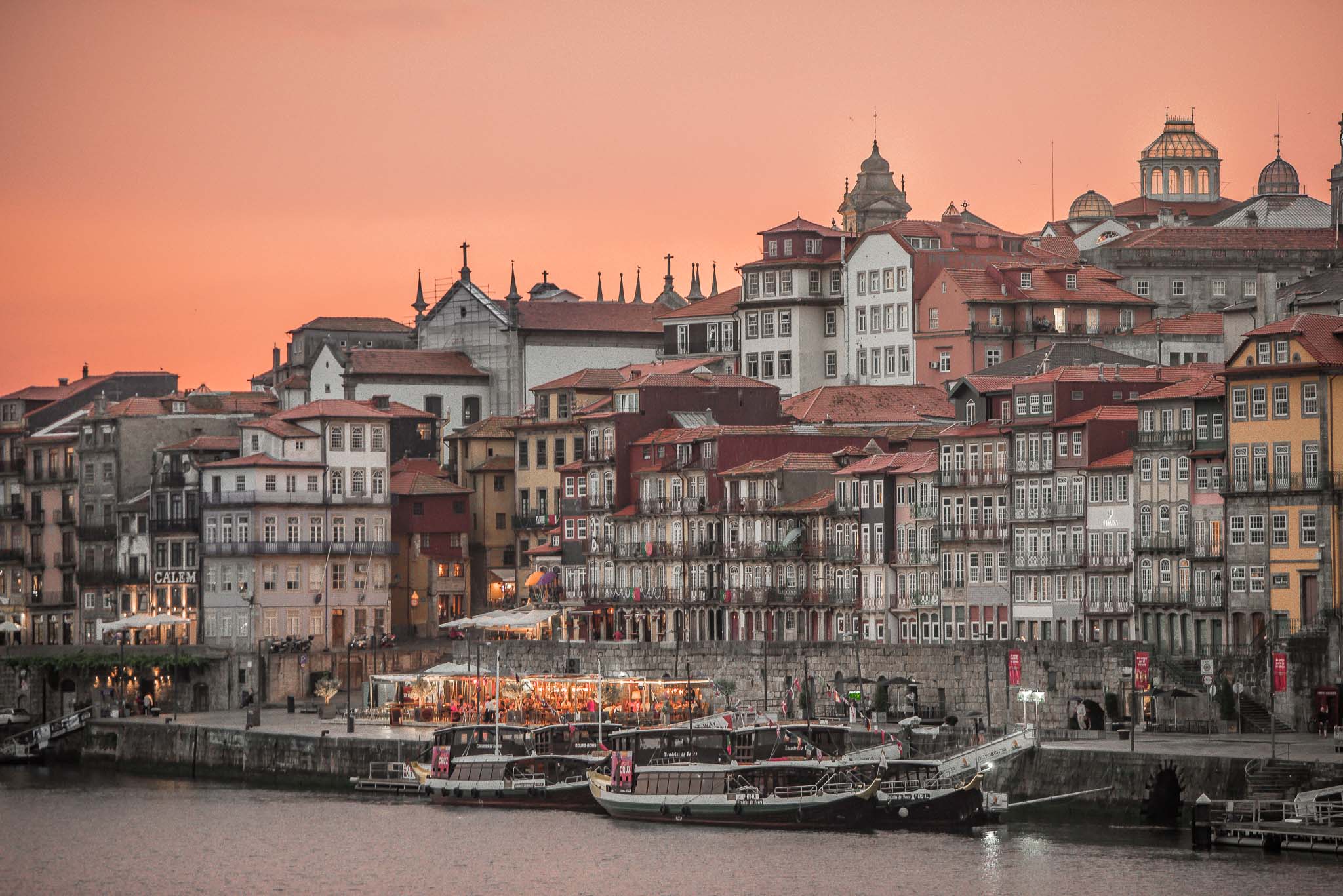 ---
Private Douro Valley Day Trip
Back in February, I went on a press trip to India called the "The Deccan Odyssey", and was fortunate enough to meet the amazing Susana Ribeiro, a Portuguese blogger behind the popular website Viaje Comigo.
When I told her I was coming to Porto, she was so excited for me to visit her home city, and organized a private tour for us to the gorgeous Douro region with this incredible company called "Oporto & Douro Moments".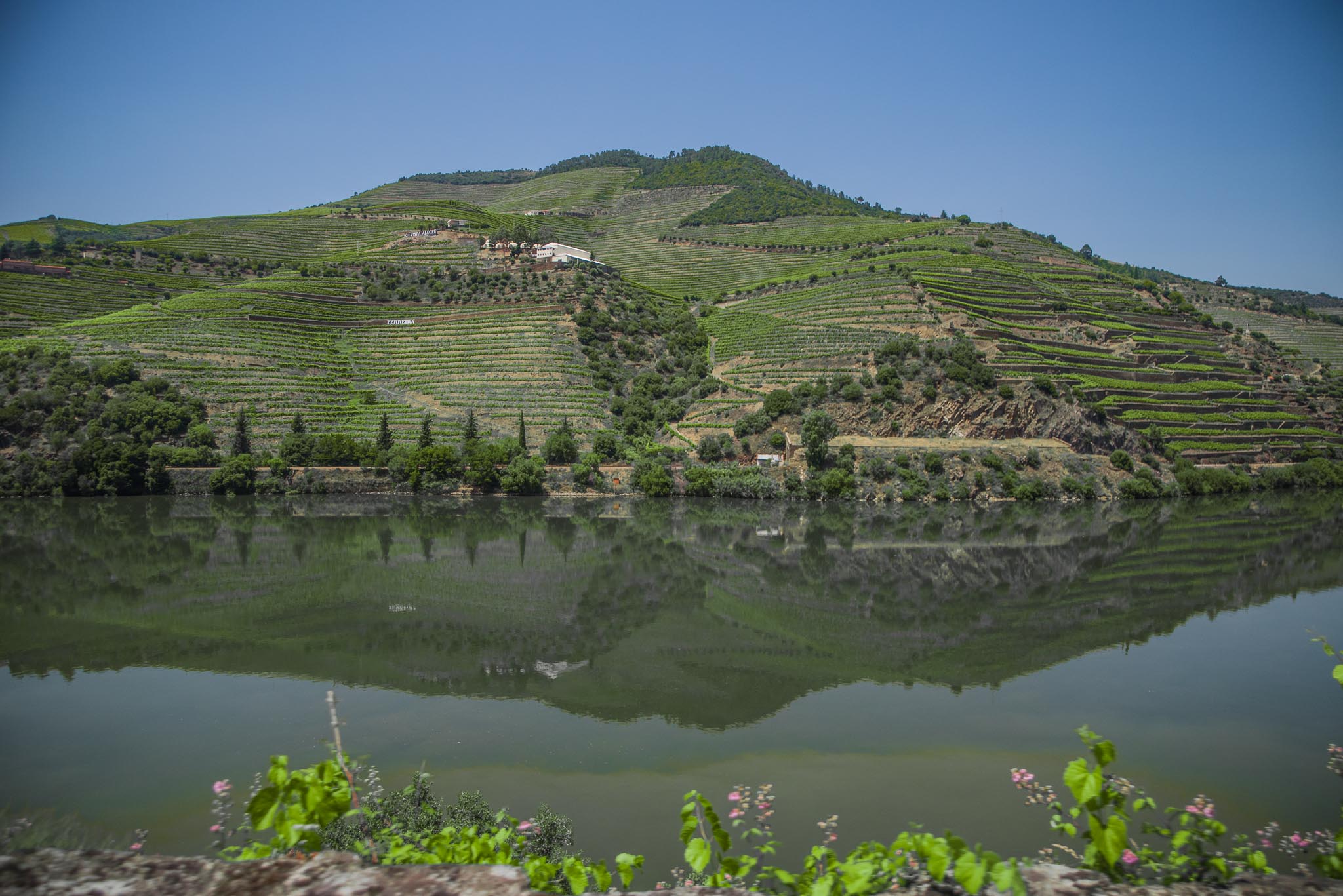 I had actually never heard of the Douro Valley before, but I quickly learned that it is an absolute must for anyone planning a trip to Porto / Northern Portugal! Famous for its scenic hillsides, delicious wine, and relaxing boat cruises – we really had an amazing day exploring the Douro Valley and it's surrounding area.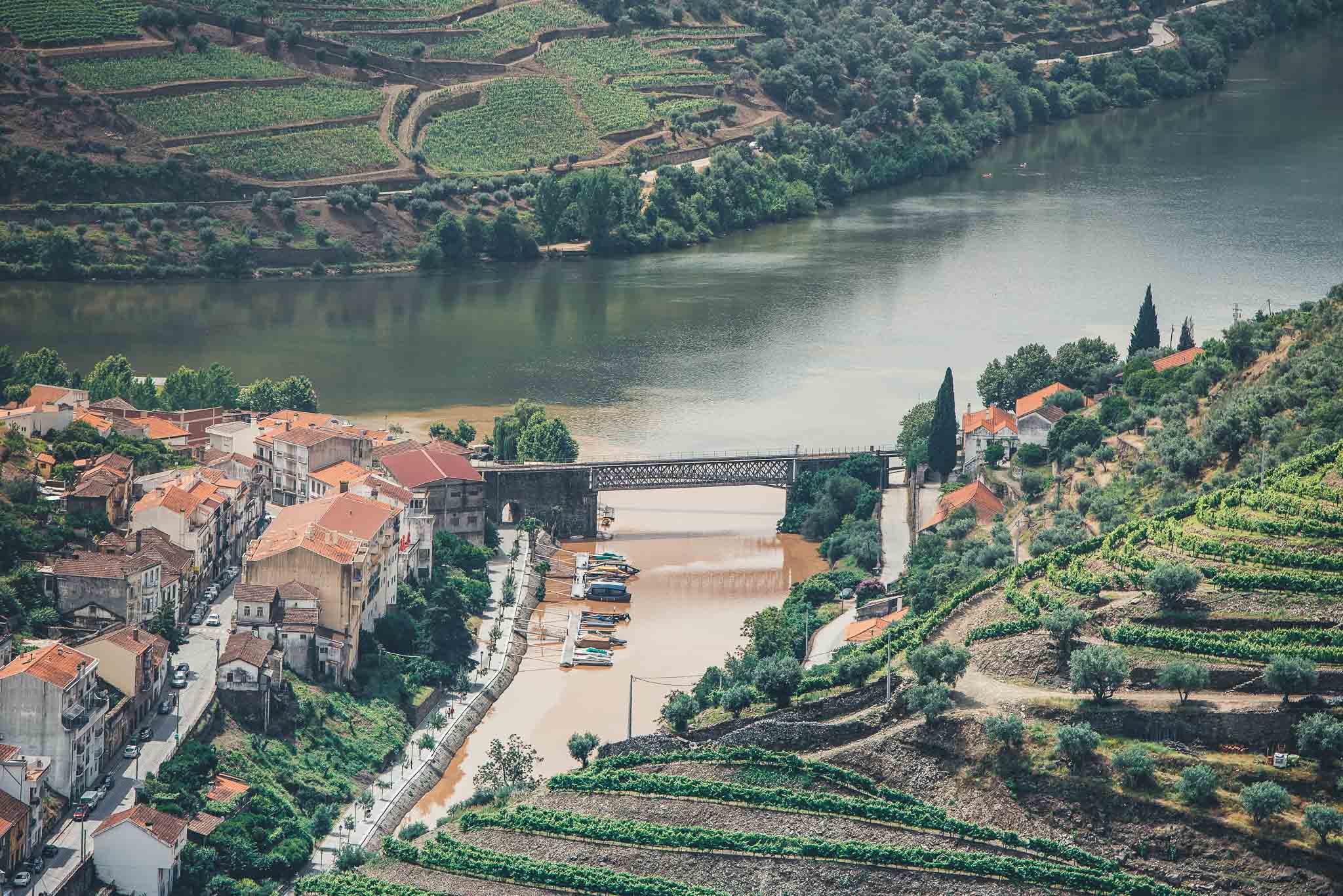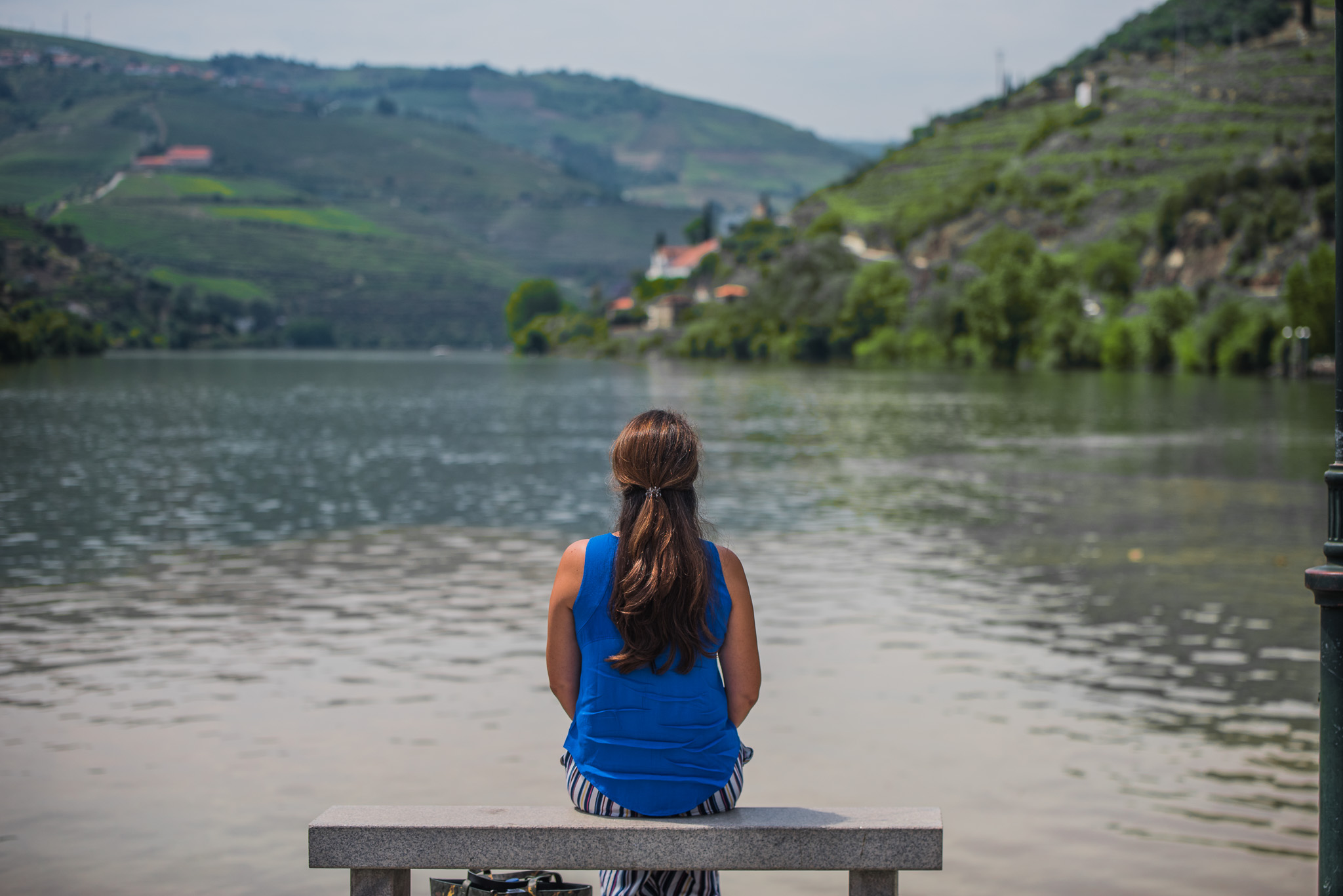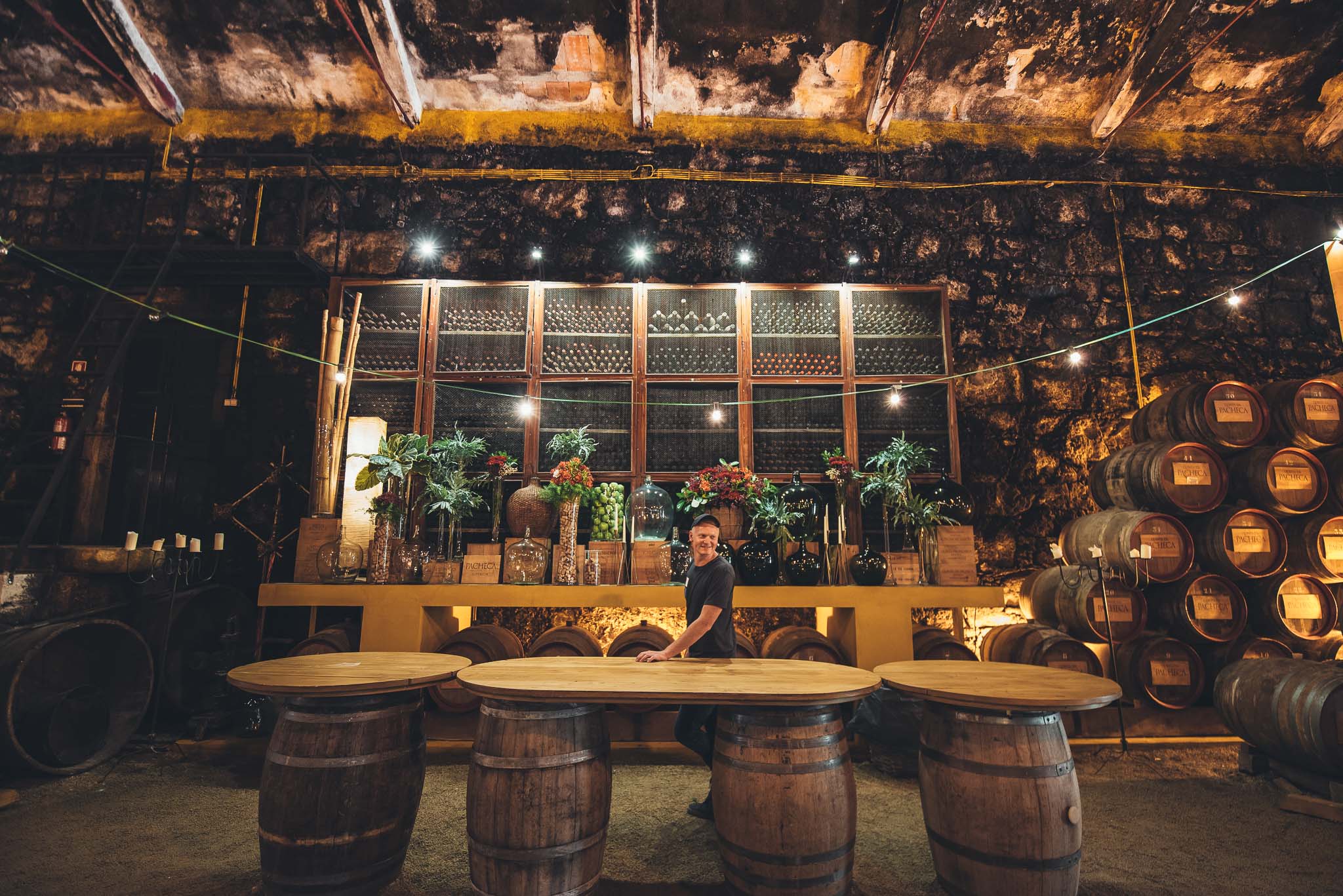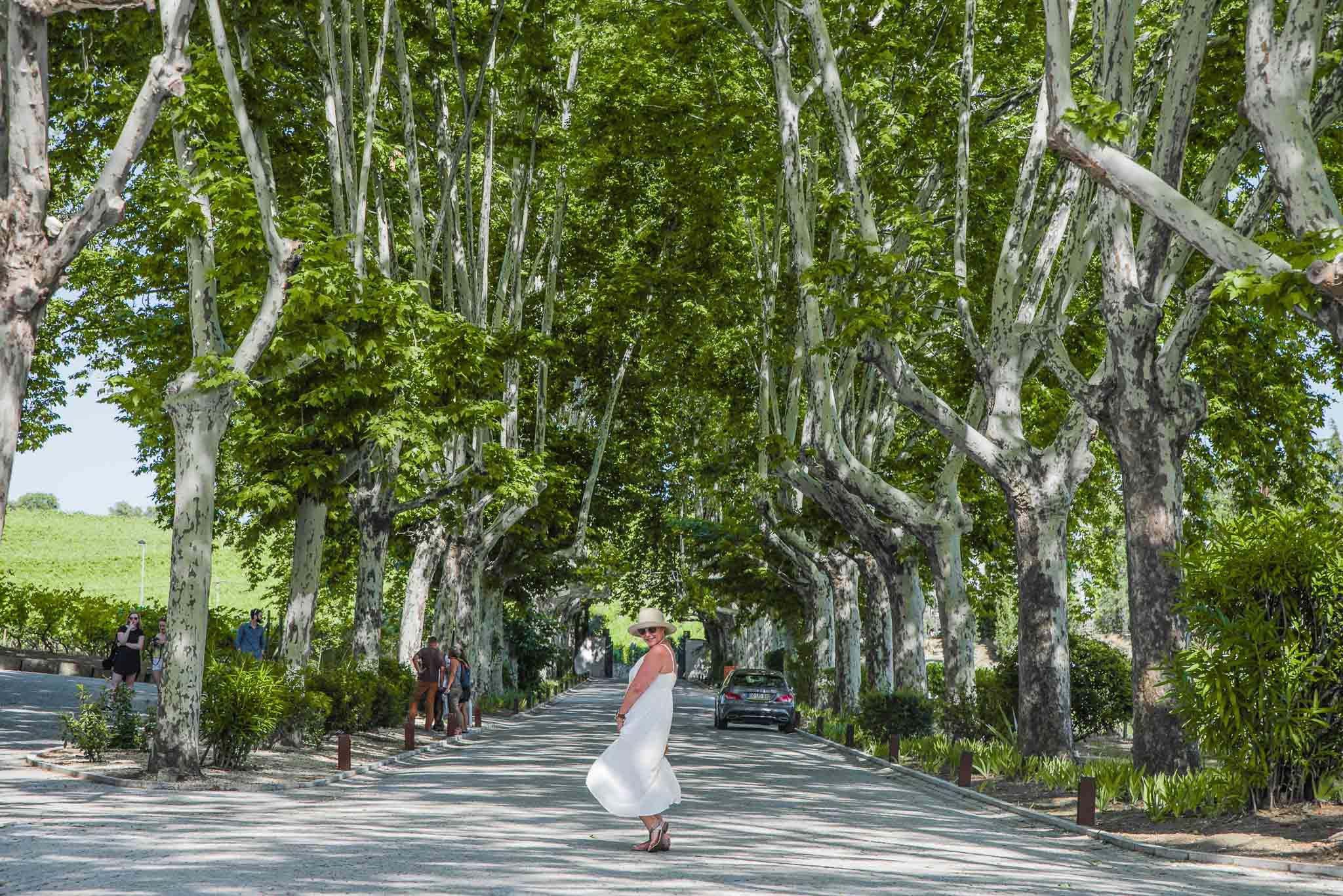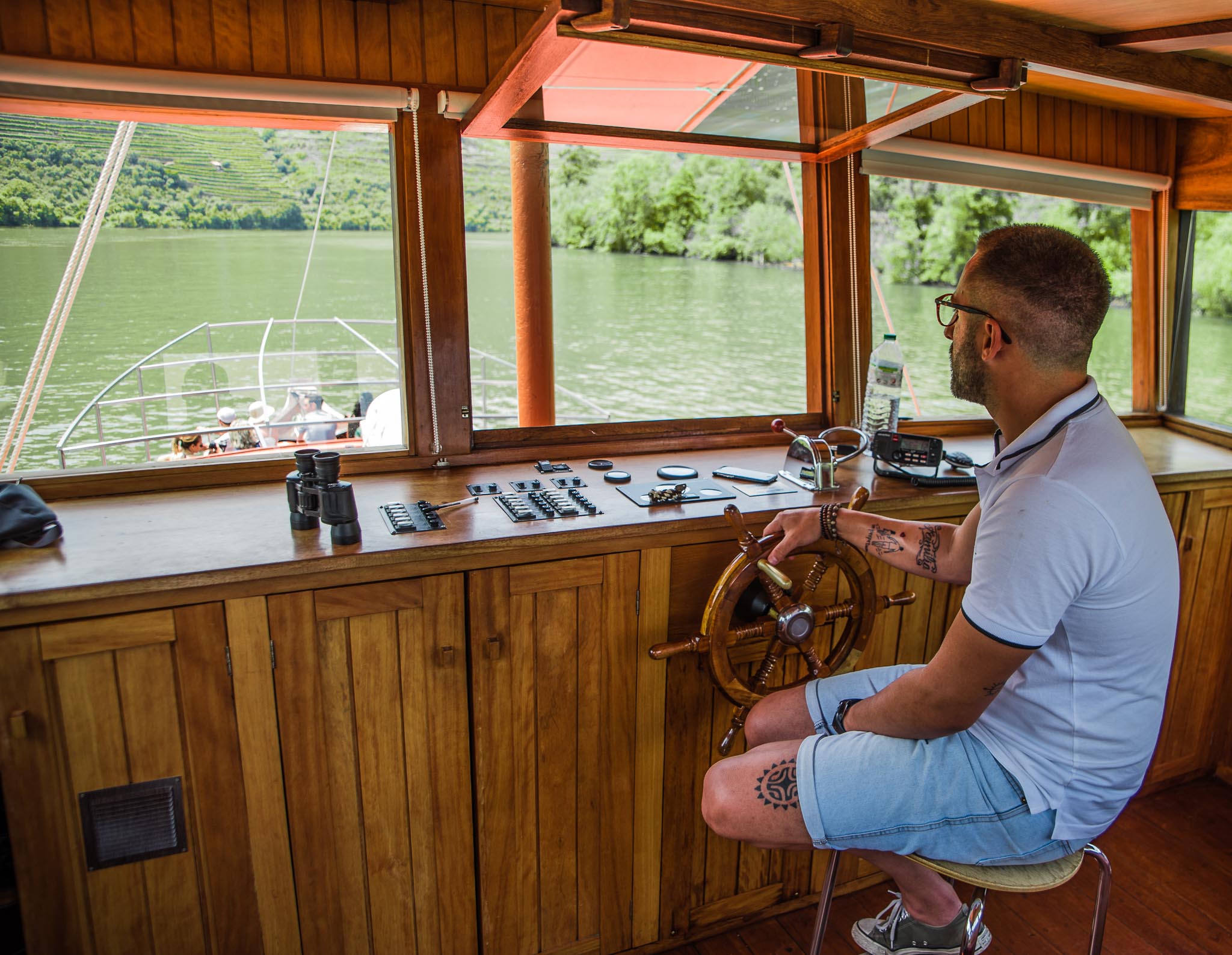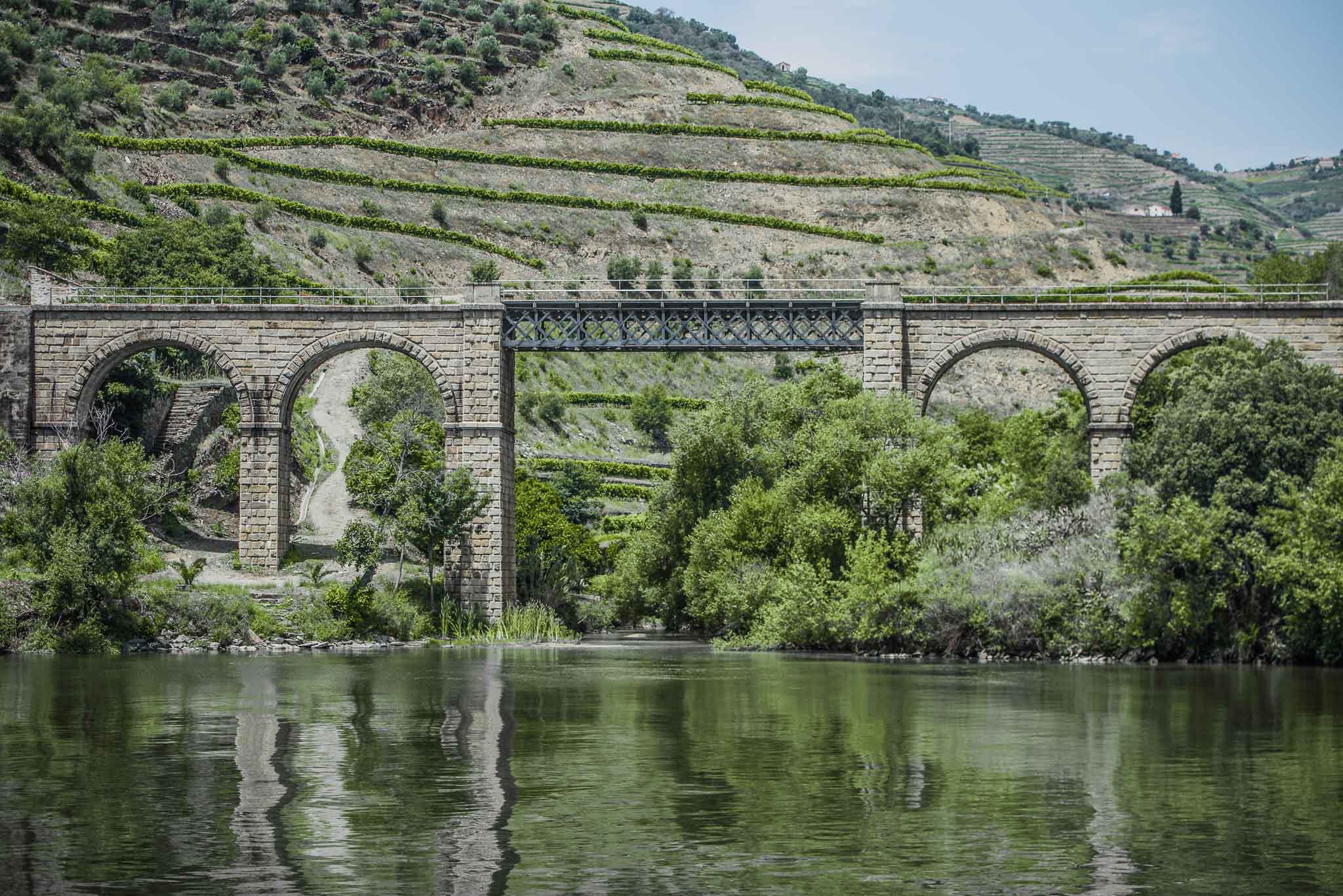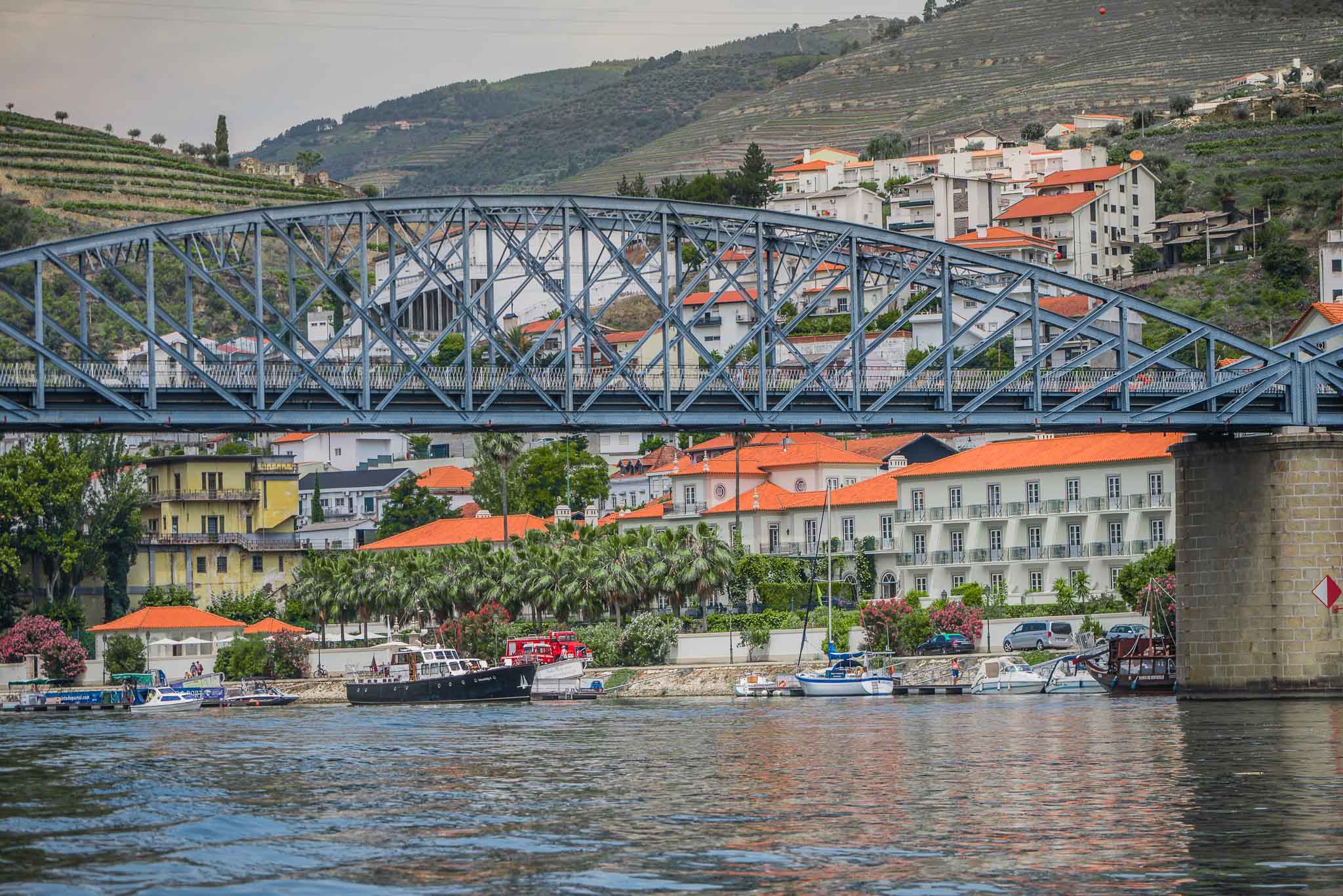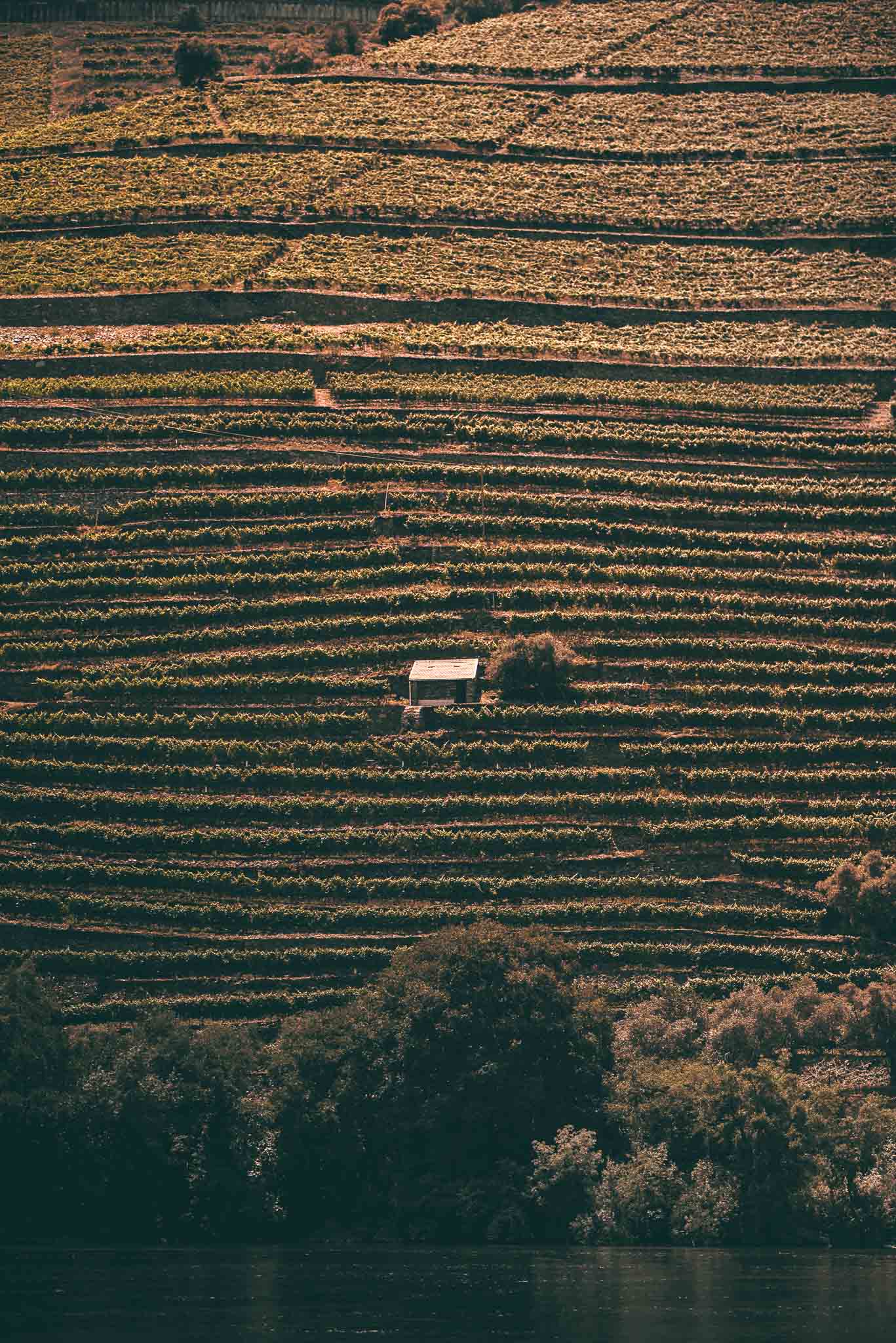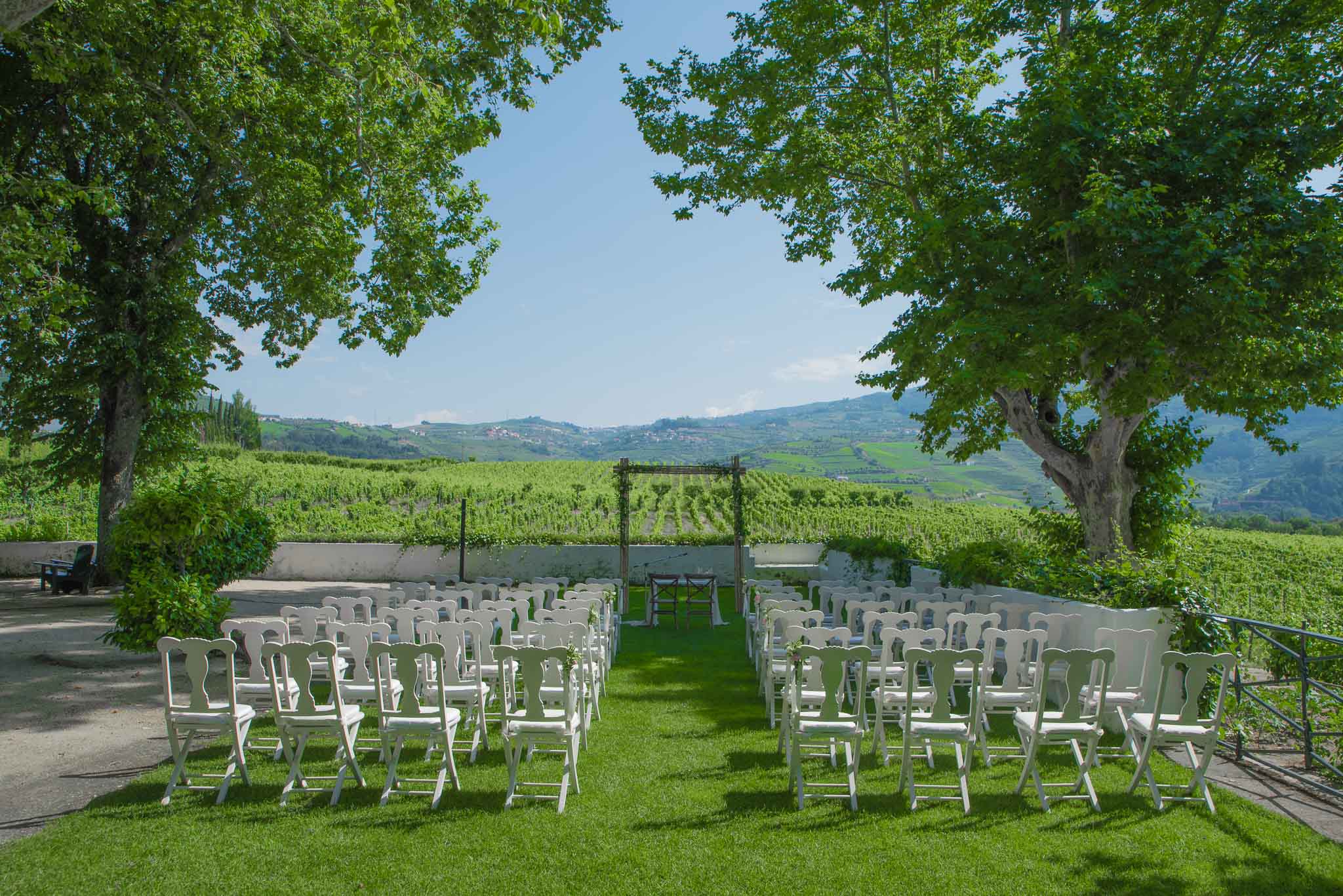 ---
Festa de São João do Porto
FUN FACT – I only learned about this amazing festival in Portugal because I was doing a research for this article titled "40 Wild Parties in 40 Countries To Experience Before Your'e 40." It looked so unbelievably epic that I instantly booked a flight to experience the madness for myself.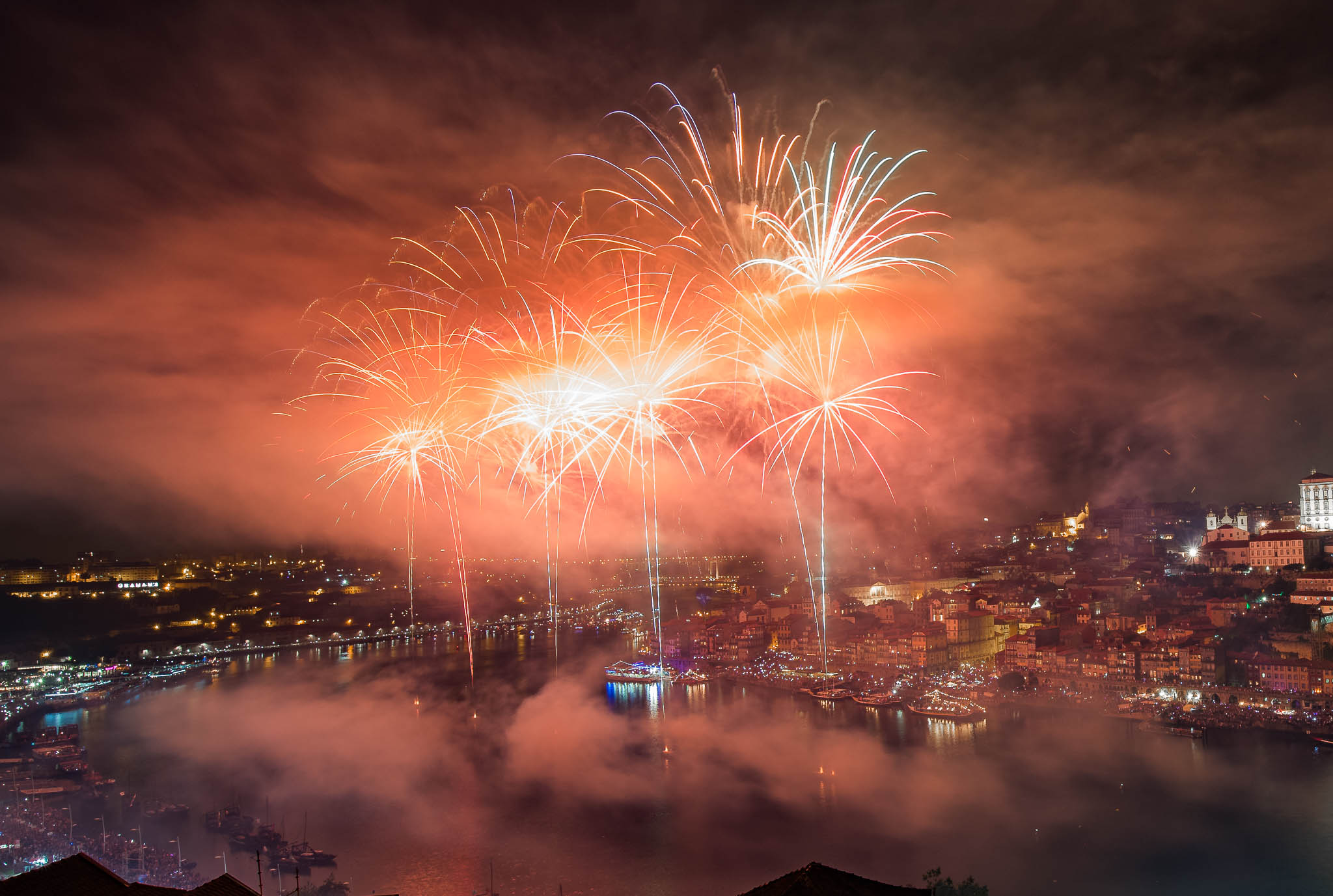 Festa de São João has been celebrated in Porto for more than six centuries, and really is the BEST time to visit this stunning capital of Northern Portugal. The entire day is filled with street parties, drinks, local food, and celebrating with friends and family. The night kicks off with an amazing firework display which is one of the most mesmerizing sights I've seen in Europe, and then continues well into the early hours of the morning with parties in practically every neighborhood of the city.
I was a solo traveler for the majority of my Porto explorations, but was so stoked to meet up with one of the most colorfully awesome Instagram friends of mine Small Crazy, and her awesome Portuguese boyfriend Ricardo! We spent the evening rolling the streets, drinking lots of beer, and dancing to a mix of local tunes & electronic music.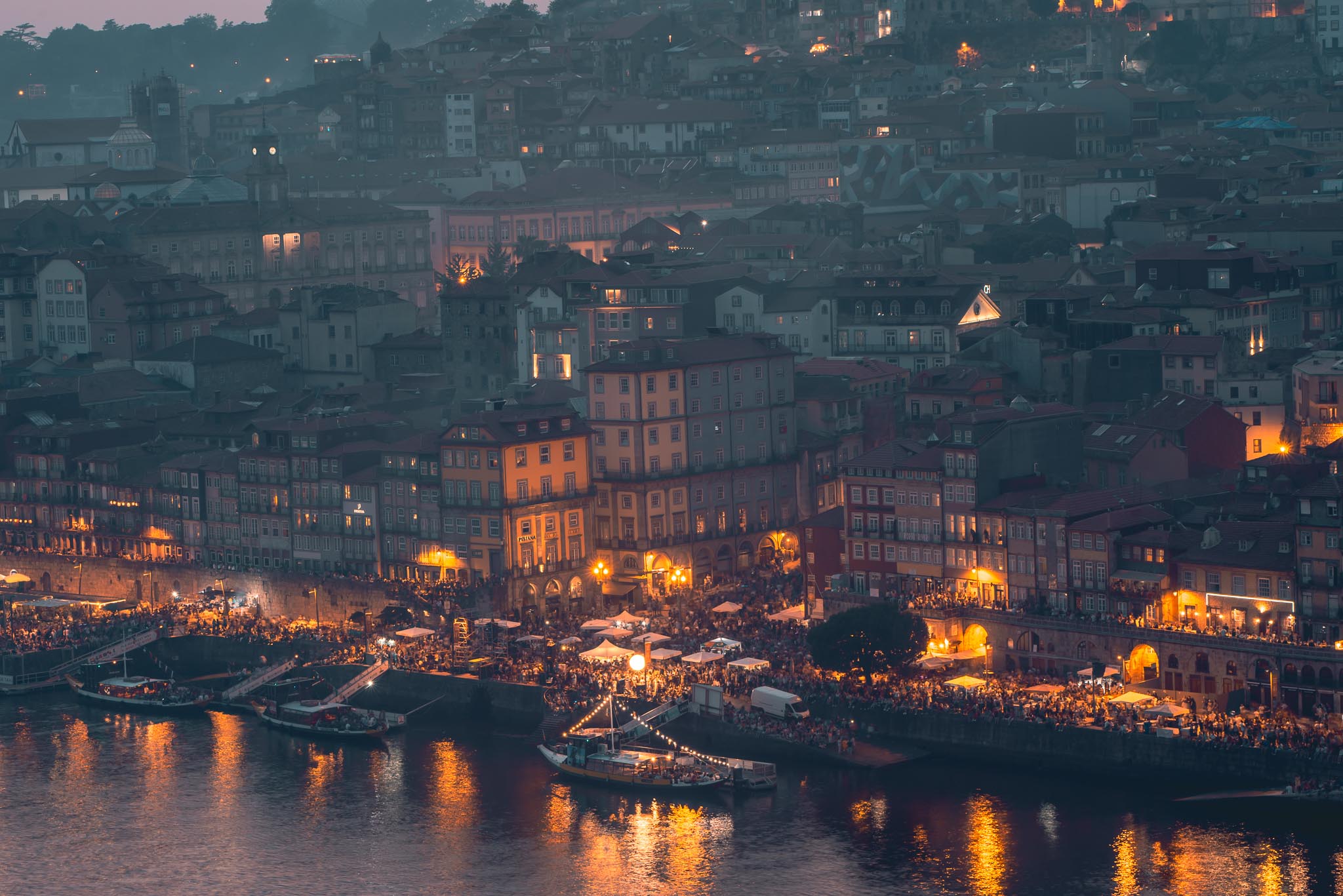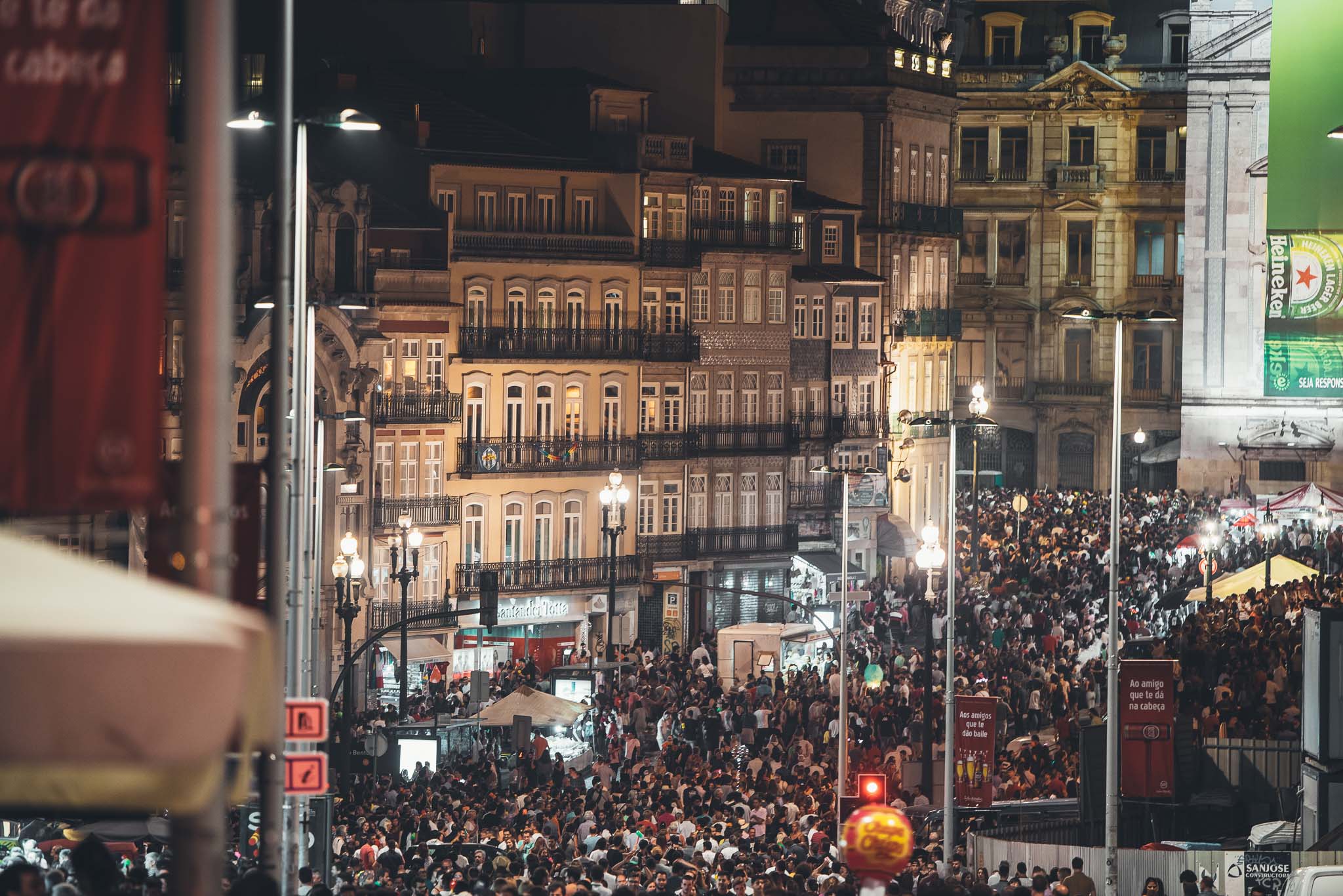 ---
It was definitely one of the highlights of my summer travels in Europe, and I would strongly recommend adding it to your bucket list!!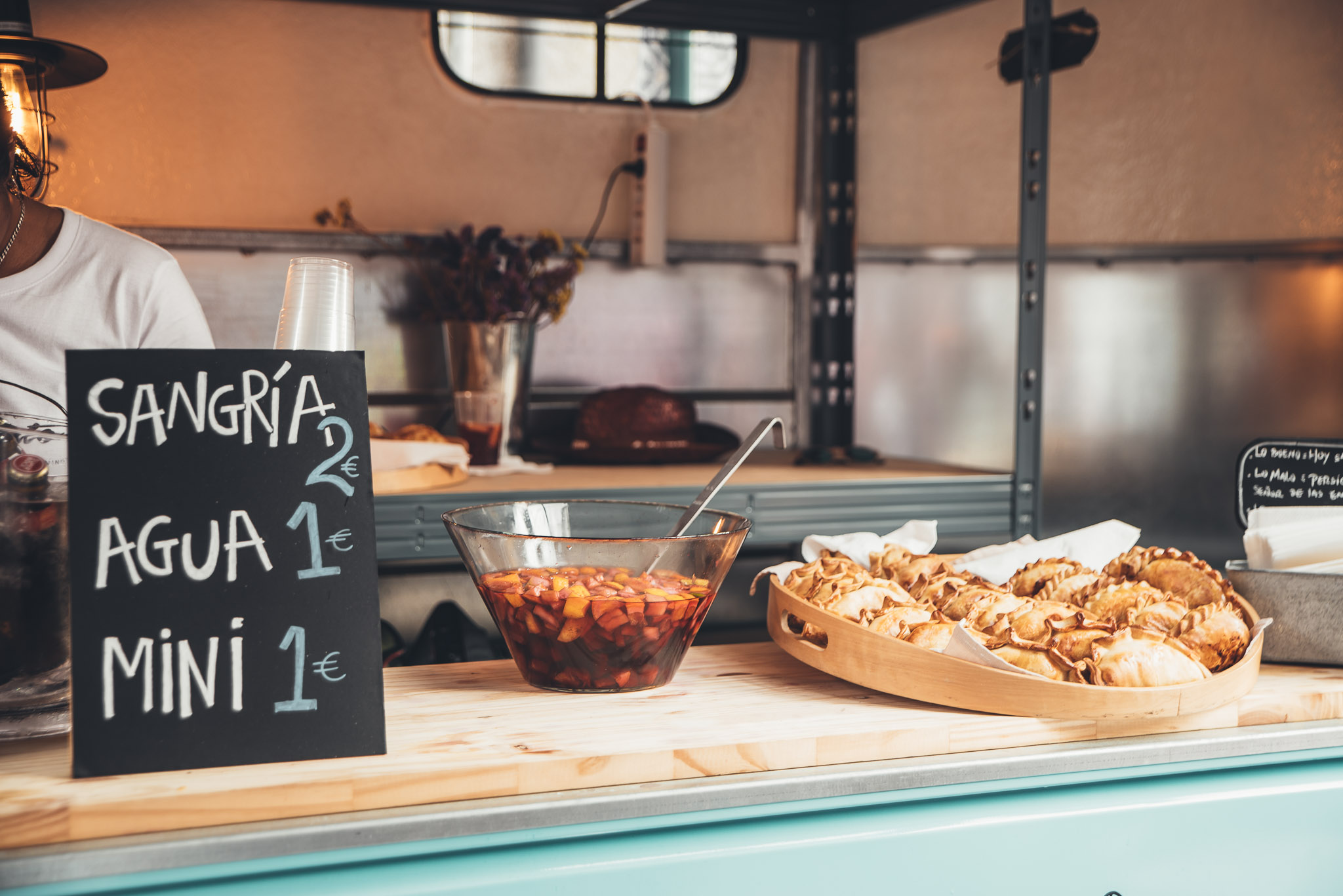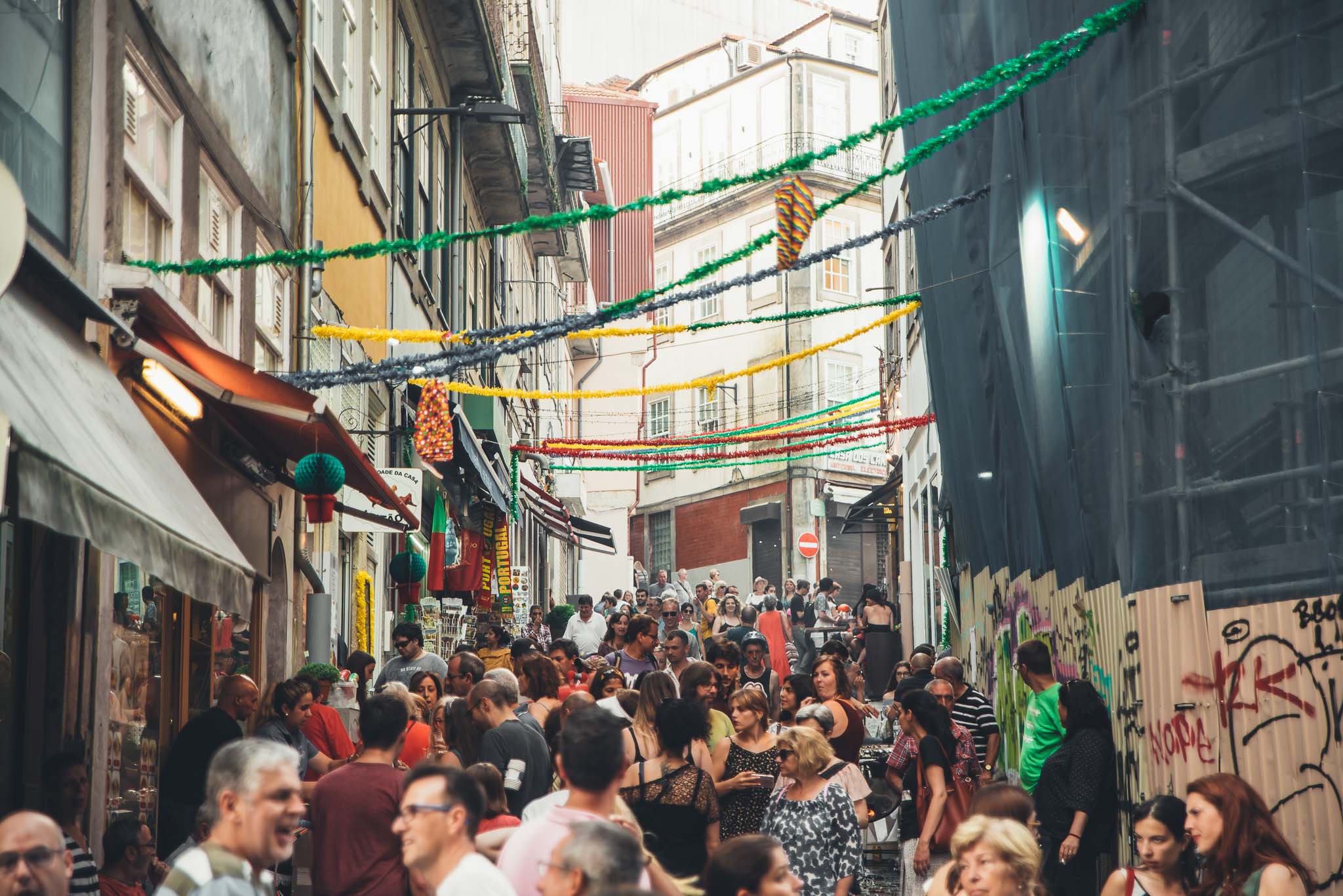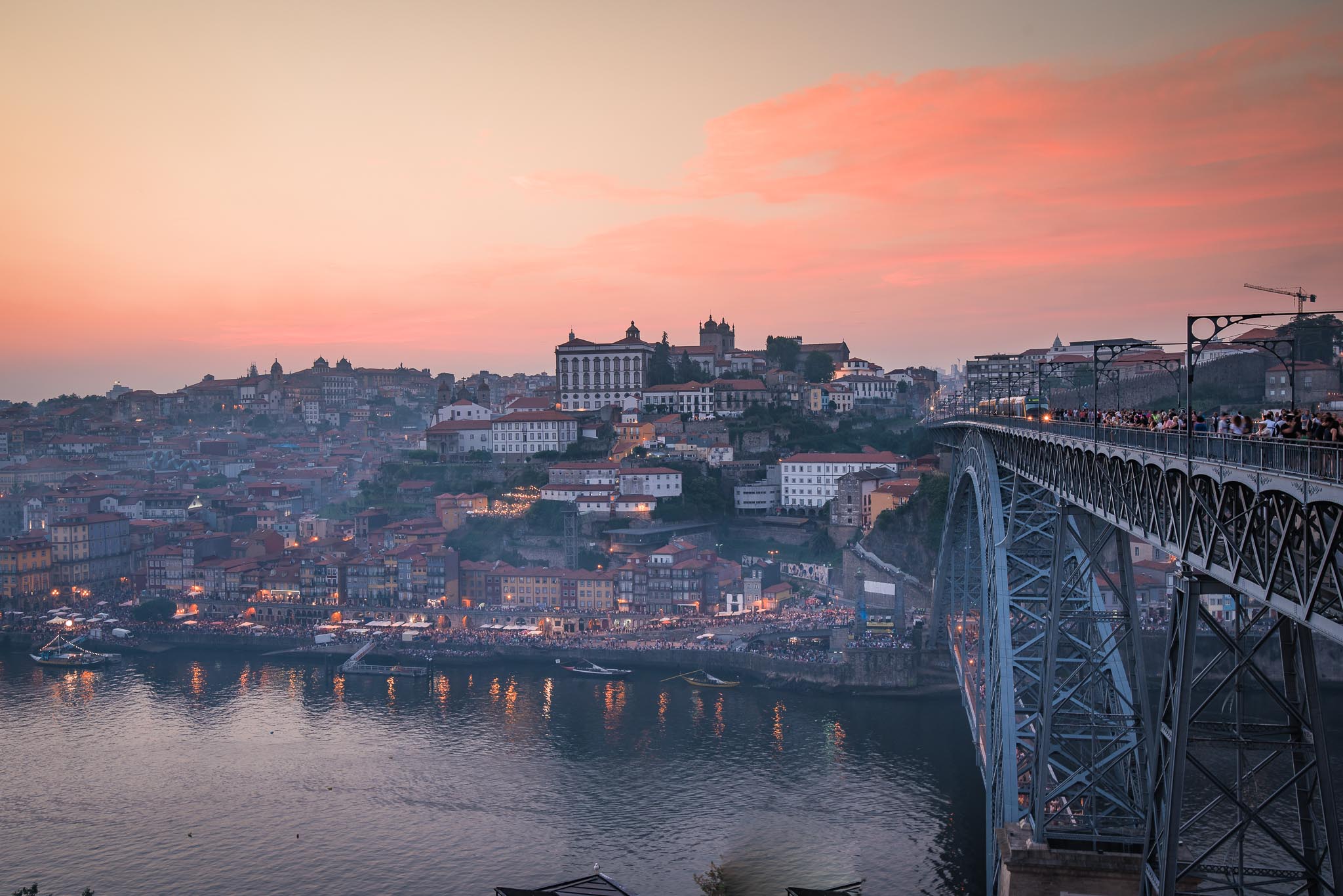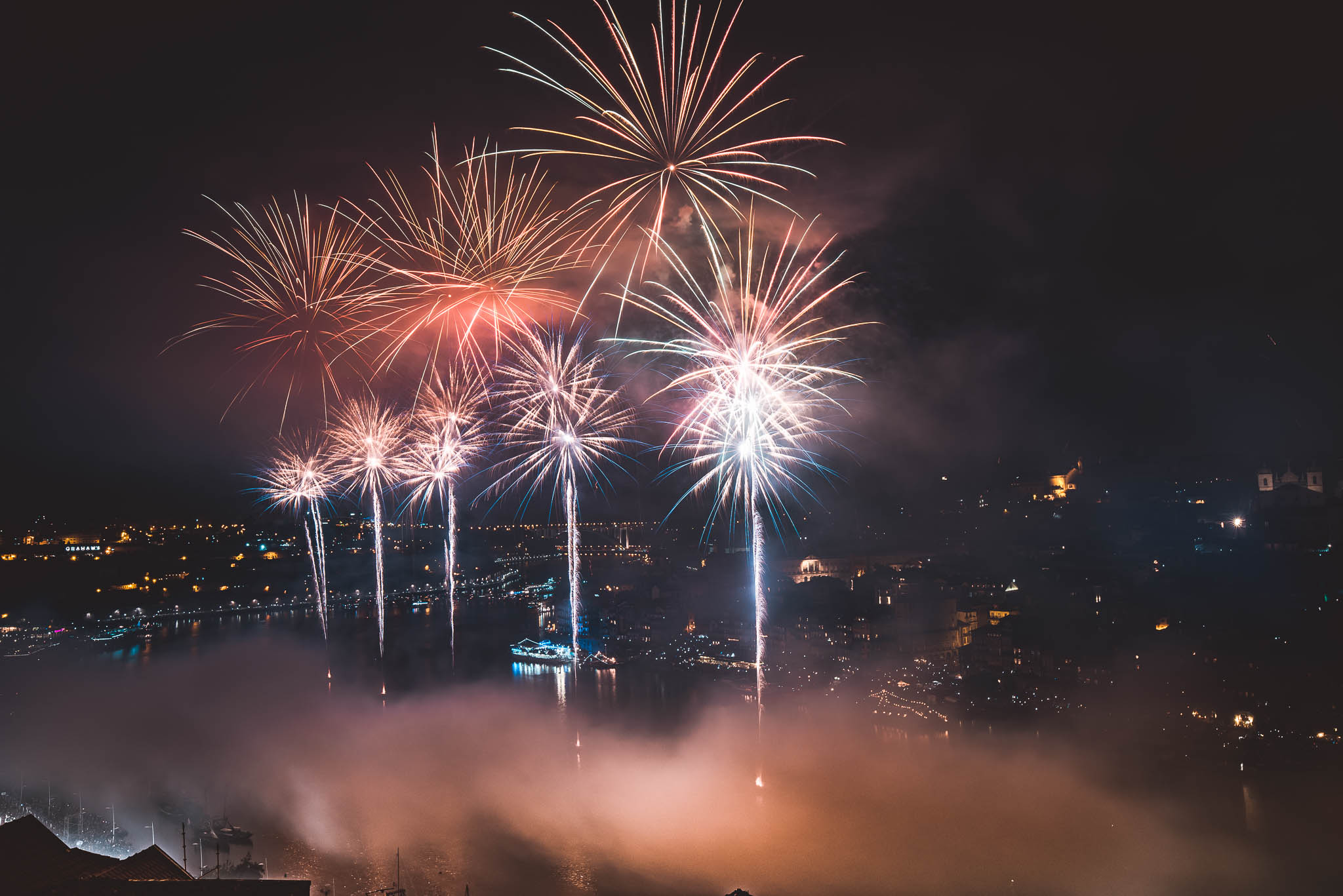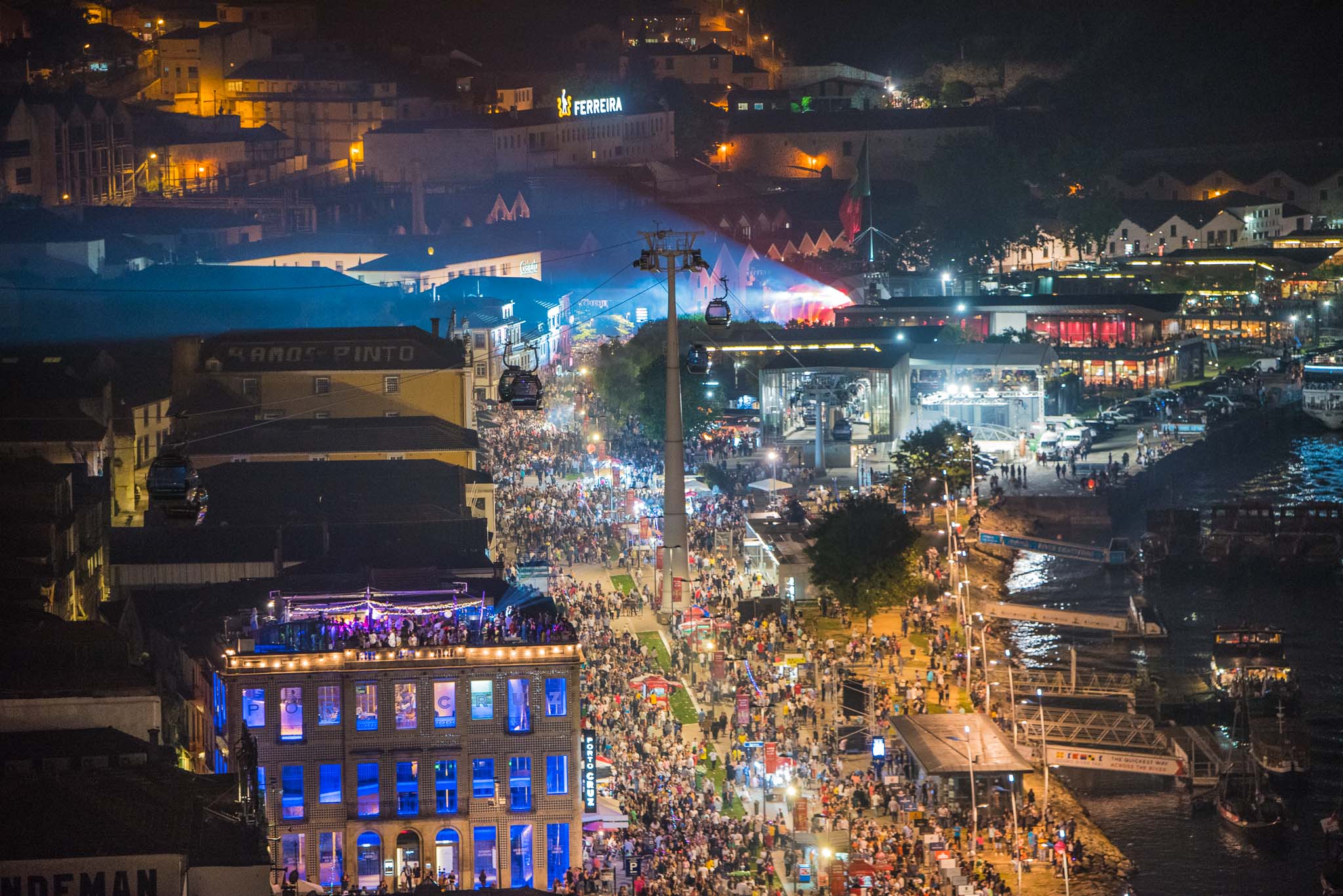 ---
Livraria Lello A.K.A The Harry Potter Bookstore
Sorry, but if you're not a Harry Potter fan, then I'm not sure we can friends.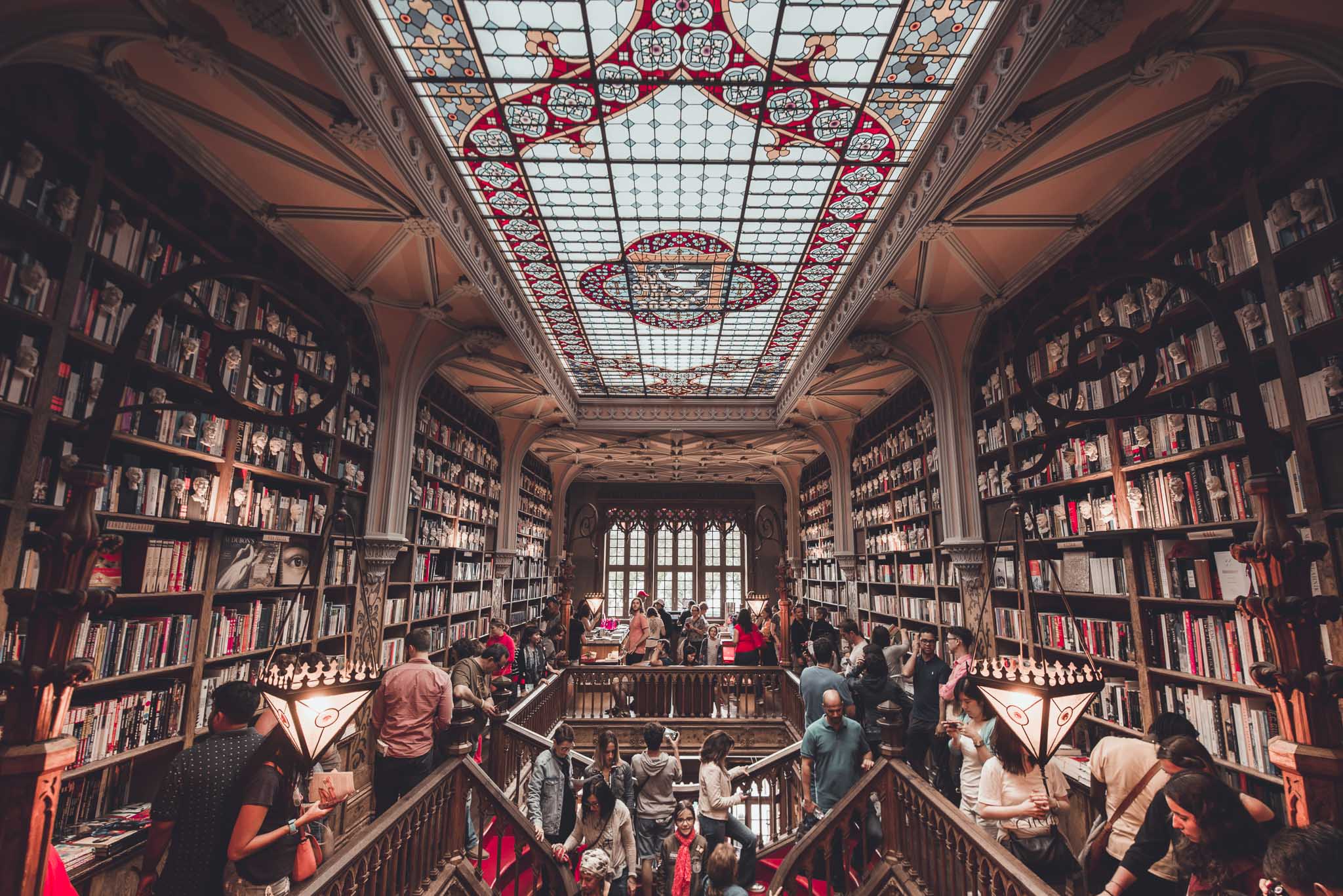 I had no idea that J.K Rowling lived in Porto for two years while she began writing the Harry Potter series, and it's a popular theory that the Livraria Lello bookstore was the inspiration for Flourish and Blotts. This small connection has turned this beautifully elegant bookstore into a popular stop for tourists in Porto.
The spiral staircase, tall bookshelves, and intricate design are simply stunning – and it'll be hard to make a visit without purchasing a book or two.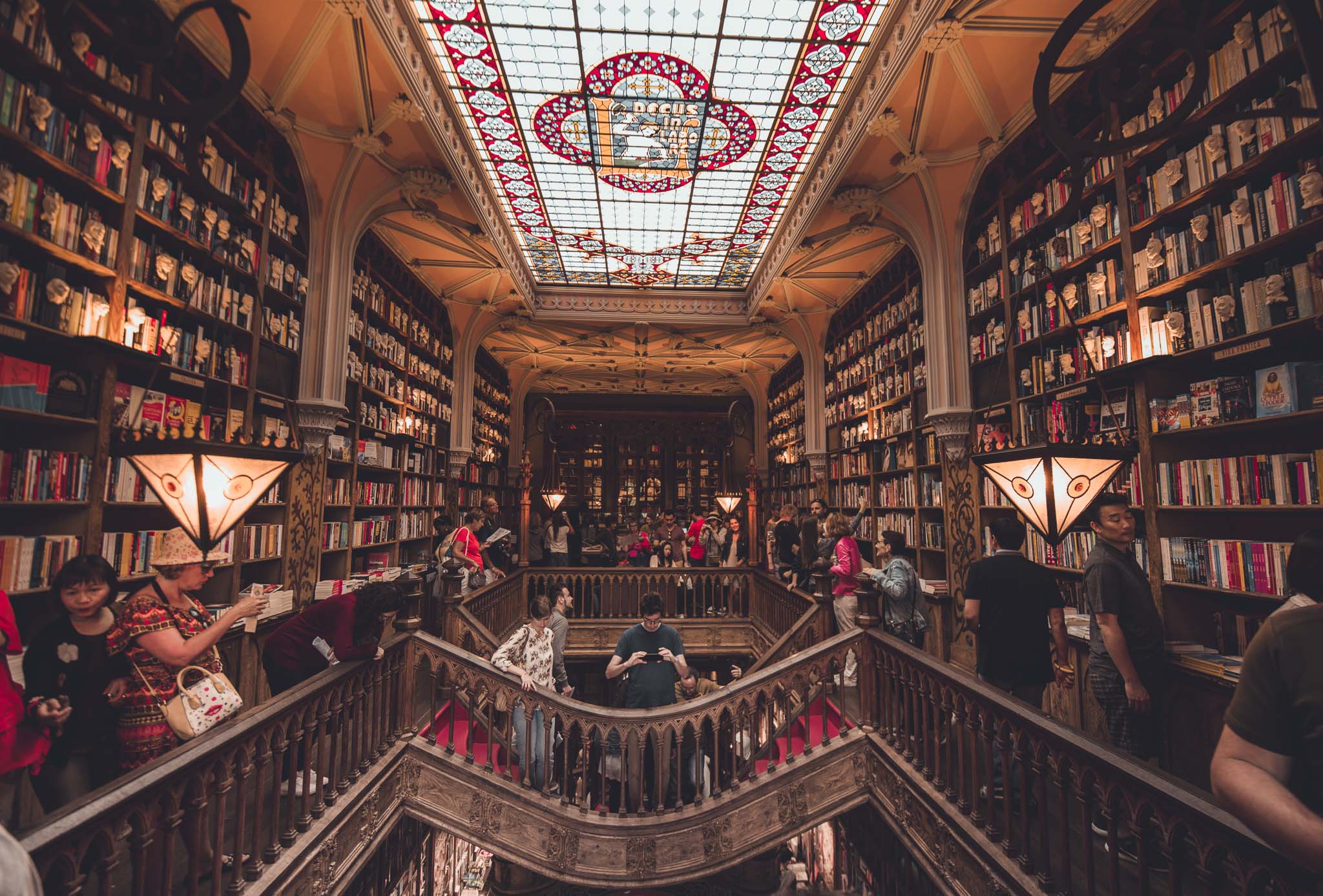 ---
Churches & Tiles of Porto
Just like any major city in Europe, Porto is home to some truly stunning churches that must be visited for any first timer. The three main ones are Igreja do Carmo, Capela Das Almas, and Igreja de Santo Antonio dos Congregados.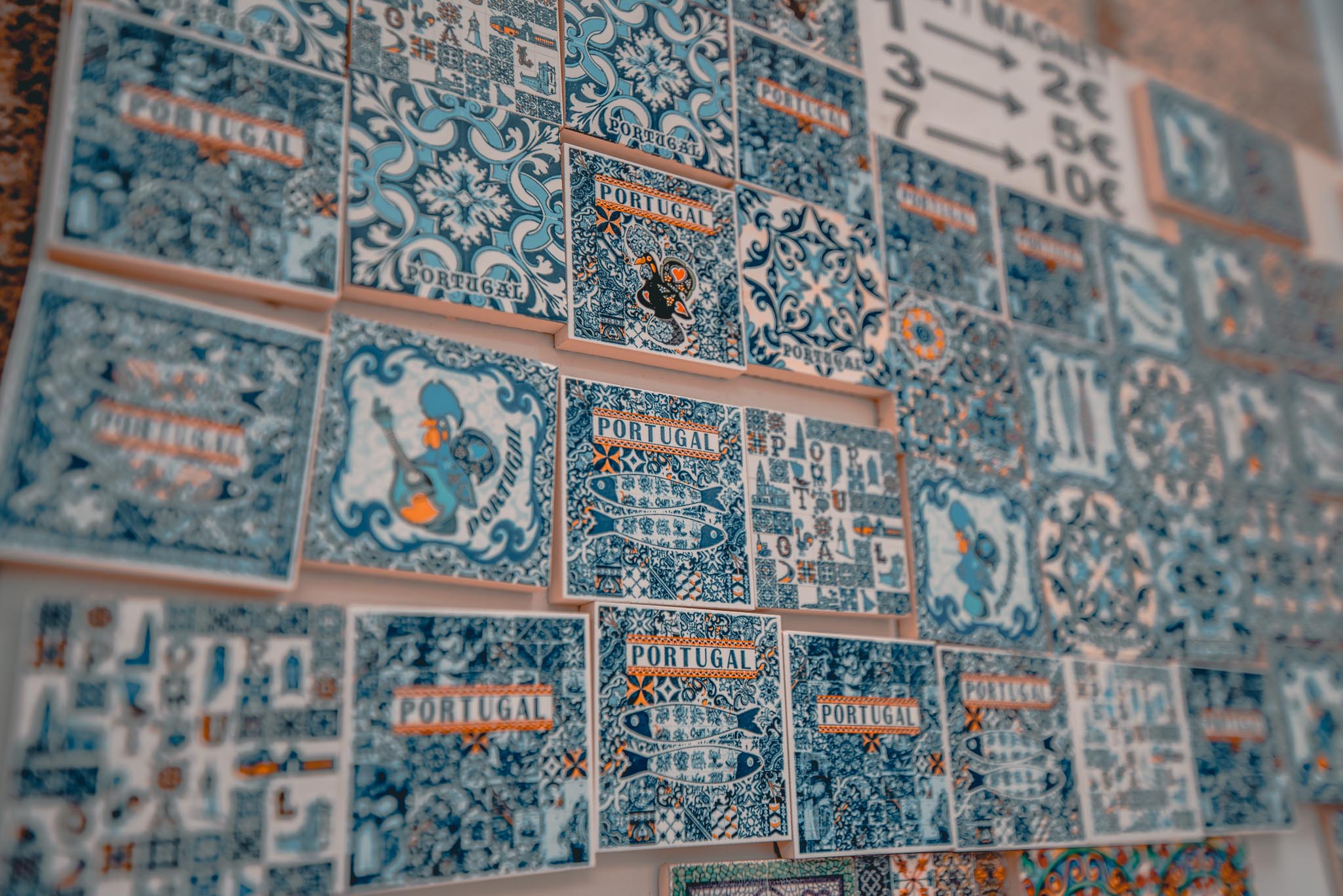 What I loved about these churches (and Portugal in general) is all the fascinating tiled work! You will notice that they are basically everywhere in Porto, and
"One of the most emblematic representations of Porto's history and culture are those beautiful tiles we see all over the city which are known as azulejos. Azulejo tiles in Porto come in different colors, but most commonly, they are in white and blue."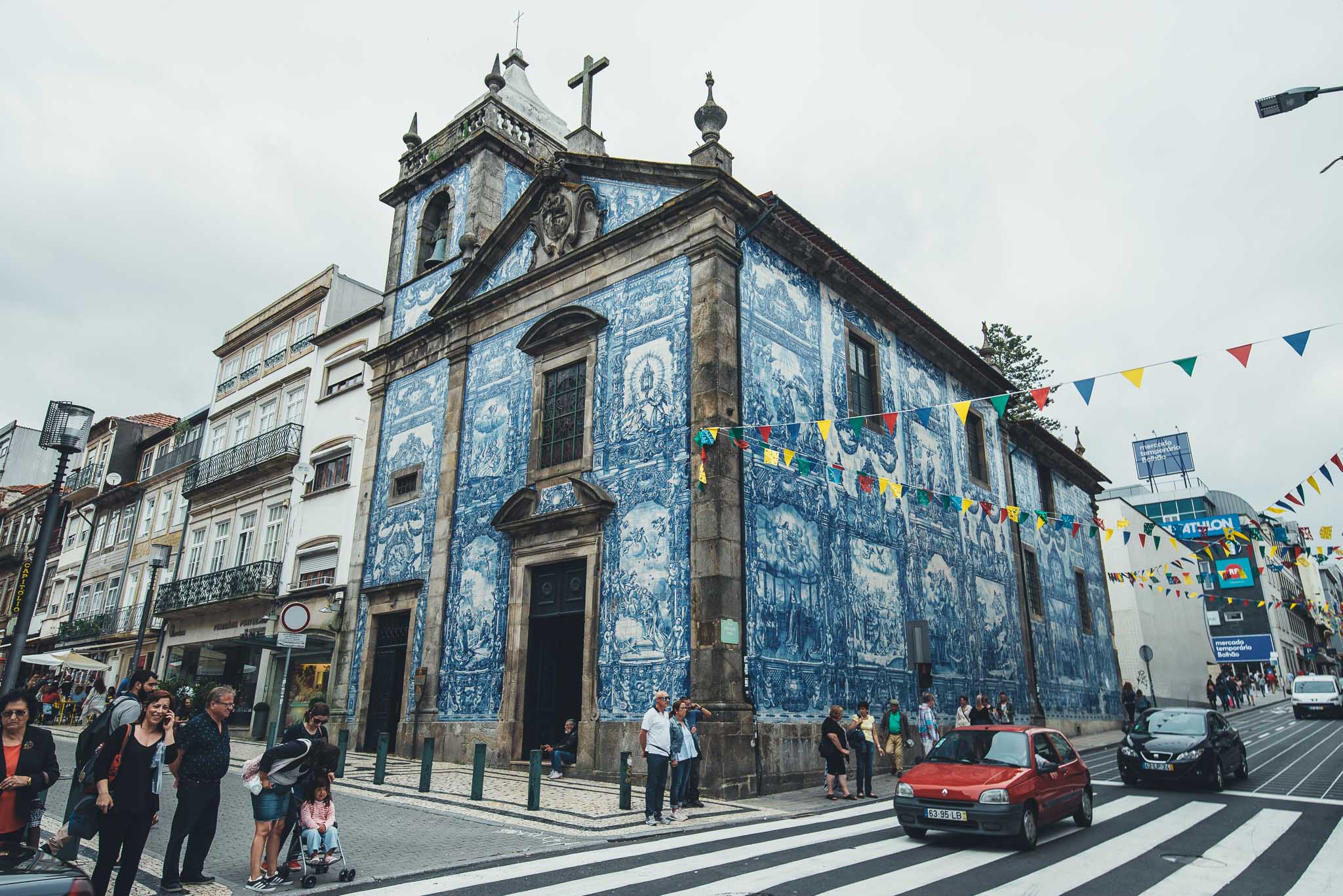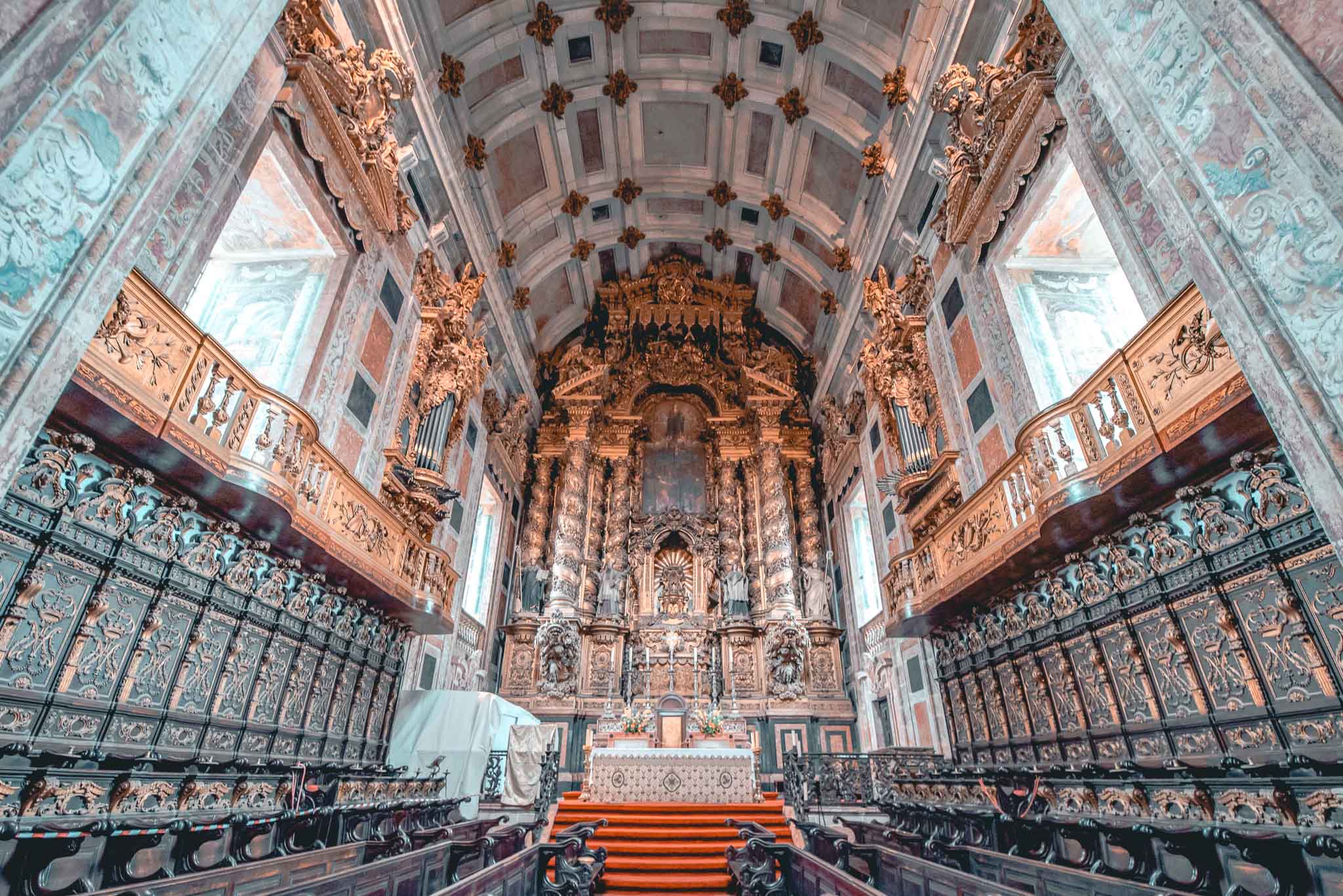 ---
Dom Luis Bridge
I'm a sucker for a good bridge, and I think that's one of the reasons I fell in love with Porto, which is kinda famous for it's six beautiful bridges. The most popular and stunning of the six is Dom Luis which spans across the River Douro connecting the cities of Porto and Vila Nova de Gaia.
I probably walked across the Dom Luis bridge (on the top and bottom footpaths) a dozen different times, and I could not get enough of these picturesque views. Watching the sunset at the top of this bridge was truly mesmerizing, and just looking at my photos makes me miss this atmosphere.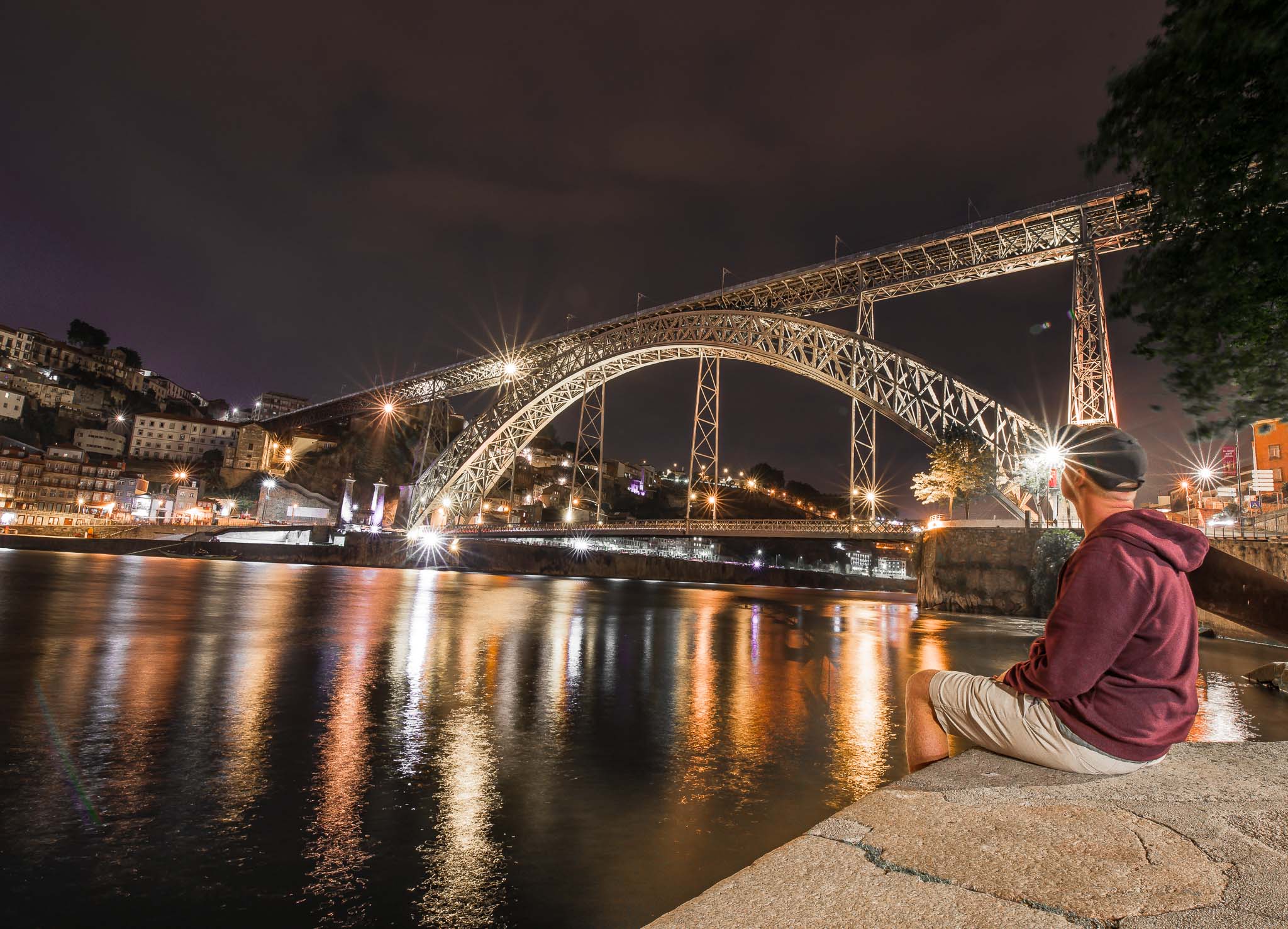 ---
Passeio Das Virtudes
When I was checking to my AirBNB, I asked my host if there were any great spots for photography nearby. He laughed, and responded "just walk around the corner".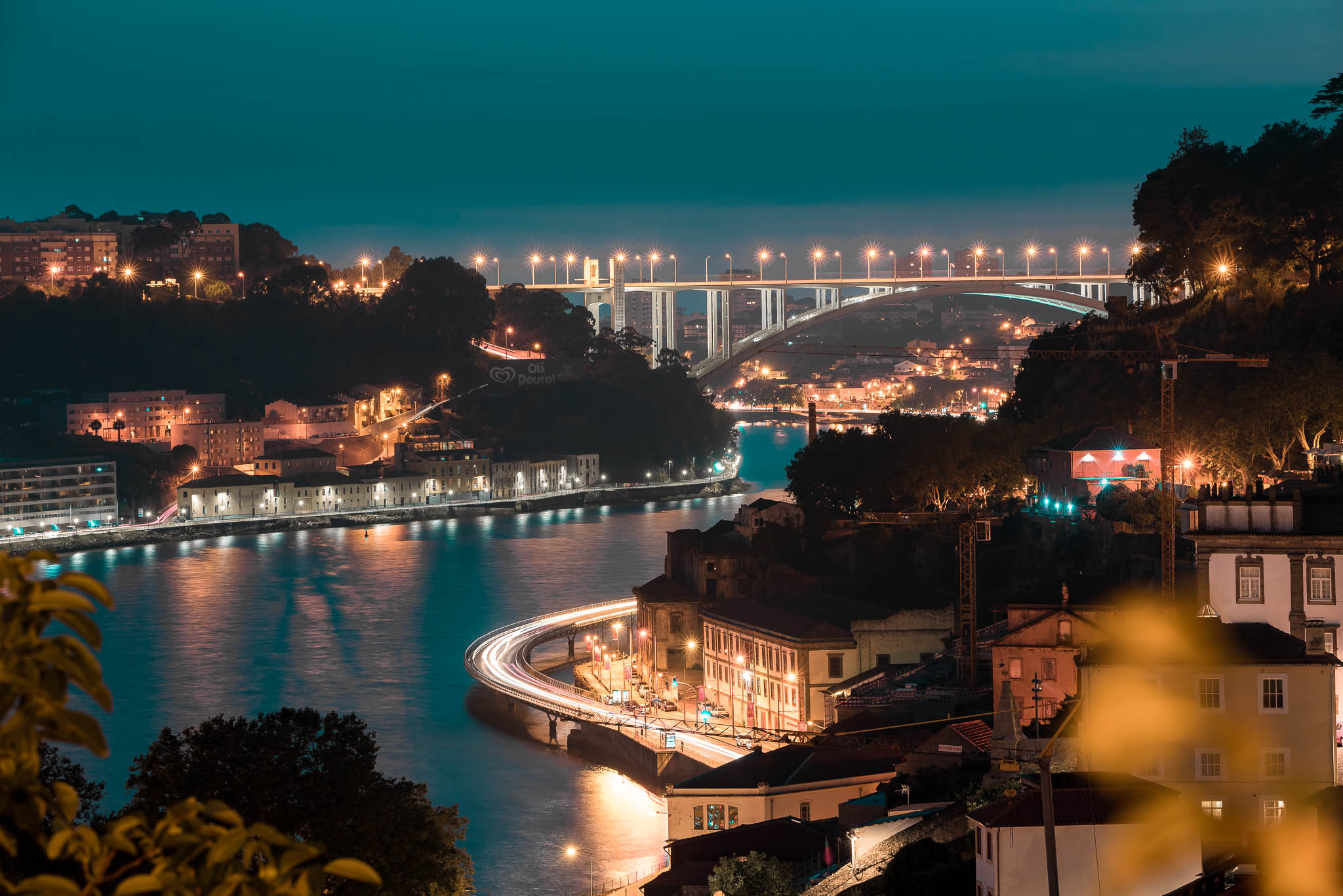 Sure enough, just a stones throw away from my apartment's front door was this amazing stretch of grass with great views overlooking the city. What makes this Passeio Das Virtudes even more special though was the outdoor local bar vibes. It's a popular spot for locals to come and hang out from sunset times onwards, and you can really get a great feeling for what Porto is all about.
I enjoyed some good beer here, some good conversations with some local Porto residents, and took a few photos of the view. What do you think?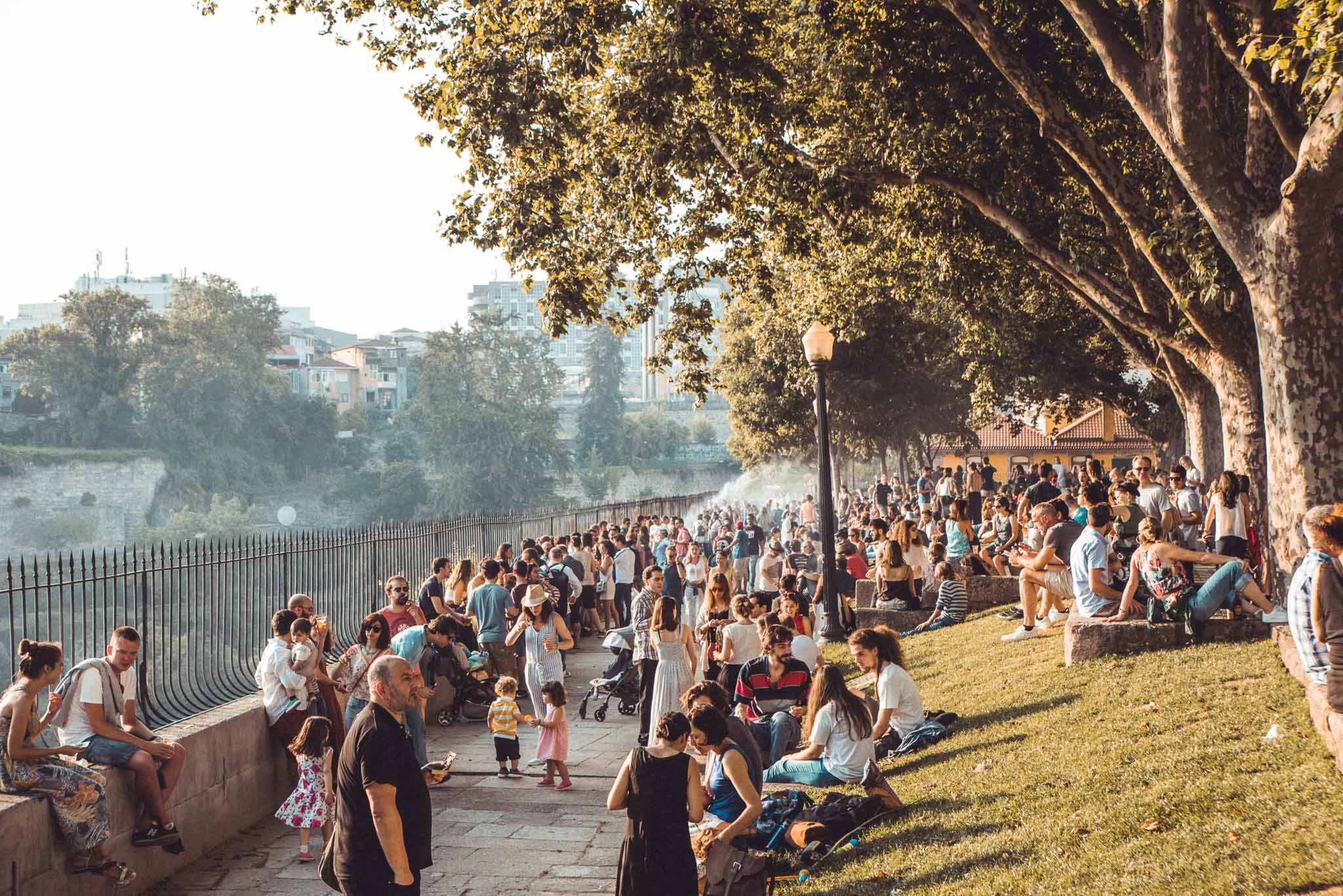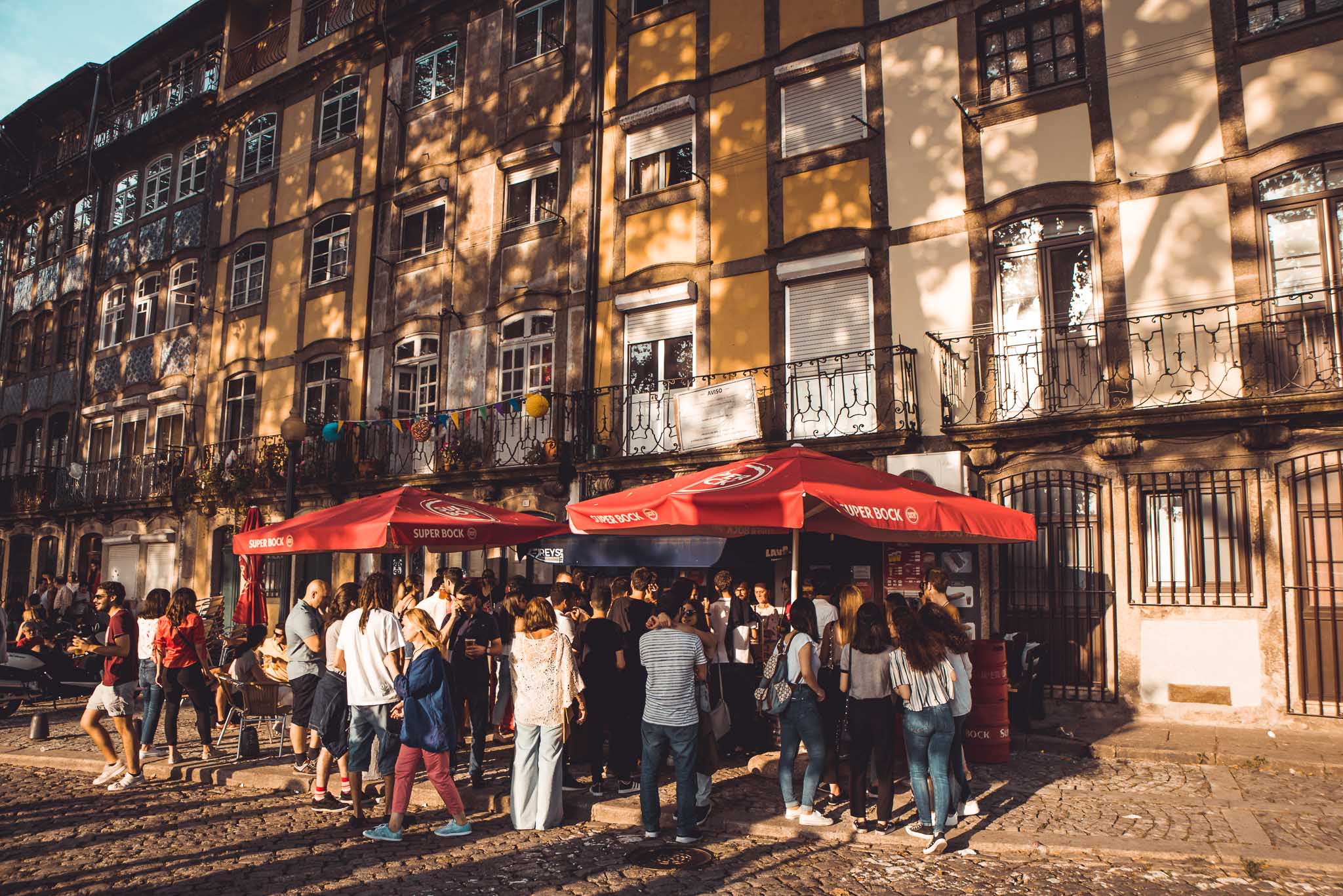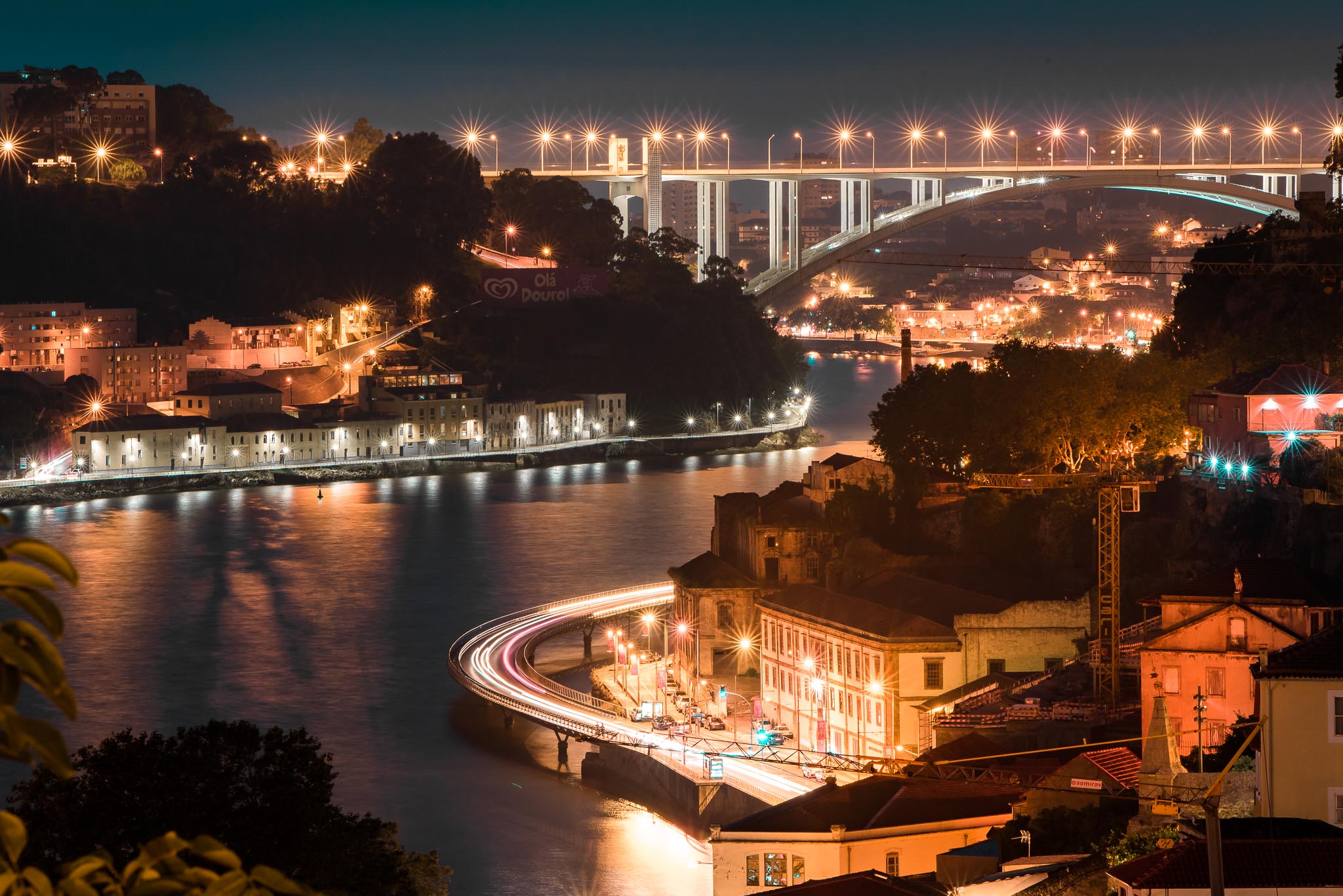 ---
Nighttime Photography Strolls
If you follow me on Instagram, I'm sure you've noticed that I'm a big fan of photographing cities at night! I just love playing around with long exposures, different compositions, and testing out new settings with lights.
I spent a couple evenings walking around Porto with my tri-pod just having a bit of photography fun, and here are a few of my favorite images!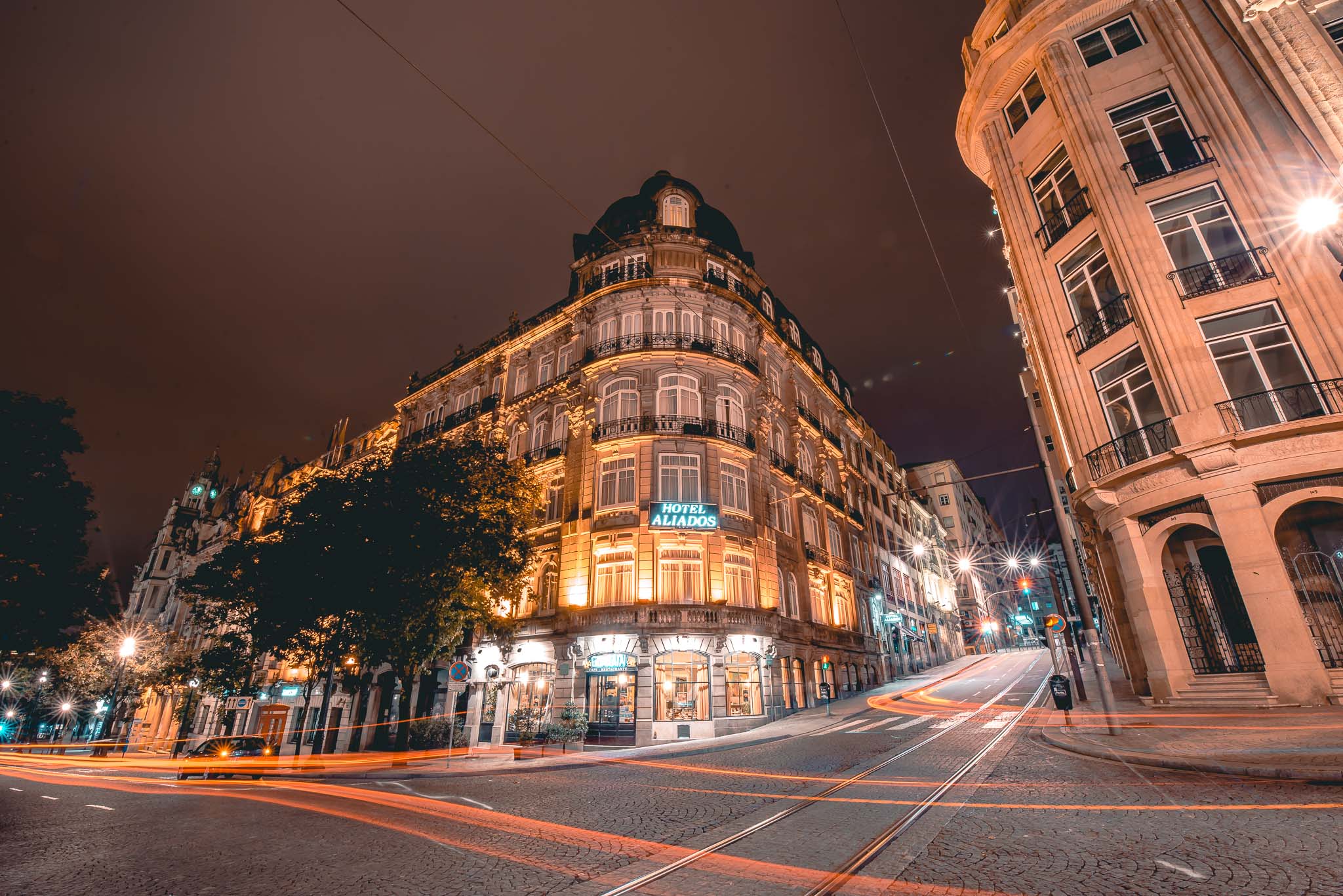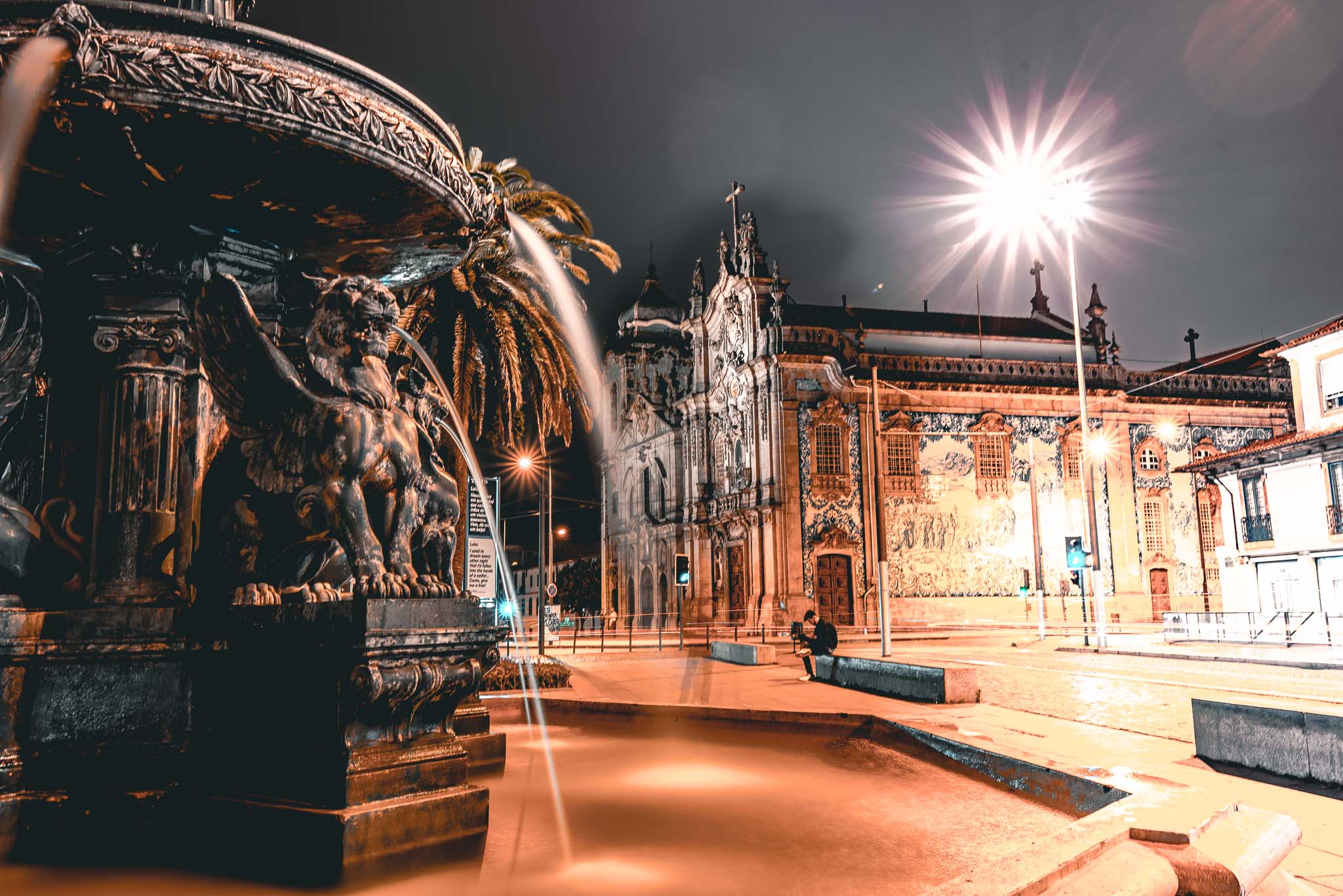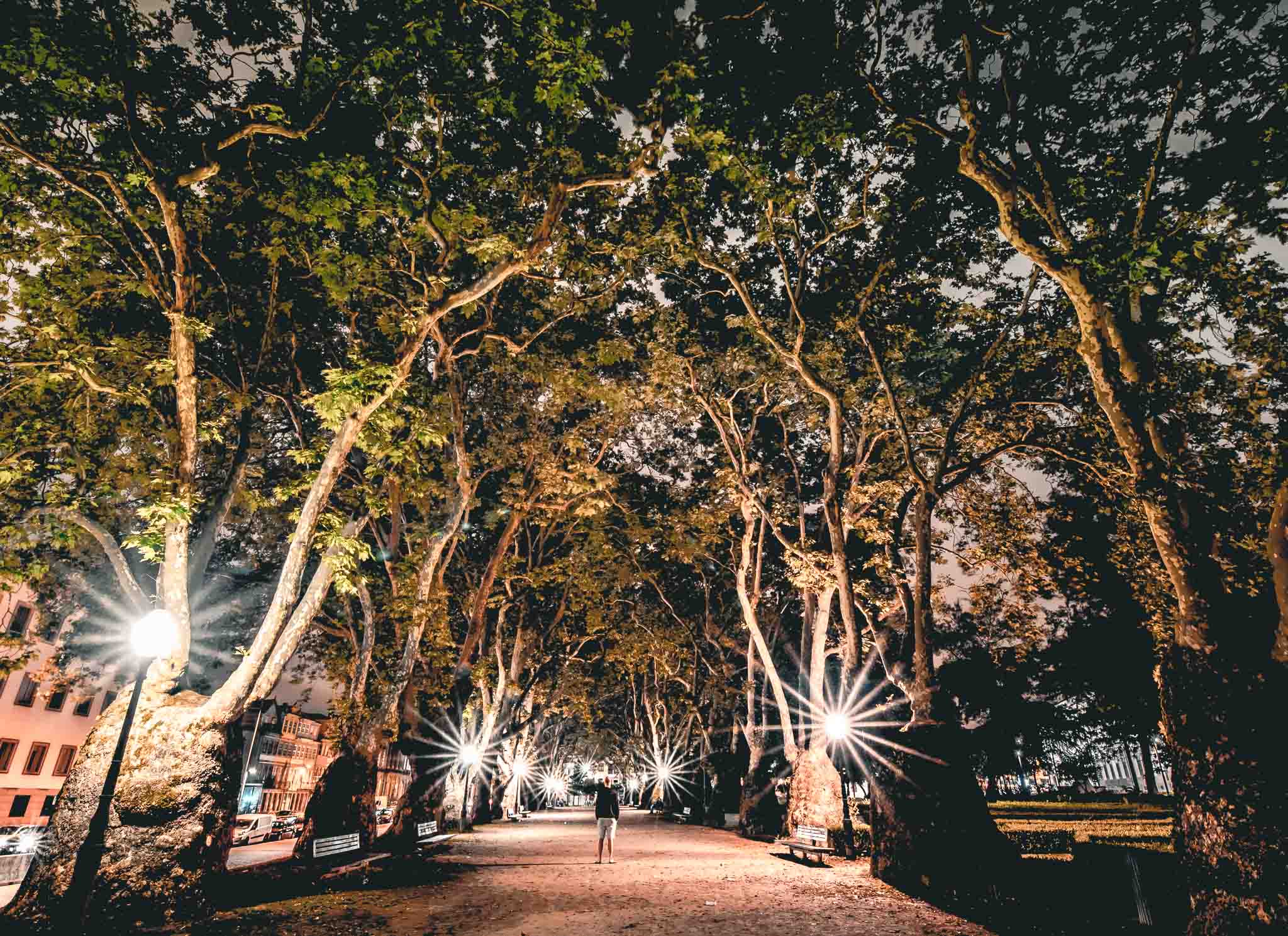 ---
World Cup Madness
Last, but not least, I absolutely LOVE being in Europe during the World Cup. I was living in Barcelona for the 2014 series and was traveling around Europe for pretty much the entire 2018 series. While I'm not typically the biggest soccer fan, I always get into watching the World Cup (which I think is pretty standard American behavior).
In Portugal, the world cup is a really big deal, and watching the games live at local bars or in the major squares where they broadcast the games on massive screens – supporting the Portugal team while in Porto was a must!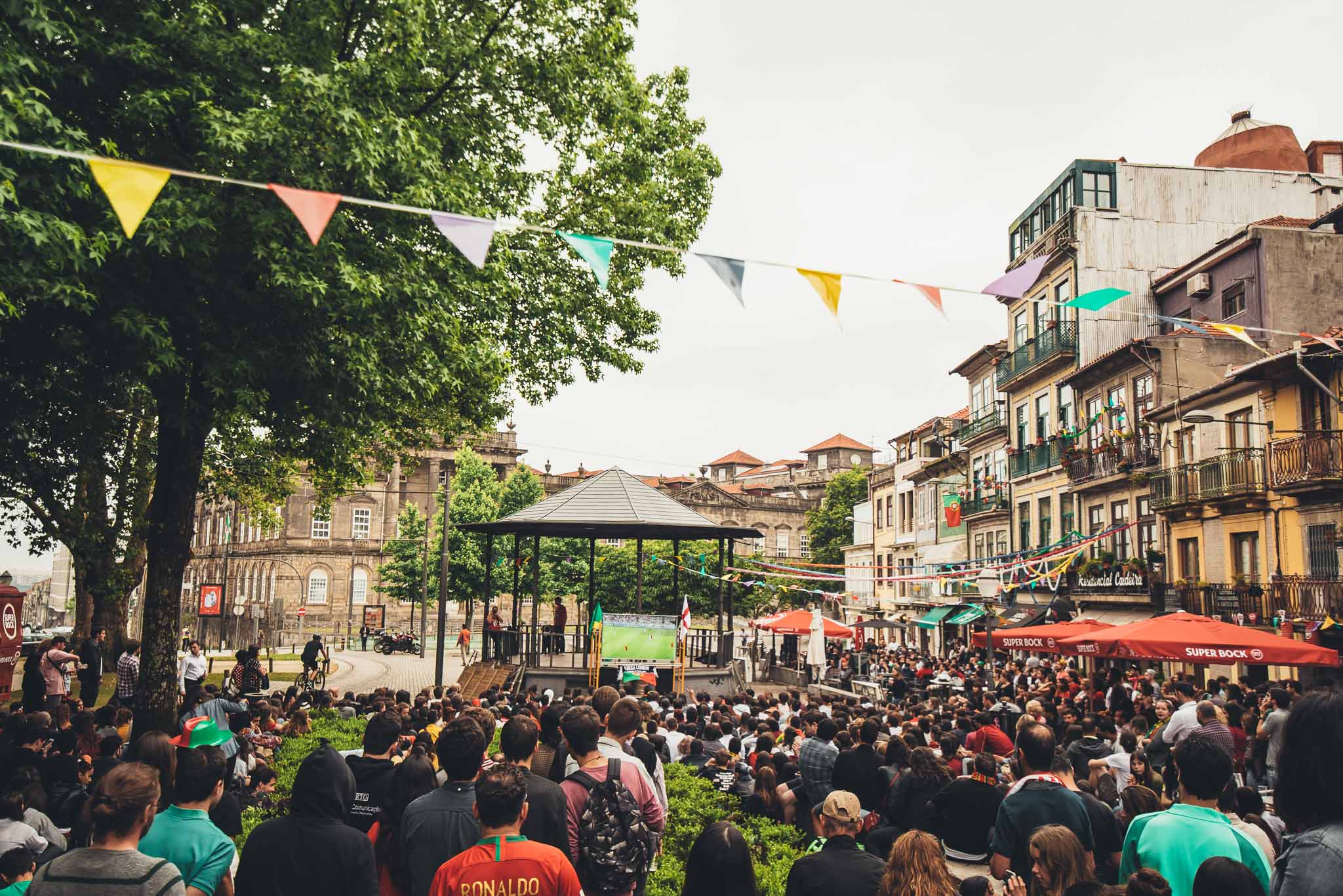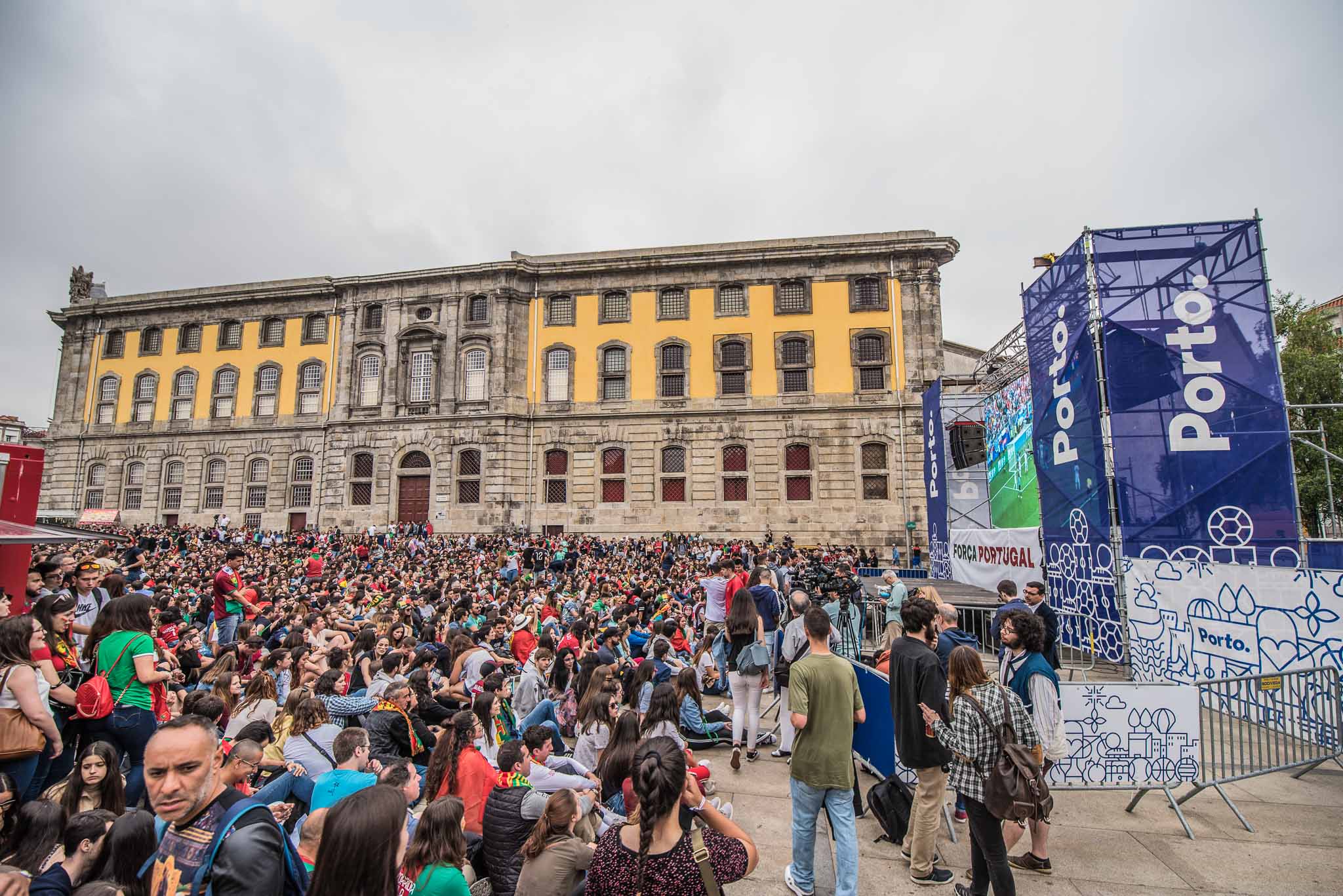 I just wish I had been in Paris when the French team beat Croatia! I could only imagine how crazy that experience would have been!
---
Final thoughts on Things to do in Porto, Portugal
As you can see, there's no shortage of sites to visit in this amazing city. The abundance of museums and old churches provides it with its historical character, while its people, food, wine and port make it a friendly and agreeable place to enjoy.
The city's long and distinguished history makes visits here all about gothic and medieval buildings, churches and museums. Though you can also choose to experience the traditional foods like the Francesinha or the Bacalhau com Natas (codfish with cream). Most of these dishes have a story behind them.
---
Thanks so much for reading my Porto Itinerary!
While I do think I need to get back to Porto for further explorations, it was an amazing 5-days in the city, and I really fell in love with this stunning place.
Have you been to Porto before? What were your favorite parts of the city? Let me know!
SHARE THIS Porto Itinerary with your Portugal travel crew!
https://www.jonesaroundtheworld.com/wp-content/uploads/2018/09/DSC_5600.jpg
1377
2048
Dave
https://www.jonesaroundtheworld.com/wp-content/uploads/2017/03/logotry-1-1-300x106.png
Dave
2020-01-17 03:38:37
2020-10-30 17:45:55
2 Days in Porto: The Perfect Porto Itinerary & Things To Do