There are many different ways to experience New South Wales, including some fun glamping Sydney spots as well as those in the surrounding NSW towns! So, if you're planning a trip to Sydney or other NSW areas, staying at a luxury campsite would certainly be a memorable part of your trip. I've done it and loved every single second of it!
New South Wales offers many amazing glamping sites for a seriously special and unique experience. You get to enjoy the tranquillity and simplicity of camping without any of the difficulties or hassles involved. Imagine arriving at a completely set up tent, complete with all of the comforts and amenities of a hotel room – all set in a beautiful environment. This is what you can expect from glamping around Sydney.
Here is our list of the absolute best glamping locations around Sydney. If you are after a unique stay as you go through your Sydney itinerary, then be sure to consider some of these awesome destinations.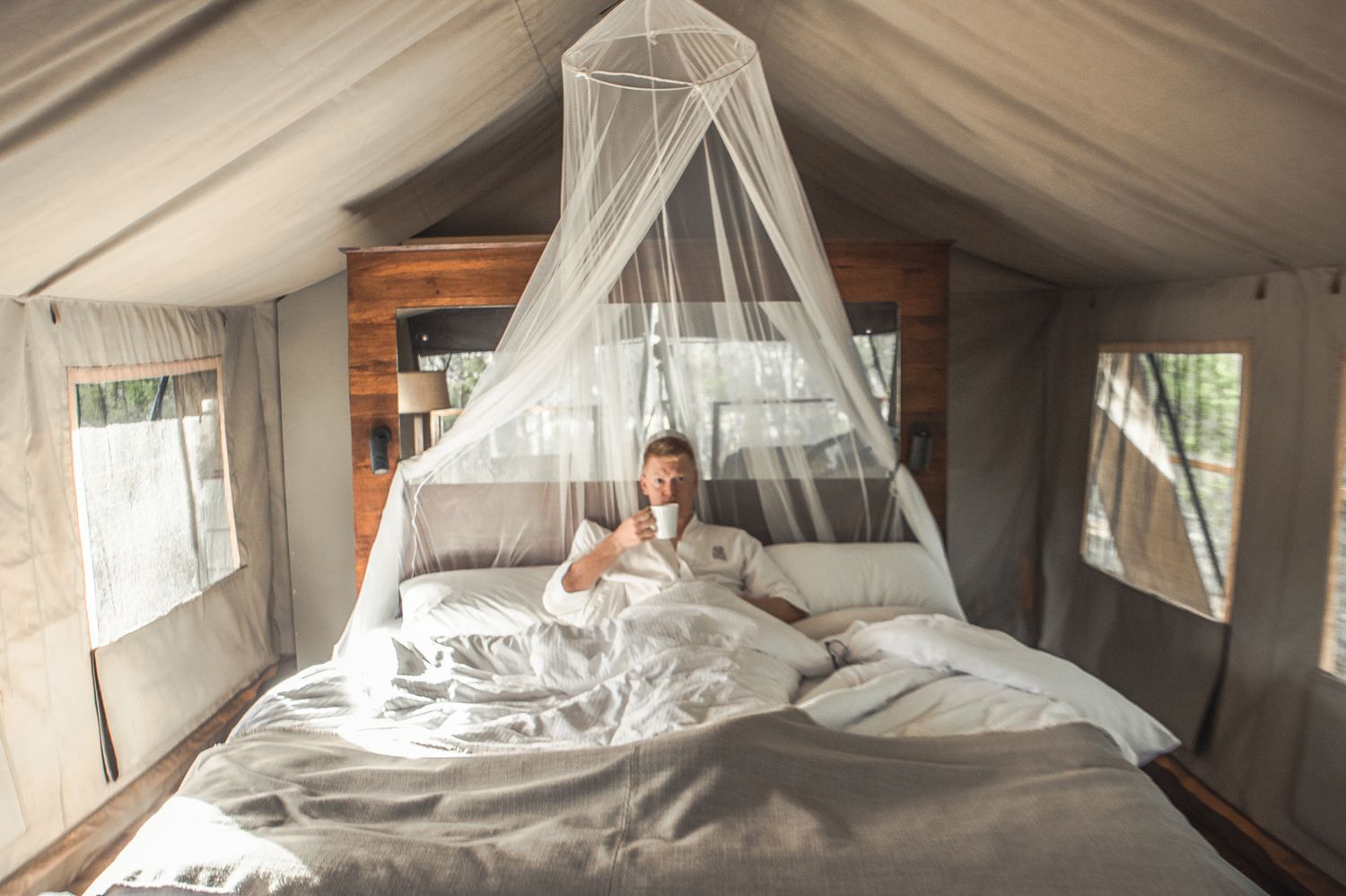 ---
Why Go Glamping Around Sydney?
New South Wales certainly is one of Australia's most beautiful and diverse states! In this part of the country, you can enjoy pristine beaches, wildlife, indigenous forests, wine valleys, and lots more. There is hardly a better way of experiencing this than by getting out to nature and camping.
The only problem with camping is that it can be such a challenging endeavor (especially for overseas visitors). With all the equipment, annoying setups, and lengthy packing sessions, a lot of fun can be taken out of the experience. This is the beauty of glamping. You just need to arrive, and you'll find a luxurious tent set up and waiting.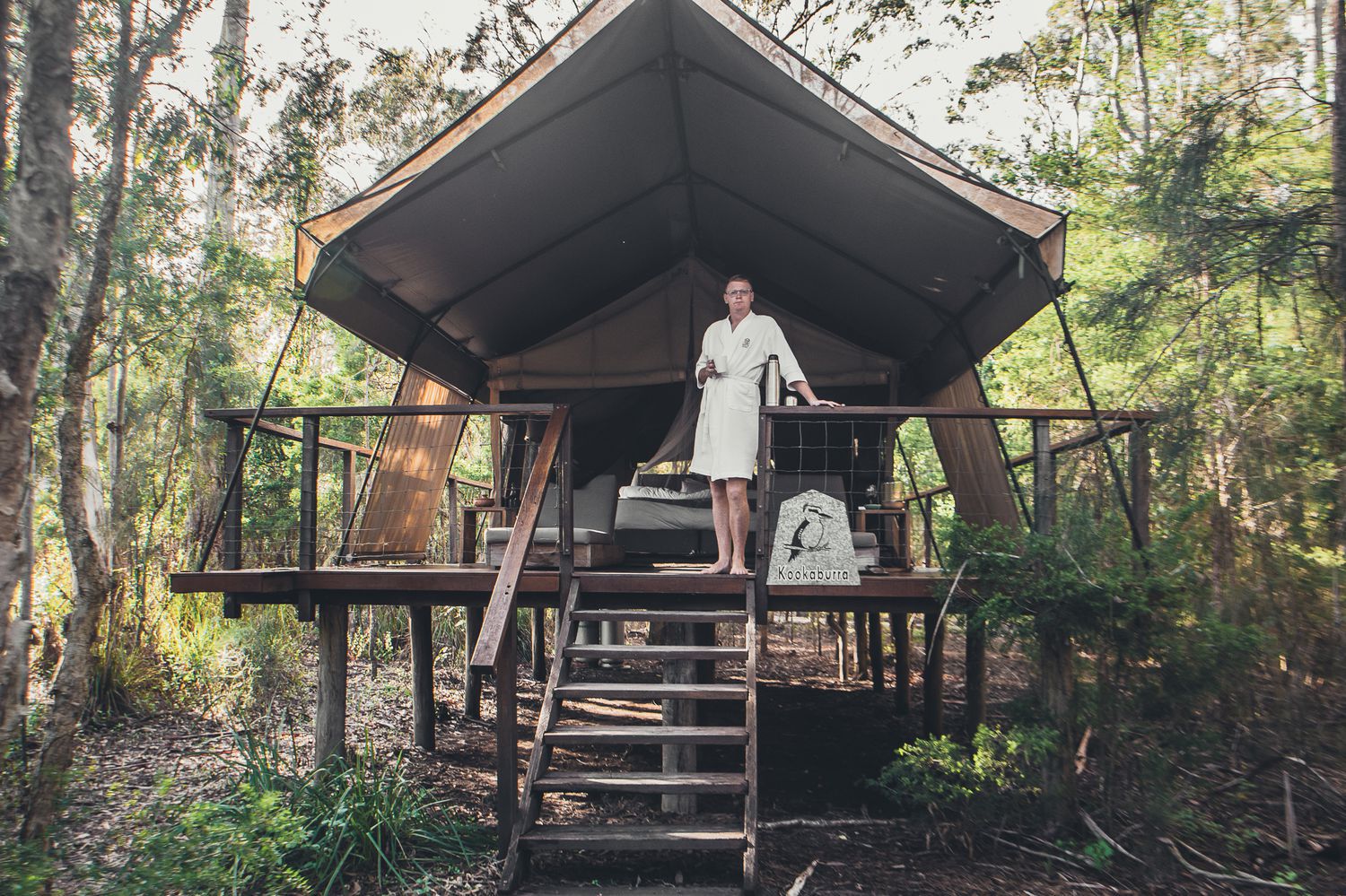 ---
The Best Glamping Accommodation NSW Has to Offer
Want to try this fun kind of accommodation for yourself? From luxury tents to rustic cabins and trailers, here are some great places for glamping in Sydney and its surrounds.
---
1) Lane Cove Holiday Park – Tandara
https://www.nationalparks.nsw.gov.au/camping-and-accommodation/accommodation/lane-cove-glamping
The Lane Cove National Park is a magnificent place for a holiday in nature. Not far away from Sydney's city center, this protected national park offers total natural bliss. There are rivers, forests, historical sites, and more. If you would like to stay the night here, then this property is perfect.
This romantic spot feels more like a hotel room – except that you are completely surrounded by nature. The first-class amenities found in the luxury safari tents include a luxurious bed and furniture, a TV, barbeque facilities, a shower, a toilet, free wifi, and more.
This NSW glamping spot offers uninterrupted views across the Lane Cove Valley and a real sense of seclusion in nature. Whether you come for the Australian wildlife, the national park activities, or just the luxurious tented accommodation – Tandara campsite will definitely impress.
Luxurious Camping in Tandara Tent, Lane Cove National Park
---
2) Glampr
Luxury tent accommodation NSW offers can be taken to the next level thanks to Glampr. This clever service allows you to rent fully equipped, luxurious bell tents anywhere around Sydney and NSW. This means that you can go glamping at a destination of your choice without having to lift a finger!
Australia is full of natural beauty and amazing campsites. While traditional bush camping is an amazing experience, it can also be a real pain getting everything set up. This is where a service like Glampr comes in so useful.
Glampr sets up a hotel-quality setting in a warm and comfortable bell tent with incredible camping beds. Think Egyptian cotton bedding, queen foam mattresses, mood lighting, table seating, and everything else you need for an unforgettable camping experience.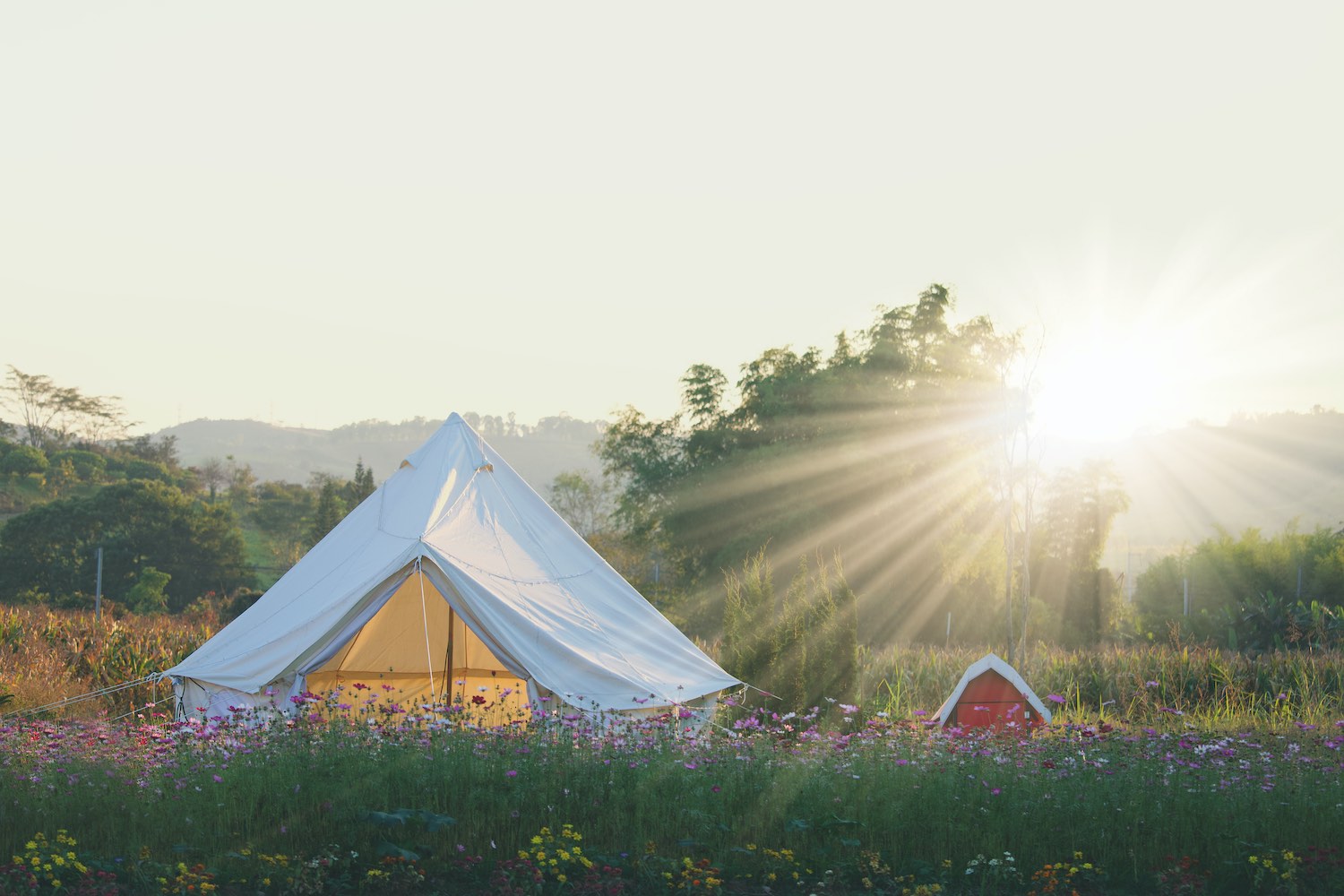 ---
3) Paperbark Camp, Jervis Bay
If you're looking for the ultimate experience in glamping Australia, NSW has the Paperbark Camp, which should definitely be on your list. This place in Jarvis Bay offers a complete luxury holiday while still staying connected to nature, perfect for a romantic weekend getaway.
The safari tents are modern, stylish, and kitted out, just like a hotel room. With a wooden, spacious deck, comfortable furniture, and plush details, staying in these tents is a total dream. Paperbark Camp also offers incredible food and wine for you to enjoy during your camping trip.
This means that you really don't have to lift a finger. Everything is already sorted out for you – just arrive, relax, and enjoy the amazing surroundings.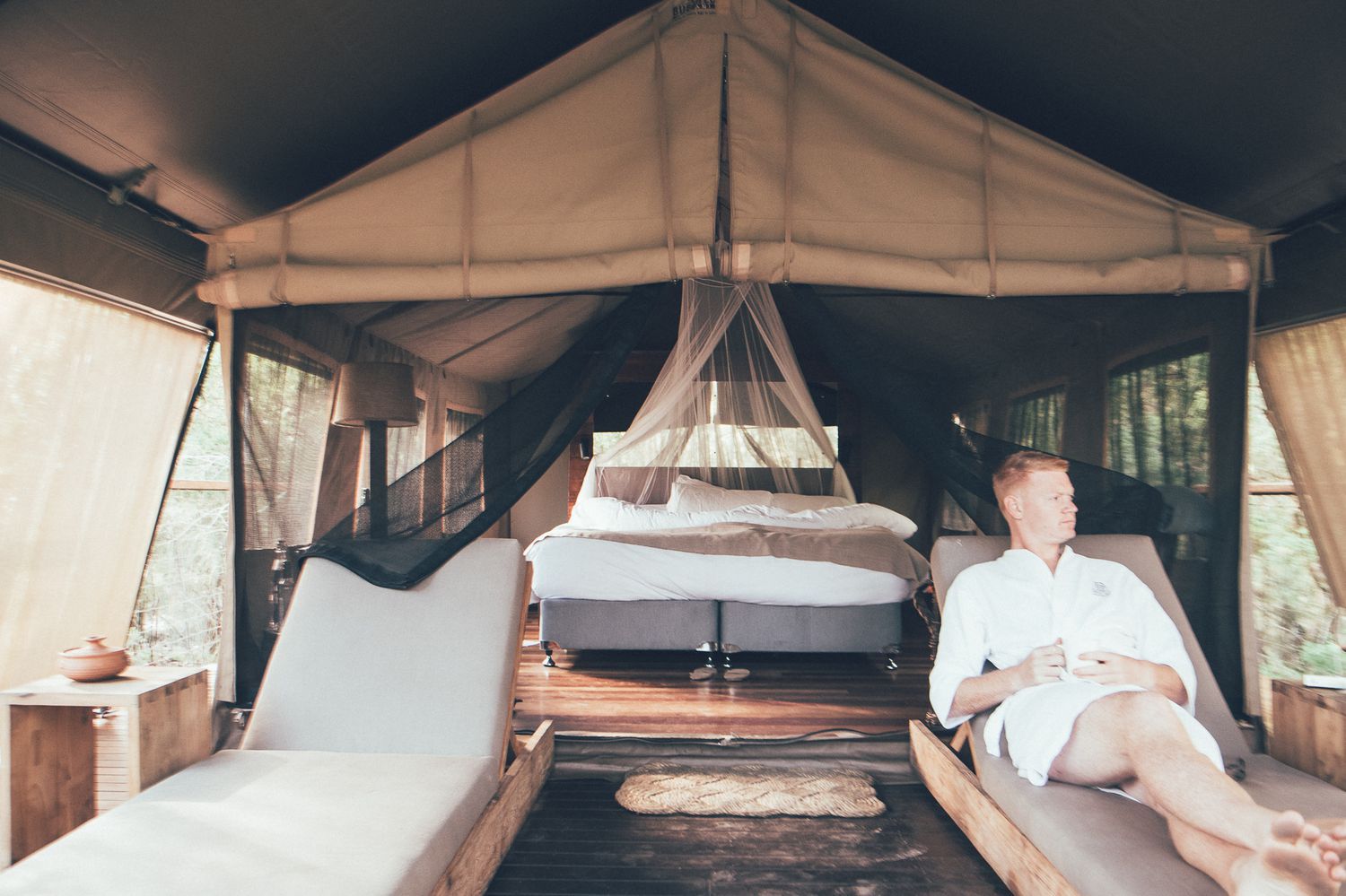 ---
4) Sierra Escape
https://www.sierraescape.com.au/
Sierra Escape has the best glamping Mudgee has to offer, and it's rightfully seen as one of the most glam and luxurious places to go camping in New South Wales. This glamping retreat is set on a beautiful 289-acre property full of wildlife. Seeing kangaroo or deer from your tent is not uncommon. The wilderness views are also hard to beat.
In terms of sleeping space, Sierra Escape really offers something special. The tents are complete with floor-to-ceiling windows, king-sized beds, a mini kitchen, a freestanding bath, a shower, and even an ethanol fireplace. Large wooden decks complete these comfortable tents.
There are a couple of luxurious tents to choose from, so you can pick whichever is most suitable for you. Whether you're visiting as a couple or a larger group, Sierra Escape can offer the ultimate accommodation.
Sierra Escape - Luxury Eco Glamping Mudgee
---
5) Glamping at the Shed
https://www.airbnb.com/rooms/39256249
This is one of the more fun glamping options for those seeking simple accommodation in Corrimal. The spot consists of a renovated RV trailer complete with a patio, hammock, and fire pit.
The interior of the caravan is really modern and sophisticated – offering all of the creature comforts that you would want on a holiday. The relaxing outdoor area is also a great touch.
Glamping at the Shed allows you to feel like you are out camping, except that you have every amenity and comfort that you require. If you're looking for a unique place to stay in Wollongong, then this would be a good choice.
View Photos, Read Reviews & Check Availability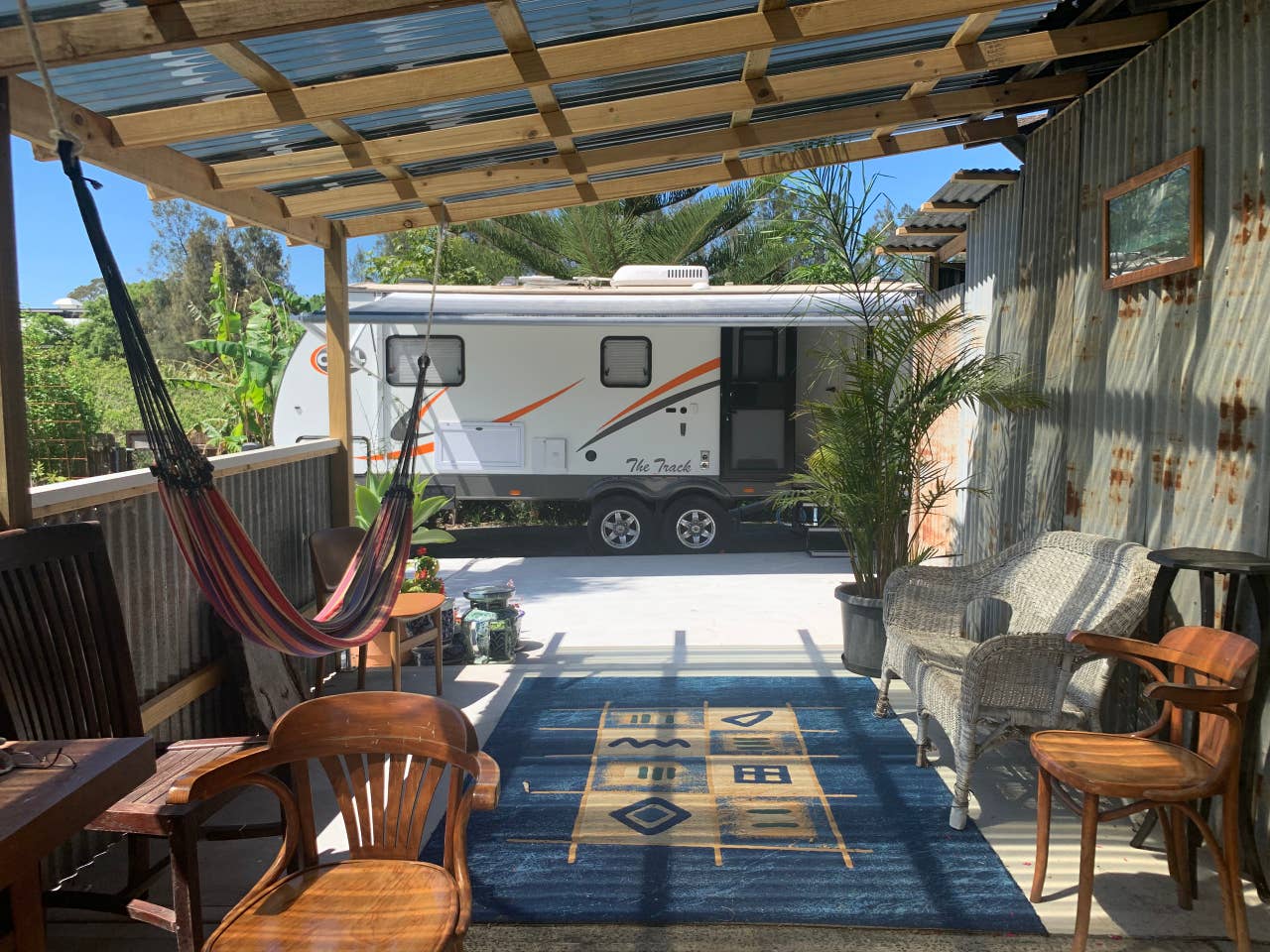 ---
6) Flash Camp Coolendel
https://www.booking.com/hotel/au/flash-camp-coolendel.en-gb.html
Looking for the best luxury glamping South Coast NSW has for you? This amazing campsite should definitely be high up on the list. Flash Camp is about 2.5 hours down the south coast from the city, and it offers visitors a complete sense of peace and solitude. While the tents are completely surrounded by nature, they cannot be thought of as a typical bush camping experience.
These tents are set up with only the best luxuries and comforts around. They come with plush bedding, solar lighting, a table and chairs, a handwoven rug, and plenty more comforts. The campsite is also amazing.
The property offers some fantastic Shoalhaven River glamping along with plenty of things to do outdoors. Visitors can go cycling, kayaking, birdwatching, nature walking, fishing, or searching for wombats in this fantastic spot.
AUSTRALIA'S BEST CAMPING EXPERIENCE (Flash Camp Glamping)
---
7) Safari Palm Tent
https://www.nrmaparksandresorts.com.au/ocean-beach/book-now/?sticky_category=34
The Ocean Beach Holiday Resort Park, just south of Ettalong, offers a fun glamping option called Safari Palm Tents.
These tents are fairly simple – but they are a definite step up from your regular camping experience. They come fully equipped with all the necessary amenities and facilities ready to go. You just arrive and relax.
The tents sleep up to four people and even have their own en-suite bathrooms, TVs, and kitchen areas. If you want to go glamping in New South Wales with kids, then this would be a brilliant choice.
The location is ideal for a family holiday – being within easy reach of Umina Beach and Brisbane Water National Park. There is plenty of fun to be had around here. Glamping on the central coast doesn't get much better than this.
Tuckeroo Safari Tent - Byron Bay
---
8) Tanja Lagoon Camp
https://www.tanjalagooncamp.com.au/
Tanja Lagoon Camp is found in a serene national park and offers some of the best luxury glamping NSW has to offer. Staying here is a luxurious way of enjoying the great outdoors.
The safari-style tents in this site are complete with an en-suite bathroom, queen-sized beds, a kitchen, barbeque, and all other necessary furniture. There is also the option of choosing a deluxe tent, which has a large double bath for hot showers.
Visiting here is all about slowing down and enjoying the nature around you. Some outdoor activities in the park include canoeing, biking, walking, and wine tasting. However, one of the best ways to pass the time here is just relaxing on the comfortable patio furniture – enjoying the soft sounds of nature.
---
9) Roar and Snore, Taronga Zoo
https://taronga.org.au/sydney-zoo/accommodation/roar-and-snore
Did you know that you can escape to the wilderness right in the heart of Sydney? At Roar and Snore, you can spend a night glamping out in the Taronga Zoo. This is a really fun experience, as you will be surrounded by giraffes and elephants. A stay here includes a night tour of the zoo which is really interesting. You'll also get to enjoy some stunning Sydney Harbour views from your tent.
The tents are seriously comfortable and perfectly set up – offering everything you need for a great night's sleep. You also get a tasty buffet dinner included. Just be aware that the elephants are known to wake campers with their early morning calls!
Sydney Taronga Zoo Sleepover - the Roar and Snore - what's it like?
---
10) Mayfield Garden
https://mayfieldgarden.com.au/whatson/glamping/
Australia's largest privately owned cool climate garden is a spectacular place to visit in NSW. Mayfield Garden may have a huge list of reasons to visit, but right now, we're interested in the glamping.
Every year around springtime, Simple Pleasures Camping Co will set up one of the best glamping NSW sites with an eco-friendly glamping retreat in the garden. This is a luxurious camping experience like no other.
The glamping here can be enjoyed in one of the 15 bell-shaped tents. These tents are kitted out with vintage furniture and decor, queen-size beds, and high-end finishes. Reaching the site is pretty easy from Sydney, and it offers a total escape from the city.
While staying here, you can enjoy all that is on offer at Mayfield Garden. There is an 80-meter waterfall, a walled kitchen garden, an aviary and rose garden, a 6-acre water garden, a pond, and a bluestone chapel. This is a really beautiful place to immerse yourself in and enjoy the marvelous garden surroundings.
See You at Mayfield Garden
---
11) Cockatoo Island Glamping
https://www.booking.com/hotel/au/cockatoo-island-houses-and-apartments.en-gb.html
Cockatoo Island is a UNESCO World Heritage-listed island located alongside Sydney Harbour. The island is a popular escape for city dwellers, as you can easily enjoy a small slice of paradise minutes away from the city.
If you're looking for glamping accommodation in New South Wales, then this spot is definitely one of the most easily accessible.
Cockatoo Island Glamping is a very unique Sydney experience. The tents here are well-equipped with all the amenities and comforts that you would require. This is not luxury glamping, but you do get a well-stocked tent on arrival – finished with everything you need.
The island also has a fun bar, and woodfired pizzas available. This is the only island in Sydney Harbor where you can stay overnight, so it's definitely worth trying out. The waterfront views are great.
---
12) The Escape, Clyde River
The Escape is an award-winning destination that offers a peaceful escape from the busy streets of Sydney. This luxury camping NSW experience offers the best of the southern coast. Here, you can enjoy the solitude of bush camping but taken to the next level with a sophisticated tent setup.
The Escape at Clyde River allows you to choose between luxury tents or a studio – both fantastic options. The accommodation is right along the riverside, on the property's 80 acres of pristine land. If you're looking for serenity, peace, and quiet – then this is one of the best glamping spots available.
Kayak Camping On the Clyde River, Catch and Cook
---
13) Nashdale Lane Glamping
https://nashdalelane.com/pages/glamping
Nashdale Lane is a wine farm that offers a seriously special glamping experience. If you're looking for a getaway focused on simple luxuries, fine wine, and a beautiful setting, then this is the place.
Each luxurious tent is set up amongst the vineyards. Stunning views can be enjoyed from all over. The tents include a wooden patio, barbeque area, kitchenette, lounge, and super comfortable bed. It really doesn't get much better than sitting outside your tent here with a glass of wine in hand.
Those who really don't want to lift a finger during their stay can make full use of the amazing restaurants in the area. This has got to be the best way to enjoy a stay in wine country.
Nashdale Lane Glamping Cabins
---
14) The Enchanted Cave, Blue Mountains National Park
http://www.lovecabins.com.au/Enchanted-Cave.aspx
This place doesn't offer a tent or caravan – so this is no regular glamping experience. Instead, you will get to stay in a fully kitted-out cave in the Blue Mountains National Park, which adds a completely new twist to the idea of glam camping NSW. This is definitely not your everyday camping experience, but it's unquestionably something worth trying out.
Just because you're staying in a cave, it doesn't mean that you will have to live like a caveman. This luxury accommodation in NSW is finished off with all the comforts you could expect from a top hotel.
There is a queen-size bed, an en-suite spa bathroom, a modern kitchenette, a TV, and more. The main reason to stay here is to just soak up the view and enjoy being surrounded by nothing but nature.
SNEAK PEAK: Enchanted Cave and Secret Treehouse!
---
15) Silk Pavilions
https://www.booking.com/hotel/au/silk-pavilions.en-gb.html
Enjoy 4-star glamping accommodation in Mount Burrell at Silk Pavilions. Located in the heart of the Tweed Valley, this place has everything you would want for a picturesque holiday to remember. Glamping here really is deluxe, as each unit is complete with a private deck area and hotel-style finishes.
Silk Pavilions is known for its exceptional views and natural beauty. There's loads of land to explore here, where you can find all kinds of creatures and nature sights. Returning to your accommodation is a blissful experience. There is also a restaurant onsite, and breakfast is included, making your stay a whole lot easier.
Silk Pavilions - Mount Burrell Hotels, Australia
---
16) South Coast Retreat
https://www.booking.com/hotel/au/south-coast-retreat.en-gb.html
Located in Greenwell, South Coast Retreat offers the perfect opportunity for glamping NSW's south coast without lifting a finger. At your waterfront accommodation, you'll find a fully stocked safari tent that will be awaiting your arrival.
Glamping units here are complete with kitchen facilities, a TV, lounge furniture, and large comfy beds. There are also barbeque areas, access to a pool, a children's playground, and a fabulous little restaurant.
The area is within easy reach of Culburra and Callala Beach. You can also quickly reach Shoalhaven Heads and Nowra from the glamping site. There is plenty to do here, and without having to set up a campsite, you will have more time to enjoy everything on offer.
---
17) Bubbletent Australia
https://bubbletentaustralia.com/
This super cool Bubbletent has got to be one of the most unique places to stay in NSW. The kind of views that you can enjoy from the clear dome tent around you are really out of this world. The tent is then taken to the next level with a hot tub, private deck, fireplace, telescope, and luxurious hammocks.
The great appeal of these tents is that you can lie in bed and watch the sunrise over the beautiful natural surroundings. You can also enjoy the sights of the starry night sky from the comfort of your bed. If you're after a completely unique way of staying out in nature, then this would be the place to do it.
These Bubbletents are found 200km (125 miles) north of Sydney, overlooking the Capertee Valley. This is a really scenic area of NSW with loads of activities available to holidaymakers.
Glamping in a bubbletent | Getaway
---
Am I Missing Any Amazing Places to Go Glamping Near Sydney?
While doing research for this article, we were amazed at finding all of these incredible glamping sites near Sydney in New South Wales! With Australia being such an incredible destination for outdoors lovers, we're sure more and more are popping up every year!
So if you think there is a specific Glamping experience that should be included on this list, we'd love to hear so we can add it!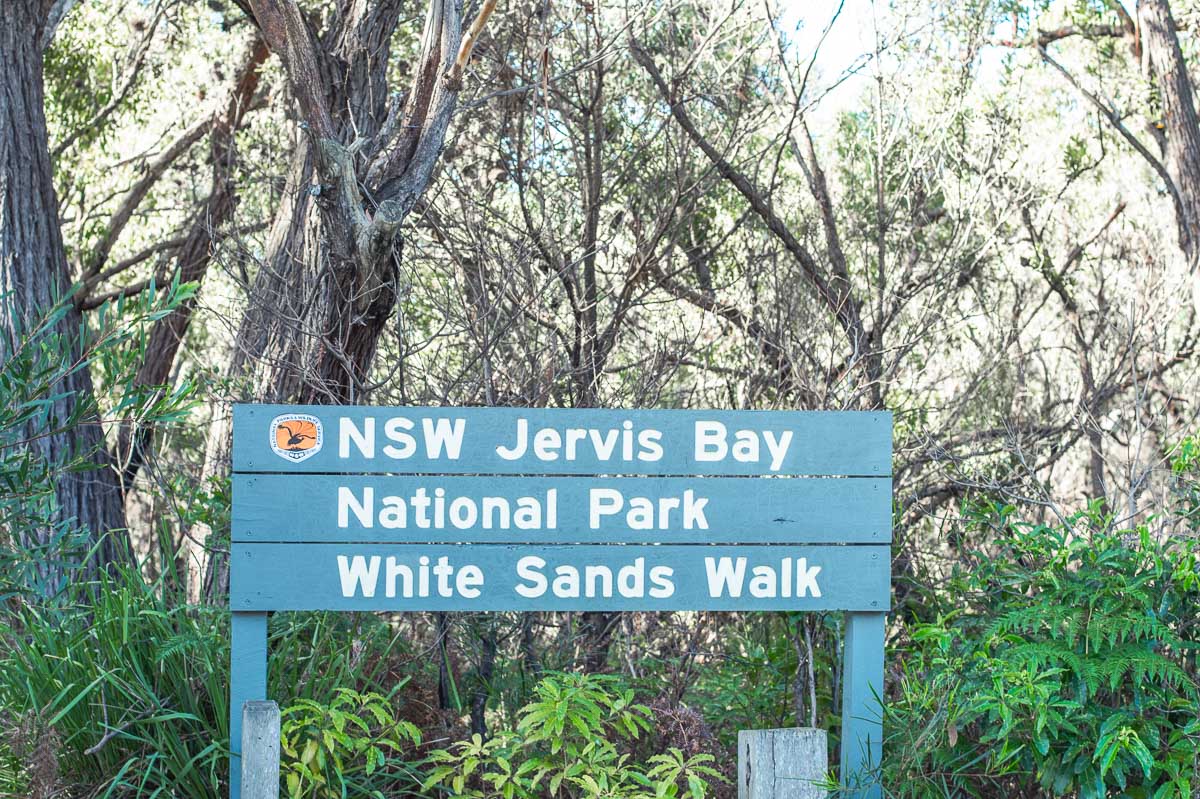 ---
Final Thoughts On Glamping NSW Holidays
Glamping offers the perfect combination of bush camping and hotel luxuries. You get to enjoy the tranquility and simplicity of being out in nature while still enjoying comfort and convenience. With no effort or major equipment involved, glamping holidays are fun and easy.
Sydney and the surrounding NSW area are full of excellent glamping sites. Whether you're looking for a quick city escape or an unbeatable family holiday, these places offer some great experiences.
---
Planning a Trip to Australia?
Having lived and worked down under, as well as traveled the country quite extensively, my website is filled with fun and helpful articles! Take a look through a few of my favorite posts for travel inspo: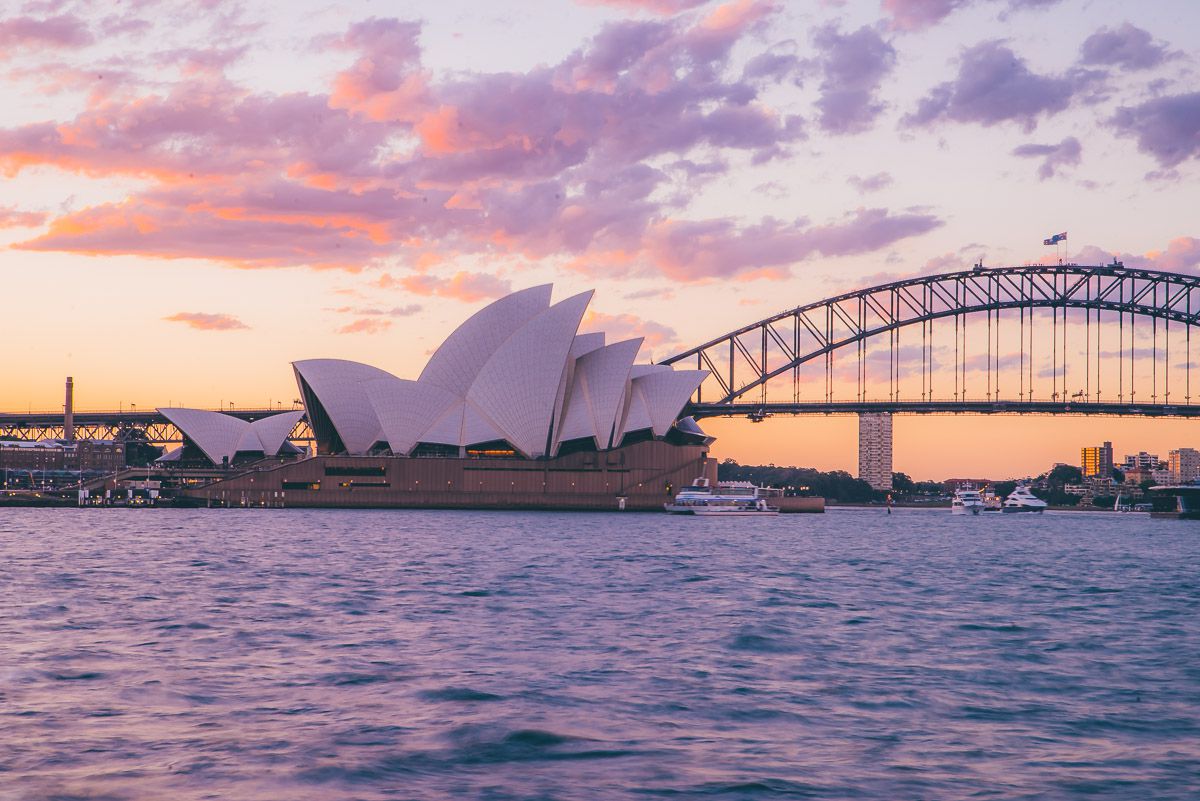 ---
Thanks for reading my Sydney Glamping guide!
https://www.jonesaroundtheworld.com/wp-content/uploads/2020/02/Elebanah-Luxury-Camping-Sydney-Glamping-.jpg
720
1280
Dave
https://www.jonesaroundtheworld.com/wp-content/uploads/2017/03/logotry-1-1-300x106.png
Dave
2020-01-23 05:50:59
2023-09-05 05:51:03
Glamping Sydney & New South Wales: 17 Epic Places to Stay At