Two Week in Malaysia: The Best Travel Itinerary
Looking for the perfect two-week itinerary for Malaysia?
I've spent quite a lot of time traveling through Malaysia, and I think it's the most underrated destination in South-East Asia.  There's an amazing capital city, gorgeous landscapes, and pristine islands.  The food is delicious, the transportation is comfortable, and I've found the locals to be incredibly kind and hospitable.  While two weeks in Malaysia isn't quite enough time to see everything, you'll still have plenty of time to have an incredible tour through the country
So take a look at my two-week Malaysia Itinerary, and feel free to contact me with any questions you have! I honestly love hearing from people who have used my website to help plan their travels, and I'll be happy to Malaysia itinerary questions you have!
ALSO – I recently published an AMAZING article titled "The Best 7 Places to Visit in Malaysia in 3 Days | Epic Islands & Weekend Getaways that goes over a lot of the destinations on this Malaysia Itinerary in great detail! Give it a read or bookmark it, as I guarantee it'll be super helpeful!"
---
I'd also highly recommend purchasing the Malaysia Lonely Planet Travel Guide to assist you during your travels in the region. It can be incredibly helpful on the road, and is filled with travel tips, restaurant recommendations, and much more!
---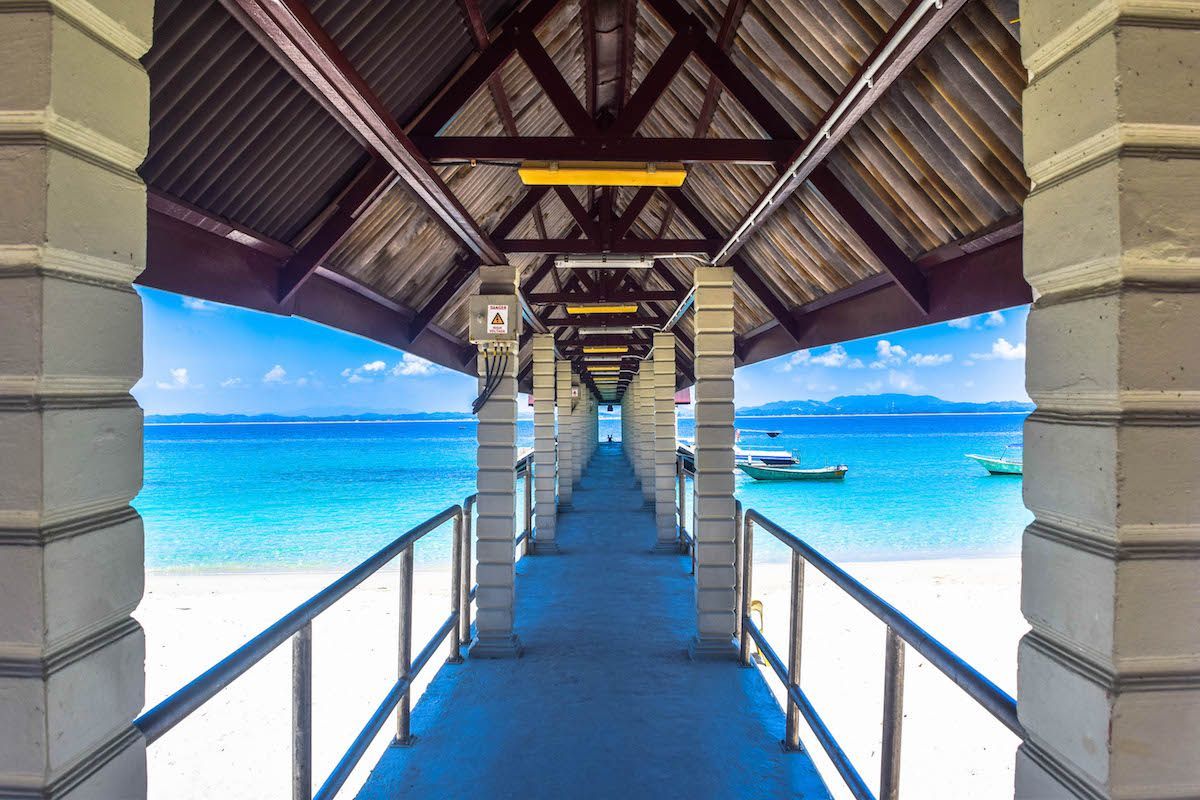 Two Weeks in Malaysia Itinerary Overview
Before we dive into my full guide, here's a quick overview on what this itinerary will cover:
Kuala Lumpur (3 Days)
Cameron Highlands (2 Days)
Penang (3 Days) 
Langkawi (4 Days) 
This also includes one-day travel time back to Kuala Lumpur for your flight home (but if you're traveling across Southeast Asia for longer, you could easily take a ferry up to Thailand from Langkawi, or hop on a flight as Langkawi does have an international airport.
---
Two Weeks in Malaysia Travel Insurance
While I never travel anywhere without booking a travel insurance policy, I think this is especially important in Malaysia or South East Asia, where moto bike accidents happen, hostels can sometimes have theft problems, and tropical diseases like Dengue could get you in hospital.
I highly recommend HeyMondo due to their extensive range of cover for all situations and trip lengths, their fair pricing, and their handy app which allows you to not only manage any claims within the app, but also access free assistance online so you don't need to rack up an expensive phone bill while in Malaysia where the charges are steep!
So, whether you need a single trip cover for two weeks in Malaysia, or an affordable annual cover for multiple trips worldwide, be sure to buy your travel insurance before you travel, and relax during your trip knowing that HeyMondo has your back. Nowadays I would never travel without insurance again, especially after hearing so many of those (expensive and dangerous) horror stories from other travellers I've met!
Still planning your trip? You can always just get a no commitment travel insurance quote now, so you have an idea of how much extra to budget for your vacation!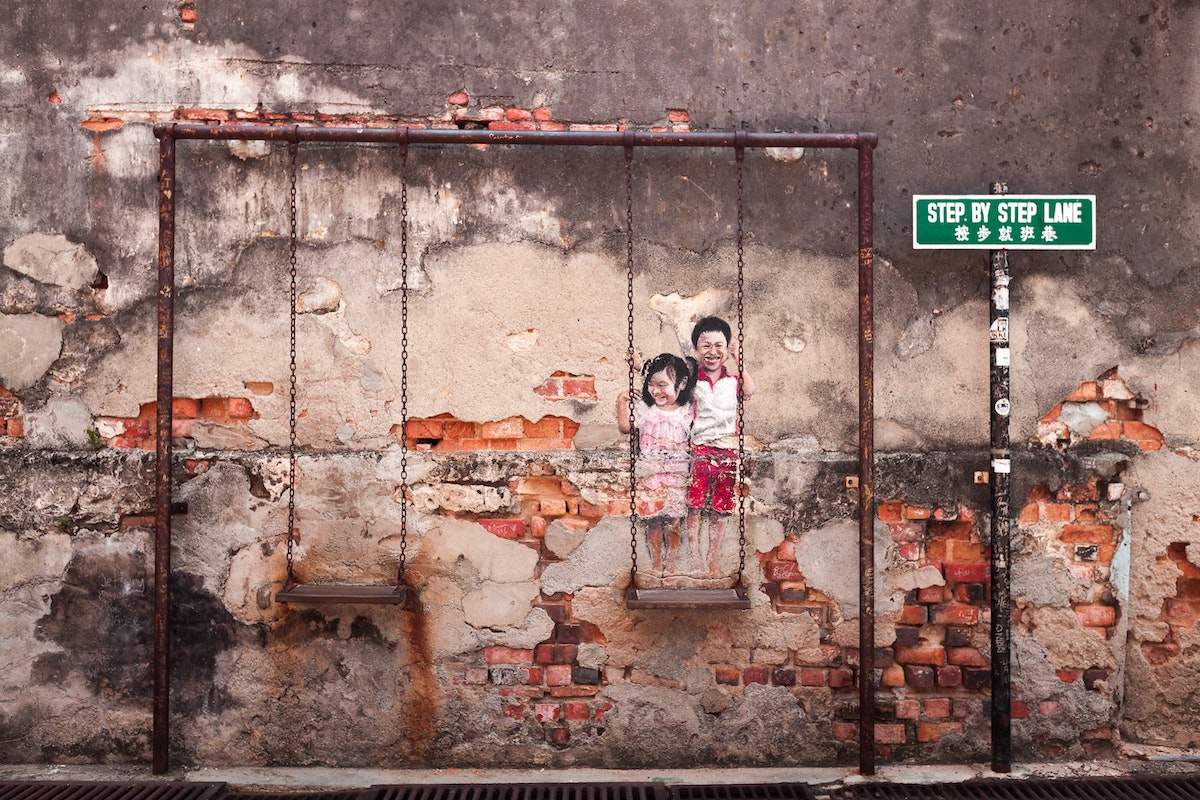 ---
Arriving into Malaysia | Kuala Lumpur Airport Tips
Welcome to Malaysia! Most people who travel to this wondrous country begin and end their travels at Kuala Lumpur International Airport, which is actually one of my favorite airports in Southeast-Asia (but not quite as fascinating as Changi Airport inSingapore).
It's a very clean, comfortable, and easy to navigate, but it's also nearly an hour outside the city center by car.  
The main issue that people face at KLIA is that customs/ immigration is notorious for taking a while!  While I've arrived several different times and had only a ten-minute wait, don't be surprised if you arrive to a large queue! But at least you've been warned!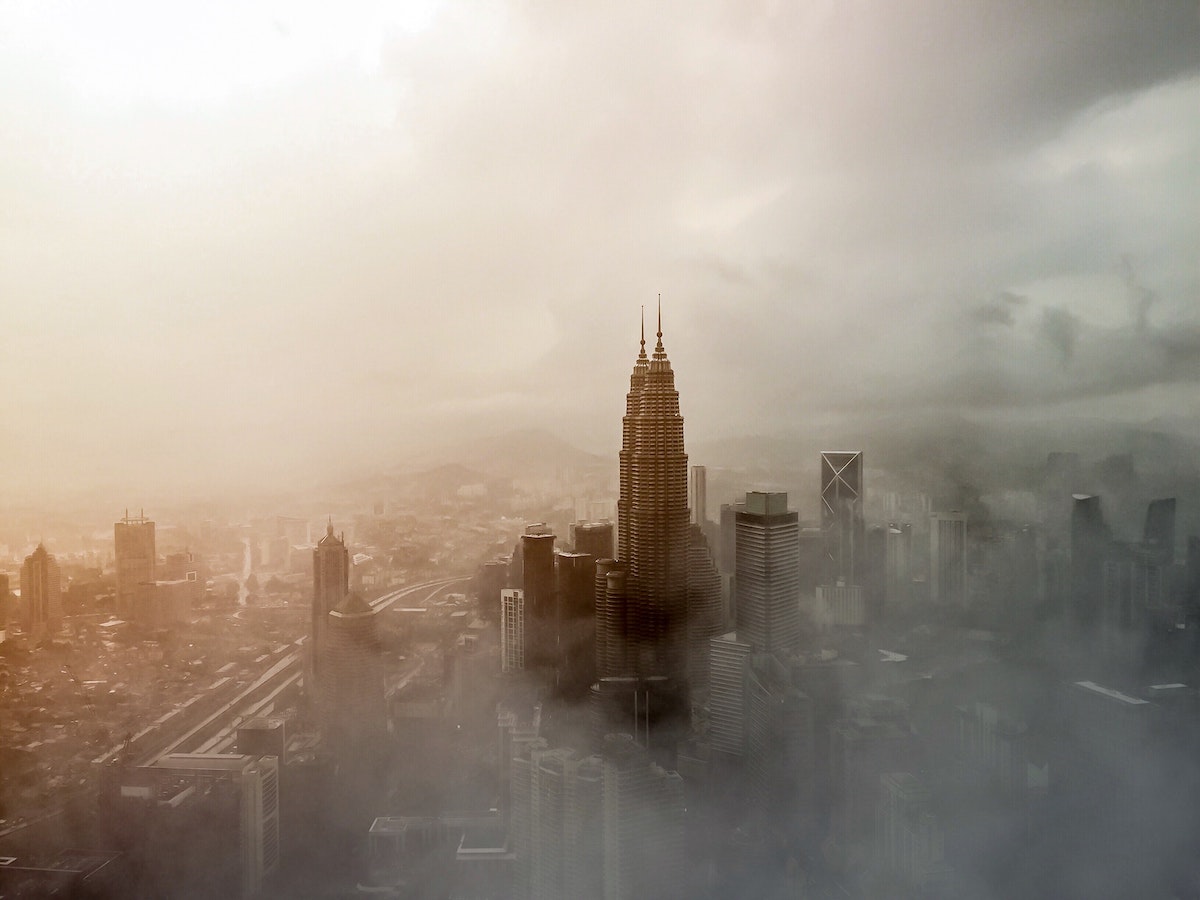 ---
How do I get from KL airport to City Centre?
There are basically four main options: bus, train, taxi, or pre-arranged transfer!
The bus is the cheapest option costing 11 MYR ($2.63 U.S.D), and will take about one hour or more depending on traffic.  Just follow the bus signs at the airport (on the bottom level), and you'll be able to purchase your tickets there.  The bus is comfortable and safe, but if you get stuck in traffic (which happens often in KL), it can be very draining, especially after a long flight!  I really only recommend this option if you're a budget traveler, and want to save as much money as possible!
The train is a much better option, in my opinion, taking you directly to KL Sentral station in 28 minutes! You can't get stuck in traffic, it's super comfortable and it's much easier to find (there are signs everywhere for the KLIA Express). Just make sure you book tickets in advance though because it costs more at the airport!  You can get into the city center for only US$ 11.49! 
Taking a taxi from KLIA airport to the city should cost between $30-$40, but the taxi drivers are always trying to rip off people.  Instead, I'd recommend downloading a couple of Malaysia's Rideshare Apps in advance, and using one of those!  The most popular is GRAB, and you should be able to get some free credit for signing up for a new account (which is always a nice incentive)
 Finally, if you're traveling with a large group or enjoy having a private-shuttle arranged, I'd recommend booking this Premium Private KLIA Airport Transfers.  They'll be waiting for you at the airport for a hassle-free shuttle service, and will drop you off at the door of your accommodation/Airbnb!
Now, maybe it's because I've gotten a bit older, and want to take the stress out of traveling.  I've begun to avoid the bus + train options because I always stay at the same Airbnb in Kuala Lumpur, and I'd much rather just skip the process of being dropped off at KL Sentral Train station.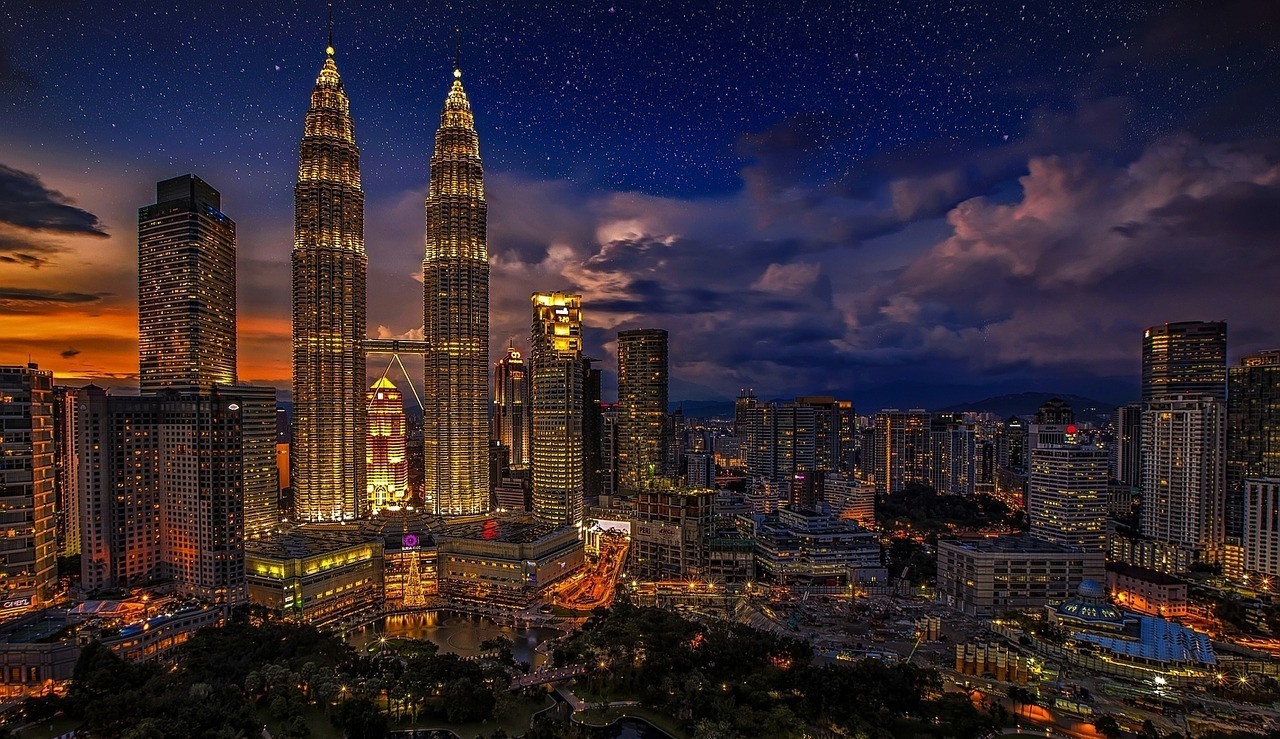 ---
Malaysia Itinerary Days 1-3: Kuala Lumpur
You'll most likely be starting your Malaysian adventures in the amazing capital city of Kuala Lumpur. With its impressive skyline, delicious cuisine, and never-ending shopping options – you definitely won't be bored during your time in Kuala Lumpur!
I'll admit that the first time I visited the city, I actually wasn't a big fan – but I have since grown to love this city, and even treated it as my home-base while backpacking through South-East Asia!  I've thought about moving back to Kuala Lumpur on multiple occasions, and I hope you'll enjoy your time there as much as I do!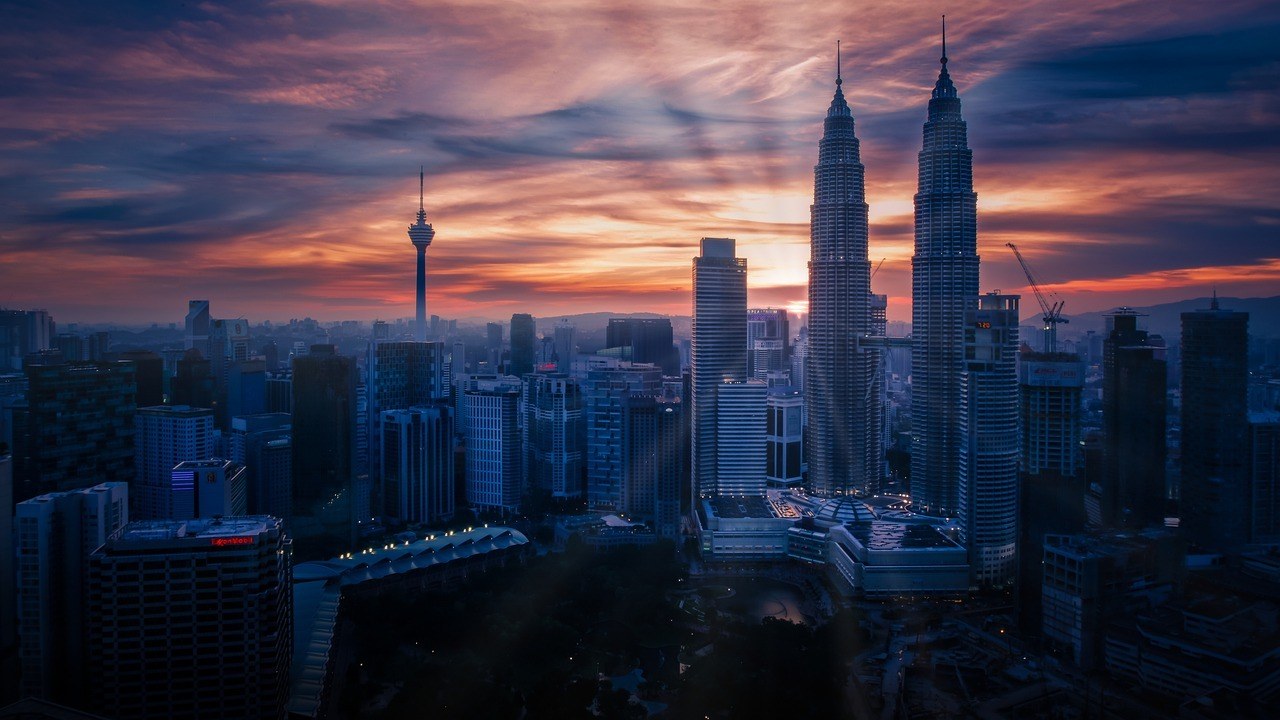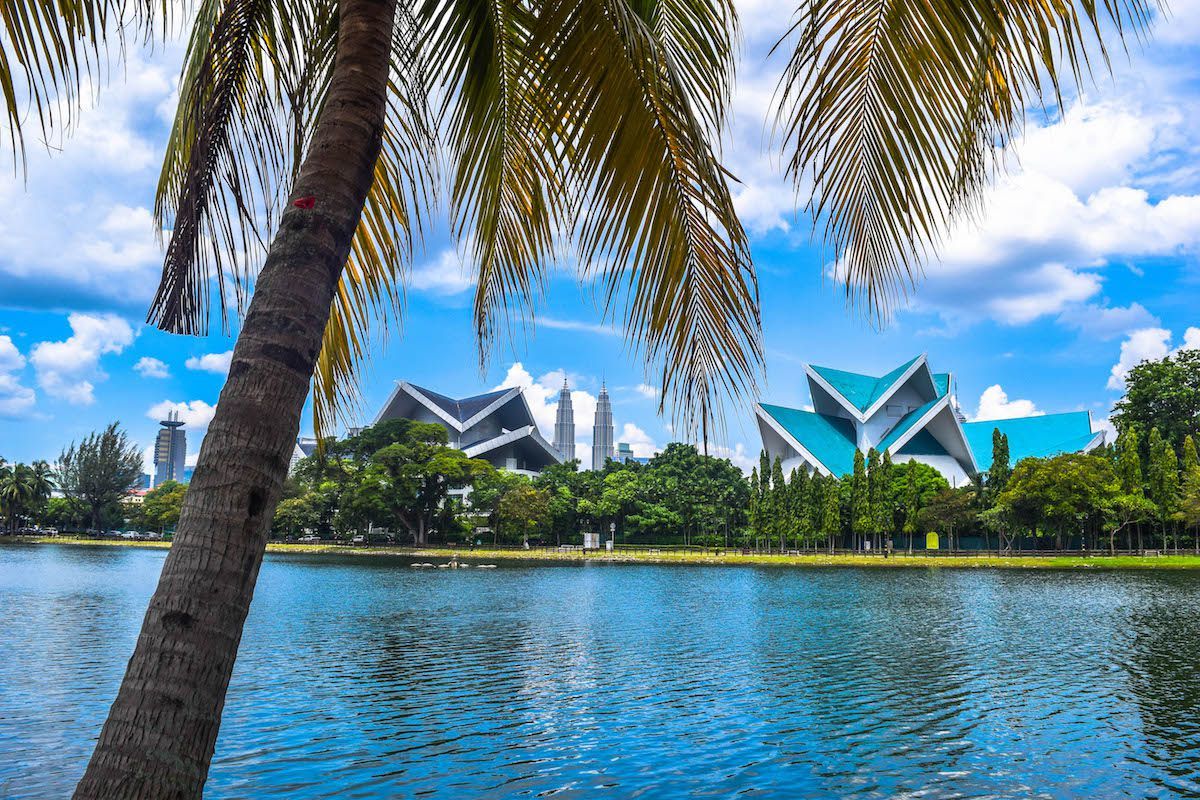 ---
Kuala Lumpur Highlights include:  
Visiting KLCC & The Petronas Towers is a must!  These magnificent twins are truly stunning, and the most iconic building in Kuala Lumpur for a reason!  I'd recommend booking in advance + skip the line for the Petronas Towers!
Explore the Magnificent Batu Caves! Located just outside the city center you'll find this massive series of caves and cave temples, but climbing up the colorful steps is half the fun.  It's super easy to get to on public transportation, or you can combine it by checking out this Kuala Lumpur Suburbs and Batu Caves tour for only $9.59!!
Staying in an AirBNB at the Regalia Condominium for infinity pool swimming!  So this is where I lived during my time in Malaysia, and it's become an Airbnb hotspot in the city!  Amazing and affordable condos, great city views, and an unbelievable pool!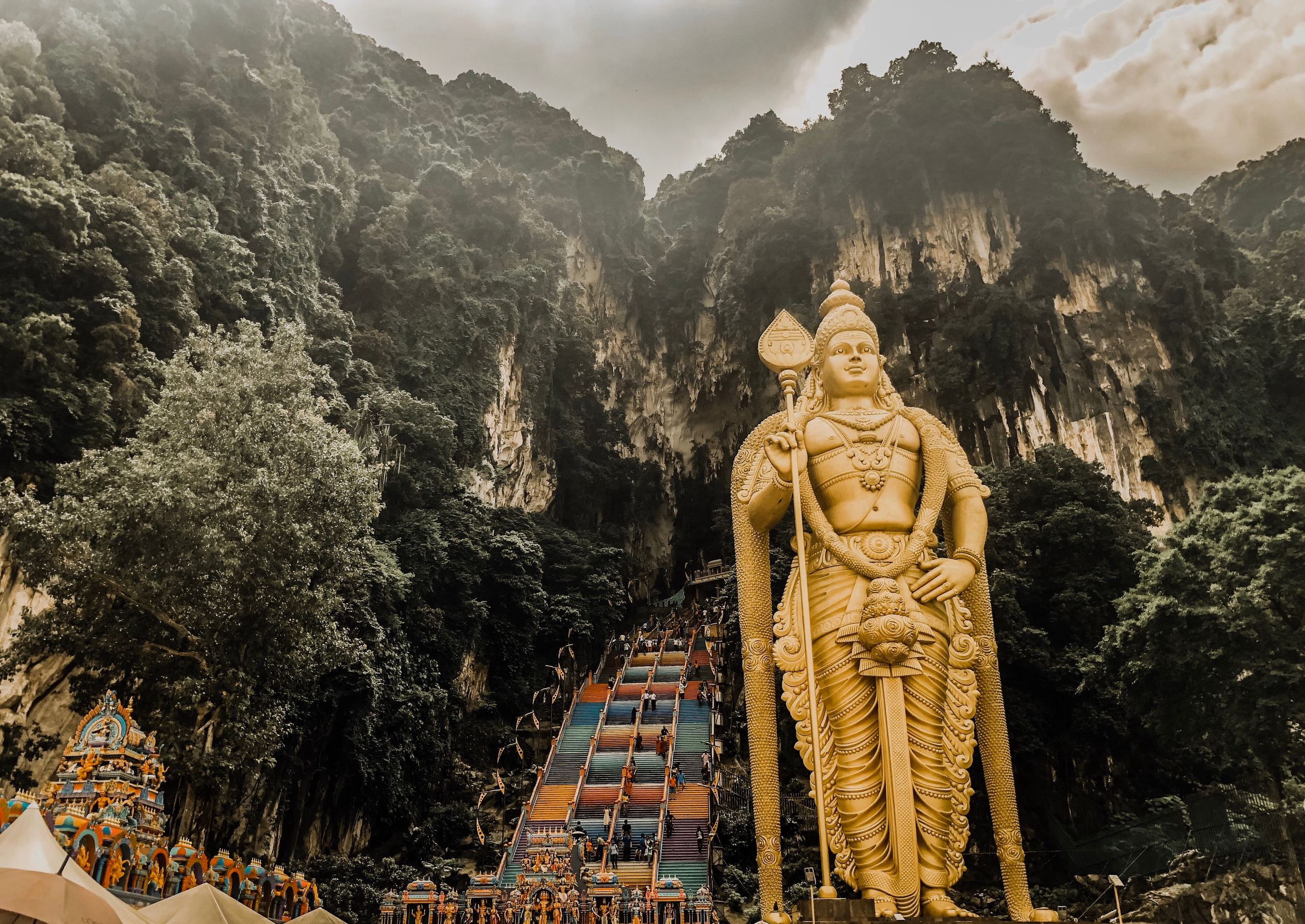 Heli Lounge Sunset Drinks!   
Dinner on Jalan Alor in Bukit Bintang
Shopping & Street Food on Petaling Street
Rooftop Hostel party at Reggae Mansion
Little India
---
Further Reading:
I've written tons of awesome guides on Kuala Lumpur, so be sure to check and bookmark a few of these to help with your Malaysia trip planning fun!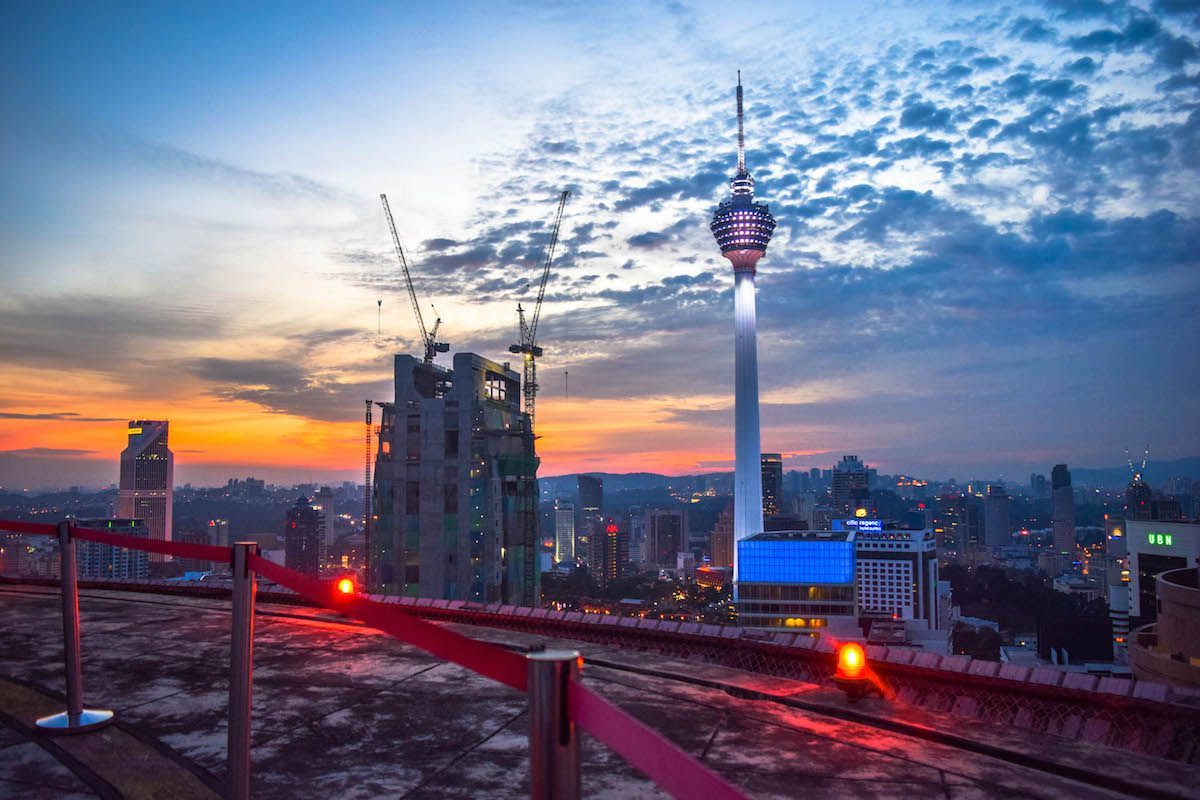 ---
Where to Stay in Kuala Lumpur?
For travelers on a budget, then I'd recommend looking into an Airbnb at the Regalia Condominium.  I used to live there, and it's one of the best complexes I've ever stayed in. The rooftop infinity pool is simply perfect, and you can't leave Kuala Lumpur without taking a swim in it! Here are a few recommended properties. I've heard in recent years though it has gotten a bit overcrowded, and it can be a bit of a pain for a shorter visit.
Malaysia is a super budget-friendly country though, and there are some amazing and well-located hotels with stunning views that I'd recommend:
The Ritz-Carlton, Kuala Lumpur – If you're looking for the top of the line, then you simply HAVE to book a stay at the Ritz Carlton. It's super central, has amazing rooms, and impeccable service. Plus, it honestly won't break the bank compared to staying at other Ritz Carlton locations around the world.
The W Hotel – Kuala Lumpur – My other main recommendation is staying at the wondrous W Hotel. It's one of my personal favorite hotel brands, and their KL location will certainly impress.
Reggae Mansion Hostel – If you're backpacking in Malaysia for two weeks, then there is simply no better place to start your trip than the Reggae Mansion. It's the most popular hostel in the city (and for good reason).
Malaysia Itinerary Days 4-6: Cameron Highlands
Book a bus ticket on 12Go.Asia from Kuala Lumpur to the Cameron Highlands.  There are several daily departures to choose from, and only cost around 35 MYR  ($8.50 U.S.D.). The busses are all really comfortable, and the stations are easy to get to on public transportation in Kuala Lumpur!
Bus Time: 4 Hours & 45 Minutes
You'll arrive into Tanah Rata (the main city in the Cameron Highlands), get checked-into your accommodation, and will have the next two days to explore this beautiful Malaysian beauty.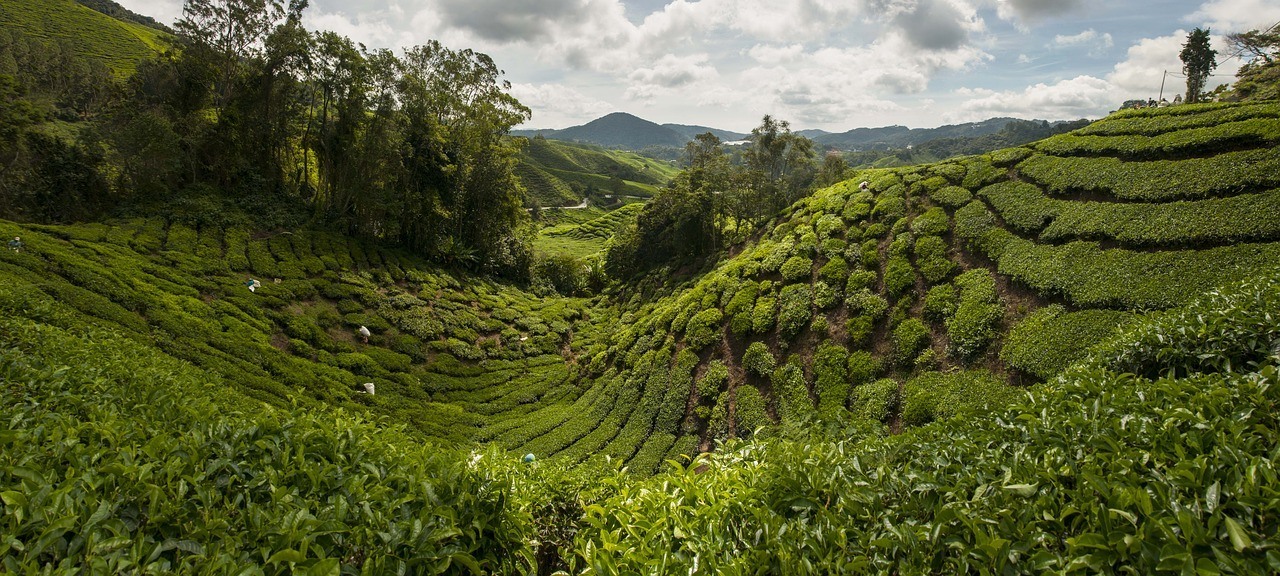 ---
Cameron Highlands Highlights include:
"Because of its high location, it is cooler than the rest of Malaysia. The highlands are named after William Cameron, a British expedition leader. He discovered the location during an expedition in 1885. From that moment onward the Cameron Highlands got increasingly interesting for the British. Because of the perfect climate, it was very suitable for cultivating tea, and the Cameron Highlands soon grew out to be the biggest tea region of Malaysia."
While there are tons of amazing things to do in the area, the main highlight would be to take a full-day tour!  There are tons of stops on each tour, so you just have to stop and talk to a travel agent about which tour suits you the most.
I'd definitely recommend booking a tour like this Cameron Highlands with Mossy Forest Day Tour!  You can book online, but there are also dozens of travel agents along the main street of the Tanah Rata that you can use.  They'll provide hotel pick-up, a local guide, and you'll learn all about the area.
Hiking through the tea plantations!  There are tons of awesome hiking trails that go through the plantations!  Check out this article for The 5 Best Hiking Trails in The Cameron Highlands for more information!
Walking around/ shopping in Tanah Rata!  While it's not the largest area, it's a fun town with some decent shopping, and amazing food!  Seriously, some of the local street food restaurants were incredible!  Malaysia is top-notch for Asian cuisine lovers, so definitely indulge!
Renting a Moto for some self-guided explorations!  If you're not one to book day trips with guides then you can rent a scooter and explore the area at your own pace!  Just make sure you have decent travel insurance to cover you in the rare case you get in an accident!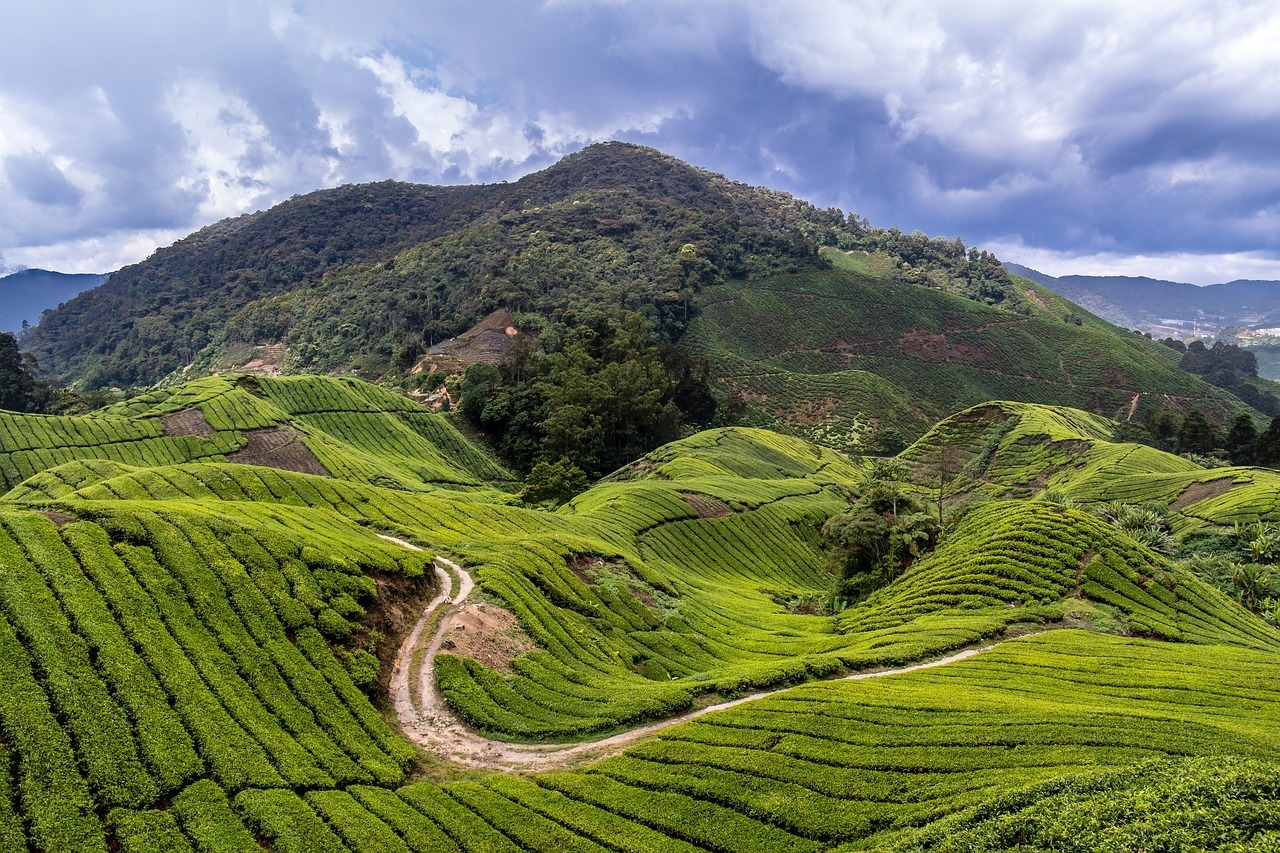 ---
Where to Stay in the Cameron Highlands
Backpacker / Budget Hostel
Clean, comfortable, and affordable.  This is a recently opened hostel in Tanah Rata, the jumping off point for the Cameron Highlands. You'll find everything you need in walking distance at a fantastic price!
This property is the best option for those travelers looking for a a bit more comfort!  It's a 5* resort at the fraction of the cost.  Perfectly located, amazing breakfast, and outstanding staff.  You'll definitely love your stay here!
---
Malaysia Itinerary Days 7-9: Penang
Now it's time to book your travel from the Cameron Highlands to Penang. There aren't as many options, and the departure time is only at 8:00 A.M! I've taken this bus twice now though, and have had a great experience both times.  It can sell-out though, so my main tip would be to plan ahead and book your ticket in advance, probably
Bus time: 4 Hours & 27 Minutes
Cost:  35 MYR (9.00 U.S.D)
You'll arrive into Butterworth, and can hop on the ferry over to Georgetown (the main city on Penang Island).  The ferry doesn't take long at all, and then it's super easy to get to your accommodation of choice on the island of Penang.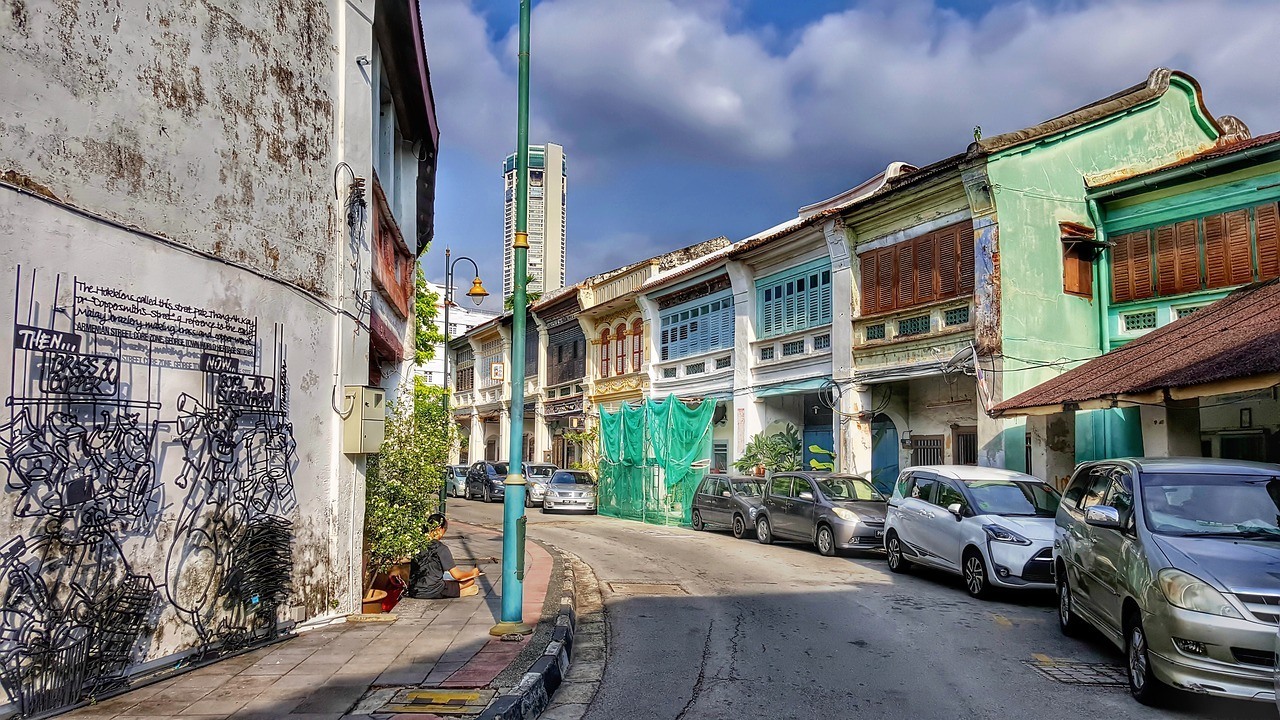 ---
Penang Highlights include:
"If there's a more thrilling cocktail of eastern cultures than Penang, we've yet to find it. Penang has long served as the link between Asia's great kingdoms and an important outlet to the markets of Europe and the Middle East.
At its heart is diverse, cosmopolitan George Town, Penang Island's main city and an urban center that delivers old-world Asia in spades, from trishaws pedaling past watermarked Chinese shophouses to blue joss smoke perfuming the air. The freshest aspects of modern culture are present, too, in the exceptional art scene and free-spirited carnivals, all fed by an infectious local enthusiasm for Penang's long history and a kaleidoscope of cultures."
Exploring all the street art of Penang
"Food Capital" of Malaysia so try a bunch of different places
Head to Batu Ferringhi Beach for some Parasailing & Jetskiing
Hike through Penang National Park to Monkey Beach
Take the tram up to the top of Penang Hill
Stroll through Fort Cornwallis
Check out this incredible article about awesome things to do in Penang for more information!  Both of my visits to Penang were, unfortunately, a bit short, but I absolutely loved my time out there!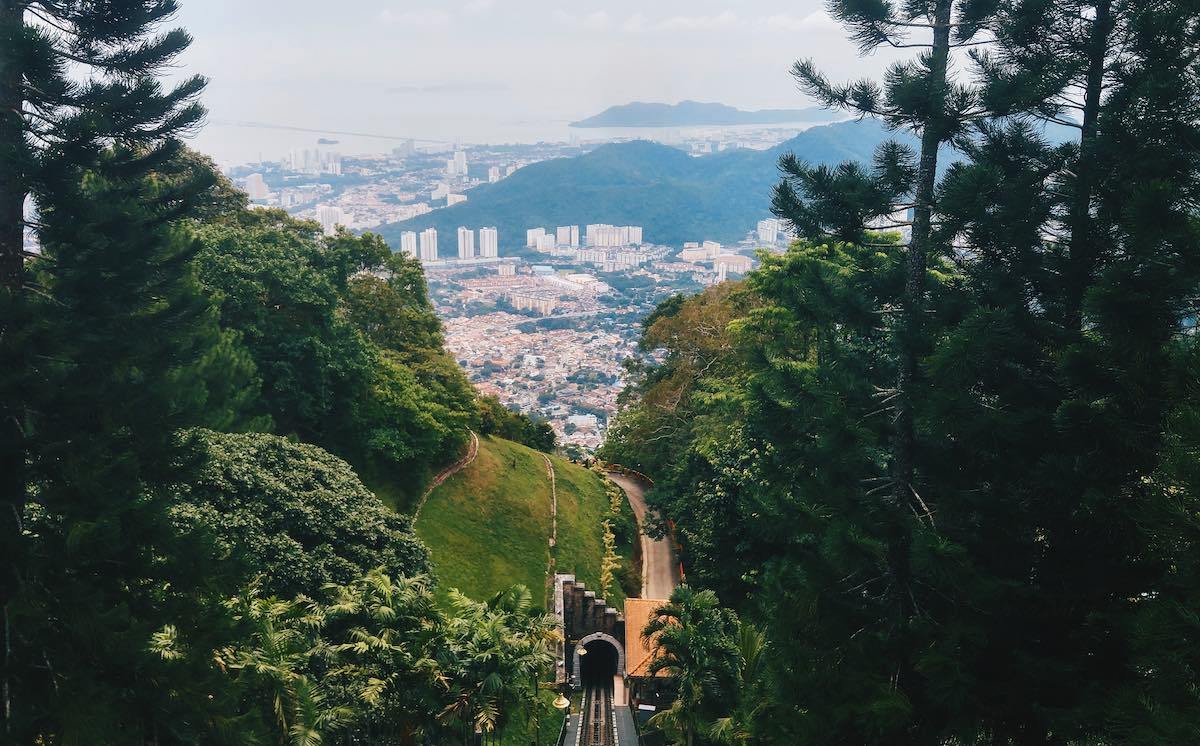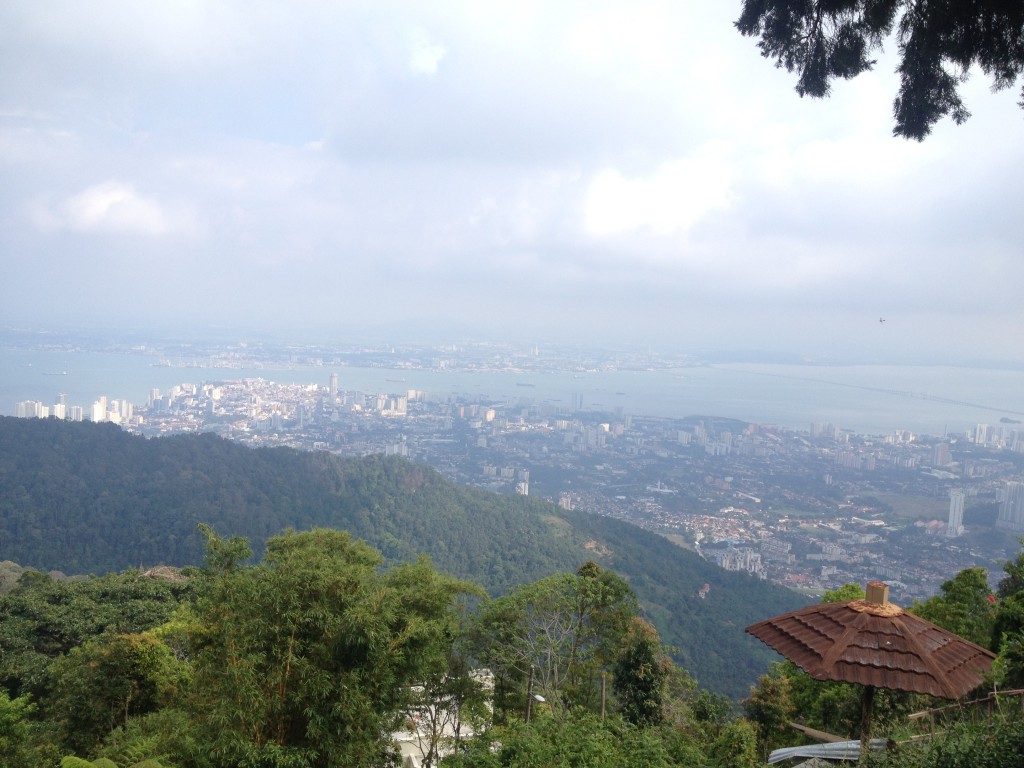 Solo Travel / Budget Hostel
This is a newly opened hostel in Penang, with great affordable rooms, well-located, and excellent Japan theme.  Excellent reviews by everyone, and would by my top-pick for sure!  I would highly recommend this for every budget traveler in Penang!
The rooms are named after famous Penang Streets, the property is gorgeous inside, and the rooms are super comfortable.  Great reviews, centrally located, and excellent value for money!  I would definitely check out this place for a comfortable stay!
---
Malaysia Itinerary Days 10-13: Langkawi
I hope you've enjoyed your time in food heaven, but it's time to book a ferry ticket from Penang to Langkawi online!!
It's the absolute best way to get in between these two Malaysia hotspots!  You could actually fly, but I don't really see the point because the ferry is super easy, cheap, and convenient.  I've done this Penang-Langkawi ferry three times now, and it's really awesome on a sunny day in Malaysia!
Depart: 8:30 AM
Ferry time:  2 Hours
Cost: 60 MYR
You'll arrive into Kuah Jetty, Langkawi, and will take a TAXI or Rent a Car and drive to your accommodation in PANTAI CENANG.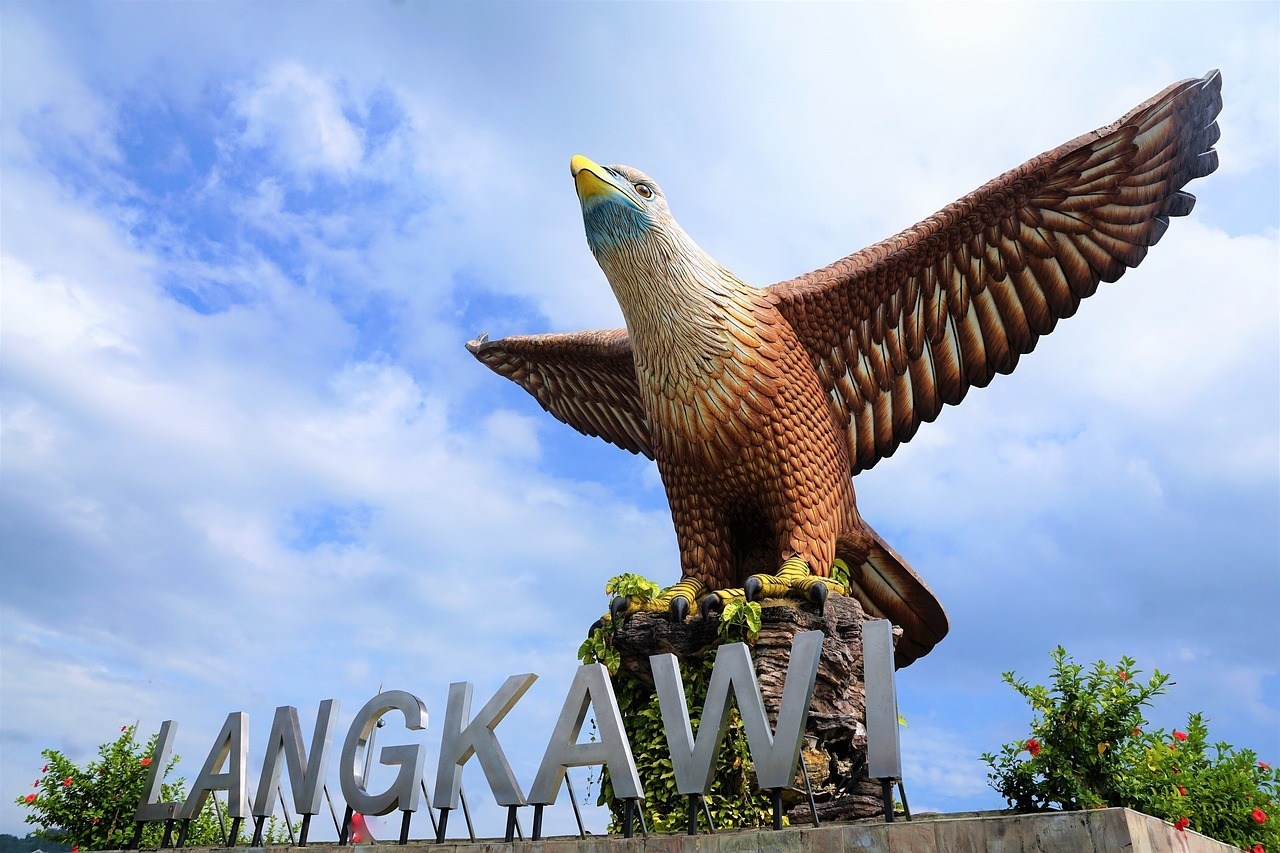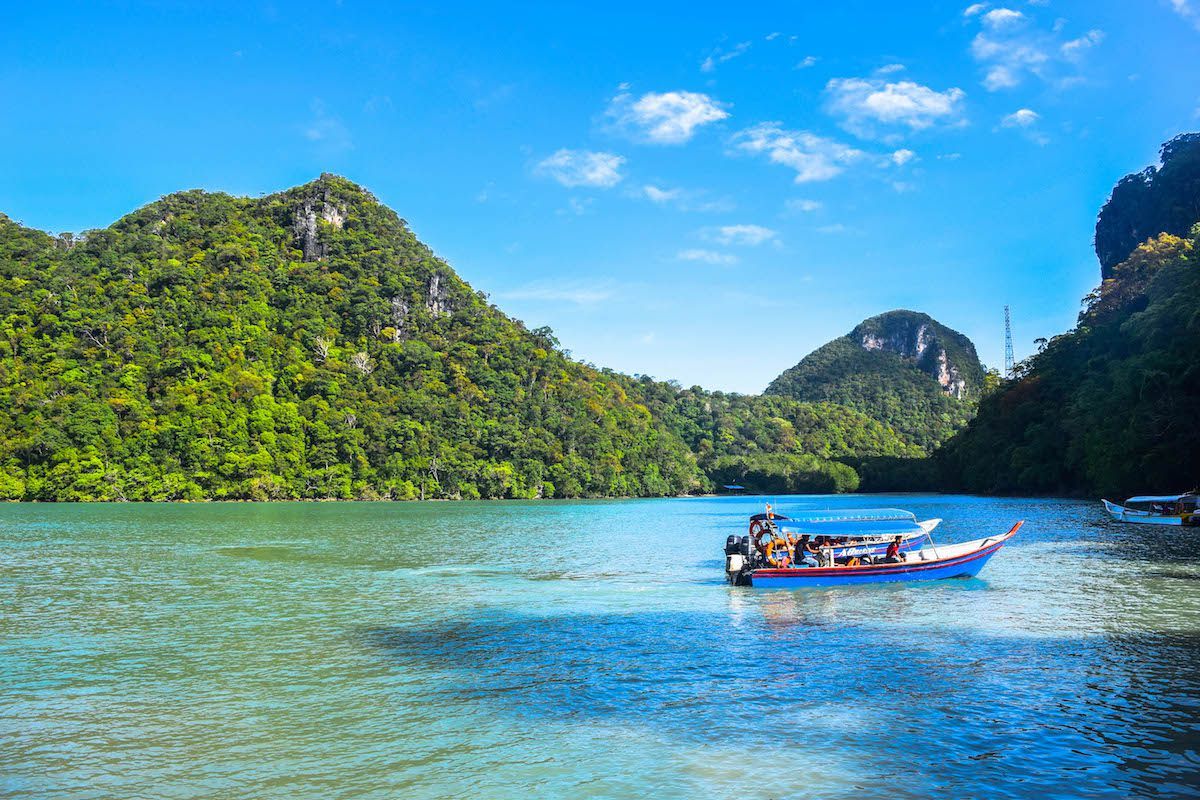 ---
Langkawi Highlights include:
"Langkawi is an archipelago made up of 99 islands on Malaysia's west coast. Surrounded by turquoise sea, the interior of the main island is a mixture of picturesque paddy fields and jungle-clad hills. If you're intent on carting off duty-free alcohol, cigarettes and chocolate, then this is the place to be. Still, nature lovers will find the island just as agreeable as the shoreline is fringed by powder-fine sand and swaying coconut trees.
The island is especially recognized for its excellent diving opportunities and this tropical gem hides a treasure trove of other exciting holiday opportunities. From the expansive Underwater World Langkawi along Pantai Cenang to the soaring Cable Car in Pantai Kok, Langkawi is an electrifying locale that keeps visitors coming back for more."
Here are a few of my favorite things to do in Langkawi!!
Island hopping tour for 30 MYR.  The most amazing and cheap tour on the island!  You can't book this online, but  you can literally book this tour almost anywhere on the island!  Every hotel, shop, and restaurant will try and sell you on this (and it's definitely worth it)!
One-day boat ride and tour through the Mangroves!  This tour is really amazing, and a great value for money!
Rent a Moto and explore the waterfalls
Nightlife in Langkawi can get pretty wild!  :-)
Pantai Cenang Beach Days & Sunsets
---
Further Reading:
I've actually spent a good amount of time on Langkawi, so take a read through some of these articles below for some more information!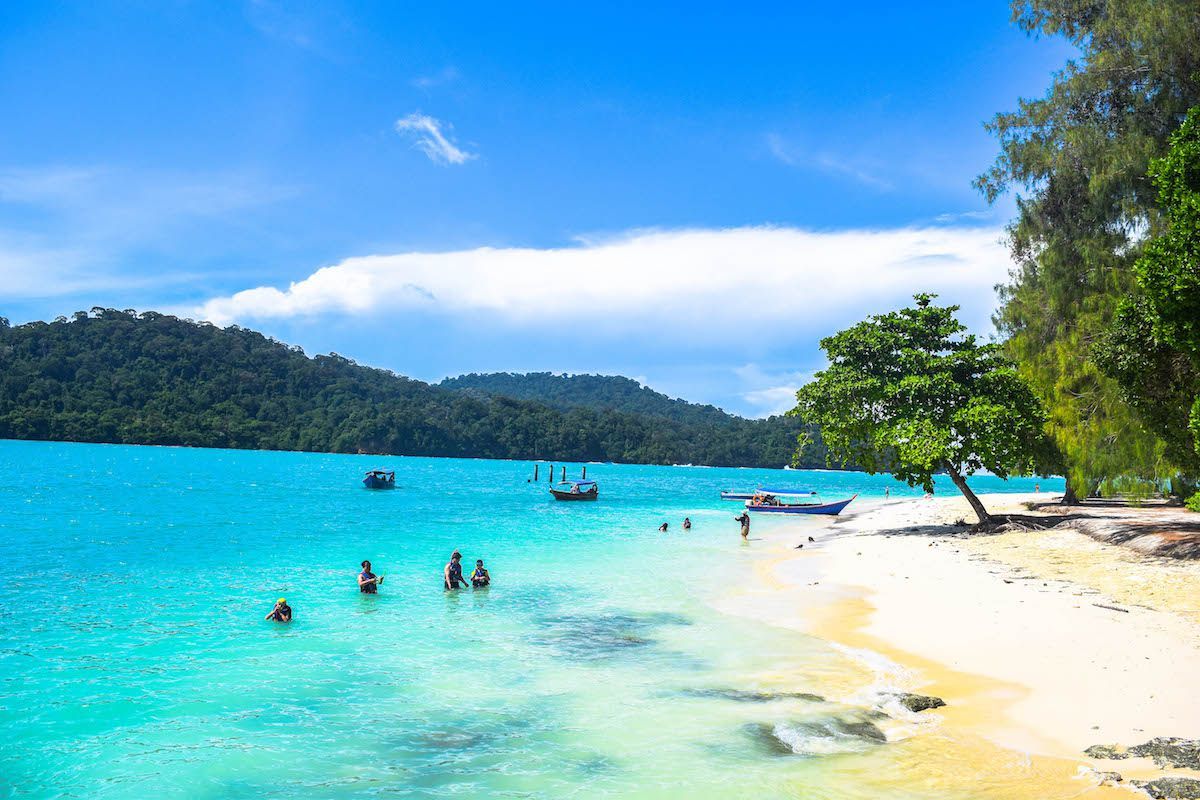 ---
Where to Stay in Langkawi
Backpacker / Budget Hostel
The best beds and location out of all the hostels in Langkawi! It's right in the heart of Pantai Cenang, with everyone you need just steps away from the door. The staff are great, and will help you plan anything you'd want for your Langkawi explorations!
One of the best selling hotels in Panti Cenang!  I've stayed here a couple times now, and I honestly love it!  The value for money is really amazing, and I know you'll love it as well!  Perfectly located on the beach, right in the middle of the main strip – you just can't go wrong with this place!
Day 14 – Return to Kuala Lumpur for Flight Home
Goodbye Malaysia!  It's been amazing!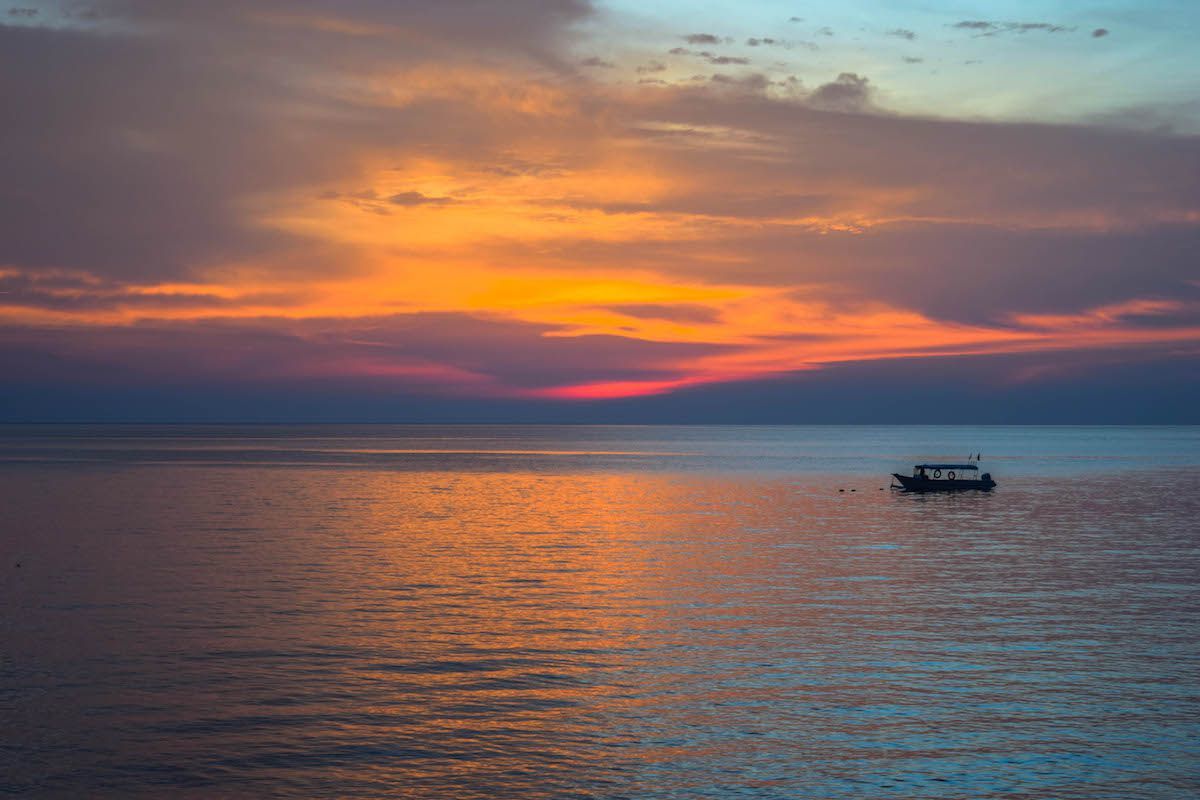 ---
Malaysia Travels Tips
Try a bunch of different "Nasi Kandars" for quality Malaysian meals.
Use 12GoAsia to book bus, train, and ferry tickets.  I've used them a lot and have never had an issue.  Seats do sell-out, so it can be best to book in advance to avoid stressful travel days. .
Malaysia is a really popular destination for AirBNB. You can get $40 U.S.D off your first booking if you create a new account.
Buy a local SIM CARD with data and put into an unlocked smartphone.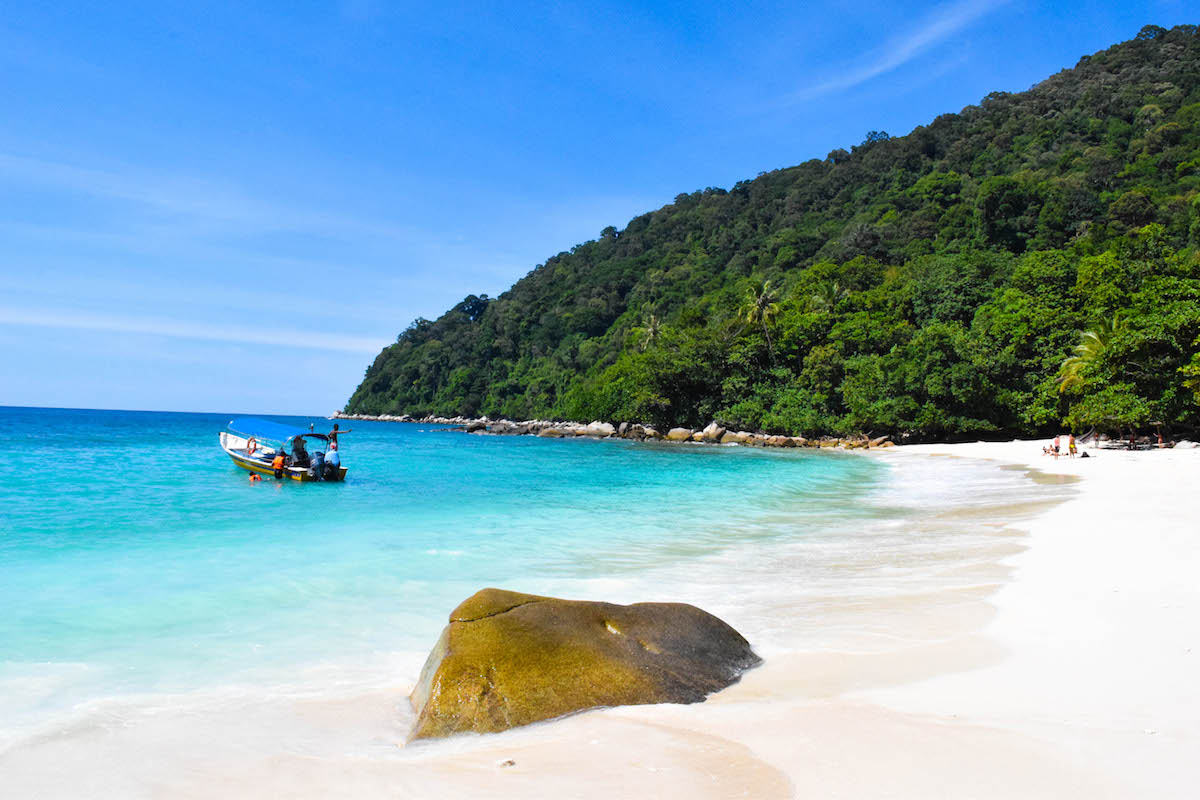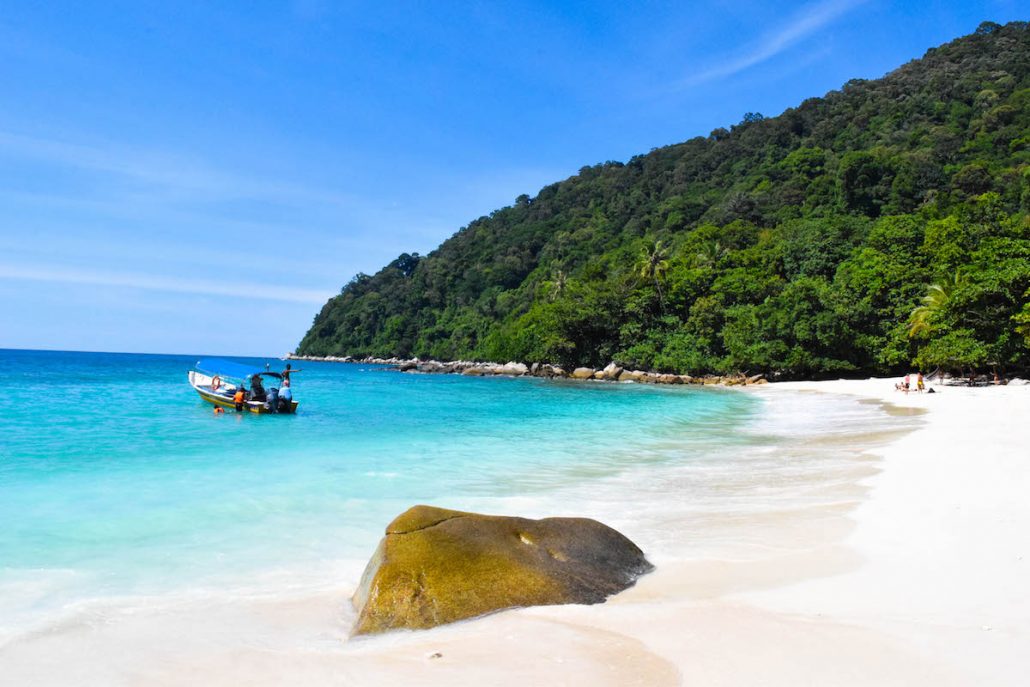 ---
Reading for Southeast-Asia Trip Planning!
My website is filled with helpful articles just like this one for this amazing country!  Check out a few of my other favorite articles to help you plan your trip to South-east Asia!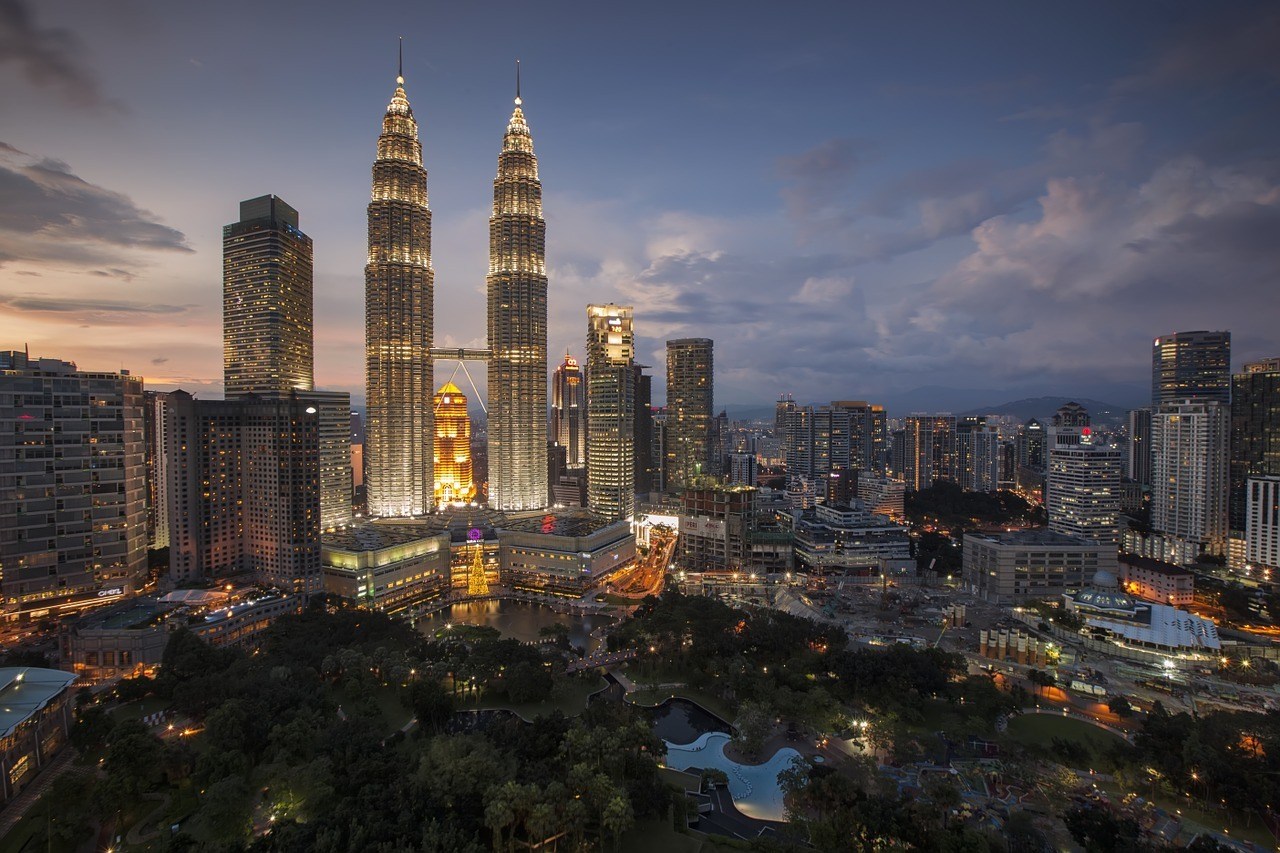 ---
Malaysia Itinerary Substitutions:
Take a one day/night trip to Melacca from Kuala Lumpur. It's another charming city in Malaysia.  I've never been, but I've heard amazing things!
Instead of heading to Penang/ Langkawi, you can make the journey over to the Perhentian Islands, and then make your way down to Pulau Kapas.  These islands, I think, are much more picturesque and more ideal for scuba diving.  It just depends if you're more of an adventure & food person, or more a beach/ water type of traveler!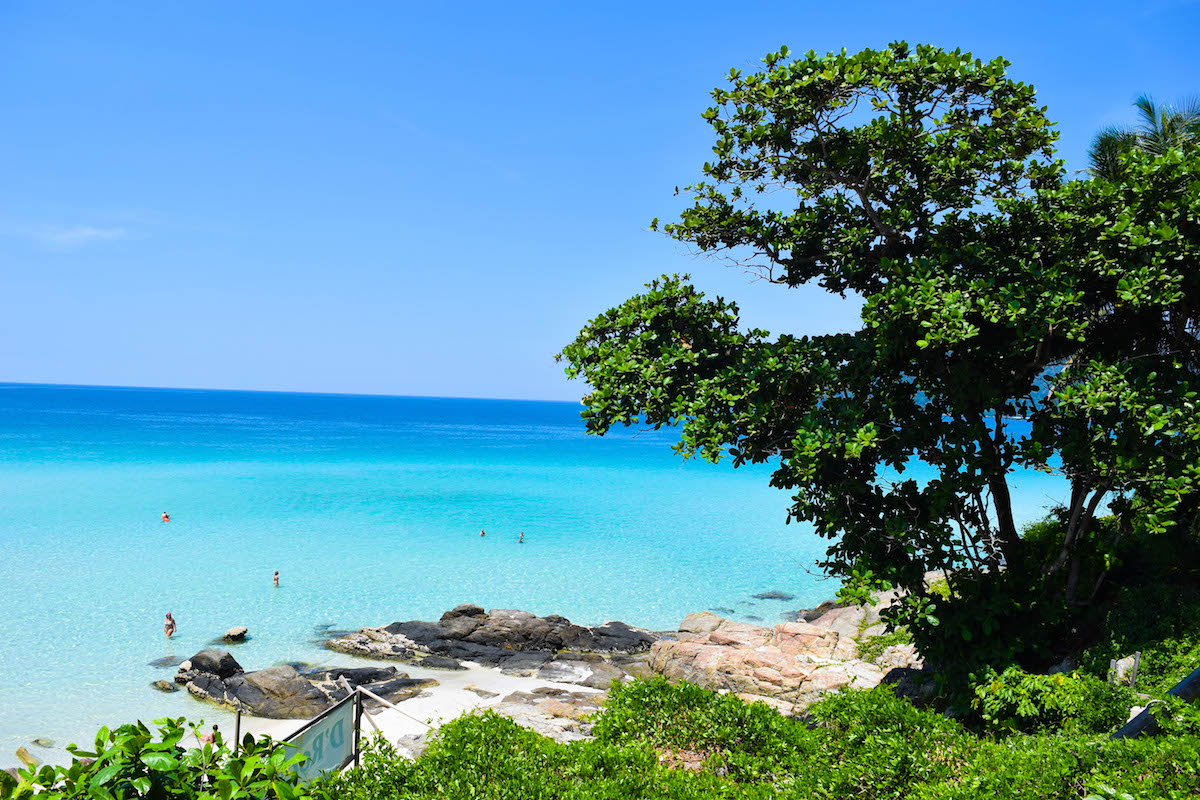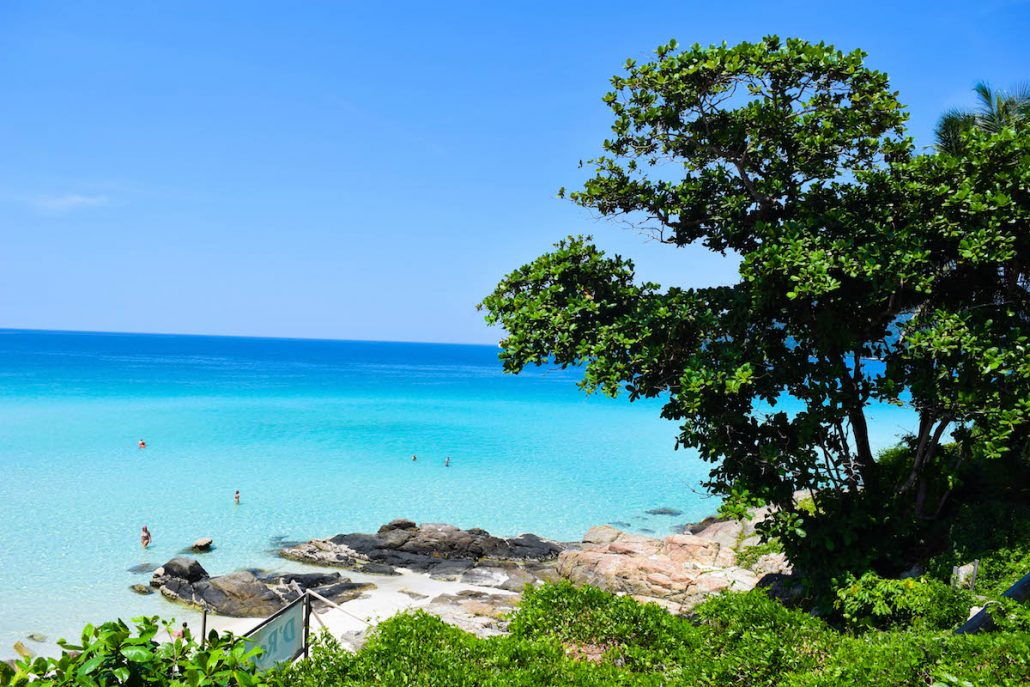 ---
Thanks for reading my Two Week Malaysia Itinerary!
If you ever have any questions, feel free to reach out to me on Facebook and Instagram, and I'll be sure to help out any way I can!  Malaysia truly is such an incredible destination, and I'm sure you'll have an amazing time!!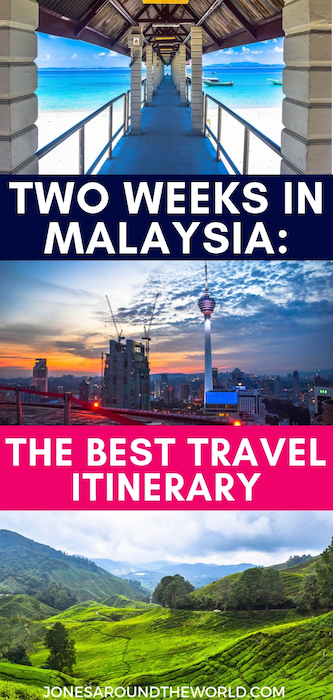 ---
Share this Malaysia Itinerary with your travel squad!