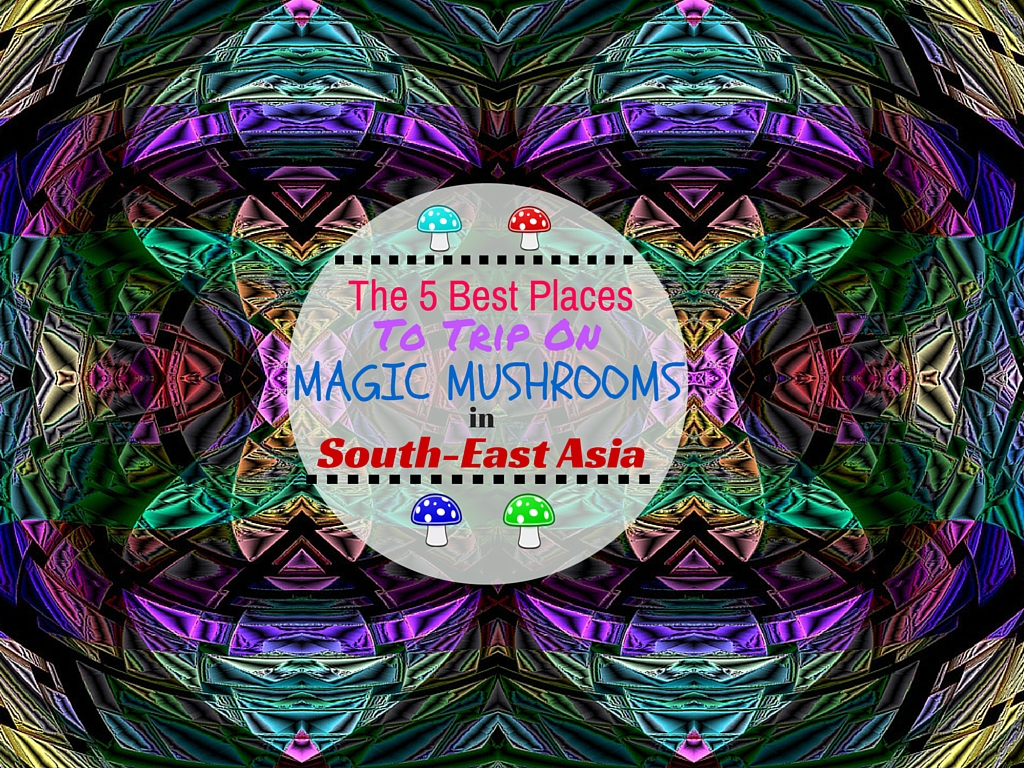 You might be surprised to find out that Magic Mushrooms are pretty common in several destinations around South-East Asia.
This hallucinogenic party drug shouldn't be taken lightly though — the powerful components in these mushrooms can send you off on a wild and crazy experience! I'm a firm believer that if you take these in good company and in comfortable setting (and don't take too much), you'll have an amazing time. I've always said that mushrooms basically just turn you into a retarded baby. Everything is hilarious, you'll feel euphoric, and things just look much more vibrant and colorful. With that being said, drugs effect everyone differently. If you're unsure, than maybe it's best you pass on this recreational drug activity.
I'm not here to educate people on the drug, or convince people to try them. I just want to inform those people who are interested in some recreational hallucinogenic fun.
If you're curious about the these drugs, take a read through this thorough Beginner's Guide to Mushroom Tripping.
"The Mushroom Shake"
Before I had backpacked around South-East Asia, I had never heard of people consuming magic mushrooms in "shake" form. This basically just means that they blend the mushrooms together with ice, various fruits, and sometimes Coca-Cola. Each place you'll buy them at has their own special recipe.
Fair warning — these typically don't taste too great, but sometimes you'll find a person who can make them actually enjoyable.
So Where Can You Trip on Magic Mushrooms in South-East Asia?
---
1) Gili Trawangan, Indonesia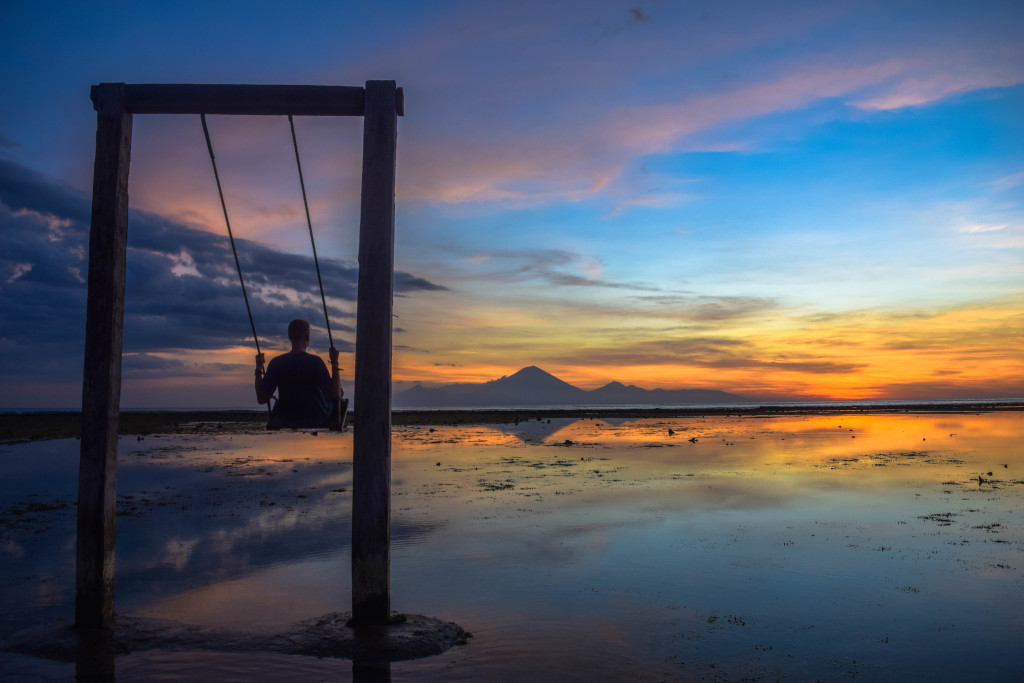 When it comes to magic mushrooms in Indonesia, there's no better place to take a trip than on the island paradise of Gili Trawangan. Grab a couple friends, head over to the sunset side of the island, and chug down a delicious Mushy Shake. Okay…they're not delicious — but the experience you're about to embark will be something you never forget. The sunsets on Gili Trawangan are some of the best in the entire world — add the hallucinogen affects, and you'll be feeling magical.
As well, when the feeling starts to wear off — you're in one of the best party destinations in South-East Asia . You can continue the party at one of the many bars and clubs, meet fellow backpackers, and share your stories with others.
Where to buy mushrooms on Gili Trawangan?
You can buy mushroom shakes at tons of different places on the island. While you walk around the island, you'll probably see a couple signs advertising the mushrooms.
Check out the bar opposite Rudy's Pub, Sunset Bar, or simply ask a local bartender (they can point you in the right direction).
Cost: 150K – 200K ($13-17 USD)
Best place to stay on Gili Trawangan?
Gili Castle (formerly known as Gili Backpackers) – I actually used to work here during my time living on Gili Trawangan, and it's one of my favorite hostels in the world. Amazing vibe, a pool + rock climbing wall, and fantastic pre-parties every night. It does sell-out pretty quickly, so check rates & availability.
---
2) Koh Phangan, Thailand
Most widely known for the location of the notorious all night beach rave, "The Full Moon Party" — Koh Phangan is definitely one of the best places to trip on magic mushrooms in South-East Asia. There is literally a venue nicknamed Mushroom Mountain!
Head down to Haad Rin beach and walk all the way to the left. You'll see a staircase leading you up to this hippy paradise bar. There's tons of comfy seating overlooking the beach, chill music, and is decorated really funky. Even if you don't want to take any mushrooms, this is still an amazing spot to check out during your time on Koh Phangan.
This is often a highlight of people's visits to this epic party island, and shouldn't be missed!
Cost: 500 Baht ($15 USD)
Where to stay on Koh Phangan…?
Echo Beach Backpackers: This place is absolutely crazy! I've stayed here on three separate trips to Koh Phangan, and will always recommend it to people. It's not the cleanest or most comfortable hostel, but it's so much fun! Check Rates & Availability.
---
3) Vang Vieng, Laos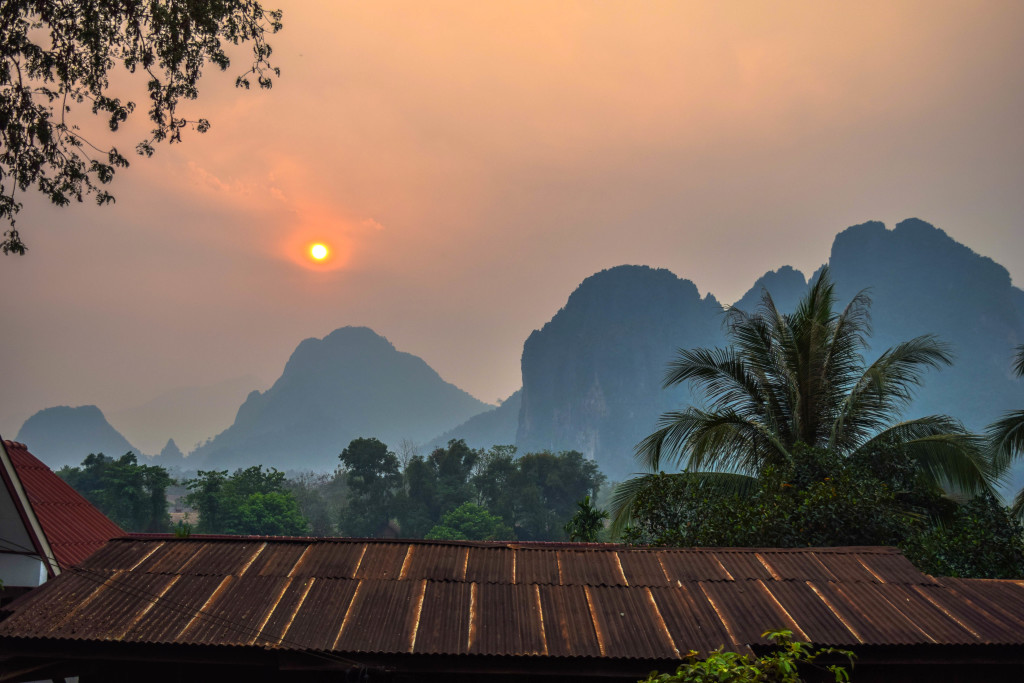 This party capitol of Laos has gotten a somewhat bad reputation in recent years for being a hedonistic destination ruined by drunken debauchery. Well, I completely disagree. Yeah, Vang Vieng is definitely a top party destination, but it's also one of the most relaxed and beautiful places in Laos.
Vang Vieng will definitely be a highlight of your time backpacking in Laos, and it's also a pretty perfect spot for a little bit of hallucinogenic fun. The vibe in this town is really relaxed (in certain spots), the shakes are strong, and you'll be surrounded by like minded travelers looking for a good time. Read about this guy's experience taking mushrooms in Vang Vieng .
Where to buy mushrooms in Vang Vieng
Definitely check out the Jungle Party every Friday. Some friends of mine bought a shake there and had a wicked trip
Cost: 100K -120K Lao Kip
Where to stay in Vang Vieng…?
Real Backpackers Hostel – Recently opened in 2015, Real Backpacker's Hostel has the best location, staff, and atmosphere in all of Vang Vieng. If you're looking for the best backpackers hostel in Vang Vieng, than definitely stay here! Check rates & availability.
---
4) Pai, Thailand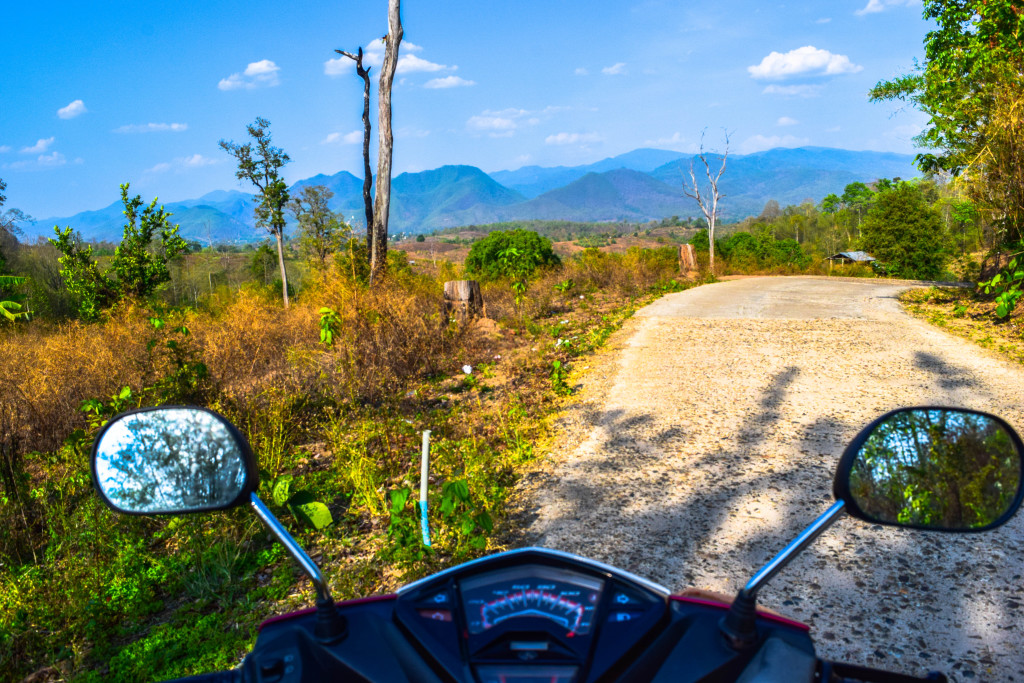 This hippy backpacker paradise in Northern Thailand is one of the most relaxing places in South-East Asia. The whole town is super chilled out and slowed down. Your days can be spent exploring the countryside by moto, chilling by the pool, or bathing with elephants. Every night you'll wander through the night market, eat some delicious (and cheap) food, and have a few beers at the various nightlife hubs. There are plenty of things to do in Pai , and taking a little mushroom trip can easily be done.
Read: A Backpacker's Guide to Pai
Where to buy mushrooms in Pai?
Simple — Sunset Bar Pai. It's an awesome bar with plenty of seating (including hammocks), colorful decorations, a pool table, and friendly staff. An awesome place to sit back, relax, and expand your brain a bit.
Cost: 500 Baht ($15 USD)
Where to Stay in Pai…?
The Famous Pai Circus School: Easily one of the best and most unique hostels in Thailand. It's got an incredible backpacker vibe, gorgeous view of Pai, and you can learn some fancy new circus tricks! Check rates and availability to book in advance.
---
5) Gili Air, Indonesia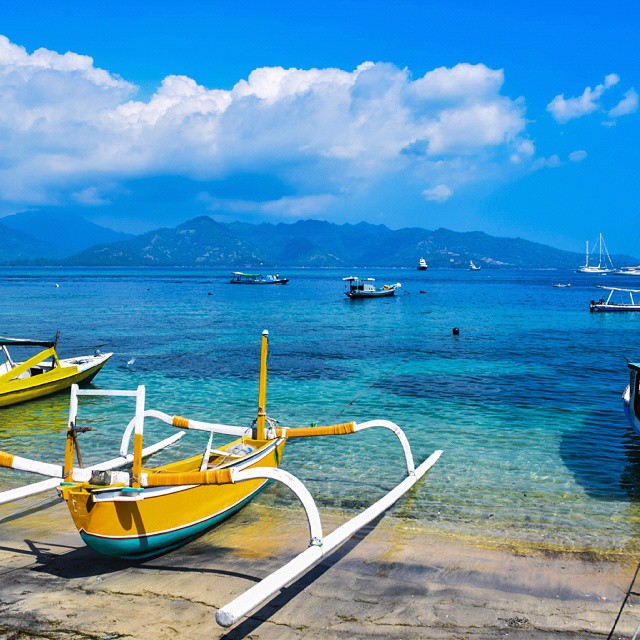 While most backpackers searching for a good party head over to Gili Trawangan — taking the quick 10-15 minute boat ride over to Gili Air in search of a fun mushroom trip will definitely leave you satisfied. This honestly might be the better option between the two islands, because it has a much more relaxed vibe.
When it comes to the Gili Islands:
Gili Trawangan = Party // Gili Meno = Honeymoon // Gili Air = Mix of both
The best way to enjoy a mushroom trip on Gili Air is to start out on the sunset side of the island. Take them about 30 minutes before sunset. There are tons of beachside restaurants and bars with plenty of comfortable seating, cheap drinks, and delicious Indonesian food. I'd definitely recommend taking a stroll around the island, some stargazing, and maybe a night swim if you're up for it!
Where to buy mushrooms on Gili Air?
The majority of bars on the sunset side of the island can arrange mushroom shakes. If you are near Matahari Lodge…walk down the street (away from the beach) towards the other side of the island, and there's a bar that play PsyTrance. Get them there!
Cost: 150K – 200K ($13-17 USD)
---
Magic Mushrooms Tips & Advice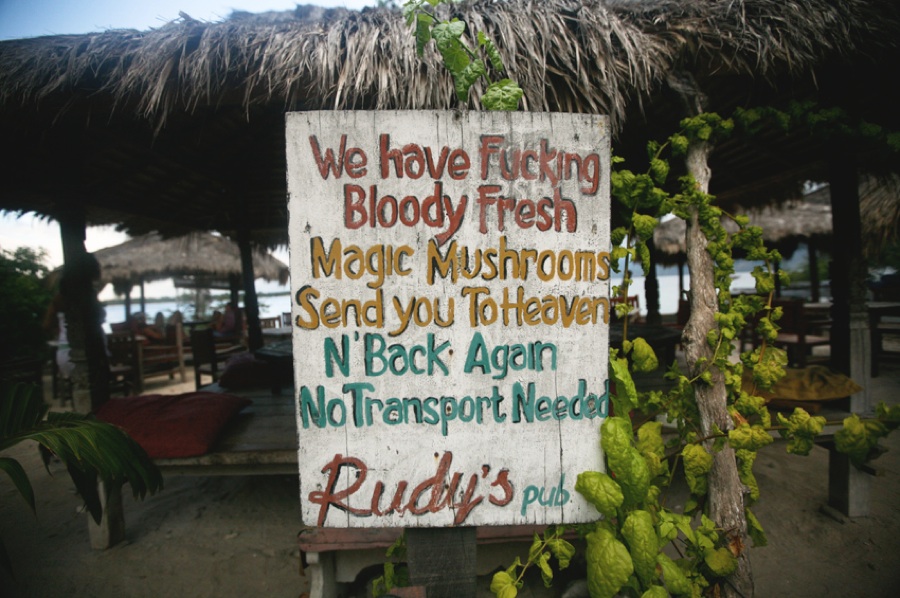 Take mushrooms in a small / medium group of people that you know and trust. You want to feel comfortable and safe around your fellow trippers.
Stay away from crowded bars and clubs. If there are tons of strangers and loud music, it might spark some negative vibes.
Music is essential to a quality mushroom trip. If you can, find a quiet area to hang out where you can play your own music — or chill out a relaxed place with tunes you like.
Always watch the sunset. It's magical, and the best way to start your hallucinogenic journey.
Stay hydrated. Drink some water, but don't be scared to knock back a beer or two.
Don't eat prior to taking mushrooms. This will lessen the effect of them. Definitely have some food in your stomach, but don't have a big meal, and then consume your mushroom shake. It will be a waste of money.
Eat some dark chocolate to intensify the effects. I don't think this is scientifically proven, but it's a common theory that "cacao is an excellent synergist… most known is combining with psilocybin mushrooms."
Stay calm. If your new to recreational drug use, then the feelings of mushrooms might be very intimidating at first. Relax, breathe, and enjoy the feeling.
Start with 1/2 a shake if you're nervous. You should still feel some minor effects of the drug, and will help you feel more comfortable with taking another half.
Only take Magic Mushrooms if you're happy. You shouldn't take these if you're feeling depressed or going through a hard time.
---
If your backpacking South-East Asia and find yourself in one of these popular destinations, then definitely think about embarking on magic mushroom trip. It's actually pretty common among backpackers, and be a really amazing and memorable experience. You'll laugh a lot, things will look cooler, and you'll feel pretty happy.
SAFE TRAVELS AND ENJOY YOUR TRIP
"TO THE MOON AND BACK"
Disclaimer: Drugs can affect everyone differently. Proceed with cautin. I'm not writing this article to convince people to take drugs, I'm simply informing people who are interested in the topic.
Follow my adventures Around The World on

Facebook

&

Instagram
PIN ME !!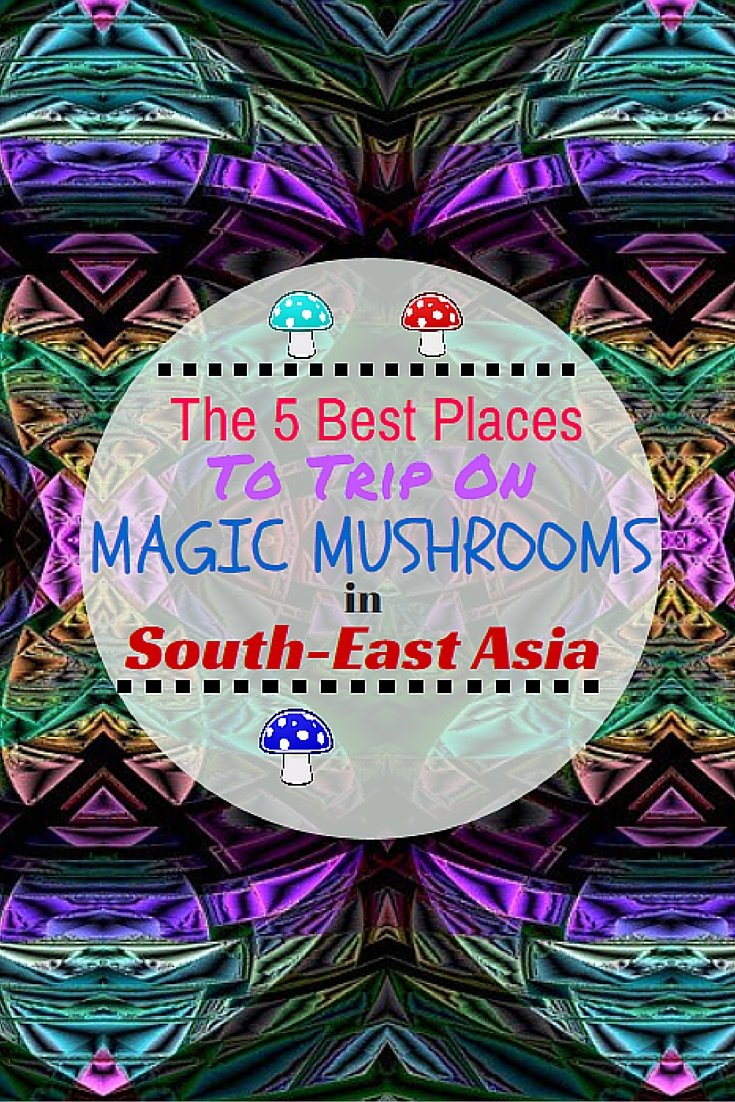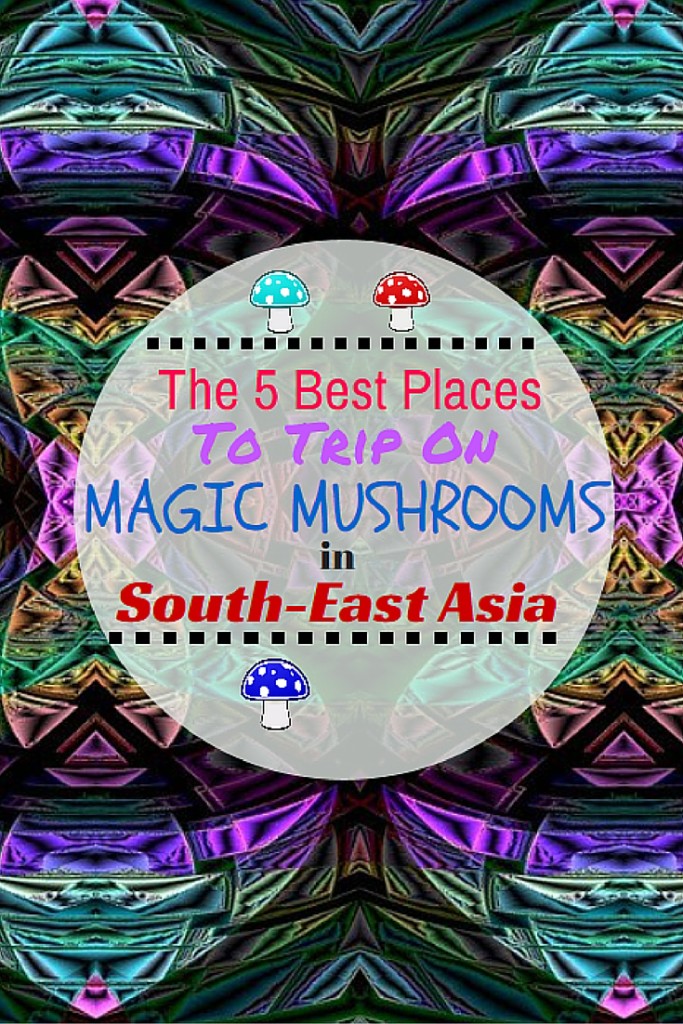 https://www.jonesaroundtheworld.com/wp-content/uploads/2016/02/The-5-Best-Places.jpg
768
1024
Dave
https://www.jonesaroundtheworld.com/wp-content/uploads/2017/03/logotry-1-1-300x106.png
Dave
2014-11-12 03:41:14
2020-09-17 20:12:57
The 5 Best Places To Trip on Magic Mushrooms in South-East Asia