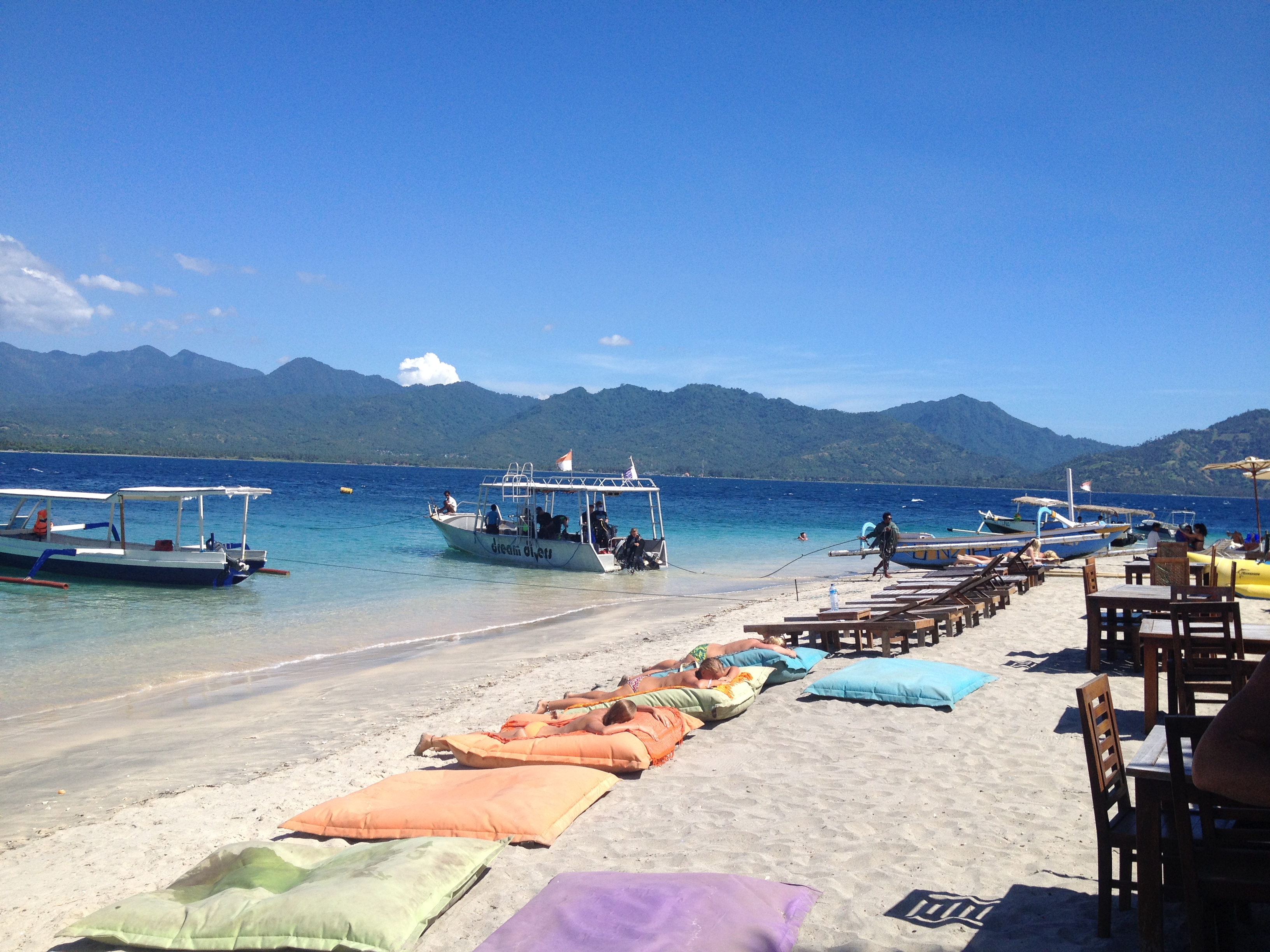 When it comes to paradise, you can't get too much closer than the Gili Islands in Indonesia.  While most backpackers and travelers head to the main island, Gili Trawangan (Gili T), known as the "party island"; you would be a fool to only go there and skip out on the slow and relaxing pace of Gili Air.  Just be careful, Gili Air has a strong hold on all those that step foot on the island.  It might just keep you there for longer than you expected.  Here's my guide to Gili Air for all those looking to head to one of the most beautiful places in the world.
Places to Stay
Oceans5 Dive Resort:
Located directly in front of the port, Oceans5 is a beautiful dive resort for those who have a little bit of extra money to spend on accommodations.  There are two different styles of rooms.  Both have extremely comfy beds, warm showers, and free breakfast / wifi.  The best aspect of this place is the pool; perfect temperature and amazing for night swims and star gazing.
Mango Hotel:
Just a couple minutes inland from the beach you'll find this nice boutique hotel that is perfect for a great night's sleep.  The room prices vary (as almost everything in Indonesia can be bargained down), but try not to pay more than 350,000 IDR per night.  Warm shower, quick wi-fi, and you can use the pool at the adjacent hotel as well.
7Seas Backpacker's Hostel:
Just a few minutes down on the main road, 7Seas is a great option for backpacker's and budget travelers.  A shared dormitory bed cost 120,000 IDR per night, and the facilities are more than satisfactory.  It's also a great place to meet other traveler's on the island.  (Although, it's not too difficult as Gili Air is pretty small, and everyone normally winds up at the same two bars at night).
Guesthouses / Homestays:
Walking around Gili Air you will notice that there is never a shortage of accomodations.  Even when you get off the boat people will be asking you where you are staying, and try to convince you to go to their accommodation.  This is also a great option.  Don't be afraid to check out a few different ones, and ask to view the rooms before booking with them.
Things To Do
Snorkeling / Diving – The Gili Islands are well-known for their amazing snorkeling and diving opportunities.  There are a few dive resorts where you can get your PADI on GIli Air, and they actually aren't too expensive.  For those who aren't interested in diving, companies offer a 5-hour snorkeling trip around all three of the Gili Islands for only 100,000 IDR.  A great deal and you'll definitely see some amazing fish, coral, and a few turtles.
Sunset Lounge – On the opposite side of the island of the main strip is the perfect view for the sunset.  On a clear day, you overlook the other two Gili Islands, and can see breathtaking sunset that is hard to look away.  There's tons of relaxing restaurants and bars along the way, and the stars at night are amazing.         
Movie Nights – A few different restaurants along the main strip will show movies on projector screens on the beach, and all you need to do is buy a minimum of 50,000 IDR per person.  It's an easy and cheap way for dinner and a movie.
Bike Ride – Renting a bike and taking it around the island is a must.  It's a rather small island, and the bike ride through and around the island is worthwhile.  You'll get to see where the locals live, view hidden beaches, and get some exercise!
How To Get There
Getting to the Gili Islands is extremely easy from both Bali and Lombok.  There are tons of different companies that offer transporation to/from the Gili Islands.  Most of these will include hotel-pickup and open-return ticket options.  Just make sure to shop a lot before booking your tickets, as prices will vary.  For more detailed information, check out this blog post.
Where to Next
Pretty much everyone gets here from either Bali or Lombok, so you'll be continuing on to one of these destinations.  You could check out Lombok and do the Mount Rinjani Trek, or maybe head back to Bali for some world-class surfing, yoga retreats, or crazy nightlife.  Another option is to catch a ferry to Nusa Lembogan, which is an island on the southern-east coast of Bali.  Also great for diving, snorkeling, and surfing.
Planning on visiting Gili Trawangan as well?  Check out my blog posts…
Backpacker's Guide to Gili Trawangan
10 Amazing Things To Do on Gili Trawangan
Magic Mushrooms on Gili Trawangan
The 7 Best Places To Eat on Gili Trawangan
The Best Sunset I've Seen in Months; Gili Trawangan
The 5 Best Party Islands in South-East Asia
[divider]
My Favorite Instagram from Gili Air
Thanks for reading my Ultimate Guide To GIli Air !  Safe travels!
https://www.jonesaroundtheworld.com/wp-content/uploads/2014/10/IMG_4692.jpg
2448
3264
Dave
https://www.jonesaroundtheworld.com/wp-content/uploads/2017/03/logotry-1-1-300x106.png
Dave
2014-10-20 15:58:51
2015-10-16 06:59:06
The Ultimate Guide To Gili Air