Looking for the best things to do on Gili Trawangan!? Well, you've come to the right place, because Gili Trawangan is definitely one of my favorite destinations in all of Southeast Asia!
I actually lived and worked on "Gili T" during my days as a long-term traveler, and it was such a wild and crazy experience spending a few months over there!
Gili Trawangan, located just off the coast of Lombok, is known as the "party island" of three Gili Islands, and is definitely one of the best places to party in Southeast-Asia! There are so many different bars and clubs to choose from for nightlife, and of course the infamous magical mushroom adventures on the Gili Islands! But if nightlife isn't for you, no worries at all, as there are plenty of other Gili Trawangan island attractions to keep you more than entertained!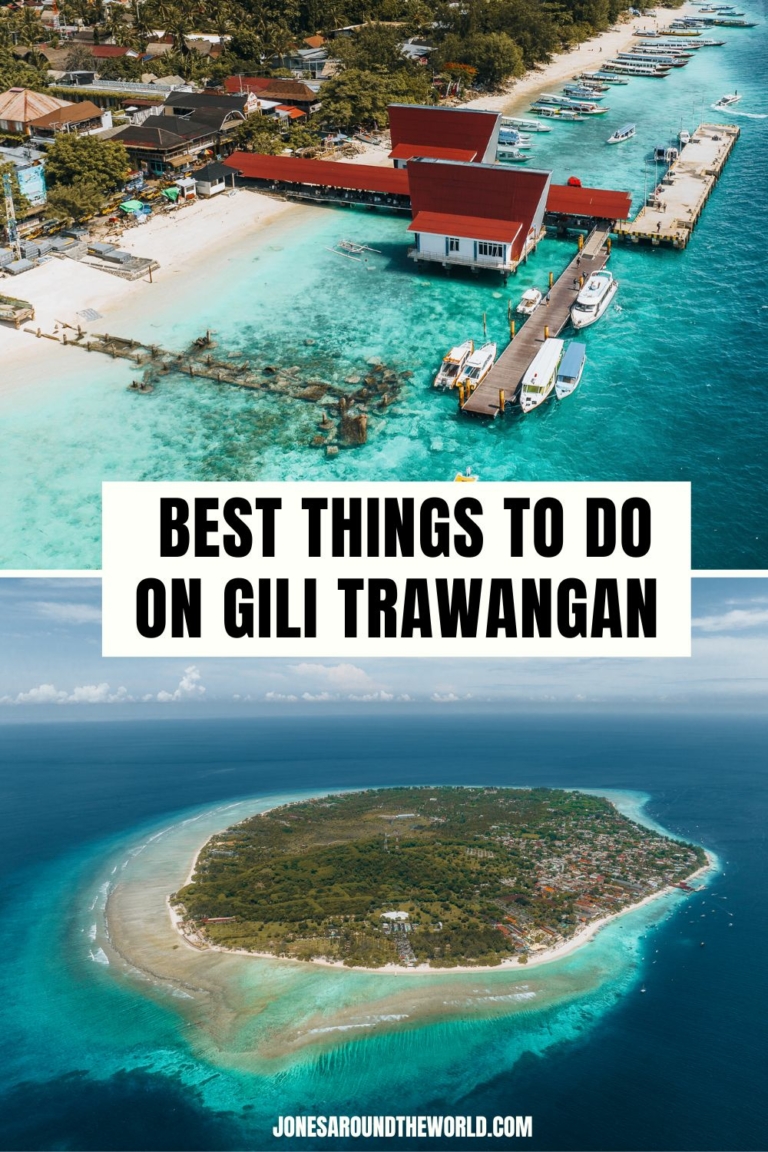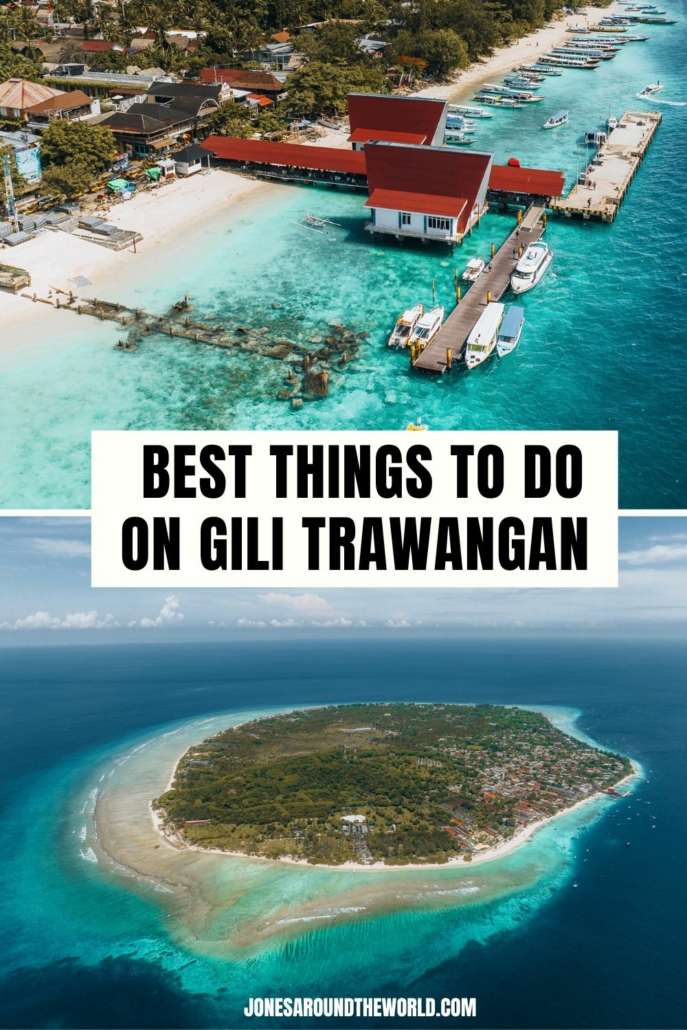 From snorkeling with sea turtles every day just minutes from the beach, swimming in crystal clear water, scuba-diving at the dozens of different nearby dive sites, trying all the different cafes & restaurants, movie nights on the beach, and marveling at the most glorious sunsets every night – you'll certainly fall in love with Gili Trawangan!
So without further ado, please check out what I think are the BEST things to do on Gili Trawangan in 2023!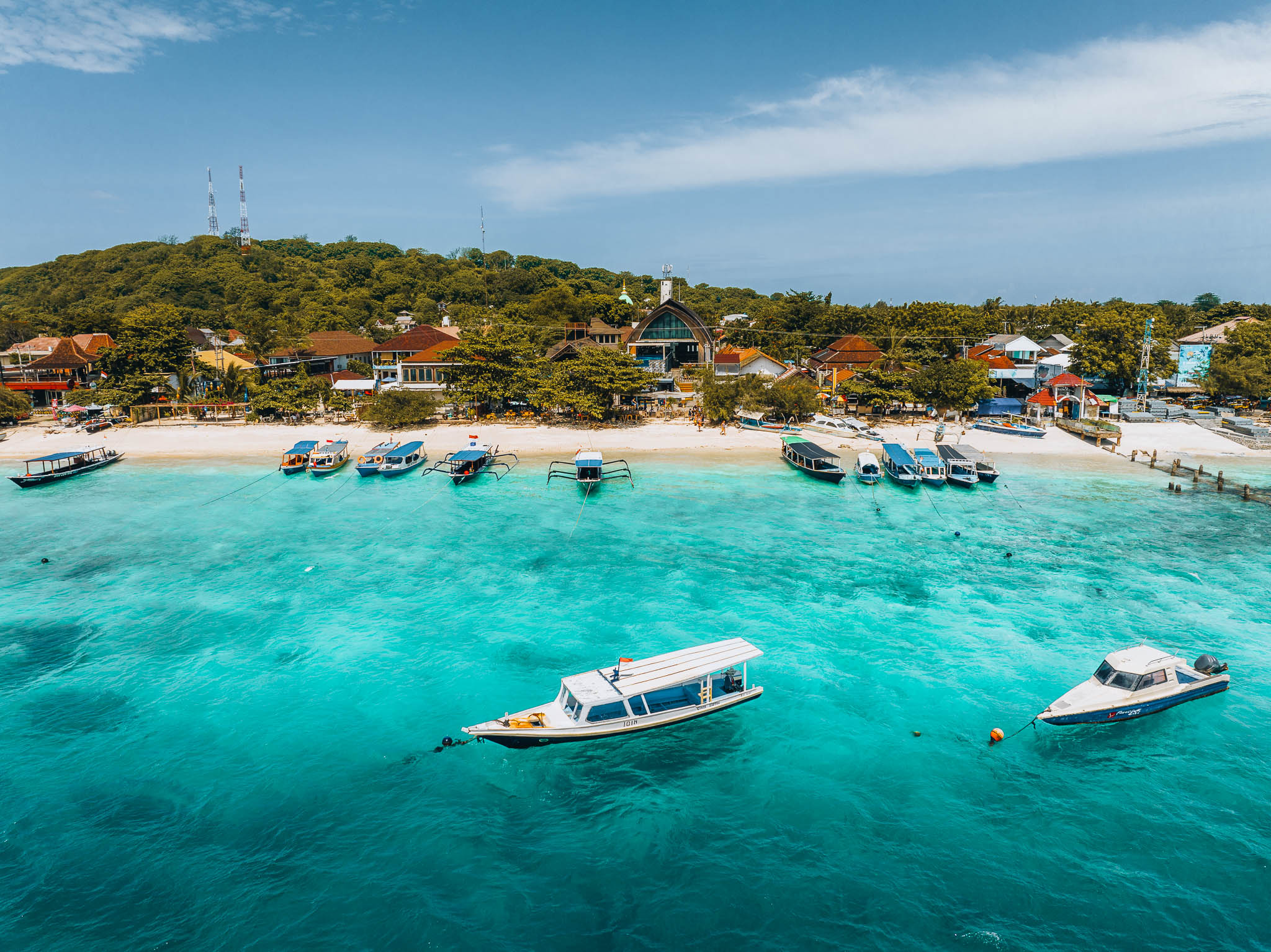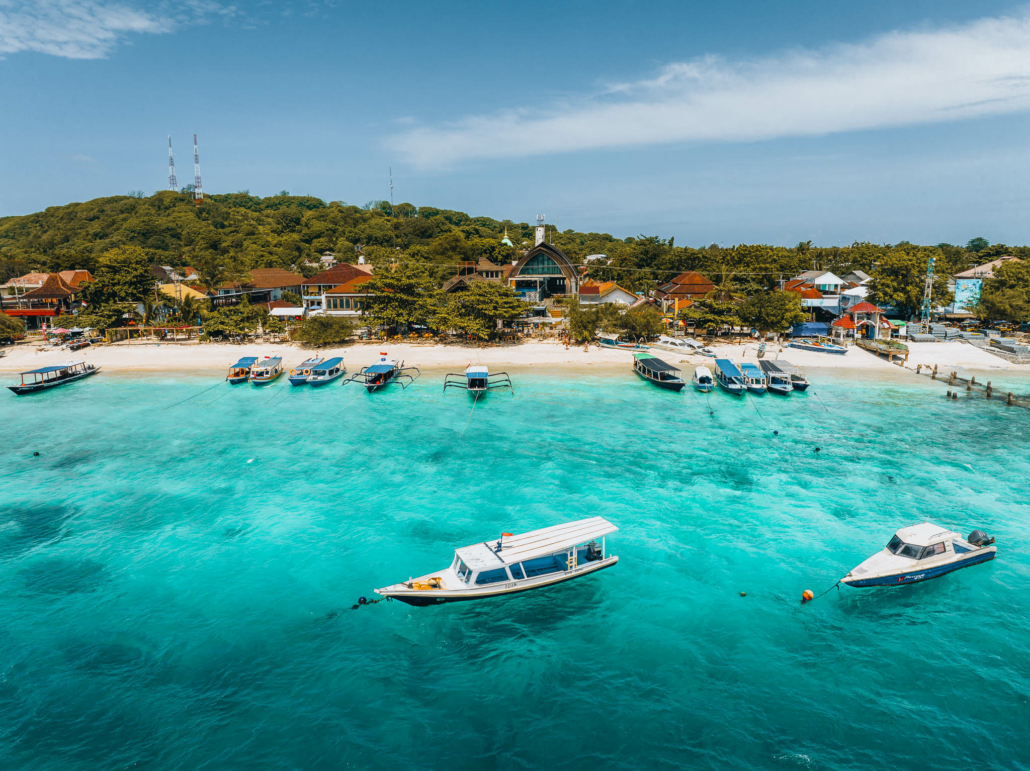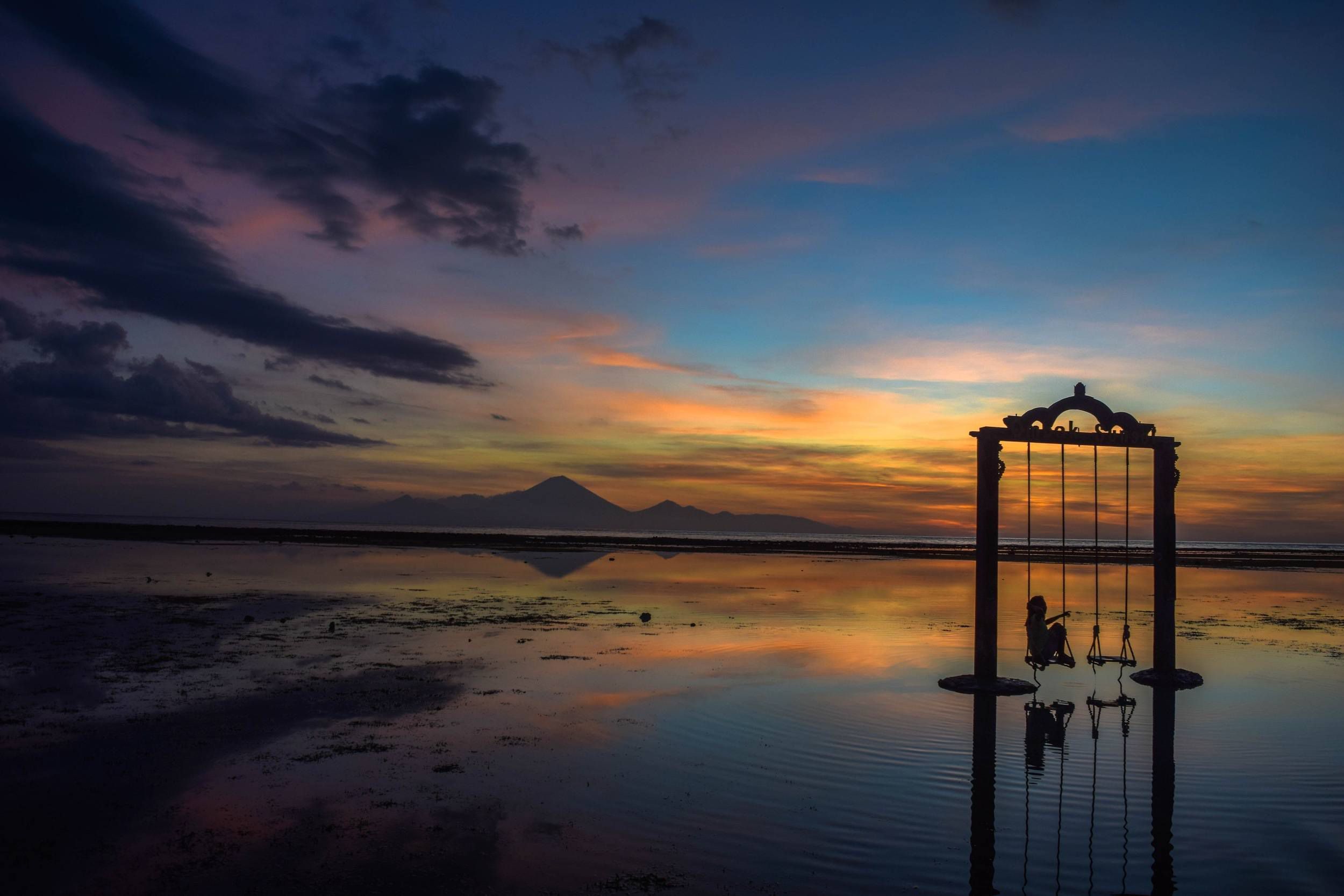 ---
How To Get To Gili Trawangan
Alright, let's begin this Gili Trawangan guide on how to get there! Gili Trawangan is located just off the North-western coast of Lombok, but most travelers decide to come here as apart of their Bali itinerary!
When you're on Bali, you will see countless of tour agencies/ operators who will be glad to book your transport to/from the Gili Islands, and they make it incredibly easy. There are several different fast-boat companies that offer transport to to Gili Trawangan, and it roughly takes about 1.5 to 2 hours and should cost around 450K Indonesian Rupiah.
If you decide to book your own transport, you'll need to get dropped off at Padang Bai Port. There are several departures every day in the morning/ afternoon. You can book online using Gili Ferries to compare times/ companies. They all pretty much offer the same service, so I wouldn't overthink which company to use.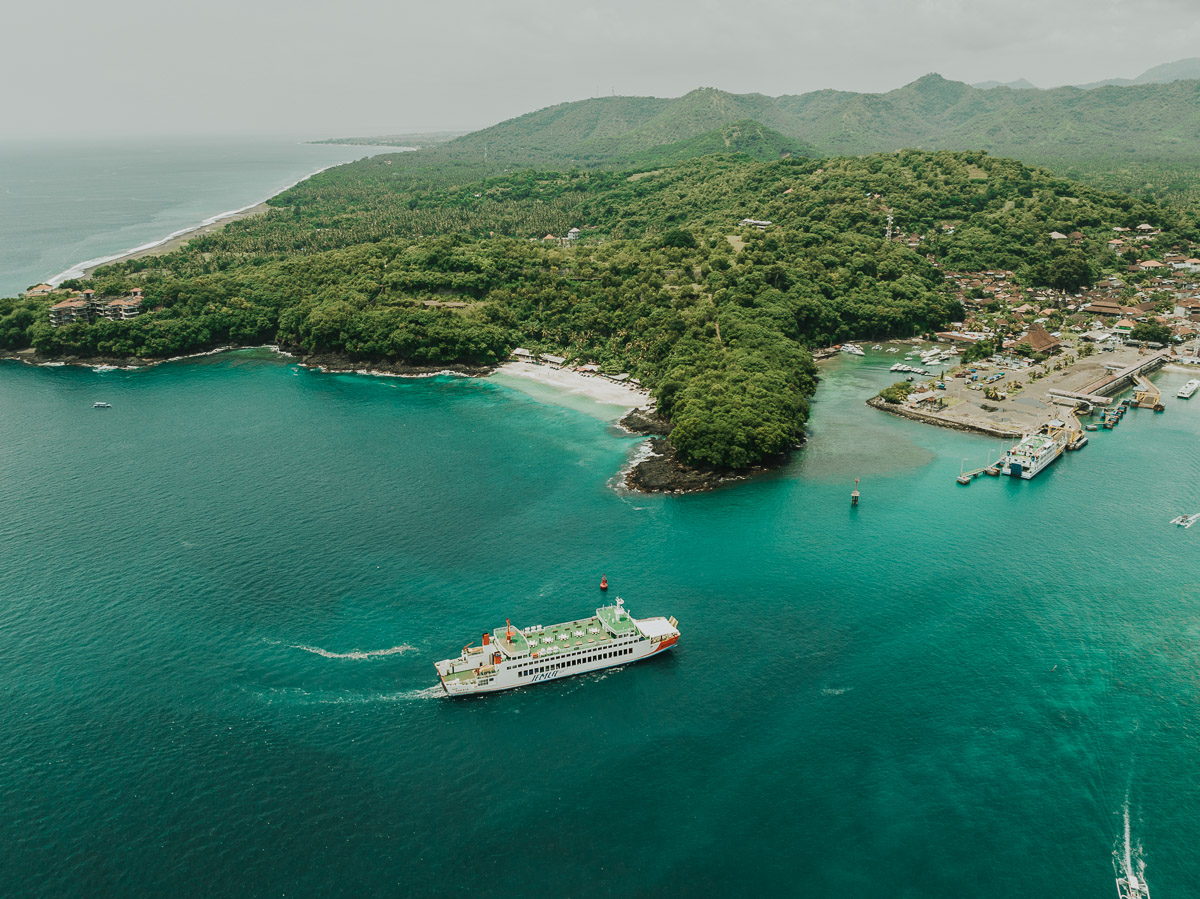 ---
Best Time To Visit Gili Trawangan
Typically, the most popular and busy season of Gili Trawangan is during the dry season between June to early-October. There's basically no rain, and you are guaranteed to have sunny blue skies, magnificent sunsets, and wild nightlife parties.
With that being said, there is NO BAD TIME TO VISIT GILI TRAWANGAN.
I just recently got back from a week-long stay on Gili T during the rainy season, and I had an absolute blast. The island was a bit less crowded, prices were cheaper, and it was a very relaxing getaway in paradise. While it did rain a decent amount, it wasn't a big deal and the majority of days were perfectly sunny with some afternoon rain.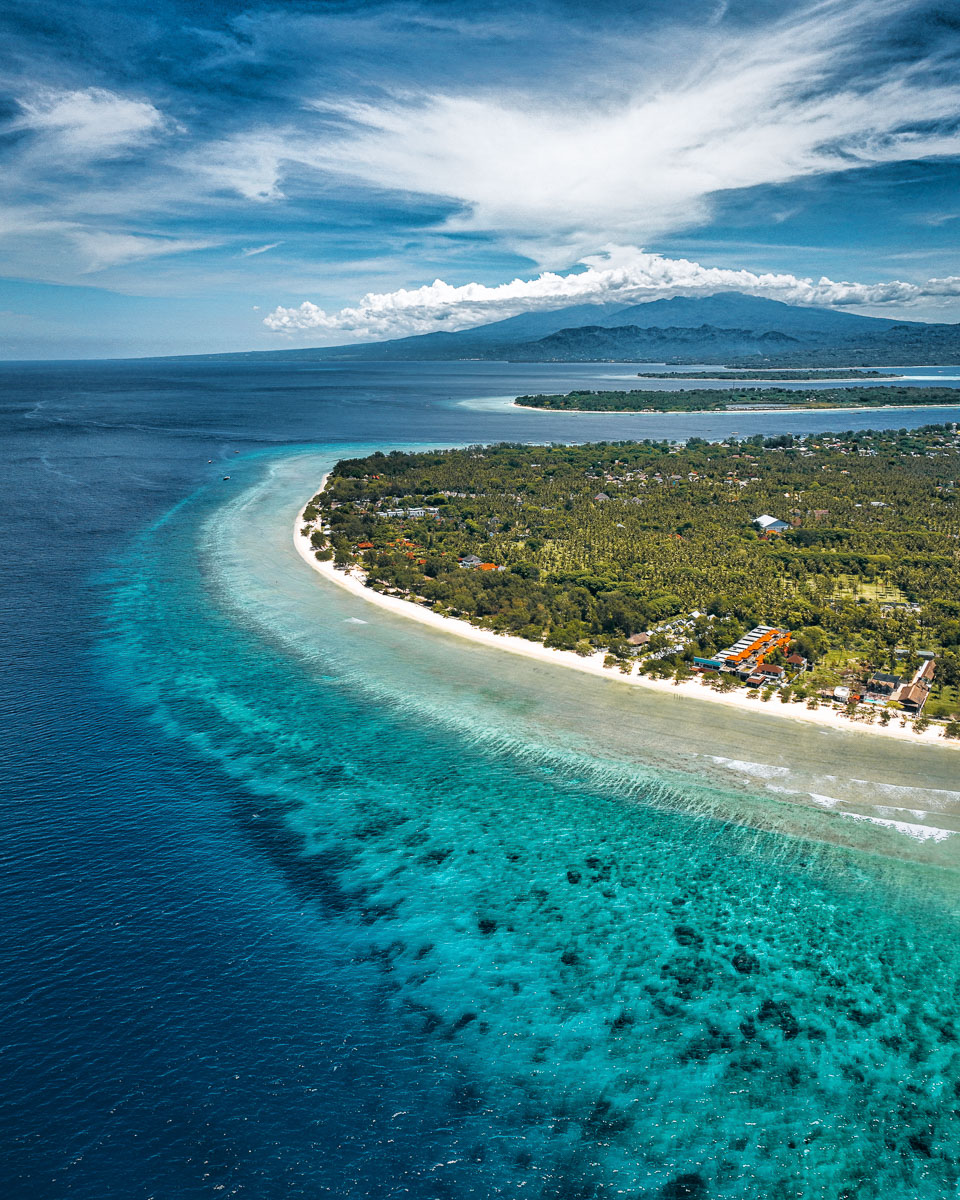 ---
Where to Stay on Gili Trawangan
There is no shortage of incredible places to stay on Gili Trawangan — from backpacker hostels, budget-friendly home-stays, boutique hotels, and luxury resorts. Here are my top recommendations though for different budgets! But also, another tip for the scuba-divers would be to reach out to dive centers and ask about their accommodation packages, as sometime they'll offer great combos!
This is where I recently stayed for a week on Gili Trawangan, and I really did have an incredible stay! It's conveniently located within walking distance from the port, but also pretty close to the sunset side of the island (so I don't think there's a better location on the island).
Breakfast is included and is quite delicious, and the views from the two-story restaurant overlooking the beach/ Lombok are magical! While wi-fi isn't that great depending on which room you stay in, it's a fantastic luxury but affordable stay.
If you're not on a strict budget, then I'd highly recommend booking your vacation at the The Pearl Trawangan!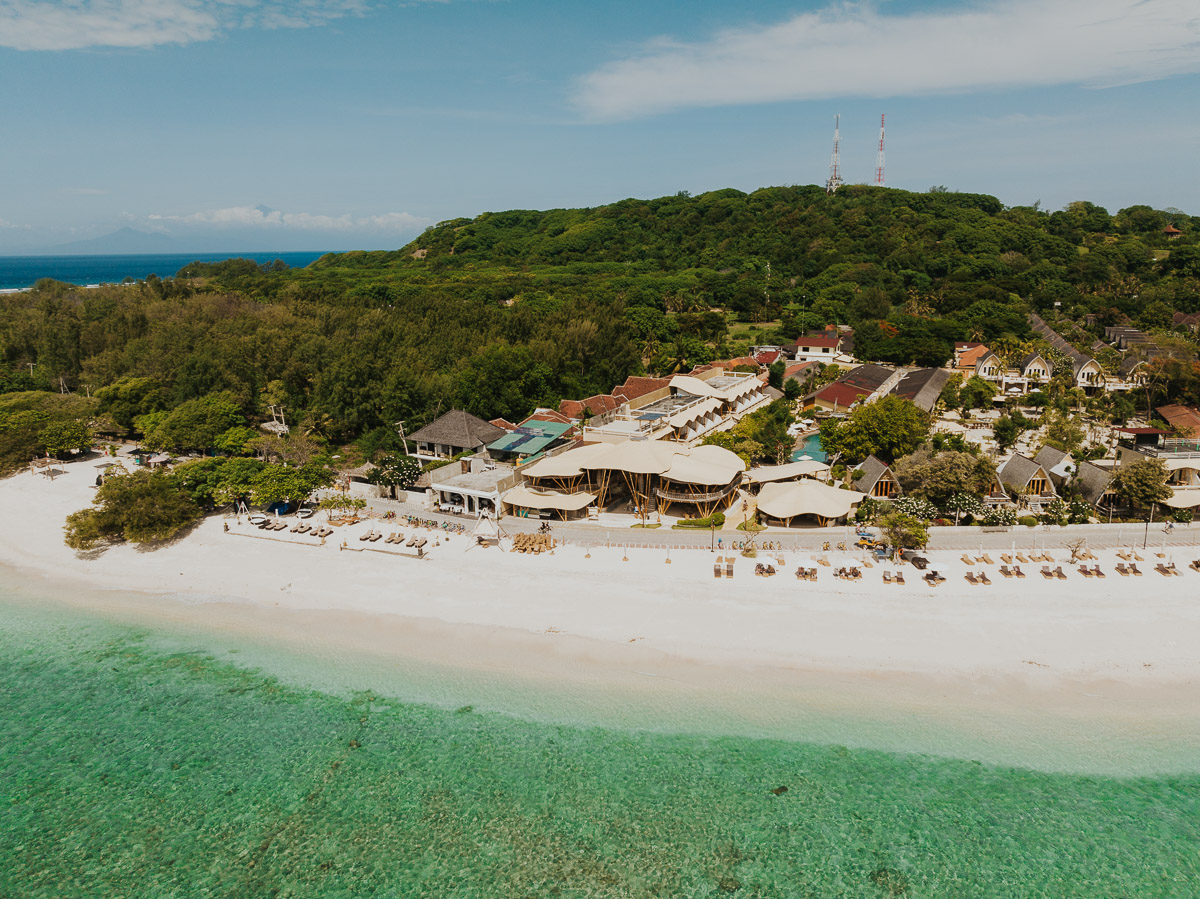 ---
GILI CASTLE – Best Backpacker Accommodation
When I lived on Gili Trawangan, I actually got a job working here at Gili Castle! I was in charge of nightlife coordination, and basically just showed people on pub crawls each night of the week, lol. We also organized beer pong tournaments, pool parties, and snorkeling trips. I absolutely loved my time working here, and it's 100% the best hostel for backpackers, budget travelers, and people looking to make new friends! They've got clean and comfortable rooms, has delicious food, is perfectly located, and you really can't beat the pool + rock climbing wall combo! Gili Castle does typically sell-out most nights though, so make sure you check availability and book in advance.

If you're looking for a bit more comfort at an affordable price, then I'd highly recommend booking your stay here at Pandawa Beach Villas & Resort! The rooms are all absolutely gorgeous, the staff is incredibly helpful, and you really can't find a better beachfront location on the sunset side of the island. It is a bit far from the harbor though, so please be ready to walk 10-15 minutes with your luggage if you decide to stay here! They've got a beautiful pool, sunset swings, and is tucked away from the wild party noises of Gili Trawangan.
Read Reviews & Check Availability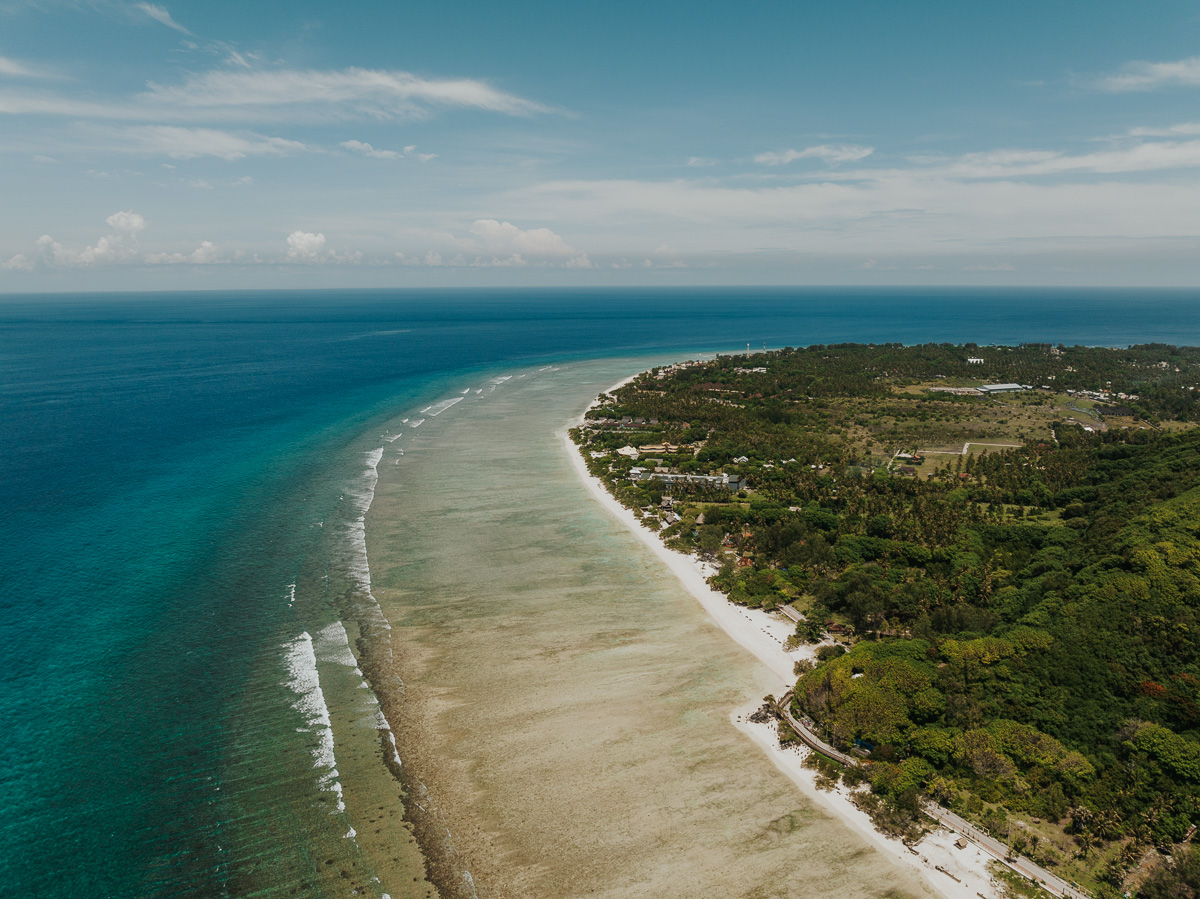 ---
17 Best Things To Do in Gili Trawangan
Whether you decide to spend all day lazing on the beach or scuba-diving as many times as possible, I promise you'll absolutely fall in love with this little slice of heaven! While it is a small island, it's packed with activities to keep you busy during your trip! Here's what I think are the Best Things To Do in Gili Trawangan! From eating at the night market, watching the famous Gili T sunset, island hopping on a private boat, and so much more – this list has you covered!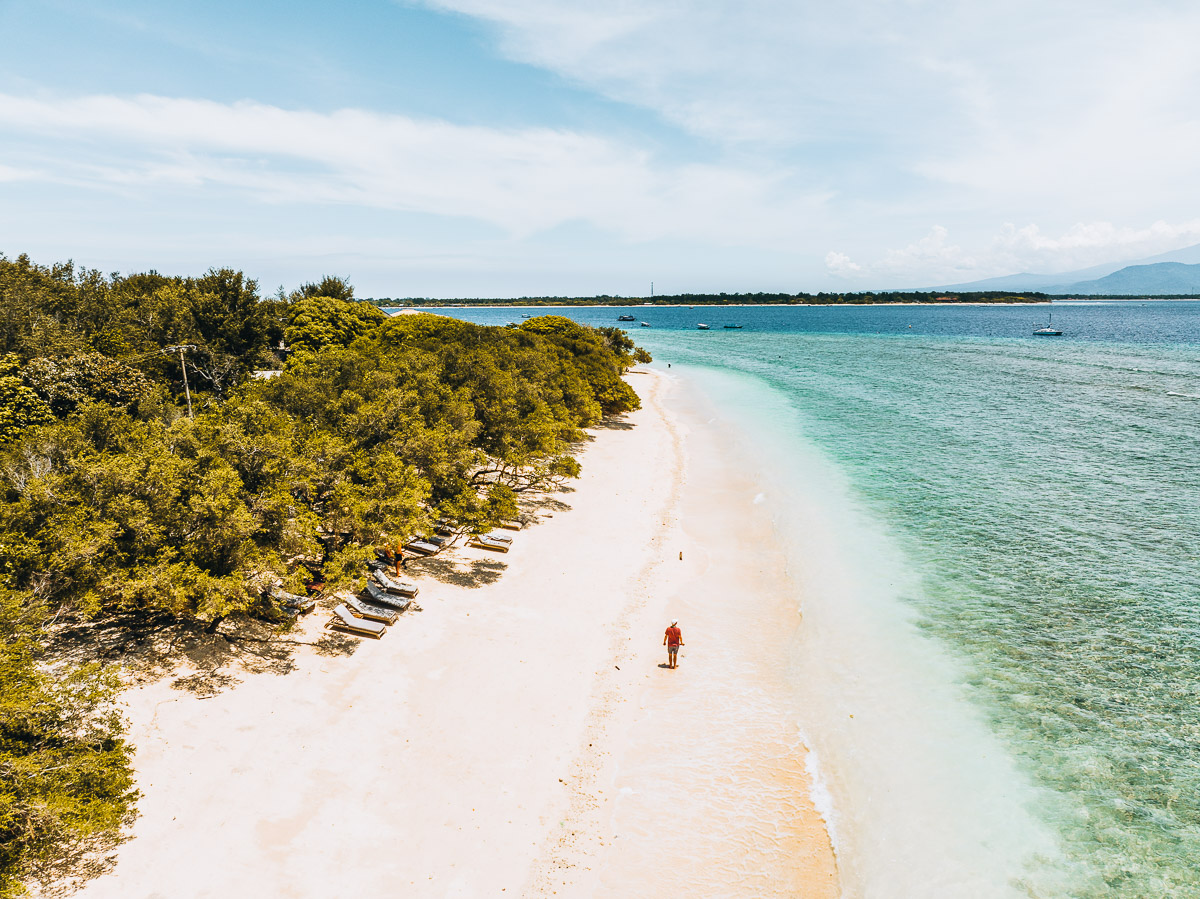 ---
1. Scuba Diving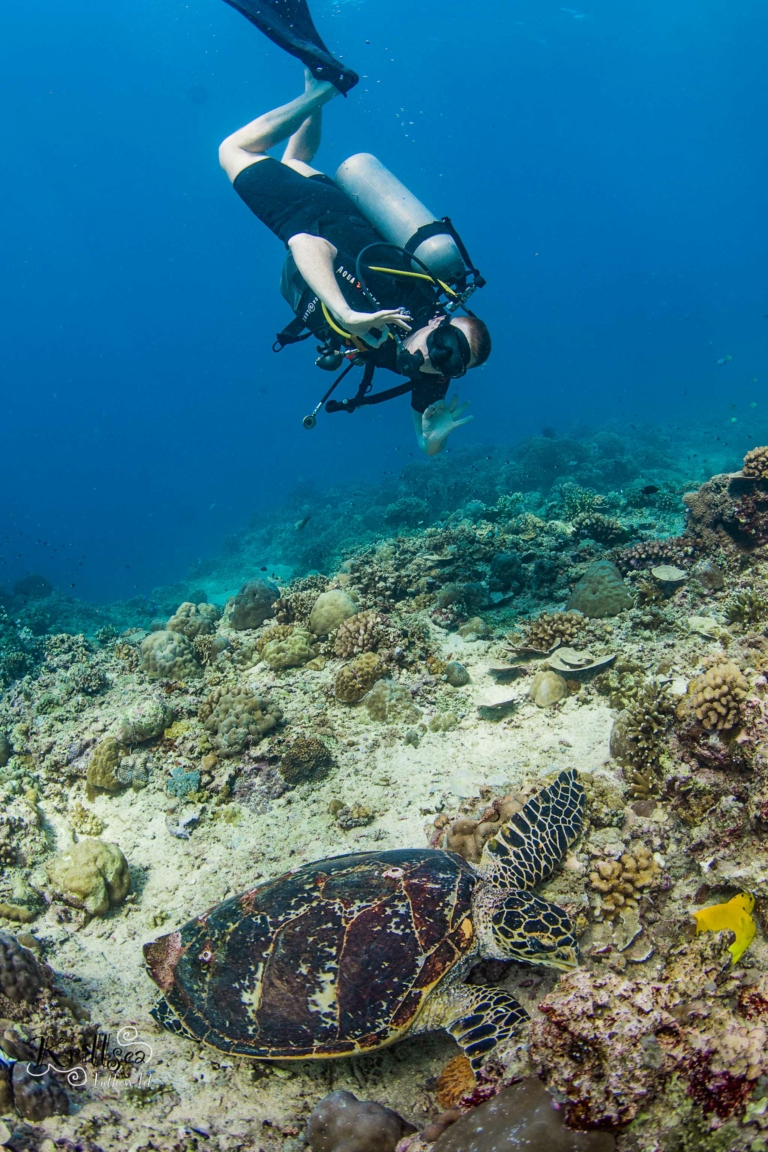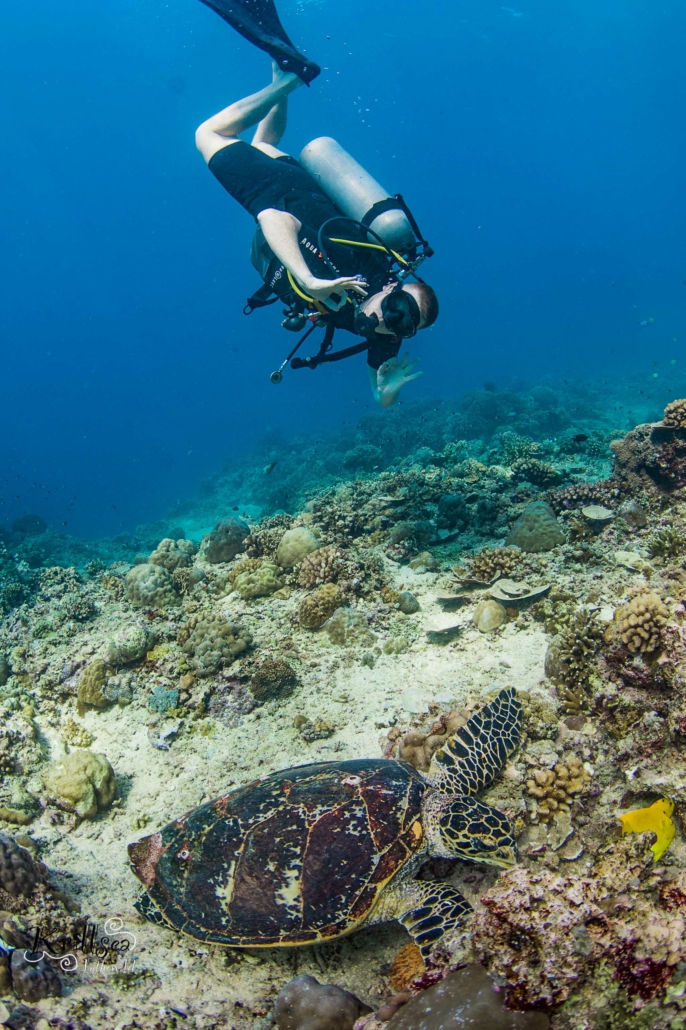 First things first, the Gili Islands are famous for the insane visibility, gorgeous coral reefs, and diverse marine wildlife – so if there's one thing I'd recommend to do on Gili Trawangan, it has to be to scuba dive!
I just recently got back from a scuba-diving focused trip to Gili Trawangan, and it truly is an incredible and easy place to go diving everyday! The locations are really close to the boat, the conditions are typically perfect, and you'll get up close and personal with so many incredible sea creatures!
There are DOZENS of amazing scuba-dive centers on Gili Trawangan, but I've been diving with three of them (and all of them were fantastic). These would be: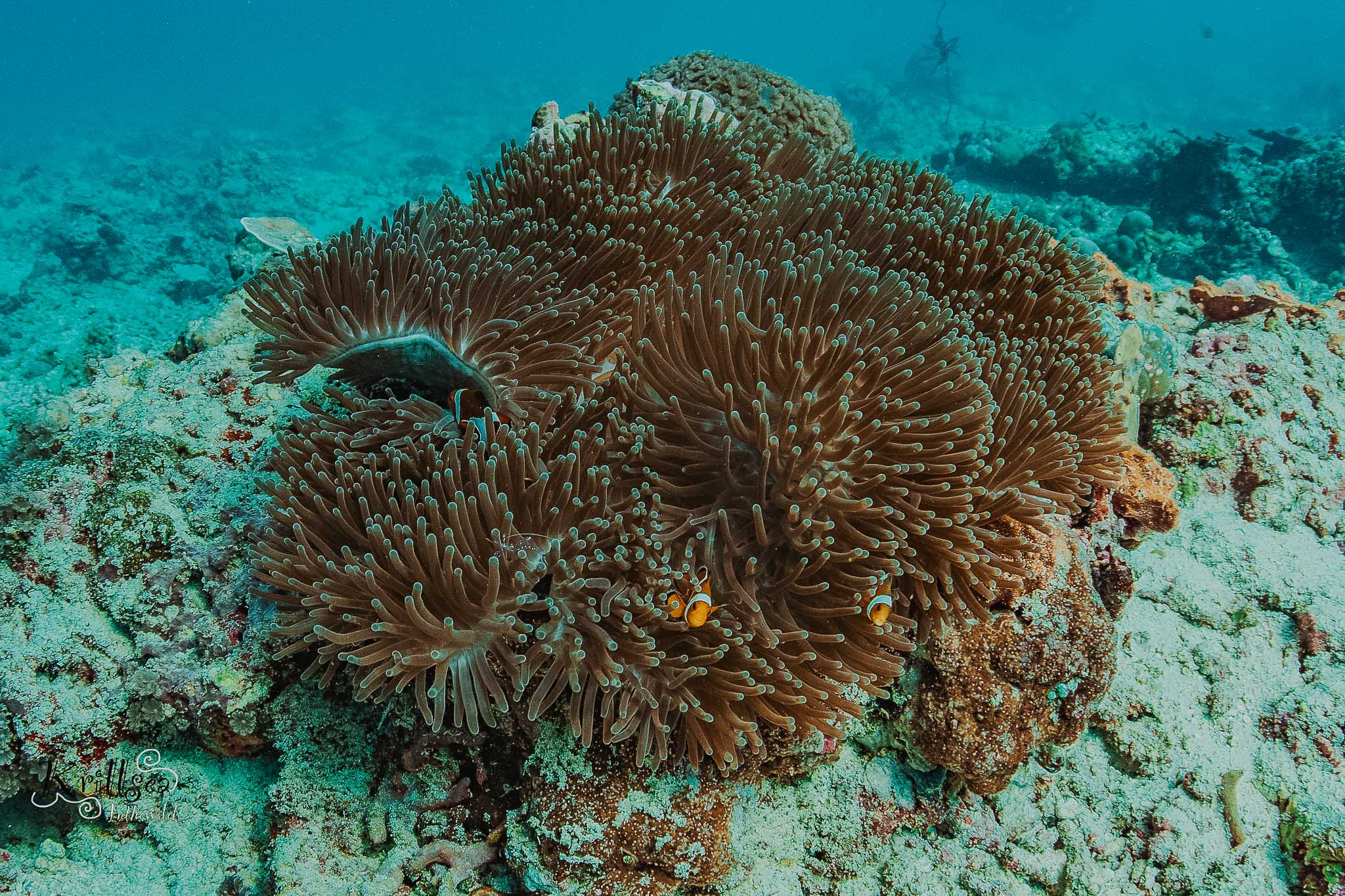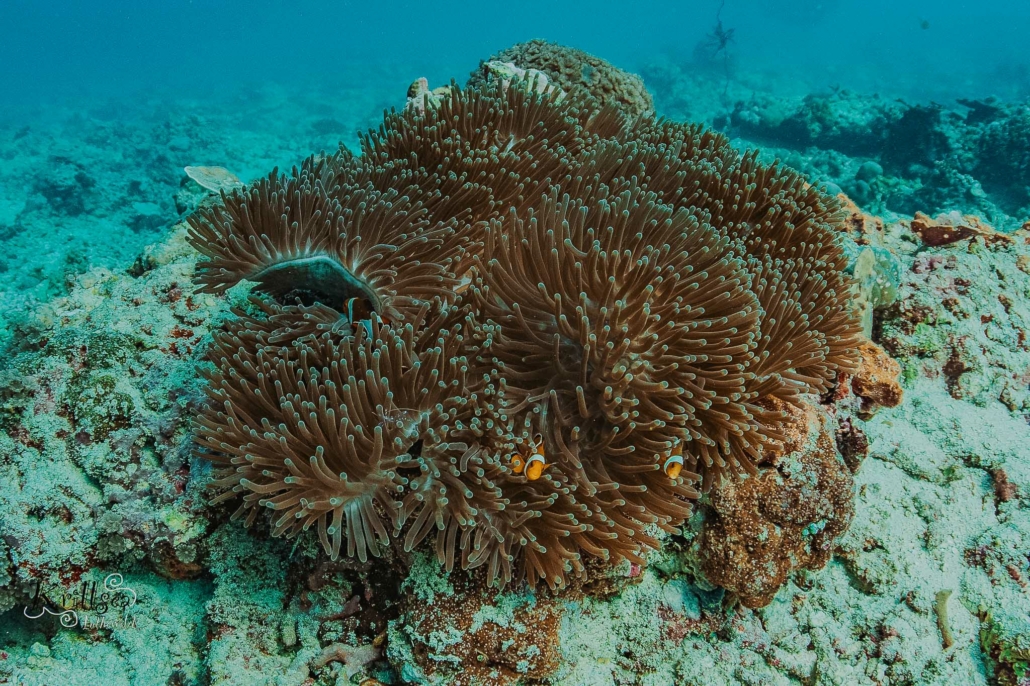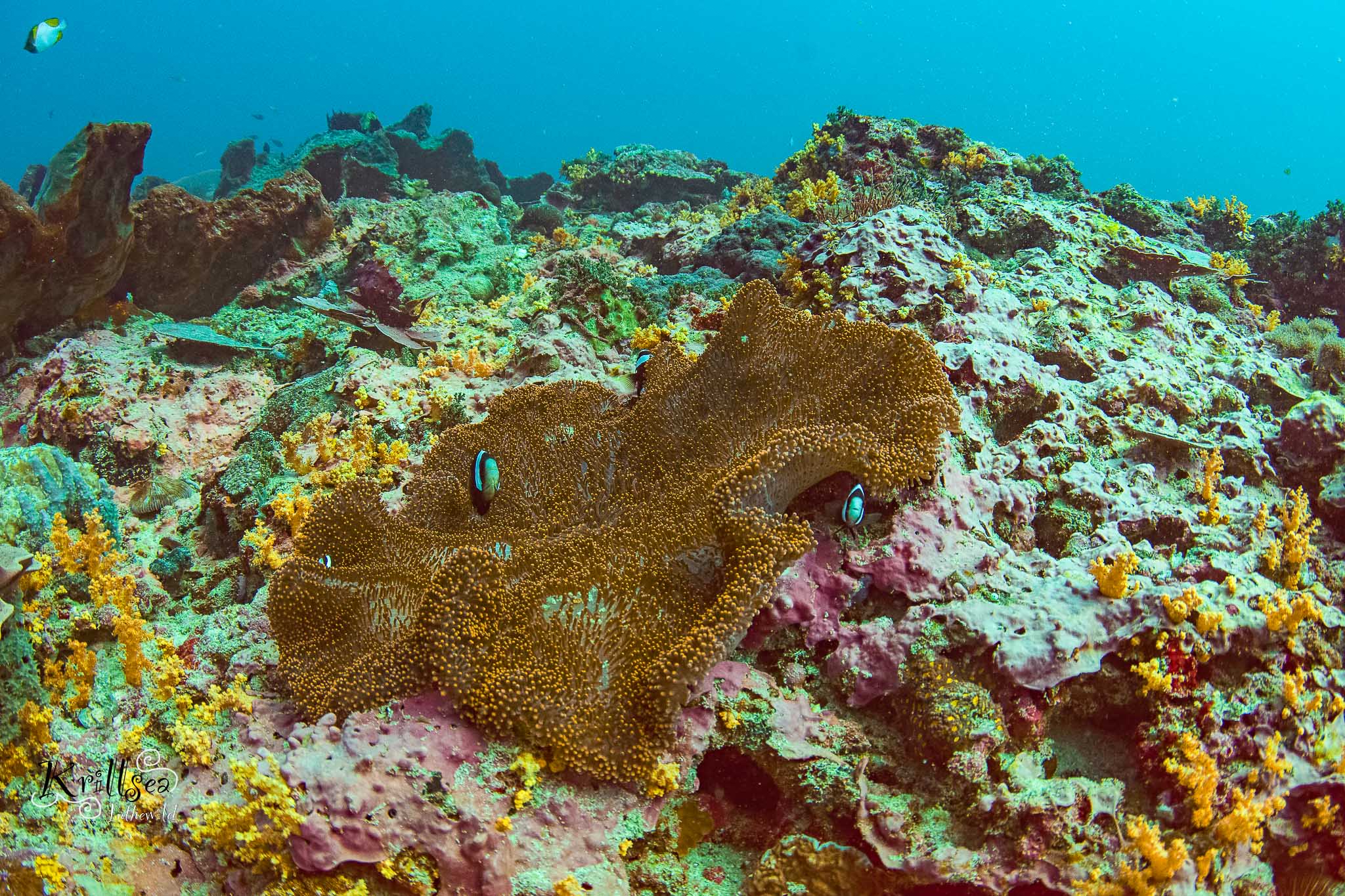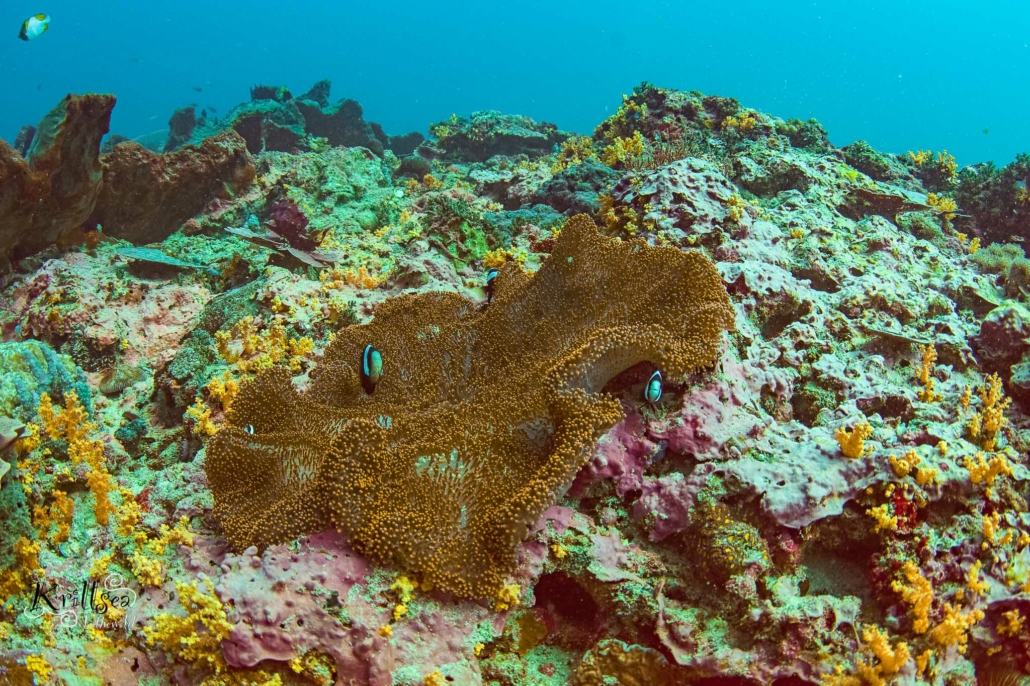 If you're not certified to scuba-dive, this is also one of the BEST places in entire world to get your open-water scuba certification. It's affordable and fun, and a great way to spend 3-4 days. If you're not sure if you'll love scuba, you can also try a "Discover Scuba", which is a trial one-off dive to test out if it's the right activity for you.
My personal favorite Gili Trawangan Dives are Shark Point, Bounty Shipwreck, and Halif Reef! You'll probably see sharks, turtles, eagle rays, clown fish, stingrays, octopus, and loads more!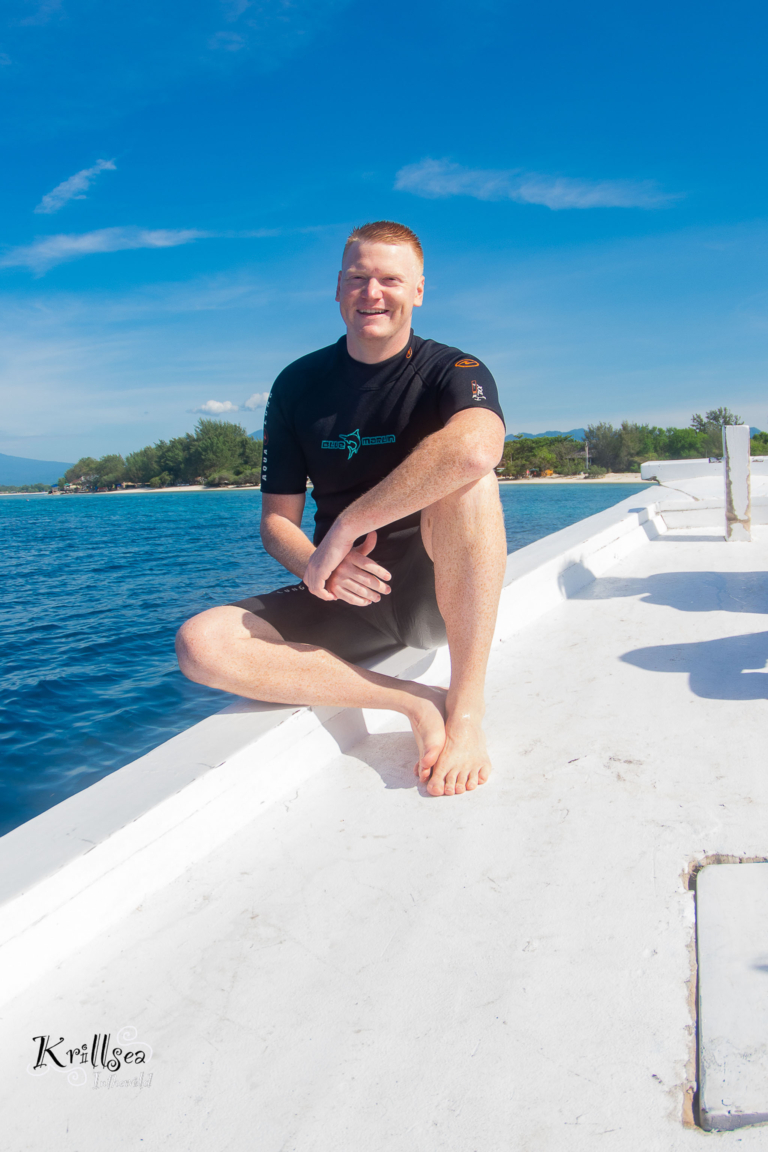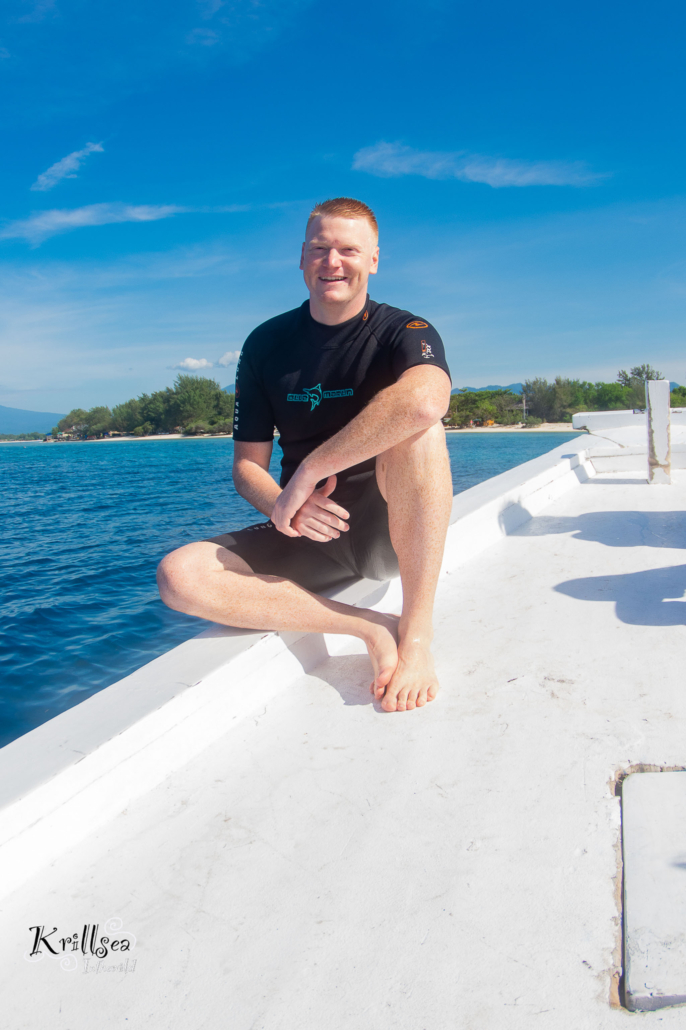 ---
2. Gili Islands Snorkeling Trip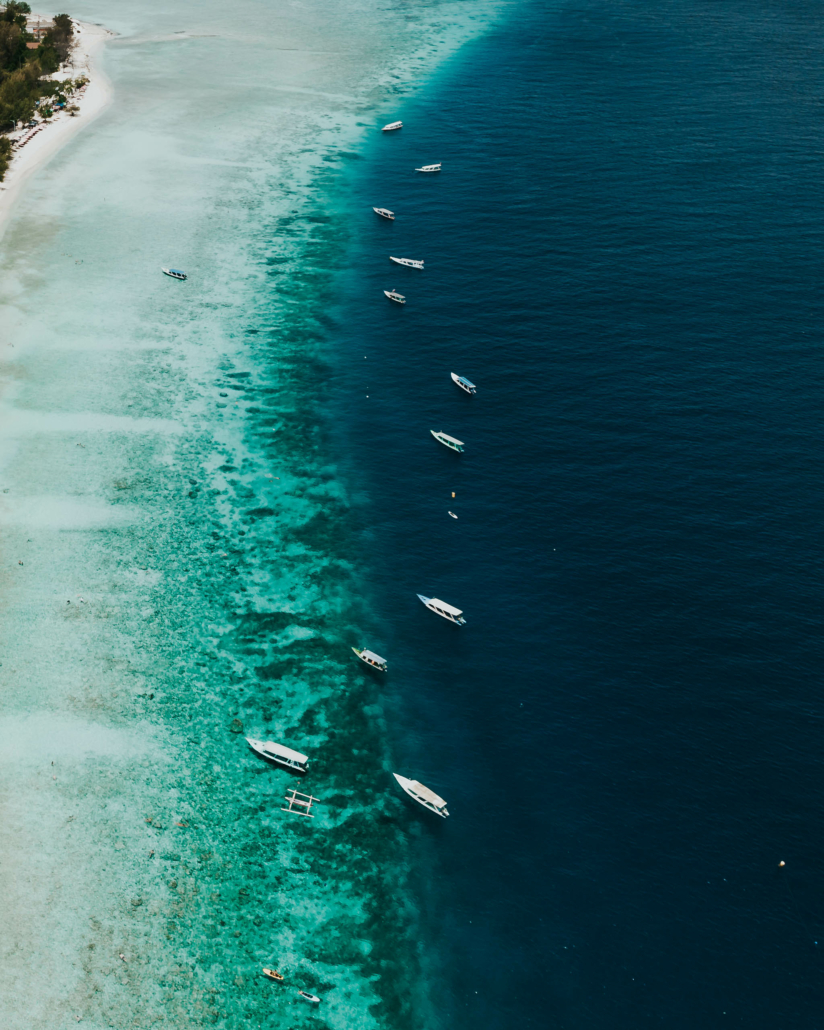 So for those who aren't too keen on scuba-diving, then booking the multi-island snorkeling tour is an absolute must! They'll take you around to different spots like the Gili Meno Statue and Turtle Haven, as well as see a bunch of amazing coral reefs!
This trip is offered nearly everywhere around the island, and if you have a group of people you can hire your own private boat for pretty cheap for a tour. There's no need to book in advance, as there is tons of availability (you'll get asked daily if you want to join as you walk around the island).
It's super affordable, only takes a couple hours, and is a great way to get out on the water and ride around the three Gili Islands.
If you haggle with the local boat owners, you can combine this with an island hopping trip to Gili Air and Gili Meno, so you can see all three Gili Islands during your time on Gili T!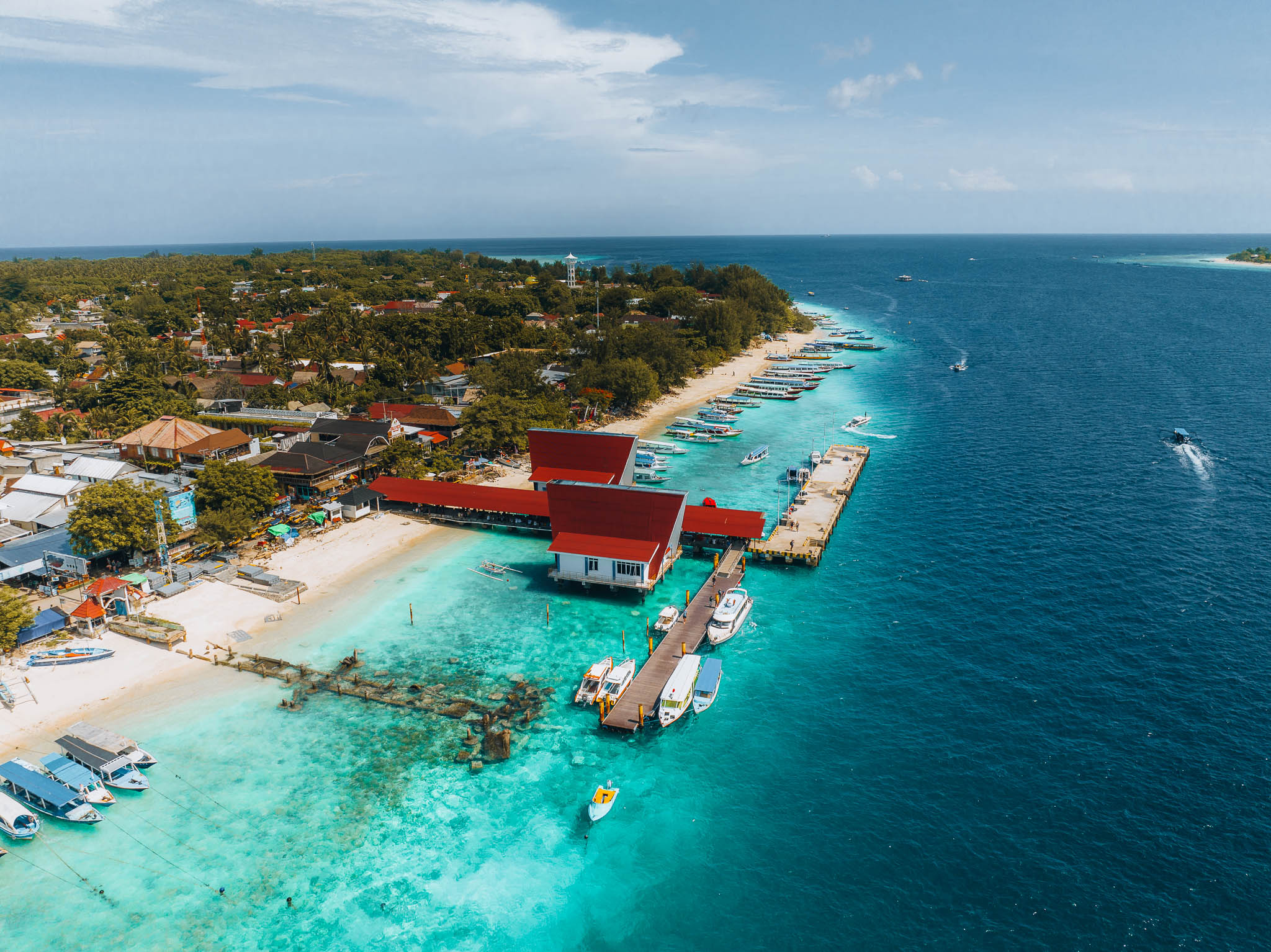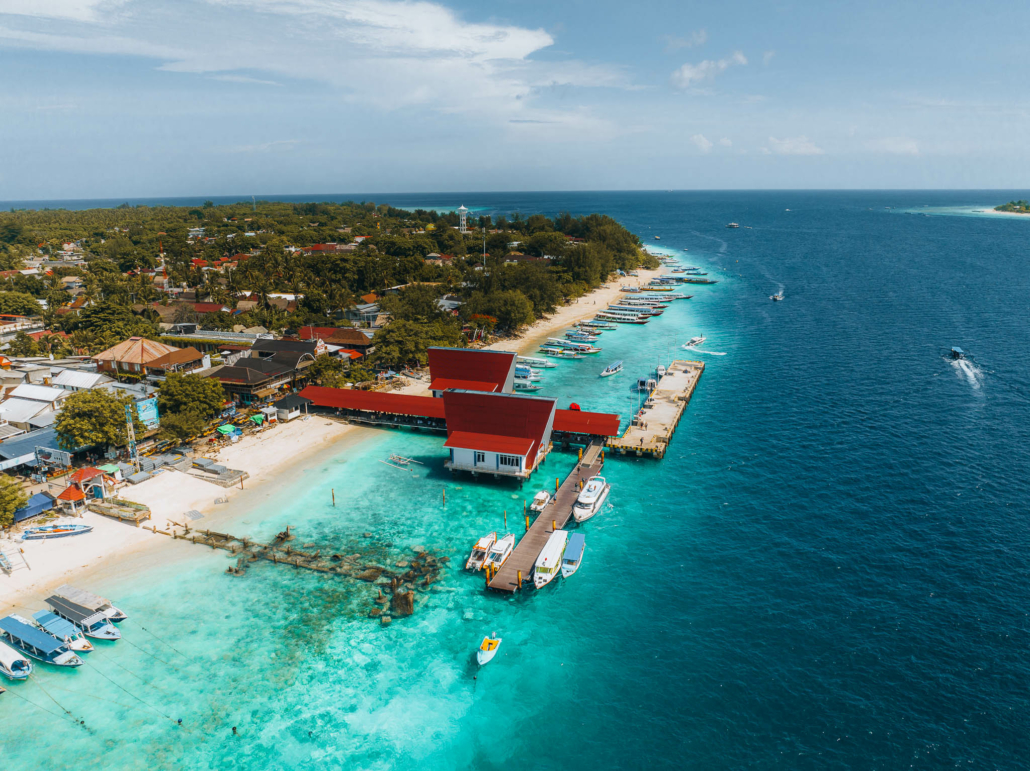 ---
3. Swim With Turtles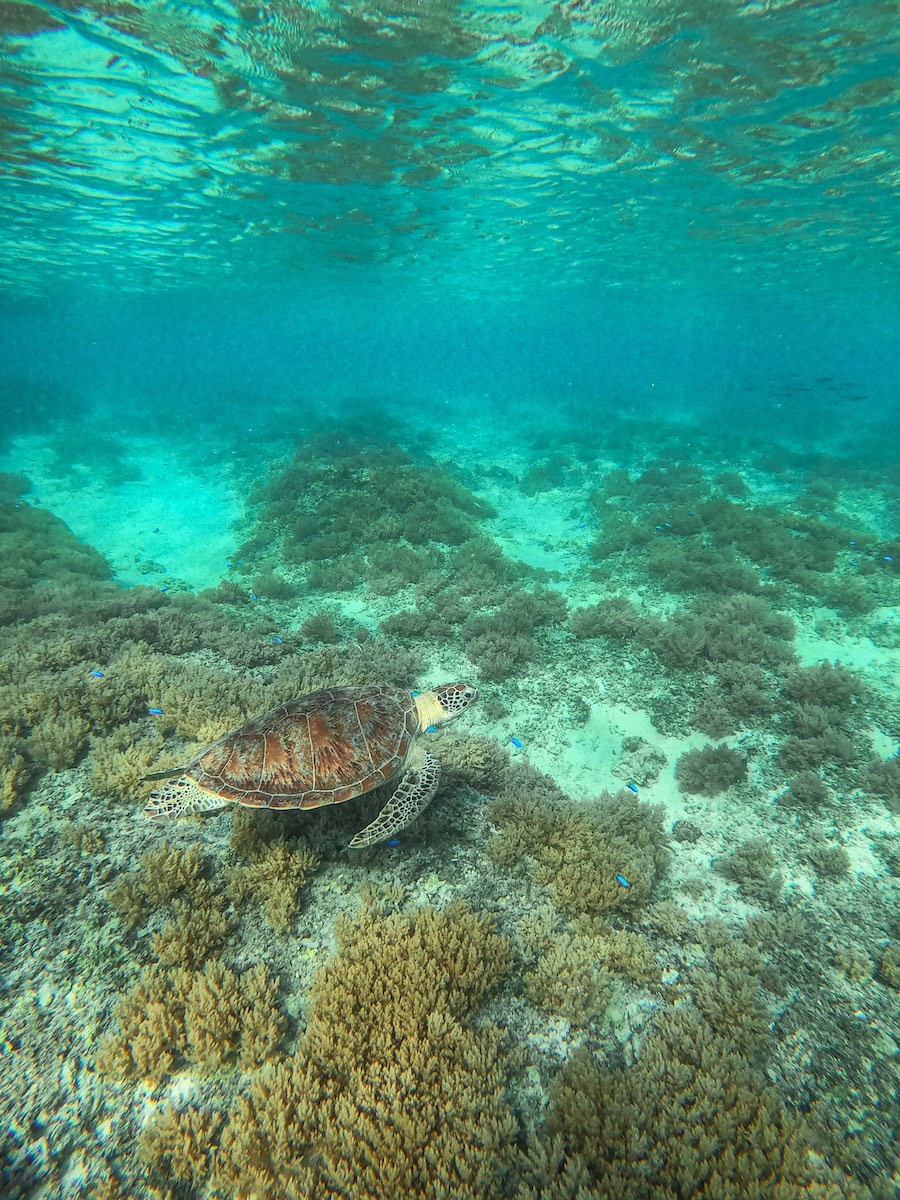 One of my absolute favorite things about Gili Trawangan is that you can literally go swimming right off the beach, and you're practically guaranteed to spot a few turtles! There's an area called Turtle Beach on the northern side of the main strip of Gili Trawangan, and you just grab a mask and some fins and swim out around the boats.
I went out a couple mornings and saw dozens of them swimming, eating, and relaxing. It's so much, and is a fantastic way to start the day. If you don't have your own mask and fins, you can rent them for 24-hours for 50k Rupiah (about 3.50 USD).
Just remember, you can get close, but please DO NOT TOUCH the turtles!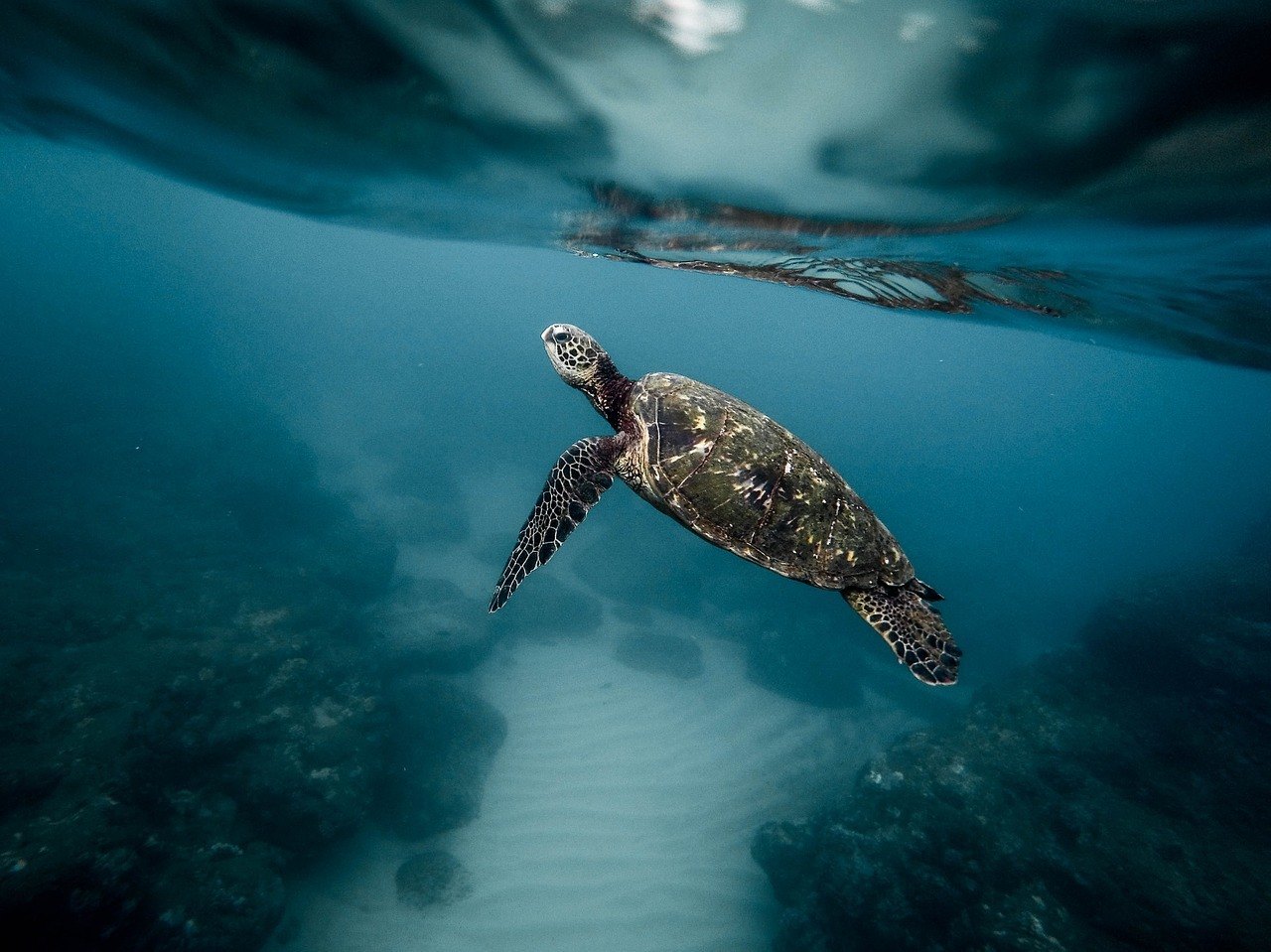 ---
4. Gili Trawangan Sunsets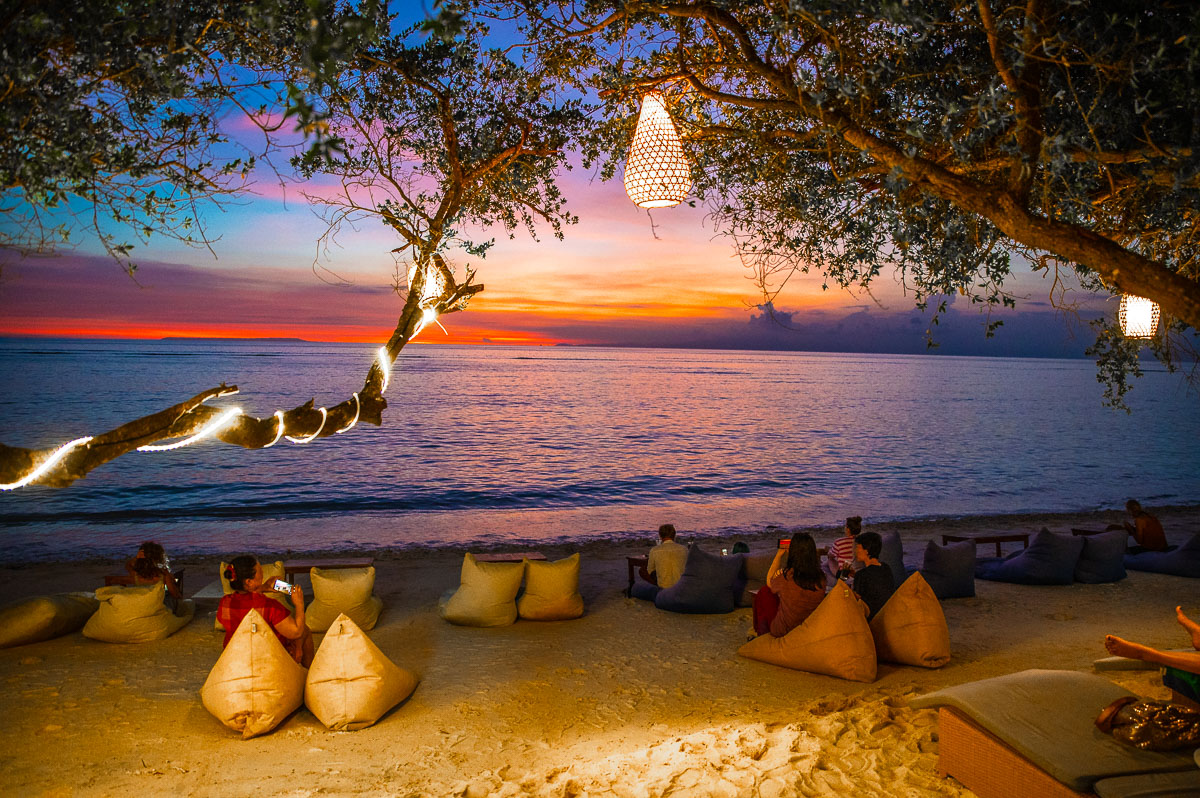 Of all my travels in South-East Asia, I honestly believe that the sunsets on the Gili Islands are easily the most beautiful (and that's really saying something)! So if you aren't watching the sunset every night, with a cocktail or coconut in your hand, you're not doing the Gili Islands the proper way!
There are tons of different small bars, restaurants, and beach hotels along the "sunset side" of Gili Trawangan, and they all can provide a comfy chair and beverage to enjoy while the sky turns into a wide variety of colors.
Also, be sure to make your way over (or book a few nights stay) to the gorgeous Ombak Sunset Resort for the classic "Gili Trawangan sunset swing shot" that you've probably seen on Instagram dozens of times!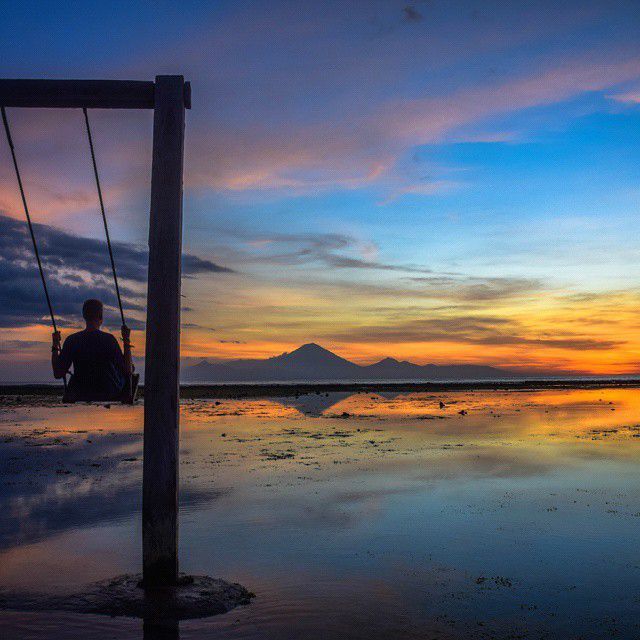 ---
5. Walk or Bike Ride Around The Island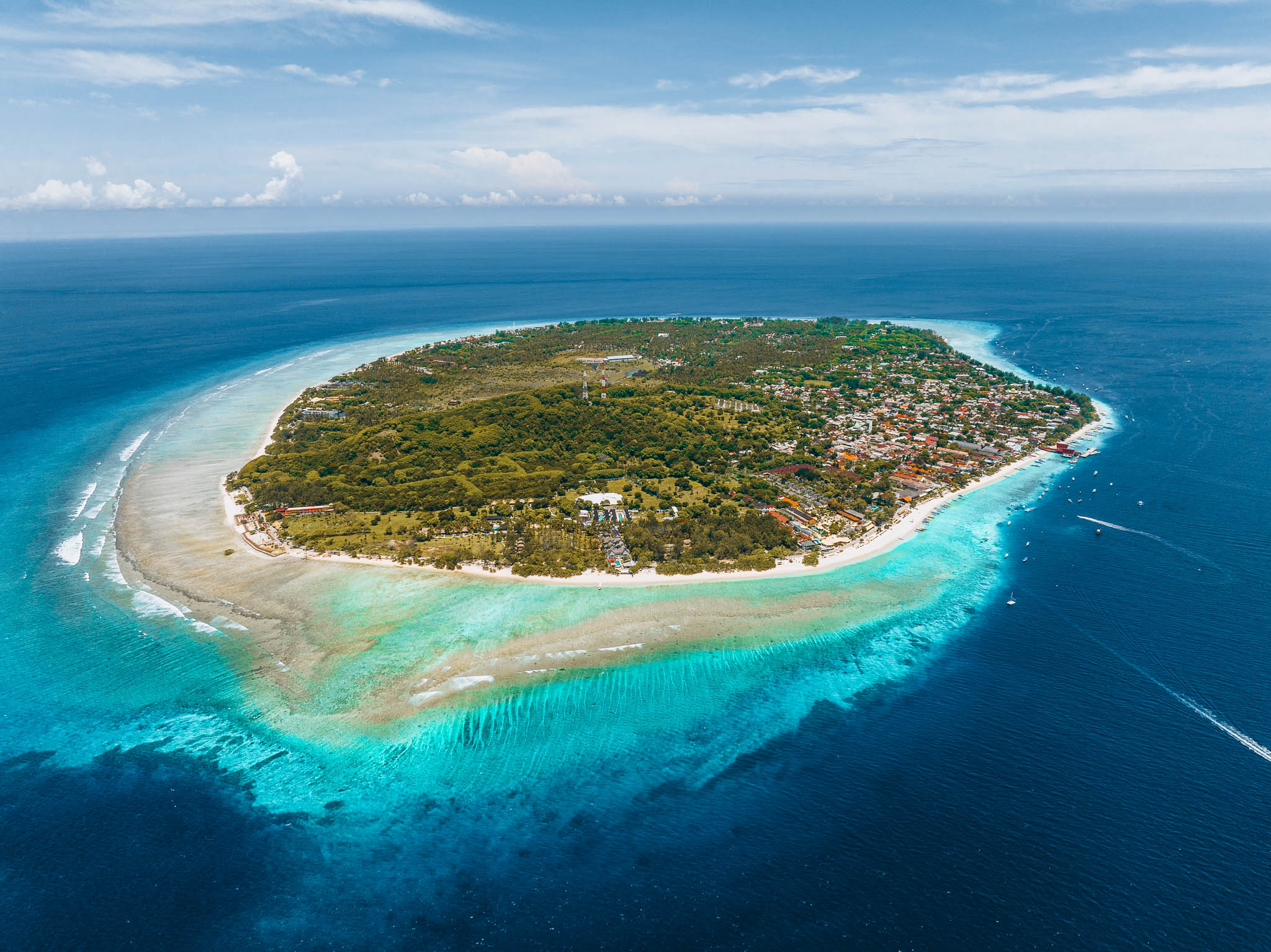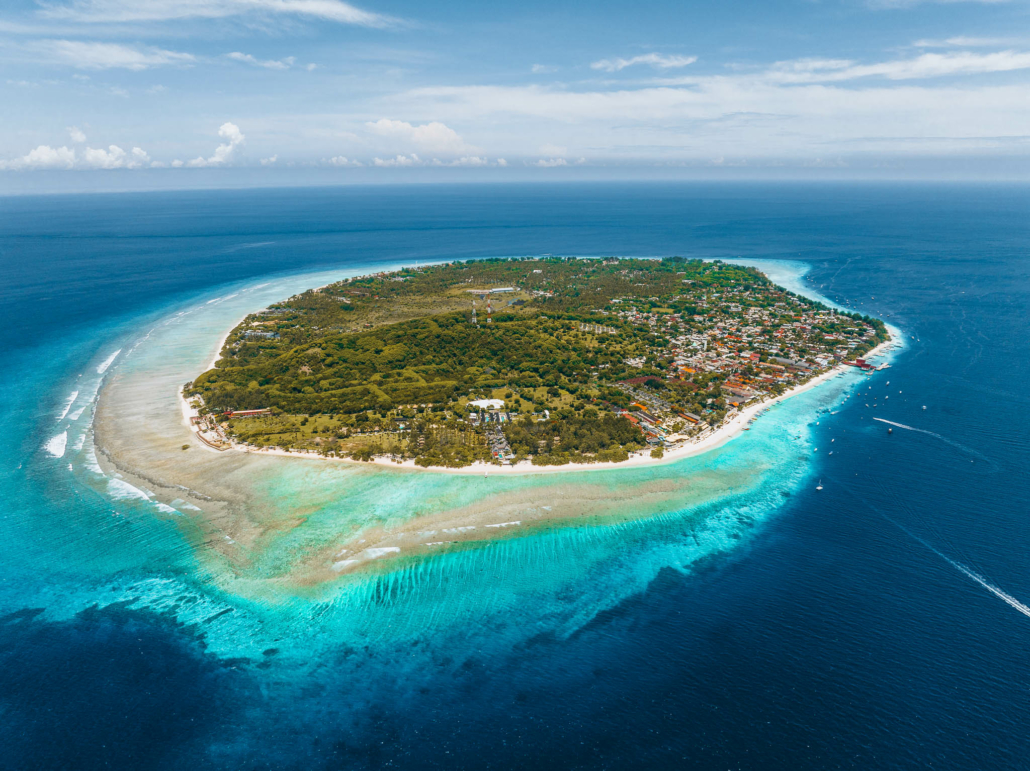 There are no cars or motorbikes on the island, so you'll see everyone riding around on a bicycle or electric moped. Gili Trawangan is a fantastic place to rent a bike, and take a fun ride around the entire island! You could even make a day of it, and stop at bars or cafes along the way, go for a snorkel, and then make your way to the sunset side to finish off the evening.
There are tons of different places to organize a bike rental from, and it shouldn't cost more than a $3-$4 dollars for each day (but you can negotiate for better rates if you're staying a week). Just be careful where you leave it, as sometimes they can be stolen unfortunately!
If you decide to walk around the island, it will take about 90 minutes, and the bike ride just depends on your speed! Since my first to Gili Trawangan, the roads have become a LOT more improved, and there are only a few places where you'll need to walk the bike through thicker sand.
It's a great way to get your bearings of the island and see all the beaches (as well as discover some hidden gems). I'd recommend to do it after 5PM though when it's not so hot!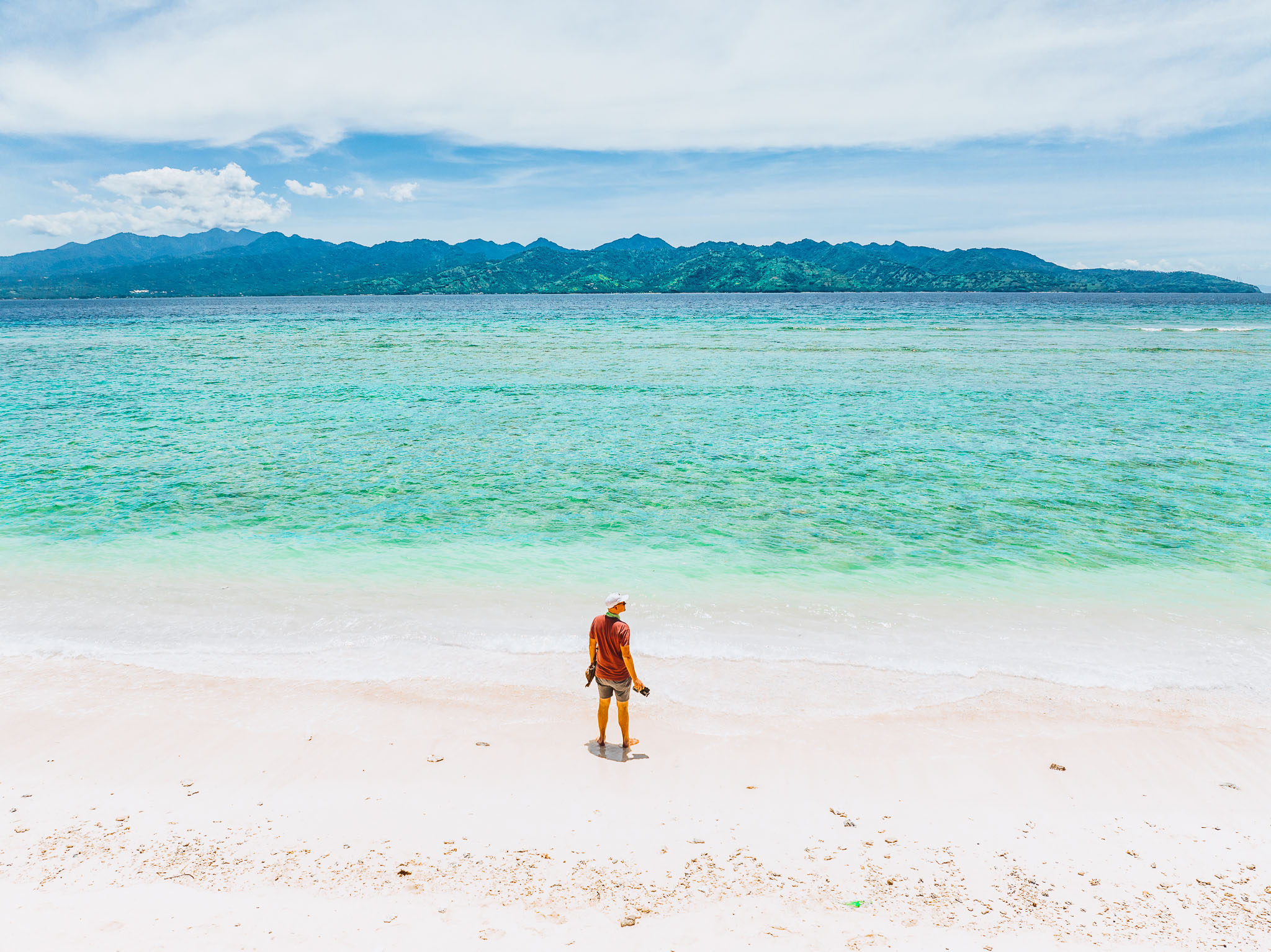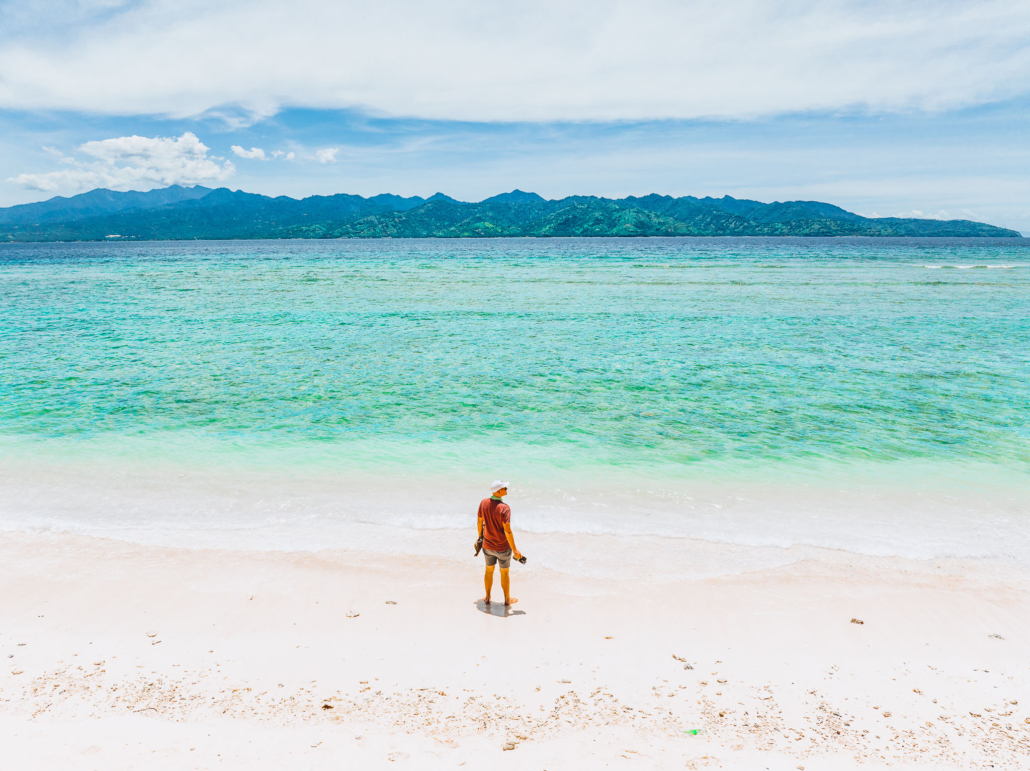 ---
6. Movie Nights On The Beach
While walking up and down the sunset side of the island, you'll discover several different restaurants/ hotels offering free movie nights on the beach! They arrange tons of comfortable bean bags on the sand, and set up a projector and speakers – and it is a ton of fun!
It's one of my personal favorite Gili Trawangan things to do, and you need to do it at least once! It's a great activity do after the sunset, especially if you're not in the mood for a wild party night.
You can find movie nights at Aston Sunset Beach, Skinny Dip Beach Club, and Royal Regantris Trawangan. I watched a movie at all three of these, and it's a great way to unwind after a long day of scuba-diving/ snorkeling.
When you go out and explore each day, just be sure to take a photo of their "movie showtimes" so you know which days/ times you'd want to watch!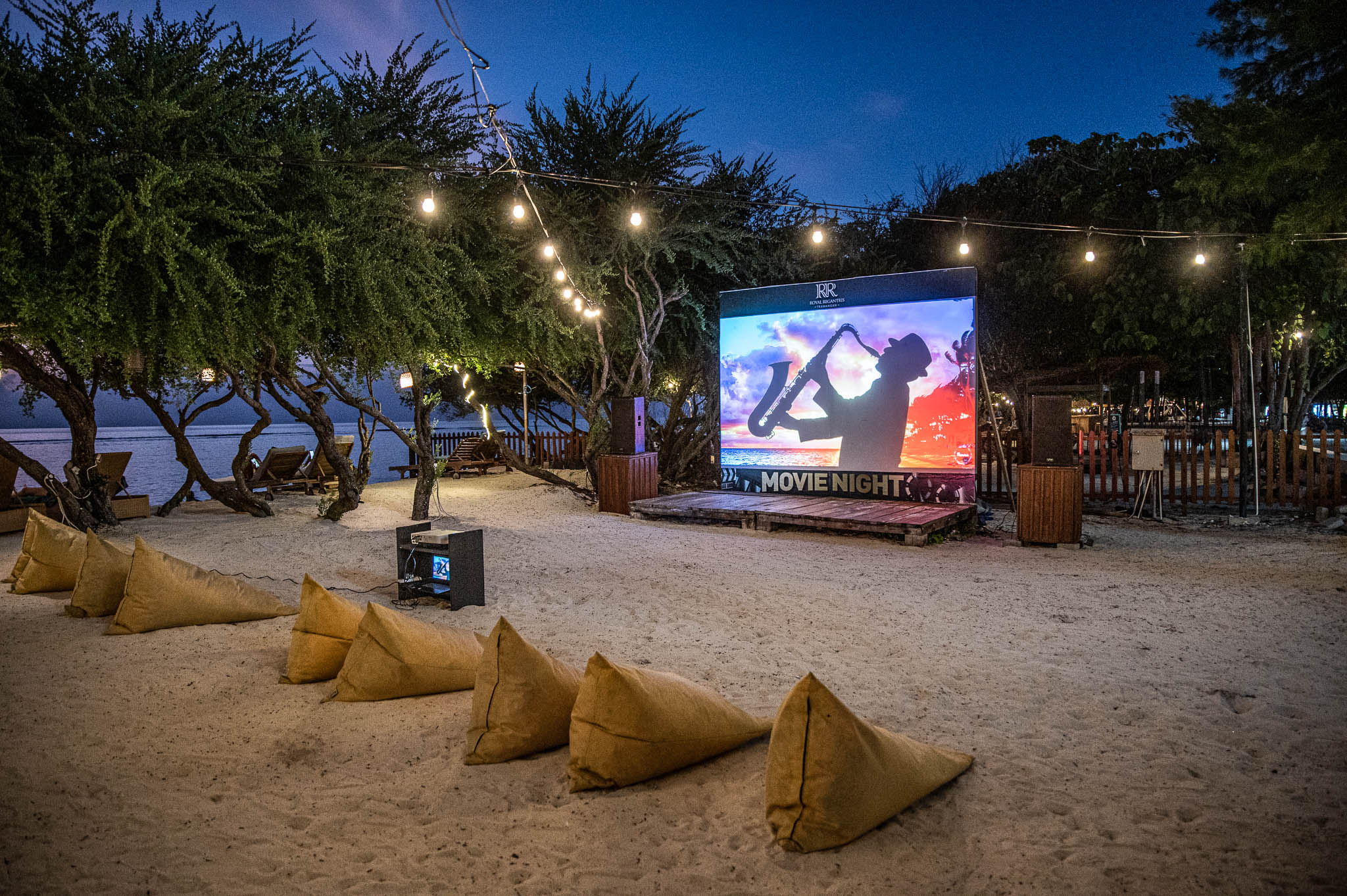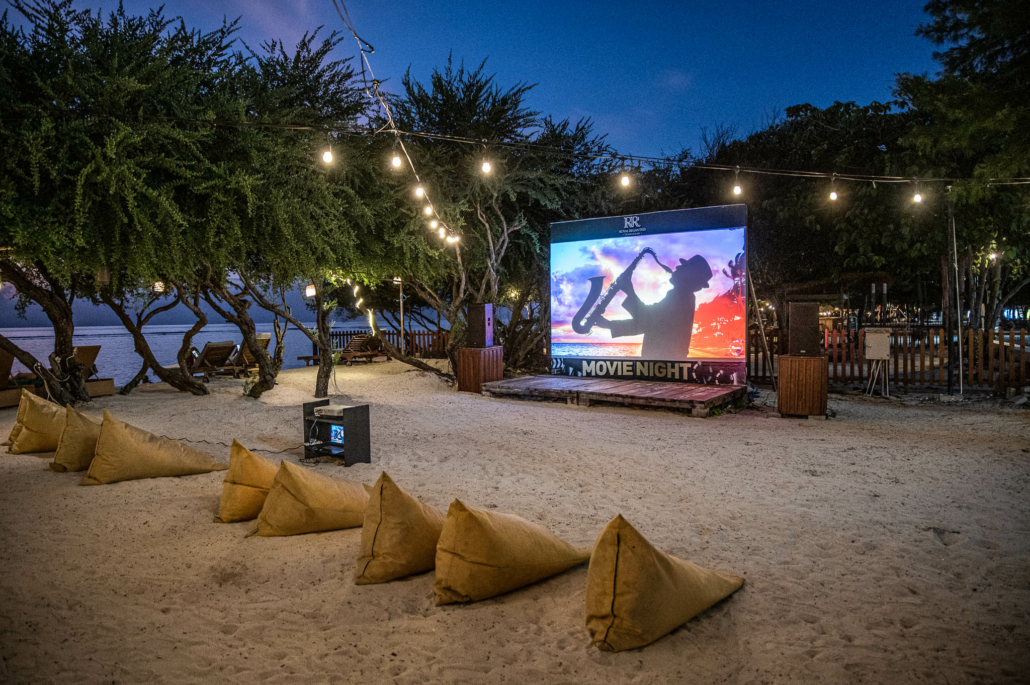 ---
7. Feast at The Night Market
No visit to Gili Trawangan would be complete without enjoying a massive meal at the Gili T Night Market at least once! The food is fresh, cheap, and really tasty!
My best piece of advice would be to go to the lower east corner grill and eat there! Basically, you'll pick out your meat skewers, and then all dishes include rice and three vegetable sides + peanut sauce. It's mouth waveringly delicious. Don't miss this place! Thank me later… ;-)
It's one of the best things to do in Gili Trawangan, and I looking forward to eating there every time I visit!
Also read: 7 Must-Try Places to eat on Gili Trawangan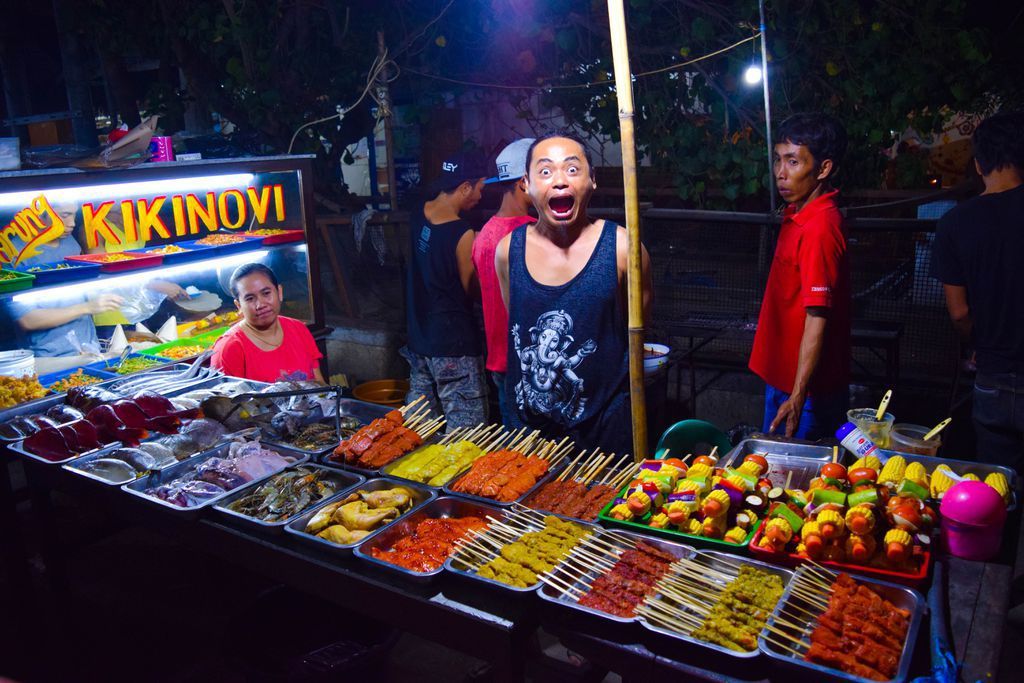 ---
8. Read, Rest and Relax on The Beach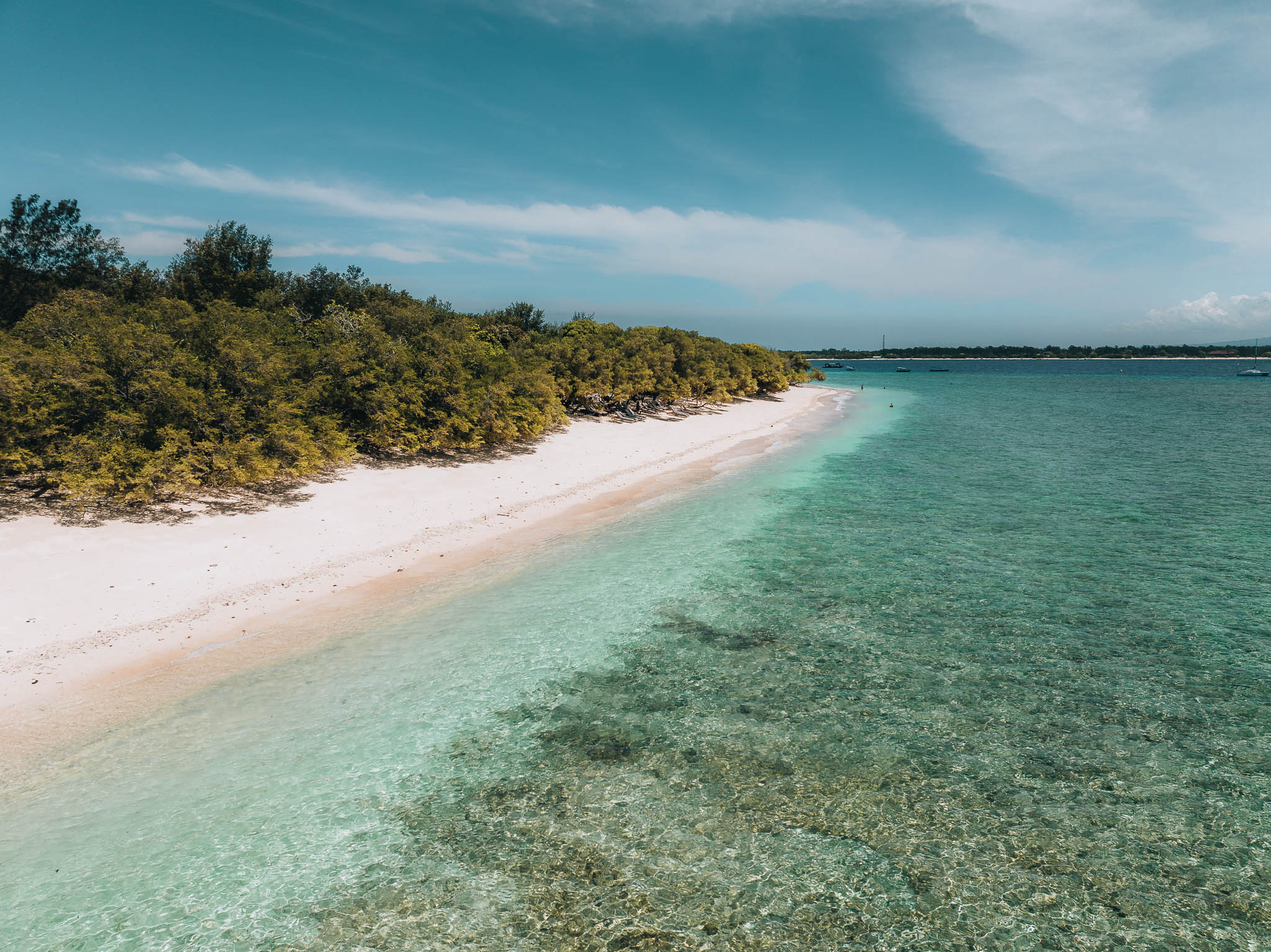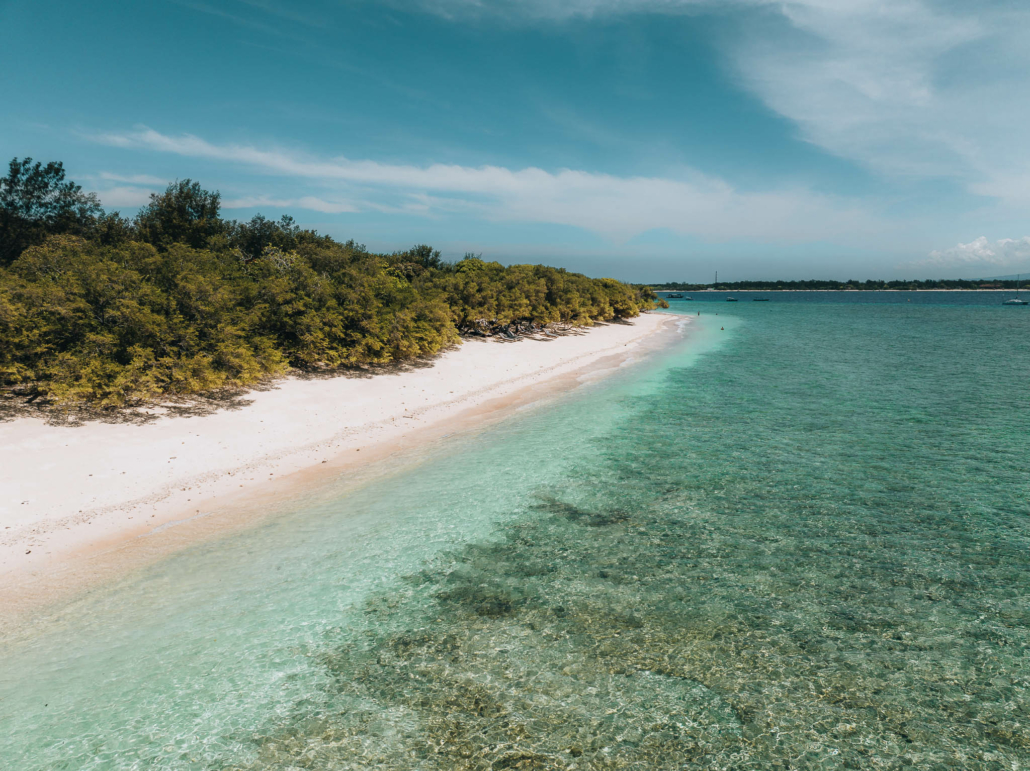 When you look at pictures of the beaches on Gili Trawangan, one word always comes to mind…paradise.
The sand is soft and white, the water is crystal clear and the perfect temperature, and it's simply an idyllic place to spend a day doing nothing.
Along all the major swimming beaches on Gili Trawangan are fantastic beach resorts, restaurants, and bars with comfy lounge seats and bean bags for your enjoyment. So bring a towel, some reef friendly sunscreen, and a good book – and just enjoy life on island time!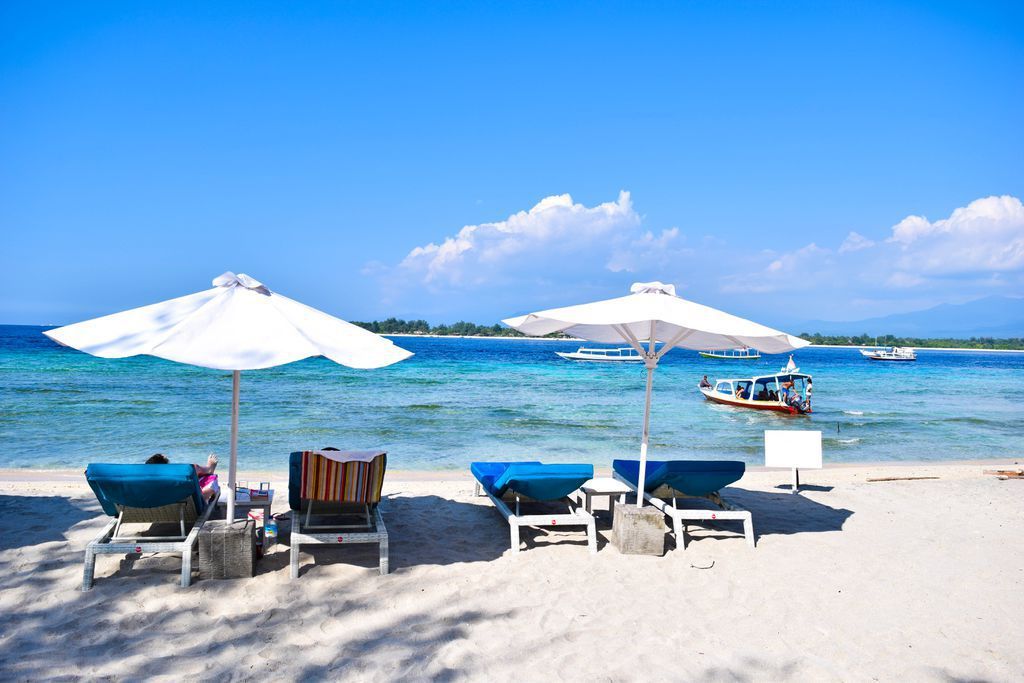 ---
9. Gili Cooking Classes
A cultural experience for the body and the soul!
"We all love eating, right?! Food is amazing. It brings people together from all over the world, and Indonesian cuisine is no exception. And for good reason: it's all based around fresh produce, simple recipes, and delicious food. And where better to learn how to make these amazing dishes, then right here at the source: Indonesia."
Why not try and learn something new during your time on The Gili Islands..!? Sign-up for one of the sessions at Gili Cooking Classes (offered on Gili Trawangan & Gili Air)!
While this is unfortunately one of the things to do in Gili Trawangan that I didn't get the chance to attend when I was last there, I walked past it multiple times and it looked like so much fun (and a fun skill to bring back home). There are vegan/vegeterian classes available as well, and the instructors go above and beyond to ensure an incredible time.
There are three different class types to choose from : The Intro Course, Four of a Kind, and The Super Six (all at different prices points). It's fun, affordable, and a great way to spend some time on the island.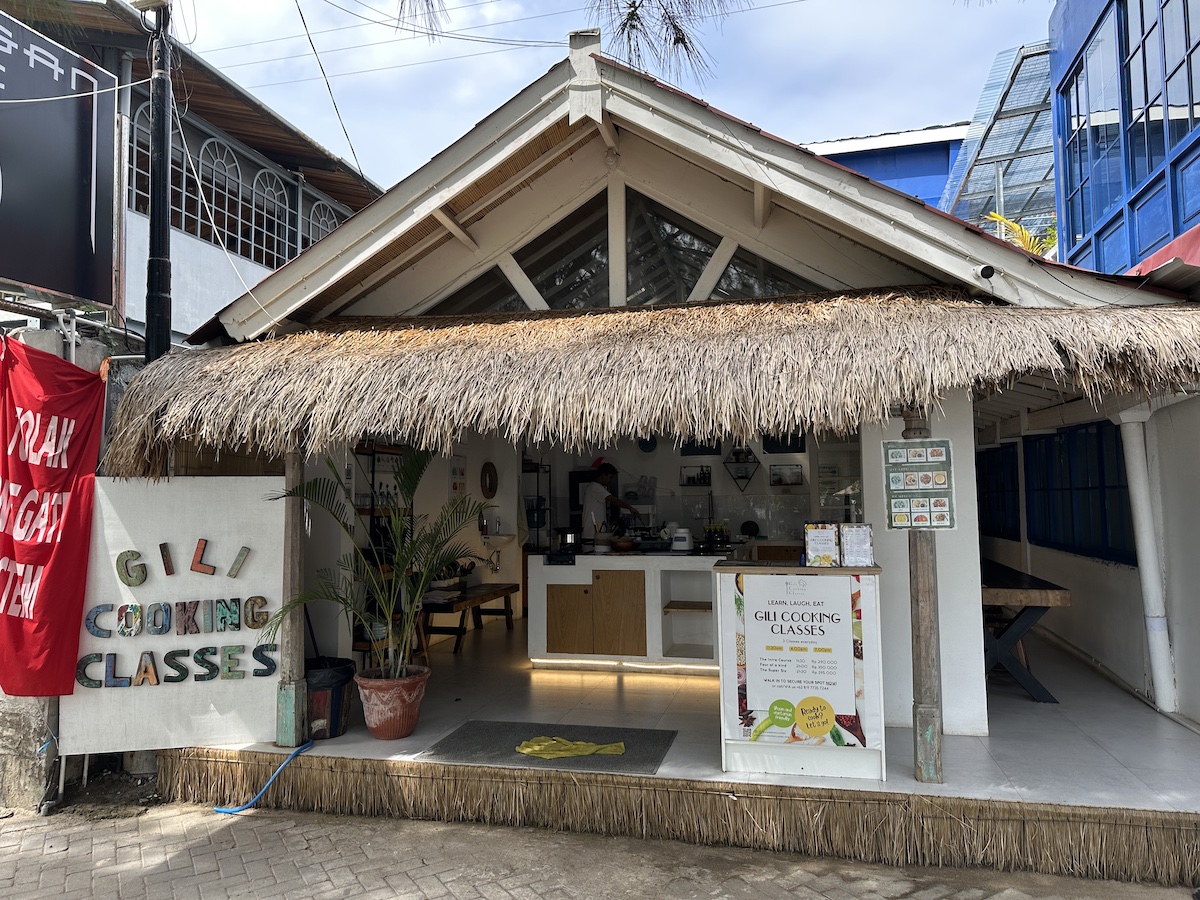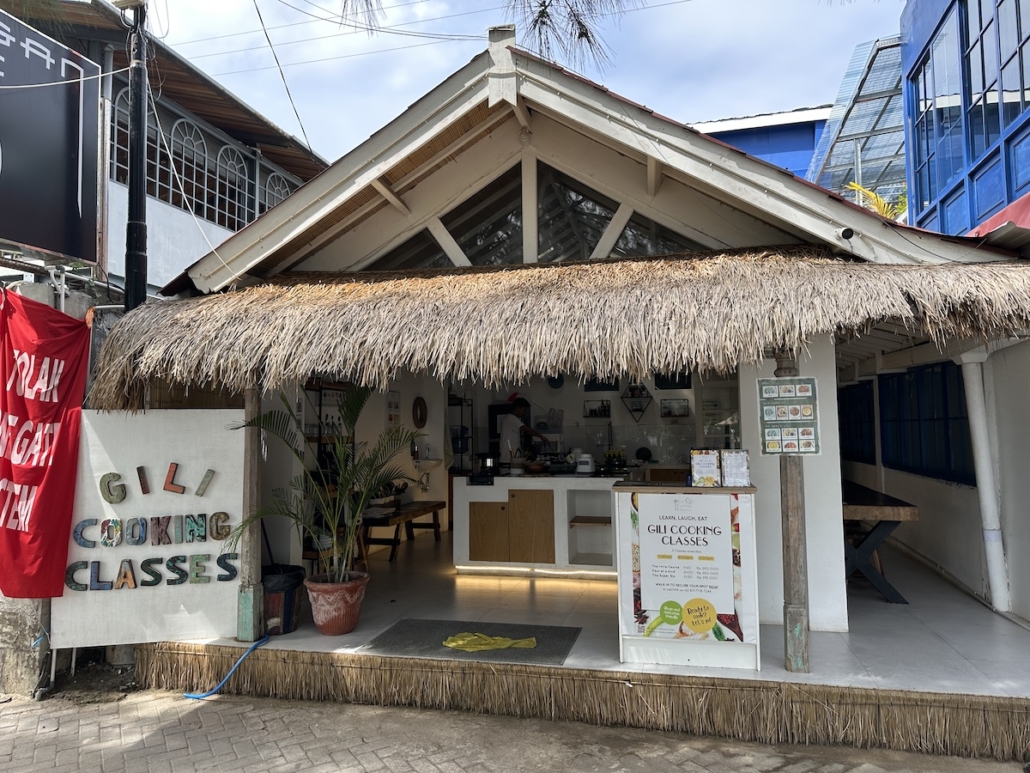 ---
10. Gili T Pub Crawl
If you're a solo traveler and looking to make some new friends, then the best way to do that is to go on the legendary Gili T Pub Crawl! Depending on the time of the year it may not occur every night, but it's always at least on Tuesdays, Thursdays, and Sunday.
It costs 250k and includes a free shirt, tons of free shots, free bucket, and drink specials at all the different pubs. It's a great way to discover tons of nightlife spots in one evening, and will typically turn into one of the rowdier nights of your travels!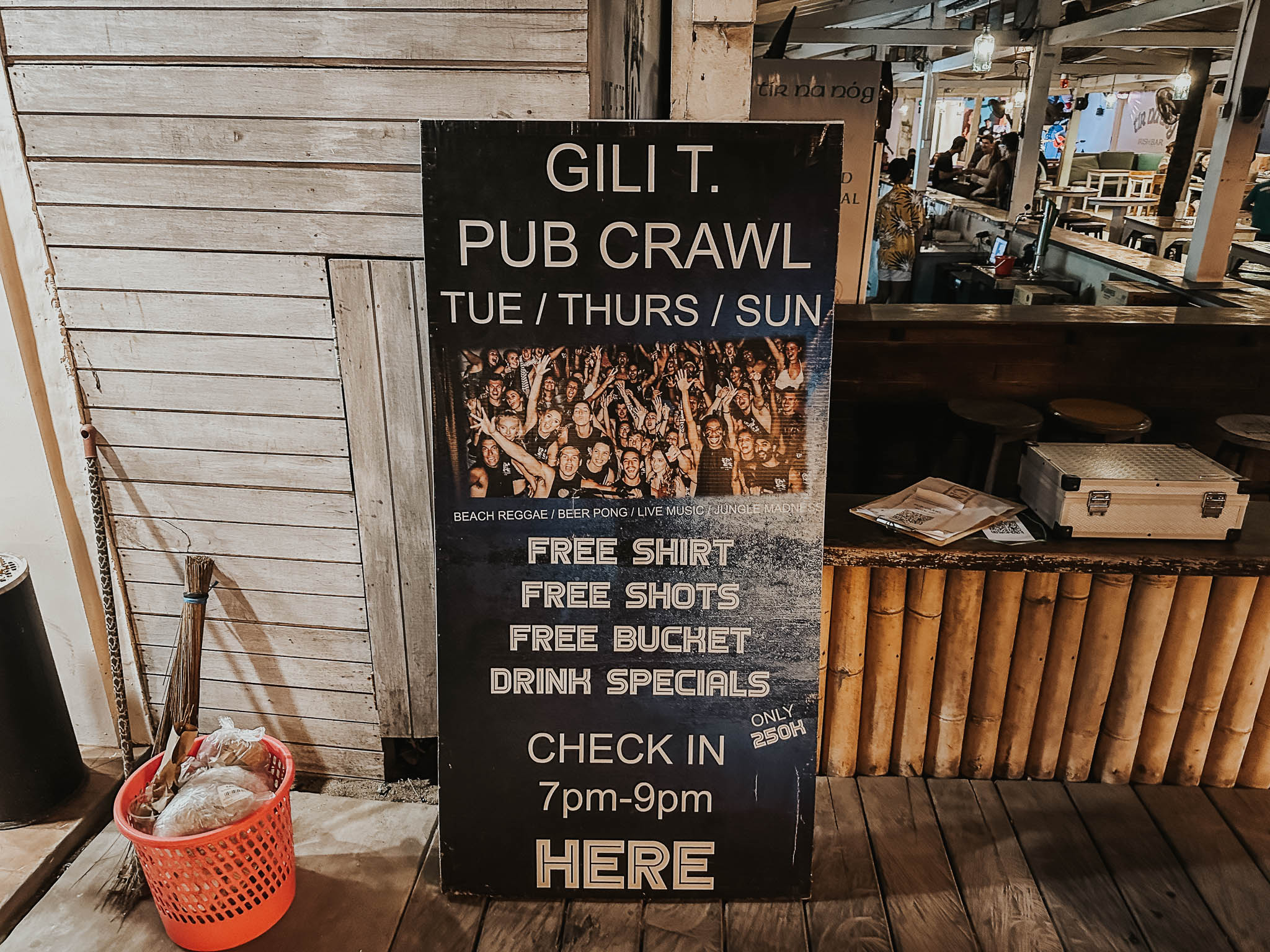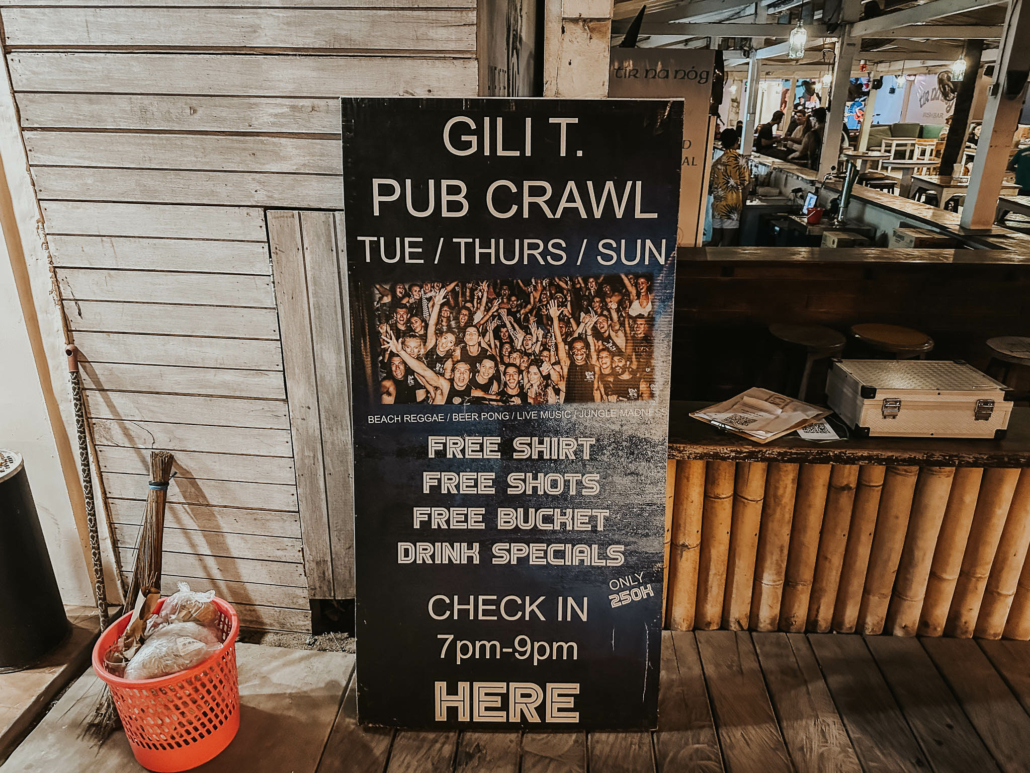 ---
11. Late Night Burger at Le Petit Grill
This is probably my favorite place to eat on the entire island.
Looking to grab a bite to eat after heading back to your hotel/ hostel after the Gili T Pub crawl or beach club party – then come to Le Petit Grill (located across the port where the night market is).
Not only is one of the few spots that stay open 24 hours for food, but everything here is super delicious! They've got a pretty decent sized menu, but are definitely most famous for their massive burgers!
I'd recommend getting the Greek Burger or the Crunchy Onion burger; which both are solid options. They'll only cost you around $6 USD, and are served with some crispy french fries! If you've had a long night of drinking, then this is a top spot for a late night meal to soak up some of that alcohol, and help with the hangover in the morning!!
Read the Le Petit Grill reviews on Tripadvisor for updates as well…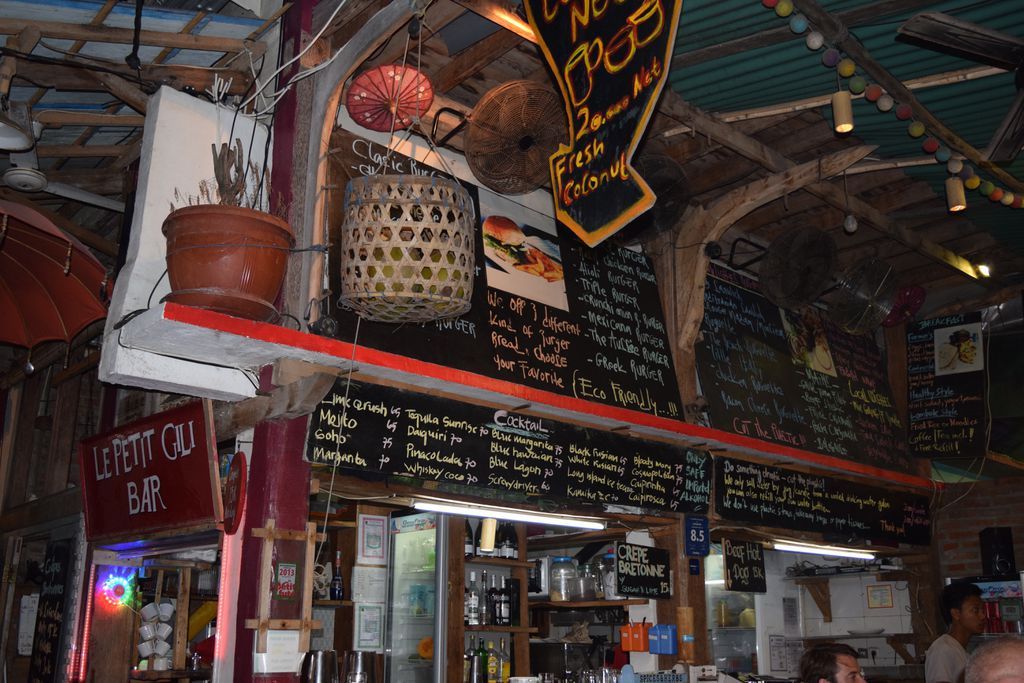 ---
12. Sama Sama Reggae Bar Live Music
When walking around Gili Trawangan, you'll see several places that advertise live reggae music. The two most popular spots are located pretty close to each other along the main stretch, but I've found that the music at SAMA SAMA is definitely my favorite.
There's a really fantastic vibe here, and it's an ideal place to chill out, enjoy a beer, and chat with some fellow travelers. It's a great spot to "pre-game" as well, before heading off on more wild pub hopping parties.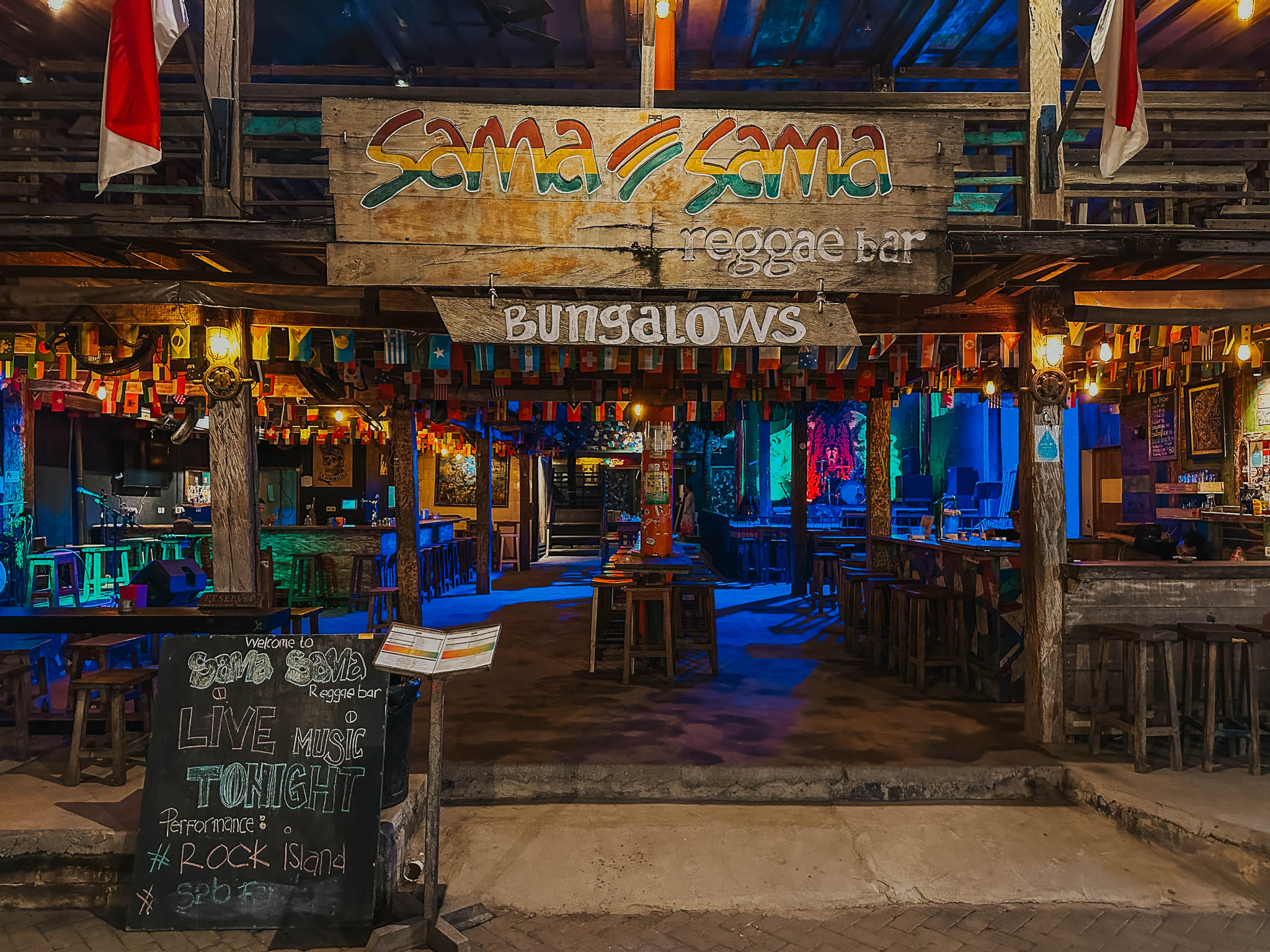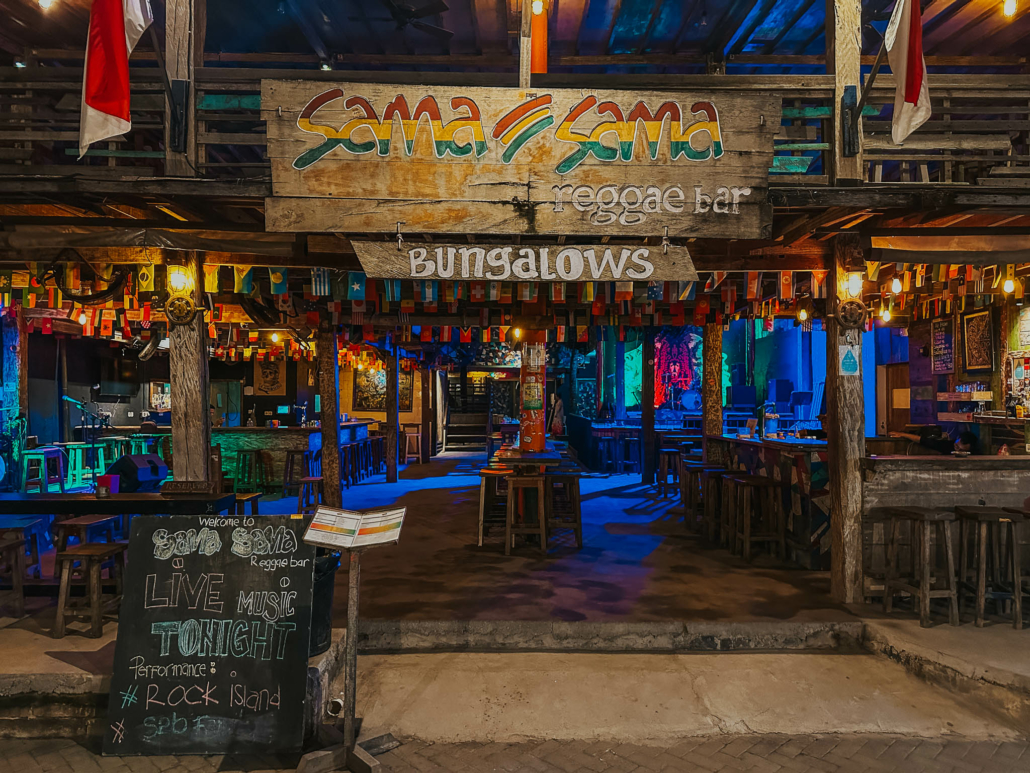 ---
13. Get a Massage / Spa Day
Just like in Bali or Lombok (and the majority of Indonesia), there are tons of amazing spas for getting a quality and affordable spa treatment. I always loved getting one after going snorkeling/ scuba-diving, and a great way to relax and feel pampered before heading out for sunset drinks.
My personal favorite (that I went to several times) is the Rosa Spa Gili Trawangan (great for nail packages as well as hot-stone massages), but another island favorite among travelers is You Spa Trawangan which is located in the middle of the island!
You Spa Trawangan is the best spa facility on the island, and offers tons of treatments from four-hand massages, facials, body scrubs, flower baths, and so much more!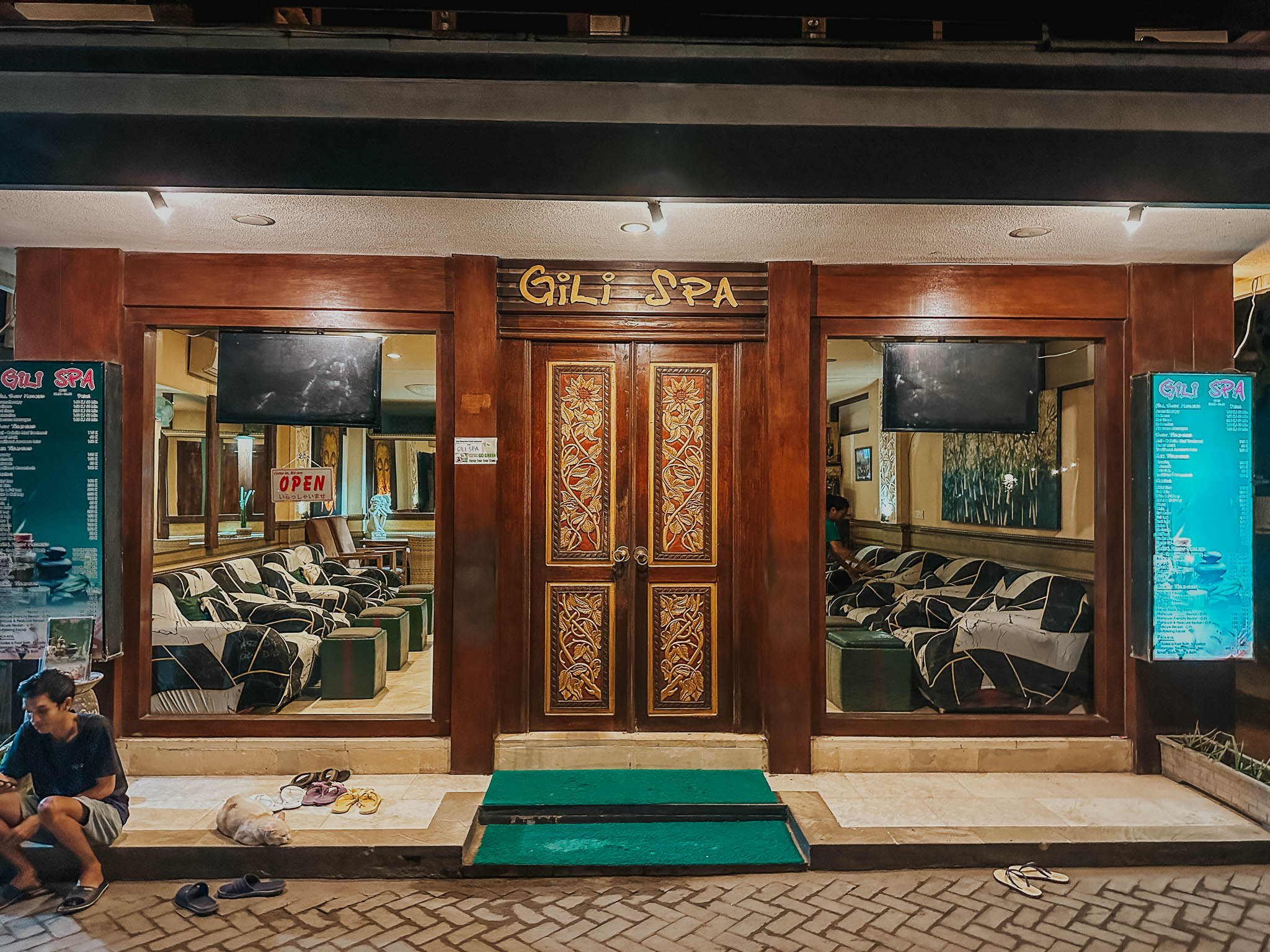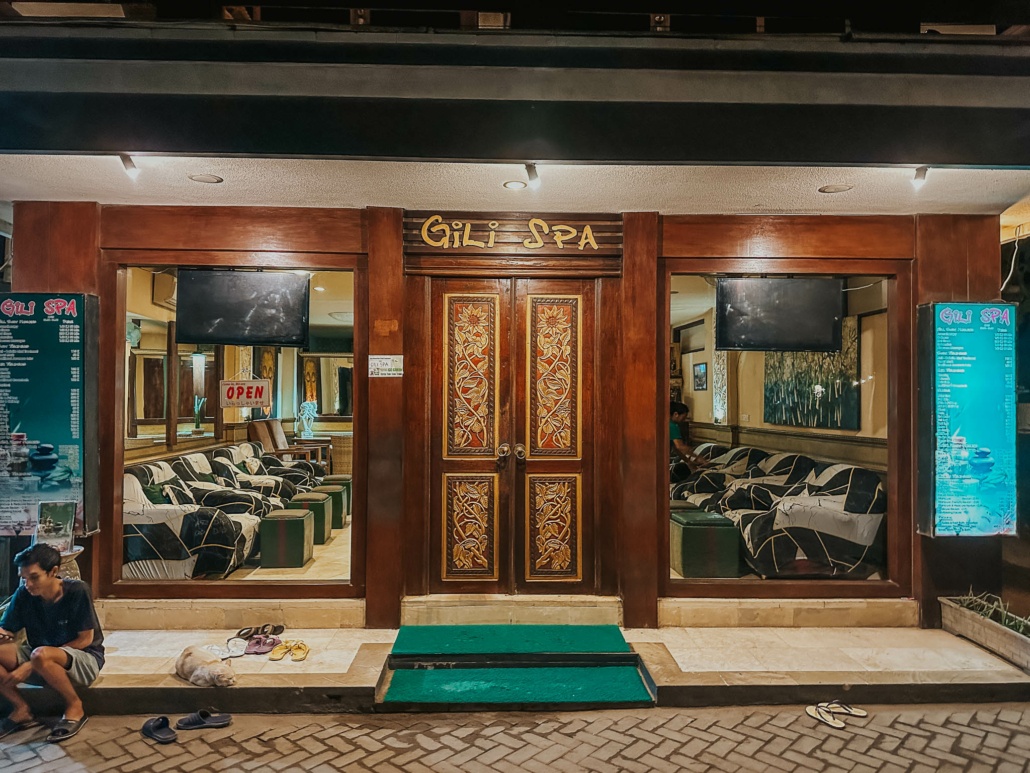 ---
14. Yoga
There are a couple different yoga studios on Gili Trawangan, and one of them even offer Sunrise / Sunset SUP Yoga! Since I'm not a big yogi myself, I did not do this activity, but there are several classes per day to choose from, and would be a great way to get some exercise while on the island!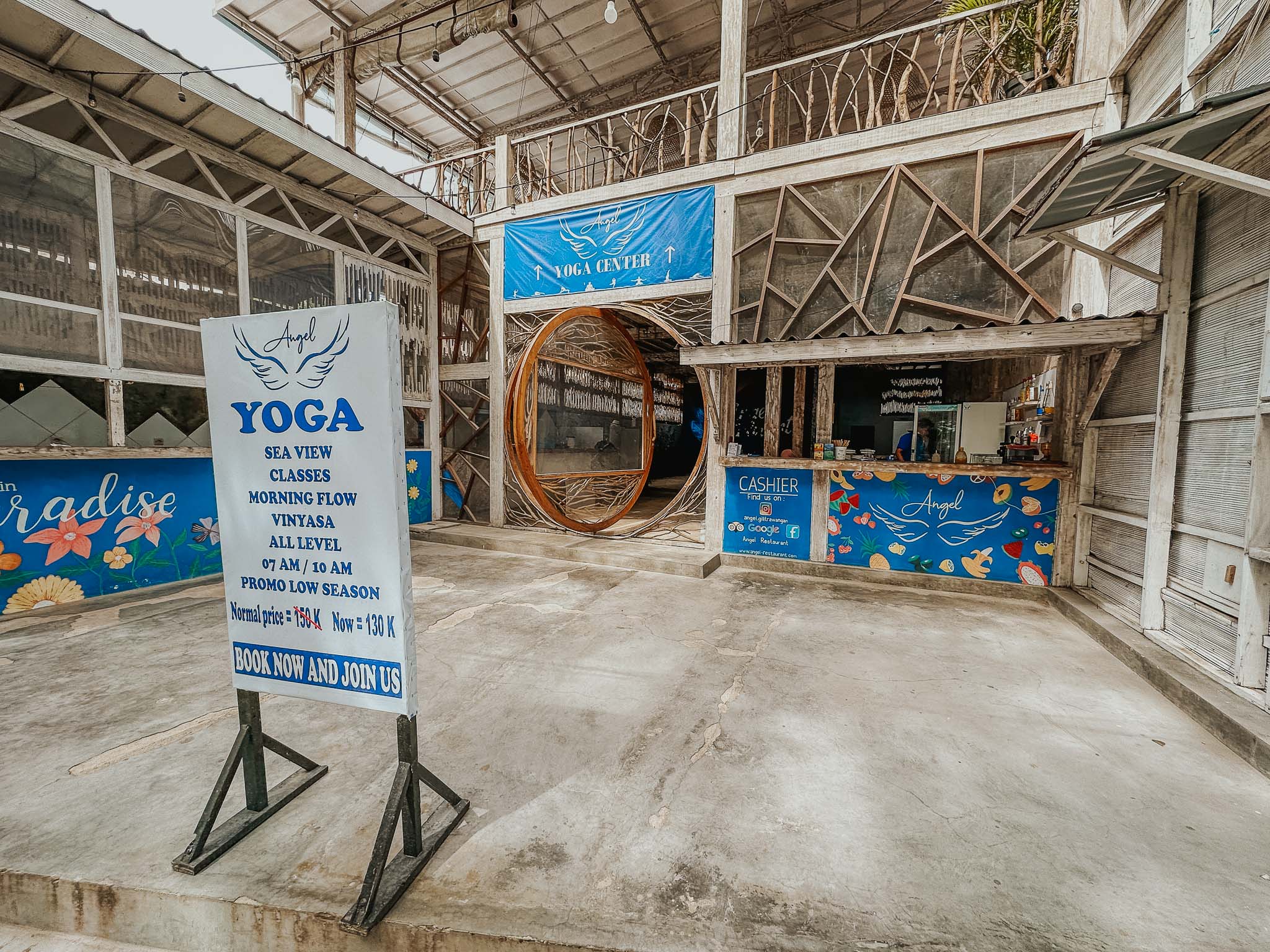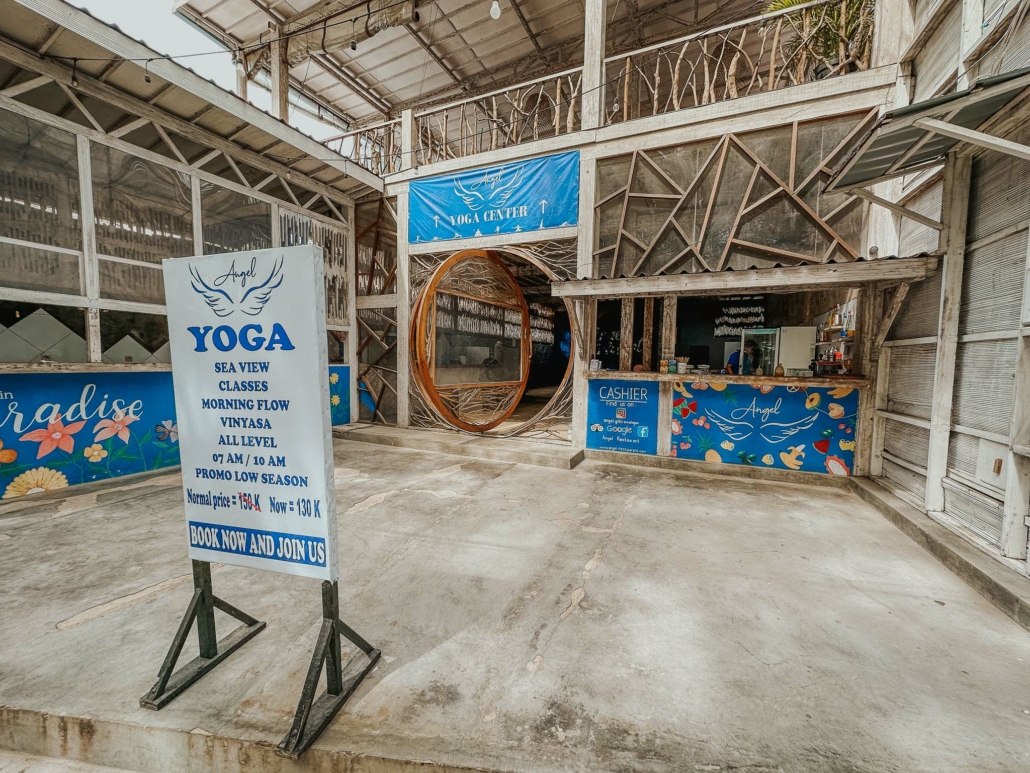 ---
15. Utopia Catamaran
This is one of the best new things to do in Gili Trawangan, as it just recently opened! Offering three different catamaran cruises each day during Breakfast, Lunch, and Sunset.
They'll take you around the three Gili Islands, and includes a curated menu buffet meal, attentive butlers/ staff on board, towels/dry bags, premium snorkeling equipment, and beautiful views of paradise.
The catamaran is luxuriously beautiful, and spending three hours on board will fly! They serve up fresh cocktails/ drinks on board as well, so it can easily turn into a fun party/ island hopping experience!
For everything you get, it's quite affordable at only 1.1M per guest, but I would budget a bit more for tip as the staff are guaranteed to blow you with their customer service!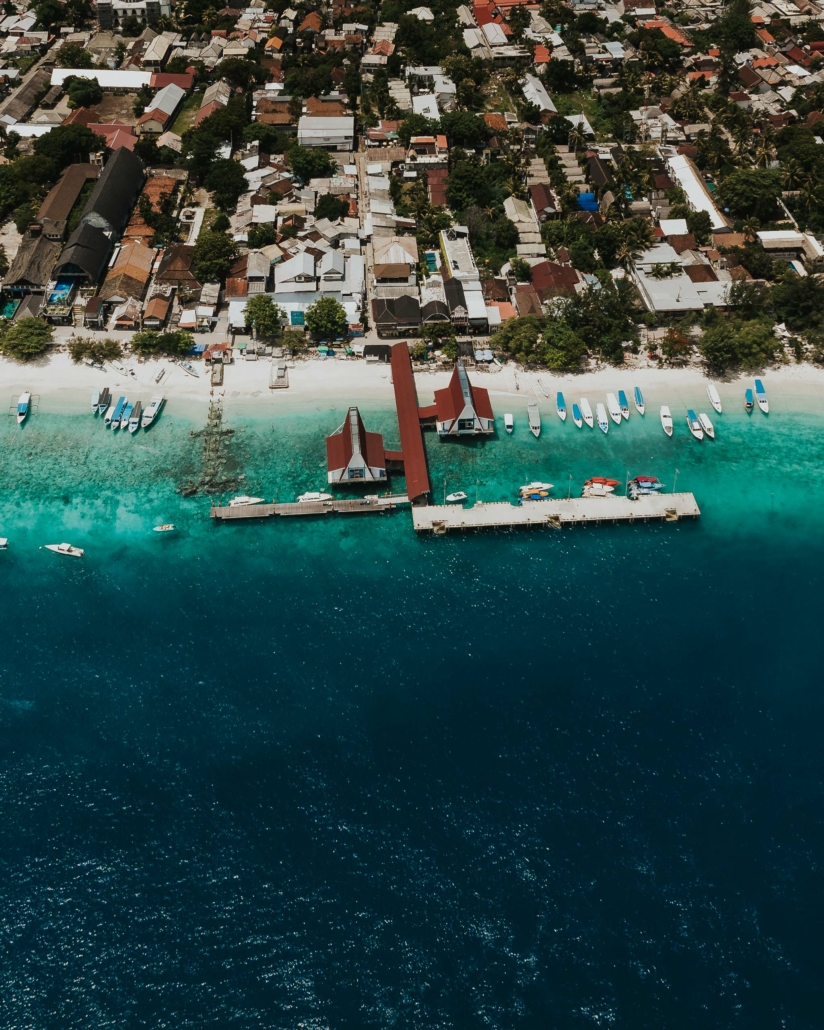 ---
16. Party Boat Gili / Booze Cruise
When I used to live and work on Gili Trawangan, there was an amazing booze cruise party that happened a couple times a week. Unfortunately, I've learned since my last visit that this is no longer happening. But I'm really hoping they make a return in the future (especially now that travel is finally back to normal).
With all that being said, I still wanted to include what I originally wrote about it…
"THE WILDEST AND COOLEST PARTY IN THE GILI ISLANDS
There are very few things I enjoy more in life than drinking on a boat, in a beautiful destination, listening to great music, and being surround by fun people from dozens of different countries! While the drinks may be a bit expensive (for your standard backpacker, it's worth every penny, and it's easily one of my favorite things to do in the Gili Islands!
The DJ's play a really fun variety of music (mostly deep house, hip-hop, and EDM), there are tons of free shots being thrown around, and there are a couple swimming stops where you can jump off the boat. Believe it or not, I had one of the best days of my life on this boat, and I'll never forget that sunset sailing back to GIli Trawangan while the sky was a gorgeous shade of pink, and I was surrounded by fellow backpacker friends!
2023 Update: You can check out the Party Boat Gili page for updates as I do hope they return to organizing tours later this year!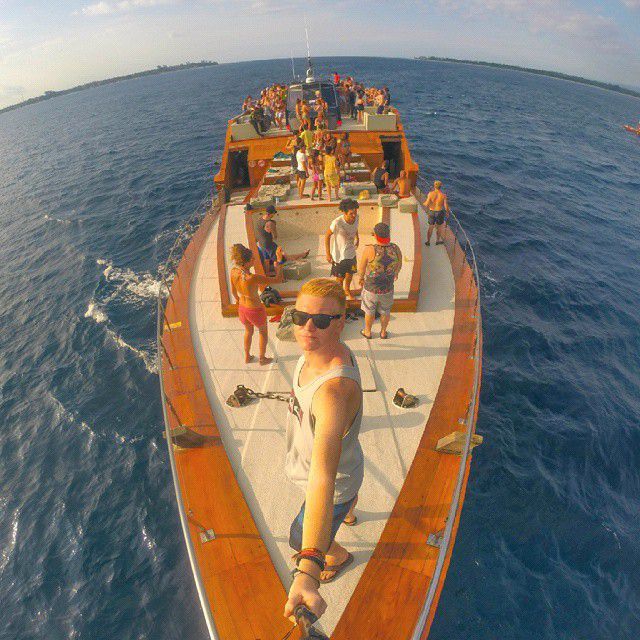 Boat Party - Gili Trawangan
---
17. Gili Trawangan Shopping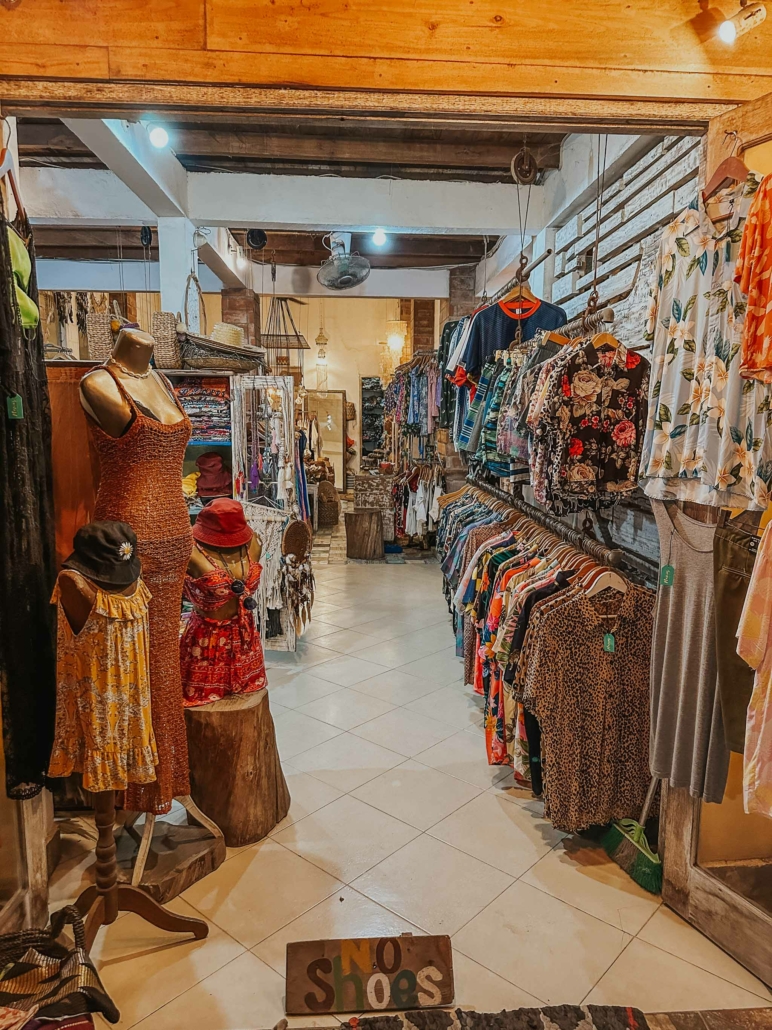 Last, but certainly not least, there are a surprising amount of new boutique shops offering some really amazing stuff! If you take my advice to ride your bike around the island, feel free to stop and browse at many of the small markets/ stores selling stuff.
I found some really cool and unique t-shirts that I really love, plus some small gifts for friends back home.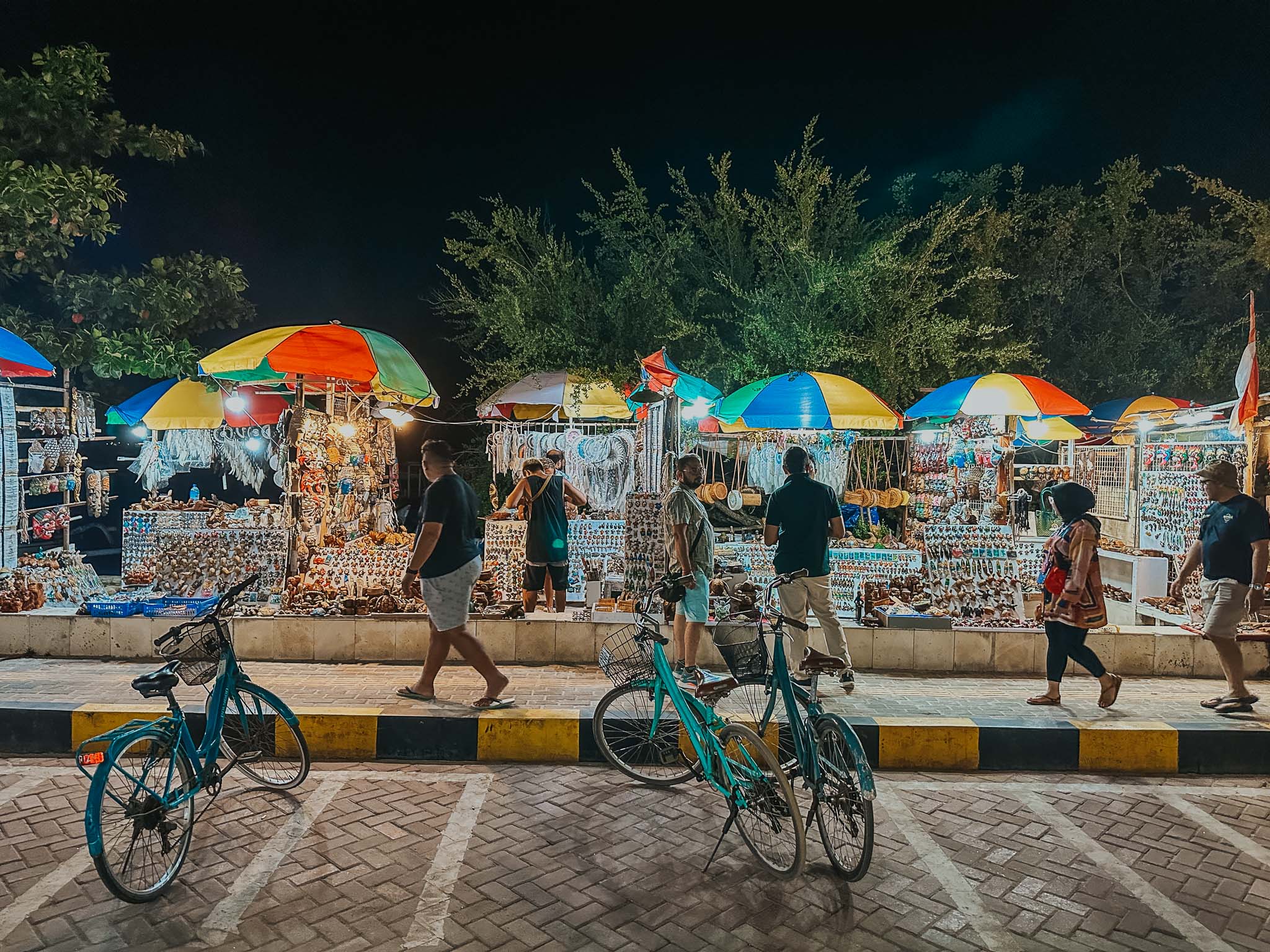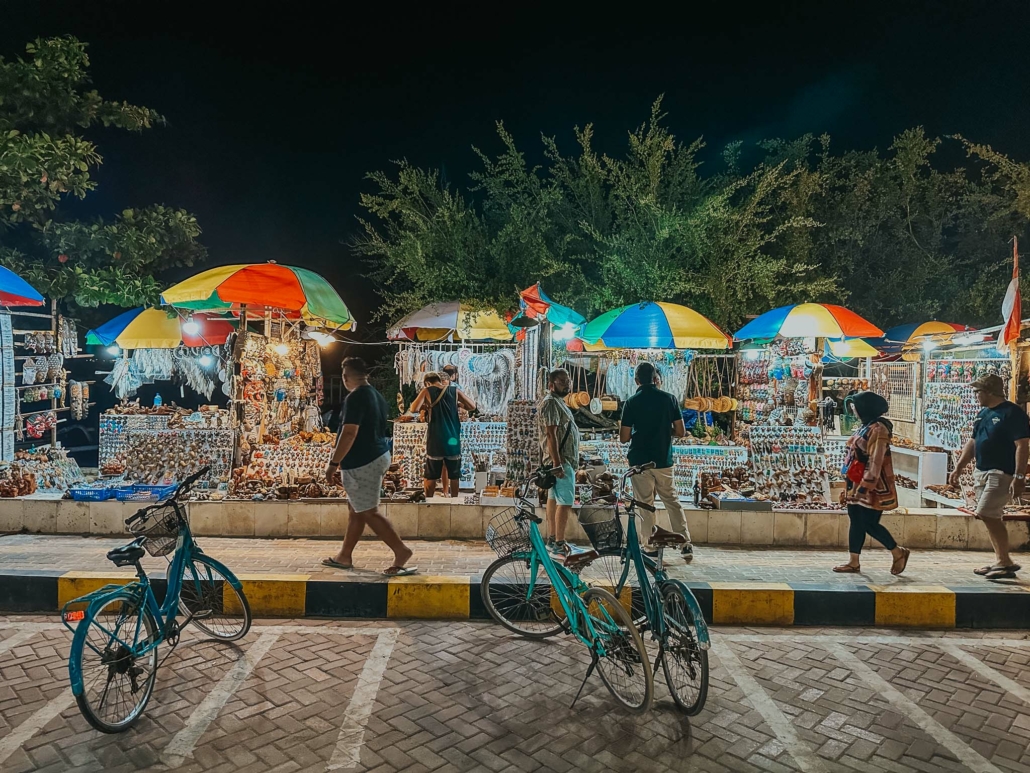 ---
Please DO NOT DO THIS ON Gili Trawangan
Do not ride the horse carts on Gili Trawangan!!!
Since there are no cars on Gili Trawangan, the only form of "public transportation" available is hiring horse carts that will take you around the island. The animals are treated quite poorly, and if you give these people money, it just condones this gross behavior. If you have a lot of luggage, please stay somewhere that's walking distance to the main Gili Trawangan jetty.
I've always refused to take the horse carts in Indonesia, and I hope I can urge you do to the same! It's a small island, and you really don't need to be riding in those!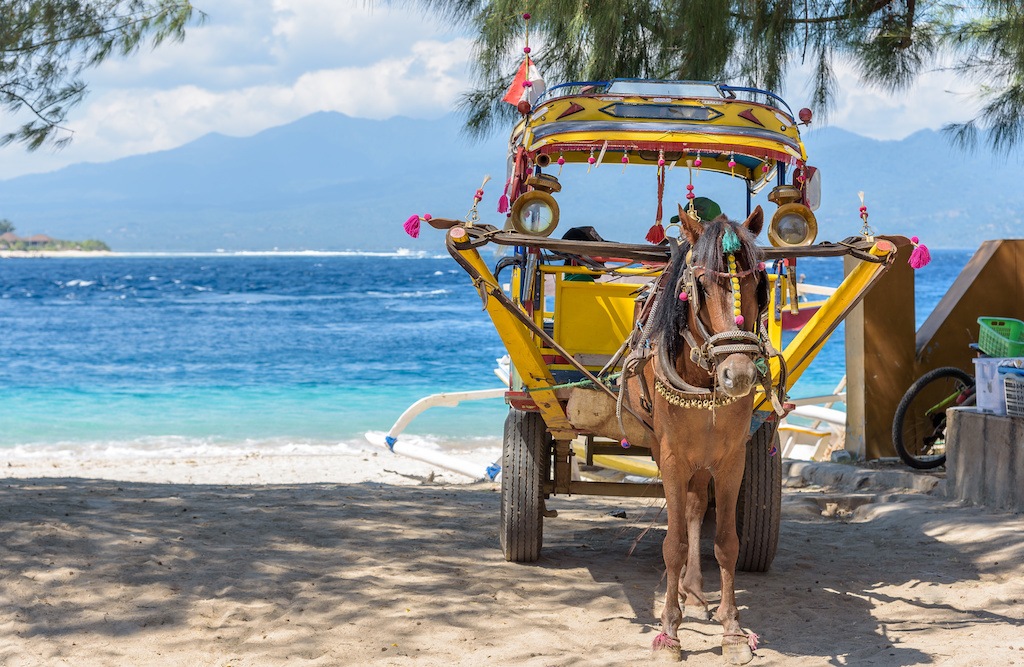 ---
Gili Trawangan Travel Insurance
I never travel anywhere without booking a travel insurance policy, and this is absolutely essential for all visitors to Bali and the Gili Islands.
It's great to have peace of mind while traveling, and I highly recommend HeyMondo due to their extensive range of cover for all situations and trip lengths, their fair pricing, and their handy app which allows you to not only manage any claims within the app, but also access free assistance online so you don't need to rack up an expensive phone bill while in Indonesia where the charges are steep!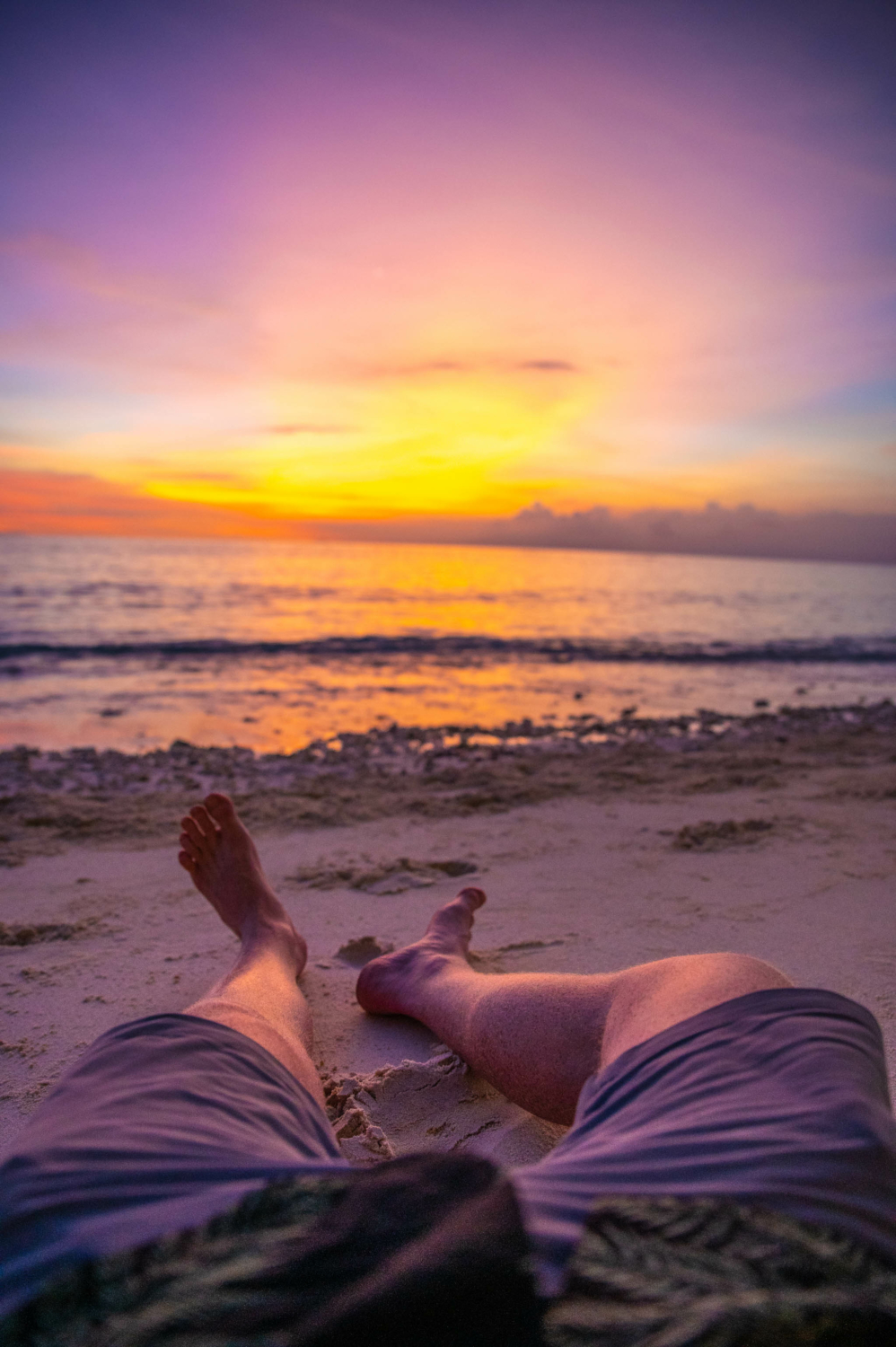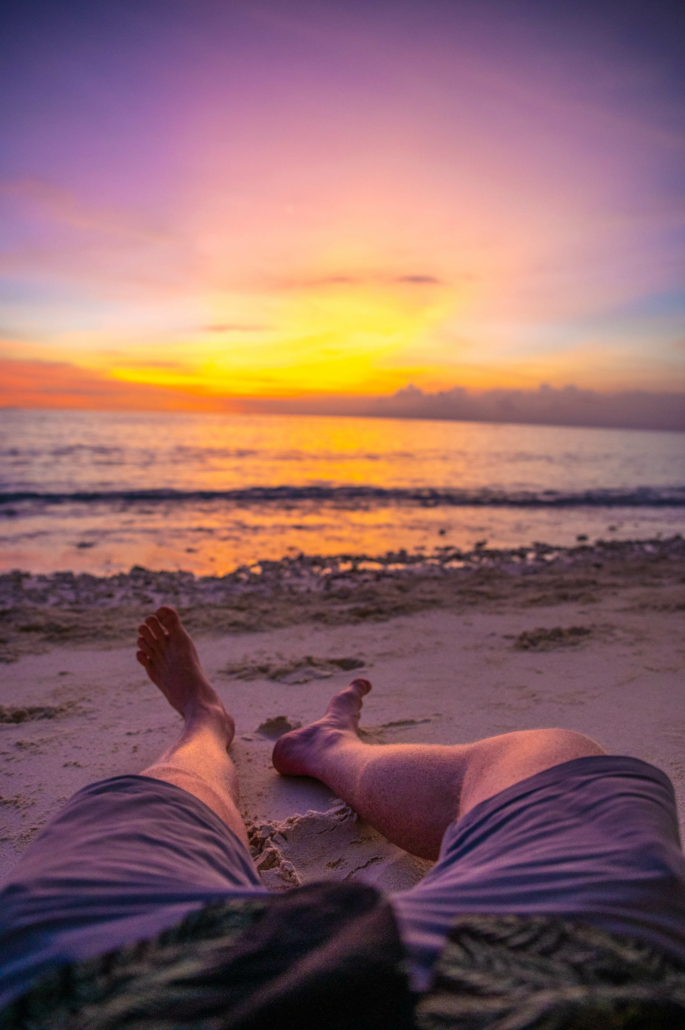 ---
Planning a Trip to Bali & The Gili Islands, Indonesia…?
I'd definitely recommend picking up a copy a copy of the Lonely Planet travel books to help plan your travels. There's tons of free versions if you have a Kindle, but the paperback copies are also great to have with you.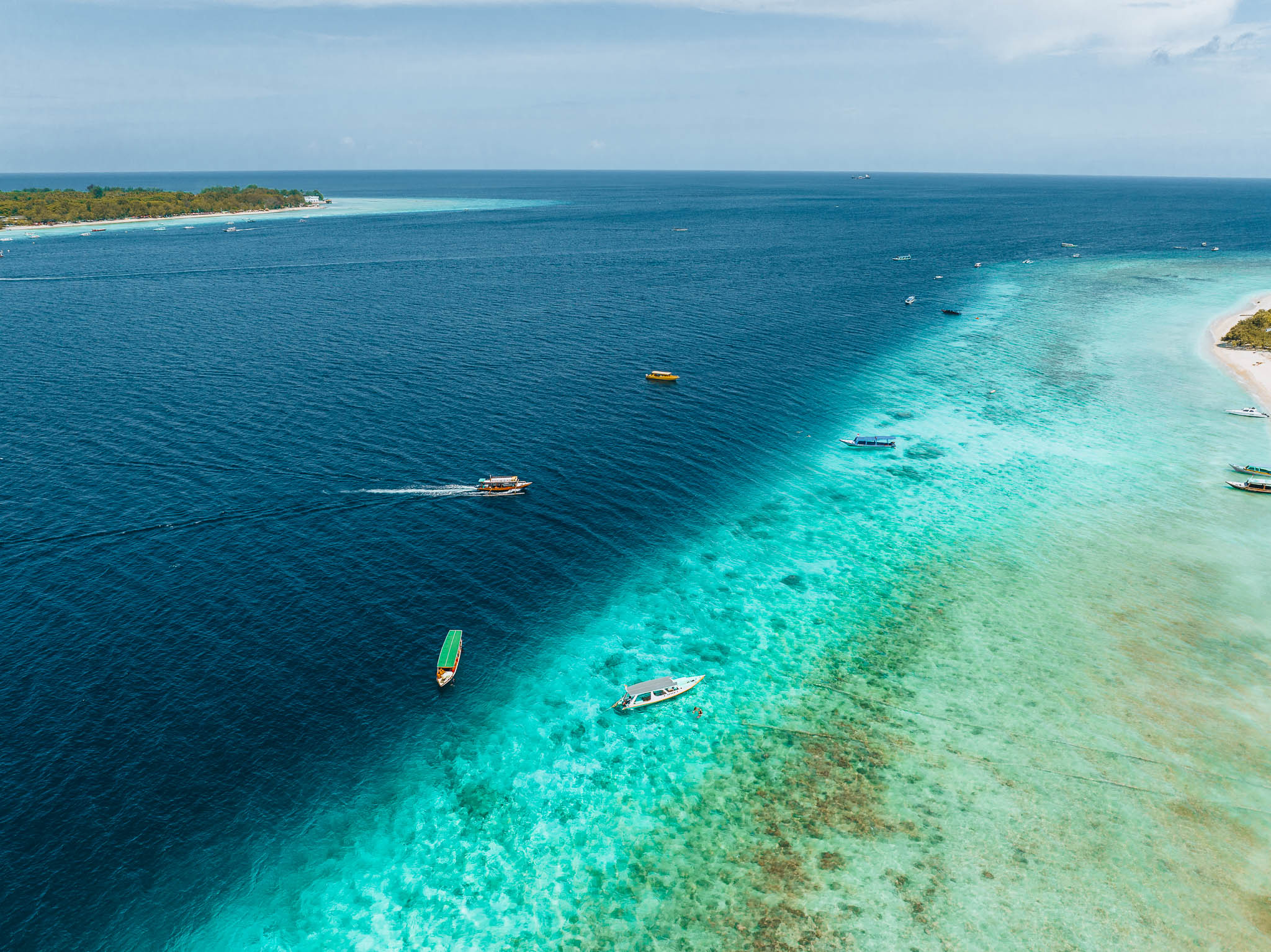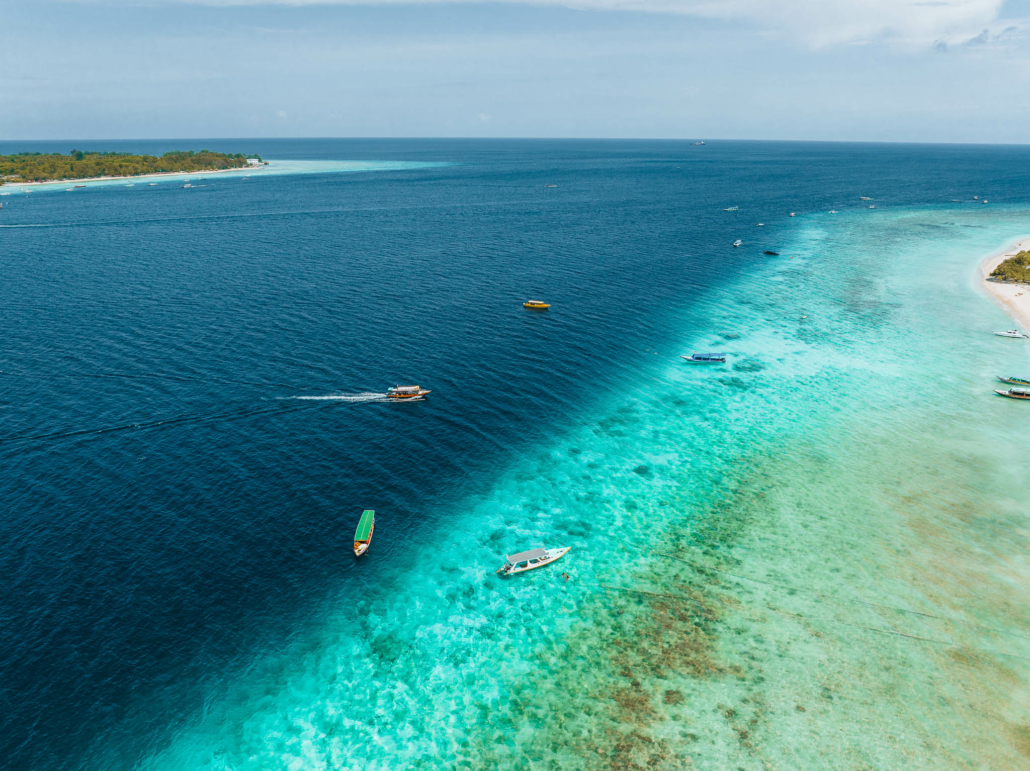 ---
And be sure to check out some of my other helpful travel guides, itineraries, and things to do! I've helped countless people plan their travels to this beautiful country, and I know you'd enjoy a few of these articles as well: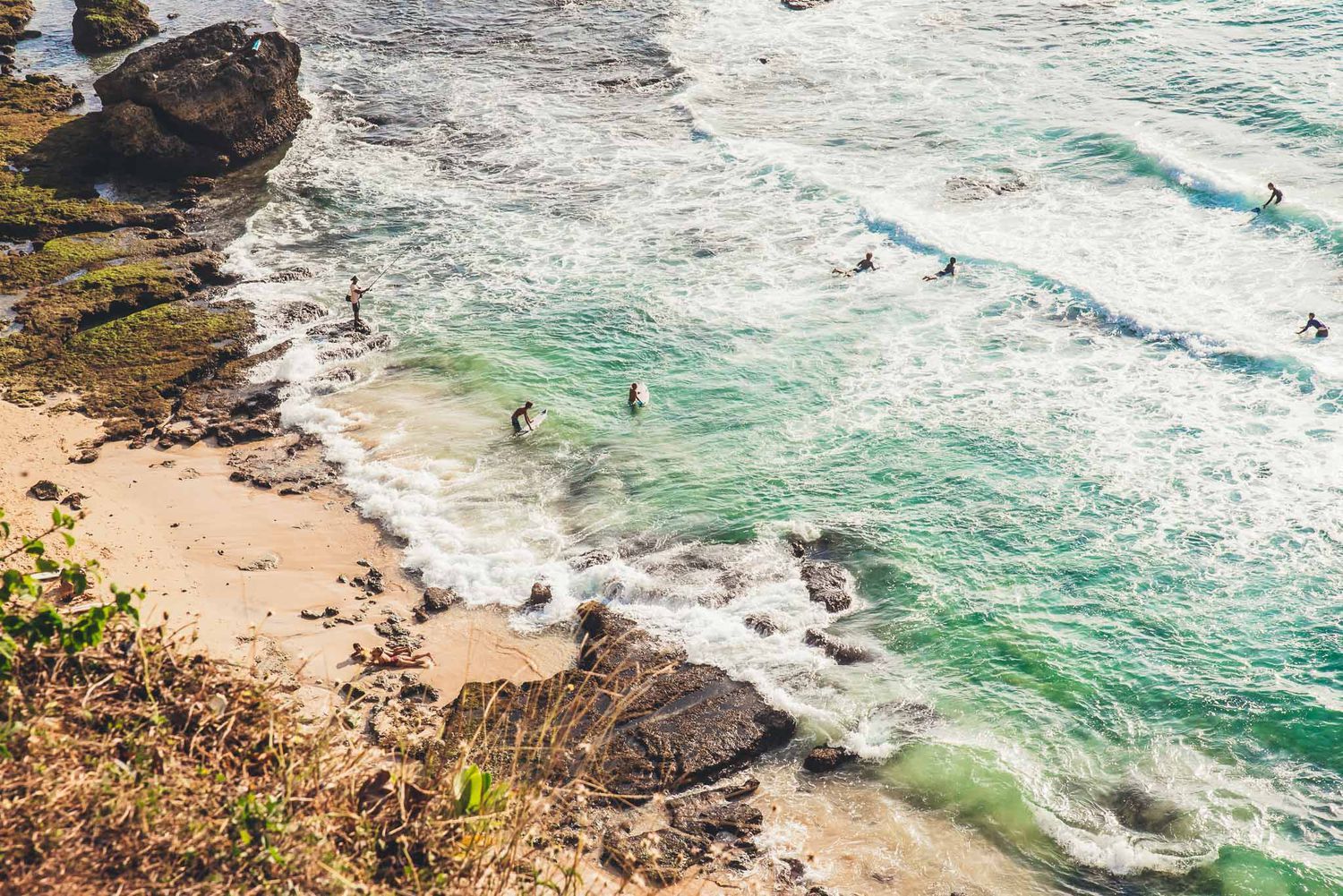 ---
Where To Explore After The Gili Islands
While most travelers who come to Gili Trawangan will head back to Bali, I'd recommend heading over to Lombok for a few days for some waterfall explorations, moto rides, and to see a different side of Indonesia.
You can also book a sailing trip from Lombok to Komodo National Park which I did when I was a backpacker (but fair warning – this is a super budget trip, so don't expect anything too fancy).
If you're interested in scuba diving though, I'd strongly recommend booking a trip over to Komodo National Park and experience some of the most unbelievable marine biodiversity and scuba-diving in the entire world! (It's also one of the best places to do a liveaboard in Southeast Asia, as the prices are relatively affordable (compared to other popular scuba destinations).
Check out these Komodo National Park liveaboards to view dates, prices, and availability to see if you can squeeze one into your trip to Indonesia!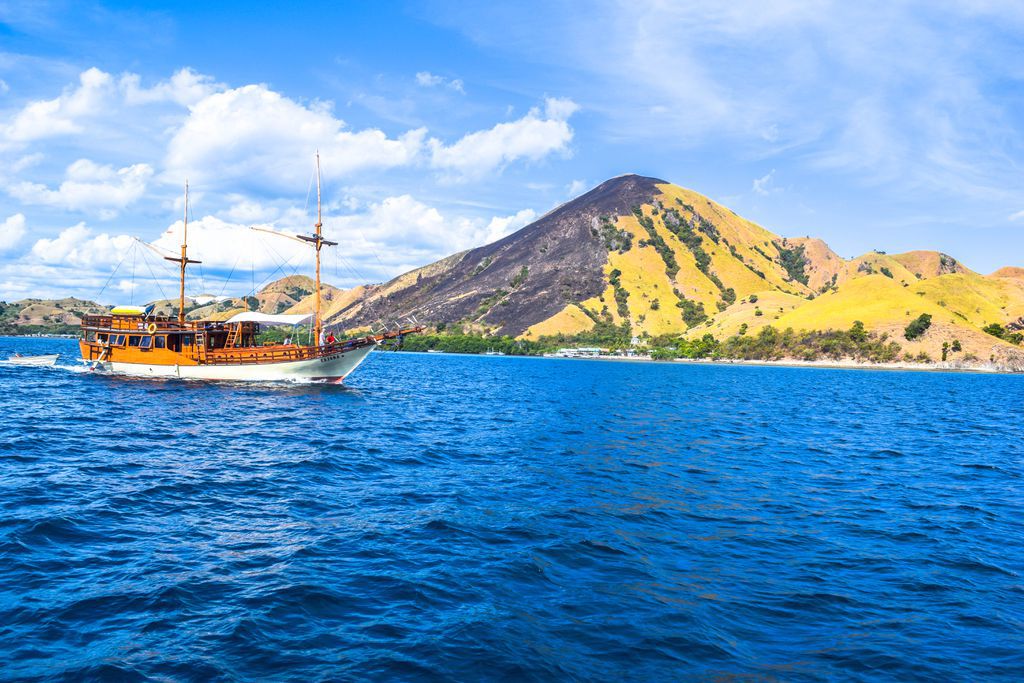 ---
Thanks for reading about these things to do on Gili Trawangan
Gili Trawangan will always hold a special place in my heart, and I really do miss living there! It truly was one of my top South-East Asia travel experiences, and I'm sure you'll fall in love with just as much as I have.
Feel free to email me or shoot me a DM on social media, and I'd be happy to help out with any questions you have about traveling through Bali, Gili Trawangan, or anywhere in Indonesia!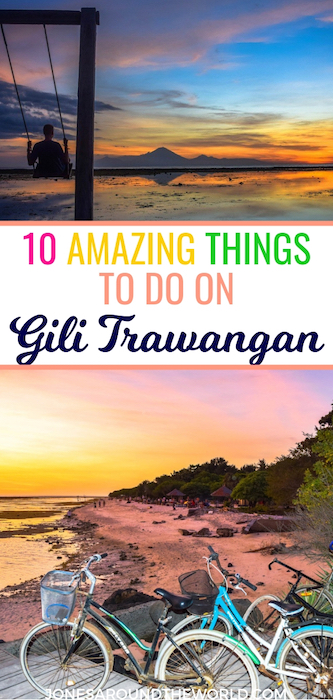 ---
Share These Fun Things to do on Gili Trawangan!!!
https://www.jonesaroundtheworld.com/wp-content/uploads/2015/06/Things-to-do-on-GIli-Trawangan-2019-.jpg
683
1024
Dave
https://www.jonesaroundtheworld.com/wp-content/uploads/2017/03/logotry-1-1-300x106.png
Dave
2023-02-09 04:54:11
2023-02-12 04:07:28
17 Amazing Things To Do On Gili Trawangan