Looking for the best beaches in Sri Lanka!? Well, look no further because I've compiled the ultimate list of beautifully stunning Sri Lankan beaches and beach resorts that will make your travels unforgettable!
As my longtime blog readers and social-media followers probably know, I simply love Sri Lanka and have been lucky enough to spend ample time in this beautiful country
Part of what makes this central Asian destination so popular with tourists is the endless number of world-class beaches along the coastline. Forget the well-worn backpacker routes of southeast Asia- Sri Lanka's beaches are some of the best in the world – and the most beautiful.
These white sand beaches are one of the top reasons why you should take a trip to Sri Lanka. If you're looking for quality surf, pristine water, white sand, tall palm trees, and gorgeous sunsets, you're guaranteed to find exactly what you're searching for on these Sri Lanka beaches!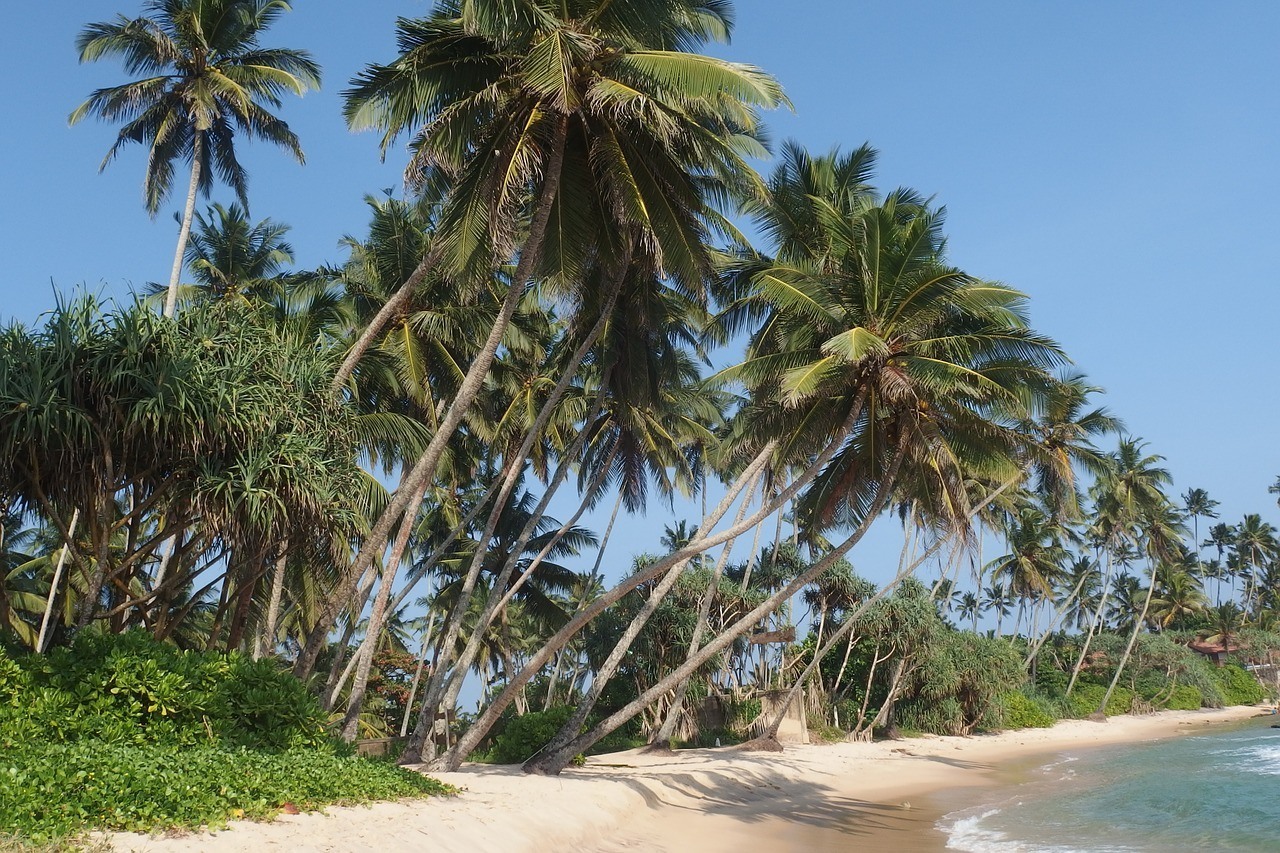 ---
1) Arugam Bay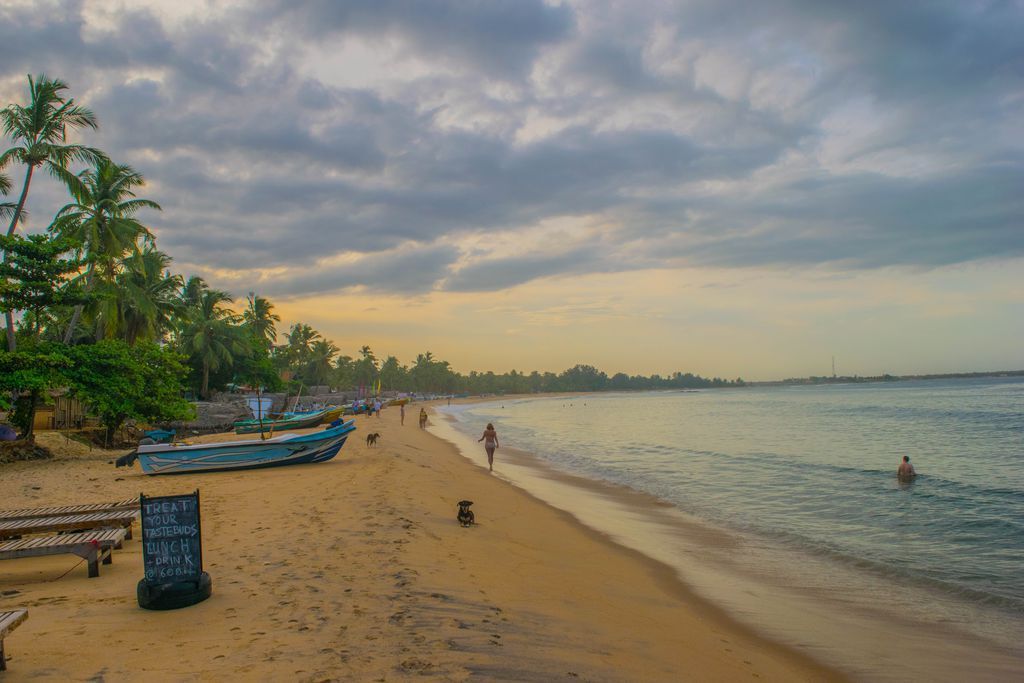 Where: Arugam Bay (Southern Province)
A favorite on the southeast coast of Sri Lanka, Arugam Bay is considered the country's best surfing spot!!
In addition to epic waves, Arugam Bay is a breezy seaside community that welcomes locals to enjoy its laid-back offerings. World travelers are drawn here year-round, but in the high season, this beach is packed with surfers who have come to Arugam Bay for its epic swells.
ARUGAM BAY 2017 - THE SURFING PARADISE OF SRI LANKA
---
SRI LANKA BEACH RESORT OR HOTEL: ARUGAM BAY
The Blue Wave Hotel– "One of our top picks!! Set in Arugam Bay, The Blue Wave Hotel has a fitness center, garden and terrace. Featuring a 24-hour front desk, this property also has a restaurant and an outdoor pool. The accommodation features a shared lounge and a concierge service for guests. At the hotel, each room includes a balcony with a garden view. Rooms include a private bathroom with a shower and free toiletries. All guest rooms will provide guests with a fridge."
Price: $67+ U.S.D per night
Review: "The property was a delight to stay, it was very clean and met our expectations in every way. All staff members were so accommodating, friendly, and helpful. The pool area was such a bonus. It was beautifully maintained and beautiful to swim in. There was a great variety for lunch and dinner and overall a pleasant stay." – Carla from Australia
---
2) UNAWATUNA BEACH, GALLE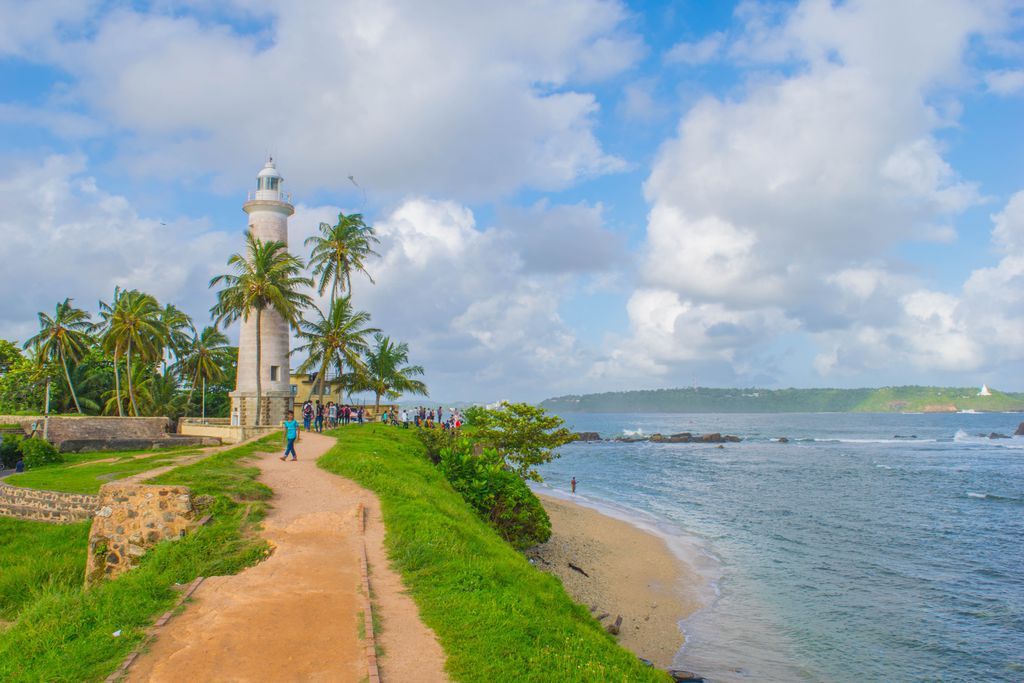 Where: Galle District (Southern Province)
Bustling with visitors year-round, the beaches of Unawatuna in Galle are truly unforgettable. The yellow-sanded and moon-shaped turquoise coastline curve of Unawatuna Beach is a picture-perfect destination. You can find small shops and great eateries in the small town behind the beach
---
SRI LANKA BEACH RESORT OR HOTEL: UNAWATUNA BEACH
The Waves – Unawatuna – "Unawatuna is undoubtedly Sri Lanka's most popular beach, due to its wide crescent of golden sand lined with swathes of palm trees and tranquil turquoise waters. At the western end of the beach, you'll find a big Buddha statue and a pagoda on a small hill, offering scenic views over the bay.
The Waves – Unawatuna is located just a few steps away from the Unawatuna Golden Sandy Beach!"
Price: $81+ per night
Review: "Totally exceeded expectations! Perfect location on the beach, super close to the paths leading to jungle beach too. Perfect facilities and a great feeling of privacy." – Jonathan, United Kingdom
---
3) Hikkaduwa Beach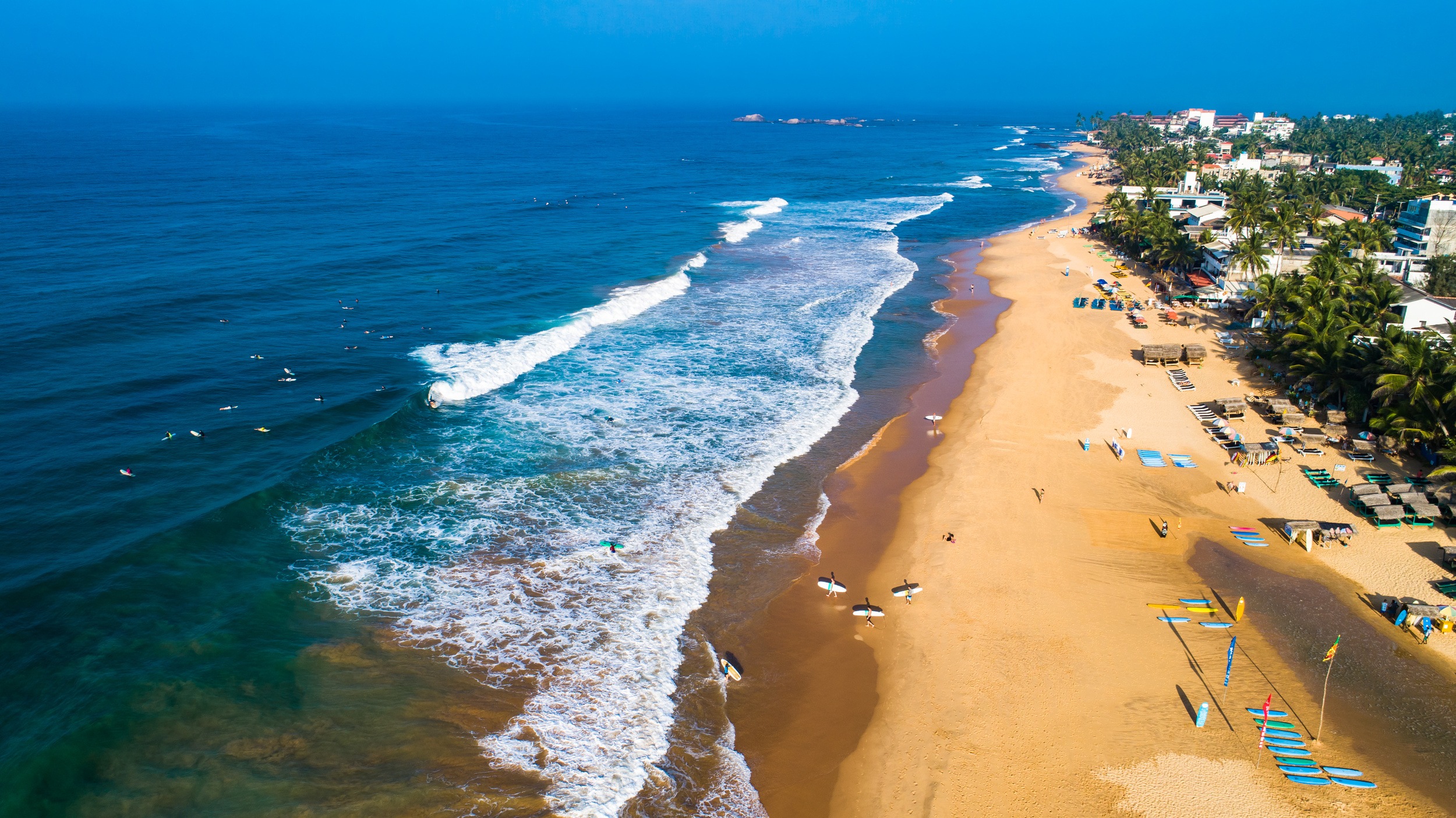 Where: Hikkaduwa, Galle District (Southern Province)
With snorkeling, surfing, swimming, Sri Lankan food, spas, and cultural landmarks dotting its landscape, the coastal town of Hikkaduwa has a ton to offer.
Hikkaduwa beach is the perfect spot for relaxation and recreation. You can reach Hikkaduwa beach through a simple two-hour drive down from the capital of Colombo.
---
SRI LANKA BEACH RESORT OR HOTEL: HIKKADUWA
Lucky Elephant – Located right on Hikkaduwa beach, this is the area's top-rated and most comfortable accommodation! Top-notch location, excellent staff, beautiful rooms, and much more!
Price: $100+ per night
Review: "Everything! The hotel is in a perfect location, immaculate with outstanding comfortable and beautiful rooms. Extremely well looked after, the staff are helpful and accommodating- nothing was too much trouble. The pool is lovely and the whole place is immaculate and very clean. The restaurant is also excellent, food very good. We had the best time here." Sarah, U.K
---
4) Wijaya Beach
Where: Galle District (Southern Province)
Rent a sunbed on the white sand, swim in the crystal clear waters, or simply laze under a palm tree. Wijaya is where it's at.
Wijaya and it's Sri Lankan resorts are still a relatively well-kept secret amongst the backpacking community. Wijaya beach is a quiet stretch of coastline with a natural reef. Here, you can snorkel with the local sea turtles as a bonus treat.
Wijaya beach in Sri Lanka DJI Spark
---
SRI LANKA BEACH RESORT OR HOTEL: WIJAYA BEACH
Dalawella Beach Resort – "Dalawella Beach offers a quieter alternative to nearby Unawatuna and a chance to spot large turtles who come ashore to feed. One of the beach's main draws is its popular palm tree swing, which costs around LKR 500. You'll find a variety of photo hotspots along the coast, as well as water which is perfect for swimming."
Price: $80+ per night
Review: "Right on the beach in a nice quiet spot but still close to the action. Huge bed. The room was big and very comfortable. Well set up place. Friendly staff who helped us with our rented tuk tuk." Martin, United Kingdom
---
5) Negombo Beach
Where: Negombo (Western Province)
Tucked away on the west coast of Sri Lanka, Negombo is a small beach town with an exceptional coastline. The beach doesn't offer the range of adventure activities others do, so this is a destination for those happy to relax on golden sands and do little else.
You can find all you need in the village of Negombo. A range of accommodation options, authentic local food, friendly locals, and a dose of Sri Lankan culture.
Negombo Beach - Aerial views (Sri Lanka)
---
SRI LANKA BEACH RESORT OR HOTEL: NEGOMBO
Heritance Negombo – Get celebrity treatment with world-class service at Heritance Negombo. Offering an outdoor pool, this 5-star hotel is located 1.3 miles from St Anthony's Church and a 40-minute drive away from Colombo.
Offering stunning views of the Indian Ocean, every room includes a flat-screen cable TV. A hairdryer and bathrobes are provided in the en suite bathroom. Extras include a sofa, a desk, and ironing facilities.
The property offers seven dining options ranging from seafood dinners on the lawn overlooking the ocean to casual dining at Mad Dogs or bakery treats at the Swiss Bakery.
The hotel is 350 feet from Negombo Beach Park, while Bandaranaike International Airport is 20 minutes away.
Price: $112+ per night
Review: "The ambiance of the hotel was perfect! Modern,practical and run by very well trained staff! It was a pleasure to stay there! Well located also for nearby restaurants and bars" – Ian, U.K
---
6) Bentota Beach
Where: Bentota, Galle District (Southern Province)
Less than 90 minutes south of Colombo, the charming town of Bentota is a Sri Lankan tourist hotspot. This is largely thanks to its 8 km long stretch of golden sand bordering gentle blue waters.
It is less populated with adjacent bars and hotels than other seaside town beaches, Bentota Beach is peaceful, and due to its size, you can be assured a generous space all to yourself.
Bentota - Beruwala | Lonely Planet | Beautiful Sri Lanka
---
SRI LANKA BEACH RESORT OR HOTEL: BENTOTA
Avani Bentota Resort – "Experience world-class service at Avani Bentota Resort! Located on the best beach strip along Sri Lanka's western coastline. Designed by world-renowned architect Geoffrey Bawa, who took inspiration from an 18th-century Dutch village.
The property has a contemporary feel and offers a tropical island beachside haven. Avani Bentota Resort houses two outdoor pools and ample parking facilities."
Price: $99+ per night
Review: "Amazing location, fabulous pool, plenty of loungers with attentive staff. Very clean rooms with a great team behind them. Food was lovely and fresh, wonderful beach- just watch the undercurrents! Definitely recommend the Avani." – Isabel, United Kingdom
---
7) Mirissa Beach
Where: Mirissa, Matara District (Southern Province)
Mirissa Beach is possibly Sri Lanka's best beach. It's Situated close to the most southern point of the country and is as close to paradise as you can get anywhere on Earth.
It has waves that can be rather large, which draws visitors to love Mirissa Beach for its surfing and snorkeling opportunities. You can even partake in some whale watching. The town of Mirissa is also known for its top nightlife, great local seafood, and range of seaside hotels.
Mirissa Beach | Sri Lanka's Paradise On Earth
---
SRI LANKA BEACH RESORT OR HOTEL: MIRISSA
Sea World – "Mirissa a small fishery village located between Galle and Matara with stunning and picturesque golden sandy beach. It is great travel destination with lot of attractions and activities. The wider spread beach where linked heaven and earth on your eyes where can spend time more tranquility with relaxation.
Watching whales and enjoying the delicious cuisine on golden sandy beach makes more tremendous environment."
Sea World – "Mirissa is a home away home for travelers those who seeking different travel experience with various temptation. Our passion is unique, and lead by examples and learn by experience.
Our aim to present magnificent and tremendous holiday experience for our guests with sweeter memories. Cozy rooms with well-balanced surroundings are perfectly blended for having enthusiastic holiday experience.
Our service may bring unforgettable travel experience with ultimate travel destination. Diverse portfolio is more significant with Sri Lankan hospitality. The architectural, comprehensive modern décor is a great combination that makes home away home for you."
Price: $57+ per night
Review: "Loved everything about this place. Wish we had booked more nights. The view, the position, the gorgeous rooms, the staff – everything was perfect. We will definitely be back." – Karen, Australia
---
8) Weligama & Midigama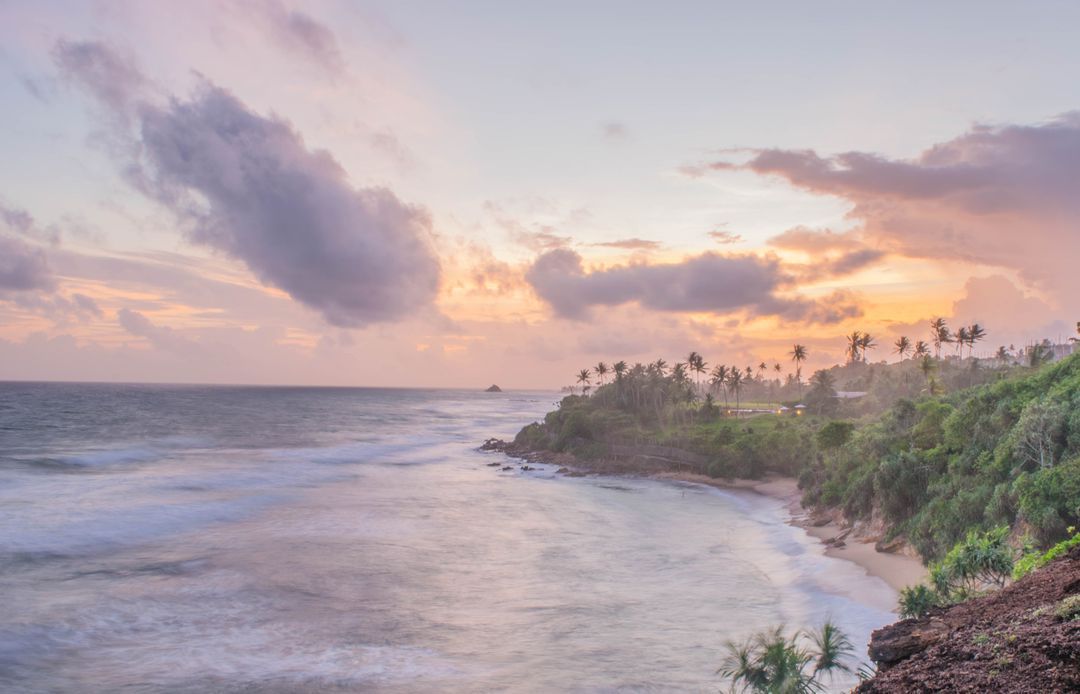 Where: Weligama/ Midigama, Galle District (Southern Province)
Weligama and Midigama are sister seaside towns that many love for their beautiful beaches and excellent surf on Sri Lanka's southern coast. Midigama is quieter and less developed than its neighbor, Weligama beach, but both offer a great chance to unwind, splash in the Indian Ocean, or wander.
This area was once famous for its famous stick fisherman, but rumors are that these have moved on and been replaced by actors hired for photo ops with tourists.
---
SRI LANKA BEACH RESORT OR HOTEL: MIDIGAMA
Kusuma's Lazy Left (Midigama) – This charming family-owned and operated budget beach hotel is a must-visit! With a private beach area, 24-hour reception, and fantastic staff – a stay at Kusuma's Lazy Left will be a memorable experience on your Sri Lanka holiday!
Price: $19+ per night
Review: "Sugi is amazing, super friendly and helpful. Food is amazing. Fantastic location, right on the beachfront!" – James, New Zealand
---
9) Passekudah Bay and Kalkudah Beach
Where: Passekudah, Batticaloa District (Eastern Province)
Passekudah Bay is tucked away in a pocket of larger Kalkudah Beach, and this east coast Sri Lankan gem is something you shouldn't miss. The waters are gentler and shallower than other coastal hotspots, thanks to its reef protection, making this the ideal spot for a relaxing dip or uninterrupted sunbathing.
If you are a keen surfer, Kalkudah Beach sees major waves in September, coincidentally when tourist season peaks.
PASIKUDA, SRI LANKA 2017 - A DAY IN THE HEAT | VLOG #44
---
10) Dickwella Beach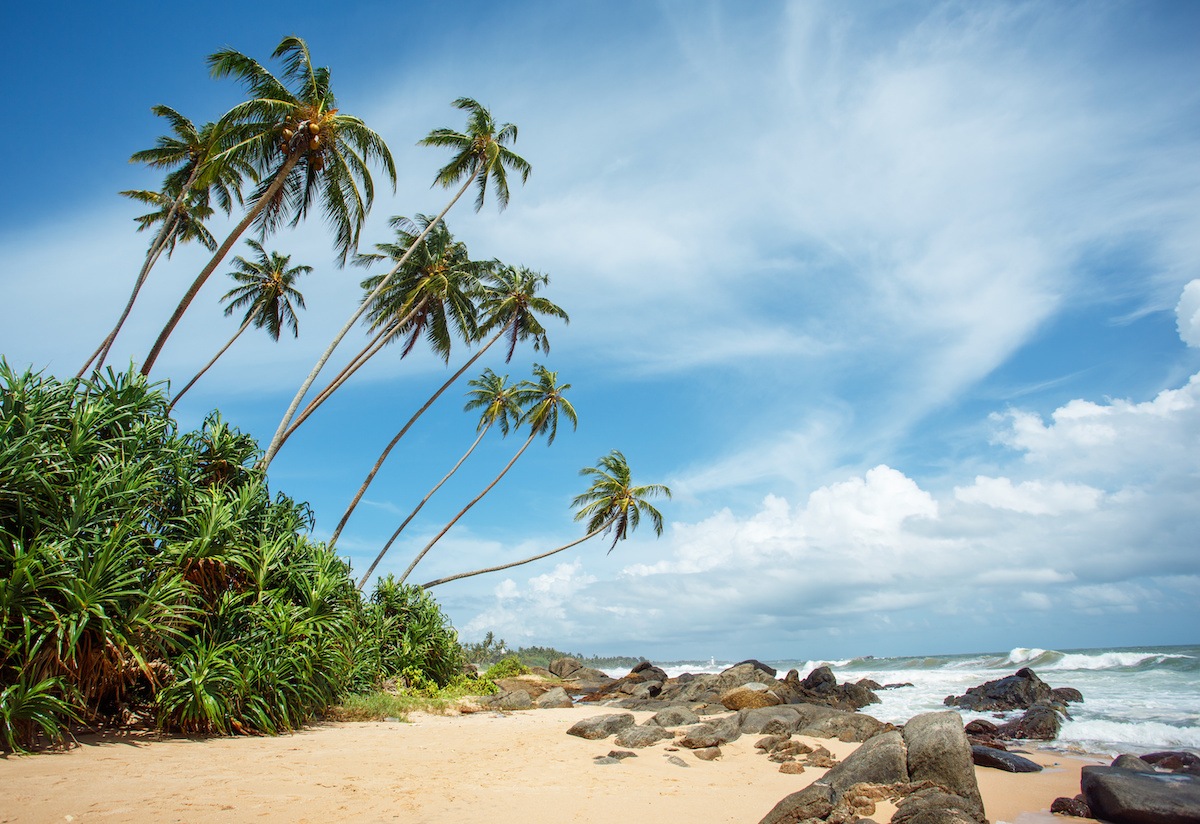 Where: Dickwella, Matara District (Southern Province)
You can expect lush, amazing beaches at Dickwella Beach, one of Sri Lanka's most beautiful southern destinations. The presence of reefs, sandbars, and headlands means the waters here are calm and perfect for swimming. Those who opt for snorkeling will have the chance to see colored fish. The cozy town of Dickwella also features Sri Lanka's giant Buddha statue and a popular seaside market.
Dickwella - letecké video
---
SRI LANKA BEACH RESORT OR HOTEL: DICKWELLA
Mahi Mahi Beach Chalets – "Mahi Mahi located in Dikwella (in the southern coast) in Sri Lanka. It consists of a seafood restaurant, six beach villas & Sri Lankan spice and souvenir shop.
MahiMahi restaurant is the best seafood restaurant in Dikwella area, where you can experience delicious food, special cocktails, and other fresh juices. It consists of special signature Mahi Mahi (fish) dishes and cocktails you will only experience here.
Our spice shop has Sri Lankan authentic spices packed in international-level packing for retail and exports. Not only that, you can find Sri Lankan traditional gifts and souvenirs too."
Price: $45+ per night
Review: "Beautiful quiet beach used by a few tourists and a few locals, fishermen out on water. Fun swings. Great food and cocktails. Relaxed atmosphere. Chilled seating/bar area for restaurant. Professional branding and well run with lovely friendly staff Quirky chalets with nice design." – Em, United Kingdom
---
11) Uppuveli & Nilaveli Beach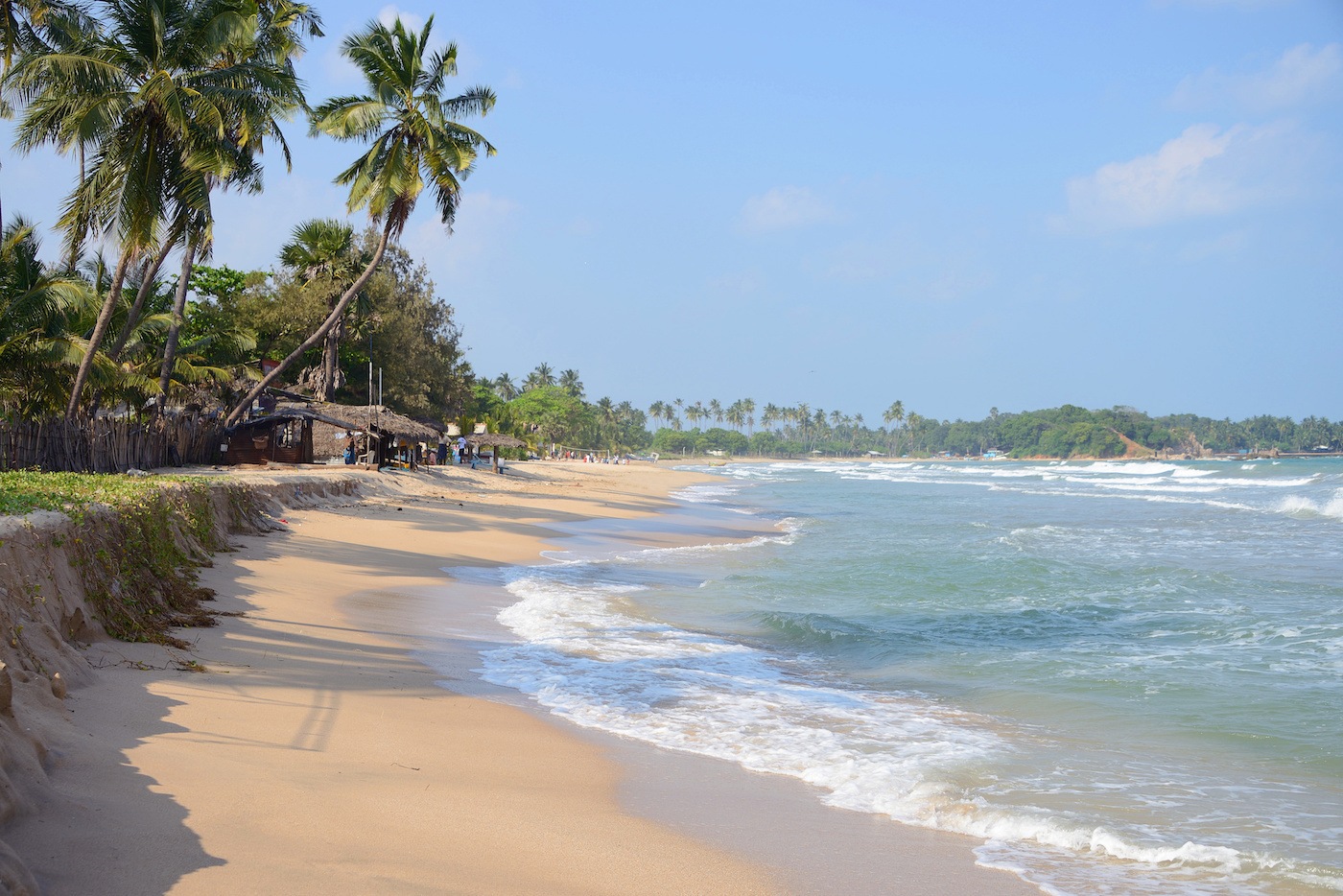 Where: Trincomalee District (Eastern Province)
Just north of Trincomalee (Trinco to locals) in the east of Sri Lanka, you'll find the Uppuveli and Nilaveli beach. They are so close and yet vastly different.
Uppuveli beach is busier, with stunning ocean vistas and towering palms. The village of Uppuveli is also great for eating, having a few beers, renting a scooter, or meeting like-minded travelers.
Slightly further along the beach, Nilaveli beach is much larger than its neighbor and still largely untouched and quiet. It is also very close to the Pigeon Island National Park, one of the two marine parks in the country.
---
SRI LANKA BEACH RESORT OR HOTEL: NILAVELI
Anilana Nilaveli – "Located on the quietest part of one of the best beaches in the world, this stylishly designed resort is an intimate and luxurious escape for you to relax and enjoy some luxury, good food, and the natural beauty of the surrounding environment. All of our rooms and suites are comfortably furnished and have breathtaking views of the Indian Ocean, Swimming pools, and or hotel gardens.
Laze around one of our two swimming pools, enjoy thoughtful and attentive service, relax and rejuvenate in our Anilana Spa, take in wonderful views from our rooftop bar, or simply take some time to breathe and enjoy. Bask in the freedom of doing whatever you want, whenever all in a tropical paradise.
Our Chefs create tantalizing dishes for you to taste, Bartenders prepare tropical drinks to cool, and our service team work hard to make sure those who prefer a quiet retreat or a lively holiday all leave with a smile and fond memories of Anilana hospitality."
Review: "This hotel was exceptional. The reception staff were amazing – very accommodating, able to book scooters and TukTuks for hire whenever we wanted them, facilitated an early check out as we got our flight times wrong, were always happy to help with all of our queries.
The food was amazing and the portions were huge! Restaurant staff were lovely! Pools were always clean and of a lovely temperature. The beach is seconds away and kept lovely and clean. The room was gorgeous! Kept clean and tidy by the cleaning staff who always made sure you had enough milk and towels and water. The facilities at this hotel were of a very high standard.
Even though the hotel was quiet because we came in the off-season, there was still a nice atmosphere. I will be recommending this hotel to everyone I know." – Aaron, U.K
---
12) Pigeon Island
Where: Trincomalee District (Eastern Province)
One of only two marine parks in Sri Lanka, Pigeon Island is situated just 1 km off the coast of the aforementioned oasis of Nilaveli. Pigeon Island is divided into two distinct islands, Large Pigeon Island and Small Pigeon Island, but both offer an unbeatable look at local protected marine life.
Coral reefs boast over 300 coral reef fish species, reef sharks, a range of sea turtles, and many rock pigeons – hence the name. On Pigeon Island, scuba diving is super popular and a great chance to get up close and personal with our oceanic friends. The island's beaches are small and rocky, with clean, white sand.
Pigeon Island Paradise of the Sri Lanka
---
SRI LANKA BEACH RESORT OR HOTEL: PIGEON ISLAND
Pigeon Island Beach Resort – "Pigeon Island is located North from Trincomalee out of Nilaveli on the most beautiful among all the beaches in Sri Lanka. The place is really idyllic and delighting. You will find here peace and serenity.
We set as target to offer you the best. Our resort has all facilities and services at your disposal to ensure you a nice stay and an unforgettable experience. Our huge beaches invite you to immerse yourself in many leisure activities like surfing, diving, fishing and whales watching."
Price: $50+ per night!
Review: "Great location, nice big clean rooms, clean big pool, nice personal, due to a shower defect we got a better room, Nice diving/snorkelling center." Julian, Austria
---
13) Rekawa Beach
Where: Rekawa, Hambantota District (Southern Province)
One of Sri Lanka's major sea turtle nesting spots, Rekawa Beach, belongs to the village of Rekawa. Visitors can see the event if they are willing to camp out on the beach in the darkness of night, especially during a full moon.
By day, Rekawa Beach is a relaxing, quiet destination with white sand, gentle swells, and incredible sunset (or sunrise) photo ops.
Best Places to Visit in Sri Lanka: Rekawa Beach Sri Lanka
---
SRI LANKA BEACH RESORT OR HOTEL: REKAWA
Beach Village Rekawa – "A half-Acre of land, an endless beach, and just you. At BvR, you will open your bedroom door to the beautiful Indian Ocean with a magnificent and breathtaking view. Through the private access, take a stroll on one of the most pristine and beautiful beaches in Asia.
During the season, watch turtles lay their eggs at the beach. Rekawa is home to five of the seven species of turtles in Asia. The villa, garden, and beach access is only for you. A perfect getaway from city life and to be one with nature. The space is all yours to enjoy. Private garden, villa, and sole access to the beach.
Comfortable beds (with mosquito nets), sofa (single bed), TV & DVD player, dining table, kitchenware, and bathroom essentials. You have a personal cook who's great with authentic Sri Lankan dishes. You have free Wi-Fi, a bunch of books for indoor days, and two bicycles for you to roam nearby. The best is the view of the ocean from where ever you sit at the villa (the balcony and the 2 outdoor seating areas are perfect to watch the waves crashing).
Price: $260+ per night
Review: "Amazing value for money. The beach was right next to the villa. Superb cook and a super clean place. Love the nature surrounding the villa. New comfortable bed and the pop-up insect nets were ideal- wish I could take it with me everywhere I traveled." – James, United Kingdom
---
14) Koggala Beach
Where: Koggala, Galle District (Southern Province)
Nestled on the south coast of Sri Lanka, Koggala Beach has a lot to offer visitors. The white sand beach is one of the country's longest and offers the same majestic views you would be accustomed to on this coastline.
In addition, the village of Koggala features a turtle hatchery, lake, and folk art museum – something to keep everyone interested!
Beautiful Sri Lanka - Koggala coast line [Mavic Pro - Platinum]
---
SRI LANKA BEACH RESORT OR HOTEL: KOGGALA
Koggala Beach Hotel – Enjoy the endless shores of Koggala at the iconic Koggala Beach Hotel, as this beachfront property encompasses all the charm, color, and vibrancy of an idyllic paradise holiday.
With the beach literarily at your doorstep, you can watch the waves dance, feel the warm golden sand beneath your feet, and be cooled by the sea breeze as the sun gently warms your skin.
This beach hotel has years of experience catering to the needs of guests so that each and every guest leaves with fond memories. Leave your cares behind and come on over to Koggala, where experience after experience awaits you!
Price: $45+ per night
Review: "We stayed in the Cabana part of the hotel .. glorious.. right on the beach with stick fishermen in the distance .. we loved it ..the ocean crashing in our ears .. fabulous.." – Susan, Australia
---
15) Pottuvil Beach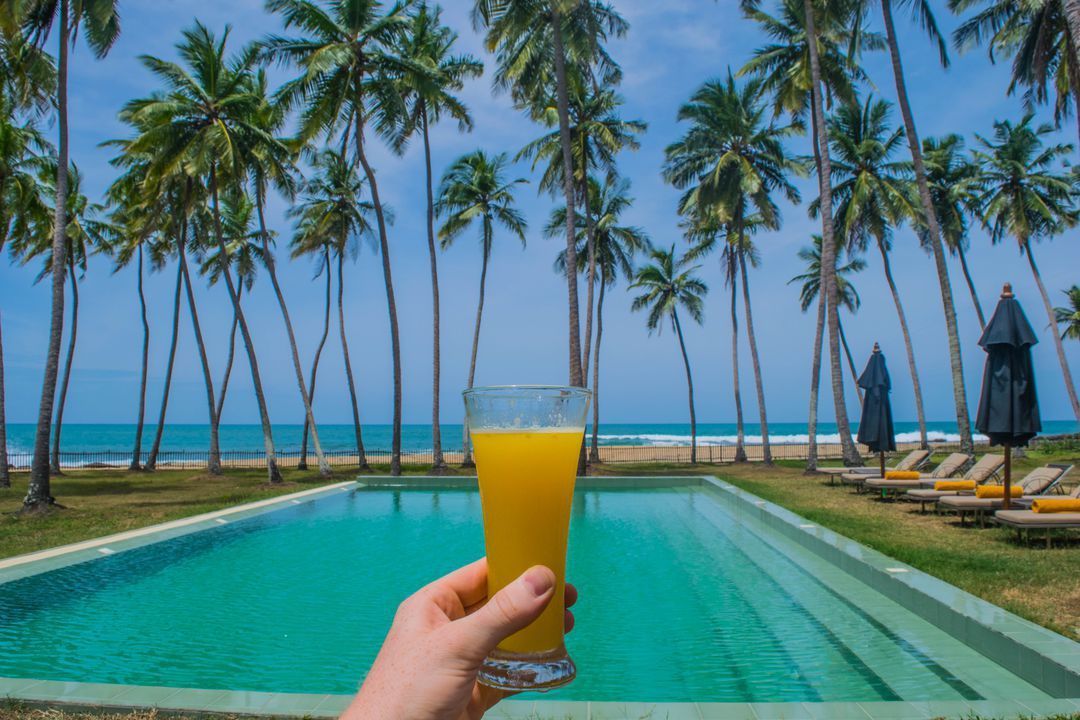 Where: Pottuvil, Ampara District (Eastern Province)
Mere minutes from the backpacker favorite Arugam Bay, the Eastern Province diamond of Pottuvil is rapidly becoming as popular as its famous neighbor – for all the right reasons.
Its stunning beach is quiet, sprawling, and lined by tropical palm trees, and the price of accommodation and eating in this area is still affordable. Here, you'll find great local Tamil food, fantastic surfing conditions, friendly locals, and a charming village await you — a must-visit!
Mellow Pottuvil Point HD | Surfing Sri Lanka surf spots - WavesSomewhere.com
---
SRI LANKA BEACH RESORT OR HOTEL: POTTUVIL
Kottukal Beach House by Jetwing – "A boutique villa which is the perfect holiday get away, Kottukal Beach House by Jetwing offers stylish modern comfort in an idyllic setting.
Featuring wide, open verandas and high ceilings, the interiors and furniture are tastefully decorated and designed to match the aesthetic plan of the bungalow. The two bedrooms and the two chalets are luxuriously furnished and equipped with every convenience you require, as well as the added features of an attached bathroom and a private balcony or terrace."
Price: $107+ per night
Review: "The stunning location right on the beach, the beautifully well kept garden, the delightful staff, Birdie and Dan, the delicious breakfast and Sri Lankan curries, the peace and tranquility, the constant soundtrack of the ocean…this place is just perfect, we genuinely didn't want to leave. We can't recommend the beach house highly enough. Thank you so much to Kenneth and the team, we had the best time!" – Ed, U.K
---
16) Hambantota Golf Resort
Where: Hambantota, Hambantota District (Southern Province)
In order to Experience this beach oasis, you'll have to stay at Shangri-La's Hambantota Golf Resort. Trust me. It's worth it.
Located on the southern coast of Sri Lanka, you'll enjoy unspoilt access to your own private resort beach, a championship size golf course, a luxury day spa, and so much more. There are even day beds on the beach. You'll be sure to feel like a million bucks.
Shangri-La Presents Hambantota, Sri Lanka
---
SRI LANKA BEACH RESORT OR HOTEL: HAMBANTOTA
Shangri-La's Hambantota Golf Resort – "Overlooking the pristine southern coast of Sri Lanka, Shangri-La's Hambantota Golf Resort and Spa is located along the ancient Spice Route in a city steeped in rich history.
The resort is home to an 18-hole golf course, an expansive spa, and a village that celebrates local Artisans. It also features state of the art fitness facilities, a 100 feet lap pool plus an additional freeform pool, and retail facilities.
Shangri-La's signature CHI, The Spa, is a place of personal peace and well-being that features exceptional Chinese and ayurvedic treatments. A 24 hour front desk for all guest inquiries is available for the discerning traveler."
Price: $144+ per night
Review: "Had the privilege of staying at this beautiful resort. The grounds are spectacular the adults only pool and pool bar stunning and Chamath the barman made the best frozen daiquiri I've ever tasted. The overall service is 1st class and its pure tranquility is a little slice of heaven. The rooms a spacious light and airy and nothing is to much trouble the food is good and the staff super friendly and attentive." – Teresa
---
17) Kahandamodara Beach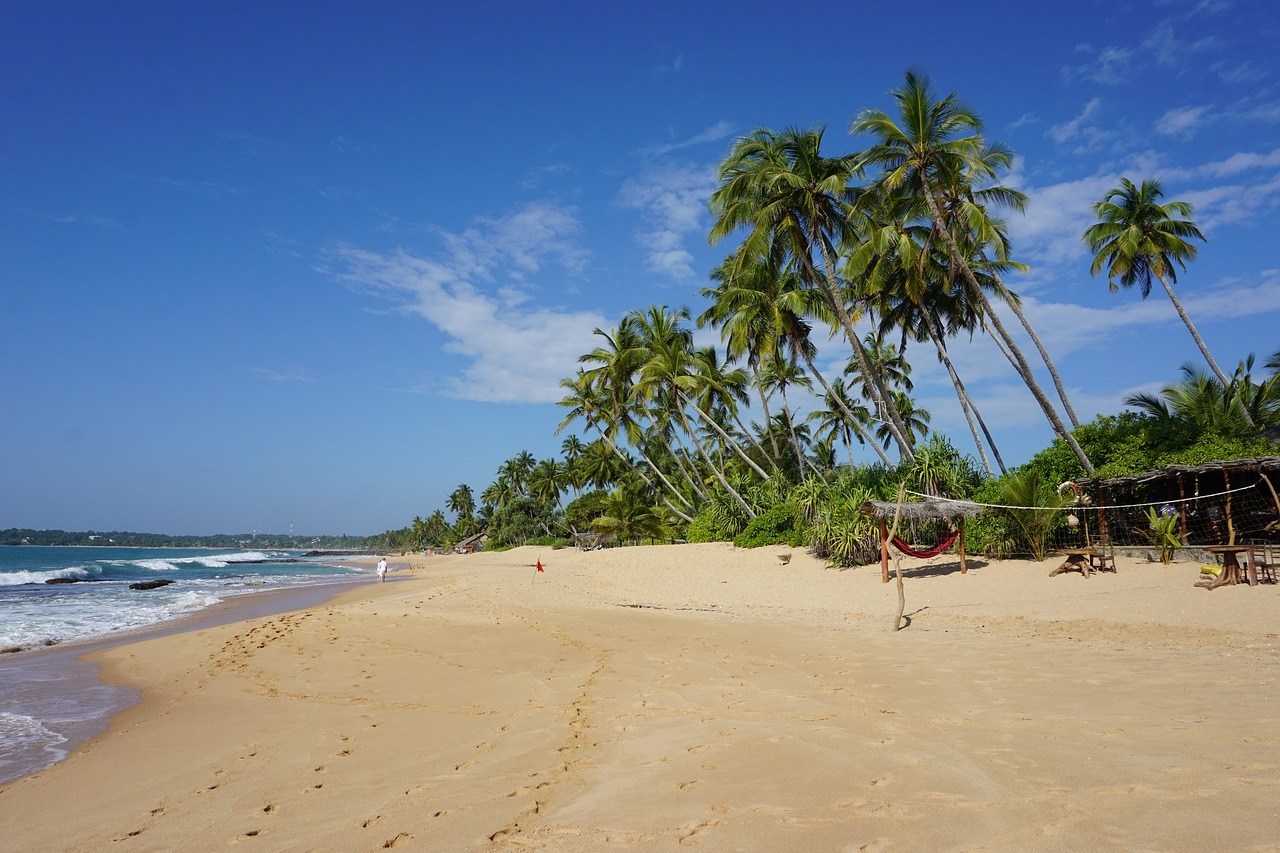 Where: Tangelle, Hambantota District (Southern Province)
Another south coast Sri Lankan must-see, Kahandamodara Beach, is a broad, long expanse of golden sand bordering the warm waters of the Indian Ocean.
Drink from a coconut, walk for miles with a spectacular backdrop, catch some rays of immerse yourself in the blue waters and soak your cares away. At times the area is so quiet and undiscovered you may have the entire beach to yourself.
Kahandamodara beach in south Sri Lanka in March 2018 near Tangalle 4K
---
SRI LANKA BEACH RESORT OR HOTEL: KAHANDAMODARA BEACH
Ranna Beach Villa – "Only steps away from the beach, Ranna Beach Villa By FOX Resorts welcomes guests with an outdoor swimming pool and a restaurant.
Stylish rooms offer a private patio, air conditioning and a TV. En suite bathrooms feature shower facilities, a bathtub and a hairdryer. Rooms overlook stunning sea views.
The friendly staff at this beachfront accommodation can assist with laundry/ironing services and outdoor activities including cycling, fishing and canoeing."
Price: $90+ per night
Review: "Amazing hospitality at Ranna Beach Villa. The staff were extremely professional and friendly. The rooms were very clean and comfortable. There's a private beach and lagoon just outside the property, which were amazing! The food was spectacular too. We had a wonderful few days at Ranna Beach Villa – can't wait to go back!" – Natasha, U.K
---
18) Tangalle Beach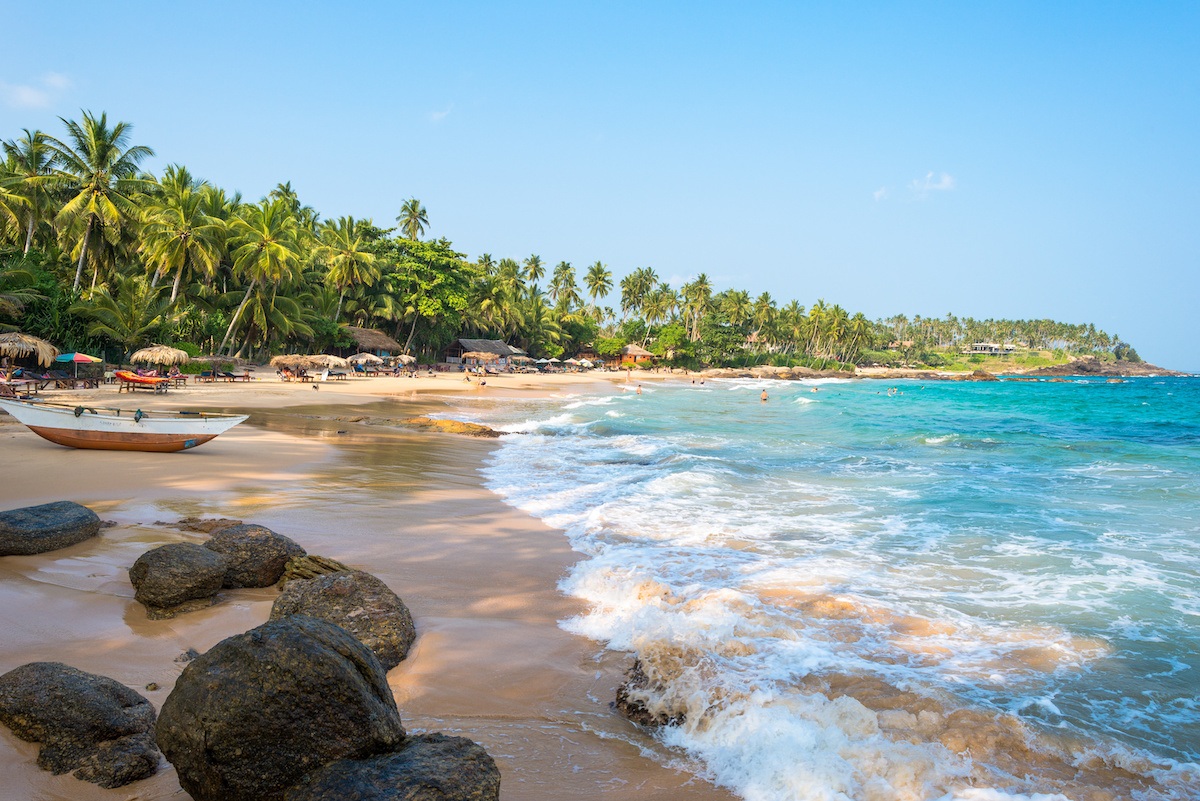 Where: Tangalle, Hambantota District (Southern Province)
Described by many visitors as one of Sri Lanka's most perfect beaches, Tangalle (or Tangalla to some) is another destination to add to your south coast itinerary. The water is turquoise, the sand is white, and the palms sway in the breeze.
Tangalle Beach is Insta-perfect, and finding ways to occupy your time here is easy. Swim, play beach games, soak up the sun, fish, or just meander along the coastline. There are many nearby hotels and restaurants, so spending a few days here is highly recommended.
SOUTH SRI LANKA | MOST AMAZING BEACHES 🏖️ | TANGALLE
---
SRI LANKA BEACH RESORT OR HOTEL: TANGALLE
Lankavatara Ocean Retreat & Spa – "An ecologically friendly hotel which comfort means no unwanted impact on the environment. Most of 15 spacious suites (about 46 square meters) offers a breathtaking view of the Indian Ocean. Just to tell you that we made sure to keep in place all the coconut palms and other trees and shrubs while building it."
Price: $110+ per night
Review: "The staff were kind, attentive, and always available, the aesthetic of the hotel was luxurious and beautiful, with a heated pool right in front of the ocean, our room was large, comfortable, and clean with a lovely bathroom and looked straight out onto the ocean through large glass doors, the food was good quality, and we loved that the beach was long and not at all busy (pretty much just the hotel occupants). The accommodation was fairly priced and made us feel like what we paid was totally worth it." – Madu, Australia
---
19) Casuarina Beach
Where: Karainagar, Jaffna District (Northern Province)
A less heavily trafficked region of Sri Lanka, the Jaffna District in the Northern Province of the country is home to Casuarina Beach.
This remote pocket of heaven is named after the trees that dot the landscape here, and you can expect breathtaking turquoise water and white sand as far as the eye can see. Make the most of your visit and take a local boat trip to explore the region.
Tourists are rapidly catching on to what Casuarina has to offer, so make sure to visit while it's still a relative unknown.
---
SRI LANKA BEACH RESORT OR HOTEL: CASUARINA
Fox Jaffna by Fox Resorts – "The rooms are beautifully decorated in keeping with the colors and landscape of the peninsula. All the rooms are spacious and minimal in design, with paintings occupying pride of place. The rooms are well-appointed and complemented with comfortable beds.
The property is spread over three acres and, in addition to the four suites and 24 rooms, boasts a swimming pool and restaurant while plans are afoot to open a spa, a perfect addition to luxuriating oneself in after a busy day of sightseeing."
Price: $80+ per night
Review: "Good location, helpful staff, clean rooms, hot water under decent pressure, nice swimming pool, quiet and relaxing atmosphere. In general, a good place to relax and wind down and an excellent value for money." – Piotr, Poland
---
20) Yala National Park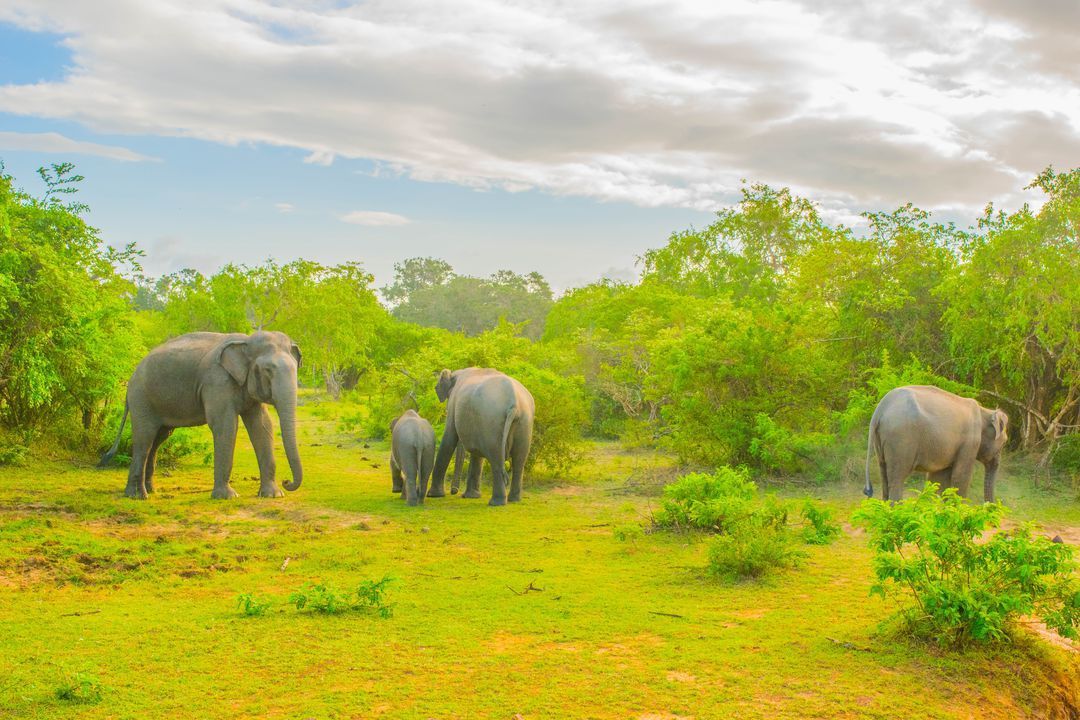 Where: Hambantota, Hambantota District (Southern Province)
As the name implies, Yala National Park is "Sri Lanka's most popular wildlife park," located on the gorgeous southern coast of the country.
Sections of this huge expanse of protected land reach the Indian Ocean. You can see Sri Lankan elephants, leopards, water buffalo, and birds in their natural habitat – all from your Jeep safari.
Water-wise, the two blocks of the park open to the public have streams, rock pools, lagoons, and waterholes. These bodies of water are mostly left to the local wildlife, but many towns on the fringes of this area have beautiful beaches and hotels.
YALA NATIONAL PARK Safari - Sri Lanka (4K)
---
SRI LANKA BEACH RESORT OR HOTEL: YALA NATIONAL PARK
Cinnamon Wild Yala – "Experience world-class service at Cinnamon Wild Yala! Only a 5-minute drive from the famous Yala National Park is Cinnamon Wild Yala. It boasts chalets with private balconies and free Wi-Fi. It features an outdoor pool and a restaurant. Nestled in the south of Sri Lanka, the property is a 6-hour drive from Bandaranaike International Airport. It is located in Kirinda, a village well-known for its wildlife.
Chalets offer spectacular views of the beach or jungle. They are decorated with local art crafts and feature air-conditioning, cable TV, and a minibar. All chalets come with private bathroom facilities."
Price: $157+ per night
Review: "Amazing place in the middle of nature with wild animals close by (although safe) and close to the National park. Super friendly, and the service was absolutely amazing, good food options with both a la carte and buffet, nice and clean chalets. We loved this place and extended our stay twice." – Linda, Sweden
---
AM I MISSING ANY EPIC BEACHES IN SRI LANKA?
I've spent a lot of time traveling around this beautiful and intriguing country, but I'm sure there are tons f hidden gems that I've never heard of yet! If you know of any other awesome beaches in the country, please do reach out to me and let me know!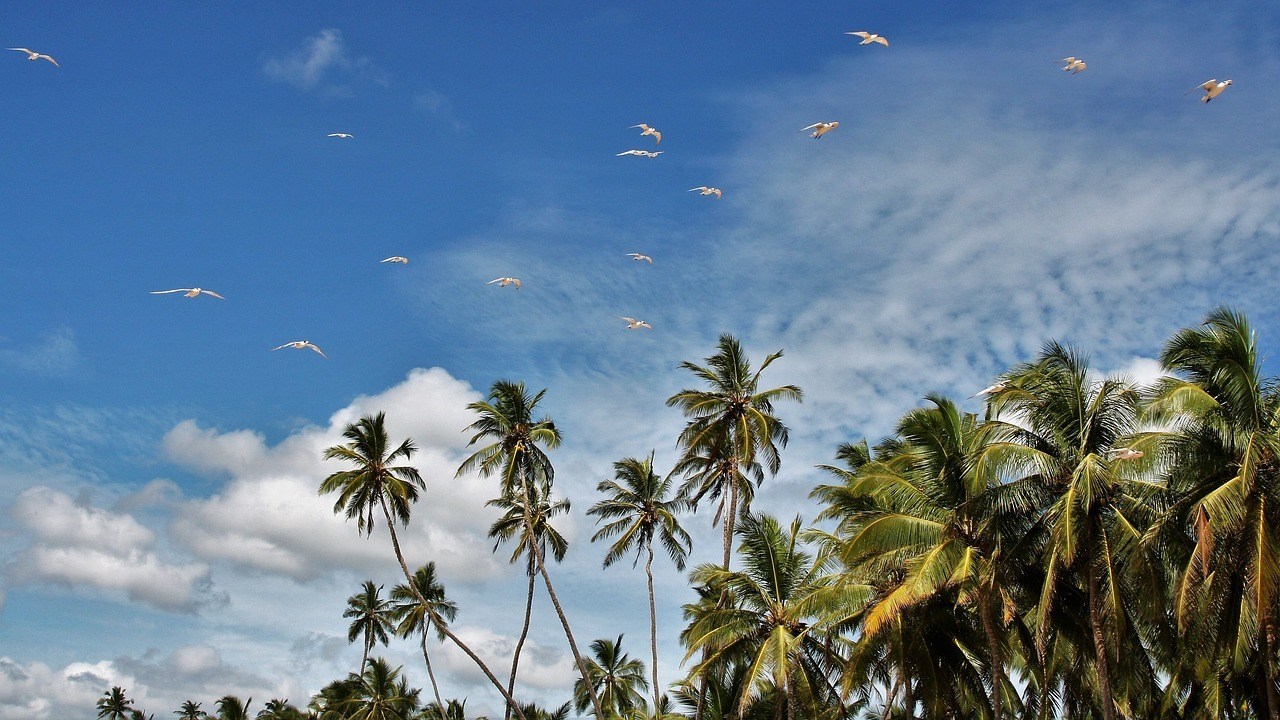 ---
PLANNING A TRIP TO THESE SRI LANKA BEACHES?
So, there you have my picks for a beach holiday at the best beach resorts in Sri Lanka. Whether you're vacationing on the east coast or the west coast, there is sure to be a golden sand beach you can visit for a swim, go scuba diving, or take a boat ride on.
I've written many articles about traveling around the country, so check out a few of my favorites below and let me know if you have any questions. I'm happy to help in any way I can!
Further reading:
Top 27 Amazing Things to do in Arugam Bay, Sri Lanka
Yapahuwa Rock Fortress | Steep Stairways, Jungle Treks, and Epic Viewpoints
Kaudulla National Park | An Elephant Jeep Safari Adventure for the Bucket list
35 Instagrams That'll Inspire You To Visit Sri Lanka
Midigama & Weligama: Learning To Surf In Sri Lanka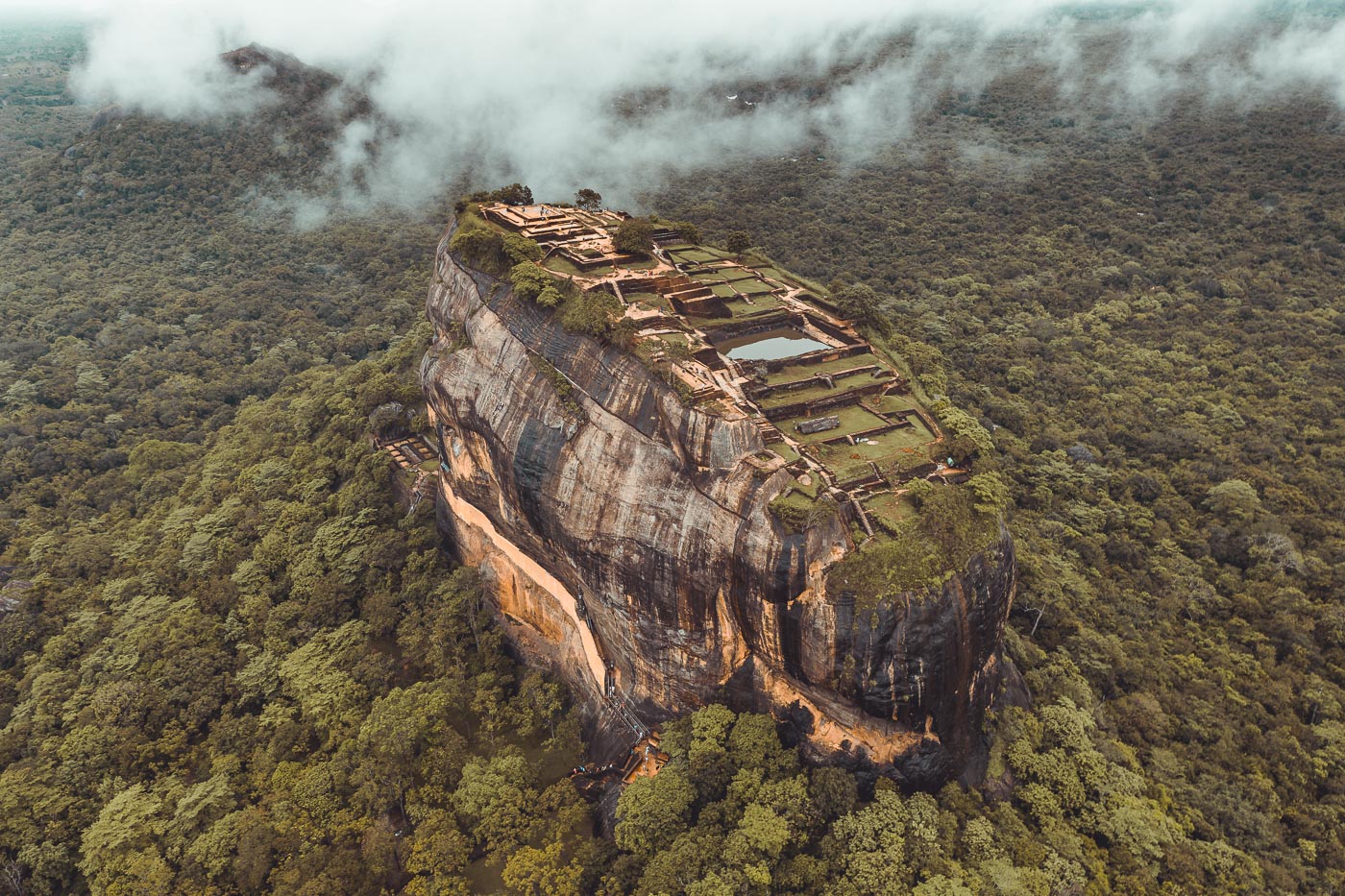 ---
THANKS FOR READING ABOUT THE BEST SRI LANKA BEACHES!
Share this beach in Sri Lanka guide with your travel squad!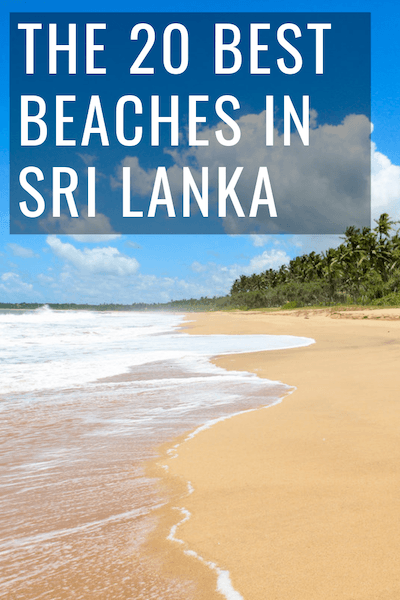 https://www.jonesaroundtheworld.com/wp-content/uploads/2019/04/Beautiful-Beaches-in-Sri-Lanka-2019.jpeg
801
1200
Dave
https://www.jonesaroundtheworld.com/wp-content/uploads/2017/03/logotry-1-1-300x106.png
Dave
2023-03-27 22:20:30
2023-05-25 20:39:21
The 20 Best Beaches in Sri Lanka