Tired of getting sand everywhere after a day at the beach and wondering what is the best sand free beach towel for your next trip? Well, look no further as this article aims to highlight some of the top, high-quality, sand-repelling towels online.
While most people visit the beach for a fun and relaxing time, the trip home can be quite tiresome. This is due to the heavy, wet, and sandy beach towels we have to carry with us. Not to mention, they get sand all over the car seats. Well, luckily for all of us, there is an easy solution – sand free beach towels.
There are several factors that play into finding the perfect beach towel. This includes the materials used, its ability to absorb water, and the time in which it dries. Also, they come in a wide variety of colors and sizes.
To help you find the perfect towel to go with your cute beach bag & beach hat, here are our top picks.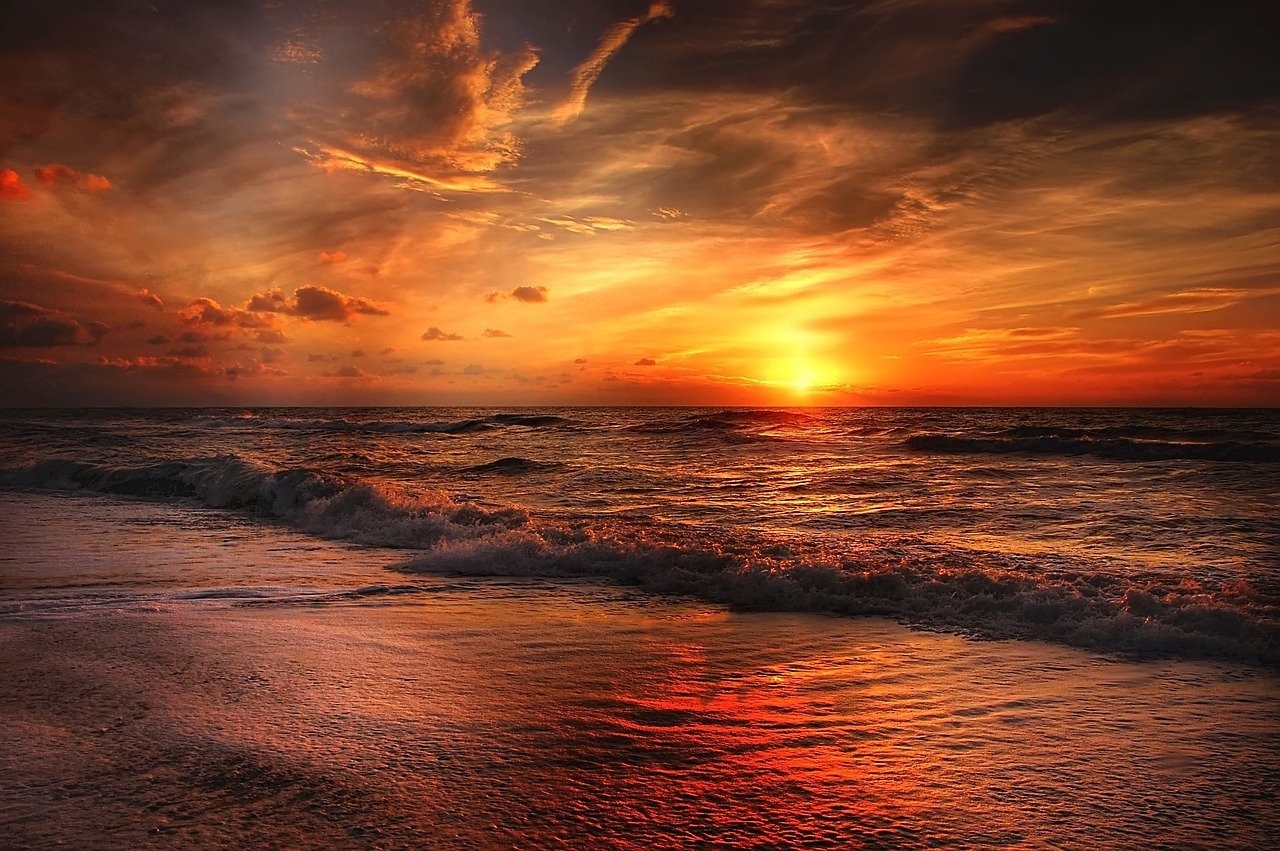 ---
4 Amazing Sand Resistant Beach Towels
Sand free beach towels are designed so that all sand that lands on the surface can be easily removed with nothing more than a light shake. Online, there are many options available, varying in size, color, and feel.
To ensure you're not lugging around any heavy and dirty beach towels this summer, here are some of the best sand-resistant options available.
---
WETCAT Turkish Beach Towel
Overall Best Sand Free Beach Towel
Quick-drying and compact for easy travel, the Wetcat Turkish Towel is designed for everyday convenience. Made from the highest quality cotton Turkey has to offer, these lovely beach towels are as luxurious as they are functional. Boasting a cloud-like softness, you will not want to use an ordinary towel after feeling these.
Wetcat Turkish Towels are great for the beach as they are sand-resistant. Moreover, they are super absorbent. The unique weaving technique allows it to soak up water and other liquids instantly. As it dries quickly, you won't need to travel with a wet and heavy towel.
Beyond the beach, the Wetcat Turkish Towel is ideal for after showering, yoga, the gym, and a picnic. It's also very compact, making it great for travel. So, you can easily fold it up small to maximize luggage space for your next beach holiday destination.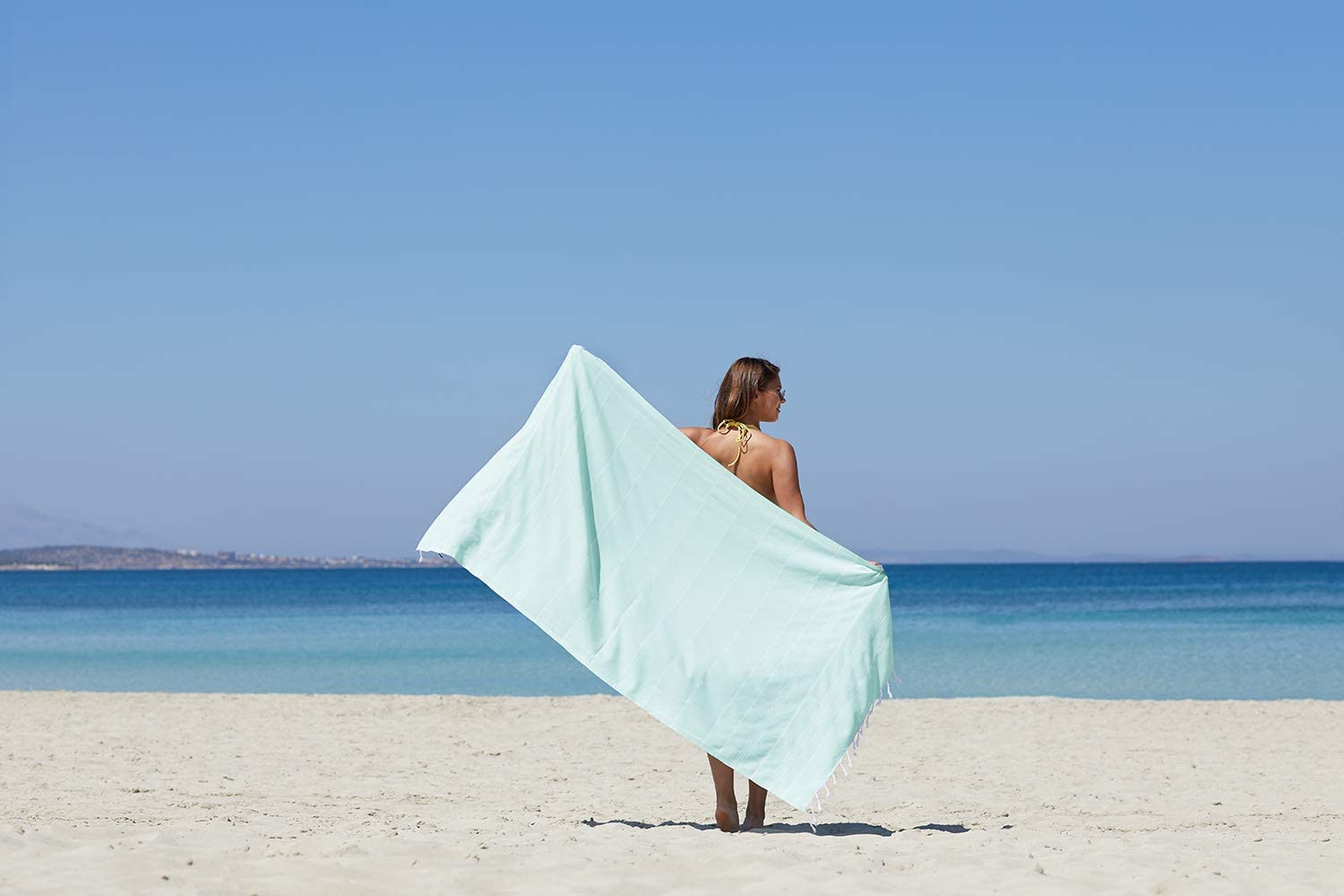 ---
CHARS Microfiber Quick Drying Beach Towel
Best Multipurpose Beach Towel
Don't let the sand affect your good mood with these gorgeous beach towels. Made from sand-free microfiber, the CHARS towel ensures that you leave the beach without bringing home heaps of sand. Just give it a shake, and you're all set.
In addition to being sand-resistant, the microfiber material used allows the towel to dry three times faster than regular cotton. Moreover, a hanging ring is included so you can easily hang it out in the sun so that it's dry before you head on home. Once you're ready to go, pack it down and pop it neatly into the mesh bag provided.
While it is perfect for the beach, the CHARS towel serves many other purposes. It is ideal for camping, picnics, yoga, and other outdoor activities. Its elegant design also makes it a lovely cover-up while you're on the beach.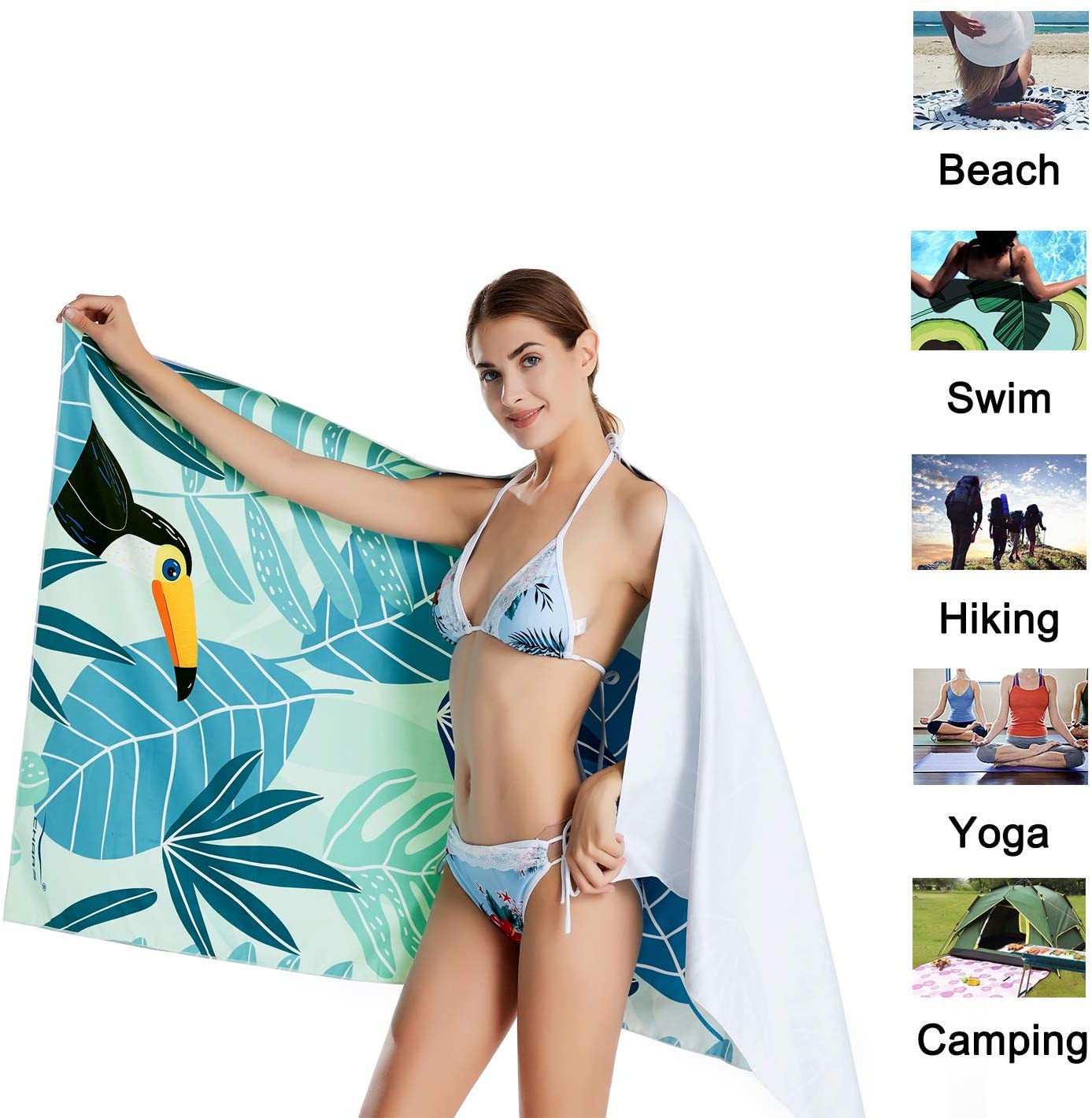 ---
Elite Trend Microfiber Towel
Whether you're traveling, camping, swimming, or visiting your local beach, these lovely beach towels are sure to have you covered. Made from microfiber materials, these towels dry quickly and are sand-resistant. So dry up and leave the sand at the beach without any fuss.
The XL beach towels by Elite Trend measure 78" x 35"; however, they are compact when packed into the stylish mesh bag provided. The bag also comes with a zip to store all your valuables.
The Elite Trend microfibre towels are soft and gentle on your skin. The quality materials used also allow it to remain fresh and free from any germs or smells.
Moreover, they are double-sided and come in a variety of amazing and unique styles. Designs include Cabana, Stripes, Tesalate and Bohemian styles. So before your next beach holiday or camping trip, be sure to pick up one of these fantastic beach towels.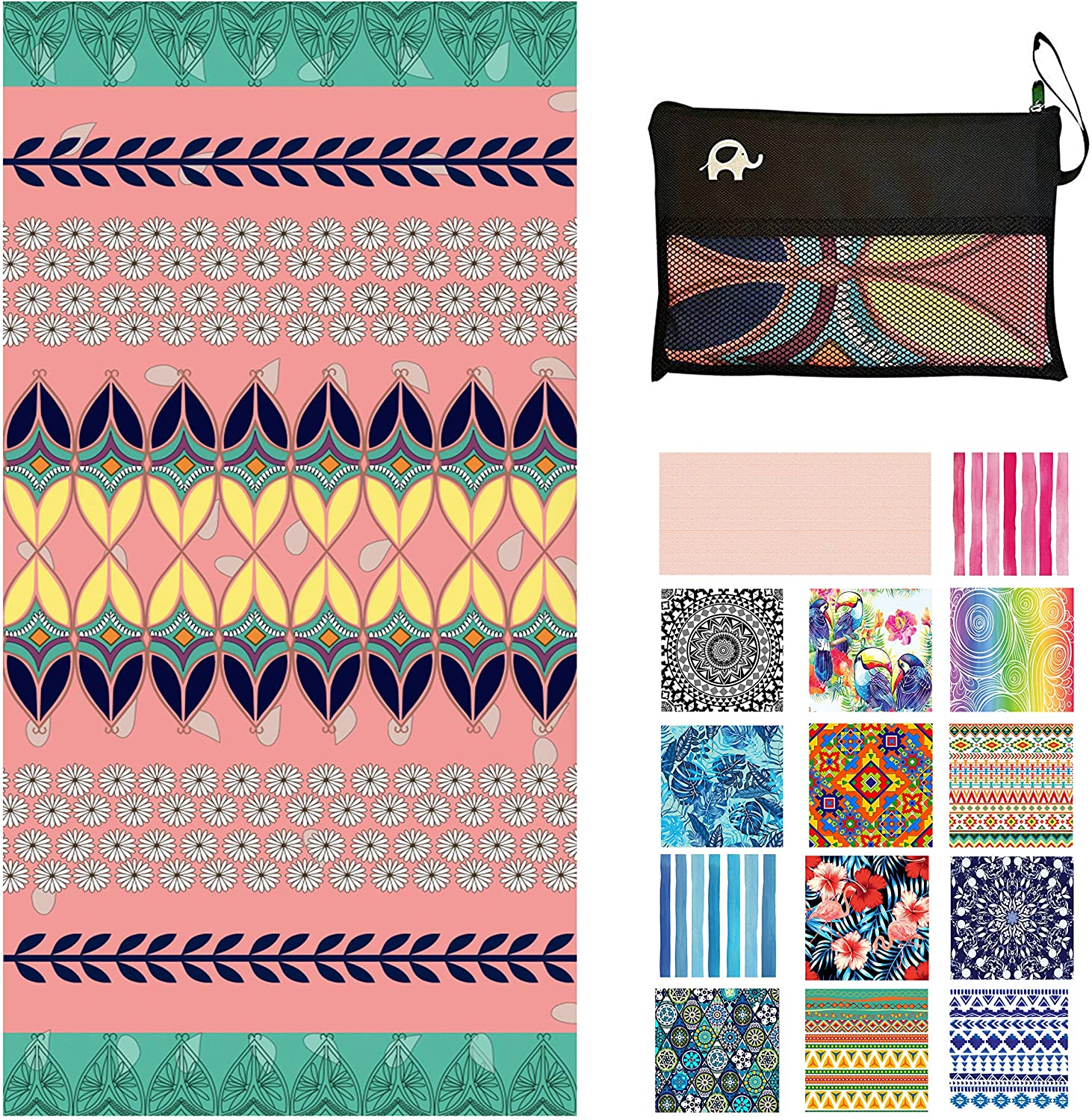 ---
TwoYek Microfiber Sand Free Beach Towel
If you're tired of heavy, wet and sandy towels, then TwoYek has just the product for you. A stylish towel made from SGS certified microfiber materials that repels sand and is super absorbent, perfect for a day at the beach.
Each towel also features a double-sided print with two unique and vibrant designs on either side. This way, the towel makes for a lovely beach accessory and is fit for any occasion.
Moreover, the high-quality materials used have resulted in a product that is luxuriously soft. It's so soft that it can even make for a comfortable blanket when traveling. It is also quick to dry and very compact, so whether you're headed to the pool, gym, spa, or your dream beach destination, this towel is sure to have you looking and feeling fresh.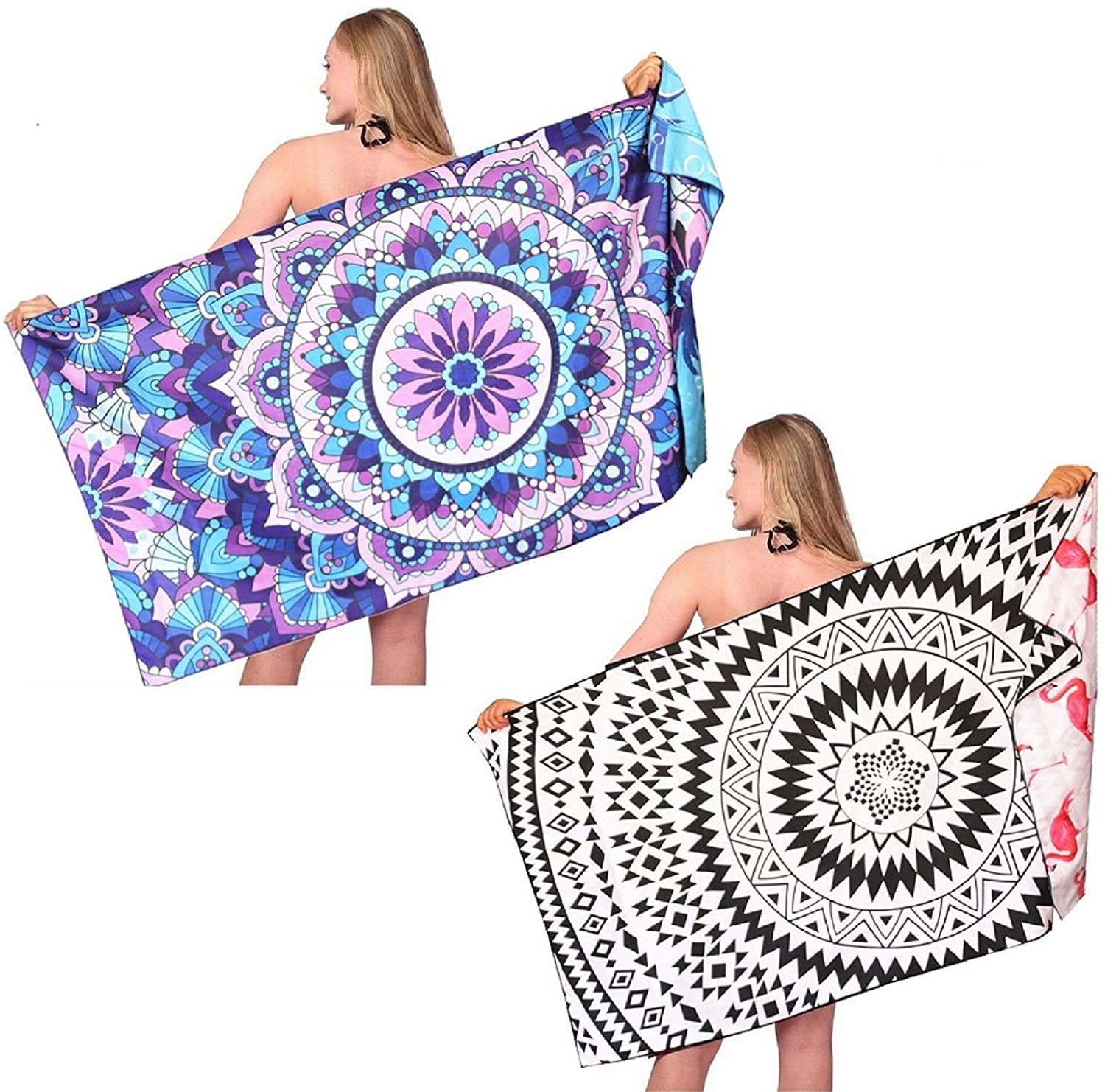 ---
4 Lovely Oversized Beach Towels
Whether it's to simply claim your spot or to protect your skin from the sun, an oversized beach towel sure is handy. Below are some of the best and largest options available to ensure you have the most pleasant day at the beach.
---
TESALATE Sand Proof Microfiber Beach Towels
Best Oversized Beach Towel
Looking for a beach towel that's not only practical but stylish and trendy as well? Try out Tesalate. Beautifully designed towels made from the brand's bespoke blend of microfiber known as AbsorbLite, the essence of innovation.
These specially designed waffle weave super fiber Tesalate towels are great for the beach as they are completely sand-proof. Just give it a gentle shake, and you're ready to go, without having to worry about getting sand in your car or in your washing machine. Moreover, they are thinner, lighter and more absorbent than traditional towels.
The Tesalate towel is more than just a gorgeous beach towel. It is also ideal for picnics, yoga, meditation, poolside recreation and more. Super compact and easily carryable, it is your perfect travel companion.
---
Wekapo Sand Free Beach Blanket
Best Beach Towel for Families
Tired of getting sand everywhere and having to carry multiple beach towels? Then look no further because the Wekapo sand free beach blanket has you covered. These ultra-light and extra-large blankets are thoughtfully designed to make your time at the beach much much easier. Best of all, it measures a whopping 9 feet by 10 feet!
While these blankets are large, they can be easily packed down into an incredibly small 6" x 7" lightweight carry bag. Moreover, they are made from premium parachute nylon, which ensures no sand sticks, making your beach experience all the more pleasant.
In addition to being sand-resistant, the Wekapo beach blankets are also moisture resistant, heat resistant, breathable, fast-drying, and very durable. Whether you're at the beach or park, it's an easy setup. Featuring four built-in weightable corner pockets, you can add a handful of sand or any other object to hold your blanket in place. For extra security, metal stakes are provided, so there's absolutely no need to worry about anything other than having a good time.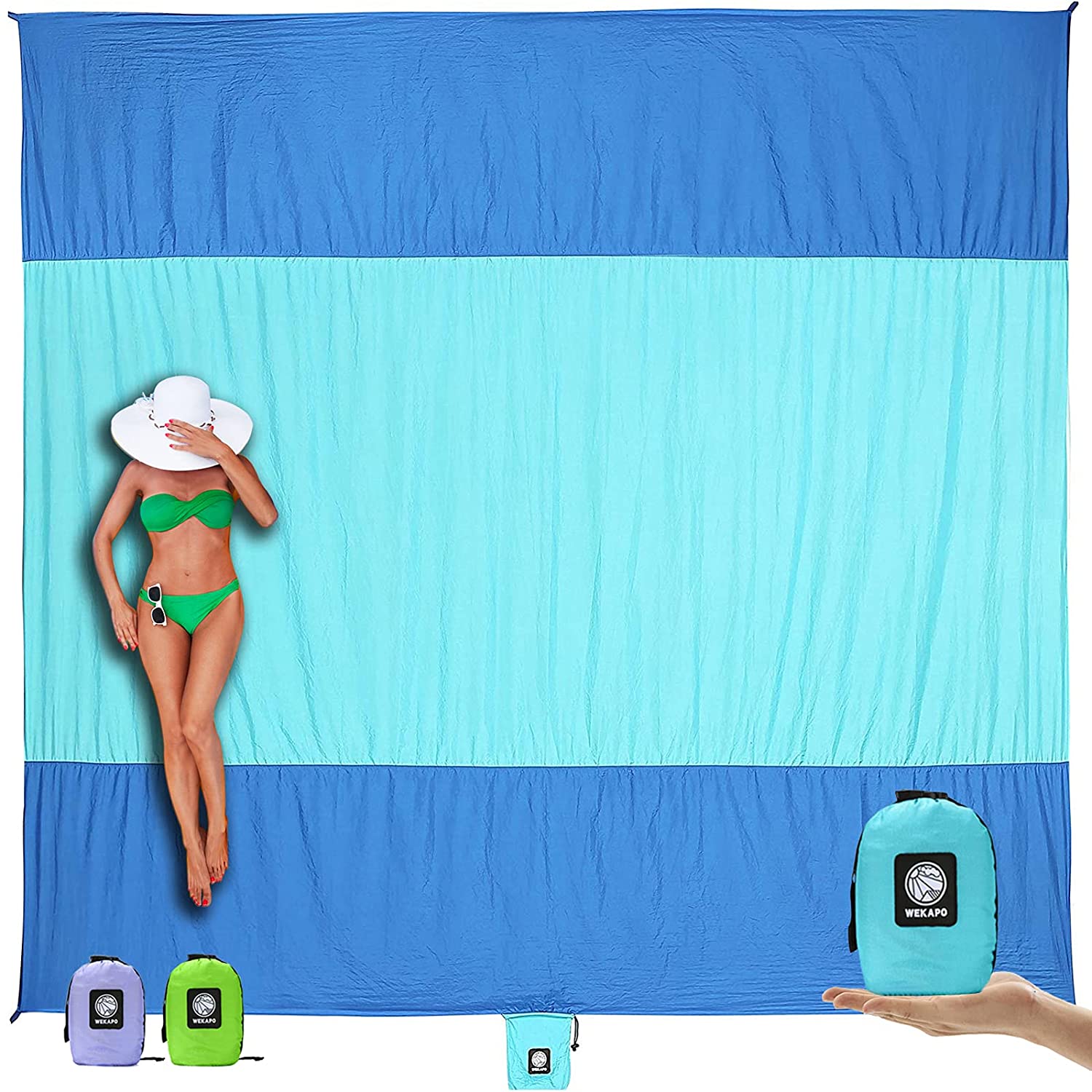 ---
ECCOSOPHY Microfiber Oversized Beach Towel
Most Beautiful Beach Towels
ECCOSOPHY is a brand that strives towards designing products that enhance your travel experience. One of these amazing products is their oversized microfibre beach towels.
The ECCOSOPHY microfibre beach towels are perfect for all beach-goers and are especially useful for those traveling. Each one is double-sided, with contrasting modern prints on each side. Vibrant print on one side and chic black and white on the other, these stunning towels are ideal for any occasion.
Made from microfibre, each towel is quick-drying and sand proof. The lightweight microfibre material used is suggested to dry three times faster than regular beach towels. Moreover, a mesh pouch is provided to allow for easy carrying.
The ECCOSOPHY microfibre beach towel comes in a variety of unique designs and prints. These designs were named after some of the most beautiful places on Earth. Designs include Cancun, Havana, Tahiti, and so much more. So pick your favorite one and head on out for a lovely coastline adventure!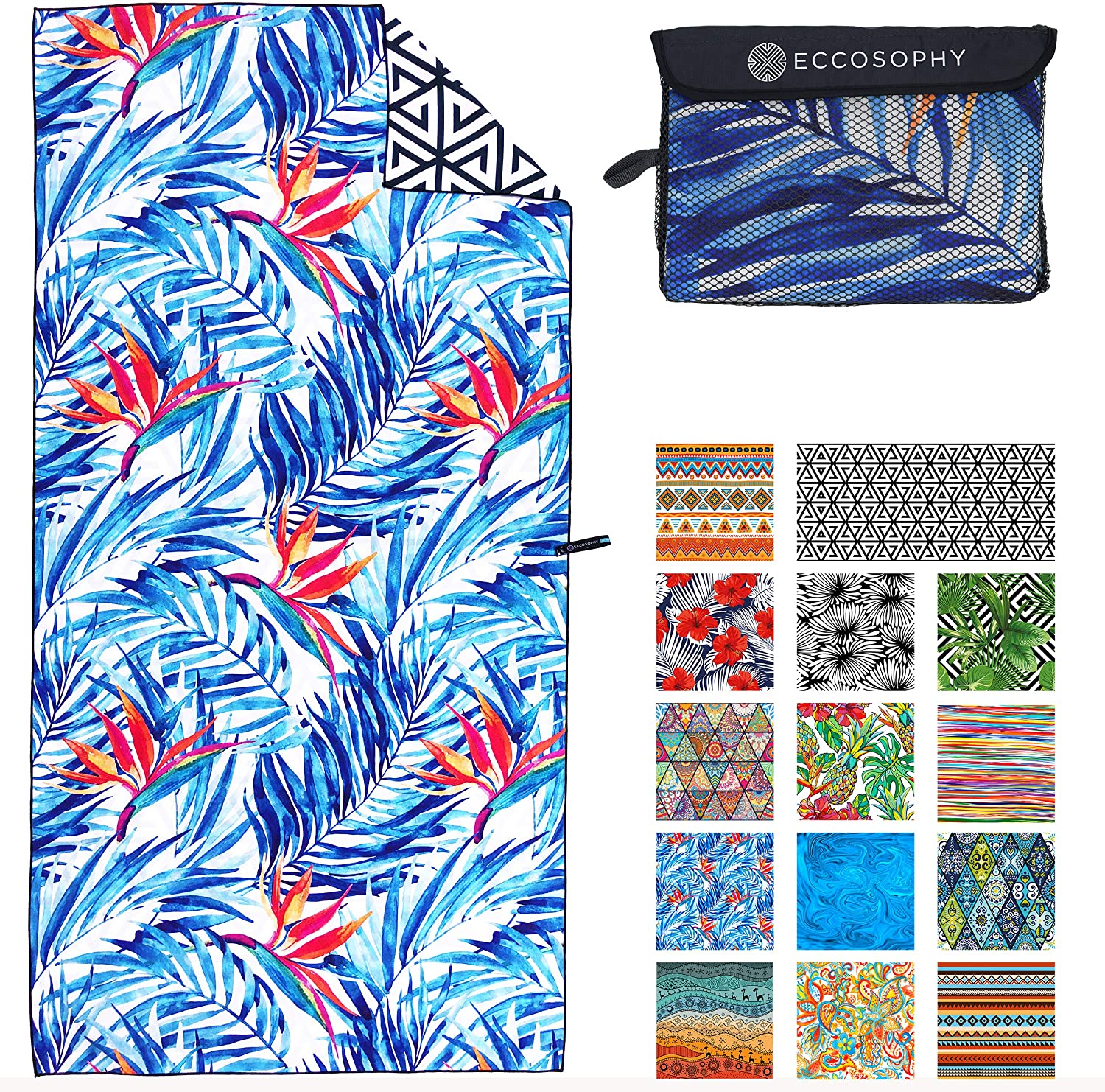 ---
Genovega Mandala Microfiber Beach Towel Blanket
If you're looking for a good-quality beach towel that offers plenty of space, then the Genovega Mandala beach blanket is just what you need. These are oversized and measure 72" x 72" – perfect to lay out for a family picnic or to wrap yourself up in to keep your skin safe from sunburn.
Made from a special microfibre material, these towels do not allow sand and dirt to easily stick to them. Just give it a light shake and you're good to go.
The Genovega Mandala beach blankets perfectly balance fashion and practicality, each with its own charming designs. With several unique and beautiful patterns to choose from, you'll most certainly be looking elegant on the beach.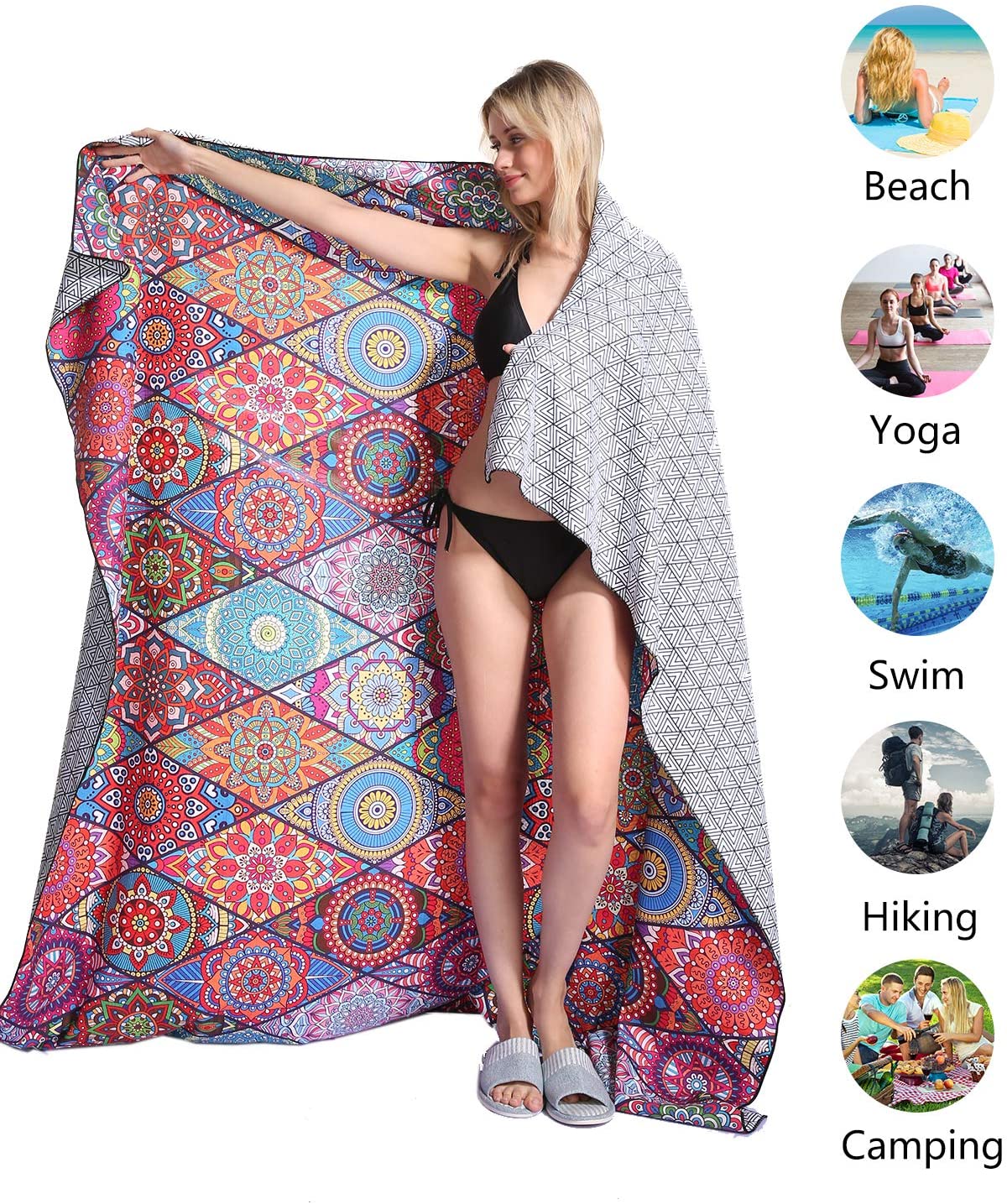 ---
Other Recommended Reading
Now that you've got your sand-free beach towel, it's time to head on out and find your perfect summer spot. Whether you're taking a family trip to your local beach or a vacation abroad, these amazing beach towels will ensure that you travel easily, comfortably, and in style.
Looking for the perfect beach holiday destination? Check out these articles and find some of the best spots for you and your family this summer.
---
Which Beach Towel Are You Picking Up This Summer?
While the beach is tons of fun, the mood can quickly be dampened when you have to leave as this often means having to carry wet, heavy towels along only to mess in your car. Luckily, this no longer has to be the case as there are plenty of wonderful sand-free and quick-drying beach towels.
https://www.jonesaroundtheworld.com/wp-content/uploads/2021/05/Oversized-Travel-Towel-Lightweight-Compact-Beach-Accessories-Large-Sand-Free-Micro-Fiber-Beach-Towel.jpg
1482
1500
TravelTractionsJATW
https://www.jonesaroundtheworld.com/wp-content/uploads/2017/03/logotry-1-1-300x106.png
TravelTractionsJATW
2021-05-12 17:16:48
2021-05-12 17:16:48
Best Sand Free Beach Towel | 8 Awesome Picks for Summer