Looking for the best black sand beaches in Iceland? You're at the right place! Iceland's black sand beaches are a wonder that leaves all visitors amazed. Additionally, they are surrounded by other amazing attractions. This includes both glaciers and volcanoes – fitting for a country known as the land of fire and ice.
Most, if not all, black sand beaches come to be because of volcanic ash finding its way to the shoreline. And given that Iceland is home to over 30 active volcanoes, their black sand beaches should come as no surprise.
And while the country's Reynisfjara beach is world-renowned, there are many others that are lesser-known but just as amazing. Seeing these beaches are some of the top reasons to visit Iceland. And you can read all about the country's black sand beaches right here.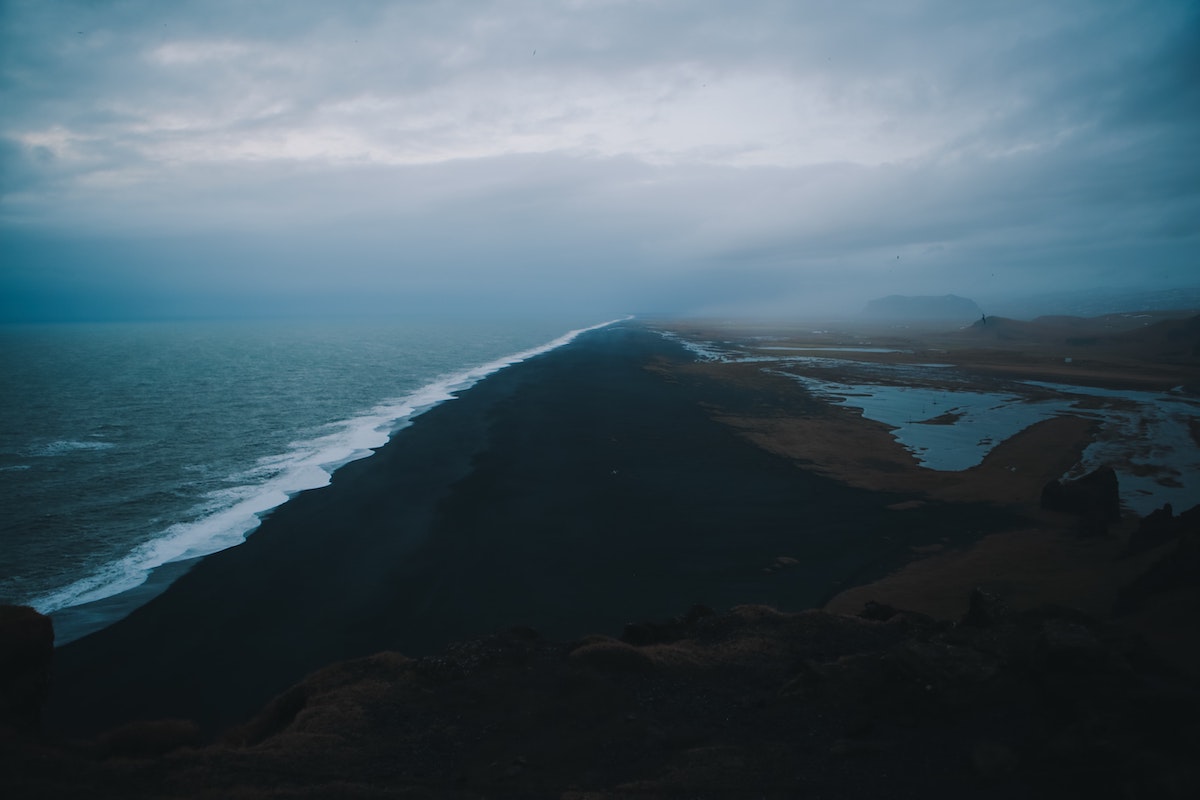 ---
The Best Black Sand Beaches of Iceland
Without wasting any more time, let's dive straight into the best black sand beaches of Iceland (no pun intended). They all have scenic natural attractions, which means you'll be left in awe at whichever beach you choose to visit.
---
1) Reynisfjara Beach
Where: Near Vík í Mýrdal
Reynisfjara beach is what comes to mind when people think of the black sands beach in Iceland. While you may not know the name (or how it's pronounced), there's a good chance you've seen it online.
That's how beautiful and popular it is, it's all over the internet because it's such a good photo op. It was also once named one of the best beaches around the world, well non-tropical beaches at least.
Its black sand may be the beach's main attraction but it isn't the only one. The beach is home to several picturesque coastal formations. This includes a towering stack of basalt columns that resemble stairs and a cave that's been carved out by large waves.
Right by the cave is a steep cliff that looks like a majestic pyramid, it's locally known as "Gardar". The beach is also a great place to see seabirds such as puffins, guillemots, and fulmars.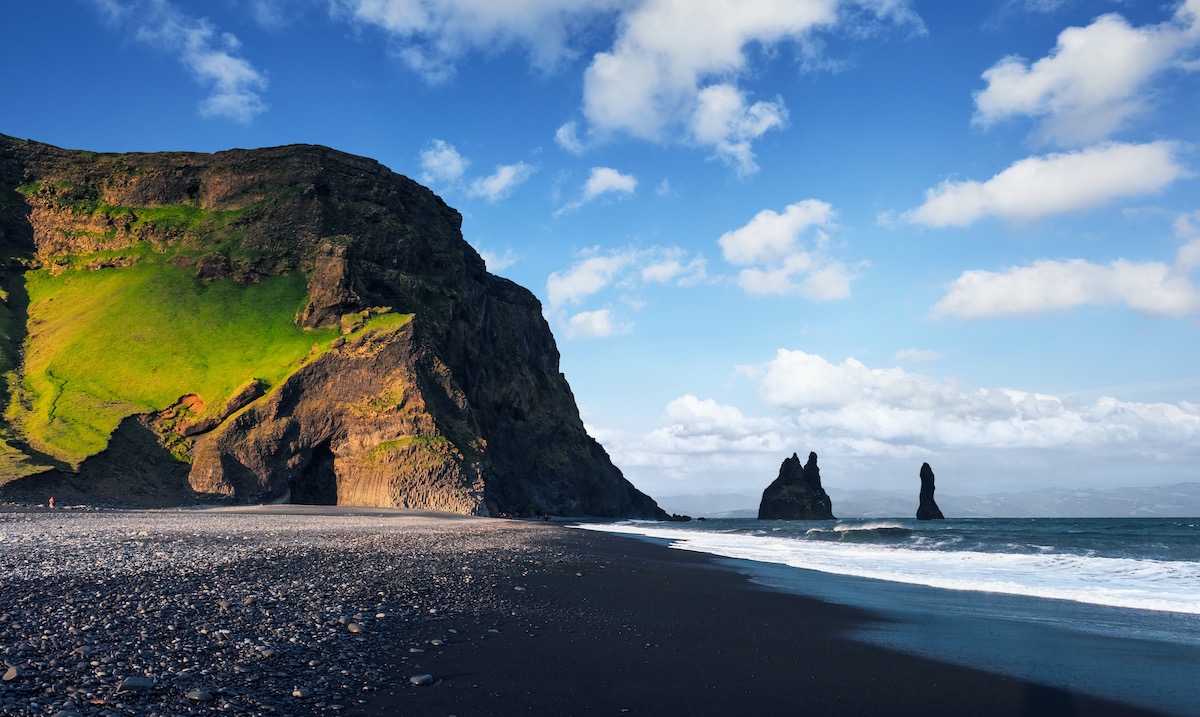 ---
Getting to Reynisfjara
Reynisfjara is located on the South Coast of Iceland near the small village of Vik. It's roughly 112 miles away from Reykjavik, Iceland's capital, and it would take a 2-hour drive to get there. And while the trip may sound uninteresting, this particular ride is awesome.
The drive goes along Ring Road, which has incredible attractions. You'll feast your eyes on two scenic waterfalls, Seljalandsfoss and Skogafoss. There are also two glaciers to be seen, Mydralsjokull and Eyjafjallajokull – which doubles as both a volcano and a glacier.
Since it's a long 4-hour drive to get there and back to Reykjavik, you can opt to rest in Vik for the night. The Puffin Hotel Vik or Hotel Kria are great pit stops and you can even get a taste of local cuisines in the village's restaurants.
---
Other tips and interesting facts
Sunbathing or swimming at Reynisfjara is not advised as it's one of the most dangerous beaches in Iceland. Its violent waves are known as "sneaker waves", they often catch unsuspecting visitors by surprise. They've led to a few fatal incidents so visitors are advised to always face the ocean to avoid being swept away.
The beach has been used as a filming location for Game of Thrones, both Star Wars and Star Trek. You can learn more about the beach and its surroundings from locals on a guided day trip.
Reynisfjara - Black Sand Beach
---
2) Dyrholaey Black Sand Beach
Where: Near Reynisfjara – an approximate 10-minute drive
Dyrholaey is a small peninsula that offers a scenic bird's eye view of the ocean and its surroundings. It's essentially a cliff that overlooks Reynisfjara beach, distant mountains, and volcanic rock. From the top, you can see the Myrdalsjokull glacier in the distance.
The cliff is another place where you can see seabirds such as eider ducks and puffins. The cliff has a massive arch that boats can pass through when the tides are calm. One daredevil pilot even did the insane and passed his small plane through the arch!
Another popular attraction on Dyrholaey is the lighthouse located there. The lighthouse may be old but it's still a very popular photo op and attraction, especially in the evening.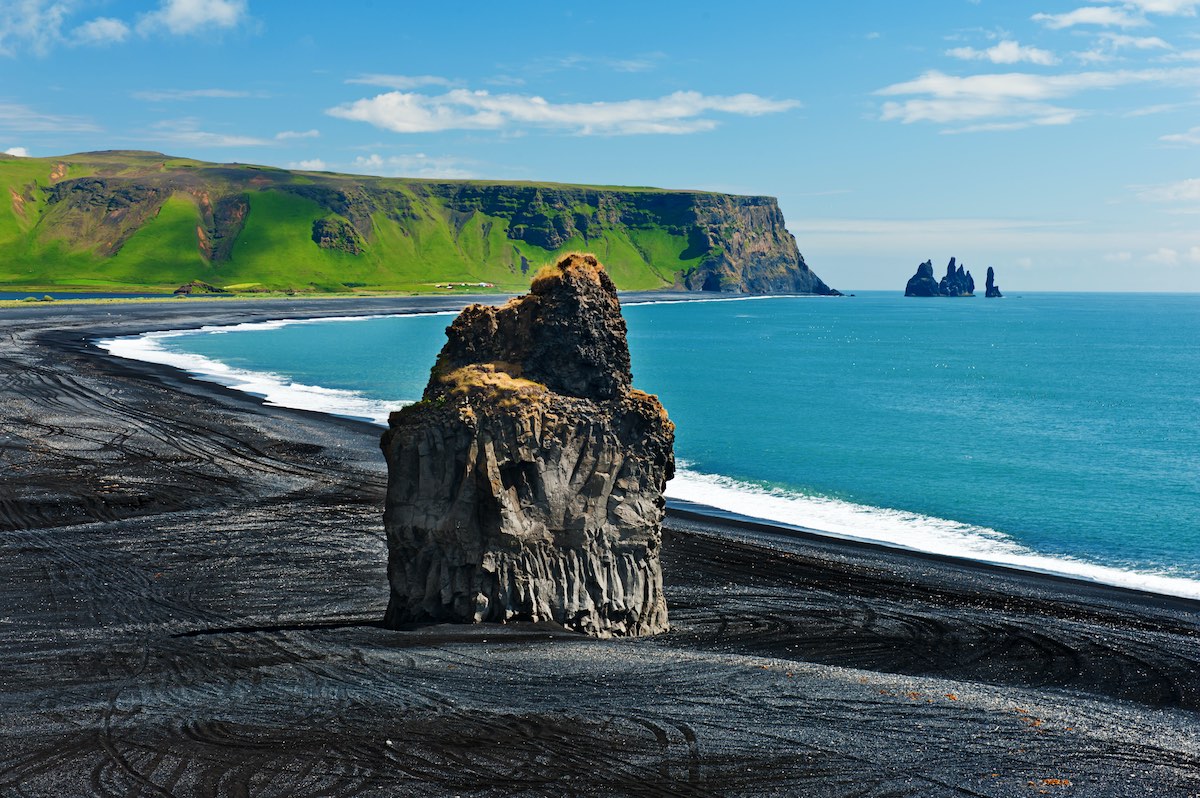 ---
Getting to Dyrholaey
Due to its proximity to Reynisfjara, you take the same scenic Ring Road route to get here. From Ring Road, you turn right onto road 218 to reach Dyrhoaley.
On road 218, you'll have two routes that will give you varying but similarly beautiful views. Choosing to go straight ahead will take you to the lower part of the cliff. There you'll be met with a great view and a beautiful beach to check out.
Turning right will take you to the top of the cliff which is the most popular spot among visitors. At the apex, you'll enjoy an incredible view of Reynisfjara beach, lava formations, and distant mountains.
---
Other tips and interesting facts
Visitors must be aware that they may find Dyrhoaley closed for public access during bird nesting season. This typically happens between May and July. However, it's best to ask a local information center before starting your adventure.
Dyrholaey Iceland: the home of black sand beach | The amazing Planet Earth
---
3) Solheimasandur
Where: Near Reynisfjara – 20 minutes from Vik
This unique Iceland black sand beach isn't particularly famous for its black sand. It's more globally renowned for a 1970s plane wreck that still stands today as a popular exhibition on the beach. The plane in question reportedly ran out of fuel mid-flight and crashed on the beach, although no one was seriously injured.
The lack of fatal injuries means it's not tasteless at all to capture a picture at this great photo op spot. Visitors experience this eerie landmark with the sound of the ocean in the background. Another interesting thing about the beach is that it's situated on top of a glacier next to Katla, an active volcano.
Visitors are also spoiled to great views, with the Myrdalsjokull and Vatnajokull glaciers and other mountainscapes seen in the distance. The Skogafoss waterfall is also nearby, making it another attraction that's a must-see when visiting Solheimasandur.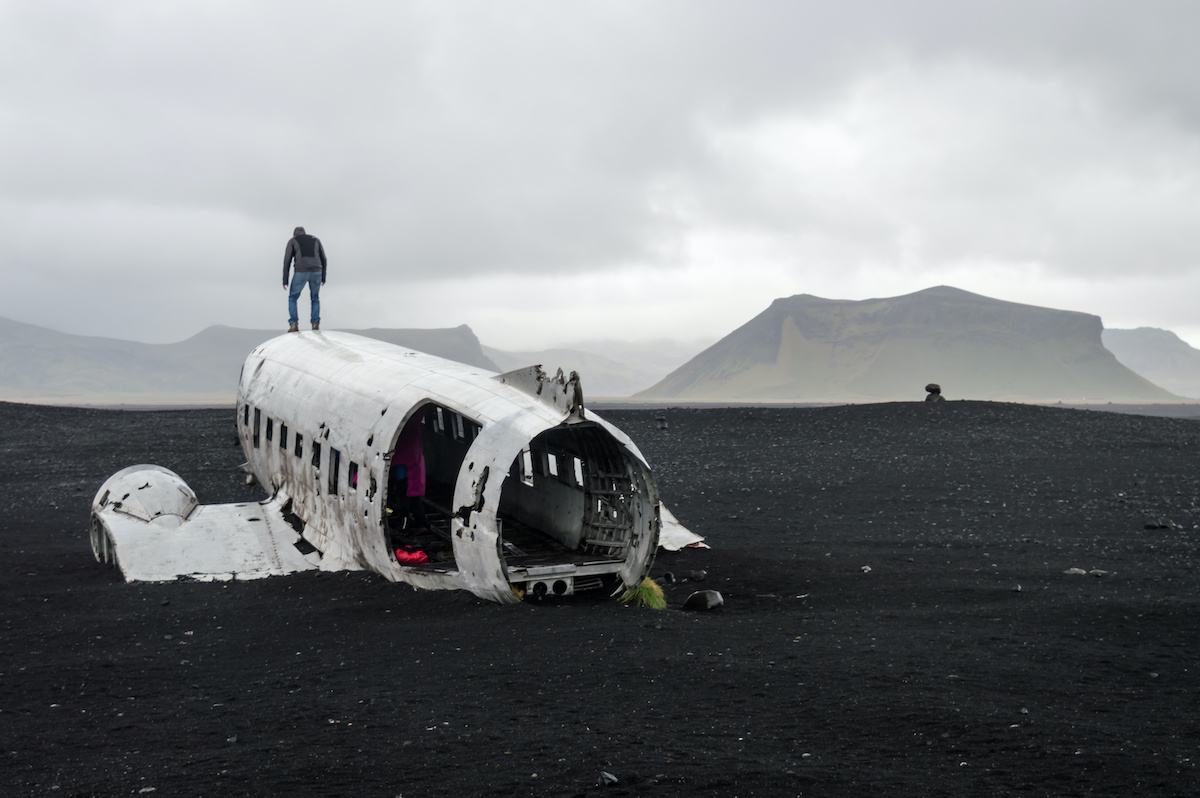 ---
How to get to Solheimasandur
The drive to Solheimasandur also goes along Ring Road. It's around 20 minutes away from Vik and Reynisfjara and you can use your GPS to safely guide you there. Driving on the beach is no longer allowed.
This means the only way to access the beach and the wreck is via a 4-mile hike. The hike is flat therefore making it easy, although it'll still take an hour or so to get there. Yellow sticks are all over the trail, guiding you safely to the holy grail that's the plane wreck.
---
Other tips and interesting facts
The beach is gloomy and gets dark really quickly during the winter or in cold weather. Therefore, make your way there early in the day or when there's sunshine so you don't risk getting lost.
Plane Wreck on an Iceland Beach
---
4) Diamond Beach
Where: Jokulsarlon
Diamond beach, or Fjellsfjara in Icelandic, is one of Iceland's beaches that are completely marvelous. The beach gets its name from the small ice glaciers that wash up on shore and look like diamonds.
And while a visit here won't make visitors rich, it's still got a wealth of beauty that everyone will appreciate. The chunks of ice contrast magnificently with the black sand. The ice chunks look like a spectacle from a movie when they glisten with impressive hues when struck by sunlight.
Nearby the beach is another attraction, the Jokulsarlon Glacier Lagoon, where the smaller chunks of ice come from. Incredibly, you'll find the "diamonds" scattered about even in the hot months of the summer.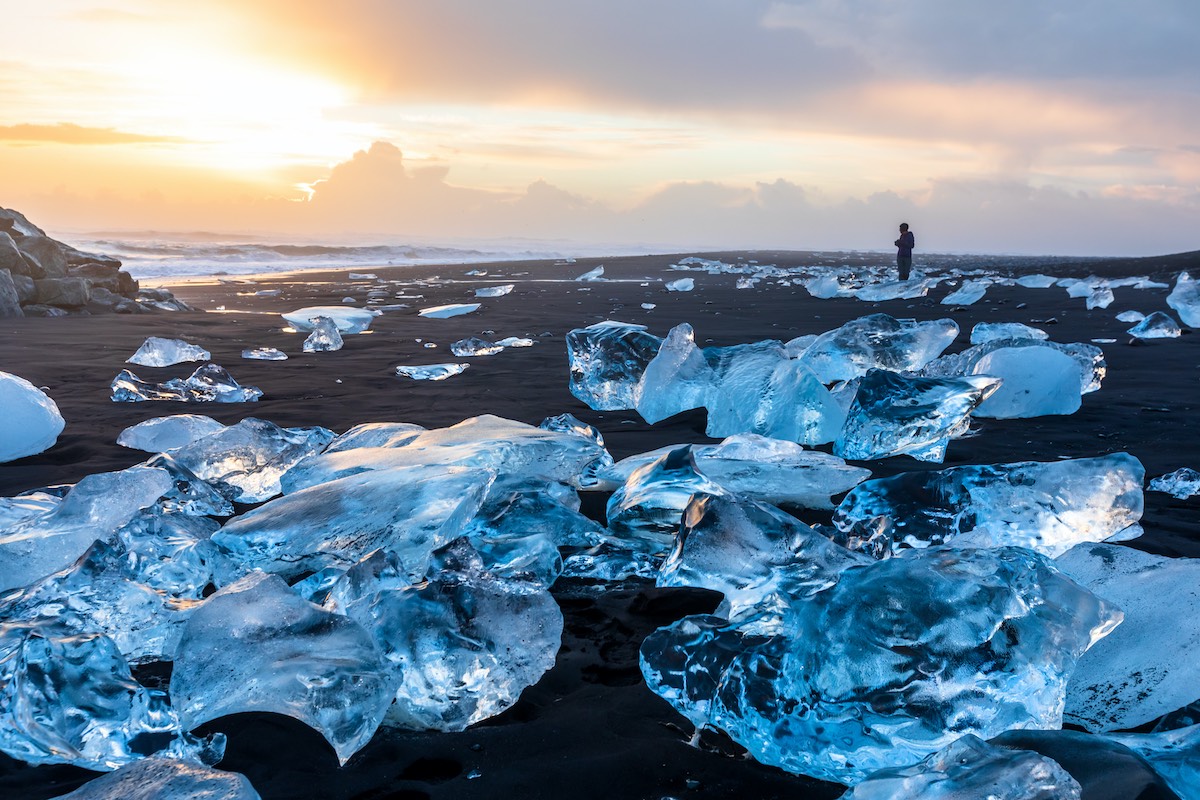 ---
How to get to Diamond beach
The beach is about 234 miles from Reykjavik, a 4 to 5-hour drive. The beach is also accessed via Ring Road. A GPS is as reliable as any guide for getting there.
There are two parking lots there, one on the side of the beach and the other on the lagoon's side. Alternatively, you can join a full day tour from Reykjavik that visits both the lagoon and Diamond beach.
---
Other tips and interesting facts
For safety reasons, visitors are advised not to touch or get on top of the ice chunks found on the shore. They have sharp edges and are slippery and have led to injuries in the past. And it goes without saying, swimming at the beach is not good for anyone.
The beach is actually a part of the Vatnajokull National Park where you can visit ice caves. Given that it's very far from the capital, it's advised to plan this as a two-to-three-day trip. And if you do so, it's important to find a place to stay in Iceland.
The Reynivellir II and the Hali Country Hotel are great nearby options.
---
5) Stokksnes Beach
Where: Southeast Iceland, near Hofn
Stokksnes is a beach with black sand in Iceland that is a hidden gem. Its landscapes are so magnificent you may actually think you're on another planet. The black sand beach has snow-peaked Vestrahorn mountains acting as a backdrop, making for a great view and photo op.
Being so far from the capital, the beach is almost never crowded and will make it feel like your own little island. Apart from the mountains or the black sand, the area is a prime spot to see the elusive Northern Lights during winter.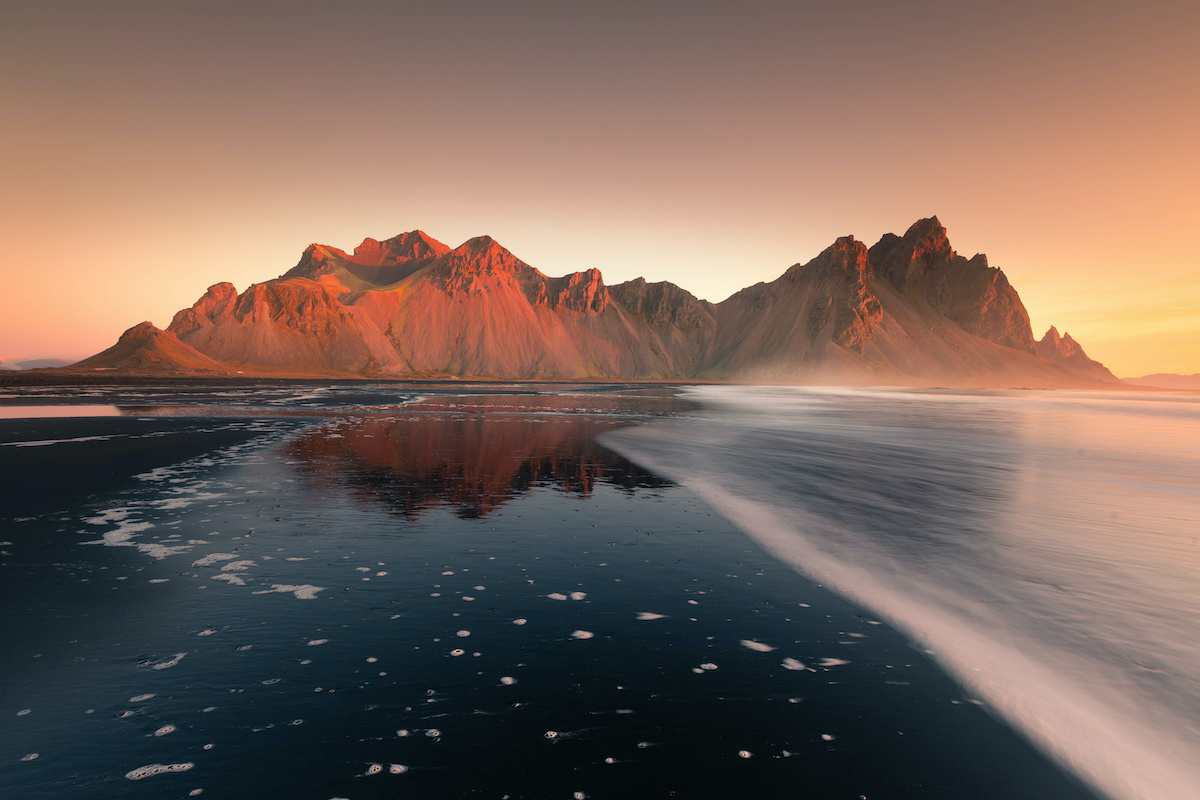 ---
How to get to Stokksnes Beach
Stokksnes beach is located 6 hours away from Iceland's capital. This makes it an ideal visit if you plan to spend several days in the country. Much like the other destinations above, the journey goes via Ring Road and a GPS will be your best friend.
The ideal pitstop is Hofn town where you can rest, the Milk Factory and Hotel Edda Hofn are great choices.
---
Other tips and interesting facts
Unlike the other beaches, access here actually requires an entrance fee. The fee is 800 ISK (approximately $7) per person, the trip and fee are totally worth it though.
Vestrahorn | Stokksnes Peninsula | Iceland | DJI Spark
---
6) Djupalonssandur
Where: Near Snaefellsbaer
Djupalonssandur, or "Black Lava Pearl Beach" in English, is a beach on Iceland's west coast. The beach's black sand also consists of pebbles and stones that are small lava formations. They have formed as a result of the beach's proximity to the Snaefellsjokull volcano.
Djupalonssandur has several beautiful cliffs that you can stand atop and watch the waves go from ocean to shore. There are also some ancient relics from many years ago. This includes the remains of a British trawler and four ancient stones ranging from 50lbs to 339lbs in weight.
The stones were used to test how fit men were to be fishermen. They couldn't be fishermen if they failed to lift the 50lbs stone hilariously named the "weakling". You can test your own strength using these stones today.
The beach is situated near the Snaefellsjokull National Park and the magnificent Snaefellsjokull icecap can be seen in the distance.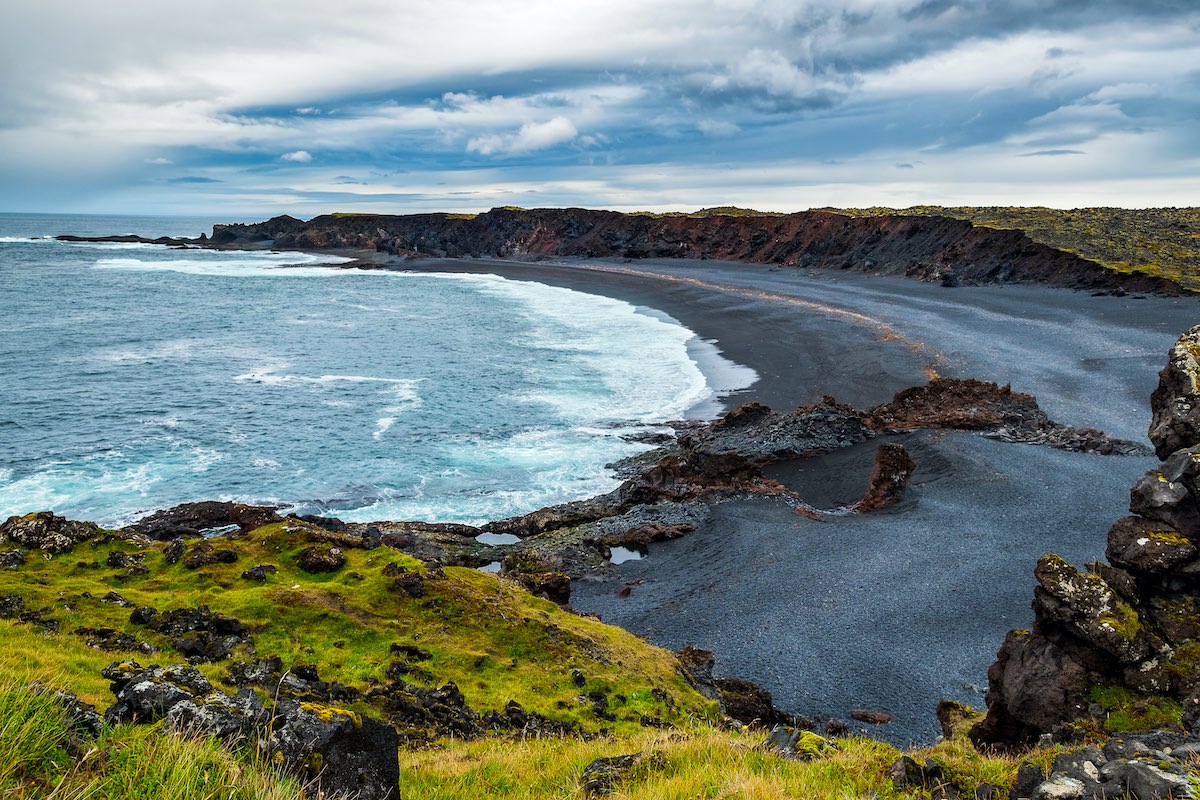 ---
How to get to Djupalonssandur
The beach is located 128 miles from Reykjavik, about a 2 to 3-hour drive. When you arrive at the beach's nearby parking lot, you'll walk down the Nautastigur path. This takes you through lava formations and two small freshwater lagoons found behind the path.
---
Other tips and interesting facts
The beach has an expanse of pebbles and stones on the ground so ensure you wear appropriate shoes. Sunbathing or swimming is not advised, so stick to taking pictures. If you prefer exploring the area with locals, there's a day trip from Reykjavik available for you.
The Dritvík Stones at Djupalonssandur - FULLSTERKUR
---
Black Sand Beach Iceland: Safety tips
Iceland's a cold place that's often windy. This is especially bad on black sand beaches as the wind pelts and stings people. Waves also become a little more violent than usual. Therefore one must wear appropriate clothing during their trips; warm clothes on cold days and a windbreaker on windy days.
---
Further reading on Iceland and Europe
Planning a trip to Iceland or surrounding European countries? Read some of the articles below to help you get the most out of your trip.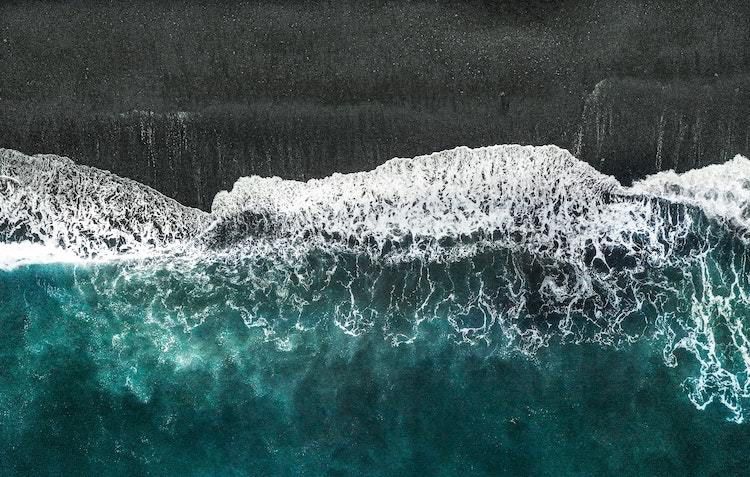 ---
Ready To Explore Black Sand Beaches In Iceland?
The land of fire and ice has black sand beaches aplenty in addition to the renowned Reynisfjara beach in Iceland. This includes Diamond beach, Djupalonssandur, and Stokksnes beach. Each beach has a unique draw that attracts visitors every year.
In addition to the beaches, enjoy scenic waterfalls, magnificent glaciers, glorious views, and the chance of seeing the Northern Lights. That sounds really interesting, right? Read some more interesting facts about Iceland that will blow your mind.
---
SHARE THESE ICELAND BLACK SAND BEACHES!!
https://www.jonesaroundtheworld.com/wp-content/uploads/2021/04/Stokksnes-Black-Sand-Beach-.jpg
800
1200
TravelTractionsJATW
https://www.jonesaroundtheworld.com/wp-content/uploads/2017/03/logotry-1-1-300x106.png
TravelTractionsJATW
2021-04-28 23:21:02
2021-04-28 23:21:02
Black Sand Beaches in Iceland | 6 Stunning, Epic, & Must-See Beaches