Looking for the best travel towels? Then sit back and relax because you've come to the right place. Adventurous trips like hiking, sailing, diving and exploring jungles sound uber fun. The sweat trickling down the side of your forehead and beach sand on your body and clothes are proof of your hard work and victory. But unless you have the right gear, washing off that gunk and muck can be quite a pain.
Whether you're camping at some of the best music festivals in Europe or beach-hopping different islands in South-East Asia, a good quality travel towel should be one of the top items on your packing list.
But why not just carry a regular towel? That's because travel towels are so much better than normal ones. With your own towel, you also don't have to worry about using hotel towels which may not always be clean and sanitized.
Travel towels are lightweight, quick-drying, simple to pack, and can be used for various different purposes. They also come in different shapes and sizes to suit your traveling needs. Most of them are made of microfiber material which allows them to absorb more moisture and air dry faster. The versatility of this product, now a need in the market instead of a luxury, is impressively endless.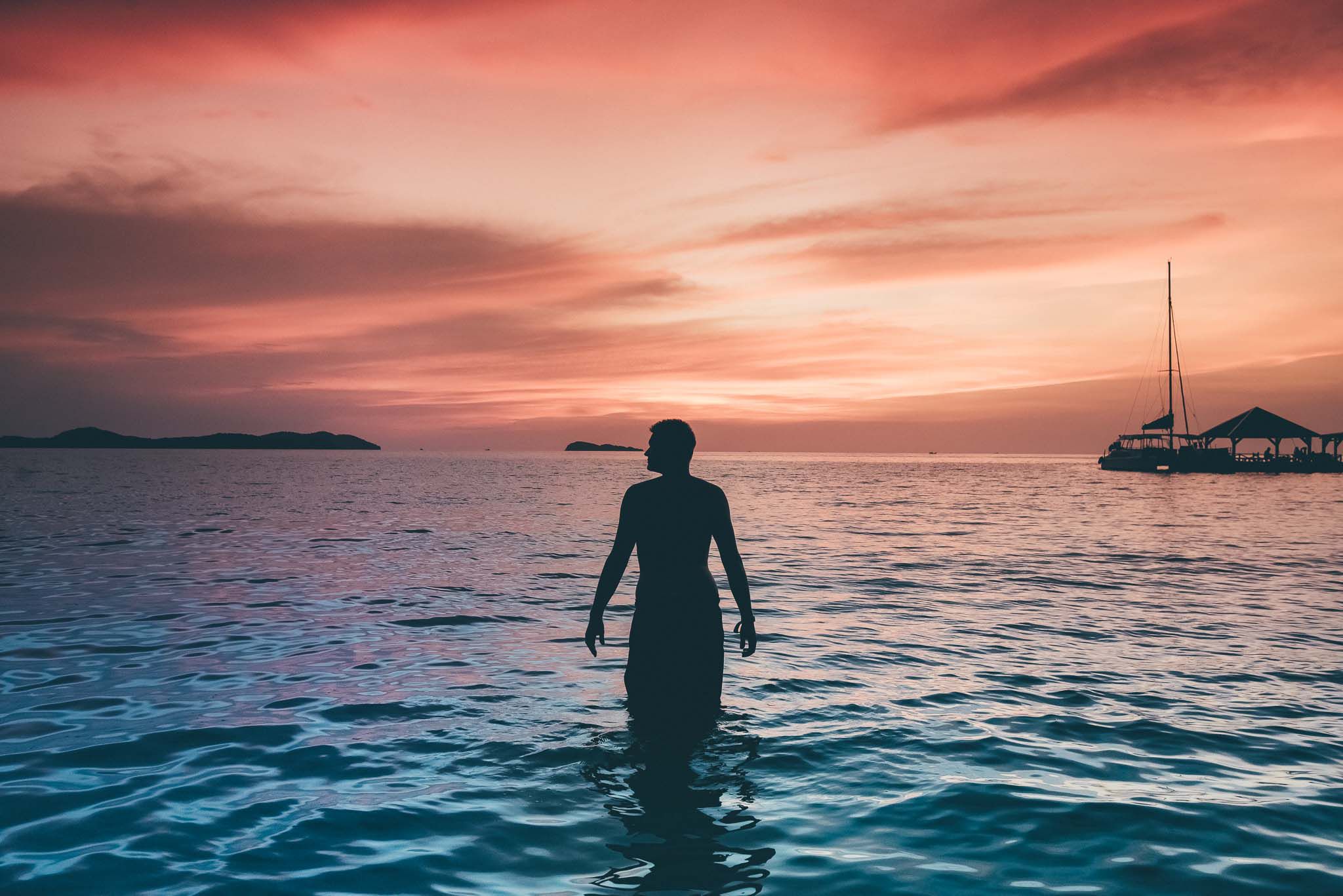 ---
Quick Top 5 Travel Towels
Packing in a rush? Here's a list of some of the best travel towels that cater to different purposes. These towels are my favorite for their premium quality and different functions. Choose the appropriate one based on your traveling style and needs.
Also, be sure to read my guides on the Best Beach Hats and Best Beach Bags for your beach focused travel trips!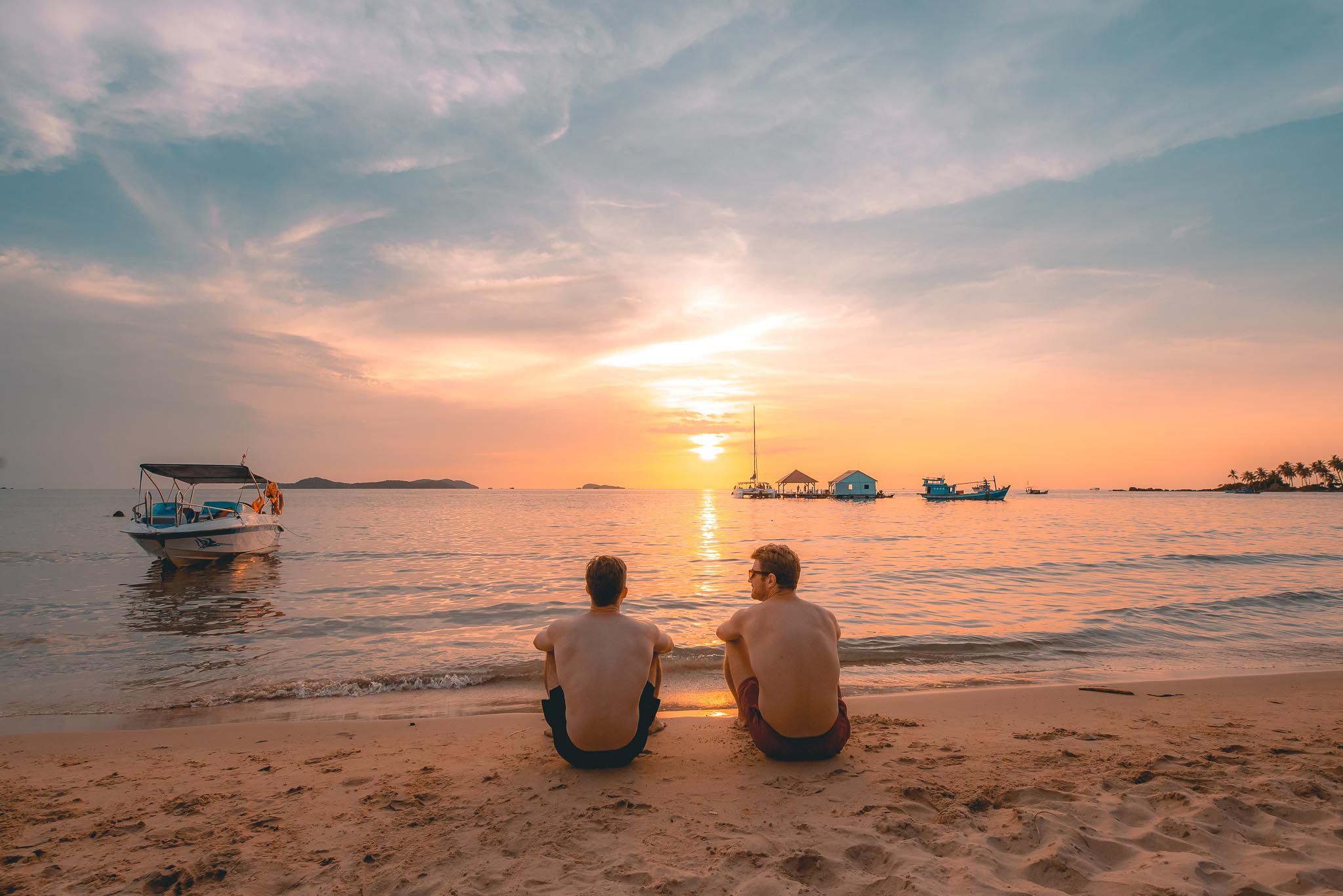 ---
The 10 Best Towels For Travel, Hiking & Adventures
Picking the right towel is important so you don't waste your money. In this post, you'll find the top ten travel towels with superhero-like qualities that will save you when you're sweating or need cleaning up. Even if you're not headed on an adventure-filled outdoorsy trip, these travel towels will come in hand at beaches, in cities and on the road.
Most of these towels have high absorbency, are antimicrobial, and made of gentle fabrics that are skin-friendly. They're also fit for compact spaces and dry a lot faster than normal towels.
---
THE BEST MICROFIBER TRAVEL TOWEL
Youphoria's microfiber camp towel checks all the boxes when it comes to choosing the most perfect traveling towel. This multipurpose towel has you covered – literally and figuratively!
The travel towel is fast-drying, lightweight, and can be used for backpacking, camping, gymming, swimming and even hot yoga. This magical item can wick sweat and even sand. It can hold up to five times its weight in water and dries up to ten times faster than normal towels. And here's the best part, the towel is made of the finest blend of microfiber that is thin, soft and compact, giving the towel an extra-soft feel.
This all-in-one travel towel by Youphoria comes with a carry bag and a quick-snap easy hang loop so you can hang it on a towel rack, tree branch at a camping site, or your umbrella at the beach. Choose from three convenient sizes (small, medium, or large).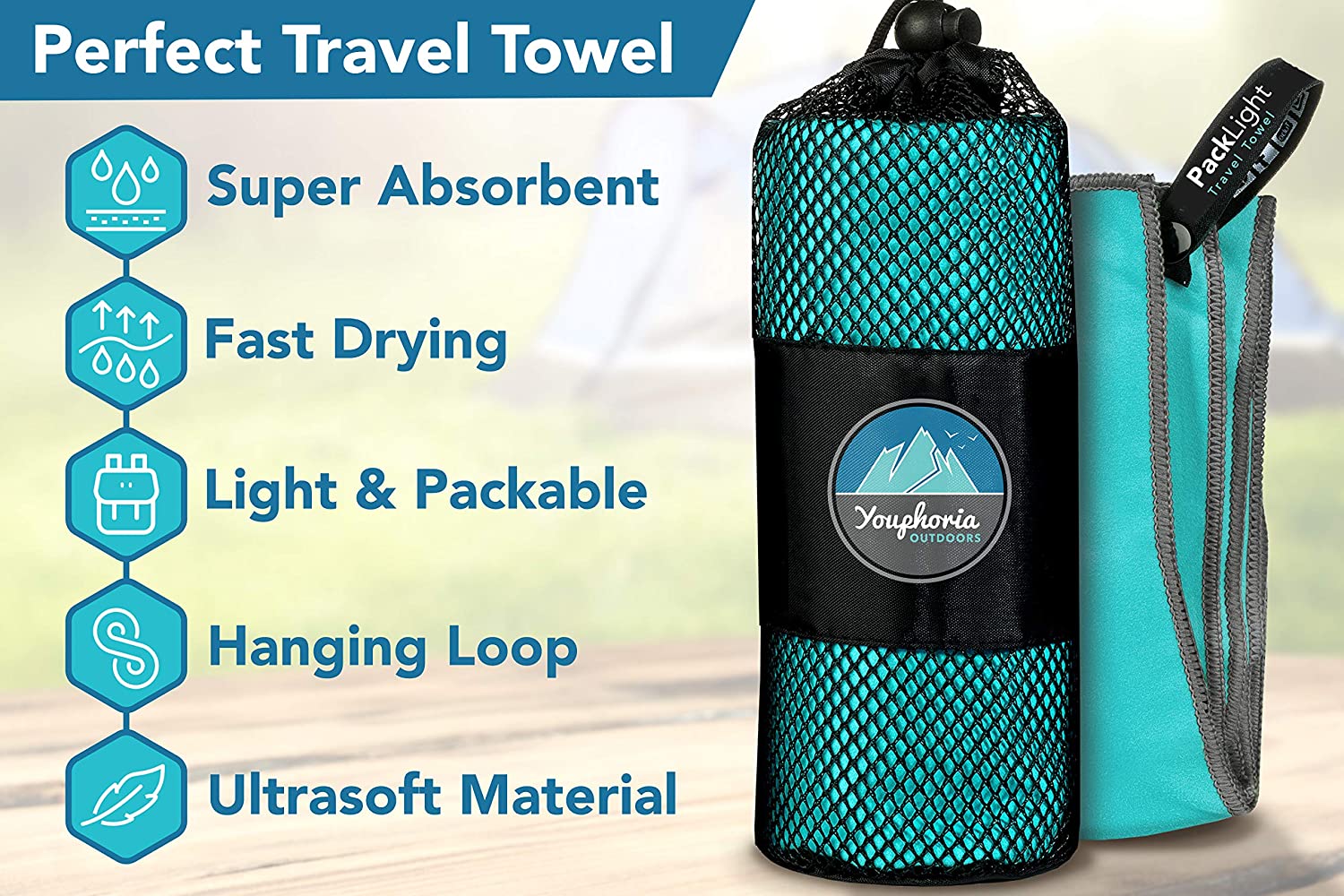 ---
THE BEST CAMPING TOWEL
4Monster's camping travel towel is really the ultimate monster because it fights the real baddies – germs and odor. This microfiber travel towel is made with special anti-germ technology, making it 100% safe and ideal for outdoor activities like hiking and camping.
It's also more absorbent than normal towels, can be air-dried and reused multiple times in a day, and lightweight to pack in your backpack or wrap around your neck. The professional makers used 100% sterilized fabric and natural plant dyes, so the towel is gentle and friendly for normal to sensitive skin types.
Pretty for a gift too, 4Monster's camping travel towel comes in a unique carrying case (the EVA box) which protects the towel, saves space in your backpack, and is easy to carry around. Choose from a wide variety of six different sizes (extra small, small, medium, large, extra-large, and extra-extra-large).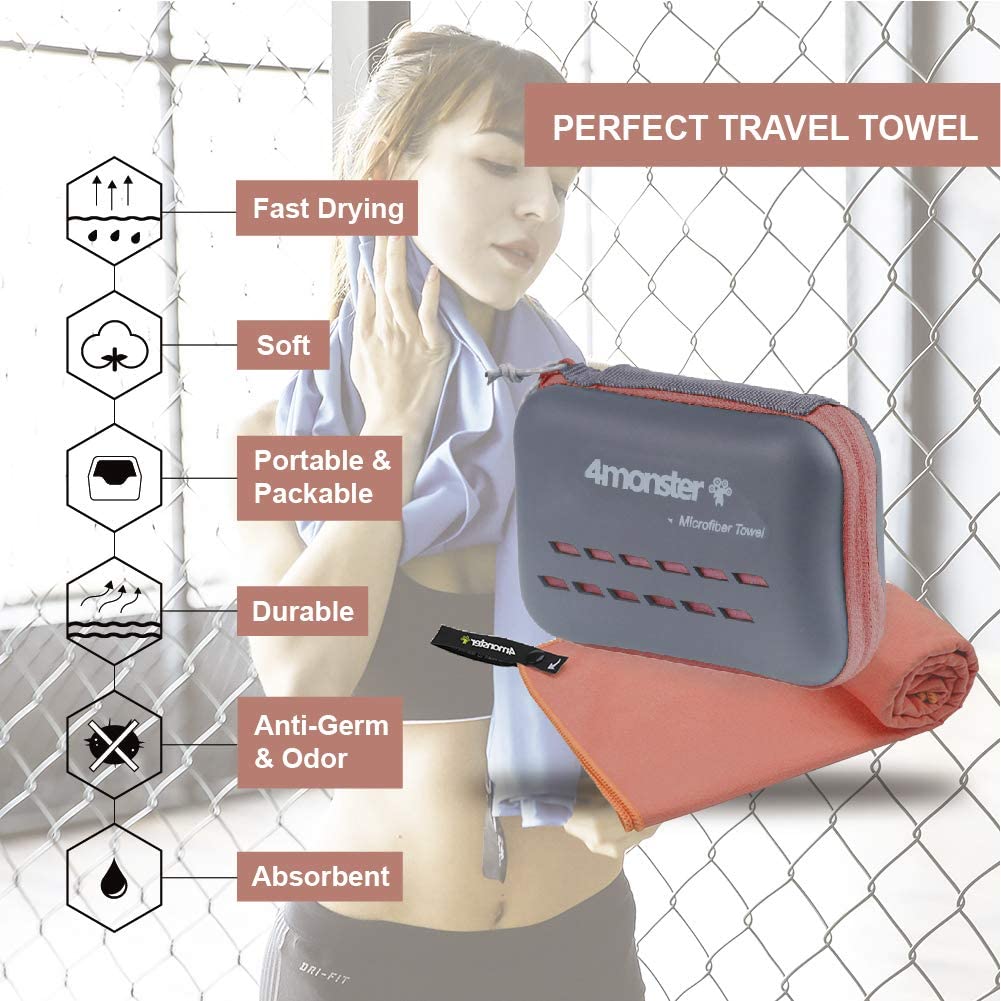 ---
THE BEST QUICK DRY TOWEL FOR TRAVEL
Micro Miracle's 2-in-1 is hands down the best quick drying towel for travel. Hold your breath folks, this towel dries 300% faster than normal cotton towels AND it can dry while it's folded or sitting in your bag.
Bye-bye, stinky wet towel smell in the car. You'll never have to worry about waiting for this towel to dry. It's anti-bacterial, luxuriously soft, and you can choose from a versatile palette of 13 different colors.
The towel is a 2-in-1 combo with an extra-large towel (60×30 inches) and a bonus small one (14×22 inches). Both the towels can fit in compact spaces and come in a carry bag (8×8 inches) weighing less than 11 ounces. The towel is also multipurpose and easy to clean – hand wash it or put it in boiling water.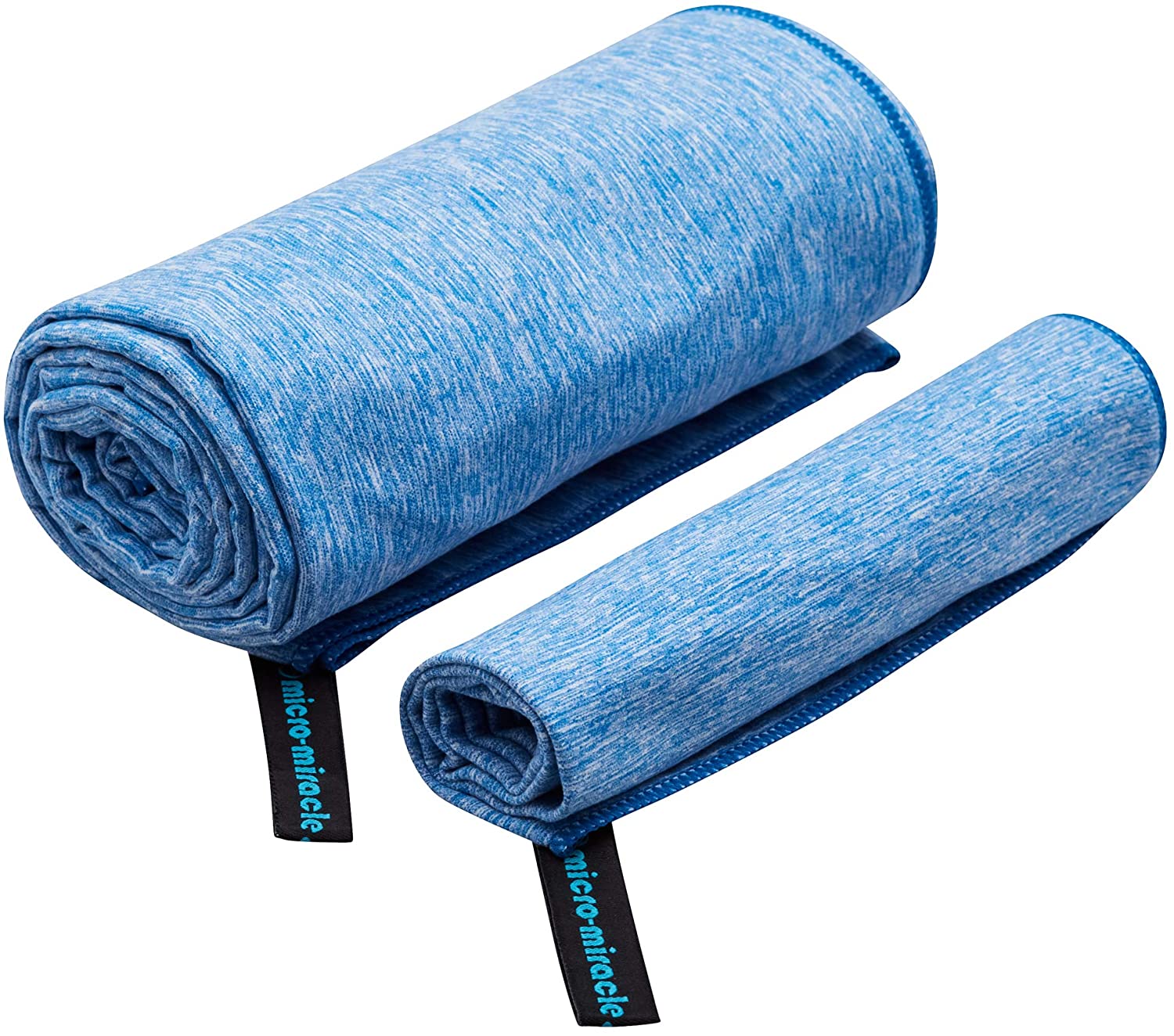 ---
THE BEST COMPACT TRAVEL TOWELS
OlimipiaFit's travel towel pack includes three multipurpose towels in different sizes for the body (51×31 inches), head (30×15 inches), and face (15×15 inches). These towels can be used for backpacking, camping, gymming, sports and at the beach and are super soft and lightweight.
The best part about OlimpiaFit's towels is that they fold down to almost nothing in the mesh bag that comes with your purchase. These towels can condense in size four times smaller than a towel of the same size.
The fibers are much thinner than a standard towel, making them absorb more water and dry three times faster than other towels. These microfiber towels have the smooth quality of satin, are odor-resistant, skin-friendly, and slip-resistant. We rate these travel towels as an ultimate option for someone looking for an all-in-one pack of towels.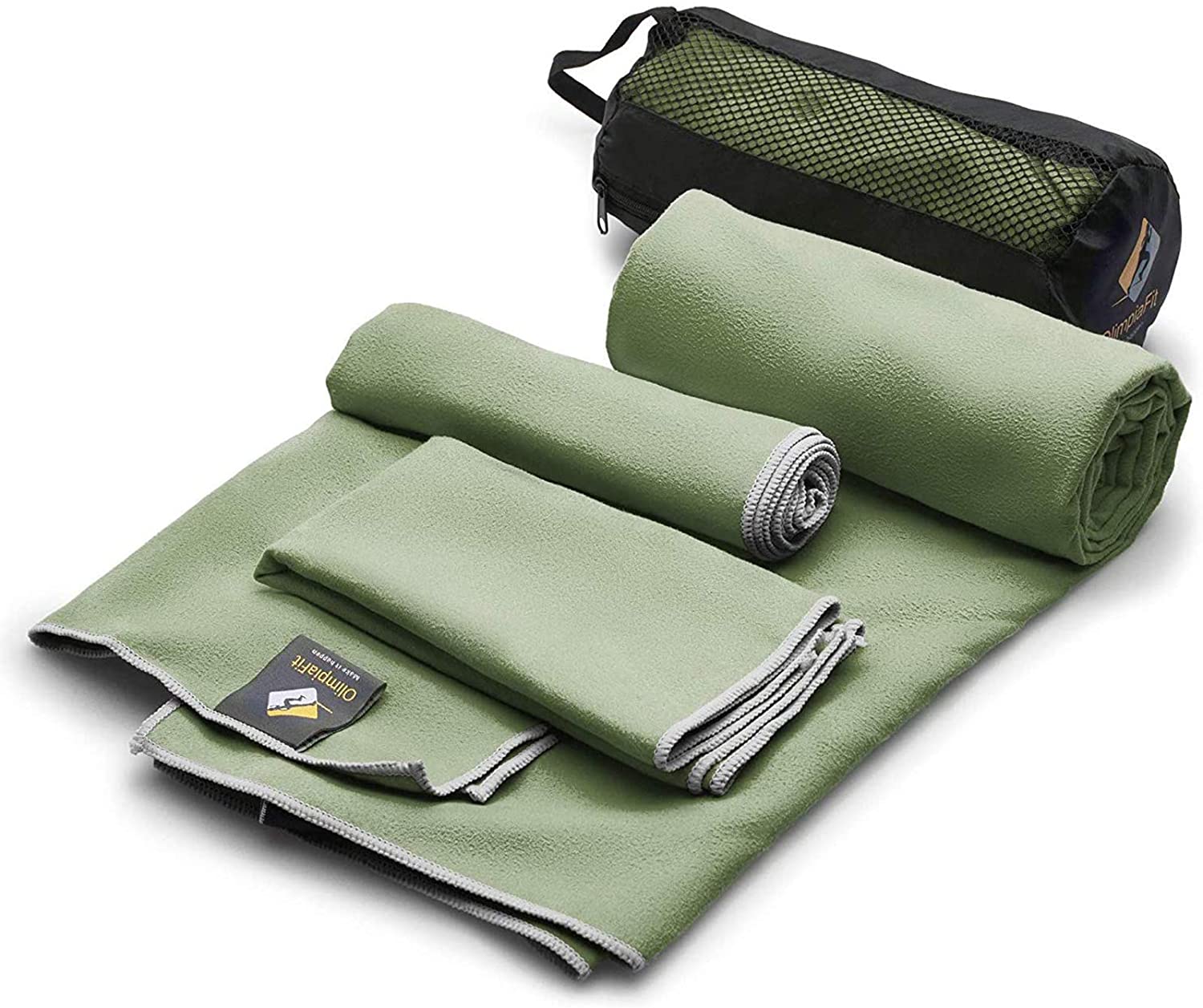 ---
THE OVERALL BEST TRAVEL TOWEL
Like most travel towels, Rainleaf's Microfiber towel is compact, lightweight, fast-drying, skin-friendly, and has high absorbency. It can be used as a travel towel, a sports towel and a beach towel so it serves multiple purposes too. It's also ideal for outdoor activities like backpacking, camping and swimming.
The towel's high absorbency rate means it can absorb five times more than its weight. It can be repeatedly used in a short time, making it a good option for multiple uses in one day. It also uses natural plant dyes and has a soft-suede-like feel on the skin and face.
For convenience, while traveling, the towel has a hanging snap loop and comes in a reusable carry bag. Choose from six different sizes and ten beautiful colors, also making for a great gift.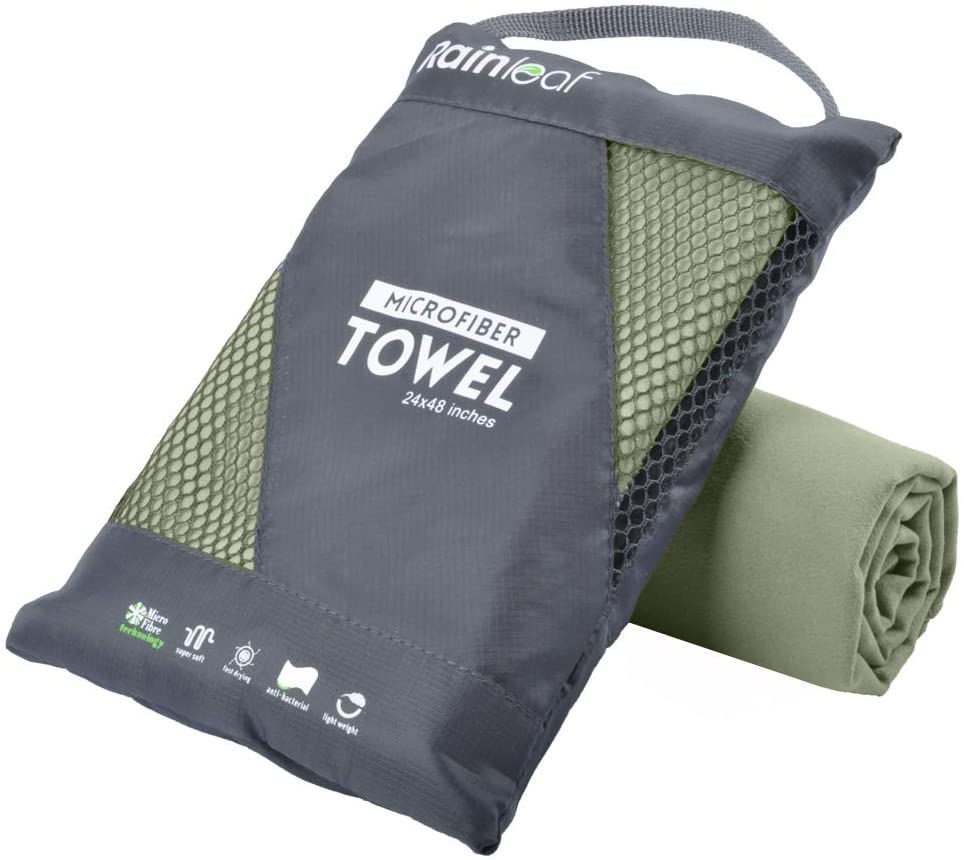 ---
Available in three colors, the Matador NanoDry Towel is an interesting concept that looks at travel towels made of fabric other than microfiber.
This towel is made of nanofiber material which is a lighter material than microfiber. It also absorbs 2.3 times its own weight in water, dries faster, and is machine washable.
For convenience, the towel comes in a silicone travel case with a carabiner to clip onto bags when traveling. The towel also has a snap loop for hanging.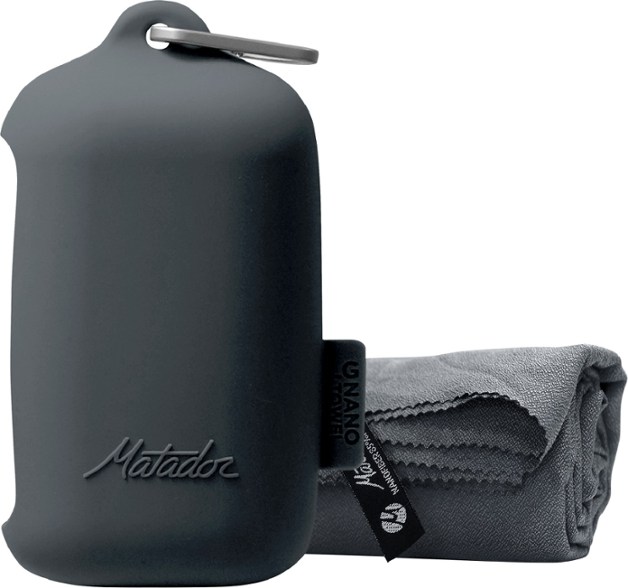 ---
If you're tired of the boring plain solid colors when it comes to travel towels, Nomadix's Natural Park Map Towel is the one for you. This single-sided towel has a really smart and cool design of the National Parks of the United States on one side and solid charcoal on the other, also making it one of the best travel towels for gifts or holiday souvenirs.
It's not just pretty on the eyes, the towel also serves multiple purposes. It's fit for yoga or relaxing at the beach and is made with GRS-certified post-consumer recycled plastic. The recycled polyester and nylon material is not only environmentally friendly but also quick-drying, slip-resistant and super absorbent. The towel is premium quality and won't stretch out over time either.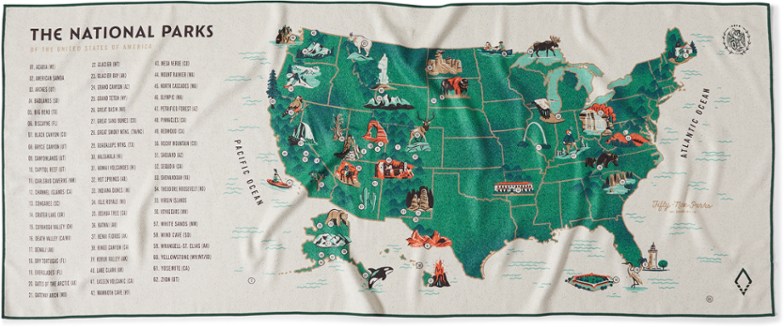 ---
One more travel towel that's not a boring solid color, the PackTowl's Personal Towel comes in eight stunning colors and interesting designs. This towel can be used for multiple different sports and is most perfect for the beach.
Made with a blend of polyester and nylon microfibers, the PackTowl is super soft on your skin. The fabric can absorb four times its weight in water and continues to absorb water even when wet. The towel also dries quickly, has special antimicrobial treatment, and has a snap loop so you can hang it to dry while out.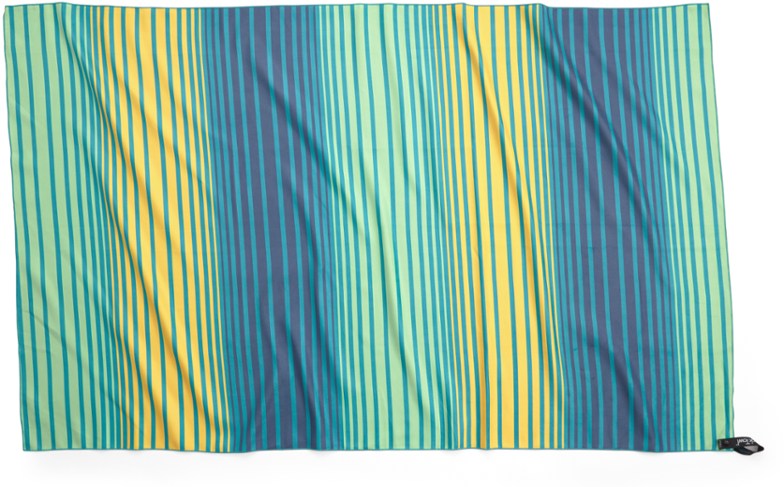 ---
Soft, lightweight and quick to dry, the PackTowl UltraLite Towel is another good choice for a traveling towel.
Every ounce counts when it comes to wet towels and even in the largest size, PackTowl's UltraLite towel is less likely to weigh more than 5.1 oz. This impressive feature is due to the towel's super absorbent microfiber fabric which soaks up to four times its weight in water and is quick to dry. In fact, it dries 80% faster than most same-sized cotton towels.
The towel has a hanging loop and is machine washable. It also comes in a zipped storage pouch for easy packing.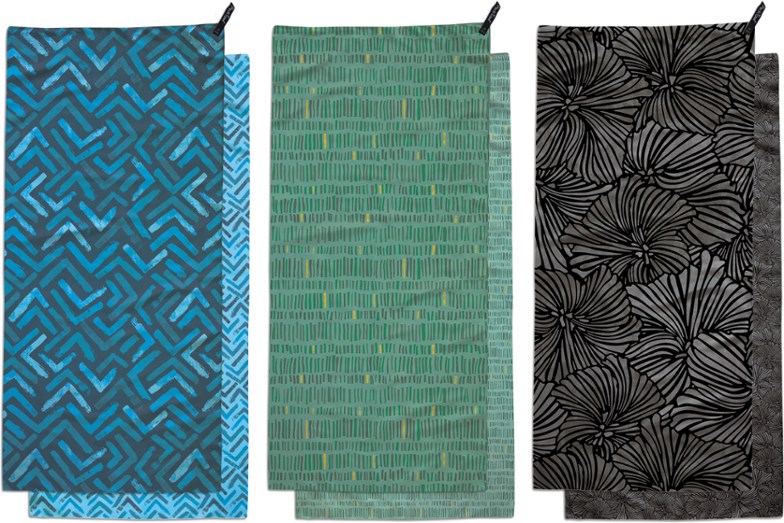 ---
On the hunt for an extra-large towel that is still lightweight when packing? The REI Co-Op Multi Towel is designed to pack small and next to nothing.
Measuring 25×54 inches, it's large enough to wrap your body after a swim and weighs only 6.4 ounces. The towel is suitable for camping and the beach. It easily wrings out almost completely, allowing it to also dry faster. The towel comes in a small carry pouch and has a quick-attach loop so you can hang it wherever you need to for it to dry.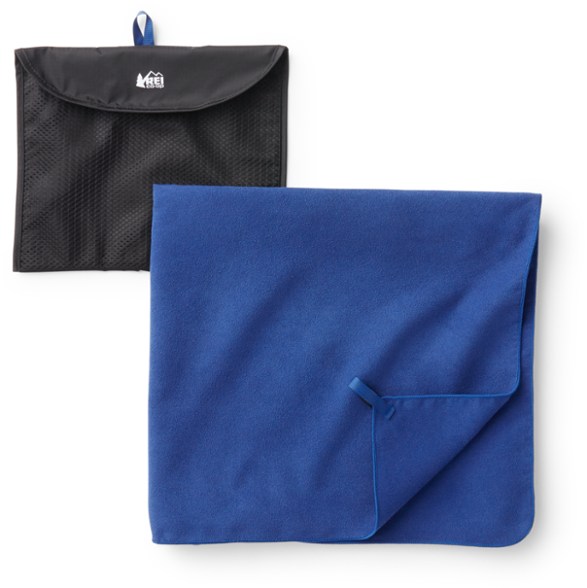 ---
Other Recommended Reading
If you're headed for a trip some time soon to attend a music festival, or just anywhere in America, check out my list of festival essentials, the best music festivals to visit before you die, and the most incredible Airbnbs to stay at. I promise you won't be disappointed.
---
So Which Travel Towel Are You Investing In?
So there you go folks, a comprehensive list of some of the best travel towels to invest in. Now it's your turn to pick the most suitable one for you! Consider your travel style, needs and budget before picking the most suitable one for you.
Travel towels are an important traveling essential and you want to ensure you have a good-quality one to stay clear and refreshed. A pair of facial and bath towels together will make all the difference in your traveling experience. And once you start using them, you'll never catch yourself traveling without one.
Planning a camping trip? Check out my list of some of the best camping canopies.
---
THANKS FOR READING MY TOP PICKS FOR THE BEST TRAVEL TOWELS!
SHARE THESE TOWELS WITH YOUR TRAVEL BUDDIES SO THEY CAN ALSO INVEST IN GOOD QUALITY!
https://www.jonesaroundtheworld.com/wp-content/uploads/2021/05/PackTowl-UltraLite-Towel.jpg
523
784
TravelTractionsJATW
https://www.jonesaroundtheworld.com/wp-content/uploads/2017/03/logotry-1-1-300x106.png
TravelTractionsJATW
2021-05-12 16:41:32
2021-05-12 16:45:46
Best Travel Towels – Quick Dry, Microfiber, Camping & Adventures