Arugam Bay is hands down my favorite place in all of Sri Lanka!
So it's good your'e reading this because I'm about to tell you all about the best things to do in Arugam Bay!! During my first visit to the country, I ended up staying here for 10 days, and fell in love with the laid-back atmosphere. It's a small town with just one main street of shops, restaurants, and surfboard rentals, but that is what makes it so charming. People come for the surfing and the legendary beach parties, but they stay for the amazing A-Bay vibe.
I'll go over some of my favorite Arugam Bay hotels & accommodation options (like the legendary Beach Hut), the Sri Lanka Surf places nearby, and the Arugam Bay Beach parties!
I just recently finished my second visit there, and really had such an amazing time!
So without further ado…these are my Top 10 Amazing Things To Do in Arugam Bay.
Just be careful, if you're heading that way, you might find yourself staying there much longer than expected.
---
First trip to Sri Lanka…? I'd recommend checking out the Sri Lanka Lonely Planet (Travel Guide). It was recently released in January 2018, and will be super helpful while you're exploring this beautiful country!
---
---
1 ) Arugam Bay Surfing
Alright, let's start with the really obvious one.
Arugam Bay is one of the world's top surfing destinations, so if you go all the way out there and don't at least try to go surfing — then you've made a huge mistake.
There are three main surfing spots to choose from:
Main Point: this is the surf spot actually located in Arugam Bay. Every morning you'll see dozens of surfers out there catching some quality waves. This is recommended more for intermediate to advanced surfers.
Whiskey Point: About a 15 minute drive from Arugam Bay is this famous surf spot. It's a really beautiful beach as well, and can provide some excellent waves for beginner surfers. You'll also notice heaps of people on surfing lessons.
Peanut Farm: About 25 minutes from Arugam Bay is this awesome tucked away beach / surf spot. Very popular, and highly recommend.
Tuk-Tuk rides are around 500 rupees one-way to Whiskey Point & Peanut Farm. I'd look into renting your own tuk-tuk, and splittng the cost with people. It'll be cheaper and more fun.
---
2 ) Yoga
I feel like surfing destinations always seem to be yoga destinations as well, and Arugam Bay is no exception. When you're walking up and down the main street, you'll see that there are tons of yoga places. It's a great way to start the day, get some exercise, and relax a bit. :-)
I joined a couple classes at the Stardust Beach Hotel my first visit, and had a great session. Definitely worth checking out, and it's also a nice place to stay if you're looking for a nice Arugam Bay hotel. Read Reviews & Check Availability
---
3 ) Rent a Moto & Explore ! !
This is one of my favorite things to do while traveling around Asia. I love the feeling you get when you're exploring on a scooter. The roads around Arugam Bay are excellent, and there's some really beautiful stuff to see. My advice would just be to drive down Panama & Kumana National Park.
---
4 ) Beach Days
Arugam Bay is a beautiful and long beach that is perfect just to chill at all day. Grab a book, a fresh coconut, and a towel — you're not going to want to move. Take a dip in the ocean, play some beach volleyball, or just work on your tan.
---
5 ) Explore Panama Tank
Driving through the Panama Tank on a moto is an absolute must. It's a short 15-20 minute ride from Arugam Bay, and there's basically just one path to drive along and explore. The landscape is stunning and perfect for taking photos, and you'll probably see a few crocodiles.
---
6 ) Kumana National Park
You'll see signs all over Arugam Bay for booking a Kumana safari. This is in Yala East, so it's definitely recommended if you haven't done any safaris in Sri Lanka. You'll see heaps of elephants, and if you're lucky can spot a leopard. Sri Lankan is known for having beautiful and great safari experiences, so definitely look into it. Should cost around $30-$35 U.S.D
---
7 ) Whiskey Point Friday Nights
Arugam Bay is also the main party destination in Sri Lanka, and Friday nights at Whiskey Point should not be missed. Beautiful people at a beautiful location, great music, and lots of dancing. Once the arrack starts pouring, you'll be glad you went.
---
8 ) Mambo's Saturday Nights
The legendary weekly beach party at Mambos' is an absolute must for anyone visiting Arugam Bay. It's honestly so much fun, and was one of the highlight's of my time in the country. I've been three different times now, and each time was a solid night.
The music basically doesn't stop until everyone leaves, and the hard-core party people always make it to the sunrise! The music is really groovy deep / tech-house, and the party is always bumping.
---
9 ) Dinners at Beach Hut
The Beach Hut is hands down my favorite place to stay in Arugam Bay, but if you're not sleeping there — at least pop on over for the daily dinner specials. They are delicious and extremely cheap. I'm talking around $3-4 for a decent sized meal. If you're there for a fish-BBQ night, then definitely do it.
It's also a great place to meet people, as everyone who is staying there pretty much has dinner together.
Cheaper option available for vegetarians.
---
10 ) Absolutely Nothing
Alright, so I probably shouldn't list this a thing to do, because it's simply the exact opposite.
But Arugam Bay is the perfect destination to lose track of time, and fall into the traveling mentality. Lie in a hammock, read, take naps on the beach, and enjoy the simplicity of A-Bay.
Days turn into weeks in Arugam Bay. Seriously. It can be really hard to leave.
---
Well there you have it. Those are my top things to do in Arugam Bay. It's an amazing and beautiful destination in Sri Lanka, and definitely should not be missed!
---
Where To Stay in Arugam Bay…?
I've stayed at several different Arugam Bay hotels now, and I've definitely got a few recommendations for you!
For staters – there are tons of Amazing AirBNB Options in Arugam Bay! I love booking on AirBNB when I'm traveling, because I can read tons of reviews, and meet some awesome local hosts! If you sign up for a new account, you'll get $40 Off Your First Night! (Which can be like 1-2 Free nights!)
For budget travelers, the following hostels are super awesome:
Little Lagoon Hostel: Affordable rooms, excellent reviews, and just minutes from a quiet area of the beach ideal for swimming.
Arne's Place: Self proclaimed as the "The Friendliest Hostel". This basic budget accommodation is great for backpackers.
---
Have any questions? Feel free to shoot me an email, or drop a comment down below and I'd be happy to answer them for you. Safe travels!
Thanks for reading!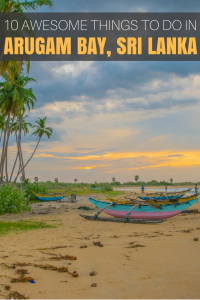 Disclaimer: This post includes affiliate links, which means I may receive a small commission (at no extra cost to you) if you purchase through these links. Your support would be greatly appreciated! Thanks! :-)
---
& Add Me On Snapchat: — JonesATW
https://www.jonesaroundtheworld.com/wp-content/uploads/2016/07/DSC_2278.jpg.optimal.jpg
4000
6000
Dave
https://www.jonesaroundtheworld.com/wp-content/uploads/2017/03/logotry-1-1-300x106.png
Dave
2016-07-04 13:37:31
2020-02-11 12:26:38
Top 10 Amazing Things To Do in Arugam Bay, Sri Lanka