Sado Island (佐渡島, Sadogashima) is well known as the "island of exile" or the "island of gold", and for being deeply connected with historical figures, tradition and ancient culture. It's one of the largest Japanese islands, located 32km off the coast of the Niigata Prefecture and even with so much to offer its visitors, it remains to be one of Japan's best off-the-beaten-path destinations!
In essence, it's a recognized Geopark that boasts stunning coastlines, pristine forests, charming villages, majestic mountains, cascading rice paddies, splendid natural wonders, temples and shrines galore, and so much more!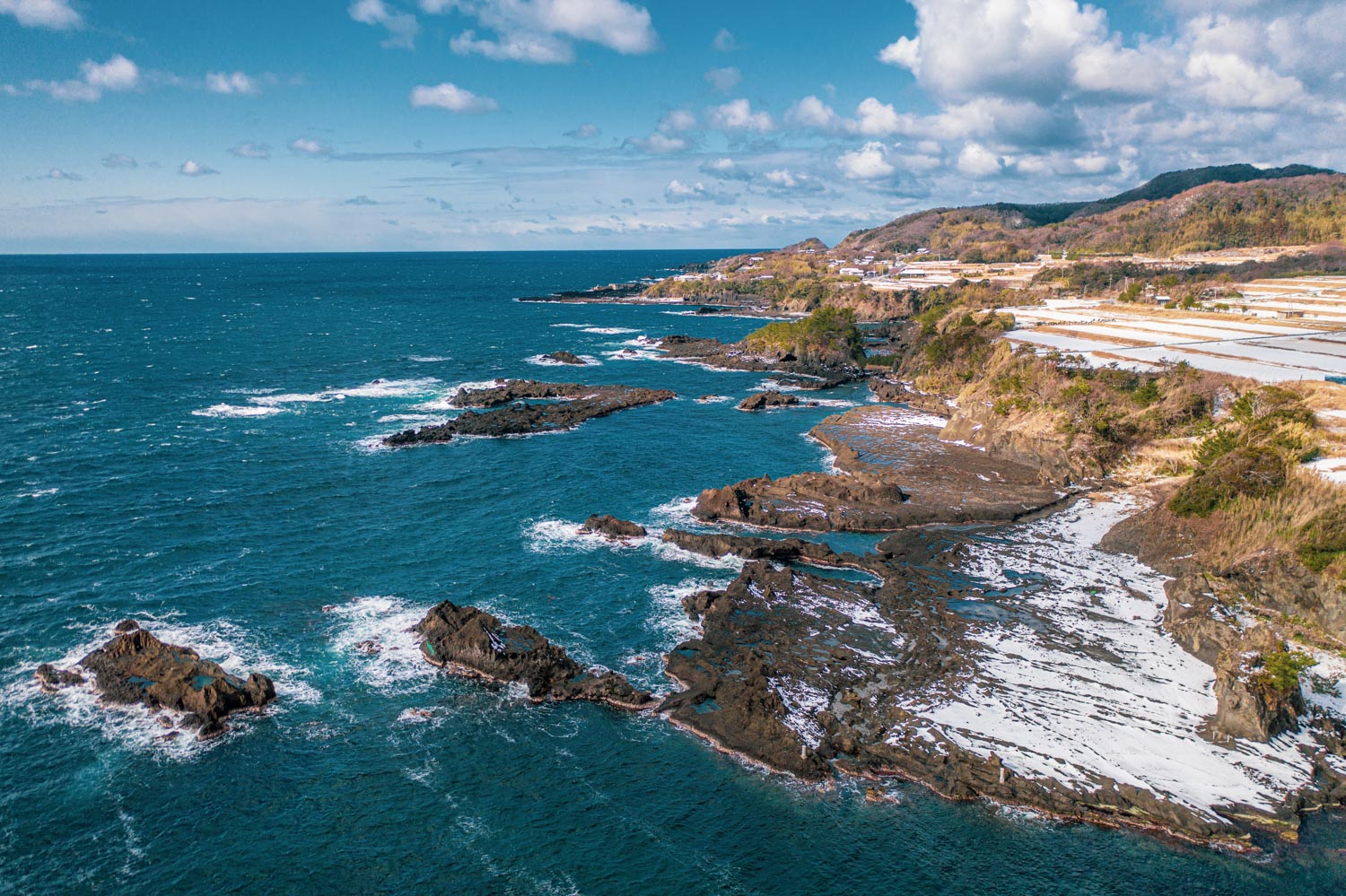 ---
Sado is an ideal weekend getaway from the fast-paced, chaotic city life that you'll experience in Tokyo or Niigata (the port city you'll visit to reach Sado), and with its untouched forests and rocky bays, this wild, exotic and unique island is perfect for any adventure seeker, history buff or nature lover.
While my recent visit to Sado Island was very brief, it was jam-packed with amazing places, activities and cuisine, and I had a simply fantastic experience driving around this winter wonderland (as I visited during the winter and everything was covered in fluffy white snow!)
I've put together this detailed guide of the best things to do in Sado Island to give you tons of ideas on what to do during your visit, as well as including some essential travel tips and visitor information so you can make the most of your time on this sacred little island.
So let's get into it!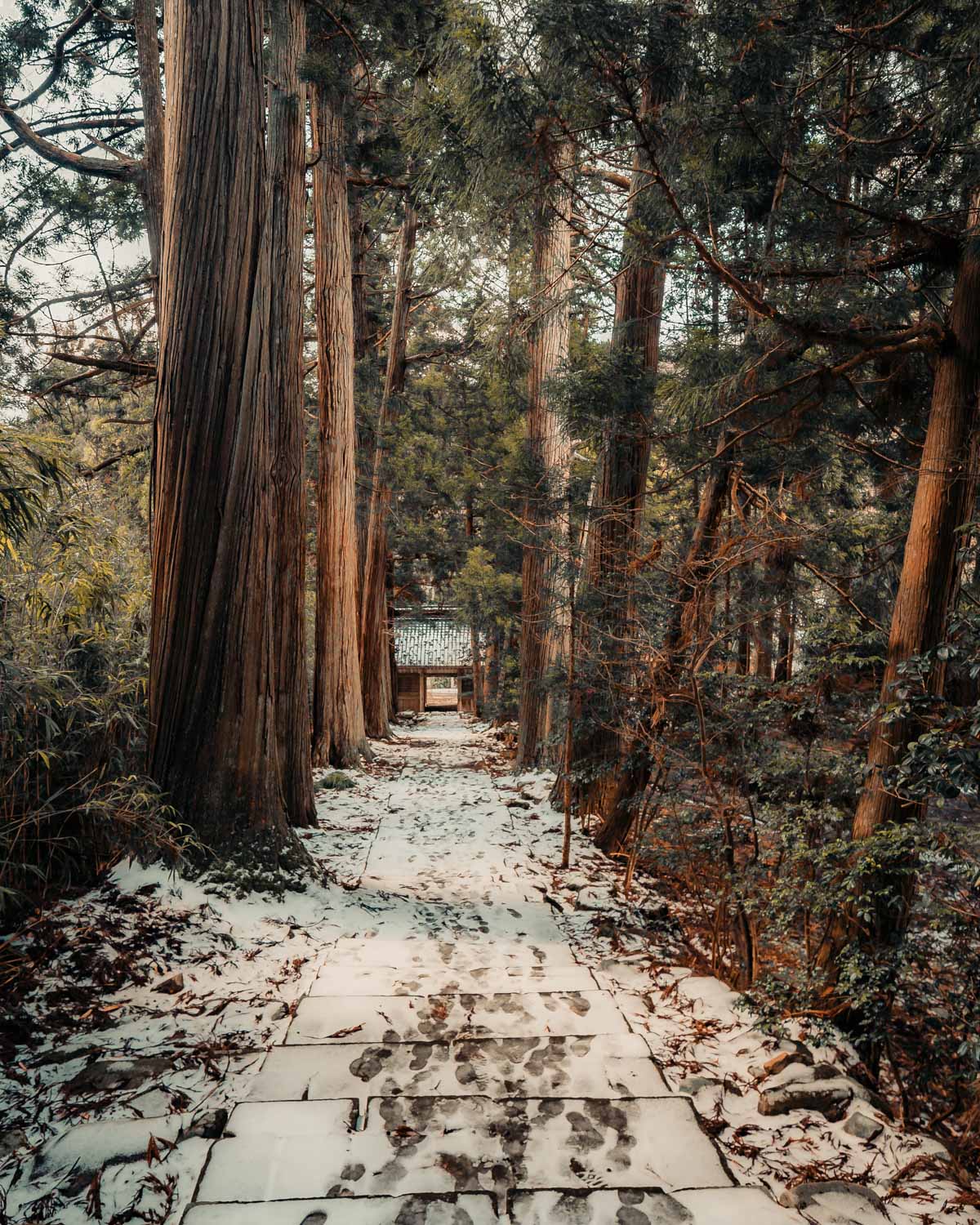 ---
How To Get To Sado Island
There's no commercial airport on Sado, so the only way to the island is by ferry. You can take the Sado Kisen ferry from two different areas but keep in mind some boats do not run year-round.
From Niigata City to Ryotsu Port:

The Sado Kisen operates both high-speed jetfoils and car ferries to Sado island. The Jetfoils ferry takes approximately one hour and costs ¥6,520 yen ($63.43 USD), whereas the car ferries take double the time (about 2.5 hours) but costs much less, around ¥2,510 ($23.27 USD).

From Naoetsu to Ogi Port:

The Sado Kisen ferry on this route operates 1-3 car ferries per day from Naoetsu to Ogi Port. It takes 2.5 hours to get there and costs ¥2,720 yen ($25.21 USD). Due to unpredictable weather conditions in the winter season, this ferry does not operate from November to February.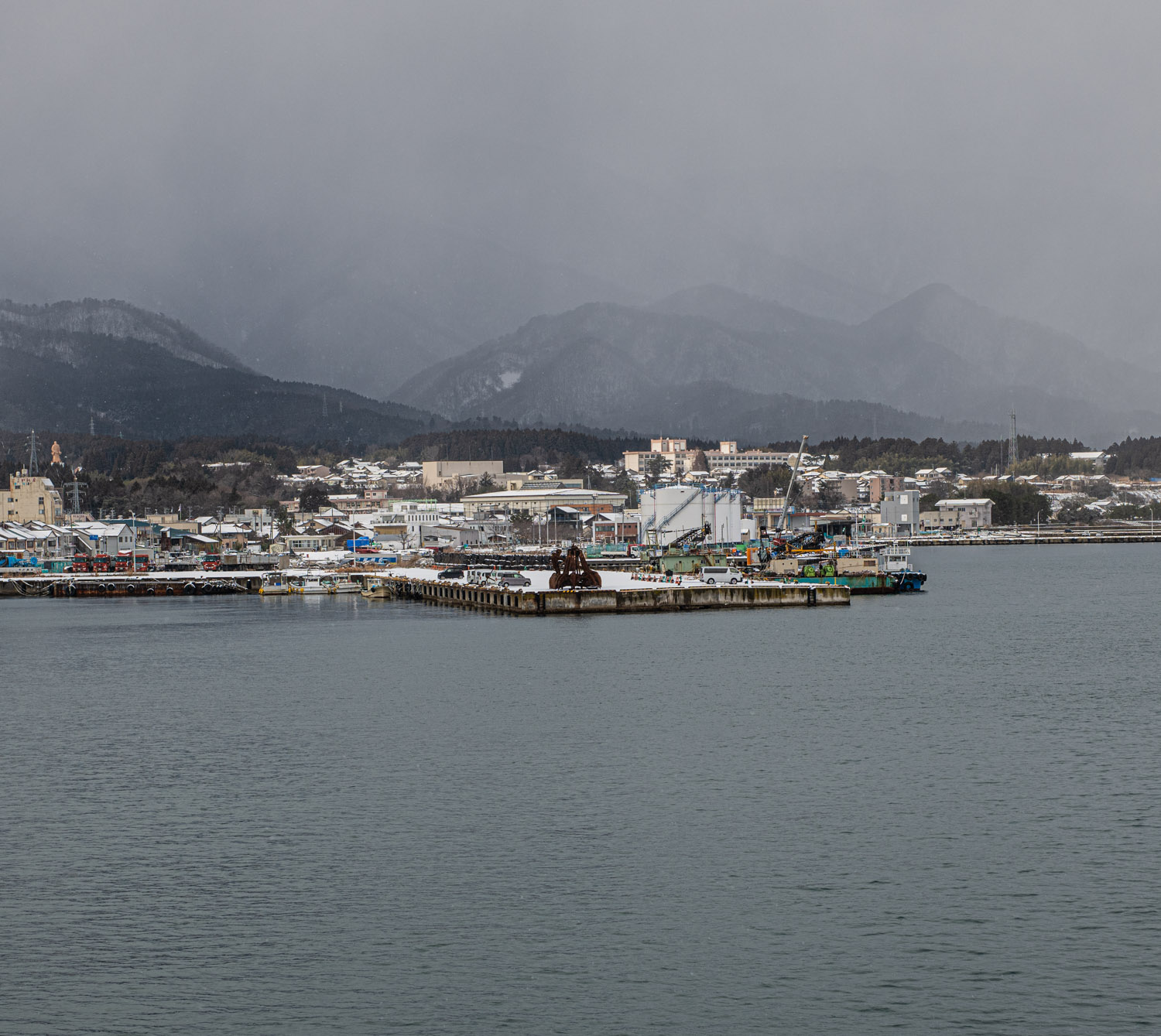 Most people interested in visiting Sado Island use the first option, as Niigata City (the capital and the most populous city of the Niigata prefecture) is definitely worth a visit for a day or two.
PRO TIP: Sado Island Tourism recently launched a new product called the "Sado Gold Passport" which is specifically designed for international visitors. For the price of ¥5,500 yen it includes: round-trip car ferry tickets between Niigata City & Sado City, a 3-day unlimited bus pass for Sado Island and a 1-day unlimited bus pass for Niigata City. You can buy this easily at the Niigata City ferry terminal.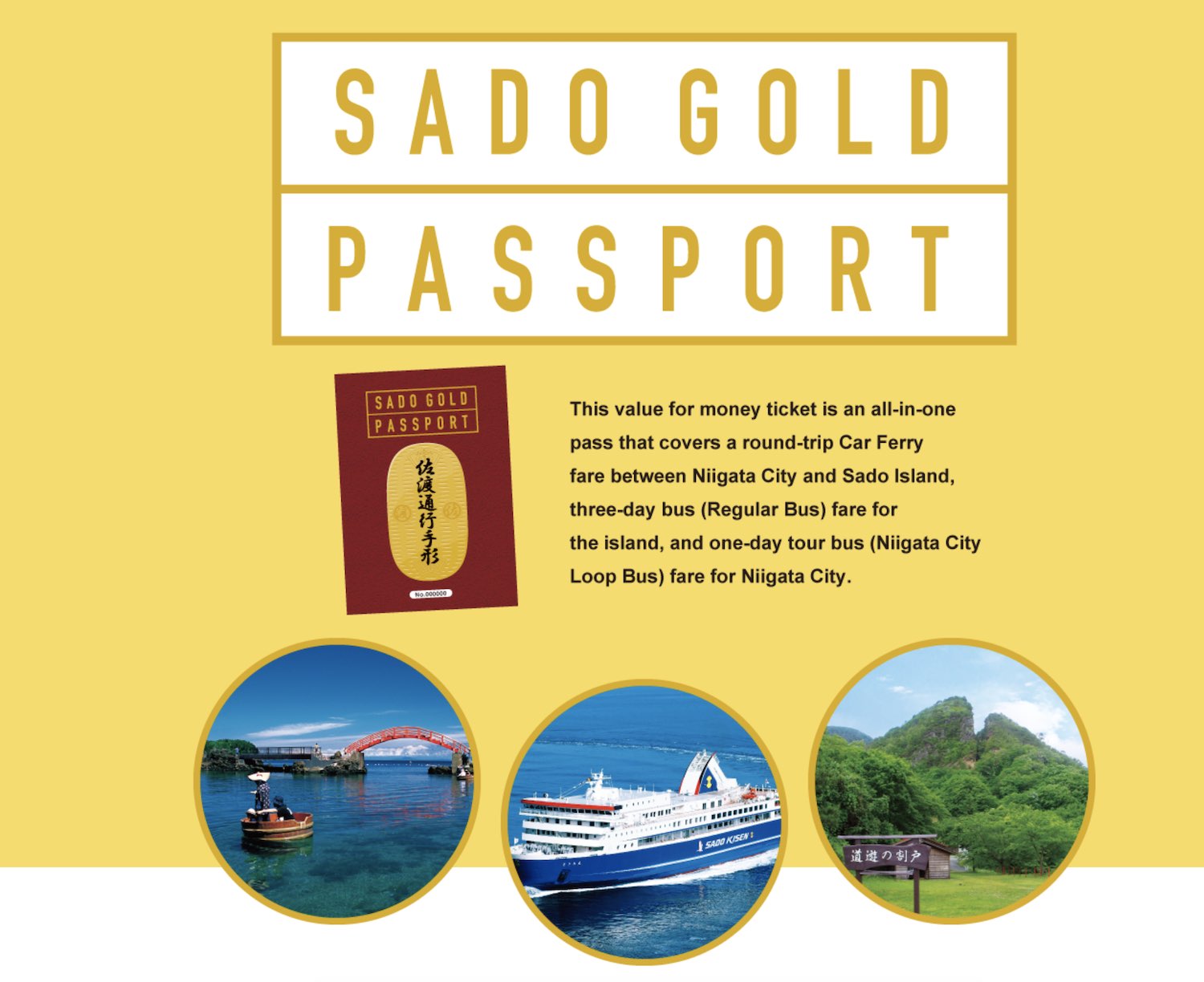 ---
What To Know Before You Visit Sado Island
There are three distinct areas on Sado Island – the Osado Mountain Ranges in the North, the Kosado Hills in the South, and the Mano region with the major city/towns in the middle.
Sado Island is also MUCH larger than you may think, spanning 855 square kilometers (which is 1.4x larger than Tokyo's 23 wards), and traveling between all the places on the island will take some time. Unless you plan on staying for a longer trip, you might not be able to see/experience everything you'd like, so it's best to map your days in advance and figure out what's most important to you (Adventure, Nature, History, Culture, Photography, etc).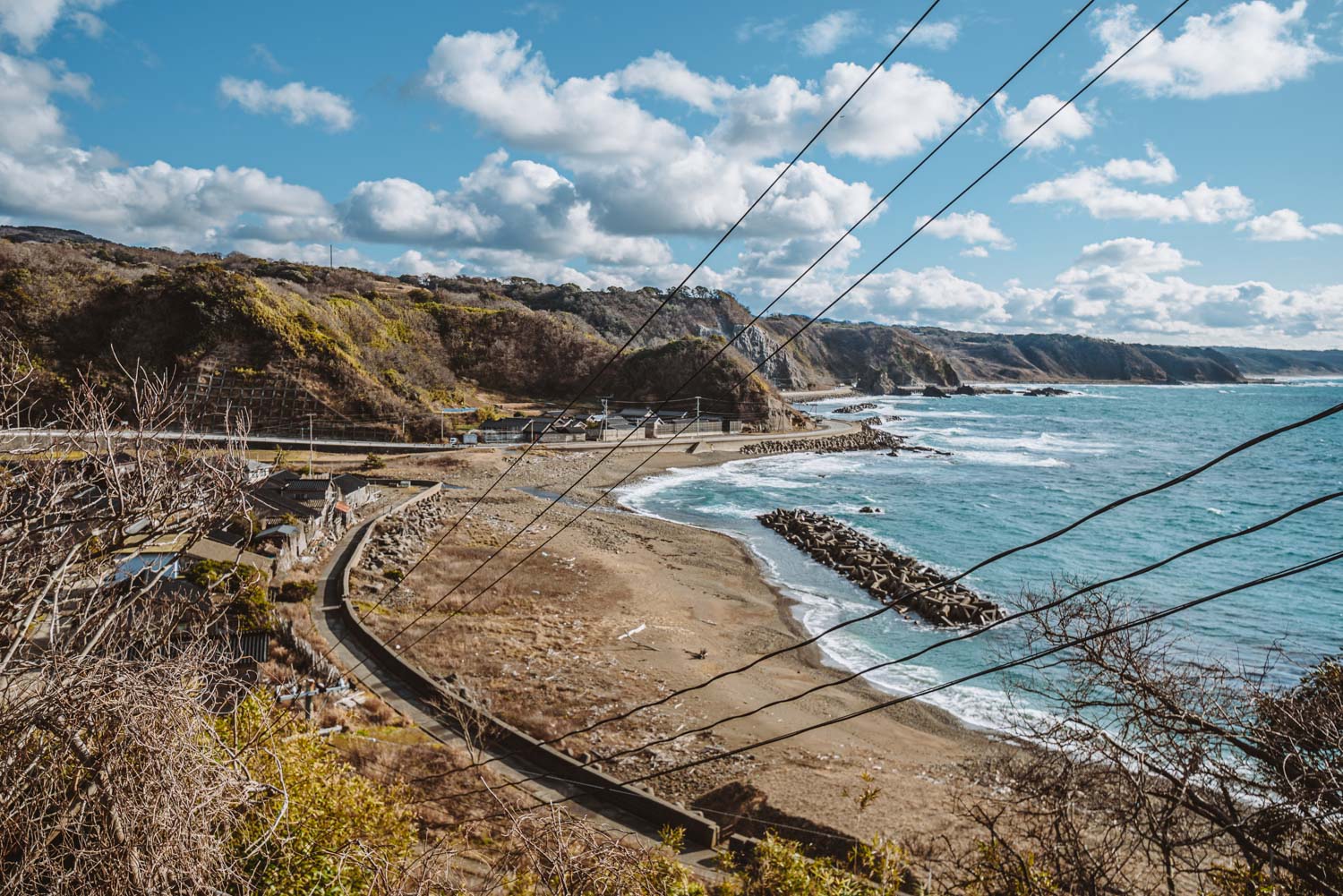 ---
Getting Around Sado Island – Fixed Route Bus Pass
Included in the Sado Gold Passport is a 3-Day Unlimited Sightseeing Bus Pass (valued at ¥3,000), and it will include a very handy map showcasing all the various routes, drive times in between each bus stop, and it also makes stops at all the major tourist attractions on Sado Island. They make it really easy to be able to visit Sado Island on a budget, and maximize your time there!
---
Renting a Car on Sado Island
While the sightseeing bus system is a pretty extensive and efficient public transportation system, I'd personally recommend renting a car for at least one or two days to provide more flexibility and freedom to explore at your own pace. Sado island is a vast destination with a range of attractions and places to visit, and I always think it's best to drive around, listen to music and stop off wherever you see fit. Take photos, go for a swim (depending on the season), take a scenic hike, or spoil yourself in a quaint restaurant along the way.
If you do decide to undertake this option, I'd recommend using Island Rent a Car, located just a one to two minute walk from Ryotsu Port Sado Kisen Ferry Terminal.
PRO TIP: By law, You will NEED an International Driver's License to rent a car anywhere in Japan. If you don't have one, then you can hire a sightseeing taxi that can double as a local tour guide! That's what I mainly used during my visit, and it was a great experience!
---
The Best Things To Do In Sado Island, Japan
1)
Visit The Sado Kinzan Gold Mine
Sado Kinzan, located in the northwestern district of Aikawa, once produced the largest amount of gold in Japan. The gold mine dates back to over 400 years ago (built during the Edo period), and mined around 78 TONS of gold and silver until production stopped entirely in 1989.
Today, visitors can explore the various mining tunnels and venture around the different routes, learning about its industrial history and its contribution to the modernization of Japan.
There are two different routes to experience the mines – Sodayuko and Doyuko. Doyuko is the more modern Meiji era mine, whereas Sodayuko was mined during the Edo era. In the Sodayuko Tunnel, you can expect to find human-sized mechanical dolls that represent what everyday life was like in the mines. The Doyuko tunnel provides guests with various artifacts to look at that were left behind from the industrialization process.
While it's not yet been officially labeled a UNESCO World Heritage site, it is on the list of tentative sites, and Sado Island has been striving to earn this added recognition
After exploring the mines, visitors have the opportunity to try gold panning for themselves and take home any gold they managed to pan, and don't forget to visit the gift store on your way out to try one of their impressive gold-themed snacks.
Fun Fact: The total length of the mining tunnels reaches over 400km long, which is around the same distance between Sado Island and Tokyo!
Opening Hours: Mon to Sun: 8:20 AM – 5 PM
Ticket Prices: ¥ 900 Yen ($8.33 USD)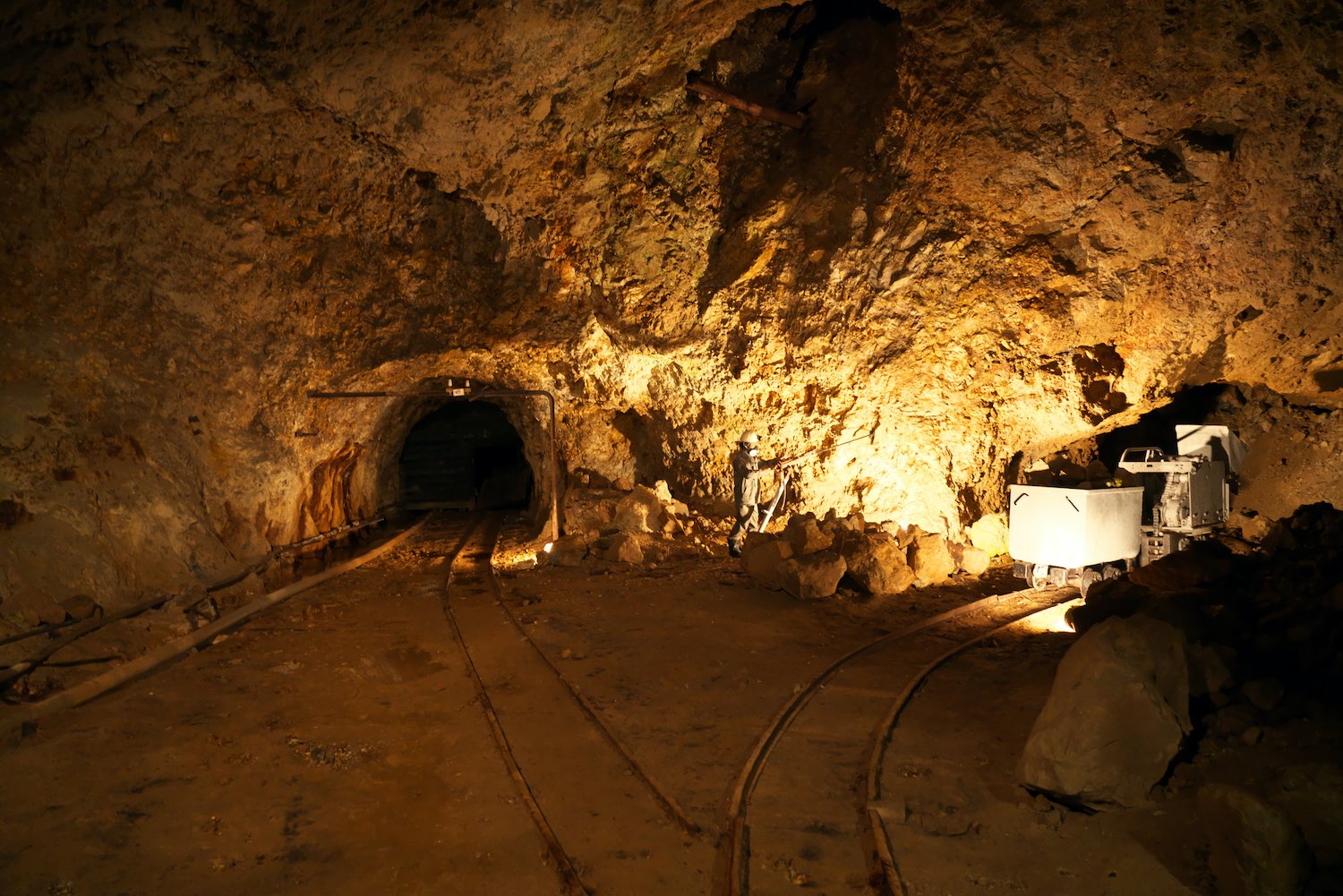 ---
2) Taiko Experience Exchange Center
Out of all the places I visited during my time on Sado Island, this was surprisingly my favorite! The Taiko Experience Exchange Center gives you the opportunity to try your hand at playing the large and booming Taiko drum (constructed from 600-year old trees), and they offer one hour sessions where a Taiko drum master will teach you all about the unique art form.
The building itself is quite beautiful with its wooden walls & high ceilings, and the way the drum's deep bass reverberates through the hall will surely give you goosebumps!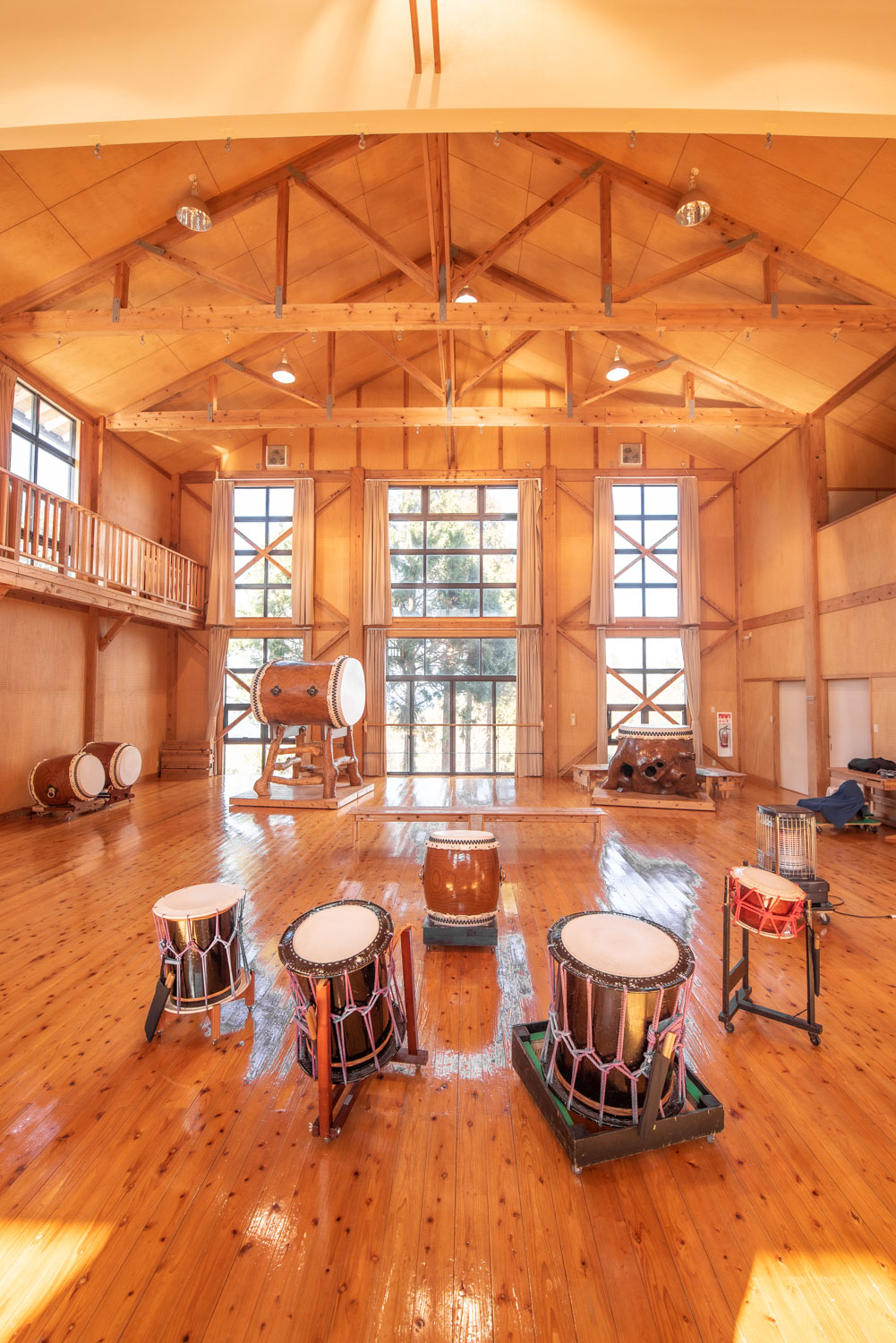 ---
Taiko drumming is another aspect that makes Sado Island globally recognized, as the Taiko drum professionals – the Kodo Group – regularly tour the world offering unique shows, workshops and performances.
Towards the end of my hour-long lesson, the Taiko drum master offered a brief 5-minute performance that's truly impressive! It takes years of practice and apprenticeship (with quite strict lifestyle rules) to become a member of the Kodo Group, and I gained a huge appreciation for the instrument.
I'd recommend checking out the Kodo Group Performance schedule to see if they'll be performing anytime near you, as I guarantee it'll be an outstanding show!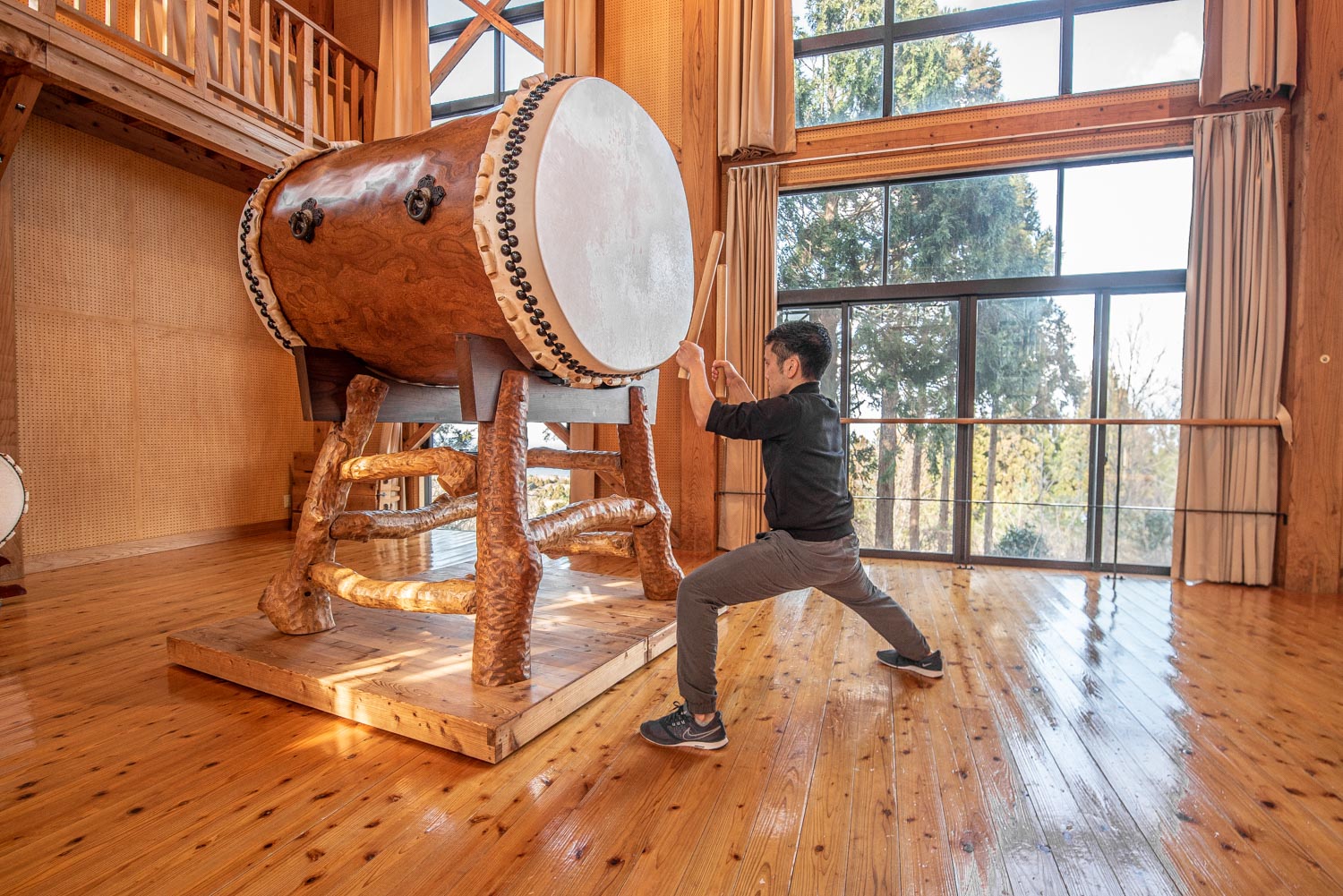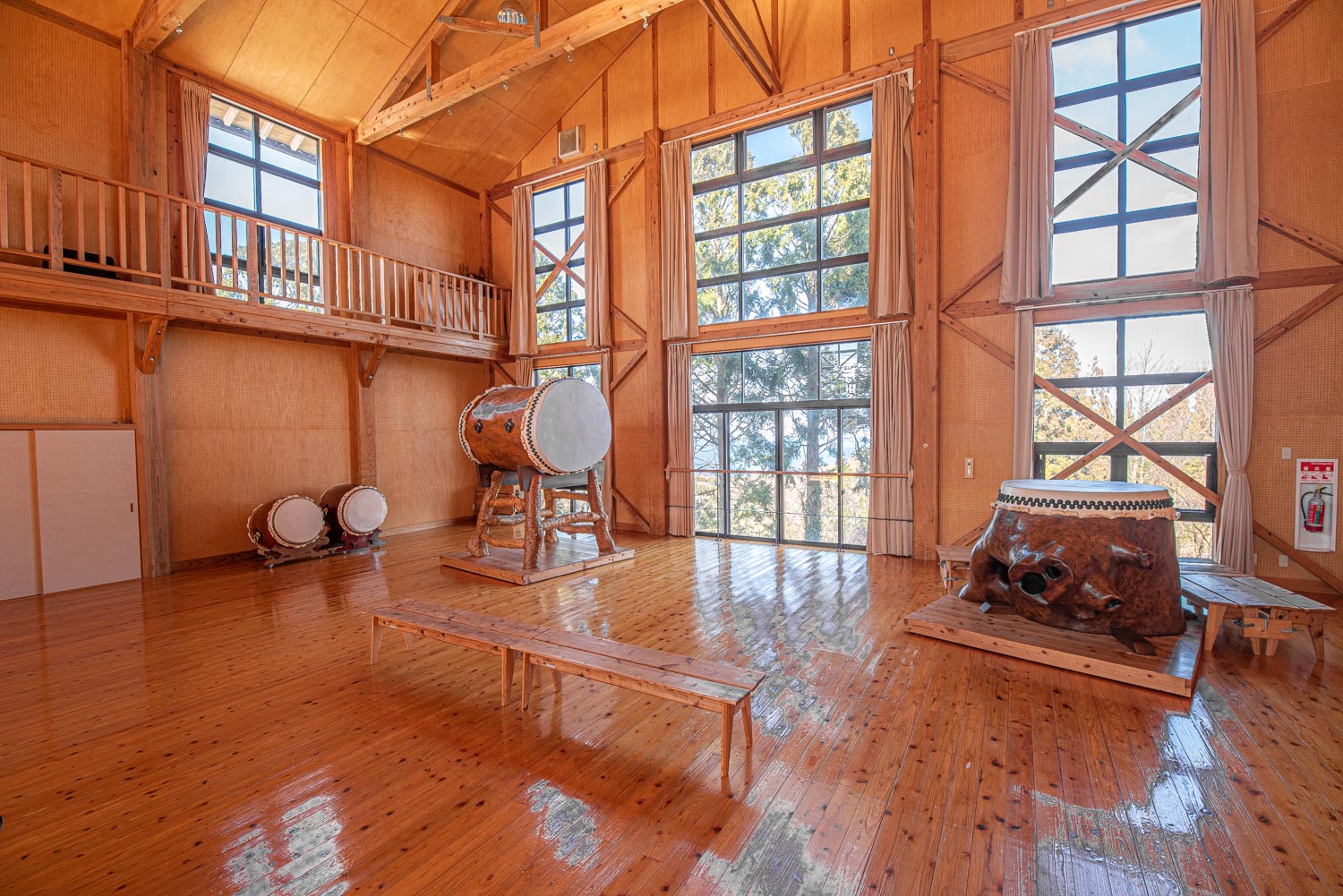 ---
3)
Discover The World Famous Hokusetsu Sake Brewery Tour
The Niigata Prefecture, including Sado Island, is known for its delicious sake production. In fact, there are more sake distilleries here than in any other region of the country, as the island is filled with fertile soil and is fantastic for agriculture and ideal for rice production. So if you're traveling through Japan and are interested in a Sake Brewery tour, this is where to do it!
I spent one morning doing a tour through the Hokusetsu Sake Brewery, learning all about the sake production process, and of course sampling lots of different types. Dating back to 1872, the Hokusetsu Sake Brewery has been visited by some famous Hollywood stars such as actor Robert De Niro, and their sake is known to be served at his Nobu restaurants around the world, in cities such as London, New York, and Dubai.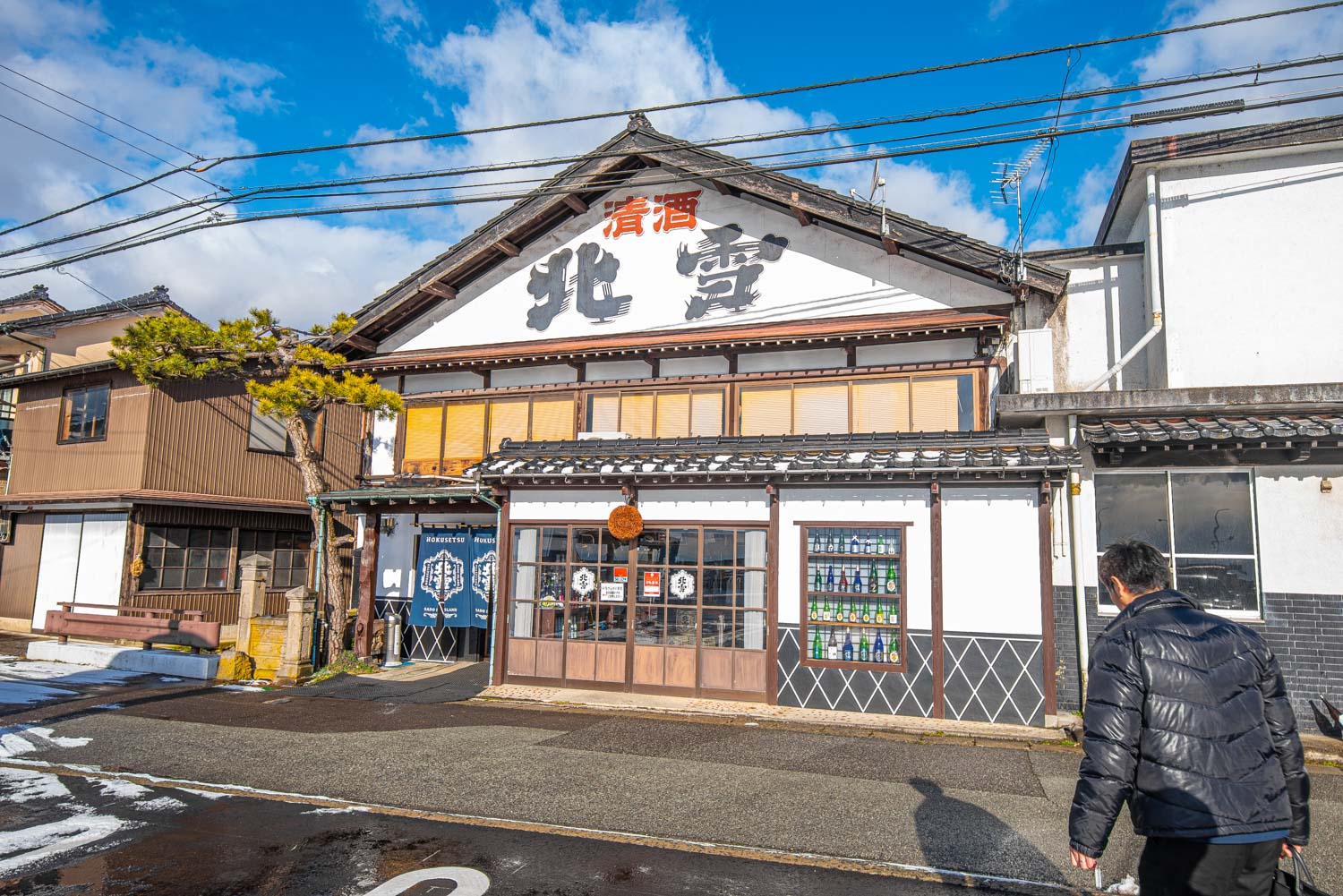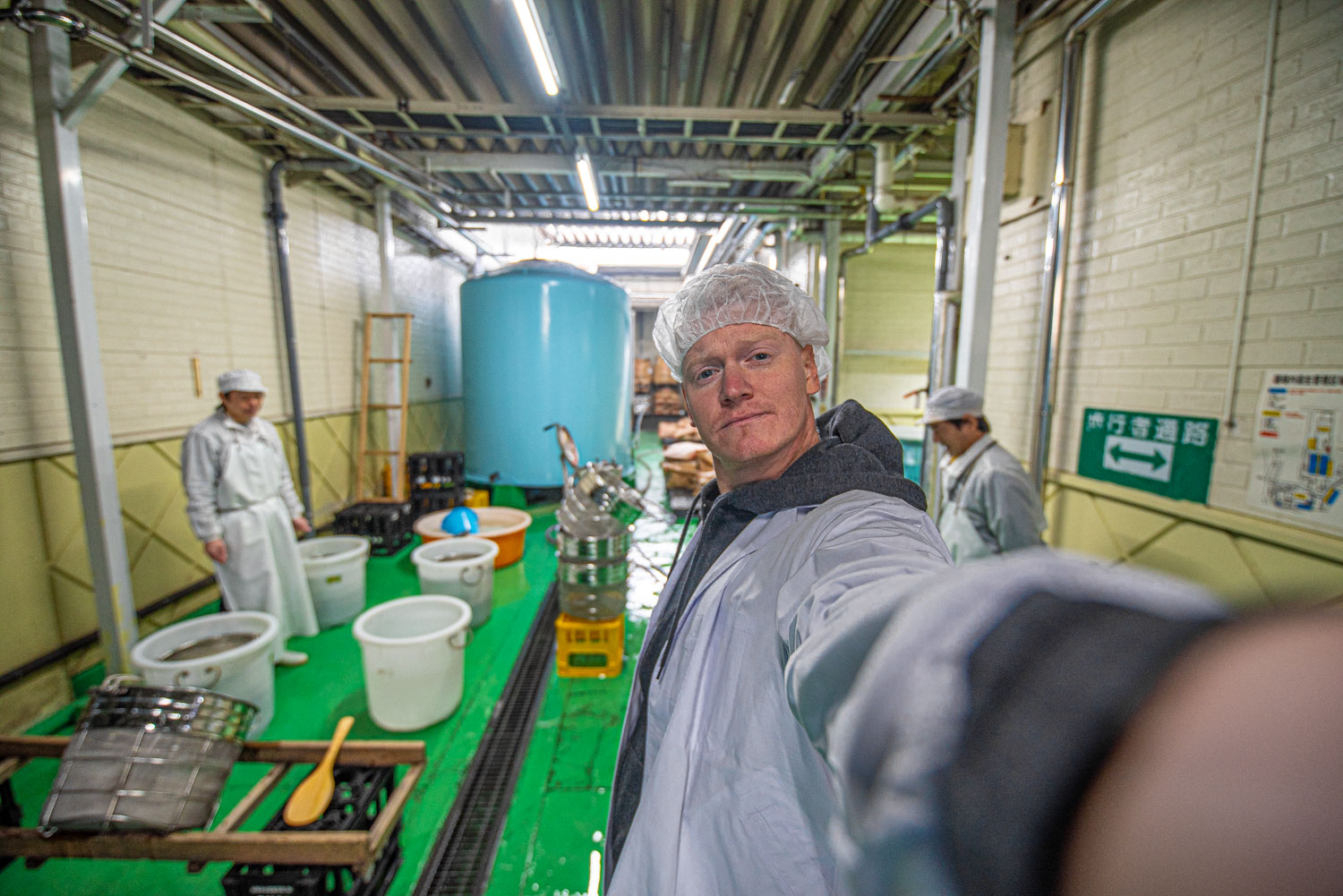 Stop off during the afternoon to taste Japan's favorite alcohol; you certainly won't want to miss out on this experience!
Opening Hours: Mon to Sun: 8 AM – 5 PM
"Beautiful nature makes beautiful sake. The majestic and rough Osado Mountains. The Kosado Mountains, where gentle mountains and sandy beaches spread. Soft natural water that springs from hills and is suitable for rice growing. Sado Island, with its blessed climate, has exactly the perfect conditions for sake brewing."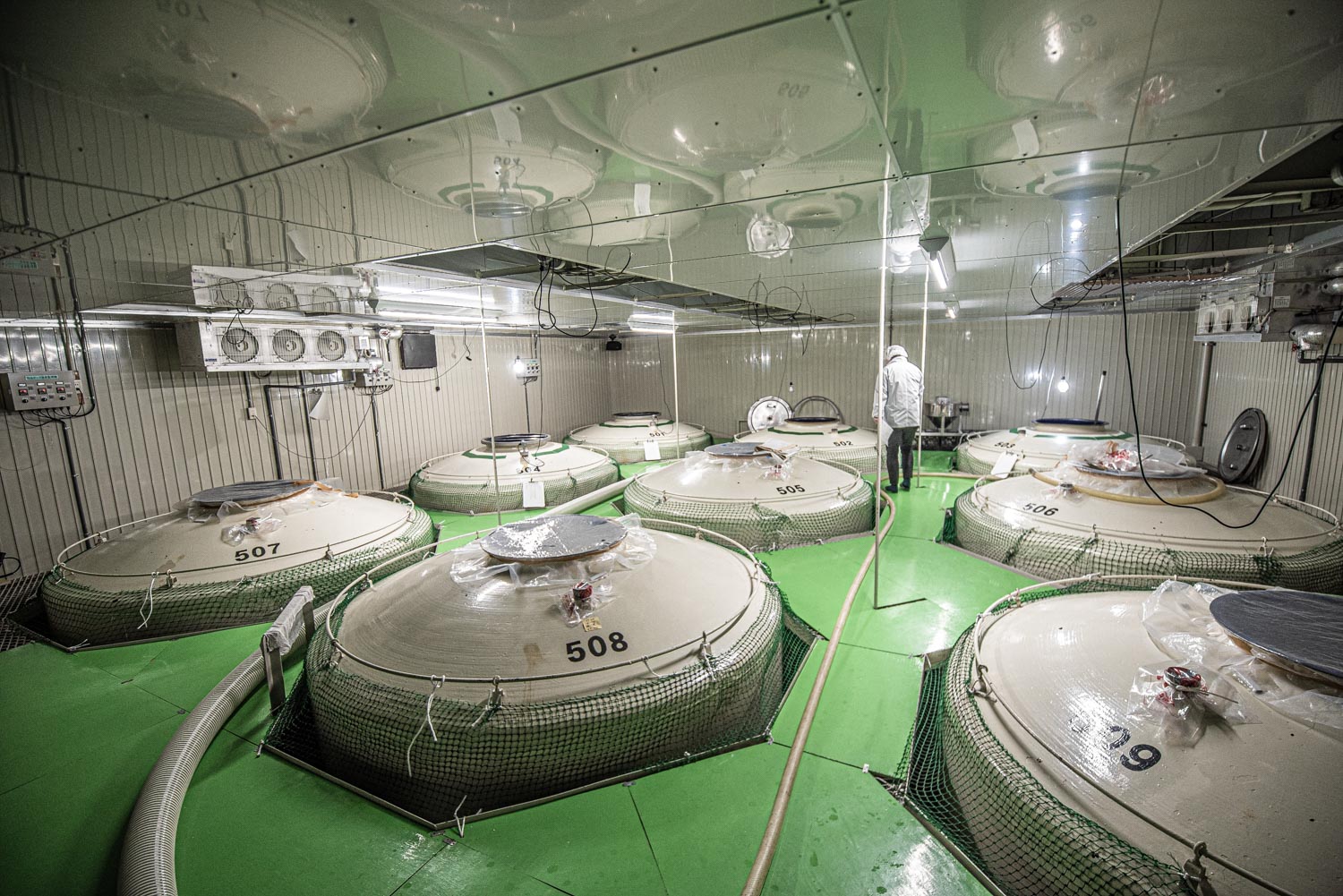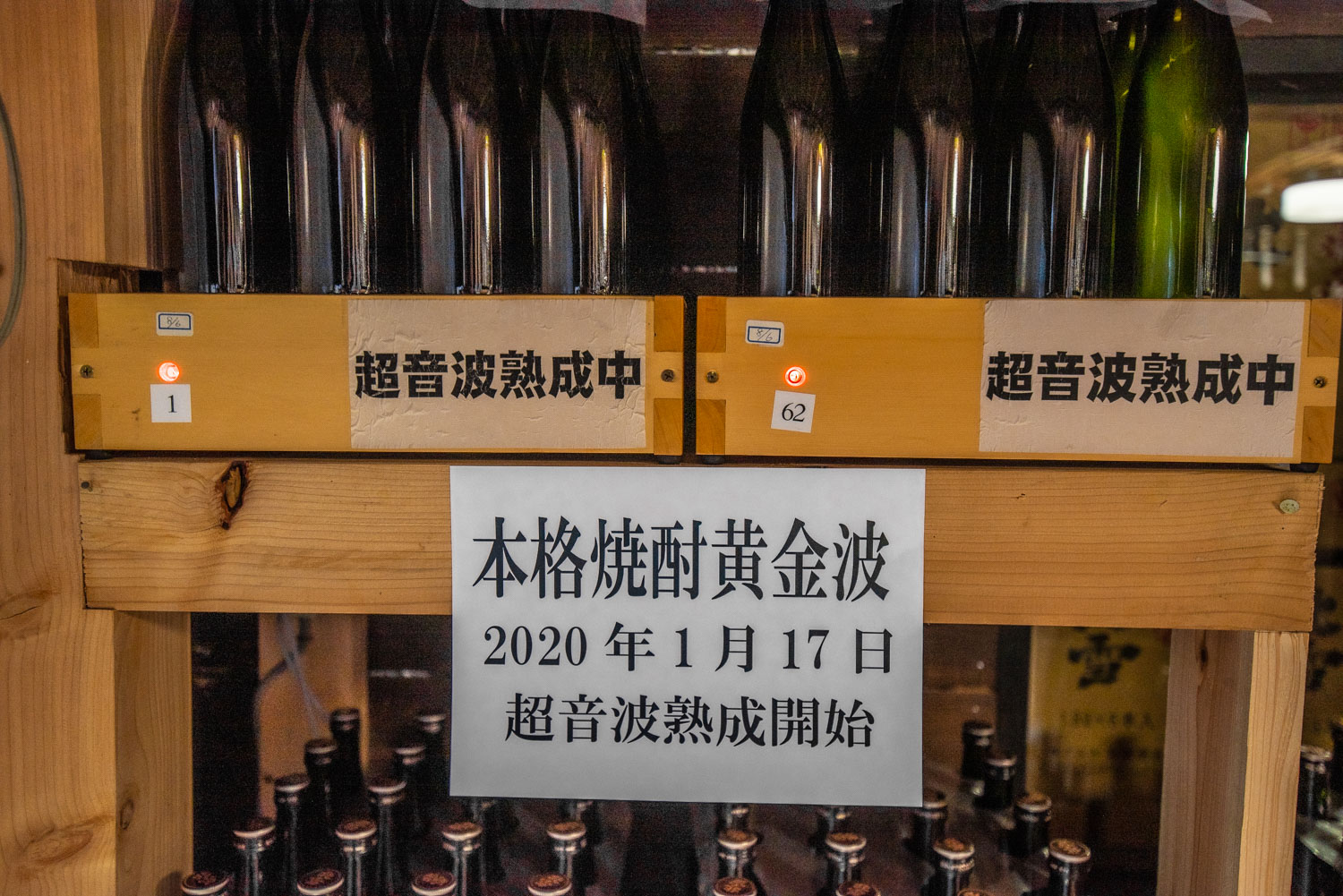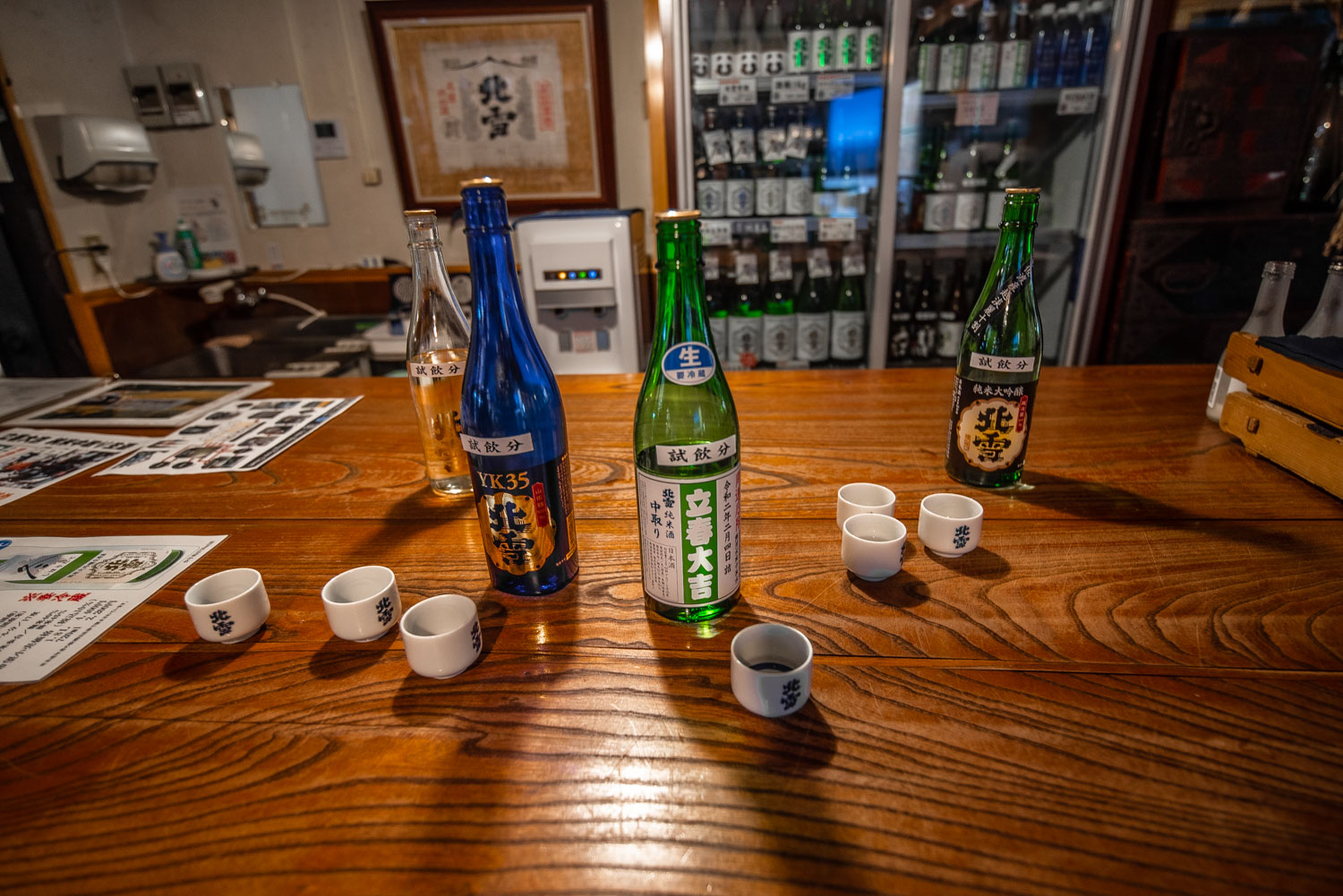 ---
4) Explore the Historical Shukengi Village
Step back in time into the Edo Period as you walk around Shukengi, one of Japan's most important preservation districts for traditional Japanese architecture. With its tiny pathways, unique wooden buildings, and beautiful stone rooftops, it's a great place to wander around on a self-guided tour. A few must-visit places are the Triangle House, Seikuro Open House, Kado's Residence, Sabo Yamashita, Shokoji Temple and the Sadokuku Ogi Folk Museum.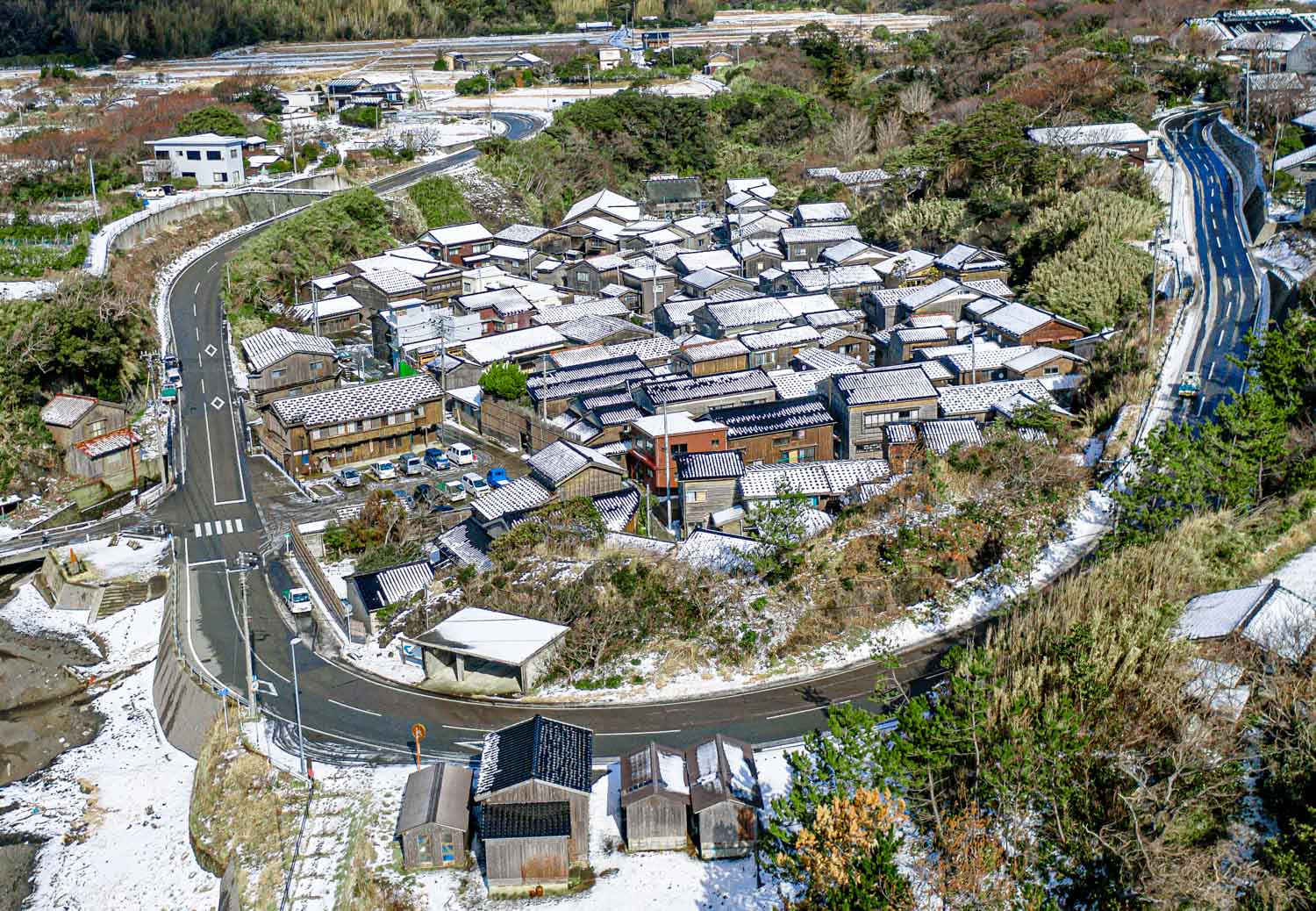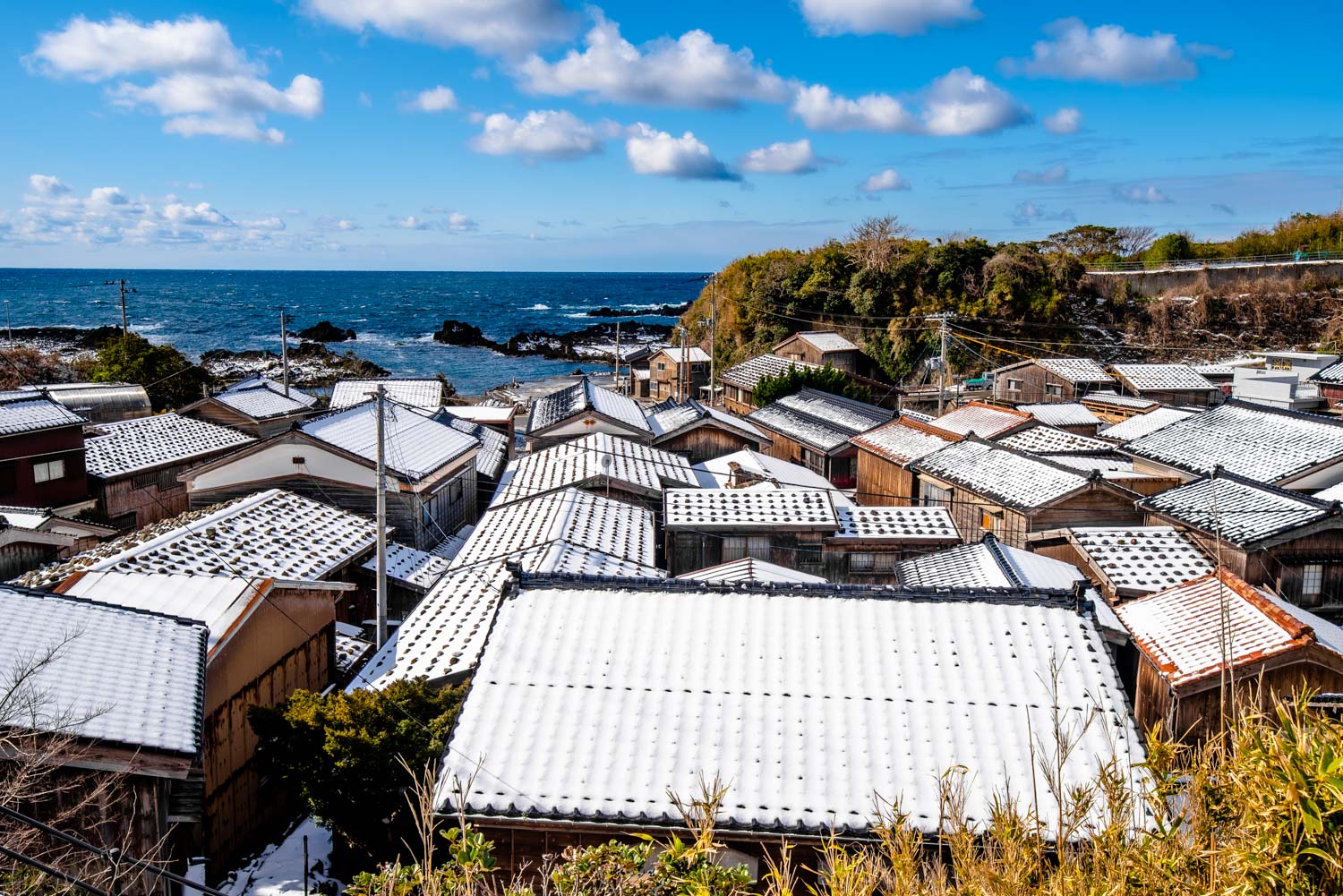 While it's a very quiet and sleepy area now, Shukengi once flourished as an industrial base for the shipping industry. There is a special ambiance in the air as you walk around Shukengi, and a visit here is certainly something you will not see elsewhere in Japan.
There is a small entrance fee that contributes to the conservation of Shukengi, and to explore everything will only take about 60 minutes! I particularly loved this place because it was covered in snow, and seeing the snow-capped rooftops was pretty magical.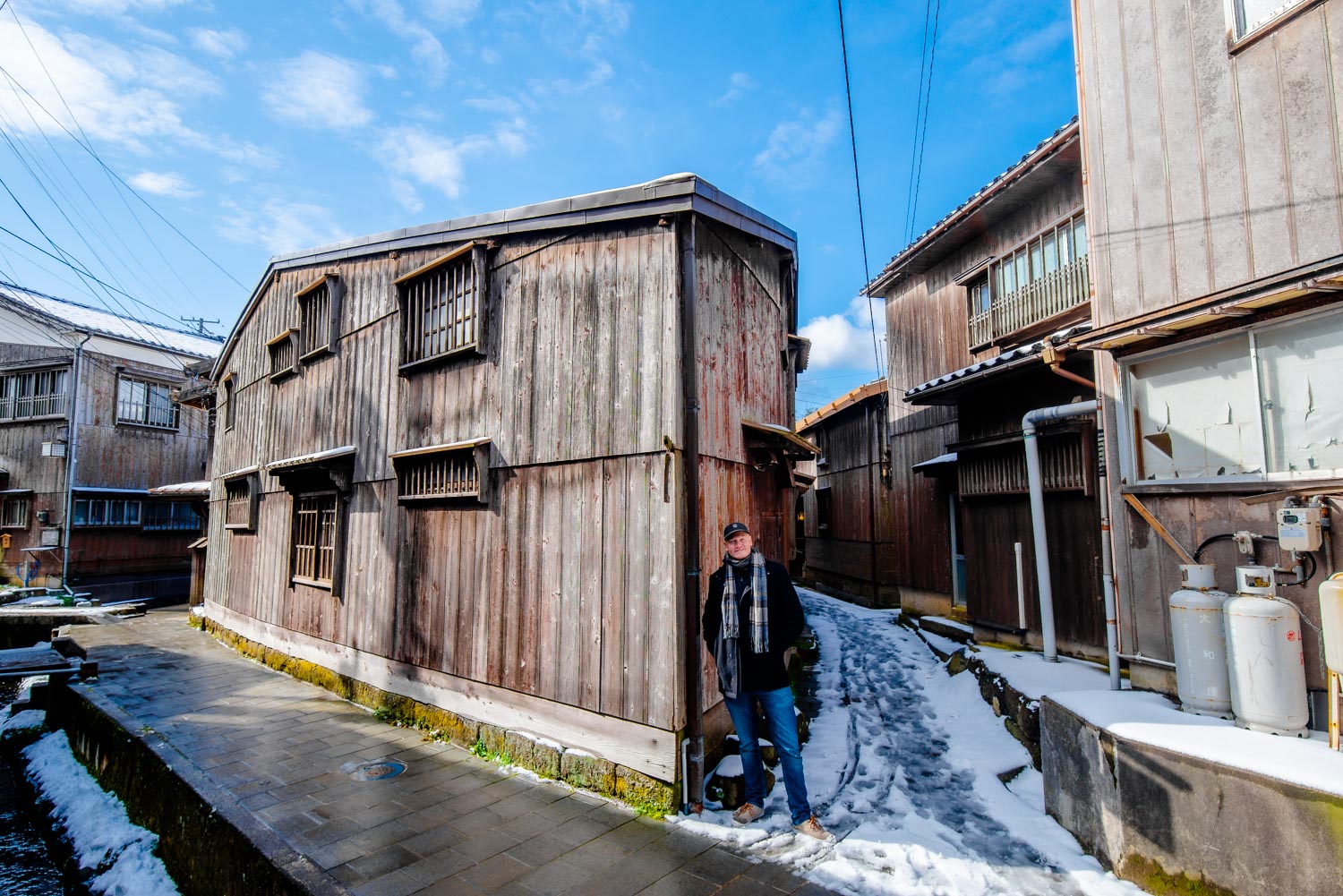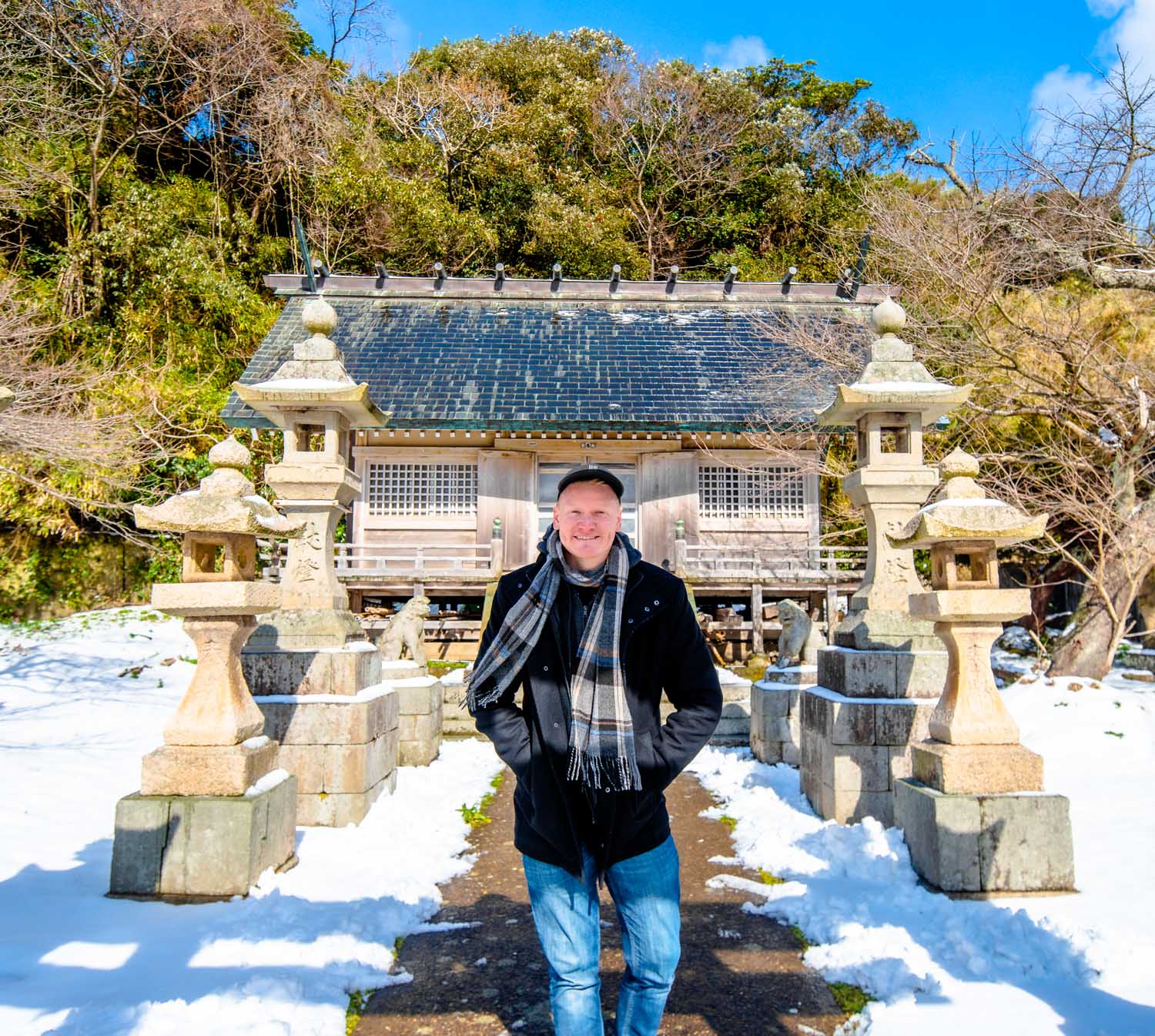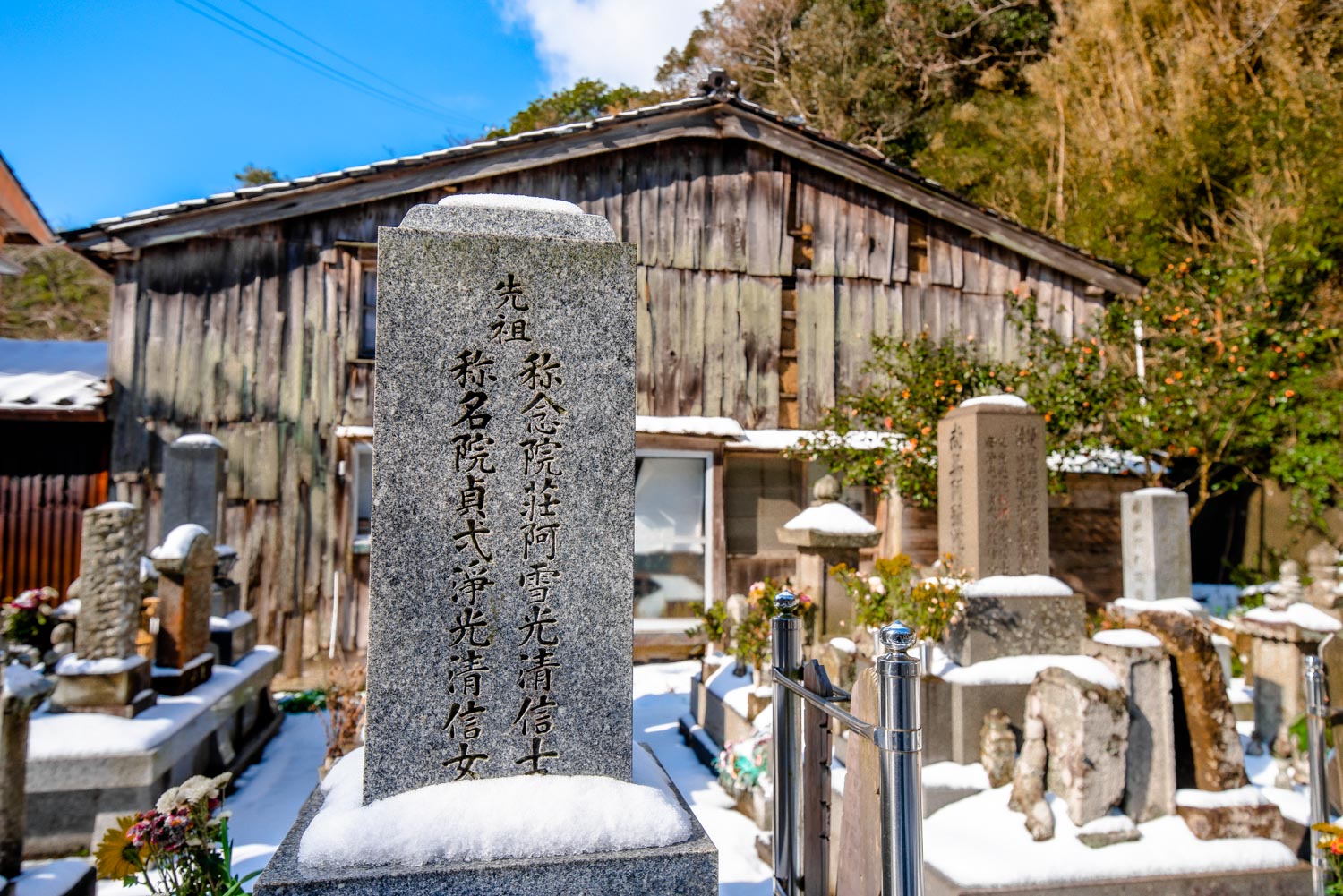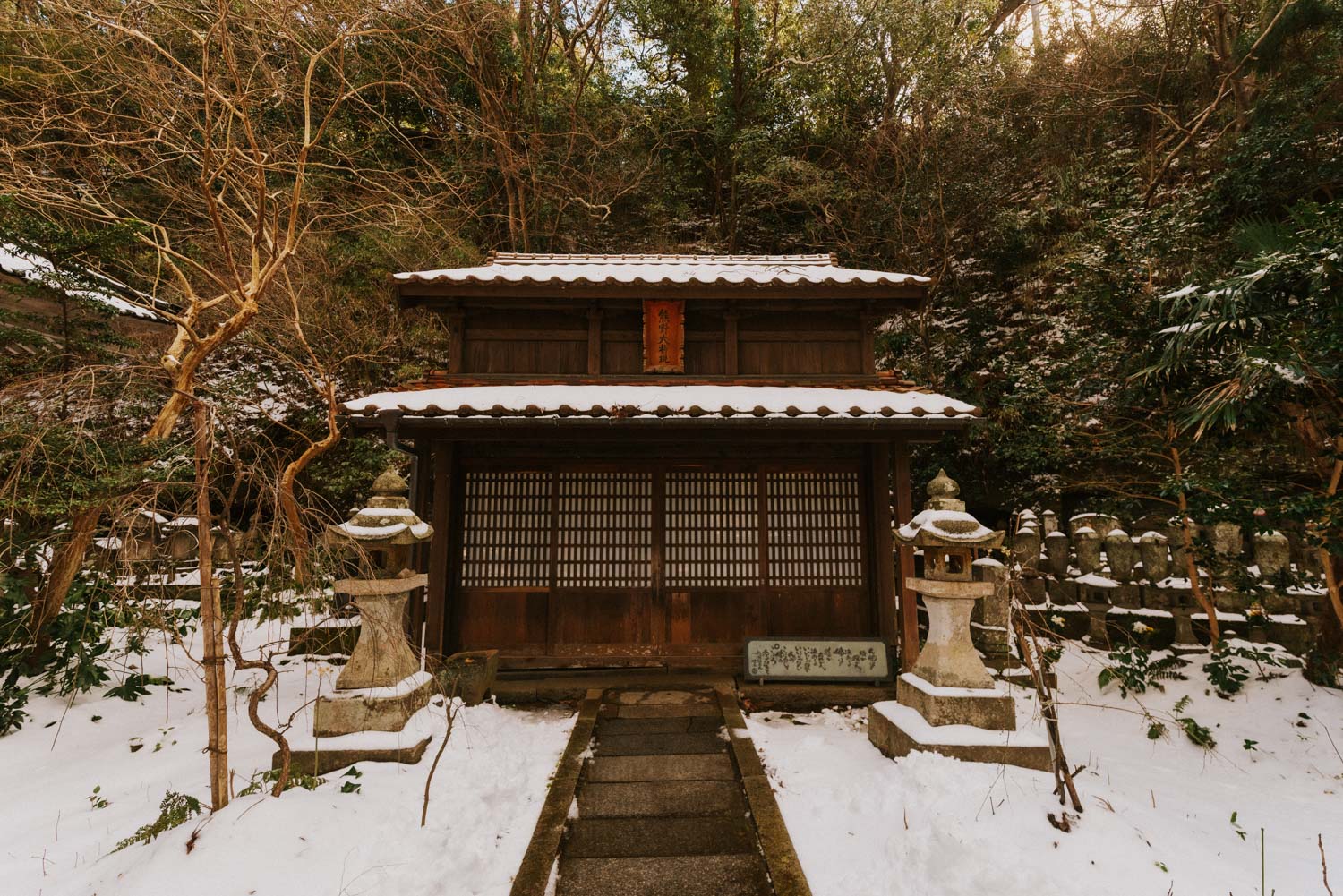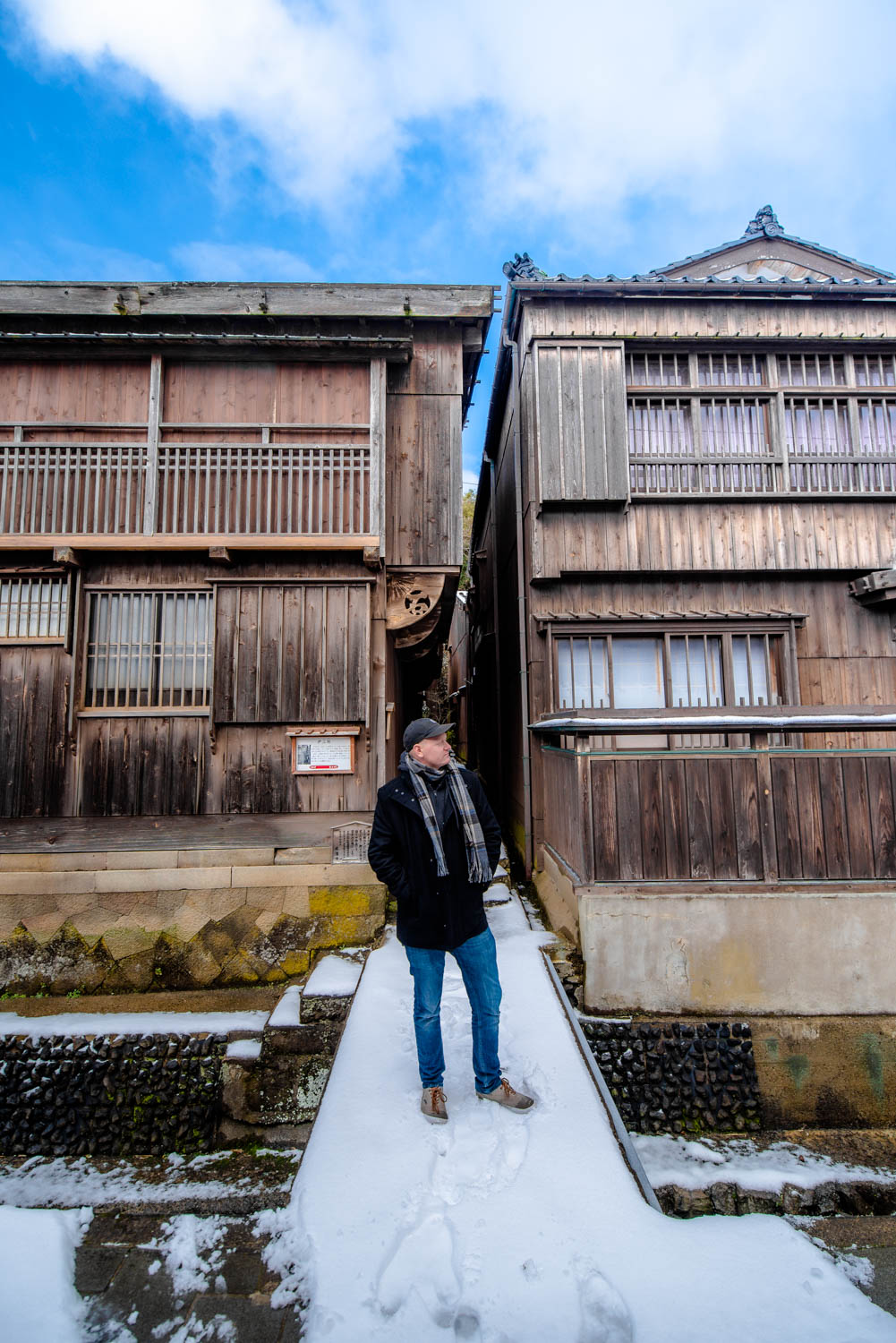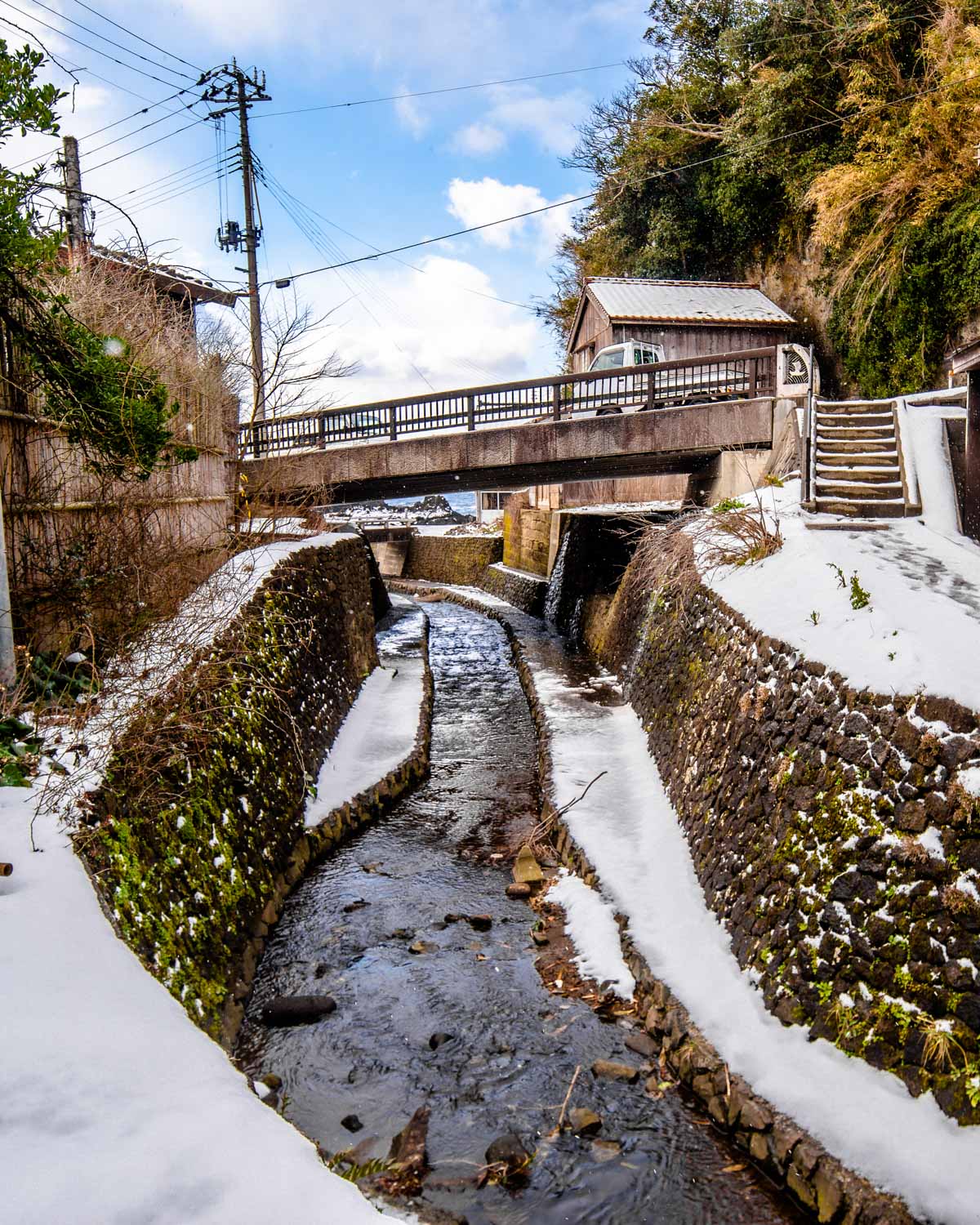 ---
5) Take a Ride in a Taraibune
Just a few minutes down the road from Shukengi, I had the opportunity to take a ride in one of the island's iconic traditional Japanese boats – the Taraibune (tub boat). These are wooden elliptical barrel boats, found at the island's southern access point at Ogi Port.
Visitors can take a 10-minute ride on one of these modes of transport, steered by one of the island locals dressed in colorful, traditional Japanese attire. While the experience itself isn't all that exhilarating (and I'd skip it if you're short on time), it was fun to get out on the water and to try to steer the boat myself.
Opening Hours: Mon to Sun: 8:20 AM – 5 PM
Prices: ¥ 500 Yen ($4.63 USD)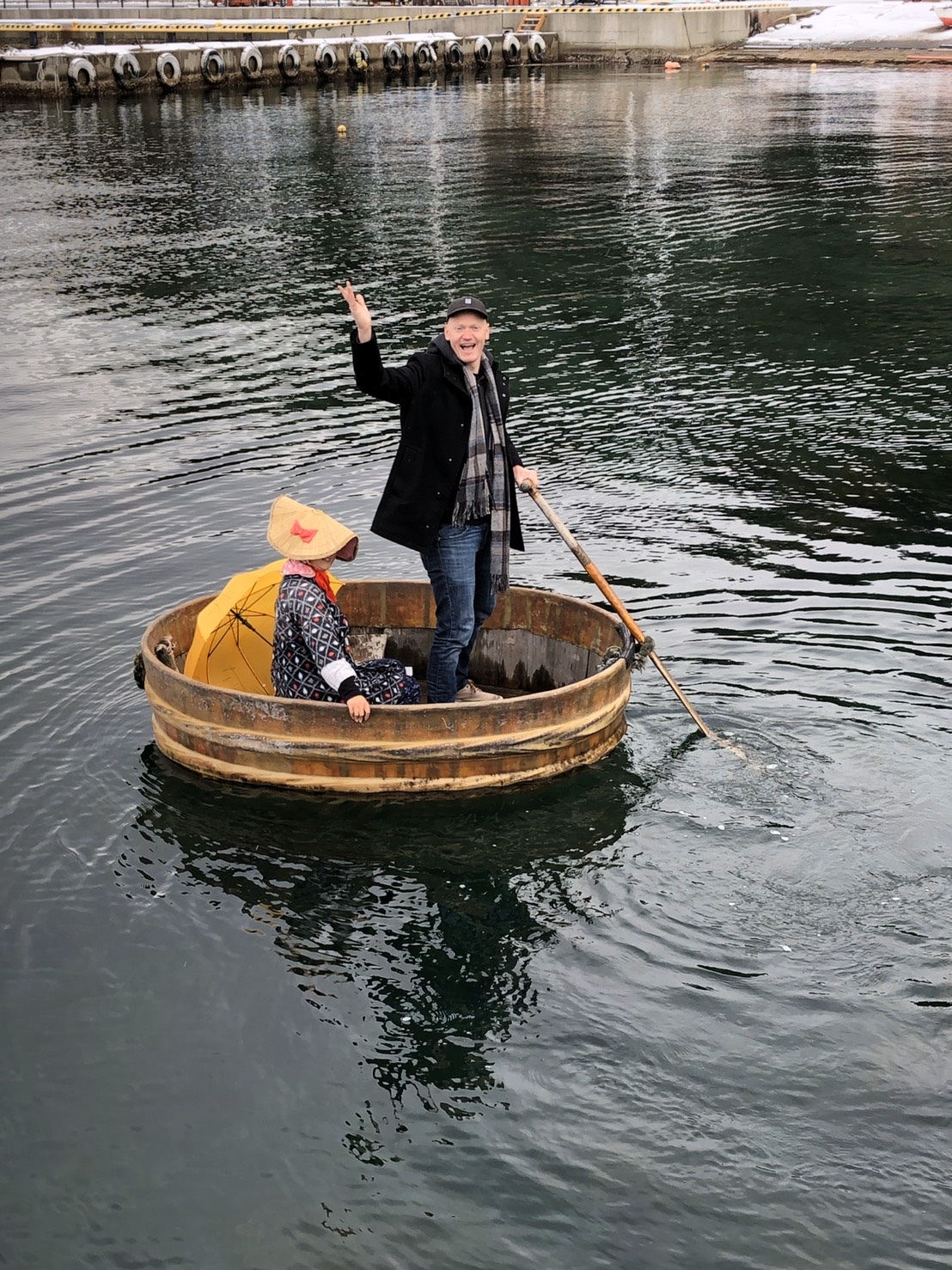 ---
6)
Walk Through The Toki Forest Park
Sado Island offers some spectacular fauna and flora, and is home to the endangered Toki (Japanese crested ibis). These birds nearly became extinct, but in recent years due to rehabilitation efforts, population numbers are rapidly increasing! These birds can be spotted in the Toki Forest Park, and are quite popular amongst tourists and locals!
Toki Forest Park, Sado | One Minute Japan Travel Guide
---
7) Visit the Seisuiji Temple
Seisuiji Temple was founded in 808, by Ken'o Hoshi, a Buddhist monk who came from Kyoto on a missionary tour.
After taking a stroll up the tranquil stoned-path lined with beautifully and towering cedar trees, you'll arrive at the Seisuiji Temple wooden deck and viewing platform. It's one of the main temples on the "Sado's Seven Gods of Fortune pilgrimage route", and is the perfect blend of Japanese architecture, religion and nature.
It also offers a pretty fantastic photo opportunity ;-)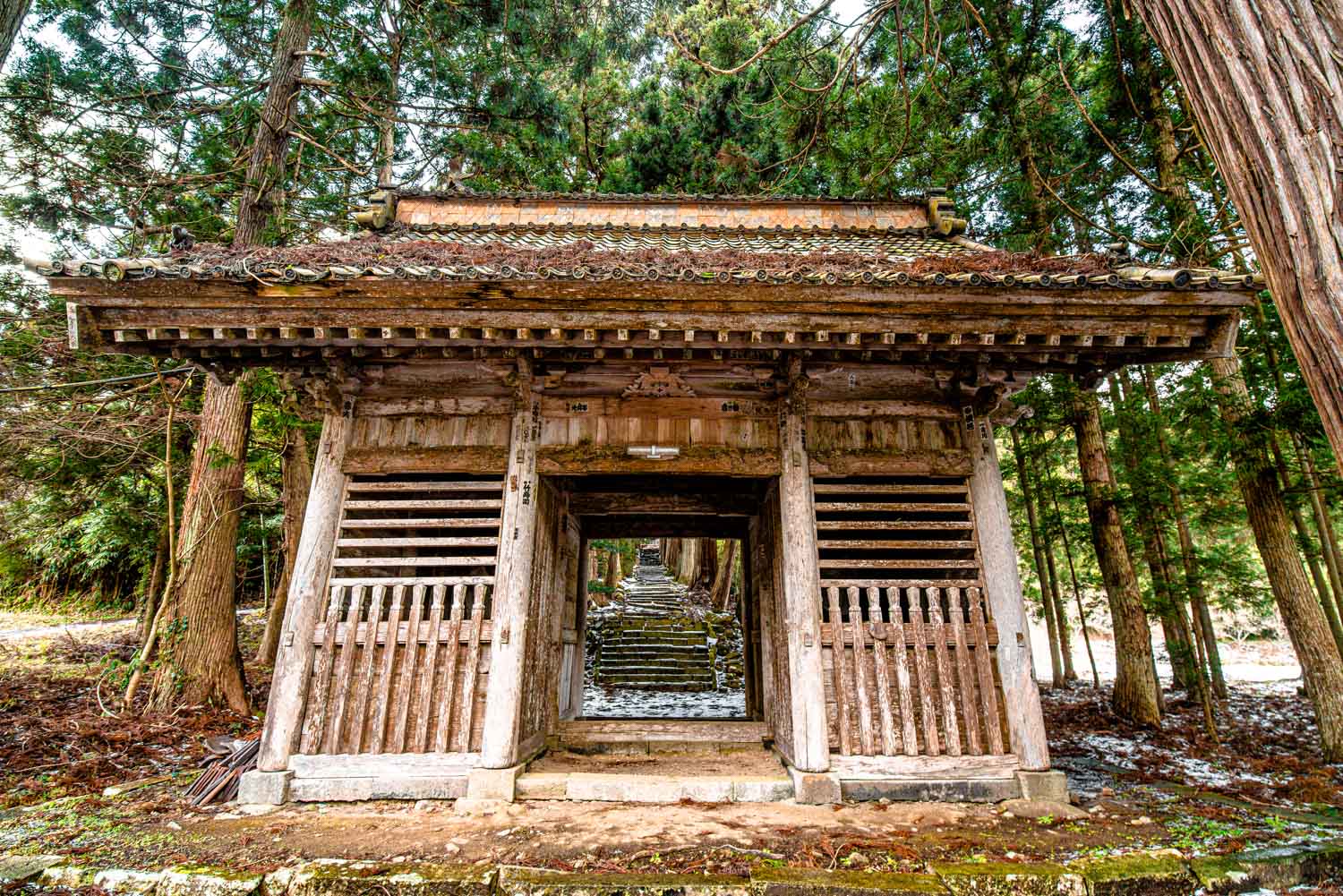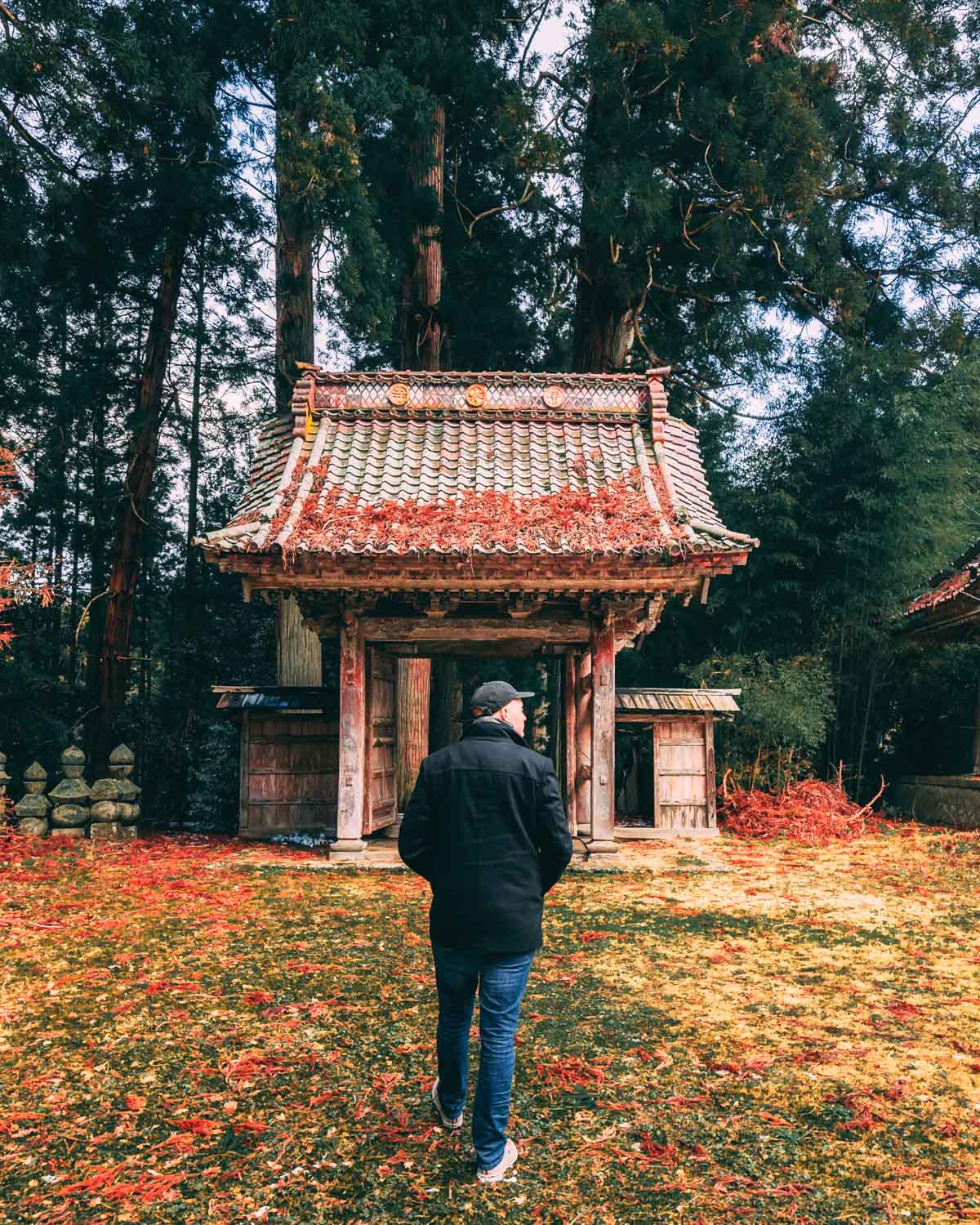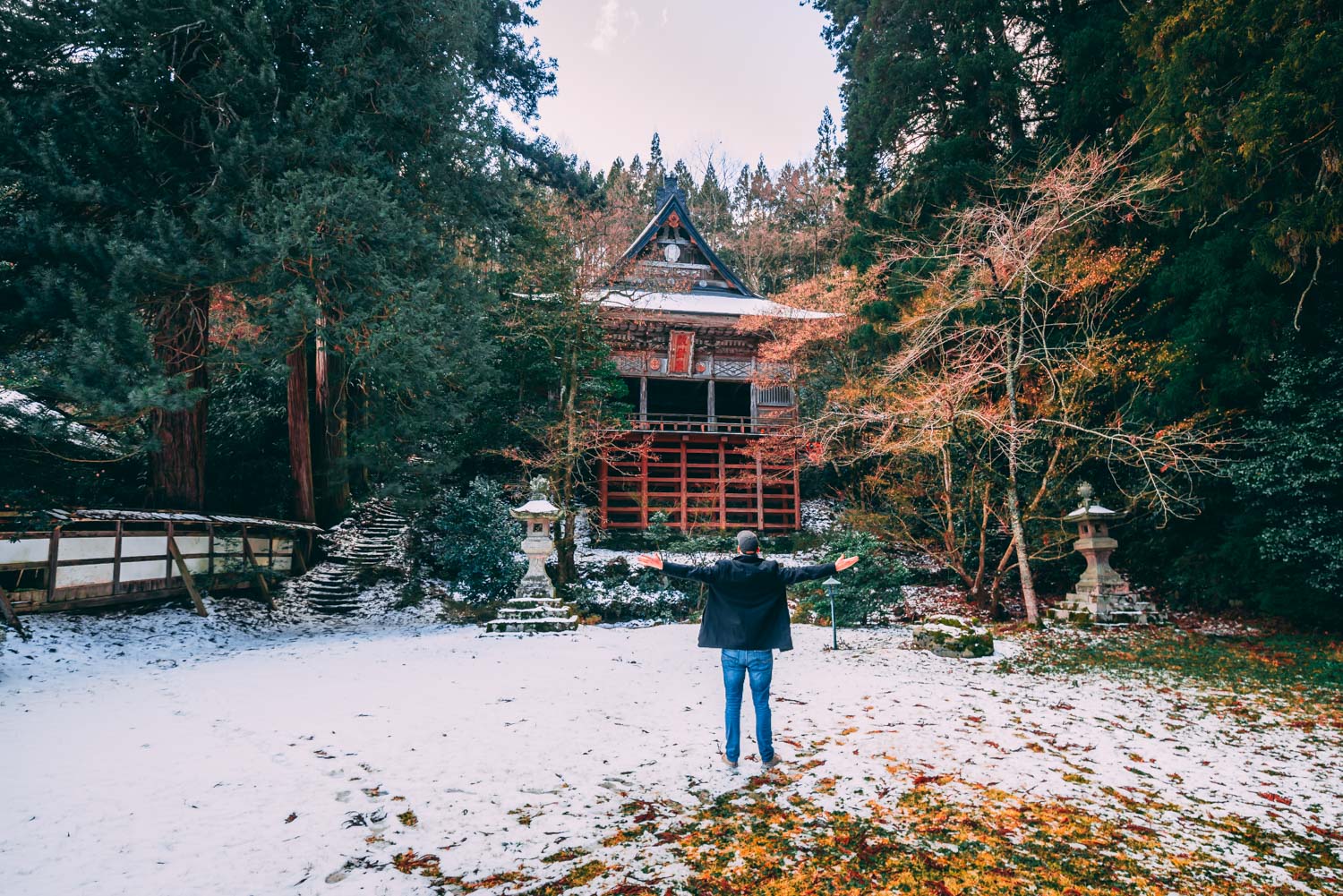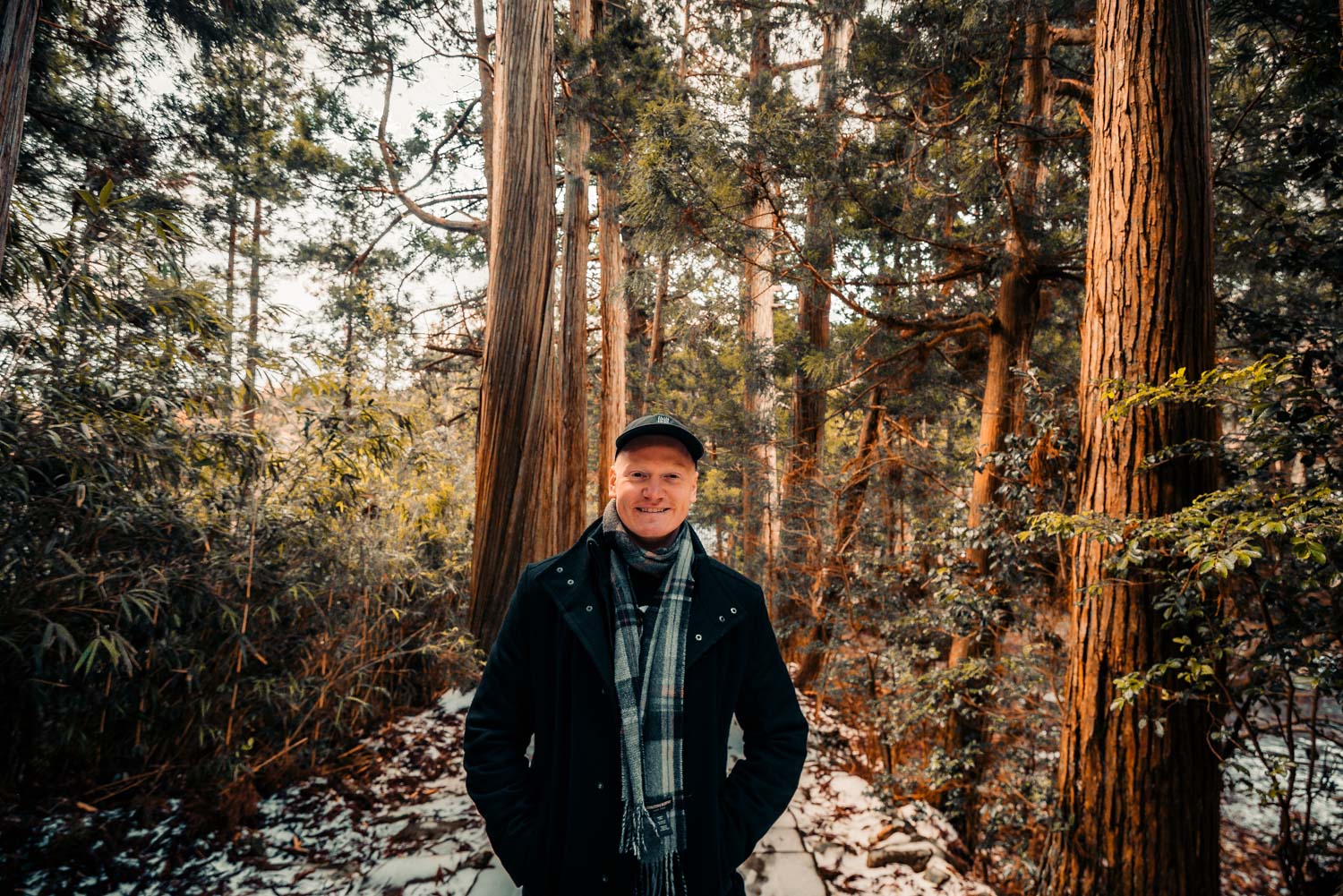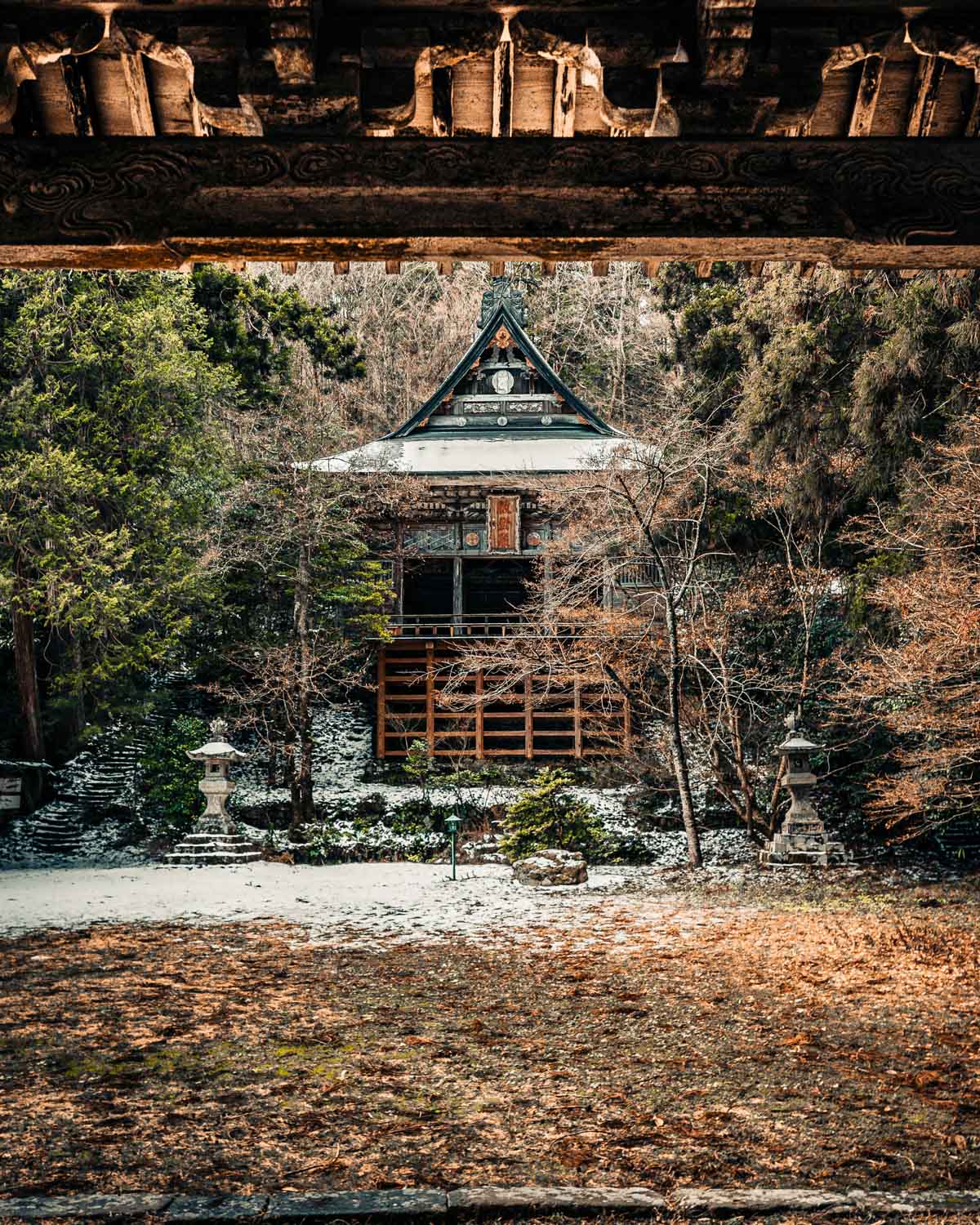 ---
8) Explore Senkakuwan Bay
"Exquisite Works of Art carved by the Clear Waters of the Sea"
Senkakuwan Bay is a 4km stretch of coastline across five different coves that offers some of the best scenic views on the entire island! It has earned recognition as a quasi-national park for its rugged coastlines with incredible precipices towering 30 meters high over the sea. Similar to the steep, jagged cliffs of Hardangerfjord in Norway (which Senkakuwan is a direct translation of), visitors can enjoy this majestic landscape from the Ageshima Yuen viewing deck, or by taking a glass-bottom boat ride through the bay. Also, be sure to visit the Sado Osaki Lighthouse while you're there!
Take a look through this stunning drone footage for an idea of what to expect!
新潟 佐渡 尖閣湾 4K Senkakuwan Bay
---
9)
Soak up a Hot Spring Bath – A Japanese Onsen
Did you know that Sado Island has hot springs?
As a volcanic island, its thermal waters are found above the earth's surface in Ryotsu, Aikawa, and Ogi – ideal places for sightseeing and bathing! Experiencing these hot springs can be done in an onsen (Japanese hot spring/spa).
During my trip to Japan, I had the pleasure of visiting nearly a dozen different onsens across the country, and I became obsessed with the ritual. It's incredibly relaxing and makes your skin feel so buttery smooth!
You can find public bathhouses like the Kurtherme Sado, and many hotels in Sado offer their own onsens. So enjoy the stunning views, rejuvenate your mind and body and sit back as you soak up the natural bubbling spring waters.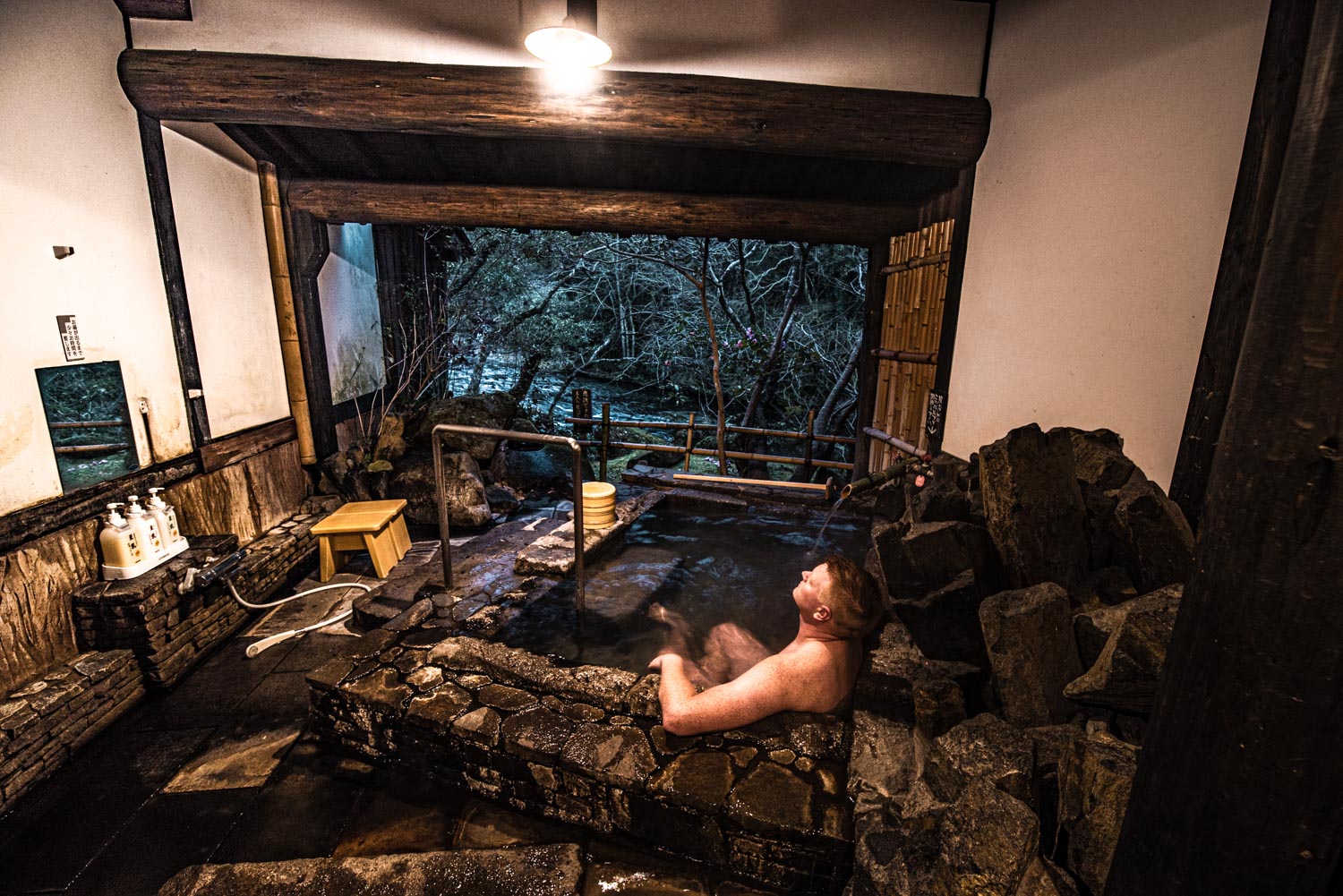 ---
10) Relax by Lake Kamo
Like Lake Kawaguchi that is nestled below Mt.Fuji in Tokyo, Lake Kamo offers a similar landscape of serene beauty.
Lake Kamo is the largest lake in the Niigata prefecture and is astonishingly beautiful throughout the seasons. In spring, it is surrounded by cherry blossoms and winter provides snow-covered trees.
There is a promenade and a bike path along the lake which can make for a nice sunset activity, or you can just find the perfect picnic spot to sit and enjoy the scenery.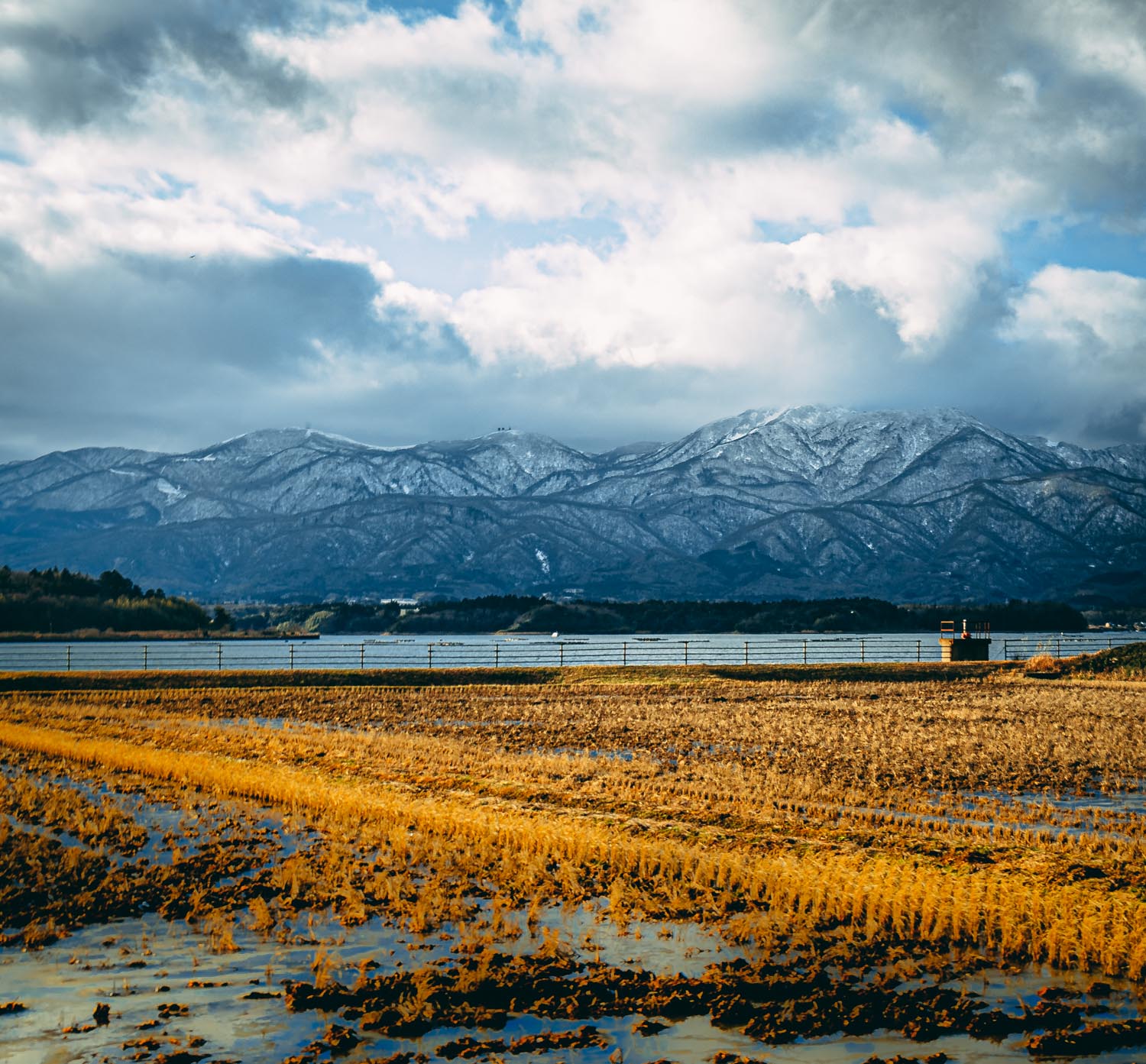 ---
11) Bask In The Sun At Some Of The Most Beautiful Beaches
Sado Island offers some of the most exquisite beaches in Japan, and even if it's not swimming season they are worth a visit. Some are covered in rocky outcrops, whereas others are covered in soft white sand.
One of the most popular is Futatsugame Beach, which was selected as one of the Top 100 Beaches in the country, as well as being awarded two prestigious Michelin stars in the Michelin Green Guide. With its crystal clear waters and unbeatable scenery, this is definitely a must-visit for your Sado Island getaway!
A few more beaches to add to your list are:
Sawata Beach

Jogahama Beach
Sobama Beach
One thing to look out for when visiting Sado is its unique black sand beaches, which are ridiculously gorgeous year-round! With black sand beneath your feet and the dramatic mountainous background fringed with jewel-colored waters, these beaches offer a picture-perfect place for any photographer or Insta-lover.
---
12) Get A Panoramic View From Mt. Donden
The view from Mt. Donden looks as if it was taken straight from a scene from "The Sound of Music." Breathe in the crisp mountain air as you trek up the incline, and get pumped up for a spectacular view!
Located at the base of the steep Osado Mountains, you'll be amazed by the gorgeous array of wildflowers and plants, and the area is popular with adventure seekers/hikers during spring and summer.
Mount Donden has been chosen as one of the Top 100 Mountains in Japan!
---
13) Visit Chokokuji Temple – The "Rabbit Temple"
The Chokokuji Temple is another iconic Sado Island temple founded by Kukai (Kobo Daishi), a Japanese Buddhist saint.
The temple is known as a temple of flowers, specifically the peony – and offers a range of activities for guests to enjoy, suitable for families, couples and solo travelers.
Besides playing with adorable rabbits, you can join in on a meditation session, do coloring and origami activities, sip on tea or simply explore the serene temple grounds.
I didn't make it here during my brief visit to Sado, but it's definitely on my to-do list for when I make it back!
---
14) Experience The Sado Legacy – Iwakubi Shoryu Tanada
Sado, famous for its top-quality rice (and sake), offers scenic terraced rice fields (Tanada) that fit together like a puzzle into the spectacular landscape. Many rice cultivations here are done entirely by hand.
The Sado's mountainous Tanada has been recognized by the World Agricultural Heritage, which aims to preserve these picturesque fields. About 460 paddies still remain today, and they are made full use of. Paddies on these steep slopes include the Iwanek Shoryu Rice Terrace, Katanoo Tanada, North One Side Rice Terrace, Tsukifuse Tanada and Guru Tanada.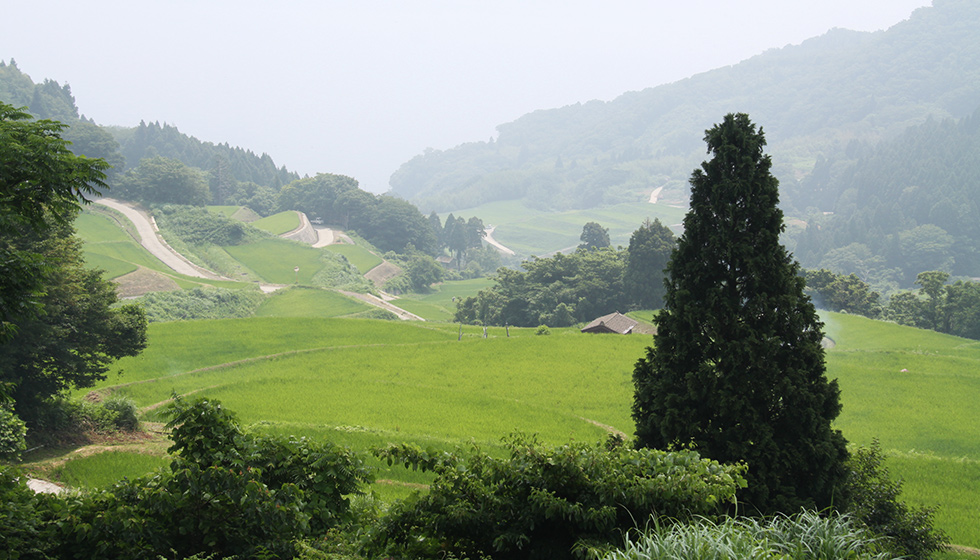 ---
15) Trek Up Onogame (Turtle Rock)
On Sado Island, turtles are considered a sacred animal and are symbols of longevity, endurance and the continuation of life.
There are two turtle-shaped rocks on Sado Island, and you can trek up the mountain to the top of Big Turtle Rock, where you will find a small shrine. This trek is perfect for hiking year-round (but I'd be sure to check the weather to avoid getting caught in the rain).
---
16) Visit the Folk Museums
The Sado's Akadomari Folk Museum is undoubtedly one of a kind. The museum hosts a large collection of articles and exhibits that portray the lives of the common folk. While it may not be interesting to everyone, it's a well laid-out exhibit filled with festivals, intricate deity masks and folk materials.
As previously mentioned, the Sadokuku Ogi Folk Museum has a collection of 30,000 artifacts about the folk people and their lives during the Showa times (1926 – 1989), and the museum also showcases shipbuilding and fishery artifacts.
---
17) Taste Some Of The Delicious Local Fruit
Sado Island provides a range of seasonal fruit, producing some of the tastiest and rarest fresh produce in the world. Ranging from Le Lectier (pear) to the seedless Okesakagi (Okesa persimmons). Guests will undoubtedly be blown away by these mouth-watering offerings.
There is also the Voilette de Sollies figs, which due to their exclusivity, were given the name of "rare black diamonds."
---
18) Try out Mumyoui Pottery
Made from Mumyoui clay obtained near the Sado goldmines, there's a small pottery studio/workshop on Sado Island where you can try molding some pottery yourself! It's a fantastic shop with tons of unique, colorful and intricately crafted pottery for sale, but the highlight of any visit is getting your hands dirty and making a small cup as a souvenir to take home with you!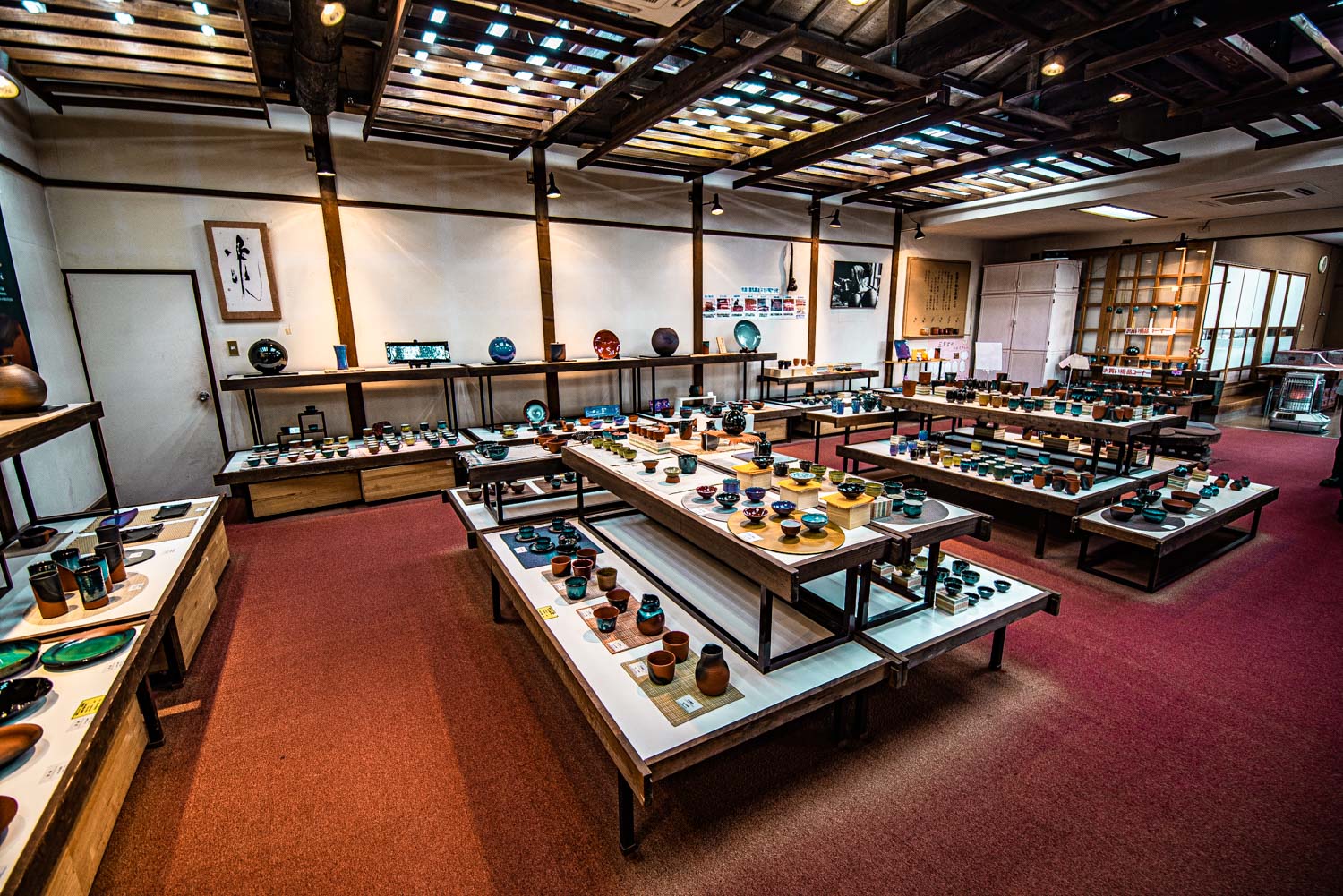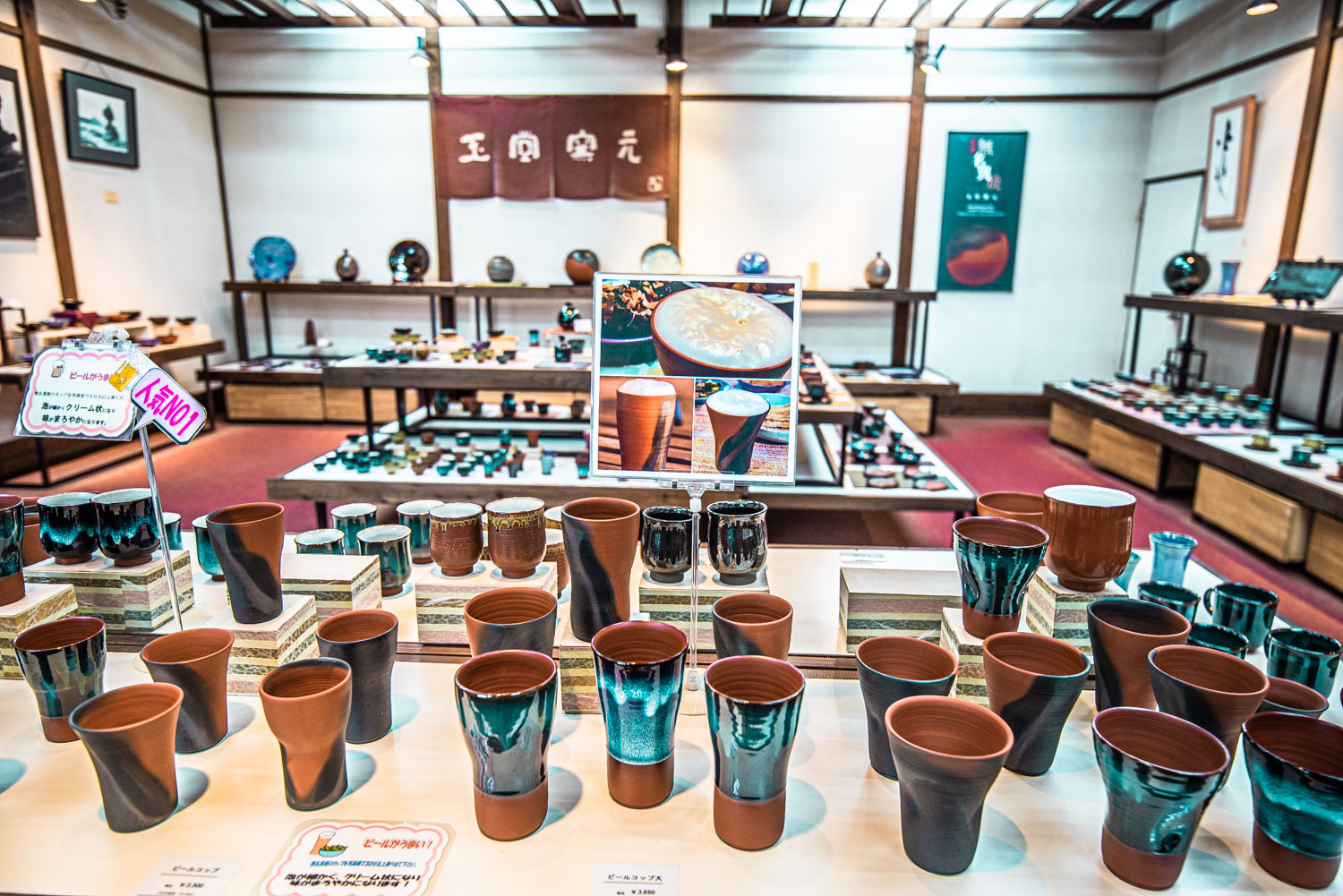 ---
Mumyoui is not your average clay as it requires extra processing efforts, and when it is baked it contracts up to 30%, resulting in a very solid and dense finished product. As well, the more you use your new Mumyoui pottery, the shinier it gets! How cool is that? Mumyoui has become tremendously popular amongst Japanese locals as it's known to enhance the drinking experience of green tea, coffee, sake and beer!
The staff at the Mumyoui Pottery are all extremely nice, and their passion and talent really shines through their work!
There are actually many different Mumyoui Pottery shops on Sado Island, but I visited the Gyokudo Kamamoto pottery shop, ocated along Route 350, in the area once known as Sawata Town.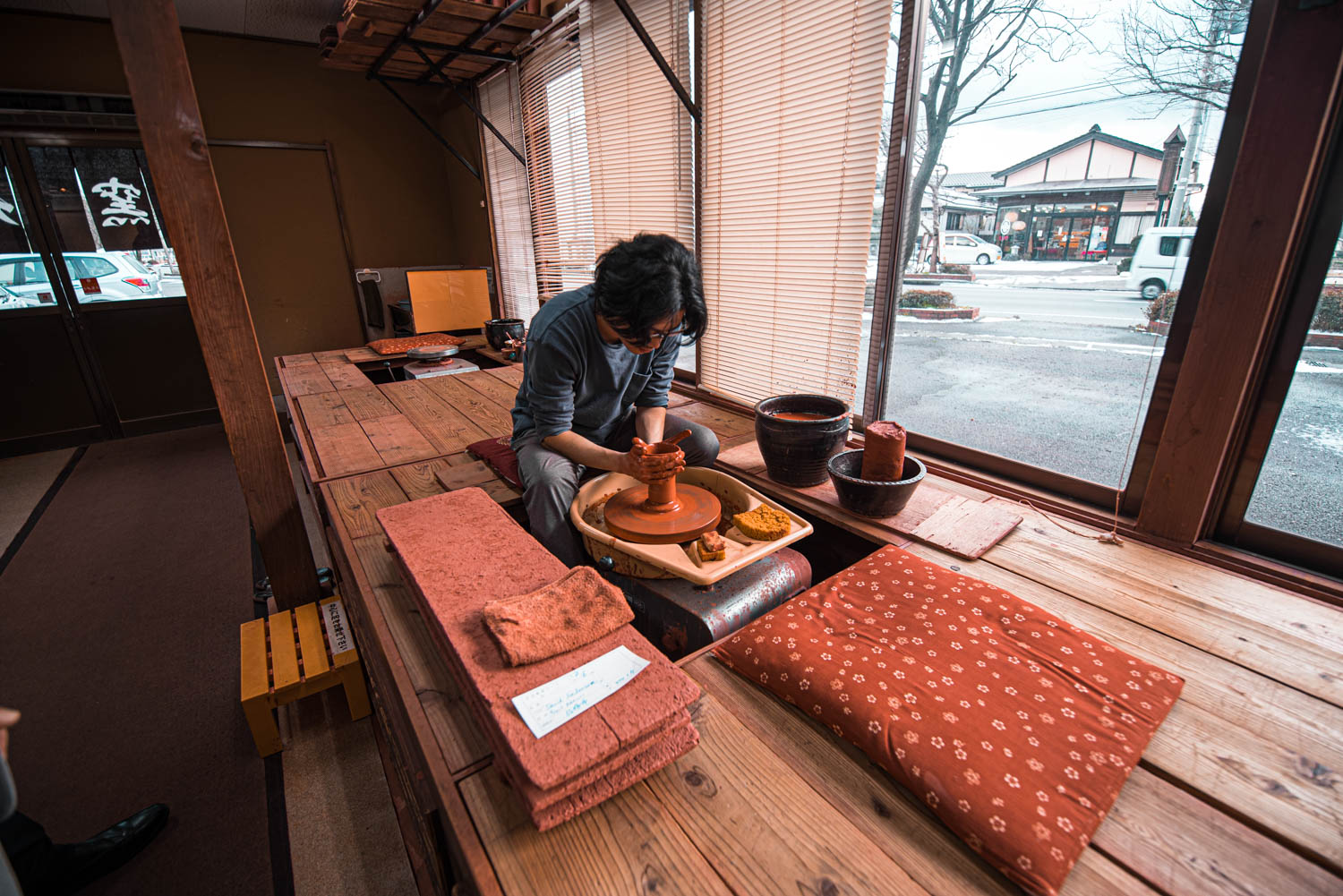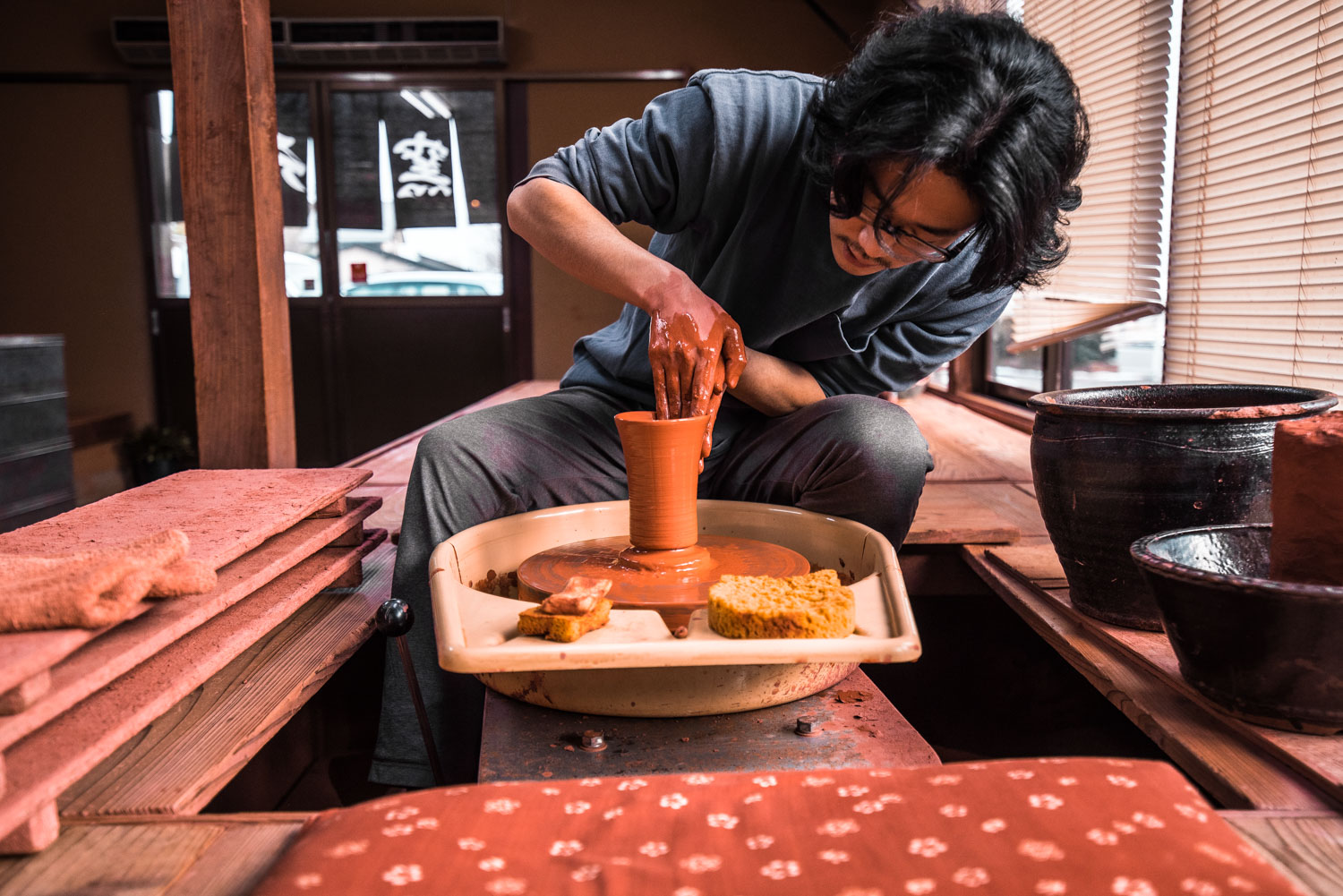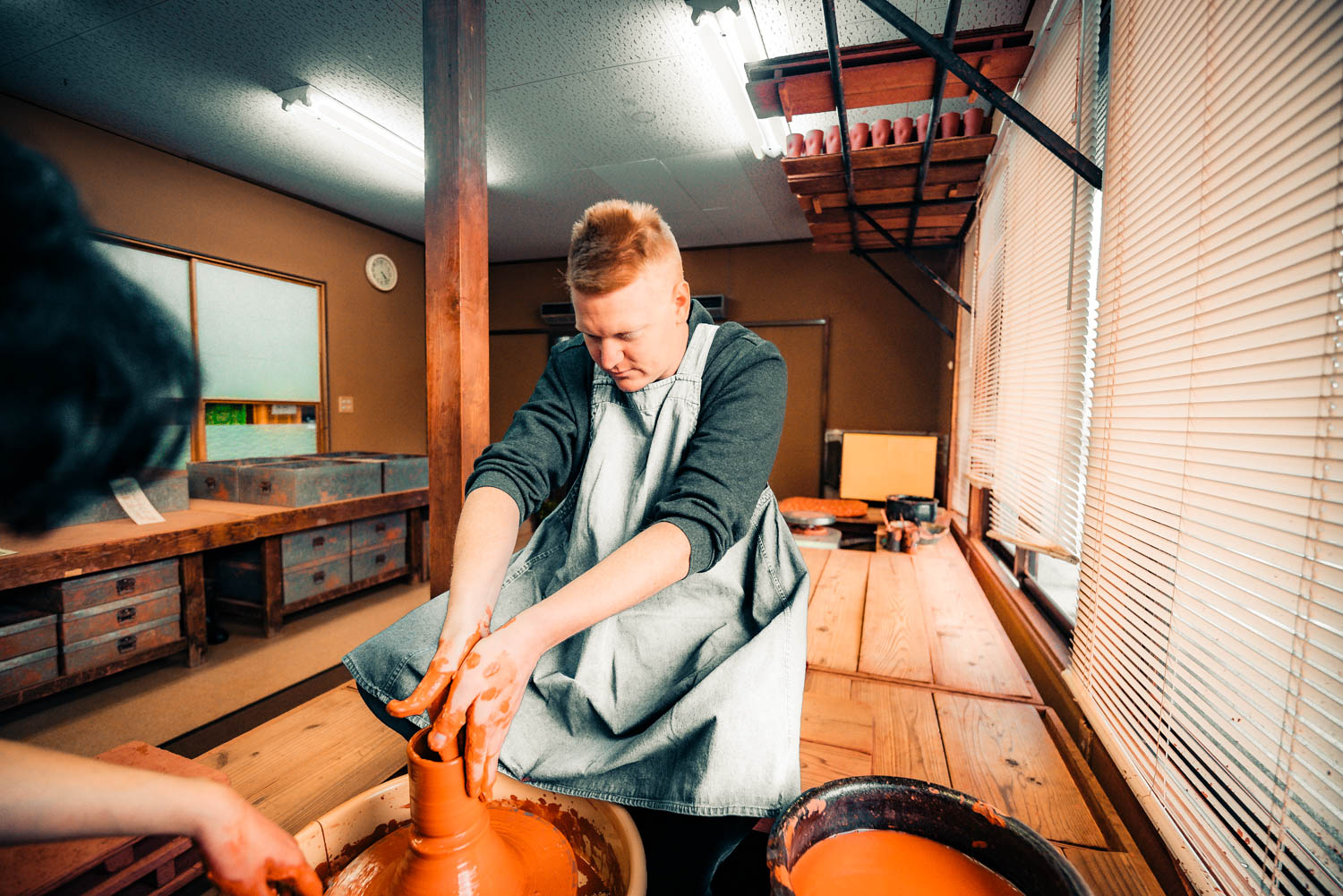 ---
19) Eat Nishime
Japan is known for its delicious cuisine, and each prefecture has its own unique soul food. For Sado Island, nishime is the go-to dish!
Nishime is a hot pot style dish that contains various ingredients such as eggs, carrots, bamboo shoots, tofu, daikon (Japanese horseradish) and bits of konjac starch. It's a simple yet tasty dish, and is a cultural must-try while visiting Sado Island!
---
20) Take A Scenic Drive
While I've already touched on this quite a bit, driving around Sado Island is truly spectacular. The roads are all very well maintained (although American drivers might find it a bit tricky to drive on the other side of the road), and you could spend all day driving around the entire island!
Cruise down the Osado Skyline and along the winding mountain roads, and you will discover so many different panoramic viewpoints of this wondrous destination!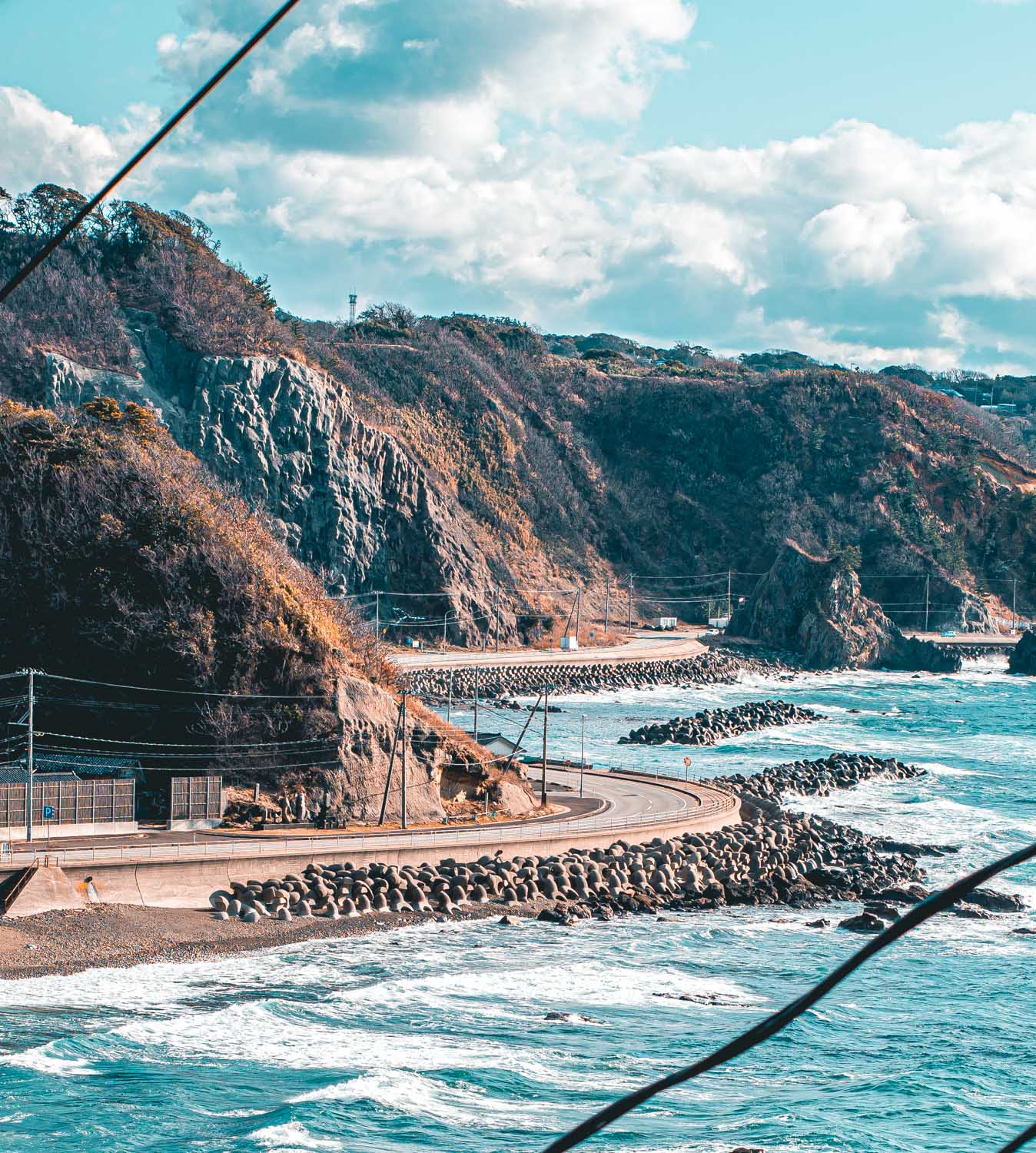 ---
21) Celebrate The Earth At The Earth Celebration Festival
Last, but certainly not least, every year since 1988, Sado island holds the annual Earth Celebration Festival in mid-August. This three-day event brings crowds together in the small town of Ogi to celebrate their international arts festival. The festival honors the earth by incorporating drumming, nature, humanity, and Japanese culture.
The Kodo Group (Taiko drum masters) perform every year at the festival, as well as other famous musicians from around the world who come to collaborate with the Kodo Taiko.
It's listed on The 30 Music Festivals in Japan For Your Bucket List, so if you're planning a trip during the summer, Earth Celebration Festival should definitely be added to your itinerary!
Ticket Prices: ¥5,000 – ¥13,000 ($46 – $120 USD)
https://www.earthcelebration.jp/en/
KODŌ live at the Sado Earth Celebration
---
Where To Stay In Sado Island
With Sado Island being a relatively large destination, there's a wide variety of accommodation options to choose from here. Where you choose to stay really depends on the length of your visit, and what's most important to you. I'd personally recommend staying in the Mano region (central Sado), as it'll provide a much better jumping-off point to explore both the North and South regions of the island.
What better way to experience the authentic Sado Island life than to stay in a traditional Japanese Inn – a ryokan. During my visit to Sado Island, I stayed at the Hotel Yahatakan and it could not have been more perfect. This was my first experience at a ryokan, and I loved the spacious room with a window looking out at the mountains. At first I was a bit confused as there wasn't a bed in my room, but soon realized that the staff prepare your bed each night by using the heavy blankets and pillows in the closet.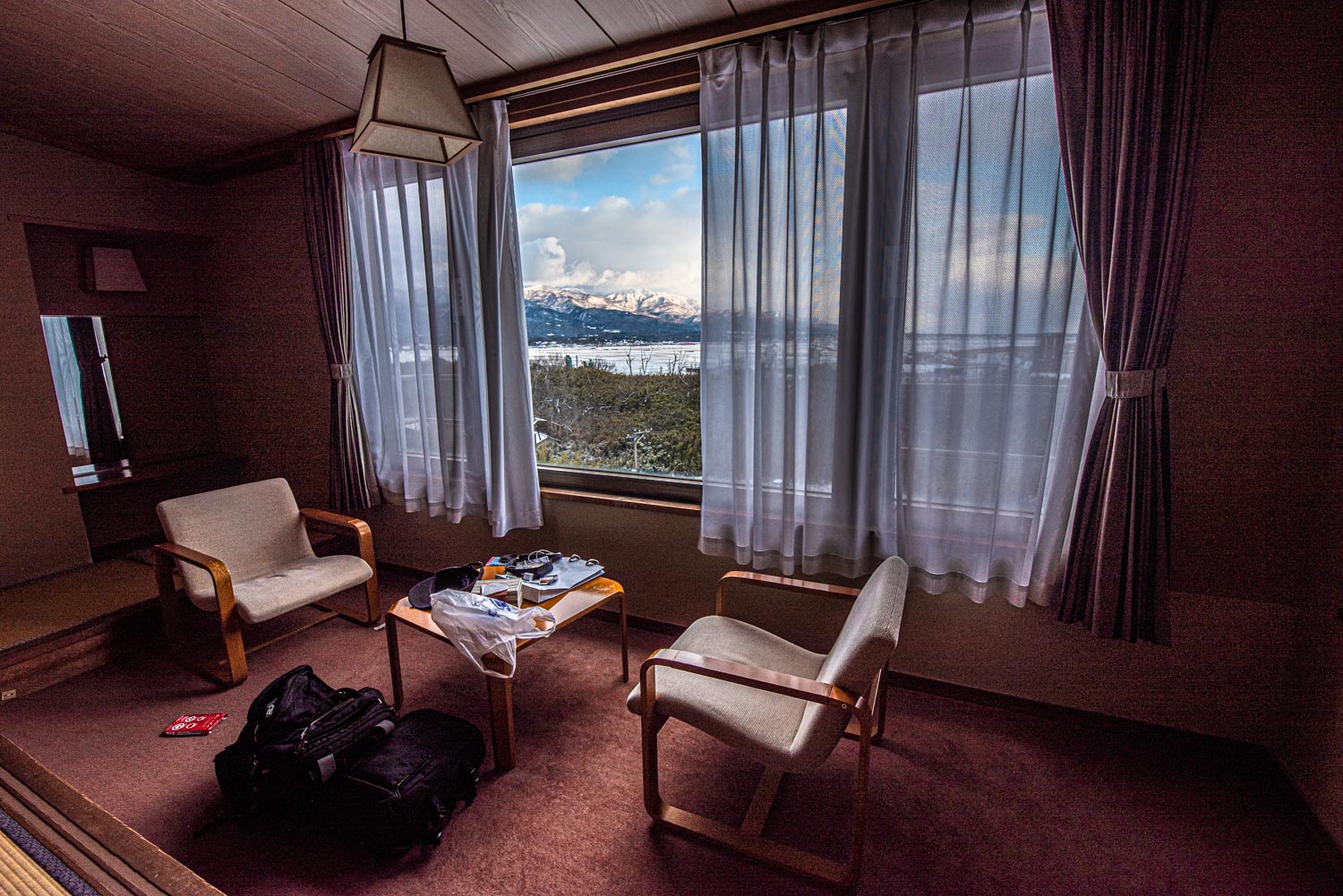 ---
A few more recommended places to stay to on Sado Island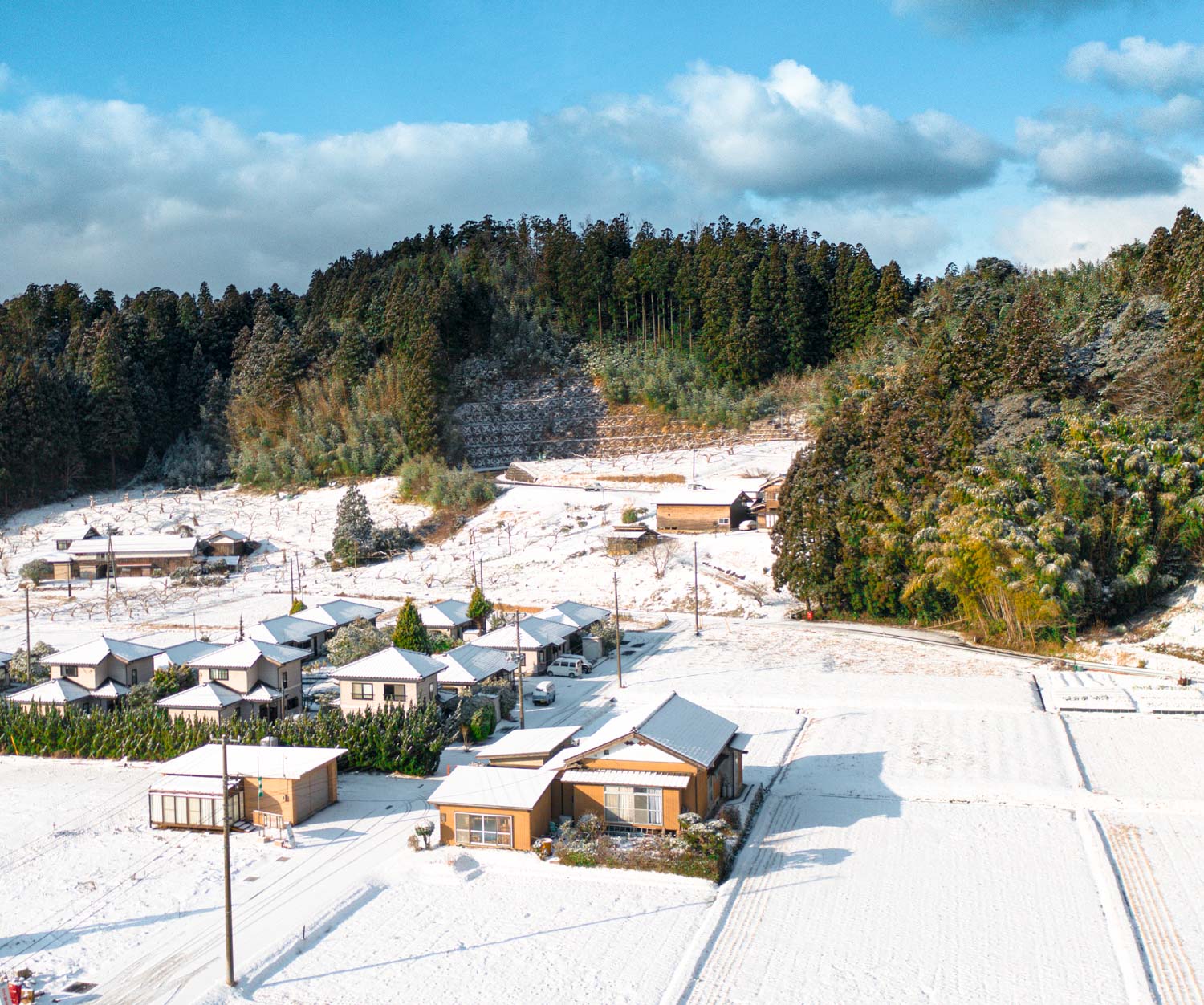 ---
Fun Facts About Sado Island
The population of residents on Sado Island is only 53,952 – with the majority of them over the age of 60, but there are also a large number of immigrants and the younger generation to keep things diverse!

At the beginning of the rice planting season in mid-April and again in October, the locals dress up as demons and dance to the sound of taiko drums and flutes. This is called the Onidaiko dance, a ritual to ward off demons while praying for a bountiful harvest.

Nichiren Daishonin

was a Buddhist priest (and Japanese exile) who was banished to the island from 1271 to 1274 for writing about "

Establishing the Correct Teaching for the Peace of the Land

."

The island's economy is based widely on rice cultivation and fishing.

The island is famous throughout Japan for a folk dance known as okesa. This dance style was once performed by the men who worked in the island's gold mines.

Aikawa is the largest town situated on the western coast of the island. This village experienced a gold rush during the Meiji period (1868-1912).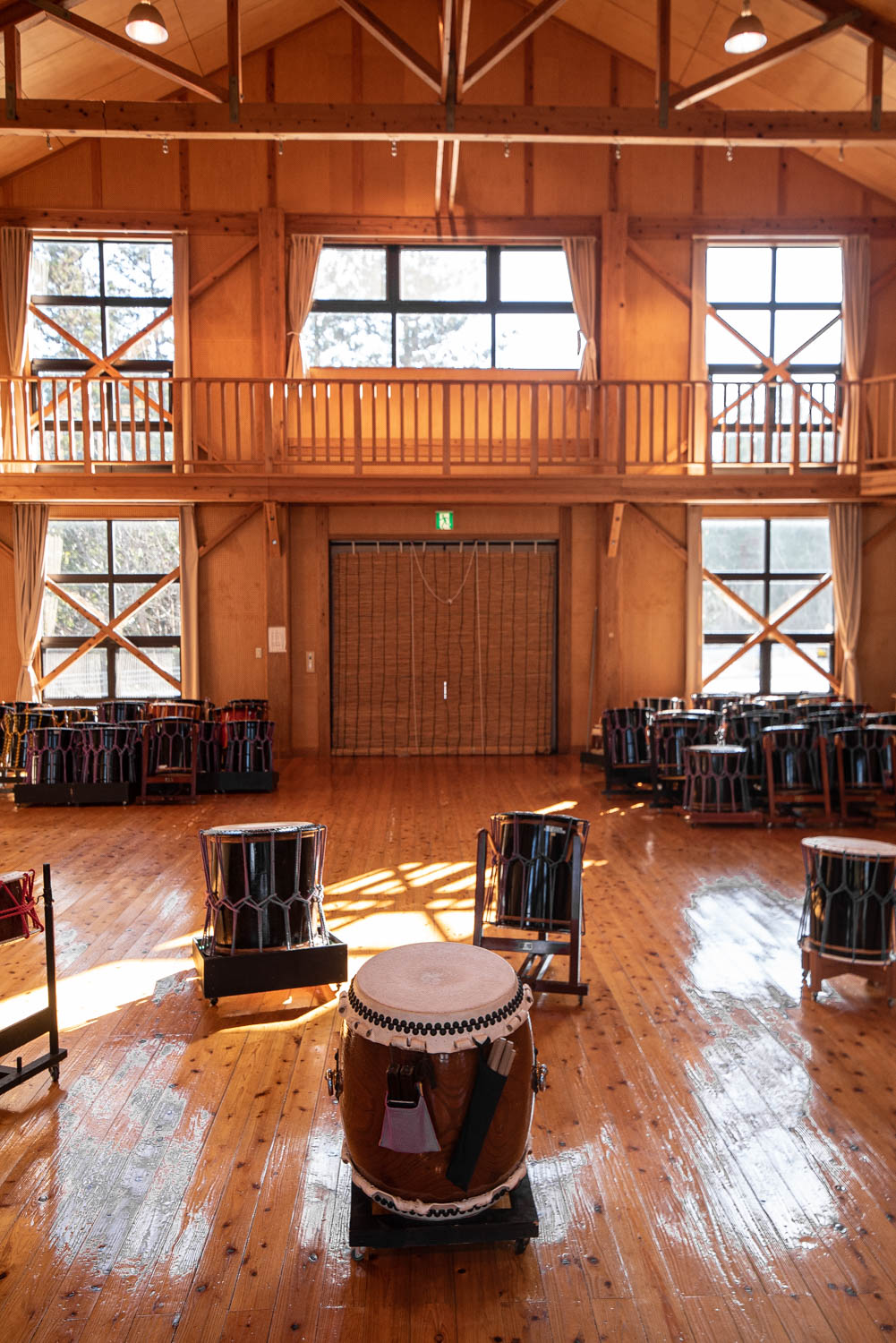 ---
Where To Visit After Sado Island
Looking for some more unique destinations to visit after your Sado Island explorations? While everyone knows the chaotic cities like Tokyo & Osaka, I'd love to introduce you to some more of Japan's best-hidden gems that you'll absolutely fall in love with!
---
Kanazawa City
"The Jewel of Japan"
Kanazawa is the capital city of the Ishikawa Prefecture and is easily reached by a scenic hi-speed train ride down from Niigata City. Kanazawa was actually the first destination I visited in all of Japan, and was the perfect start to my trip! Surrounded by the Japan Alps, Hakusan National Park, and Noto Peninsula National Park — Kanazawa is a big city but offers a beautiful natural backdrop that provides its visitors a relaxed tourism experience.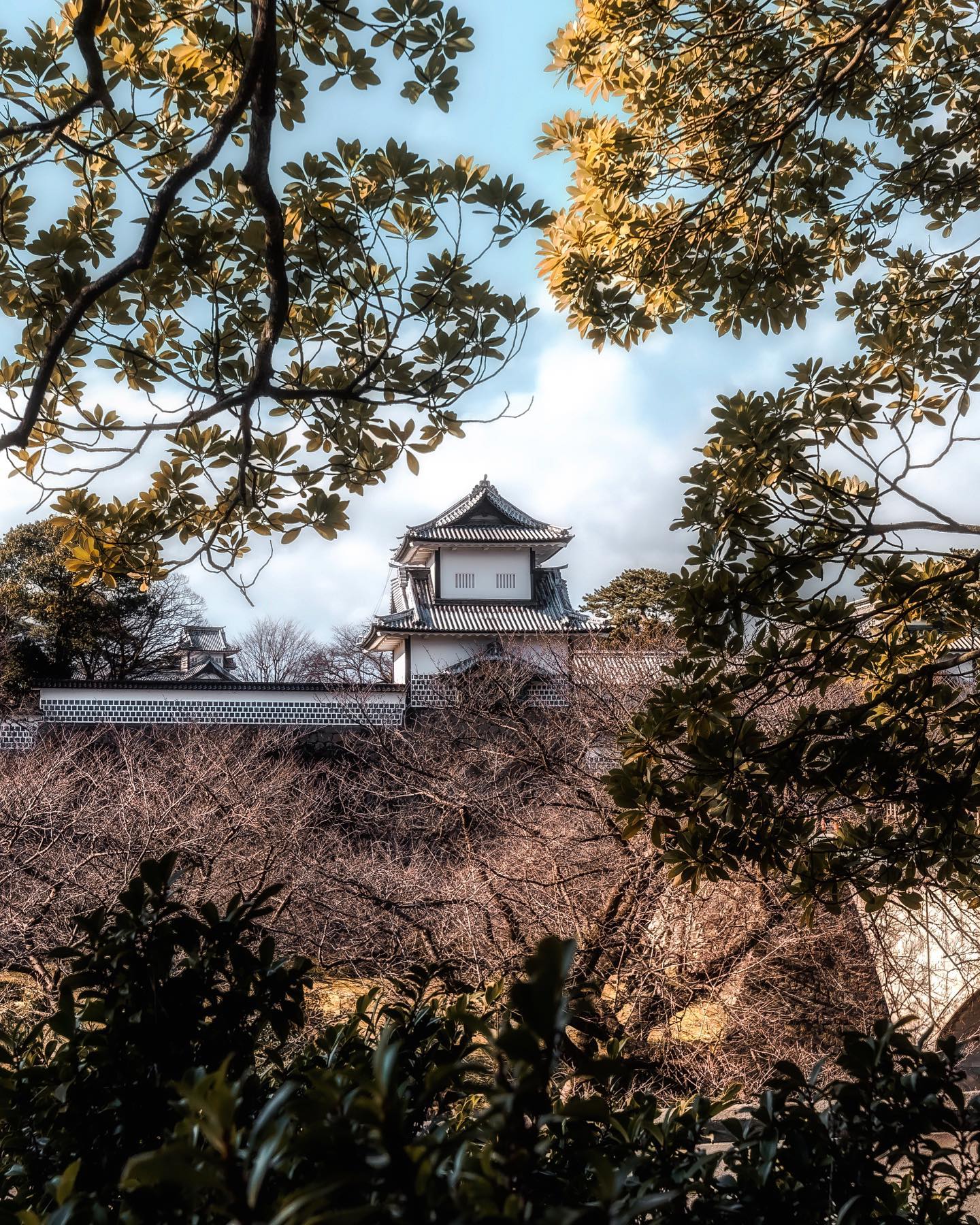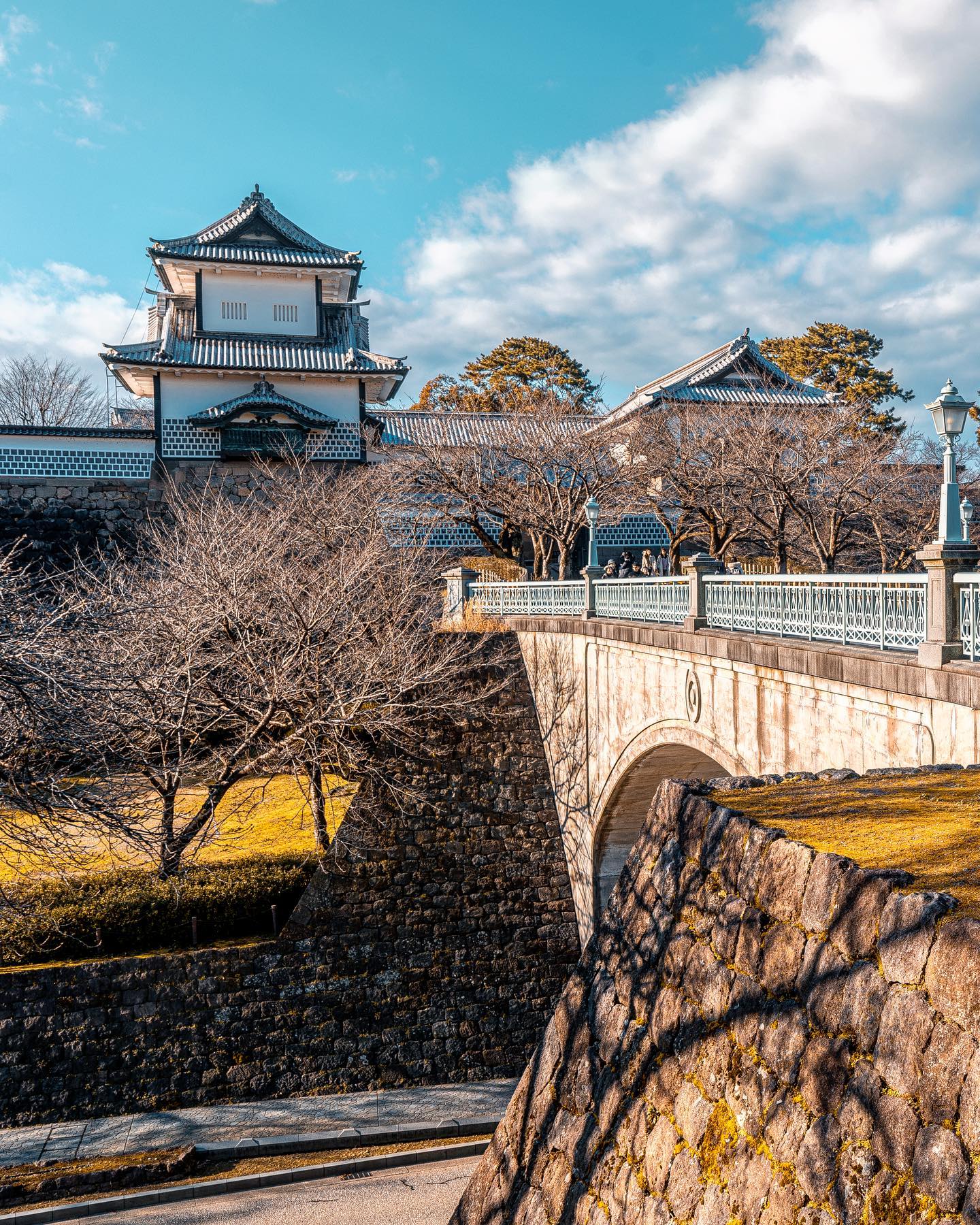 ---
Complete with an iconic picturesque castle fortress, unique historical districts, real Geisha performers, and glittering gold leaf souvenirs — there really is something to offer everyone in Kanazawa. While I loved every place I visited during my one-day visit here, the main highlight was definitely exploring the massive and famous Kenrokuen Gardens, which has even been named one of Japan's "three best landscape gardens" and originated over 300 years ago!
It's a city that shines year-round, but Kanazawa is most popular to visit during the iconic cherry blossom season (as the city's sights and parks are unbelievably colorful and peaceful). Brimming with lots of fun things to do, delicious Japanese cuisine, and lots of fun day-trips – a trip to Kanazawa would be a perfect addition to your Japan itinerary!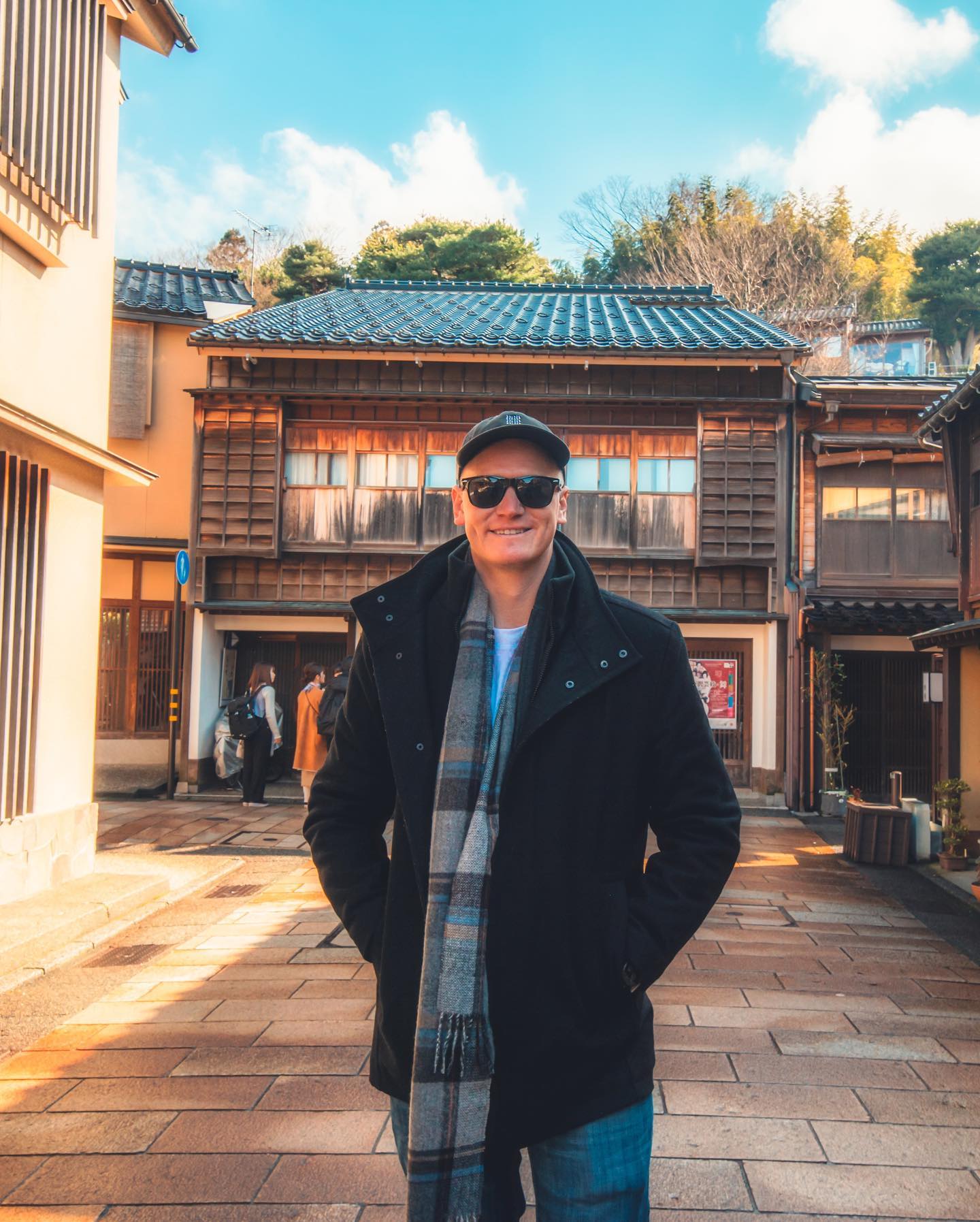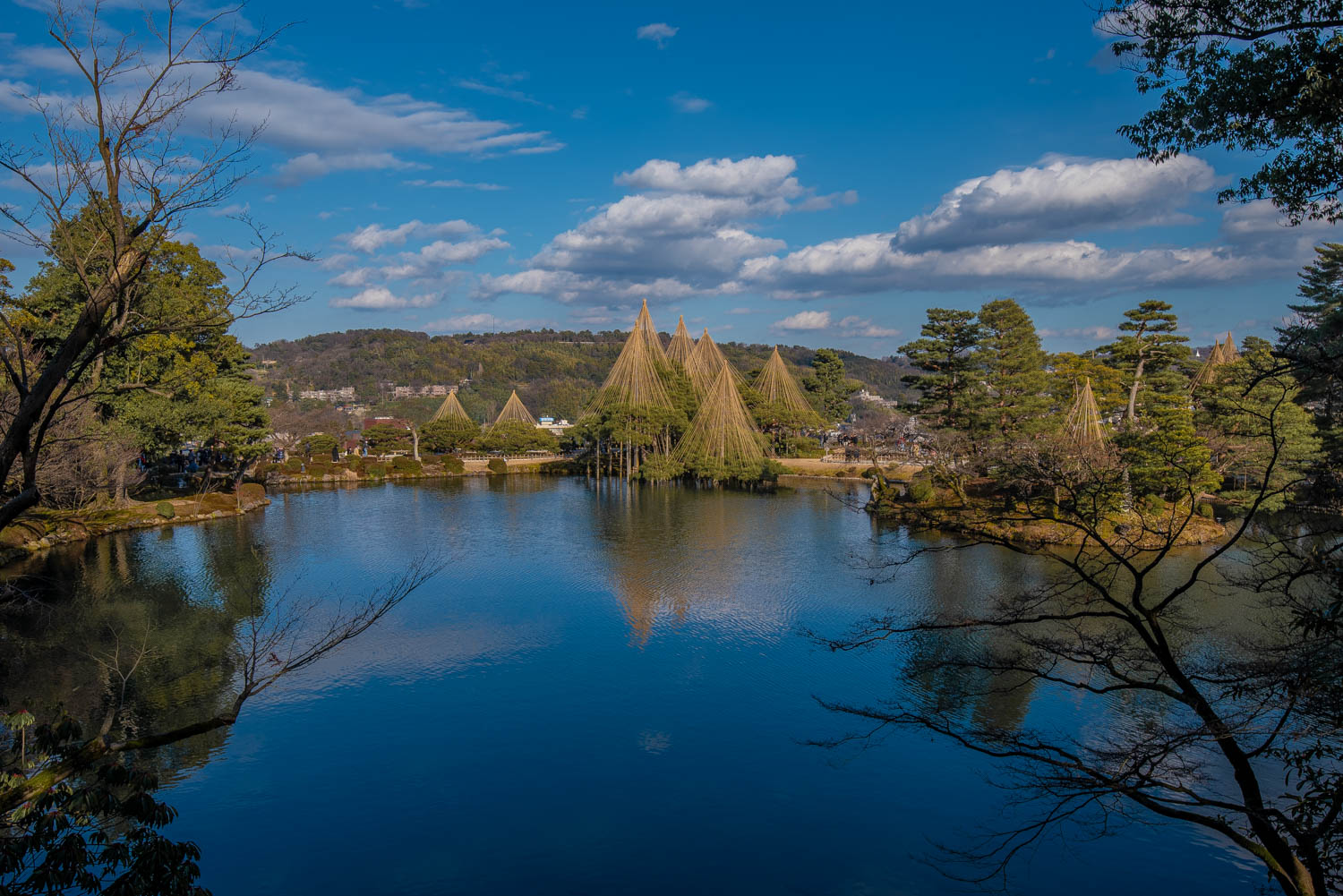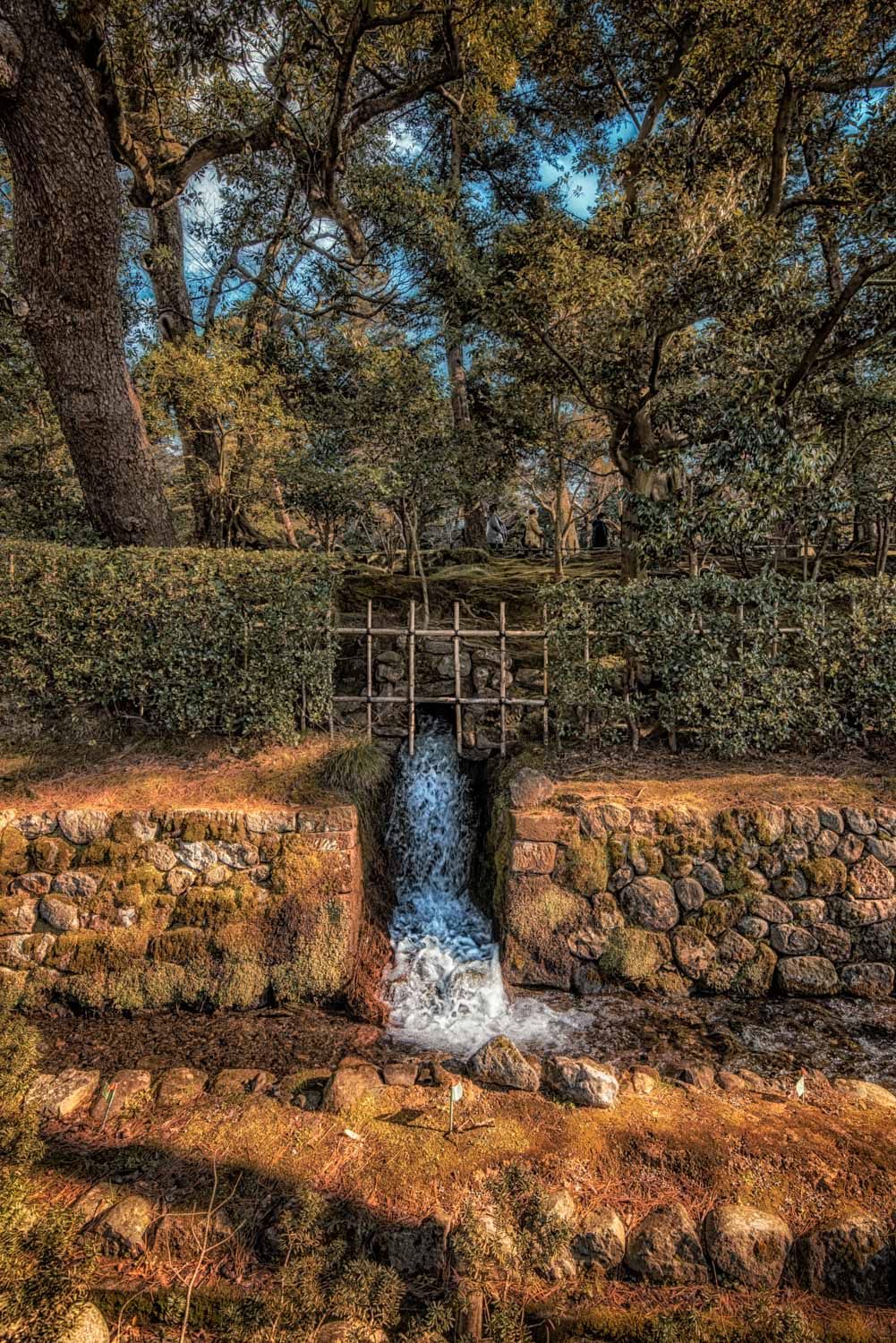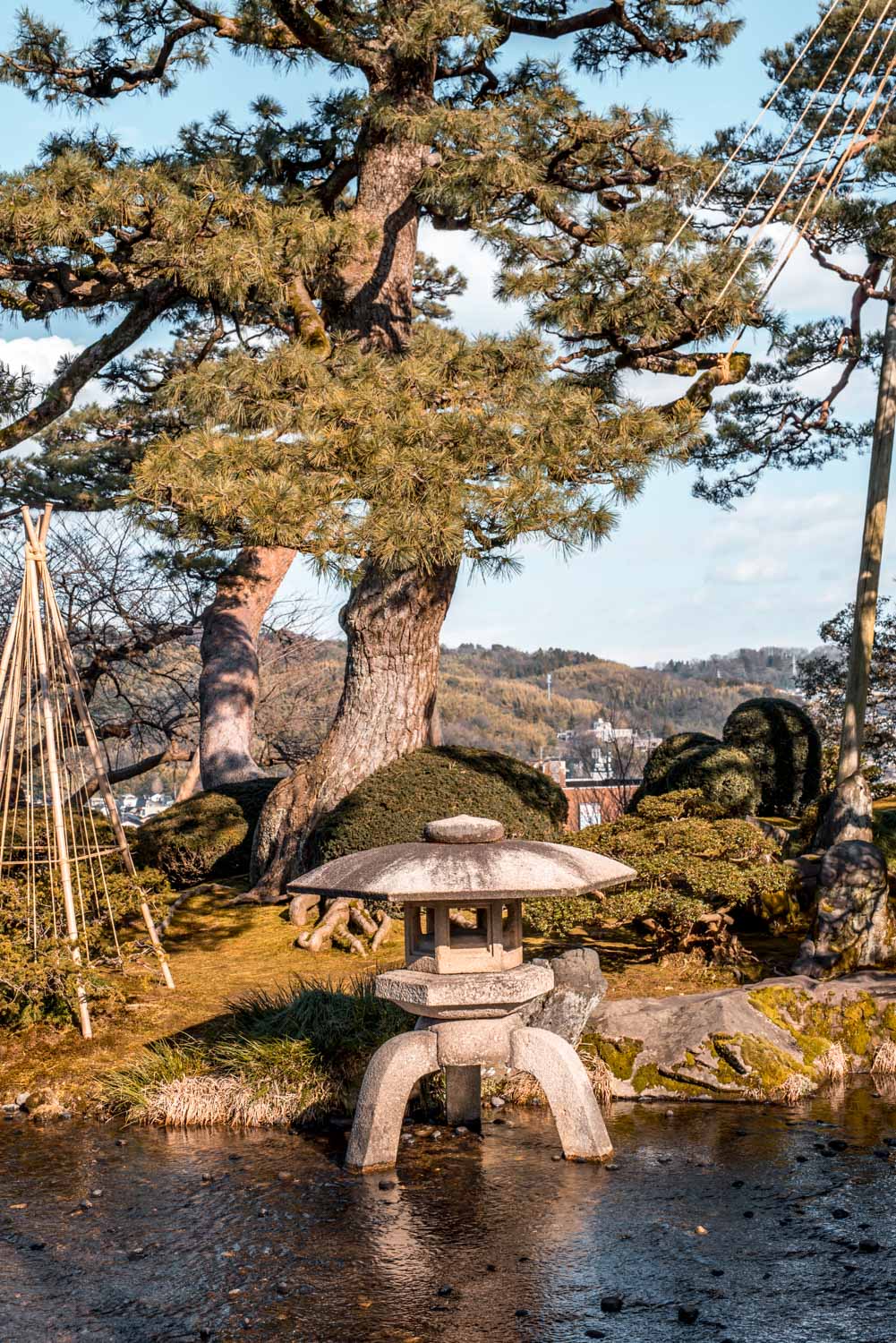 ---
Nanto City & Gassho-Style Houses
Located deep in a valley surrounded by steep mountains, Nanto City is under an hour's drive from Kanazawa, and was another memorable highlight from my recent Japanese adventures! While the natural snowy landscape (since I visited during the winter) is worth the visit alone, the main reason you NEED to visit Nanto is to explore the UNESCO World Heritage sites famous for its preservation of traditional Gassho-style houses.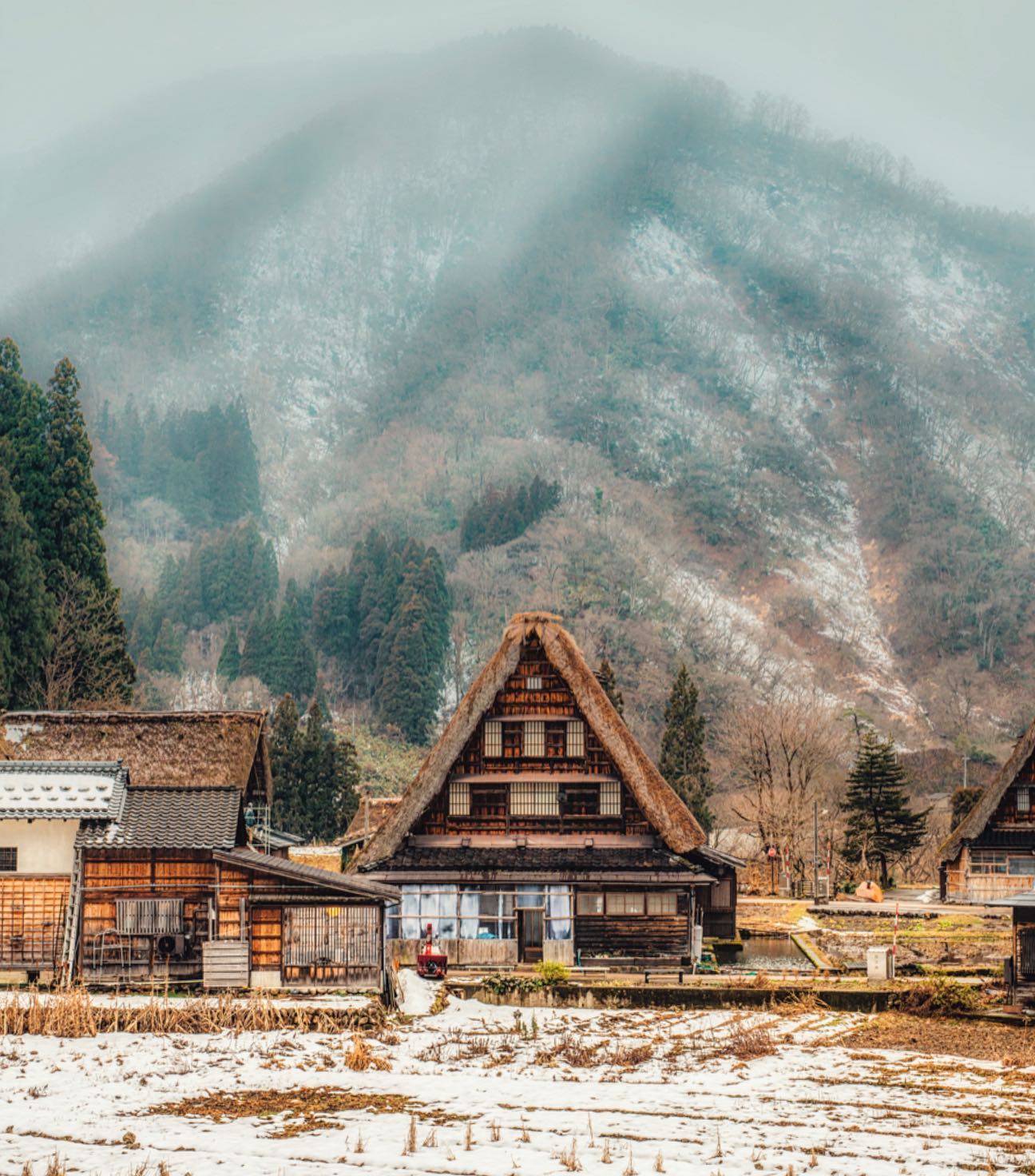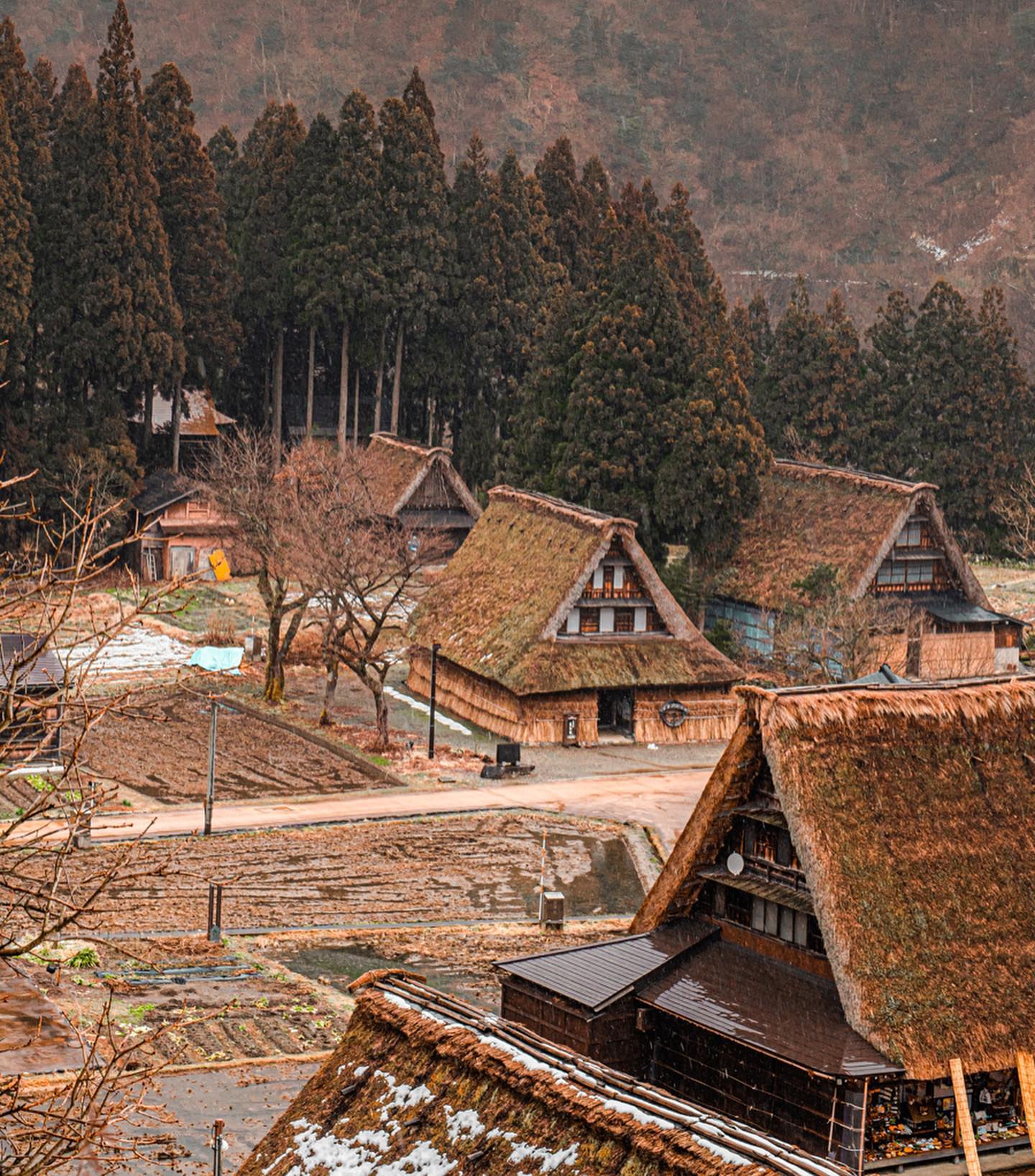 ---
These are made without the use of any nails or metal, but instead are built up with heavy ropes and Neso (a type of witch hazel which serve as natural materials for strength and flexibility)!
It's a perfect day-trip or weekend getaway with lots to explore in the area! While it may be difficult to visit everything in the area, be sure to check out Suganuma Gassho-style Village, Iwase House, and Ainokura Gassho-Zukuri Village
Visiting here will give you a strong sense of stepping back in time as you learn all about this ancient home-building process, and how they protected the people in one of the heaviest snowfall regions in all of Japan. In fact, when I went I had never experienced snow like that in my entire life!
Pro Tip — you'll need to rent a car for a day to properly explore this region! If you're uncomfortable driving in the snow or don't have your driver's license, you can rent a tourist taxi who will drive you around all day (which is always nice since you don't have to worry about directions).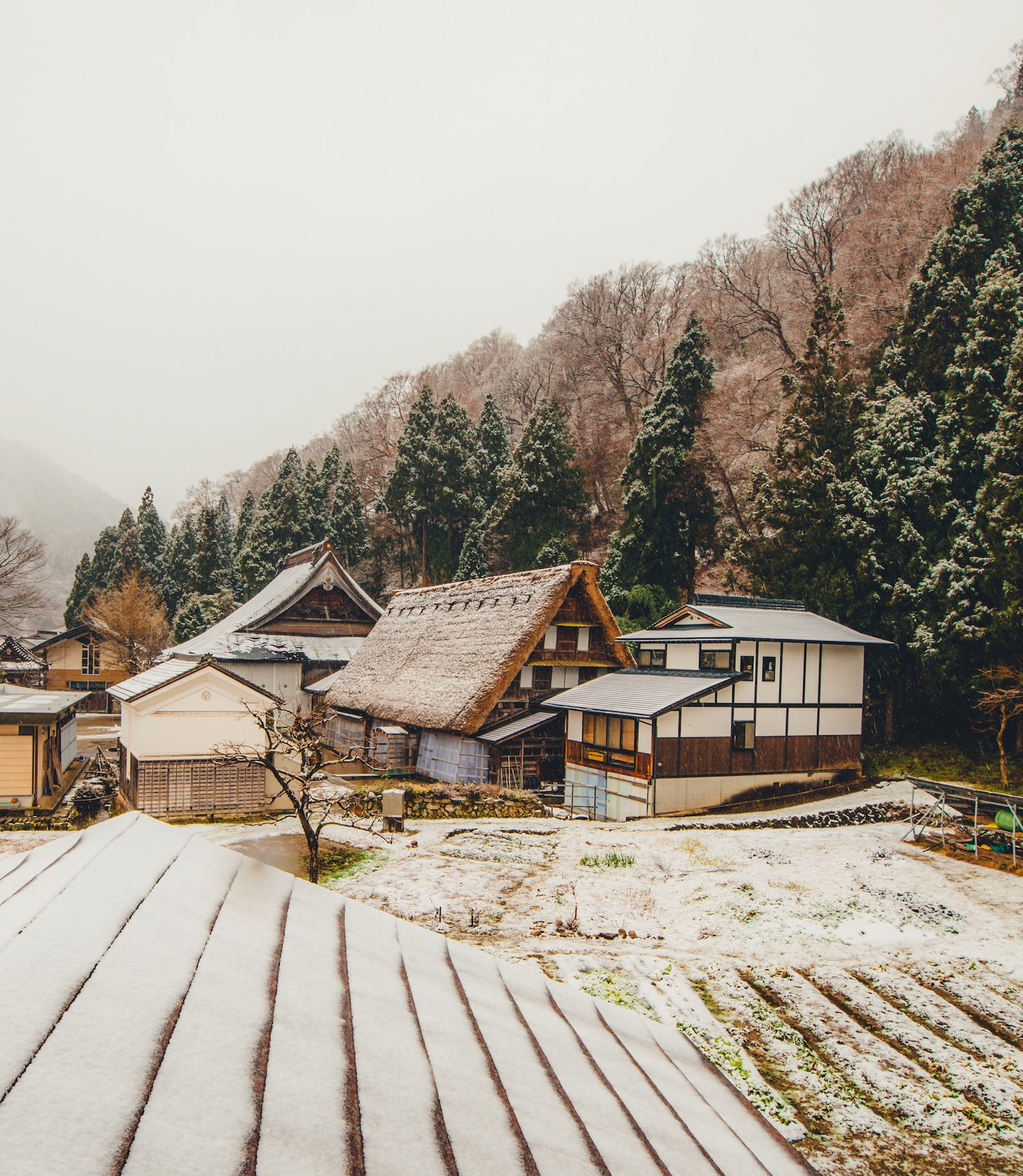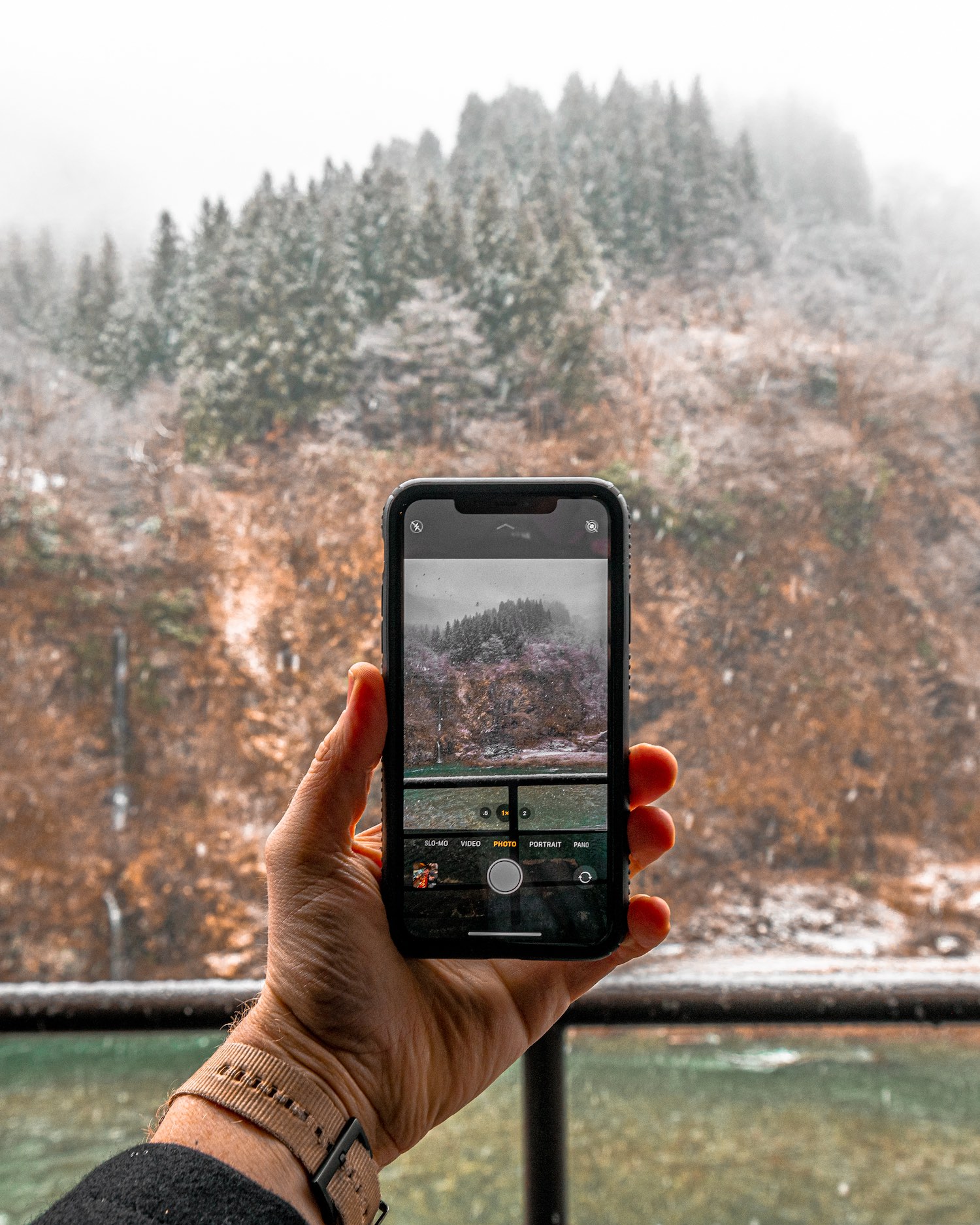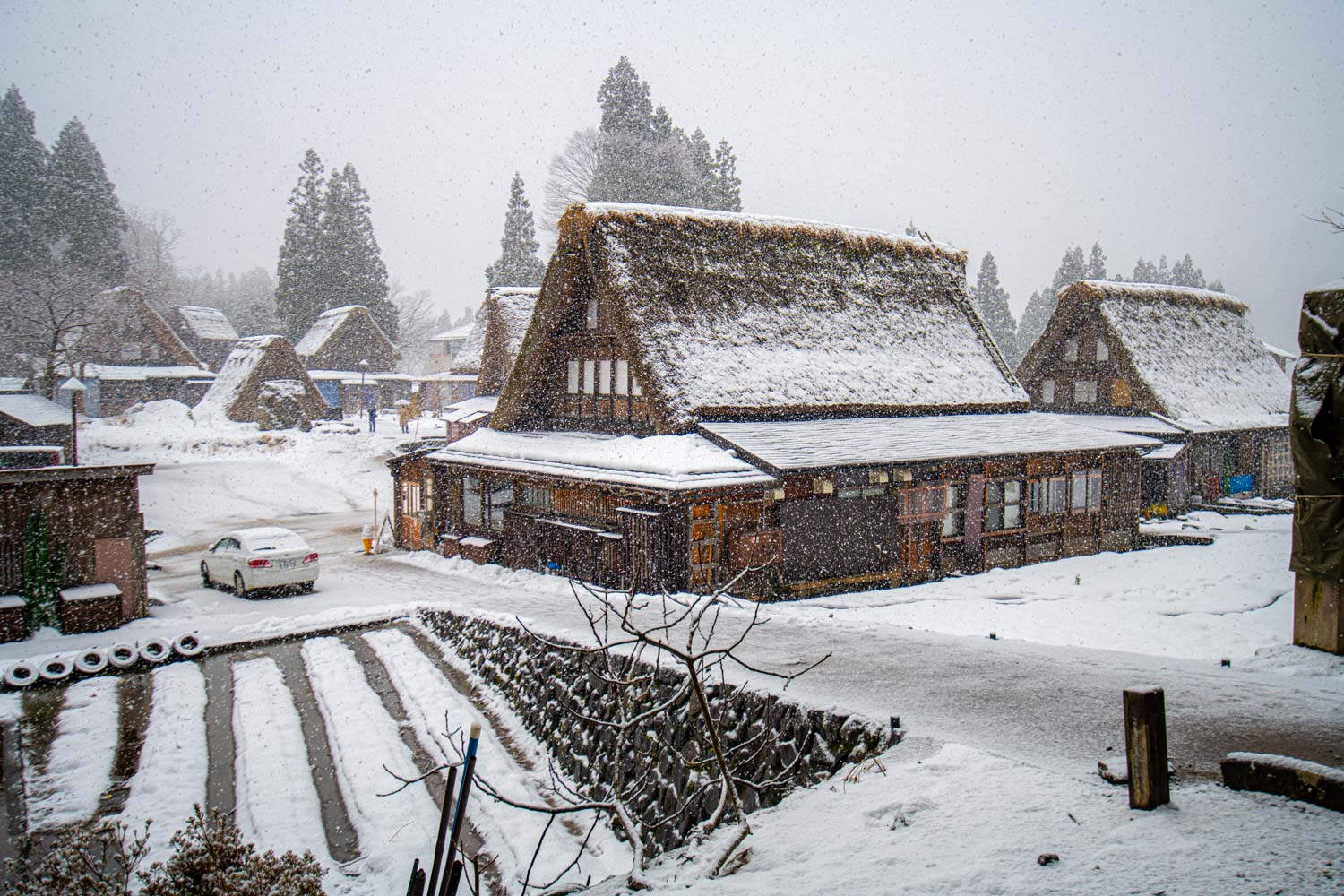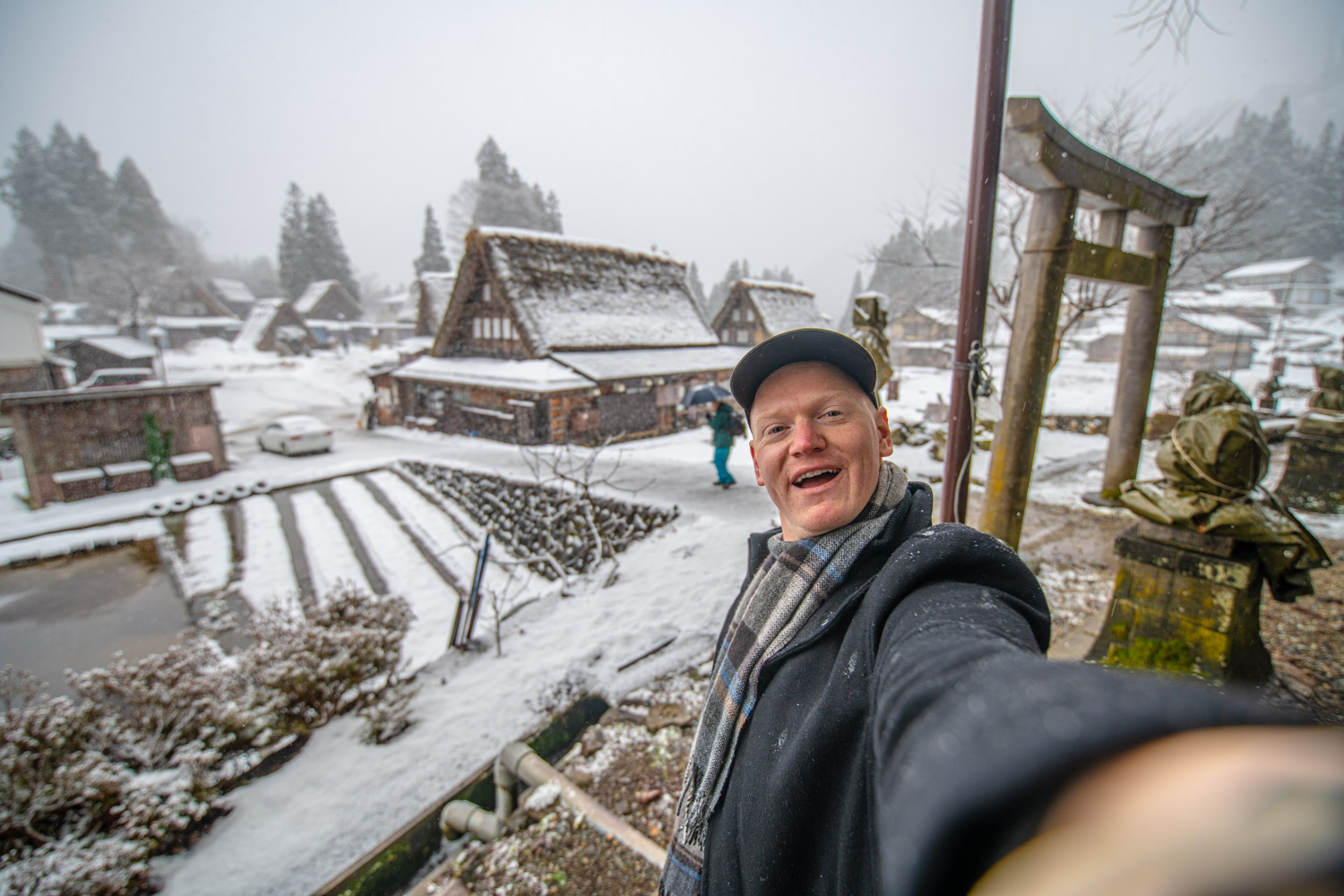 ---
Sado Island – One Of Japan's Best Kept Secrets
When you're planning your trip to Japan and feel you want to take a more unconventional break from trawling the streets of magnificent Tokyo or Osaka, hop over to Sado Island. This little island is filled with so much possibility for adventure and so many unique sights to see.
Explore gold mines, hike up Mt. Donden or enjoy a hot spring bath. This island is rich in history and spectacular natural beauty. There are so many reasons why you should consider a retreat to this little island to nourish your mind, body, and soul. Sado Island is an undiscovered island paradise, with some visitors even calling it Japan's mini Hawaii!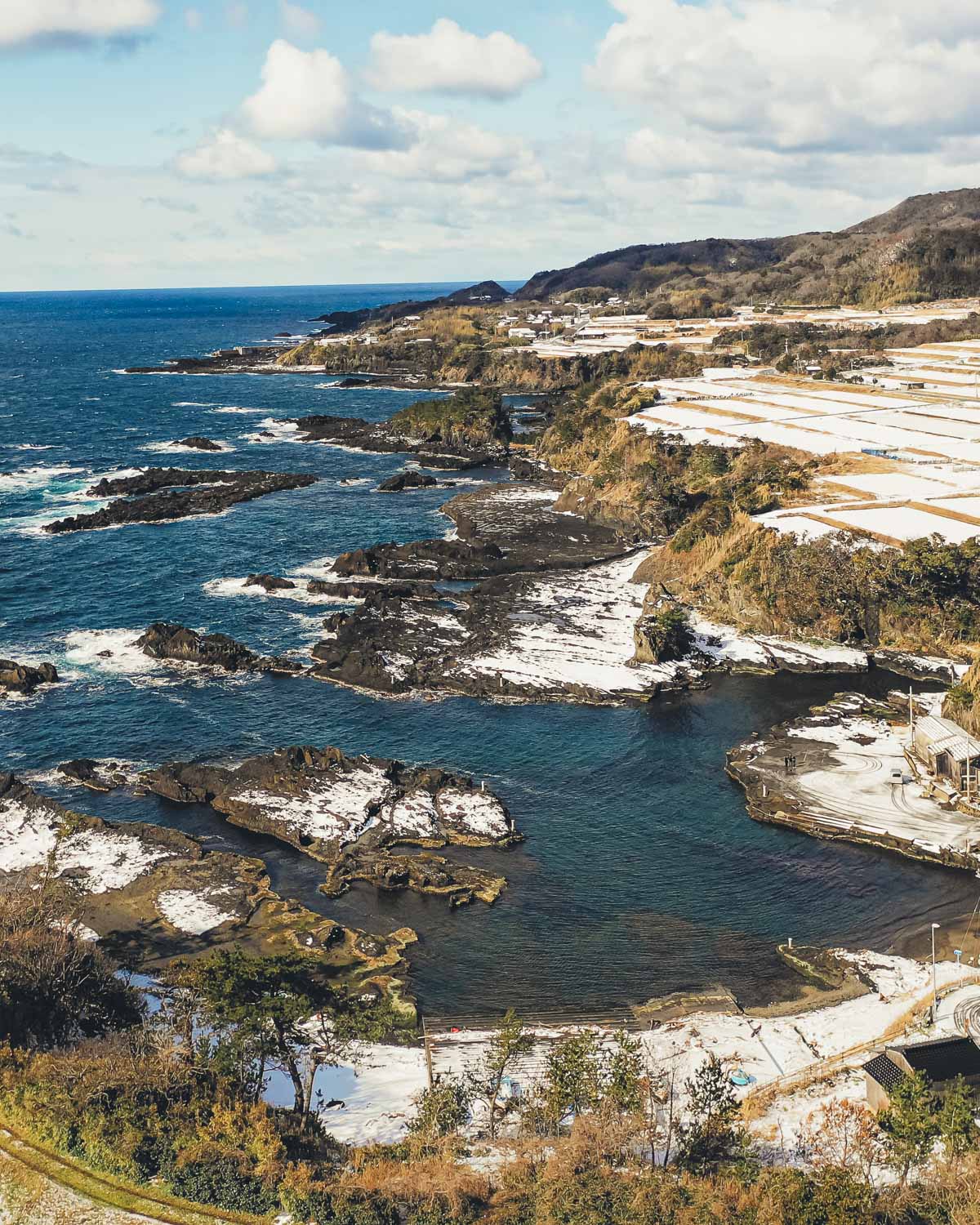 ---
Thanks for reading about these things to do in Sado Island, Japan
Share this Sado Island Travel Guide with your Japan travel crew!
https://www.jonesaroundtheworld.com/wp-content/uploads/2020/03/Lake-Komo-Sado-Island.jpg
1393
1500
Dave
https://www.jonesaroundtheworld.com/wp-content/uploads/2017/03/logotry-1-1-300x106.png
Dave
2020-03-20 20:04:30
2020-04-03 18:36:25
Sado Island, Japan | 21 Amazing Things To Do on The Island of Exile & Gold