Looking for the Best 5 Star Hotels in Sri Lanka!? Well, I'm here to help, because I've compiled a list of some truly stunning properties that will make your vacation unforgettable!!
The majesty of stunning Sri Lanka has to be seen to be believed. And if you really want to experience the luxury this East Asian country can provide, you just have to do it staying in the best of the best hotels.
Live like royalty on your next visit to this majestic country, and stay at one (or more!) of my shortlist of the ten best 5 star hotels in Sri Lanka.
You'll come home feeling like a million bucks. Or you won't want to leave at all…
So without further ado, enjoy what I think are some of the best best 5 star hotels and resorts in Sri Lanka!
---
1) Residence by Uga Escapes
An oasis in the heart of the capital…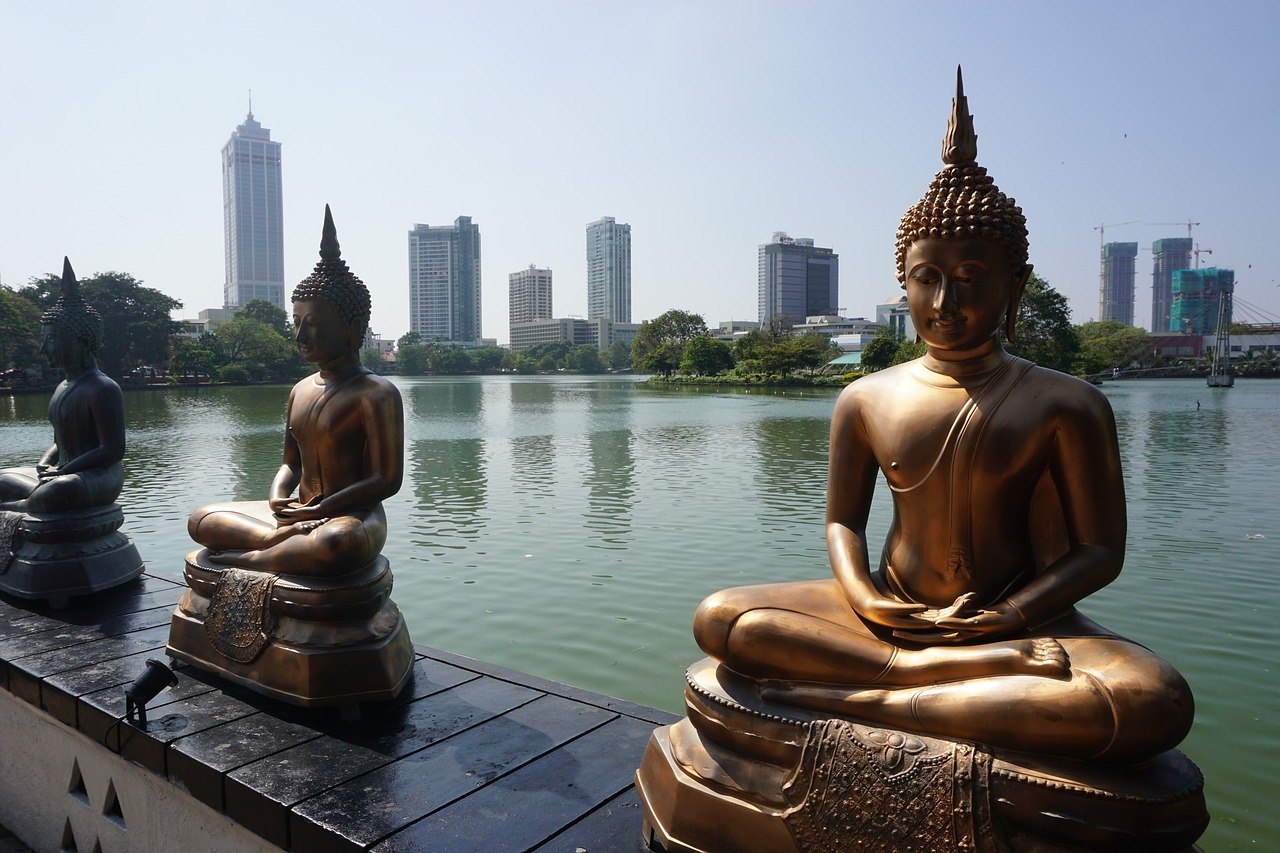 Location: Colombo
Price: $200+ USD per night (Read Reviews & Check Availability)
Nestled amidst the hustle and bustle of the Sri Lankan capital of Colombo, Residence by Uga Escapes is a welcome city escape. Within walking distance to many of the city's landmarks, including Gangaramaya Temple, this hotel offers prestigious rooms, a beautiful outdoor pool and stellar customer service.
Visitor review: "The staff were excellent. The residence suite was beautiful – large and very comfortable. Restaurant was excellent. Oasis of calm in busy city. Pool was great for a refreshing dip at the end of the day." Nicola, United Kingdom.
---
2) Cinnamon Lodge Habarana
A stunning National Park escape…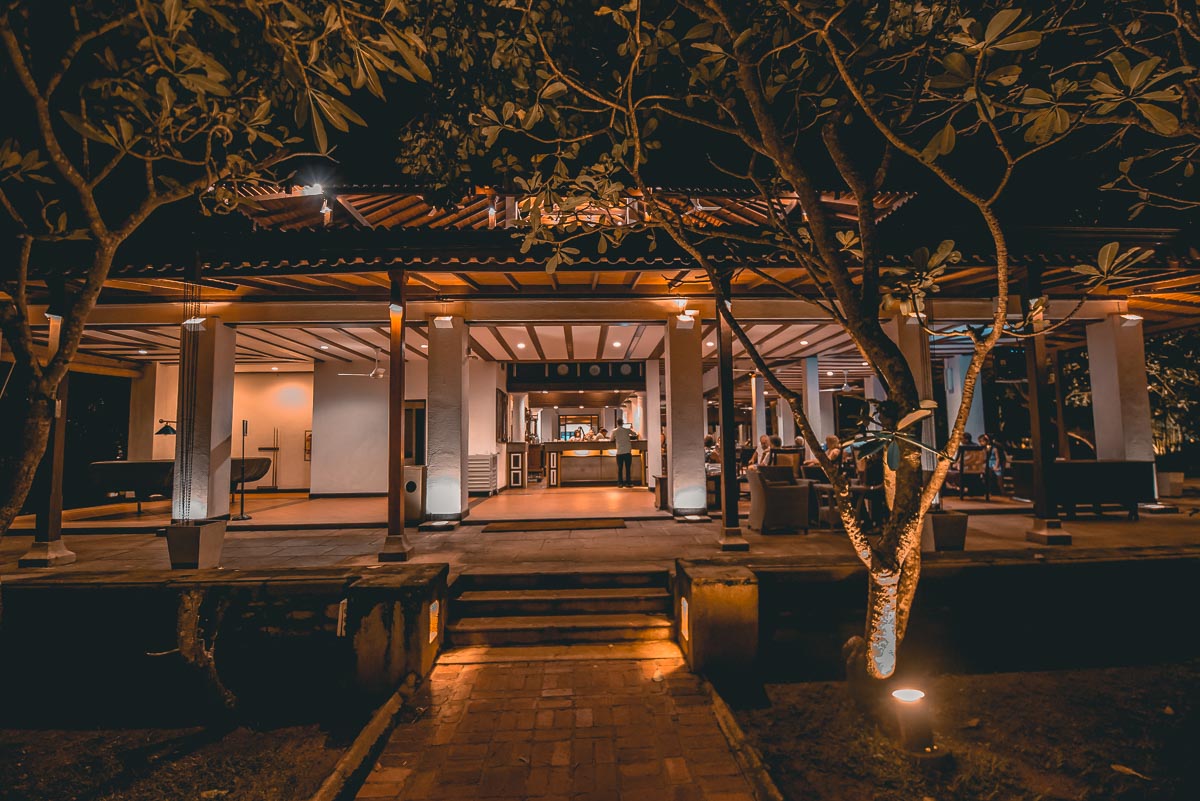 Location: Habarana
Price: $80+ USD per night (Read Reviews & Check Availability)
Cinnamon Lodge Habarana is set amongst 27 acres of lush greenery, native trees and is bordered by three national parks. If you just want to get away from it all in the heart of wild Sri Lanka, this luxury hotel should be your first port of call. The rooms, restaurants and surrounds are second to none, and you will spend your days riding elephants, swinging in a hammock or sitting by Habarana Lake.
Visitor review: "The location is great, with nature all around you and the rooms are amazing. The staff is extremely friendly and helpful. The played cricket with our family and explained everything about the sport. The food is lovely. The spa is the best spa we have ever visited." Anna, Netherlands
Cinnamon Lodge Habarana - We are waiting for you!
---
3) Jetwing Vil Uyana
An eco resort like no other…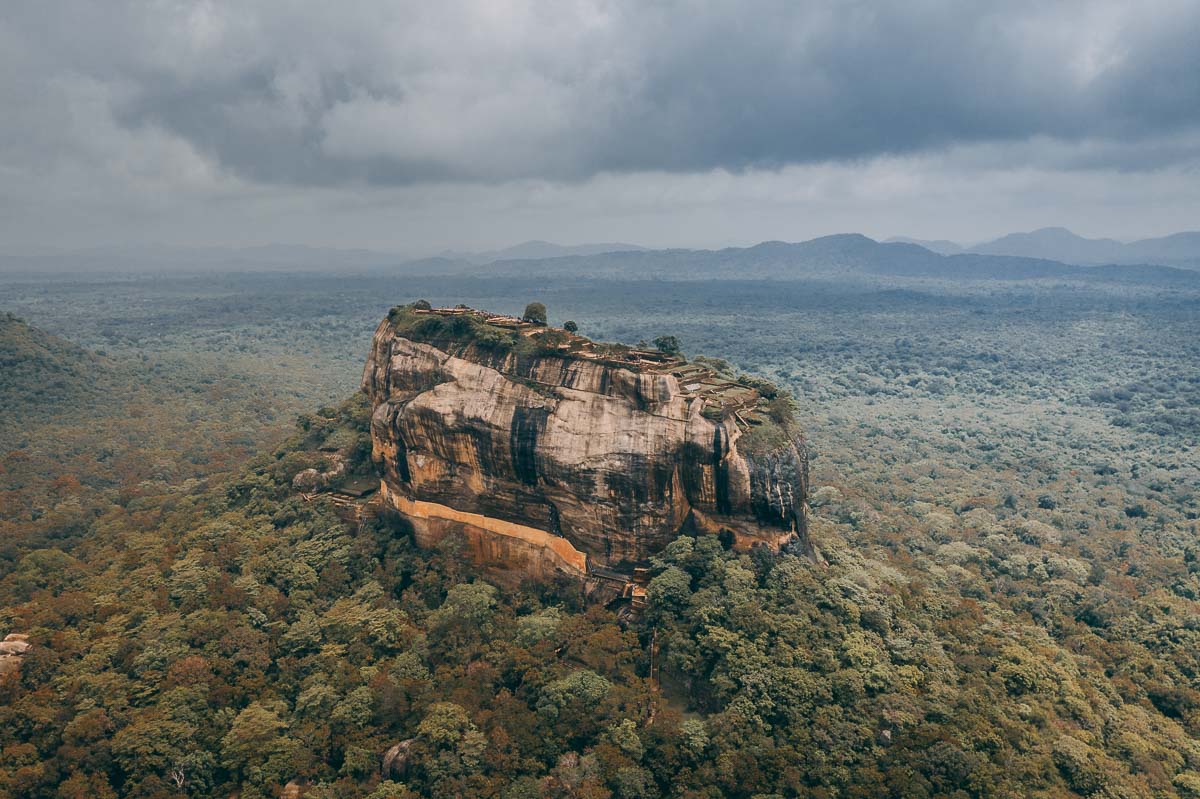 Location: Sirigaya
Price: $350+ USD per night (Read Reviews & Check Availability)
Immerse yourself in rustic elegance and treat yourself to an unforgettable stay at Jetwing Vil Uyana. Luxury cabins will be where you'll rest your head after a long day exploring the surrounds of this eco resort, which is built on man made wetlands. Explore local lakes, temples and landmarks, or book a cabin with its own private pool and simply relax. With native monkeys swinging in the trees overhead, Jetwing Vil Uyana is truly a Sri Lankan paradise.
Visitor review: "It was paradise the forest dwelling was amazing there were monkeys in the trees and monitor lizards on the garden! Peacocks in the grounds amazing. Food was excellent and the curries wonderful. A wonderful experience." Ruth, United Kingdom
Jetwing Vil Uyana by Jetwing Hotels - Sigiriya, Sri Lanka - Flawless Trip - DJI Mavic Pro 4K
---
4) Anantara Peace Haven Tangelle Resort
Jaw dropping coastal luxury…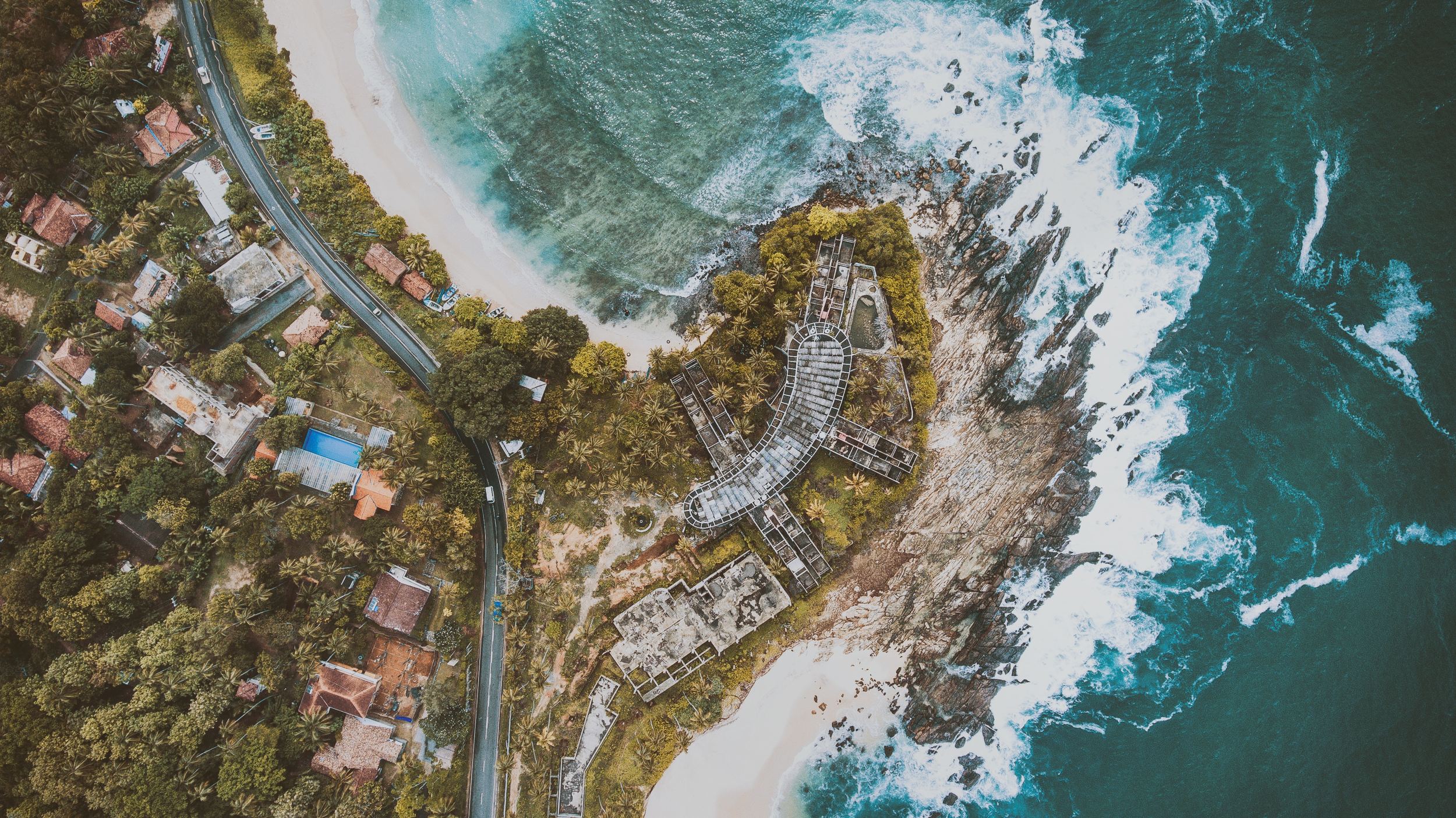 Location: Tangelle, Sri Lanka
Price: $280+ USD per night (Read Reviews & Check Availability)
If you have the means, I highly recommend springing for a few nights at Anantara Peace Haven Tangelle Resort. From the moment you step inside, you'll feel like royalty, with a private traditional welcoming ceremony to kick things off. The rooms and villas are divine, the beach pristine and the spa renowned for its excellence. You can see why so many visitors don't leave the grounds of this incredible hotel built on a seaside coconut plantation for the entirety of their stay in Tangelle. It's just that good.
Visitor review: "A very good beach – the best I have ever seen!!!! Waves – at the beginning seem too large but a little bit later you get to know how to swim at them and it is a great fun to swim at such a ocean!!!! Kitchen – excellent! Room – very comfortable. Wild animals at the territory of the hotel!" Andrei, Russia
Anantara Peace Haven Tangalle Resort
---
5) Villa Amma Erna
Explore Galle from a luxe base…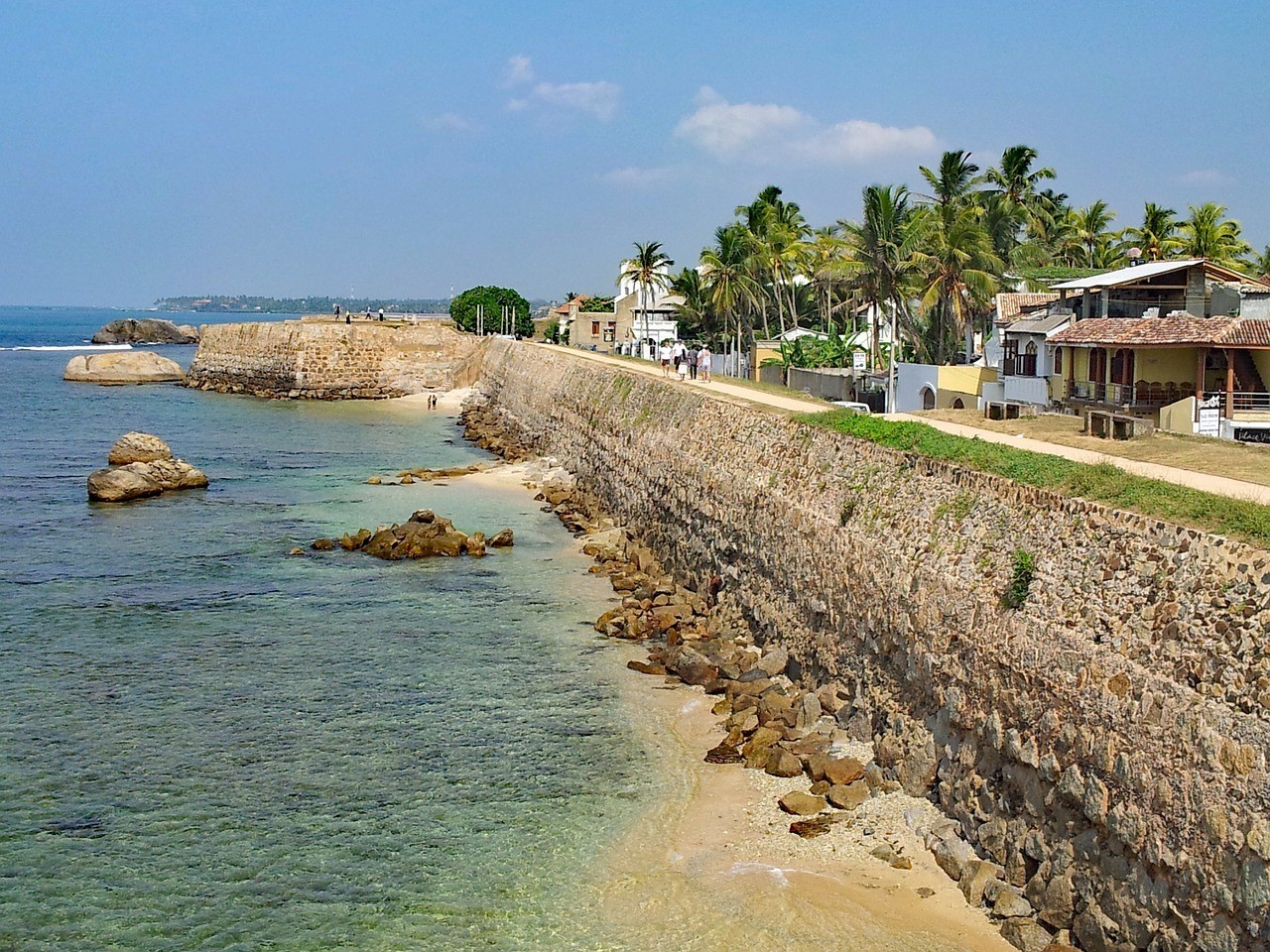 Location: Galle
Price: $100+ USD per night (Read Reviews & Check Availability)
With delicious eateries, adventure sports, local temples and pagodas and the south-west Sri Lankan city of Galle right at your doorstep, the experience of staying at Villa Amma Erna is second to none. Fill your stay with canoeing, windsurfing, hiking and swimming, and regenerate with a visit to their beautiful day spa. If you're feeling adventurous, a trip to Galle Lighthouse offers unrivalled ocean vistas, or learn about the local wildlife conservation efforts at the Mahamodara Sea Turtle Hatchery Centre. The value for money to stay at this luxury hotel is unbelievable – don't miss out!
Visitor review: "Really excellent dinner and breakfast. Some of the best food we have eaten in Sri Lanka. We also loved the secluded and eco vibe of the villa especially the open screen rooms and the pool area. It was such a relaxing retreat away from the busy town." Steve, Australia.
Top 10 Recommended Hotels in Galle # Sri Lanka
---
6) Shangri-La's Hambantota Golf Resort & Spa
Nothing but the best in Hambantota…
Location: Hambantota
Price: $175+ USD per night (Read Reviews & Check Availability)
You wouldn't expect much less than pure excellence from the Shangri-La hotel chain, and that's exactly what you get at their Hambantota Golf Resort & Spa in Sri Lanka's Southern Province. From your seaside digs, there isn't a shortage of activities to lose yourself in. A golf course, multiple pools, spa, sauna, gym, beach, watersports and candlelit dinners right on the sand await you. Don't miss a sojourn to the Yala National Park, where you can witness leopards, elephants and crocodiles in their natural habitat.
Visitor review: "Amazing hotel, was the perfect setting for our dream honeymoon. Staff were brilliant, room was fantastic, food was delicious, grounds were first class and the artisan village was wonderful. Really didn't want our stay here to end. Hope to return one day." Gemma, Cyprus.
Shangri-La Presents Hambantota, Sri Lanka
---
7) Samudra Beach House
Private poolside beach villa vibes…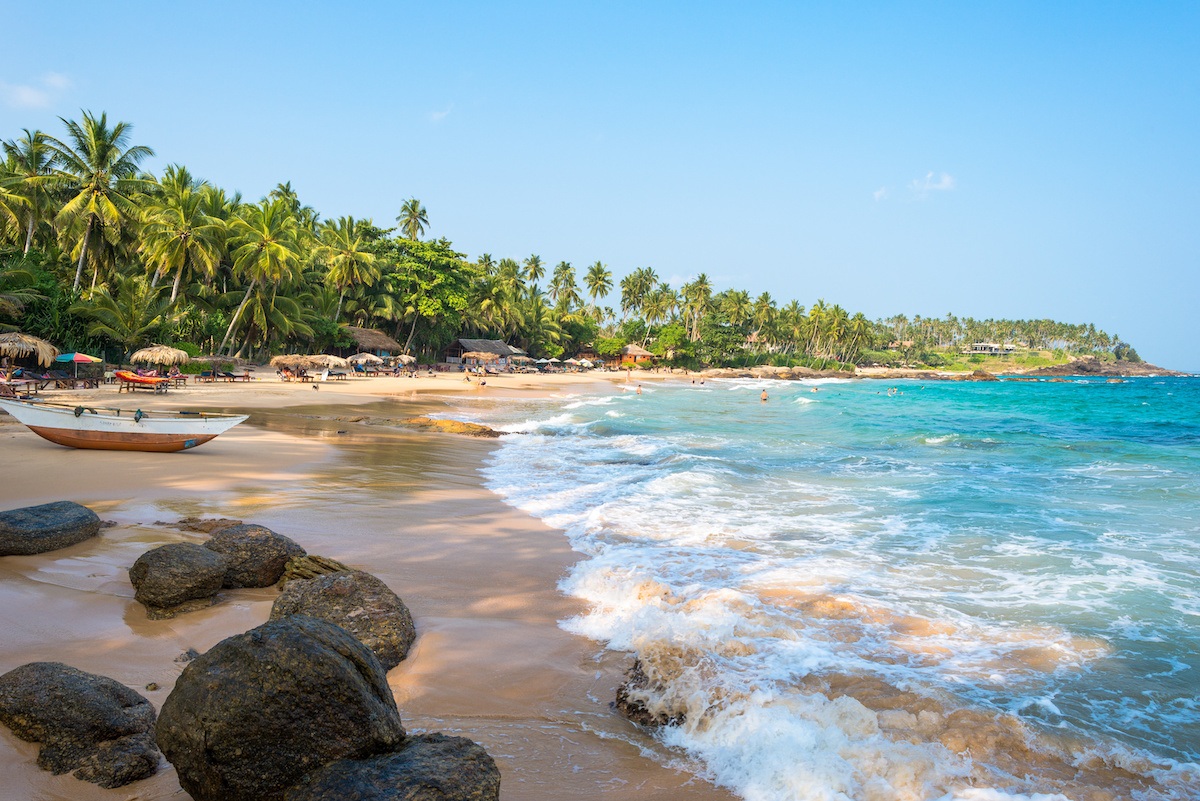 Location: Habaraduwa
Price: $600+ USD per night (Read Reviews & Check Availability)
There's nothing about this incredible, sprawling private villa that won't blow you away. For a world class travel experience, Samudra Beach House is simply superb. It's right on the beach, and if you can tear yourself away from this slice of private paradise (and it's gorgeous infinity pool!), Galle Fort is a short drive away, while other local sights and authentic Sri Lankan restaurants are aplenty here. But reserve your stay well before you trip – this gem books out months in advance.
Visitor review: "Spectacular property right on the sand. From start to finish a wonderful experience. My first ever 10/10 on booking.com and the food! Wow! Lovely staff and we'll be back for sure." Antony, Malaysia
---
8) Victoria Golf & Country Resort
Modern rustic elegance nestled in the wilds…
Location: Digana
Price: $80+ USD per night (Read Reviews & Check Availability)
Beautiful Sri Lanka is renowned for its lush greenery and remote jungle destinations, and Victoria Golf & Country Resort is the cream of the crop. Located in Digana, this resort boasts ultra-modern amenities and rooms, with the rustic touch that makes Sri Lankan accommodations so unique. The sunsets here are majestic, and the local area is known for its Buddhist temples and shrines. If some peace and quiet in absolute luxury is what you are yearning for, this is the place for you.
Visitor review: "Comfortable rooms. Service and location was really good. The view outside the room was very amazing. We managed to see the sun setting. Surroundings were windy and had lots of trees." Dushan, Sri Lanka.
Victoria Golf and Country Resort - Sri Lanka
---
9) Jungle Beach by Uga Escapes
Beach, jungle and lagoon merges…
Location: Trincomalee
Price: $150+ USD per night (Read Reviews & Check Availability)
It's totally possible to have a beach and jungle escape at the same time in Sri Lanka – and the place to do it is Jungle Beach by Uga Escapes. A nature lovers dream come true, you can choose to stay in either a lagoon, beach or jungle chalet and the location will tick the checkboxes of any style traveler. Explore the surrounding jungle, kick back on the quiet, private beach or start (and end!) your day with a dip in the stunning lagoon. Jungle Beach has it all.
Visitor review: "Wow. Wow. Wow. Everything was exceptional. Food was delicious, rooms were spectacular (especially the outdoor shower!) and the staff went above and beyond to help in any way they could. This place is outstanding!! Will find any excuse to come back here." Lisa, Australia.
Zwischen Meer und Dschungel: Jungle Beach Hotel in Sri Lanka
---
10) Weligama Bay Marriott Resort & Spa
Experience rich local culture in style…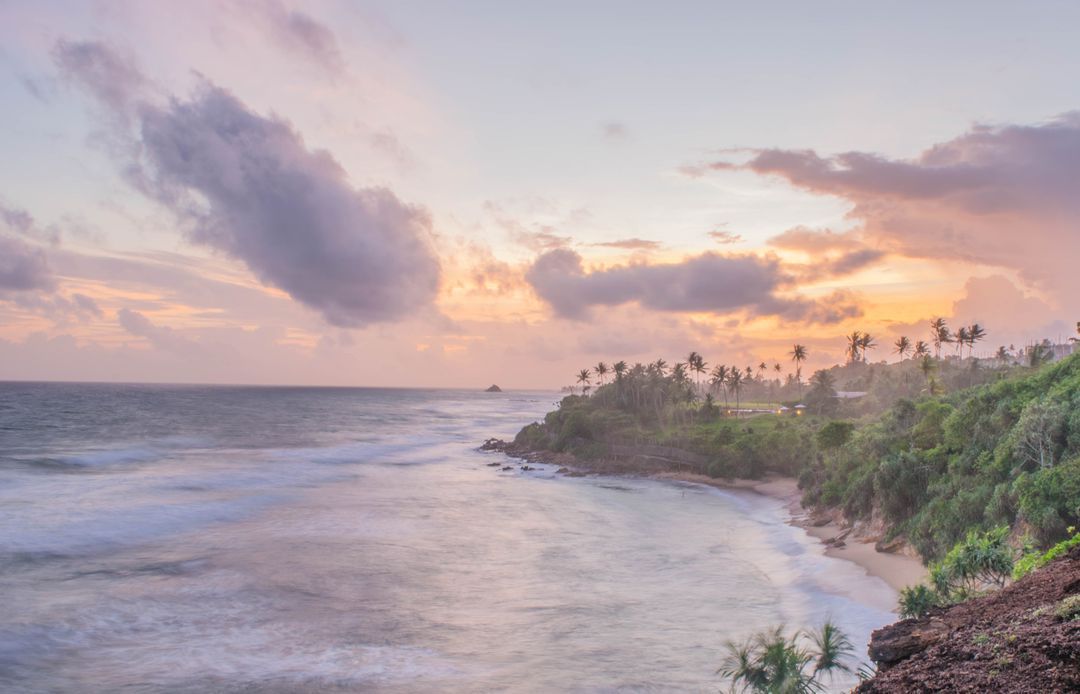 Location: Weligama
Price: $100+ USD per night (Read Reviews & Check Availability)
The Marriott never disappoints, and their resort in popular Weligama Bay has achieved 5-star status for all the best reasons. Every room faces the ocean and the staff are more than happy to help you make your stay the best ever. There is three pools, a poolside tapas bar and other restaurants on site, a wellness spa and direct access to your very own stretch of sand. The city of Galle is an enjoyable drive away, with its cultural landmarks. A visit to the Turtle Conservation Project is highly recommended.
Visitor review: "Everything about this place is wonderful. Customer service at its best. They will truly look after all your needs and ensure you have a good stay." Indi, New Zealand.
A journey through Weligama Bay Marriott Resort & Spa
---
Am I Missing Any Other Epic 5 Star Luxury Resorts in Sri Lanka…?
I've personally been to Sri Lanka a number and times, and it's one of my favorite destinations to write about! I'm actually planning a trip back soon, and can't wait to stay at a couple of these 5 star luxury hotels myself! I'll be adding to this list for sure, and would love any tips & hidden gems you know about!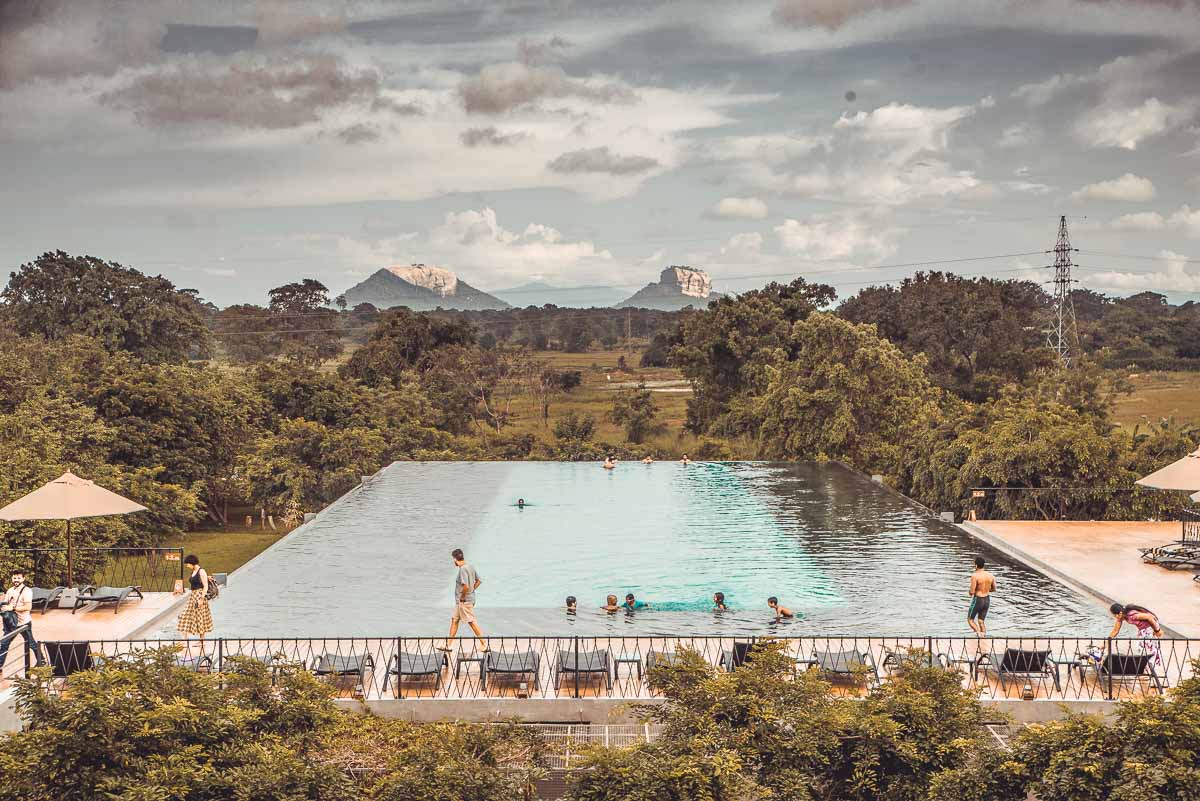 ---
Planning a trip to Sri Lanka…?
Check out my other Jones Around The World Sri Lanka travel guides! It's one of my favorite countries in Asia, and I'm really hoping I can make it back in 2020 for more luxury hotel exploring!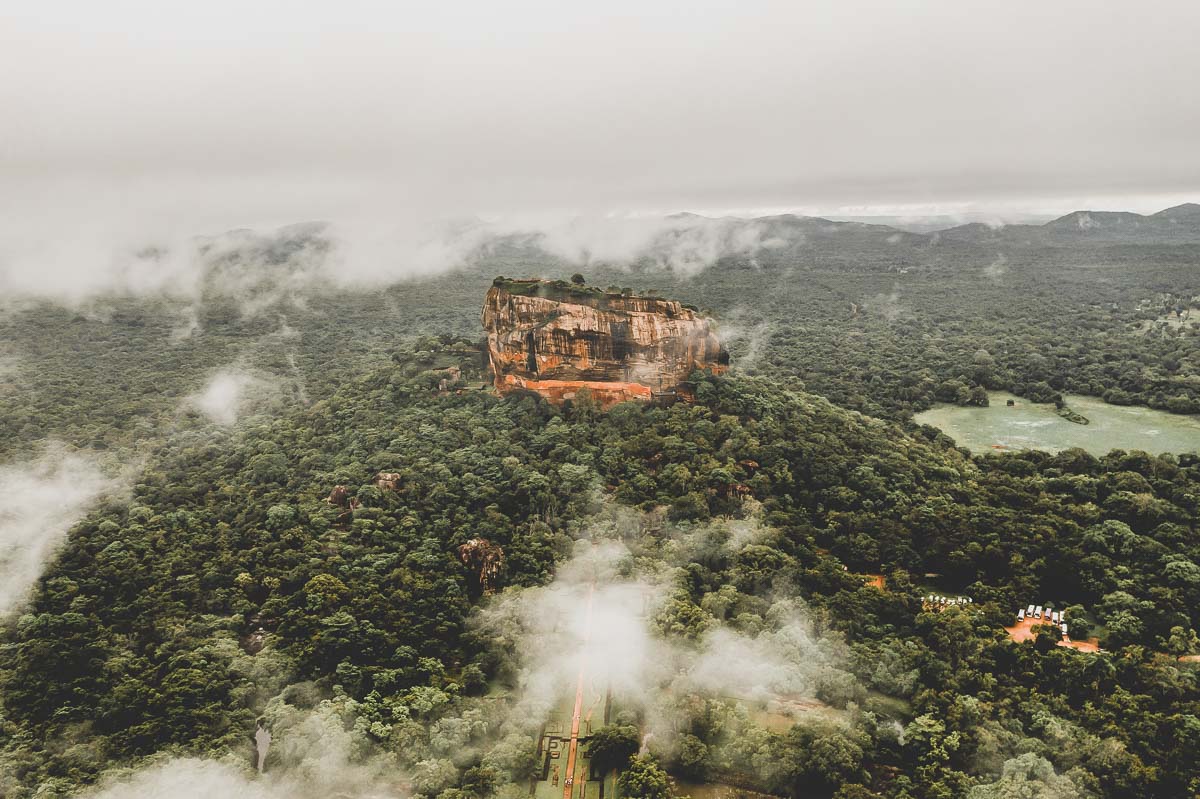 ---
Thanks for reading about Top Luxury Resorts in Sri Lanka!
Share this article with your Sri Lanka travel squad!!
https://www.jonesaroundtheworld.com/wp-content/uploads/2019/06/Luxury-Resorts-in-Tangalle-Sri-Lanka-.jpg
1404
2500
Dave
https://www.jonesaroundtheworld.com/wp-content/uploads/2017/03/logotry-1-1-300x106.png
Dave
2019-11-11 19:40:47
2019-11-18 00:15:04
The 10 Best 5 Star Hotels in Sri Lanka