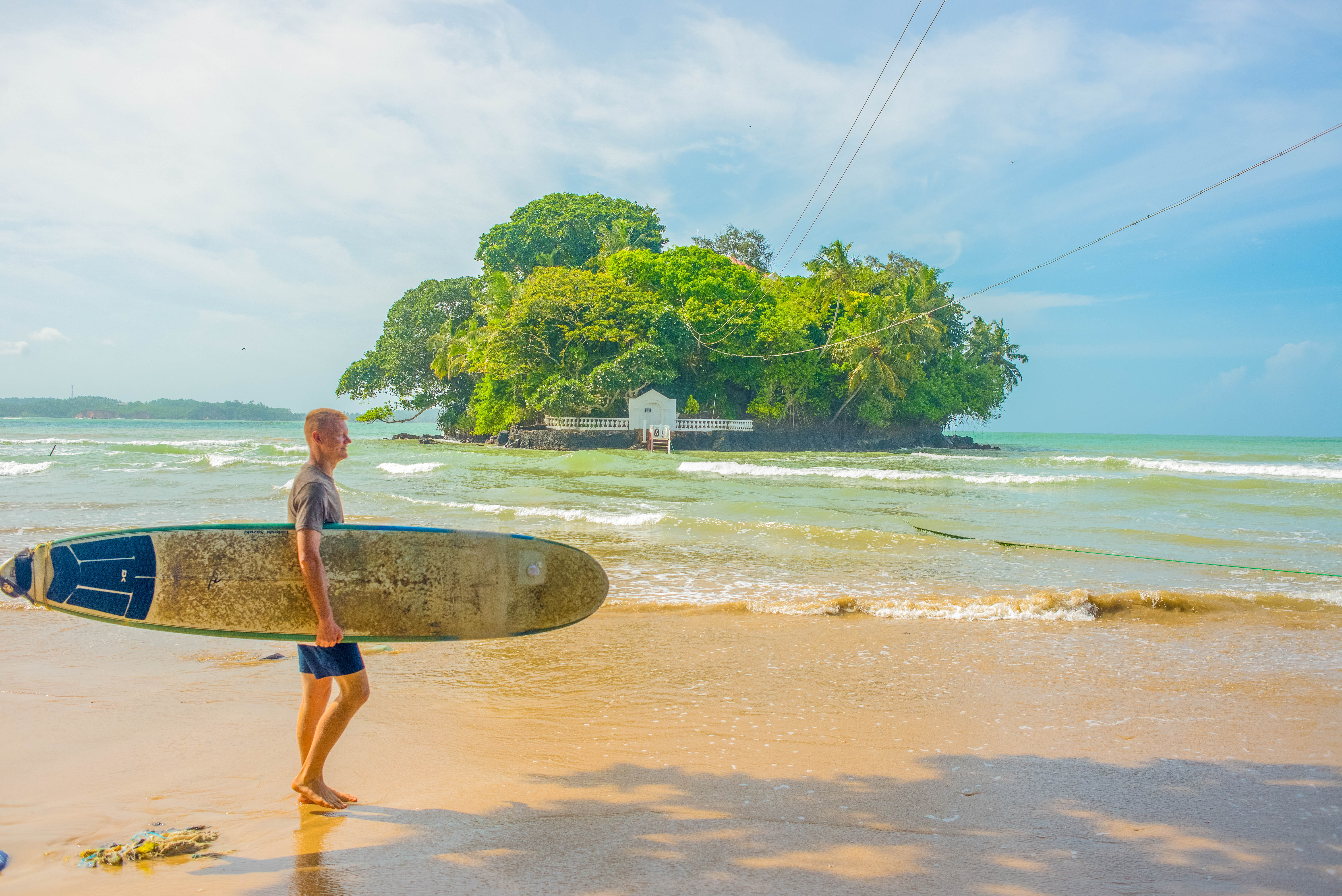 When people normally discuss the south coast of Sri Lanka— the main highlights always seem to be Galle, Mirissa, Hikkaduwa, and Unawatuna. While all those places are amazing, you'd be foolish to miss out on the two neighboring towns of Midigama & Weligama. Especially if you're looking for the best surfing in Sri Lanka for beginners.
I had actually never even heard of these before places before, so I'm glad some friends invited me along for some surfing after spending a weekend in Habarana.
I spent a full week in Midigama & Weligama, and it was definitely one of the highlights during my month in Sri Lanka.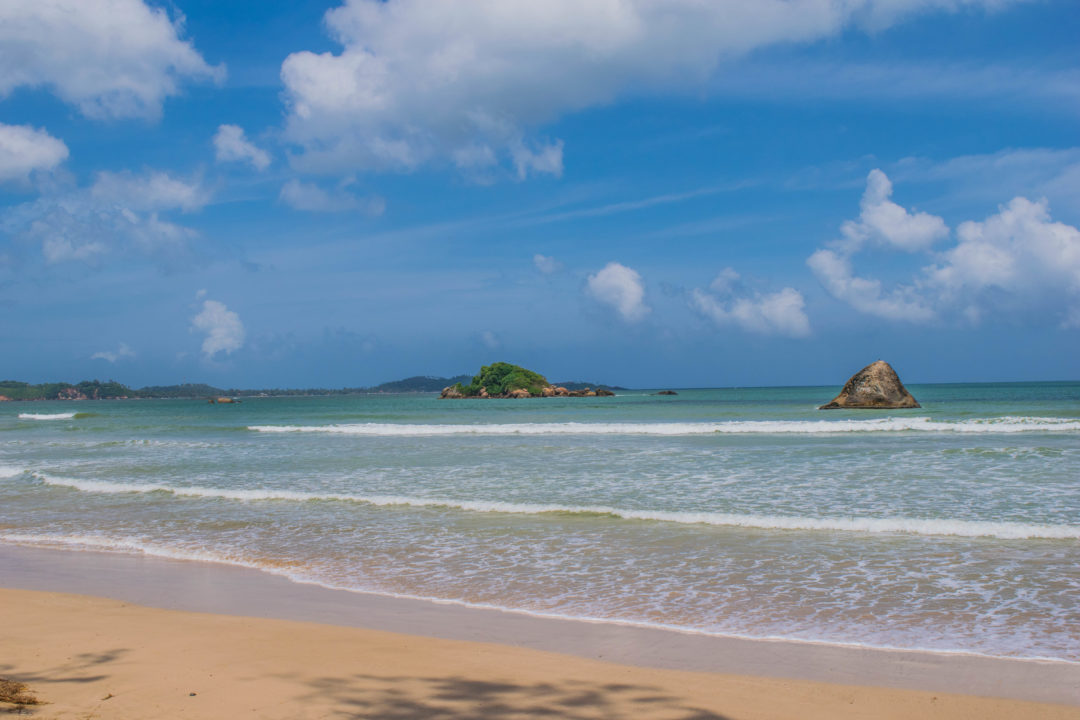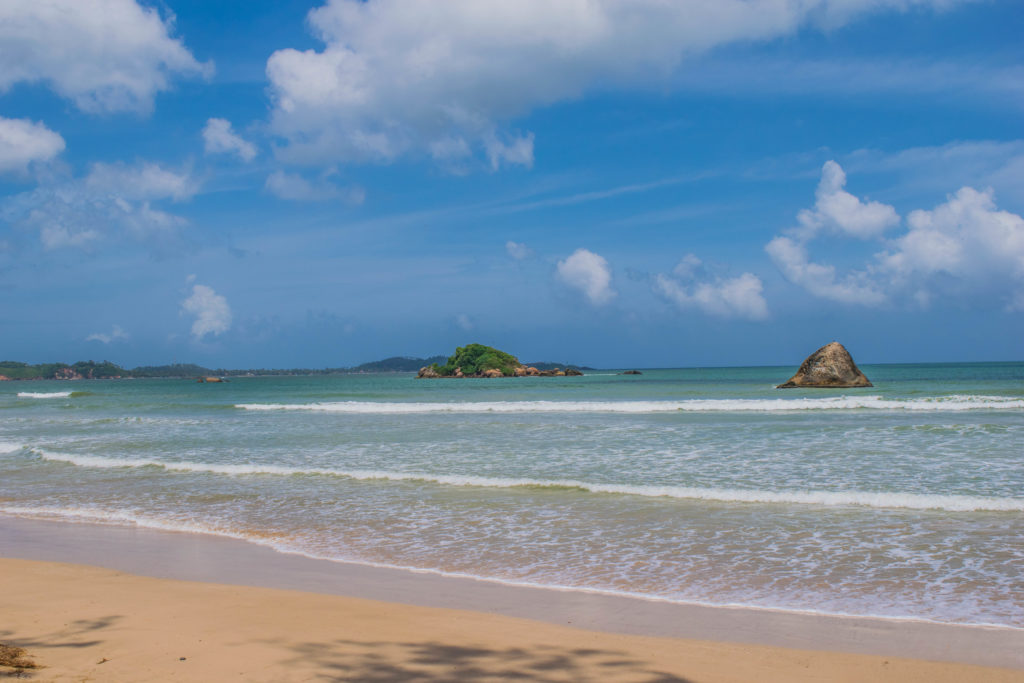 ---
How to Get to Midigama & Weligama
These neighboring small surfing towns are located about 25 KM's south of Galle. From Colombo, all you need to do is take the train to the Ahangama, Midigama, or Weligama railway stations. Ask for help at the train stations, and make sure you board the correct trains (they can be quite confusing at times).
The train ride is stunning, and I highly recommend it. The whole journey will also only cost 210 Rupees, which is only about $1.50 U.S.D.
You could also easily take one of the many bus routes that stop along the south coast.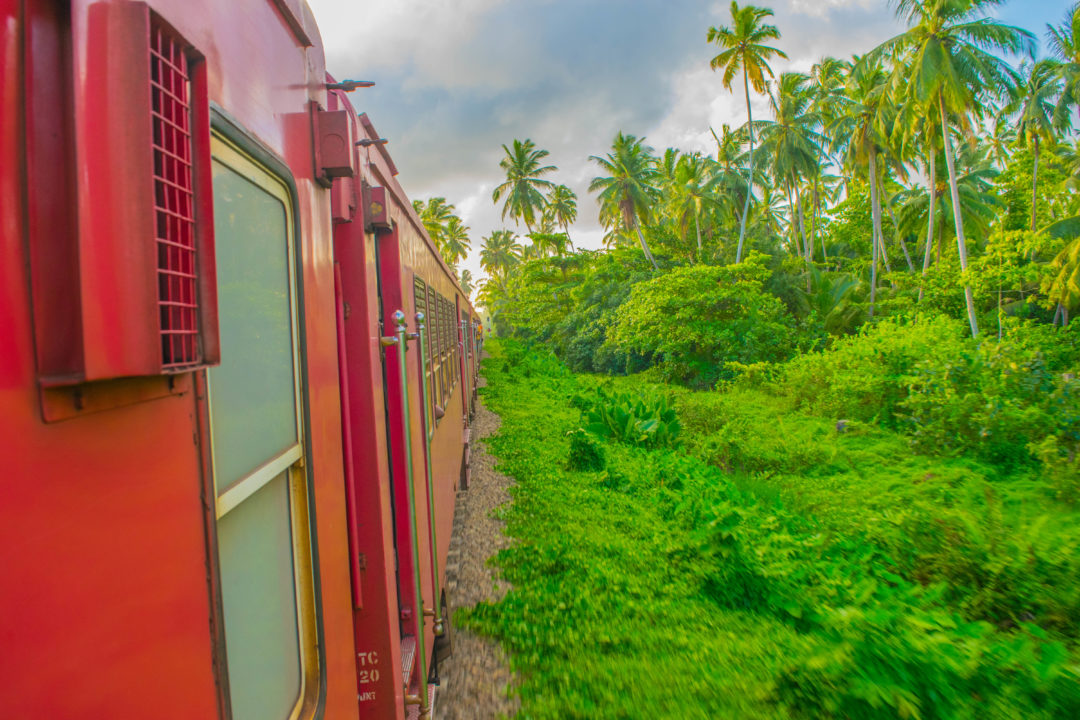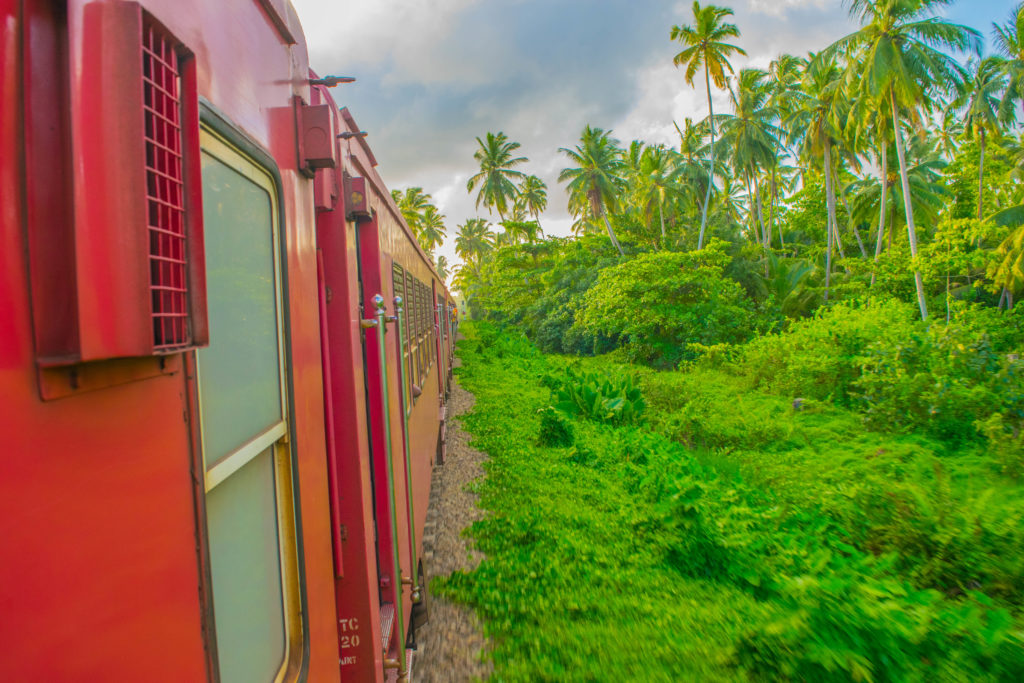 ---
When To Go
I went during the "low-season", which starts around June, and I honestly don't even know why it is considered to be the low-season. Yeah, it did rain a day or two, but most of the time the weather was beautiful, and there were still great waves for surfers.
So I do think this could be a year-round destination for surfers.
For beginners — it's almost better to visit Midigama & Weligama during low season because there are less people, and it's most certainly a better place to learn rather than the overcrowded surf spots in Arugam Bay.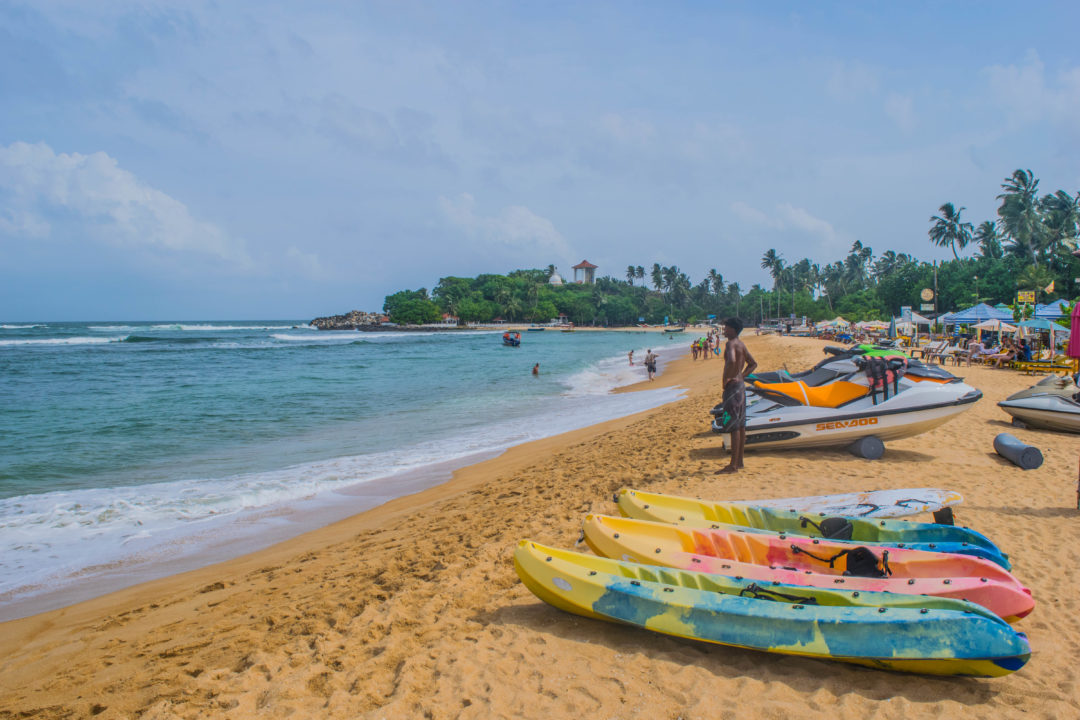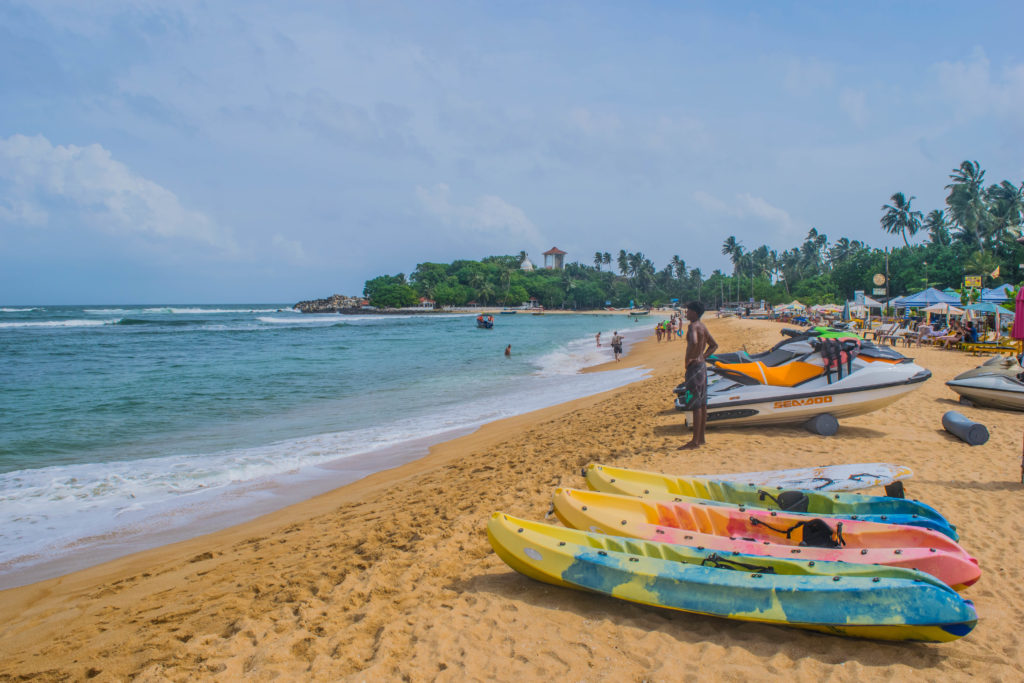 ---
What To-Do in Midigama & Weligama
Surfing
If you come all the way down to either of these destinations and don't go surfing — than you've made a huge mistake. The waves here are absolutely perfect for beginners, but if you paddle further out there are some bigger waves for the more advanced surfers. There are plenty of places to rent surfboards from, but normally the place you're staying will help sort that out for you.
I'm from California, and have probably only attempted to surf 2-3 times prior in my life. I'm stoked that I decided to give surfing another shot, because I had an absolute blast and caught some pretty decent waves during my days down there.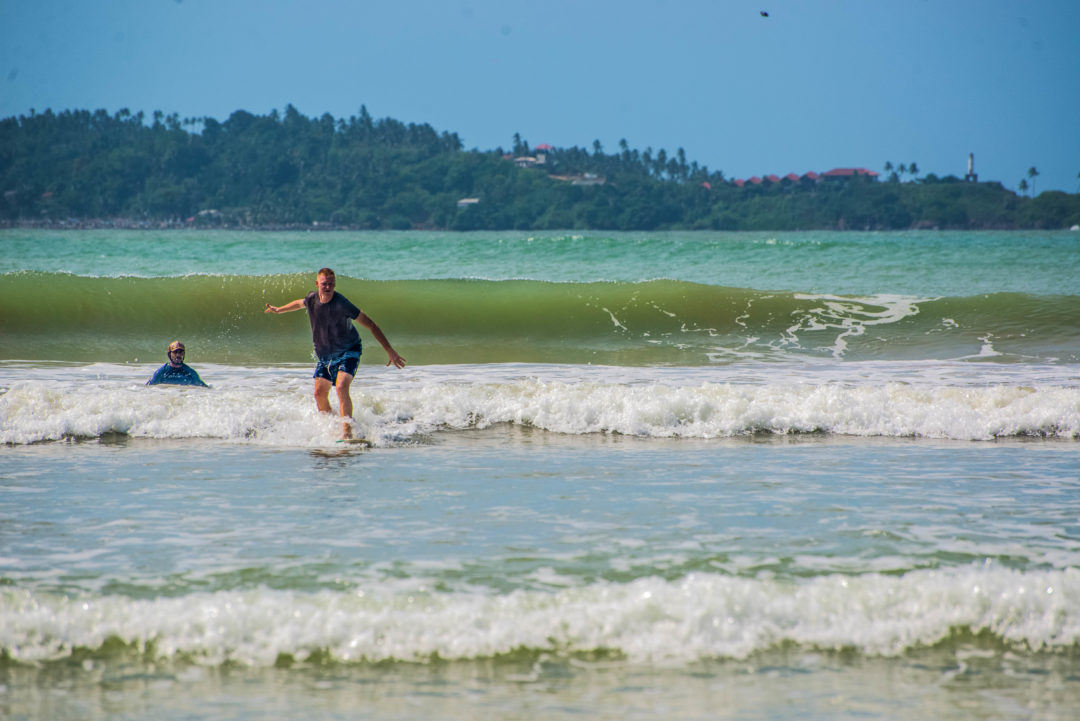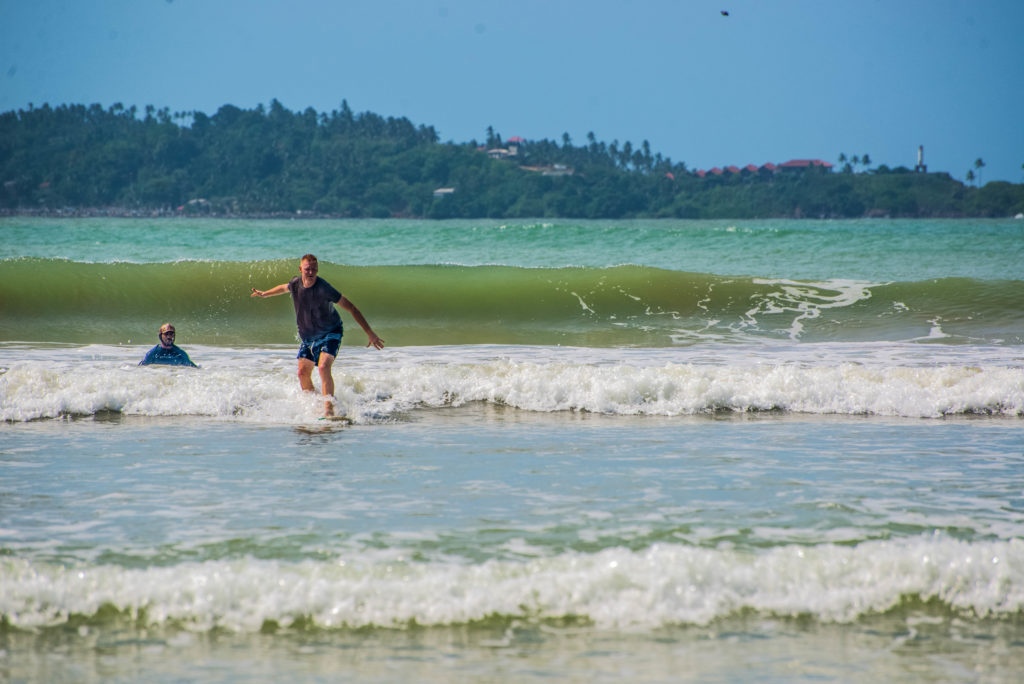 ---
Rent a Moto
Driving along the south coast of Sri Lanka is an experience I would recommend to everyone. I'm a big fan of driving scooters, and have done it all over South-East Asia.
The roads are well-maintained, and they aren't too busy at all. If you take it nice and slow, and hug the left side of the road — you won't have any problems.
I drove all the way from Mirissa – Galle, and was always stopping to photograph the beautiful beaches and coastline views.
What makes this super easy is that it's just one road driving along the beach. Easy, beautiful, and fun.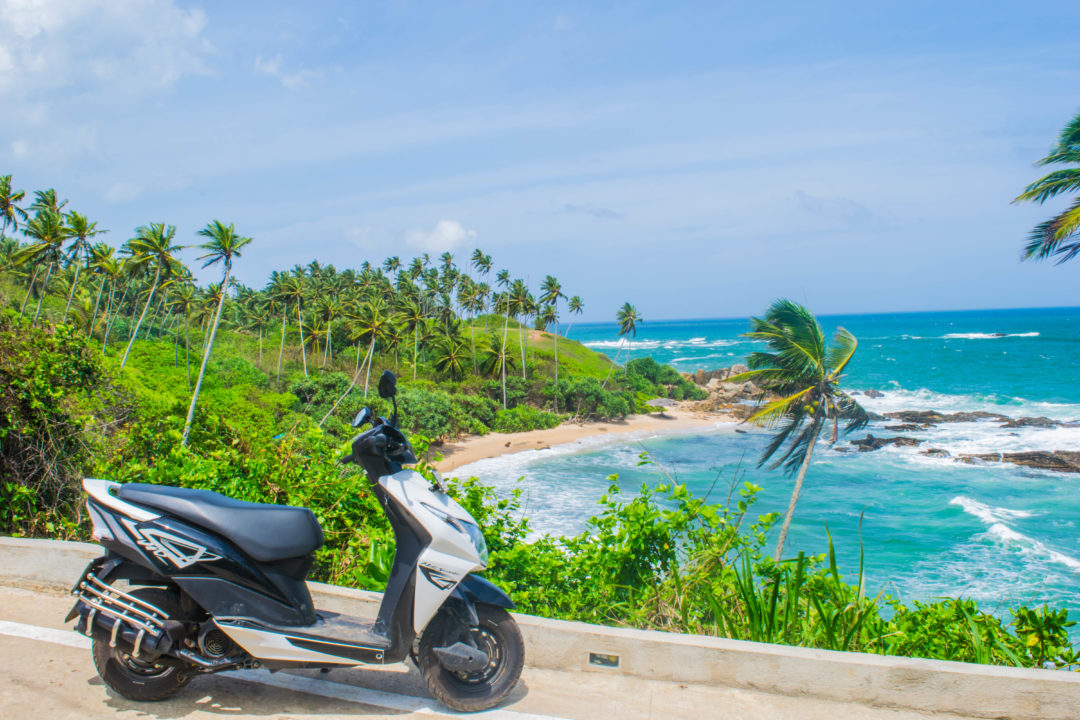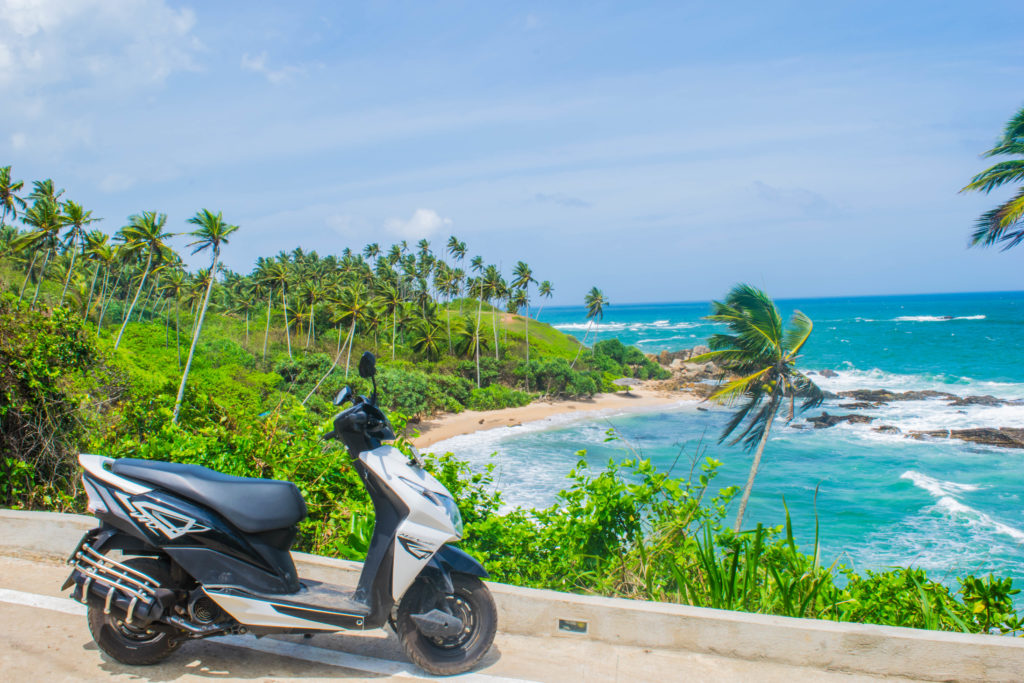 ---
Sunset Views
Hands down the best sunset I saw in Sri Lanka was during my week down in Midigama & Weligama.
There is this 5* Resort called Cape Weligama. We didn't stay there, but fortunately they allowed us to enter the premises to watch the sunset.
The sunsets over this cliff in the distance, and provided us with a gorgeous view and photograph opportunities.
We might have gotten lucky with them letting us in, but they seemed really friendly about it. The Sri Lankan hospitality is outstanding, and I really think they just want tourists to enjoy their holidays as much as possible.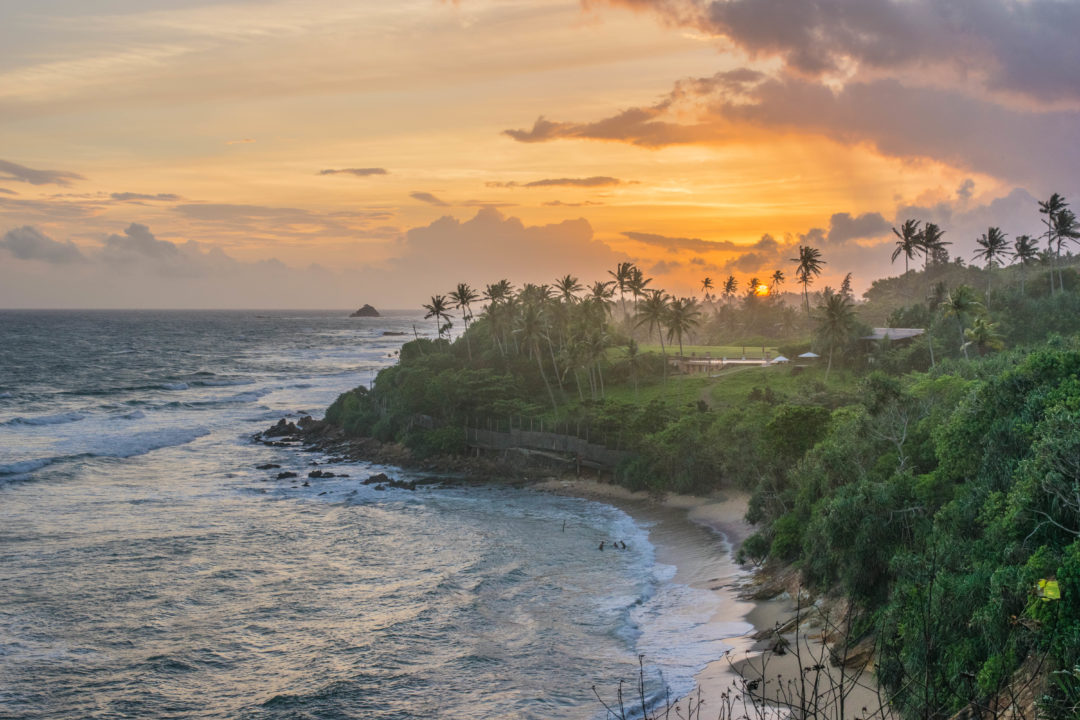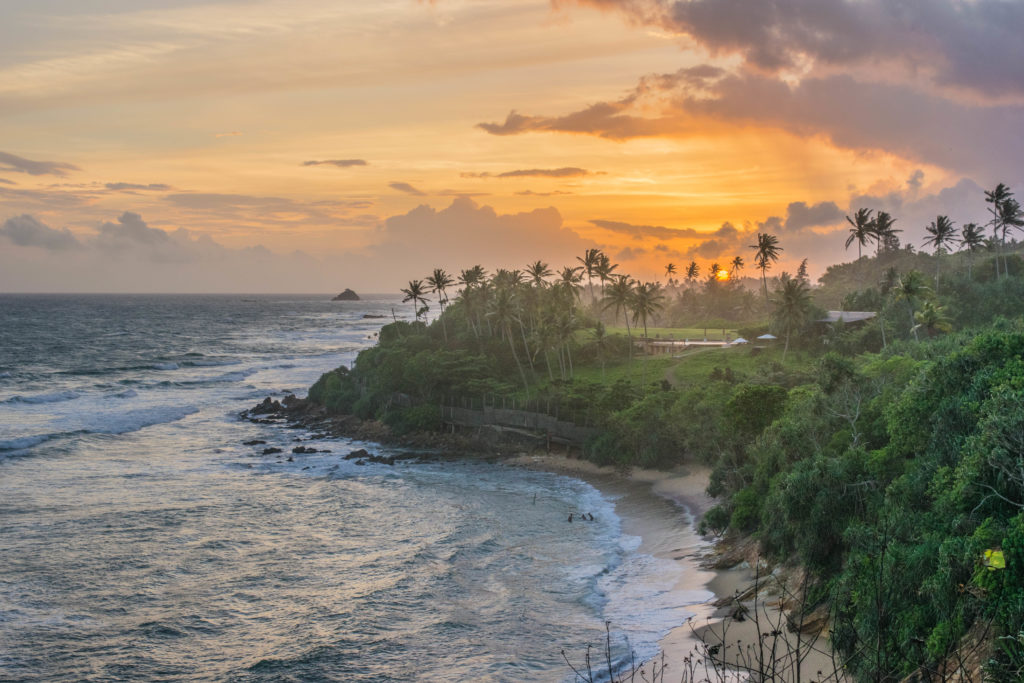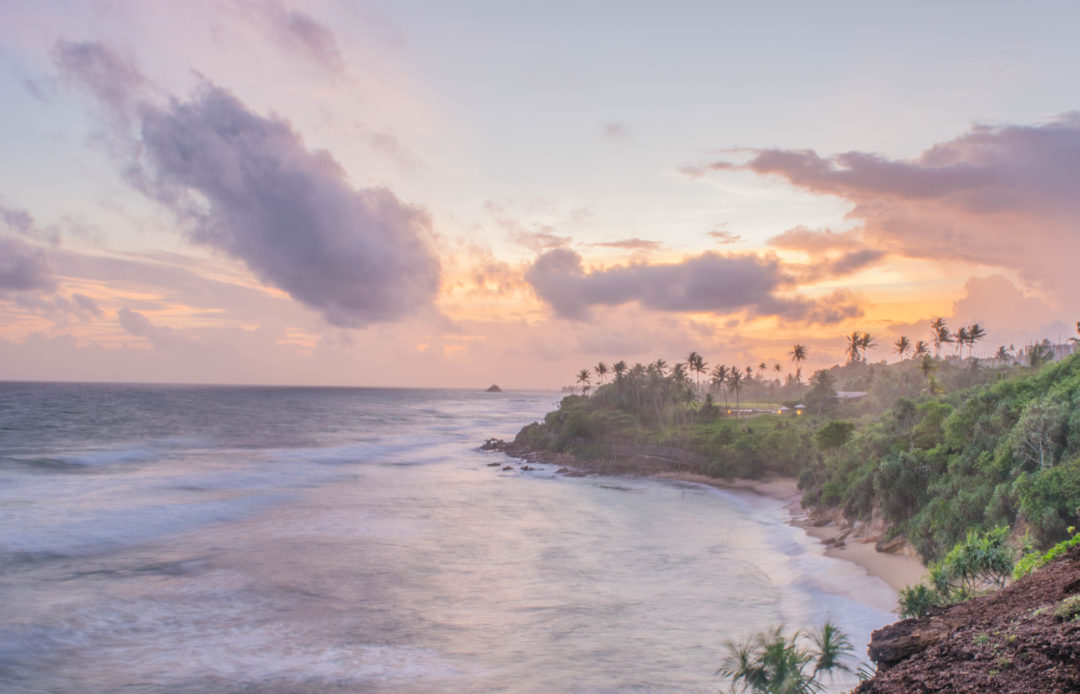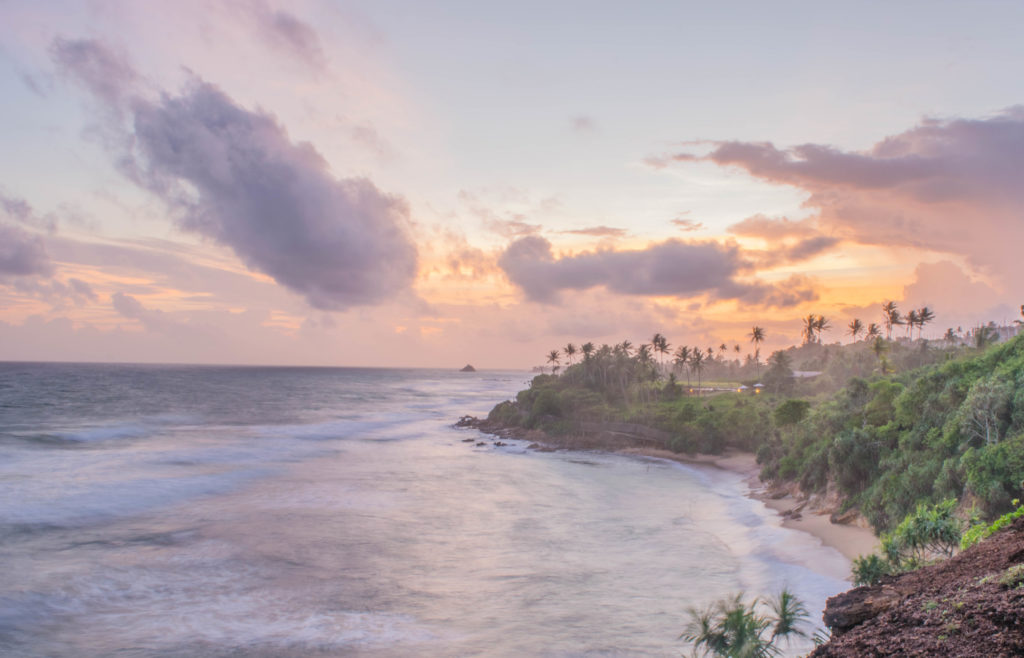 ---
Best Place To Stay in Midigama
Ebb & Flow Jungalows
Out of all the places I've stayed in Sri Lanka, this might just be my absolute favorite. The idea of Ebb & Flow Jungalows is basically a "home away from home". It's a laid-back luxury villa ideally suited for a group of friends on a weekend trip or week of surfing and relaxing.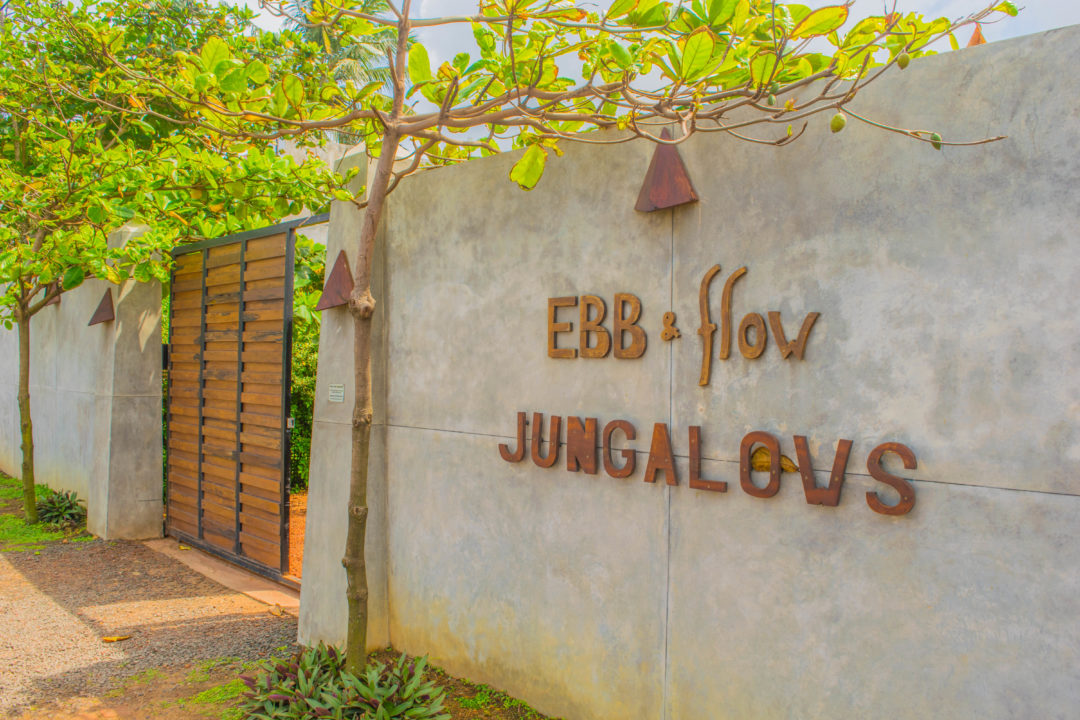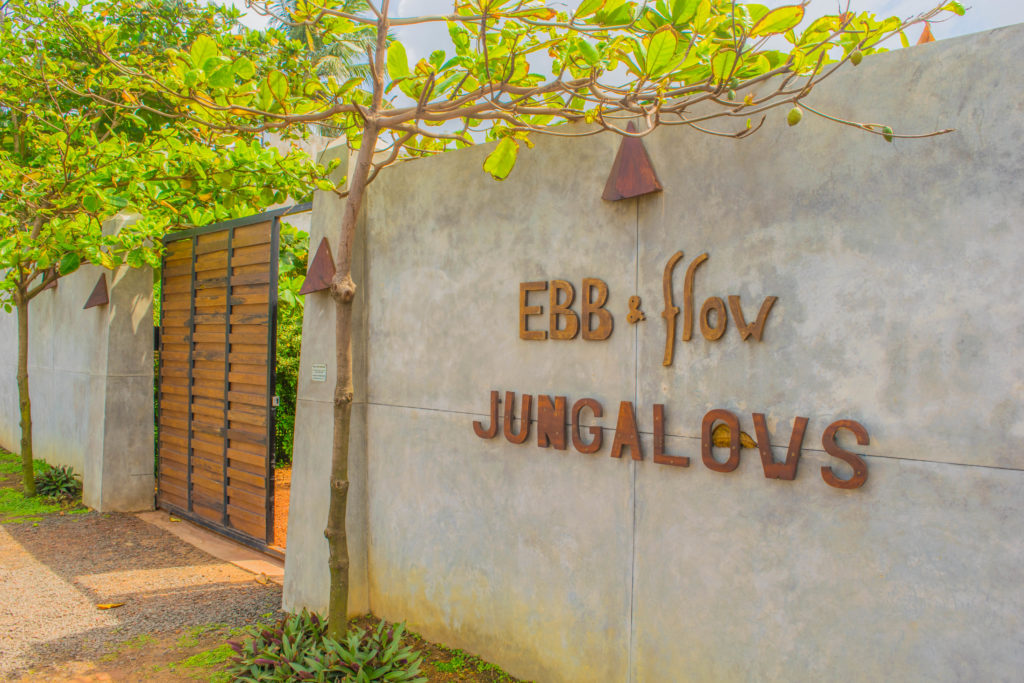 The owners of the property are amazing, friendly, and will make sure you enjoy your time in Midigama. They took us out surfing, gave us tons of helpful information, and always made sure we were happy.
From the minute we checked-in, I realized that this place has a fantastic vibe. Drinking beers by the pool, relaxing in the hammock, or soaking up some wifi-fi — this place was exactly what I needed.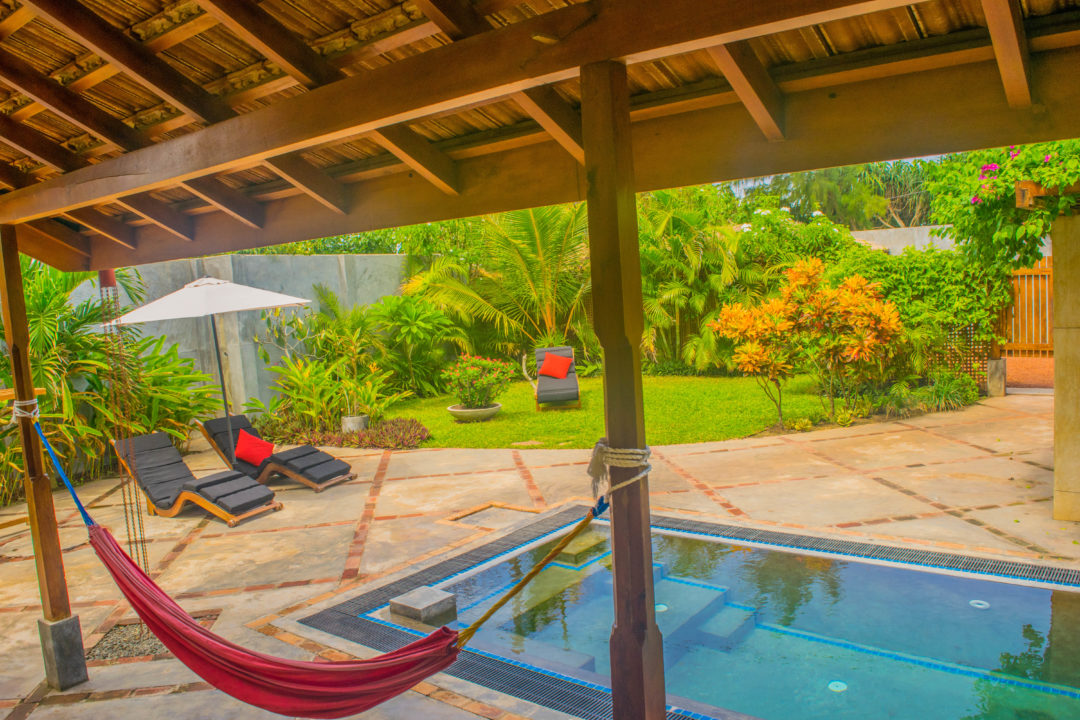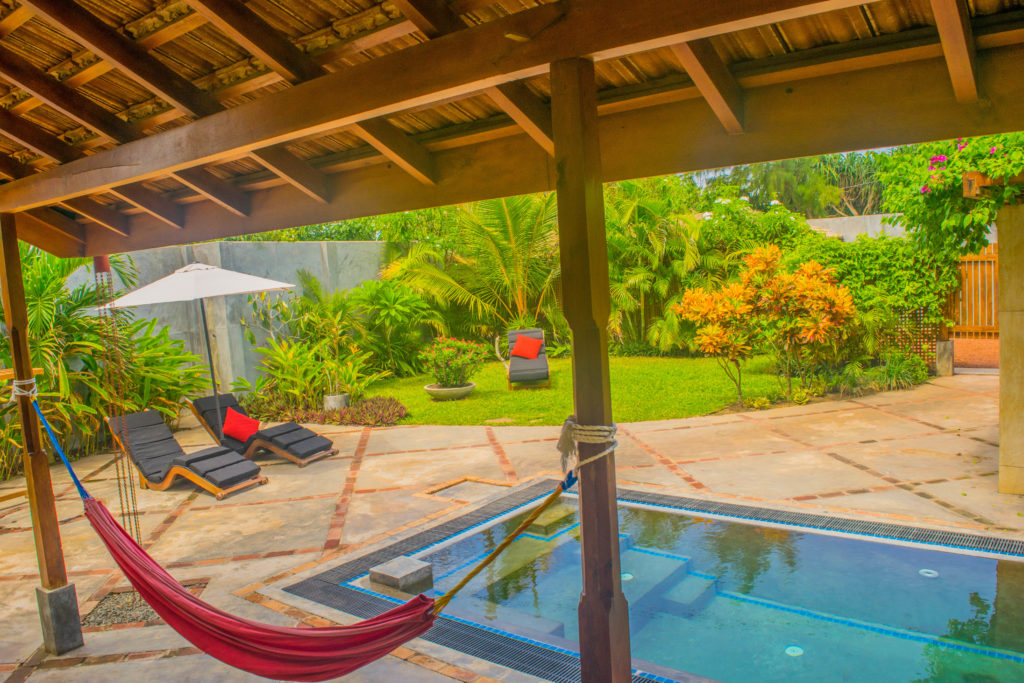 One really cool aspect about the Eb & Flow experience was the food. Breakfast is always included, but if you wanted your other meals taken care you can pick a few dishes from the menu, and then you only pay for the cost of the groceries. Each day the friendly chef would come by, ask if you wanted to order anything, and which time you'd like to eat. You could even go grocery shopping with him if you needed to pick up anything else from the store.
Every meal we had was simply delicious, and also very cost efficient.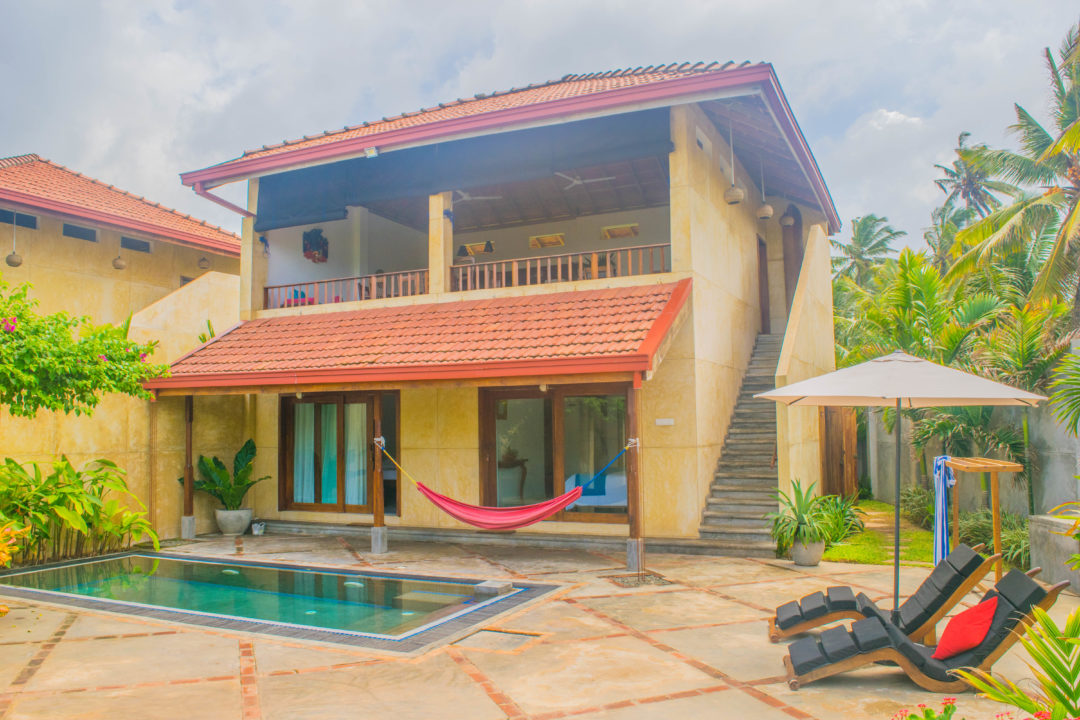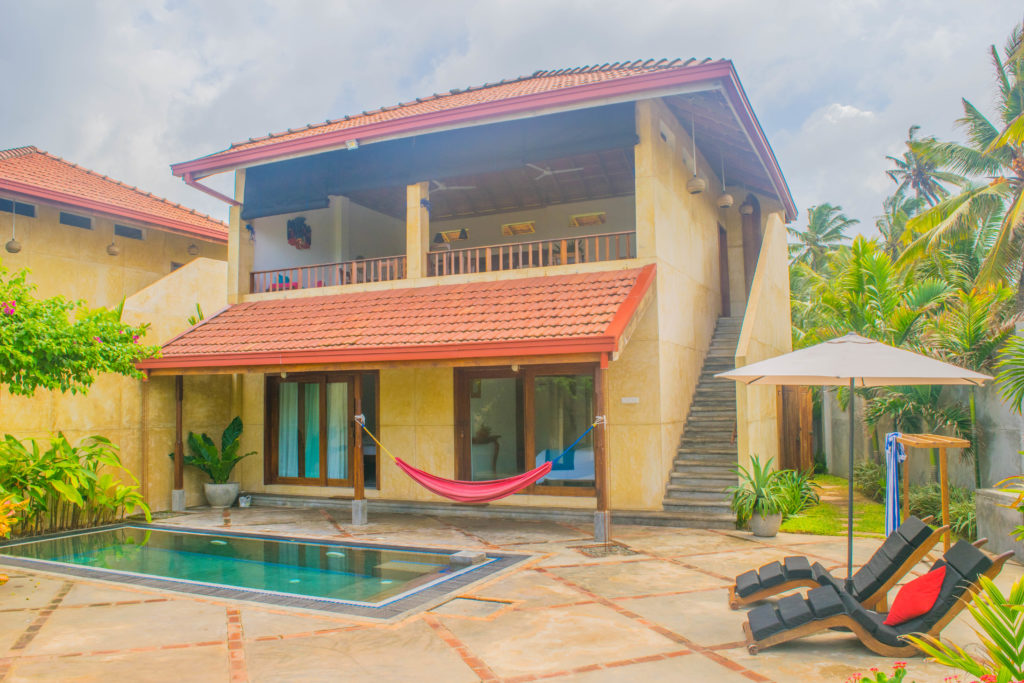 Important — due to liquor laws, there is no alcohol sold at Ebb & Flow Jungalows. This is not a hotel or resort. However, it's definitely encouraged to stock up on some booze to enhance your Jungalow experience.
Oh. AND THE WI-FI. Blazingly fast. I was there with fellow travel bloggers, and we were all pretty stoked about how much work we were able to catch up on.
Price vary depending on the time of the year, but head over to the Ebb & Flow website for more information.
---
Best Place To Stay in Weligama
Hangtime Hostel
I've been backpacking for quite awhile, and I always love when I find an awesome new hostel to recommend to people. There actually aren't that many hostels in Sri Lanka anyway, so this place is a no-brainer. I stayed here for four days, and really loved my time here.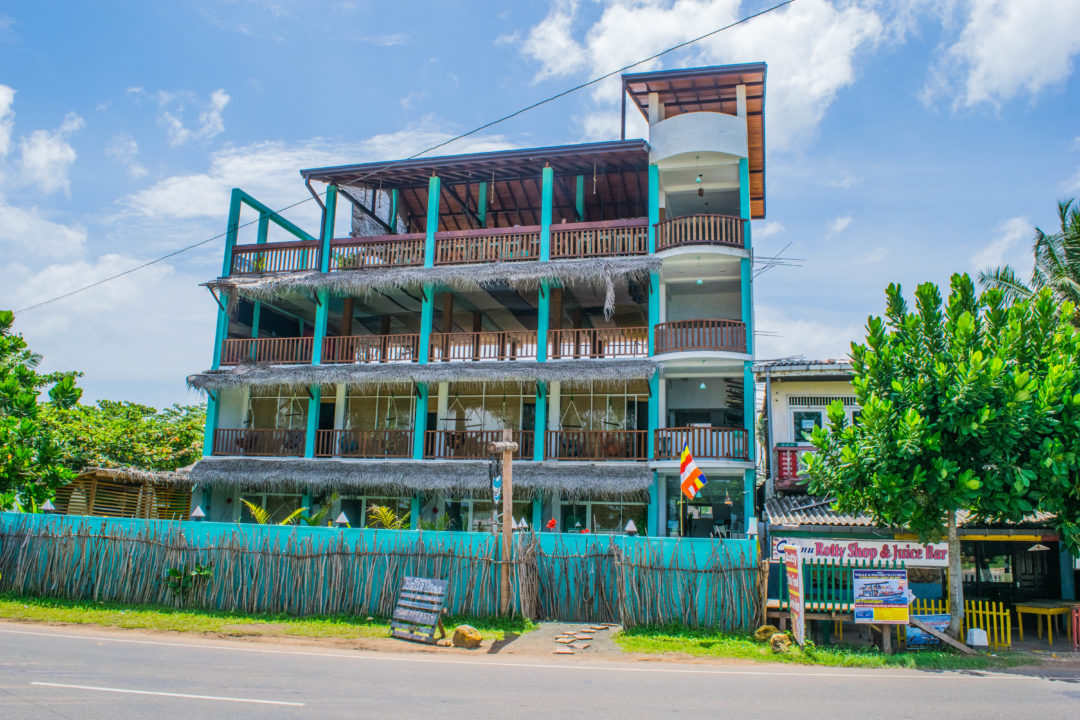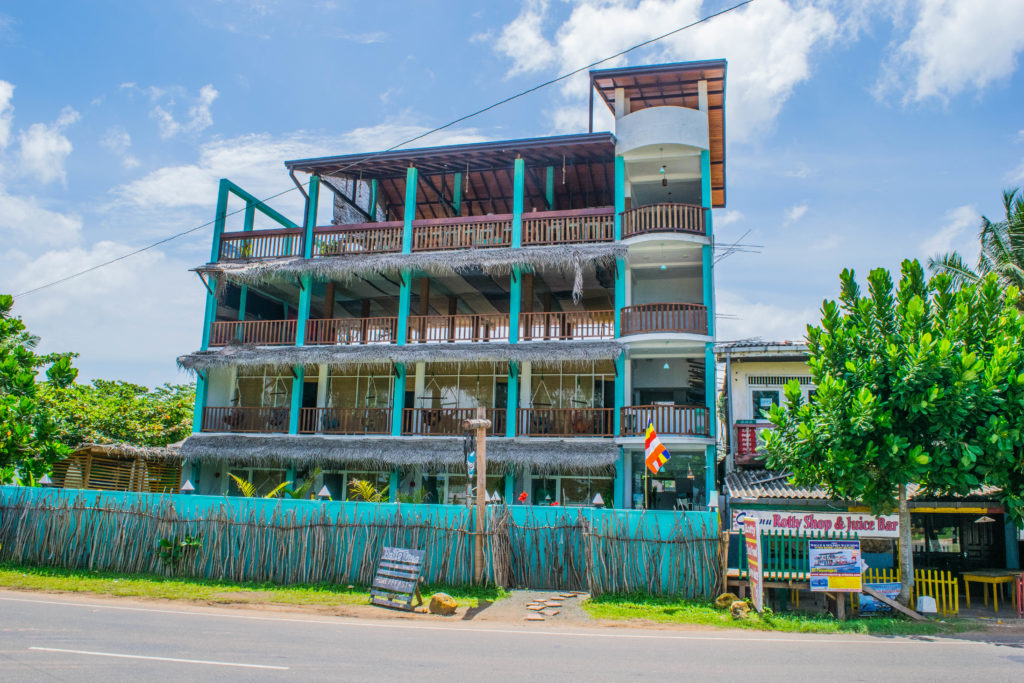 The owner is actually an Australian who just followed his dream of quitting his job and opening up a hostel.
The accommodation is clean, the food is delicious, and it's right across the street from the beach. You're guaranteed to meet some great fellow travelers, surf some waves, and might just find yourself extending your stay.
With prices as low as 1200 Rupees per night for the 6-bed mixed dorm, this hostel is ideal for the solo traveler, budget backpackers, or anyone else looking for a great vibe. This place does sell-out during high-season, so head over to their website to reserve a spot. You can also book on Hostelworld but it looks like prices are a bit more expensive than if you book directly.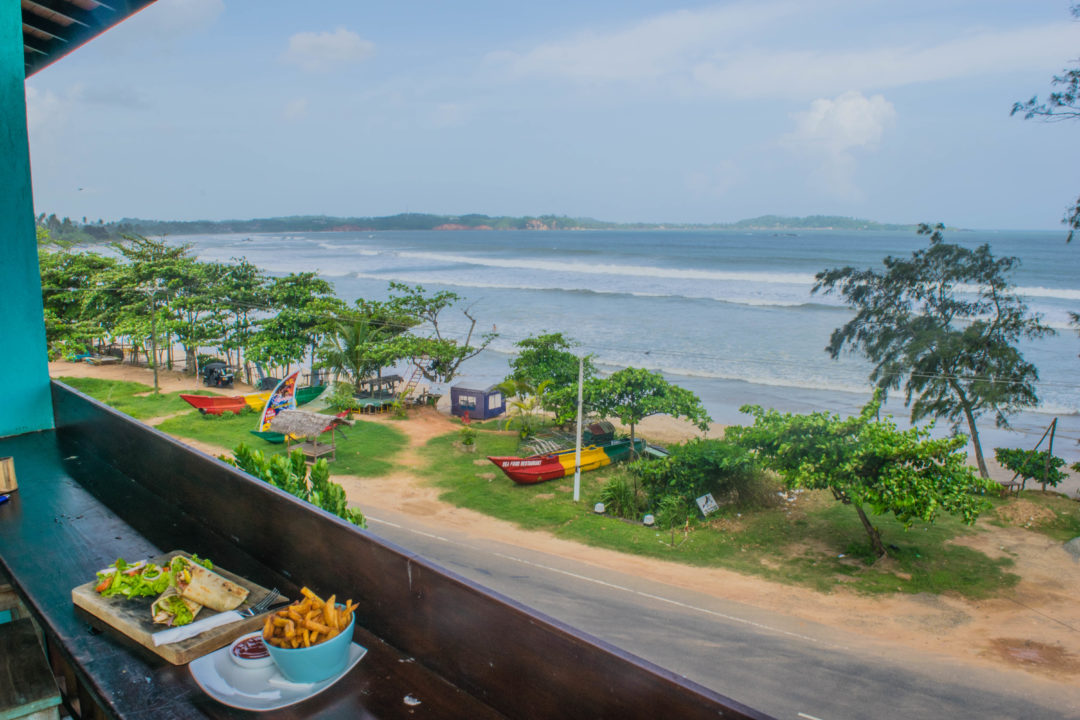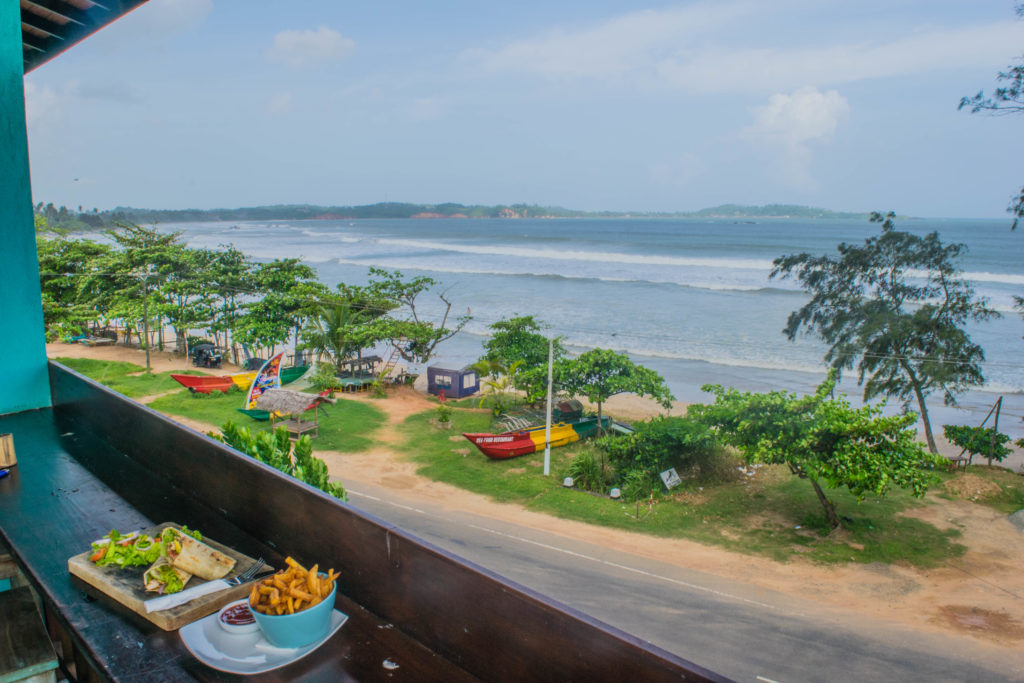 ---
Where To Next…?
Galle / Hikkaduwa / Unuwatuna: You're not too far away from these south coast cities, and they are definitely all worth a visit. Galle is one of the must-visits in Sri Lanka, and the surfing / nightlife in Hikkaduwa & Unatuna is supposed to be great during peak season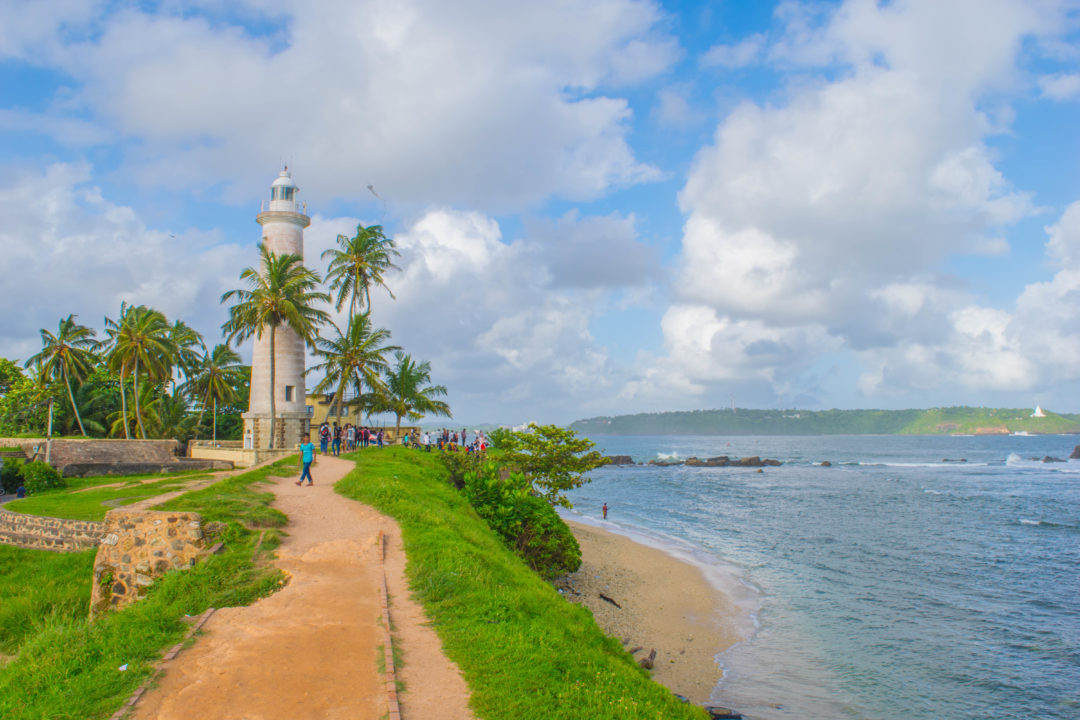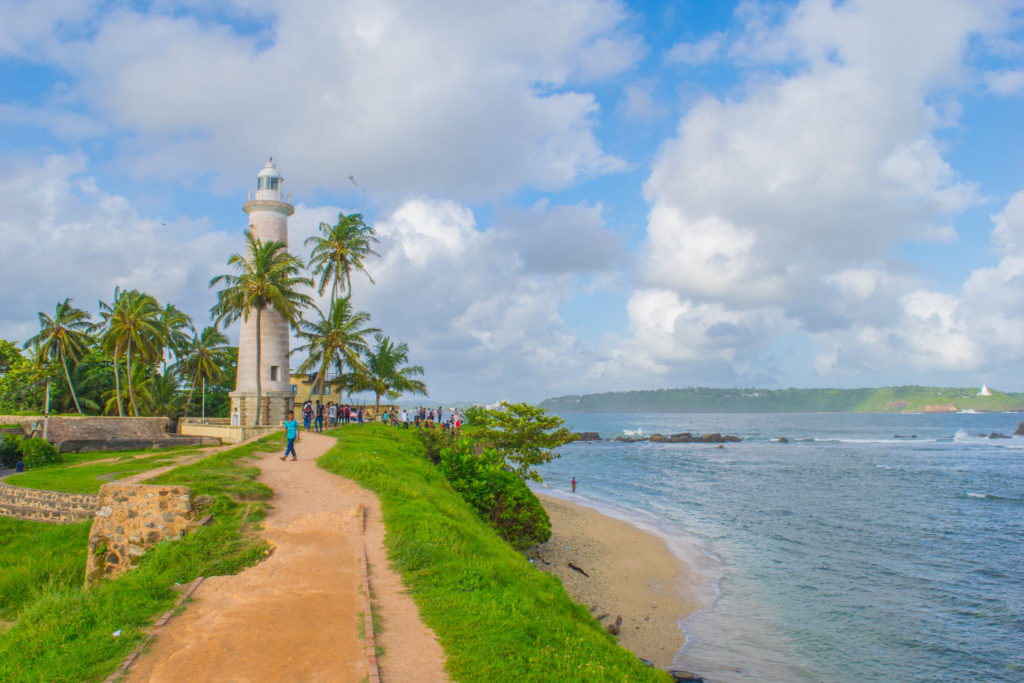 Yala National Park: The countries most famous national park is only a few short hours away. I got the opportunity to go on a safari there, and had a really great time. I unfortunately we didn't see any leopards that day, but maybe you'll get luckier than me.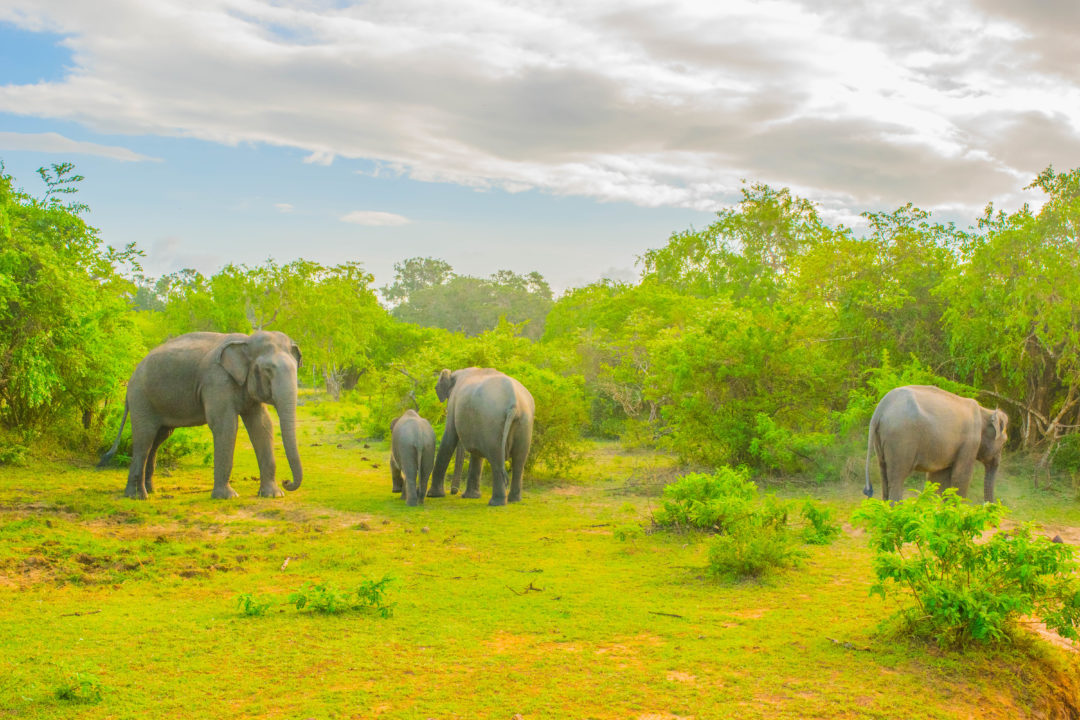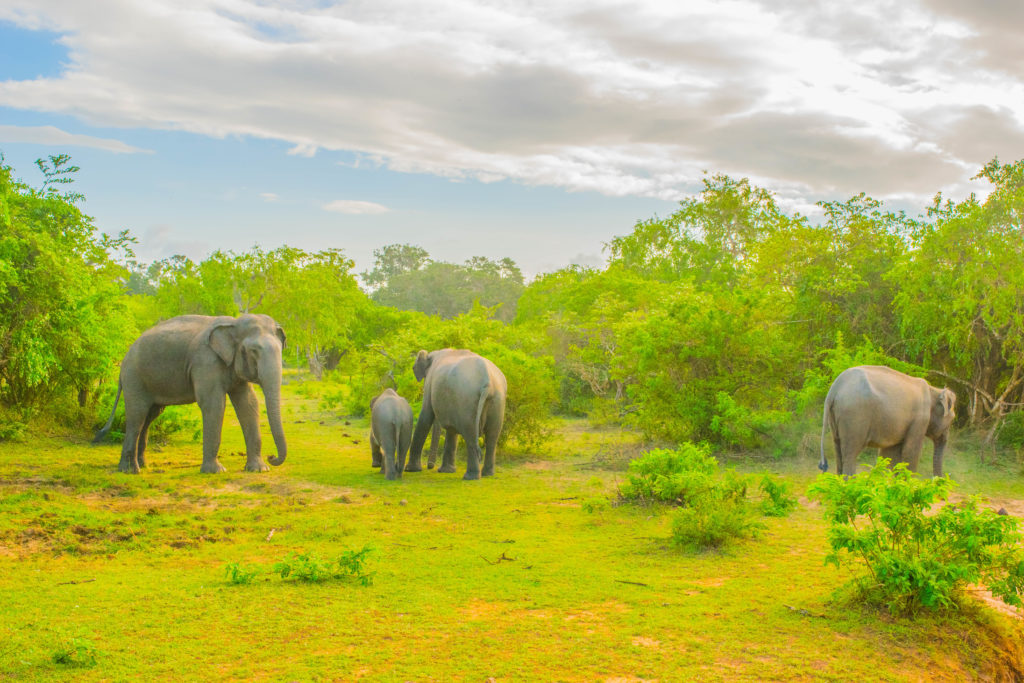 Udawalawe National Park: This can also be done as a day-trip, but it is a pretty far drive so I'd just recommend heading there before / after you're finished exploring the south. This place is prime for elephant spottings. In my opinion, I'd recommend Yala over Udawalawe, because the costs of the safari's can add up, and Yala was truly amazing. But if you can't make it to Yala this trip, then definitely check out this park.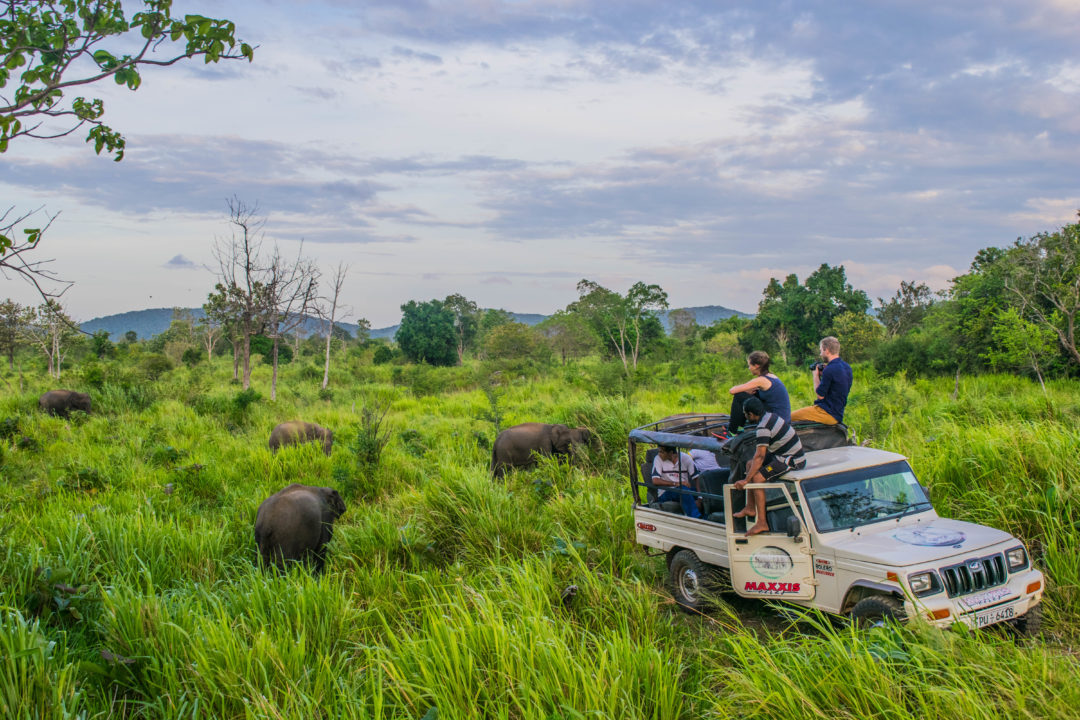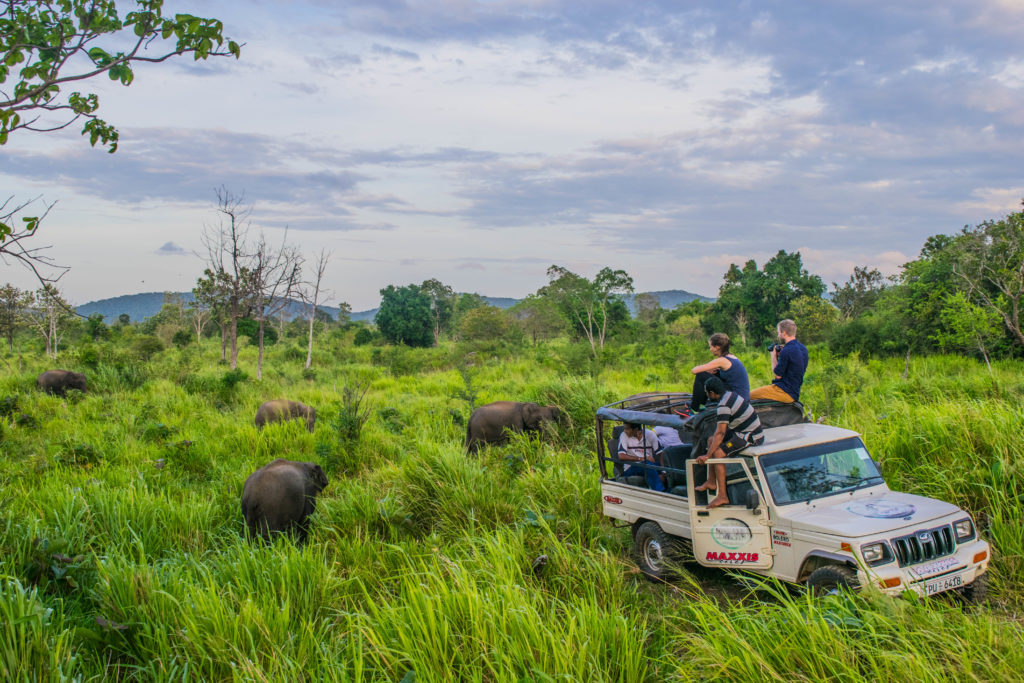 ---
Have any questions? Feel free to shoot me an email, or drop a comment down below and I'd be happy to answer them for you. Safe travels!
Thanks for reading!
& Add Me On Snapchat: — JonesATW
https://www.jonesaroundtheworld.com/wp-content/uploads/2016/06/untitled-11-of-86-2.jpg
4016
6016
Dave
https://www.jonesaroundtheworld.com/wp-content/uploads/2017/03/logotry-1-1-300x106.png
Dave
2016-06-28 05:49:24
2019-06-21 18:53:42
Midigama & Weligama: Learning to Surf in Sri Lanka