Kaudulla National Park | An Elephant Jeep Safari Adventure for the Bucket List
It all started with an extremely bumpy drive through the Sri Lankan jungle, while standing up in the back of the jeep and humming the "Indiana Jones "theme song. As the massive 4×4 vehicle maneuvered through the muddy path in front of us, I struggled to maintain my balance long enough to take a sharp picture.  Then unexpectedly to my rescue, our friendly Kaudulla National Park tour guide wrapped his arms around my chest, stabilizing my body, thus allowing me to snap some photos of this turbulent adventure.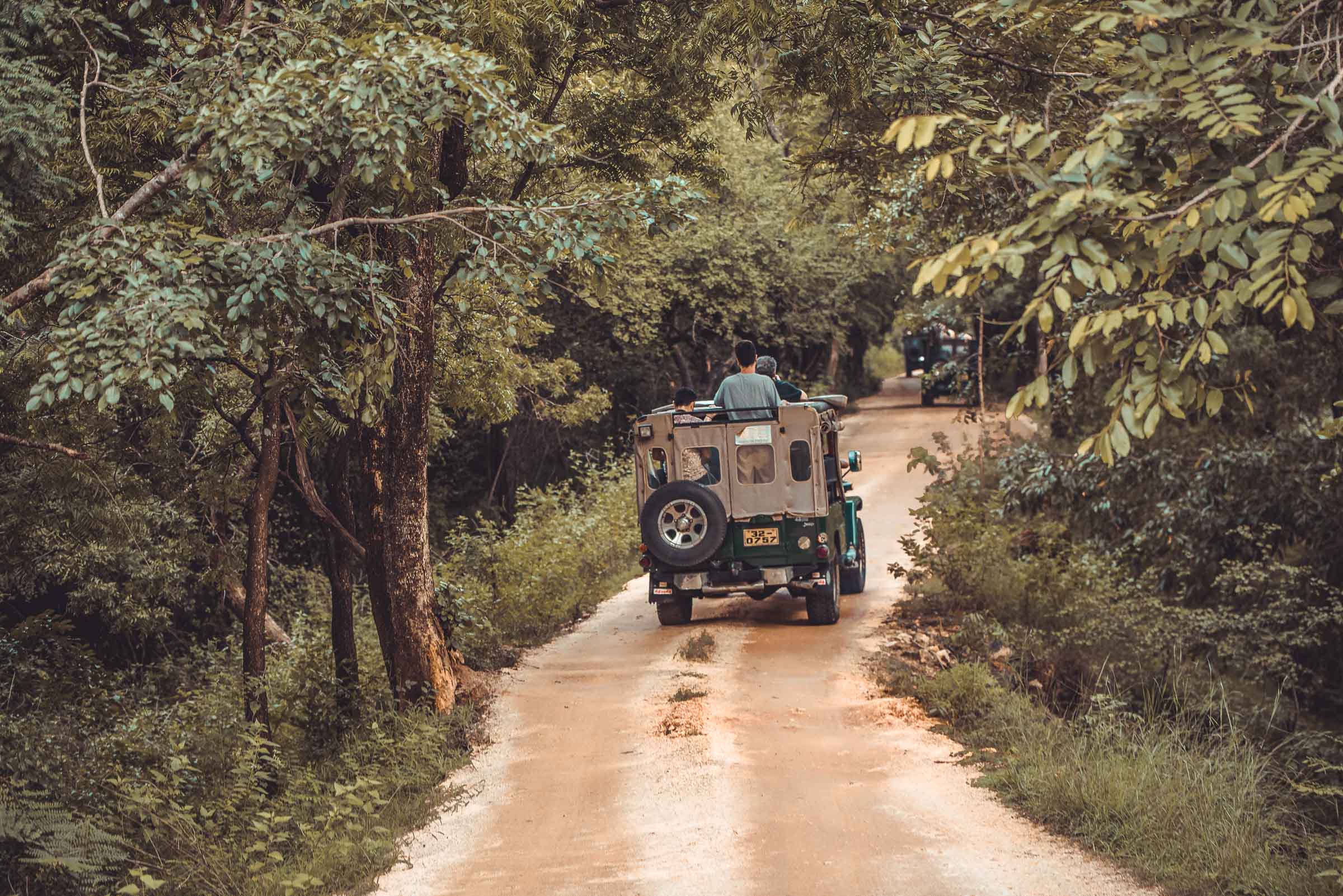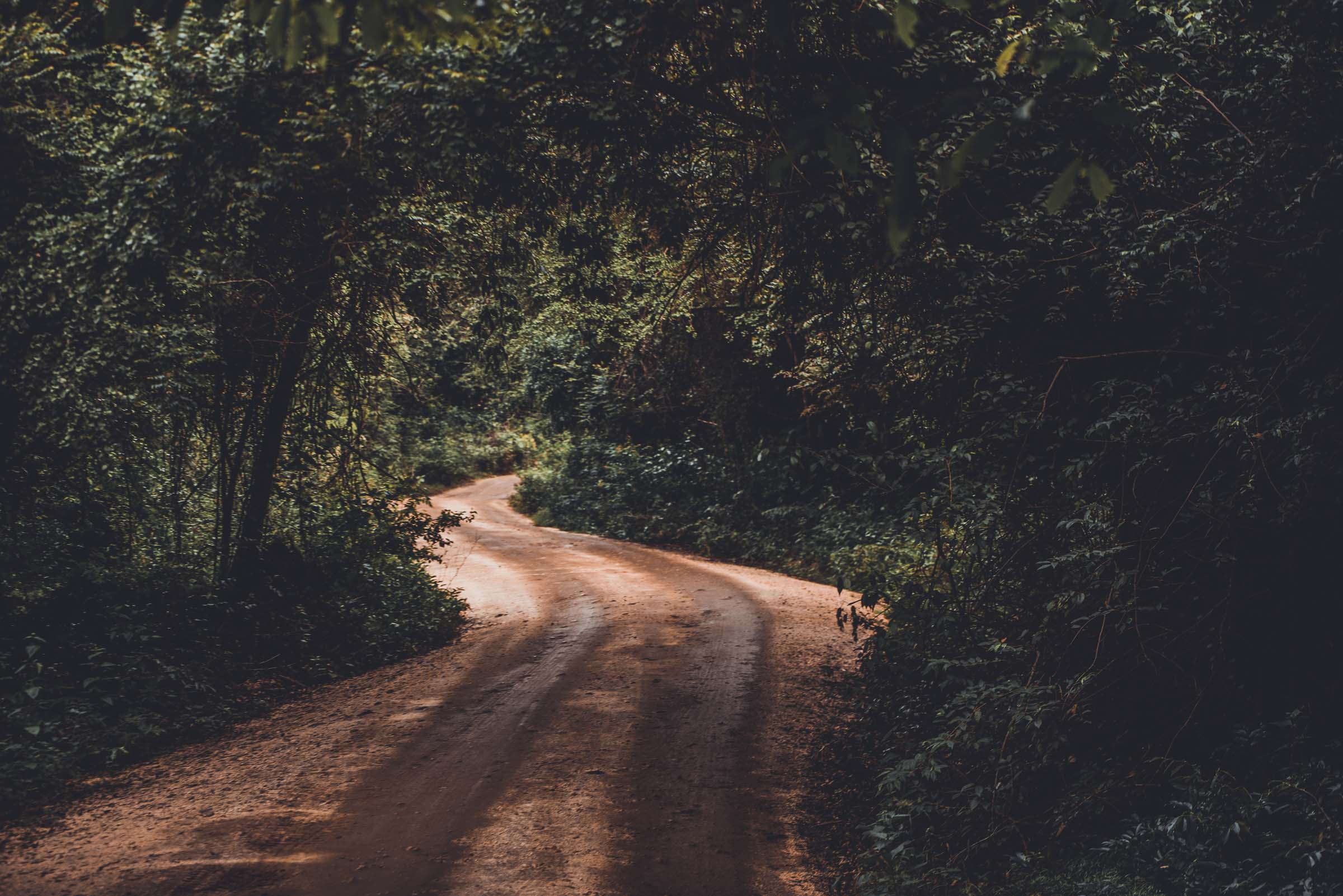 ---
After 20-minutes or so we finally made it through a clearing and spotted an elephant peacefully grazing underneath a picturesque tree and overcast sky.  Our safari crew cheered in unison as we whipped out our cameras and snapped away, and chatted about how this safari is off to a great start!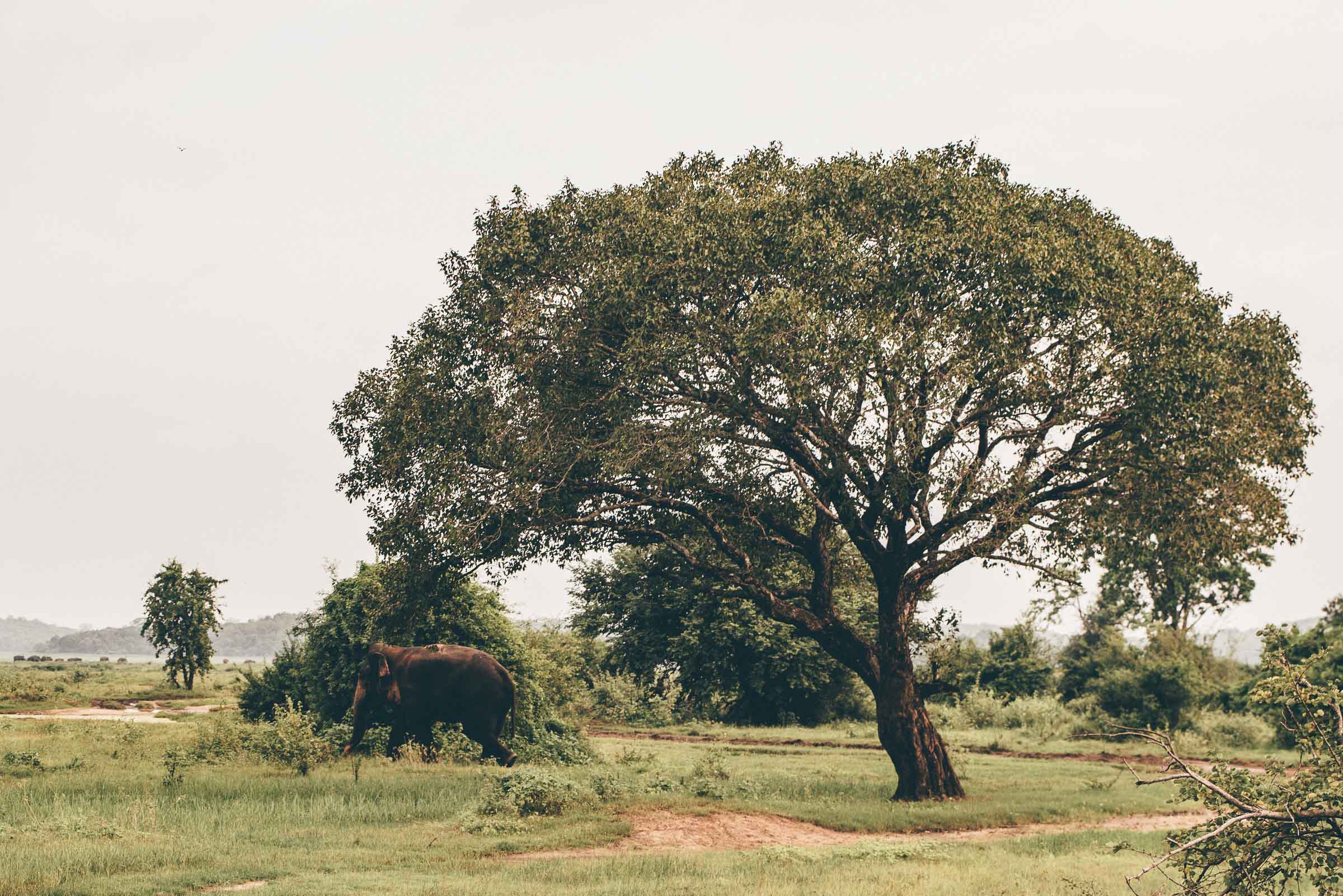 Looking back at this moment now, I laugh at how ridiculously stoked we were after seeing just one elephant…because just minutes further into the park was quite literally hundreds of elephants calmly hanging out, eating, and playing with each other.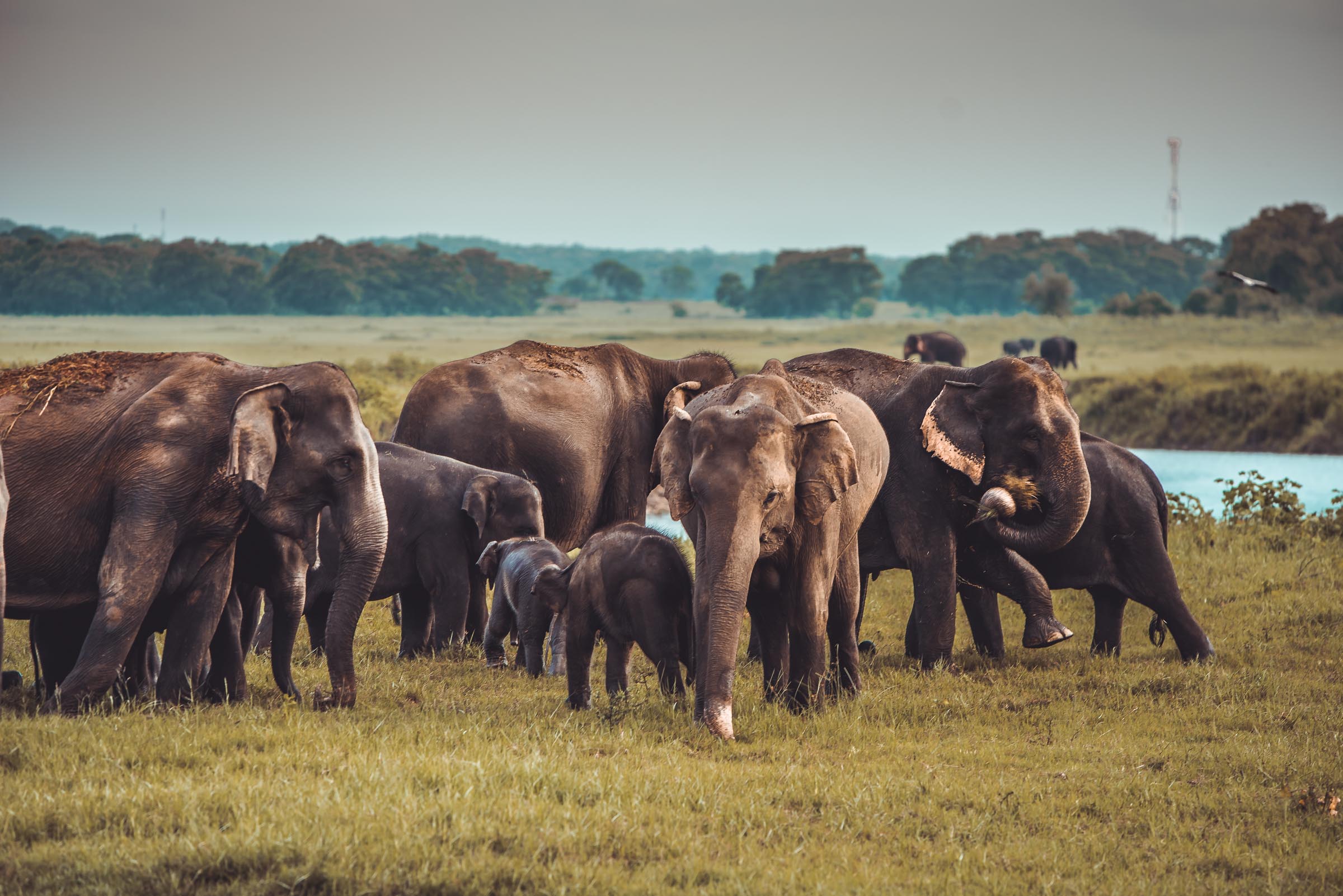 ---
Welcome to Kaudulla National Park
Now there are over 26 different national parks in Sri Lanka, but there is simply no competition with Kaudulla for being the absolute best option for getting up close and personal with elephants in their natural habitat.  It's truly an unbelievable experience to see these magnificent creatures roaming around this wide open park complete with grassy plains alongside huge lakes, and never in my life did I imagine I'd be quite literally surrounded by elephants in every direction!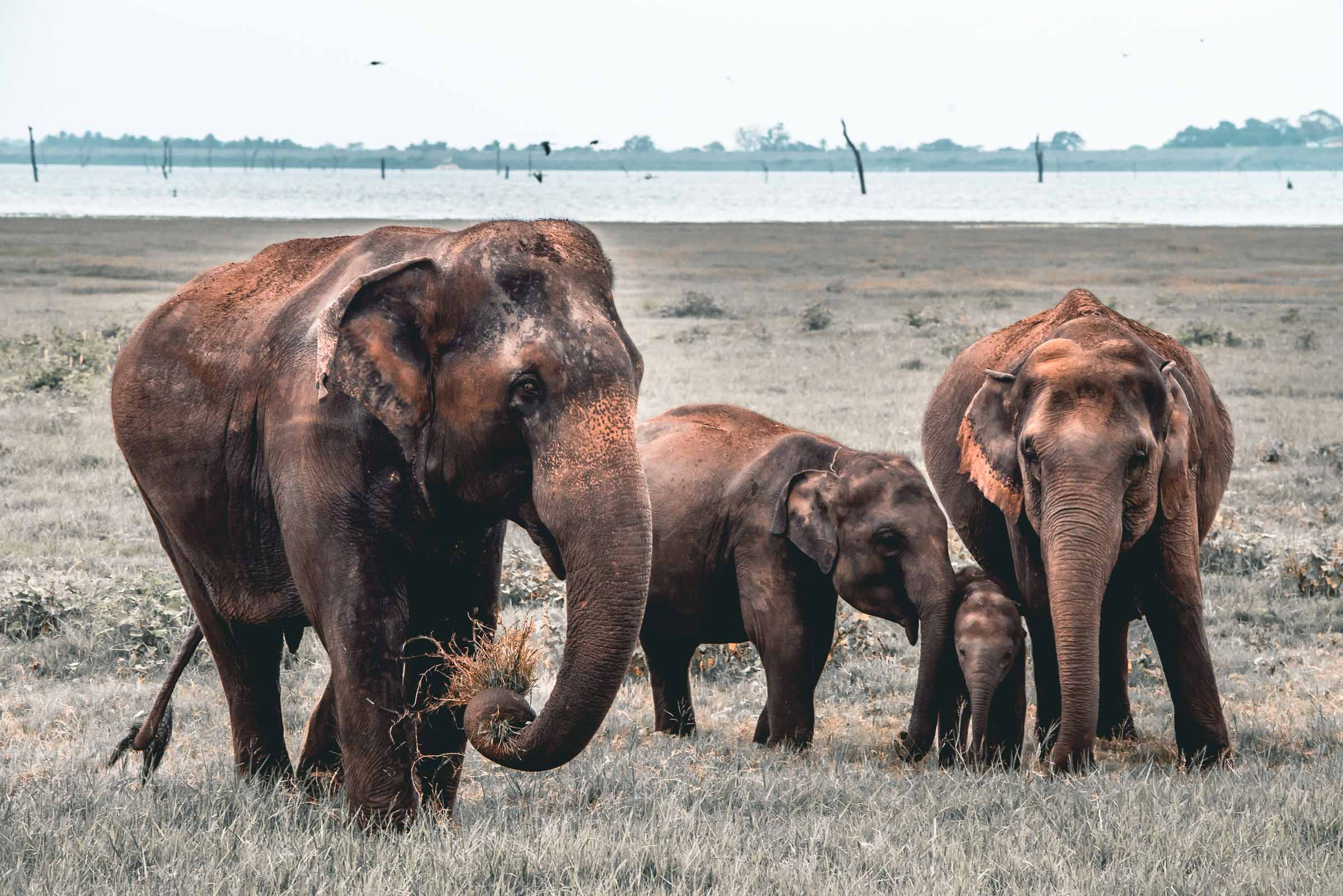 ---
While I don't think it's as scenic as the neighboring Minneriya National Park (which is even more popular for elephant safaris), and you're definitely not going to see as much wildlife diversity like you can in the highly sought after Yala National Park (which claims the highest leopard density in the world)…no visit to Sri Lanka would be complete without a visit to Kaudulla National Park!!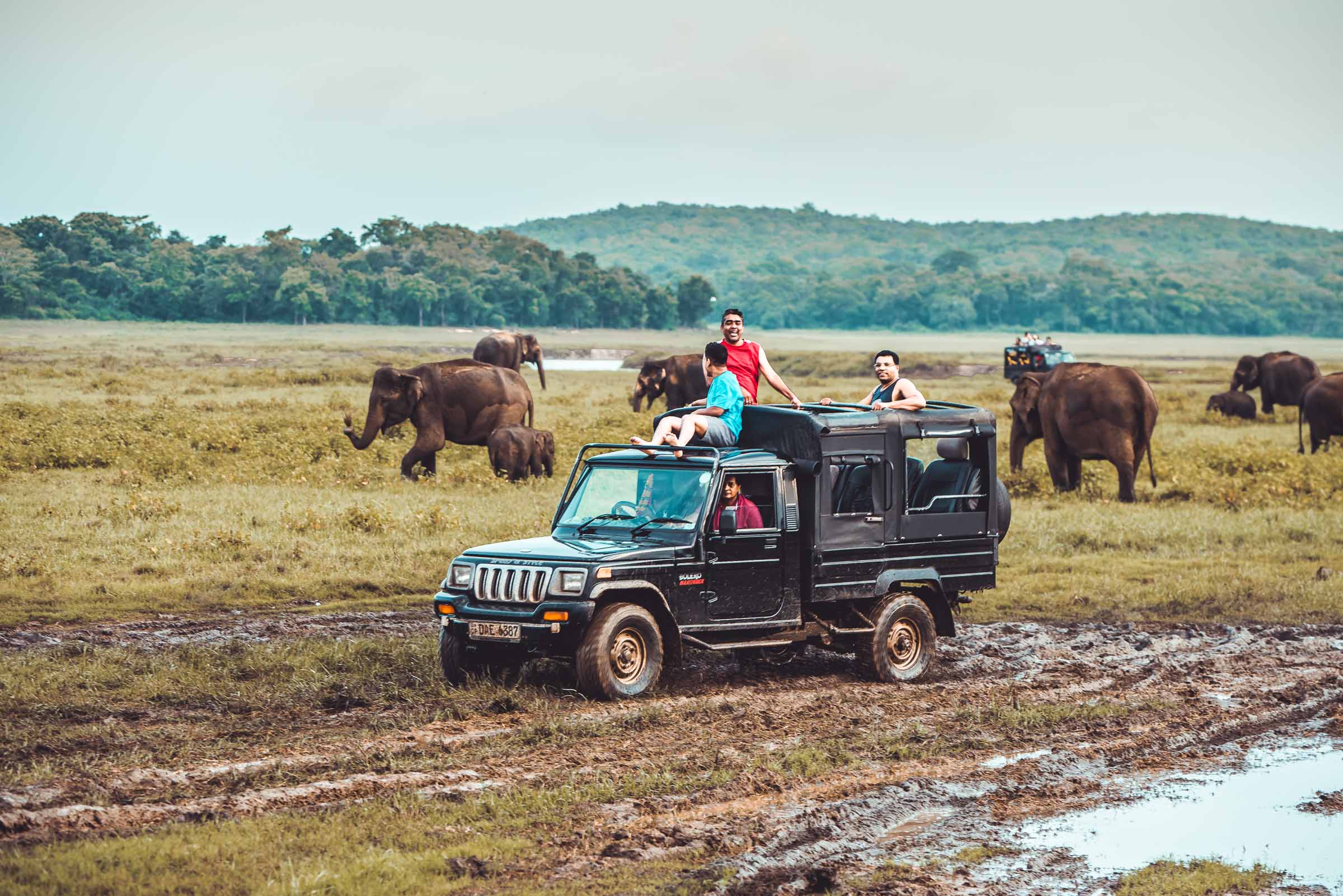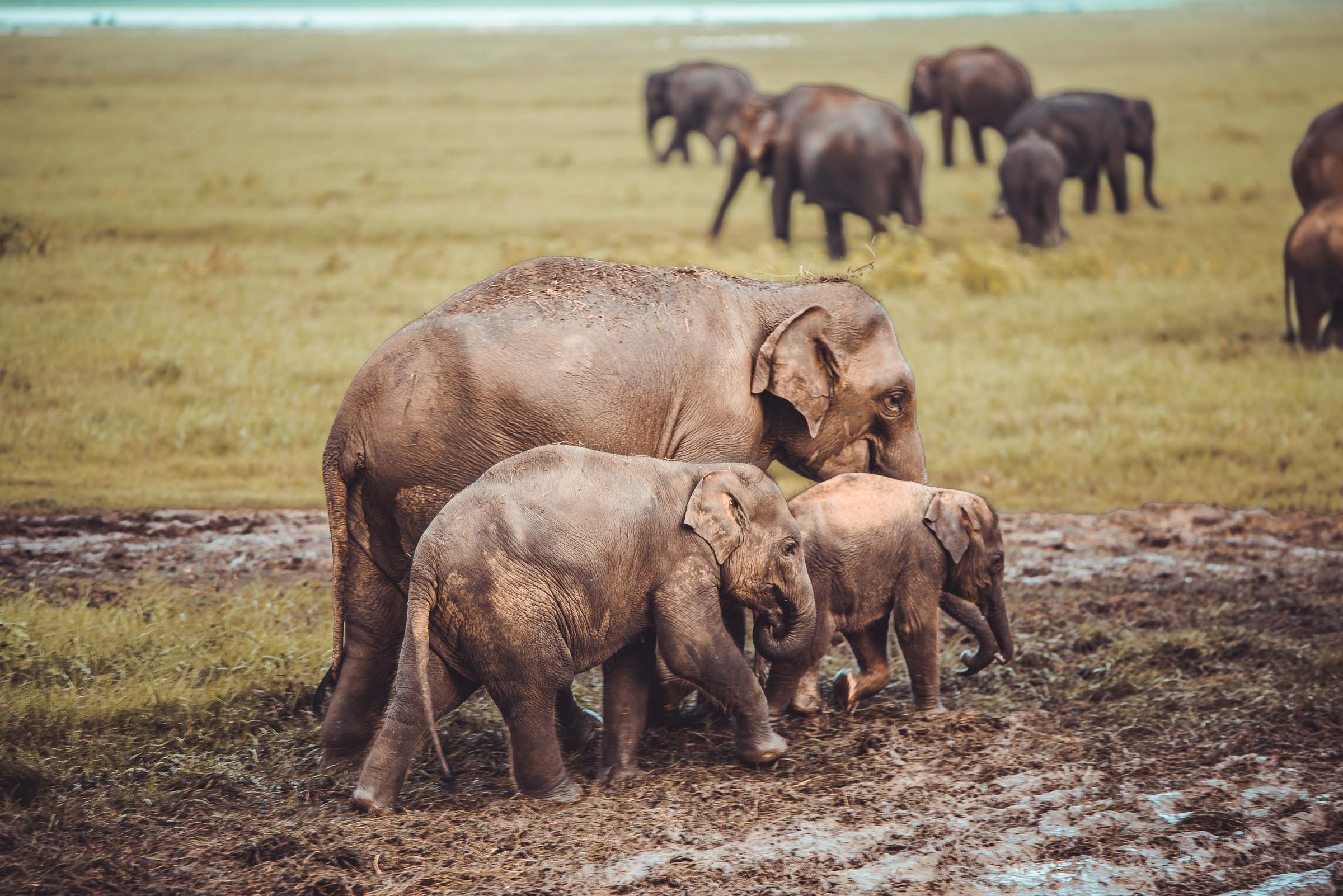 ---
We spent a couple hours just driving around, parking our jeeps around different herds, and taking as many photos and videos as our SD cards would allow.
As the sky began getting a bit darker, and the sun was so ferociously attempting to shine through the overcast clouds, it was time for all our jeeps to begin the bumpy journey back to the Kaudulla National Park entrance.  I honestly could have stayed another hour or two photographing these beautiful beasts, but I'm sure I'll be back in Sri Lanka again soon!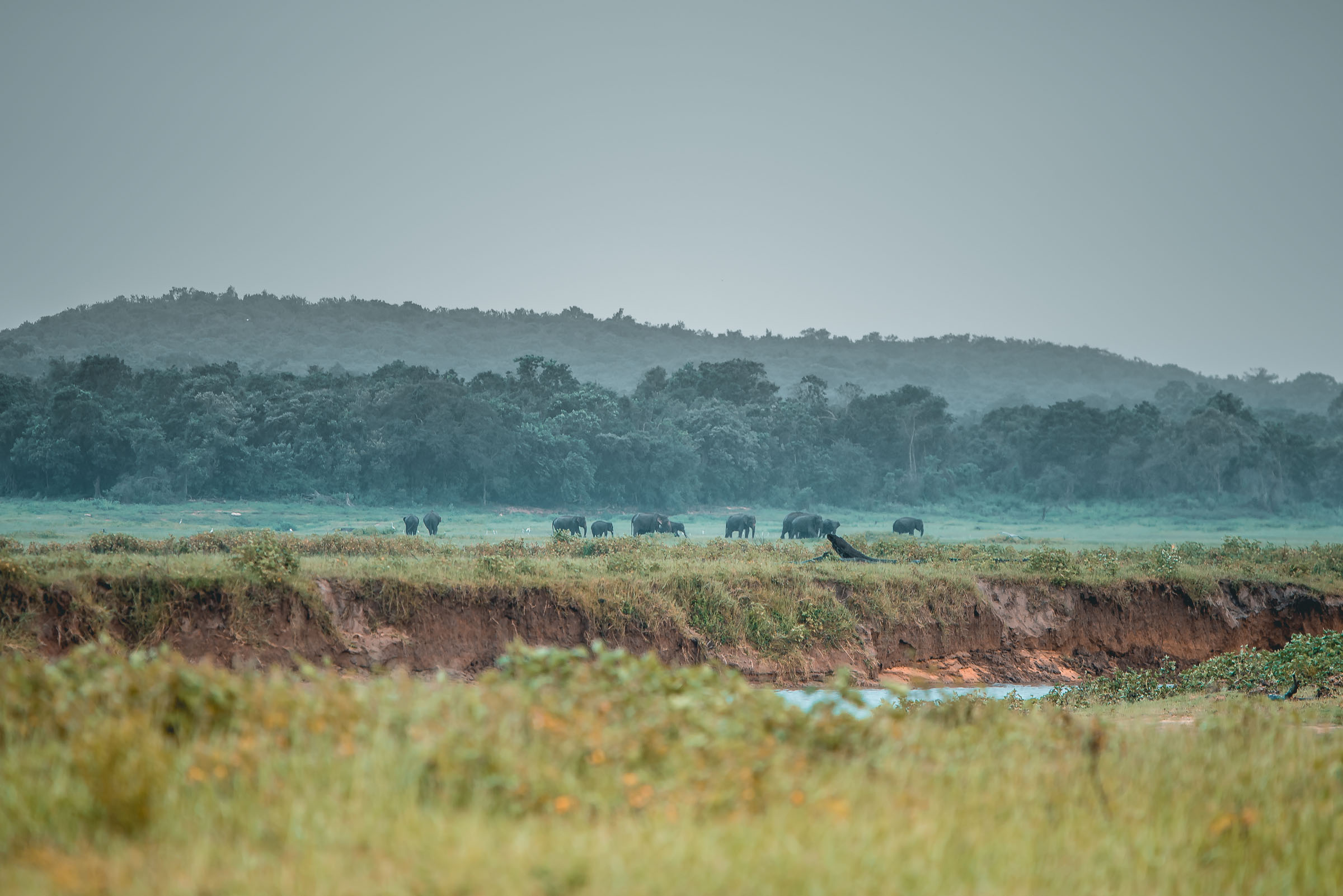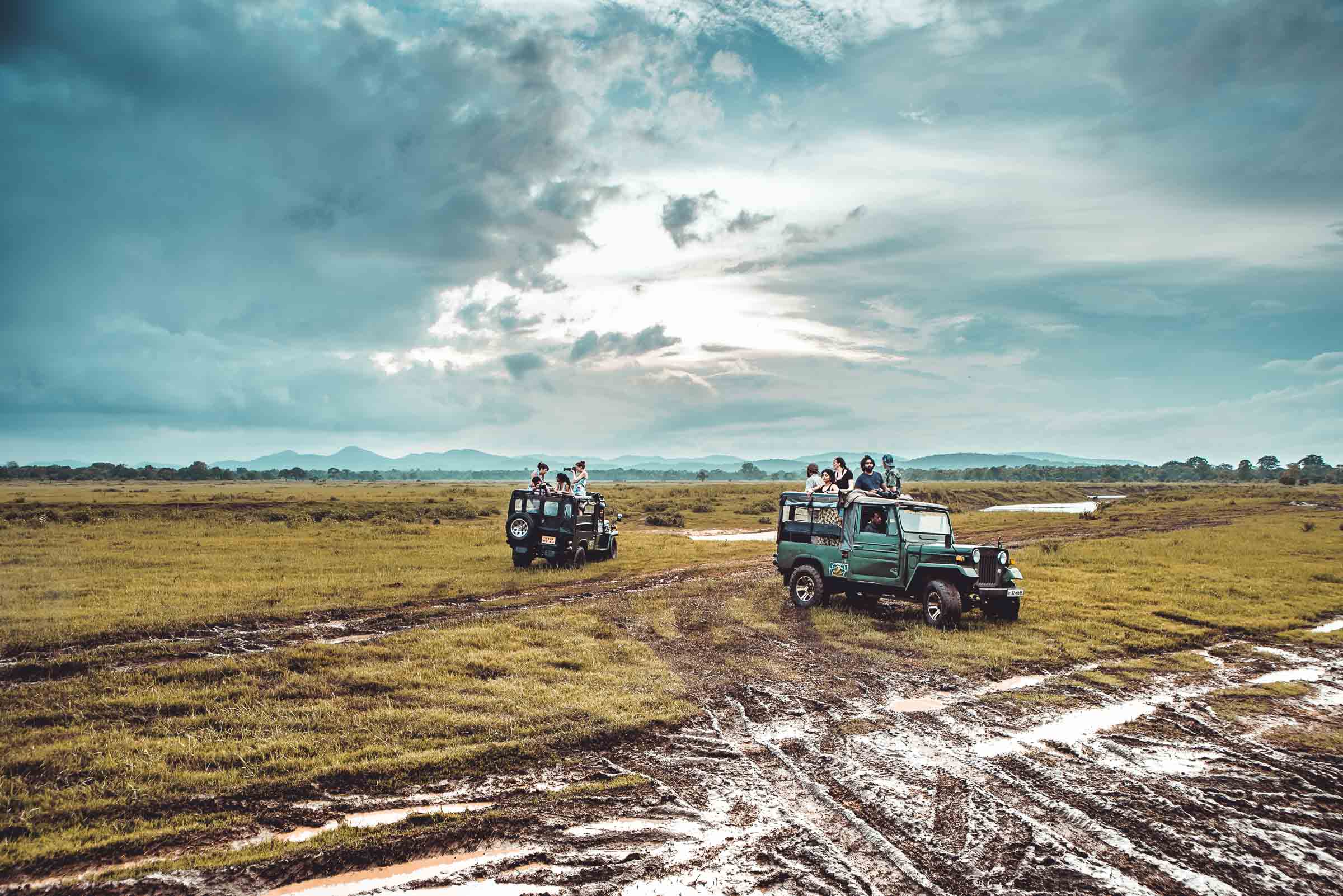 ---
Kaudulla vs Minneriya National Park
If you're planning your own trip to Sri Lanka, and are curious about which wildlife safari you should book, then I would definitely recommend Kaudulla over Minneriya.  It tends to be a little less busy, and you simply can't beat the sheer number of elephants you're practically guaranteed to encounter during your jeep safari.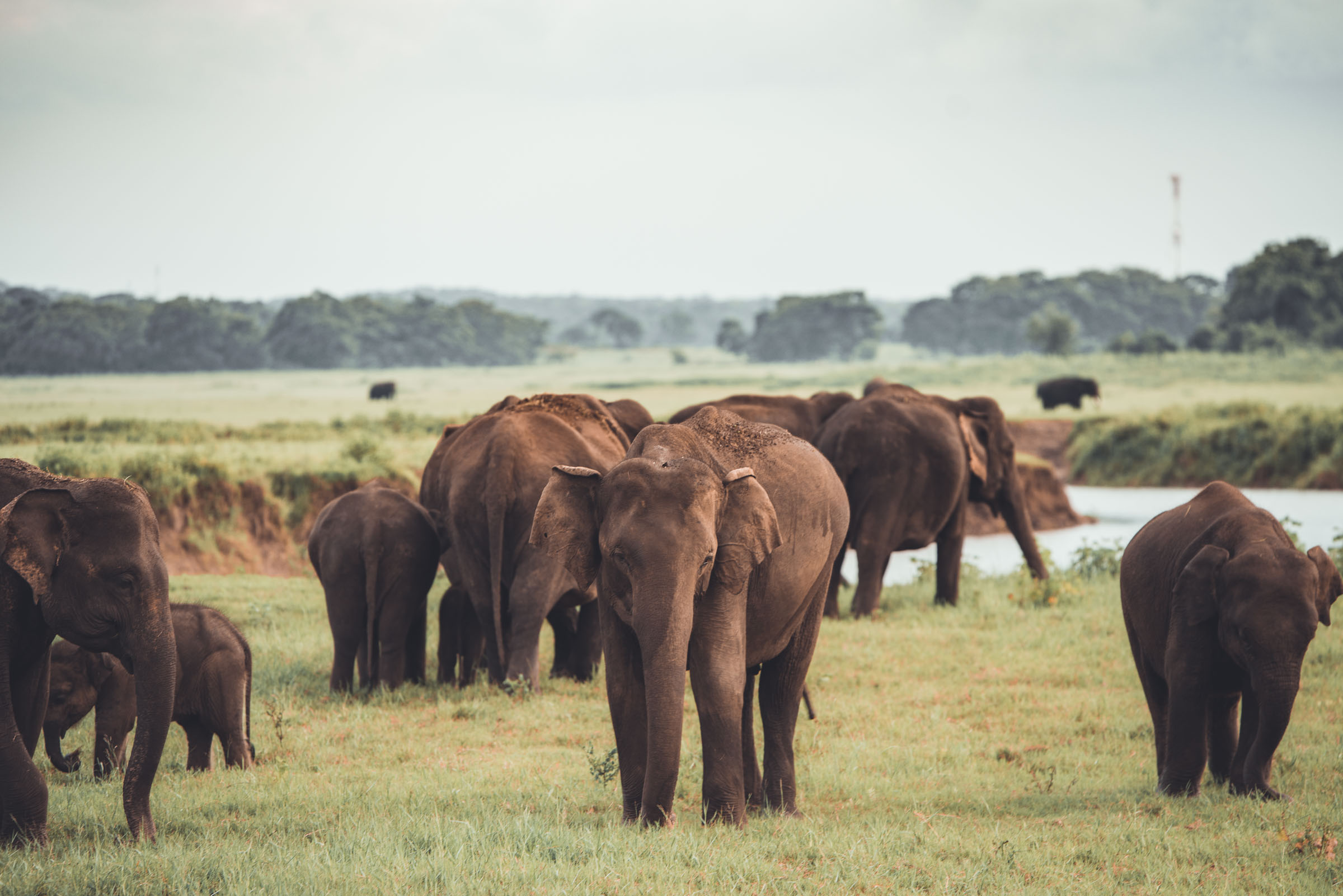 With that being said, if you happen to be in Sri Lanka during July & August, you should be lucky enough to witness "The Gathering: Sri Lanka's Great Elephant Migration", which I actually discovered while doing some research for this article.  It seems absolutely fantastic, and almost too good to be true for elephant enthusiasts.
"In north-central Sri Lanka's Minneriya National Park, hundreds of elephants travel each year to the shores of an ancient reservoir built by a king more than 1,700 years ago. They've made the trip for centuries, coming from across the region to bathe, mate, socialize and, most importantly, to feed as part of an annual event known as "The Gathering." — CNN Travel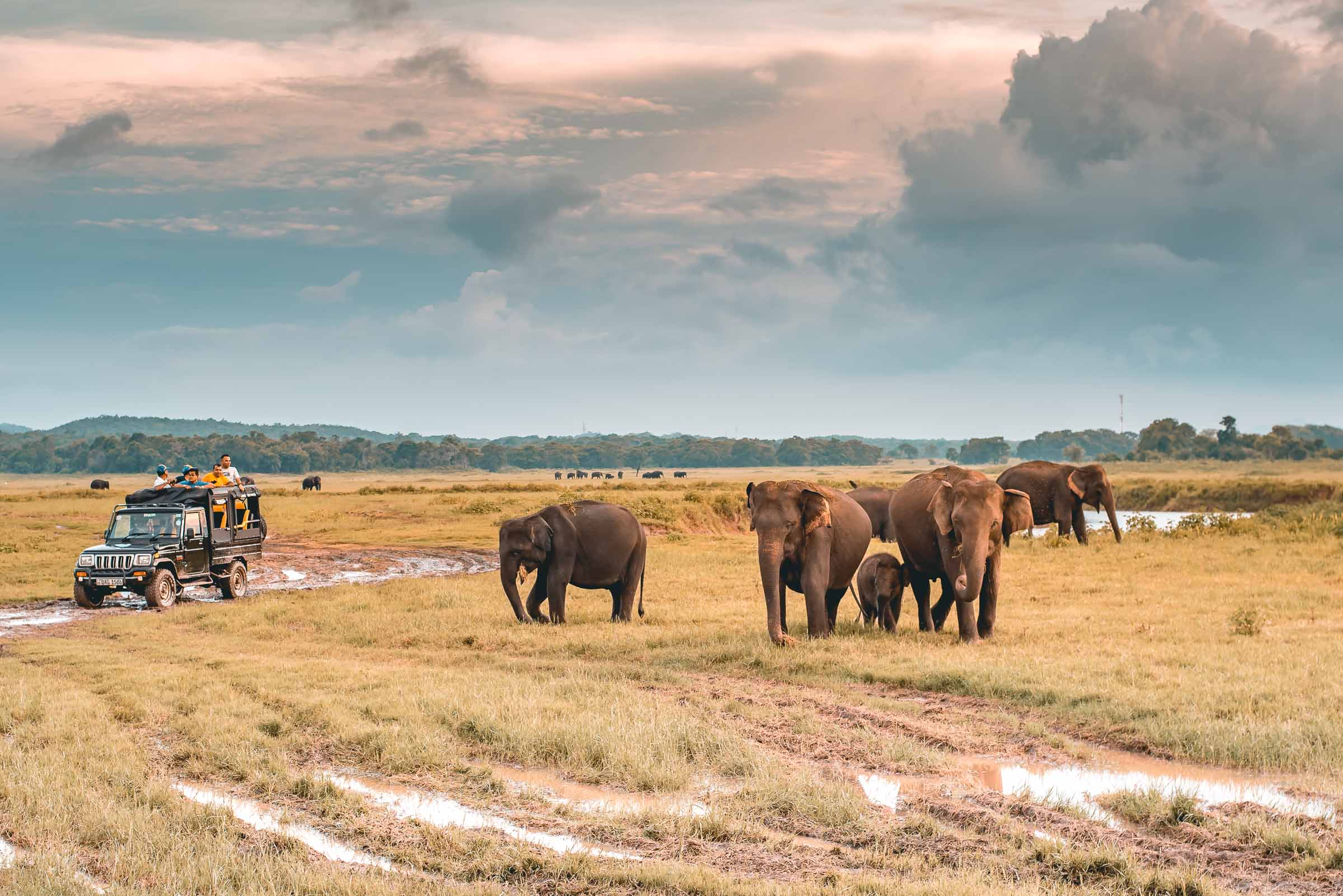 Sounds pretty cool, hey? 
"People are so difficult. Give me an elephant any day." –  Mark Shan
---
Kaudulla National Park Jeep Safari Tips
Go during the afternoon safari! It will be less hot/ humid which will provide a more comfortable safari experience, and is known for having more elephants.
While this is definitely the best Sri Lanka wildlife safari to getting close to the elephants, you're still going to want to have a DSLR or camera with a long zoom lens.  Most of the images in this post I took with my Tamron G2 70-200 f/2.8 lens, which is definitely one of my favorite lens in my photography kit.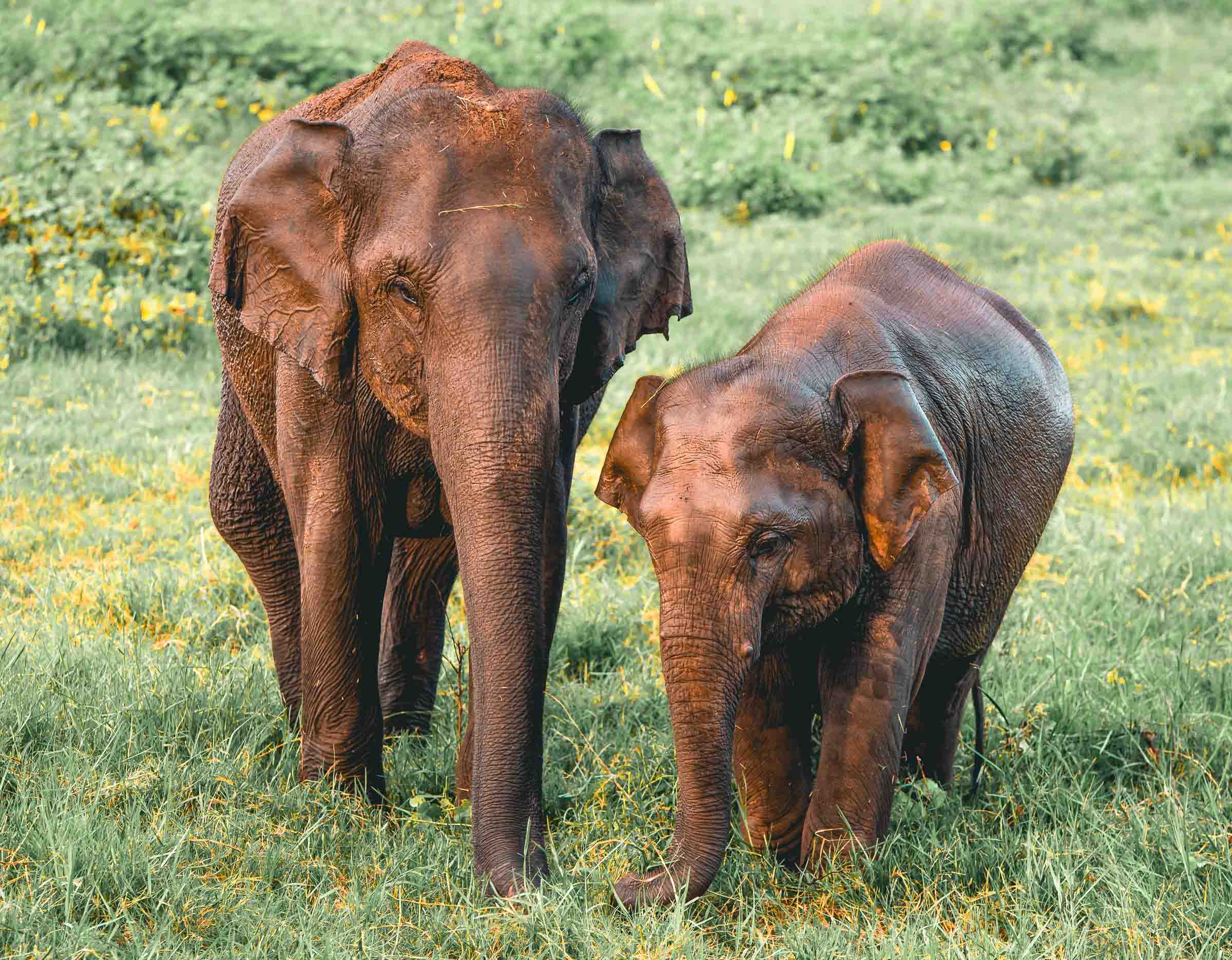 ---
Make sure you bring some water, as once the safari starts you won't have access to any for a few hours.  Towards the end of my safari, I was super thirsty.
Don't be afraid to ask your driver to park the jeep in the better locations.  If the park is busy with jeeps, you'll want to make sure your driver gets the best spots.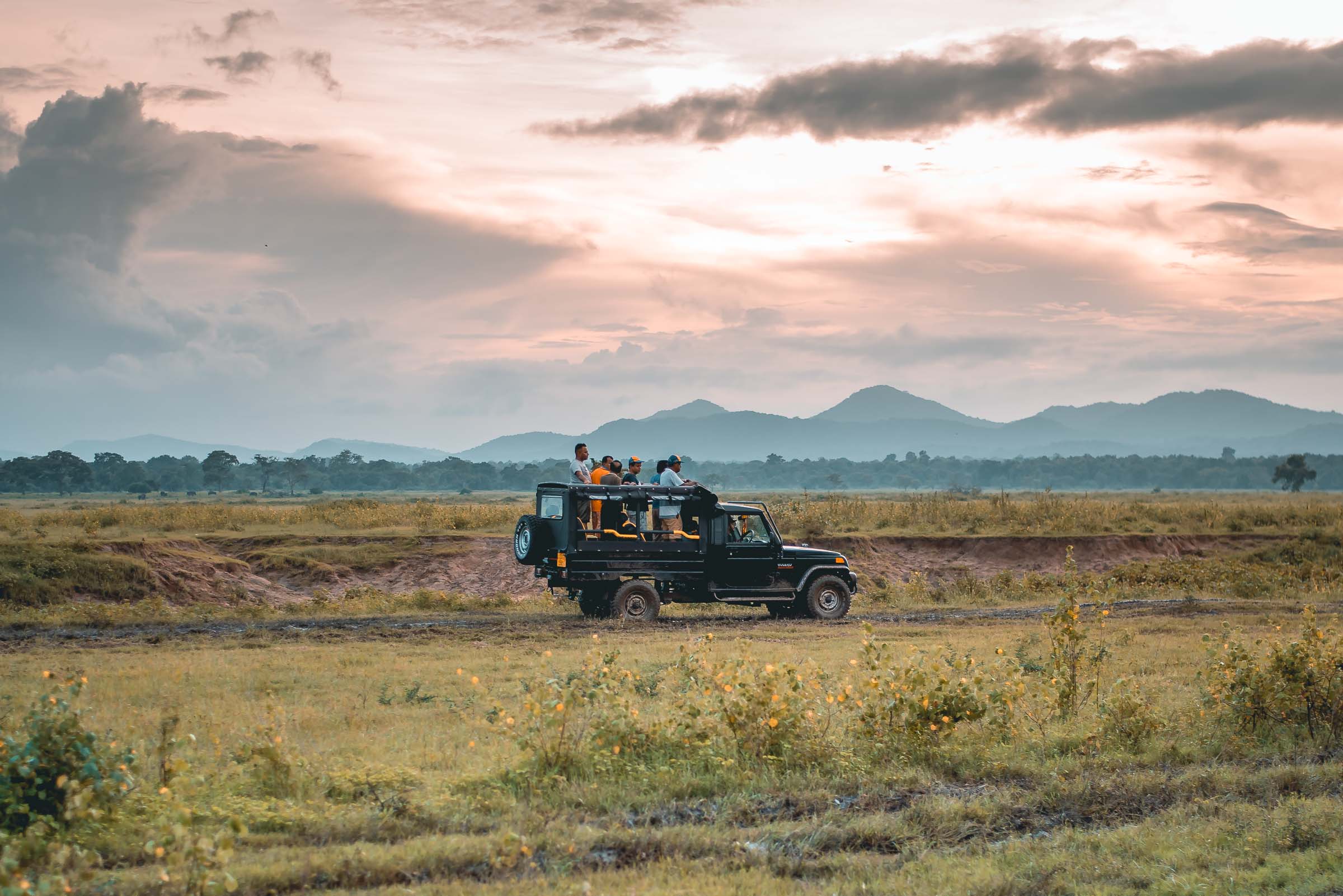 ---
Where to Stay To Experience Kaudulla National Park
I was fortunate enough to check out Kaudulla while on a pre-conference tour with Cinnamon Hotels, and I absolutely loved my stay at their property, Cinnamon Lodge Habarana.  It's located just a quick 30-minute drive from the national park entrance, and they can organize everything for you to make a stress-free wildlife safari experience.
Safari Prices: 
2 -3 pax – 70 USD per person [ minimum 2 pax]
4 pax & above – 50 USD per person
Room prices vary depending on the time of the year, but rates typically start as low as $62 per night.  The entire property is stunning, the rooms are beautiful and spacious, and the buffet meals are seriously mind-blowingly delicious!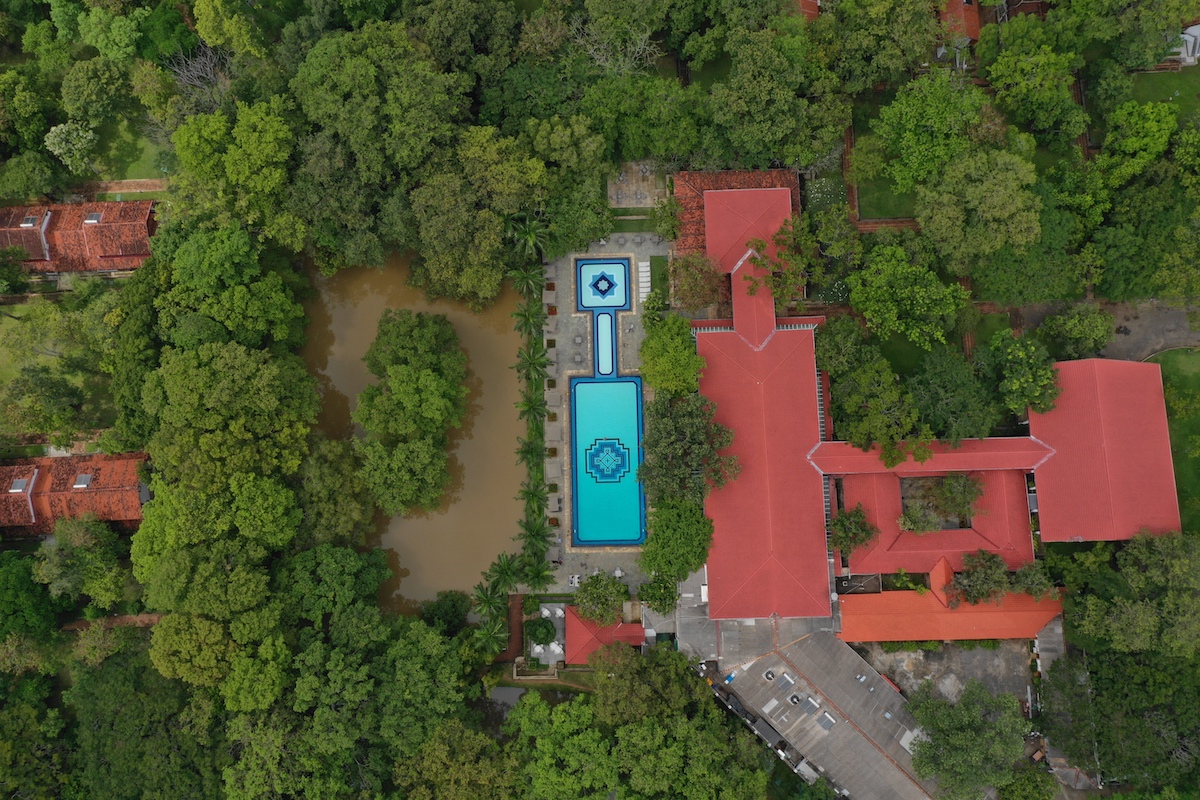 ---
Planning a trip to Sri Lanka…?
Smart decision, because Lonely Planet actually just named Sri Lanka as the #1 Country to vist in 2019!  It's truly one of the most incredible destinations I've ever visited, and I'm always telling people they need to visit ASAP!  This was my third time returning to Sri Lanka, so check out a few of my other articles to help plan your travels!
35 Instagrams That'll Inspire You To Visit Sri Lanka
10 Amazing Things to do in Arugam Bay, Sri Lanka
Learning to Surf in Sri Lanka | Visiting Weligama & Midigama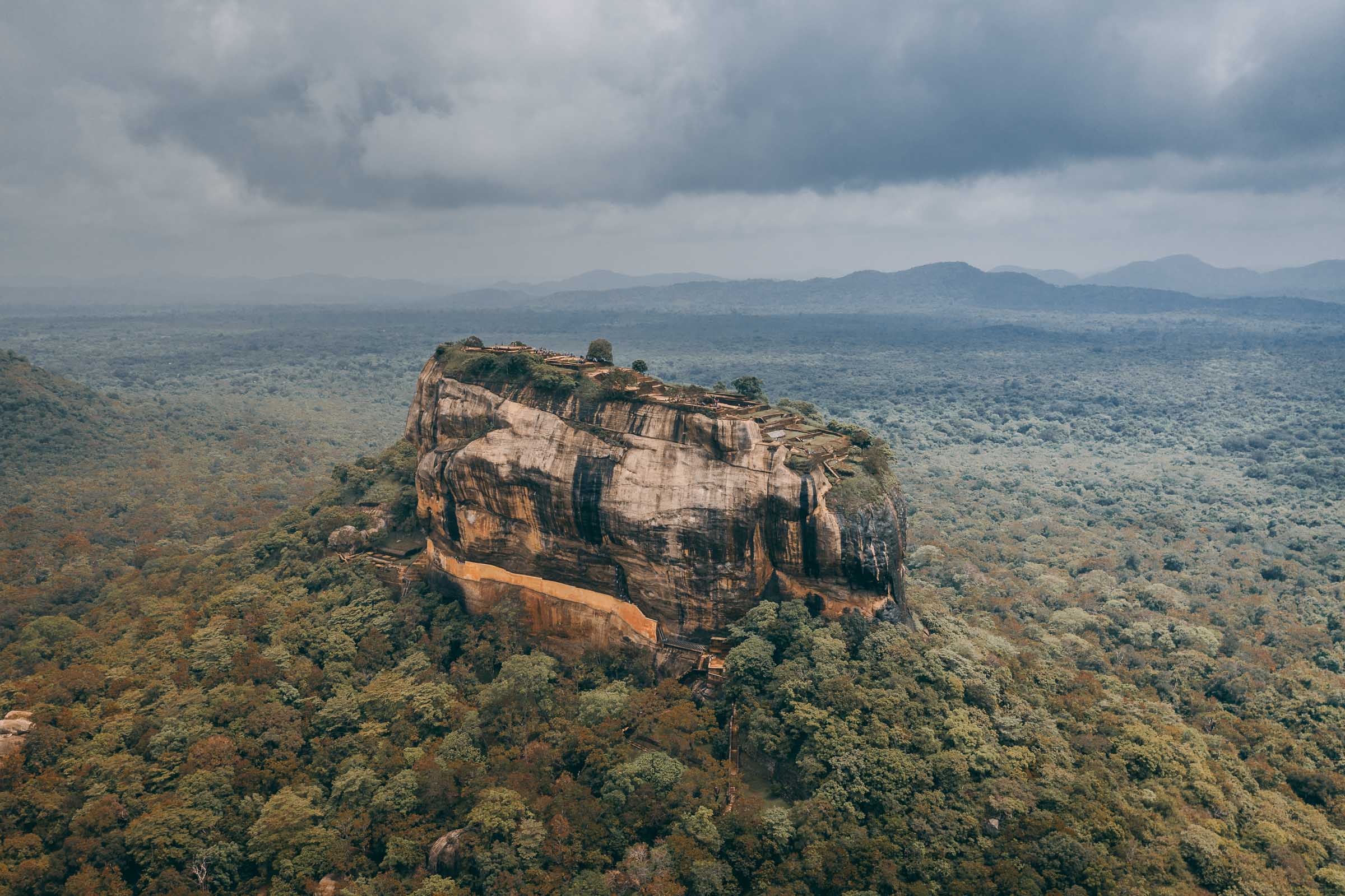 ---
Thanks so much for reading!
If you're not already, make sure to follow along on my travels on Instagram & Facebook, and feel free to shoot me an email with any questions you have about traveling around Sri Lanka!  I'm always happy to help any way I can.
---
Disclaimer: I was invited to Sri Lanka as a hosted blogger for TBC Asia 2018, sponsored by Cinnamon Hotels and Sri Lankan Airlines.  As always, all opinions are my own.  
SHARE THIS ARTICLE WITH YOUR ELEPHANT SAFARI CREW!