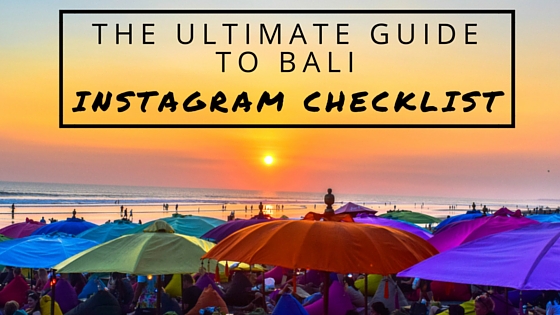 Bali, also known as the "Island Of The Gods", is truly one of the most beautiful places in the world.  It has became a top holiday destination, and for good reason.  From the stunning beaches, beautiful landscape,  world-class surf spots, jaw-dropping sunsets, and vibrant culture — Bali has it all.
This is the ultimate travel guide to Bali — told through Instagram.
Take a look at this Where to Stay in Bali in Bali guide for amazing accommodation options.  Alternatively, you may also check out these top 7 Best Value Hotels to Relax in Bali by HotelsCombined to complete your Bali adventure.
Check out these 25 photos, get travel ideas, and start planning your perfect Bali holiday.
---
1)  La Plancha Beach Bar Sunsets
The colorful decor, fun music, and comfortable bean bag chairs.  A favorite pick among Bali Instagrammers.
---
2) Ubud Sacred Monkey Forest
You can't come to Asia without throwing up at least one Instagram of cute little monkeys, and there's no better place to do it than the Ubud Sacred Monkey Forest
---
3)  Mt. Batur Sunrise Hike
Completely worth the 2 A.M depature time…Check out this amazing amazing post about the Mount Batur Sunrise Hike to learn more about it.
---
4) Uluwatu Sunsets
The best place to watch the sunset in Bali is definitely down in Uluwatu.  With so many different amazing places to choose from, you'll be able to capture some quality sunset photographs.
---
5) Watching the Surfers in Uluwatu
Speaking of Uluwatu…have you seen how talented those surfers are?  Uluwatu provides world-class waves that bring some of the best surfers of the world.  Make sure you to take some time to observe their insane surf skills, and capture the moment to share on Instagram.
---
6) Pool Days at Potato Head Beach Club
Have you ever seen so many good-looking people in one place?  Beautiful location, awesome atmosphere, and gorgeous sunsets.  Once you go here, you'll understand why this venue has become one of the hot-spots in Bali.
---
7)  Tegalalang Rice Terraces in Ubud
Large, green, and absolutely stunning.  Taking a stroll through these marvelous Rice Terraces will be an experience you'll never forget.
---
8) Life is Better With Bintang
This delicious pilsner will become your favorite beverage of choice during your time in Bali.  As well, it can make a great object for snapping a great Instagram.
---
9)  Exploring & Posing at The Temples
Bali has tons of amazing temples to visit, and they all provide the perfect opportunity to grab some stunning photos to share with your friends.
---
10 ) The View from Finn's Beach Club
Finn's Beach Club in Ulutwatu is one of the absolute best places to spend a day during your holiday in Bali.  The entrance is gorgeous, and as the "elevator" slowly brings you down the cliff, you can't help but appreciate this amazing island.
---
11) Proof of Paradise
Bali – "The Island Of The Gods"
---
12) The Beauty of Kintamani & Batur
Whether you only visit Kintamani & Batur for a day trip, or stay here for a week — you definitely need to photography this stunning location!
---
13)  Over-looking The Rock Bar in Jimbaran
Beautifully constructed along the gorgeous coast-line, snapping a photo of The Rock Bar is definitely a must.  This is also a solid choice for dinner, drinks, and enjoying the sunset.
---
14) The Beauty of Uluwatu Beach
When the tide is high you can watch the surfers paddle in and out of this beautiful cove, but when the tide is slow you can lay down a towel, read a book, and enjoy this stunning beach.
---
15) Pool Reflections, Trees, and Sunsets
Resorts are all over the place.  Relax by the pool, and capture some stunning photographs.
---
16)  The Yoga Pose
Bali  is one of the best places in the world to so some yoga.  Even if you aren't a hard-cory Yogi, strike your favorite pose and upload it to Instagram.
---
17)  Beach Days in Paradise 
Don't forget your sunscreen.
https://instagram.com/p/2XGXspweds/
---
18) Chasing Waterfalls
Waterfalls might not be the #1 reason you come to Bali, but they should definitely be a top-priority during your holiday.  Check out this list of amazing waterfalls in Bali.
---
19) The Underwater Shot
You can't go to Bali without exploring the underwater life.  Whether you are a certified scuba-diver, or just do some snorkeling, make sure you get a couple shots of you under the water.
---
20) Tanah Lot Temple Sunsets
Tanah Lot Temple is absolutely gorgeous, and has become one of Bali's top tourist attractions.  If you find yourself here during a sunset, you're in for a real treat…
---
21) The Luxurious W Retreat & Spa
The "W" has become one of the world's most well-known resorts, and their location in Bali will leave you absolutely speechless.
---
22) A Trip To The Gili Islands
While Bali is known for it's spectacular beaches, you can't beat the beauty of the idyllic Gili Islands.  Whether you choose the beautiful and wild Gili Trawangan, Gili Meno, or Gili Air — you'll fall in love these islands.
---
23) The Gili Trawangan Sunset Shot
Everyone who comes to Gili Trawangan has to get the famous "swing shot".
---
24) Marveling at the Cultural Dances
Recommend:  The Kecak dance down Ulutwatu temple
---
25)  Finally — the"Airplane Wing" Shot
Because you obviously have show everyone how you get to Bali.
---
If you manage to complete all 25 of these Instagram ideas, consider your trip to Bali a complete success!
https://www.jonesaroundtheworld.com/wp-content/uploads/2015/09/The-Ultimate-Guide-to-Bali.jpg
315
560
Dave
https://www.jonesaroundtheworld.com/wp-content/uploads/2017/03/logotry-1-1-300x106.png
Dave
2015-09-01 07:46:39
2018-04-29 05:24:55
The Ultimate Travel Guide to Bali: Instagram Checklist