Looking for the best music festivals in Bali!? Well, look no further, because I've compiled the ultimate list of festivals and important events on the "Island of the Gods"!
The truth is though, that when it comes to Bali Festivals – there are really not all THAT many to choose from! I do have this strong feel however that won't be the case for all that long. Major music festival brands from around the world are finally starting to realize that Bali is the perfect place for a destination festival, and each year I saw more and more popping up!
There are tons of Bali Festivals, and when it comes to electronic music events, these would be my top recommendations. You'll notice that ALL of these below are in August & September, so if you're planning a trip to Bali, definitely keep these in mind for your holiday!
---
1) Sunny Side Up Tropical Festival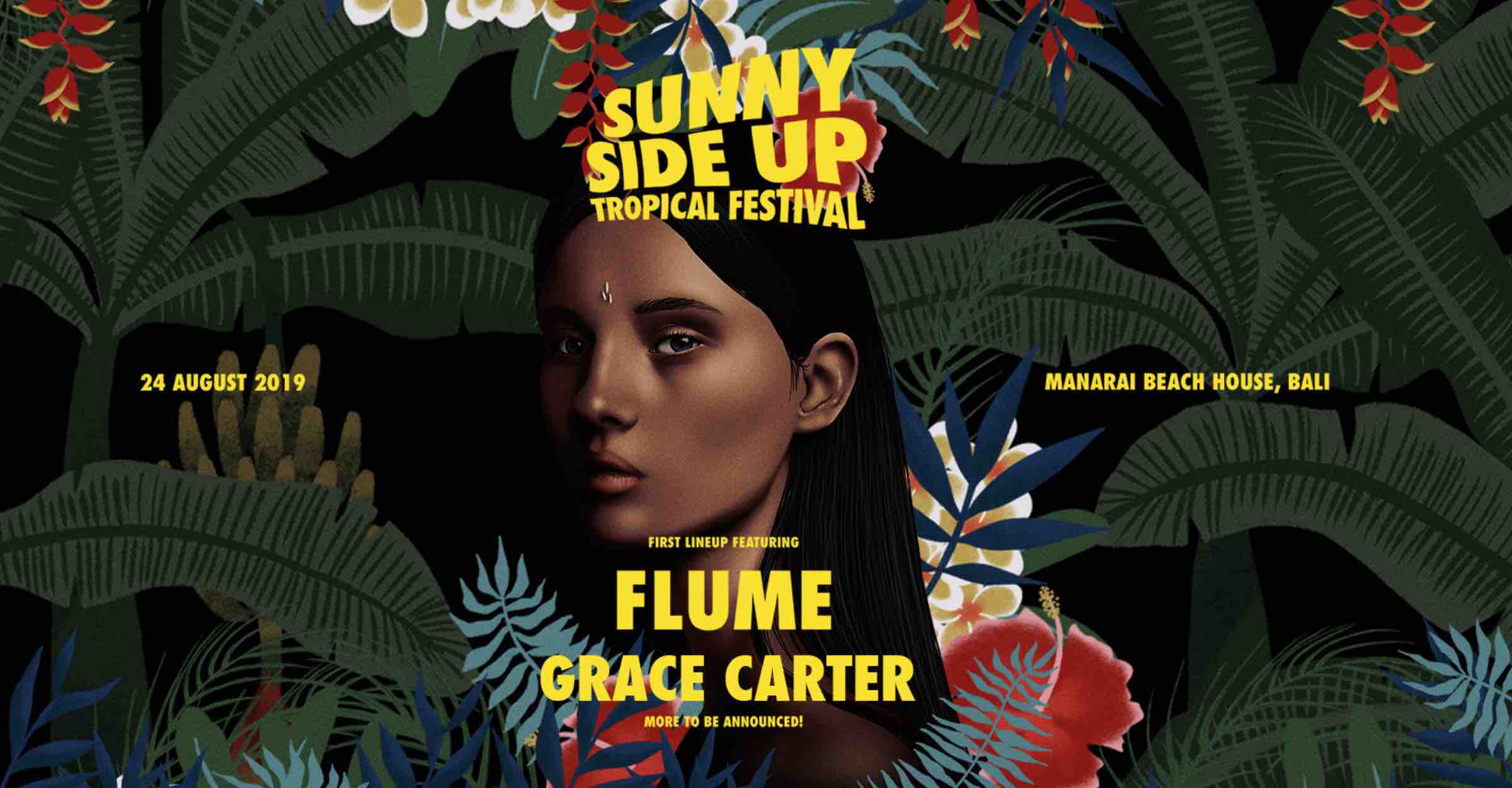 When: August 24, 2019
Where: Manarai Beach House, Nusa Dua
Website: http://www.sunnysideupfest.com
"Sunny Side Up is a tropical music and culture festival that takes place in one of the most beautiful places in the world, the island of Bali. The festival brings together international headliners, cutting-edge artists and DJs from a variety of genres to one stage.
Previous performers have included Disclosure, Mark Ronson, Ellie Goulding, Azealia Banks, Flight Facilities, Ta-ku, Jessie Ware, Holy Ghost, Madeon and Motez. In 2019, the festival announced its sixth edition set to be held on 24 August 2019 at Ismaya Group's newly-established Manarai Beach House in Nusa Dua that provides the ideal backdrop for this one-of-a-kind festival. The event is brought to you by Ismaya Live."
Sunny Side Up Tropical Festival 2019 - #SSU19 Phase 1 Lineup
---
2) DJakarta Warehouse Project
When: December 13-15, 2019
Where: Jakarta, Indonesia
Website: http://www.djakartawarehouse.com/
When it comes to the biggest EDM events in Asia, then there really is no competition with the legendary Djakarta Warehouse Project in Indonesia. They just celebrated their 10-year anniversary at their brand home in Bali (moving there from Jakarta), and I was actually there to attend myself!
Complete with three beautifully massive stages, a star-studded EDM line-up, and an overall stellar production – DWP is definitely a festival to check out for fans of electronic dance music.
2019 Update: "Following on from its 10th anniversary edition in Bali last year, DWP will be returning to its home in Jakarta, Indonesia levelling up from a 2 to a 3 day event." So unfortunately, this festival was only held in Bali for one year, but it's only a short flight away for those EDM fans in Bali!
2019 Line-up Includes: DISCLOSURE, CHROMEO (DJ SET), BASSJACKERS, MARKUS SCHULZ, CALVIN HARRIS, MARTIN GARRIX, SKRILLEX, AND ZEDD
Djakarta Warehouse Project 2017 - #DWP17 - Official After Movie
---
3) Gypsy Land Festival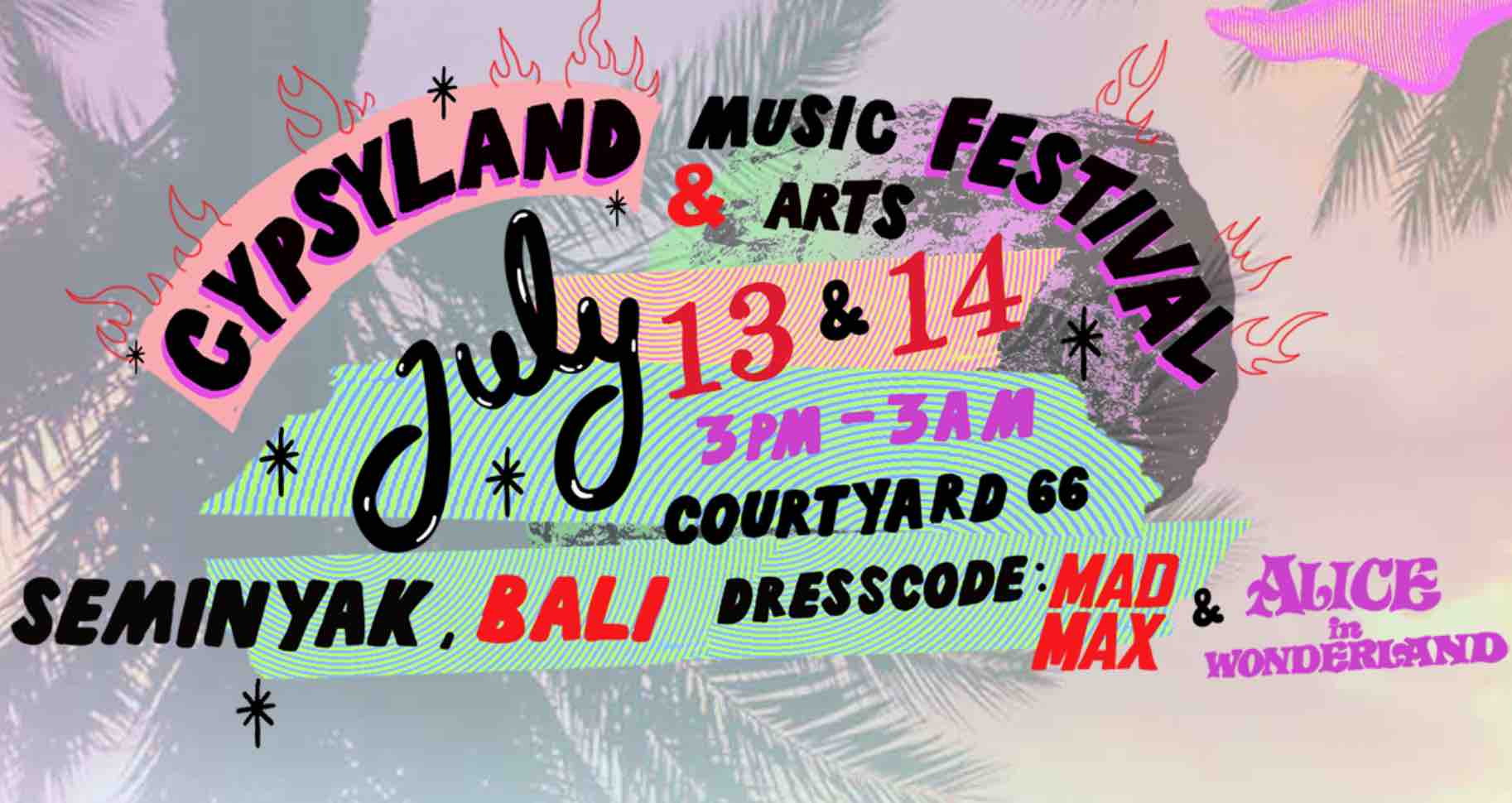 When: July 10-11, 2020
Where: Courtyard 66, Seminyak, Bali
Website: https://www.gypsy.land/
"Gypsy Land is a two day techno doof held on a three hectare plot of land in Seminyak, Bali . It's an interactive immersive environment where worlds collide, it's good versus evil. There's a heavy focus on set design, costume and non-musical entertainment. Gypsy Land has two realms, the Badlands and the Wonderlands
Escape to the Wonderlands a psychedelic refuge, a place for all you enlightened pixies. It's glitter, butterflies and all things bliss. Alice awaits you, take her hand and join her on a magical journey
Enter the Badlands a post apocalyptic world, a trash filled landscape reminiscent of mad max. Why be nice when you can be naughty? It's the end of the world, join the bad batch and indulge in all your sinful desires."
Watch the Gypsyland Festival 2019 aftermovie below
Gypsy Land Music Festival Bali 2019 (After Movie)
---
4) This is Life Festival | Gili Air, Indonesia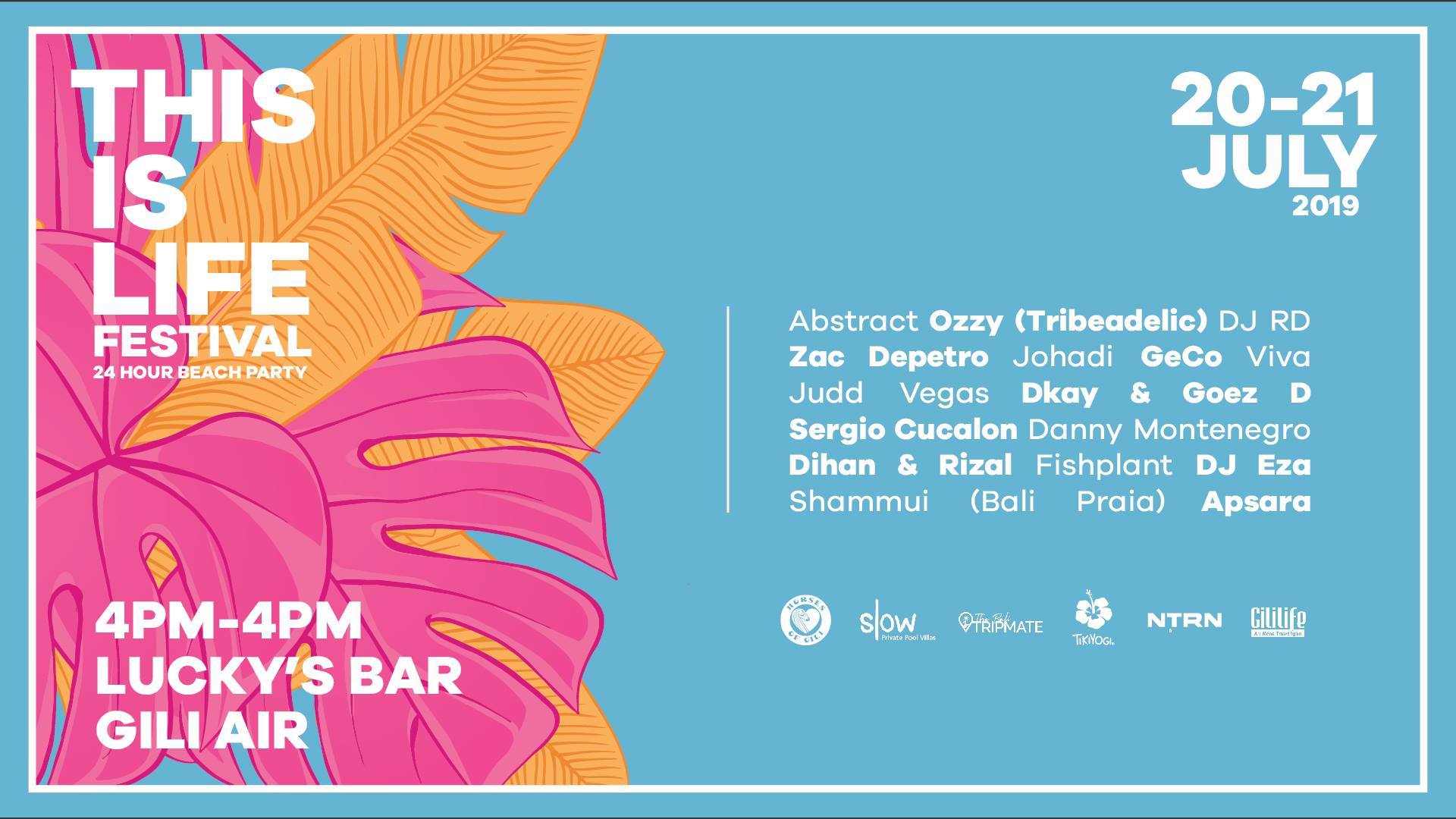 When: July 20-21, 2019
Where: Gili Air, Indonesia
"Welcome to This is Life Festival, exclusive to Lucky's Bar – Gili Air. Offering a diverse serving of Minimal, House, Techno & Psychedelic Trance. Emulating the Australian doof scene mixed with exotic island spirit. Surrounded by coconut trees, crystal clear waters and pristine white beaches, the festival takes place with support of the local community, under the warm Indonesian sunshine in Gili Air.
This is Life Festival is determined to produce a unique musical and cultural experience. We aim to show you the magic and beauty of the island – a place where we come together as one big family, a place where you will feel at home..
In Gili Air, we are all about the simple life, music and love. No motorised vehicles… just horse and cart, and bicycles. We are family, lovers, free spirits. We care for each other, the environment and promote compassion and kindness. We welcome you to join our community if you are the same. Let's party!"
Join the This is Life Festival 2019 Facebook Event
This is Life Festival - Gili Air Teaser
---
5) Bali Spirit Festival
Where: Ubud
When: 2020 Dates TBA
http://www.balispiritfestival.com
"BaliSpirit Festival is more then just a festival. It's an experience for all the senses! From yoga to meditation, dance, breathwork, healing and authentic relating, the festival opens a space of transformation through inner and outer exploration, connection and community. It's a place of creativity and relaxation, activity and serenity, self-reflection and togetherness in nature!
Hosted on the sacred island of Bali, known for its 1000 temples and 1 million offerings which are made every day, the festival takes place in the holistic healing hub of Ubud, which translates as 'medicine' from Balinese. Twelve years ago, the idea for BaliSpirit Festival was born to serve the greater good of all through celebration, joy and mind-body-soul connection. Supported by a strong team of visionaries and the spirit of the holy island of Bali, the festival has been growing steadily and by now has become one of the largest and best yoga festivals in Asia."
Official BaliSpirit Festival 2019 Video
---
6) Finns Beach Club New Years Eve Festival
Where: Jalan Pantai Berawa Canggu
When: New Years Eve 2019-2020 TBA
https://www.facebook.com/finnsbeachclub/
After producing the arguably biggest and best New Years Party in Bali the past couple years, I would not be surprised if the famous Finn's Beach Club announced their Two-Day New Years Eve Music Festival for 2019 soon!
The 2018 line-up included star-studded international acts like Martin Solveig, Robin Schulz, Roger Sanchez, BROODS, Clean Bandit, Khalid, and many others!!!
I was actually in Bali this past New Years Eve and REALLY wanted to go to this, but decided to attend of the smaller events around Canggu! I saw videos though, and everyone said it was a blast! If you're planning on being in Bali for New Years Eve and are looking for a proper party, check this place out for one or both of the two-night festival!
Finns New Year's Music Festival Aftermovie
---
7) Ubud Village Jazz Festival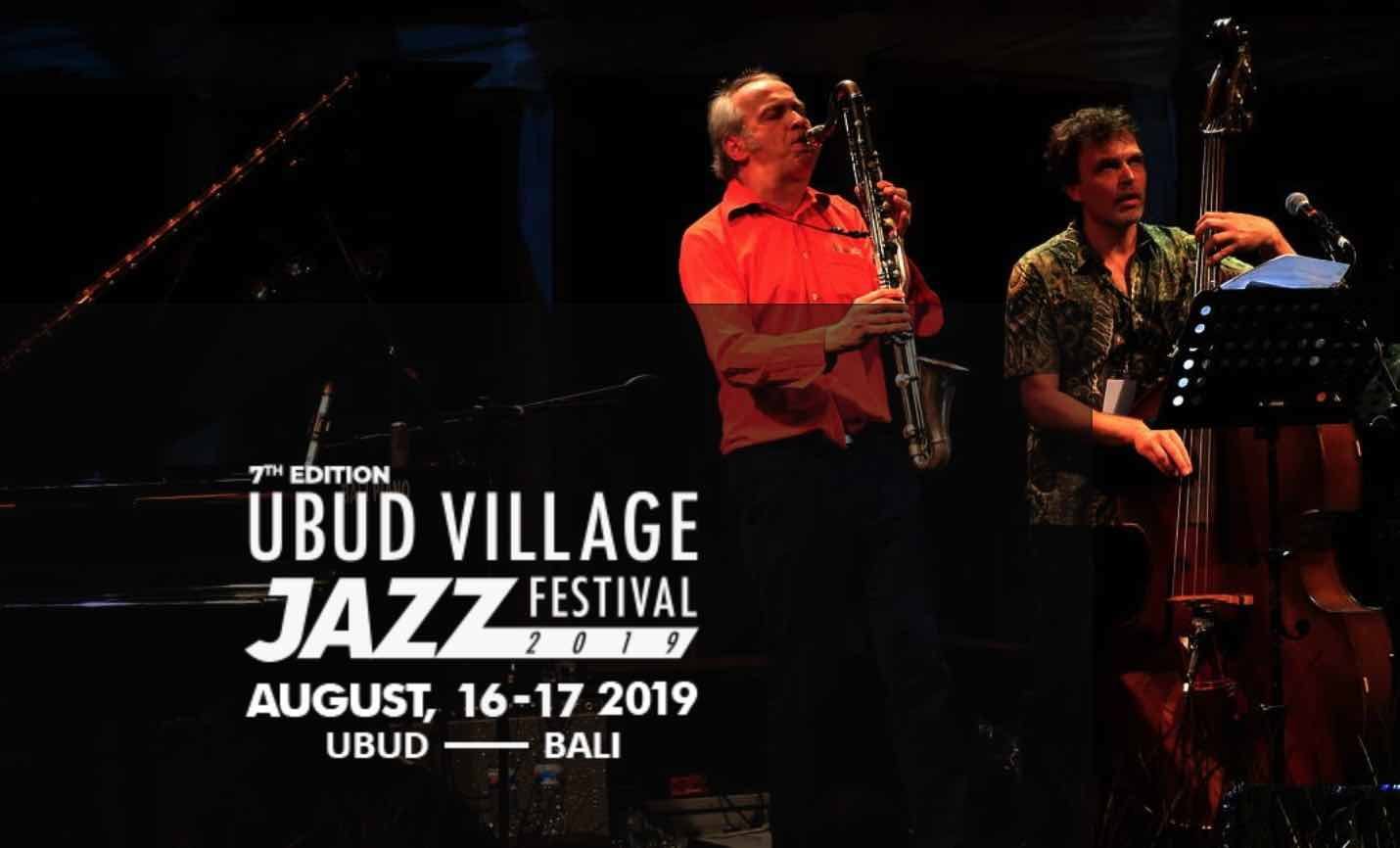 When: August 16-17, 2019
Where: Arma-Bali, Ubud
https://ubudvillagejazzfestival.com/
The 7th International Ubud Village Jazz Festival
"UVJF is an annual international jazz festival and empowered by communities. It is financed through sponsorship, advertising and pitch-fees from traders, tickets, booth and merchandises. This year's theme CERTAINLY! INDONESIA as we celebrate the Independence Day of Indonesia.
UVJF also facilitates a workshop of local and National music educators to investigate ways of getting more young people interested in playing Jazz. UVJF is entirely reliant on a very small group of volunteers, the event taking almost 1,000 volunteer man-hours to organize. It is their exceptionally hard work and dedication that brings Borough residents and visitors into the Town, boosting the local economy, creating an event that Ubud residents would say is one of the most enjoyable in the calendar."
UBUD VILLAGE JAZZ FESTIVAL 2018 - OFFICIAL VIDEO
---
8) Bali Blues Festival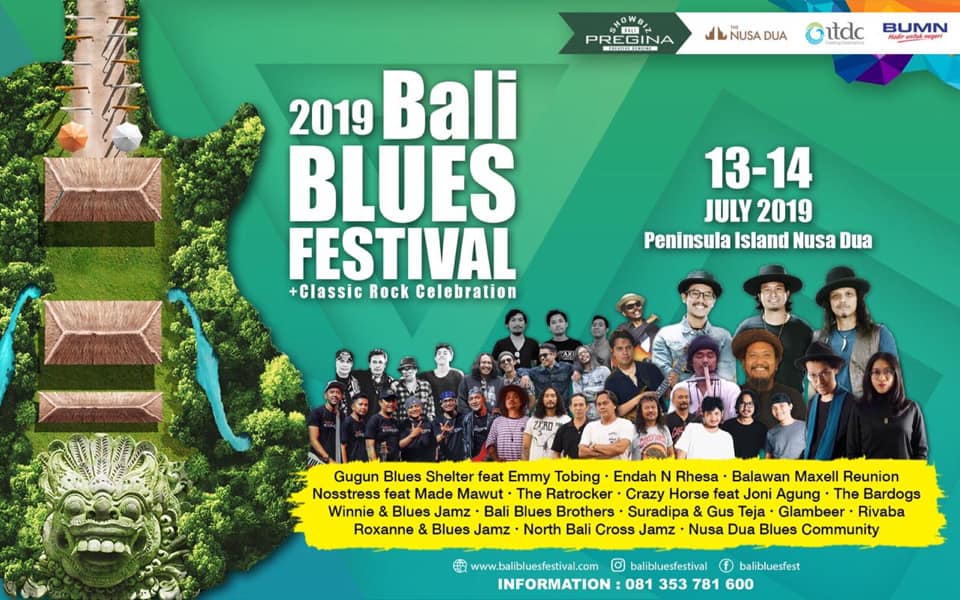 When: July 13-14, 2019
Where: Peninsula Island, Nusa Dua
Classic Rock Celebration
"The Indonesia Tourism Development Corporation (ITDC) in collaboration with Pregina Art and Showbiz Bali again held the annual event "Bali Blues Festival 2019", on Peninsula Island Nusa Dua, Badung Regency, on July 13-14, 2019. This event was the fifth time held and received a very good response from the public, especially lovers of Blues music.
Bali Blues Fest will be enlivened by musicians from local Balinese to National. Among these musicians are Gugun Blues Shelter ft. Emmy Tobing, Endah N Rhesa, Nosstress ft. Made Mawut, Balawan & Maxell Reunion, Bali Blues Brother, Suradipa & Gus Teja, Glambeer, The Bardogs, Crazy Horse ft. Joni Agung, The Ratrocker, Blues Community and others.
The number of visitors to Bali Blues Fest 2 years earlier was around 1200-1500 people, so this year with the Blues event held for 2 days it was expected to be able to suck up as many as 5,000 visitors."
Gugun Blues Shelter - Bali Blues Festival 2018
---
9) Bali International Choir Festival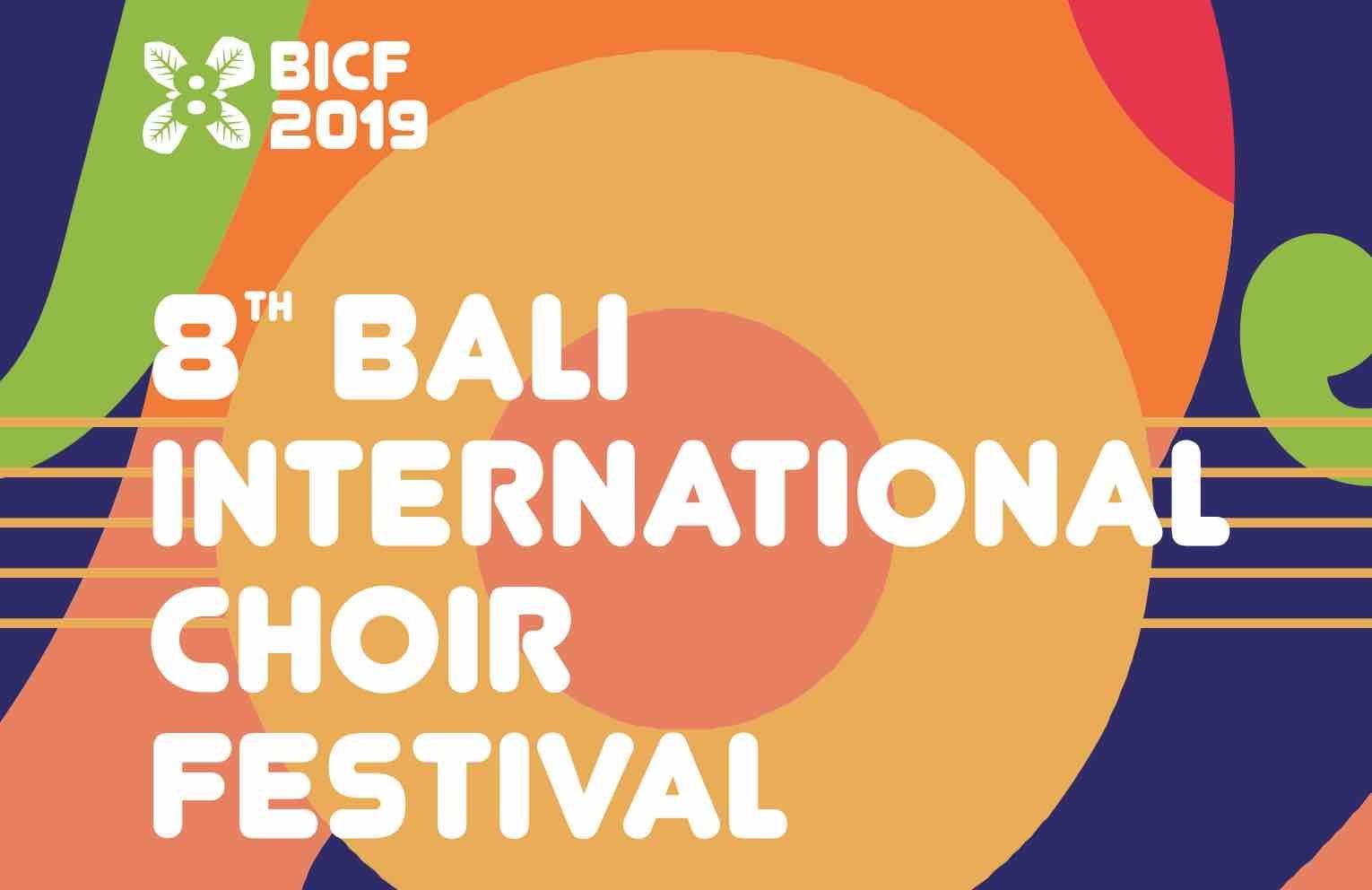 When: July 23-27, 2019
Where: Peninsula Island, Nusa Dua
https://www.bandungchoral.com/bicf8
"The last BICF7 in 2018 succesfully invite hundreds choir participant from 10 Countries and 26 provinces of Indonesia, organized 358 choir performances at 8 Venues in 7 Days.
Making and sharing music on this magical island with excellent local choirs and enjoying the heart-warming spirituality of Balinese culture is a once-in-a-life time opportunity. We look forward with great anticipation to your visit and we give you a personal assurance that we will do everything possible to make the visit memorable.
BICF ( Bali International Choir Festival ) 2018 , POP & JAZZ category
---
10) Air Festival
When: March/April 2020 Dates TBA
Where: Gili Air, Indonesia (90 minute ferry ride from Bali)
Expect every shade of house from deep to afro, plus techno and plenty in between
"Like something out of a dream about deserted islands, lush jungles, open sea and white sands, comes Air Festival— a gathering like no other, set on a tiny island off the coast of Bali, Indonesia.
For our third year we are weaving in elements of performance, ceremony, activism and the sacred into our spaces. 2017 brings with it the acute need to wake up and tune in, to stand strongly in our best selves, to activate our fondest wishes and desires for the future. This year we come not just to have a good time, but to have the best time, understanding that when we raise our individual vibrations, we generate more joy for the collective. This year we create our righteous dancefloor under the stars with even more intention and love."
2019 Festival Update: "Dearest Air Festival Friends and Family, Finally some news from us. As you've probably guessed from our radio silence, we've been deliberating on our next move for quite a while. Lots has happened in our region— from earthquakes to eruptions to shifts in local politics. In light of all these changes, we have come to the conclusion that for us to grow and evolve Air Festival into its next iteration, we need more time. And so we are postponing Air Festival to a later date. More news and updates to follow as the season progresses— including announcements about related events and other fun throw-downs. We thank you so deeply for your patience and understanding— and we can't wait to see you on that dance floor. Viva Air Festival."
---
ODYSSEY MVMT'S FEST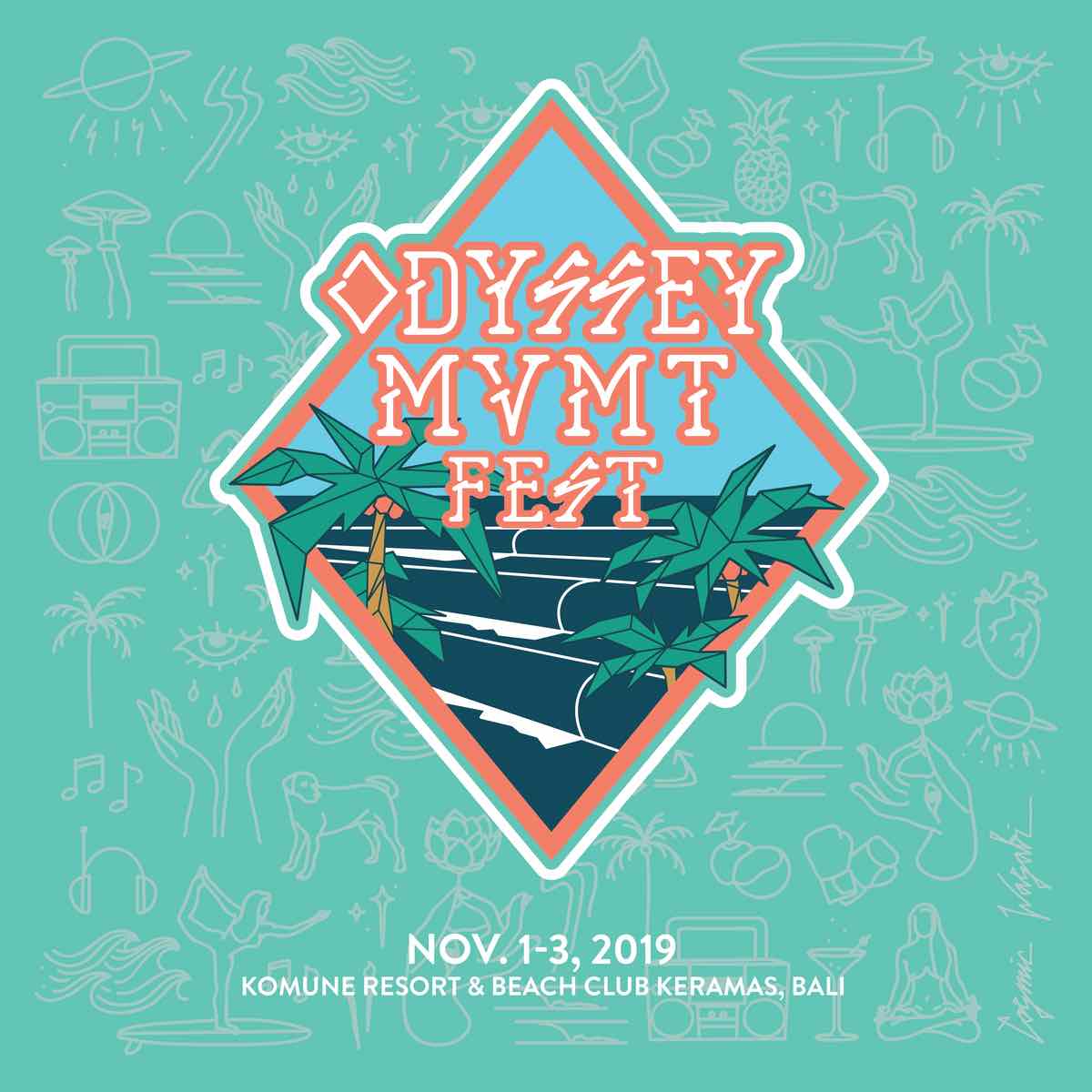 When: November 1-3, 2019
Where: Odyssey MVMT, Canggu Yoga Studio
SIESTA OR FIESTA? GO BOTH WAYS.
"Blending together a saucy smoothie of movement, wellness and party, Odyssey MVMT have created the ultimate Bali Festival. Canggu's hottest yoga and fitness studio are releasing tickets for it's 3.5 multi-day festival taking place Thursday, 31st of October – Sunday, 3rd of November 2019 at the serene and most magical Komune Resort and Beach Club, Keramas.
Odyssey MVMT's Fest is an escape from reality, an ongoing voyage of freedom and new adventures. The festival welcomes new ways of living, eating and moving. A green juice at sunrise and a cocktail at sunset, balance is key.
Commencing on the Thursday night with an opening "Gratitude Gala," and ending on the Sunday afternoon for a sunset session overlooking the hypnotizing view of the world famous Keramas Beach, magic will be crafted over the weekend. Included in the cauldron will be every type of fitness and yoga class imaginable, workshops and environmental panels, Bali's biggest sunset yoga and meditation class with live music and a DJ. Also on the menu, attendees can enter or watch the "Soul Search" surf comp beach side. The Odyssey MVMT BAZAAR marketplace will be open throughout the fest, and the FIESTA will kick off each evening with night surfing and music from local and internationally acclaimed DJ's and musicians – dance and surf from sunset through to night, under the Bali stars.
Set on the East Coast of the tropical island of Bali – an International wellness hub that caters to healthy and conscious lifestyles – energy at the festival will be euphoric. To contain the excitement, the beach side surf break at Komune resort houses stunning facilities including 5* luxury suites, yoga shala's, swimming pools, skate park, full state of the art gym, spa, restaurants and more."
---
Now since I've been updating this article for music festivals in Bali 2019 / 2020, I've realized that a lot of these big festivals have not been throwing events in the past year or so, but I still want to include them as they might be making returns! Follow along on their social-media channels!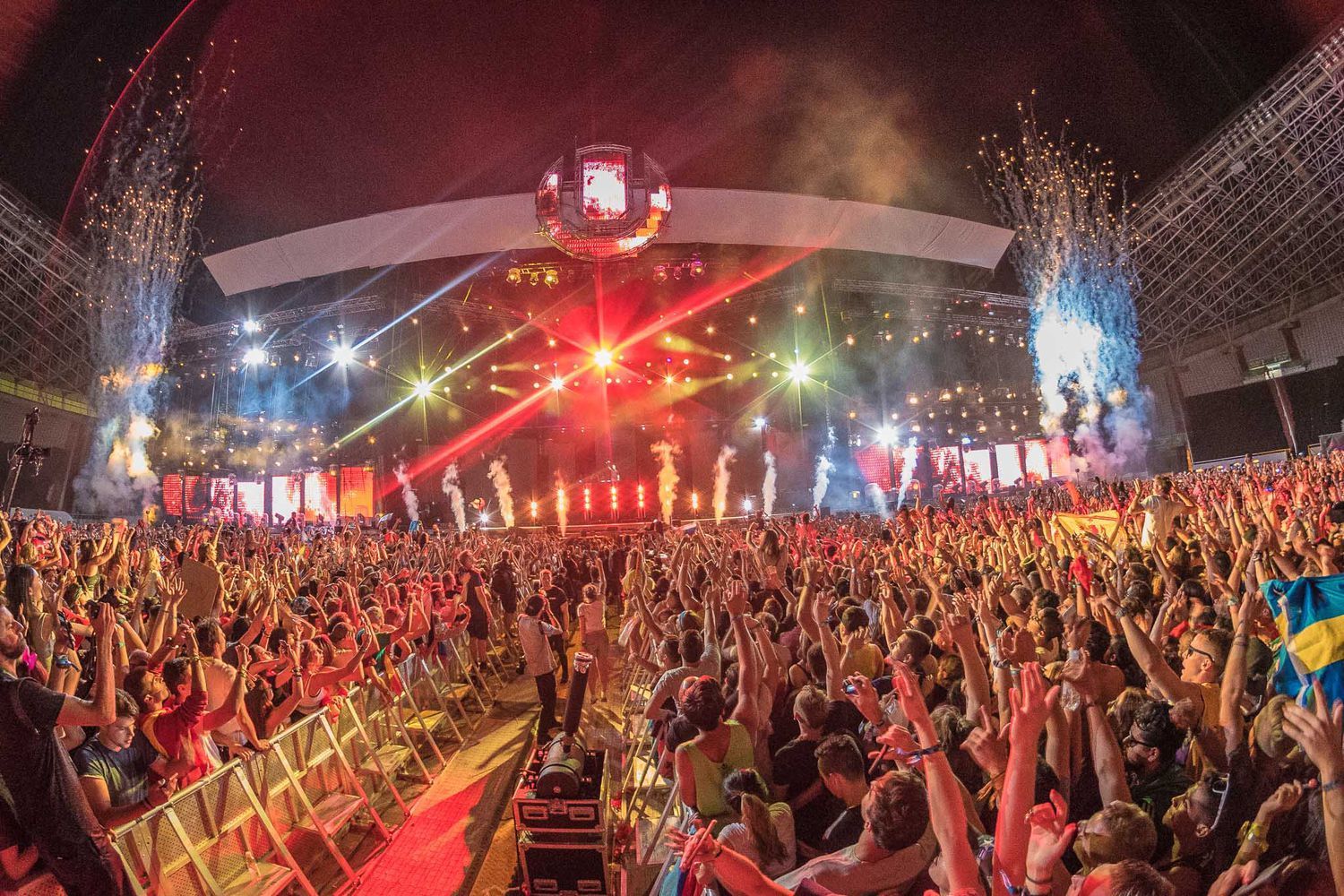 ---
ULTRA Bali
When: Mid-September
Where: Potato Head Beach Club, Seminyak
There's simply no other touring music festival in the world like Ultra Music Festival. They produce some of the biggest and best events in dozens of countries, and "Road to Ultra" in Bali is always an amazing time to visit this idyllic island. It's the main highlight of "Bali Music Week", and is guaranteed to be a top-notch experience.
I got the opportunity to attend Ultra Europe over the summer, and it exceeded all of my expectations! I would recommend any ULTRA event to anyone looking for a good time!"
RELIVE ULTRA BALI 2015 (Official 4K Aftermovie)
---
Bestival Bali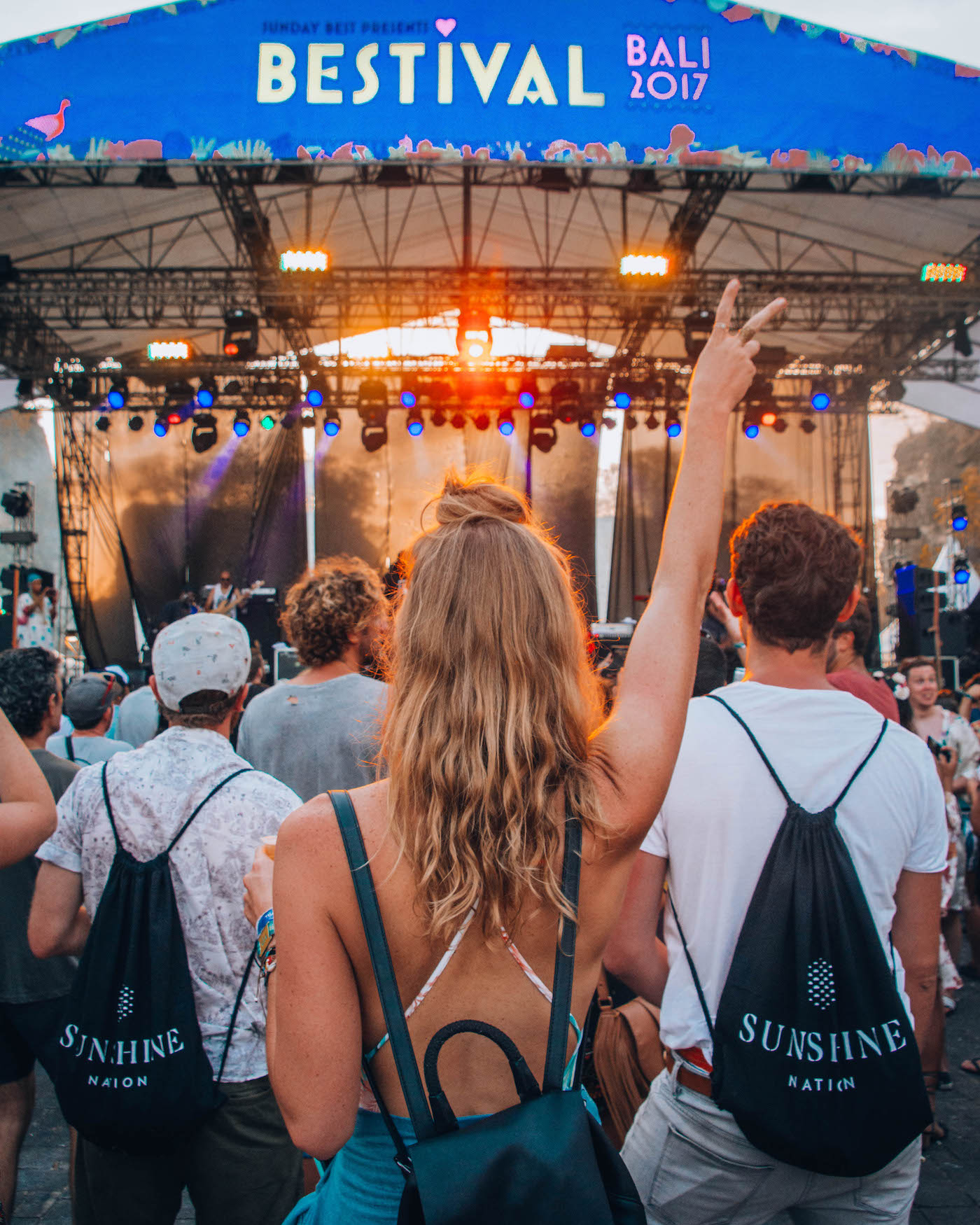 When: End of September / Beginning of October
Where: Garuda Wisnu Kencana (GWK) Cultural Park
One of the most well-known and popular festivals in the U.K has found a second home in paradise, and it's inaugural 2-day event in 2017 went incredible! With a jaw-droppingly beautiful venue, top-notch venue, and incredible vibe — you definitely have to add Bestival Bali to your festival bucket list.
Read the review: Bestival Bali 2017: Two Day Festival in Paradise
Bestival Bali 2017 | Aftermovie
---
Dreamfields Festival
When: Mid-August
Where: Garuda Wisnu Kencana (GWK) Cultural Park
One of the biggest EDM line-ups ever brought to Bali, Dreamfields certainly will not disappoint people looking for an incredible party. While this party started in 2015, and hasn't had a festival since – it is likely to return soon!
Dreamfields Festival Bali 2015 - Official Aftermovie
---
Pacha Festival
When: Mid-August
Where: Anantara Seminyak Bali Resort
PACHA is one of the most respected and best clubs on the infamous party island of Ibiza, so it makes perfect sense they expanded and created the ultimate festival in paradise. 2017 was the inaugural event for Pacha Bali, and included an epic line-up with international acts like Fedde Le Grand, Roger Sanchez, Steve Angello, and many more. Let's hope Pacha sticks around Bali for many years to come!
---
Soundrenaline
When: Mid September
Where: Garuda Wisnu Kencana, Indonesia
Last but not least, Soundrenaline is an annual festival in Bali which is always a favorite among tourists and locals. With affordable two-day tickets going for only 300,00 IDR ($22 U.S.D0, you'd be a fool to miss out Soundrenaline! While it's not really an electronic music festival, last years edition included acts like Dashboard Confessional, Jet and Mew.


---
Am I Missing Any Epic Music Festivals in Bali…?
I'm pretty sure I got all the major ones, but it's definitely possible that one or two somehow slipped by me! If you know of any new epic Bali festivals happening in 2019 / 2020, please do let me know so I can keep this as up to date as possible! Terimah Kasih!!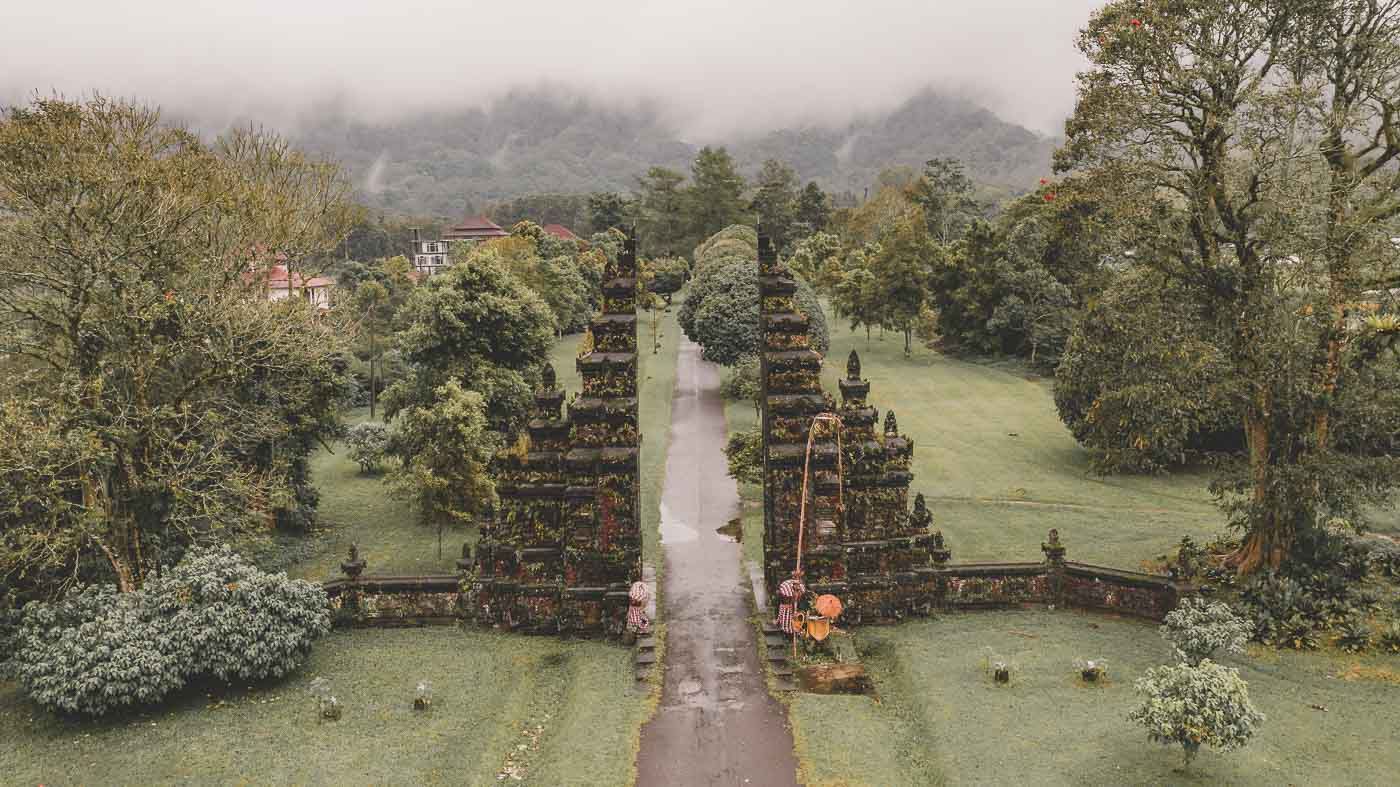 ---
Planning a trip to Bali…?
I've visited this island at least seven different times now, and even lived in Canggu for a couple months, and Bali has become one of my absolute favorite places in the world! Check out some of my articles below for further Bali festivals and trip planning! I guarantee you'll love reading through a lot of these!!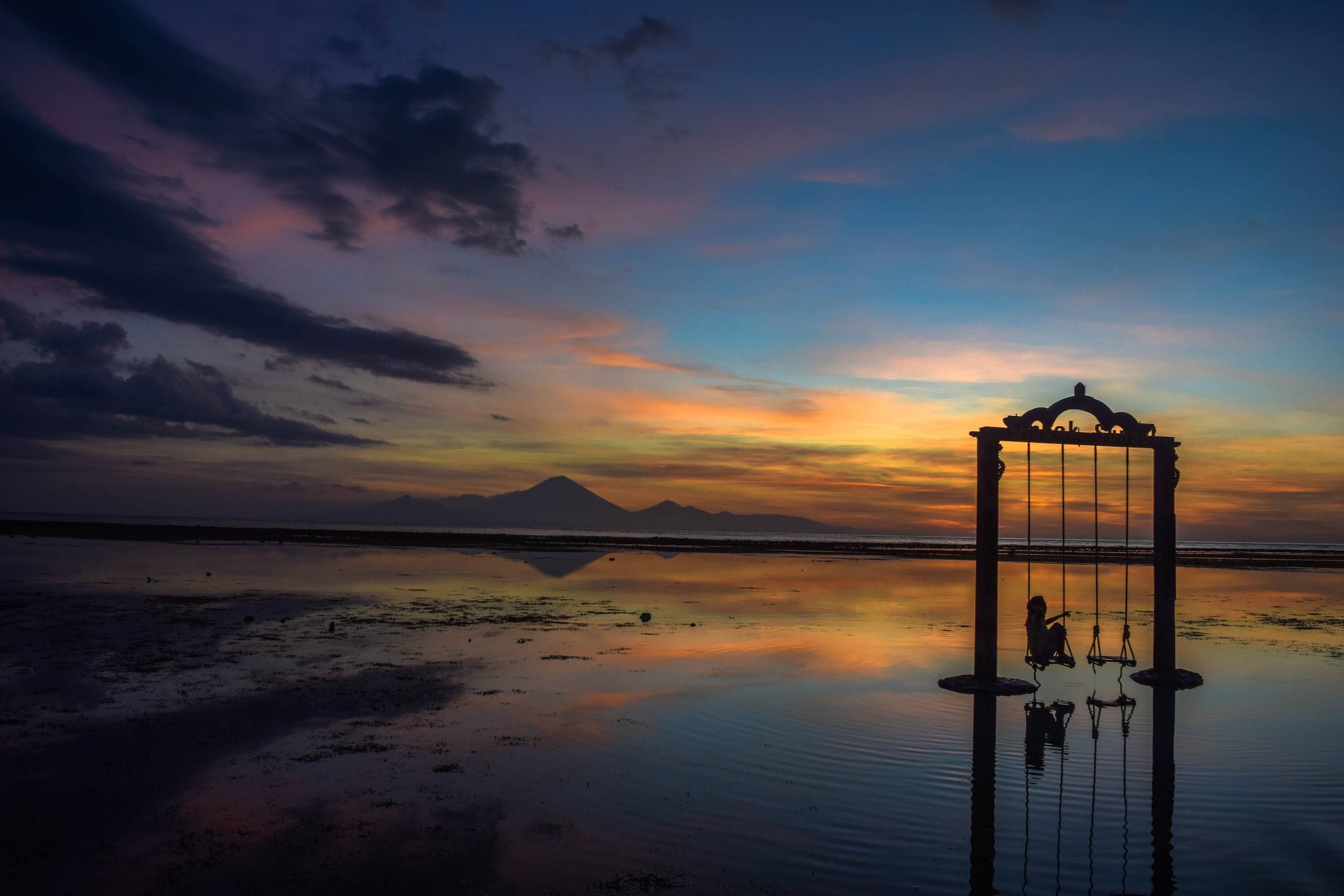 ---
Thanks for reading about these amazing Bali Festivals!
Share these music festivals in Bali with your squad!
https://www.jonesaroundtheworld.com/wp-content/uploads/2017/08/DSC9157-1.jpg
1367
2048
Dave
https://www.jonesaroundtheworld.com/wp-content/uploads/2017/03/logotry-1-1-300x106.png
Dave
2019-06-16 05:50:33
2020-09-27 04:21:38
Top 12 Music Festivals in Bali to Experience This Year