Looking for the ULTIMATE Thailand Itinerary? Spending 10 days in Thailand is guaranteed to be one of the most memorable, jaw-dropping, and epic adventures in your entire life! Complete with postcard-perfect beaches, unbelievably delicious cuisine, and incredibly welcoming hospitality – there is definitely a reason why Thailand is nicknamed the "Land of Smiles".
Thailand was actually the very first country I visited during all my travels in Southeast-Asia, and it's safe to say that it got me completely hooked on exploring this magical region of the world. While it isn't all THAT long of a holiday, I wholeheartedly believe that this 10-Day Thailand itinerary I've put together is simply the best way to maximize your time in the country!
The truth is – I simply love helping people plan their travels and tour packages in Thailand! I've rented apartments in Bangkok & Chiang Mai, partied at the major Thailand music festivals, and have spent months island hopping around paradise. I've written dozens of articles about Thailand, so you're in good hands, and I'm hoping that my Thailand trip itinerary can take away some of the stress you might have about planning your trip!
It really is going to be an amazing experience, and in this 10-day Thailand itinerary I'll go over the best things to do, places to visit, island hopping tours, scuba diving hotspots, best national parks, transportation options, and give plenty of different options on where to stay!
So without further ado, let's get started on my Thailand Itinerary!
---
Thailand Itinerary Day 1: Arrive in Bangkok
Your adventure begins in one of my personal favorite cities in all Southeast-Asia, and I really hope you love it as much as I do! While at first glance it may seem a bit busy and chaotic, it truly is one of the most fascinating destinations in the world! Filled with stunning temples, buzzing markets, smiling locals, and unbelievably delicious street food – Bangkok really is the perfect introduction to Thailand!
The truth is, Bangkok is a city where you could visit for weeks, and still not have enough time to explore everything this city has to offer! It's such a massive city, and I swear every time I return to "The Big Mango" I find myself needing more time, and adding things to my to-do list.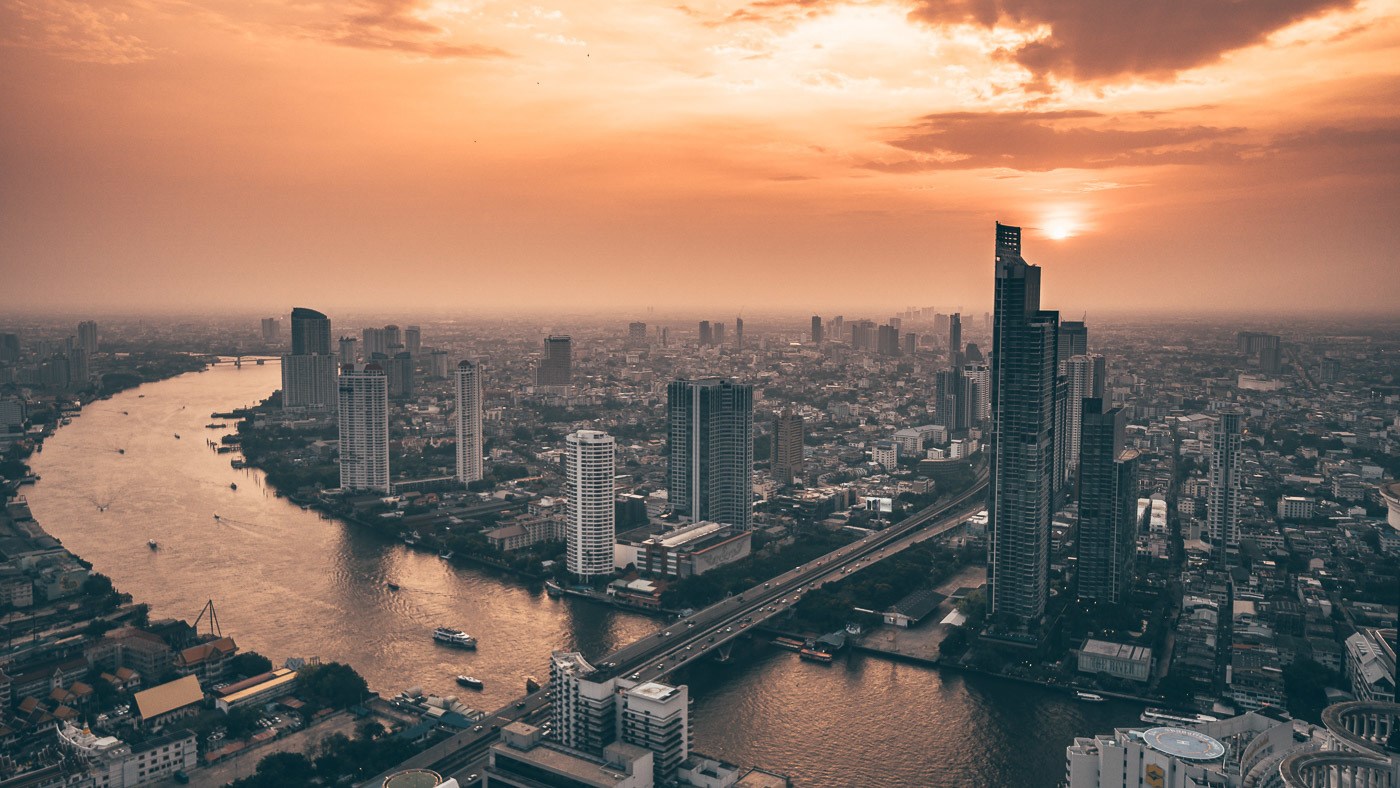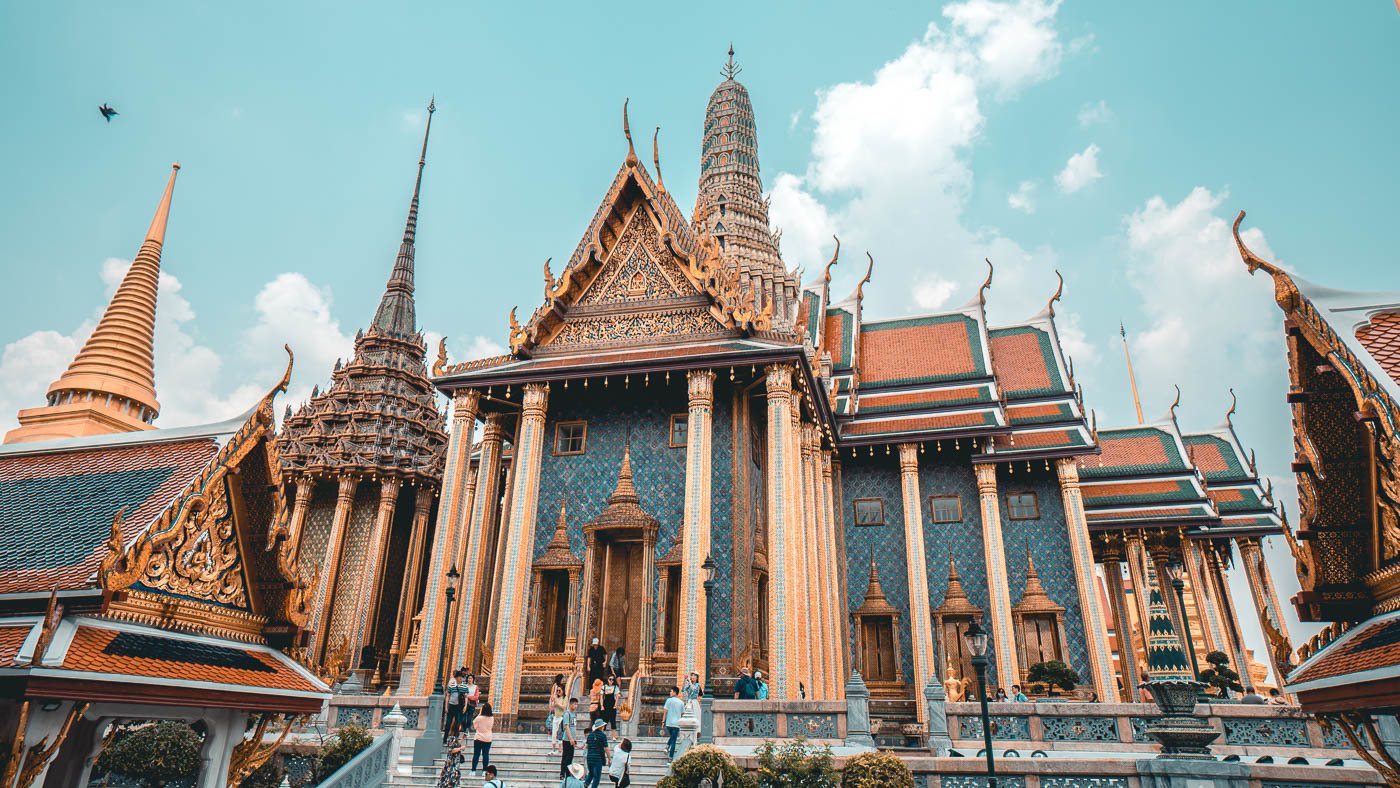 Vertigo Rooftop Restaurant | Banyan Tree
Since you'll be arriving in Bangkok (and most likely will be jetlagged), I'll keep the first day of this itinerary low-key. If you've got some energy, I'd suggest making a reservation the famous BANYAN TREE, because it really will provide the best first-night meal in the country!
"Exquisite food from around the world. Banyan Tree Bangkok is a mecca for food enthusiasts. With a range of gourmet restaurants, offering everything from Thai street food, to international and Asian gourmet experiences, Bangkok's iconic rooftop bar and restaurant, you will be able to satisfy all your cravings."
Bangkok is known for it's rooftop bars, so you can check out this guide for some more: 19 Best Rooftop Bars in Bangkok
---
Bangkok: River Dinner Cruise on the Chao Phraya Princess
If you're looking for something a little different, I'd also recommend this Chao Phraya Princess River Cruise!!
"Experience Bangkok's finest on the Chao Phraya Princess cruise. Enjoy a dinner buffet and live band performance as you sail past iconic sites such as Grand Palace and Wat Pho aboard this luxurious cruise in Bangkok! It'll be a great way to begin your Thailand trip!!
The food is delicious, they'll play popular music from the 80's/90's, and it's such a fun way to see the city all lit up at night and beat that jet lag!
Book the Chao Phraya Princess River Cruise Buffet Dinner now and you won't regret it!
---
Where to stay in Bangkok for 1-2 Nights?
Because you'll only be in Bangkok for a short visit, and you might be battling a bit of jetlag – I think it's best to stay in a comfortable place! There is no shortage of amazing hotels, airbnbs, and hostels to choose from. It's also an affordable destination for luxury hotels, so I'd splurge a bit and stay at the Westin (it's truly magnificent!)
---
The Westin Grande Sukhumvit: Eat Well. Be Well. Sleep Well. BANGKOK WELL. Every time I stay in a Westin property I fall more love with the brand, and it's simply one of the best luxury hotels in the city. Amazing staff, excellent location, and the most heavenly beds to give you a perfect night's sleep to ensure your Thailand trip starts off the right way!
NapPark Hostel: This is the BEST HOSTEL in Bangkok, and really is the best option for budget travelers and backpackers on this 10 day Thailand itinerary. It's superbly located near Khao San Road, and you'll be able to check out a lot of the cities major attractions. While this is designed for backpackers, I think it's even suitable for people looking for a private room.
---
Thailand Itinerary Day 2: Explore Temples, Markets & Late-Night Ferry
I hope you've gotten a good first night of sleep and are feeling great, because you're really going to need your energy today! Since you've only got 10 days in Thailand, you'll have very limited time in Bangkok!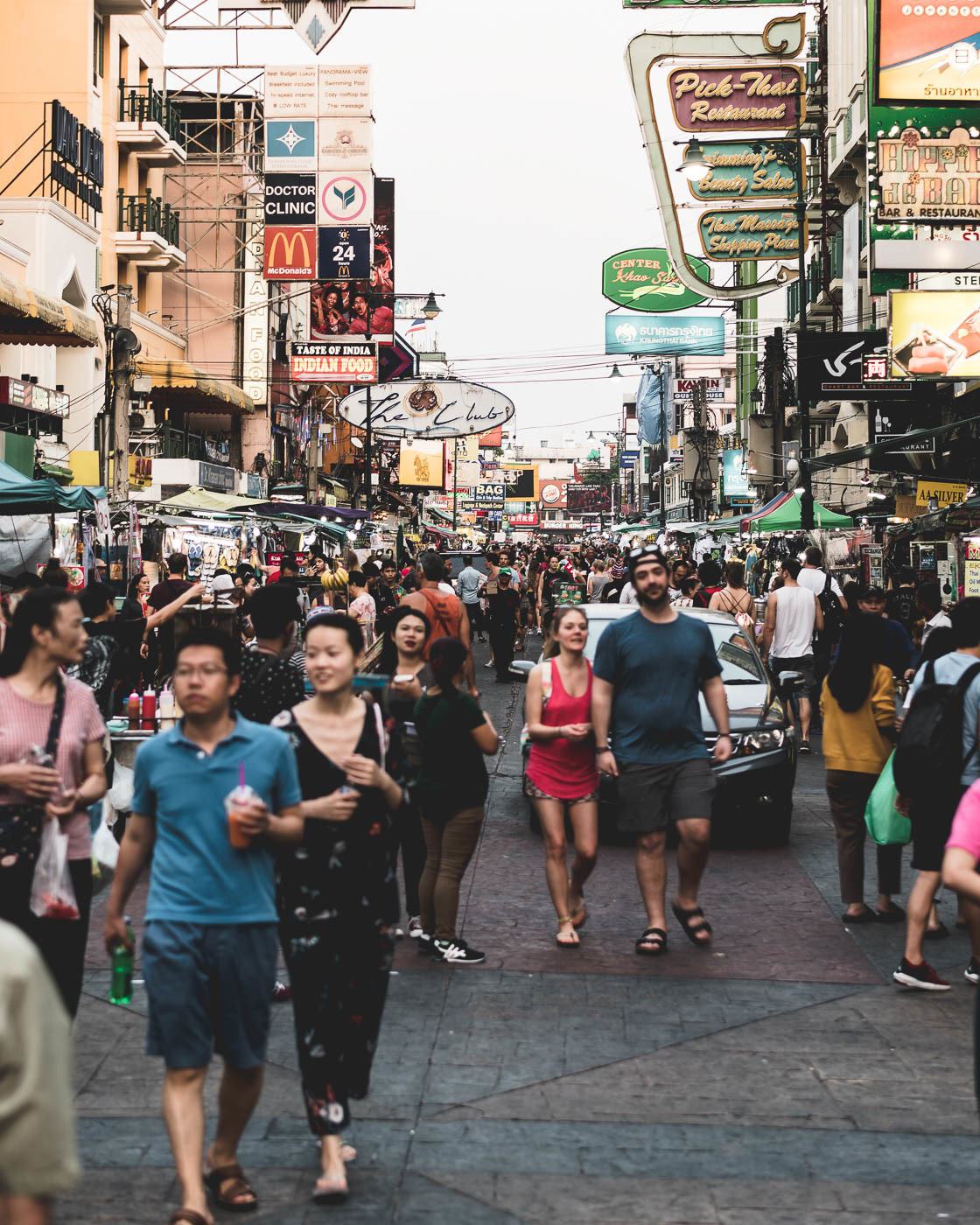 I'd recommend trying to see as much as you can, but understand you will not be able to fit it all in. Here's a few of my favorite things to do in Bangkok!
Visit the famous Khao San Road for shopping, partying, and meeting fellow travelers
Head to the Chatuchak Weekend Market (only if you're there on Saturday or Sunday)
Take a relaxing stroll through Lumphini Park
Visit famous temples like Wat Arun, Wat Phra Kaew, and the Grand Palace.
Hop on a ferry down to the Asiatique
Dinner and drinks at the Lebua Tower (Hangover 2 Filming Location)
Watch the sunset and have some cocktails at epic Bangkok rooftop bars
Browse the mega MBK Center for some bargain shopping
Sukhumvit Soi 38 Night Food Market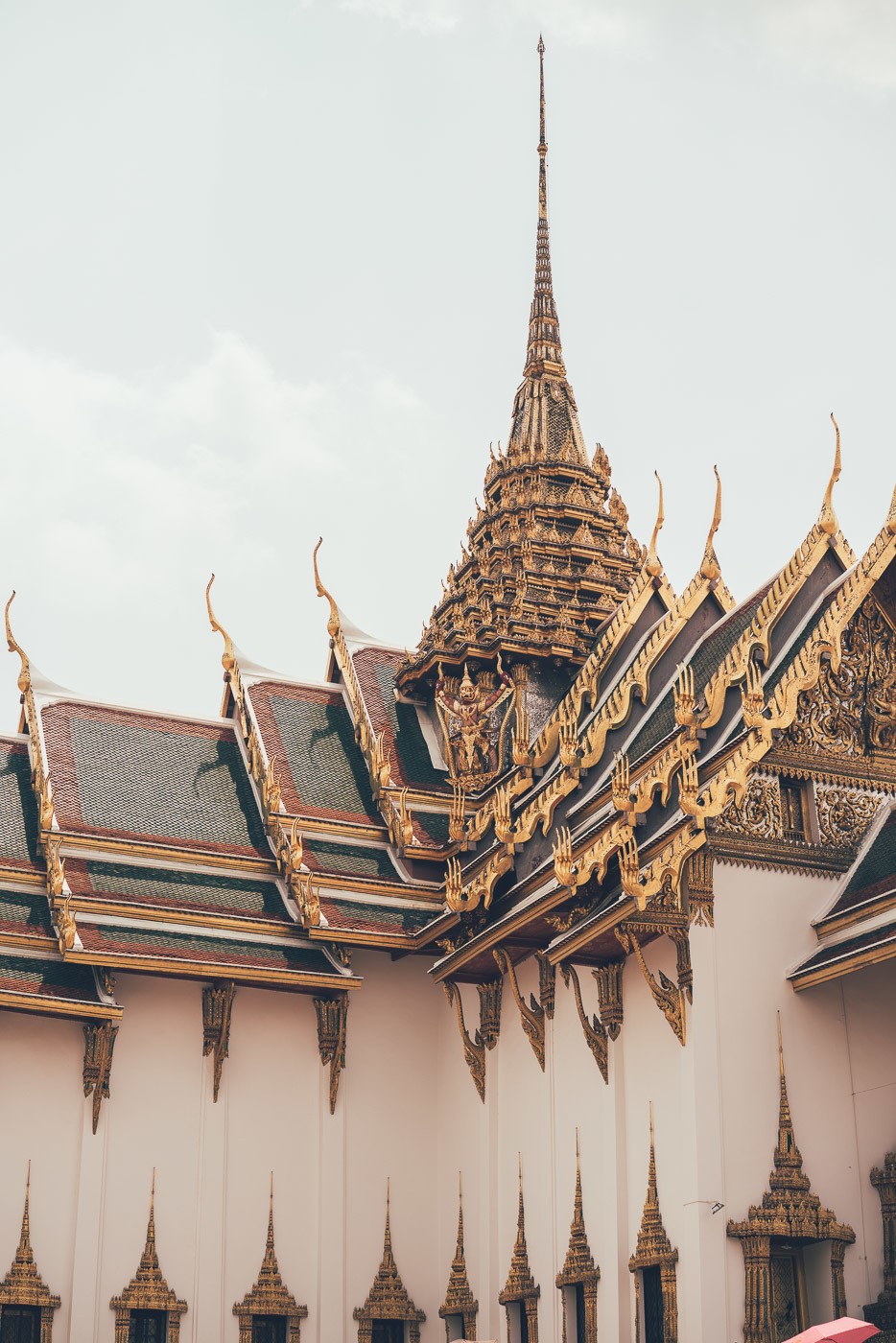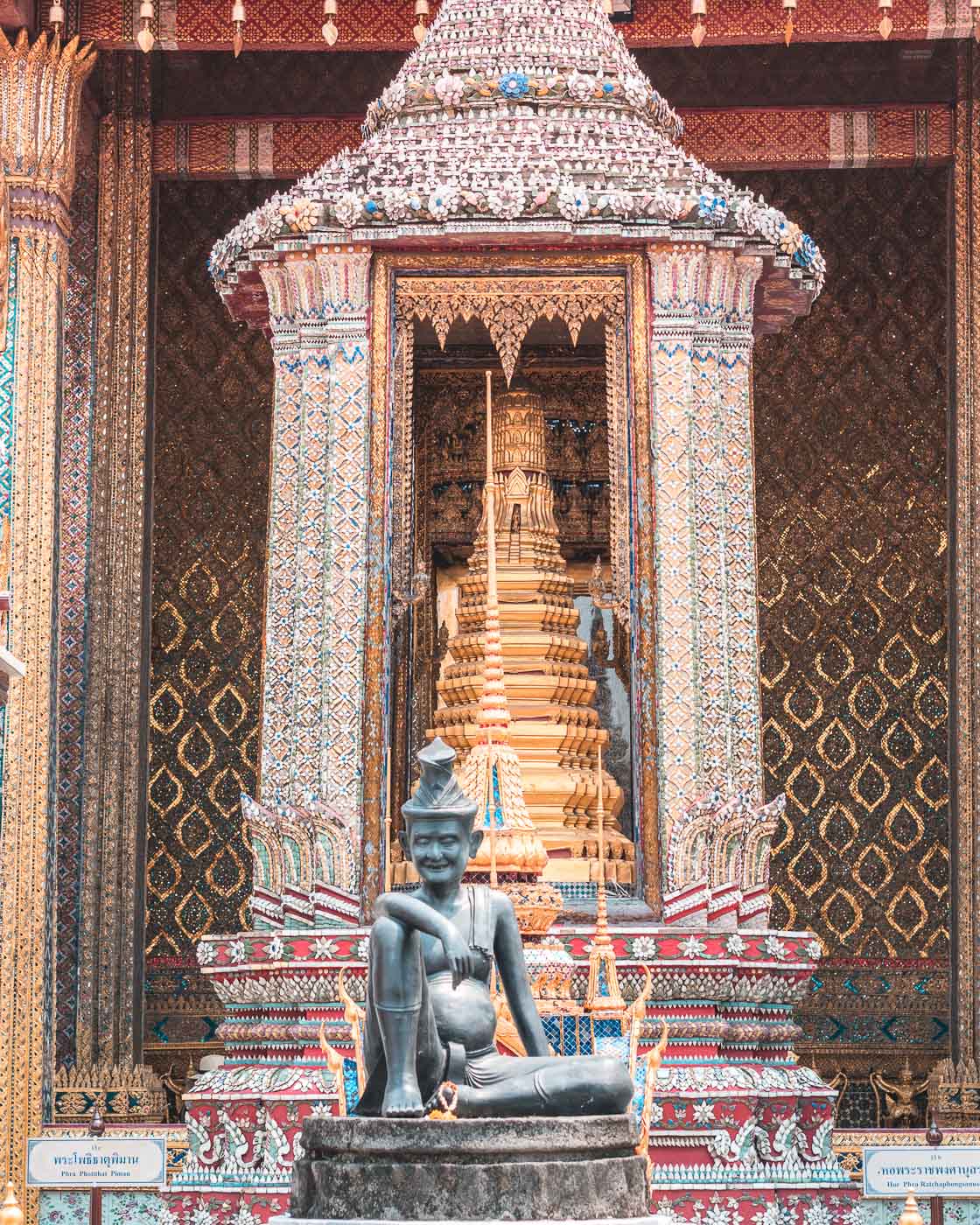 ---
While you obviously won't be able to do all of this in just one day, I'd just recommend doing your research and picking out your favorite activities. I rented an apartment in Bangkok for a month, and I think what I mentioned above are pretty epic tourist attractions in the city!
Watch this Youtube clip to get you stoked for your visit to Bangkok!
25 Amazing Things To Do in Bangkok, Thailand
---
Book Your Travels From Bangkok to Koh Tao (Gulf of Thailand
After spending 1 or 2 days exploring as much as possible in the sprawling capital city of Bangkok, It's time to head down to the stunning islands in the Gulf of Thailand! These are compromised Koh Tao (scuba diver's paradise), Koh Phangan (party central), and Koh Samui (tourism mecca).
There are TWO different ways to get from Bangkok down to the Gulf of Thailand.
1 ) Book a Late-Night Overnight Bus + Ferry Combo ticket. This is actually the only way I've ever traveled down to Koh Tao, and I don't have any complaints. I love that it leaves late at night (around 9P.M), and it saves you a night of accommodation.
I'd personally purchase the $35 one with LOMPRAYAH, as I think it's the best company, and it gets you onto Koh Tao around 8:45 A.M (just in time to start exploring the island).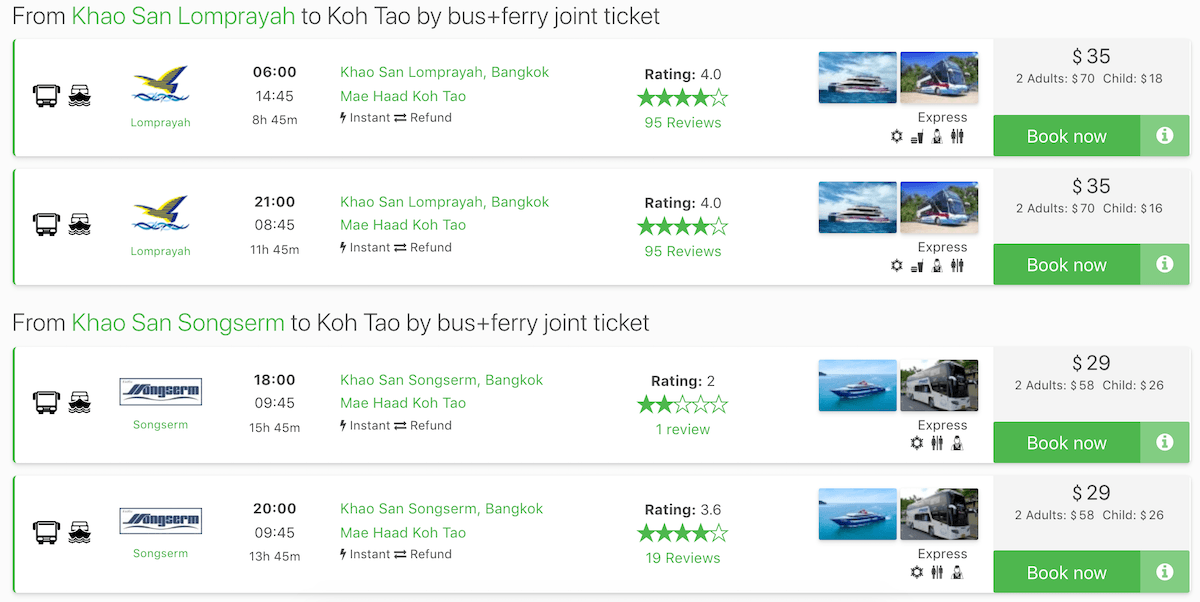 ---
2) The second option for getting to the Gulf of Thailand is by booking a flight from Bangkok to Koh Samui. Flights typically cost $113 – $150 U.S.D depending on how long in advance you book your flight. It will definitely save you a lot of time, but it really just depends on your budget. My itineraries in Southeast Asia tend to lean a bit more towards the budget style, because that's how I spent the majority of my time in Thailand.
If you decide to fly from Bangkok to Koh Samui, you can hop on the ferry from Koh Samui to Koh Tao (which takes two hours). Another option would just be to stay on Koh Samui, and take a day trip to Koh Tao for snorkeling / sight-seeing. It really just depends on if you want to see Koh Tao or not. I'm personally not a big fan of Koh Samui, so I don't typically include it in my itineraries. There's just been too big of a tourism boom there, and I'd rather spend my time in Thailand in other places.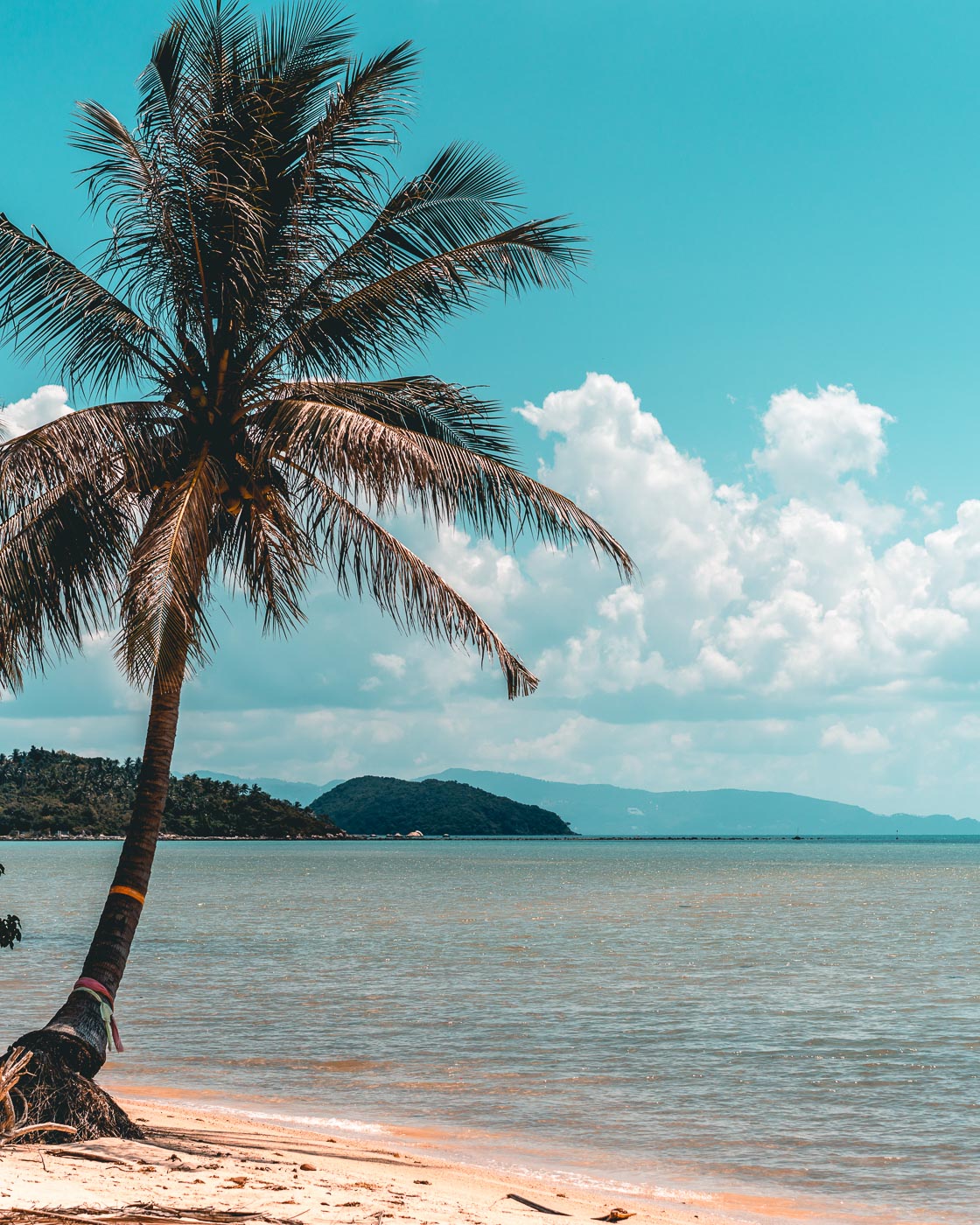 ---
Thailand Itinerary Day 3: Koh Tao Island Explorations
Welcome to Koh Tao! I trust you've had a smooth overnight bus + ferry experience, and are looking forward to your first introduction to the glorious islands in Thailand! Koh Tao was the very first destination I visited (after Bangkok), and I've honestly been in love with it ever since! There really is such an amazing vibe found here, and you're guaranteed to have a good time!
It's world-famous for being a top destination for scuba diving (especially getting certified), has tons of amazing beaches, and is also one of my favorite places to party in Southeast Asia.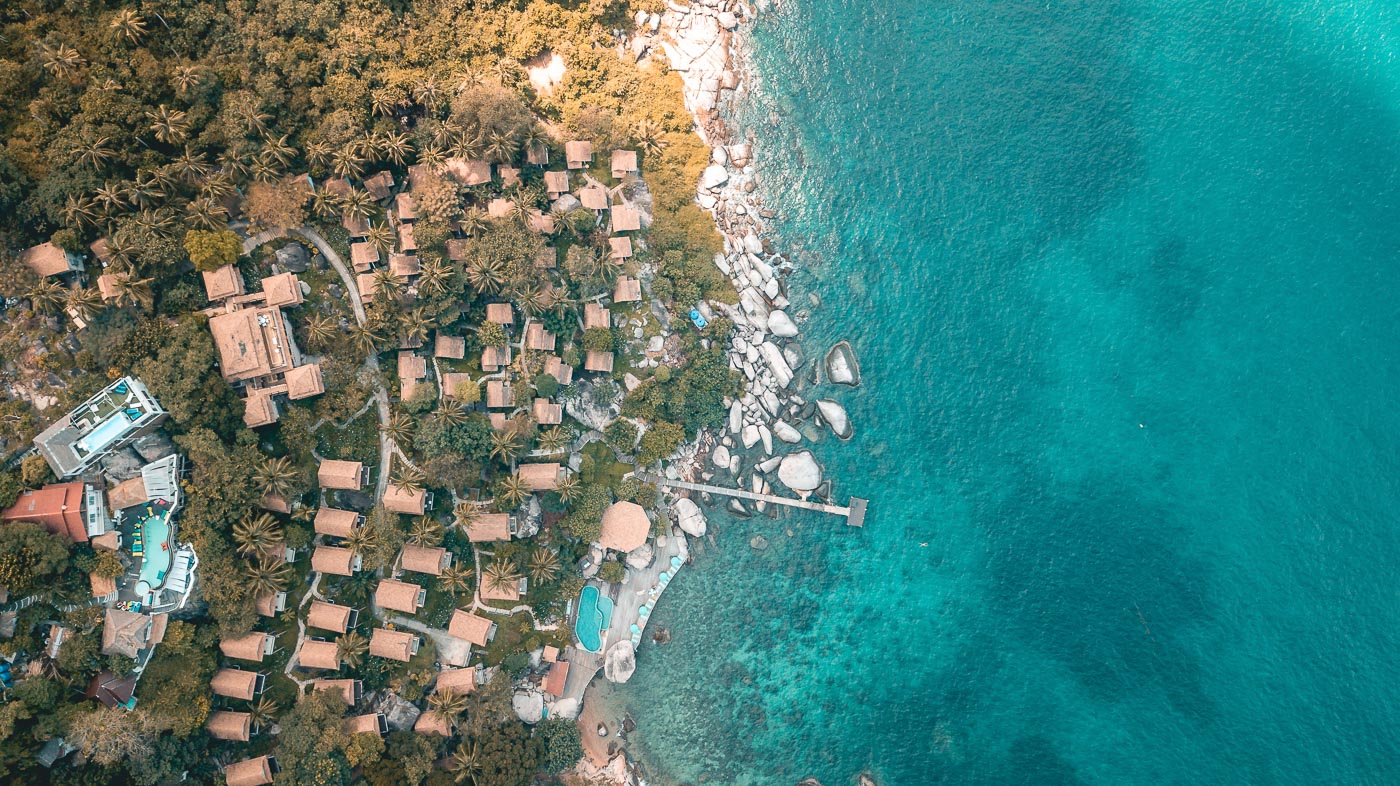 For your first day in Koh Tao, I'd recommend renting a scooter (which is super common in Thailand), and explore as much of the island as possible, as well as hitting up as much of my favorite things to do on Koh Tao:
Watch every sunset on Sairee Beach with a Chang beer in hand
Explore the more relaxed and quiet area of Chalok Baan Kao
Hike from Mae Hae Haad to Chalok if you're feeling sporty
Visit Mango Bay Viewpoint
The Koh Tao Pub Crawl
Thai Cooking Class (common in most places on this itinerary though)
Visit Freedom Beach and Instagram it up at John Suwan Viewpoint
Take a read my article about the best things to do on Koh Tao for a bit more information!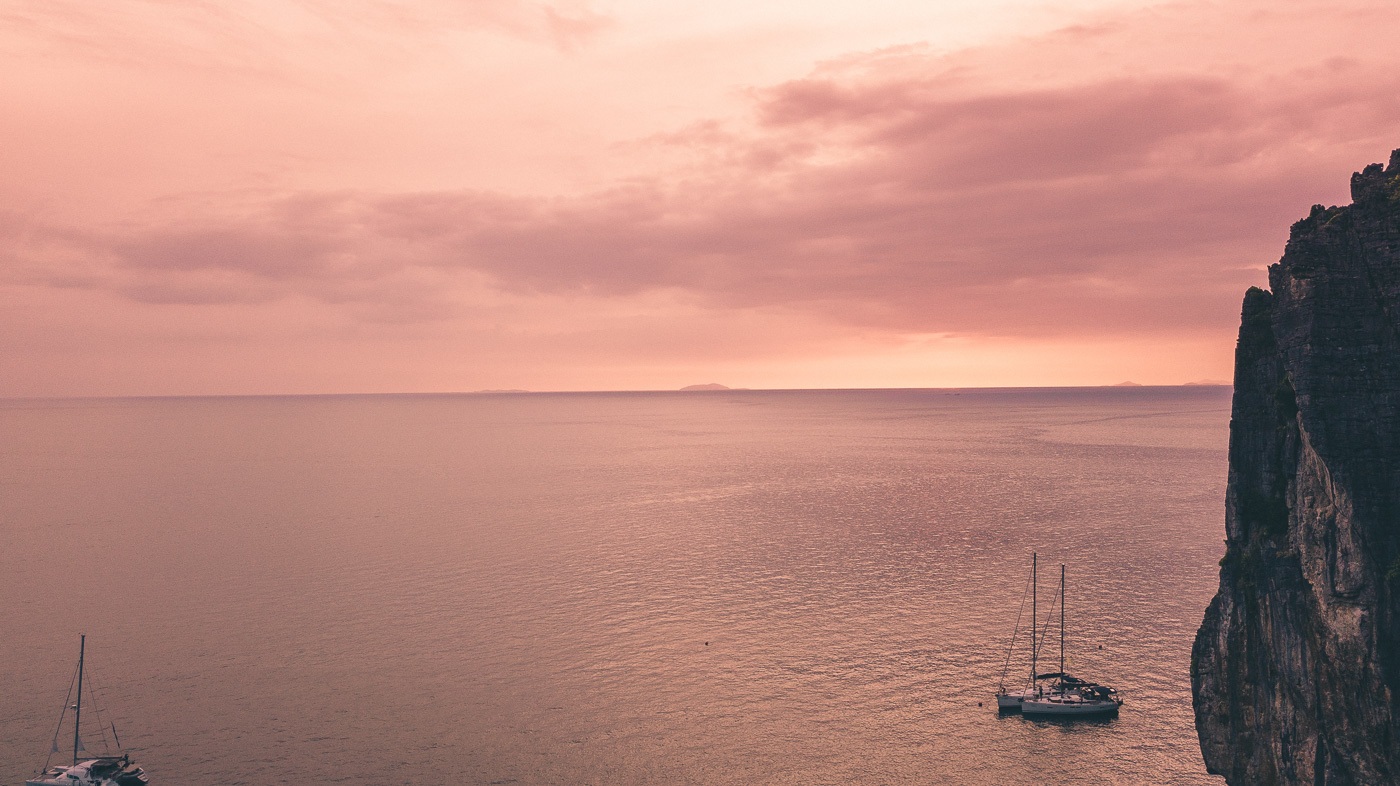 ---
Where to Stay on Koh Tao (2 Nights)
Simple Life Cliff View Resort – This is the best selling property on Koh Tao, and would provide the most amazing stay! Super comforable rooms, amazing views, and it's located right on Sairee Beach. This is definitely worth looking into! Check rates & availability
GOODTIME BEACH Hostel — This is the best PARTY HOSTEL on Koh Tao! "Our hostel is perfect for young, thrill-seeking travellers who want to adventure all day and then dance the night away. We are situated next to one of Koh Tao's most popular bars, which plays lively music until 2am. We are not ideal for those looking for a peaceful, family holiday. If this is your requirement, we respectfully advise finding an alternative location". Check rates & availability
Triple B Bungalows — This cute little Bed & Breakfast is just a short walking distance from the ferry point, and is perfect for people who are looking for a more quiet and relaxing time on Koh Tao (since it's not on the party side of Sairee beach). It's got amazing staff, excellent reviews, and just a beautfiul property. Check rates & availability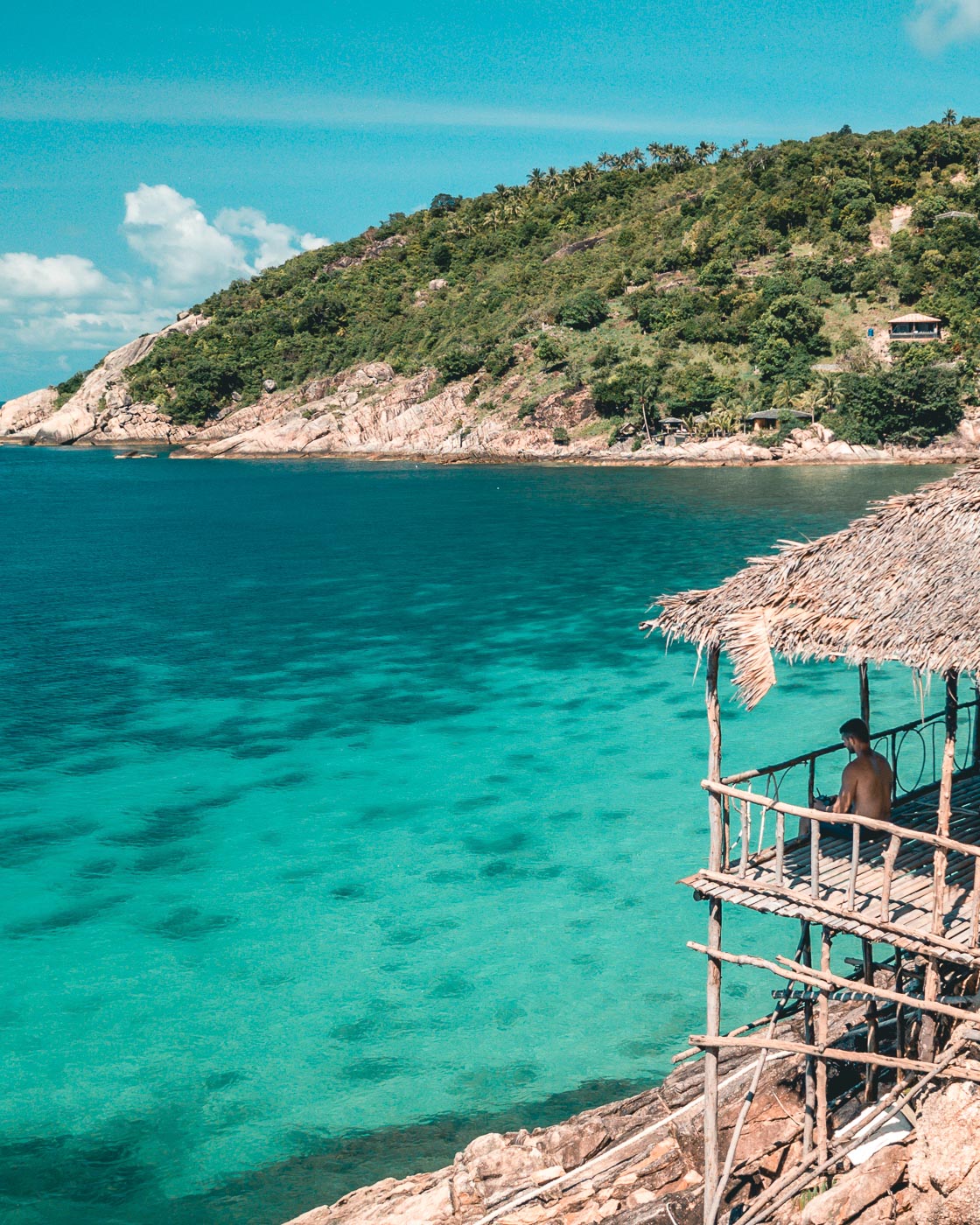 ---
Thailand Itinerary Day 4: Beach Days & Nang Yuan Island
Hopefully, you're not too hungover from the Koh Tao pub crawl / party island nightlife, because it's your second day in Koh Tao, and there's still lots more to do!!
Most importantly though – you can't come to Koh Tao without visiting the nearby idyllic paradise that is Nang Yuan Island! It's one of the most gorgeous places in the entire country, and you could easily spend all day there! This is actually where I went scuba diving for my very firs time, and I'll never forget it!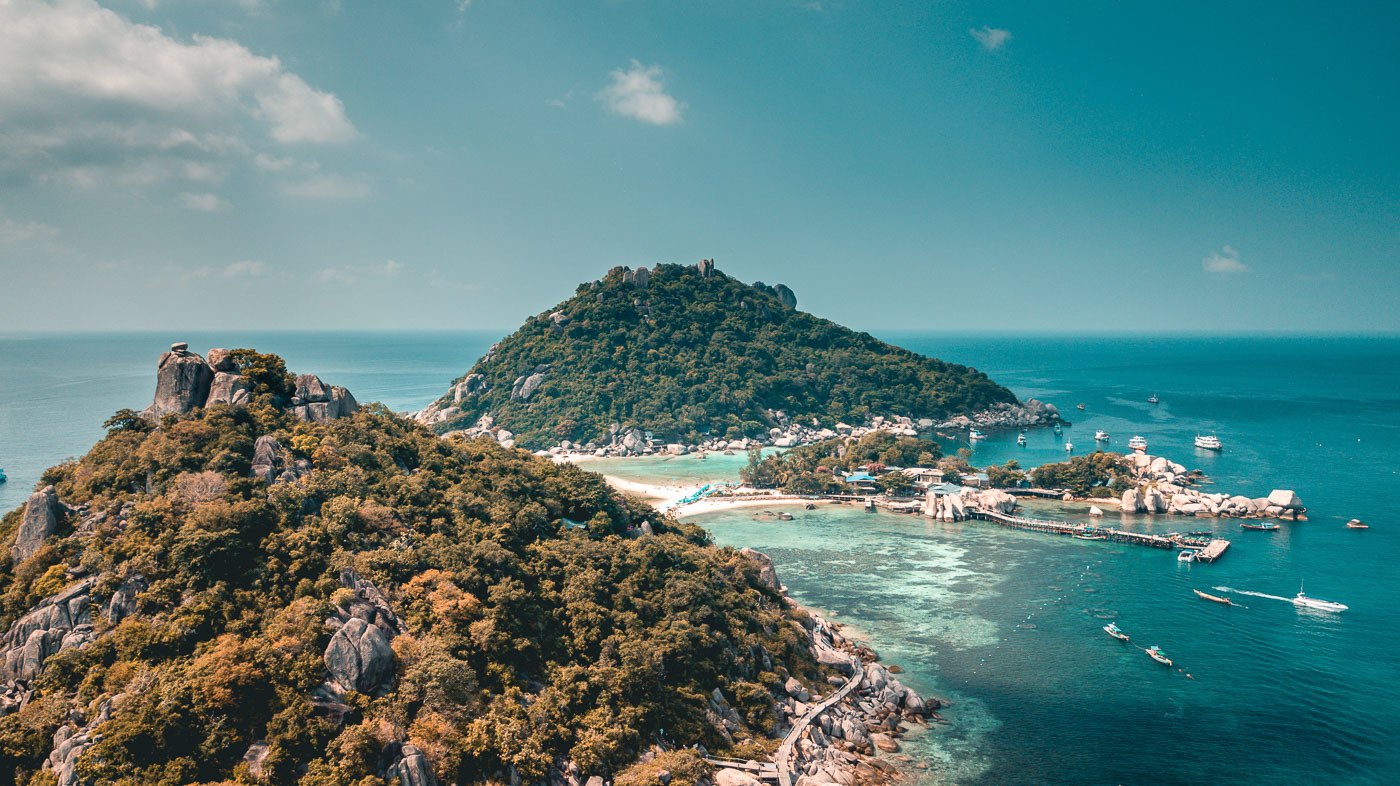 "A secret waiting to be discovered and located only 15 minutes from Koh Tao. Nangyuan has one of the most beautiful beaches where you can sit and enjoy quiet sunsets on the beach, no cars or hustle or bustle. It is place of tranquility and serenity and is a perfect place to unwind from the rigors of travel, or for the more adventurous a chance to dive into an exciting new experience." – Nang Yuan Island Dive Resort
I'd recommend just hiring a private boat transfer over to Nang Yuan, because you really don't want to feel rushed while you're over there! Definitely make your way up to the different viewpoints, relax on the beach, and just soak up your time in paradise. You'll honestly be blown away by the pristine color of the water!
Another option though would be to book one of the "Around Island" Koh Tao Snorkeling Trips! This would be on a "Big Boat" with loads of other tourists, and daily trips leave at 9:30 A.M, returning at 5:00 P.M. You'll visit Koh Nang Yuan, Aow Muang (Mango Bay), Hin Wong Bay, Aow Leuk, and Shark Bay. There's a ton of different companies that offer this, and you'll see all the different travel agencies selling this trip.
Price: 850 Baht
Includes: Transfers, snorkeling equipment, basic lunch, fresh fruit, and water. Don't forget to bring a towel, sunscreen, and an underwater camera.
This tour is probably the best way to see Koh Tao with limited time, but I know some people would be more than happy to just sit on a beach all day, read a book, and work on their tan.
---
Thailand Itinerary Day 5: Koh Phangan Parties & Adventures
Book the 10:00 A.M Ferry from Koh Tao -> Koh Phangan ($11).
Are you ready to experience what I refer to as the "Ibiza of Southeast Asia"!? This is the location of the famous Full Moon Party, but it's also another beautiful island paradise in Thailand!
If you're not much of a party traveler though, just book a hotel on the NORTH side of the island (which is known for its tranquility, meditation retreats, and pristine beaches), but I think everyone who comes to Koh Phangan should experience a bit of its hedonistic charm.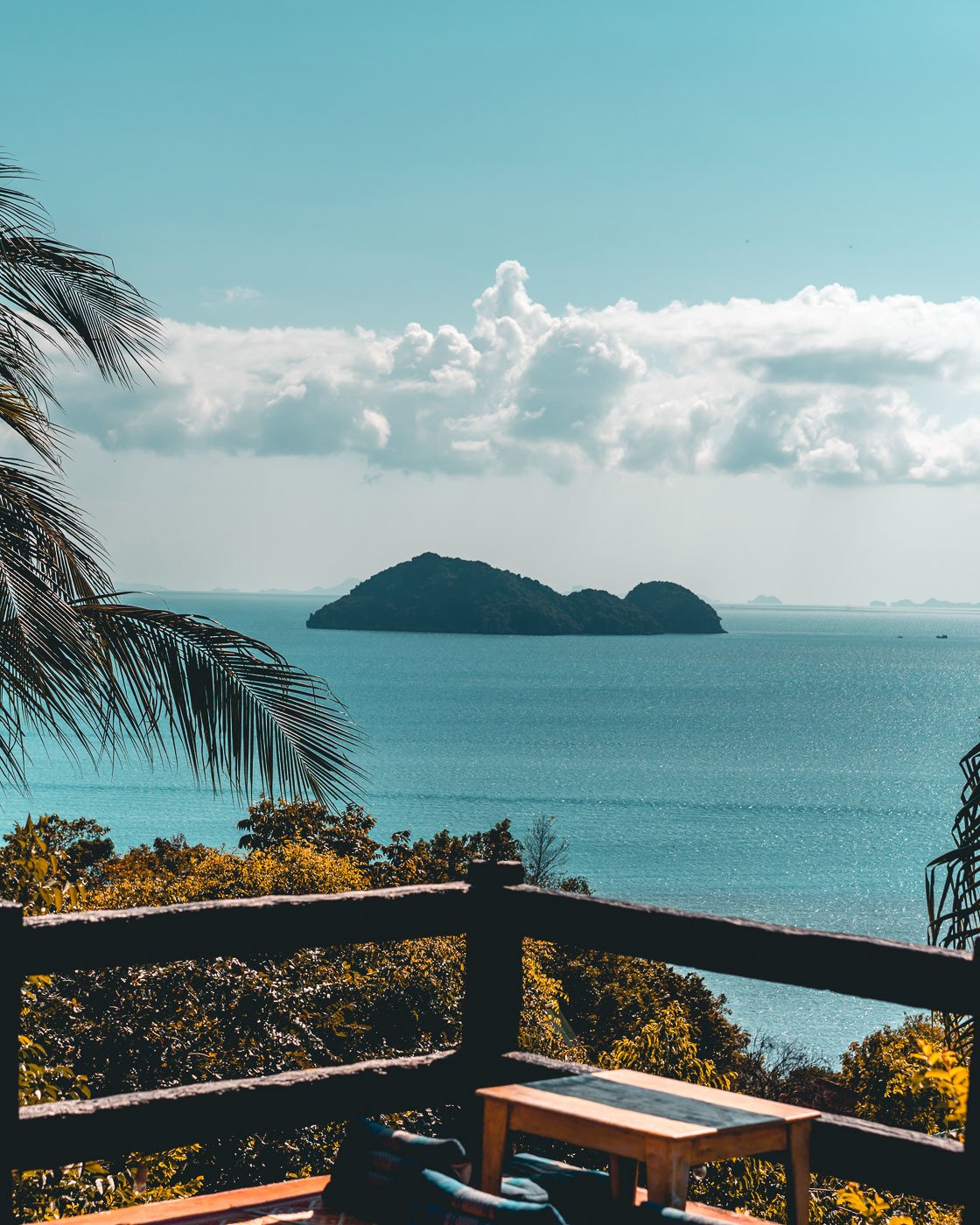 Koh Phangan is truly epic, and I've spent many wild nights partying until sunrise. It might be difficult to align your travels with the actual date of the Full Moon Party, but don't let that bother you, because there's legitimately always something fun happening on Koh Phangan!
Koh Phangan is also home to the infamous "Mushroom Mountain", and if you're interested in a psychedelic experience, this is one of my favorite spots to try magic mushrooms in Thailand! This certain activity may not be for everyone, but it'll definitely provide a fun and memorable experience on Koh Phangan! lol.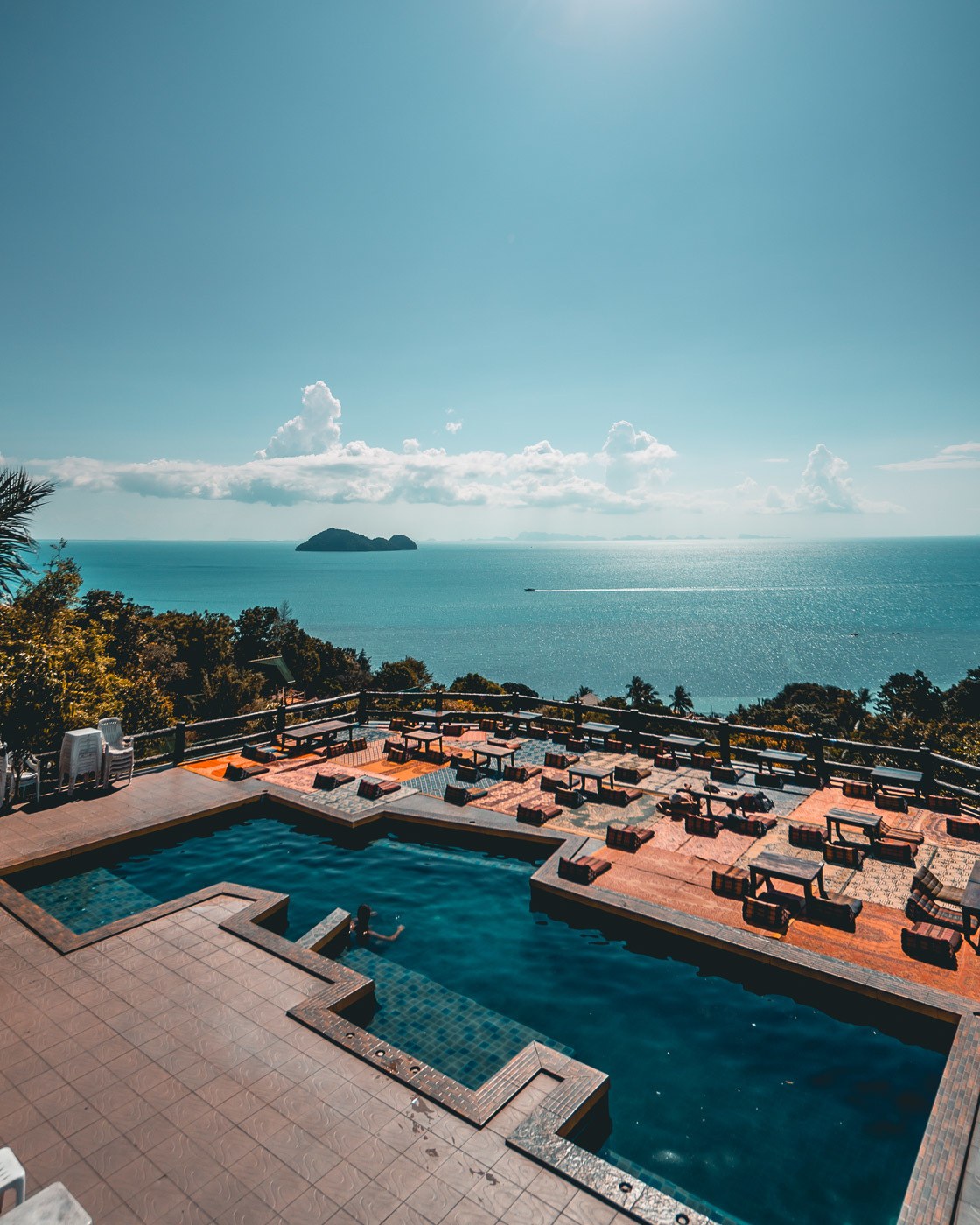 Some of the other best things to do on Koh Phangan:
Rent a Moto and Explore the Waterfalls
Grab a drink, and watch the sunset at Amsterdam Bar
Visit the Thong Sala Night Market
Take a cooking class (but I'd save this for a different stop)
Conquer the WIPEOUT Course (Challenge Koh Phangan)
Yoga & Meditation for the non-party seekers
Check out this fun Youtube clip for a bit more inspiration
Top 10 Things to do on Ko Phangan
---
Where to Stay on Koh Phangan (2 Nights)
Phangan Bayshore Resort – One of the most popular, budget-friendly, and incredible resorts in Haad Rin (where the majority of parties are on the island). It's got absolutely amazing reviews, has a stunning pool, and top-notch service. Definitely will provide an excellent stay for anyone on Koh Phangan.
Slumber Party Hostel — If you're looking for a fun party hostel on Koh Phangan, then I'd definitely recommend checking out Slumber Party! They've got several locations all over Thailand, and always show their guests a damn good time (myself included). If you're a budget traveler/backpacker making your way to Koh Phangan, this spot will be perfect!!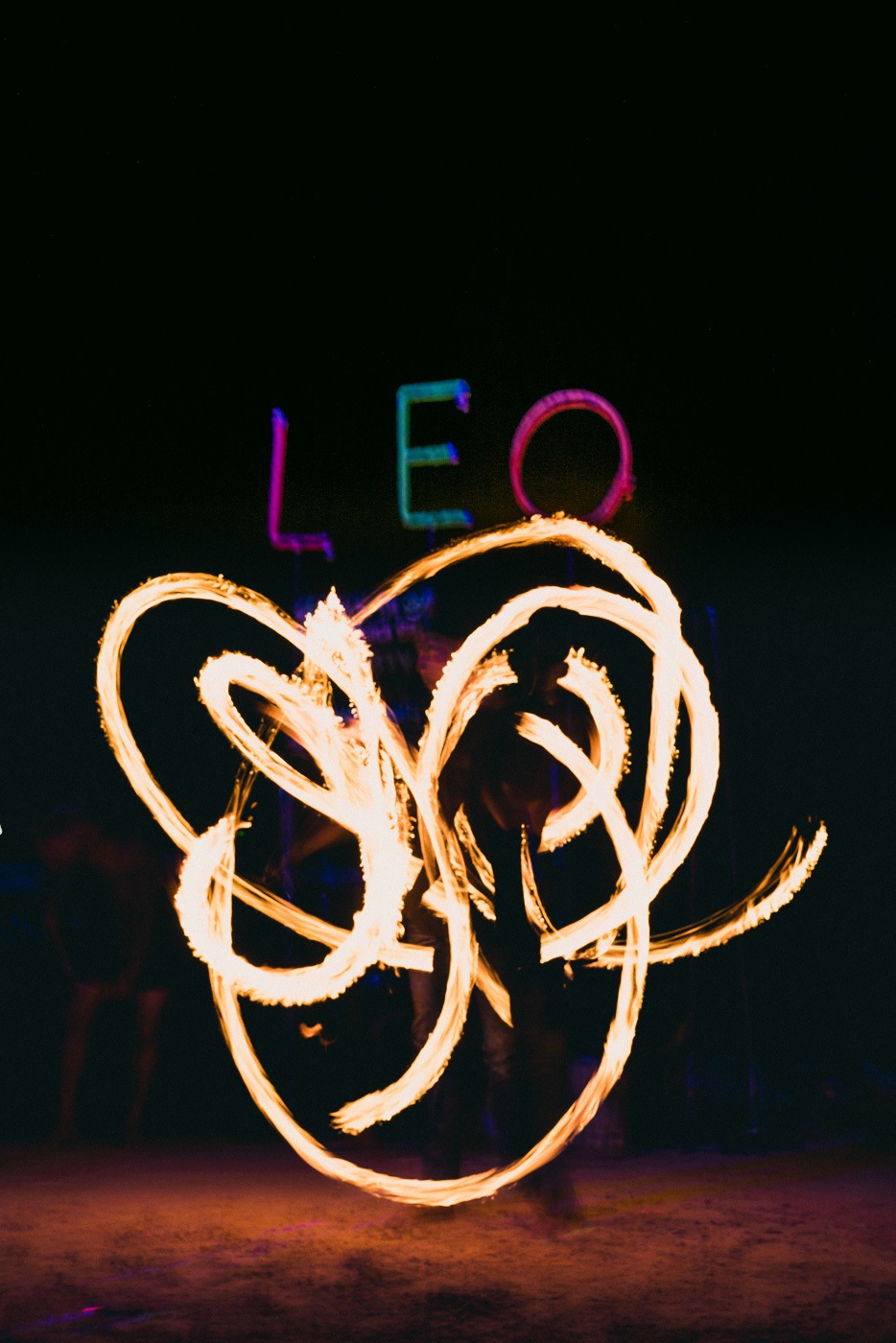 ---
Thailand Itinerary Day 6: Scooter Adventures/ National Parks
Let's be honest, there's a good chance you're still partying at some after-hours club right now! BUT, if you manage to keep your hangover to a minimum, there's obviously heaps more to do on Koh Phangan! So grab breakfast, chug some coconut water, and get ready for more Thailand adventures.
One of the best things I'd recommend for this day is to book a tour out to the stunning Angthong National Marine Park. It's absolutely magical, and you'll be mesmerized by the views out there!
This Koh Phangan to Angthong Marine Park Day Tour with Lunch is one of the top-rated trips from Koh Phangan, and is guaranteed to be an absolute blast. Be sure to book in advance though if you travel during peak season, as it does tend to sell out rather fast!
One of these tours will take up a good portion of the day, but if you decide to give it a skip, then just rent a moto and explore the island a bit. You might be surprised at everything there is to do, because it's an absolutely massive island! If you've stil got some energy, check out another party like the Jungle Experience, Merkaba, Half Moon, etc.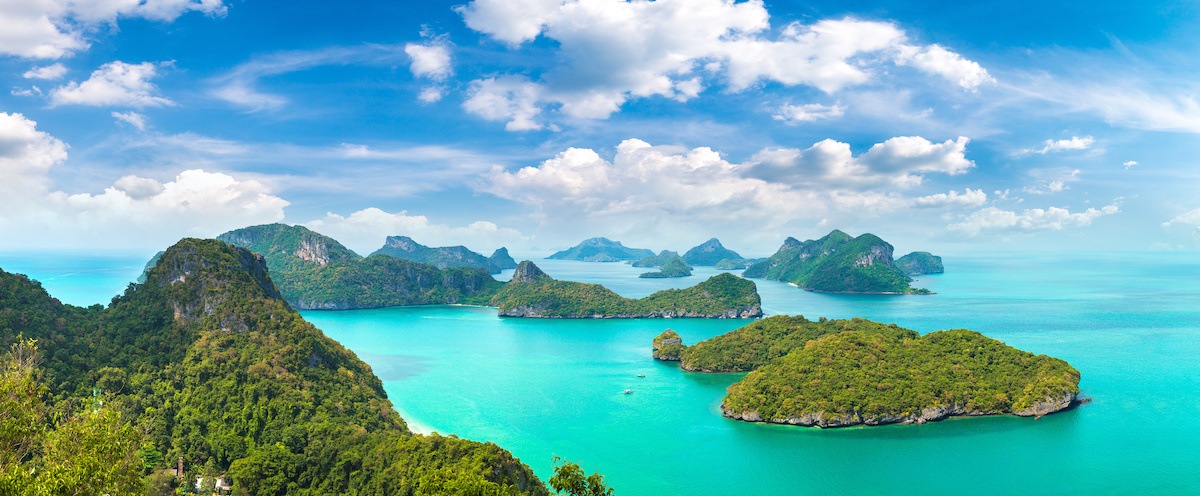 ---
Thailand Itinerary Day 7: Travel to Krabi/ Ao Nang
Now that you've had your fun in the Gulf of Thailand — It's time to make your way to the ANDAMAN SEA!!
You'll need to get from Koh Phangan – KRABI. There is a direct flight from Koh Samui, if you'd like to transfer over there, but I honestly think the ferry + bus combo does the job pretty well. The trip does take about 5.5 hours, but it goes pretty quickly. There are a ton of different options and times to choose from, so check out the Koh Phangan -> Krabi travel schedule and book your spot in advance (as they can sell out during peak season).

---
Checking Into Your Ao Nang Accommodation (4 Nights)
Since you've been hopping around from Bangkok, Koh Tao, and Koh Phangan quite quickly…I think at this point it's best to book a place for the rest of your time in the country!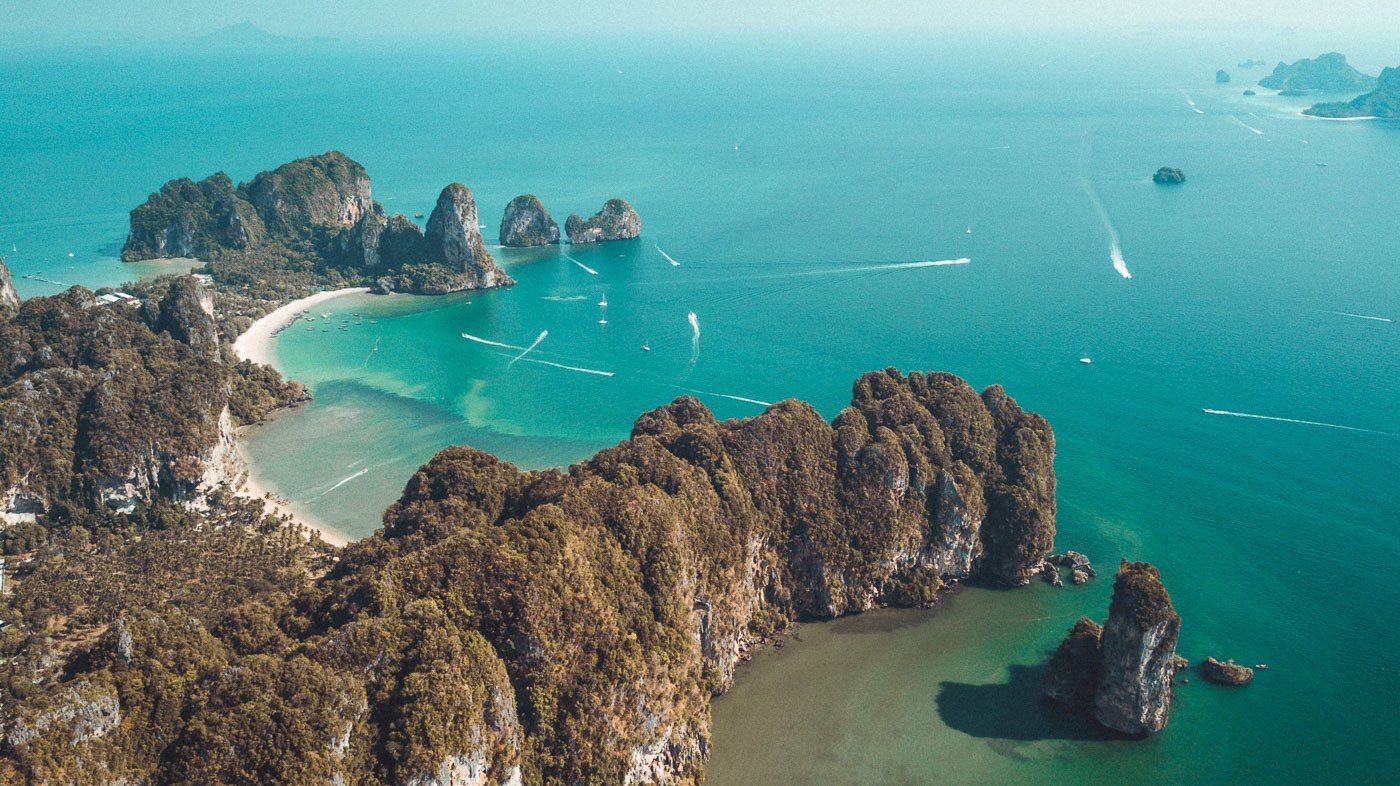 ---
Where to Stay in Krabi / Ao Nang
Panan Krabi RESORT – This newly built luxury resort in Ao Nang is undeniably gorgeous!! There is a rooftop pool that's truly next level, and there are always epic deals for online bookings. The rooms are beautiful, the service is impeccable, and you definitely will love spending the rest of your time in Thailand here!
Slumber Party at The Beach HOSTEL – I stayed here when I was backpacking in Thailand, and I absolutely loved this hostel! The beds are super comfortable, it's really budget friendly, and it's the perfect place to meet fellow travelers. They've got another location in Ao Nang as well, but I think the one at the beach is nicer!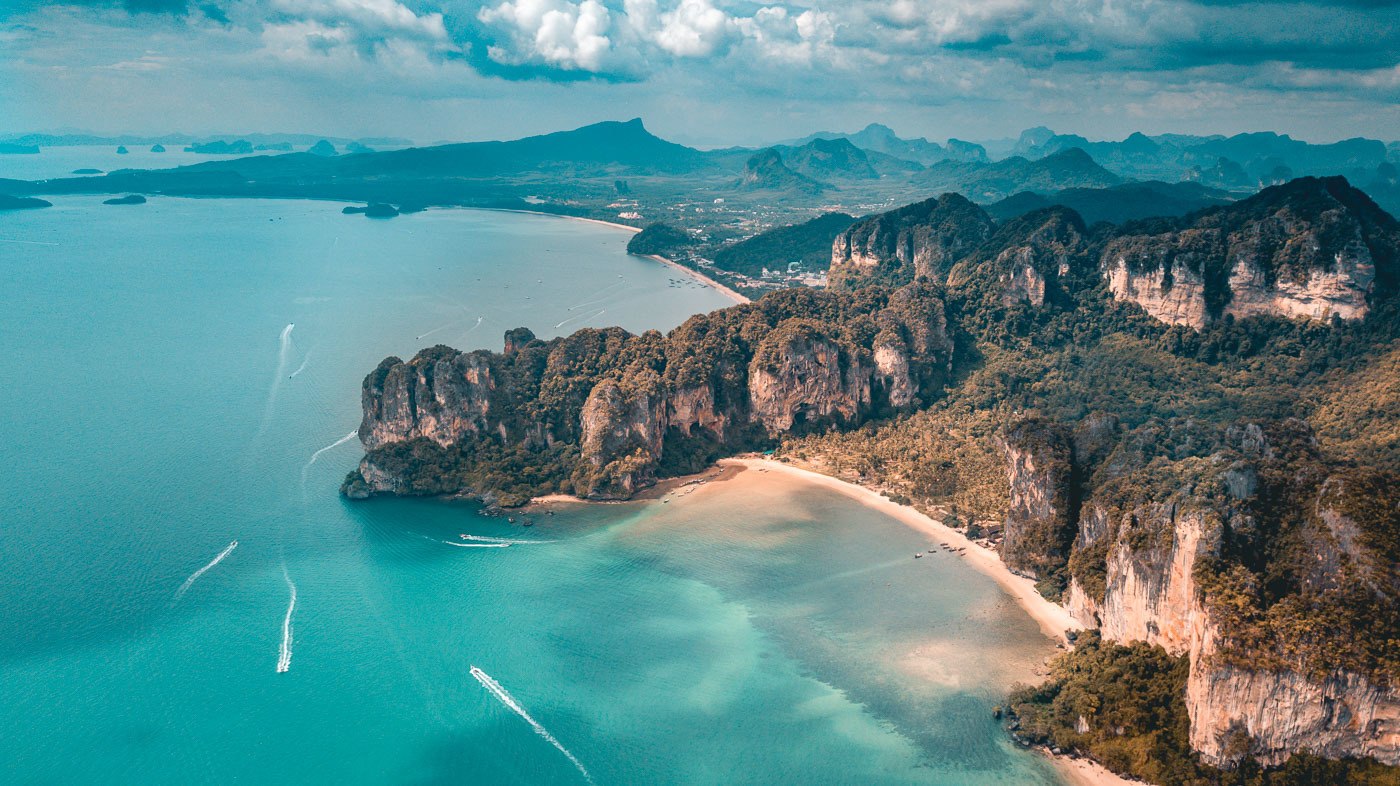 ---
Thailand Itinerary Day 8: The Hong Islands Hopping Tour
During my most recent trip to Thailand,I was recommended to check out the Hong Islands & Lagoon. I'm so glad I did, because this was one of the best day-trips/ tours I've ever been on! All of the stops on the itinerary were truly epic, and it had me fall in love with Thailand all over again!
There are tons of different companies to choose from, so take a browse through this article below, and pick one that fits your budget / ideal itinerary. There's a speedboat that goes to James Bond Island & Hong Island which I wish I had done!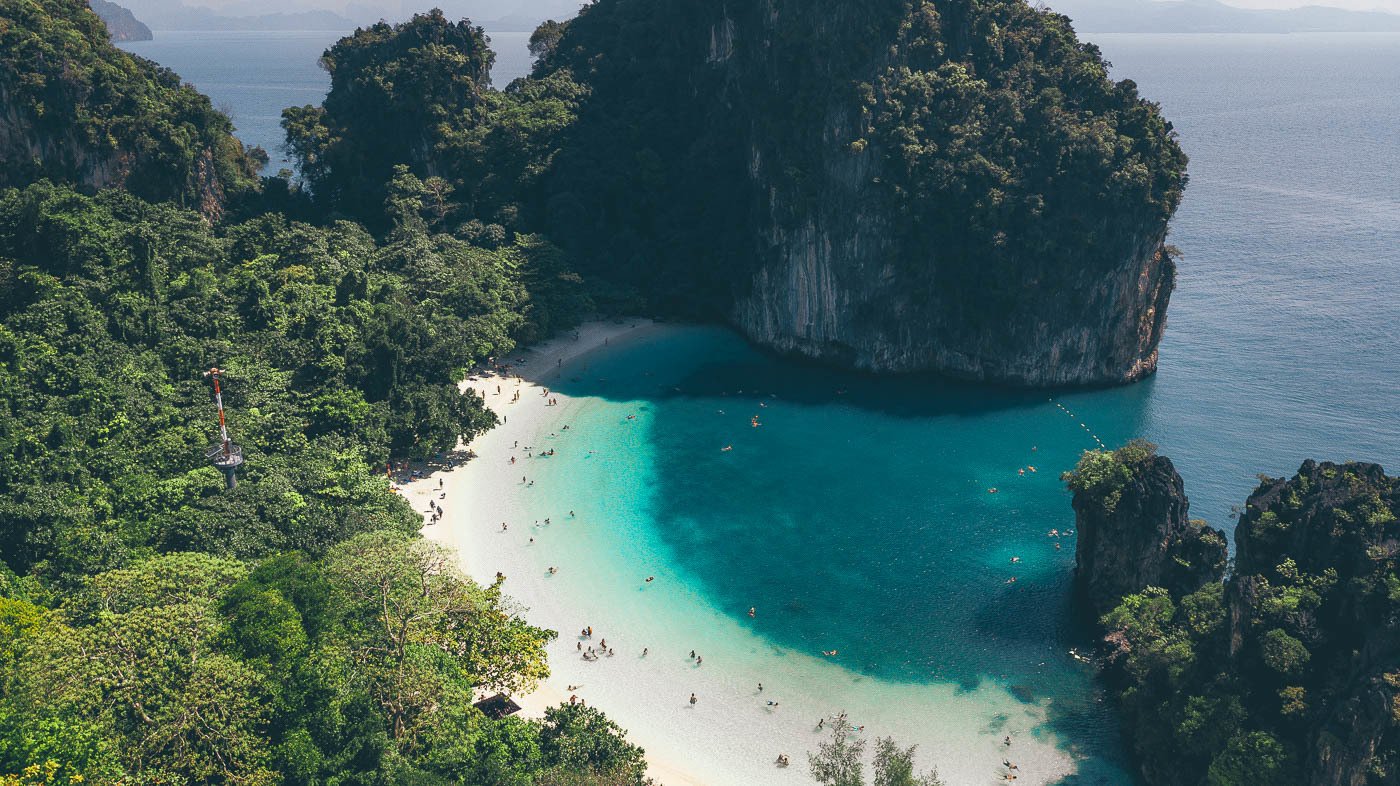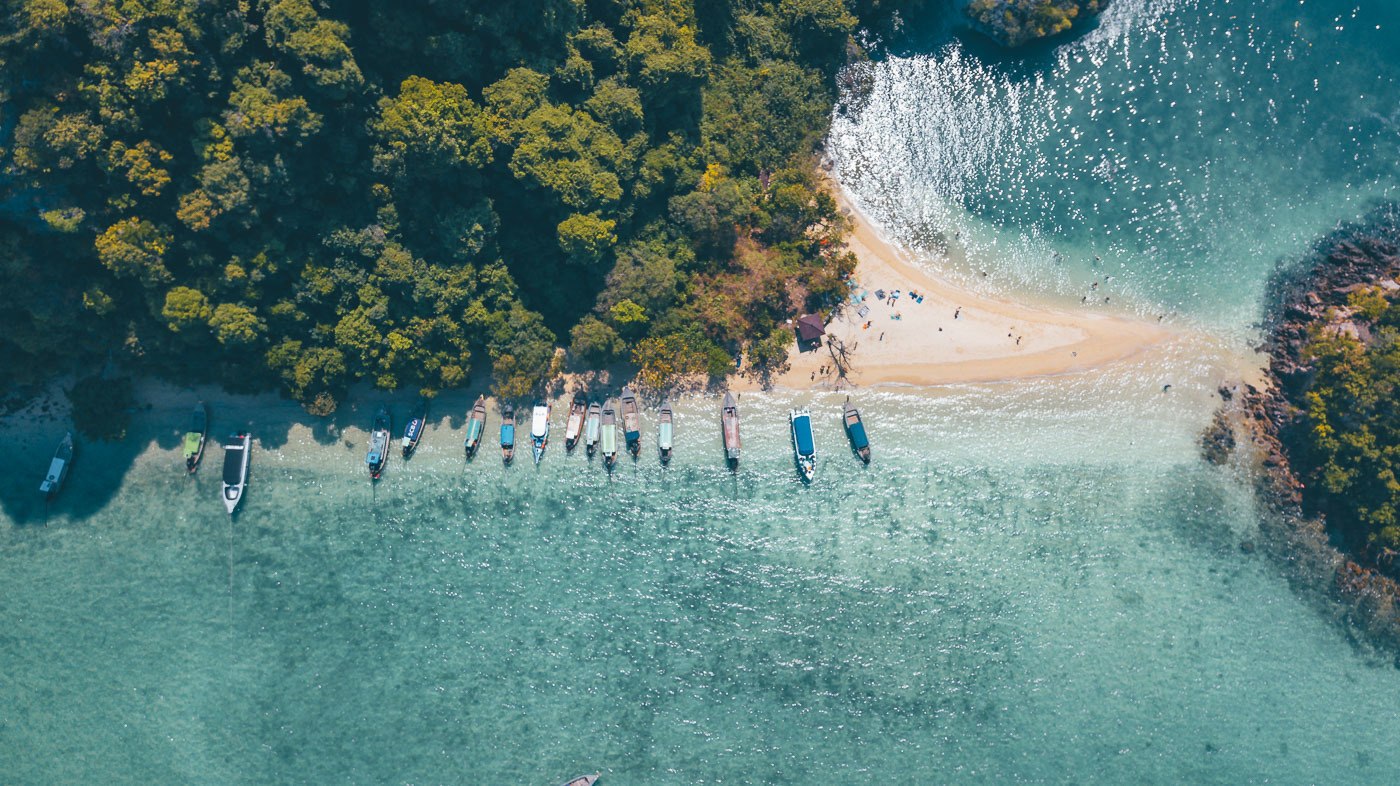 "The Hong Islands are rife with secluded beaches, coral reefs, and sea caves to explore. There's something for every type of outdoor enthusiast—Railay is popular with rock climbers, Koh Hong's Hong Lagoon is a calm place to kayak, and Phang Nga Bay has scenic views and great sunbathing.
Longtail boat or speedboat tours are a good way to visit the islands and typically depart from Krabi or Phuket. Some excursions include snorkeling or kayaking, and often feature stops at Khao Phing Kan, Ao Nang Beach, Phi Phi Island, and Lading Island."
No matter what trip you end up booking, just make sure you get out there and do some island hopping! It's such an amazing experience, and your eyes will thank you.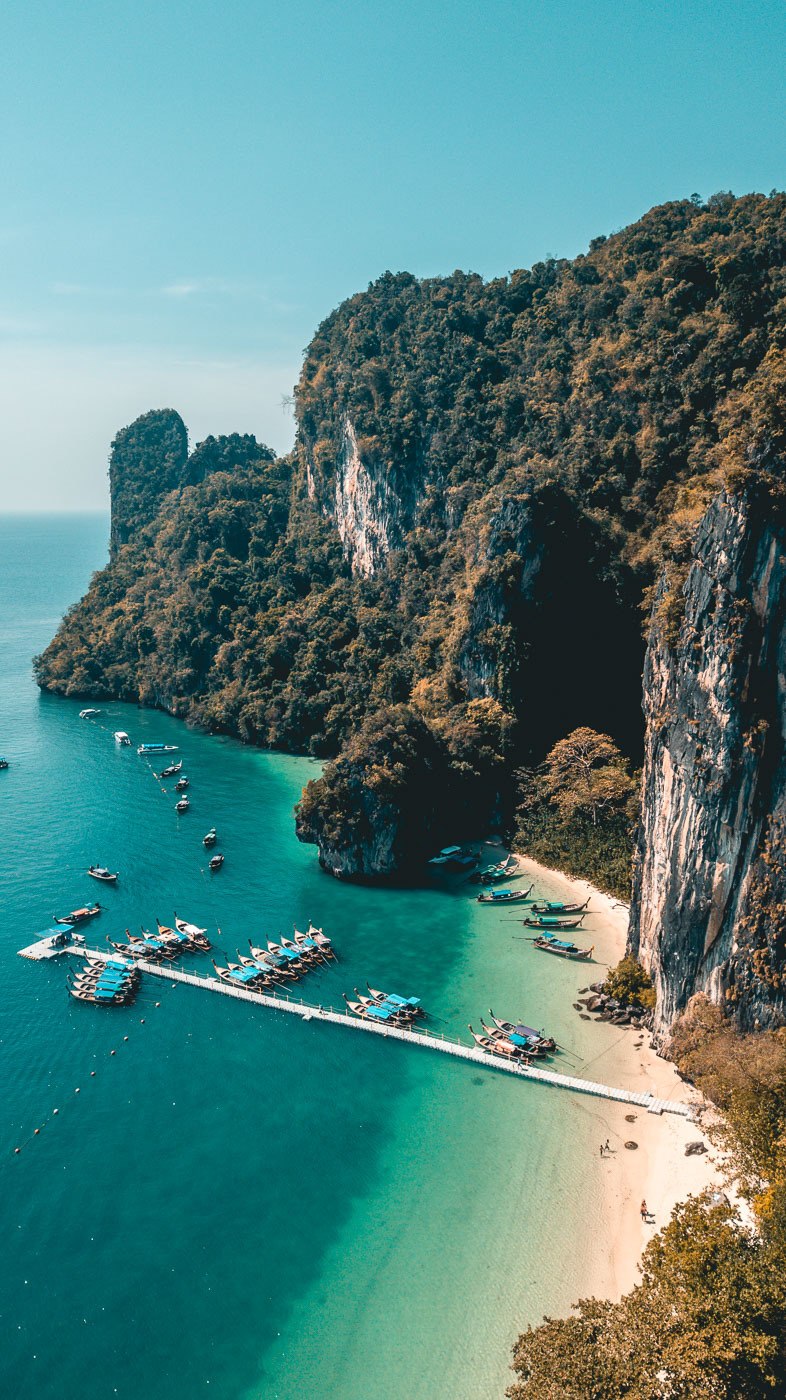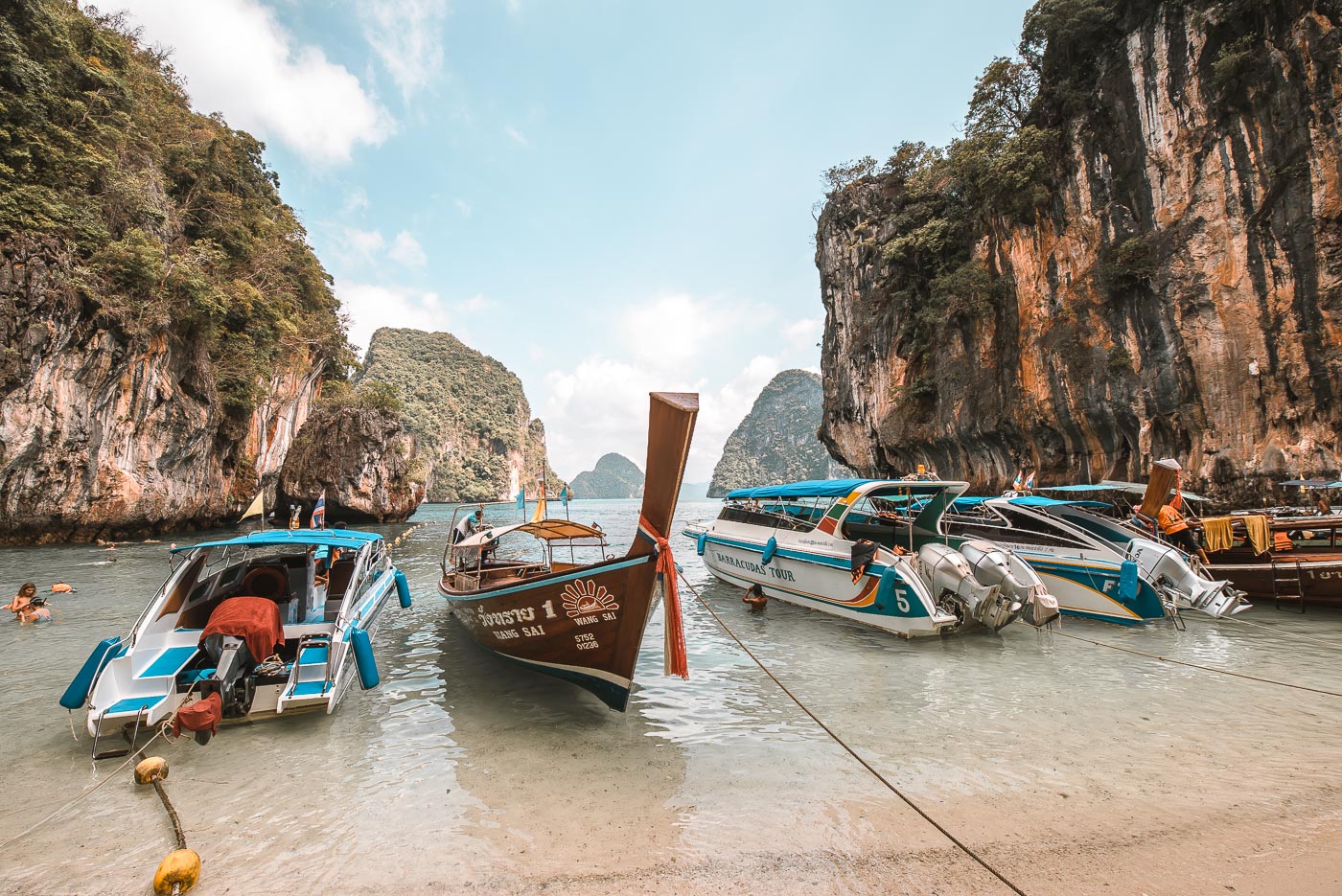 ---
Thailand Itinerary Day 9: Railey Beach & Ton Sai Bay Explorations
While I do think the Ao Nang area is nice, one of the main highlights of visiting this part in Thailand is taking a short boat ride over to check out Railey Beach & Ton Sai Bay!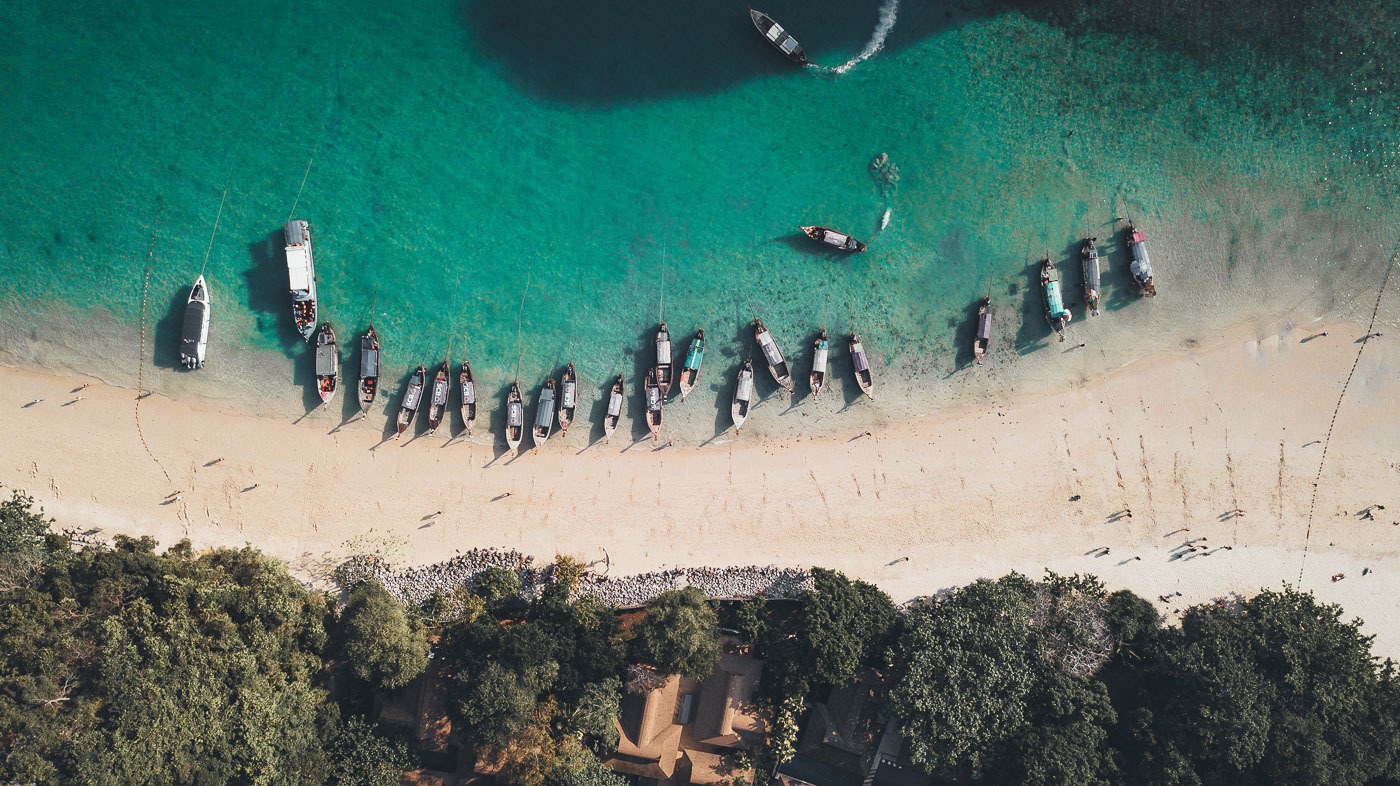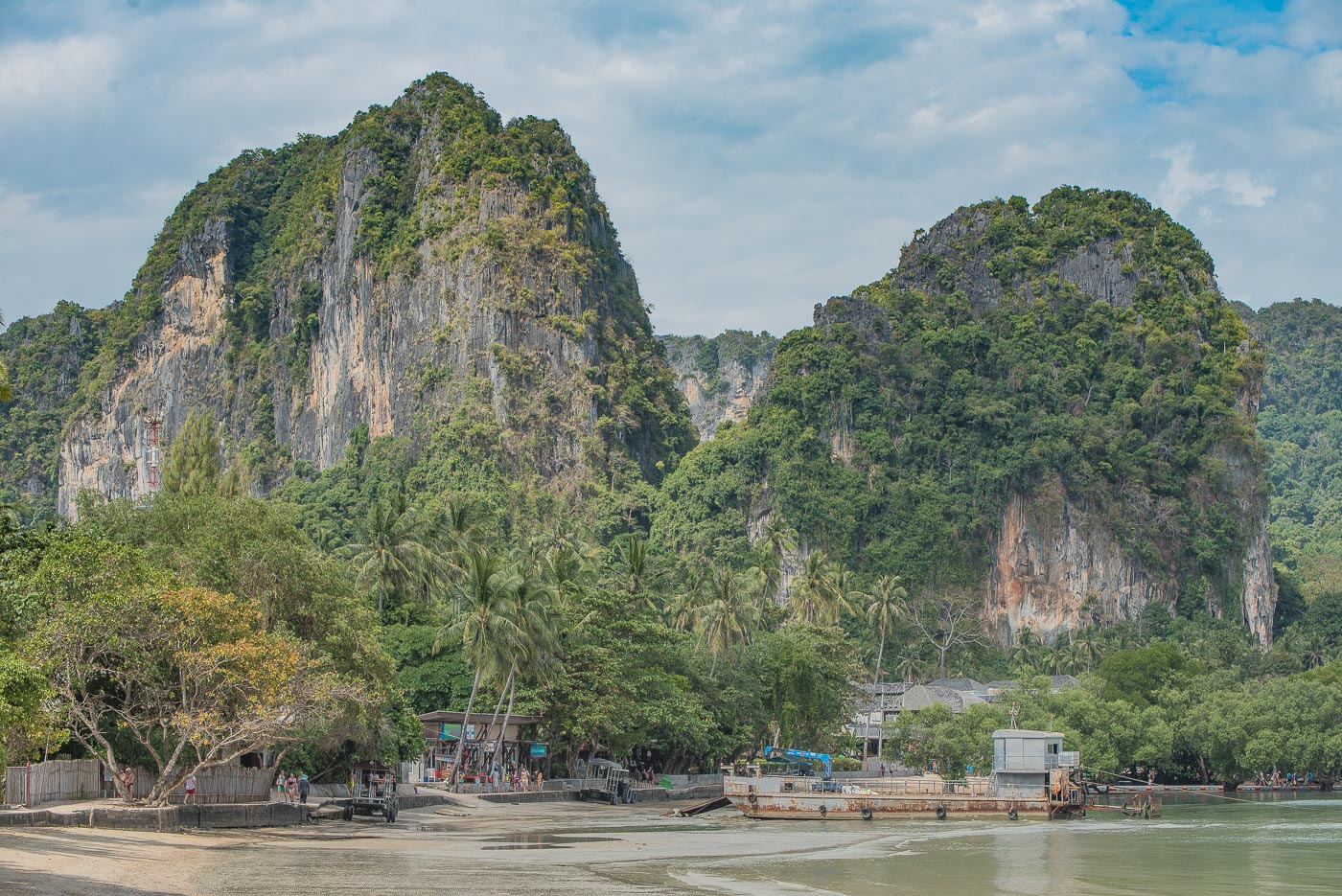 This is known for having the best rock-climbing in all of Thailand, has unbelievably beautiful beaches, and is just overall a fantastic place to spend a day/ afternoon. Here's a quick little list of things to do during the day:
Relax on the beautiful Railey Beach
Try out Rock Climbing
Hike to the Railay Beach Viewpoint and the Lagoon
Visit Phra Nang Beach & Cave
Get A Massage
Go Kayaking
Watch the monkeys play
Thai Cooking Class (great place to do this)
Grab a Beer at Why Not Bar Railey
Take a Swim in the Sand Sea Resort's pool
Watch the sunset with a fresh coconut in hand!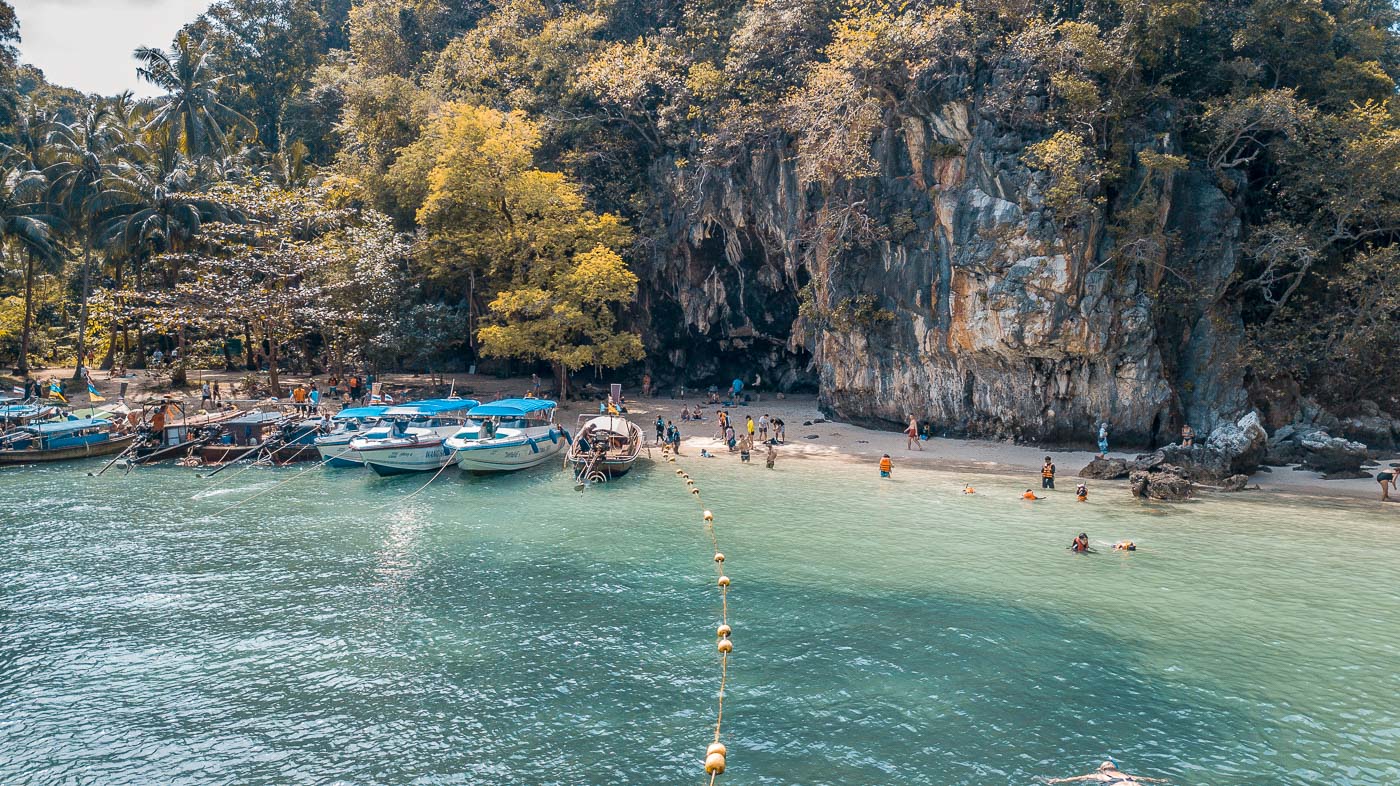 There are tons of awesome restaurants and bars in the entire area, and you'll quickly learn how special this little slice of paradise is! Just be careful of the time – because the longtail boat rides back to Ao Nang end around 5 P.M or so, depending on the time of the year!!
Once you make it back to Ao Nang, grab some dinner, and then head out on the legendary Ao Nang Pub Crawl! It's an absolute blast, but just be ready to nurse some hangover the next day, lol.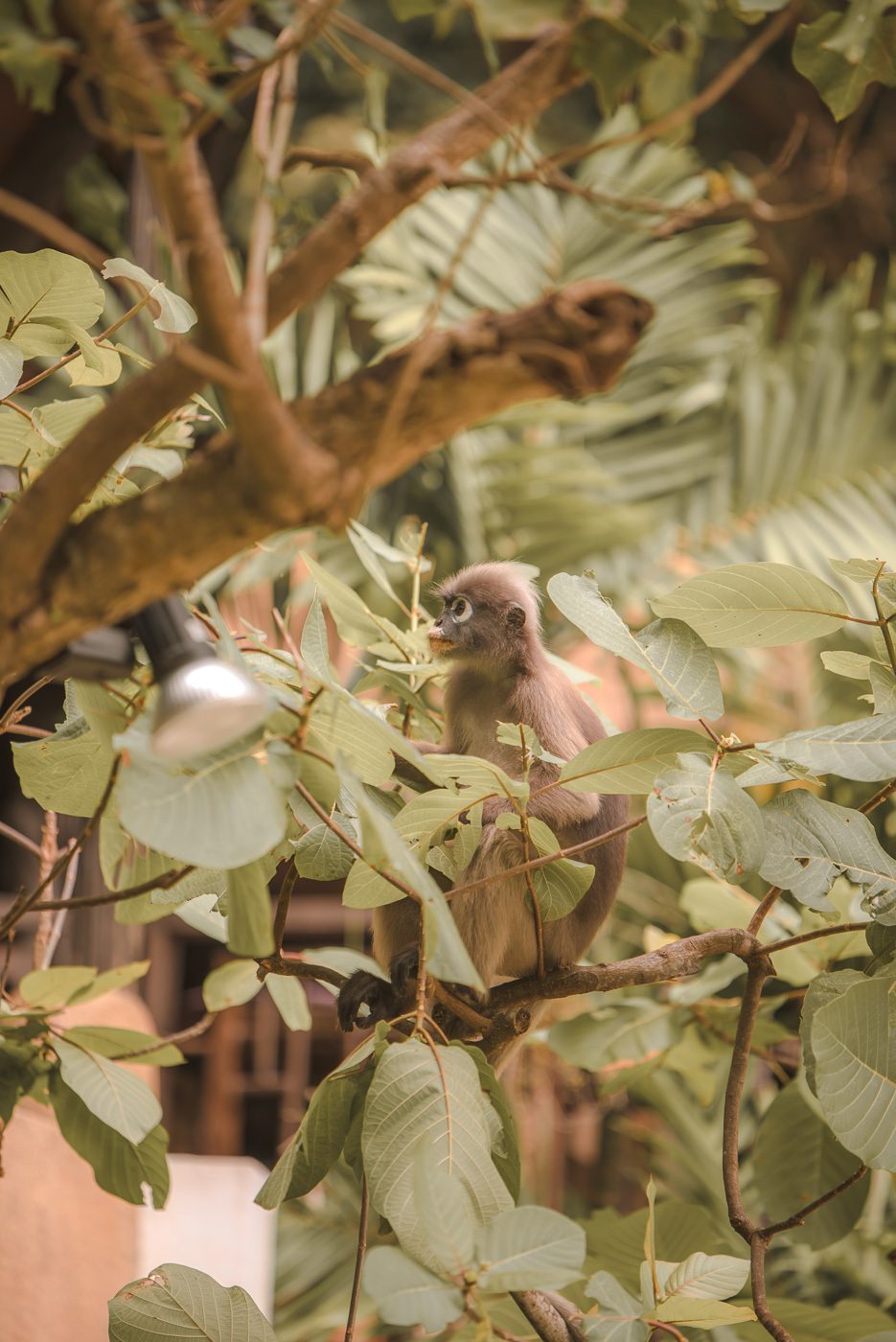 ---
Thailand Itinerary Day 10: Phi Phi Islands Day Trip
Alright, so it's your final day in Thailand, and lucky for you, I saved the best for last!!
Koh Phi Phi is one of my favorite places in the world, and I've had some truly incredible moments of my life there! While it's definitely a really wild party island these days, it's also a must-visit in Thailand, and the surrounding islands/ landscape is mind-blowing!
Unfortunately, the famous Maya Bay, the film location for Leonardo Dicaprio's hit movie, "The Beach" is currently closed. There's no news for when it opens up again, but I'll be sure to update this article if I hear anything. I'm in full support of this move by the Government, because it really was being killed by overcrowded tourism!
2023 Update: Maya Bay is open to tourists once again! There are tons of tour operators that will offer snorkeling/ day trips out to Maya Bay, and you simply can't miss it!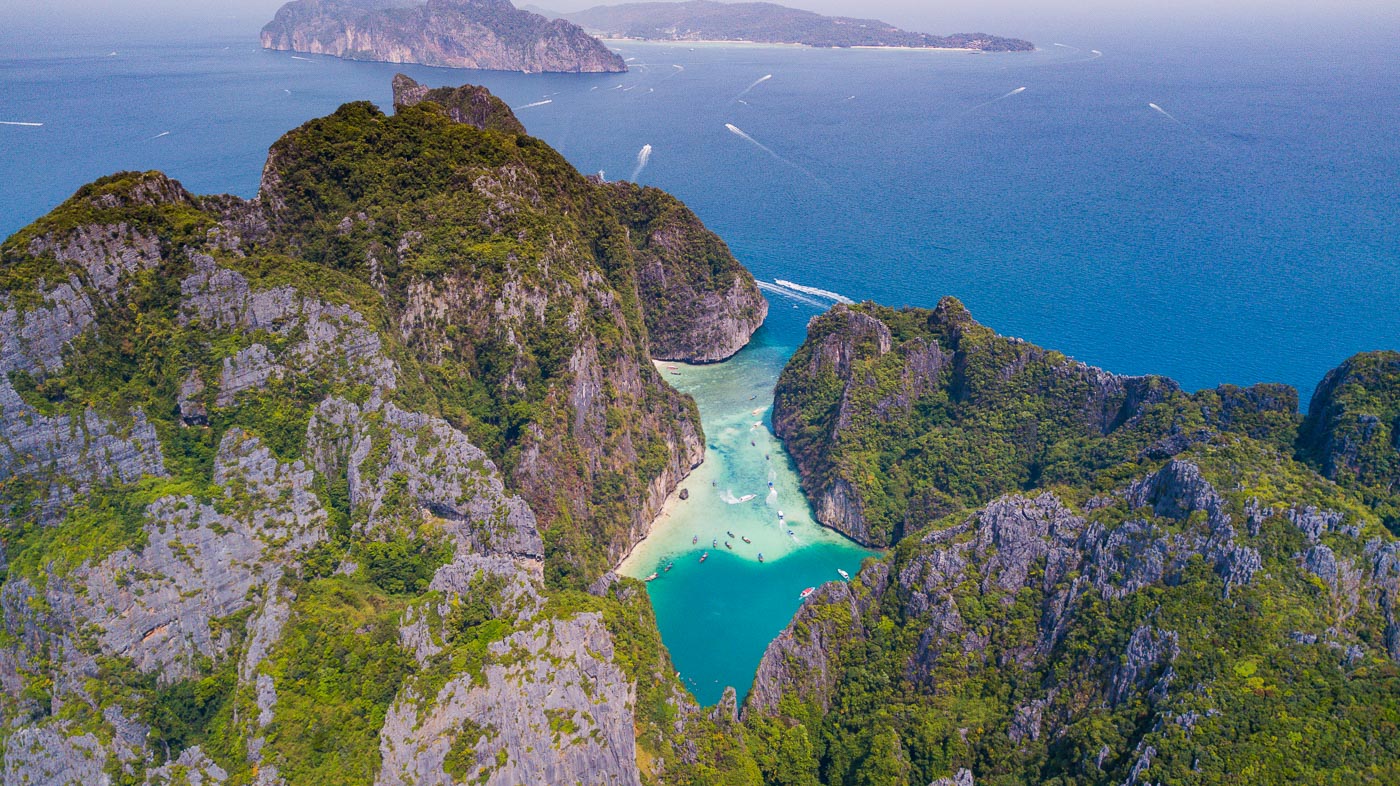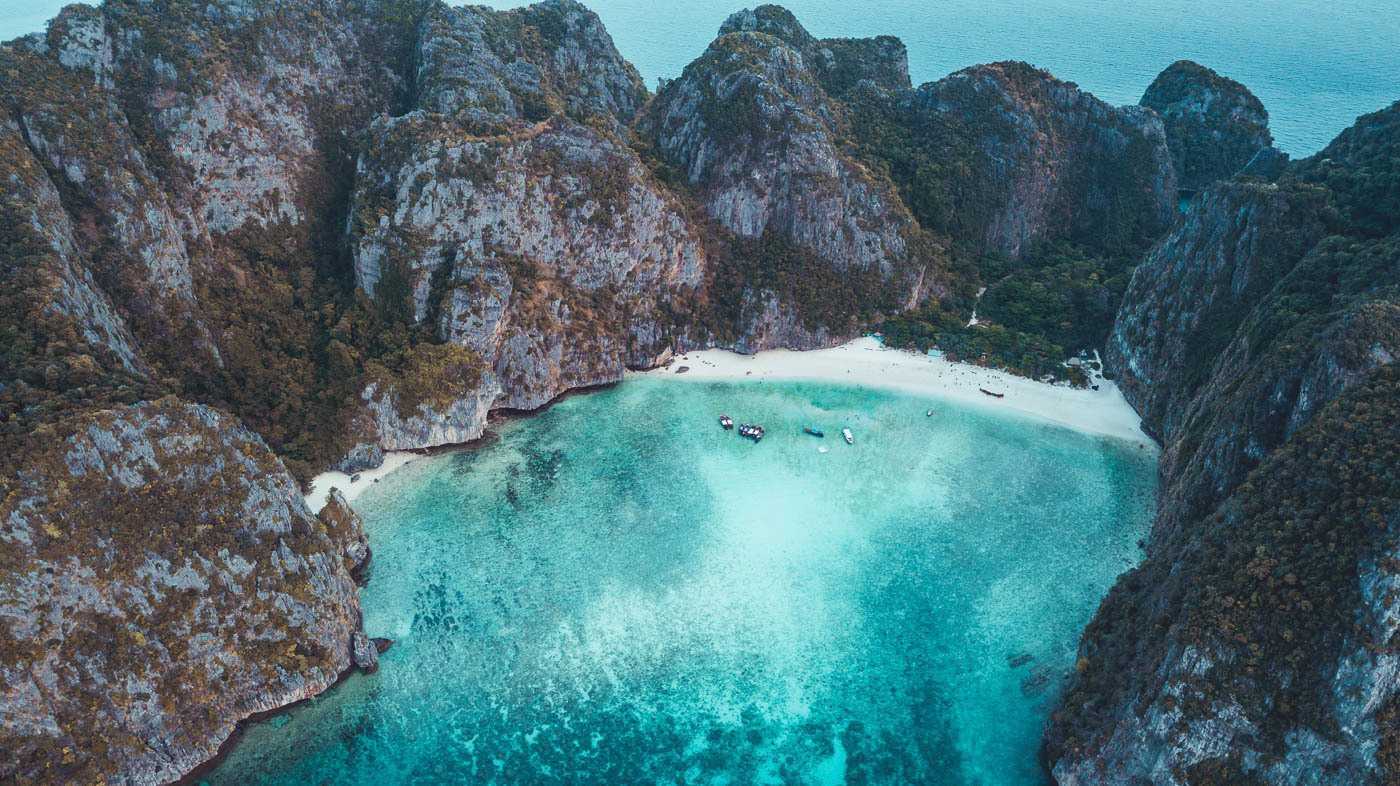 ---
So you basically have two options:
Book round-trip speed boat transfers for the same-day, and just explore Ko Phi Phi Le. This would be the more budget-friendly option if you want to spend more time on the actual island, but then you wouldn't get to explore the nearby island hopping attractions. Make sure you head up to the main viewpoint during sunset, because it's one of my favorite views in the entire country!!
Book a full-day island hopping tour that goes around the Phi Phi islands, but won't give you any time on Ko Phi Phi Le.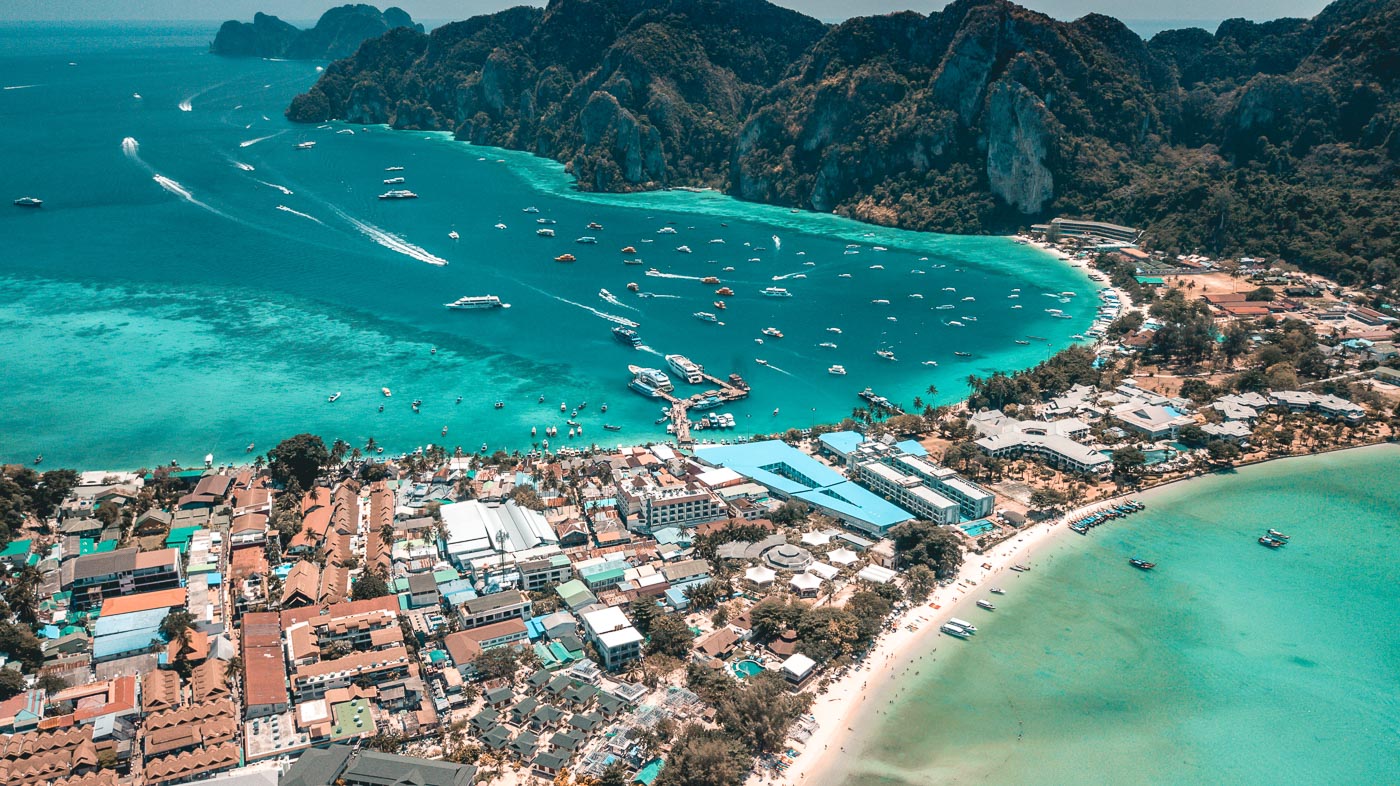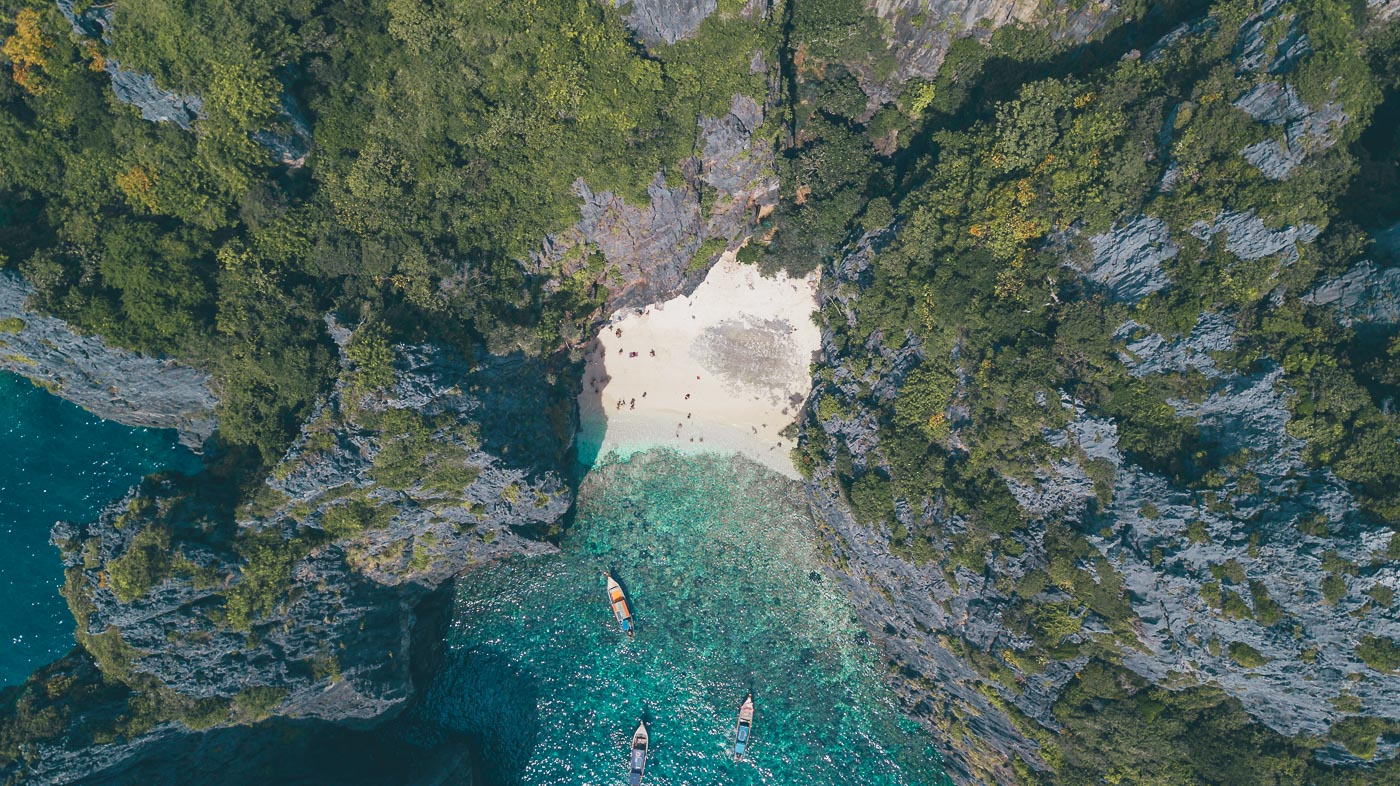 Also – if for some reason, you've got a few extra days, I'd recommend heading over to Koh Phi Phi and spending the night (that way you can experience its famous nightlife), but not sure if you've got the time!
---
Thailand Itinerary 10 Days Substitutions
Thailand is a much larger country than people think, and there really are so many different ways you could plan this 10-day itinerary!
Some people might look at this itinerary and think I'm trying to cram in too much. Well, that's true! My feeling is that if someone only has 10-days, why not try and see as much as possible in that short time frame!
You can make small adjustments as you go, but I do think this itinerary is a really amazing starting point for planning your trip. With that being said, here are a few possible substitutions to make to this itinerary!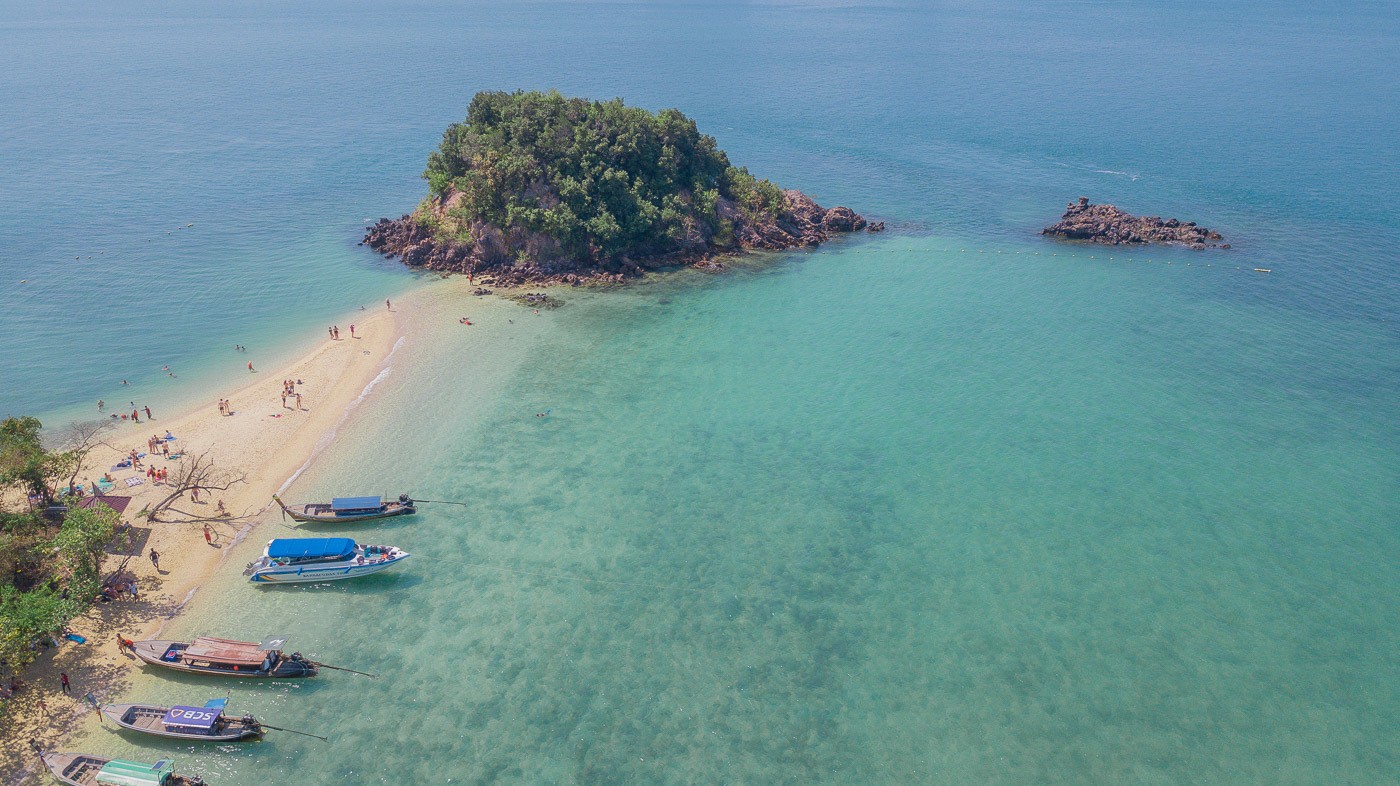 ---
Skip the Gulf Island To Add Chiang Mai & Pai – Visiting Northern Thailand really is a whole different experience. I could understand how island hopping the entire trip might not sound ideal to some people, so instead of taking the overnight bus + ferry or flying down to the Gulf of Thailand – just hop on an overnight train/ flight to Chiang Mai. I actually rented an Airbnb in Chiang Mai for a month during Songkran back in 2015, and it was such a great experience. I loved my time in the city, and especially loved my visit to Pai.
Read my articles 10 Amazing Things to do in Pai, Thailand and The 5 Best Hostels in Pai for Backpackers. They can be super helpful if you do decide to add this to your 10 days in Thailand itinerary!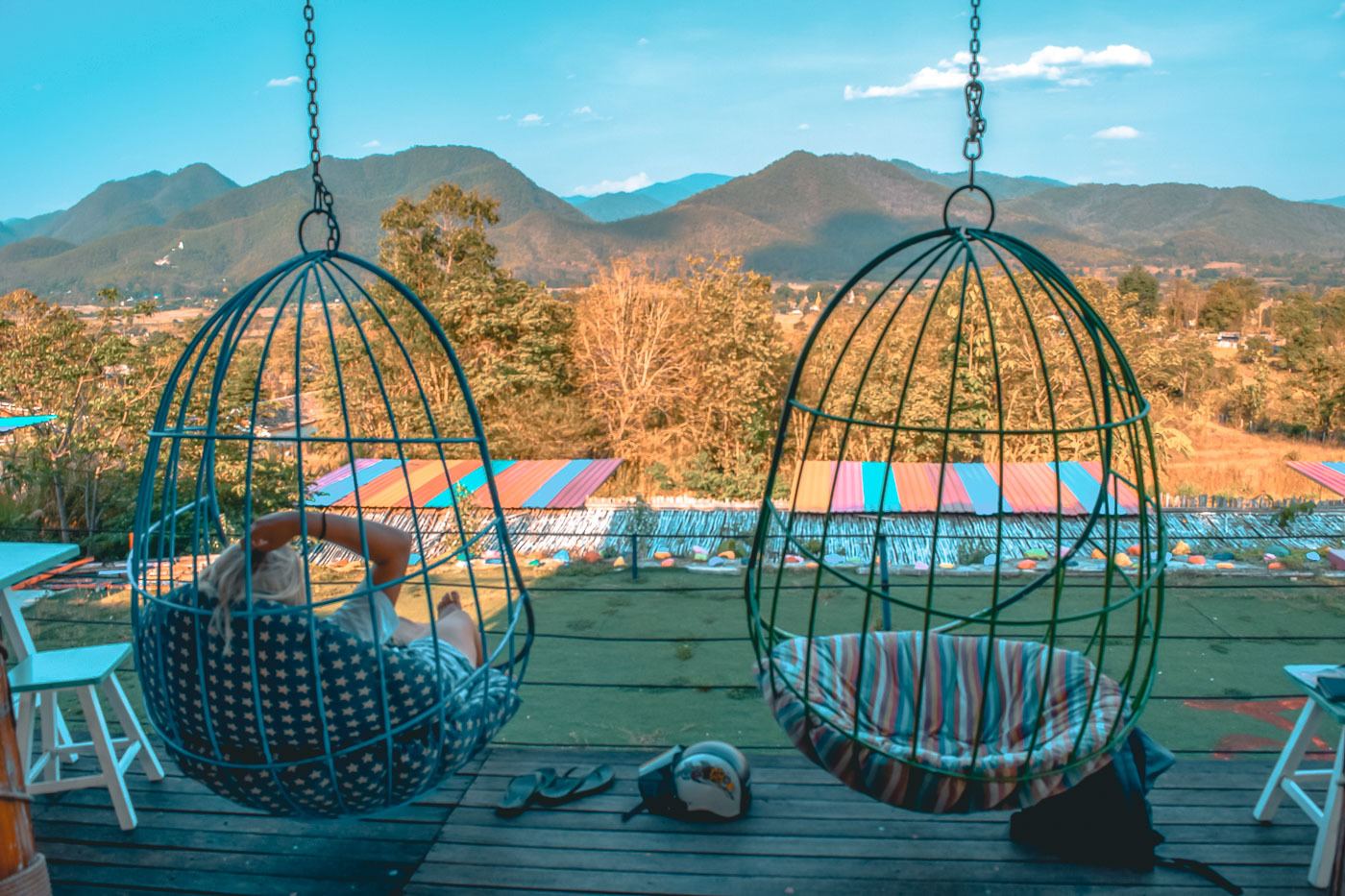 ---
Fly in/ out of Phuket. If visiting Bangkok, Chiang Mai, and the Gulf of Thailand isn't important to you this trip, then a really good idea would be to book round-trip airfare to Phuket, and spend the entire 10 days island hopping in the Andaman Sea! The itinerary I laid out above tries to see a lot in both major bodies of water. You could easily focus entirely on the Andaman Sea, and be able to experience a lot more!
By doing this you can add snorkeling trips to Similan Islands, Ao Phang-nga National Park, Ko Yao Yai, Ko Yao Noi, Ko Rach Yai, Koh Lanta, etc etc. There's SO much to do, that it might be easier if you wanted to just spend it all in the Andaman Sea.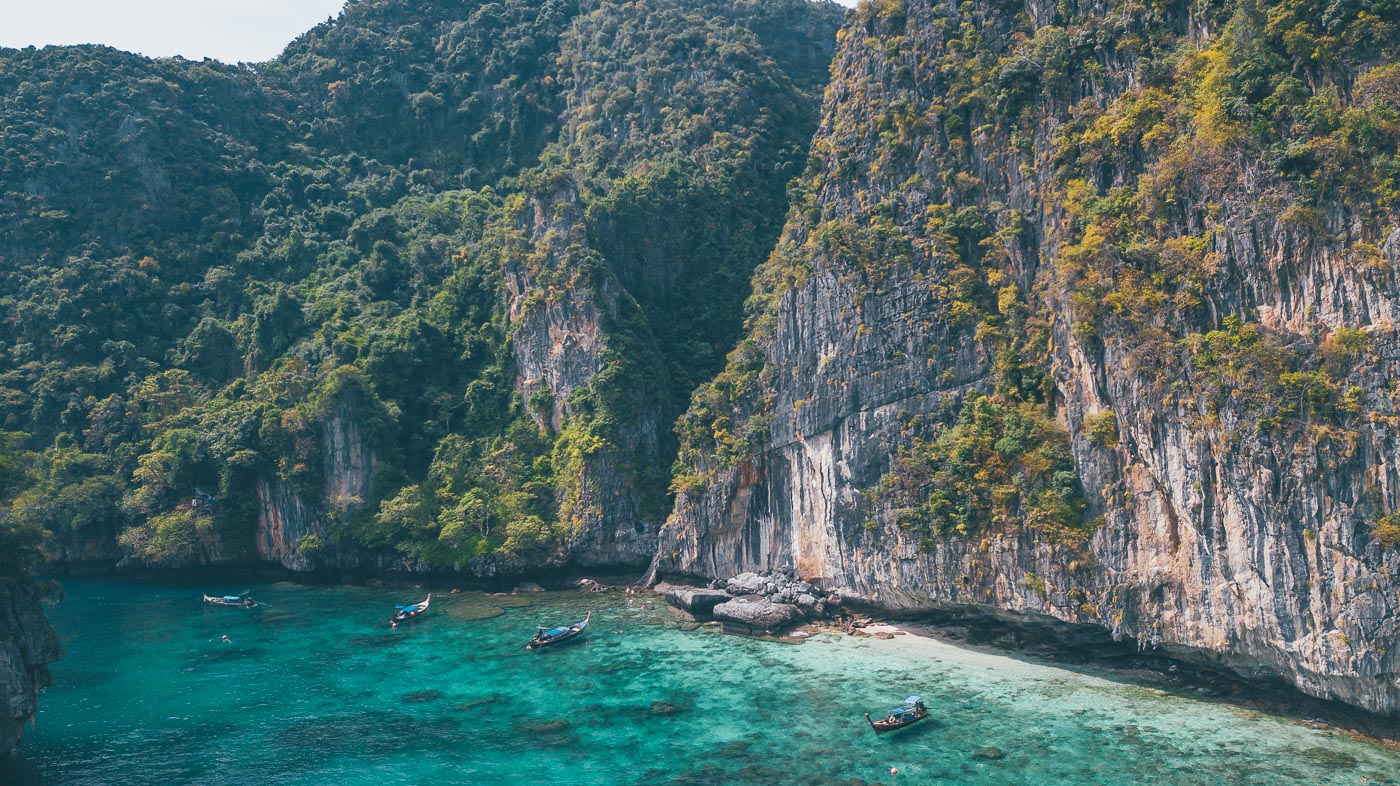 ---
Thailand Travel Tips
I've spent so many hours writing different articles and helpful travel guides to Thailand, so I'll just include a few of my favorite travel tips, and include links to my favorite articles!
Bring a Debit Card that refunds ATM Fees, because Thailand banks charge 180 Baht to withdraw money. I use Charles Schwab for my checking account.
Bring a Credit Card that has no international charge fees. Whenever I'm traveling, I try to use my credit card as much as possible, and this is a fantastic way to make sure you're getting a fair exchange rate as well.
Don't be afraid of the Street Food! It's so cheap, and delicous.
7-11 Toasties are heavenly, and you can't leave Thailand without trying one!
Book in Advance if you plan to attend the Full Moon Party, or travel during peak season. Hotels, Tours, and Transportation can fill up quite quickly!
Practice your bargaining skills, because most things at markets/ travel agents can be talked down.
Take advantage of the low-budget airlines when at all possible. You can get some pretty amazing deals!
Stay at hostels and ask fellow travelers for recommendations. They always are the best people to ask!
Looking for more Thailand travel tips…? Check out my article 25 Tips For Backpacking Thailand as well as my E-Book 77 Tips For Backpacking Southeast Asia.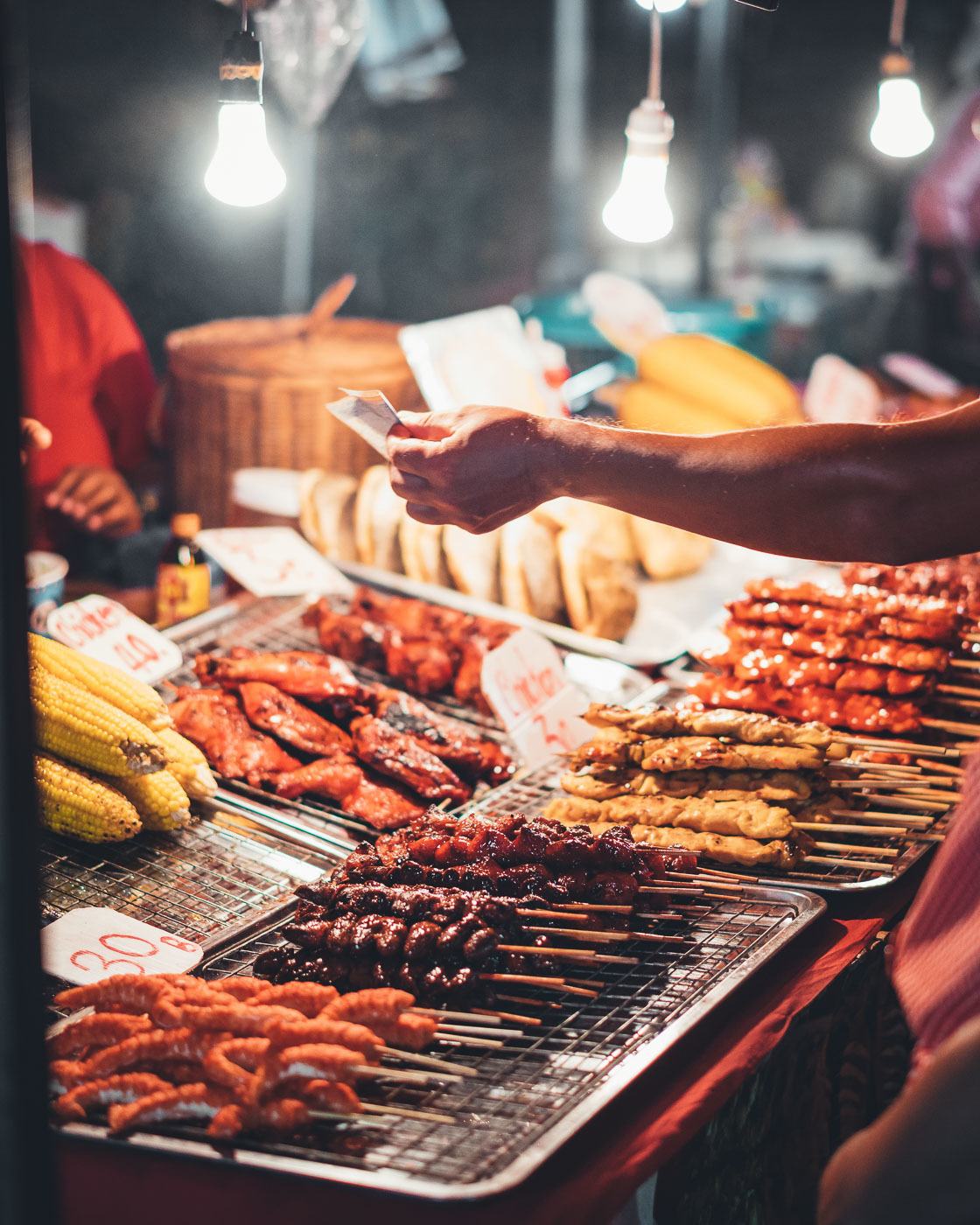 ---
Travel Insurance For Thailand
Looking for an affordable and reliable travel insurance policy for your upcoming trip to Thailand? I highly recommend HeyMondo due to their extensive range of cover for all situations and trip lengths, their fair pricing, and their handy app which allows you to not only manage any claims within the app, but also access free assistance online so you don't need to rack up an expensive phone bill while in Indonesia where the charges are steep!
So, whether you need a single trip cover for two weeks in Thailand or an affordable annual cover for multiple trips worldwide, be sure to buy your travel insurance before you travel, and relax during your trip knowing that HeyMondo has your back. Nowadays I would never travel without insurance again, especially after hearing so many of those (expensive and dangerous) horror stories from other travellers I've met! You might have an accident on a scooter, your luggage could go missing in Bangkok airport, maybe something is stolen or you simply eat something bad and get very sick – being covered for all possibilities when you're far from home is kinda essential!
Still planning your trip? You can always just get a no-commitment travel insurance quote now, so you have an idea of how much extra to budget for your vacation!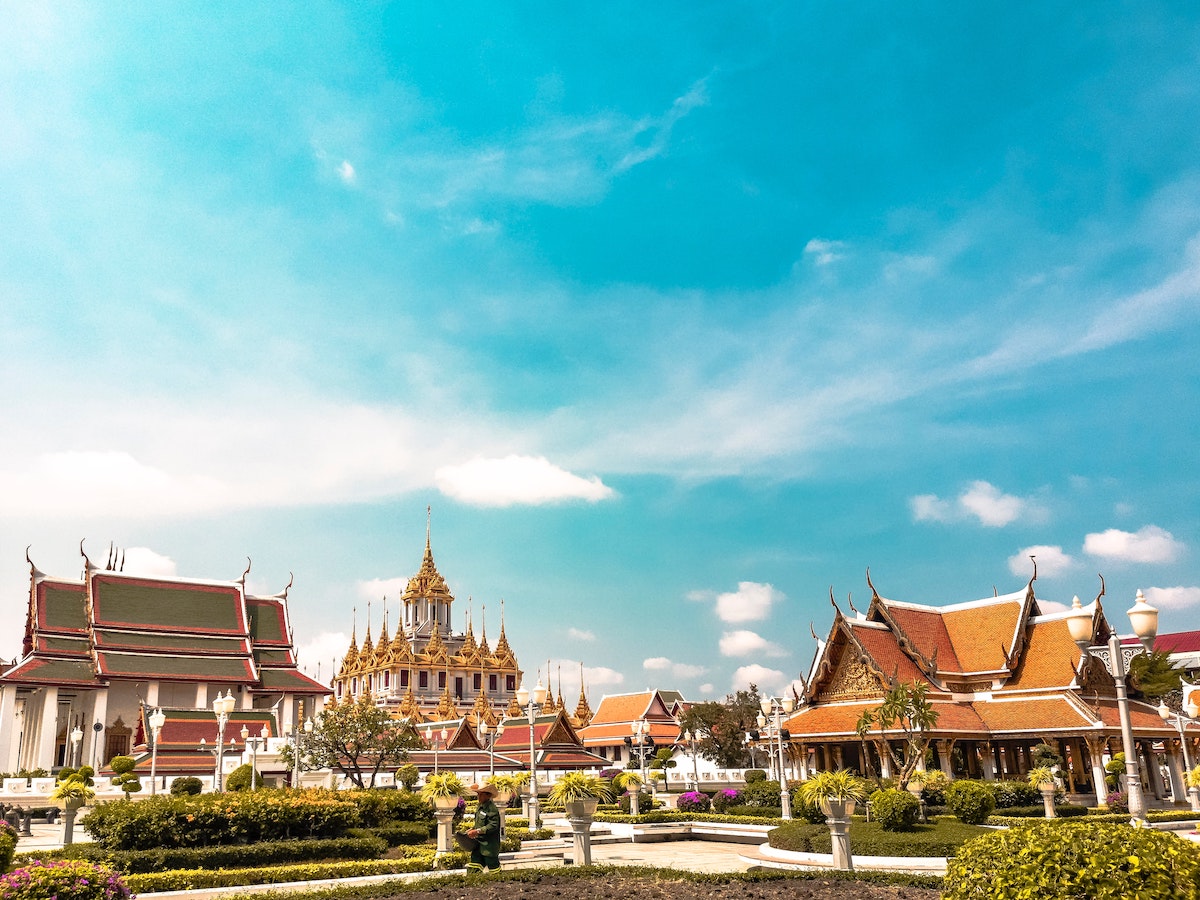 ---
What to pack for 10 days in Thailand?
One of the most important things to remember about Thailand is that it's guaranteed to be hot, humid, and tropical. While you may need one nice outfit for some places in Bangkok, the rest of your time you can mostly wear comfortable/ beach attire.
I think one of the best packing tips I can give you for Thailand though, is to simply pack as little you need. You can pretty much get anything you really need over here, and it'll be much better having a light suitcase. Here are a few essential items though that I think you should bring along with you!
Eco-Friendly SUNSCREEN. Make sure you buy plenty of sunscreen before you get to Thailand! It's randomly really expensive, and you don't want to have to spend $30-$40 just to protect your skin. The sun is super harsh here too, by the way!
GoPro Hero 7 – With all the snorkeling trips, scuba diving, and swimming you'll be doing, you're really going to need an underwater capable camera! I bought my GoPro Hero 7 before my recent trip to the Maldives, and it's truly a fantastic piece of machinery!! The video stabilization is outta this world, and you'll be able to do some really amazing footage with this.
Thailand Lonely PLanet – I'm a big fan of traveling around destination locked and loaded with the Lonely Planet. You can be really surprised about how helpful they can while on the road! From restaurant recommendations, tours, hidden gems, etc. Great idea to pick up a copy of this.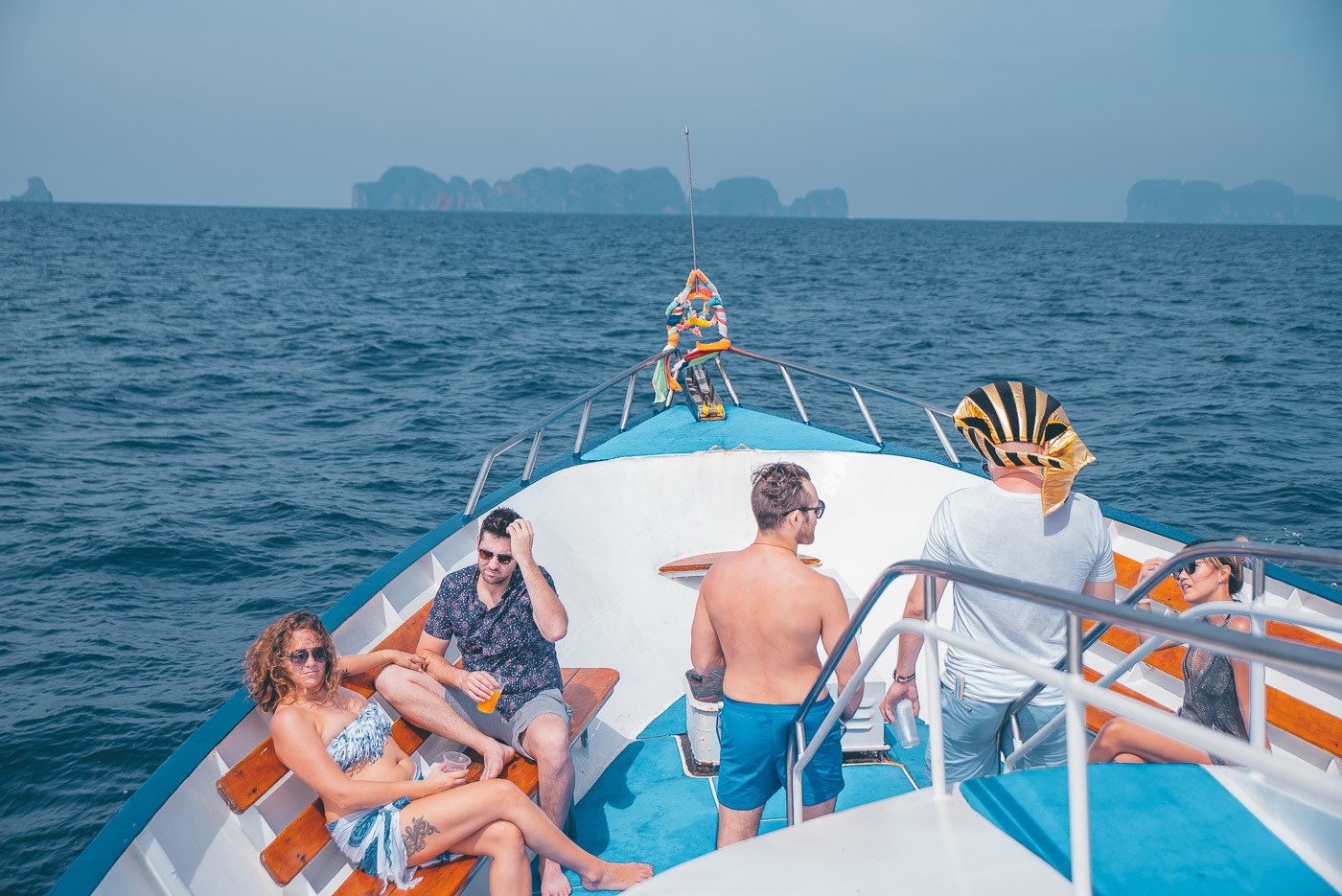 ---
How much does a trip to Thailand cost?
When ever people ask me questions about budgets, I always respond the same way! It basically just depends on where you eat, how much you drink, and what level of accommodation you are comfortable with.
I'd say for most travelers, having a budget of around $100 per day is way more than enough. There are plenty of luxury hotels that are super affordable, meals in restaurants aren't expensive, and tours are relatively affordable.
If you're a younger backpacker staying at hostels for $10 per night, and eating street food – you can easily only spend $25-$30 per day (not including transportation costs).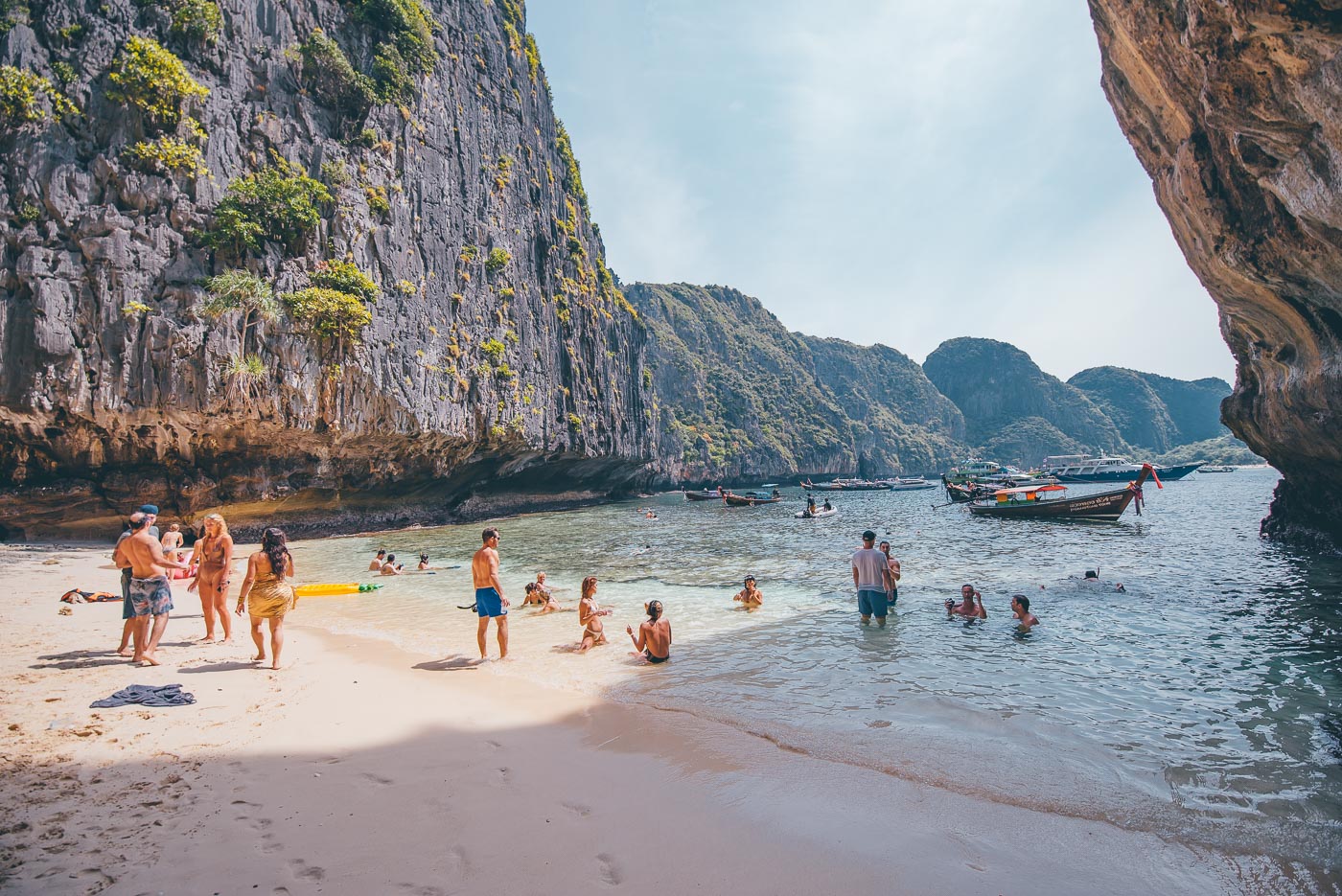 ---
Is Thailand Safe To Visit?
Just like traveling anywhere in the world, you just need to behave in a smart manner. Now with that being said, YES, Absolutely, 100% !! Thailand is definitely a safe country to travel through! I personally think it's the best country to explore in Southeast-Asia, as it's the most developed, and super friendly towards tourists.
I've spent months traveling around Thailand, and I've literally never felt like I was in any danger at all! I find it so funny when people ask me that, because it's so obvious they think it's dangerous! Don't worry at all! The local Thai people are super friendly, and English is widely spoken in the tourist destinations.
While there are a few areas near the southern part of the country (bordering Malaysia) that have some travel warnings, no tourists go there anyway, and Thailand is super safe!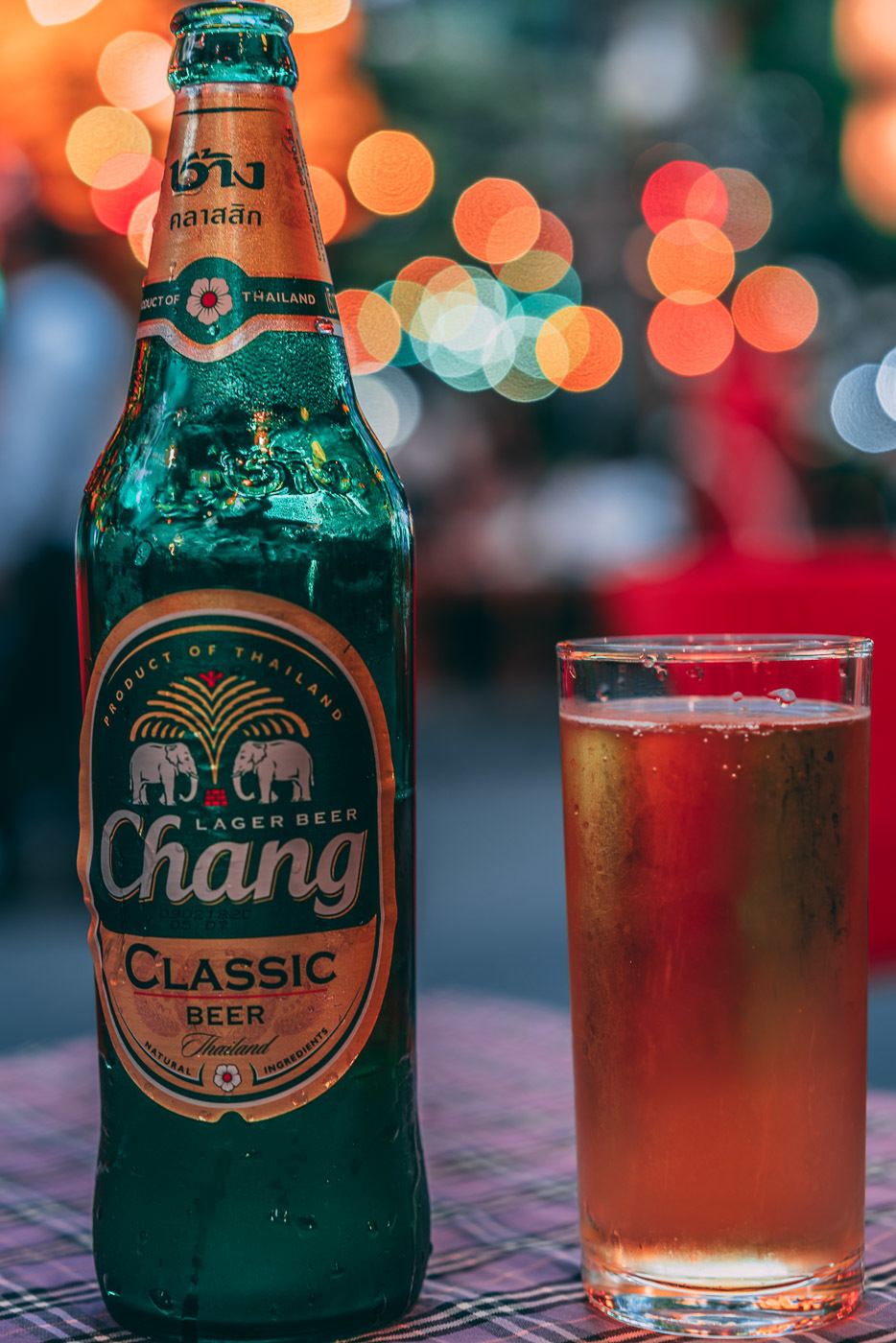 ---
The Best Time To Visit Thailand
"Although the climate varies throughout Thailand, you can visit all year round. The best time to travel is during the cool and dry season between November and early April. In the south, the climate differs between the eastern and western coasts. The west coast is more favorable during the winter months when diving and snorkeling will be at its best. The weather on the east coast is good for most of the year, with the lowest rainfall in January and February and the highest in November" – Audley Travel
This quote pretty much sums it up, but I would say the best time to travel to Thailand is during April, that way you can attend Songkran Festival! It's one of my favorite festivals in Thailand, and this nationwide water fight is guaranteed to be an experience you'll never forget.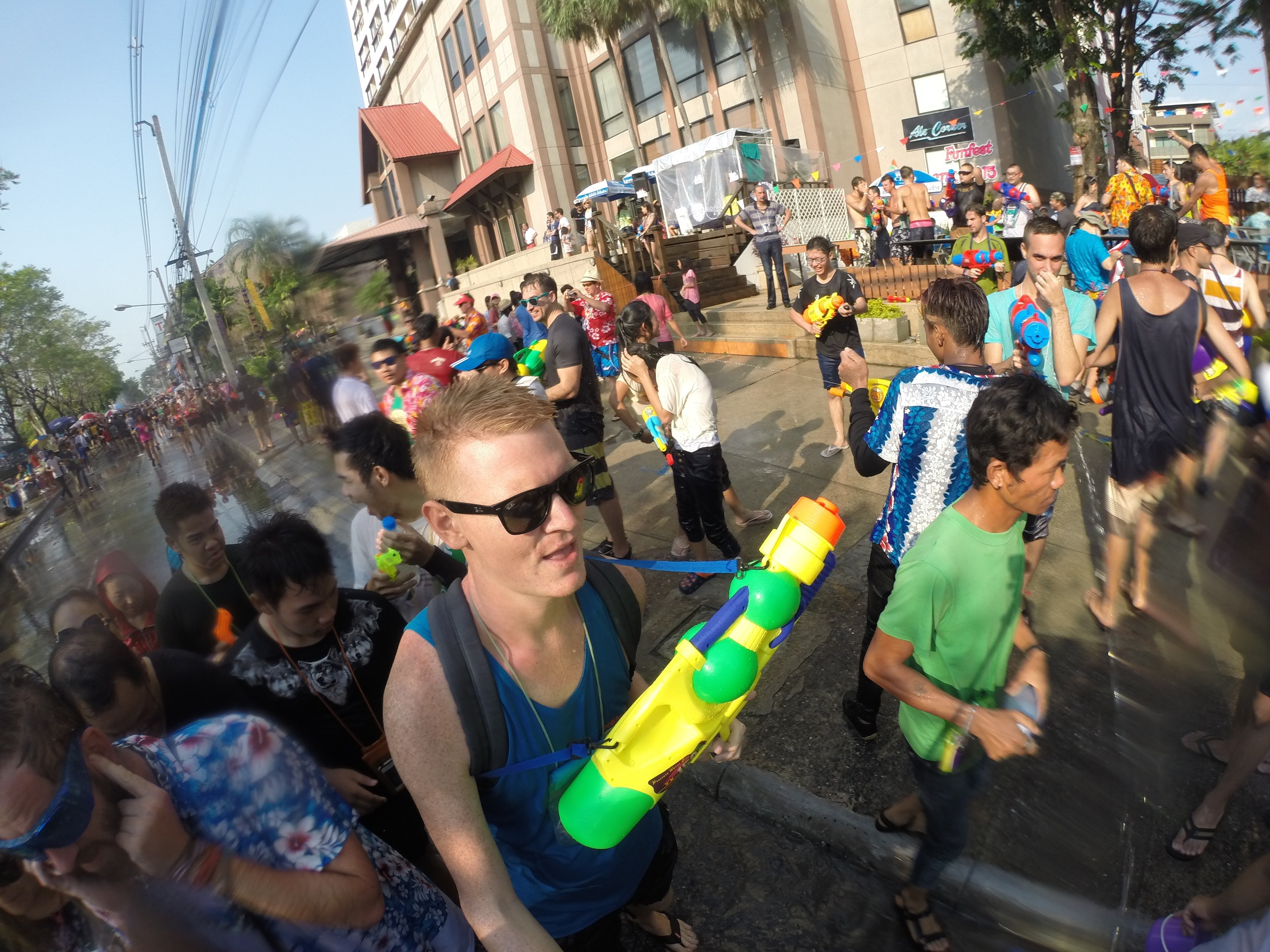 ---
Thailand Sim Card
First things first, you'll most likely want to get your Thailand Sim Card sorted for your trip! There are tons of different types and companies available, but whenever I visit Thailand I ALWAYS use the company AIS! They've got fantastic rates (super cheap compared to other countries), and the coverage is by far the best in the country! While you can pick one up at most airports, I find the rates for pre-paid SIM cards at airports to be a bit more expensive.
You can pick one up at one of the shops when you arrive into Bangkok, or it's becoming increasingly common to order a Pre-Paid Sim Card for Thailand for tourists, and get the one for $25.00 for 15 days of coverage.
---
Thanks for reading my 10 Days Thailand Itinerary!
Check out a few of these other articles to help plan your travels through the region! As you can probably tell already, Thailand really is one of my top destinations in the world, and my travel blog is filled with helpful guides and tips to help you plan your ideal holiday package!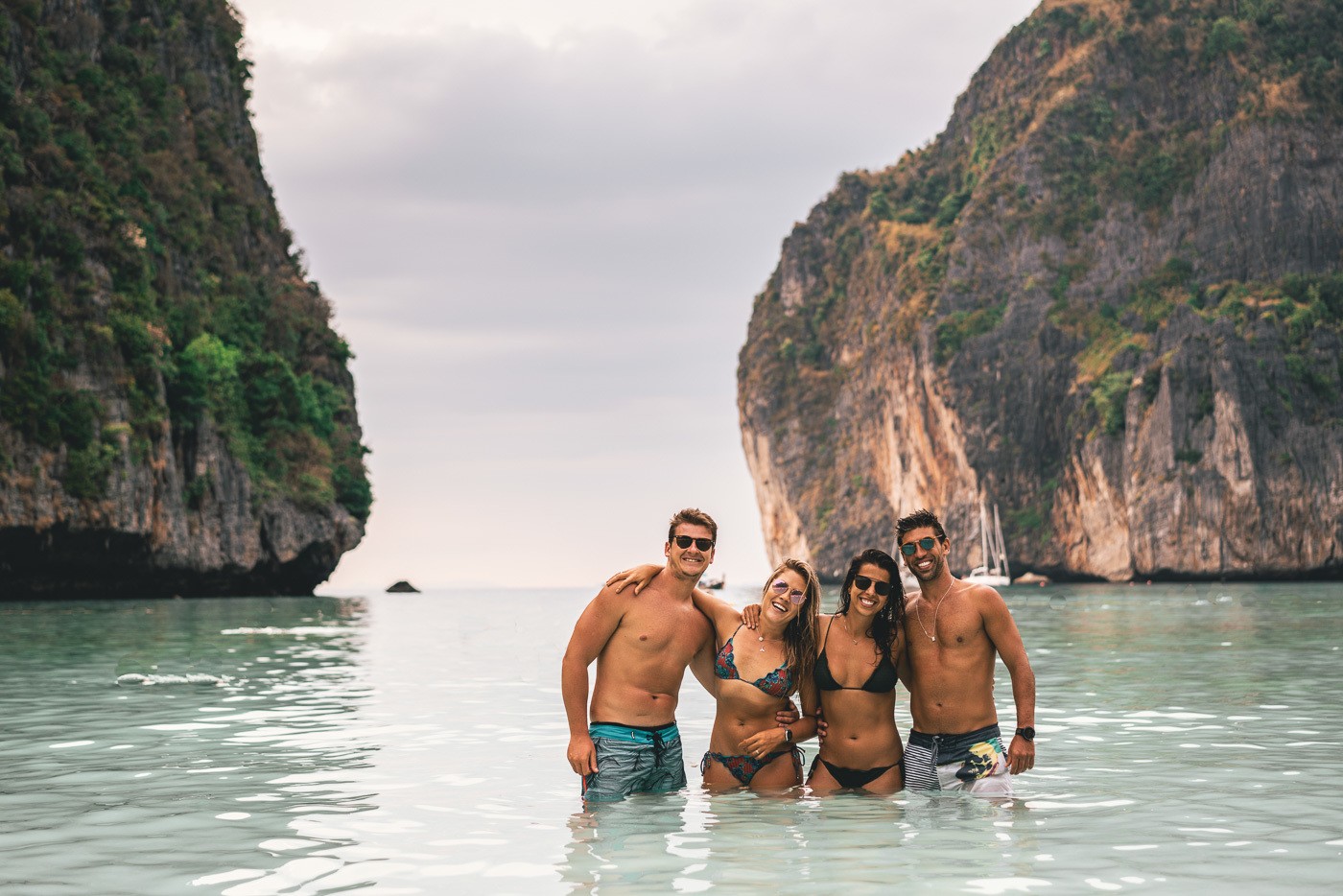 ---
This is the exact Thailand Itinerary I planned for one of my best friends Rashad Naouchi for his first solo trip to Southeast Asia. About 1/2 the photos in this article are his, so make sure you go support his work and follow him on Instagram.
Thanks so much for reading my 10-Day Thailand Itinerary!
I hope you found this guide helpful and you enjoy an incredible trip to one of my favorite countres in the world! If you enjoyed this article, be sure to share it with your Thailand travel crew!
https://www.jonesaroundtheworld.com/wp-content/uploads/2019/02/10-Days-Thailand-Itinerary.jpeg
496
1200
Dave
https://www.jonesaroundtheworld.com/wp-content/uploads/2017/03/logotry-1-1-300x106.png
Dave
2023-02-09 18:42:20
2023-02-11 23:40:32
Thailand Itinerary 10 Days: How to Spend the Perfect 10 Days in Thailand