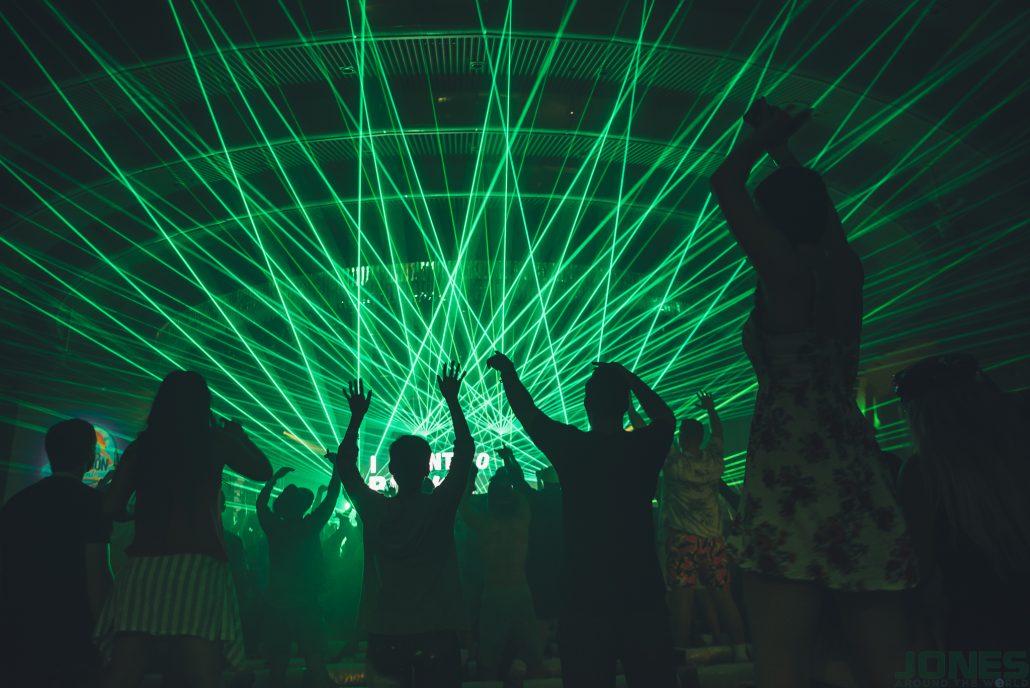 If you're looking for the best music festivals in Thailand, you've definitely come to the right spot!  Whether you're backpacking South-East Asia, an expat living or teaching English abroad, or a local Thai looking for your next festival — all of these will be a quality decision.  Music festivals provide the ultimate party atmosphere, and out of all the crazy festivals in Thailand — these are my top 10 picks.
---
1 )  Songkran Water Festival
---
2 )  Wonderfruit Festival
Wonderfruit returns this December; get ready to Live. Love. Wonder. Find out what lies in store at www.wonderfruitfestival.comวันเดอร์ฟรุ๊ต กลับมาอีกครั้งในเดือนธันวาคมนี้! ถึงเวลามา Live. Love. Wonder. พร้อมๆ กันอีกครั้ง ดูรายละเอียดพร้อมไลน์อัพกลุ่มแรกที่คุณจะได้พบในปีนี้ทาง www.wonderfruitfestival.com

Posted by Wonderfruit on Tuesday, 26 July 2016
---
3 )  Maya Music Festival
คน พัทยา / บางแสน / ชลบุรี พลาดงานนี้ไม่ได้บัตร Early Bird ราคาถูกที่สุด ขายแล้ว ที่ 7-Eleven / ลงทะเบียนรับ code เพื่อซื้อบัตรได้เลย (มีแค่1,000 ใบเท่านั้น )______________________________________วิทีการลงทะเบียนรับซื้อบัตราคาถูกที่สุดราคา 3,500 บาท(เข้าได้2วัน) ทำตามขั้นตอนดังนี้1) แอดไลน์ @mayamusicfestival2) ลงทะเบียนโดยส่ง / ชื่อ-นามสกุล / เบอร์โทร / อีเมล / และที่อยู่3) รอรับcodeทาง line4) นำcode ไปซื้อบัตรได้เลยที่7-eleven (พร้อมบัตรประชาชน)Note: 1line id/ 1 code/ 1 ใบ

Posted by MAYA Music Festival on Wednesday, 7 September 2016
---
4 )  The Experience
The Experience festival 2016-17 Teaser Video

Tik-Tok, Tik-Tok…. ONE MONTH and Counting….We're all Set & Ready to bring you yet another Amazing Experience… are you?Here's a short Teaser Movie by our official film-maker Diogo Castro.For more Info about the Event and Ticket Sales Outlets please click here:https://www.facebook.com/events/203916896652634/?active_tab=about

Posted by The Experience Festival on Wednesday, 30 November 2016
---
5 )  Transmission Festival
No need to go abroad, we deliver them for you!!. Worldwide professional production team in Asia at Transmission! Don't miss out!#TransmissionThailand2017Event page: bit.ly/TM17Th-EP

Posted by Transmission Festival Asia on Monday, 19 September 2016
---
6 )  Mystic Valley
---
7 )  Waterzonic
" Waterzonic " – เทศกาลดนตรีระดับโลกฝีมือคนไทยผสมผสานความมันส์ของเสียงดนตรีกับสายน้ำที่ขาตื๊ดไม่ควรพลาดปีนี้มันส์กันจัดหนักยิ่งกว่าเดิมถึง 2 วันHeadlinersAfrojackDash BerlinFedde Le GrandLine UpBrillzFrontlinerFTAMPAMalaaNGHTMRESlanderและอีกเพียบ!ซื้อบัตรได้แล้ววันนี้ที่ www.waterzonic.comด่วน! บัตรมีจำนวนจำกัด#waterzonic

Posted by Waterzonic on Friday, 26 August 2016
---
8 )  Warp Music Festival
Warp Music Festival 2016 "Lost on Jupiter" Powered by Chang Music Connection – 25.06.2016"ย่อให้ติดหาด แล้วบินทะลุอวกาศ" กับเทศกาลดนตรี Electronic บนชายหาดที่ใหญ่ที่สุดในประเทศไทย จัดหนักความมันส์ด้วย 6 Parties 30 Hours จากศิลปินกว่า 23 ชีวิต" นำโดย- marshmello ดีเจที่ถูกจัดอันดับว่าเล่นดีที่สุดเป็นอันดับ 2 ของงาน Ultra miami 2016 โดยเว็บไซต์ต่างประเทศ- Lookas ดีเจสาย Trap ที่ Billboard ยกให้เค้าเป็น 1 ใน 10 ดีเจ/โปรดิวเซอร์ที่น่าจับตามองมากที่สุดในโลก- Matisse & Sadko คู่หูสาย Progressive ที่เคยร่วมงานกับ Martin Garrix ในเพลง Dragon และ break through the silence จะพาคุณไปโดดยับตลอดทั้งโชว์- Morgan Page ดีเจสายเก๋าผู้คว้ารางวัล Grammy มาแล้วถึง 2 ครั้ง- Valentino Khan เจ้าของเพลงสุดฮิตที่โด่งดังไปทั่วโลกอย่าง "Deep Down Low"- เสริมทัพด้วย Sam Collin, Bang Bang Bang, Dear Rerox และ Techno Stage สุดมันส์ พร้อมศิลปินอีกมากมาย ณ หาดส่วนตัว Warp Base Station Pattayaซื้อบัตรได้แล้ววันนี้ที่ 7-Eleven ทุกสาขาหรือคลิกwww.allticketthailand.com/TicketReserveWeb/publicinfoevent.html?ev=EV_16021รายละเอียดเพิ่มเติ่มWebsite : www.warpmusicfestival.comOfficial Line : page.line.me/warpmusic

Posted by Warp Music Festival on Monday, 6 June 2016
---
9 )  Big Mountain Music Festival
PEPSI PRESENTS BIG MOUNTAIN MUSIC FESTIVAL 8มัน ใหญ่ มากเทศกาลดนตรีระดับพ่อพันธุ์ มันแปดเวที รวมวงชั้นดีทุกสายพันธุ์เพลง 10 – 11 ธันวาคมนี้ ที่แก่งกระจาน คันทรี คลับ จ. เพชรบุรีบัตรราคาปกติ 2,000 บาท ยังไม่ขาย -ขายบัตรเออร์ลี่คาว ราคา โค ตะ ระ พิเศษ ใบละ 1,500 บาท ซื้อ 6 จ่าย 51 ตุลาคม วันเดียว ที่ เซเว่น อีเลฟเว่น และ เคาน์เตอร์ เซอร์วิส ทั่วประเทศ (ตั้งแต่เวลา 11.00 น. – 23.45 น. จำกัดจำนวน ซื้อคนละไม่เกิน 10 ใบ) บัตรราคา 2,000 บาท และ Promotion Pepsi เริ่ม 2 ตค – 2 – 31 ต.ค. ซื้อเป๊ปซี่หรือเป๊ปซี่แมกซ์ 59 บาท(ต่อ 1 ใบเสร็จ) ซื้อบัตรบิ๊กเมาน์เท่น 1,500 บาทที่ เซเว่น อีเลฟเว่น และ เคาน์เตอร์ เซอร์วิส ทั่วประเทศ (ตลอด 24 ชั่วโมง จำกัดจำนวน ซื้อคนละไม่เกิน 10 ใบ) – 1 พ.ย.เป็นต้นไป ซื้อเป๊ปซี่หรือเป๊ปซี่แมกซ์ 59 บาท (ต่อ 1 ใบเสร็จ) ซื้อบัตรบิ๊กเมาน์เท่น 1,700 บาทที่ เซเว่น อีเลฟเว่น และ เคาน์เตอร์ เซอร์วิส ทั่วประเทศ (ตลอด 24 ชั่วโมง จำกัดจำนวน ซื้อคนละไม่เกิน 10 ใบ) #BMMF8 #pepsiBMMF #GAN

Posted by Big Mountain Music Festival on Thursday, 8 September 2016
---
10 )  Full Moon Party
---
THANKS FOR READING!
& Add Me On Snapchat: — JonesATW
PIN ME FOR LATER!
https://www.jonesaroundtheworld.com/wp-content/uploads/2017/04/DSC_9631.jpg
1367
2048
Dave
https://www.jonesaroundtheworld.com/wp-content/uploads/2017/03/logotry-1-1-300x106.png
Dave
2017-04-01 06:43:34
2017-04-01 06:43:34
The 10 Best Music Festivals in Thailand