Planning a trip to Thailand and wondering the best way to spend 2 Days in Bangkok!? Well, look no further, because I've put together a solid Bangkok travel guide that'll go over all your questions, the best things to do, places to visit, where to eat, where to drink, and so much more!
Bangkok is a true megacity of the world, an ever-changing, non-stop hustle and bustle that is bound to make you dizzy with exhaustion. Or if you are seeking enlightenment, Bangkok is surprisingly beautiful to visit as its temples are unlike any other in Asia or the world!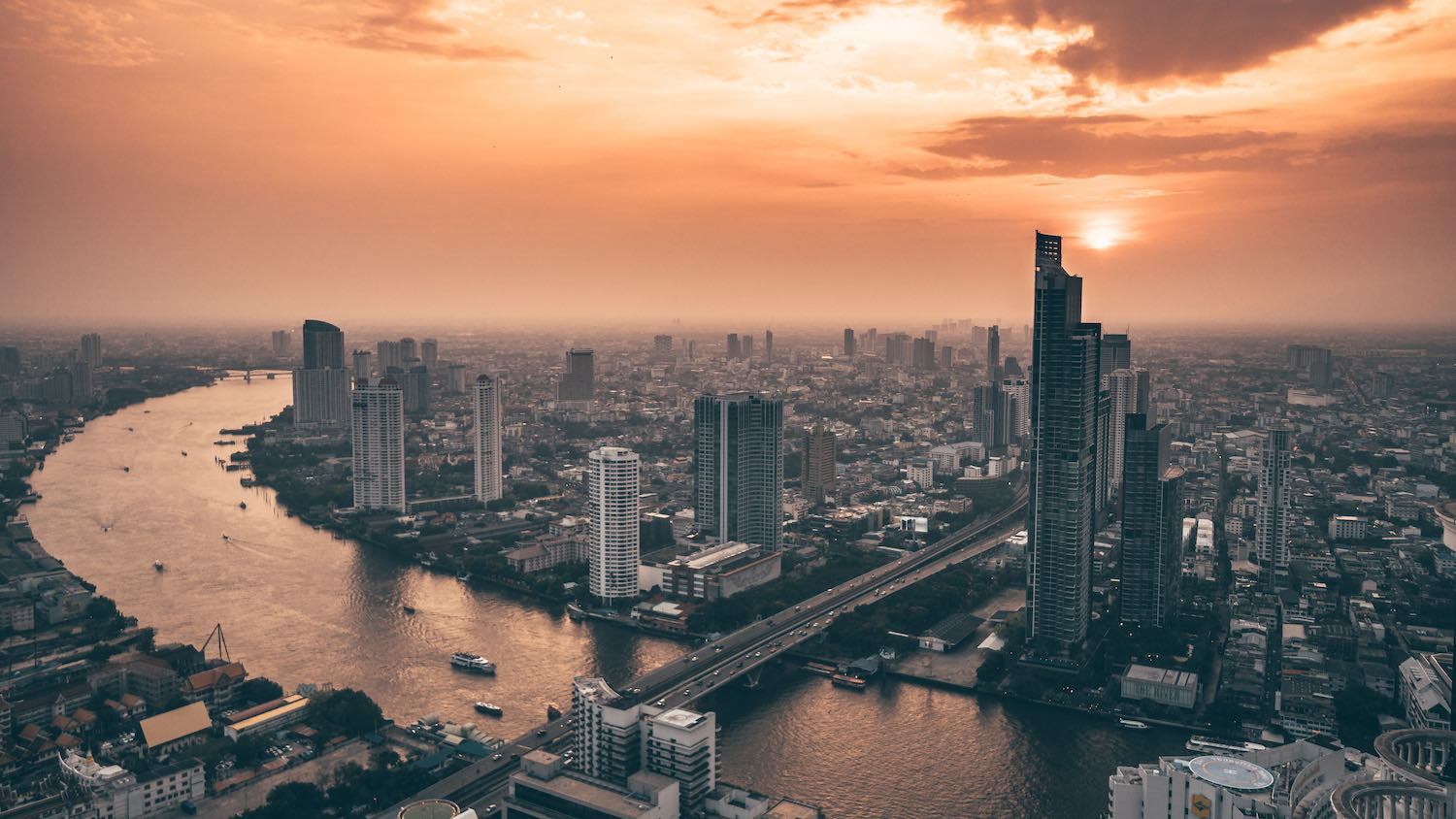 ---
Before you set off to Thailand's tropical islands or lush jungles of the north, take the time to explore Bangkok, and you won't be disappointed! The hardest part about adventuring in Bangkok is finding a starting point, so here's a solid list of places you can go over 2 days! While it may not be quite enough time to see everything Bangkok has to offer, this itinerary is jam-packed to see Bangkok from a locals perspective as well a cultural perspective, but also don't forget to taste your way around Bangkok as this city is truly fit for a fanatic foodie!
Bangkok will have you sweating with the immense heat of its food, moved by its culture, and amazed by how the locals live so read up, and get ready to take on Bangkok!
Also, be sure to check out a few of my other Thailand travel blogs: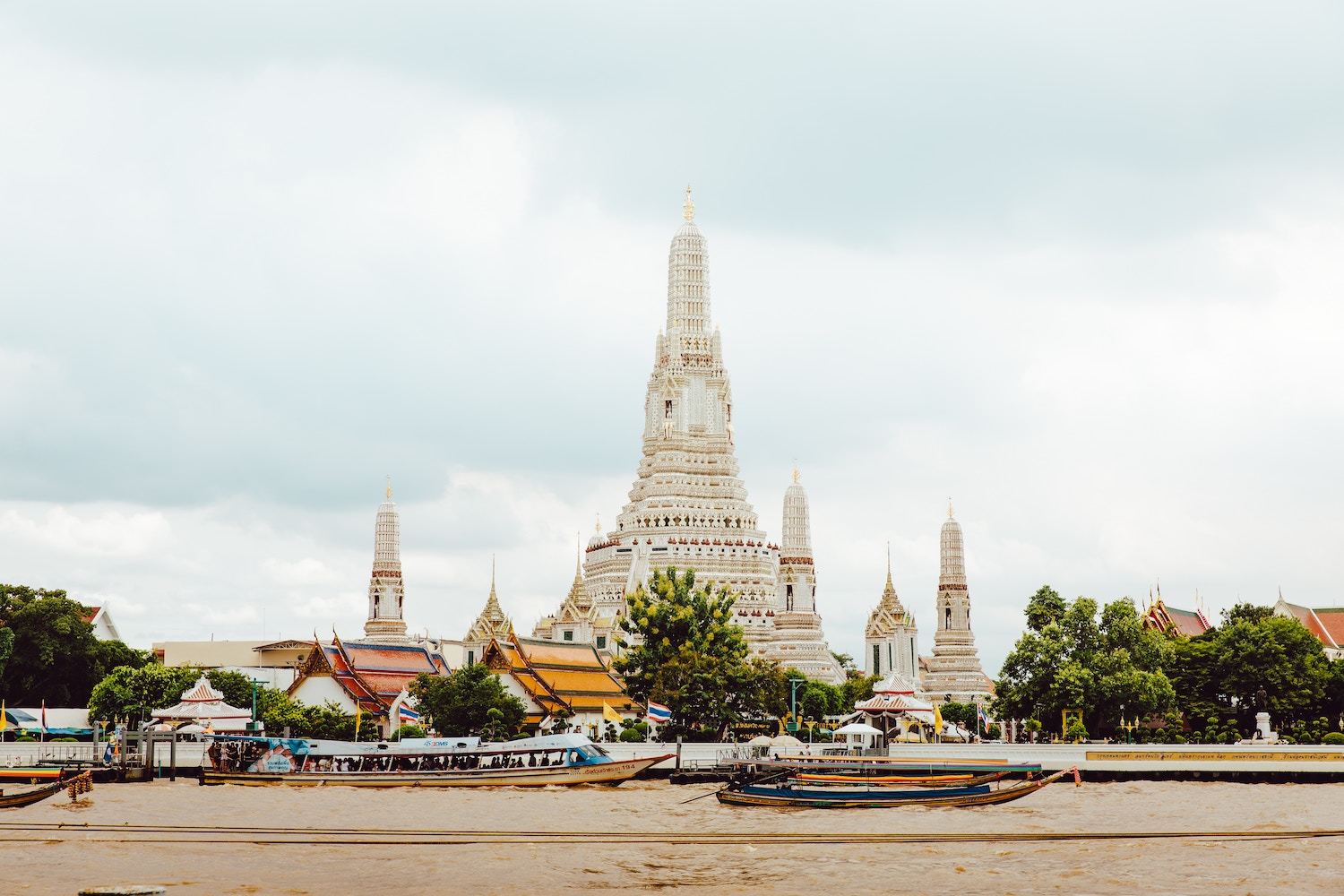 ---
Where to Stay for 2 Days in Bangkok
Bangkok is an absolutely massive city, and there are literally dozens of amazing areas to choose from for accommodation, but since you only have two days, I'd recommend either staying near the popular Khao San Road (which is conveniently located to many of Bangkok's most famous temples), or along Sukhumvit Road (Bangkok's largest main road filled with malls, markets, restaurants, bars, and ease of public transportation!
The Westin Grande Sukhumvit (LUXURY) – Eat Well. Be Well. Sleep Well. BANGKOK WELL. One of the things I love about Southeast-Asia is that you can stay at amazing resorts for a fraction of the price. I've stayed at several different Westin properties around the world, and it's one of my favorite luxury hotel brands! The Westin in Bangkok is truly one of the best places you can stay during your 2 days in Bangkok! Everything from the beautiful rooms, Westin heavenly beds, prime location, buffet breakfast, and customer service make this my top-pick for where to stay in Bangkok!
Amari Watergate Bangkok (HOTEL) – Another top-pick hotel in Bangkok will provide a super comfortable stay, in a perfect location for 48 hours in Bangkok! It's right smack dab in the middle of the city, close to important public transportation stops, and extremely comfortable rooms!
NapPark Hostel (HOSTEL) – This is the BEST HOSTEL in Bangkok, and really is the best option for budget travelers and backpackers on this 10 day Thailand itinerary. It's superbly located near Khao San Road, and you'll be able to check out a lot of the cities major attractions. While this is designed for backpackers, I think it's even suitable for people looking for a private room.
---
How To Get Around Bangkok
Since you only have two days to explore the city, you'll want to be out and about as much as possible, and getting around Bangkok is actually quite easy!
I'd personally recommend utilizing public transportation as much as possible because it's quick, cheap, and pretty reliable. The MRT & BTS metro lines can get you to most of Bangkok's top attractions, and they'll save you the trouble of getting stuck in Bangkok's notorious traffic jams.
Here are some other options that'll be good to know before you get into Bangkok:
Rideshare Apps: Download the Grab app before you get to Thailand! It's the main rideshare app in Southeast-Asia, and works extremely well! The prices are fair, it's really user-friendly, and it just gives you peace of mind that you won't get ripped off!
Taxis: While I'd personally recommend using Grab over taxis, sometimes you just want to get in the closest cab you'll find. Just make sure they use the METER! The taxi system is pretty cheap in Bangkok, but the taxi drivers will try and agree on a set-price that tends to be a bit too high.
Tuk Tuk: No visit to Bangkok would be complete without taking a ride in one of Thailand's famous traditional pulled rickshaws. You'll find them located all over the city, and it's very common for the tuk-tuk drivers to approach you asking you if you need a ride. Tuk-tuk warning though: they will often try and rip you off with super high pricing or will take you to a jeweler or tailor. I'd recommend reading through the Top 5 Bangkok Scams so you make sure this doesn't happen to you!
Bangkok Metro Map
---
Day Tours to Consider for 2 Days in Bangkok
Now, before I break down the best places to visit, here are a few tours that would make for a really awesome sight-seeing experience. They all come highly-reviewed, are budget-friendly, and would be a great way to make the most of your visit to Bangkok!
Bangkok Old City Half Day Tour: "See the best of Bangkok Old City on an immersive tour of the city with a professional guide! Visit the Grand Palace complex and marvel at the iconic Emerald Buddha in Wat Phra Kaew. Gaze at the giant sleeping Buddha at Wat Pho and enjoy an optional message at the Wat Pho massage school. Transportation between sights, admission fees, and multilingual guide services are included in the tour. Discover Bangkok Old City without any forced shopping stops along the way!" Read Reviews & Book Now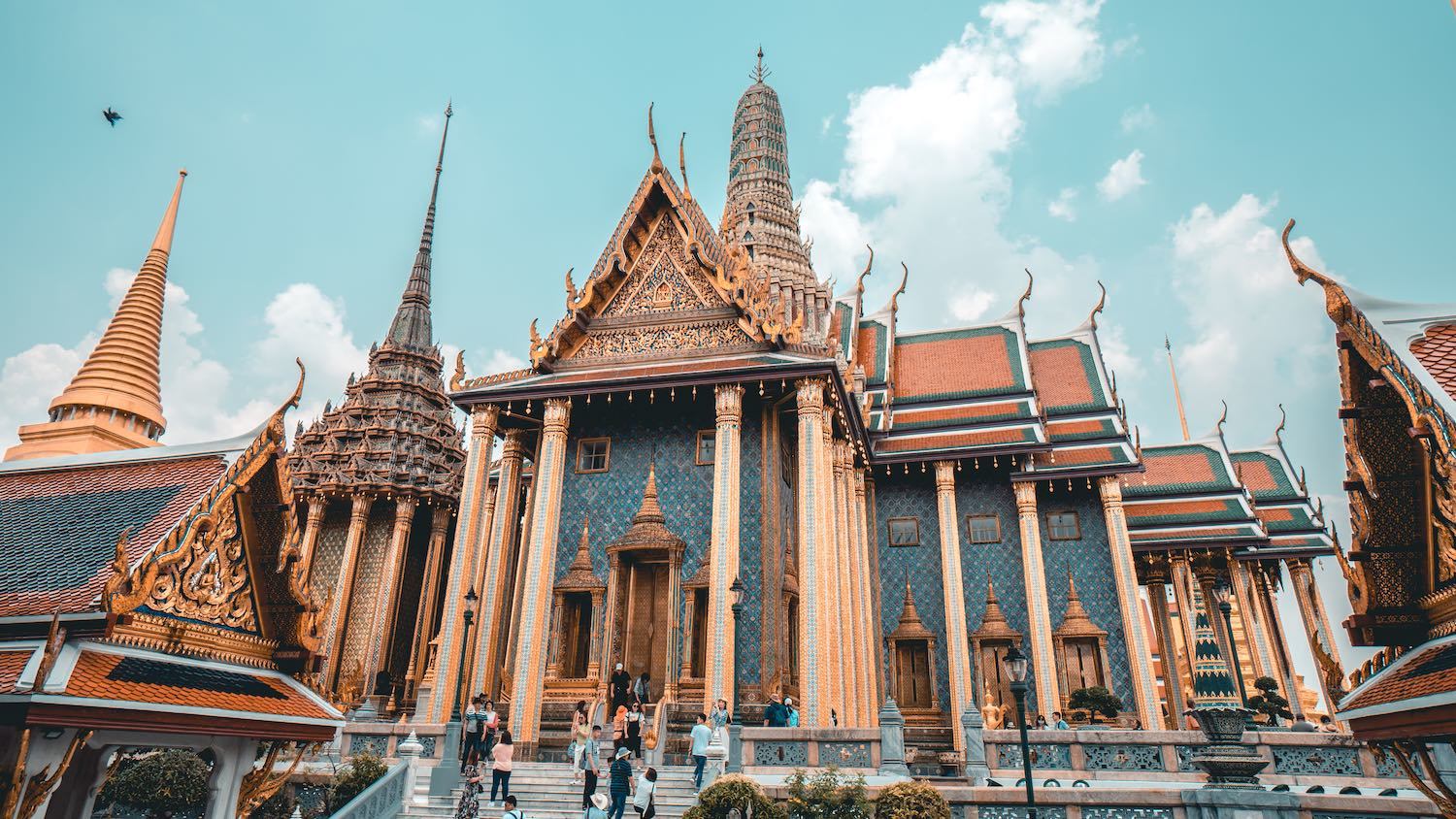 ---
Bangkok HANGOVER Tour: "Relive The Hangover 2 by visiting the bars in Soi Cowboy, where the scenes from the film were shot! Discover the hottest, most happening night clubs and bars in Bangkok's liveliest districts, from Soi Cowboy and Nana Plaza to Pat Pong! Watch an energetic Thai boxing show or visit an exotic and festish club in Pat Pong! It's a private tour to showcase Bangkok nightlife in a safe and hassle-free manager, inclusive of guide, hotel pick up and some drinks!" Read Reviews & Book Now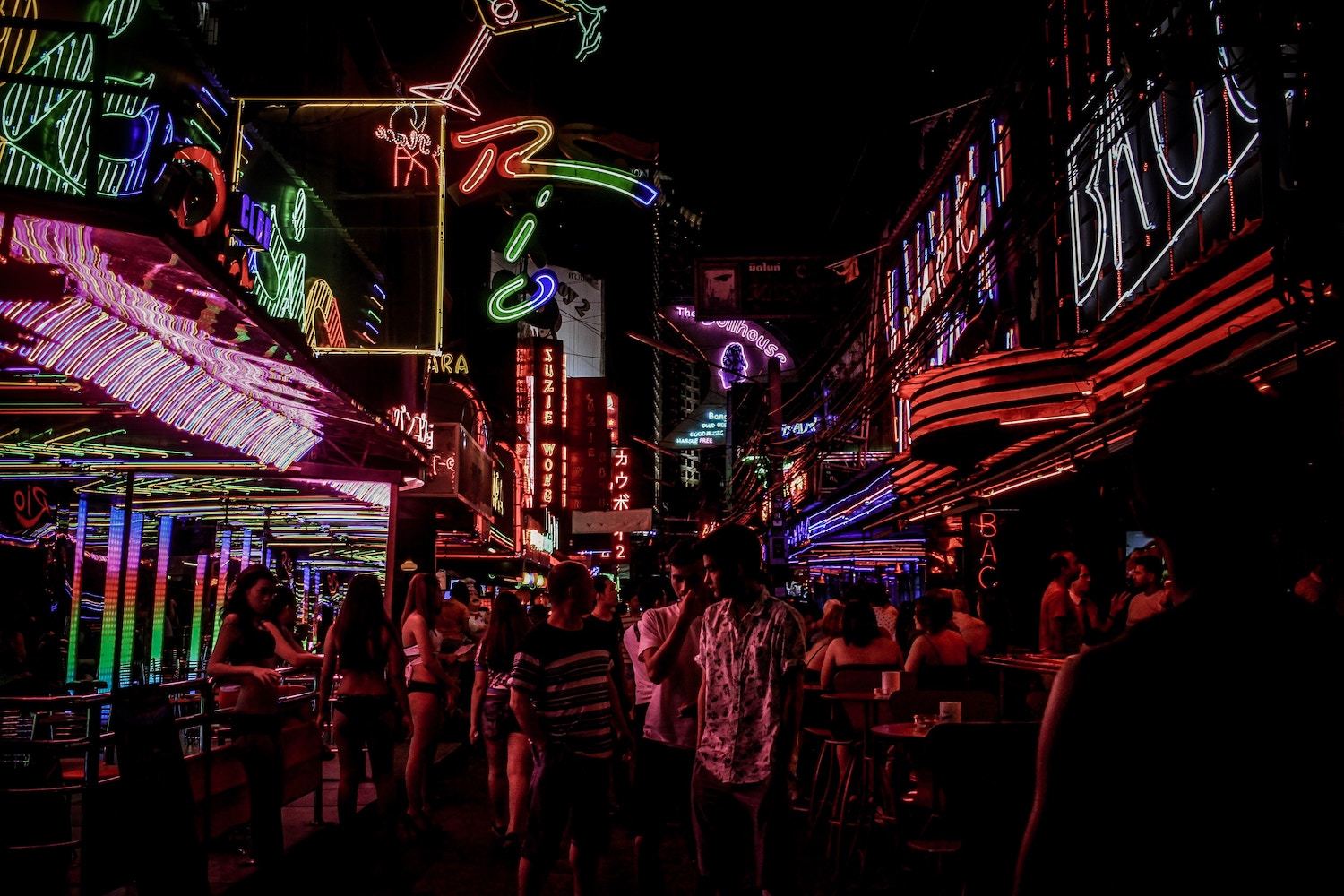 ---
What to Do in Bangkok in Two Days
There are so many different ways you can spend your time in Bangkok! Whether you want to explore all the temples, browse all the vibrant markets, or party it up all night in Bangkok's wild nightlife scene – it really just depends on what kind of travel experience you're looking for.
I personally think the best way to experience Bangkok in two days is getting a mix of it all! Spend your days temple-hopping and mall shopping, and spend your evenings your getting foot massages, playing pool, and drinking beers on Khao San Road.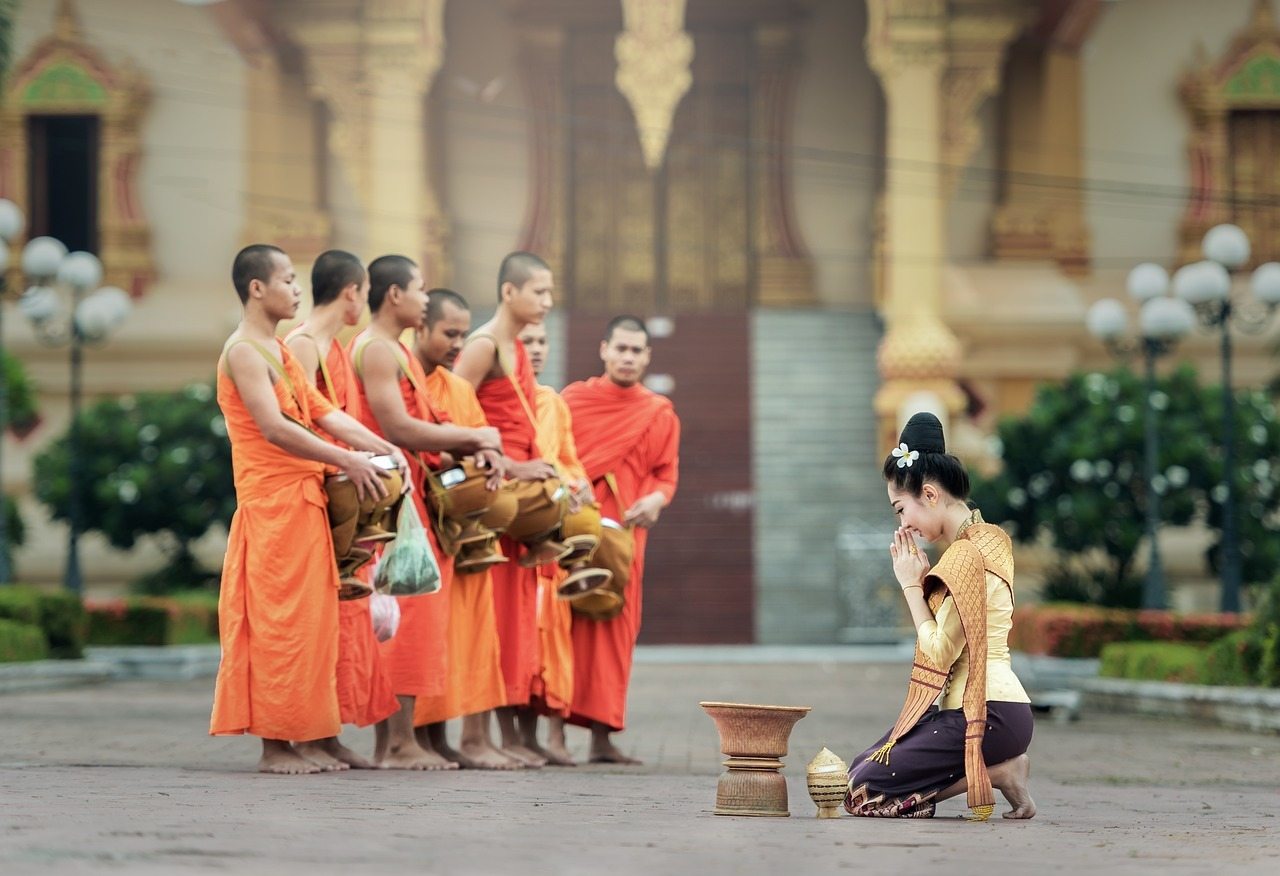 ---
Bangkok Itinerary Day 1: Temples Galore
Bangkok is one of the most incredible cities in the world to travel to for culture with Buddhist temples line Chao Phraya River while shrines can be found almost everywhere. Temples in Bangkok are often gold and constructed with intricate detail. Here's a list of some extraordinary temples you definitely should consider checking out while in Bangkok.
Reclining Buddha at Wat Pho
One of Bangkok's most famous Buddha's is the Reclining Buddha, a 46 meter long while in height it reaches 15 meters. The reclining figure of Buddha lying on his side can be found in a temple at Wat Pho.
The Reclining Buddha is one of the longest Buddha's in Thailand and is one of the most awe inspiring to see due to it extravagant size, the use of gold to paint the Buddha and the 108 bronze bowls that line the corridor of the temple. Each of the bronze bowls represents symbols which the Reclining Buddha can be identified by.
Entrance to see the Reclining Buddha costs 100 baht and a bottle of water. Getting to Wat Pho is best done by taking a boat along the Chao Phraya River to Ferry Gallery.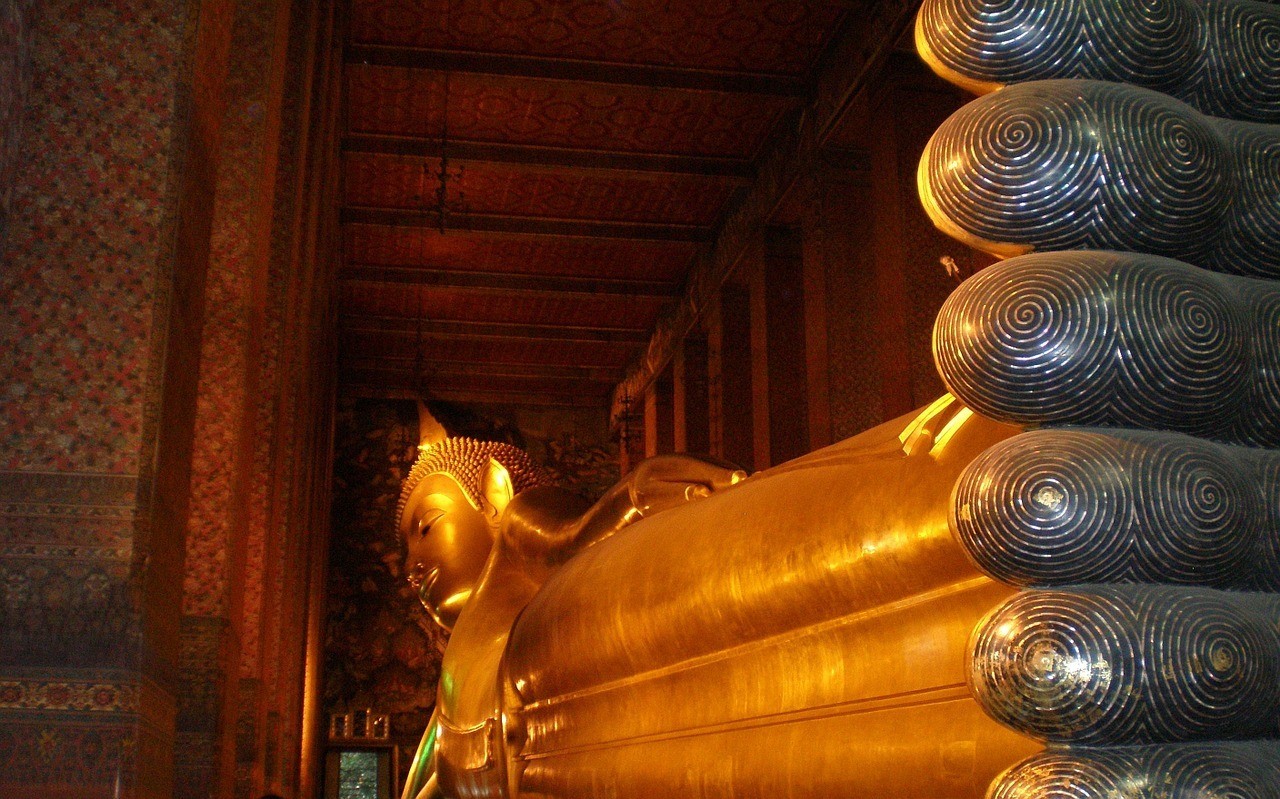 ---
Wat Saket Temple
Wat Saket is short for Wat Saket Ratcha Wora Maha Wihan and is a Buddhist temple in the district of Ban Bat. Wat Saket Temple was built by Rama 1 during the 18th century to honor Mount Meru which can be seen represented by the dazzling golden spire upon its roof.
Wat Saket is less commonly visited than temples like Wat Pho but one thing which is great about Wat Saket is the panoramic city views spanning for miles on end as Wat Pho and Chao Phraya River in this epic Bangkok scene.
Entry to Wat Saket is free!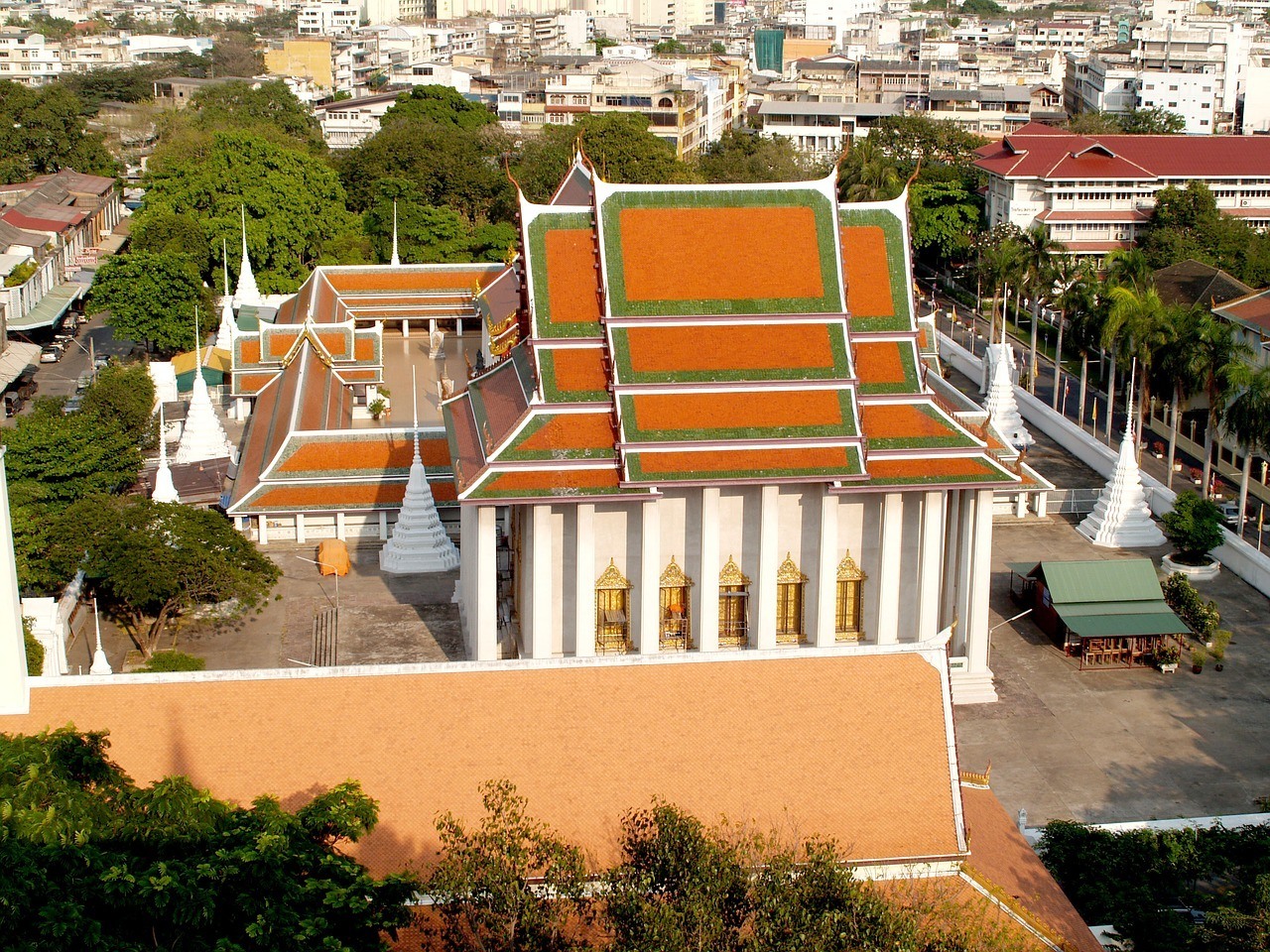 ---
The Grand Palace
On my first visit to Bangkok, I got super confused with The Grand Palace and Wat Pho, and it is easy to do as they are right next to one another. The Grand Palace is huge and no wonders why; from 1782 to 1946 it was the place where the king of Thailand lived and within the Grand Palace, there are endless amounts of temples, courtyards, gardens and hidden gems to explore on your visit to Bangkok.
A quick note; The Grand Palace isn't always open due to ceremonies or other sorts of functions so be aware but when it is open, it's epic! Within The Grand Palace there are 3 places to discover and the first been The Temple of the Emerald Buddha which hails from Northern Thailand and was discovered due to a lightning strike in the 14th century.
The Chapel of the Emerald Buddha is considered one of the most important places in The Grand Palace to the Buddhist Monks. An interesting thing that happens three times a year with the Emerald Buddha is the changing of its clothes as there are considered to be three weather seasons in Thailand each year being summer, monsoon and winter therefore the Emerald Buddha is dressed accordingly.
Entrance to The Grand Palace costs 500 baht.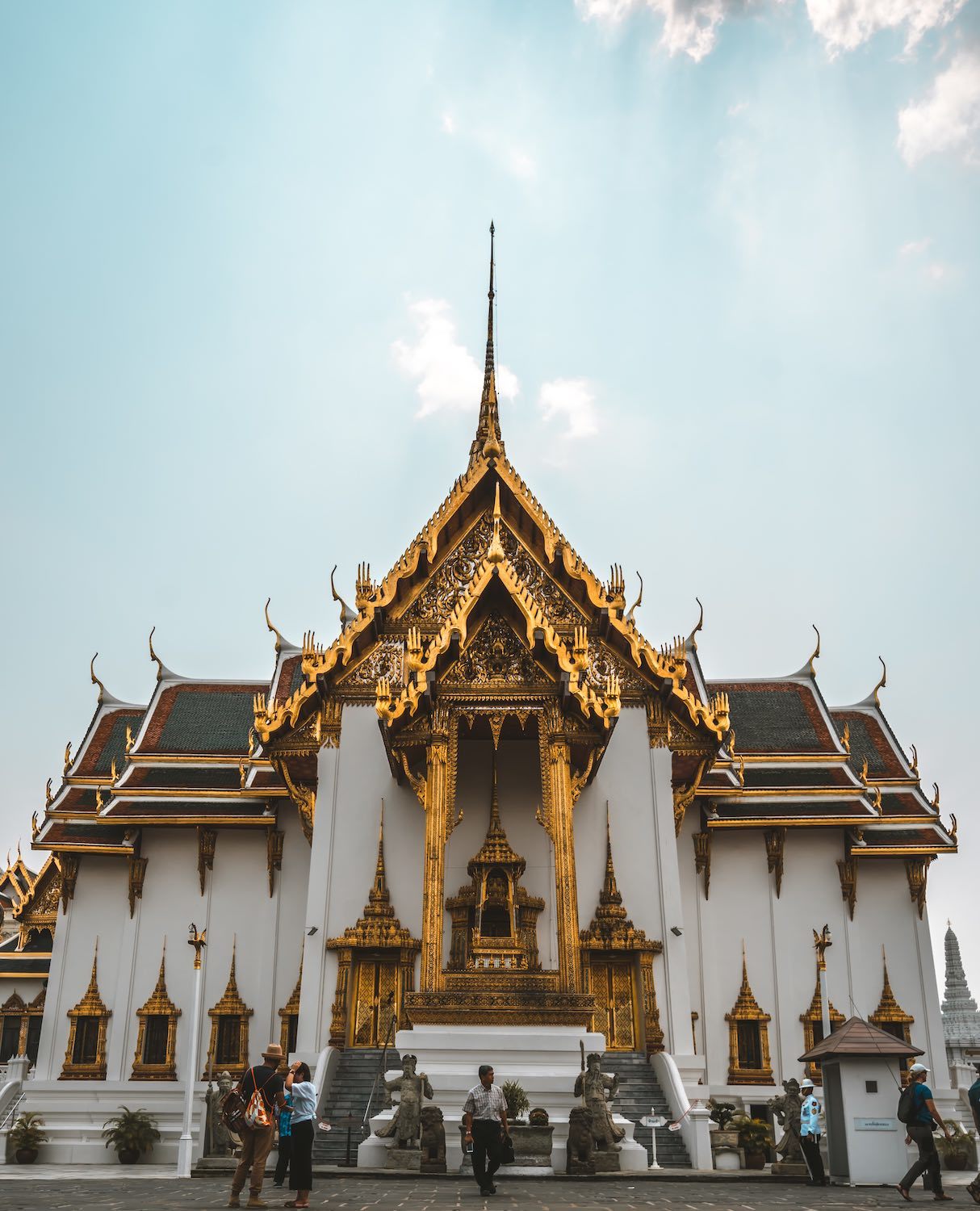 ---
Wat Arun Temple
Almost directly opposite Wat Pho and across the Chao Phraya River is Wat Arun Temple, a Buddhist temple named strangely after the Hindu God of the Dawn. Wat Arun Temple is one of the most famous temples in Bangkok due to its architectural brilliance where most of the outer layers are coated with an intricate amount of mosaics, minor prangs which are the 4 smaller spires surrounding the main spire which represents the mythical Mount Meru.
Seeing Wat Arun is also a must at night as the temple is lit by golden lights which shimmer on the surface of the Chao Phraya River.
Entrance to The Temple of Dawn is 50 baht!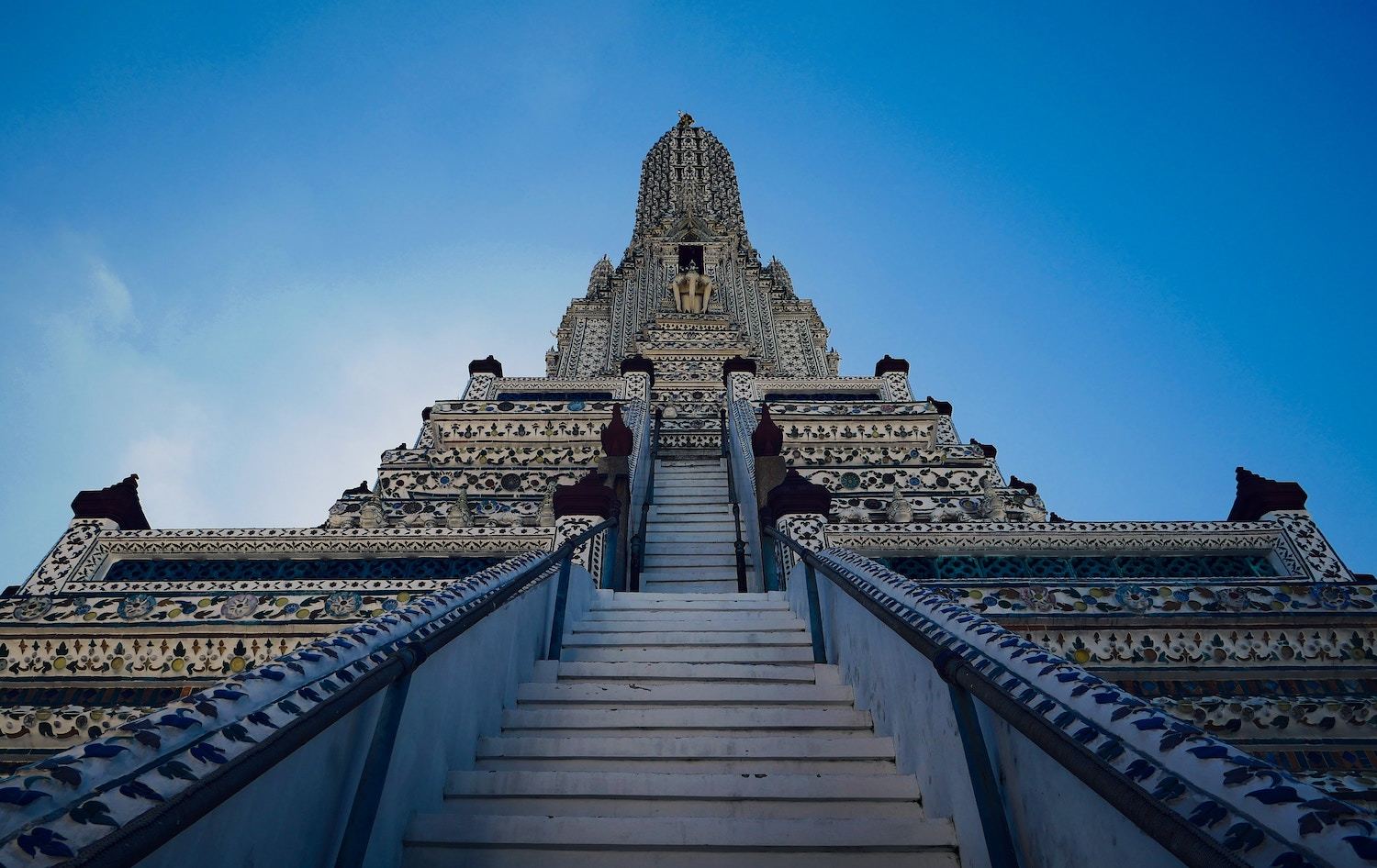 ---
Wat Benja Temple
Wat Benja for short, Wat Benchamabophit Temple is a sacred temple with a twist between Thai and European architecture.
Wat Benja is guarded by two Singhas which are mythical lions while most of the building is made from marble as the outside walls of the main temple are made from a grey marble. Within the walls of Wat Benja are 53 different styles of Buddha which are said to be from all parts of Thailand and now rest upon the walls of this magnificent temple.
Wat Benja is far less visited by tourists and costs 100 baht for access.
---
Loha Prasat Temple
The last temple on my list of places to visit in Bangkok is Wat Ratchatnatdaram or Loha Prasat, a Sri Lankan style Buddhist monastery completed during 1846 based on one of the most incredible Buddhist monuments in the world, Anuradhapura which I was lucky enough to visit last year with the Sri Lankan Tourism Board. Loha Prasat was built by Rama the 3rd for his granddaughter.
Loha Prasat has 37 individual spires which represent 37 virtues of enlightenment, an incredible sight to see.
Entry fee to Loha Prasat is 20 baht.
---
Banyan Tree Bangkok Dinner & Cocktails at Moon Bar
For your first night in Bangkok, I'd recommend making a reservation the famous BANYAN TREE restaurant, because it really will provide the best first-night meal in the country! It's recognized as one of the best places to eat in Bangkok, and deserves a place on your itinerary!
If you're on a tighter budget, than I'd still recommend making your way here for some cocktails on the iconic bar! It gets super busy (especially around sunset), and there's a dress code: smart casual but no shorts, sleeveless shirts, sandals or flip flops!
"Exquisite food from around the world. Banyan Tree Bangkok is a mecca for food enthusiasts. With a range of gourmet restaurants, offering everything from Thai street food, to international and Asian gourmet experiences, Bangkok's iconic rooftop bar and restaurant, you will be able to satisfy all your cravings."
Moon Bar has been named often in the worlds top 10 rooftop bars
---
Bangkok Itinerary Day 2: Experience the Local Life
Bangkok's local life is unlike any other in South East Asia with thousands of underground markets, street food literally everywhere you wander to remnants of what Bangkok used to look like hundreds of years before today.
Thai's are some of the friendliest people on earth and most welcoming so be sure to strike a conversation over a meal of spicy noodles and soup!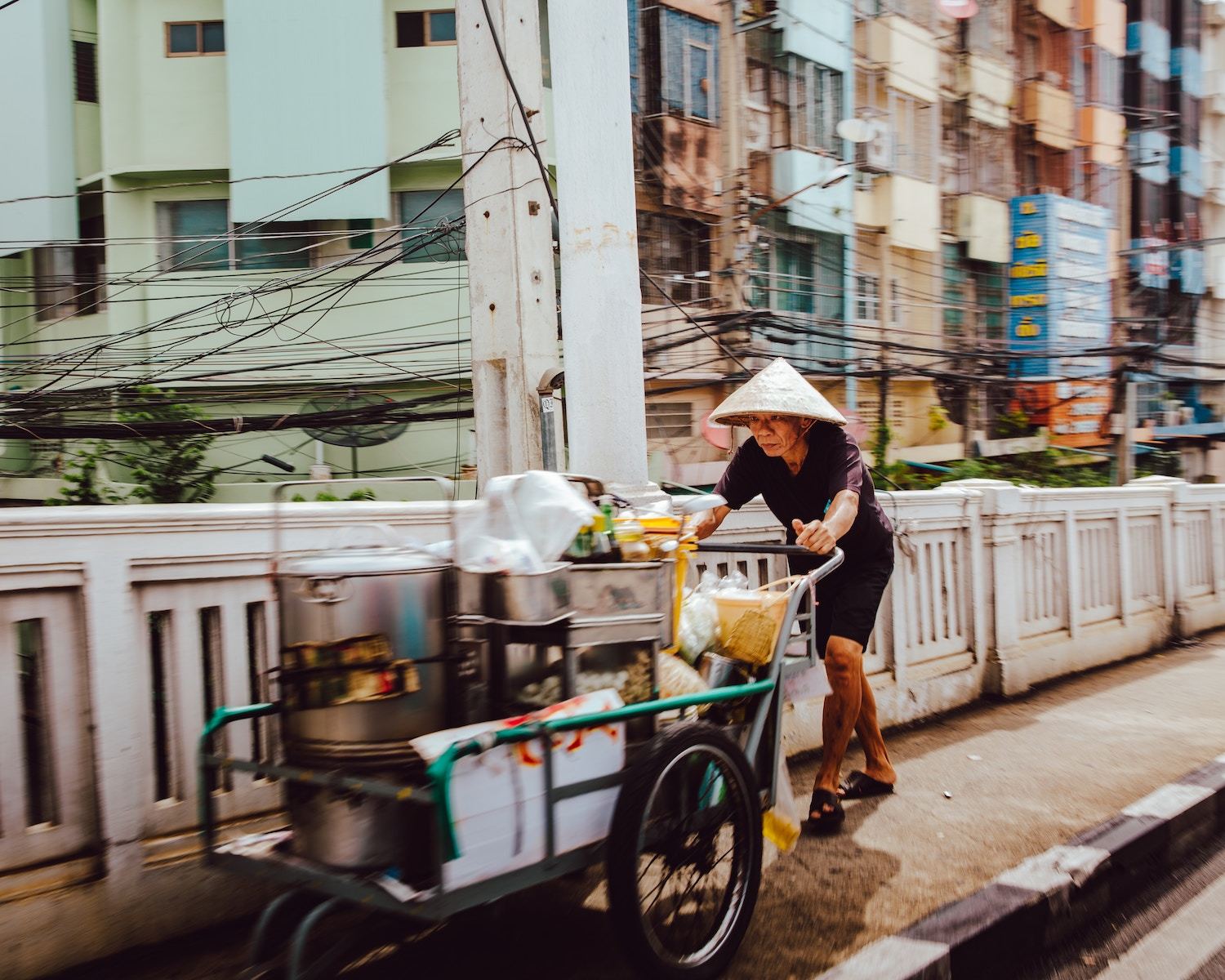 ---
Chao Phraya River
Running through the center of Bangkok is the mighty Chao Phraya River, a 372-kilometer long stream that is fed with enormous amounts of water from creeks and rivers in Northern Thailand.
The Chao Phraya River winding its way through Thailand and Bangkok makes it a very fertile environment for growing rice, vegetables and fruits of all kinds. The Chao Phraya is also a way of getting around Bangkok with ferries zooming up and down the river 24 hours a day while barges enter the river from the Gulf of Thailand delivering imported goods to the country. Bangkok's Chao Phraya also supports most of the cities floating markets, something that I will get into later!
If you didn't take a ferry across the The Chao Phraya on your first day, then make sure you do it today!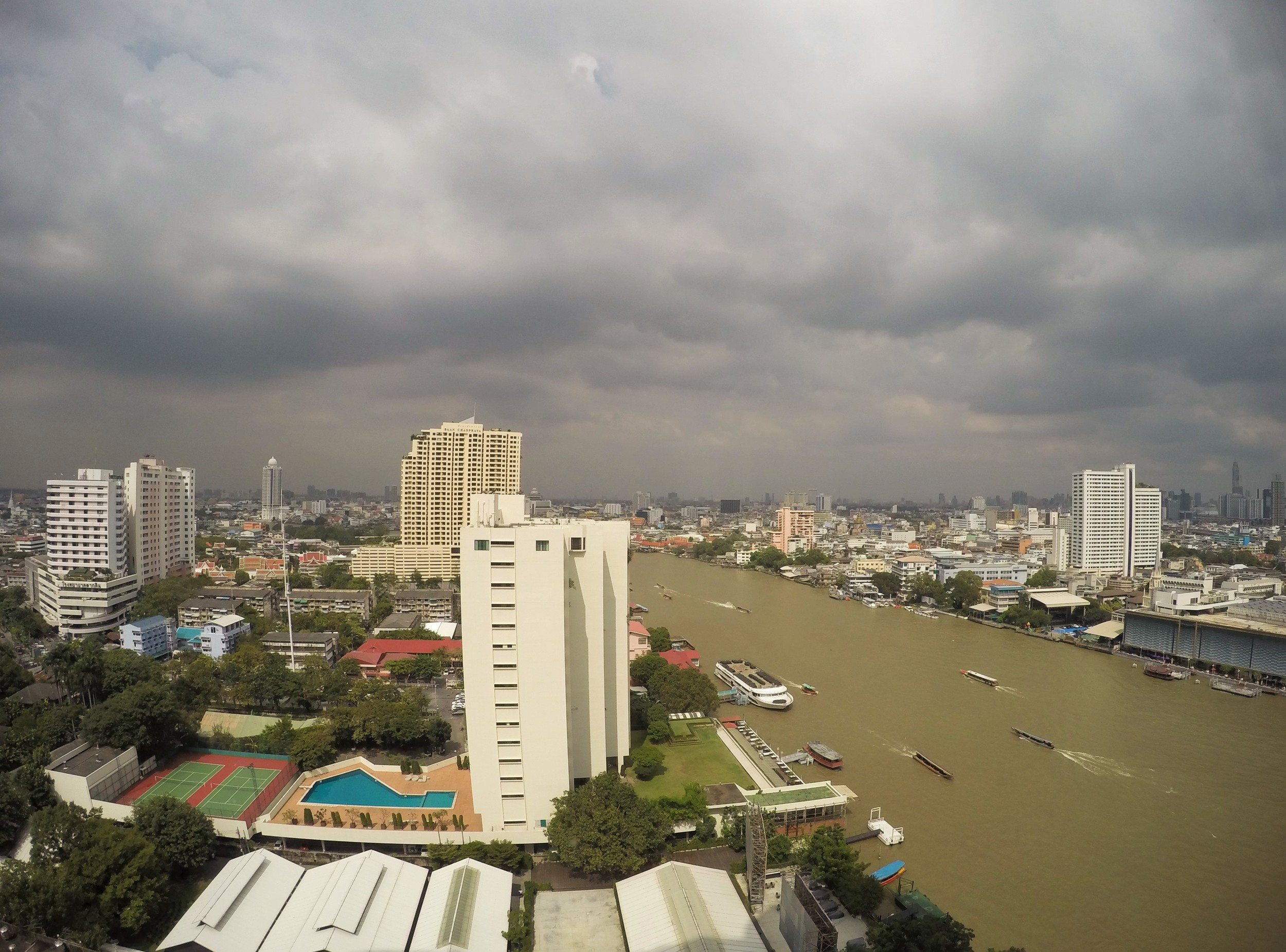 ---
Watch a Muay Thai Fight
Thailand is renowned for Muay Thai which is a form of martial arts that was invented during the 18th century and today it's widely popular throughout Bangkok and the rest of Thailand. There are a few different spots around Bangkok to watch Muay Thai with over 10 different rings so the likelihood of a match been on while you're in Bangkok is quite likely.
What to expect at a Muay Thai fight? Muay Thai is known as the art of eight limbs where the fighter uses a combination of shins, elbows, knees, and fists to defeat the opponent at times it can be quite exhilarating to witness!
If this interests you, then I'd recommend giving a read through this article, Top 5 Places to Watch Muay Thai Fights in Bangkok" for more information!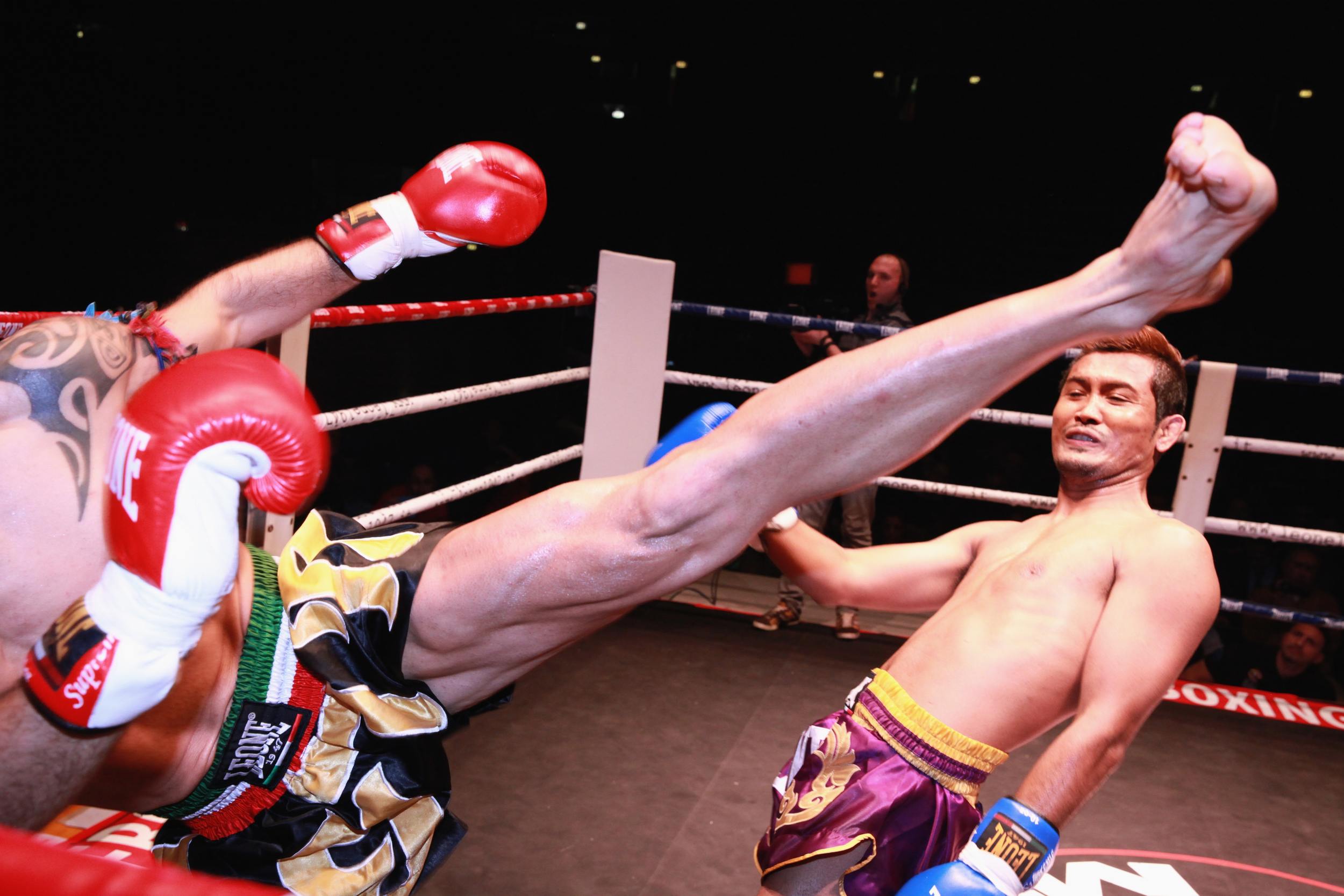 ---
Old Farang Quarter
I was recently reading a book called The Windup Girl, which is a fiction novel based in Bangkok during a food famine. One of the words that commonly popped up in the book was farang a word used by Thai's to describe a Caucasian particularly those from Europe.
The Old Farang Quarter started with the Portuguese Embassy followed by France setting up their embassy in Bangkok. Today the Old Quarter shows a mix of Asian and European style buildings with the Assumption Cathedral which is French, the China House which is Chinese and the Mandarin Oriental Hotel which was actually built by Danish sailors in 1876.
There are so many places to visit in the Old Quarter and most of its free to access and easy to get to being based on the Chao Phraya Downtown district.
25 Amazing Things To Do in Bangkok, Thailand
---
Pak Khlong Markets
While the Pak Khlong Markets is the place to go if you want to buy a bunch of flowers or a handful of chillies, you choose! Food markets in Thailand especially fresh produce markets are the spots the locals go so they can buy what they need then head to their store to start cooking up.
Flowers in Thailand range from orchids to lotus flowers and in particular the lotus flower is a sacred in for the Buddhism and Brahmanism cultures. The lotus flower represents Spiritual Enlightenment.
Pak Khlong Markets located on Maharaj Road operate 24 hours a day but is best visited at dawn when fresh flowers and produce are put on the shelves.
BANGKOK FLOWER MARKET - Pak Klong Talad
---
Thon Buri
Thon Buri is a district of Bangkok and can be found near Wat Arun and the Chao Phraya River and during a 15 year period; Thon Buri was Thailand's capital now an excellent place to explore by small boats leading through canals, markets and past some of Bangkok's smaller Buddhist temples.
While Thon Buri is home to Wat Arun (covered earlier), the main reason to explore Thon Buri is by Khlong's which is a canal. Today most canals have been covered up by buildings and infrastructure but those that haven't present a glimpse into the life of Bangkok that once was.
Wang Lang Market is one of the more interesting places to see in Thon Buri and is a good place to hang out with the locals. Wang Lang Markets caters for women's and children's clothing at a very cheap price while Wang Lang is known for epic Thai dishes.
THAILAND LIKE YOU'VE NEVER SEEN | Talat Phlu, Thon Buri, Bangkok, Thailand
---
Chinatown
Yaowarat Road undoubtedly is a fantastic spot to explore and a definite highlight of Chinatown, but if you look further afield there are so many classic local spots to check out. Songwat Road is an extremely old part of Chinatown with buildings dating back past the 19th century.
One of the strangest things to see in Bangkok and especially Central Chinatown is Sanchao Kuan Oo which is a shrine that gamblers leave their offerings in order to get the "big wins" when gambling so keep an eye out for a golden horse head when wandering this place and remember, always gamble responsibly.
The so-called Thieves Market or Nakorn Kasem on Charoen Krung Road got its name from people who used to steal items from other people and put them on sale for a much higher price. Today at the Thieves Market, expect to see collections of musical instruments, sculptures and household items and good luck fitting them into your cabin baggage.
Chinatown is just next level crazy and you just need to see it to believe it especially at night when the neon lights buzz and wafts of street food cascade down the main street of Yaowarat.
Chinatown is a myriad of shops that sell Chinese herbs, spices and other exotic delicacies with jewelry shops common throughout Yaowarat Road. The Chinatown District is also home to Chinese temples such as the Sanchao Dtai Hong Kong, a temple that sees family and relatives burning banknotes to pay respect to family members that have passed.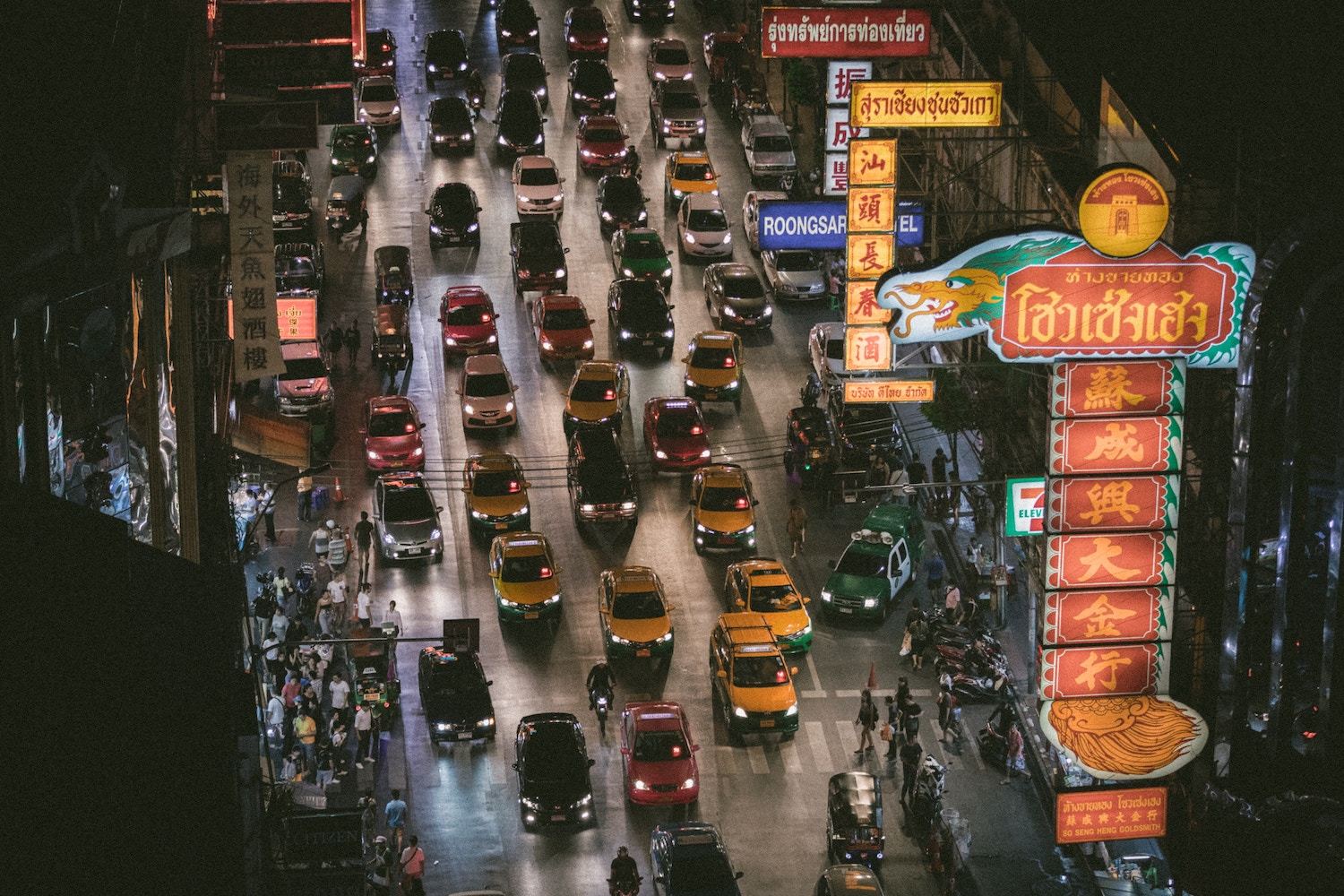 ---
Where to Eat in Bangkok in Two Days
Thai food is often considered as one of the best cuisines in the world! Basically, every country you go to in the world there will be a Thai restaurant of some description, but it's nowhere as good as the Thai food you'll get in Thailand.
Along with foods I just have to make way for Bangkok's floating markets as they often have the freshest fruit and vegetable to vendors who often whip up a classic Thai dish while in their leaky wooden boats. Here are my favorite spots to float about!
---
Go Street Food Crazy
I literally don't even know where to begin when it comes to food in Bangkok with the most sensational wafts of spices drifting down the chaotic streets, drawing me ever so close to the source of the smell.
I am a sucker for any sort of pancake whether it is savory or sweet and in Thailand a must-try is a Khanom beuang which is a pancake filled with a sweet mix of goodies. Look chin ping is a classic meatball's with a solid serving of spicy chilli sauce and is bound to give you the spicy sweats. Phad Thai is great but you can get than anywhere in the world and when you're at the source of Thai food, why not chow down on Kaeng matsaman which is a dish with a Muslim background that consists of chicken, potatoes, coconut milk and topped with peanuts…so delish!
Thai street food is unbelievably good no matter where you get it in Thailand; you'll bound to be surprised with what you eat! On a trip to Chiang Mai I stopped roadside for a snack of fried chicken feet and rice and it was surprisingly good.
16 TOP BANGKOK STREET FOODS | Bangkok Food Guide
---
Damnoen Saduak Floating Market
The Damnoen Saduak Floating Market in Bangkok is an incredible sight to see despite the constant hustle of tourists in the area. The market has been known to have been created merely for tourists but the other side of that is the intricate amount of Khlong's (canals) that can be taken to avoid the chaotic scenes and if you want to completely avoid that, opt to get to the markets pre-sunrise as the waterways begin to wake up and fresh produce is seen been loaded onto the wobbly wooden boats.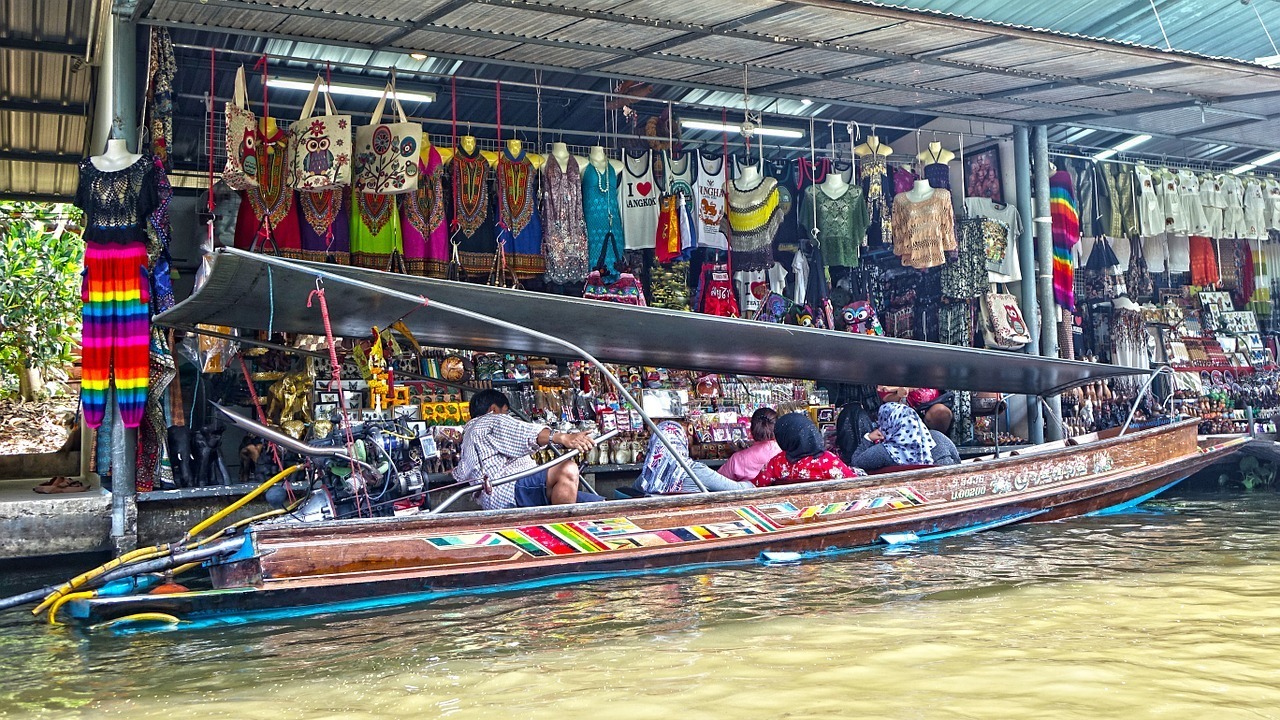 ---
Chatuchak Weekend Market
If you happen to be visiting Bangkok during the weekend, then visiting the Chatuchak Market is absolutely a must-visit, as it's a bizarre of sorts entwined with endless amounts of literally whatever you can think of.
Chatuchak Market is seriously massive, and takes up 5 or 6 football fields in size! And within those football fields, there are over 6,000 stalls of street food, clothing, fresh produce, and unfortunately, wildlife has been sold at these markets, which I don't support at all!
You could honestly spend hours here getting lost among the alley ways, enjoying a relaxing foot massage, and bargaining down the prices for your souvenir shops! Chatuchak Markets run every weekend from 0700am till 6 pm!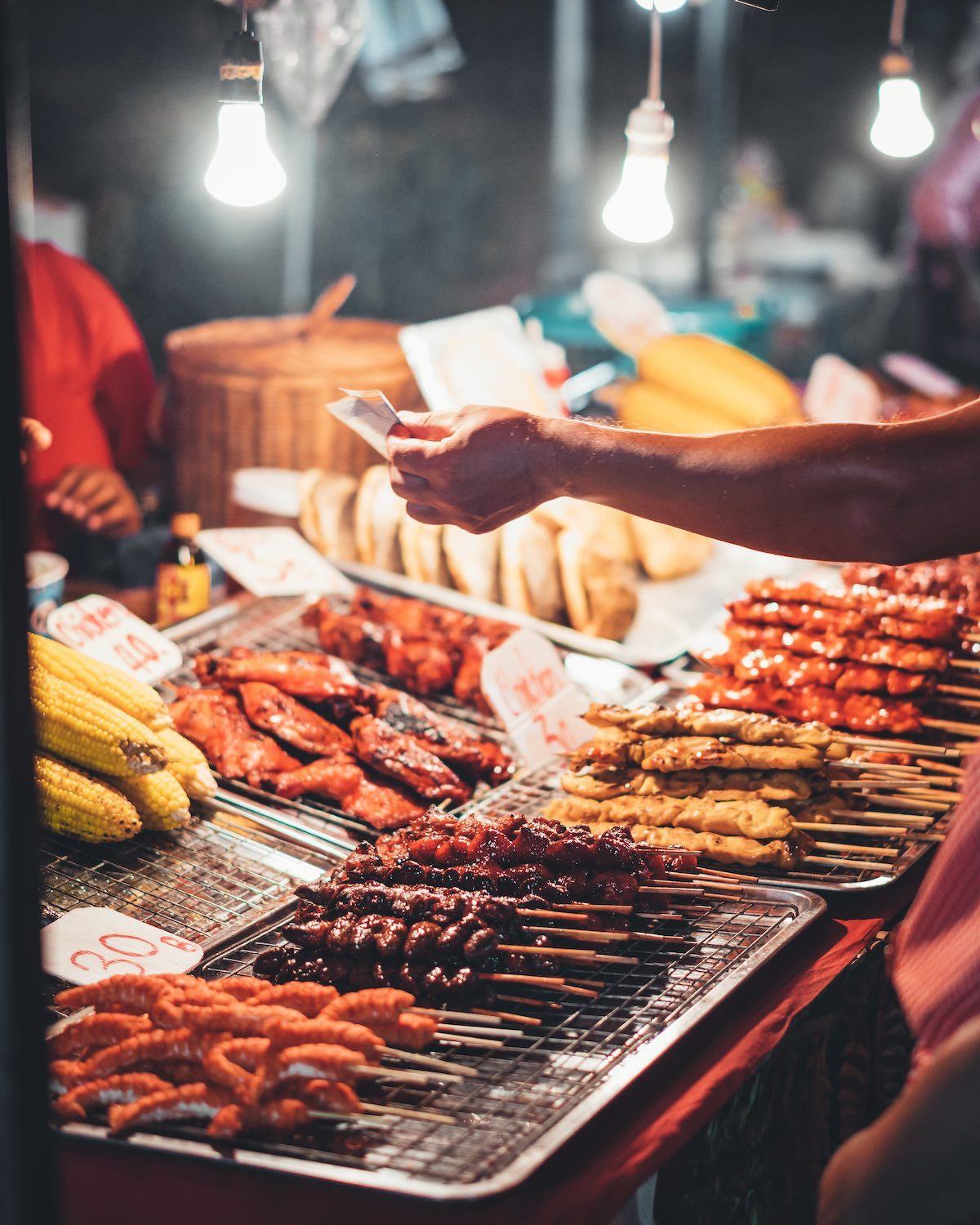 ---
A Couple More Things to Do in Bangkok
Maybe you've found yourself with an extra day or two in Bangkok, or decide to skip a few things I've listed on this itinerary! Here are a few more of my favorite things to do in Bangkok!
---
Silom Night Market
I actually used to live right around the corner from the Silom night market, and it's definitely worth a visit! The entire Silom neighborhood becomes alive at night, and is filled with tasty street food, affordable local restaurants, and wild bars, but the main reason to come here is to do some shipping through the night market for some souvenir shopping.
It opens every day at 5 P.M and is the perfect place to purchase clothing, shoes, fake designer bags, knock-off watches, and lots more! Even if you aren't in the mood to buy anything, the atmosphere is really fun, and a great place to stroll through for an hour or two!
7 Must Visit Permanent Night Markets in Bangkok
---
MBK Mall
Bangkok is probably one of the best cities in Asia for shopping (and that really is saying something), and I absolutely love the MBK Mall! It's filled with seven amazing stories that have just about everything you'd need! Including an international food, court, movie theater, bowling alley, it's a solid mall to spend a couple of hours.
When I temporarily lived in Bangkok, I found myself heading this way quite often, and if you're in the area, I'd highly recommend checking it out (you can't miss it)!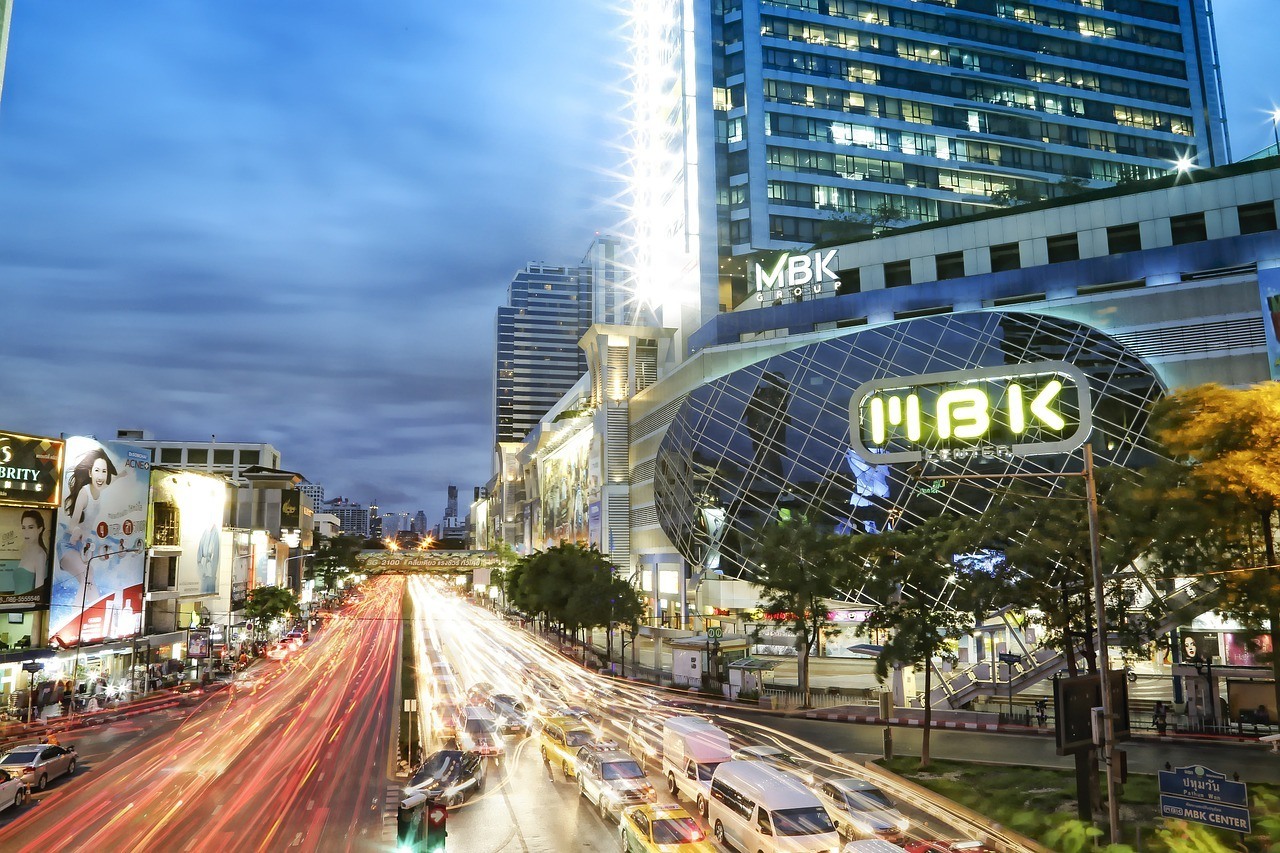 ---
Lebua State Tower
Do you remember that scene in Hangover Part II where they are having the meeting with the FBI guys, and then end up arresting Mr. Chow? It's a beautiful rooftop bar, and you can visit this place yourself at the Lebua State Tower. It's one of the fancier establishments in the city (as well as a luxury hotel), and buying a drink at their rooftop bar will cost you around $15-18 dollars, but the views are certainly worth the price!
Keep in mind, there is a pretty strict, so you'll need to be dressed in a proper outfit to be allowed access to the bar.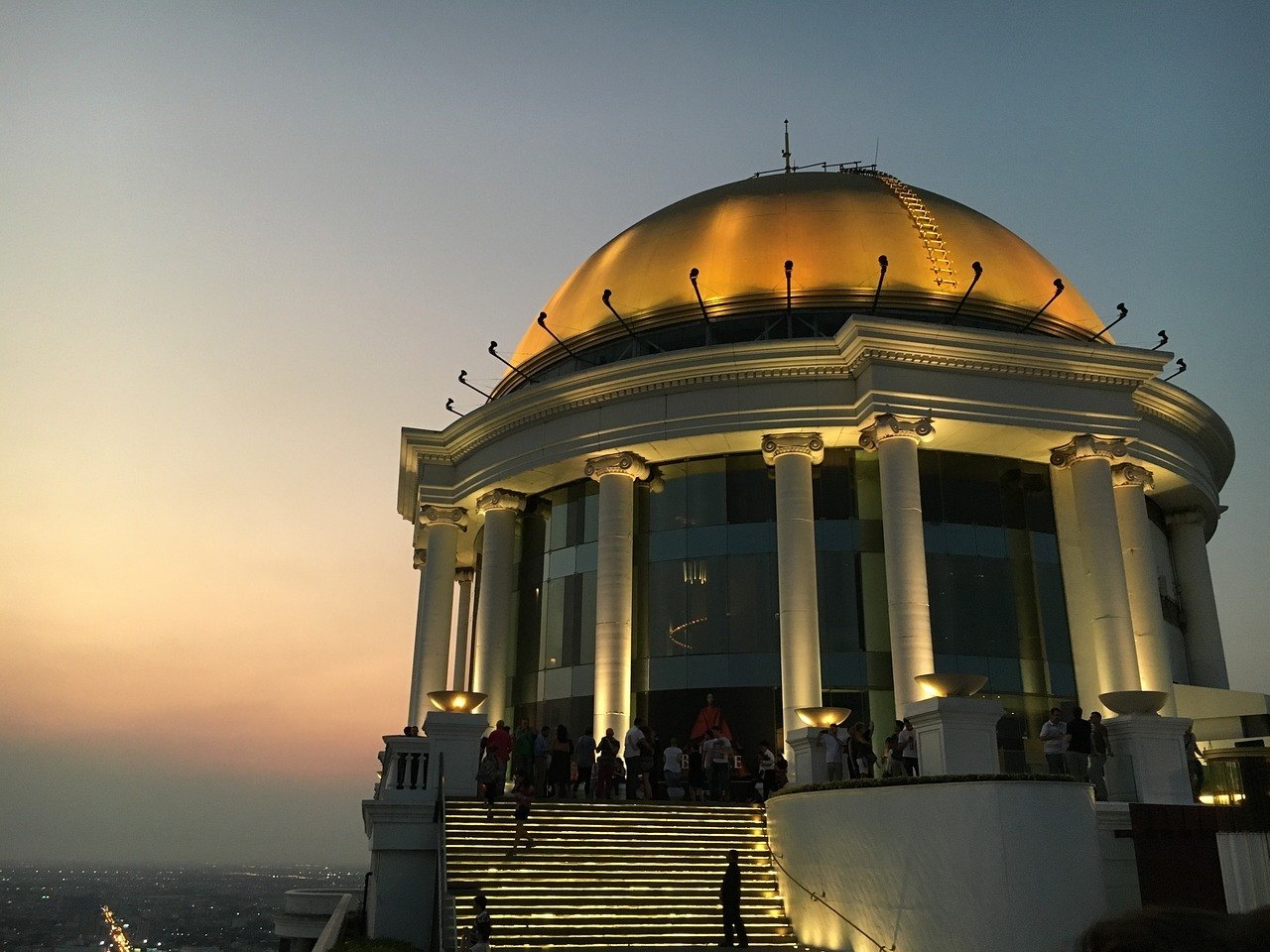 ---
Am I Missing Anything From This 2 Days in Bangkok Itinerary?
While only having 48-hours in Bangkok isn't that long to explore all of it's incredible tourist attractions, I'd love to hear if you think there are any specific landmarks, restaurants, bars, street food, markets, or other things to do to add to this 2-day Bangkok itinerary!
No matter what end up doing while you're in Bangkok though, I'm sure you'll have an incredible visit, and will fall in love with the charming chaos in the Big Mango!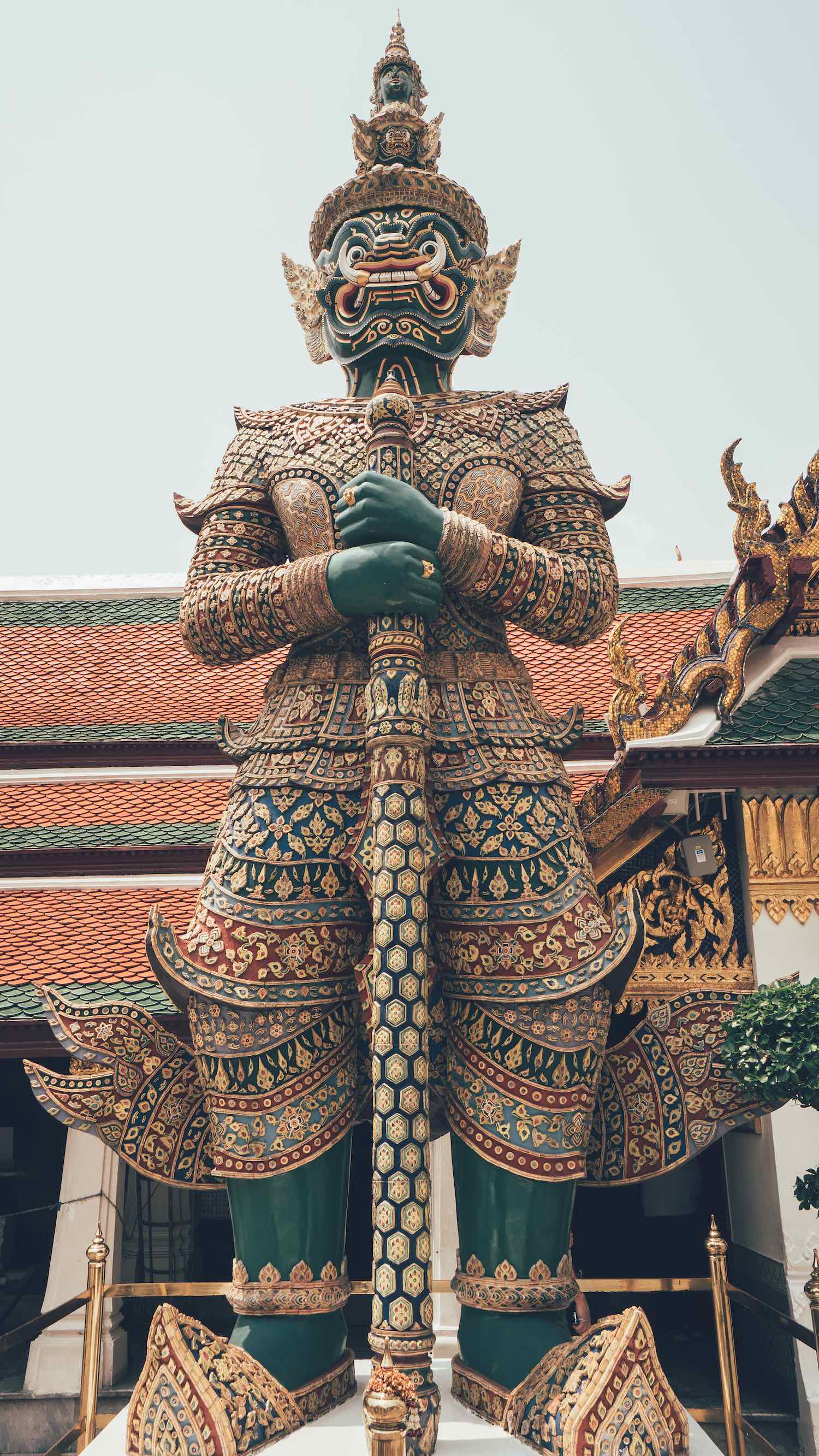 ---
Planning a Trip To Thailand?
My website is filled with helpful articles, itineraries, and destination guides just like this! Take a quick browse through a few more of these below, and as always, feel free to reach out to me on Instagram or Facebook if you have any questions! I'm always happy to help any way I can!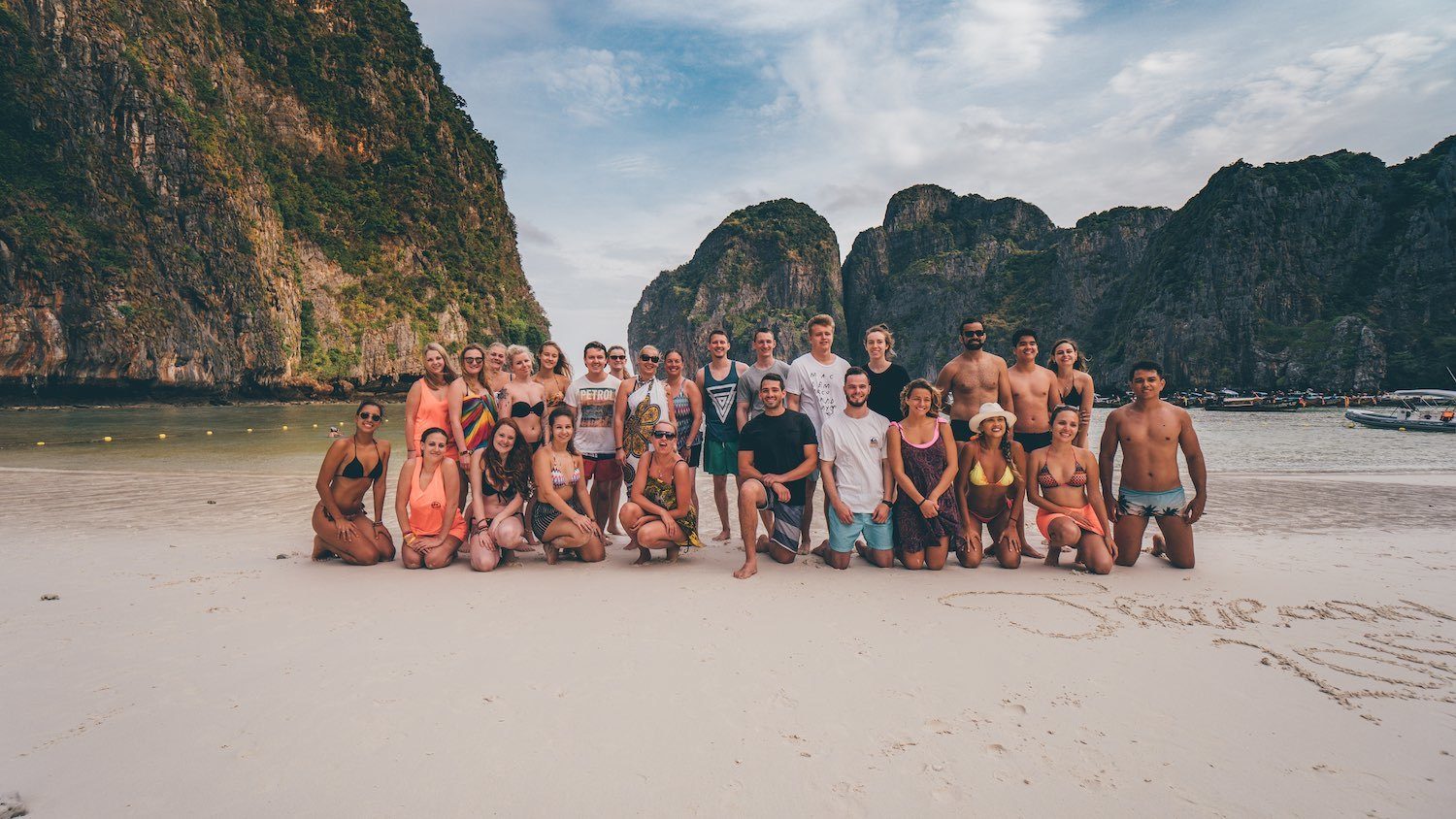 ---
Thanks for reading my 2 Days in Bangkok Itinerary!
Share this Bangkok Itinerary with your travel squad!
https://www.jonesaroundtheworld.com/wp-content/uploads/2019/08/2-Days-in-Bangkok-Itinerary-.jpg
844
1500
Dave
https://www.jonesaroundtheworld.com/wp-content/uploads/2017/03/logotry-1-1-300x106.png
Dave
2019-08-18 23:37:08
2021-05-15 03:22:40
The Best 2 Days in Bangkok Itinerary | Where to Stay & What To Do