Planning a quick getaway and looking for the best places to visit in Malaysia in 3 days? Well, let me help you out with that, because I've lived and traveled around Malaysia quite extensively over the last few years, and it's become one of my favorite countries in Asia!
With its deliciously diverse cuisine, jaw-dropping scenery, and welcoming culture – I think Malaysia is one of Southeast Asia's most underrated countries! Whether you want to spend three days eating as much as humanly possible, sightseeing and shopping around Kuala Lumpur, or relax on a secluded beach after snorkeling with turtles- Malaysia has a place for you! When I was based in Kuala Lumpur (living with friends in an Airbnb Condo), I went on plenty of weekend getaways, so that's why I wanted to put this post together for what I think are some of the best places for a short getaway in Malaysia!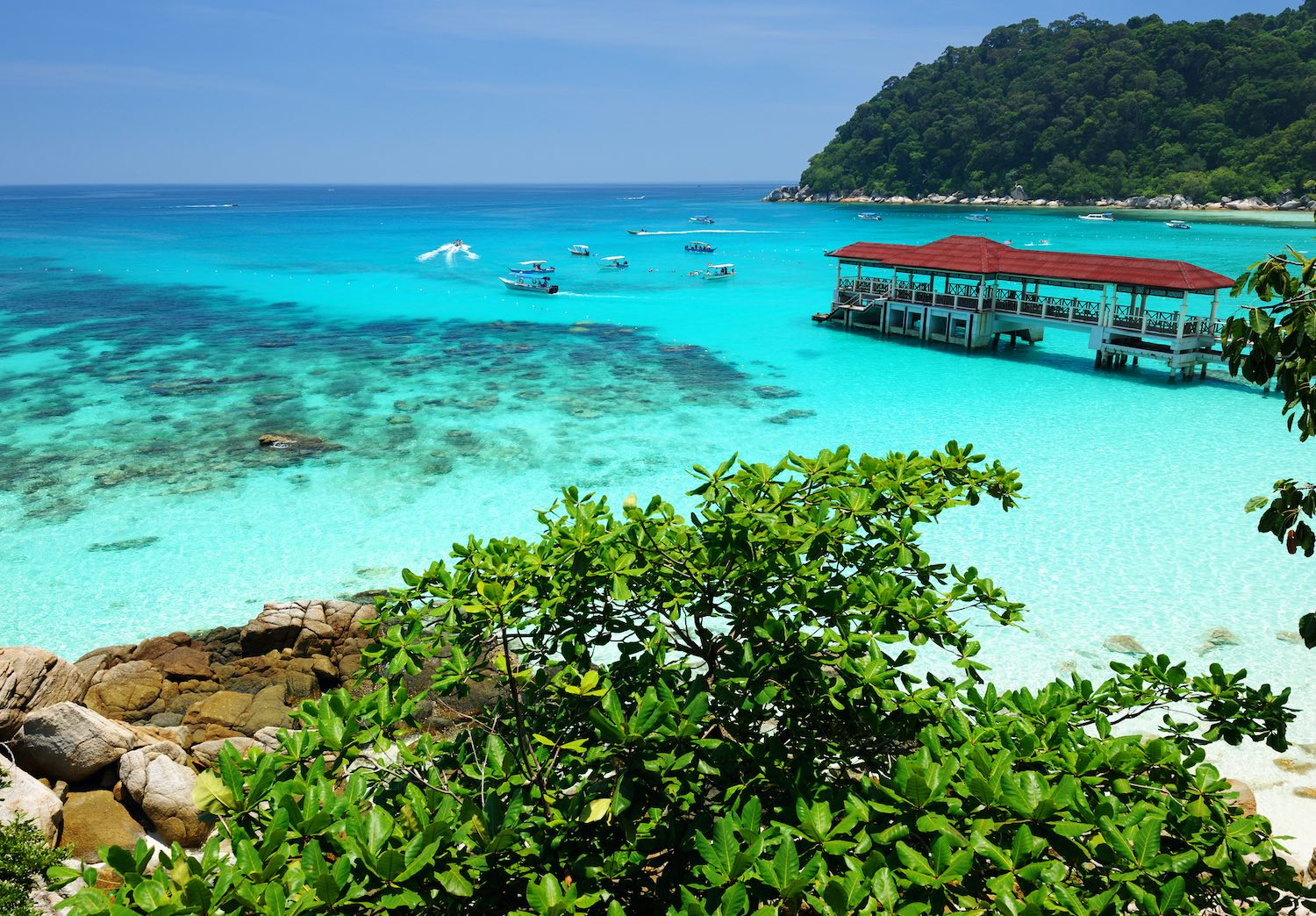 ---
My travel blog is filled with tons of helpful articles on Malaysia, so be sure to read/ bookmark a few of these as well for your upcoming holiday:
So without further ado, take a look through these amazing destinations, watch some of the fun YouTube videos, and learn all about the best things to do, tours to consider booking, and fun accommodation recommendations!
---
1) Kuala Lumpur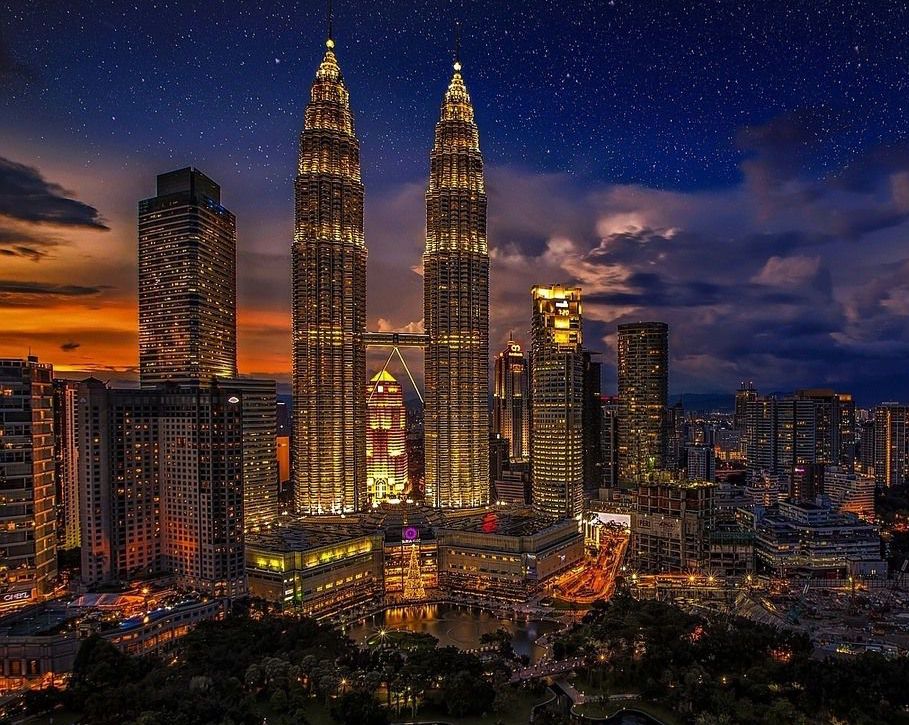 Starting off the list I've put Kuala Lumpur, the capital of Malaysia, as it's truly a wondrous city that has so much to offer, and while it may be the main gateway for exploring the country, it is 100% worth a 3-day visit on its own! It's one of my personal favorite cities in Southeast-Asia and I actually based myself there during my days as a long-term traveler!
The city is completely vibrant, and there seems to be something new around every corner to explore! While the weather may be hot and steamy (like the majority of country), the cuisine is delicious, the locals are incredibly friendly, and it's one of the world's best destinations for shopping!
---
It's got a fantastic cosmopolitan vibe, but with affordable prices, and it's no wonder why more and more international ex-pats are flocking to this wonderful city to embrace the epic lifestyle it has to offer!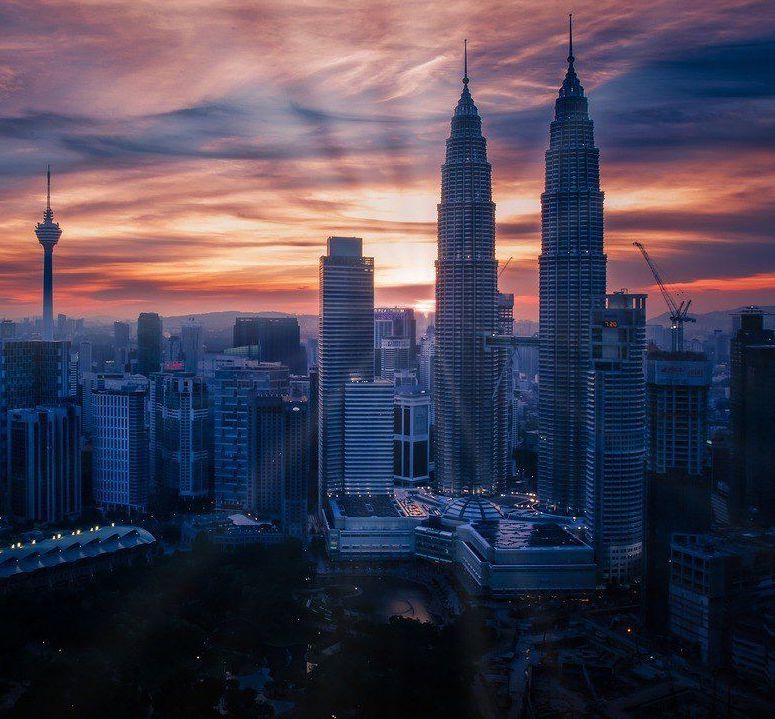 You can pretty much always find cheap flights here (thanks to AirAsia being based at KLIA), getting around the city is incredibly easy thanks to KL's clean and affordable metro system, and there's also an abundance of amazing Airbnbs in Kuala Lumpur for a comfortable stay and a rooftop infinity pool swim! So without further ado, here's my quick breakdown of Kuala Lumpur in 3 days!
---
Things to do in Kuala Lumpur in 3 Days
Take the metro out to the Batu Caves, walk up it's colorful steps, and marvel at the beautiful Hindu Temples & massive statues! But please be careful of the monkeys! They're quite infamous for being a bit meaner than the average monkey!
Head down to KLCC and visit the world's highest twin towers and book tickets to walk along the Skybridge Petronas Twin Towers! They're truly magnificent, and I'd actually recommend heading there once during the day, and then once at night to see them all lit up!
Spend some time shopping in China Town, especially along the iconic Petaling Street Market. It's a bustling area with lots to offer like cheap souvenirs, delicious food, and an awesome atmosphere!
Soak up some culture at the Sri Mahamariamman Temple, the oldest Hindu Temple in the city, dating back to 1873.
Visit the colorful shops in Little India for textiles, jewelry, and plenty of low-key restaurants serving up amazing Indian curries!
Grab some cocktails and watch the sunset at the Heli Lounge Bar Kuala Lumpur. It's an old helipad that's been transformed to a bar and offers one of the best views in the city!
Have dinner in the buzzing Jalan Alor Food market at night for some local Malaysian food and incredible ambiance!
Check out the nightly FREE Symphony Lake Water Show at KLCC!
Book tickets to visit the top of the iconic Menara Kuala Lumpur Tower for unbelievable panoramic views of the city!
Try the iconic Malaysian dish Nasi Kandar, meaning 'mixed rice', which is a favorite among locals & travelers!
If you're a backpacker or looking for a fun place to grab a drink, check out the Reggae Mansion Rooftop parties!
Finally, take a swim in one of the city's iconic rooftop infinity pools like at the Regalia Condominium!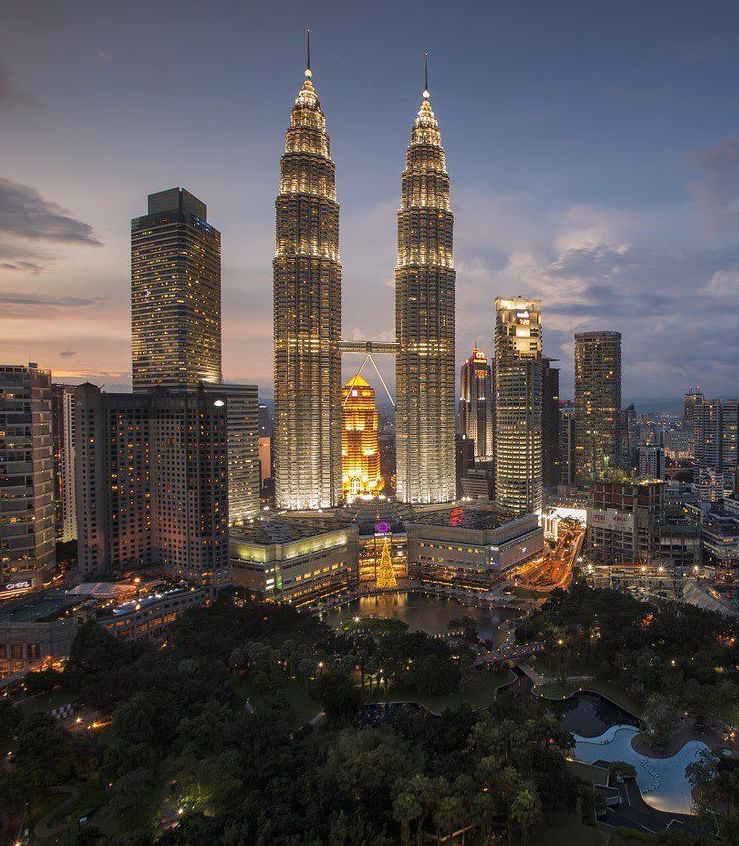 ---
Best Places to Stay in Kuala Lumpur for 3 Days
While there are certainly countless of amazing hostels, hotels, and luxury resorts found in Kuala Lumpur, I ALWAYS recommend people to book one of the hundreds of Airbnb's at the Regalia Condominium. This is complex where I lived when I was based in KL, and I really do miss it every day! It's centrally located /walking distance to two different metro lines, has a great mall right next to it, and all the apartments are modern and comfortable. But most importantly – it has one of the MOST EPIC infinity pools in the world that you must experience!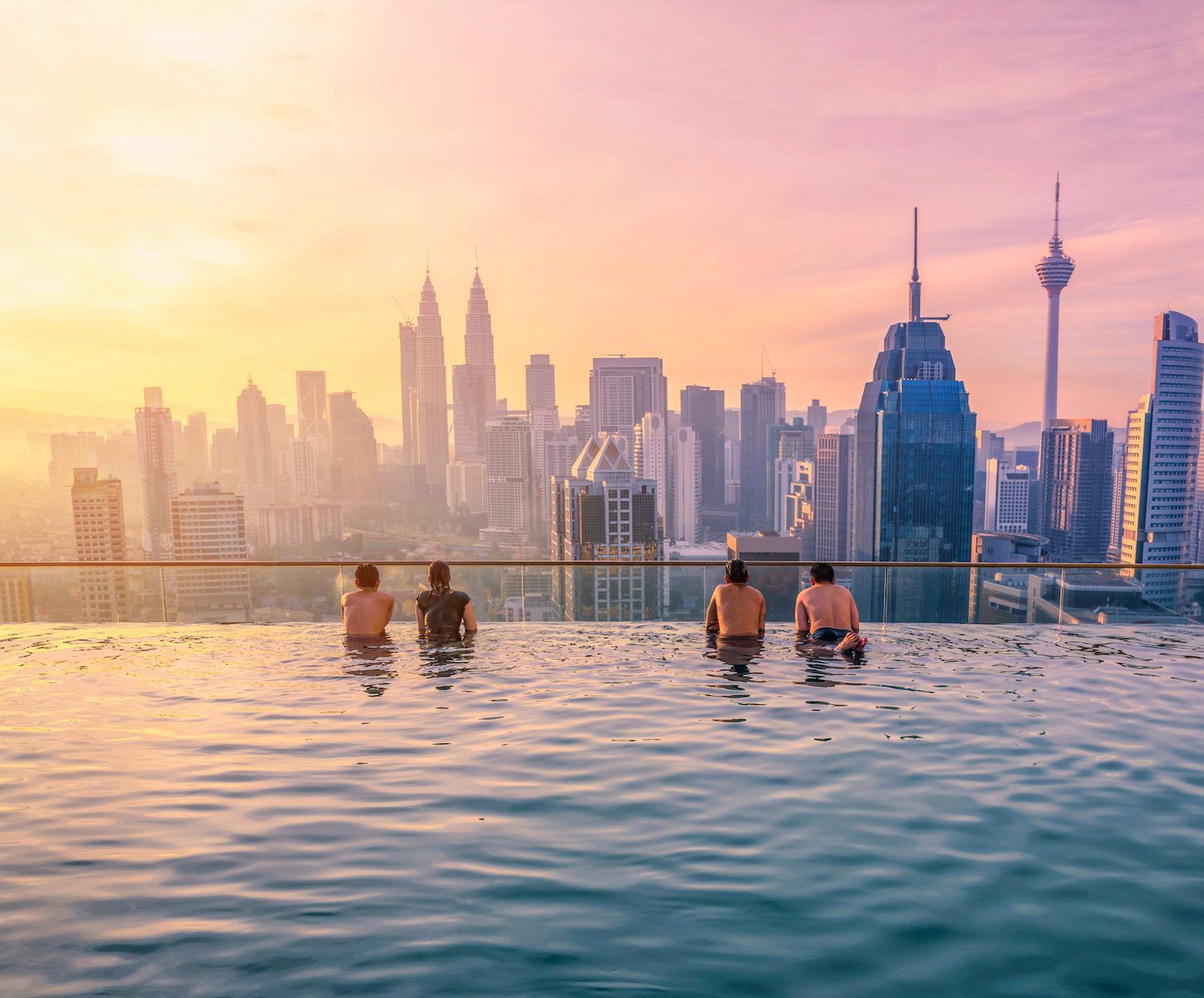 ---
In recent year's it has become quite popular in the Airbnb community, so checking-in/ checking-out is super easy, and there's a mini-market on the main floor for essentials like water, coconuts, basic food, beer, and lots more!
It's also really easy to order transportation, as all the rideshare drivers (like GRAB) know it's popular, so you'll rarely have to wait more than a few minutes to get picked up, and there's an easy pick-up area on the main floor. While you can definitely find a ton of different amazing properties, here are a few of my main picks: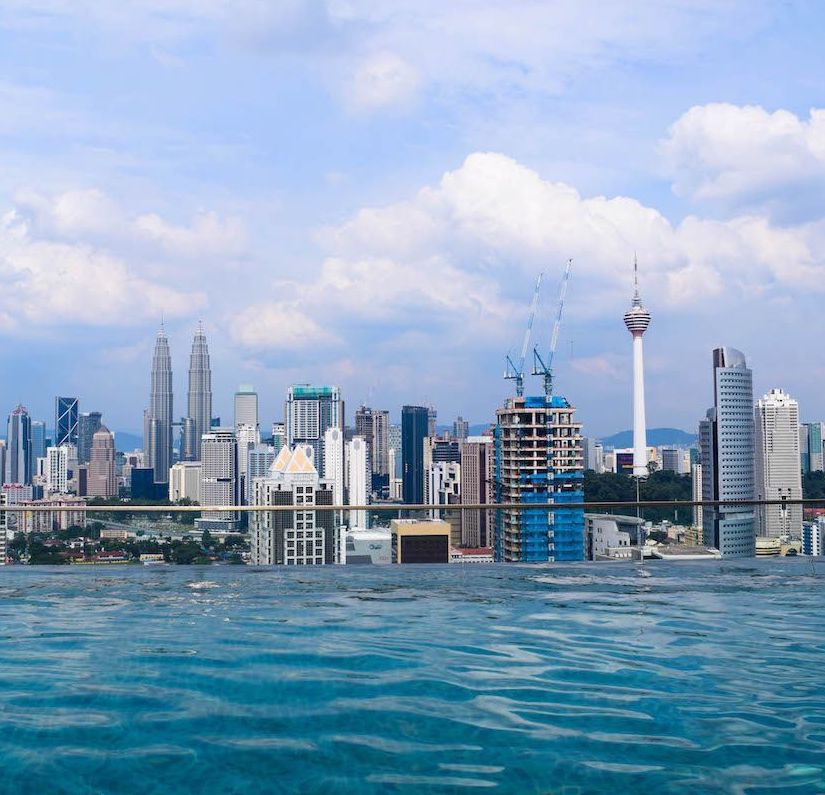 ---
There really are tons of different Airbnb's in the Regalia condominium, so even if all three of these don't have availability, you'll be able to find one! It's truly a MUST-VISIT for any 3-day visit to Kuala Lumpur, and I know you'll love it as much as I do!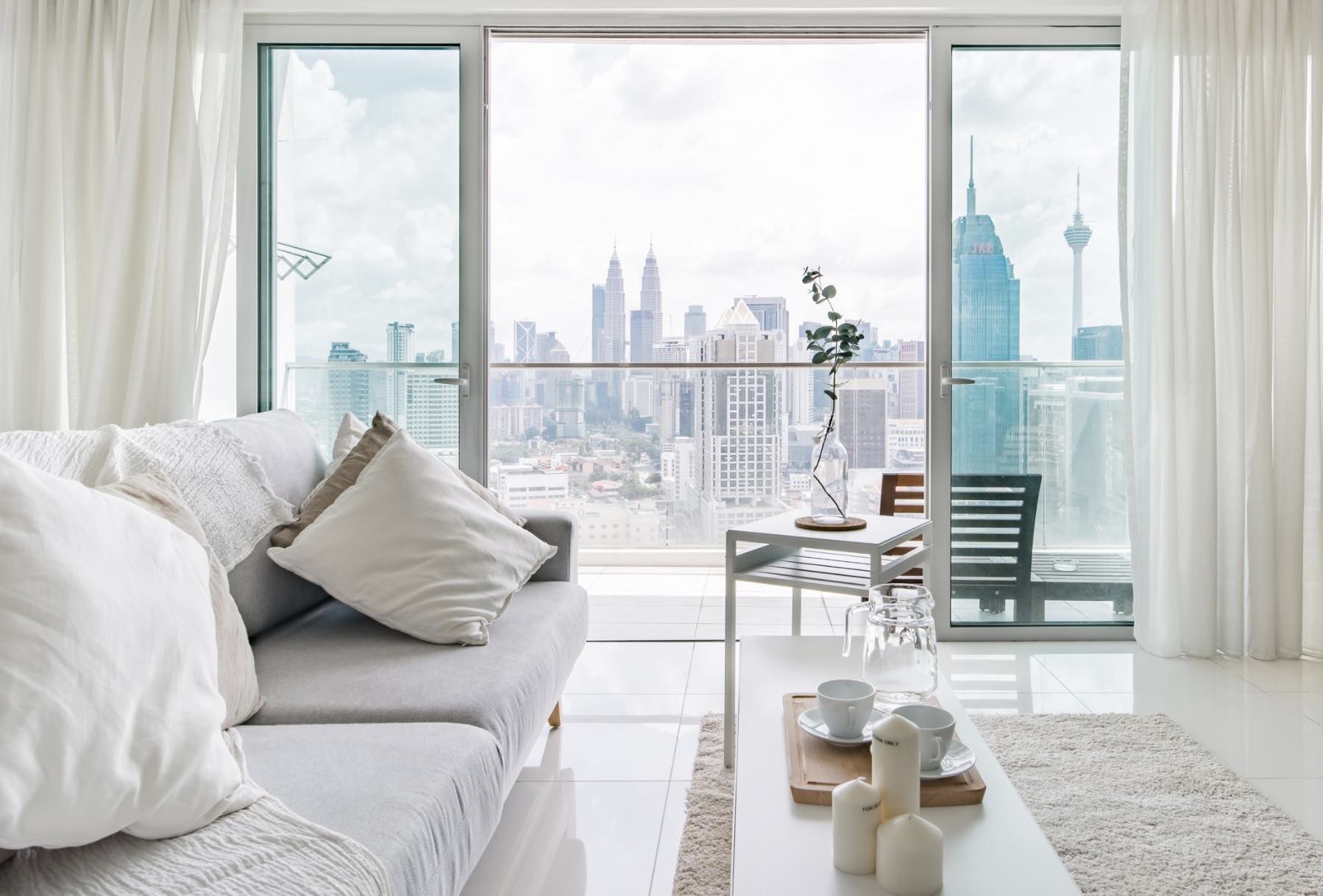 ---
2) Penang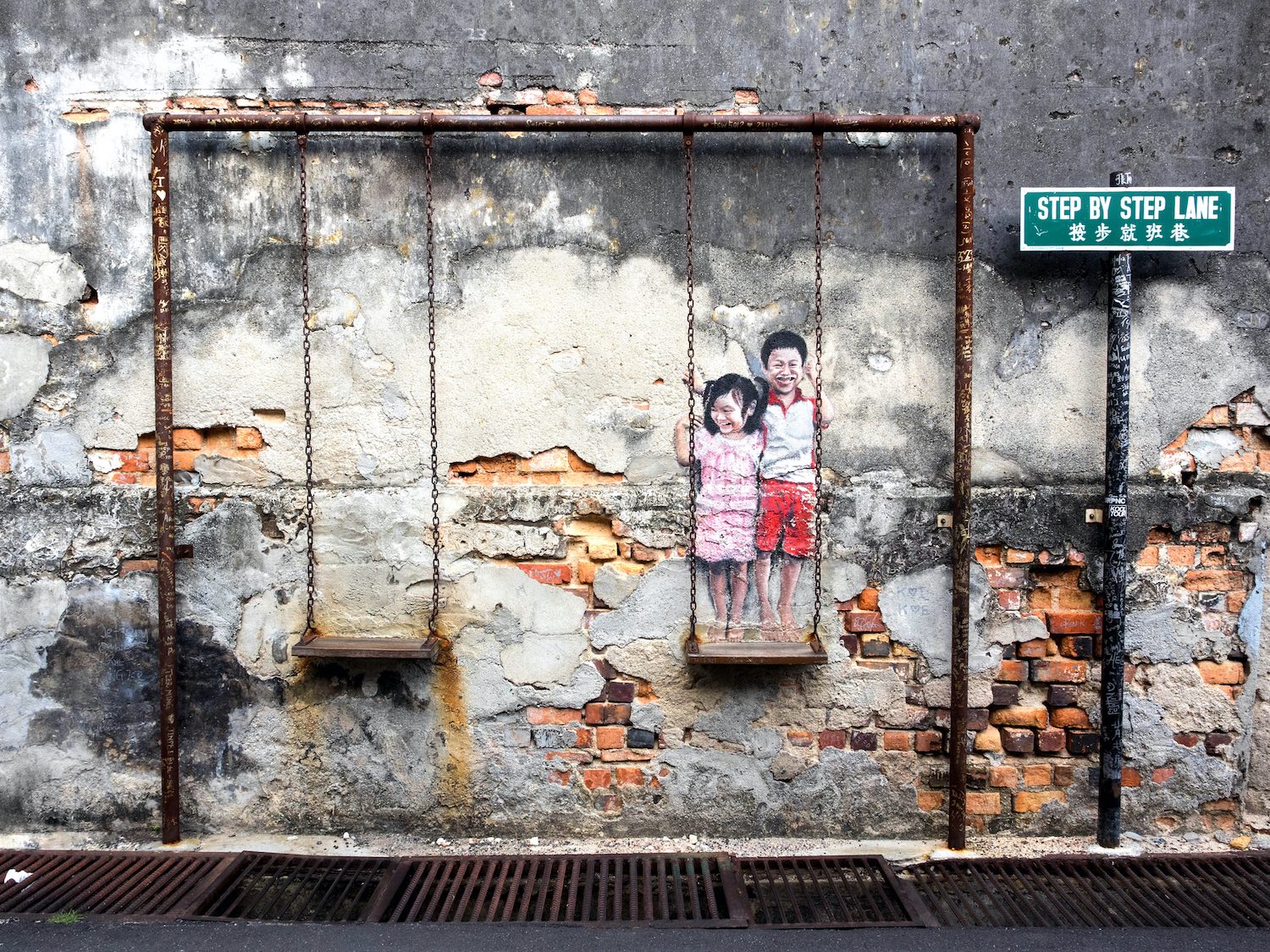 Where to go in Malaysia for a short trip? Well, I'd argue that Penang might be the best answer to that question!
"If there's a more thrilling cocktail of eastern cultures than Penang, we've yet to find it. Penang has long served as the link between Asia's great kingdoms and an important outlet to the markets of Europe and the Middle East.
Penang is one of the most unique destinations in Malaysia, and definitely has a little something for everyone! While it may be known as one of the main cultural hotspots in the country, that comes second to Penang's claim to serving up the best food Malaysia has to offer!
While walking around the UNESCO Heritage Zone of George Town, you'll simply fall in love with its colorful streets, unique street art, and lively atmosphere! But if you're looking for a beach getaway, then Penang would still be a fantastic choice, as there are tons of incredible beaches in Penang!
Planning a Malaysia weekend getaway to Penang would be the perfect amount of time to explore and fall in love with this Malaysian gem, and getting here is super easy as it has it's own international airport on the southern tip of the island!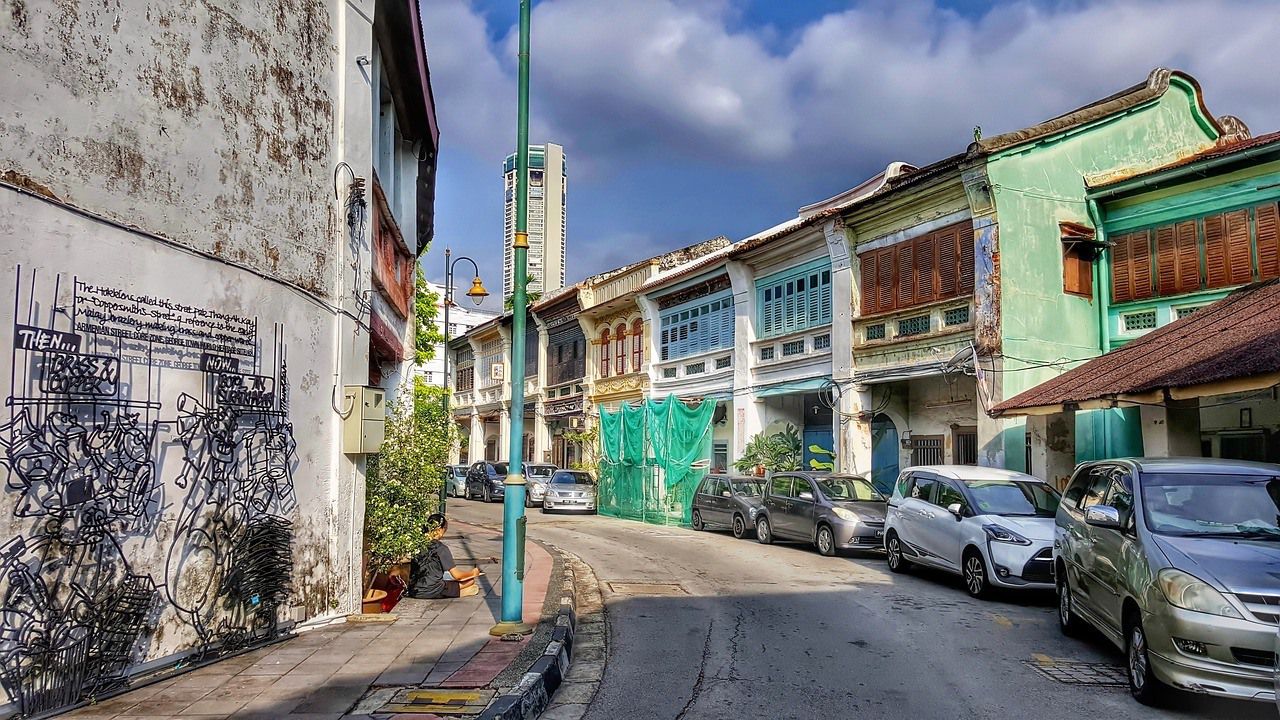 ---
Things to Do in Penang in 3 Days
Eat your heart out and explore Penang's amazing street food scene. Check out this article 15 Best Must-Eat Street Foods When You Visit Penang for some mouth-watering inspiration! The food truly is spectacular, and is worth the visit alone!
Explore Penang at Night! From unique bars to late night bites, Penang has a lively night scene that you'll absolutely love!
Book a George Town Food Hop & Heritage Tour for a deeper understanding of this city's relationship with food! "Penang is a gallery full of stories told through its dishes and shared with you on this tour. After all, there's more to food than just the taste."
Spend an afternoon walking around George Town and admire all of the amazing street artwork! They're all over the place, but you can browse through this article on the 25 Most Captivating Murals In Georgetown for lots of fun photos! But it might be better to leave them as a surprise during your visit!
Take the tram up to the top of Penang Hill which offers stunning views of the city and surrounding area!
Get lost in the jungle and spend some time hiking through Penang National Park! There are loads of different trails and routes, and each of them will bring you to a different gorgeous beach, lake, or attraction. My main piece of advice would hike to Monkey Beach! It's really beautiful, and the walk is quite pleasant!
Enjoy a beach day on the iconic Batu Ferringhi Beach! There are tons of awesome hotels and luxury beach resorts there, so the entire area is quite popular and has lots to offer!
For the adventure seekers, you can go parasailing or rent a jet ski (which I'd highly recommend doing during the sunset!)
Brush up on some history while walking through Fort Cornwallis, which was built by the British East India Company in the late 18th century, and is the largest standing fort in Malaysia! It's free to enter, and definitely worth the visit!
Exploring Penang (Georgetown): Things To Do in One Day
---
Best Places to Stay in Penang for 3 Days
Three days really is the ideal amount of time to visit Penang, and you have two main options for where to stay, in the cultural food hotspot of George Town, or by the main beach resort area of Batu Ferringhi! So it really just depends on what you'd prefer to be closer to! Here are a few of my top picks though, so take a look and see what you like most!
SkyHome Two@ Studio 30 Seaview 218 Macalister: This budget-friendly studio-apartment Airbnb is located right smack dab in the center of George Town, just minutes away from some of the city's most popular attractions. It's a Superhost property and has outstanding reviews, but it is also a fantastic deal that even most backpackers would be able to afford this place! You'll want to book this property well in advance though, as it's quite popular! The condominium is also equipped with an amazing infinity pool which can be crucial to escaping the Malaysian heat!
Ryokan Muntri Boutique Hostel: If you're a solo traveler on a tight budget, then look no further and book a bed here! I've personally stayed here and definitely think it's the best hostel in Penang! It has a really awesome backpacker atmosphere, perfectly located in George Town, and has over a thousand glowing reviews from fellow travelers!
Golden Sands Resort by Shangri-La: Want to experience a bit of luxury at a fraction of the cost!? You've probably heard of Shangri-La before, and their property in Penang is absolutely stunning! Complete with three outdoor pools, a mini water park with slide and a whirlpool, and

beautifully landscaped grounds, it's no wonder that the

is one of the top picks on the island! It's a beachfront accommodation that's also walking distance to

Batu Ferringhi's night market and would provide for the most comfortable 3-day vacation!
---
3) Langkawi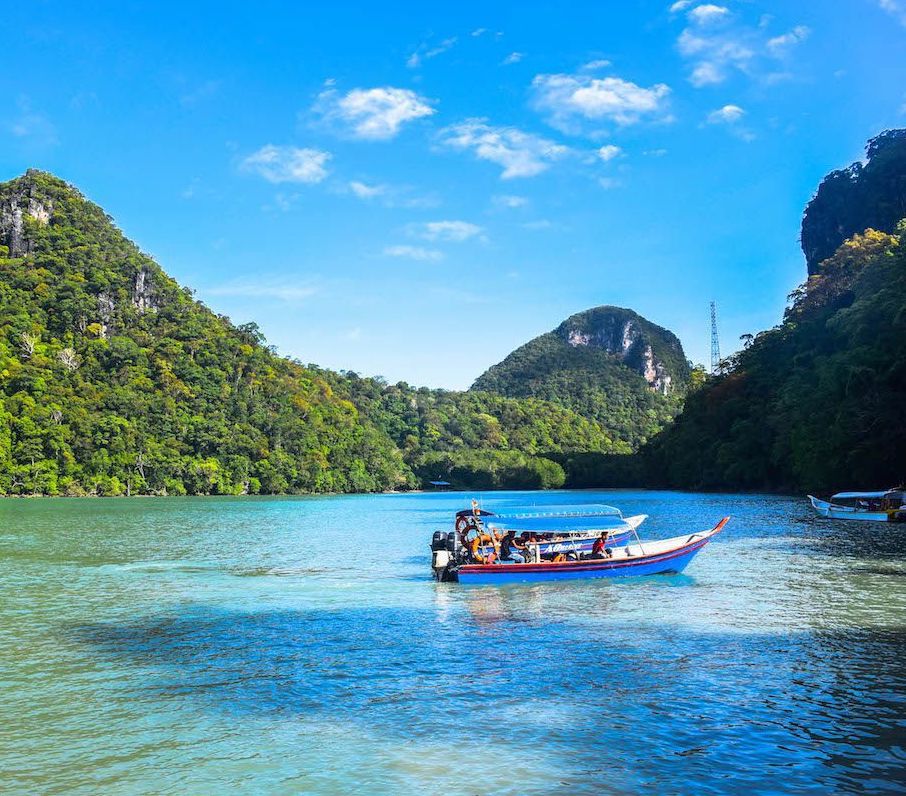 Officially known as Langkawi the Jewel of Kedah, this Malaysian paradise is an archipelago of 99 islands in the Andaman Sea (around 30 km off the mainland coast of northwestern Malaysia), and deserves a place on every traveler's bucket list!
I first visited Langkawi back in 2013 while completing a visa-run from Thailand, but have since returned numerous times as I absolutely fell in love with its beauty and laidback atmosphere! While I think it's definitely one of the best places to visit in Malaysia in 3 days, just be warned – it's one of the destinations that has the power to keep you there much longer than expected! My original trip was only meant to be for a couple of days, and I ended up staying nearly two weeks!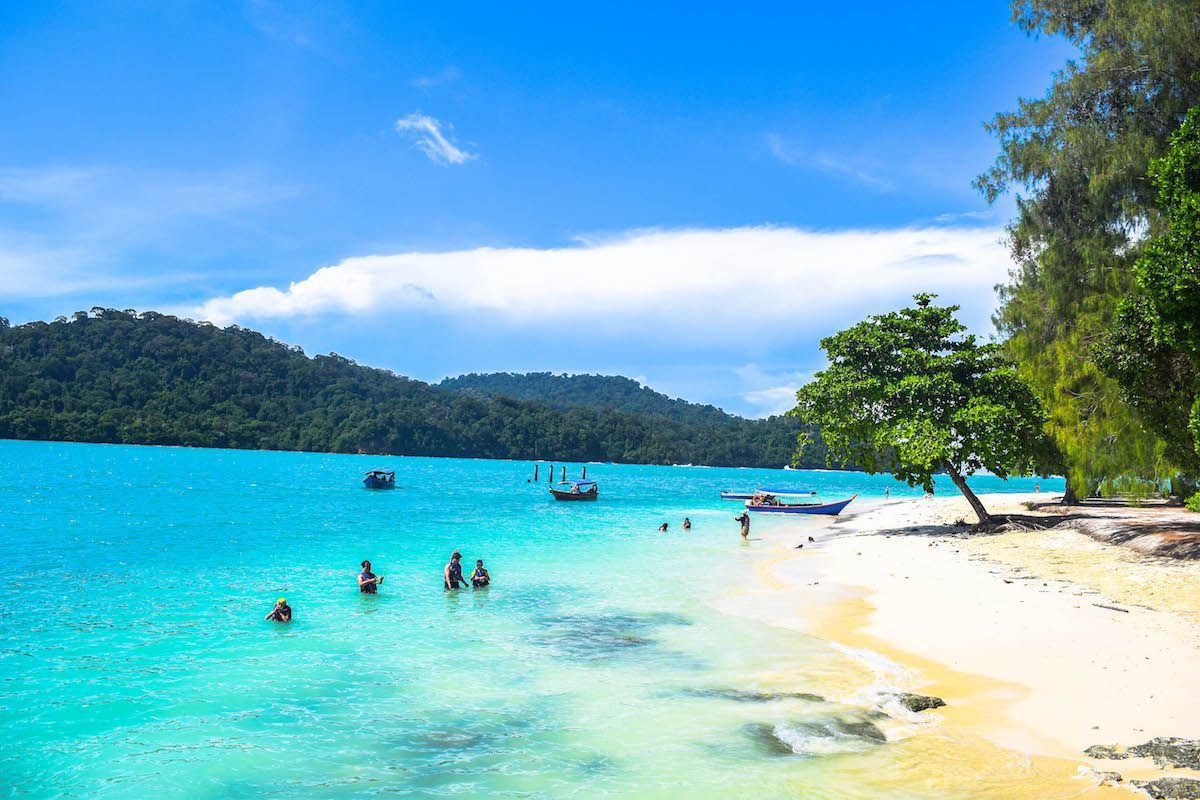 ---
With its unbelievably turquoise seas, gorgeous beaches, fantastic snorkeling/ scuba-diving sites, beautiful waterfalls, delicious food, and duty-free prices – Langkawi is truly a gem, and would make for a fantastic budget Malaysia weekend getaway!
There's an excellent international airport on Langkawi making it perfect for a 3-day visit! My travel blog has covered Langkawi quite a lot, so if you decide to choose Langkawi for your upcoming holiday, be sure to read/ bookmark these posts to give you some inspiration!
Since I work online as a travel blogger, I've actually contemplated moving to Langkawi for a few months! That's how much I love it. Oh, and the tax-free booze is definitely a plus! ;-)
---
Things to do in Langkawi in 3 Days
Book the ICONIC Langkawi Island Hopping Boat Tour! It only costs $8.45 U.S.D (which I'll never really understand why they don't charge more), and you simply can't leave the island without visiting all the stops! It's a half-day tour that includes snorkeling, swimming at a beautiful lake (with pleasantly warm water), and a visit to one of the best beaches in Malaysia! I've done this tour EVERY time I visit Langkawi, because it's just a great way to soak up the scenery, and enjoy a day cruising through the islands in the archipelago! Trust me, you won't be disappointed!
Take a stroll through the charming Oriental Village and then head up to the Langkawi Cable Car & Skybridge! This is another MUST-DO during your visit, as it's just fun and offers AMAZING views of the island's marvelous landscape of the entire archipelago and Southern Thailand! It's the highest cable car in all of Malaysia, and you'll fly through the eastern cliffs of Mt. Machinchang with the lush forests below, and arrive at the second highest peak, Mt. Machinchang!
If you're looking for a relaxing beach day, then look no further than Pantai Cenang! With it's soft-white sand and plenty of restaurants and beach bars nearby, it's definitely THE PLACE to be in all of Langkawi.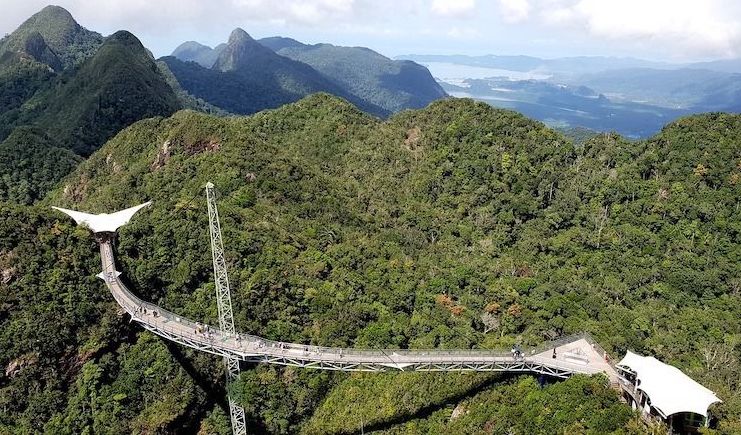 Rent a Moto or a car and explore all of the waterfalls! There are 3-4 really great ones perfect for swimming, and one even has a natural waterslide and "jacuzzi"! I'd recommend the Seven Wells Waterfalls and Terjun Temurun!
Eat one or two meals at this restaurant called Tomato, because It's actually one of my personal favorite aspects of visiting Langkawi! They serve some of the best and most affordable Indian food I've ever tried, and everyone I've told to go there always thanks me for the recommendation! They've got a pretty decent sized menu, but I always order the

Butter Chicken with some Garlic Cheese Naan!

Enjoy a different side of Langkawi by trying out this Langkawi UNESCO Global Geopark Tour! I've personally done this tour as well and definitely loved it! It's just mesmerizing to sail through the Mangroves and admire all the beautiful limestone cliffs and diverse wildlife, as well as visit secluded coves and beaches!
Party it up in Pantai Cenang's buzzing nightlife scene! There are tons of fun beach bars and a few clubs to dance at, and the backpacker atmosphere really is outstanding! I've spent many nights drinking tax-free booze on the beach with friends I met at hostels, and they're some of my fondest memories of Langkawi!
Either book a one-night stay or "crash" the Berjaya Resort in Langkawi! It has an incredible pool with a swim-up bar, and you could easily spend all day relaxing here! Also, they've got their own private beach with volleyball nets, so it's an ideal place to go with a group of friends!
Looking for a bit more excitement? Book this popular Langkawi Dayang Bunting Islands Jet Ski Tour for a four-hour adventure that's guaranteed to get your heart racing! You'll cruise through Langkawi's Islands and crystal clear waters onboard your own fast jet ski, making several stops along the way that include hiking, kayaking, and of course lots of swimming!
Last, but certainly not least, check out the Langkawi Underwater World! It's one of the largest aquariums in Malaysia, and includes over 4,000 different aquatic species inside the park that's almost six acres big!
10 Fun Things and Activities to do in Langkawi, Malaysia #GoPro
---
Best Places to Stay in Langkawi for 3 Days
Langkawi is a really large island, but there are only a couple of main areas where you'll want to stay for a 3-day visit! My personal recommendation would be to stay along Pantai Cenang, as it's the most populated region with the most to offer its visitors. With that being said, if you're looking for a luxury getaway or romantic holiday, there are some truly EPIC resorts on Langkawi that would provide an unforgettable visit. Here are my top recommendations for where to stay on Langkawi:
---
4) Perhentian Islands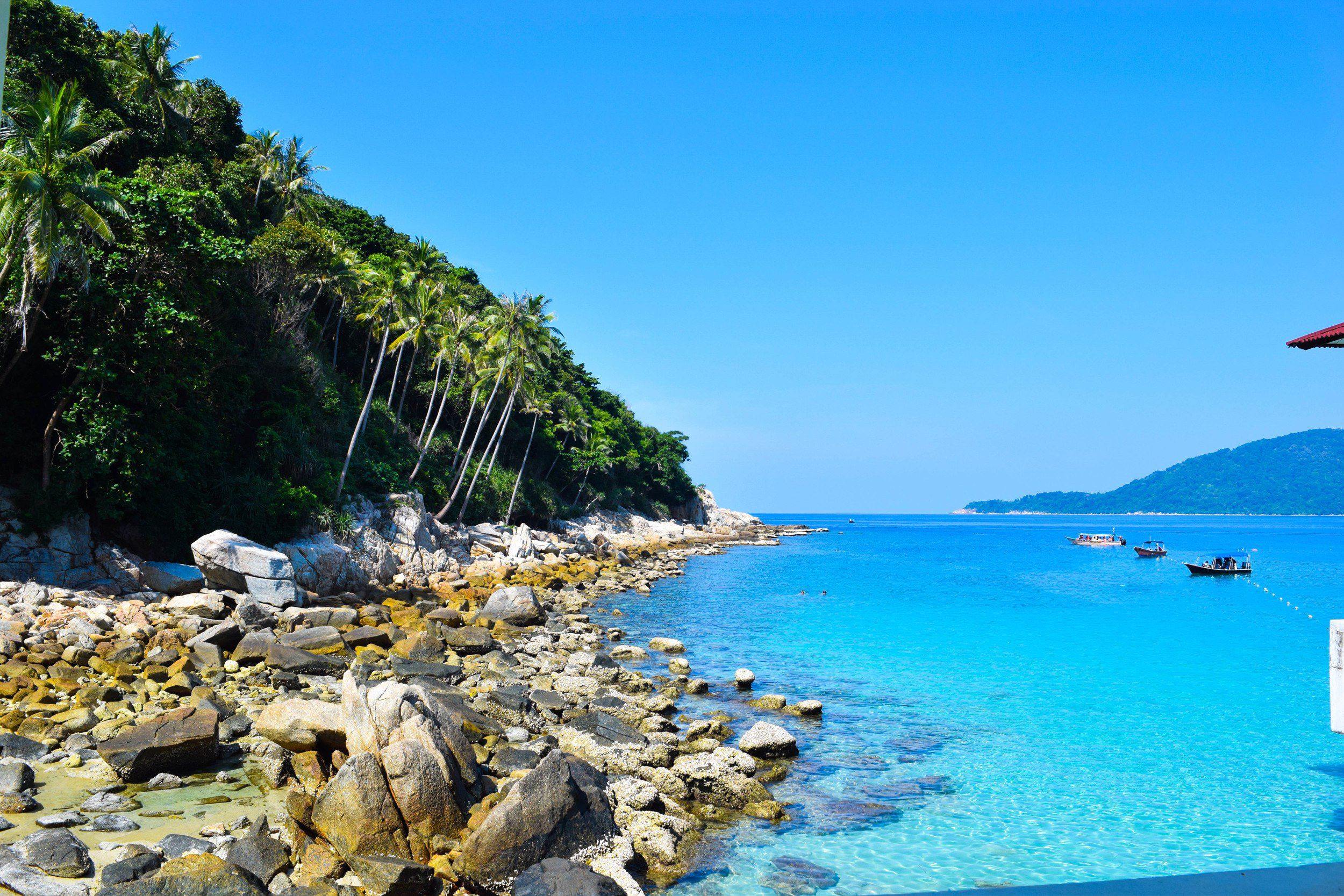 Next on the list (and another one of my personal favorites), are the marvelous Perhentian Islands! Here you will find many of the country's most idyllic beaches, incredible scuba-diving sites (shipwrecks, turtles, and colorful reefs), and a laidback paradise vibe! Some have even referred to as "Maldives of Malaysia"
The Perhentian Islands consist of two main islands: Perhentian Kecil & Perhentian Besar. During my three visits, I've always chosen to stay on Perhentian KECIL, as it's the more popular of the two for younger travelers, and also has lots more nightlife and a lively atmosphere. Perhentian BESAR (which I have visited during snorkeling trips) is more geared towards families, vacationers, honeymooners, and those looking to book expensive resorts.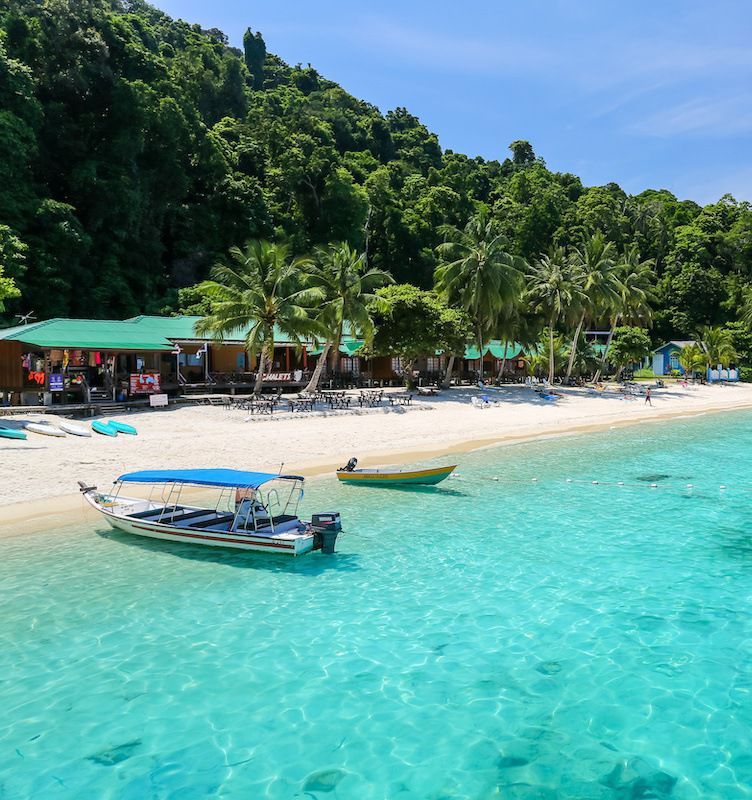 ---
So if you're planning a 3-day visit to the Perhentian Islands, you'll need to choose which island you'd like to base yourself on. I'd definitely recommend Perhentian Kecil though because there are still plenty of beautiful beach hotels/ resorts, and just has so much more to offer!
Take a read through my guide & photos for the Perhentian Islands below: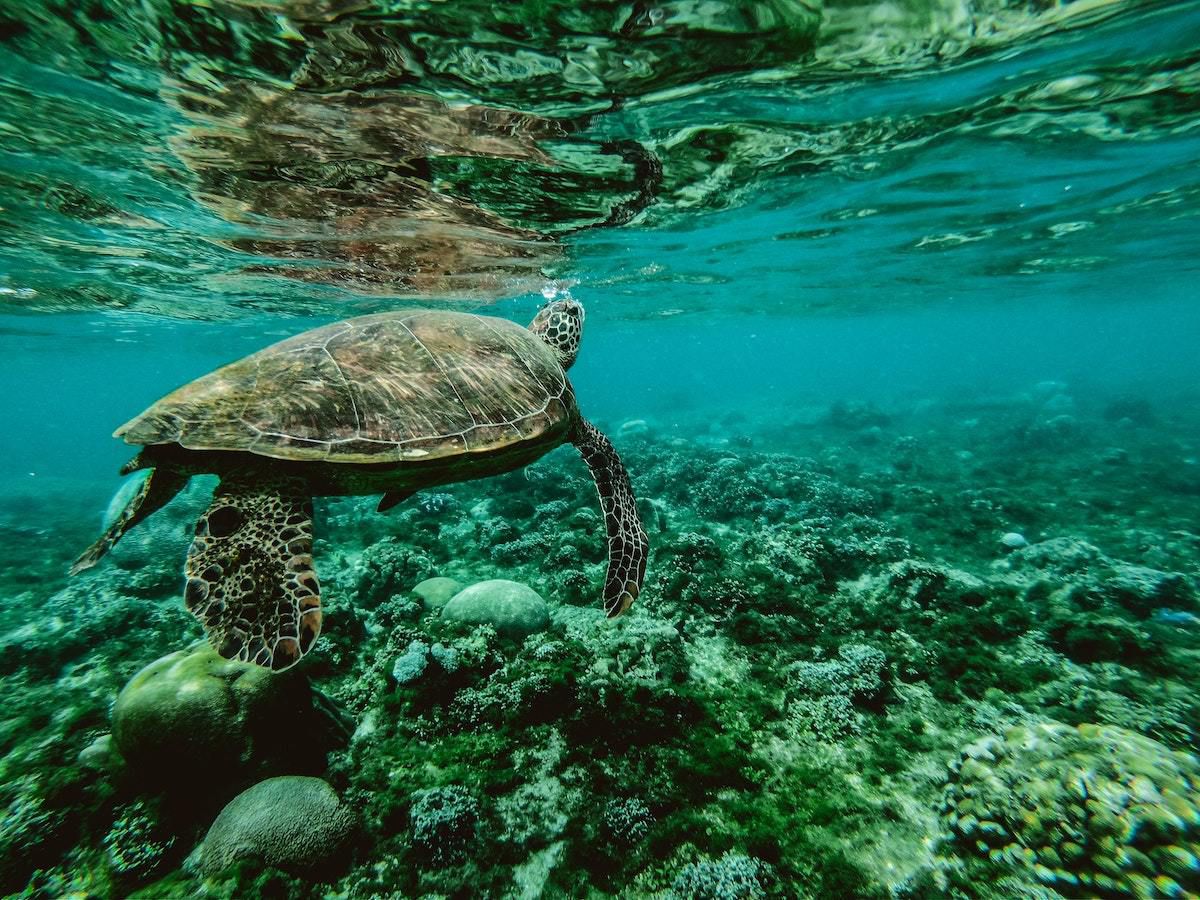 ---
How to get to the Perhentian Islands? Unlike the previous destinations on the list, there is no international airport, so you'll need to book a flight to Kota Bharu Airport OR Kuala Terengganu Airport, and from there you can hop on a bus/ or pay for a taxi to the Kuala Besut jetty which offers transfers to the islands. You can simply tell the boat drivers the accommodation you have booked, and they'll drop you off as close they can get you.
Important Note – The Perhentian Islands are CLOSED DURING THE MONSOON SEASON BETWEEN NOVEMBER – FEBRUARY, and the best time to visit is going to be between May-August.
---
Things to do in the Perhentian Islands in 3 Days
Book one of the many snorkeling trips offered on the island! They aren't expensive at all, and will take you to some really awesome places where you'll almost guarantee to swim with turtles, countless fish, stingrays, and lots more!
Book a Fun-Dive or Discover Scuba at one of the many dive centers! Since this only a 3-day visit, you won't have enough time to get your PADI scuba diving certification, but if you're already certified (which I'm sure most people who are interested in the activity will be) you'll honestly want to do as much diving as possible!
Simply relax on the beach! The Perhentian Islands truly are a marvelous vacation destination, so rent a beach umbrella/ lounger, read a book, sip on a coconut, go for a swim, play some volleyball, soak up the sun, and let your stress melt away!
Attend one of the movie nights! A couple of the resorts/ restaurants on the island will play nightly movies for customers, so it's a great way to spend an evening after the sun goes down. So get there early to find a good seat, order some delicious Malay cuisine, and watch whatever movie they're playing that night!
Party it up at Perhentian Kecil's nightlife scene. While there are many places you can go to grab a drink, a few of my favorites are Panorama Bar, Monkey Bar, and the Pirates of Perhentian!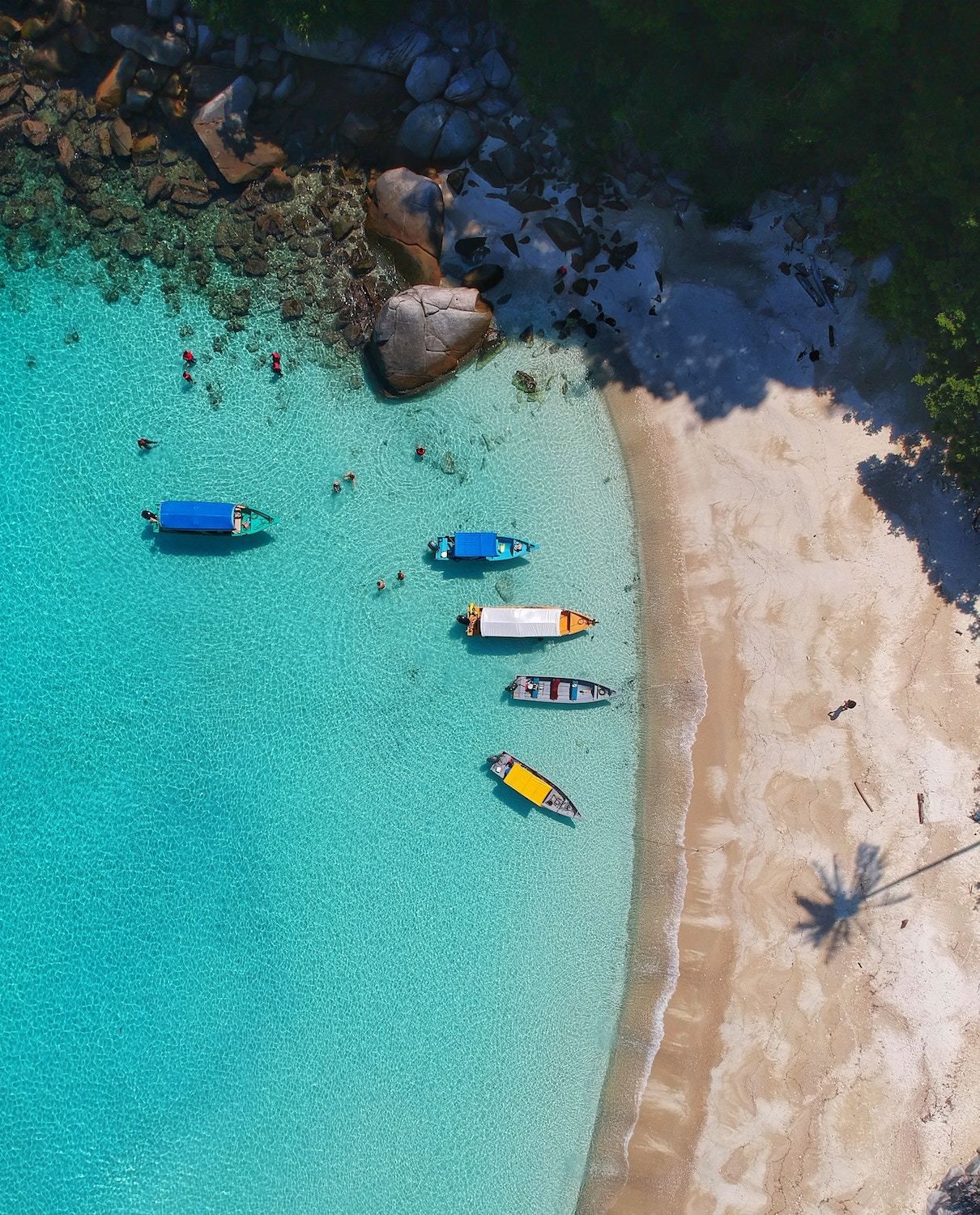 ---
Best Places to Stay in the Perhentian Islands for 3 Days
Now, since I like staying on Perhentian Kecil and know it well, all of these accommodation recommendations will be there!
Perhentian Grand Seaview Villa

: Owned and operated by a Malaysian/English couple who met on The Perhentian Islands, this private secluded tree-house villa overlooking the sea would provide for a super memorable stay while being nestled in the serene jungle!

Bubu Resort Perhentian Island – Located right on Long Beach, Bubu Resort is definitely my favorite place to stay on the island! The rooms/ beds are super comfy, the buffet breakfast is divine, and the entire property is absolutely beautiful. I stayed there during my most recent visit, and really loved it!
Tropicana Inn / Tivoli Backpackers: For the backpackers/ budget-travelers reading this, this is where I'd recommend! It's actually a combination of two different places, but they both offer dorm beds at an unbeatable price!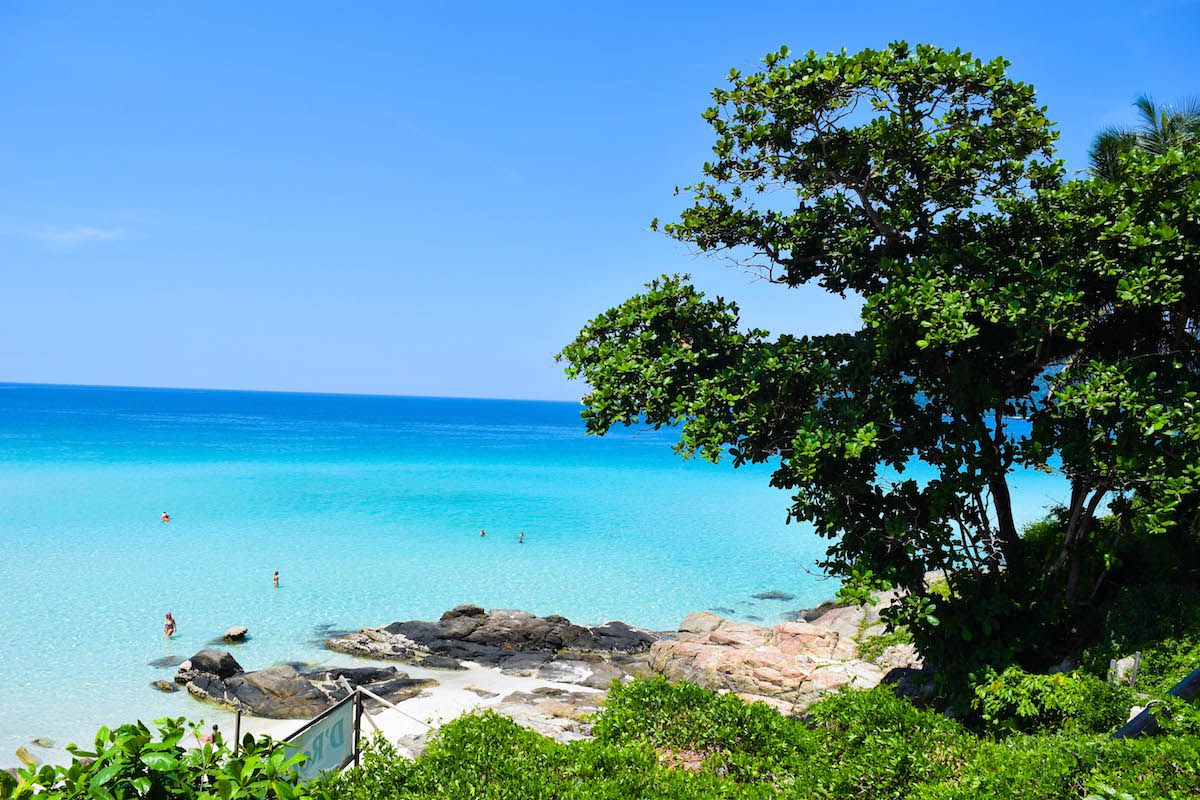 ---
5) Pulau Kapas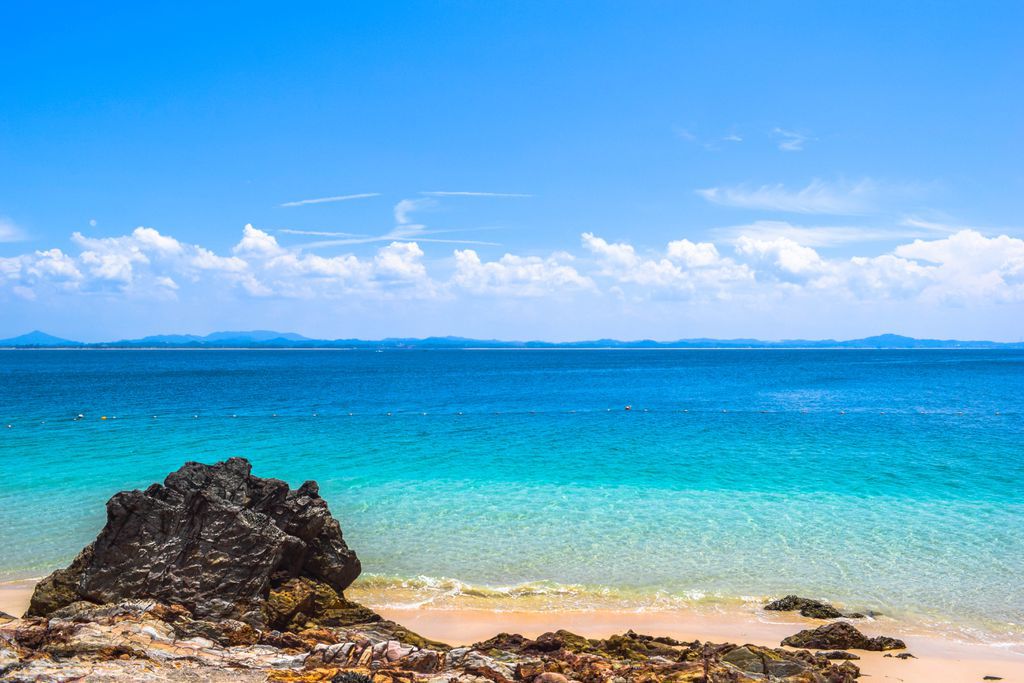 Want to visit one of Malaysia's best-kept secrets? Well, look no further than the laid back tropical hideaway, Pulau Kapas! So when I was based in Kuala Lumpur, all of my ex-pat friends would regularly go on a weekend getaways to Kapas Island, and told me how much they loved it! I finally got the chance to check it out for myself, and immediately fell in love with it! (tramadol)
While it may be the most under-developed places to visit on this list, that's what makes it so charming! There are limited accommodation options, not that many places to eat, and honestly not much to do – but it's simply the definition of paradise! The color (and temperature) of the water will put you into a complete state of relaxation, and the snorkeling right off the beach will blow your mind! I had never seen any reefs like that so close to my hotel! You can just wake up, pop on your snorkel, and go swim with turtles among colorful reefs within a 1-2 minute swim!
It also has an unbeatable laidback vibe, and all of the travelers who visit Kapas Island seem to be incredibly friendly! Since it's an off-the-beaten-path destination, it attracts a really great crowd of long-term travelers/ backpackers who are looking for authentic connections and experiences.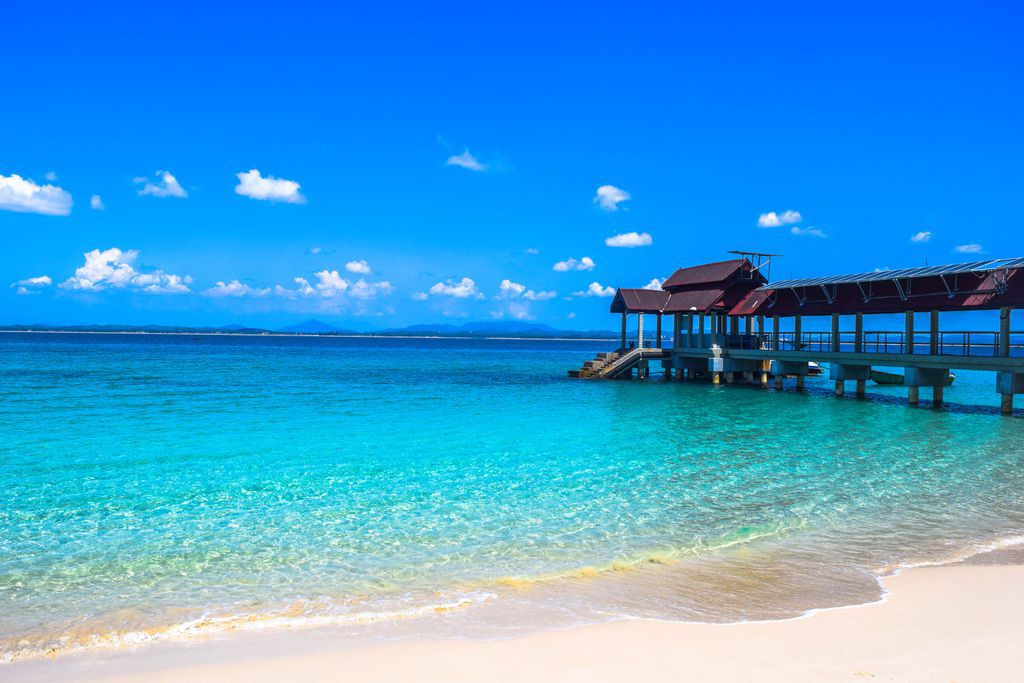 ---
How to get to Kapas Island…? It's pretty simple! You've just got to book a flight to Kuala Terengganu Airport, and then either take the bus/ book a taxi to the Marang Jetty. Transfers on the speed-boat only take 15-minutes and cost around $5 U.S.D per one-way. Transfer boats leave Marang at 9.30 am, 11.30 am, 1.30 pm, and 4.30pm.
Also, be sure to BRING CASH (there are not ATM's on the island), a flashlight for getting around at night, and don't forget reef-safe sunscreen/ plenty of insect repellanant!
Important Note – Pulau Kapas is also closed during the Monsoon season between November February, and the best time to visit is from April – August.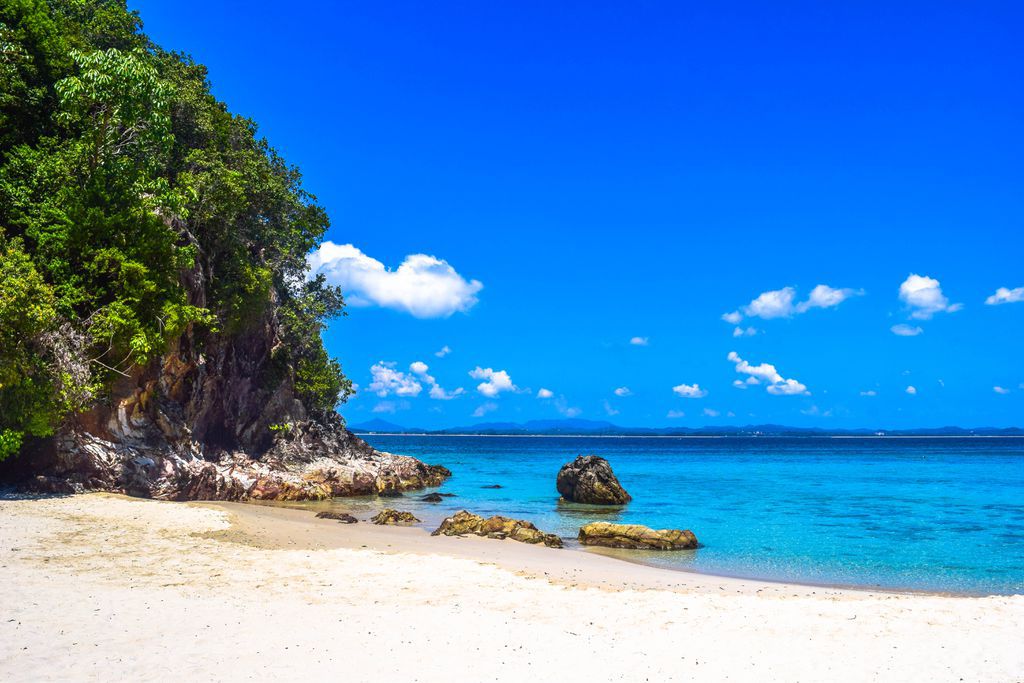 ---
Things to do in Pulau Kapas in 3 Days
As mentioned above, make sure you go snorkeling right off the beach! You'll honestly be amazed at what you can find!
Walk along the beach across the entire west side of the island! It won't take you more than 20-30 minutes, and is truly jaw-dropping! They even have these golden staircases which are quite photogenic!
Take a half-day-trip over to the neighboring Gem Island Resort & Spa! It's just a short boat ride away and offers relaxing hammocks, a turtle sanctuary, a great restaurant, spa, and fantastic snorkeling (I actually saw a pretty big shark when I snorkeled there!)
Have a few meals at the Jetty Café, which is one of the first establishments you'll see when dropped off at the main arrival jetty. The family who owns is are super nice, the food is cheap, and it's quite delicious!
Check out Kapas Beach Chalet (KBC) for their incredible Friday night beach BBQ's.
Go scuba-diving! There's only dive-center on Kapas, so go chat with them about all the different dive sites.
Take a walk through the jungle to different viewpoints
Play Beach Volleyball with fellow travelers!
Enjoy the peaceful laidback setting!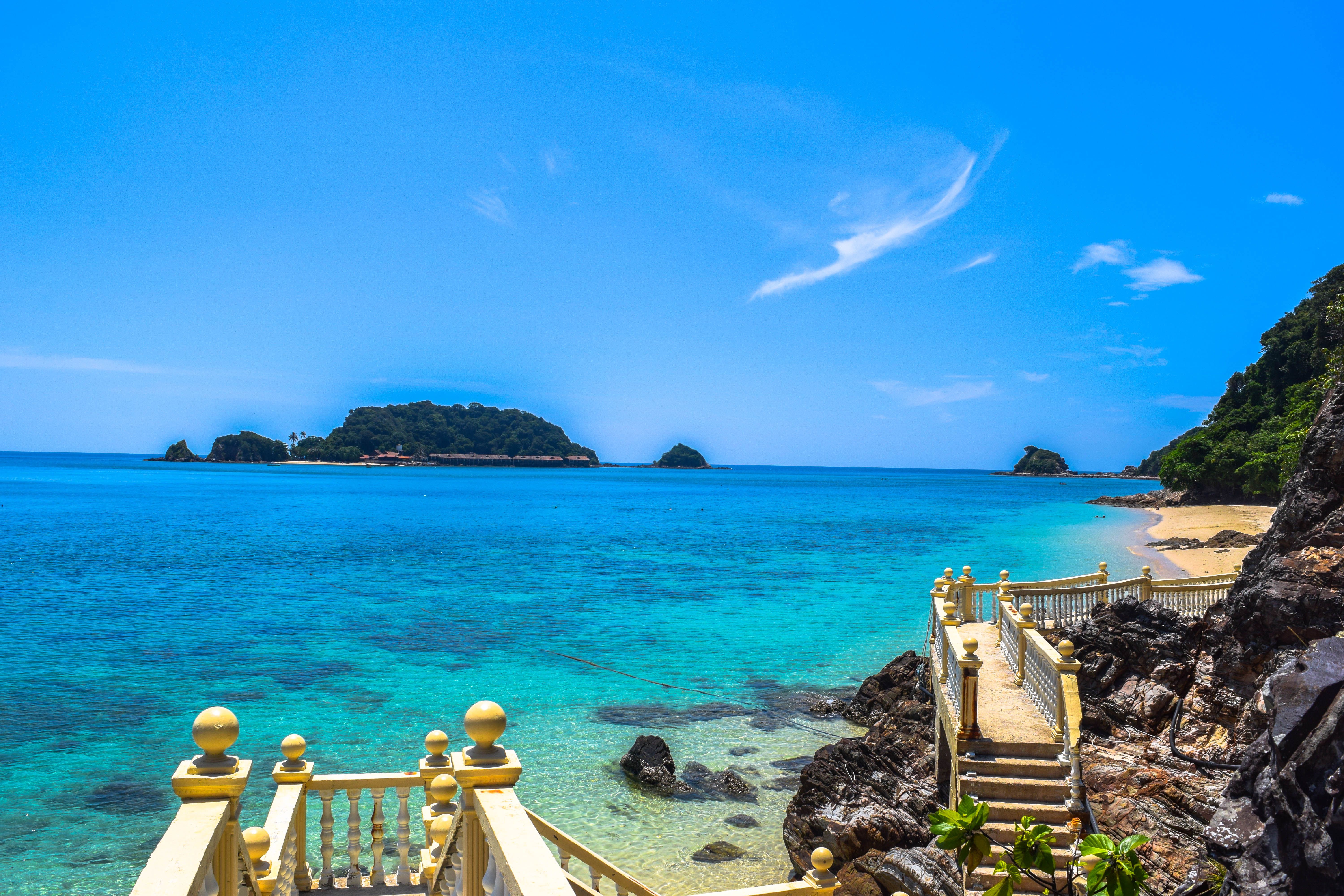 #22. Malaysia's best kept secret — Kapas Island | Malaysia 2017 | Travel Vlog
---
Best Places to Stay on Pulau Kapas for 3 Days
There really aren't that many options to choose from, but here would be my top picks!
Kapas Beach Chalet: You can't book online, but it's definitely one of the more popular establishments on the island! Great stuff, delicious food, basic yet comfortable rooms, and awesome staff!
For the super-budget travelers, you can rent a tent and beach camp on Kapas Island!
Kapas Turtle Valley Resort: Tucked away on the very far end of the island, this lovely little resort offers its own private beach, budget-friendly rooms (with breakfast included), and they also have wi-fi available! I didn't stay there myself, but did get the chance to meet the owners who were helpful and friendly!
Gem Island Resort & Spa. Finally, if you're looking for a luxurious 3-day Island getaway, then reserve a room on the neighboring Gem Island. Transfers to/from Kapas Island & Gem Island don't take long at all, and it'll definitely provide for the most comfortable visit.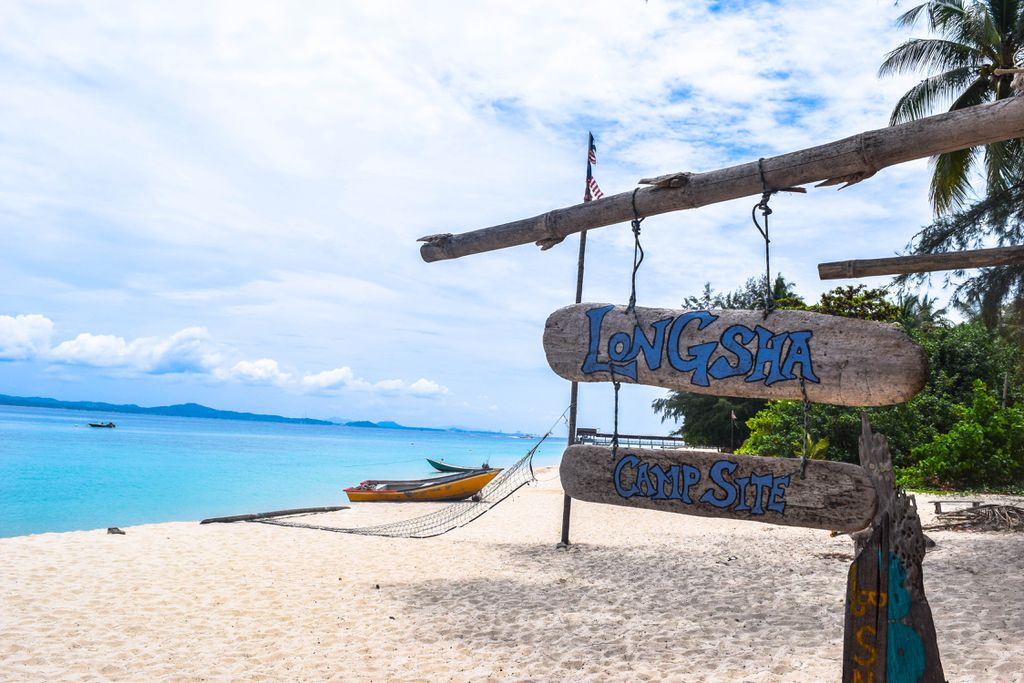 ---
6) Pulau Tioman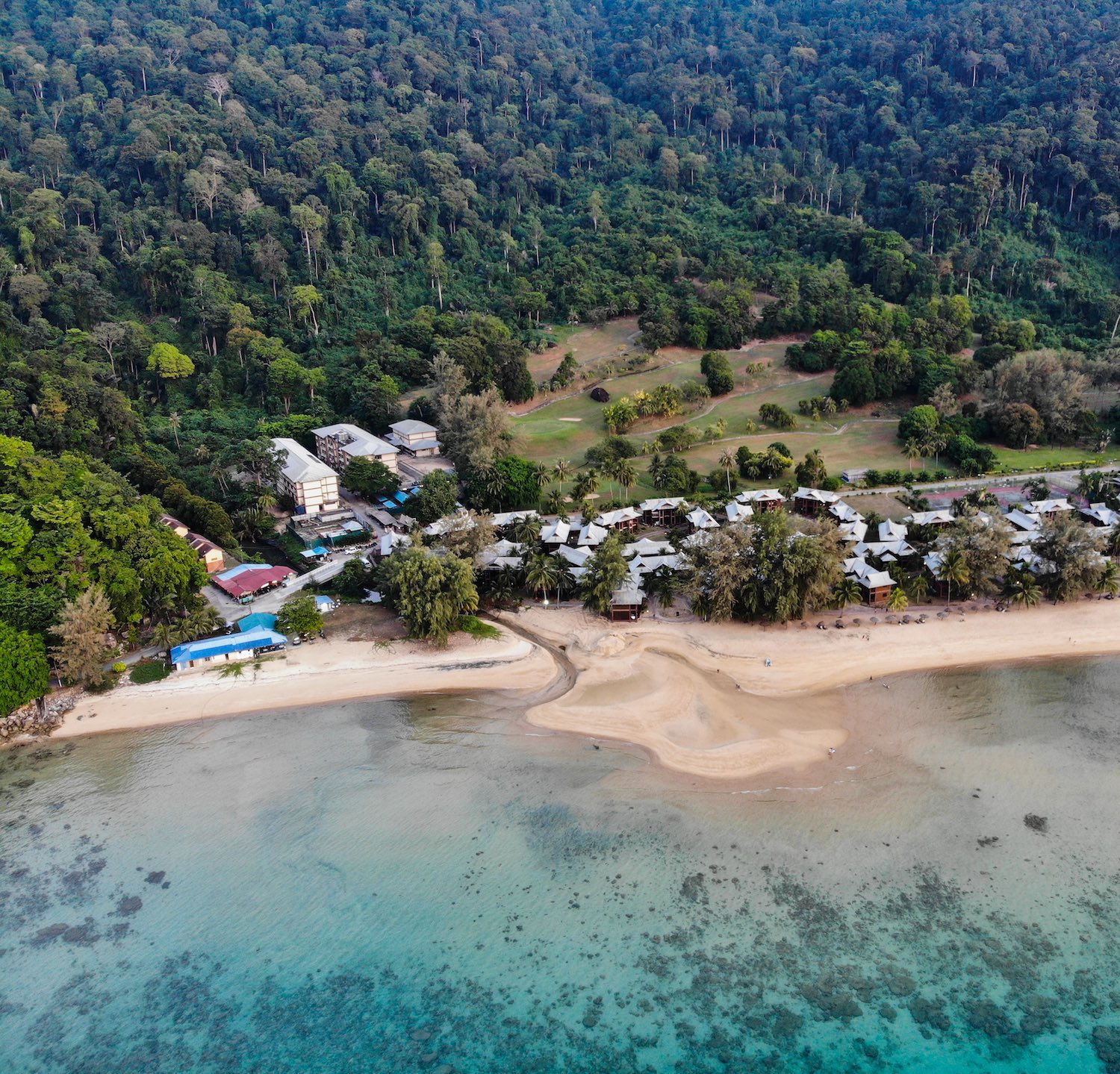 Another popular island destination, Pulau Tioman is famous for many beaches, wondrous dive sites (more shipwrecks, tropical rainforests, and diverse wildlife! It's a pretty decent-sized island with lots of different areas to stay, but I'd say the most popular would be on the east coast near the Juara Turtle Project, which is a hatchery that protects and studies sea turtles!
While it may be one of the more difficult destinations in Malaysia to visit in 3 days (as there aren't many great flight options), and the ferry from the mainland (Mersing Jetty) does take over two-hours, travelers will forget all about it once you arrive on its white sand beaches and azure waters!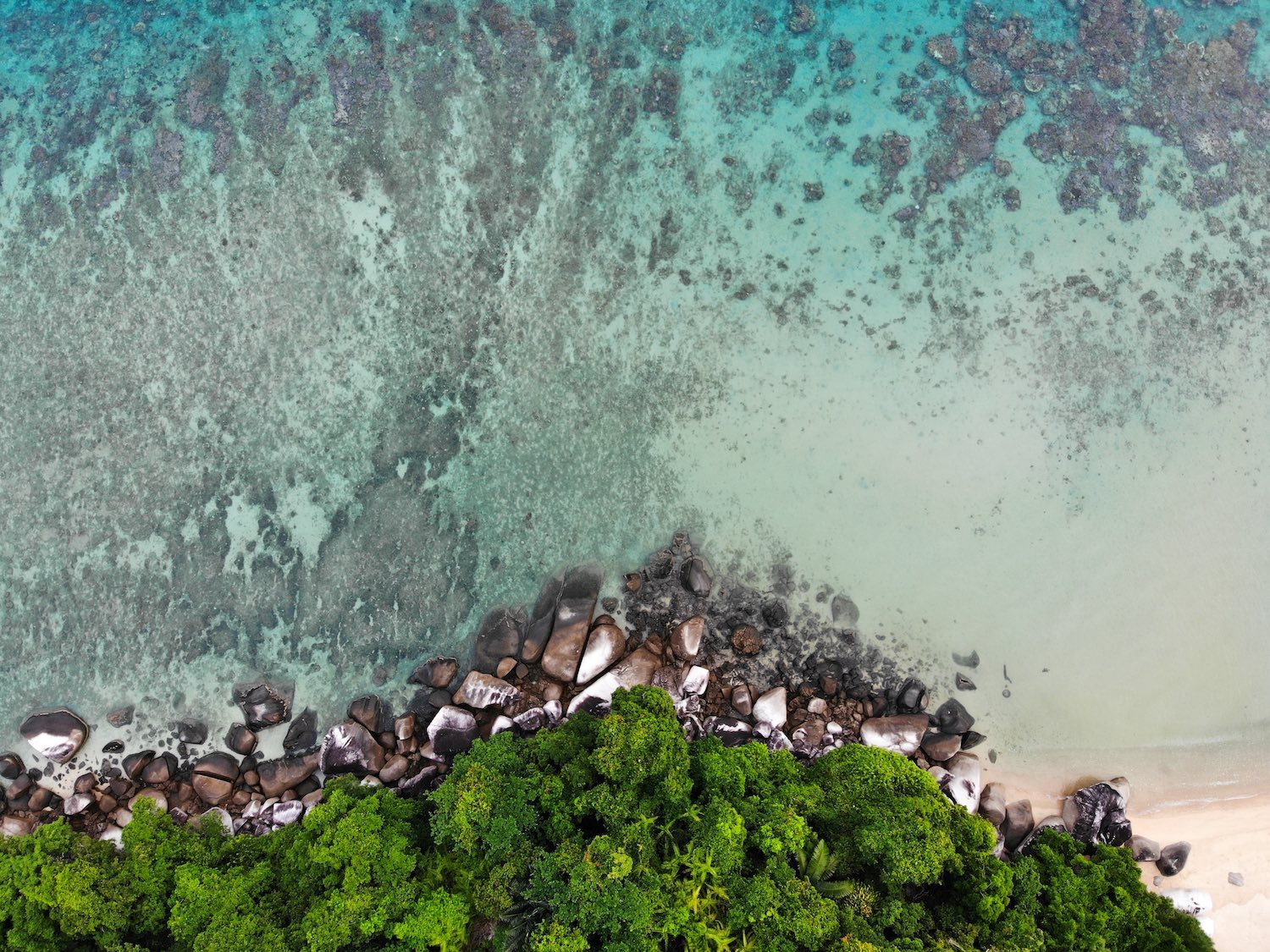 ---
Things to do in Pulau Tioman in 3 Days
Scuba-diving is a MUST on Tioman Island, as that's probably what it is most famous for! There are dozens of colorful dive-sites, shipwreckes, and of course lots of marine life.
Spend a day relaxing on the famous Paya Beach!
Visit the Juara Turtle Project
Book the Coral Island Snorkeling Trip! This is the trip I went on during my weekend trip to Tioman, and it was incredible (even with the unfortunate weather I experienced)
Explore the beach bars and restaurants at Juara Beach
Go hiking through Tioman and find your way to Asah Waterfall
Play a round of golf at the Tioman Island Golf Course
Hike to the top of Gunung Kajang, the highest mountain on Tioman Island!
THE SNORKELING PARADISE OF MALAYSIA – Tioman Island
---
Best Places to Stay in Pulau Tioman for 3 Days
Beachfront Guest Suite by the Hill

: Surrounded by pristine rainforest and beautiful nature, this lovely Airbnb hosted by a friendly local who goes above and beyond to make your visit to Tioman as memorable as possible! This property offers an amazing view of Juara Bay (which is one of my favorite areas on Tioman), and has a peaceful and private area with a river separating the property from the common beach area.
Japamala Resorts – By Samadhi: If you're looking for a luxury getaway on Tioman Island than this is where you want to stay! With it's tastefully designed rooms, top-notch services, and overall 5* ambiance, a stay here at the Japamala Resort will certainly leave an outstanding impression!
Cheers Chalet – For the backpackers out there reading this, Cheers Chalet is one of the cheapest options available on Tioman Island!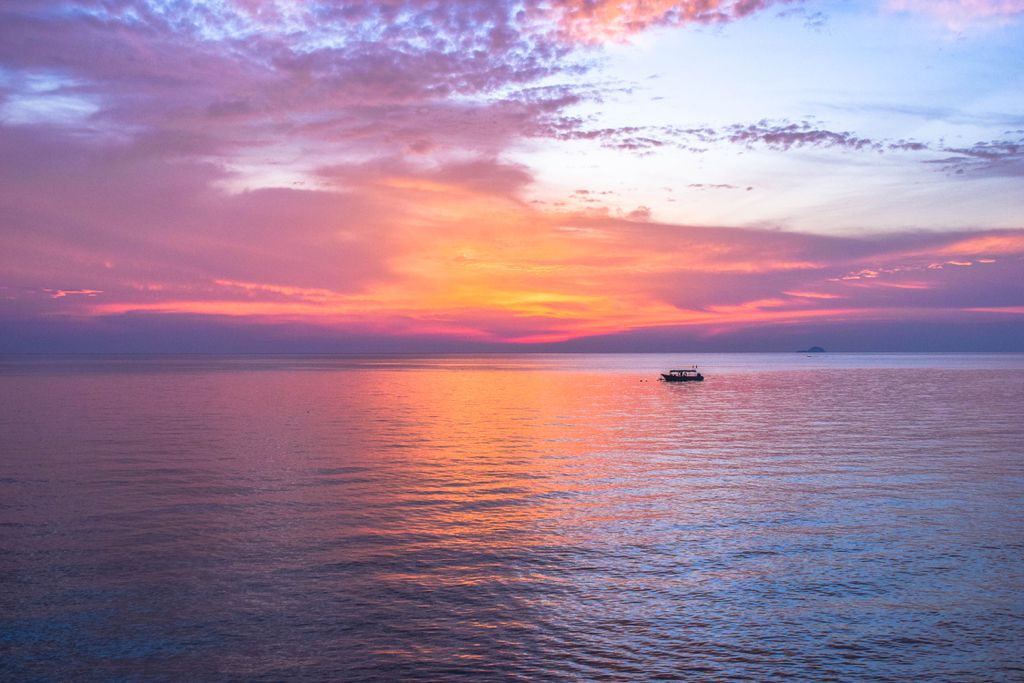 ---
7) Cameron Highlands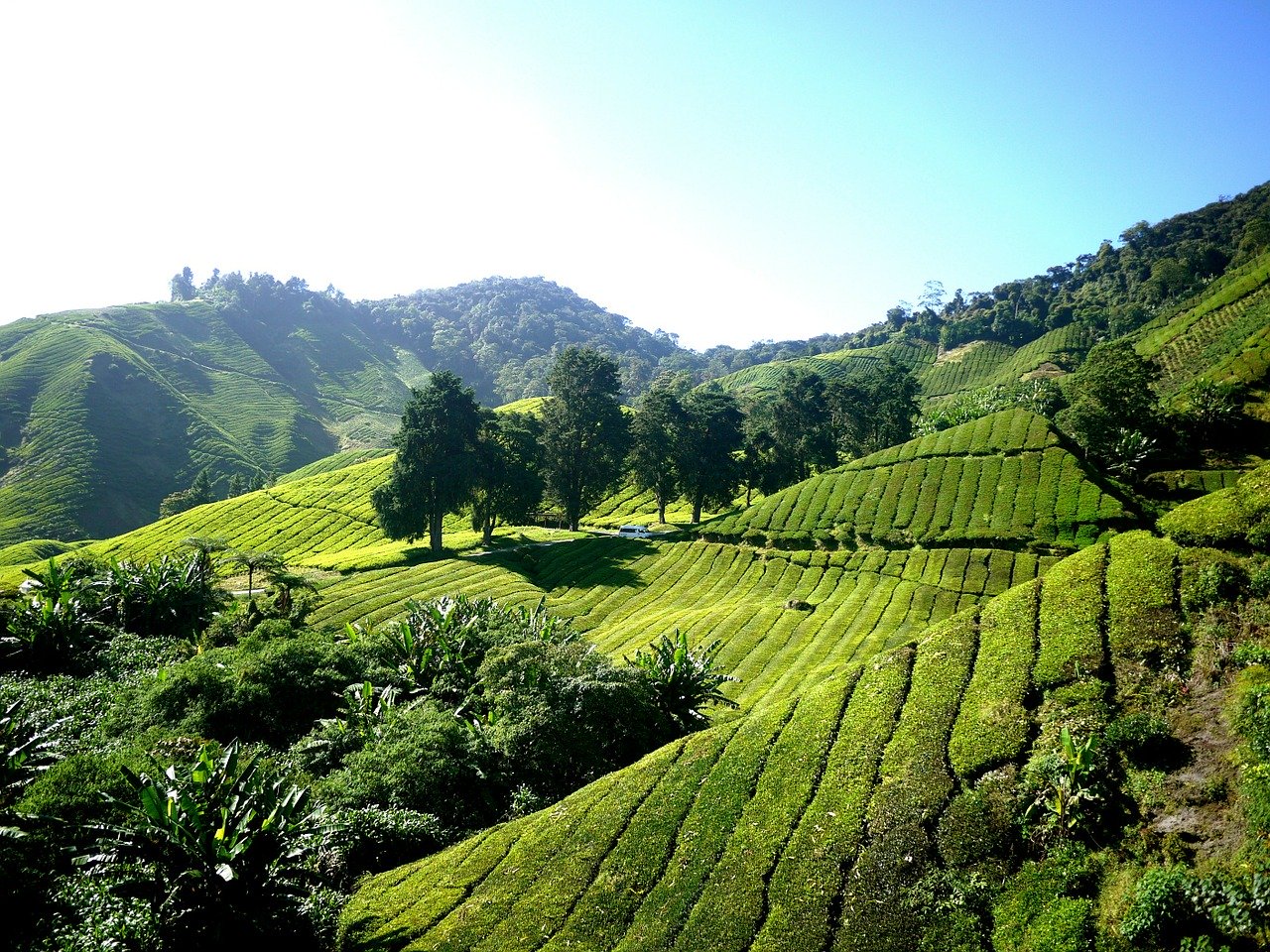 Last, but certainly not least, the Cameron Highlands must be included for the best places to visit in Malaysia in 3 days! While some people may say you could visit here on a day trip from Ipoh or Kuala Lumpur, I think it requires much more time as it's quite beautiful and there's a lot to explore!
Roughly the size of Singapore and famous for its massive rolling hills and tea plantations, a 3-day visit to the Cameron Highlands is guaranteed to be filled with stunning scenery, invigorating tea, and wonderful hiking opportunities!
The main town in the Cameron Highlands is called Tanah Rata, and it's filled with amazing little local eateries, fun tourist shops, and different travel agents to assist in booking day-trips to explore the area!
How to get to the Cameron Highlands? The nearest airport is Ipoh, and easy to book a bus ticket from Ipoh to Tanah Rata, or Kuala Lumpur to Tanah Rata
Be sure to take a read through my guide for a bit more detail: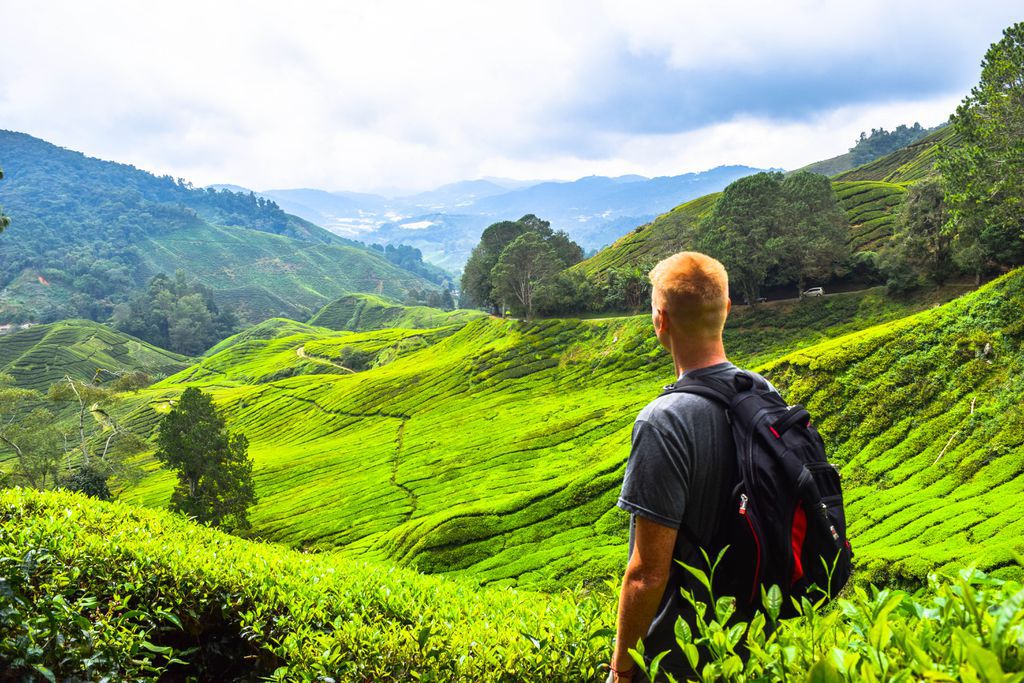 ---
Things to do in the Cameron Highlands in 3 Days
Book one or two of the many half-day/ full-day trips! Unless you rent a car or scooter, it's pretty impossible to see all the sights, so every tourist pretty much just books the arranged tours! I'd recommend looking into this Cameron Highlands and Mossy Forest Half-Day Trip
Visit the Strawberry farms
Take a stroll through the iconic night market
Take in the fresh air and go exploring on this Gunung Jasar Mountain Trekking Tour
Visit as many of the tea plantations and factories as possible!
Have dinner at Restoran Kumar! It's a small local place in Tanah Rata with cheap prices, but the food was particularly amazing!
Top 5 Attractions in Cameron Highlands │ Travel Malaysia Guide
---
Best Places to Stay in the Cameron Highlands for 3 Days
Cameron Highlands Apartment: Located just a minute's walk from the Cameron Highlands Market, and not too far from the main area of Tanah Rata, this gorgeous one-bedroom apartment is budget-friendly, comfortable, and clean!
CH Traveler's Inn: For backpackers looking for a budget-hostel dorm bed, then this is where you should stay! During my days backpacking in Malaysia, I stayed here and really enjoyed my time! It's a bit basic, but it is affordable, centrally located, and have an awesome staff!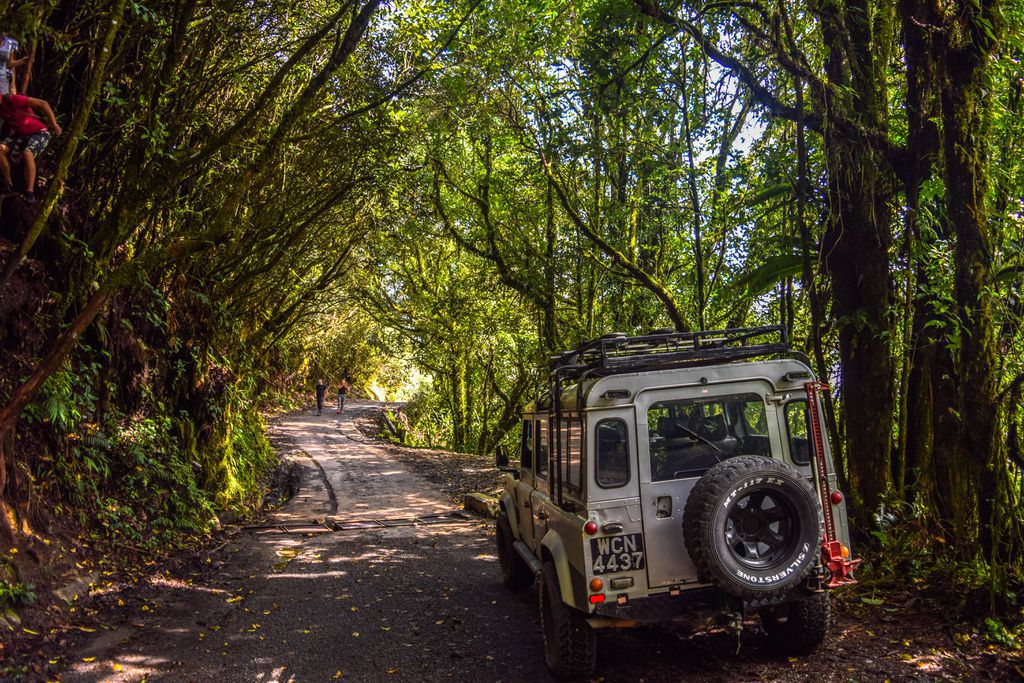 ---
Am I Missing Any Places to Visit in Malaysia In 3 Days?
This list really could have gone on and one, as I didn't even mention any of the places in Borneo Malaysia (as I haven't been there myself quite yet)! So if you think there are any specific destinations I should add to my Malaysia getaways article, please do let me know! I'd love to keep my list of fun places to visit in Malaysia as up-to-date as possible!
And if you're looking for a bit more travel inspiration, take a watch through this awesome video below…
The BEST of MALAYSIA – Top Places to Visit
---
Planning a trip to Malaysia & Southeast-Asia?
So as I've already mentioned, I've spent A LOT of time exploring Malaysia and the neighboring countries in Southeast-Asia, and would love for you to take a read through some of my favorite articles below! They're filled with helpful guides, things to do, travel itineraries, and so much more! And if you ever have any questions, please do feel free to reach out to me via email or on social media!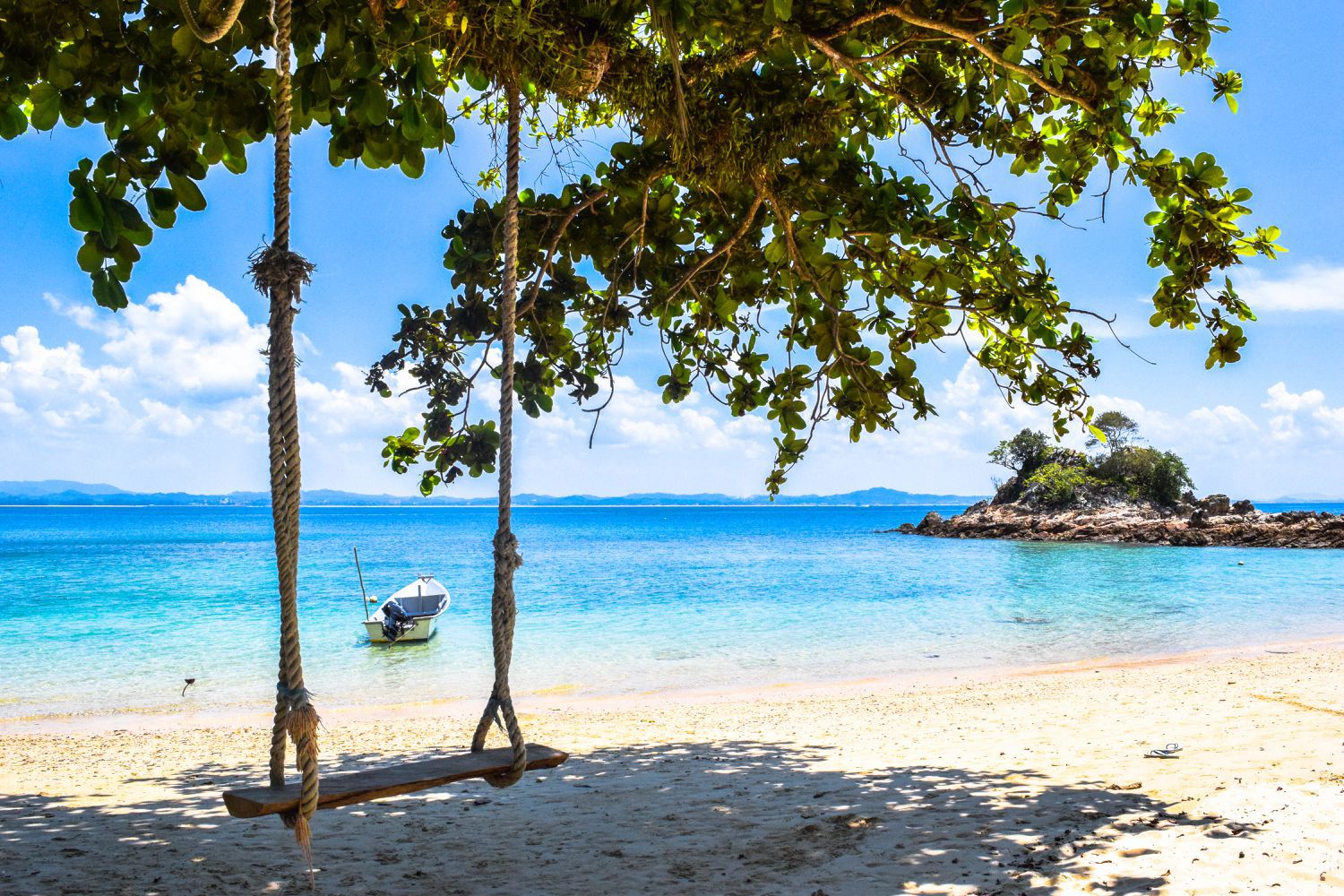 ---
Thanks for reading my guide on the best places to visit in Malaysia in 3 Days
Share these Malaysia weekend getaways with your travel squad!
https://www.jonesaroundtheworld.com/wp-content/uploads/2019/12/Best-Places-to-Visit-in-Malaysia-1.jpg
1044
1500
Dave
https://www.jonesaroundtheworld.com/wp-content/uploads/2017/03/logotry-1-1-300x106.png
Dave
2019-12-08 23:37:26
2023-09-01 05:16:14
TOP 7 Places to Visit in Malaysia in 3 Days | Epic Islands & Weekend Getaways