Planning a trip to Malaysia and wondering how to spend 2 days in Kuala Lumpur? Well, you've come to the right place.
I've put together this 2 days in Kuala Lumpur itinerary with the best places to visit, things to do, and where to stay. I also mention a few cheap street food and nightlife recommendations and so much more.
Kuala Lumpur (commonly shortened to KL) is the Malaysian capital and is the gateway to exploring this magnificent country. It's a thriving metropolitan city filled with unbelievably delicious food, fantastic shopping, beautiful sights, stunning panoramic views, and friendly locals.
It's one of my personal favorite cities in Asia. And I even lived here for a short period of time. Because the city is insanely vibrant, there are so many new and exciting things to do in Kuala Lumpur around every corner.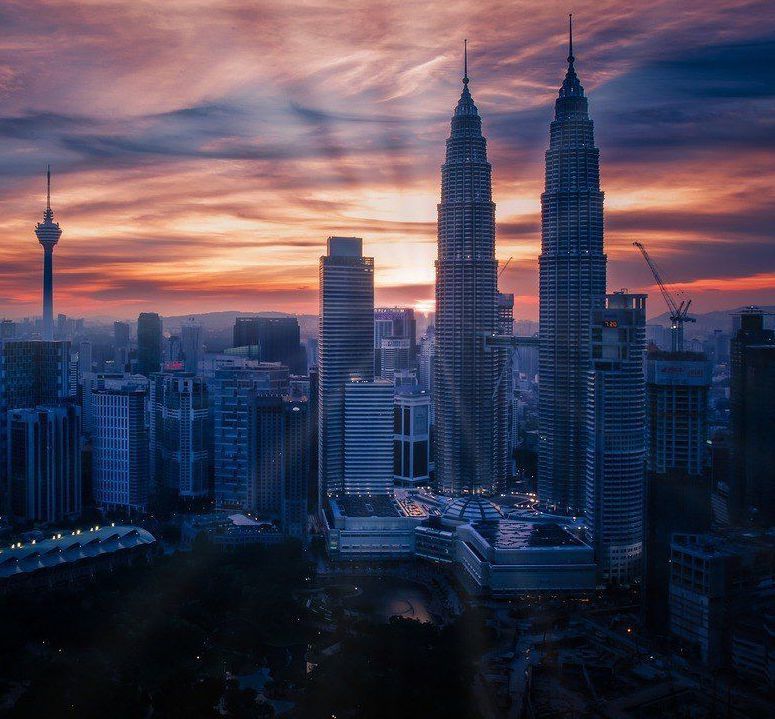 ---
While only spending 2 days in Kuala Lumpur isn't too long, you'd be surprised at how much you'll be able to see.
From walking up the colorful steps of the Batu Caves, sipping cocktails on top of helipads, and swimming in rooftop infinity pools – it's safe to say that Kuala Lumpur is guaranteed to be filled with experiences you'll never forget.
So without further ado, keep reading to journey with me through this Kuala Lumpur itinerary for 2 days, and start planning your trip to this magnificent destination.
---
WHERE TO STAY FOR 2 DAYS IN KUALA LUMPUR
First things first, you'll want to book accommodation for your 2 days in KL. While there are obviously plenty of different accommodation options all over Kuala Lumpur, I recommend you stay at the condominium where I lived for a short while.
It's called Regalia Condominium, and it's truly amazing. I miss living there so much, and it's the perfect place to stay for your Kuala Lumpur itinerary for 2 days.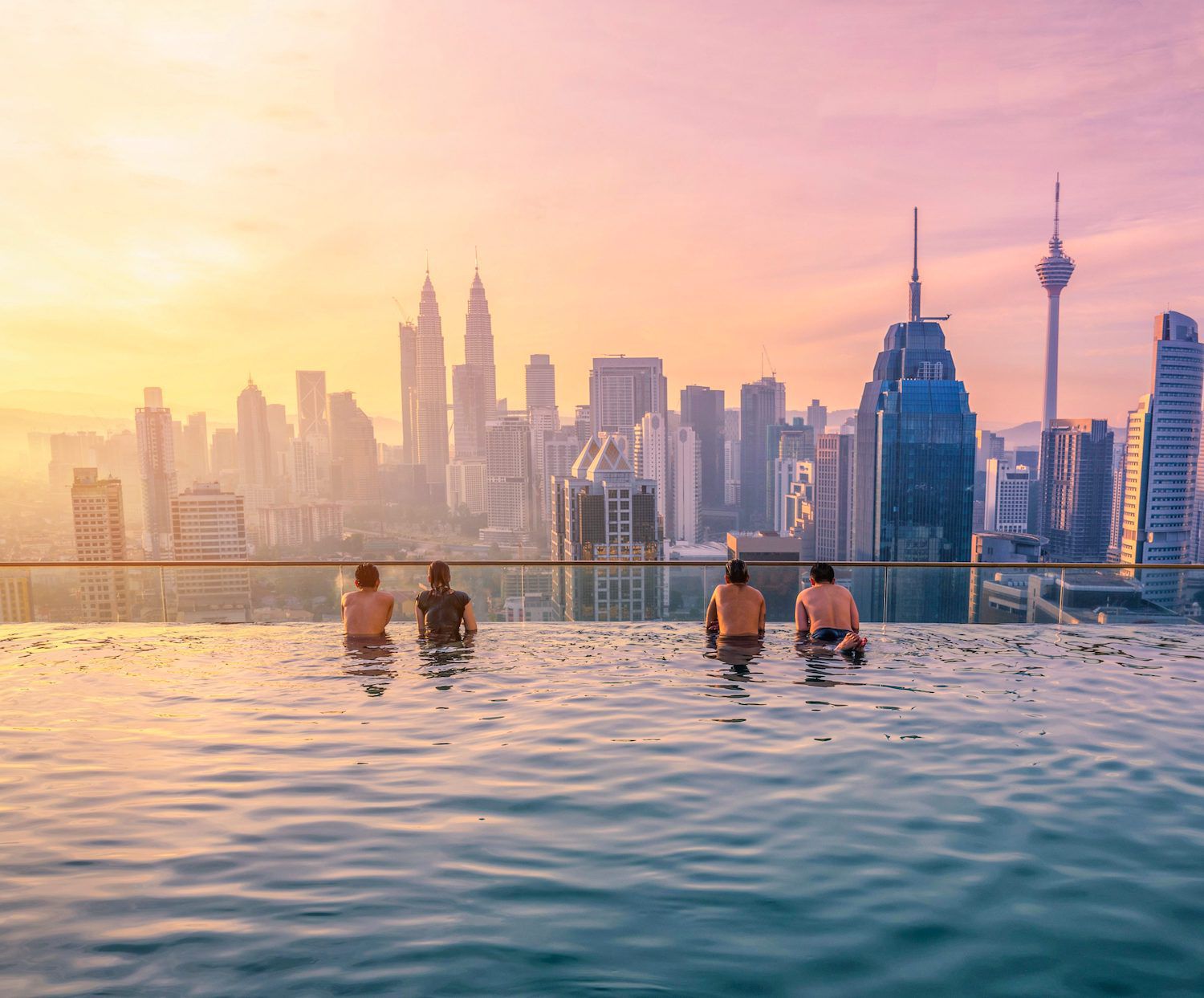 ---
In the past few years, it's become quite popular in the Kuala Lumpur Airbnb community, and there are dozens of amazing apartments to choose from.
So you know you'll be able to find availability in at least one of them. It really just depends on your budget and how many people you're traveling with.
It's conveniently located within a few minutes walk to two different metro lines, has an awesome mall next door, and the condominium is clean, modern, and comfortable. But the best reason to book a stay at Regalia is to swim in the rooftop infinity pool.
It offers an amazing view of the capital city, and enjoying a sunset swim while looking over at the iconic Petronas Towers will definitely be a highlight of your Kuala Lumpur 2-day itinerary.
Here are a few top-rated apartments for rent at the Regalia:
I've recommended the Regalia Condominium to thousands of people in the past years from my travel blog, and I've gotten lots of messages from people thanking me.
So trust me – I know you'll have a fantastic stay there.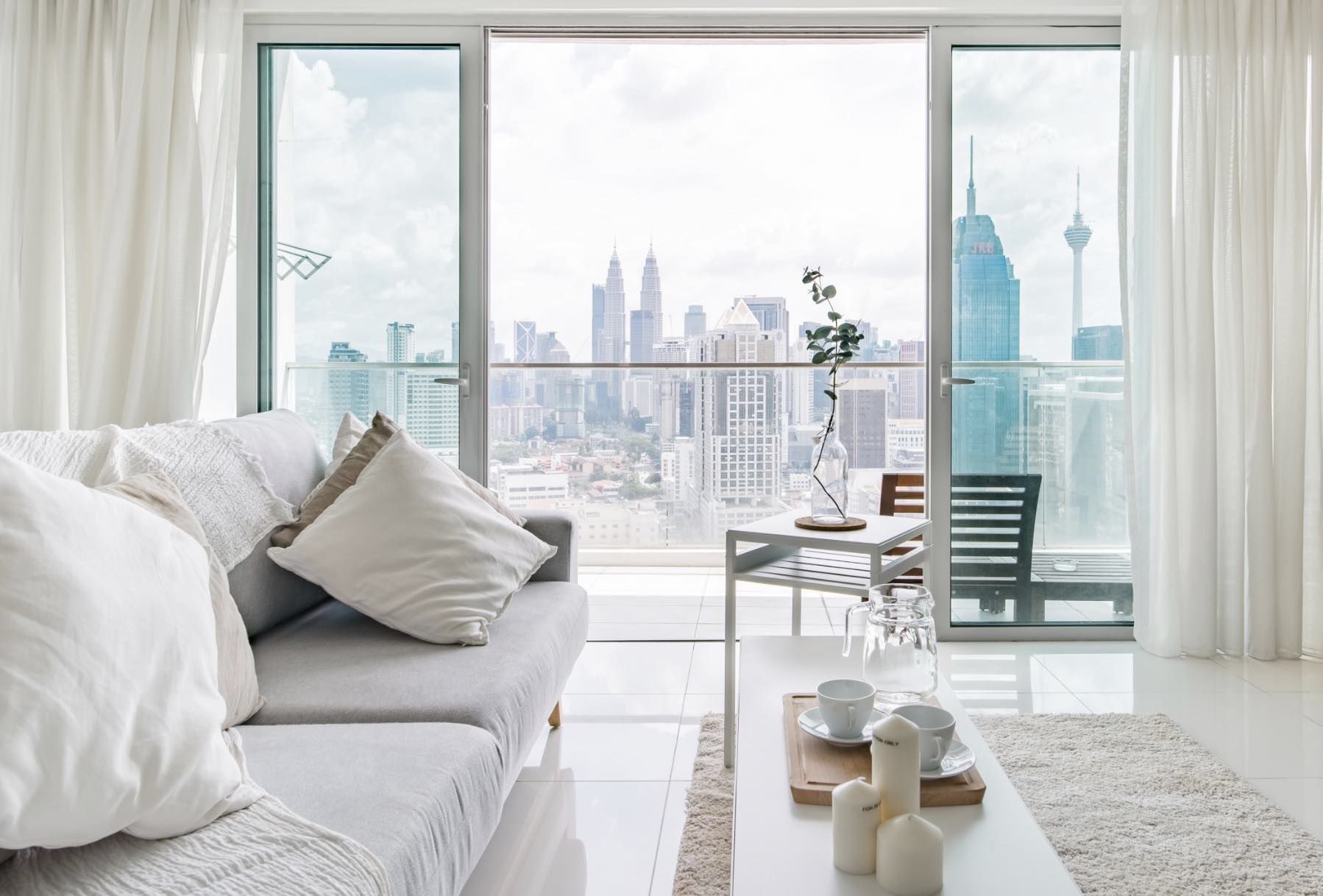 ---
HOW TO GET FROM THE KUALA LUMPUR AIRPORT TO THE CITY CENTER
The Kuala Lumpur Airports (KLIA & KLIA2) are unfortunately located about an hour's drive from the city center. So you'll definitely want to keep that in mind when making your travel plans.
Fortunately, transport options are pretty easy to navigate and quite affordable. The three main options are bus, train, and taxi.
2 DAYS IN KUALA LUMPUR TRAVELING VIA BUS
Taking a KL city bus is the most budget-friendly option costing only 11 MYR ($2.47 USD), and it takes about one hour or more depending on traffic. It drops you off at KL Sentral. The buses leave frequently and are comfortable.
So if you're a budget traveler looking to save as much money as possible, just follow the signs at the airport for the bus departures (on the bottom floor), and book a ticket there.
Just be warned – you may get stuck in traffic which can be annoying after a long flight.
2 DAYS IN KUALA LUMPUR TRAVELING VIA TRAIN
Personally, I find the train to be the best option. It doesn't cost too much more than the bus, and it takes you to KL Sentral in only 30 minutes.
The train is easy to find at the airport (display signs are shown everywhere pointing you towards KLIA Express), and it's just a much more pleasant experience.
You can also book KLIA tickets in advance, which will save you money (and have the tickets on your phone).
2 DAYS IN KUALA LUMPUR TRAVELING VIA TAXI
If you don't feel like dealing with public transportation and want to be taken directly to your hotel or Airbnb, then a taxi from KLIA Airport to the city center will cost around $35.
I personally don't like the taxi drivers in KL though (as they're notorious for ripping off tourists), so instead, I always recommend people to download GRAB, which is Malaysia's main rideshare app.
It works great, has fair prices, and is easy to use. Plus, if you're a new customer, you should get some FREE credit as a sign-up bonus.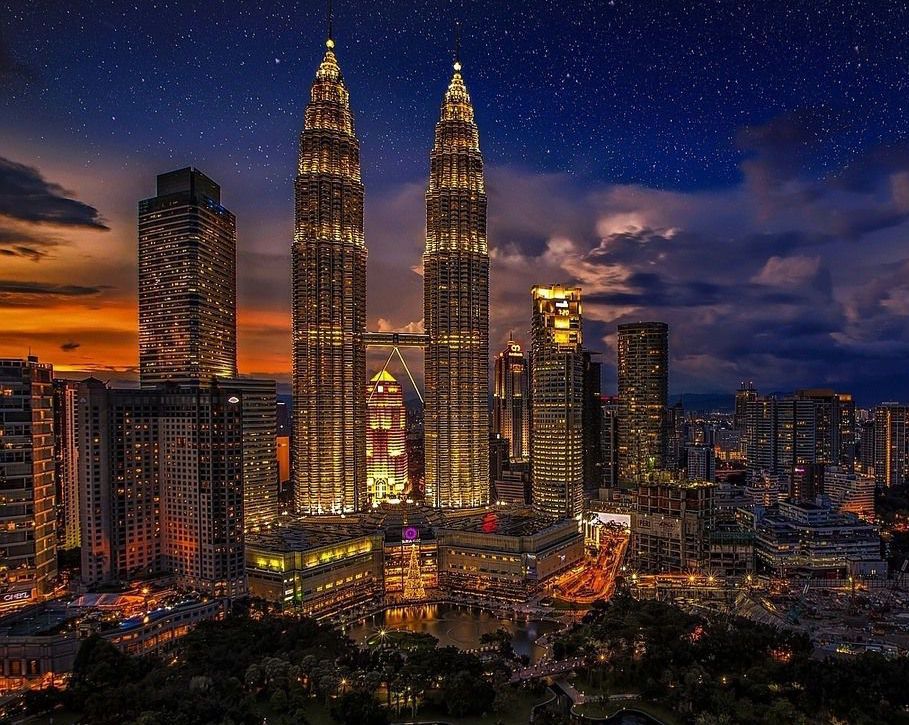 ---
HOW TO GET AROUND DURING YOUR 2 DAYS IN KUALA LUMPUR
Kuala Lumpur is a pretty big city, and while there are loads of attractions within walking distance, you're going to want to get comfortable using the metro.
Like most major cities in Southeast Asia, traffic is a huge concern. So unless you want to spend a good chunk of your 2 days in Kuala Lumpur itinerary in the backseat of a taxi or GRAB, you'll want to use the metro to get around Kuala Lumpur.
Fortunately, the Kuala Lumpur metro system works really well, has stops near all the major tourist attractions, and is incredibly affordable. With that being said, Kuala Lumpur is amazing to see on foot as well.
A lot of the main hotspots on this 2 days in Kuala Lumpur itinerary are within walking distance of each other. So you'll definitely have some fun getting lost along its streets and popping into random local eateries for a quick bite to eat
As I previously mentioned, GRAB is Southeast Asia's #1 ride-hailing app, and it is definitely worthwhile to have installed it on your phone during your 2 days in Malaysia.
This will come in handy for longer trips as well when you don't want to transfer metro lines or are heading out for dinner or drinks somewhere in the Kuala Lumpur city center.
Save this map to your smartphone, and use it during your two days in Kuala Lumpur.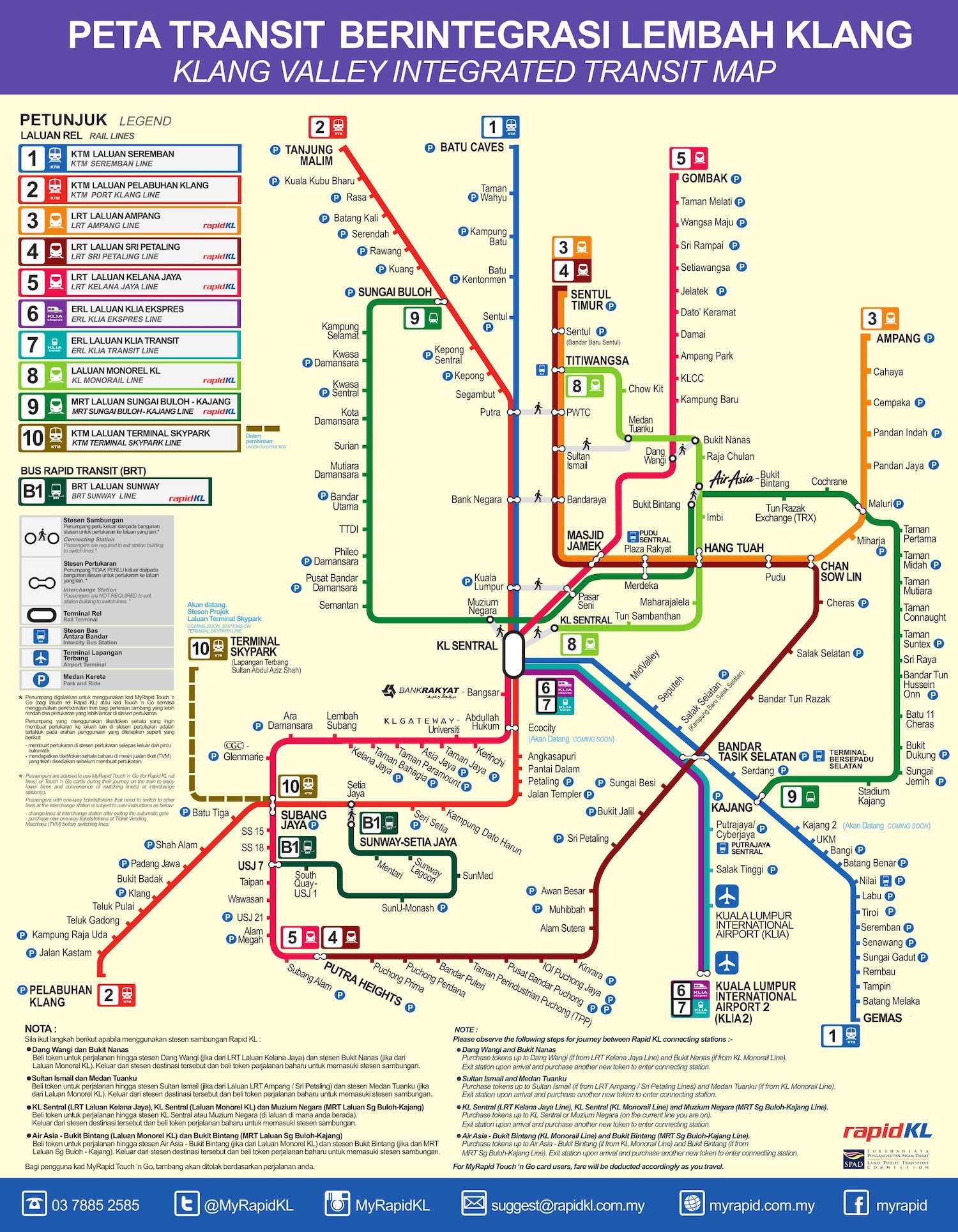 ---
KUALA LUMPUR ITINERARY DAY 1: BATU CAVES, PETRONAS TOWERS, SHOPPING + MORE
Alright, now that we've gone over some of the basics of any Kuala Lumpur travel guide, let's get into the best things to do during your trip.
---
BATU CAVES
Starting off your first day, wake-up bright and early and hop on the train out to the gorgeous Batu Caves. I put this as the first stop on my 2 days in Kuala Lumpur itinerary because visiting Batu Caves is absolutely a must-visit for any first-time visitor to the city.
And you'll want to get there early to avoid climbing the steep 272 steps during the intense Kuala Lumpur humidity.
The famous Batu Caves are one of Kuala Lumpur's most iconic places to visit. It boasts beautiful limestone cliffs, frolicking monkeys, and three main caves filled with unique Hindu temples and statues.
(Just be warned, the monkeys at Batu Caves are quite infamous for being a bit more evil than the average monkey in Southeast Asia).
It offers a fantastic photo opportunity in front of the large statue of the Hindu God at the bottom of the stairs. Then it provides an even more beautiful view of the gorgeous KL skyline in the distance.
Since it's such a popular tourist destination, I recommend you visit Batu Caves as early as possible to avoid massive swarms of crowds. That way, you can have a more enjoyable and peaceful experience at this important religious landmark.
The Batu Caves are open every day from 6:00 AM – 9:00 PM, and they're easy to access as the last stop on the KTM Komuter line.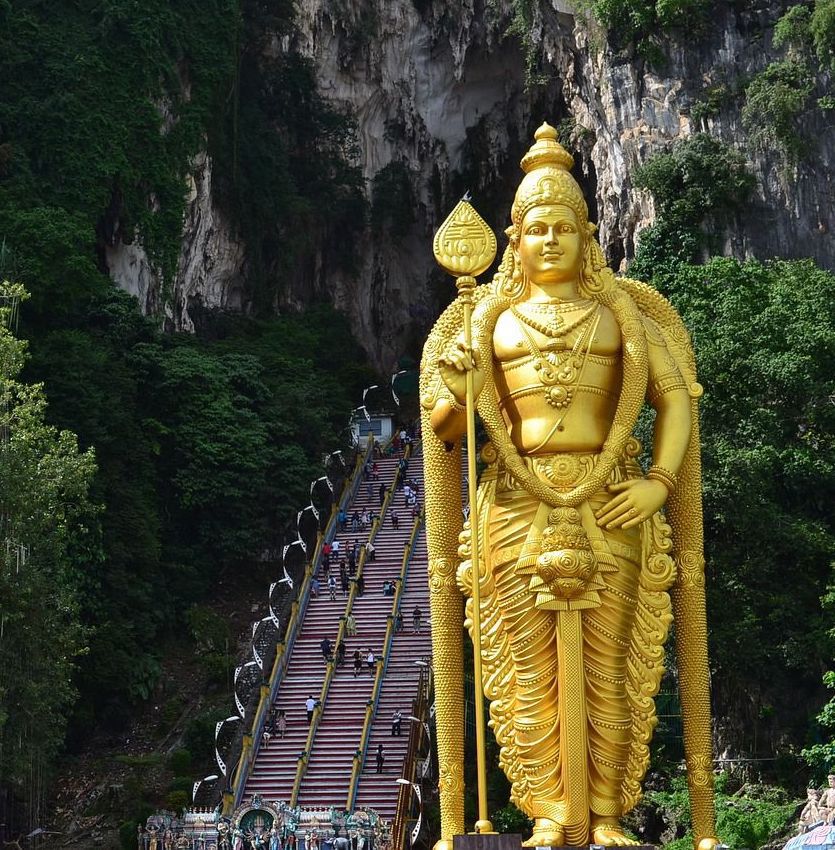 THE PETRONAS TWIN TOWERS & SURIA KLCC
Next up, it's time to cross off the other main tourist attraction in KL, and certainly the most iconic – Petronas Twin Towers.
These are actually located inside the Suria KLCC shopping mall, which is definitely one of the best shopping destinations in the city.
Complete with elegant decor, hundreds of stores, and a fantastic food court – it's a great place to wander around for an hour or two and enjoy some refreshing air-conditioning before heading up to the Petronas Twin Towers.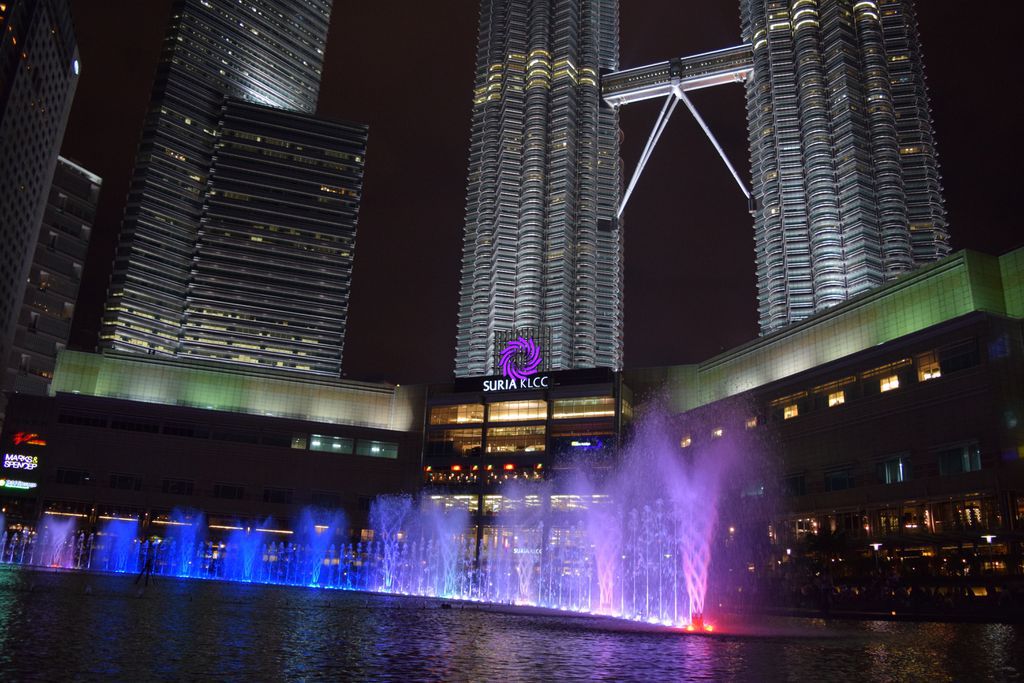 ---
THE PETRONAS TWIN TOWERS SKYBRIDGE & OBSERVATION DECK
Standing at 1,483 feet tall, these are the world's tallest twin towers and are certainly a landmark you need to see up close.
They're absolutely magnificent, and no visit to Kuala Lumpur would be complete without heading up and taking a walk along the Skybridge and a visit to the observation deck.
Visiting Days: Tuesdays to Sundays (Closed on Mondays)
Visiting Hours: 9:00 AM – 9:00 PM (Last Admission 8:30 PM)
Ticket Prices: Adults 80 MYR ($17.94 USD), Children 33 MYR ($7.40 USD)
I think it's best to do this during the day and then will recommend a better viewpoint (where you can see the Petronas Towers) during sunset.
[HD] Petronas Twin Tower Skybridge (Lvl 41) & Observation Deck (Lvl 86) Visit
---
KLCC PARK
At the base of the Petronas Towers, you'll find KLCC Park, which is a beautiful 50-acre garden set in the middle of the city.
So after you've completed your journey to the top of the towers, spend some time strolling through KLCC Park along its well-paved roads and enjoy different viewpoints of the towers.
It's an incredible urban sanctuary with over 1,900 trees and 74 different species of plants. There's also a massive two-square-mile children's playground, making it a must-visit for people visiting Kuala Lumpur with kids.
And the 141-foot high bridge offers a fantastic vantage point of the park with the Petronas Towers as a backdrop.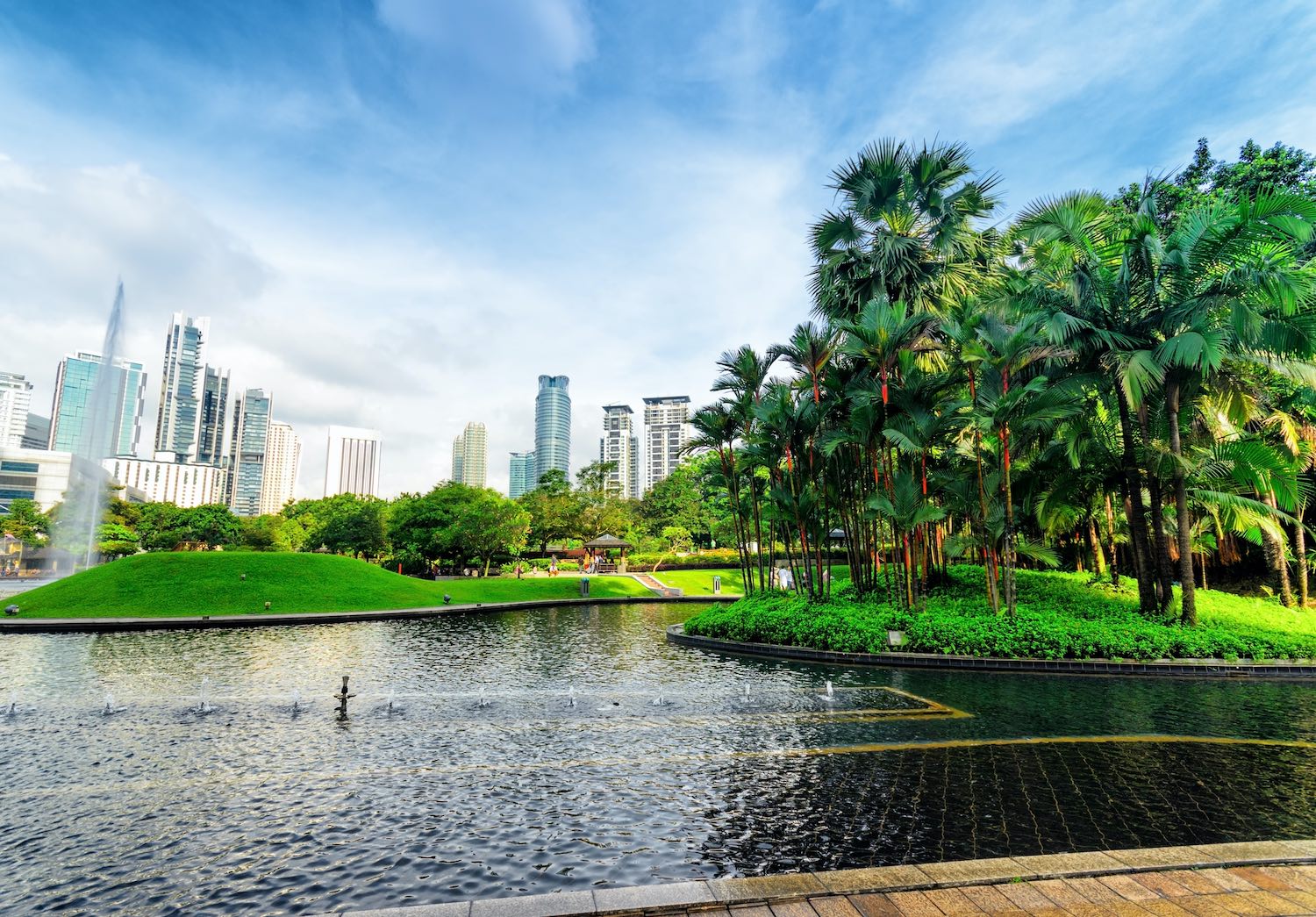 ---
AQUARIA KLCC
While you're in KLCC Park, why not hop inside the Aquaria KLCC, a state-of-the-art aquarium with over 5,000 species of underwater and land creatures?
It's a pretty massive aquarium with lots of exciting areas to explore. But the main highlight is definitely walking through the 295-foot transparent underwater tunnel where hundreds of fishes, sharks, stingrays, and more marine life surround you.
With interactive adventures, signature feedings, friendly staff, and immersive exhibits – a visit to the Aquaria KLCC is a favorite among families and marine wildlife enthusiasts visiting Kuala Lumpur.
Book your Aquaria KLCC Tickets online to save 24% off and enjoy a couple of hours with rare Sand-Tiger Sharks, Green Sea Turtles, Red-Bellied Piranhas, and so much more.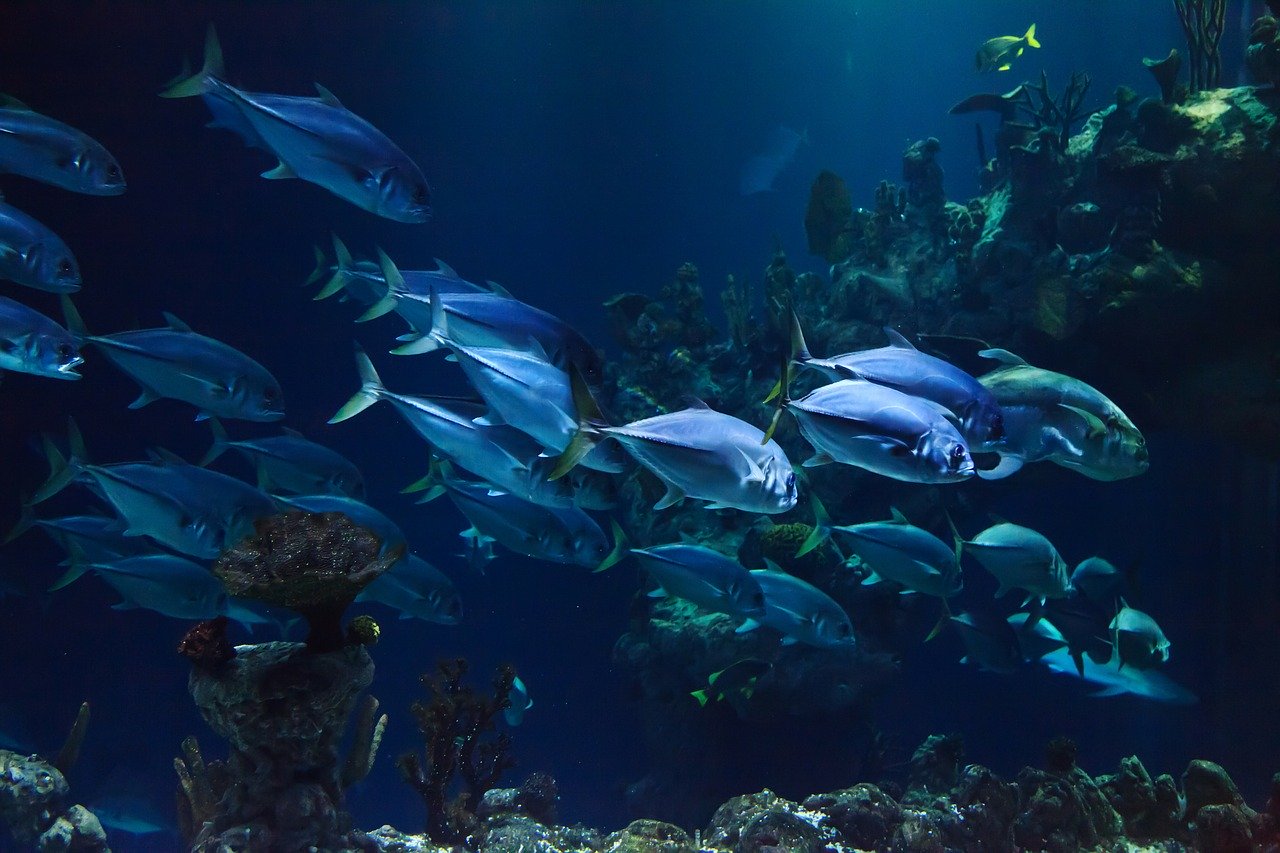 ---
SHOPPING & EXPLORING IN THE GOLDEN TRIANGLE/ BUKIT BINTANG
"The Golden Triangle" is a popular downtown district in Kuala Lumpur that features the city's highlights, best hotels, restaurants, bars, nightclubs, and plenty of fantastic malls.
Even if you're not in the mood for doing some shopping, it's a wonderful area to explore on foot and soak up the metropolitan vibes.
I've spent a lot of time in the area, mall hopping and food court exploring. If you can, I'd recommend checking out these four malls though:
Berjaya Times Square
Low Yat Plaza
Pavilion Kuala Lumpur
Lot 10
Take a read through this helpful overview of all the malls and highlights. Kuala Lumpur/ Golden Triangle
BEST SHOPPING KUALA LUMPUR - PAVILION MALL | Bukit Bintang Malaysia Travel Vlog 083, 2017
---
HELI LOUNGE BAR FOR SUNSET
So this is one of my personal favorite things to do in Kuala Lumpur because it really is an awesome experience to see how this helicopter pad transforms into a popular rooftop bar.
Whenever people would visit Kuala Lumpur to see me, I'd always take them here. The lounge offers fantastic 360-degree views of the modern city and delicious drinks. It is also one of the best places to watch the sunset on this 2-day Kuala Lumpur itinerary.
I've written all about my experiences at the Heli Lounge Bar Kuala Lumpur, so give that a read for more info. It's located right in the Kuala Lumpur city center in Bukit Bintang and is a great place to start your nighttime explorations of the city.
Pro Tip: Head there about 20 minutes before sunset, and stay for 30-40 minutes after to experience the views both by day and night. Also, keep in mind that there is a casual dress code.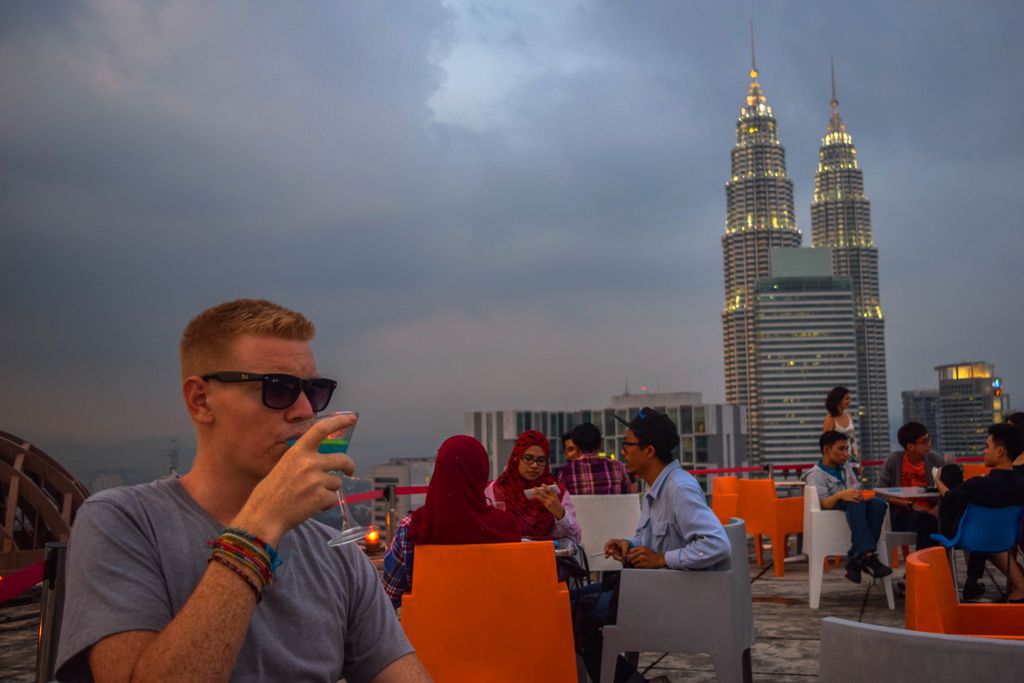 ---
JALAN ALOR NIGHT MARKET
Finally, to conclude the first day of your Kuala Lumpur itinerary, make the short walk over to the Jalan Alor Street Food Market.
The word "Jalan" means "street", so Jalan Alor is a long passage filled with delicious street food stalls serving up a wide variety of local food, as well as Indian, Chinese, and Thai food.
It's got this indescribable ambiance that must be experienced to understand, and the street food is truly spectacular. I've eaten at four or five different restaurants along Jalan Alor, and every single one of them has been top-notch.
My expat friends took me here on my first night in Kuala Lumpur, and it was an experience I'll never forget.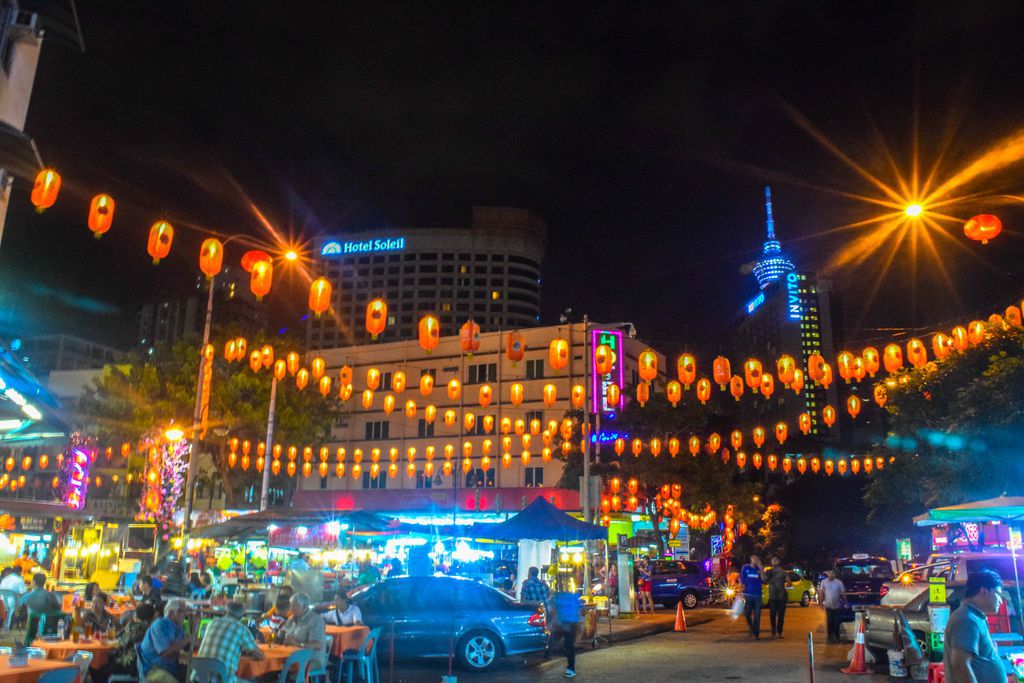 ---
KUALA LUMPUR ITINERARY DAY 2: CHINATOWN, LITTLE INDIA, CULTURE + MORE!
For the second day of your Kuala Lumpur itinerary, I've focused a bit more on important cultural attractions and exciting religious landmarks.
So let's get into it.
---
MERDEKA SQUARE
Start off by visiting Merdeka Square, which is the main "Independence Square", where Malaysia declared its independence in 1957. Complete with a large open grass field and surrounded by beautiful buildings and architecture, this is the perfect place to begin your day.
Take in the sights of the wondrous Sultan Abdul Samad Building, wander through the Royal Selangor Club, visit St. Mary's Church, and check out the National Textile Museum.
Also, be sure to snap a photo of the Malaysian flag flying on top of one of the tallest flagpoles in the world.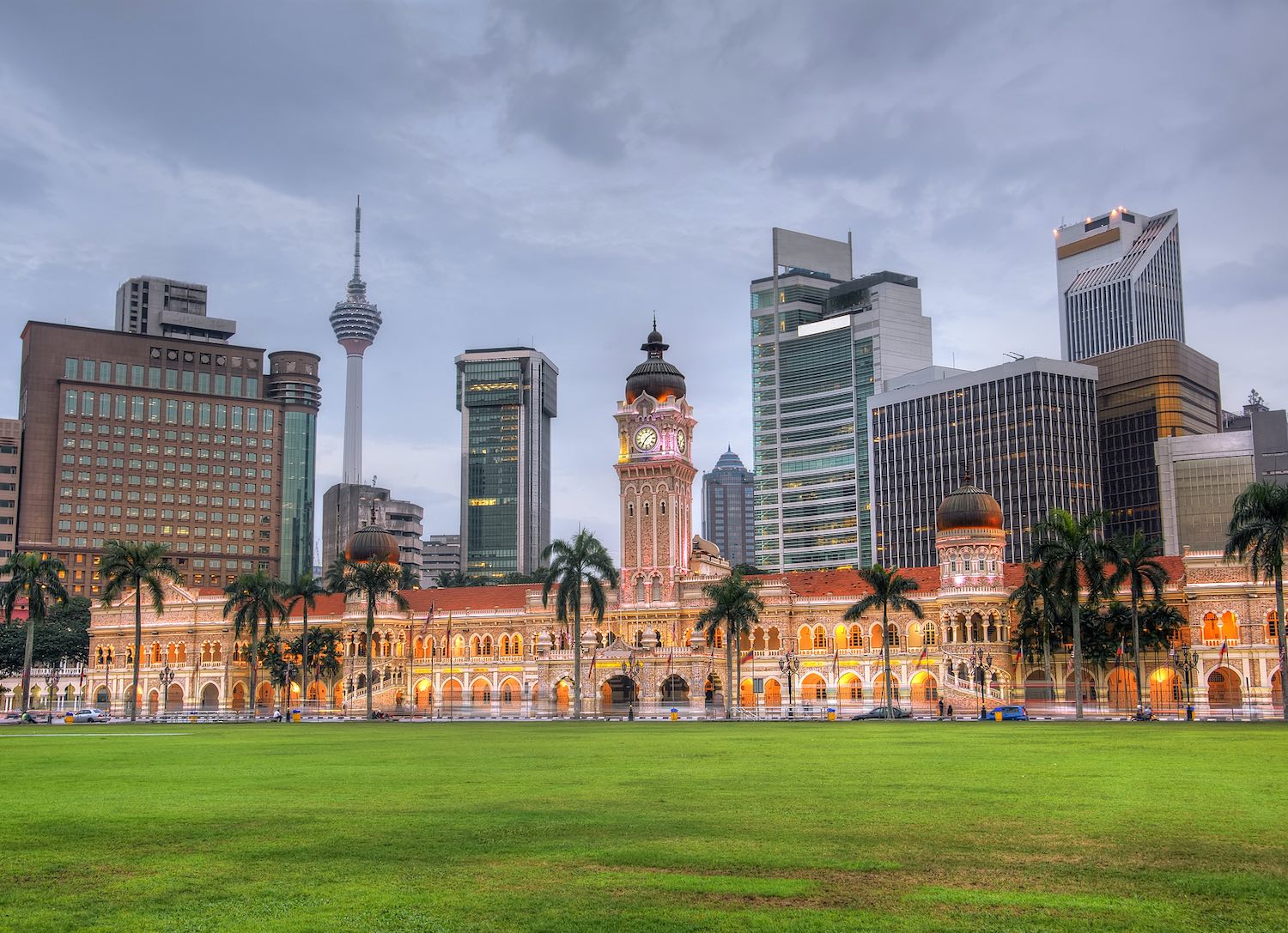 ---
MASJID JAMEK
Opened in 1909, this airy mosque is the city's oldest and welcomes visitors every day. With its iconic white domes and beautiful architecture, it's a fantastic place to learn all about Islamic culture.
Make sure you're dressed appropriately, though, if you plan on visiting Masjid Jamek Mosque, but you will be able to borrow robes and headscarves at the main entrance.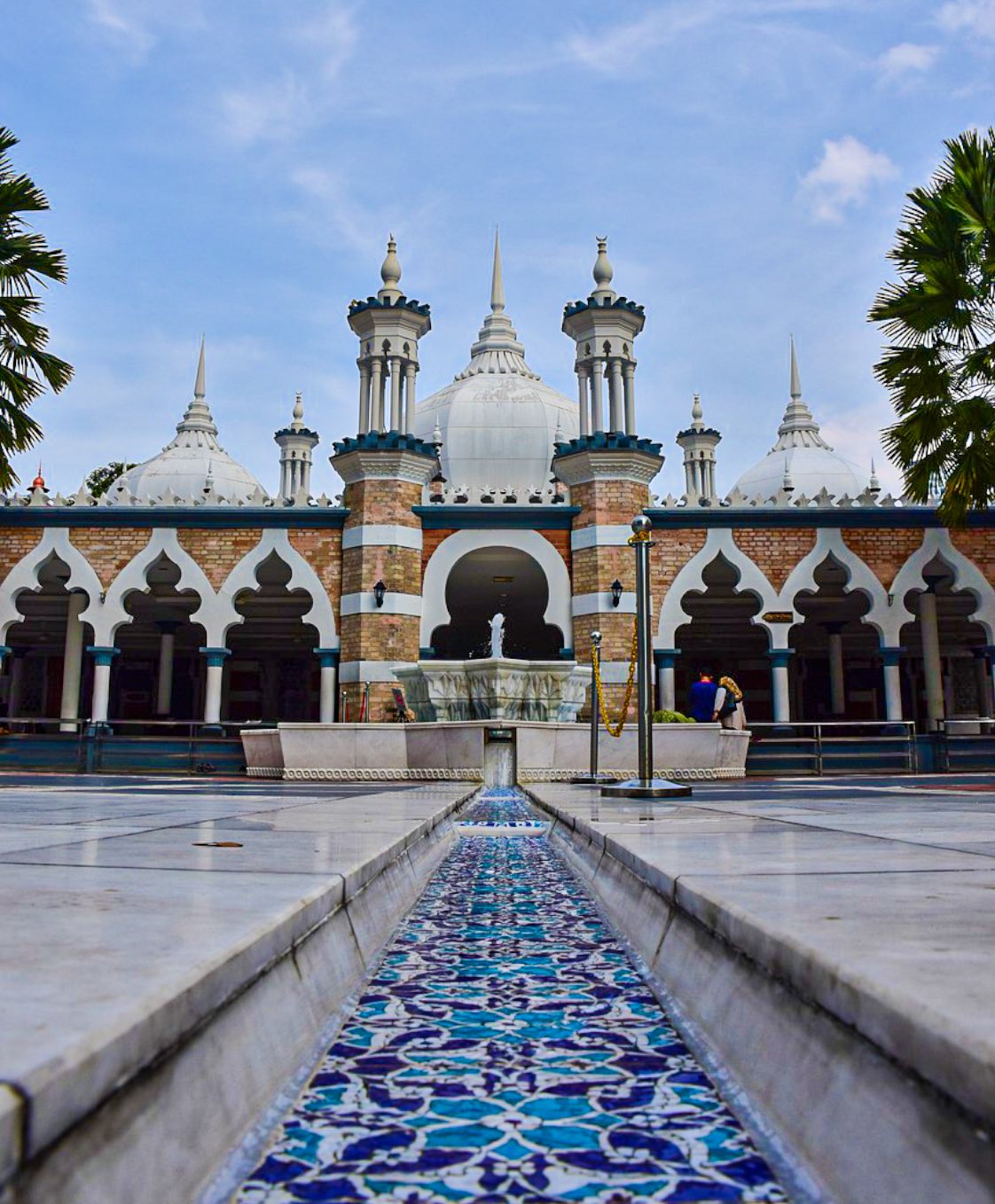 ---
CHINATOWN & PETALING STREET
Next up, enjoy the quick eight-minute walk over to Chinatown to enjoy some street food, shopping, and culture. While there's a whole lot to explore in Chinatown, the clear favorite among travelers is to take a stroll up and down Petaling Street.
The Petaling Street Market is a bustling shopping market that's packed with personality. It's similar to a lot of Southeast Asian markets I've come across during my days traveling through the region, but you can definitely find some great deals.
From kitschy souvenirs to affordable clothing and delicious food – Petaling Street in Chinatown is a Kuala Lumpur itinerary must-do.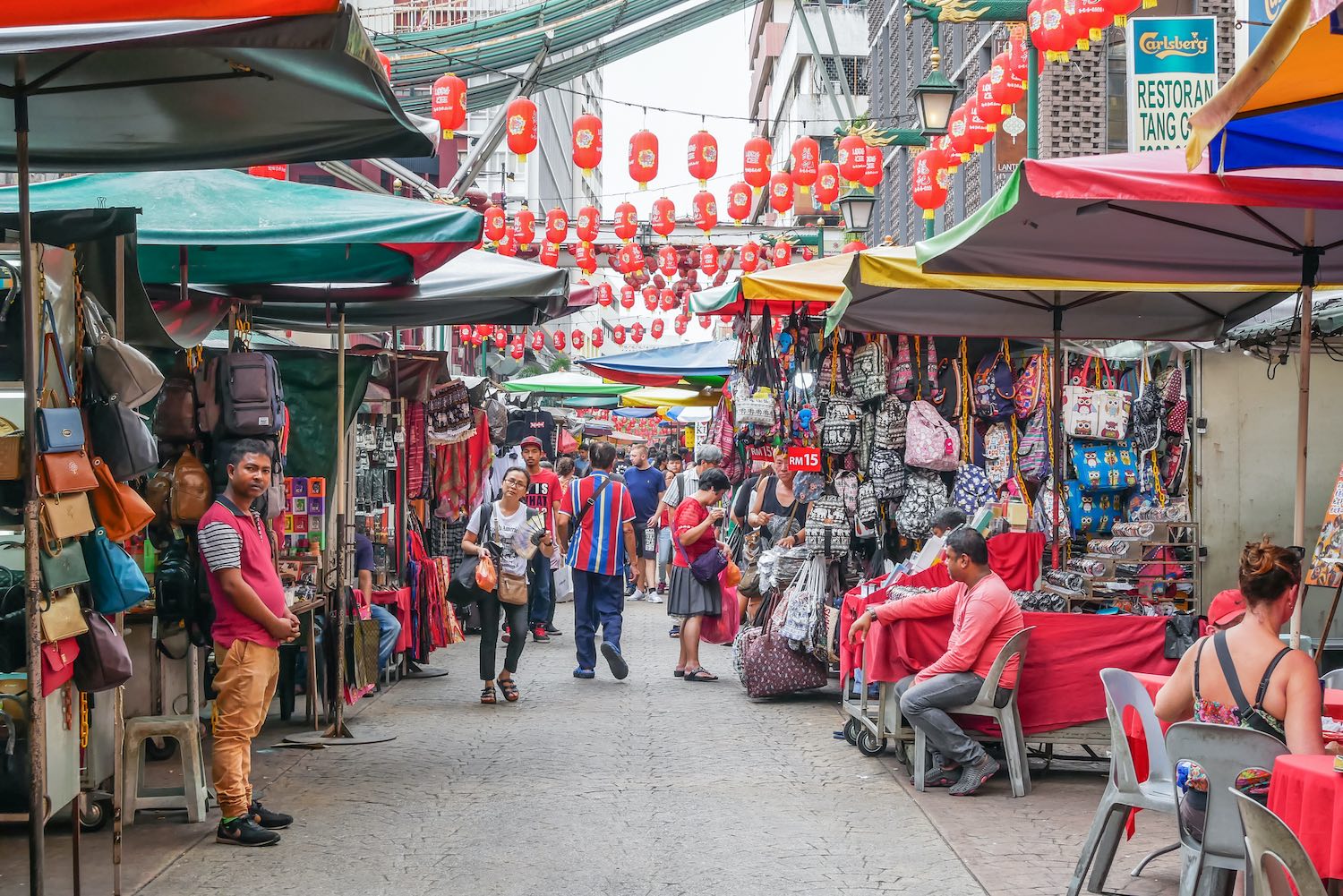 ---
SRI MAHA MARIAMMAN TEMPLE
Located on the outskirts of Chinatown, you'll find the Sri Mahamariamman Temple, which is the oldest Hindu Temple in the city, dating back to 1873. It's filled with colorful Hindu deities, intricate architecture, and spectacular photography opportunities.
The temple is an awesome place to stop in for a quick visit. Trust me, it's worth the visit, and it will be great to learn and observe Hindu culture.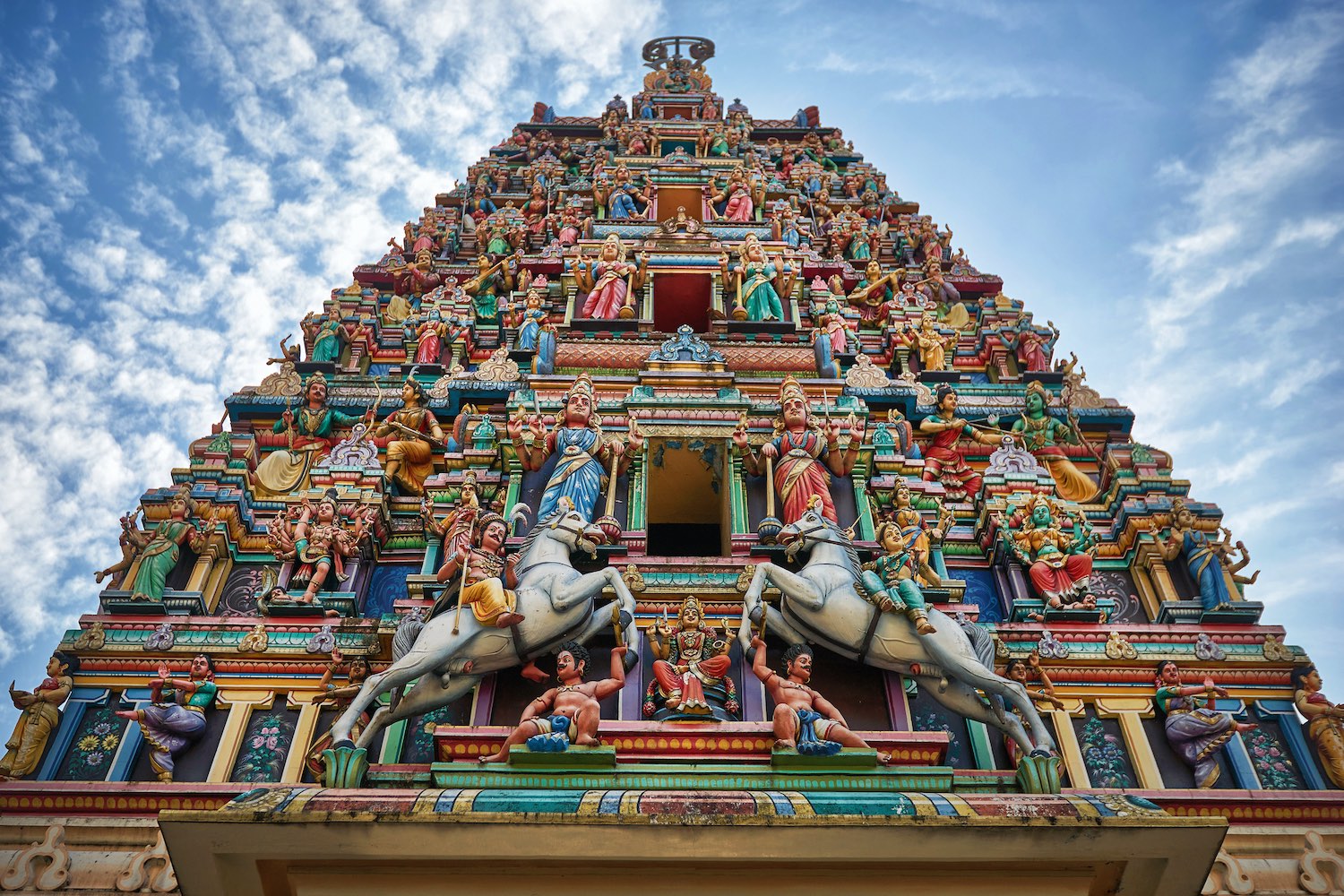 ---
CENTRAL MARKET
For your last stop in Chinatown, just up the street from the Sri Maha Mariamman Temple, you'll find the Central Market. It's filled with locally made traditional Kuala Lumpur crafts and artisan handmade products and souvenirs.
The Central Market is a decently sized emporium, and fun to window shop and buy some smaller items.
Central Market also provides some pretty tasty culinary eateries, so this would be a great place to grab a bite to eat (a second lunch is always a good idea in Kuala Lumpur).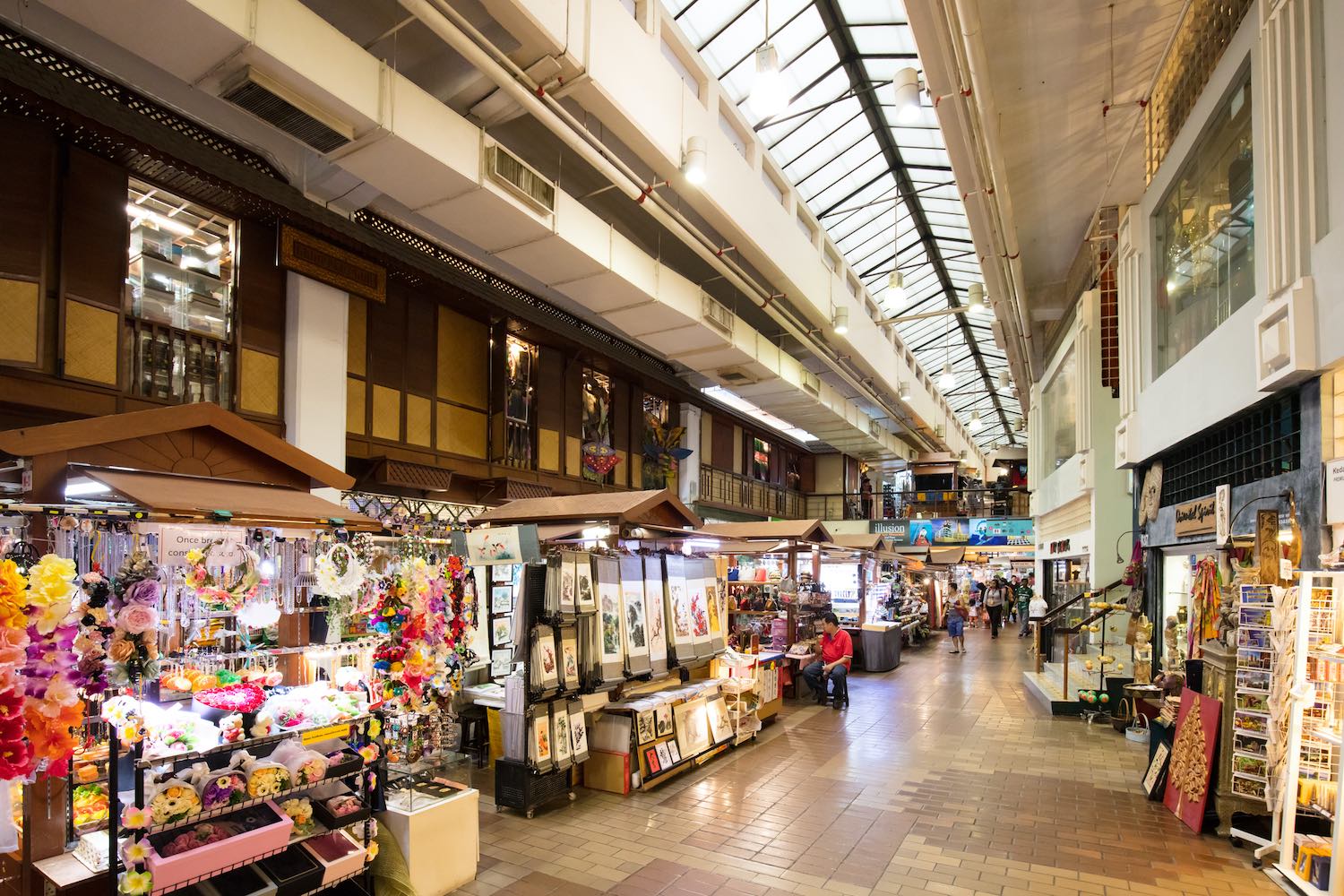 ---
LITTLE INDIA
Located just a few minutes from KL Sentral is the next spot on your 2 days in Kuala Lumpur itinerary. You'll probably want to hop in a cab or take bus number 821 for a few stops and find yourself in Little India.
While at first, it may seem a little less exciting after visiting Chinatown. It's worth a visit to explore its shops filled with aromatic spices, colorful textiles, gorgeous flowers, jewelry, and plenty of low-key restaurants serving up amazing Indian curries.
Walk along the main street that's packed with personality, and enjoy the sound of Bollywood tunes blaring from the speakers.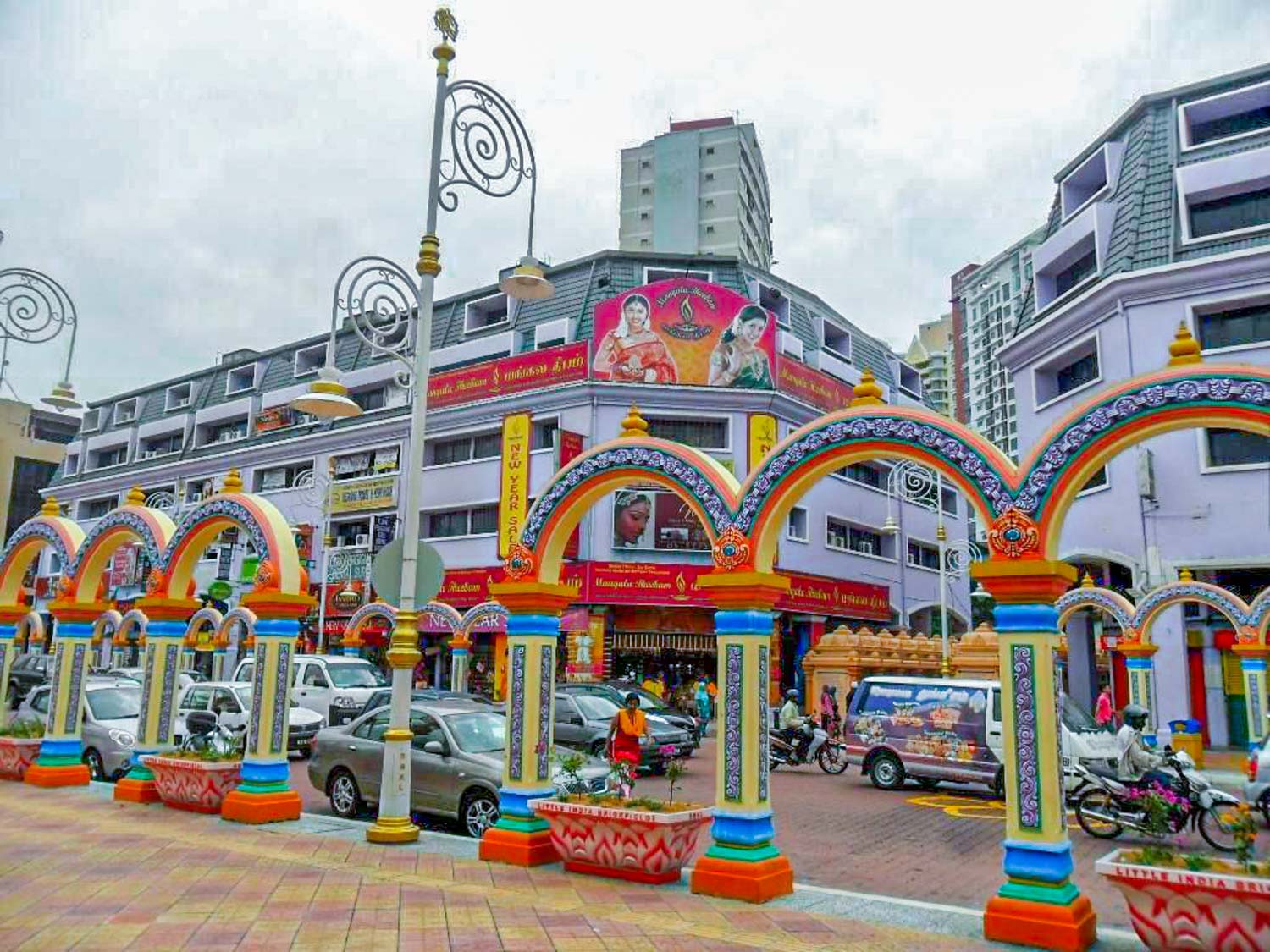 ---
MENARA KL TOWER
So on the previous day of your Kuala Lumpur itinerary, you crossed off the Skybridge and Observation Deck at the Petronas Towers. Today you'll head up to the top of the Menara Kuala Lumpur Tower.
This was completed back in 1995 and stands tall at 1381 feet high. This makes the KL Tower the seventh tallest freestanding tower in the world. My advice would be to book yourself a KL Tower Admission Ticketonline (to save some money).
Offering spectacular panoramic views of the city skyline, the Petronas Towers, and its notorious skyscrapers, you simply can't leave Kuala Lumpur without heading up here.
You can book tickets to only the Observation Deck. But I'd recommend booking the combo, which includes Sky Deck and SkyBox (a complete glass box providing a really unique photo opportunity) as well.
So book your KL Tower Admission Tickets online so you don't have to wait in line (perfect for heading up around sunset time).
KL Tower Malaysia Full Tour - Sky Deck, Sky Box and Observation Deck | Broewnis Travel
---
ROOFTOP RESTAURANT & BAR HOPPING
Finally, to conclude this ultimate 2 days in Kuala Lumpur itinerary, I think this city is one of the world's finest for rooftop cocktails and fine dining.
There are so many to choose from in different parts of the city, but here are just a few bars I'd recommend checking out before you leave Kuala Lumpur.
You could try and hit them all in one night (which would actually be quite fun), but keep in mind you'll have smart casual dress codes.
Oh, and don't forget to bring your camera. Your Instagram feed will thank you for sure ;-)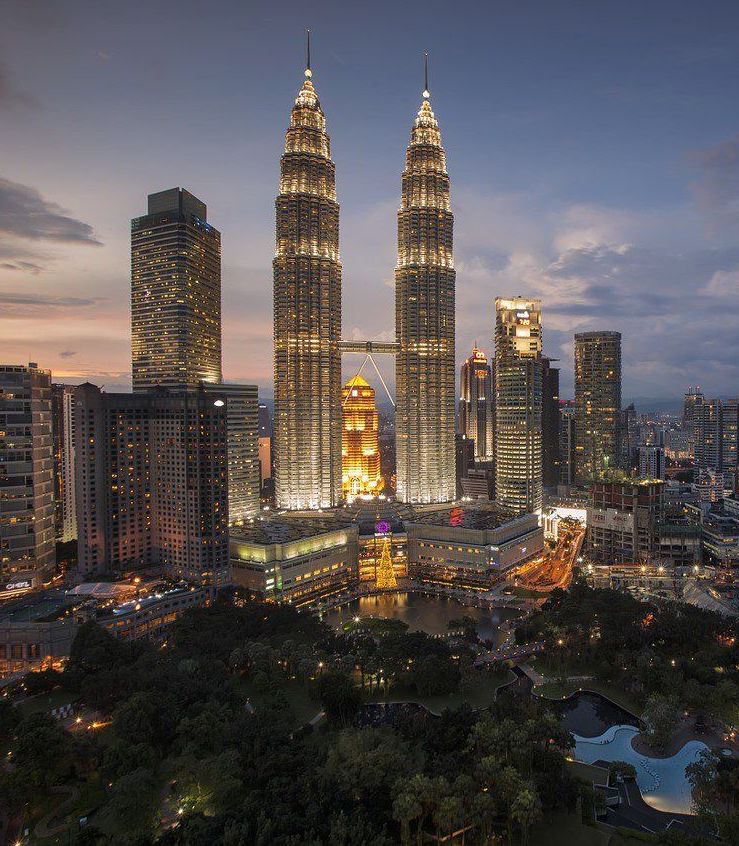 ---
MORE FUN THINGS TO DO WHEN YOU VISIT KUALA LUMPUR
So this 2 Days in Kuala Lumpur itinerary is already quite jam-packed with solid activities and the majority of the city's most popular tourist attractions. Which will probably be difficult to fit it all in 48 hours.
But I love writing in-depth travel guides, so here are some more fun things to do that you can add to your Kuala Lumpur itinerary for 2 days.
---
KUALA LUMPUR BIRD PARK
A world full of spectacular birds and a tropical paradise not to be missed. If you're traveling with kids or just want to visit this renowned eco-tourism destination, the KL Bird Park certainly will not disappoint.
Located just 10 minutes outside KLCC, the KL Bird Park has more than 3,000 local and foreign birds of approximately 200 different species.
What makes this place so special and different from other bird parks is the concept of free flight. Which is when the birds are let free in the aviary, which closely resembles their natural habitat.
There are lots of areas to explore in a beautiful setting, and it is simply a fantastic way to spend a couple of hours if sightseeing isn't your thing.
The KL Bird Park is open daily from 9:00 AM to 6:00 PM, but definitely check out the Lory feeding between 10:00 AM to 5:00 PM every day.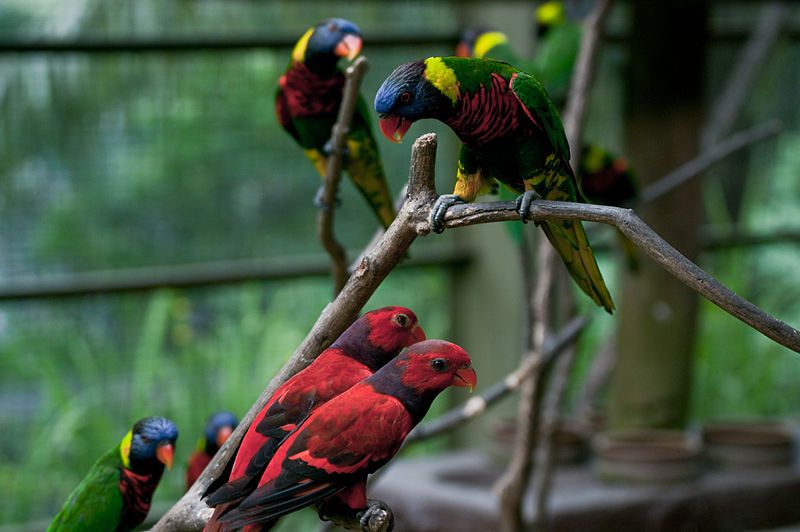 ---
KL FOREST ECO PARK
If you have some time to spare on your 2 days in Kuala Lumpur itinerary, spend it at KL Forest Eco Park. This lush nine-hectare park sits right in the city center, just a skip away from shopping malls and the KL Tower.
KL Forest Eco Park is home to over 200 plant species and wildlife. This is a wonderful place to escape the hustle and bustle of the concrete jungle that is Kuala Lumpur.
---
REGGAE MANSION ROOFTOP PARTIES
Are you a solo traveler or backpacker looking for a good time and an awesome place to meet people? Well, then, look no further than the Reggae Mansion Rooftop bar.
I actually spent my 26th birthday there and met tons of awesome people to hang out with. It's got this amazing backpacker atmosphere, beautiful views of the city, pool tables, drink specials, and lots more.
It's by far my favorite hostel in the city and an awesome place to hang out and meet some fellow travelers.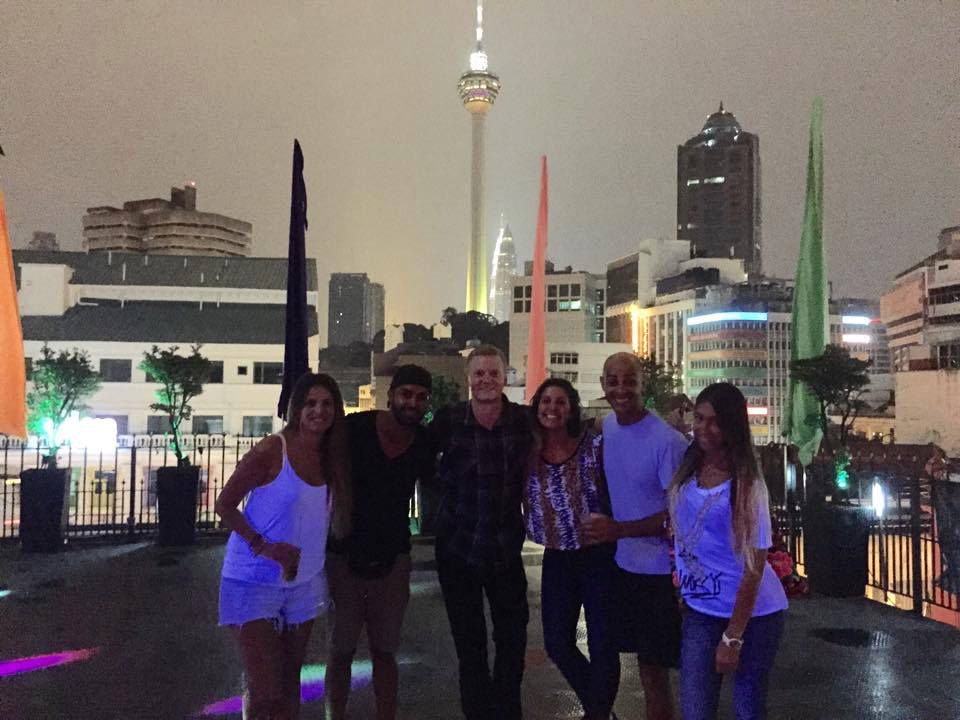 ---
SUNWAY LAGOON WATER THEME PARK
So when I lived in Kuala Lumpur, this was one of my biggest regrets for not checking this place for myself.
Now, I wouldn't really recommend coming out here if you only have 2 days in Kuala Lumpur, but it's regularly listed as one of the best things to do in KL.
Located about a 45-minute drive from the city center, the Sunway Lagoon Water Theme Park would be the perfect destination for families or anyone just looking to escape the Malaysian heat and humidity.
By purchasing a ticket, you'll have access to six exhilarating experiences, including the world's largest and highest water ride and the colorful Nickelodeon Lost Lagoon.
Sunway Lagoon Theme Park & Water Park | Rides & Attractions
---
REGALIA CONDOMINIUM INFINITY POOL SWIMMING
Finally, I know I already previously explained this, but I wanted to reiterate how much I love swimming in this pool.
It's one of the most iconic rooftop pools in Kuala Lumpur, and I know everyone will love it. Security is tight there though, and it's strictly for guests only, so I'd definitely recommend spending at least one night at the Regalia Condominium.
You will thank me later ;-)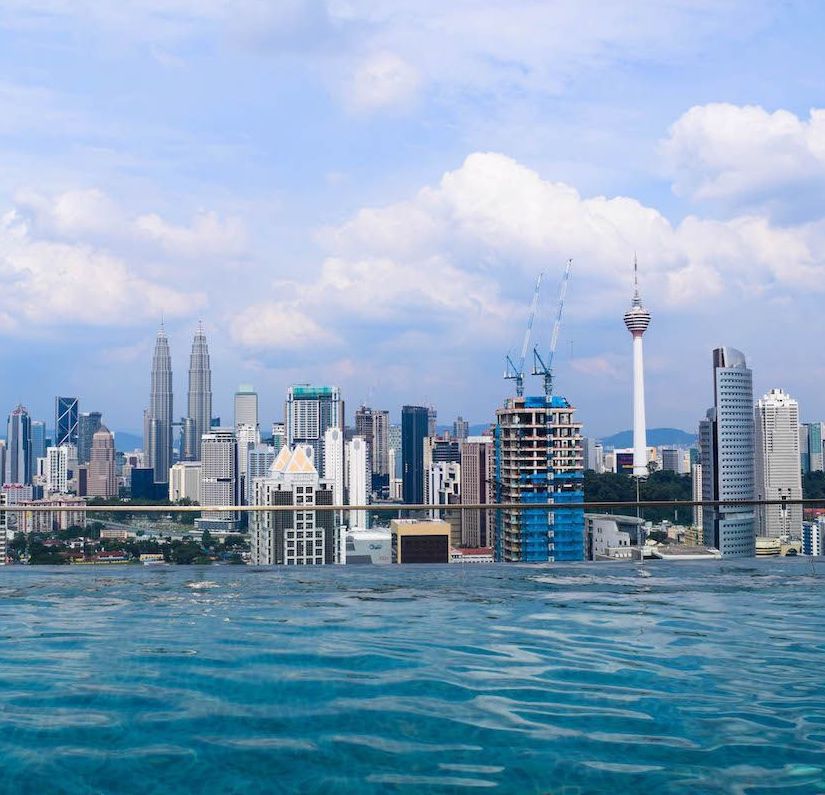 ---
2 DAYS IN KUALA LUMPUR TRAVEL GUIDE & TIPS
Try the iconic Malaysian dish Nasi Kandar, meaning 'mixed rice', which is a favorite among locals and travelers
Buy a Local SIM card at the airport so you can stay connected while traveling to use Google Maps, Social Media, and call restaurants or attractions for reservations
Don't ride in taxis. They are notorious for ripping off tourists. Use GRAB instead.
Eat as much as possible. The street food in Kuala Lumpur is definitely a highlight of visiting this city
Always make sure you have travel insurance. This will come in handy when something unforeseeable happens, like you fall sick, or your bags go missing or are stolen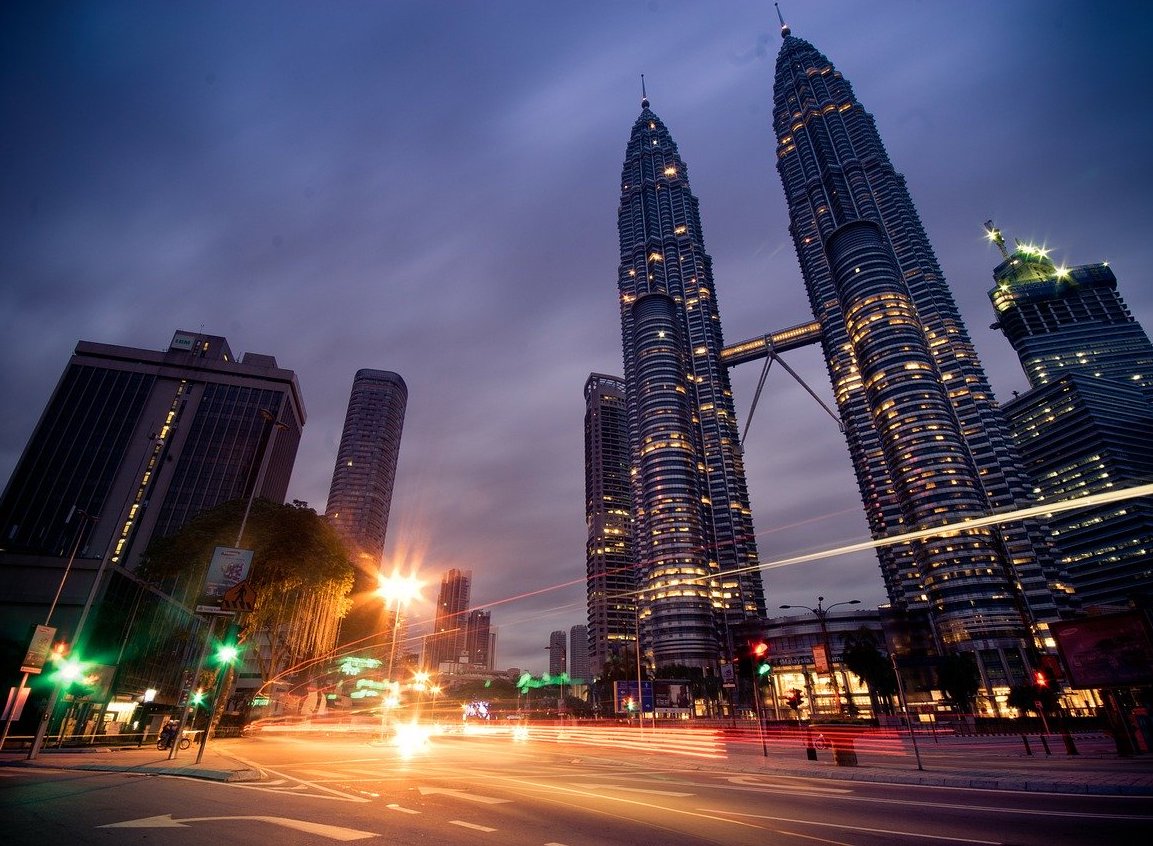 ---
AM I MISSING ANYTHING FROM THIS 2 DAYS IN KUALA LUMPUR ITINERARY?
Having spent so much time exploring this city myself, I think I've put together a pretty amazing Kuala Lumpur itinerary in 2 days, especially for first-time visitors.
But if you visit Kuala Lumpur and discover some hidden gems you think should be included on this list, please do let me know. I'm always planning return visits to Kuala Lumpur and Southeast Asia and would love to add some new items to my Kuala Lumpur itinerary.
11 Amazing Things To Do in Kuala Lumpur, Malaysia
---
PLANNING A TRIP TO MALAYSIA & SOUTHEAST ASIA?
I've traveled quite extensively around this undeniably gorgeous country and region of the world. So my travel blog is filled with helpful articles, destination guides, and detailed itineraries.
I'd love for you to take a look at a few of them below as they'll help you answer these questions, "is Kuala Lumpur worth visiting?" and "when visiting Kuala Lumpur, how many days are enough?".

---
Thanks for reading my 2 Days in Kuala Lumpur Itinerary!
Share this Kuala Lumpur Itinerary with your travel squad!
https://www.jonesaroundtheworld.com/wp-content/uploads/2019/12/2-Days-in-Kuala-Lumpur-.jpg
719
775
Dave
https://www.jonesaroundtheworld.com/wp-content/uploads/2017/03/logotry-1-1-300x106.png
Dave
2019-12-15 08:22:50
2023-05-04 11:48:59
2 DAYS IN KUALA LUMPUR ITINERARY | TRAVEL GUIDE