Planning the ultimate South East Asian getaway to Thailand? My list of the best 20 Airbnbs in Thailand is all you need to book your dream digs…
The nickname for Thailand, "The Land of Smiles", doesn't just refer to the beautiful, smiling people of this South-East Asian country. In my opinion, it also refers to the grins found on the smiles of the many tourists that visit the fascinating country each year and leave enchanted by its rich culture and dreaming of heading back ASAP. Myself included.
From the hectic streets of the capital Bangkok to the tropical coastlines of its many idyllic islands, its mountain retreats home to historic tribes to the laidback pace of the ancient city of Chiang Mai, Thailand has a place for you where you'll be left smiling as well.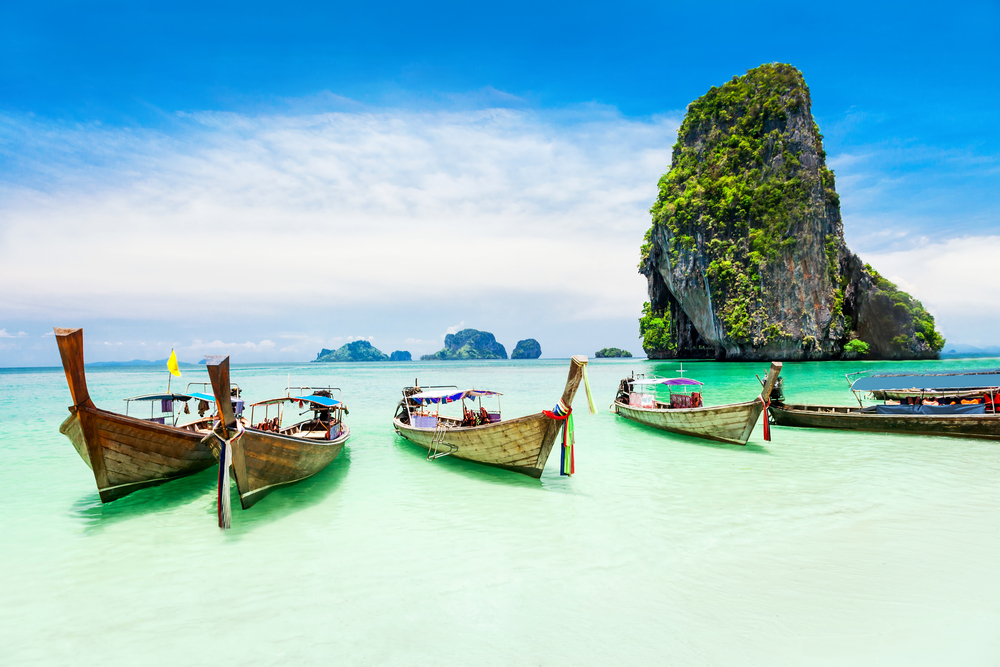 ---
I myself love Thailand, and love creating content to share with other visitors heading to the exotic destination.
Offering the best of Thai hospitality, style and comfort across the length and breadth of this stunning country, my list of the best Airbnb's in Thailand feature the most universally loved accommodation offerings on the homeshare platform.
From the city to the sea, these are the best Airbnb's in Thailand.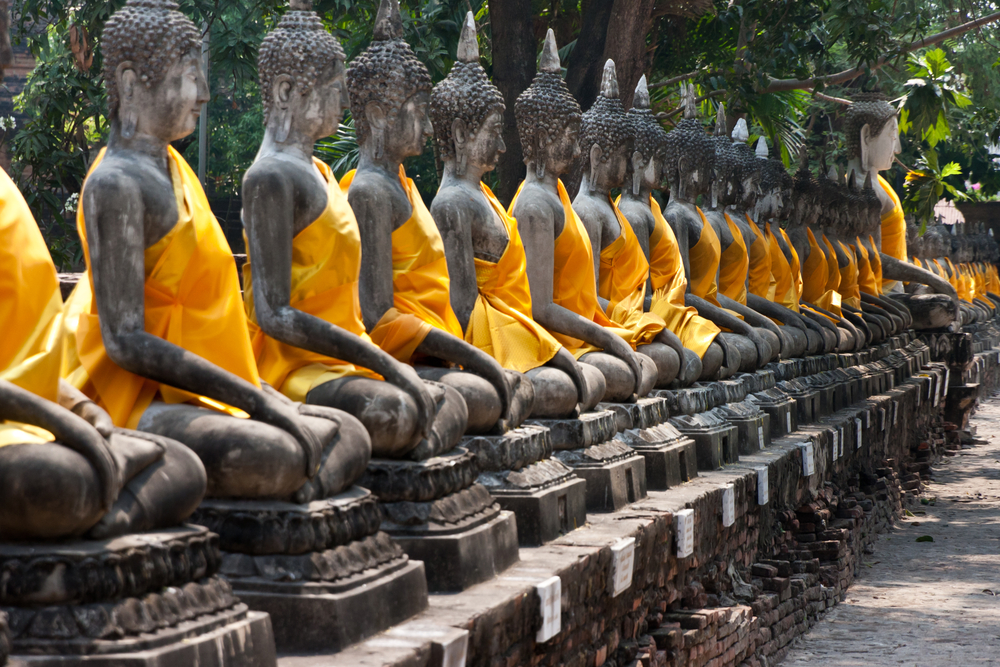 ---
Quick Breakdown of The Best Thailand Airbnbs
Looking for a quick and easy breakdown of the five best Thailand Airbnb's so you can book and jet off to the warm and sunny shores of the South East Asian country? My quick breakdown below is the best of the best across the country. Book via my links and save time, and if you don't find what you're looking for, keep scrolling and I guarantee you will!
I have included some must-watch videos about Thailand throughout this list, to give you more ideas of what to see, do, eat and drink across this beautiful country. I've also chosen some of the most inspiring and jaw-dropping photos of Thailand to give you a taste of what to expect here. Stay tuned for the end of this list for links to my other Thailand content. I recommend starting with Thailand Itinerary 10 Days | How to Spend the Perfect 10 Days in Thailand.
---
The Best AirBNBs in Bangkok, Thailand
Bangkok is a frantic city. Hot, humid, non-stop, exciting and so much fun. Any trip to Thailand isn't complete without at least a few days exploring the Thai capital. These Bangkok Airbnb's promise a fantastic urban retreat from the hustle and bustle of this incredible city.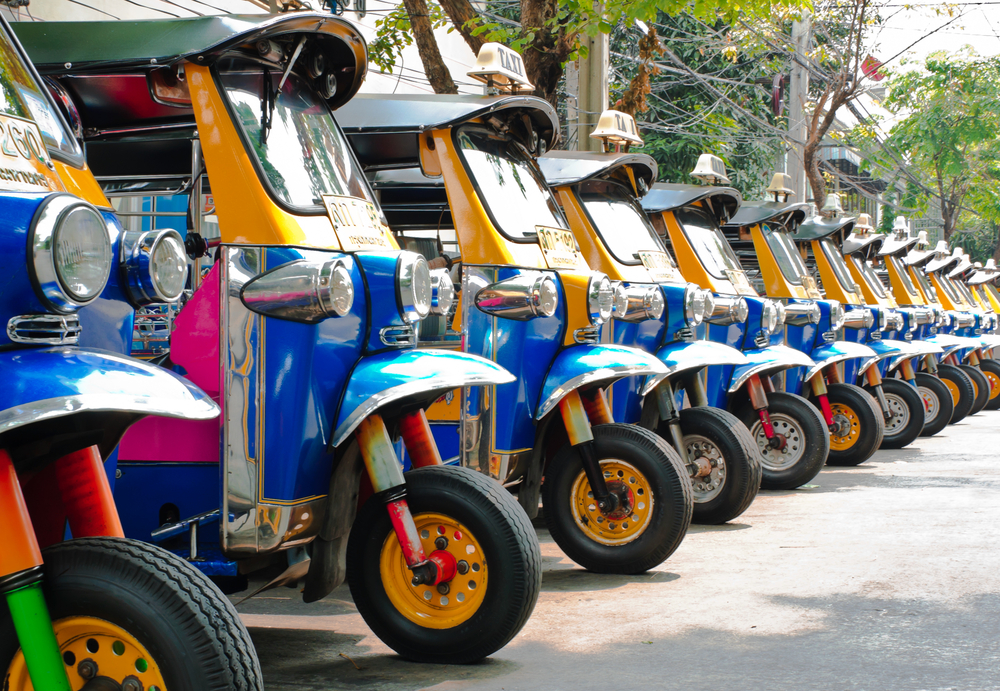 ---
1) The Muse Haus in Asoke (Sleep 4, walk to BTS/MRT)
"The Best Airbnb In Bangkok"
Location: Khet Watthana, Bangkok
AirBNB Plus: No
Superhost: Yes
Price: $35+ USD per night
https://www.airbnb.com/rooms/21065013
This modern Bangkok Airbnb apartment features is a sleek and stylish oasis in the heart of one of the world's busiest cities. The one bedroom studio features contemporary furnishings and appliances, and is ideal for a solo traveler or couple. What's better, the apartment complex is equipped with a sublime rooftop pool and a gym, and offers a regular shuttle service to the nearest BTS station. The neighborhood is brimming with great restaurants, handy convenience stores and a shopping mall, and the BTS network will take you across Bangkok quickly and easily.
Guest review: "In this day and age you won't exactly get what was advertised to you in most cases. This is not the case with this apartment. I have never been in a better AirBNB apartment. Very stylish and modern. Everything in it seems to be brand new and super clean and that goes for the whole building by the way. Great location too. A bit far to walk to the SkyTrain or MRT, but not to worry, because there is a free shuttle available. Absolutely fantastic experience. Max is a very professional host and very easy to communicate with. I highly recommend this place and will be back for sure!" – Peter
View Photos, Read Reviews & Check Availability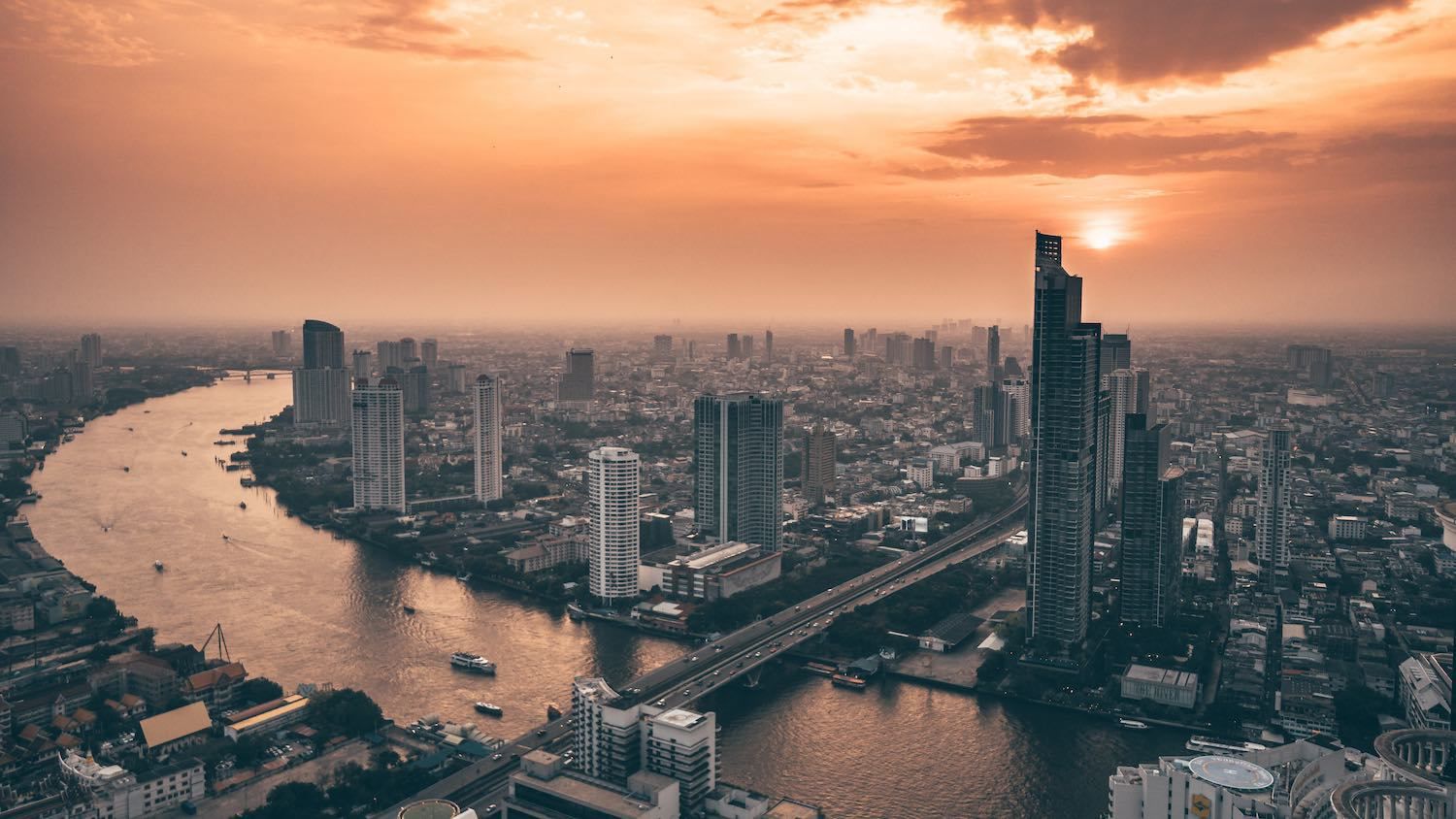 ---
2) Modern Loft Living near the Nana Skytrain Station
Location: Khet Watthana, Bangkok
AirBNB Plus: Yes
Superhost: Yes
Price: $40+ USD per night
https://www.airbnb.com/rooms/plus/24981583
A few days in Bangkok is a budget-friendly escape ideal for solo travelers, couples or families, and you can usually get serious value for money on the Airbnb platform. This open concept one bedroom condo is Airbnb Plus verified, Superhosted and simply gorgeous. The minimalist space comes newly remodelled, and is located in an exclusive complex with a pool. Jump on at the nearby Skytrain station to explore the biggest attractions in Bangkok easily, or stick around this buzzing area and sample the famous street food and markets of the Thai capital.
Guest review: "Joop's place was simply my best AirBNB experience. The place was spotlessly clean and very tastefully decorated. It is located very centrally but tucked away from the busy streets so very quiet (Email hidden by Airbnb) munication with Joop was very easy. She responded always promptly and ensured we did not have any problem. She is very generous and caring host and her place is the best base to around central Bangkok. I will definitely stay again at Joop's when I go back to Bangkok. Thanks so much Joop!!" – Joohee
View Photos, Read Reviews & Check Availability
BANGKOK TRAVEL GUIDE | Top Things To Do In Thailand
---
3) LUXURY&CENTRAL . 5mins walk to BTS Asok! max2ppl!
Location: Khet Khlong Toei, Bangkok
AirBNB Plus: No
Superhost: Yes
Price: $20+ USD per night
https://www.airbnb.com/rooms/38859471
This one bedroom Bangkok apartment offers serious value for money. The luxe little modern pad features a bathroom, kitchen and balcony and although it's located in the downtown portion of buzzing Bangkok, it's super quiet and chilled. The complex boasts a rooftop pool with epic city views, as well as a gym – both of which Airbnb guests have complete access to. Right next door is a small shopping centre with cafes and shops, the epic Terminal 21 mall is right across the road and other major shopping precincts are all in close proximity. If you're heading to Bangkok to shop up a storm, this is where you'll want to be staying.
Guest review: "Stayed at Wang's place with two friends and was blown away by how nice it was! Before arriving Wang was a great communicator, responding quickly but even better he took the time to give us really detailed tips for things to do in Bangkok and useful apps and numbers to have which was a lifesaver! The apartment itself was awesome, very very clean and with great storage and amenities, very cozy and the rooftop was much larger and lovelier and evening expected! It's located on a calm alley which was nice for walking or catching a taxi outside of the hustle and bustle of the Main Street- there are many great Korean places just a minute walk away, and Terminal 12 is just a few minutes walk as well as the ASOK station. We will definitely stay here again when we return to Bangkok, and have only good things to say about it- highly recommend! :)" – Emma
View Photos, Read Reviews & Check Availability

---
The Best AirBNBs in Chiang Mai, Thailand
The northern Thailand city of Chiang Mai is a jewel in the crown of this beautiful country. Now hugely popular with visitors, the mountain city has retained its unique laidback vibe, and you'll fall in love with its animal sanctuaries, temples, night market and hill tribes. These Chiang Mai Airbnb's are the cream of the crop.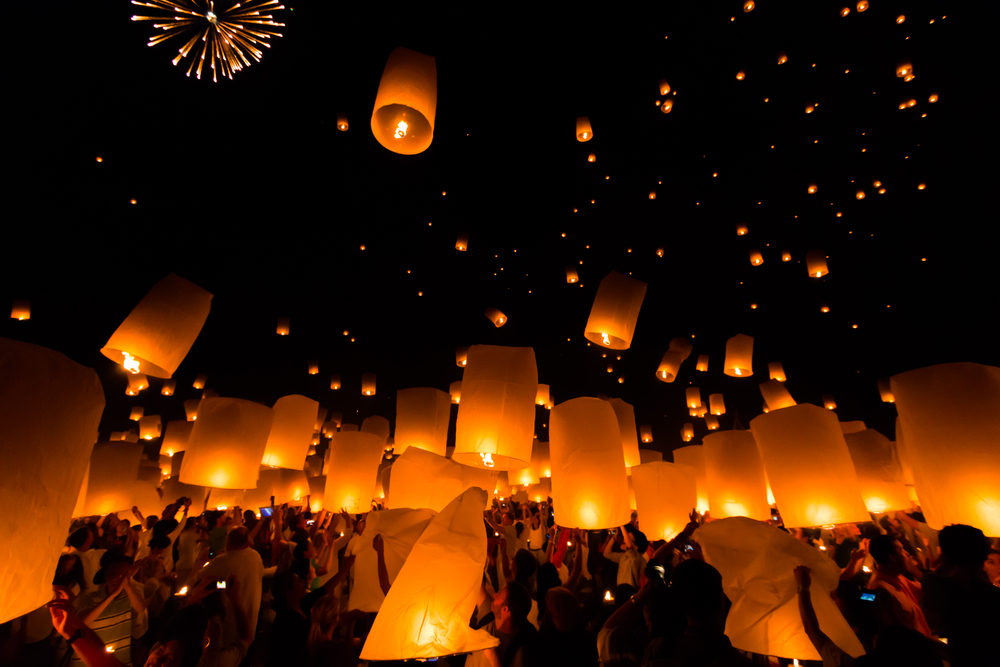 ---
4) Elegant Executive Suite with Rooftop Pool in Chiang Mai
"The Best Chiang Mai AirBNB"
Location: Chiang Mai
AirBNB Plus: Yes
Superhost: Yes
Price: $30+ USD per night
https://www.airbnb.com/rooms/26292957
This lush apartment is, in my humble opinion, the best Chiang Mai Airbnb on the homeshare platform, and will ensure you are central to all Chiang Mai has to offer – plus gorgeous views from its private balcony. The convenient Airbnb Plus offering is stylish, sexy and sparkling clean, and is located in a modern apartment complex that features a rooftop pool that offers stunning sunset views, plus a gym. Just minutes walk from the Night Bazaar and the Old City, this Chiang Mai dream offers a perfect guest score and is a must stay.
Guest review: "Had such a wonderful stay at Lin's place! From the moment we checked in till checking out, everything was flawless. Beautiful apartment with amazing amenities. Lin was a wonderful host. Thank you for having us and we will be sure to be coming back again!" – Ashley
View Photos, Read Reviews & Check Availability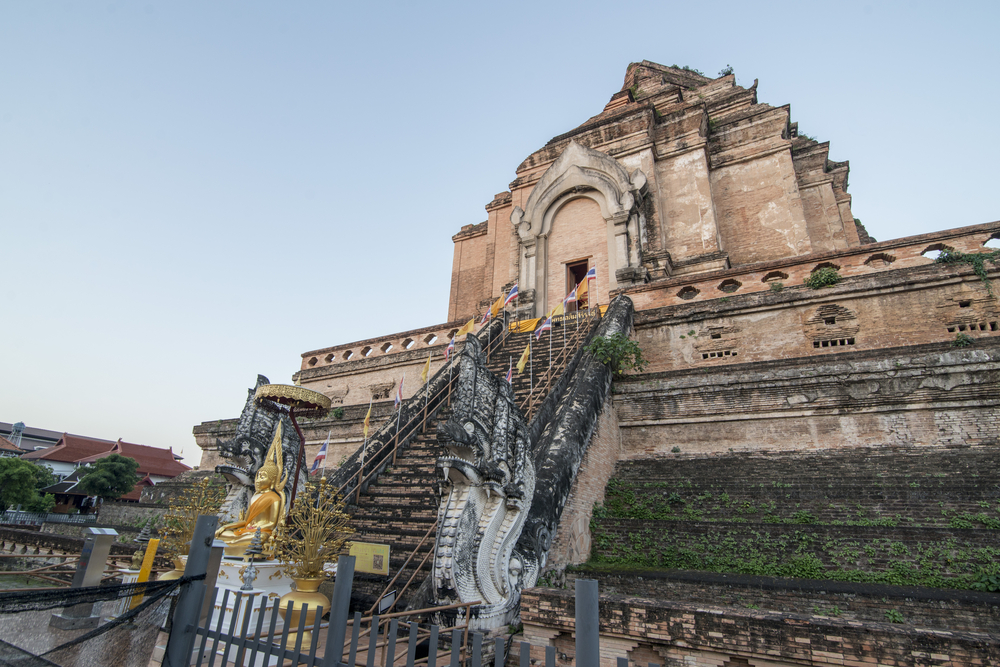 ---
5) A Renovated Mid-Century Wooden House & Saltwater Pool
Location: Chiang Mai
AirBNB Plus: Yes
Superhost: Yes
Price: $250+ USD per night
https://www.airbnb.com/rooms/22056697
Verified by Airbnb Plus for quality, this three bedroom Chiang Mai home is a great choice for a family or group getaway. The historical home is dripping in charm, and has been renovated into a five star stay. There's a stunning saltwater pool to cool down in after a steamy day exploring Chiang Mai, a full kitchen and lots of family-friendly additions. The hosts offer a free airport pickup service as part of your stay, and there are taxis in close proximity that can take you where you need to go. The Old City is just 6km away, and there's a convenience store just a couple of minutes on foot.
Guest review: "Just perfect. Host is super kind! He gives us very good quality information about Chiang Mai. The wood house is so beautiful and super clean. You can feel nature deeply. And they have a clean swimming pool which is well managed. Every part was nice and lovely. House makes my trip better." – Chang Hwa
View Photos, Read Reviews & Check Availability
12 TOP THINGS TO DO IN CHIANG MAI, THAILAND | Things and What To Do In Chiang Mai 2017
---
6) Astra Condo Chiang Mai Airbnb
Location: Chiang Mai
AirBNB Plus: No
Superhost: Yes
Price: $40+ USD per night
https://www.airbnb.com/rooms/35987249
Indulge in a sunset dip in the rooftop infinity pool, a steam in the sauna, an invigorating workout at the complex gym or a spa treatment as part of your stay in this divine one bedroom Chiang Mai apartment in one of the best complexes in the city. The sixth floor apartment has a comfortable bed, air conditioning, and all the amenities you could need. You'll be a short walk from the night market and five minutes drive from the Old City.
Guest review: "Wonderful stay with thoughtful touches such as a snack basket that we enjoyed, a beautiful rooftop pool and gym, and walking distance to the night markets. Thanks for a wonderful stay!" – Samantha & Amir
View Photos, Read Reviews & Check Availability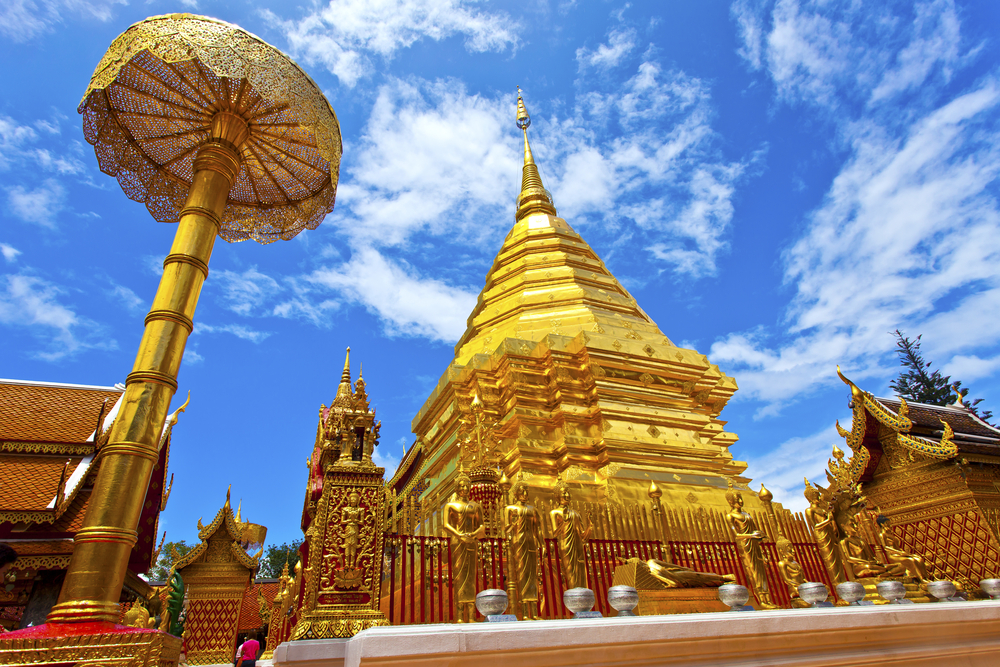 ---
The Best AirBNBs On Koh Samui
The second largest island in Thailand, Koh Samui is an eternally popular pocket of paradise located in the Gulf of Thailand. Think turquoise waters, white sand bordered by palm trees, mountainous rainforests and a vibe that screams cocktails for breakfast. These Koh Samui Airbnb's will put you on island time in no time.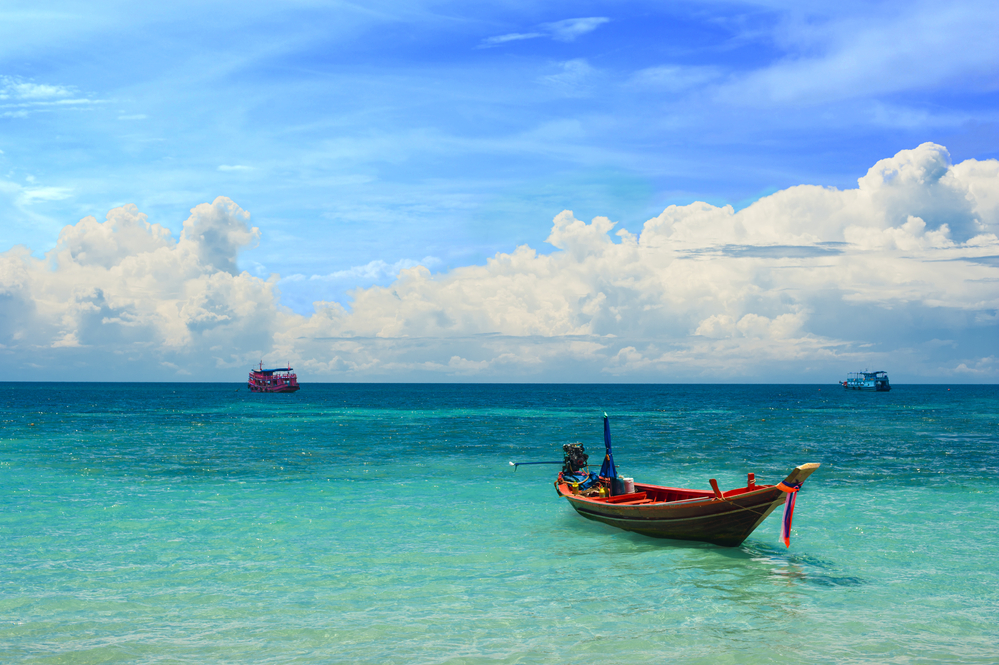 ---
7) B1 Beachfront Apartments – Turquoise Suite, Bophut
"The Best Thailand Island AirBNB"
Location: Bophut, Koh Samui
AirBNB Plus: No
Superhost: Yes
Price: $50+ USD per night
https://www.airbnb.com/rooms/5920930
This fresh and modern one bedroom apartment will add a touch of exclusive luxury to your Koh Samui island escape – at an excellent price! The serviced apartment is air conditioned, and featured a king size bed. The apartment complex is equipped with a stunning swimming pool and is located right on the pristine beach of upmarket Bophut – a stone's throw from the entertainment and shopping precinct of Fisherman's Village.
Guest review: "This is the greatest stay in all of airbnb! The room is huge and the view cannot be matched. The pictures do not do the room justice. You will not be let down. The staff is onsite daily and they are wonderful. They are friendly and very accommodating. You literally walk out of the room onto the beach. It is perfectly placed on the street. Close to one of the less populated ends. When the weekend market rolls in you have a great starting place. You are steps away from food, shopping, and scooter rental. This place is the best place I have ever stayed in." – Derek
View Photos, Read Reviews & Check Availability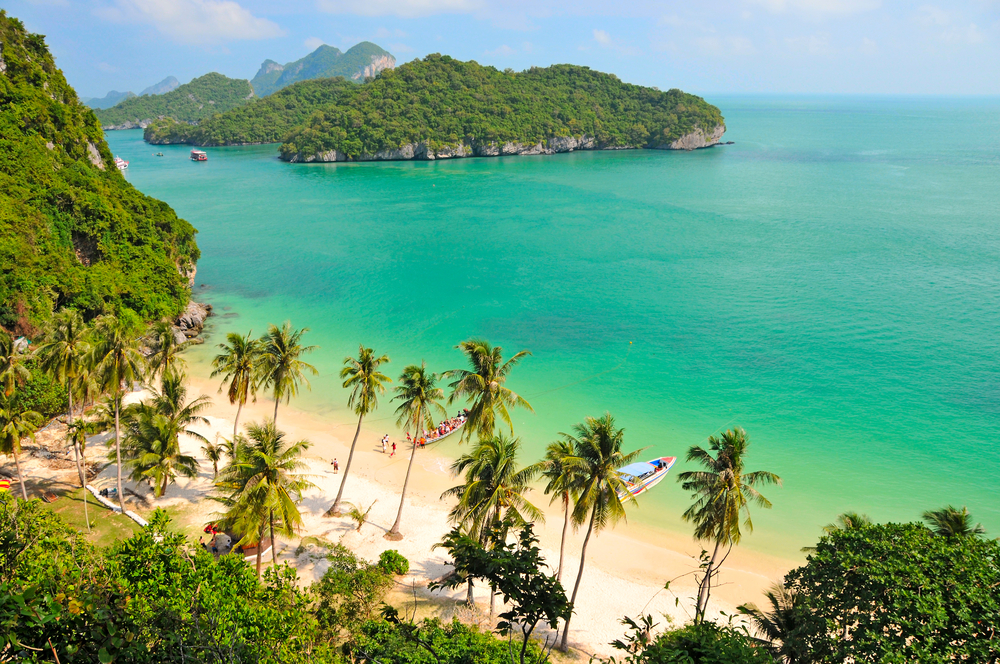 ---
8) Baan Sansuk- Exceptional Villa With Large Pool and Grounds
Location: Maenam, Koh Samui
AirBNB Plus: Yes
Superhost: Yes
Price: $225+ USD per night
https://www.airbnb.com/rooms/23967195
Located in the tranquil beachside Koh Samui neighborhood of Maenam, this AirBNB Plus villa is a sprawling tropical retreat for a family or group getaway. The three bedroom villa is styled with traditional Thai decor, and features outdoor terraces overlooking a large outdoor swimming pool. There are also family-friendly inclusions such a high chairs and a baby bath for those traveling with little ones. Enjoy the bars and restaurants of Maenam or jump in a taxi for a wild night out in island hotspot Chaweng, about 20 minutes away by car.
Guest review: "What can we say. My wife and I have just spent a month in this wonderful villa and it wasn't nearly long enough. This is by far and away the best Airbnb property that we have stayed in. The photos look fabulous but don't let them fool you. The reality is that the place is better than the photos. Lots of little touches that make a holiday special and make you want to return ( which we fully intend to ). On top of that Stuart and Aa could not have been better hosts. From day 1 when our daughter contacted them and asked that they provide some little surprises and they took the time to go out shopping and lay it all out, to our last day when having a late evening flight they allowed us to stay in the villa all day. I fully expected to pay extra for this but Stuart refused to charge us. Stuart and Aa a thousand thanks for a great stay and we look forward to seeing you next year." – Joe and Margaret
View Photos, Read Reviews & Check Availability
A quick tour around Koh Samui Thailand
---
9) Luxury Boutique Guesthouse-#1 Samui location-TWIN
Location: Chaweng, Koh Samui
AirBNB Plus: No
Superhost: Yes
Price: $100+ USD per night
https://www.airbnb.com/rooms/6019349
Stay right in the heart of the action in the buzzing island mecca of Chaweng, at this luxe Koh Samui guesthouse. The five star rated twin bedroom abode features an outside terrace with stunning sea views, landscape gardens, an outdoor shower and a shared infinity pool. A stay even includes free airport pickup and a daily one-way beach shuttle. Head to the beaches, restaurants and nightclubs of vibrant Chaweng and really indulge in the island life.
Guest review: "Such a wonderful way to enjoy Ko Samui! Communication was excellent with both John and Honey. The place was super clean and comfortable. We were very spoiled with the daily beach transfers, breakfast, lounge/ pool, and overall peaceful environment. My mom who is extremely hard to please even said how much she loved this place and especially Honey, who hosted us during our stay. This place truly is a gem! I definitely recommend!" -Mandy
View Photos, Read Reviews & Check Availability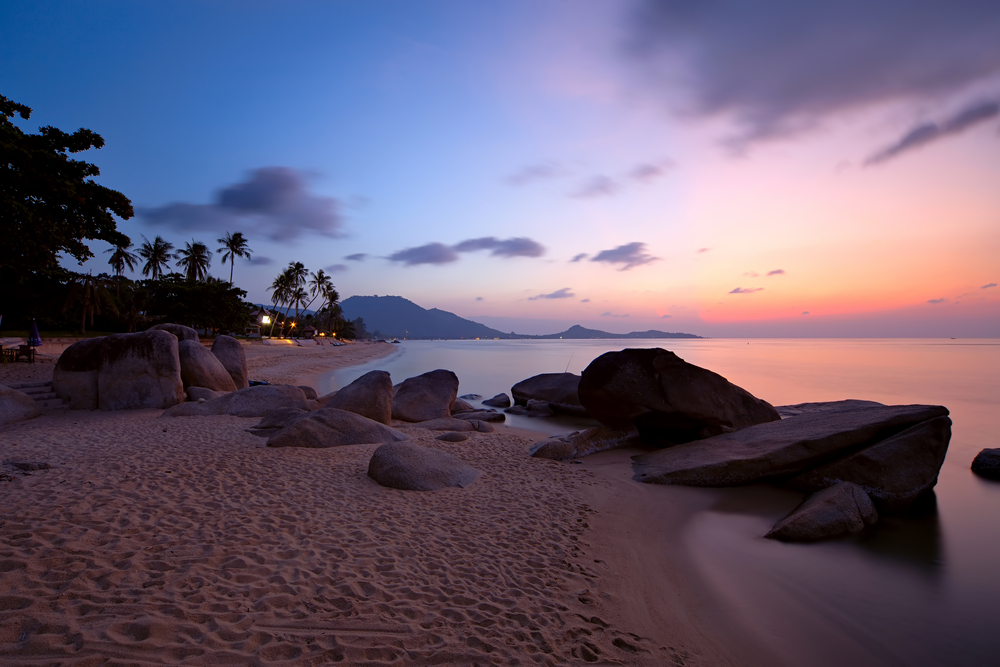 ---
The Best AirBNBs in Phuket, Thailand
One of the most famous islands on the planet, Phuket is a jewel in Thailand's crown and a fantastic destination whether you're flying solo, as a couple or with your family. The largest island in Thailand awaits you, as do the warm waters of the Andaman Sea. These Airbnb's in Phuket promise the seaside vacation of a lifetime.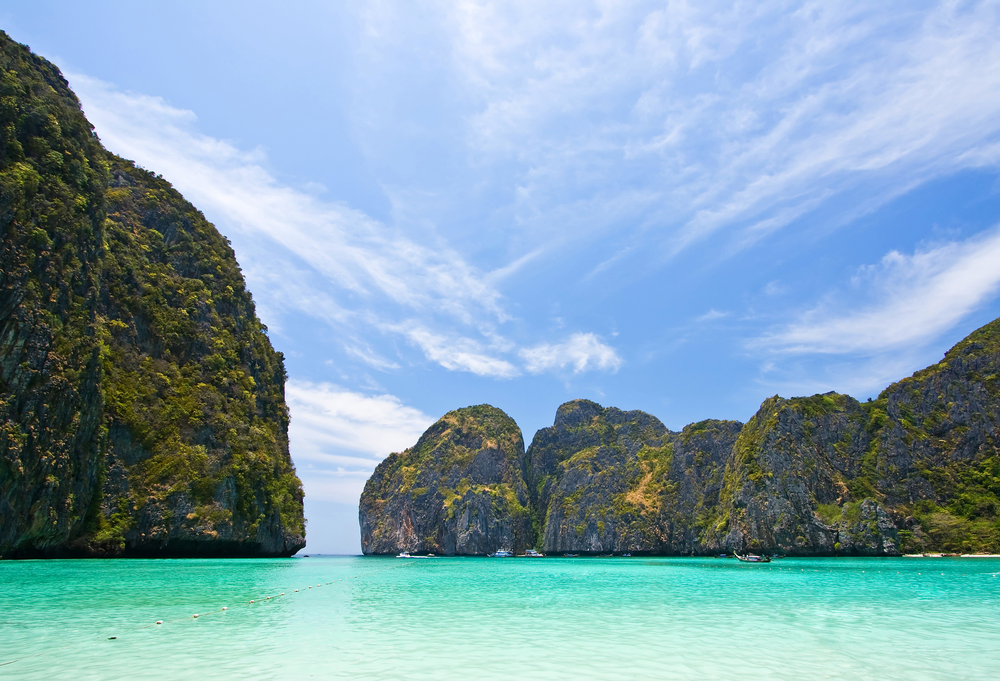 ---
10) Stroll to Nai Harn Beach from Tropical Private Pool Villa
Location: Nai Harn Beach, Phuket
AirBNB Plus: Yes
Superhost: Yes
Price: $250+ USD per night
https://www.airbnb.com/rooms/21370814
This three bedroom Phuket villa will leave you feeling like island royalty in no time. The AirBNB Plus lodging is stylishly decked out with traditional Asian decor, and features high ceilings, sunlit rooms, tropical gardens, a pool and a poolside terrace with a bar. This quiet gated community has 24/7 security, and is just five minutes drive from Nai Harn Beach – one of the island of Phuket's most beautiful. Many past guests have raves about this gorgeous villa – and you will too.
Guest review: "Sarah's villa was the perfect place for our family of 5, it's even more beautiful than the pictures. The pool is very clean, with the entire property being well maintained. Great location close to Nai Harn beach for good swimming, restaurants and markets. The villa is in a quiet gated community with security making us feel very safe. We hired a car as it's not right amongst the action. I highly recommend the villa, thanks so much Sarah." – Lisa
View Photos, Read Reviews & Check Availability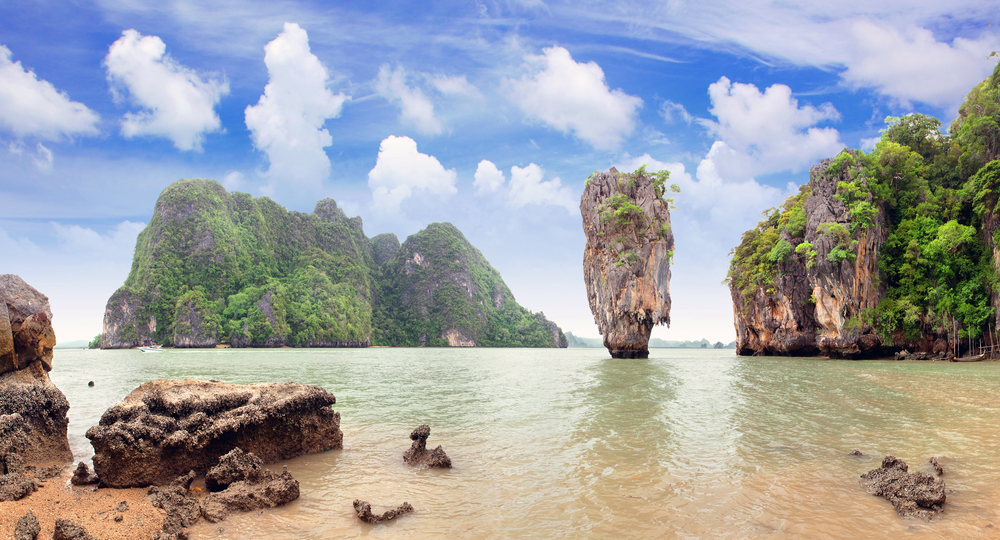 ---
11) Marvellous Garden View Studio @Patong – 500m
Location: Patong, Phuket
AirBNB Plus: No
Superhost: Yes
Price: $25+ USD per night
https://www.airbnb.com/rooms/30810711
Just a few minutes walk from the beautiful beaches and vibrant shopping and eating districts of Patong, this budget-friendly studio condo offers unbeatable value for money. The condo complex is safe and quiet, and features an incredible rooftop infinity pool with both sea and mountain views, tropical gardens, a gym, parking and 24/7 security. A scenic 45 minute drive from Phuket Airport, this Phuket Airbnb is a cut above the rest for a bargain price.
Guest review: "Ira's place had everything we needed. The balcony was nice and peaceful for your morning cuppa. The rooftop pool was outstanding and never crowded. The sunsets were amazing. We would definitely stay again." – Jo
View Photos, Read Reviews & Check Availability
---
12) Convenient Stay close to Kata Beach &Night Market*
Location: Kata Beach, Phuket
AirBNB Plus: No
Superhost: No
Price: $80+ USD per night
https://www.airbnb.com/rooms/35019252
A short stroll from the golden sand and calm ocean waters of Kata Beach, this double room in a boutique hotel is bright, clean and air-conditioned. The modern accommodation offers 24 hours reception staff on site, has a shared pool and in its short time on the AirBNB platform, has achieved a perfect five star guest score already.
Guest review: "Our stay was great. The location is perfect. The night market is right next to the hotel. The beach is just a 5 min walk away. Also we loved the city with all these restaurants and little shops. We really recommend this Airbnb" – Tamara
View Photos, Read Reviews & Check Availability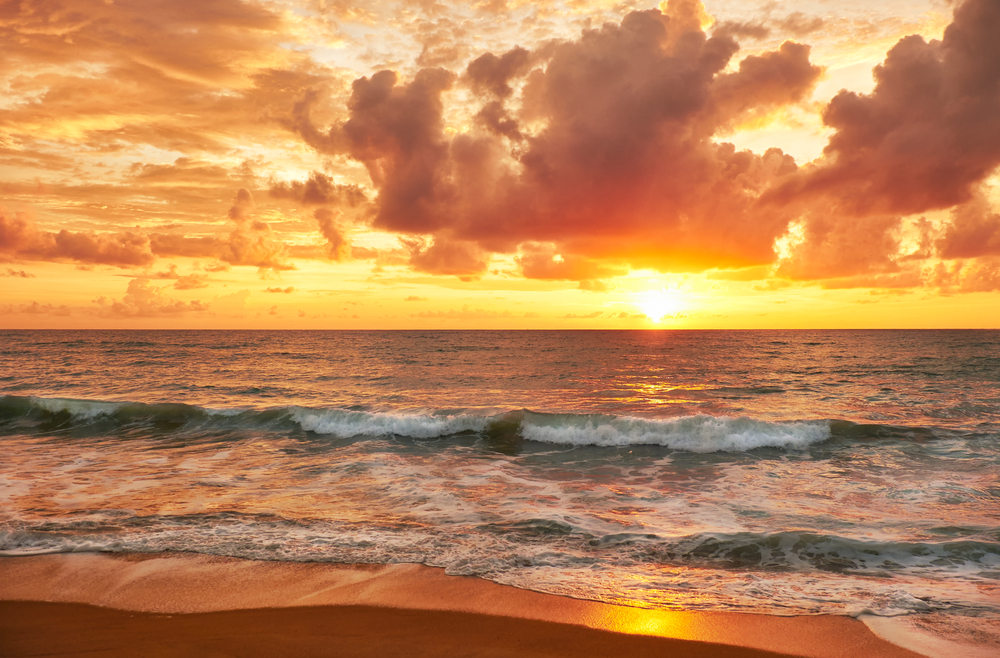 ---
The Best Airbnb Thailand Honeymoon Villas
Thailand is one of the most popular honeymoon destinations in the world – and why wouldn't it be? You can design the holiday of your dreams as newlyweds, hopping from cities to mountains to beaches with ease. On top of that, you can live it up in Thailand on your honeymoon for a fraction of the price of other world destinations. These Thailand honeymoon Airbnb's are the best cozy lodgings for the newly betrothed.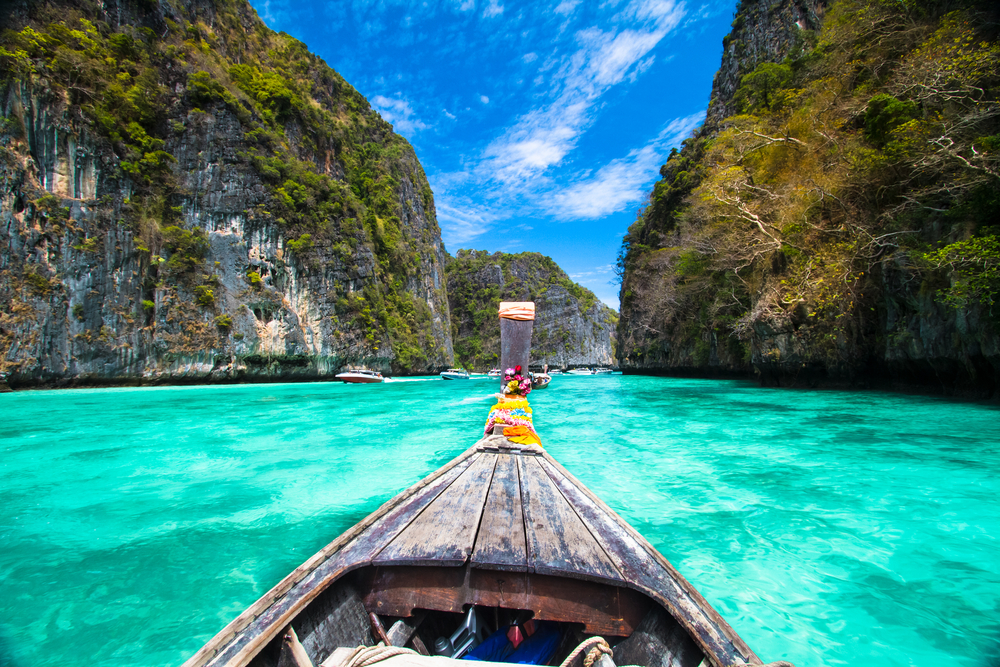 ---
13) Kulraya Villas – Luxury Serviced Pool Villas
"The Best Thailand Honeymoon AirBNB"
Location: Ko Lanta
AirBNB Plus: No
Superhost: Yes
Price: $350+ USD per night
https://www.airbnb.com/rooms/13339020
Floating in the Andaman Sea, the picture perfect island of Koh Lanta is accessible to Phuket, Krabi and other top Thailand destinations. This luxury poolside villa – one of two private serviced villas on the property – features two bedrooms, two bathrooms, a large designer pool with terraced seating areas and boasts majestic sea views. Backed by pristine Thai rainforest, the villa is 10 minutes walk to the nearest beaches, restaurants and shops. However, with a private driver included as part of your stay, I doubt you'll be walking anywhere!
Guest review: "Beautiful villa with an amazing infinity pool. The views from the villa are equally gorgeous; Sunsets in the evening and star gazing at night from the pool. The service was extremely good. Ian organised an airport pick up and drop off between Krabi and Koh Lanta. Luk took us around the villa and explained everything thoroughly. They provided a phone with Luk's and Ian's phone numbers, including a number for a taxi. Bau (taxi driver) was always available whenever we needed a ride to the town (around a 5 to 10 minute drive from the villa). The two ladies who work for Luk and Ian were also lovely. We organised a private long tail boat through Ian and it was the best decision ever! Overall it was one of the best experiences we've had. A wonderful stay! Kulraya is a little hidden gem!" – Nish
View Photos, Read Reviews & Check Availability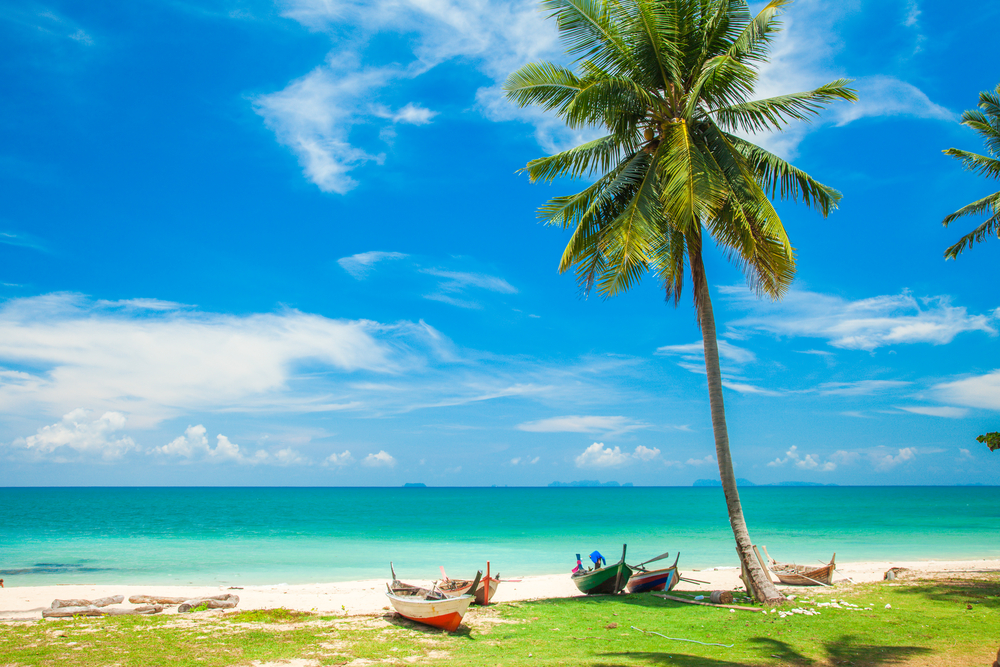 ---
14) Koh Tao Heights 1 bedroom Boutique Villa
Location: Koh Tao
AirBNB Plus: No
Superhost: Yes
Price: $150+ USD per night
https://www.airbnb.com/rooms/6545679
A trip over to the upmarket island of Koh Tao is highly recommended if you are on the neighboring Gulf of Thailand islands of Koh Samui or Koh Phangan, and this air conditioned boutique villa is the perfect place to extend your stay. The stylish two bed bedroom villa has its own private infinity pool, jacuzzi, gazebo and sea views. The turquoise waters of the nearest beach are 10 minutes away, as are some of the island's best restaurants, shops, bars and nightclubs. And with a perfect five star Airbnb guest review rating, what have you got to lose?
Guest review: "This place is awesome!! Sweet view from the infinity pool and awesome outdoor area to hang out. The interior is also very clean and nice. Two stories with the bedroom and main bathroom upstairs and the living room, kitchen and small bathroom downstairs. They also arranged a taxi to meet us at the pier and drive us to the place when we got in. Couldn't have asked for a better place for my gf and I to stay." – Alan
View Photos, Read Reviews & Check Availability
BACKPACKER'S PARADISE - KOH TAO
---
15) Luxury Seaview – Infinity Pool
Location: Koh Chang
AirBNB Plus: No
Superhost: Yes
Price: $125+ USD per night
https://www.airbnb.com/rooms/10755942
A pristine island made up of thick jungle, white sand beaches and jade ocean waters, the large island of Koh Chang is paradise for those looking to truly retreat from it all and get back to nature. The inclusions of this luxury villa are endless – and hard to believe at such a low price. Two bedrooms, each with an ensuite bathroom, open and airy interiors, a fully equipped kitchen, an expansive balcony with unbelievable sea views and a private white sand beach only for residents of this close community. Add to that an epic complex infinity pool, poolside restaurant and a private resort jetty and you'll have to pinch yourself.
Guest review: "This place is truly amazing! Andrew and his wife went out of their way to accommodate us and were extremely helpful! The pool is great and we had it to ourselves most days. We rented a car, that was necessary for us as we traveled with a baby. But Bang Bao pier and the amazing Klong Kloi beach is also reachable on foot! This is in my opinion the best place to stay on the island if you want peace and serenity. We loved every minute of the stay and will come again if we can!" – Kenneth
View Photos, Read Reviews & Check Availability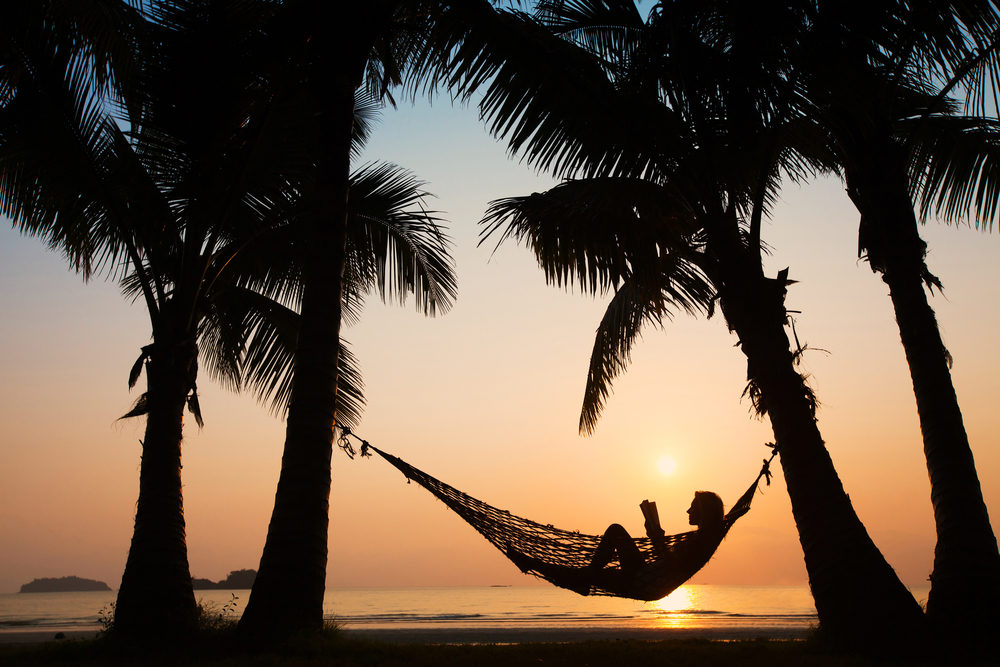 ---
16) Admire Asian Antiques at a Sumptuous Sanctuary on the Beach
Location: Koh Samui
AirBNB Plus: Yes
Superhost: Yes
Price: $225+ USD per night
https://www.airbnb.com/rooms/20627799
This AirBNB Plus Koh Samui villa is one of the premier accommodation offerings on the island, and one look at its decadent dark wood interiors and Asian-inspired design and decor and you'll understand why. The two-bedroom beachside villa features a saltwater pool, hot tub, outdoor shower, palm-fringed terrace and private beach access. It is also equipped with family-friendly essentials. This serene district of Koh Samui is calm and quiet, but when the urge to party strikes, the party hotspot of Chaweng is just 45 minutes away along the coast.
Guest review: "it was the best stay in Thailand, better than any hotel! Great host and beautiful villa. Very comfortable, done in the authentic Thai style, you really feel Thailand culture there. Kevin was a great help for us in any question, renting a car, giving tips around the island and best places to see as the local. He provided a great service, more than we could have received in the 5 stars hotel. We enjoyed our stay and recommend to stay at Kevin's as there is no better place." – Elena
View Photos, Read Reviews & Check Availability
KOH SAMUI NATIONAL PARK TOUR | THAILAND
---
The Best Family AirBNBs in Thailand
Thailand is not only a budget-friendly family vacation destination, but is a fantastic place to give your kids a cultural education they'll never forget. From the busy streets of Bangkok to the idyllic beaches of Krabi, these Thailand Airbnb's are family-friendly, highly-rated and a home away from home.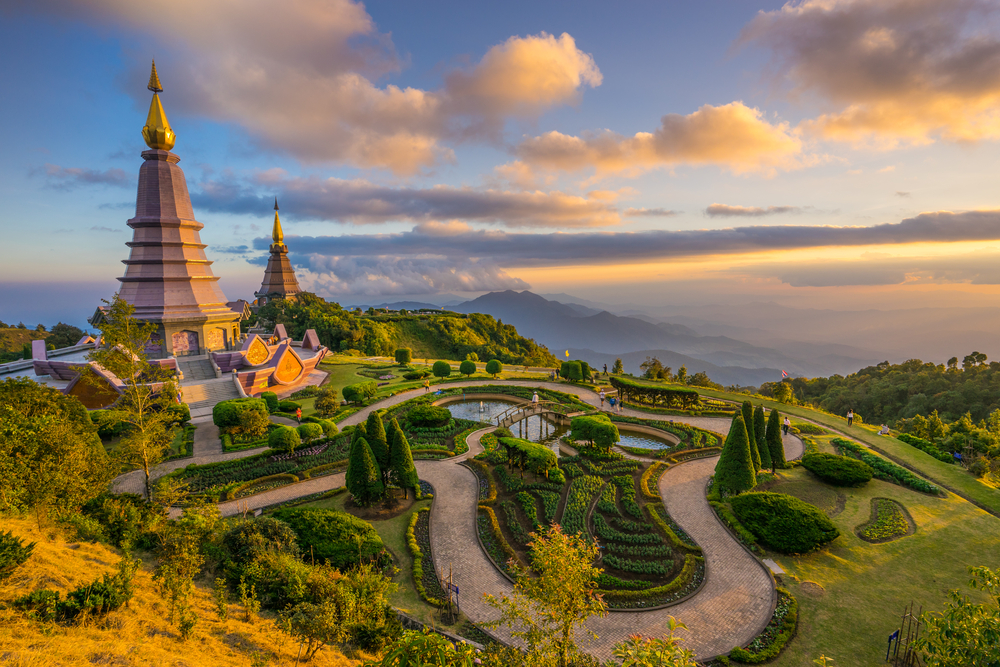 ---
17) Villa Nittra Singharaj
Location: Chiang Mai
AirBNB Plus: No
Superhost: Yes
Price: $120+ USD per night
https://www.airbnb.com/rooms/18710549
If you're heading up north with your family to experience the hill tribes, animal sanctuaries and zen vibe of beautiful Chiang Mai, this central villa should be on your AirBNB shortlist. The two storey, two bedroom townhouse features stunning wood and teak interiors, a full kitchen and dining room, and is conveniently located just 100 metres from the Old Town main road, popular markets and walking streets.
Guest review: "Just wow! What a thoughtfully curated experience from the Siwanon family. Our hosts organised for us to be picked up from the airport for a local price, they greeted us with cold drinks, mango sticky rice, a detailed orientation of the house + useful recommendations for things to do in Chiang Mai. They really went above and beyond to make sure their guests have the best stay- we came home to a cake hanging on the front door as it was my birthday- wonderful surprise! Stunning house, tastefully decorated, spotlessly clean and comfortable. Highly recommend!" – Georgia-Rose
View Photos, Read Reviews & Check Availability
Street Food in Thailand - NIGHT MARKET Thai Food in Chiang Mai, Thailand!
---
18) Absolute Beachfront
"The Best Thailand AirBNB For Families"
Location: Koh Chang
AirBNB Plus: No
Superhost: Yes
Price: $220+ USD per night
https://www.airbnb.com/rooms/5043083
This Koh Chang AirBNB is the best Thailand AirBNB for a family escape on my list, and while that may seem like a tall order, it certainly delivers. Located on a quiet and idyllic beach, this three bedroom villa is traditionally stylish, and equipped with all the mod cons you're used to. This exclusive villa community boasts a stunning swimming pool, a golf course, a gym, bars and restaurants. Your family won't want to leave.
Guest review: "Very accurate description of the house and area. Even more beautiful than the pictures show! We, 3 adults and 2 kids (3 and 6years old), had a wonderful and relaxing few days here before moving on to more busy and "touristy" areas in Koh Chang. HIGHLY recommended!" – Lars
View Photos, Read Reviews & Check Availability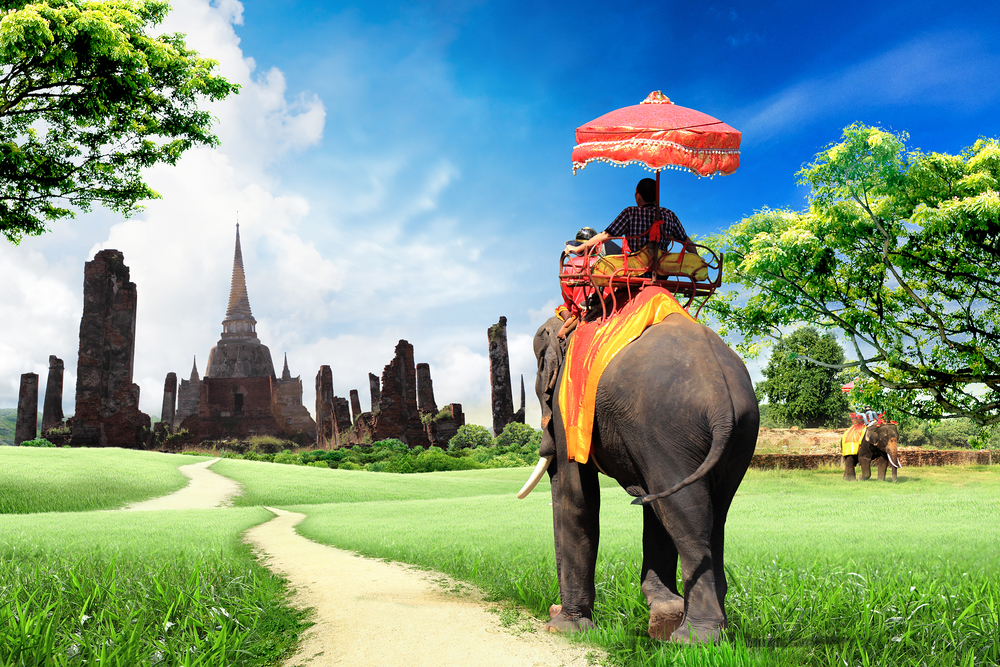 ---
19) The Anonymous House, Heritage Home in Silom with Plunge Pool
Location: Bangkok
AirBNB Plus: Yes
Superhost: Yes
Price: $170+ USD per night
https://www.airbnb.com/rooms/25819195
This three bedroom artists home is one of the best Airbnb's in Bangkok, hands down – and my personal favorite from my list. The historic home has been transformed into a seriously stylish and quirky abode, with vibrant artwork and furnishings peppering the interiors and exteriors. The AirBNB Plus home also features a refreshing plunge pool and is nestled in a superb location. Just off the main city thoroughfare of Simon Road, you'll be in close proximity to Bangkok's best restaurants, malls, shops, spas, temples and markets.
Guest review: "Anonymous House is an Oasis in the very heart of the city. An absolutely unique experience guaranteed to please. Beautiful artwork, staff and furnishings all went in to making this one of the best stays I have had in over 20 years of travelling Asia. I was there with my sister, daughter, son and his wife and a niece and we all loved it and had plenty of private space over and above bedrooms. Can't recommend it highly enough." – Michael
View Photos, Read Reviews & Check Availability
---
20) Barefoot Breeze Vibrant Stylish Villa with Private Pool
Location: Ao Nang, Krabi
AirBNB Plus: Yes
Superhost: Yes
Price: $200+ USD per night
https://www.airbnb.com/rooms/33003908
The island chain of Krabi, off Thailand's west coast, is a picture-perfect paradise of idyllic beaches, friendly locals, refreshing cocktails and a slower pace of living. If you're heading to Krabi, secure your stay at this stylish four bedroom family villa. The expansive Airbnb Plus home features free-flowing, open interiors, traditional wood floors and a private pool. You can even book add-on services, such as in-house massage or chefs, through the host. An epic way to experience the beauty of Krabi.
Guest review: "The home is beautiful and the listing is very complete and accurate in describing it. If you are looking to explore, do think about arranging transportation as most places are at least a km or more away and you are walking on the main road. Mem is an amazing host and responded nearly immediately to everything we asked. She helped us arrange everything from taxis and day tours, to an in house cook and groceries. Our stay would not have been the same without her. We also arranged for daily cleaning and Ben did a wonderful job. The hosts have included many little attentions that make it delightfully easy to settle in without any confusion regarding how to operate things." – Tanya
View Photos, Read Reviews & Check Availability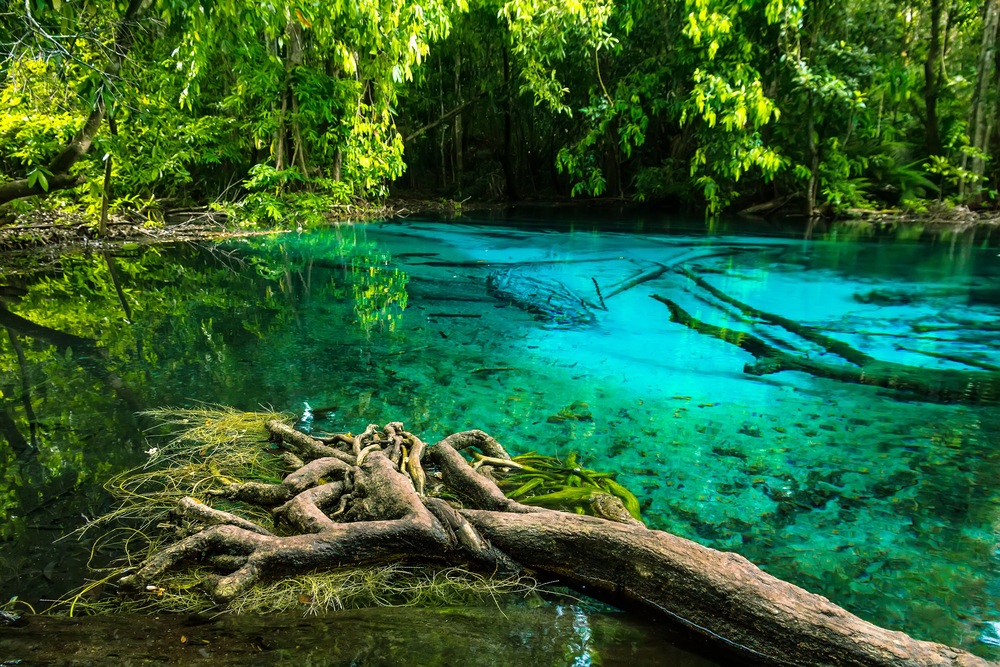 ---
Thailand Tours & Experiences You Can't Miss
If you're keen to spend your trip to Thailand experiencing the best that the country has to offer – with a serious slice of beach time on the side – you're in luck. No matter where you are in the "Land of Smiles", there's a plethora of tours, activities and experiences that will take your vacation to the next level. Care for the elephants in the northern mountains, experience a floating market steeped in history, hop around jawdropping islands or check out Muay Thai professionals at work. These are the best tours and experiences in Thailand.
---
Chiang Mai: Elephant Care at Elephant Retirement Park
"Spend a day learning about and observing rescued elephants. Follow the elephants' footsteps and enjoy their day which includes eating local fruits, bathing and playing with mud. This all depends on what the elephants want to do that day."
https://www.getyourguide.com/chiang-mai-l271/chang-mai-elephant-care-program-at-elephant-retirement-park-t154758/
Price: From $90 USD (5-9 hours)
Review: "One of the beat experiences ever!! The drive was easy and quick from Chiang Mai. Contacting the staff was easy which was great. The elephants seem very happy at the retirement park and are very well taken care of. Being able to care, touch, and bathe the elephants was one of the coolest experiences I've ever done! This is a must do in Thailand! Thank you for a great experience :-)" – Jessica, United States
View Photos, Read Reviews & Check Availability
ELEPHANT SANCTUARY 2018 🐘 CHIANG MAI ELEPHANT JUNGLE SANCTUARY CAMP | Travel Vlog 119
---
Floating Market & Train Market Daytrip
"For two years I've Airbnb Superhosted with my partner Alex and delighted in making new friends from across the world. That inspired me to create our tour company "Siam World Heritage" for our guests to savor the excitement of Thailand!"
https://www.airbnb.com/experiences/437901
Price: From $70 USD per person (8 hours)
Review: "Absolutely a must do! After you're done seeing all the temples of Bangkok, this is a lovely trip outside the city. The four stops were well planned and really a great addition to our travels here in Thailand. I can't even tell you which one was my favorite. Kat is a wonderful guide. She gave us just enough information to provide us with background information and easily answered all our other questions. I highly recommend!!"
View Photos, Read Reviews & Check Availability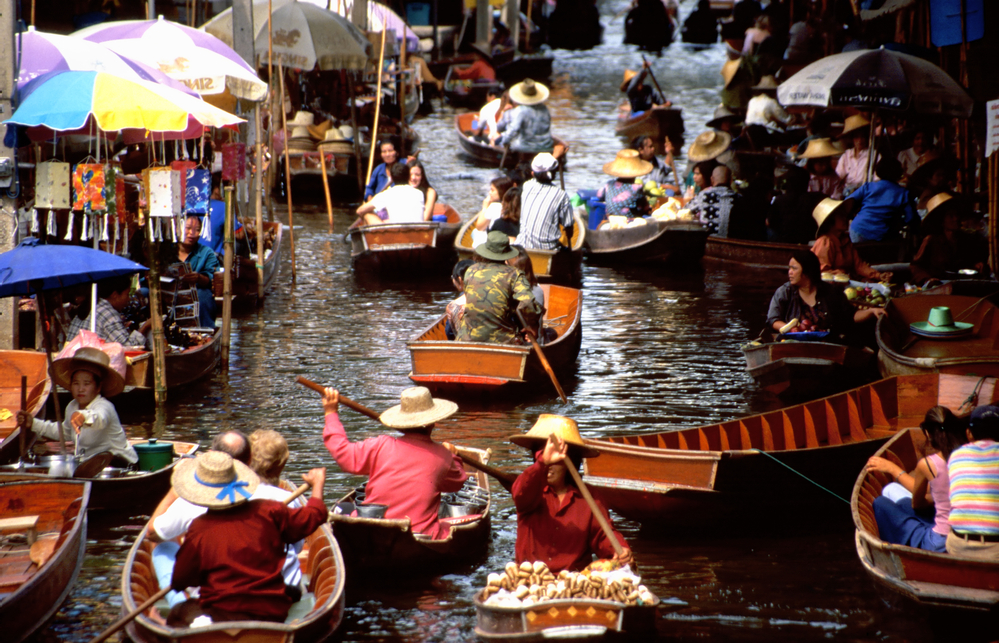 ---
Phuket: Phi Phi, Maya, Bamboo, and Maiton Island Day Trip
"Enjoy a trip by luxury speedboat from Phuket to Phi Phi Island, Bamboo Island, and Maiton Island. Experience a full day of fun and enjoy sightseeing, swimming, and snorkeling with an experienced crew."
https://www.getyourguide.com/phuket-l32123/phuket-phi-phi-maya-bamboo-and-maiton-island-day-trip-t167981/
Price: From $180 USD (9 hours)
Review: "It was great! The team leader, Sexy Billy, was super funny. We had a great time on the boat, the food was very good, snorkeling was awesome, we could see beautiful fish in the ocean. Everything was super and we recommend this trip and this package! Great value for money! Tip: if you are motion or sea sick, stay in the back of the boat, it's best!" – Stefania
View Photos, Read Reviews & Check Availability
MAGICAL PHI PHI ISLANDS TOUR | WHAT TO EXPECT FROM KO PHI PHI THAILAND
---
Experience Muaythai Fighter Life&Food
"Learn real fighting techniques to defend yourself either in the ring or on the street. Known as the 'art of eight limbs' the ancient martial art of Muay Thai incorporates punches, kicks, knees and elbows. Learn from experienced trainers in a welcoming, beginner friendly environment. After training like a champion, it's time to eat like a champion! Experience authentic E-san (BBQ chicken , Papaya salad,sticky rice)E-san is the north-eastern region of Thailand and it is the birth place of Thailand's most feared fighters. Sample the food which is the fuel of MuayThai, made from fresh local ingredients."
https://www.airbnb.com/experiences/888781
Price: From $100 USD per person (4 hours)
Review: "Excellent experience! For anyone interested in Muay Thai, from complete novice to expert, this is an experience to do in Thailand. It inlcudes training, excellent meal and watching real matches. Ohm has an in-depth knowledge, good personality and his English is perfect as he lived in USA previously. Recommended."
View Photos, Read Reviews & Check Availability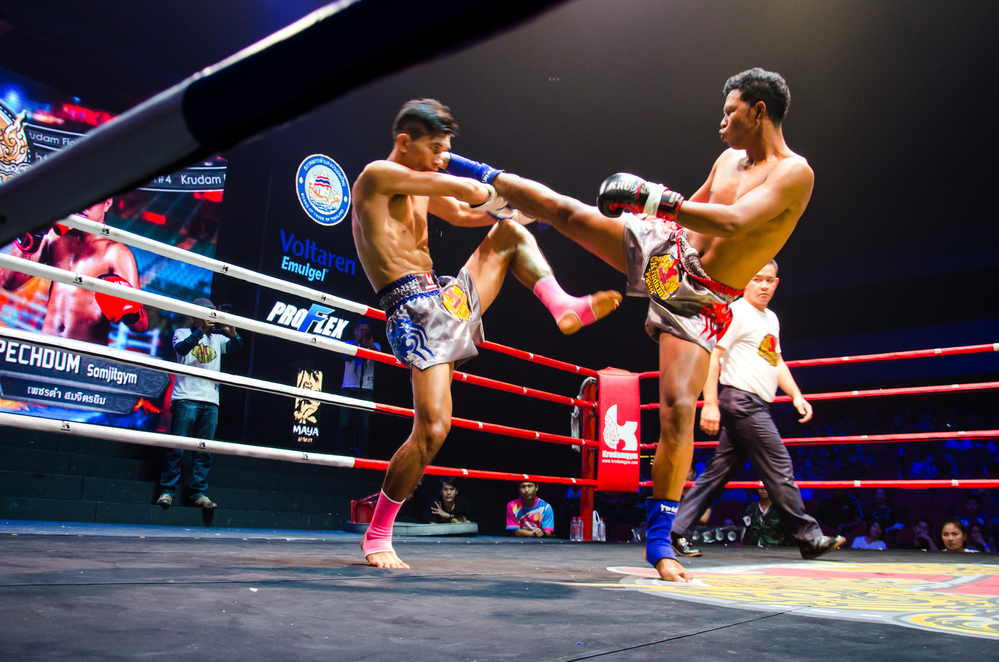 ---
Mu Ko Ang Thong Park: Semi-private Sunset Cruise Tour
"Avoid the crowds on this relaxing sailing cruise aboard a luxurious yacht to the limestone islands of Mu Ko Ang Thong Marine Park. Enjoy snorkeling at the best spot in the park, climb to the Emerald Lake and admire a beautiful sunset."
https://www.getyourguide.com/koh-samui-l898/mu-ko-ang-thong-park-semi-private-sunset-cruise-tour-t143955/
Price: From $165 USD (8.5 hours)
Review: "A really great trip, long, but because you can move around on the boat and change places, you can also relax. The snorkeling was on a very nice island with nice corals and lots of fish and sea urchins. The kayak tour with a visit to a great lagoon was a mega experience. The climb to the viewpoint was also very nice. But at the end of the day you are done … take something warm for the evening return. A really great and different experience than taking the speedboat to a crowded island and snorkeling in cloudy waters." – Antje
View Photos, Read Reviews & Check Availability
this made it my BEST TOUR OF THAILAND: Ang Thong National Marine Park
---
Did I leave out any amazing Thailand AirBNBs?
There's literally thousands of Airbnb's across Thailand, so choosing the best of the best to showcase to my readers was a mean feat. However, if you've stayed at – or host- a top quality Airbnb in Thailand feel free to reach out to me and I'll see if I can get you on my list. You can find me on my socials or directly at my email.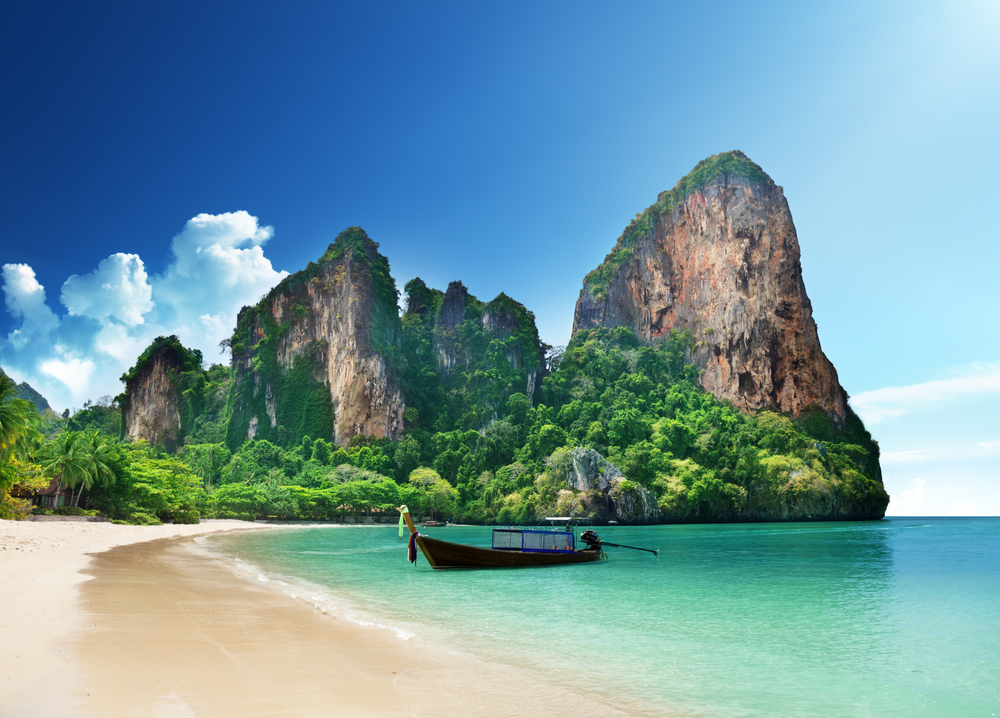 ---
Planning a trip to Thailand?
You're in for a life changing trip! Whether you're heading to the mountains, the islands or the cities of Thailand – or all of the above – you have an exciting adventure ahead! My blog has a long list of Thailand blogs, guides and lists to check out, and I've listed them all below for you!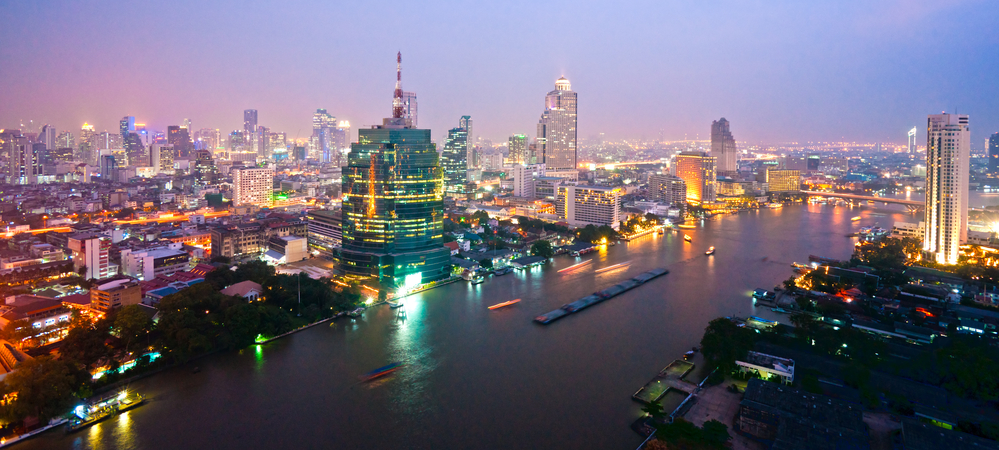 ---
Final thoughts on Thailand AirBNBs
I simply love Thailand. The people, the beaches, the hills, the jungles and the cities. It's such an exciting and fascinating country, and no travel bucket list is complete without at least one trip to Thailand. Thanks to Airbnb, you now have an endless range of luxury, budget-friendly and diverse places to stay at all across Thailand, and my list is a great place to start looking.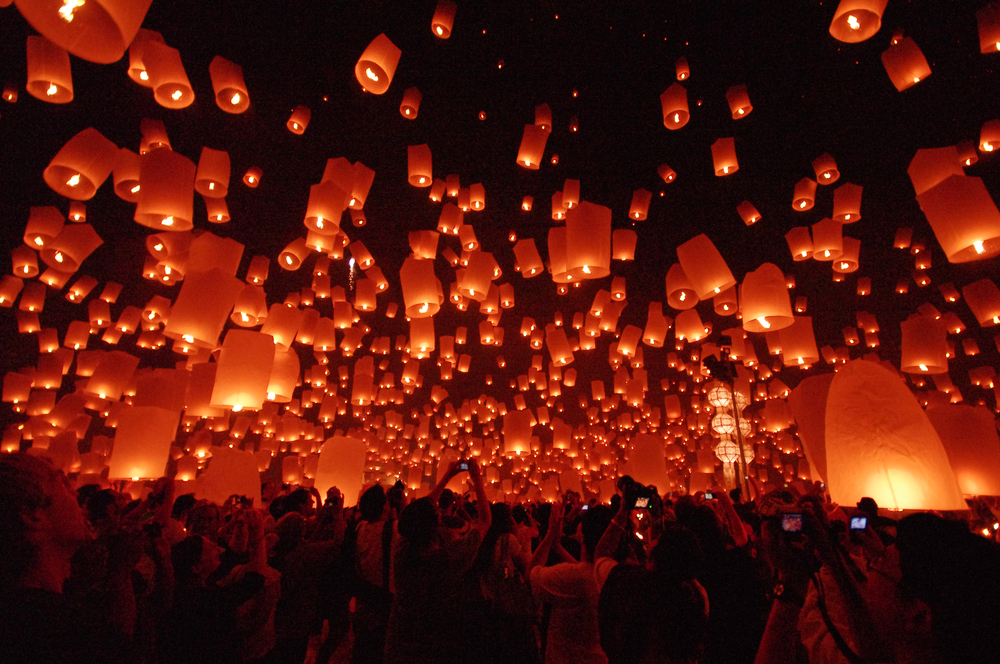 ---
Thanks for reading about the best Airbnbs in Thailand.
Share this Thailand Airbnb list with your backpacking crew!
https://www.jonesaroundtheworld.com/wp-content/uploads/2020/05/Unique-Airbnbs-In-Thailand.jpg
667
1000
Guest Contributor
https://www.jonesaroundtheworld.com/wp-content/uploads/2017/03/logotry-1-1-300x106.png
Guest Contributor
2020-05-20 17:58:25
2021-04-01 00:56:51
The 20 Best Airbnb's In Thailand | Cities, Islands & Mountains