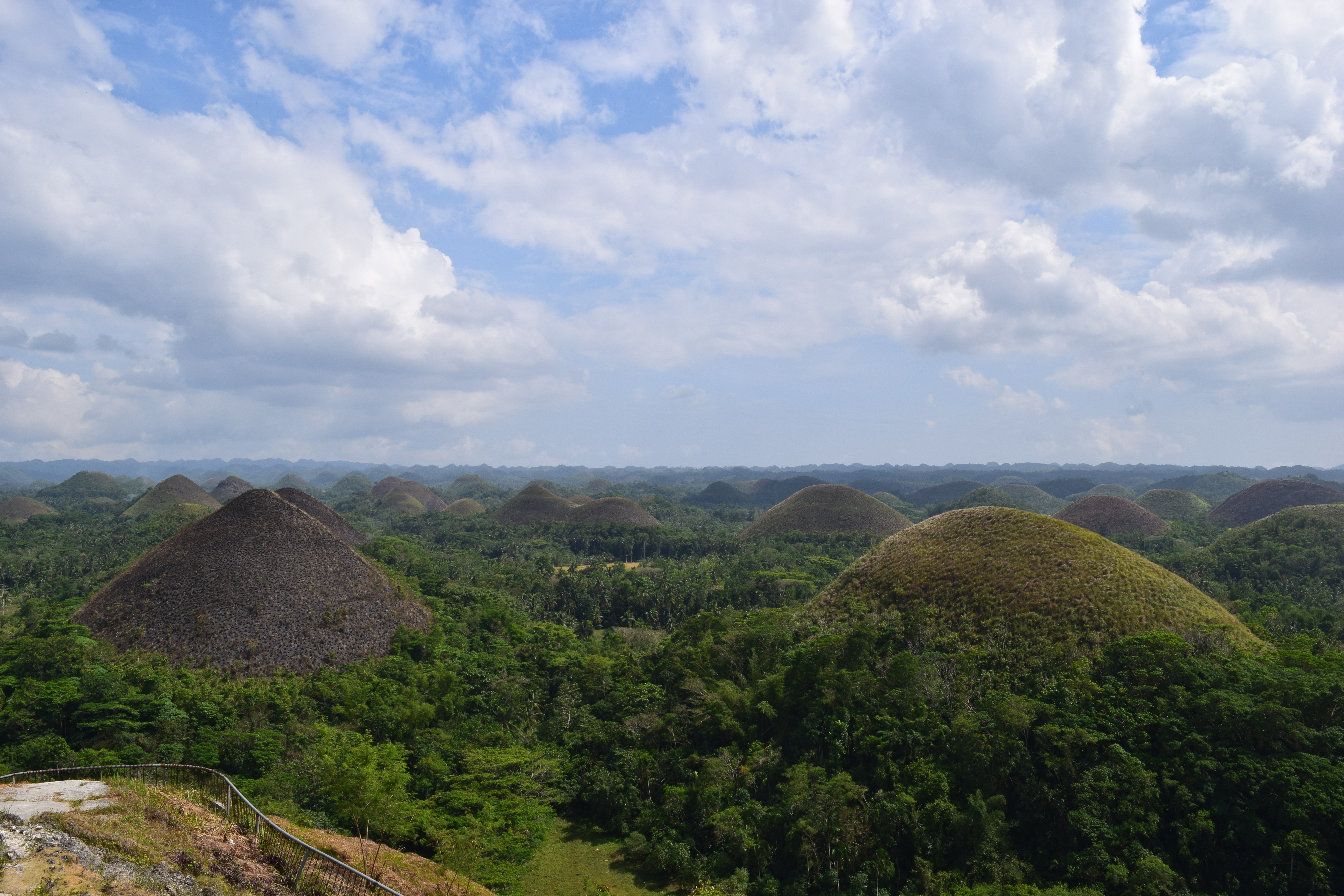 I'll never forget the first time I saw a pictures of the Chocolate Hills on Bohol Island in the Philippines.  I was sitting in my apartment in The Netherlands planning my first trip around South-East Asia.  I ended up not being able to make it to the Philippines during my first backpacking trip, but the Philippines was always high up on my travel wish list.  The day had finally come for me to witness the interesting landscape called The Chocolate Hills, as well as witness the massive eyes of the Tarsier monkeys in person.
I woke up at my hostel in Cebu, camera charged, and ready to go.  Getting to Bohol island is so simple.  There are tons of ferries that offer the route, and all you have to do is show up to the Cebu Pier 1 Terminal, and you can hop on the next ferry.  Prices vary by company and time of the year.  I had to pay 400 Pesos each-trip, which I felt was rather expensive, but whatever.
The ferry journey takes roughly 2 hours, and offers some spectacular view while leaving Cebu, as well as arriving Bohol.  The color of the water coming into Bohol was so blue and beautiful, it made me want to jump right off – but I fought that urge and remained on the ferry.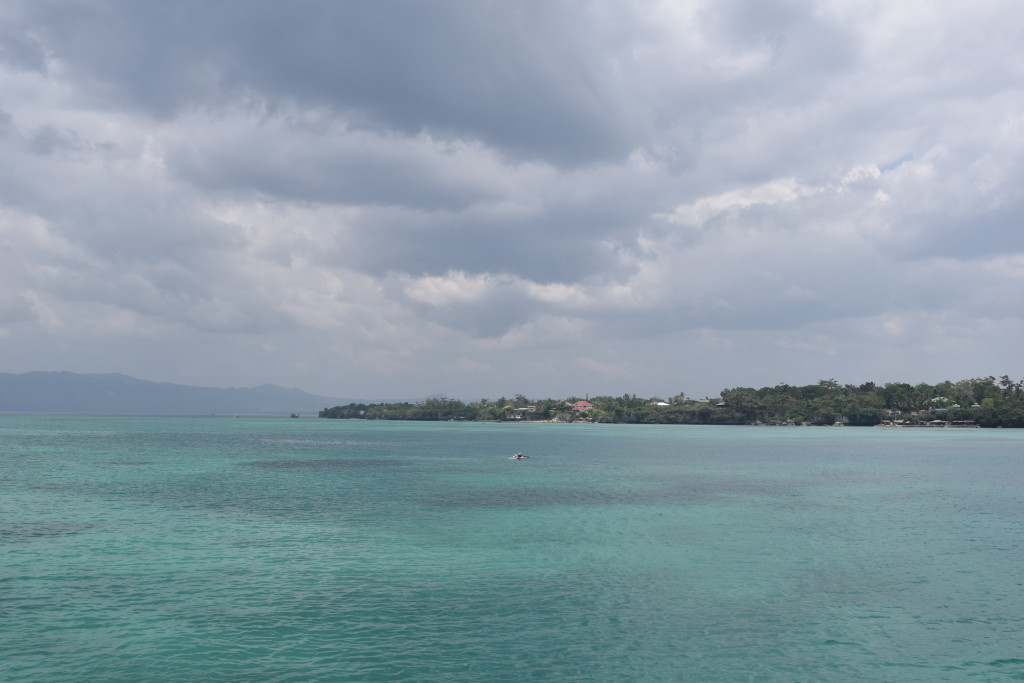 Upon exiting the ferry, you'll be HARASSED by people offering day trips and tour packages.  IGNORE these people, and just keep walking past them.  It depends on what kind of day you want in Bohol, but it's much more expensive, and not worth the money to go on an arranged tour like this.
Rent A MOTO!
I actually couldn't believe how long it had been since I had driven a moto.  Looking back on my time, it was back in December when I was on Koh Tao, Thailand.  Ever since then, I've just been relaxing in Kuala Lumpur, Bangkok, and Hong Kong.  It felt so good to get back on the moto, and explore the island at my own pace.  I rented the moto for the day for 400 Pesos, which I think is rather expensive for just 5/6 hours I actually had it, but that's what I got.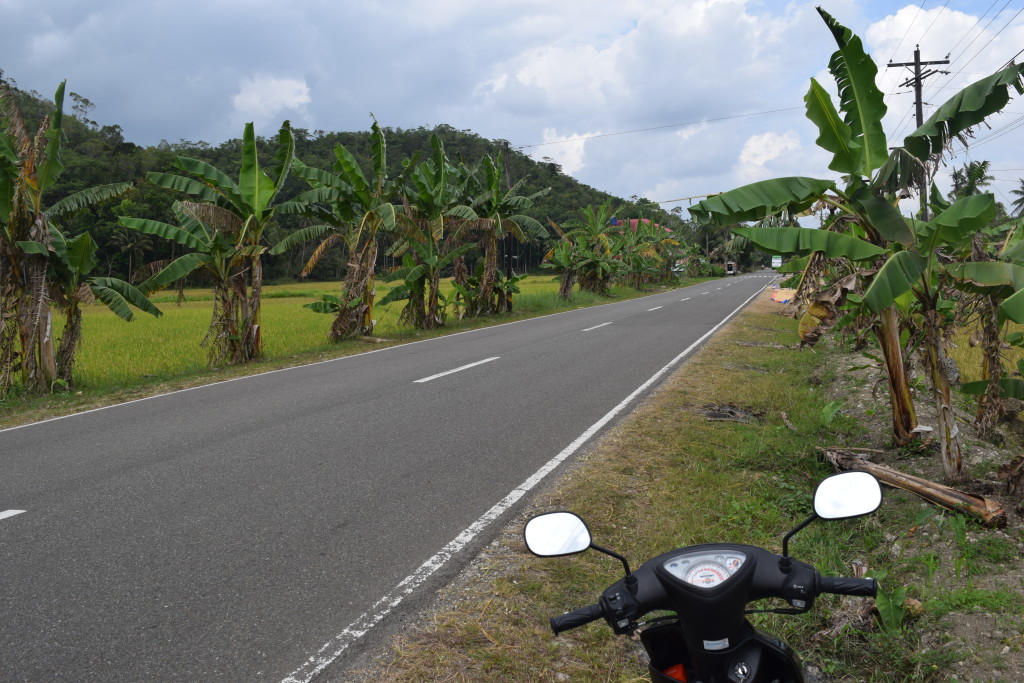 Getting To The Chocolate Hills
The roads in Bohol are actually pretty great, and I was surprised with the conditions.  There is not much traffic and other people on the road.  Just grab a map (or use your smartphone), and follow the signs to Carmen, where the chocolate hills view point is.  The moto ride is really awesome, and you get to see some beautiful scenery.  There is one stretch that takes you through amazing trees that made me feel like I was in the middle of a massive jungle.  No one around, just my moto and me, and beautiful nature.  An amazing feeling!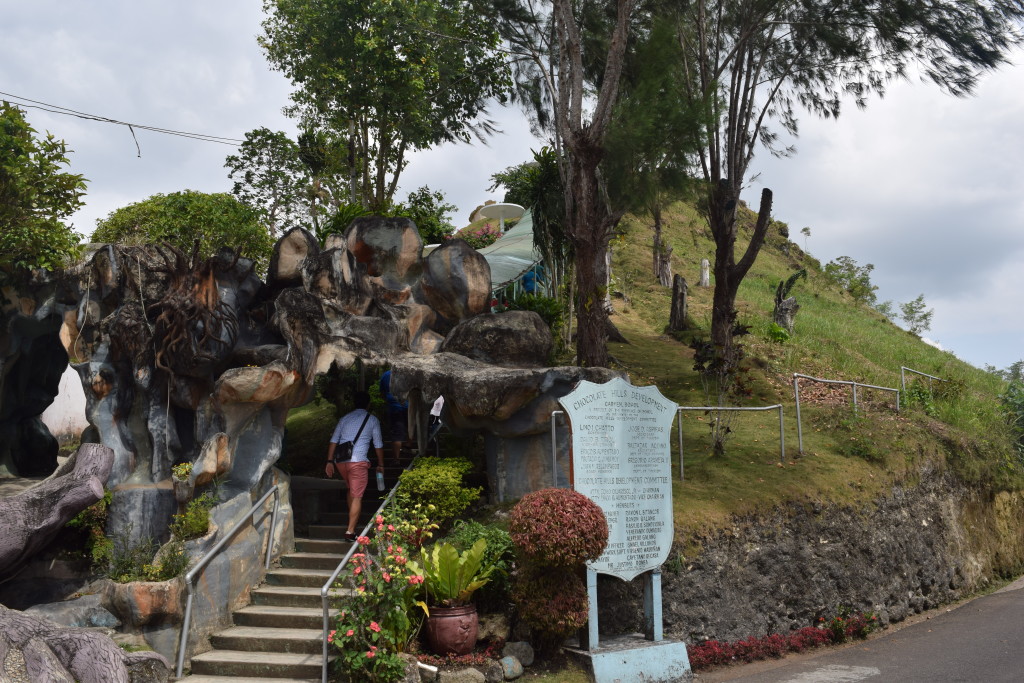 The Chocolate Hills Viewpoint
After pulling up to the parking area, and paying the 50 Pesos tourist fee, you make your way up the staircase to the viewpoint.  I saw a lot of people struggling to get up to the top, but it's honestly not that big of a staircase.  I mean, I smoke quite a bit, and I didn't have any problems getting to the top.  But once you get to the top, you're rewarded with an amazing panoramic view of these massive hills that seem to go on for as long as the eye can see.  The thing is, once you're up there, take a few pictures, a selfie or too, there's not much else to do.  It's still worth the trip, but it would be cool if there was more to do there.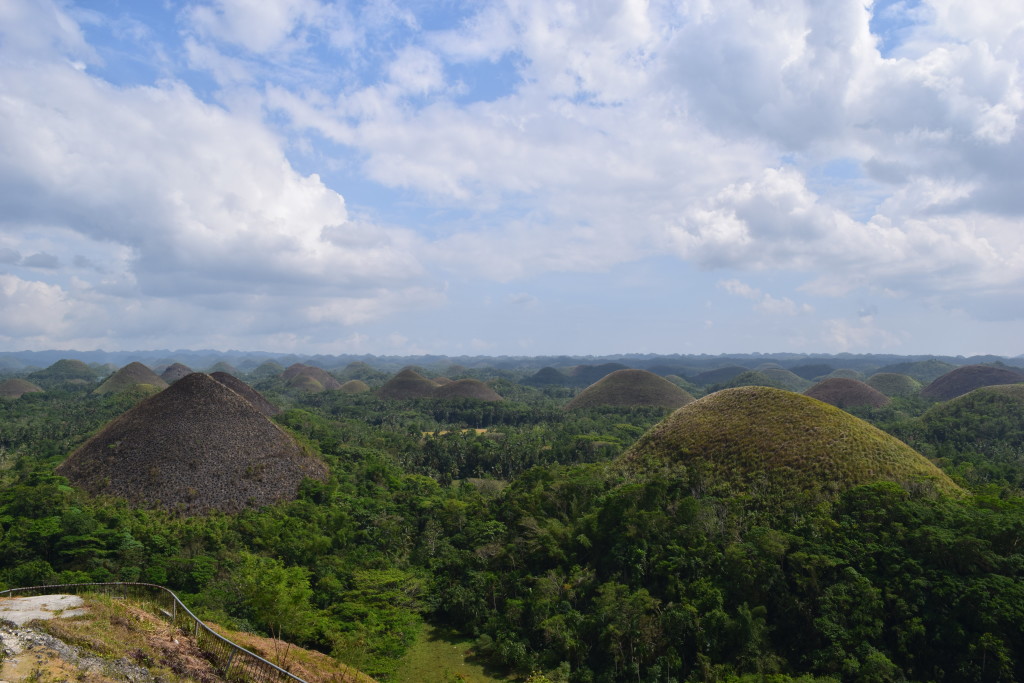 Tiny Tasiers 
After marveling at the hills, it's time to make the next necessary stop in Bohol; the tarsier sanctuary.  On the way down, I stopped and asked for directions, because I was not quite positive I was going in the right direction; and LUCKILY the guy I asked happened to be holding a small Tarsier in his hand!  The tiny creature was so cool, and the guy even let me hold him.  I asked them to take a picture for me, but they weren't too camera savvy, and they pics didn't come out that great.  But you can check them out below.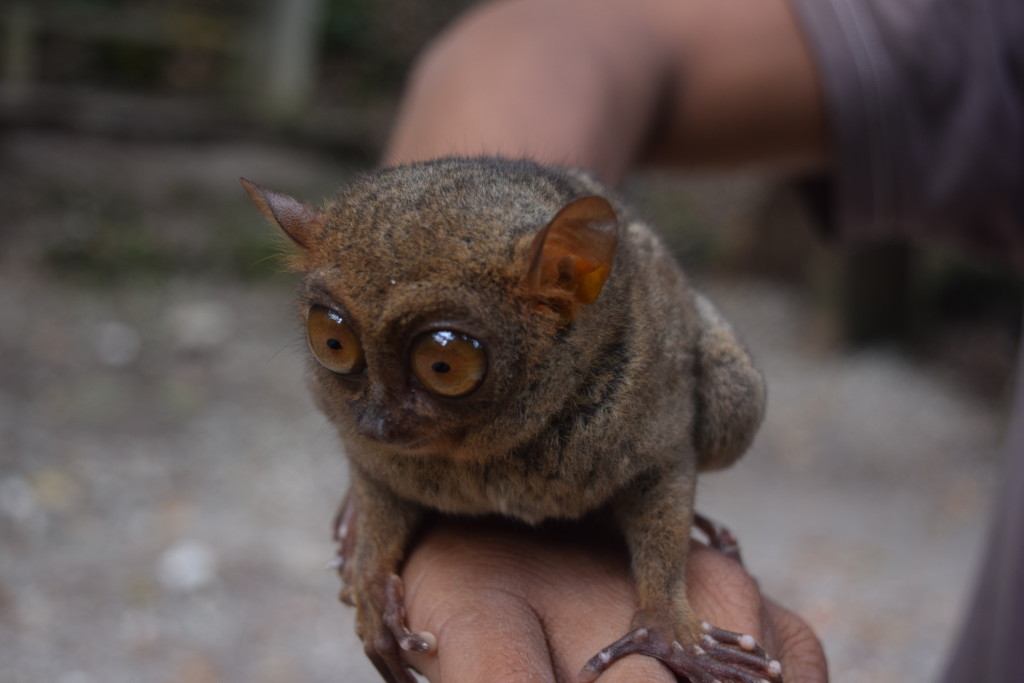 The Sanctuary
The sanctuary itself was actually not that great because you couldn't get too close to the tarsiers.  They were all kinda tucked away, and hard to see.  Even with a decent camera, I wasn't able to grab any spectacular photos, so I'm glad I got to hold that one earlier on in the day.  It's not an expensive stop, and actually does not take too long if you don't want to spend a of time there.  It's definitely worth the minimal entrance fee, and a cool area to walk around.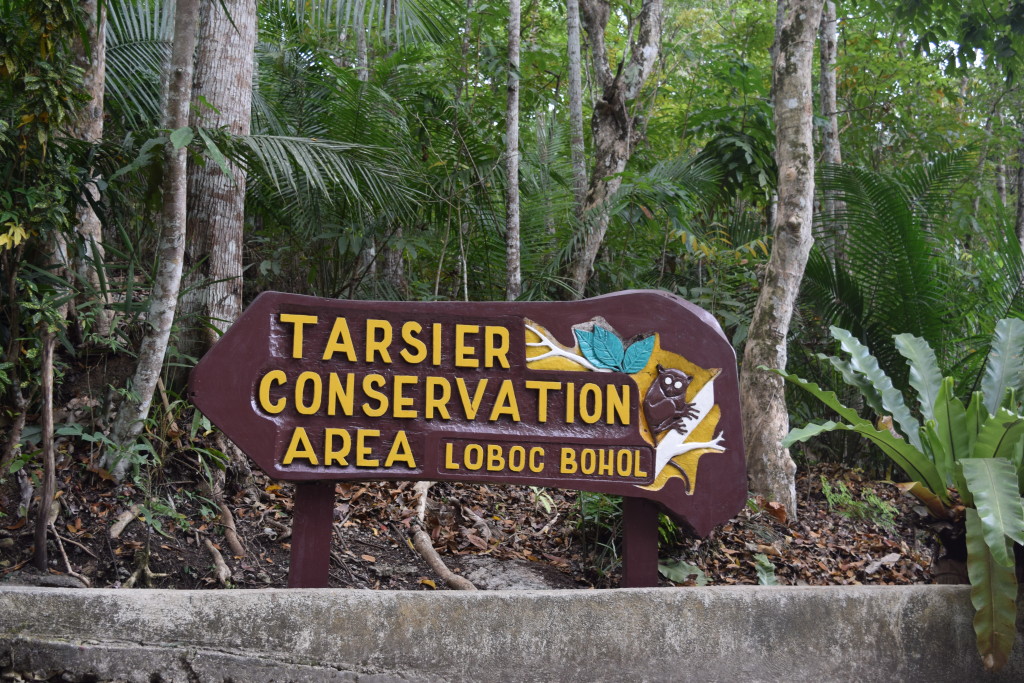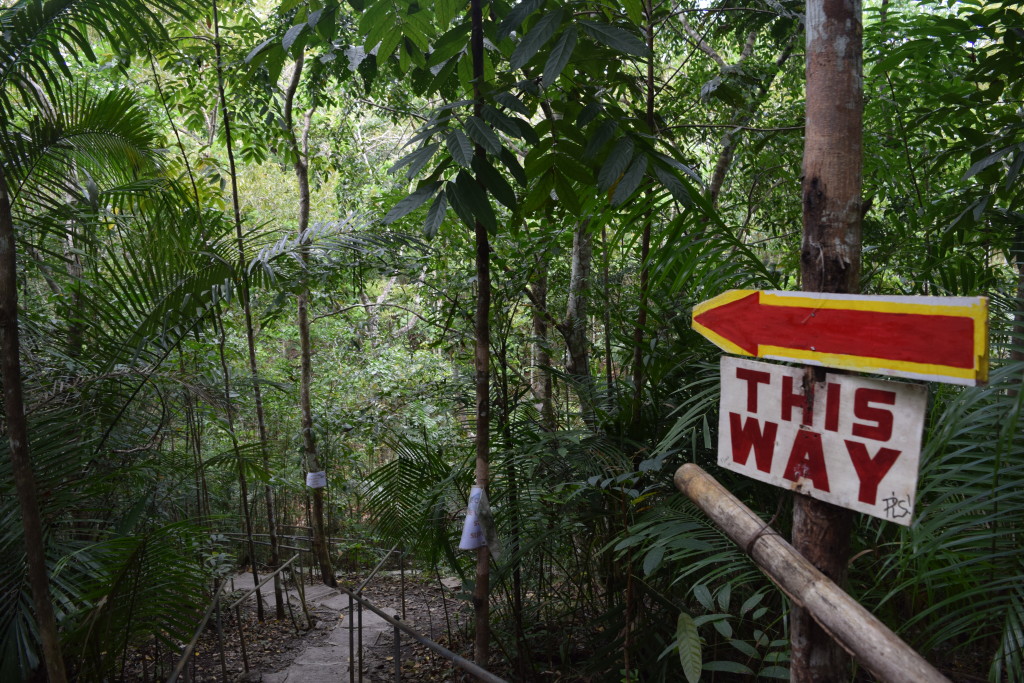 Just Driving Around
After seeing the main two tourist attractions in Bohol, I had some time to kill before making it back for my ferry.  Unfortunately, a lot of the nice beaches and resorts are all at the northern tip of Bohol, so I didn't have enough time to make it there and back, but I did have a blast just exploring random parts of the island.  The roads are nice, the locals are friendly, and I had a great deal.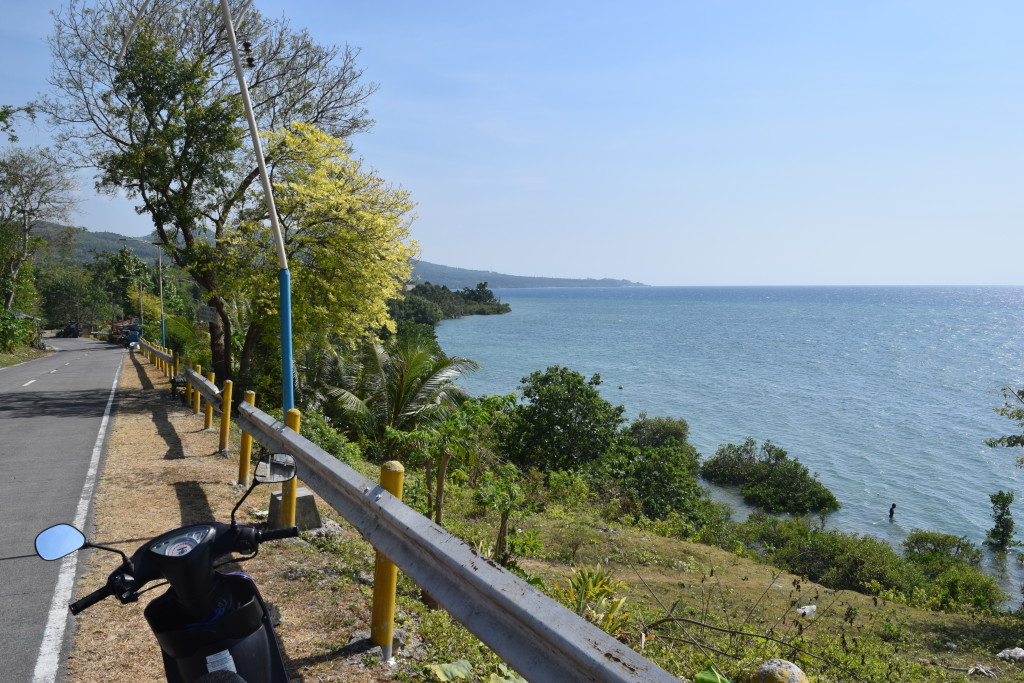 Anyone planning a trip to the Philippines or Cebu should definitely make the day-trip over to Bohol!
[shareaholic app="share_buttons" id="7411671″]
Like this post?  Follow me on Facebook & Twitter for more adventures Around The World… 
https://www.jonesaroundtheworld.com/wp-content/uploads/2015/03/DSC_0576.jpg
4000
6000
Dave
https://www.jonesaroundtheworld.com/wp-content/uploads/2017/03/logotry-1-1-300x106.png
Dave
2015-03-24 09:18:12
2015-10-30 07:58:05
Chocolate Hills and Tarsier Monkeys: Bohol Island, The Philippines