It is not difficult to see why so many people flock to go glamping in New Mexico. The diverse landscapes are second to none. It ranges from rocky canyons in all shades of reds and browns to lush green shrubbery alongside the crystal clear lakes. All of this with clear views of the sparkling Milky Way.
Glamping allows you to break away from the light pollution, city sounds, and crowds of people while not giving up your comfort. New Mexico is known as the "Land of Enchantment" and it will have you under its spell with these top tranquil glamping spots in the state.
---
Glamping New Mexico Breakdown
Before we go into the full list, here's a brief overview of the best destinations for glamping in New Mexico!
Coolest Glamping in New Mexico – Enchanted Yurt on Llama Farm
Best Glamping for Families in New Mexico– Modern Cabin In The Woods
Best Low-Cost Glamping in New Mexico– Turquoise Trail-er
Best Glamping Spot for a Secluded Stay– Ashley's Treehouse at El Mistico
Best Eco-Friendly New Mexico Glamping– Lemuria Earthship
Best Unique New Mexico Glamping– Taos Mesa Off-Grid Eco-Haven Bus Stay
There are a few excellent and entertaining videos of the glamping experiences available in New Mexico in this post. The state is quite big, so areas vary significantly from lakes and mountains to desert areas. These videos will give you a good visualization of what these glamping sites will offer.
---
Best Areas for New Mexico Glamping
The state has many wonderful glamping options for you to choose from, but it's not always about accommodation. Part of travel hacking is knowing more about which area you stay in. Before you book a stay in a yurt in New Mexico, find out which area will give you the best stay for your glamping needs.
Glamping in Taos – Taos is the ideal place to stay if you're an eco-conscious glamper. This town has many Earthships to choose from which only use renewable energy and get built from natural or recycled materials.
Besides looking after the earth, the town also preserves its rich traditions by celebrating it through its thriving music scenes, art, and traditional adobe buildings. It is an age-old mecca for artists and has many famed cultural Native American sites.
Glamping in Santa Fe – If you want to go Santa Fe glamping, get ready to be spoiled for choice. The city is nicknamed "The City Different" because of its varied architecture and cultures. Its glamping sites are no different, with spots ranging from Llama ranches to tipis in the open wild.
The New Mexico capital has many outdoor activities with gorgeous views. In summer, it is popular for its resorts. In winter, the flip-flops come off and are replaced with skis to slope down its snowy mountains.
Glamping in Albuquerque – Albuquerque is New Mexico's largest city with over 300 years of heritage. It is in the Chihuahuan Desert and has many rocky mountains and lakes running through it.
As a result, it has an abundance of outdoor activities like park visits, hikes, and camping. While you're there, you also can't miss the annual Balloon Fiesta, where vibrant hot air balloons ascend to the sky in a big colorful celebration.
---
Top 13 Places to Go Glamping in New Mexico
Get charmed by some of the unique glamping sites "The Land of Enchantment" has to offer. The list includes terrific stays like trailers, tents, treehouses, and yurts in New Mexico.
---
1) Enchanted Yurt at Llama Ranch
Location: Santa Fe, New Mexico
Price: $88+ USD per night
This New Mexico yurt business offers more than a comfortable place to stay. It also offers a few shaggy neighbors in your front or backyard. Don't worry, these Llamas are friendly and won't cause too much trouble.
Stay at this amazing ranch with the northern mountains in the background. Its yurts come with everything you need for a comfortable stay, including an indoor kitchen and bathroom. The yurts are sturdy and made of yellow pine wood. You can see the exposed wood on the inside of the structure, which adds to its charm.
The inside is cozy and intimate but still spacious enough to have a seating and dining area. Of course, you'll have a few pictures of the ranch's Llamas as decoration on your walls. There is also a deck where you can enjoy a few sundowners.
View Photos, Read Reviews & Check Availability
HIt the Road: Enchanted Yurt & Llama Ranch in Santa Fe, New Mexico
---
2) Modern Cabin In The Woods
Location: Rowe
Price: $100+ USD per night
This secluded cabin is just a short drive away from Santa Fe in Glorieta. It is surrounded by untouched trees, cacti, and the Pecos Valley. This is an excellent place for nature-loving families and is ideal for visiting regardless of the seasons. In summer, you can ride mountain bikes nearby, while in winter, it is surrounded by layers of thick snow and is close to many ski areas.
This cabin may seem small, but it has two levels with a fully equipped kitchen, dining space, and laundry area. Although it has one bedroom, the upstairs room can either be used as an office or extra sleeping space for the little ones.
The french doors open to the deck overlooking your backyard – a few private wooded acres. There are a few parks and trails nearby where you can stretch your legs. The Pecos National Historic Park and the Pecos River offer great opportunities to explore or go fishing and are only a few minutes away.
View Photos, Read Reviews & Check Availability
---
3) Dome with Private Hot Mineral Spring
Location: Truth or Consequences
Price: $160+ USD per night
https://www.airbnb.com/rooms/15434944
If you want to break free from the big crowds, why not stay in an off-the-grid dome house in this small resort town. Truth or Consequences may have a small population, but it draws many crowds as it's well-known for its hot springs. You won't have to battle crowds because this dome house has a private supply of the 108°F natural hot spring in its yard.
This quaint dome house is a beautiful clay-colored structure hand-built by the owners. Inside, the dome opens up with light walls and natural sunlight streaming in from every window. The open-plan rooms have everything you need, including a comfortable queen-sized bed, seating areas, and bathroom.
While the domes and rooms are greatly decorated and homely, the hot springs are the main attraction. This naturally heated hot spring bath sits in the middle of a beautiful garden. It overlooks the lush garden filled with fruit trees, plants, beehives, and shrubbery. There is also a fireplace where guests often gather around for nightly chats and stargazing.
View Photos, Read Reviews & Check Availability
---
4) Turquoise Trail-er
Location: Santa Fe
Price: $65+ USD per night
This aptly named turquoise and white trailer is just off the Turquoise Trail. It is a renovated retro trailer from 1971 which has all modern amenities. The best part? You're surrounded by furry animals on a Llama ranch.
This trailer sleeps three people and is a great glamping getaway for small families, couples, or solo trippers. There is space inside for a kitchenette and a fully working bathroom. It has fantastic views of the mountains from the shaded deck or seating area in the "front yard".
This trailer is in a great location near many restaurants, grocery stores, art exhibitions like Meow Wolf. These immersive art rooms are like a living gallery, and exhibitions spread over 70 rooms. Meow Wolf is a beautiful experience that will have even art novices hooked in amazement.
View Photos, Read Reviews & Check Availability
---
5) Lemuria Earthship
Location: El Prado
Price: $170+ USD per night
https://www.airbnb.com/rooms/25127851
This self-sufficient Earthship home is a great glamping accommodation for the eco-conscious traveler. Not only is the building eco-friendly and made of recycled materials, but it is also off the grid to ensure a peaceful stay away from bustling crowds.
Beautiful mosaics made with recycled colored glass and other materials decorate this big building. It has big windows that allow ‌sunlight to stream in during the day and an open view of the moon and stars at night. There is no light pollution here, which means you have a clear view of the sparkling sky from your living room or patio.
The house also has plenty of sustainable produce, collects rainwater, and receives its electricity from solar panels. The bedroom is spacious and has a king bed, while the sofa acts as a second sleeping option in the living room.
View Photos, Read Reviews & Check Availability
Earthships - Taos New Mexico
---
6) Taos Mesa Off-Grid Eco-Haven Bus Stay
Location: Taos County
Price: $107+ USD per night
https://www.airbnb.com/rooms/44322183
If you're looking for an unforgettable stay, what better than to jump back in time and step onto a big yellow school bus. This 1971 renovated bus is in the remote shrubbery of Taos near the Rio Grande River gorge.
It is beautifully decorated with soft blues to offset the playground canary yellow outside. It is modern and fitted with comfortable furniture like a spacious bed and seating area. Sunlight pours in the windows all the way down to the dining and kitchen area. Here, you'll always have perfect window seats for stargazing the night skies.
This off-the-grid accommodation has no electricity to encourage you to experience the outdoors. There is a solar shower, composting toilet, and kitchenette with a propane stove. Since there is no electricity means there's wifi. Thankfully, you'll have a cell signal, so you're not completely isolated from the outside world.
Outside of the bus, there is plenty to do. Hike to the nearby river or take a steamy dip in the hot springs not far from here. Taos Plaza is a 25-minute drive away, while a grocery store is only 12 minutes away.
Note: This is a property owned by vegetarians and prohibits meat consumption, preparation, and disposal.
View Photos, Read Reviews & Check Availability
---
7) Ashley's Treehouse at El Mistico
Location: El Mistico Ranch, Nogal
Price: $124+ USD per night
Have you ever wanted to sleep in a treehouse high up between the branches as a kid? The owls hooting you to slumber and the birds serenading you at the beginning of a new day? Now is your chance to live out that childhood dream.
This treehouse is nestled on a tree surrounded by more shrubbery and a nearby forest. It sits at the ridge of the Sacramento Mountains, allowing you to get amazing sunrise and sunset views. Below the spiral staircase is a bright blue swing chair to enjoy a lazy afternoon catching up on your favorite book.
Inside the black exterior is a bright white interior adorned with bursts of color, wood elements, and decorations. There is a fully equipped bathroom with a shower and toilet. It is decorated with blue mosaic tiles and a tree trunk winding down the treehouse right next to the sink mirror. In front of your soft bed is an open-plan kitchenette with a stovetop, fridge, and coffee maker.
View Photos, Read Reviews & Check Availability
---
8) Santa Fe Tipi Experience
Location: Santa Fe
Price: $90+ USD per night
https://www.airbnb.com/rooms/25427606
Follow Santa Fe's winding Turquoise Trail to this red, brown, and turquoise tipi in the desert. Here you'll be completely surrounded by the calls and critters of nature without any signal or electricity. It is a great place to knock off, unplug and unwind with the kids, or just for a quick escape into nature.
Normally tipi's can be a bit small, but this one is quite spacious. Inside your tent is a comfortable double-size bed with fresh linen, pillows, and blankets. There is also a comfortable couch to lounge on after a long day. Bathrooms and showers are close by.
Propane grill tops are available for use outside of the tents as well as a lovely seating area. These seats put you right in the center of the desert overlooking ‌Santa Fe trees and landscapes. There are also plenty of trails to take and animals to greet along the way, like resident donkeys Magpie and Pancho.
View Photos, Read Reviews & Check Availability
---
9) Hotel Luna Mystica
Location: El Prado, Taos
Price: $86+ USD per night
Hotel Luna is a magical trailer park that takes you back to decades before (perhaps even before you were born). These vintage trailers each have a theme and era ranging from the 1950s to the early 1970s. While they may look old, they have very lux and modern amenities.
Step inside the retro metal frame to a contemporary interior, each decorated to a different theme. All trailers have cooling, air conditioning, and heating units for a comfortable stay no matter the season. There are fully equipped bathrooms and kitchenettes inside the trailers with cooktops, fridges, and french presses.
Outside, you have a wonderful deck and patio area overlooking the New Mexico mountains – the perfect place to enjoy the sunrise. At sunset, warm yourself up or roast some marshmallows at the fire pit before plopping onto the cozy Queen-sized bed in your trailer.
View Photos, Read Reviews & Check Availability
Hotel Luna Mystica - A New Mexico True Experience
---
10) Zia Geo Dome
Where: Nogal, New Mexico
Price: $199+ per night
Accommodates: 2 Guests
https://elmisticoranch.com/309-2/#
Soak up in nature and experience the Zia Geo Dome at El Mistico Ranch. As the name suggests, it is a dome-shaped structure that is designed to provide you and your special someone with a comfortable and unforgettable stay. One of the most remarkable features of the Zia Geo Dome is its elevated platform patio deck, which offers guests an unparalleled view of the majestic Carrizo Peak.
This view is truly spectacular and is sure to leave guests feeling inspired and rejuvenated. The dome also features a full bathroom, complete with a shower, sink, and toilet, as well as a small kitchenette where you can prepare light meals and snacks. For those looking for adventure, Nogal Peak is a must-visit destination, while Ski Apache is a great place to enjoy summer activities like bike and hiking trails, gondola rides, and one of the longest Ziptours in the world. Sports enthusiasts can also visit the Ruidoso Downs Race Track, which hosts both Thoroughbred and Quarter Horse racing.
View Photos, Read Reviews & Check Availability
---
11) Stay Kitfox Glamping
Where: Lamy, New Mexico
Price: $300+ per night
Accommodates: Guests
https://staykitfox.com/lodging/
The perfect choice for anyone seeking a luxurious and comfortable stay amidst the rugged beauty of the desert wilderness – the King Tent at Stay Kitfox. The tent features a king-sized bed adorned with soft and cozy bedding that will ensure a peaceful and restful night's sleep. The private deck provides an ideal place to unwind and soak in the natural beauty of the desert landscape. The indoor and outdoor seating provide ample space to relax and take in the surroundings, while the LED lantern and wireless fan offer convenience and comfort.
You'll have access to a range of shared facilities, including the clubhouse, canopy, shade, outhouse, showers, fire pits, and more. These shared spaces are thoughtfully designed to make your stay as comfortable and convenient as possible.
View Photos, Read Reviews & Check Availability
---
12) The Querencia
Where: Taos County, New Mexico
Price: $270+ per night
Accommodates: 4 Guests
Perched atop a scenic ridge, this breathtaking and secluded property offers awe-inspiring views of the majestic Sangre de Cristo Mountains, including the stunning Taos Mountain and Coyote Ridge.
Querencia is an enchanting retreat that you will never want to leave. The 2-bedroom, 2-bathroom guesthouse is a marvel of construction, boasting a fully equipped kitchen, a gas log fireplace in the cozy living room, and an outdoor patio with a bubbling hot tub and a barbecue grill. With radiant heated floors, hand-pigmented plaster walls, and hand-poured concrete countertops, this hacienda-style home exudes comfort and luxury.
Enjoy modern amenities, such as satellite television, WiFi, and a full laundry, while you unwind in the private gardens or the sunken stone bathtub. The outdoor hot tub offers a truly unforgettable experience, surrounded by panoramic views of the surrounding mountains.
View Photos, Read Reviews & Check Availability
---
13) Casa Ambrosia
Where: El Rito, New Mexico
Price: $170+ per night
Accommodates: 4–5 Guests
You'll see the expansive view of the pastoral river valley of El Rito and the majestic Sangre de Cristo mountains from Casa Ambrosia's living space. This enchanting adobe house can comfortably accommodate up to 4-5 guests and features a unique passive solar design with high wood ceilings and impressive vigas that create a spacious and light-filled atmosphere. The indoor living and dining spaces are perfect for gatherings and relaxation, while the covered patio offers an ideal spot for outdoor dining and leisure. You can also enjoy a newly added hot tub on the front patio, perfect for soaking under the stars year-round.
Located just 15 miles north of Abiquiu, Casa Ambrosia is the perfect base for exploring the stunning natural beauty of the region. Abiquiu is home to a beautiful lake, perfect for swimming and boating, while the village itself offers a wealth of cultural experiences. You can take a tour of the home and studio of legendary painter Georgia O'Keeffe, and visit the Rising Moon Gallery, which showcases high-quality artwork from local artists.
View Photos, Read Reviews & Check Availability
---
Am I Missing Any Top Spots for Glamping in New Mexico?
New Mexico is a big state with so much to see and, do. Have you recently been glamping in or around New Mexico and found a great place that more people need to know about? I may have missed a few wonderful places during my research and would like to add some of your suggestions to the list. Don't be shy to reach out in the comments or on social media.
---
Looking more epic Glamping Accommodation?
My website has dozens of guides for unique and fun glamping getaways around the world! Check out a few of my favorite for more travel inspiration!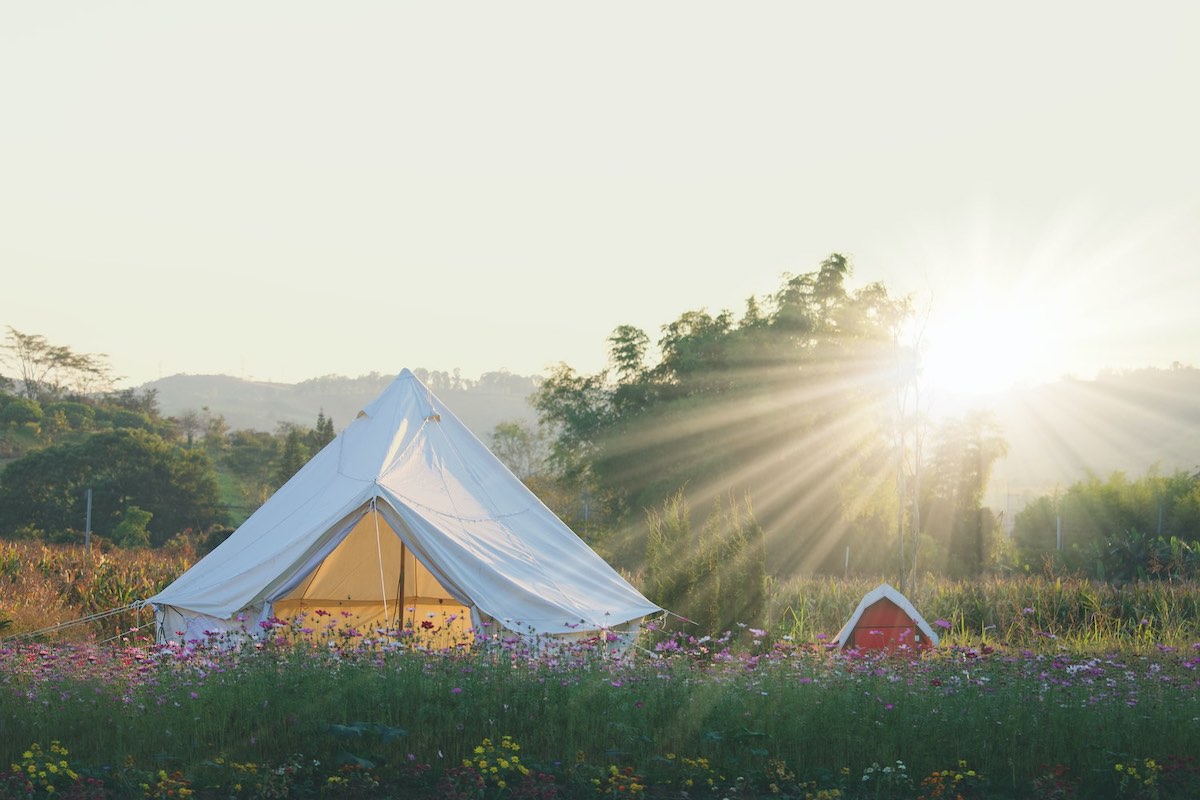 ---
Final Thoughts on the Best Glamping in New Mexico Spots
New Mexico has so much to offer its glamping guests, whether you're a city or nature lover. The varied landscapes are a great contrast to the city areas of Santa Fe and Albequerque. But, that also means that a quick escape into the tranquil serenity of the surrounding desert, forest, or mountains is totally possible.
If you can't decide between glamping in an Airbnb in Santa Fe near the city or in the secluded forest, New Mexico is a great place to go for an even middle ground.
---
THANKS FOR READING ABOUT MY TOP PICKS FOR GLAMPING IN NEW MEXICO!
SHARE THE GLAMPING SPOTS IN NEW MEXICO WITH YOUR TRAILER AND YURT LOVING TRAVEL CREW!
https://www.jonesaroundtheworld.com/wp-content/uploads/2022/03/New-Mexico-Glamping.jpg
800
1200
TravelTractionsJATW
https://www.jonesaroundtheworld.com/wp-content/uploads/2017/03/logotry-1-1-300x106.png
TravelTractionsJATW
2023-05-07 19:07:36
2023-05-08 18:49:31
13 Best Places To Go Glamping in New Mexico