Interested in a Glamping New England getaway? I have the ultimate list of the best glamping in New England for you to enjoy the great outdoors in style!
New England is a region of the United States that encompasses the states of Vermont, Maine, Massachusetts, Connecticut, Rhode Island and New Hampshire. Not surprisingly, these are also some of the most picturesque, serene and easygoing areas of the USA to explore.
Glamping across the country is so fun, but few areas offer the complete feeling of freedom in the great outdoors that New England does.
Thankfully, New Englanders know how lucky they are to inhabit this pristine part of the world, and they want to show it off to visitors. As a result, we have a large range of dreamy New England glamping experiences to be had across a number of states.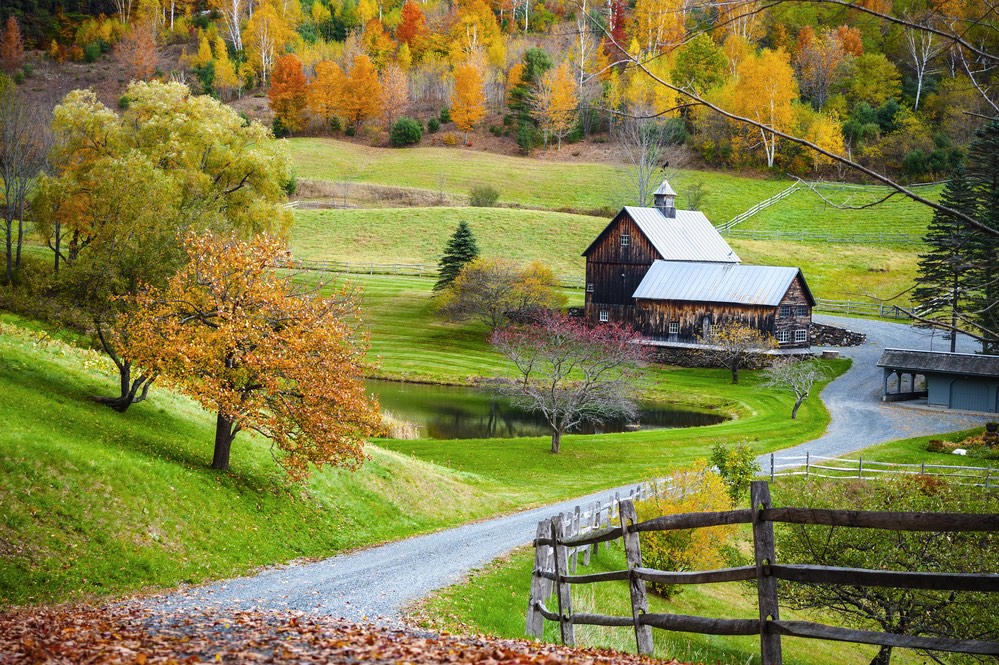 ---
Quick Breakdown of Glamping New England
Whether you're searching for New England campsites to suit you own travel budget, group size or dream hideaway, I've shortlisted the five best New England glamping offerings to make choosing your perfect digs a breeze. If you don't find what you're looking for below, keep scrolling and I'm sure you will!
I've included both photos and videos of the New England glamping sites that made the cut throughout my list. Check these out for a first-hand look at what's on offer. I've also linked my own New England content at the end to browse!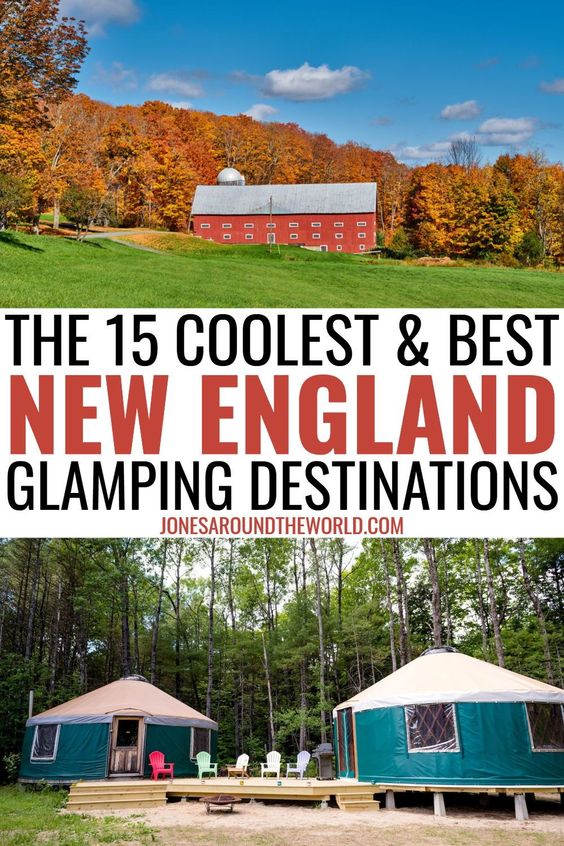 ---
The Best Destinations for Glamping in New England
From rustic treehouses in the woods of Vermont and Maine to family-friendly glamping tents in action-packed campgrounds, historic cabooses to cozy up in to isolated abodes in the White Mountains of New Hampshire.
I've shortlisted the best New England glamping destinations that offer a once-in-a-lifetime experience.
---
1) Glamping on the Quiet Side of Acadia National Park
Location: Southwest Harbor, Maine (Mt. Desert Island)
Price: $221+ per night
Sleeps: 6 people (3 beds/3 BR/1 bath)
If you're looking for the most comfortable yurt vacation in New England, this is it! The property has multiple units, each secluded and offering all the amenities of home. This 30′ yurt itself even has a cushy loft bedroom! Relax in luxury with on site infrared sauna, flotation tanks, yoga, and more. Rent one yurt for yourself, a couple, or a family, or book a few of them for a large gathering.
You'll be surrounded by luscious green splendor of Acadia National Park and provided with a unique accommodation for an unforgettable experience.
View Photos, Read Reviews & Check Availability
---
2) Precipice Tiny House
Location: Southwest Harbor, Maine
Price: $145+ USD per night
Sleeps: 2 people (1 bed/1 BR/3 bath)
Tiny houses have been skyrocketing in popularity over the past years, and for good reason! They're perfect for a simply and comfortable yet cozy stay, and this location tucked away in Acadia National Park is no exception.
With modern touches, this little luxury spot is located on the "quiet" side of Mt. Desert Island. Enjoy the space itself, or book a couples massage or session in the infrared sauna available on site! Some of the best hiking and nature photographry in the country is also right outside your door.
View Photos, Read Reviews & Check Availability
---
3) Charming Lakefront Cottage w/ Sandy Beach
Location: Milton, New Hampshire
Price: $185+ USD per night
Sleeps: 4 people (3 beds/1 BR/1 bath)
You won't find a more charming, relaxing, and well-located location in New Hampshire for a better price! Situated on a private wooded lot on a picturesque sandy beach, you'll only be sharing the area with the stars and the ocean. This contemporary and thoughtfully constructed cottage has everything you need in the interior for a satisfying stay, and enough outdoor activities in the area to keep the whole family busy.
Spend your day with a book by the water, or perhaps hike through the fantastic forests surrounding the property. Perfect to disconnect and recharge. Enjoy the sunset over the lake while making use of the provided canoes and kayaks!
View Photos, Read Reviews & Check Availability
---
4) Huttopia
Location: Sanford, Maine
Price: $200+ USD per night
https://canada-usa.huttopia.com/en/site/southern-maine/
Huttopia is one of New England's best glamping destinations and my overall favorite! Located in Maine just a few miles from the sea, Huttopia offers an all-round visitor experience.
Camp out in cozy two-person or large family glamping tents, and get involved in the on-site activities like swimming in the pool or lake, yoga, canoeing or exploring this region of beautiful Maine. There's even a top-notch restaurant on site to tickle your tastebuds.
French company opens 'glamping' site in Sanford
---
5) Tree Dwelling with Water Views & Cedar Hot Tub
Location: Georgetown, Maine
Airbnb Plus: No
Superhost: Yes
Price: $200+ USD per night
https://www.airbnb.com/rooms/12166687
Hole up in a dreamy treehouse in New England and forget the world around you exists. This Maine glamping destination is a five-star rated Airbnb offerings.
The luxury getaway boasts an incredible hot tub, a bedroom with king-sized bed, beautiful river views and even a magical spiral staircase. The Wifi equipped treehouse in Georgetown will take your big glamping plans to a whole other level.
View Photos, Read Reviews & Check Availability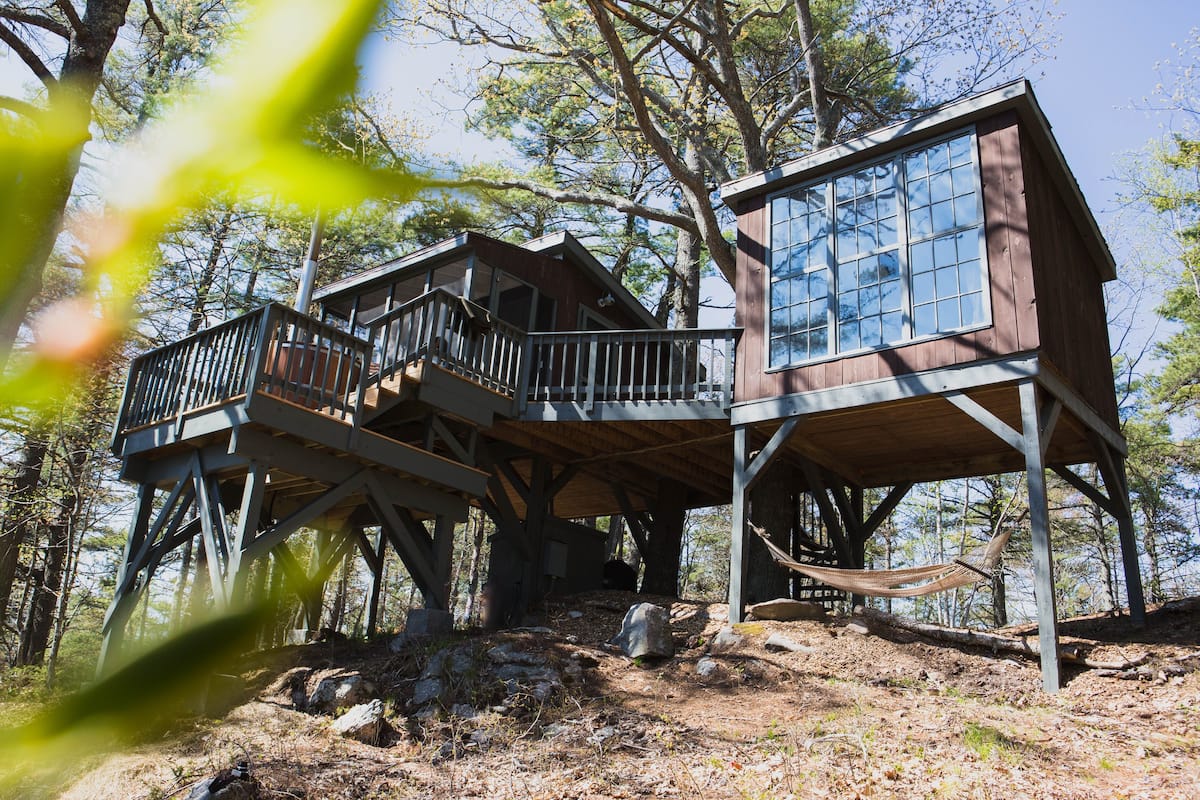 ---
6) Birchwood Hideout – New England Glamping
Location: Salisbury, New Hampshire
AirBNB Plus: No
Superhost: Yes
Price: $50+ USD per night
https://www.airbnb.com/rooms/38623420
On the other end of the price scale, this one-bedroom canvas glamping tent is neat, sweet and perfect for those traveling on a budget. "The Birchwood Hideout" is located in Salisbury, New Hampshire, just 30 minutes from the city of Concord.
While the newly-built tent does not have running water or electricity, it is still a cozy and comfortable nook in the New England woods. The outhouse is just a few steps away, and there's also a fire put and outdoor seating – and firewood is included! Save your cash for fireside snacks and spring for a stay at the best cheap glamping in New England.
View Photos, Read Reviews & Check Availability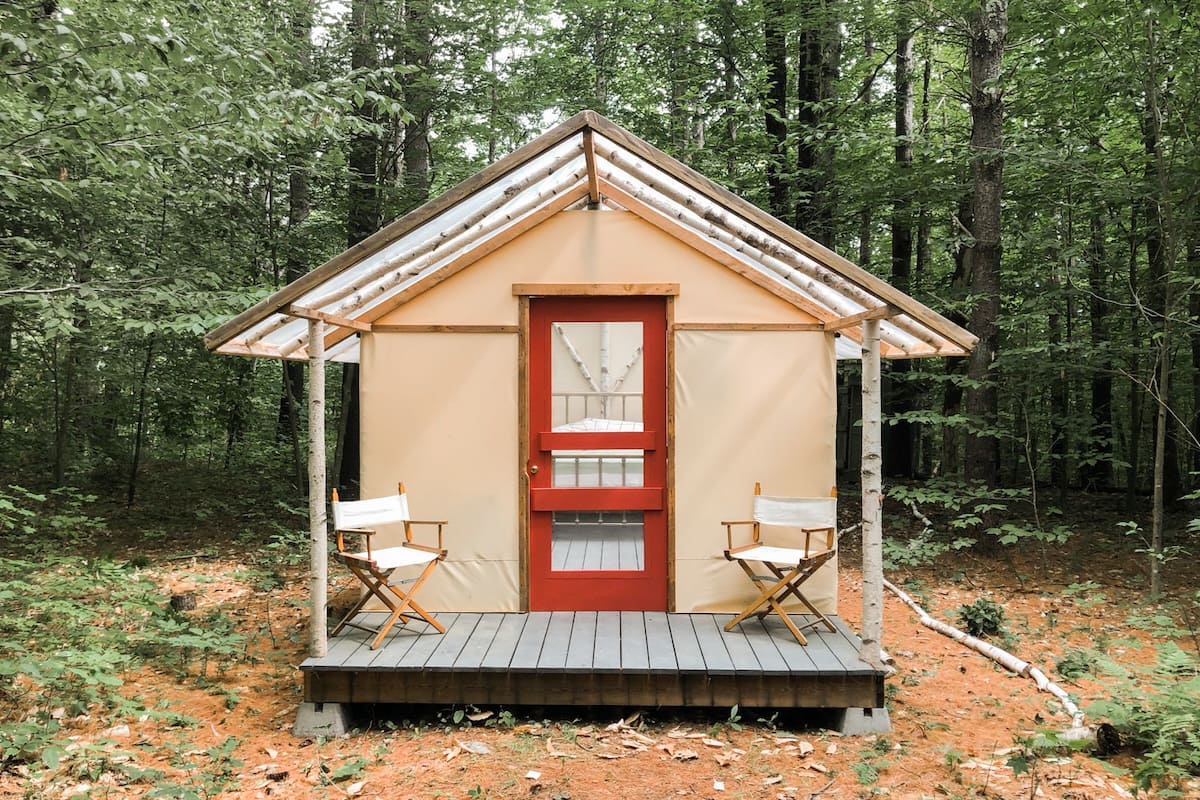 ---
7) Getaway From Boston
Location: South New Hampshire
Price: $200+ USD per night
The Getaway brand is popping up all across the United States, offering mini-breaks close to some of the country's most happening cities. Their Boston offerings are located in the woodsy region of Southern New Hampshire, just 90 minutes drive from the streets of Boston.
The Getaway From Boston cabins are the epitome of tiny house perfection, with lots of space between each so that you'll really feel like you have the place all to yourself. A luxurious way to spend a weekend away from the city! Luxury camping New England sites really don't get much better than this!
---
8) Bear Creek Campground
Location: Bristol, Connecticut
Price: $90+ USD per night
https://www.lakecompounce.com/bearcreek
Glamping with kids doesn't have to be stressful. Bear Creek Campground is designed to please the entire family, and the campground in Bristol, Connecticut will keep the kids busy from dawn until dusk. Their glamping huts are well-equipped and air conditioned, and there's even seating around a fire pit outside. There's activities for the kids to get involved with, like games and crafts, and the best part is that Lake Compounce Family Theme & Water Park is mere steps away.
Guest review: "We had an amazing time at bear creek! We are locals and have 3 kids under 6 so we got a cub hut and it was adorable and perfect for us. Very small so basically only used for sleeping. There was a small tv, mini fridge and air conditioning which is all we needed. There was also a fire ring, two chairs and a table out side. As far as for the kids. There were a TON of kids there. So if you don't have kids or are looking for a child free getaway I wouldn't go camping in general. They had a ton of activities for them. Crafts, games dances the staff was amazing with them." – Shaw
Bear Creek Campground, Lake Compounce, Bristol CT
---
9) Luxury Two-Story Treehouse Glamping in New England
Location: Newbury, New Hampshire
Rates: $446+ per night
https://www.airbnb.com/rooms/45052498
This is place where your childhood dream of sleeping amid the trees can come true with this amazing treehouse Airbnb rental in New England. This luxurious two-sotry treehouse rental is equipped with all the amenities for a romantic getaway with your partner, or a family-outing that everyone will love!
While it may be one of the more expensive accommodation options on the list, you get what you pay for! It's super popular and backed with glowing reviews!
View Photos, Read Reviews & Check Availability
---
10) Norumbega Green Double-Yurt, "Peace & Quiet"
Location: New Gloucester, Maine
Airbnb Plus: No
Superhost: Yes
Price: $125+ USD per night
https://www.airbnb.com/rooms/13708912
This double yurt offers a unique and spacious New England glamping escape for a family or large group who need extra room to move. The Maine getaway features one yurt for sleeping and one for cooking and dining in.
The yurts are spaced apart on a large deck with a secluded farm backdrop. Wander down to the property's waterfall, stream or hit the local trails. There is even cider made on site! Taking guests May to October, the double yurt escape is just outside of the charming Maine town of New Gloucester.
View Photos, Read Reviews & Check Availability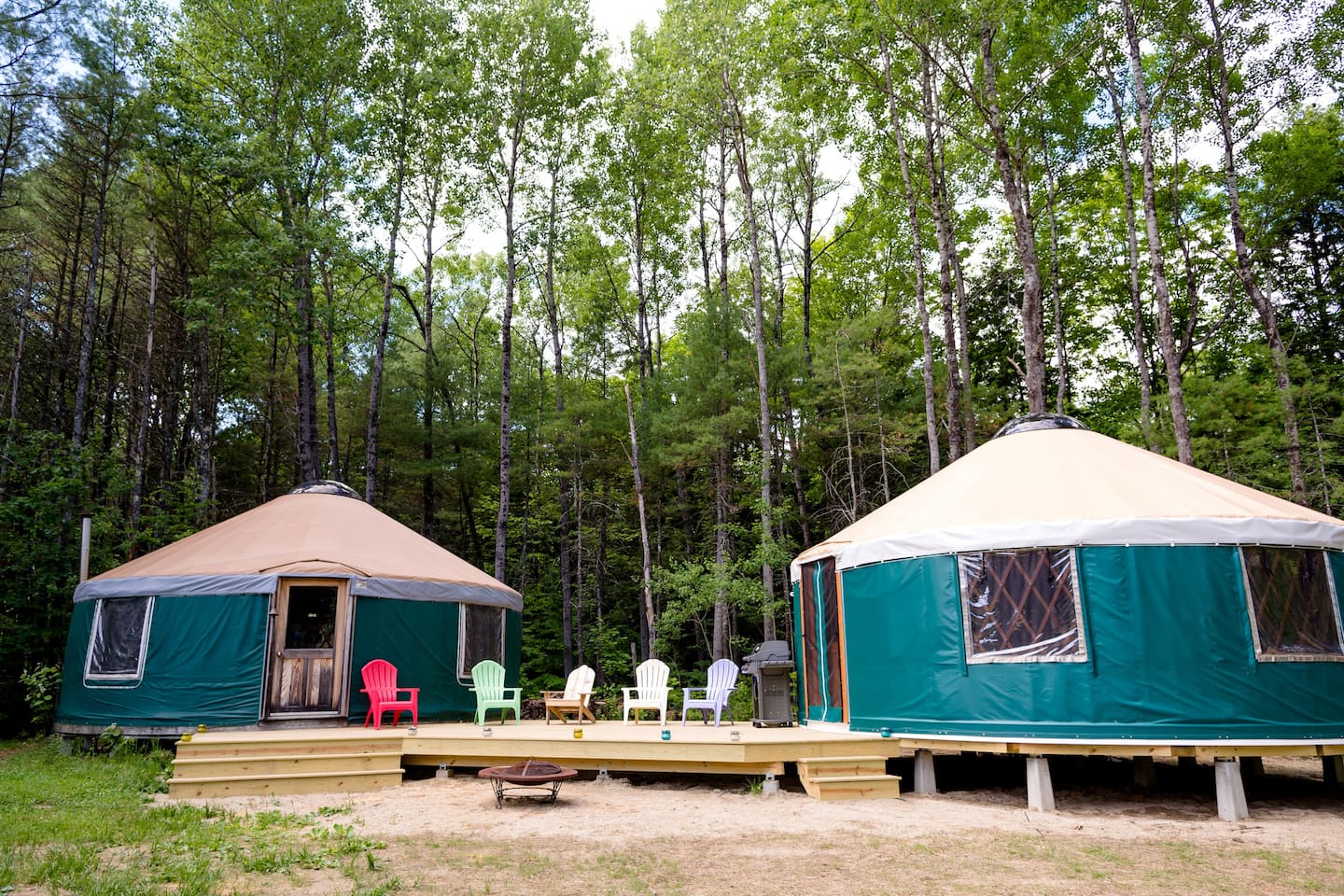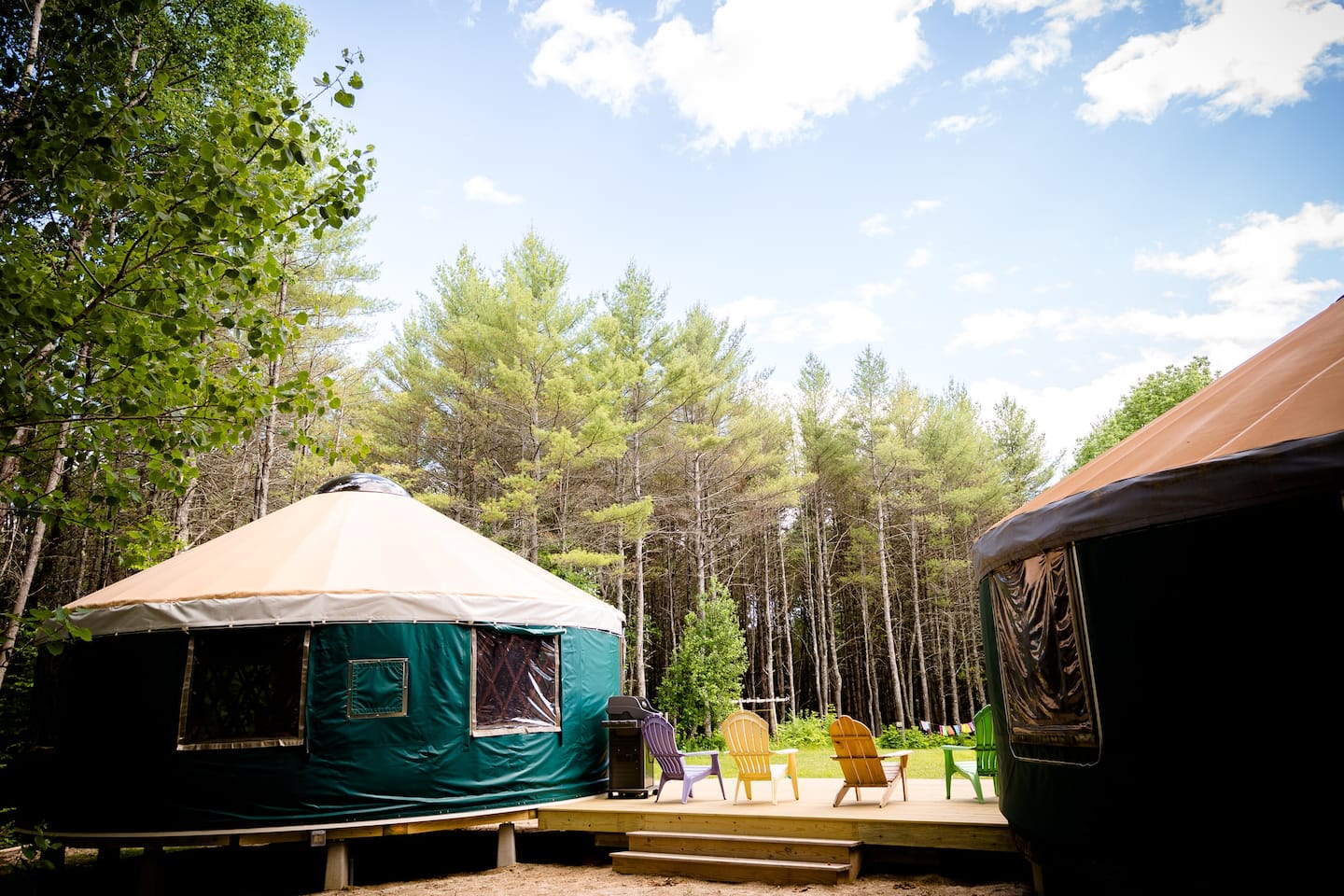 ---
11) Twin Mountain / Mt. Washington KOA Holiday
Location: Twin Mountain, New Hampshire
Price: $90+ USD per night
https://koa.com/campgrounds/twin-mountain/
The KOA chain knows how to impress guests, and their location in Twin Mountain / Mt Washington, New Hampshire, is one of their most unique and thrilling. Nestled in the heart of New Hampshire's White Mountains, the camping and glamping site offers a fun time for the entire family.
Their accommodation offerings range from luxury cabins to no-frills cabins, renovated historic cabooses, canvas glamping tents and general campsites as well. Choose your own glamping adventure with KOA.
KOA Twin Mountain Mount Washington
---
12) Normandy Farms
Location: Foxboro, Massachusetts
Price: $125+ USD per night
Normandy Farms isn't just a campground – it's an experience. The luxury family glamping destination in New England sits on a sprawling property in the Massachusetts woods between Boston and Cape Cod.
If you're not bringing your own tent or RV, rent one of their beautiful cabins, trailers, yurts or safari tents and settle in for a fantastic time. And there's so much to do here! Swimming, kids playgrounds, tennis, bike riding, a creative arts center and even a dog park for your furry friend who's along for the ride!
---
13) The Hermit Thrush Treehouse
Location: West Pawlet, Vermont
Airbnb Plus: No
Superhost: Yes
Price: $150+ USD per night
https://www.airbnb.com/rooms/10049743
The "Hermit Thrush Treehouse" is as close to the fairytale treehouse you always dreamed of as a kid. The two bedroom treehouse is a rustic, whimsical little escape, made by incorporating the surrounding trees into its unique design.
The treehouse in the Vermont woods is equipped with a composting toilet, decks over two levels, a fire pit, hammocks and even a private covered pavilion with an outdoor kitchen and seating. This artistic and inspired hideaway has been raved about by many happy Airbnb guests – some on return visits – and I'm sure you'll feel the same.
View Photos, Read Reviews & Check Availability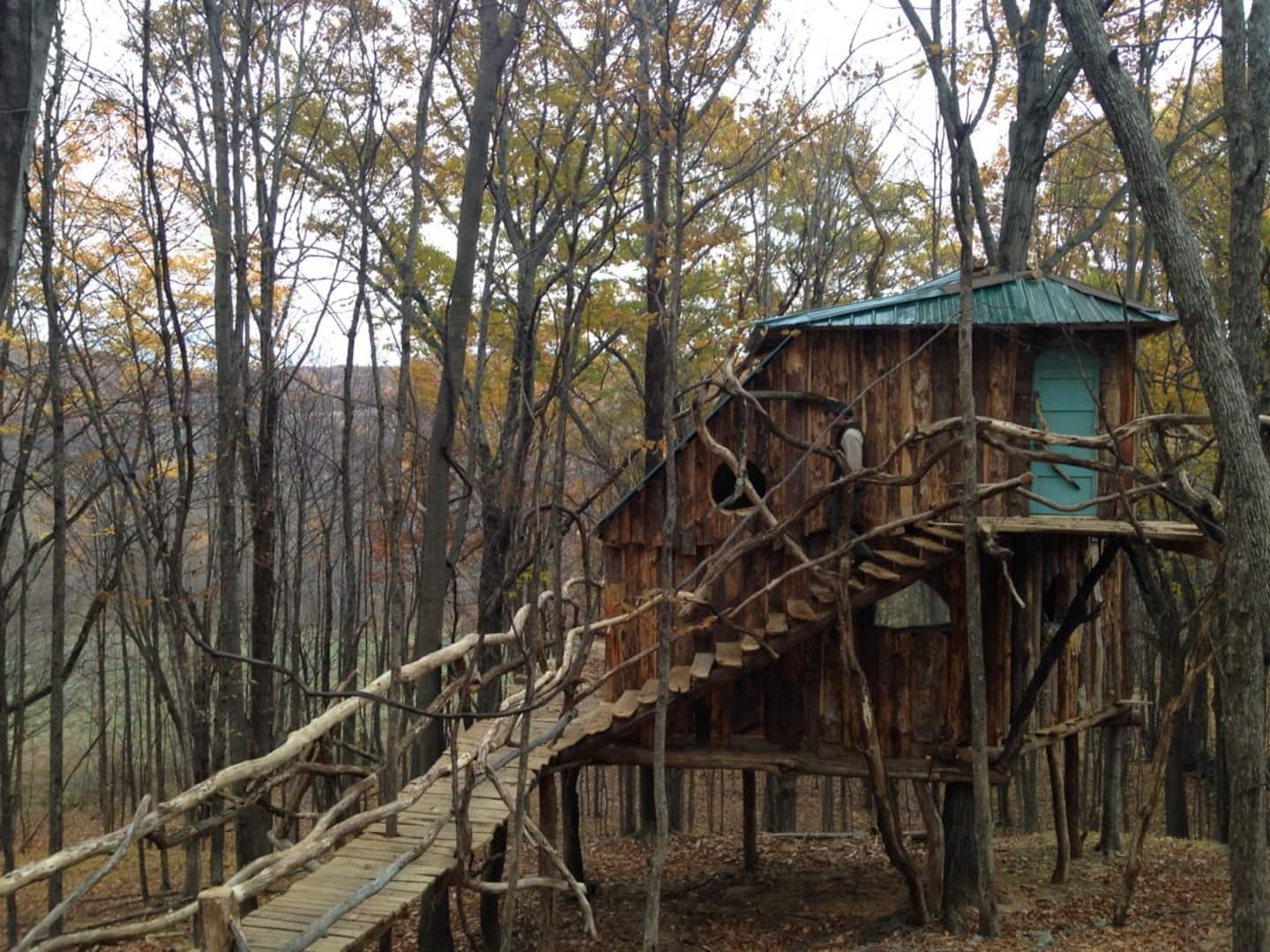 ---
14) Lovely Treehouse in the Woods next to Stream
Location: Hardwick, Vermont
Airbnb Plus: No
Superhost: Yes
Price: $125+ USD per night
https://www.airbnb.com/rooms/27627590
Run away to the woods of Vermont and secure your stay at this picture-perfect treehouse. The one bedroom rustic abode features a spacious deck, sitting area, hammock, campfire and kitchen basics. The brand new bed is nestled in its own loft bedroom.
This dreamy New England glamping experience is one of Airbnb's most popular and in demand. The treehouse escape is located just a few miles outside the Vermont village of Hardwick, close to many fantastic breweries, walking trails and charming local markets.
View Photos, Read Reviews & Check Availability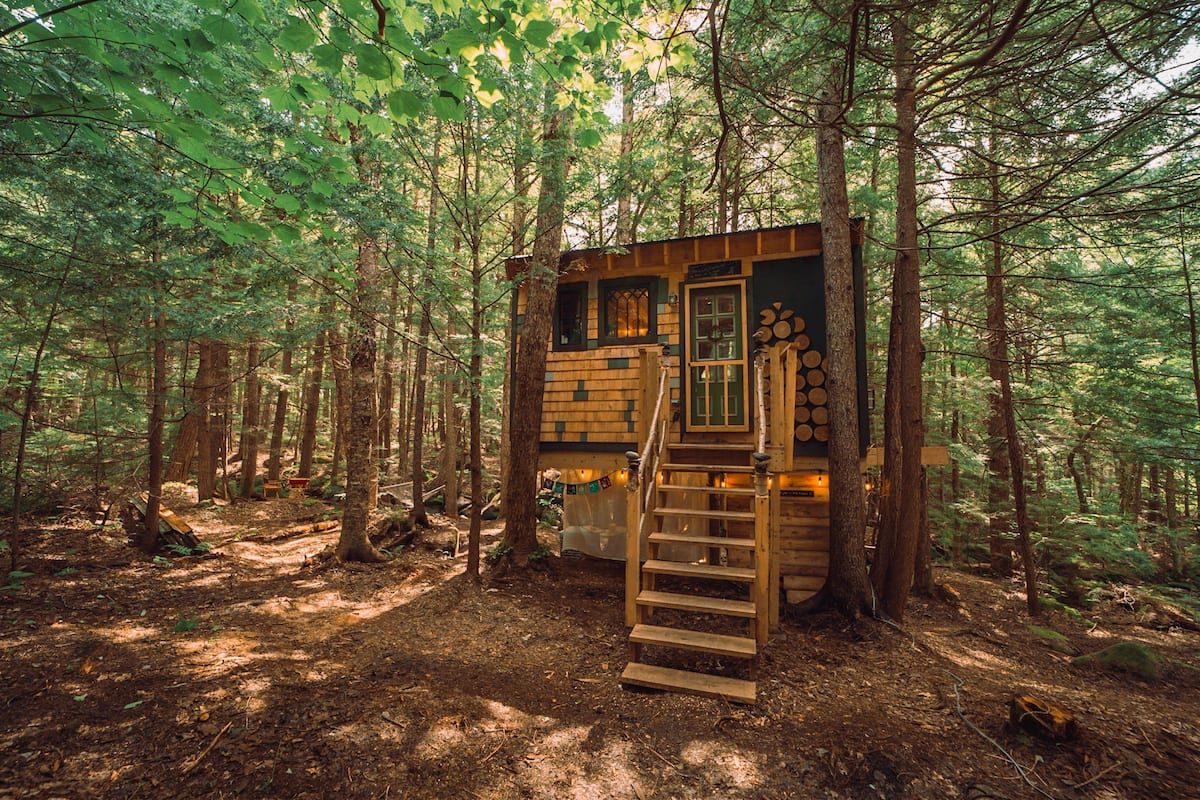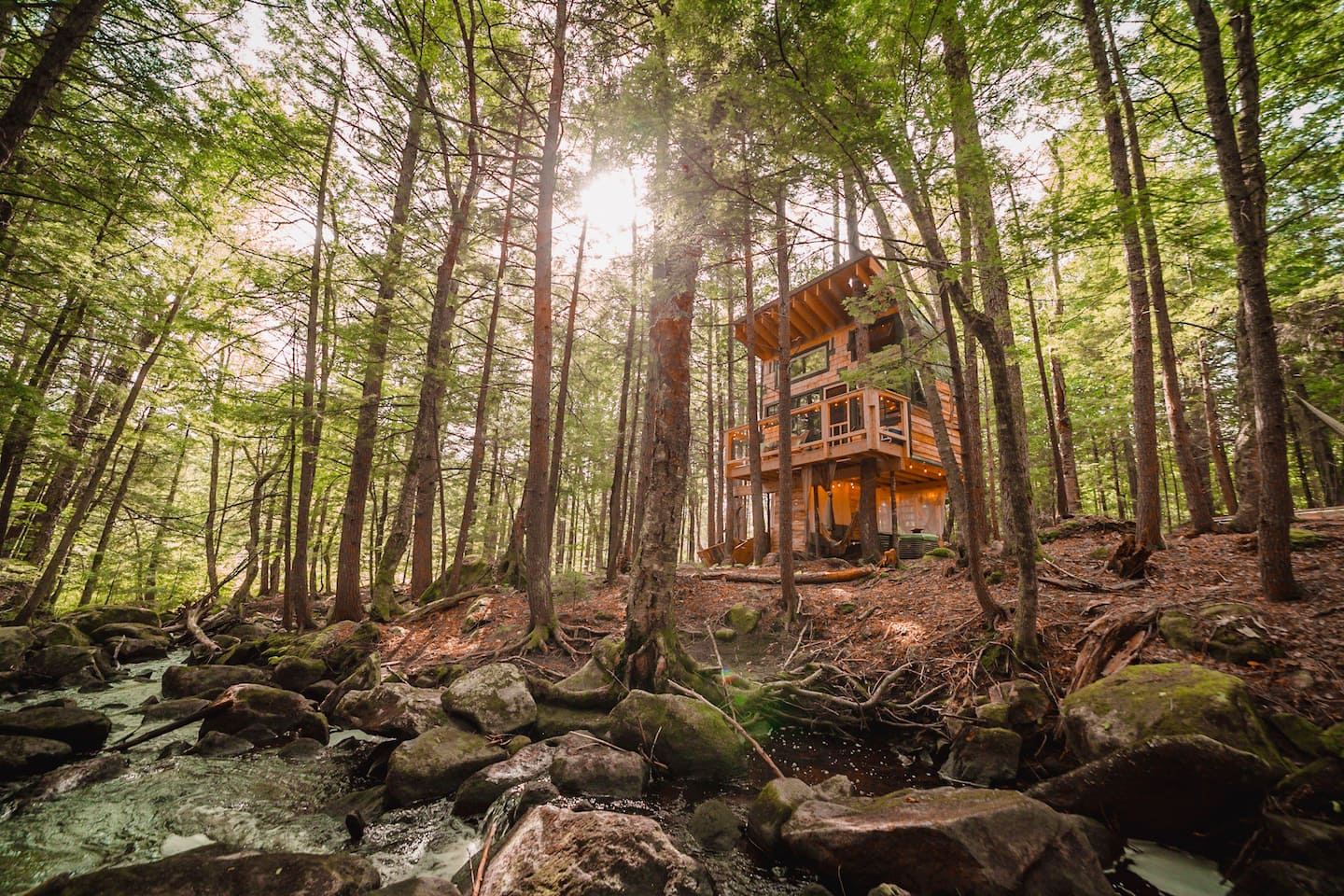 ---
15) The Canopy Treehouse, a Luxury Carbon Free Retreat
Location: Sanford, Maine
Rates: $250+ per night
https://www.airbnb.com/rooms/41341525
Enjoy this spectacular tiny home treehouse nestled among the forest! While it may only be 350 square feet, this vacation rental has everything you need for an amazing and rejuvenating visit!
Fulfill those childhood dreams and escape for this secluded glamping getaway that is guaranteed to impress!
View Photos, Read Reviews & Check Availability
---
16) Sandy Pines Campground
Location: Kennebunkport, Maine
Price: $75+ USD per night
https://sandypinescamping.com/glamping-at-sandy-pines-campground-in-maine/
Sandy Pines Campground in Kennebunkport is perfect for a family glamping vacation in the stunning state of Maine. Their canvas glamping tents are simply gorgeous, privately located and completely serene.
On top of their glamping tents, Sandy Pines also offers charming wagons, huts, Airstreams, domes and mini houses so that you can choose the glamping experience that's perfect for you. Enjoy the on-site offerings, such as a large pool, general store, snack bar, kids playground, lawn games, rental bikes and kayaks and so much more.
Sandy Pines Campground, Kennebunkport, ME
---
17) Scenic Rural CampSite -New Glampshire
Location: Sanbornton, New Hampshire
Airbnb Plus: No
Superhost: Yes
Price: $70+ USD per night
https://www.airbnb.com/rooms/20264975
This budget-friendly, secluded glamping tent is one of "New Glampshire's" best. The five-star rated, one bed tent features a cozy bed, comfy furniture, an outdoor deck, outhouse and outdoor solar shower. There's also a fire pit and outdoor seating. Located 1000 ft from the fab host's home, this glamping experience is isolated, charming and ideal for unplugging and unwinding.
View Photos, Read Reviews & Check Availability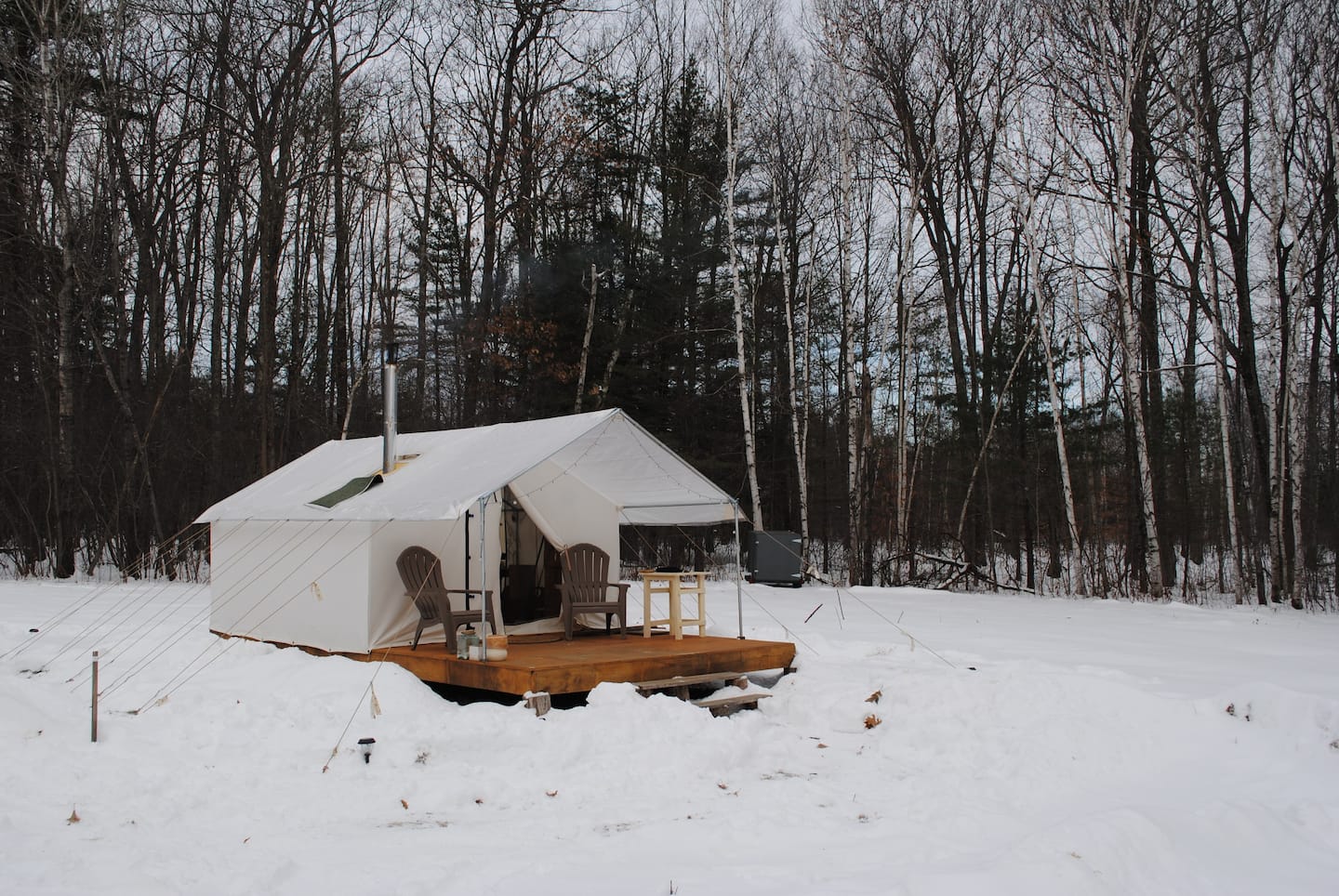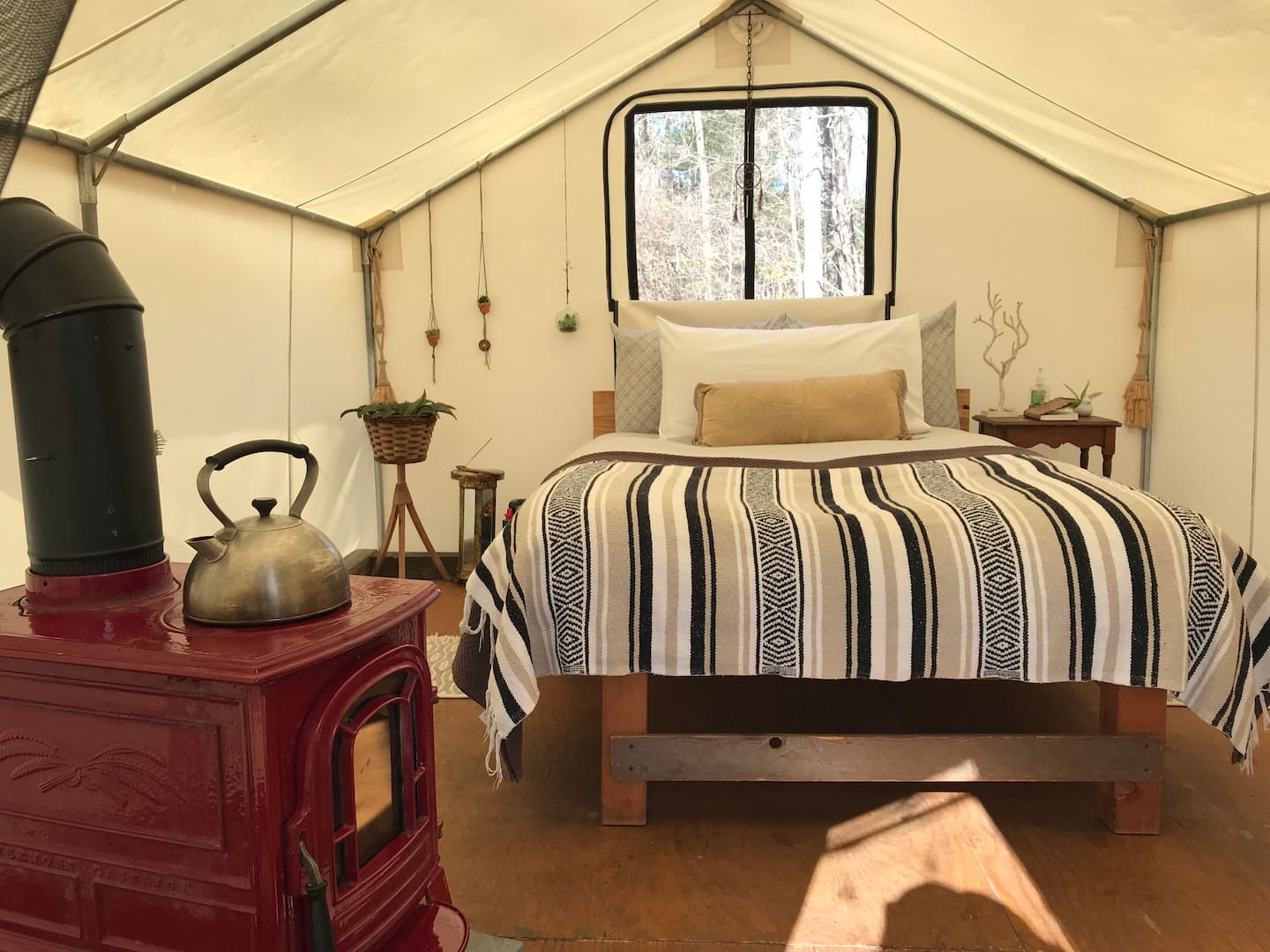 ---
18) Pristine and luxe yurt, surrounded by nature
Location: Putney, Vermont
Airbnb Plus: No
Superhost: No
Price: $125+ USD per night
https://www.airbnb.com/rooms/37914702
This five-star rated Vermont glamping yurt is hard to resist. The one-bedroom escape is spacious, stylish and perfect for a cozy couples getaway. The sparkling clean space features a private deck with wood views, a firepit and a deluxe mattress so you'll sleep like a dream. It also has running water, electricity and wifi.
The standout hosts acreage is a slice of tranquility in the small Vermont village of Putney. There are restaurants, music events and even a monthly community supper the residents of this tight-knit town enjoy. Maybe you'll end up moving there too?
View Photos, Read Reviews & Check Availability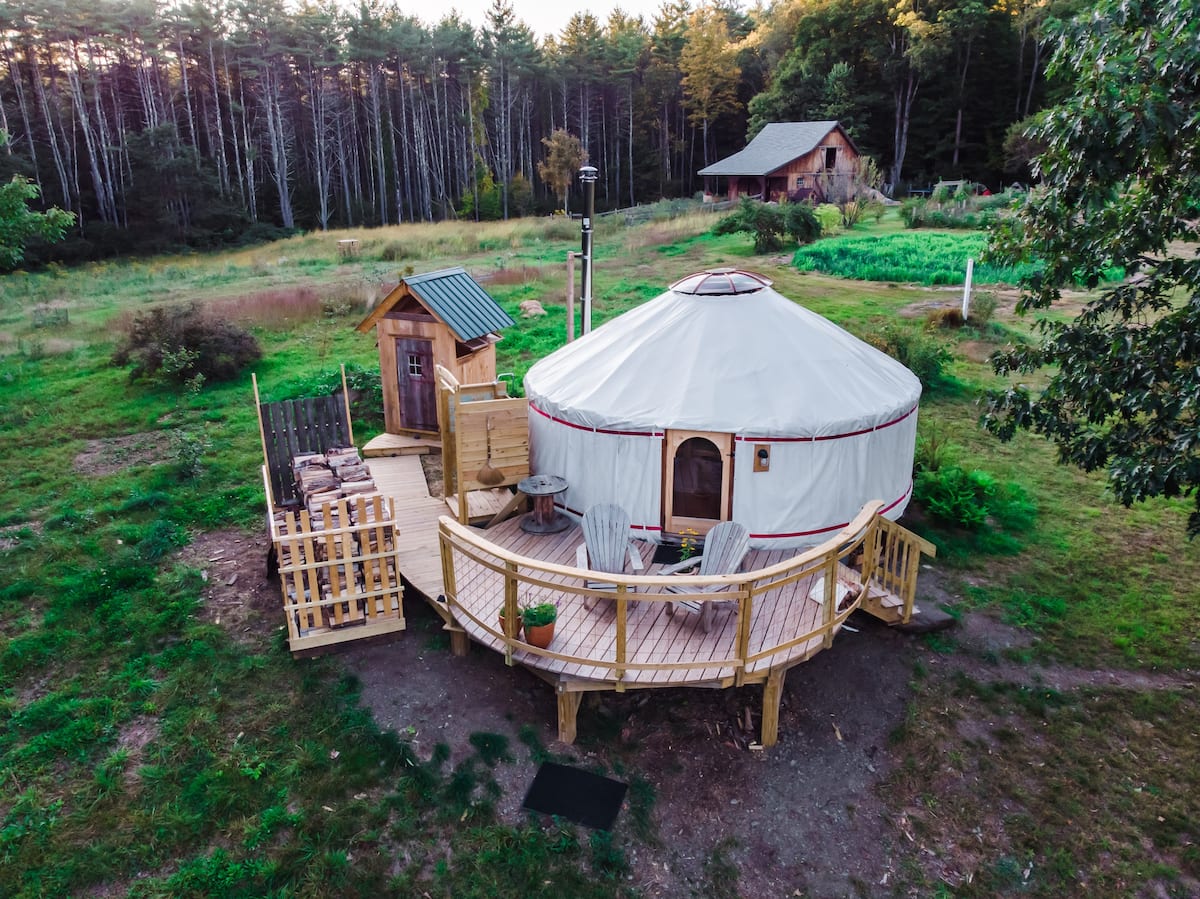 ---
19) Woodbridge Yurt--Unique Escape
Location: Woodbridge, Connecticut
Airbnb Plus: No
Superhost: Yes
Price: $100+ USD per night
https://www.airbnb.com/rooms/15598484
This stylish one bedroom yurt is so well designed and so well equipped you'll never want to leave. The Connecticut glamping yurt is located just 15 minutes from the city of New Haven – but it feels like a world away.
The plush space is equipped with heating and cooling, a fireplace, mini kitchen, living space and memory foam sofa that sleeps two. Use your own eco-friendly toilet or use the main home's one, enjoy the freedom of the outdoor shower and relax by the fire pit while enjoying a BBQ.
View Photos, Read Reviews & Check Availability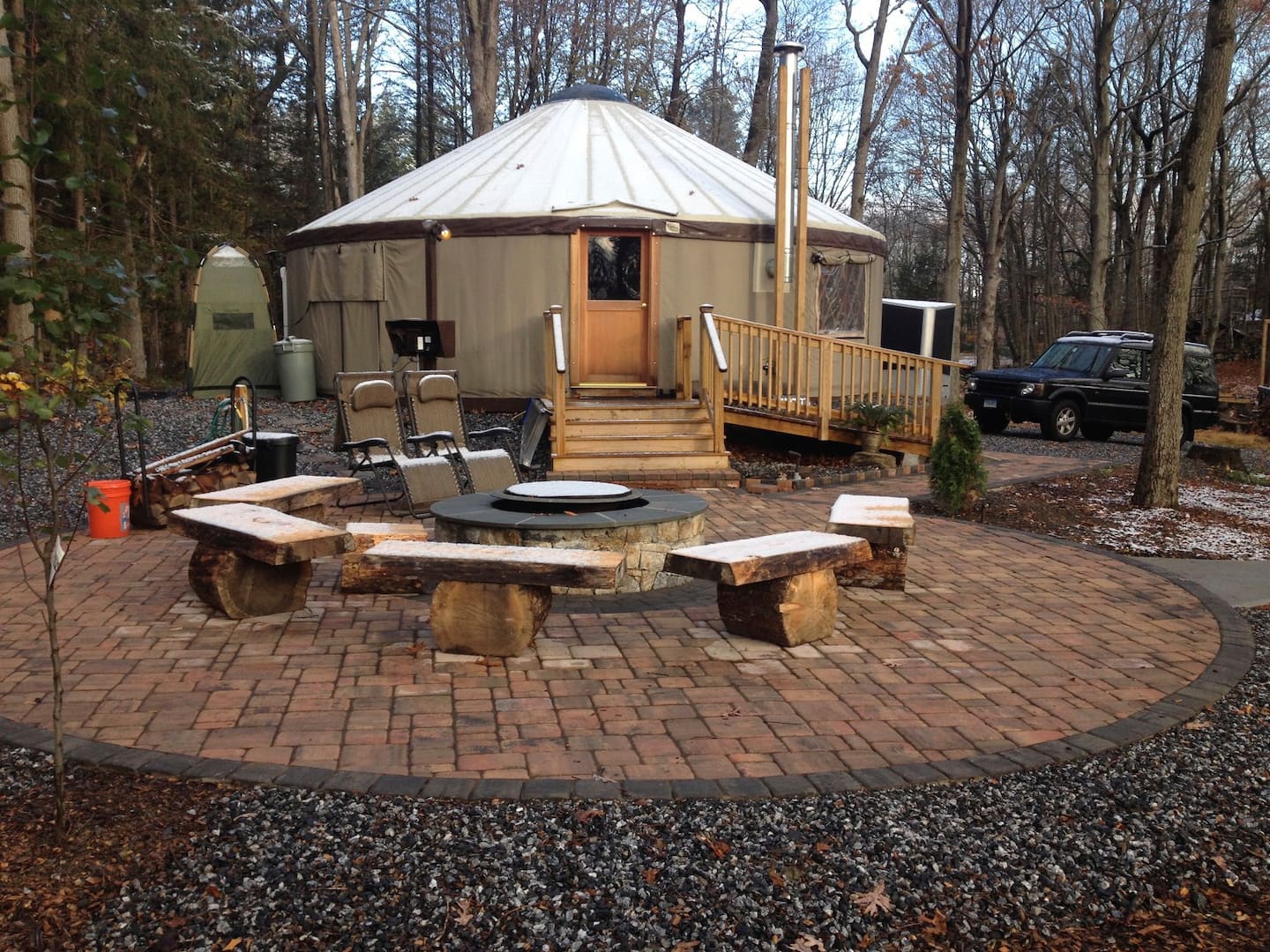 ---
20) Restored VW Camper "Elvis" for New England Camping
Location: Providence, Rhode Island
Airbnb Plus: No
Superhost: Yes
Price: $150+ USD per night
https://www.airbnb.com/rooms/34434152
"Elvis" the groovy VW camper is a unique and fun way to explore New England while glamping in comfort. The pop-top camper has been entirely renovated and now boasts a luxe new kitchen, upholstery and appliances.
Amazingly, Elvis is able to sleep up to four, with a double bed inside the camper and another double in the pop-top. This well-equipped camper is available for pickup in Providence, Rhode Island, but is perfect for exploring all over New England.
View Photos, Read Reviews & Check Availability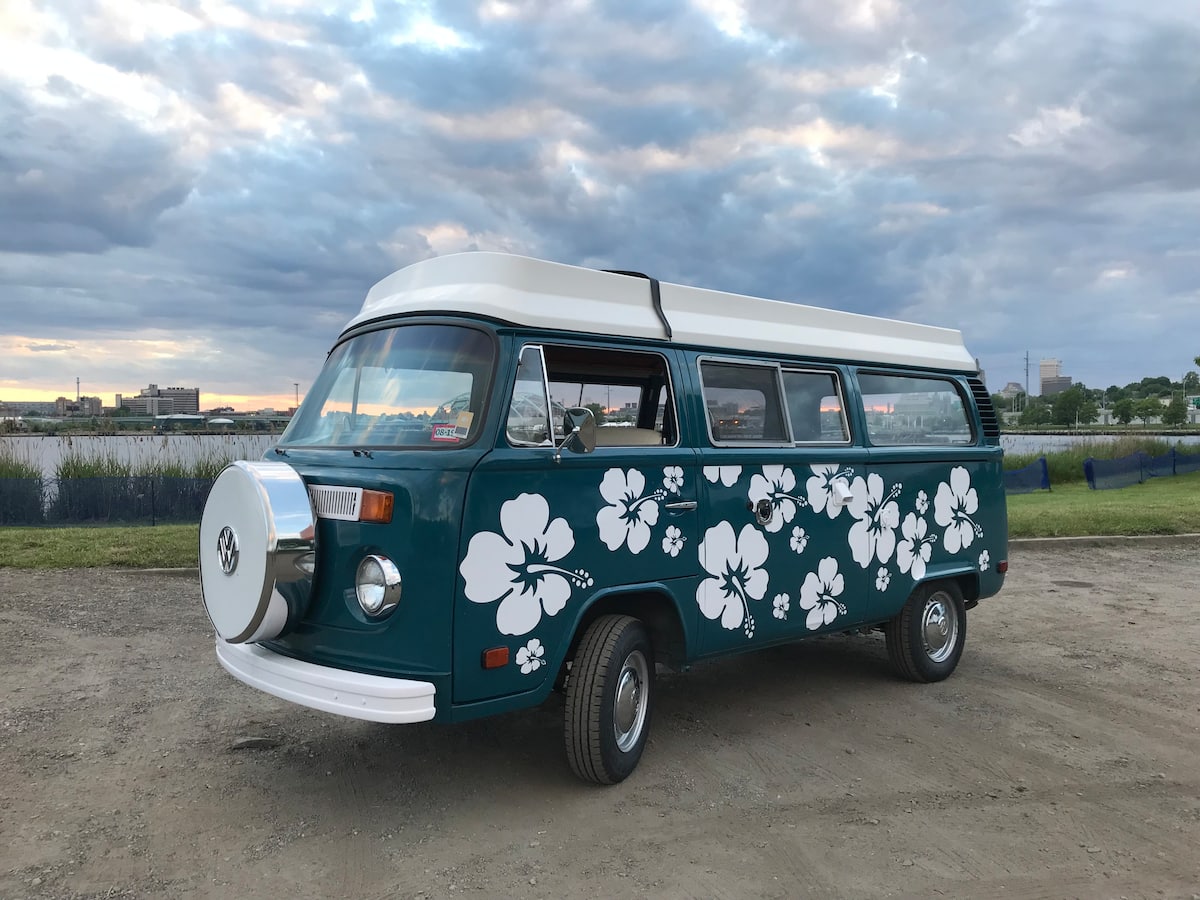 ---
New England Tours & Experiences
New England is an outdoor lovers paradise, and exploring the cities, towns and villages of New England on foot is a joy. These New England tours and experiences will only add to your northeast getaway and help you get the most out of your trip.
---
Shuck Oysters on the Harbor
"We will meet on the docks of East Boston where we will tear into and slurp dozens of local oysters, harvested by our oyster farmer friends, while looking over the harbor and skyline. You will learn how to properly shuck an oyster and will go home with a shucking knife of your own."
https://www.airbnb.com/experiences/168498
Price: From $50 USD per person (1 hour)
Review: "This was such a great experience! We live in Boston and this was a great way to explore other parts of the city. I TOTALLY recommend this experience and can't wait to do more things with East Boston Oysters in the future. Also such a great deal- 24 oysters for two people!!!!" – Kimberley
View Photos, Read Reviews & Check Availability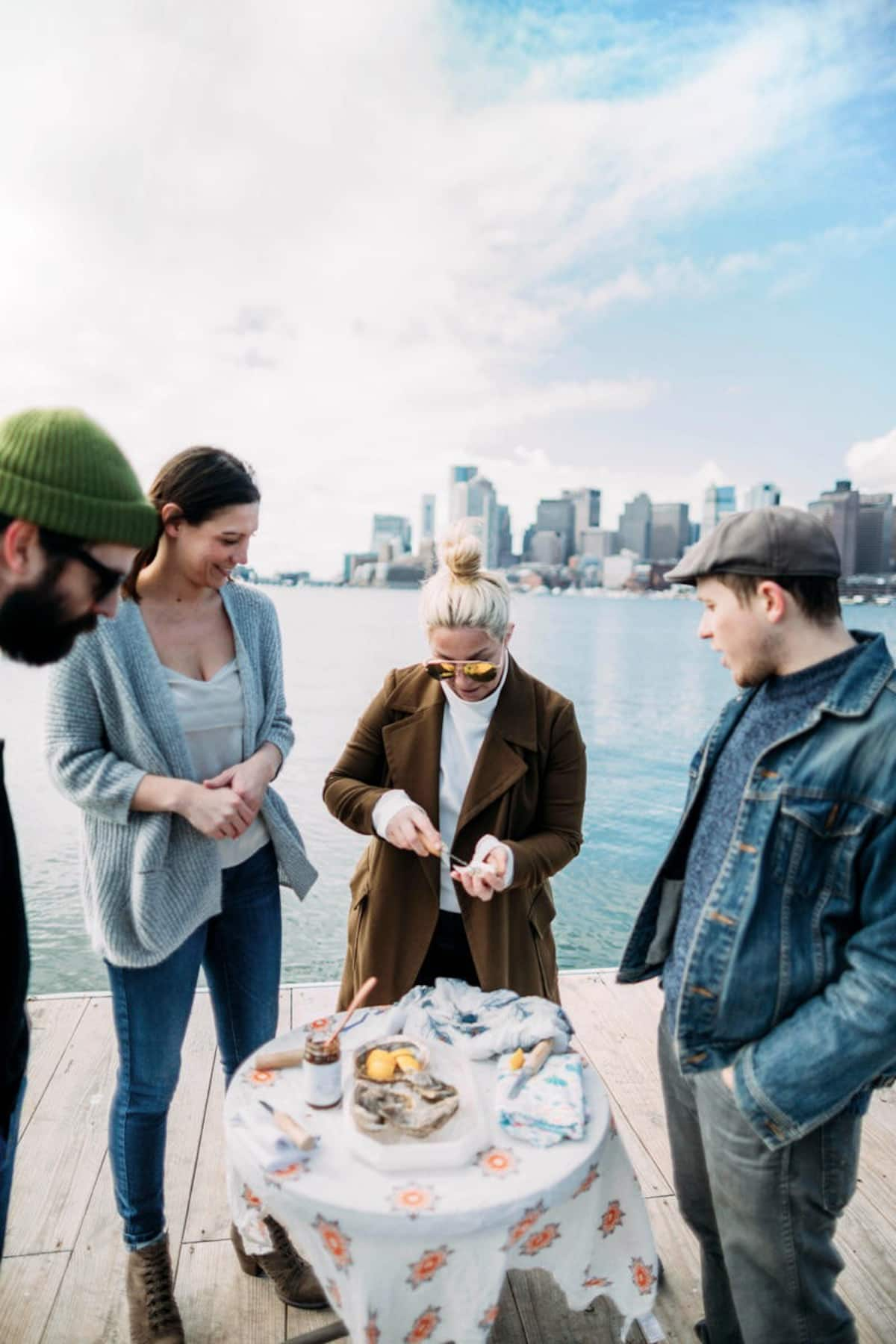 ---
Come Sail with Us!
"We will sail on the Saco River into Saco Bay and view Wood Island Lighthouse, Biddeford Pool & Old Orchard Beach. We will keep on the lookout for marine wildlife. We have seen seals, porpoises, sharks and even whales."
https://www.airbnb.com/experiences/827482
Price: From $100 USD per person (2 hours)
Review: "I chose the last sail of the season to find that perfect adventure proposal. It was a little chilly, but Captain Bob and Johnathan sailed us to the lighthouse while providing blankets, champagne, and cheese. They helped me capture the moment that mattered the most… not to mention Captain JB is a world class opera singer who shared his amazing talent with us. Thank you for helping me arrange this special day. This crew definitely went above and beyond to set sail!" – Cody
View Photos, Read Reviews & Check Availability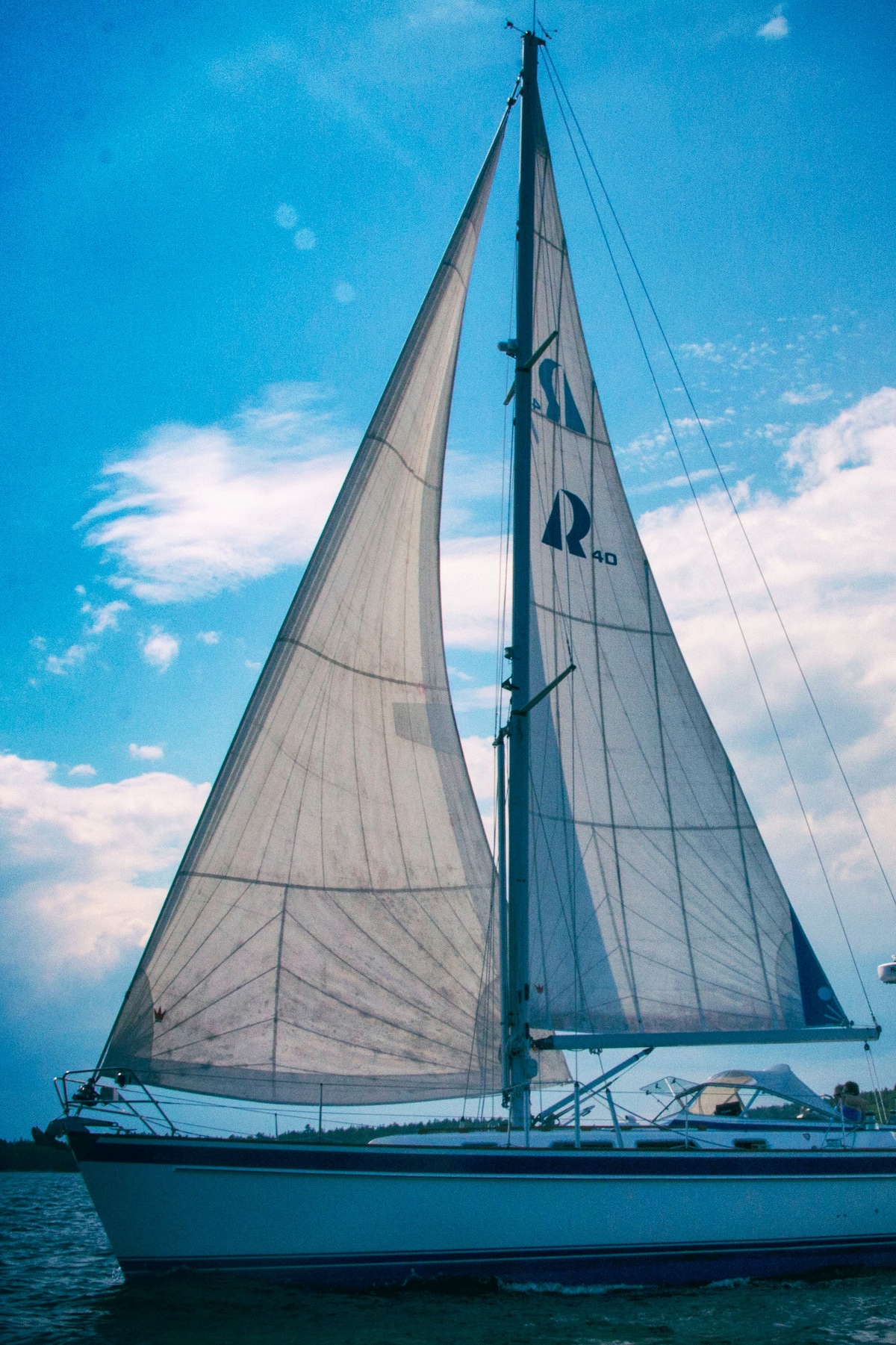 ---
Hands-On With Magical Miniature Horses
"The Northeast Miniature Horse Rescue is a 501c3 non-profit organization dedicated to the rescue and re-homing of Miniature Horses, providing refuge, safety, sanctuary, and forever homes for Miniature equines in need. Our skilled and caring foster caregivers provide temporary homes where abused, neglected, or abandoned Minis are made healthy and ready for adoption to permanent loving homes. This is a social impact experience where 100% of what you pay for this experience goes to Northeast Miniature Horse Club, Inc."
https://www.airbnb.com/experiences/354749
Price: From $30 USD per person (90 mins)
Review: ""Magical" is the perfect word to describe this experience! Cindy was incredible and the miniature horses were spectacular! Truly a wonderful experience that we will never forget!" – Shaylyn
View Photos, Read Reviews & Check Availability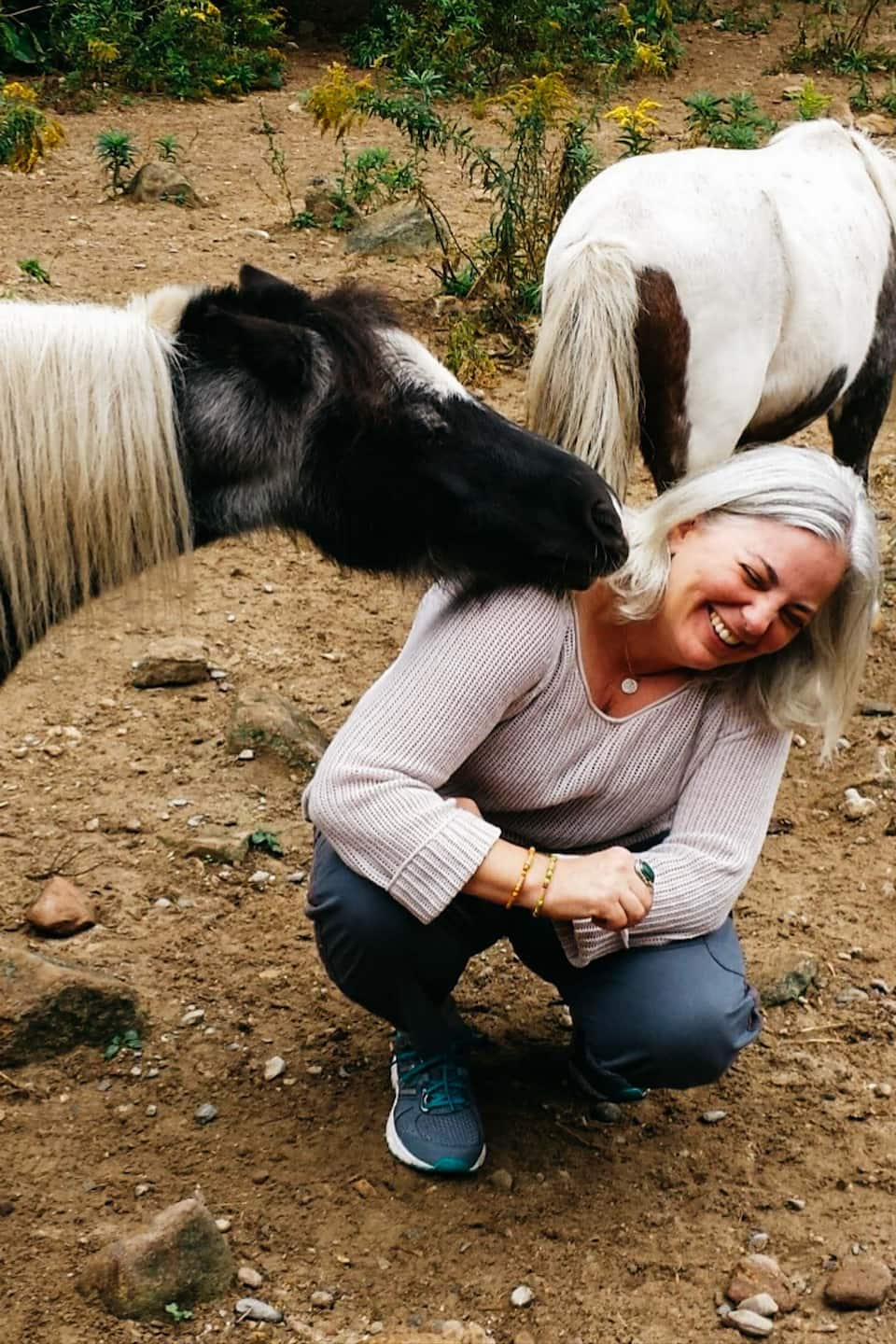 ---
Did I miss any top New England Glamping locations?
New England is jam-packed with impressive glamping experiences that are unlike anywhere else in the United States. If I have missed a top New England glamping destination and you have either stayed at one or host one, feel free to send me the details via email or social media, and I'll check it out to see if I can add it to my list.
---
Planning a trip to New England?
I have a range of content across my site that spans the length and breadth of New England. From Boston to Cape Code, Vermont to Maine, check these lists, guides and itineraries out for added ideas of where to stay, what to see and where to party across New England.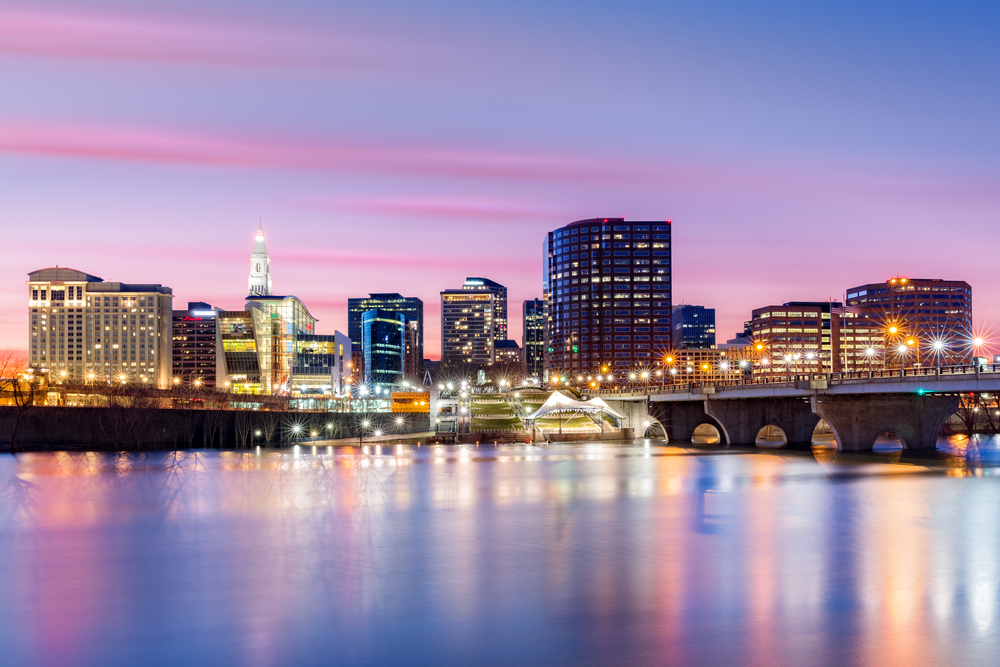 Hartford, Connecticut.
---
Final thoughts on Glamping New England
New England has so many underrated locations to discover, and with scenery like this – glamping is the way to do it! Whether you're glamping in the woods of Vermont, on the shores of Maine, in the cities of the US region or somewhere far off the beaten track, I'm sure your New England glamping experience will be one of the best yet.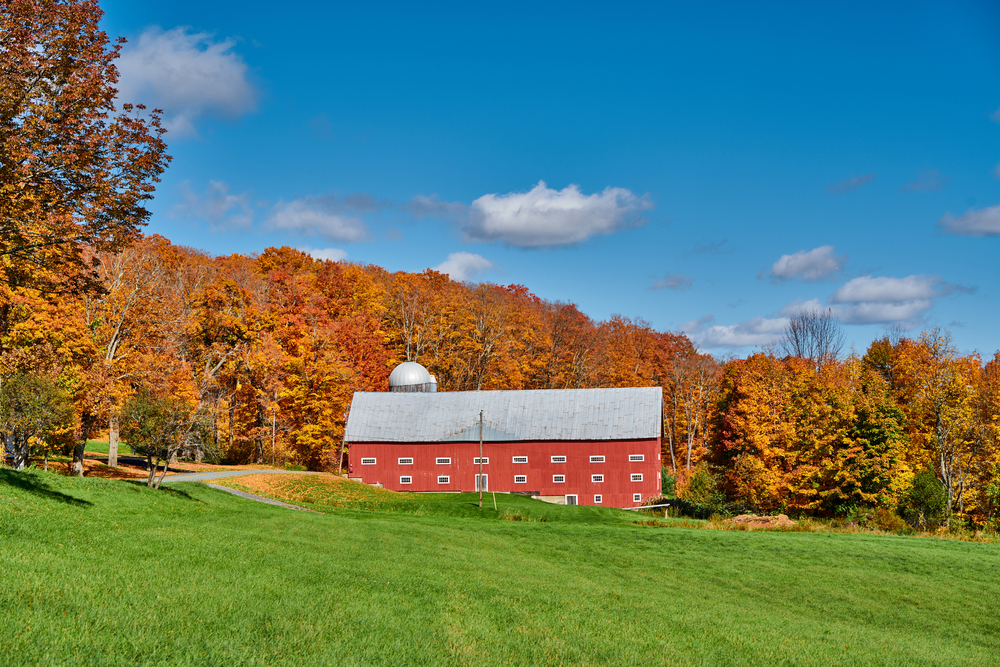 ---
Thanks for reading about the best glamping in New England!
Share this list with your New England glamping crew!
https://www.jonesaroundtheworld.com/wp-content/uploads/2020/07/Best-New-England-Glamping.jpg
654
1000
Guest Contributor
https://www.jonesaroundtheworld.com/wp-content/uploads/2017/03/logotry-1-1-300x106.png
Guest Contributor
2021-07-23 19:33:06
2021-09-30 19:47:40
Top 20 Glamping New England Sites For Your Bucket List