Planning a trip and looking for the best Airbnb Cape Cod rentals? Well, you've come to the right place! My list of Cape Cod Airbnb stays is the ultimate shortlist you need to plan the stellar vacation you will never forget!
You may instantly picture the famous Kennedy's when you hear the name "Cape Cod". After all, the Massachusetts peninsula has been synonymous with the famous family for almost 100 years.
But Cape Cod is so much more than old money and affluence, and you don't need a Kennedy bank balance to experience it for yourself. It's also one of the most important historic locations in the U.S.A, with the Mayflower arriving here in 1620.
Cape Cod is a historical, educational, picturesque and pleasant area, and visitors flock here during the summer months to take advantage of its many beautiful beaches, plethora of outdoor activities and stunning views.
My list of the best vacation rentals in Cape Cod cover a range of towns and villages across The Cape, and each and every one comes highly-rated and offers a distinctly different accommodation experience.
Now – Let's Escape To The Cape!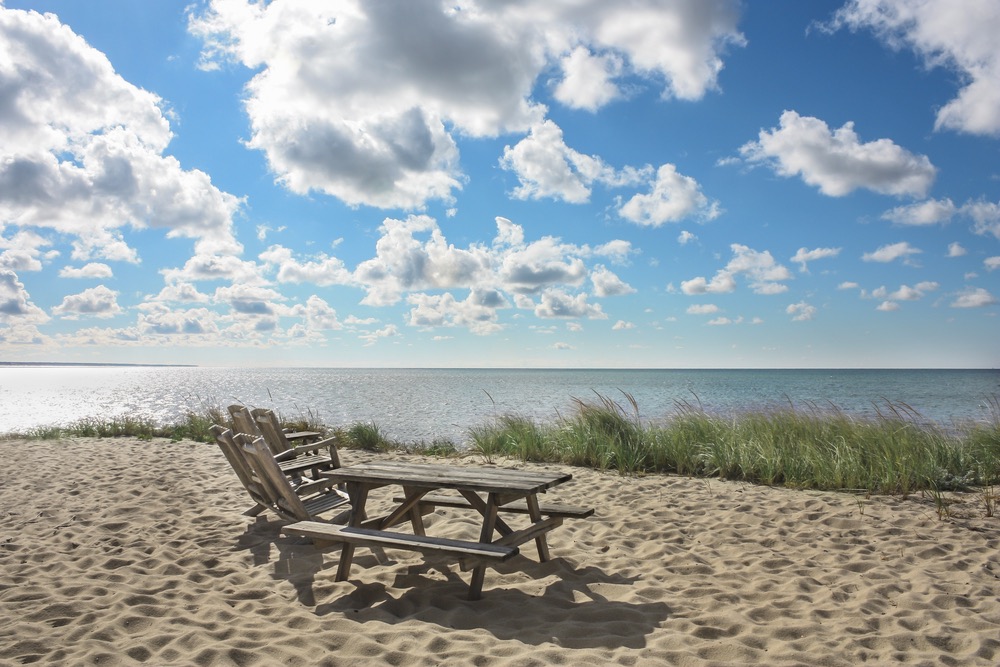 ---
Quick Breakdown Of Cape Cod Airbnb Rentals
Searching for the best Airbnb in Cape Cod to match your own budget, group size or traveling style? Check out my Quick Top 6 which showcases the best of the best Airbnbs and vacation rentals that Cape Cod has to offer.
I've included some of the best YouTube videos about Cape Cod throughout this list, so you can get even more expert recommendations on where to stay, eat, drink and sightsee. Heading up from Boston? Find your dream Boston digs on my list of The 15 Coolest & Best AirBNBs In Boston For A Wicked Awesome Trip.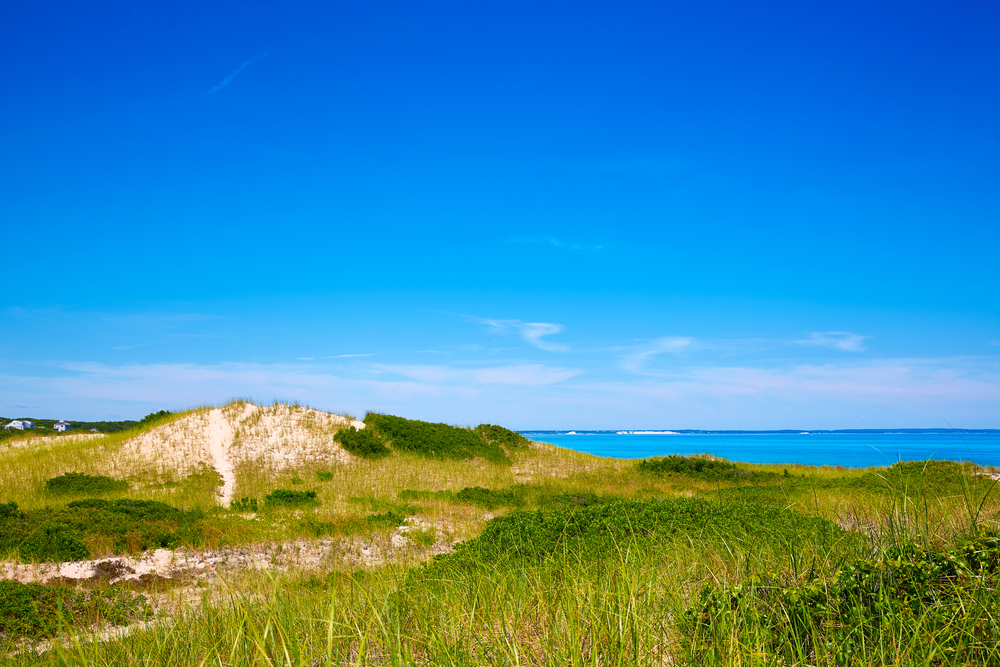 ---
1) Beachfront Condo | Outer Cape At Its Best!
Location: North Truro
Price: $268 avg. per night
Sleeps: 3 (1 bed/1 bedroom/1 bath)
https://www.vrbo.com/4108946ha
With Pilgrim Lake at your front, Provincetown Harbor at your back, and a private sandy beach one step off of your roomy and rustic deck, renting this charming property is a no brainer. High speed WiFi and TV, season shuttle service to Provincetown, and various activities such as whale-watching are available to entertain yourself at this waterfront wonder and in the serene surroundings. Spacious, light-filled, and right on the water, this is the ideal Cape Cod vacation rental!
Guest review: "Wonderful experience. Very clean, updated beach home right on the water. Bed was comfortable, kitchen well equipped. Deck has large gas grill and great deck furniture. Well worth the trip to Truro."
View Photos, Read Reviews & Check Availability
---
2) West End Unobstructed Waterfront Condo
Location: Commercial Street, Provincetown
Price: $250 avg. per night
Sleeps: 2 (1 bed/1 bedroom/1 bath)
With over 60 reviews (many of them from happy couples) and a perfect 5-star rating, this is the getaway for couples in Cape Cod! Comfortable yet cozy, the property is positioned on a pier and is quite literally on the water during high tide. Make use of the comfortable modern interior or relax on your private top-floor deck. Although its located on the quieter West End of town, anything from restaurants to shops and bars are easily accessible to this awesome accommodation. Make your romantic retreat memorable with this cute and cozy condo.
Guest review: "This was our first time visiting Provincetown. I can't say enough about this place. The condo was absolutely gorgeous! It was very clean and the perfect size for two people. The views were remarkable. We had a nice and relaxing stay. The owner Ray was the best. Whenever we had questions during the booking process he responded back quickly. I highly recommend you stay here if you plan to visit PTown. Thank you so much Ray for help making our 2020 PTown honeymoon memorable. We look forward to staying here again."
View Photos, Read Reviews & Check Availability
---
3) Oceanfront Beach Home
Location: East Sandwich
Price: $494 avg. per night
Sleeps: 10 (9 beds/4 bedrooms/2 bath)
This luxuriously wonderful waterfront property is perfect for special occasions such as anniversaries or reunions, lavish living for large groups, or a grand getaway for families. Located right on the water with a private beach in the dunes of East Sandwich, this 3-story property has 4 bedrooms and an spacious, light-filled interior to spread out and recharge. The soft sounds of the sea and the sprawling sandy beaches provide ample opportunity to get some sun or take a stroll to rid yourself of any stresses. This is the place for an upscale and comfortable accommodation!
Guest review: "My wife and I decided to take a relatively short honeymoon trip to Cape Cod and we are so happy to have found this house. The home is absolutely gorgeous and right on the beach. We went in late October so we didn't go into the water, but the area was so quiet and peaceful and we just enjoyed walking on the beach, sitting on the porch and enjoying the fireplace. This house is perfect for a couples retreat or bringing the whole family. And we definitely want to come back and experience a summer on the cape here. I highly recommend the home. I also can't say enough about the owner, Shannon. She was lightning fast with answers to my hundreds of questions and even left us something special to celebrate our marriage. Thank you so much and we can't wait to return."
View Photos, Read Reviews & Check Availability
---
4) Enchanting Loft Cottage with a Private Deck
Location: Barnstable
Airbnb Plus: Yes
Superhost: Yes
Price: $125+ USD per night
https://www.airbnb.com/rooms/5294952
The wonderful abode is located right in the largest community on the cape – Barnstable. And boy – it's a beauty! This pretty as a picture one bedroom cottage is fresh and airy, with nautical blue throughout. The Airbnb Plus offering has a loft bedroom, great outdoor deck and is in close proximity to the John F. Kennedy Hyannis Museum as well as the Cape Cod Mall.
Guest review: "A fabulous base for exploring Cape Cod. A stylish and functional cottage with all the amenities you could need. Barbara and Steve were very welcoming and provided some great local tips and went the extra mile to help up with little extras. A great kitchen set up and lovely deck To enjoy a wine after a day exploring. Conveniently located on Route 6a but very peaceful with a scenic aspect over their backyard. Would definitely return!" – Marilyn
View Photos, Read Reviews & Check Availability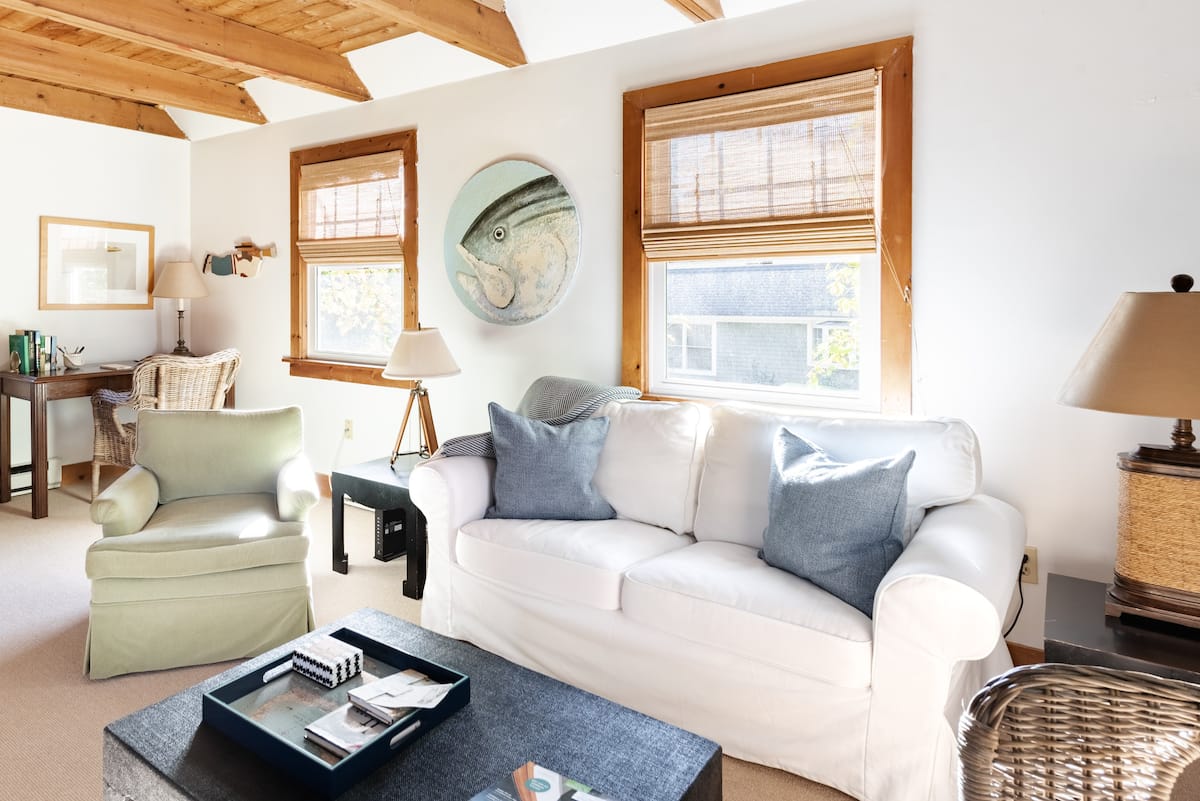 ---
5) Magical home built around Windmill with ocean view
Location: Barnstable
Airbnb Plus: No
Superhost: Yes
Price: $700+ USD per night
https://www.airbnb.com/rooms/18212062
This six-bedroom Cape Cod Airbnb isn't just a place to rest your head at night – it's a true visitor experience. The expansive home, which is built around a 19th century four-story windmill, is elegant and stunning. There's a new heated outdoor pool, a wraparound porch with seating and a huge yard with perfect landscaping. The location of this incredible home couldn't be better, with it positioned right in the heart of the major Cape Cod town of Barnstable. You can easily walk to the beach, various museums, a variety of stores and some top restaurants.
Guest review: "This was a perfect place for us. We had a large group with lots of kids and had a cozy stay in this gorgeous, expansive house, where everyone had the choice to play together or take a quiet moment alone. There were loads of activities for all ages and a thorough kitchen for us to cook together. It really could not have been better! And as a generous bonus, when my two-year-old's dinosaur accidentally stayed behind, they generously (and quickly!) mailed her home again. Thank you!!!" – Ray
View Photos, Read Reviews & Check Availability
---
6) Romance in the Heart of Cape Cod at The Breeze
Location: Eastham
Airbnb Plus: No
Superhost: Yes
Price: $60+ USD per night
https://www.airbnb.com/rooms/20621513
Featured on WNAV "Romantic Winter Getaways", and the winner of "Best Seaside Guidebook" in the 2020 International Hostfully Guidebook Awards!
You don't need to have Kennedy level money stashed away to enjoy a trip to "The Cape". This one bedroom cottage is the best cheap AirBNB in Cape Cod, and on many days throughout the year you can score a night here for as little as $60 (but prices are much higher during peak season). "The Breeze" has so much to offer. A private dock on a pond, a fire pit and a flower garden, and bikes, beach chairs and canoes are even available for free to guests. It's just over a mile to the nearest beach and Cape shuttle services, and two minutes to the Cape Cod Rail Trail. Picturesque Eastham is a cozy community that is often called one of the best vacation spots in Cape Cod.
Guest review: "This place is awesome! The property is beautiful and peaceful. The space had everything we needed and more. Love the layout and the amenities that made cooking a breeze. Felt like home." – Cassandra
View Photos, Read Reviews & Check Availability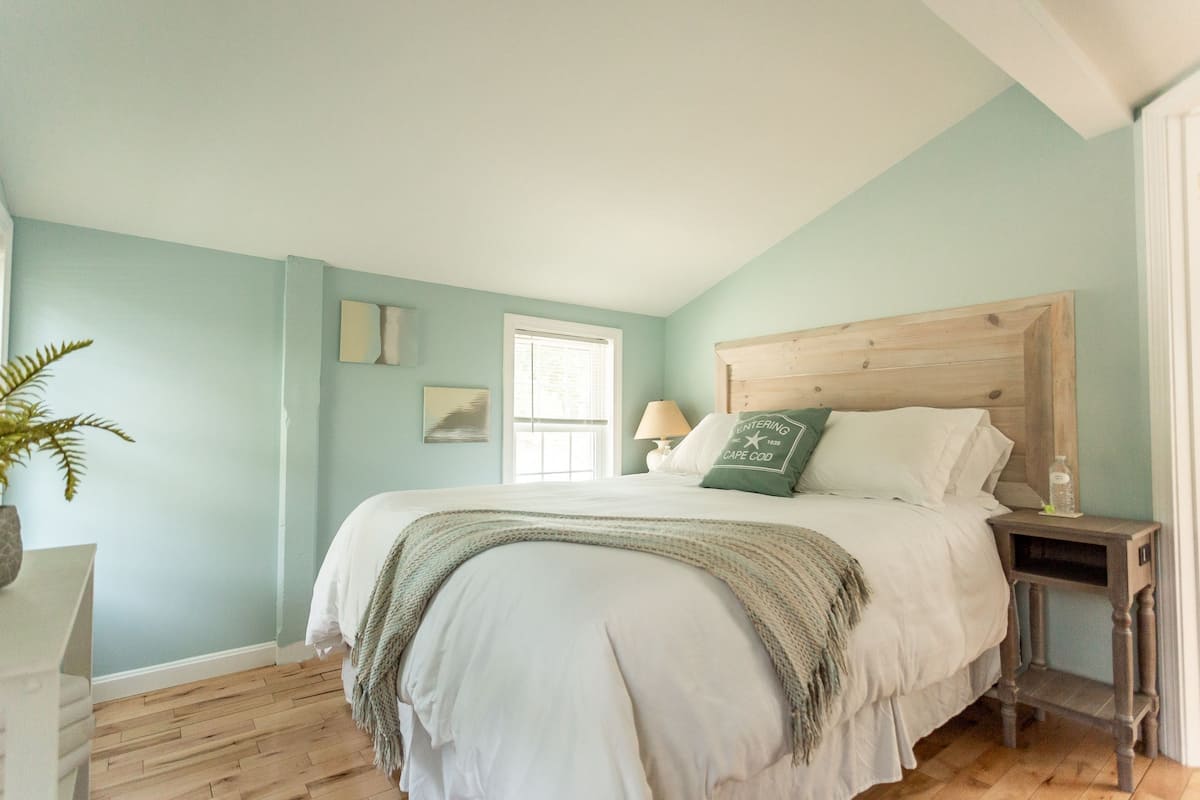 ---
7) Cozy Coastal Cottage With Sprawling Sea Views
Location: Yarmouth
Airbnb Plus: Yes
Superhost: Yes
Price: $150+ USD per night
https://www.airbnb.com/rooms/25421494
Come summer or winter, Cape Cod is a beautiful destination to cozy up with your love, and this is the Airbnb to do it. The one-bedroom cottage is the perfect blend of coastal and natural design and decor and is immaculately presented. There's a deck, a beach right outside and magnificent ocean views to be enjoyed. The Cape Cod town of Yarmouth is a quiet and friendly beach community, where locals love nothing more than being outdoor enjoying the sun, sand and sea. The hub of Barnstable is a 10-minute drive away from this romantic seaside abode.
Guest review: "Absolutely loved this little cottage ! Super clean, and adorable little place! perfect for two people ! Deena was a great host and we look forward to hopefully visiting again in the future! Perfect fall trip." – Megan
View Photos, Read Reviews & Check Availability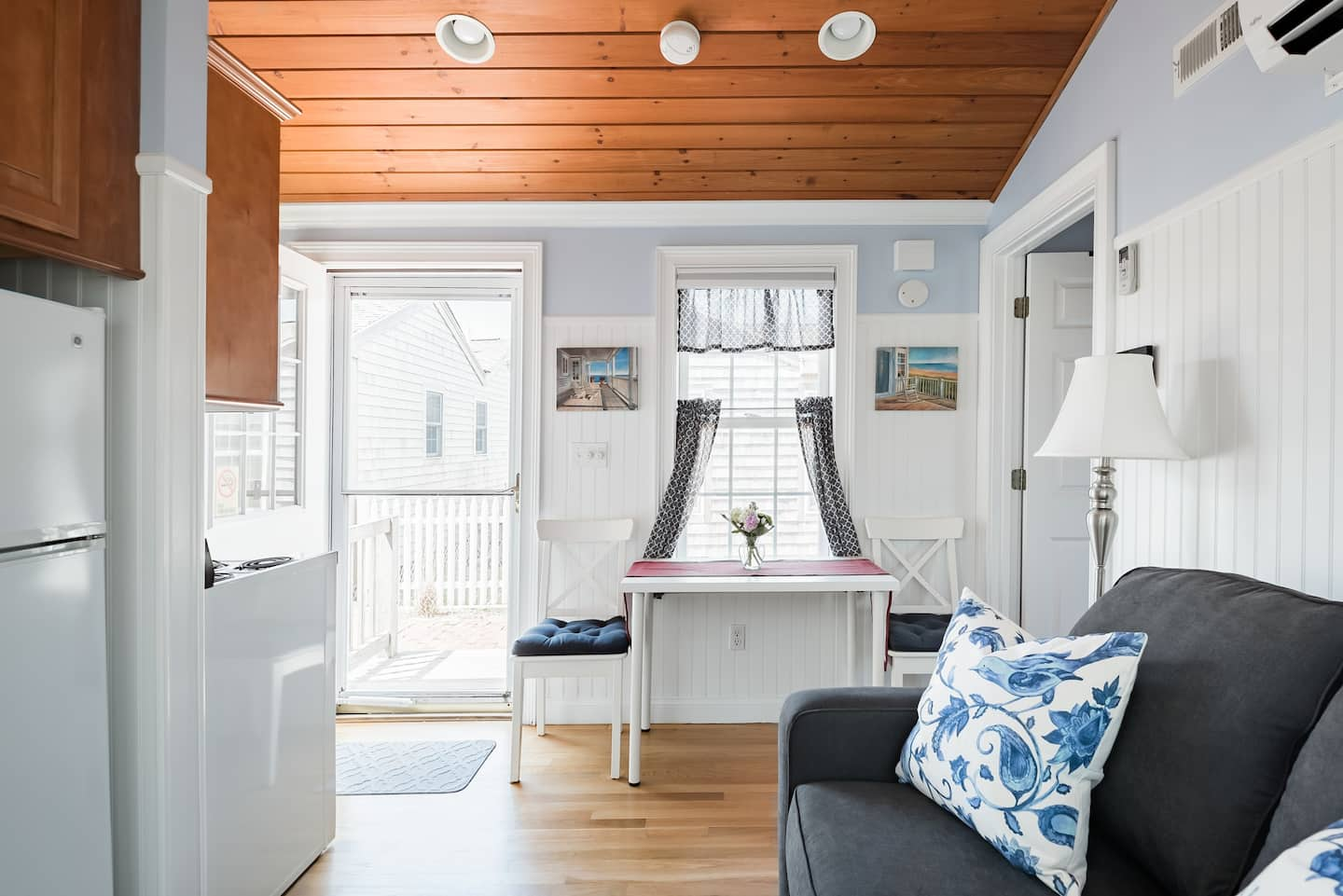 ---
8) Direct Access to Cape Cod Bike Trail and National Seashore
Location: Eastham
Airbnb Plus: Yes
Superhost: Yes
Price: $200+ USD per night
https://www.airbnb.com/rooms/7530469
Nestled at the start of some top trailheads in the beautiful Cape Cod town of Eastham, this three-bedroom home is truly something special and is ideal for a family vacationing on The Cape. The spacious house has a breezy open-plan design, and the kids will love how close the ocean is. The hosts even provide family-friendly essentials, including a high chair, bathtub, cot and stair gates. They've thought of everything and their perfect five star guest rating says it all!
Guest review: "We had a wonderful stay at Summer Breeze. The location right on the bike path was fun and great for a young family. The house was clean, bright, well taken care of and set up for a comfortable vacation. From beach equipment to board games to cooking utensils, we had everything we needed. Thank you!" – Leigh
View Photos, Read Reviews & Check Availability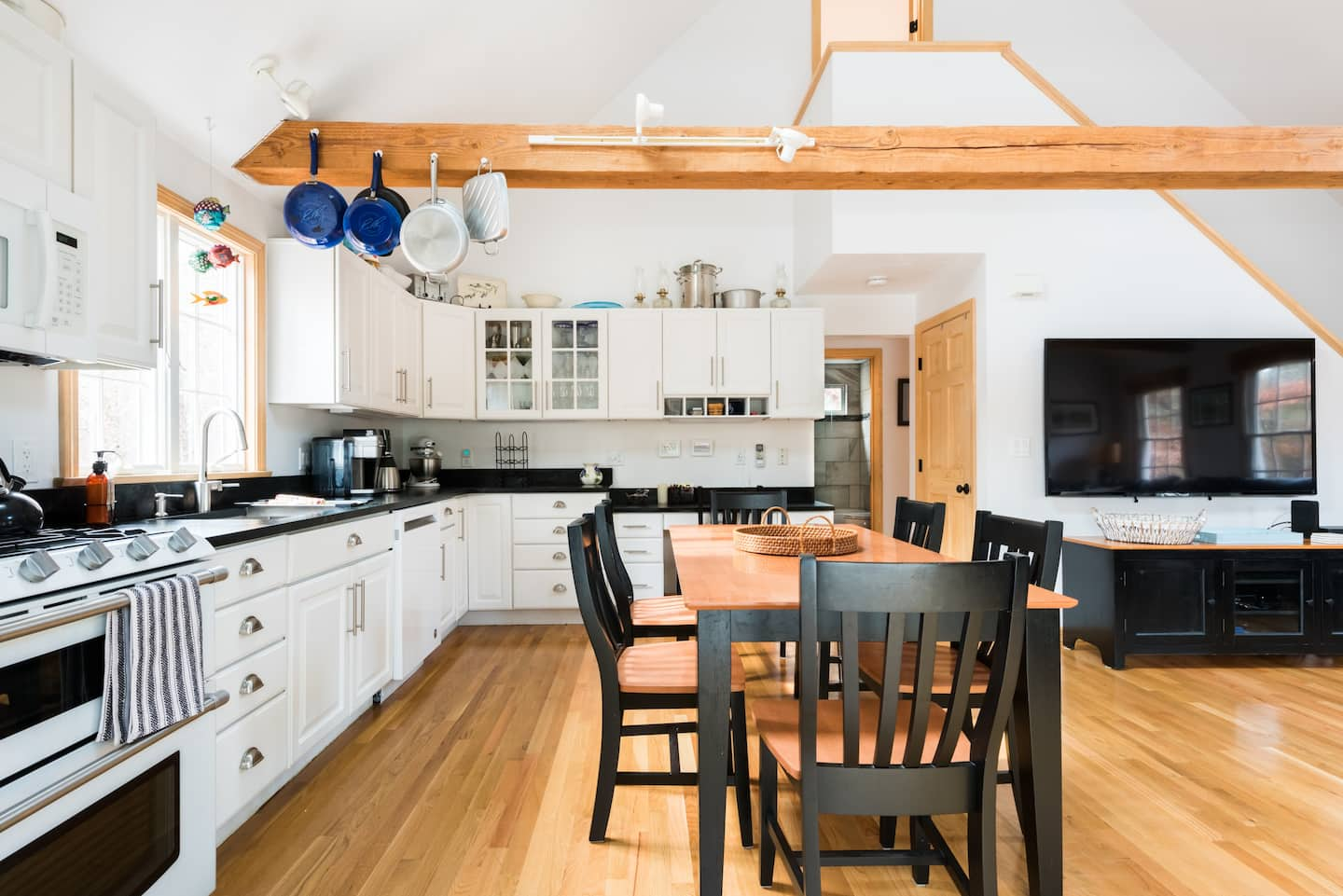 ---
9) Private Katama cottage – location!
Location: Martha's Vineyard
Airbnb Plus: No
Superhost: Yes
Price: $175+ USD per night
https://www.airbnb.com/rooms/6063817
Located in the exclusive locale of Edgartown on the island of Martha's Vineyard, this roomy one-bedroom beach cottage is a private little sanctuary just steps from the beach and the centre of town. It features neat and pretty interiors, an outdoor shower and a serene patio. This is Kennedy country, so who knows – you may rub shoulders with one. Put in a good word for me!
Guest review: "While my wife and I didn't have the pleasure of meeting Linda personally, she could not have been more thorough in her communication. Check in and check out were seamless. The cottage was air conditioned and pre-cooled for our arrival. The location was central to beaching, dining, shopping, etc. although a rental car is suggested. Very quiet and private with space to spread out. We would like to stay there again when visiting the island next." – Craig
View Photos, Read Reviews & Check Availability
---
10) Revitalized Cottage close to Ridgevale Beach
Location: Chatham
Airbnb Plus: Yes
Superhost: Yes
Price: $270+ USD per night
https://www.airbnb.com/rooms/16898508
Another top AirBNB in the Cape Cod beach town of Chatham, this three bedroom home is clean, tidy and spacious. The ocean-inspired family home is an updated dream, and has been verified by Airbnb Plus for quality. It's just a five minute mosey down to the beach, and the local neighborhood is peaceful and quiet.
Guest review: "This Revitalized Cottage was lovely and welcoming. Everything was very clean and tidy. The cottage is well furnished, has modern appliances, and provides all the kitchen items needed to make our stay very comfortable. The beds and bedrooms were comfortable and bathrooms modern and clean. There was plenty of space for 4 adults and all our needs for a long weekend. We appreciated the "Welcome" and "Check-out" signs with needed contact, WiFi and closing information." – Laura
View Photos, Read Reviews & Check Availability
---
11) Cozy 3rd Floor Apartment with a View
Location: Provincetown
Airbnb Plus: No
Superhost: Yes
Price: $60+ USD per month
https://www.airbnb.com/rooms/21219658
Located in the historic Cape Cod town of Provincetown, this sweet one bedroom apartment has a shared rooftop deck boasting scenic bay views. The third floor apartment is right in the heart of Provincetown, and a short walk to the ferry as well as a range of great eateries, bars and galleries. Provincetown – famed for being the site of the Mayflower's landing in 1620 – is an artsy LGBTQI hotspot and is a great destination for a mini break on The Cape.
Guest review: "A wonderful gem of a space, perfect location for being close to town, and tastefully decorated! This place offers a unique view of both the bay and the point. Perfect for a couple new to visiting Provincetown, or seasoned locals looking for a night away." – Julia
View Photos, Read Reviews & Check Availability
---
12) Hot Tub – Pet-Friendly – Firepit – Walk to Village
Location: Yarmouth
Airbnb Plus: No
Superhost: Yes
Price: $130+ USD per night
https://www.airbnb.com/rooms/32685186
This charming three bedroom home in Yarmouth is a great place to stay with your family or friends during a trip to Cape Cod. The pet-friendly AirBNB has an epic six-person hot tub on its deck, a new patio with fire pit and pristine interiors you can tell the hosts have worked hard on. It's just five minutes walk into town and to Dennis Pond, and a few minutes drive to the nearest beach.
Guest review: "Aruna's summer cottage was adorable. It was sparkling clean and the decor was so inviting. The cottage was stocked with all kinds of amenities including shampoo, conditioner, body wash and much more! The kitchen had many basic spices and necessities you would not want to have to buy in order to cook a meal. All the appliances were sparkling clean as were the floors, bathrooms and bedrooms! Check in was super easy and Aruna was available and very responsive to any questions we had during our stay! Would definitely go back and stay again!" – Kristen
View Photos, Read Reviews & Check Availability
---
13) Chatham Rose Arbors Artist Cottage
Location: Chatham
Airbnb Plus: No
Superhost: Yes
Price: $150+ USD per night
https://www.airbnb.com/rooms/18488703
Take advantage of Chatham's wonderful beaches and book a stay at this pretty studio cottage – ideal for a solo or couples escape to The Cape. "Rose Arbors" is an artsy, creative space, located just minutes from the beach and from the Cape Cod Bike Trail. Monomoy National Wildlife Refuge is a noted local attraction.
Guest review: "Danielle and Brett's place is the perfect place to stay in Cape Cod. The cottage looked even better in real life than in photos, and communication was seamless and fast. Though we didn't use them, there were two bikes for our use, and the location was great to go around to other towns in the cape, and a short driving distance from Chatham town. The cottage had good local tips for visitors, and also was fully stocked with tea, and coffee. There were also ample utilities for those staying longer, to be able to cook. Would highly recommend!" – Su
View Photos, Read Reviews & Check Availability
---
14) The Farmhouse Just 2 Blocks From the McMillan Pier Ferry
Location: Provincetown
Airbnb Plus: Yes
Superhost: Yes
Price: $250+ USD per night
https://www.airbnb.com/rooms/27031265
Stay in one of the most prominent towns in the annals of U.S history, Provincetown, at this gorgeous updated farmhouse in the heart of the town. The AirBNB Plus two bedroom townhouse is spacious and stylish, with two private upstairs decks offering views of the Pilgrim Monument. It's just steps to bustling Commercial Street, McMillan Pier Ferry and various walking trails.
Guest review: "The farmhouse was a perfect home base for our stay in Provincetown and a lovely place to ring in the new year. Convenient, yet quiet location, and spotless living quarters. Sam and Kara were exceptionally accommodating hosts." – Nicholas
View Photos, Read Reviews & Check Availability
---
15) STUNNING WATERFRONT COTTAGE!! Pet Friendly
Location: Dennis
Airbnb Plus: No
Superhost: Yes
Price: $150+ USD per night
https://www.airbnb.com/rooms/4037428
The scenic New England town of Dennis is steeped in historic and cultural significance, and a stay here promises an educational and enjoyable stay. This pet-friendly three-bedroom waterfront cottage has been raved about by many thrilled Airbnb Cape Cod guests, and features roomy, light interiors. It also has tranquil views of Flax Pond. It's just a short drive to some of The Cape's best beaches, Dennis Village and Hyannis Port, where you can catch the ferry across to Martha's Vineyard or Nantucket.
Guest review: "Words and pictures can't begin to express how beautiful Sunrise Cottage is. Our family of five were delighted to discover that it was even more beautiful than we had hoped. We loved having the space to spread out and then to come together again while sitting in front of the fire watching a movie. Our children loved the boardgames that were provided and my husband and I loved sitting on the dock with our hot chocolates. Meg was the perfect host! Her communication was excellent and she always replied within minutes of any inquiries. This is without a doubt the best holiday house I've ever visited and I hope to be back soon one day :)" – Nadine
View Photos, Read Reviews & Check Availability
---
16) Breathe Salty Cape Air From a Serene House InTruro
Location: Truro
Airbnb Plus: Yes
Superhost: Yes
Price: $280+ USD per night
https://www.airbnb.com/rooms/3821148
The village of Truro is a peaceful summer vacation community near the northern tip of Cape Cod, and this country-chic three-bedroom Airbnb Plus home is the perfect place to stay with a perfect guest rating. It's an enjoyable 10-minute walk into the town of Truro to stock up on essentials or eat at its top-rated restaurants. There's also a range of hiking trails and a fantastic range of local beaches in close proximity.
Guest review: "We had the most restful stay at Janet's beautiful home in Truro. Nothing was forgotten, it was so beautifully set up for our stay it was almost like a new home! Janet met us on arrival and even encouraged us to forage in her vegetable garden to get fresh tomatoes and herbs for our bruschetta. Wireless internet was included in our nightly rate and super fast. All of the amenities were of a high standard. Would definitely recommend." – Mark
View Photos, Read Reviews & Check Availability
---
17) Wings Neck Lighthouse
Location: Pocasset
Airbnb Plus: No
Superhost: No
Price: $350+ USD per night
https://www.airbnb.com/rooms/723702
One of the most unique Airbnbs in Cape Cod, Wings Neck Lighthouse promises a stay you'll never forget. You'll stay in the three bedroom home (once the lighthouse keepers home), which is attached to the historic lighthouse by a breezeway. From here, jaw dropping views of the Atlantic Ocean are all yours to enjoy, as is the private Wings Neck Point Beach – an oasis for residents (and AirBNB guests!) only. The village of Pocasset is just a few minutes drive away, and has a number of restaurants and stores.
Guest review: "Staying at Wings Neck Lighthouse was a dream come true. The little town of Pocasset truly gave you all the essentials needed to stay at the Lighthouse at all times. Unbelievable experience and needs to be on everyone's bucket list! Happy New Year 2020!" – Kristi
View Photos, Read Reviews & Check Availability
---
18) Bright Brewster Beach House Short Walk to Bay Side Beaches
Location: Brewster
Airbnb Plus: Yes
Superhost: Yes
Price: $350+ USD per night
https://www.airbnb.com/rooms/21634792
Last, but certainly not least, this bright and happy three-bedroom Airbnb Cape Cod beach house is an enchanting escape with a large outdoor deck and fire pit. It's a short walk to the white sand beaches of Brewster, its premier golf courses and into town. This AirBNB Plus verified home is family-friendly, with the hosts providing essentials for little ones such as a high chair, toys and books and stair gates.
Guest review: "We absolutely loved the house. It was perfect for my family of 6 both in layout, atmosphere and great location. The kids loved the bunk beds, outdoor shower and easy walk to breakfast. There were plenty of bikes and beach toys/chairs for everyone which made it very convenient. The house was very thoughtfully decorated and felt relaxed and beachy. We will be sure to stay there again!" – Rachel
View Photos, Read Reviews & Check Availability
---
Best Cape Cod Airbnb Experiences
Airbnb Experiences have become one of my new favorite ways to book unique travel activities! So if you're looking for something fun to add to your itinerary, check out these two Airbnb Experiences in Cape Cod!
---
The Goat Experience
Traveling with kids to Cape Cod? Take a tour of the Triple H Farm, which is a certified wildlife habitat. You'll be able to see immature apple trees, a peach tree, oak trees , cedar trees, lavender and the rhododendrons and hydrangeas. Then get up close and personal with their goats while you feed them, spend some time in the chicken coup, and even try to milk a goat! It's a family-friendly activity that even the adults will love!
https://www.airbnb.com/experiences/311568
Price: From $20+ per person
Review: "Super fun experience, for someone that wants to interact with farm animals. Very knowledgeable, and I thought it was fascinating to see the process of soapmaking. I'm excited to put my soap to use!"
View Photos, Read Reviews & Check Availability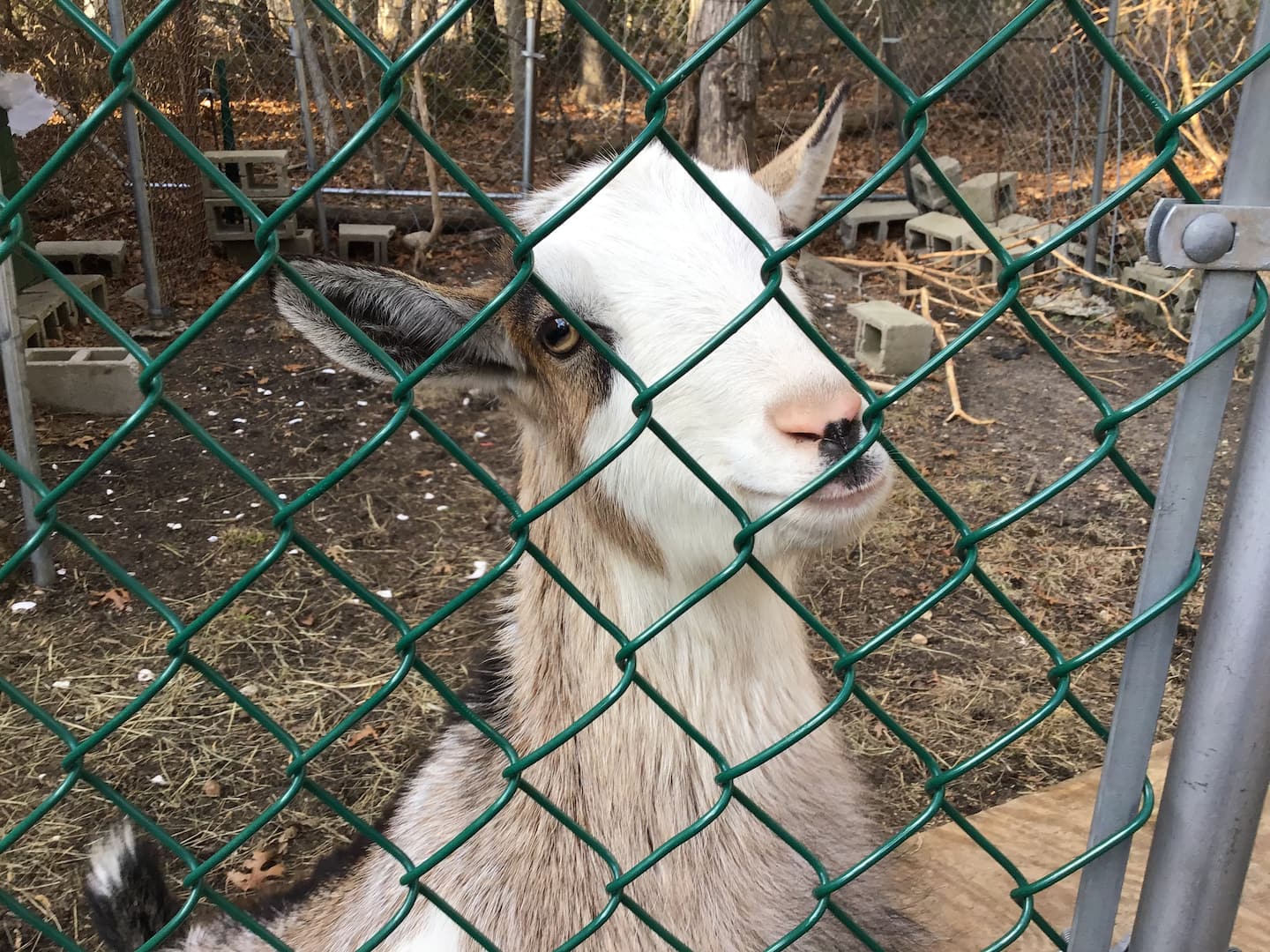 ---
Harbor Seal and Boat Tour – Cape Cod
"A booking provides fare passage to explore the rivers and bays of Orleans, North Chatham; the haul-out area of Cape Cod's large gray seal population; the waters of Chatham Harbor including the Chatham fishing fleet and the Chatham fish pier. View Chatham lighthouse and the shores of the beautiful Cape Cod National Seashore barrier beach with its vibrant bird and marine life."
https://www.airbnb.com/experiences/235734
Price: $100+ per person
Review: "Expert navigation and storytelling through a large part of the coast line. Captain Jeff chartered some dense and surprising fog with ease. We loved his friendly nature and how much history and local knowledge he had. He was super careful made sure that we were always safe. We would recommend this trip and his services above anyone else!"
View Photos, Read Reviews & Check Availability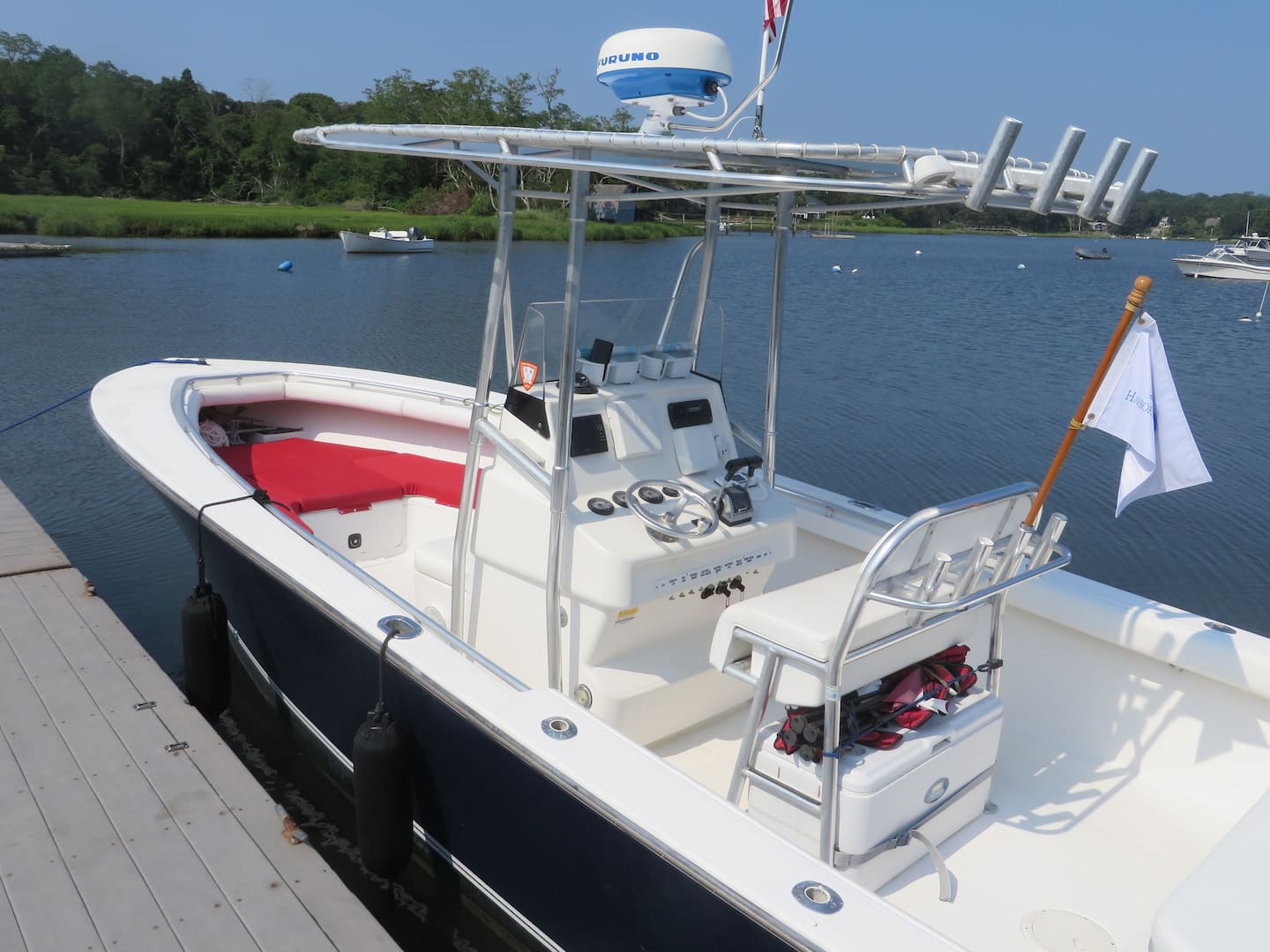 ---
Did I leave out any epic Cape Cod Airbnb Rentals?
There were just so many top-rated Cape Cod Airbnbs to choose from, that I can't include them all! However, if you have a standout Cape Cod AirBNB – or have stayed in one recently – send me your recommendation via my social media or email and I'll see if I can get it on my list!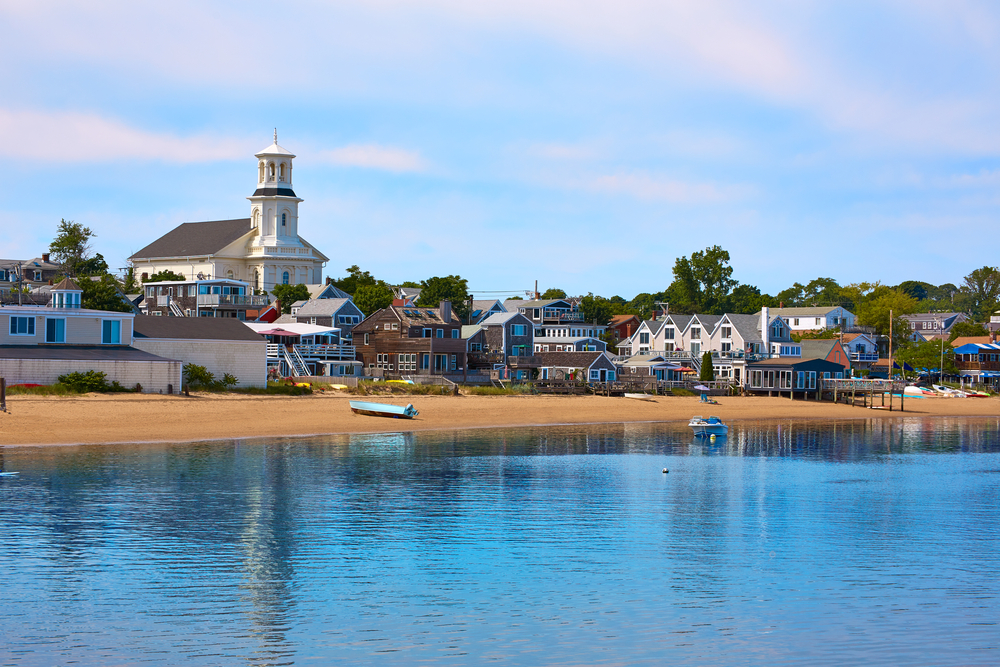 ---
Planning a trip to Cape Cod, Massachusetts or the U.S.A?
Cape Cod is gorgeous and relaxing, and the entire state of Massachusetts has so many hidden gems to discover and fall in love with. Check out my other Massachusetts content linked below, as well as other U.S.A travel blogs, guides and lists that will be sure to ignite your inner desire to explore.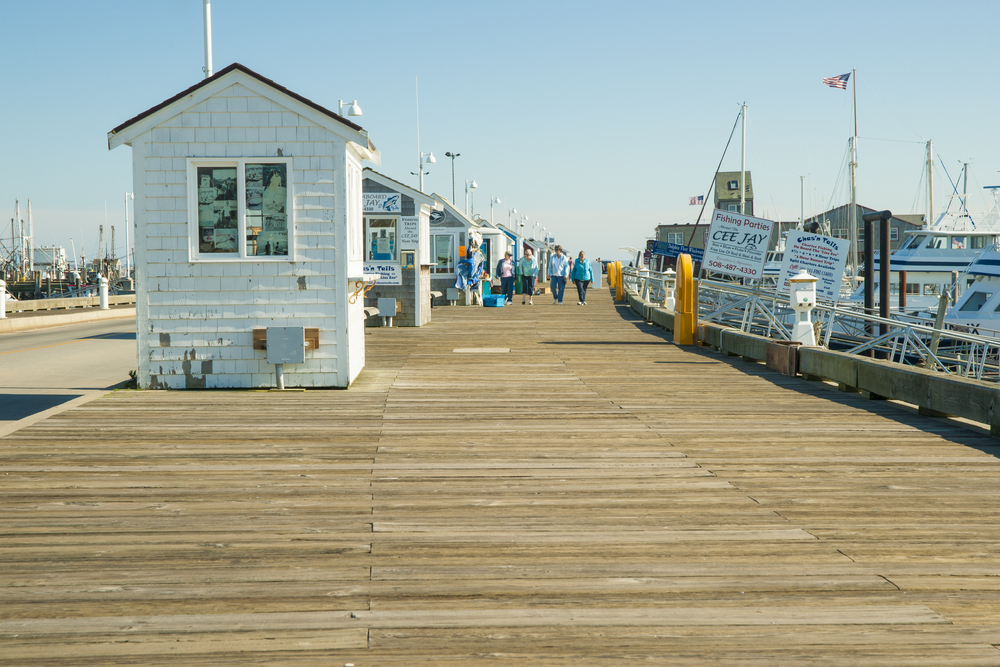 ---
Final thoughts on Airbnb Cape Cod Rentals…
I'll be honest. I had no idea until I researched this list just how many charming towns and villages dot the landscape that is Cape Cod. I can see why it's such a popular vacation destination and I could easily spend a summer here simply exploring the region – with a lot of down time on its many beaches, of course. If you're heading to The Cape – you're in for a fantastic getaway!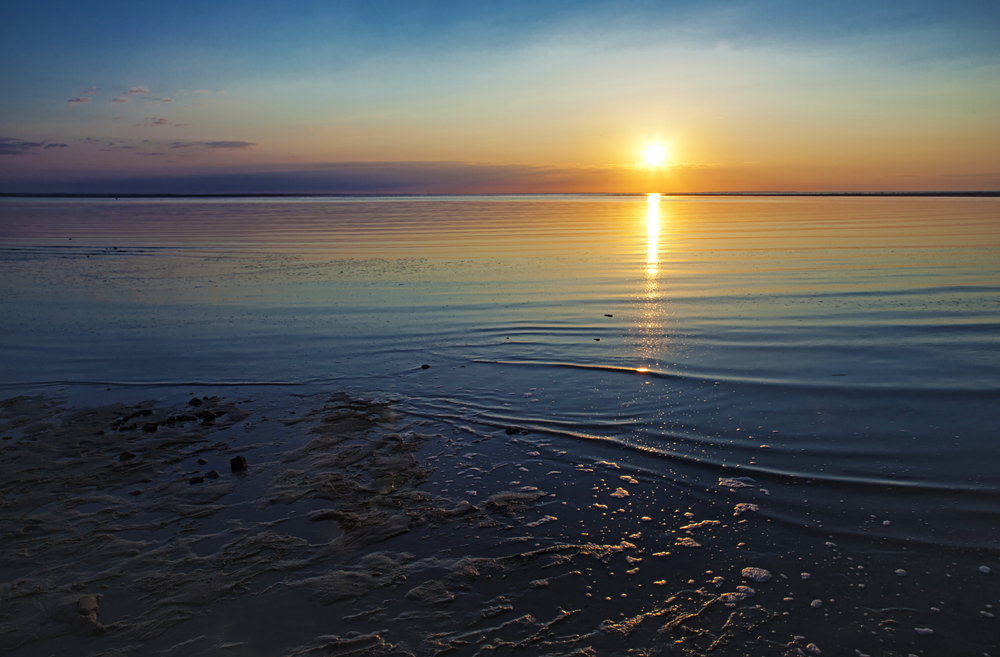 ---
Thanks for reading my Cape Cod Airbnb guide!
Share these Airbnbs in Cape Cod with your favorite travel crew!
https://www.jonesaroundtheworld.com/wp-content/uploads/2020/10/Airbnb-Cape-Cod-.jpg
667
1000
Guest Contributor
https://www.jonesaroundtheworld.com/wp-content/uploads/2017/03/logotry-1-1-300x106.png
Guest Contributor
2021-07-29 19:59:16
2022-03-03 22:43:07
17 Best Airbnb Cape Cod Vacation Rentals in 2022